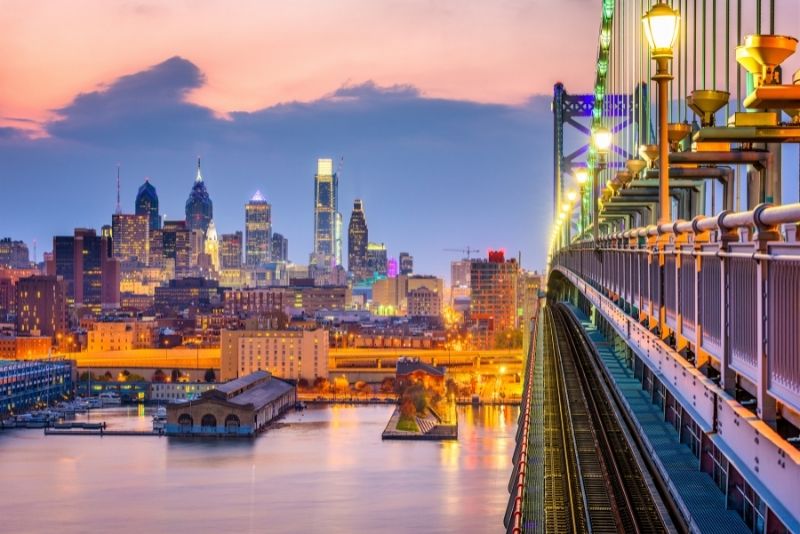 A melting pot of food (did someone say gooey cheesesteak?), art, cinema, and history, the City of Brotherly Love has been delighting tourists for decades, regularly welcoming over 40 million eager annual visitors, all itching to immerse themselves in Philly's diverse culture.
From the iconic Rocky steps to the famed (and cracked) Liberty Bell, to the buzzing South Street nightlife and diehard sporting culture (go Eagles!), America's sixth-most populous city delivers entertainment and excitement in spades.
Investigate as many of the official 67 National Historic Landmarks around Philadelphia as you can — hinting at the type of city you're here to explore — from a penitentiary that housed Al Capone to a living museum once home to famous writers.
Take photographs of the iconic rowhouses and other structures boasting Georgian architecture, or opt for something weird and wonderful during ghost hunting or serial killer tours …
Day trip to a winery, or unravel the craft beer scene in Philly (both in abundance), and there are plenty of outdoor activities to keep you busy, from ice skating to walking trails along the river to learning how to fly your own plane!
Need help planning your priorities for things to do in Philadelphia? Then you've come to the right place!
1 – Tour the eerie Eastern State Penitentiary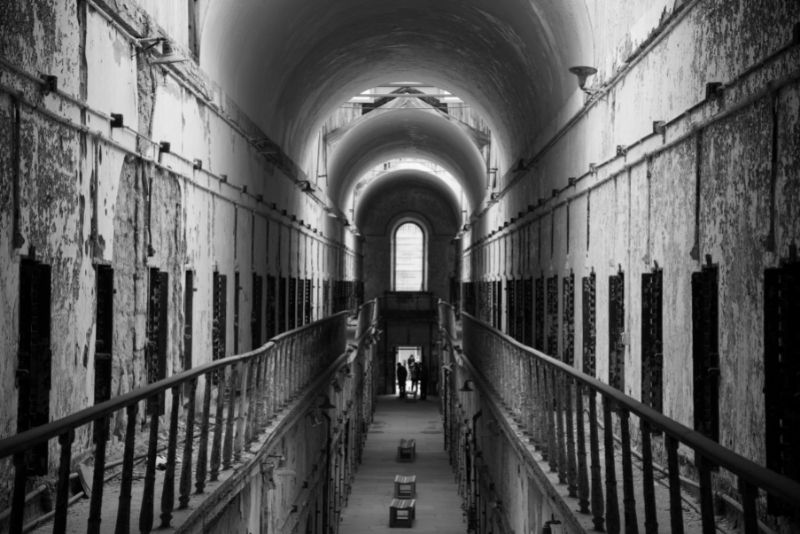 Once the largest, most expensive public structure in the country, the formerly-abandoned Eastern State Penitentiary — which was operational from 1829 to 1971 — housed infamous criminals like Al Capone and bank robber Willie Sutton.
Now a National Historic Landmark, true crime-loving visitors can tour the creepy wagon-wheel-shaped facility in all its former glory, checking out art installations and listening to the Steve Buscemi-narrated self-guided audio tour along the way.
Hot tip: for the best bang for your buck, book a hop-on-hop-off bus pass that includes penitentiary entry!
2 –  Walk in the footsteps of the Founding Fathers at the Independence National Historical Park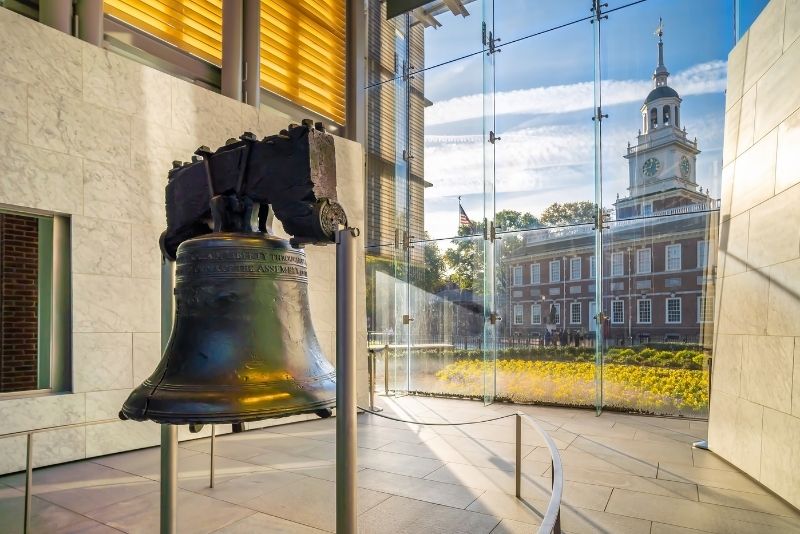 A wonderful nod to a pivotal point in American history, the Independence National Historical Park features Independence Hall, where the Founding Fathers signed the Declaration of Independence; the Liberty Bell (with its famous crack); and the Benjamin Franklin Museum, which tells the story of America's first Postmaster General.
Meander through Washington Square Park followed by a stroll through the 18th-century, rose and magnolia gardens. Then, take photographs of typical-American architecture as you move from one building to the next, like the Bishop White House, Dolley Todd House and the Declaration House.
A few meters away from Independence Hall is the National Constitution Center — where real-time debates in congress take place regarding matters of the U.S. Constitution.
Visitors are treated to a glimpse into this world through the center's museum, which displays interactive and traditional-style collections, across a multitude of mediums from artifacts to documents to sculptural reenactments. Exhibitions and programs change regularly.
For history buffs, a guided tour of this iconic area is one of the essential things to do in Philadelphia.
3 – Visit the Museum of American Revolution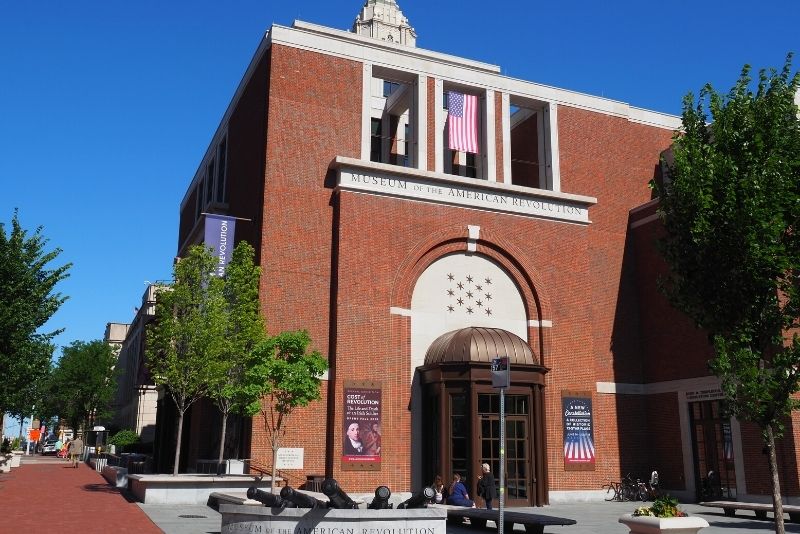 Offering a unique look at the events and people that sparked America's birth and its ongoing push for liberty, equality, and self-governance, the Museum of the American Revolution provides an in-depth commentary on one of the nation's most important times.
Ticket in hand, guests can learn about the Boston Tea Party, key battles, the historic penning of the Constitution, and more, with no shortage of artwork, artifacts, and interactive displays.
Hot tip: Don't fancy lining up? Grab your tickets online in advance to skip the queues.
4 – Support the NFL's Eagles at Lincoln Financial Field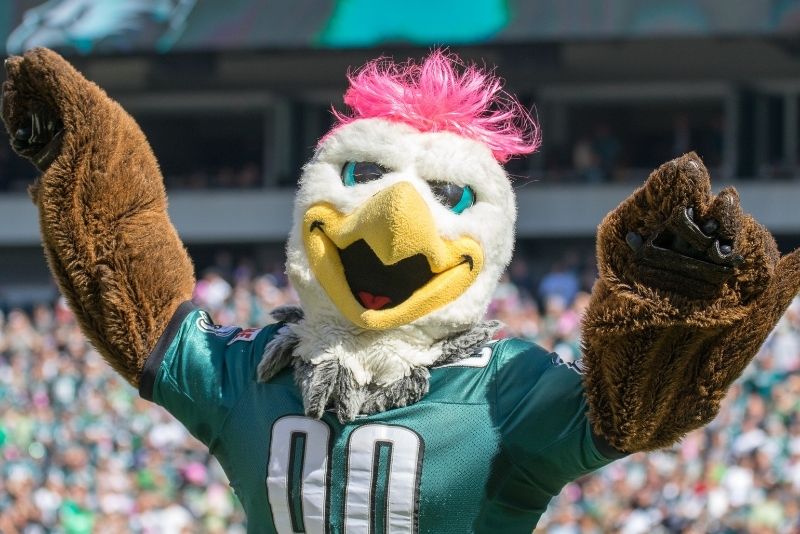 Home of the celebrated Philadelphia Eagles, Lincoln Financial Field is a perfect place to enjoy one of the most popular sports in the country. With over 20 different food and drink options, you won't go hungry if the game goes into overtime!
For a next-level experience, visitors can see where their favorite players spend their time by taking a private tour of the field, locker rooms, team tunnel, and interview rooms.
Hot tip: if Eagles ticket prices are sky-high, consider watching the Temple Owls football team of Temple University instead — the atmosphere is just as wild.
5 – Learn something new at the African American Museum in Philadelphia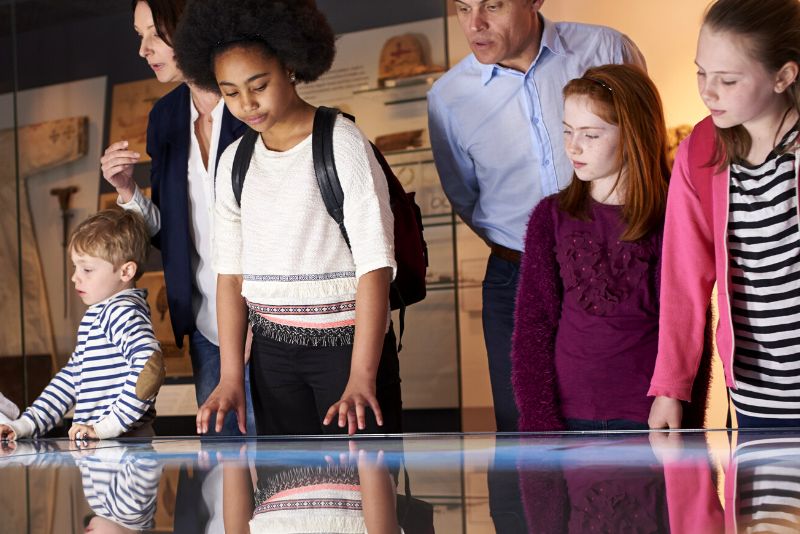 Celebrate the life, work and art of the country's African Americans throughout the decades at the African American Museum in Philadelphia.
Informative, educational and an eye-opener for all travelers; find inspiration in the galleries where the walls are lined with art, and other exhibition rooms explore past history and present culture with interactive displays.
Apart from the exhibits that change regularly, the museum holds a permanent collection comprising photographs, documents, sports memorabilia, artifacts and other items of 'African Americans and people of the African Diaspora.'
Focal points shine a light on important movements and moments in history, from civil rights organizations to protest marches.
One of the most popular features is the Jack T. Franklin Collection, containing more than 500,000 photographs and negatives shot by the famous photojournalist.
Sponsored placement
Experience exhilarating entertainment at Fabrika Philly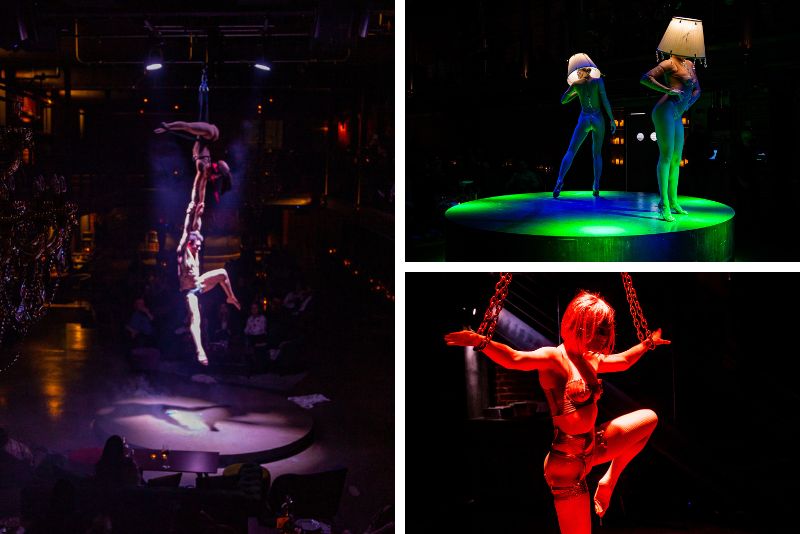 Need a break from winter monotony? Savor a meal or some global-inspired tapas while enjoying cabaret, acrobatics, comedy, and more in this unconventional restaurant-slash club.
Reserve your tickets today for the best of burlesque, daytime acrobatics, or even a raucous Sunday drag brunch to boost your mood.
Fabrika means factory in multiple languages, and this former factory location is now the home of a unique, luxurious dinner theater in the heart of Fishtown. They've got something for everyone, so don't miss it!
6 – Tour the city on a segway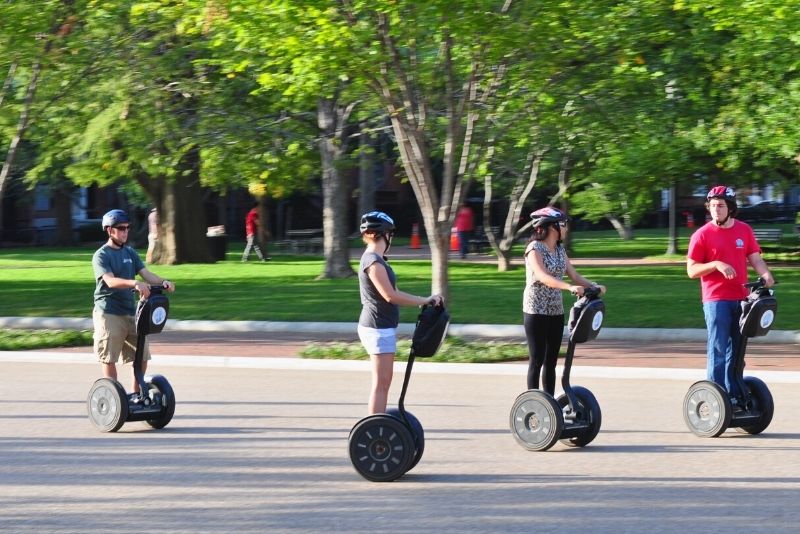 Forget walking; Hop on that famous precursor to hoverboards and zip around a 5-to-10-mile loop of Philly's famous Center City neighborhood!
Guided segway tours take you to historic locations like Society Hill, Penn's Landing, and Independence Hall, with plenty to be learned from the story-spilling guide along the way.
Just make sure to wear flat, closed-toed shoes.
7 – See a ball game at Citizens Bank Park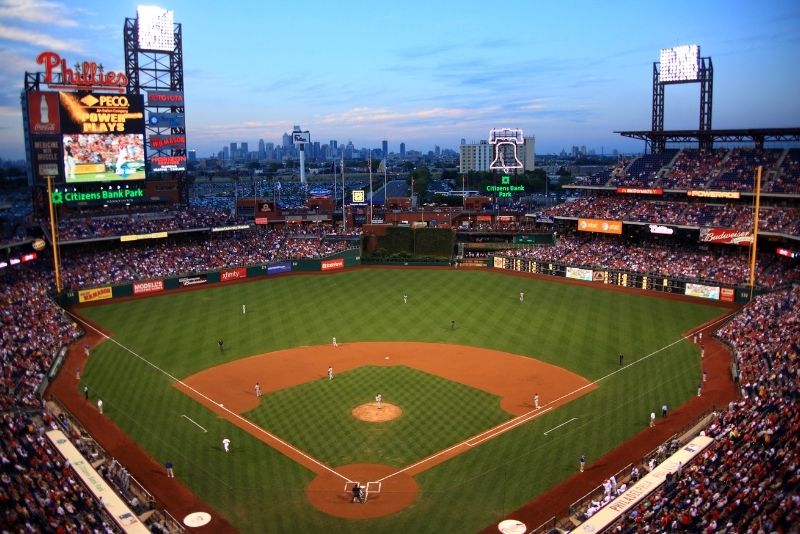 At this point, it's plain to see just how much there is to do in Philadelphia. However, if you have a chance, don't miss a baseball game at Citizens Bank Park.
With a stunning view of the skyline, a Kid's Corner with games and activities, the luxury Diamond Club, and photo ops with World Series trophies and the Phillies Wall of Fame, this is a 43,500-seat ballpark stadium you don't want to pass up!
And, of course, the atmosphere at a Phillies' game is nothing short of electric.
8 – Explore the path less trodden: South Philly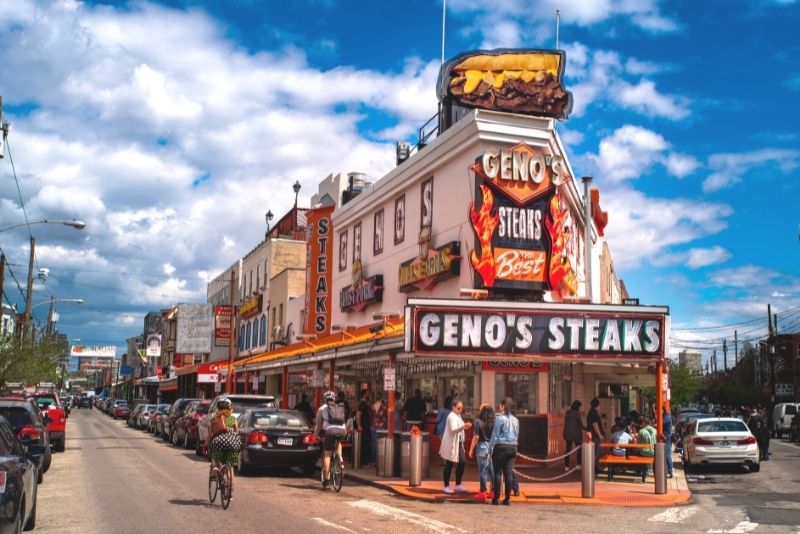 Take a break from all the powdered wigs and buckled shoes; head off the beaten track and experience South Philadelphia instead!
Marvel at the iconic mosaic folk art that fills the famous Magic Gardens; check out the buzzing social scene of South Street; grab a cheesesteak at the Italian Market, or stop into the endless list of merchants, restaurants, and bars.
As you'll discover, South Philly is booming with cultural diversity.
9 – Step into a world of enchantment: The Cauldron Philly's potion making experience!
Are you ready for a magical experience that will transport you back to your childhood? Look no further than The Cauldron Philly's!
With the help of your very own technology-filled wand, you'll learn the art of molecular mixology and even cast a pouring spell to receive a welcome drink from a mystical creature. And the fun doesn't stop there – you'll also get to brew two molecular cocktails with unique properties at your interactive work station.
So whether you're a diehard Harry Potter fan or just looking for a quirky and unique experience, The Cauldron Philly's Potion Making class has got you covered. Book your spot now and get ready to unleash your inner wizard!
Sponsored placement
Experience a live concert by candlelight in Philadelphia
Catch live performances on piano, violin and cello of classical music and tributes to your favorite modern bands and musicians, like Stevie Wonder, U2 and Radiohead. Candlelight concerts take place in scenic venues across the city that don't typically host concerts and events for an unforgettable backdrop to live renditions of your favorite tunes.
10 – Take the Kids to Dutch Wonderland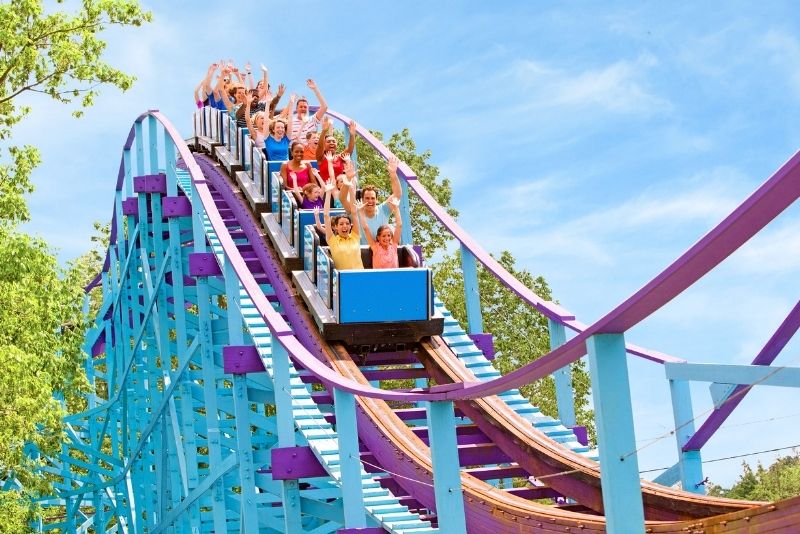 About an hour and a half west of Philly, in the midst of Pennsylvania Dutch Country, you'll find the family-friendly Dutch Wonderland theme park.
Ride the hair-raising Kingdom Coaster, cool off at the water park, or experience life-like dinosaur models on the Prehistoric Path — no matter which slides you tackle, with over 35 rides, attractions, and shows, it's the perfect place to spend the day.
Want to spend an extra day so that you can meet Duke and Merlin before taking a gondola cruise around Exploration Island? Then consider spending the night next door at the iconic Cartoon Network Hotel with all of your favorite characters!
11 – Ride the hop-on-hop-off bus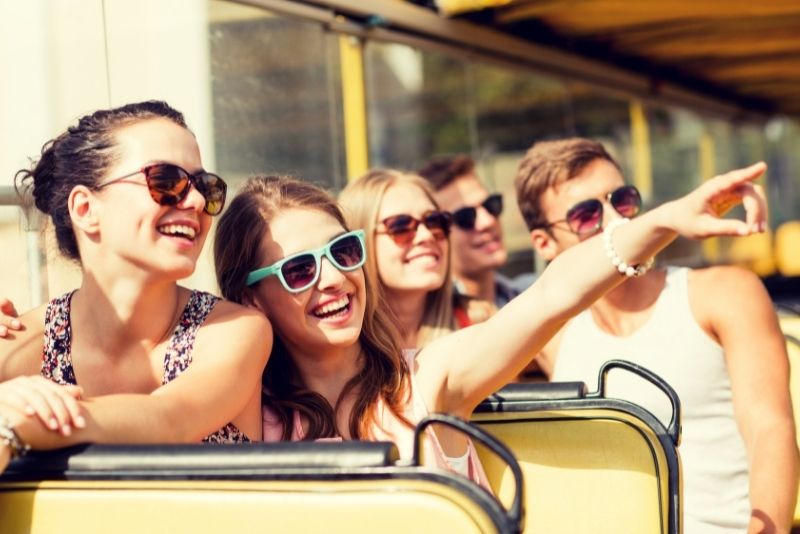 A convenient way to see the whole city without worrying about parking; a one, two, or three-day pass will allow you to hop on or off a fleet of double-decker busses that skirt between all the top-rated Philly attractions.
While cliché, the open-top shuttles are all about flexibility: you can stay onboard and enjoy the audio narration, disembark at any major landmark, enjoy the attraction at your leisure, and hop back on the next bus!
12 – Dive Into the Adventure Aquarium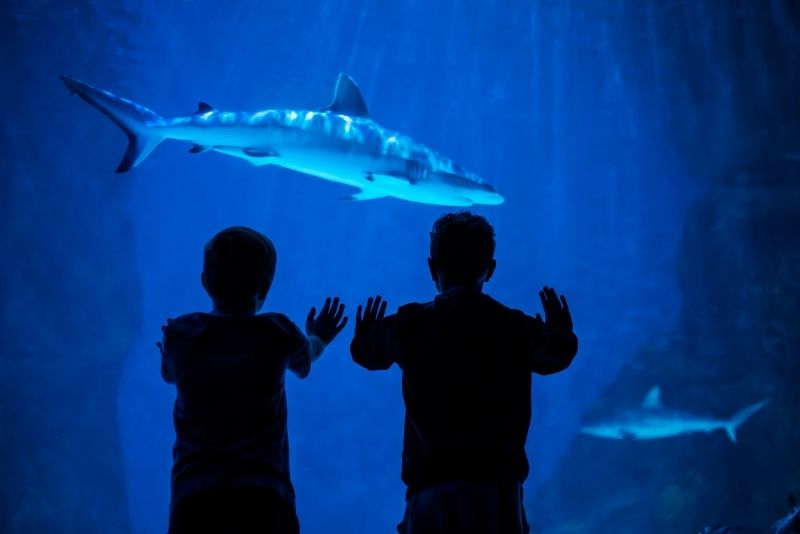 A quick hop over the Delaware River (ten minutes from midtown Philly by car) brings you to Camden, New Jersey, home of the highly-regarded Adventure Aquarium.
Voted a top ten aquarium by USA Today, this place boasts 15,000 aquatic animals, including the largest collection of sharks in the Northeast!
13 – Enjoy an Authentic Philly Cheese Steak at the Italian Market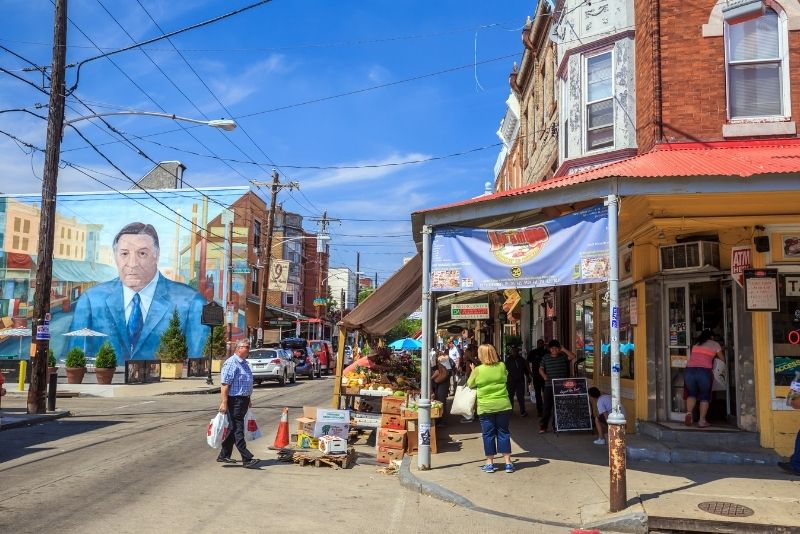 The iconic 9th Street Italian Market quickly gained widespread fame when it was featured in 'Rocky', but it's been iconic among locals for decades.
A must-visit for foodies, the market dishes up local farm fare, cheeses, chocolates, baked goods, and plenty more.
If you're looking to feast on the city's signature sandwich, mark our words: do it here.
14 – Celebrate American heroes at the National Liberty Museum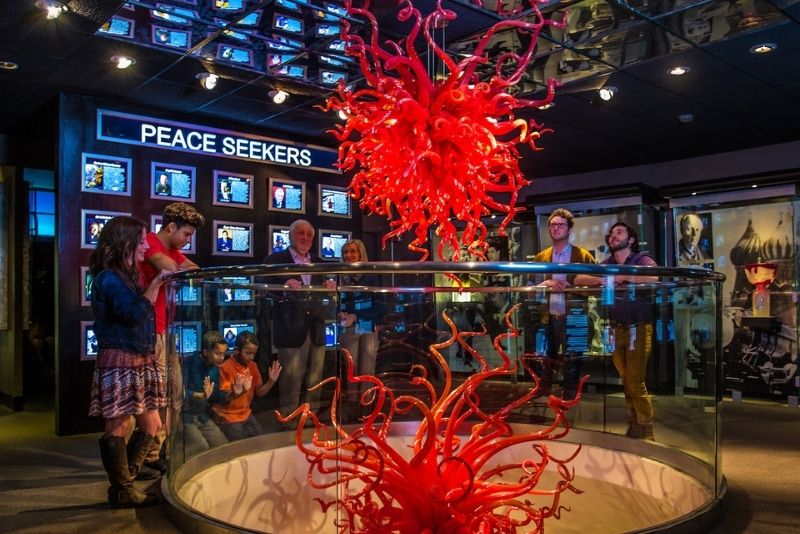 Honoring those who have stood up for the concept of "Liberty and Justice For All", from Martin Luther King, Jr. to Malala Yousafzai and everyone in between, this 30,000-square museum is regarded as one of the essential things to do in Philadelphia.
The enlightening exhibits at the National Liberty Museum sprawl out over four floors and six galleries, guaranteed to leave you with a feeling of respect and empowerment.
15 – Ride the Carousel at Franklin Square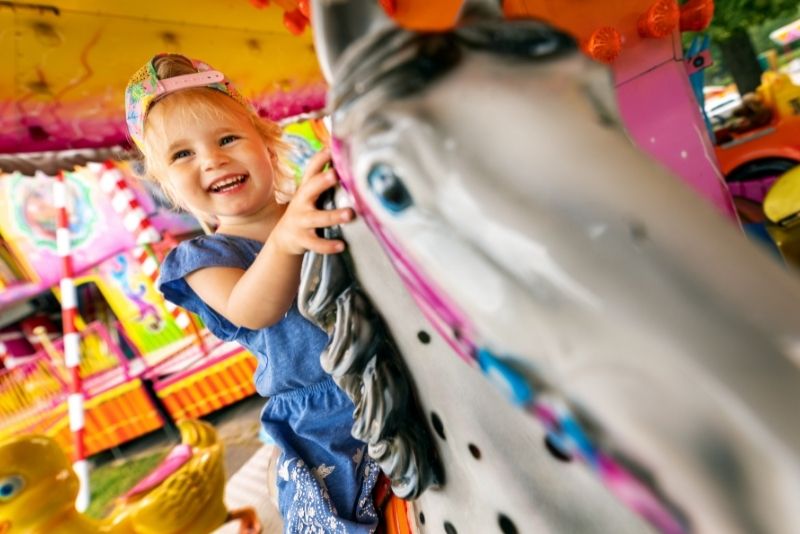 Besides being one of the oldest town squares in Philadelphia, Franklin Square is also a hub for family fun!
Located near Chinatown, the green space features the famous Franklin Square Fountain, (the oldest refurbished and functioning public water fountain in the United States), Here, the Parx Liberty Carousel, Philly Mini Golf, and the renowned Squareburger eatery.
16 – Fly over fabulous Philly in a helicopter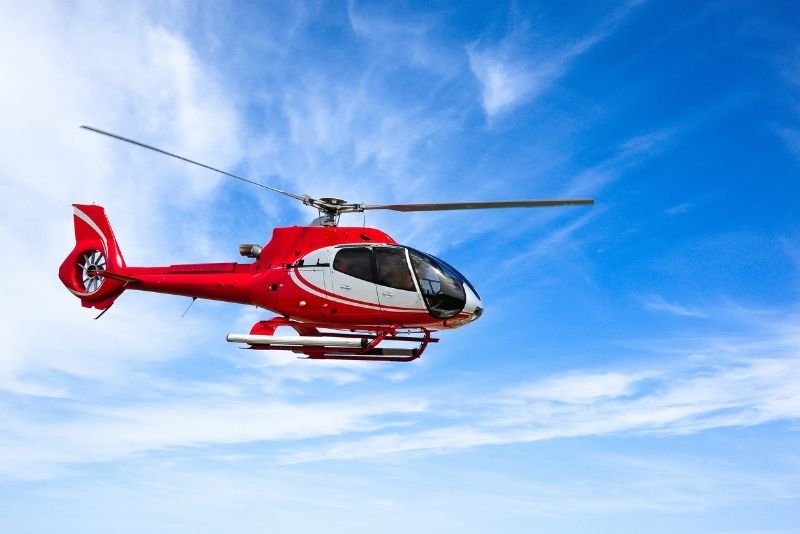 Experience the Philadelphia skyline like never before in your own private helicopter tour above the city!
For 30 minutes to an hour (depending on your flight of choice), you'll soar over the city and enjoy breathtaking views of the Delaware River and all of Philly's historic landmarks.
Romantics, take note: majestic sunset tours are also available.
17 – Board the warships at the Independence Seaport Museum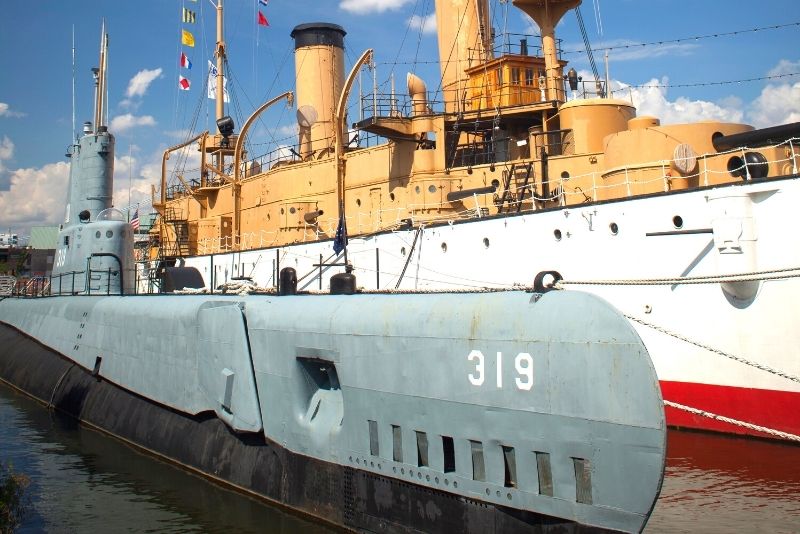 Found at the famous Penn's Landing, Independence Seaport Museum celebrates Philly's maritime history and boasts not one but two National Historic Landmark warships: Cruiser Olympia and Submarine Becuna.
With working ladders, hatches, and gangways, and a host of exhibits, galleries, and historical artifacts, visitors of all ages will have a blast!
18 – Have fun at Sesame Place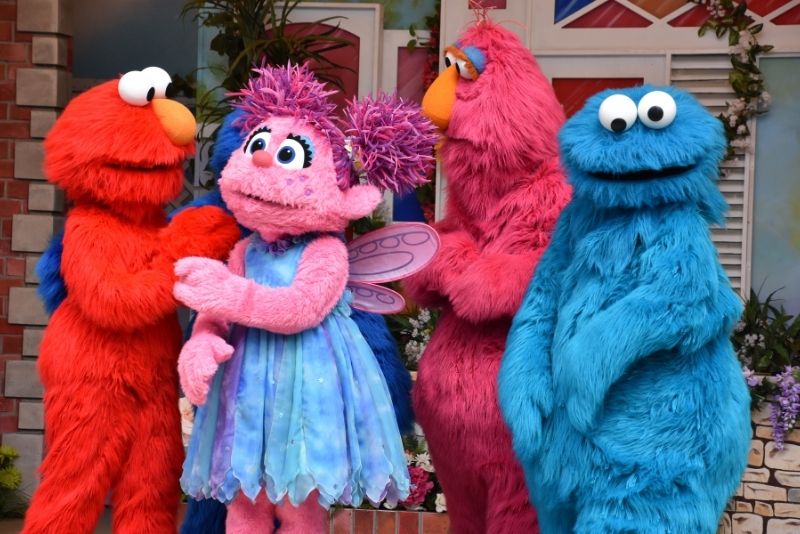 Where your favorite childhood show comes to life, Sesame Place is the perfect spot to bring the kids, with plenty of family-friendly rides and water attractions to keep them occupied all day long.
As officially the only theme park in the country dedicated to the award-winning television show, there's no better place to take a seat and watch Big Bird, Bert and Ernie come to life!
While you can simply rock up, major savings are found if you book online in advance.
19 – Explore the Grounds For Sculpture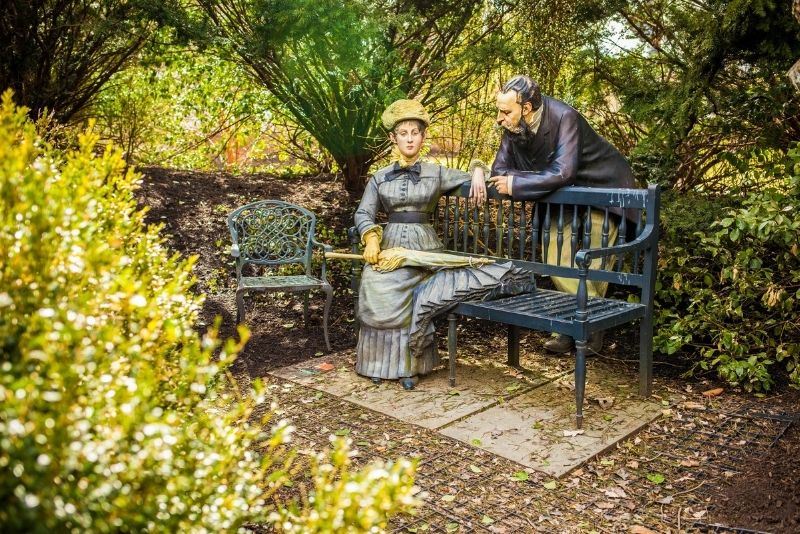 Located midway between Philly and the Big Apple near Trenton, NJ, this 42-acre sculpture park is home to some of the most beautiful gardens in the area — take a stroll on any sunny day for picturesque views or stop by the indoor galleries to cool off.
With more than 270 contemporary sculptures on display and a near endless list of shopping and dining options nearby, this non-for-profit is a wonderful day trip option.
20 – Relax at a spa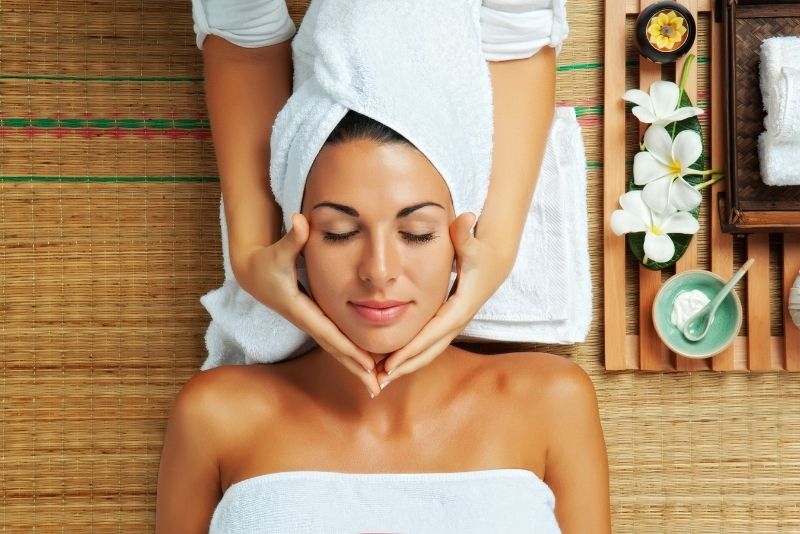 After a long day of traveling, or exploring the ins and outs of this quaint city, treat yourself to a few hours (or the day) at one of Philadelphia's top spas.
Living up to its five-star expectations in every way, the Spa at Four Seasons Hotel Philadelphia is one of the best in town … its walls are encased with over 300 kilograms of healing crystals!
With views to die over on the 57th floor, choose one of their luxury treatments, and their Night Spa experience is magical!
Another award winner is The Underground Spa & Wellness offering incredible massages like The CBD Quartet and the Alpine Arnica Deep Tissue Massage, as well as skincare and body treatments from facials to scrubs.
Offering premium treatments for men and women, The Rittenhouse Spa has a range of body rituals, spa services and skincare therapies to choose from, like reiki, warm bamboo massages, reflexology or a 'Creamy Coconut Body Glow' treatment.
Richel D'Ambra Spa + Salon is another high-end achiever, loved for its range of traditional and specialty massages, skincare concierge and HydraFacials.
Arriving at Victoria Roggio Beauty, appreciate the upmarket, classy interiors and inviting atmosphere before getting ready for a therapeutic massage (from Swedish to prenatal), full body exfoliation treatment, acupuncture or one of their hyper-customized facials.
21 – Jog up the Rocky Steps on a movie locations tour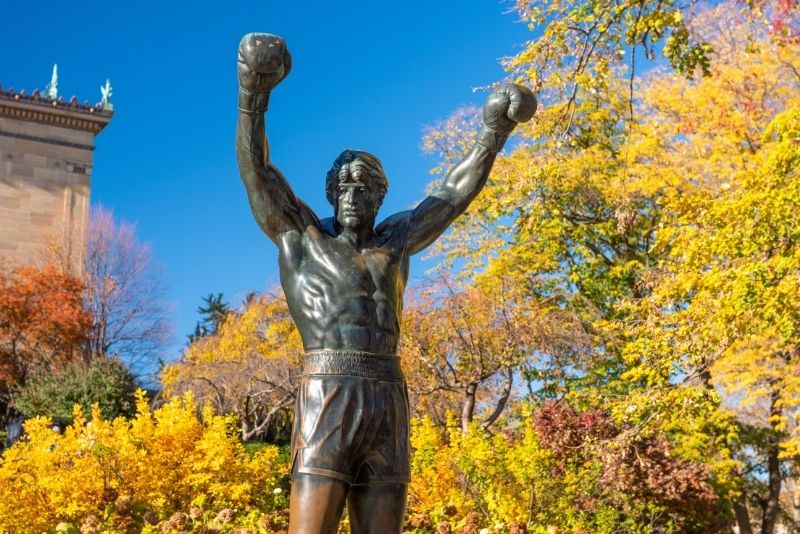 One for the diehard movie buffs, Philly offers guided tours of shooting locations from the famous 1976 film (and its sequels) that made Silvester Stallone a household name.
Typically lasting half the day, locally-led tours take you to Mick's Boxing Gym, Adriene's pet store, the Italian Market, and more — and, of course, you'll get the opportunity to run up the steps of the Philadelphia Museum of Art!
22 – Bring the kids to Garden State Discovery Museum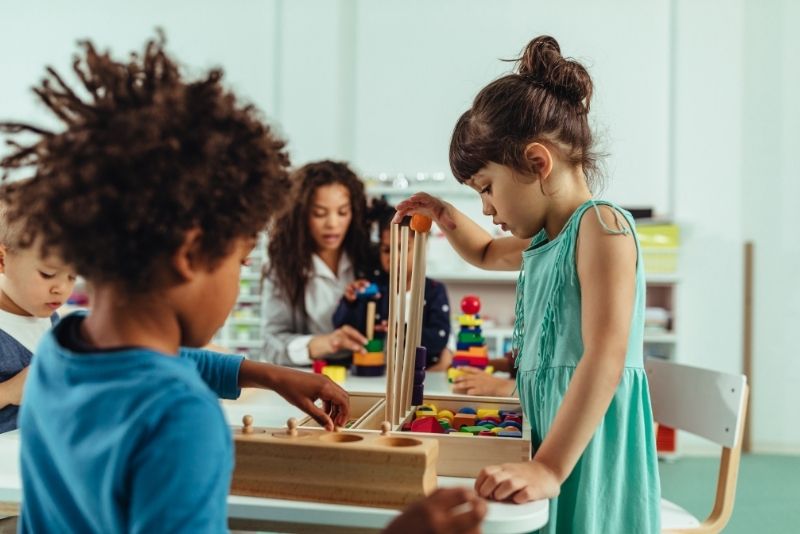 An excitement-filled interactive museum designed for youngsters up to ten years old, the Garden State Discovery Museum gives kids the chance to learn about science, partake in some (probably messy) arts and crafts, or play make-believe as chefs, TV anchors, or scientists!
Take note: the Garden State Discovery Museum is temporarily closed, so be sure to check the website before visiting to avoid disappointment.
23 – Spend an afternoon horseback riding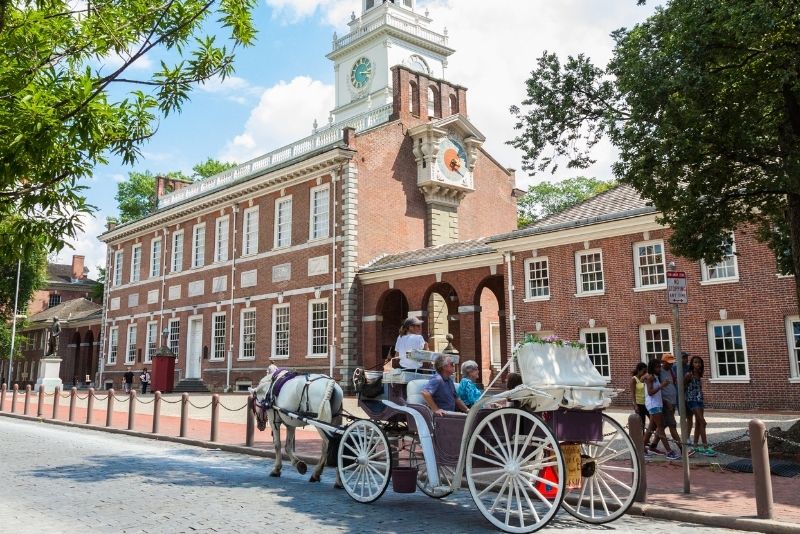 If you need a break from the city and its thralls of selfie stick-wielding tourists, why not take a horse riding lesson? A great way to get outdoors and learn a new skill, you can even amp it up with mounted archery lessons!
Or, if riding isn't your thing, take a horse-drawn carriage through the picture-perfect old city to see the enchanting Independence National Historic Park and Society Hill.
24 – Conquer the coasters at Six Flags Great Adventure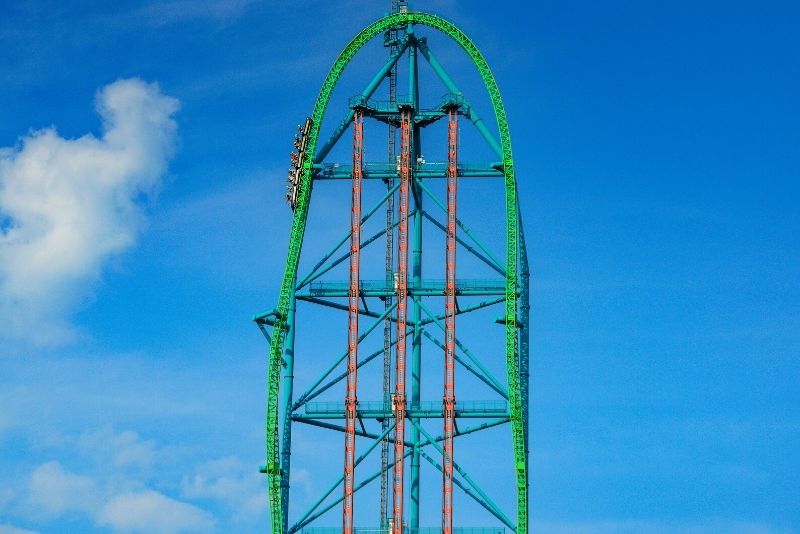 From Xpedition Dino to 14 intense roller coasters, this New Jersey park guarantees a day full of hair-raising fun.
Its pride and joy, the tallest coaster in the world and fastest roller coaster in North America, Kingda Ka dares thrill seekers from near and far.
Not satisfied yet? Nitro will launch you to speeds of up to 80 mph for more than two minutes. As you can see, it's an adrenaline junkie's paradise.
25 – See the dinosaurs at the Academy of Natural Science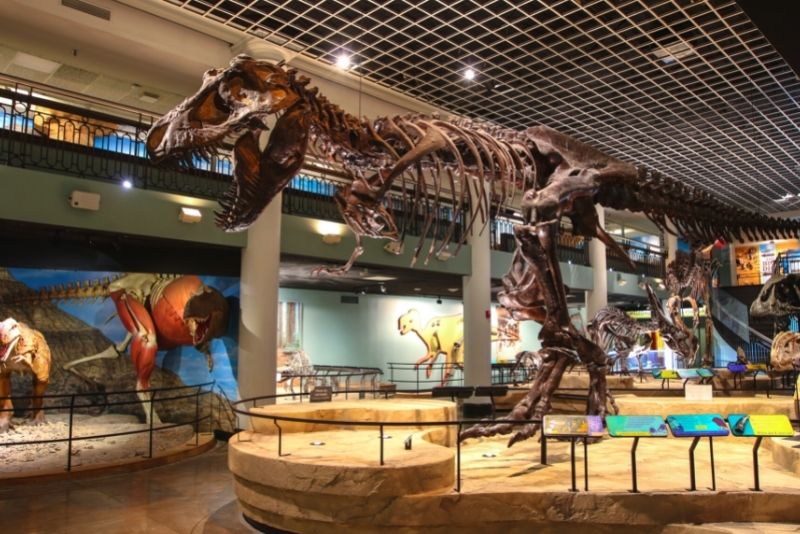 Founded in 1812, the Academy of Natural Science wields the coveted title as the oldest research institution in the US — over its tenure it's managed to collect some 18 million specimens and real dinosaur skeletons (including some work by Thomas Jefferson)!
If traveling with kids, be sure to take a walk through the tropical butterfly garden and try digging up fossils at the children's discovery center.
26 – Eat like a local on a food tour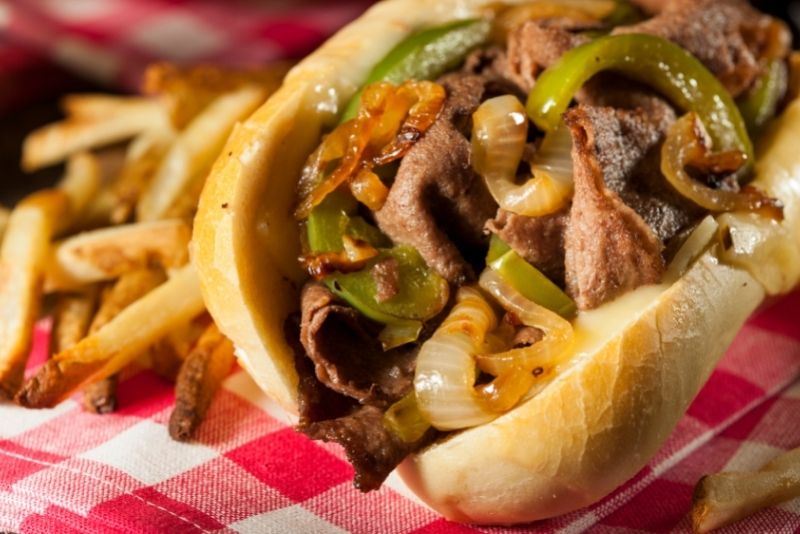 Hungry? Lucky for you, Philadephia is home to some majorly iconic grub — and you can sample all the very best treats (from Philly Cheesesteak to tomato pie, and soft pretzels) on a dedicated foodie tour!
With tours stopping at hidden gems, famous local haunts, the quaint East Passyunk neighborhood, and food trucks on UPenn's gorgeous campus, there's a bite for every palate.
27 – Experience Amish Country on a day trip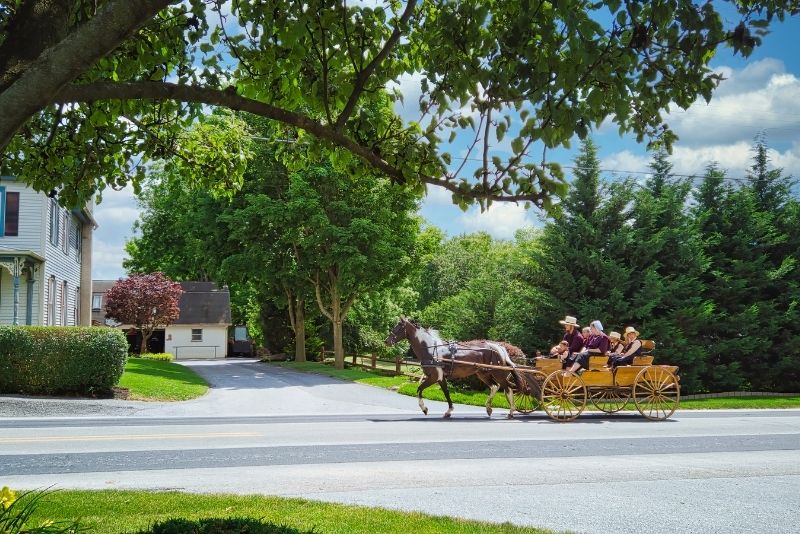 The city is great, sure, but sometimes you simply need an escape from the hustle and bustle. Enter: Amish Country!
A stark contrast from the typical Philly vibe, Amish culture is best experienced on horse-drawn carriage, giving an authentic insight into the lifestyle, traditional markets, and handmade goods.
On your way out of town with any of these tours, you might as well make a couple of pit stops to see the Liberty Bell and run up the famous Rocky Steps.
28 – Find inspiration at the Philadelphia Museum of Art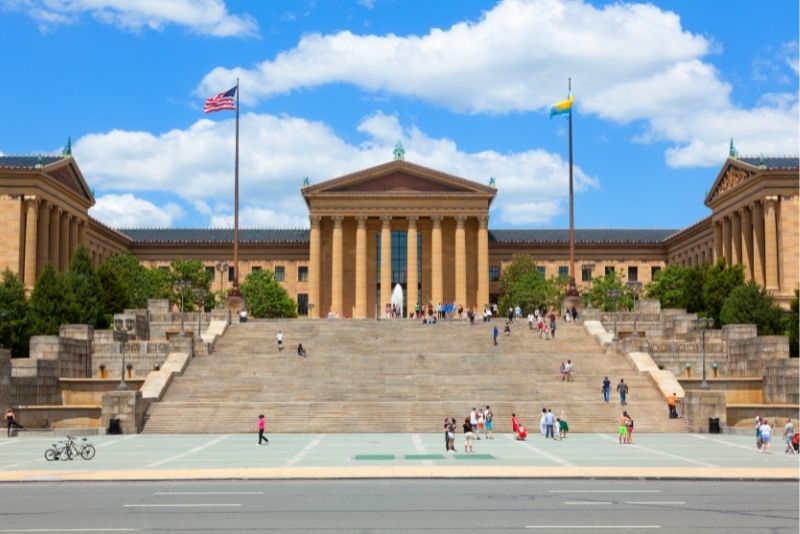 If you're looking for the ultimate place to eat, drink, and shop, go see the museum that's dubbed the "cultural heart" of Philly. With over 200 displays filled with the most remarkable collection in the country, PMA is the one-stop-shop to immerse yourself in American, Asian, and European art.
For the penny-pinchers, visitors 18 and younger are free, and there are also kid-friendly educational programs available.
29 – Try the Dragster Racing Experience at Maple Grove Raceway Reading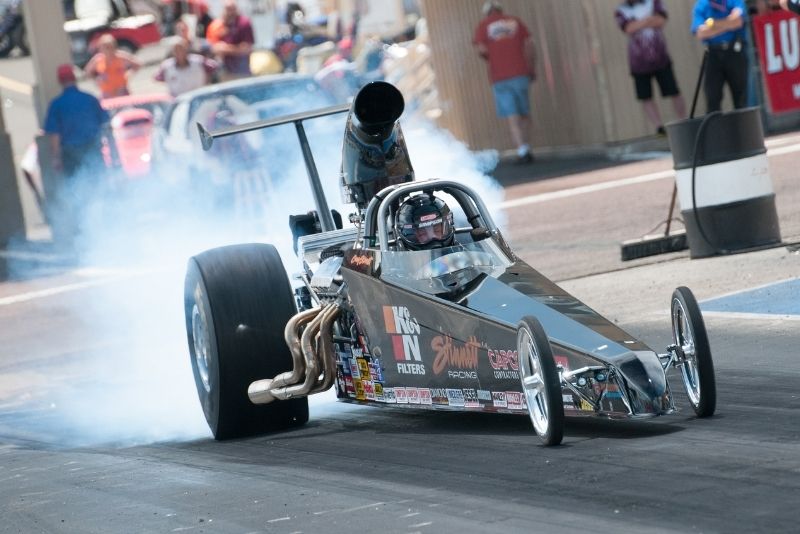 Thrill-seekers, listen up! A drag racing school that has been open for three decades and has world champion instructors speaks for itself.
At this high-octane experience, gearheads can get behind the wheel of an 800 horsepower dragster and race to their heart's content on one of three possible courses at Maple Grove Raceway Reading.
It's the perfect gift for dad, husband, or car-enthusiast boyfriend! Make sure to check out the event calendar if you wish to watch the pros racing.
30 – Inspire your creativity at Philadelphia's Magic Gardens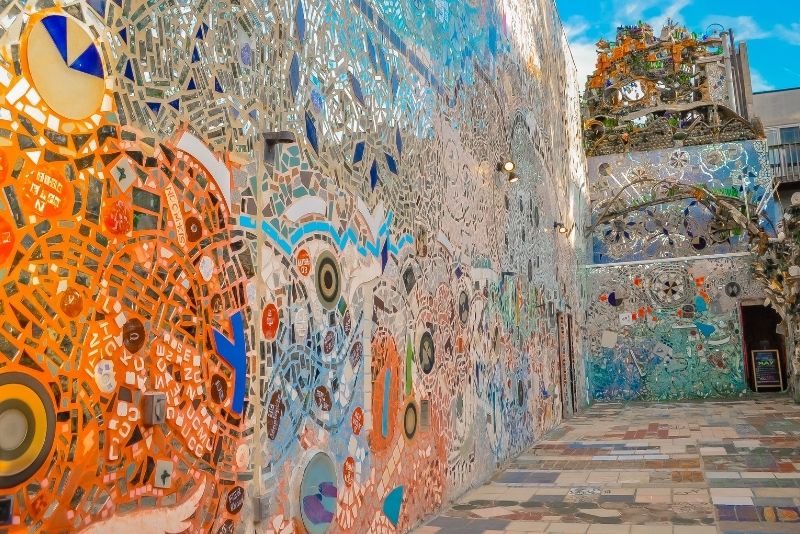 This hypnotic part of town came to be in the 1960s after the "South Street Renaissance" – a single artist movement to beautify the area.
Despite pushback, the community came together to keep this artistic masterpiece alive, and it's been attracting impressed travelers ever since.
Made out of old tiles, glass bottles, bike tires, and mirrors of all shapes and sizes, this enchanting mosaic is sure to leave you in awe.
31 – Step back in time at the Betsy Ross House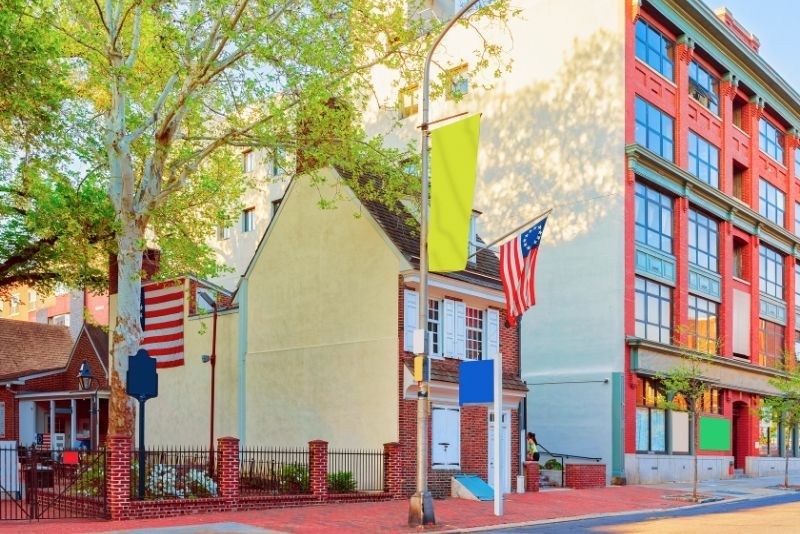 The American Flag sparks patriotism in the hearts of many, from the Revolutionary era to today — little do most realize, it's the brainchild of seamstress Betsy Ross.
Take a historic home tour and learn about the flag, while also having the opportunity to ask an in-character Betsy Ross just how the design came to be.
32 – Get active at Valley Forge Park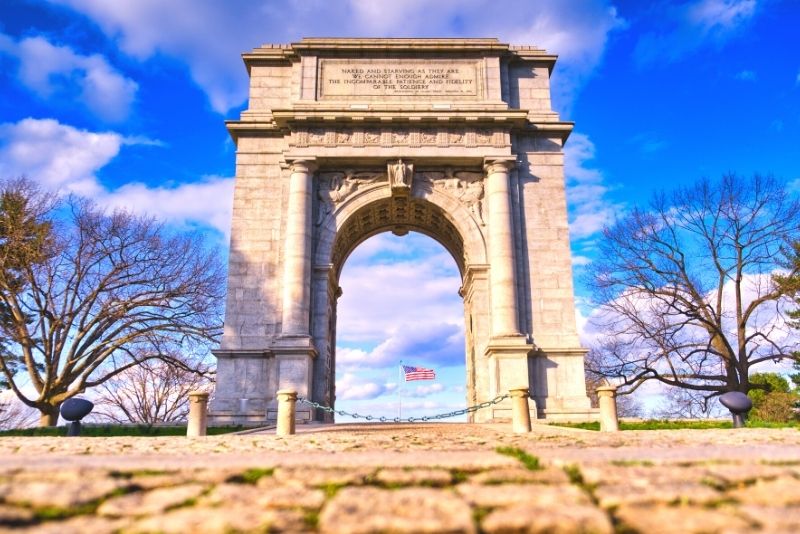 A wonderful blend of open-space greenery and historical significance, Valley Forge Park is the perfect place to go for a jog (to burn off the cheesesteak), learning about its rich history along the way.
The highlight? George Washington's headquarters and camp huts from the 1700s — a step back in time to the peak of America's fight for independence.
If running isn't quite your thing, consider a private tour.
33 – Get messy with the Crayola Experience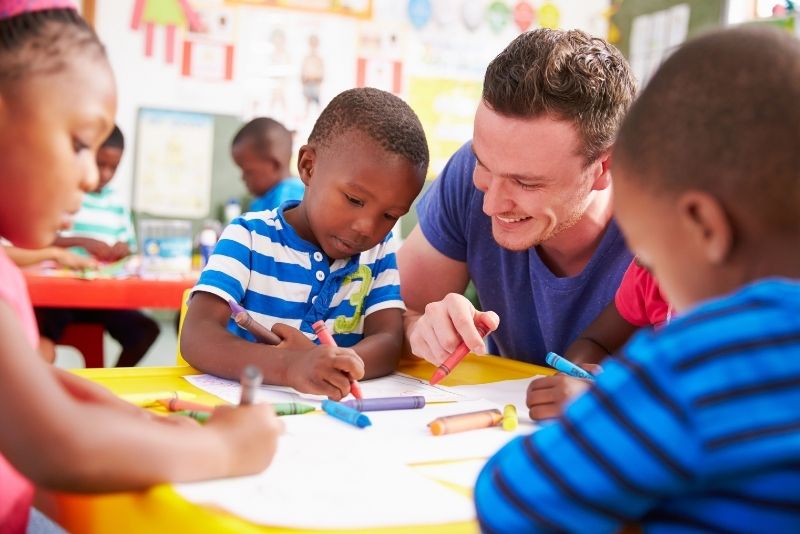 There's no way to be bored in Philly, but if you need something a bit more…colorful, head over to the Crayola Experience, where you can make a mess with some 27 hands-on attractions.
Sure to be a thrill for the kiddos, visitors can even name a crayon and have their faces featured on their very own coloring book page!
34 – Soak in the birds-eye view from an airplane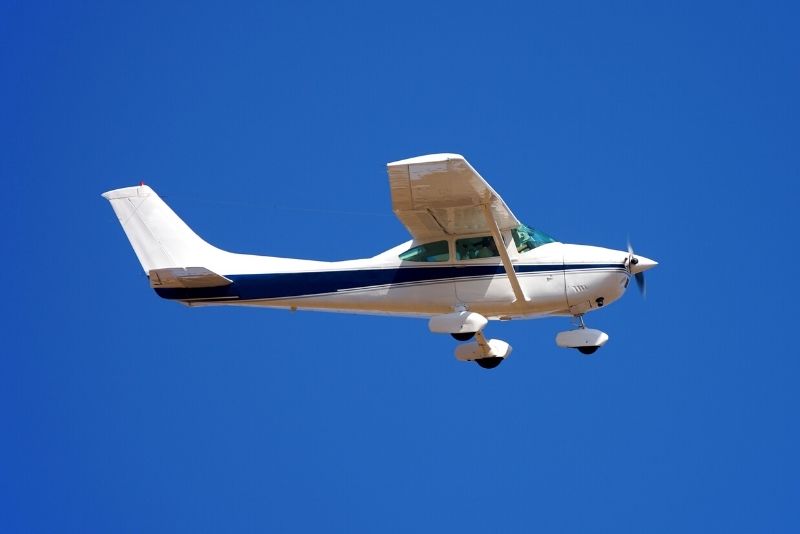 Are you planning a special day and searching for unique ways to pop the question? Fly Legacy Aviation offers superb sightseeing tours around Philadelphia's skyline.
Soar above some of the city's top monuments and must-see sights during a one-hour flight where your plane reaches an elevation of up to 500 meters above the ground — also ideal for photography moments.
Other scenic flights include a Fall Foliage One-Hour Sky Ride in autumn to witness a wave of trees below dancing in shades of burning reds, oranges and yellows, and a 1.5-hour Philadelphia Night Ride where you can marvel at the city's top landmarks when lit up in the evening.
The flying center also offers aviation courses.
35 – See the night sky at Franklin Institute Science Museum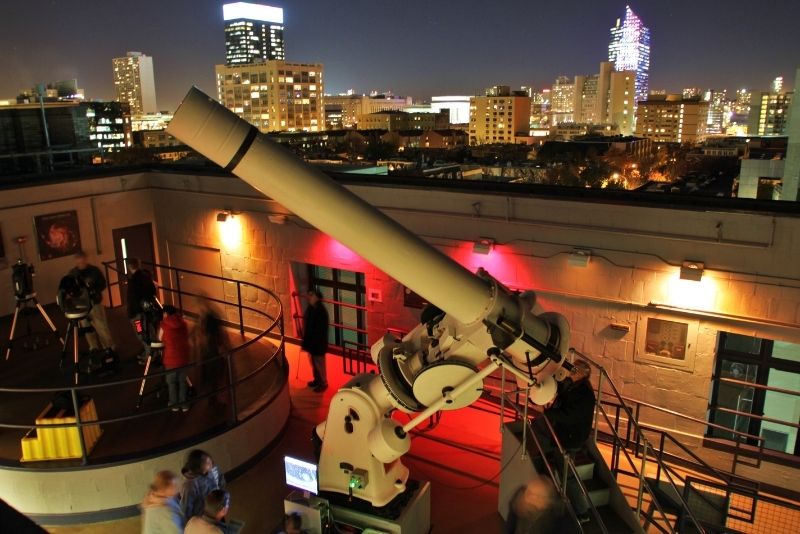 City-living has its perks, but rarely is seeing the night sky one of them. That's why taking a trip to the planetarium at the Franklin Institute Science Museum is an absolute must while in Philadelphia!
Far more than just a deep dive into space, the Museum successfully explores the solar system, human body, Mother Nature, and technology under one roof.
36 – Ditch the knife and fork for an underground donut tour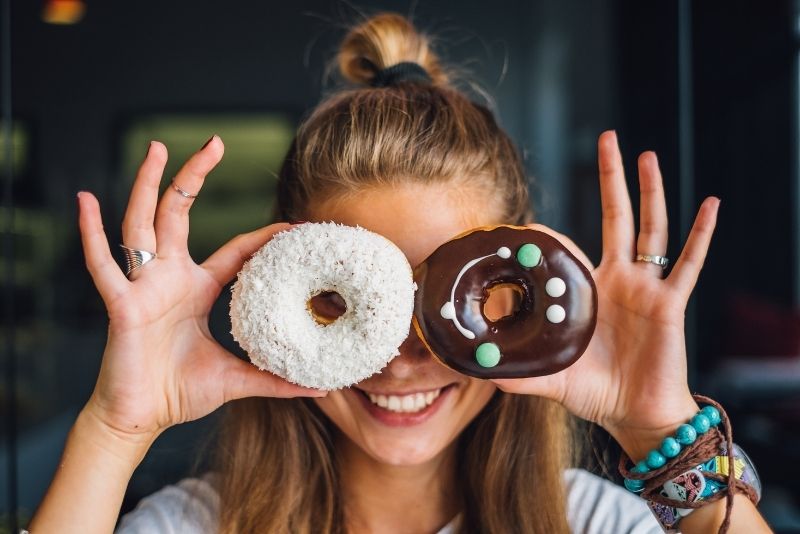 Unleash your inner Homer Simpson and become a donut aficionado with Philly's first donut tour!
Led by a friendly local, you'll visit four of the top local bakeries in two prominent foodie neighborhoods: South Street and the Reading Terminal Market.
Plus, as a walking experience, you get to burn a few calories before diving in (balance, right?). A good way to orient yourself to the area, if you're a sweet tooth, this is one you can't miss!
37 – See the Sphinx at Penn Museum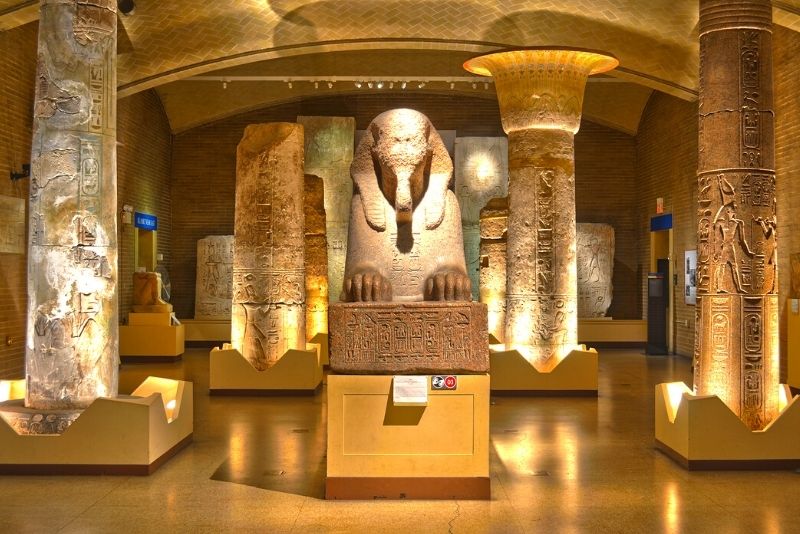 If we told you that you could see a 3000-year-old, 15-ton Egyptian Sphinx, on this side of the world, would you believe us? It just happens to be true when you visit Penn Museum, the largest university museum in the US.
Open since 1887, this museum of archeology and anthropology is home to artifacts from all over the world. It boasts over 10,000 years of history…all in one place!
38 – Test your trivia with a scavenger game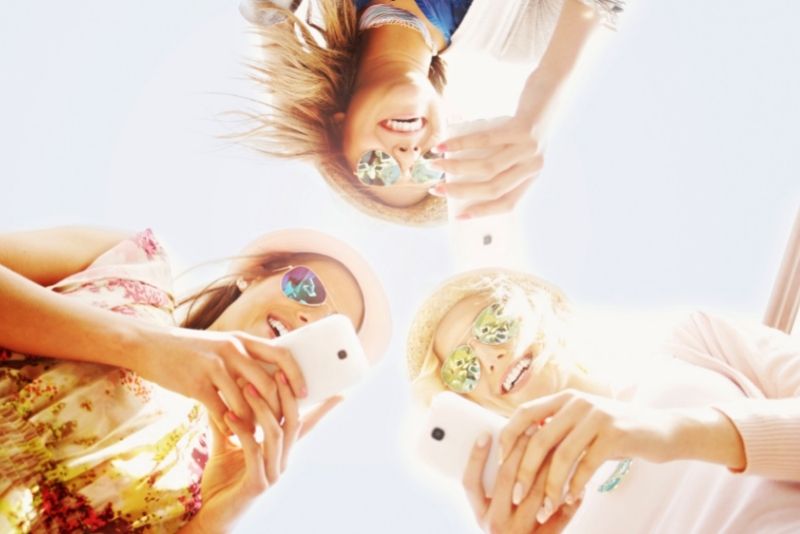 If you're balling on a budget and still looking to see what Philadelphia has to offer, this scavenger game is exactly what the doctor ordered. As long as you have a smartphone and a great pair of walking shoes, you're all set!
With the app as your trusty guide, you'll trek past landmarks and hidden gems, answering trivia and solving riddles along the way.
For Amazing Race fans, it's a no-brainer.
39 – Ditch gravity at iFly indoor skydiving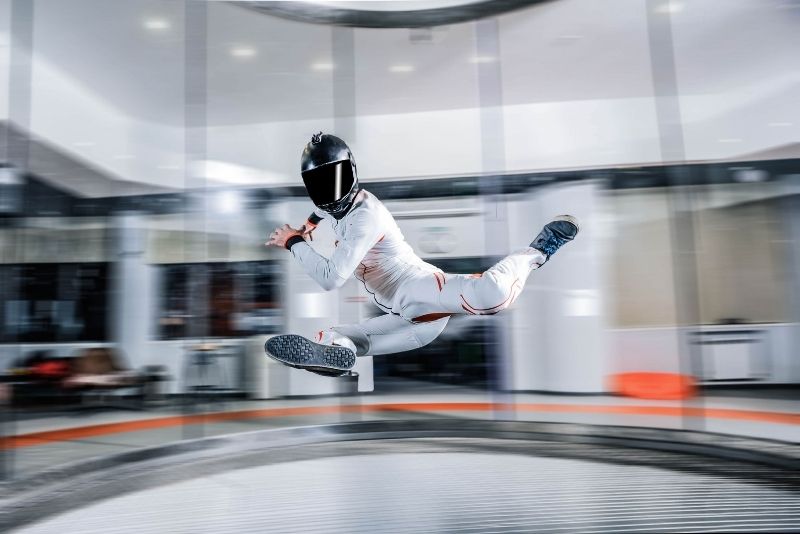 Jumping out of a perfectly good airplane is, well… exhilarating at best, nerve-wracking at worst. So why not get the thrill without the risk at iFly?
With a state-of-the-art flight tunnel, your only mission is to show up, suit up, and lift off!
With a smoother experience than you'd get during an actual gravity-induced free fall, this is a crowd favorite activity among adrenaline junkies!
40 – Get creative at LEGOLAND® Discovery Center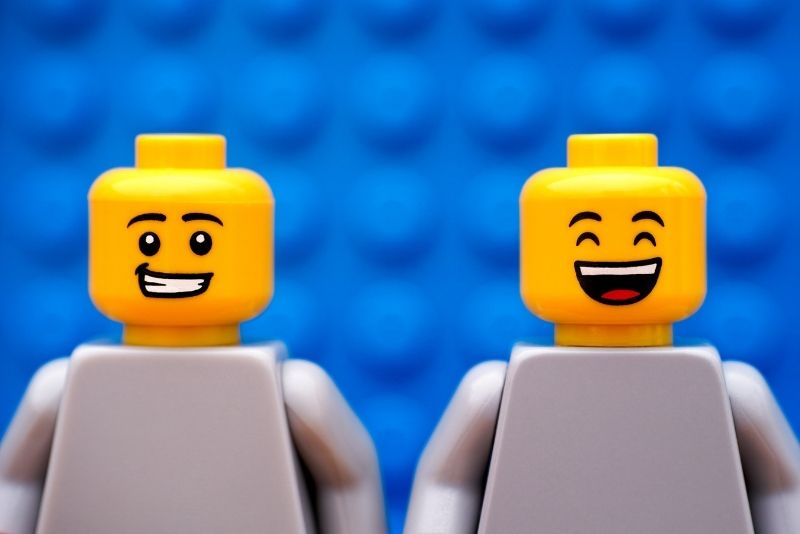 Perfect for kids and adults alike, LEGOLAND® allows guests to build the tallest Lego tower and see if it withstands a sudden earthquake or design a car to race and see who wins!
With creative workshops, interactive games, and a miniature land of Philadelphia's most popular landmarks, this place is a wonderful stop on any rainy day.
41 – Explore the Barnes Foundation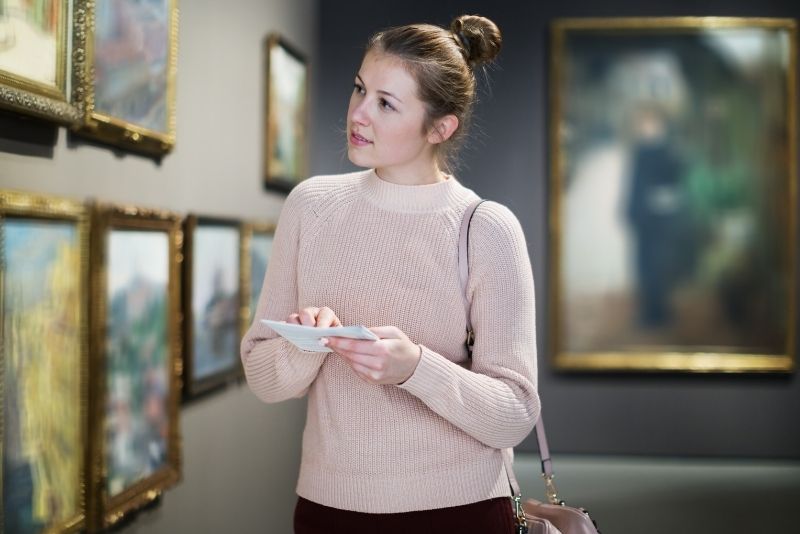 A city full of fine art wouldn't be complete without a collection of the most important impressionist, post-impressionist, and modern paintings.
All of this, alongside African masks, Native American jewelry, and Greek antiques, makes the Barnes Foundation an art-lover's dream.
With tickets starting at $5, there's no excuse not to stop by!
42 –  Take an 'Adults Only' night tour!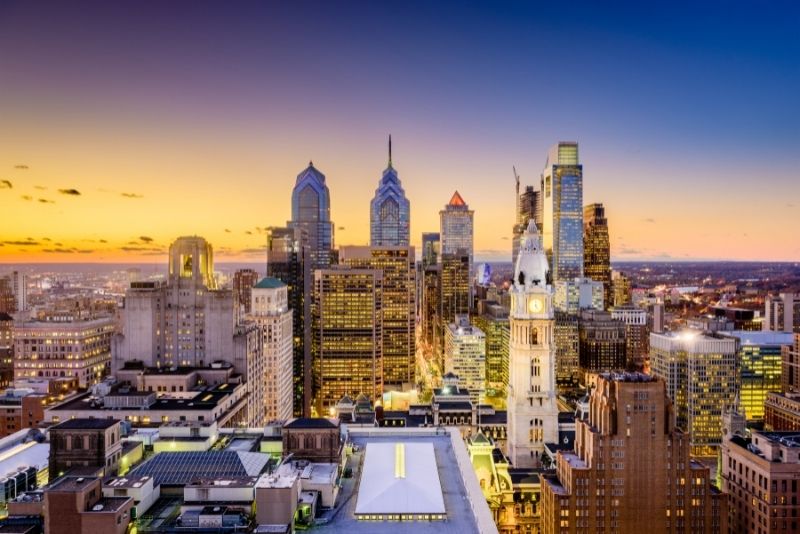 Not suitable for children, this R-rated nighttime adventure explores the darker side of the City of Brotherly Love.
From haunted attractions to spooky stories of torture and executions, and including the sexcapades of the red light district, the tour isn't for the faint of heart but it's certainly one for the bucket list.
43 – Relax at Shofuso Japanese House and Garden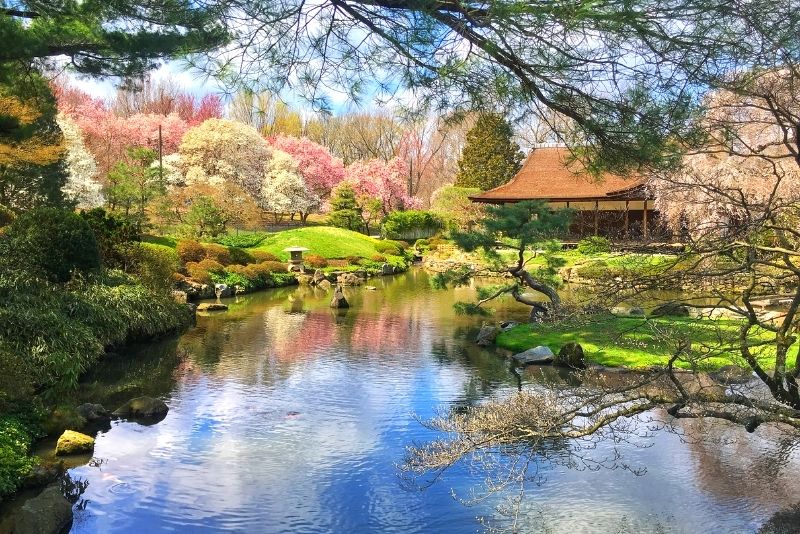 A beautiful and quiet oasis in the middle of a busy city? Nope, that's no mirage, it's the Shofuso Japanese House!
With a traditional architectural style, serene koi ponds, blooming azaleas, and a go-slow mentality, this calming garden in West Fairmount Park is the ideal spot to take a moment to unwind and reset.
44 – Dive into the dark side of the city on a serial killers tour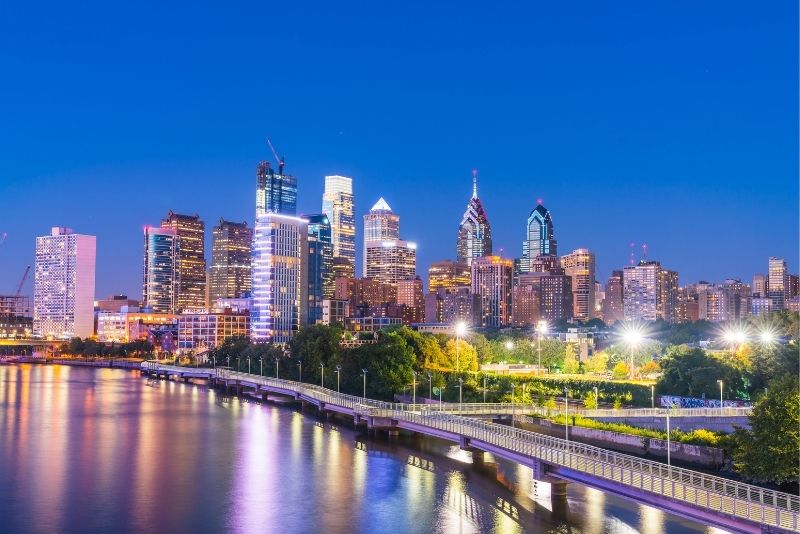 Love those true crime docos on Netflix? Something about the macabre tends to captivate, if not you, then probably someone you know. As far as things to do in Philadelphia go, this may be the spookiest.
A knowledgeable guide will walk you through the history of serial killers and ghost stories that keep you looking over your shoulder — don't worry though, you'll end it with a moonshine tasting to take the edge off.
45 – Stuff your face at the Reading Terminal Market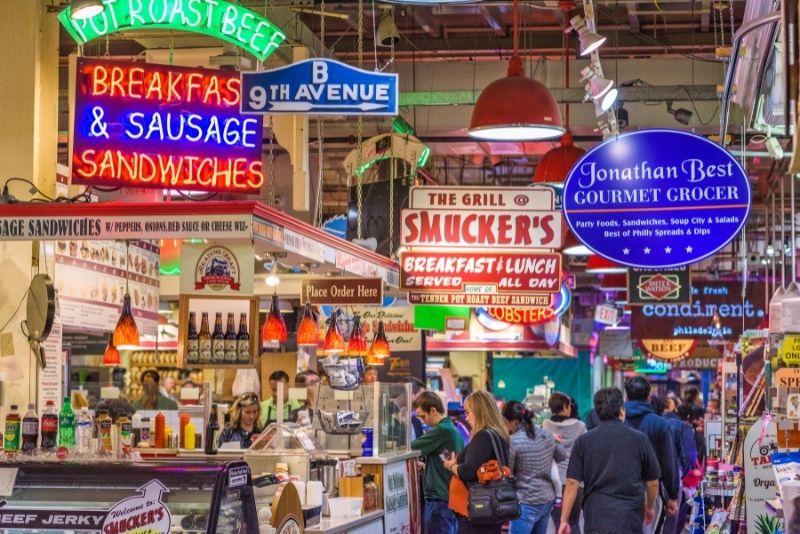 As one of the largest and oldest public markets in the country, the Reading Terminal Market is a Philly haven for locally-grown fruit and veg, baked goods, cheeses, meats, seafood, sweet treats (the list goes on and on), as well as flowers, linens… you see where we're going with this?
It's simple, really: you'll find everything you need at the Reading Terminal Market.
46 – Find inspiration at the Rodin Museum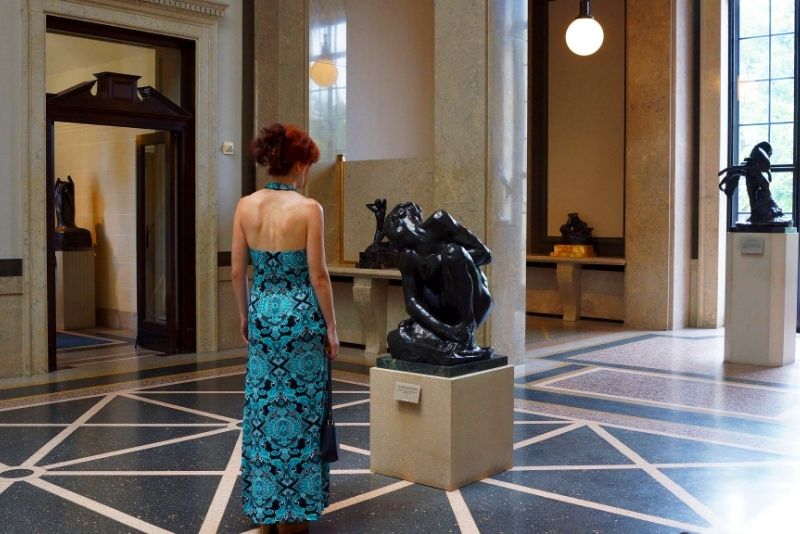 Another nod to the fact that Philadelphia is a major arts hub, if you're a fan of Auguste Rodin, this is the only museum dedicated to him outside of France that demonstrates the breadth of his exemplary work.
Nestled between the Philadelphia Museum of Art and The Free Library of Philadelphia, you can spend hours gazing at the sculptures and appreciating the formal French garden.
47 – Ride the BYOB Historically Hilarious Trolley Tour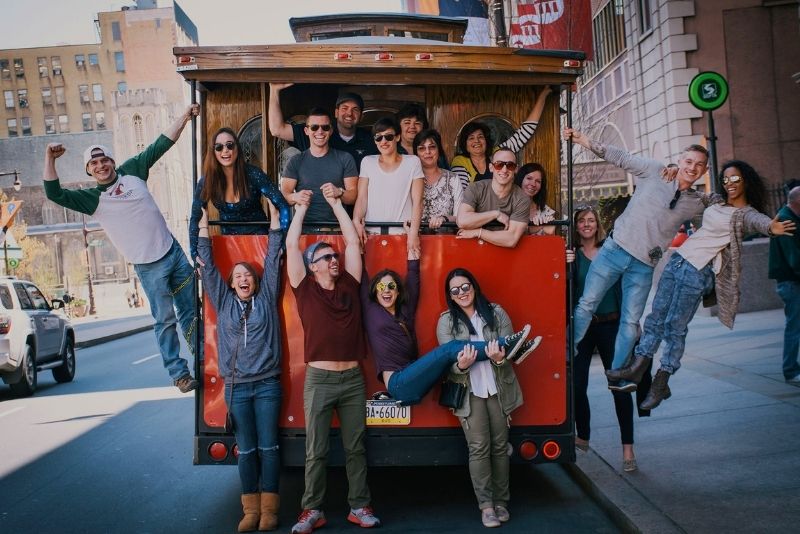 Looking for a good laugh? Look no further than the BYOB Historically Hilarious Trolley Tour.
With beer, or wine, or a Jack and Coke (whatever your drink of choice) in hand, you'll skirt past historic landmarks and learn little-known facts about Philly — the perfect pre-game to any night out in South Street or Kensington.
48 – Take a guided tour of Old City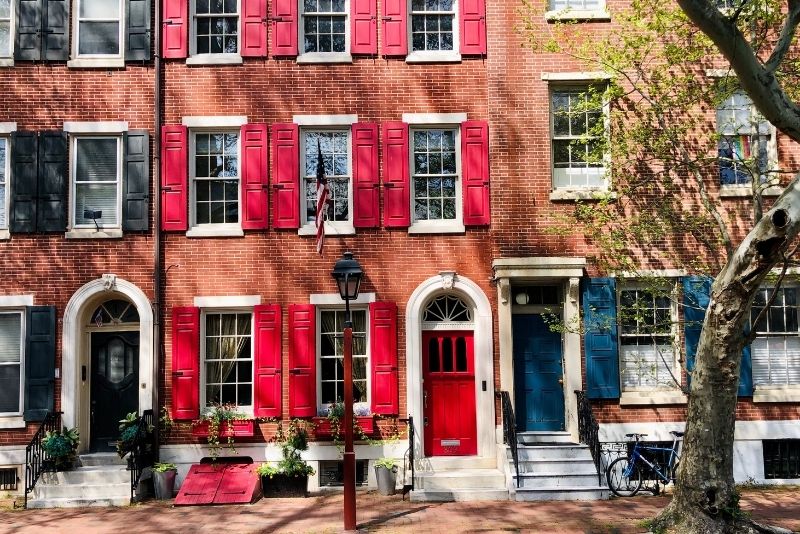 Grand ole Philly has so many historic stories to tell — with that in mind, there's no better way to explore the city's most famous neighborhood than with a friendly, history-loving expert local leading the way.
Affordable walking tours (some of which are free, just leave a tip) stroll past must-see landmarks like the Betsy Ross House and Elfreth's Alley, and also provide a chance to learn about the notable events of years gone by.
For the more adventurous, horse-drawn carriage tours are also available.
49 – Wander the cobbled street of Elfreth's Alley Museum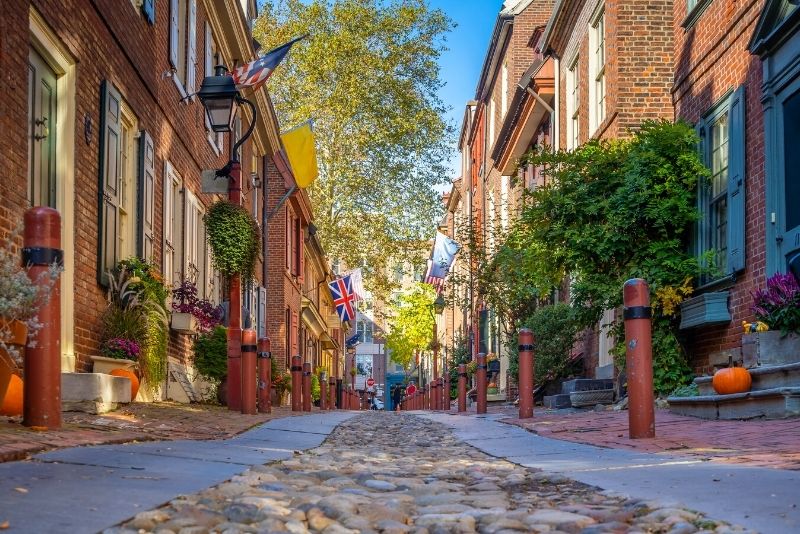 It's no secret there are a ton of museums in Philly, but for a "living museum" experience, you can't miss the oldest residential street in the US: Elfreth's Alley, dating back to 1702!
With Georgian and Federal-style buildings, this cobbled alleyway is home to artists, entrepreneurs, and everything in between! Take a walking tour to get the full lowdown.
50 – Meet the animals at Philadelphia Zoo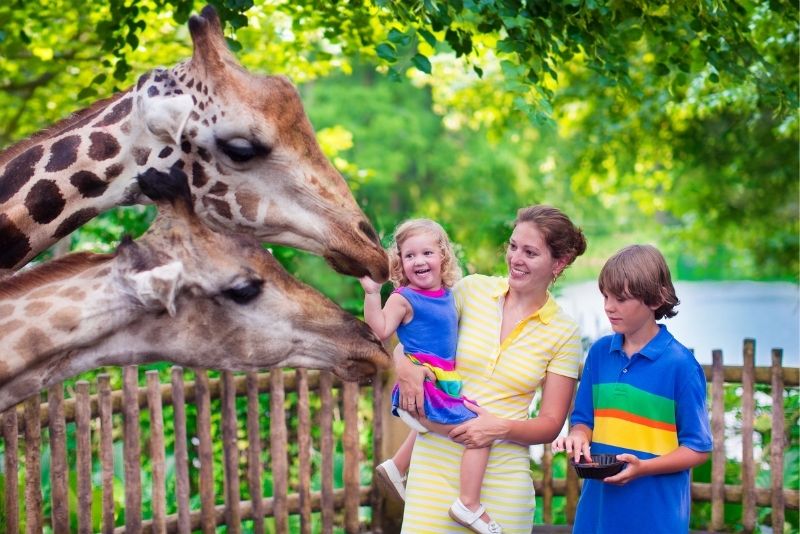 A great day out for kids and adults alike, the esteemed Philadelphia Zoo boasts 24 life-size animated dinos to go along with the hundreds of local and international animals.
Open since 1874, this unique zoo gives animals the chance to roam around safely with its unique 'Zoo 360' system, so don't panic if you see a tiger napping above your head!
51 – Get wild on a pub crawl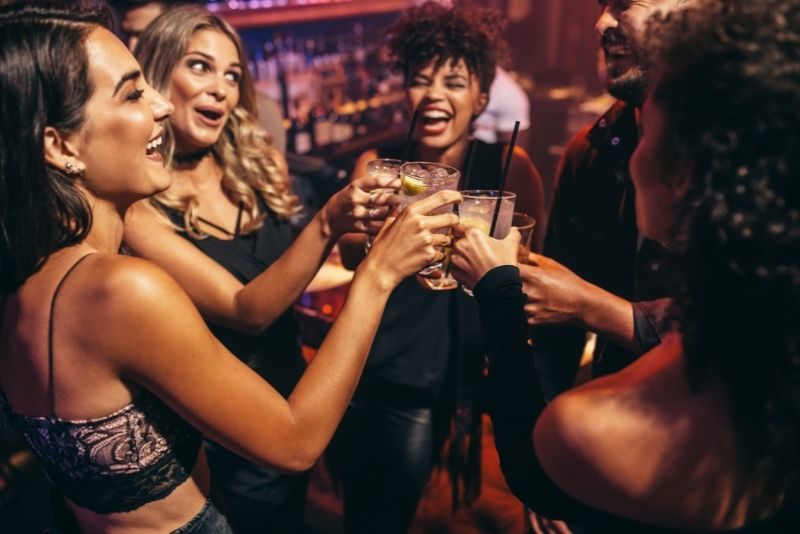 Seriously, is there any better way to fellow travelers in a new city? While Philly offers a range of bar and rub crawls, it's hard to go past the Prohibition-themed walking tour or to the haunted pub hop!
If you opt for Prohibition, see where Al Capone spent his time, along with pirates and bootleggers; on a haunted bar coral, scene-setting guides will take you through old cemeteries and eerie haunted bars, with plenty of drinks included. Either way, you're in for a fun night!
52 – Check out the Simeone Foundation Automotive Museum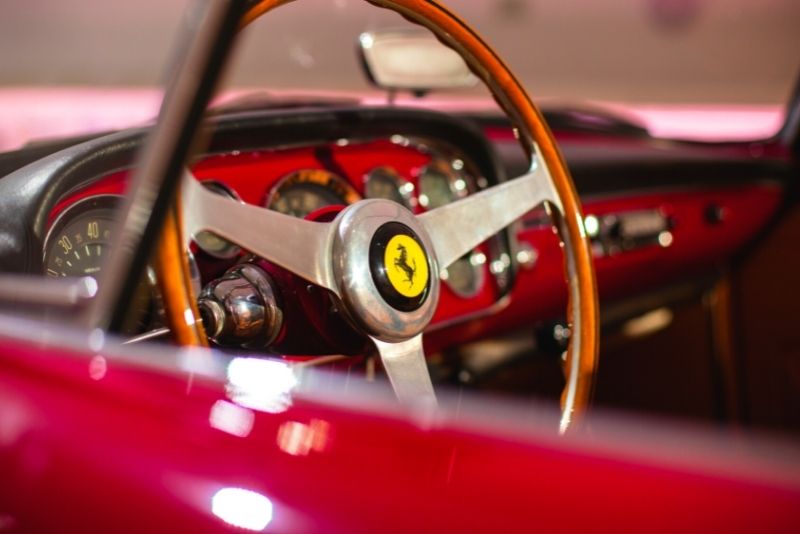 Race cars have changed a lot since the early 1900s, and there's no better place to admire their evolution up close than the Simeone Foundation Automotive Museum, home of everything from the famous "hippie" Porsche 917 to the iconic 1938 Alfa Romeo.
The best part? All the cars on display still run, thanks to the owner who has a passion for fixing, so live demonstrations are common.
53 – Experience the thrills at Dorney Park & Wildwater Kingdom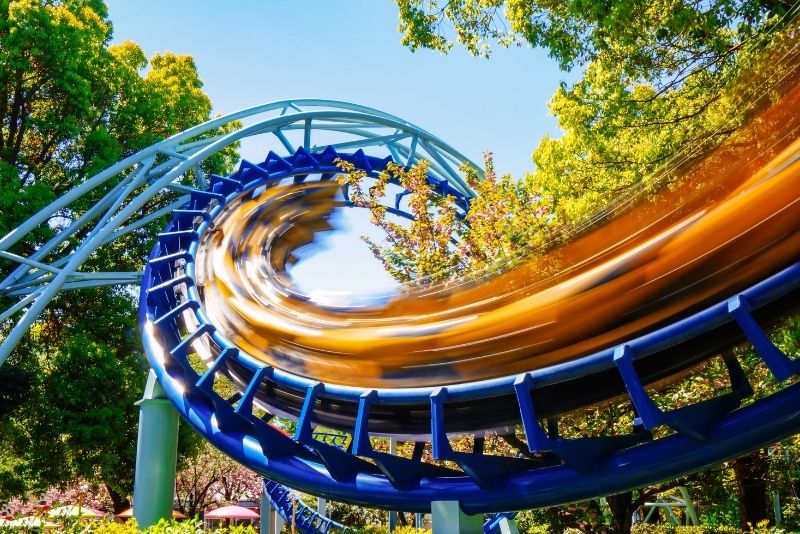 A hit among Pennsylvanians for over a century, this amusement park has been open (and safely updated) since 1884, boasting more than 100 rides of all thrill levels!
With roller coasters, a waterpark, and activities that both adults and kids are sure to love, this 2-in-1 park deserves a spot on the bucket list.
54 – See the beauty of the Cathedral Basilica of Saints Peter and Paul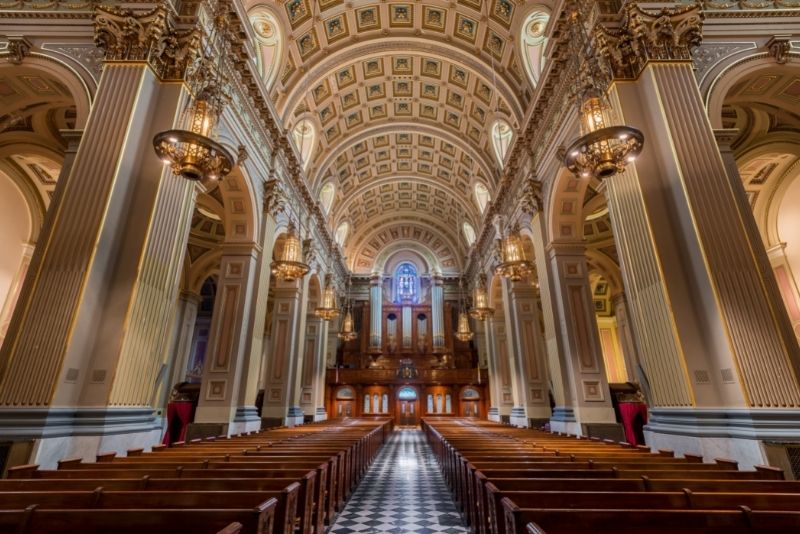 A city this old is bound to have stunning architecture, but if you want to see something truly awe-inspiring, go see the Cathedral Basilica of Saints Peter and Paul.
Built to withstand anti-Catholic sentiments during the early 1800s, it's on the National Register of Historic Places and head of Philadelphia's Archdiocese.
Fun fact: Pope John Paul II even said Mass here in 1979!
55 – Dine and dance on the Spirit of Philadelphia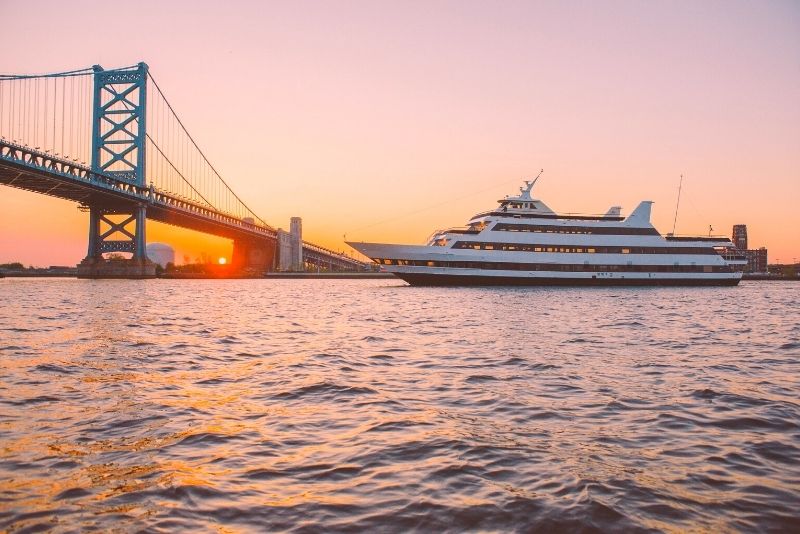 A crowd favorite tourist attraction, the Spirit of Philadelphia has offered acclaimed lunch, dinner, moonlight, and special event cruises for decades.
Cruises along Delaware typically last two to three hours, featuring breathtaking views of the city skyline, a contemporary buffet, and a live DJ and dancefloor.
Whether you're after a romantic date night or the chance to mingle and meet new friends, it's never a poor option.
56 – Build a fairy house at the Morris Arboretum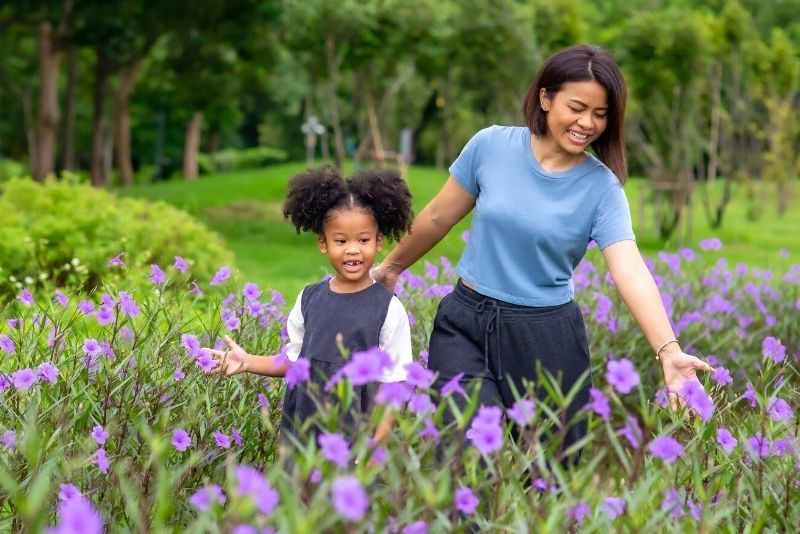 Another spot on The National Register of Historic Places, this enchanting garden and educational institute strives to integrate science and art (and does so in spectacular fashion).
A peaceful spot for the young and old alike, visitors can see the Fairy Woods, where you can build your own fairy home; check out the quarter-mile miniature train track that runs through the woods, or learn about the magical relationship between nature and humanity.
57 – Marvel at the Mutter Museum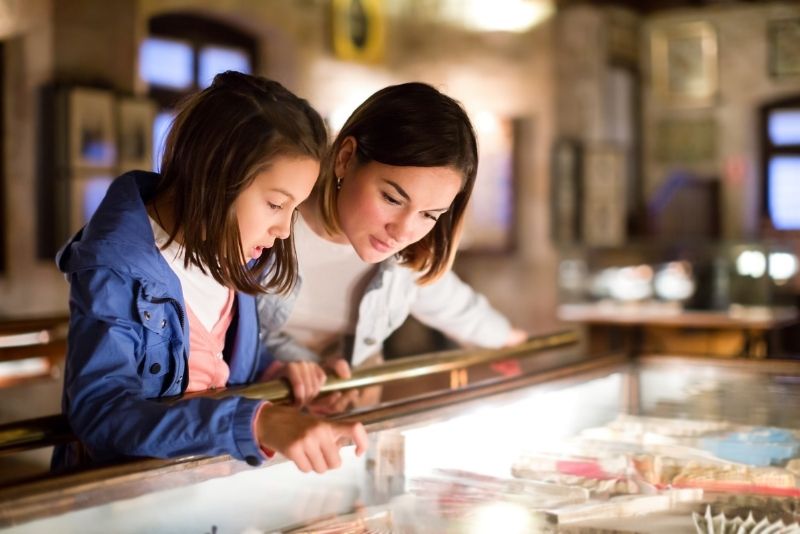 A fascinating place founded on the ideals of improving and reforming medical education in the United States, this museum of medical history has something for everyone!
Showcasing a bizarre yet intriguing collection of preserved medical specimens, models, and old-time medical instruments, ​​the Mutter Museum portrays the strange history of healthcare, diving into the human body in all of its states (sickness and health), and even displaying preserved organs and physical anomalies.
As far as unique things to do in Philadelphia come, this place is hard to beat.
58 – Solve a murder at the Red Rum Theater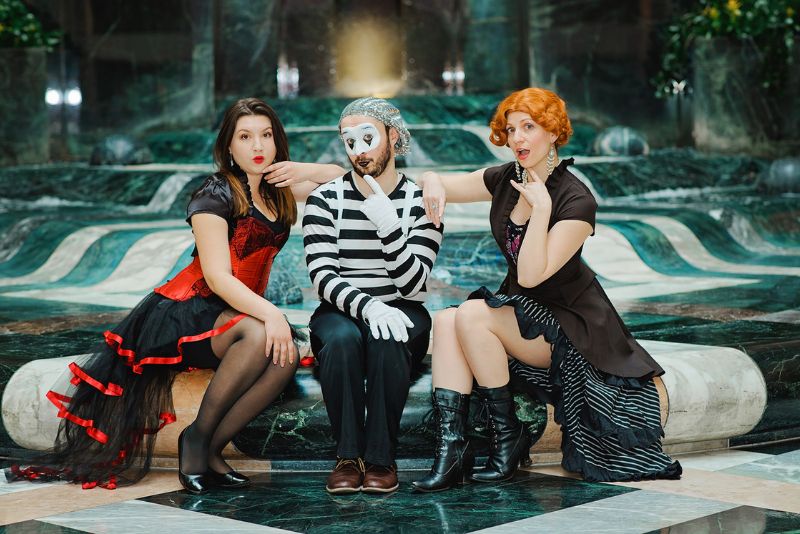 Uh oh — it looks as though there's been a murder! And it's up to you and your family and friends to solve it at the Red Rum Theater.
Enjoy a diabolically fun time out at Philadelphia's only murder mystery venue, with a range of shows available from 'Murder at the Moulin' to 'Golden Girls Mystery Murder.' Get clues to help you along and added extras with a VIP ticket that includes a delectable cocktail.
This is one excursion that's sure to both puzzle your brain and entertain!
59 – Listen to the Orchestra at the Academy of Music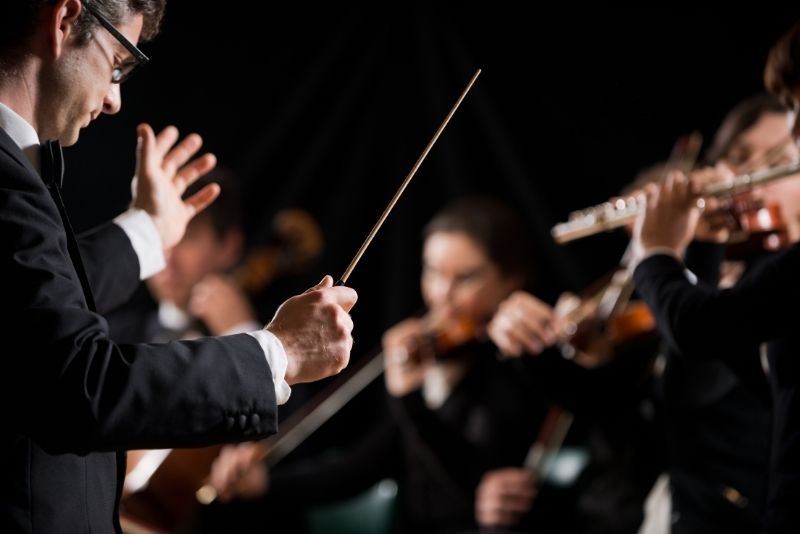 Modeled after Milan's world-famous La Scala, the Academy of Music is the oldest opera house in the US still used for its original purpose.
With world-class performances from the Philadelphia Orchestra, the Pennsylvania Ballet, and the Philly Pops, to name a few, any show within this glamorous hall promises to be a sensory overload for the eyes and ears alike.
60 – Take a walk at Wissahickon Valley Park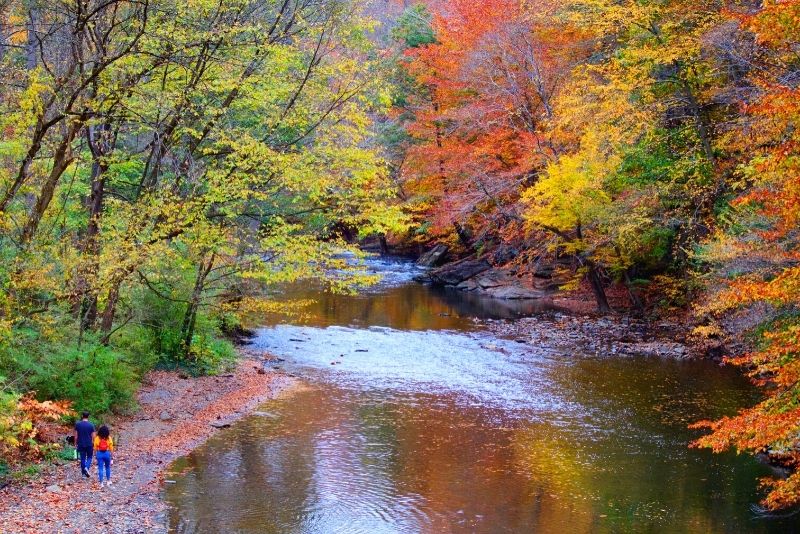 A 2000-acre calm refuge in Northwest Philadelphia, the beautiful Wissahickon Valley Park has now been restored (after being destroyed by a harsh winter) with the mission to conserve the natural beauty of this valley.
With 50 miles of trails and no shortage of picnic spots, take a hike and submerge yourself in nature for the day.
61 – Visit the Edgar Allan Pоe National Historic Site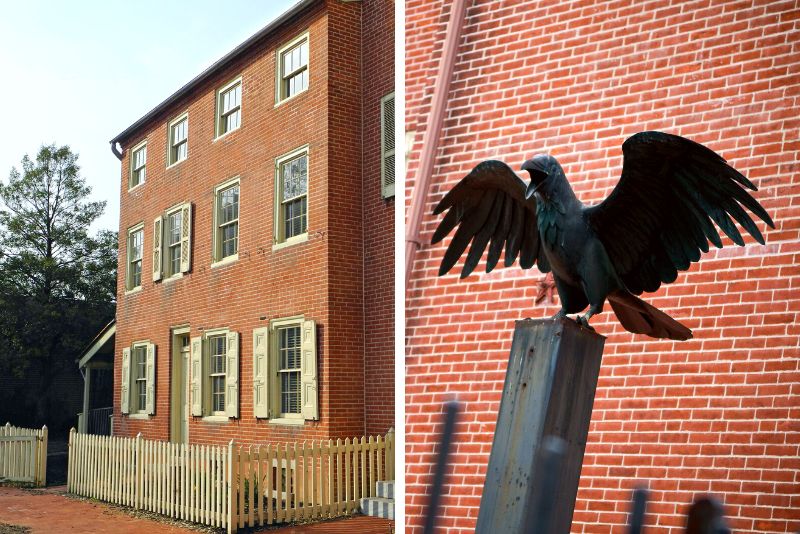 Pay homage to the American writer, poet, editor and critic himself, Edgar Allan Pоe — famous for his horror stories that influenced the coming age of modern detective stories as we know it — at the Edgar Allan Pоe National Historic Site.
The now-living museum, former home and one of Pennsylvania's official National Historic Sites, allows visitors to delve inside the mind of the author.
Take a tour around the three-story Poe House where Poe and his family lived from 1843 to 1844.
On the first floor investigate the parlor and kitchen, the second level is where Poe's room and another smaller room is, and on the third floor check out Virginia's room and Muddy's room. Don't leave out the front porch, back yard or cellar.
Inside the Reading Room, hear some of his works and browse his short stories filled with elements of horror and shrouded in mystery.
During Poe's six years in Philadelphia, he lived in five different houses. This one is the only one that remains, preserved in time.
62 – Play around at the Please Touch Museum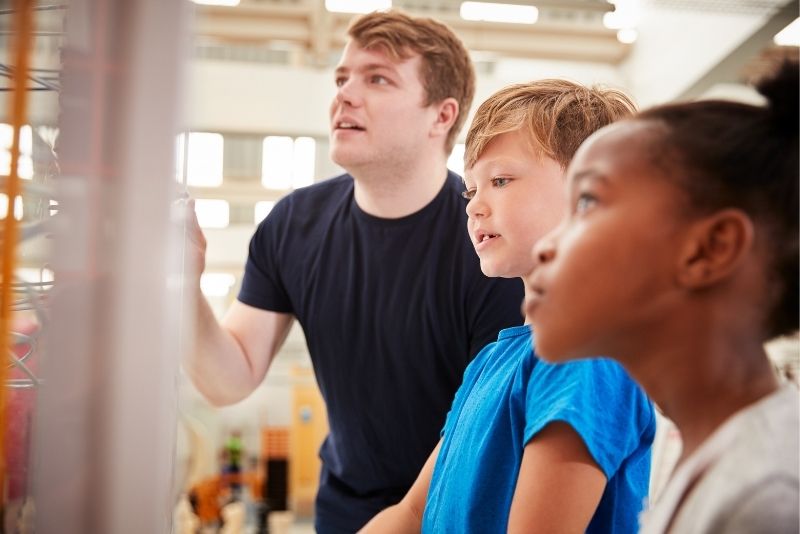 Perfect for kids 6 months to 8 years old, the Please Touch Museum ditches all the conventions of museums ("stay behind the rope"), encouraging guests to get hands-on in a unique learning environment dedicated to art, technology, and the world around us.
Kids and adults alike will love Alice's Adventures in Wonderland, and don't forget to ride the restored 1908 carousel.
63 – Cheer on the home team at the Wells Fargo Center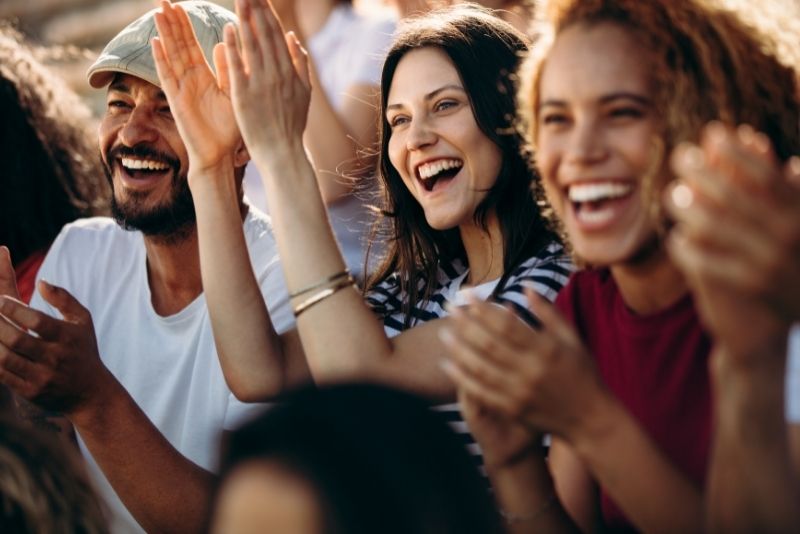 Hockey, basketball, lacrosse… oh my! No matter what your sport is, the massive multipurpose Wells Fargo Center — as the home of the Philadelphia Flyers (hockey), 76ers (basketball), and Wings (lacrosse) — has something for everyone. entertain.
Even if sports aren't your thing, as a top 10 venue in the US with performances from big names like Billy Joel (who played here a whopping 18 times!), simply check the schedule to see upcoming events!
64 – Catch a sunset on Boathouse Row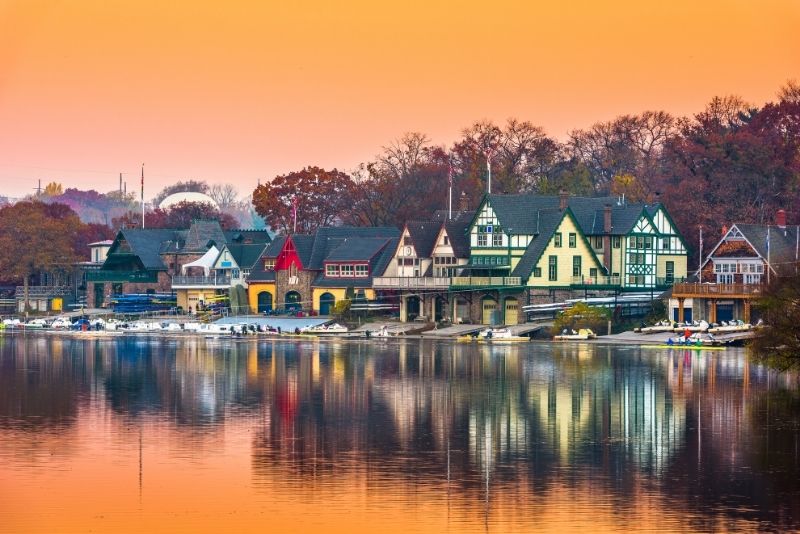 Boasting an amazing sunset view, the historic Boathouse Row along the Schuylkill River remains a Philly hidden gem (although not for much longer)!
While the scenic walking and biking routes take you past vintage boathouses and snazzy rowing clubs, visitors are also welcome to sign up for some of the regular rowing and running competitions that traverse the area.
65 – Learn from the best at Pennsylvania Academy of the Fine Arts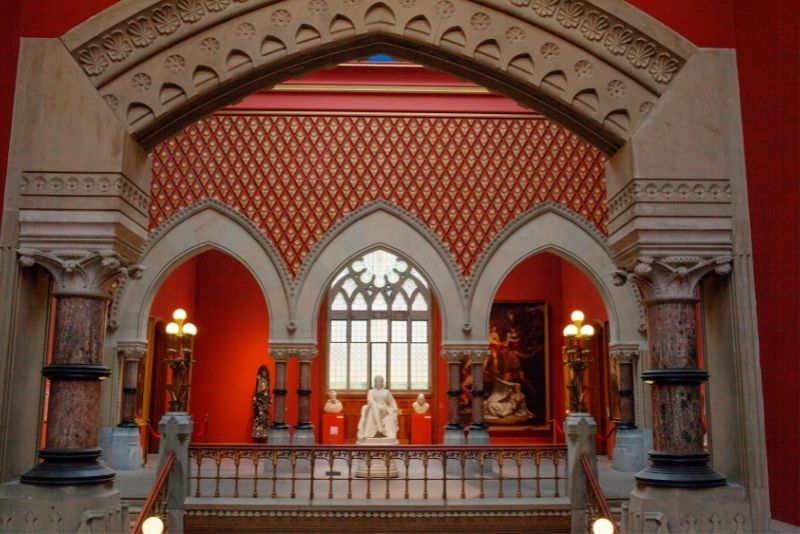 Founded way back in 1805, the Pennsylvania Academy of Fine Arts holds the coveted title of being the inaugural fine arts museum/school combo in the US of A.
Creating an inclusive community to celebrate the power of art, this stunning ancient building has graduated the likes of David Lynch (filmmaker), Mary Cassatt (painter), and Don Martin (cartoonist).
It's a must for art students from near and far.
66 – Catch a Broadway show at Kimmel Center for the Performing Arts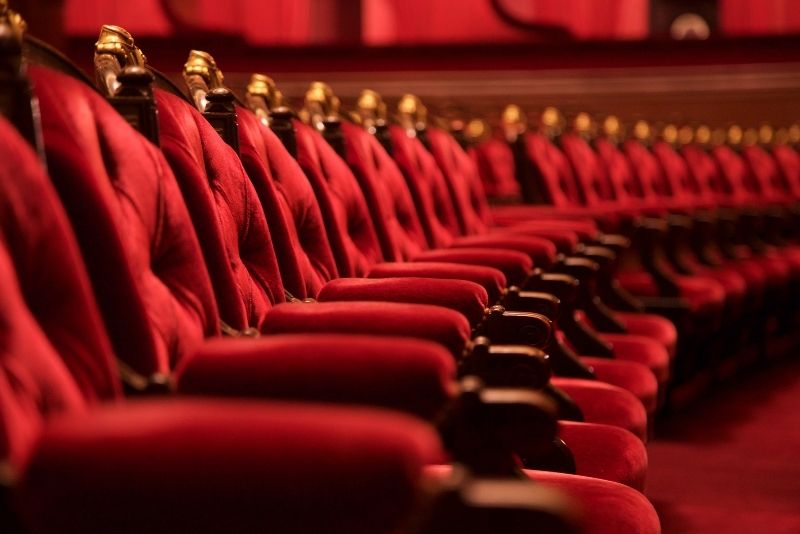 A one-stop-shop for stage-based entertainment, the Kimmel Center (also known as the Kimmel Cultural Campus) welcomes world-renowned musicians, Broadway shows, classical orchestras, jazz festivals, comedy shows, circus performances, and plenty more.
With a stunning building to boot and no shortage of classy restaurants and bars within walking distance, few places can compare for your next Philly night of entertainment!
67 – Go ice skating at Blue Cross RiverRink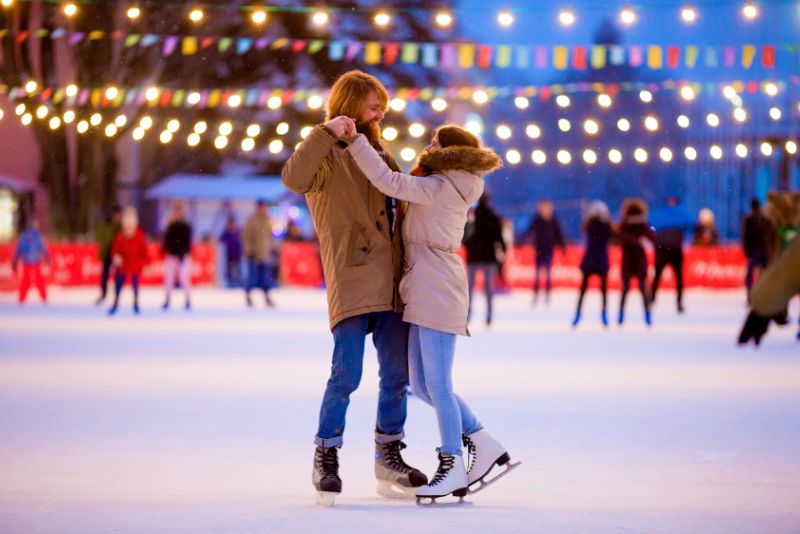 Twirl, jump and glide across the ice at the Blue Cross RiverRink. If you're traveling with younger kids, it's time to bring them ice skating for a few hours.
Running annually from November through to March, the outdoor ice rink is set up alongside the Delaware River and is designed to replicate a winter wonderland — suiting the seasons.
The entire setting is a vibe, and around the (NHL-sized) rink, firepit stations and warming cabins add extra ambiance.
Games and boardwalk rides for all ages are there to provide extra fun and grab a hot cider and funnel cake afterward.
Open daily, from morning until night, this extremely popular activity gets booked out way in advance, so pre-book tickets prior to the excursion.
68 – Stop into the National Museum of American Jewish History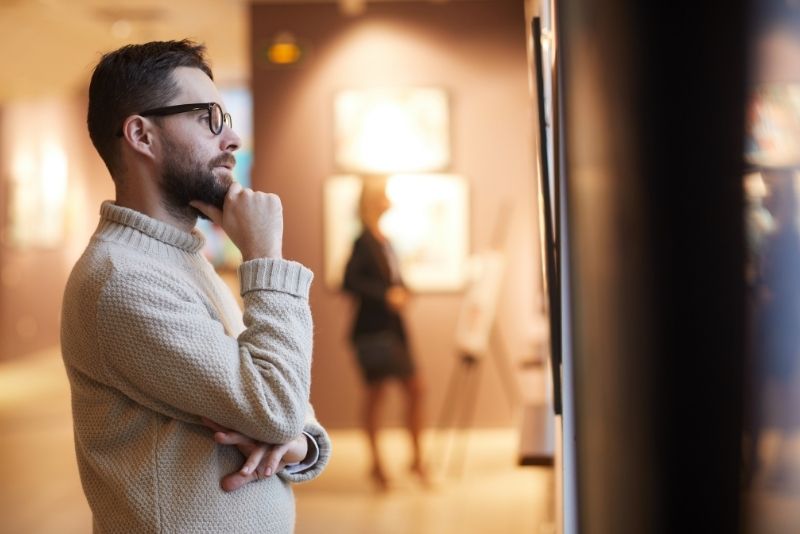 The United States wasn't dubbed a "melting pot" at the height of immigration for nothing — explore the journey of American Jewish immigrants and the stories that have helped shape the country we know today.
Located on Independence Mall and a Smithsonian Affiliate, this museum boasts an excellent program of live music and plays to complement its large collection of displays and artifacts.
Embracing technology, the Museum also offers a virtual tour to experience operated from your phone.
69 – Test your wits and courage in an escape room!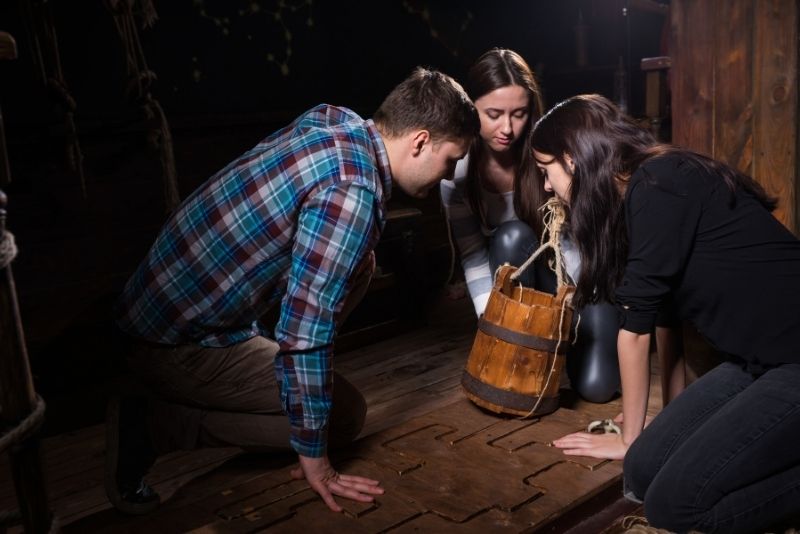 One for the budding detectives, you and your team must harness your code-cracking teamwork to decipher clues, solve puzzles, and escape a unique (and completely safe) closed environment.
It's like a real-life, real-time adventure story and you're the main character! There are plenty of themes to choose from, but Olde City Escape Games deserve a special mention for offering narratives that infuse Philadelphia culture and history.
70 – Play a game at Thirsty Dice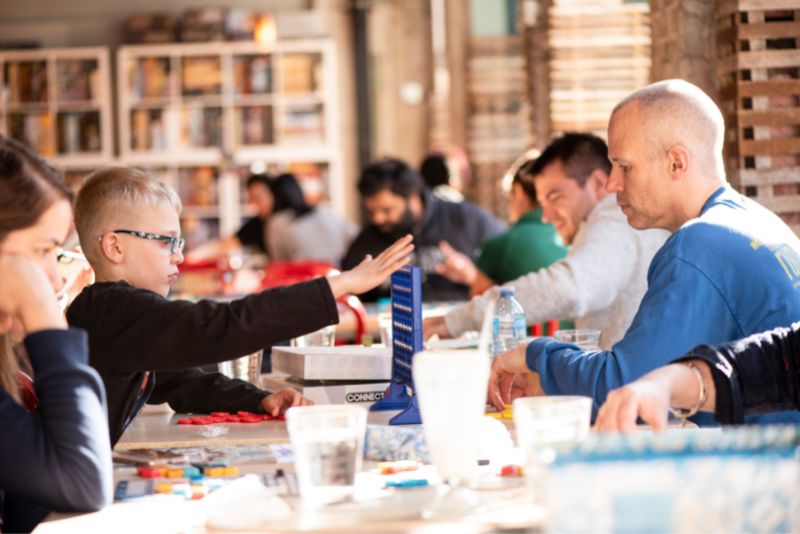 Thirsty Dice is Philadelphia's first board game café. Located in the Fairmount neighborhood of Philadelphia, Thirsty Dice boasts over 1000 games to choose from, from Dungeons and Dragons to Monopoly, guaranteeing there is always something for everyone to play.
Guests are greeted by a "Game Tender" that will recommend board games based on the group's desired atmosphere. What's better than unplugging with a board game and a boozy milkshake?
Thirsty Dice also offers a bottomless*ish brunch that includes One Library Pass, One Morning Plate or Waffle, and Bottomless-ish* Mimosas ($36 per person) for a hearty and fun brunch experience.
Guests can also check out recurring programs such as Live Family Feud, Themed Quizzo, and Game-Themed Drag Shows!
71 – Satisfy your sweet tooth at Hersheypark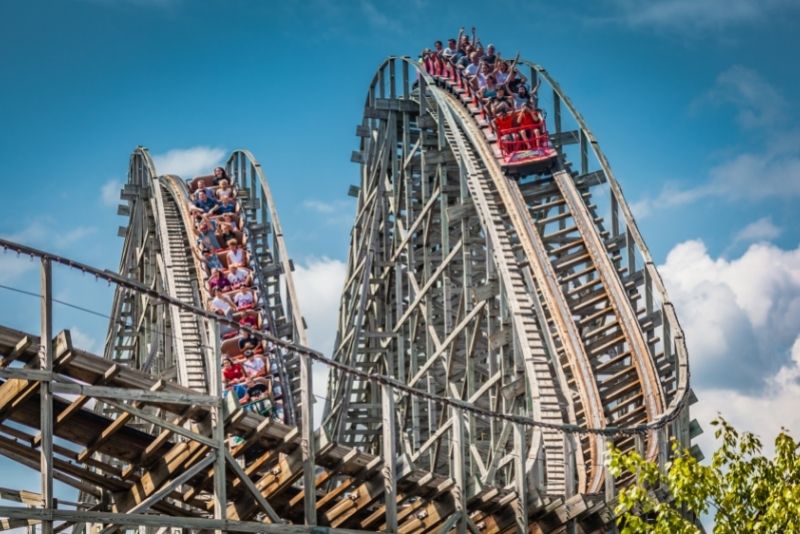 Chocolate lovers, unite! Get your chocolate fix at Chocolate Town, ride roller coasters, and check out the water rides (maybe not in that order) at this sweet amusement park!
As a little bonus, tickets also include admission to ZooAmerica, a wildlife park with more than 200 North American critters.
Don't have time to fit everything in one day? No worries! You can book a serviced room at any of the three official Hersheypark resorts!
72 – Go ghost hunting, colonial-style!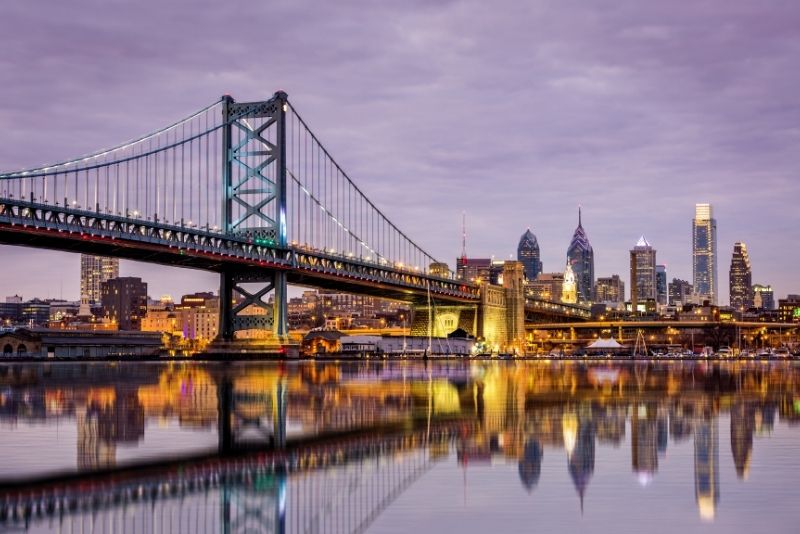 By day, Philly is teeming with tourists and vibrancy; by night, it's another story entirely.
Several nightly ghost tours take you through the moonlit, cobblestone streets of Old Philadelphia, where eerie tales of paranormal mayhem — from the dancing ghost of Benjamin Franklin or the many Pine Street Cemetery spirits — unfold at national historical sights.
Warning: the guides set the mood to a tee, so you may very well experience the same chills that inspired Edgar Allen Poe to pen "The Tell-Tale Heart."
73 – Unleash some energy or enjoy time in nature at Schuylkill Banks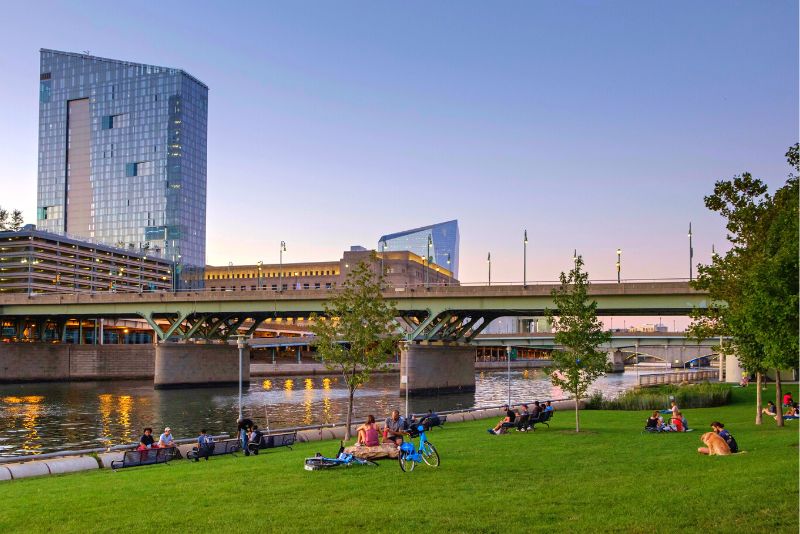 Outdoor adventurers and water sport enthusiasts, are your ears perked up for this next spot? At Schuylkill Banks, lace up your hiking boots, or put on your waterproof wear for its plethora of activities.
Connecting various points of interest and access entries along the Schuylkill River — from the Fairmount Dam to the Delaware River — a designated riverfront trail was constructed, running for nearly 13 kilometers.
Rent a bicycle (available at kiosks inside) and ride along a 2.4-kilometer track, or walk, jog or run other designated trails instead, like the East Falls Loop.
Go fishing, skateboarding (there are two skate parks) or boat along the river from the public docks. Other water sports include kayaking.
If you're here more for a relaxing time, spread out a picnic on one of the grass areas along the Banks, join a yoga class or watch artists in action working on their creativity.
All activities are accompanied by city views, and if you're here in the evenings, there are epic movie nights under the stars on the esplanade.
74 – Watch live acts at Franklin Music Hall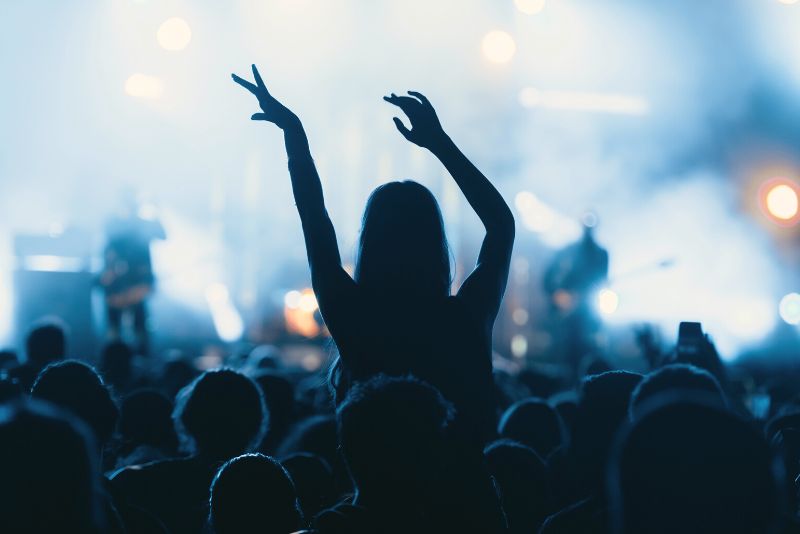 You've got your regular shows to see live, and then there are the ones at the Franklin Music Hall for those who prefer a touch of madness and appreciate the weird and wonderful things in life.
Constructed into a concert venue inside the once-operating General Electric Switchgear Plant, enjoy an evening of music and magic at the indoor stage — formerly known as the Electric Factory.
Gigs and shows change regularly, promising entertainment for all ages. The International Anime Music Festival and The Boulet Brothers' Dragula: Titans drag show are prime examples of the types of unique events to see here.
Move your body during the Shrek Rave or book a ticket for the Shake It Off – Taylor Swift Dance Party. Indy artists often play here, from bands like the Foals to Placebo!
75 – Sip on a glass of wine (or 5)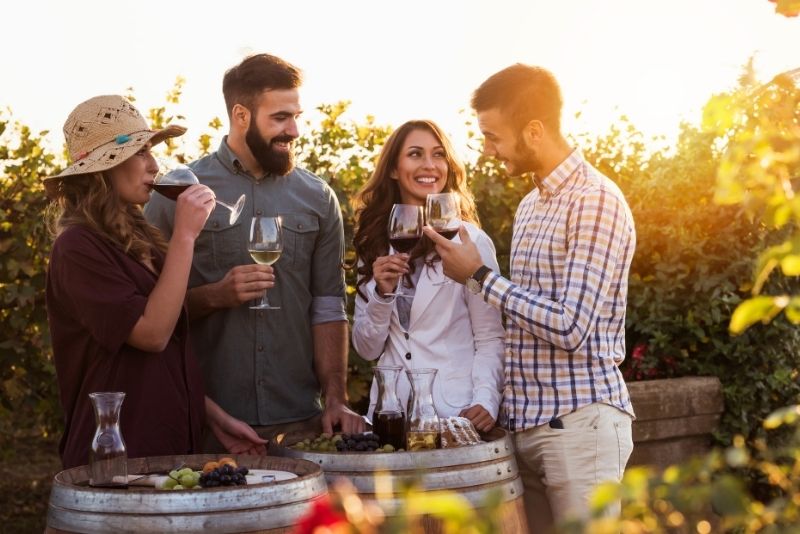 With its old-world charm, a wine-tasting experience is a fab way to add a touch of elegance to your Philadelphia itinerary and there are great wineries to visit for an afternoon of excellent vino.
A little different than the usual winery excursions; enjoy a night of comedy, or music accompanied by copious fine wine at City Winery Philadelphia.
If you're here for a traditional winery time, opt for wine tastings in the tasting room or take a winery tour around the venue, cellars and winery. Dine at the restaurant, and they often host wine and food events from wine and food pairing dinners to mixology classes.
Fun fact: The Philadelphia region is ideal for grape-growing and wine production, and its moderate, cool climate is perfect for viticulture, similar to that of Bordeaux — the famous wine region in France.
Other fabulous must-visit wineries around Philly are Chaddsford Winery (in Delaware County), 1723 Vineyards (in Chester County) and Buckingham Valley Vineyards & Winery (in Bucks County) — but there are dozens more the further outside the main city you travel.
76 – Play games at Arnold's Family Fun Center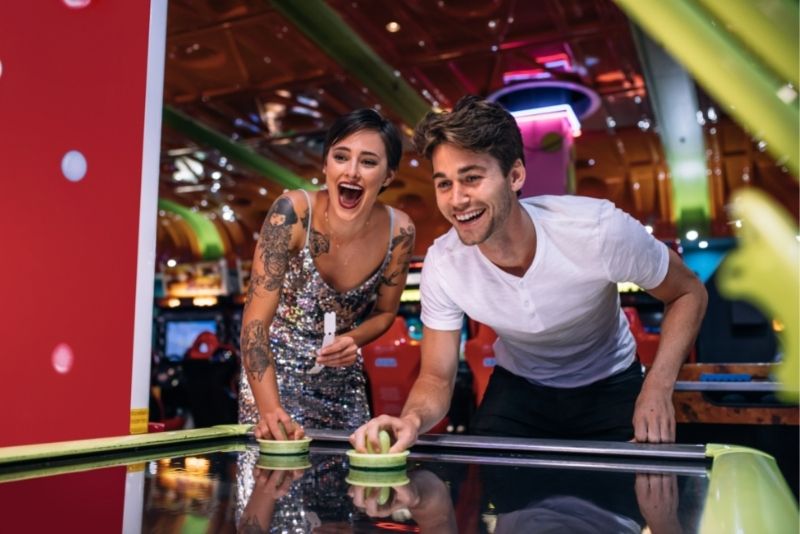 With 2 laser tag venues, high-speed go-karts, blacklight mini-golf, and 20 bowling lanes, Arnold's Family Fun Center is the prime spot for a little friendly competition.
If you prefer to wander off on your own, you can also find old-fashioned arcade games and an indoor rock climbing wall!
77 – Get buzzed on a brewery tour
It's not exactly a secret that Pennsylvanians love their beer, so why not take the chance to tour four fabulous Philly microbreweries at all once? On brewery-hopping adventures, thirsty travelers can see how each brewery makes their signature suds, taste up to 15 award-winning frothies, and make a few friends along the way.
Meals are often included on the tours, and you may very well need them to soak up all of that ice-cold, hoppy goodness.
One of the oldest craft beer microbreweries in town is Yards Brewing Company — around since 1994! At their tap room, try one of their signature ales like Star Jockey (an IPA), a brew from their small batch like Czech It Out! (a Czech-style Pilsner) or one of their 'Ales of the Revolution' like Jefferson's Golden Ale.
Step inside the brewery and take a tour to learn about the brewing process and the Story of Yards, i.e. the history behind it all.
Another brewmaster not to be missed is the Philadelphia Brewing Company who pride themselves in their "old-world beer styles with modern brewing techniques." As one of the oldest and biggest breweries in Philly, they certainly know a thing or two when it comes to delicious crafts.
Go behind the scenes during a brewery tour, and then wash down a few cold ones. They sell seasonal, year-round and limited releases (and beer labels are extra funky if it matters to you).
78 – Eat, shop and enjoy art when visiting the Cherry Street Pier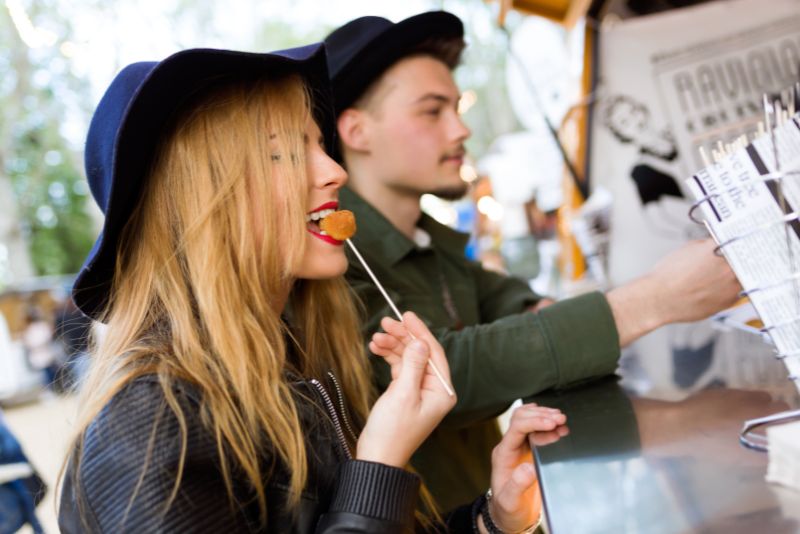 The creative buzz fills the air at Cherry Street Pier, and the converted warehouse and former shipping pier is now a hot spot in the city for a day of eclectic shopping, foodie experiences and good vibes.
The space was first built in 1919, and years later, the area was transformed into a public space for markets, shows and other events, yet it still retains its urban-coolness thanks to the industrial features.
See what locals have been creating at the market where you can shop for all sorts of artisanal and handcrafted, one-of-a-kind goods, and stop by the gallery (inside old steel containers) for a gander at the Philly art scene.
From food trucks to craft beer; it's a culinary treat at Cherry Street Pier. Grab a drink and pull up a chair at the open-air garden with views overlooking the Delaware River.
79 – See your favorite singers, bands and rappers perform at The Met Philadelphia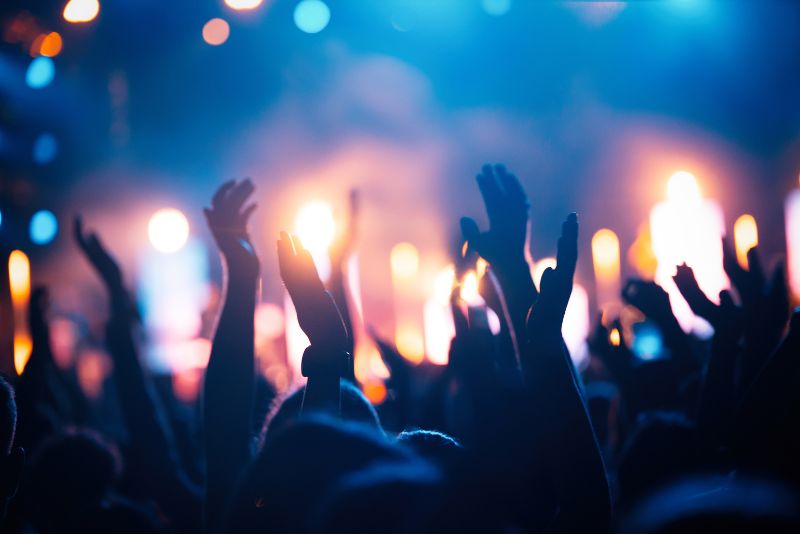 Donning the slogan 'showtime redefined', prepare to be entertained at The Met Philadelphia. More than 100 years old, the historic, grand building has stood the test of time since it first opened up as the Metropolitan Opera House in 1908.
Transforming into a movie theater, then a sporting arena, then a gospel hall and a recording hall for the Philadelphia Orchestra, it eventually went back to its original roots of art performances and today, hosts a multitude of shows across all genres of arts and culture.
With the best acoustics and the largest stage in the city, catch your favorite artists and musicians performing, DJs put on a show and world-famous comedians take center stage.
The setup is mesmerizing and hints at its earliest days as a grand opera house. Book a seat front-row at the front orchestra or opt for their premium seating at the Citi Circle Box, including entry to the exclusive Citi Grand Salle lounge.
80 – See what's happening at Penn's Landing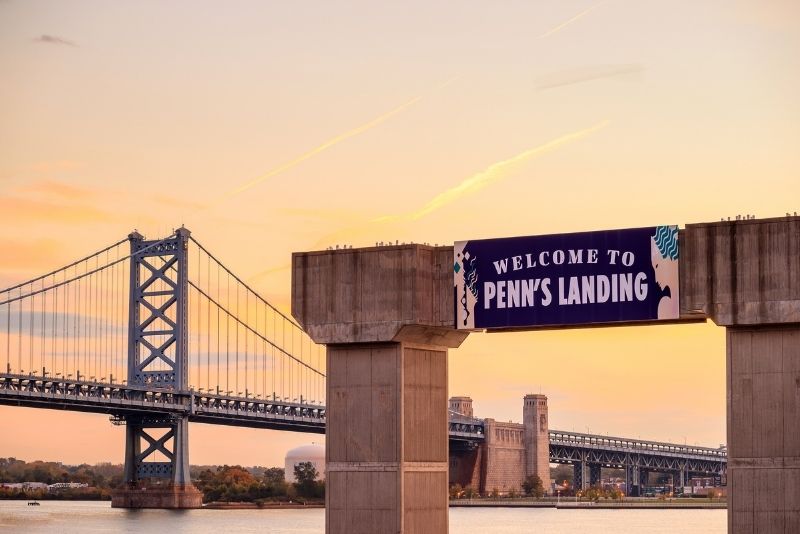 Named after William Penn's landing in Philly in 1682, this shorefront experience has a laundry list of things to do!
Hosting everything from yoga classes to live music, pop-up stores and food trucks, Penn's Landing has something happening all year long.
Go ice skating during winter or take a ferry tour during the summer; and while you're in the area, go to the Independence Seaport Museum to see Olympia and Becuna.
81 – Operate a bulldozer at Diggerland USA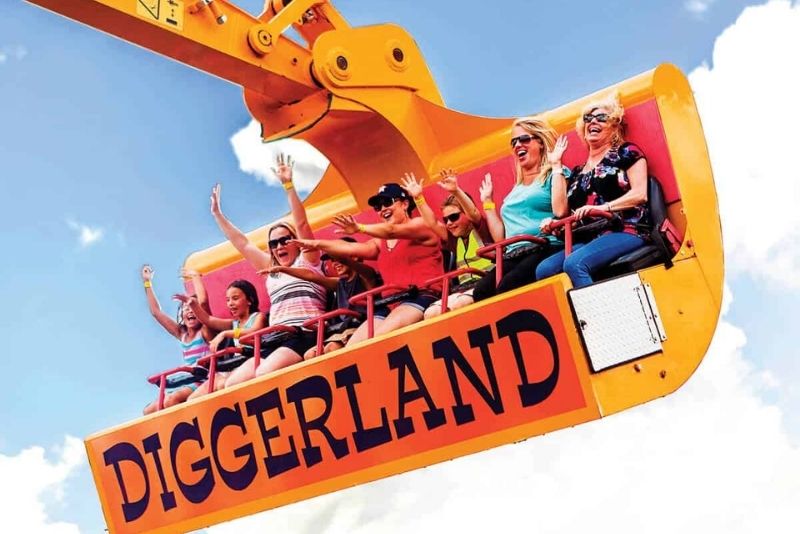 Out of all the things to do in Philadelphia, this takes the cake for most unique.
At Diggerland USA, a construction-themed amusement/water park (odd mix, no?) children and adults can drive, ride, and operate all kinds of heavy machinery, all with safe supervision of course.
On those toasty summer days, the adjacent water park provides a much-appreciated chance to cool off after all that digging.
82 – Take to the sky in a hot air balloon ride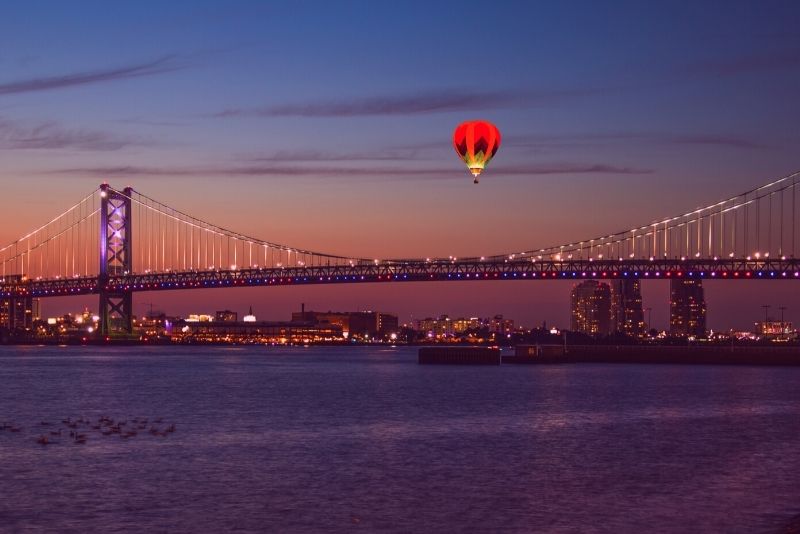 When looking for things to do in Philadelphia, a hot air balloon ride may be the most unique. As you soar over the Bucks County or Chester County countryside, take in the breathtaking vineyards and farms, and enjoy the live commentary from the onboard pilot.
On those clear-sky days you might even get a glimpse of the NYC skyline (bring the binoculars).
All photo-worthy tours end with complimentary champagne, making this experience certainly one for the scrapbooks!
How to get to Philadelphia?
What about airport transfers? There's nothing more irritating than trying to navigate the local transport system after a long, cramped flight. Take the hassle out of it all — instead, book a stress-free airport transfer (they're often much cheaper than you'd expect)
Visiting Philadelphia on a budget?
The best way to see all of Philly on one ticket
If you're planning on staying for at least a few days, ticking off the iconic museums and landmarks along the way, then a Philadelphia sightseeing Pass may very well be your best bet.
Granting access to more than 25 must-see attractions, with a city-wide Hop-On-Hop-Off bus often included, and with the option to extend the pass to suit the duration of your stay, it's a lucrative option for saving time and money (up to 50% total savings, depending on where you visit).
Where to stay in Philadelphia?
With all of these options for things to do in Philadelphia, make sure you find the right accommodation to relax and recharge the batteries.
Feeling fancy? Get luxurious at the Ritz-Carlton. Pinching pennies? The more budget-friendly but equally beautiful Hilton is never a bad option. Still, there is an abundance of options both Downtown and in surrounding areas — take a look and find the most affordable rates.
The ultra-stylish Four Seasons Hotel epitomizes modern-day luxury and has views to die for, and five-star The Rittenhouse Hotel oozes old-world elegance with rooms and suites that are as plush and comfortable as ever.
Glitzy and full of glamor, W Philadelphia sports an excellent locale and on-site facilities, and The Windsor Suites in downtown Philly are on par — the views and rooftop pool are fab!
For an authentic experience, book a night at The Inn on Holly B&B. Inspired by the Victorian home (built in 1906) in which the stay is housed, the rooms and decor follow suit and truly transport you back in time. Morris House Hotel is another option like this, just slightly fancier.
Where to go next?
Whether considering Baltimore as a day excursion, or the next destination to explore, it's under a two-hour drive to reach, making it an ideal option for either. Steeped rich in culture and traditions; visit museums, historic sites, spend the day on the water and try some of the best crab around!
Traveling 2.5 hours from Philly, Washington DC is iconic, and home to the nation's capital city, the abundance of political, cultural and historical treats you'll find tenfold. Heading in the opposite direction and further north, New York City is two hours away by car or one to two hours by train.
Another city that should be at the top of your bucket list, live out your NYC fantasies — and yes, it is just like it appears in the movies! Save Boston, Massachusetts for an overnight stay as it's five hours from Philadelphia. Taste the most authentic Boston cream doughnuts and investigate one of the oldest cities in the USA.
Finally, if you have never been there, make sure to spend a weekend in Gettysburg and learn more about the Civil War.
Final thoughts
With so much to sightsee and an overload of epic activities, you'll need more than just one or two days to explore the entirety of the City of Brotherly Love.
Whether you're after a culturally-enriching experience or a unique American town to explore, the things to do in Philadelphia never disappoint.
Do you have a favorite place to grab the best Philly cheesesteak in town, or are there any other monuments that every tourist needs to see? Share with us in the comments, we love hearing our readers' thoughts.
As always, happy and safe travels!