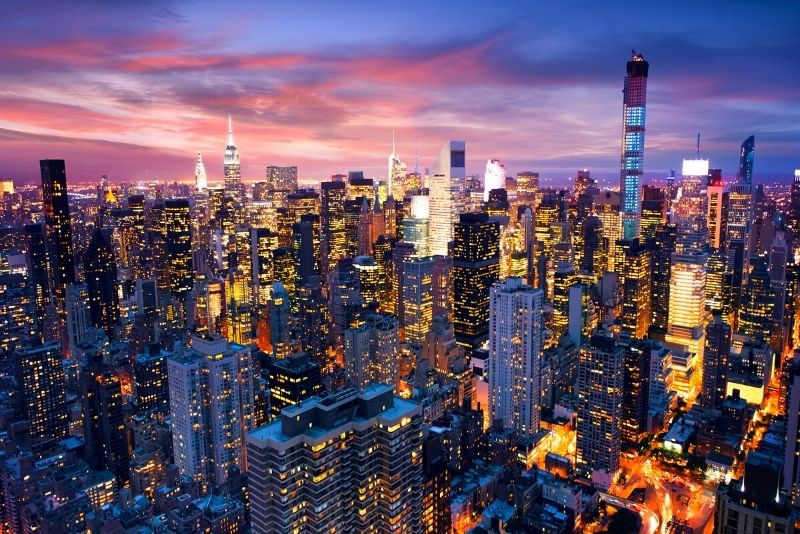 Sure, the Big Apple is vibrant, eclectic, and teeming with activities by day; but when the sun goes down, The City That Never Sleeps. really comes alive — New York City doesn't get its night-owl nickname for no reason.
A socialite's haven, this concrete jungle oozes style and class for those in search of theater, dining, and culture; and overflows with raucous nightlife experiences for those hunting for something a little wilder.
Craving something more intimate? From hidden speakeasies that transport you back to the roaring 1920s to cozy jazz clubs, comedy cellars, late-night museums, and romantic rooftop bars — there's no shortage of fun things to do in New York City at night.
So whether you tick off the NYC tourist attractions in Midtown Manhattan or get off the beaten track and dive into the diverse sport, art, history, and entertainment offerings of the surrounding boroughs, you'll spend years in New York before you're able to tick off all of its quintessential nightlife spots.
1 – Experience Times Square after dark (and watch the Midnight Moment)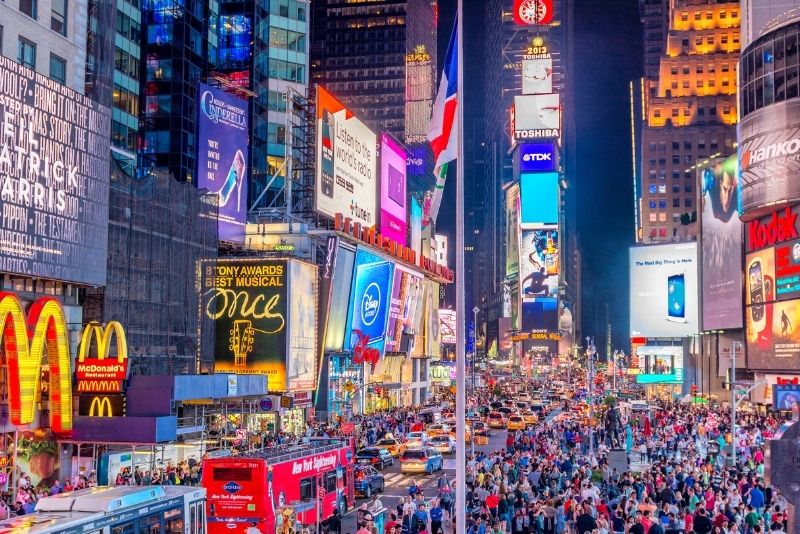 If New York is the center of the universe, then Times Square is its beating heart — and there's no better place to feel the rhythm of the city than this world-famous intersection.
As well as being one of the most vibrant areas in Manhattan for shopping (hello, M&Ms World and Hershey's!) and nightlife (the famous pedestrian-only zone comes alive after dark), Times Square also plays host to several free events and activities throughout the year.
Here is where you'll find the TKTS stall (behind those iconic red steps), the gateway to discounted Broadway shows, as well as the dazzling (and free!) Midnight Moment light show, a three-minute choreographed billboard extravaganza (from 11.57pm to 12 on the dot) that, since launching in 2012, has become the largest and longest-running digital art exhibition in the world!
In recent years, Times Square has been cleaned up (and rightly so), meaning that it can now be enjoyed to the max by tourists and families without having to dodge aggressive Elmos.
See also: fun things to do in Times Square
2 – Soak in the view from the Empire State Building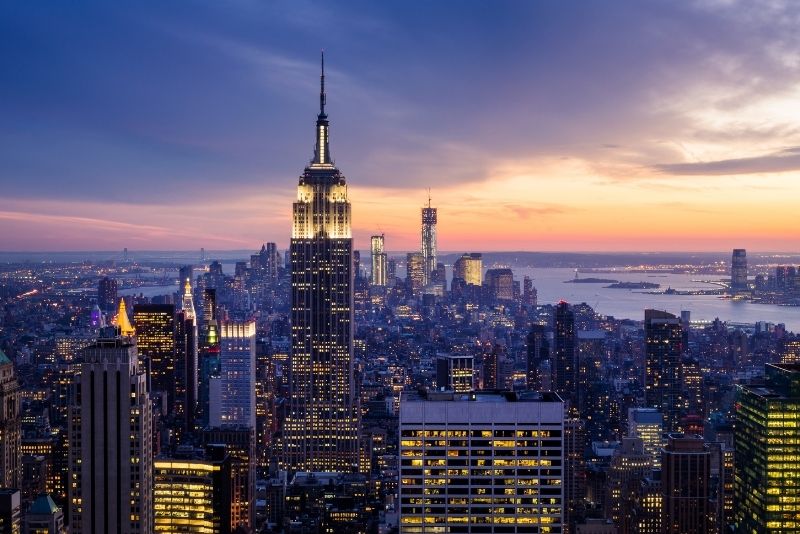 Iconic, Art Deco, and world-renowned, the Empire State Building needs no introduction.
A visit to this 102-story skyscraper (located on 34th Street between Fifth and Sixth Avenues), which was once the tallest building in the world, is a must for any first- or fifteenth-time visitor to New York City.
By day, the views from its 86th-floor observatory are simply breathtaking; but during sunset, or at night when the city is lit up like a fairy tale, the magic is dialed up to another level entirely.
Even if you don't head up to the viewing platform, walking the streets below and admiring the spire's ongoing light show (often changed to match holiday colors, sports teams, or the classic red-white-and-blue, is worth the time in and of itself.
Hot tip: Skip-the-line tickets are highly recommended during peak tourist season.
3 – See a live Broadway show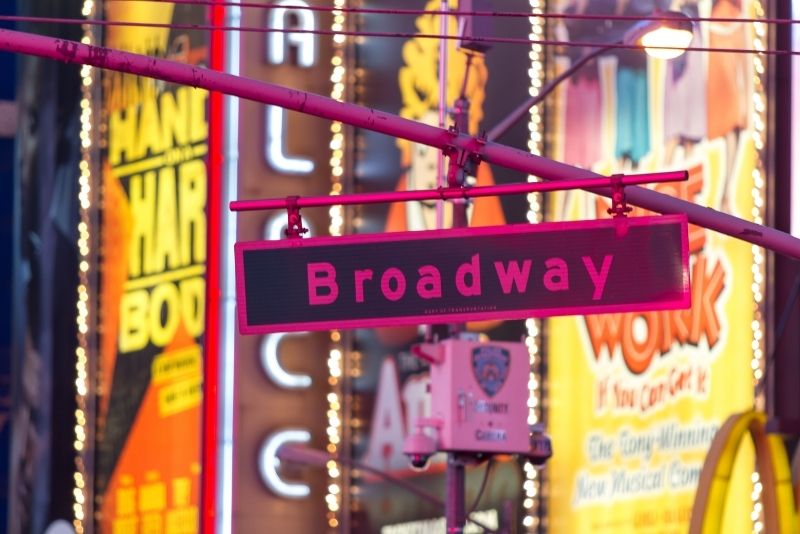 Theater-lovers, listen up! Quintessential is an understatement when it comes to describing a night out in the Big Apple, and there's no better way to experience Broadway than by catching one of its world-famous shows.
From family classics like The Lion King and Aladdin to newer offerings like Harry Potter and the Cursed Child, or Hamilton (which is still playing and has won close to a dozen Tony Awards), there's something for everyone when it comes to live theater in NYC. And, of course, when you throw in longstanding (for good reason) show-stoppers like Phantom of the Opera, Chicago, Jersey Boys, and Wicked (the preamble to The Wizard of Oz), it becomes painstakingly clear that you'll never run out of incredible titles to choose from.
The best part? You can score discounted tickets if you book online in advance (or try your luck with a last-minute seat too), meaning that you don't have to break the bank for a taste of Broadway magic.
4 – Cross Brooklyn Bridge at night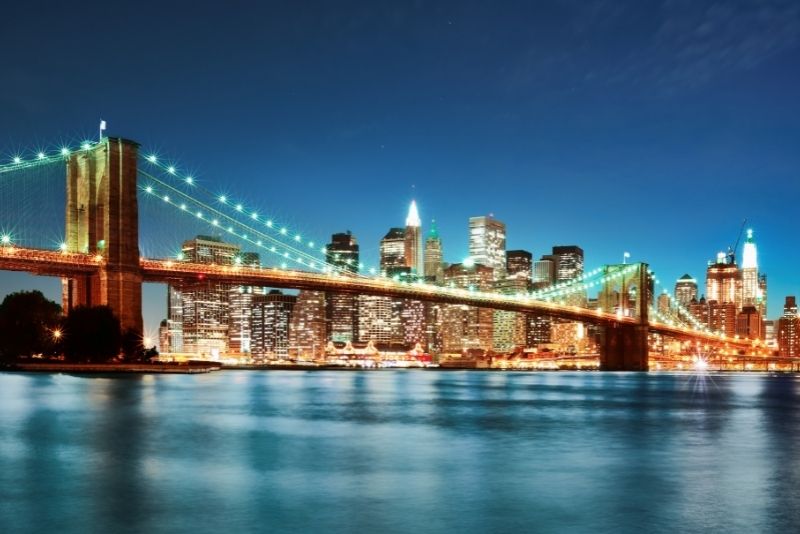 Another Big Apple landmark that, arguably, becomes even more spectacular when the sun goes down, is the Brooklyn Bridge.
This iconic suspension bridge, which stretches over the East River and connects Manhattan with Brooklyn, is best experienced on foot (or by bike) when you can take your time to admire its intricate architecture and stunning city views.
Once you reach Brooklyn Bridge Park—a lush green space that lines the waterfront in DUMBO (Down Under the Manhattan Bridge Overpass)—you'll find even more reasons to stay awhile.
With a variety of activities available, from riverside bars to regular free concerts and movie screenings (particularly during summertime), or, more simply, just admiring the view of the bridge juxtaposed by the Manhattan skyline, it's easy to spend an enjoyable evening here.
See also: fun things to do in Brooklyn
5 – Join a photo tour of Central Park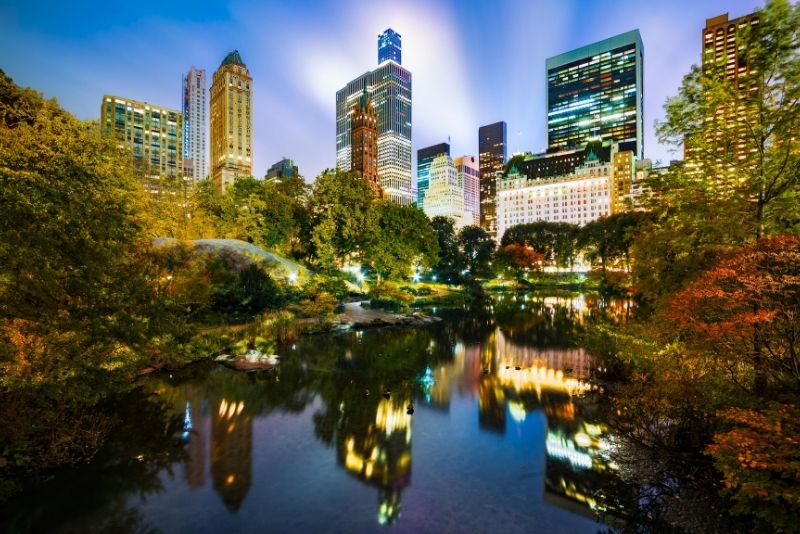 Jutting through the heart of uptown Manhattan like a slice of green heaven, Central Park has always been a tourist magnet by day.
With a zoo, ample picnic spots, sports fields, concert amphitheaters, hot dog stands, museums, and picturesque ponds (the residents at aptly-named Turtle Pond aren't shy to say hello), visitors have never been shy to wander the trails.
However, its after-dark reputation hasn't always been rosy. Well, that stigma is quickly changing. These days, a variety of locally-led tours explore the vast beauty of Central Park under the cloak of night, from star-gazing walks to photography tours, ghost adventures, and lessons in how to navigate by moonlight.
If you're looking for an interesting and unique way to spend an evening in NYC, look no further than a guided photo tour of Central Park.
You'll be amazed at what you can discover when the hustle and bustle of the city die down. Plus, who doesn't love getting expert tips on how to take better pictures?!
See also: fun things to do in Manhattan
6 – Go ice skating at the Rockefeller Center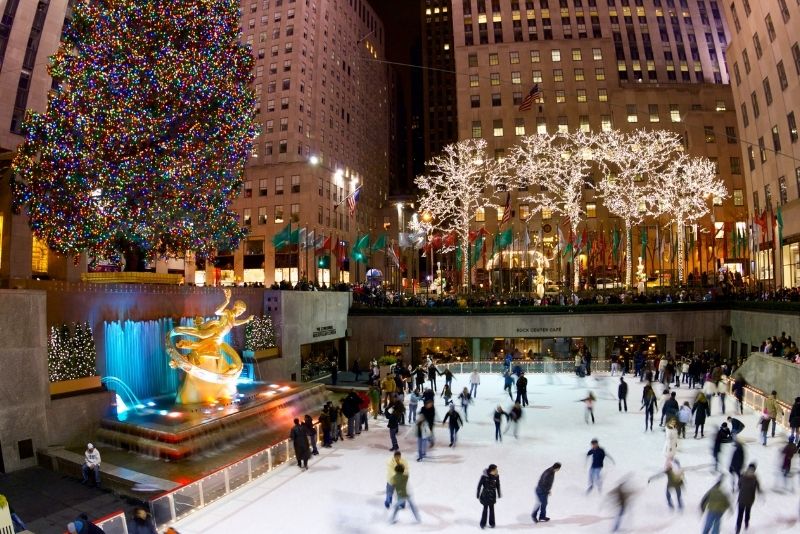 When the holiday season rolls around, one of the most popular (and seriously romantic) things to do in New York City at night is going ice skating. And where better to take your spin on the ice than at The Rink at Rockefeller Center, situated right in the heart of Midtown Manhattan?
This legendary rink has been an NYC winter staple since 1936 and continues to draw hordes of visitors every year who come to experience its festive atmosphere (complete with Christmas trees and twinkling lights), impressive architecture, and prime people-watching location.
If you're looking for a quintessential New York City holiday activity, look no further than ice skating at The Rink at Rockefeller Center.
That said, it's just one of a handful of spots to choose from: the winter village at Bryant Park and the Wollman Rink in Central Park each offers a splendid skating session (with views to boot) of their own.
7 – Jump on a hop-on-hop-off bus tour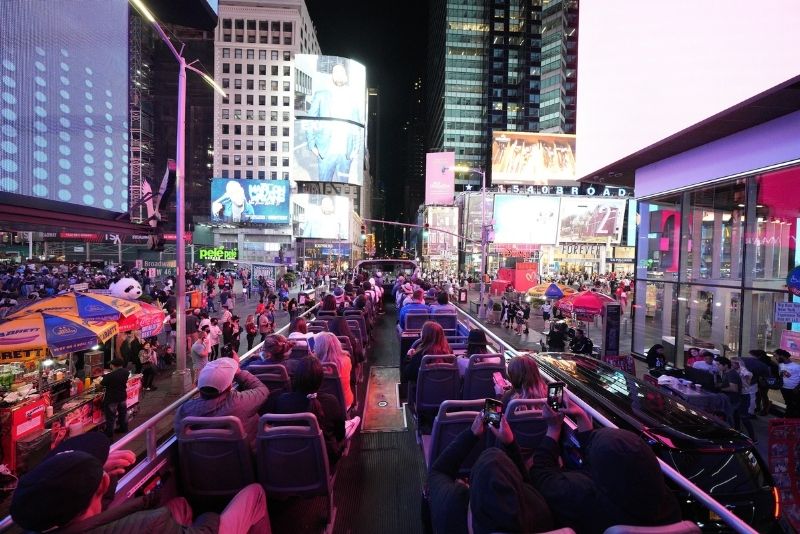 An activity designed for those short on time (or simply those whose legs are weary and prefer to avoid the hassle of long walks or subway transfers), a hop-on-hop-off bus tour is a perfect way to see all of New York City's most famous attractions in an educational, stress-free highlights package!
Operated by companies like Big Bus Tours and Gray Line, these open-top double-decker buses offer flexible routes that allow you to jump on and off at any of the dozens of stops located near top landmarks and neighborhoods (including Times Square, Greenwich Village, SoHo, Battery Park, Chinatown, Central Park, and the like), and then catch the next bus when it comes around.
Best of all? Most tours offer nighttime hours too, so you can explore after dark without having to miss out on any of the action.
See also: NYC hop on hop off bus tours – which one is best?
8 – Grab a seat for Shakespeare in the Park at the Delacorte Theater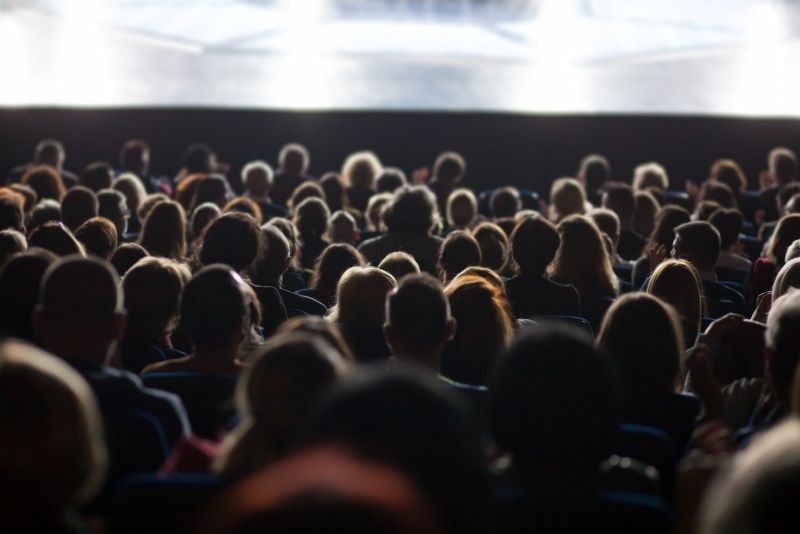 Entertaining locals and visitors alike since 1962, Shakespeare in the Park is a beloved New York City summer tradition.
Having welcomed over five million people from across the globe across its impressive tenure, it's now more popular than ever, thanks to regular performances throughout the week at the 1800-seat open-air Delacorte Theater in Central Park.
Presented by The Public Theater every year (typically from May through August) this annual event offers up a rotating cast of classical theater favorites like Hamlet, Macbeth, Romeo and Juliet, and A Midsummer Night's Dream – all under the stars and against the backdrop of one of NYC's most iconic twinkling skyscrapers.
If you're looking for an inexpensive way to spend an evening in Manhattan this summer, look no further.
9 – Marvel at the view from Top of the Rock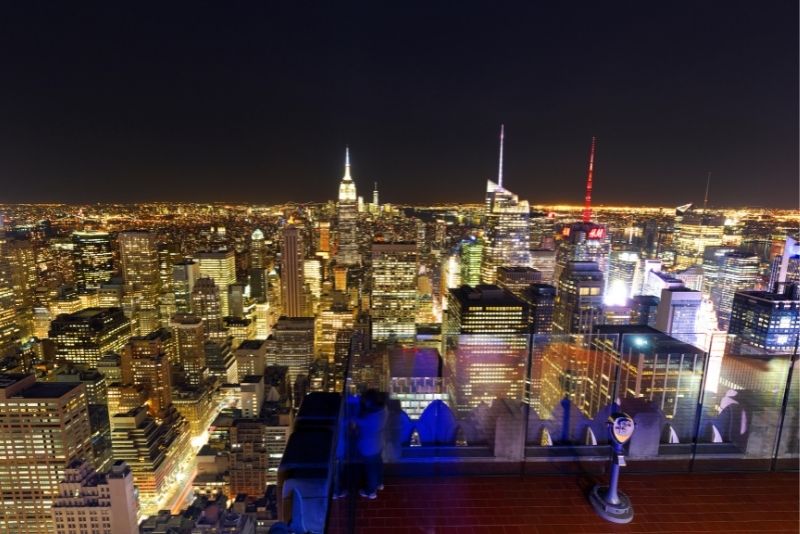 Despite often being overlooked in favor of the Empire State Building's observation deck, Rockefeller Center's Top of the Rock offers arguably the best view in all of New York City.
With unobstructed 360-degree panoramas that stretch from Central Park to Lower Manhattan and everything in between, including an unobstructed view of the Empire State itself, it's no wonder this spot is becoming an Instagrammer's go-to.
What's more, thanks to its location in the middle of Midtown (right in the heart of Rockefeller Plaza), Top of the Rock is easily worked into any evening of exploring.
Of course, daytime visitors are an absolute treat too. So, for the best of both worlds, arrive just before sunset — as the city transitions from natural light to a sea of shining bright lights, it's a spectacle you'll never forget.
10 – Play a couple games of bowling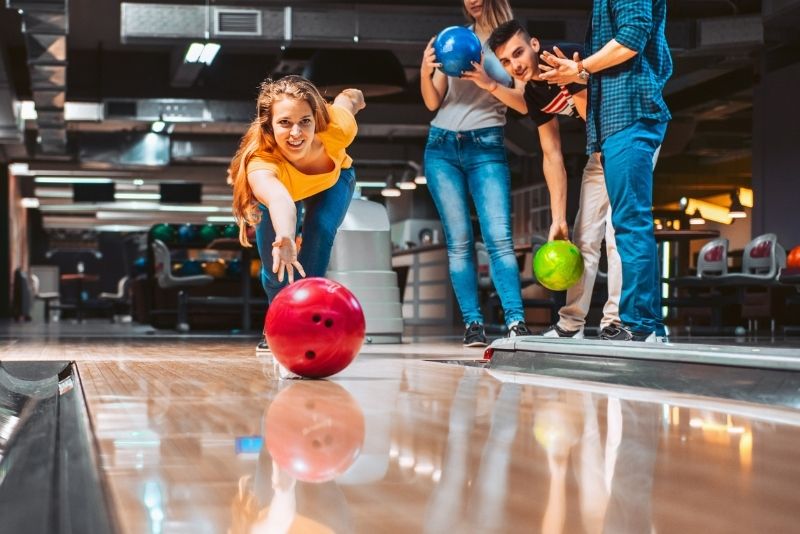 Ideal for rainy, snowy, or all-too-humid nights, a game or two of classic ten-pin bowling is always a good time. Lucky for New York City residents and visitors alike, the city is home to no shortage of bowling alleys, making it easy to get in a few frames (or more) no matter where you are.
For a high-end, chic venue that epitomizes that upscale Manhattan atmosphere, look no further than Lucky Strike. This ritzy spot has a bar (with bottle service) on-site, boasts ultra-modern lanes, classy lounge sofas, and even has a dress code (talk about fancy).
Over in neighboring Brooklyn, Brooklyn Bowl in Williamsburg is famously fun, also home to regular live music events and a wide range of eats (from pizza to sushi). It can get pretty crowded on weekend nights, but that just makes the experience all the more lively.
Also in Brooklyn are Gutter Lanes, an old-school spot all about vintage decor with a classic bar where you can bring your own food, and Melody Lanes, a hipster magnet that'll transport you back to that colorful post-disco era.
Or, if you're after quantity and affordability, round-the-clock bowling is available at Whitestone Lanes in Flushing, Queens (literally open 24-7, for when you're craving a 3am strike).
11 – Hear real people tell real stories at The Moth's events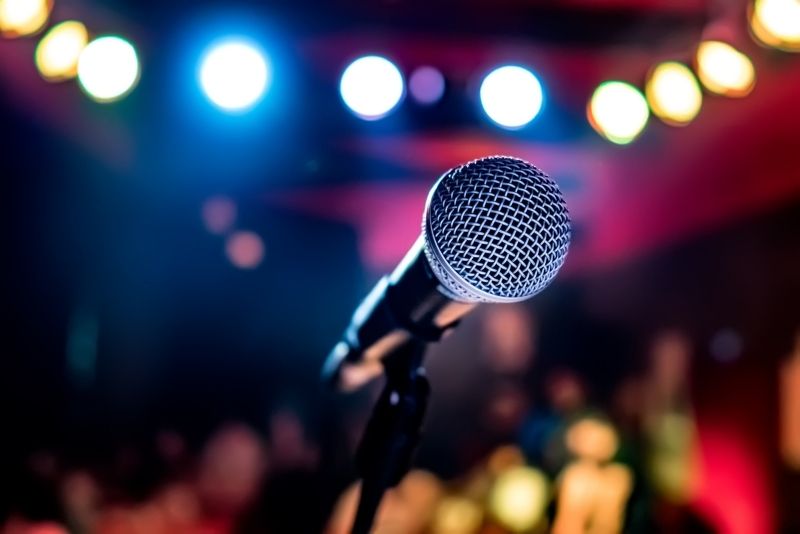 Taking place at venues all over the city that never sleeps, like Housing Works Bookstore Cafe in Downtown or The Bell House in Brooklyn (or a range of other cities around the world, for that matter), The Moth's live and unscripted storytelling events are always a treat.
This not-for-profit organization is dedicated to the art and craft of storytelling, and focuses on the human experience told firsthand.
What that means for attendees is an intimate evening of hearing real people share real, personal experiences – sometimes funny, sometimes heartbreaking, but always engaging.
Plus, with new stories based on open-ended themes being shared each time, it's a different show every time you go – so you can attend again and again without getting bored.
Tickets generally sell out well in advance though, so be sure to snag them sooner rather than later.
12 – Get a little romantic with a jazz cruise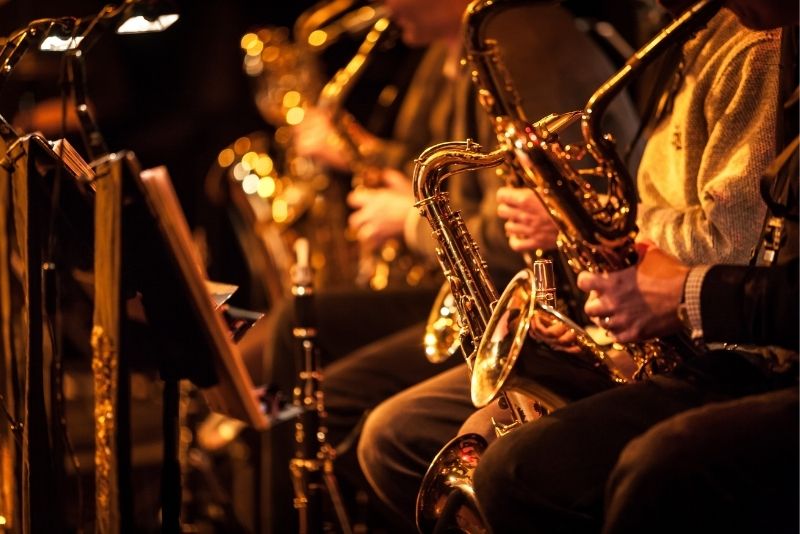 Fusing all the beauty of riveting live jazz performance with the stunning nighttime views of the NYC skyline as it reflects off the harbor, a jazz cruise is easily one of the most unique things to do in town once the sun goes down.
Usually departing from Chelsea Piers, lasting around 90 minutes, and with more than a few rounds of champagne, beer, and wine included, these cruises typically set sail down the Hudson River and over to the East River, gliding past the Statue of Liberty and then under both the Brooklyn and Manhattan Bridges along the way (keep in mind each tour is slightly different).
You'll get up close and personal with some of New York's most iconic landmarks while enjoying soulful sounds from some of today's hottest jazz musicians — what could be more quintessentially New York than that?
13 – Watch out for Demogorgons at the Stranger Things Store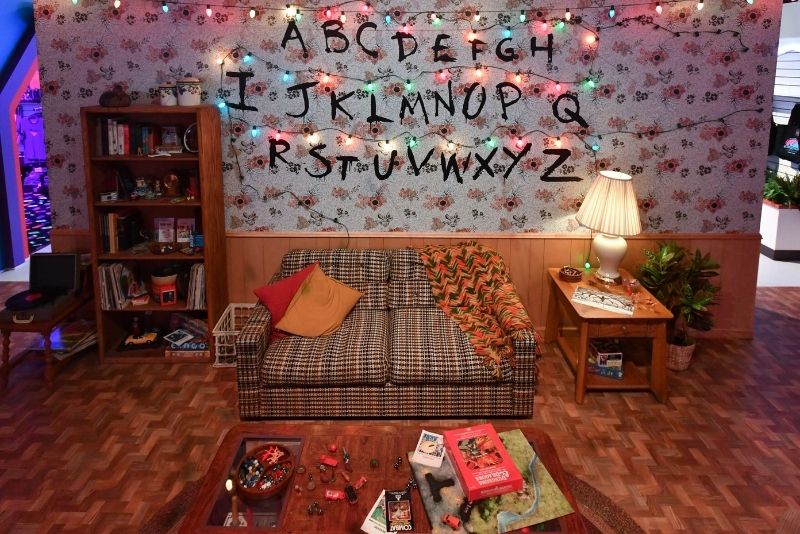 A modern addition to the list of things to do in New York City at night and a must-visit for anyone who considers themselves a true fan of the hit show, the fully immersive Stranger Things Store is open now on 42nd St in the heart of the bustling Times Square zone.
Designed as a complete recreation of the Upside Down, from its eerie lighting and spooky music to all the Hawkins memorabilia you could hope for, this is one store that's sure to send chills down your spine (in the best possible way).
With exclusive items only available at the store, it's also the perfect place to stock up on gifts for any fellow Stranger Things fans in your life.
14 – Catch a baseball game at Yankee Stadium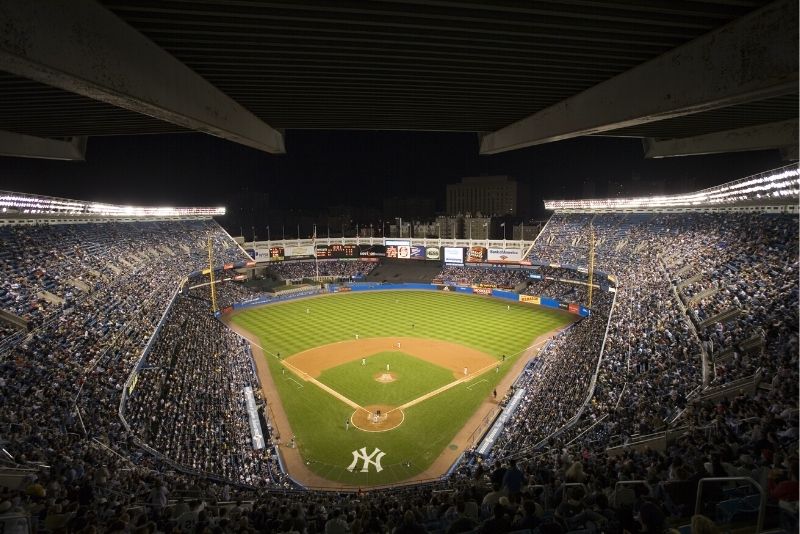 Renowned around the world as one of the most iconic and famous sports stadiums there is (as well as being home to the MLB's most successful team with 27-time World Series Champions and counting), a visit to Yankee Stadium to catch a baseball game is a non-negotiable for sports fans visiting this concrete jungle.
Even if you're not a huge fan of America's favorite pastime, the experience of being in this hallowed ground and taking in the electric atmosphere is something that can't be missed – especially when the crowd is fired up.
Hot tip: to take your experience to the next level, consider booking a behind-the-scenes stadium tour that offers a look at areas (like the locker rooms and press boxes) normally reserved for players and staff only.
15 – Hop around the city's best rooftop bars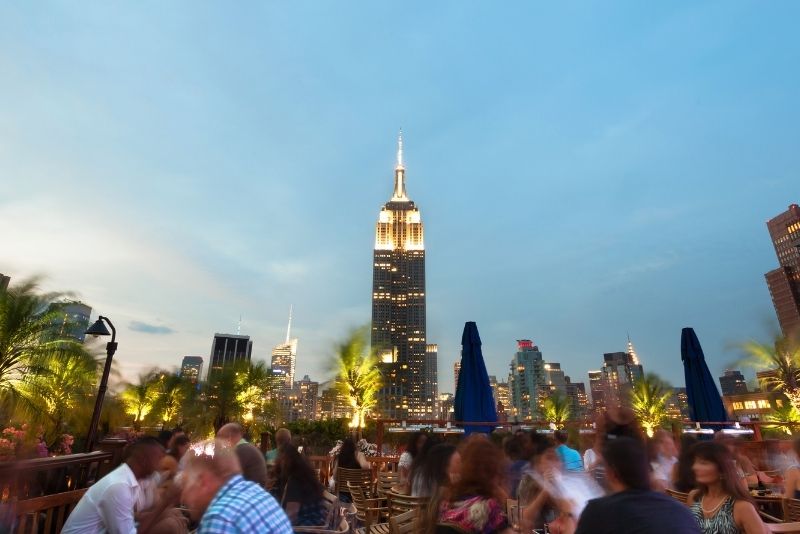 There's something about a rooftop bar that just screams "vacation" Maybe it's the unique, sprawling skyline views on offer; or maybe it's the fact that they tend to be located in some of the busiest and most happening neighborhoods in town.
No matter what it is, though, rooftop bars are definitely one of the must-dos when sunset rolls around in the Big Apple – especially during warmer months when you can take advantage of outdoor seating (and soak up those city views).
So, where to begin? From The Standard High Line's rooftop bar in Chelsea (overlooking the High Line, obviously) and 230 Fifth Avenue in Flatiron (New York's largest outdoor rooftop garden) to the vibrant and artistic Mr. Purple patio on the Upper East Side, there's no shortage of places to check out.
Right on top of Times Square at the Moxy, the Magic Hour Rooftop Bar & Lounge is a whimsical adult playground with sublime Empire State Building vistas; while, over in Brooklyn, Harriet's Rooftop & Lounge atop 1 Hotel Brooklyn Bridge and Westlght on the 22nd floor of the trendy William Vale regularly fight over the borough's top spot.
16 – Gain a new perspective from the Edge Observation Deck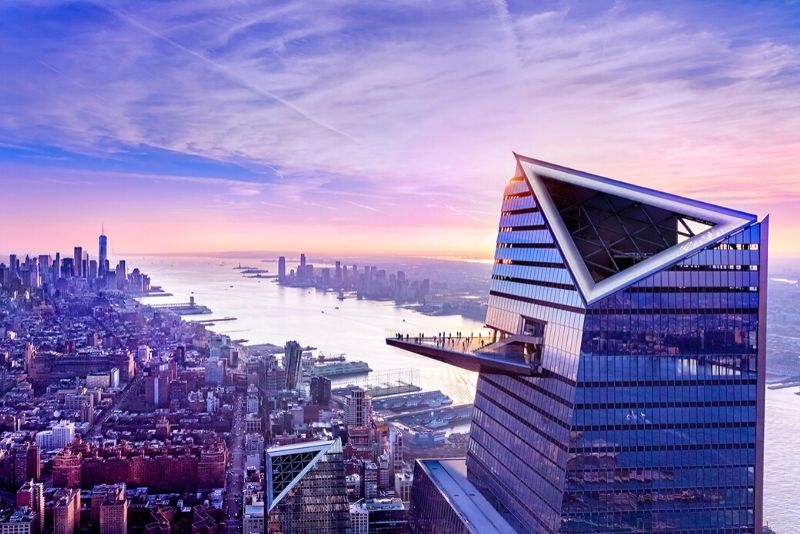 Forget about the observation decks at the Empire State and Top of the Rock — there's a new kid in town over at the 30 Hudson Yards building.
Towering 100 stories above the streets of Manhattan, the Edge Observation Deck offers unparalleled 360-degree views of the twinkling Midtown Manhattan on one side, Downtown on the other, and the Hudson River and suburban pockets of Hoboken and broader New Jersey over your shoulder.
Open until 10 pm every night, this is one high-up spot that's definitely worth a visit – especially if you want to snap some epic starlit shots of the skyline without having to elbow your way through hordes of tourists.
Be mindful, you'll be out in the open air with nothing but transparent glass barriers to separate you from the world, so it's not for the faint of heart.
17 – Eat, drink and cheer on your team at Dave & Buster's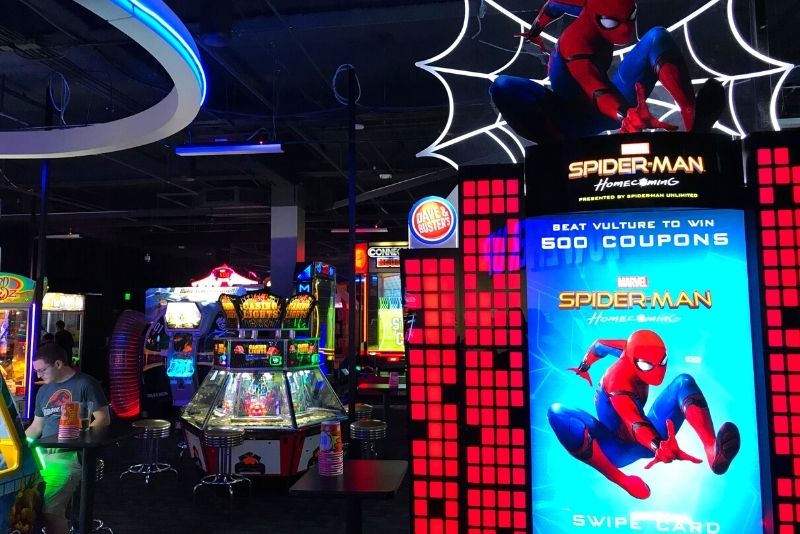 A Times Square staple on West 42nd Street, Dave & Buster's is a sports bar, restaurant and arcade all rolled into one.
With games of all types to play, along with food and drinks (alcoholic and not) available from the full-service bar, it's the perfect spot for groups looking for some friendly competition – or just a night of fun and laughs.
With massive LED screens around every corner and all the classic USA pub fare (think wings, burgers, and pizza), it's easy to see why this place is always buzzing – especially when there's a big game on.
Hot tip: for penny-pinchers, pop in between 4 pm and 7.30 pm during the week for half-price happy hour cocktails!
18 – Step inside the iconic Radio City Music Hall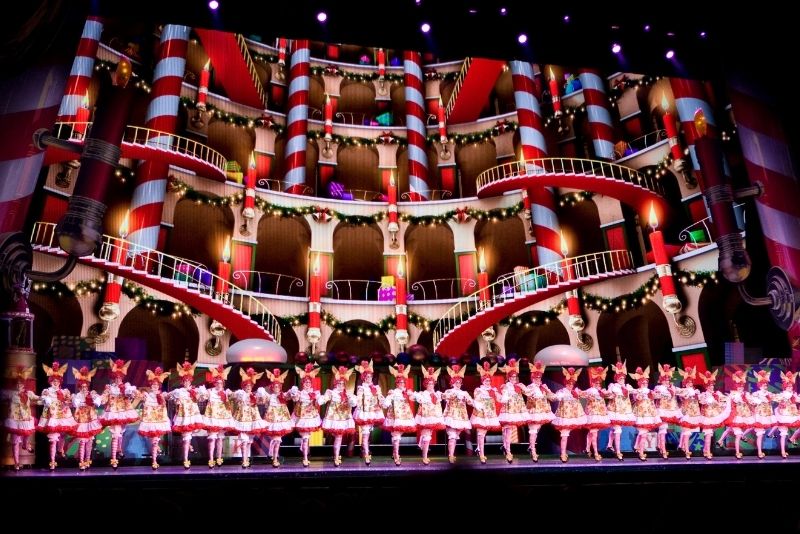 The so-called Showplace of the Nation (makes sense, considering it's the largest indoor theatre in the world), Radio City has been extending its star-studded list of performers since the 1930s.
From the Rockettes (we'll touch on this in a tick) to world-famous rock and roll bands and a long string of A-list pop stars (think Ray Charles, BB King, Bette Midler, Stevie Wonder) this Art Deco stunner has something for everyone.
And while a seat at a show is undoubtedly spectacular, guests also have the option to go behind the scenes on expert-led tours that dive into the history, architecture, and backstage secrets of the NYC music landmark.
Visiting around Christmas time? For a truly one-of-a-kind holiday experience, there's no beating the Rockettes Christmas Spectacular. This annual 90-minute show has been wowing audiences since 1933 with its high kicks, precision dancing, and all-around good cheer – not to mention Santa himself making an appearance on stage.
With performances running from November through early January each year, it's a surefire way to get in the festive spirit.
19 – Ride the coasters at Coney Island's Luna Park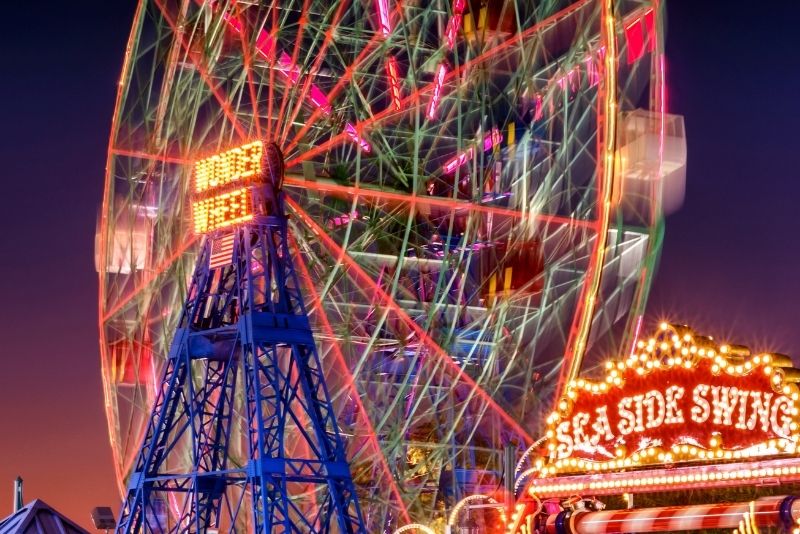 Beloved by families and thrill-seekers alike, Luna Park is a recent addition to a spot that's been delighting visitors for well over a century with rides, carnivals, and beach days galore: Coney Island.
And while it might not be as historic as other sections of the area, it makes up for it with high-speed thrills and spills: there are more than 40 rides and attractions to choose from, including classics like the Cyclone roller coaster and new additions like the Sling Shot (a stomach-churning tower ride that catapults you into the air).
Slap on a handful of Midway games, carnivalesque eateries, and souvenir stores and you've got yourself one heck of an entertaining evening.
And don't forget: admission is free! Just pay for whatever rides or games you want to try out.
20 – Take the kids to a show at the New Victory Theater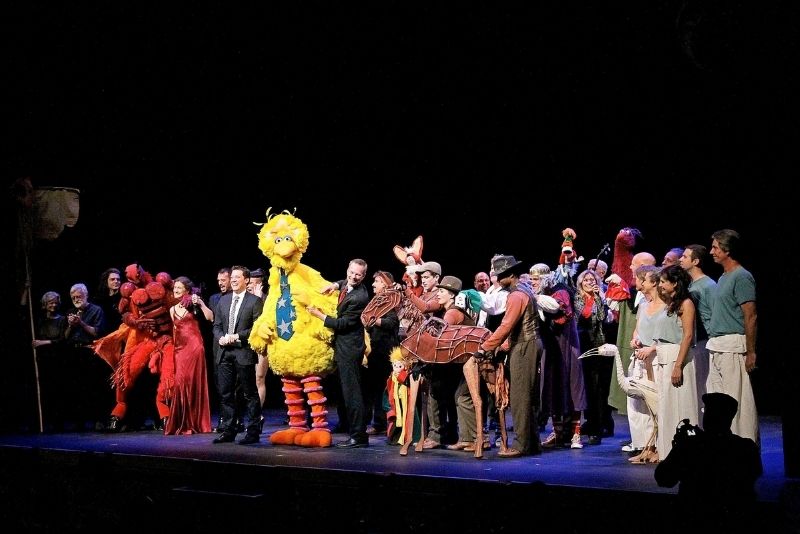 A relative newcomer to the New York theater scene (it first opened its doors in 1995), the New Victory has quickly become one of the most popular venues in town for families. Why? Because it's devoted year-round… to kids!
From family-friendly productions like Robin Hood, Peter Pan, Pinnochio, and dozens more, to acclaimed dance companies and cutting-edge contemporary theater, there's always something new – and exciting – happening at this 42nd Street (Times Square) spot.
What's more, the New Victory is incredibly affordable with tickets starting at just $18. So if you're looking for a night out with the kiddlywinks that won't break the bank, this is definitely a place to check out.
21 – Watch the skyscrapers illuminate on a sunset cruise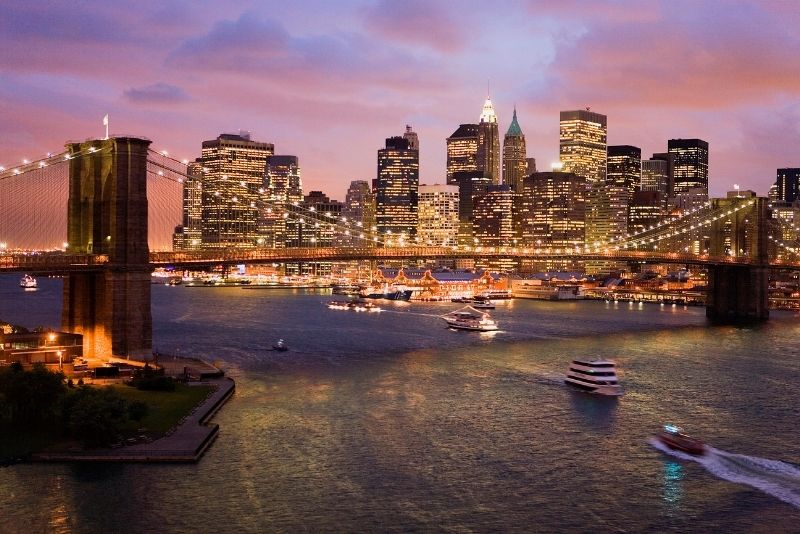 One for the romantics, a sunset cruise is the perfect way to cap off a day (or evening) in New York City. And there's no shortage of companies offering cruises, so you're spoilt for choice when it comes to choosing the right vessel and package for you.
Regardless of which one you choose (if you need a push in the right direction, the City Lights Cruise is a crowd favorite for good reason), expect witty and entertaining commentary from a professional guide along the way, as well as up-close photo opportunities of Lady Liberty, Battery Park, Chelsea Pier, and so much more.
Some offer dinner options as well, while others focus purely on enjoying the incredible views as the sun goes down. Whichever route you decide to go down, make sure to book in advance – these tickets tend to sell out quickly!
See also: NYC boat tours – which one is best?
22 – Sit courtside for a basketball game at Madison Square Garden or the Barclays Center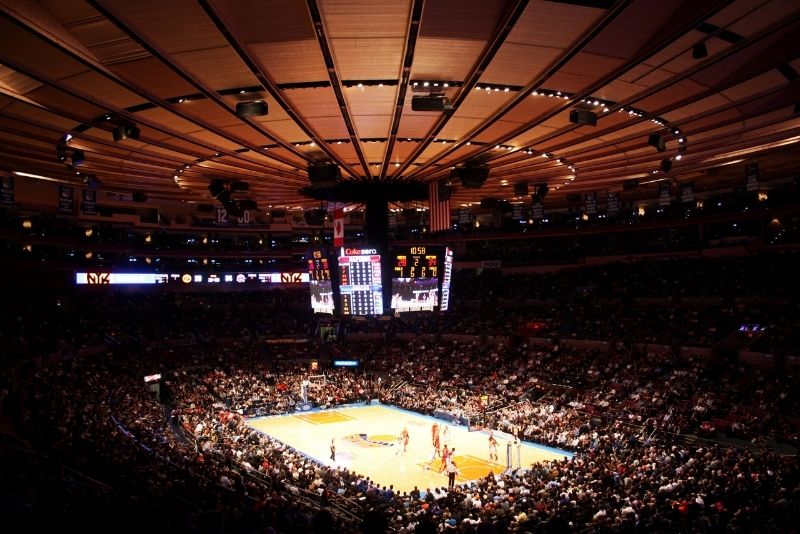 It's no secret that New York City is a sports fan's dream destination. From the Yankees and Mets at Yankee Stadium and Citi Field, to basketball games at Madison Square Garden or Barclays Center (not to mention the NFL's Giants and Jets), there's always a hotly contested match going on somewhere in the city.
If you're looking for an evening of basketball excitement, why not head to one of these world-famous stadiums and take in a game? The New York Knicks take court at Madison Square Garden, while the Brooklyn Nets call the Barclay center home.
Both stadiums not only offer a roaring atmosphere with concessions and souvenirs to boot, but also offer behind-the-scenes tours and regular concerts too.
23 – Head to America's tallest building: One World Observatory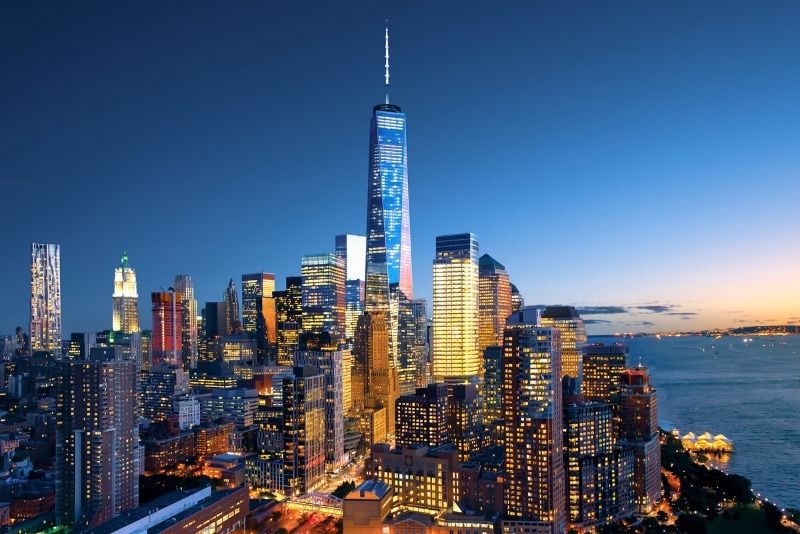 Delivering a unique aerial perspective of the Big Apple since its opening in May 2015, thanks to its location Downtown (for context, most of the famous observatories are in Midtown), One World Observatory is a must-see attraction for visitors and New Yorkers alike.
Located atop the newly opened Freedom Tower (One World Trade Center), this top-of-the-world experience takes you on an awe-inspiring journey from the ground floor to the 102nd floor in under 60 seconds.
Once there, treat yourself to panoramic views stretching for miles in every direction, taking in all five boroughs of New York City as well as neighboring New Jersey. You'll be able to learn a thing or two from the multimedia displays and interactive exhibits too.
Planning a special occasion? Book a table for a delicious meal with a view at One Dine — an upscale and sophisticated eaterie known for its expert-chef-curated meals, refined service, and floor-to-ceiling windows that overlook the Financial District and beyond.
24 – Visit (and sleep at) the Intrepid Sea, Air & Space Museum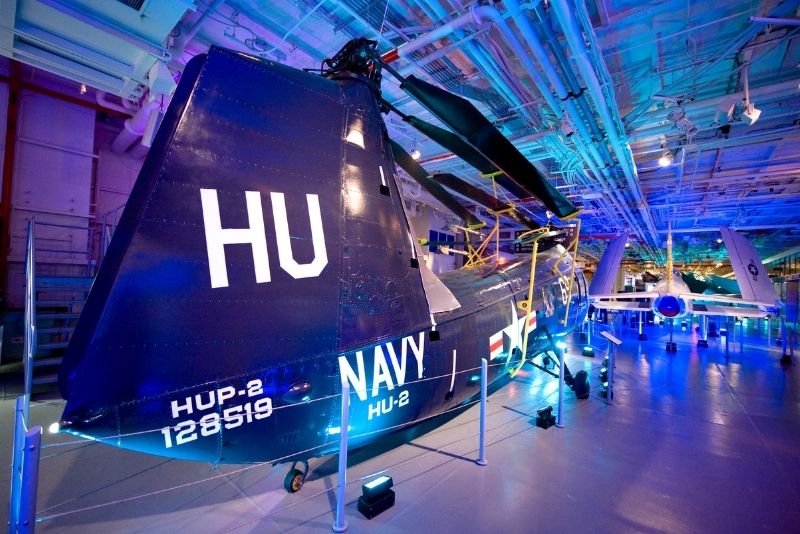 Sitting on the shores of the Hudson in Hell's Kitchen on Pier 86 (at 46th Street and 12th Avenue), this massive museum is dedicated to history and innovation across all three of its namesake areas.
From space to sea and everywhere in between, the Intrepid Sea, Air & Space Museum is one of New York City's most popular attractions for visitors of all ages.
Boasting a range of interactive exhibits, from an enormous aircraft carrier (the USS Intrepid) that you can walk on top of to simulators that put you in control of a fighter jet or submarine, and a planetarium that whisks visitors away on intergalactic journeys, there's plenty to keep everyone entertained for hours on end.
Space buffs, make sure to check out the Enterprise (the world's first space shuttle); aviation enthusiasts, wander around the aircraft carrier to admire close to 30 different planes, including the world's fastest military jet (Lockheed A-12 Blackbird) and spy planes of bygone eras.
And if you're feeling extra adventurous, why not spend the night? Offering a rare chance to sleep among military vehicles during the summer months, the Intrepid's slumber parties also include flashlight-guided tours of the flight deck, unlimited simulator rides, and fascinating planetarium shows.
25 – Wet your whistle with a beer tasting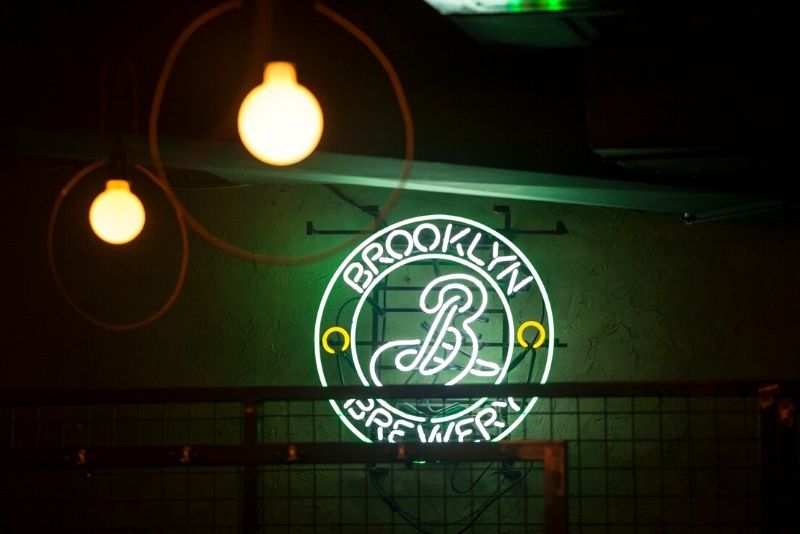 No matter the borough you find yourself in or your beer of choice, a brewery tour and tasting is waiting for you in New York City.
Wolf & Warrior, Brooklyn Brewery, Chelsea Craft Brewing, and Bronx Ale House all offer tours (and tastings) of their facilities, letting you see how your favorite brew is made and sample some delicious variations along the way.
Prefer to play the field? No worries! A range of locally-led tours skirt all over town, hopping between the best beer bars and breweries in each neighborhood. From Downtown to Midtown, Brooklyn to Queens, an ice-cold brew is never too far away.
While some tastings are purely standalone (you arrive, you drink, you repeat), others include foodie elements like pizza tastings or take place on cruises – so there's something for every budget and interest.
If beer's not your thing, there are also winery tours available throughout the city. From Long Island to upstate New York, wine lovers can visit cellar doors, learn about viticulture and enology, and of course sample plenty of local wines.
Check out organizations like NYC Wine & Food Festival or DrinkAbout Town for upcoming events.
26 – Feel the rhythm at Swing 46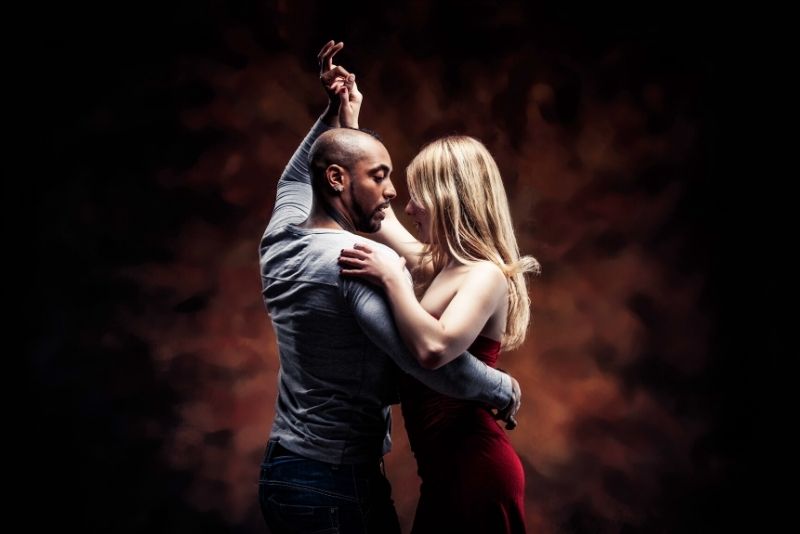 Lace on your dancing shoes and head to Swing 46 in Midtown for an evening of swing dancing (or jazz, or r&b, or a bit of boogie-woogie!). This popular spot has been hosting weekly dance nights since 1997, and offers a relaxed and welcoming atmosphere perfect for beginners or experienced dancers alike.
There's no need to sign up in advance or bring a partner — just show up ready to Lindy Hop the night away! Swing 46 provides all the music and instruction you'll need, so whether you're new to swing or have been dancing for years, you'll overcome that two-left-feet syndrome in time.
Besides the chance to tap the night away, Swing 46 is also a restaurant – and a mighty esteemed one at that. A romantic and intimate dining experience with a diverse menu, combined with nightly live music, friendly (dance-trained) staff, and a warm and cozy atmosphere awaits.
27 – Soar over the skyline with a helicopter tour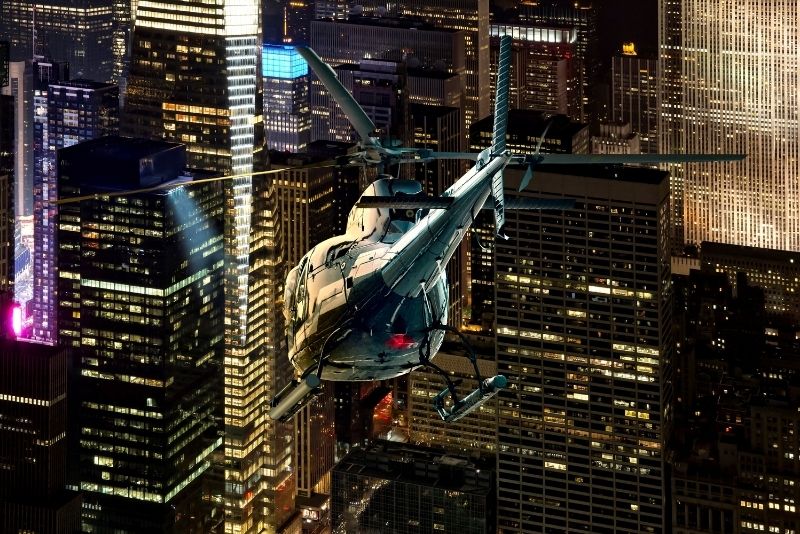 Where everlasting memories of a twinkling skyline are guaranteed; If you really want to see New York City from a new perspective, there's no better way than by helicopter.
Soar high above the skyline for unparalleled views of world-famous landmarks like the Statue of Liberty, the George Washington Bridge, the Empire State Building, and Central Park.
There is a range of tour operators to choose from, so whether you're looking for a quick 15-minute ride or something more in-depth that lasts up to an hour, you're sure to find the perfect tour for you.
Of course, while there's no shortage of daytime flights, it's when the sun goes down that the city really comes alive (but hey, nobody's saying you can't do both!).
See also: Helicopter tours in New York City – which one is the best?
28 – Crawl around some historic bars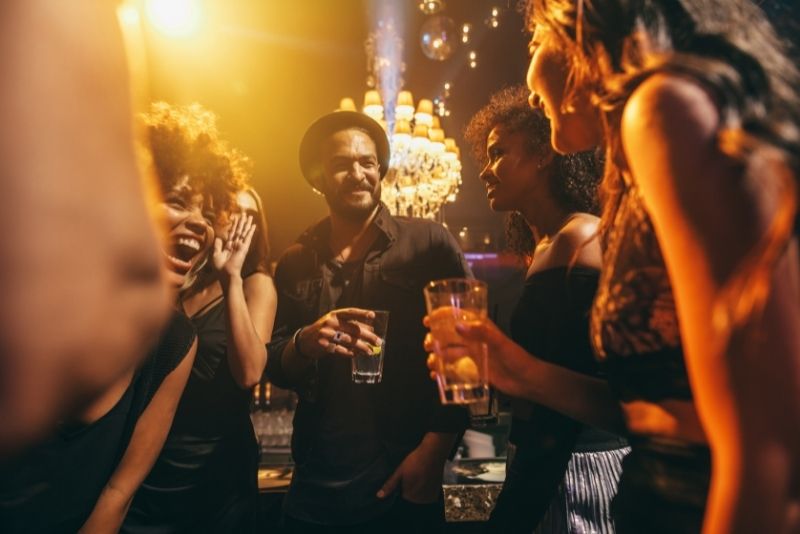 New York City has a wealth of historic bars, each with its own unique story to tell. From the speakeasies of prohibition-era Manhattan to the jazz clubs of Greenwich Village, these watering holes have been witness to some of the most important moments in New York City history.
Many of these bars are still in operation today, and offer visitors a chance to step back in time and experience what life was like for earlier generations of New Yorkers. So pull up a stool, order yourself a drink, and prepare to be transported into another era.
Some notable historic bars include McSorley's Old Ale House (the oldest Irish bar in NYC, dating back to 1854), Fraunces Tavern (served as the headquarters for George Washington and standing since 1762), White Horse Tavern (a bohemian writers' hangout that dates back to the 1880s), and Mulberry Street Bar (a 1908 institution that's appeared in countless mafia-related films and TV shows over the years).
29 – Have a tipple at The Rum House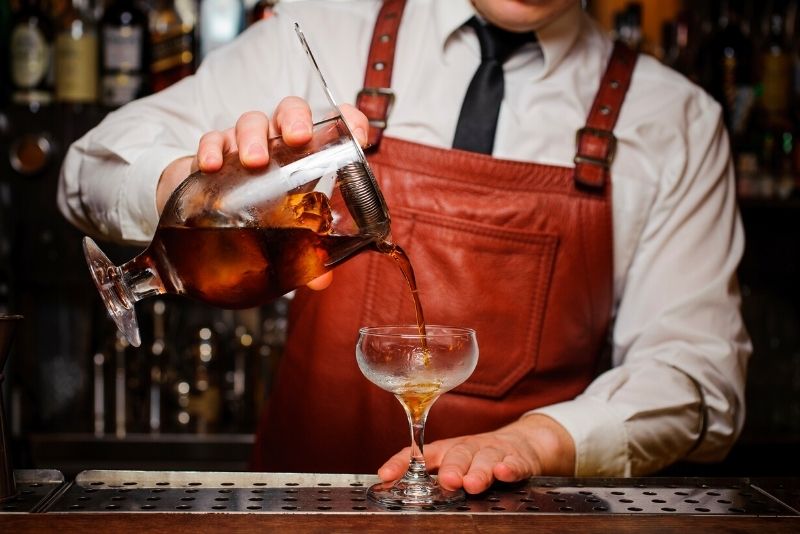 Thirsty with an inkling for jazz? The Rum House in Times Square is the place to go.
This longstanding Midtown bar — often heralded as one of the premier cocktail bars in the city — offers up a wide variety of handcrafted cocktails, along with live performances by jazz musicians and pianists every night.
Draped in red velvet with wooden touches and an old-world feel reminiscent of the Jazz Age heyday, the cozy bar (which adjoins the Edison Hotel) takes inspiration from the prohibition era, when rum was (and still is) one of the most popular drinks in New York City.
And while times have changed, The Rum House's dedication to crafting quality cocktails has not. So pull up a chair, order yourself a drink, and enjoy some of the best jazz in town.
30 – Board a delicious dinner cruise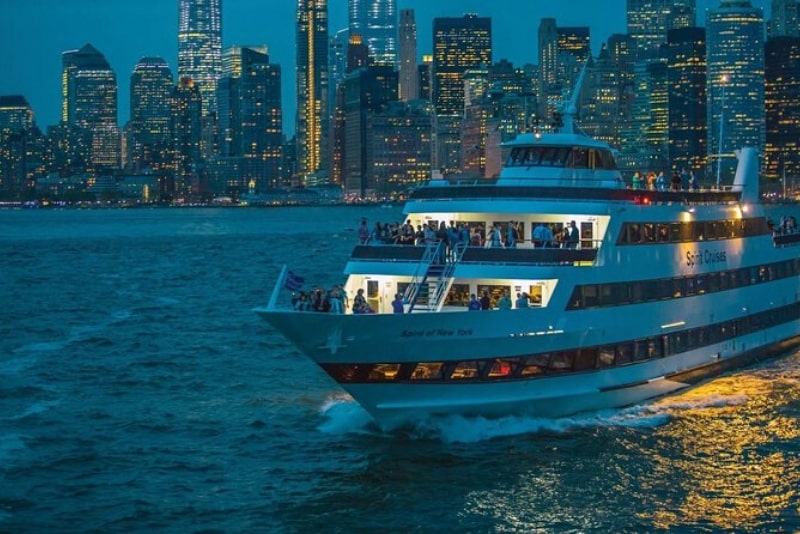 If you're looking for a romantic evening out in New York City, look no further than a dinner cruise. With sweeping views of the city skyline and delicious food to enjoy, these cruises are the perfect way to celebrate an anniversary, birthday, or any other special occasion (popping the question, perhaps?).
No matter your budget, there are a variety of different cruise operators to choose from, each with its own unique menu and style. Some offer buffet-style dining while others have à la carte menus, and some are more social and party-oriented, so you can drink (and dance) the night away on the river.
No matter which cruise operator you choose, you're guaranteed a night you'll never forget. So book your spot today and prepare to be wowed by one of the most beautiful cities in the world.
31 – Catch a show at 'the soul of African American culture': the Apollo Theater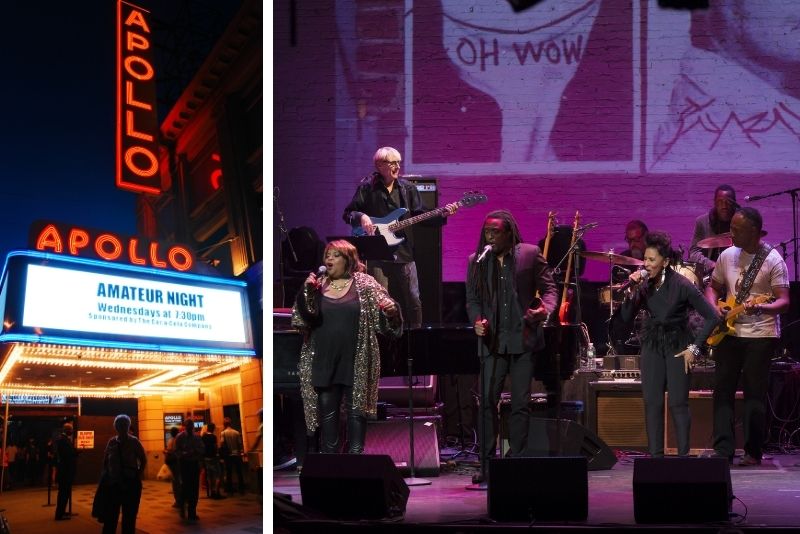 Ideal for a night out with friends or family, Harlem's 1500-seat Apollo Theater is a legendary music venue steeped in history and devoted to enriching, promoting, and celebrating African American culture and performance.
Self-described as the "intersection of artistry and activism", the Apollo has been hosting performances since 1934 (before that, it was whites-only, which only adds intrigue to its meaningful history and significance to what it has become).
This iconic theater is home to the world-famous Amateur Night contests, where up-and-coming singers and musicians compete for the chance to perform on stage (previous names include Jimi Hendrix, Ella Fitzgerald, Diana Ross, and Aretha Franklin).
Add to the mix plays, comedy acts, and R&B, hip-hop, and gospel music concerts, (and plenty more) and it's clear that there's something for everyone at the Apollo Theater.
Want a more in-depth historical look? The Apollo also gives visitors the chance to explore the theater's (and suburb's) legendary history with behind-the-scenes access tours.
Tickets are relatively affordable (especially compared to other New York City theaters), so be sure to check out its schedule and see what's on during your visit.
32 – Try something new (drink in hand) at The Royal Palms Shuffleboard Club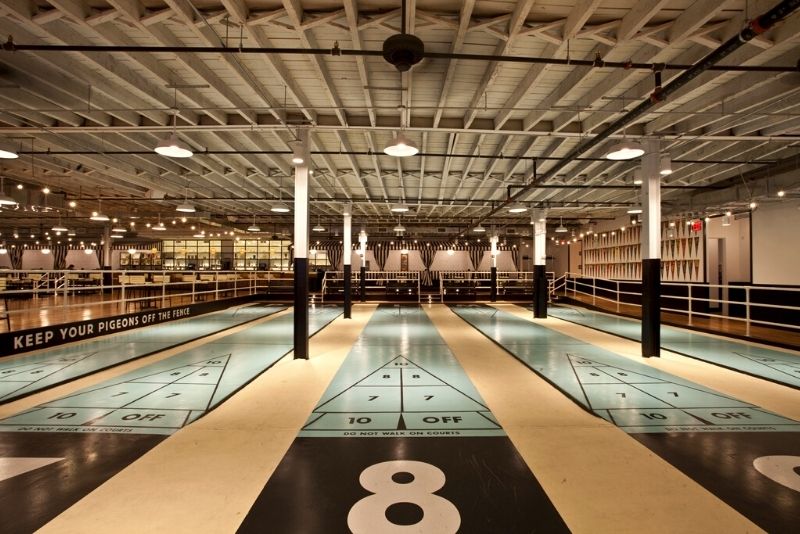 Not the typical nightlife spot, but definitely worth checking out nonetheless, the Royal Palms Shuffleboard Club is a unique bar and social club in Brooklyn that's dedicated to the game of shuffleboard, with no less than 10 courts on show.
Open seven days a week from (usually) until midnight, Royal Palms offers visitors the chance to play one of America's oldest sports (shuffleboard was invented in Florida back in the early 1900s), as well as enjoy cocktails and light bites from the bar's menu and a sleuth of visiting food trucks.
There are even board games (think Connect 4 and Giant Jenga) if you need a break from shuffling.
So whether you're an experienced shuffleboard player or just looking for things to do in New York City at night that are a little left-field, be sure to check out the Royal Palms Shuffleboard Club. You won't regret it.
33 – Stop by the iconic Hard Rock Cafe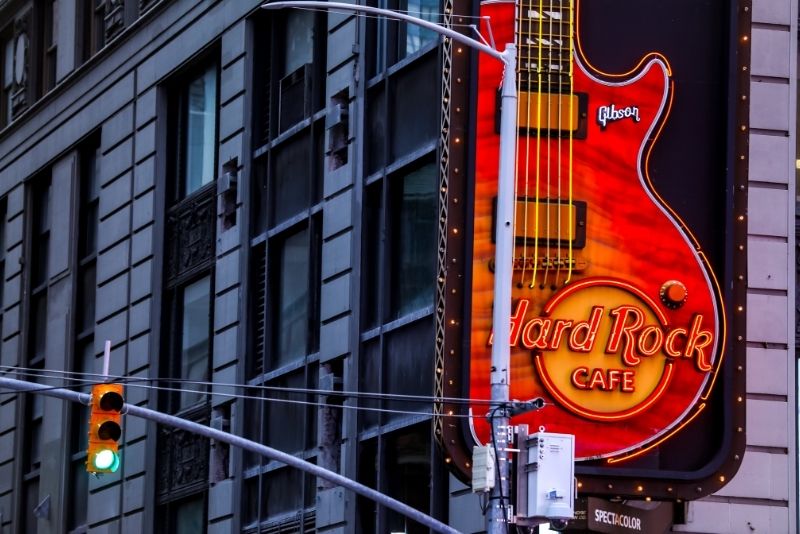 A staple of the New York City nightlife scene, the Hard Rock Cafe is a must-visit for any music lover.
This world-famous chain offers up a wide variety of live music every night, from rock and blues to jazz and country. There's also a huge menu of American classics to choose from, along with an extensive selection of beers, wines, and cocktails.
Popular for tourists from all over, the Hard Rock Cafe is open until late most nights — and, thanks to its location at the heart of Times Square, it's the perfect place to stop in for dinner and drinks after a show or before hitting the town.
Don't forget to browse the souvenir shop while you're there!
34 – Grab the popcorn at the Skyline Drive-In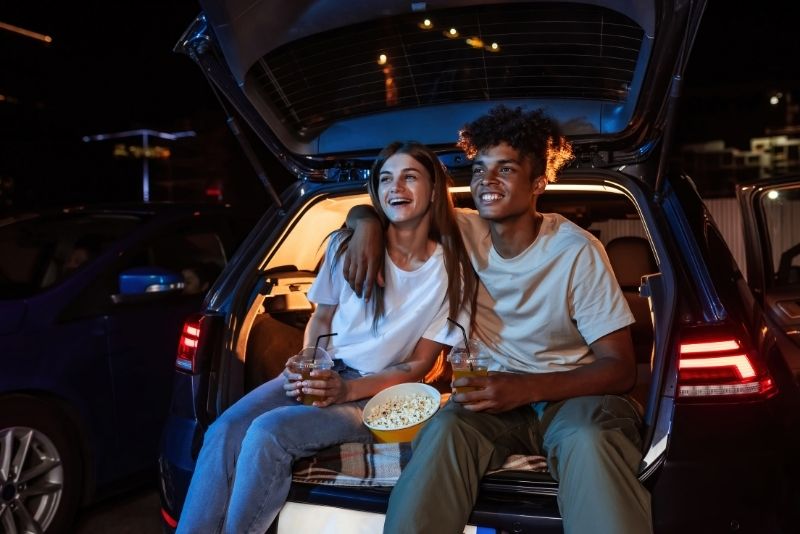 Looking to catch a movie under the stars? Then head on over to the Skyline Drive-In, an iconic Brooklyn cinematic instruction that dishes up arguably the best open-air cinema views in the world.
With the Manhattan skyline twinkling above the East River in one direction and the latest blockbuster film showing in the other, you'll find yourself torn between the two.
The theater is open most nights of the week (even in the colder months) and shows a mix of new releases and old favorites. With a full carload, admission works out to between $10-$15 per person, so it's perfect for a cheap night out with friends or family.
And if you don't feel like driving, there's also an on-site concession stand where you can buy snacks and drinks to fuel you through your magnificent open-air theater experience!
No car? No problem! Plenty of outdoor pedestrian seating is available too.
35 – Enjoy the show at Don't Tell Mama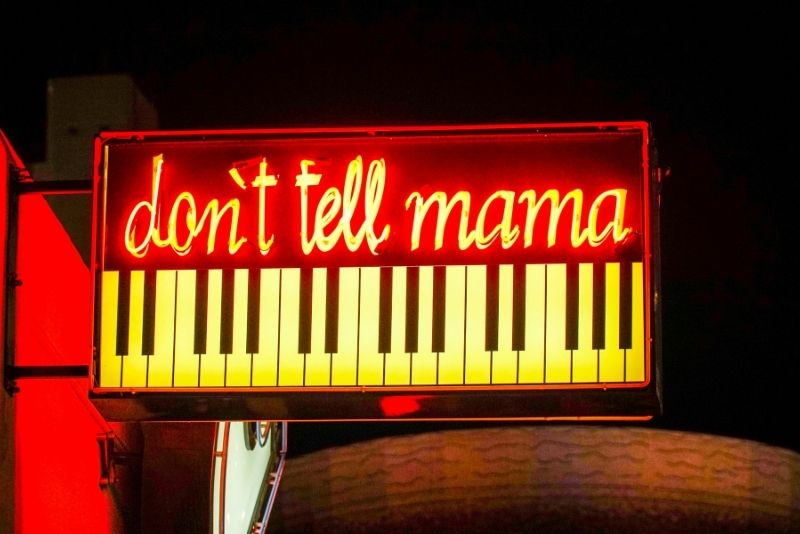 An eclectic cabaret show that's a little bit naughty, a little bit funny, and a lot of fun, Don't Tell Mama is a must-see for anyone visiting New York City.
This interactive and intimate show runs 7 nights a week, with live music, comedy, and burlesque performances that are sure to get your toes tapping.
But there's more to Don't Tell Mama than its cabaret; complementing its 2 separate cabaret showrooms, the venue also sports a piano bar where the drinks flow, the melodies ring out, and the wait staff often sing along — the tunes are mellow from 5pm-9pm before the atmosphere is taken up a notch with singing, dancing, and many a cocktail!
Throw in the notable restaurant that offers a little something to tantalize everyone's tastebuds and it's easy to see why this hidden gem is so locally beloved.
Located in the heart of the Theater District, Don't Tell Mama is a stone's throw from a sleuth of theaters and restaurants, and the bright lights of Times Square.
36 – Book a table at a few Michelin-starred Restaurants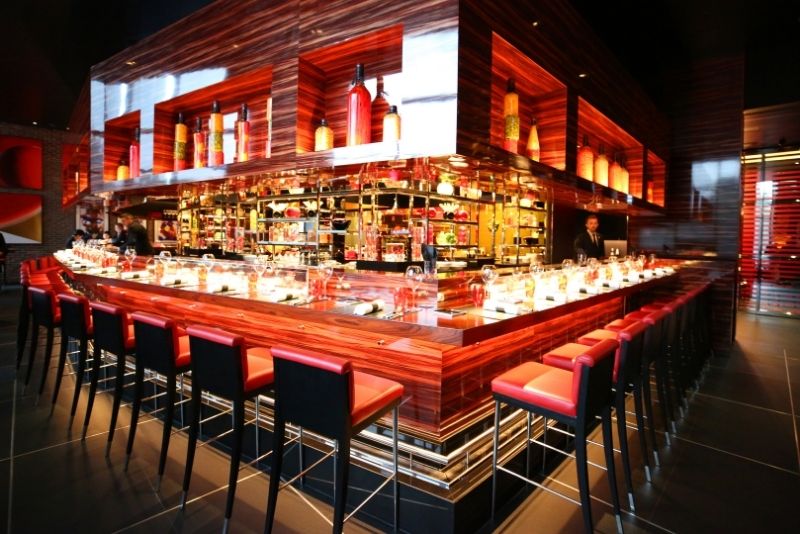 For those with a more refined palate, New York City is home to some of the world's most acclaimed and Michelin-starred restaurants. From sushi to steak, Italian to Indian, there's something to tantalize everyone's taste buds at one of the city's many award-winning eateries.
So, where to begin? You'll never run out of award-winning restaurants in the Big Apple, but it takes something special to notch up not one, not two, but three Michelin stars.
Taking place in that upper echelon of NYC eateries are Per Se (French cuisine by Chef Thomas Keller), Masa (Japanese and sushi), Le Bernardin (French with a fresh seafood twist by chef Eric Ripert), and Eleven Madison Park (with an innovative menu by Daniel Humm that's right next to Madison Square Gardens).
For the ultimate dining experience, a 13-course culmination of flavors and experimental dishes, Chef's Table at Brooklyn Fare (warning: it's not cheap, but you get what you pay for) is as bucket-list-worthy a restaurant as any, and a must-visit for anyone who considers themself a true foodie.
Be sure to do your research before making a reservation as availability can be tight!
37 – Join the audience for a TV show taping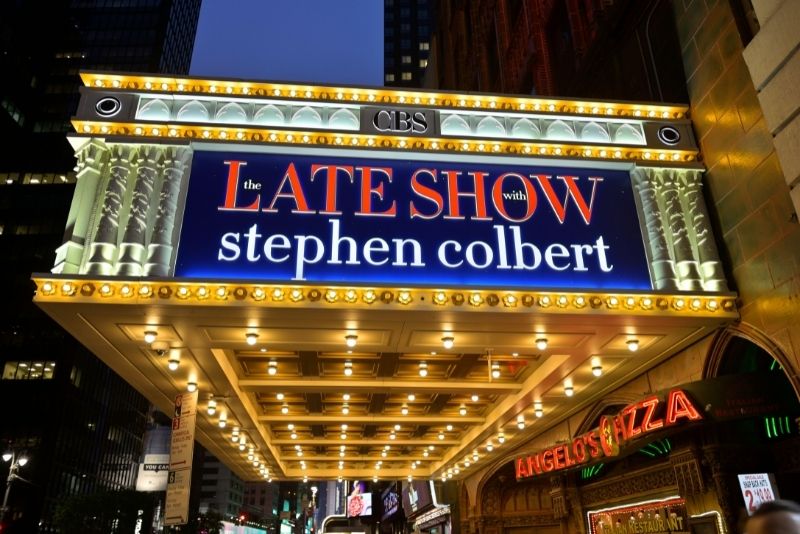 One of the most quintessential New York City experiences is watching a live taping of one of your favorite TV shows. From late-night talk shows to morning news programs, there's something for everyone to enjoy (and be entertained by).
The Tonight Show Starring Jimmy Fallon and Late Night with Seth Meyers are both taped in the NBC studies Rockefeller Plaza, just a few blocks from Central Park, likewise everyone's favorite sketch and variety show, Saturday Night Live. Meanwhile, the Late Show with Stephen Colbert takes place at the Ed Sullivan Theater near Broadway.
And that's not all! Morning and variety show favorites like Good Morning America, The Today Show, the Rachael Ray Show, and LIVE! with Kelly and Ryan are also filmed in the heart of Manhattan.
While each show taped in NYC has its own ticket request method, they're all usually free and easy to come by if you plan ahead accordingly. So pick your show and then check their website to see where to line up/apply/enter the lottery system.
38 – Witness a string quartet candlelight concert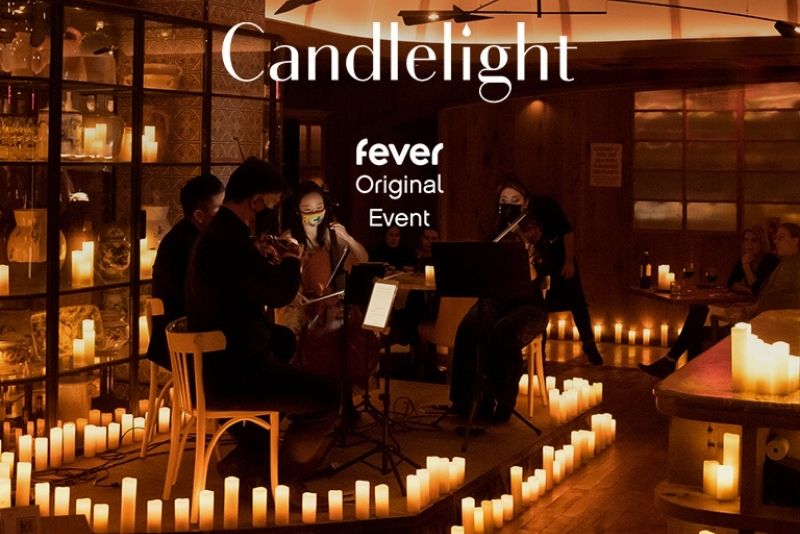 An evening occasion that screams romance and is typical of underground New York, candlelight concerts whisk you away from the hustle and bustle of the city streets and into a world of live music in an intimate setting.
Held at various locations throughout the boroughs — including Brookyn's St Ann and the Holy Trinity Church, where the stained glass windows and towering alter make the performance all the more spectacular; the Church of the Heavenly Rest (next to the Guggenheim), and the open-air Mondrian Park Avenue terrace — and these concerts can last anywhere from 60 minutes to over three hours, with different performers playing each night.
We'd forgive you for assuming it's only classical music on the roster. With new themes every night, from Taylor Swift and Beatles tributes to Christmas or Halloween events, the sounds are always changing and appeal to a wide range of audiences.
39 – Master the art of espionage at SPYSCAPE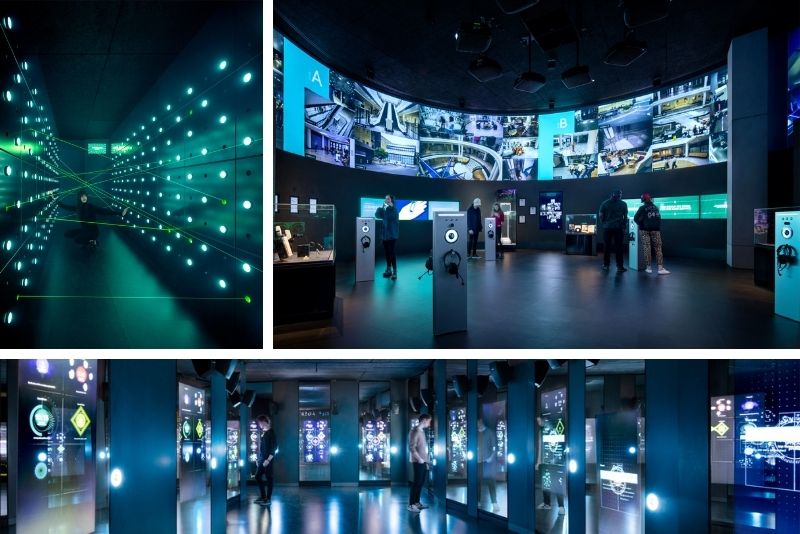 Do you have what it takes to crack the code? Find out at SPYSCAPE, the new interactive spy museum in Manhattan.
Designed to provide an insight into the world of espionage and intelligence, and boasting a wealth of real-world sky artifacts, the hands-on exhibits here will have you crawling through vents, dodging lasers, observing surveillance, decoding ciphers, and interrogating suspects in no time — just like they do in the movies.
Across seven different immersive exhibits, visitors are given the chance not only to crack safes and solve crimes, but learn a thing or two along the way; uncover a 360-degree room that presents a closer look at the story of Edward Snowden, learn about Anonymous and their notorious digital hacking and cyber lobbying, dive into the FBI's hunt for KGB mole Robert Hanssen or educate yourself on the Cuban Missile Crises — even for history buffs, it's a treat.
Plus, with a dedicated James Bond exhibition area and plenty of events (including escape rooms and espionage-themed cocktail nights), there's something for everyone at SPYSCAPE.
Typically open till around 8pm, and located around the corner from Times Square and Broadway, it's an afternoon or evening out that'll have you feeling like a secret agent when you leave.
40 – Embrace your inner pop star at the Maru Karaoke Lounge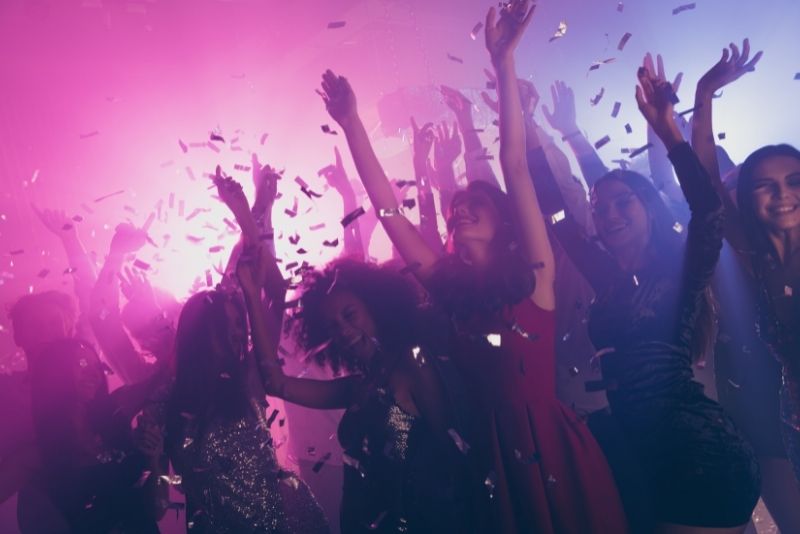 Combining the best of both worlds; whether you're looking for a low-key, more intimate karaoke experience, or a public dancefloor where DJs spin the decks, Maru Karaoke Lounge has got you covered.
Located in the heart of Midtown Manhattan, right next to the Empire State Building, this place offers private rooms where you and your friends can enjoy an authentic Korean dining experience while belting out all your favorite tunes — no one else will be listening!
The roomy, sleek, and futuristic-looking booths are equipped with impressive speakers, so sound quality is top-notch; plus there's a great drink selection of craft cocktails to choose from as well as typical Korea Town nibblies.
A hot spot for parties and open till the early hours of the morning, it's the perfect place to let your hair down and have some fun.
41 – Take orders from the Professor at the Money Heist Experience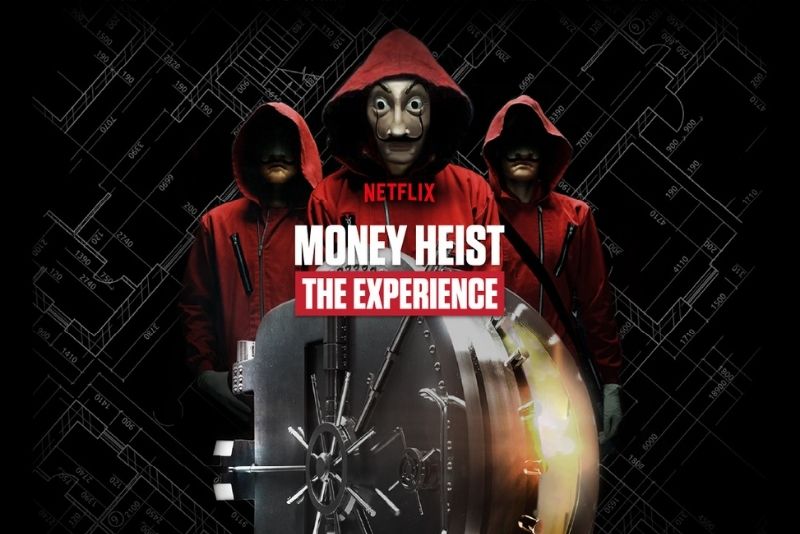 One of the hottest, most thrilling interactive experiences to hit New York City in years, Money Heist is an immersive escape room-style activity that blurs the boundaries between fiction and reality as you attempt to break into the Skylight One Hanson, the art-deco site of the former Williamsburg Savings Bank Clocktower.
With more than 7 actors playing roles, you'll become a crucial part of the heist — this heart-pounding adventure will have you racking your brains for clues and trying to solve puzzles, with costumes, special effects, and high-octane twists and turns, turning the excitement into overdrive.
And, after you've successfully robbed the infamous NYC landmark, kick back in the themed bar with custom cocktails before grabbing some merchandise to take home.
So, can you break into the safe and extract the gold? There's only one way to find out.
42 – Laugh your socks off at a comedy club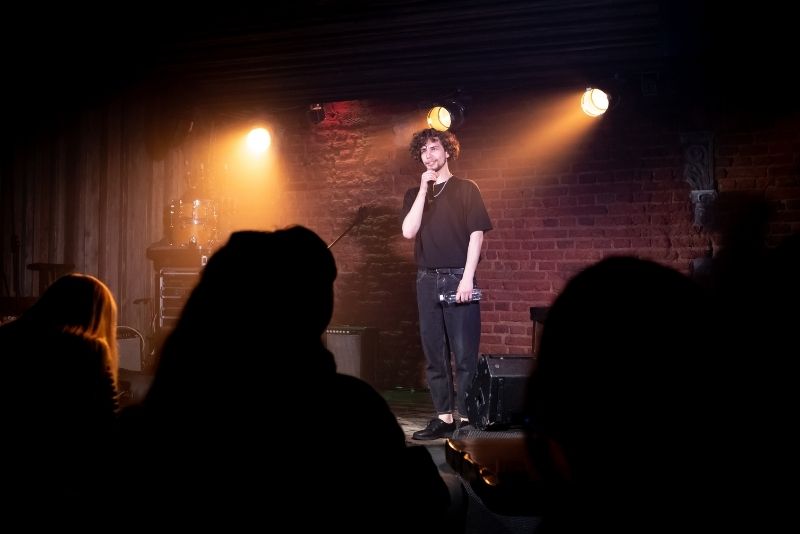 Welcoming world-famous headliners, next-generation up-and-comers, and everyone in between, New York's sleuth of comedy clubs guarantees a night of side-splitting laughter (and probably a few strong drinks too).
From iconic institutions like the Gotham Comedy Club, Comedy Cellar, Carolines On Broadway, and The Comic Strip Live (which has welcomed names like Eddie Murphy, Chris Rock, and Adam Sandler) to intimate joints with only a few dozen seats, there's a club for every budget — whether you're a diehard fan of stand-up or just looking for a cheap night out.
Hot tip: if you're pinching pennies, check out The Lantern Comedy Club on Bleecker St (the shows are free with a one-drink minimum) or Upright Citizens Brigade in Hell's Kitchen; rather than stand-up, it focuses more on improv and sketch comedy.
Most clubs are open late (usually till around midnight), so they make for perfect after-dinner entertainment; just make sure to book ahead or arrive early as shows often sell out.
43 – Let your hair down on a pub crawl
One of the most exciting and social things to do in New York City at night for thirsty travelers, pub crawls are a great way to meet new people and get acquainted with the city at once.
Spilling out into the streets, you'll be able to sample some of NYC's best cocktails and beers as you jump from bar to bar, taking in all the sights along the way (and probably making a few friends too).
For something low-key, try Greenwich Village or the Upper East Side; for those looking for more of a party vibe check out the options that mozy through Hell's Kitchen or Brooklyn, where you can drink your way through a host of bars and clubs on buzzing weekend nights.
However, it's not exclusively about just beer and banter; a range of pub crawls add an insightful twist to complement the fresh pints! Choose from haunted walks, literary tours (which pop into bars once frequented by literary icons), Probihition tours, and even a food crawl, where you can sample some of the best bar snacks in town (with plenty of beer too, of course).
44 – Catch a show at the Lincoln Center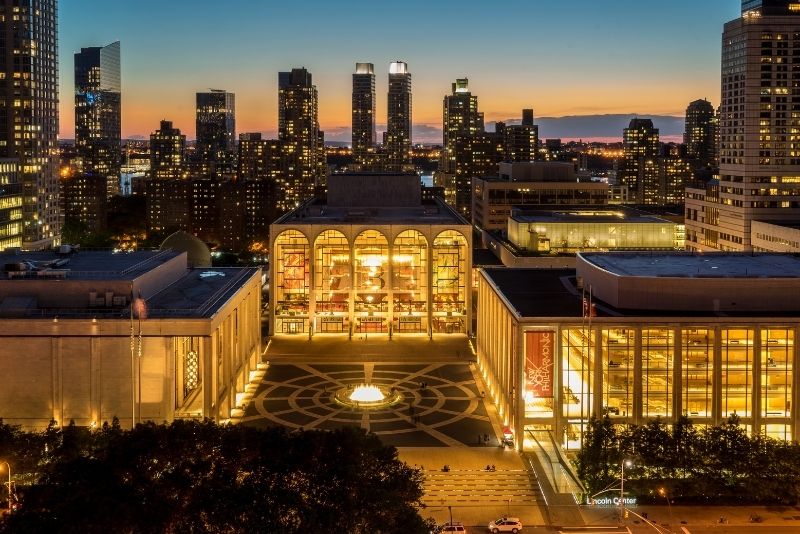 Home to the New York Philharmonic, the Metropolitan Opera, and the New York City Ballet, as well as a range of theater productions, film screenings, art exhibitions, and a vast array of other events throughout the year — come rain, hail, or shine — the Lincoln Center on the Upper West Side (not too far from Central Park) is one of New York City's most iconic cultural landmarks.
Comprising 11 different performing arts organizations and close to thirty indoor and outdoor facilities, the center is a great place to catch a show or wander around the beautiful open-air spaces; with venues like the 3,900-seat Metropolitan Opera House, David Geffen Hall, Vivian Beaumont Theater, Alice Tully Hall, and Josie Robertson Plaza, there's never an empty night on the calendar.
45 – Experience candlelit relaxation at the AIRE Ancient Baths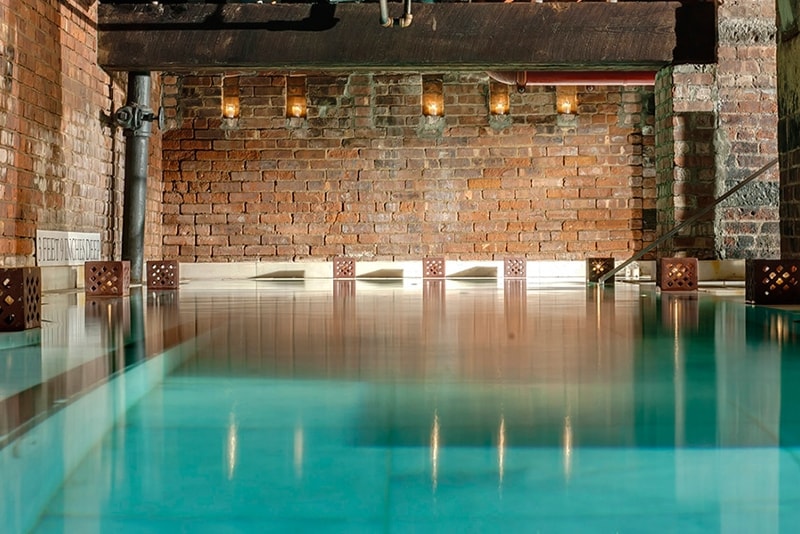 Injecting a much-needed nose of pampering and rejuvenation into any trip, the AIRE Ancient Baths in Tribeca offer a unique and luxurious experience for those in search of some relaxation (or even just an Instagrammable moment or two).
Candlelit, atmospheric (in part thanks to its location in a historical resorted 1883 textile factory), themed around the Roman and Greek traditions, and with treatments that range from hot spa sessions and massages to healing baths and facials, the Baths offer a tranquil ambiance that will transport you back in time as you enjoy one of the most relaxing moments of your holiday.
Open until 11pm every day of the week, it's perfect for unwinding after a long day of exploring; just make sure to book ahead.
Looking for something truly special? Sign up for a couples experience, or take a dip in the wine spa (with a glass of wine to sip on too, obviously).
46 – Be dazzled by Steve Cohen's Chamber Magic show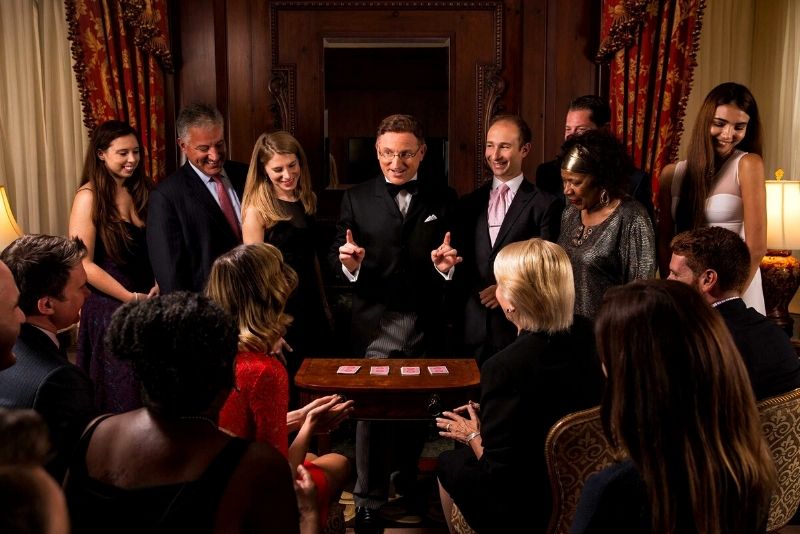 A step away from the usual Broadway shows, Chamber Magic is an intimate performance that combines close-up magic and illusions in a beautiful venue for 90 minutes of mind-bending entertainment.
Taking place once a week at The Lotte New York Palace hotel by the Rockefeller Center, the show is hosted by Steve Cohen, an illusionist of more than 30 years and a recipient of The Magic Circle's coveted Gold Star status — he loves his work, and it shows through the authenticity and charisma he exudes with each and night show.
Performed exclusively for small crowds – an intimate experience far removed from the typical Manhattan stages — with plenty of audience involvement (and plenty of laughs too), Steve spellbinds the audience with card tricks, coin illusions, and even a little touch of mindreading.
47 – Make your way to some jazz bars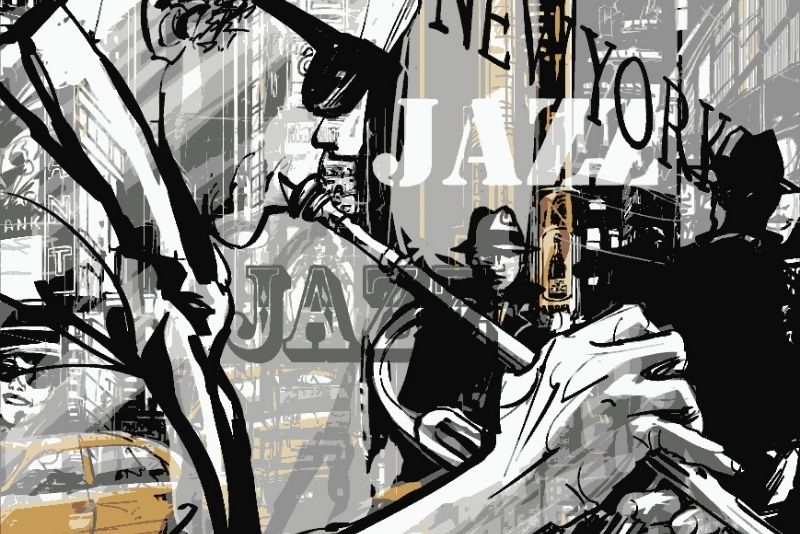 Jazz is an integral part of New York City's culture and history, with many celebrated musicians having honed their craft in the city.
For those keen to experience a taste of this musical tradition without spending too much money (which can often be the case when it comes to live music), there are plenty of jazz bars across Manhattan that offer free concerts (or at least very cheap ones) every night of the week; from Greenwich Village, the Upper West Side, Brooklyn, and Harlem, these venues attract some big-name talent as well as promising up-and-comers ready for their big break.
If wandering around Manhattan; Birdland in Hell's Kitchen is a staple, Dizzy's Club Coca-Cola sits on top of the Time Warner Center and exudes a touch of Hollywood, while Blue Note in Greenwich has long called itself "the jazz capital of the world". Being a jazz hotspot, Greenwich is also home to Zinc Bar, a cozy basement space, and The Stone is all about music – no booze, no merch, just jazz.
For a more bar-like atmosphere, the Upper East Side's Smoke Jazz & Supper Club is a crowd favorite, while the Village Vanguard has been a staple for over 80 years, welcoming a 16-piece band every Monday.
48 – Go underground to explore the New York Catacombs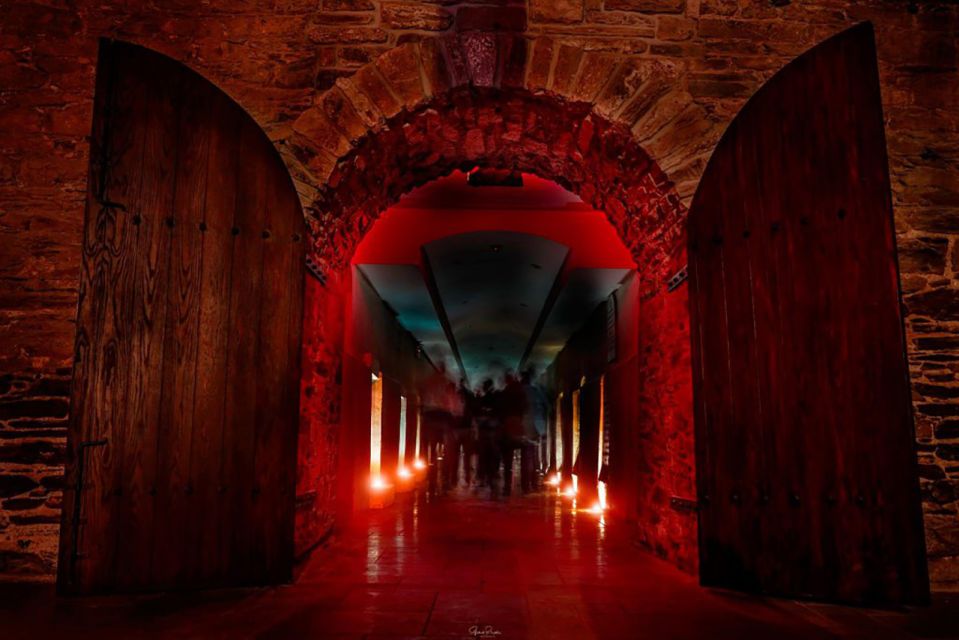 For a spooky experience that you won't forget in a hurry, the New York Catacombs offer a unique and eerie look into the city's past.
Hidden away beneath the 200-year-old Basilica of St. Patrick's Old Cathedral in Nolita (next to SoHo), and descending deep below street level, you'll find ancient tunnels, 35 family crypts home to bishops and priests of bygone years, and 5 clerical vaults.
Now open to visitors who want to see (and feel) what it's like inside this hidden underworld, a 90-minute candlelit trip down into the catacombs is nonetheless an incredibly unique experience and provides a fascinating look at the oft-overlooked history of this Manhattan church.
49 – Catch a Burlesque Show at the Slipper Room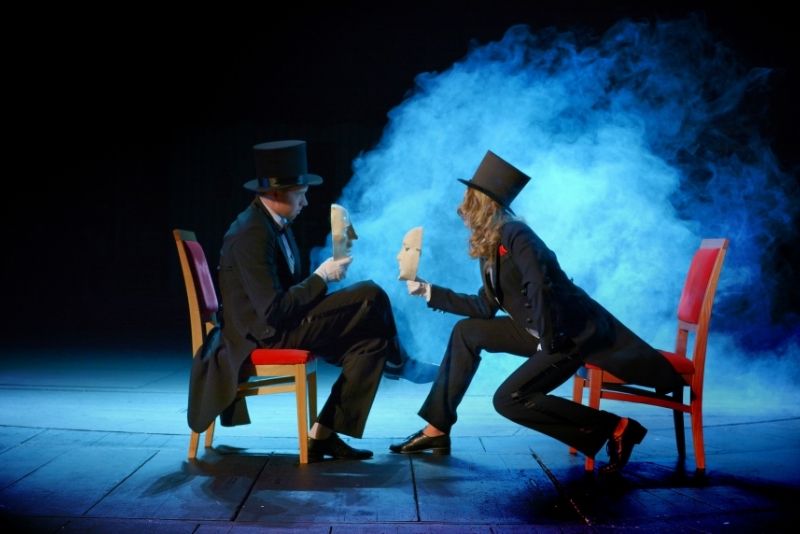 A Lower East Side entertainment icon that's been captivating audiences with bodacious lineups and myriad variety shows since 1999, the Slipper Room is your best bet for catching a risqué burlesque show in New York City.
With its red-velvet curtains, low lighting, and intimate atmosphere — an aura of speakeasy mixed with a heavy dash of raunchy — the Slipper Room has been home to some of the biggest names in burlesque over the years, as well as up-and-coming performers who are just starting to make a name for themselves.
But it's not all about the vaudeville experience; the shows delightfully intertwine elements of comedy, magic, acrobatics, live music, and more, making for a truly unique performance every night (with reasonably priced drinks at the ready).
50 – Party it up at the city's best nightclubs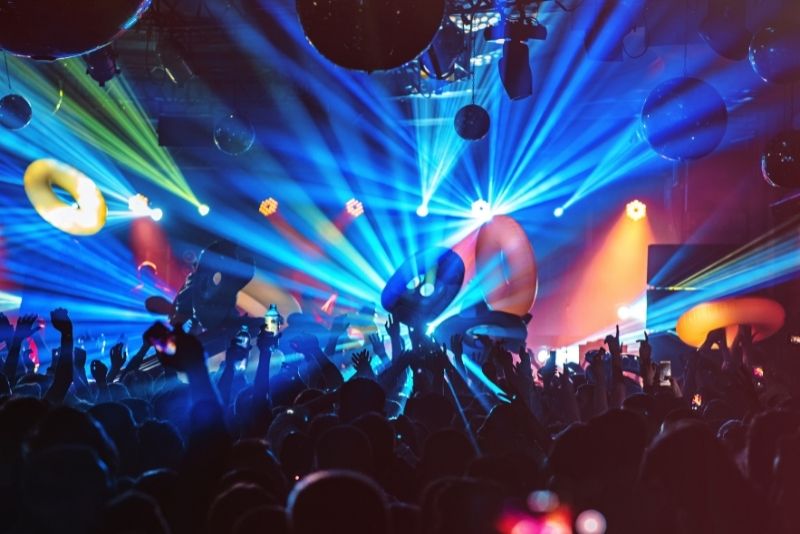 Ready to get a little wild and let your hair down? Sure to have you burning up the dancefloor, slinging back tequila shots, and headbanging to world-famous DJs in no time, the city's very best nightclubs will be sure to have you out until dawn.
Whether you head to the massive Avant Gardner warehouse parties in Brooklyn, 1 OAK in Chelsea (an upscale staple oft frequented by the rich and famous), or the ever-popular Marquee New York (the Chelsea go-to for international headliners like Steve Aoki and Tiesto), you'll quickly understand why this concrete jungle has been given the nickname of The City That Never Sleeps.
If you don't want the party to stop, FREQ in Hell's Kitchen is open till 6am, while the Good Room in Greenpoint is a hot spot for budget-savvy travelers looking for a cheap night of discovering next-generation artists.
51 – Muster up the courage for a Greenwich ghost tour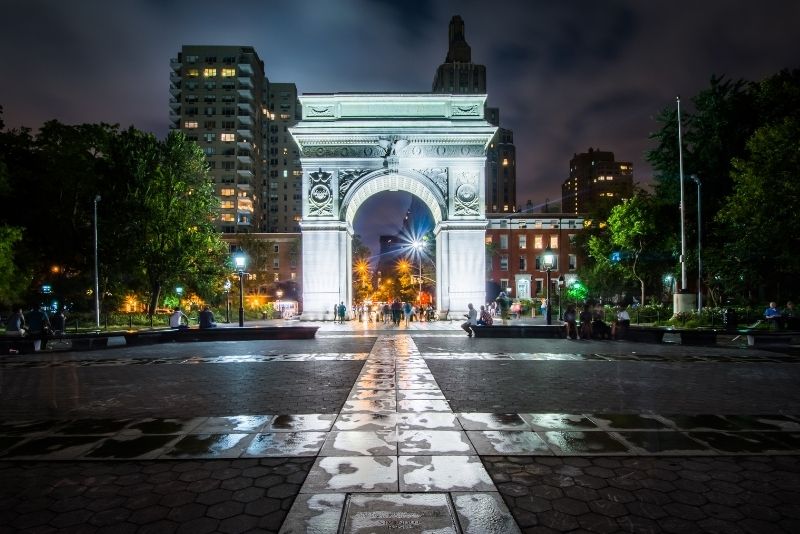 Paranormally perfect for ghost hunters and dark tourism fans, evening ghost tours of Greenwich Village escort you off the beaten track, into a historic area with plenty of dark secrets and scary stories that span centuries (and remain unsolved).
Led by locals who ooze passion about the area, this is a great way to see another side of New York that you won't find in the guidebooks.
As you stroll through areas like Washington Square Park (home of the Hangman's Elm tree), the New York University campus, and West 10th Street, you'll hear all about crimes, mysteries, and hauntings of bygone decades; explore hidden alleyways where New York's infamous mafia used to run their rackets, and so much more.
52 – Party it up in the hipster House of Yes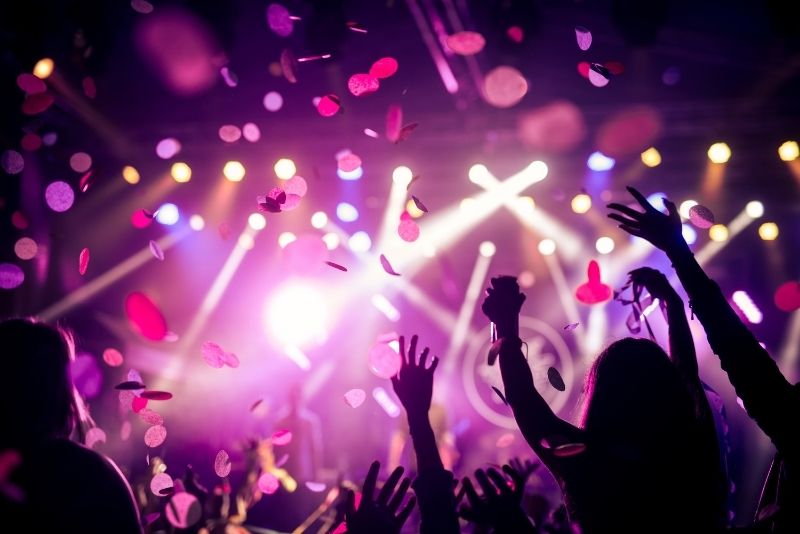 Off the beaten track in Brooklyn, House of Yes is far from your typical nightlife venue: it's a nightclub, circus performance, yoga studio and experiential artistic space all rolled into one!
Beloved by the hipster and bohemian crowds for its eclectic programming and off-the-wall atmosphere, House of Yes is a place where you're just as likely to see trapeze artists swinging from the ceiling or people doing headstands in the middle of the dancefloor as you are to find yourself sipping cocktails in the presence of hundreds of social clubbers.
Throw in yoga, magic shows, and roller discos, and the most outrageous dance parties yet, and you've got yourself found yourself one of the unmissable things to do in New York City at night!
53 – Take in the beauty of Grand Central Station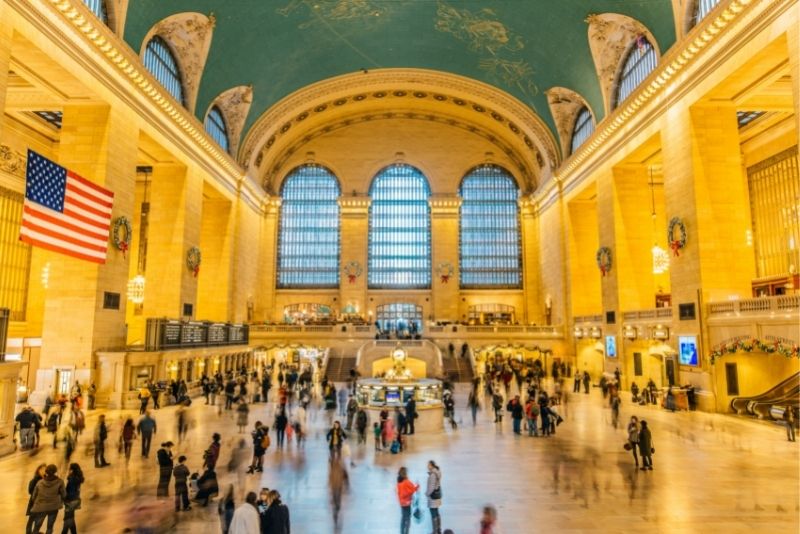 Infamous for its beauty and majesty, Grand Central Terminal at the intersection of Park Avenue and 42nd Street has forever been one of the most notable landmarks in New York, appearing in myriad iconic films and acting as a central transportation hub for millions of Manhattanites.
But did you know that this Beaux-Arts beauty is also one of the best places to go out in New York City at night?
After the sun sets and the flock of commuters has dissipated, Grand Central comes alive with a buzzing bar scene, atmospheric restaurants, and some of the best people-watching in town.
Wander around and take it all in – you might even spot a celebrity or two! With over 60 shops, 35 places to grab some food, and a calendar full of diverse events, there's far more to this place than just a few trains and a painted roof!
54 – Check out the Immersive Van Gogh Exhibit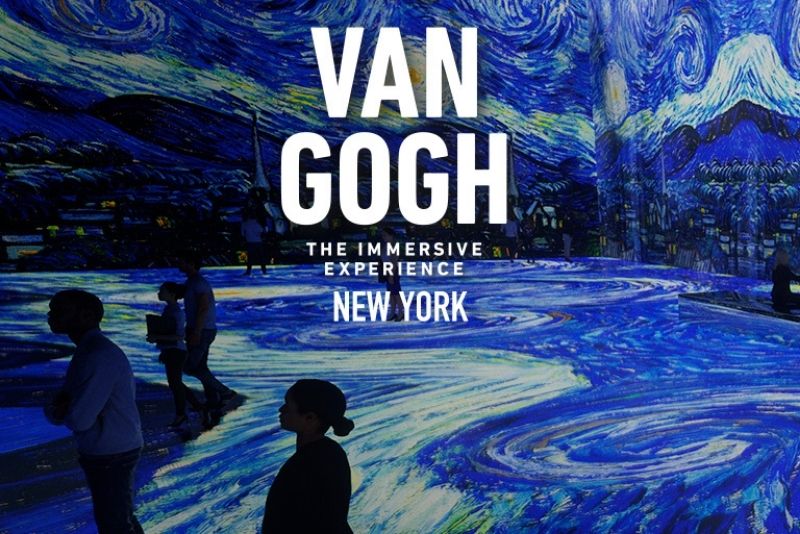 Like stepping into a futuristic world of color and art, the Van Gogh Immersive Experience is a new way to take in the works of one of history's most famous artists.
Held at Pier 36 NYC, on the banks of the sparkling East River (which will offer great views of both the Manhattan and Williamsburg bridges), this museum lets visitors wander around large rooms filled with 90 million pixels that display hundreds of images onto every surface imaginable.
With multimedia displays, virtual reality installations, and sci-fi-esque recreations of some of van Gogh's most iconic paintings like Yellow House, Starry Night, and Irises, it's hard not to be swept away by the magic of it all – making it one of the coolest things to do in New York City at night!
Keep in mind: there are actually two locations in Manhatten, the aforementioned as well as "Van Gogh: The Immersive Experience" which is on the Hudson at Skylight on Vesey in Tribeca.
55 – Pull on a wig for the Lips Drag Queen Show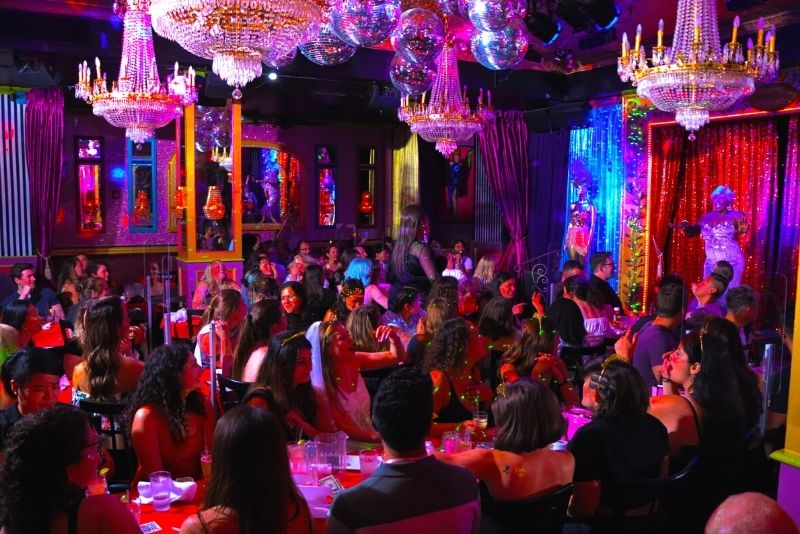 A glorious display of all things camp, outrageous and entertaining, Lips is one of New York's most popular drag shows!
Considered the city's premier drag spot for over 25 years, with a roaring atmosphere and a wild party every Thursday through Sunday evening (not to mention dinner and drink options too), Lips is an institution amongst locals and visitors alike.
Featuring performances from some of NY's fiercest queens — think Ginger Snap, Frankie Cocktail, Blaqueline O'Nasty, and Jesse Volt — as well as lip-sync battles and audience participation games that are sure to get you laughing out loud for hours; this isn't just one of the best nighttime activities in NY – it's also the perfect place to celebrate birthdays or bachelorette parties with your friends!
Hot tip: bring a few bills to tip the ladies!
56 – Crack the code in an escape Room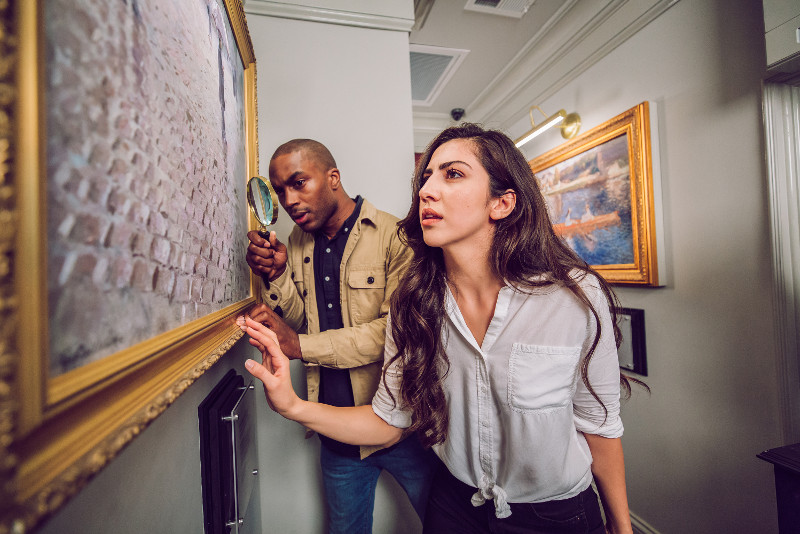 Consider yourself somewhat of a next-generation Hercule Poirot? Or maybe you just enjoy a good, old-fashioned challenge? Then an escape game is definitely one of the coolest things to do in New York City at night!
These live puzzle games see groups of friends or strangers working together to crack codes, muster up some wit and quick-thinking, and solve a series of challenges and puzzles to "escape" from a locked room – usually within 60 minutes.
With themes ranging from horror movie-inspired nightmares to ancient Egyptian tombs, prison breaks, art heists, and special ops missions, these rooms are sure to get your heart racing as you try frantically to put all the clues together.
There are dozens of different escape rooms scattered around Manhattan (and Brooklyn too!), so why not test your problem-solving skills with your buddies and see who can make it out first?
Not sure which place to choose? If you're in Midtown Manhattan, The Escape Game NYC is a popular choice with a variety of themes on offer.
57 – Head to NYC's best museums… at night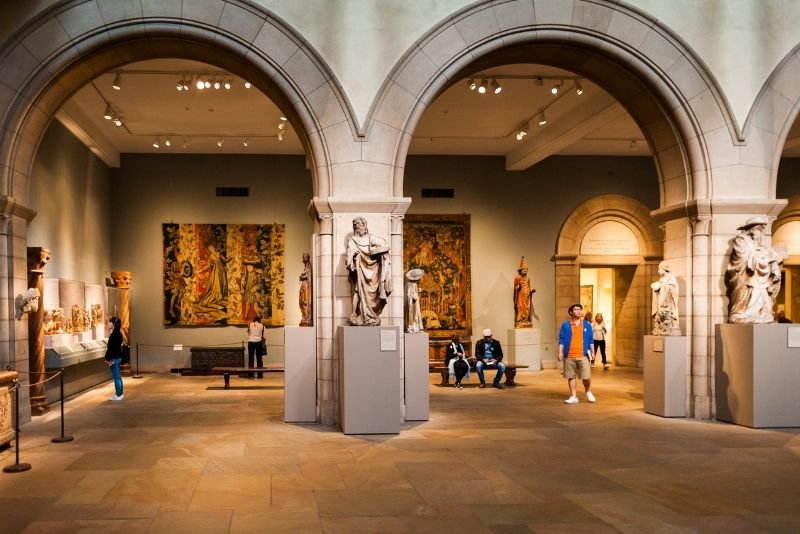 Honoring that synonymous moniker of The City That Never Sleeps, New York's revered museums remain open long after dark on certain days of the week. Arguably the city's — scratch that; the world's — most esteemed art museum, the Met remains open till 9 pm on the weekends, while the lesser-known (yet fascinating) International Center of Photography Museum is open until 9 pm on Thursdays.
Meanwhile, across the East River, the Brooklyn Museum (which houses one of the world's most impressive Egyptian art collections) in Prospect Park welcomes visitors until 8 pm on Fridays and Saturdays.
Looking for something at even later weekend hours? Provocative yet highly educational, the Museum of Sex keeps its doors open till midnight
Besides the chance to admire the art and sculptures on display, the amazing Frank Lloyd Wright-designed building is a piece of art in its own right; if you're lucky enough to be a member, the Solomon R. Guggenheim Museum on the Upper East Side stays open till 8 on Mondays for members.
58 – Dress to the nines for the Metropolitan Opera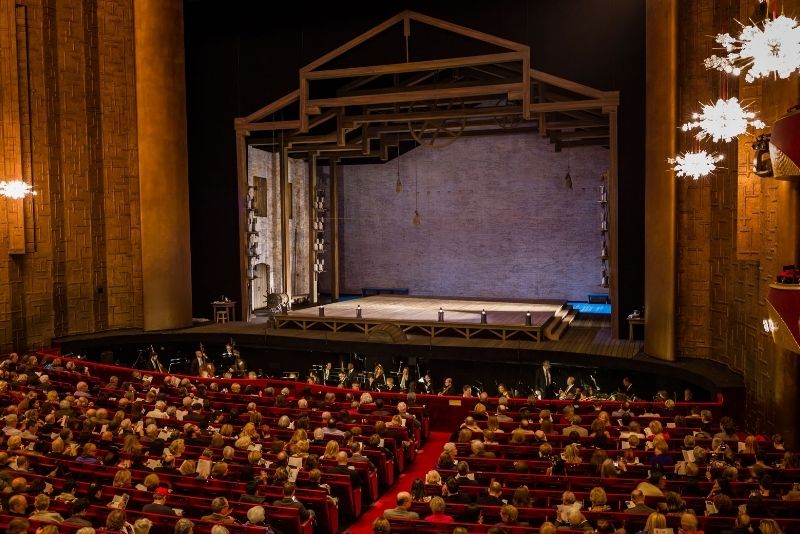 Dazzling audience with the work of brilliant singers, conductors, and composers since 1880, the Metropolitan Opera is one of the world's most prestigious classical music institutions, rightfully held at one of the world's most prestigious music venues — and with its prime location smack bang in the heart of Lincoln Center on Manhattan's Upper West Side, it's also one of the easiest to get to.
Offering a season that sees some of the biggest names in classical music grace its stage, the Met is also a world leader in bringing opera to people around the globe through its HD broadcasts, which are beamed into more than 70 countries and countless movie theaters.
If you're looking for an evening out with a bit of culture and high-class refinement (note the dress code: no sneakers, jeans, or t-shirts), then a performance at the Met is definitely one of the classiest things to do in New York City at night.
59 – Explore new realities in VR World NYC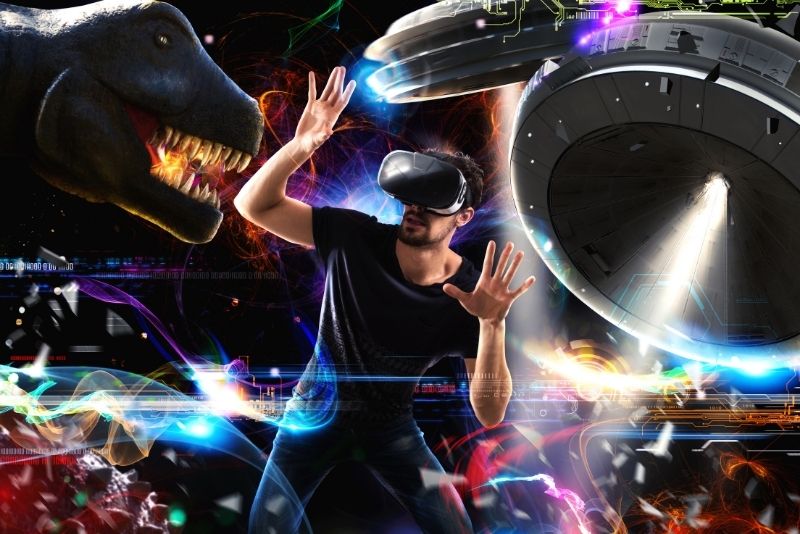 Step into a new world at VR World NYC, a quirky mix of Midtown bar, arcade, art gallery, and gaming attraction where you can play, drink and explore to your heart's content!
With over 50 virtual reality games and activities to choose from (including some educational content), this massive virtual reality bar and entertainment complex offers up an ever-changing roster of experiences that will have you dodging bullets, soaring over skyscrapers, or swimming with whales in no time.
It's social, it's liquored up, and it's a whole lot of fun!
60 – Feel like a kid again at the Color Factory New York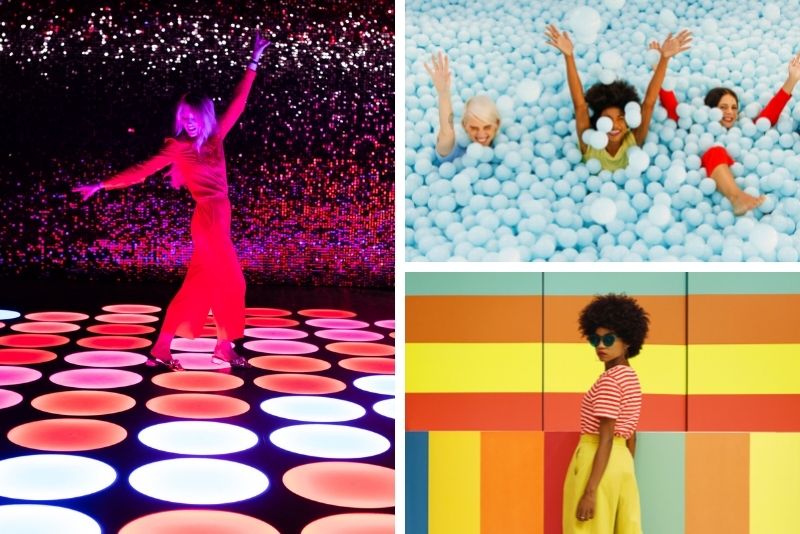 After wowing crowds over in San Francisco, the Color Factory has now opened up a second outpost in New York City, bringing with it all its vibrant and Instagram-worthy fun.
Full of interactive art installations, many of which are highly interactive — think giant ball pits, playful immersive rooms, and a rainbow-themed snack bar.
This vibrant indoor attraction offers no less than 16 experiences for visitors to enjoy, all designed to make you appreciate the beauty of color and feel like a kid again.
61 – Discover NYC's hidden speakeasy bars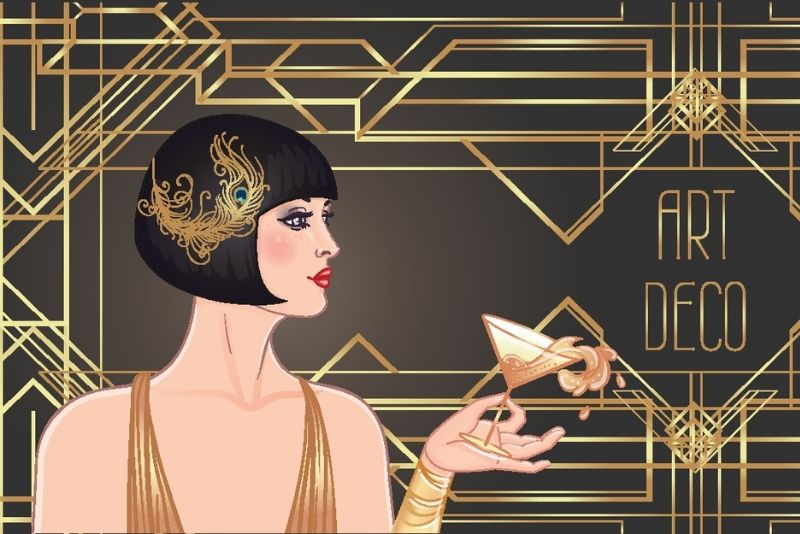 Rich in Prohibition-era history, New York City is unsurprisingly home to some of the world's most atmospheric speakeasies.
While many of these hidden bars no longer require secret passwords to get in (although they still maintain their tucked-away charm), they're well worth seeking out for an evening of intrigue and cocktails that you won't find anywhere else.
From the hidden PDT (Please Don't Tell) bar which requires you to enter through a hot dog stand; to Raines Law Room in the Flatiron District, which oozes 1920s glamour and plays music from the 1920s; and the chemist-themed Apotheke, which boasts over 200 cocktails, New York's speakeasy scene is one of the most varied and interesting in the world.
Still thirsty? For Gothic luxury, head to Death & Company for a dark and stormy drink in a dark and moody venue, or for something that feels like a step back in time, try The Back Room, which serves drinks in teacups and bottles of beer in paper bags, just like they did years ago.
62 – Spend a summer evening at the Rooftop Cinema Club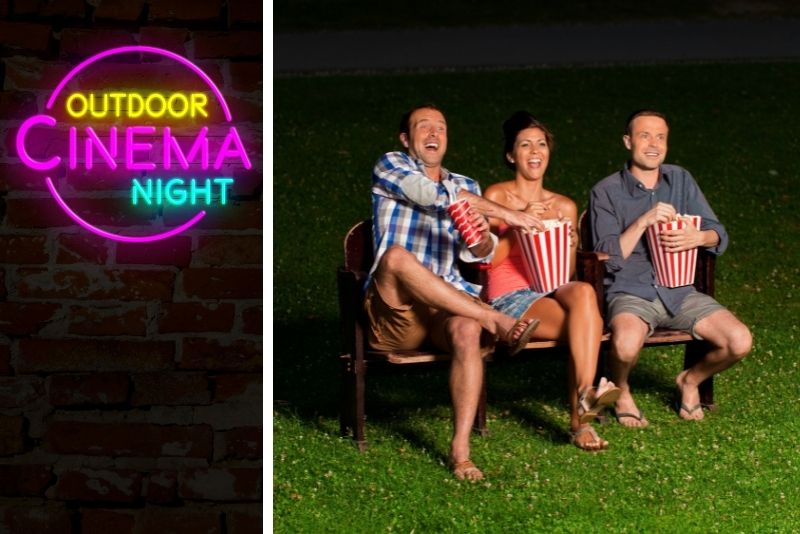 A wonderful summer addition to the New York City landscape, Rooftop Cinema Club is a unique outdoor movie theater that takes advantage of one of the city's most enchanting and central rooftop locations: the Skylawn Embassy Suites in South Midtown (in between the Empire State Building and Bryant Park).
With screenings of both classic and contemporary films, this pop-up cinema offers an unbeatable summer experience in a relaxed and beautiful setting.
Grab a blanket, order a serve of bottomless popcorn, make the most of the full-service bar and food menu, and enjoy the show under the bright skyline lights!
Tourist tip: Grab an NYC Pass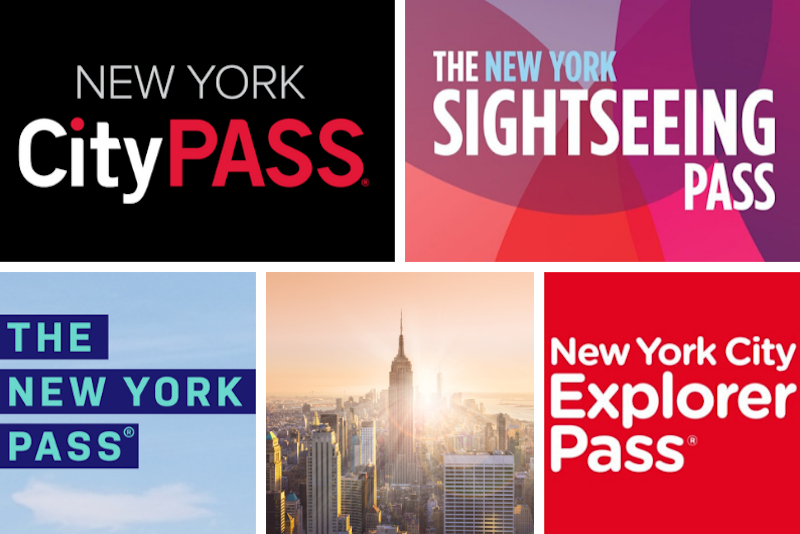 We're spoiled for choice in this concrete jungle. So, to take the hassle out of picking and choosing for the millions of eager tourists who visit New York every year, we're lucky enough to have access to several NYC passes.
Partnering with major museums, landmarks (like the Empire State), boat and bus tours, passes like The New York Explorer Pass, the New York Pass, GoCity, and the New York CityPASS all offer different but great value-for-money deals, depending on your interests.
Make sure to check our New York City Pass Price Comparison Guide.
Looking for a hotel?
Literally hundreds of hotels line the streets of New York City, so finding one that suits your style and budget should be a breeze. But if you're feeling overwhelmed by the options (or just want someone to do all the hard work for you), we'll help point you in the right direction:
Craving luxury and sophistication? Fit for a king and queen, the William Vale, The Plaza (Fairmont), The Ritz-Carlton, The Ludlow, and The Pierre all are 5-star havens in the heart of Manhattan.
Looking for a more mid-tier option? Try one of the many Kimpton Hotels, Hilton Hotels, or W Hotel, which offer unique and quirky rooms, interesting design features, and plenty of complimentary amenities.
Pinching pennies? You'll find myriad family-friendly options too, like Dream Downtown, the Holiday Inn Midtown East, and a handful of bunk-bed hostels.
Final thoughts
And that's a wrap! We hope this article has given you a little taste of what New York City nightlife has to offer — so go out there and enjoy it all yourself!
From Broadway shows to world-famous clubs, from hidden speakeasies to open-air cinemas, The City That Never Sleeps. really does have something for everyone. So take advantage of it all and have an amazing time!
If you have anything you'd like to add to our list of things to do in New York City at night, let us know in the comments! Happy travels!