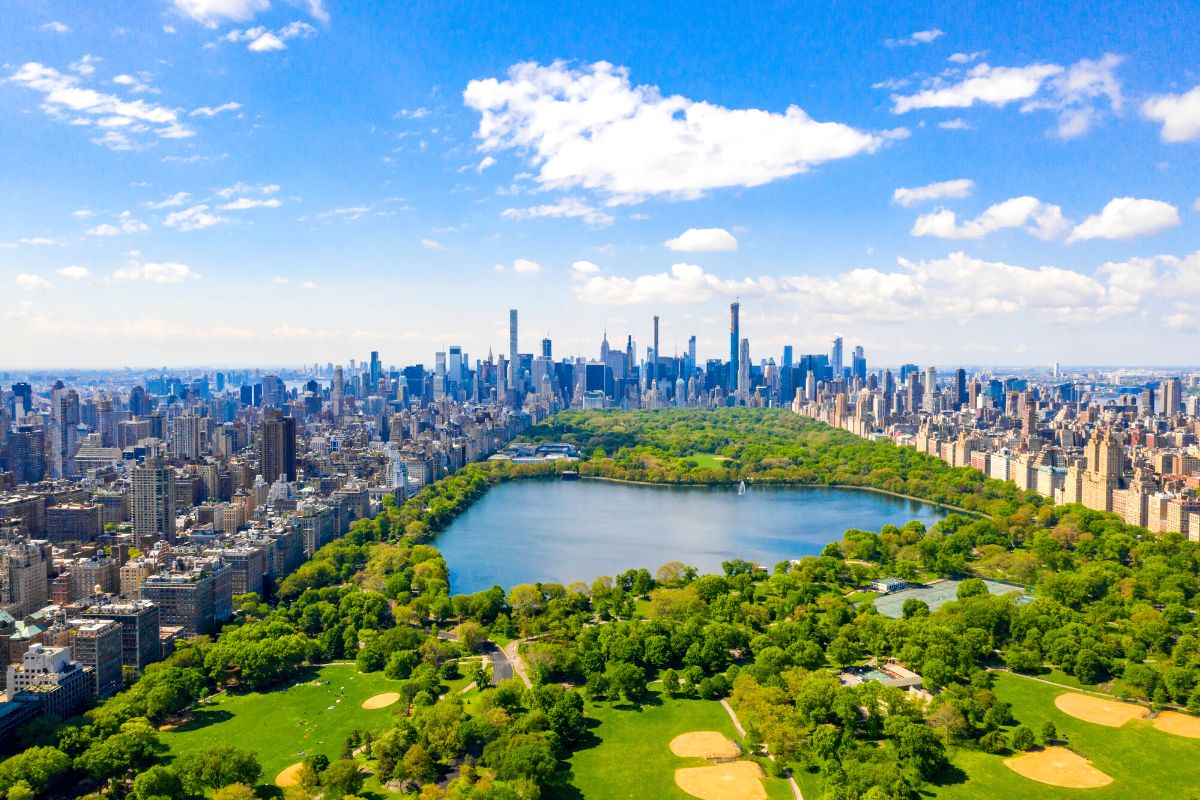 Everyone knows that New York City is packed with hundreds of adventures, attractions, and memorable sites, offering a new experience at every turn and a new discovery with each visit.
And there are certainly tons of terrific things to do in Manhattan, home to many of the most famous sites in the metropolis (and plenty of hidden treasures as well).
But what you may not know is that there are tons of awesome things to do in Central Park, the 843-acre wonderland right in the middle of the borough.
While the Big Apple is often known for its indoor activities, this splendid green space is proof positive of just how much the city has to offer for nature lovers as well.
Of course, some of Central Park main assets are fairly famous: carriage rides, gorgeous meadows, and whimsical statues devoted to popular figures from history and literature.
But it's also a great place to learn a new sport, meet some beautiful butterflies, or immerse yourself in the magic of a live musical or theatrical performance.
All this and more awaits you in New York's biggest and most beloved park, so join us as we explore some of its many attributes – and prepare to fall in love!
1 – Stroll around (or row across) The Lake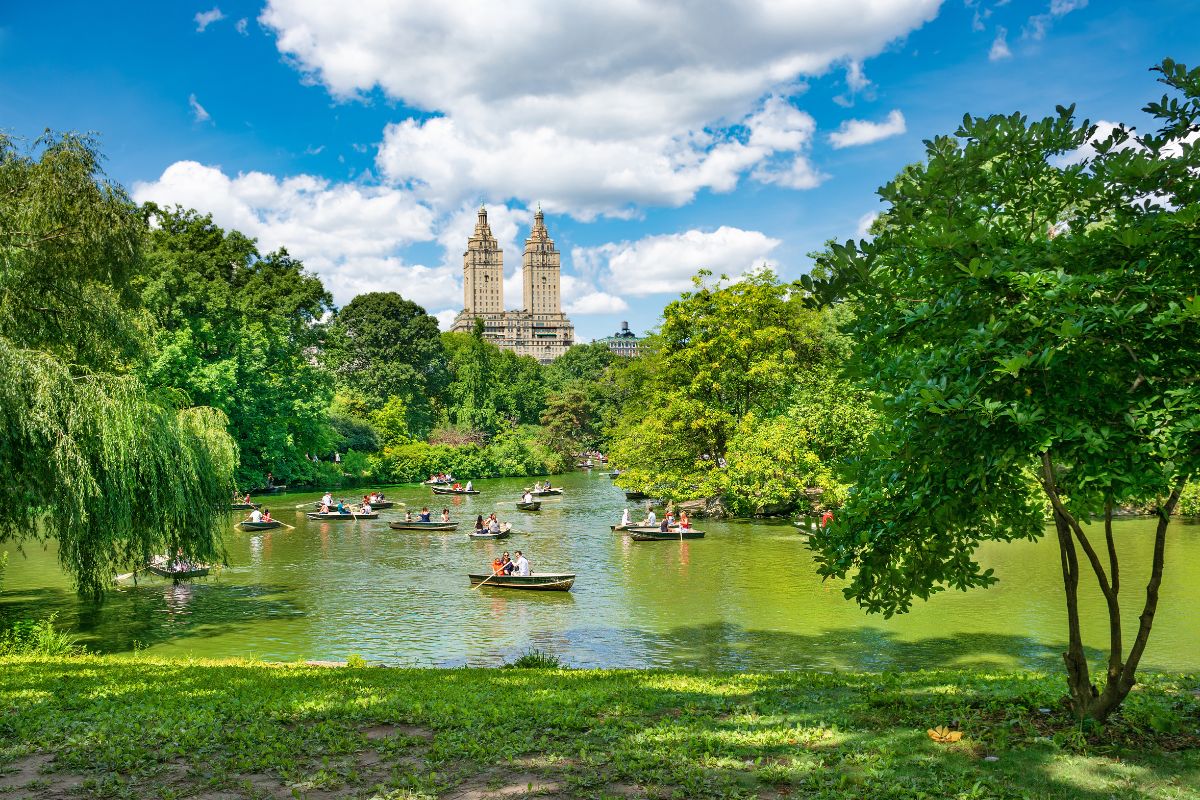 One of the crowning features of the park is its picturesque lake, where generations of New Yorkers and visitors have come to unwind.
Along with being a distinguished landmark in its own right, Central Park Lake – which was cultivated out of swampland in the 1850s, during the early days of the park's construction – is also a great spot to take in some of the area's key assets, from intricate ecosystems to splendid views of the Manhattan skyline.
With 20 acres of water surrounded by wooded areas, it's the ideal place to birdwatch or go for a stroll, watching out for herons and swans as you take in the beauty of the nearby skyscrapers.
Of course, the most popular thing to do is rent a rowboat and get out on the water yourself; these sturdy little vessels are perfect for enjoying the scenery and exploring a more tranquil side of the busy city.
Pick up some oars, head out on the water, and enjoy the tranquil surroundings while watching for wildlife – and other boaters, of course!
2 – Travel the world at the Central Park Zoo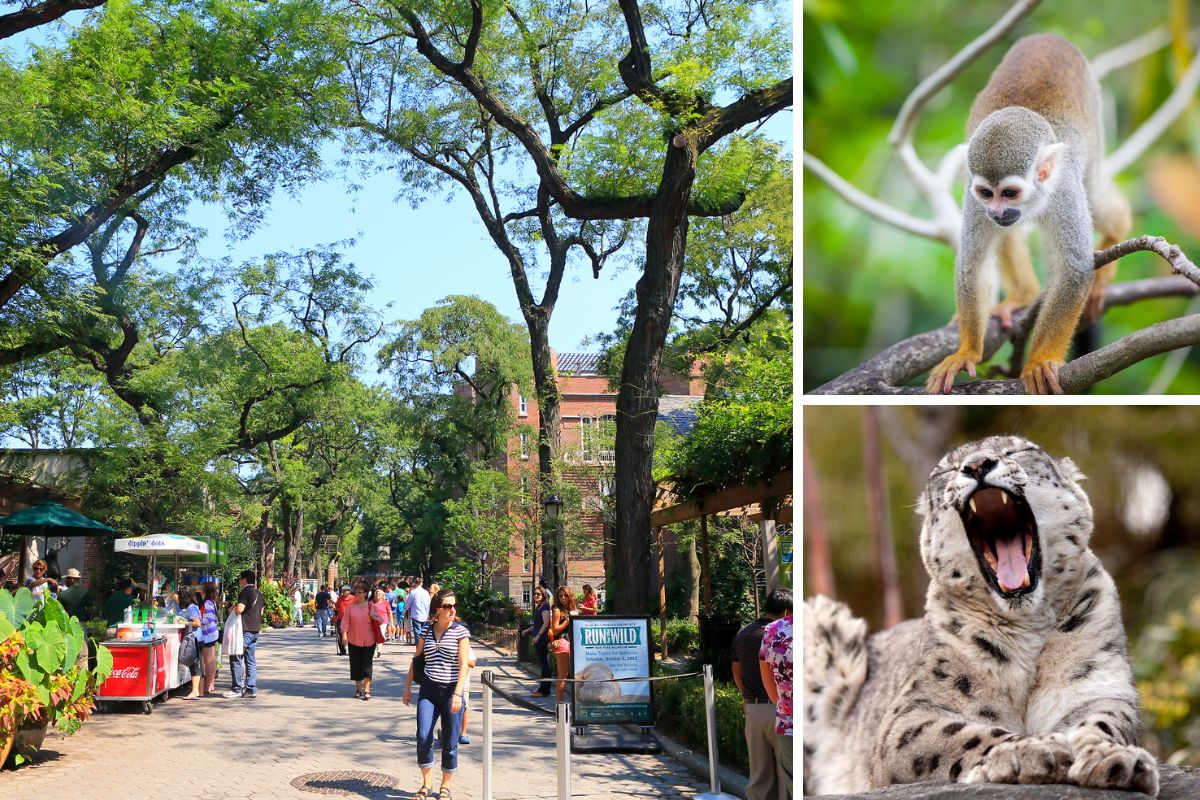 Journey through the Arctic, the jungle, and even the backyard of a farm… all within walking distance of the subway!
Since it opened in 1934, the Central Park Zoo has been a beloved fixture of public life, packing tons of excitement into its 6.5 acres.
What it lacks in size, it more than makes up for in its wide variety of creatures, 130 species of mammals, insects, birds, and amphibians representing ecological zones from all over the globe.
And between the petting zoo, the 4D theater, and the amazing opportunities to see some legendary animals in real life, this is by far one of the best things to do in New York City with kids.
So grab the family and tap into your wild side!
3 – Ponder peace at Strawberry Fields & the Imagine Mosaic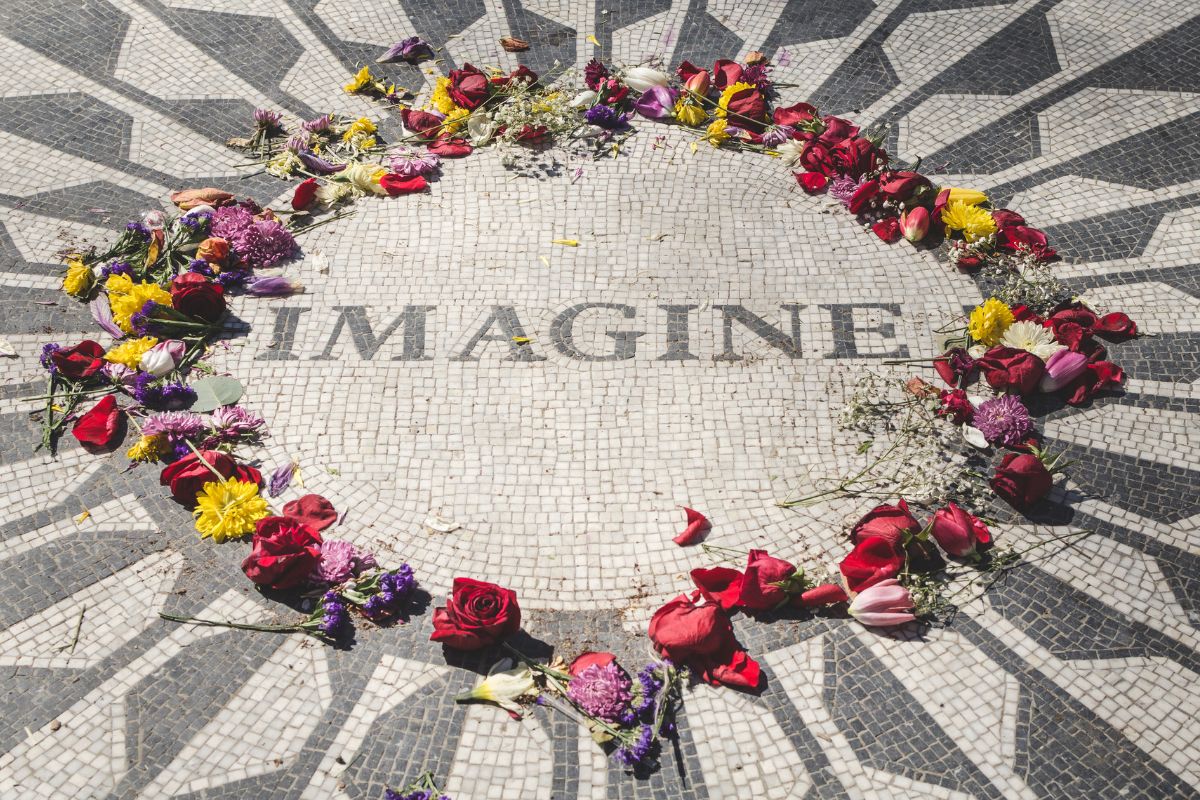 Ever since he became world-famous with the Beatles, John Lennon has been renowned for his musical skills and commitment to social justice.
That legacy was magnified tenfold in his later career, and even more so after his untimely death in 1980.
You can reflect on the man and his ideals during your visit with a trip to Strawberry Fields, which is located just across the street from his former home in the Dakota Apartments.
Roam through 2.5 acres of flowers, towering elms, and abundant plant life, soaking up the peaceful atmosphere of this designated quiet area.
And be sure to stop by the Imagine Mosaic, a gorgeous construction of black and white tiles that references another one of Lennon's beloved works.
Designed by creators from Naples, Italy with Greco-Roman influences, it's a simple but powerful monument to both the song and the ideals it represents: peace, progress, and the power of dreaming up new worlds.
Whether you visit as part of a tour (options include everything from walking to biking to horse and carriage rides) or explore the surroundings on your own, it's a wonderful way to take a breather in the midst of the metropolis, while also paying tribute to a distinctive icon in pop culture history.
4 – Walk in the footsteps of your favorite shows… literally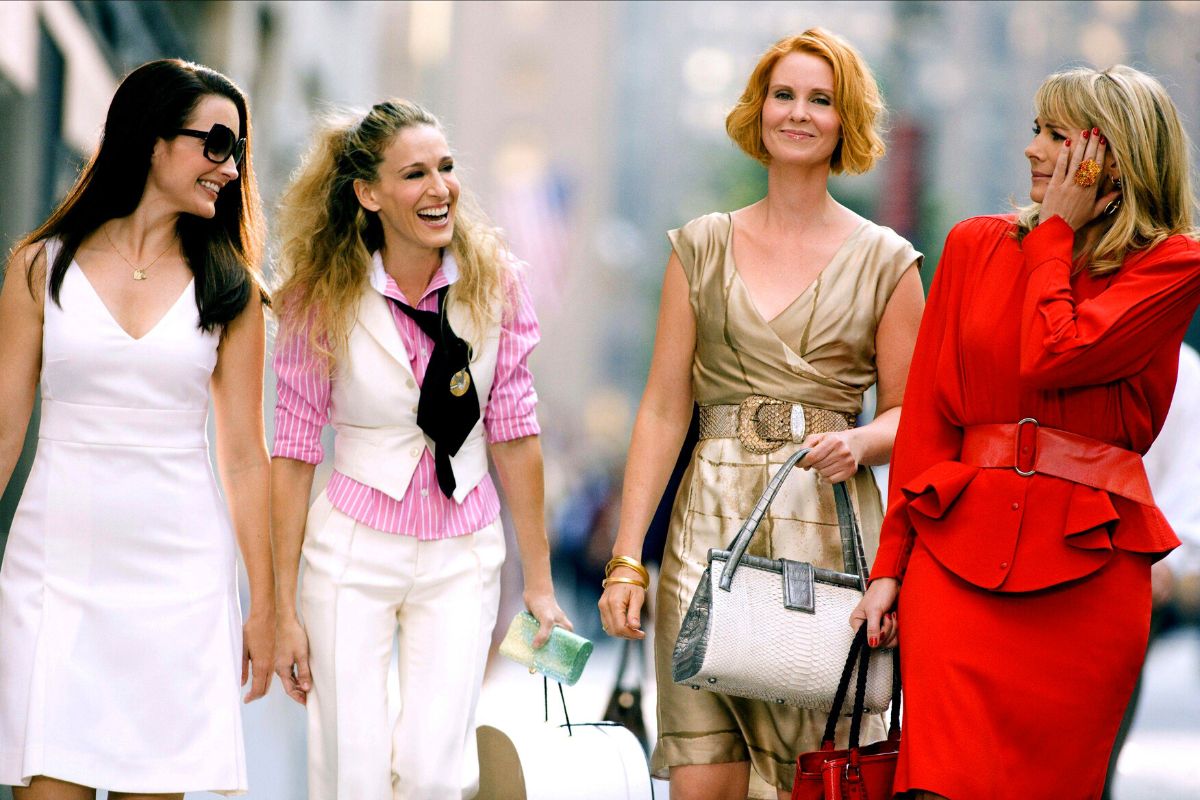 Like much of the city, Central Park has been a premium spot for filming over the years.
From classic films to hit TV shows, its stellar blend of rustic spaces and architecture have been ideal for productions trying to capture a little bit of that New York flair.
Loeb Boathouse isn't just a launching point for rowboats and other watercraft; it's also a picturesque location that has played a role in several productions over the years.
Most notably, it served as one of the Sex and the City filming locations, and you can enjoy it up close on one of the many excellent Sex and the City Tours, which let you retrace the footsteps of Carrie Bradshaw and her friends as they navigate the wild, wonderful world of love and dating in New York.
Or you can head over to the Pond, which was one of the memorable Gossip Girl filming locations; you'll likely catch a glimpse of it if you go on one of the Gossip Girl tours, where you can explore the opulent Upper East Side haunts of the glamorous main characters, including the mysterious blogger for which the show was named.
There are tons of other great locations scattered throughout this historic green space, so keep an eye out for them during some of the many awesome walking tours in Central Park .
And if you're really a fan of TV and/or cinema, be sure to check out some of the best TV & movie locations tours in New York City!
5 – Get a little taste of Europe in the Conservatory Garden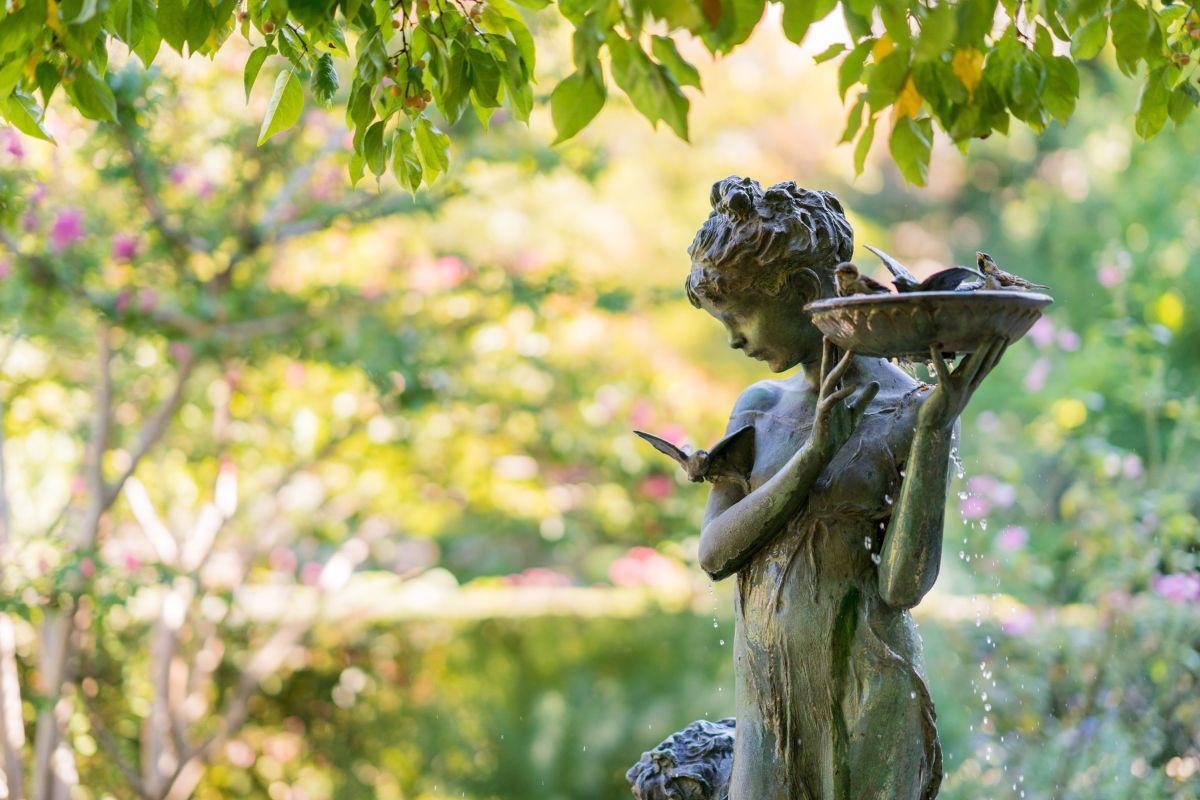 While there are lots of informal opportunities to connect with nature in the park, its more manicured spaces are also well worth a look.
Conservatory Garden, which was established in 1937, features three distinct sections that offer some great botanical variety for visitors.
Check out the vivid, colorful tulips of the French-inspired North Garden, the fragrant lilac and magnolia of the English-influenced South Garden, or the charming wisteria plant and yew trees of the Italian-style Center Garden.
Even the entryway is impressive; the Vanderbilt Gate, as the name suggests, once graced the home of prominent philanthropist and businessman Cornelius Vanderbilt II.
While this is a fantastic place to visit all year round, it's especially nice in the summer, when perennial blooms add even more color to the lushly manicured landscape.
Celebrate special events, discover new planting methods, or just linger along the paths and enjoy the gorgeous, diverse plant life.
6 – Swing by the Alice in Wonderland statue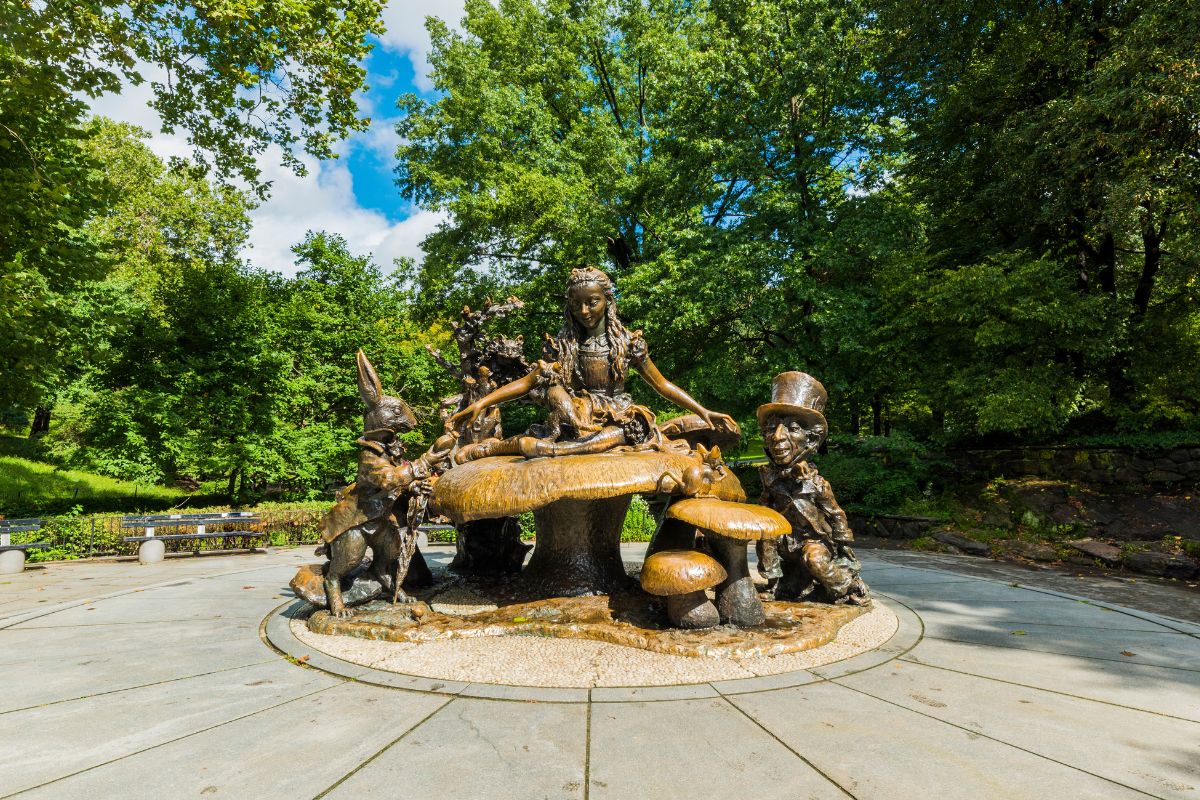 New York can often feel like a trip down the rabbit hole (in the best possible way, of course), so it seems only fitting to have a statue of Alice in Wonderland gracing its streets.
Since 1959, this charming creation has wowed visitors to Central Park, and serves as a  tribute to classic children's books and those who love them.
Originally commissioned by publisher George Delacorte to honor his late wife, who loved reading the book to their kids, it remains a striking landmark to this day.
If you have young visitors, this an especially excellent place for them to let off some steam; after admiring the bronze likenesses of Alice, the Mad Hatter, and the March Hare, they can climb up on the structure and see the park from a totally new vantage point.
Don't miss the chance for a photo with one of literature's great explorers of the weird!
7 – People-watch at Bethesda Terrace and Fountain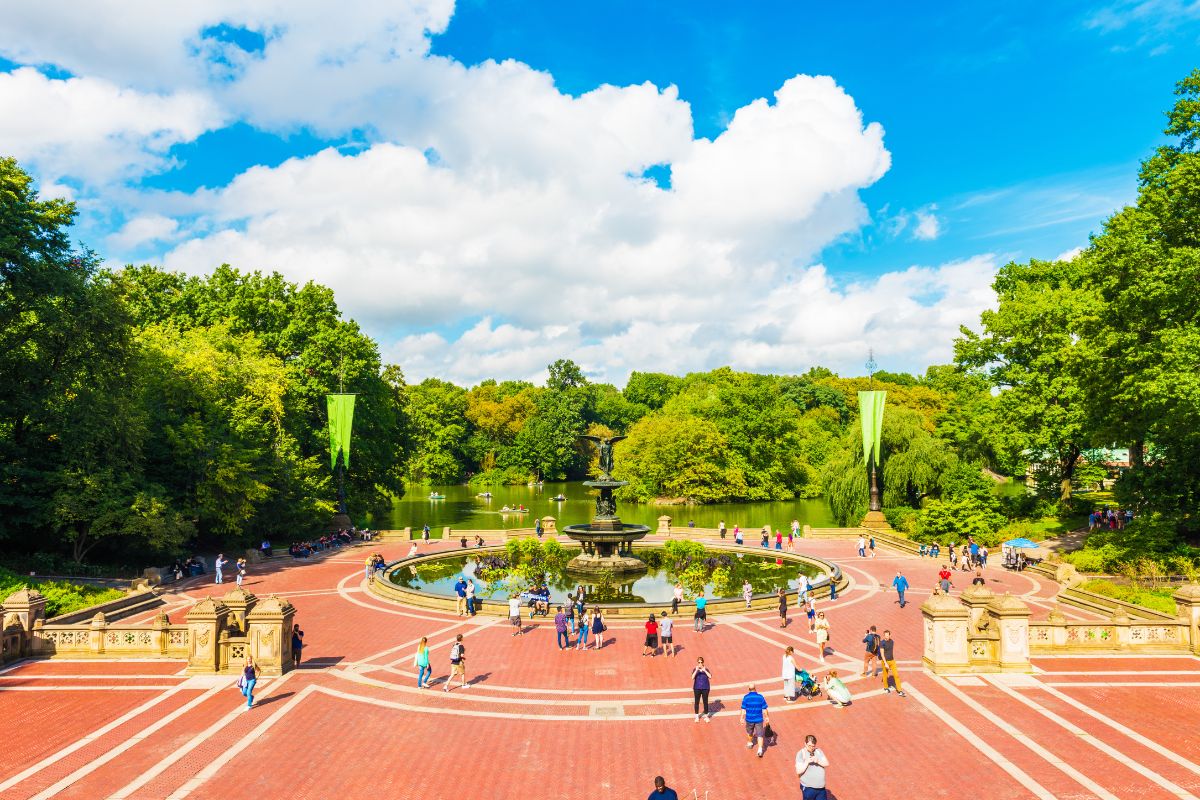 If you've ever seen a movie set in Central Park. chances are that you've already caught a glimpse of Bethesda Terrace.
This multi-level plaza has been part of the city's public life since the 1860s, when it became one of the first pieces of architecture built in the new space.
It was built as a gathering place within the park, but has blossomed into so much more over the years, with plenty of striking spots to admire as you amble around.
The Bethesda Fountain is particularly notable: 26 feet high, 96 feet wide, and anchored by a gorgeous sculpture known as "Angel of the Waters."
You may recognize the structure from its frequent appearances in TV and film over the years, featuring in everything from Home Alone 2 to Law & Order to Elf.
While you're in the area, you can also stroll around the Bethesda Arcade, a gorgeous covered walkway framed by soaring arches and topped off with a ceiling covered in thousands of colorful tiles that were originally used in European churches.
With a stellar mixture of public art, relaxing areas, and great people-watching, this is an ideal spot to while away an afternoon!
8 – Take in the scenery on a bike tour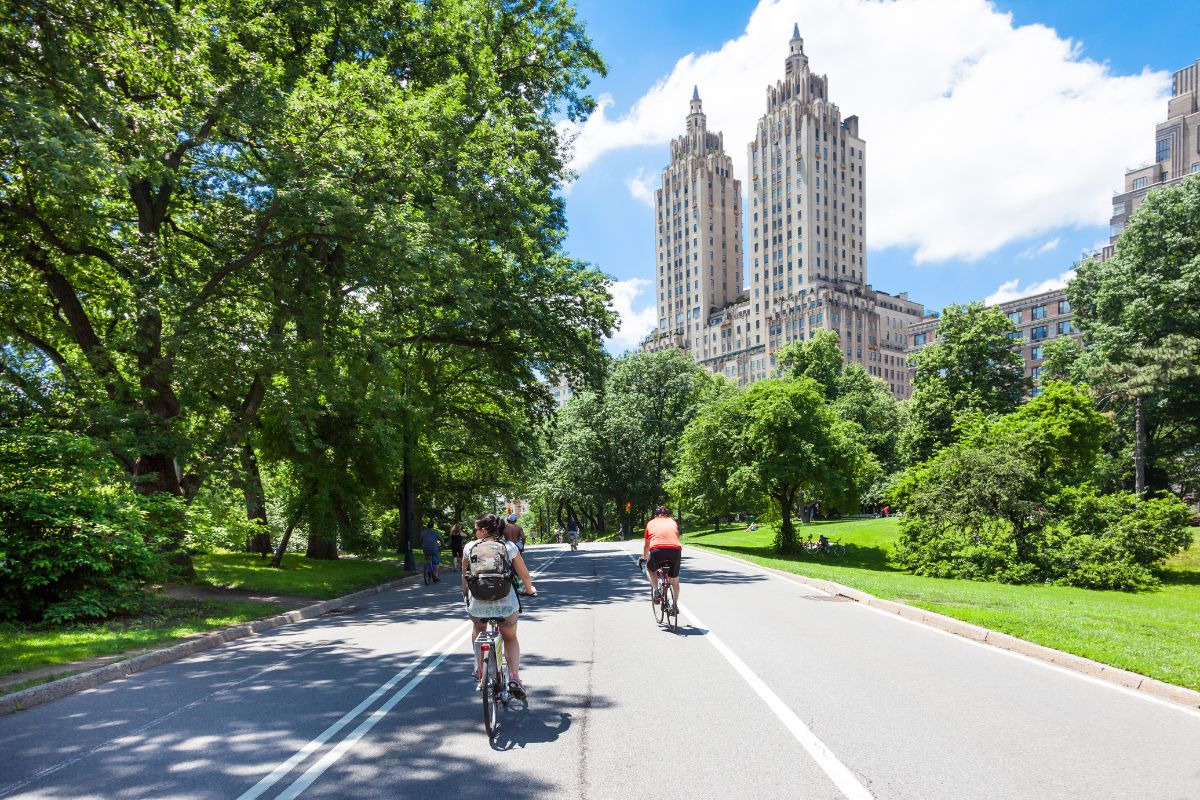 With so many things to see and do in Central Park, it can be hard to know where to start – and even harder to cover all of that terrain efficiently.
Bike tours are an ideal solution, offering access to all of the park's coolest spots in an efficient and eco-friendly manner.
Roll along the many pathways, passing iconic spots like Strawberry Fields, Cleopatra's Needle (see #41), and the Bethesda Fountain.
Along the way, you'll be able to experience the full spectrum of the area's pathways, from paved roads to more woodsy trails.
And, of course, you'll  get plenty of quality views of that famous New York skyline as you pedal around.
With so much lush scenery and so little time, this is the ideal excursion for a tourist on the go!
9 – Enjoy the views (and the awesome architecture) at Belvedere Castle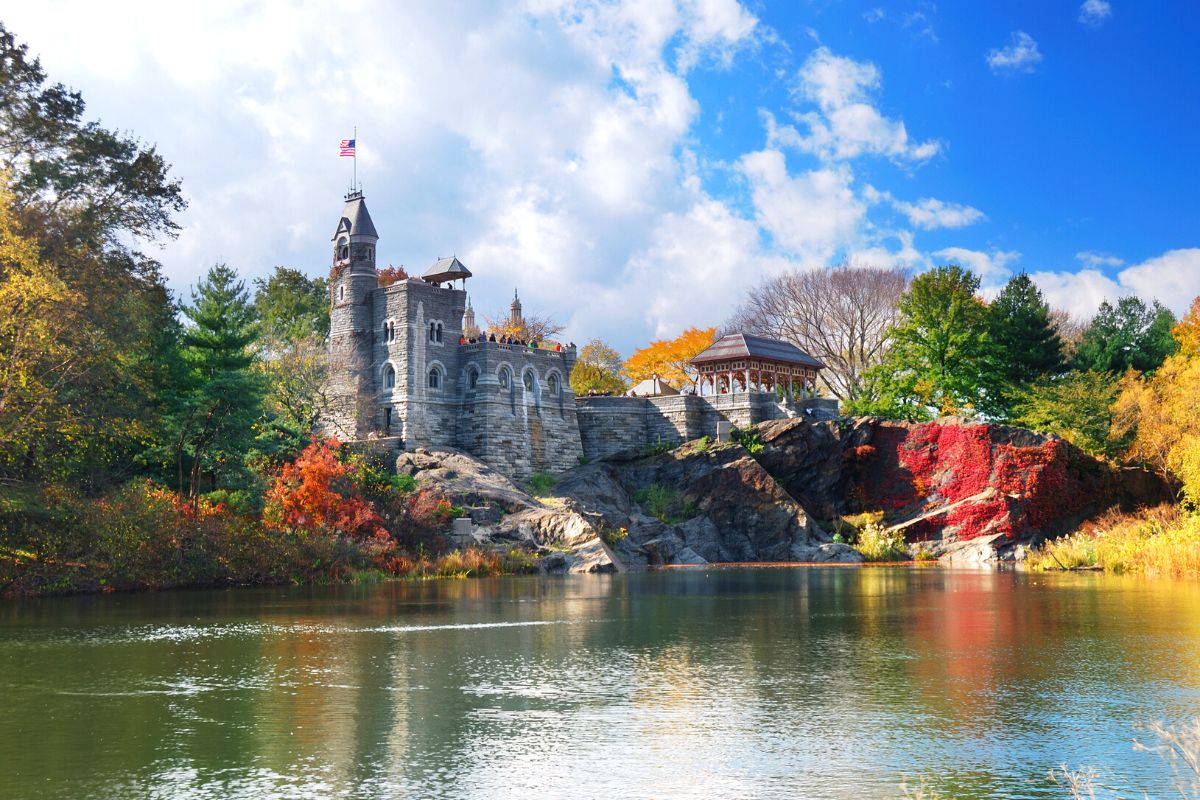 Sure, you can see lots of great buildings in and around the area… but a palace?!
Yes, believe it or not, there's a renowned monumental building in the park that looks a little more royal than most of its counterparts  – and it offers some great scenery to boot!
Perched atop a massive rock formation, Belvedere Castle serves as both a lookout point and architectural treasure, and has long been considered one of the best places to visit in New York City.
Built out of stone in the style of classic European strongholds, it provides a spectacular vantage point to enjoy both the urban and natural charms of the region.
There's also a visitor center inside, so once you're done taking in the panorama, head inside to learn more about both the park and this unique 150 year old structure.
10 – Take some ice skates for a spin at Wollman Rink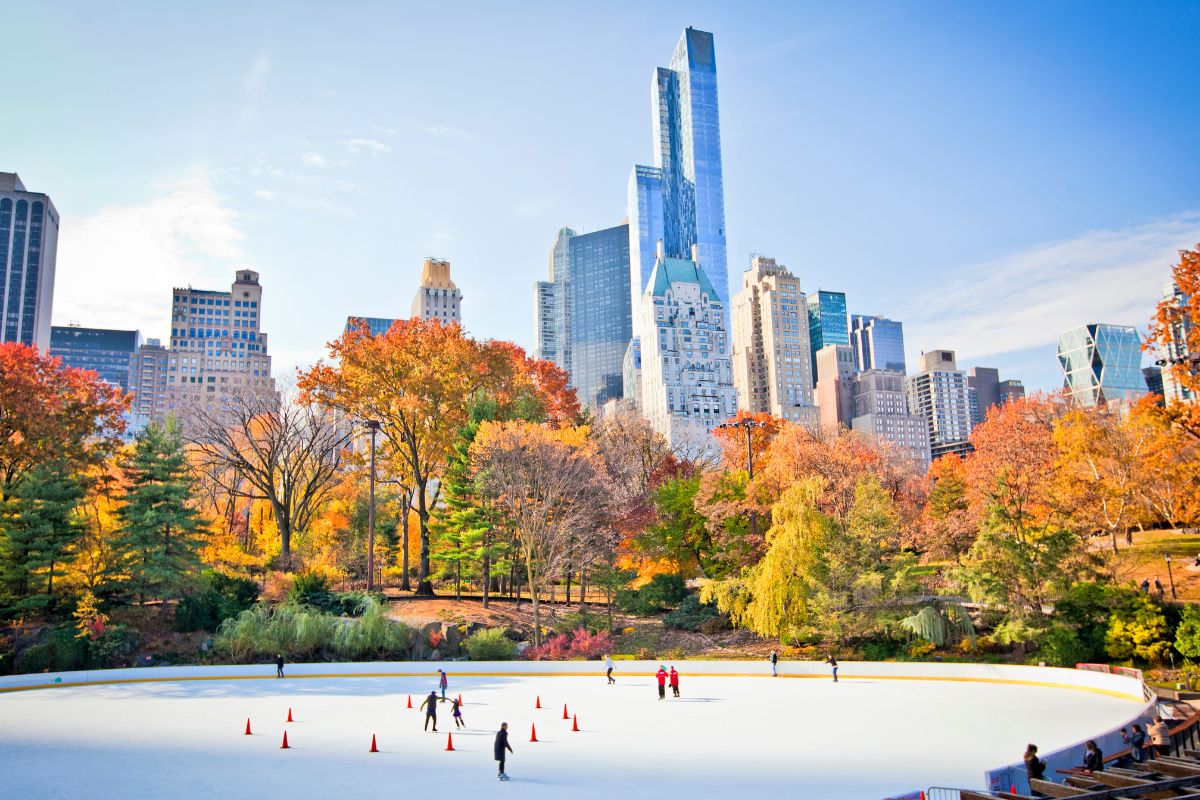 When the snow and cold air roll around, you can enjoy the brisk air in style on a pair of ice skates!
Wollman Rink has long been a beloved part of the winter season, offering equipment rentals and plenty of space to glide around, with the park serving as a gorgeous backdrop.
If you're new to the sport, they also offer some excellent classes to help you sharpen your skills.
And along with the open skate sessions, the rink also hosts tons of unique events, including roller disco and yoga classes.
After your spin on the ice, unwind and warm up with a bite at Melba's, which offers creative spins on traditional Southern comfort food.
It's the perfect way to enjoy those chillier days!
11 – Enjoy the poetic side of plants in the Shakespeare Garden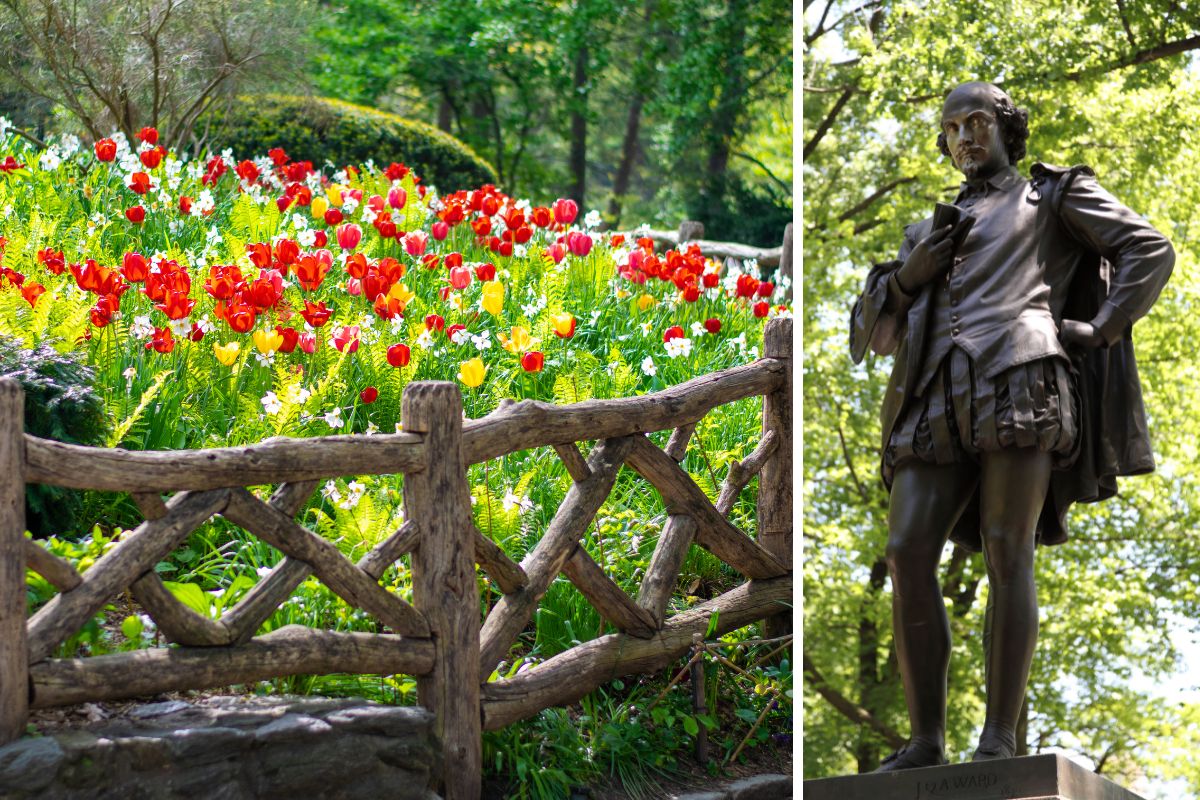 Want a little slice of England in the Big Apple?
Then head on over to the Shakespeare Garden, a charming monument to one of history's greatest playwrights.
Its four acres are filled with plants and flowers that were referenced in the playwright's work, along with some lovely plaques inscribed with botanical quotes from some of his many works.
Along with being one of the best tourist attractions in New York City in its own right, the garden is also adjacent to the Delacorte Theater, which stages the beloved "Shakespeare in the Park" productions every summer. (See #27)
While the space was originally designed as a teaching tool, it's also a nice place to simply unwind and enjoy a slice of the natural world, just as the Bard did centuries before and an ocean away.
12 – Ride in style on a pedicab tour
Want the fun and accessibility of a bike tour, without having to pedal yourself?
Then book a pedicab tour, settle in, and get ready for some fun!
Your guide and driver will take you on a memorable trip past the park's many monuments and unique features, providing fascinating historical context along the way.
Meanwhile, you'll be able to relax and focus on the scenery, the stories, and the vibrant atmosphere of this classic green space.
Fresh air and fun facts make for quite the stellar combo!
13 – Enjoy the rustic appeal of Gapstow Bridge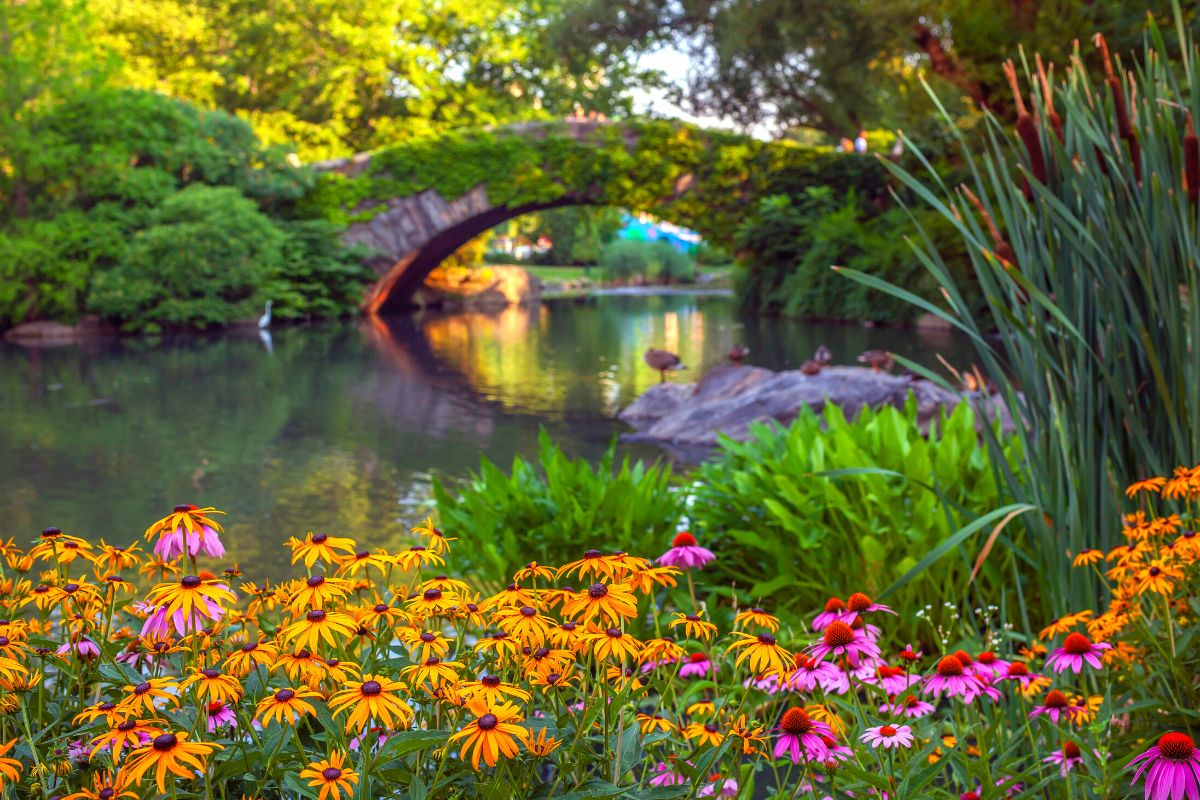 Along with a pretty excellent name, Gapstow Bridge serves as both a useful transit route and a beautiful piece of scenery in its own right.
This charming stone footpath stretches over a 3.8-acre waterway known simply as, "the Pond," and offers great views of Wollman Rink, Central Park South, and Hallett Nature Sanctuary.
The bridge itself, which was constructed in 1896, is one of several scattered throughout the park, each with its own distinctive design.
Draped in legions of wild vines, it is both functional and decorative, at once an active part of the park's infrastructure and a unique piece of its history.
As you're crossing it, take some time to linger and enjoy these lovely little details!
14 – Let the little ones cut loose on the playgrounds
When you're traveling with kids, it can sometimes be hard to find ways to keep them occupied.
But they'll never have a problem finding things to do in Central Park, especially when they come across its amazing playgrounds!
There are 21 of them in all, scattered all over the area, and each offers unique, awesome attractions for youngsters to enjoy.
If your youngsters like to exercise their imaginations, they can channel their inner adventurer amongst the treehouses and delightful hippo statues of Safari Park, or pretend to be cowpokes and frontier settlers as they wander through the wooden buildings of Tarr-Coyne Wild West Playground.
Those seeking more accessible options will love the ramps, sound-based play structures, and wheelchair-friendly water features of Robert Bendheim Playground, or the large, disability-accommodating swing at W. 110th Street Playground.
And for a little bit of everything, try Heckscher Playground, whose three acres are packed with swingsets, climbing rocks, seesaws, and even regularly scheduled kickball games!
From jungle gyms to splash areas and everything in between, little ones will find plenty of great ways to blow off some steam – and adults will have fun watching them explore!
21 playgrounds throughout the park, great for families traveling with kids
15 – Check out the latest puppetry performances at Swedish Cottage Marionette Theatre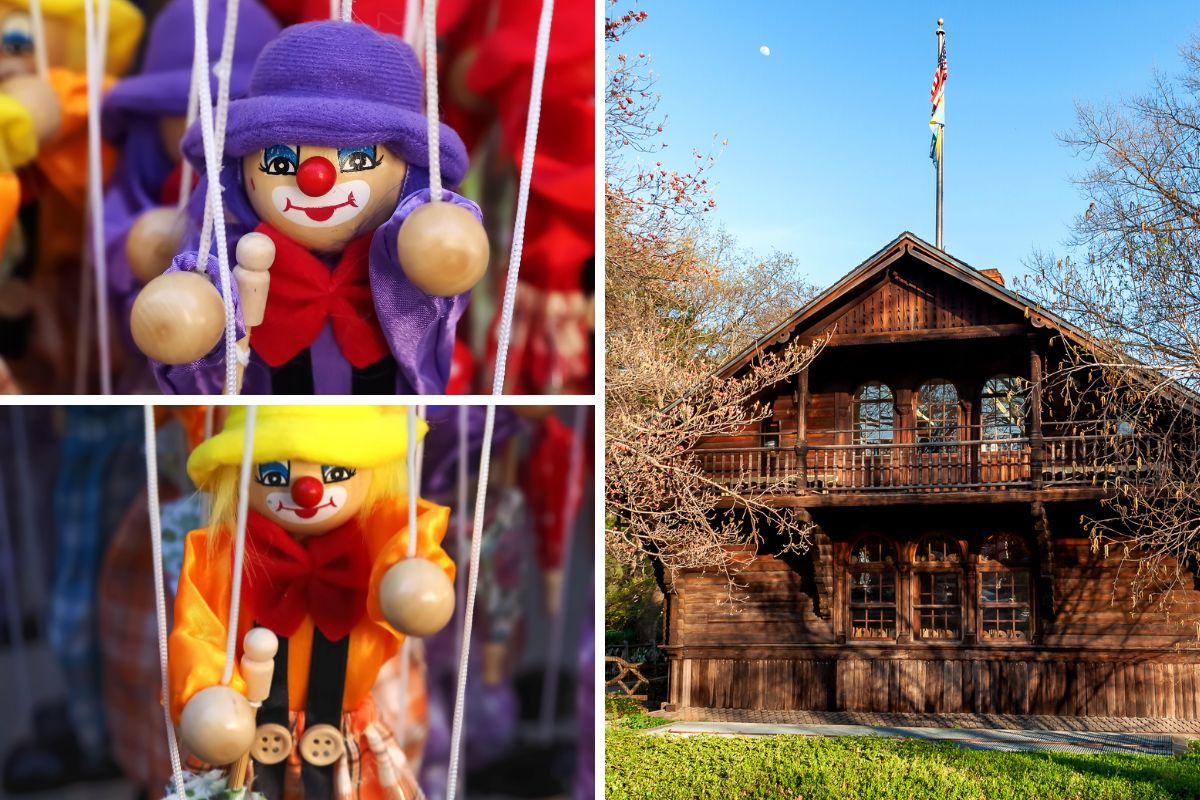 There's tons of great theater in New York… but how often do you get to see it performed by puppets?
At the Swedish Cottage Marionette Theater, you can enjoy reimagined fairy tales or innovative new works, all acted out by wooden figures (and their puppeteers, of course).
With a regularly rotating schedule of shows, there's always something new to enjoy here; kids will love the fun stories and entertaining puppets, while adults can marvel at the mastery of the craft and the inventiveness of the storytelling.
So settle in and enjoy a show, no strings attached… except for the ones on the performers!
16 – Try out some bird watching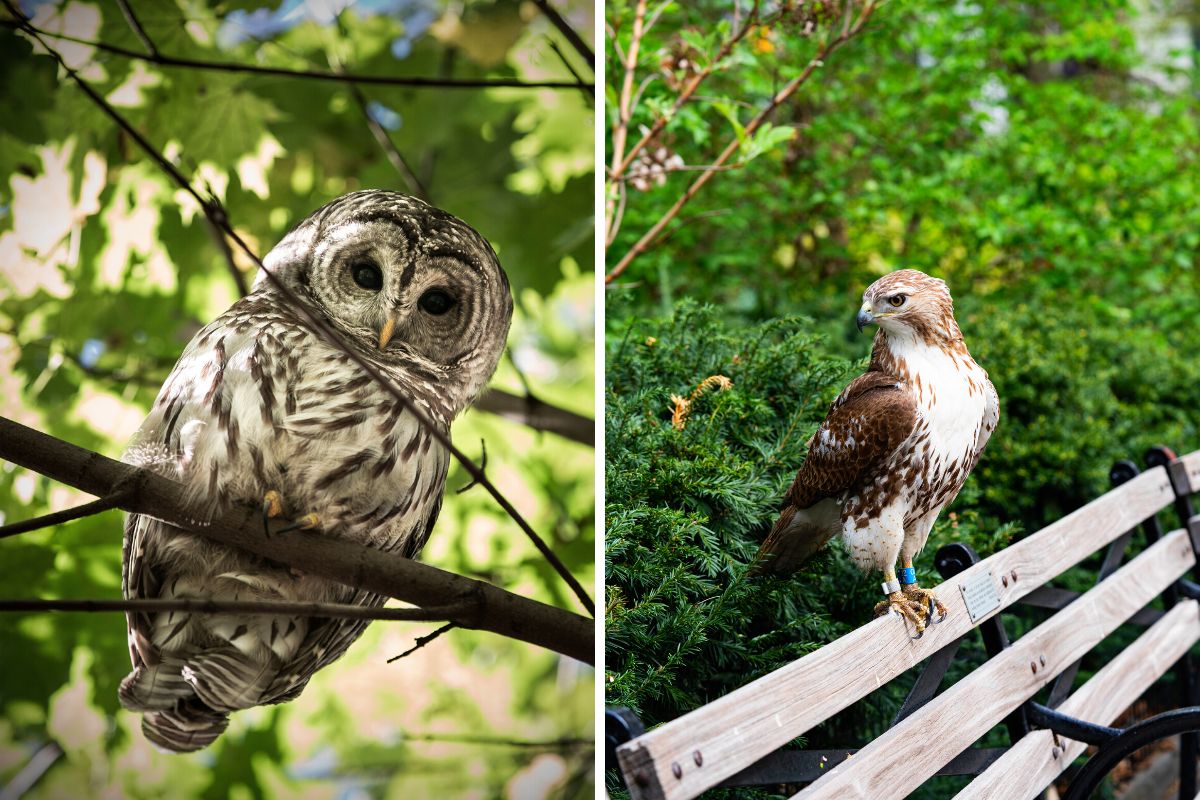 Along with all of the artistic thrills, there are plenty of outdoorsy things to do in Central Park.
It's an especially great place for bird watching, with lush ecosystems filled with premium observational opportunities.
The Ramble, which is one of the largest and most popular woodlands in the park, is a perfect place to start; its 36 lush acres are patterned after the magnificent forests upstate, making it a perfect paradise for birds.
As an added bonus, it's located right along the Atlantic Flyway, making it a perfect stopover for migratory species.
And if you're the data-driven type, you can even record your finds in the logbook by the Loeb Boathouse.
While the Hallett Nature Sanctuary is much smaller – only four acres wide -, it still offers plenty of opportunities to meet some new avian species.
Its densely wooded areas are a popular nesting spot for both year-round species and their traveling counterparts.
As you explore the rocky hillside, keep an eye out for ducks, geese, herons, and hawks, along with a variety of other creatures ranging from woodchucks to raccoons.
With over 210 species that call the area home (permanently or temporarily), this urban mecca will fill the hearts and notebooks of even the most casual bird-watcher!
17 – Do some classic sightseeing on a horse-drawn carriage tour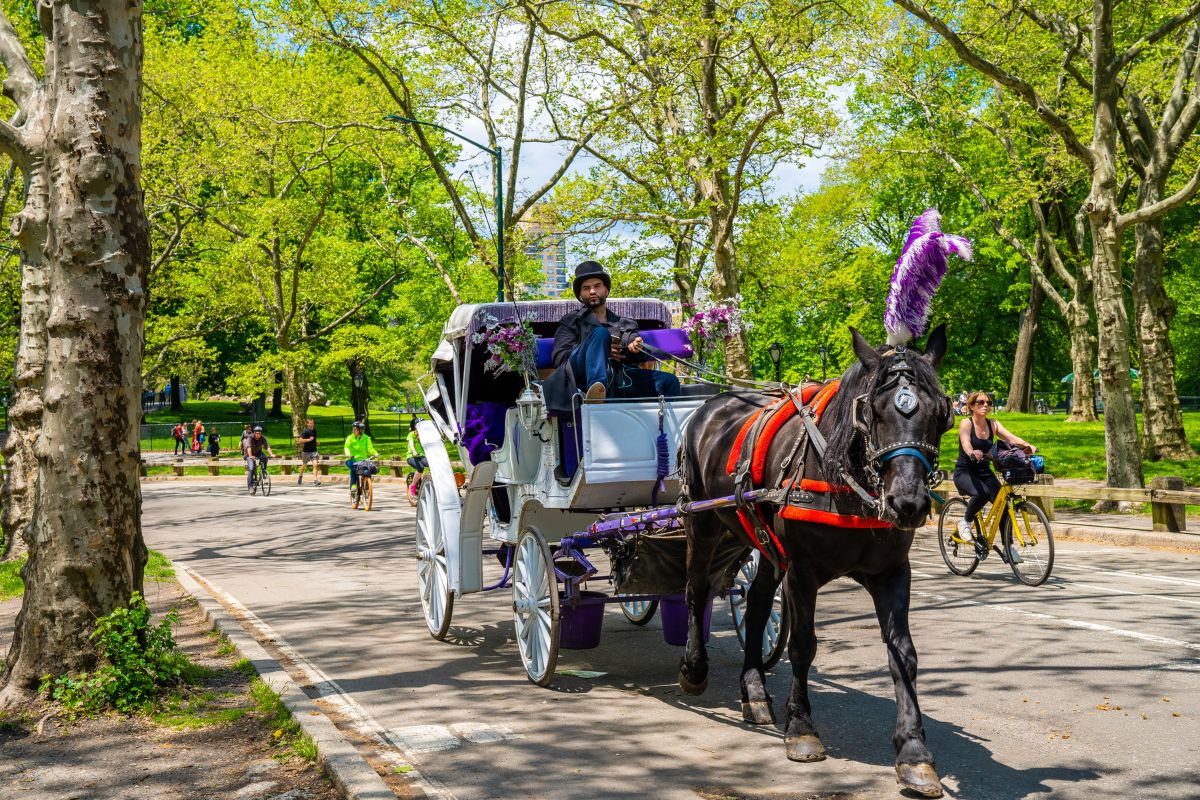 Undoubtedly one of the most iconic things to do in Central Park, horse-drawn carriage tours can be romantic, family-friendly, relaxing, exciting… but they're always a good time!
Book a private tour for yourself and your travel group, and enjoy a scenic loop around the park, where the ride itself is half the fun.
Along with some awesome historical tidbits, you'll have plenty of chances to stop and take photos at some of the most iconic spots in the area.
And even more importantly, you'll be able to feed the horses some tasty carrots along the way!
With entertaining guides and remarkable scenery, you'll quickly see why this is one of the most popular attractions in the park – and the city, for that matter!
18 – Lean into romance at Bow Bridge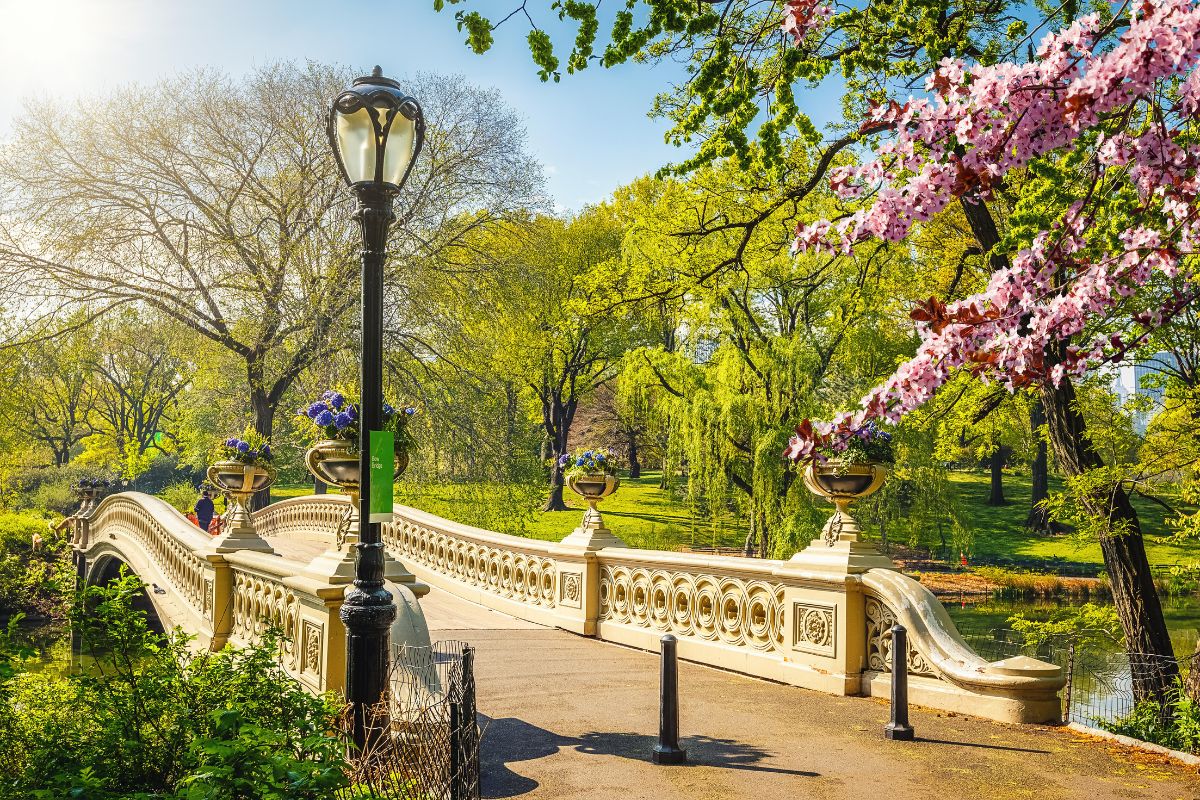 When a place is known as the "Engagement bridge," you can probably expect some sort of romantic atmosphere.
And Bow Bridge, which stretches across Central Park Lake, lives up to its nickname, from its beautiful aesthetics to its remarkable views.
You may have seen this gorgeous cast-iron construction in such classic movies as The Way We Were and Manhattan, and it's also played a significant role in the romantic lives of many average New Yorkers.
In fact, its picturesque setting has inspired so many proposals and wedding photoshoots that it has been nicknamed "The Engagement Bridge"!
You can use this lovely structure to get between the Ramble and Cherry Hill, or simply photograph it and admire the views – both off the bridge and of the bridge itself!
19 – Pay a visit to the Balto Statue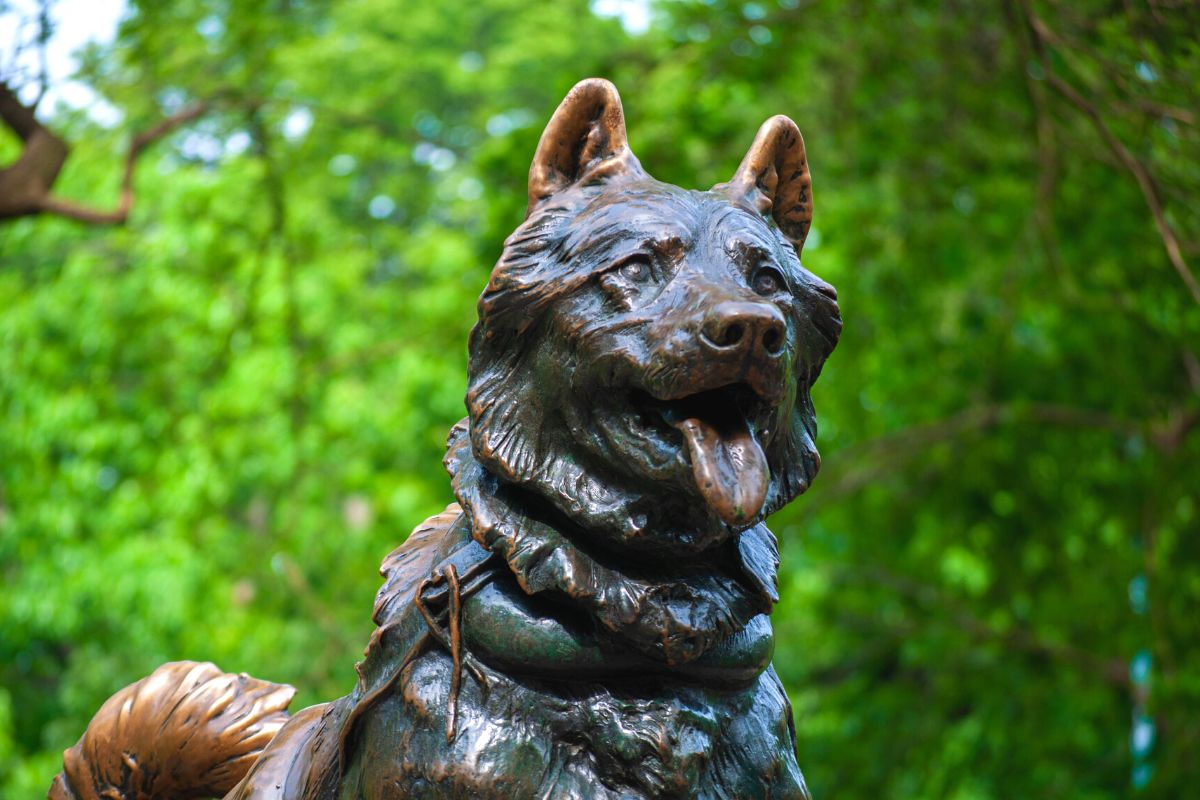 An Alaskan sled dog might not be the first thing you think of as a good fit for NYC, but the city is full of surprises!
The Balto statue commemorates the heroic canine of the same name, who helped a team of Huskies deliver crucial antitoxin to the remote town of Nome, Alaska during a diphtheria outbreak.
The remarkable bronze likeness was constructed in 1925, and the actual Balto attended the unveiling ceremony!
Along with representing a fascinating slice of American history, the statue has long been beloved by kids, who can admire it from the ground or climb up on its back and take in the views.
It's the perfect legacy for a truly heroic pooch!
20 – Captain a model boat at Conservatory Water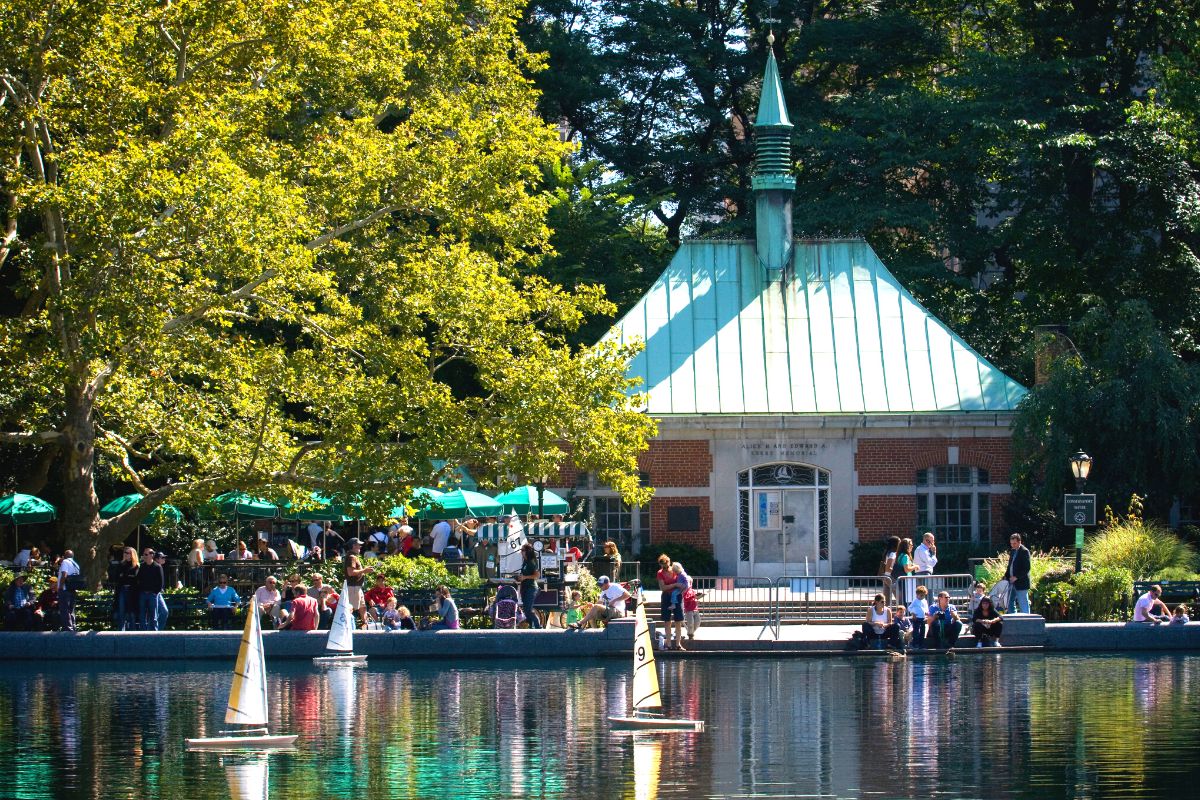 If you'd like to try out the nautical life without investing in a full-size boat, then don your sailor's cap and head to the Central Park Model Yacht Club.
Established in 1916, this charming little venue features a fleet of miniature boats available for rental, with the nearby waters offering a perfect venue to test your sailing skills.
Conservatory Water, a decorative pond located near the Alice in Wonderland statue and the  Hans Christian Andersen statue (see #22), is the proving ground for these tiny vessels; all you need is the remote control and some patience, and you'll be sailing like a pro in no time!
If you're feeling particularly ambitious, there are races each Saturday, where you can test your mettle against locals and other out-of-towners.
Even if you're not planning to be a professional mariner, you can still indulge your seafaring side with some time by the water.
21 – See the spectrum of creativity at the Metropolitan Museum of Art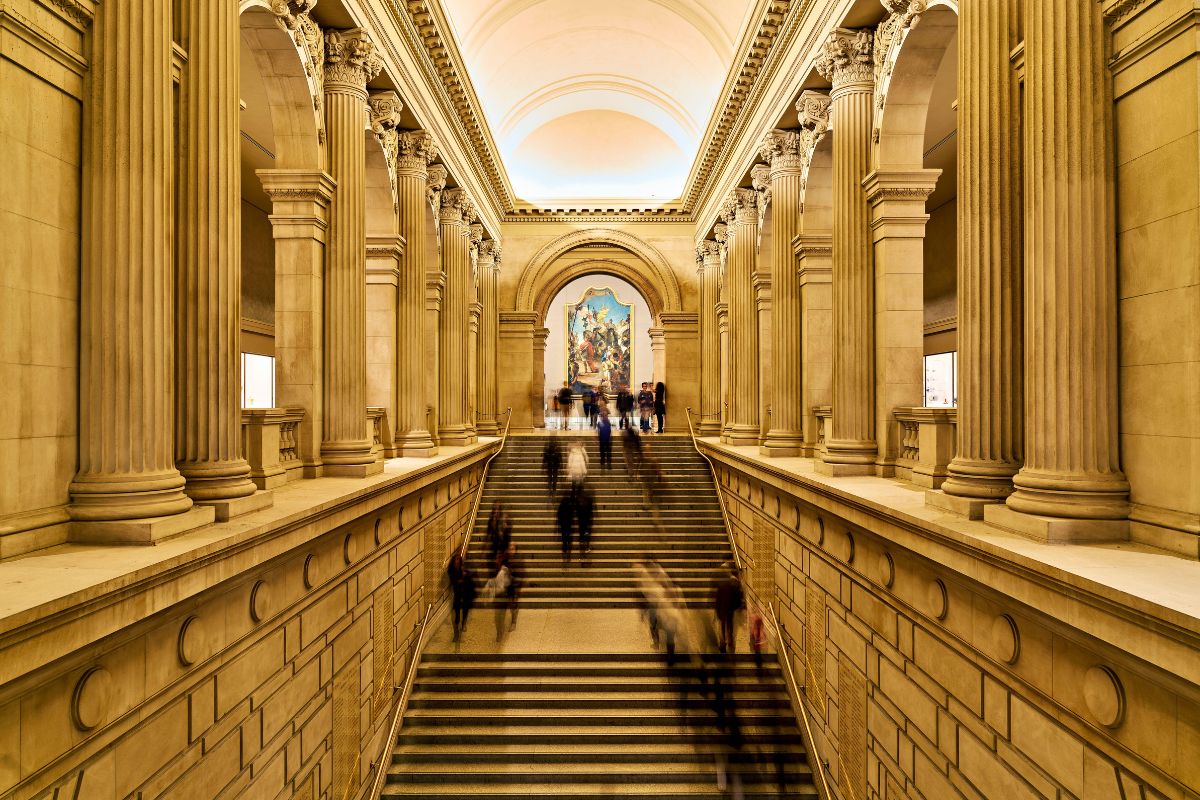 If you like art, there's plenty to take in around the Big Apple.
And if you really like it, then a trip to the Metropolitan Museum of Art is a must.
With the largest collection of works in the Western Hemisphere (a staggering 2 million plus pieces!), it offers a tremendous range of global movements and mediums to admire.
Admire the works of masters like Van Gogh and Vermeer, browse through fantastically preserved pieces from indigenous cultures of Africa and Latin America, and view some of the most influential works in the history of the United States, such as the famous painting of George Washington sailing across the Delaware River.
You can even catch a glimpse of the many decorative details in antique suits of armor!
With its thought-provoking and beautiful exhibits, it's little wonder that this fantastic space is considered one of the best museums in New York City.
Whether you're taking in some new inspiration or looking for a place to spend a rainy day, this is one of the most fascinating things to do in Central Park!
22 – Enjoy story time at the Hans Christian Andersen Monument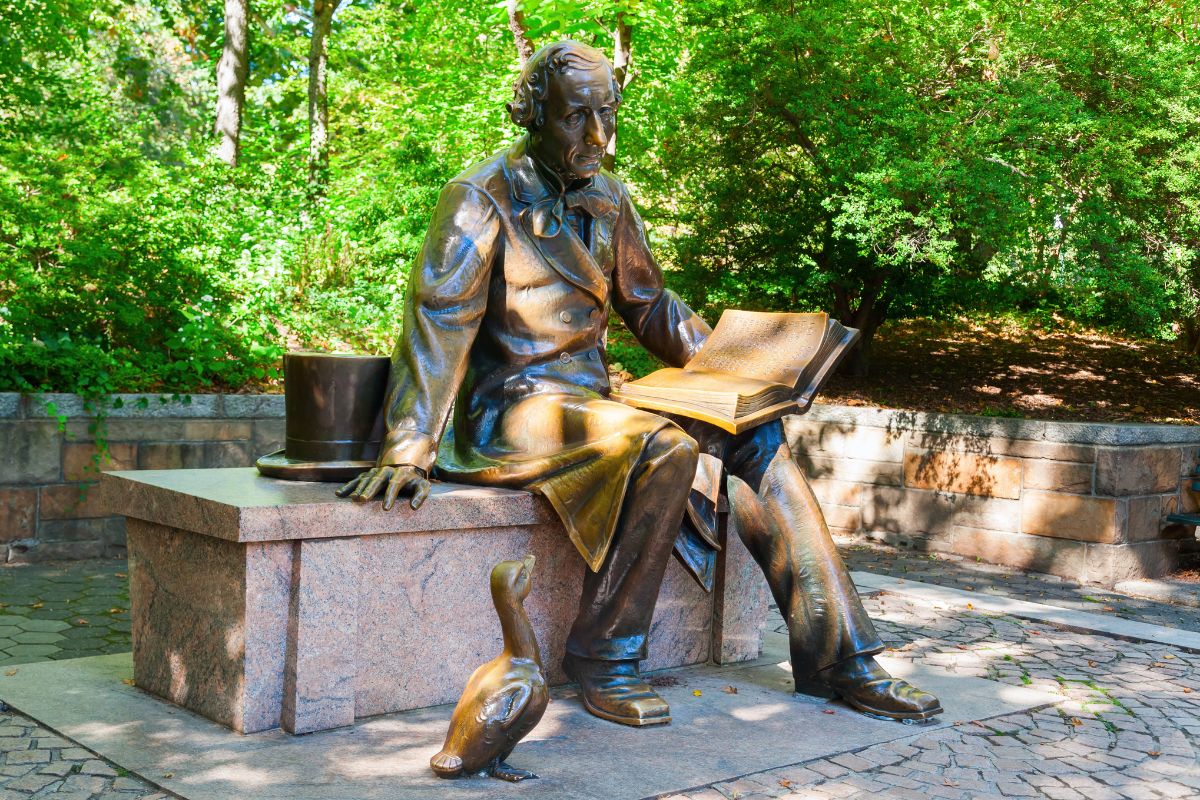 While he may have only produced a few stories, Hans Christian Andersen's legacy is pretty well defined: among many other works, he is the author of The Ugly Duckling and The Little Mermaid, two of the most famous fairy tales in history.
And just like Alice up the road, the late Danish author has a beautiful monument located within the park.
The statue of Andersen – which features him reading a story to his beloved duckling character – is delightful in and of itself.
But the spot also pays the best possible tribute to his memory with seasonal storytelling programs for kids.
Stop by during the warmer months to enjoy some beautiful tales in the sun, all under the watchful bronze gaze of the man who contributed so many wonderful works to the world during his lifetime.
23 – Try a little bit of everything at the Great Lawn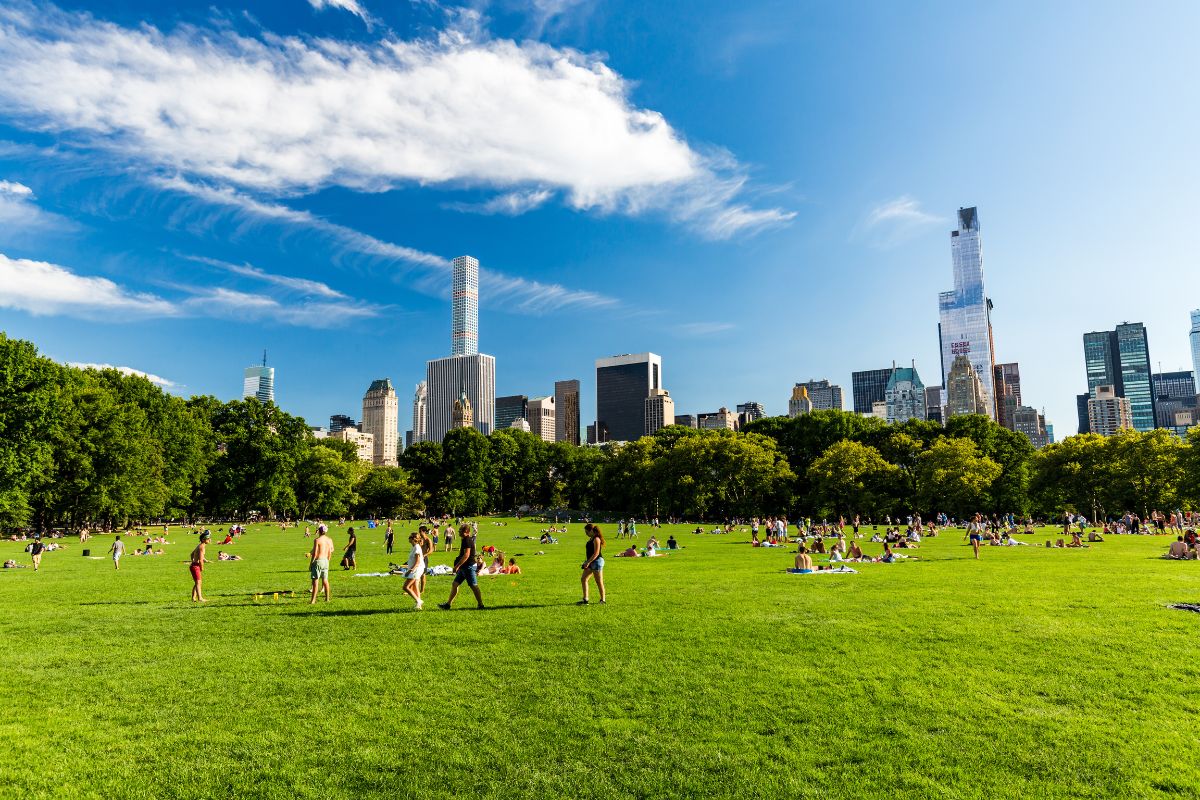 It almost seems like a riddle: what do you call the central part of Central Park?
The answer: the Great Lawn!
It's a truly fitting name for such a renowned space, which boasts 55 acres of performance spaces, playing fields, and everything in between.
This is the ideal place to go for a taste of public life in the park; as the Central Park Conservancy puts it, it's a "popular destination for picnicking, sunbathing, relaxing, playing and watching softball, and enjoying the scenery."
As if all of that weren't good enough, there are also spots to play basketball and volleyball, and there are tons of great festivals and artistic events throughout the year.
Don't miss the New York Philharmonic Concerts in the Parks, a lively and beloved summer series that features memorable performances by one of the city's most renowned orchestras.
If you're more civically minded, the annual Global Citizen Festival draws activists, politicians, and corporate and private donors together to combat poverty, as well as an amazing lineup of renowned musical performers of every genre.
Whether you're hanging out in a crowd of thousands or enjoying a mellow solo day, this sprawling field is bound to have something for you to enjoy!
24 – Indulge your inner jock at the sports fields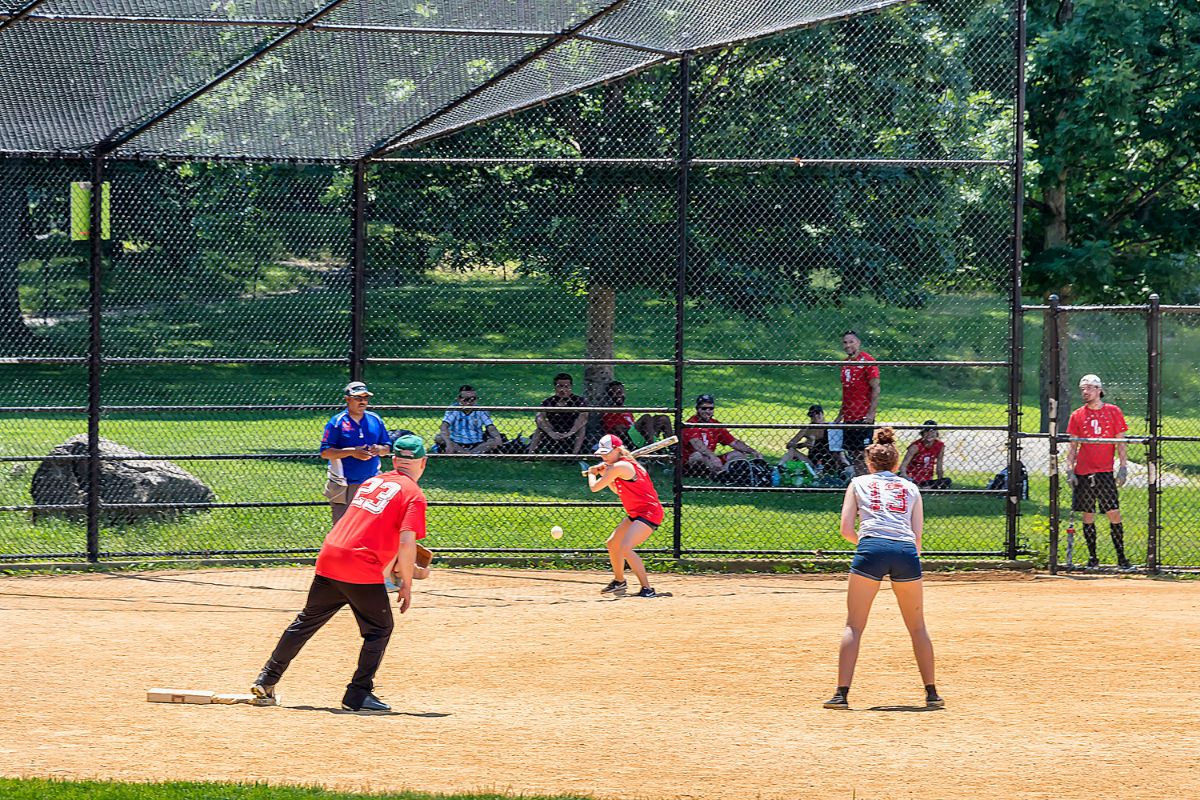 If you want to keep up with your athletic pursuits while on vacation (or try some new ones), you'll have plenty of options to explore in the area!
Those looking to reenact the scene from Top Gun can get their game on at the Central Park Volleyball Courts, which are great for pickup games.
Try the asphalt near the Great Lawn, or the concrete and sand-based options close to Sheep Meadow.
If you fancy yourself more of a Williams sister, take to the courts at Central Park Tennis Center, which also offers classes for kids and teens.
And if you're more into batting and pitching, head over to North Meadow, which is famed for its baseball and softball fields.
Along with some world-class diamonds, it's also a great spot for some soccer, and there are plenty of grassy areas to relax after all of that exertion.
So do some stretches, grab some gear, and play some ball!
25 – Go for a run around the Central Park loops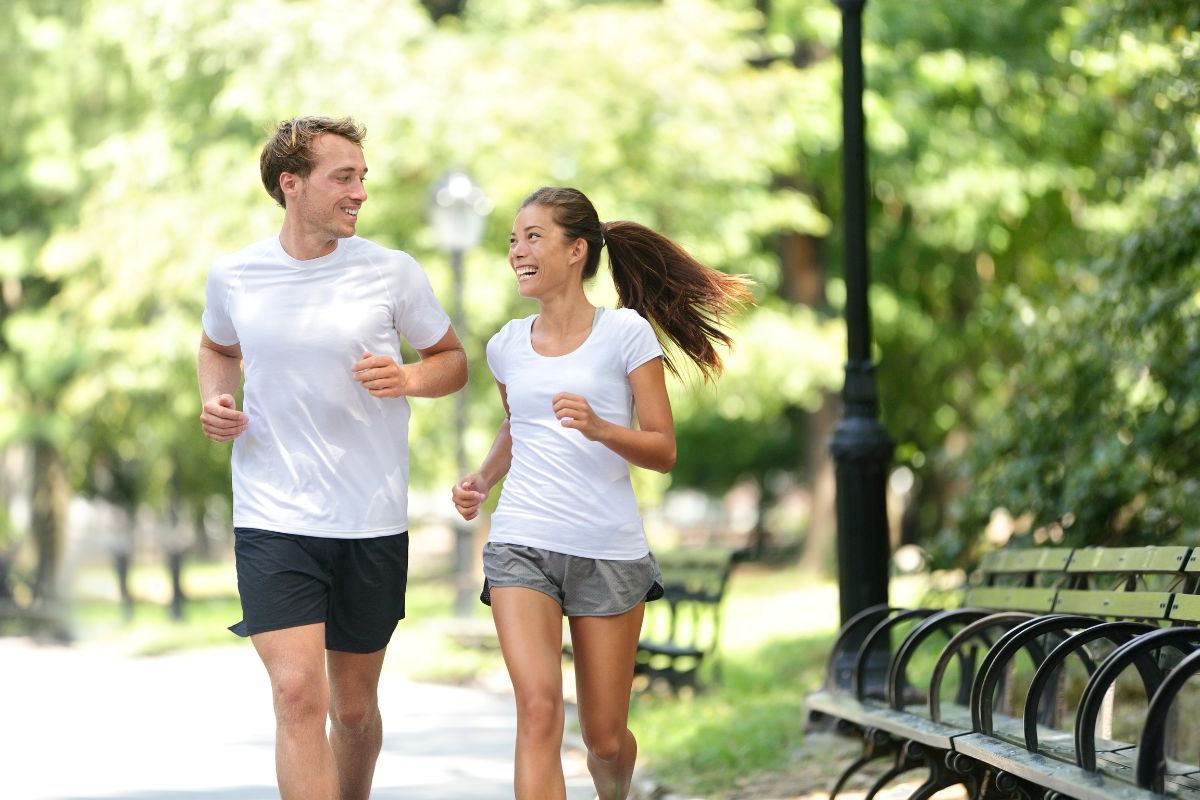 There's nothing like a good run to invigorate the mind and the body, and the loops in Central Park are ideal for stretching your legs and refreshing yourself while in town.
Along with tracks that circle classic attractions such as the Loeb Boathouse, the Ramble, and the North Lawn, there are also some renowned scenic loops, including the Stephanie and Fred Shuman Reservoir Running Track, which offers fantastic views of the surrounding city.
Or try the scenic 1.7-mile track around the Jacqueline Kennedy Onassis Reservoir, a popular option that is also frequently used for hiking and birdwatching.
And if you'd like to combine your exercise with some sightseeing, jog on over and join some running tours, where you can see the best spots and squeeze in some cardio at the same time.
It's not every day that you get to run a 5K and learn along the way, but hey… that's Central Park for you!
26 – Meet the winged residents of the Butterfly Gardens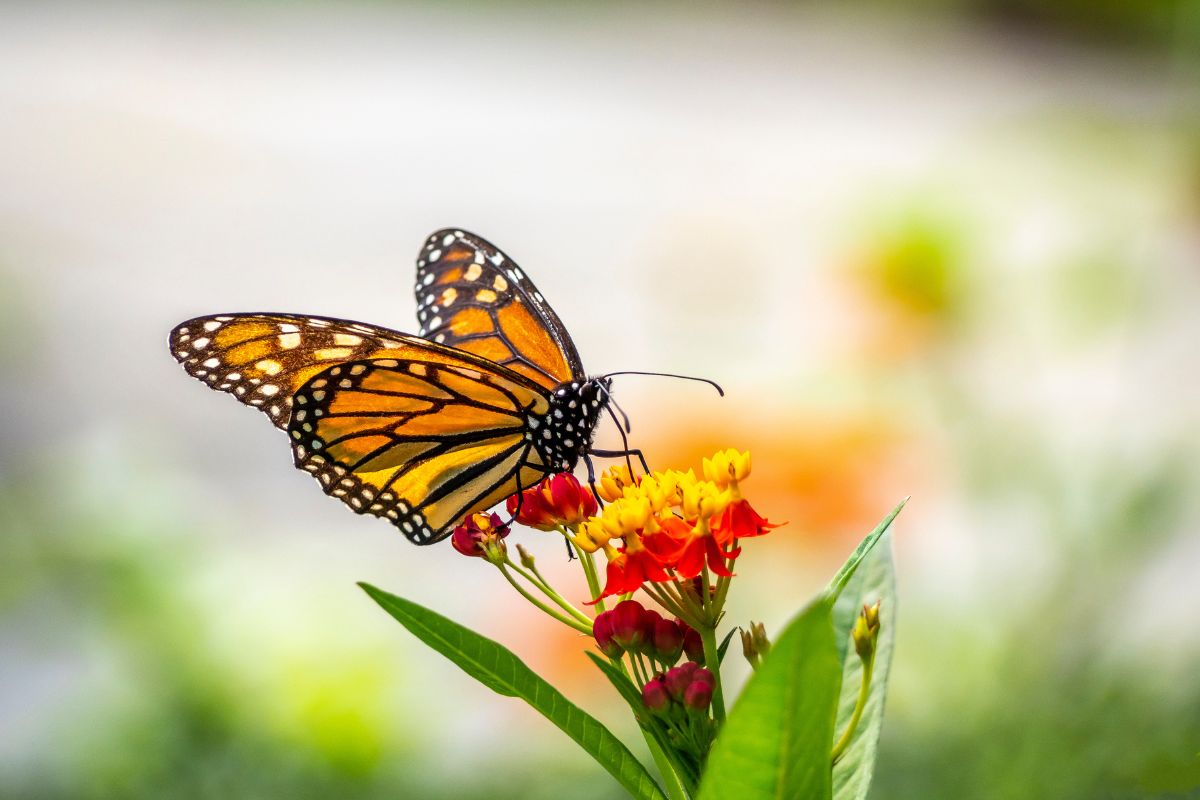 As you amble through the North Meadow, you might start to feel like you've been transported to another place altogether – somewhere wild and peaceful, where nature runs as it's supposed to.
No, you haven't mastered teleportation; you're in the Butterfly Gardens, a gorgeous scenescape filled with beautiful, fragile insects.
With over 50 species of butterfly and a massive variety of plants calling the area home, it's an impressive natural refuge in the heart of the city.
Stop by to see the different creatures come and go; along with the butterflies, you ,ay also catch a glimpse of birds, moths, and other unique insects that thrive off of the flowers and milkweed.
The beauty of this place is only matched by its functionality, making it an ideal destination for nature-lovers.
27 – Immerse yourself in Shakespeare in the Park (and more) at Delacorte Theater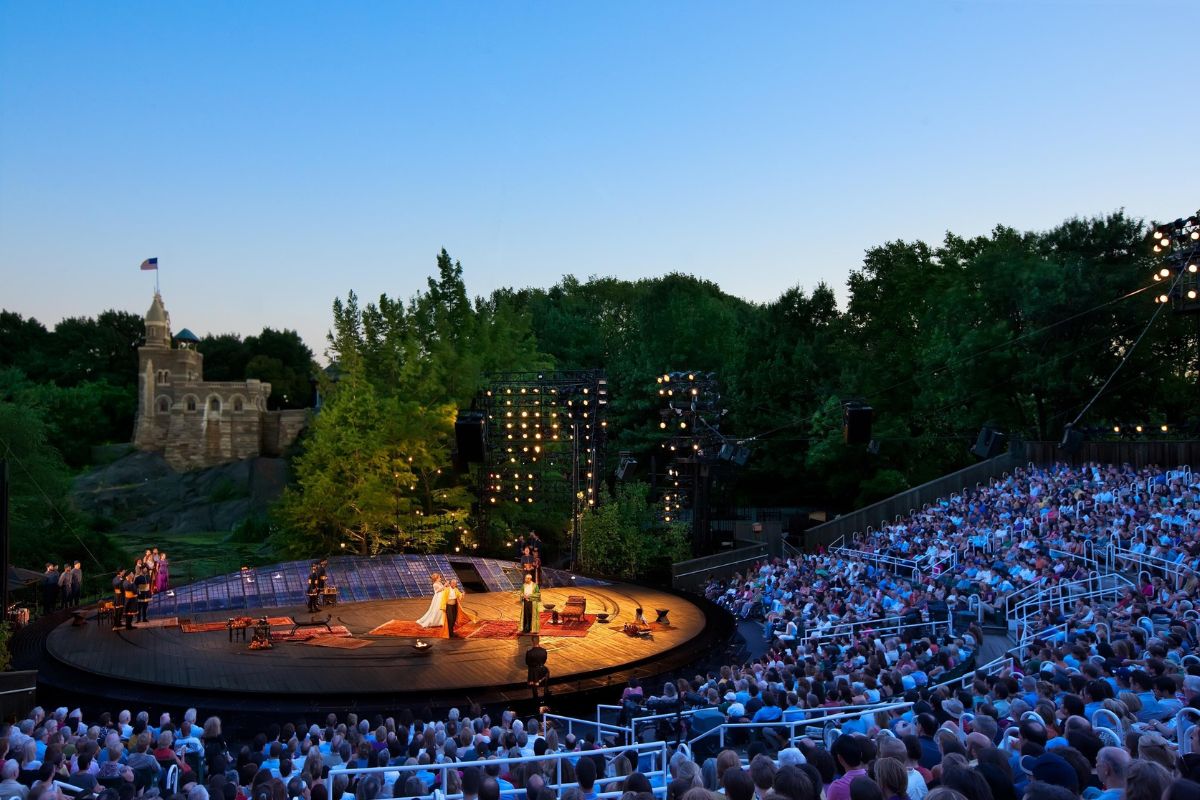 George Delacorte's contributions to the park didn't stop with the Alice in Wonderland statue; he also funded the construction of the Delacorte Theater, a true cultural gem.
This magnificent open-air establishment, which seats 1,872 people, has hosted acclaimed productions by Brecht, Chekov, and others over the years.
But it's best known as the host of the Shakespeare in the Park series, one of the liveliest and most iconic things to do in Central Park.
This world-famous series, which has spanned numerous counterparts across the country, presents two shows each summer, which often feature acting luminaries from stage and screen – and are always completely free to watch.
Creative, emotional, and profoundly well-produced, this is the Bard in fine form – and public theater at its finest!
28 – Climb up Umpire Rock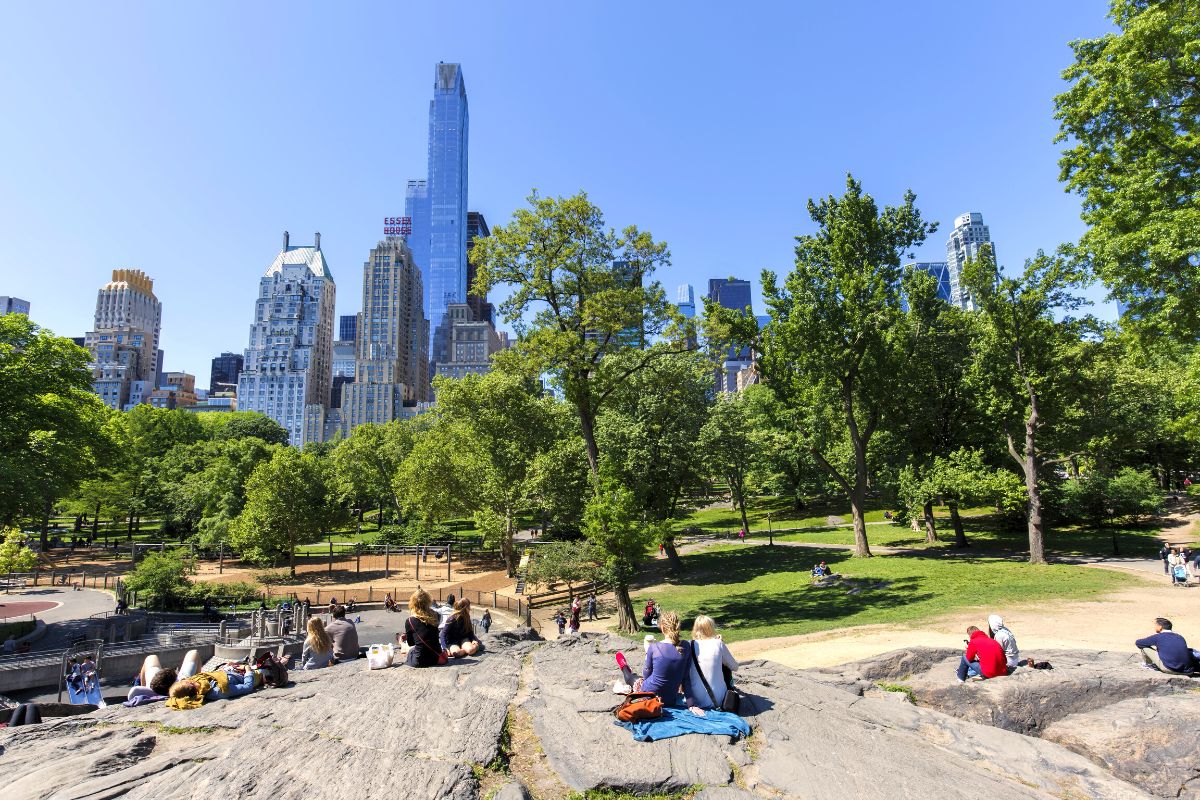 You may have tried the more conventional city sports already, so now it's time for an unexpected one: rock climbing!
Situated near the Heckscher ballfields and playground, Umpire Rock is a unique and striking formation, offering a great vantage point to relax and enjoy the views.
And one of the best ways to do so is by scurrying up its side.
Its many crevices and craggy faces make it ideal for bouldering – no ropes or equipment required, just perseverance and crash pads.
Along your route, you'll see a cross-section of the region's geological history, with millions of years represented in each unique section of stone.
Even the bedrock is a history lesson; it's actually the very same substance that sits far beneath all of the city's massive buildings!
And of course, once you're at the top, you get the reward of great scenery, plus the vindication of having completed a truly awesome outdoor feat.
29 – Explore The Mall and Literary Walk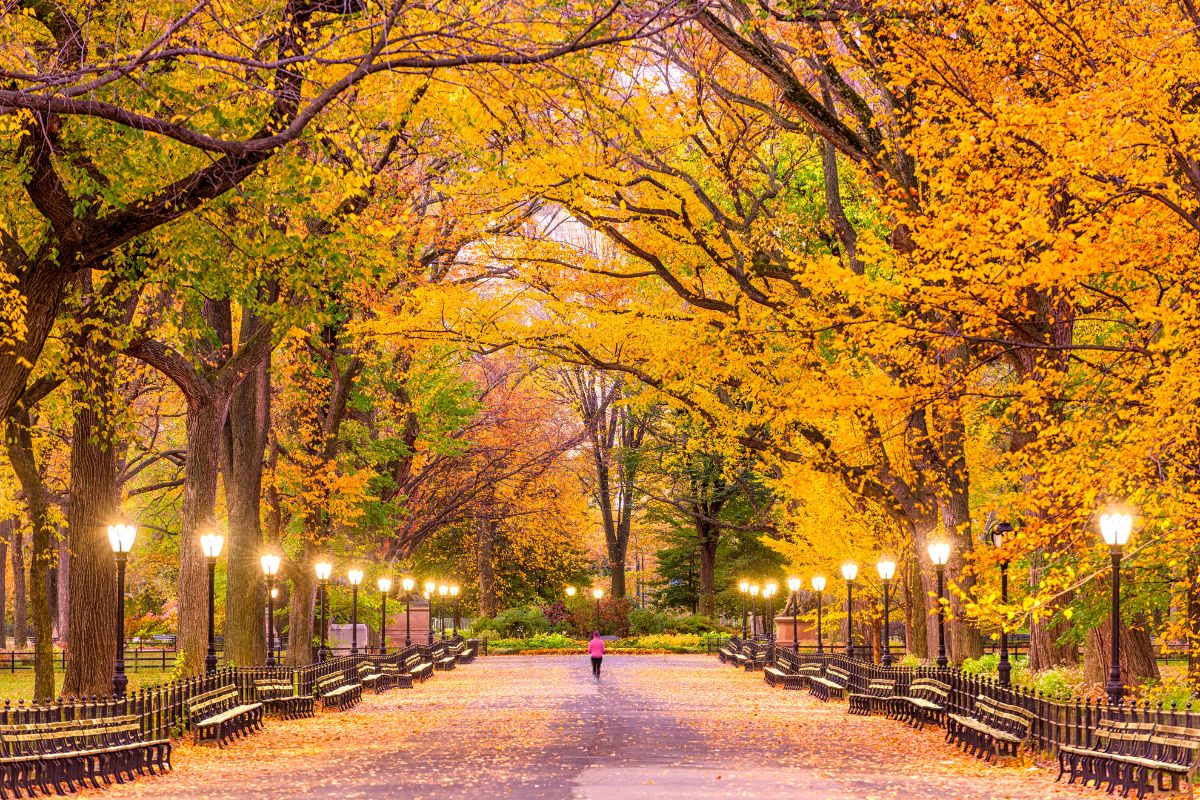 When it's time for a scenic stroll in the park, you can't do much better than the Mall!
This spacious, tree-lined path was designed as a meeting and mingling place for people of every class and background.
Today, it still serves as a public forum, with walkers, skateboarders, and even street artists making their way through the area.
While you're there, you can also enjoy the fantastic sights of the Literary Walk, which is filled with statues of famous authors of the past.
After paying tribute to Robert Burns, Sir Walter Scott, and other renowned writers, stop by the Women's Rights Pioneers Monument, which commemorates the struggle for gender equality in the U.S.
Statues of Sojourner Truth, Susan B. Anthony, and Elizabeth Cady Stanton sit frozen in eternal dialogue at a simple table, showcasing not just their roles in the fight for social justice, but also the larger role of the park itself – a place where ideas, history, and everyday lives can come together to create something vivid and magical.
30 – Take a carved horse for a whirl on the Central Park Carousel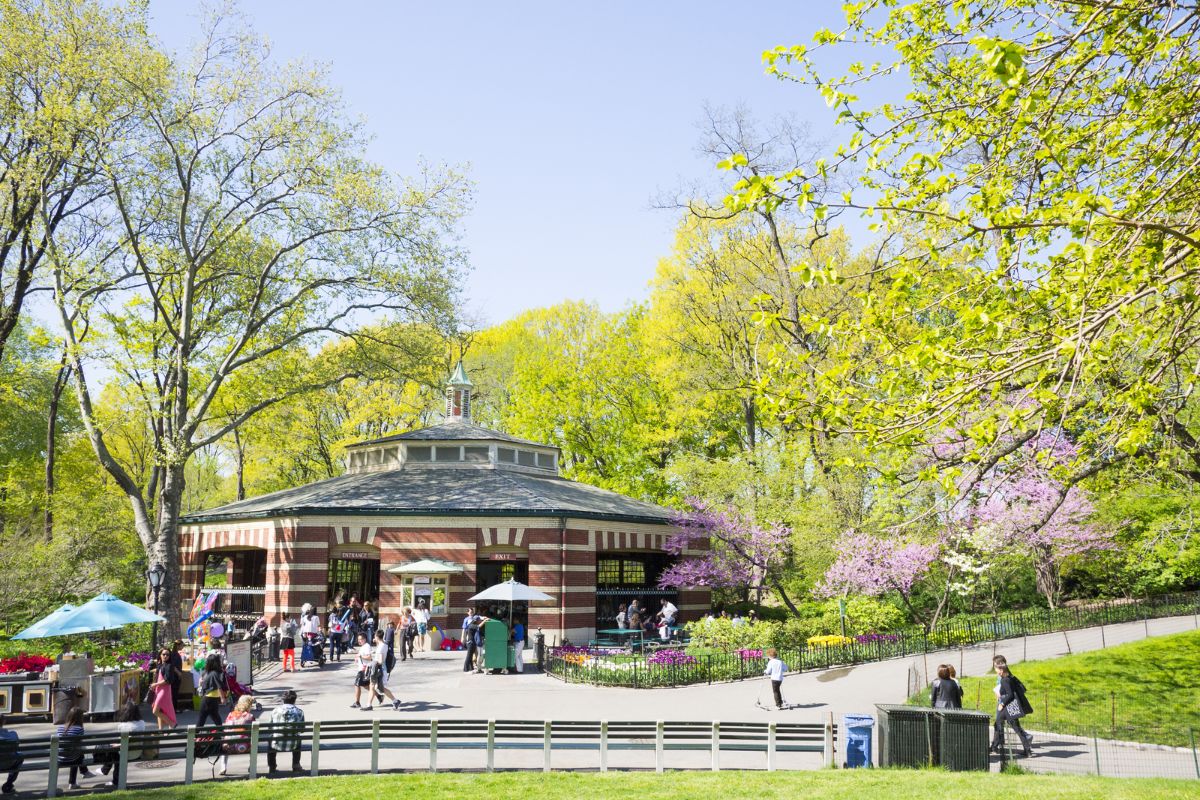 After your carriage ride, you may decide that the area is best seen with the help of a horse.
And you'll have your choice of steeds on the Central Park Carousel, which boasts 57 different equine figures and two chariots.
Over a century old, this spectacular ride features antique wood carvings, ornate decorations, and a long, rich history as part of the city's leisure scene
And it's just the most recent (relatively) in a long line of merry-go-rounds that have graced the area; the first one, which opened in 1871, was powered by actual horses and mules!
While today's model is mechanically powered, it's still a wonderful peek into the past, and a great way to pass the time in the present.
These horses may not be real, but they sure are fun to ride!
31 – Learn and play at The Dairy & Chess and Checker House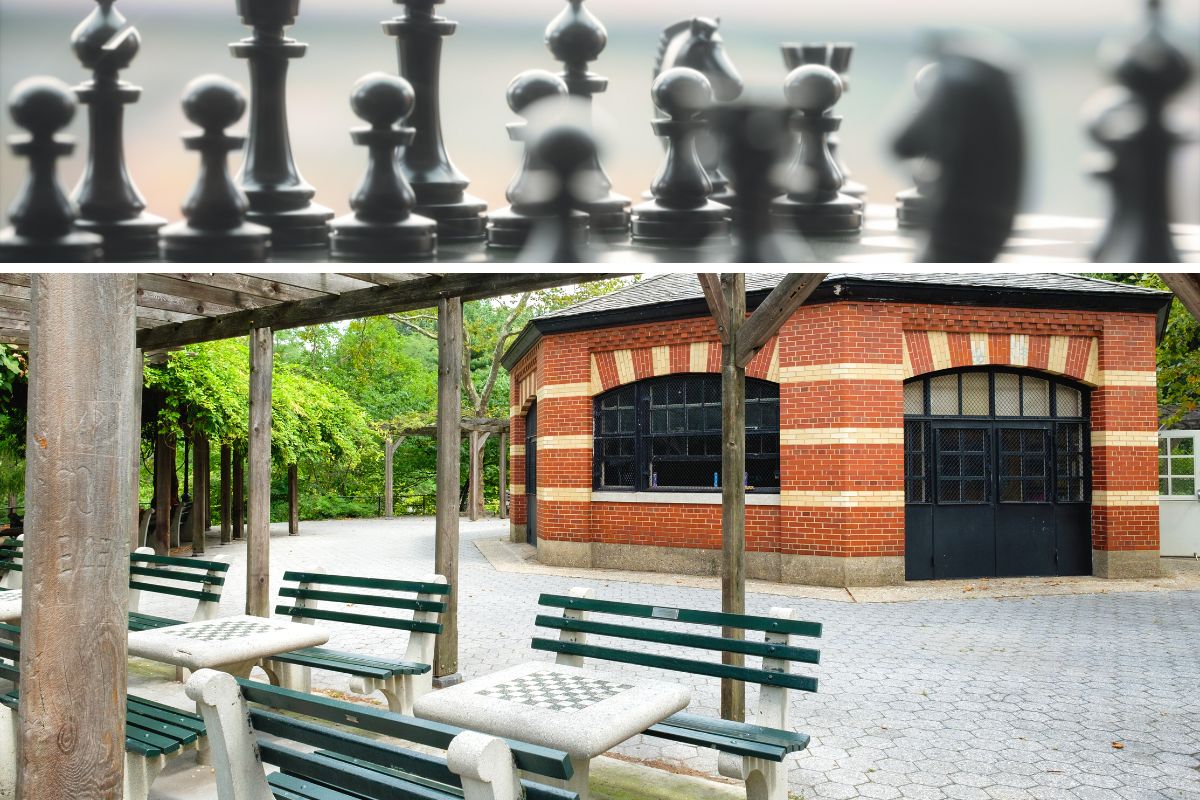 As you wander through the southern end of the park, you'll come across some charming little houses that tell a big story about the area's child-friendly roots.
The Dairy House, which dates back to 1870, was originally built to provide fresh milk to the children of New York, a crucial health measure in those days.
The charming, Victorian-style cottage currently serves as a kid-friendly visitor center, with some great informational displays to help the little ones learn more about this impressive park.
Just next door, the lovely red-brick Chess & Checkers House has served as a place for games of all kinds since 1952.
With 24 tables scattered around the space – including plenty of chessboards and checkerboards, of course -, it's a great spot to hone your skills, try a new pastime, or just have fun with your friends and family.
Both buildings are part of the Children's District, which also features playgrounds, sports fields, and plenty of other amenities for the youngest visitors to enjoy.
32 – Stroll, swim, and skate at Harlem Meer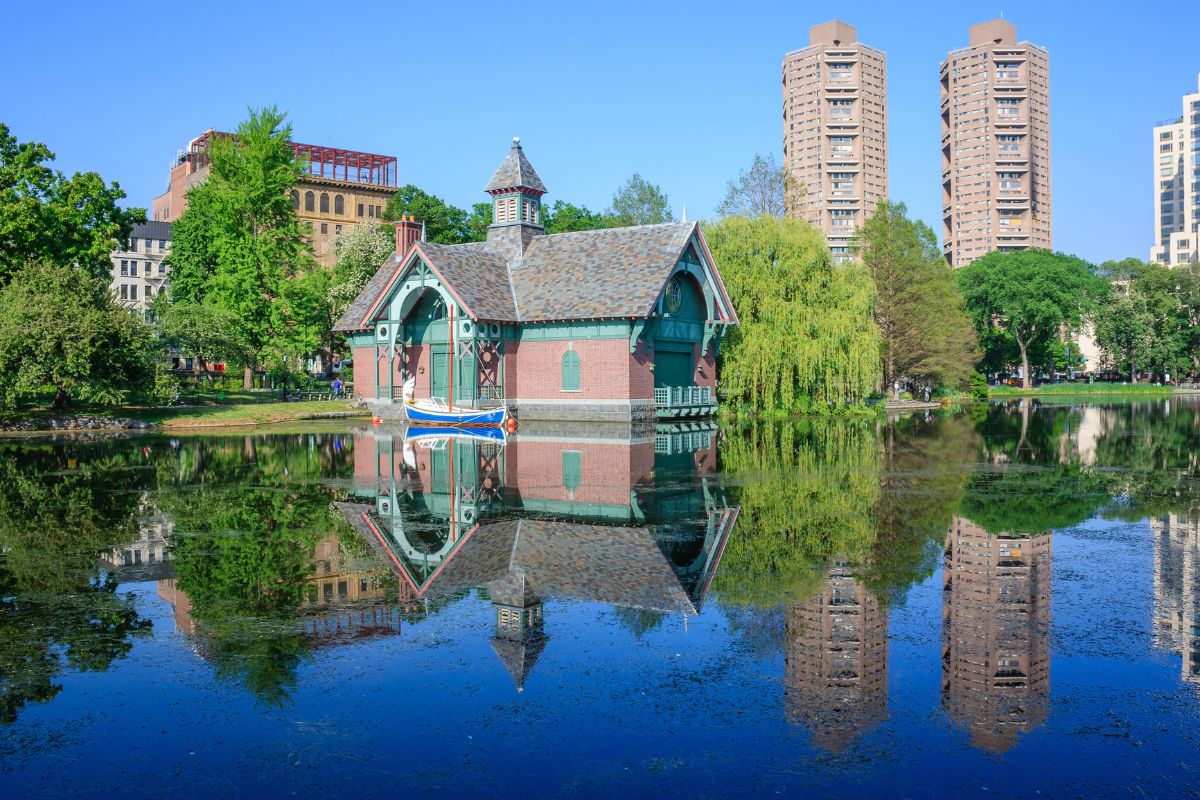 For another gorgeous bit of outdoor scenery with some cool recreational opportunities thrown in, check out the many amenities of Harlem Meer.
While this lovely body of water has plenty of spots to sit and relax, it also features some of the most interesting and active things to do in Central Park.
Whether you prefer a backstroke or an axel jump, you'll love the Lasker Pool and Lasker Rink (now known as the Harlem Meer Center), which offers everything from lap lanes and open skate sessions to recreational swims and hockey games.
And if angling's more your style, pop over to the Charles A. Dana Discovery Center and rent some fishing poles – totally free of charge!
The park observes a strict catch-and-release rule, so you won't be able to bring home any dinner; but you'll still have a wonderful time enjoying the scenery and the calming atmosphere of this lovely reservoir.
There are also plenty of cool programs at the visitor center itself, so be sure to linger a bit during your visit!
33 – Zip through the park with some e-scooter tours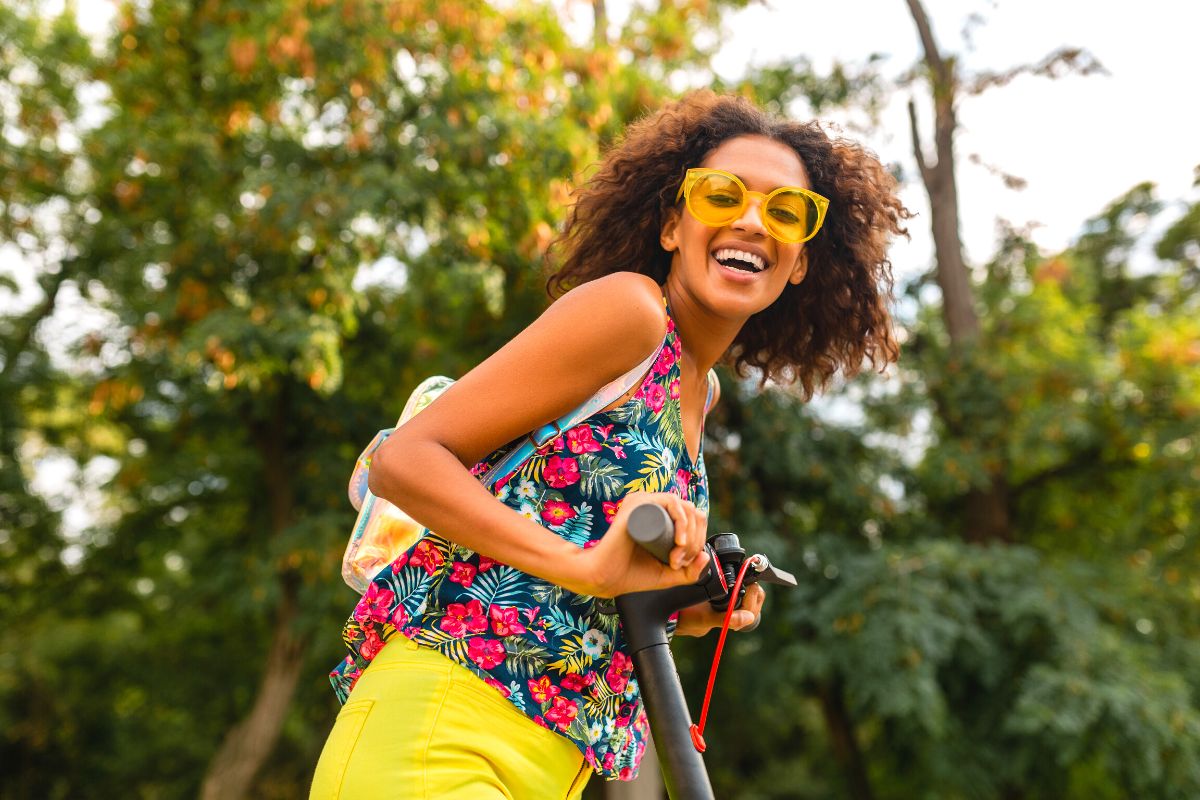 Lightweight, fast, and fun, electric scooters have become a fixture in urban areas.
And with a guided scooter tour, you can feel like a Manhattanite yourself as your cruise through the park!
From the Reservoir to the Bethesda Fountain, there's no shortage of beloved sites to see here.
And of course, half the fun is just enjoying the forested atmosphere along the way, from shimmering waterways to well-trafficked trails.
Take in the culture and scenery in style – you'll be amazed just how much you discover along the way!
34 – Treat yourself to a picnic at Sheep Meadow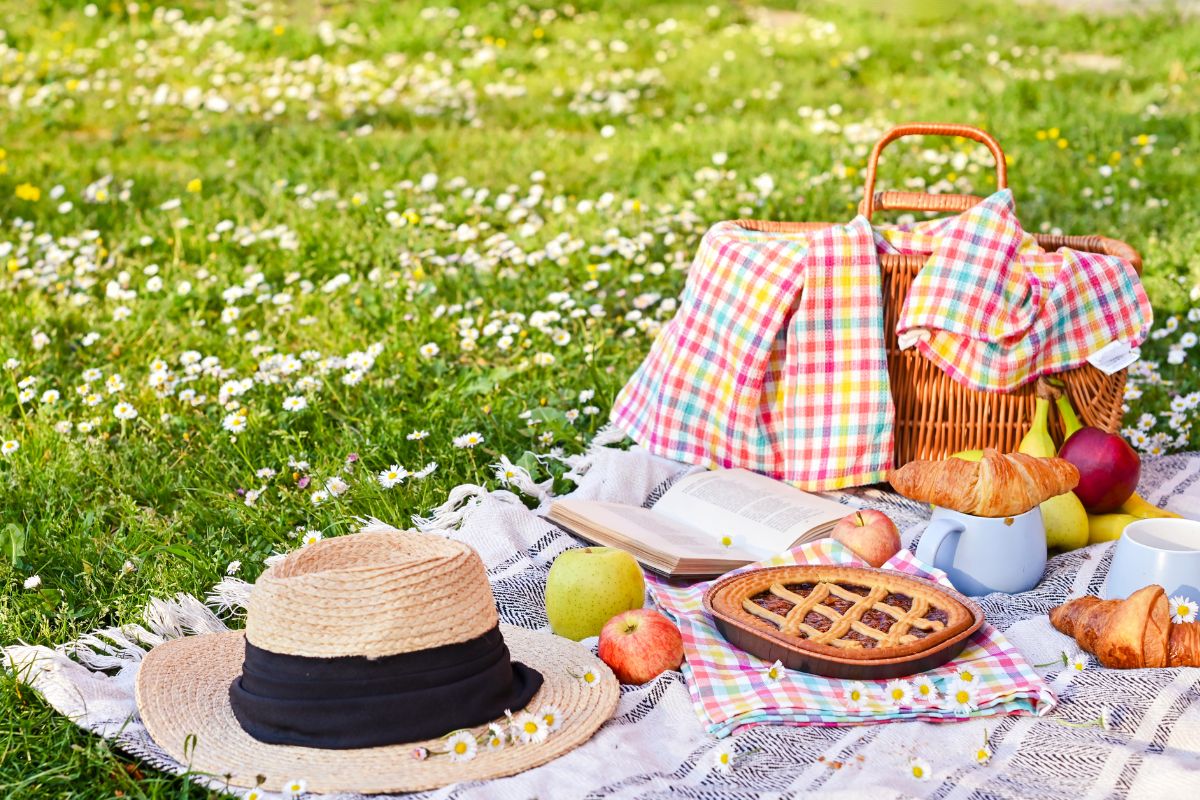 Even by the high standards of the park's many green spaces, Sheep Meadow really stands out.
Its 15 acres once hosted plenty of grazing sheep (hence the name), as well as a wide range of political and musical events during the social upheaval of the 1960s.
Nowadays, you're more likely to see people soaking up the sunshine, or preparing a delicious spread – between its lush grass and great views of the city, it's an ideal spot for picnics!
So pack some treats, put down a blanket, and take some time to enjoy some world-class scenery while reflecting on the field's fascinating past.
35 – Rock out to some live music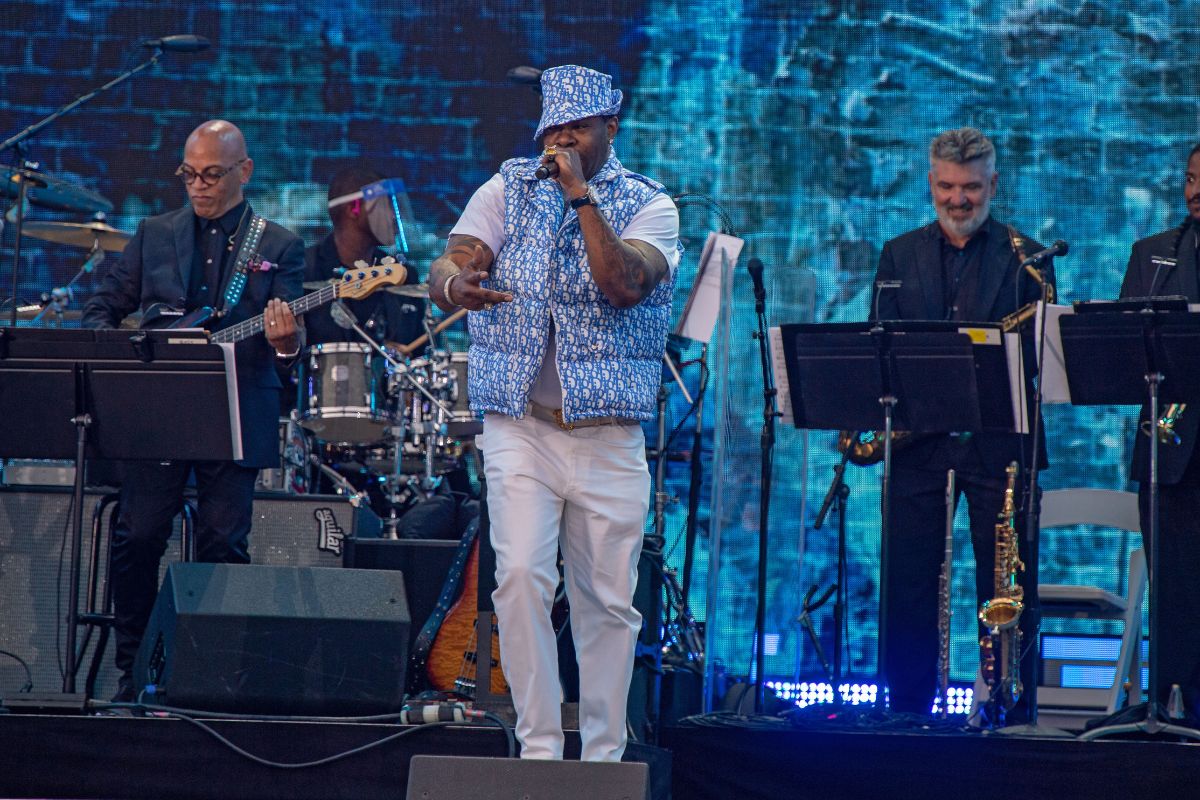 There's nothing like a little bit of music to brighten up a day out, and catching a live concert is one of the coolest things to do in Central Park during the summer.
Unsurprisingly, there are as many cool spots to see a show as there are unique genres to enjoy.
The impressive bandshell of Rumsey Playfield is an especially popular option, with everything from dance recitals to performance art taking place throughout the year.
It's perhaps best known as one of the main homes of SummerStage, a massive, multi-genre extravaganza that runs throughout the city from May until September.
Fittingly for such a vibrant and eclectic metropolis, the festival features artists from every background; at any given moment, you may be treated to contemporary pop music, the steady beats of hip-hop, the gentle rhythms of reggae, or new and fascinating sounds from all over the world.
And if you're looking for a more traditional musical experience with a healthy dose of history, take in a show or two at Naumburg Bandshell.
Along with hosting a steady stream of classical music concerts since 1923, this lovely venue was also one of the eulogy sites for John Lennon, as well as a speech by Dr. Martin Luther King.
Whether you're thrilling to the string section or jamming to new beats, the steady pulse of music will enhance your trip!
36 – Keep time the fun way with the Delacorte Clock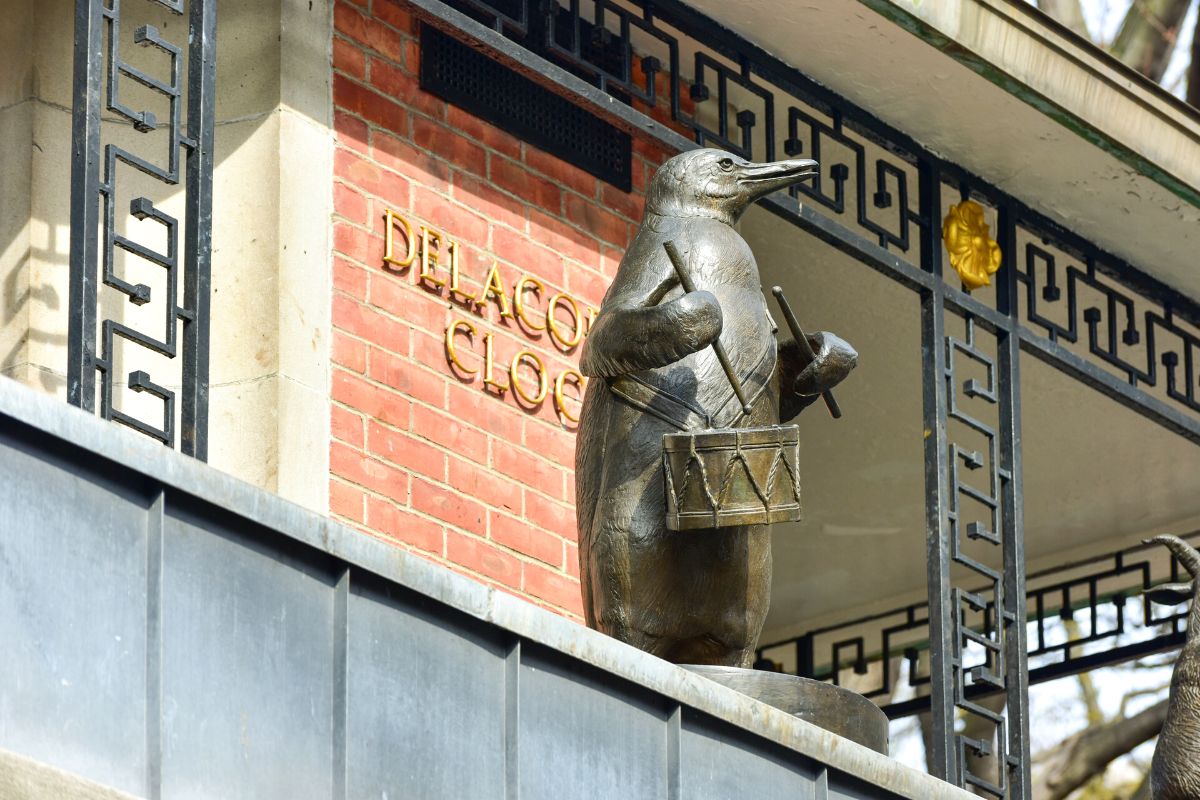 Sometimes, it can be hard to keep to a schedule while on vacation.
Luckily, the Delacorte Clock is here to help – and it has a whimsical cast of animals joining in!
Perfectly nestled in between the Tisch Children's Zoo and the main Central Park Zoo, this fabulous timepiece chimes out a steady stream of cheerful music on the half-hour and hour, accompanied by some pretty unusual musicians: a hippo, a kangaroo, a bear, a goat, an elephant, and a penguin.
Add in some monkeys (bronze, like their fellow animals) keeping time on the bells, and you have a lively scene that pays homage to the many creatures living in the park's fine zoos.
This is one alarm clock that you won't find yourself resenting!
37 – Get adventurous with a scavenger game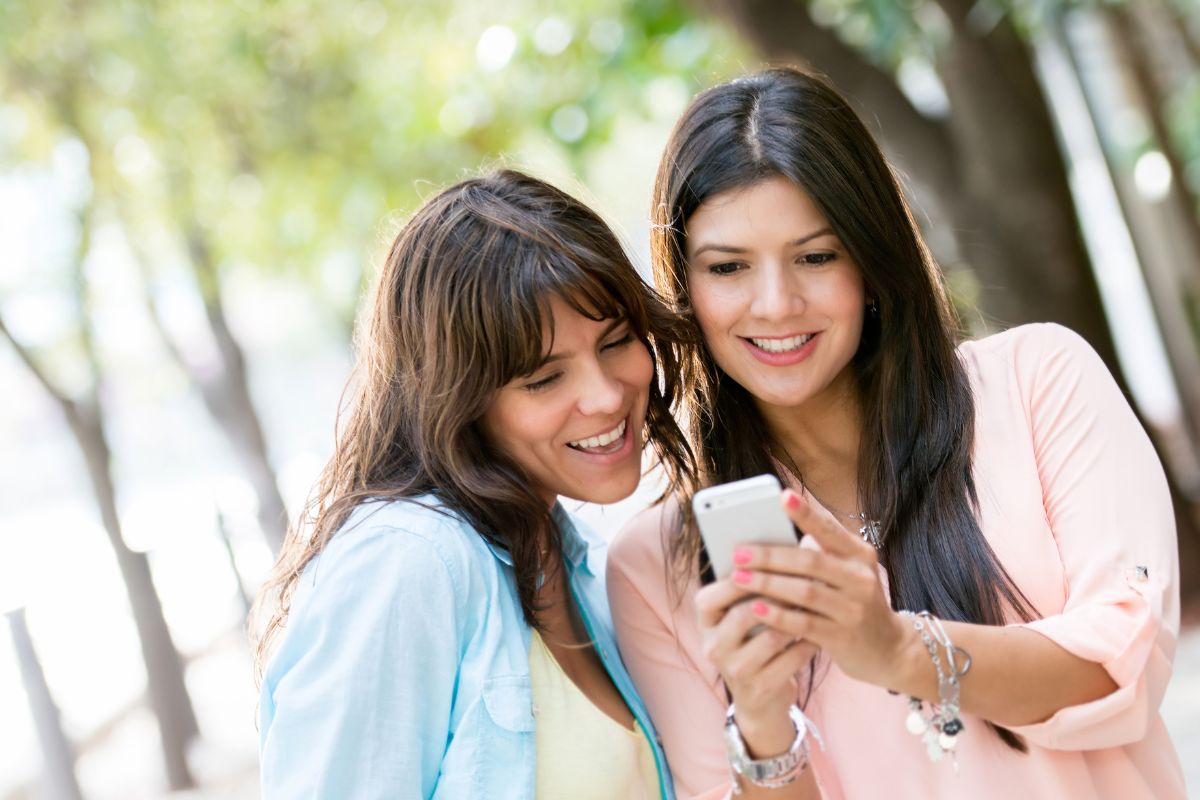 There's nothing like a good treasure hunt to spice up your day, and when you take part in a scavenger game in Central Park, you'll be able to channel your inner historian and archaeologist!
Discover the area's biggest attractions in a whole new way, solving riddles, searching for clues, and taking in all of the amazing historical tidbits around you.
Best of all, the games are entirely app-based and self-guided, so you can start, stop, and explore at your own pace.
With this innovative game, you get to be a tourist, guide, and detective all in one – not bad for a day out on the town!
38 – Grab a bite and enjoy the history at Tavern On The Green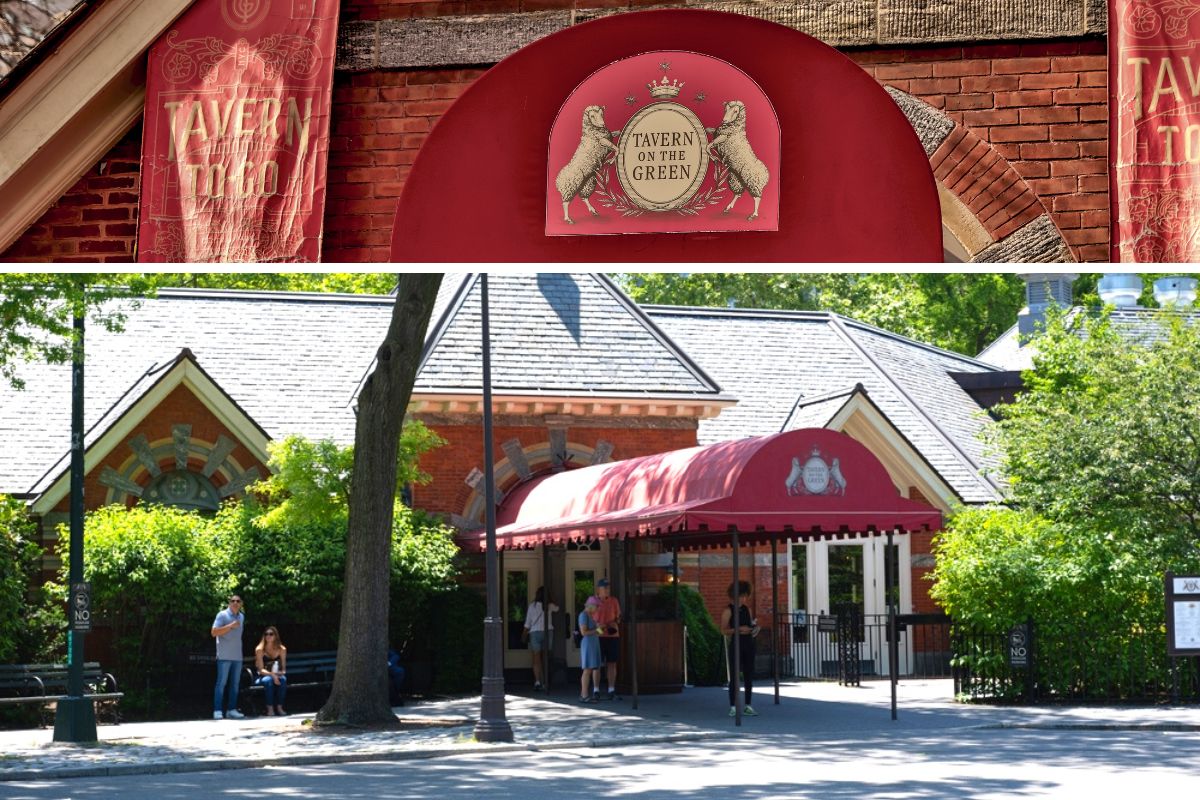 All this exploring is likely to make you hungry and thirsty, and if you head over to Tavern on the Green, you'll be in good company.
This beloved restaurant has served hundreds of renowned politicians, actors, musicians, and other luminaries in the city, but it originally hosted a very different clientele… sheep!
Back in the late 1800s, when Sheep Meadow still lived up to its name, hundreds of the park's wooly residents slept inside the sprawling structure.
It wasn't until 1934 that the building was turned into an eatery, but since then, it has become one of the most popular in the city with locals and tourists alike.
Stop by for a quick bite, a classy cocktail, or a world-class dinner, enjoying a fantastic atmosphere along with your meal.
There are plenty of delicious kid-friendly items, as well as a popular weekend brunch option.
Be forewarned that this venue is often extremely busy, so it's best to make a reservation; but it's well worth it to chow down the way celebrities do!
39 – Marvel at the blossoms on Cherry Hill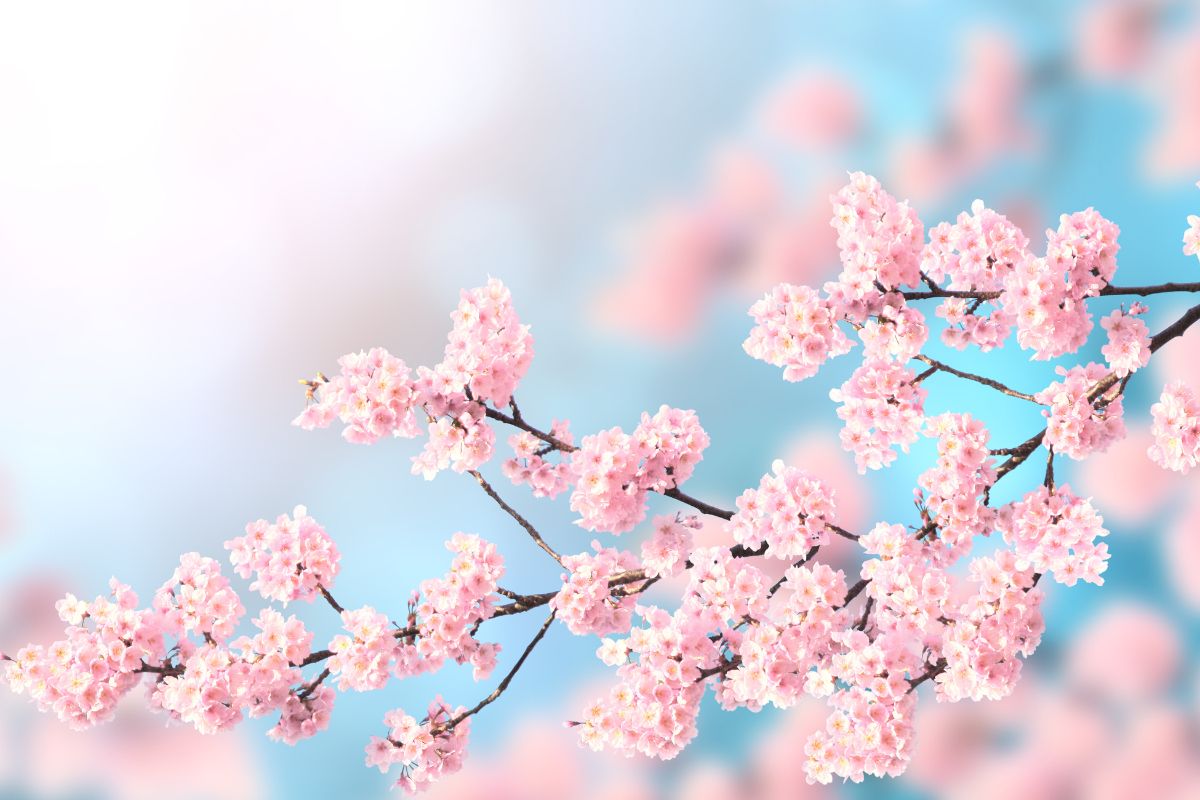 There are plenty of wonderful things to do in Central Park in the summer, the winter, and the fall; but the spring offers some distinctive charms of its own.
And one of the best showcases of the season's beauty can be found on Cherry Hill, which, as the name suggests, is home to some lovely cherry trees that offer a yearly display for visitors.
As the weather warms, the bare branches burst forth in plumes of color, filling the landscape with vivid whites and pinks.
Even if you're not visiting during the blooming season, there's plenty to enjoy on this lovely hill, from picnicking and sightseeing to walking along the nearby paths.
Stop by any time of year, and see why this has been a beloved lakeside attraction for generations!
40 – Watch the shelled citizens of Turtle Pond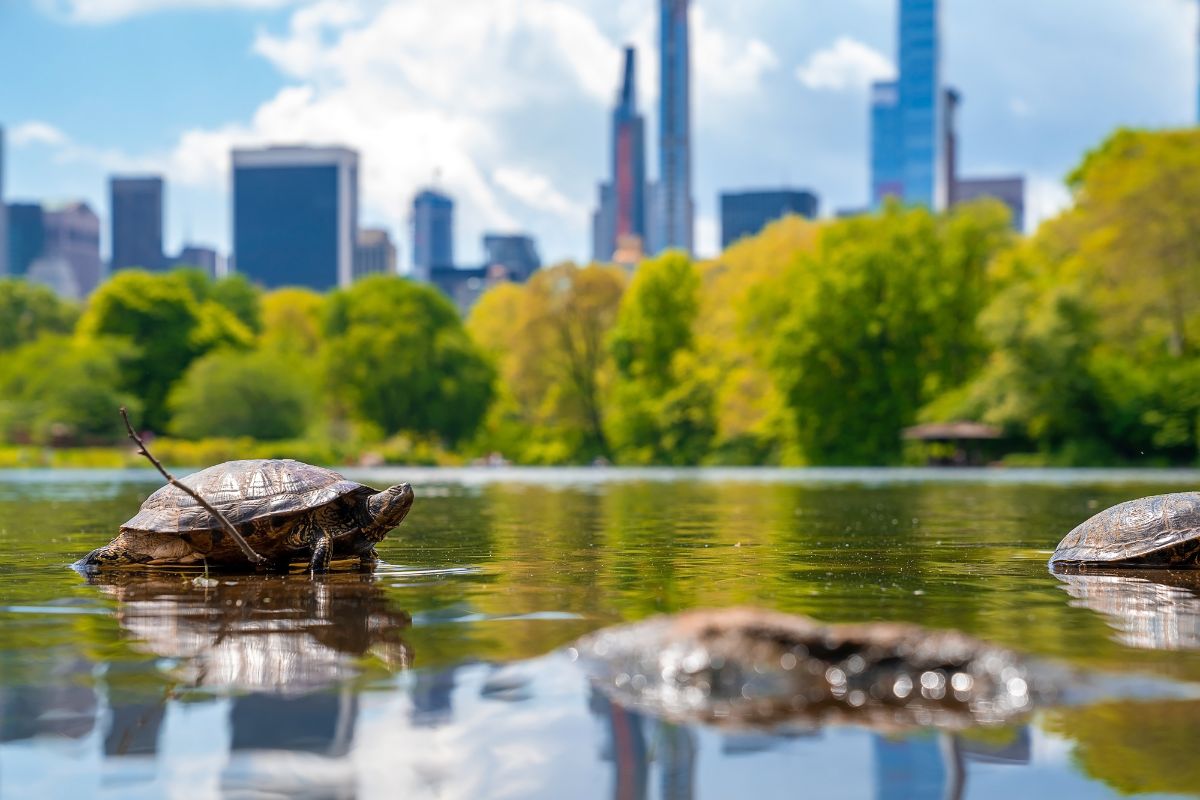 After seeing all of the cool creatures at the zoo or the beautiful birds in the woods, you might think that you've seen all the animals in the area.
But just wait until you get to Turtle Pond!
This two-acre body of water is named for its five species of reptilian residents, from the charming little box turtle to the prehistoric-looking snapping turtle and the iconic red-eared slider turtle, whose bright spots can often be seen as it suns on nearby rocks.
You might also catch glimpses of wild waterbirds, fish, and other local creatures in and around the pond; if you're lucky, you may even spot some dragonflies!
This is also an excellent spot to view Belvedere Castle, so be sure to stop by to enjoy the wonderful scenery and relaxing atmosphere – not to mention some premium views of some of the park's most dynamic tenants!
41 – Absorb the archaic history of the Obelisk (Cleopatra's Needle)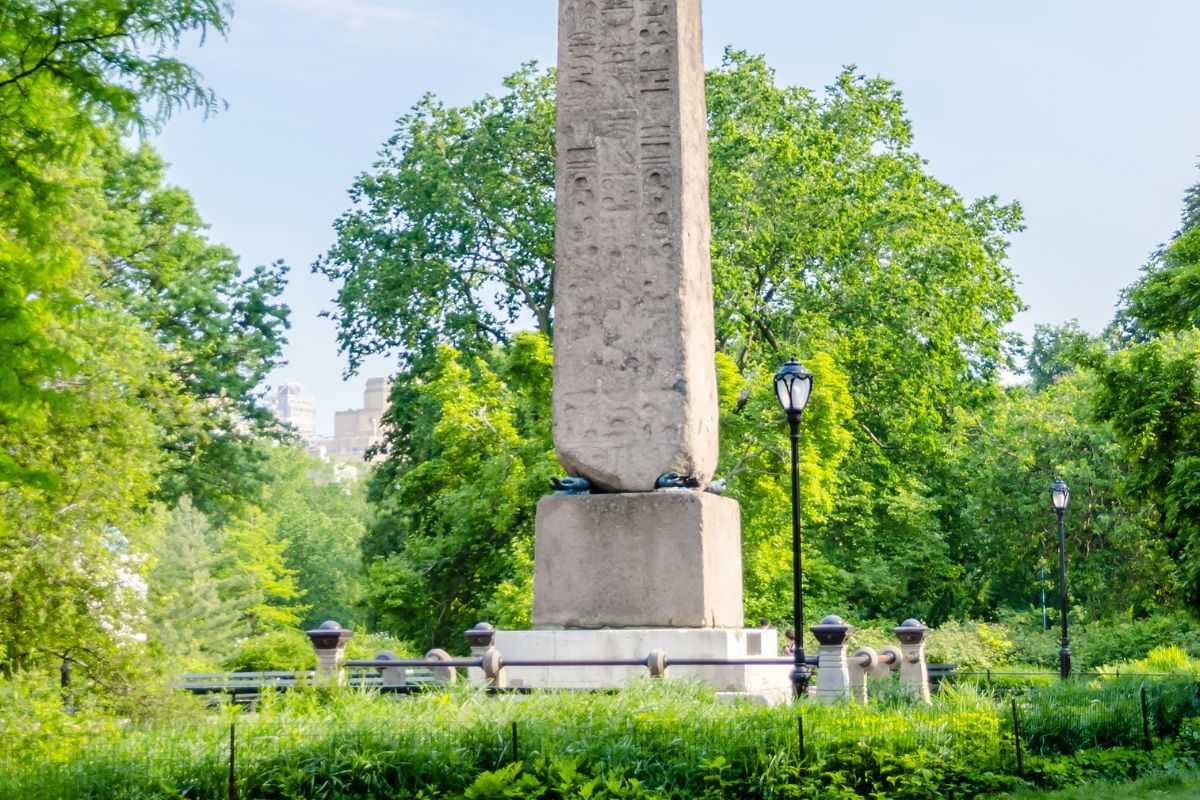 It's hard to pick one monument that stands out above all the others in the park… but in terms of age and furthest distance traveled, the Obelisk (also known as Cleopatra's Needle) certainly takes the prize!
The remarkable history of this 68.5 -foot tall structure begins nearly 3,500 years ago, when stonemasons constructed it using granite from the famous quarries of Aswan, Egypt.
After years of residency at the Temple of the Sun in Heliopolis, it was relocated to a Roman temple in Alexandria.
According to legend, it received its nickname because Cleopatra, the renowned Egyptian ruler, was the one who commissioned the temple and the use of this towering creation as part of the decor.
The Obelisk arrived in Central Park in 1881, and has served as a significant piece of cultural history ever since.
Looming above Greywacke Knoll, its carvings tell a fascinating story of religion, mythology, and several millennia worth of world affairs.
It's also right next door to the Metropolitan Museum of Art, a fitting vantage point for this triumph of ancient design.
As you stroll in its shadow, take plenty of time to absorb the beautiful carvings and impressive past of this magnificent tower.
It's a little bit of Ancient Egypt, right in the heart of New York!
Where to stay near Central Park?
Along with its unique attributes, the park is perfectly located near many of Manhattan's other great attractions, making it a great launching point for other adventures.
Consider booking a room at one of the best hotels near Central Park, all of which combine convenience with elegance.
Wake up each morning to spectacular city views at Park Lane New York, rejuvenate yourself with a morning jog on the park's nearby trails, then enjoy its many delights before returning in the evening to tuck into an expertly curated meal at the Park Room Restaurant.
Or kick back and relax at the Empire Hotel, where you can spend the warmer months swimming with a view in the rooftop pool.
And if you really want to up the classiness, enjoy the lavish suites at the Manhattan Club, which also boasts a private cocktail lounge and a fitness center to get some reps in between bouts of sightseeing.
Along with close proximity to the park, these hotels all offer easy access to many of the other iconic attractions in the area, such as the Lincoln Center, the Museum of Arts and Design, and Radio City Music Hall.
Where to go next?
Once you're done with your Central Park exploration, you'll find a nearly endless supply of other fun things to do in NYC!
Whether you're taking in a Broadway show, touring some art galleries, or cheering for the city's many sports teams, the Big Apple has something for everyone.
And this famously strange burg is always full of surprises; you may find yourself enjoying a circus show in under-the-radar clubs, taking in the spirituality of a church service in Harlem, or channeling your inner actor as you visit the filming locations for some iconic movies and TV shows.
And if you're looking for evening excursions, you'll discover many things to do in New York City at night as well.
Soak up the shopping and fantastic billboard displays in Times Square, or enjoy some live storytelling, courtesy of local organization the Moth.
See the classic carnival facades of Coney Island bathed in neon, or swing by a live taping of The Tonight Show. 
Try out some of the city's famously lively bars, or enjoy the ambience of several evening concerts.
Or just make your way to the top of the town's many observation decks and vantage points to enjoy spectacular vistas of skyscrapers, harbors, and world-famous landmarks, all illuminated by thousands of lights.
You'll understand exactly why this is known as the "City That Never Sleeps"… because you won't want to either!
Final thoughts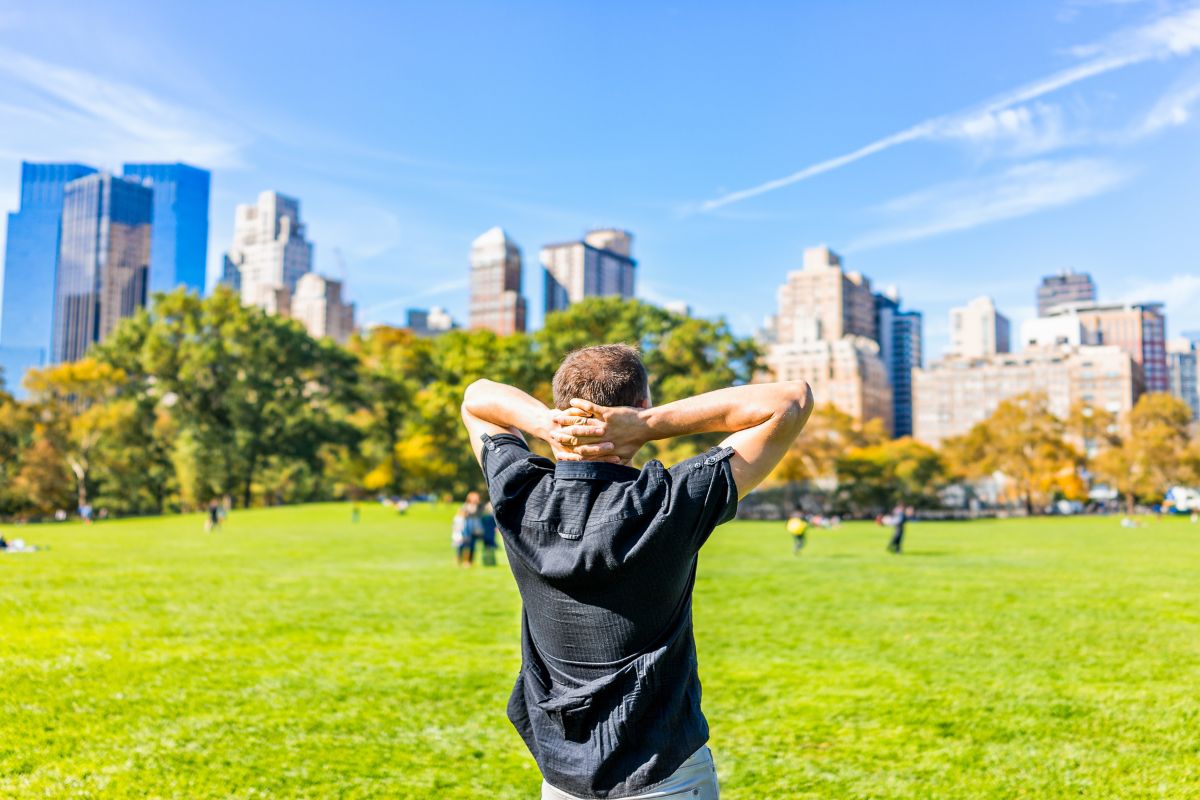 It may seem strange to spend a large chunk of a New York vacation in a park, but once you've gotten a taste of the place, you'll understand.
If its size and showstopping attractions weren't enough, the list of things to do in Central Park is always growing, and runs the gamut from the outdoorsy to the artsy, and everything in between.
Where else can you exercise your body and your mind, take fun photos with statues of American heroes and storybook icons, and picnic in the same places where history was made?
Even if you just want to stroll along the paths, relax in the grass, and watch the world go by, you'll find that one visit to this fantastic place is never enough – so start planning now!