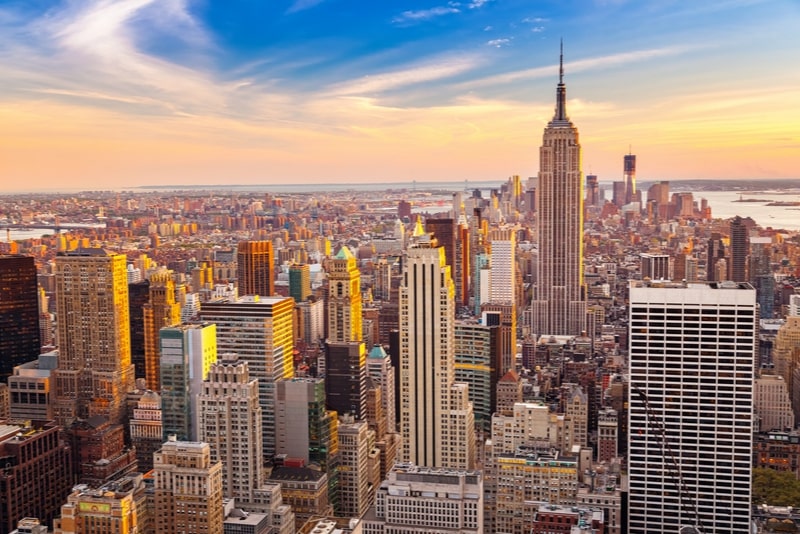 Looking for the best Sex and the City tours in New York?
Get into Carrie's Manola Blahniks to explore Manhatten on the Sex and the City tour in New York. Become infamous man-eater Samantha, hotshot lawyer Miranda, traditional Charlotte or creative free-spirit Carrie as you explore the filming locations. You can even dress up as your favourite character.
Why not get your girlfriends together and book a tour online to relive your favourite moments? Experience some female bonding and the odd Cosmopolitan! 
On this post, you will learn:
Remember "don't settle for anything less than butterflies" on your tour Sex and the City tour.
Are you ready to book your Sex and the City tour right now? Don't feel like reading ahead? Click here to book your Sex and the City tour right now.

What are the most popular Sex and the City filming locations in New York?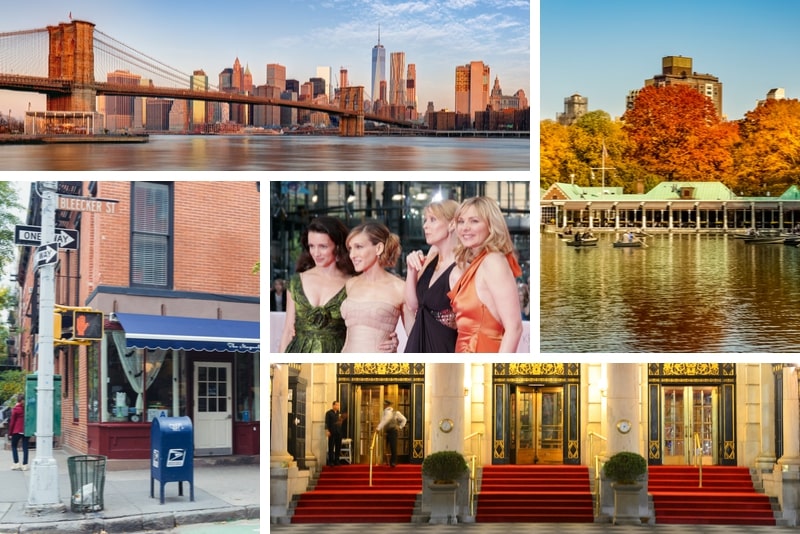 In New York, you may enjoy visiting up to 40 filming locations on your Sex and the City hotspots tour. Many guides will be actors and will give you funny gossip and test your knowledge and who knows maybe you will bump into your Mr Big on the journey!
We will list all the places to visit below, remember; "No matter who broke your heart, or how long it takes to heal, you'll never get through it without your friends."
1 – New York Public Library 
Who can forget one of the worst jilting scenes in cinematic history when the commitment-phobe Mr Big changes his mind just before Carrie's spectacular wedding ceremony in the first SATC movie? Remember the moment when Carrie bashes him over the head with her bouquet? You can visit the location and relive Carrie's pain.
2 – 64 Perry Street in West Village 
Carrie running up the steps of her apartment building in her newest pair of designer shoes was a familiar sight during the years the show ran. The exterior scenes were filmed at 64 Perry Street for the first 3 seasons before moving next door to 66! A great spot for Carrie fans to have their photo taken.
3 – ONieal's Restaurant and Bar
The real-life watering hole was used as the bar which Steve and Aiden opened together in season 4, after having their hearts broken by Carrie and Miranda. An old speakeasy it is located in the Lower Eastside and was referred to as Scout in the series, after Steve' dog. Of course, they serve cosmopolitans should you be feeling in need of refreshment.
4 – Plaza Hotel
Mr Big broke Carrie's heart several times throughout the years and one of the most memorable times was when he celebrated his engagement to Natasha at the iconic hotel. A good chance to refresh yourself with a cocktail at New York's 19 storey luxury hotel on Central Park.
5 – Manolo Blahnik
Any fan of the show will know that Carrie's one true love is her Manolo Blahniks. The store featured in season 6 when Carrie goes to register, after losing a pair of her favorite shoes at a party.
6 – Church of the Holy Trinity
This church on the Upper Eastside is where the wedding of Charlotte and Trey McDougal was filmed. The couple married only a few weeks after having met.
7 – Caféteria
Where the friends meet and talk frankly about their relationships and life over a coffee a brunch. The cafeteria is located on 7th Avenue, and you will feel like you just stepped into an episode.
8 – Jacqueline Kennedy Onassis Reservoir
Are you feeling energetic? We see Charlotte running around this famous reservoir even while pregnant. In one episode all four friends jog together so why not get your best girlfriends together for some gentle exercise?
9 – Magnolia Bakery
A girl can't live on Cosmopolitan's alone; she also needs cake! Visit the bakery where Carrie and Miranda ate cupcakes in series 3. If you want to be authentic, make sure you visit the one in Bleecker Street as the bakery cashed in on the fame and is now in more than 20 locations!
10 – The Pleasure Chest
It is in this erotic sex shop on Second Avenue that Charlotte buys her famous "rabbit" a sex toy that became a sensation after the show! Charlotte hilariously locks herself in her apartment for days until Miranda and Carrie come to take the toy away! 
11 – Sushisamba
If you want to relive a "girl-power" moment, then it was at this Brazilian restaurant that Samantha takes her revenge on the cheating Richard. Throwing her drink over him, she says the immortal line; "Dirty Martini, dirty bastard."
12 – Louis K. Meisel Gallery
Before Charlotte's marriage, she manages an art gallery which can be seen in Prince Street and specializes in photo-realistic painting.
13 – Pete's Tavern
A new York institution which has appeared in many movies, it is the oldest running bar in New York and the location for Miranda's proposal to Steve over mugs of beer.
14 – The Paris Theatre
This movie theatre shows only one film at a time and is a unique place to catch a movie, typically showing one indie flick at a time. It features in season five when Carrie says: "One of the most amazing things about living in a city like New York, is that any night of the week you can go to Paris." 
15 – Brooklyn Bridge
An iconic New York landmark it is seen in The Movie, after Steve cheats on Miranda. They go to couple's therapy and agree to meet on the bridge in 2 weeks time if they want to give their relationship another chance. Miranda almost doesn't go but rushes there at the last minute for a reconciliation.
16 – Loeb Central Park Boathouse
Rowing a boat on central park lake is a popular activity in New York, but don't fall in! This is exactly what happened to Carrie and Big when they meet at the Boathouse restaurant for lunch. Determined not to fall for his charms again Carrie backs away when he tries to kiss her, resulting in them taking a plunge.
17 – Columbus Circle Fountains
This large traffic circle in Manhatten has a monument to Christopher Columbus and the benches and trees provide a little haven away from the New York cabs on the busy thoroughfare. It was the spot where Carrie and Aiden ended their engagement after a tempestuous relationship.
18 – Jefferson Market Garden
The location of Miranda's wedding to Steve, the unconventional character was delighted to discover this community garden as she didn't want to get married anywhere corny! The real-life location is in West Village.
19 – Soho House
We all loved Samantha's "fabulousness" her exploits sometimes ended in disaster though. When she found a member's card for the exclusive Soho House, she uses it to get the four friends onto the roof terrace where they enjoy cocktails by a rooftop pool. Eventually, they were rumbled and unceremoniously ejected in this hilarious scene.
20 – The Meatpacking District
The fab foursome enjoy many nights out in this trendy neighborhood. Samantha moves here when she decides to re-locate from her old-fashioned Upper East Side building, where the residents are judging her wild antics. Although she initially clashes with the local transvestite prostitute population, she comes to love the area. The final scene of the Sex and the City 2 movie shows the girls heading out for a night out here.
21 – Buddakan
This trendy Chinese restaurant is where Carrie and Big's wedding rehearsal dinner was filmed and is worth checking out while you are in the Meatpacking district.
How should I explore the filming locations of the Sex and the City in New York?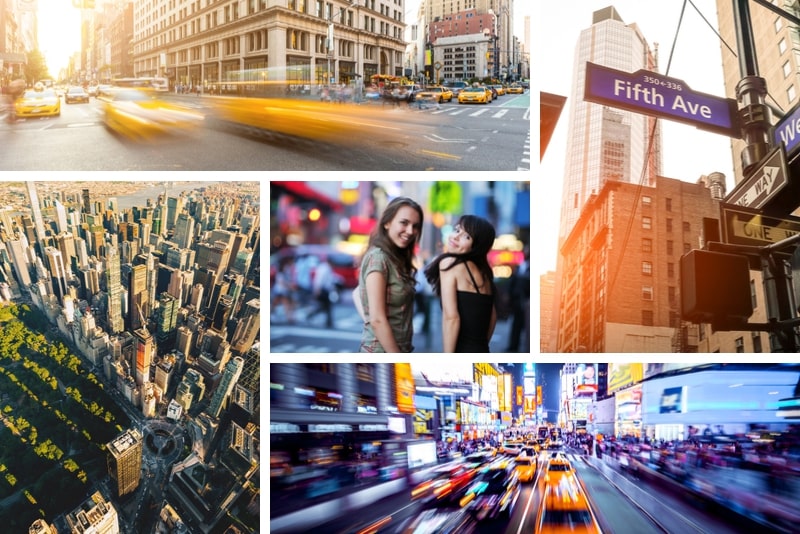 There are as many as 40 film locations to visit and so the best way to find all of these is on a guided bus tour. As Carrie says in the famous quote below don't get lost, book your tour now!
"As we drive along this road called life, occasionally a gal will find herself a little lost. And when that happens, I guess she has to let go of the coulda, shoulda, woulda and buckle up and just keep going."
By Coach
The majority of guided tours are on air-conditioned/ heated coaches. They all include a tour guide who will fill you in with interesting stories and gossip about the show and most allow you to enjoy some shopping and a cocktail or two! You will benefit from a guide and TV showing the clips from Sex and the City, so you recognize the locations.
By taxi
The Sex and the city night out tour takes you to four of the bars, lounges and rooftops where you see the girls letting their hair down in the series. You get to each one by jumping in and out of a cab just like Carrie! Cab rides are included in the price as area guide, two drinks and a snack.
On foot
If you are feeling energetic, and your heels are not too high, then many of the locations can be visited on foot. There are some self-guide options available if you want to to a tour under your own steam or a group walking tour.
How much does a Sex and the City tour in New York cost? How to book a tour?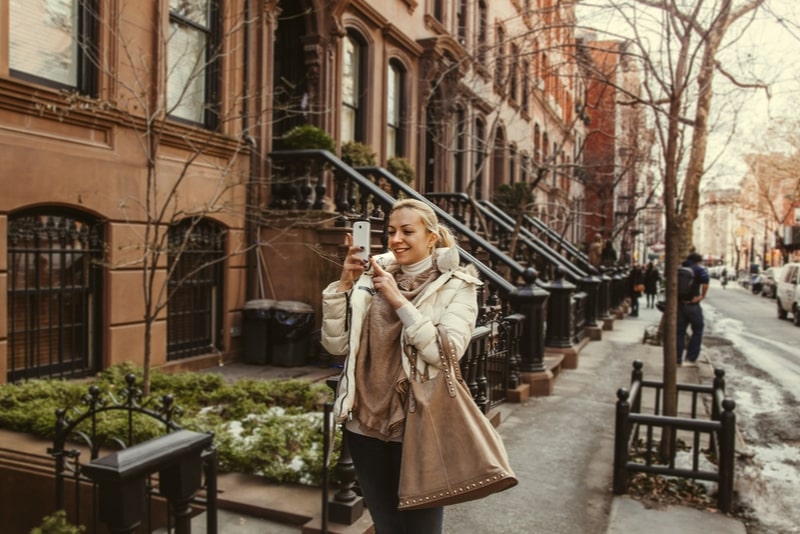 Wondering how much cost Sex and the City tours in New York? There are a lot of tours available and many websites to book them.
The group walking Sex and the City tours start at $27 and include a guide. The Sex and the City bus tours vary in price from around $49 up to $56 so make sure you check TourScanner to compare and find the best price.
You can book tours online, via travel websites such as Getyourguide or Viator.
Remember, "Fabuousness doesn't come with an expiration date," so channel your inner Carrie and discover New York through Sex and the City.