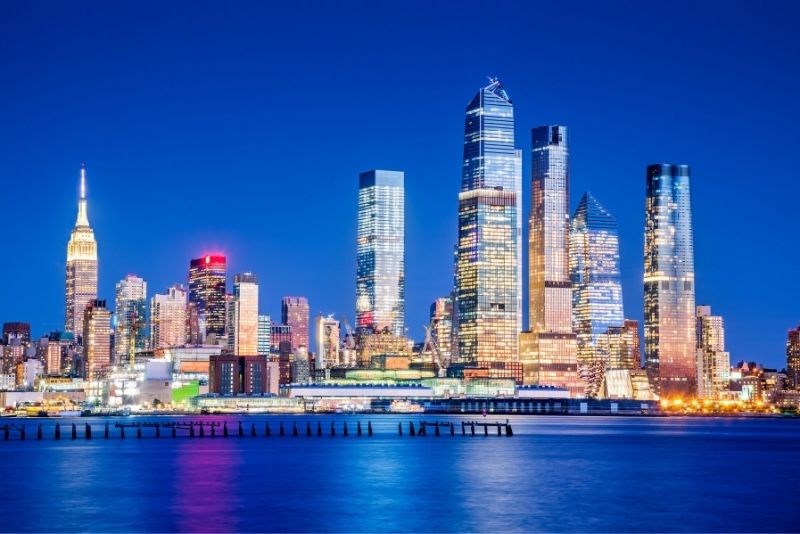 It's dense, it's gritty, it's overflowing with tourists — and it's still, beyond a shadow of a doubt, the most diverse, entertaining, fascinating 23-square-mile slice of land on the entire planet.
For one, the skinny borough is a melting pot of food and culture — from Little Italy to Chinatown to Harlem, each area has its own flair and personality.
But that's just a sliver of its reputation; it's been the poster child of American museums (read: the Met and the MOMA), nightlife (from comedy clubs to celeb-frequented nightclubs), and food (with more Michelin-starred restaurants than you could count) for decades.
And, of course, who could forget that iconic NYC skyline.
You could spend years living in Manhattan and still never tick off all of the city's activities, with surprises around every corner in every season. That said, with such a long list of things to do in Manhattan, you've got to start somewhere, right?
1 – Wander along The High Line — NYC's 'park in the sky'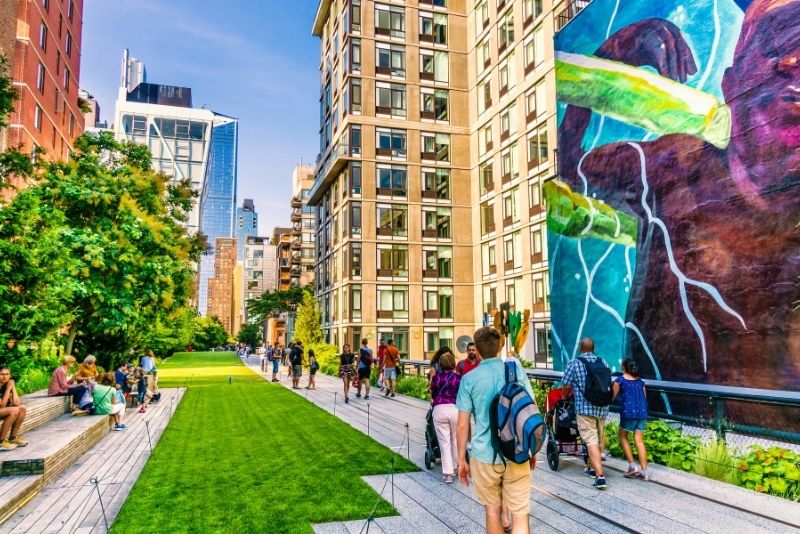 Located in the Meatpacking District, this mile-and-a-half-long elevated park is one of the west side's most popular outdoor attractions, with its landscaped gardens and walkways and blissful views of both the Hudson River and Big Apple skyline a favorite among residents and visitors alike.
Originally inspired by a similar structure in Paris, the structure was once used by freight trains to transport goods from Manhattan's warehouses to other parts of the city… but today, it's a welcomed breath of fresh air from the busy streets below.
2 – Meet your favorite celebs at Madame Tussauds… sort of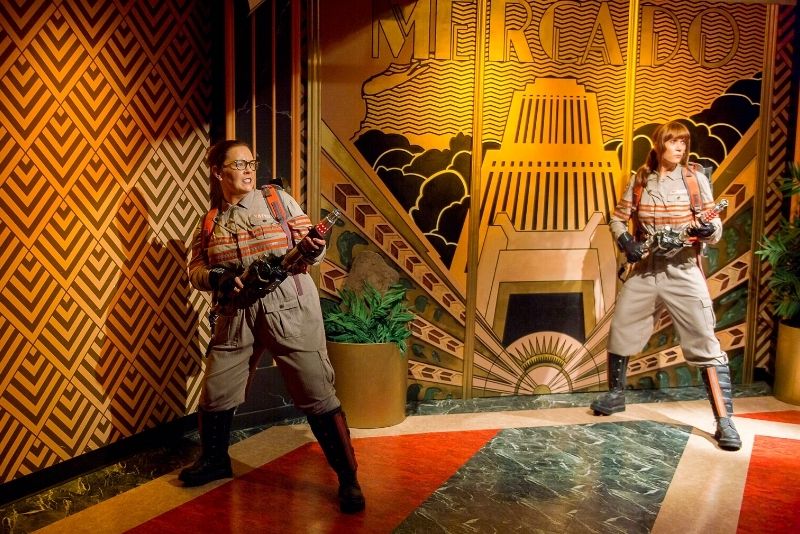 An absolute classic when it comes to things to do in Manhattan, the New York branch of Madame Tussauds opened in 2000 in Times Square and offers visitors a little slice of Hollywood — complete with plenty of opportunities to pose for Instagram-worthy shots, whether that's standing beside Leonardo DiCaprio or Scarlett Johansson.
As well as wax figures from the silver screen, there are also displays dedicated to US politics, sports figures, and musicians.
See also: Best Museums in New York City
3 – Soak in the view from One World Observatory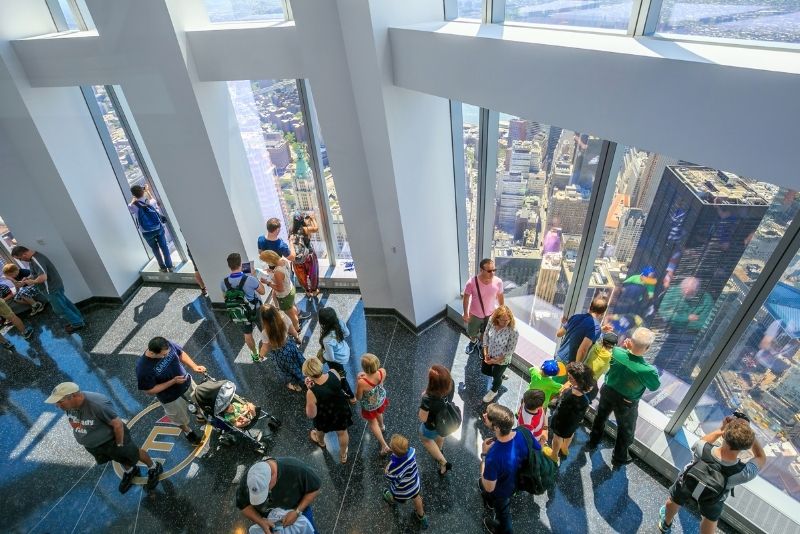 Sitting on the former site of the World Trade Center's Twin Towers, One World Observatory — otherwise known as Freedom Tower — is a moving experience in more ways than one.
From a visual perspective, the views from atop the 1,250-feet-high, 102nd-floor observation deck are remarkable. In one direction you can spot the Statue of Liberty and Staten Island in the distance; New Jersey to the west, Brooklyn and the Brooklyn Bridge to the east, and Midtown and the Empire State Building to the north — no matter which direction you look, there's always something to catch your eye.
Views aside, the Freedom Tower, due to its location atop Ground Zero, is next to the powerful Ground Zero memorials as well as the 9/11 museum — each incredibly sobering experiences.
Read more about One World Observatory tickets price.
4 – Soar over Downtown Manhattan in a helicopter!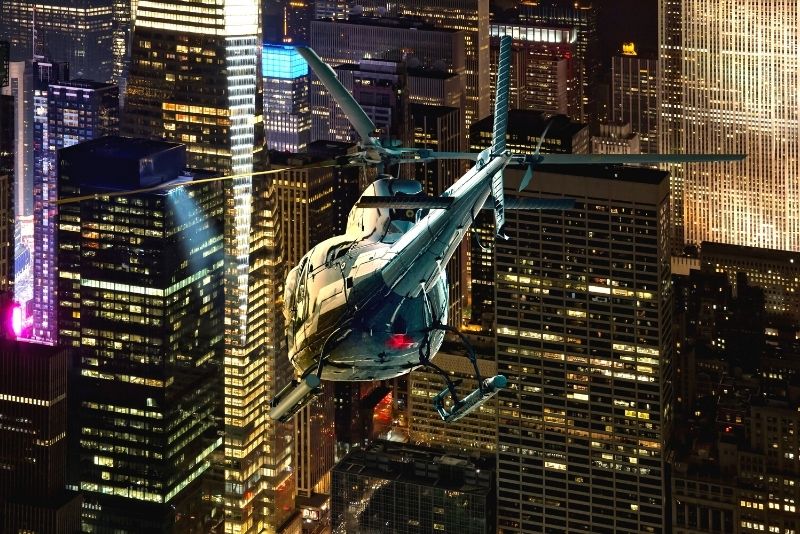 Ditch the neverending foot traffic and wave goodbye to the selfie-stick-wielding tourists by taking to the skies instead!
Whether riding shotgun or engaging in a private flying lesson yourself, as your swing around the Downtown skyscrapers, the views, the thrills, and the luxury feel are second to none.
Lasting anywhere from 15 minutes to 2 hours, if you want to go all-out luxury and include VIP limo rides to and from the famous Downtown Manhattan Heliport at Pier 6 on the East River, there's a flight suitable for every budget.
If that doesn't quench your thirst for altitude, there are plenty of airplane tours, including hang-gliding flights, flight lessons, and aerial photography tours as well.
Read more about helicopter tours in New York City and pick the one that fit best your needs.
5 – Snap your new profile pic at Top of the Rock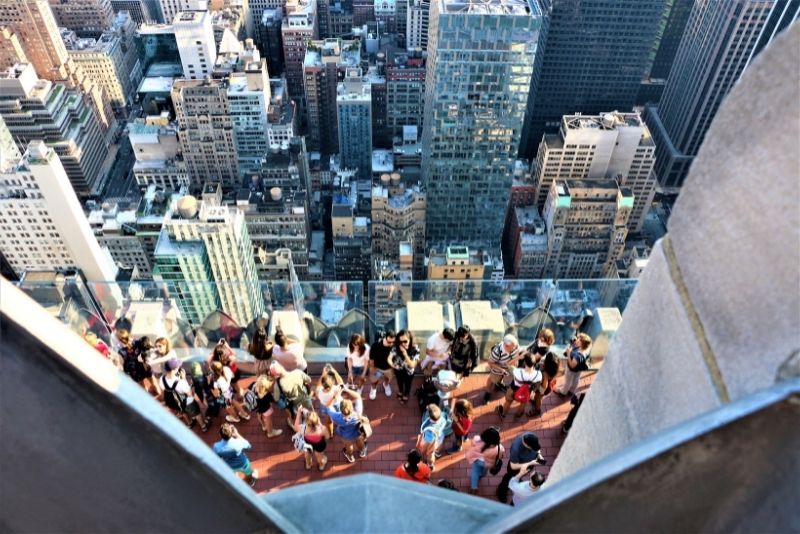 While Freedom Tower and the Empire State Building certainly have their own claims to fame, millions of in-the-know locals would attest that if you're on the hunt for the best views in NYC, then look no further than Top of the Rock. Why? Because from there, your photos will INCLUDE the Empire State Building in the background, with unbelievable Central Park views in the other directions.
Located on top of Rockefeller Center (and formerly Radio City Music Hall), it is one of the essential things to do in Manhattan, offering some serious competition to its neighbors of The Rainbow Room and NBC Studios in terms of attracting tourists.
Read more about Top of the Rock tickets price.
6 – Pay your respects at the 9/11 Memorial & Museum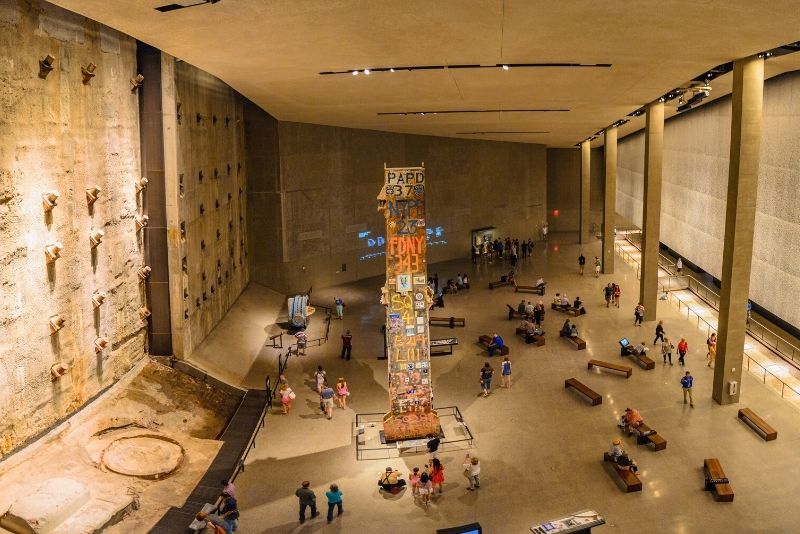 The largest of its kind, the National September 11 Memorial & Museum is an excellent way to pay your respects to those who lost their lives on that fateful day in 2001.
Located at the heart of Ground Zero right next door to One World Observatory and just across from St Paul's Chapel (the oldest standing church in New York City), the two enormous reflecting pools are a sobering and truly humbling experience that every New Yorker and visitor alike should check out at least once in their lives.
The museum itself, spread over 110,000 square feet of space, is divided into three main parts, each focusing on a different aspect of the story behind September 11th: the Memorial Exhibition, the Historical Exhibition (providing context for before and after the attack), and 'Revealed', which documents the hunt for Bin Laden.
Read more about 9/11 Memorial & Museum tickets price.
7 – Head underground to the New York Catacombs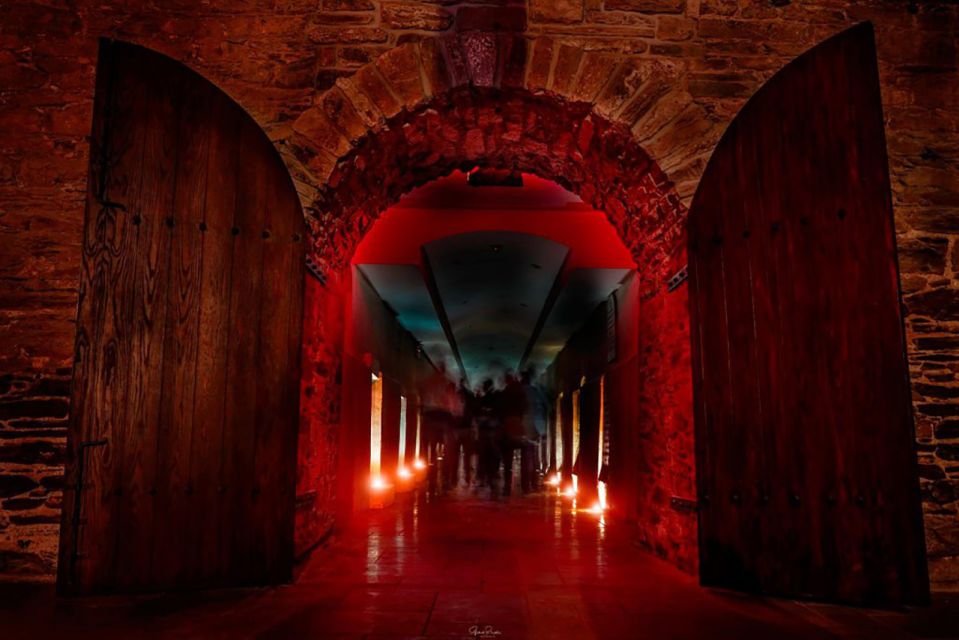 Considered a well-kept secret among Manhattanites, the New York Catacombs is a fascinating collection of tunnels located underneath the Basilica of St. Patrick's Old Cathedral in Nolita next to Soho (an area perfect for shopping and celeb-spotting).
The eerie catacombs are composed of old stone crypts, some dating back centuries — and while they've been around for quite a while now, it is only in recent years that they have become more accessible and popular with both locals and visitors alike.
8 – Catch a game or a concert at Madison Square Garden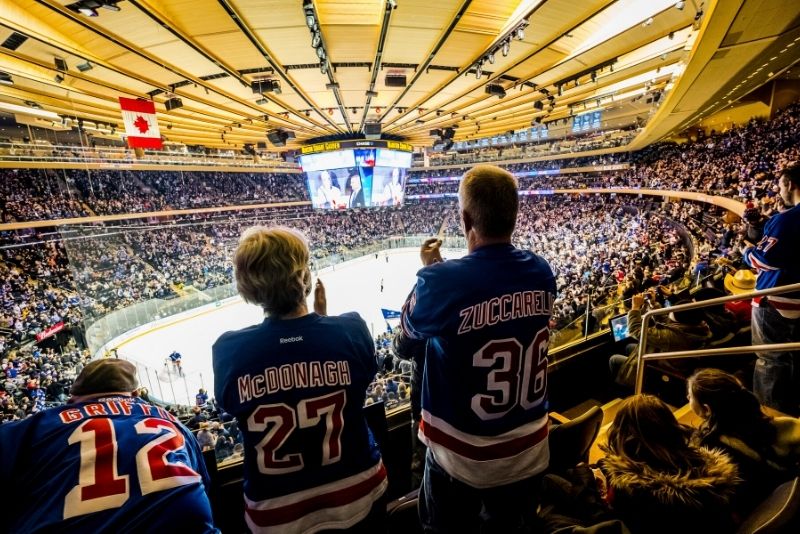 Known for being the home of New York Knicks (basketball) and Rangers (hockey), Madison Square Garden is one of those iconic Manhattan hotspots where the list of world-class events and entertainment never stops.
Besides the electric atmosphere on offer at sports games, the famous MSG also hosts major concerts from today's hottest bands and singers. Plus, on days where the calendar wears thin, fascinating stadium tours are also available
Hot tip: It's also worth checking out is their special events calendar — where you can find everything from wrestling matches to monster truck rallies!
9 – Spend an afternoon (at least) at the Metropolitan Museum of Art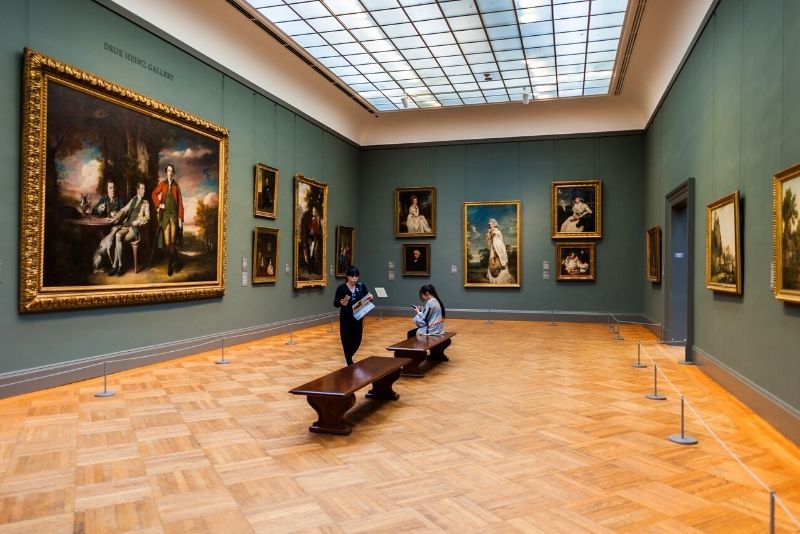 Undeniably one of the quintessential things to do in Manhattan for art-lovers, The Metropolitan Museum of Art (or, The Met, as locally known)) is a must-see for any first-time visitor to New York City.
With permanent collections including Egyptian art, European paintings, and decorative arts from around the world — as well as special exhibitions that rotate every few months — it's no wonder this Upper East Side museum (located on the perimeter of Central Park) receives more than six million visitors per year!
Sure, you can always explore at your own pace, but with hundreds of thousands of artworks on display, visitors often opt for the semi-private guided tour to skip the line and focus on all the best bits.
10 – Turn a few pages at the Morgan Library & Museum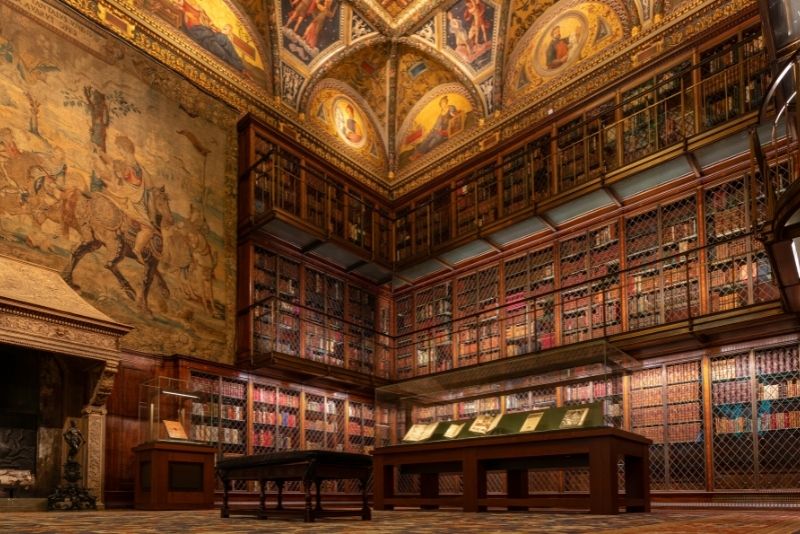 Found at Madison Avenue and 36th Street, one of the most famous private libraries in the world, The Morgan Library & Museum is home to an impressive collection of historic documents and manuscripts (including works by Da Vinci, Michelangelo, Jane Austen, Mark Twain) — all under one roof.
Located on Madison Avenue with Grand Central Station, Times Square, and Central Park all within walking distance, it's an easy addition to any day of exploring Midtown Manhattan.
11 – Step inside St. Patrick's Cathedral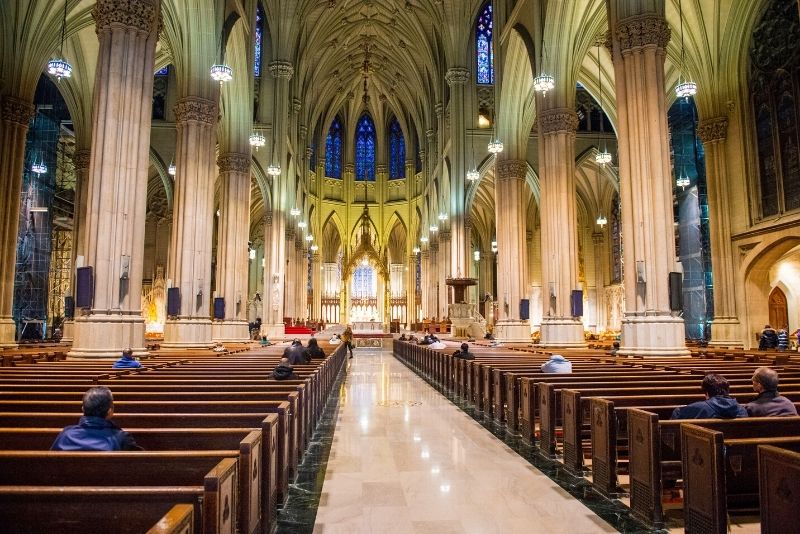 One of the most renowned churches in New York City, St. Patrick's Cathedral is an imposing Neo-Gothic structure located on Fifth Avenue (right across from Rockefeller Center).
Built back in 1878, this stunning cathedral hosts masses every day, offers guided tours that dive into the building's architecture and history, and is also available for weddings and private functions.
12 – Enjoy the view from atop the Empire State Building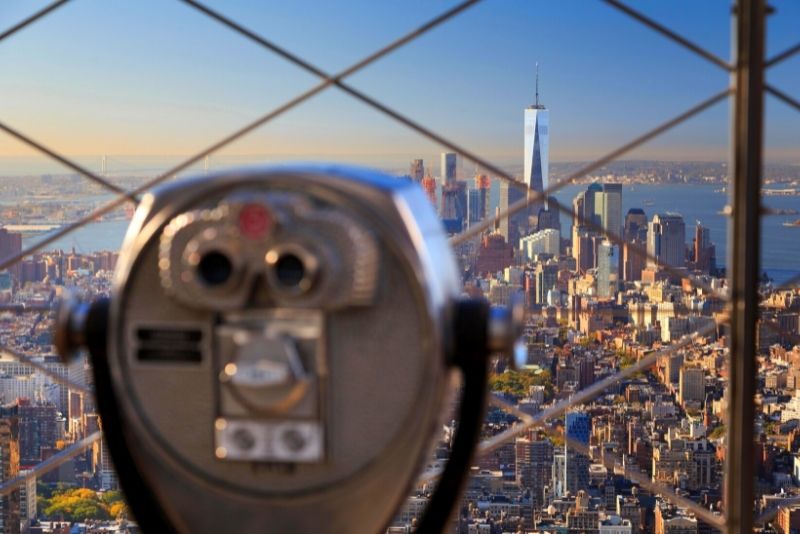 As one of the most photographed tourist attractions in New York City, the Empire State Building is a must-see for any first-time visitor to the Big Apple (or any film buff or romantic hoping to meet their S/O on its 86th-floor observatory).
The world-renowned Art Deco skyscraper (located on 34th Street between 5th and 6th Avenue) has 102 stories (plus two underground floors), that stand at 1,454 feet high — and while it no longer boasts the title of Manhattan's tallest tower (Freedom Tower takes the cake), its shape and name remain synonymous with the city.
In summer, the lines can get painstakingly long, especially pre-sunset, so a skip-the-line ticket is highly recommended.
Read more about Empire State Building tickets price.
13 – Wander around Central Park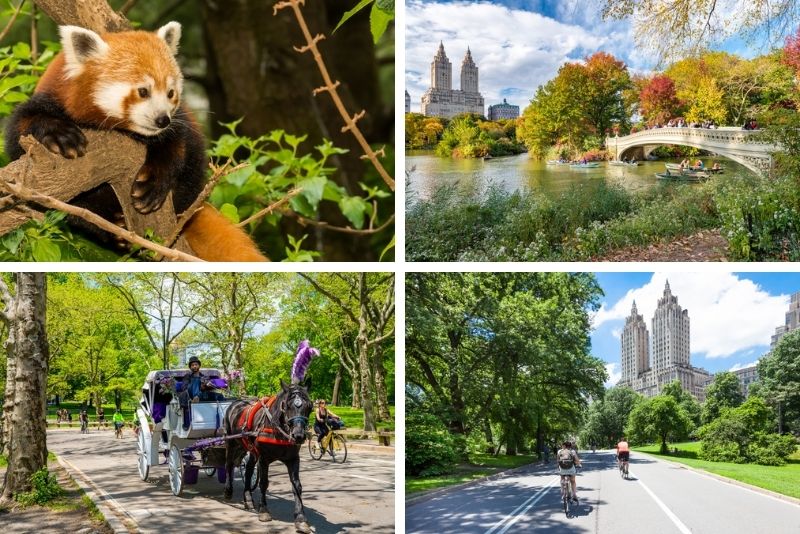 A green oasis where there's never a dull moment, flanked in every direction by high-rise buildings, Central Park is a well-loved public space that has become a reprieve for locals and tourists for decades.
With two ice skating rinks, a lake full of turtles, plenty of open green spaces and sports field, the famous Central Park Zoo (great for kids), and no shortage of events throughout spring and summer )from outdoor concerts to art fairs and candlelight tours), you'll never run out of things to do here.
At a whopping 843 acres, Central Park is almost 100 times larger than the average city park — so if the legs start to feel weary, you can't go wrong with a scooter tour or a lap in a horse-drawn carriage.
Mark our words: In winter, after the first snowfall, there's no place on earth more magical.
14 – Learn a thing or two at the American Museum of Natural History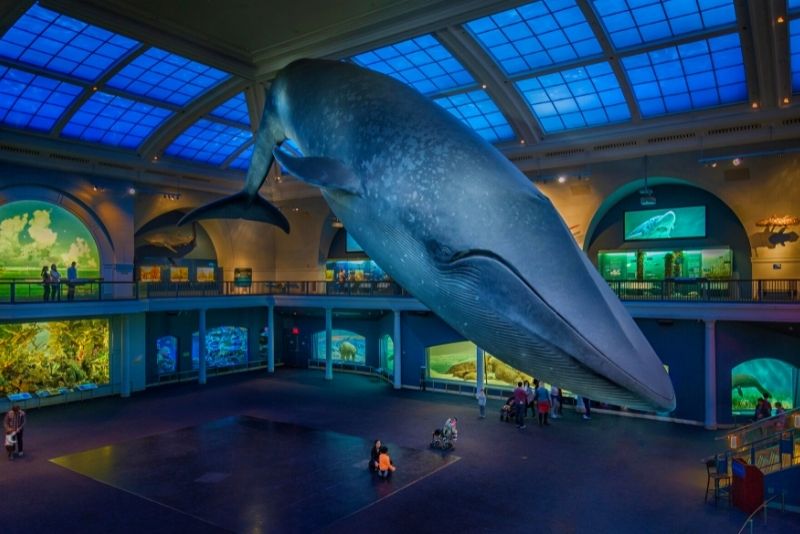 If you want to brush up on your understanding of dinosaurs, greenhouse gases, human evolution, or outer space, the American Museum of Natural History is an excellent place to start.
Located on Manhattan's Upper West Side at Central Park West and 79th Street, this museum is home to some of the nation's most impressive historical exhibits (including a massive 94-foot long blue whale model).
To make the most of your visit, consider joining an in-depth guided tour led by an expert local historian.
15 – Tick Grand Central Terminal off the to-do list!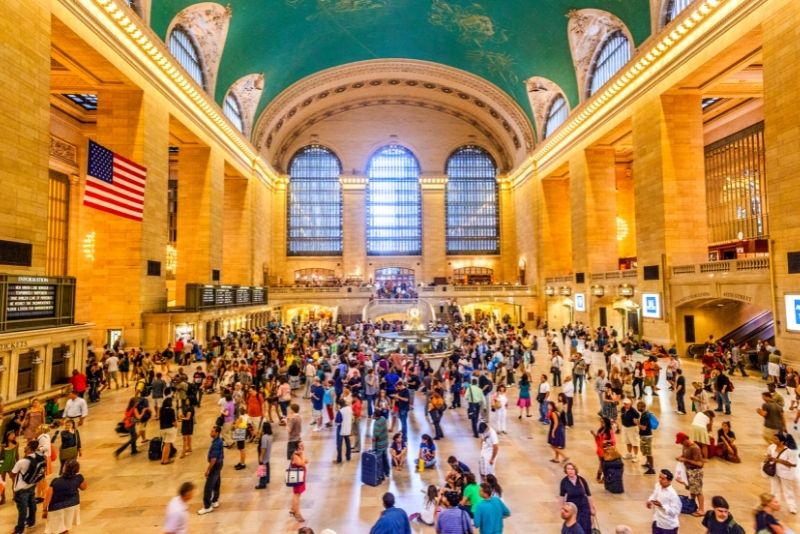 As what is undoubtedly the world's most famous train station thanks to hundreds of cinema appearances, a visit to Grand Central Terminal, whether you're catching a train or not, is one of the essential things to do in Manhattan
With its magnificent Beaux-Arts architecture, huge marble columns, and the striking astronomical mural painted under the ceiling dome, this railway station has become a symbol of both NYC's history and culture — so if you're looking for some unique Instagram snaps, this is the place.
16 – Jump on a hop-on hop-off bus tour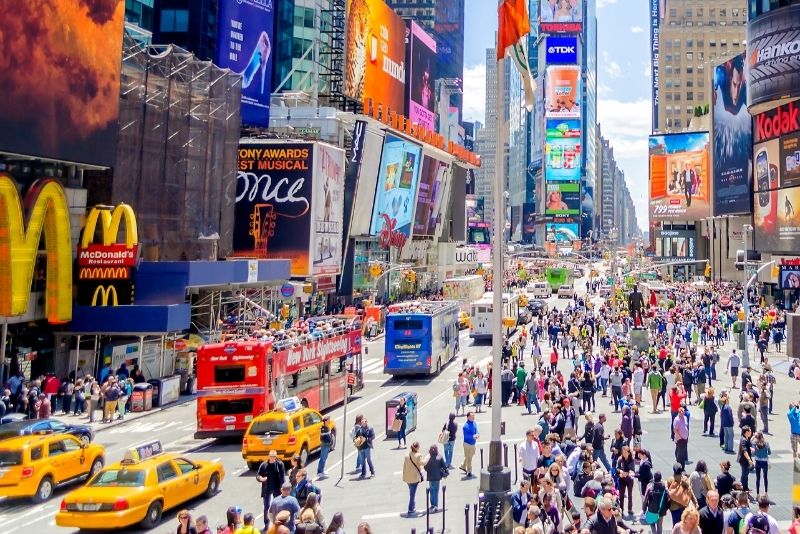 Sick of walking? Short or time and want to squeeze as much in as possible? well, then if you're looking for a sightseeing tour that covers all the top attractions, then look no further than the range of Big Bus and hop-on-hop-off New York tours.
Besides giving access to dozens of stops all over the borough, including Central Park, Times Square, Chinatown, and Little Italy (to name just a few), you'll also learn a few tidbits about the landmarks you pass thanks to the included audio commentary!
As a little bonus, you won't have to decipher the subway system — just use the open-aired busses as your means of regular transport!
Wondering which bus tour to choose? Check out our NYC bus tours comparison guide.
17 – Join a Harlem gospel tour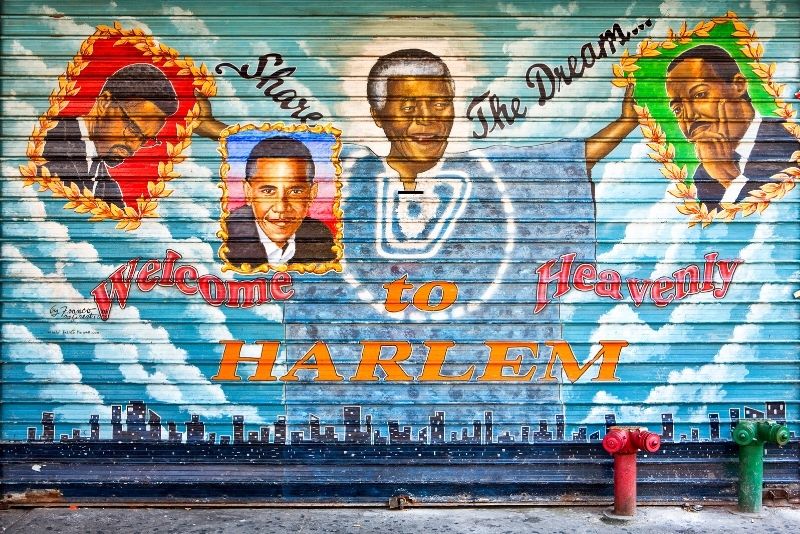 Harlem has long been famous as the heart of African American culture and history in Manhattan — so if gospel music and art are your jam, join an experienced tour guide on a journey through this ever-lively neighborhood!
You'll discover everything from its origins as a Dutch colony to the birth of jazz and soul during the Harlem renaissance.
Depending on which tour you choose, you might learn about famous figures such as Marcus Garvey and Paul Robeson who helped shape African American history here in New York, or stop into some churches or mural-lined alleys along the way.
18 – Join a walking tour of Greenwich Village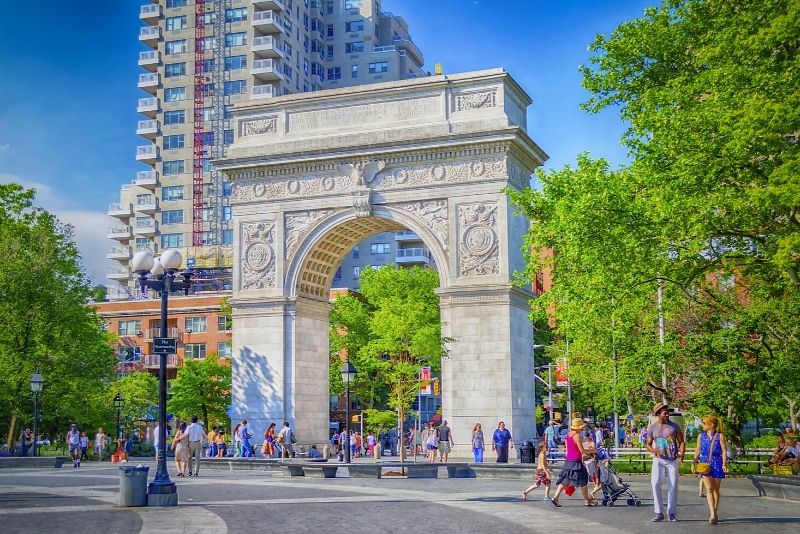 The very bohemian Greenwich Village is one of New York's most historic neighborhoods, with its cobblestone streets and century-old Brownstone buildings offering a glimpse back in time.
Bordering the Hudson River on its west and Broadway on its easy, there's plenty to see in this upbeat area, with Jazz clubs, quaint cafes, Off-Broadway theaters, and Washington Square Park just a slice of what's on offer.
To get the full experience you're going to want to join an expert guide on a walking tour around here — they'll share all kinds of fascinating stories about famous residents that have lived there over the years and dish out some hot local tips.
19 – Wander around two vibrant neighborhoods: SoHo and Little Italy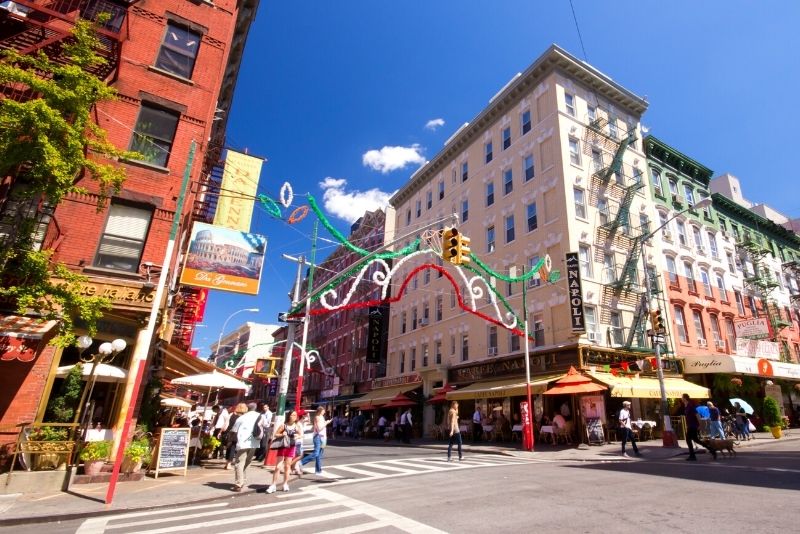 Fashionistas, head to Soho. Foodies, make a beeline for Italy. Or, why not get the best of both worlds with an afternoon browsing the shops and boutiques of the former, followed by dinner in one of the typically Italian eateries in the latter?
SoHo (short for South of Houston Street) is one of New York City's most famous neighborhoods thanks to its large fashion houses like Louis Vuitton and Marc Jacobs, and is a hotspot for celebrity spotting. Little Italy, on the other hand, is a slice of authentic New York thanks to its family-friendly atmosphere and mouthwatering eateries (Lombardi's is a must).
20 – Check out the Van Gogh Exhibition: The Immersive Experience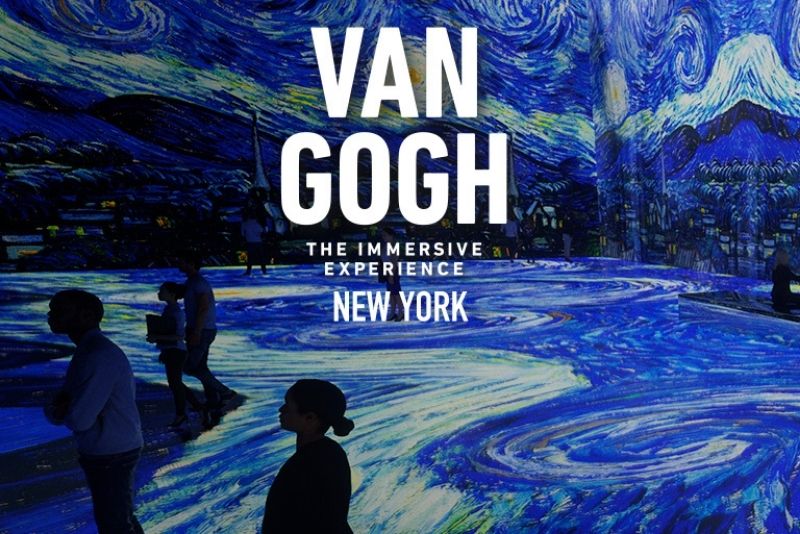 A recent Manhattan activity that's taken the art world by storm (not exclusive to this city, however), not only does the VanGogh experience offer a snapshot of the Dutch painter's life and art, but a chance to — as the name suggests — immerse yourself in art in hi-tech, unprecedented ways.
The 360-degree activity full of two-story projections is being held at Pier 36 NYC, so you can soak in some picturesque views of the Hudson River when you're done!
21 – Hear the bell ring at Wall Street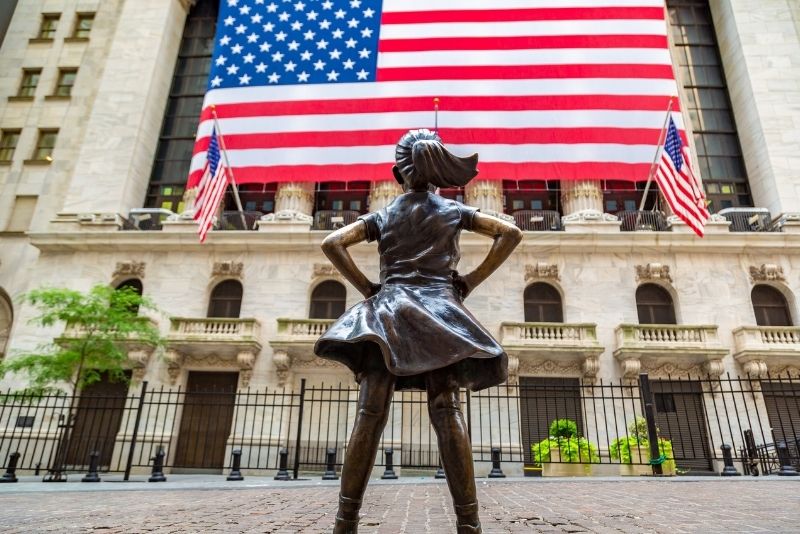 The epicenter of America's stock market, Wall Street is named after its location on the actual wall that once protected Dutch settlers' New Amsterdam colony back in 1653.
Today, you'll find skyscrapers towering all around this street (including One World Trade Center), as well as the Charging Bull bronze statue and some of Manhattan's most impressive architecture.
A range of free public (just leave a tip) and paid VIP walking tours that operate in the area offering unique insights into the nitty-gritty of the finance world.
22 – Stumble around Chinatown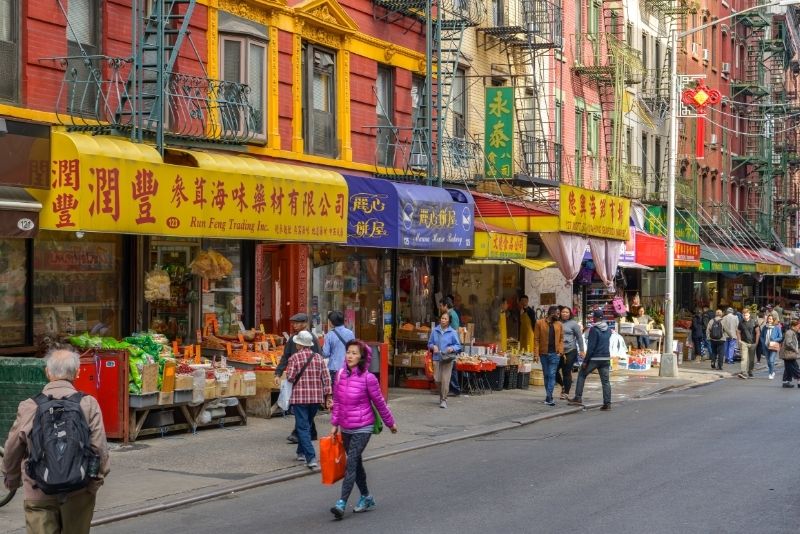 At the junction of Canal Street and Mott, you'll find one of the busiest Chinese communities outside Asia.  While there are street food vendors around here selling everything from dim sum to exotic fruits, it's also worth heading indoors for a more traditional meal in one of Chinatown's nearly 300 restaurants.
The neighborhood is always buzzing with life; moreover, it's bursting at the seams with history — so consider a walking tour to learn all about how the NYC icon came to thrive.
23 – Grab some tacos at Chelsea Market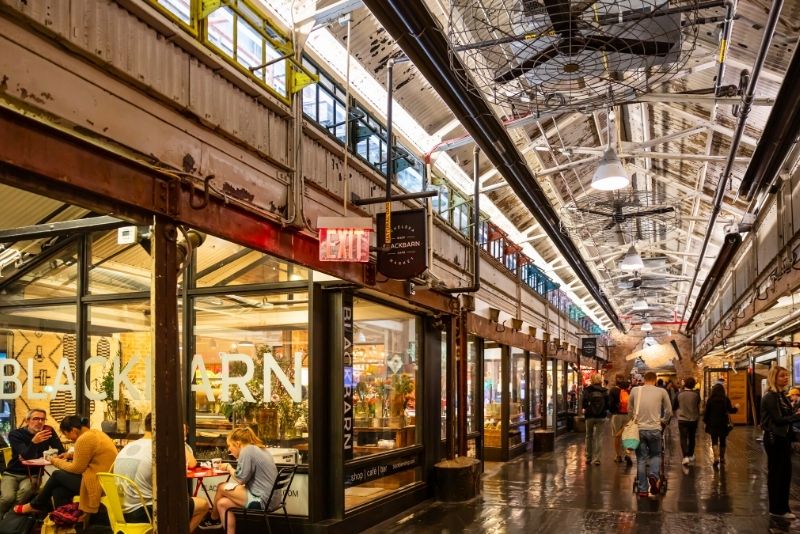 What started as a Nabisco factory (the team who brought you Oreos) in the 1890s is now one of New York City's most popular tourist attractions and an undisputed foodie Mecca.
Across the diverse food hall, which sits a stone's throw from the start of the High Line in the heart of the meatpacking district, you'll find numerous gourmet shops and eateries nestled among the range of boutique stores that line this historic building — and if you can't decide what to eat at Chelsea Market, the Jerk chicken at Tings or anything at Los Tacos No. 1 is hard to beat.
24 – Step inside the iconic Statue of Liberty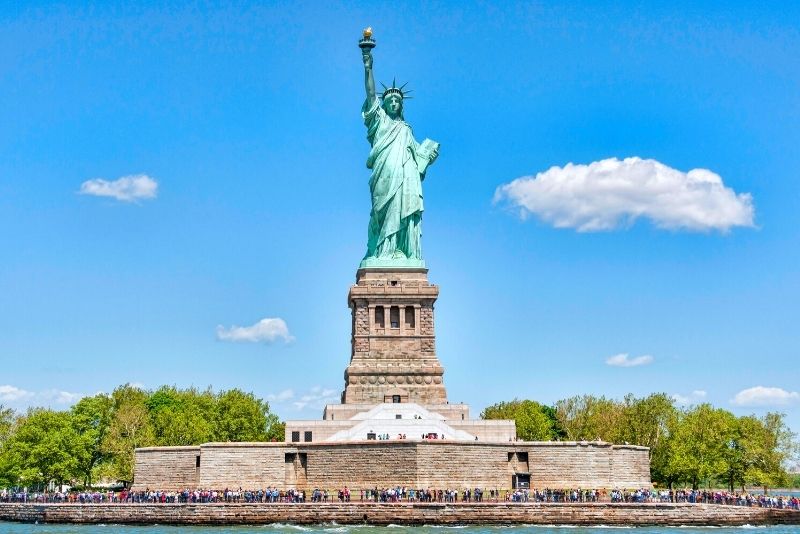 An icon of not only New York but the entire nation, the Statue of Liberty is one of the most visited attractions in all of New York City — her towering, 305-foot-tall presence, embellishing in green copper, has served as both a fascinating historical landmark and symbol of, well, liberty, since 1886.
Make sure to go inside and check out both her crown as well as the museum on your visit!
Hot tip: while the array of Statue tours are second to none, the best and cheapest (read: free) way to see her as well as the Verrazzano-Narrows Bridge from afar is with a ride on the Staten Island Ferry.
Sold out? Learn how to book last-minute Statue of Liberty tickets.
25 – Learn of immigration (and enjoy the view) at Ellis Island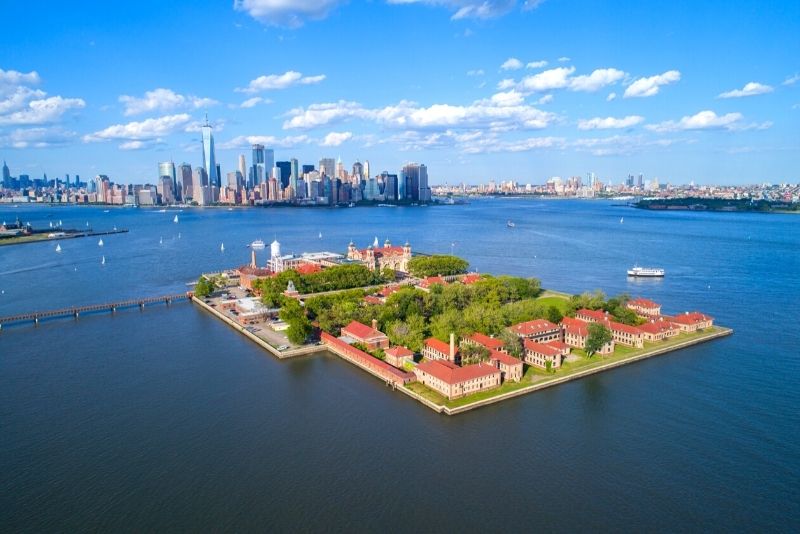 Often combined with a Statue of Liberty (on Liberty Island) visit thanks to their close proximity, Ellis Island is a historical site that served as the entry point for over 12 million immigrants to America between 1892 and 1954.
Not only can you learn about this history via one of their daily tours, but you'll also get some killer views of the Lower Manhattan skyline from across New York Harbor especially if you opt for one of the sunset tour options!
26 – Marvel at the melting pot of architectural styles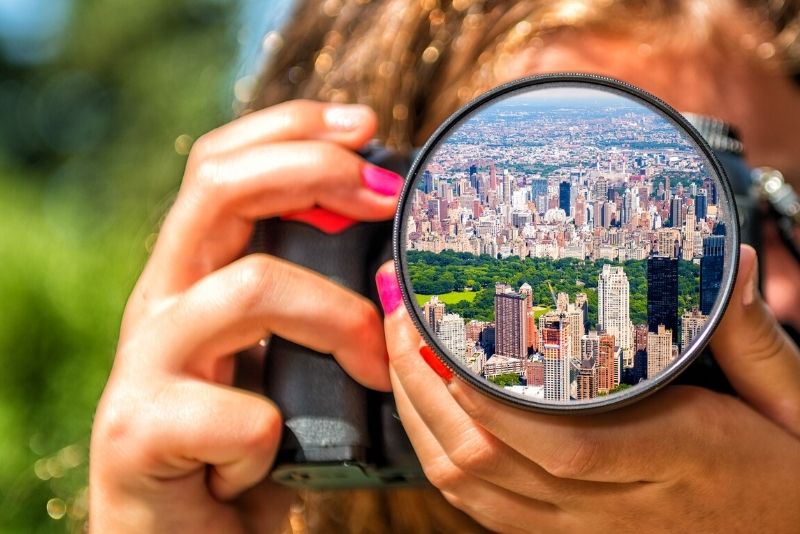 As a borough (and a city as a whole) showcasing as wide a range of architectural styles as any, from Gothic to Art Deco to Beaux-Arts, Manhattan is a haven for architecture buffs.
In fact, the island's rich cultural heritage stretches back over 400 years and there are so many iconic buildings here that it would take you days to check them all out — but if time is limited, consider taking one of these tours instead:
Depending on your preference and budget, choose from self-guided Downtown tours; private walking tours through Chelsea, Midtown, or Tribeca (with the Flatiron building being a highlight); luxury yacht tours on which you can admire the architecture from a new perspective and sail under the Brooklyn Bridge, or sunset and night-sky river cruises!
27 – Get stuck into a book at the New York Public Library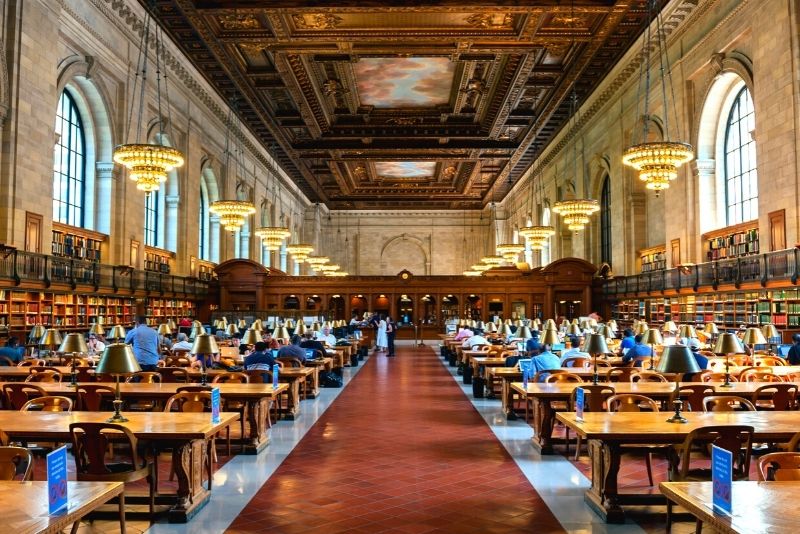 Since its completion in 1911, the New York Public Library has become one of Manhattan's most revered landmarks and is a popular tourist attraction for visitors, literary enthusiasts, bookworms, and locals to this day.
There are few places better equipped than this vast library — covering everything from art and architecture to music, literature, and theater — if you're looking to expand your mind or just get lost in a good book.
You'll find the main branch, the Stephen A. Schwarzman, in Bryant Park — a hotspot for cultural events, outdoor cinema screenings, and annual winter wonderland.
28 – Sign up for a movie & TV locations tour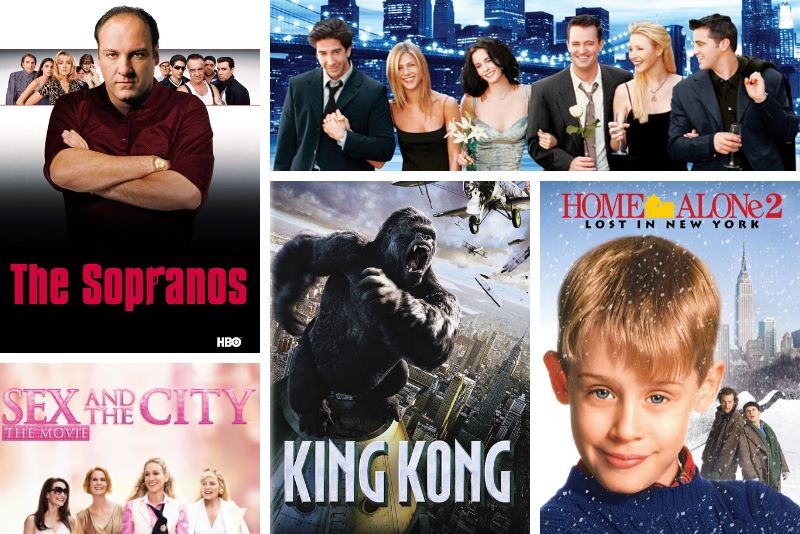 There are few cities that have had as big an influence on movies and television series as New York, with more of both having been filmed here than in any other non-studio location worldwide.
From the bright lights of Broadway to film locations across Manhattan's five boroughs, there are so many iconic movie scenes set against the backdrop of this city — including Breakfast at Tiffany's; Ghostbusters; The Devil Wears Prada; Spider-Man, and Home Alone, just to name few.
As for TV series, there are dozens of shows that were not only set in New York but filmed here too — Sex & the City is perhaps one of the most well-known examples, along with Gossip Girl, Girls, The Sopranos, Friends, How I Met Your Mother, and Seinfeld.
No matter what your Silver Screen guilty pleasure is, there's a movie and TV-themed tour that will scratch your itch.
Read more about Gossip Girl tours, New York TV & movie tours, and Sex and the City tours.
29 – Sit front row for a TV show taping!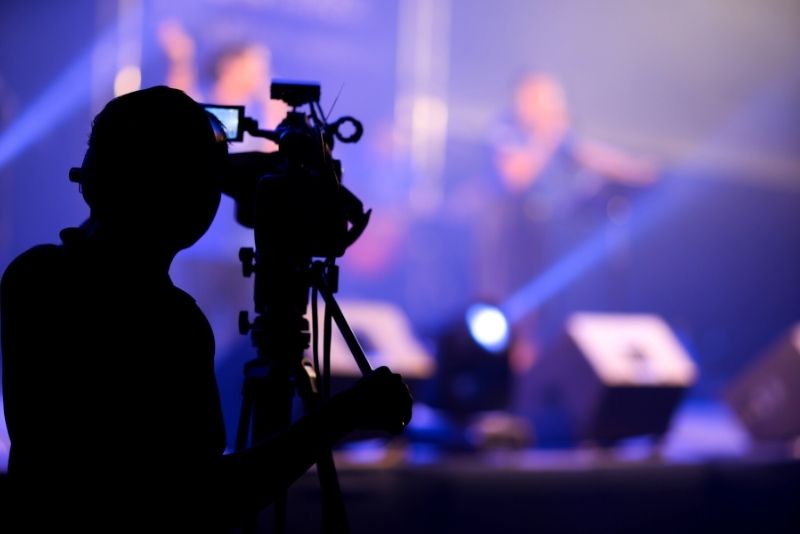 There's nothing like watching a TV show or movie being filmed in the flesh — and, as we just touched on, you'll find plenty of light-camera-action in the Big Apple.
From late-night variety shows like The Tonight Show Starring Jimmy Fallon or the longstanding Saturday Night Live, to regular daytime TV like The View or Live! with Kelly and Ryan, there's a heap of choice when it comes to snagging a seat in the audience.
Note: every show has different ticketing requirements and availability, so check the websites for details.
30 – Check out the Rockefeller Center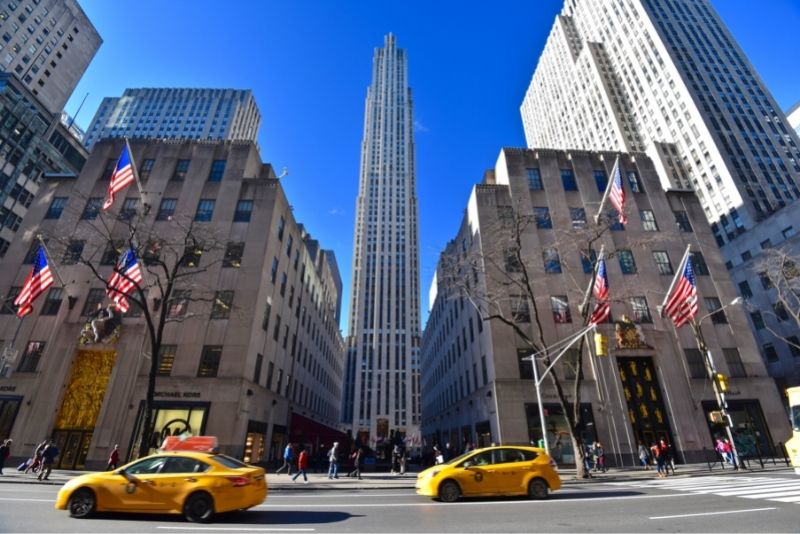 If you're visiting New York during winter, why not try ice-skating at Rockefeller Center's famous outdoor rink and admire the world-famous Christmas tree? The rink is open from November until March every year — just be sure to book tickets in advance!
Outside of the wintery months, the center remains a hotspot for tourists, with flagship stores like Lego and Nintendo, plenty of eateries, regular live performances, and the NBC studio tour not too far away.
Don't forget to crack your neck up to check out 30 Rockefeller Plaza — although, it's a telltale sign of a tourist.
31 – See what's on at Carnegie Hall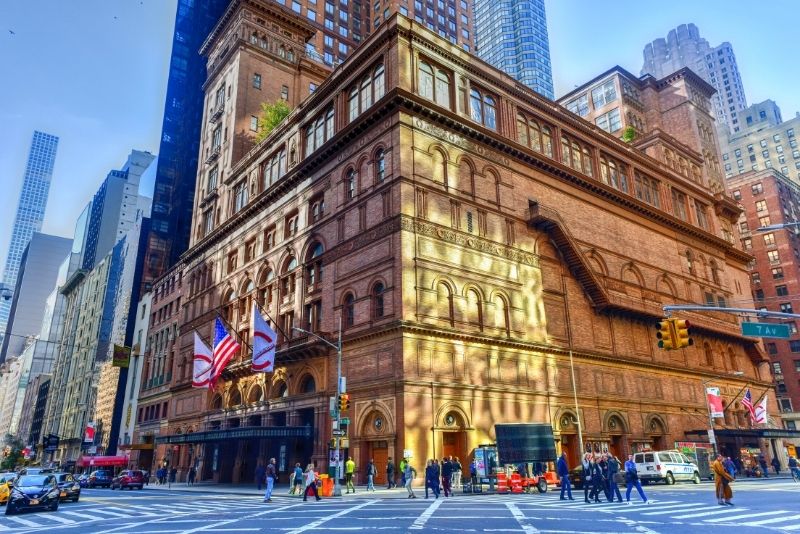 There are few buildings or monuments more iconic than Carnegie Hall, a cultural icon as well as a symbol of opulence.
Commissioned by Andrew Carnegie in the late 1800s, the concert hall not only has one of the best acoustics in the world but has become an aspirational venue for performers from near and far.
People like Frank Sinatra, Elvis Presley, and Luciano Pavarotti have all played Carnegie Hall — as well as newer artists such as Beyoncé.
Besides concerts (for which you'll need to book well in advance), visitors can check out the Rose Museum (free) or join a guided tour of the national historic landmark.
32 – Wear your best outfit to The Museum at FIT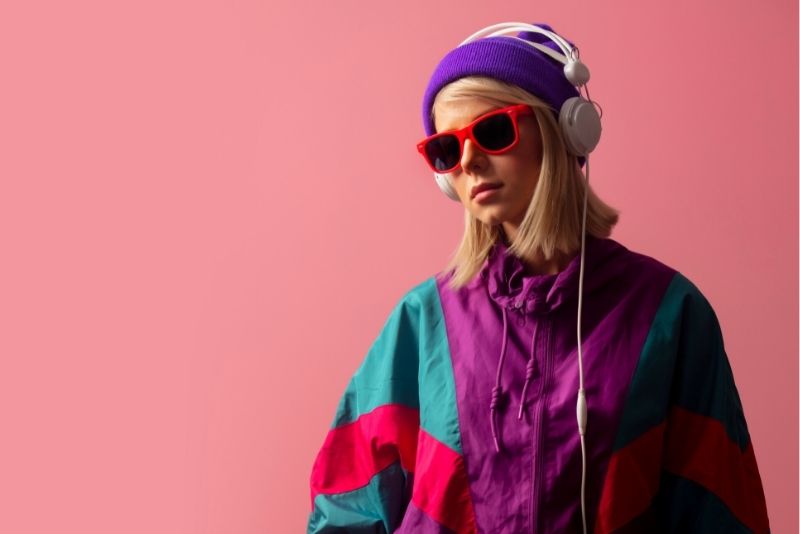 One for the fashionistas, The Museum at FIT (Fashion Institute of Technology) is one of the best places to check out if you're interested in learning more about New York's styles past and present.
A college-based museum, it has six galleries with rotating exhibits that explore different aspects of the city's style history — including how architecture has influenced fashions; or what streetwear statements say about the city's culture.
The museum also regularly hosts fashion events, talks with industry professionals, and workshops for visitors to get involved in.
We recommend checking out their website before your trip so you can see what special exhibitions are on while you're around!
33 – Race against the clock in an escape room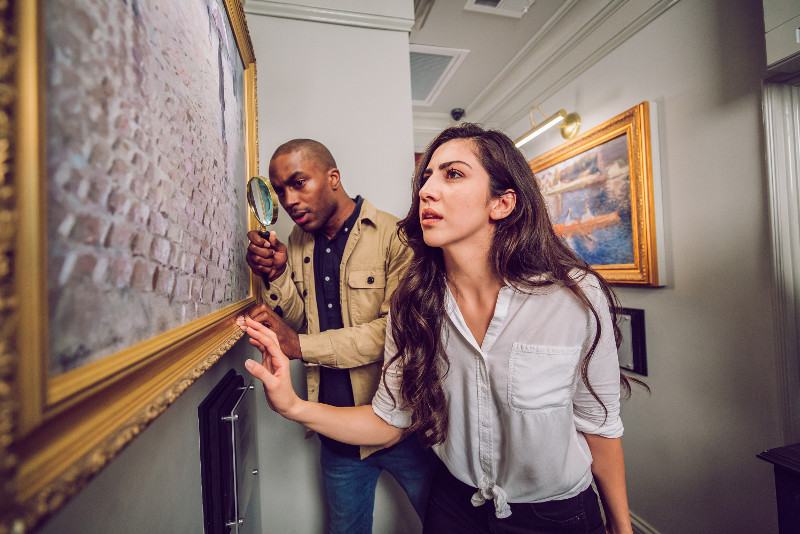 A perfect activity for a rainy day, or a great bonding experiences for friends or couples (read: definitely not a bad date spot), escape rooms challenge you and your team to solve puzzles as quickly as possible.
Visit The Escape Game and have fun with your friends. With a range of rooms scattered across the borough, offering themed experiences like Prison Break, Gold Rush, Special Ops, Heist, and more, there's plenty of variety to choose from.
34 – Watch the streets come alive on The Ride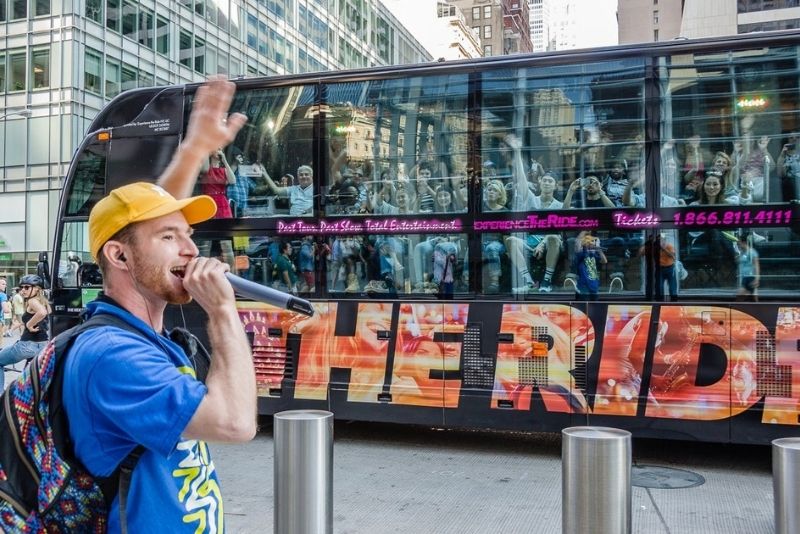 Manhattan loves theater, that we know. On The Ride — a bus in which the seats face outwards to the streets, not forwards — the streets of the big apple become the stage, complete with actors performing show-stopping numbers, musicians jamming out on their instruments, and even acrobats doing backflips off the side of your bus.
The Ride is a must for any New York theater fan — or, for that matter, anyone someone looking for unique things to do in Manhattan that don't involve too much walking!
35 – Lace on the ice skates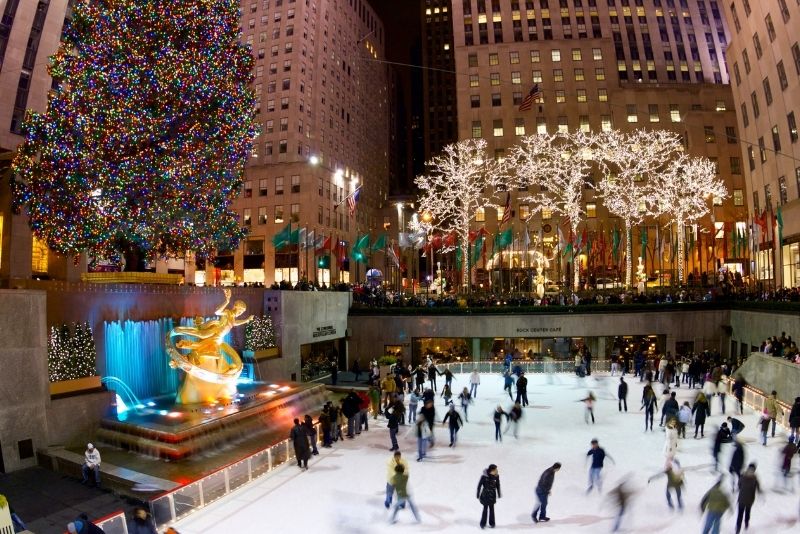 While we've already touched on the Rockefeller Center's famous ice skating rink, there's certainly no shortage of other locations for a wintery skate in Manhattan.
Dress warm and try out the stunning, outdoor Wollman Rink in the southern part of Central Park; head to Bryant Park where hot chocolate and mulled wine are never far away; or, if it's the views of the picturesque skyline you're after, head over to 23rd-floor outdoor rooftop-turned skating rink at The William Vale in Brooklyn.
36 – Explore the city with a scavenger hunt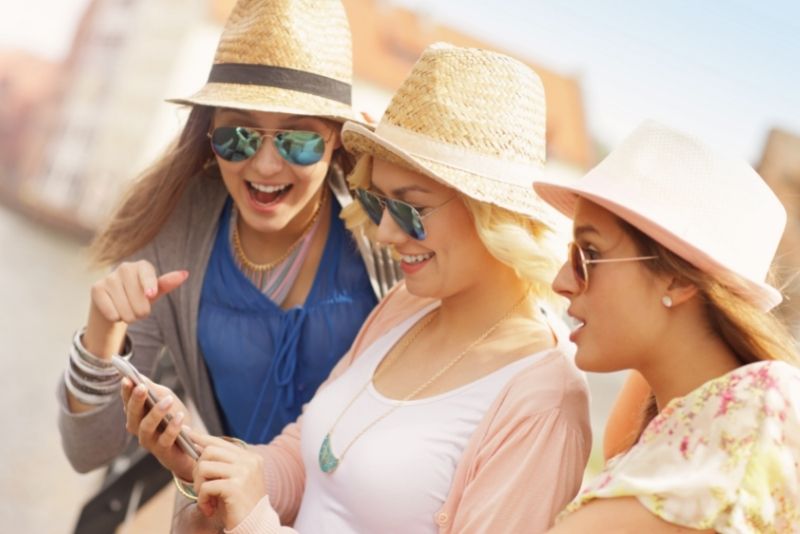 A wonderful, interactive, and totally different way to explore Manhattan (or any other city for that matter), an Amazing Race-style scavenger hunt is an activity everyone can join in with.
Usually operated from your phone, you'll take photos of items on your list as well as recording specific tasks and answering questions along the way — all while exploring different corners of the city at your own pace.
Games can be centered around specific areas like Central Park, Downtown or Midtown, or be focused around wacky themes like zombies!
37 – Get excited by the Museum of Sex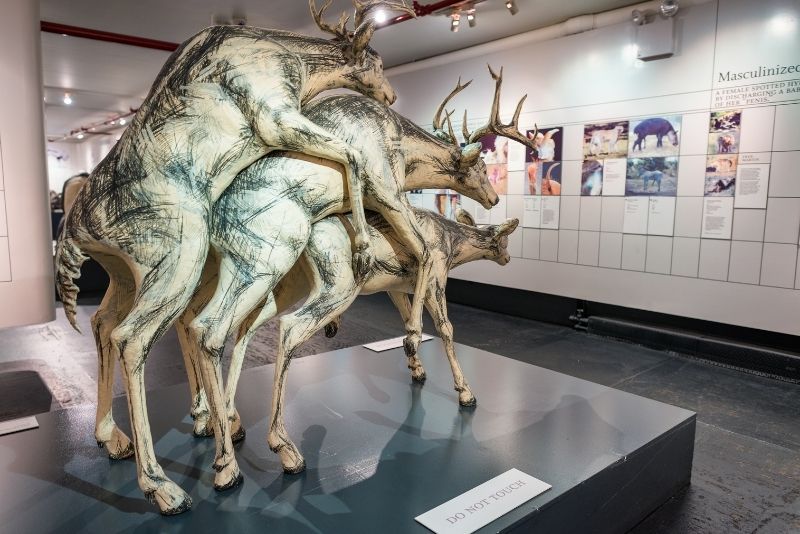 One of the lesser-known museums in Manhattan, yet a hidden gem for anyone inclined by the promiscuous side of life, the Museum of Sex is a great place to learn about all things sex and sexuality — from history to film and media (you know what we mean), laws, animals, kinks, and so much more.
The museum houses everything from exhibitions exploring how sexuality is treated in different parts of the world to collections of different toys, and even hosts occasional events.
38 – Relax and unwind at the Aire Ancient Baths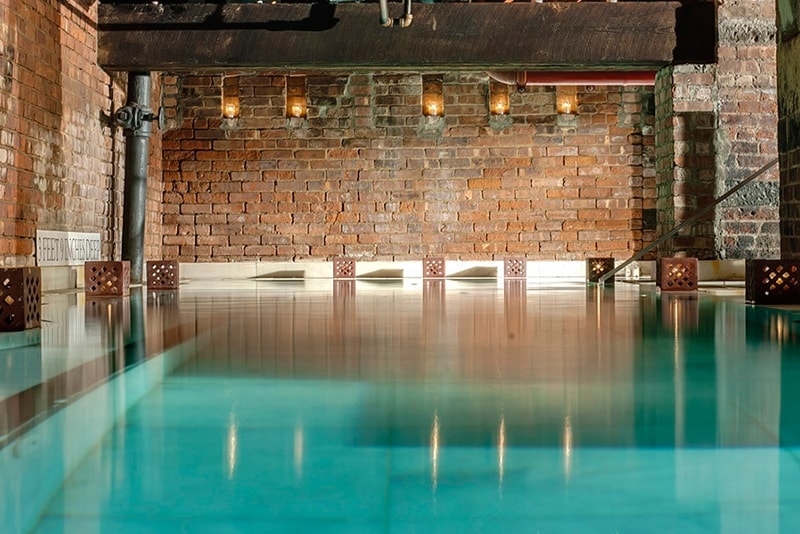 For those looking for an alternative way to unwind after a busy day of exploring the hustle and bustle of New York, the locally adored Aire Ancient Baths offers exactly that.
Located on Franklin St in Tribeca and housed inside a 19th-century textile factory, the baths are inspired by ancient Roman bathhouses and the concept of hot-to-cold therapy — but with modern amenities included!
Here you can enjoy a traditional massage, body scrub, or even a wine bath (exactly what you think it is), a great couples experience.
39 – Take a sightseeing boat tour along the Hudson River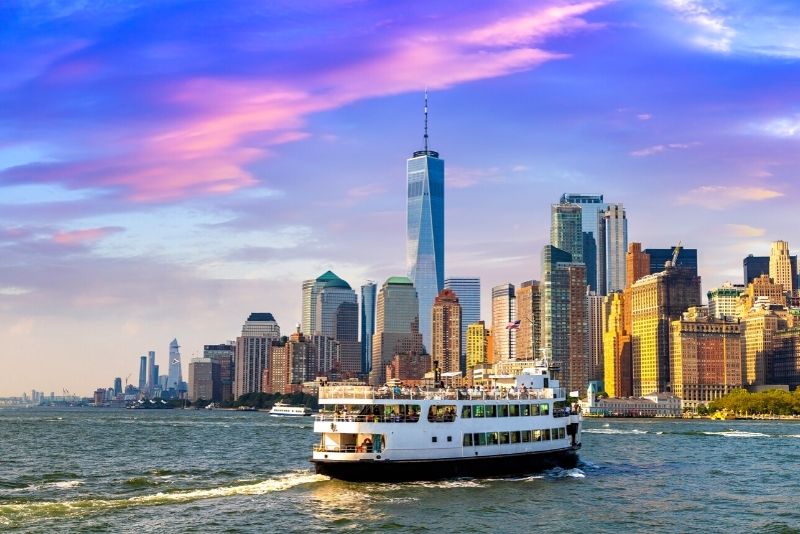 A classic NYC activity, a sightseeing boat tour along the city's most famous river is always fun and usually pretty informative too.
Operated by various companies along the Hudson, departing from points like Pier 60 (Chelsea Piers) or Battery Park, they typically last around an hour each way, with plenty of landmarks spotted along the way.
If you're after a tour that's a little longer, fancier, or more intimate, consider a sunset cruise, dinner party, harbor lights cruise, or speedboat adventure (as you can tell, there's plenty of options).
Read more about NYC boat tours and pick the one that fits best your needs.
40 – Get cultured at the Museum of Modern Art!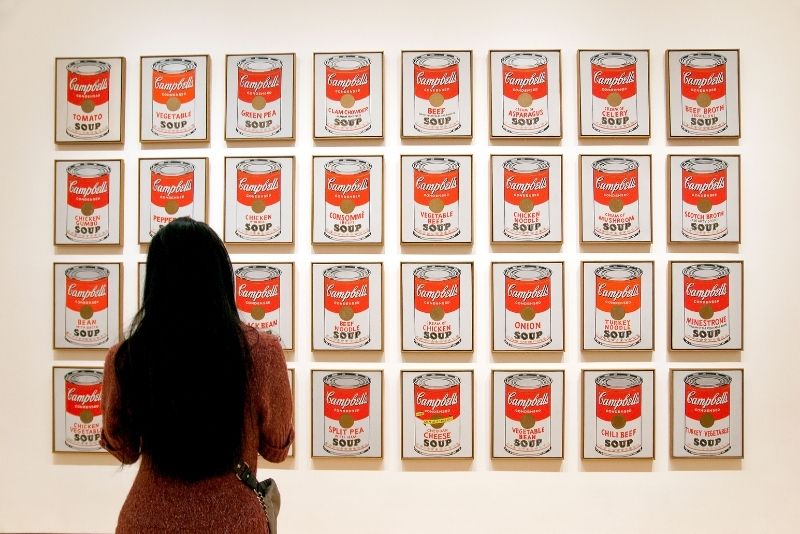 Regularly overflowing with quirky art, world-famous pieces, and impressive and thought-provoking rotating exhibitions, The Museum of Modern Art (MoMA) should sit high atop the NYC bucket list for anyone with an art fancy.
Impressively, the ever-growing collection now consists of almost 200,000 artworks, including film, paintings, sculpture, and more.
Hot tip: if pinching pennies, Friday Nights are free!
41 – Board a real aircraft carrier at the Intrepid Sea, Air & Space Museum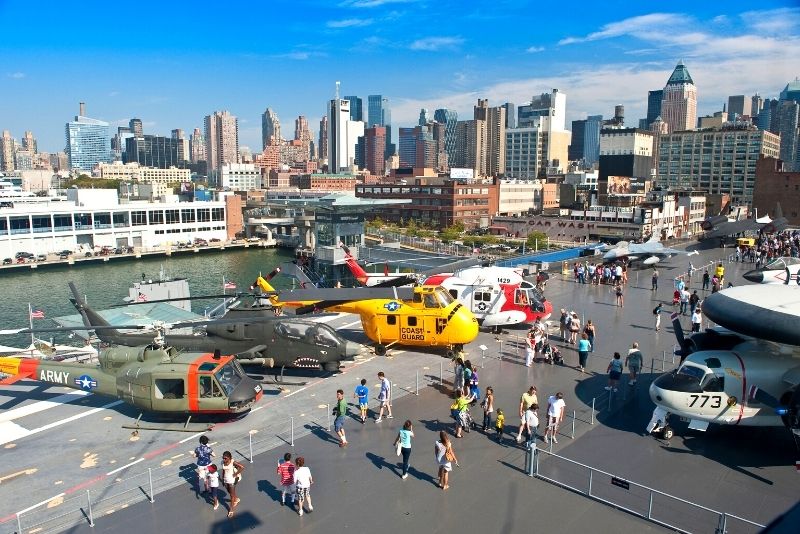 Ahead of its time and with huge amounts of interactive experience, the Intrepid Sea, Air & Space Museum at Pier 86 in Hell's Kitchen sells itself as a splendid way to spend an afternoon — especially if you're traveling with kids, military fans, or history buffs.
As a military-focused museum showcasing the Army, Navy, Marine Corps, and NASA, it's home to one of NASA's space shuttles (Enterprise) and plenty more impressive vehicles including helicopters, jets, submarines, and the main attraction itself, the Intrepid aircraft carrier!
Families can walk around the vessel, learn all about how these different machines work, and check out a range of historic artifacts too.
42 – Admire the collection at the Whitney Museum of American Art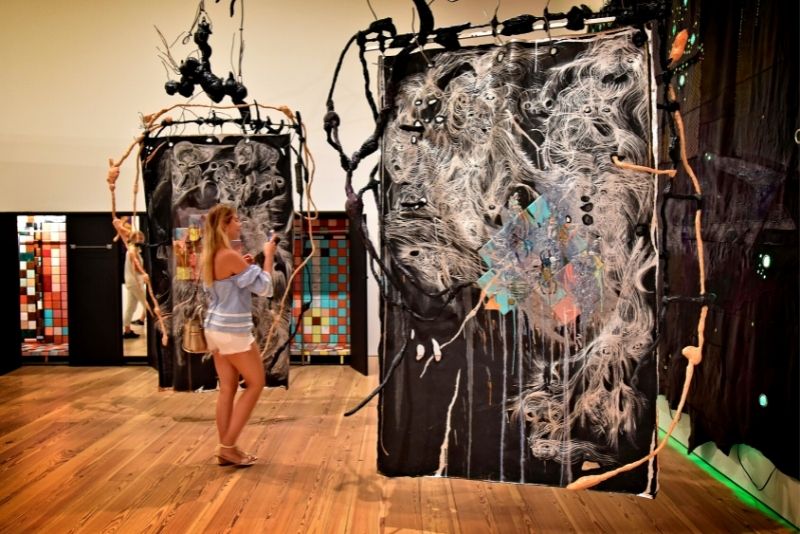 For those looking to explore some of New York's more contemporary art, the Whitney Museum of American Art — which boasts over 21,000 works from over 3,000 artists — is an excellent starting point.
Located in Manhattan's Meatpacking District and operational (to varying degrees) for almost a century, the underrated attraction houses works from well-known American artists like Andy Warhol, as well as emerging talents — all while giving visitors a chance to interact via pop up installations, workshops, and more.
43 – Pop into Ripley's Believe It or Not!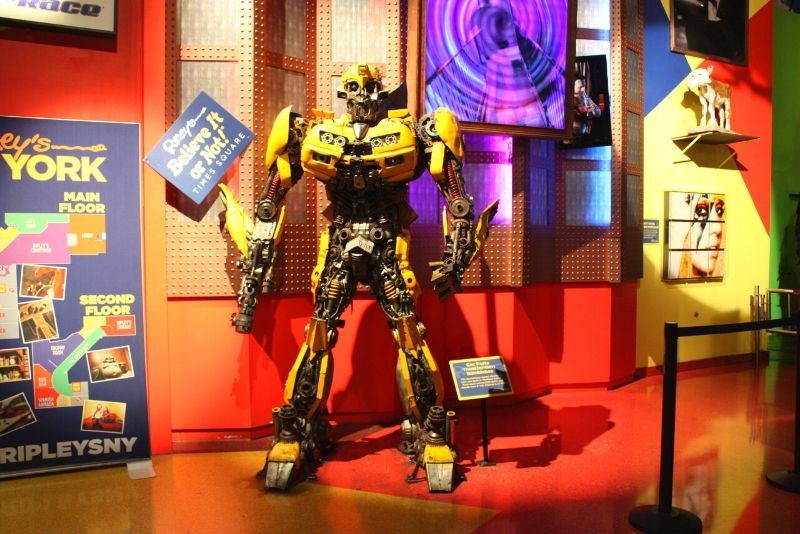 Sitting smack-bang amidst the chaos of Times Square, this quirky NYC favorite is home to an eclectic collection of oddities, curiosities, and various one-of-a-kind artifacts.
From shrunken heads to a guitar made entirely of matchsticks and an enormous collection of rare coins, this spot is perfect for those who enjoy learning about the most uncommon or bizarre parts of history!
44 – See what's on at the New-York Historical Society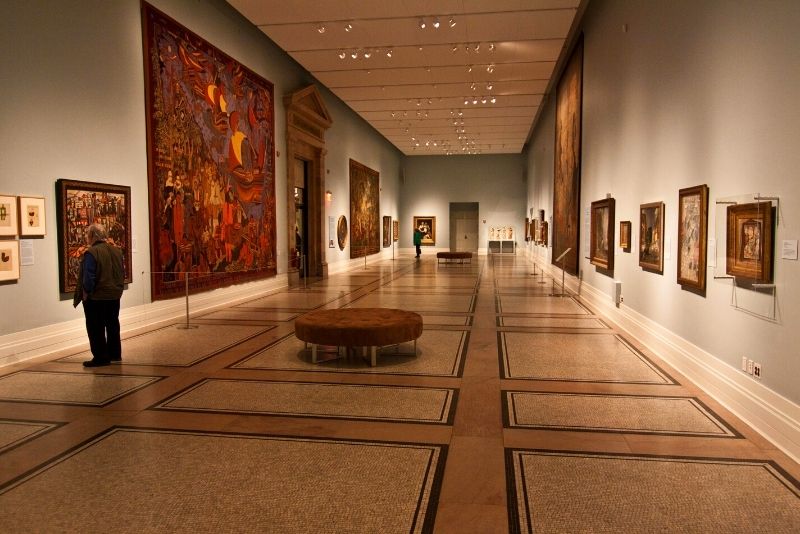 Straddling the western side of Central Park, this part museum part library offers a glimpse into the history of New York City itself (and plenty about wider American history as a whole).
Focusing on a range of fascinating topics, from art and architecture to politics (including a replica of the oval office) and social change, the New-York Historical Society is an ideal spot for those interested in learning more about America's most dynamic city through interactive exhibits — as well as getting involved with family-friendly workshops too!
45 – Spend a couple of hours at the Guggenheim Museum
Regularly fighting for the top spot on lists of New York's most esteemed art museums, the Guggenheim is an architectural marvel and home to one of modern art's finest collections.
From the classic paintings you know and love, including works from Monet, Van Gogh, Manet, Magritte, and others; to more thought-provoking installations by living artists today — it's a world-class museum for all ages!
The building itself, designed by Frank Lloyd Wright, is part of a UNESCO World Heritage Site, so even if you don't go in, it's still worth strolling past.
46 – Lift the heart rate with a speedboat ride on the BEAST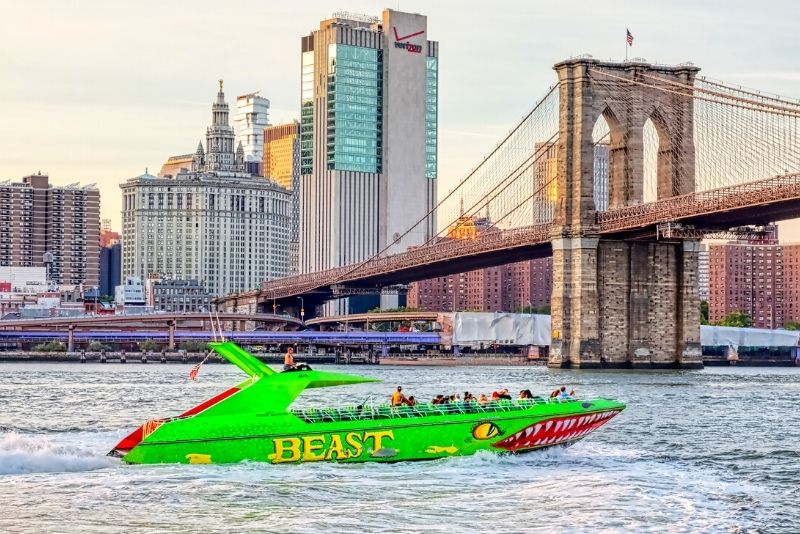 Adrenaline junkies, listen up!
The 70-foot-long Beast is one of New York's most popular speedboat tours, taking you on a thrilling ride through the city's waterways at hair-raising speeds with the wind roaring in your face.
With experienced tour guides sharing plenty of trivia along the way (and pointing out all sorts of famous landmarks, the Statue of Liberty, for one), it's an exciting and informative journey for anyone in need of some high-octane speed!
47 – Dine at a couple of Michelin-starred restaurants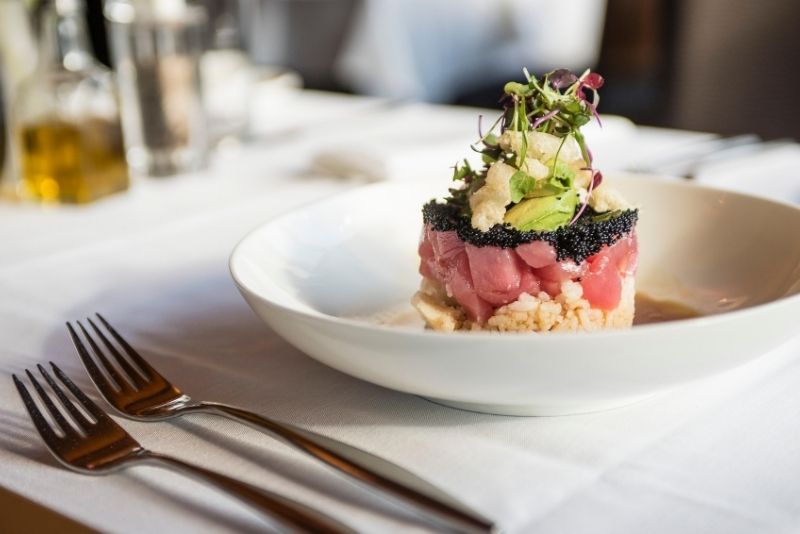 If you get hungry while exploring the city and prefer to avoid the bodegas or hot dog carts, New York is packed with some of the world's finest restaurants.
From all-American steak houses to upscale sushi spots, there are endless options for every budget and taste — but if money isn't an issue (and you're looking for a restaurant that will really leave your tastebuds tingling) try a couple of NYC's Michelin-starred restaurants.
NYC's fine dining spots include Chef Thomas Keller's Per Se (French cuisine), Masa (Japanese and sushi), and Le Bernardin (French/seafood) — all of which boast 3 Michelin stars, and just to name a few.
48 – Snap a selfie in front of the Flatiron Building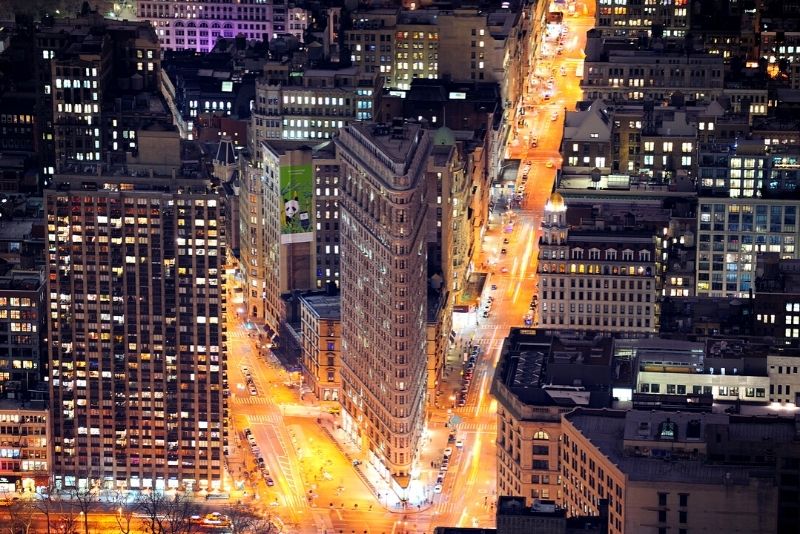 An Instagrammer's delight at a crowd favorite among architecture buffs, the 22-story Flatiron Building is an NYC landmark that's definitely worth admiring on your trip.
Located below Madison Square Park, it was designed by Daniel Burnham back in 1902 and has since been featured in dozens of movies ever since. With its distinct triangular shape; and another architectural marvel, The New York Life building next door, you can't miss it!
49 – Attend a workshop at the Japan Society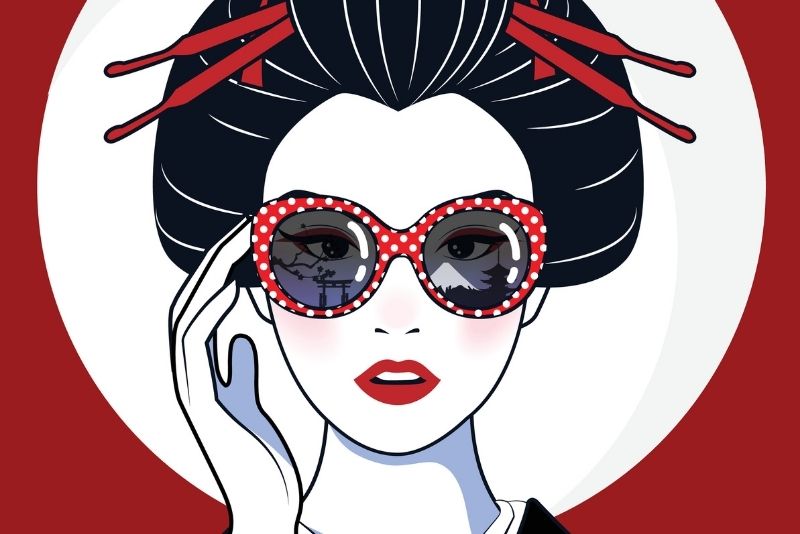 Sitting in an eye-catching building on East 47th Street not too far from the United Nations building, the Japan Society offers an intriguing insight into Japanese art, design, culture, history, and film.
Featuring a large collection of artworks by famed Japanese artists, including painting and calligraphy; as well as film screenings that include indie flicks you won't find at your local cinema, it's a wonderful destination overlooked by most run-of-the-mill tourists (to their own detriment).
50 – Enjoy (arguably) the best skyline view from the Edge Observation Deck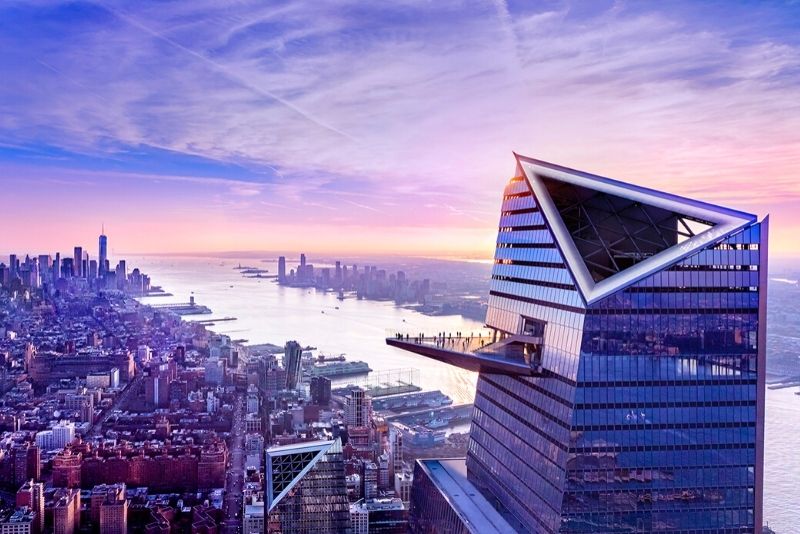 Jutting out from the main structure at the 30 Hudson Yards building — at a whopping 100-stories-high — it's fair to say that this open-air skydeck is not for the faint of heart. For those brave enough, thanks to its glass floors and glass barriers that offer unobstructed views of New York City's skyline, the photo ops are astounding.
There's a bar on-site, and usually far fewer tourists than Top of the Rock, Freedom Tower, and the Empire State Building!
51 – Grab a souvenir at The LEGO® Store Fifth Avenue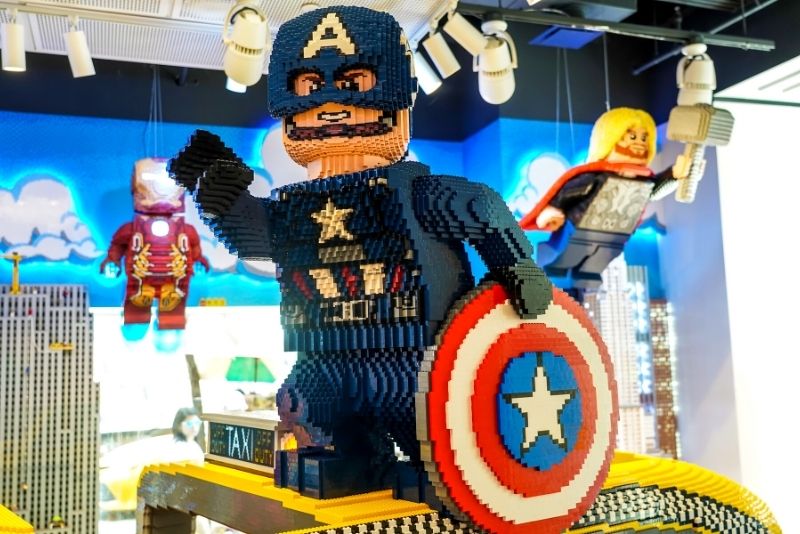 An unmissable shop for kids of age or kids at heart, the LEGO Store is a two-story paradise overflowing with exclusive NYC-themed LEGO sets as well as those from Harry Potter, Game of Thrones, Star Wars, and plenty originals.
Featuring interactive displays, miniature LEGO landmarks, and selling, it makes for a great, quick stop when wandering around the Rockefeller Center.
52 – Work on your espionage tactics at SPYSCAPE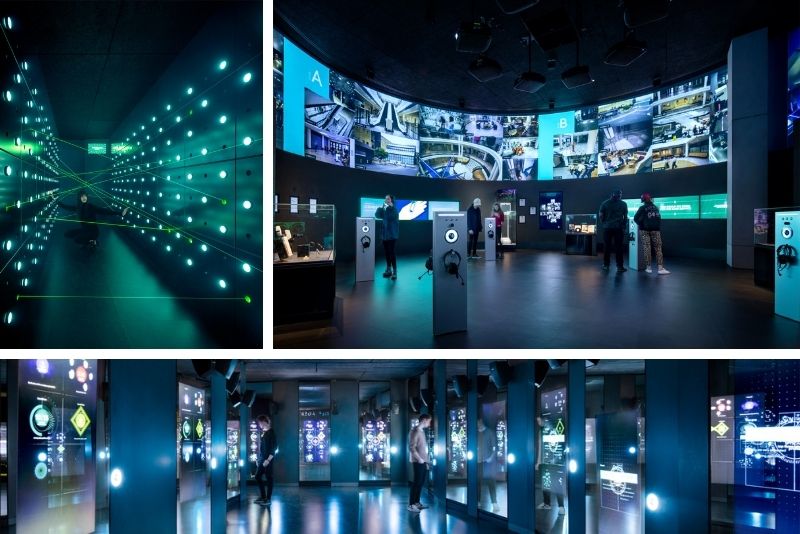 Any budding Sherlock Holmes in the house? Then take note.
A unique and immersive experience for visitors of all ages, SPYSCAPE is an interactive museum that gives you a chance to crack codes; learn how to be a spy; match wits with artificial intelligence, and handle the latest state-of-the-art equipment thanks to its high tech gadgets on display — not to mention check out a dedicated 007 James Bond exhibit!
53 – Soak in the ambiance of a classical candlelight concert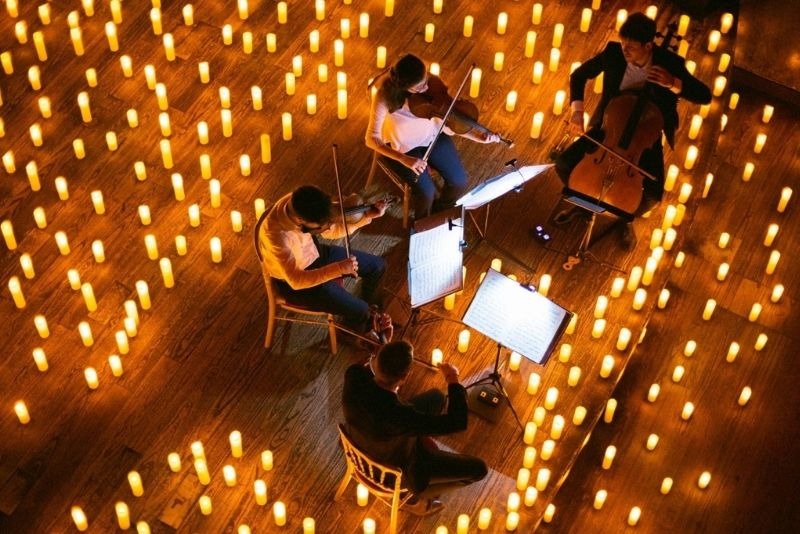 Taking places at an exclusive selection of venues across the city — including Church of the Heavenly Rest (next to the Guggenheim), the open-air terrace at the Mondrian Park Avenue, and St Ann and the Holy Trinity Church (in Brooklyn) — a classical music experience enhanced by candlelights just screams romance.
Events change depending on the season, sometimes themed around Christmas or Halloween, other times focusing on music by the likes of the Beatles or Beethoven.
54 – Stuff your face on a food tour!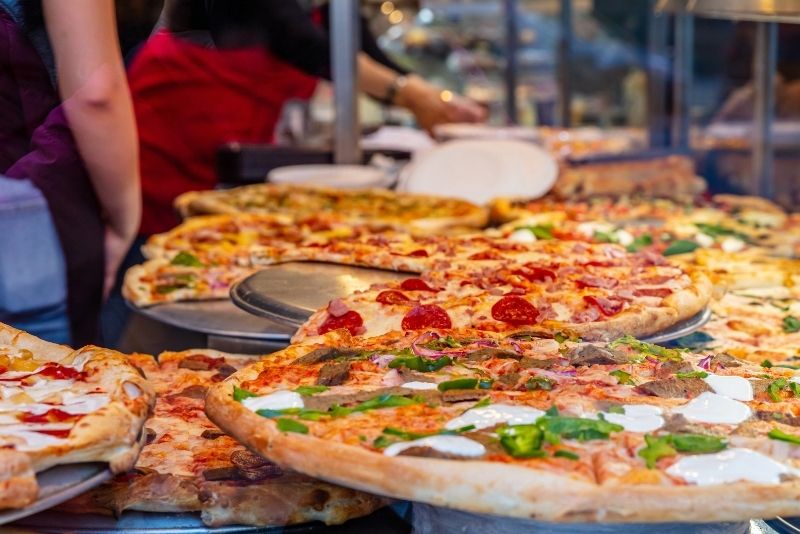 As a melting pot of culture and cuisine, New York City — and, more specifically, Manhattan's very own Little Italy, Chinatown and Greenwich — is home to a huge variety of food tours.
Obsessed with Pizza? Follow a slice-savvy guide through Little Italy. Love bagels and beer? Then check out the Lower East Side. Or prefer something a little more fancy? Then wander around Hell's Kitchen, sampling award-winning tacos, tapas, and everything in between.
The options are endless, all you have to do is pick one.
55 – Laugh your socks off at a comedy club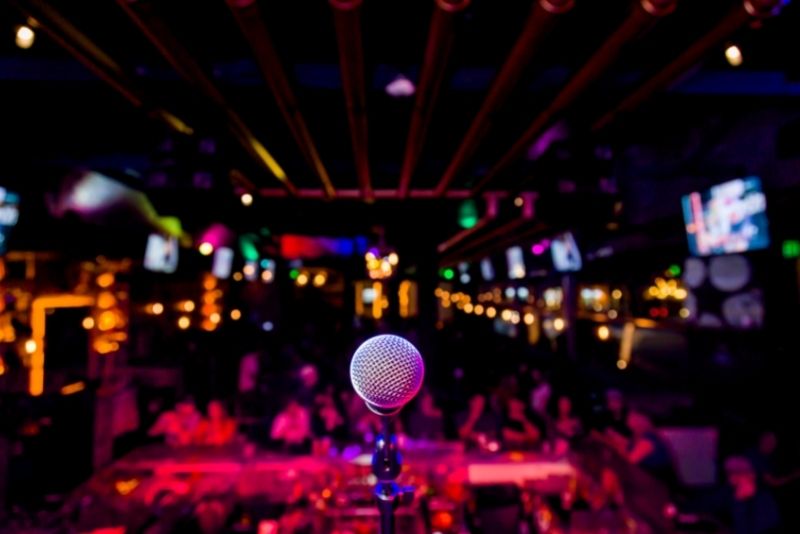 A well-known fact, NYC is home to some of the world's greatest comedians, playing in venues across town.
From Comedy Cellar (the birthplace of Amy Schumer) and Caroline's on Broadway to Gotham Comedy Club and the New York Comedy Club, there are plenty of opportunities for cheap laughs. Many shows feature well-known names as well as up-and-coming talent, so be sure to check out the line-up before buying tickets.
Hot tip: no matter how good a salesman they appear, try to avoid buying tickets from people at Times Square.
56 – Float down the Hudson (or East River) on a dinner cruise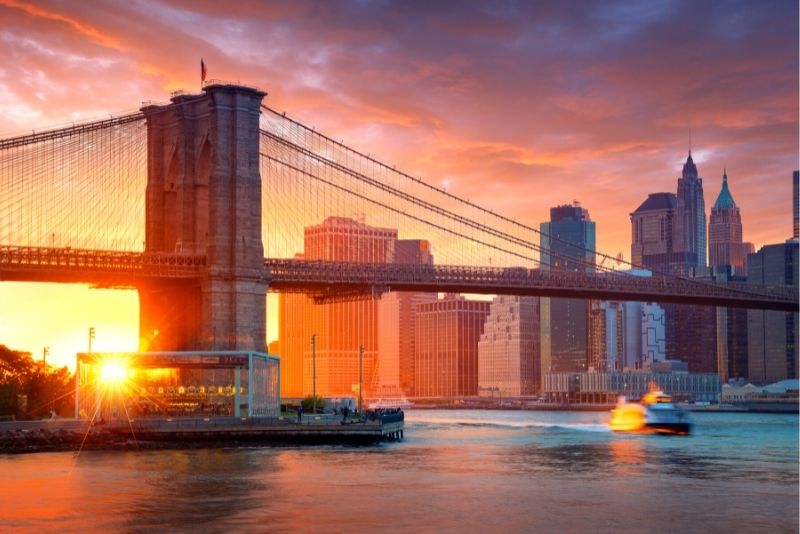 The thrill of a boat ride, combined with spellbinding views and an exclusive restaurant — what's not to love about dinner cruises?
With a host of companies operating along the Hudson as well as several on the East River too — including large ferry-like boats and more intimate yachts, there are more than enough options to choose from, and some even include live music or comedy shows!
Read more about the best New York City night tours.
57 – Catch as many shows as you can at the Broadway theaters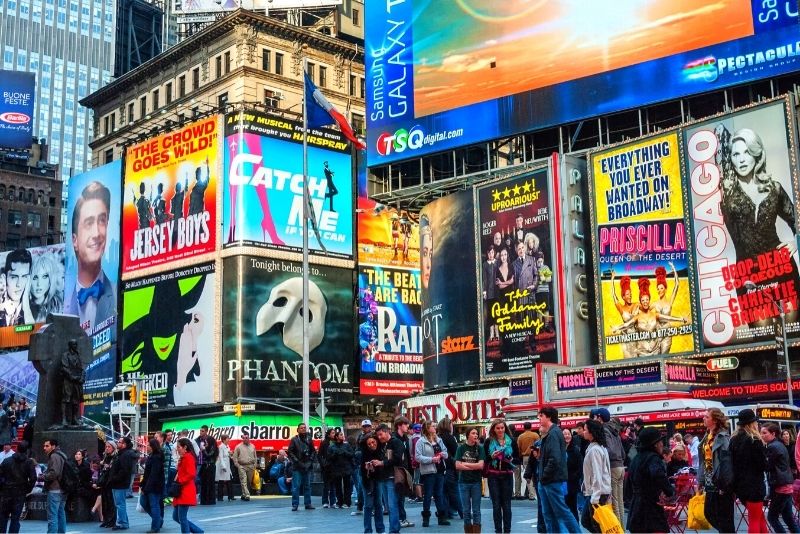 No visit to Manhattan is complete without catching a Broadway show, it's as simple as that.
While you can't go wrong with well-known classics like The Phantom of the Opera, The Lion King, Chicago, and Aladdin; there are plenty of newer, lesser-known musicals equally worthy of a front-row seat — Kinky Boots, The Book of Mormon, Matilda, the puppet-tastic Avenue Q, and the ever-relevant Newsical the Musical, just to name a few.
Hot tip: Head to the red TKTS stand at Times Square in the afternoon to see a last-minute show at a heavy discount!
58 – Watch the Blue Man Group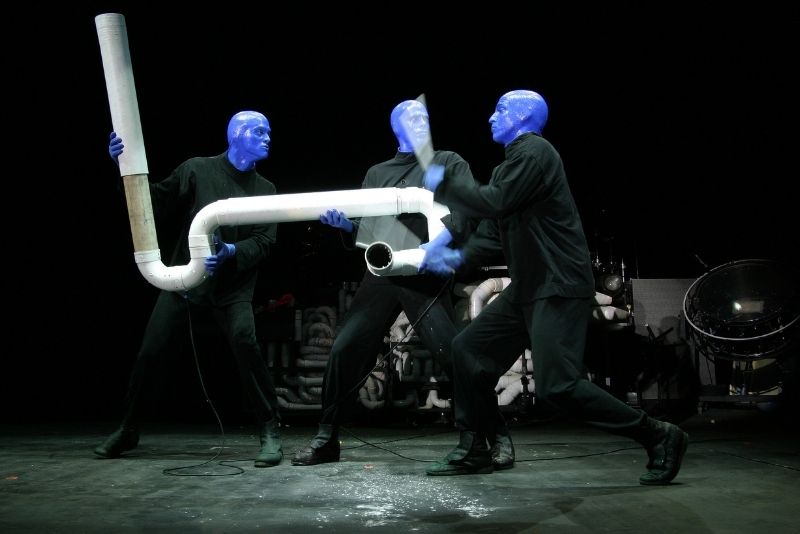 Step into the world of New York's iconic Blue Man Group at the Astor Place Theatre, and you'll be instantly transported to an explosive sensory extravaganza filled with comedy, music, science experiments, artistry — and even audience participation (yes really).
Brought to life by three bald-headed blue men in black suits who like nothing more than making people laugh, this high-energy show is all about creating a unique and unforgettable night out.
59 – Take a backstage tour of Radio City Music Hall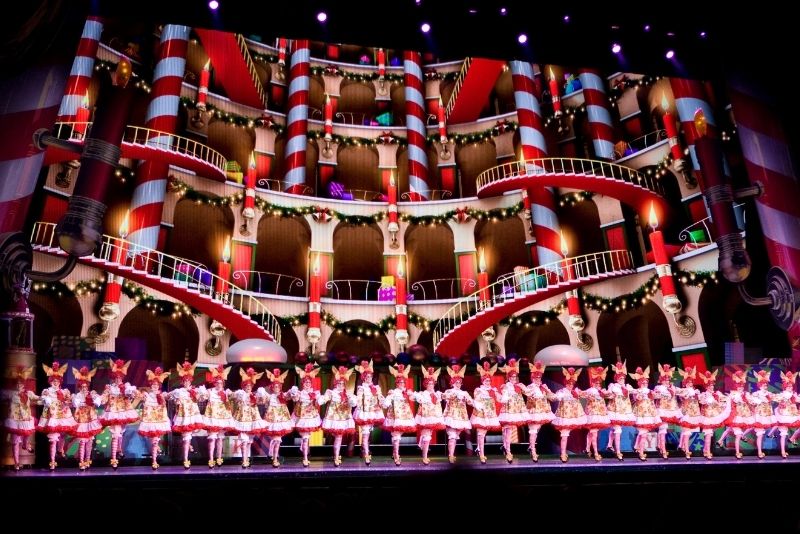 Since its construction in 1932, Radio City Music Hall has been the ultimate place for live entertainment, hosting the MTV Music Awards, Grammys, and so much more — and it's still going strong today.
Besides regularly welcoming all kinds of famous names on stage, the venue also offers stage door tours; expect to see the celebrity guest book, meet a Rockette, and learn about the magnificent art deco building.
As the home of the legendary Rockettes, if your travel dates line up, see if you can score a ticket to the world-famous Christmas Spectacular!
60 – Immerse yourself in the chaos of Times Square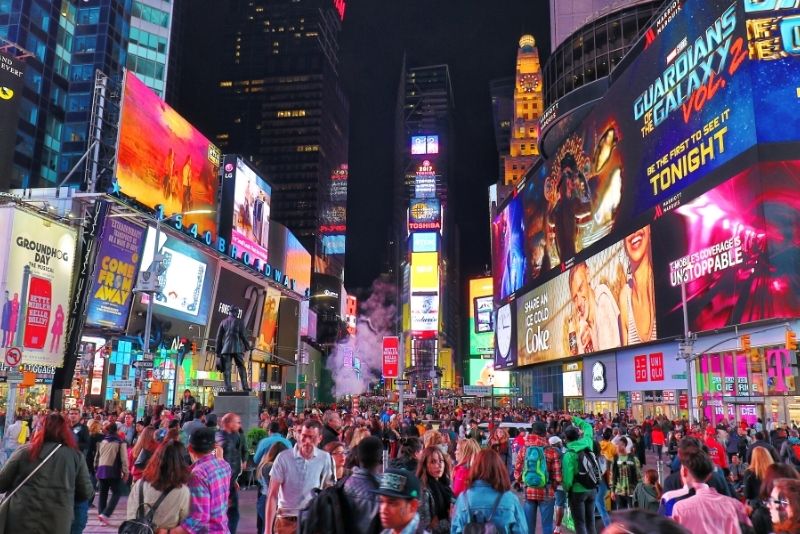 An overwhelming sensory experience of bright lights, billboards, and blocks of Broadway theaters, Times Square is a quintessential Manhattan landmark that acts as the epicenter to a long list of entertainment options.
The Hard Rock Cafe is always a great time; M&M World will satisfy any sweet tooth, likewise Hershey's World across the road; Shake Shack offers a quick milkshake and burger; the multitude of souvenir shops will ensure you don't leave town empty-handed; and, while cheesy and pestering for a tip, the costumed actors make for a funny memento.
If that's not enough, there's still the National Geographic Ocean Odyssey, Carolines on Broadway (for comedy shows), and Ripley's.
Read our selection of fun things to do in Times Square.
61 – Taste local beers on a pub crawl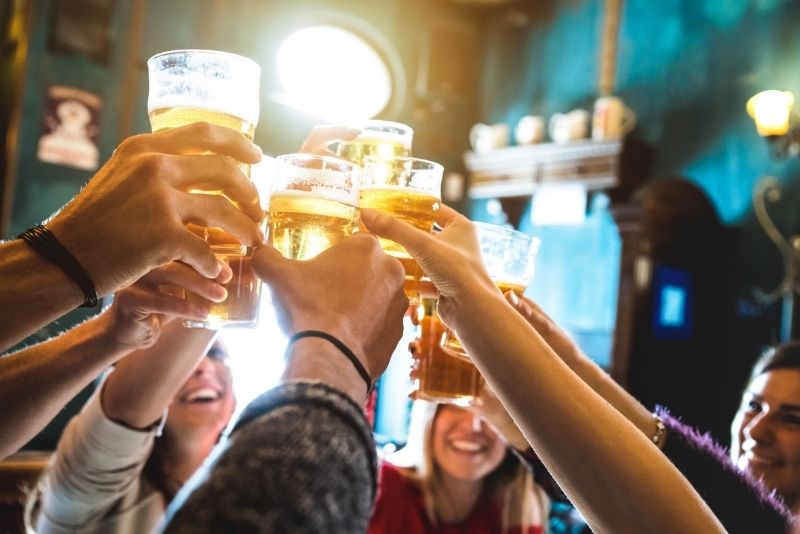 You're on vacation, after all, so why not get a little buzzed while exploring?
On locally-led pub crawls, you can explore New York's ever-expanding beer scene by visiting both tourist favorites and hidden gems; with plenty of local craft beers and NYC classics on the menu.
Tours operate all over the city, from Greenwich Village to West Village, the Lower East Side, or Hell's Kitchen — just pick an area to explore and you're all set!
For something more than just beer and banter, consider a crawl focused on prohibition history, literature, or a haunted night out — or, simply opt for a more low-key beer tasting at the single venue.
62 – Visit at least 2 of the city's best rooftop bars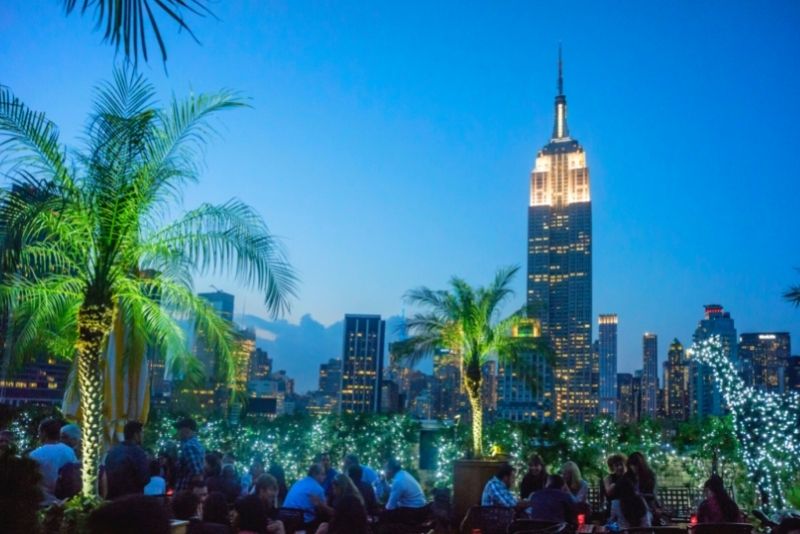 With hundreds of skyscrapers, it's no surprise that the Big Apple is home to some fantastic rooftop bars where you can relax after a long day of exploring.
230 Fifth Rooftop Bar, just around the corner from Madison Square Park, offers sublime views of the Empire State Building; Bar 54 is perched 54 floors above the concrete jungle of Times Square, with signature cocktails to boot; Gallow Green is a popular Chelsea spot offering laid-back, green-garden vibes; the Spyglass Rooftop Bar near Bryant Park is known for its craft cocktails and Empire State Building view; and, finally, the St. Cloud Rooftop Bar atop the five-star Knickerbocker Hotel might be pricey, but it exudes luxury and sophistication.
The cheapest way to see everything
The City That Never Sleeps is not shy of tourists, that we know. To accommodate the millions who visit every year, a range of companies have partnered with most of the major museums, attractions, boat tours, and transport companies to create New York City tourist passes.
The New York Explorer Pass, the New York Pass, the Freestyle Attraction Pass, and the New York CityPASS all offer different inclusions and durations, so take a look and decide which suits your plan best. If you plan on ticking off a handful of the major attractions, they'll save you money in the long run.
Don't know which pass to choose? Read our New York city pass price comparison guide.
Where to stay?
There are so many different accommodation options for travelers to explore in Manhattan, to the point where it could get overwhelming.
You can stay at a hotel — of which the most luxurious, fit for celebrities and royalty, include The Plaza (Fairmont), The Ritz-Carlton, The Ludlow, and The Pierre — or book a stay in one of Manhattan's more chic, boutique hotels.
Alternatively, there are family-friendly options like Dream Downtown and the Hotel Beacon.
And don't forget there are also many hostels or Airbnbs for those looking to save money on their trip — most of which offer free breakfast with your room!
Living in NYC and looking for staycation ideas? Check out the best staycation hotels in New York.
No matter what end of the budget spectrum you fall on — whether you crave sophistication or just a bunk-bed will do — the most competitive prices are typically found on Booking.com.
Getting to and from the airport with a pre-arranged transfer
With three major airports (JFK, Newark, and La Guardia), and a subway map that looks like a child drew it with crayons, getting around the Big Apple is no easy task for first-time visitors (or even fifth-time visitors, for that matter).
A pre-arranged airport transfer is the best way to ensure you make it where you need to go in one piece, and on time.
You can book your transfers before or after booking your trip — either way, doing so will save a lot of stress when you land or leave! Plus, seeing the city through the window of a luxurious SUV or private car and hearing a few first-hand tips from the friendly driver is an experience in itself.
Thanks for checking out our collection of the best things to do in Manhattan! If you have anything you'd like to add to the list, feel free to leave a comment below.
Enjoy your trip, and when you're down, check out the best things to do in Brooklyn, our selection of fun things to do in Lond Island, and the best day trips from New York City, all worthy of being the next stop on your adventure!
As always, happy travels!