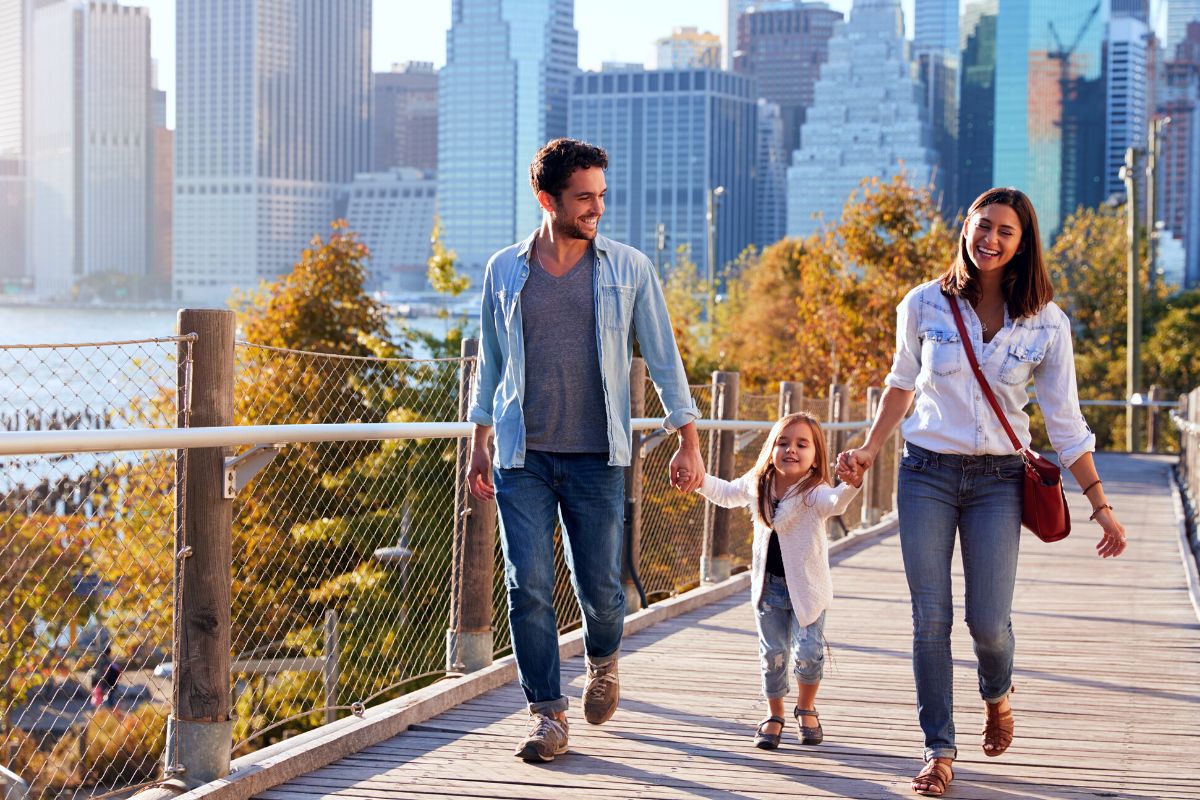 New York, New York… this world-renowned metropolis has always been a hit with tourists, and for good reason!
The city has long been known as a destination with something for everyone, featuring some of the best history, culture, art, and architecture in the country. But what you might not know is that it's also an amazing place for kids!
From theater and museums to interactive attractions, games, and a surprising amount of beautiful natural spaces, children of all ages and every type of interest will find some amazing activities to try.
And more often than not, the accompanying adults will find plenty to enjoy as well! So grab the gang and start exploring, as we check out some of the best family things to do in New York City with kids.
1 – Meet some awesome animals at the Central Park Zoo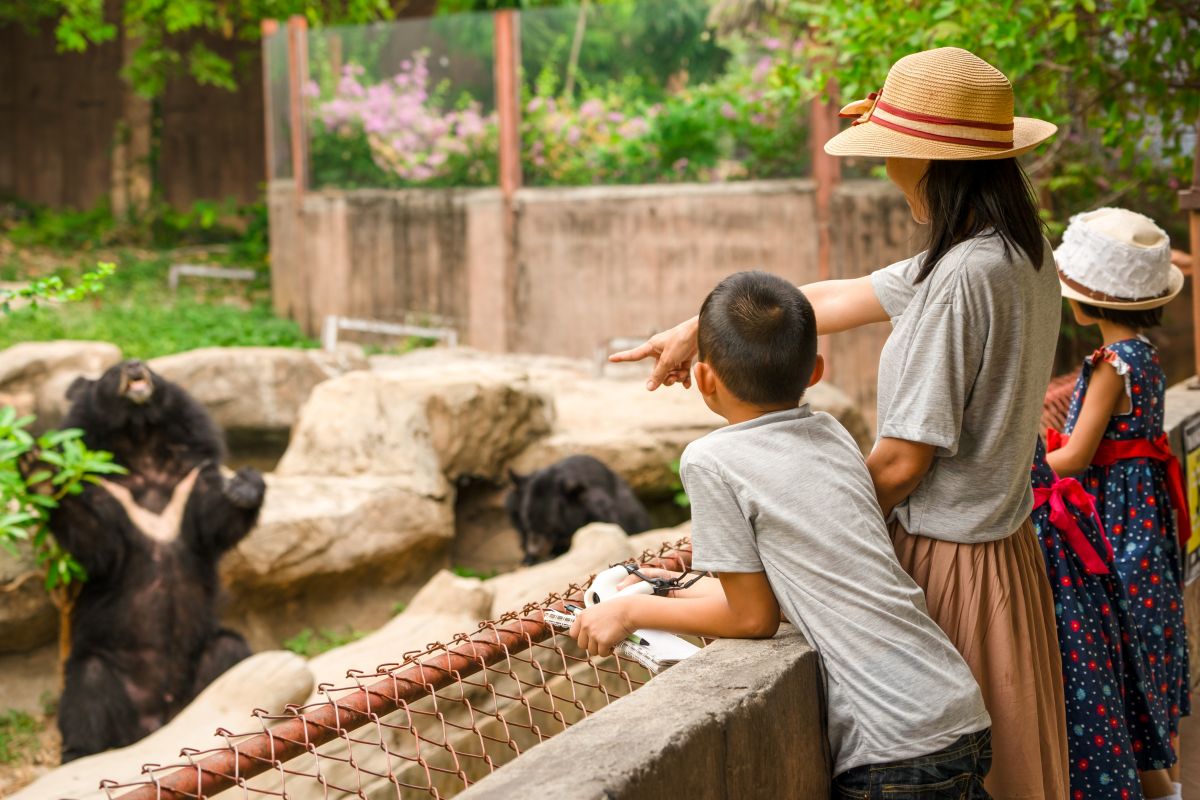 Everybody loves a trip to the zoo, and NYC has some of the best in the country. At the Central Park Zoo, you can come face to face with a whole array of exciting animals, including red pandas, snow leopards, grizzly bears, and penguins.
With three fantastic environments to explore, you'll be able to learn firsthand all about the wild world and its coolest creatures.
And don't miss the Tisch Children's Zoo, where kids can get up close and personal with pigs, ducks, cows, and more, before heading to the playgrounds to climb and play the way that animals do!
Read more: Fun things to do in Central Park
2 – Pay a visit to the Statue of Liberty & Ellis Island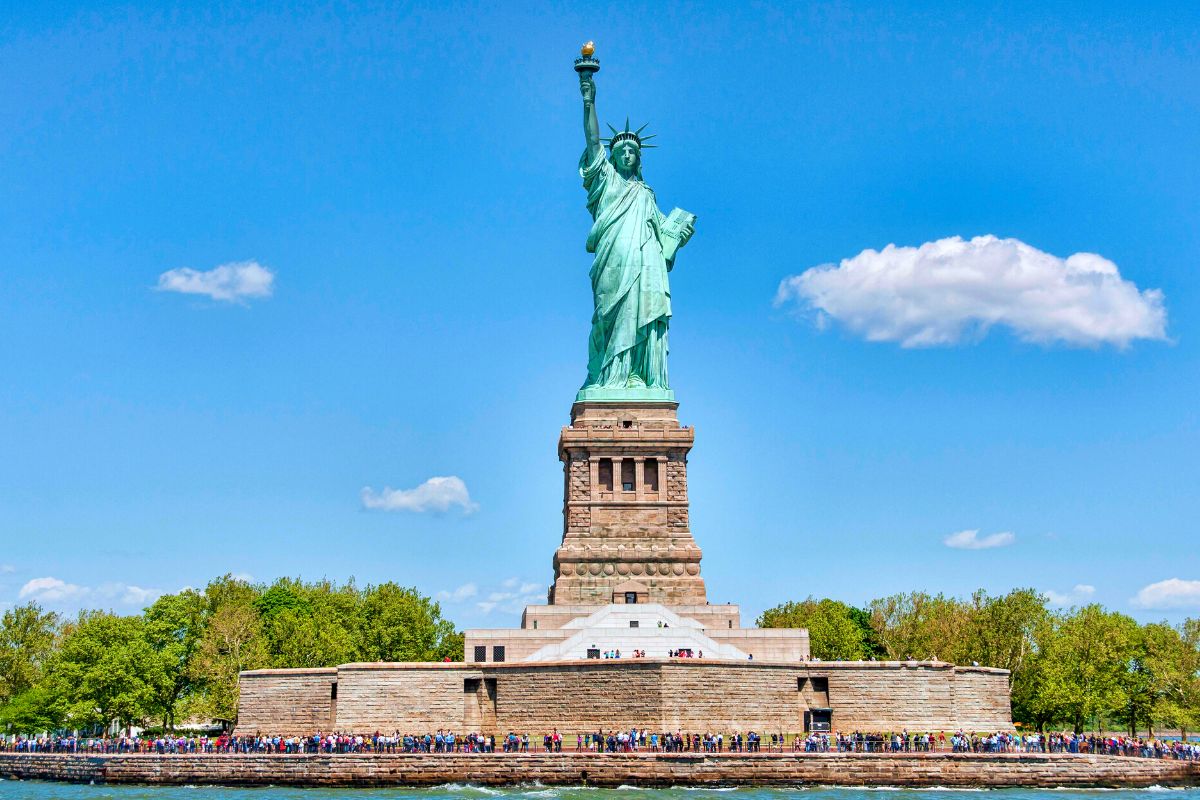 Standing tall and proud in the harbor, the Statue of Liberty is hard to miss. Since 1886, it's been a world-famous symbol of freedom and peace, welcoming immigrants to the country and serving as an icon for America itself.
Naturally, visiting it is a must for families, especially if your kids are interested in learning about the complex past of the United States. Not only is the statue itself impressive, but the place where it stands, Ellis Island, is packed with some amazing history of its own.
Visit the museum located on the grounds, and learn the incredible stories of the thousands of immigrants that passed through here on their way to becoming American citizens. It's one of the coolest cultural attractions in town, and will help you see the city – and the nation – in a whole new light.
Hot tip: Statue of Liberty last minute tickets – It's not sold out!
3 – Explore the world at the American Museum of Natural History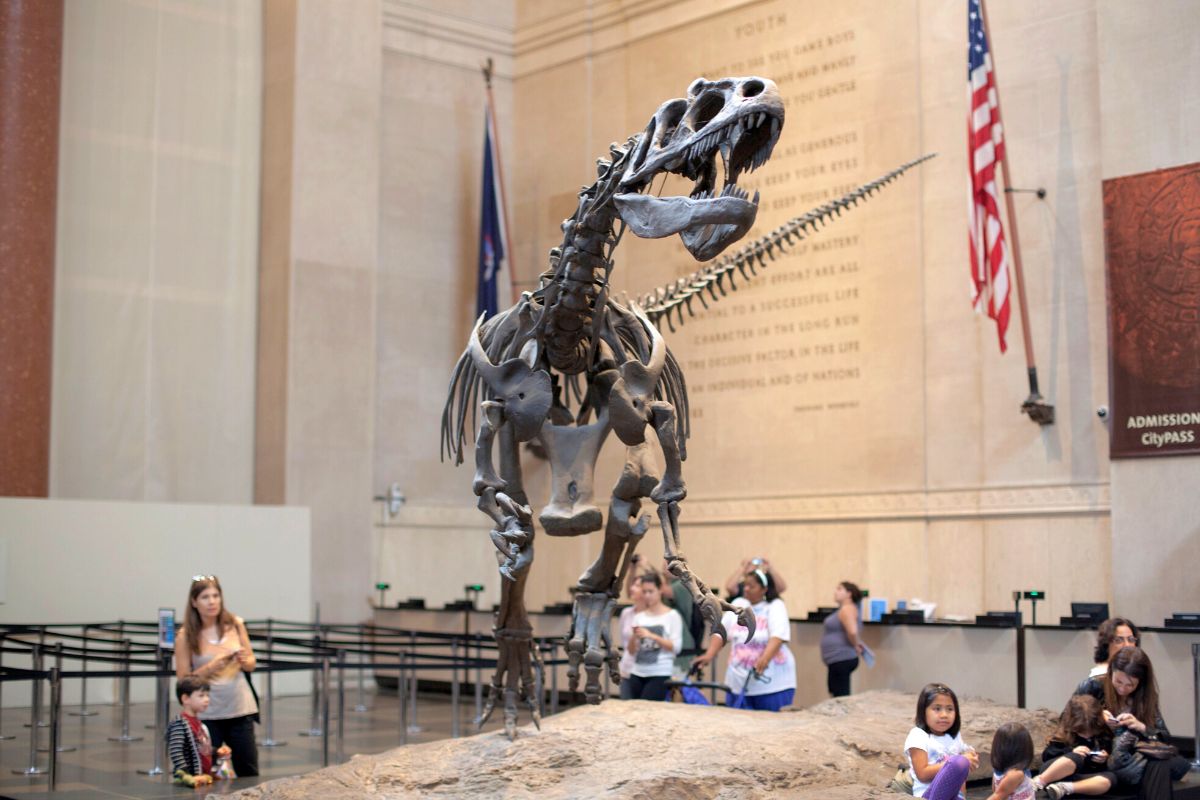 Spend the day with dinosaurs, hang out with the statues of Easter Island, and gaze in awe at a gigantic blue whale – about 94 feet long! At the American Museum of Natural History, you'll never run out of cool stuff to see.
It's one of the largest museums in the world, with a whopping 32 million specimens showcasing prehistory, the natural world, unique cultures, and everything in between.
This is also where the beloved Night at the Museum movies were shot, so keep an eye out for some familiar filming locations during your visit! This is one of the best family things to do in New York City with kids, especially those with curious minds!
Read more about the best museums in New York City
4 – Hang out with your heroes at Madame Tussauds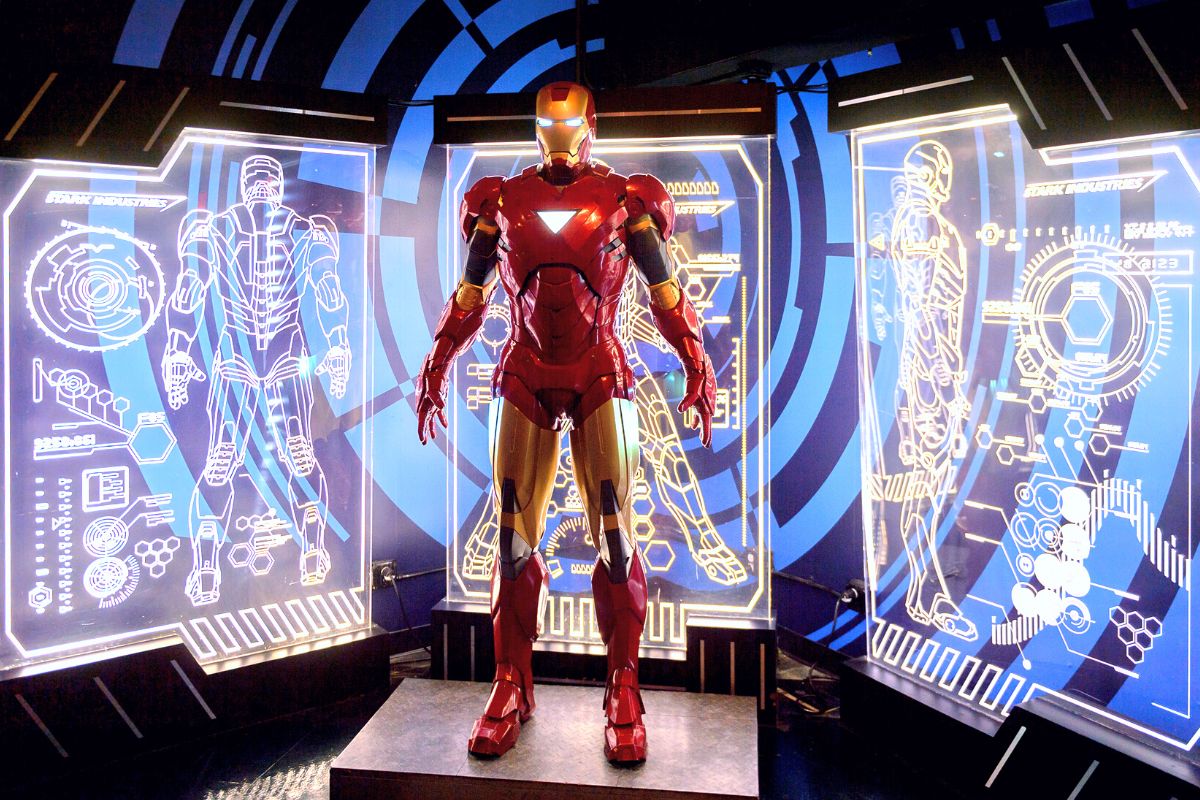 Madame Tussauds is world-famous for its realistic wax statues, depicting celebrities and historical figures with uncanny accuracy. And when you and your family stop by, you'll get to rub elbows with the stars – literally!
Swing by the Oval Office for a chat with the President, sit in the interviewee seat on The Tonight Show, or rock the runway for Fashion Week.
You can also dive into the world of superheroes with the Marvel 4D Experience, or take to the stage in the Broadway section – no audition required! Fun and full of photo ops, this is the perfect place for celebrity fans of all ages.
5 – Stock up on magical supplies at the Harry Potter Store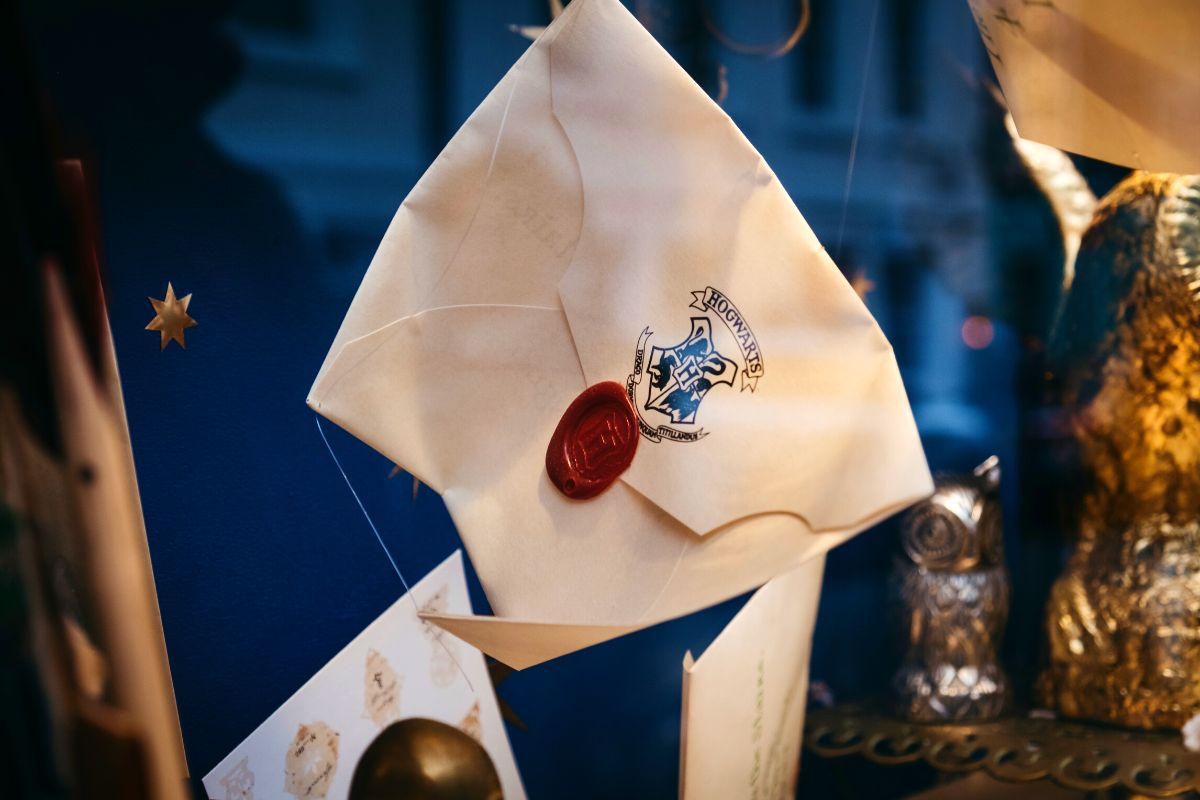 Have a little one hoping for a Hogwarts letter? Or maybe some older kids that never quite lost that sense of magic? Then be sure to swing by the Harry Potter Store while you're exploring NYC!
With more than 21,000 square feet of merchandise, this is the perfect place to go for products from the beloved Harry Potter and Fantastic Beasts and Where To Find Them series. You can buy everything from wizarding clothes and books to toys, wizarding candy, and even a wand of your very own!
After shopping, sample some delicious selections from the butterbeer bar, then embark on a thrilling broomstick flight or trek around the school grounds with some state-of-the-art VR experiences.
This beautiful space is sure to add some enchantment to your trip!
6 – Journey to the Pridelands with The Lion King show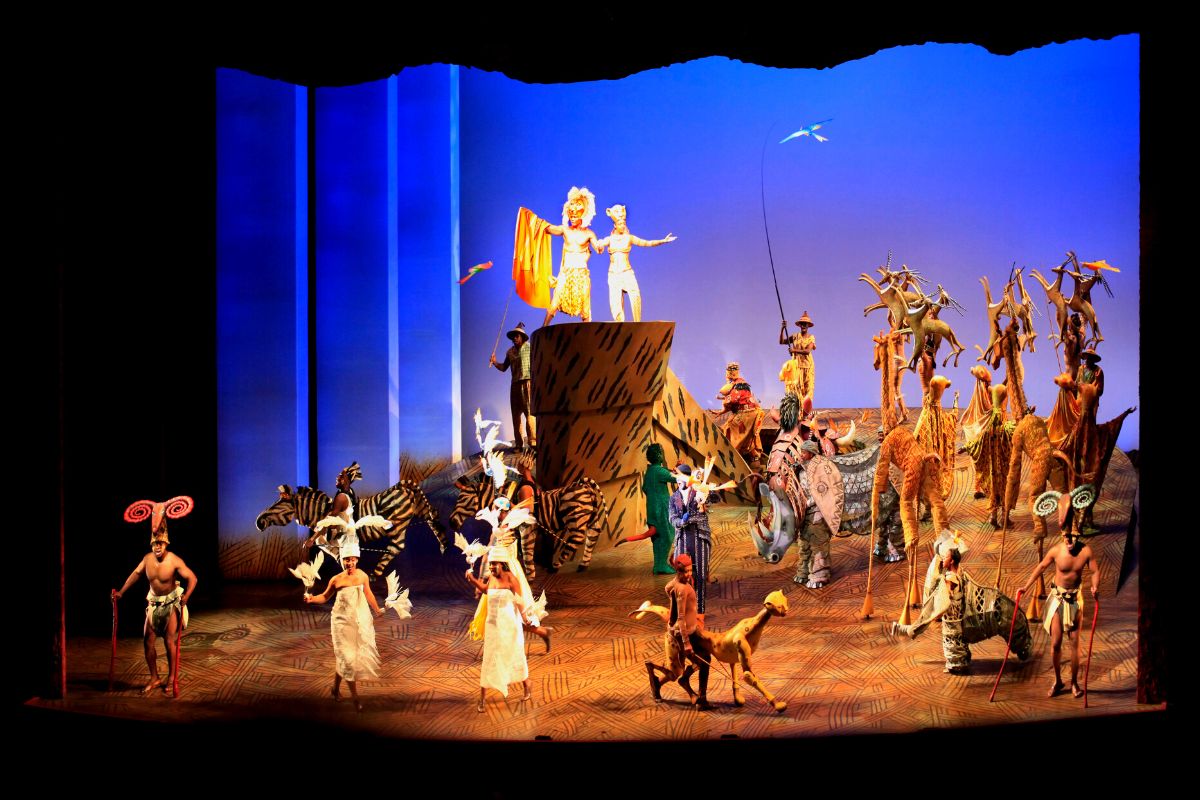 For over a quarter of a century, The Lion King has been wowing Broadway audiences.
With spectacular songs, a heartwarming story, and an amazing blend of live action and puppetry, this show is a love letter to live theater, and makes an unforgettable experience for youngsters.
Whether you've watched the movie 8,000 times or have never heard the story before, it's an iconic part of the Broadway theater scene. Book your tickets and experience the Circle of Life for yourself!
Hot tip: Check out the best Broadway shows to see right now!
7 – Explore new artistic frontiers at Sugar Hill Children's Museum of Art & Storytelling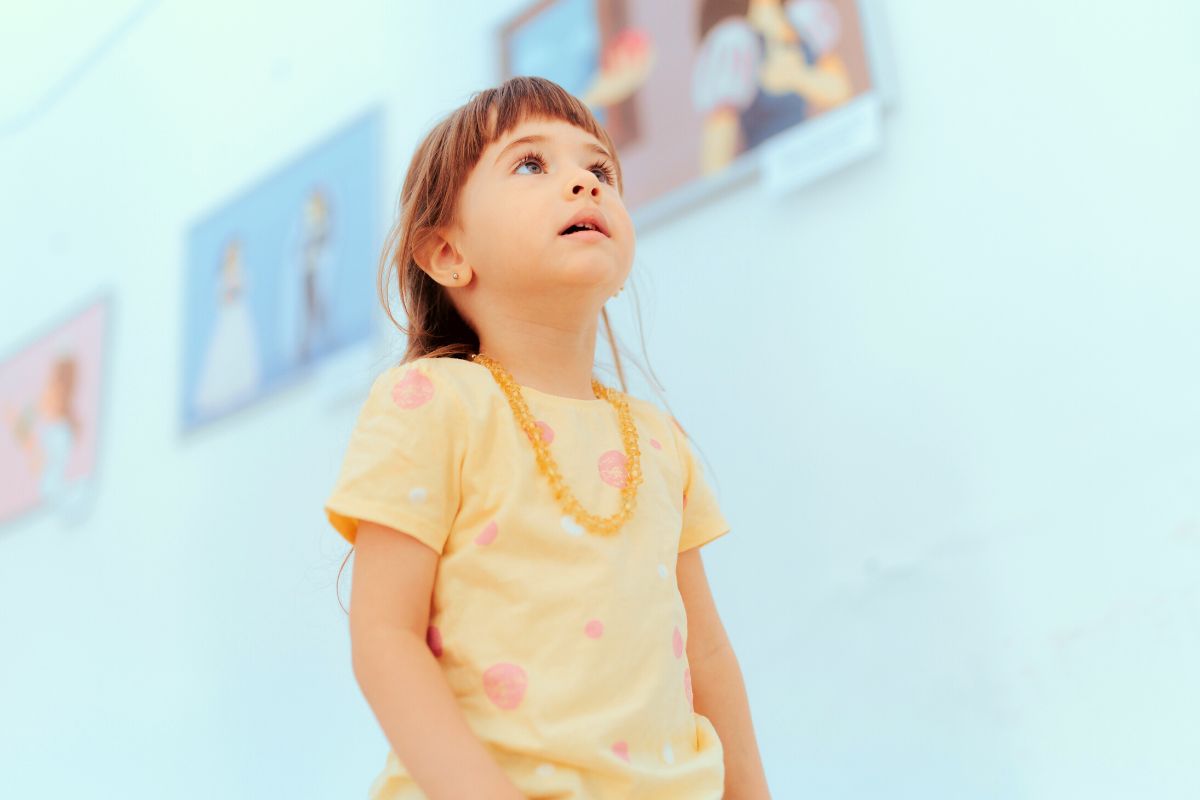 If your kids love creativity, then they'll adore Sugar Hill Children's Museum of Art & Storytelling! This innovative space is dedicated to kids' innovative sides, with art labs, storytelling sessions, and continually rotating exhibitions designed to spark new ideas for visitors.
You can also check out the works by the Artist-in-Residence, who will often drop by to provide some hands-on lessons about creativity.
While the museum's mainly meant for kids aged 3-8, everyone will find something to enjoy in its wonderful halls. Stop by and let your youngster's imaginations run wild!
8 – Hit the rides at Luna Park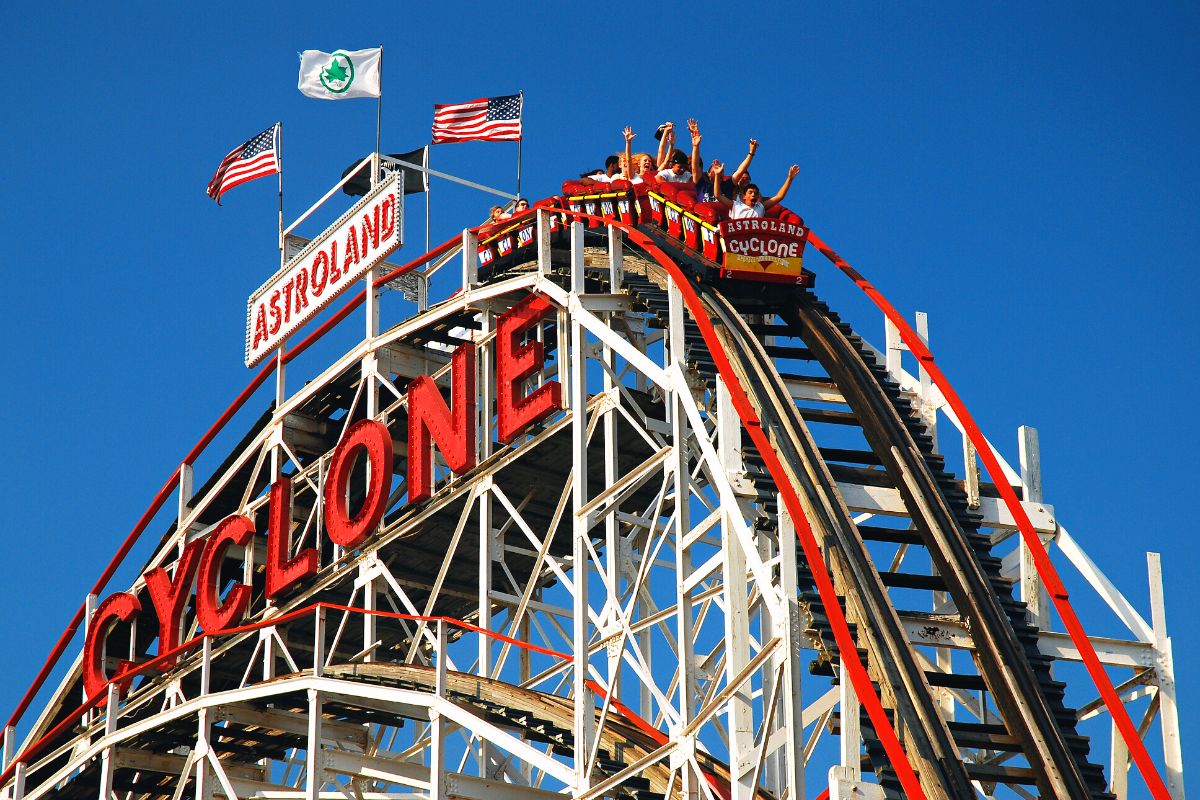 You've probably heard of Coney Island, the beloved amusement area that has been a hit with locals and tourists alike since the 1800s. And if you're visiting the area with some little thrill-seekers, then you definitely need to make a pilgrimage to Luna Park!
Located right along the beach, it offers over 30 rides for thrill-seekers of every level, including rollercoasters, gorgeous carousels, and ropes courses. Test your skills with the games on the Midway, then take a wild ride on the Cyclone, one of the oldest and most famous rollercoasters on the planet.
With a fantastic mix of old-school rides, family-friendly attractions, and a lively mixture of locals and tourists, this is one park you won't want to skip!
9 – Meet some resurrected giants at Dinos Alive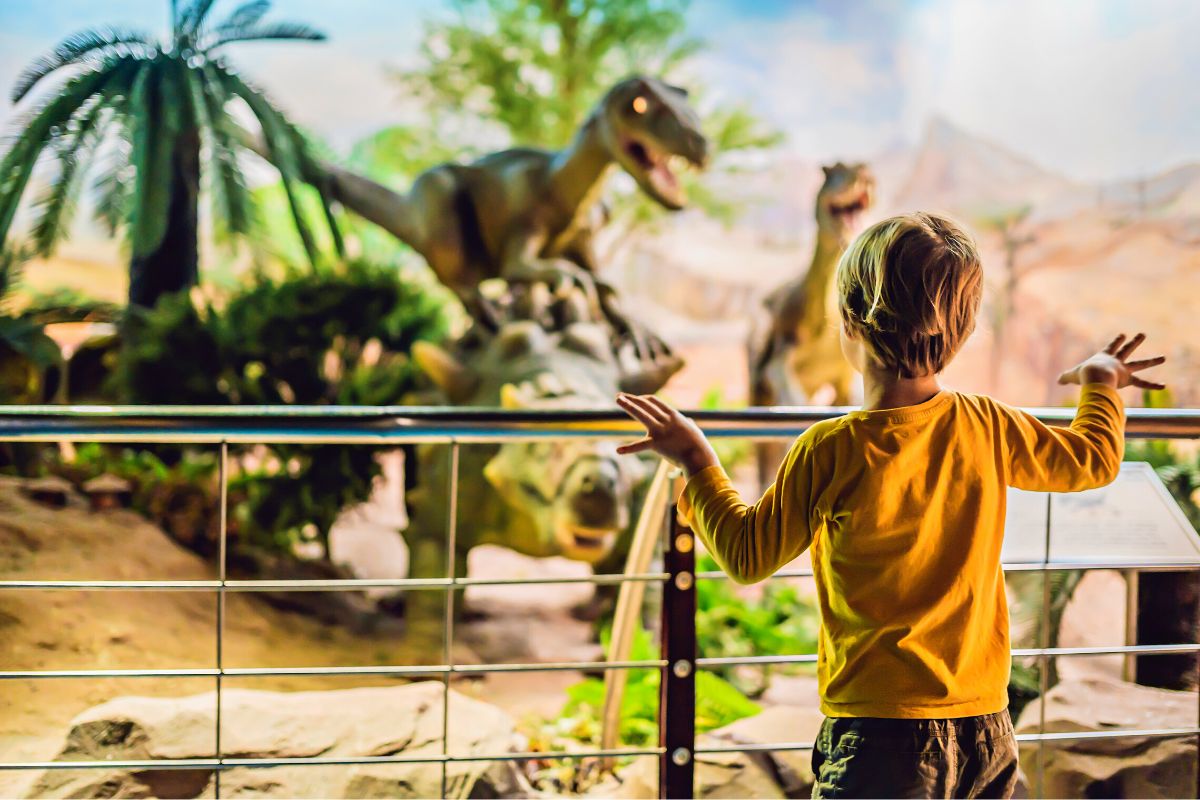 After seeing the awesome fossils at the natural history museum, your little ones might want to learn even more about the giant creatures that once roamed the earth. At Dinos Alive, you can see amazing reproductions of these beautiful species – with jaw-droppingly realistic features!
Roam through prehistoric environments as you interact with more than 80 animatronic animals, from the sedate Stegosaurus to the towering T-Rex. Watch them eat, move, and even roar just as they did millions of years ago, and learn all about how they might have gone about their daily lives.
You can also meet some impressive aquatic giants at the virtual Jurassic Aquarium, then strap on a VR headset to see even more details of these primeval worlds. It's a thrilling adventure that's perfect for any budding paleontologist!
10 – Dive into sweetness at the Museum of Ice Cream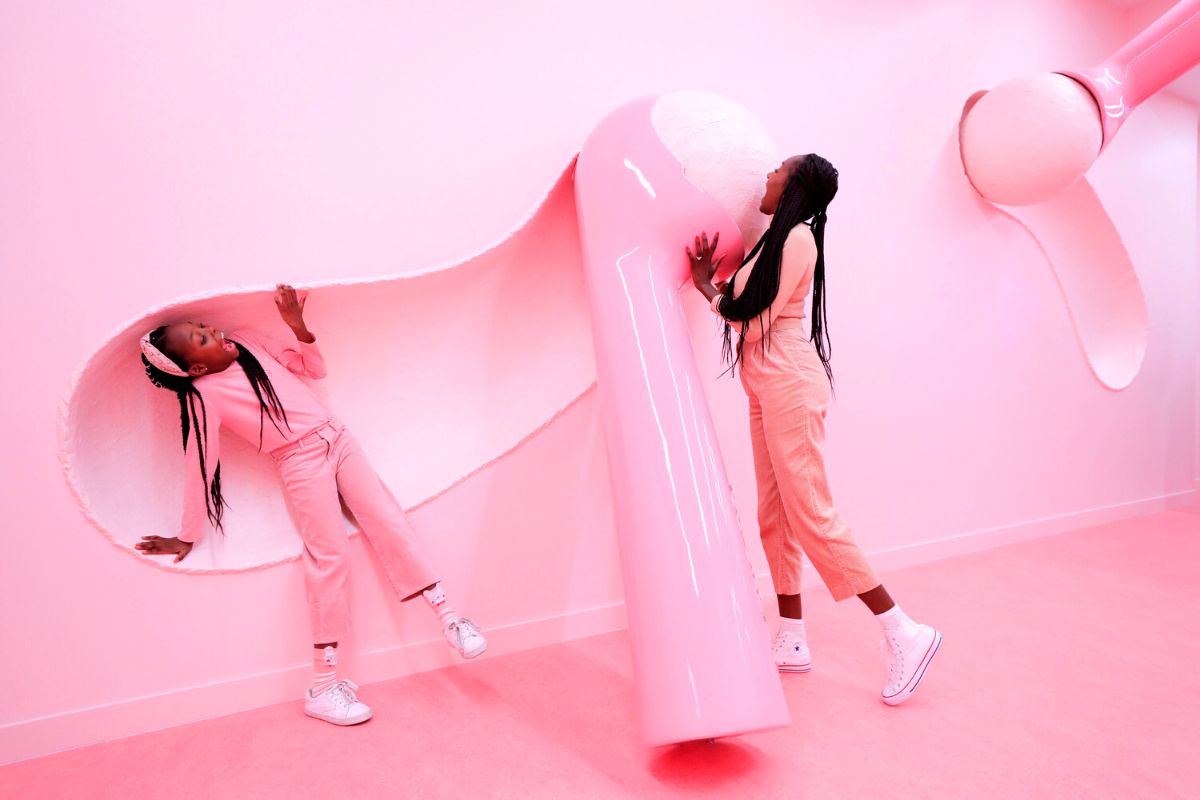 When you're out sightseeing with the kids, there's nothing like a scoop of ice cream to make the whole day just a little bit sweeter. At the Museum of Ice Cream, you won't just get to taste the amazing products… you can play in them!
Slide into a tub of sprinkles, roam through brightly colored rooms and check out amazing interactive exhibits full of cool facts about this beloved treat.
And of course, you can try out all the flavors you can handle, in forms ranging from cones to milkshakes and massive sundaes. This innovative space is a fun-filled (and tasty) treat for the whole family!
11 – Build something new at the Lego Store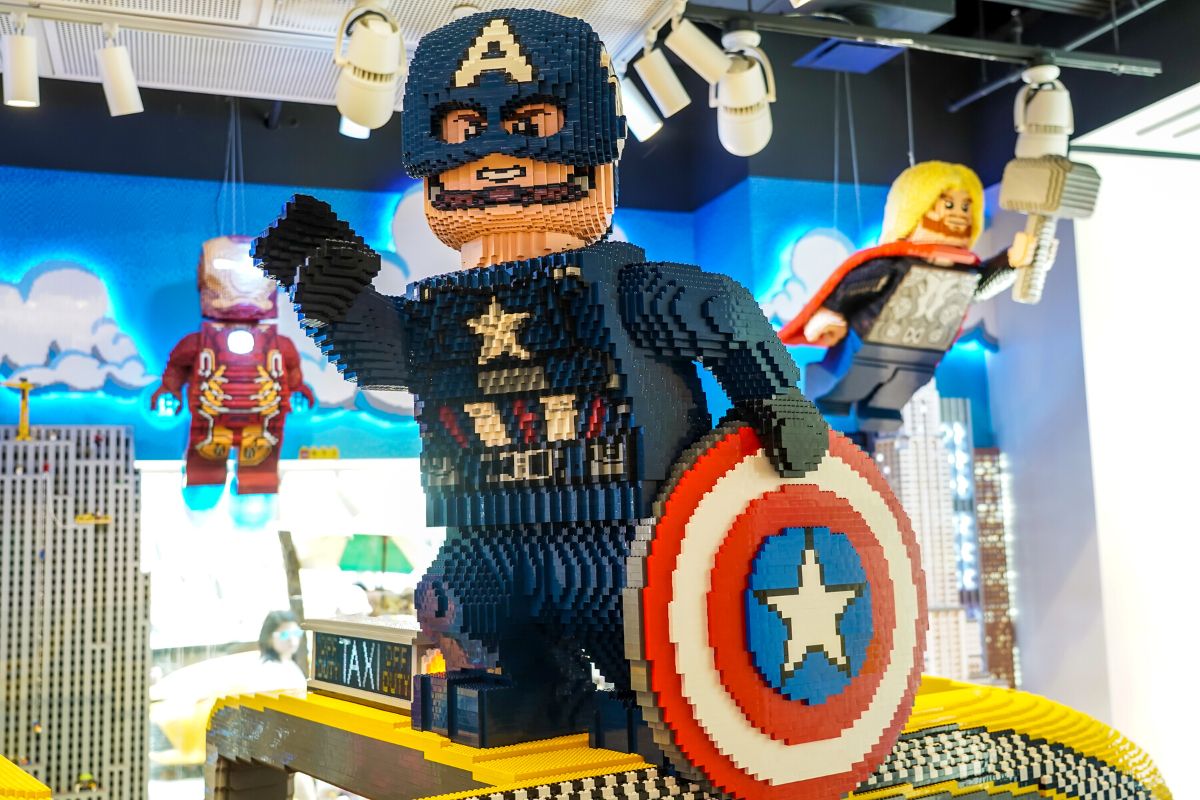 As you stroll around the city, all the cool designs may start inspiring your kids to build something of their own. So be sure to head down 5th Avenue to the LEGO store, where they can get started on their next awesome construction project.
Along with a whole variety of cool kits to purchase, there are some great in-store options for fans of the beloved blocks, including multimedia playgrounds, a photo booth, and a Minifigure Factory where you can create your own custom pieces.
With so many kits to choose from, the sky – and your kid's imagination – is the limit!
12 – Get inspired at the Children's Museum of the Arts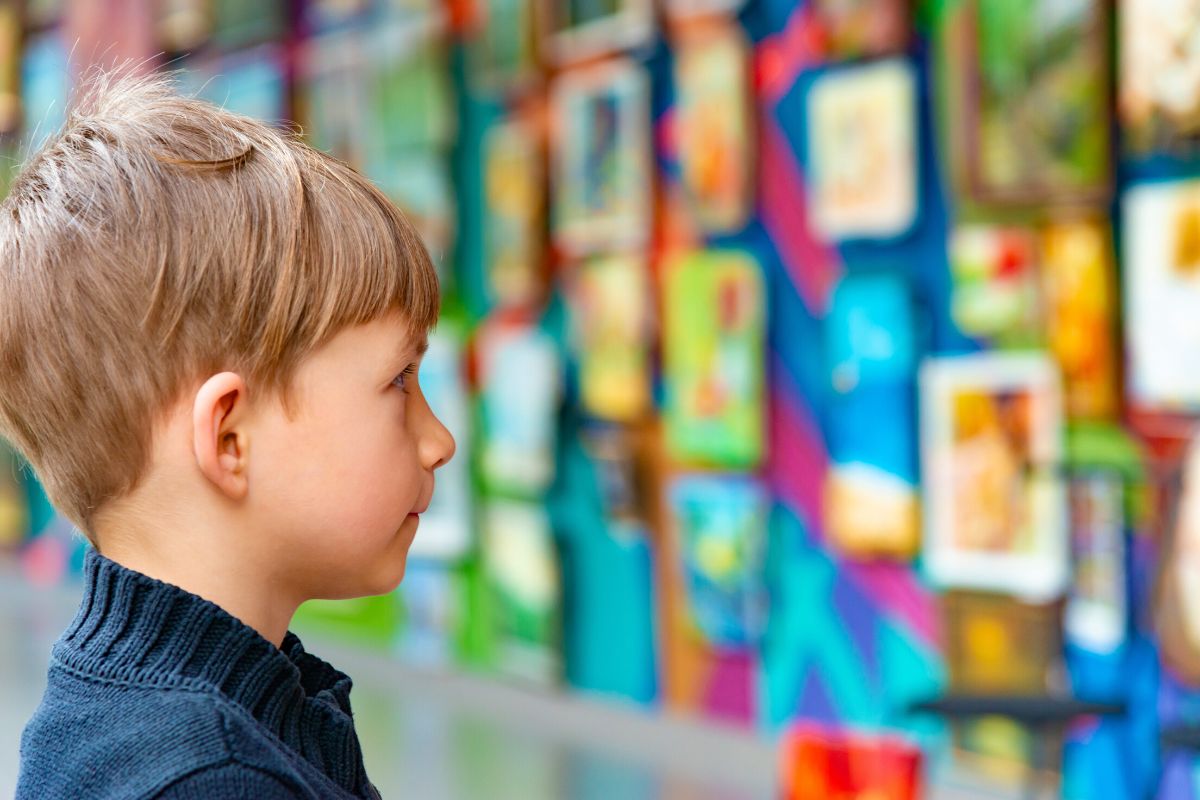 Another great place for little ones to channel their creative side, the Children's Museum of the Arts is filled to the brim with cool exhibits and opportunities to explore the artistic world more in-depth.
Along with some awesome classes in a variety of mediums, this space is known for hosting works by children from all over the globe, with galleries full of pieces by kids just like yours!
It's a great example of how it's never too early to start making things, and it might inspire your youngsters to tackle some new projects of their own!
13 – Dive into tech at The GIANT Room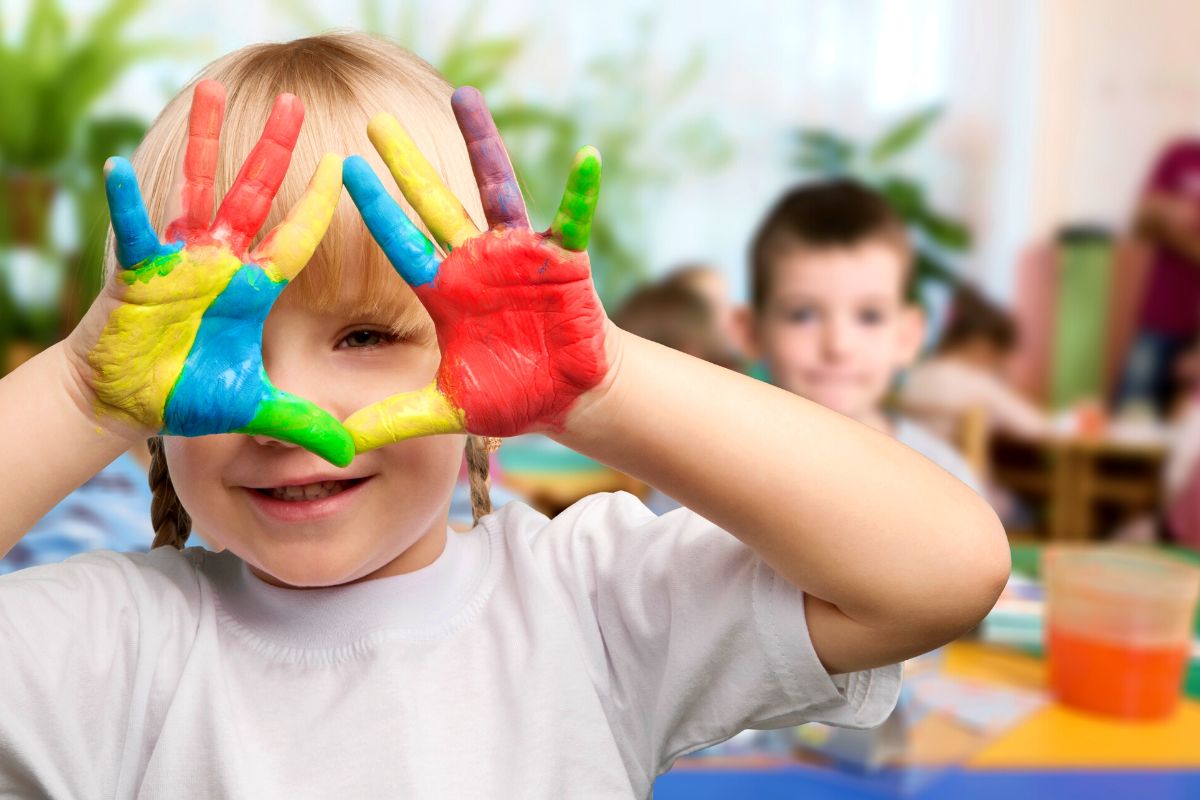 Make your own iron-on patches to decorate your favorite outfit. Learn how the pyramids and other ancient wonders were built, discover some of the trade secrets of coders and scientists, and unleash your creativity.
At the GIANT Room, the sky – and your ideas – are the limit! This innovative space is full of workshops and activities focused on STEM (Science, Technology, Engineering, and Mathematics), encouraging kids to learn new skills and test out some new concepts.
With its amazing programs and a wide variety of projects to explore, this is the perfect place for the builders and dreamers in your family!
Sponsored placement
Tiny Treasures: NYC Welcomes "Small Is Beautiful" Art Exhibit
Ready for a big adventure in the smallest of art worlds? Dive into a collection of more than 120 miniature works of art and 80 photographs by 32 imaginative artists from around the world, and discover specially designed works hidden in unexpected places!
14 – Stroll amongst the flowers at the New York Botanical Garden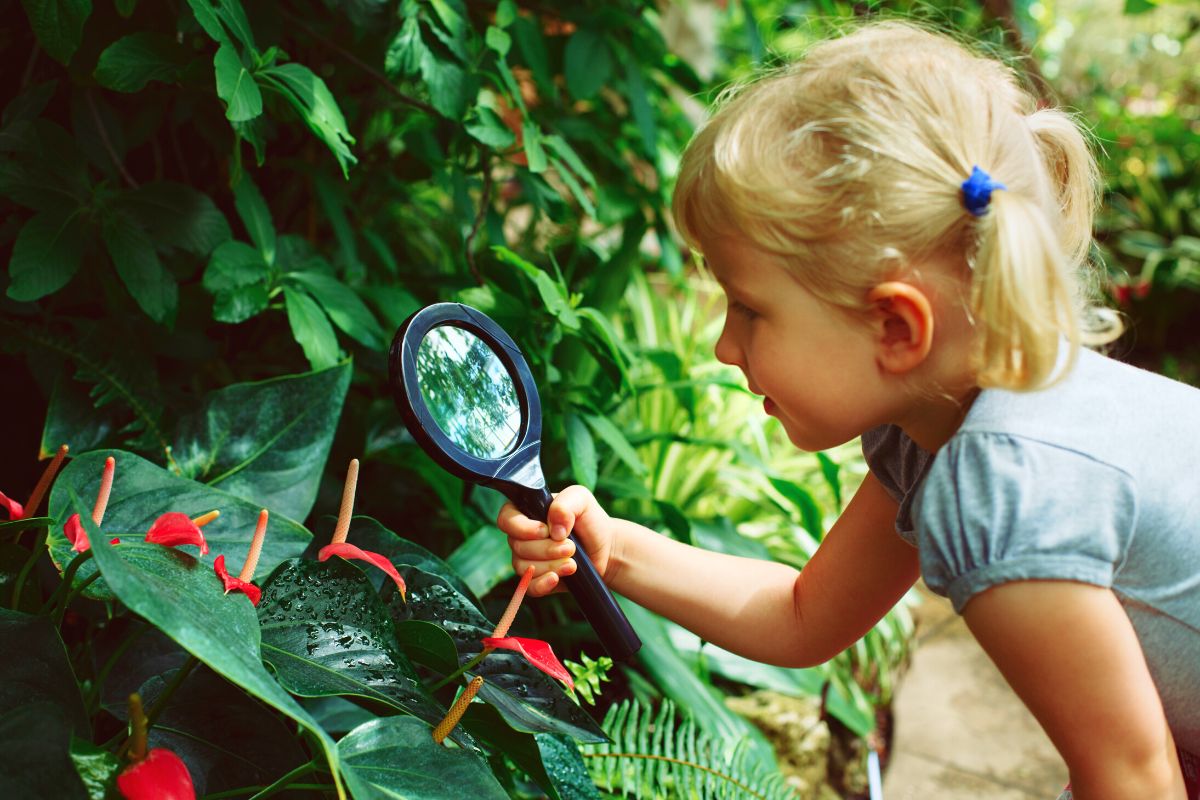 If you're looking for some nature-focused family things to do in New York City with kids, head out to the New York Botanical Garden to enjoy the world-class scenery.
With 250 acres full of magnolia and cherry trees, roses, and seasonal displays bursting with color, it's a peaceful and beautiful space that offers plenty to learn about plants along the way.
Don't miss the carefully cultivated rock garden from the 1930s, or the Everett Children's Adventure Garden, where kids can walk, climb, and play in a wild woodland setting.
With a mellow atmosphere and different treasures to explore at every time of year, this is not just the largest botanical garden in the country, but also one of the best.
15 – Learn while you snack with some chocolate tastings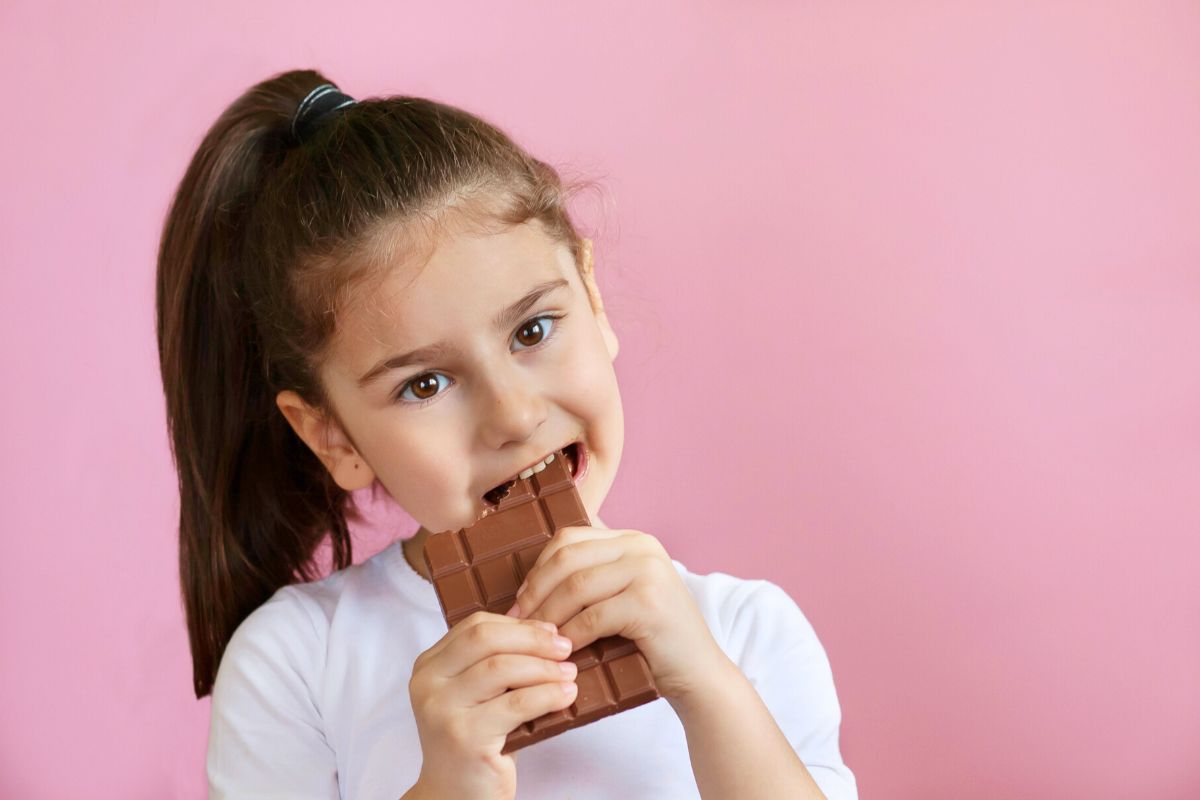 What's life without a few sweet treats? With several delicious chocolate tasting tours in the city, you can learn all about how the beloved stuff is made, while getting some great samples along the way!
Nibble on caramels, truffles, macarons, and more as you visit some of the finest chocolate shops in NYC, many of which have interesting histories of their own. It's the best way to learn about the city and get your dessert course in at the same time!
16 – Enjoy the creative music of Just Kidding at Symphony Space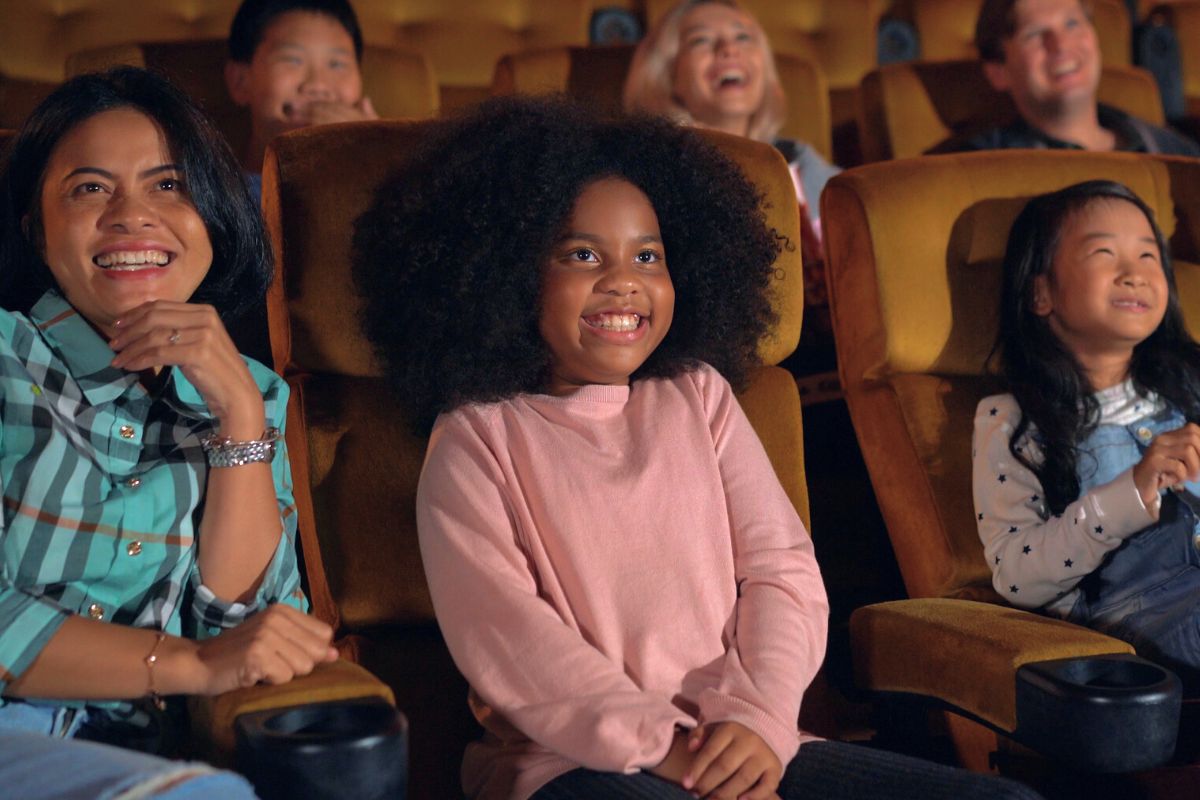 In a city known for its fantastic concert scene, Symphony Space stands out for its lively concerts and commitment to public engagement. And youngsters will love the Just Kidding series, a collection of shows made just for them.
Enjoy vibrant performances showcasing music from all over the world, or join actors and singers in melodious adventures featuring everything from pirates to forest animals.
With a wide range of talented performers taking the stage, there's always something new and exciting to hear there – and it's a great way to get your kids hooked on music!
17 – Play around with reality at the Museum of Illusions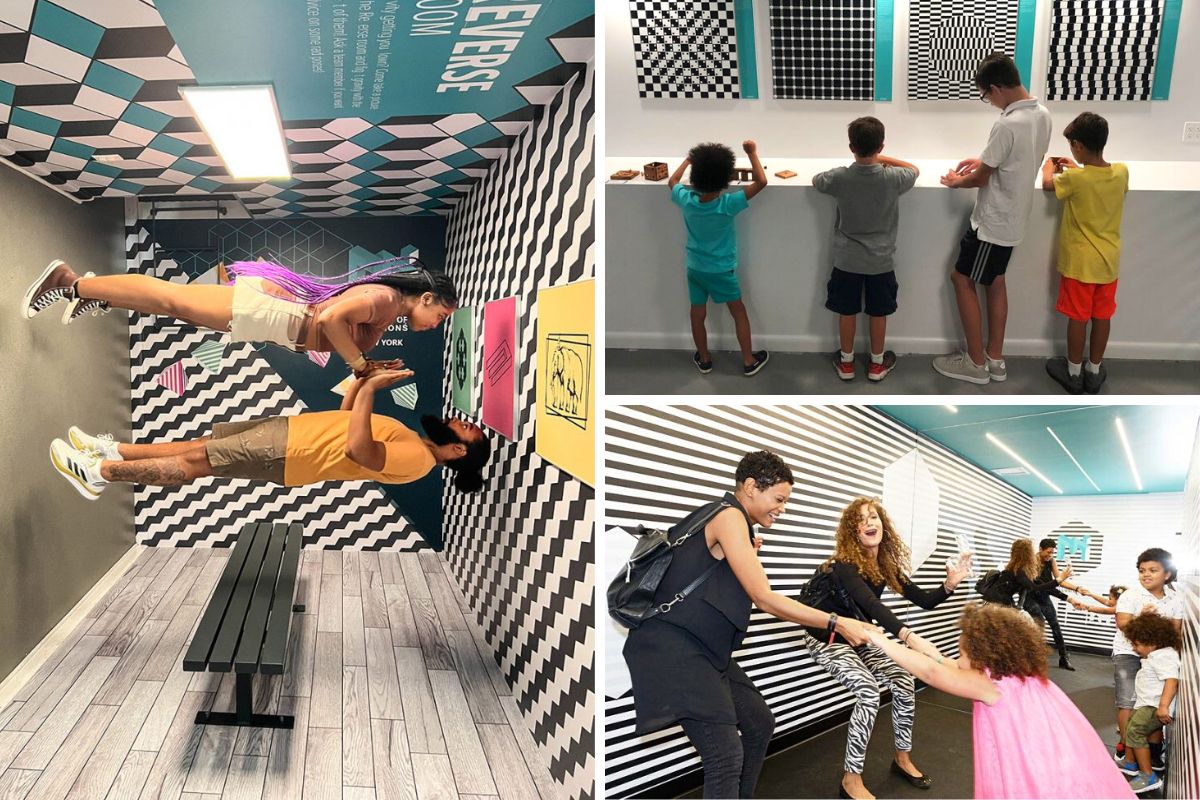 Do you believe in magic? If not, you just might after visiting the Museum of Illusions, where you and your kids can explore the wild world created by human perception.
Peek into a bottomless pit, challenge your senses with imbalanced rooms and optical illusions, and take a seat in the famous Beuchet Chair, which will make you look absolutely tiny!
You can also swing by the smart playroom to try some brain-teasing games, and keep an eye out for magicians and other performers throughout the space. Within these tilting walls and through these spiraling doors, anything is possible!
18 – Take a leap of faith (literally) with Indoor Skydiving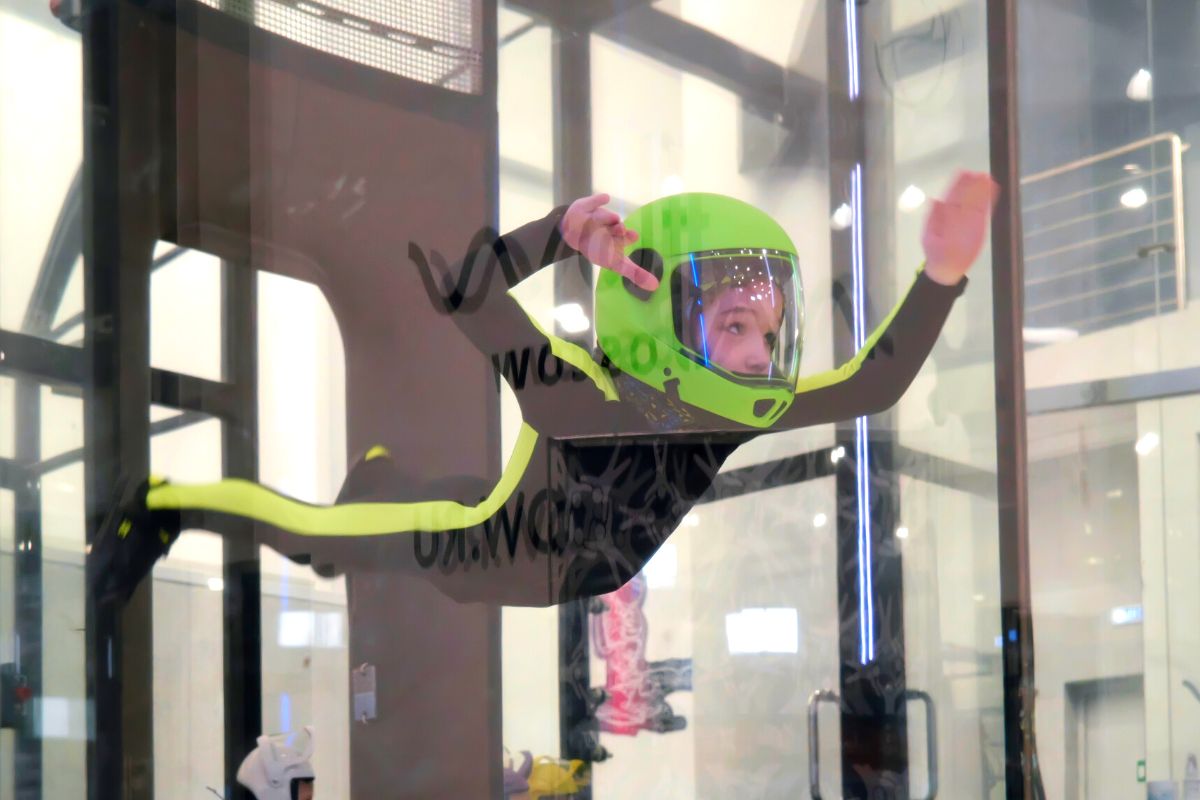 If you're traveling with some young adrenaline junkies, then take them on a flight to remember with some indoor skydiving!
Located in nearby Westchester, this awesome adventure offers all of the thrill of jumping out of a plane without, you know, actually jumping out of a plane. Suit up, get a quick lesson, then head into the chamber for an amazing freefall experience.
It's one of the more unique things to do in New York City with kids, and it'll give your youngsters plenty of bragging rights at school!
See also: Best indoor activities in New York City when it rains
Sponsored placement
Lights, Lanterns, and Luminous Nights!
Immerse yourself in the 'Lantern Festival', a world lit up by handcrafted Chinese lanterns, with exciting rides for kids, and a handy craft table where you can make your own paper lantern. This is not just a festival but an illuminating journey!
19 – Travel through the wilderness (sort of) at the Bronx Zoo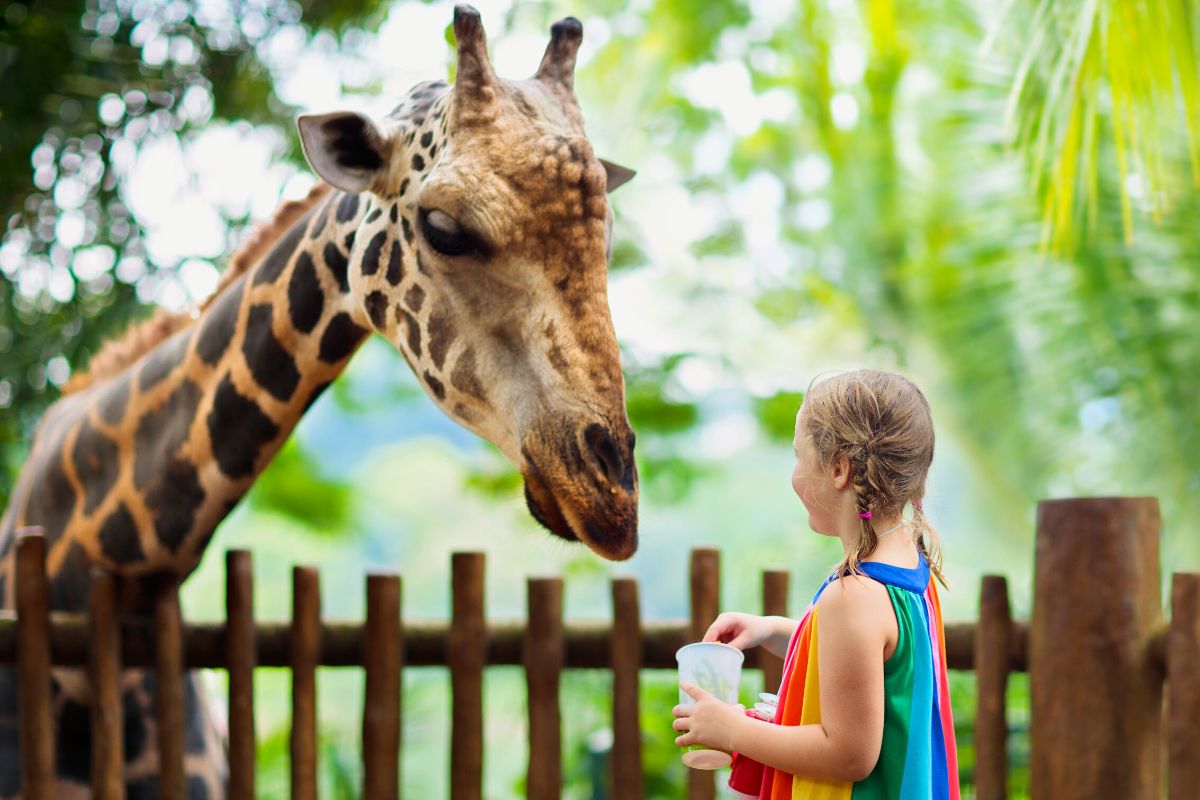 While the Central Park Zoo is amazing, its neighbor, the Bronx Zoo, is also well worth a stop during your time in town. This massive, wild world in the heart of the city has over 600 species to visit, from penguins and monkeys to camels, gorillas, and alligators.
Wander through the Congolese rainforest and take a monorail trip through the mountains and jungles of Asia, before enjoying the winged residents of the Butterfly Garden and the friendly farm animals at the petting zoo.
The whole family will have a great time seeing these friendly feathered, furred, and finned faces!
20 – Play like a local at Brooklyn Bridge Park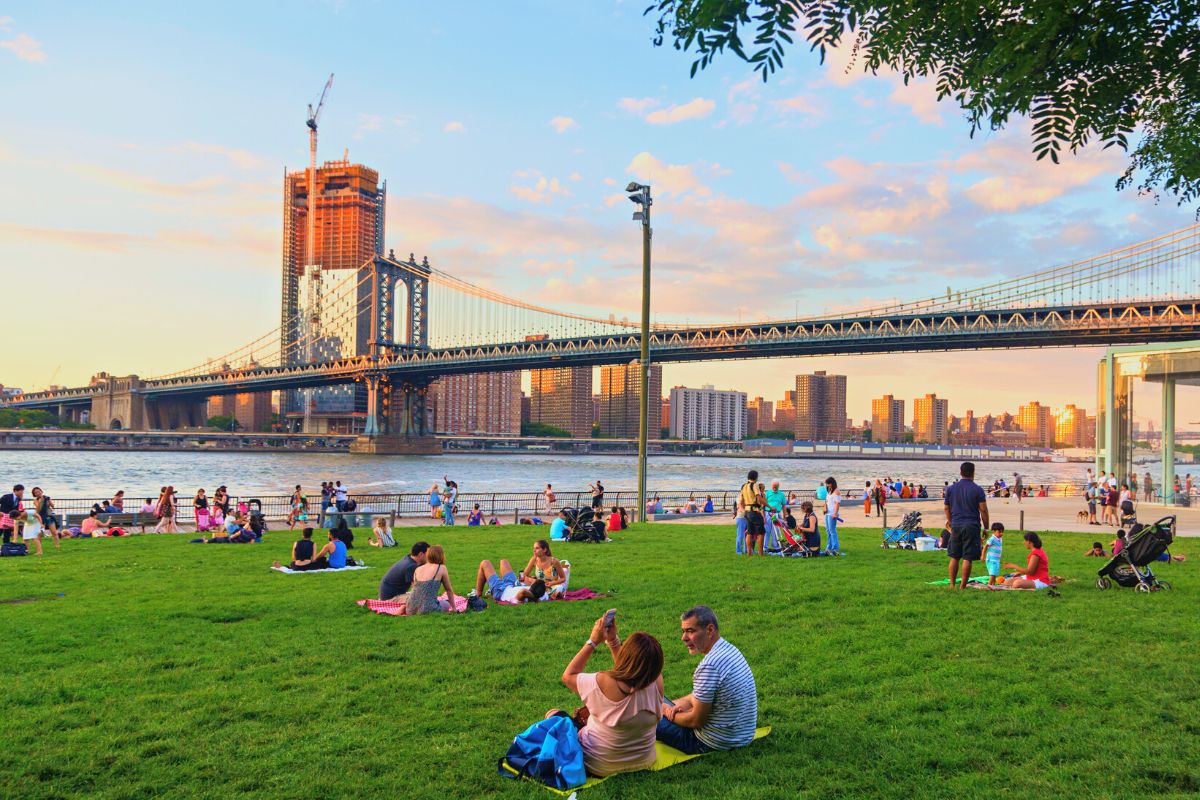 If you're going between boroughs, the Brooklyn Bridge is hard to miss. But did you know that there's an awesome spot to hang out right below it?
At Brooklyn Bridge Park, you can birdwatch, kayak, rollerskate, or try out some amazing sporting facilities for everything from soccer to ping pong to bouldering.
You can also catch a free movie, explore the beautiful native gardens, or check out the fantastic art and environmentally-focused programs that take place there throughout the year.
But of course, one of the best things to do there is simply standing and looking out over the water, with postcard-worthy views of the city all around you.
It's all part of a typical day in one of the city's most charming public spaces and one of the best things to do in Brooklyn.
21 – Wish upon a star while you shop at the Disney Store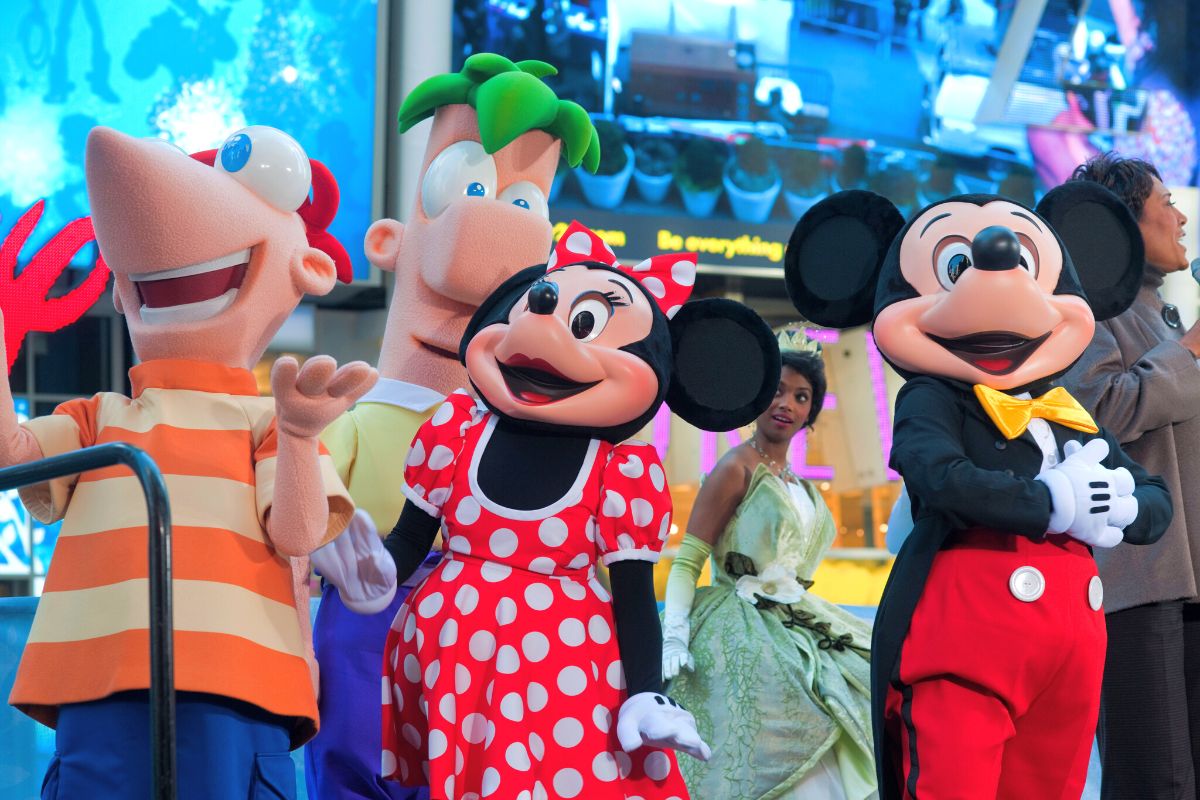 Whether you need a new shirt, some cool toys, or some magical decorations, the Disney Store has got you covered. It's one of the largest shops in the world, and sits directly in the middle of Times Square, making it easy to visit between other tourist attractions.
Along with 20,000 square feet of merchandise, the store also has tons of amazing products from other beloved brands, including Star Wars, Marvel, and National Geographic. So swing by with your little fans, and shop 'til you drop at the House of Mouse!
22 – Indulge your curiosity at the New York Hall of Science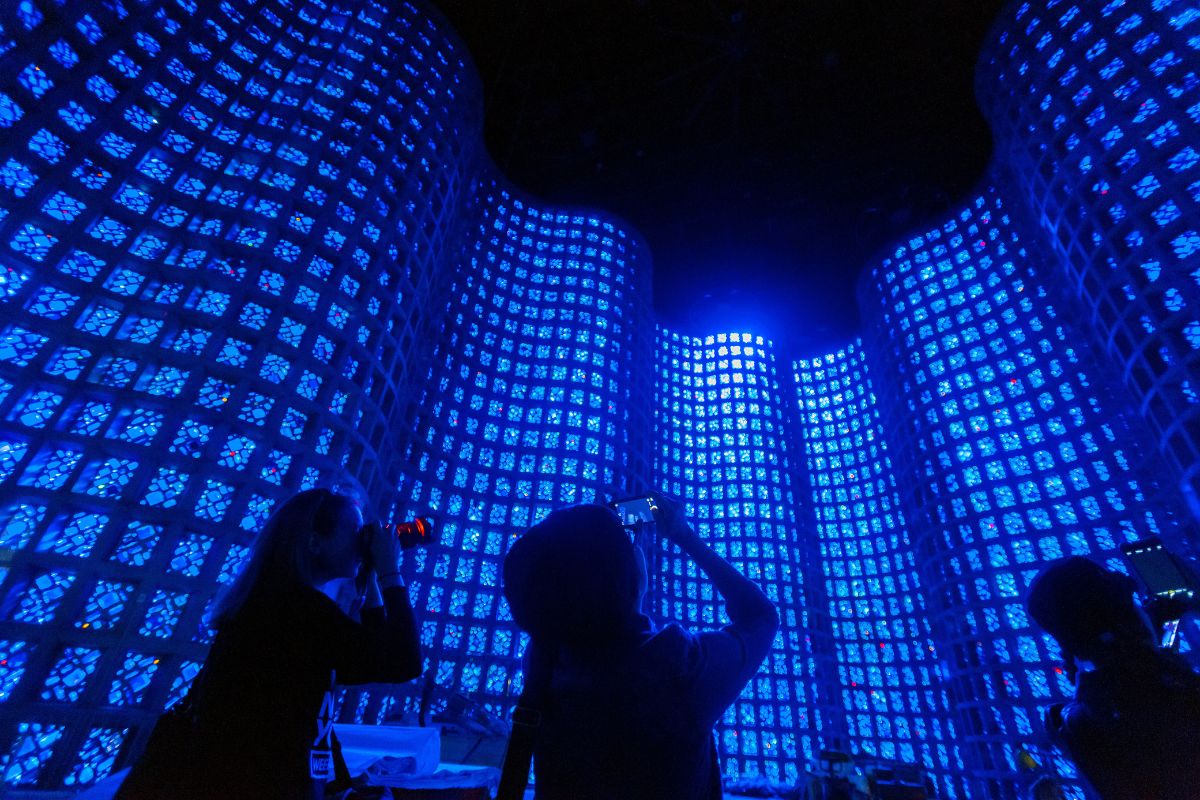 Inquisitive minds of all ages will be inspired at the New York Hall of Science, where you can try your hand at some experiments of your own. This amazing museum engages all of your senses to explore everything from the mysteries of the universe to the unique functions of the human mind.
Kids can also stop by the makers lab to try inventing some things of their own, using a range of techniques from plaster casts to 3D printing. And with plenty of live demonstrations, you'll be able to see firsthand how all of these concepts come together.
It all makes for an unforgettable day with plenty of learning opportunities and lots of fun as part of the bargain!
23 – See some cool new flicks at Nitehawk Cinema Prospect Park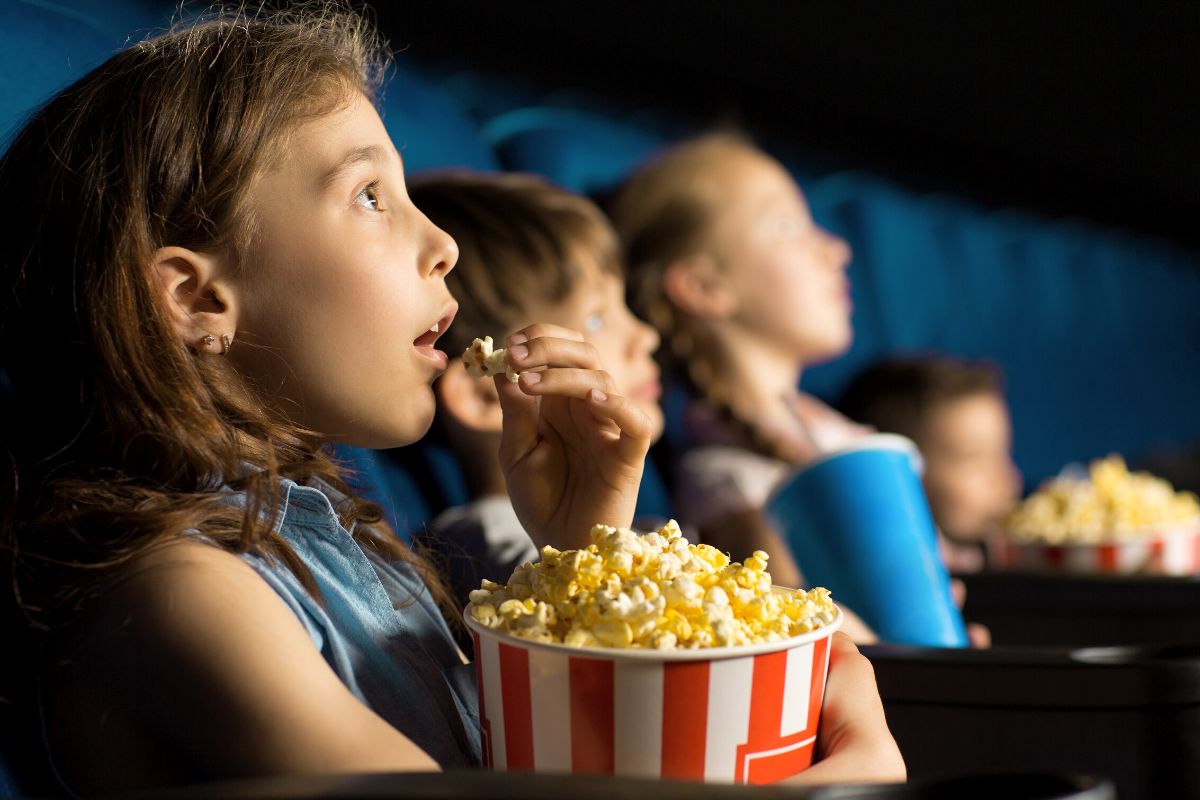 If you happen to be strolling through the Prospect Park area in Brooklyn, you might come across a pretty fantastic theater. Nitehawk Cinema is one of the coolest places to catch a movie in NYC, pairing new releases with creatively themed meals that you can eat while you watch the show.
If you happen to be in town during the first week of March, you can also catch the Nitehawk Shorts Fest, which features unique works by local creatives. It's the perfect place to see the latest hit, before heading out to explore everything that the surrounding neighborhood has to offer!
24 – Try some adventurous teamwork with the best escape rooms for kids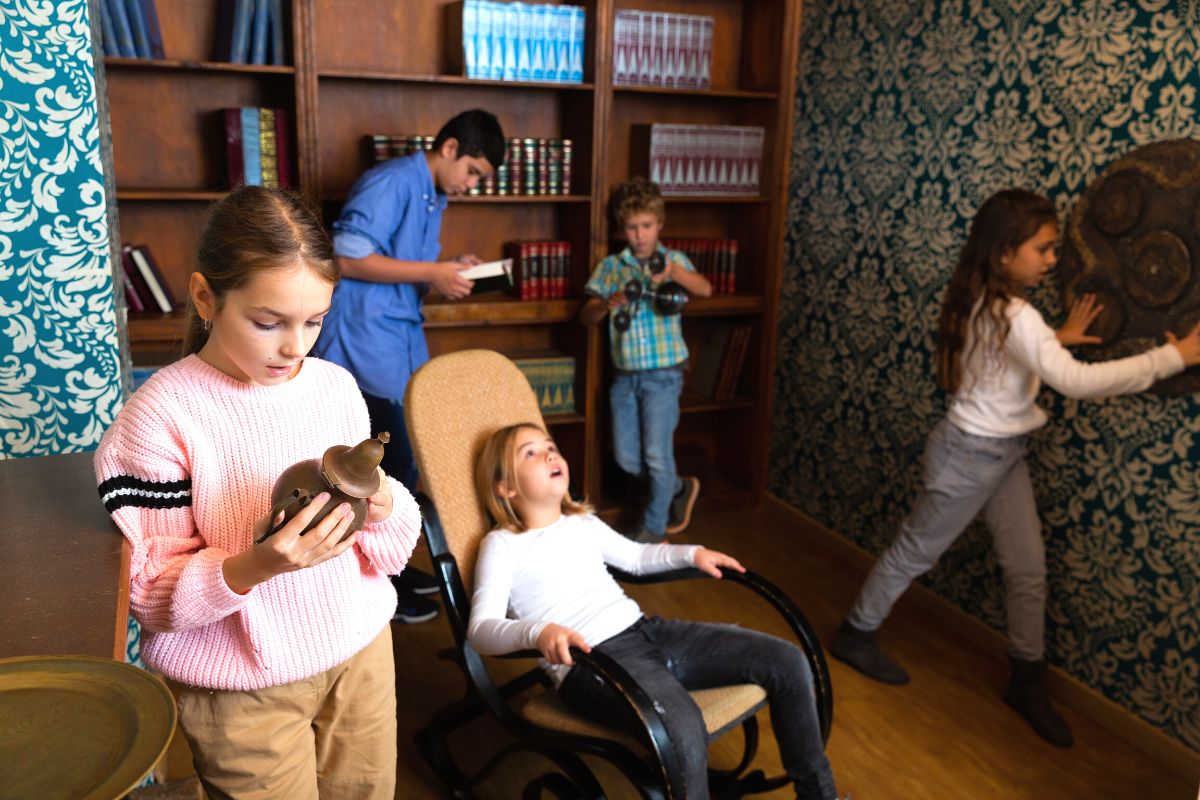 There's nothing like an escape room to keep kids engaged, and there are more than enough in New York to go around!
These creative, immersive environments make you and your family the stars, enlisting all of your best teamwork and problem-solving skills to solve the puzzle and make it out before the timer goes off.
Head to space or investigate a mystery detective-style at The Escape Game; pull off heists or escape from mummies at Clue Chase; or take your imagination to the next level with the detailed worlds of Escape Virtuality, which blends VR and escape rooms together to create a whole new experience.
With a wide range of themes and stories catering to all age levels, this is one of the most action-packed things to do in New York City with kids!
25 – See the city from up high at One World Observatory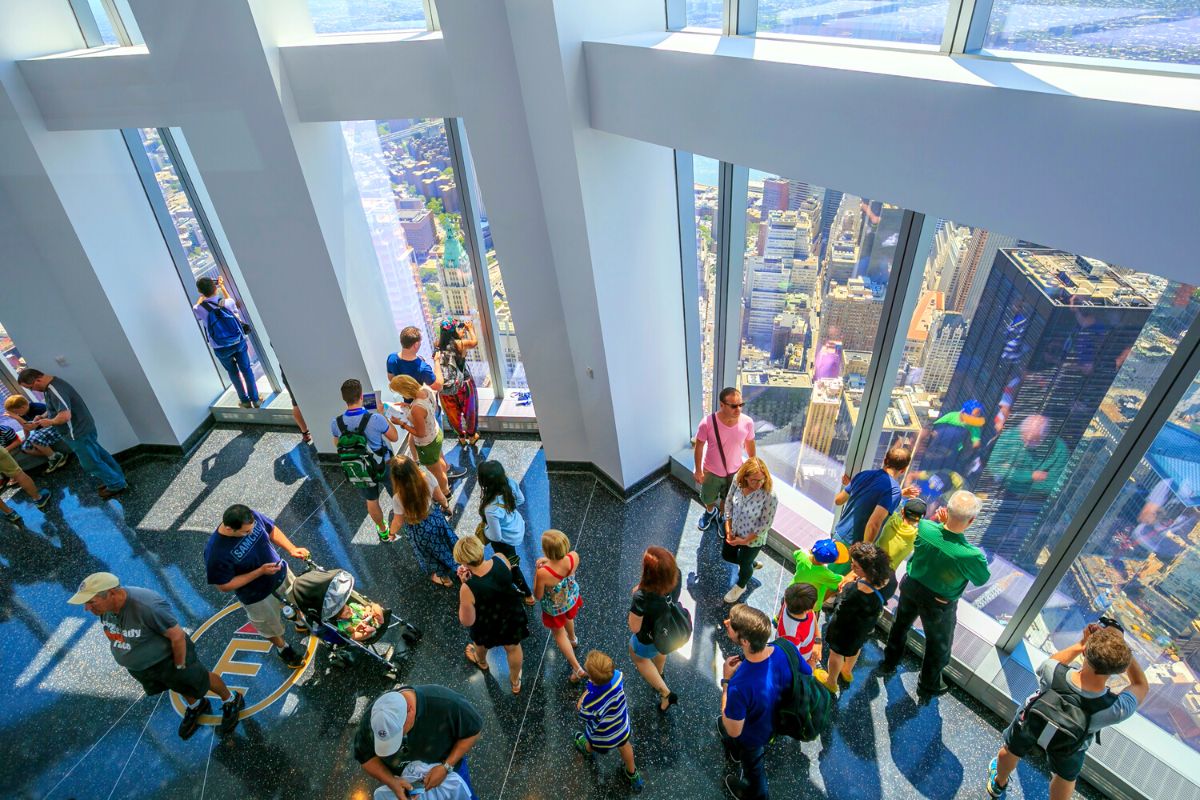 Soaring over the skyline, One World Observatory is a stunning piece of modern architecture that will give you and your family a bird's eye view of the surrounding area. It sits atop One World Trade Center, which is the tallest building in the Western Hemisphere, at a staggering 1,776 feet high.
Hop on the elevator and glide up 100 stories, then step out to phenomenal panoramic views of the city, as well as sights up to 50 miles away!
There are also augmented reality guides available to rent, which provide fascinating historical details about the cityscape below. You'll feel like you're on top of the world as you survey the scene – and at that height, you practically are!
Hot tip: One World Observatory tickets price – All you need to know
26 – Calculate some fun at the National Museum of Mathematics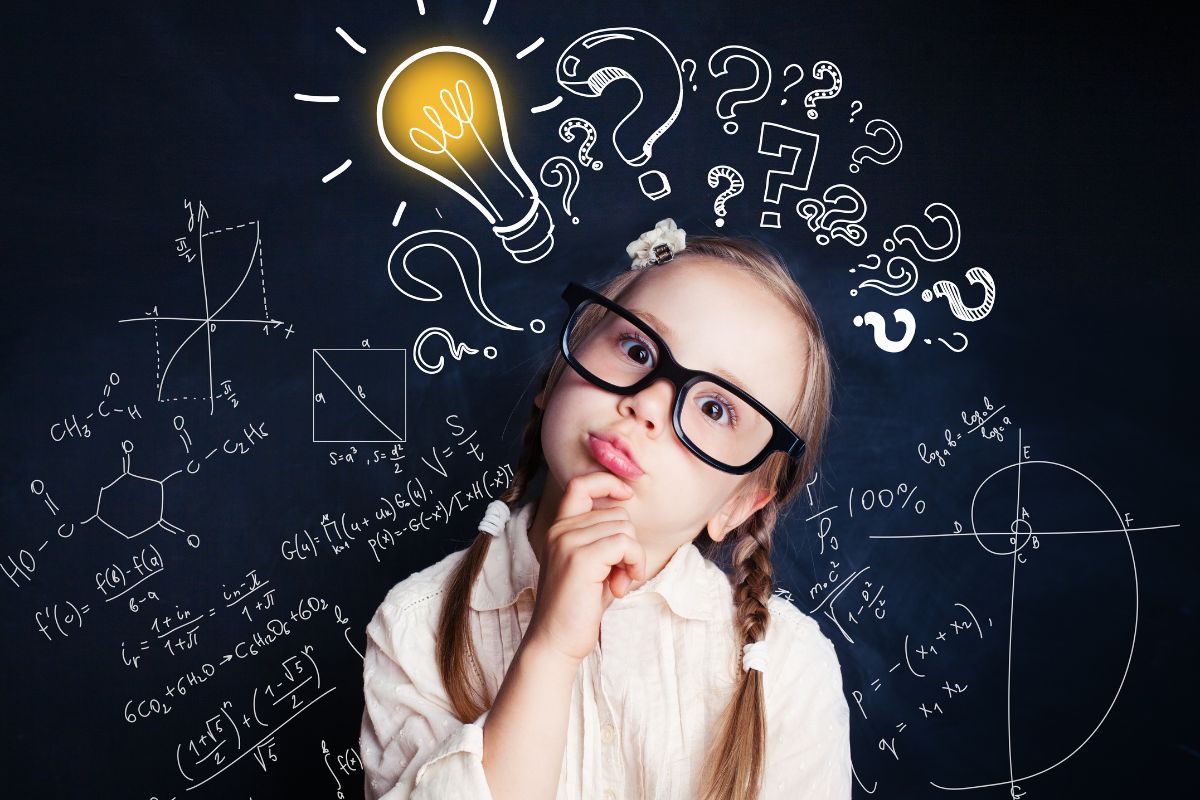 If your kids are nutty for numbers, then they'll love getting lost in the National Museum of Mathematics! It uses a mixture of unique inventions, works of art, and mind-bending puzzles to help visitors explore the many wonders of arithmetic up close.
Use fractions to form musical patterns, travel (virtually) along the twists and turns of a Mobius strip, or hop into a vehicle and roll over a series of rubber acorns for a wildly inventive lesson on diameters.
Your whole family will have a great time playing in this museum.
27 – Get the whole family moving with The Roller Wave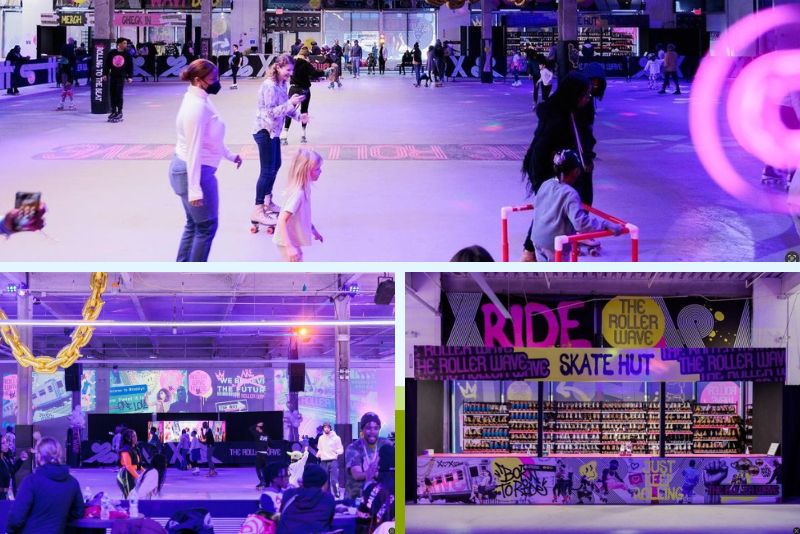 Are your kids getting bored with the same old activities? Why not get them to put on some roller skates instead?
Head to The Roller Wave in Brooklyn, a pop-up skating rink getting the whole family moving!
Whether you're looking for an after-school diversion or a good time out on the weekend, this is sure to keep both kids and parents enthralled.
Children under the age of 4 are not allowed, and those under the age of 18 require an adult to accompany them — all the more reason to lace up your skates and join the fun too!
28 – Go down the rabbit hole at Alice's Tea Cup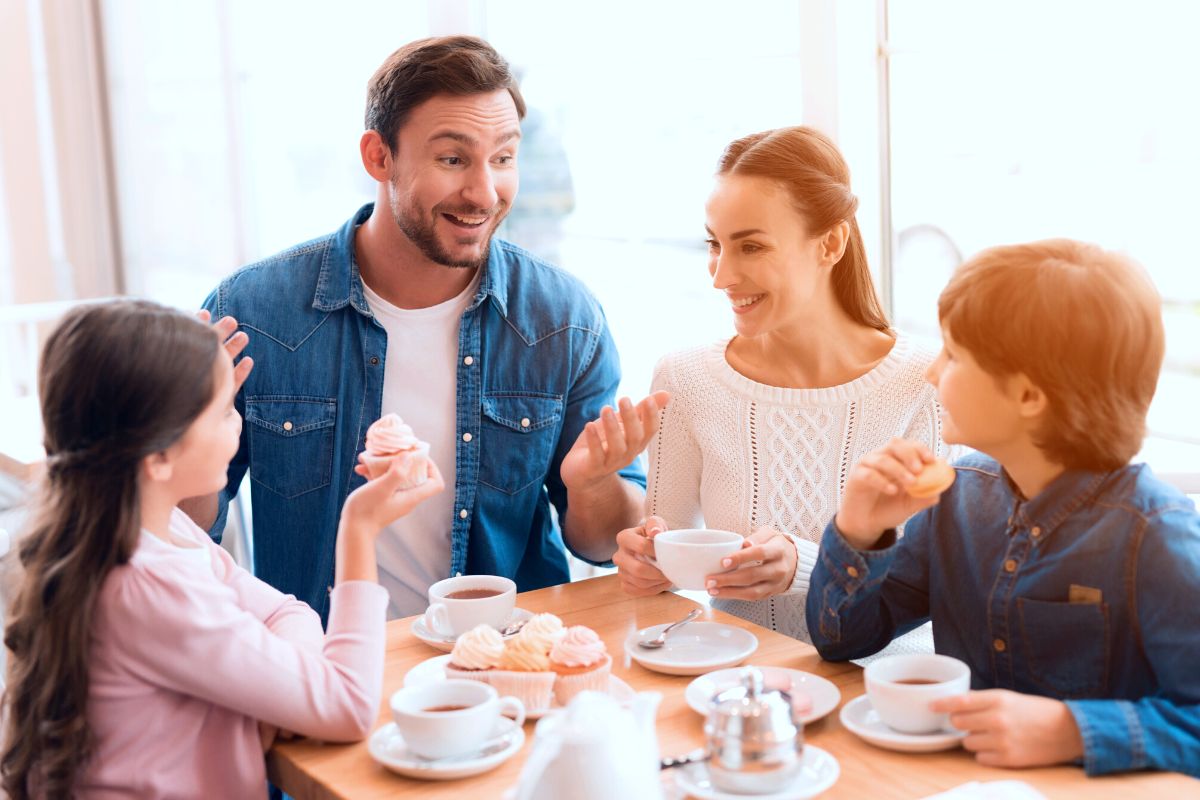 Everybody knows the story of Alice's trip to Wonderland, and the bizarre tea party that she attended there. And if you'd like to follow in her footsteps, there's a perfect place to go in NYC.
At Alice's Tea Cup, you can enjoy delicious beverages and traditional teatime snacks in a whimsical setting. Enjoy the charming, Wonderland-themed atmosphere, and try out some of their thousands of tea selections.
And for younger visitors, there are even some dress-up clothes to try on; there's nothing like sipping a warm drink while wearing a set of sparkly fairy wings! You may not meet any mad hatters or march hares, but you're sure to have a good time.
29 – Turn into action heroes at Spyscape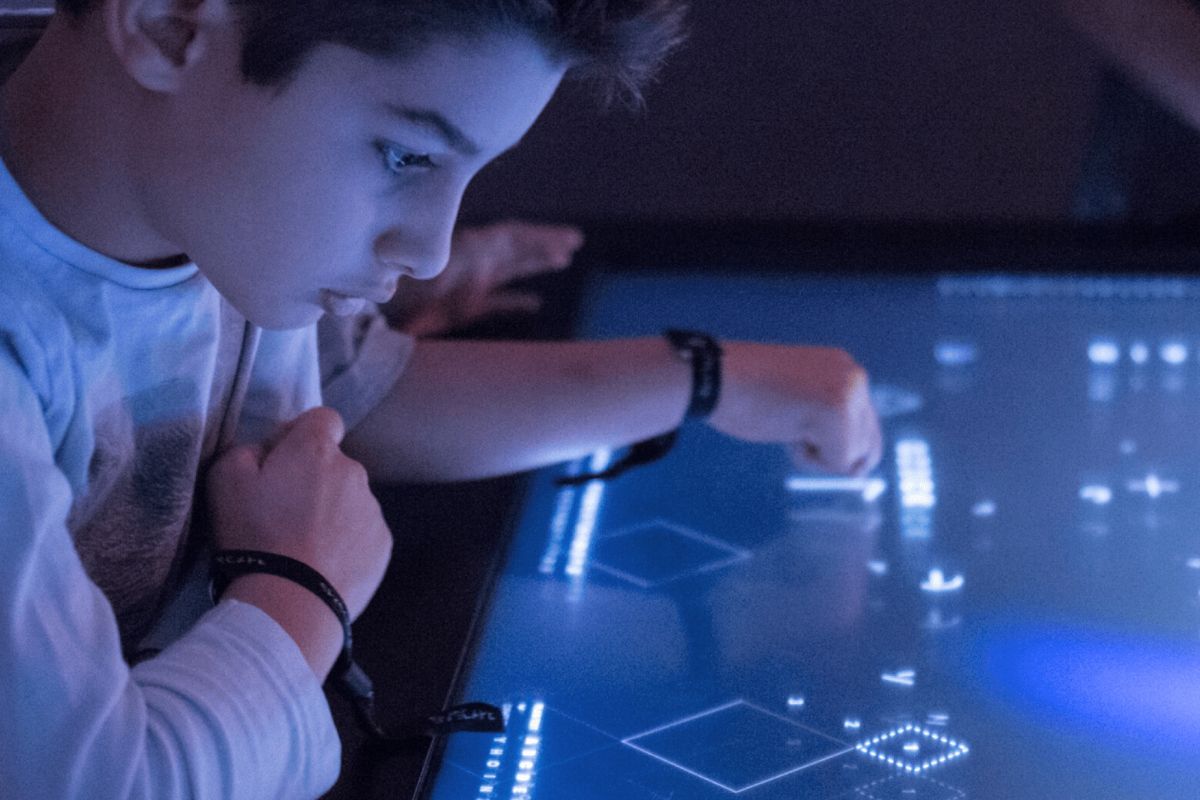 Feeling a little adventurous or mysterious on your trip? Then channel your inner secret agent at Spyscape, an immersive museum that will teach you everything you need to do some espionage of your own.
Spy fans of all ages will love checking out some of the awesome tools used in the field, and trying out different activities that have been developed by actual agents.
From code cracking and lie detection to navigating fields of lasers, the museum offers a unique opportunity to experience the world as James Bond would. Stay alert, look for clues, and prepare for some awesome missions!
30 – Be a construction worker for a day at DiggerLand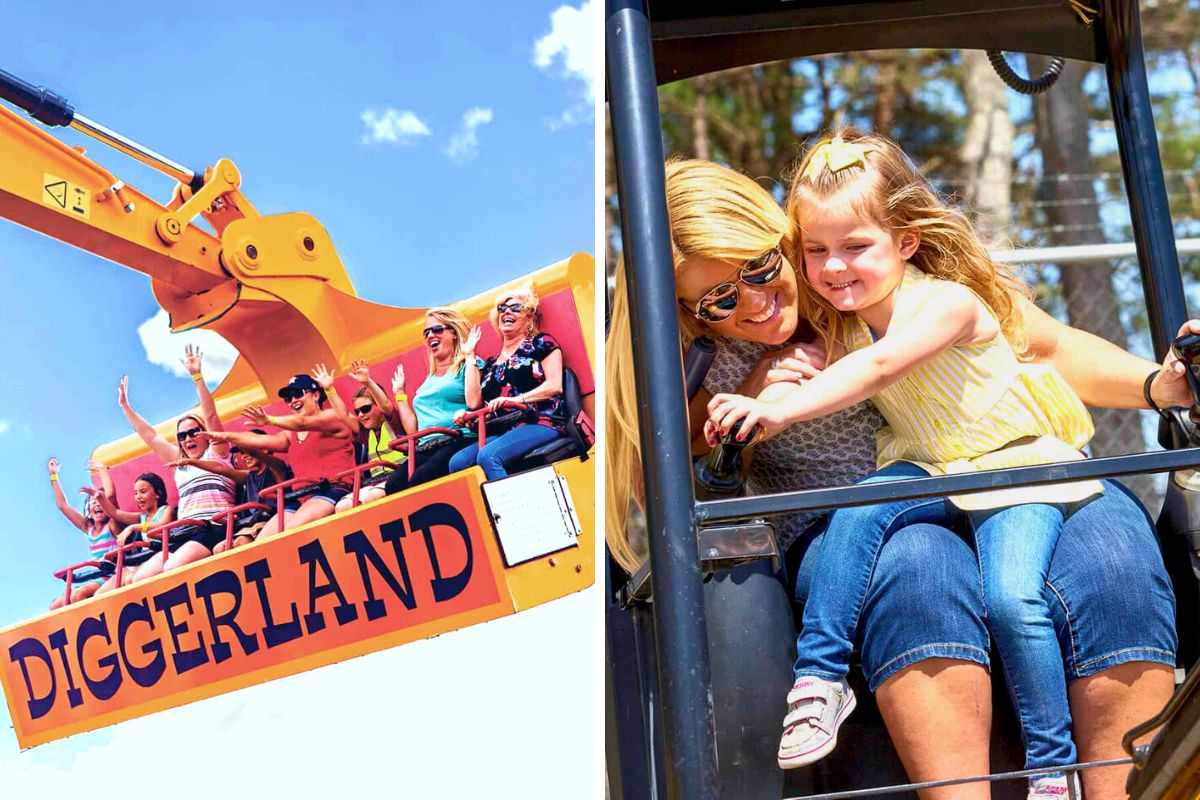 Where can you go hurtling down colorful waterslides, ride through a wild obstacle course, and try your hand at operating a crane? DiggerLand, of course!
Construction-loving kiddos will go nuts at this park, which features plenty of rides and attractions centered around building machines and materials. At the Adventure Park, you can scamper around the ropes courses, get behind the controls of different vehicles, or take a wild ride on the back of a dump truck.
Meanwhile, the waterpark offers some of the splashiest attractions around, including bumper boats, a lazy river area, and a wave pool – all construction-themed, naturally. It's a great place for some fun in the sun – and you'll "build" a lot of memories along the way!
31 – Take some time out at the Brooklyn Botanic Garden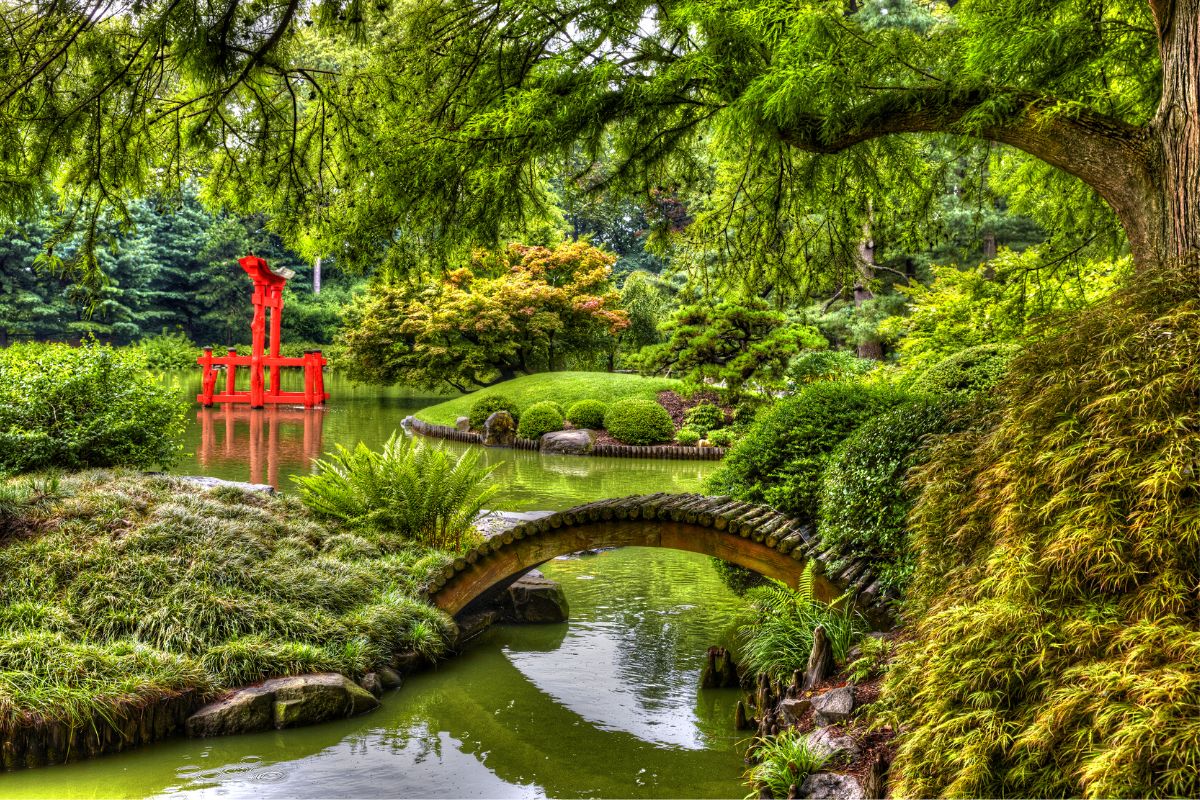 Though it may sometimes be overshadowed by its larger cousin, the Brooklyn Botanic Garden is a phenomenal place to get in touch with nature. It offers everything from birding tours and seasonally-focused workshops to guided tours and gardening classes.
Even if you opt to just go for a stroll on your own, you're in for a treat; the various gardens on the grounds showcase everything from pumpkins and lilypads to roses and native trees.
There's even a section devoted entirely to plants that have been featured in Shakespeare's plays! Mellow, beautiful, and informative, this is the perfect place to unwind and enjoy some fabulous scenery in between wilder activities.
32 – Find some fishy friends at the New York Aquarium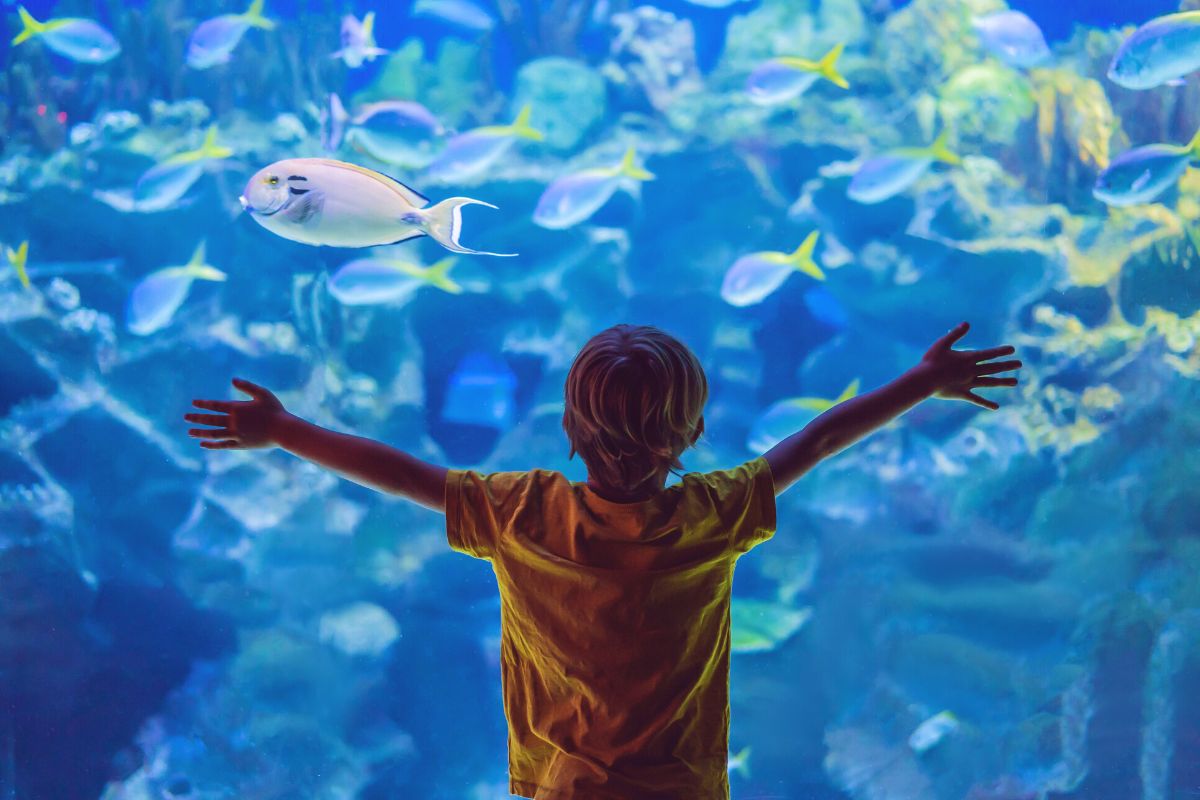 Do your little ones feel drawn to the call of the sea? Then take a trip to the New York Aquarium, where you can see the world as scuba divers do!
Wander under beautiful archways full of tropical fish, watch sea lions at play, and keep an eye out for rarer species like the beautiful and elusive octopus. There's also an excellent 4D theater show, where you can explore the depths of the oceans on a multisensory adventure.
This beloved local institution is a great place to admire some of the world's coolest underwater animals up close!
33 – Explore some new environments at the Brooklyn Children's Museum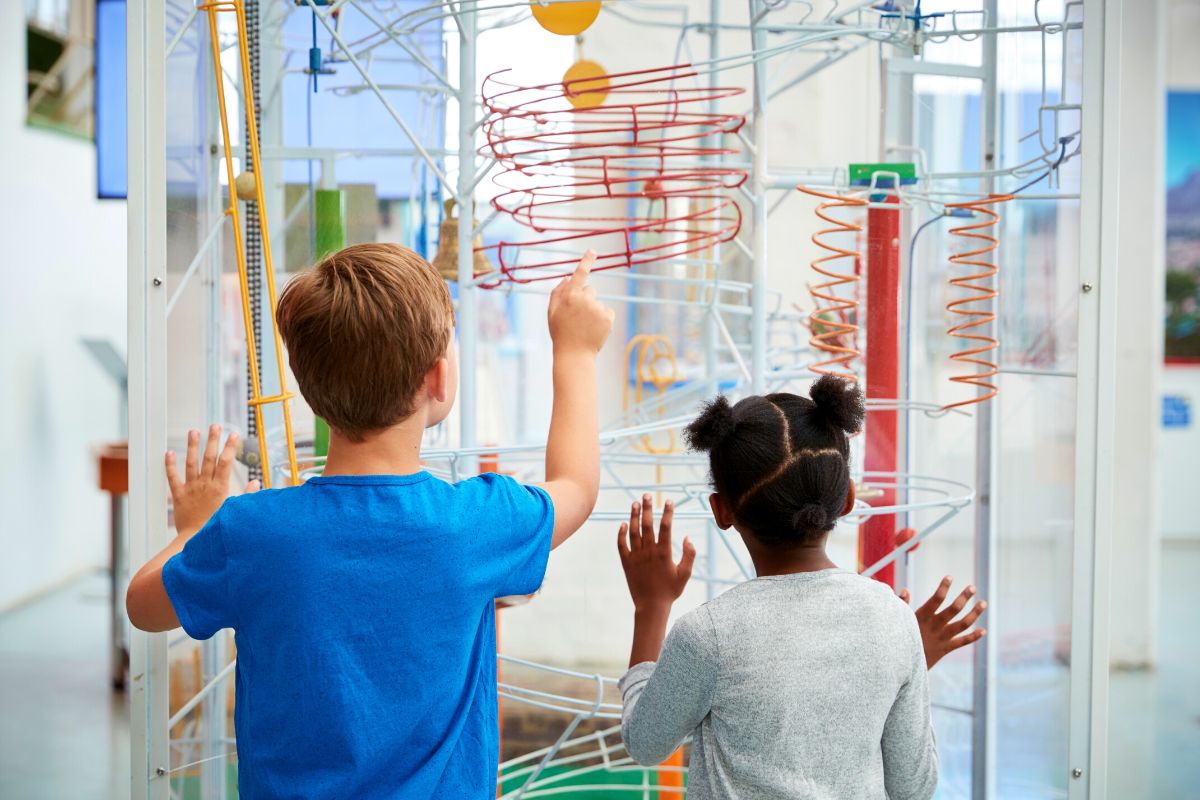 During your sightseeing, take some time to let the kids dive into a world of play and discovery at the Brooklyn Children's Museum, where every turn offers new wonders. This splendid space offers everything from arts and sciences to investigations of other cultures, all through hands-on learning and unique public events.
Whether they're climbing through the funky maze of TapeScape, roaming through a lively, miniature version of the neighborhood in World Brooklyn, or enjoying some outdoor playtime in the recycled structures of the NEST, there's no shortage of adventures for your little ones to try.
There are also lots of interactive concerts and cultural programs throughout the year, so check the calendar before you go, and see what excitement's in store for your youngsters.
34 – Take some gardening lessons at the Edible Academy – New York Botanical Garden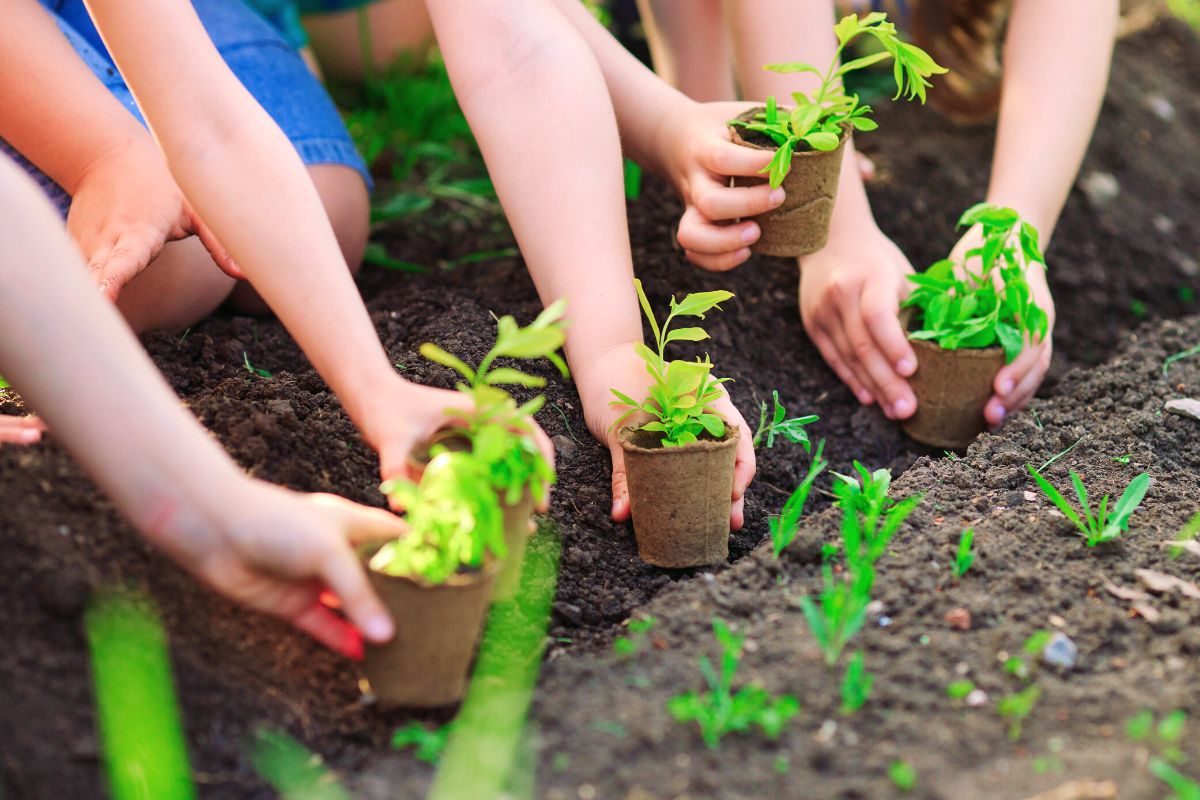 You may have seen tons of beautiful plants at the New York Botanical Garden, but did you know that you can eat some of them? Swing by the Edible Academy to learn about some of the tasty vegetables that are grown on the grounds, and even get some experience digging in the dirt yourself.
With three unique garden areas to explore, kids and grown-ups alike will have plenty of chances to learn new skills, from planting techniques to the basics of environmental design. By the time you're done, you and your family will have seen the city in a whole new way: through its soil!
35 – Have a real New York experience at the Empire State Building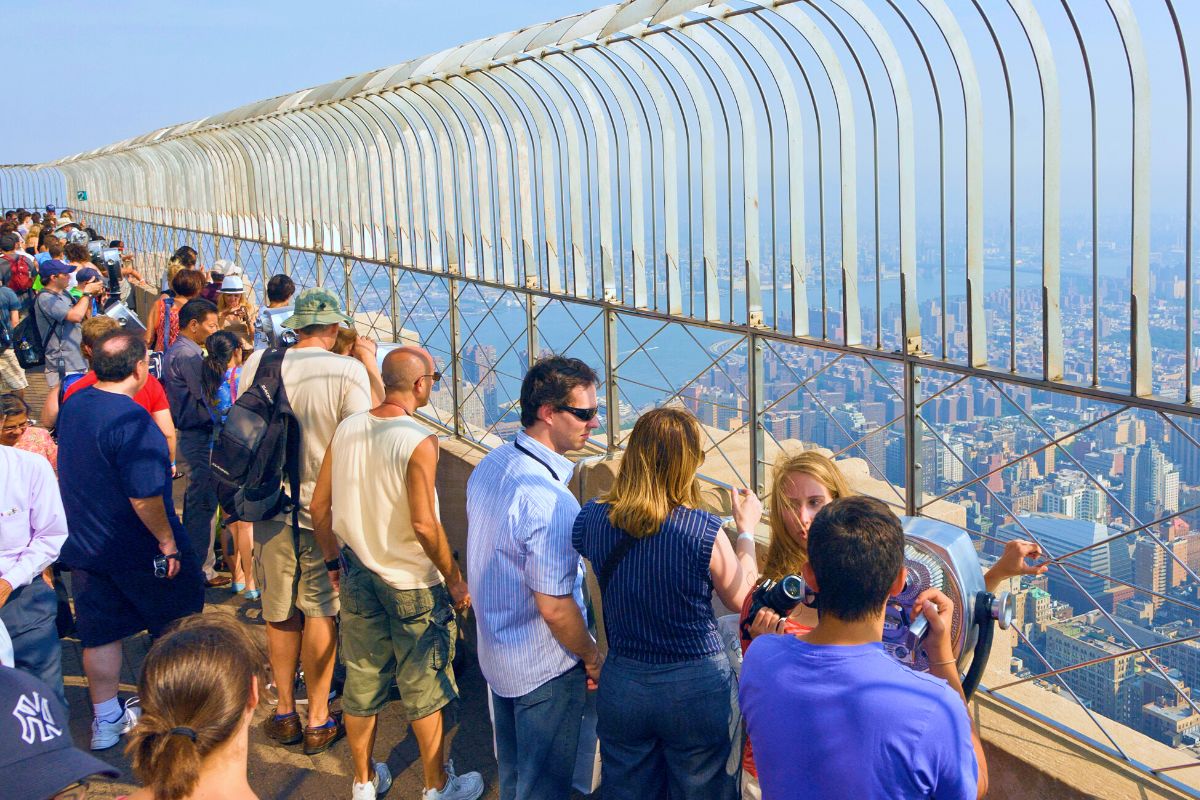 You can't go to New York without visiting the Empire State Building, and this iconic piece of architecture offers plenty to do for youngsters. With its remarkable history, beautiful appearance, and incredible views from the top, it's rightfully beloved amongst all of the cool family things to do in New York City.
After checking out the great art and historical exhibits, you can head to the Observation Deck of this Art Deco gem to savor the remarkable scenery. From the ground to the pinnacle, this charmer will remind you why the city is such a tourism hotspot!
Hot tip: Empire State Building tickets price – Everything you should know
36 – Take a trip through the universe at the Rose Center for Earth and Space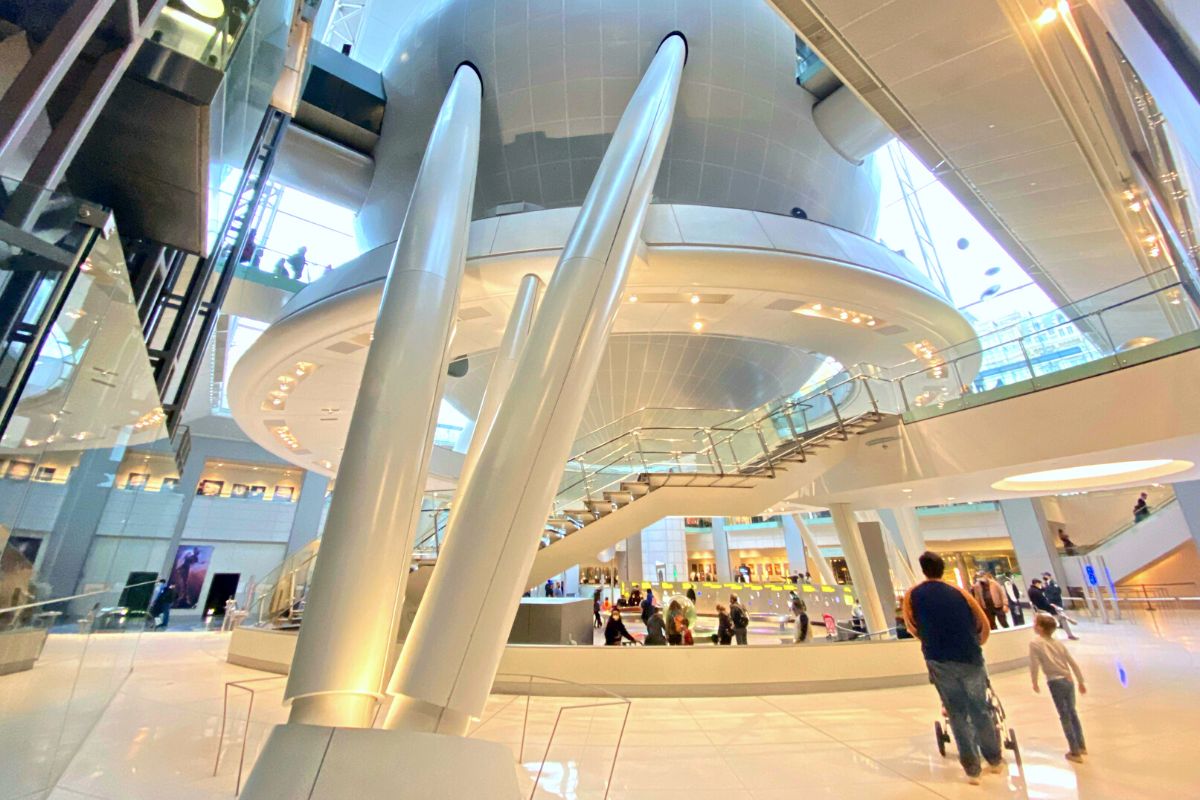 It's not every day that you can watch the greatest moments and movements of the universe play out above you, but in NYC, anything's possible!
This amazing display can be experienced at the Hayden Sphere (also known as the Hayden Planetarium) in the Rose Center for Earth and Space, which is housed in the American Museum of Natural History.
Along with the phenomenal, high-tech shows that display the workings of the cosmos in spectacular panoramic fashion, you can wander through intricate scale models of planets and particles, take a peek at rare geological specimens, and stroll along a timeline of the universe's 13-billion-year life story.
The experience is truly stunning for kids and adults alike!
37 – Find the scoop of your dreams at the best ice cream shops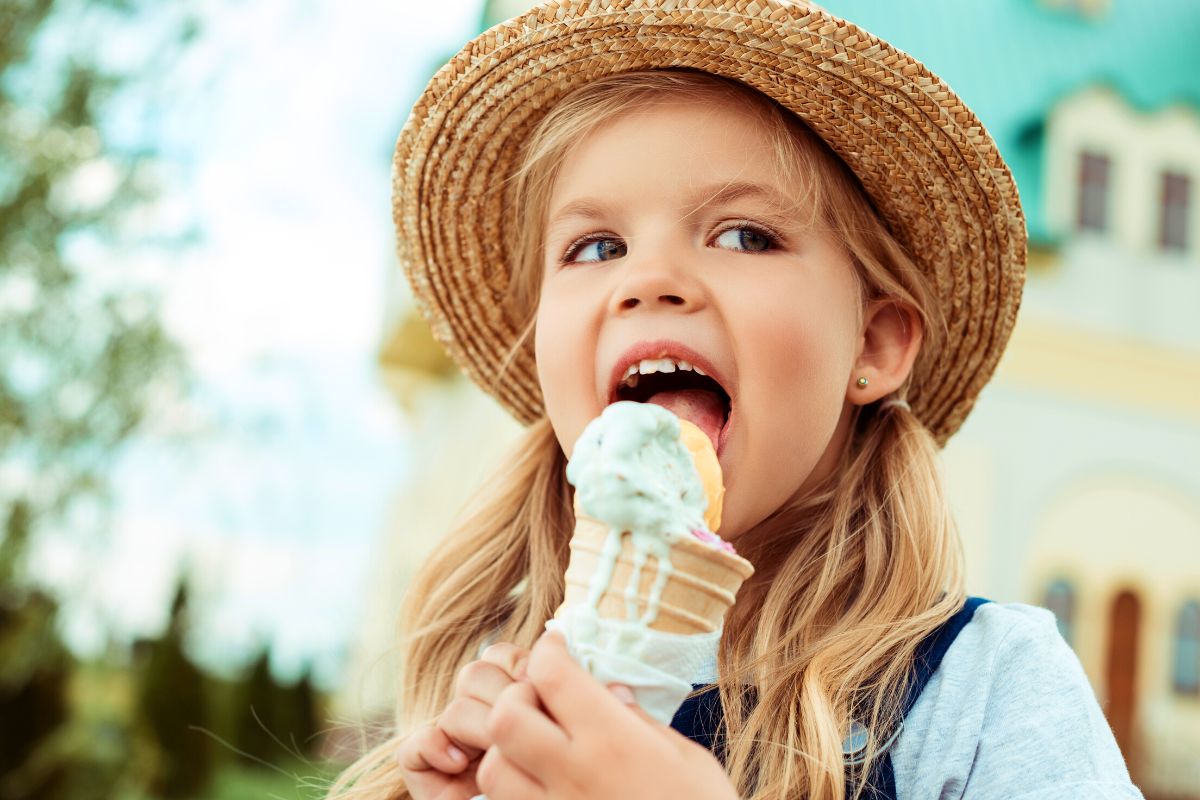 After visiting the Ice Cream Museum, you may feel inspired to try some samples out in the real world. Luckily, there are tons of awesome ice cream shops in the city that will happily serve up their finest treats for the whole family to try.
Try fabulous flavors like Salted Pretzel or Coffee Caramel at Morgenstern's Finest Ice Cream, which takes the traditional parlor experience to a whole other level. Sample the mixture of sweet and spicy at OddFellows Ice Cream, where your scoop might include everything from lavender to bacon.
Or taste the artsy concoctions at Van Leeuwen, which offers traditional tastes like chocolate and mint right alongside more unique offerings like honeycomb. Grabbing a cone or a cup is one of the perfect things to do in New York City with kids; pick your flavor and enjoy!
38 – Check out the many worlds of LEGOLAND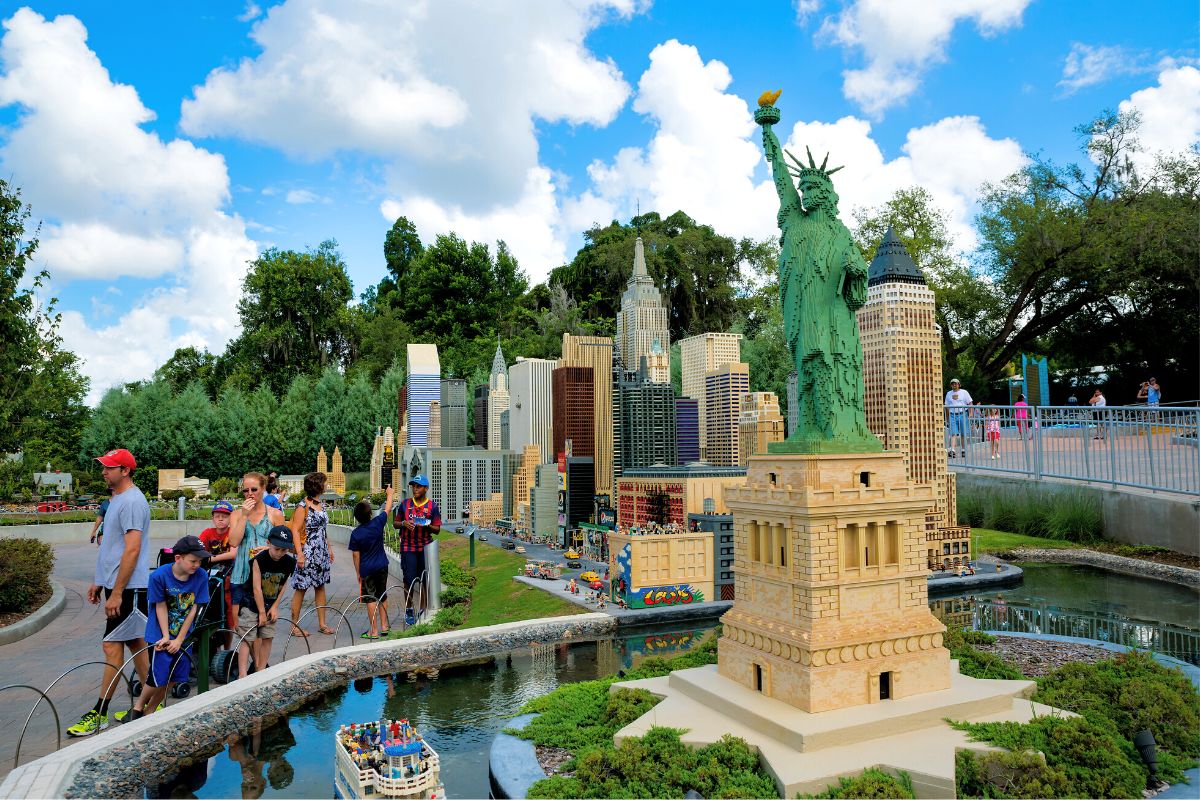 If you're willing to venture out of the city for a bit, there's tons of fun to be had at LegoLand! Located an hour from New York in the gorgeous Hudson Valley, this creative and exciting park has something for everyone.
Hop aboard the family-friendly rides, snag some photo ops with your favorite LEGO characters, or check out the high-energy live shows covering everything from music and stunts to police work and piracy!
And if you want to take your adventure to the next level, book a stay at the LEGOLAND Hotel, a kid-friendly paradise with themed rooms, top-notch live entertainment, and tons of awesome features throughout the building.
Don't miss the chance to hang with the coolest toys in town!
39 – Get your wishes granted at the Aladdin show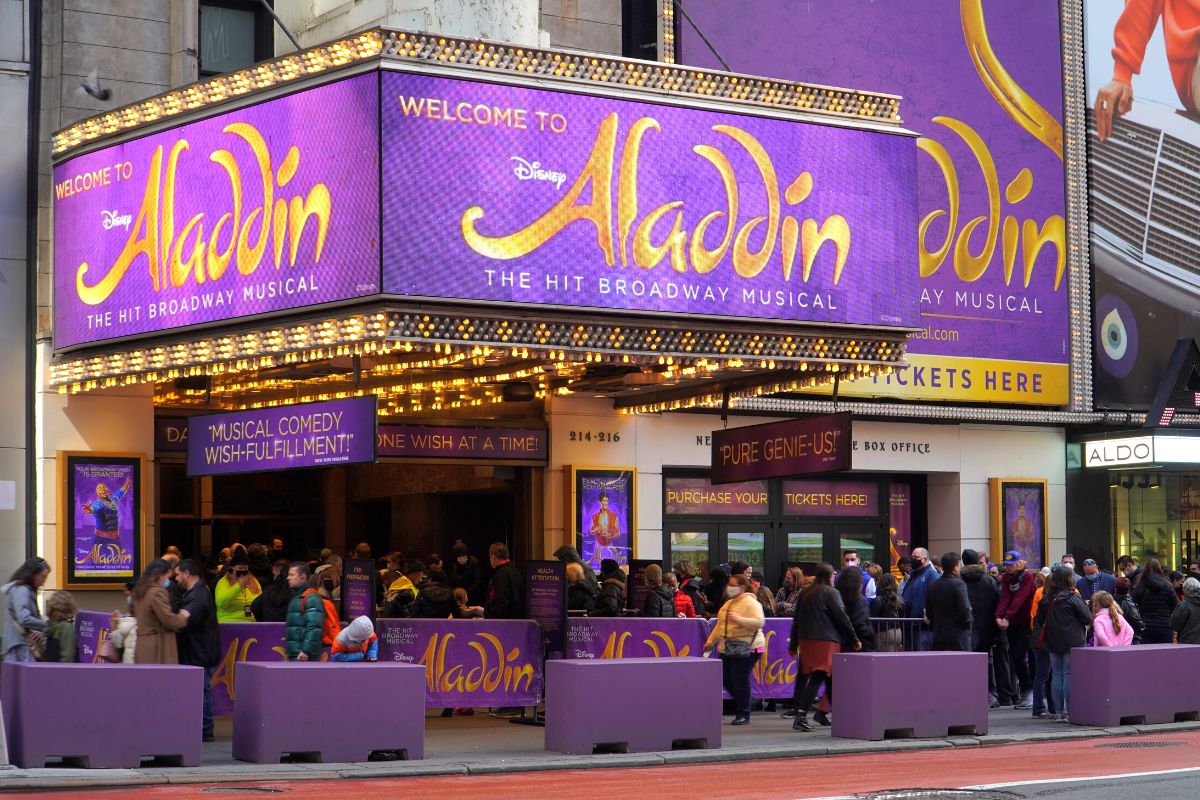 For almost a decade, audiences have been thrilled by the adventures of Aladdin and his friends in the hit Broadway musical, Aladdin. And now, you and your family can join in the fun!
Take a thrilling journey to the splendid city of Agrabah, home to magic, mystery, and memorable characters. Along the way, you'll not only meet the lovable thief, but also whip-smart princesses, evil sorcerers, hilarious genies, and more!
Add in catchy tunes and jaw-dropping choreography and you get one of the liveliest and most memorable shows on the Great White Way. By the time you leave, you'll really feel like you're in "a whole new world"!
40 – Splash around in the Washington Square Fountain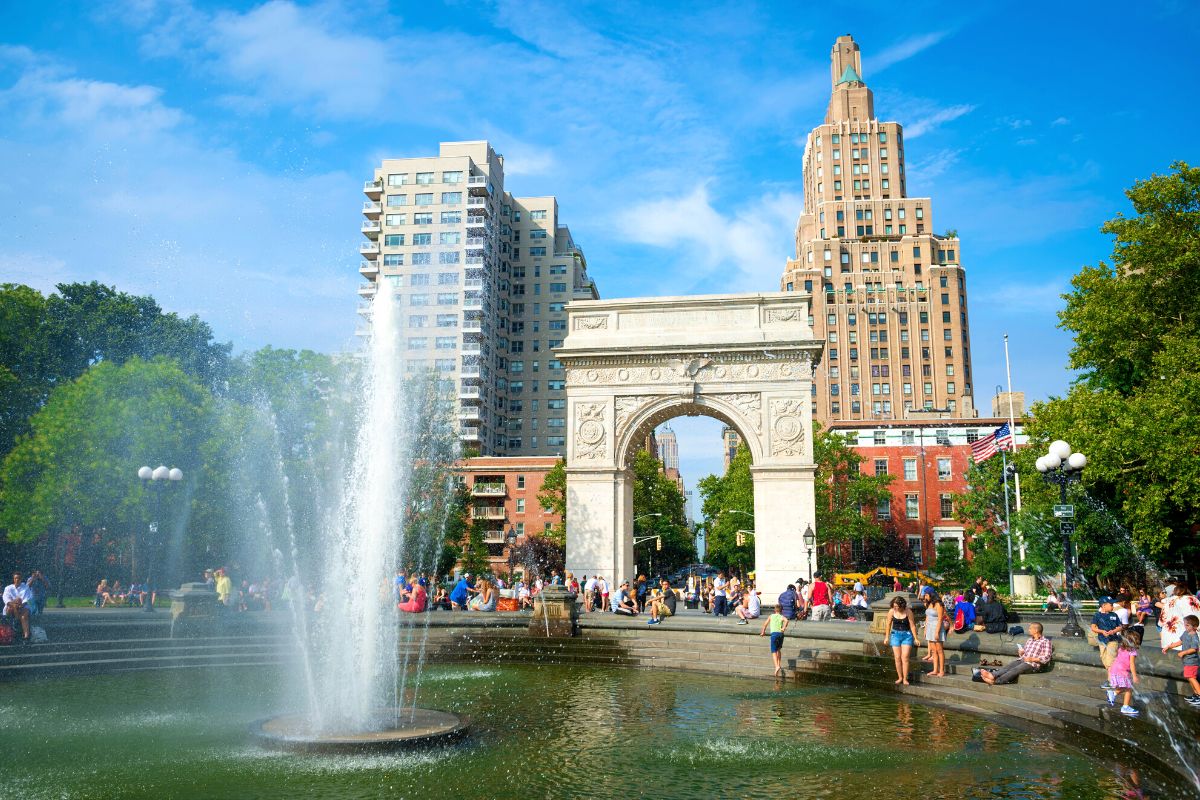 Located in the midst of Lower Manhattan, Washington Square Park is the perfect place for kids to let off some steam. And the best place to do that is undoubtedly the Washington Square Fountain, where you can actually go for a dip – yes, you read that right!
During the heat of the summer, you and your kids can frolic in the gorgeous towers of water, while enjoying great views of both the city and the surrounding green space.
It's one of the best things to do in Manhattan, as well as a great way to meet the locals and cool off after exploring the rest of the beautiful park, so pack an extra set of clothes and start splashing!
41 – Explore the unexpected at Vr World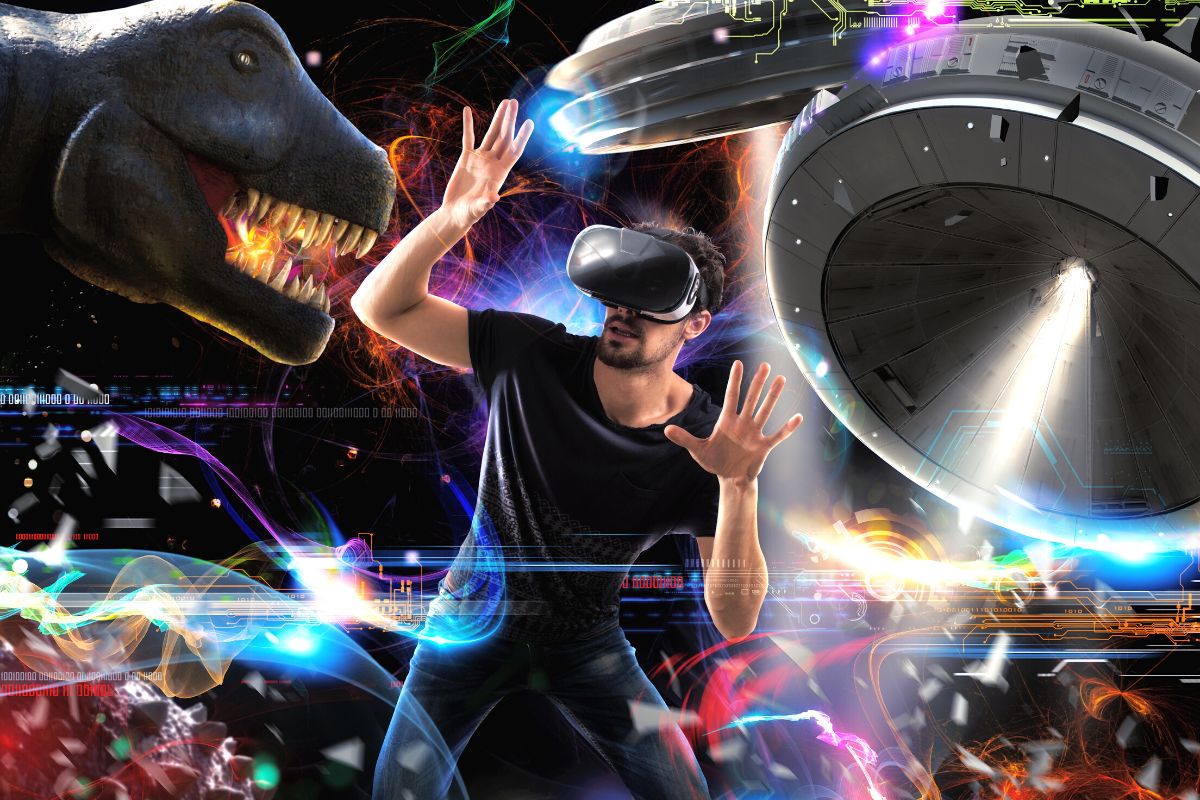 While NYC is full of real-world delights, there's also plenty to see in the virtual sphere. At VR World, you and your family can dive into a thousand different universes, courtesy of state-of-the-art technology.
Explore three floors' worth of games and immersive experiences, as well as some amazing art pieces. With imagination as the limit, there's no telling what you'll find in these richly realized universes – and you'll soon be coming back for more!
42 – Pick out a rainbow of candies M&M'S Store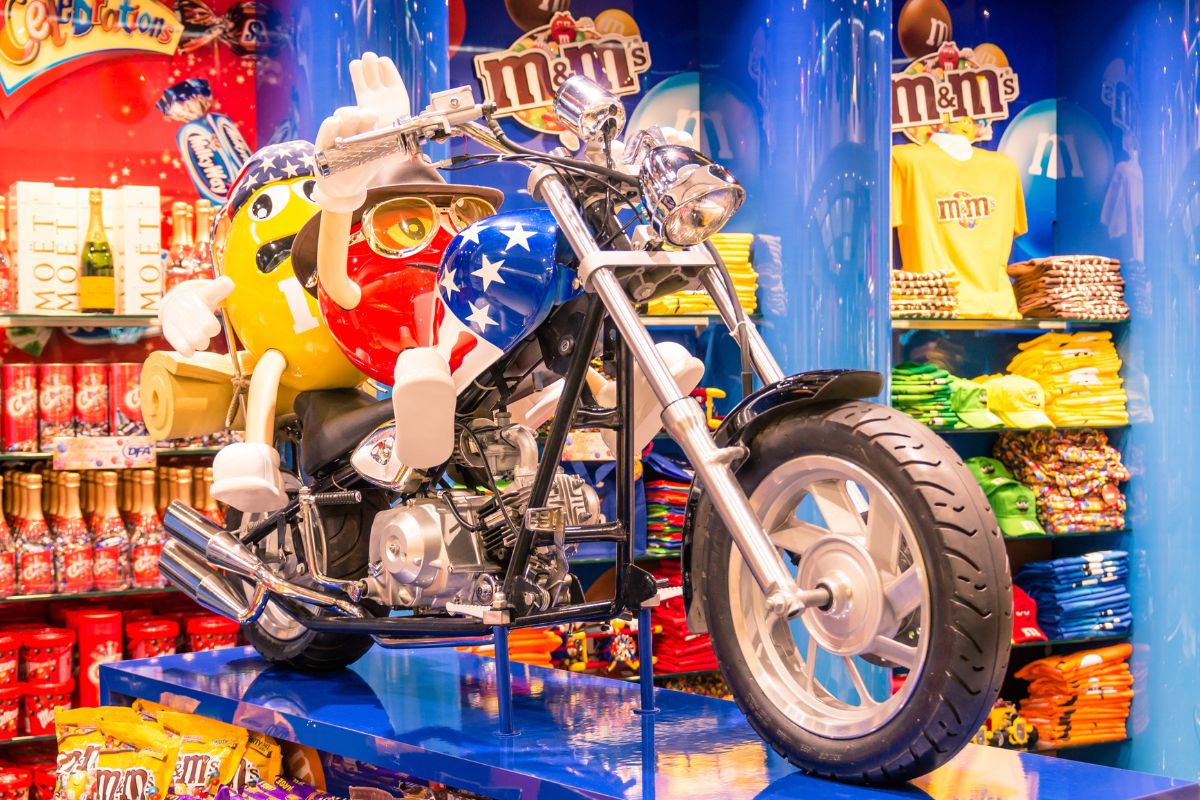 For a delightful dessert with a personal touch, be sure to stop by the M&M's store.
Easily one of the most fun things to do in Times Square, this fixture is probably best known for its personalizable candies; pick a photo or design, send it through the printer, and voila! A memorable and unique treat to take home.
The store also offers more traditional M&M's in a spectacular rainbow of colors, as well as fun specialty flavors. Chocoholic or not, you're bound to find something to love here!
43 – Make the rounds of the best carousels for kids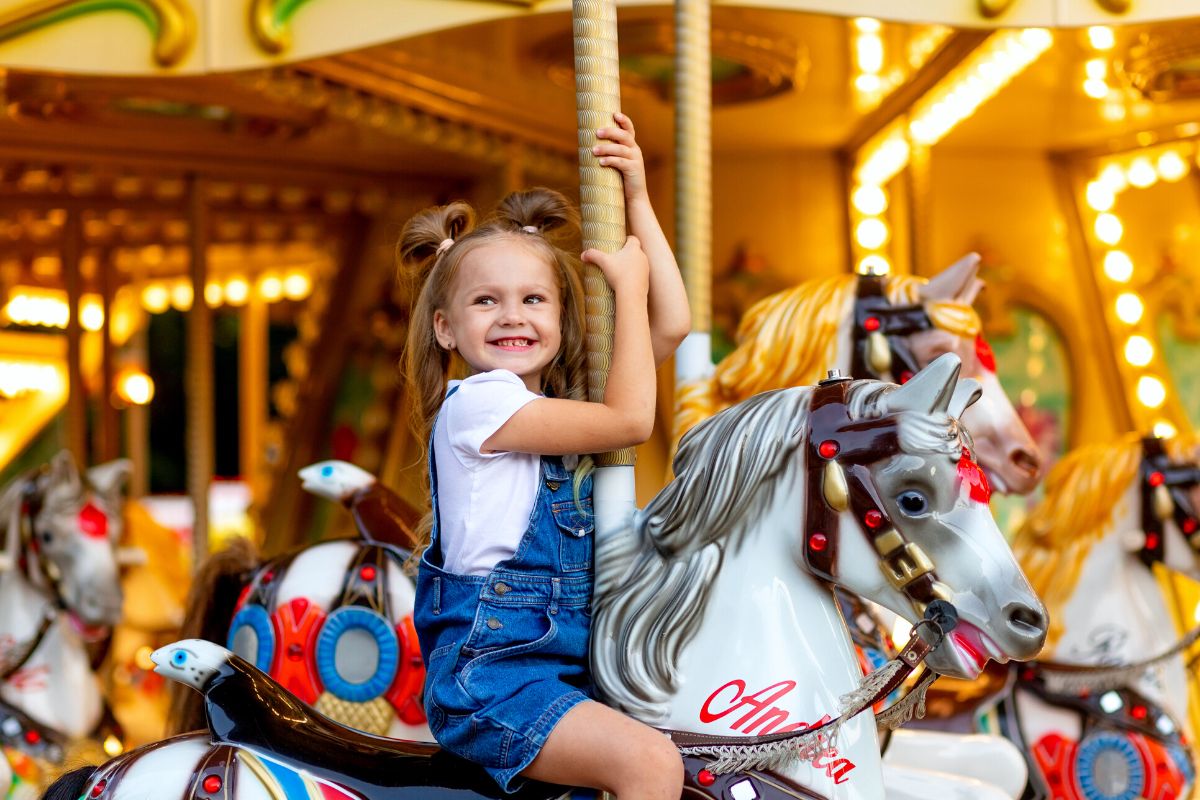 If you want a little bit of whimsy without splurging on a full amusement park, take your youngsters to some of the best carousels in the city. While merry-go-rounds might seem pretty tame, their unique designs and rich histories make them a vital part of the New York experience.
Hitch a ride on bees and beetles on the Bronx Zoo's Bug Carousel, climb atop brightly lit fish on the SeaGlass Carousel, or go a little more traditional on the century-old carved horses on Jane's Carousel, located smack dab in the middle of the Brooklyn Bridge Park.
There are also rides at such iconic spots as Flushing Meadows, Coney Island, and Central Park, each with its own distinctive designs. Kids will love taking a spin on these gorgeous creations – and parents will love admiring the rides themselves!
44 – See the city from the Top of the Rock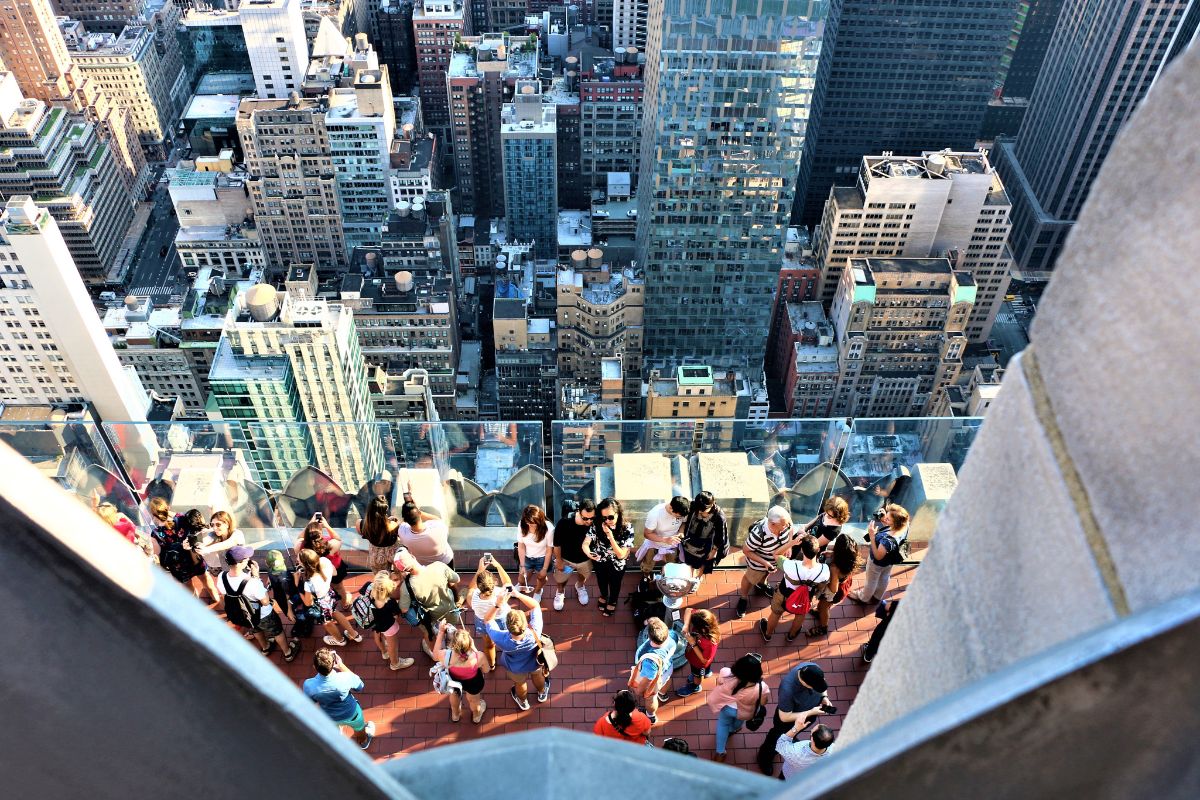 The Rockefeller Center has long been a beloved cultural fixture in the city, and at Top of the Rock, you can enjoy the space from an exciting new vantage point. Head 70 floors up into the air, and enjoy some amazing scenery, including Central Park and the Empire State Building.
It's also worth taking some time to explore the rest of the structure, from its fascinating Depression-era history to the crystal chandelier and other design details scattered throughout the space.
Panoramic vistas and a beautiful building… it doesn't get much better than that!
Hot tip: Top of the Rock tickets price – Everything you need to know
45 – Support some creative ambitions at the Museum of Modern Art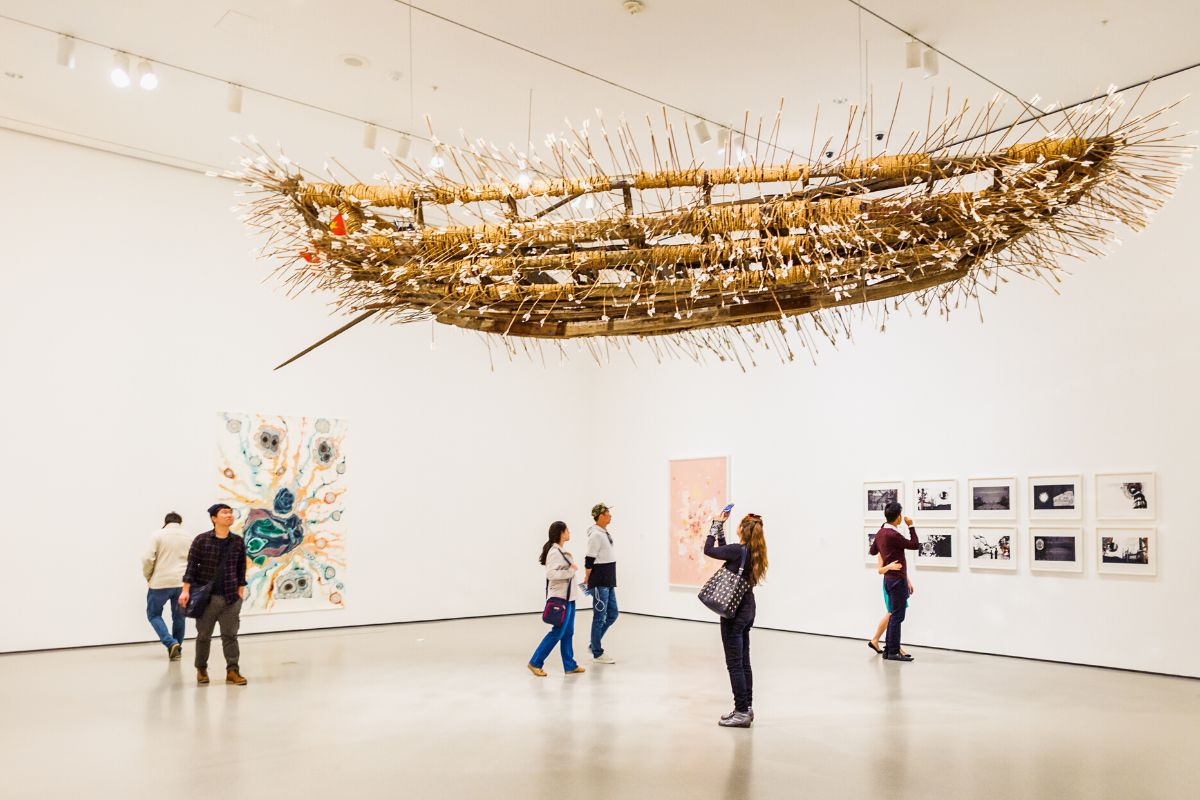 The Museum of Modern Art (MOMA) has long been hailed as a mecca for art lovers the world over. But did you know that it also has some great events for kids?
Along with family-friendly gallery talks and presentations highlighting different artists FIX, they also host "Art Lab," an open creative session where kids can learn about light, try some unique sculpting materials, or even make their own emojis.
This ambitious and acclaimed programming is a great way to start getting your kids interested in art – and maybe start them towards producing their own masterpieces!
46 – Have an adventure with your favorite characters at Nickelodeon Universe at American Dream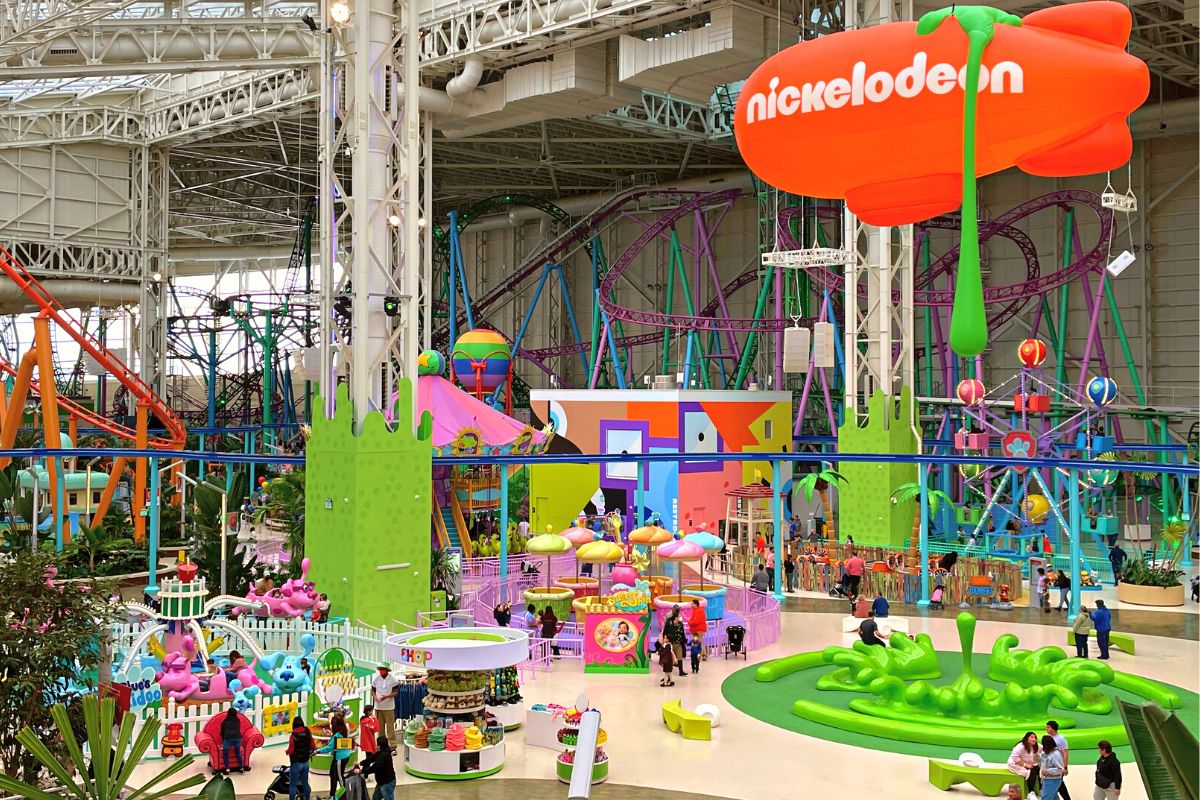 Just across the river in New Jersey, you can dive into the worlds of some beloved TV characters at Nickelodeon Universe.
Located in the American Dream shopping mall, this massive complex is jam-packed with rides, shows, obstacle courses, and more, all themed around the company's classic programs.
In between thrills, kids can watch shows featuring their favorite characters, from Spongebob to the Teenage Mutant Ninja Turtles. A day spent riding through these wild worlds is one that your kids won't soon forget.
47 – Take a trip through Grand Central Terminal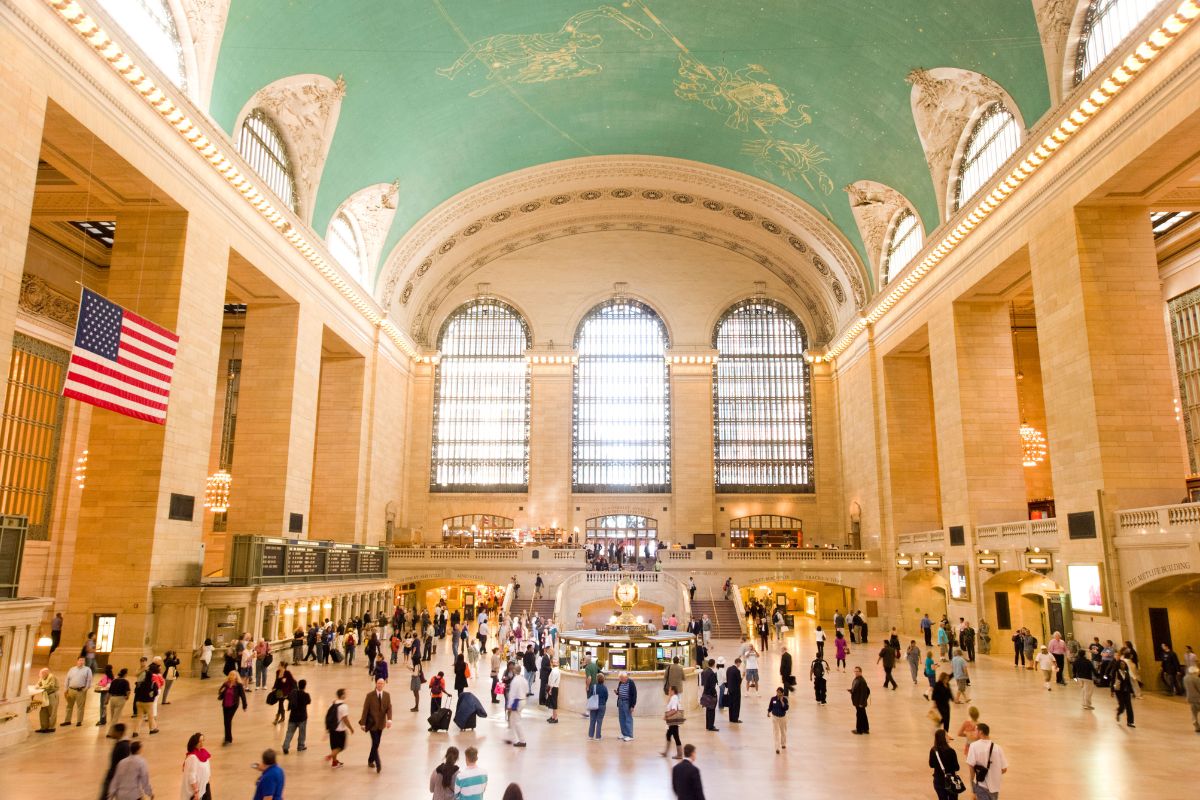 With its beautiful architecture and bustling atmosphere, Grand Central Terminal is one of the most underrated family things to do, but arguably one of the greatest places to visit in New York City.
While you can certainly spend plenty of time just roaming around and admiring the scenery, there are also some fantastic restaurants, great shopping venues, and plenty of live performances.
And of course, it's well worth taking a historical tour, where you can explore the opulent space in greater detail and learn how one of the most famous train stations on Earth operates on a daily basis.
It's not just a commuter hub – it's part of the city's soul!
48 – Get your game on at the best arcades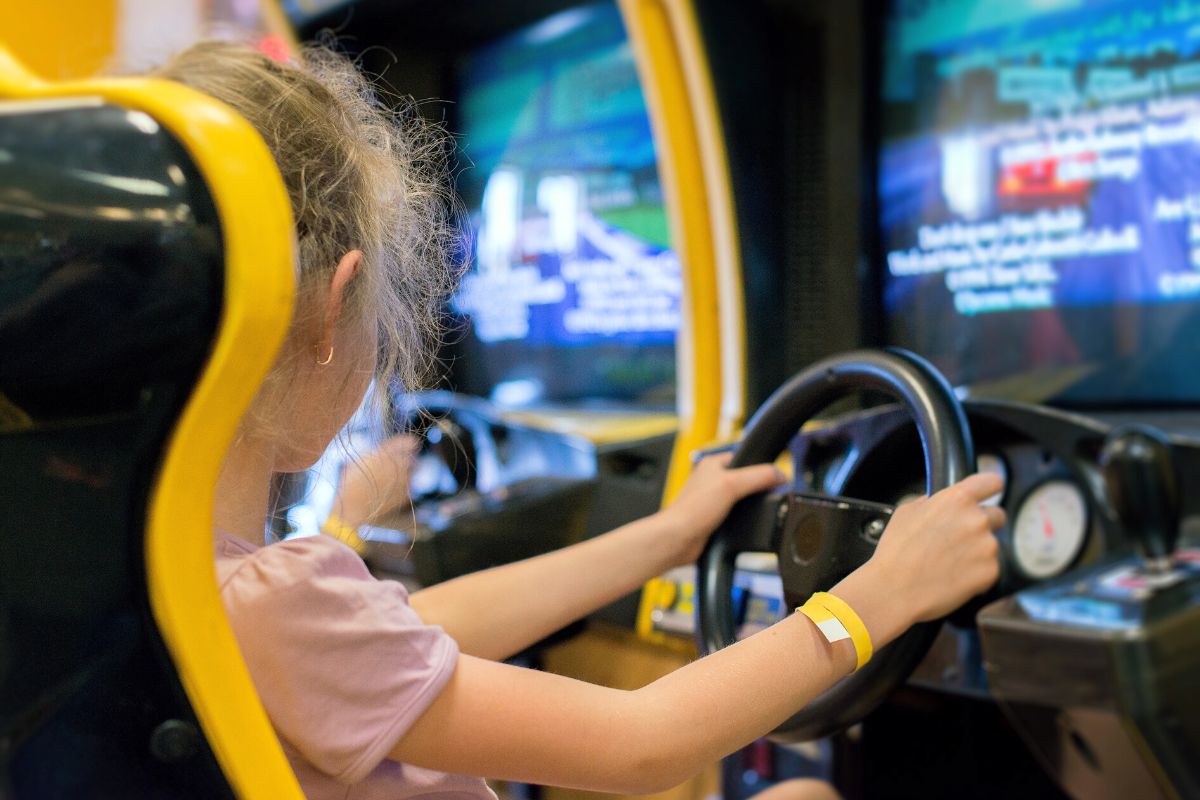 There's nothing like a day at the arcade to get everybody hyped up, and NYC has plenty to choose from, with a healthy mixture of old and new gaming options.
Race with Mario or rescue dinosaurs at Dave & Buster's, or mix classic games with playgrounds and interactive blacklight environments at Funtopia USA. Try a round of laser tag and explore some high-tech mazes at Laser Bounce, or take on classics from skee ball to Dance Dance Revolution at Chinatown Fair.
Channel your inner (arcade) athlete with air hockey and laser tag at Bowlero Chelsea Piers, or keep things a little more old school with the magnificent machines of Modern Pinball NYC. For gaming gurus and first-timers alike, these spaces will offer hours of family-friendly fun!
49 – Sit back and relax on the horse-drawn carriage rides in Central Park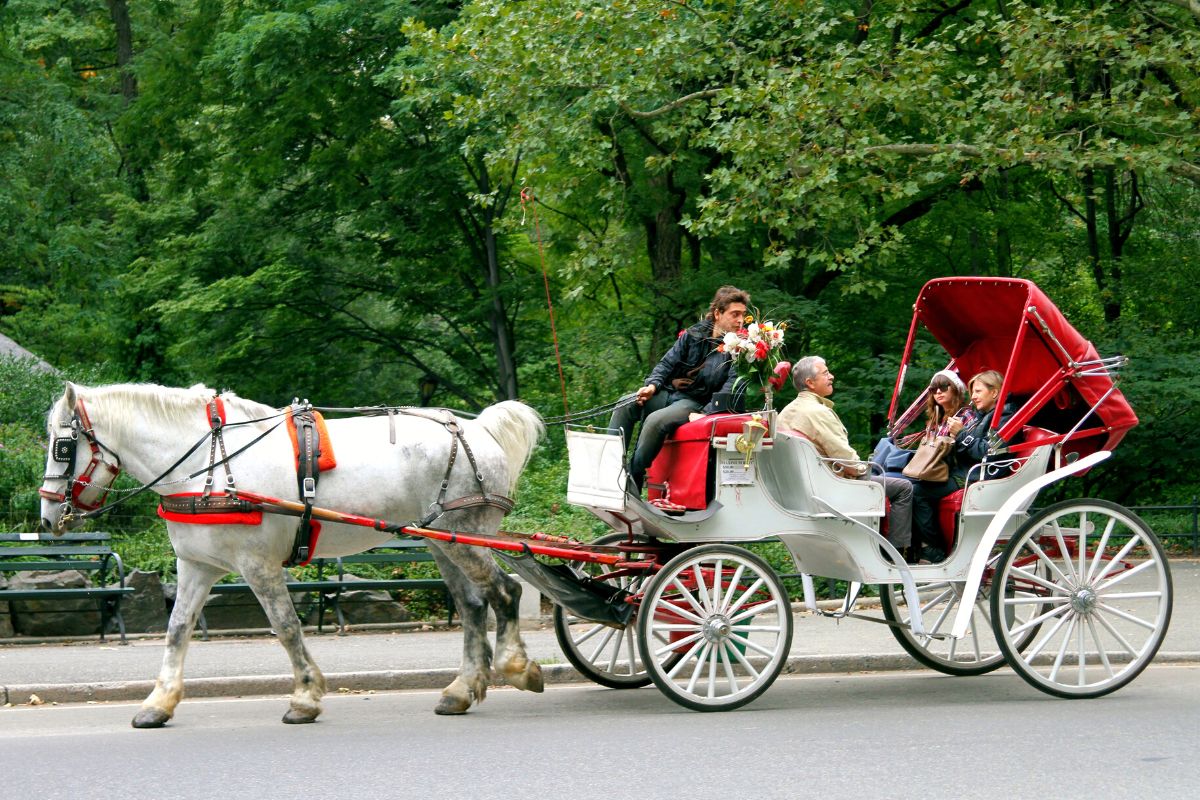 Want to treat the kids to a tour that's almost as iconic as the sites that it passes? Then add a little style to your trip through Central Park with a horse carriage ride!
Children will love getting up close with these beautiful animals, and everyone will enjoy the serene trip through the park, enjoying the fresh air and great people-watching opportunities.
While it may be known more as a romantic option, it's definitely one of the loveliest family things to do in New York City.
50 – Dive into reading at The Children's Library at the Brooklyn Public Library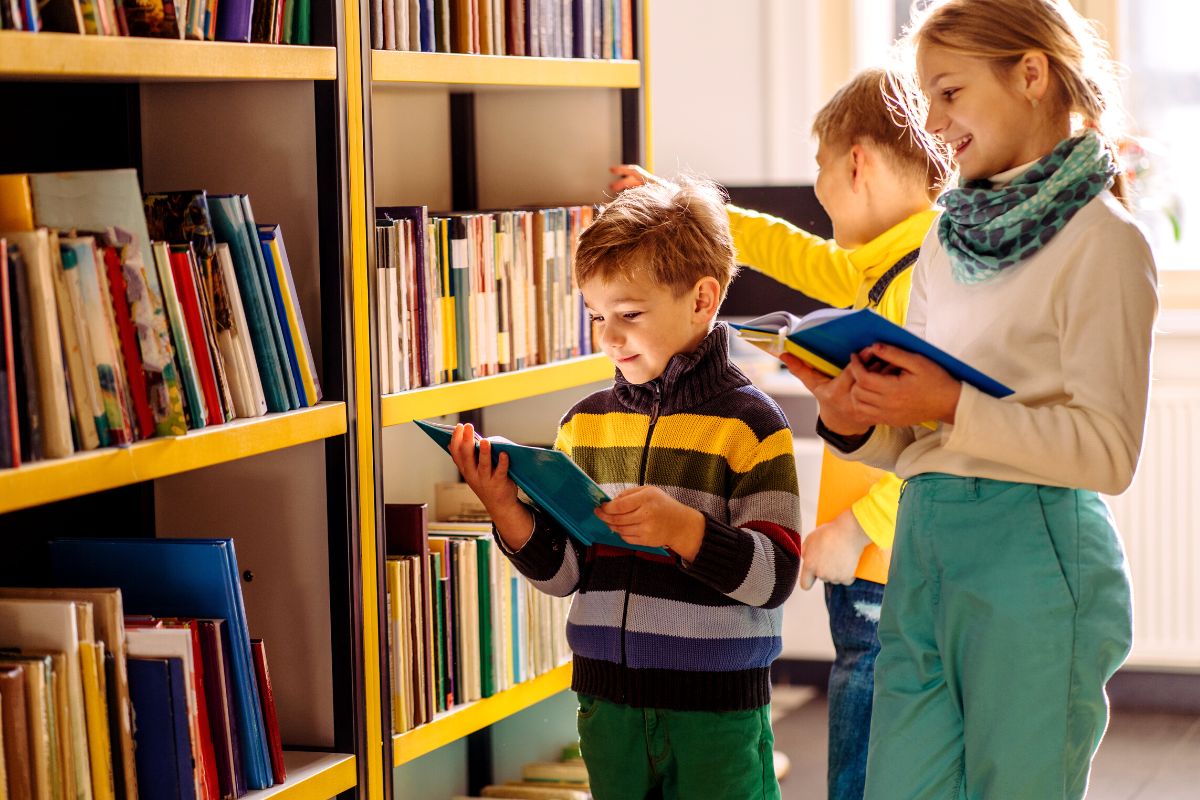 If you're looking to get your kids to fall in love with reading, take a trip to the Children's Library section of the Brooklyn Public Library. This renowned space offers interactive options for kids of all ages, from story hours and craft areas to workshops designed to promote lifelong learning.
And, of course, there's always a librarian on-hand to point your little ones towards their next favorite book. In the midst of all of the busy sightseeing, it's a great place to kick back and introduce your little ones to the wonder of the written word.
51 – Get out and try some Ice Skating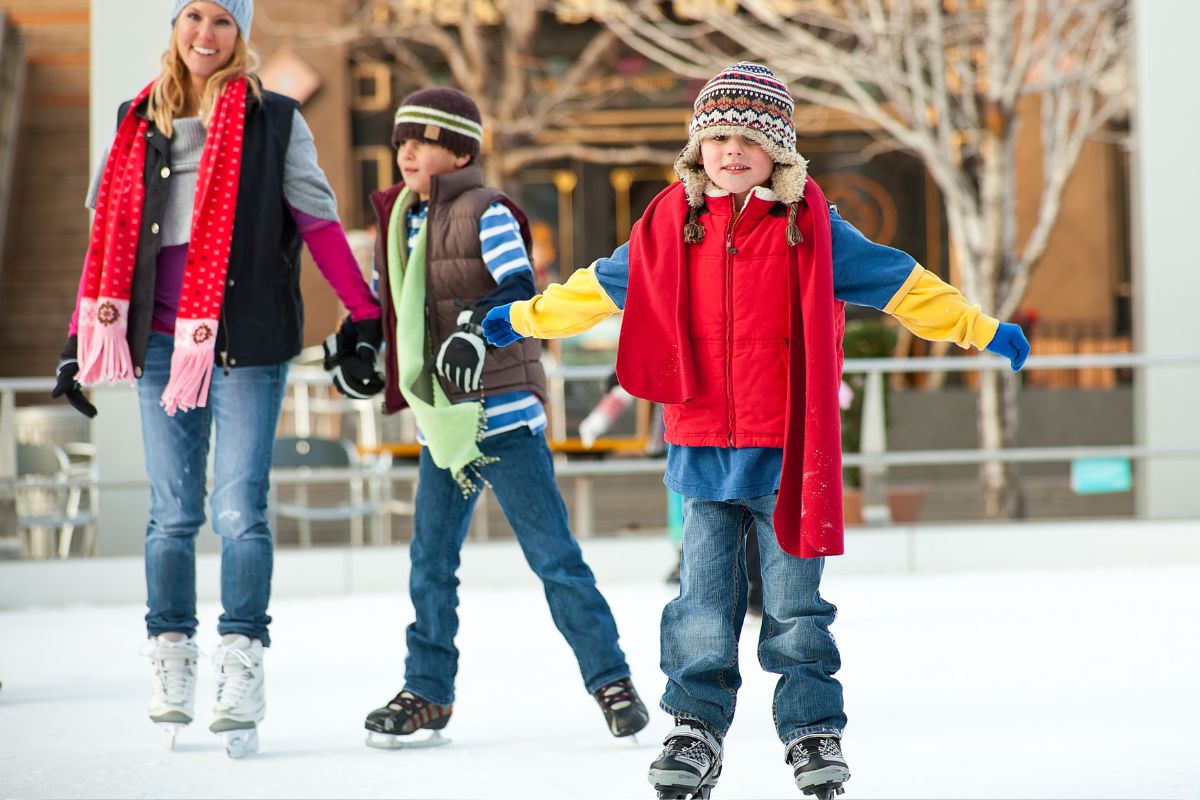 NYC is a magical place in the winter, and ice skating is one of the best family activities to try while you're there.
The Rockefeller Center has one of the most famous rinks in town, framed by its gorgeous, towering Christmas tree. But there are tons of other places to try out your skills or learn some new tricks.
Check out Industry City in Brooklyn, the LeFrak Center at Lakeside, or Wollman Rink at Central Park, all of which boast ample rink space and a great atmosphere for every level of skater.
And if you really want to get into the holiday spirit, head over to Bank of America Winter Village at Bryant Park, which offers a festive atmosphere alongside great skating and curling opportunities.
Don't miss the chance to try out one of the most beloved winter sports in town!
52 – Test your courage at the Edge Observation Deck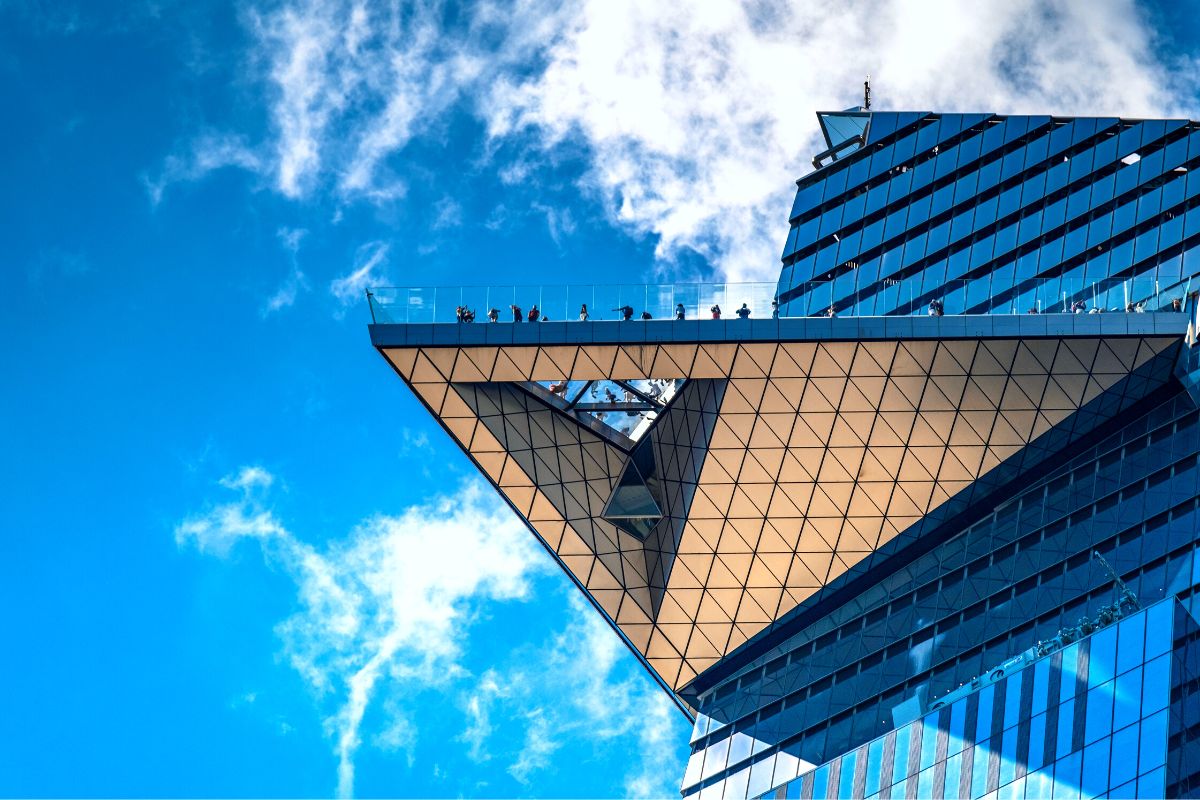 Another great place to see the city is the Edge Observation Deck, which is located in Hudson Yards. But this particular view stands out for its construction: rather than just offering a look at the skyline, it sticks you right out in it!
The balcony stretches out 80 feet from the main building, and dangles a stunning 1,110 feet above the ground, creating a totally unique viewing experience. Kids will love feeling like a superhero as they gaze out over Gotham!
Hot tip: Edge tickets price – Everything you need to know
53 – Hang out with your favorite puppets at Sesame Place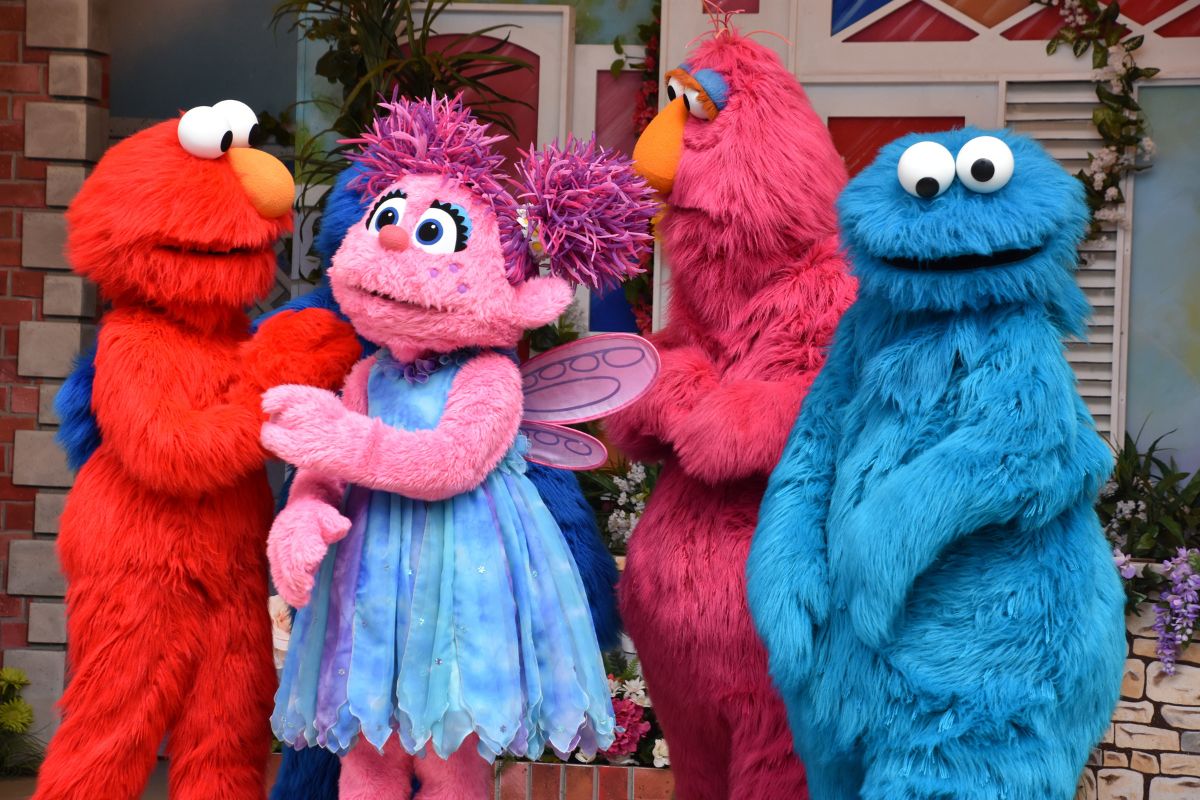 Sesame Street may be one of the most famous fictional versions of New York, but you'll have to travel an hour south to Philadelphia to see it in real life. But trust us, it's worth the trip!
Sesame Place is a must-see for fans of the beloved puppets, with plenty of opportunities to explore this iconic neighborhood.
Grab a meal with Elmo and his buddies, slip and slide at the water park, or take a spin on a giant dessert with Cookie Monster. And don't miss the parades that fill the street with bright colors, energetic music, and great performances.
If you want a truly memorable souvenir, there are also plenty of chances to take pictures with some of the stars of the show throughout the park. Not only will you finally know how to get to Sesame Street, but you'll know all of the coolest spots there as well!
54 – Get in touch with the earth at the South Brooklyn Children's Garden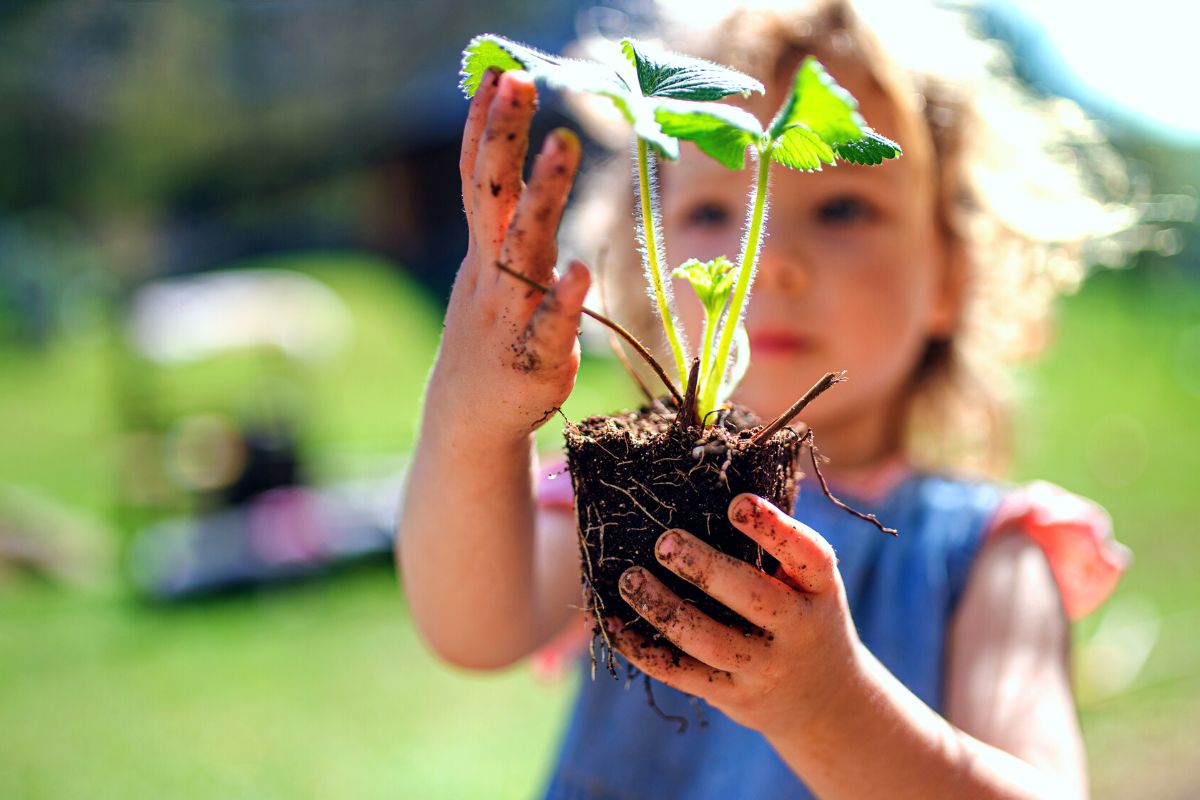 Back in Brooklyn, spend some quality time with the earth at the South Brooklyn Children's Garden. This urban paradise is actually part of a cooperative farm, and kids will love learning all about the different plants and produce that are grown there.
With plenty of hands-on experiences in organic farming techniques, it's the perfect place to learn more about the systems that sustain us – and how we can sustain them in turn.
55 – Explore some kid-designed programs at the Metropolitan Museum of Art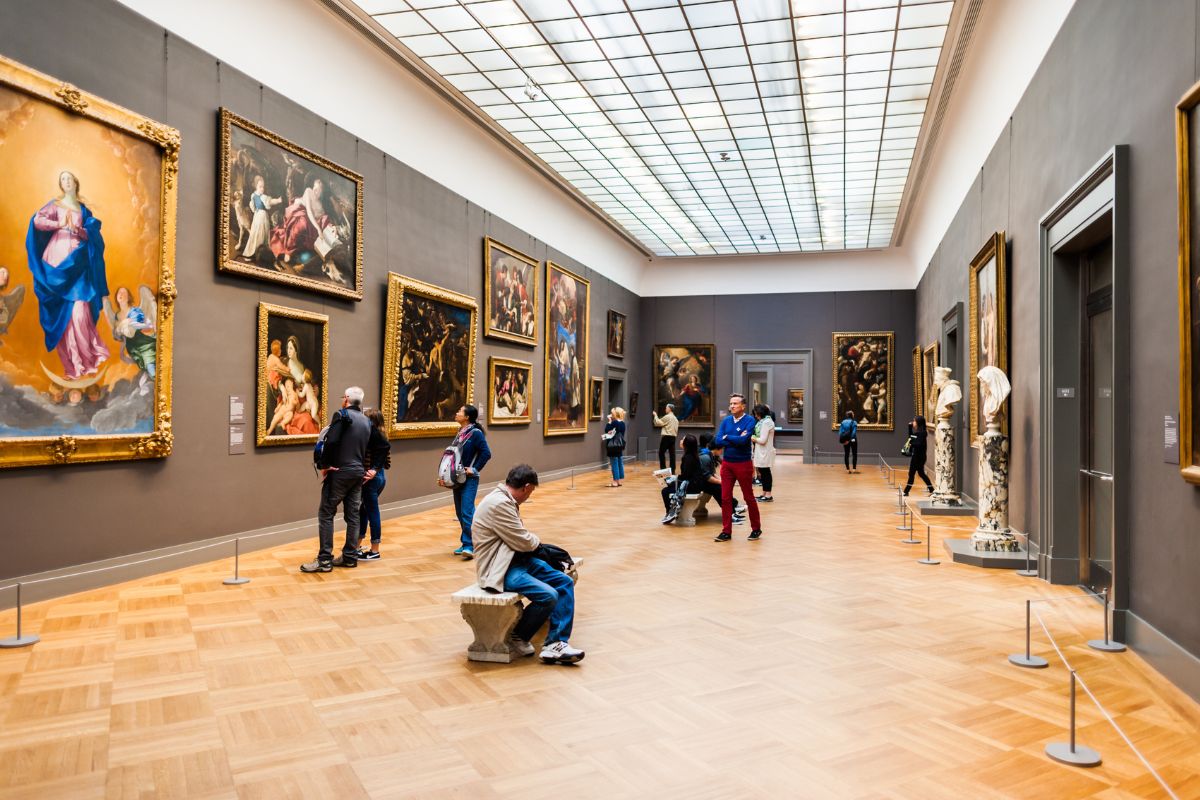 Much like MOMA, the Metropolitan Museum of Art offers plenty of great programs for kids to explore. With interactive classes, scavenger hunts, and storytelling sessions, your little artist-in-training can enjoy both the museum itself and its many offerings in a new way.
And don't miss the MetKids program, which offers cool trivia, project ideas, and an amazing crash course in 5,000 years of art history – all designed by and/or featuring kids! It's a wonderful opportunity for younger visitors to engage more deeply with one of the most acclaimed artistic collections on the planet.
Hot tip: Metropolitan Museum of Art tickets price – All you need to know
56 – Check out the best places to eat with kids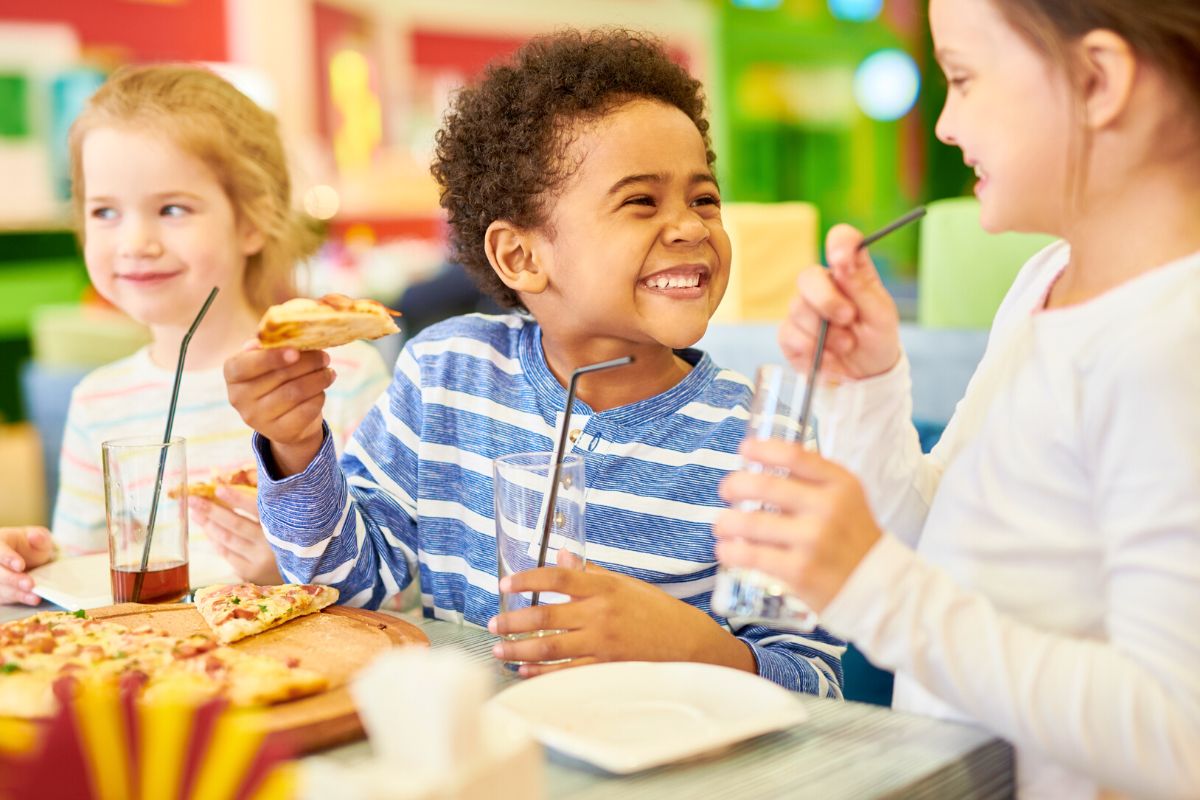 All of this exploring is likely to make you all hungry, and there's no shortage of kid-friendly eats around town!
Pizza is part of the classic New York experience, and you can make the rounds of various popular spots, from the Brooklyn-style offerings of Roberta's to the wood-fired dishes at Roey's and the unique toppings at Paulie Gee's.
Or get a little surreal with the creative decor of Serendiptity3, which is known for its elaborate ice cream sundaes. Barking Dog Luncheonette has something for everyone, with a canine-friendly atmosphere coupled with delicious meals that will satisfy even the pickiest eater.
Meanwhile, Dave & Buster's pairs its great gaming options (see #49) with some kid-friendly favorites, from pizza and burgers to mac and cheese and chocolate cake.
And at Sweet Chick, you can have your cake and eat it too – or, rather, your chicken and waffles, a perfect blend of sweet and salty that has its roots in Southern kitchens. The meals are experiences in and of themselves, and will give you plenty of fuel for the next round of adventures!
57 – See Oz in a whole new way with Wicked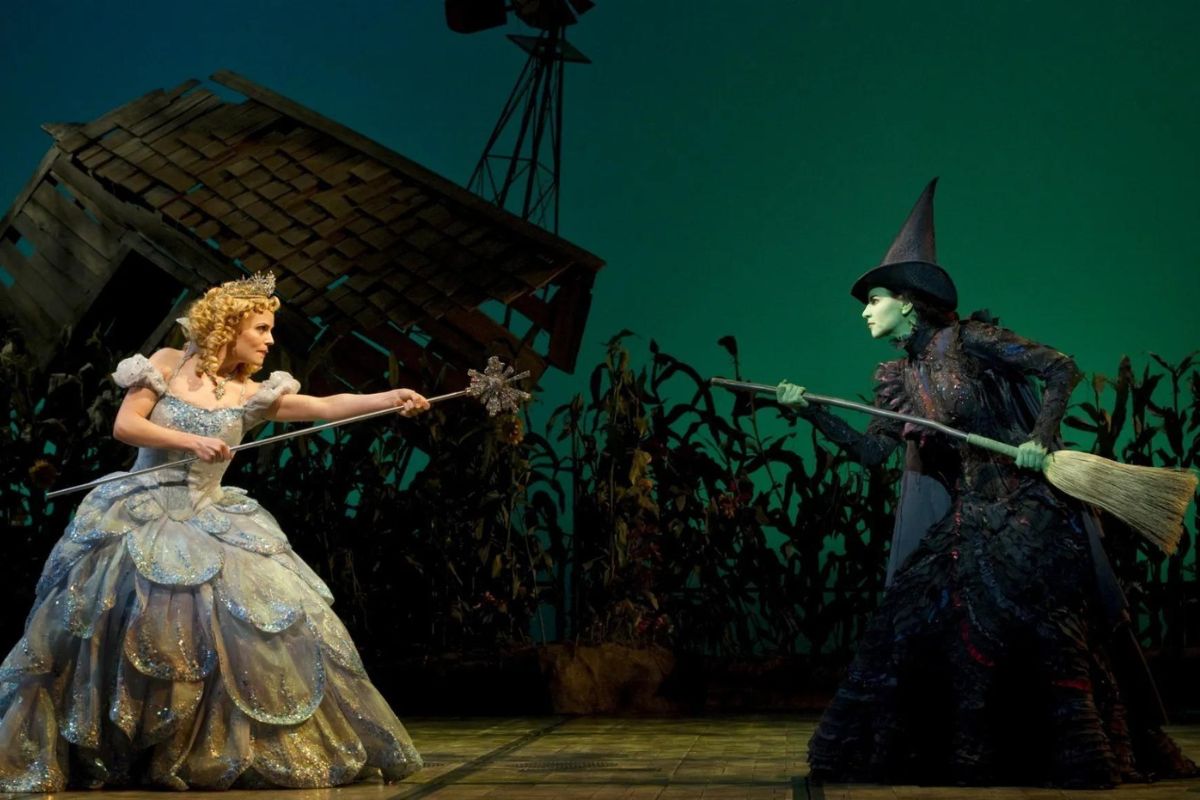 We're all familiar with The Wizard of Oz, but have you ever wondered what life might have been like in that magical world before Dorothy dropped in? Then be sure to book some tickets for Wicked, a bold and brilliant retelling of the classic story from the perspective of the Wicked Witch of the West.
With a soaring soundtrack, great special effects, and plenty of humor and heart, this show is a wonderful theater-going experience and a great introductory show for first-time audiences.
Don't miss this stalwart of the Broadway scene, with its creative take on the merry old land of Oz.
58 – Explore the forest with the Bronx Zoo Treetop Adventure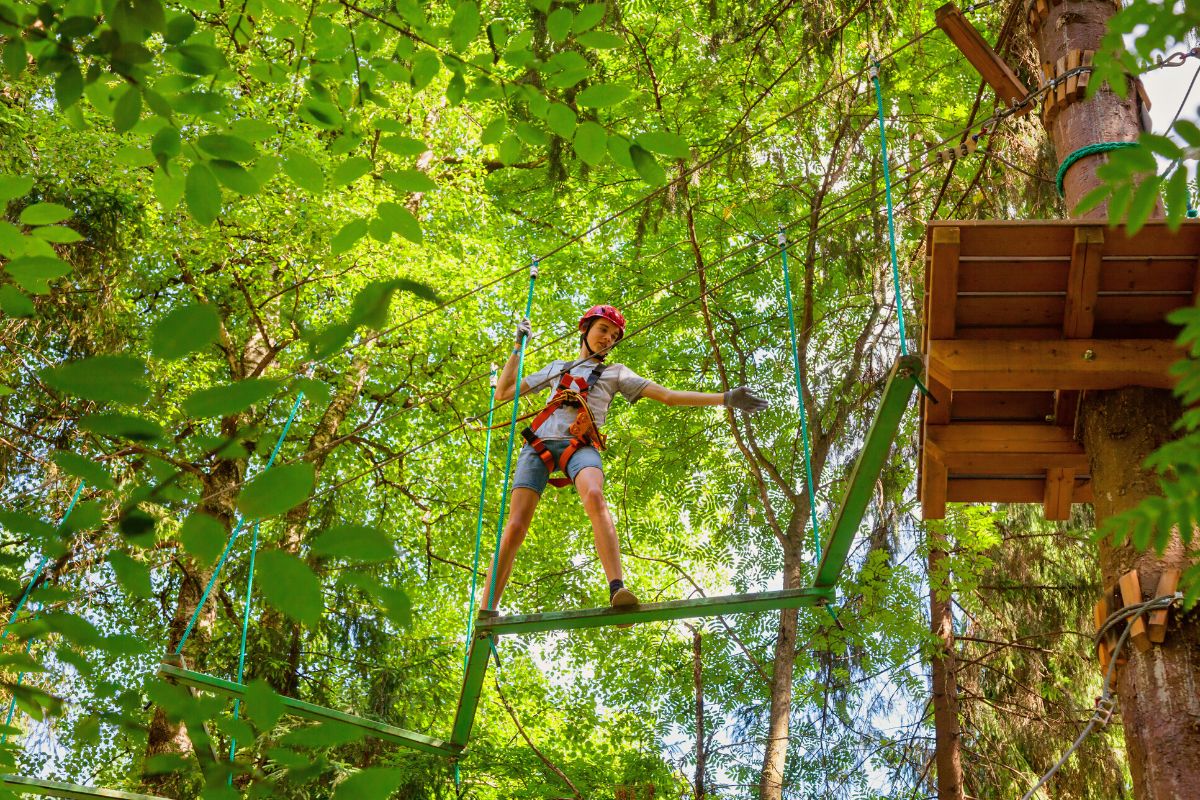 As you check out all of the amazing animals at the Bronx Zoo, head over to the Treetop Adventure so your little ones can blow off some steam the wild way. This kid-friendly adventure zone includes ziplines, ropes courses, and all sorts of amazing obstacle courses to explore.
With a whole range of unique attractions and an environmental focus, kids will get to play and learn all at the same time. Even the timidest child will have a great time playing in the trees!
59 – Search for the perfect toy at FAO Schwarz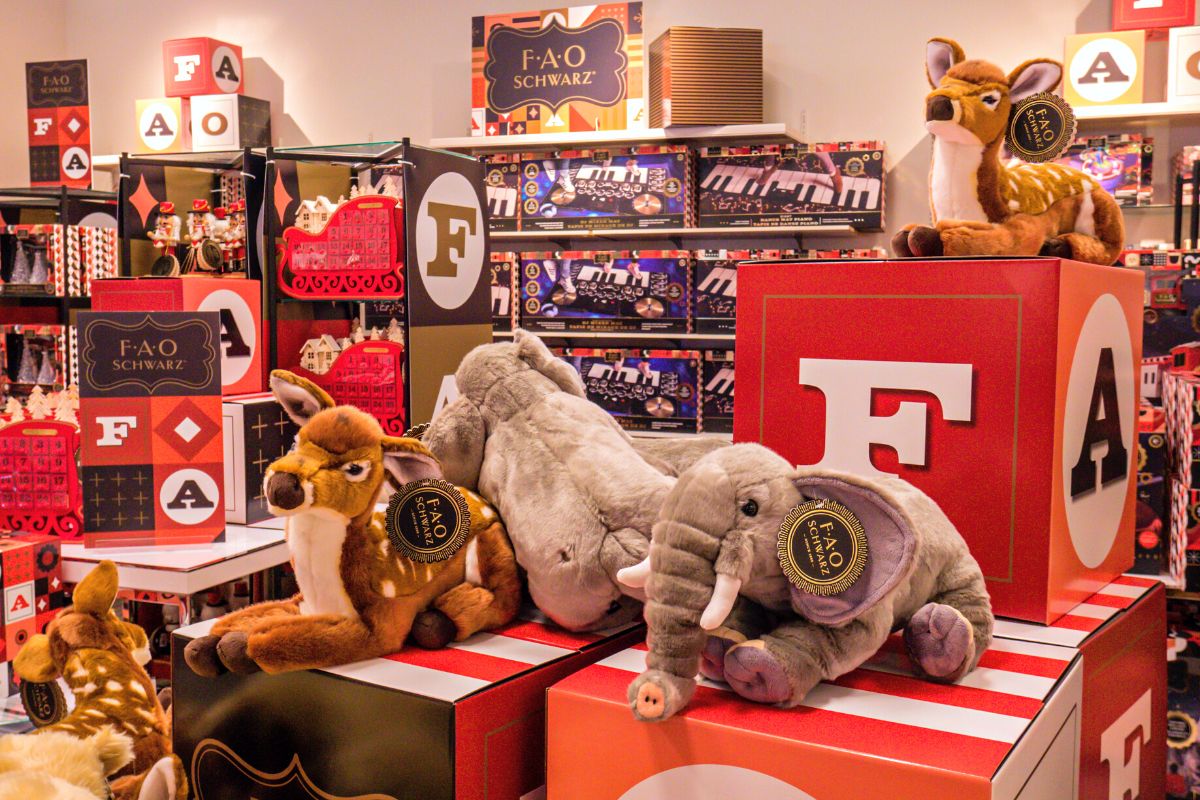 When it's time to pick a cool keepsake, you can't do much better than FAO Schwarz. As the largest toy store in the city, this playtime palace offers everything from dolls and unique stuffed animals to miniature vehicles, model kits, and even miniature pianos!
Keep an eye out for the "toy soldiers" as you wander through the store; these dynamic performers help keep things interesting, inviting kids to play and explore in one of the coolest shops in town.
60 – Take flight on a helicopter tour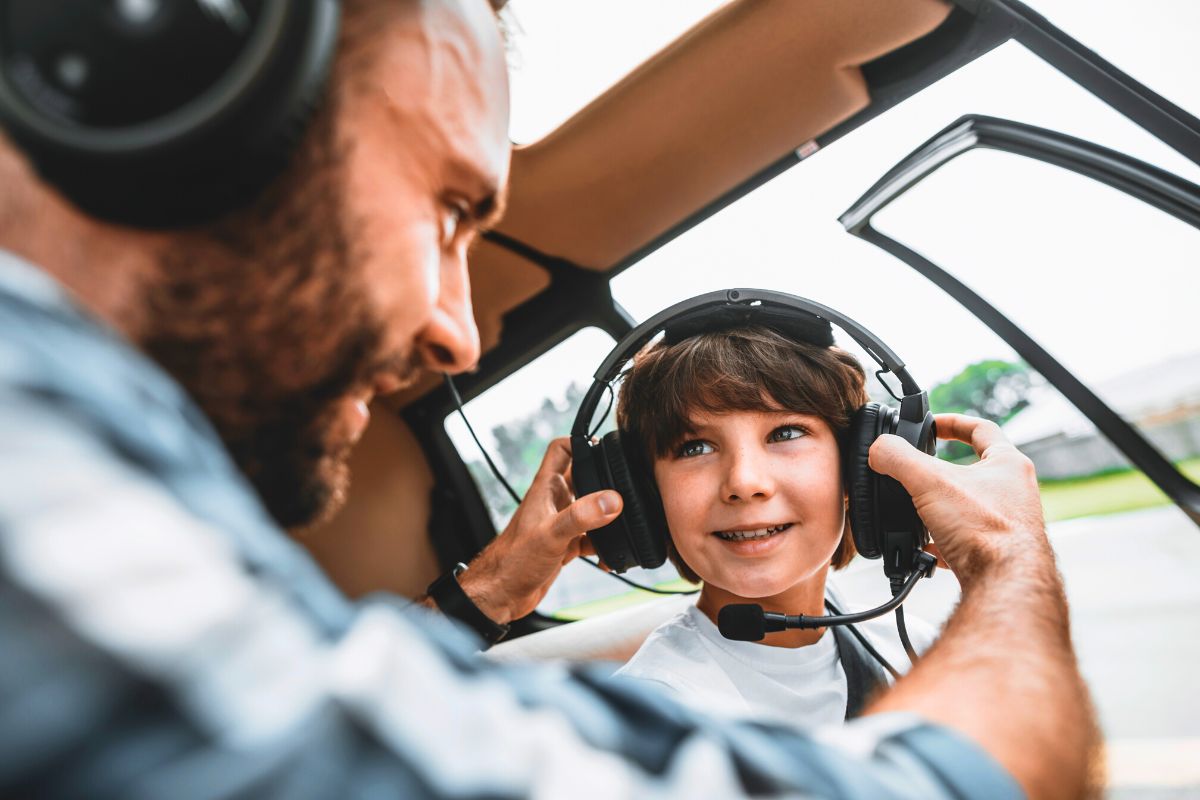 By far, one of the most unique things to do with kids in New York City involves soaring above it. With a helicopter tour, you'll be treated to a bird's eye view (and flight pattern!) as you take to the sky.
Fly high over the gorgeous buildings of Manhattan, getting a whole new vantage point on the neighborhood and its striking architecture. You and your kids will feel like true big shots as your circle the city.
Read more about Helicopter tours in New York City – Which one is the best?
61 – Try a unique sightseeing experience at SUMMIT One Vanderbilt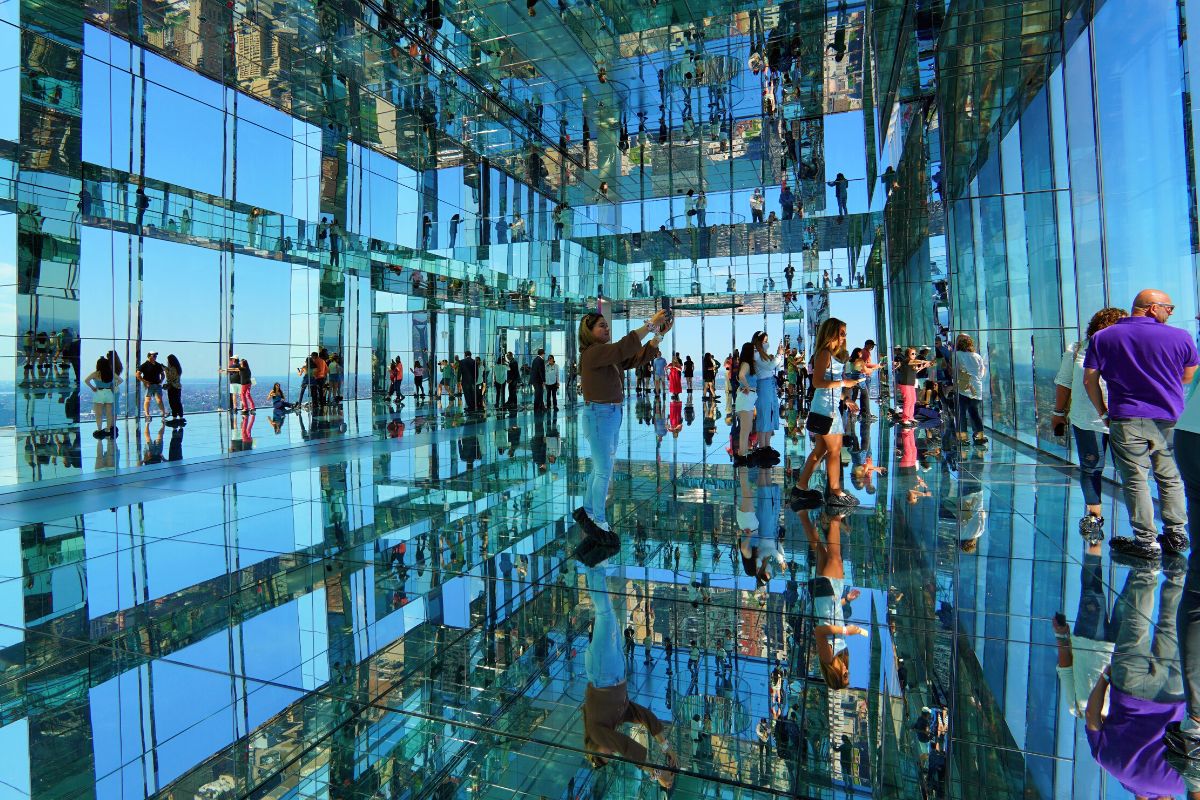 Dive into art, culture, and the simple joy of being when you show up at SUMMIT One Vanderbilt. High above the city, this collection of unique curated experiences draws visitors into a world outside of the norm.
Grab a bite to eat in the relaxing atmosphere of Apres, then head over to the three innovative zones that combine sightseeing with public art.
Venture out onto the elevated glass walkway of Air, where you can linger in the breathtaking atmosphere meant to simulate the experience of floating in the sky. Enjoy a new perspective on the city as you stand in the glass boxes of Levitation, which hover 1,063 feet in the air.
Then climb aboard the transparent elevators of Ascent and shoot straight to the top of the building for the fullest possible view of the world below. These striking sights will keep the whole family entertained, and the viewing areas are an experience unto themselves!
62 – See some classics at the Whitney Museum of American Art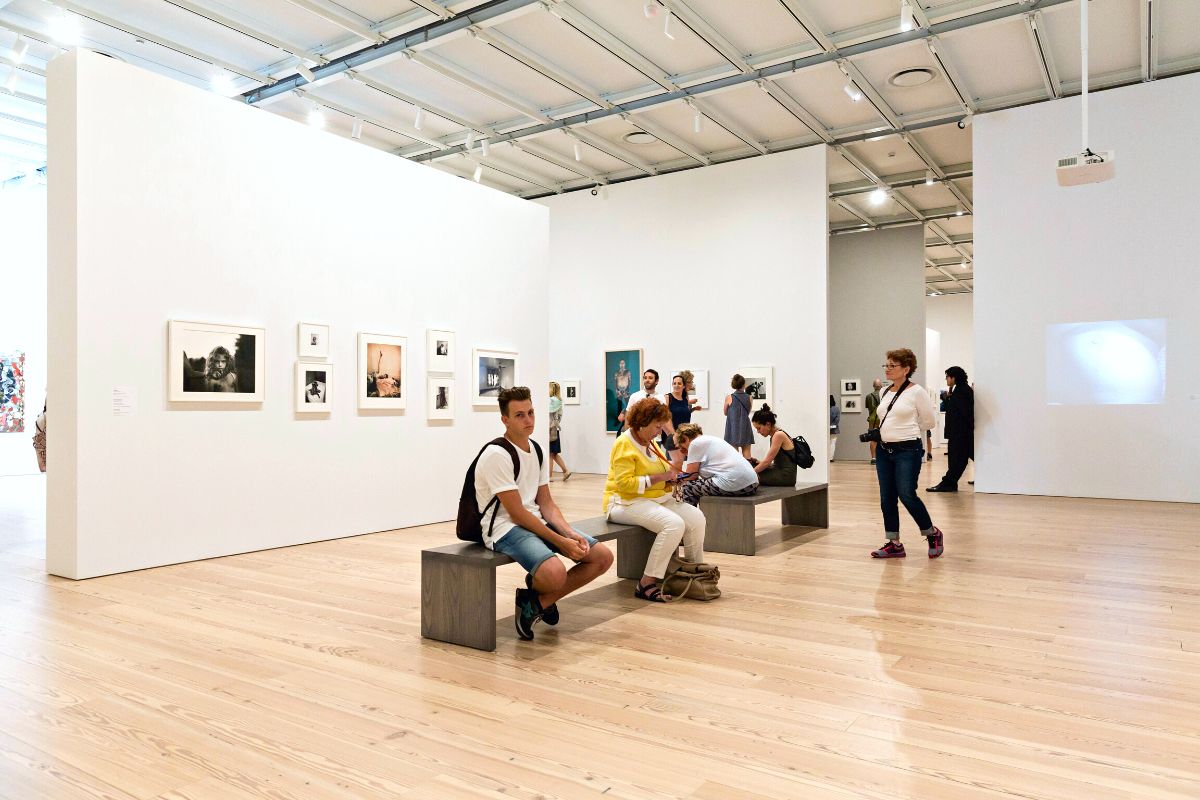 For an artistic experience that starts with the building NOPE, take a trip to the Whitney Museum of American Art.
Its 50,000 square feet of galleries feature works by some of the country's most renowned artists, including Edward Hopper, Andy Warhol, and Georgia O'Keefe.
With thousands of pieces representing a wide range of media and movements, it's the perfect place for families – and get kids thinking about the country's unique artistic traditions.
63 – Catch a show at the Swedish Cottage Marionette Theatre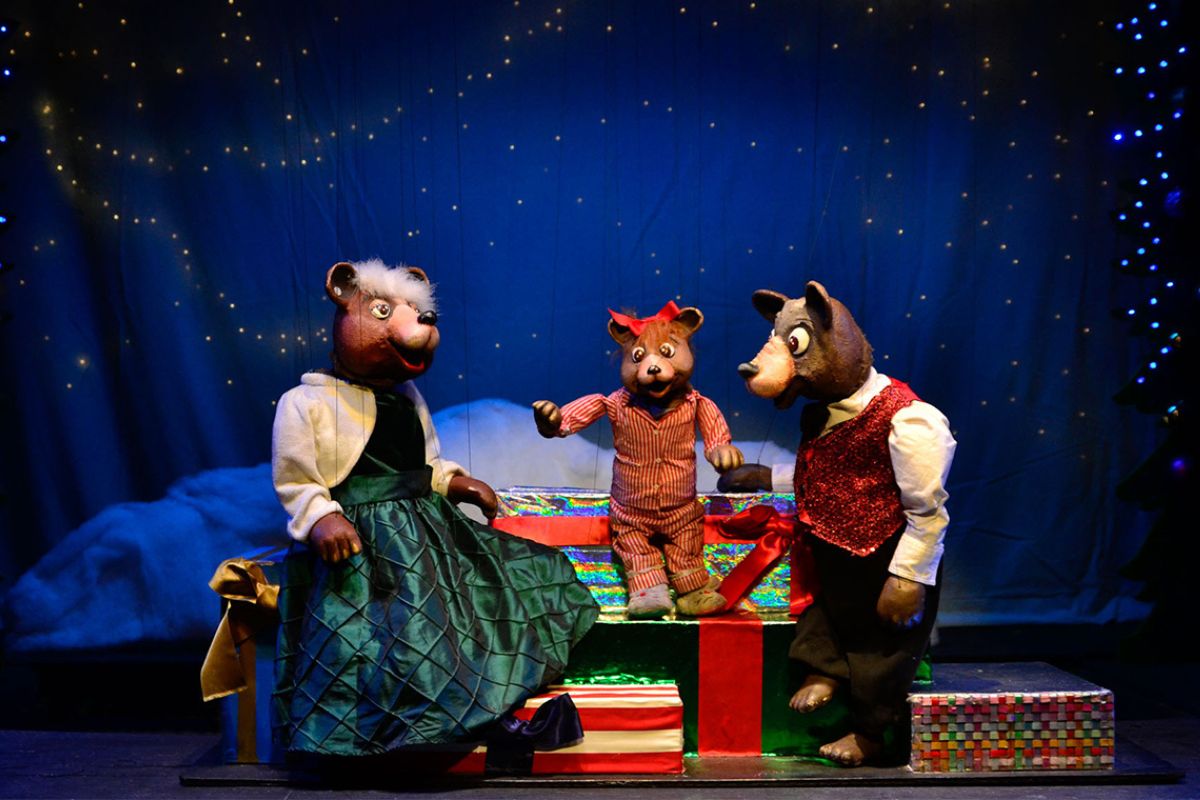 Tucked into Central Park, the Swedish Cottage Marionette Theatre has been delighting children and guardians since 1973.
Their modern-day takes on fairy tales are further enhanced with some world-class puppetry, creating shows that are both entertaining and artful.
Check the calendar before your visit, and see what fun new stories they have ready for you!
64 – Get a new doll (and give it the luxury treatment) at American Girl Place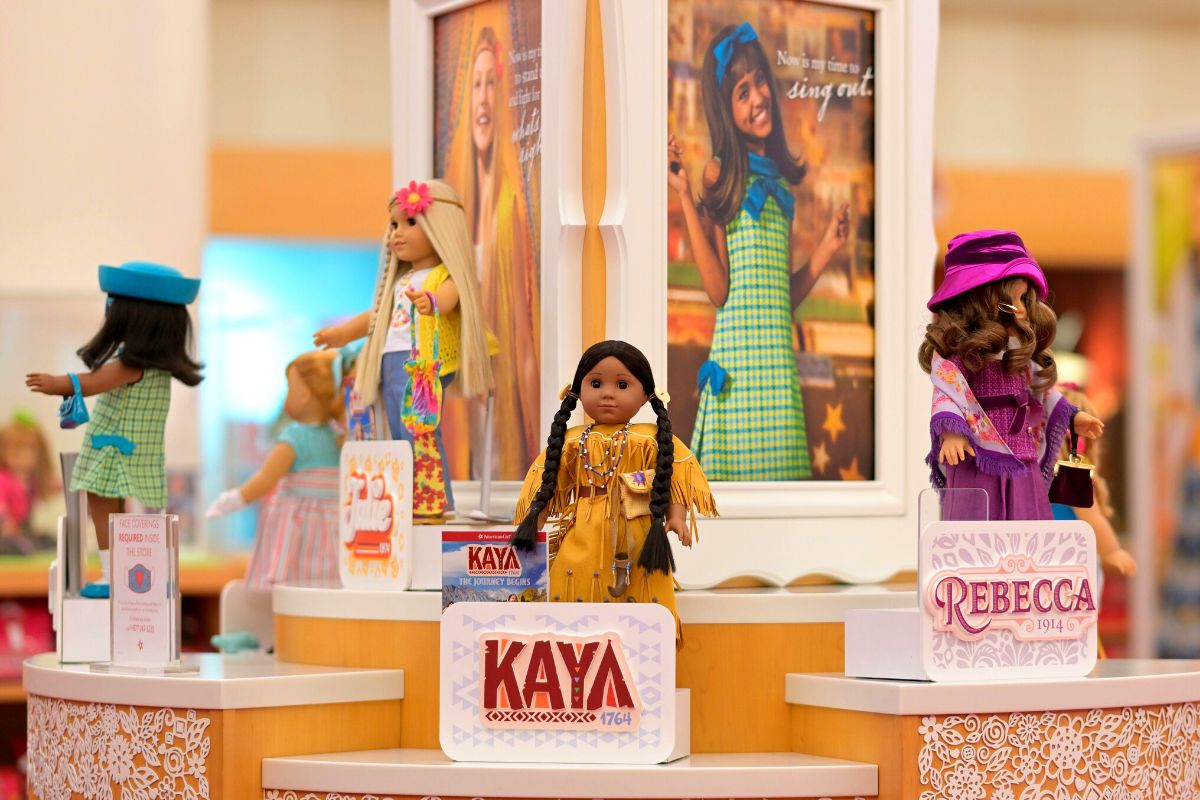 If you have doll enthusiasts in your group, then the American Girl Store is a must. Conveniently located in Rockefeller Plaza, this sprawling space has every model of the famous collectible line, which features characters from various eras of the country's history.
The shop also includes a restaurant, party materials, and even a hair salon where you and your doll can test out the latest styles. At this awesome store, the shopping is almost as cool as the keepsake.
65 – Head to the court for an NBA game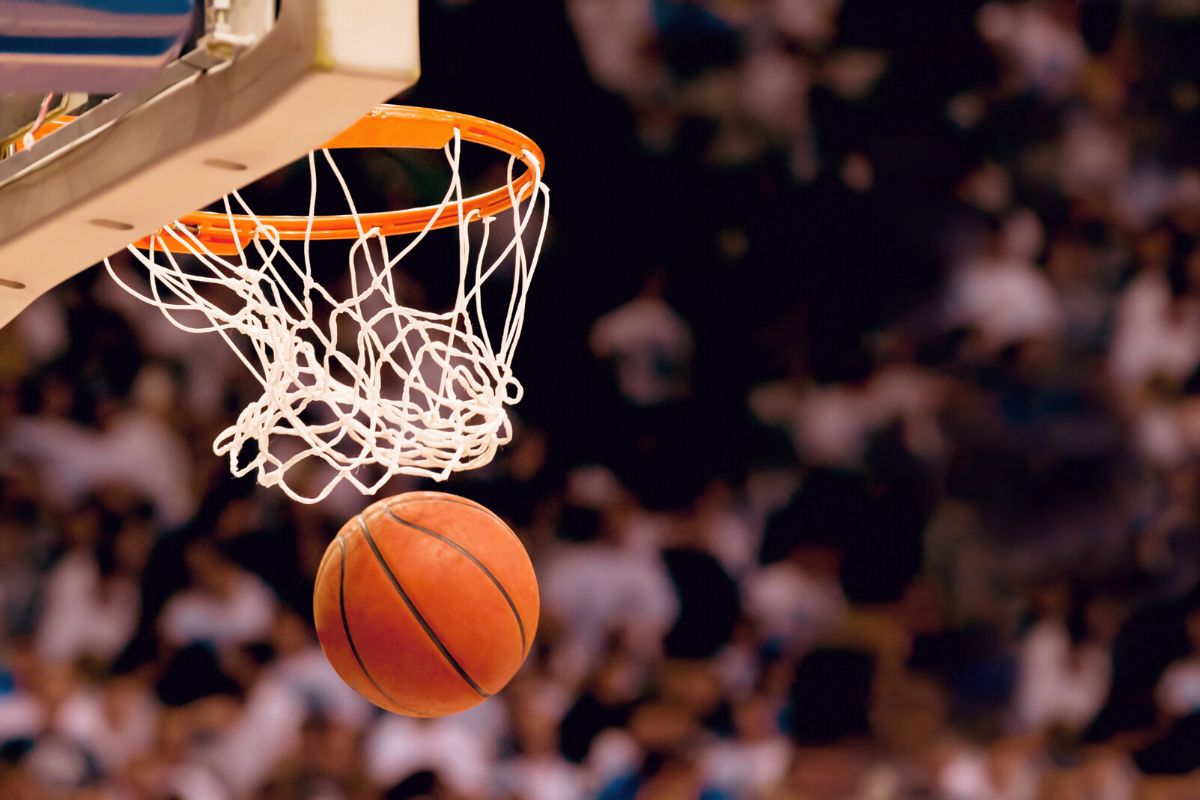 For sports fans looking for family things to do in New York City, it's well worth checking out an NBA game.
Whether you want to watch the New York Knicks at Madison Square Garden or the Nets at Barclays Center, you'll be treated to a thrilling match where the roar of the crowd is just as entertaining as the game itself.
You'll definitely earn some coolness points once you snag these seats!
66 – Enjoy some old-school rides at Quassy Amusement Park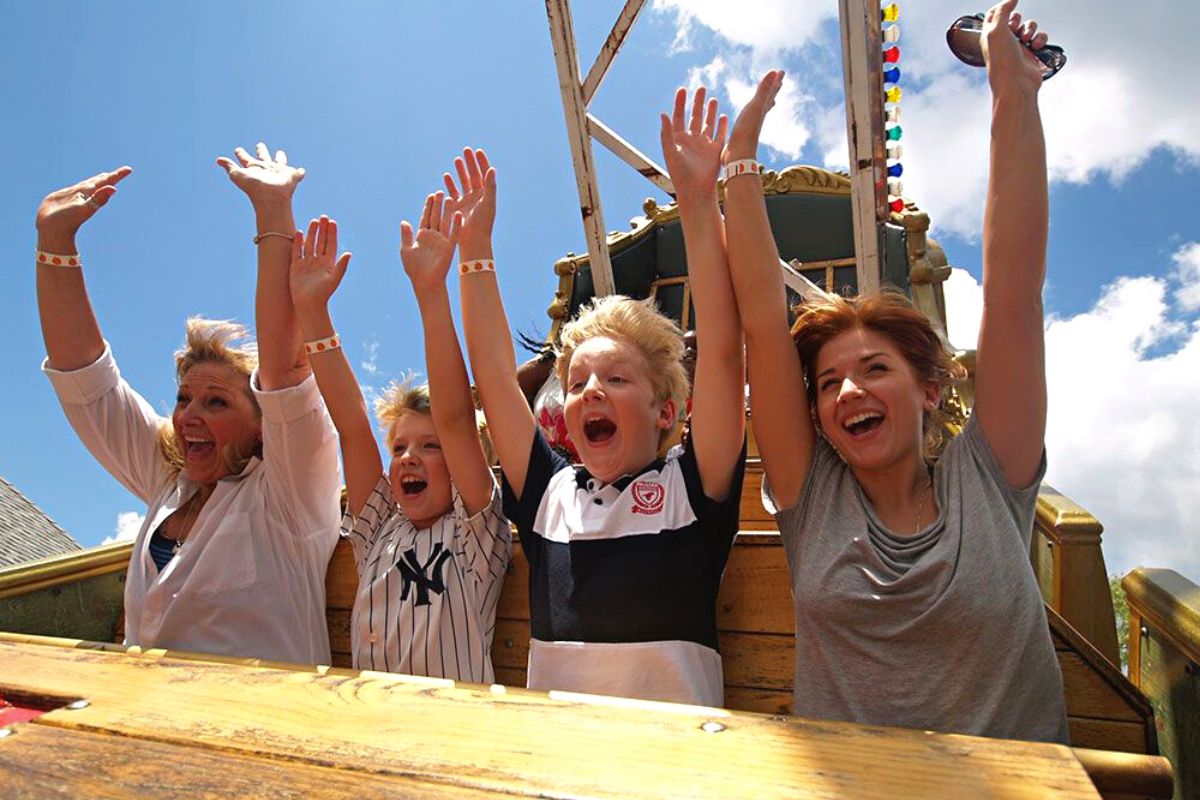 Just an hour and a half from the big city, the charming town of Middlebury, Connecticut, is home to the wild and wonderful Quassy Amusement Park. For 110 years, this charming place has been the perfect destination for families seeking some old-fashioned fun.
Hop aboard the wooden rollercoaster, zoom down the slides at the waterpark or try your luck and skills with a collection of classic midway games. It's all part of a grand New England amusement tradition, with plenty of fun for all!
67 – Take the kids to outdoor movies at Rooftop Cinema Club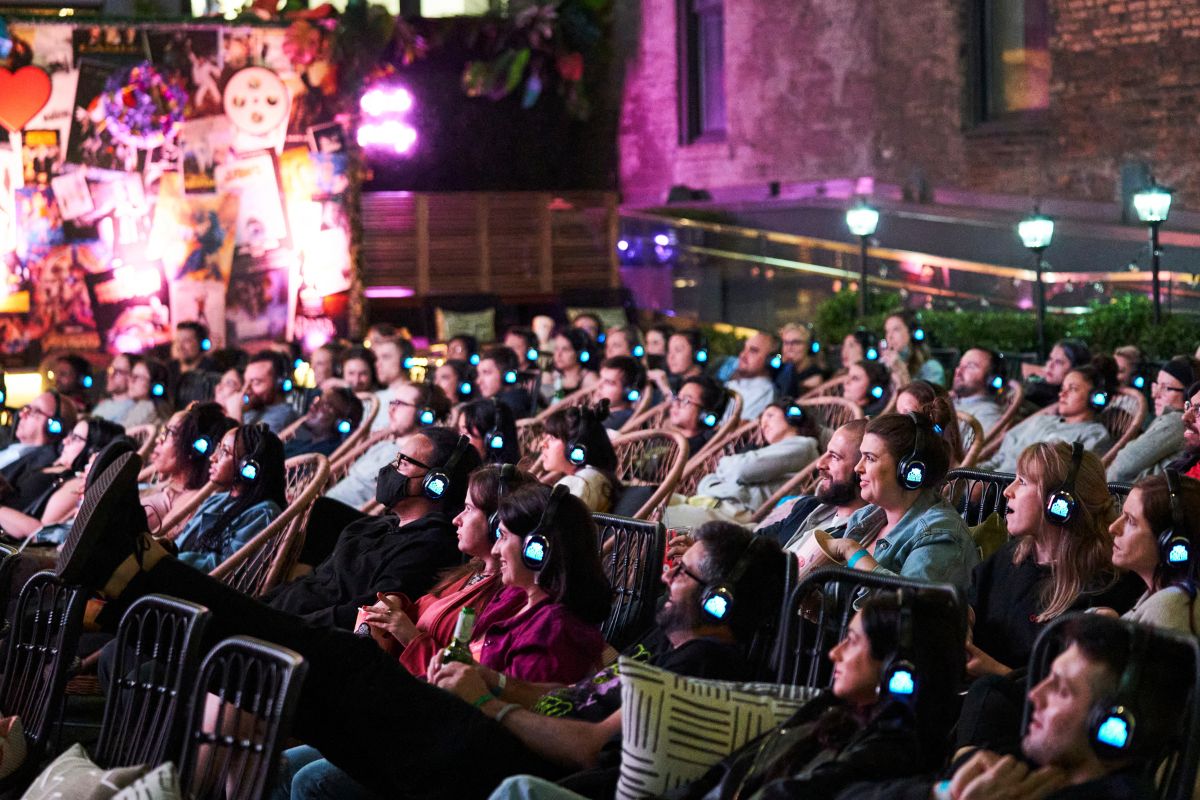 Take the kids on a unique adventure in the city with a trip to the movies — on a rooftop! This is one entertaining outing they won't soon forget.
Head to the Rooftop Cinema Club at the Skylawn Embassy Suites and enjoy a family-friendly movie up until 4:30 PM, before the more R-rated films are shown.
With lounge chairs and personal headsets, the kids will love this comfortable arrangement set outdoors! There'll also be plenty of snacks, drinks and candies for them to choose from. Because of the size of the headphones, the experience is best suited for children aged 5 and up.
68 – Admire New York City's skyline on a boat tour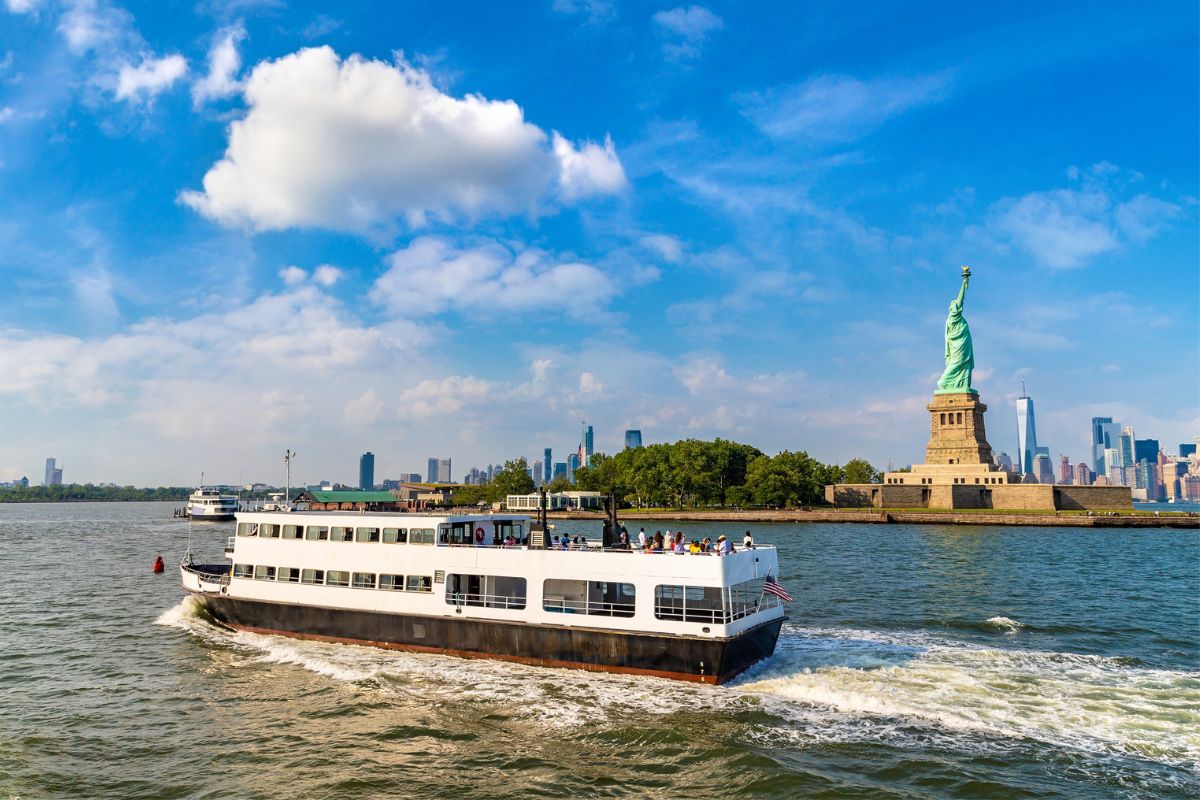 Between the massive harbor and the impressive Hudson River, NYC is the perfect place for a boat tour.
Check out the architectural highlights of Manhattan, get up close to the Statue of Liberty and Ellis Island, or zip to and from such beloved sites as the Brooklyn Bridge and Governors Island on a speedboat ride.
With a stellar mix of entertaining commentary and educational stops, there's nothing like a cruise in the Big Apple!
Read more about NYC boat tours – Which one is best?
69 – Enjoy a little bit of everything at Snug Harbor Cultural Center & Botanical Garden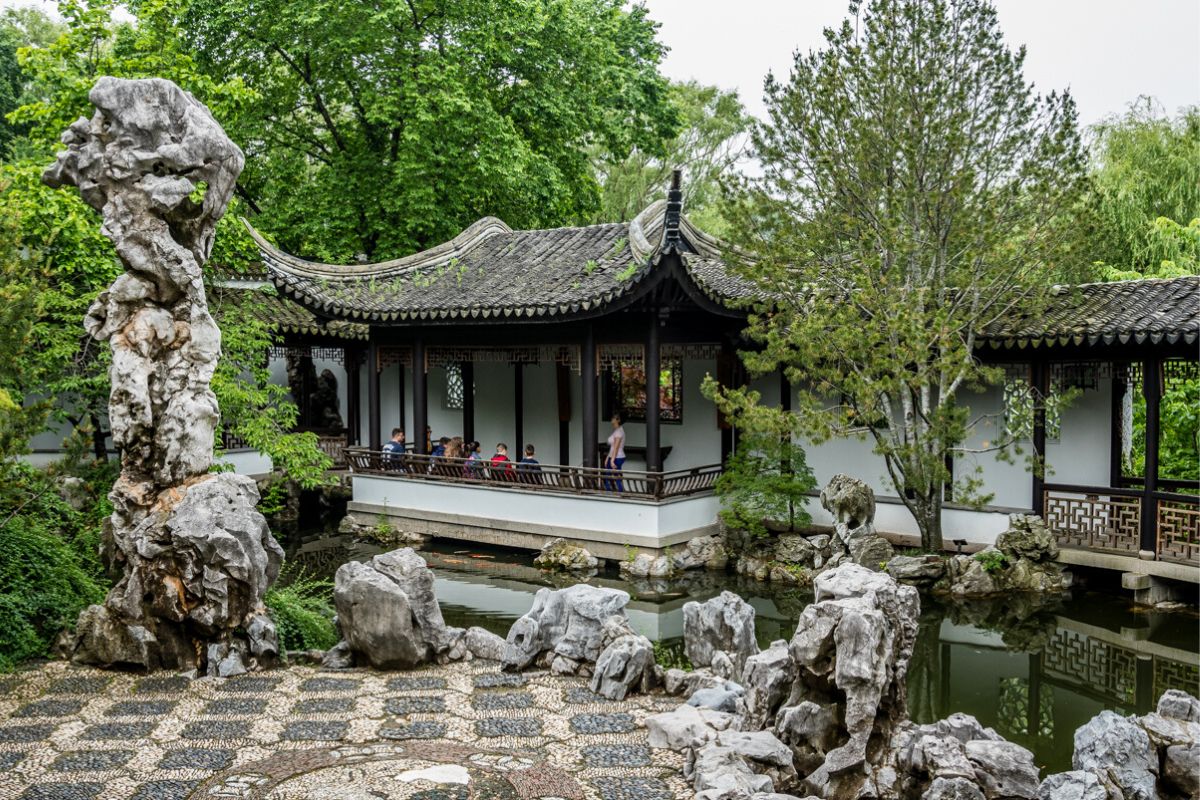 Where can you shop for tasty produce, catch a cool dance performance, and relax alongside some of the most beautiful flowers in town? Snug Harbor Cultural Center & Botanical Garden, of course!
Located in Staten Island, his charming venue combines artistic venues with some great green spaces, creating a holistic community vibe that can be hard to find in the big city.
Along with a heritage farm full of tasty fruits and veggies, you can explore the nearby wetlands, or see what new shows are available. And kids will love the Staten Island Children's Museum, which boasts an impressive lineup of interactive exhibits and innovative play areas.
Whether they're trying out future professions or learning how everyday technology works, your little ones will have tons of fun – and you'll enjoy this welcoming space!
70 – Indulge your sweet tooth at Dylan's Candy Bar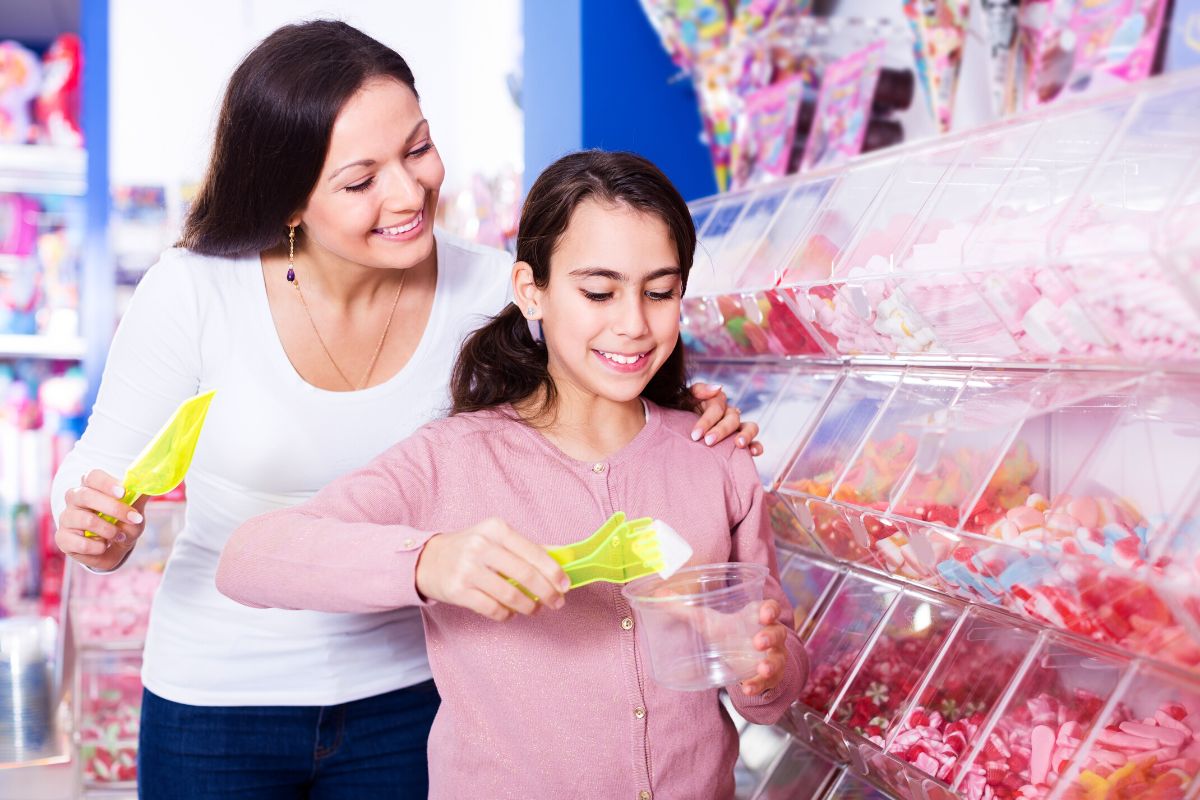 Do you like a little bit of flair with your desserts? Then a trip to Dylan's Candy Bar is an absolute must! With over 7,000 tasty options to choose from, it's a great place to treat yourself to some old favorites and find some new ones along the way.
Browse through acres of lollipops, gummies, jellybeans, and more, mixing and matching the sweets of your choice. The store also takes it one step further with its fun decor; kids will love the giant versions of beloved candies, even if they can't bite into them!
You can even buy some sugar-themed clothes, home goods, and stationary, and rep your favorite brands back home. At this place, everybody is a kid in a candy store!
71 – Try out a treasure hunt with some scavenger games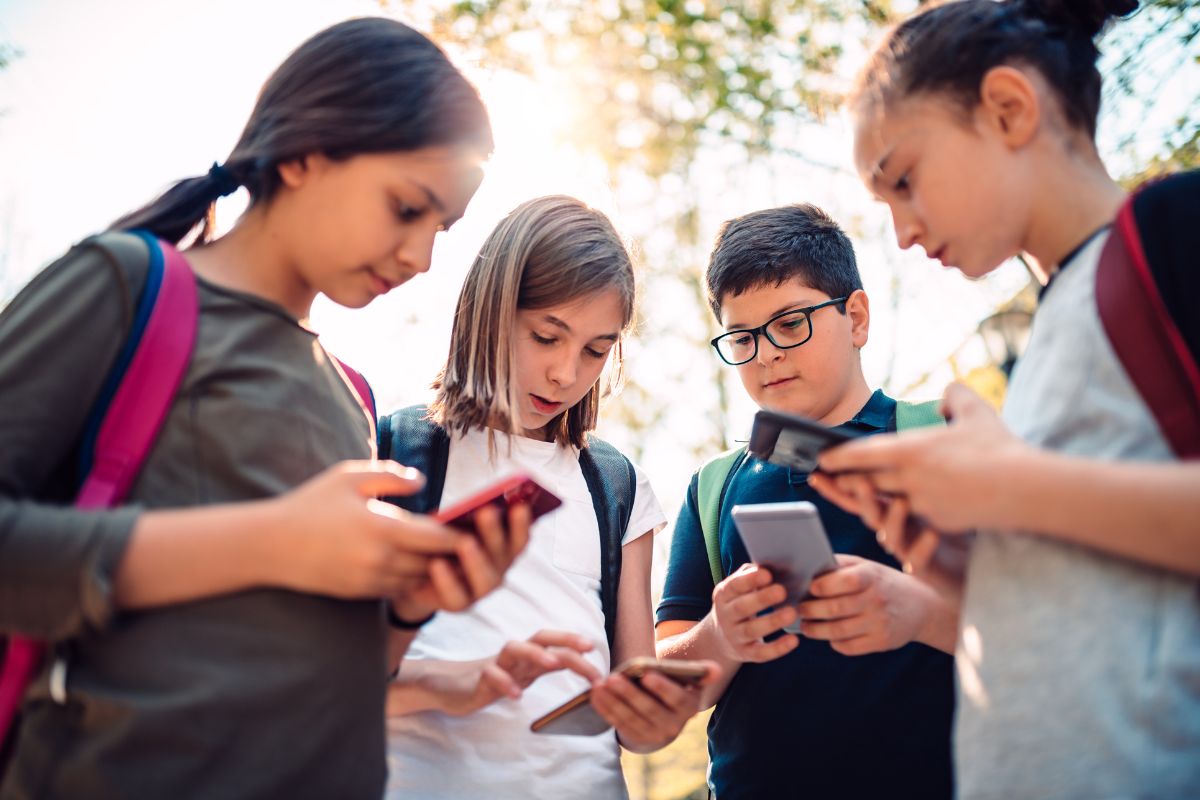 A city as big and complex as New York is the perfect place for a treasure hunt, so grab the kids and try out some scavenger games! With a wide range of themes and locations to choose from, this is one of the coolest family things to do in New York City.
Learn about some of the metropolis' most beloved artists by finding their works scattered around Manhattan, hunt for the hidden haunts of Manhattan's secret societies, or check out the many unique attractions tucked around Central Park.
These hunts are not only an innovative way to learn about the city, but they're tons of fun for the whole family!
72 – Go for a ride on the Roosevelt Island Tramway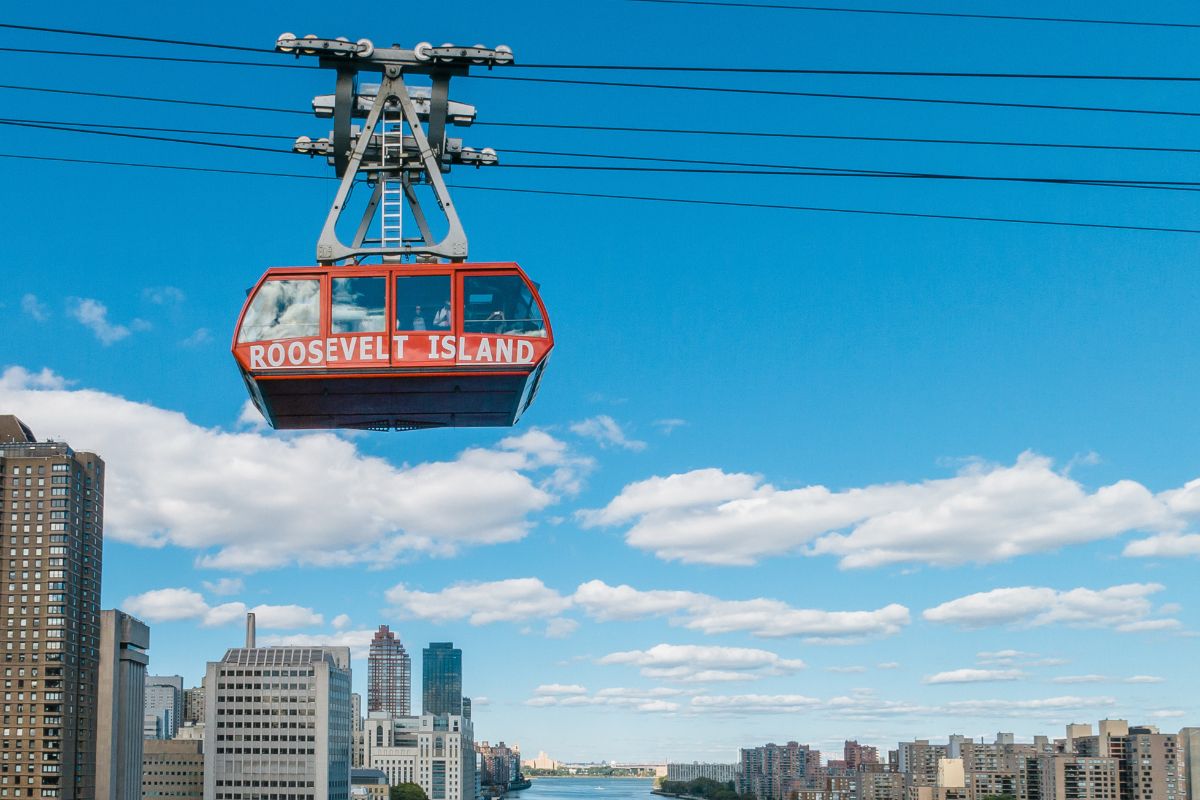 If you want to try some unique transit while you're in town, then be sure to book a ride on the Roosevelt Island Tramway, a triumph of modern transit engineering.
These sleek vehicles soar between Roosevelt Island and Manhattan, offering unique views of the city and its neighborhoods. As both a sightseeing option and a means of transportation, it can't be beaten!
73 – Find your agricultural side at the Queens County Farm Museum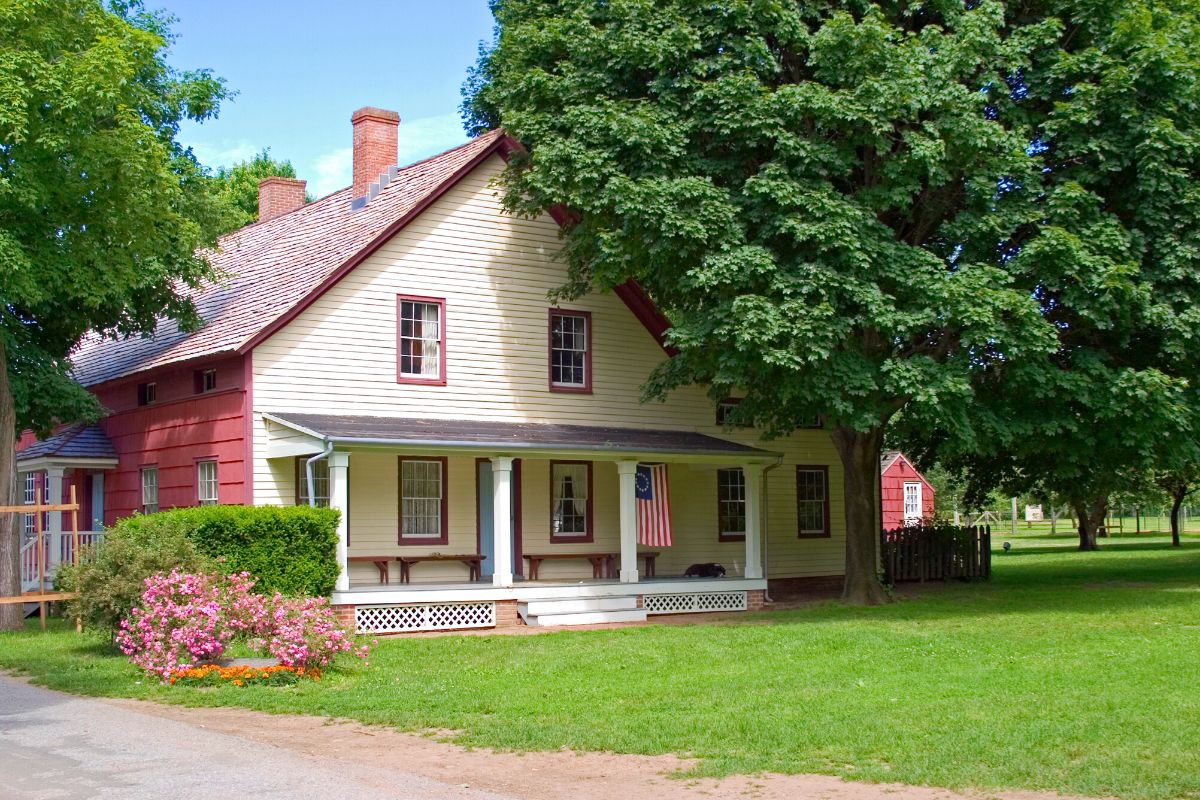 Alongside all of the cool citified attractions in NYC, kids can try out the country lifestyle at the Queens County Farm Museum. For 325 years, this beautiful piece of land has nourished plants, animals, and the surrounding community.
Today, it offers an interactive look at agriculture, including environmental aspects, tools of the trade, and the daily tasks of running such a place. With hands-on lessons and tons of cool creatures to meet, everybody in the family will find something to enjoy during their day on the farm!
74 – Discover the wonder of lasers at Holographic Studios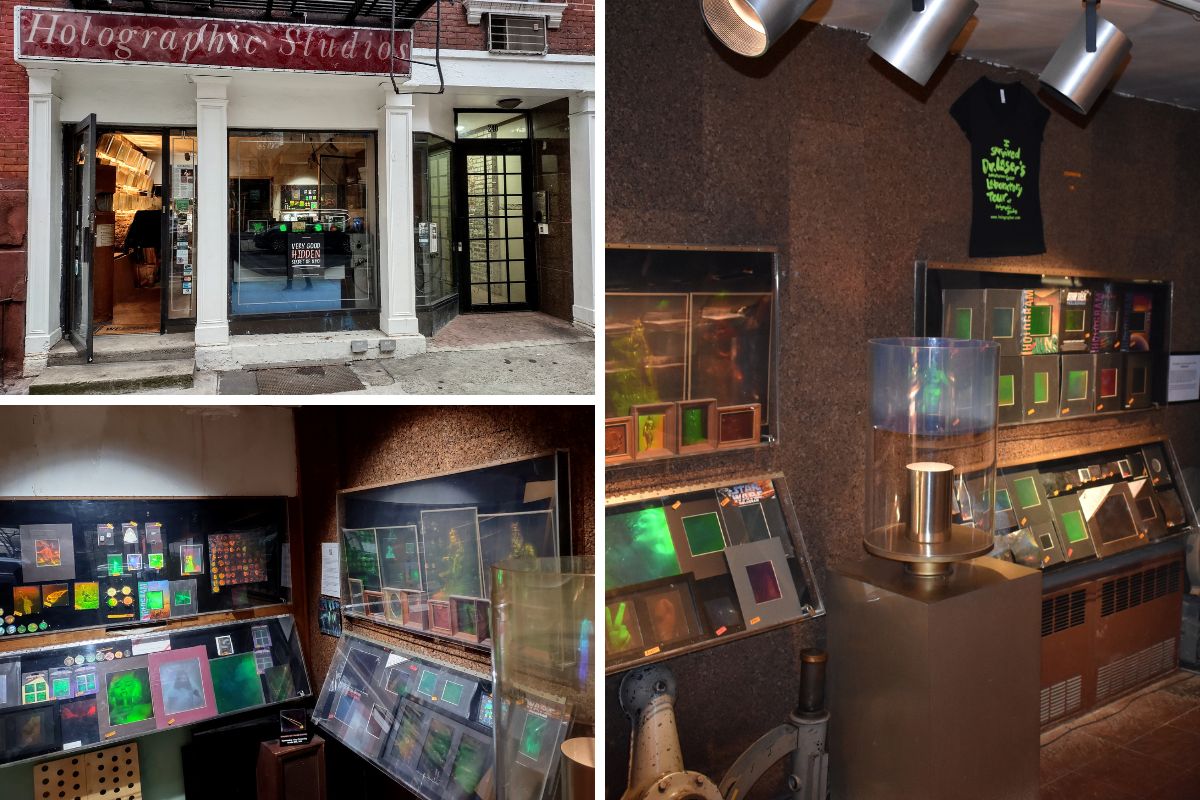 Are you looking to unleash your kid's curiosity? There's no better place to do so than at Holographic Studios. This gallery has been creating incredible holograms for decades, and is a great place for children to learn about the science behind this unique art form.
Join a guided tour or class, or simply roam the gallery for free. Meet Doctor Laser during a tour, and have your mind blown by the incredible 3D laser creations. This is one outing where kids will not just have fun but gain new knowledge!
75 – Sightsee with some thrills on a jet boat tour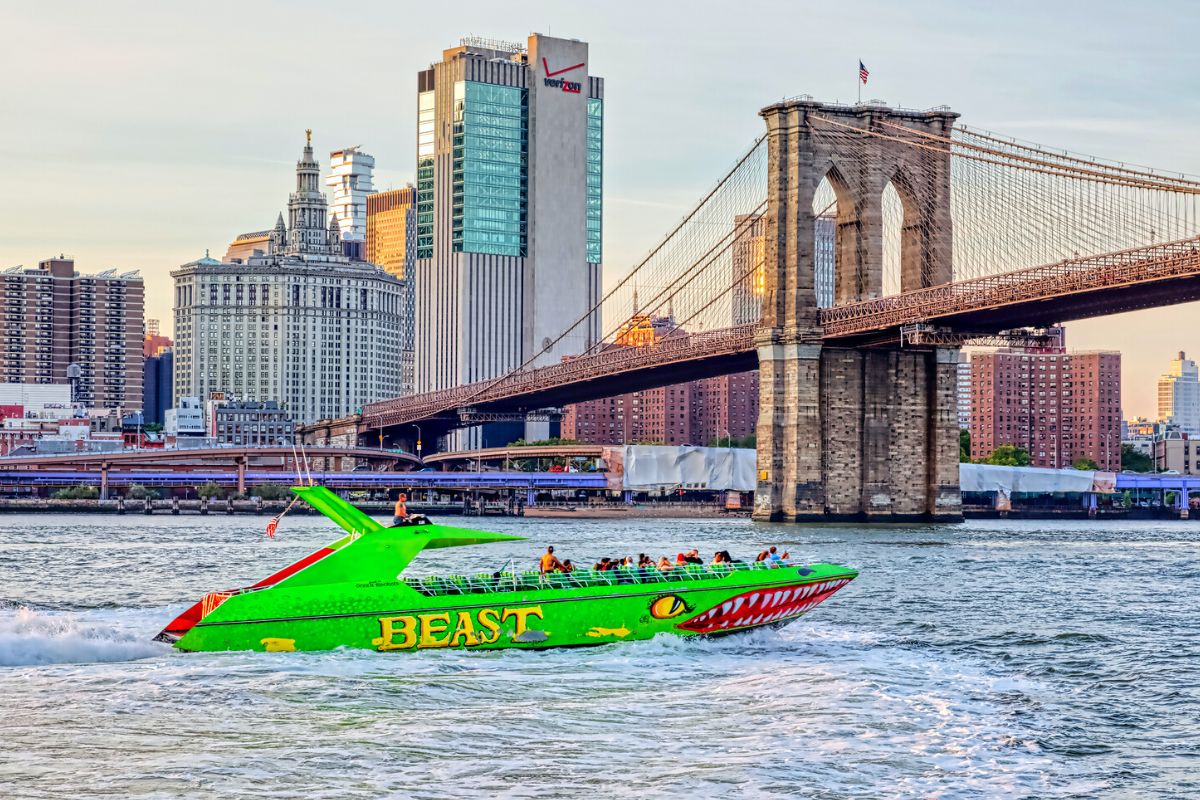 Your little adrenaline junkies will love seeing the city at high speeds with a jet boat tour. Hop aboard "The Beast" and hurtle through the harbor, getting unparalleled views of the Statue of Liberty.
With high-energy musical accompaniment and great chances to snap some pictures, you'll feel like the star of your own action movie! It's a truly memorable ride through one of the greatest cities in the world.
76 – Chow down at Smorgasburg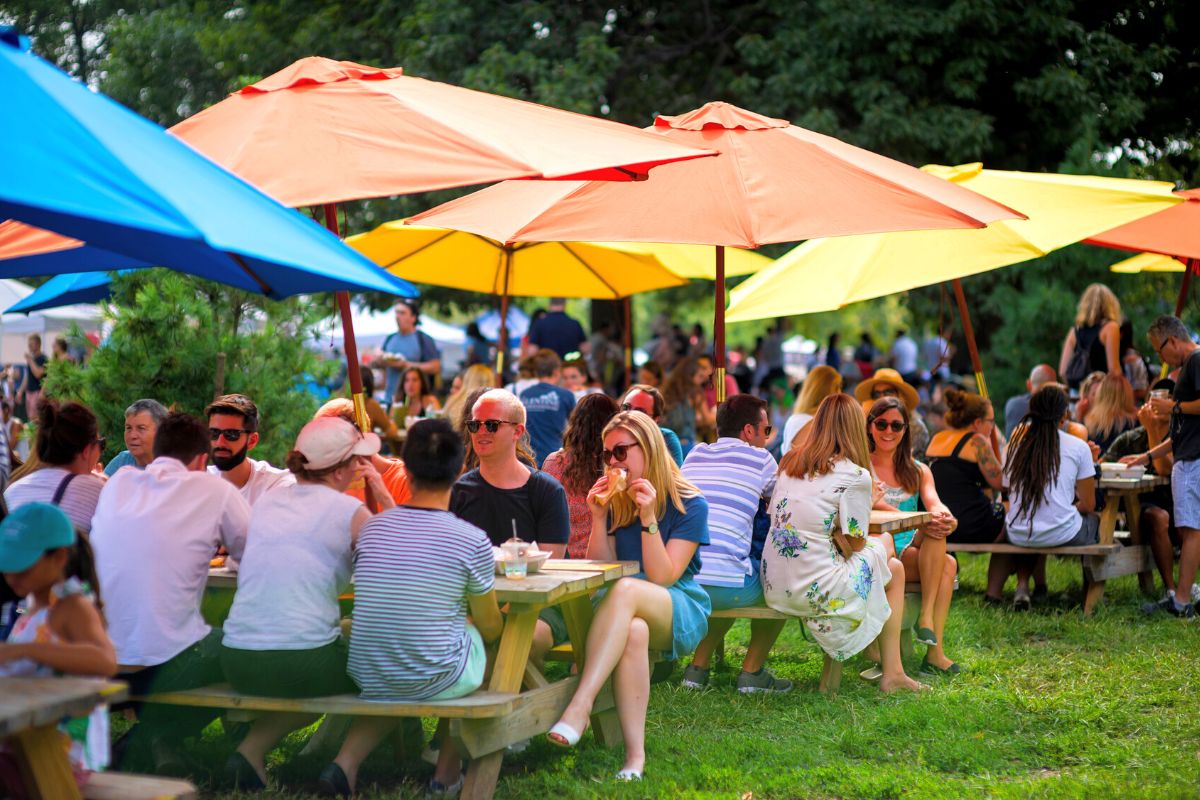 If you have picky eaters in your group, New York has the solution: Smorgasburg. America's largest open-air food market, which has locations in Manhattan, Brooklyn, and Jersey City, is a wonder-filled maze of snacks, meals, and novelty treats.
From vegan meals and deluxe desserts to regional delicacies from around the world, this is the perfect place to expand your little adventurer's tastes. Grab a map and come with an empty stomach!
77 – Find some new reading material at the Strand Book Store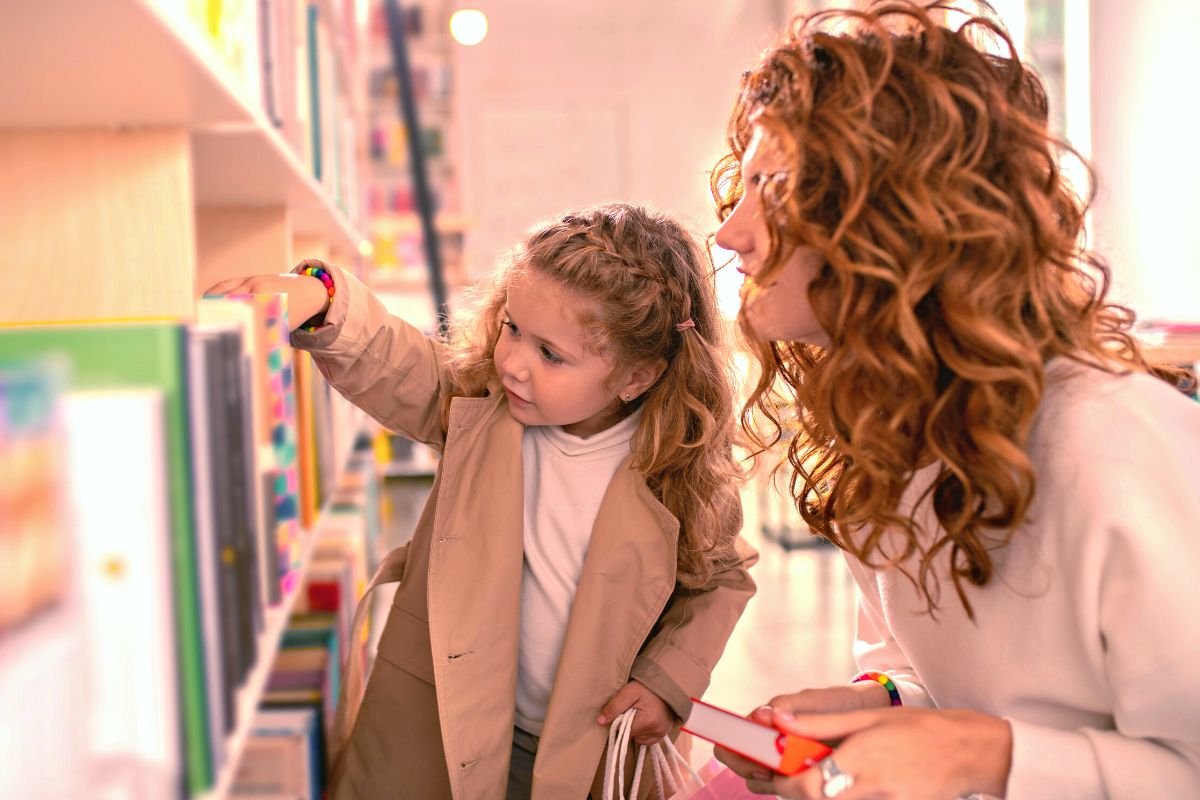 If you want to get your little bookworms a great souvenir or two, go get lost together in the aisles of the Strand Book Store. Since 1927, this splendid space has been a haven for literature and readers, with a whopping 18 miles of books to explore.
There are also tons of live readings by acclaimed authors, so you can learn firsthand about that hip new book you've been eyeing. And with an extensive kids and young adults section, there's no shortage of amazing stories to explore.
But be warned – you all might end up with a pile of books to take home!
78 – Explore the New York City Catacombs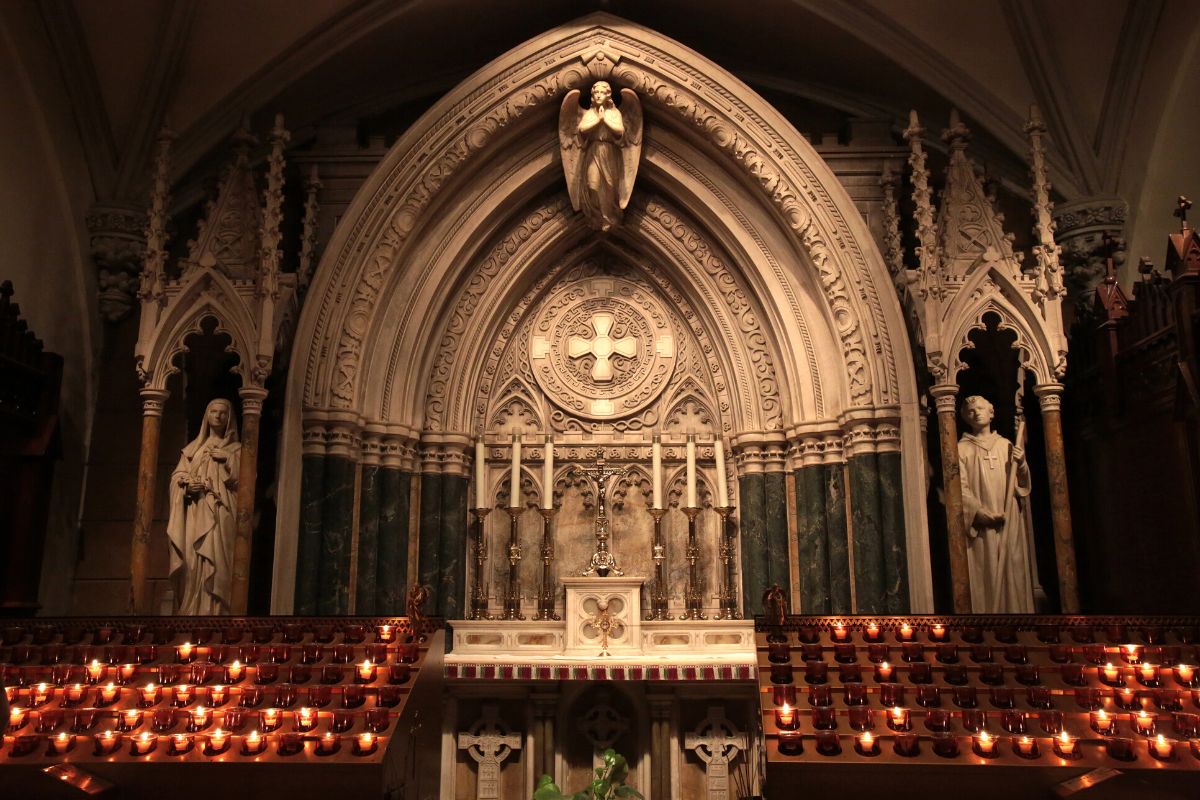 Millions of people have made NYC their home over the centuries… but where do they go when they pass away? At the New York City Catacombs, you can learn all about the history of some of the town's deceased citizens, as well as the larger story of the church that houses them.
This elaborate system of tunnels and chambers houses many of the former worshippers of the Basilica of St. Patrick's Old Cathedral, and during your visit, you may catch a glimpse of the elaborate burial sites of prominent citizens.
From politicians and business executives to renowned bishops that once served the church, it's a great crash course in the history of Catholicism in the city. While the trip may seem morbid, it will spark your curiosity and offer a unique perspective on the metropolis.
79 – Get absorbed in the past at the DiMenna Children's History Museum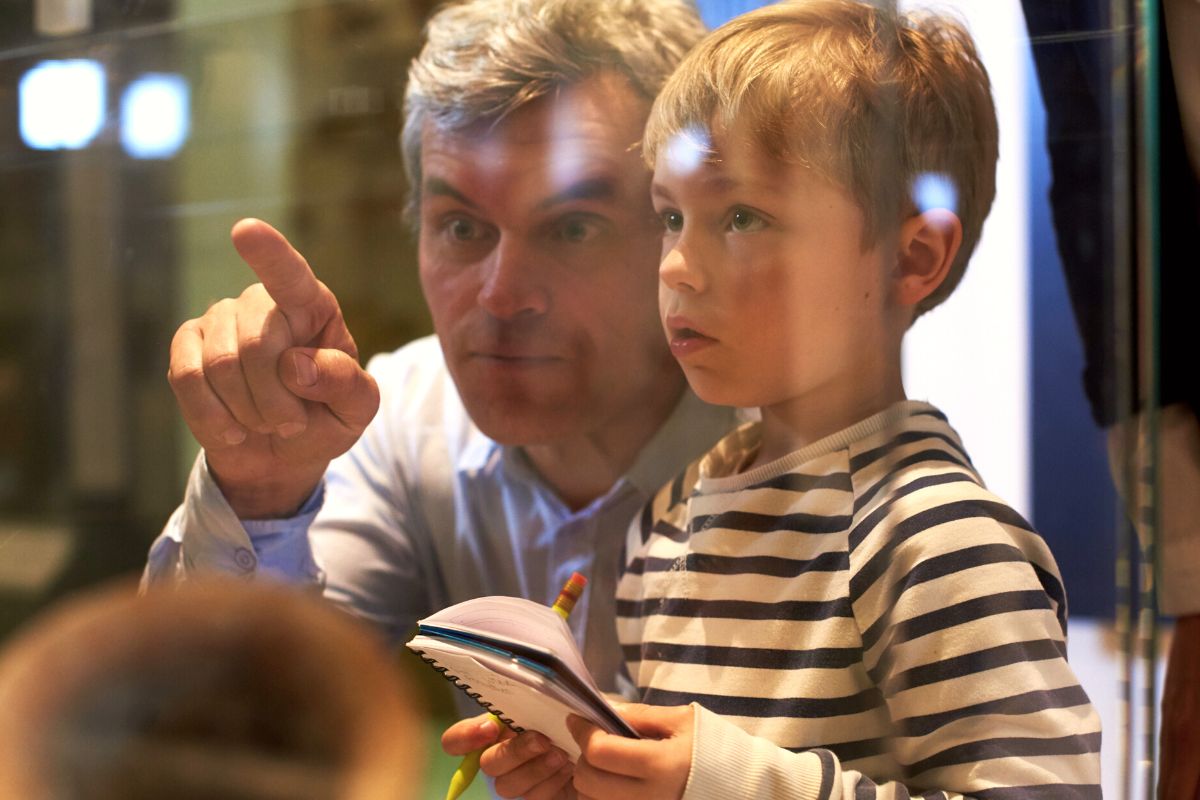 For some hands-on exploration of the past, take your little ones to DiMenna Children's History Museum, where the stories of the past come to life in full action. Many of the exhibits include powerful personal accounts from individuals that experienced significant events, from September 11th and political protests to the Covid-19 pandemic.
And don't miss the Living History programs, where the museum staff use artifacts and stories to explore some of the most fascinating ideas, trends, and people of the city's past. Innovative and fun-filled, this institution is one of the most historically significant things to do with kids in New York City.
80 – Hit up the rides at Six Flags Great Adventure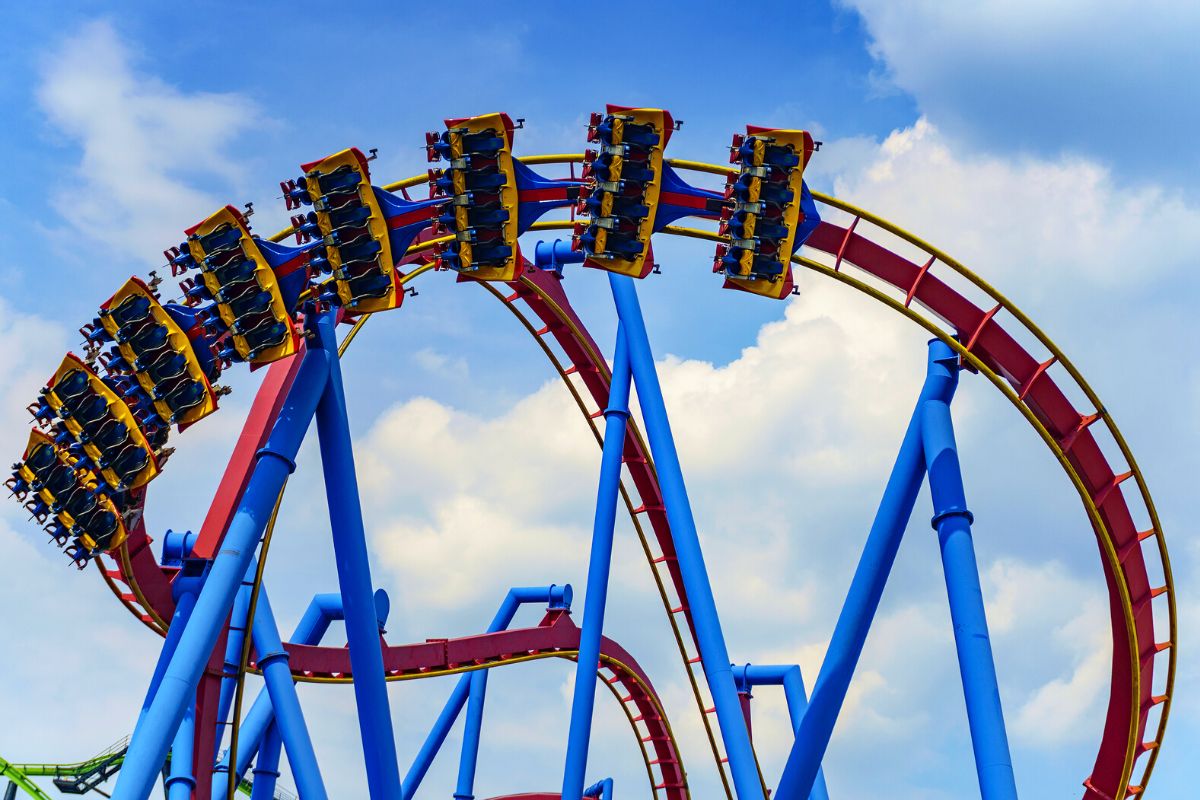 The amusement parks in the Six Flags franchise are known for their wild rides and devoted followers, and Six Flags Great Adventure, which is an hour and a half from the city, is a great place for adrenaline junkies of all ages.
Join your favorite superheroes in a wild adventure with Justice League: Battle for Metropolis; spin, flip, and fly through the unique "anti-gravity" mechanics of CYBORG Cyber Spin; or test your courage on the Jersey Devil Coaster, which is the longest, tallest, and fastest single rail coaster on the planet!
If you have younger or more timid groupmates, never fear; there are plenty of tamer rides to enjoy, from the jungle river journey of Congo Rapids and the spooky magical mansion of Houdini's Great Escape to traditional offerings like bumper cars and a Ferris wheel.
And with tons of great live entertainment – including trained animal shows, musical performances, and seasonally themed shows -, there's no shortage of phenomenal experiences to try.
So whether you want thrills, chills, or simple amusement, this is the ideal place – a truly great adventure!
81 – Learn something new with the best free classes for kids
Just because you're on vacation doesn't mean that your kids can't keep learning! With its tremendous size and dynamic cultural scene, NYC is the perfect place for your youngsters to try some new skills.
From arts and crafts to LEGO building sessions, coding to environmental programs, sports leagues to entry-level coding and robot building, there are plenty of amazing options for your kids to explore.
And best of all, they don't cost a cent! Mix and match the arts and sciences for a truly memorable vacation, with skills that kids can keep practicing long after they've returned home.
82 – Explore the Guggenheim Museum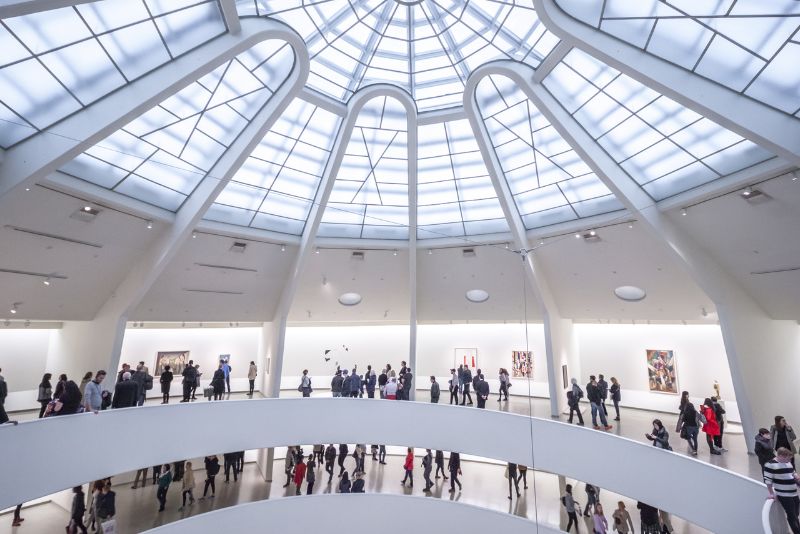 The Guggenheim Museum is well known for its gorgeous modern architecture and its incredible catalog of art, which includes French modernist, Impressionist, and post-Impressionist works.
It has some top-notch programming for kids and teens, such as workshops and classes that cover some of the famous artists represented in the building. Teens can also try out various programs that offer a glimpse into how this and other museums operate, providing unique opportunities to learn about this exciting field.
And if you and your family want to focus more on seeing the exhibits, the museum's got you covered; pick up some audio guides to get valuable context for some of the most famous works on display.
Whether your kids want to learn more about the art, the building that houses it, or both, there are tons of unique interactive options at this hyper-modern institution.
83 – Take a walk back in time at Field Station: Dinosaurs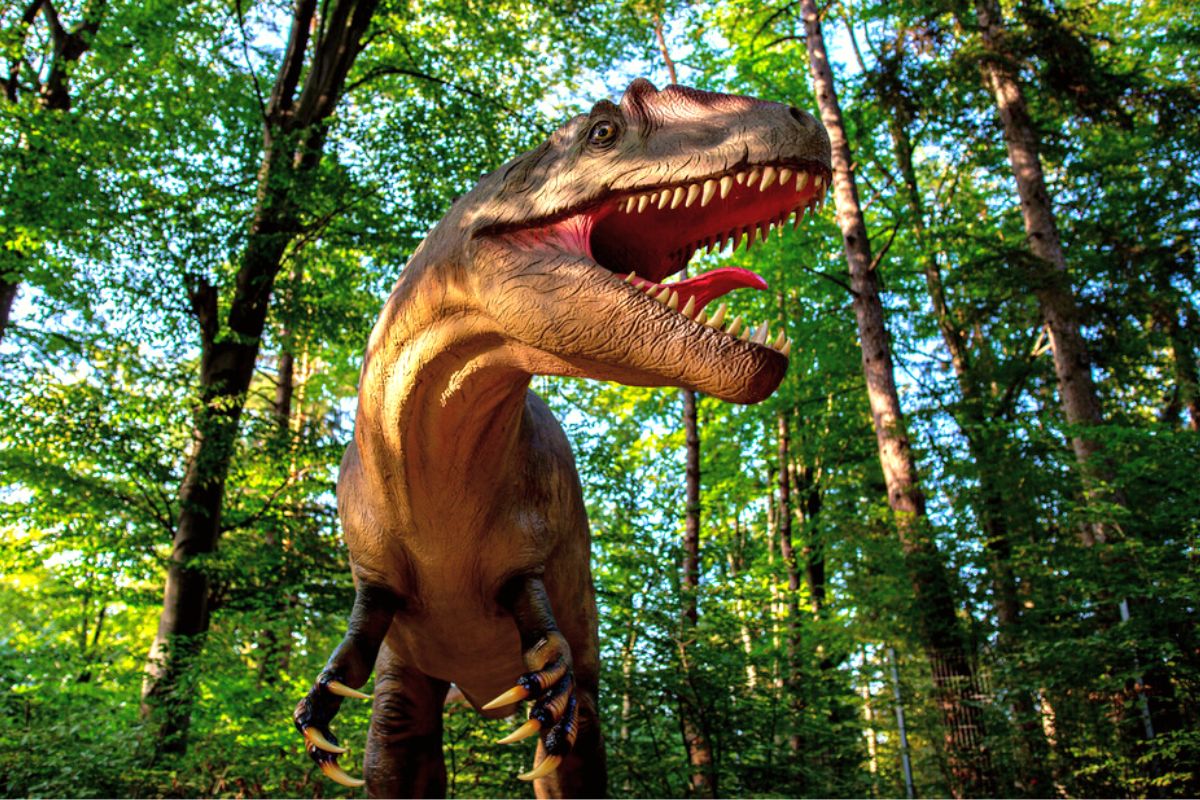 Got any wannabe scientists in the family? If so, Field Station: Dinosaurs will give them the thrill of a lifetime! Much like the Dinos Alive exhibit, this fascinating display features magnificent sculptures that show just how these creatures looked in their living form.
There are also various games, interactive presentations, and scientific shows, all designed to teach kids more about their prehistoric pals.
Swing by the Field Station for some cool prizes, learn about T-Rex feeding habits, or boogie down at the Dinosaur Dance Party; From the scientific to the silly and everything in between, it's the perfect excursion for dinosaur fans.
84 – Spend a day (or night) at the Intrepid Sea, Air and Space Museum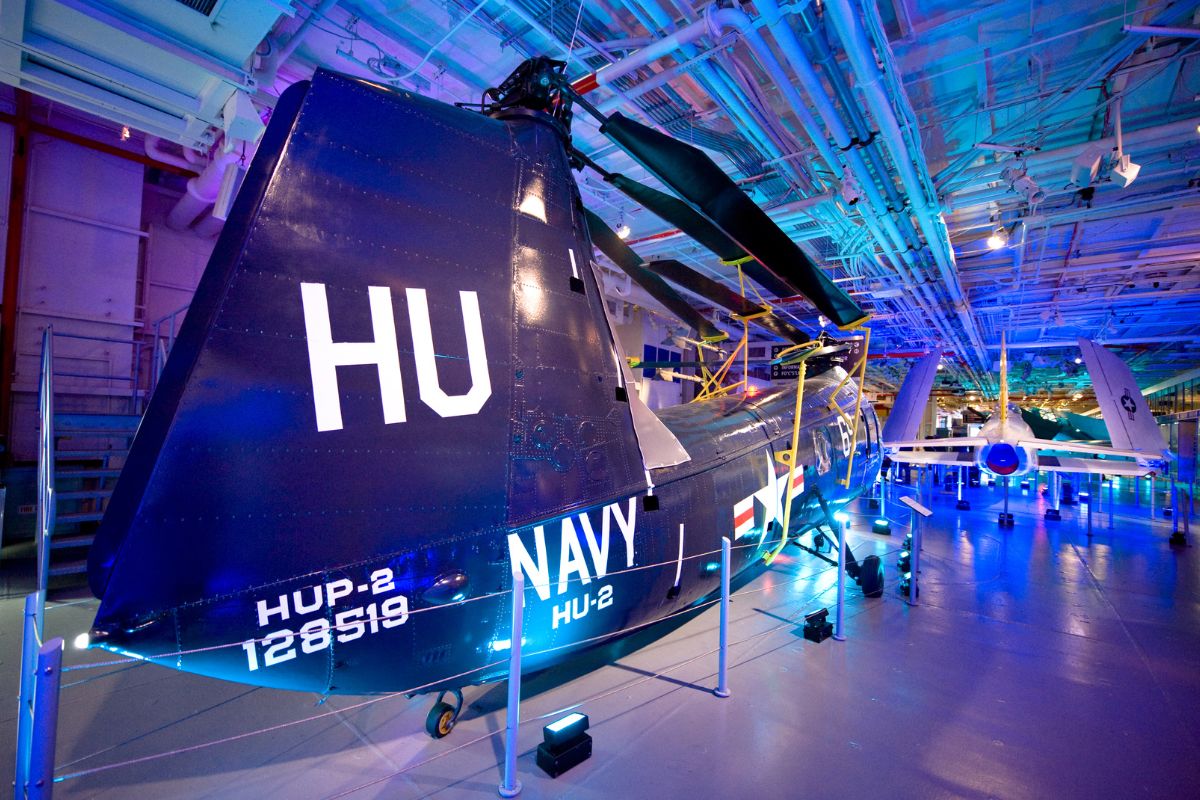 From the depths of the ocean to the wonders of flight and the adventures of the space program, Intrepid Sea, Air, and Space Museum is the perfect place to explore some compelling realms.
Try out some interactive labs, take a spin on the flight simulators, and roam through the spectacular remains of the aircraft carrier Intrepid, a submarine, and the Enterprise space shuttle. Teens will love the socially-focused programming, and families will enjoy the dynamic presentations that take place on the weekends.
And for a really memorable evening, book an overnight stay on the ship, and enjoy an exciting sleepover experience that includes everything from educational presentations to nighttime tours of the facilities.
It's a unique way to explore a valuable piece of naval history!
85 – Check out the cool programs at the Queens Botanical Garden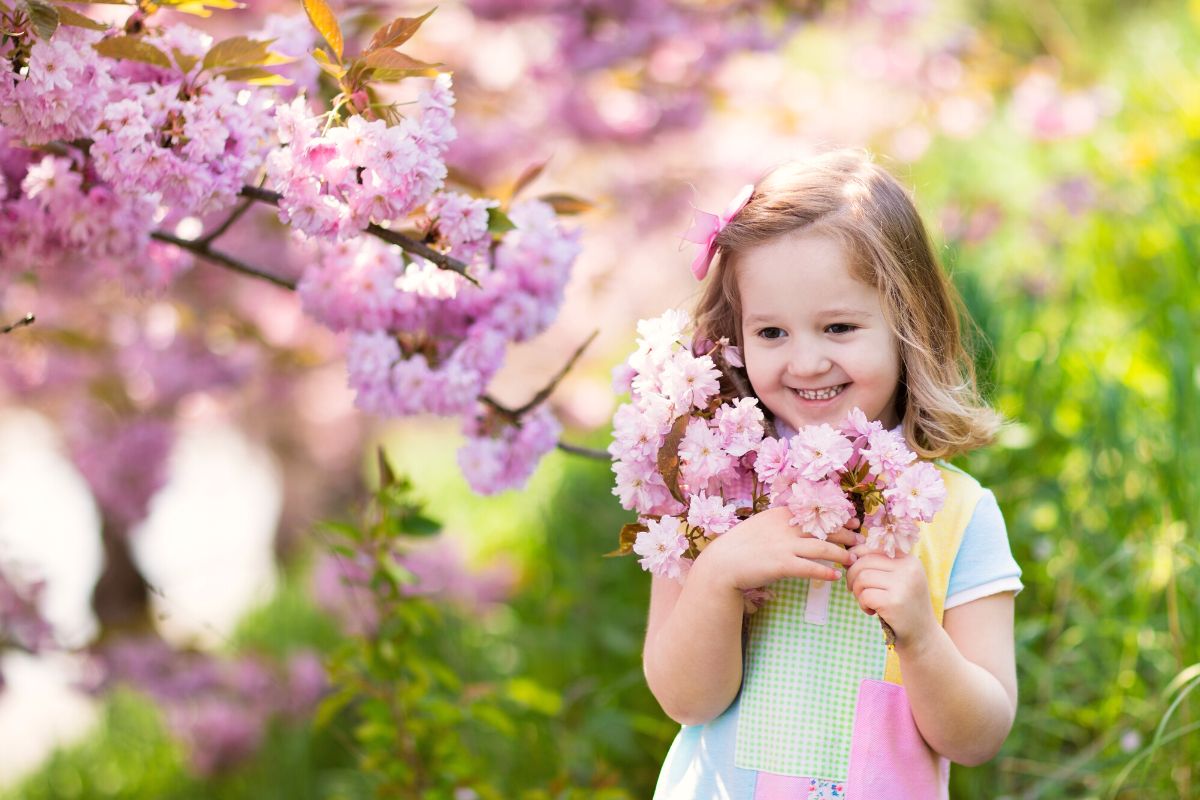 Once you've explored the glorious plant life of Brooklyn and Manhattan, it's time to give Queens its due. This lovely borough is home to the Queens Botanical Garden, which offers 39 acres of gorgeous scenery, sustainable environments, and culturally innovative spaces.
Part of the joy of visiting this area is the seasonal component; each time of year offers its own unique plants and seasonal beauty, making this the perfect spot for return visits.
There are tons of other treasures to discover as well, from a beautifully preserved meadow to an arboretum and a compost site. And check the calendar before you go, because the garden also hosts plenty of exciting live events throughout the year, from volunteering sessions to movie nights.
86 – Check out an MLB game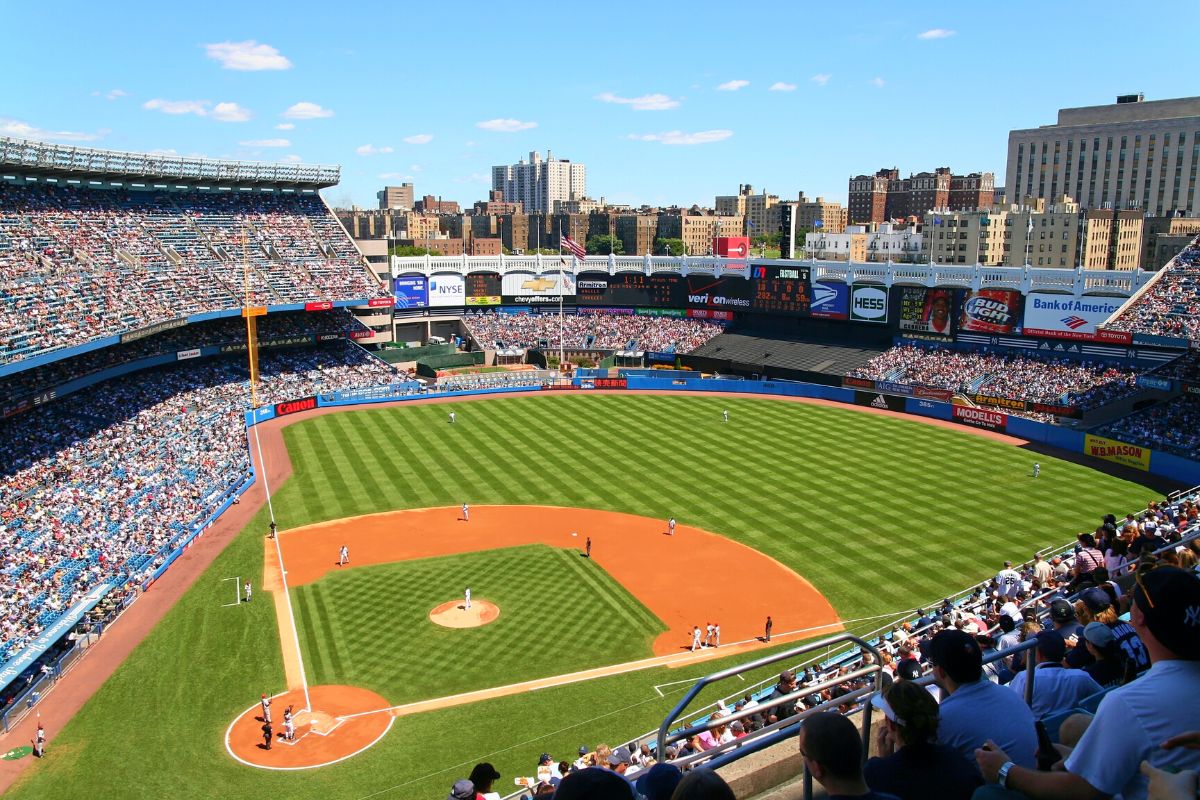 When spring rolls around, your thoughts may turn to baseball. And Yankee Stadium, one of the most famous sporting venues on Earth FIX, is the perfect place to watch a game.
No matter which team you root for, you'll love taking a seat in this historic stadium, which originally opened in 1923. While you're there, be sure to take a tour of the facility to learn all about the legendary athletes that have played there, as well as the home team's many World Series victories.
For baseball fanatics and sport newbies alike, there's nothing like a day at the ballpark!
87 – Give some awesome rides a go at Adventureland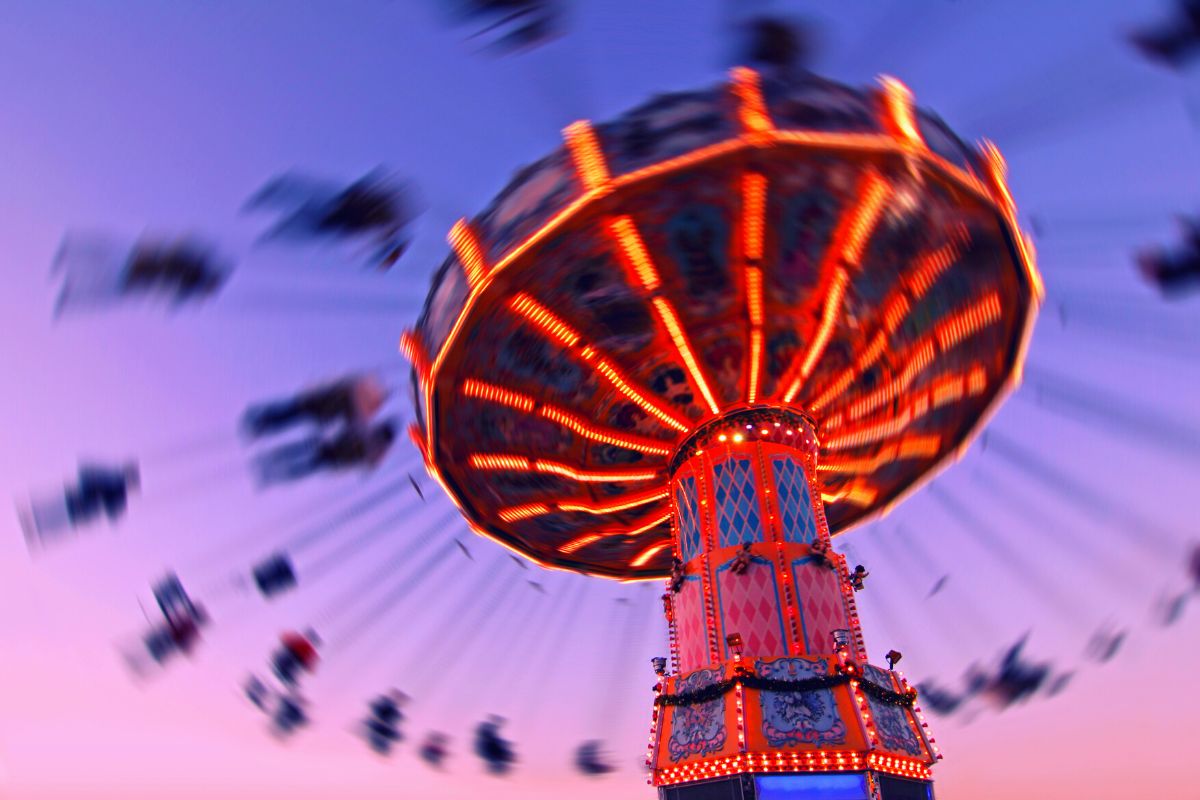 If you're looking for some awesome things to do in Long Island, you can't go wrong with Adventureland! Since 1962, this beloved amusement park has offered a great mix of attractions for the young and young at heart to enjoy.
Along with the many family-friendly rides, there are plenty of great attractions geared specifically towards kids. Your little ones will love scrambling through the obstacles of Pirate Island, or taking a gentle car ride through a recreation of the Big Apple on NYC Race.
And, of course, there are some great thrill rides for more adventurous visitors, from the high-speed twists and turns of the Turbulence Coaster to the delightfully eerie halls of Mystery Mansion. Best of all, the park is a mere 45 minutes from the city, making it a perfect option for day trips.
88 – Pay a visit to Radio City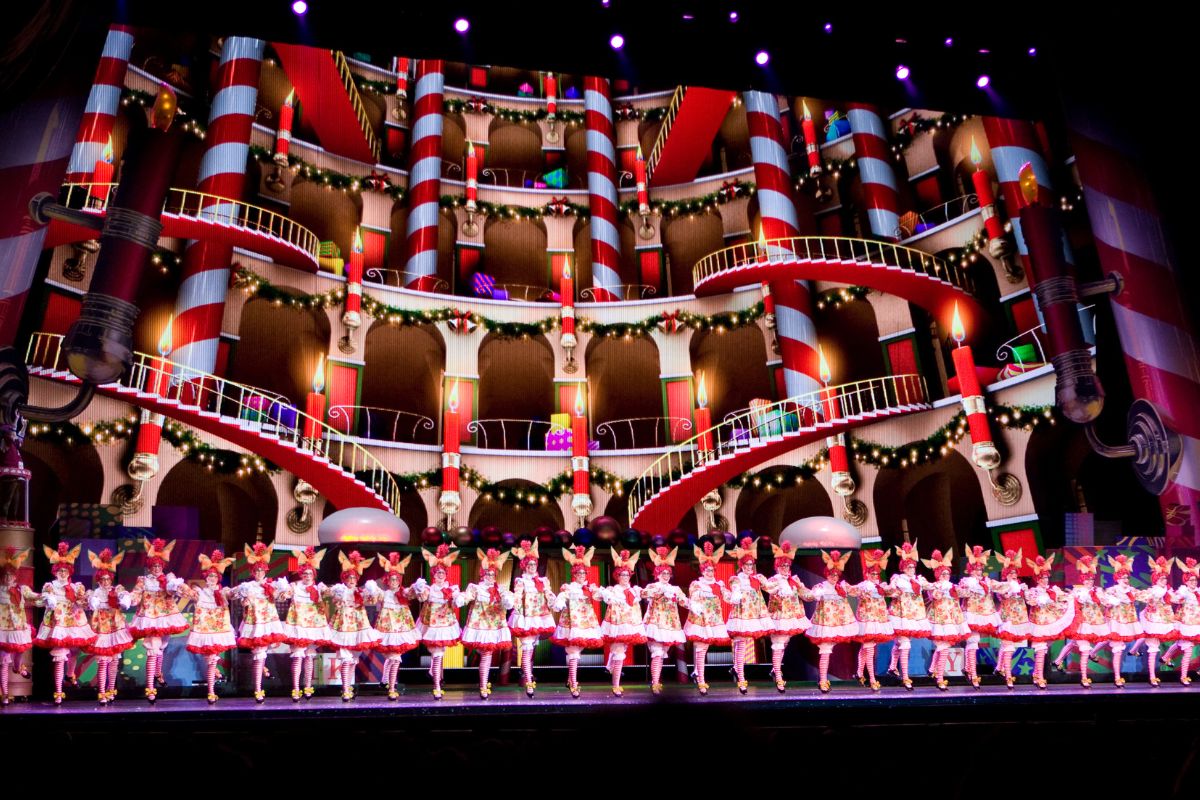 With its stellar lineup of shows and fabulous designs, Radio City has long been a fixture of the Big Apple. And whether you're looking for a performance or just want to learn more about the space, it's well worth a visit.
Book a tour of the building to admire its spacious stages up close, learn about its Art Deco details, and even meet one of the iconic performing Rockettes! And if you're visiting during the holidays, don't miss the famous Christmas Spectacular, a lively show full of music, dancing, and festive outfits galore.
It's definitely one of the most beloved and entertaining family things to do in New York City!
89 – Visit the trains at the New York Transit Museum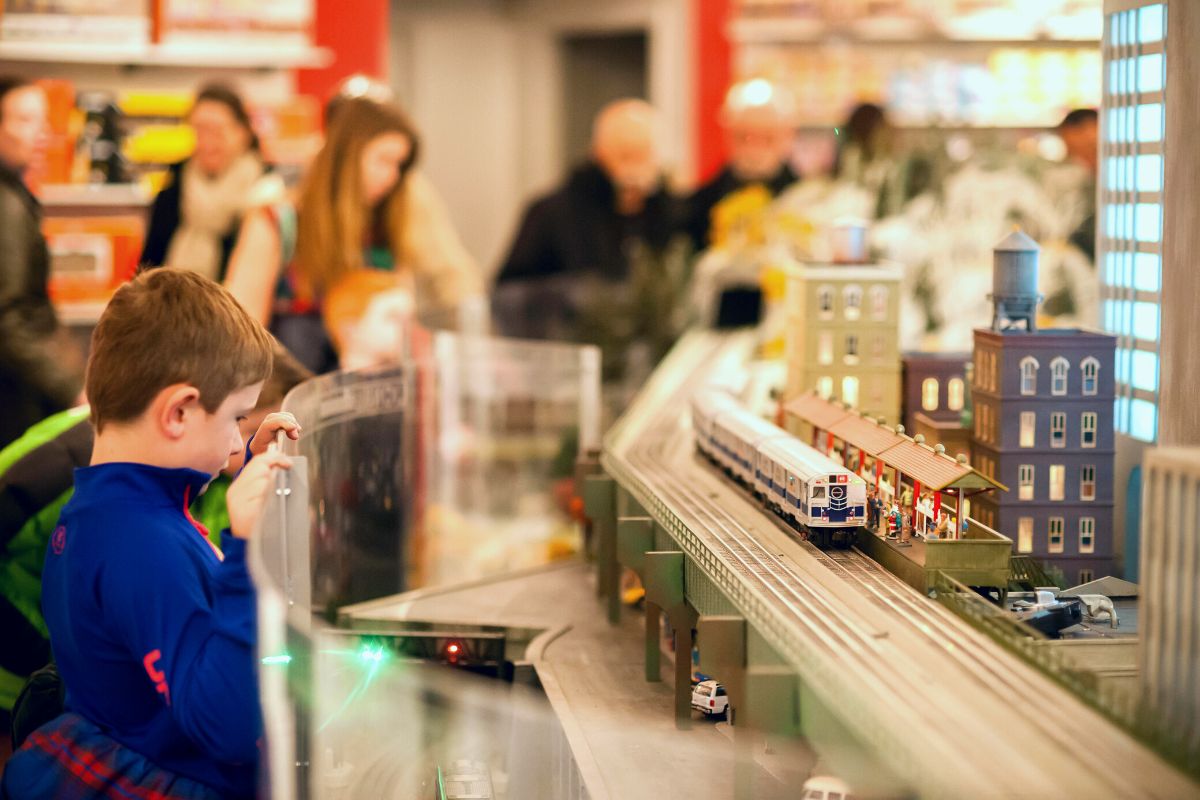 NYC is all about its transportation, and at the New York Transit Museum, you and the kids can learn all about how these awesome machines work.
Head down the stairs of a former subway station and make your way through one of the trains that used to run this route, then check out some of the vintage vehicles that came before them.
This monument to mass transit is a cool way for kids to learn more about the city – and get them all amped up to take some of those very same trains around town!
90 – Let the kids learn and grow at the Children's Museum of Manhattan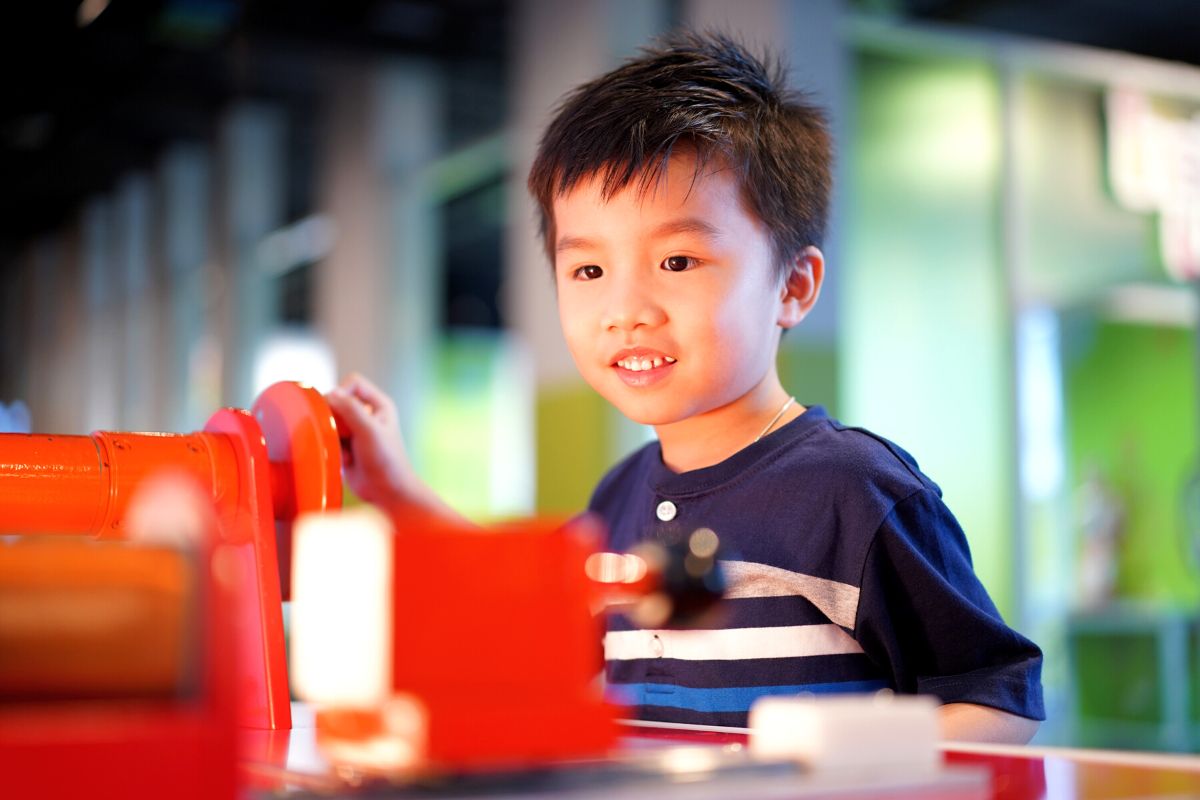 Does your little one ever dream of becoming president? How about making their own storybook? Or maybe they'd like to try being a superhero? At the Children's Museum of Manhattan, the sky's the limit!
This acclaimed institution is full of interactive exhibits for young travelers, offering them the chance to expand their imaginations and explore the world around them. At the Right To Vote exhibit, kids can learn about the history of political involvement in the U.S. and make some voting materials of their own.
Meanwhile, Superpowered Metropolis: Early Learning City lets kids explore a whimsical version of the Big Apple, all while learning basic life skills. And for creatively-minded kiddos, there are tons of spots to play with different art materials, so they can let their minds run wild and see what comes up!
91 – Get some exercise with the best rock climbing walls for kids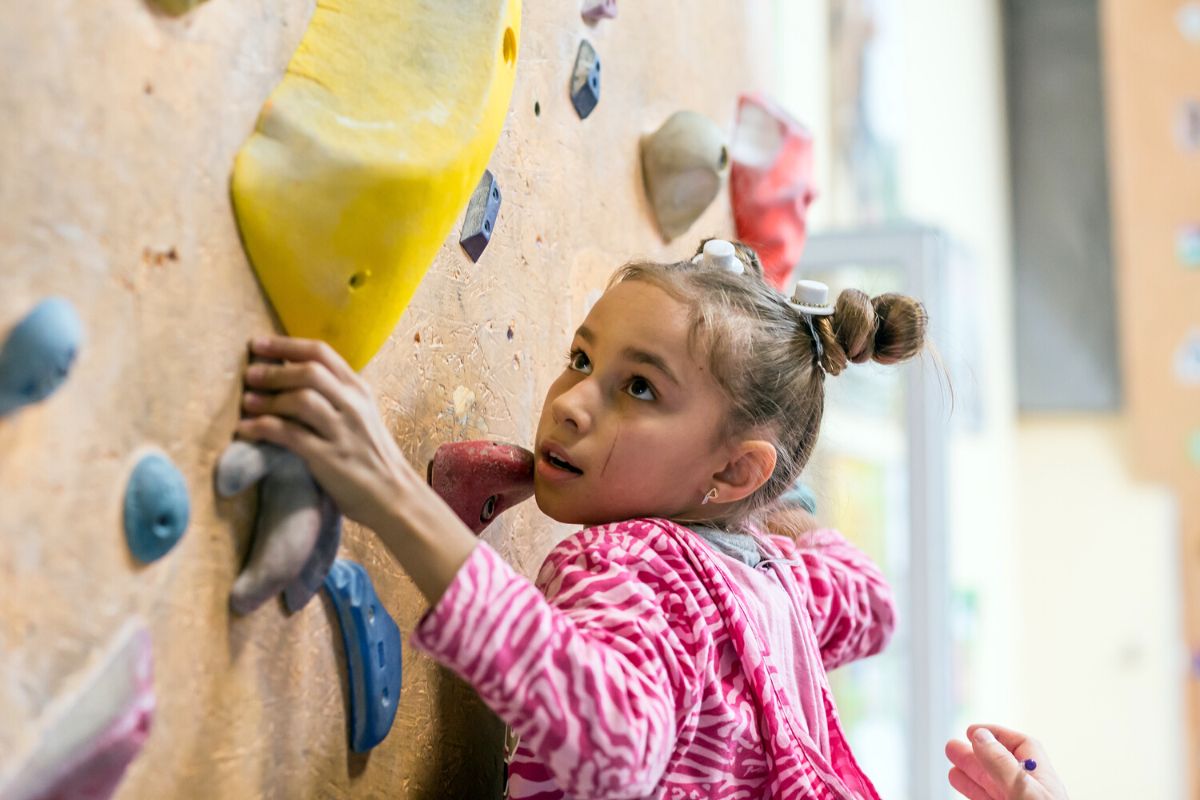 Want to try something a little sportier with your youngsters? Then head out to the rocks – the rock walls, that is! New York has an excellent climbing scene, with several gyms that focus more on kids.
Check out over 70 climbing and bouldering routes during the kid-focused hours at the Manhattan Plaza Health Club, or let your little ones really let off some steam NOPE with the combined climbing and gymnastics sessions at Chelsea Piers Field House.
And at The Cliffs at LIC, they can test out a whole range of courses during the week-long vacation program, while also learning some of the basic technical aspects of the sport, such as rope and knot skills.
It's a great way for kids and teens to stay active and have fun during your trip!
92 – Roam through Greenwich Village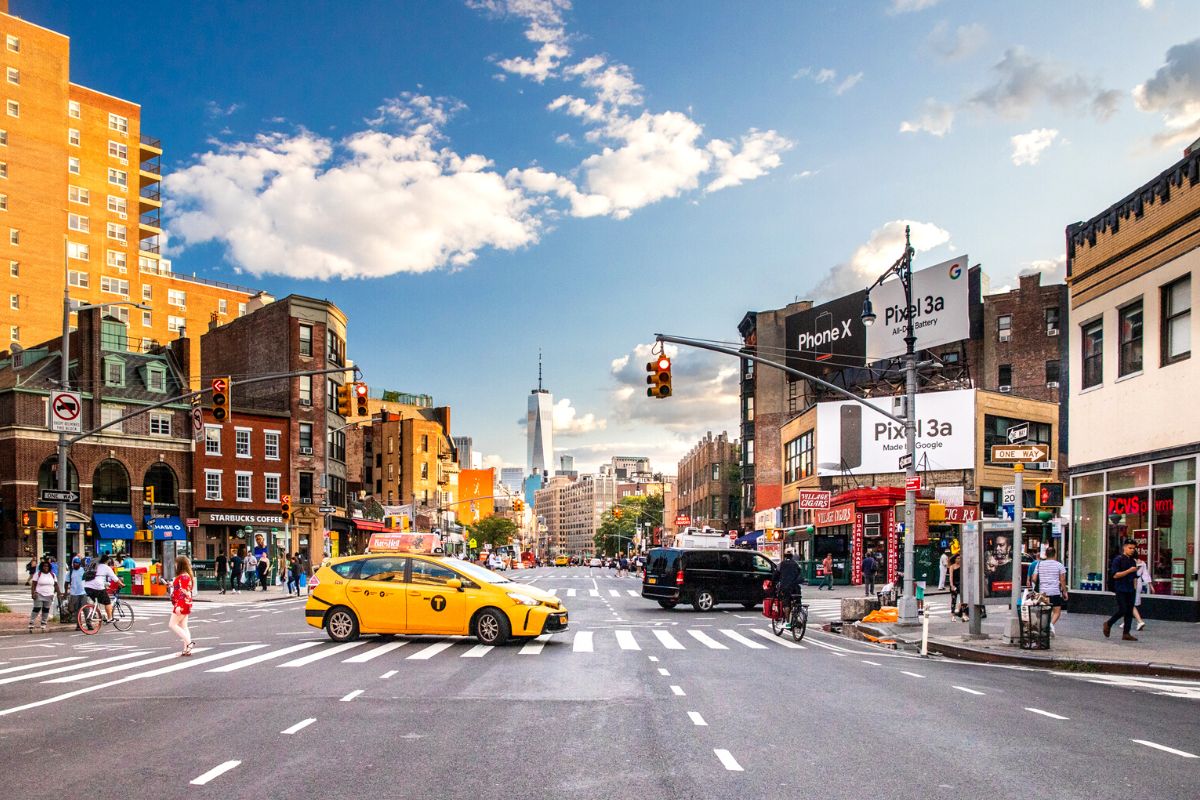 While NYC has a whole range of popular neighborhoods, Greenwich Village has long been one of the most famous. From its days as a bohemian hotspot to its incredible food and art scene, this lively community is a must-see for visitors of all ages.
Stroll the streets where Jimi Hendrix and Edgar Allen Poe once lived and worked on the art tour, or taste some of the area's best eats – from cupcakes to Italian dishes – during a food tour.
And don't miss the thrilling, chilling stories on the ghost tour, as you and the family spend the evening exploring some of the more haunted histories of this diverse area. There's a perfect adventure for every type of family in this beloved area.
93 – Catch some free outdoor movies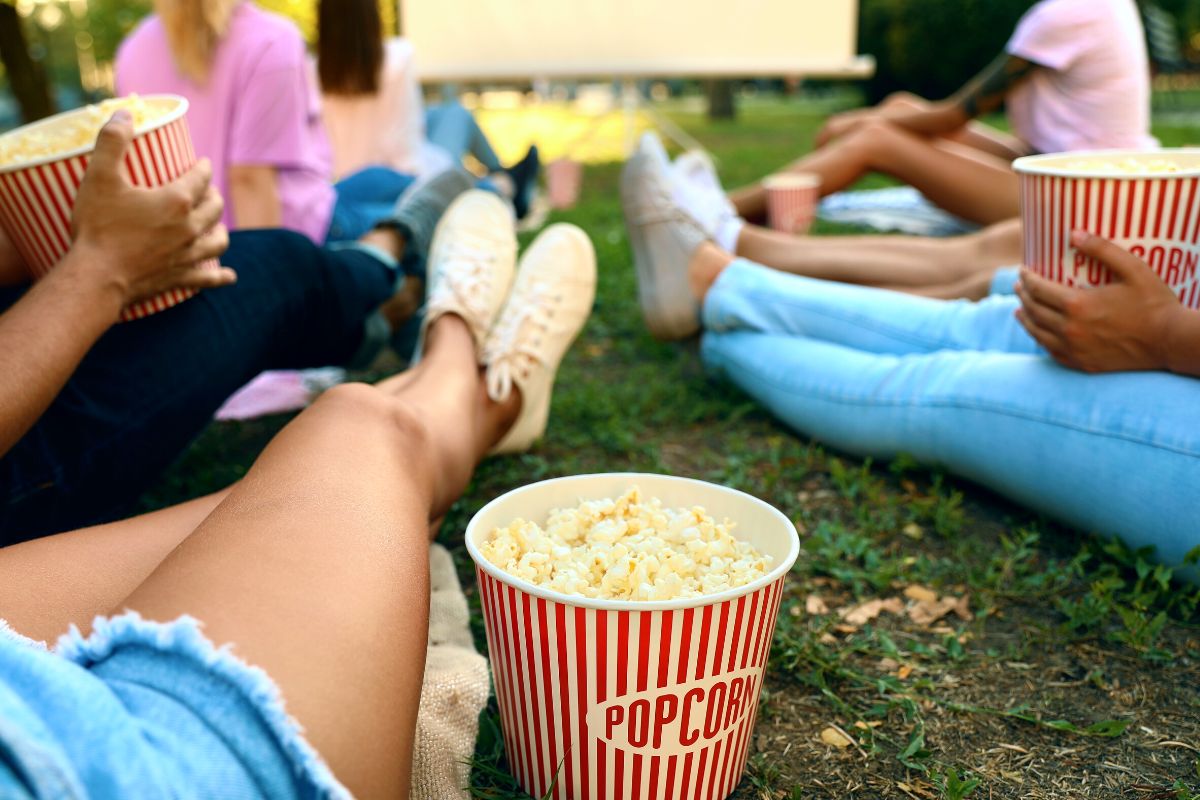 When you're ready to relax a little, check out the many free outdoor movies around the city.
Set up in some of the prettiest parks and green spaces in town, these showings are a great way to enjoy the great outdoors while catching up with old favorites or new releases.
So grab a seat on the grass and enjoy the show!
94 – Expand your kids' taste buds with some cooking classes
Cooking classes are often a popular vacation activity, but did you know that there are some lessons, especially for kids? With a whole variety of styles and cuisines to try, these classes will bring out your young one's inner chef!
Test out some nutritious dishes with Butter Beans, dabble in fun-themed meals with The Creative Kitchen, or whip up delicious cookies, cupcakes, and New York-style pizzas at Taste Buds Kitchen.
Kids will love learning to make different recipes, and adults will get a much-deserved break from cooking!
95 – Catch an unforgettable show from the Blue Man Group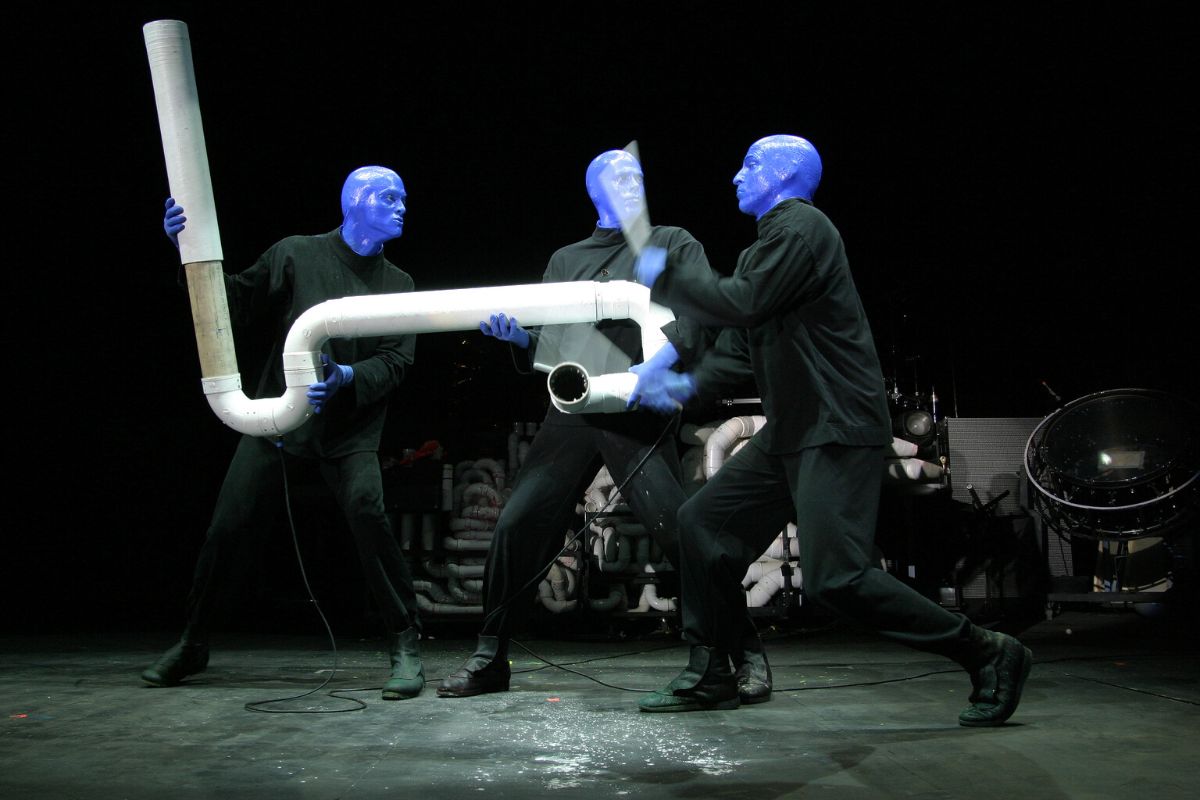 With their distinctive blend of art, music, and physical performance, the Blue Man Group is one of the hottest tickets in town!
Named for the distinctive blue paint on their faces and bodies, this talented troupe will take you on a wild ride through the senses and the arts, offering a performance bursting with sound and color.
From comedy sketches to one-of-a-kind drumming sessions that splatter brightly-hued paint around the theater, each performance is its own unforgettable experience – and will leave everybody clamoring for more!
96 – Cultivate a green thumb at the Urban Farm in Randalls Island Park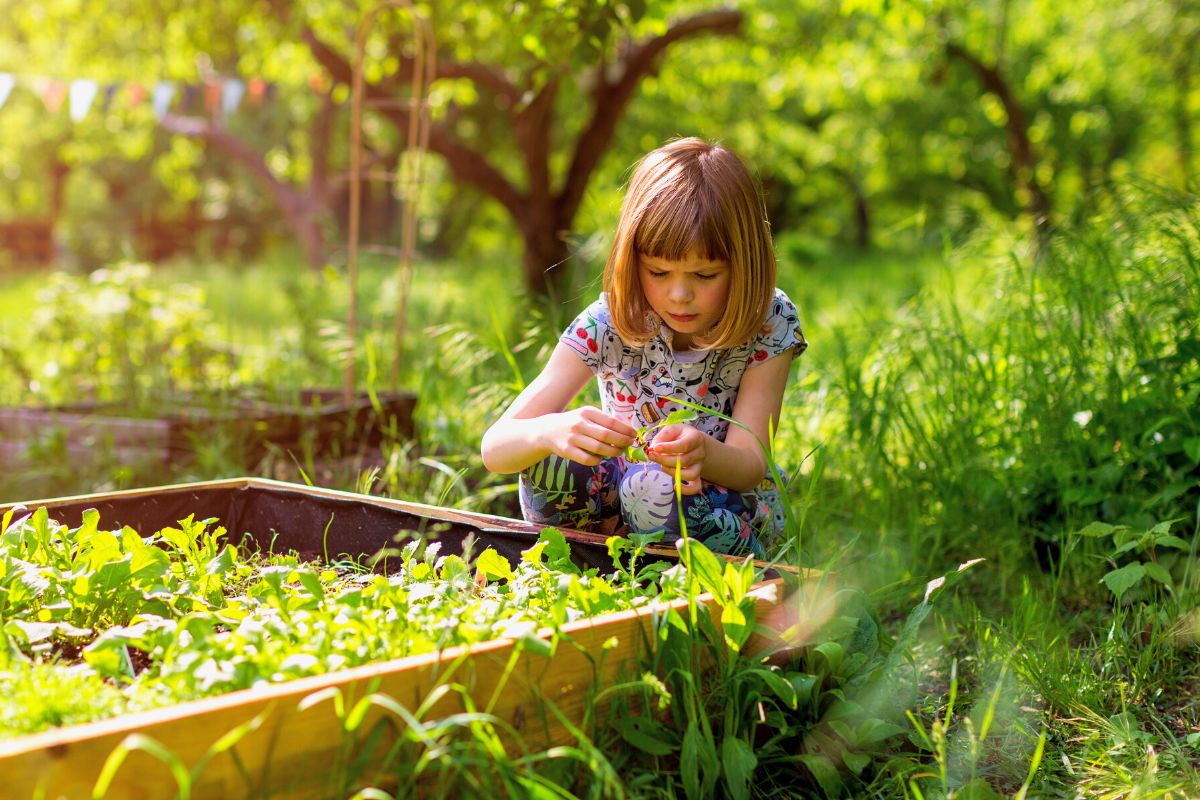 Another great place to learn and nosh at the same time is the Randall's Island Park Alliance's Urban Farm, where you and the kids can get away from it all within easy access of the city.
Explore 40,000 square feet of agricultural delights, from rice paddies and greenhouses to fruit trees and berry patches. Youngsters will love frolicking in the play area or getting their hands dirty with some composting or planting.
Along the way, they can learn about sustainable growing techniques such as crop rotation and rainwater capture, as well as the many natural processes that help a garden grow. It's a memorable – and delicious! – experience.
97 – Get in the festive spirit with some Christmas lights tours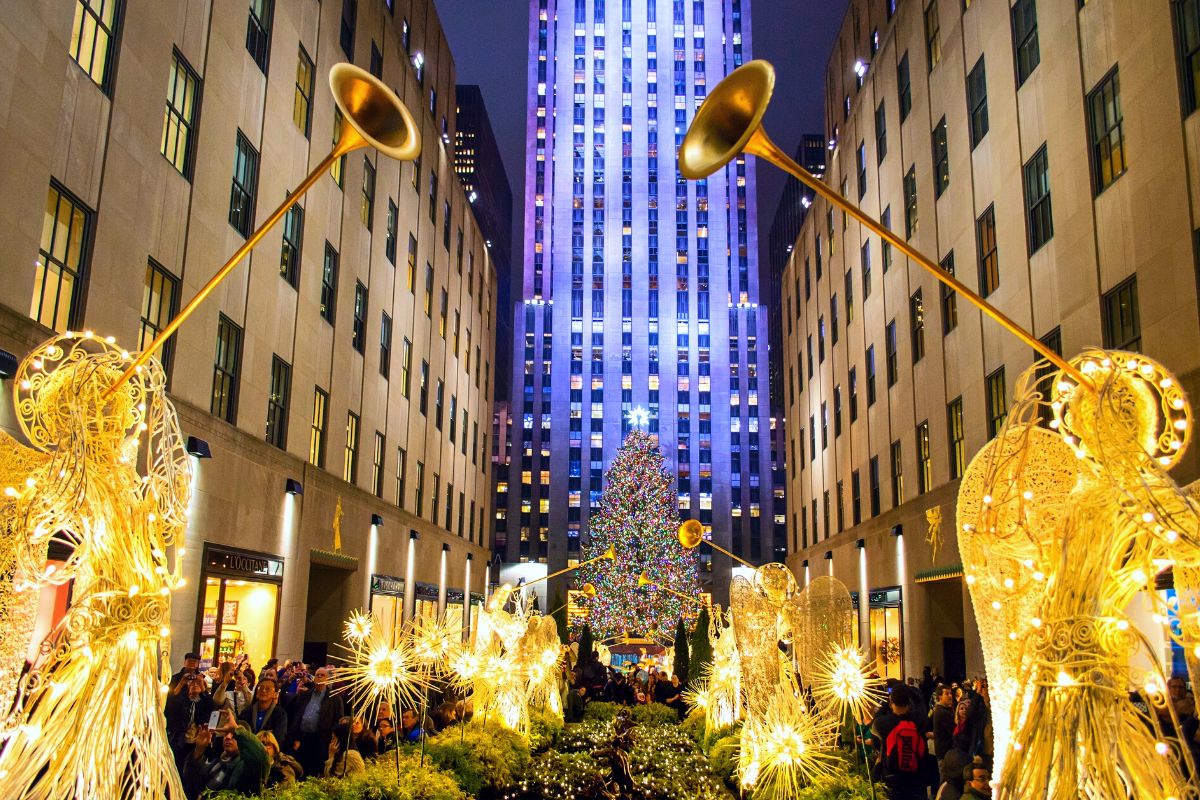 The holiday season is a magical time in New York, and even if you don't end up ice skating or catching a show, you can still enjoy it with some Christmas lights tours.
While there are tons of great displays all over town, the main attraction is undoubtedly the Dyker Heights neighborhood, where the elaborate yard and house displays often rival work by professionals!
Tours will also include stops at beautiful scenes NOPE all over the city, and you'll be able to see some of the most famous buildings in the world decked out in sparkly magnificence. These dazzling displays will really spark the Christmas spirit in young and old alike!
Read more about fun things to do in New York City at night
Where to stay in New York City with kids
Smack dab in the middle of Times Square, LUMA Hotel offers spacious, relaxing rooms and a delicious breakfast buffet, which will give your family all the fuel they need to explore the amazing attractions right outside the door.
Or you can show the kids a bit of class at the Hotel Chelsea, where family-friendly lodging is paired with awesome skyline views and easy access to such beloved sites as Macy's and Madison Square Garden.
And at Equinox Hotel Hudson Yards New York City, you'll all feel like high rollers as you explore the many artistic and cultural offerings in the neighborhood, before heading back to enjoy the fitness center or the two (yes, two!) swimming pools.
Save hassle and time: book an airport transfer
Getting around the city can be complicated, so why not book an airport transfer?
These professional and efficient services will safely shuttle you between your accommodation and the airport, so you have more time to relax and get excited about all of the adventures to come – or reflect on the ones that you just had.
Visiting New York City on a budget?
While the Big Apple has plenty of luxury experiences, it's also got an endless array of options for those with tighter wallets. Make sure to check out our list of cheap things to do in New York City so you can have fun without breaking your bank.
If you want to see several of the amazing tourist attractions in New York City without breaking the bank, consider booking a attractions pass.
These packages are both efficient and cost-saving; not only will you be able to avoid the hassle of booking dozens of different tickets separately, but you can also get discounts on admission just by purchasing it!
You can also pick the number and type of attractions that work best for your family's schedule and budget – with over 100 different options for some passes, you'll have plenty of exciting adventures to choose from!
Hot tip: New York City attractions pass price comparison guide
Final Thoughts
From the top of the Empire State Building to the smallest sidewalk treasures, there's no telling what you'll find when you head out with your youngsters to the Big Apple. It's the perfect place to learn and explore, giving children the chance to try new things and enjoy fun-filled exhibits featuring some of their favorite stories.
And this mecca of creativity will keep your kids busy the whole day through, whether they're watching a Broadway show, experiencing great art, or making some pieces of their own.
For sports fans, animal lovers, artists-in-training, and every kid in between, there's nothing like a vacation to NYC. And after you've tried some of the amazing family things to do in New York City with kids, you'll all be ready to come back again and again.
After all, one visit is never enough!