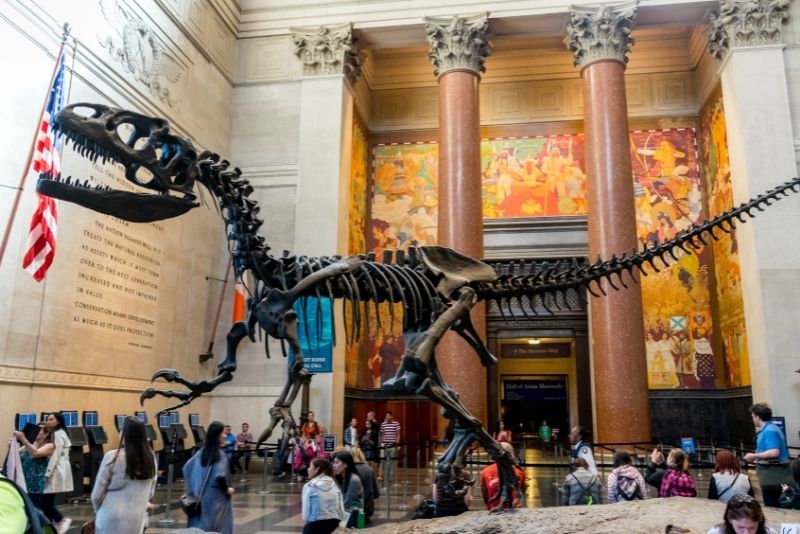 From the bright lights of Broadway and the towering skyscrapers of Lower Manhattan to the thriving Harlem arts culture and hipster Brooklyn music scene, New York City is, justifiably, considered the city of all cities.
Forever iconic and always exciting, this East Coast concrete jungle has served as the poster child for the USA for decades, oozing multicultural flair thanks to the millions of international immigrants who arrived via Lady Liberty herself through the 18th and 19th centuries.
Fast forward to today, and you've got the Big Apple we all know and love: a melting pot of different cultures, cuisines, and customs, where something new awaits you around every corner — one moment you'll be slurping handmade noodles in Chinatown and browsing the halls of the Museum of Chinese in America, the next you'll be three slices deep in a Little Italy eaterie before exploring the sensory-overload that it is the Museum of Ice Cream.
And what could be more quintessentially New York than its museums? From world-renowned institutions like the Metropolitan Museum of Art and The American Museum of Natural History to lesser-known but no less fascinating places like the Museum of Sex or The National Jazz Museum in Harlem, there's a museum for everyone in NYC.
Whether you're a first-time visitor or a lifelong resident, the city is always full of surprises (not to mention new buildings) and never ceases to entertain.
So if you're planning a trip to this concrete jungle any time soon and want to unleash your inner culture vulture, you've come to the right place. Without further ado, here are our top picks for the best museums in New York City!
1 – Museum of Modern Art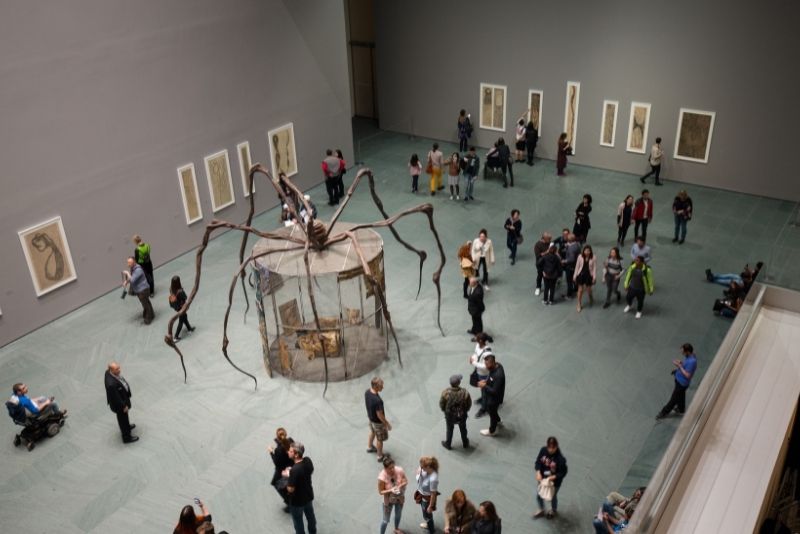 Tucked away in the heart of Midtown Manhattan, the internationally renowned and highly coveted MoMA is one of the best museums in New York City – as what was originally the inaugural museum devoted to the modern era, it's a noteworthy first mention on any art or culture vulture's Big Apple bucket list.
Diving deep into themes like fashion, architecture, photography, and design, with over 200,000 progressive works on show from world-class artists including Van Gogh, Monet, Picasso, Warhol, Kahlo, and Pollock, not to mention the ever-changing lineup of thought-provoking temporary exhibitions, this multi-floored, 53rd Street institution has a little something for everyone.
Throw in a sculpture garden (and terrace); an audio guide for visitors who want to delve even deeper into the contemporary art on offer here, plus annual festivals (and regular immersive events and indie film screenings) taking place throughout the year too, and you could easily whisk away an entire day here without checking off all the edgy sights.
Hot tip: for the most in-depth experience, join a docent-led guided tour, and for the most bang for your buck, visit on a Friday evening between 5.30pm and 9pm for free entry!
2 – Museum of the City of New York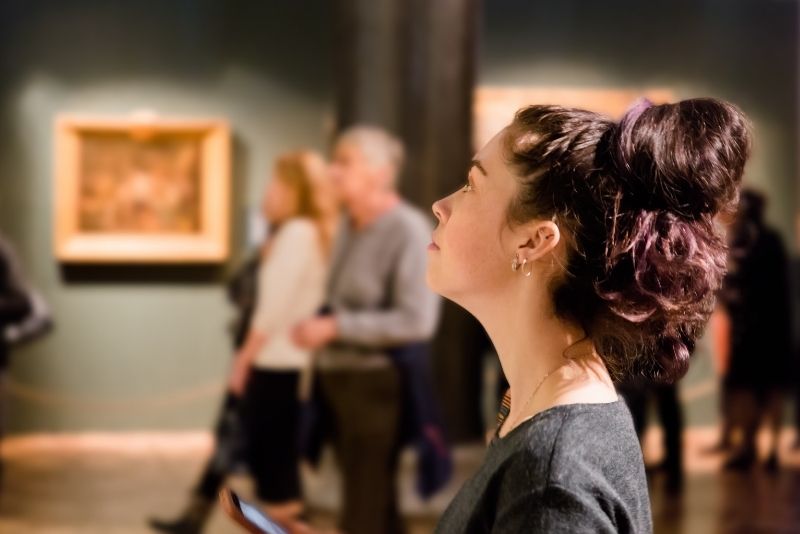 As the world's most famous city, it's only fitting that buzzing and multicultural NYC has its own dedicated museum. Located on Fifth Avenue straddling the northeastern edge of Central Park, the Museum of the City was founded in 1923 with a mission to showcase and celebrate all things New York — and, with exhibits showcasing the modern era all the way back to the 16th century, it does so in diverse and spectacular fashion.
Through nearly 200,000 items on display at any one time, featuring photographs, old maps and manuscripts, furniture, paintings, toys, and all manner of objects that tell the story of NYC's past and present, the Museum explores ongoing themes like "Celebrating the City", "New York at Its Core", and "New York, New Music".
From exploring historical events like the American Revolution; looking into more modern occurrences like the construction of some of Manhattan's most iconic skyscrapers (including the Empire State Building and the former Twin Towers); checking out exhibitions about activism, prohibition, or quirky once-offs like artworks by Puppets of New York – there's much to discover here for locals and tourists alike.
What's more, this museum also hosts a number of lively events each year — from lectures explaining what it means to be an immigrant living in NYC today to game nights, film screenings, and puppet shows.
3 – Morgan Library & Museum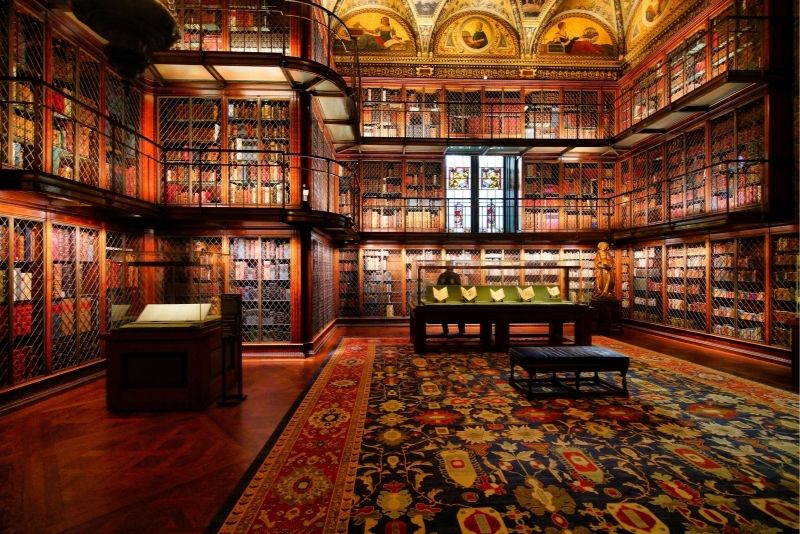 The former private collection of JP Morgan; one of the finest collections of drawings, books, and manuscripts in the world can be found at Morgan Library & Museum (formerly The Pierpont Morgan Library).
A stone's throw from the Empire State Building, the brownstone venue's 350,000-item collection is made up of important literary works from authors such as Charles Dickens and Mark Twain, complemented by a treasure trove of diverse Egyptian art, Renaissance paintings, Chinese porcelains, and old drawings and prints.
Despite the building being close to 120 years old, today, it's been transformed into far more than a multi-millionaire's personal collection; the little-known museum actually houses 20 different spaces, including galleries, libraries, and a performance hall.
Hot tip: if short on time, the free 60-minute highlights tour, running Tuesday through Sunday at 12.30pm, is highly regarded.
4 – Van Gogh: The Immersive Experience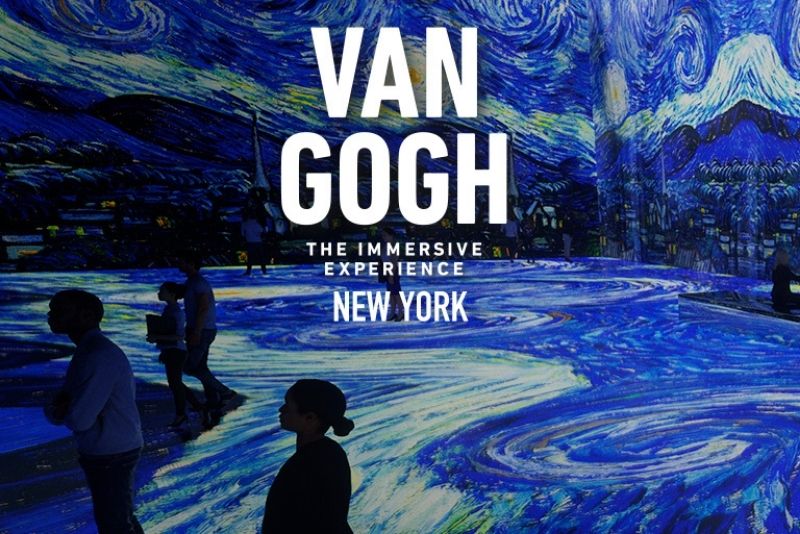 Tucked away in Tribeca a stone's throw from the Hudson River, this new exhibit makes you feel as if you're entering into the famed painter's mind, with his bright colors and bold brushstrokes surrounding you at every turn, made completely immersive with the help of the latest technology.
Featuring dozens of reproductions of Van Gogh's greatest hits projected onto the walls and floors around you, as well as an interactive portion where you can recreate your own Dutch masterpiece, Van Gogh: The Immersive Experience is an art-lover's dream come true and an example of museums adopting modern technology to an exceptional standard.
Open year-round, this headline-making attraction promises to be a wonderful way to spend an evening — did someone say date night? — if you're looking for something different, indoors, and want to learn more about one of the most famous painters in history.
5 – Metropolitan Museum of Art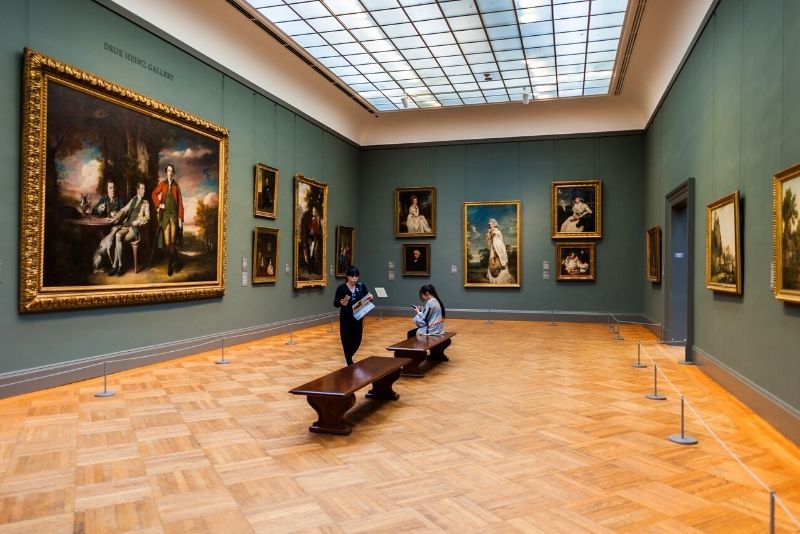 Putting aside Paris' Louvre, The Met is arguably one of the most famous art museums in the world, and for good reason. With more than two million works on display (from ancient Egyptian pieces to contemporary American art, Eastern tapestries, and historic Greek and Roman sculptures), this Midtown behemoth is an unrivaled treasure trove of culture that's worth dedicating an entire day to explore.
Boasting everything from armor and weapons to musical instruments and costumes, the Met's vast collections are spread across seventeen curatorial departments (plus a 20,000-item Department of Photographs), with special exhibitions that come and go throughout the year (so it's always worth checking what's on before you visit).
Featuring an overflowing gift shop and cafe to recharge the batteries, plus offering insightful historian-led tours, this Central Park-straddling institution is not to be missed.
6 – Intrepid Sea, Air & Space Museum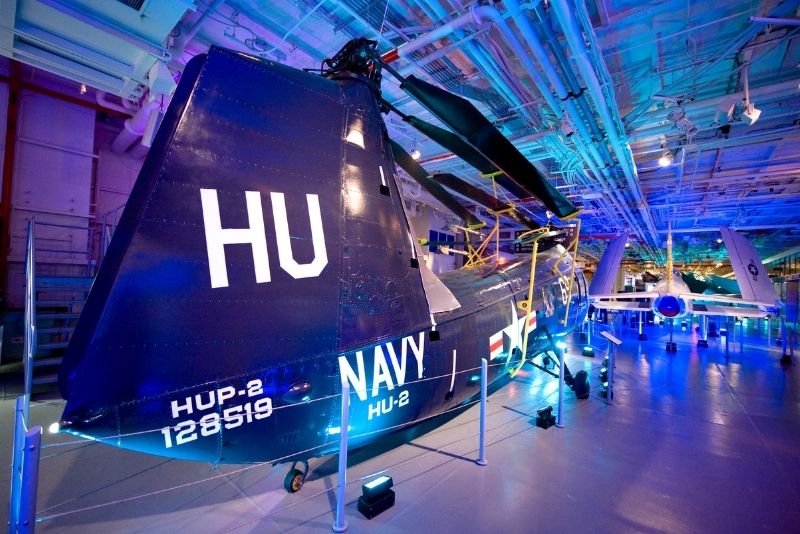 Housed on top of the retired aircraft carrier Intrepid at Pier 86 on Manhattan's West Side since 1982, this Museum is one of the largest maritime museums in the world, with a whopping 45000 square feet of exhibition space that dives the world of the Army, Air Force, Navy, Marine Corps, and NASA.
Home to a vast selection of impressive retired military aircraft and vehicles (including a Grumman TBM Avenger and British Airways Concorde), the Intrepid Sea, Air & Space Museum takes visitors on a journey through history, from World War II-era bombers and fighter jets to the space shuttle Enterprise and everything in between.
With submarines and helicopters too, and exhibits that teach not only about America's Air Force, but also its maritime history and the U.S Navy SEALs, this interactive museum is perfect for kids and adults of all ages who want to learn about America's military and aviation achievements.
Extremely interactive (which makes it a winner for kids and teens), the museum allows guests to do things like pilot an F-18 fighter jet (in a simulator) or see the space shuttle Enterprise up close, while also offering starlit movie nights and historian-led tours, making it one of the most fun (and educational) museums in NYC.
7 – Tenement Museum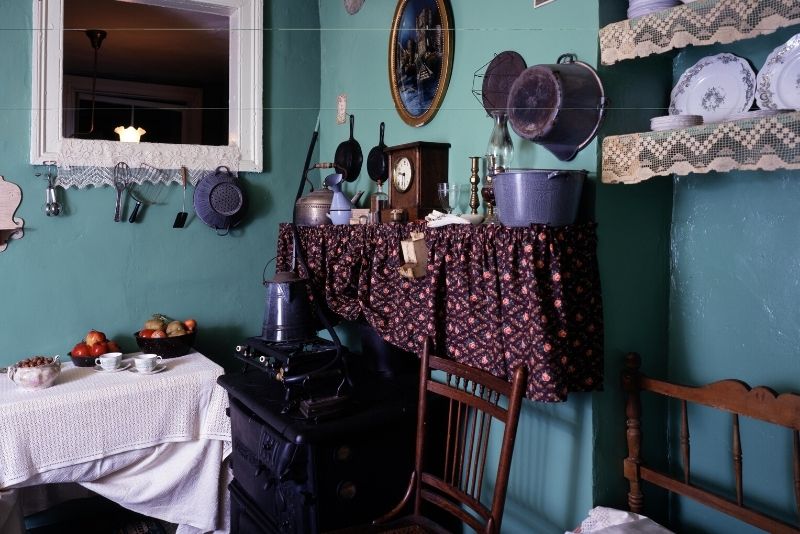 New York City is a multicultural melting pot, and a metropolis built on the back of decades of immigration. Offering a rare insight into the day-to-day lives of late 19th-century immigrants to those of the 2000s, the Tenement Museum is a Lower East Side institution that tells the stories of those who helped shape NYC into the city it is today.
Operating out of two restored 19th-century tenement buildings on Orchard Street, this small museum takes visitors on intimate tours led by knowledgeable guides, through the buildings to get an up-close look at how these families lived, as well as the neighborhood to see how over 20 nations worth of new faces has built up the area.
With exhibits dedicated to themes like struggle, the role of Jewish women, and honing in on specific family stories, the Tenement Museum provides a fascinating glimpse into the hardships and successes of generations of immigrants who made New York City their home.
8 – The Cloisters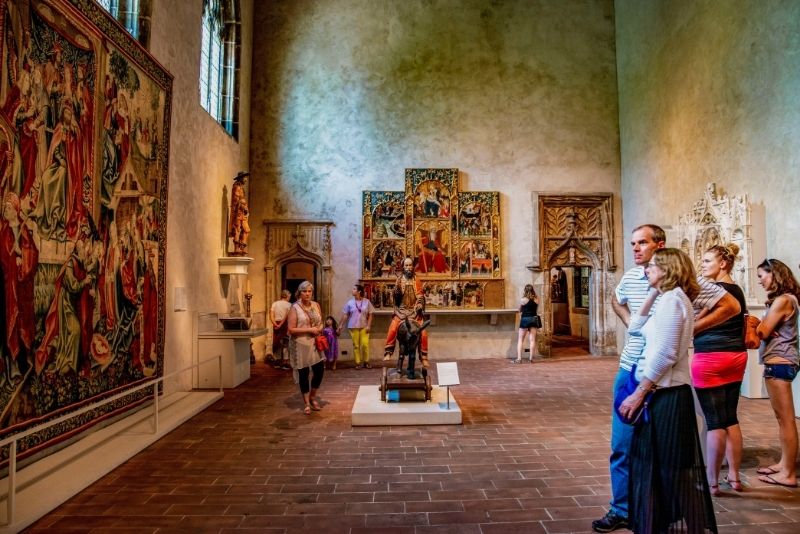 A sister museum to the Metropolitan Museum of Art, The Cloisters is exclusively devoted to the art and architecture of the Middle Ages — and, believe it or not, the only place in America to do so — with a large focus on pieces from ancient Europe.
With its collection of more than five thousand works (including sculptures, tapestries, paintings, stained glass windows, and metalwork), this museum – housed in a reconstructed medieval monastery near Fort Tryon Park in Upper Manhattan – provides an unparalleled look at Romanesque and Gothic art (likewise an unparalleled view over the Hudson River).
Grandiose artwork aside, the venue is impressive in its own right. Made up of four different abbey and monster structures that were transported from Europe in the early 1900s, wandering around the ground here is like a journey back in time across the pond.
9 – Children's Museum Of Manhattan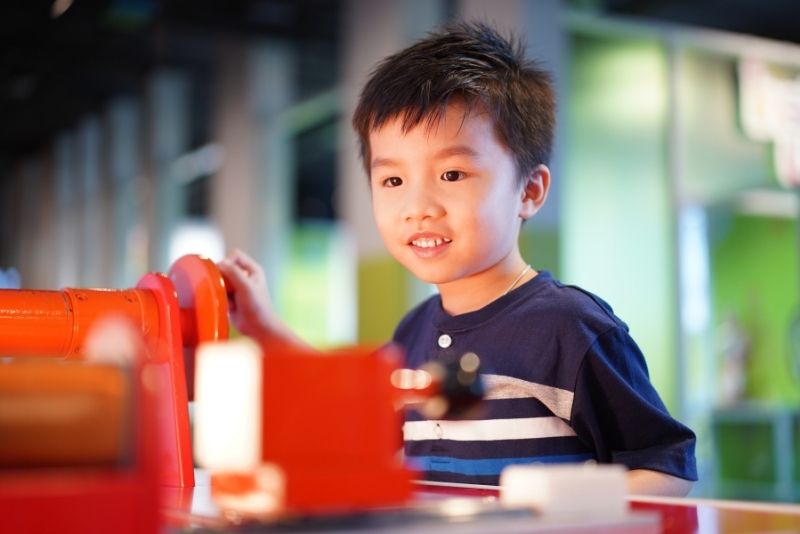 Easily one of the best museums in New York City for anyone traveling with kids in tow, the hands-on, curiosity-inspiring, and utterly delightful Children's Museum of Manhattan (CMOM) is guaranteed to have the tots occupied (and learning) for at least a couple of hours.
With fun, interactive exhibits spanning five floors — from an area dedicated to free play to sections that teach kids about science, history, art, culture, and the adult career world — it's no wonder this Upper West Side, kid-centric museum draws more than 325,000 people every year!
Designed to spark children's imagination (and unleash the inner child in the parents too), the museum is known for its heavily interactive exhibits (like Superpowered Metropolis, Inside Art, and Adventures with Dora and Diego) that encourage a mix of play, learning, and experimentation.
Hot tip: Best Family Things to Do in New York City with Kids
10 – Guggenheim Museum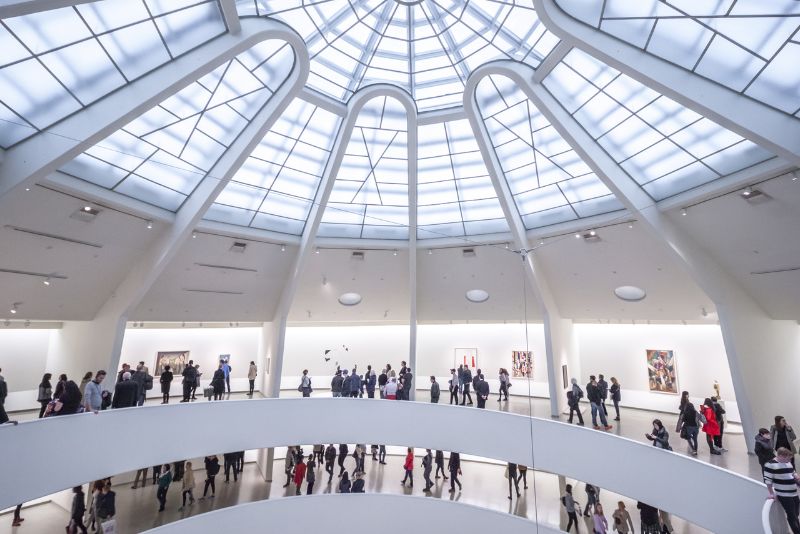 Housed in a showstopping building arguably as famous as the collection which lies inside — a circular, Frank Lloyd Wright-designed structure that sits on Fifth Avenue at the edge of Central Park — the Guggenheim Museum welcomes over a million visitors annually in search of one of the most comprehensive collections of modern and contemporary art in the world
Scattered throughout its unique, UNESCO-listed home, where a captivating spiralized interior makes for a wonderful photo op, hundreds of pieces of one-of-a-kind art are on display at any given time (including priceless works by Picasso, Kandinsky, Warhol, and Basquiat).
With guided tours, regular events, and flavor-of-the-month exhibits to boot, the revered museum is unsurprisingly heralded as one of the best museums in New York City.
11 – New Museum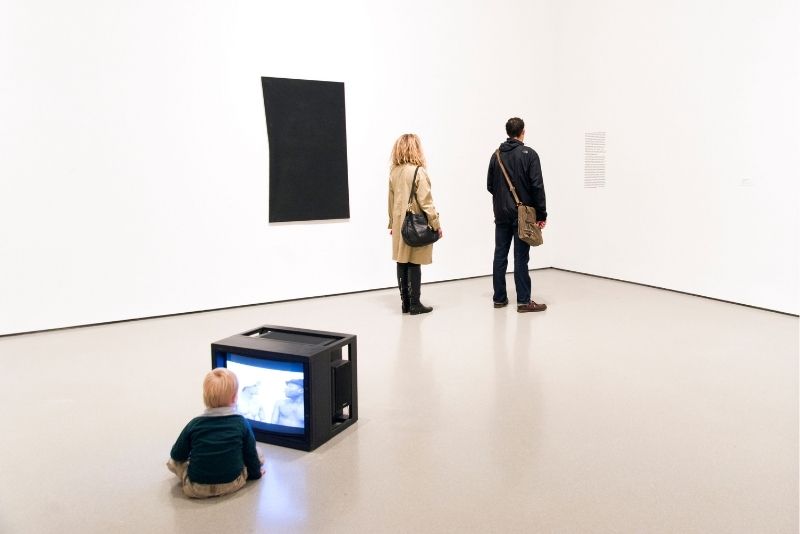 In the heart of the Bowery, sits one of New York City's most important museums for contemporary art – the New Museum.
Opened in the 1970s, this seven-story venue is dedicated to showcasing experimental (think wacky, weird, and wonderful – and not everyone's cup of tea) works from emerging artists with a focus on new media and performance art pieces — with killer views of lower Manhattan from its 7th-floor space too.
The 60,000-square-foot museum — officially and fittingly called the New Museum of Contemporary Art — is made up entirely of stacked rectangular boxes, creating an interesting silhouette that stands out against its older neighbors.
12 – Rubin Museum of Art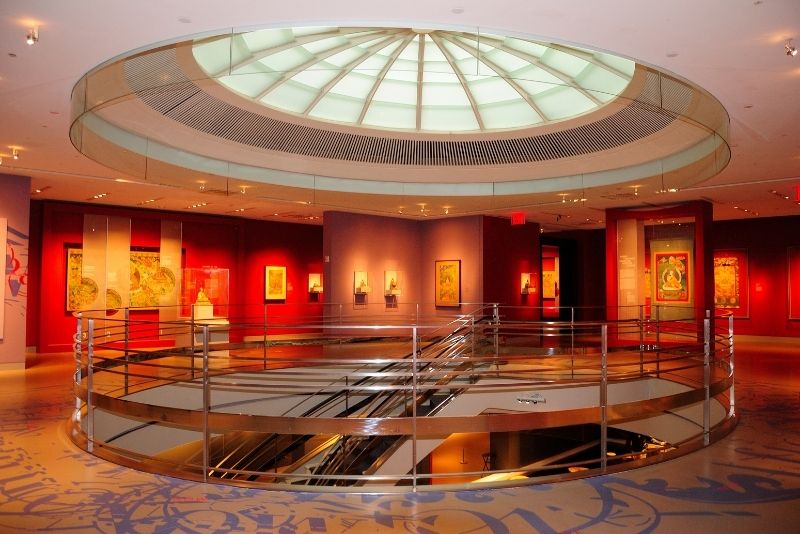 Setting itself apart from the sleuth of general-interest Manhattan museums, The Rubin Museum of Art is devoted to the exhibition and study of Himalayan art from regions including Tibet, Nepal, India, and Mongolia.
With a collection of more than 38,000 pieces (the majority of which are from around the Tibetan plateau, many many of which uncover the relationship with mind and body), it's one of the largest museums in the world dedicated to this type of fascinating, rarely-seen artwork.
Walking into the seldom-crowded museum feels like walking into an ancient temple; thanks partly to the building's traditional New York City architecture but also because of the stunning display cases that house each individual piece, and the myriad Buddhist imagery and religious artifacts that create a sense of peace.
What makes this museum so unique however is not just its vast collection (which covers everything from paintings and sculptures to textiles and jewelry) but its Himalayan Cafe — grab an authentic meal after the hour-long guided tour for a delicious visit sign-off.
13 – Jewish Museum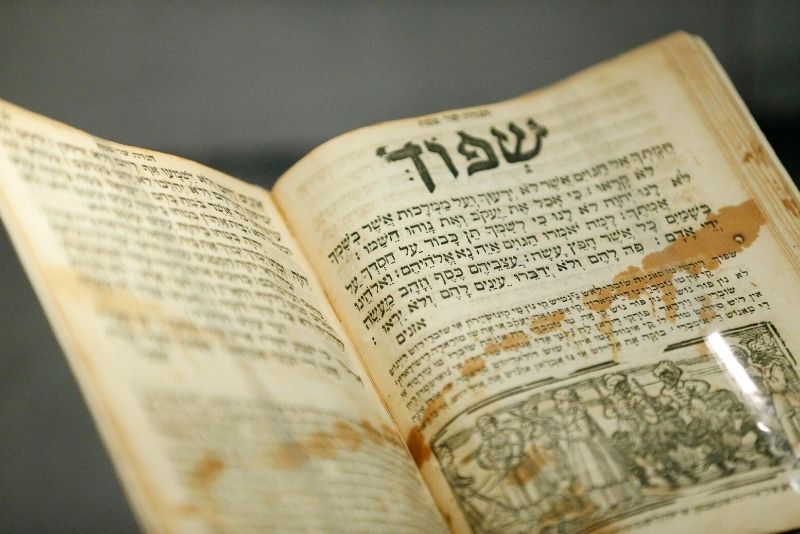 Full of both religious and secular art, the three-floor Jewish Museum skirts the so-called Museum Mile on the Upper East Side of Manhattan, and covers hundreds of years of Jewish history and culture from all around the world (from biblical and medieval times up to the 21st century).
As one of the oldest Jewish museums in the world, dating back to the early 1900s, this beloved institution takes visitors on a journey through time, covering the Jewish diaspora and modern-day Israel, with 30,000 works of art and countless more pieces of literature to boot. Highlights include a menorah collection, the annual Jewish Film Festival, photographs of NYC Jewish life in the 1940s and 1950s, and a fascinating Leonard Cohen exhibition to boot
Award-winning and insightful, the museum is located in the Felix M. Warburg mansion – a piece of art and history in its own right.
14 – 9-11 Memorial & Museum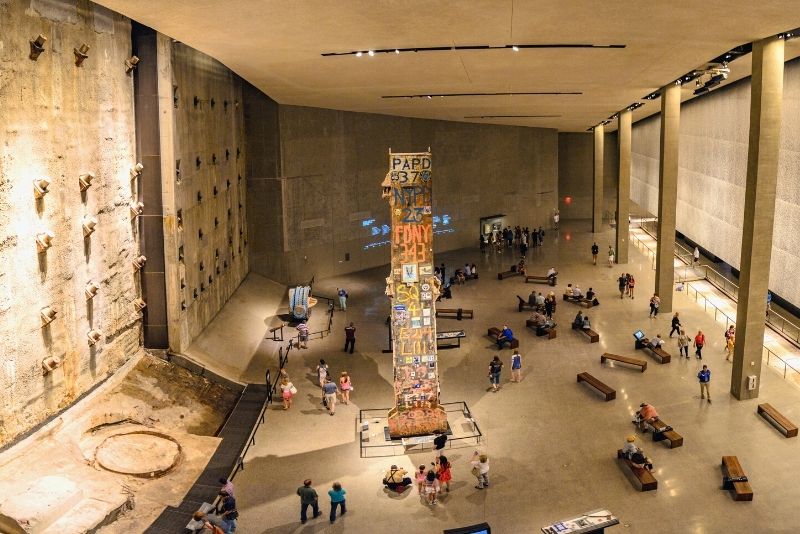 Incredibly moving and forever sobering, the National September 11 Memorial Museum documents the tragic events of September 11, 2001, the lead-up, and the aftermath.
Found in the Financial District of Lower Manhattan, on the site of the former World Trade Center Twin Towers, this museum is both a memorial to those who passed and a tribute to the survivors from that fateful day.
The museum — which is free to visit on Mondays for anyone traveling on a budget — tells the story of what happened in brilliant detail, using multimedia displays (including oral histories), interactive exhibits, rare artifacts, and even a fire engine with a story of its own; it's an emotional journey that leaves visitors staggered but grateful for all the first responders who risked their lives trying to help.
Before entering the museum, the two infinity fountains catch your attention: occupying the footprints of the buildings, the waterfalls cascade into the reflecting pools and, etched with names of fallen heroes, make for a grand and poignant tribute. Each pool extends deep below ground level, not only sitting in the shadow of the former towers, but also representing the depth of loss and grief.
15 – Smithsonian – National Museum of the American Indian New York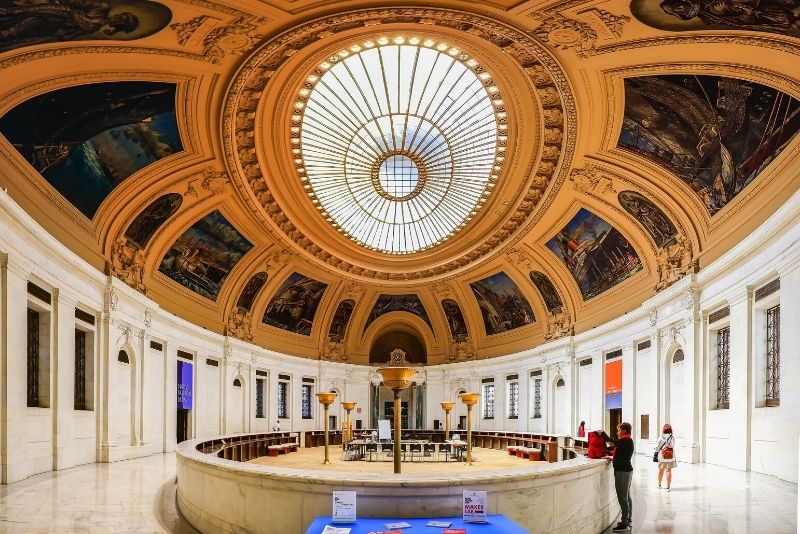 A wonderful look into the culture and heritage of the Native American people, the National Museum of the American Indian New York is the local branch of the esteemed Smithsonian facility over in Washington D.C.
Housed in a beautiful building (the historic Alexander Hamilton U.S. Custom House) in Lower Manhattan's Bowling Green, this museum tells the story of Native American history from a national perspective – highlighted by a permanent collection of 700 works of Native art from North, Central, and South America — as well as specific to the New York area, with exhibitions that explore everything from traditional crafts and tools to modern-day movements.
Regularly hosting musicians, dancers, artists, and elders, guests can also watch films, listen to music, and attend talks at this museum — a perfect (and free) spot for anyone interested in learning more about a hugely important part of American history.
16 – New York Transit Museum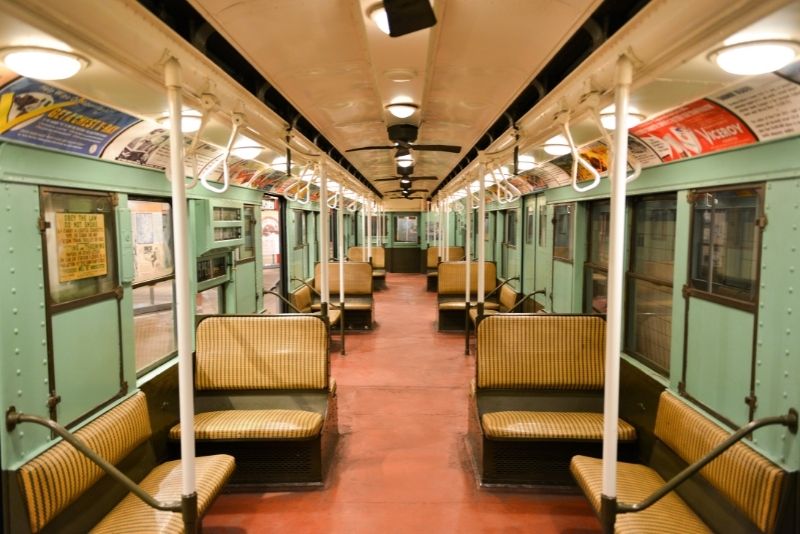 As the world's most famous subway system, it seems only fitting that the Big Apple should have its very own museum dedicated to all things MTA.
The New York Transit Museum, located in Downtown Brooklyn near City Hall (in a decommissioned subway station if you don't mind), is exactly that: a treasure trove of subway and bus memorabilia dating back to the turn of the 20th century (including posters, timetables, signage, uniforms, old photographs and a whole lot more), plus interactive exhibits on how the transit system works today!
What's more, the museum also has full-sized subway cars and now-retired busses — it's like taking a step back in time.
17 – New-York Historical Society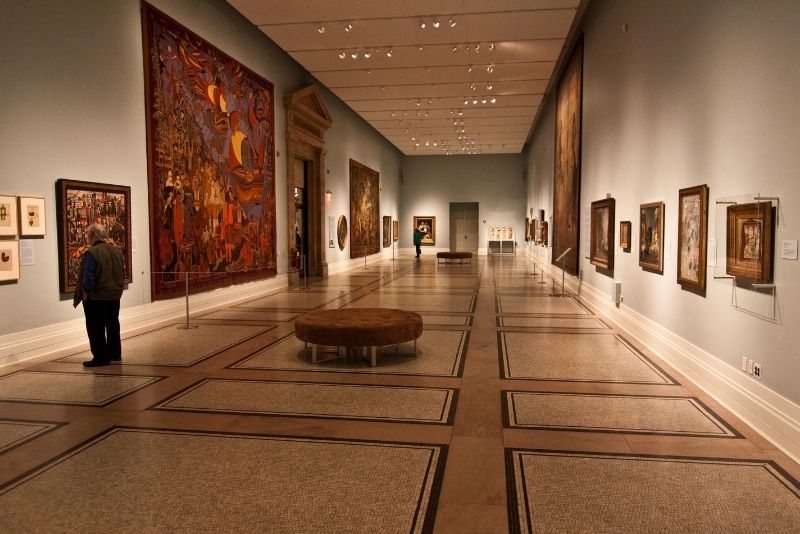 Just around the corner from the Museum of Natural History (and the leafy fields of Central Park), the New-York Historical Society — miraculously, the first museum in the city — is a fascinating insight into the evolution and bygone days of New York City and State.
Founded in 1804, this institution is one of the oldest museums in America and has an extensive (and ever-changing) collection on show, from Tiffany glass windows to samurai armor to items relating to George Washington and beyond.
There's also a library on-site, which is open for research, plus regular talks, a recreation of the Oval Office, a spectacular section dedicated specifically to women's role in developing the city, and family-friendly activities — making it a history buff's paradise.
18 – Brooklyn Museum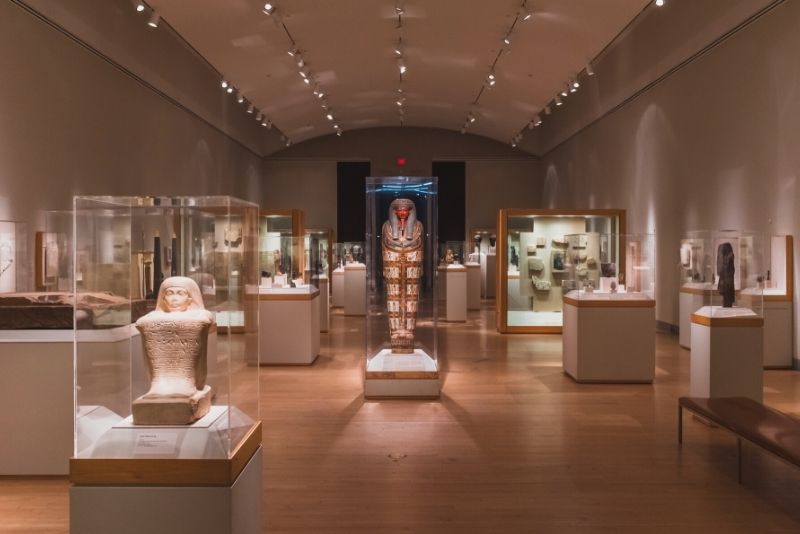 Move over, Manhattan! Cool, hip, and always interesting Brooklyn has its very own world-class museum, and it's well worth a visit.
The Brooklyn Museum is one of the largest museums in the United States (second only to the Met in New York City), with a permanent collection that spans over 500,000 objects from all around the world: African art, European Impressionist works, Ancient Egyptian artifacts, contemporary American paintings of Andy Warhol ilk, you name it.
What's more, as befits such an eclectic institution, the Brooklyn Museum also puts on some amazing special exhibitions and events; check the calendar to see what's on and choose between art-making, dance (salsa party, anyone?) film screenings, and guided tours.
19 – New York Aquarium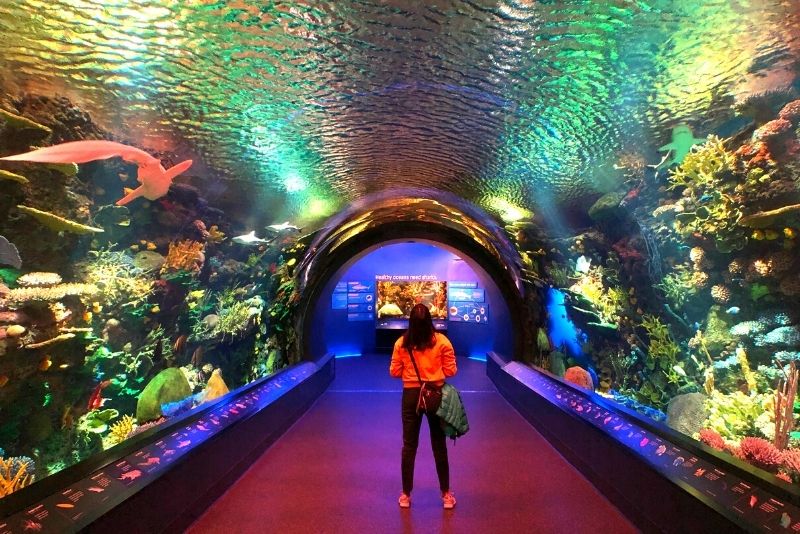 Guaranteed to leave kids (and kids at heart) grinning ear to ear, the New York Aquarium promises a family-friendly day out with a difference.
Straddling the sparkling Atlantic waterfront in Coney Island, this aquarium is home to thousands of colorful animals big and small from close to 500 different species, including sharks (18 species alone!), sea lions, and cute-as-a-button playful penguins.
There's also an impressive array of marine habitats on show, from coral reefs to mangroves to kelp forests; visitors can walk through underwater tunnels and see some amazing creatures up close in the touch tanks before learning a thing or two at Conservation Hall.
Designed to be immersive, educational, and a heck of a good time simultaneously, there are also daily feedings and talks by animal experts and VIP experiences where you can get up close and personal with the friendly residents.
20 – Cooper Hewitt Smithsonian Design Museum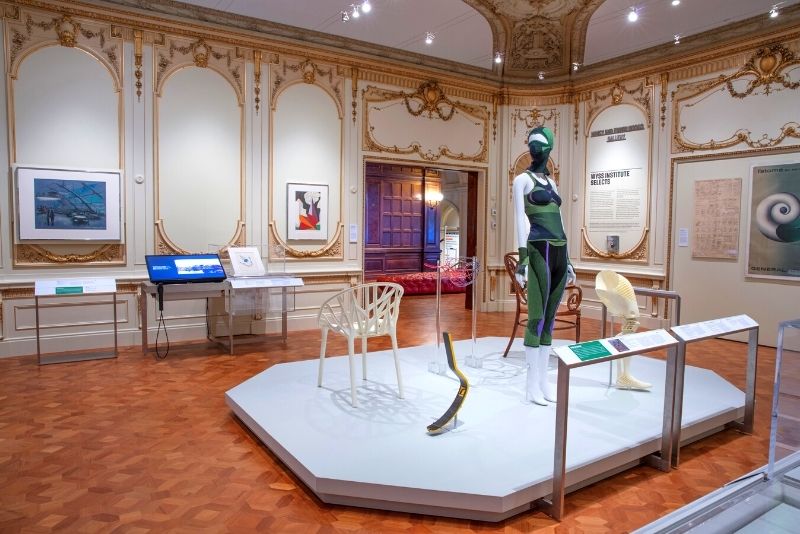 A highly respected attraction considered to be one of the best museums in New York City among the design community, Cooper Hewitt is a beacon for all things decorative, architecture, and design.
Showcasing everything from decorative arts and iconic graphic posters, to woodwork, pottery, musical instruments, and statement-making furniture, the collection dives into close to 250 years of design aesthetics and evolution, showing how far (or how little?) we've come since the 1700s.
Fitting to a place dedicated to eyecatching design, it rests within a beautiful 1902 Georgian mansion on the Upper East Side once lived in by none other than Andrew Carnegie
21 – Neue Galerie New York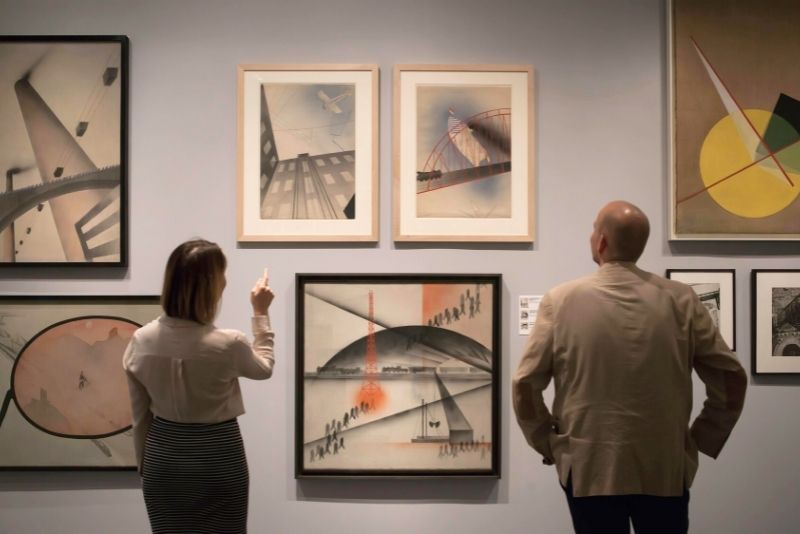 Conveniently nestled on Museum Row in between the overshadowing Met and the Frank Lloyd Wright-designed Guggenheim, the Neue Galerie is a little-known but highly impressive museum showcasing German and Austrian art from the 19th (and early 20th) century.
From Klimt to Kokoschka, Schiele to Schwitters, the Neue Galerie has an unrivaled collection of Expressionist and Cubist artwork that provides fascinating insights into two major European cultures at a time of great change.
In addition to the galleries (which are beautifully designed in keeping with the period), there's also a lovely cafe — Café Sabarsky — serving Viennese pastries and coffee as well as a shop stocking high-quality souvenirs; it's definitely worth popping in even if you don't plan on browsing the museum itself!
22 – Ellis Island National Museum of Immigration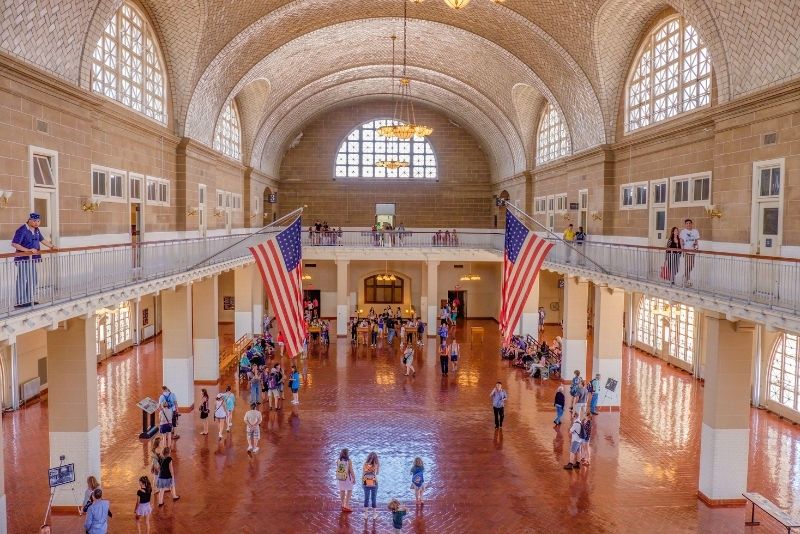 Usually paired with Liberty Island next door, Ellis Island is a vital and moving part of American history as the gateway for millions of immigrants who made the journey looking to start a new life in the United States in the 19th and 20th centuries.
Nowadays, Ellis Island is also home to the excellent National Museum of Immigration which tells the story of these people (and their descendants) through interactive exhibits, audio-visual displays, and historical artifacts that document America's immigration history from the 1500s through to the modern-day.
Make sure to check out The American Immigrant Wall of Honor, and don't forget to take a moment to admire the stellar view of Lower Manhattan as it towers over the harbor.
Tickets include access to both Liberty and Ellis Islands — make sure you set aside plenty of time to explore!
23 – The Museum at FIT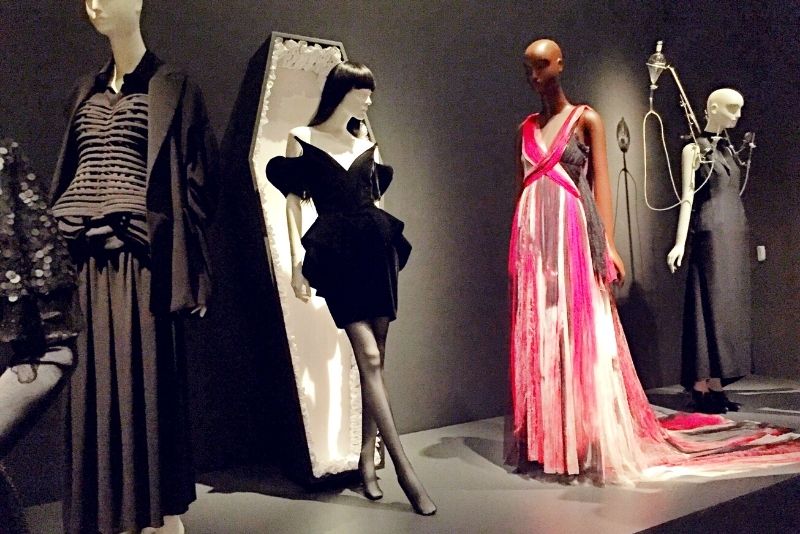 The Museum at FIT is a small but mighty institution celebrating all things fashion, from the historical and traditional to the cutting-edge and ultra-modern.
Housed in the Fashion Institute of Technology's (FIT) stunning campus on Seventh Avenue, the museum features rotating exhibitions of both historic and contemporary garments (it's been the site of over 200 innovative fashion exhibitions), as well as accessories, sketches, photographs and other ephemera related to fashion.
Besides the some-50,000 garments that span the 1700s to the 2020s, there are also regular lectures and workshops with leading figures in the industry, making it an essential destination for any fashion lover visiting NYC.
While you're in the area, make sure to check out the High Line Park and Chelsea Market for a spot of lunch too!
24 – American Museum of Natural History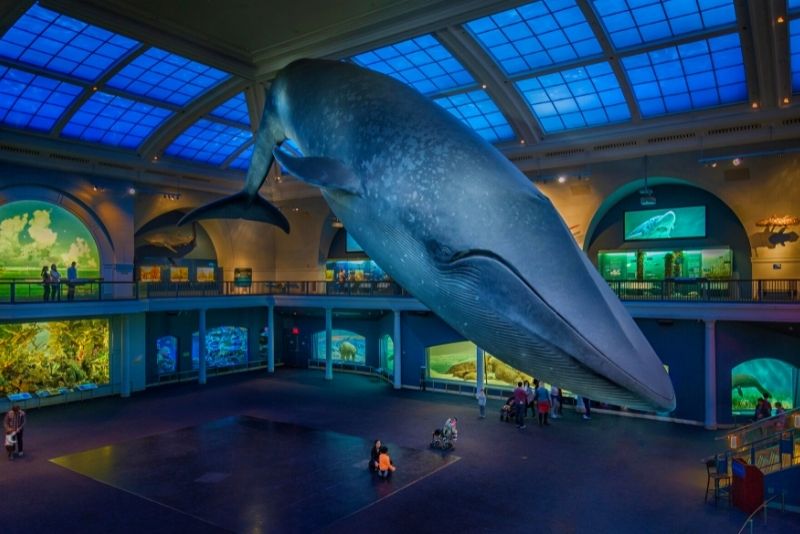 Straddling the western edge of Central Park, and make extra famous thanks to its location as the set for Night At The Museum, the American Museum of Natural History is considered one of the most beloved and best museums in New York City, and for good reason.
Boasting a jaw-dropping collection that includes everything from ancient Egyptian artifacts to complete dinosaur skeletons, recreated wooly mammoths and displays documenting human evolution, there's something here for everyone who has an interest in history (or prehistory), geology, science or the natural world.
And if the 45 permanent exhibition halls weren't enough (not to mention the dedicated Rose Center for Earth and Space), the museum is also home to one of the largest planetariums in the Western Hemisphere — the 429-seat Hayden Planetarium space theater — which offers incredible shows exploring everything from black holes to the origins of life.
Suggested itinerary: after browsing the half of the museum and checking out the planetarium, make the most of Central Park next door. In the warmer months, throw down a picnic rug in the Shakespeare Garden and enjoy a meal surrounded by nature before walking to the Belvedere Castle; in winter, take a spin on the Wollman Rink and top off the adventure with a soothing hot chocolate!
25 – Museum of Arts and Design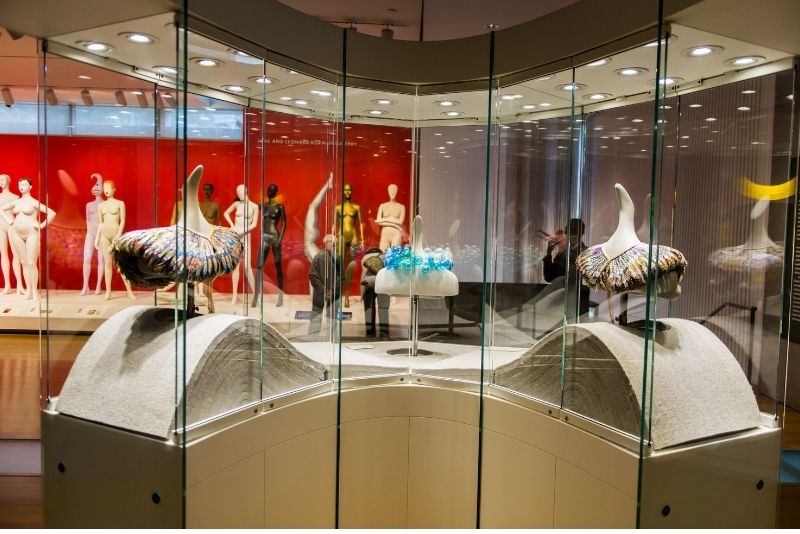 Contemporary, creative, edgy, and found at the southwestern tip of Central Park in Columbus Circle, the Museum of Arts and Design (MAD) might seem like a relative newcomer to the NYC museum scene, having opened its doors in 2002, but it's history actually transcends to the mid-1900s — making it a longstanding, and heavily underrated year-round attraction.
Across four floors of exhibition galleries for works by established and emerging artists, this family-friendly space makes a big impact thanks to its eclectic and innovative exhibitions that explore all aspects of art and design from the 1950s through to the present day.
From ceramics and glassware to furniture, textiles, architecture, graphics, jewelry and product design, MAD touches of all areas of how creativity shapes our everyday lives.
What's more, the museum also hosts ambitious temporary exhibitions as well a theater for lecutes and workshops, and a handful visitable artistic studios where you can see designs come to life.
Hot tips: plan to visit on Saturday, when occasional live music is performed in the garden, and make booking for the 9th-floor restaurant for some amazing views!
26 – Queens Museum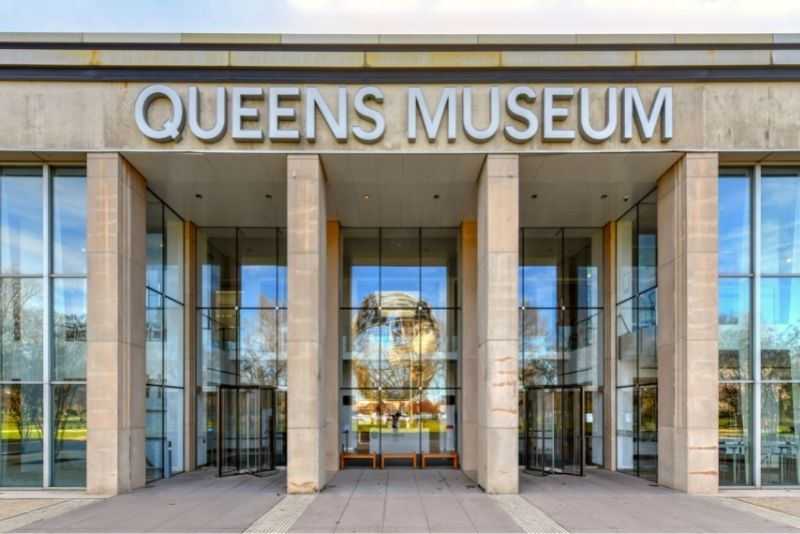 A staple of true NYC culture, and enormous in both its size and reputation, the Queens Museum is located inside Flushing Meadows Corona Park (home to both the US Open tennis tournament and the iconic Unisphere from the 1964 World's Fair), and whisks visitors away on a fascinating journey and an impressive collection that spans centuries.
The permanent exhibitions here focus on two things: firstly, on telling the story of Queens — from its Native American heritage to its current status as the largest and one of the most diverse boroughs in NYC — through interactive displays, multimedia installations and historical artifacts; secondly, on showcasing some of the amazing works by artists who have called Queens home over time, including major names like Jackson Pollock, Louise Nevelson and Alexander Calder.
In addition to these permanent galleries, tucked away inside an art-deco gem of a building (formerly known as the New York City Building), the undisputed Queens Museum highlight is its miniature version of the entire city of New York.
Dubbed the Panorama of the City of New York, this birds-eye tour of sorts was built for the 1964 World's Fair, took three years to construct (and many more months to continually update) and comprises over 900,000 individual structures!
27 – Noguchi Museum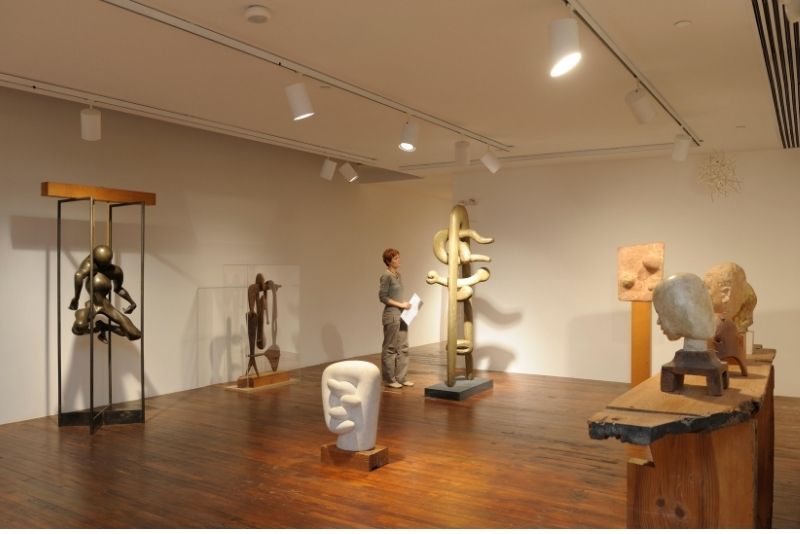 While you're over in Queens, why not make a stop at the Noguchi Museum, which is dedicated to the work of Japanese-American artist and abstract sculptor Isamu Noguchi?
Founded in 1985 by the artist himself (a year before his death), this intimate museum comprises a single exhibition hall spanning two stories, as well as an enchanting outdoor sculpture garden. It's home to the world's largest collection of Noguchi's works, including fascinating sketches, maquettes, paintings and sculptures from throughout his esteemed career.
What makes the off-beat museum so special is that it doesn't just showcase finished pieces — visitors can see how Noguchi worked and how he developed his unique style by viewing unfinished works and prototypes. This provides not only insight into the creative process but also into the man himself!
With free gallery talks Wednesdays through Sundays at 2pm, this place is catnip for design nerds.
28 – Explore the Paley Center's timeless treasures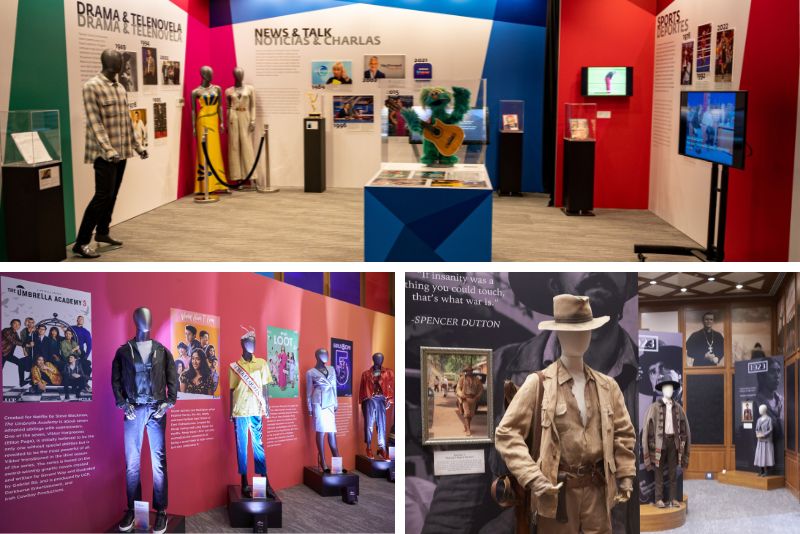 A leading non-profit cultural institution, the Paley Center for Media ensures the preservation of a diverse media history and explores the impact of media on culture and society.
Hosting an unprecedented variety of programs that appeal to both the general public and industry professionals, such as the famous PaleyFest, these efforts aim to celebrate the pinnacle of television, digital content, and interactive entertainment.
The Paley Center for Media brings together influential leaders to explore and discuss the industry's most pressing issues and opportunities, fostering a unique sense of community. Meanwhile, the acclaimed PaleyImpact series serves as a valuable educational platform, providing deep insight into the influence of media on social discourse and cultural change.
With an unrivaled collection of over 160,000 programs spanning more than a century, the Paley Archives is considered a national treasure and serves as a valuable resource for K-12 educators and students nationwide.
With exhibits, demonstrations, and a state-of-the-art PaleyGX game studio, the center is a hub for cultural exchanges and innovative entertainment experiences.
29 – El Museo del Barrio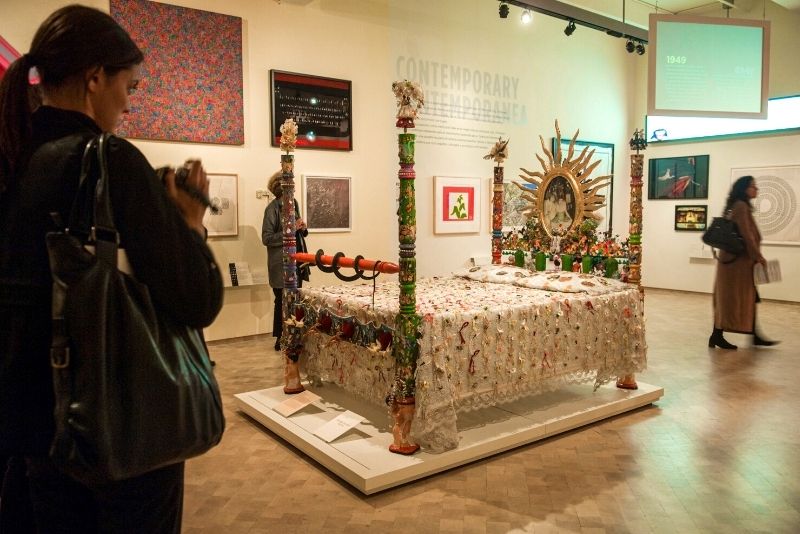 Latin American and Caribbean art come to life at El Museo del Barrio, a delightful institution that showcases everything from ancient Andean textiles to contemporary Puerto Rican films.
This Harlem institution first opened in 1969 as the Museum of Puerto Rican Culture, before expanding its focus to encompass all Latin American and Caribbean cultures in 1984.
These days, It now occupies a stunning Beaux-Arts building on Fifth Avenue that was originally designed as a synagogue, and boasts a collection of over 65,000 objects that explore the last 800 years of Puerto Rican and Latin development!
With Spanish lessons, film screenings, and dance classes to boot, there are few places in the city better equipped to deliver an authentic Latin insight.
30 – Whitney Museum of American Art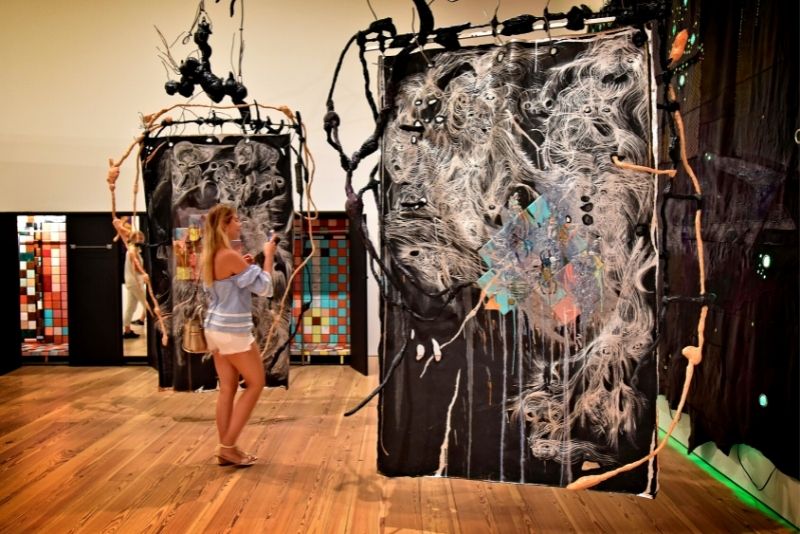 Found over in the Meatpacking District near the banks of the Hudson River, the Whitney Museum of American Art is devoted exclusively to showing off all the best bits of contemporary American art from the 19th and 20th centuries, and boasts an impressive collection that includes pieces by iconic names like Jasper Johns, Edward Hopper, and Andy Warhol, to name but a few.
What makes the Whitney so unique is its history; it was founded in 1931 by Gertrude Vanderbilt Whitney (a wealthy society lady who also happened to be a sculptor), making it one of the first museums in America dedicated solely to exhibiting art made in this country.
It also has a famed architect on its CV: Bauhaus-trained Marcel Breuer designed the original building back in 1966, best enjoyed today from the op-floor bar which dishes up all-star views of the Lower Manhattan Skyline.
31 – Museum of Jewish Heritage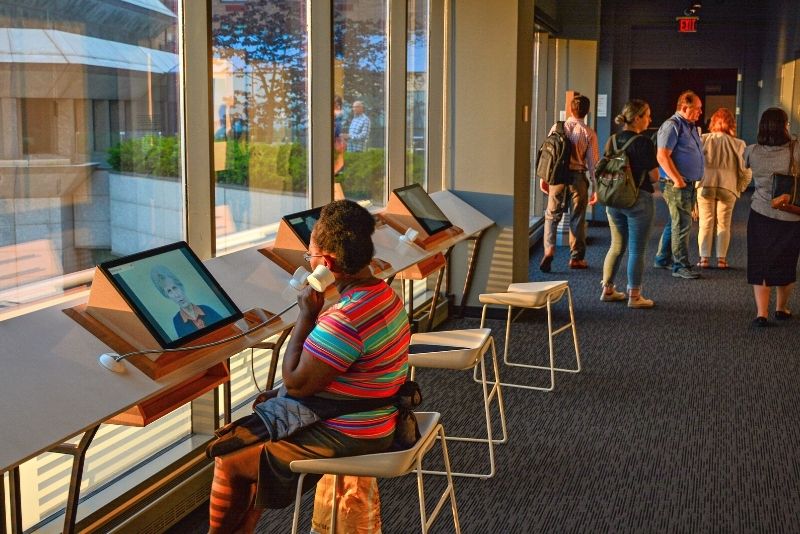 Depicting the stories of Jewish life and culture around the world, the Museum of Jewish Heritage is considered one of Lower Manhattan's most important cultural institutions, showcasing immigration and culture over the centuries, and providing a sobering look at the never-again events of WWII, in what is officially the third-largest Holocaust museum in the world.
Located in Battery Park City, visitors can explore permanent exhibitions on topics like the American Jewish experience, Ancient Israel, Yiddish Theater, Holocaust survivors, and even embark on virtual tours of places like Krakow's Jewish quarter
With talks, workshops, and screenings happening on a near-daily basis, there's always something new to learn at this fascinating, eye-opening museum.
32 – Brooklyn Children's Museum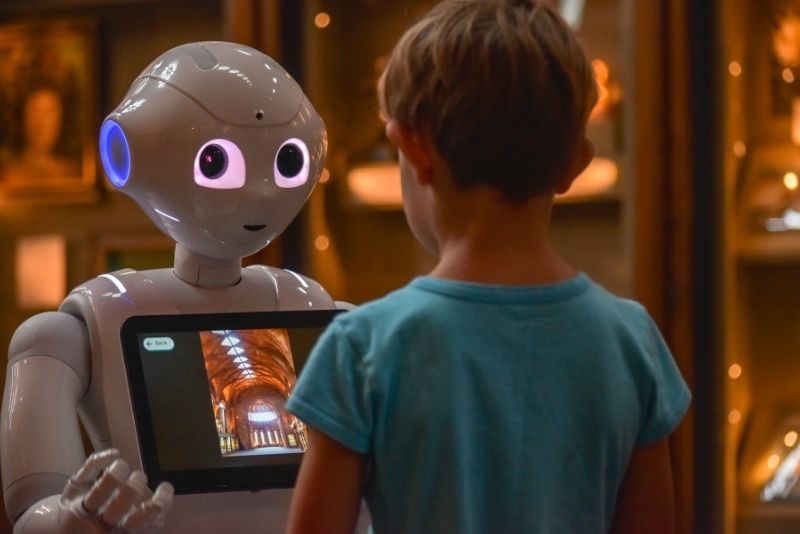 A surefire hit for galavanting families with kids in tow, the Brooklyn Children's Museum is one of the oldest museums of its kind in America, first opening back in 1899.
Boasting a whopping 35000 square feet of exhibition space – including interactive exhibits on topics like science, culture, outer space, nature, the human body, history and hands-on art – it provides hours upon hours of fun-filled learning opportunities for tykes aged 0-12, with no less than 20,000 artifacts to admire (and play with).
With the overarching goal to inspire and ignite curiosity about the world around them, BCM also puts on special exhibitions throughout the year, as well as cool events like dance parties, sculpture-making, and an ice skating rink that are open to visitors of all ages.
33 – American Folk Art Museum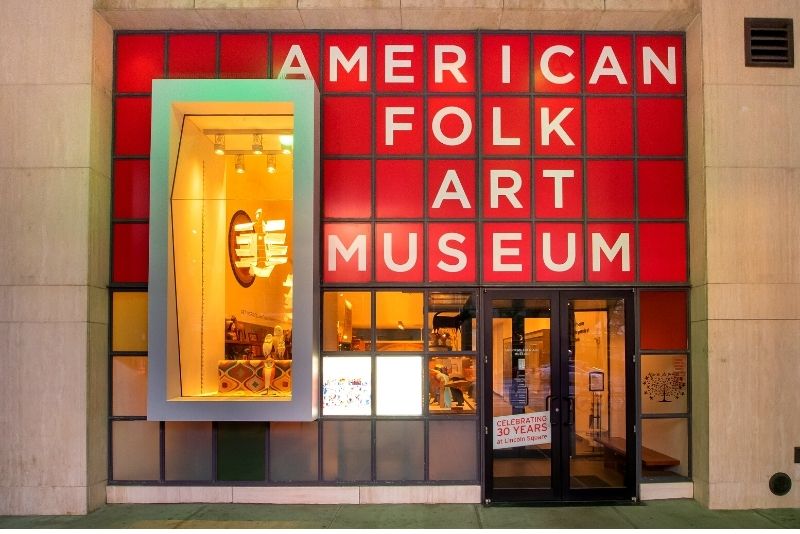 An Upper West Side hidden gem that's been impressing artsy visitors for over 60 years, the American Folk Art Museum is devoted to all things handmade, showcasing everything from quilts and paintings to carvings and metalwork in its intimate galleries — with one overarching theme: pushing the boundaries.
What makes it so unique is that the pieces on show here aren't just beautiful works of art – they offer a rare insight into the lives of their creators, with many of the artists featured being self-taught.
All up, more than 8,000 objects from the 18th century to the present are on display to admire, with rotating exhibits ensuring that no two visits are alike.
Hot tip: while some museum gift shops can be skipped, this one is an essential stop — it offers handcrafted and traditional folk items like jewelry, frames, toys, and decorative that you won't find anywhere else.
34 – Merchant's House Museum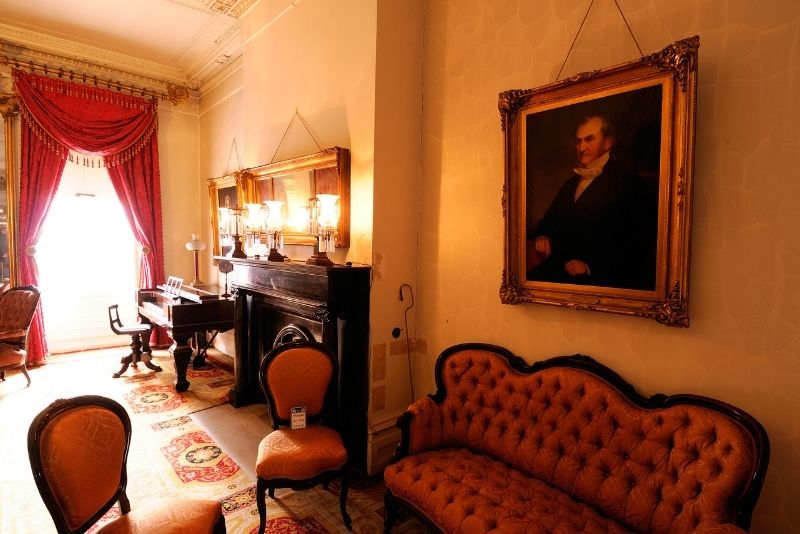 The only 19th-century house left standing in Manhattan, the Merchant's House Museum is a time capsule that allows visitors to get a rare glimpse into what life was like for the city's well-to-do during the 1800s.
Furnished with original family belongings and heirlooms, it includes everything from clothes and books to toys and kitchen utensils, providing an intimate look at how the other half lived back in the day.
Reservations to wander around this 200-year-old NoHo hidden gem are required in advance, meaning that the crowd is never overwhelming and you can enjoy the 60-minute self-guided tour in peace.
Keep in mind: the Museum also offers historical neighborhood walking tours of the twice a month that are well worth the time if your schedule lines up.
35 – Dyckman Farmhouse Museum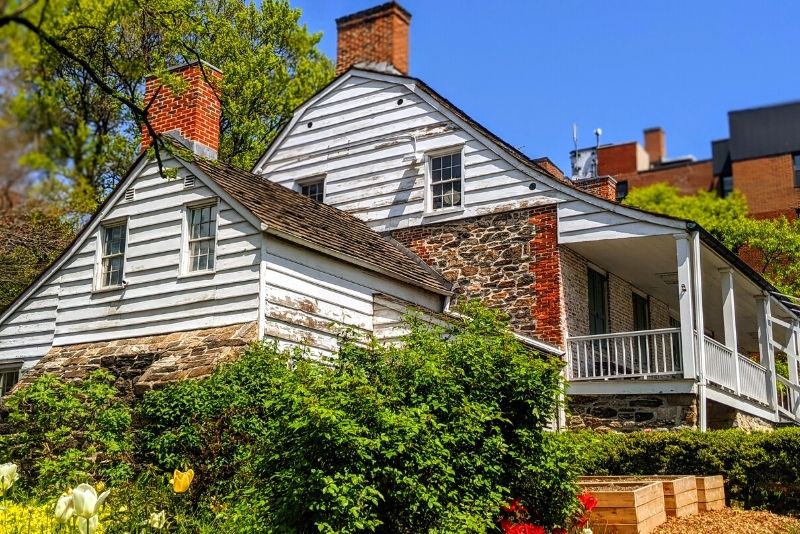 A piece of history nestled in the Inwood section of Upper Manhattan, Dyckman Farmhouse Museum is a preserved slice of Americana that takes visitors back to 1764 – when the farm was first built.
Operated by the Historic House Trust of New York City, this museum offers guided tours of the main house, barn, and gardens, as well as educational programs for schools and kids' groups throughout the year.
What makes Dyckman so unique is that it's one of only a few colonial farms remaining in Manhattan (and one of even fewer with original buildings), as well as the oldest remaining farmhouse in Manhattan, making it a must-visit for anyone interested in NYC's fascinating history (or just wanting some fresh air and green space on their trip).
The Dutch Colonial-style farmhouse, which has been overlooking Broadway for more than 200 years (the off-beat Broadway that seems a world away from the Times Square section) sits right around the corner from Inwood Hill Park and Fort Tryon, making for a great back to back itinerary for those in search of a rarely-sighted slice of peace on the otherwise-buzzing Manhattan island.
36 – The Bronx Museum of the Arts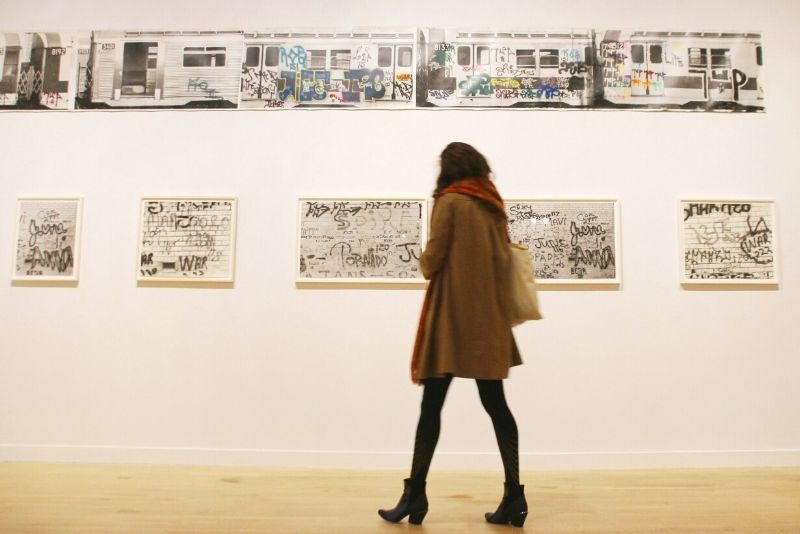 Well and truly off the beaten track in the little-known (yet historic and culturally rich) Grand Concourse, this free-to-enter and internationally-recognized museum is known for its large-scale collection of diverse artwork — a collection that aims to reflect and showcase the Bronx's melting pot of cultures through North American, Latin American, African, and Asian pieces.
What that means in practice is that you can expect to see everything from paintings and sculptures to installations, photographs and videos, with over 800 pieces spread across a roomy 33,000-square-foot converted synagogue.
Open since 1971, the Bronx Museum of the Arts also puts on fascinating artist talks, art auctions (unique souvenirs, anyone?), and galas, making it — and the surrounding restaurants and parks — worthy of a visit even if you're not an art buff.
37 – Museum of the Moving Image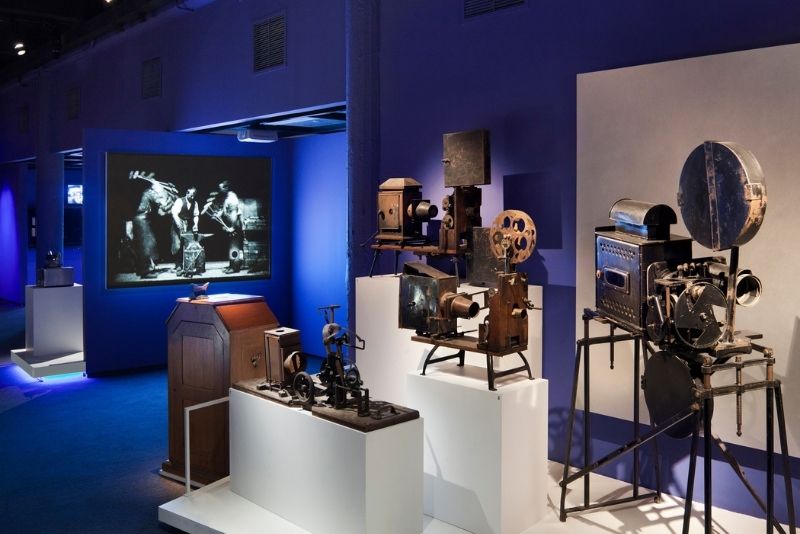 Celebrating the magical worlds of film, TV, and digital media, the Museum of the Moving Image is a one-stop-shop for all your entertainment needs.
From its extensive collection of props, costumes, and set pieces from classic movies to interactive exhibits on how video games are made, there's something here for everyone who ever dreamed of stepping behind the scenes in Hollywood (or gaming). The "Behind the Screen" exhibition, in particular, is a crowd favorite, showcases over 1,400 unusual bits and bobs that cover the evolution of digital entertainment
Bonus: it also has an outdoor amphitheater that screens free family movies during the summer, making it a great option on those balmy NYC nights; and thanks to its location in Astoria, Queens, it provides a chance to explore a new area.
38 – Museum of Ice Cream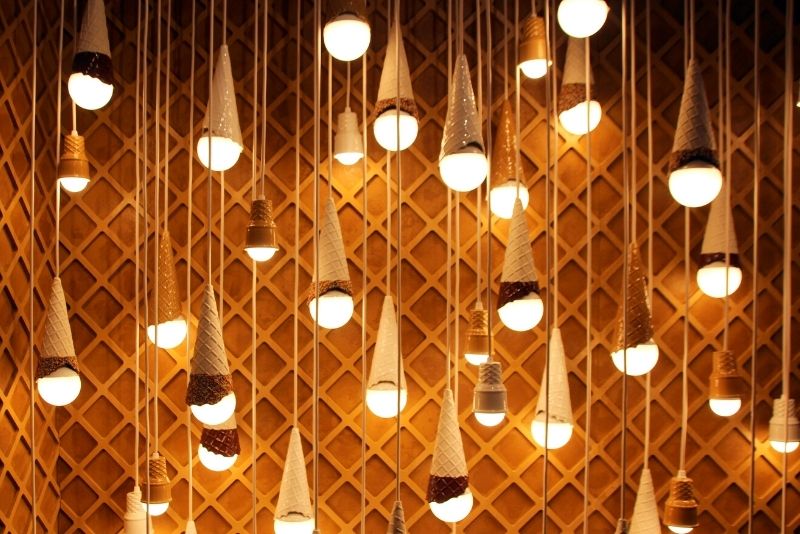 Heaven on Earth for sweet-tooth sufferers, the Museum of Ice Cream is a (you guessed it) museum dedicated entirely to everyone's favorite chilly treat.
Full of quirky, immersive installations — from those made entirely out of ice cream to rooms filled with colorful sprinkle pools and 3-floor slides — this place is basically Willy Wonka's Chocolate Factory for adults.
An artistic, walk-though selfie haven with no shortage of delicious flavors to try along the way, this modern and Insta-worthy sugary paradise is one of the best museums in New York City for those whose idea of a morning well-spent is a room full of candy.
While you're in the area, and while we're on the topic of delicious foods, Little Italy and its sleuth of world-famous restaurants is just a short walk away.
39 – International Center of Photography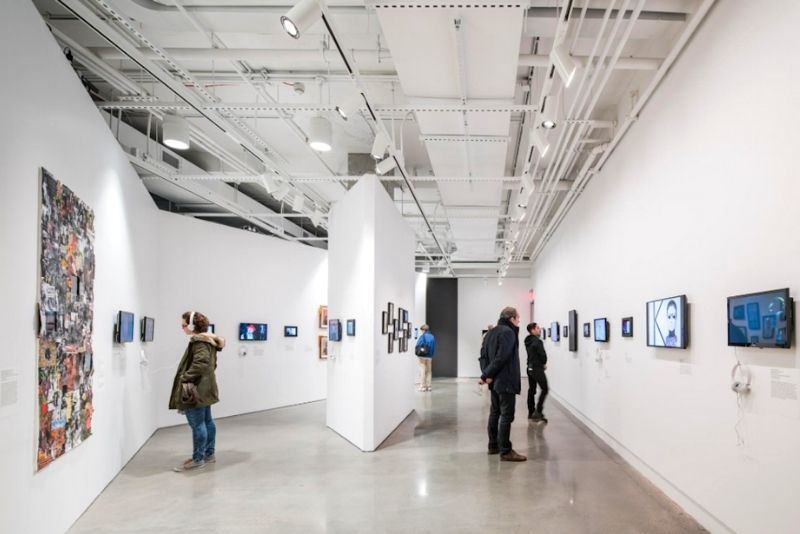 Shutterbugs, listen up! Boasting a world-class collection of photography and photojournalism that spans from the 1840s to the present day, the International Center of Photography is home to some seriously impressive pieces — including snaps from revered photographers like Ansel Adams, Lewis W Hine Dorothea Lange.
As both a school and a museum, it offers hands-on beginner and expert classes and also frequently hosts thought-provoking exhibitions on timely topics (from a visual history of hip-hop to a photographic insight into the COVID-19 crisis and everything in between), making it a great place to go if you want to get your brain ticking as well as your shutter finger clicking.
All up, the longstanding institution contains over 200,000 images, with more than 3,000 artists having graced its walls throughout the ages.
40 – Hayden Planetarium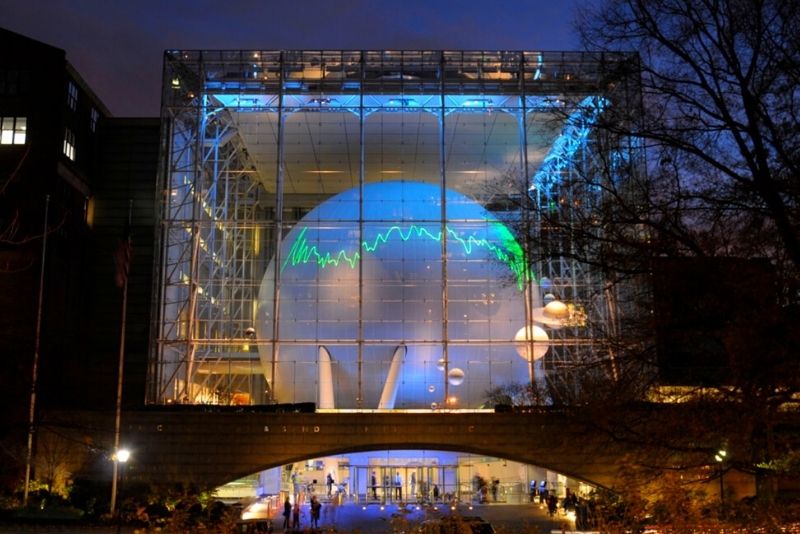 An interstellar activity ideal for a rainy day, the Hayden Planetarium is one of the most popular museums in New York City.
Sitting on the American Museum of Natural History campus, on the edge of Central Park, this place will take you on a journey through time and space with its state-of-the-art digital projections, astronomy exhibits, and friendly tour guides keen to unpack the wonders of the universe.
An hour or so at this esteemed planetarium and you'll walk away having learned about black holes, discovered planets beyond our solar system, and watched the birth of the universe in the Big Bang Theater — all with the fascinating narration by none other than astrophysicist Neil deGrasse Tyson.
41 – Museum of Sex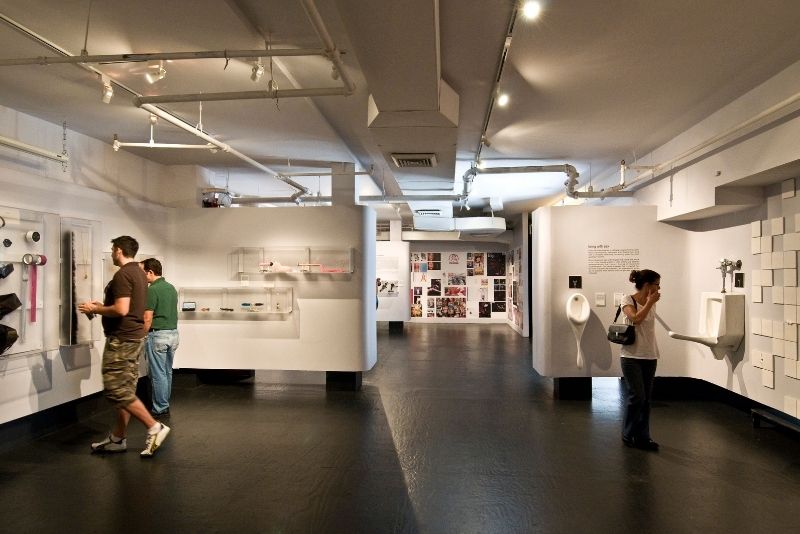 Kinky, very educational, and utterly fascinating, Fifth Avenue's Museum of Sex takes curious visitors on a promiscuous journey of human (and animal) sexual evolution through the ages.
Dedicated to everything from ancient fertility rites and pornography to modern-day sex toy design, with occasional film screenings to boot, this place will teach you about sexuality in all its weird and wonderful forms.
It's definitely not for the faint-hearted (or prudish), but if you're curious about what makes us tick as a species then it's well worth a visit. And be sure to leave time for the gift shop; it goes without saying, unique souvenirs await.
What to do next? After satisfying your cravings for the taboo, you'll be about halfway in between the Empire State Building and Flatiron Building – so choose one, enjoy the 10-15-minute walk through Midtown's vibrant streets, and then grab an Insta-worthy photo or two!
42 – Queens County Farm Museum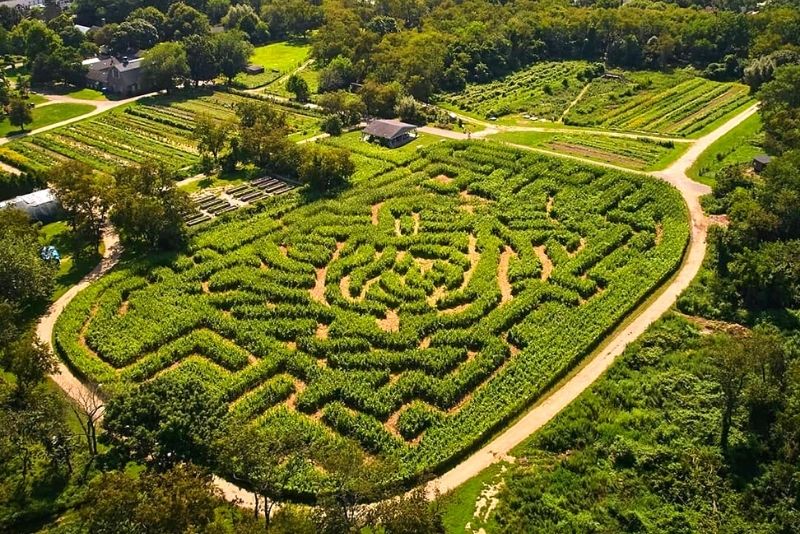 If you're looking for a little bit of green in the concrete jungle that is New York City, head on out to Queens County Farm Museum – the largest and oldest working farm in NYC, dating back, would you believe it, to 1697?.
Open year-round and free to visit, the museum spans over 47 acres and features (among other things) a petting zoo, hayrides, seasonal festivals, an orchard, herb garden, tractor rides, and a deliciously satisfying ice cream parlor to keep the kids (and sweet-toothed adults) at bay.
Plus: it's home to the only corn maze in all five boroughs – The Amazing Maize Maze!
Hot tip: The Farm sells fresh vegetables, fruit, eggs, and raw wildflower honey in the farm store, so be sure to pick up something for the trip home!
43 – Madame Tussauds Wax Museum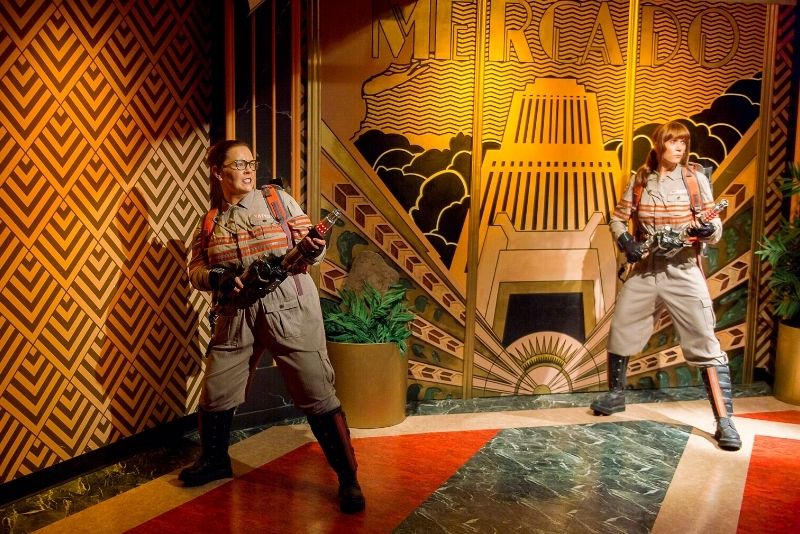 While a little cliché, Madame Tussauds is one of those tourist traps that's actually worth your time (and money).
The world-famous wax museum, which has outposts in cities all over the globe, boasts incredibly realistic likenesses of some of the world's most famous faces — including everyone from Beyoncé and Barack Obama to Marilyn Monroe and Morgan Freeman.
You can snap a selfie with each and every one of them; get up close and personal with some impressive historical recreations, like a scene from the Titanic or a recreation of Lady Liberty herself, and join the interactive activities in the Marvel Superheroes and Star Wars zones.
While it might not be high brow art or culture, Madame Tussauds is an NYC institution that provides an enjoyable way to kill an afternoon — especially if you're traveling with kids in tow.
44 – Asia Society and Museum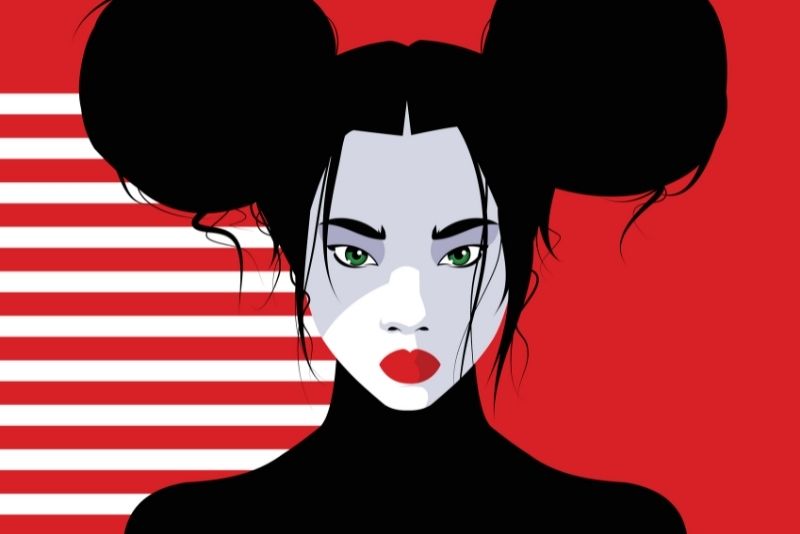 An Upper East Side insight into the art, culture, and history of Asia, the Asia Society Museum is one of the city's best museums to explore if you're interested in learning about the diverse continent's peoples and traditions.
With a range of rotating exhibitions (past shows have focused on everything from Indian contemporary art and large-scale calligraphy works), as well as regular talks and performances, there's always something new and exciting to see at this lesser-known museum.
After browsing the museum, pop into the tastefully-curated gift shop for a unique souvenir, or enjoy a relaxing cup of tea in The Garden Court Cafe – a beautiful atrium cafe that serves delicious brunch.
45 – New York City Fire Museum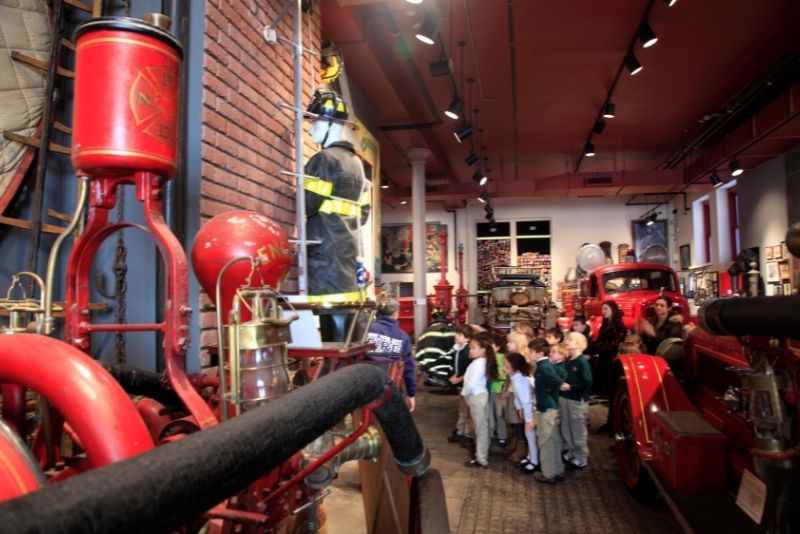 Holding a lens over the Big Apple's brave and cherished Fire Department, past and present, the New York City Fire Museum shines a light on the city's past responders; their routines, their heroics, and the equipment they used (and still use) to do their job.
Housed in a former SoHo firehouse that dates back to 1904, the museum contains an impressive collection of over 10,000 artifacts that tell the story of the FDNY, from its humble beginnings (some dating back to the 1650s) to its current incarnation as one of the most celebrated and busiest fire departments in the world.
Highlights include horse-drawn pumper engines, antique brass fire poles, Victorian-era firefighting carriages, a host of interactive exhibits that are sure to capture your imagination, and, of course, sobering artifacts recovered from the World Trade Center site with an incredibly moving tribute.
46 – Museum of Chinese in America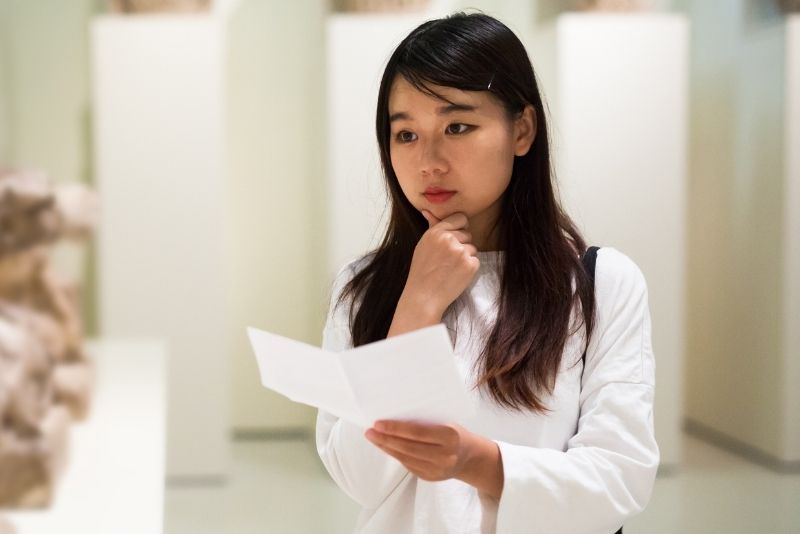 Often shortened to MOCA, the Museum of Chinese in America is one of the most important institutions preserving and celebrating the history and culture of Chinese people in the United States.
Founded in 1980, MOCA strives to tell the untold stories and serve as a bridge between past and present – a goal it certainly achieves through its thought-provoking exhibitions.
Holding over 65,000 objects, the modest institution dives into topics like food, music, fashion, and technology, and showcases what it means to be Chinese American through personal stories, artworks, photographs, films, and interactive media.
Hot tip: to learn more about the area, join one of the museum's Chinatown walking tours!
47 – Fotografiska New York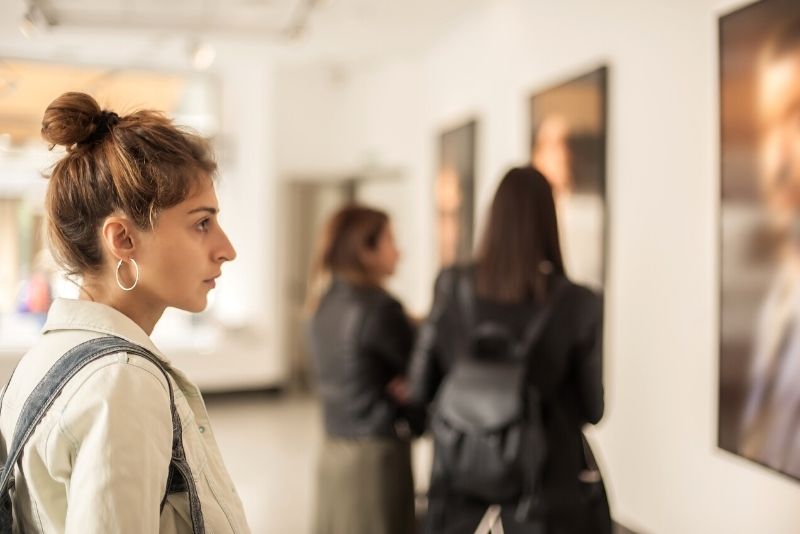 The sister outpost of the acclaimed Swedish photography museum, Fotografiska New York is a quintessential shutterbug shot — a world-class institution dedicated to showcasing contemporary photography from all over the globe.
Boasting rotating exhibitions (featuring both well-known and up-and-coming photographers), artist talks, workshops, and an excellent gift shop, Fotografiska is a great place to spend an afternoon if you're passionate about photography – or just want to browse a handful of stunning, thought-provoking artworks.
Even better: the cutting-edge space sits inside a contrasting 19th-century chapel in the Meatpacking District. So after learning about the art form, why not soak in the historic space with a tipple at the rustic Chapel Bar?
48 – Leslie-Lohman Museum of Art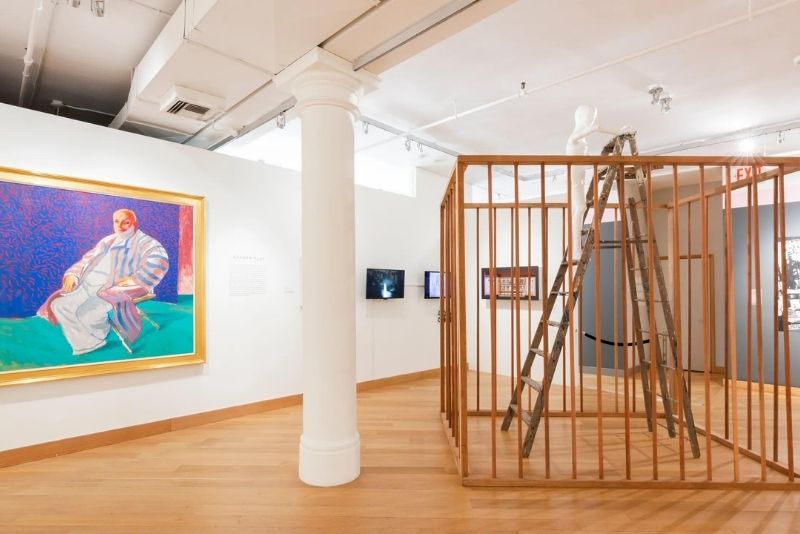 All about LGBTQ art and culture, the Leslie-Lohman Museum of Art down in SoHo is the world's first and only institution dedicated to this underrepresented field.
Founded in 1969, the museum has since amassed a collection of over 30,000 pieces – including paintings, drawings, sculptures, photographs, prints, videos, and performance artworks – by LGBTQ artists from around the globe, which collectively showcase the diverse range of queer expression and creativity.
Complementing its rich and thought-provoking permanent collection galleries (which are always free to visit), Leslie-Lohman regularly hosts drawing classes, guest speakers (sometimes at its Prince Street annex), and rotating exhibitions that explore themes like gender identity, sexuality, love, family dynamics, and more.
49 – See art in a new light at Holographic Studios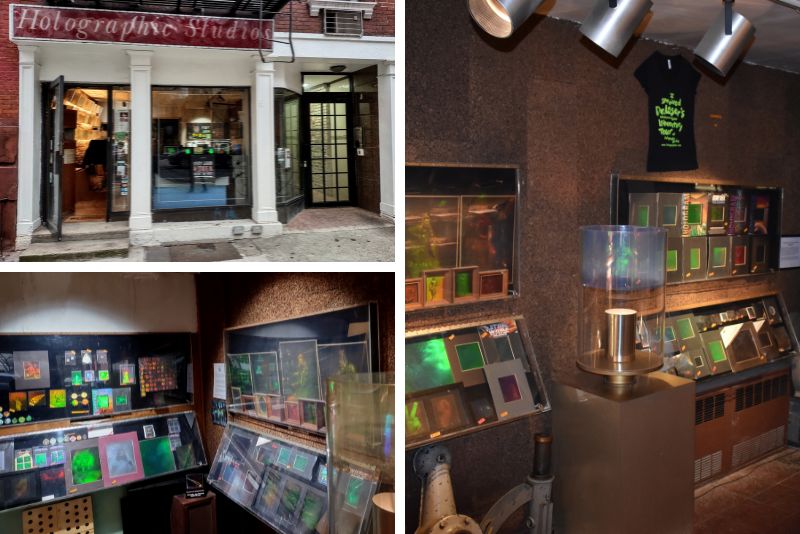 Step into the world's oldest hologram gallery and see life in an entirely new light. Since the 1970s, Holographic Studios has been at the forefront of creating holograms. A visit here is unlike any other!
Admire the gallery for free, or go on a guided tour with Doctor Laser, who has made incredible holograms of Andy Warhol, Bill Clinton and Cher, among other notable people.
You can also opt to join a VIP tour, where you can experience making a hologram yourself! If you want a more in-depth experience, you can even sign up for holography classes.
A trip to Holographic Studios is a unique opportunity to not just admire some of the most professional and artistic holograms, but to learn about the science behind these 3D laser images
50 – Mmuseumm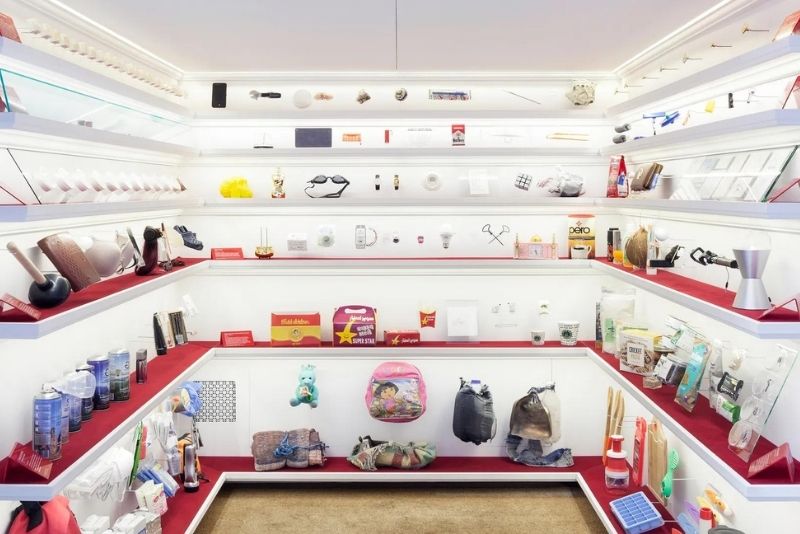 First off, no. That's not a typo.
The MMuseumm has also done things a little differently, eschewing the traditional museum model in favor of a more modern, hands-on approach.
Housed in a tiny, 36-square-foot elevator shaft turned micro-museum in Chinatown, the free-to-enter MMuseumm features rotating exhibitions (made up of overlooked items from special events or everyday people) that explore everything from love and loss to food and fashion.
Thanks to its teenie size, which fits only three people at a time, it's able to rapidly adapt its display items to the world around it to stay relevant and edgy.
To give you a little taste, past exhibitions have included Homemade Weapons of Defense, Personal Possessions found in the Pacific, and the shoe thrown at George W. Bush.
51 – Museum at Eldridge Street
A synagogue turned museum, the Eldridge Street Museum is a hidden New York City gem that welcomes Lower East Side wanderers and greets them with a thorough look into the city's 19th-century Jewish community.
Originally built in 1887 as the area's first synagogue for Eastern European Jews, the historic locale has since been meticulously restored; the now-vibrant cultural center celebrates Jewish culture and heritage through its ever-changing exhibitions, which explore everything from religious rituals to traditional Yiddish food and music.
What makes this place so special is that it provides visitors with an intimate look at what life was like for Jews living in America over 100 years ago; as you wander through the restored rooms of the synagogue (admiring the stunning stained glass windows and decorations along the way), it feels like time has stood still.
An important piece of NYC history and architecture, the Eldridge Street Museum is one of those places that leaves a mark.
52 – Alice Austen House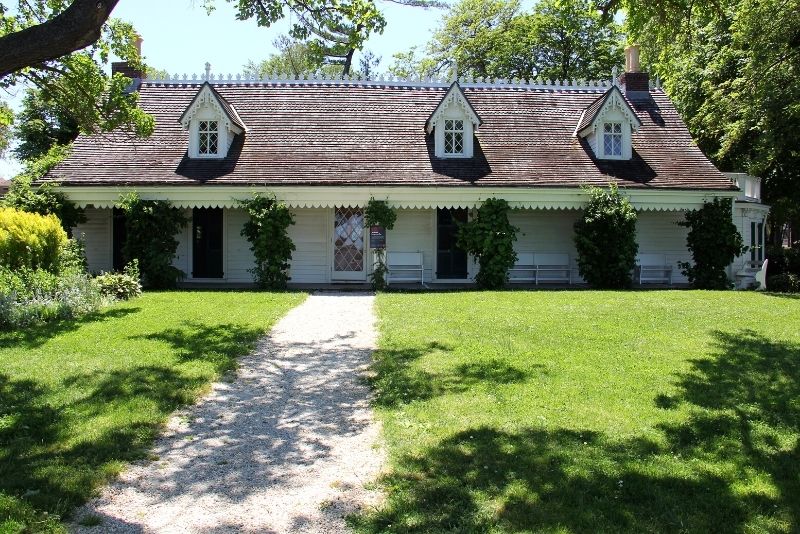 Dating all the way back to 1690 (!), the Alice Austen House is Staten Island's oldest house – and it's now open to the public as a museum that sits off the beaten track and provides a blissful insight into the life, the story, and the work of a renowned late artist.
Alice, who was born in 1866 and who lived in this Victorian Gothic home for close to 80 years, was an American photographer and one of the earliest female photographers in New York City, etching her name in history as a trendsetter and pioneer.
On the one hand, Austen's photographs showcased the evolution of New York City street life through the lens; on the other, they provided a rare and raw insight into her private life as a lesbian who broke the mold and rebelled.
What makes this spot so unique is that visitors can actually walk through Alice's house (and even see where she slept and ate), as well as explore her photography studio, darkroom, workshop, and more – giving a real sense of what life was like for this pioneering female artist.
Inspired to take a few photos of your own? Thanks to its location near the Verrazano-Narrows Bridge on the shores of the New York Harbor, the sweeping views of Brooklyn and Lower Manhattan are as good a spot as any to get that shutter finger moving.
53 – The Skyscraper Museum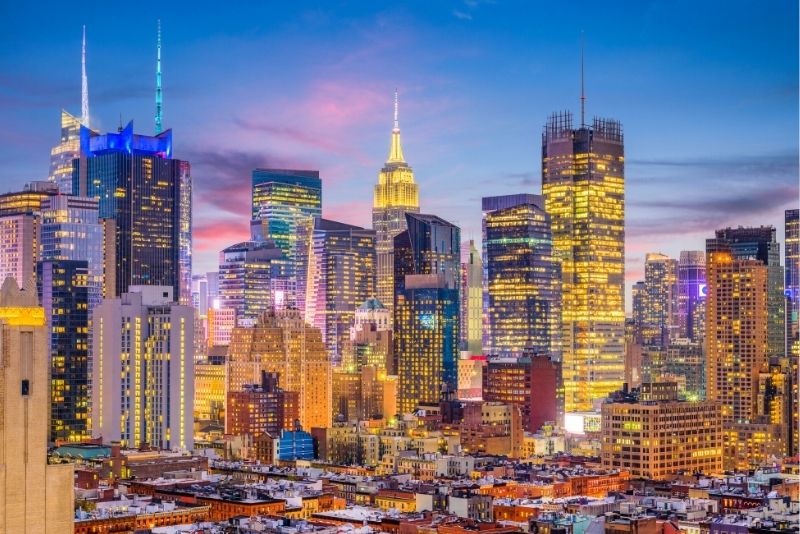 In a bustling vertical metropolis lined end to end with towering buildings, it's only fitting that there should be a museum all about – you guessed it! – skyscrapers.
The Skyscraper Museum, located in Battery Park City, celebrates the history and design of some of the world's most iconic (and often record-breaking) buildings, with rotating exhibits that offer a unique look at how these structures have evolved over time.
From the skycraper's humble beginnings in the late 1800s to the modern marvels we see towering above us today, this 50-year-old museum is a chance to learn about the people who dared to dream big and design ever-higher buildings, as well as the challenges and controversies that come along with constructing something so monumental.
Cheap to visit and seldom crowded, it's easily one of the best museums in New York City for anyone interested in architecture or urban planning, as the fascinating exhibits extend beyond just manhattan, covering marvels and achievements the world over.
54 – South Street Seaport Museum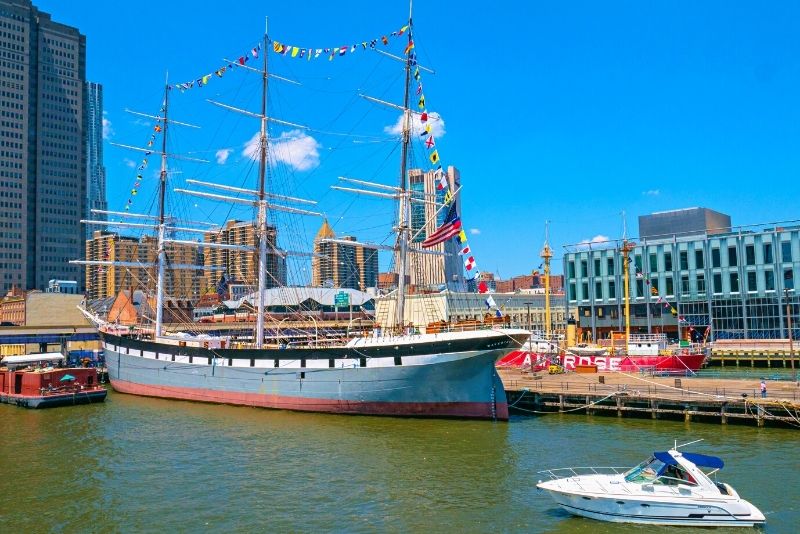 If you're looking for a break from the bustle of Midtown, head on down to the South Street Seaport Museum for a chilled-out day by the water.
Located in Lower Manhattan at Pier 16, this maritime museum tells the story of New York City – and its relationship with the ocean – from its earliest days as a Dutch colony all the way up to present times.
With nautical artifacts, interactive displays, and historical reenactments, there's something for everyone at this underrated attraction; plus, with a fleet of historic ships lining the docks and floors, including the 1885 schooner Pioneer; 1885 tall ship Wavertree, 1907 lightship Ambrose, and 1930 tugboat W.O. Decker, it's a surefire hit for the kids too
Bonus: The Seaport is also home to some of the best waterfront views in all of NYC, so be sure to wander around a bit once you've finished up with the exhibits to admire the Brooklyn Bridge.
55 – New York Hall Of Science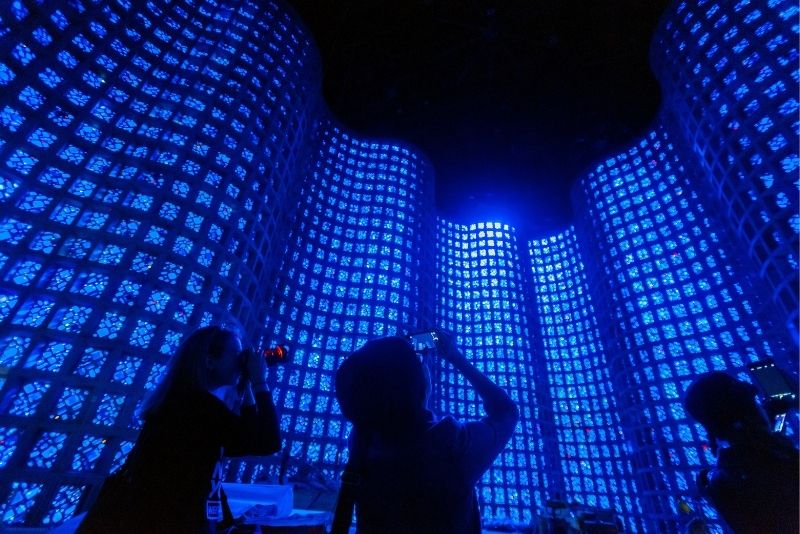 Totally interactive and always fun, the New York Hall of Science is a great place to bring the kids for an educational day out.
With over 450 exhibits on everything from space and rocketry to DNA and robotics, there's something to catch everyone's interest, no matter what their age.
The Design Lab provides kids with opportunities to engineer solutions to real-world problems; Wild Minds exhibit uses videos, games, and interactive displays to outline the fascinating similarities between how humans and animals think; while The Happiness Experiment teaches visitors about the culture and science behind joy, and shows that it's okay to not feel happy all the time.
And if that's not enough to tire the youngsters out, there's also a bunch of outdoor science-themed playgrounds where they can let off some steam.
It might be located in Queens, a little further out from the main Manhattan haunts, but with a plethora of attractions on offer in Flushing Meadows Corona Park, it's easy (and recommended) to spend an entire day exploring the area.
56 – The Studio Museum in Harlem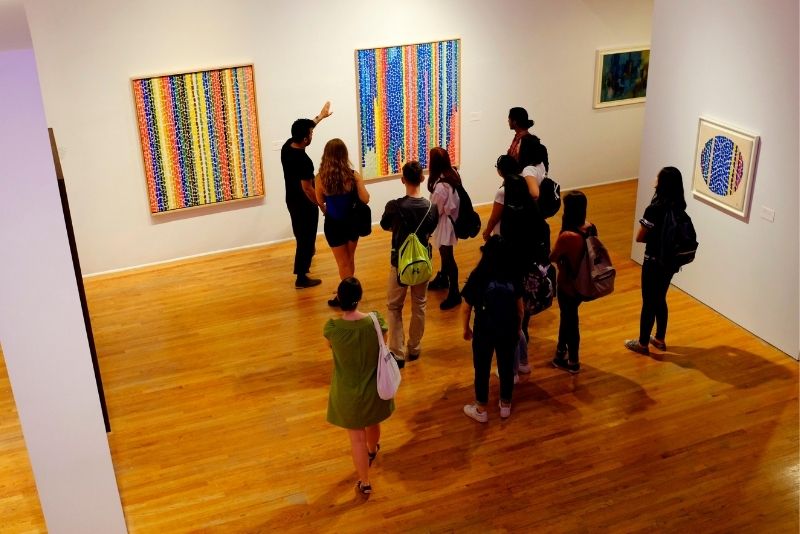 One of the world's leading institutions devoted to contemporary African art — made by people locally, nationally, and internationally — The Studio Museum in Harlem is a must-visit for anyone interested in learning more about this vital part of American (and international) culture.
It links the art world with the larger cultural scene and the local Harlem community, and the result is both intriguing and insightful.
Founded in 1968 in the heart of central Harlem on 125th St, the museum has a long and proud history of championing artists of color, with a mission to promote understanding and appreciation of African art through exhibitions, educational programs, and publications.
With a constantly changing schedule of exhibitions – both featuring works from the museum's extensive permanent collection and touring shows – there's always something new to see at The Studio Museum.
Keep in mind: in 2022, The Studio Museum is going through a renovation, however, art continues to be shown in public spaces through the inHarlem initiative – check the website to see what's on!
57 – The National Jazz Museum in Harlem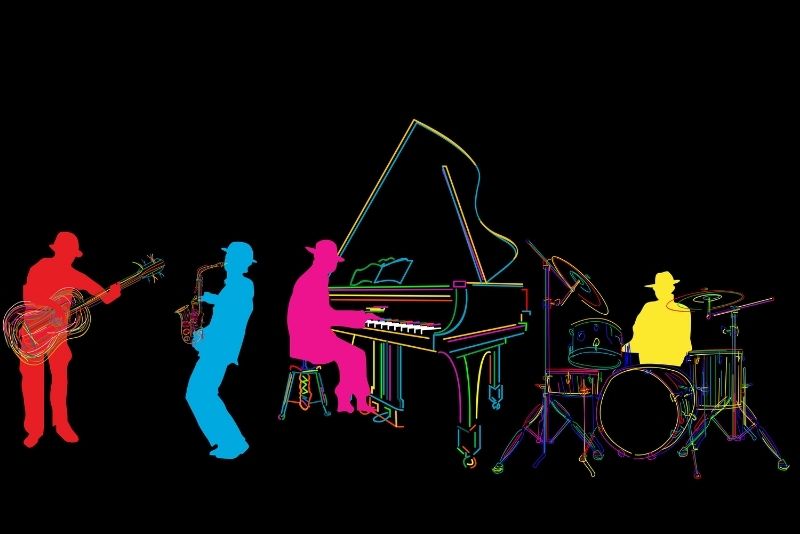 A toe-tapping trip through time sure to put a smile on any music lover's face, the National Jazz Museum in Harlem in Central Harlem's cultural and entertainment district is one of the coolest (and most educational) places to visit in NYC.
Established in 1996 as a Smithsonian Affiliate to preserve and celebrate America's unique musical heritage, specifically Harlem's rich musical roots, the museum offers a range of rotating exhibitions, and hundreds of live performances, educational programs, and events throughout the year; all with the sweet melodies of jazz at their core.
Even if you don't consider yourself a jazzy history buff, you're sure to find something to enjoy here – whether it's watching a live band play in the performance space; checking out artifacts like Eddie "Lockjaw" Davis' nightclub cards, contracts, saxophone or set lists; or simply soaking up the lively atmosphere of this historic neighborhood.
Hot tip: in the summertime, don't miss the Jazz Swings and Jazz in the Parks events!
58 – National Museum of Mathematics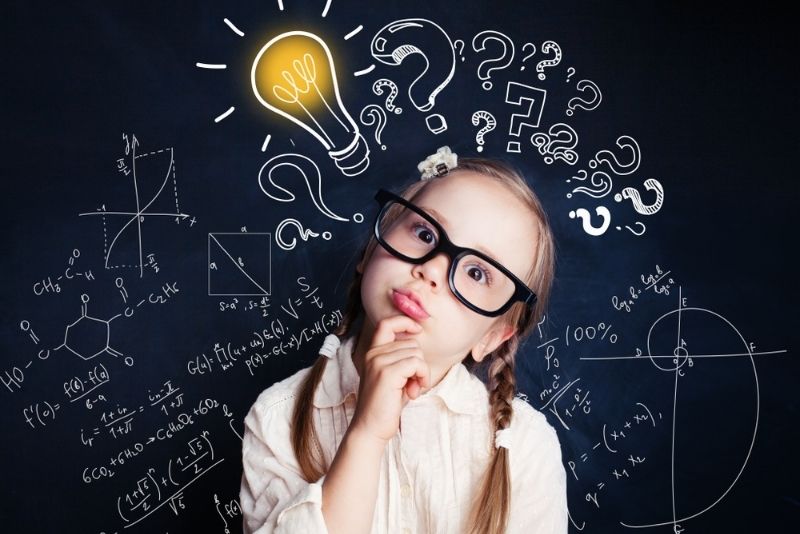 Niche, fascinating, and the only one of its kind in North America, the National Museum of Mathematics (MoMath) is a bucket-list-worthy stop for any devout -cruncher.
Tucked away in the historic Flatiron District near Madison Square Park (take a photo or two of the eponymous building while you're there), this museum takes math out of the classroom and into a fun and interactive world, where visitors can explore everything from geometry and topology to fractals and chaos theory through immersive light, color, and shapes-oriented display rooms.
With thirty hands-on exhibits that are both educational and entertaining (did someone say square wheeled tricycles you can actually ride?) MoMath is the perfect spot to whisk away an hour or two, for kids and adults alike.
For history buffs, you can dive into the development of math through the lens of experts, researchers, and professors, while families can enjoy the Tesselation Station and grab a mind-bending puzzle at the gift shop.
59 – Coney Island Museum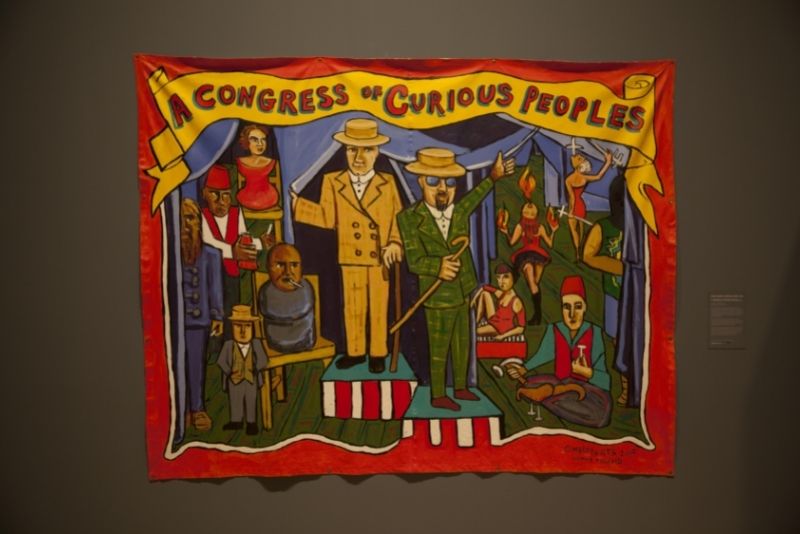 A longstanding family staple, always a go-to destination for fun in the sun, high-octane rides, and classic carnie treats (read: Nathan's Famous Hot Dogs is quintessential), Coney Island is as famous as it is locally adored, and its history is as diverse as the people who flock to it each summer.
In an effort to preserve and share that history with future generations, the Coney Island History Project was established in 2004, which eventually led to the opening of the Coney Island Museum in 2007.
Housed on the 2nd floor of a historic building on Surf Avenue that itself has an interesting past, today's museum features rotating exhibitions on the area's colorful culture and heritage, with a focus on sideshow performers, the history of Coney Island, as well as the history of the amusement industry.
There's also an extensive archive of fascinating photographs, documents, and artifacts available for guests to enjoy, making this little — and certainly underrated — spot well worth a visit for anyone interested in learning about New York's most iconic stretch of sand, from its early days as a seaside resort town to its more recent incarnation as a Brooklyn carnivalesque icon.
Don't miss the crazily confusing funhouse mirrors, the rare "hold-to-light" postcards, and the vintage bumper cars! Plus, as a non-profit organization, admission is very affordable (just $5 for adults) – making it perfect for budget-minded travelers looking to stretch their dollar.
60 – SPYSCAPE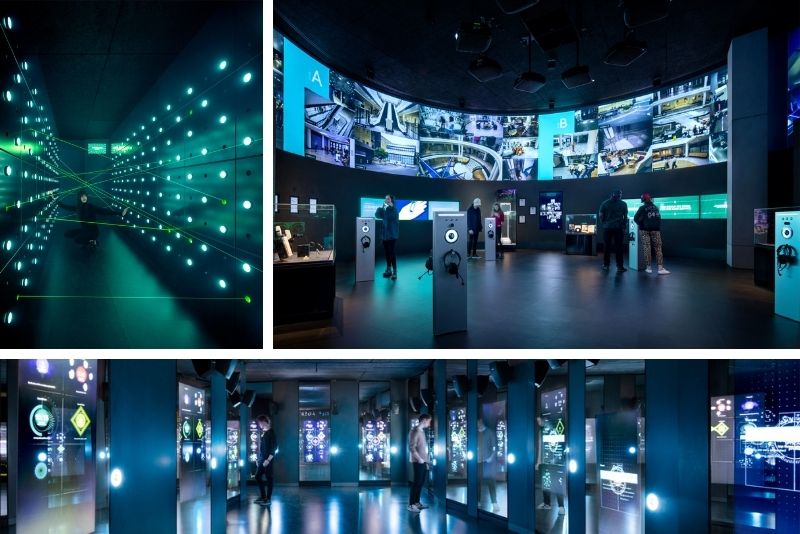 Put yourselves in the shoes of a secret agent at SPYSCAPE, an interactive espionage museum located in Midtown Manhattan.
From decoding messages to cracking safes, this high-tech museum offers visitors the chance to step into the life of a spy, with state-of-the-art exhibits that are constantly being updated with new challenges and games.
Sure to have you considering a career path in the FBI, the modern attraction is spread into seven different areas, each playfully educating about different aspects of spycraft – from the history of espionage to cybercrime and everything in between.
With your detective hat on, you'll learn about the latest in intelligence and spy technology, see how artificial intelligence is helping to solve crimes, and even have to chance to explore the ins and outs of what it means to be a special MI6 agent in the James Bond exhibit, where you'll see an array of gadgets used in the films as well as 007's actual Aston Martin DB5!
61 – Frick Collection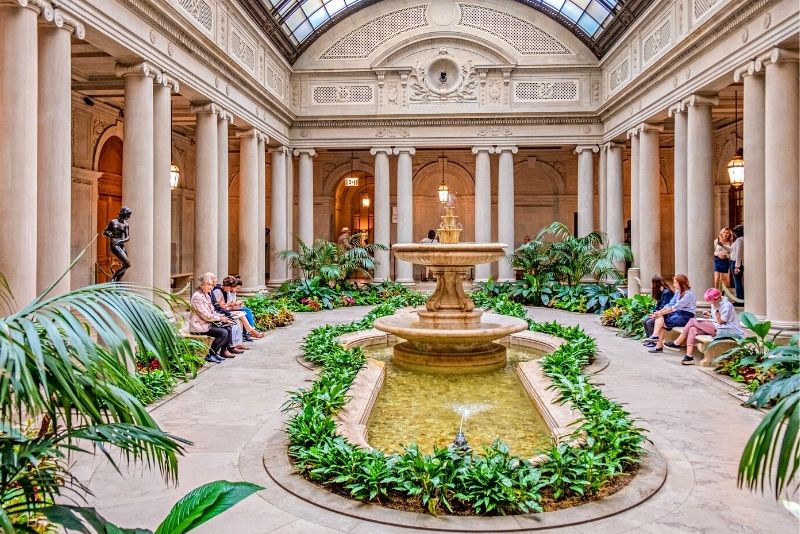 Criminally underrated compared to the likes of the Metropolitan Museum, Frick is a magnificent Manhattan gem that many New Yorkers themselves have never visited (purely to their own detriment).
A former private home (read: enormous Beaux-arts mansion) turned art museum (originally built by steel magnate Henry Clay Frick in 1914), this Upper East Side art haven boasts an impressive collection of works from Dutch masters like Jan van Eyck; French impressionists such as Renoir, Monet and Degas; and Italian Renaissance painters including Titian, Veronese, and Bellini.
Sure to transport you into a world that feels like the artistic heart of Europe, what's more, there are plenty of tours available to help you get up close with each masterpiece.
Keep in mind: from early 2021, the Frick's regular historic building (1 East 70th Street) is being renovated, with a temporary home created at 945 Madison Ave, just five blocks away in the Breuer building (previously the Whitney and the Met Breuer). It's a unique opportunity to experience an entire museum outside of its usual context!
Get the best value for money with attractions passes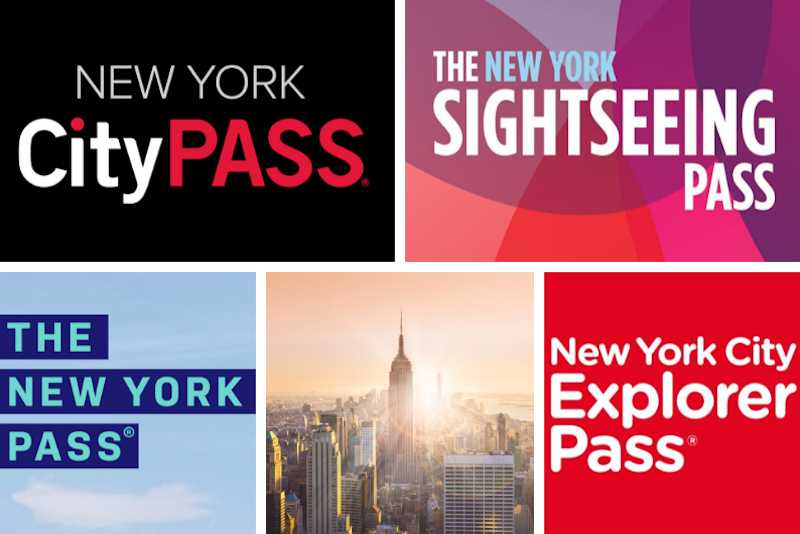 With so many incredible options for museums and landmarks, it can be tough to narrow down your itinerary – and if you want to see everything, including the skyscrapers and tours, the bill can add up pretty quickly.
Thankfully, you're not the first one to experience this, so a range of companies have created tourist-focused attractions passes that grant special, discounted (and sometimes free) access to renowned and lesser-known attractions alike.
For the best bang for your buck, and to tick off as many of the best New York museums, restaurants, observation decks, and tourist attractions as possible — not just in Manhattan but across all 5 boroughs — check out any of the New York Explorer Pass, the New York Pass, the New York CityPASS, and the Sightseeing Pass.
All of these penny-pinching passes offer different features, so there's something to suit every budget, interest, and holiday duration!
Just to give you a taste, most passes include admission to at least six of New York's most popular attractions – including the Empire State Building, American Museum of Natural History, the Met, the MoMa, and the Guggenheim Museum – for a fraction of the price. And if that's still not enough, there's usually a free boat cruise included too!
Need help choosing the right attractions pass? Check out our complete New York City attractions pass comparison guide.
Need a place to stay? Check out some of the best hotels in New York
With tens of millions of tourists making the journey to the Big Apple years after year, rest assured that there is no shortage of all-out-luxury hotels, bargain-basement hostels, and everything in between to choose from.
If sophistication and opulence are what the doctor ordered, look no further than the Mandarin Oriental on Columbus Circle, where you'll be treated to breathtaking views of Central Park and the city skyline from every room.
If you're looking for a more budget-friendly option in a prime location, check out Pod 51 near Bryant Park – it's clean, comfortable, and right in the heart of Midtown Manhattan.
Throw in a few more popular names like Luma, Margaritaville Resort (perfect for thirsty travelers), the W Hotel, The Fairfield Inn & Suites, Hyatt Centric Times Square, and The Sanctuary Hotel (the last three of which boast killer rooftop bars!), as well as the ritzy Ritz-Carlton and upscale William Vale, and you've got quite a list to choose from!
For those who want to be close to all the action but don't necessarily need five-star service or amenities, AirBnB, apartment hotels, or hostels are always a solid bet. With rooms (and entire apartments) available for rent all across the city, you're bound to find something that fits both your needs and your budget.
Hot tip: No matter your preferred accommodation, be sure to book online in advance — compared to walk-in rates or the official hotel website, you can save up to 50% by using special web-scraping comparison sites!
Avoid the hassle! Book an airport transfer
You're on vacation, after all, so why kickstart your journey with the stress and hassle of deciphering the enormous subway system or waiting for what seems like an eternity for your rideshare or taxi? Why add that unnecessary stress?
Instead, savvy travelers who want to spend more time enjoying their holiday and less time waiting at the taxi rank opt for a pre-arranged airport transfer.
With a range of options to choose from, a pre-booked airport transfer is convenient, with the driver meeting you at the arrivals lounge; enjoyable, because you'll be greeted with a placard with your name on it (who doesn't love a little VIP treatment, right?; affordable, especially when traveling in groups; and efficient, with no waiting time at the rank.
Plus, the friendly drivers are all locals, meaning they can offer some great tips and insights on the city, as well as point out landmarks along the way – something you might not get from your average yellow cab.
So, if you're looking for a seamless, stress-free start to your New York City vacation, look no further than an airport transfer!
Final thoughts:
Feeling inspired? Artsy? Or want a dose of history? Either way, a wonderful adventure awaits in The City That Never Sleeps!
We hope you've enjoyed our curated list of the best museums in New York City! If you have any other must-see suggestions, feel free to let us know in the comments!
And, before you go, make sure to check out our selection of activities in Brooklyn, Long Island, and Manhattan as well! As always, happy travels.