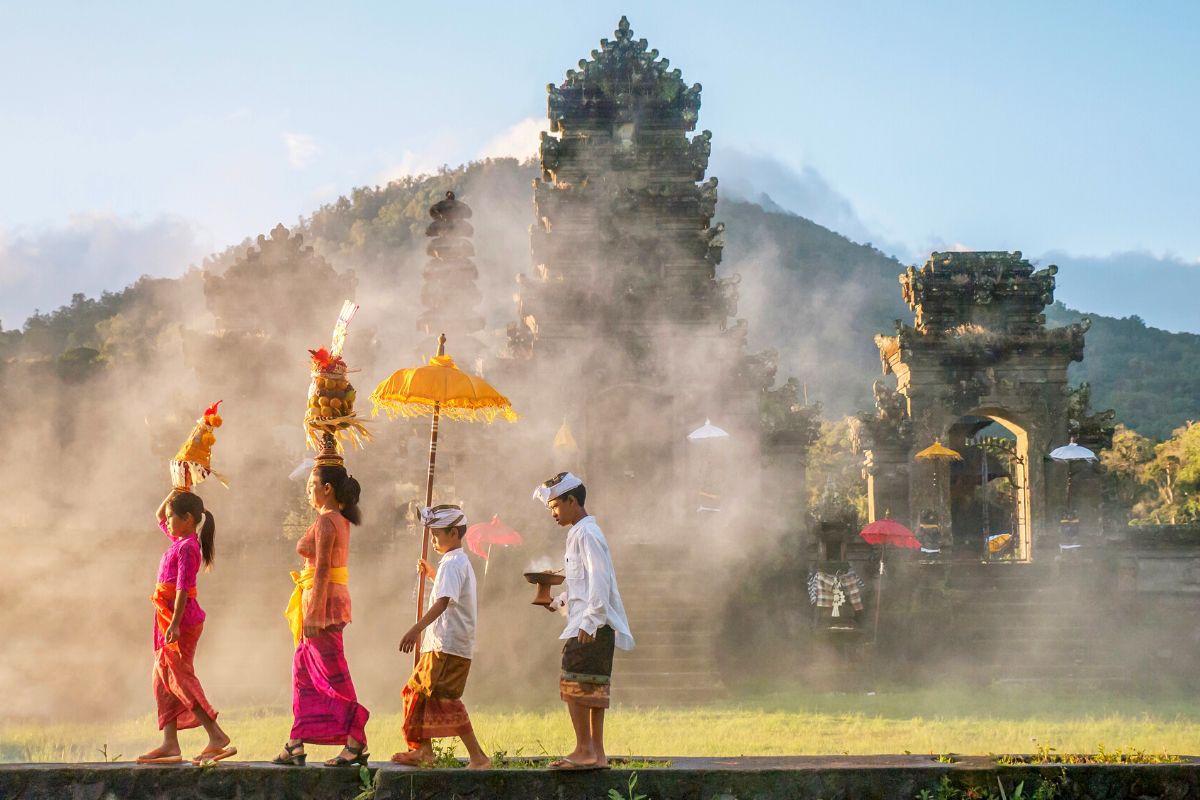 Not only popular today, but Bali has also been a mega travel destination since the 1960s, famed for its island vibes, tropical beaches and of course, epic surf breaks.
Topping bucket lists of adventurers, honeymooners, sun-seekers, yogis, social media gurus and families, there are so many things to do in Bali that satisfy all needs.
Known as the Island of a thousand temples, dive deep into the island's history, rich culture and intriguing past. Spend at least one day temple hopping, visiting its famous complexes, floating sanctuaries, and shrines devoted to gods and goddesses.
Ocean-lovers find paradise in Bali, with every water activity imaginable. Famous for its snorkel and diving opportunities, explore its most iconic sites or get your PADI certificate whilst traveling here.
Then, of course, there's the surfing … Hunt down waves, and many international competitions are held in Bali.
Find glorious waterfalls, trek delicious jungles, walk through bright green rice terraces and beach hop idyllic locations. Escape the crowds and visit islands around Bali, or head into the highlands for another great day trip experience.
If you're here for a good time, not a long time, sit back and relax at some of the world's best beach bars.
Leave space in your suitcase as you shop your heart out for the most unique handicrafts to fill your home.
Filled with an overload of fun things to do in Bali, start planning your dream island holiday now!
1 – Get your cameras ready for the Jatiluwih Rice Terraces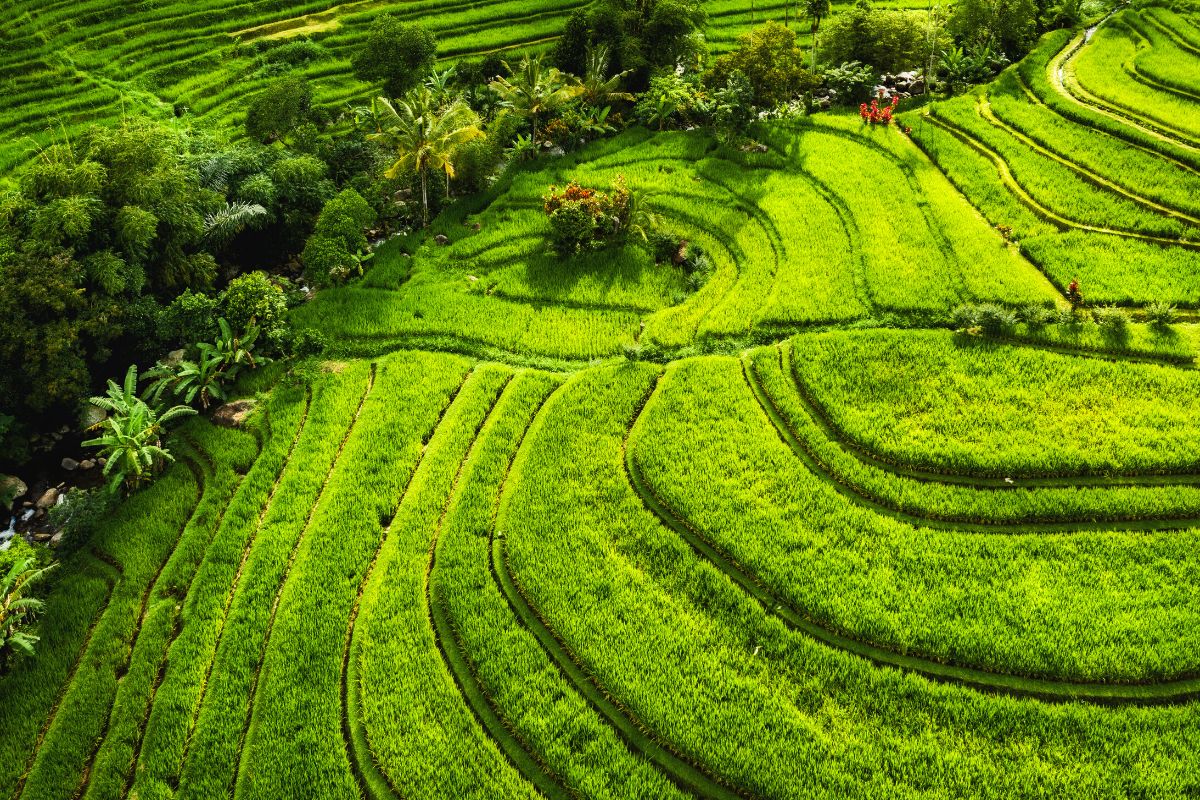 If the Jatiluwih rice terraces look familiar it's because the island's biggest paddies regularly feature in travel magazines and on social media pages … you could even say they're an iconic symbol of Bali.
Located in the green hillsides of Tabanan Regency (about one hour from central Bali, and two hours from the south), the famous terraces are situated 700 meters above sea level.
Thanks to its location, the views from Jatiluwih are unique and seemingly unending.
Officially, the Jatiluwih village covers 22 square kilometers of land.
You can opt to cycle among the paddies, or take a walk around.
During your time, learn about the rice terraces' ancient water system that's still employed to this day in Bali, including at Jatiluwih.
There are a total of seven subaks here (the name for Bali's traditional irrigation system used since the 9th century).
Explore the area and surroundings via ATV ride, and there are villa, homestay and camping options available to spend the night at Jatiluwih village.
2 – Go snorkeling at Blue Lagoon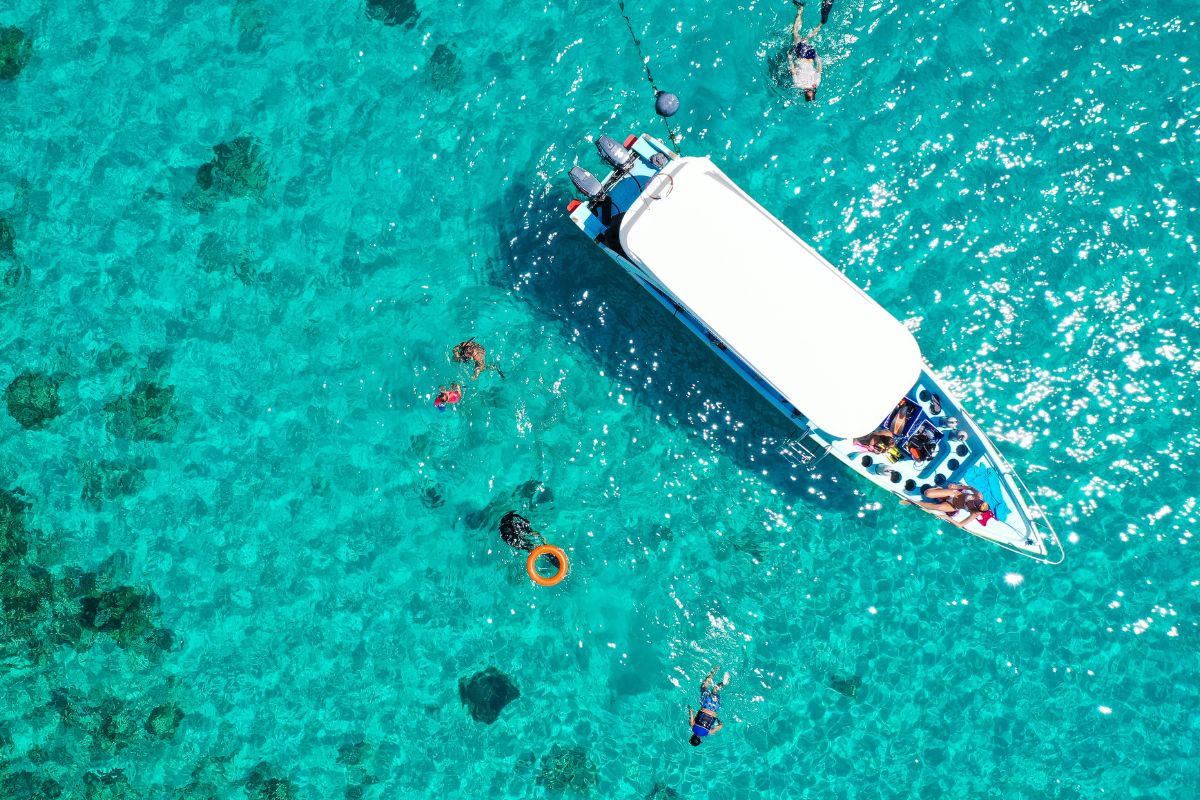 Among the most renowned things to do in Bali, oceanic activities top the list, especially its snorkeling opportunities where you can spot giant turtles and rainbow coral!
Don't miss the chance to experience discovering an underwater world at Blue Lagoon, situated by Padang Bay.
Located in East Bali, head to the seaside port town where many ferries and boats depart for Lombok and the Gili Islands.
Once in the area, skip the island hopping, heading straight to Blue Lagoon for a day of snorkeling, swimming and capturing endless underwater photos!
At the snorkel site, lookout for Angelfish, Lionfish, Butterflyfish, Scorpion fish, Moray eels and many more marine creatures.
To reach Blue Lagoon, walk ten minutes from the town center (or take a five-minute drive) to the eastern peninsula where Blue Lagoon Beach is. The bay area is the Blue Lagoon.
Whilst at Padang Bay, another fantastic snorkeling spot is at Tanjung Jepun.
Some snorkel tours to Blue Lagoon include a stop here as well.
3 – Watch the sunrise during a hike up Mount Batur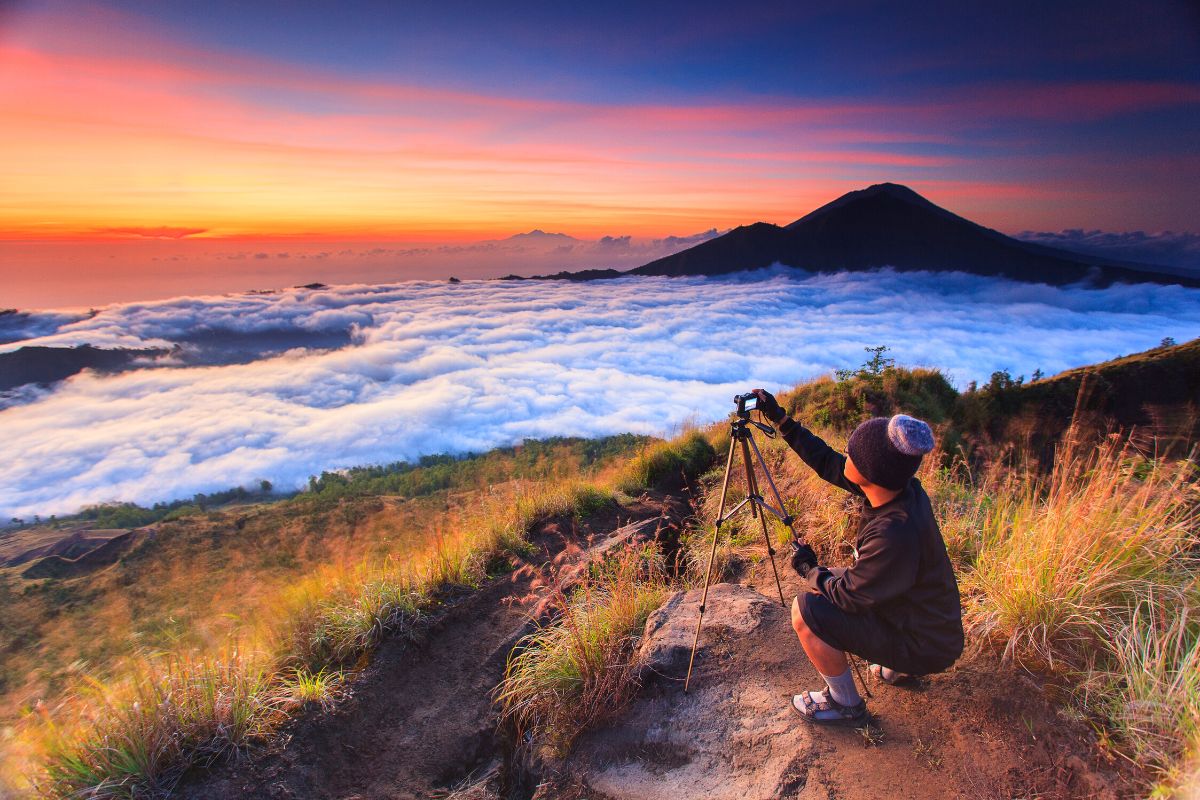 How many times in your life can you say you've trekked an active volcano?!
An incredible way to start your day, enjoy a sunrise hike up Mount Batur for some of the most breathtaking morning views in all of Bali.
The summit to the top takes around two hours, however, it's not an extremely strenuous walk and it makes the hike suitable for many.
Once you reach the top, take in the spectacle of a sea of clouds 1,717 meters above sea level, and the skies are particularly clear at this time of day.
Some hikes include a breakfast at the very top of the summit.
It's recommended to hike Mount Batur from April through to September for the best conditions.
As this is the country's spring/summer period it's one other reason why a sunrise hike is best suited for early mornings.
The last time the volcano experienced an active eruption was in 2019 and so a guided hike is a wise idea.
Another popular hiking tour spot is Mount Agung, Bali's tallest volcano.
4 – Find Pura Ulun Danu Batur built on a lake crater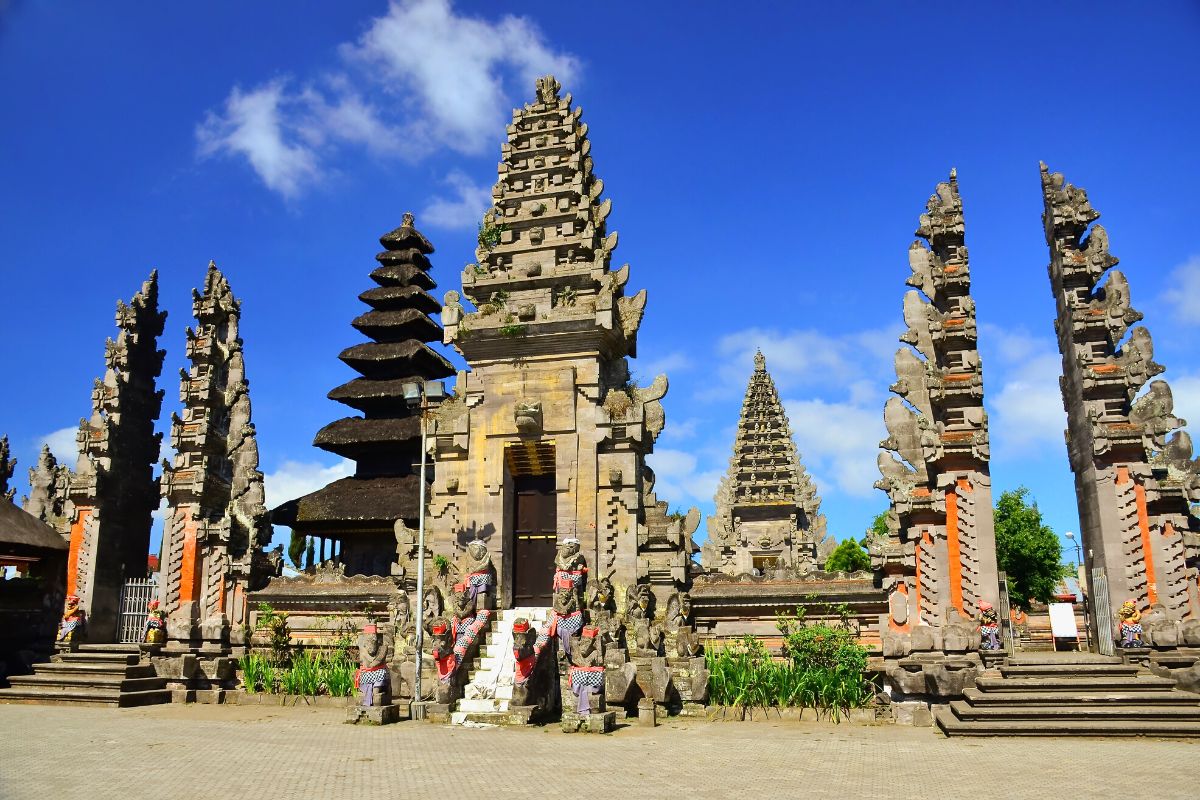 Situated at the foothills of Mount Batur, stop by Pura Ulun Danu Batur en route to visit the volcanic mountain.
Considered one of the most important temples in Bali, the water temple honors the Hindu goddess of lakes and rivers.
Located at the head of Lake Batur, within the sacred grounds there are nine temples to visit, as well as nearly 300 shrines to explore.
Interestingly, in 1926, the temple was moved to its current location after Mount Batur experienced a volcanic eruption.
After the explosion, the only temple that survived was an 11-tier stupa (which just happened to be the main temple).
The temple was removed and placed at its current location on Lake Batur.
5 – Grab a board and go surfing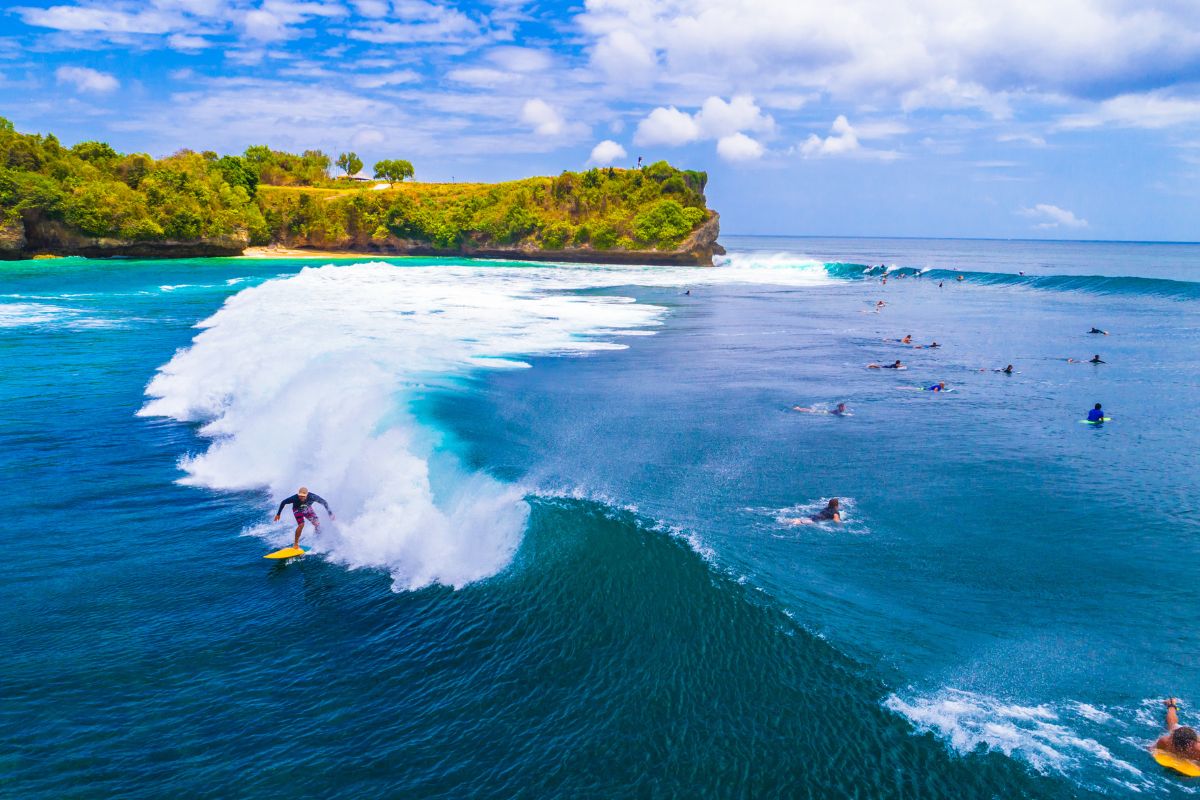 Out of all the Southeast Asian countries, Bali sports some of the best surf, and surfers from all around the world fly in to test its epic waves.
Spoilt for choice, the island is littered with incredible beaches, each one offering unique surf conditions.
If you're learning to surf, visit Medewi Beach in Kuta where you'll find the longest riding left-hander.
For seasoned pros, whilst you're in Kuta, check out Suluban Beach or Impossibles Beach.
At Kuta's southernmost point is the Bukit Peninsula and the famous Uluwatu is here.
While surf-hopping Uluwatu, check out magical Nyang Nyang Beach for sizely waves and Padang Padang Beach is full of big barrels.
At trendy Canggu find surf to suit all levels. Echo Beach Left is a popular spot for intermediate surfers, but take caution of the shallow reef.
Beginners, start at Batu Bolong Beach and its conditions are ideal for longboarding too.
Find a surf school down at Seminyak Beach's three-kilometer stretch of soft sands and an ocean busting with surfable waves which you can paddle out to from the shoreline.
6 – Say hello to 340 monkeys at Monkey Forest Ubud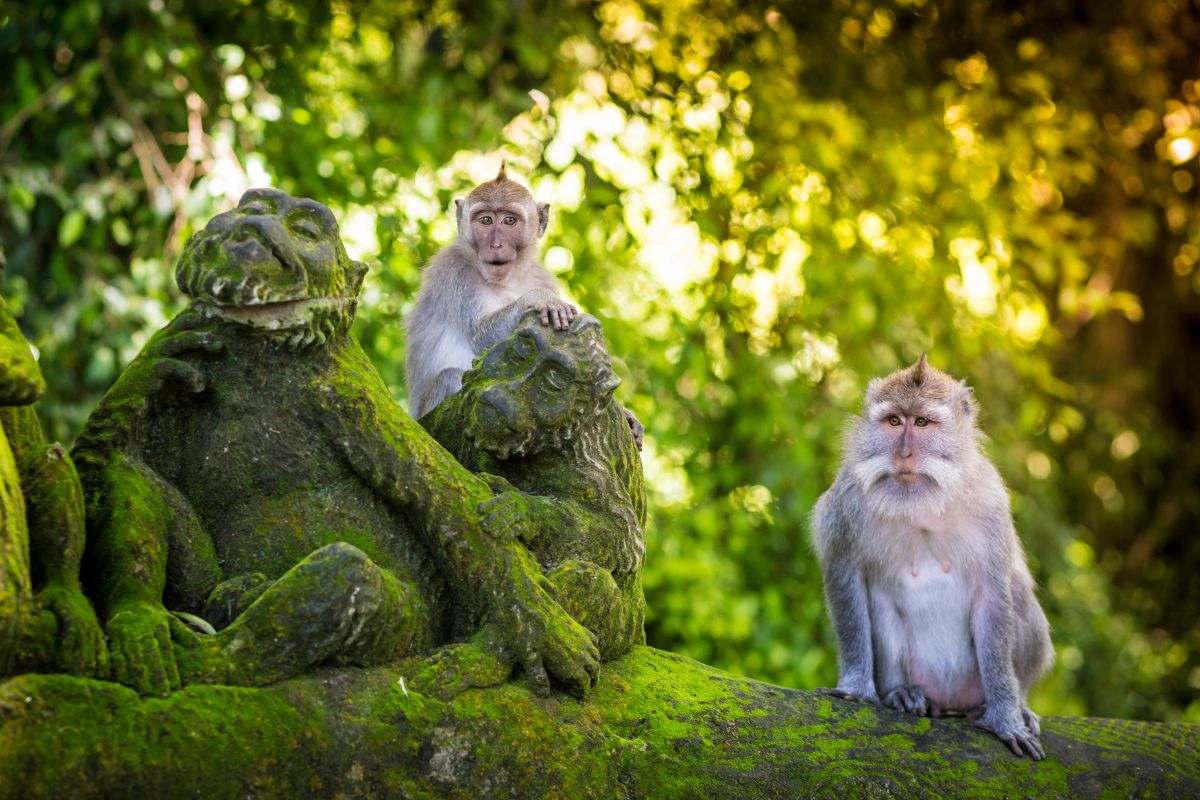 The Monkey Forest Ubud is unlike many wildlife parks, and as you roam through the sacred forestry, find not only tribes of monkeys, but discover ancient temples.
Entering the sanctuary, say hello to long-tailed macaques (also known as crab-eating macaques) and wander around the park that is maintained by the local community.
The complex is divided into different zones including the main temple, Pura Dalem, the Cremation Temple, and the Holy Spring Temple (also known as the Beiji Temple).
Some parts are off-bounds to visitors, unless you are here to worship, and dressed in the appropriate Balinese attire to do so.
Around the temples is the Forest Conservation area where you can take a wooden path through the greenery and visit the Durgama Cave.
A note for visiting the monkey sanctuary forest: be respectful of the monkeys. As they live in their natural habitat, it's up to them if they want to visit you.
Feeding is not allowed.
Planning to stay in Ubud? Check out our selection of fun things to do in Ubud.
7 – Enjoy shopping at Sukawati Art Market, around since 1980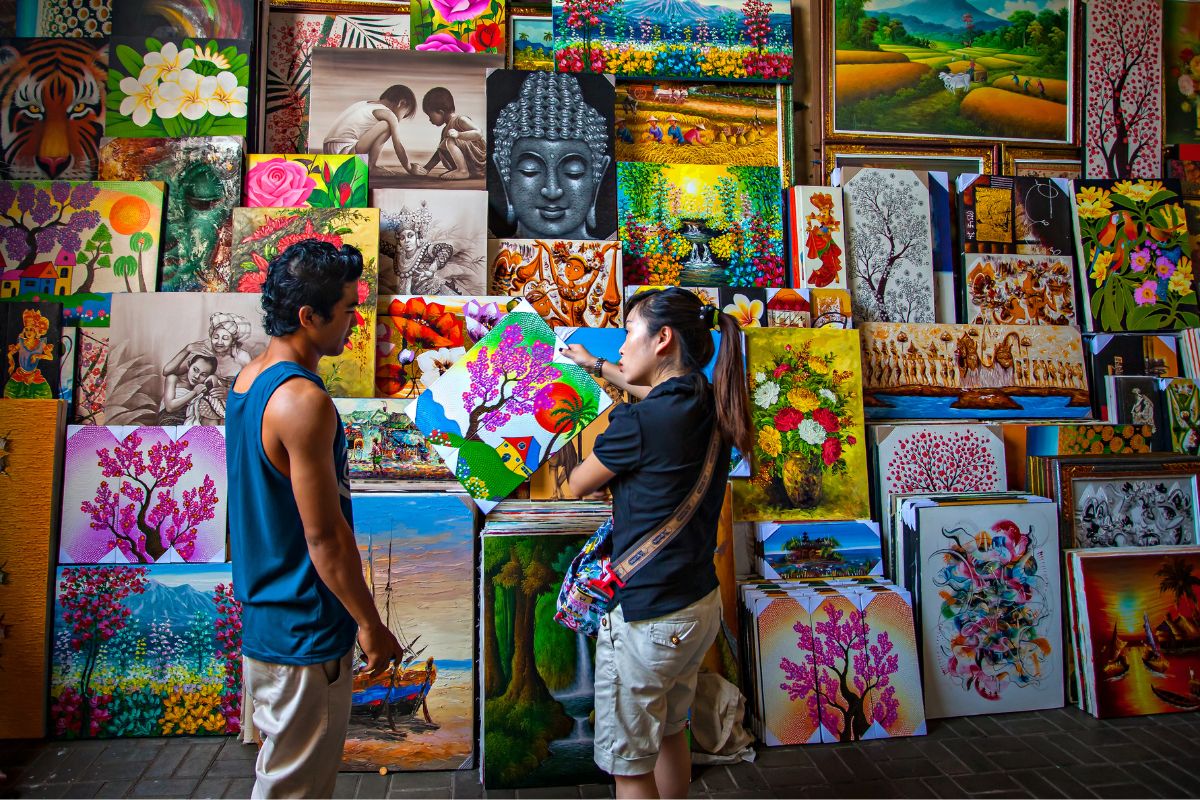 Balinese handicrafts can be recognized from a mile away for their carved woodworks, paintings and shellac art.
Visiting Sukawati Art Market, Bali's oldest art and crafts market, find a plethora of handicraft items, gifts and souvenirs.
Shop for beaded creations, wooden jewelry boxes carved into shapes of deities, coconut bowls, woven fabrics, traditional clothing, and so much more.
Stock up on incense, candles, essential oils and herbal remedies.
The market is a 45-minute drive from Kuta, however, the items here are more affordable than you'll find in main-tourist hubs.
If you're staying in Ubud, Sukawati Art Market is just 20 minutes away.
8 – Take photos 175 meters above sea level at the Gates of Heaven, i.e. Lempuyang Temple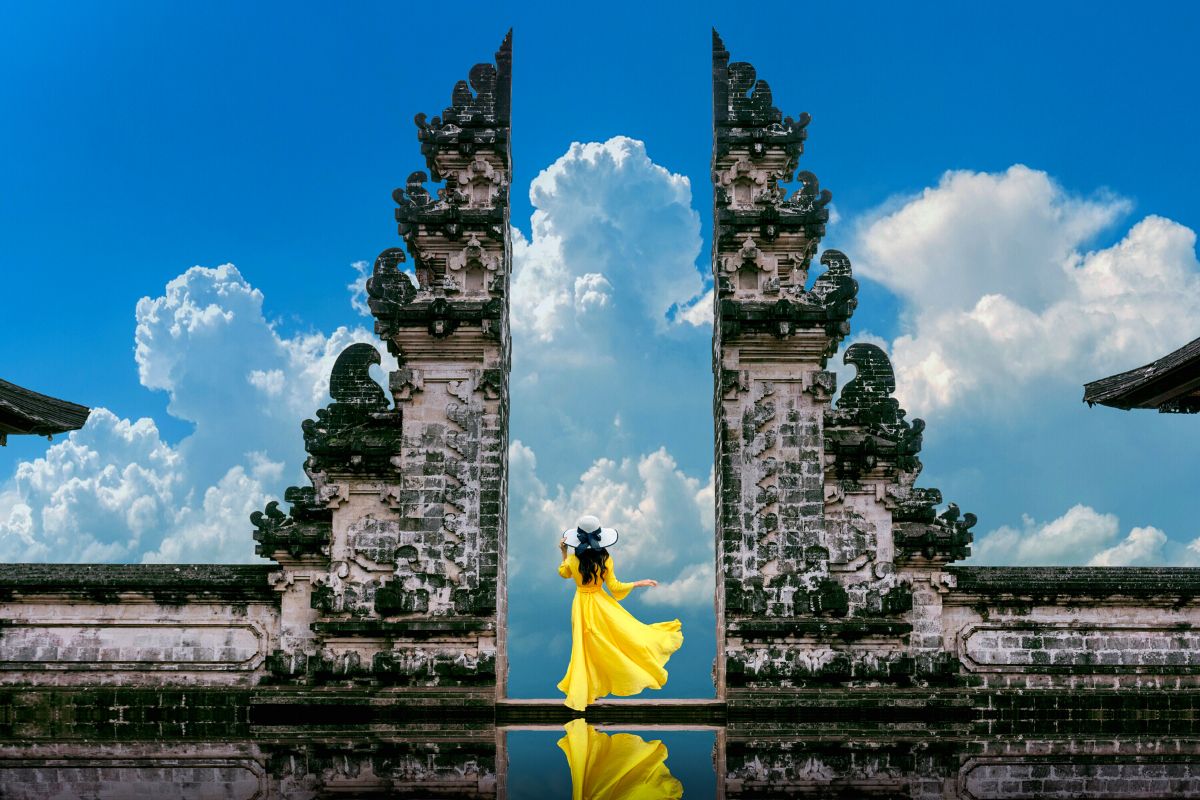 For some of the most incredible views of Mount Agung volcano, make your way to Bali's "Gates of Heaven", one of the most unique places to visit in Bali.
To reach the gates, take the flight of stone steps and at the top, the gates are located at the foot of a temple, also made from stone.
As you enter through the gates, the blue sky and mountain stretch into the horizon and create the most magnificent backdrop.
Officially known as Pura Luhur Lempuyang, the temple is one of the holiest in Bali and has been standing since the year 91 AD!
Fun fact: Lempuyang Temple (its English name), is one of the island's most important and sacred temples and it forms part of the sad-kahyangan (Bali's six spiritual pillars).
The Gates of Heaven is also a popular pilgrimage among Balinese people.
Not only frequented by locals, but because of the views and landscape scenes from here, it's a famous photo-op destination.
9 – Feel the thrills of river rafting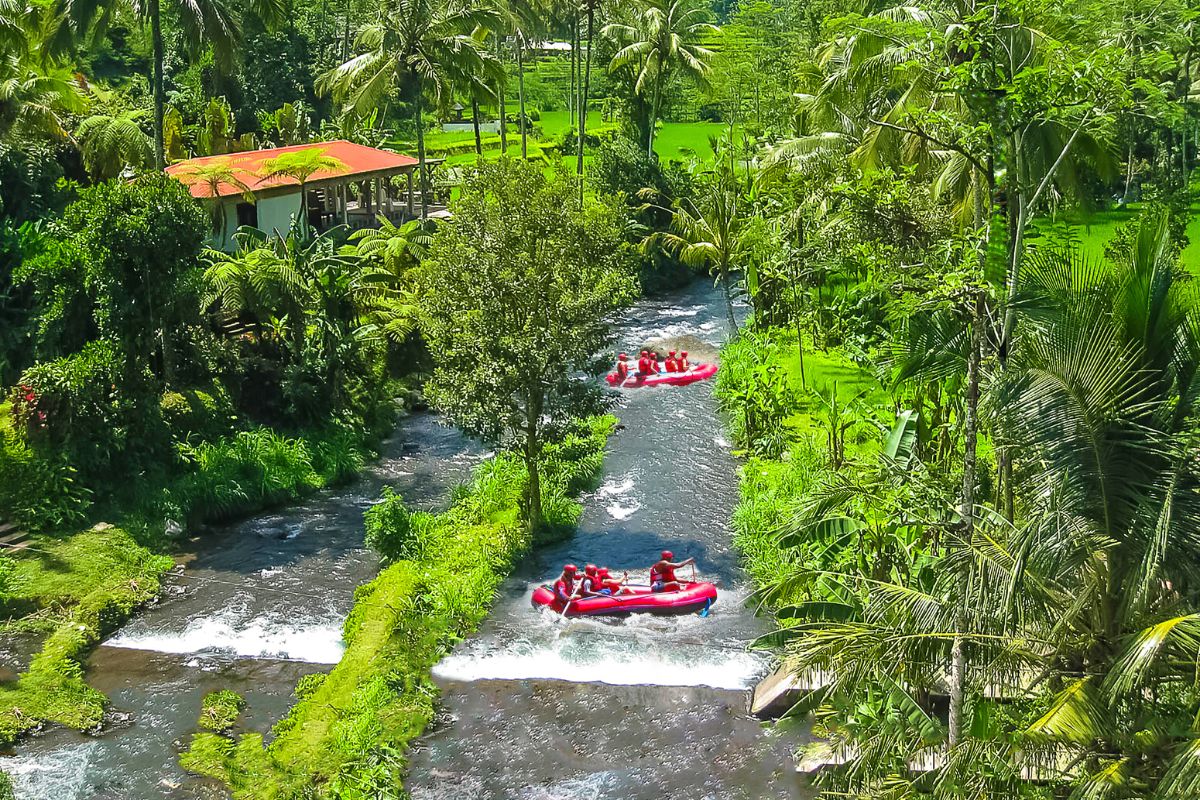 Looking to get your adrenaline racing? Try an adventurous river rafting expedition in Bali!
The island's natural landscape is filled with waterfalls, lakes and rivers, but three main rivers within Bali offer ideal conditions for white water rafting.
Starting with Ayung River, make your way down 10 kilometers and the route takes around two hours.
Rafting on the Ayung River is perfect for beginners, as well as experienced rafters, but take note, during the rainy season the trail becomes more difficult with higher water levels.
If you're looking for something more challenging, the Telaga Waja River comprises 18 kilometers of white rafting fun and takes around 2.5 to three hours.
It's situated on the hillsides of Mount Ayung volcano which creates a beautiful backdrop as you paddle and maneuver down the river.
Although the Melangit River has rapids running for eight kilometers (the shortest trail of the three), it is the most challenging route out of all three river rafting expeditions.
You'll even cruise down a small fall along the Melangit River.
If you're staying in Kuta, the Ayung River is the closest, whilst the Telega Waja River is the furthest away (it's a 1.5-hour drive from Kuta).
Hot tip: White Water Rafting in Bali – All you Need to Know
10 – Learn the local secrets during a Balinese cooking class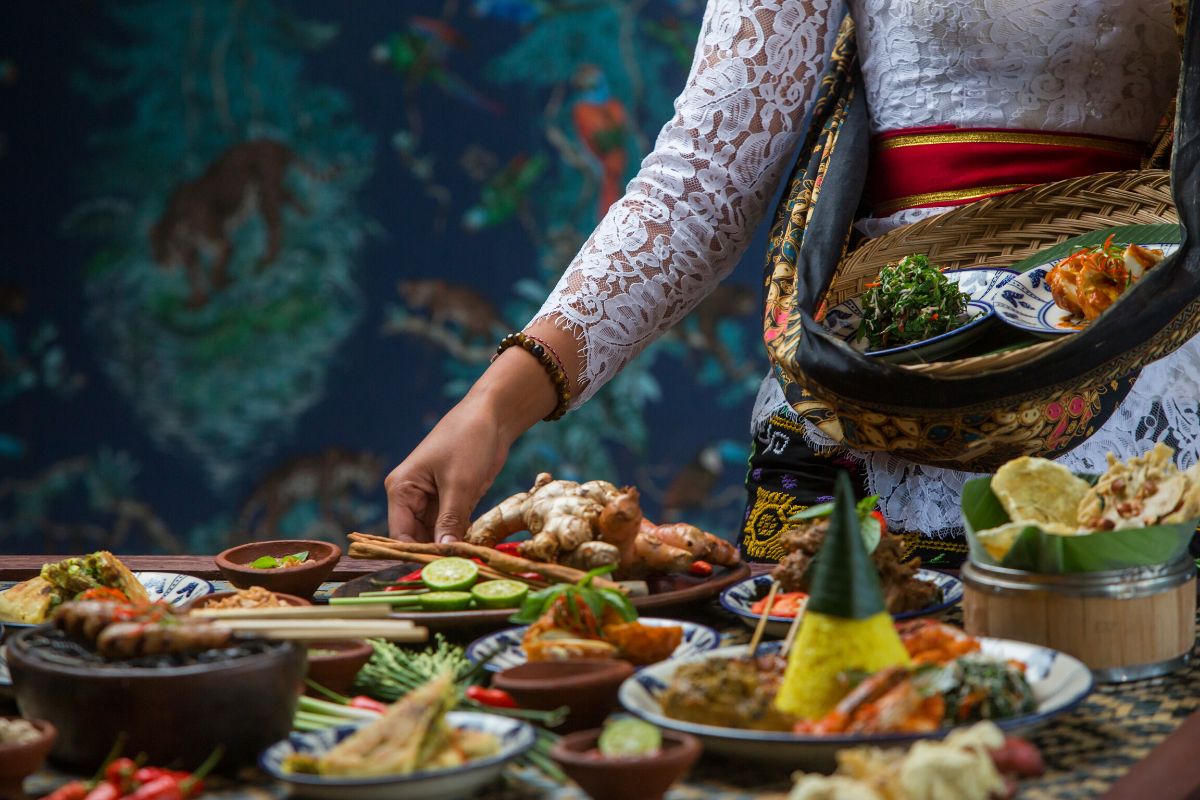 Recreate your own Indonesian dishes at home when you try a Balinese cooking class.
Choose between a culinary experience at an organic farmstead, a local village or a family home.
Cooking classes take place in different parts of Bali, like Ubud for example, so pick the option that best suits you.
Starting at a fresh produce market, shop for ingredients to use during your lesson, such as herbs, spices, vegetables and meat.
Once you've collected all your ingredients, the real show begins where a private chef leads you, teaching you about the different food items, and cooking techniques.
Learn to make dishes such as Bali-style chicken curry (Opor Ayam in Indonesian) and Pisang Goreng, i.e. traditional banana fritters.
Some classes offer both regular and vegetarian menu options.
Balinese cooking classes are available in the mornings, afternoon and evenings and vary depending on the timing you choose.
11 – Experience a Volkswagen tour in Bali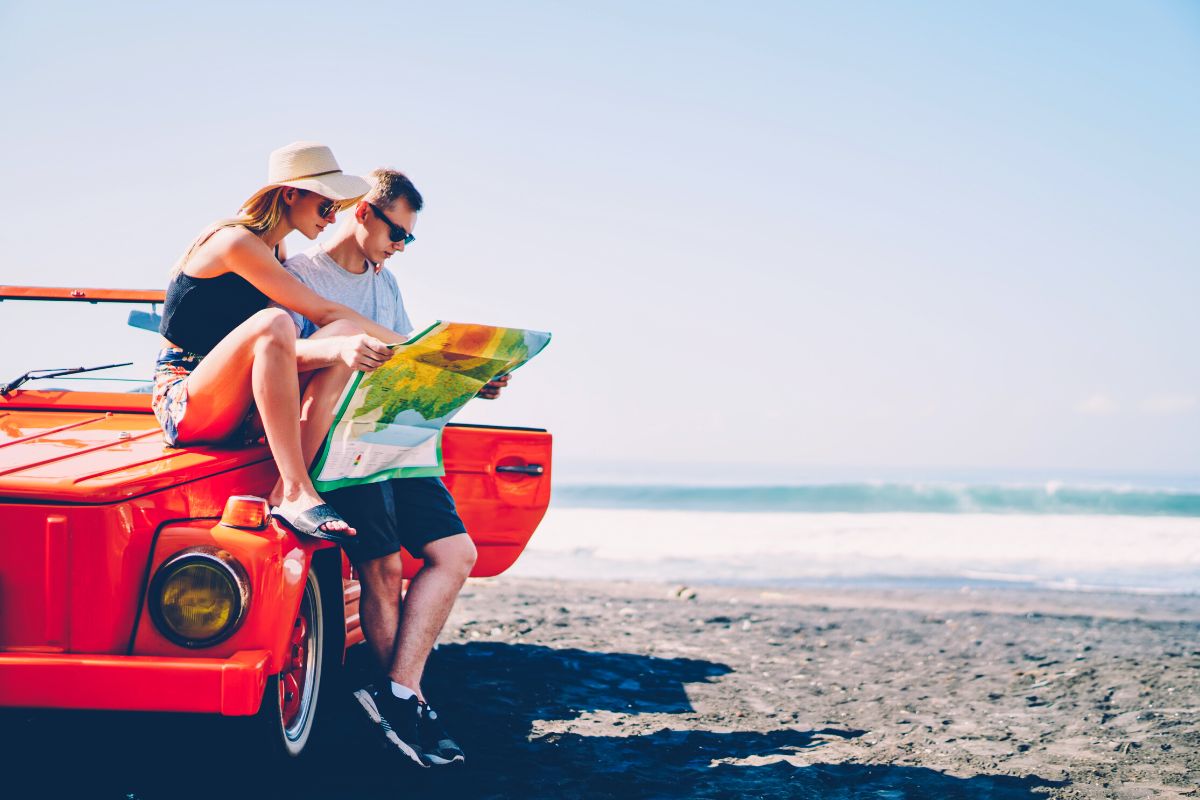 If you're tired of walking the streets or catching many taxis in one day to go sightseeing, consider a Volkswagen tour in Bali in a VW jeep with its open roof and the wind blowing through your hair …
With multiple options to choose from, there are various types of jeep tours available, each exploring a different feature of the island.
Take a trip to Mount Batur and a coffee plantation, or spend the day temple and waterfall hopping as you discover the hotspots around town.
Cruise through rice fields and take many scenic shots with an unending green background.
Is there a specific area you wish to tour for the day?
Enjoy a scenic drive to Ubud, for example, where you will spend hours roaming the local area and its surroundings.
12 – Wander through the different gates and pavilions created throughout Taman Ujung's time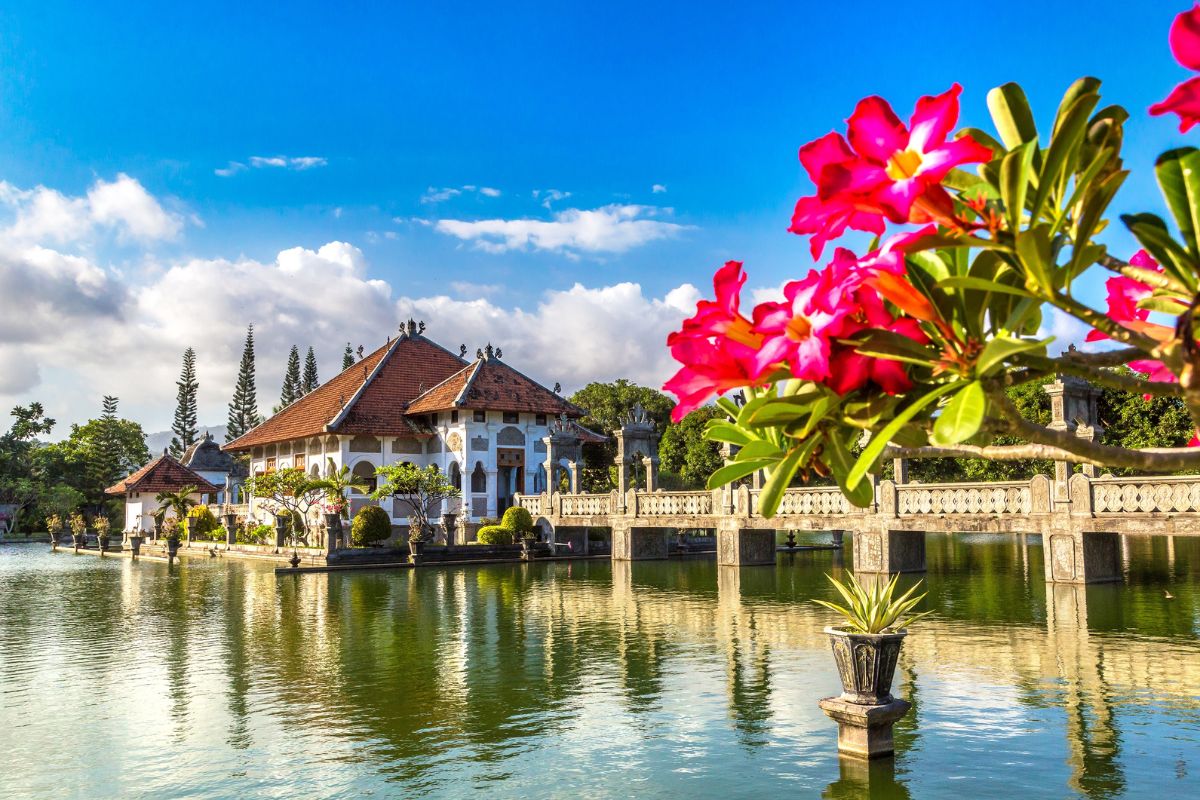 How many times in your life can you say you've visited a floating palace??
Also known as Ujung Water Palace, Taman Ujung has been sitting on the waters since 1919 when the building was first constructed.
With Mount Agung in the background, the palace complex is intriguing.
The grounds are ridiculously picturesque, with manicured gardens and ancient structures, and it's a popular spot among locals for wedding/engagement shoots.
The palace features three large pond pools, and there are pathways connecting each one to the next.
Investigate its unique architecture that showcases both Indonesian and European design aesthetics.
Throughout the years it has endured a few natural disasters but undergone restoration afterward.
Thanks to this, to this day the grounds are still very beautiful.
Surprisingly, the floating water palace isn't overly popular, but this works in your favor when visiting.
There aren't flocks of crowds everywhere or anyone to interrupt your photo-shooting.
13 – Take part in a jewelry-making class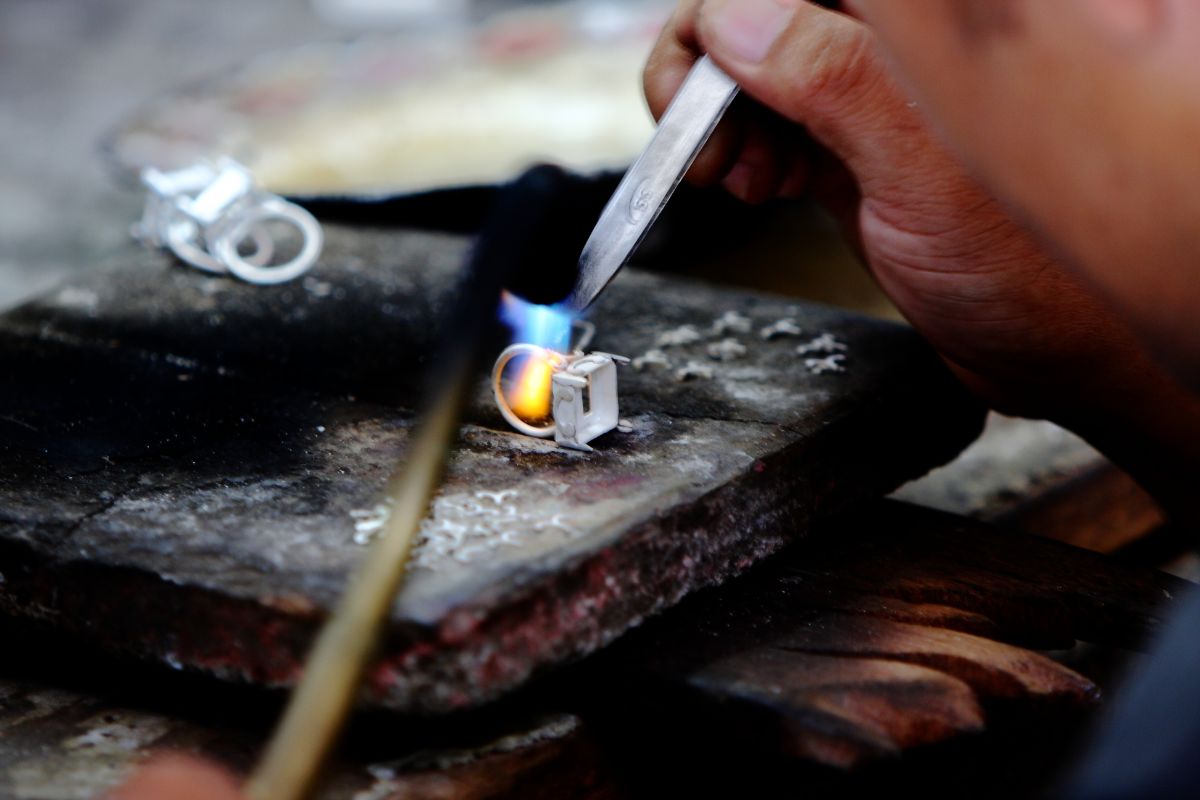 Ethnic Indonesian jewelry has been around for centuries, and since its beginnings, pieces are created using metals like gold, silver and bronze.
Take an epic jewelry-making class in Bali and learn how to design and construct your own statement piece.
Let your creative juices flow as you craft a necklace, ring, bracelet or pendant out of five grams of silver.
During the class, learn about the history of jewelry-making in Bali and across Indonesia, as well as traditional techniques that have been employed by locals for centuries.
All materials and tools are provided, and it's an awesome family activity too.
14 – Visit Tanah Lot, built to worship the god of the ocean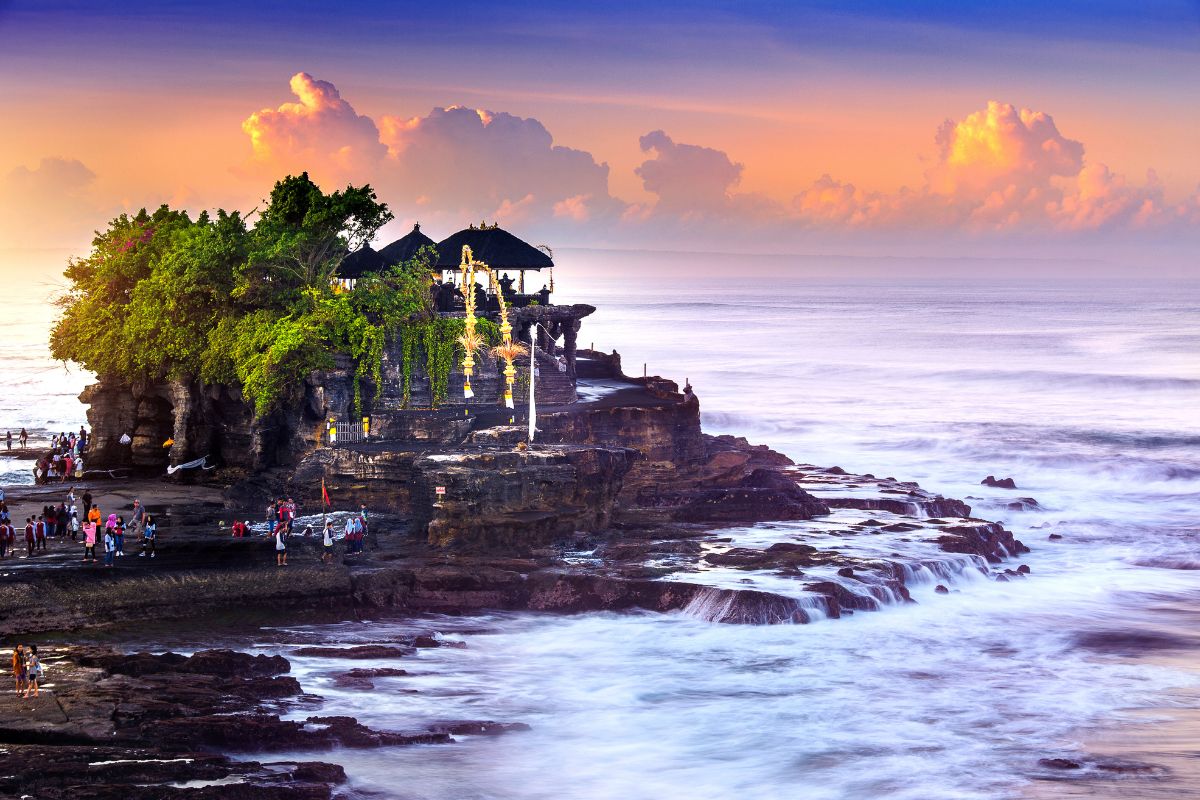 Tanah Lot has been considered a holy place since the 16th century when it was first erected by a prominent spiritual devotee at the time, Dang Hyang Nirartha.
Dedicated to Varuna (also known as Bhatara Segara or Dewa Baruna), it makes sense that Dang Hyang Nirartha chose this specific location for the temple, perched on rocks sitting above the ocean.
According to myth, the ocean god conjured up a poisonous snake to protect the rock formation on which the temple is built.
It's said that the serpent still lives at the bottom of the tiny island's shores, helping to safeguard Tanah Lot from evil.
The sea shrine is built within a temple complex, which starts on land, and to reach this temple you will cross a path from the shoreline.
However, at high tide, the waves cover the pathway and the temple is unreachable — so make sure you check the tides before heading to Tanah Lot.
There are also some smaller shrines onshore, as well as locals selling handicrafts and souvenirs at the temple entrance
15 – For something extraordinary, book a romantic dinner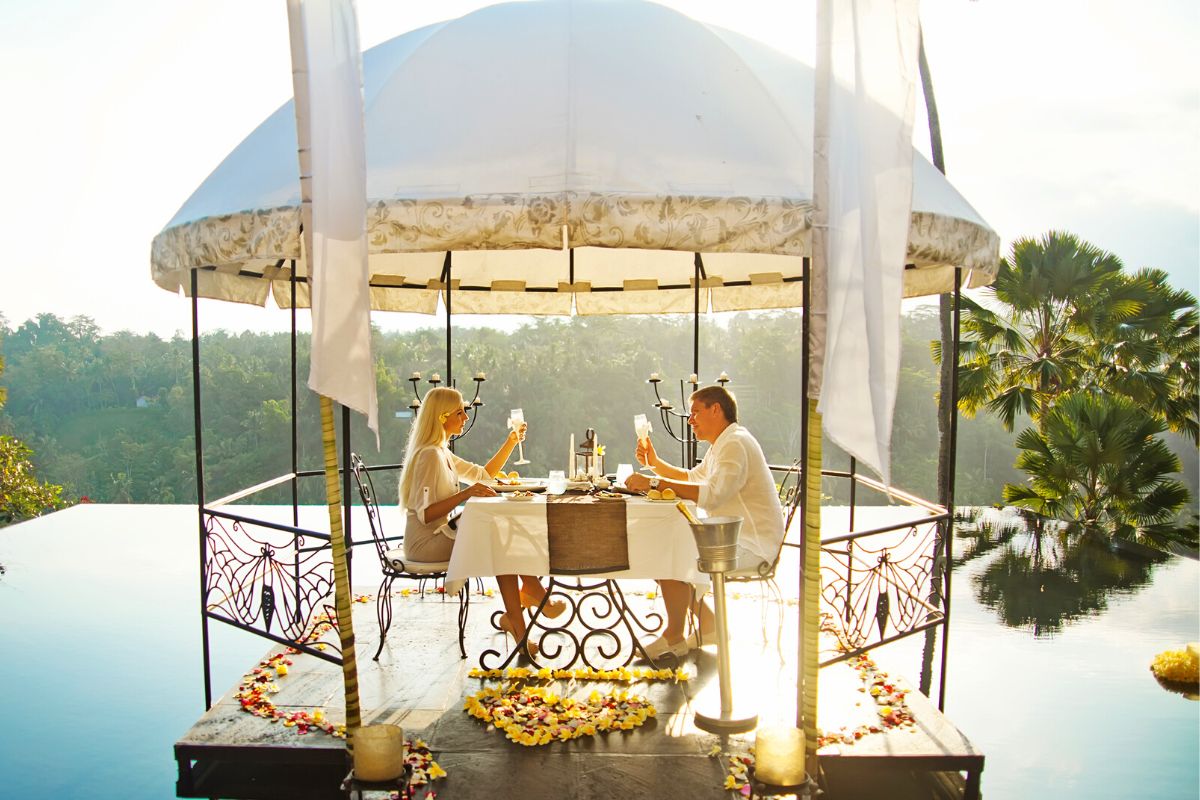 Searching for things to do in Bali for couples?
Bali is a hotspot for couples and honeymooners, so if you're traveling with your beloved, enjoy a super special romantic dinner.
There are multiple different dining options to choose from, each offering unrivaled settings.
Enjoy dinner among Bali's iconic rice paddies and treat your tastebuds to five courses, and your eyes to unending views.
A table is set up in the middle of the field, and the menu is a fusion of local and international flavors.
If you're lovers of the ocean, sip back on wine and indulge in good food with your feet in the sand on the beach.
Set up as a private dining spot, relish in a fusion of Mediterranean and Asian flavors as the sun sets over the sea.
Pretend like you're Tarzan and Jane for the evening and delight in a fine dining experience in the middle of a forest.
Surrounded by canopies of trees and with a river close by, it's all the jungle vibes.
16 – Put on your gear and dive the USAT Liberty Wreck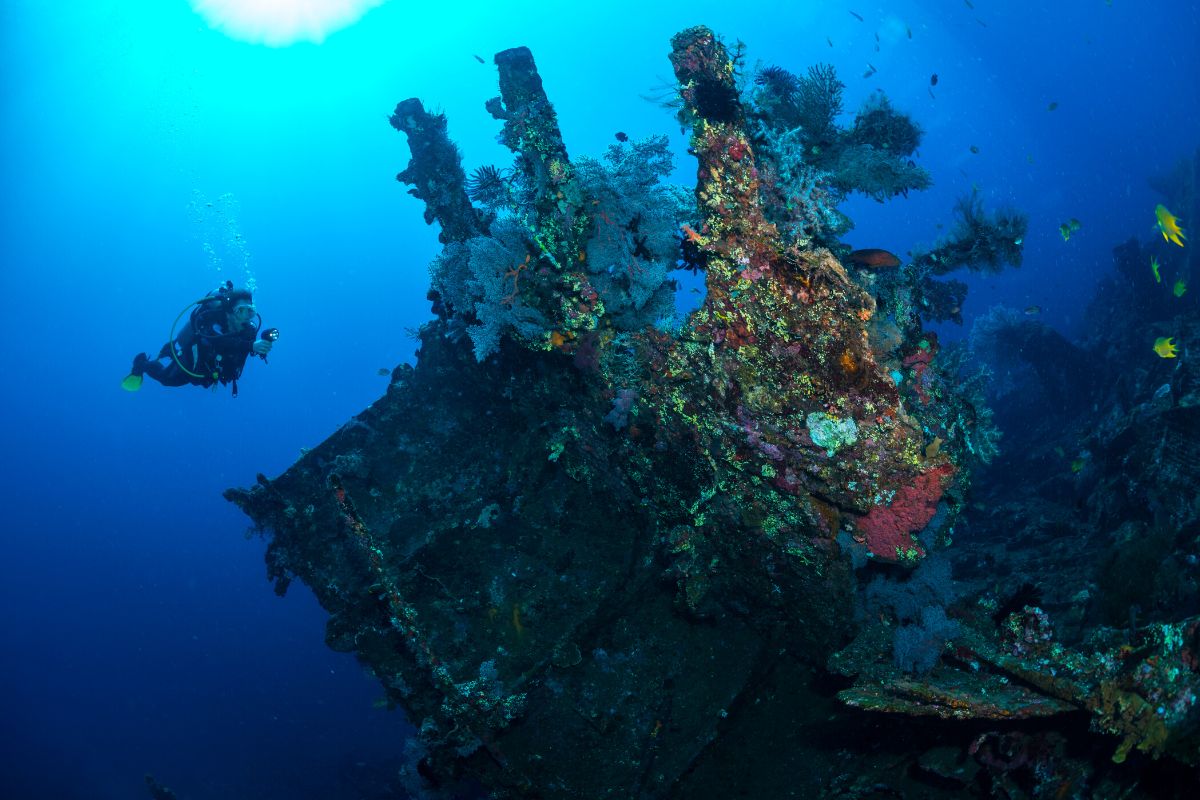 Thanks to its island makeup, diving in Bali is one of the most popular activities, especially if you've never had the chance to before.
Diving enthusiasts take note, the USAT Liberty Wreck is one of Bali's most popular dive wrecks.
The USS Liberty, Hog Island Hull No. 517 ship hails all the way from the United States where it was originally manufactured in New York during the first World War.
Used in WWII, the ship was attacked by a Japanese submarine in 1942 and eventually ended up on the shores of Indonesia, more specifically, Bali.
Left unutilized and to rust away, in 1963 the USAT Liberty was carried off into the ocean after a volcano erupted close by on the island.
Since then, it's remained 30 meters underwater and has become a mega diving attraction.
USAT Liberty Wreck is located not far from the shoreline, which adds to its popularity.
(The most shallow part of the ship only requires you to dive down four meters, making it suitable for both novice and experienced divers.)
The boat itself is 120-meters long and the interiors have been taken over and occupied by a wonderland of marine life, from fish to coral.
Look out for reef sharks, turtles and the gigantic Green humphead parrotfish which can reach 1.5-meters long!
Expect great visibility all year round, but do take note, that during the rain-heavy months, the waters are not as clear and provide visibility until about 15 meters down.
17 – Children and adults alike have a blast at the Bali Safari and Marine Park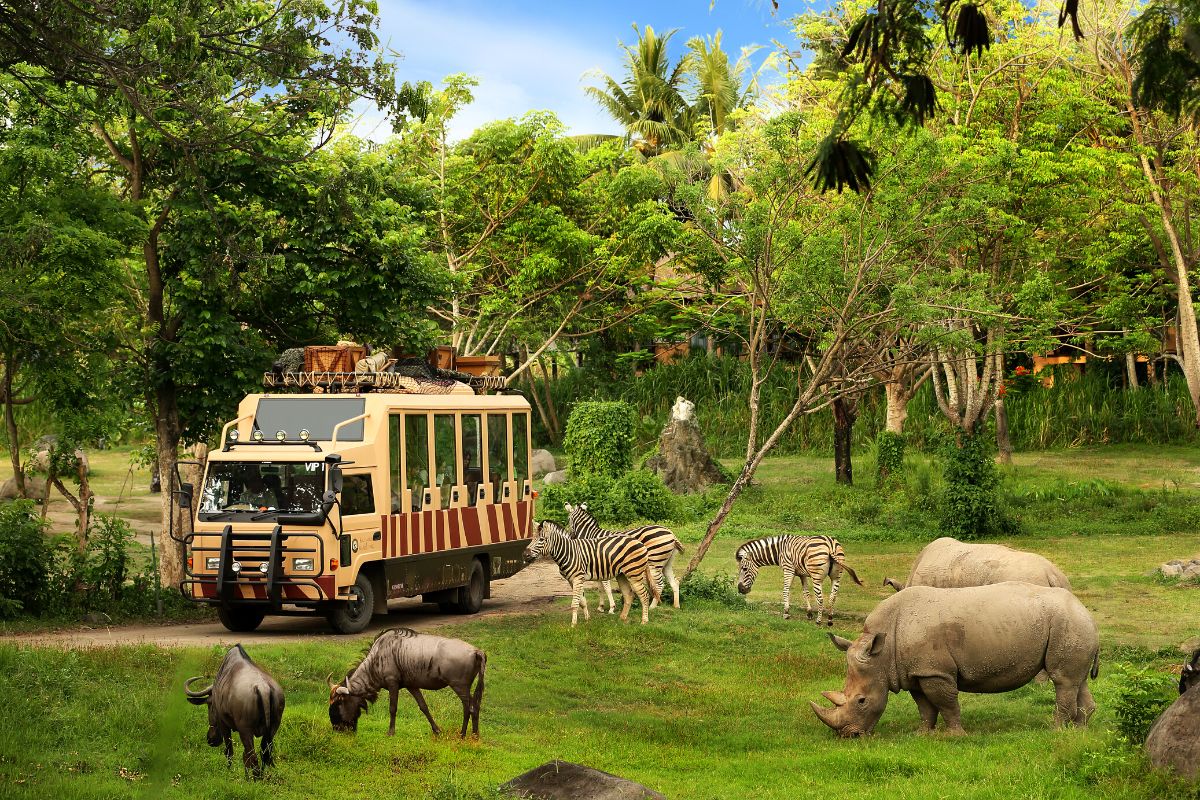 At Bali Safari and Marine Park, learn about and celebrate different animals that call the safari and marine park home.
Find over 120 varying species, some animals live on land, and others in water.
For a chance to see rhinos, hippos, lions and elephants, join one of the park's safaris, like a 4 x 4 safari which transports guests to the park zones.
Check out the Crocodile feeding show and stop by the freshwater aquarium.
Get the chance to see Komodo dragons and show the animals some love at the Petting Zoo.
Far from ordinary, there are incredible things to do at Bali Safari Park like a night safari or a breakfast among the lions!
This is an especially popular activity among couples.
Leaving animals to live in a natural space, there are no animal performance shows only animal interactions, encounters and presentations.
Watch the amazing cultural Bali Agung Show.
Involving dance and musical arts, 150 dancers take to the stage and story tell Bali's myths and legends through the performing arts.
There's a great amount of food and dining options, or make an entire week/weekend of it and stay at Bali Safari and Marine Park.
The little ones will especially love it here.
18 – Leave your followers gasping during an Instagram tour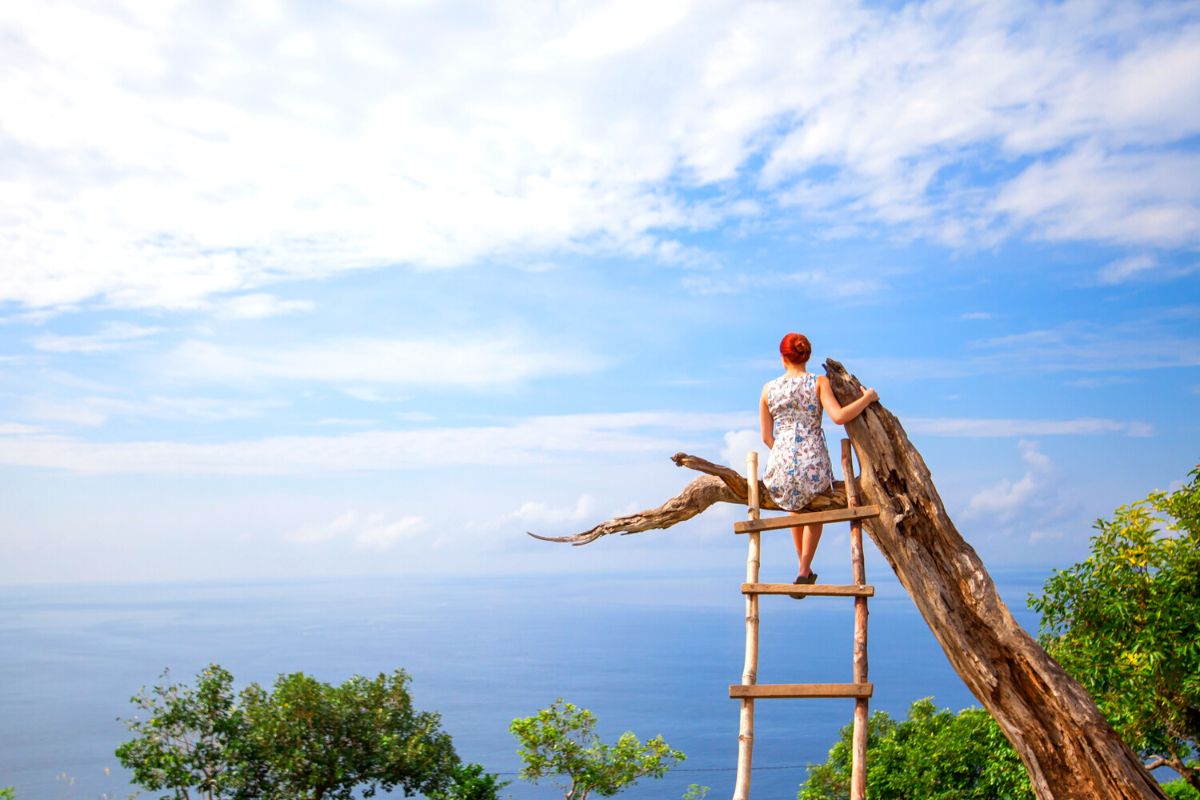 Real-talk, Bali is full of unending insta-worthy spots and it's probably one of the most featured places in the world on social media feeds.
Whilst you're here, live out reality and take an Instagram tour to not just some of the coolest, but some of the most beautiful places, attractions and hidden gems around Bali.
There are different types of insta-tours available that all offer varying perspectives, depending on what suits your photography interests.
Leave the mainland and boat to Nusa Penida Island, which seems to have about a bazillion instagrammable cafes, ocean scenes and some famous landmarks.
There are even tours that cover both Bali and Nusa Penida, making a full day trip of the tour.
Stay around Bali and snap some of the most beautiful attractions the island has to offer, such as the iconic 'Gates of Heaven' and endless rice terraces.
Head out to the northern part of the island and discover waterfalls and ancient temples for unforgettable moments captured for a lifetime on film.
Hot tip: Best Instagram Tour – Everything you Should Know
19 – Feeling adventurous? Check out a quad tour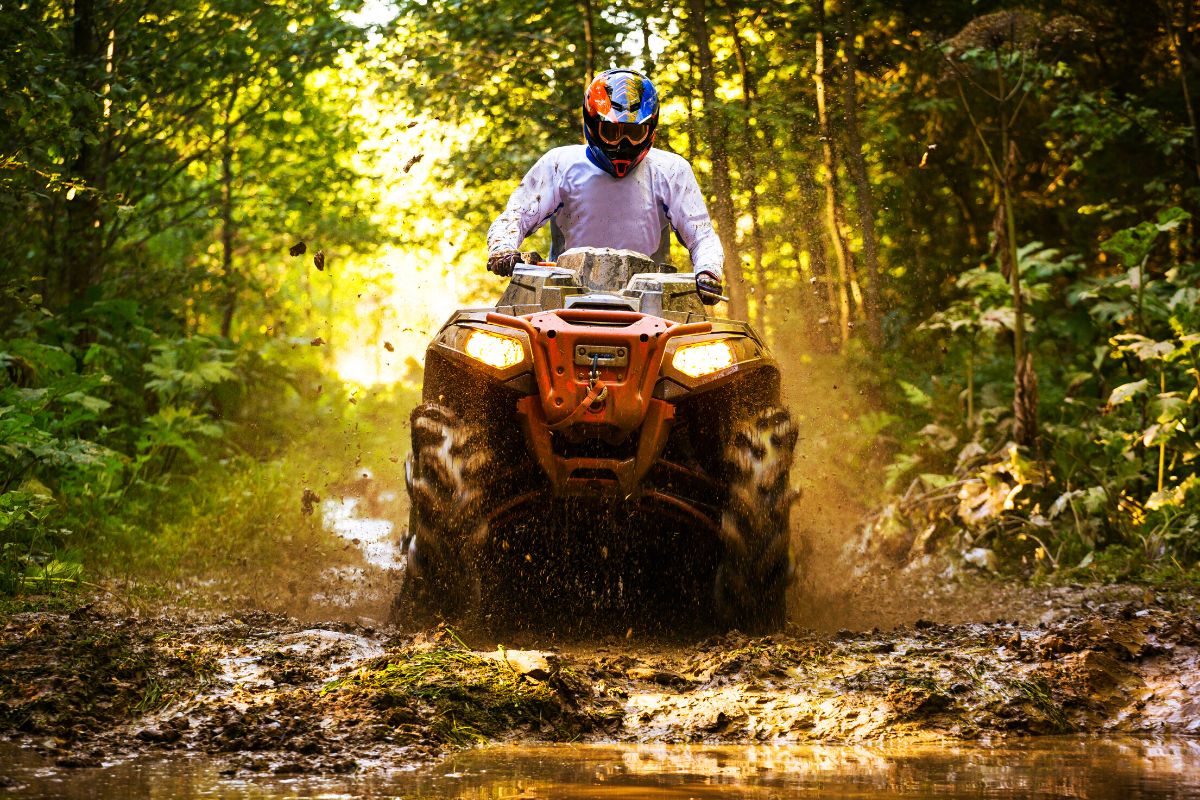 Hop onto an ATV bike and tour through jungle plains to waterfalls, trekking over muddy tracks and crossing streams.
During a quad tour in Bali, you have the option to maneuver the vehicle yourself, or jump on the back and let one of the drivers lead the way.
Not just limited to chasing waterfalls, there are various ATV tours to choose from.
Take an epic rally drive through the jungle, crossing 4.5 kilometers of ground around a designated quad track.
Starting in the early morning, cruise through local villages and jungle scapes and up Mount Batur, visiting a natural spring here.
End off with a pit stop at a coffee plantation.
If you're not staying in Ubud but are keen to check out Bali's iconic lush lands, quad bike around the area for the day, stopping at the Monkey Forest sanctuary.
For travelers with kids, or if you're not keen on riding an ATV, opt for one of Bali's thrilling buggy tours.
Whizz through jungles, rice fields and traditional villages.
Just like the ATV tours, you can drive the buggy yourself (a driver's license is required), or let one of the professionals take the wheel.
20 – Re-center yourself with yoga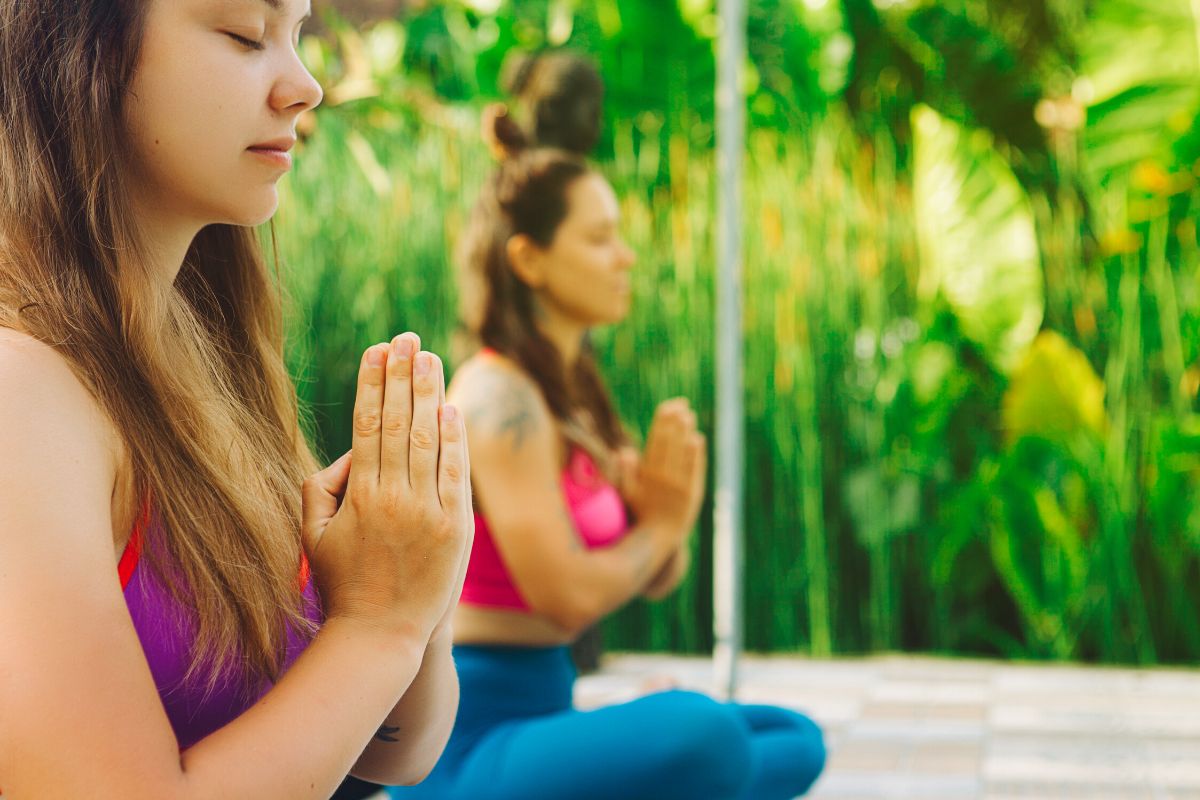 Alongside India, Indonesia is synonymous with yoga, including yogi retreats.
People from all around the world flock to Indo, and Bali in particular, for its yoga training, retreats and wellness sanctuaries, with an incredible offering to choose from.
It's the ideal setting to relax, unwind and let go.
As one of the OG yoga studios on the island, book a class, workshop, or even a stay at The Yoga Barn in Ubud.
Specializing in traditional Hatha yoga and meditation, The Practice in Canggu offers workshops as well as teacher training courses, including online.
Also located in the same area in Canggu, Desa Seni has a more hippy atmosphere and provides workshops, and private classes and also has a spa and resort.
Listen to the waves crash at the famed Yoga Searcher in Uluwatu which sits atop cliffs, and they offer aerial yoga here too.
If visiting a center seems intimidating, choose a private yoga class or studio around Bali instead.
Head to an outdoor pavilion among the jungle in Ubud and listen to the birds sing and trees whistle and relax into 1.5 hours of yoga and meditation.
Or opt for a waterfall location instead.
If your favorite time of day to practice is early morning, join a sunrise yoga session near the ocean, or up on the hillside in the Kintamani area.
Take a day off from your travels and join a yoga study day, or book a few days at a yoga and surf retreat on Nusa Lembongan island.
21 – Take the opportunity to go dolphin watching in Lovina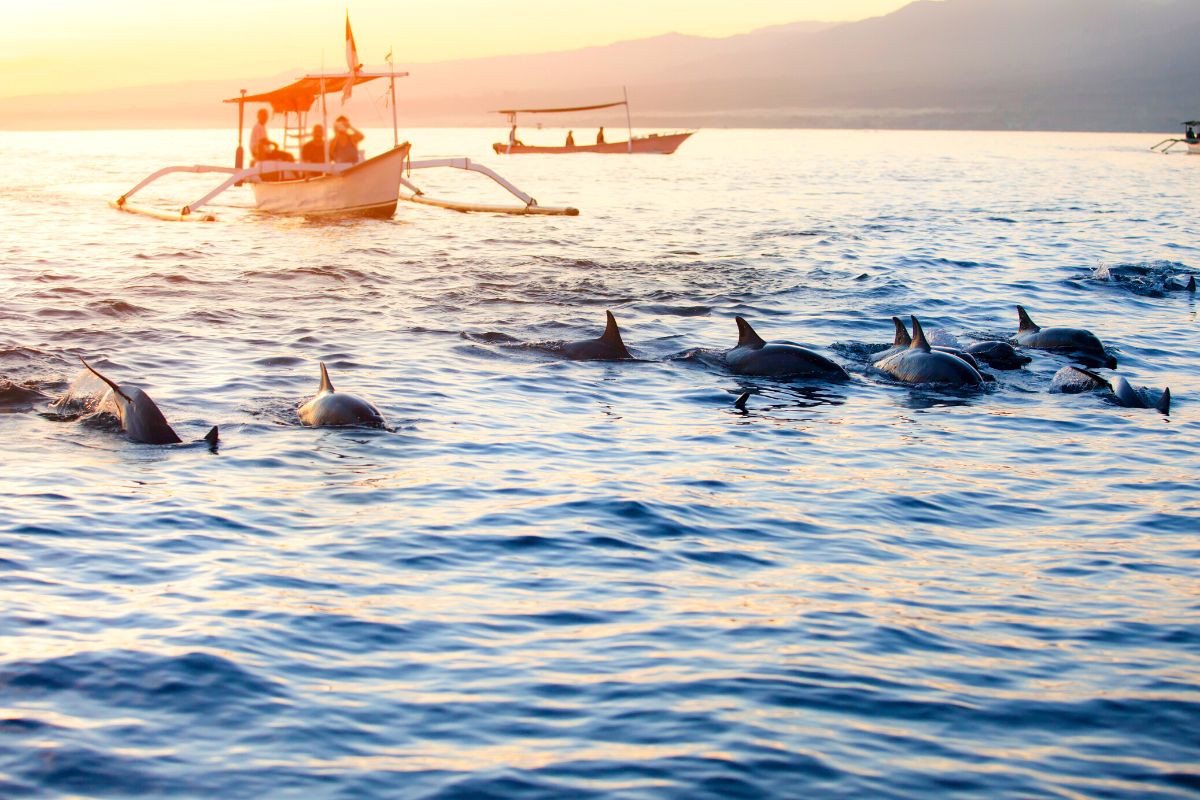 If you make your way to the north coast of the island you'll come across the small seaside town, Lovina.
Lined with tiny beaches and local villages, the most popular activity (and main tourist attraction) is spotting the Bottlenose dolphins that call these parts of Bali's waters home.
Sometimes you can also see Spinner dolphins, which are smaller than the Bottlenose.
From Lovina Beach, take a boat out close by as dawn breaks and get the chance to witness a school of the hyper-intelligent marine mammals.
For the best chance to see the dolphins during a dolphin-watching expedition in Bali, get here before sunrise.
If you are booking a tour, expect a very early pick up from your accommodation.
The drive from Ubud or Canggu for example is over two hours.
Make a day of it and explore Lovina and the surrounding areas in Bali's northside whilst you're in this part of the island.
Although Lovina is a small area, four different local villages make up Lovina's town.
Fishing is very popular too.
22 – Shop till you drop at Ubud's markets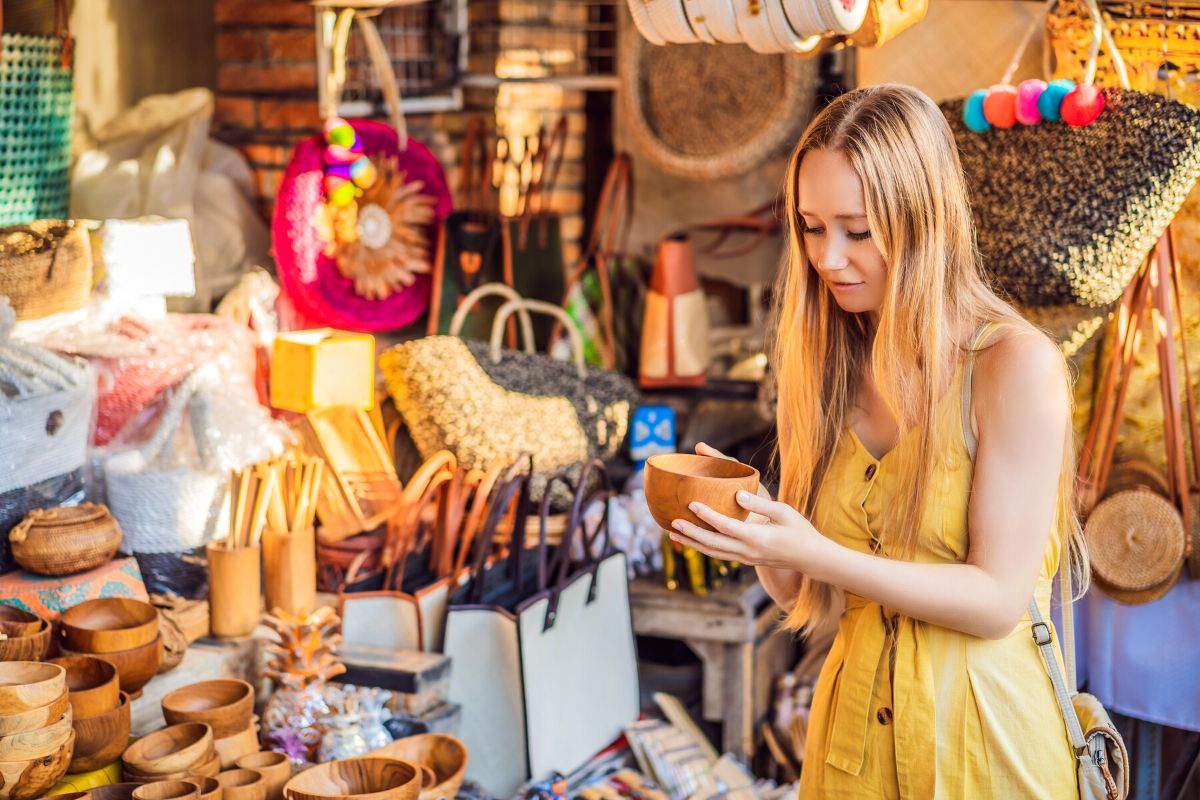 Ubud is home to an incredible creative scene, therefore naturally, it's oozing with cool markets.
One of Bali's most favored shopping destinations is the Ubud Art Market filled with unique handcrafted goods made by individual artists.
Pick up unique items and you won't find many replicas.
There are all sorts of handicrafts and art pieces to buy from woven bags to wooden sculptures.
For interesting market finds, visit Sukawati Art Market and shop for handmade dreamcatchers, necklaces, shell wind chimes, traditional masks and so much more.
Not as over-crowded as Sukawati Market, Guwang Art Market offers similar goods and souvenirs for around the same prices and it has a comfortable market layout.
23 – Overlooking Uluwatu Beach, visit Uluwatu temple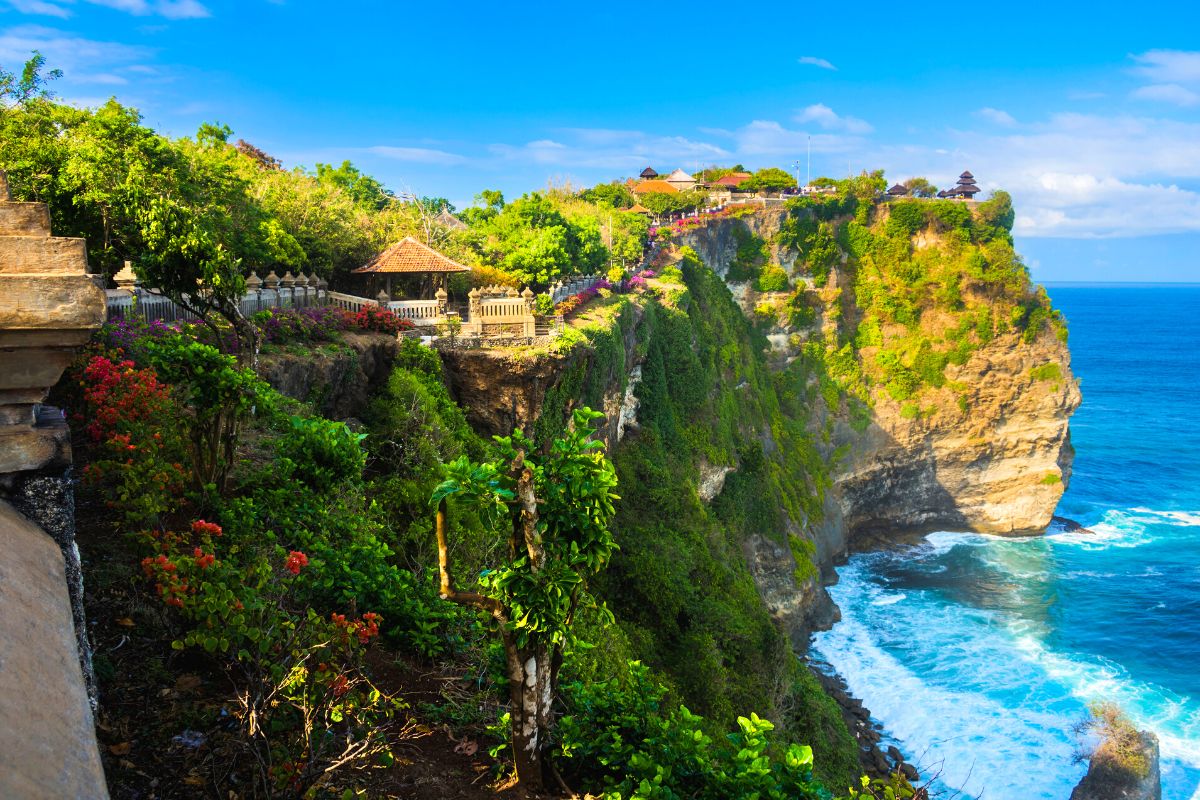 Perched 70 meters above sea level on the edge of a cliff overlooking the ocean, the  Uluwatu Temple is one of the area's most famous attractions — have you seen those views?!
It's believed that the holy sanctuary has stood the test of time right here since the 10th century, thus it forms one of the sad-kahyangan (Bali's six spiritual pillars).
Investigate evidence of its origins through some temple relics, proven to date back to this period in time, such as a stone gate en route to the inner courtyard inside.
Wander around the different courtyards and drink in the views from the worship grounds.
Whilst you're in Uluwatu, catch some air at Uluwatu Beach or find secret surf spots, grab a cocktail at Sundays Beach Club, or watch a traditional fire dancing show as the sun begins to set.
There's a span of amazing restaurants in this part of Bali, so take advantage.
24 – Witness a historical Kecak dance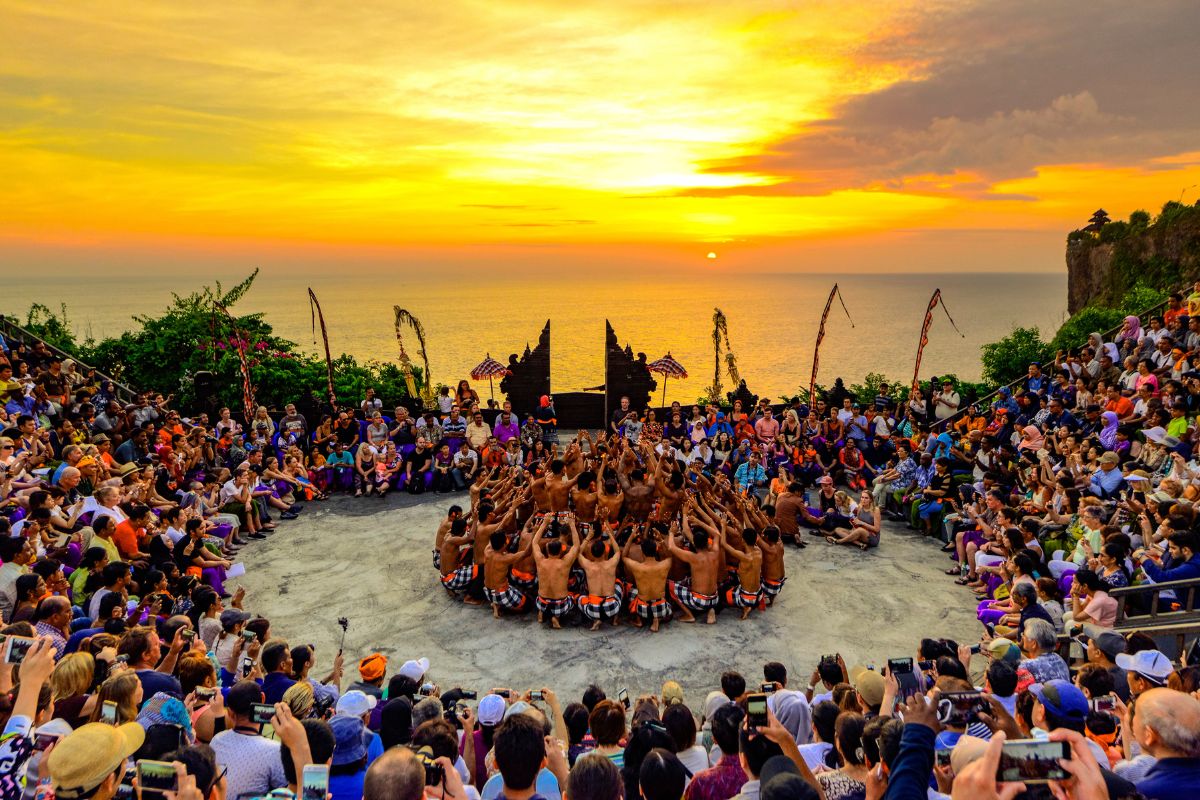 As one of Bali's most ancient performance art, it's believed that the Kecak Dance was once a ritual practice to expel evil spirits through the form of dance.
Today, watch a traditional Kecak dance performance in Bali which still celebrates the movement and power of dance but is manipulated into a choreographed show supported by live music
This dance show is always performed in an open-air theatre and usually starts just before sunset.
As the show takes place outside, it gives an authentic atmosphere and the only backdrops are the natural ones surrounding you.
As dusk falls, bamboo candle torches light up the space and some shows even include a   traditional fire dance afterward.
25 –  Spend the afternoon among the florals at Kebun Raya Bali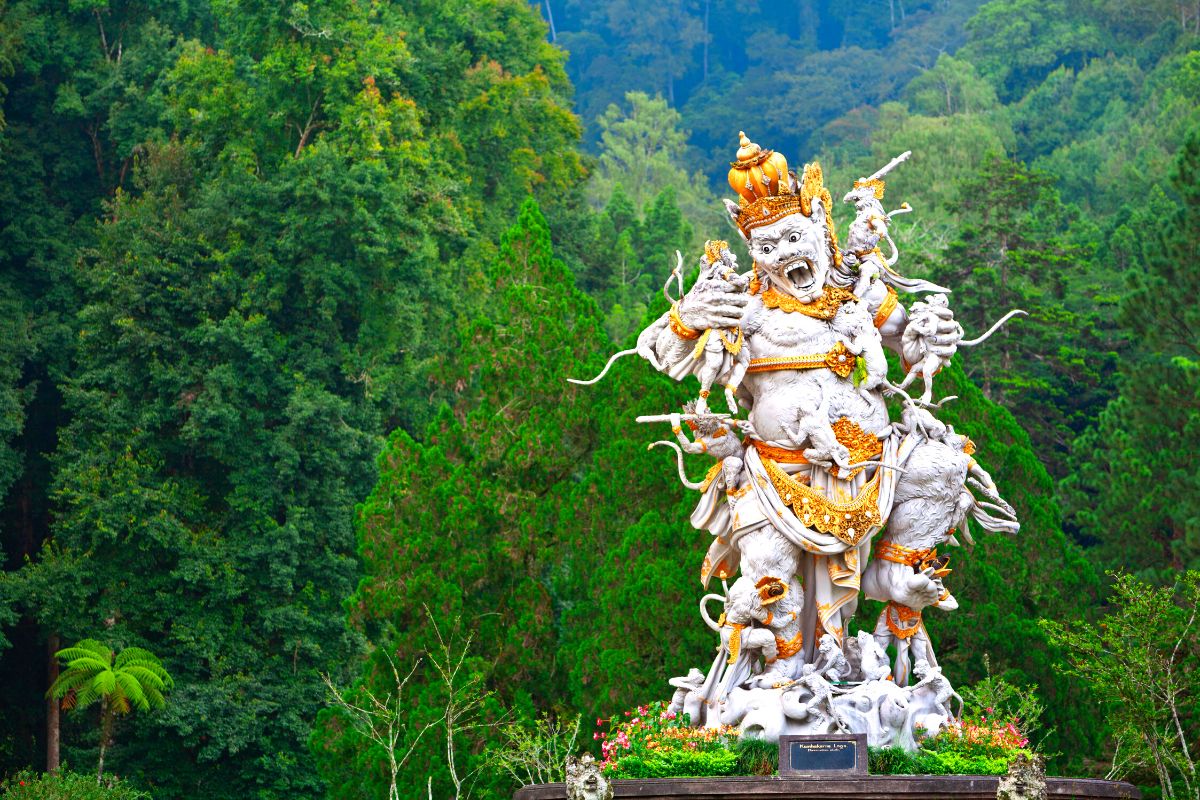 Orchid fanatics, find Bali's largest assembly of Wild Orchids at Kebun Raya Bali, displaying over 300 different species.
Also known as the Bali Botanic Gardens, its Begonia collection is equally impressive, with about 100 types of flowers in bloom.
Located in the Bedung area, the park is surrounded by rolling hillsides, which adds to the ambiance.
Pack a picnic, choose a spot under one of the tall trees and chill out for the afternoon.
Once you're done relaxing, explore more of the botanical garden, and don't pass up the opportunity to visit the Conservatory Building.
It explores the evolution of humankind and the plants that have followed here on earth.
There are exciting species to be found in its Carnivorous Plant Collection, like the Picher plant, also known as Nepenthes or the Monkey Cup.
Learn about Indonesia's traditional plants that have been used for herbal medicines for over 1,000 years.
Other interesting sections include the Bamboo Garden (housing close to 90 different types of bamboo), the Fern Garden and the Rhododendron garden showing off native Indonesian Rhododendrons and Azaleas.
Snap some beautiful pictures inside the Rose garden or Cactus greenhouse.
Pass by the aquatic plant pools and spot the giant Fig tree inside the park.
If you have extra time, stop at Bali Treetop Adventure Park for an obstacle course and ziplining adventure among the trees.
26 – Cruise around Bali during a downhill cycling tour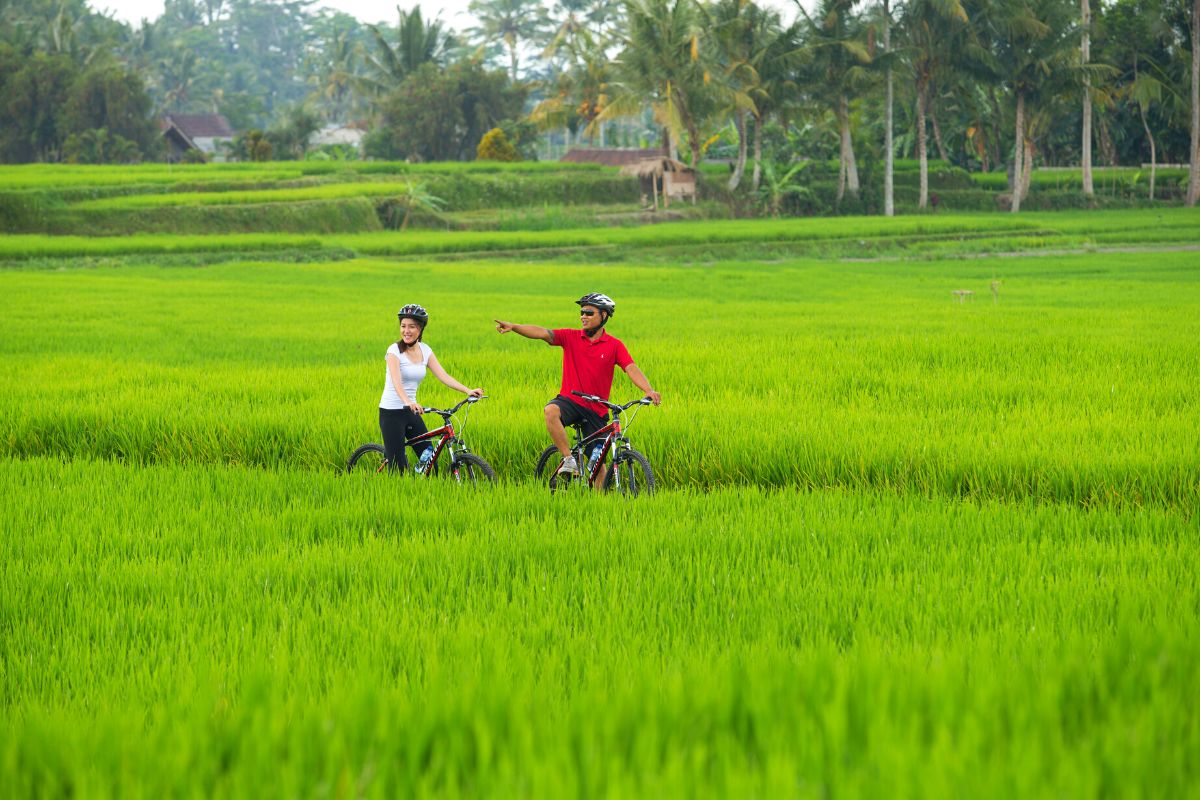 In general, Bali sports a mountainous terrain, and many of the things to do in Bali and must-see attractions are spread out across the island.
A popular way to sightsee is via a bicycle, but ensure you book a Bali downhill cycling tour for a journey that's not strenuous for newbie cyclists.
Along the way, pedal through villages, visit an organic coffee farm, drive through rice paddies and stop for a refresher and coffee tastings.
Some tours include passing by a local school to learn about its charity program.
A popular destination for downhill cycles is from Kintamani to Ubud.
This is a fantastic and refreshing way to experience Bali's local and more rugged landscapes.
27 – Spend the day in the Balinese sunshine at Waterbom Bali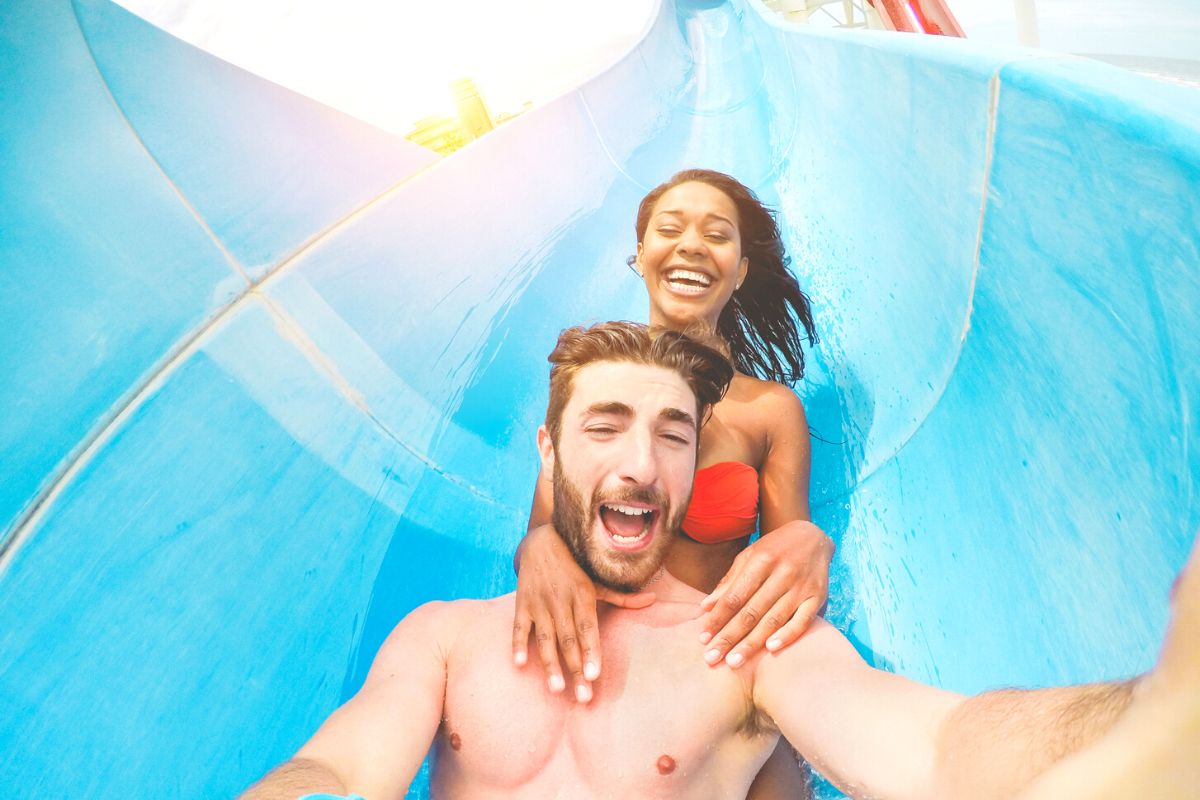 Looking for fun things to do in Bali with kids? Waterbom Bali is the island's most exciting waterpark.
Designed to suit all ages, there are rides and slides for both children and adults, providing fun for families or groups of friends.
Get your adrenaline pumping as you shoot down slides like the Smashdown 2.0, Fast n Fierce, Green Vipers or the transparent Pipeline.
For those after something more mellow, rides like the Superbowl and Python are galvanizing experiences but still suitable for families.
Speaking of, the Lazy River is appropriate for all ages, but there is a designated kids area packed and stacked with water cannons, slides, swings and obstacles.
The next best thing to surfing a real wave, before you paddle out into Bali's actual ocean, first test the waters at the FlowRider.
If you need a break from getting wet, have fun springing nine meters into the air at the Euro Bungy swing.
28 – Take an iconic Eat Pray Love tour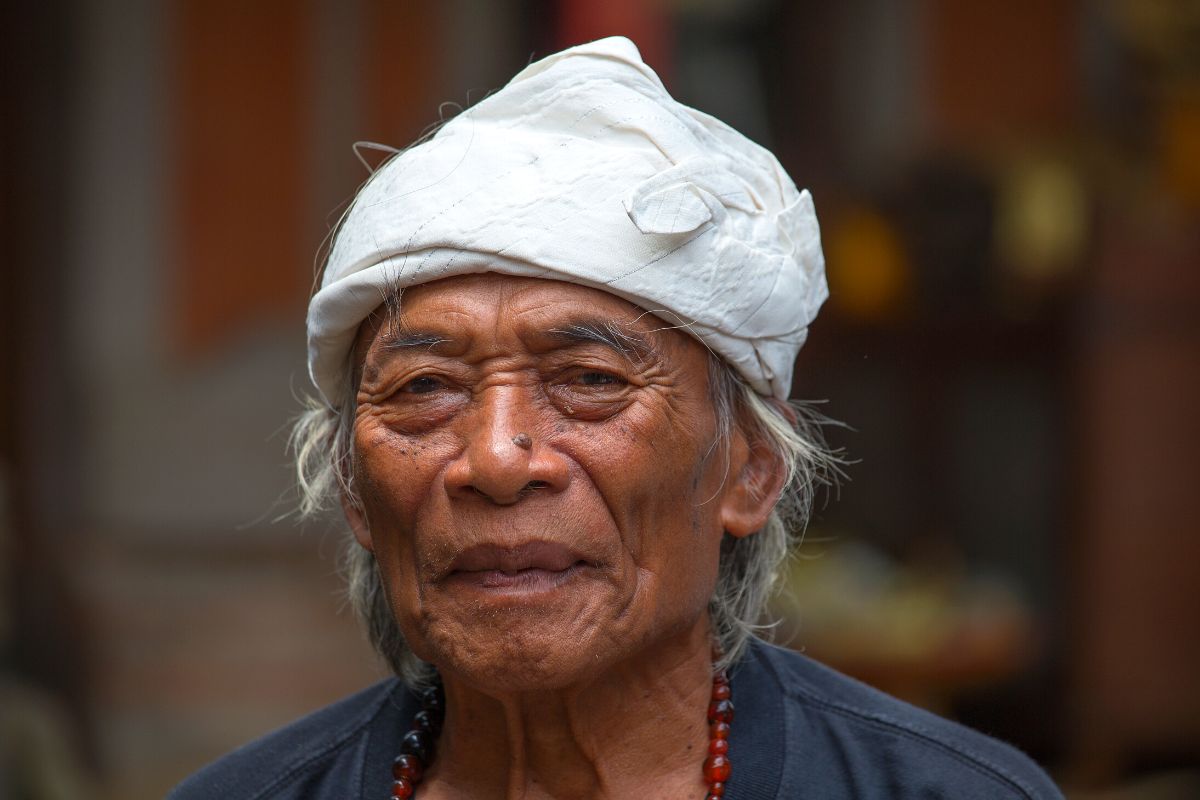 Based on author Elizabeth Gilbert's real life-changing journey, the famous 2006 novel Eat Pray Love was turned into a roaringly successful movie in 2010.
Starring Julia Roberts who plays Gilbert, she rediscovers herself and her life's meaning again in three different countries, including Indonesia, where she spent months in Ubud.
The movie was shot on location right here in Ubud, highlighting the region's famous landscapes and spiritually enlightening experiences.
Now, travelers can take an Eat Pray Love tour around Bali, visiting the exact locations as Elizabeth Gilbert did.
Starting in the morning, begin the tour by visiting rice paddies followed by a 1.5-hour yoga and mediation class.
Next, head to the water temple, Pura Tirta Empul, and cleanse yourself inside the holy spring's waters.
Meet a traditional healer during the tour, just like Gilbert — a big part of the storyline in the Indonesian part of the book focuses on her relationship with a traditional medicine man in Bali and how he helped her along her journey to healing her mind, body and spirit.
Towards the end, stop at a vegan restaurant for a scrumptious, healthy and wholesome meal.
P.s. If you choose to tour on Sunday, spend time at the Ubud Organic Farmer's Market (open Sundays only).
29 – Get a taste of Bali's varying vegetation at West Bali National Park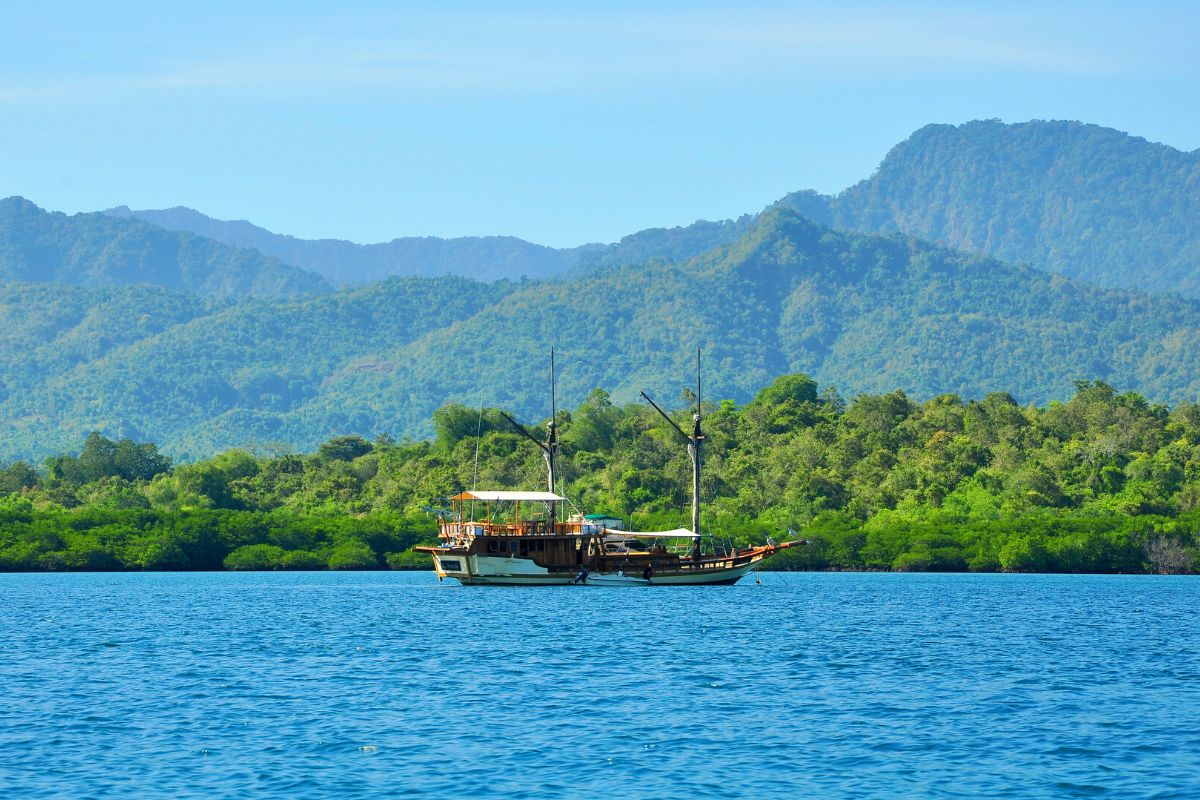 During an exploration of West Bali National Park, take advantage of its varying landscapes and terrains, from ocean scenes to mountain peaks, mangroves to islands to rainforests …
Located in central-western Bali, the park is the island's leading nature and wildlife conservation area.
Apart from the abundance of animals to find, there are activities to do like hiking and snorkeling.
One of the small islands here is named Deer Island (or locally, Pulau Menjangan), and you can spot Java rasa deers which are native to Indonesia.
Including Pulau Menjangan, there are four main islets and the other three are named Burung, Kalong and Gadung islands.
Avid bird watchers will be especially excited by the different species of birds that call the reserve home.
The rare Bali Starling can be spotted swooping the skies in this part of the island.
Go snorkeling and discover its underwater world … Look out for the Olive ridley sea turtle, the world's second-smallest group of turtles.
Apart from the wildlife, investigate the park's rare fauna and flora.
It hosts endangered species like Santalum album (commonly known as Indian Sandalwood) and the Garcinia dulcis plant which spouts little yellow berry fruits.
Easily spend one whole day visiting West Bali National Park.
30 – Recognized by the WWF (World Wildlife Foundation), visit Turtle Conservation and Education Center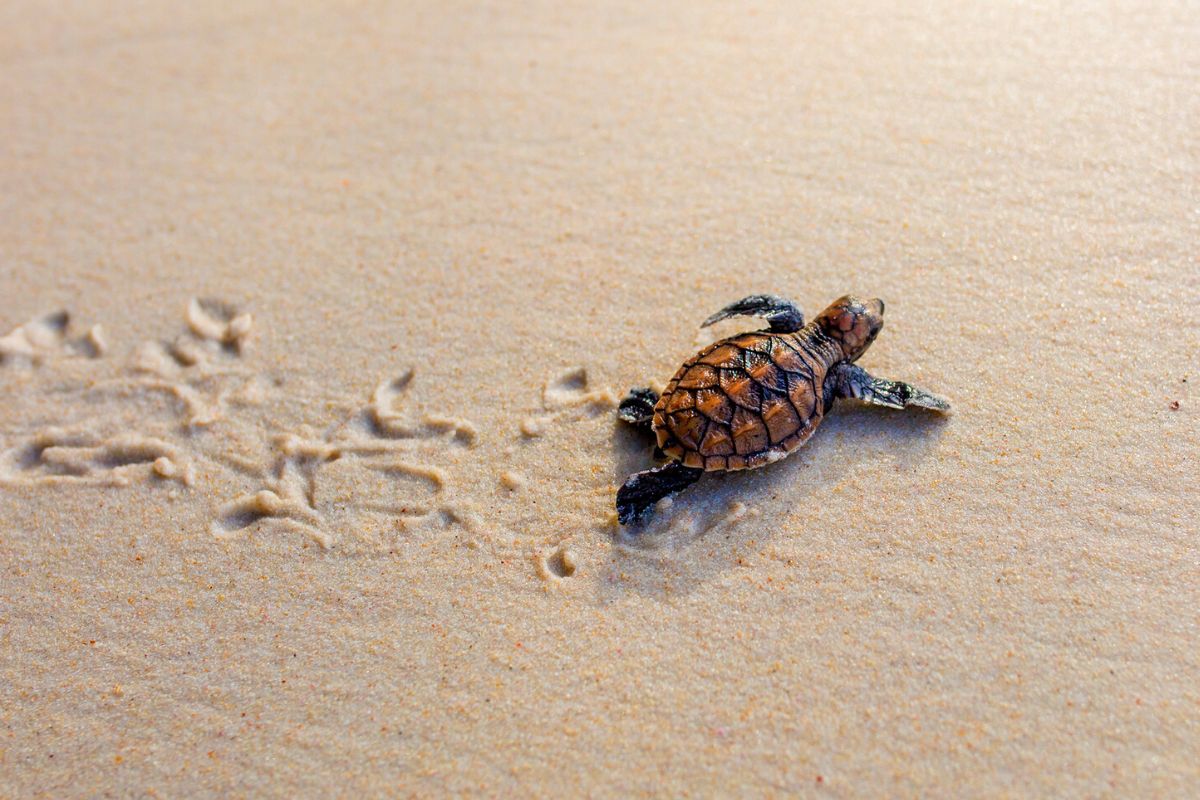 When visiting Bali's Turtle Conservation and Education Center, rest assured knowing that this is a true sanctuary, with the turtle's best interests at heart, and not designed for humans to take advantage of.
The center has been set up to educate and provide an eye-opening experience about the dangers turtles face nowadays, captured for medicine and food in some parts of the world.
Entrance is free and visitors can leave a donation used to help with maintaining the conservatory.
Enjoy an enlightening tour around the sanctuary, passing by big and small pools of turtles, as well as a hatching ground.
If you'd like, you can adopt a turtle and once strong enough to make it on its own, your adopted turtle is released for you into the ocean.
You'll spot both mommy, dad and baby turtles and it's another great family-friendly activity to try.
31 – One of the most popular day trips from mainland Bali, tour Nusa Lembongan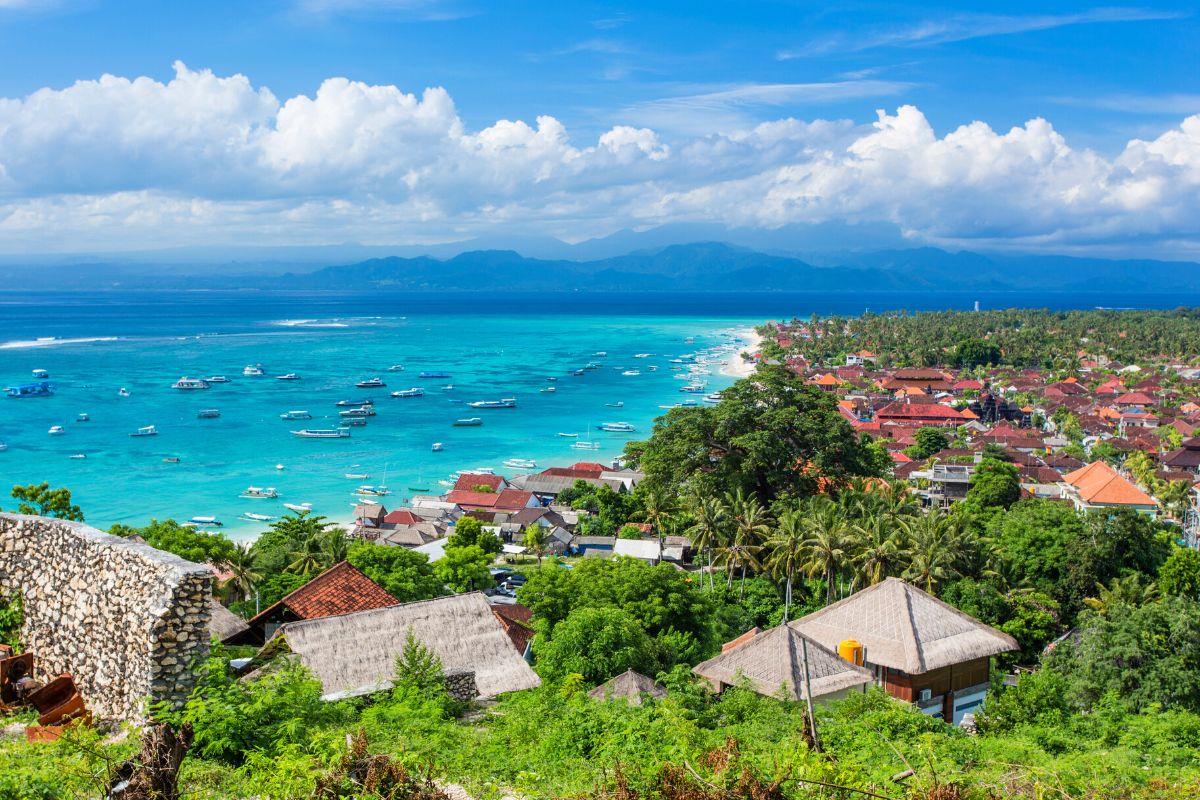 Not just day-tripping, Nusa Lembongan island, forming part of the famed Nusa Islands is also epic for an overnight stay.
Out of the three isles, this is considered the main island and most tours arrive at Nusa Lembongan first.
As the largest Nusa islet, there are a plethora of accommodation options to suit all types of travelers, from ocean-facing villas to more laid-back boutique hotels.
Divided into a few areas, step off the boat and arrive in town right near Jungut Batu beach where the majority of the restaurants, tour operators and stays are situated.
For more relaxed vibes, and home to a handful of surf schools, head to the other side of the island near Mushroom Bay.
Here, discover many restaurants, as well as surf, souvenir and wellness shops.
Passing Mushroom Bay area, head to the mangrove forest and enjoy a scenic boat ride through where you can spot parts of Mount Agung volcano inside.
For the best sunsets on the island, Devil's Tears is where it's at.
The best way to reach here is via motorbike/scooter, or you can walk on foot from the main tourist part of the island.
Most activities are outdoorsy making Nusa Lembongan suitable for those that love nature.
Discover temples, spend the day out at sea scuba diving with manta rays or take a snorkeling tour among exquisite marine life.
Enjoy a cocktail or three at Ohana's or Sandy Bay Beach Club.
Nusa Lembongan is situated off the south coast of Bali and therefore Sanur (on Bali's southeast coast) is a popular destination to take a boat transfer to the Nusa Islands.
The fast boat ride from Sanur to Nusa Lembongan is 30 minutes long, whereas the public ferry takes 1.5 hours.
If you're planning on day-tripping to Nusa Lembongan, a boat tour is recommended.
A speedboat charters you around the Nusa isles and it's the most efficient way to explore the islands in one day.
Nusa Penida island can be easily reached from Nusa Lembongan.
Simply cross over the iconic bright yellow bridge, connecting the two islands.
Read more: 10 Best Boat Tours in Bali you Shouldn't Miss
32 – Stop at Nusa Ceningan for a completely different feel
Speaking of, the closest island to Lembongan is Nusa Ceningan which is quieter than the touristy main island.
The landscapes around appear more wild and rugged and an excellent option is to rent a bike and drive around the isle.
Along the road, there are many cute cafes and seaside restaurants to check out.
Let the hours slip by as you chill right next to the ocean at Seabreeze Pool Bar & Restaurant, or on the hammock in the water for some crazy cool photos.
The famous KLYF Club is also located on Nusa Ceningan, boasting an infinity pool and views for days.
Venturing off the beaten track, swing past The Old Tree for another photo op and more cliff views.
Looking for a quiet beach away from the crowds?
Find the Secret Beach at the furthest part of the island, but it's not suitable for swimming — though you may spot the occasional surfer braving the big-break waves.
Capturing the local atmosphere, Nusa Ceningan is utterly picturesque.
33 – It's time for your photo moment at Nusa Penida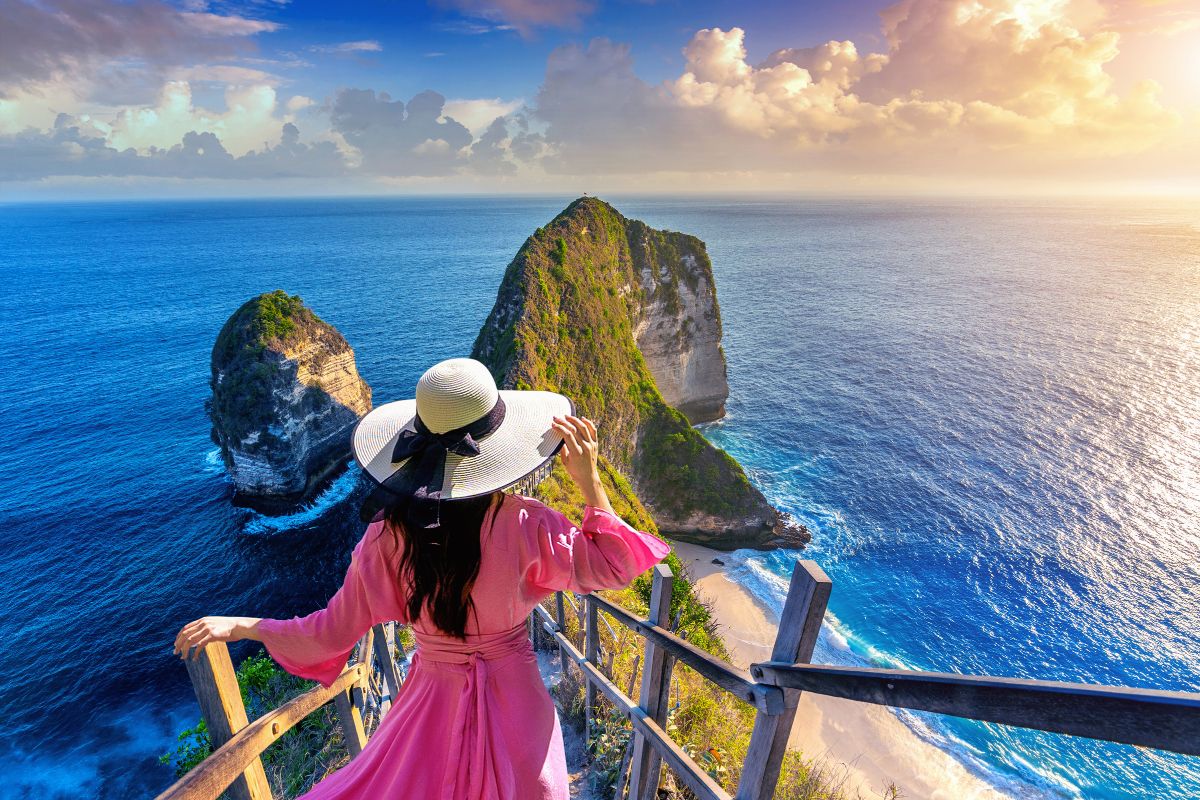 Out of all three of the Nusa islands, Nusa Penida is filled with the most beautiful natural attractions.
Seen appearing across most travel influencers' Instagram feeds, head straight to Kelingking Beach where the famed T-Rex-shaped mountain cliff lies.
Unlike the usual foresty locations, Peguyangan Waterfall at Nusa Penida cascades straight into the ocean and is made up of a collection of small falls.
Seganing Waterfall also on Penida has the same positioning … But the natural wonders don't end there.
At Tembeling Beach and Forest, find another one of Bali's most photographed secret spots where two beach rock pools sit off the beach and the color of their waters is just dreamy.
If you grew up watching the Teletubbies show, you might feel as if you're walking in Teletubbie land across the sloping green hills, nicknamed Bukit Teletubbies because of their uncanny resemblance.
Or enjoy a hike up Banah Cliffs and spot the hole-in-the-wall cliff right in front.
For something unusual, on the west side of Nusa Penida is Pura Palung, appropriately given the nickname Car Temple because unusually, two temple stupas are topped with car shrines!
Just like Nusa Lembongan, there are plenty of scuba diving opportunities, specifically around Crystal Bay and Manta Point (where you can specifically deep dive among giant mantas).
If you're not amped on getting wet, take a leisurely boat tour around Nusa Penida stopping off at its best beaches and natural attractions.
34 – Consider this fantastic dining option, Rock Bar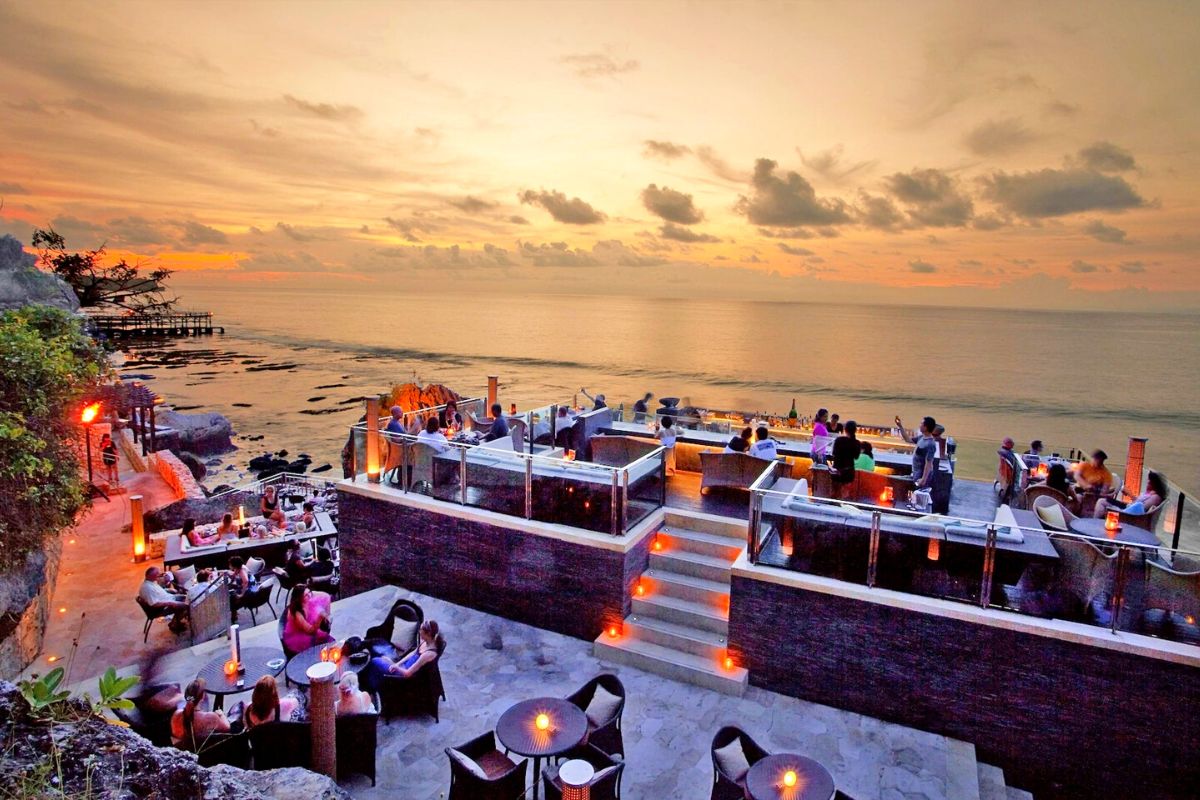 Rock Bar isn't only one of the vibiest beach bars in Bali, it also offers one of the best spots around the island to enjoy sundowners at sunset hour.
Sitting on the edge of the rocks overseeing the ocean below in the Jimbaran district, it's topped many international lists and been awarded for its world-class venue.
Feast on the freshest seafood and sip on signature cocktails, and when the stars come out to play, DJs take to the decks in the evening spinning out funky tunes.
Sitting 14 meters above the sea, the views below you and in front are stunning.
The Rock Bar is located at the luxury AYANA Resort and Spa, and there is a dress code for the bar.
35 – Enjoy an insightful and delicious food tour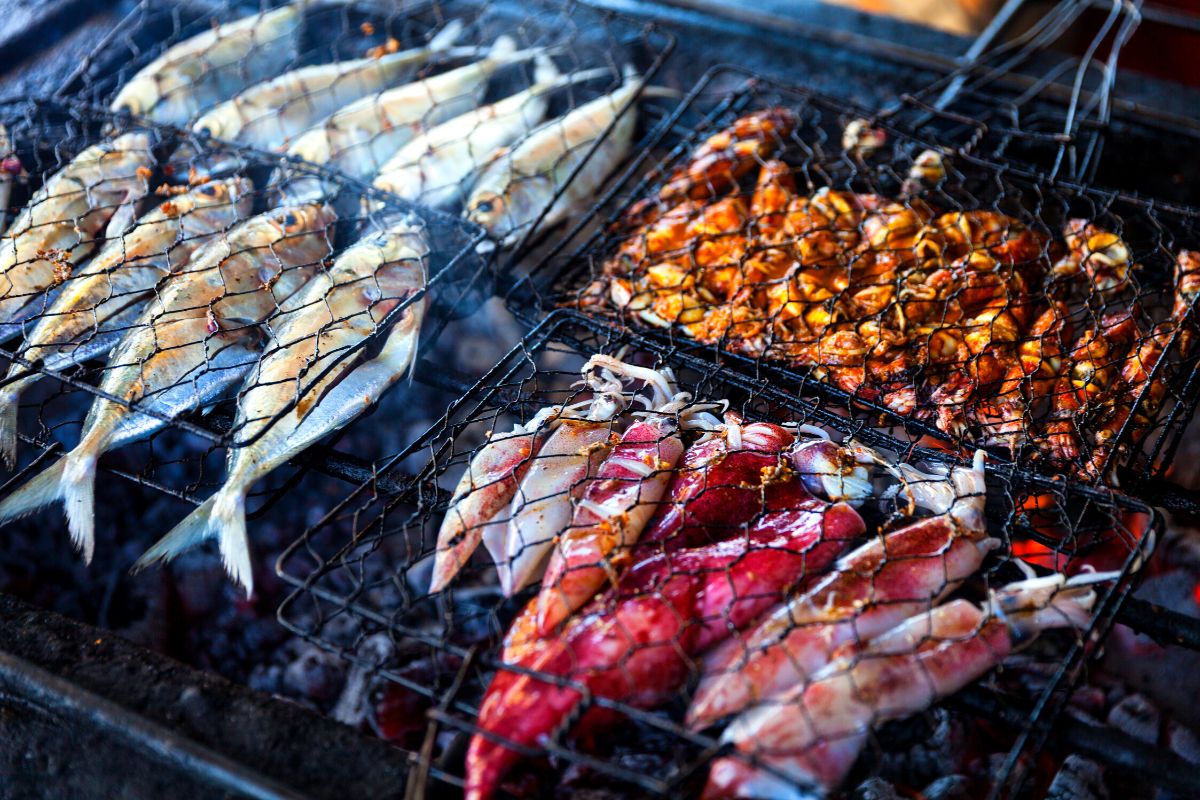 Some of Indonesia's most iconic dishes have made a name for themselves globally, like Nasi goreng (rice topped with a fried egg) and chicken satay.
Choose between a full-day or half-day culinary extravaganza during a food tour in Bali.
If you spend the entire day on a foodie tour, venture through to local villages and rice fields and learn about the cultivation of rice along the way.
Stop off at a coconut plantation, picking fresh coconuts or visit a coffee farm for coffee tastings and to learn about traditional Indonesian coffee, Kopi Luwak.
During a half-day trip, opt for a private cooking class in the middle of the forest in Ubud.
If you're not keen on cooking and only want to enjoy the eating, take a private street food tour which includes over 10 different tastings of iconic Balinese dishes.
Taste Indonesia's most-loved street foods during a street food tour, which you can do during the day or night time.
36 – See how to live a simpler lifestyle at the Green Village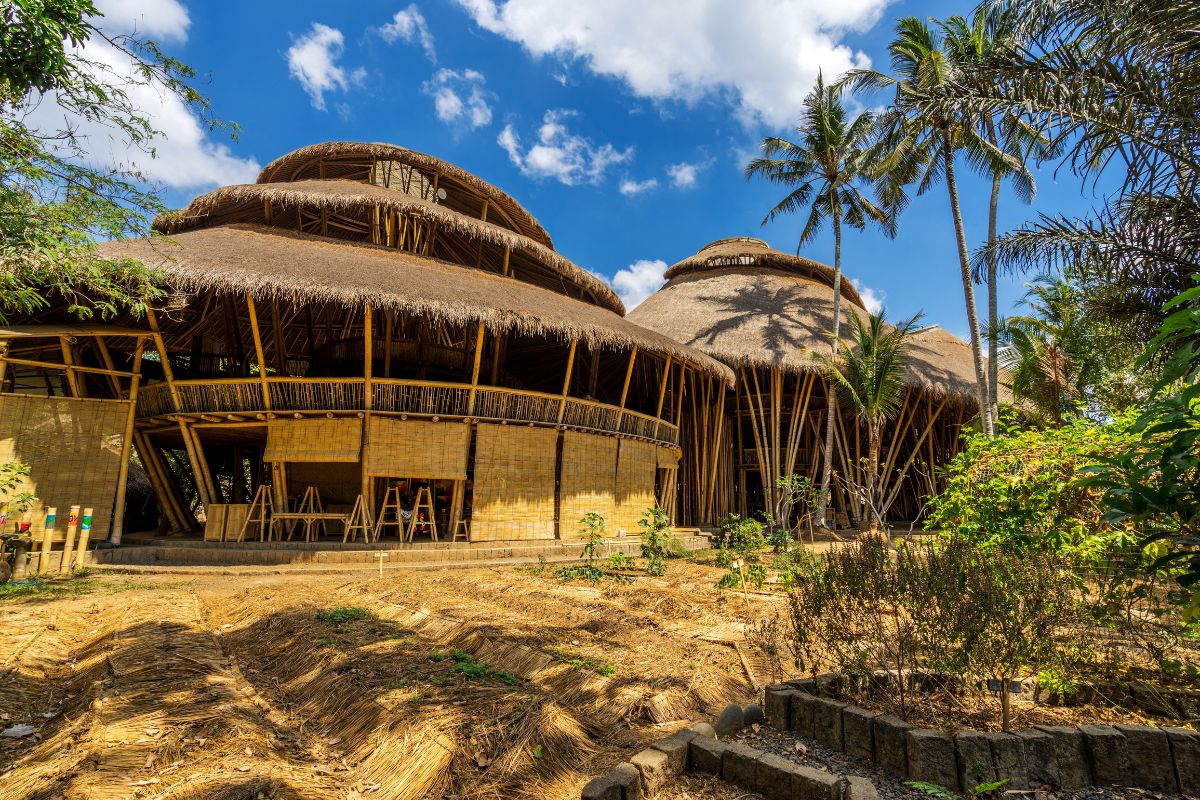 There should really be more initiatives in our world like the Green Village located in the Badung Regency.
Run by people from around the globe and from various walks of life, the Green Village is a community seeking to live in harmony with nature or to go back to simpler times.
The famous Green School is nearby too, promoting education taught through permaculture learning and many travelers come to teach here.
The village is a collective of bamboo houses where the community members live and stay, and every individual has their own role that contributes in some sort of way to the overall running of the eco-village.
Visiting the Green Village for the day, you can take a walking tour around, visiting some of the community-based living spaces to gain an understanding of how things run.
During the tour, you will have the opportunity to explore the bamboo houses and villas which all sport individual architectural designs and structures.
37 – Visit the bamboo village, Penglipuran Village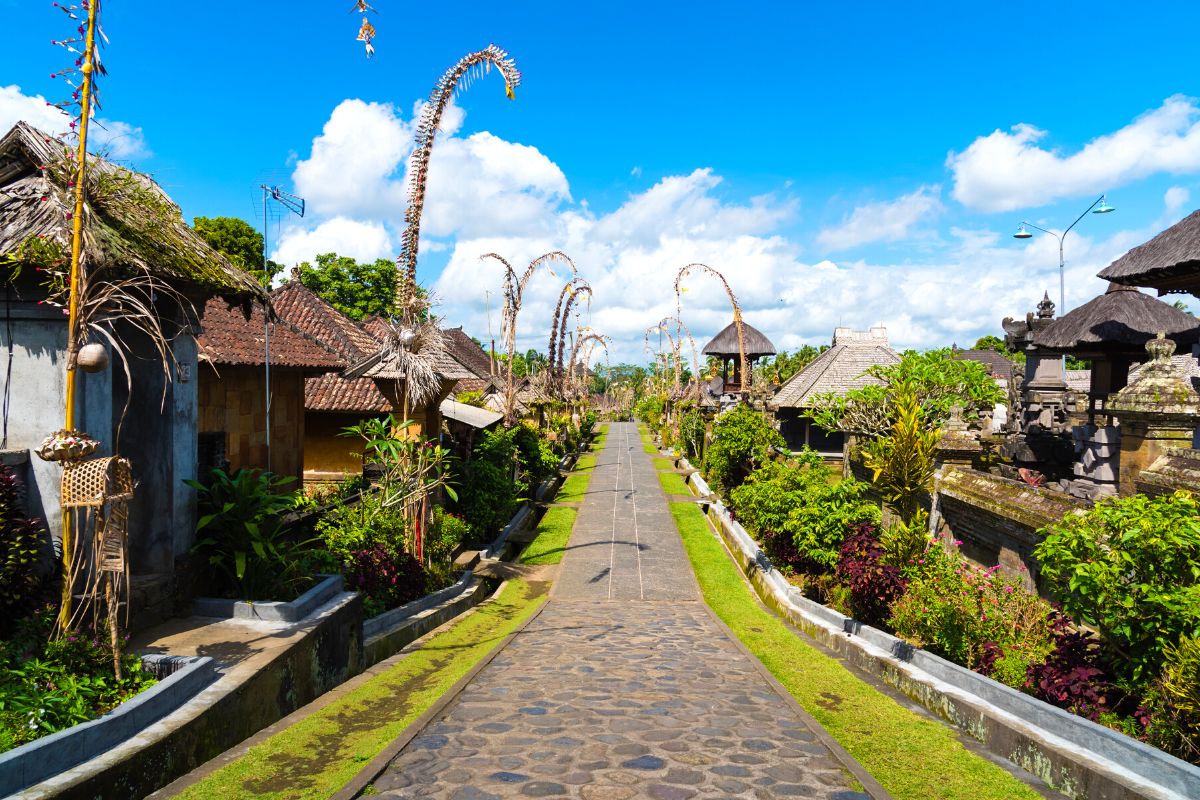 Another village that makes use of one of Indonesia's most-used materials, Penglipuran Village is a local village in Bali in the Bangli Regency — and all the houses are made solely from bamboo.
Its unique location on the island is considered the real highlands of Bali as this region is completely landlocked, with no ocean in sight.
Spend a few hours mosey around, stopping to chat with the locals and get a glimpse of how everyday life runs.
Find yourself admiring the picturesque village, which has proudly been listed as one of the world's cleanest villages.
In fact, it's one of the first things that stands out here and the absence of litter is super noticeable.
Any trash that is disposed of in the designated-bins-only, is then systemized by the local community, and all organic matter is reused and turned into fertilizers for example.
You can spend the day at Penglipuran Village, or accommodation options are available too for overnight visitors, including camping, a guest house and a homestay.
Choose from a range of activities such as a traditional cooking class or for something active, there are hiking and cycle trails.
While in the area, visit the Kintamani countryside, a 30-minute drive away.
38 – Easily spend morning to night at vibey La Brisa Bali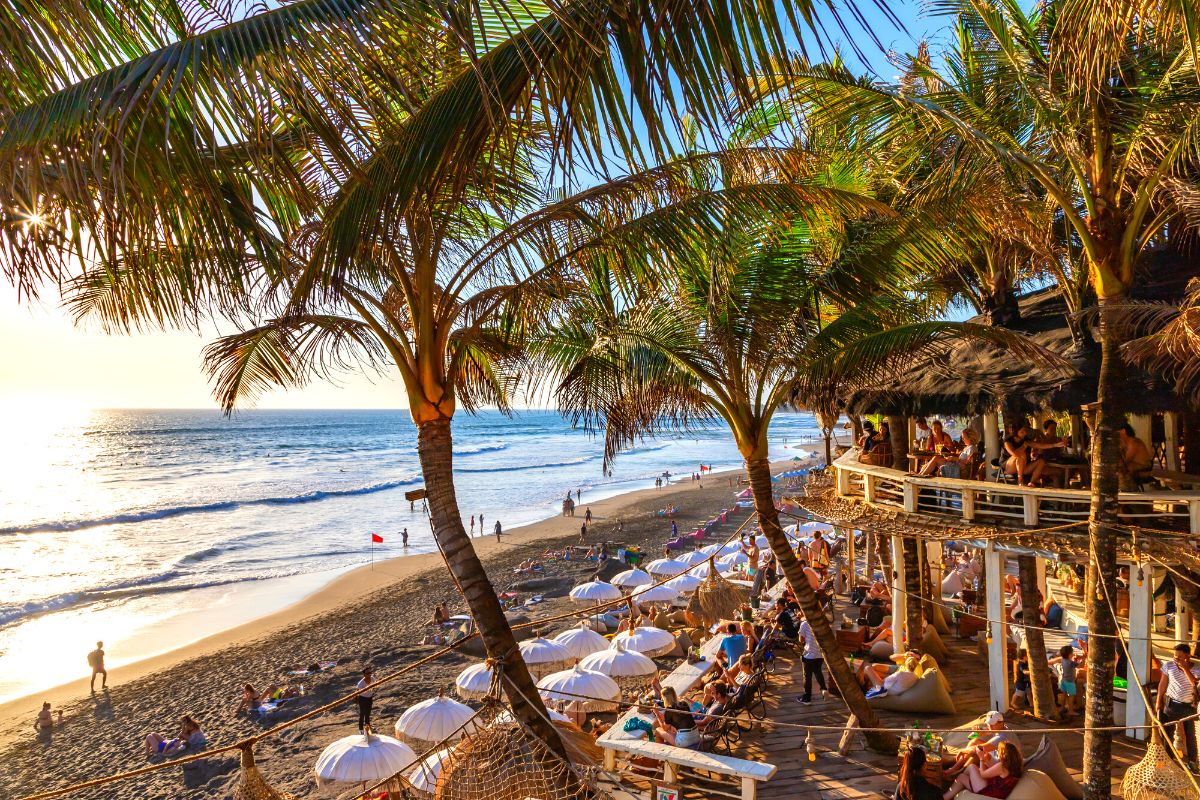 Talk about a stunning beach bar, La Brisa Bali on Bali's iconic Echo Beach is one of the island's hot spots … and for good reason.
The bar is constructed entirely out of the wood of 500 old fisherman boats and other natural materials.
Sit back with a cocktail in hand under white Balinese umbrellas, and take in the stunning views during sunset, which dips off the ocean in front of you.
After all, the entire setup is built right on the sands.
Enjoy a fresh seafood lunch or dinner, and La Brisa Bali is open for morning service too.
If you're around on the weekends, arrive at its Sunday Market for a round of shopping.
Surrounded by tropical palms and surfers shredding waves, it's the epitome of what travelers imagine Bali to be.
39 – Feel your heart racing during canyoning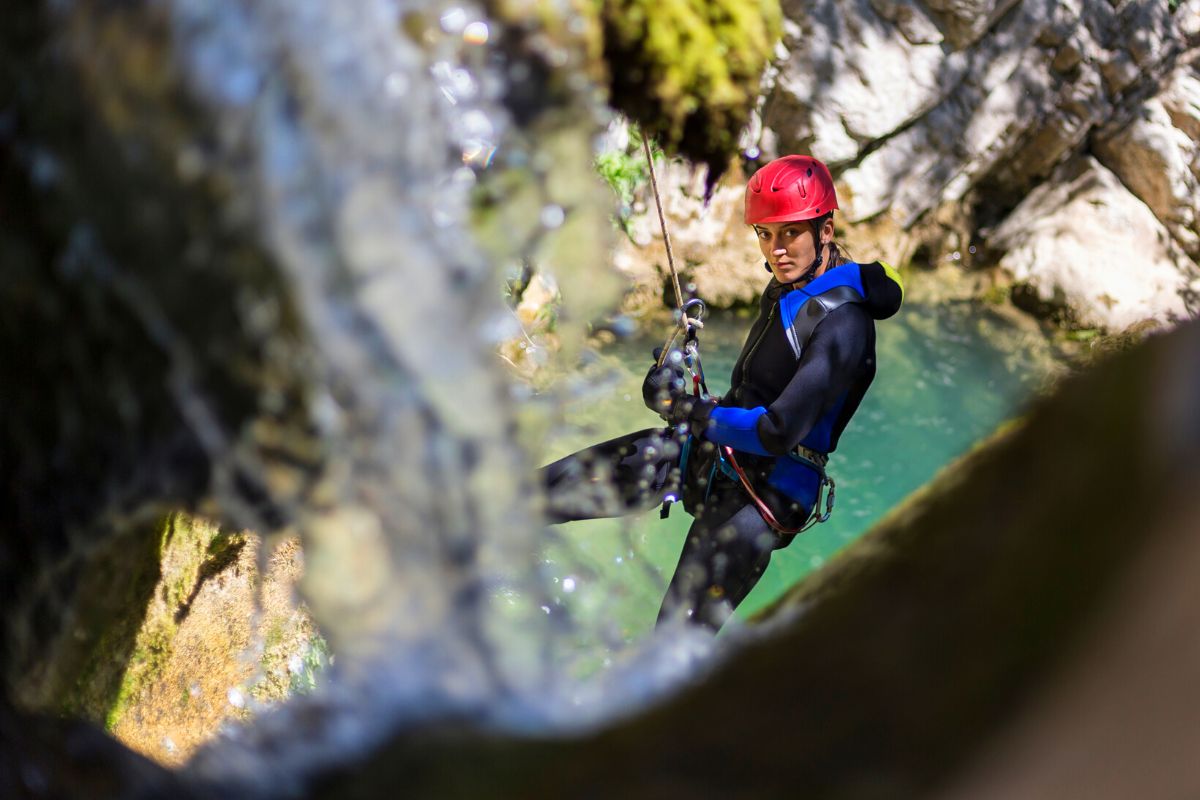 Littered with so many waterfalls, it only makes sense that the canyoning experiences in Bali are amazing, one of the best things to do in Bali for adrenaline seekers.
Thanks to its abundance, there are multiple types of canyoning adventures to choose from, and ones that suit varying levels with different locations.
In northern Bali, try out the Maboya Canyon filled with exciting abseils and jumps, and this trail is recommended for more experienced canyon abseilers.
Even more slightly challenging than the Maboya Canyon is the Samba Canyon in Ubud and it's another ravine suitable for advanced canyoning enthusiasts.
If it's your first time on the ropes, then book a canyoning adventure at Alam Canyon.
There are different parts to the gorge and you can choose to make your way down the top or bottom sections.
All canyoning tours include a briefing and short lesson about how to maneuver your way down the canyon and the ropes, as well as useful hand signals that may be required during the excursion.
40 – Have breakfast among Orangutans at the Bali Zoo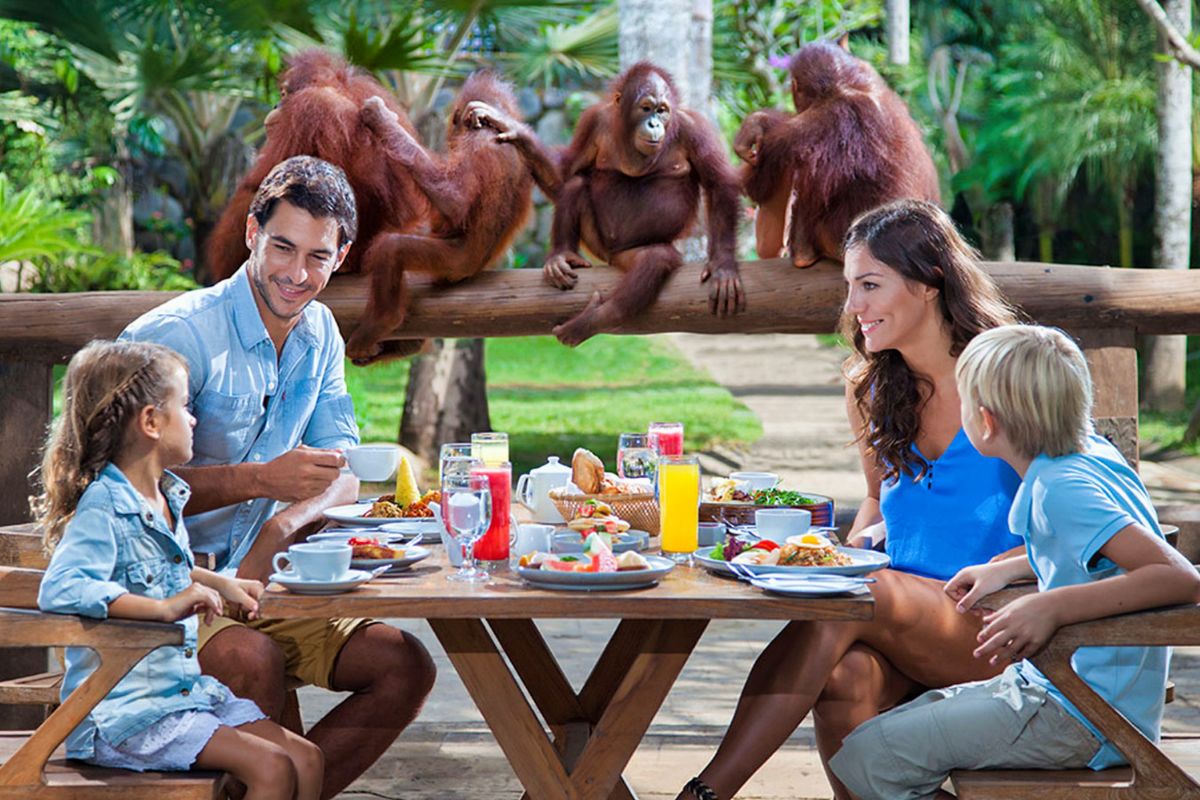 The Bali Zoo is not just home to around 500 animals, including many African wildlife species, but the zoological park offers guests once-in-a-lifetime experiences.
Unlike many zoos, the animals are left to roam freely and are in enclosures created to resemble their natural habitats.
With waterways, rockery, grass plains and jungle scapes look out for African lions, False Gharial Crocodiles, Agile Gibbons, Bengal Tigers, Sun Bears and so many more magnificent creatures.
Have the chance to get up close and personal with the ellies too, and their Elephant Mud Fun half-day package lets you interact with the elephants in their natural environment — plus it's educational.
For something extraordinary, book their 'Breakfast with Orangutans' special.
An interactive cafe has been set up near the Orangutan area and whilst enjoying your brekkie, the great apes roam on by.
Learn facts about the intelligent animals, as well as the other animals at the zoo.
If traveling here with the kids, don't miss the Petting Zoo, and there's also a small water playground, Jungle Splash.
41 – Tick off (at least) one of Bali's jungle swings off the bucket list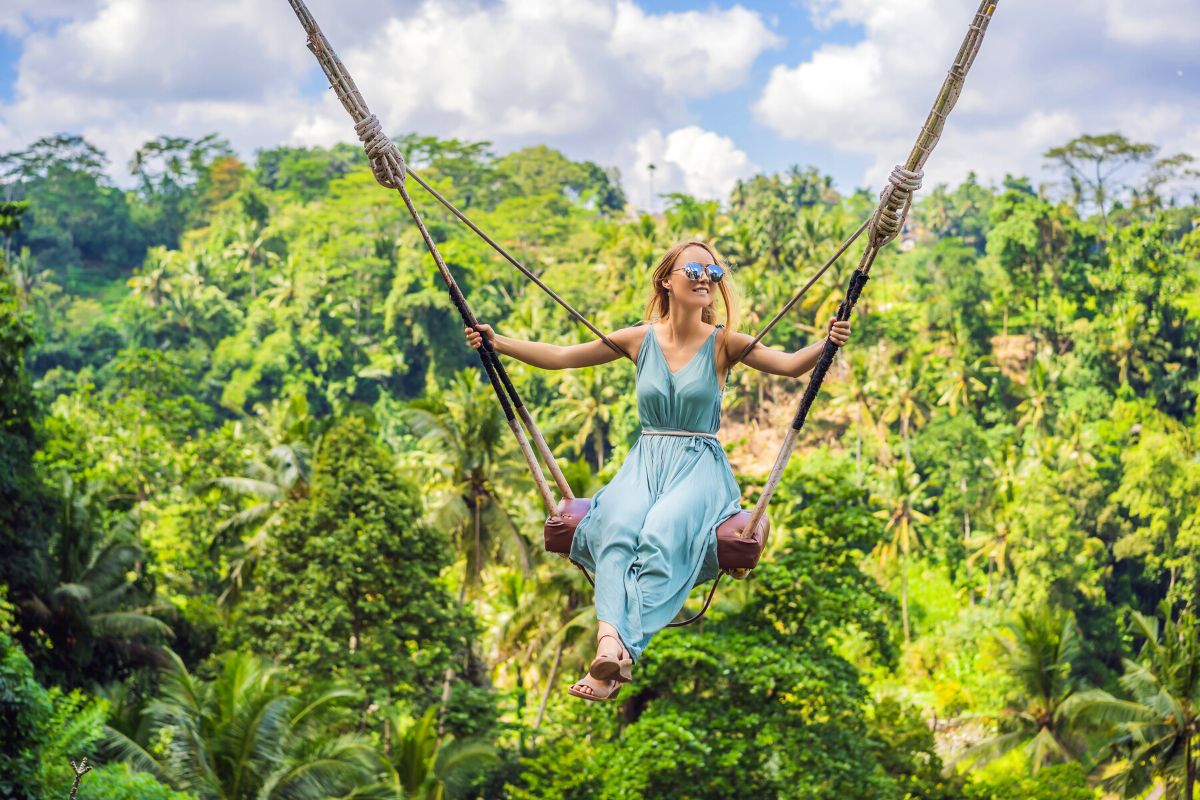 Bali made jungle swings a thing on social media some years ago, before the rest of Southeast Asia and then everywhere else followed suit.
You've probably seen at least one or two of the island's most iconic swings on Instagram feeds, reels and stories.
Bali Swing was the very first of its kind, the original you could say, and then all the rest began popping up.
With views over a river and forestry of Palms, there isn't one but multiple different swings to snap a pic in front.
Wanagiri Hidden Hills boasts another iconic insta-spot overlooking Lake Buyan.
There are also nest swings to hop into and take photos with here, which is especially popular among couples.
Heading to the gorgeous Tegalalang Rice Terraces, take a photo mid-air in front of unending green paddies for that quintessential Bali moment.
The Tegalalang Rice Terrace Swing sits between two Palm trees which looks extra cool in photos, and the Uma Pakel Swing is also at the rice terraces.
This swing is built on the edge of a cliff and provides views of the rice terraces.
Located in lush Ubud, the swing at Zen Hideaway swoops over a tropical jungle and waterfall with the Agung River below you.
Unlike many of the Bali swings around, the one at Tegenungan waterfall doesn't start from high above, instead, it's right in front of the fall's drop … and looks insane as a background!
42 – Spend the day at the Bukit Peninsula beaches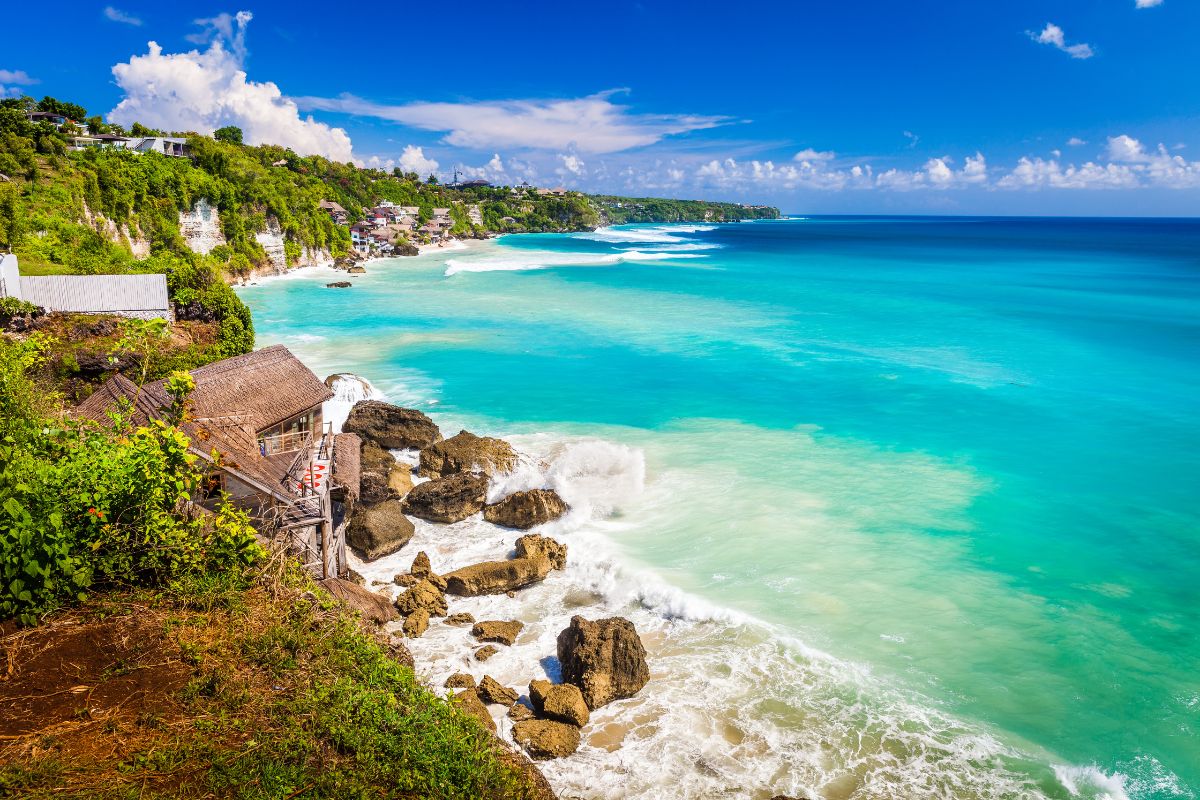 Getting familiar with Bali, the Bukit Peninsula is located on the south side of the island and includes areas like Nusa Dua, Uluwatu and Tanjung Benoa.
The landscapes in this part of Bali are quite different from the rest …
More arid, barren, wild, and lined with drop cliffs over the ocean, the area around these parts is a surfing hotspot.
Whether looking to ride some waves or spend the day chilling, there are incredible beaches in the Bukit Peninsula.
Dubbed a surfers paradise, Bingin Beach is by far the most popular. You'll find many oceanfront stays here, a few dining spots and epic surf conditions.
The beach is also suitable for swimming, snorkeling and chilling out.
Situated on the northwest of Bukit Peninsula, Padang Padang Beach is a small bay boasting crystal clear waters.
But don't be fooled by its beauty, the beach has been nicknamed the "Balinese Pipeline" because of its big waves.
Balangan Beach is an ideal swimming beach, and if you're looking for a place to learn to surf, the conditions are great here for beginners.
Both Uluwatu Beach and Suluban Beach offer unique settings which make for some epic surfing as well.
If you're not a surfer, no worries, both beaches are great for exploring.
For a full-on beach day, Dreamland Beach (renamed New Kuta Beach), is great for families, friends and couples.
Spend the morning building sandcastles, snorkeling, and splashing around in the waves and there are some accommodation options.
43 – Try out the Air Panas Banjar Hot Spring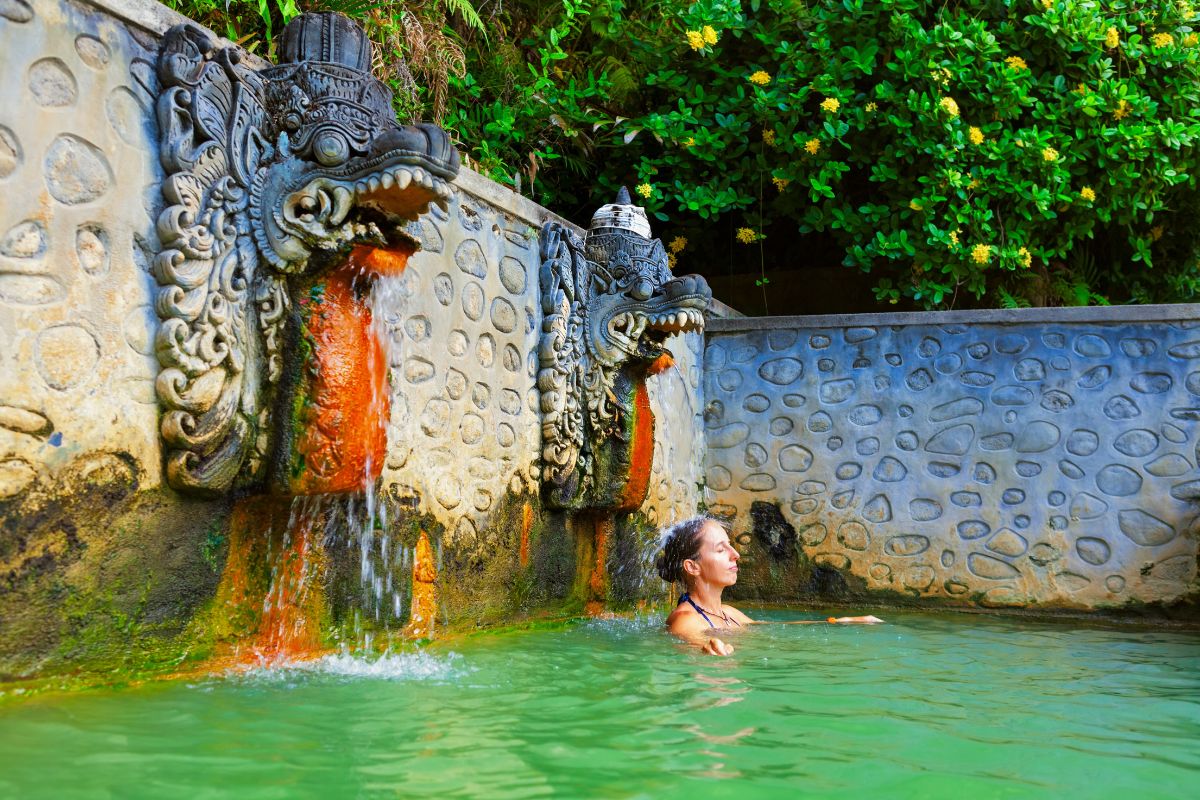 Take an hour or two at Air Panas Banjar Hot Spring rejuvenating your body, mind and soul.
Hot springs have been used for centuries for their magnificent healing properties and help to detox your skin and body.
At Banjar Hot Spring, there are three pools within the complex which are built around the main spring.
The water reaches temperatures of up to 38 degrees celsius and has a 26% sulfur content.
(Sulphate helps to keep hair and nails healthy, and also acts as a pain reliever.)
The main swimming pool reaches two meters deep, and the Children's Pool's depth is one meter.
The third pool has three water spouts carved from stone in the shape of the mythical Naga (often associated with water, protection and spirituality).
Sitting in front of them, they act as a natural massage.
Leave feeling even more relaxed after your hot spring dip when you try a traditional massage and body scrub, which is available on-site.
There is also a restaurant that serves a mix of Indonesian and western bites.
Some other benefits of bathing in a hot spring include promotion of blood circulation and better sleep, anti-inflammatory properties, helps to reduce stress and can help purify your skin.
44 – Choose a fun and exciting Jeep tour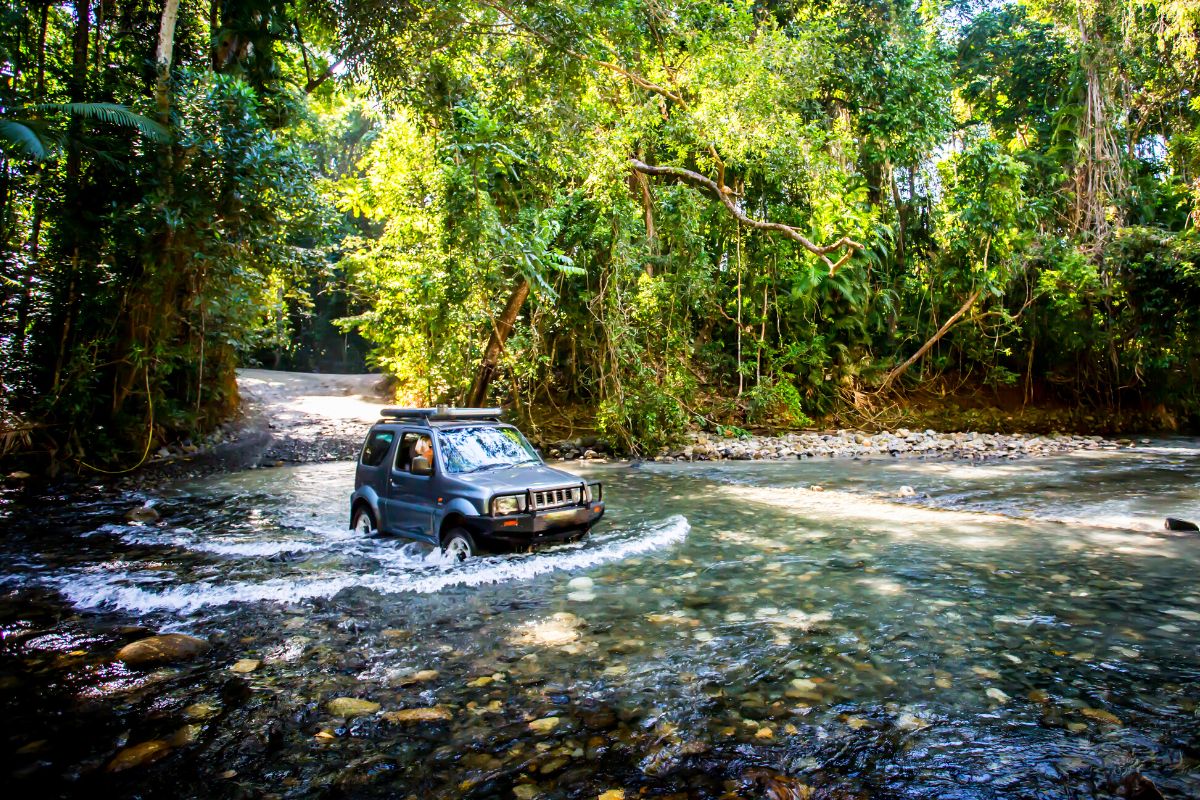 What better way to travel across the island and its ocean and jungle landscapes than via an exhilarating jeep tour?
Head to volcanic Mount Batur and cruise across its terrain, or hop into your vintage jeep and whizz through the rice fields.
Many tours travel to must-see cultural Balinese sights, including temples and traditional villages.
Enjoy a full day out in the countryside, crossing terraces and stopping off for activities during the drive.
Dine at a local restaurant overlooking Bratan Lake, take a jungle walk, and canoe across Lake Tamblingan surrounded by rolling hills.
Zooting across muddy pathways and through canopies of trees, it's an exciting way to see Bali.
45 – Hang out at Finns Beach Club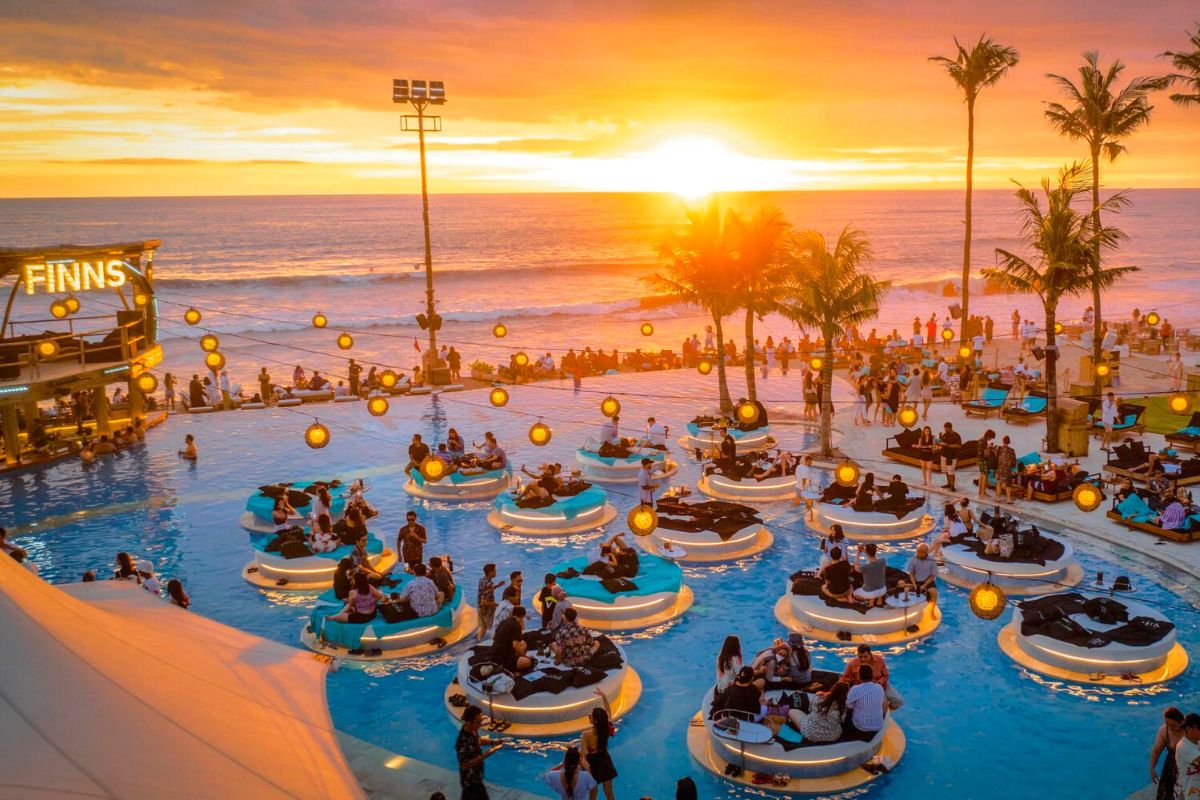 Listed as one of Southeast Asia's best beach clubs, Finns Beach Club is a top spot in Bali to spend the day.
Sporting not one, not two, but four pools and an impressive seven bars, travelers, locals and expats love to frequent the vibey setting.
Located in Canggu (dubbed as one of Bali's hipster neighborhoods), the crowds that fill Finns arrive for a good time.
The main massive pool sits right on the beach directly facing the ocean and both day and night, DJs bust out groovy songs.
(They often hold raving parties and events.)
Opt to lounge about on the sand on loungers, or around the pool under a cabana or one of their 'Party Beds'.
You'll find a designated VIP area, as well as certain spaces that are for adults-only.
With the soft white sands around you, tall Palm trees outstretching above you, and low lanterns dipping across the pools, it acts as the dreamiest sunset location.
46 – Run through the Marigold Fields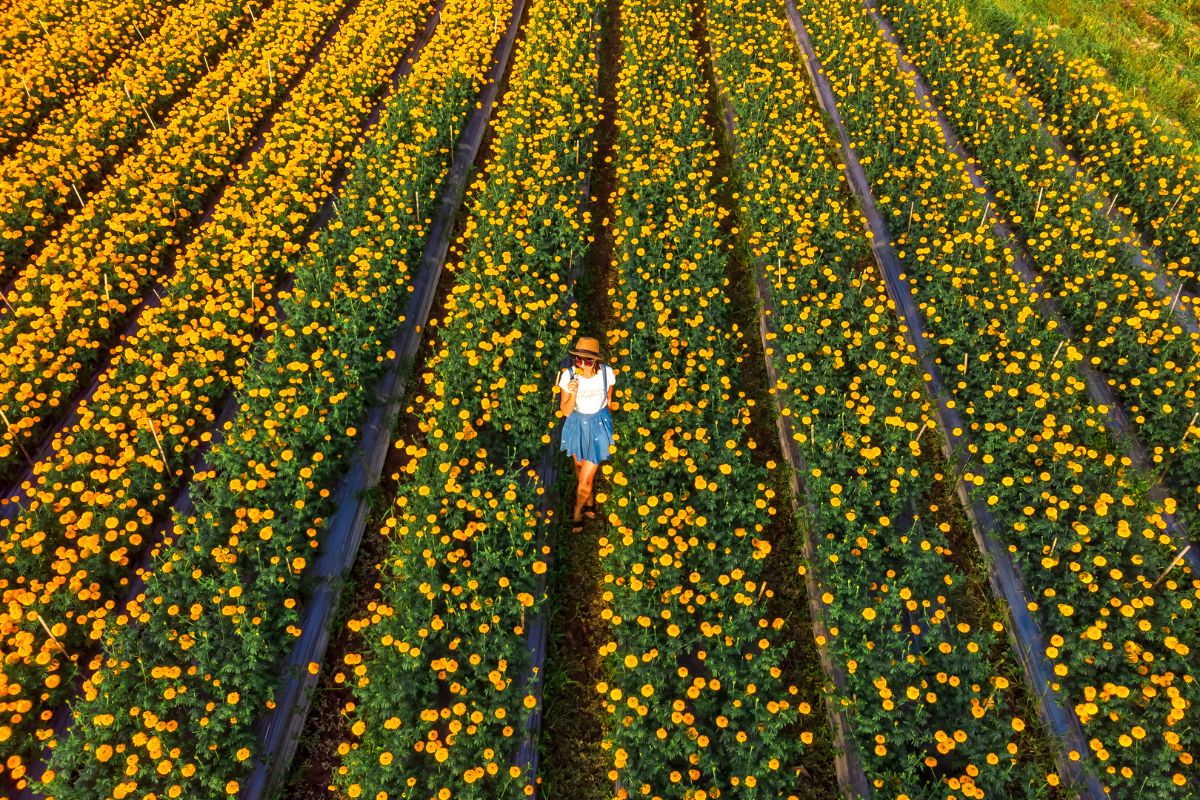 Go frolicking through Marigold Fields in Bali and create whimsical moments captured on film.
Fun fact: Marigolds are considered sacred in Indonesia, and are used for several spiritual and cultural customs.
Bright golden yellow in color, this same color is connected with the Supreme God of Indonesian Hinduism, and Marigolds are used for offerings made by the locals.
You'll spot tons of floral garlands around Bali too, mostly at temples or sold at stalls, made from Marigolds strung together.
Driving across the island, notice the flowers dotting many of the hillsides.
The further inland you go, the more Marigolds you'll see.
In east Bali there are some fields, for example, find Marigold fields at Desa Temukus (Temukus Village).
Visiting the countryside, Petang Marigold Field between Kintamani and  Bedugul has what seems like endless rows of these golden florals.
Take some incredible photos here!
Whilst Marigolds can grow all year round, the best time to see the fields is just before they are harvested and picked, but they're fast growers.
In general, the flower blooms at its fullest in the summer months until early August.
47 – Explore Taman Ayun Temple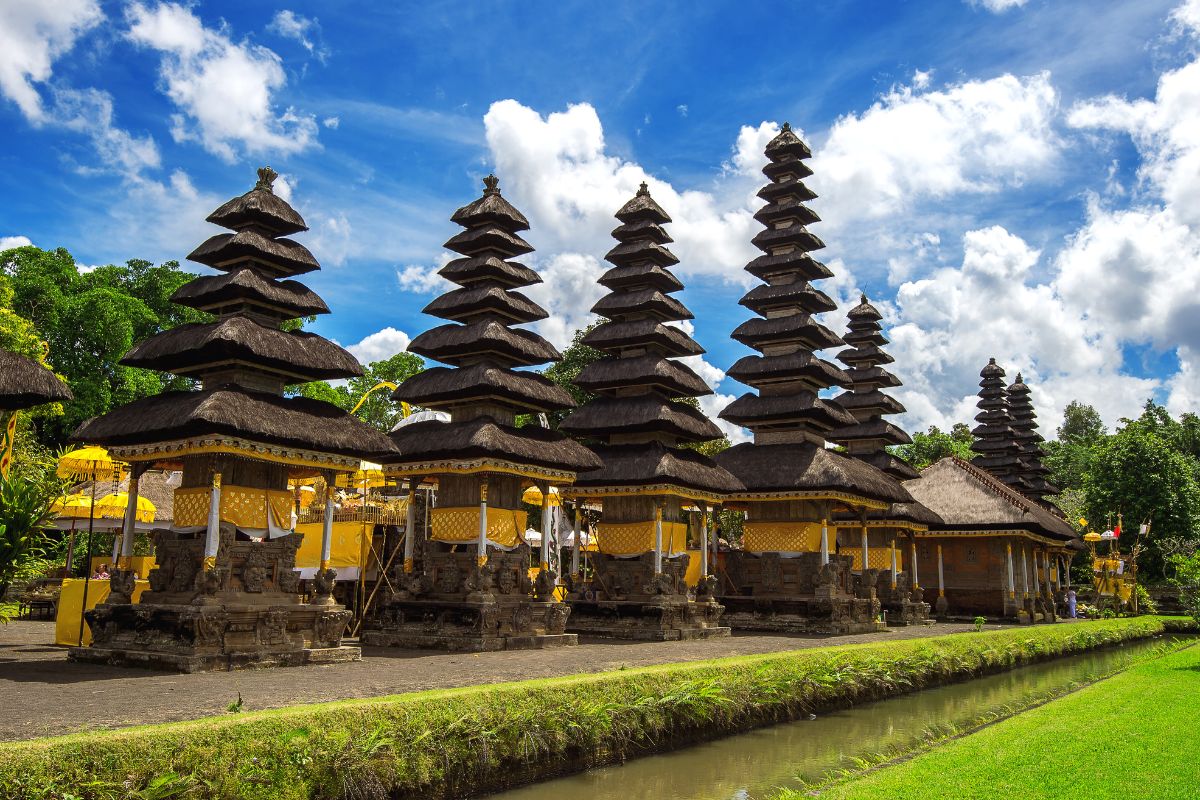 The Taman Ayun Temple is an architectural delight dating back to the 17th century.
In 1632, the temple was originally built only for the ruling royal family of the time, the Mengwi Dynasty (one of Bali's nine original kingdoms) and became known as the family's temple.
The Mengwi King, I Gusti Agung Putu, built the temple to honor his ancestors, and in 1634 the temple complex was finally complete.
Today wander around the perfectly manicured gardens, passing ponds and crossing bridges, and through various courtyards filled with fountains, statues and tiered shrines.
There are a few courtyards to explore, starting with the outer complex courtyard, Jaba.
The second inner courtyard has a beautiful fountain, and the third inner courtyard is the most precious, with the highest ceilings out of them all.
Located near Ubud, it exudes a peaceful atmosphere and it's one of the most visited (and photographed) temple sites in Bali.
48 – If you don't live near the ocean, you have to experience a Water Blow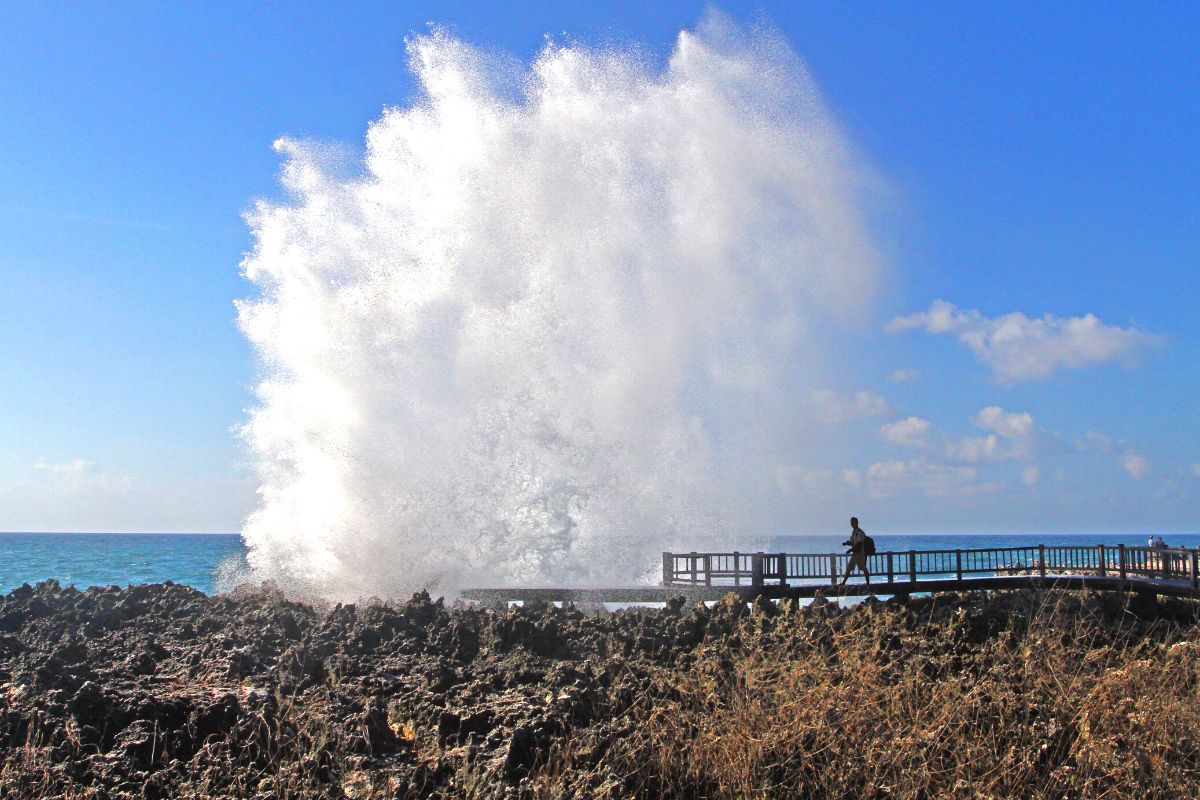 A water blow is a natural phenomenon created by the ocean as it crashes against any sort of giant rock formation.
There's a water blow in Nusa Dua where you'll become entranced as powerful waves swim up to the cliff sides and then suddenly smash against the rocks, creating a waterfall of white foam.
The Water Blow feature is at Nusa Dua Beach in between the sea rocks, and if you're standing very close by to try to take photos, watch out that you don't catch some splashes from the Water Blow.
The best time to visit is during high tide when the waves reach their highest, which also creates the most dramatic effects.
But you have to take real caution when visiting Blow Hole in Nusa Dua, especially at high tide.
It's best recommended to wear clothing you don't mind getting wet.
49 – Forget automated vehicles, go horse riding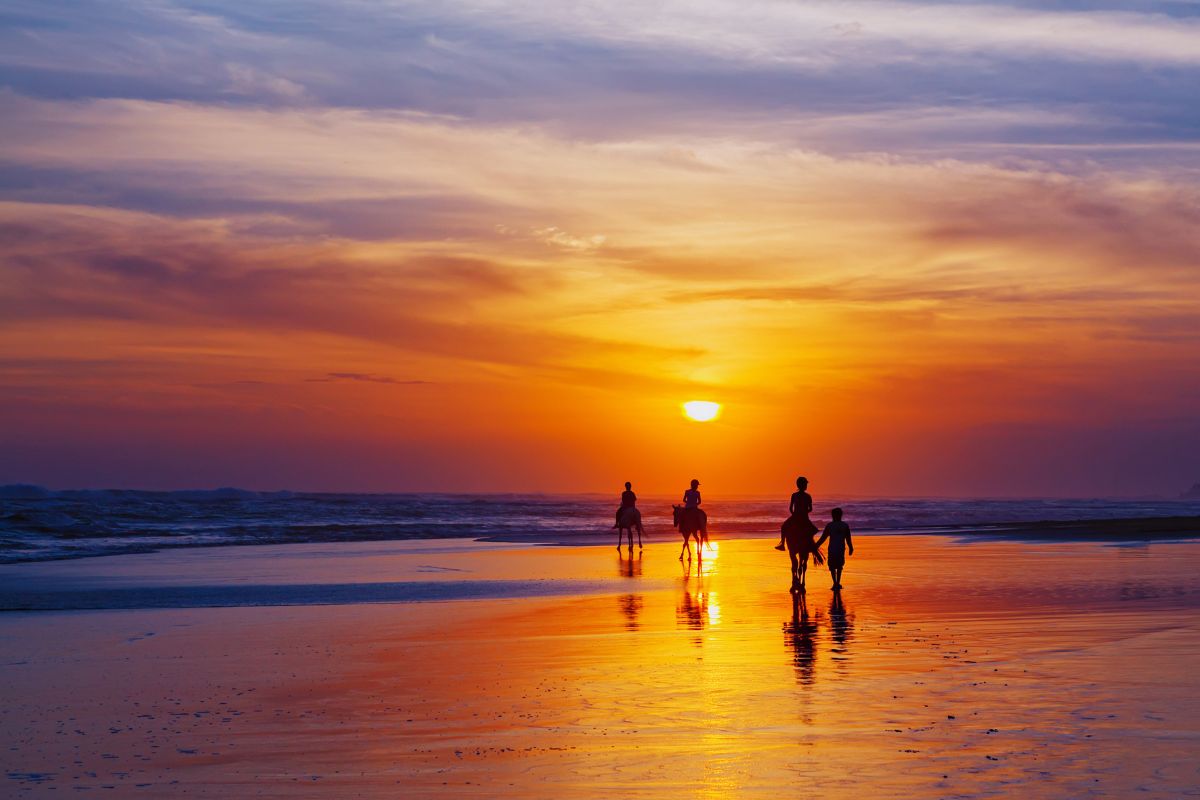 You don't need to be an equestrian to enjoy horse riding in Bali, and the island filled with natural wonders is a beautiful location for a riding experience like no other.
Forget about trotting around a pen or field, head into the jungle and enjoy a breathtaking horse ride to Kanto Lampo Waterfall.
For a classical Balinese moment, take a romantic horseback ride across Seminyak Beach.
Some rides include trekking to more than one destination … Go riding through rice paddies and then head to the beach in Canggu just in time for sunset.
This horseback trip is ideal for couples.
Horse riding in Bali is suitable for adults and children, but do double-check with your tour guide before booking.
50 – Visit the impressive Bajra Sandhi Monument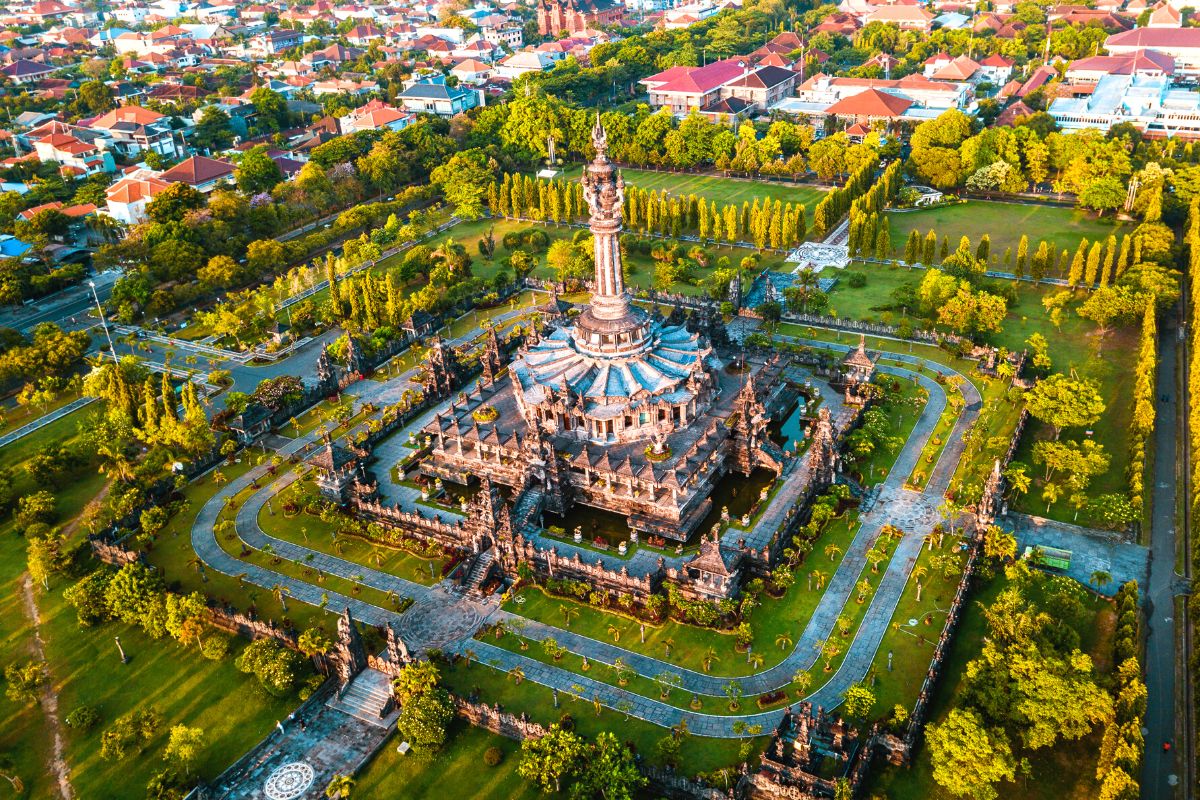 Standing 45 meters tall, the national Bajra Sandhi Monument was built in 1987, however, it only opened officially to the public in 2003.
The historical structure was erected to celebrate Bali's independence from the Dutch back in 1906 and there are certain parts of the monument that depict scenes of the island's past.
Comprising three levels, make your way up Bajra Sandhi's spiral staircase to the very tiptop for panoramic views of Denpasar.
On the ground floor, there is a library, administrative offices, and IAMBali UpSideDown 3D Art Museum is here too.
The second floor is full of exhibits that display Bali's history and past since its beginnings through dioramas and diagram drawings.
All three levels are housed within the monument's main building, Utama Mandala, at the center of Bajra Sandhi.
There is an outer and inner courtyard to explore as well and keep your camera close on hand.
51 – Spot 250 different species at Bali Bird Park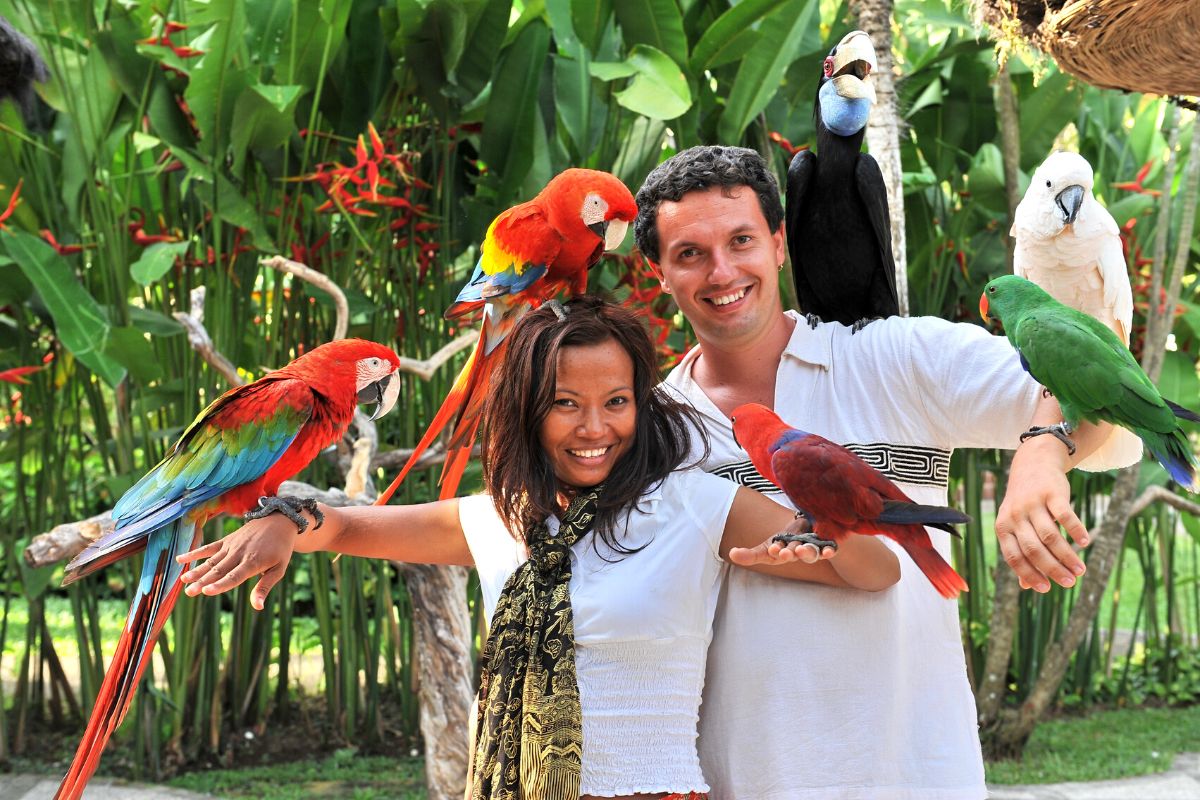 Passionate bird admirers, the Bali Bird Park is home to more than 1,000 winged creatures — don't forget your binoculars!
With a strong focus on wildlife conservation, the park spans a large area and is divided into seven different regions that replicate the different species' natural environments.
At the avian wonderland, you'll find birds from around the world, including South Africa, South America, Borneo, Sumatra, Papua, Java and Bali and exhibitions are organized accordingly.
Stop by the Owl House to witness the cute Barred Eagle Owl with its fluffy ears.
Enjoy one of the park's daily shows or join in feeding time.
Catch a 4D movie about birds at the 4D Theatre, or marvel at magnificent birds of prey during the Basic Instincts show.
Don't miss the free-flight bird show where cockatoos, macaws and stalks fly past to greet you.
Situated in the Gianyar region famous for its natural attractions, there's a natural rainforest enclosure to tour and join a Lory feeding show.
52 – Get ready for the watersports in Benoa
Tanjung Benoa is famous for hosting an overload of watersport activities in Bali due to its calmer ocean with flat waves.
This makes perfect conditions to try out the various aquatic adventures and is suitable for first-timers.
Start with an action-packed jetski ride across the ocean, whizzing across the sea but with your body firmly placed on the vehicle's seat.
If you've always dreamt of parasailing, now is the time to do so in Bali and the sky adventure starts at Tanjung Benoa beach.
Spend six minutes gliding through the air above the ocean for magical moments you'll never forget.
After a short introduction instruction, flyboard above water, and if you're a seasoned flyer, perform tricks through the air on a hydroflighting device.
Flyboards have two boots for you to stand in and then the board is powered by a connected water hose which pumps out water at an intense pressure creating aerodynamics.
Unlike the others, this next venture doesn't take place above the water, instead, try underwater sea walking on the ocean floor.
Using a special helmet that lets you breathe underwater, if you aren't PADI-certified for scuba diving, this is a fantastic alternative.
53 – Choose to walk or cycle Campuhan Ridge
Whilst willowing away the days under the Balinese sunshine on the beach is amazing, if your body is craving exercise, take a scenic walk along the Campuhan Ridge in Ubud.
It's a designated walking trail through Ubud's rolling hillsides, and it's marked with a stone path the entire way.
During the walk, or bicycle ride at Campuhan Ridge, pass local shrines through jungle lands, and at certain parts of the pathway, you can see rice terraces below.
The walk leads to the ancient Pura Gunung Lebah temple which has its origins in the eighth century.
Discover archaic motifs, engravings and intricate stone statues.
Upon arrival, don't be surprised if you see one or two people in meditation; the temple is a popular spot for it thanks to its serene surroundings and location tucked away from the masses.
54 – Now is your chance to try a helicopter tour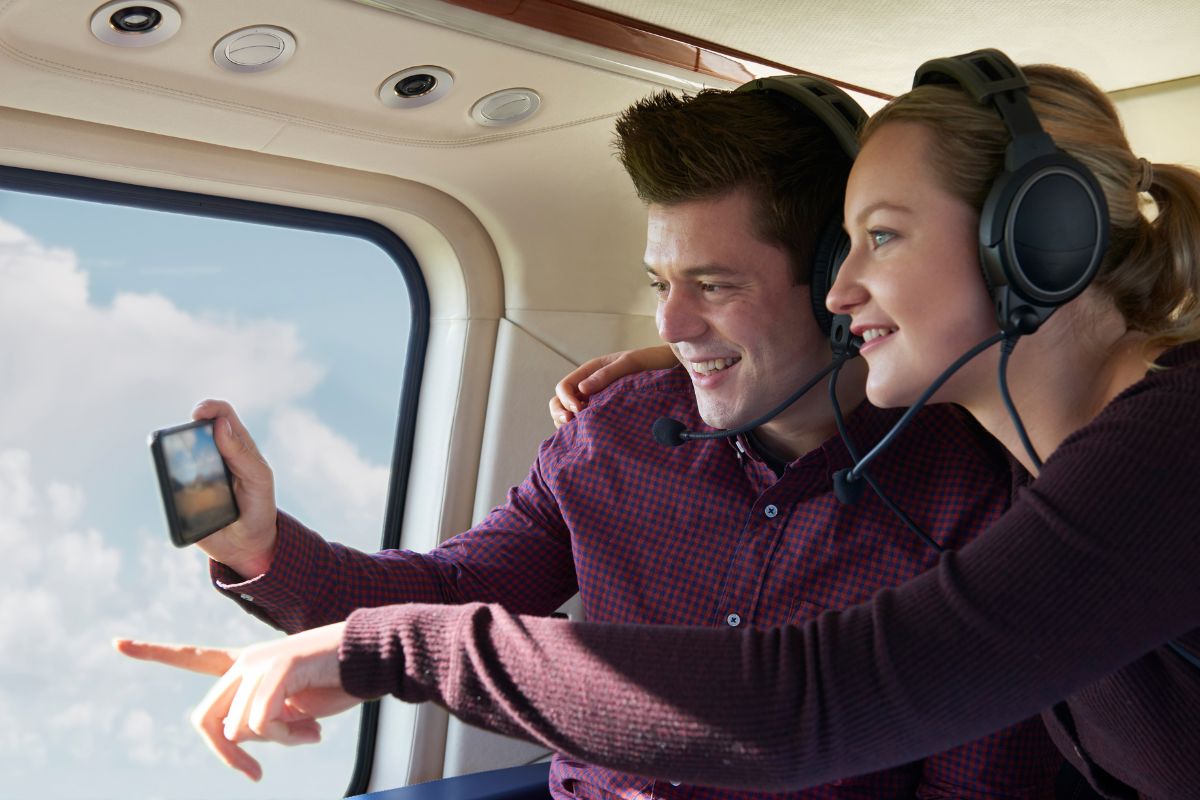 If your time in Bali is limited, cover more ground and experience the island from a different perspective during a helicopter tour.
Air Bali offers guests some of the longest rides and you can choose between various sky routes.
Fly over Seminyak's coastline and cover the famous Tanah Lot Temple.
Another fantastic option is the Three Nusa Island Sky Tour.
Zoom over Nusa Lembongan, Penida and Ceningan before landing back in Bali.
In just one hour, see some of the Nusa Island's most iconic sights like Kelingking Beach.
Home to many volcanos, if you're hesitant to explore one by foot, take a sky tour of Mount Batur instead.
Photographers, this is an excellent idea to capture the most unique angles of the island from above.
55 – Feel cultured leaving Garuda Wisnu Kencana Cultural Park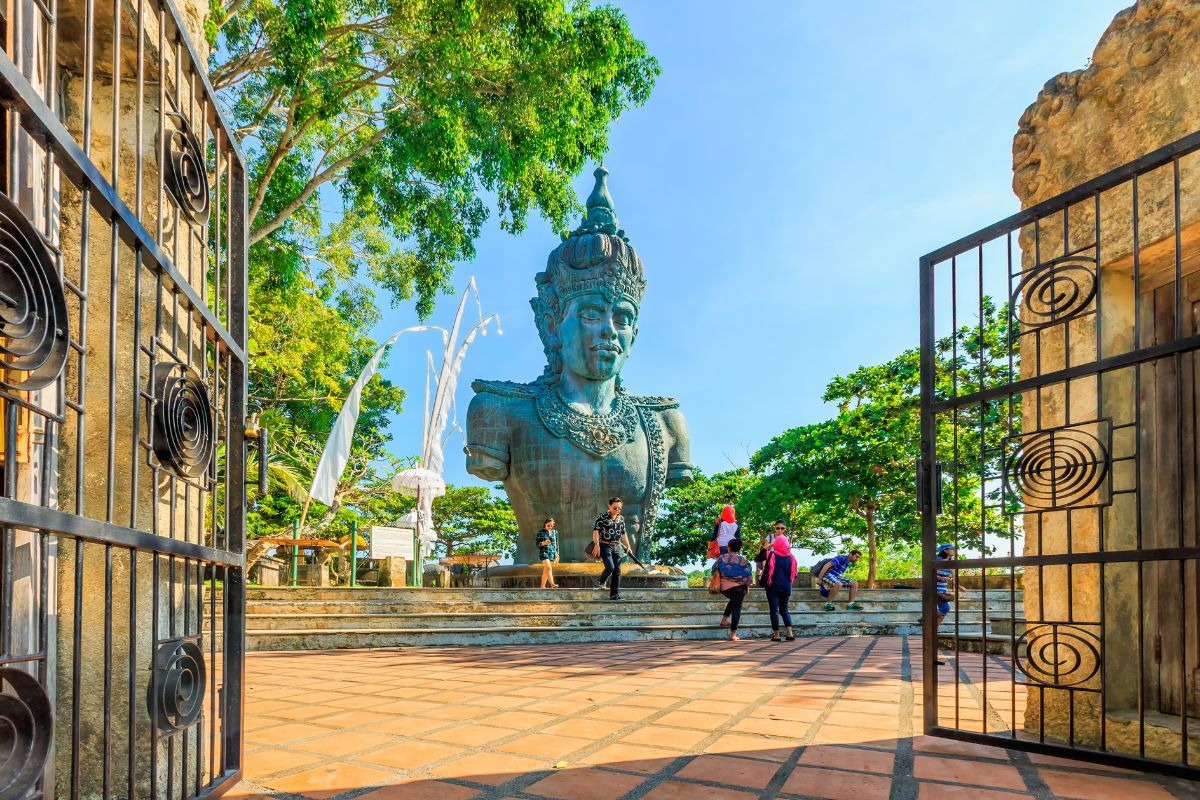 The main attraction of Garuda Wisnu Kencana Cultural Park is the park's whopping 122-meter high statue of the Hindu God, Lord Vishnu and his companion, the spirit eagle Garuda.
Here, Vishnu, also called Wisnu in Indonesia, sits in front of the mythical bird and the Hindu god is known as the protector of the universe.
It's one of Bali's newer historical features, completed and open to visitors only in 2018.
The Garuda Wisnu Kencana statue is constructed entirely from brass and copper.
Not only the figurine to explore, there are also different plazas within the complex to visit.
A fun way to do so is via segway tour, which the cultural park offers.
Instead of covering the different sections on foot, check out the Lotus Pond, Kura-Kura Plaza, Tirtha Agung, Garuda Plaza and Wisnu Plaza on a segway.
Don't miss one of the park's live traditional performances either at the Lotus Pond or the outdoor amphitheater.
56 – Grab a drink and have a good time at Single Fin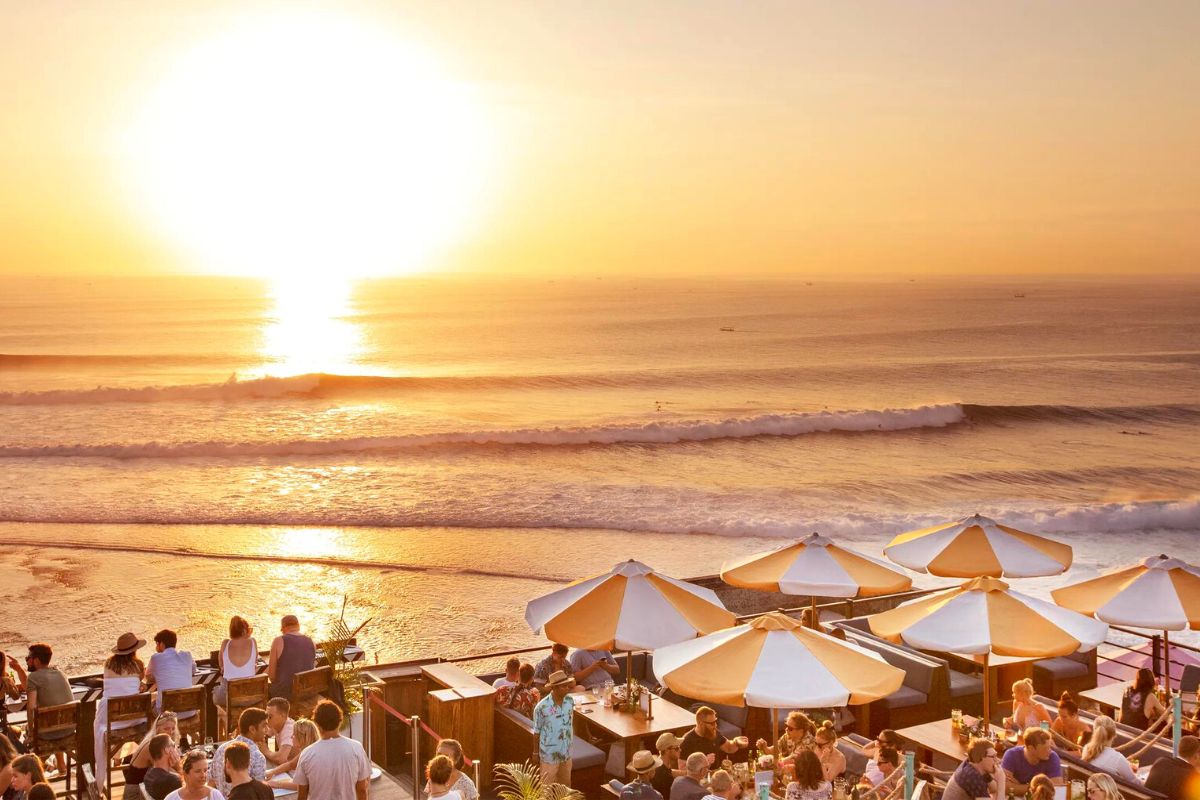 Uluwatu is one of Bali's biggest surf hubs and Single Fin beach bar is always bustling and lively, filled with surfers or travelers admiring the action below.
Famous for its incredible views, the bar is built on the rocks overlooking Uluwatu Beach and its cliffside pool is another famed Instagram hot spot.
As the sun begins to drop over the ocean in the late afternoon, knock back one of their specialty cocktails, like the Rose Frappe or Good Vibrations drinks, or order one of their jugs to get really festive.
On the menu snack on tacos or order mains like a local staple, Nasi Goreng, or a wood-fired pizza.
On some nights, there are live DJs or musical acts to enjoy.
57 – Discover ancient architecture at Besakih Temple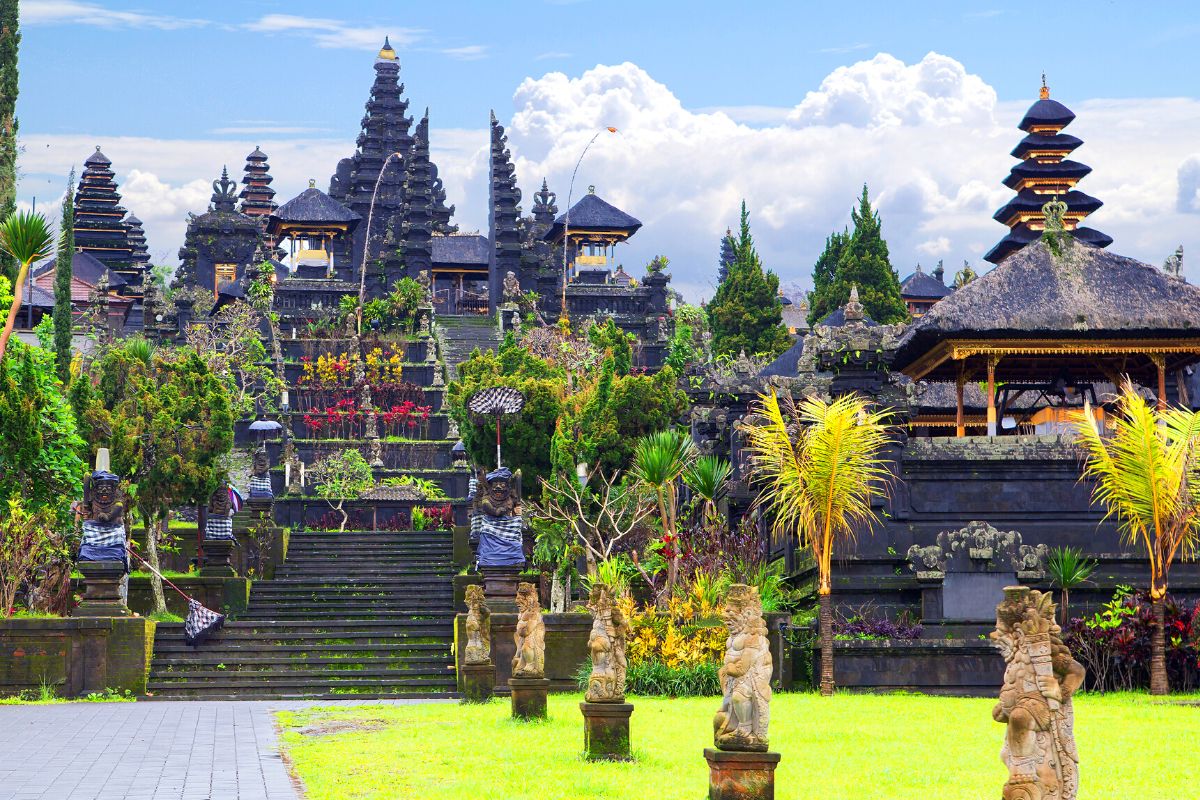 1,000-year-old Besakih Temple is often referred to as the "mother temple" of Bali and as one of the oldest, it's one of the most historical spiritual grounds to check out.
To reach the holy complex, make your way to Mount Agung where its located.
Perched within the hillsides and with scenes of Mount Agung around you, the atmosphere feels really special … you can feel the magic in the air.
There are more than 20 main temples, and each one is built on a different level.
Constructed at different times, the first temples were built around the 10th century, and others date to the 14th century.
Discover 86 shrines around the complex too, which are dedicated to varying Hindu deities, gods and goddesses.
If you're fascinated by Hindu mythology and teachings, Besakih is a masterpiece in celebrating and showcasing this.
When the clouds roll down slowly from the peaks of Mount Agung, it creates the most breathtaking backdrop that will leave you gasping.
58 – Art fans, check out Agung Rai Museum of Art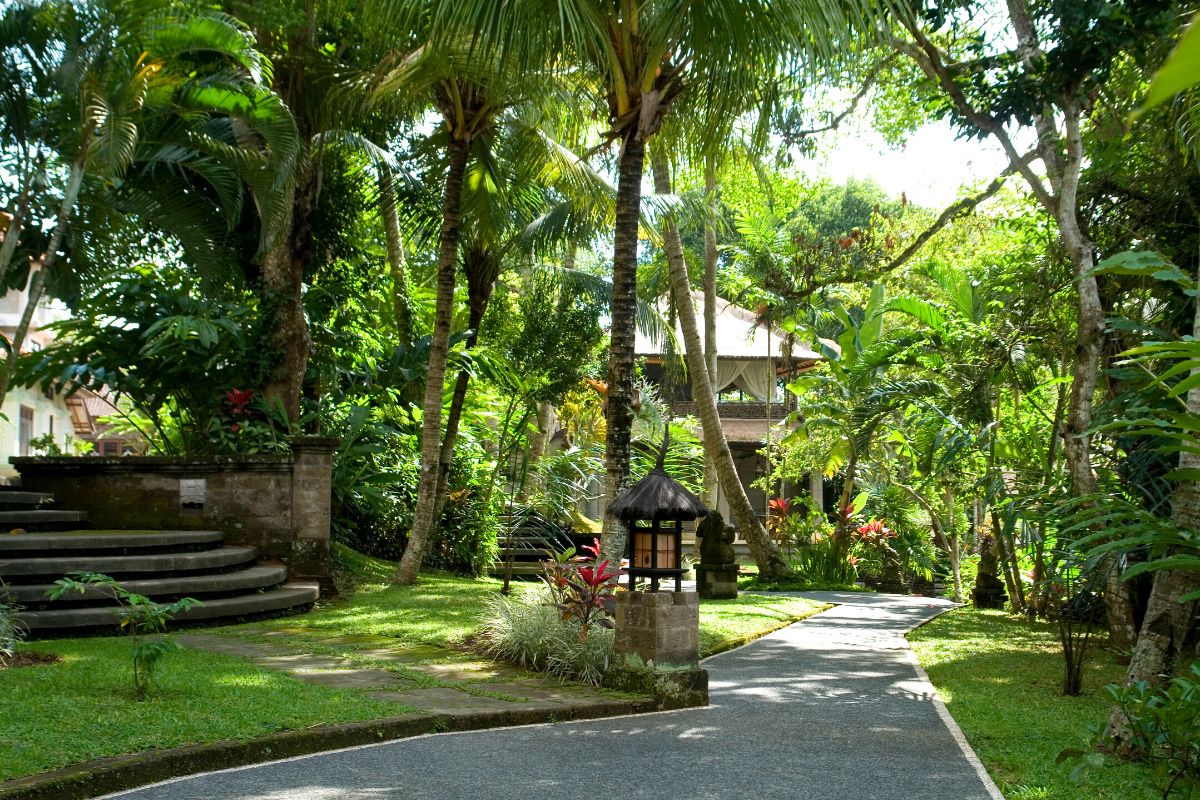 The draw to Bali is the fact that it offers something for all types of travelers, and among its plethora of cultural sightseeing, make sure to visit the Agung Rai Museum of Art (ARMA Museum).
Named after the founder, Agung Rai, the art museum hosts exhibitions, displays, artworks and ancient crafts that have been seen throughout Bali's history.
It highlights the island's many different types of art forms, from performance arts like dance and song to showcasing works like paintings and sculpture.
Open since 1986, ARMA exhibits work from both local and international artists who have lived in Bali.
There are permanent displays celebrating famous artists such as Gusti Nyoman Lempad and Walter Spies.
Apart from the exhibitions, there are activities to join too.
Partake in a painting or dance class, watch a theatrical performance, or visit the library and museum book shop.
59 – Go paragliding at Timbis Beach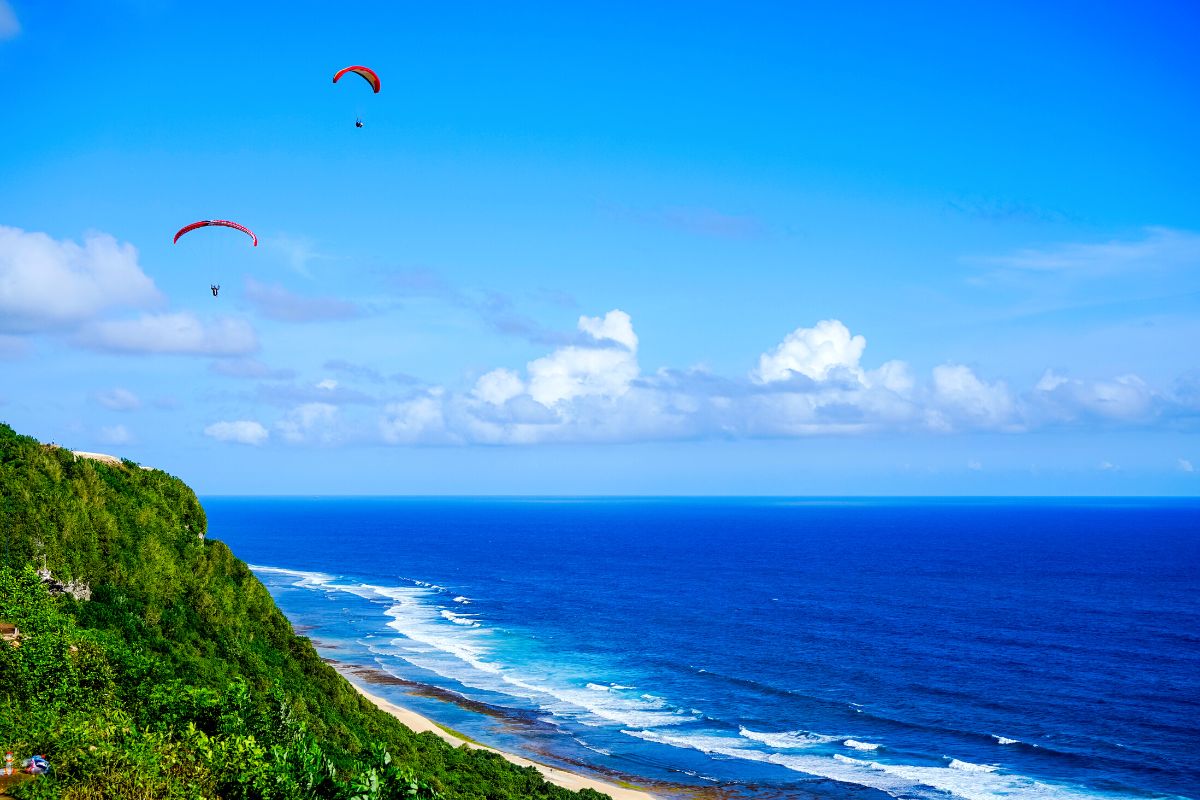 Ever wanted to know what it must be like to be a bird?
Try an epic paragliding adventure at Timbis Beach in South Bali.
What makes this location so spectacular for paragliding is the color of the ocean is a marvelous shade of light blue and the waters are so super crystal clear!
Whilst flying over the sea, you can even see the reef on the ocean floor.
Not only cruising over waters, pass by secret temples and limestone cliffs topped with bright green fauna.
Flying tandem with a professional pilot, have the opportunity to snap photos of the aerial views along the journey.
If you've never tried parasailing, don't stress. Before the flight begins you'll take a short introduction lesson, including safety must-knows and other tips.
After your paragliding fun at Timbis Beach, stop by Pandawa Beach, one of Bali's secret beaches.
It's a 14-minute drive in between both beaches, and some paragliding tours stop here for lunch.
60 – Visit one of the most impressive galleries, Museum Pasifika Bali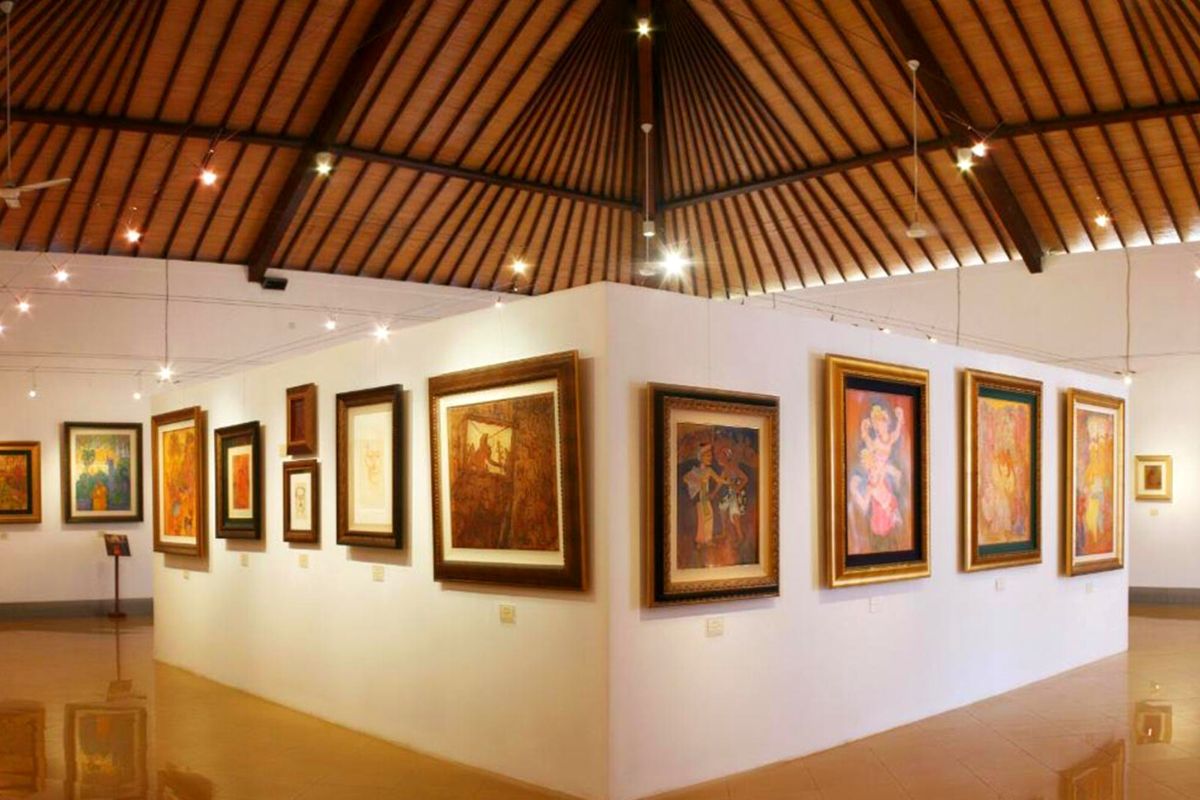 The Asia-Pacific region covers countries like Fiji, Australia, Canada, Chile, Japan, Vietnam, Indonesia and many others, and the Museum Pasifika Bali celebrates artists hailing from these regions.
There are nearly 1,000 works on display, including over 600 art pieces and about 200 sculptures from various artists.
As the Asia-Pacific region is super diverse, find a whopping eight different pavilion buildings, and a total of 11 gallery rooms among them.
If you've always wanted to see an original Henri Matisse piece up close in person, now is your chance!
Other phenomenal masters throughout the ages with works on display include Henri Rousseau, Jean-Baptiste Carpeau and Paul Gauguin.
Not only focusing on foreign artists, divulge into the Indonesian Masters collection featuring over 50 local artists like Affandi, Raden Saleh, Gusti Ketut Kobot and many more.
Apart from the galleries, find the on-site cafe for a bite to eat, or visit the library.
The Art Studio holds classes and workshops to join such as painting classes and even traditional Balinese dance lessons.
Find the Museum Pasifika Bali located in the Nusa Dua area.
61 – Explore the Underwater Temple Garden, Pemuteran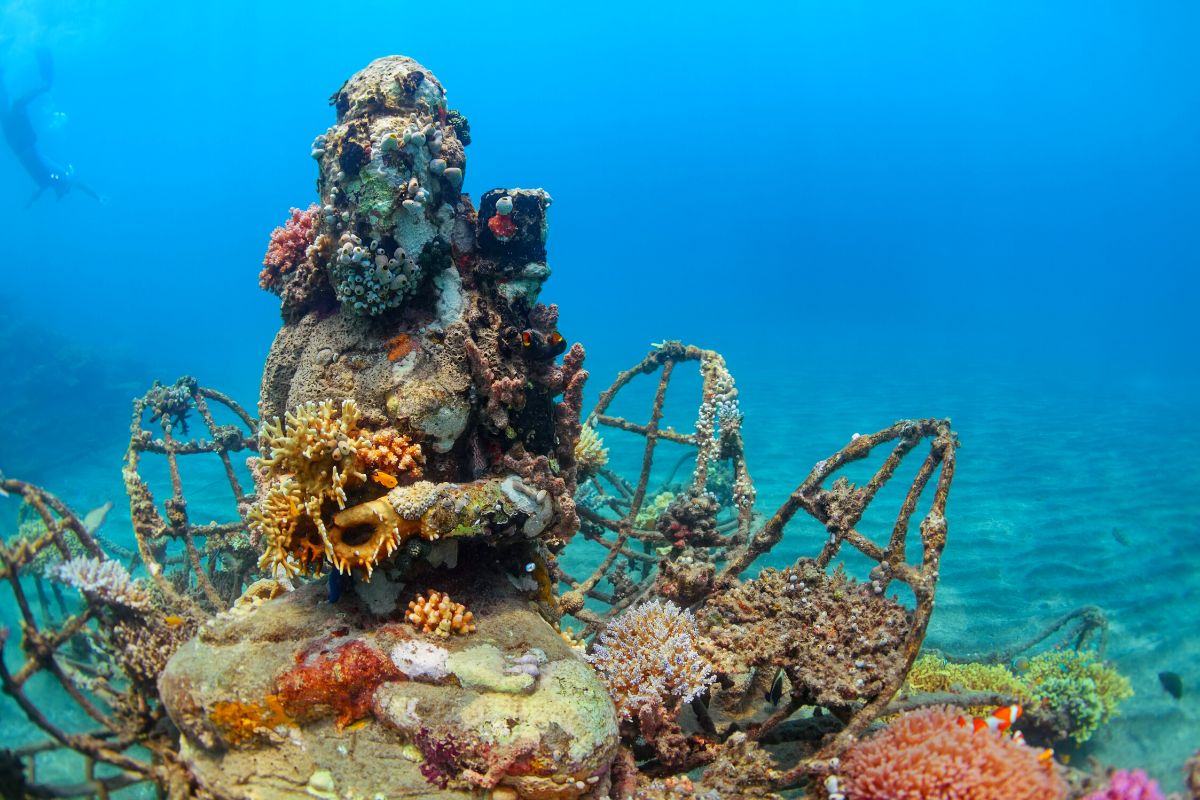 Feel like you're in a completely different world at the Underwater Temple Garden.
The unique diving site is one of Bali's most interesting and just as its name says, it's a garden of temples under the sea!
But it wasn't mermaids who created the grounds, instead, it is man-made and was placed into the ocean in 2005.
Go scuba diving in Bali and visit the famous underwater attraction that feel like a lost paradise.
More suited for experienced divers, head down 30 meters where you can explore a gathering of Buddha statues and other figures, and the Balinese Hindu temple, Taman Pura.
If you've just started out diving, there is a secondary dive site right here accessible 15 meters down.
There's an abundance of marine life to discover and over the years, corals and aquatic animals have made the temple garden their permanent abode.
Diving tip: If you've got an underwater camera, don't leave it behind for this adventure!
62 – Find your zen at Goa Gajah Temple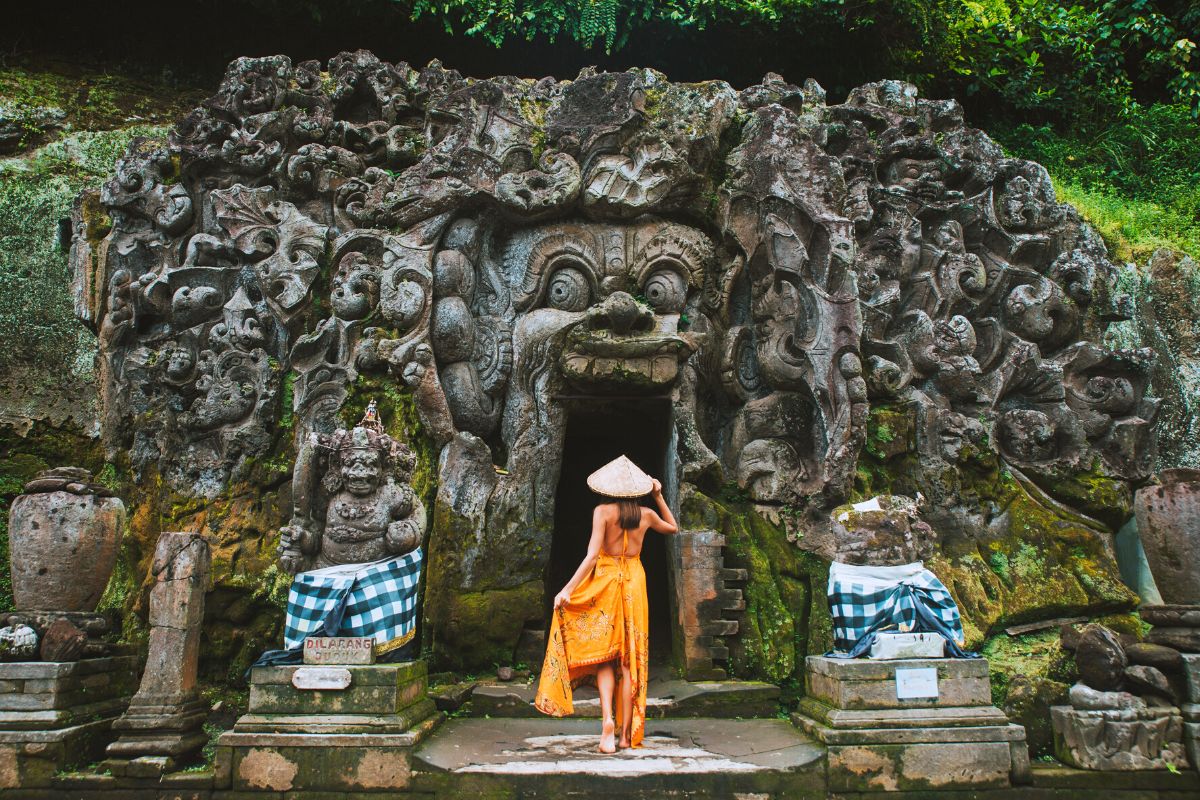 Known as 'Elephant Cave', Goa Gajah is a spiritual complex that houses the Goa Gajah Temple, small bathing pools and a cave.
The site originates from the 11th century and inside the cave, there is a statue of the Hindu deity, Ganesha.
Ganesha is always depicted with the head of an elephant, perhaps why it's nicknamed Elephant Cave.
It is believed that the cave was dug out by Hindu priests who first discovered the area.
The cavern is also used as a place for meditation by its visitors.
63 – Spend the afternoon chasing waterfalls at Aling Aling in northern Bali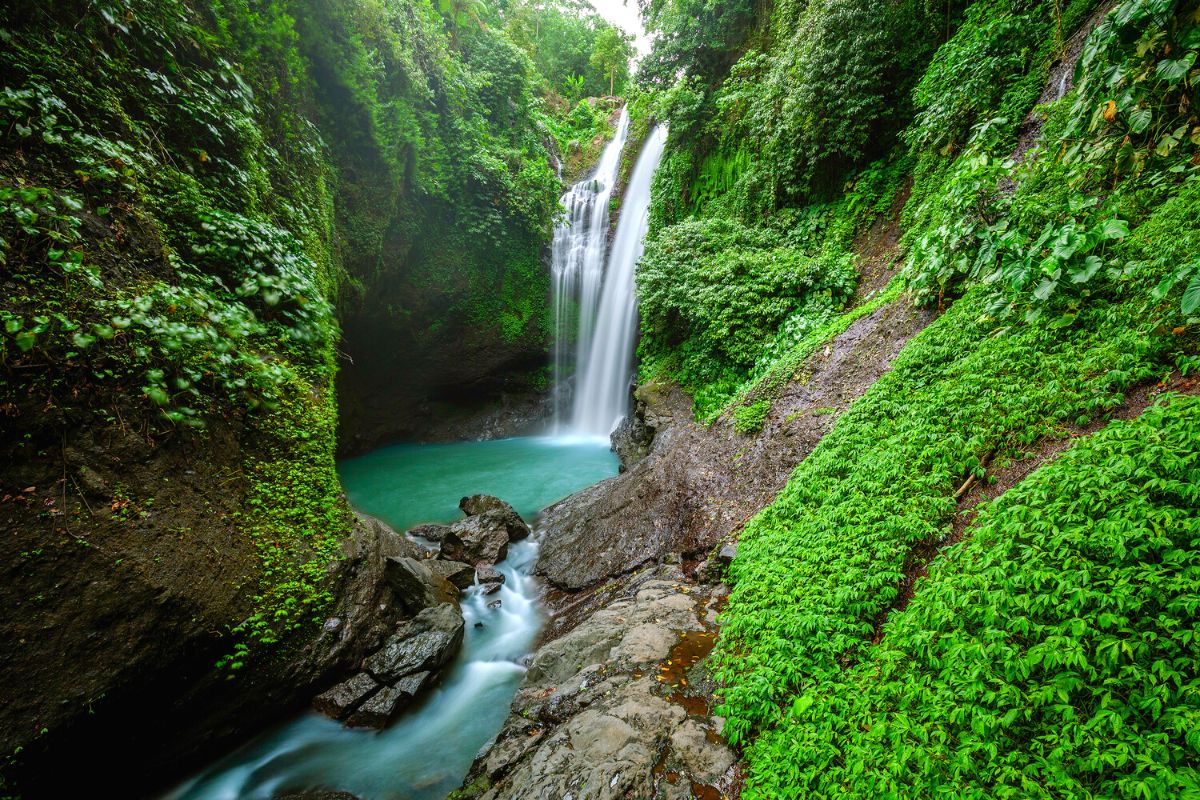 Arriving at Aling Aling, there are not one but four different waterfalls to discover that each has its own unique features.
Start at the impressive 35-meter-high Aling Aling Waterfall which is a twin fall and is an incredible photo opportunity.
Unfortunately, you can only admire the twin falls from the sidelines and swimming is not permitted.
You can however take a dip in the waters at Kroya Waterfall and there's even a wooden plank for cliff jumping plus natural waterfall slides.
The third waterfall at Aling Aling is Kembar Waterfall and although it has a double fall, this one is not as high as the first.
Have some fun splashing in the pool here, cliff-jumping and exploring.
From Kembar stop by the last waterfall known as Pucuk, the most chilled fall of them all.
You can swim at Pucuk Waterfall.
At Aling Aling, you can stop by all four in one go as each waterfall is within close proximity of one another.
64 – Step back in time at Gunung Kawi Temple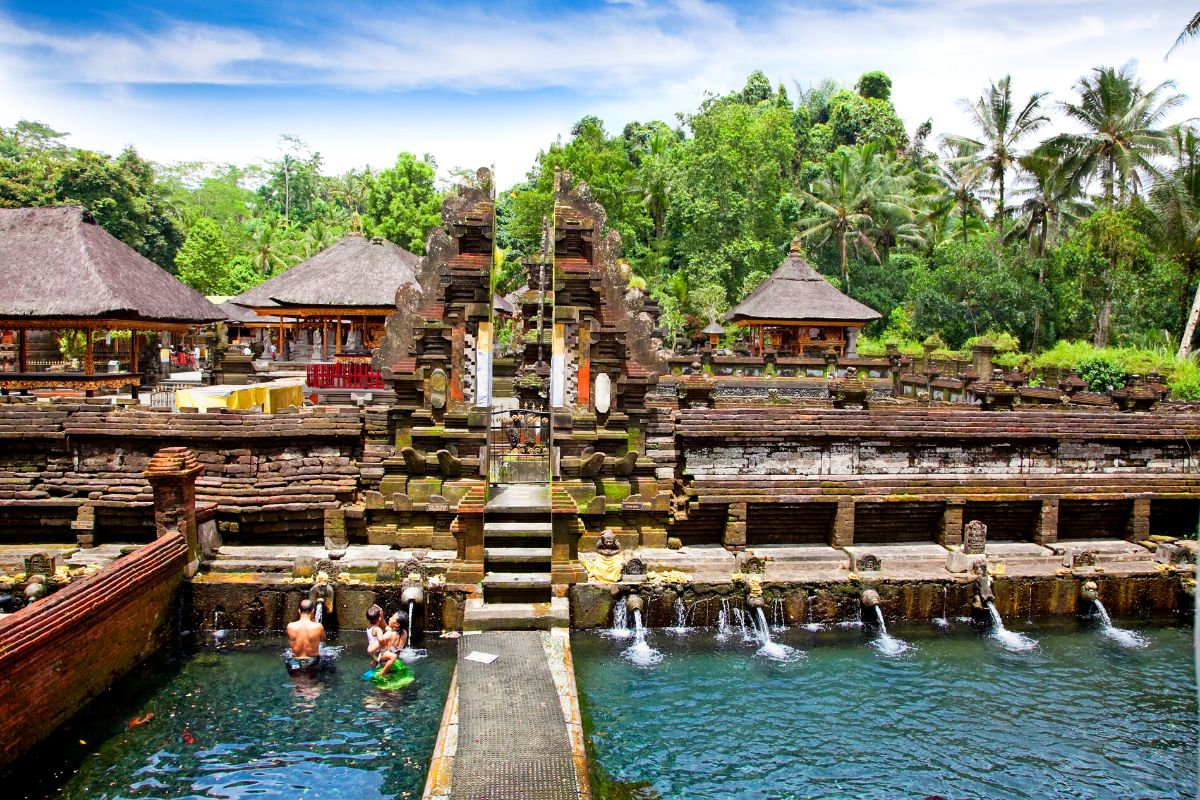 Get a real feeling of what Bali was like hundreds of years ago at the revered Gunung Kawi Temple, when all that existed around was the jungle.
Upon arrival, one of the first things that surprise visitors is the surreal temple shrines, which have been carved right out of the mountain itself and now form part of the cliff sides.
There are a total of 10 of these awe-inspiring shrines, known as a 'candi' in Indonesia.
Find five of these ancient eight-meter-high candis on the eastern side of Gunung Kawi Temple, another four candis in the west, and one more on the south end.
The temple complex is not overly large, but don't be surprised if you get goosebumps as soon as you arrive … you can actually feel the magic in the air.
To reach the historical cliff sanctuary, you will first need to head down (and then back up) around 300 stone steps, walking through the lushest landscape on the descent.
It's right by the Pakerisan River which adds even more vibes to the scenery and is located in Tampaksiring town in central Bali.
65 – Enjoy an insightful coffee plantation tour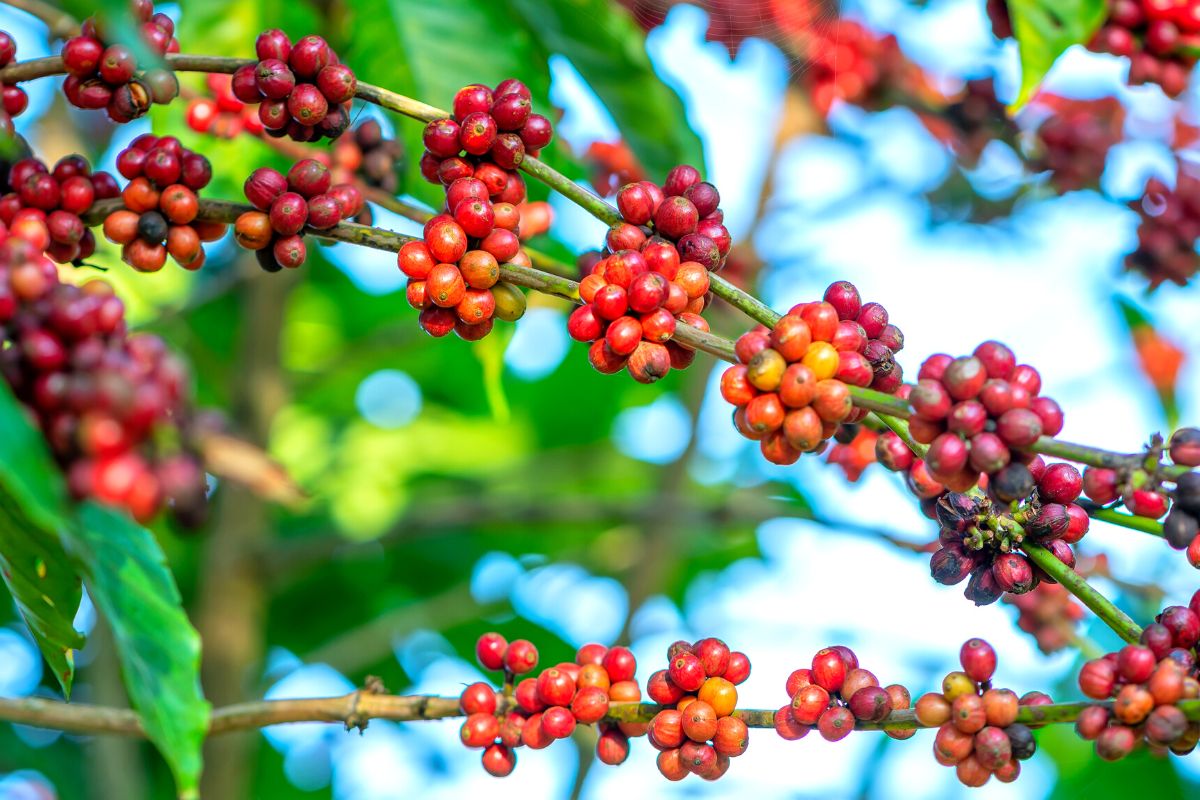 This is one for those caffeine addicts, or anyone looking for a fun and interesting activity to do in Bali.
With a few plantations in Bali, choose a coffee tour that best suits you.
Thanks to the island's tropical climate, the lands around are extra lush and make ideal conditions for planting and growing coffee!
In fact, its coffee history dates further back than you can imagine, to the 18th century to be exact.
When the Dutch colonial settlers arrived in Bali, they bought along with them top-quality coffee cherries for planting and started some of the first coffee plantations.
Today, the two most popular types of coffee to cultivate in Bali are robusta and arabica coffee variations.
Spend a few hours at Balu Pulina Coffee Plantation and learn about the production of their organic coffee beans.
During the visit, taste the different coffee products that they manufacture.
For coffee tastings (and even some tea tastings), pop into Kintamani Coffee Plantation in Bali's highlands.
66 – Choose a coastal tour in Amed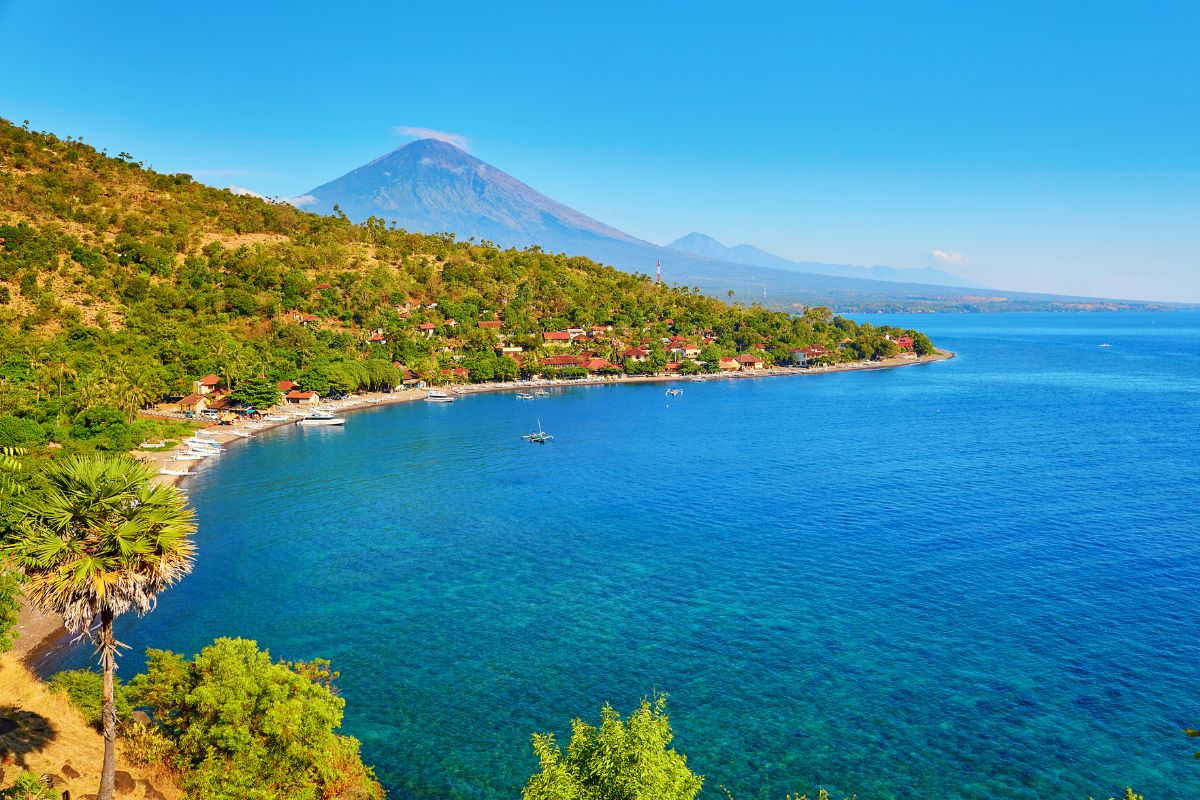 Looking for an epic day trip around Bali that's not in the mountains?
Amed is a small sleepy fishing village, but around the area, there's much to explore and some great beach activities.
Once used for traditional salt farming practices in this part of the island, Amed Beach today is the main attraction.
From the beach, go snorkeling the reef close to the shoreline, or divers catch a local boat further out to sea.
The area around Amed Beach is a renowned diving location and there are two shipwrecks to discover in the underwaters close by.
Spnd the day chilling on the beach and there are some restaurants, bars and accommodation options here.
Don't leave without picking up a local wooden, handcrafted souvenir or two, or stay in time for sunset hour.
Amed town itself is really small and stretches 14 kilometers long in total.
Not to be confused, the area is also called Amed and there are another six villages that make up the Amed district.
These are Selang, Bunutan, Jemeluk, Banyuning, Lipah and Aas villages, and Amed fishing village is the seventh.
67 – Snap photographs at Candidasa Lotus Lagoon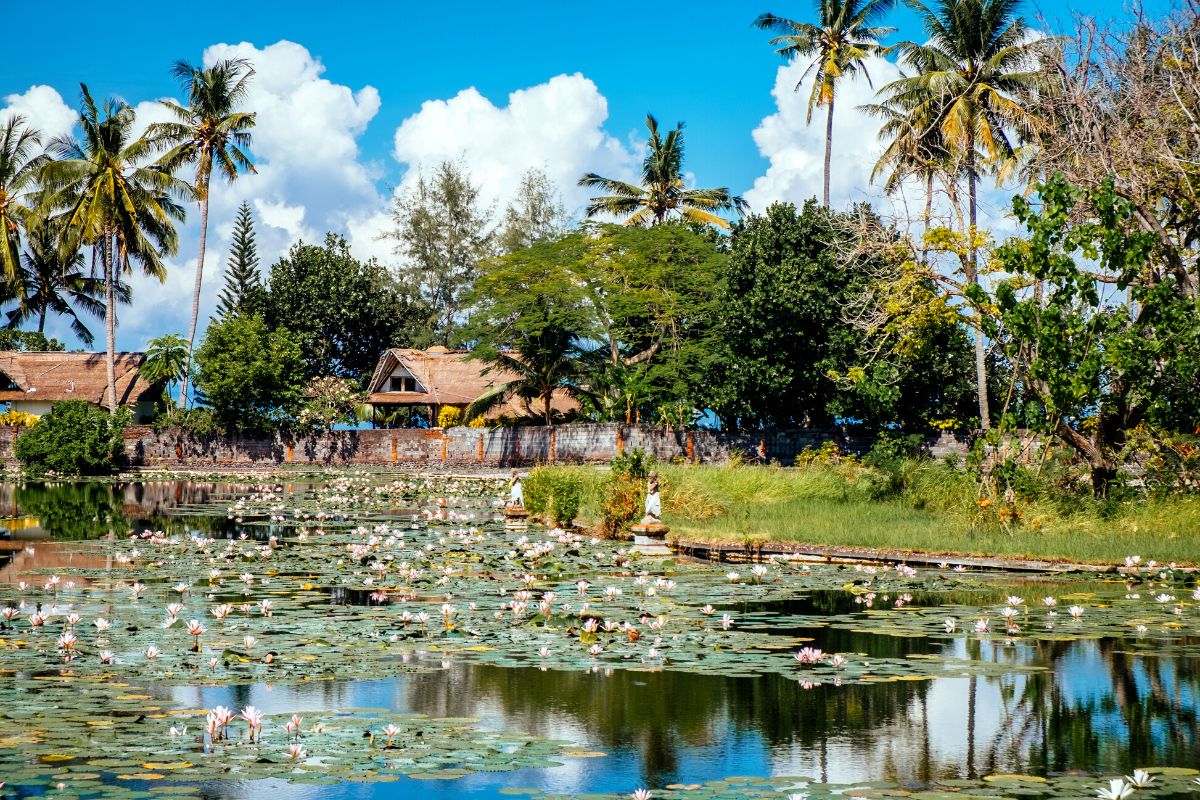 If you're hunting down a special photography destination, add Candidasa Lotus Lagoon to your list of must-visit locations.
As the name says, it's a massive pond filled with Lotus flowers and giant lily pads and is very popular for photo-taking.
Did you know that the Lotus flower closes at night and blooms again every day at sunrise?
So, one of the most magical times of day to come here is in the early morning.
Apart from the amazing Lotus pond backdrop, there's an ocean view and the beach is close by.
While in the area, make a stop at Pura Candidasa. The ancient temple dedicated to Lord Shiva dates back to the 12th century.
68 – Partake in an ancient ritual at Tirta Empul Temple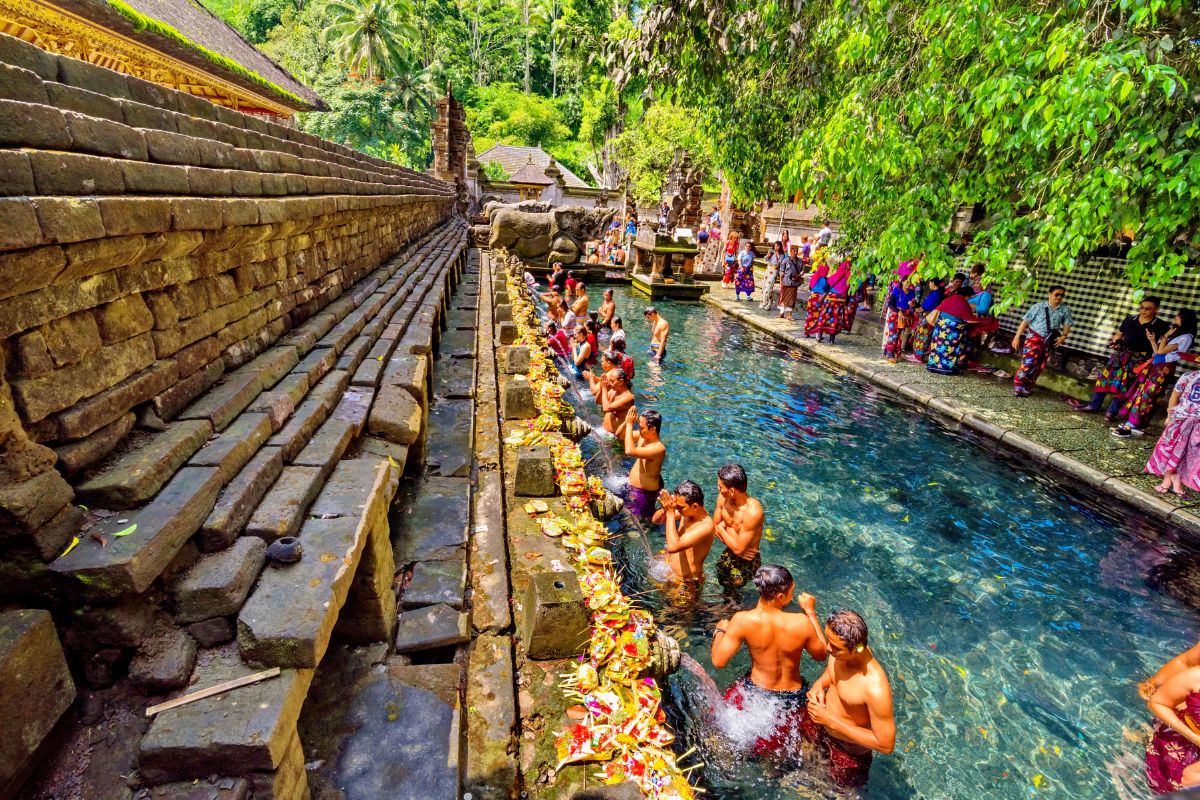 By now you'll have noticed that Indonesia is a haven of sacred and ancient temples, and Tirta Empul Temple is another one of Bali's special water temples.
The natural springs at the temple are considered 'holy springs' and used for purity and cleansing.
Tirta Empul Temple is protected and dedicated to the Hindu god of water, Vishnu and within the inner temple courtyard, there are stone water features that spurt out holy water.
Stand under one of these and receive a natural cleansing.
There are other parts of the temple complex to explore apart from the famous bath.
Discover courtyards, such as the outer and central courtyards, trace the intricately carved statues, and check out the ancient gates and the Koi pond.
The sacred temple dates back as far as the 10th century.
The temple is one of the most popular in Bali among tourists and locals who come to experience its holy springs.
This is considered a spiritual experience, and during purification ritual tours, find yourself shepherded by a professional and knowledgeable tour guide.
69 – Celebrate the artist at the Blanco Renaissance Museum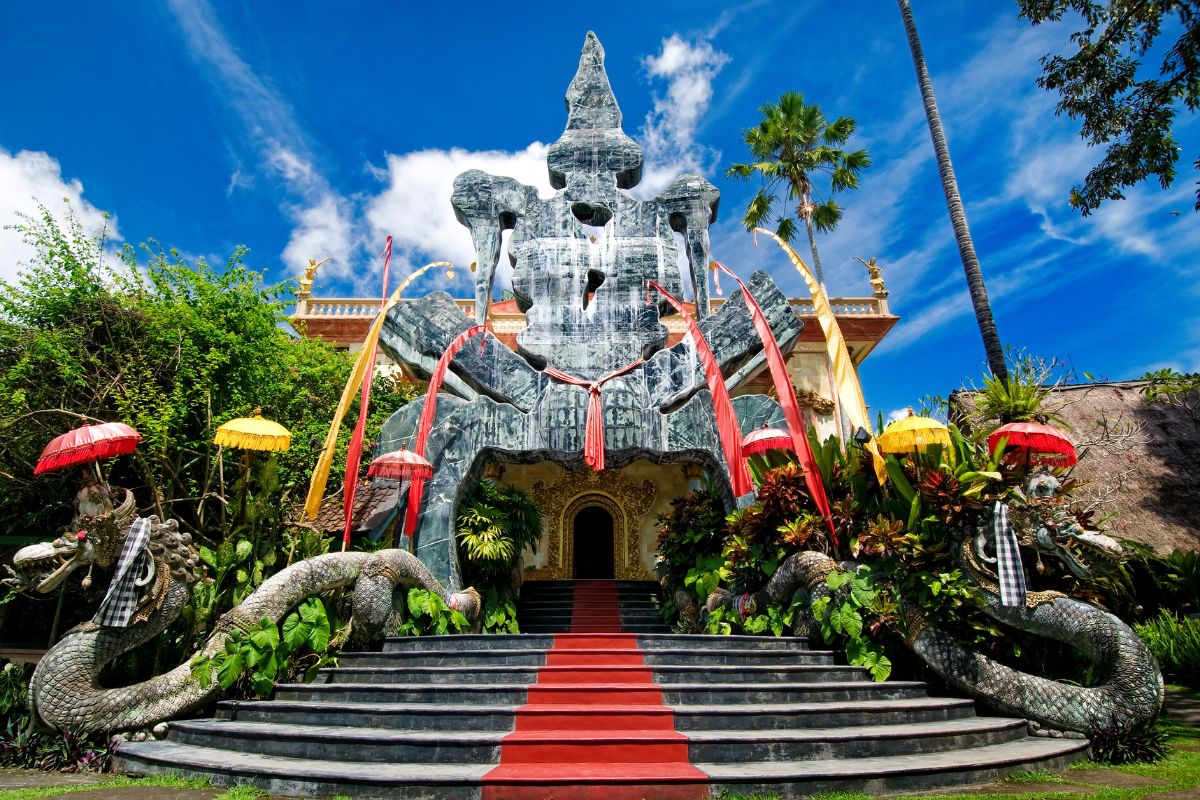 Focusing on one artist in particular, for a fiesta of Antonio Blanco's work, visit the Blanco Renaissance Museum in Ubud.
Born in the Philipines in 1912, Blanco was of Spanish descent.
After finishing school, he left for the USA where he studied art in New York.
Upon completing his studies, he traveled the world, until he landed in Bali in 1952 which captured his heart forever and he remained until his passing in 1991.
Inside the heavily decorated museum, gander at the paintings of portraits, still-life and landscape-filled artworks.
Each is adorned in rich gold frames or find his portraits on ornate easels.
Apart from the works of art, take a wander around the museum and appreciate the building structures on the inside and out.
There's a beautifully-kept garden outside, a family temple on the grounds and visit the artist's original studio.
If you're feeling peckish, stop by the on-site cafe.
70 – Pretend to be royalty at Tirta Gangga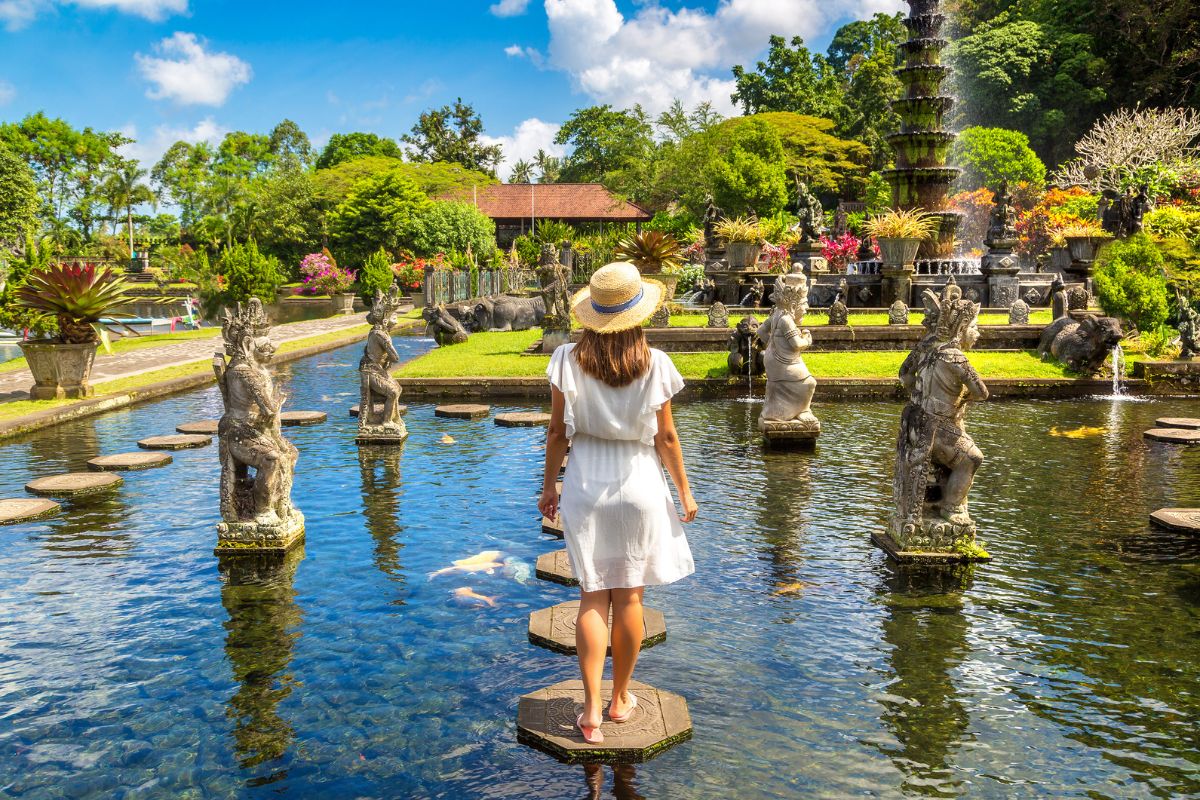 Regal in every right, spend a few hours at Tirta Gangga, a former royal palace built by King Putra Agung of the Karangasem Kingdom.
The palace was originally constructed in 1946 by the king but sadly was mostly destroyed during a volcanic eruption occurring at Mount Agung in 1963.
What remains has been turned into a tropical garden park, and some of the original structures float in between waterways.
There's a stepping stone feature across the main pool which visitors can walk and take photos among.
In the center is an 11-tier fountain, and surrounding it are statues protruding from the waters.
Interestingly, the water palace was named after the sacred River Ganges in India.
71 – Travel dreams are made of these with a trip to Tegenungan Waterfall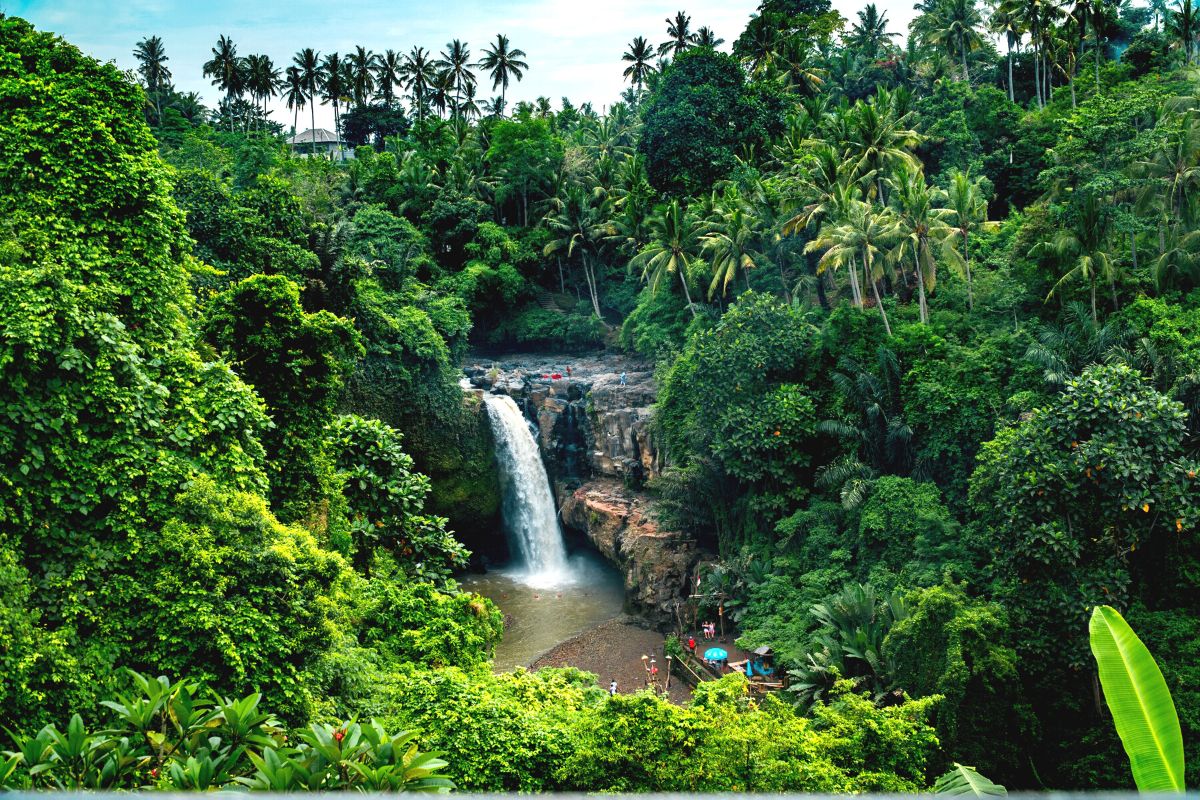 Only Bali would have an incredible waterfall with a cafe and infinity pool beside it.
See the surreal jungle scene for yourself at Tegenungan Waterfall which is situated within Kemenuh Village.
It's easy to get to and is a 30 minutes drive from Ubud.
To reach the 28-meter-high waterfall, make your way from Tegenungan through a pathway filled with souvenirs, handicrafts and snack stalls until you reach the mighty fall.
Thanks to its easy access, it's a super popular waterfall spot in Bali, especially among the tourists, but the setup around here is magical … you can hardly blame the masses.
Swim in the waterfall's natural pool, take photographs in front of the cascading roaring waters, or park off at the cafe for lunch in the most surreal setting.
72 – Looking for a swanky bar? Savaya Bali is the place to go!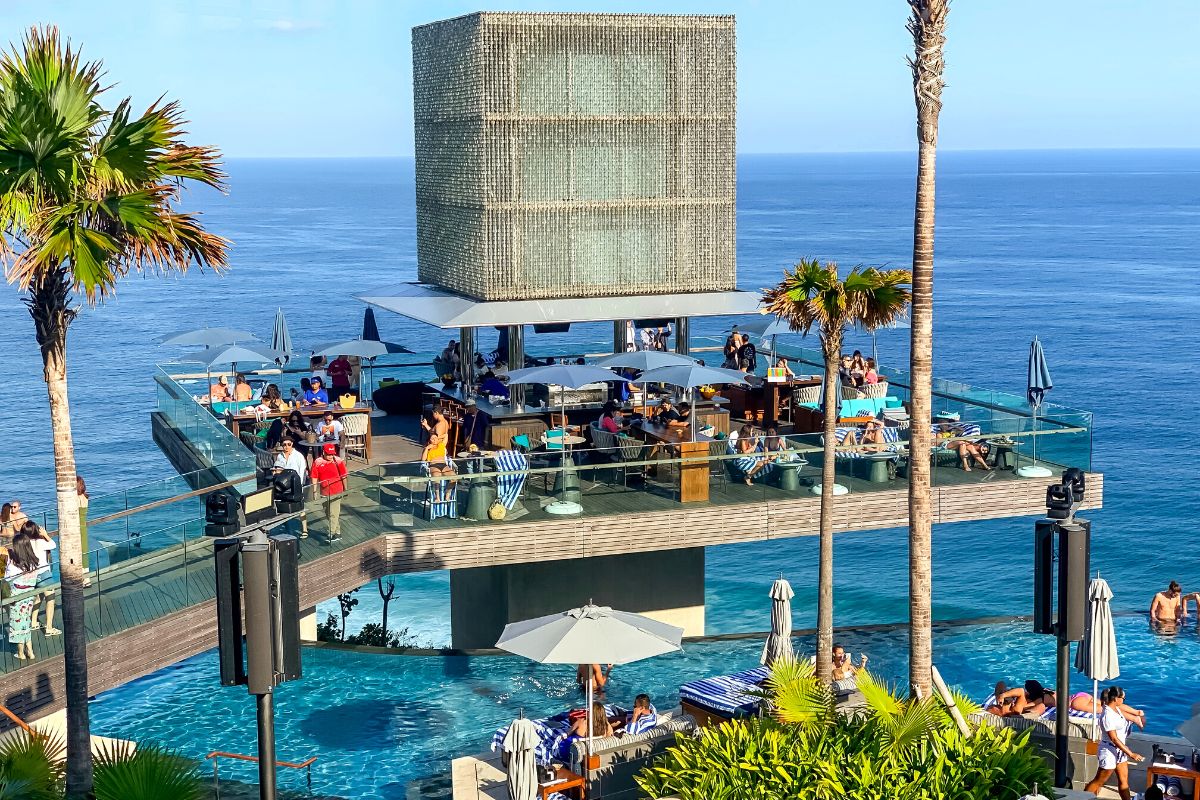 Located in super cool Uluwatu, Savaya Bali is a luxury beach club built in the epitome of style.
Unlike many of the Bali beach clubs, Savaya is really contemporary and is not on the sands.
Instead, it's constructed high up on the cliffs, sitting 100 meters above the Indian Ocean, and features modern design.
The highlight square box bar stands right above the waves.
Follow the boardwalks, chill out at numerous spots around the beach club, like the infinity guest pool or under umbrellas poolside.
Formerly known as Omnia, it's one of the hottest event spaces for big parties, and even during the day there on DJs on the decks.
To match the elegant vibes, indulge in sushi platters and champagne, or order something else from the Japanese-inspired menu.
73 – Treat your tastebuds at Junglegold Factory (formerly Pod Chocolate)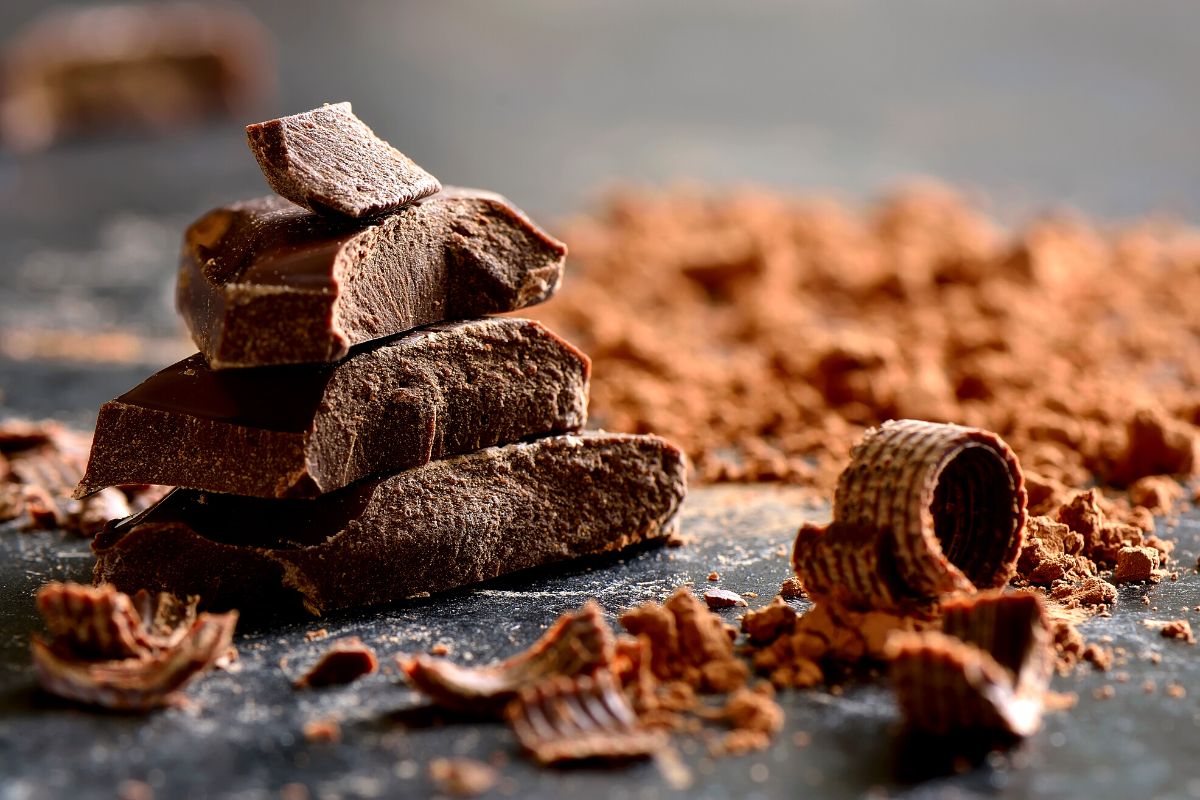 Ever watched Charlie and the Chocolate Factory growing up?
If you've always dreamt of visiting a chocolate factory, Junglegold Factory is open to visitors where you can enjoy chocolate tastings or even make your own chocolate.
Join a chocolate workshop and handcraft your own cacao treat, like making a chocolate box or mug … all from chocolate!
What sets Junglegold's chocolate products apart is that all of their chocolate is dairy-free and they use coconut blossom sugar for sweetness.
They also specialize in 100% dark chocolate and the cocoa beans used in production only come from local farms around the area.
In front of the factory find the chocolate cafe where you can enjoy several dishes and drinks where chocolate is the hero of the show.
74 – Venture 30 minutes by boat from mainland Bali to Menjangan Island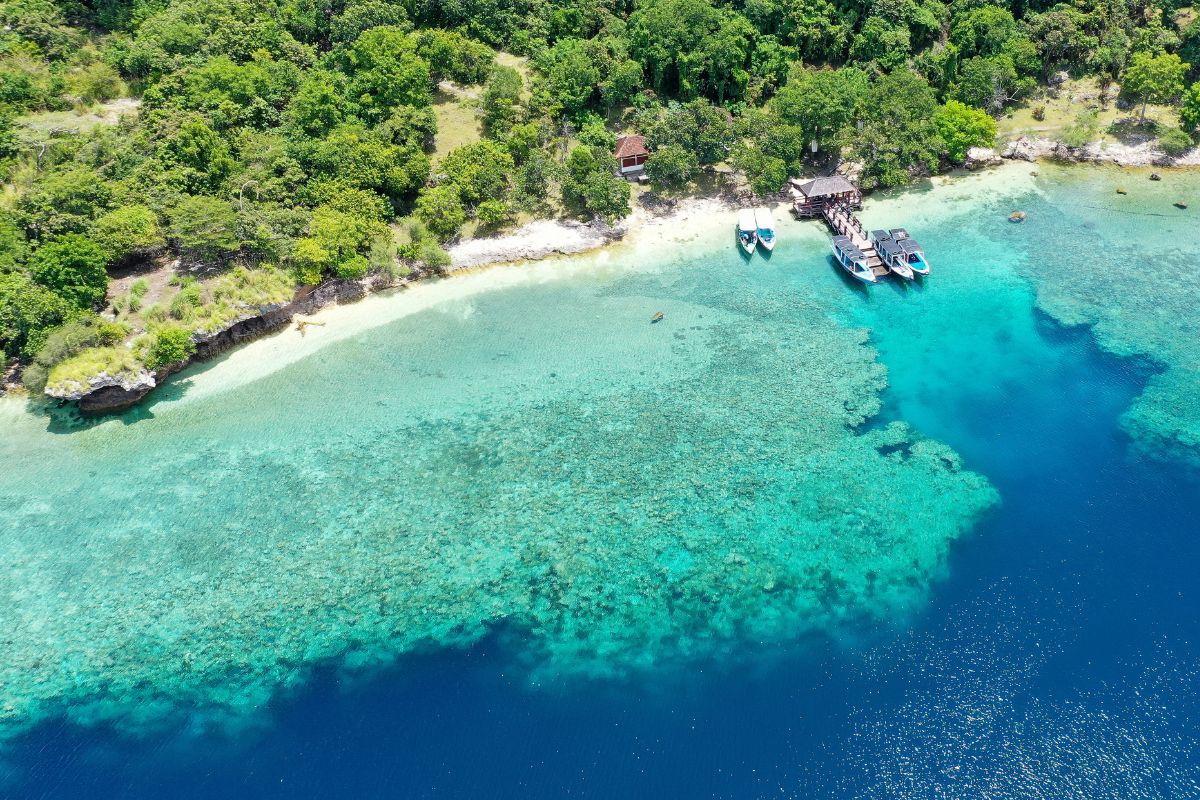 Spend the day out at pristine Menjangan Island, famous for its aquatic water world.
Laze about on Menjangan Beach with its powdery sands and flat waters, or go snorkeling around the shores and spot colorful corals and tropical fish.
Some tours to Menjangan will take you further out to sea for snorkel locations in the middle of the ocean.
Diving off of the island's coastline is another tremendously popular activity to do in Menjangan.
Gaining the nickname 'deer island', venture into the West Bali National Park where you can spot … deers! Plus other wildlife animals.
Discover some temples dotted around the island, such as Pura Gili Kencana and Pelinggih Sang Hyang Ganesha temples.
There are some accommodation options on Menjangan Island, ideal for travelers searching for a snorkel, dive or beach-focused holiday.
75 – Trek and marvel at Mount Agung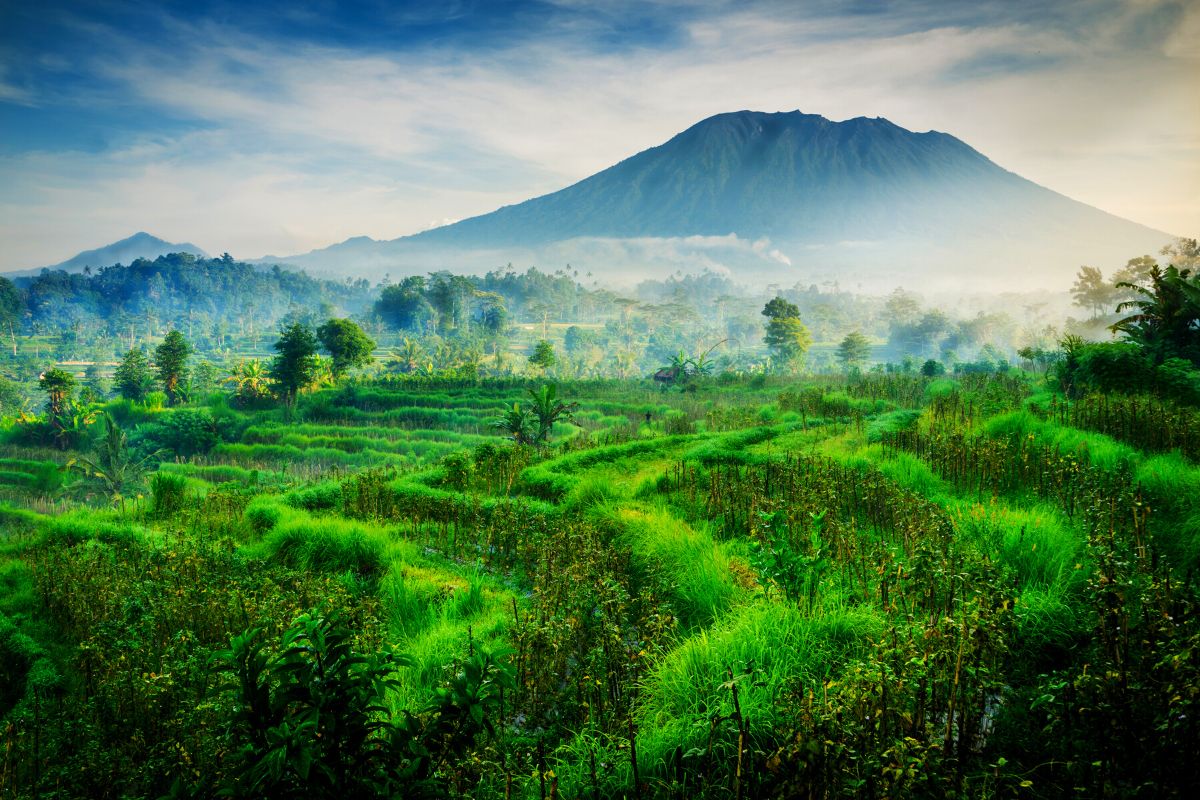 Bali's largest volcano, Mount Agung is also one of the island's most active … today and throughout its history.
When traveling to Bali, you'll hear many stories and learn about different times that the mountain has erupted, destroying many temples, villages and sacred sites in its fury.
That being said, visitors can still trek its mountainsides, and whilst you're hiking in Bali, Mount Agung is one of the most unrivaled scenes to walk.
The best time to plan a hike at Mount Agung is at sunrise when you'll witness a sea of clouds rolling through the hills.
There are many types of tours to the famous volcano, from half-day trips to 4×4 drives.
The volcano's highest peak reaches 3,031 meters above the ground, and apart from its waking trails, the mountain is dotted with holy ancient shrines, religious complexes and holy pilgrimage sites.
The last recorded active eruption was in 2019.
76 – Enlighten your mind at Saraswati Temple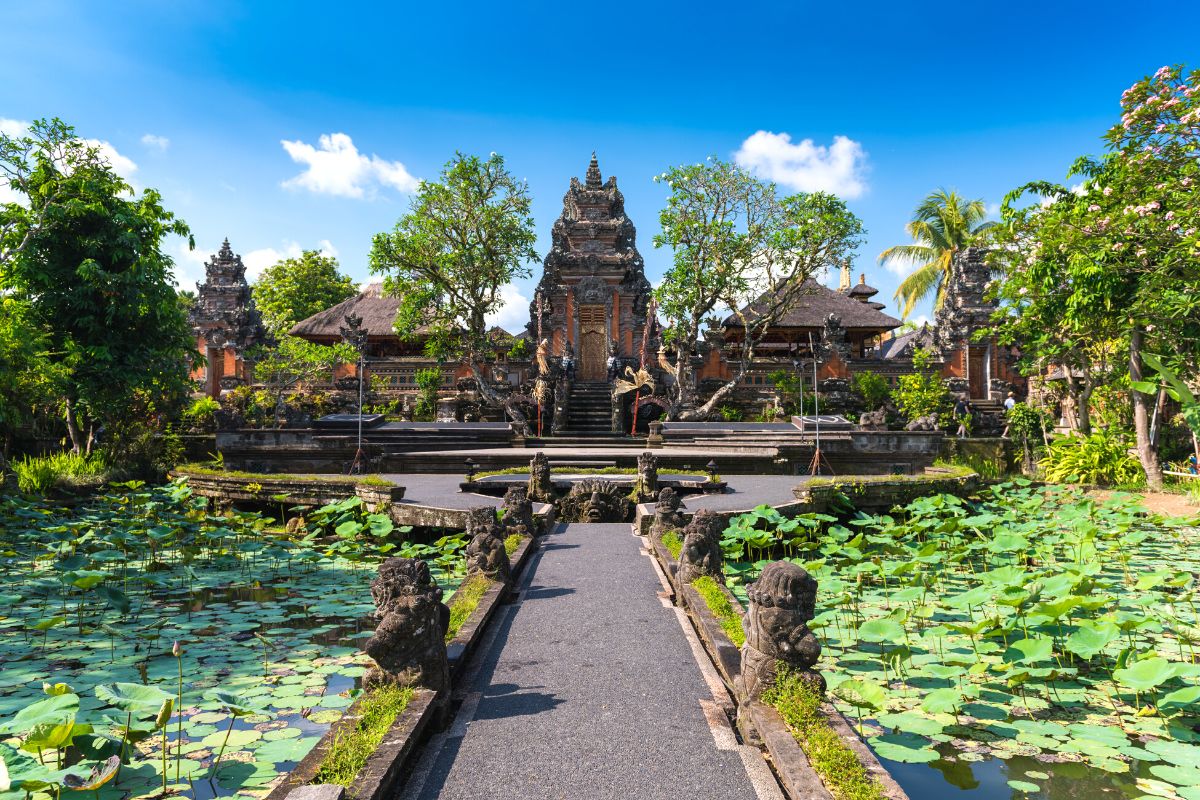 Especially popular among creatives, Saraswati Temple is devoted to Saraswati, the Hindu goddess of art, music, knowledge, wisdom and learning.
Not even 100 years old, the water temple was built from 1951 to 1952 under the order of the Balinese prince, Tjokorda Gde Agung Sukawati.
Smaller in comparison to some of the other water temples, Saraswati is most famed for its pretty pond area filled with lily pads and blooming bright pink Lotus flowers.
Designed and built by one of Bali's most beloved local artists, the architect Gusti Nyoman Lempad, the temple has stunning design features.
The artist was known for his stone-carved buildings and with a special focus on constructing temples.
Another popular thing to do at the temple is watching a traditional Kecak Dance.
77 – Feel all the island vibes at KU DE TA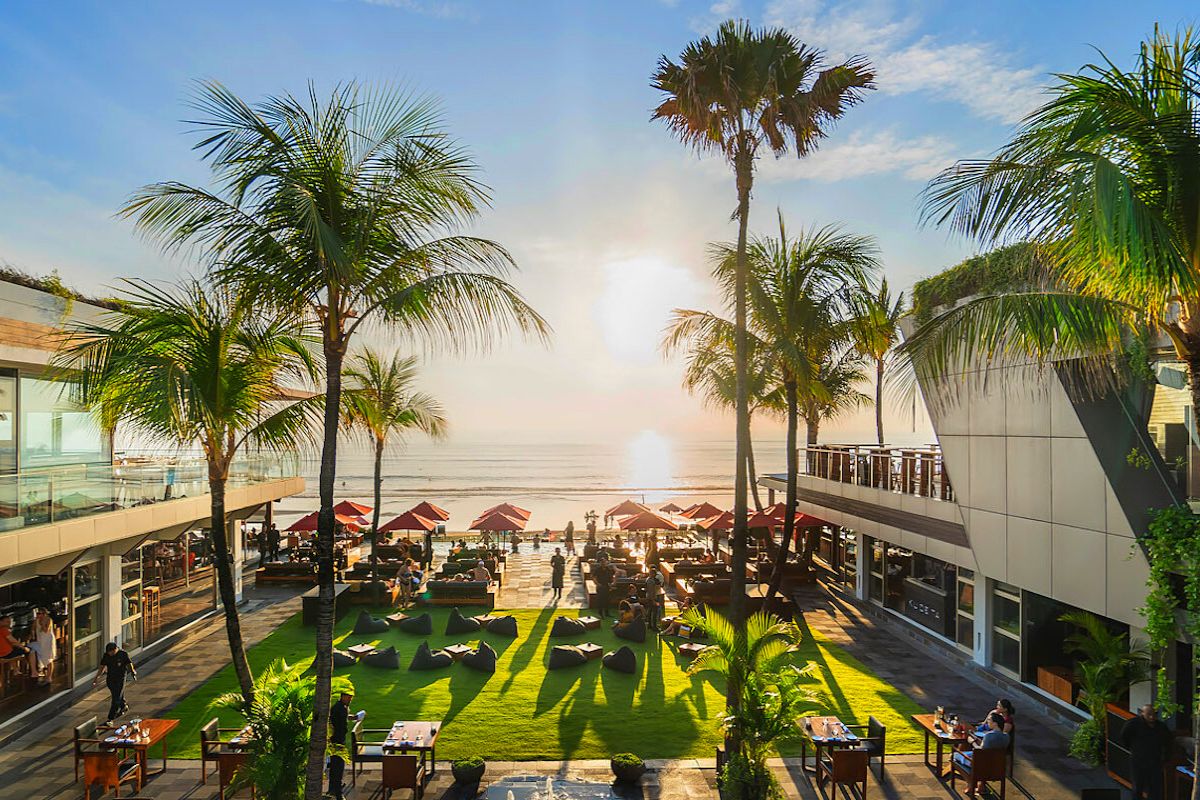 Sit back on beanbags facing the ocean a few meters away, with Palm trees surrounding you at KU DE TA beach bar and restaurant.
Situated on the beachfront of Seminyak Beach, the views are stunning and activities unending.
Down to business, the menu celebrates seasonal ingredients only, including plates like oysters, sashimi, sushi, Japanese-fusion mains and other classics.
If you're hunting down a unique morning location, they're open for breakfast too.
Sip on delicious cocktails, vino or craft beer around the beachfront pool.
Relax on round chairs, sun loungers or private cabanas, or pull up a table and chair for dining with your feet in the sand.
As evening arrives, live musical acts are a regular feature, and during peak seasons (and other occasions too), they throw a fab beach party.
78 – Enjoy a hot air balloon ride from Ubud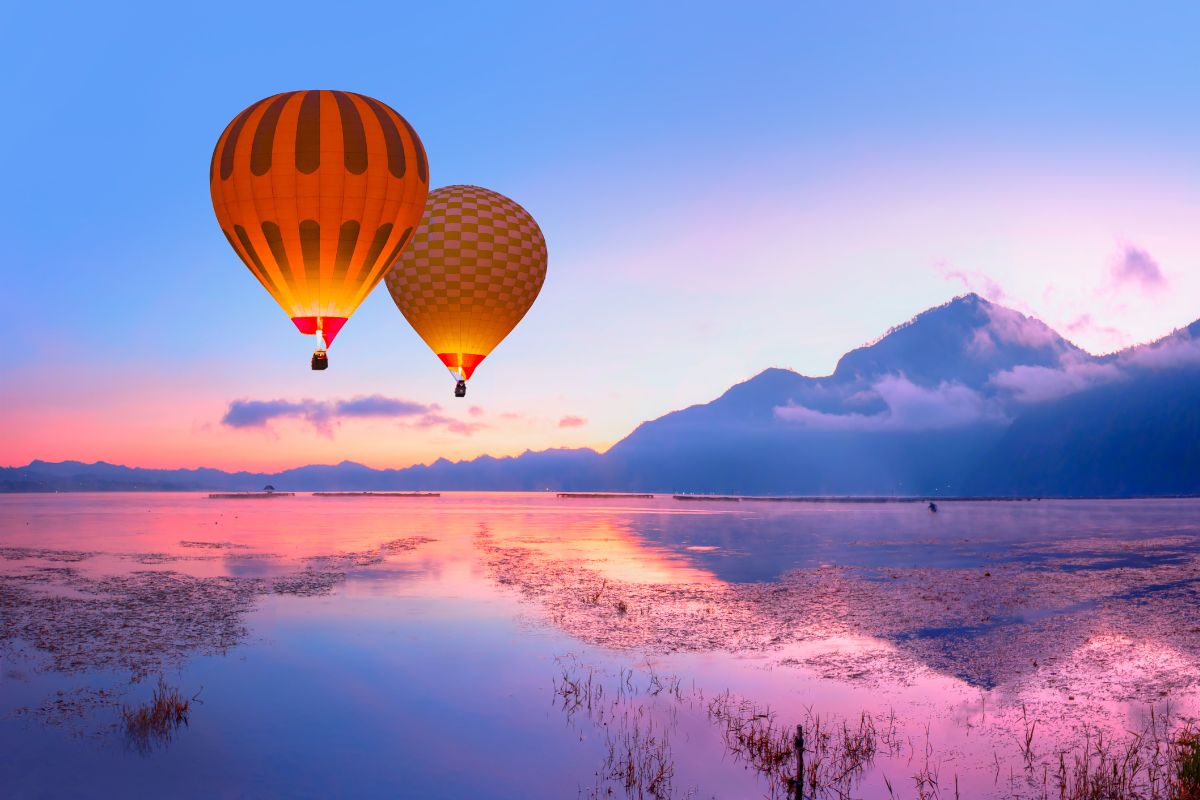 One of Bali's most famous, as well as beautiful areas to explore is Ubud, covered in luscious jungle and bright green rice terraces.
For a one-of-a-kind experience while in Bali, book a breathtaking hot air balloon ride around Ubud and get to see its incredible landscapes from above.
As you sail past tropical trees and over rice paddies 50 meters into the air, take photographs like none other.
The ride is under 10 minutes and is suitable for families, as well as couples.
Upon arrival, enjoy a sunrise breakfast, afternoon tea or a fine dining dinner course.
79 – Get pampered at Bali's best spas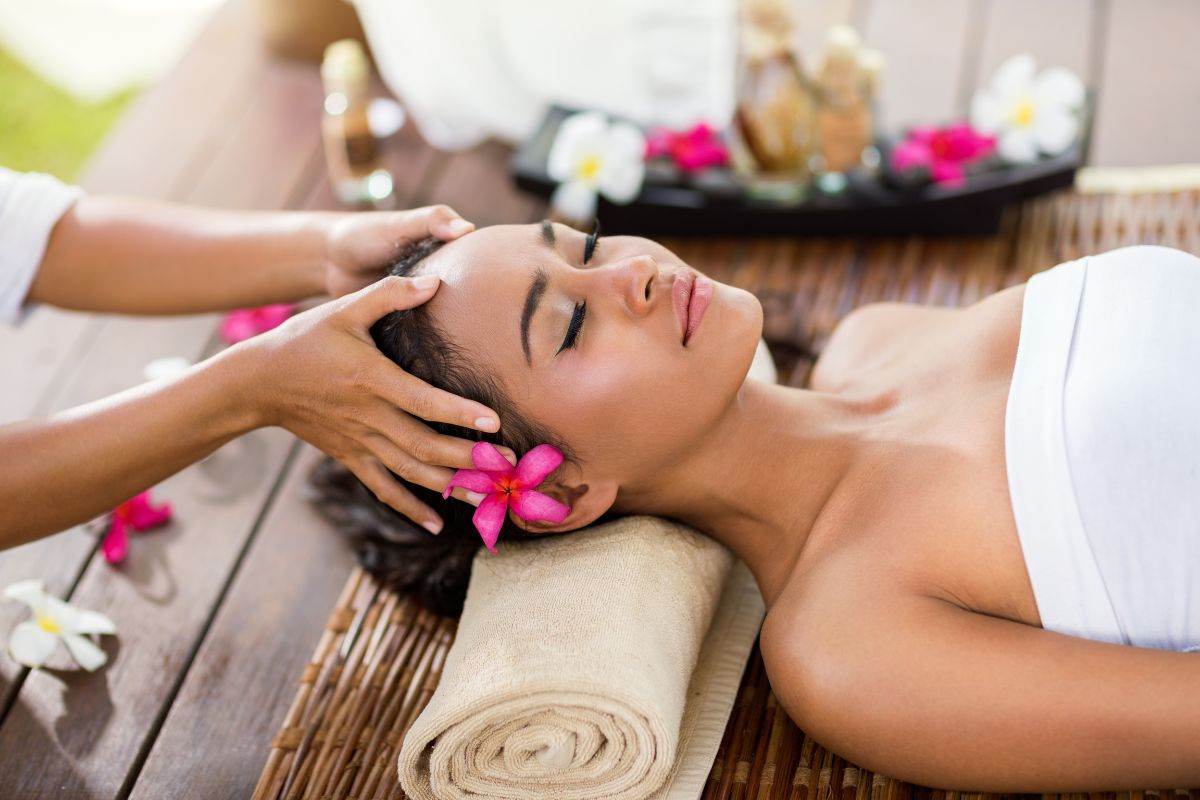 Bali is world-famous for offering travelers some of the best kinds of holiday activities and packages, and top-class spas are abundant all around Bali.
Placed right next to a river in Ubud, take a magical flower bath followed by one of Maya Spa's wellness treatments including a special Jet Lag Recovery package.
Another incredible option is the Sacred River Spa at the Four Seasons in Ubud for all the luxury feels.
India or Indonesia? Feel like you're transported to a palace in India at the regal (and insta-worthy) Bodyworks Spa.
At Karma Spa in Uluwatu, enjoy a massage right on the beach inside private spa bungalows — the perfect post-surf treat.
For the five-star treatment, spend an hour (or five) unwinding at AYANA Spa at the famed Ayana Resort and Spa in Kuta.
If you're in hip Canggu, book a treatment at AMO Spa which has an inviting atmosphere and offers various wellness treatments.
Some of these include IV therapy, nails, a sauna and even a hairdresser.
80 – Put your golfing skills to the test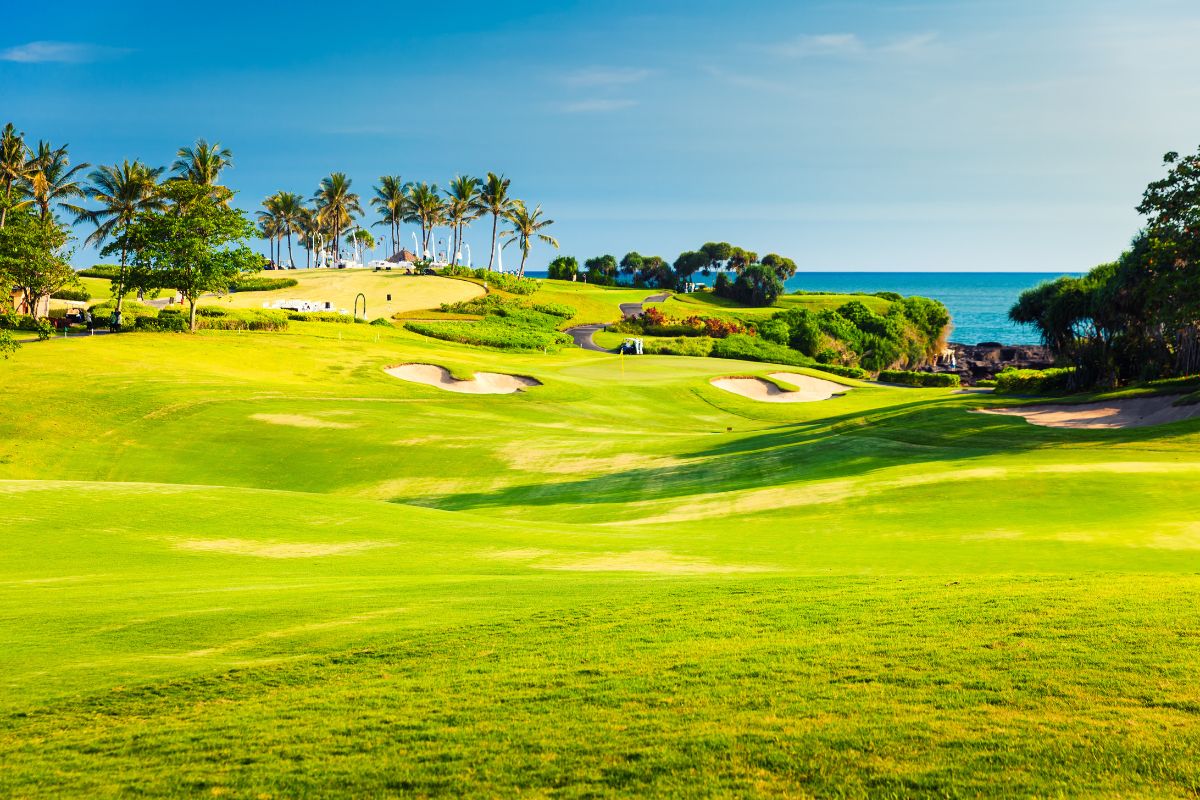 A paradise for golfers looking for a course with views, there's some fantastic golfing to enjoy around Bali.
Located in Nusa Dua, Bali National Golf Club is suitable for all levels, but it's also known as one of the island's more difficult plays during the 18-hole course.
Capping at a par-72, try out New Kuta Golf's 18-hole golf course which offers incredible oceanic backdrops.
Previously known as Bali Handara Kosaido Country Club, Handara Golf & Resort sports Peter Thompson and Graham Wolveridge design and immaculate fairways.
As one of Bali's newer courses, perfect your backswing at Bukit Pandawa Golf & Country Club around 18 holes with a par-54.
81 – Drift between shrines at Ulun Danu Beratan Temple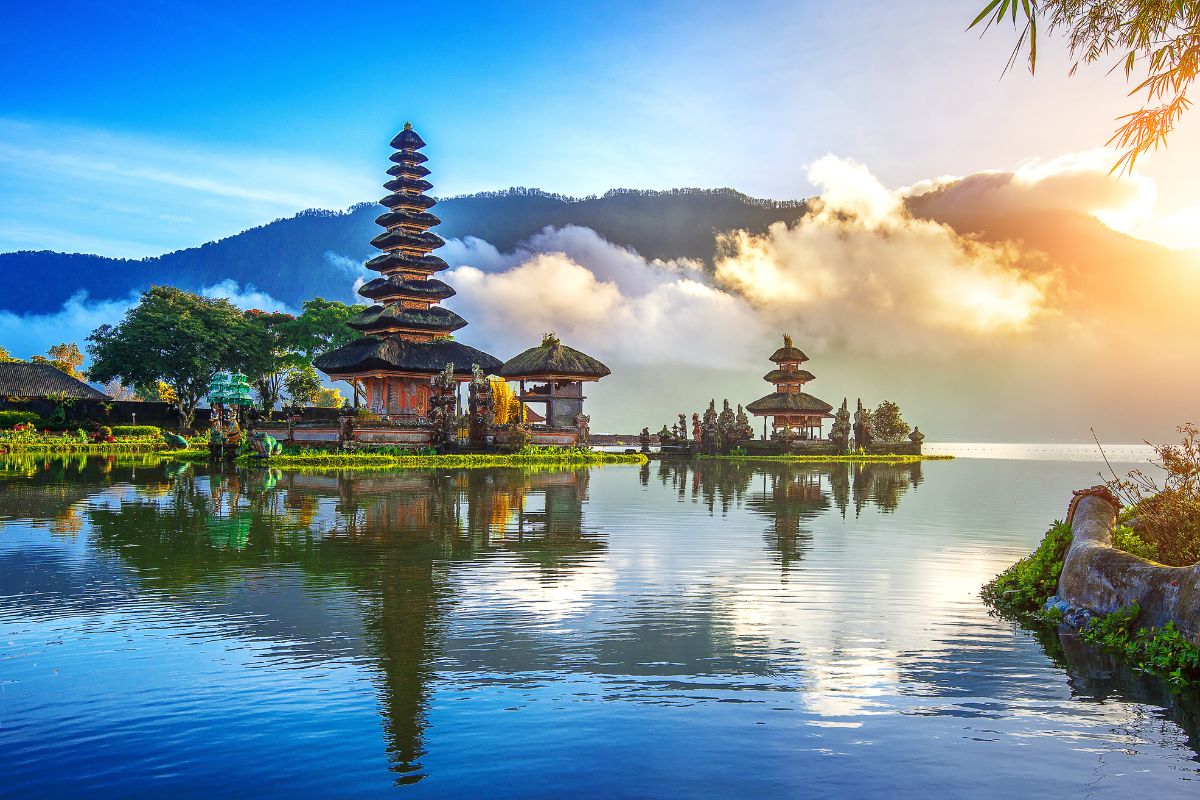 In the hillsides of the Bedugal Regency spend some time at the floating temple, Ulun Danu Beratan Temple on Lake Beratan.
The complex consists of four different temples, each of varying heights and dedicated to different gods and goddesses.
Built in 1633, the complex was constructed to honor the goddess of lakes and rivers, Danu, which is where its name derives.
It's believed that some of the stones used to build the shrines date back to 500 BC.
Wander around the five main sites within the complex including Hindu temples, shrines and a Buddhist stupa as well.
Reach the main temple by crossing a short bridge pathway over the lake waters.
It is said that the temple provides the main water source for Lake Beratan.
While you're visiting the famous temple in the mountains of Bedugul in central north Bali, stop by a village and enjoy some other activities.
Shop at local markets, visit a chocolate plantation, enjoy a traditional lunch, and other attractions like the Bali Botanic Gardens are close by.
82 – Transport yourself from Spain to Indo at Café del Mar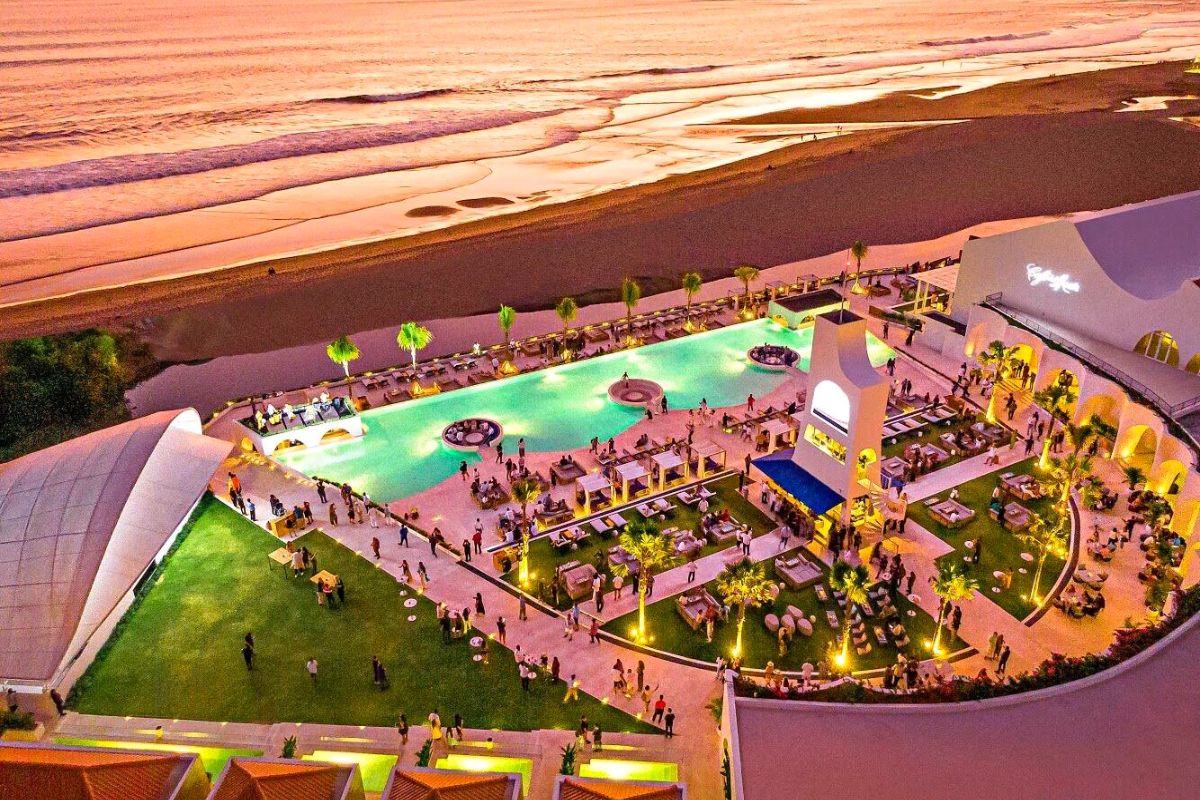 Canggu is known as the home of the cool kids, filled with epic cafes, surf breaks and the famous Café del Mar.
If the name sounds familiar it's because it's set up by the same owners of the iconic Ibiza beach bar, making it the second location in the wold.
Bringing a bit of the Mediterranean to Bali, it feels like you're somewhere in Europe in terms of design, for example, the curved seats in the middle of the pool.
Listen to sweet beach tunes while sipping on cocktails all day and the club is located on its own private beach.
It's divided into different zones which you can choose between when paying entrance.
These include the Arcade Area (with both indoor and outdoor seating), grass daybeds, pool daybeds, sunset daybeds, sunset booth and pool booth options.
Super private deluxe and master day suites are available to hire out for the whole day too.
83 – Sit back and enjoy the show during a Barong dance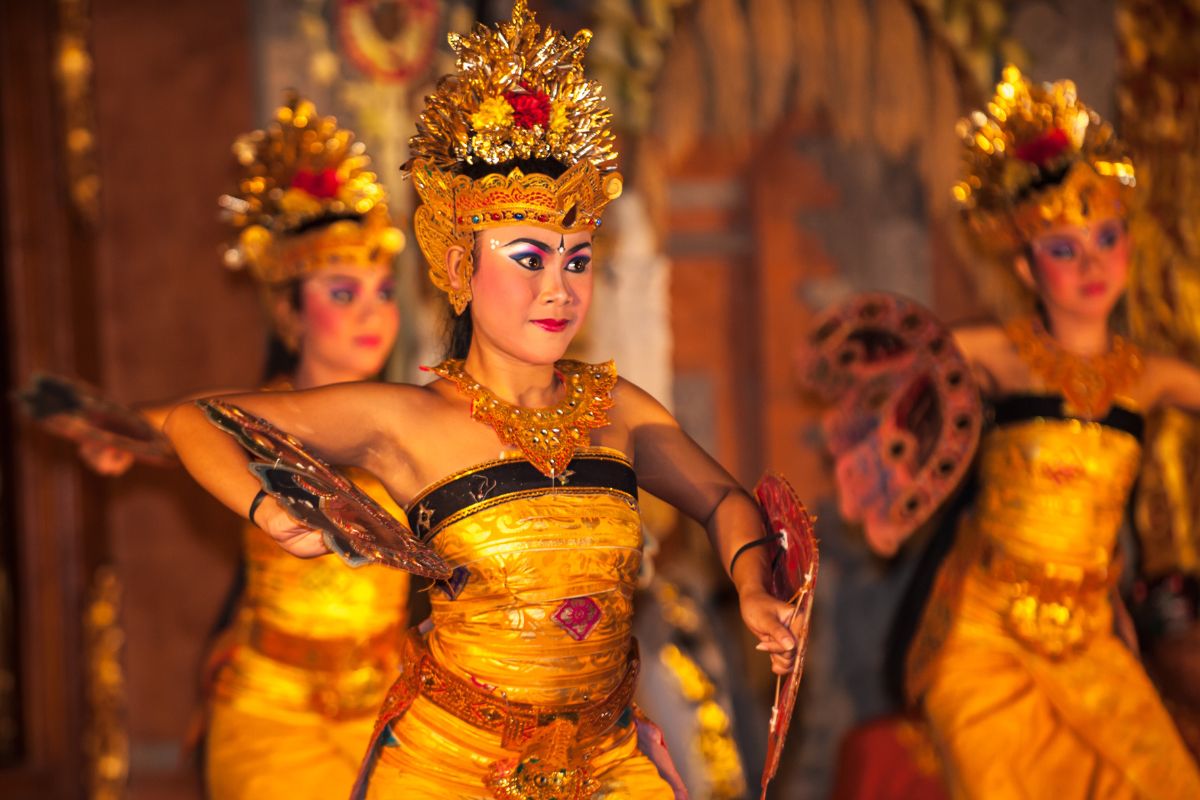 Get to know another one of Bai's traditional dance performances and witness a Barong dance show during your holiday.
Based on stories of Balinese mythology, the performers on stages are dressed with wooden face masks and in costume, each a different character.
For example, the Barong Macan looks like a tiger and the Barong Gajah resembles an elephant.
You can catch these live performances during a tour to local traditional villages, or buy your own tickets to a show in Ubud and other areas in Bali.
84 – Feel the magic at Tabanan Butterfly Park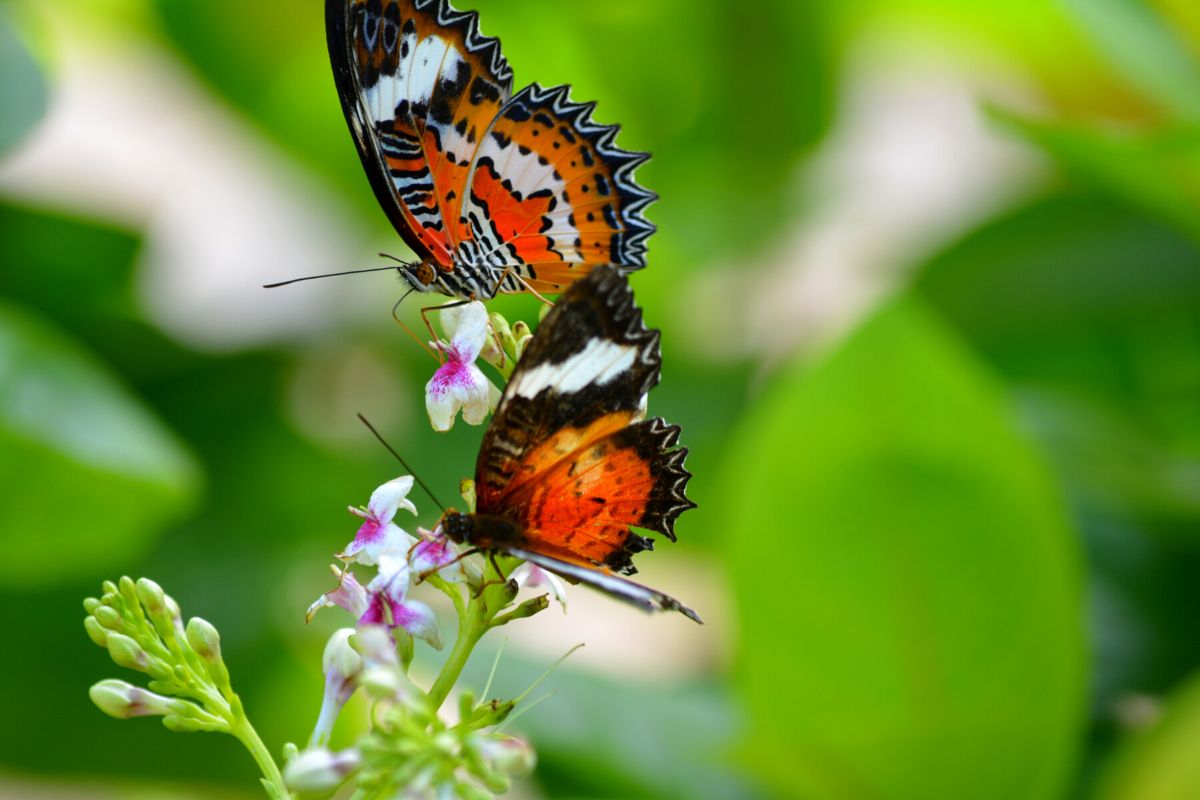 Marvel at hundreds of butterflies at Tabanan Butterfly Park, specifically ones that are native to the area.
There are 15 different species of butterflies that flutter around the park.
Apart from the winged beauties, there are other insects to check out, including the Phyllium Pulchrifolium commonly known as the leaf insect, or the hairy Brazilian Salmon Pink Birdeater tarantula spider.
There's an exhibition of dried butterflies on display too, providing some educational insight about the creatures.
Ps. There is another stunning butterfly park in Bali, Kemenuh but because of recent times, they remain temporarily closed.
85 – Admire or purchase some new artworks at the art galleries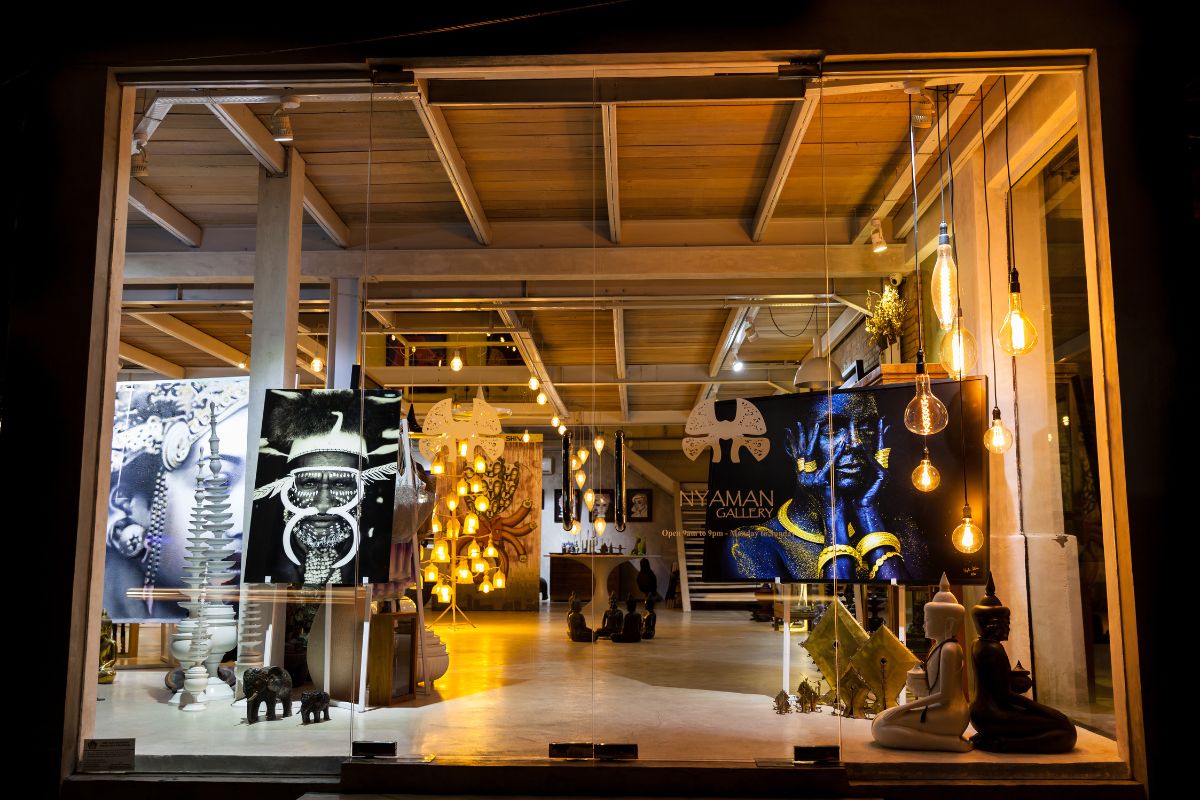 By now you've realized that Bali is home to a thriving art scene, whether you're looking at its history, or at modern times.
While many of the traditional museums around Bali showcase art from time periods before, there's a plethora of art galleries around that celebrate contemporary works of art and artists.
Head to Nyaman Gallery in Seminyak which exhibits works from both local and international contemporary creatives in a variety of mixed mediums, from paintings to photography.
Another great space in the Seminyak area is the ReservoArt Concept Store.
The gallery owner curates art from all over the world, particularly in neighboring Southeast Asian countries such as Thailand, Vietnam, China, and of course, Indonesia.
Cush Cush Gallery has been built within a former clothing factory, which immediately adds a cool aesthetic to the space.
The gallery focuses on art and design aesthetics, and there are varying collections to explore.
Some of these include furniture & lighting, the surface collection, accessories and then, of course, the artworks.
The Purpa Fine Art Gallery is renowned for hosting local and international artworks by some super acclaimed artists that have lived in Bali in the last 50 years or so like Antonio Blanco, Gusti Nyoman Lempad and Walter Spies.
With an interesting history, originally TONYRAKA Art Gallery was named Raka Gallery, but when the founder's son joined his father, they changed the gallery slightly, including its name.
Today, find an amalgamation of both contemporary and traditional art.
86 – Go canoeing at Tamblingan Lake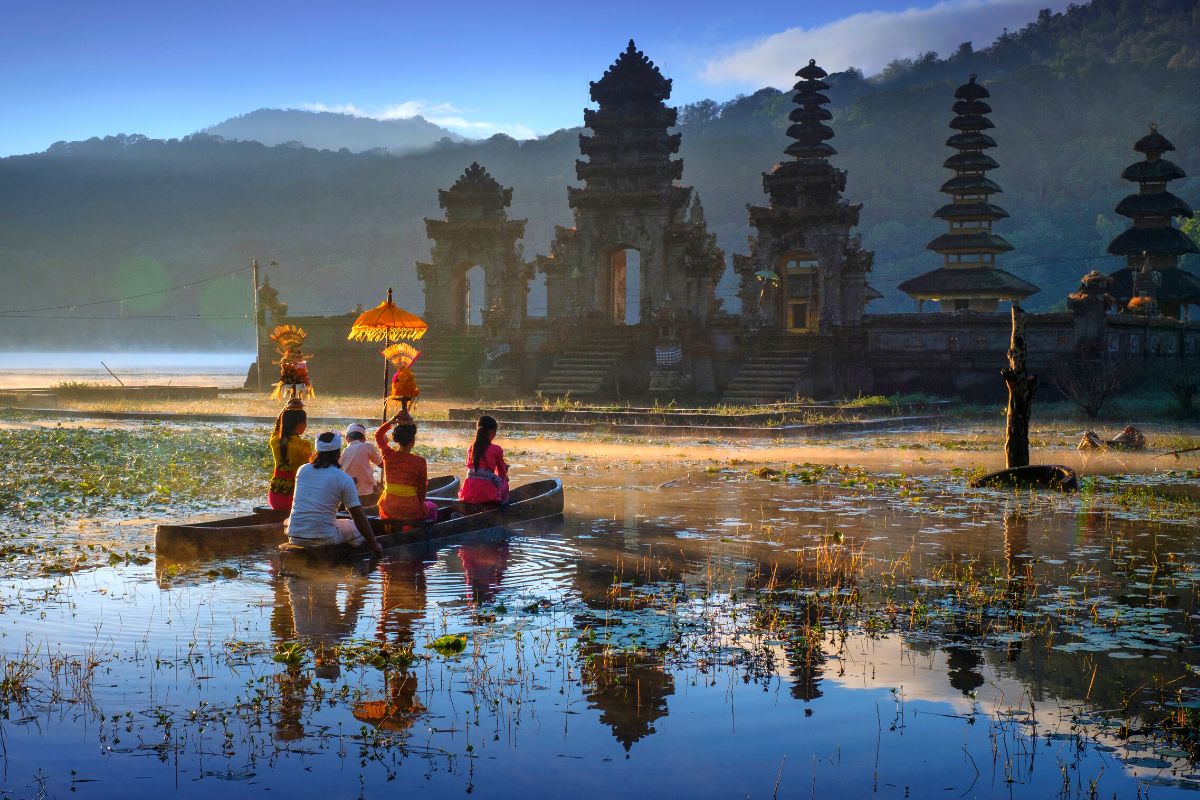 Hidden within the Munduk Village in Buleleng, Tamblingan Lake is a popular spot for a canoeing expedition.
Located right next door to another lake, Tamblingan isn't as big as its neighbor but the local authorities have gone to extensive levels to preserve the lake.
No motorized boats are permitted on its waters, so canoes, kayaks and other manual-powered boats are the best bet.
Enjoy a leisurely canoeing experience at Tambingan Lake with the most gorgeous scenes around you of mountains and rainforests.
There are some temples within close proximity to check out as well.
87 – Sip on cocktails all day at Potato Head Beach Club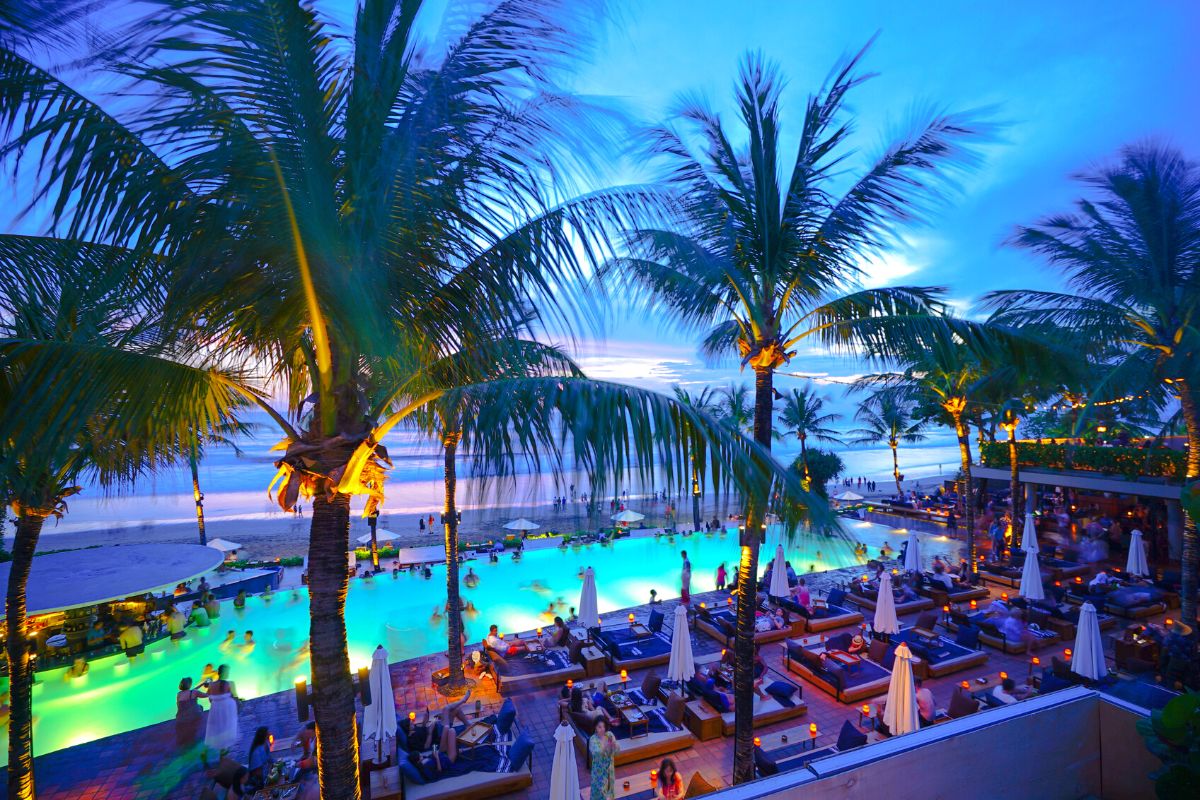 Not just one of Bali's most famous, Potato Head Beach Club has topped many international lists as one of the world's best beach clubs at present.
Found in Seminyak, the day and night club is massive, and has a spacious setup and design.
Speaking of, it's an architectural feast, with gorgeous corners, pillars, rooftops and attention to small design details.
Potato Head Beach Club's famous infinity pool is level with the ocean and appears to be one and the same from certain angles.
There's a massive astro green grass area dotted with daybeds, and sun loungers covered with Balinese umbrellas.
It's the epitome of classic Bali.
Closing real late, catch a live act or DJs playing until the next day.
Potato Head Beach Club is opens from 11 AM.
88 – Don't miss the chance to visit the famous Gili Islands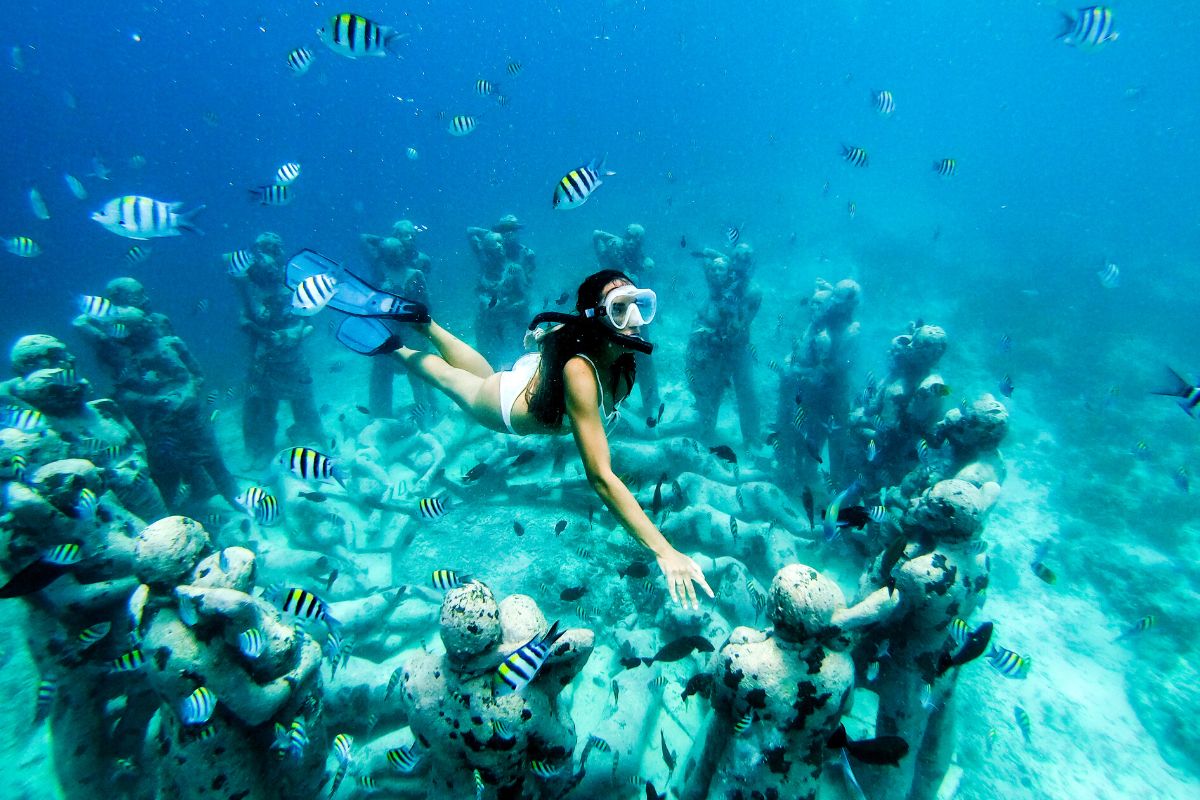 Along with Bali, the Gili Islands are one of Indonesia's most famous destinations for vacationers.
Whether couples, party-goers, a group of mates, or explorers, the picturesque islands — with some of the most beautiful waters near Bali — offer something for everyone.
Comprising of three small islands, if you're visiting Lombok the Gilis are within easy reach, as well as from Bali mainland itself.
(There are Lombok tours from Bali if you have time available.)
Take a day trip around the three Gili islands, or choose to spend a few days hopping in between each isle for the best of all three experiences.
Start at Gili Air where the atmosphere is laid-back, the locals are all smiling and there's a string of accommodation, beach bars, cafes and shops along the beach strip.
Come sunset hour, some of the most breathtaking views are from Gili Air.
The island is fantastic for all sorts of travelers, including families, couples and a group of friends.
After you've relaxed into the Gili groove, make your way to Gili Trawangan, affectionately called Gili T, if even for a day trip or overnight stay.
Known as the "party island", there are areas on the other end of the island away from the clubs that offer peace and quiet and there are tons of shopping and dining options here.
The snorkeling at Gili T is amazing and you can swim out into the shallow waters from the beach.
Look out for turtles in the waters around here.
From Gili Air, book a private snorkel experience and take a boat trip from the island to Gili Meno with a stop on the island for a local lunch.
Meno is the smallest of the three and is the quietest, private and most serene.
Romantic in every way, Gili Meno is a perfect place for couples.
89 – Dating back to the early 1800s, check out Puri Saren Palace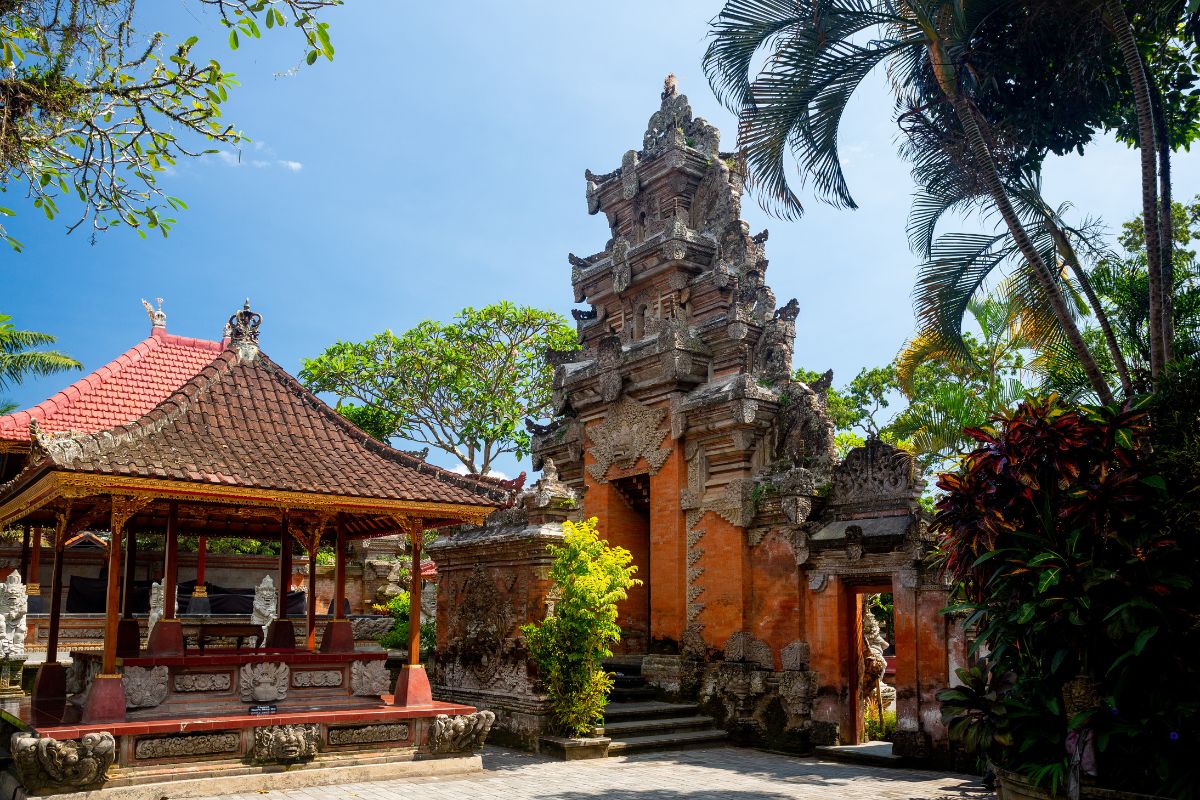 There aren't many cities, or islands for that matter, where you will find the chance to explore so many palaces … so take advantage in Bali!
Puri Saren Palace belongs to the Ubud royal family, but it no longer is their home, but rather a museum for visitors to marvel at.
Cover the palace grounds in under an hour and discover its ancient treasures.
Pass by the hall decked in shining gold, visit the immaculate gardens, or explore the on-site temple (closed off to visitors inside which creates an air of mystery).
There are tons of beautiful stone statues to photograph.
Another activity to enjoy at Puri Saren Palace are traditional dance performances that take place on the royal stage.
Also known as the Ubud Palace, catch one of these shows here in the evening times.
90 – For all watersport junkies, spend some time at Bali Wake park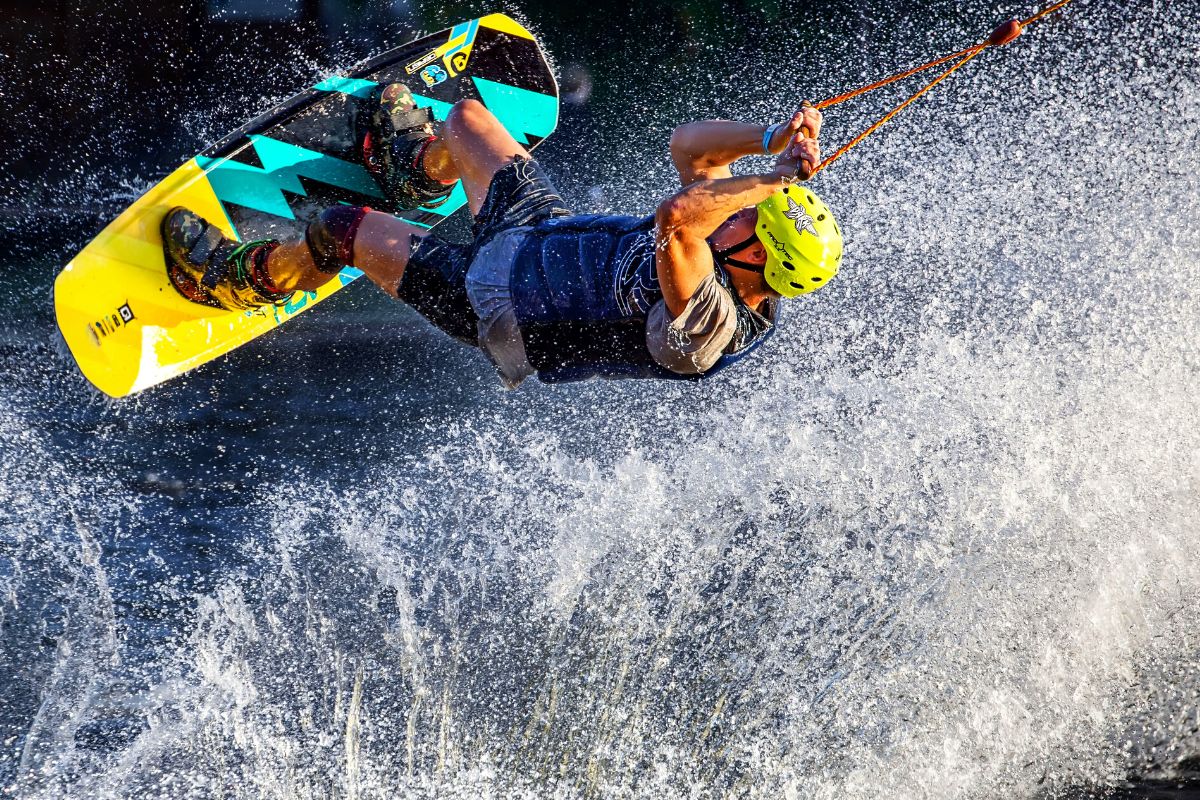 Bali Wake Park doesn't just offer wakeboarding, but a bunch of other epic water activities too.
There's a water cable park where kneeboarding, skiing and wakeboarding are all done via an automated cable system that pulls the device along the water.
Try kneeboarding for something less daunting as you won't be required to stand up on a board and balance yourself.
Instead, the ride is on your knees and the watersport is suitable for children too.
For something more challenging, try your feet at water skiing, or skurfing.
Ever heard of skurfing before? It's a combination of water skiing and surfing.
At the lake, there are obstacles that have been placed around the waters for seasoned pros looking to catch some air and show off their skills and tricks during a session.
The excitement doesn't end there and Aqualand is located at Bali Wake Park.
Tons of fun, this inflatable waterpark is suitable for all ages.
If you're tired of all the action, chill out around the (adults-only) infinity pool overlooking the lake, or grab something to eat at the Cable Cafe.
91 – Visit Badung Market for a sensory explosion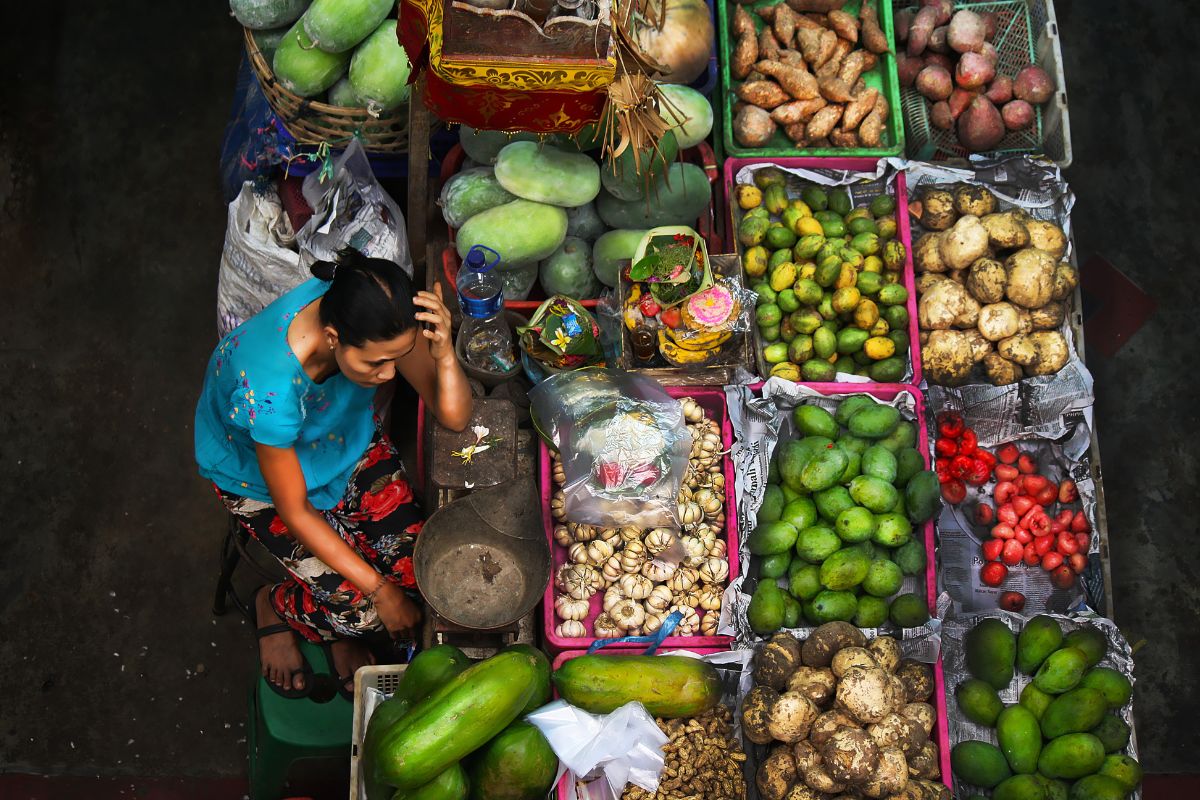 For all your fresh produce goods, Badung Market is Bali's biggest traditional market where you'll find an assortment of fruits, flowers, vegetables, herbs, spices and many other finds.
It's a foodies paradise as you meander past rows of woven baskets in all shapes and sizes filled with tropical fruits, glistening vegetables you've never heard of and aromatic spices in deep shades.
If you enjoy cooking and have the option to make your own meals at your stay, grab local ingredients here.
The well-known wholesale Kumbasari Market (also known as the Art Market Kumbasari) is directly across the way from here, just over the river.
92 – Check out the incredible day club, oneeighty°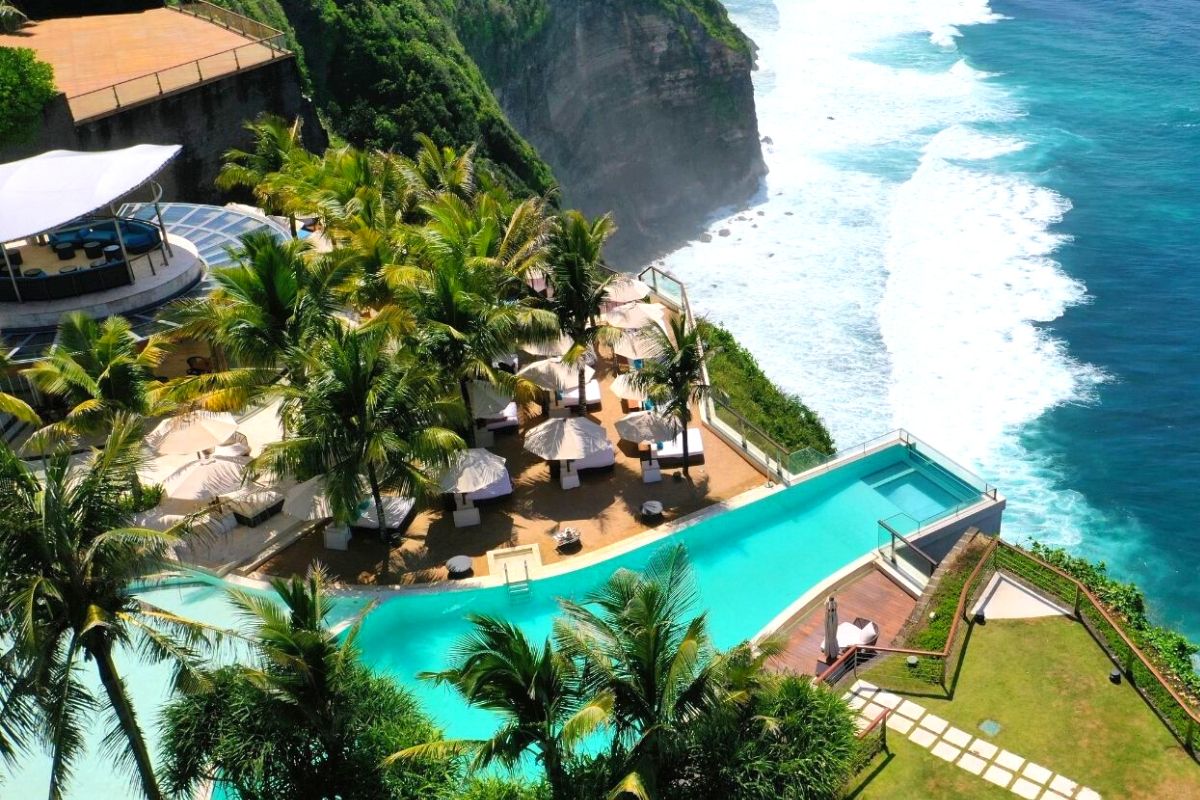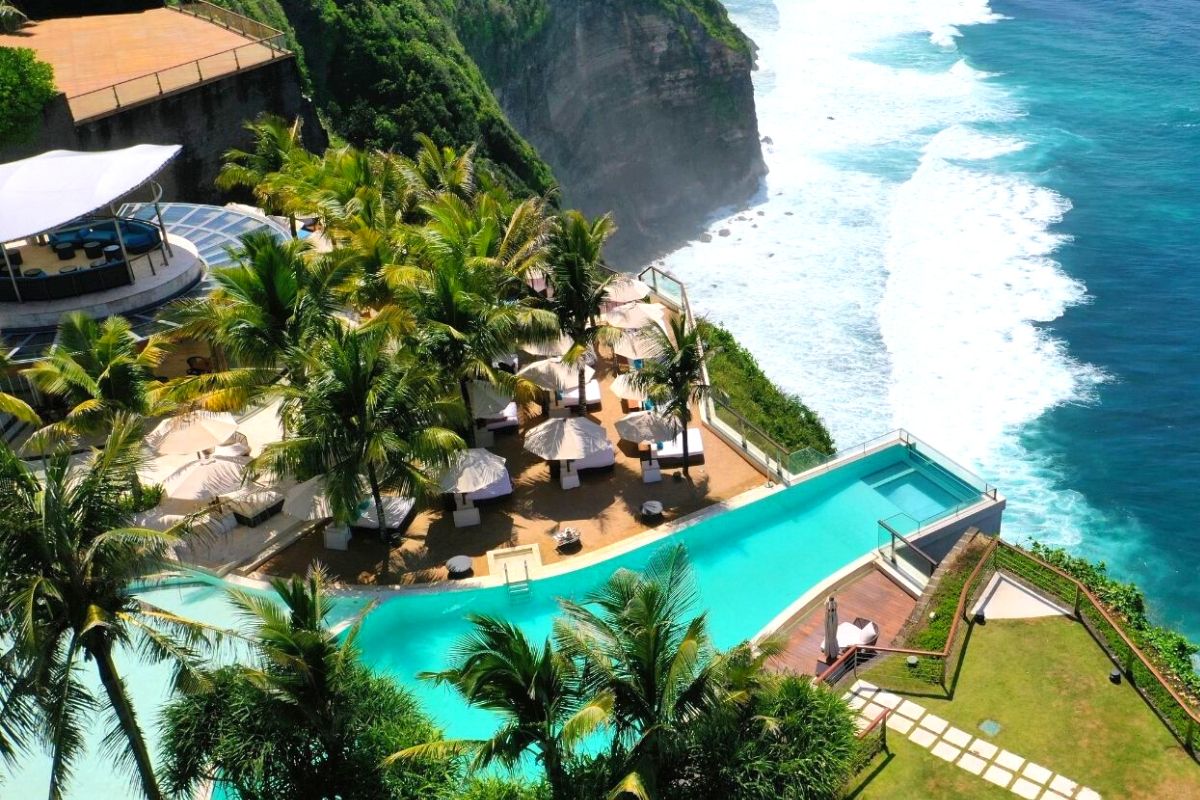 Take in the ocean views from 162 meters above sea level at oneeighty°.
The views don't end there and one of the day club's standout features is the completely transparent glass pool overlooking the ocean.
It sits right on the edge of the cliff, and it's another one of Bali's major Instagram hot spots.
There are different parts of the day club to hang out.
Spend the day in the VIP section, or you can grab regular admission into the club.
For something extra special, they offer a completely private space at the Sky Lounge for small parties of guests of up to 18 (but with a minimum amount of 10 people).
Not only a bar, but there's also a divine restaurant on-site and naturally, it's one of the places to be for sunset hour.
Good to know, you will need to make reservations to oneeighty° at least one day in advance.
93 – Put on your fancy clothes and enjoy Bali's fine dining scene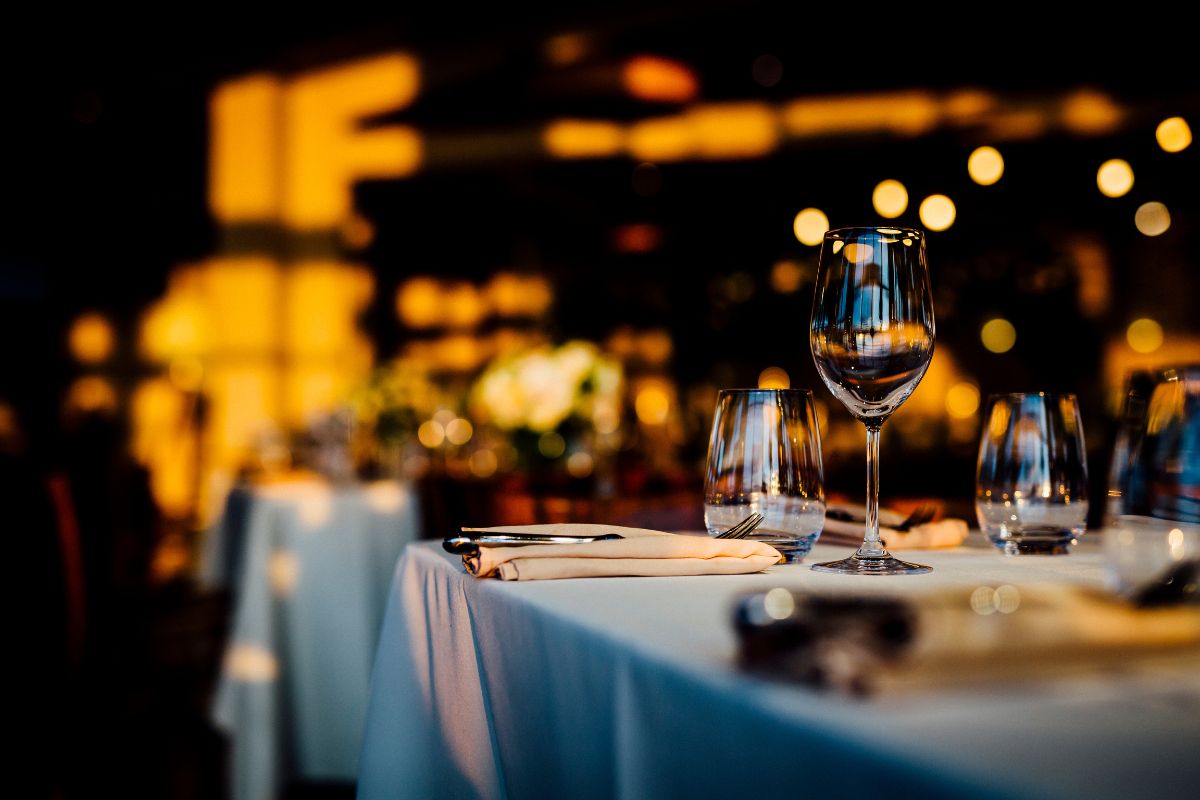 Here on honeymoon or looking for a night out filled with fabulous food, check out Bali's fine dining scene.
Boasting gorgeous interiors, Apéritif is for the full dining experience.
Visit the wine cellar, grab a cocktail or whiskey at the 1920s-themed bar, and choose between various degustation menus influenced by countries from around the world.
Incredible food and focusing on beautiful presentation, BLANCO par Mandif offers its guests the chance to experience progressive Indonesian cuisine.
Book a table in advance at Locavore, voted as one of Indonesia's top 50th best restaurants.
Located at the Ritz Carlton Hotel, your high expectations will certainly be met at Kubu, looking on to the Ayung River.
Donned in all-white interiors, Mauri Restaurant is all about celebrating contemporary Italian cuisine.
The chef hails from southern Italy, showcasing many dishes from the region, and for something extra special, book the private five-seater Chefs Table.
For a spectacular location, head into Ubud's jungle for an afternoon or evening of delicious food and incredible views at CasCades.
Don't miss the award-winning Kayuputi at the St. Regis Hotel for a fusion menu of western and Asian treats.
As Bali's first aquarium-style restaurant, the beautiful Koral Restaurant is a must-try dining spot.
Not just the setup, but the food presentation is top-notch.
94 – Head out on a sunset dinner cruise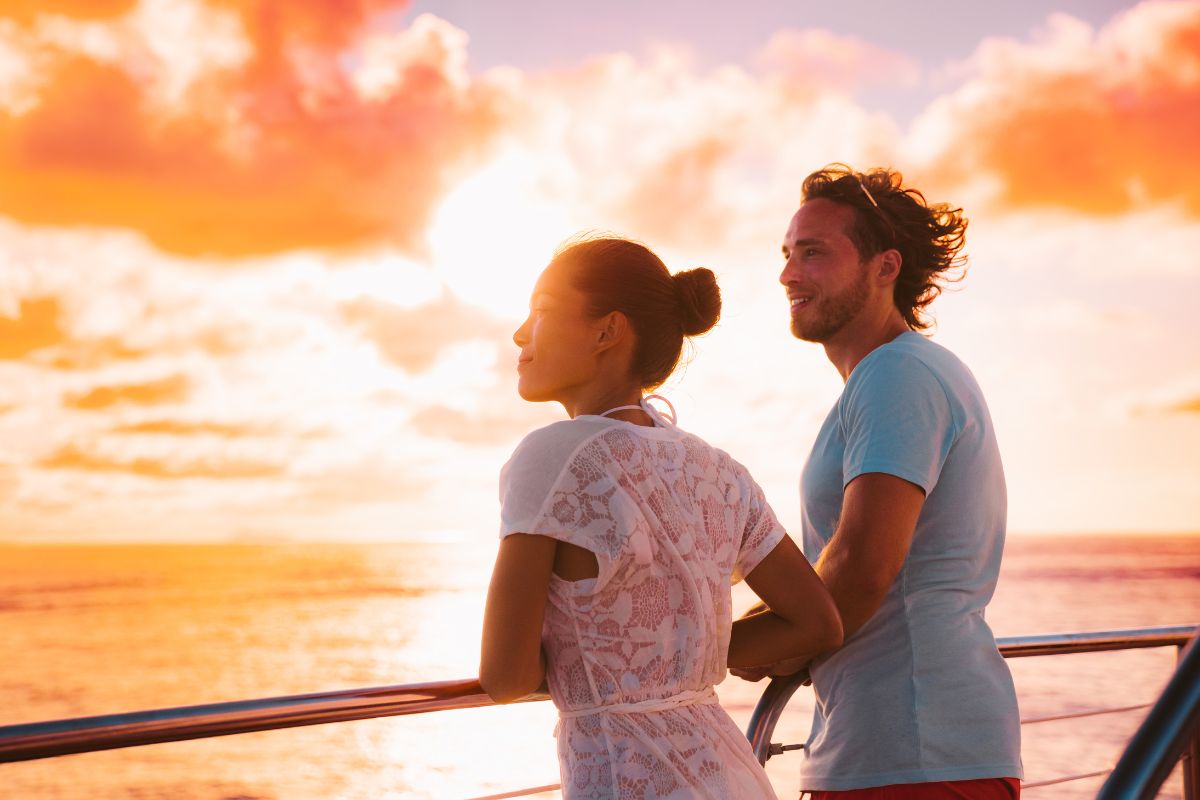 Bali sunsets are like none other, so what better way to experience the magical scenery than a sunset dinner cruise?
It's an excellent choice if you're honeymooning in Bali too.
Spend a good few hours on the waters, enjoying a fine dining meal including cocktails and canapes.
If you're traveling with family, opt for a sunset dinner cruise on a pirate ship for an epic time, and the little ones will have a blast playing pirate-themed games.
95 – Swap markets for malls at Beachwalk Shopping Center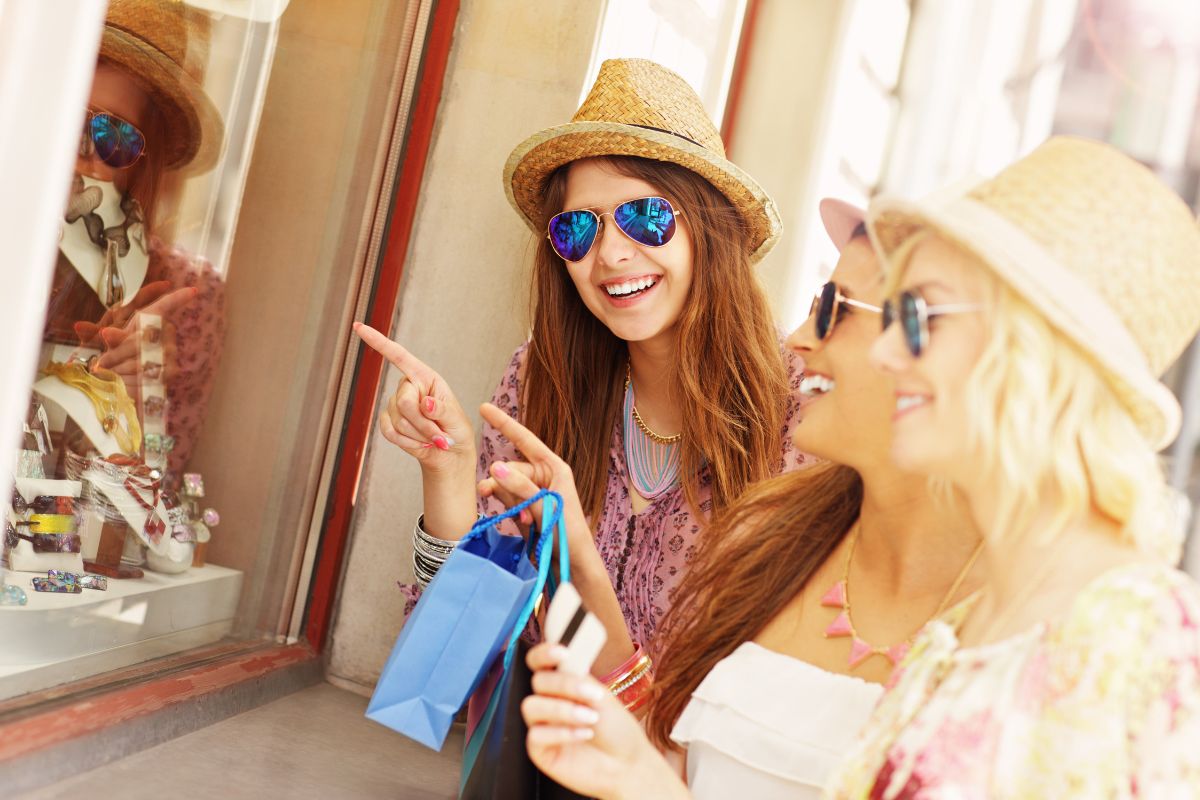 Markets are in abundance in Bali, however, there are some shopping malls around the island if that's more your style.
From afar, you wouldn't know Beachwalk Shopping Center is a mall, consisting of four levels of green-covered buildings.
Although built in an open-air concept, there are many fancy boutique shops and brand labels to shop at.
From Addidas to Aldo, H&M to Fossil, Mango, Quicksilver and much more, you can find both local and international stores at the mall.
Located in Kuta, the setting suits the area with its coastal vibes and beachy atmosphere.
Apart from the shopping, the center hosts cultural shows and performances.
96 – Journey into Bali's magical past through song and dance at the Devdan Show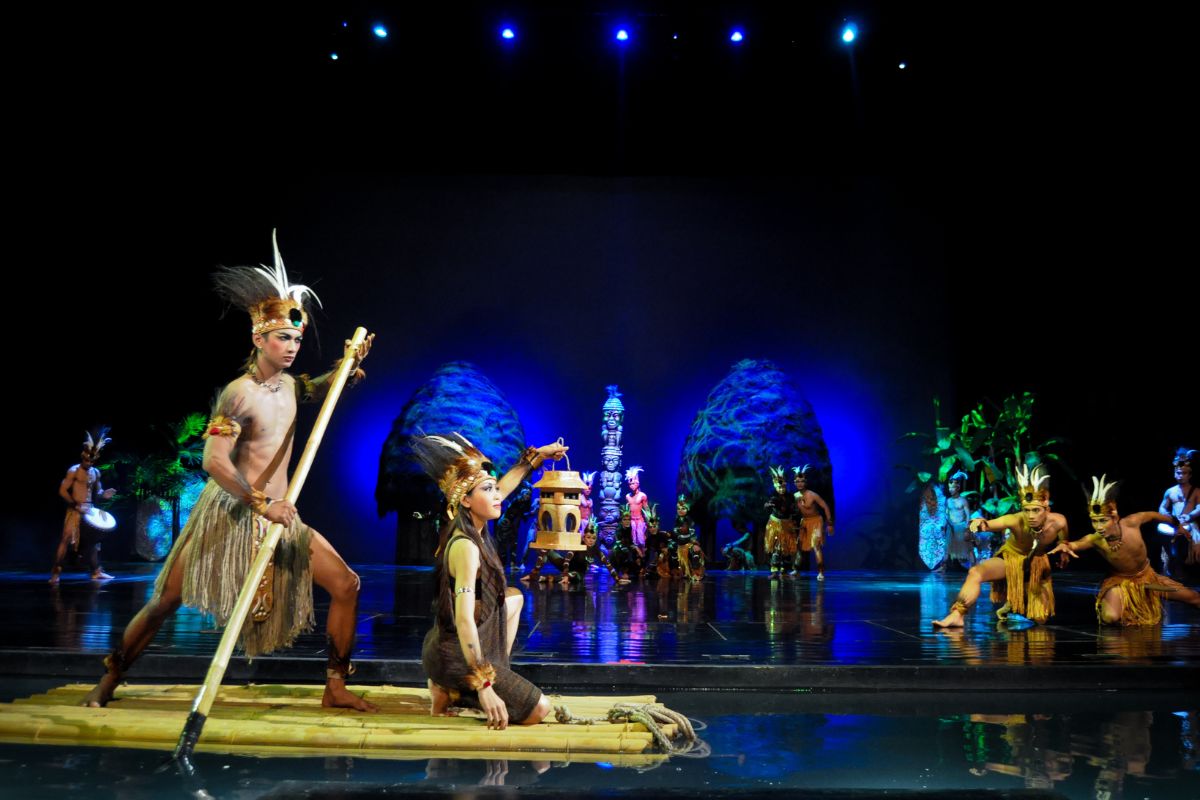 Devdan Show's live performance is really special because it tells the story of two children.
Holidaying with a tour group, the boy and girl decide to venture off on their own. .
Whilst they're on their own adventure, they come across a magical treasure chest filled with items that relate to Indonesian culture, specifically highlighting its archipelago.
More authentically, the show is performed by two child actors, accompanied by a chorus of aerial dancers that perform tricks and moves on silky fabrics hanging from the ceilings.
The special effects experienced during the Devdan Show add to the storyline, like 'rain showers' and colorful lights.
Apart from the story, you can also witness and learn about traditional Balinese items and clothing, like the tribal weapons and traditional garments.
The Devdan live show is great for all ages, one of the best things to do in Bali at night.
97 – Don't miss the super famous La Plancha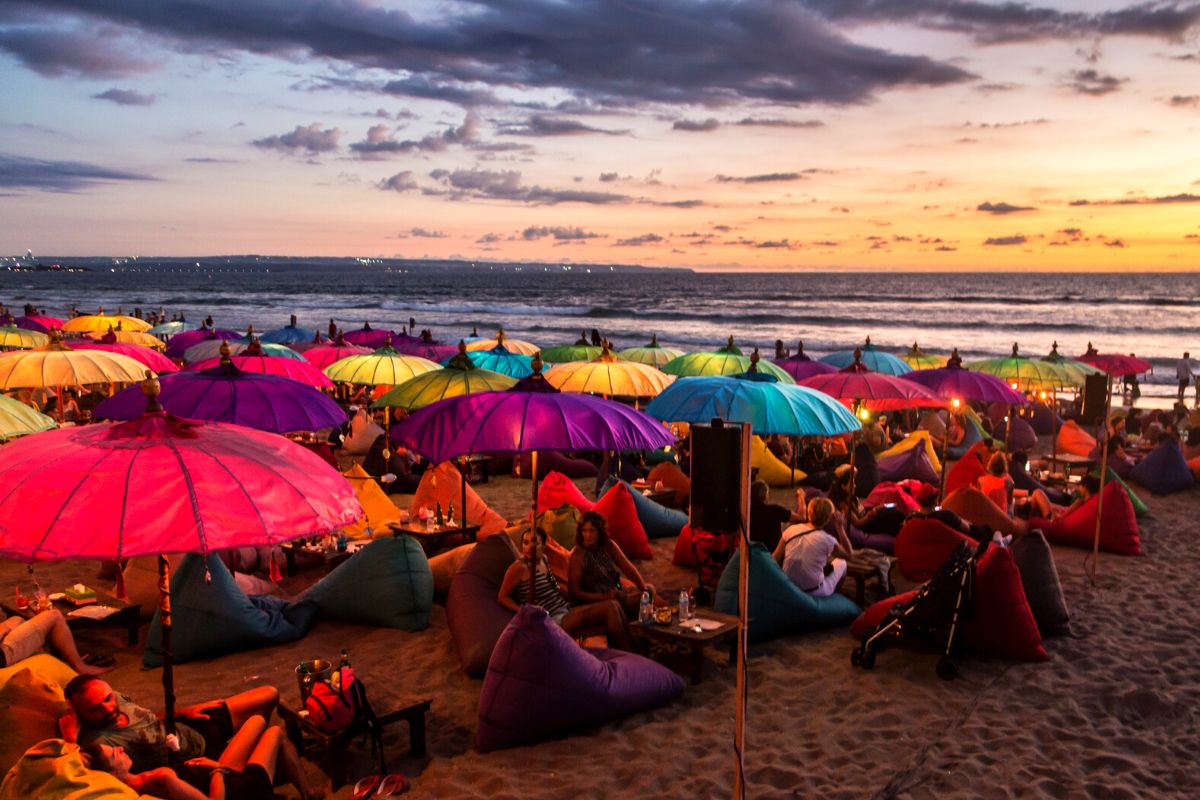 La Plancha is based on the Spanish concept, a 'chiringuito' (a small bar selling drinks and tapas).
It's one of the first beach clubs in Bali, however, stepping through the wooden walls you'll instantly feel transported to the Meditteranean.
If the beach bar looks familiar, it was one of the first clubs on the beach in Bali to create a congregation of colorful beanbags on the sands.
After gaining massive popularity, many of the other beach clubs on the island began to take inspiration from La Plancha.
Spend the day drinking cocktails and cold beers and listening to a combination of Spanish, Indonesian and old-school music.
It's located on Double Six Beach which is one of Bali's most popular beaches and renowned for its party scene.
Make an entire day of it at Double Six beach filled with epic activities, from beach volleyball to surfing, drum circles, sandcastle building, and much more.
98 – Enjoy a candlelight seafood dinner in Jimbaran Bay
Jimbaran Bay is home to fancy resorts and beautiful beaches, and with its coastal environment, find many incredible dining options offering some of the freshest seafood around.
Couples, indulge in a super romantic seafood dinner by candlelight in Jimbaran right on the beach with your feet in the sand.
To top off the experience, end the night off watching a traditional Kecak Dance.
There are tours to the area, and many of these end off with dinner, or you can opt to just wine and dine.
Whilst in this part of the island, visit Uluwatu Temple, local markets and villages, and stop by Jimbaran Fish Market where you can buy your own produce to cook a meal another day (if that's your thing).
Don't miss Jamabrana's open-air shopping village either where you can pick up handicrafts and souvenirs.
99 – Put on your dancing shoes and hit Bali's best clubs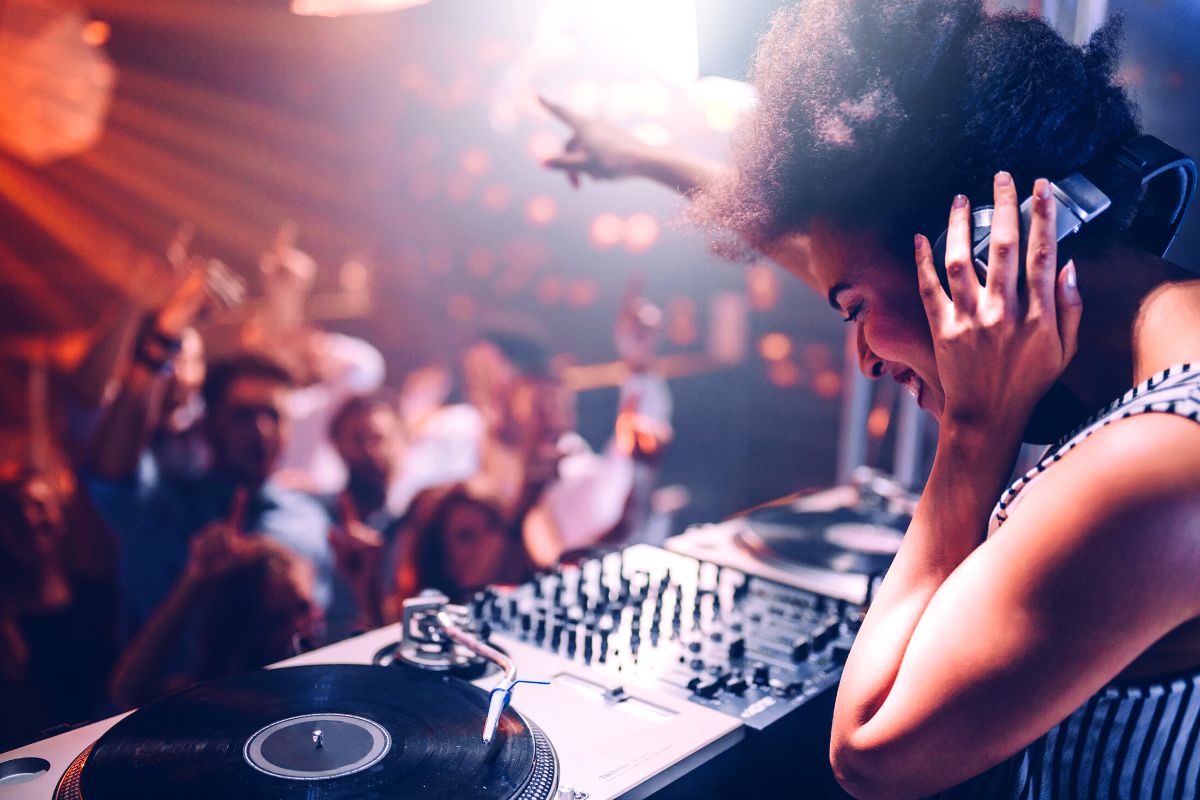 Surfing, temples, island hopping, snorkeling, diving … these are just a few of the appeals of Bali, however, there's no denying that a good handful of travelers come specifically to Bali to party!
There are so many clubs to enjoy, you'll find the one that tickles your fancy.
Pretend to be in Mexico at Motel Mexicola in Seminyak for drinks and small plates of Mexican chow.
A long-standing favorite, evenings at Mirrors Lounge & Club are guaranteed to be a good time with international DJs from around the world since 2014.
With man-made waterfalls, ponds and gardens to add ambiance, La Favela is another club where you'll feel transported worlds away.
Taking inspiration from a traditional 'favela' found in Brazil, there's a laid-back cool atmosphere, almost rustic vibes.
In the late evenings, the tables and chairs are pulled to one side and the dance floor opens.
Open till the early hours of the (next) morning, Club Jenga feels like you're in Tokyo, and it gets super busy!
Where to stay?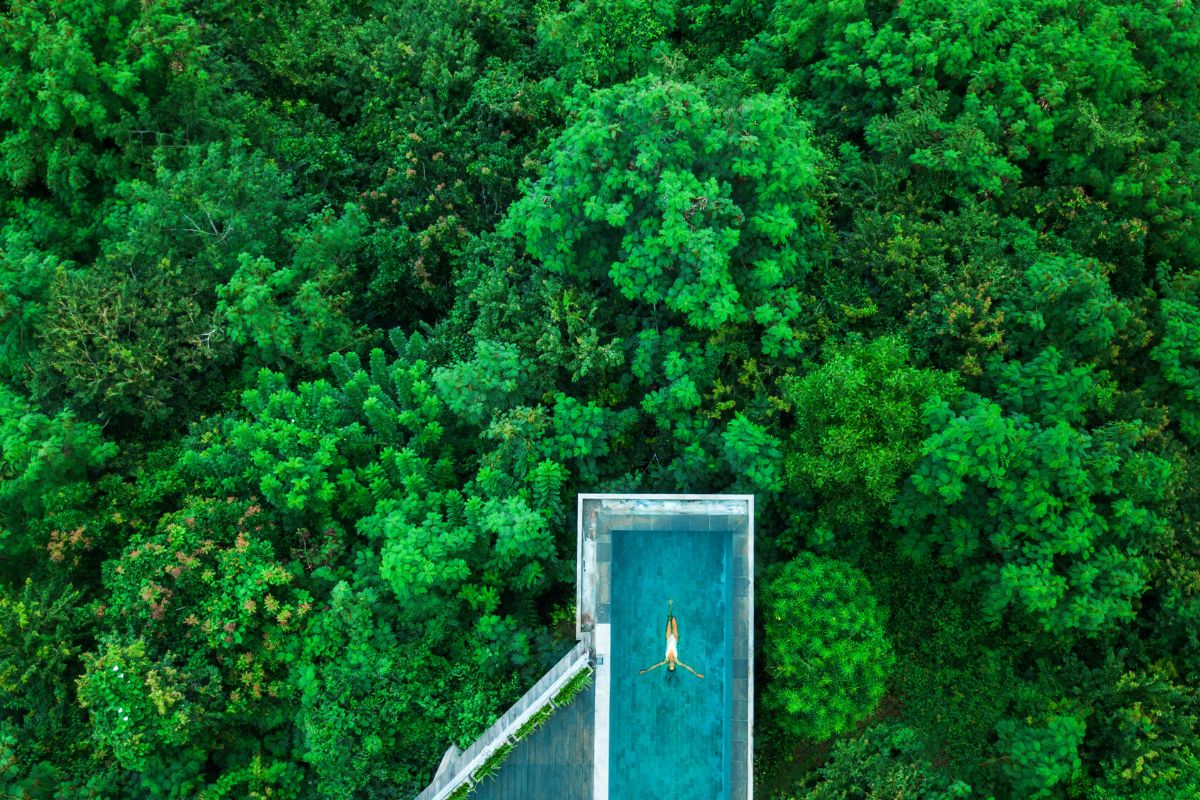 Bali is an island, but a rather large one at that, and the different areas are spread out.
On that note, each part of the island offers travelers something different, so it's vital you choose a place that suits your needs.
Starting with Kuta, one of the most popular destinations in Bali, find everything you need around you from amazing beaches to a roaring nightlife.
Cons? It gets very busy and targets the tourists. If you're looking for peace and quiet, look elsewhere.
Canggu has gained more popularity in recent years and is full of cute cafes, trendy boutique shops and hip bars.
Cons? It can feel a bit too hipster at times if that's not your scene.
Seminyak is an awesome location for all types of travelers, and because of this, caters to different tourists and budgets.
Cons? Located in the heart of Bali, it is quite commercialized on this part of the island.
Uluwatu calls all surfers and is lined with incredible beaches, including many hidden ones. Located outside of the main areas, it offers tranquility and is surrounded by lush beauty.
Cons? This can also be a negative as you will need to drive a distance to reach many attractions, beach clubs and other historical attractions.
Ubud is your escape into the jungle and is one for nature lovers.
Cons? It's super peaceful in this part of Bali, and there isn't a party scene happening in the area if you want one night to boogie.
Nusa Dua is picture perfect resort area in Bali and caters to families or travelers after a luxury-filled island vacation. It offers amazing water sporting, making it a popular getaway.
Cons? It has a very family-orientated feeling, and the accommodations are pricey.
Sanur is for travelers who prefer to stay off the beaten track and away from the crowds. It feels like you're on your own private island.
Cons? Don't expect an overload of things to do around here.
Need a car?
Before arriving in Bali, organize your airport transfers. Upon landing, avoid the swarm of drivers, lines waiting to grab a taxi, or being overcharged for a drive to your accommodation.
To travel from one location in Bali to the next, you often need to travel a minimum of 15 to 20 minutes.
Consider hiring a private car with a driver to transport you around the island and save money, time, and effort not dealing with taxis.
Where next?
Lombok is a gorgeous destination for first-timers in Indonesia that want to escape Bali's massive crowds.
It's known for its surfing spots too and has some beautiful accommodation for affordable prices in comparison to Bali.
Catch a six-hour public ferry, or the speedboat takes between 1.5 to three hours.
For something closer, head to Java where Jakarta is situated. By ferry it takes 45 minutes to one hour to reach.
Here check out some of Indonesia's iconic attractions like the Ijen Volcano with its crazy blue lake in east Java.
While in Java, you cannot miss Borobodur temple either, the world's largest Buddhist monument!
Traveling to Yogyakarta in southern-central Java, discover another ancient complex, the Prambanan temple.
Seeking an adventure? Visit Komodo National Park which is only suitable for an overnight stay in a nearby town, such as Flores, and not a day trip.
Spot real-life Komodo dragons and these giant lizards date back to over millions of years ago.
Final thoughts
From ocean days to afternoons spent in the highlands, there are so many things to do in Bali you will need to plan strategically to try to fit it all in!
Not to fear, once you get to Bali, you'll already start dreaming up your next trip, it just has that magical pull about it.
For now, start plotting this vacation … "Sama Sama."
So what's on your Bali itinerary? Share your favorite activities in Bali in the comments below.
Safe and happy travels!