The tropical island of Bali has no shortage of scenic beauty. The island's landscape reflects the fertile volcanic soil, with lush greenery and terraced rice fields. Off the coastline, Bali forms part of the Coral Triangle – an area with the highest biodiversity of marine species, especially turtles and fish.
To view Bali from above is a special treat, and one exciting way to experience some aerial sightseeing is with a paraglider. Paragliding in Bali will certainly be one of the highlights of your trip.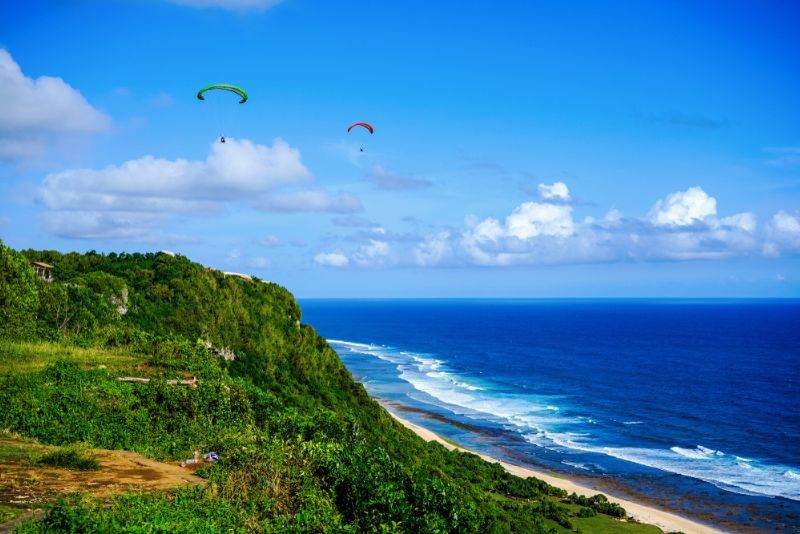 Below you'll find all the information you need to prepare for your paragliding adventure, one of the most freeing outdoor experiences in Bali.
What are the best paragliding tours in Bali?
The coastline of Bali has many ideal paragliding launch sites which all offer breath-taking views of the island and its coastline. Depending on the time of year and the weather conditions, one of several sites may be recommended for your paragliding excursion.
Here are some of the best paragliding tours offered on Bali:
Paragliding adventures at Timbis Beach
Timbis Beach in Kuta is one of the top paragliding sites on Bali, and is the site where paragliding on Bali began. On your flight, you will glide over the Indian Ocean, see hidden temples and limestone cliffs and be able to appreciate one of the less developed areas of the coastline.
You will be able to choose between a 15-minute or 30-minute flight, although flight duration may be weather dependent. This tour includes a return transfer to and from your hotel and you will receive a basic lesson and safety briefing before launching with your experienced paragliding pilot.
Tandem paragliding 15-minute tour including private transfers
On this paragliding adventure in Bali, you will be collected from your hotel by private transfer and driven to either the Bali Paragliding Flying Park Sawangan at Nusa Dua or The Ulu Paragliding Site depending on the time of year and the prevailing wind conditions.
Your expert paragliding pilots will make sure that you have an unforgettable aerial experience as you fly from your launch zone to the landing point. After around 15 minutes in the air, videos and photographs of your flight will be sent directly to your mobile phone.
Bali paragliding over southern cliff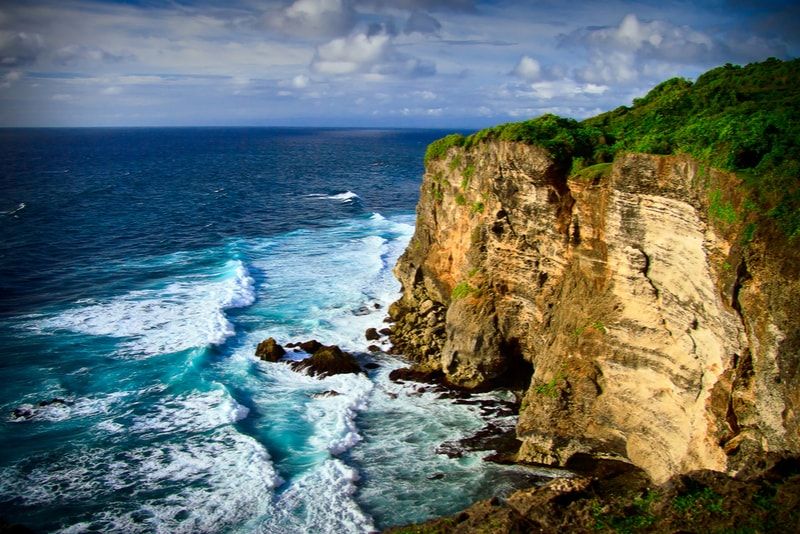 Enjoy a 10-15 minute paragliding tour over the Uluwatu cliff and beach. This tour gives you a birds eye view along the hidden coastline at Bali's southern cliff. The launch point and time for the flight depends on the wind conditions and is confirmed on the tour day.
Your flight is automatically captured by photo and video and you receive the SD card on the completion of your flight, so there is no need to wait to share your adventure with your friends.
How much does it cost?
For a paragliding adventure at Timbis beach, you can expect to pay from US$70 per person for a 15-minute flight to US$145 for a 30-minute experience. The price includes a return hotel transfer and video and photo footage of your flight.
A tandem paragliding flight from Sawangan at Nusa Dua or The Ulu Paragliding Site at Uluwatu costs from US$135 per person and includes a private return transfer from certain Bali hotels and footage of your excursion. The launch sites are seasonal and weather dependent.
A 15-minute tandem paragliding flight over the southern cliffs at Uluwatu excluding transfers but including in-flight photos and video costs around US$75 per person.
What is included?
Together with your tandem paragliding flight, paragliding tours include a basic lesson and safety briefing. All equipment is supplied and most operators include a copy of the in-flight photo and video footage in the price.
Some tour operators include private transfers to and from the various launch sites to your hotel in Bali.
Reputable tour operators also include insurance and all fees and taxes.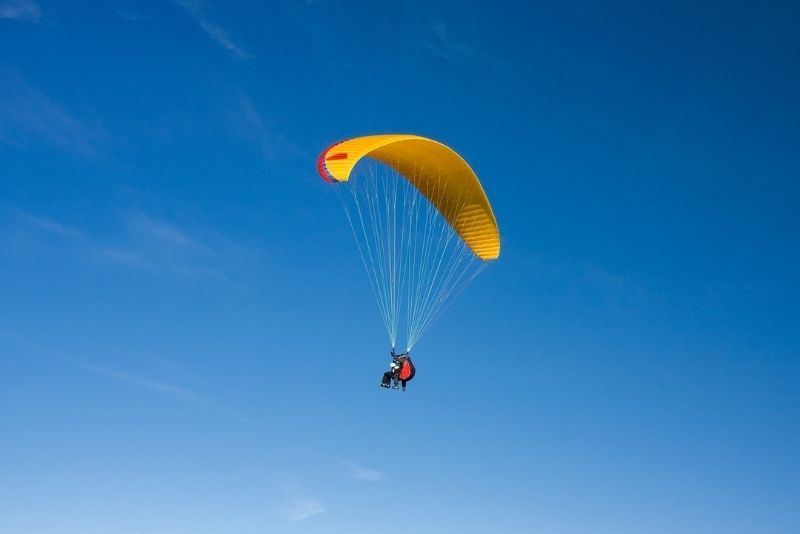 Where does it start?
Paragliding tours in Bali often start with a pickup from your hotel. Several paragliding launch sites are positioned around the island and you may only receive confirmation of your excursion location on the day of the tour.
Popular paragliding sites include Sawangan at Nusa Dua, The Ulu Paragliding Site where you may be asked to meet at Nunggalan Beach and the Timbis Flying Site in Kuta.
How long does it last?
Typically, a paragliding experience in Bali will take around 30 minutes, but there are shorter 15 minute flights and longer 1-hour excursions. You can plan to spend
When is the best time for a Paragliding tour in Bali?
Paragliding is a weather-dependent activity and if it is too windy your tour operator might postpone or reschedule your trip. The dry season, from April to November, is less likely to be too windy and therefore the best for paragliding.
Is it safe?
Like all adventure activities, paragliding tours do have some risks and should only be undertaken with an experienced and reputable tour operator. Paragliding is considered to be a generally safe activity and can be a great family adventure.
If you experience vertigo, are afraid of heights, are pregnant, have back problems or if you have a heart condition then a paragliding tour is not recommended.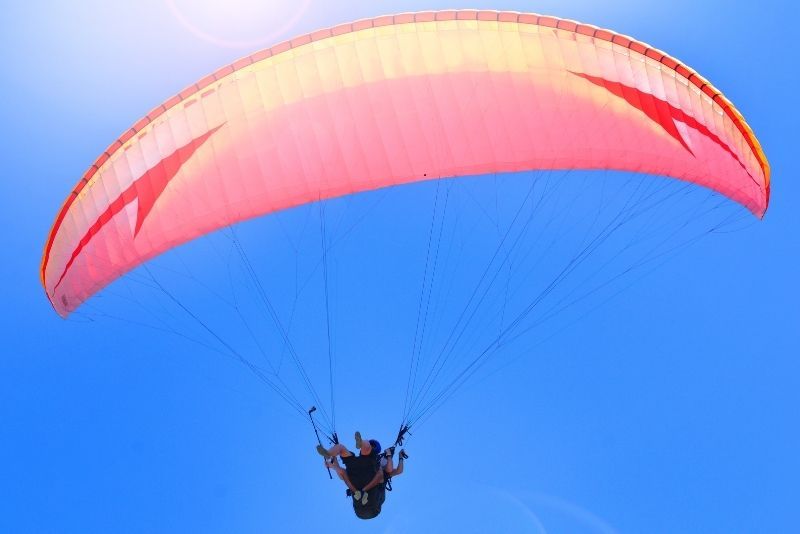 Are children allowed?
Most operators will accept children from 6-years-old on a tandem paragliding trip. It is important that the safety equipment and harnesses fit all participants properly, so check with your tour operator if you would like your child to join the tour.
What happens in case of bad weather?
Paragliding is extremely weather-dependent and your tour may need to be postponed or cancelled if the weather is considered unsafe. If your activity cannot take place because of bad weather, the tour operator will help you to change your booking for another day or refund you in full.
Which other outdoor activities can be done in Bali?
Travel tips
Wear comfortable clothes and closed shoes for this activity.
On hot days wear sunscreen and long sleeves to prevent sunburn.
Make sure your sunglasses have a tight fit or strap to prevent them falling off.
A GoPro is a great way to record your flight.