If you wish to soar through the ocean at thrilling speeds of up to 110 kilometers per hour, choose a jet ski tour in Bali.
You'll have the opportunity to see the vibrant contrasts that make the island so spectacular from afar, with the salty ocean breeze in your face. By renting a jet ski, you can explore the seas surrounding the Indonesian island, and see several cultural landmarks along the way.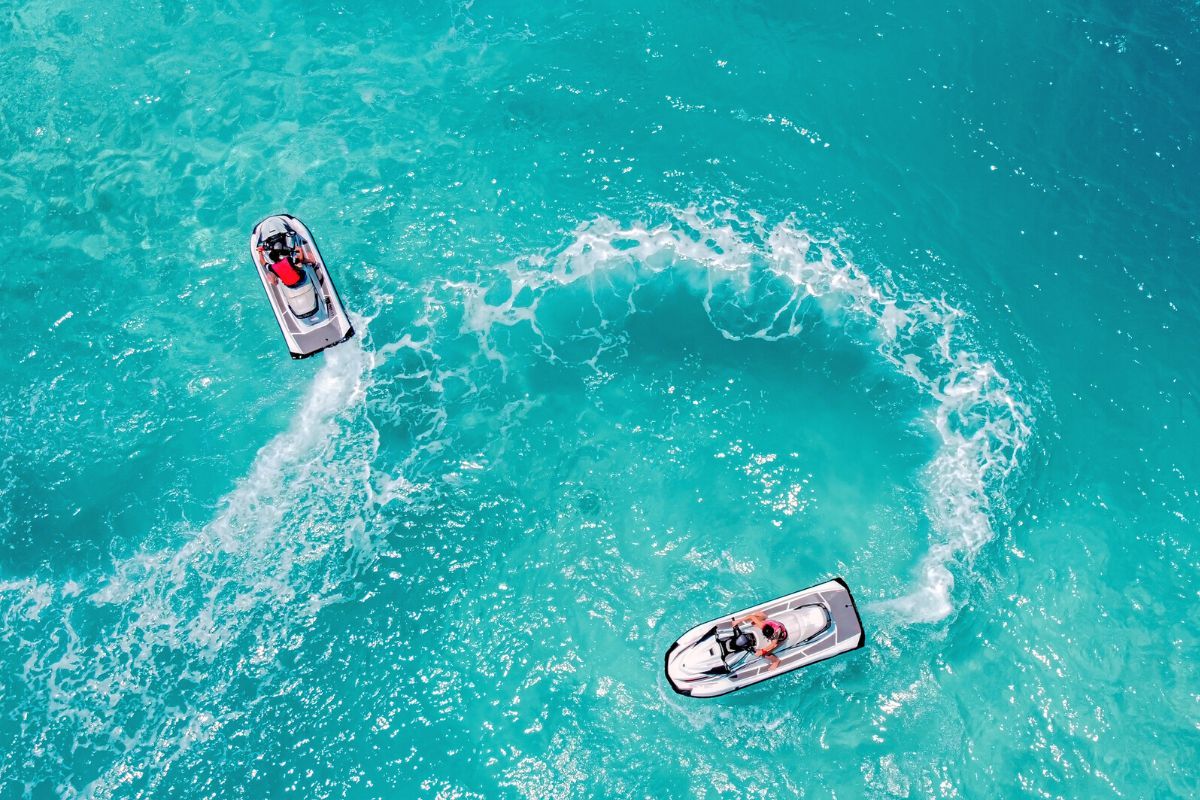 You will find below everything you need to know about jet ski tours, one of the most thrilling water sports in Bali.
What are the best jet ski tours in Bali?
Nusa Dua jet ski experience
This jet ski tour in Bali lets you explore the azure waters of Nusa Dua alone. From the ocean, you'll have a clear view of the region's white sands and lush palms, and you can travel along the coastline at your leisure.
As the wind whips through your hair, you'll feel ultimate freedom, while you rush through the waters. Without an instructor, you can go at your own pace, while feeling safe in the knowledge that a guide is watching you from the beach.
Private jet ski tour in Bali
If you'd rather have a guide to show you local spots, choose a private jet ski tour. Your group will have a knowledgeable instructor who will teach you how to handle your jet ski, before taking you out to explore the open waters.
You can stop along the way for a refreshing dip in the calm waters, and test your daredevil streak by riding your jet ski at speed. With just your loved ones and guide surrounding you, you'll be able to create lasting memories of your vacation in Bali.
Bali parasailing tour with banana boat, jet ski and donut boat
Many jet ski tours in Bali are combined with other water sports. In this excursion, you'll have the opportunity to try the thrilling activity of parasailing.
After gliding through the air behind your boat, you'll return to the water for a jet ski ride. This is followed by an exciting turn on a banana boat and donut boat.
Scuba diving and jet ski tour
This scuba diving tour is aimed at beginners, who will enjoy a 30-minute dive surrounded by vibrant fish and thriving coral reefs. You'll have a divemaster with you at all times to ensure you're safe.
After your time spent under the water, you'll return to the surface for a rip-roaring jet ski trip along the coast.
How much do jet ski tours in Bali cost?
You'll pay between US$60 and US$80 for a jet ski tour in the waters surrounding Nusa Dua.
Private jet ski excursions in Bali cost US$120 per person, for a group of up to six participants.
Combination tours that include parasailing cost approximately US$50, while those that feature scuba diving cost around US$80.
What is included in a jet ski tour in Bali?
Jet ski tours in Bali include the rental of your jet ski, safety gear and insurance. You'll either have an instructor with you on the water or be under the watchful eye of a jet ski professional from the beach.
On many tours, you'll have access to shower facilities and changing rooms after you've finished your activity, so that you can continue exploring Bali afterward.
Where do jet ski tours in Bali start?
Generally, tours include a hotel pickup and drop-off service. You can select your hotel from a drop-down list when booking and then simply wait in the lobby at the requested time.
If your jet ski trip doesn't include this service, your meeting point will be at a landmark close to the beach you're participating in a tour from. The most popular area of Bali for jet ski tours is Nusa Dua, which is on the southeast coast of the island.
How long do jet ski tours in Bali last?
Jet ski tours in Bali vary in length, depending on the type of excursion.
If you're participating in a self-drive tour, you can expect your jet ski trip to last between 15 minutes and an hour. If, on the other hand, you have an instructor with you, your tour can last up to 2 hours.
Combination tours last between 2 and 4 hours, depending on how many activities you participate in.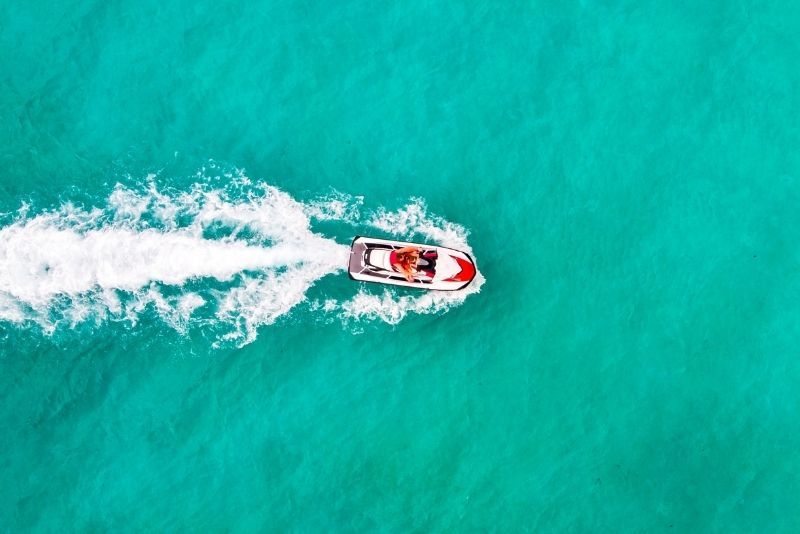 When is the best time for a jet ski tour in Bali?
Take a jet skiing trip in Bali during the dry season — spanning from April to September. During this time, you can expect a hot climate, with temperatures that average 27 degrees Celsius. The seas are calm and mild during this season.
You can choose a range of times to participate in a jet ski tour. It's best to book this activity early in the day before the midday sun strikes.
Is it safe to take a jet ski tour in Bali?
Jet skiing is a safe activity that most people can enjoy on their Bali vacation, and you'll have the guidance of a professional instructor. However, due to their rough nature, it's not recommended that pregnant travelers and those with back or heart conditions participate.
Are children allowed on a jet ski tour in Bali?
All jet ski tours in Bali have different age restrictions, so you should check out the requirements for your specific excursion before booking.
Generally, older children and teenagers are allowed to participate in the activity. Some tours prohibit those under 15 from joining in, while others allow children as young as 8 to be a part of the experience.
What happens in case of bad weather?
Jet ski tours only operate in dry conditions. If the weather is poor, you'll be offered the opportunity to rebook your excursion for another day. If this isn't suitable for you, you'll be issued a full refund.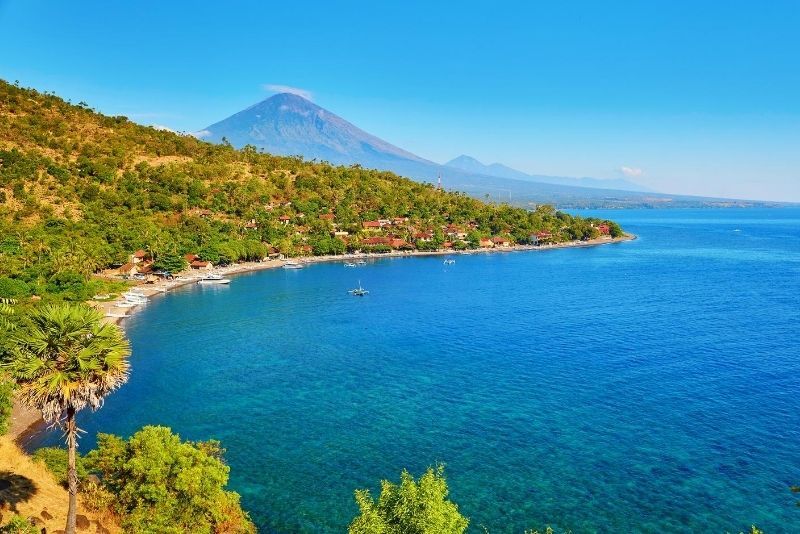 Where can you rent a jet ski in Bali?
Jet ski rentals are mostly located around Nusa Dua Beach. However, it's also possible to rent a jet ski around Kuta — the most popular beach area on the island.
What are the best companies to rent jet skis in Bali?
There are a plethora of jet ski operators that you can book a tour with. These are some of the most highly rated companies on the island of Bali:
My Bali Activity
Bali Amarta Watersports Sanur
Bali Jetpacks and Water Sports
Water Sport Tanjung Benoa Club
BMR Dive & Water Sports
Wira Water Sport Bali
How many people can ride a jet ski in Bali?
Generally, jet skis are designed to hold a maximum of four people, depending on their size. The weight limit of a standard jet ski is between 180 and 220 kilograms. Some tours in Bali impose a restriction of three persons per jet ski.
What safety equipment is needed to ride a jet ski in Bali?
You'll need to wear a life jacket in order to participate in a jet ski tour in Bali.
How should you dress to ride a jet ski in Bali?
Swimwear is the best thing you can wear on a Bali jet ski trip, as you will get showered in ocean spray throughout your tour. You'll also wear a life jacket over the top for protection.
If you burn easily, you may consider wearing a t-shirt on top of your swimming costume for added sun protection.
Which other water activities can be done in Bali?
Travel tips
If you're an inexperienced jet skier, travel at lower speeds until you get used to how your vehicle works.
Smother yourself in sunscreen before participating in your Bali jet ski tour, as it's easy to burn on the water.
If you wish to make the most of your trip, take a guided tour. The instructor will take you to local places outside of the regular tourist haunts.