Experience the awe-inspiring natural beauty of Indonesia's canyons and waterfalls with a canyoning tour in Bali.
Canyoning is an exhilarating way to connect with Bali's landscape and tap into your adventurous side. Zipline across gorges, rappel down waterfalls and jump off rocky cliffs— all while surrounded by Bali's dense jungle flora.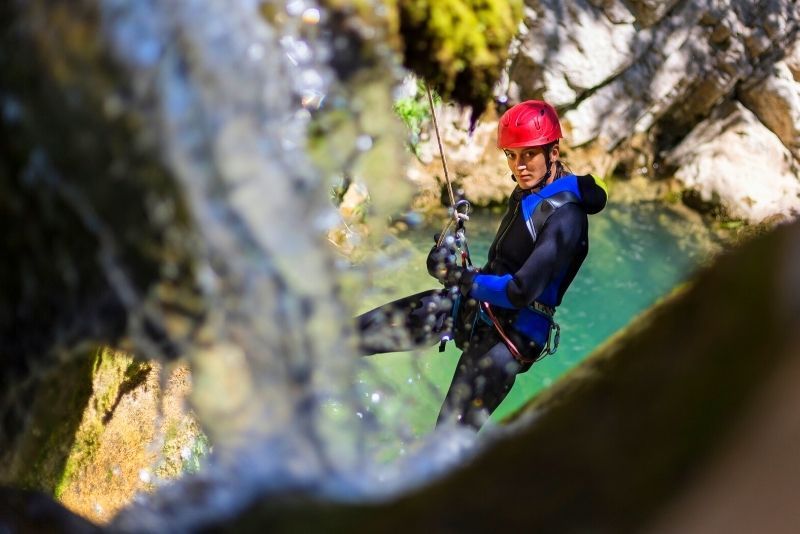 Below, you'll find all the information you need to prepare for your canyoning, one of the most exciting outdoor activities in Bali.
What are the best canyoning tours in Bali?
Bali is a mountainous island that has plenty of canyons to explore, and there are well over a dozen Bali canyoning tours to choose from. Some tours are designed specifically for beginners while other tours are aimed at intermediate canyoneers.
Beginner canyoning tour in Egar Canyon
A beginner canyoning tour in Egar is the ideal choice for your first canyoning experience. Egar Canyon is located in north Bali and offers a hot spring, natural pools, waterfalls and rock slides.
Start your beginner canyoning tour in the morning with a hotel pickup. You'll be driven to a basecamp in north Bali, where you'll be fitted with canyoning gear. After a safety briefing, you'll enjoy a hike through the jungle to Egar Canyon.
The tour includes rappelling down waterfalls, floating down natural water slides and relaxing in a natural hot spring. Your guide will be with you throughout the entire experience.
An intermediate canyoning tour in Samba Canyon is designed for those who may have tried canyoning before and that have a moderate level of fitness.
Get picked up at your Bali accommodation before heading towards the base camp, where you'll be offered a light breakfast. The instructor will provide you with a briefing and help you suit up with the latest canyoning gear.
After this, you'll hike towards the starting point and begin the descent, which will require rappelling, jumping and sliding. Lunch awaits you back at the basecamp before you are taken back to your accommodation.
High vertical canyoning tour in Anahata Canyon
Anahata Canyon is an exciting location for a Bali canyoning tour as there are many challenging obstacles to face during your descent. The canyoning tour also includes jumps, slides and swims, some of which are optional.
You begin your day with a hotel pickup before you are driven to the basecamp, where you'll enjoy a light breakfast and an introduction to canyoning. Next, you'll be driven towards Anahata Canyon, where you'll enjoy rappels as high as 35 meters.
At the end of the tour, you'll receive an ICOpro Canyoneer initiation certificate before being taken back to your hotel.
Canyoning expedition tour in Bali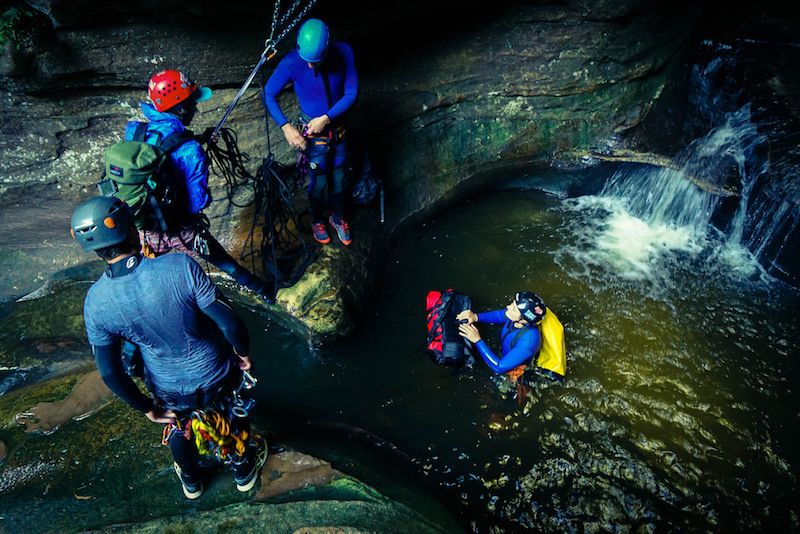 This  2-day expedition in Bali is the ideal canyoning tour for those interested in tackling the Canyon of Fire — one of Bali's most challenging canyons.
The first day of your canyoning expedition is spent training with your guides. After spending the night camping in the mountains, you will awake at dawn on the second day to begin your canyoning adventure.
Almost the entirety of Day 2 is spent tackling Bali's Canyon of Fire. You'll brave 25 separate rappels, some as high as 30 meters.
How much does it cost?
Guided canyoning tours in Bali usually cost between US$100 and US$400 per person, depending on the itinerary and additional outdoor activities.
Beginners canyoning tours cost between US$100 and US$150 per person and usually last between 2 and 6 hours. These tours don't usually include meals. Tours that cost between US$200 and US$250 per person typically last between 6 and 8 hours and usually include meals.
Canyoning tours that cost roughly US$400 per person have a maximum tour capacity of 4 participants, which is great for avoiding crowds. These tours also usually include breakfast and lunch.
A 2-day canyoning trip in Bali costs around US$1,000 per person, and this price includes overnight camping and all meals.
What is included?
Hotel pickup and drop-off service
Canyoning equipment
Mineral water
Snacks
Shower facility
Insurance
Where does it start?
Starting points for canyoning tours in Bali are generally in the north of Bali, and roughly 2 hours away from Kuta.
Most canyoning tours in Bali will provide you with a hotel pickup service. Once you've been picked up, you'll be driven to a basecamp near the canyon that you will descend during your tour.
How long does it last?
The typical canyoning tour in Bali lasts around 8 hours. However, there are much shorter tours available that last only 2 hours. These shorter tours are ideal if you don't have an entire day to dedicate to canyoning.
There are also Bali canyoning tours that span over 2 days — perfect for those looking for that extra adventure and challenge.
When is the best time for a canyoning tour in Bali?
Make the most of their day and partake in an early morning canyoning tour in Bali. Most canyoning tours begin in the morning as most tours last over 6 hours.
Are there any combo available?
Bali canyoning tour with snorkeling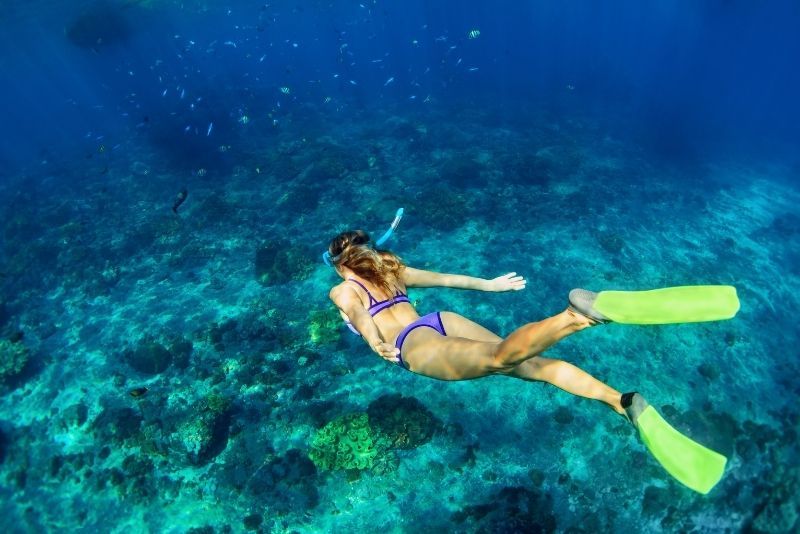 This combination tour allows you to experience two of Bali's most popular tourist activities in one day. Enjoy canyoning at Beji Guwang Hidden Canyon before heading to Tanjun Jepun for a snorkeling adventure.
Bali canyoning tour with Blue Gorge
Start your day early at Bali's famous Blue Gorge where you can swim, take pictures and warm up. Afterward, you'll begin your canyoning adventure that takes place in Excalibur Canyon. Enjoy dozens of rappel and jumping opportunities.
Is it safe to take a canyoning tour in Bali?
Canyoning tour guides in Bali take every precaution to ensure a safe canyoning experience for their tour participants. This is done through the use of modern equipment and by having experienced and trained guides on the trip.
Canyoning tours are not suitable for persons with disabilities, pregnant women or people who may have severe back issues.
Are children allowed?
Different canyoning tours have different minimum age requirements, but most canyoning tours in Bali welcome children over 9 years old to participate.
What happens in case of bad weather?
Canyoning tours in Bali can take place in almost any weather condition. In the case of extreme weather such as monsoons, gale force winds or thunderstorms, your canyoning tour may be canceled or postponed.
Which other outdoor activities can be done in Bali?
Travel tips
Wear comfortable shoes for your canyoning tour in Bali.
Bring an extra change of clothes, as you'll definitely get wet while canyoning.
Canyoning tours in Bali require a moderate level of physical fitness.
Book your Bali canyoning tour in advance to avoid disappointment.