The Gili Islands are among the most breath-taking Indonesian destinations. The islands are world renowned for their turquoise waters, pristine sandy beaches and awe-inspiring coral reefs.
These remote islands each have their own appeal, from the turtle sanctuary on Gili Meno to the seclusion on Gili Air and the sunken shipwreck near Mentigi Beach at Gili Trawangan.
An Indonesian holiday experience wouldn't be complete without a day trip to the Gili Islands from Bali.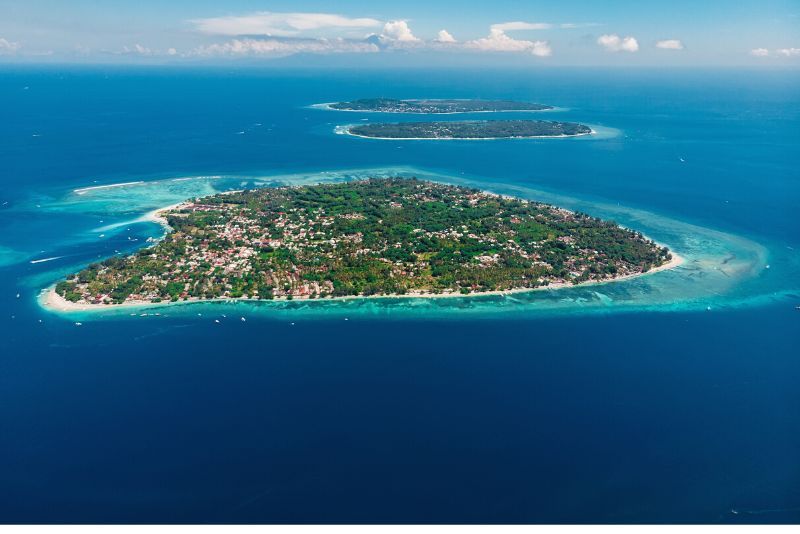 Here's all you need to know about Gili Islands, one of the most amazing destinations for day trips from Bali.
Where is Gili Islands located?
The Gili Islands are an Indonesian island archipelago situated in the Lombok Strait, 95 kilometers east of Bali and just off the northwest coast of Lombok. Gili Trawangan, Gili Meno and Gili Air are the three islands, with Gili Trawangan being the most developed and closest to Bali.
How to get there?
You can reach the Gili Islands from Bali by boat or ferry from Padang Bai. If you're in Nusa Lembongan, you can also take a boat to the Gili Islands.
How long does it take?
The boat ride to the Gili Islands from Bali takes about 3 hours.
Where does it depart?
Most tours to Gili Islands start from Padang Bai, while few operators from Serangan.
How much does it cost?
Roundtrip boat tickets to the Gili Islands cost start from US$50 per person and prices differ in terms of the type of boat and duration of the tour. Some tour packages have additional costs for water activities such as snorkeling and diving.
What are the best things to do on the Gili Islands?
Swimming with turtles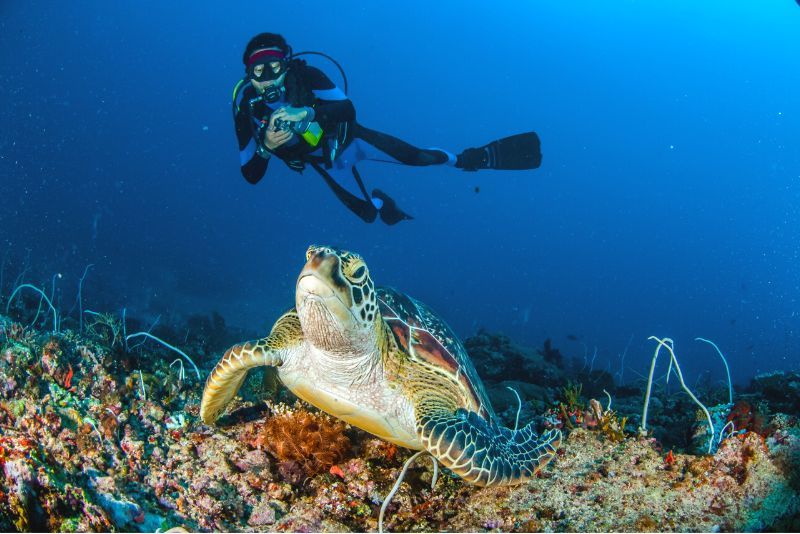 Sea turtles are critically endangered worldwide, but thrive in the Gili Islands. Sometimes called the Turtle Capital of the World, the Gili Islands are home to healthy turtle populations. You are almost guaranteed to encounter one when swimming, snorkeling or diving and might even spot one while relaxing on the beach.
Snorkeling and diving
If you are an avid diver, you are likely to have set some time aside to dive at the Gili Islands renowned diving sites like Deep Turbo or Shark Point.
Even if you are not an experienced diver, you snorkel or sign up for lessons at one of the island's reputable diving schools, where you can choose from anything from a single lesson to a full PADI certification.
Yoga on Gili Air
Gili Air is one of the yoga capitals of Indonesia and there are a variety of studios that offer yoga sessions or retreats to visitors. For something different, you can try water yoga, striking yoga poses underwater either in a specially designed yoga pool or with a Mandalablue Yoga session, combining yoga nad meditation with scuba diving and freediving.
Party in Trawangan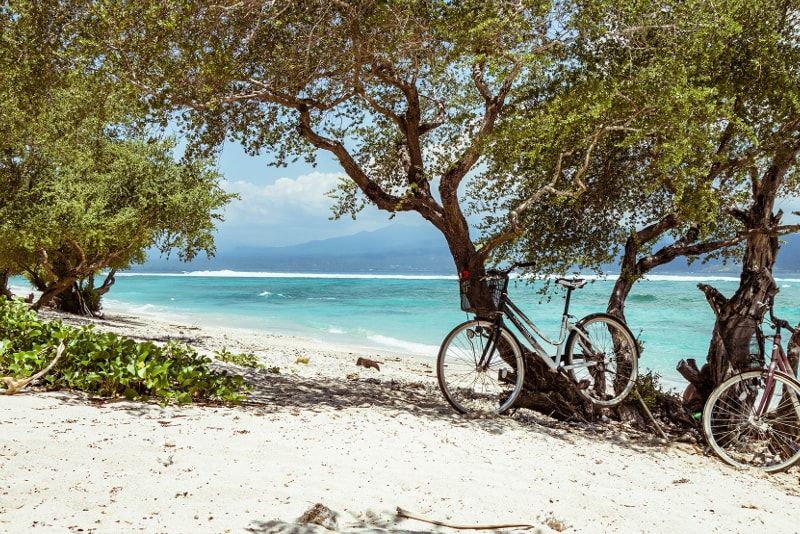 Motor vehicles are not allowed in the Gili Islands but that's not a problem because it takes less than two hours to circumnavigate the island by bike. A bike tour around Trawangan lets you explore at your own pace and is a great way to build up an appetite.
In the evenings, Trawangan's bars and restaurants provide a festive atmosphere. You can dance to the live music around the main road or stop in at one of the many bars and small clubs.
Tasting the island's cuisine
A trip to the Gili Islands isn't complete without taking the time to taste some of the delectable island foods. A fresh fish BBQ on the beach is a real treat – or you can visit a warung, a local tavern serving affordable, regional foods.
If you prefer, enjoy some rustic Indonesian street food prepared on open-air woks or order one of the vegetarian or vegan options or a gado-gado salad – one of five national Indonesian dishes.
What are the best tours to visit Gili Islands?
Scuba diving tours
If you are a certified diver, you can book a 2-dive day tour diving at Gili Mimpang and Gili Tepekong. These two sites are among the most exciting sites for experienced divers and you will be accompanied by a PADI dive guide for the duration of your tour.
The underwater caverns and tunnels shelter Whitetip Reef Sharks and manta rays, and in deeper waters you may spot Mola Mola or swim alongside turtles. The coral reef around Tepekong Pinnacle is home to Pygmy Seahorses and other fascinating fish and marine creatures.
If you are a beginner, you can book a fun diving experience at Gili Tepekong and Gili Biaha.
Private Gili Islands  day trip including snorkeling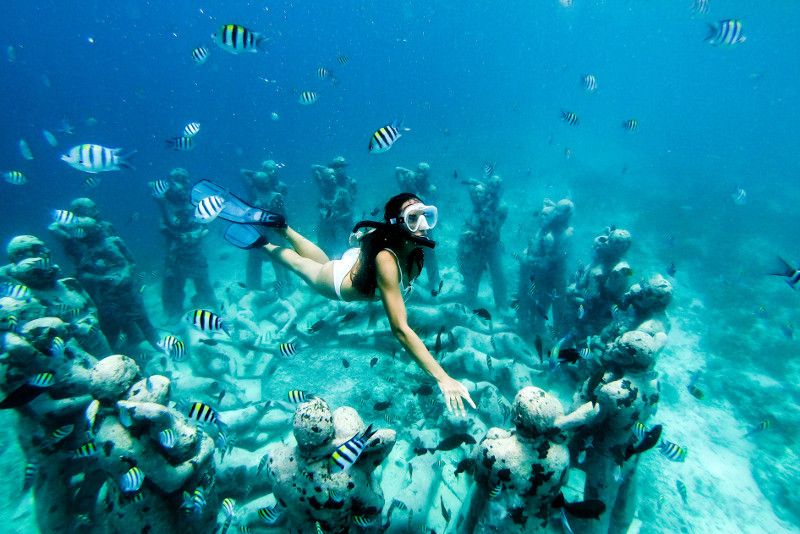 On a private day tour to Gili Trawangan you can enjoy an itinerary planned by your guide to maximize your time on the islands. A private glass bottom boat excursion is included in the tour and you will have the opportunity to snorkel with the turtles and explore the well-known underwater statue.
This tour includes all transportation, lunch and soft drinks, and the services of your experienced tour and snorkeling guide.
What are the prices of Gili Islands tours?
Scuba diving including two dive sites starts at US$135 per person. This cost includes the transport and guide but does not include equipment. A diving certification is needed for both experienced and beginner dive trips.
Private Gili Islands daytrips including snorkeling require a minimum of two people and cost from US$275 per person including transfers, the snorkeling equipment and a private snorkeling boat. Lunch is also included by some tour operators. Private multi-day trips to the islands cost from US$410 including accommodation, breakfasts, one boat-based snorkeling tour, and return transport in Bali.
A two islands 8-day tour of Bali and Gili Islands costs from US$1,090 per person including 4-star accommodation, transfers, some meals, excursions as outlined on the itinerary, admission fees and the services of a guide.
If you prefer the idea of visiting Gili Islands on your own, you can buy a fast boat ticket from US$50 per person one way. Many boat transfer tickets also include a complimentary hotel shuttle service.
When is the best time to visit Gili Islands?
The best time to visit Gili Islands is from June to early-October. If you want to avoid the rain and experience less humidity, then a visit between May and September is ideal.
For snorkeling, early mornings and late afternoons are the best and so if you can manage an overnight stay, take advantage of the early morning for your snorkeling activities.
Travel tips
Bring sunscreen, eyewear and a hat.
Wear cool clothing and comfortable footwear.
Consider aqua-shoes for walking out beyond the breakers for snorkeling.
Carry nausea medication if you're prone to seasickness.