Snorkeling tours in Bali are a must when you're visiting this Indonesian paradise island. While the rice terraces carpet the land in green, down in the ocean the water is teeming with marine life in all its multi-colored forms.
Snorkeling with sea turtles and manta rays is all part of the adventure, while shoals of sergeant major fish dance around the reefs. Just dive in and go with the flow.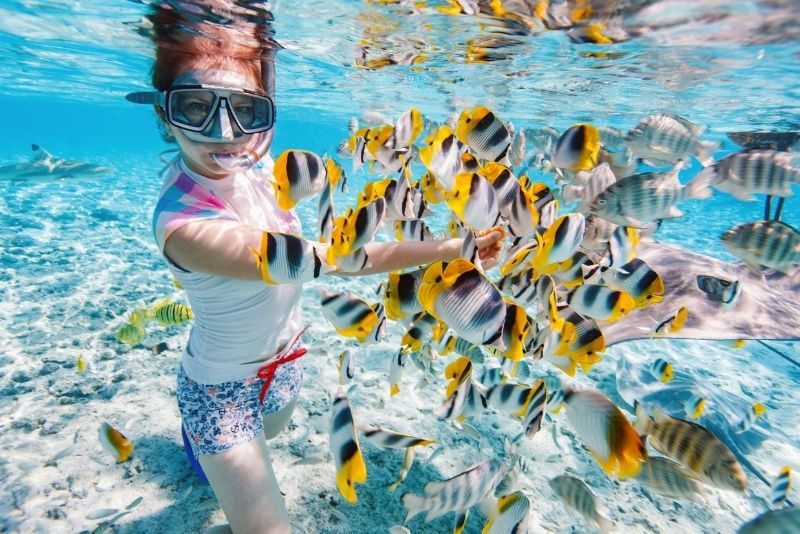 You will find below all the information you need before embarking on a snorkeling experience, one of the most mesmerizing outdoor activities in Bali.
What are the best snorkeling tours in Bali?
Guided group snorkeling tours to the Blue Lagoon
These full-day excursions are among the most popular Bali snorkeling trips and are ideal for families and first-timers. You'll be exploring the famous Blue Lagoon and meeting some of its exotic inhabitants. Transfers are private but you'll be sharing the boat with other travelers.
The day begins with a morning pickup from your hotel and a ride in an air-conditioned bus to the Padangbai coastal resort. Here, you'll be given snorkel gear before heading out into the lagoon on a traditional boat.
Jump overboard into the inviting ocean and check out the marine life down below. You'll get to swim with colorful reef fish and maybe even sea turtles in a couple of different locations. After your exertions, you'll return to shore for lunch, with lots of Balinese favorites like noodles and rice to try.
Some tours also include a stop at Lempuyang Temple – one of the most significant temples in Bali and a photo op favorite. You'll see the iconic Gate of Heaven and Mount Agung, which is the highest volcano in Bali. A civet coffee plantation and the water palace of Tirta Gangga are also on the agenda.
You'll be dropped back at your hotel at the end of a fun-filled day out.
Snorkeling group excursions to Nusa Lembongan and Nusa Penida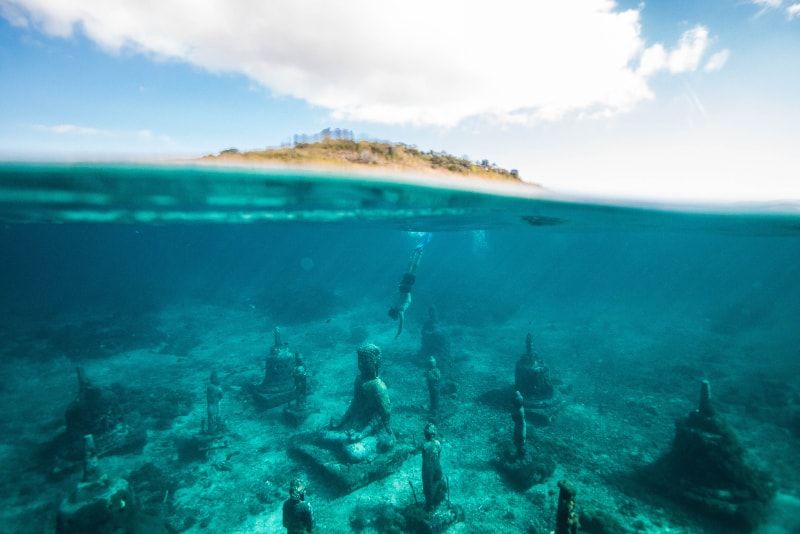 Just off the south coast of Bali, there's another paradise to be found. The islands of Nusa Lembongan and Nusa Penida are home to some of the best snorkeling excursions in Bali. Many of the world's most diverse coral reefs can be found here.
After a private transfer from your hotel, you'll journey by public boat over to the islands. Your snorkel guide will get you kitted up and provide instruction for those who are new to the sport.
Then it's time to enter the water, where angelfish and manta rays are often spotted. There are designated snorkel zones to keep all swimmers safe. You'll snorkel in Crystal Bay, Manta Bay and Gamat Bay during your visit to increase your chances of some spectacular sightings.
Then you'll head back to dry land for lunch on the beach. Some excursions then offer a canoe tour of the mangroves so you can experience a different side of the islands.
Return transfers to your accommodation will have you home in time for dinner.
Private Bali snorkeling tours to Nusa Penida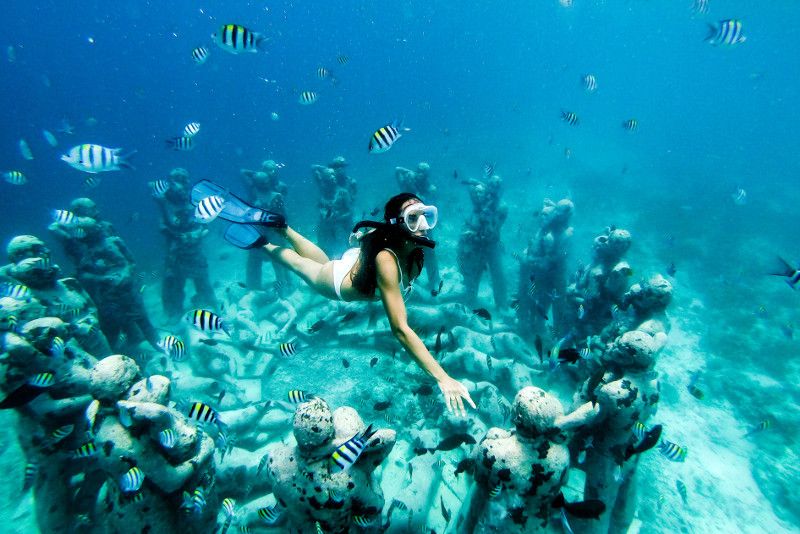 For a fully private experience, these excursions take luxury to the next level. Not only will you enjoy exclusive transfers, but your group will also have the snorkel boat and guide all to yourselves.
You'll enjoy a private boat tour to Nusa Penida and spend the day at four different snorkeling locations. Lunch will be taken at an upscale local restaurant which has an infinity pool and views of the Agung Volcano.
There is an upgrade option if you want to add a private land-based tour on Nusa Penida before being transferred back to your hotel.
How much do snorkeling tours in Bali cost?
The group Bali snorkeling tours at the Blue Lagoon cost US$40 per person for a 6-hour experience. This includes two dive sites, a set menu lunch and return transfers.
If you want to visit to the temple, coffee plantation and palace, the price is also US$40 per person. This is for the transport and a guide only. You'll need to pay separately for the Blue Lagoon snorkeling session, attraction entrance fees and lunch.
Nusa Lembongan and Nusa Penida tours are priced at US$80 per snorkeler. This excursion is 9 hours long and includes a mangrove canoe trip as well as snorkeling.
Private day tours to Nusa Penida cost US$470 per person for an all-inclusive package. All boat transfers and tours will be exclusive to your group. Lunch is included.
What is included in a snorkeling tour in Bali?
Snorkel excursions in Bali usually include the following:
Hotel pickups and drop-offs from selected resort areas.
Air-conditioned vehicle transfers.
Snorkeling guide.
Snorkel equipment (fins, masks and snorkels).
Life jackets where required.
Lunch, bottled water and soft drinks.
Return boat transfers on the Nusa Lembongan and Nusa Penida tours.
Towels can often be hired if you don't want to take your own, and some locations offer lockers for your personal belongings.
Where do snorkeling tours in Bali start?
Hotel pickups are generally included if you're based in the following main resort areas:
Nusa Dua
Jimbaran
Kuta
Legian
Seminyak
Canguu
Ubud
If your accommodation is more remote, you can pay a supplement to include a pickup. To give you an idea of costs, expect to pay around US$30 per group for transfers from Ungasan, Balangan, Uluwatu or Tanah Lot. You will need to arrange this with the tour provider at the time of booking.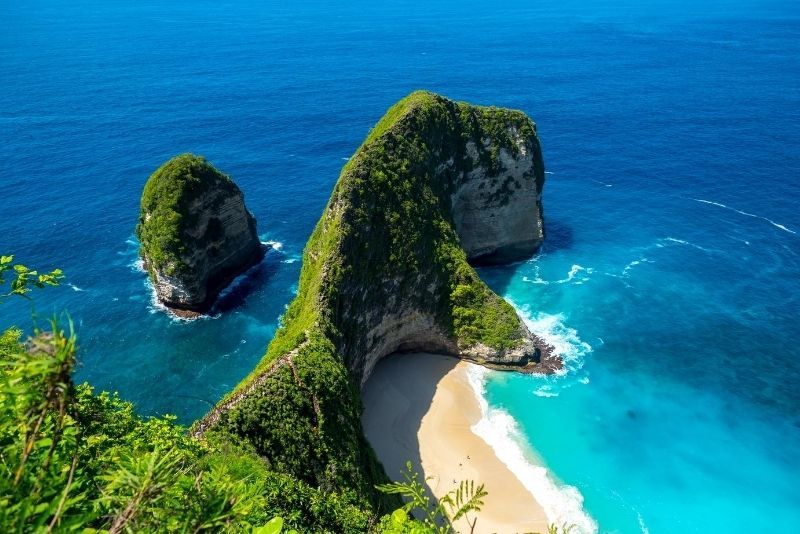 How long do snorkeling tours in Bali last?
Bali snorkeling tours last between 6 and 12 hours, depending on the destination. Whichever trip you choose, you'll enjoy a full day out, often with other activities thrown in for good measure.
These timings include the return journey to the snorkel site from your hotel.
When is the best time for a snorkeling tour in Bali?
The ultimate time for snorkeling trips in Baliis between April and September. This is the dry season when water visibility is at its best. Manta Rays tend to make an appearance during April and May, and September is good for avoiding the crowds.
Bali's rainy season runs from October to March. This is not a great time for snorkeling as the seas are rougher and the waters are often murky.
Are there any combo trips available with snorkeling tours in Bali?
Bali snorkel tours plus canyoning and waterfalls
This epic day out combines snorkeling adventures with canyoning and waterfall swimming in the east of Bali. You'll get to snorkel in Tanjung Jepun and the Blue Lagoon, before trekking through the Beji Guwang Hidden Canyon. The day finishes with a waterfall swim near Ubud.
Snorkeling trips in Bali plus a quad bike ride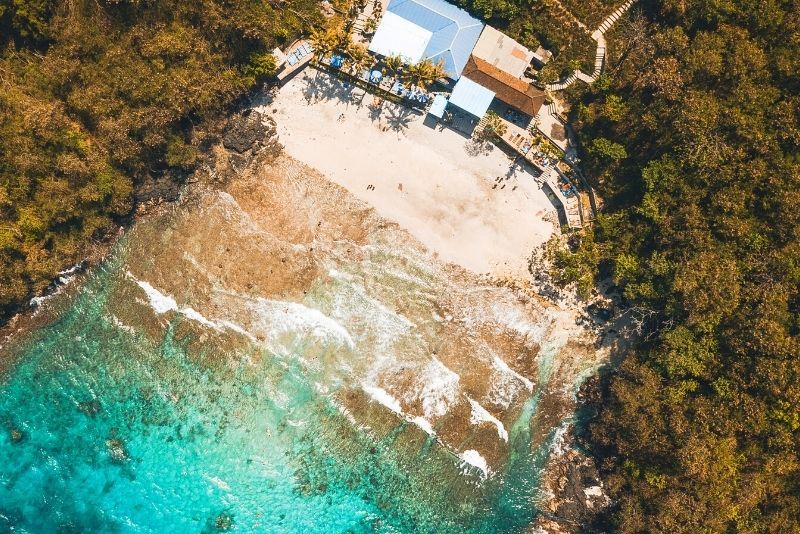 These tours offer the perfect blend of adrenaline, with quad biking alongside waterfalls and rice fields to start the day in style. After a traditional Indonesian lunch, you'll visit Padangbai and go snorkeling from a local jukung boat.
Bali snorkel excursions plus a mangrove tour
Some snorkeling day trips from Bali include a bonus boat tour through the mangroves. Nusa Lembongan is your destination, where multiple snorkel spots await. After meeting the marine life, enjoy a ride on board a traditional boat through the mystical mangroves.
Is it safe to take a snorkeling tour in Bali?
It's safe to go on snorkeling tours in Bali – a moderate level of fitness is advised. Travelers with heart conditions or other serious health issues should consult their doctor before taking part.
If you are not a confident swimmer, operators can provide life vests to give you some extra support. Instructors will be present during the tour, ready to help if needed.
Are children allowed on a snorkeling tour in Bali?
Yes, children are welcome on Bali snorkeling trips, making these ocean experiences a great option for families. Many operators specify a minimum age of 5 years but check with your chosen provider for clarification before booking.
What happens in case of bad weather?
Bali snorkel excursions only run if the weather conditions are favorable. If your trip is canceled, you will have the option to pick a different date or location. Full refunds are given to those who are unable to rebook.
Note that water visibility cannot be guaranteed at any time of year.
Which other water activities can be done in Bali?
Travel tips
Snorkeling tours in Bali are super popular, so booking ahead is essential to avoid missing out.
Pack swimwear, sunscreen and a change of clothes. Check if towel hire is included in your snorkel package rate.
Take an underwater camera if you have one – the colorful fish are worthy of a few photos. Some operators can provide a GoPro for an additional fee.