ATV tours in Bali are for thrill seekers and wannabe explorers who fancy seeing the island in a new light. You don't need any experience, so everyone is welcome to come along for the ride.
As you power past rice paddies and jolt along jungle trails, you'll be plunged into the heart of nature. Here's the low-down on Bali quad biking tours to help you plan your adventure.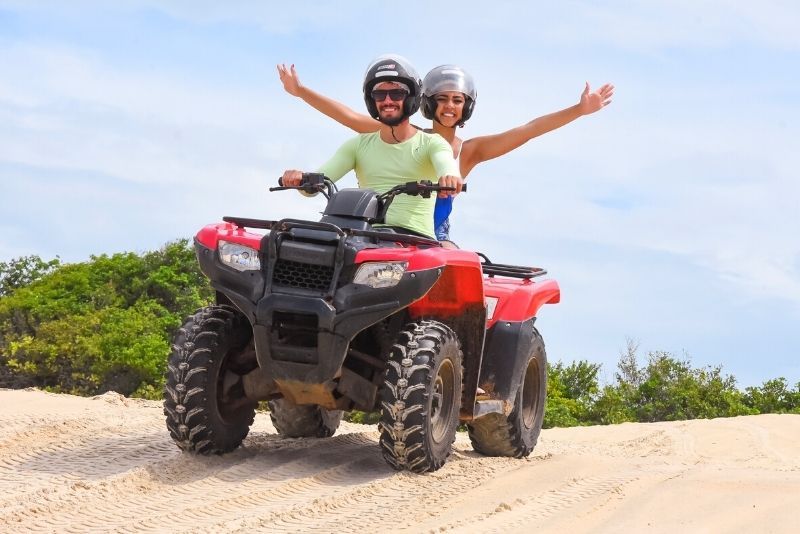 Here's all you need to know about quad tours, one of the most exciting outdoor activities in Bali.
What are the best ATV tours in Bali?
Haunted Valley Waterfall quad bike tours
These quad biking tours in Bali whisk you off to hillside plantations, lakes and waterfalls on the adventure of a lifetime.
You'll be picked up at your hotel and driven to Munduk Wilderness Basecamp. Here, you will have time to get used to your vehicle before taking to the jungle tracks.
Riders will cover 24 kilometers during the tour, and there's the option to try mountain biking too if you fancy a change. A picnic lunch will be served in a scenic spot, followed by a rice field walk.
You'll finish the day with a quad bike ride to the Haunted Valley Waterfall, which is hidden in the forest. Enjoy a refreshing swim before being transferred back to your hotel.
Mount Batur quad biking tour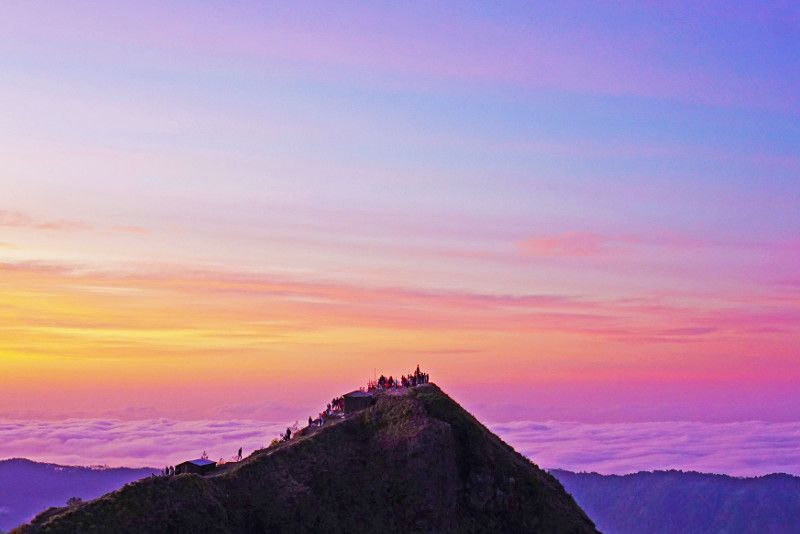 For a change of scenery, head over to the slopes of Mount Batur on this adventurous ATV excursion. Transfers are included so you don't need to worry about logistics.
The day begins with breakfast in the shadow of the volcano at Kintamani. After getting acquainted with your vehicle, you'll zoom across the black lava slopes of Mount Batur.
The views here are some of the best on the island with epic backdrops for enviable vacation snaps. Jungle trails and villages also feature, with a dip in some natural hot springs and lunch to finish the day in style.
Private ATV excursions around Ubud
If you'd prefer not to ride with other travelers, there are several private quad biking trips in Bali on offer. You'll have exclusive transfers and your own guide, as well as a say in the itinerary.
After being collected from your hotel you'll begin your adventure with a briefing session. Then it's time to hit the trail and explore the jungle around Ubud. You'll get to ride through rivers, along valleys and over hills.
The highlight is exploring the famous Gorilla Cave where selfies are a must. At the end of your tour, you'll be treated to lunch with lots of local delicacies on offer. Your driver will then take you back to your hotel for a well-earned rest.
How much does it cost?
The ATV tours in Bali that visit the Haunted Valley Waterfall cost US$120 per person with several additional activities included. This is a full-day group tour with up to 20 participants.
Quad biking trips to Mount Batur and the hot springs are priced at US$100. This includes entrance fees and either breakfast or lunch. You can purchase an additional meal if desired on the day.
Private Bali quad excursions start at US$60 per person for a 6-hour tour. This is ATV riding only and does not include other activities.
What is included?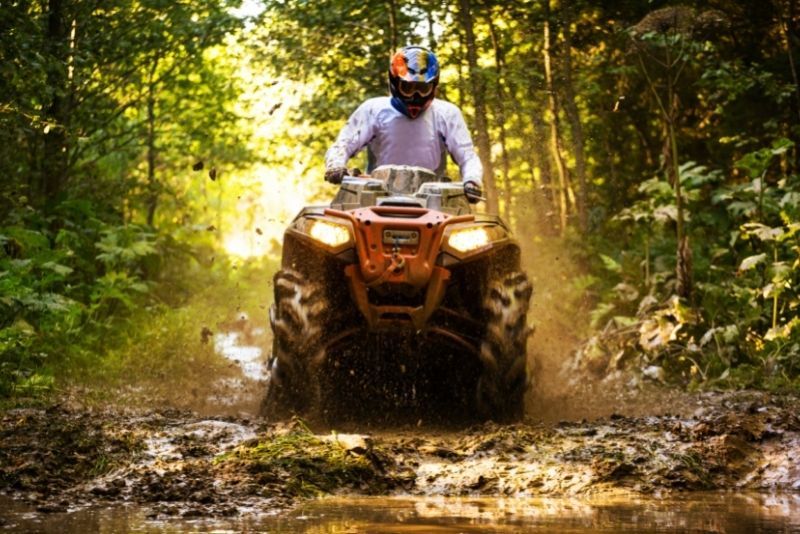 To make sure that quad biking tours in Bali are both fun and safe, the following inclusions are offered on most trips:
Quad bike rental and helmet
ATV fuel and insurance
Professional guide and instruction
Lunch – either a picnic or at a local restaurant depending on the tour
Hotel transfers in an air-conditioned vehicle
Bottled water and coffee
You will be able to purchase alcoholic drinks at your lunch stop if you fancy something a little stronger.
Where does it start?
Providers of ATV tours in Bali make things easy for you by offering hotel transfers from many resorts across the island. Popular pickup destinations include Ubud, Canggu, Seminyak, Kuta and Nusa Dua.
If your resort isn't included on the operator transfer list, then you can pay extra for collection at your hotel. This is likely to be applicable if you're staying in places like Tanah Lot, Uluwatu and Ungasan.
How long does it last?
Combination quad biking tours in Bali last between 5 and 10 hours, depending on the other activities included on your itinerary. The ATV ride itself is usually around 2.5 hours.
Shorter tours that focus solely on quad biking are around 4 hours long. This includes transfer time from your hotel.
When is the best time for a quad biking tour in Bali?
ATV tours in Bali take place all year round, although you should expect a bit more mud during the rainy season between November and March.
Many trips incorporate other activities and therefore last a full day. Shorter excursions can be enjoyed at any time of day, although you might find it cooler in the mornings.
If your schedule allows, book your Bali quad tour at the start of your trip in case bad weather forces a postponement.
Are there any combo trips available with ATV tours in Bali?
Bali quad excursion plus white water rafting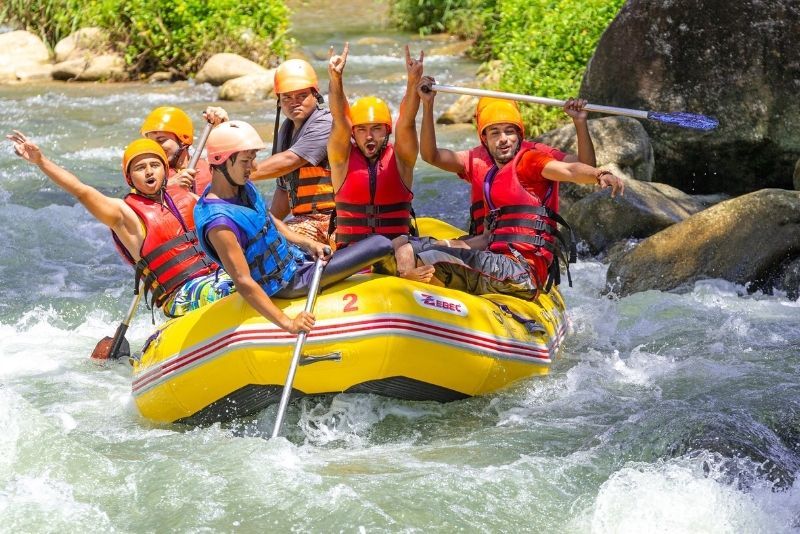 If you're looking for adrenaline, these super-charged activity tours are your ticket to ride. You'll kick off proceedings with pickup from you accommodation and a thrilling ATV adventure along the jungle trails of Ubud.
Discover rice paddies and rainforest as you meander through the lush landscapes. You'll be riding well off the beaten tourist trail, exploring bamboo forests and traditional Balinese villages along the way.
Then you'll raft down the Ayung River by raft, letting the rapids transport you through gorges and ravines. Lunch at a local restaurant is included with a generous side helping of jungle views.
Quad biking trip in Bali plus snorkeling at the Blue Lagoon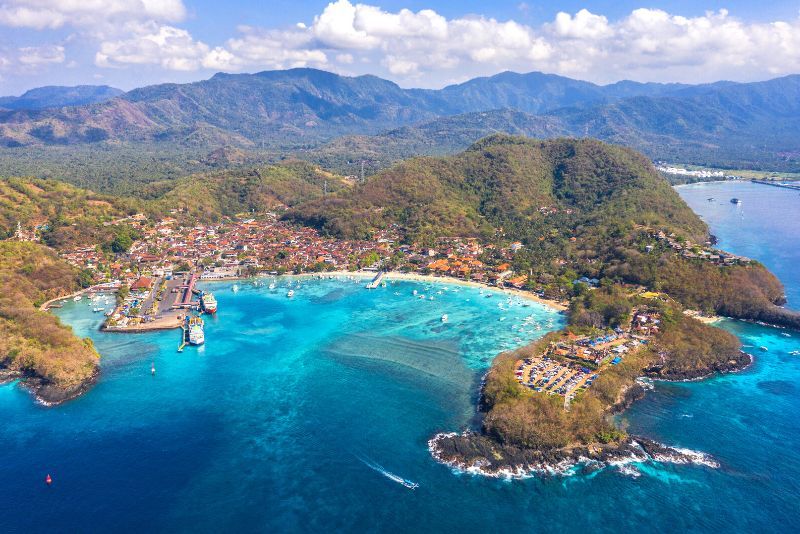 This epic tour marries a heart-pumping ATV ride with a relaxing snorkel session to give you the best of both worlds. Race your quad bike along the forest trails, where waterfalls and rice fields steal the show.
Then it's time for your ocean adventure on board a jukung boat. You'll get to snorkel with colorful fish in the Blue Lagoon at Padang Bai – a veritable tropical paradise.
Are children allowed?
For safety reasons, the minimum age for riding solo on quad biking tours in Bali is either 12 or 16 years, depending on the provider. Some operators allow children between the ages of 5 and 11 years to ride as tandem passengers.
If you are traveling with a young family, check with the tour company before booking if this information isn't clear.
Do I need a driving license?
No, you don't need a driving license to book an ATV trip in Bali. Full instruction will be given at the start of the excursion to ensure you are confident and in control when handling your vehicle.
If you're not sure you can handle the ATV alone, why not team up with a friend and ride tandem?
What happens in case of bad weather?
Quad biking in Bali is always best in good weather, which means that if conditions are poor, your tour may be canceled. If this happens, don't worry. The operator will offer you a different date, or a full refund if you can't change your plans.
Which other outdoor activities can be done in Bali?
Travel tips
Bali ATV tours are popular so it's best to book ahead to avoid missing out on your chosen date. Reserving online also means you can scout out the cheapest deals.
If your tour includes snorkeling or swimming, remember to pack your swim gear, a towel and some sunscreen.
Closed-toe shoes are a must for quad biking, and wear something that you don't mind getting dirty. Take a change of clothing for afterward!