Stretching an incredible distance of 75 kilometers, Ayung River is Bali's longest, widest and most famous river. The river runs through mountain ranges, rainforests and built-up cities before meeting the ocean at Padanggalak Beach.
An Ayung River rafting tour in Bali is the ideal way to experience this amazing river in all its glory. While white water rafting is one of the most popular Ayung River activities, the areas surrounding the river have so much more to offer tour participants.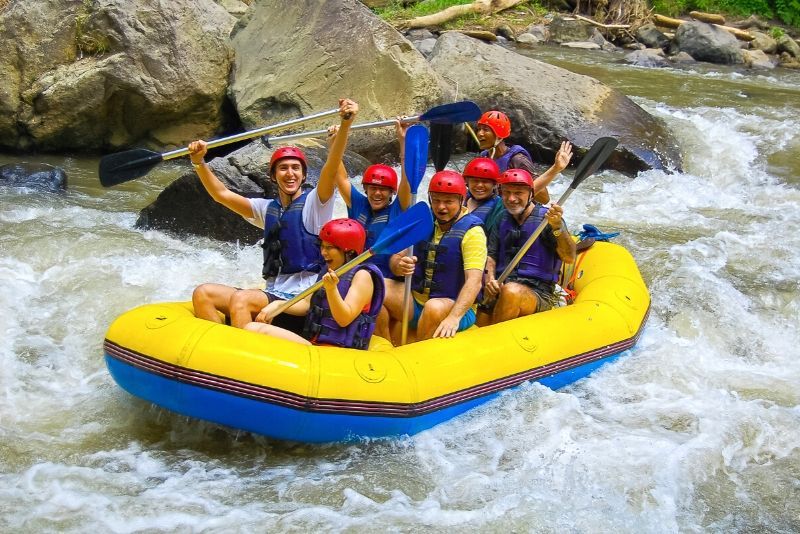 Here's all you need to know about Ayung River tours, one of the most exhilarating outdoor activities in Bali.
What are the best Ayung River tours in Bali?
Ayung River all-inclusive rafting tour in Bali
Try out white water rafting on the longest river in Bali with a professional guide with this all-inclusive tour. You'll get to navigate two rapids, and see the picturesque, surrounding scenery along the way.
After your rafting adventure, you'll be treated to a traditional Balinese lunch in a restaurant that offers incredible views of the Ayung Valley. Once you've eaten you'll be taken back to your hotel.
If you have previous experience and prefer more challenging rapids you should take a look into Telaga Waja rafting tours.
Full-day Ayung River rafting tour in Bali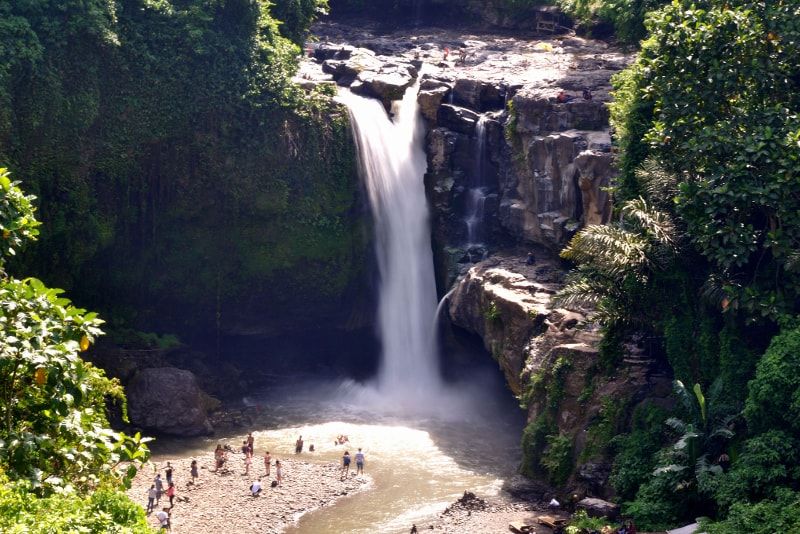 Make the most of your time in Bali with this full-day excursion that also visits Ubud's Monkey Forest, as well as local markets.
Your day starts with a pickup from your accommodation in Bali before making your way to your starting point on the Ayung River, where you'll meet your guide and board your raft— paddling past exquisite scenery along the way.
On the way back to your hotel, you'll make various stops at popular attractions in Ubud, including Monkey Forest, a local market and Tegenungan Waterfall.
Private Ayung River rafting with lunch in Bali
Plan a special day out on the Ayung River for you and your group with a private rafting tour. Get picked up from your Bali accommodation in an air-conditioned vehicle and make your way to the famous river.
You'll receive a full safety briefing before taking on the rapids of the Ayung River. The experience promises to be both exhilarating and relaxing as you flow down the river toward the restaurant where you'll enjoy a rewarding lunch.
How much does it cost?
The all-inclusive Ayung River tour is one of the most popular and affordable tours available, costing just US$25 per person. This reasonable price is because the tour is a group tour and it is significantly shorter than many other tours, lasting just 2.5 hours.
The full-day rafting tour on the Ayung River is also a group tour, but it is 8 hours long and costs US$35 per person.
The private Ayung river rafting tour is 6 hours long and costs US$45 per person.
The great thing about Ayung River tours in Bali is that there are many different tours to choose from, and there is a price point to suit every traveler.
What is included?
Hotel pickup and drop-off
Professional guide
All necessary equipment
Bottled water
Fuel expenses
Entrance fees
Changing room
Where does it start?
Tour operators offer hotel pickup and drop-off services so there is no need to make your own way to rafting starting points on the Ayung River. However, transfer services may be limited to hotels within certain districts.
How long does it last?
Ayung River tours can last anywhere between 2.5 hours and 10 hours, with most tours typically lasting 6 hours. The length of the tour will depend on how many rapids are tackled during the rafting tour, and how many additional stops are made.
When is the best time for an Ayung River tour in Bali?
The ideal time for any sort of outdoor activity in Bali is during the island's dry season (April to October). During these months, it is very unlikely to experience rain or thunderstorms.
Ayung River tours are available in the morning and the afternoon, so it is up to you which time slot suits you best.
Are there any combos tours available?
Ayung River rafting and ATV tour in Bali
Spend the morning flowing down the famous Ayung River, tacking rapids and enjoying the scenery along the way. Next, it's time to hop on an ATV tour and ride through Bali's iconic rice terraces, led by your professional guide.
Lempuyang Temple, snorkeling and Ayung River rafting tour in Bali
See some of Bali's top attractions when you choose this tour that takes you to Lempuyang Temple, Blue Lagoon and Ayung River. Not only will you visit these locations, but you'll also get to partake in snorkeling and white water rafting.
Ayung River rafting and Uluwatu sunset tour in Bali
This private tour whisks you and your group away from your accommodation to the flowing waters of the Ayung River, where you'll get to experience white water rafting. After this, you'll enjoy a magnificent sunset at one of the best viewpoints in Bali — Uluwatu Temple.
Is it safe?
With a professional guide leading the way, Ayung River tours are safe to participate in. However, tours are not suitable for anyone with underlying heart conditions or back issues.
Most tours require participants to have a moderate level of physical fitness.
Are children allowed?
Most Ayung River tours in Bali welcome children aged 9 and older so long as they are accompanied by an adult.
Which other outdoor activities can be done in Bali?
Travel tips
Book your Ayung River tour ahead of time to guarantee your spot.
Pack extra clothes to change into after the tour, and a plastic bag for your wet clothes.
Bring along some extra cash for souvenirs and other personal expenses.
Wear swimwear and comfortable shoes for your Ayung River tour.