The Telaga Waja River originates on the slopes of Mt. Abang in Bali. What is now the river-bed was once a flow of the red-hot lava that gives the river its name. As the river flows to the sea, it passes through the Balinese jungle, rice fields and past several riverside villages.
With a good current and clear water, Telaga Waja rafting tours give you moderately difficult rapids and many natural and cultural sights along its course.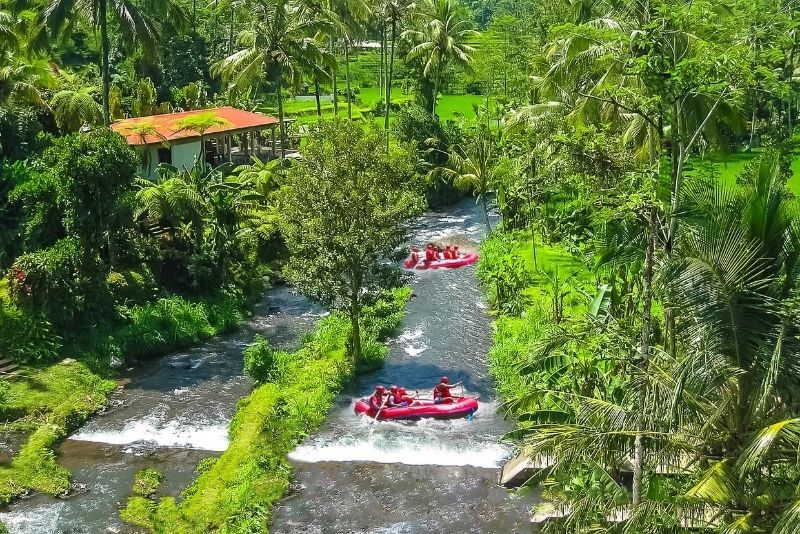 Here's all you need to know about rafting at the Telaga Waja River, one of the most thrilling outdoor activities in Bali.
What are the best Telaga Waja tours in Bali?
The most popular tours are those that cater more for families and beginner rafters and those that have a slightly higher level of difficulty.
If you don't have previous experience and prefer less challenging rapids you should take a look into Ayung river rafting tours. Ayung river is also located closer to Ubud, making it easier to visit nearby attractions before or after your kayaking experience.
Telaga Waja: White Water Rafting with Lunch (Beginners and families)
As a standalone activity, the Telaga Waja white water rafting tour with lunch is the most popular. You will be collected from your hotel and driven to the start point for the day. After a safety and training briefing you will board your raft.
For beginners or inexperienced rafters, there are tours that navigate class I and II rapids on a 2-3 hour trip through the tropical valleys. You will pass traditional villages and see some of the brightly decorated Hindu shrines. A 5-meter vertical drop is the highlight of your time on the water.
You will have time to relax and enjoy the freshly prepared buffet lunch before heading back to your hotel.
Bali White Water Rafting at Telaga Waja River (Moderate difficulty)
If you have some prior rafting experience, you can add a little bit extra adrenaline to your day and select a longer tour that begins in Kuta. These 8-hour experiences include around 2-3 hours on the water pass through class III and IV rapids.
A delicious traditional buffet lunch is served at the end of the experience.
How much do Telaga Waja tours in Bali cost?
A Telaga Waja: White Water Rafting with Lunch tour is great for beginners and families and starts at US$40 per person including transfers and lunch.
The more moderately difficult Bali White Water Rafting at Telaga Waja River starts at US$45 per person and includes transfers and lunch.
Tours offering shared transfers may be slightly cheaper than private ones.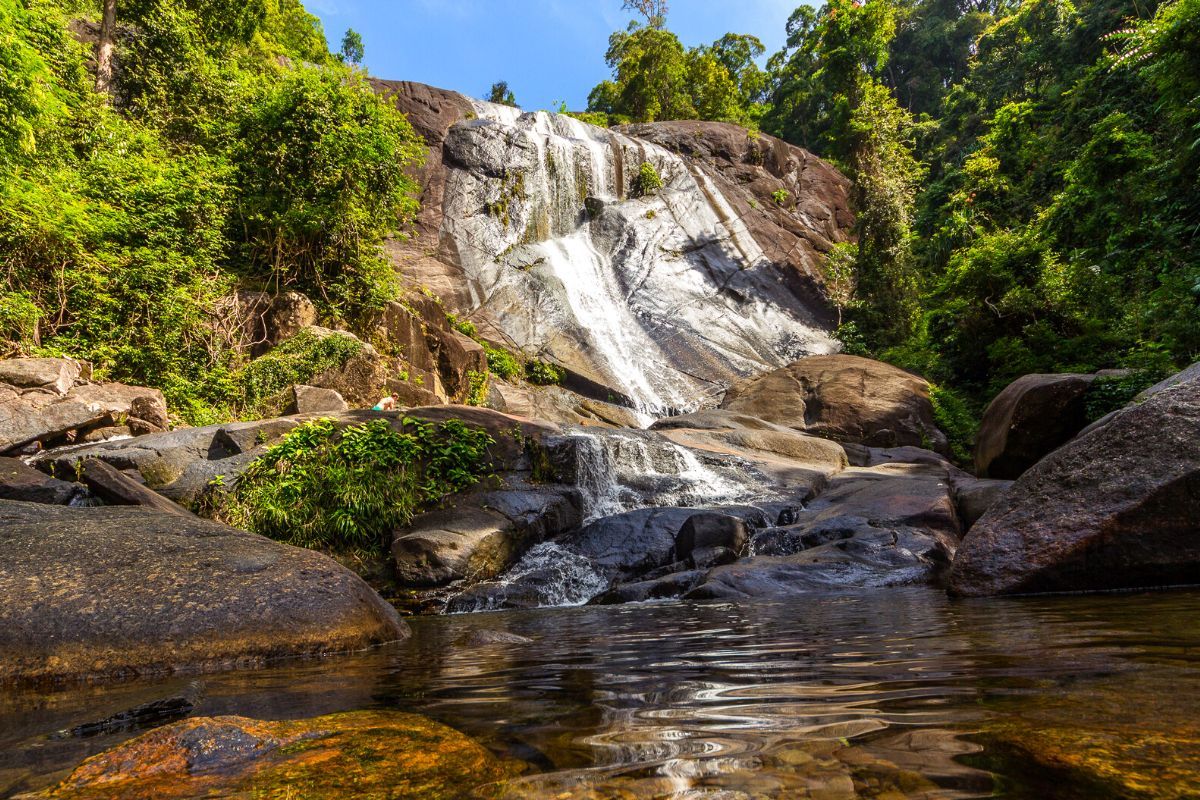 What is included?
Most rafting tours on the Telaga Waja River include transport from your hotel. This may be on a shared or private basis depending on your choice of tour.
All tours include the necessary safety equipment and a full training and safety briefing. At the start or end of your tour you will enjoy a buffet lunch.
Where does it start?
The Telaga Waja River Rafting tours begin near to or in the village of Muncan. This village is approximately 1,5-hours from Kuta and other areas in Southern Bali. Different tour operators have different launch sites and you will be given directions to the launch site when you book your tour.
How long does it last?
The rafting itself lasts around 2-3 hours, but you will start your activity with a welcome drink and a safety briefing and training session. Once you are fully kitted out in your life-jacket and helmet, then you head for the water and the start of the adventure.
When is the best time for a Telaga Waja tour in Bali?
Telaga Waja River rafting can be booked for the morning or the afternoon. The morning sessions are recommended as the river is usually clear and less crowded. If you enjoy a fun and adventure-filled activity, then you can book a tour at any time during your stay in Bali.
Are there any combo available with Telaga Waja tours in Bali?
Telaga Waja Rafting and ATV Ride combo tour in Bali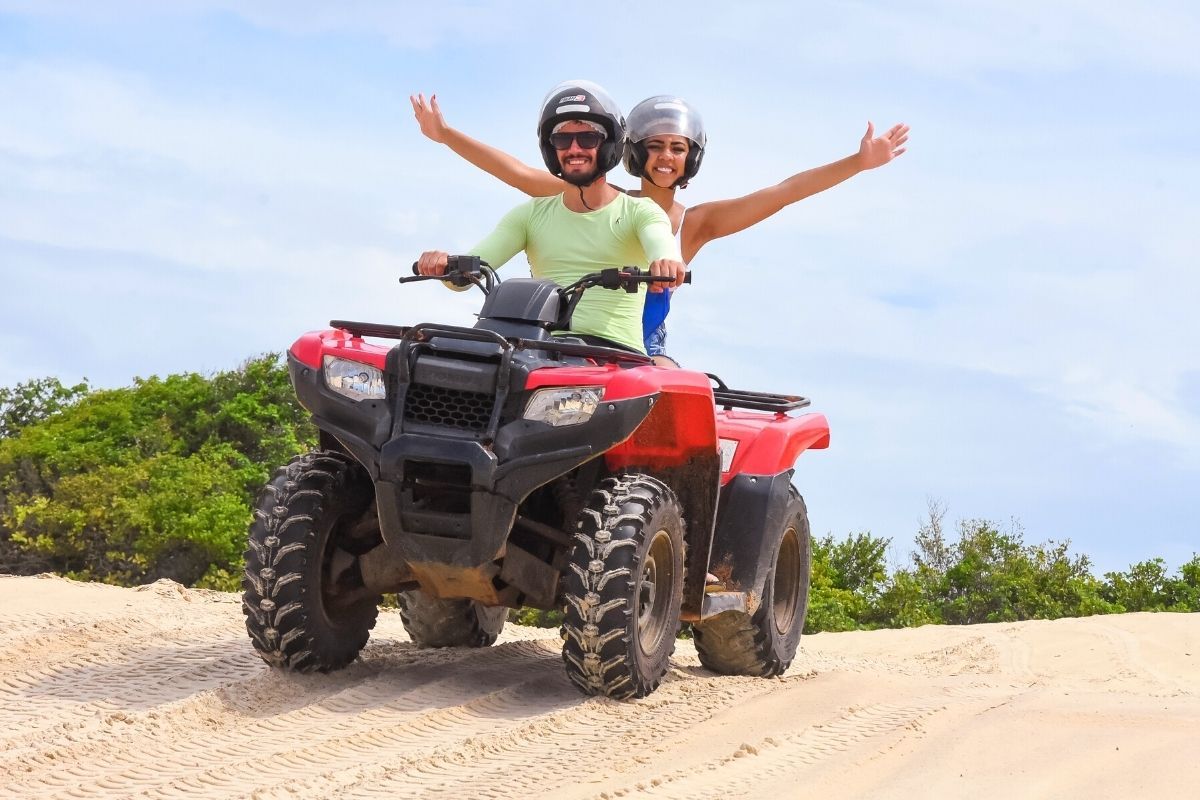 After spending the morning rafting on the Telaga Waja river, you will depart after lunch to explore the countryside on a quad tour. A return hotel transfer in included.
Eastern Bali 4x4 Safari with Telaga Waja Rafting
Start your day with a 4x4 safari through the hills of Eastern Bali. After a short stop to watch the harvesting process at a Salak plantation, you will spend your afternoon rafting at Telaga Waja.
Bali Sunrise Trekking and Telaga Waja Rafting Adventure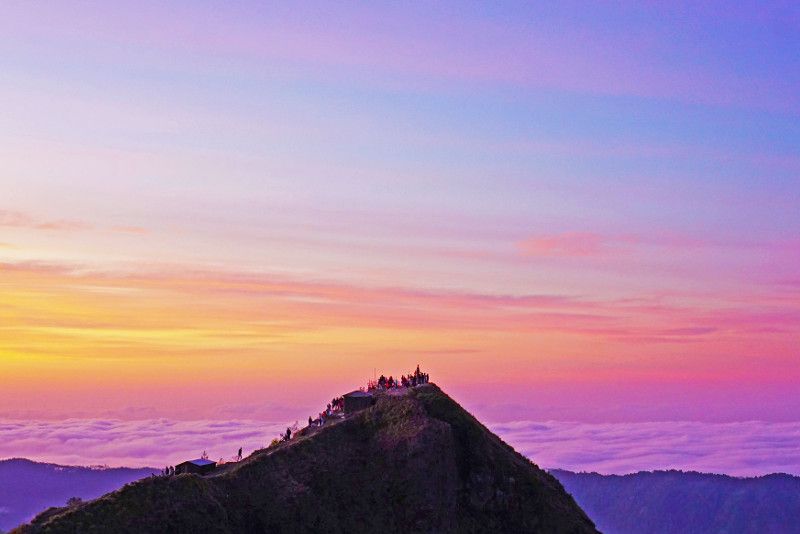 If you enjoy an early morning adventure, then you will love a sunrise hike on Mount Batur including a picnic breakfast before heading to Telaga Waja for your morning of rafting. A buffet lunch is served at the end of your rafting trip.
Telaga Waja Rafting and Bali Swing
This exciting day of activities includes a morning of white water rafting down the Telaga Waja River followed by a Jungle Swing activity that includes a choice between some of Bali's best single and tandem swings.
Bali sea walking and Telaga Waja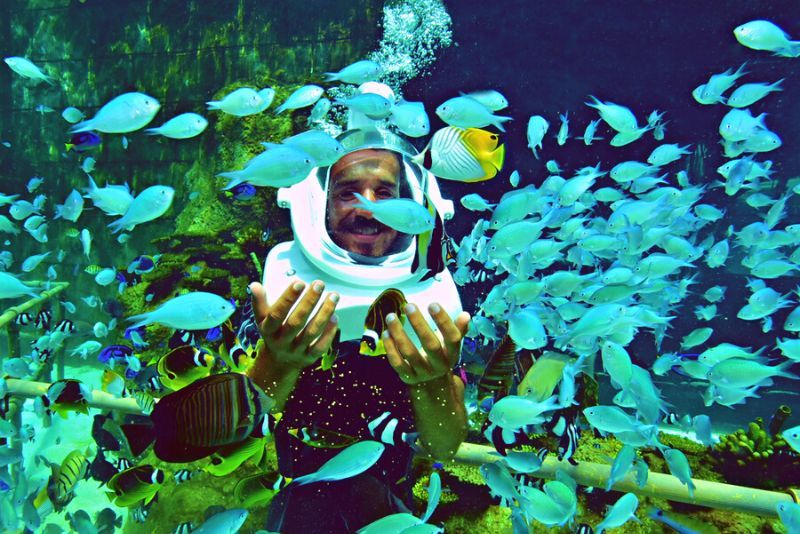 One of Bali's most popular combo activities includes a 30-miunte underwater sea walk at Sanur Beach, lunch, and a 3-hour rafting trip on the Telaga Waja River.
Blue Lagoon snorkeling and Telaga Waja Rafting
Your tour starts with a morning of snorkeling in the calm waters of the Blue Lagoon with a professional snorkeling guide. After lunch in Padang Bay, you will spend 3 hours rafting on the Telaga Waja River.
Full-day rafting adventure in Telaga Waja River and Ubud Tour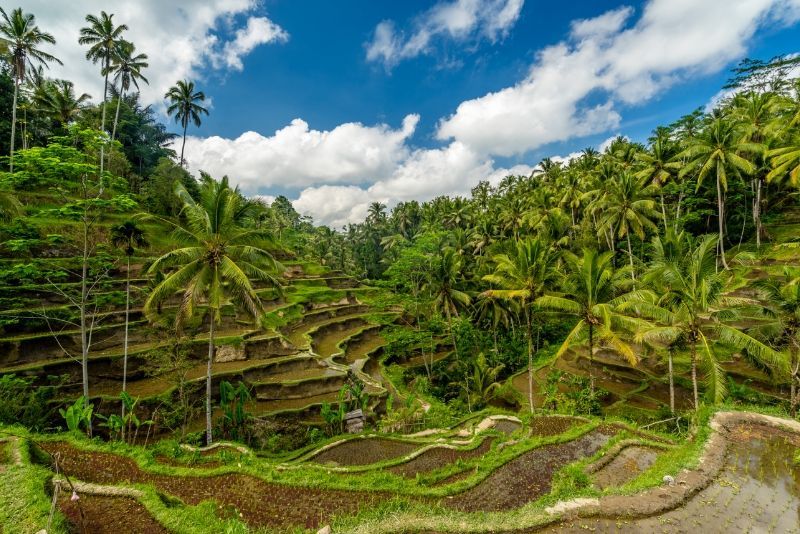 On this full-day adventure tour, you will enjoy a morning of rafting. Lunch is served at the rafting end-point before you continue to Ubud where you will visit the Ubud Palace and stop at the Ubud Art Market where you can choose from a selection of handcrafted goods and other souvenirs.
Is it safe to take a Telaga Waja tour in Bali?
The Telaga River is considered safe as are the rafting activities. Tours are not however recommended for pregnant women, people older than 65, and those with existing medical conditions such as heart or back problems.
The tour can be quite strenuous and if you have back, neck, joint, or muscular problems, you may want to give this activity a miss.
Are children allowed on a Telaga Waja tour in Bali?
The tour is considered appropriate for children over the age of 7. This age limit is in place to ensure that they fit into the safety equipment properly and can follow instructions given by the river guide.
What happens in case of bad weather?
In the case of bad weather or unsafe river conditions, you will receive a full refund from the tour operator or have the opportunity to reschedule your booking. If this activity forms part of a longer itinerary, check with the tour operator regarding their cancellation policies.
Which other water activities can be done in Bali?
Travel tips
Remember your sunscreen and a change of dry clothes.
Bring extra money for drinks and souvenirs.
Leave valuables at your hotel for safe-keeping.
Follow your guides' instructions at all times.
Advise your tour operator if you have any food allergies.
Pack any cameras or phones securely in a waterproof bag.