Rising high above the crashing waves of the Indian Ocean is one of the most famous landmarks in Bali. Uluwatu Temple is one of the six "sad kahyangan" or supreme holy temples that outline the outer edges of the island.
These Hindu temples are iconic parts of Balinese culture. Visitors from far and wide rush to buy Uluwatu Temple tours in order to experience the vibrant traditions and unforgettable sunset for themselves.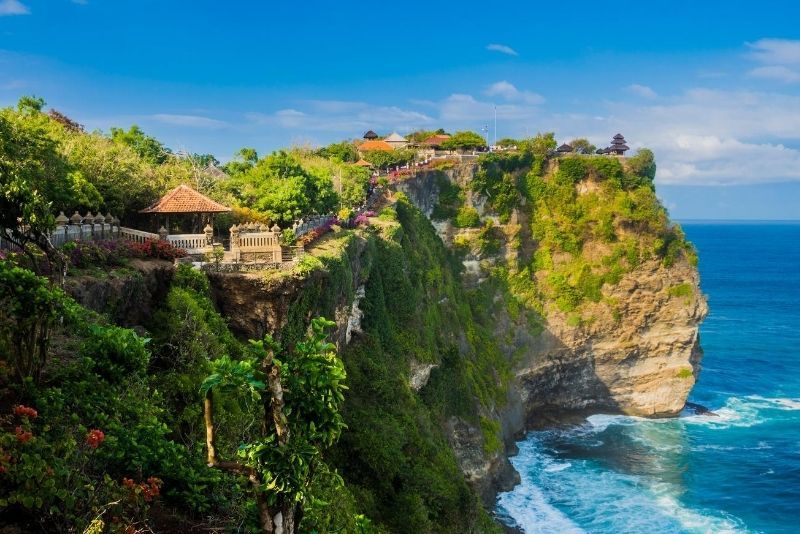 Here is everything you need to know about one of the most popular attractions in Bali, the Uluwatu Temple, and how you can share in the majesty of this fabulous place of worship.
How much do Uluwatu Temple tickets cost?
Ticket prices for local residents and foreign visitors are different. Worshippers can enter the temple free of charge.
Uluwatu Temple tickets
Domestic tourists
Adults: IDR30,000 (US$2)
Children (age 6-12): IDR20,000 (US$1.30)
Foreign tourists
Adults: IDR50,000 (US$3)
Children: IDR30,000 (US$2)
Kecak dance tickets
Adults: IDR150,000 (US$9.50)
Children (age 2-9): IDR75,000 (US$5)
Should you book tickets in advance?
You cannot book tickets for Uluwatu Temple and you can only pay in cash at the gate. If you are part of a tour group, your tour operator will handle the entrance fees and you don't have to wait in line or carry enough cash.
What are the best Uluwatu Temple tours?
There are a few tour options to visit Uluwatu Temple, each catering to a different travel style and budget.
Group tour of Uluwatu Temple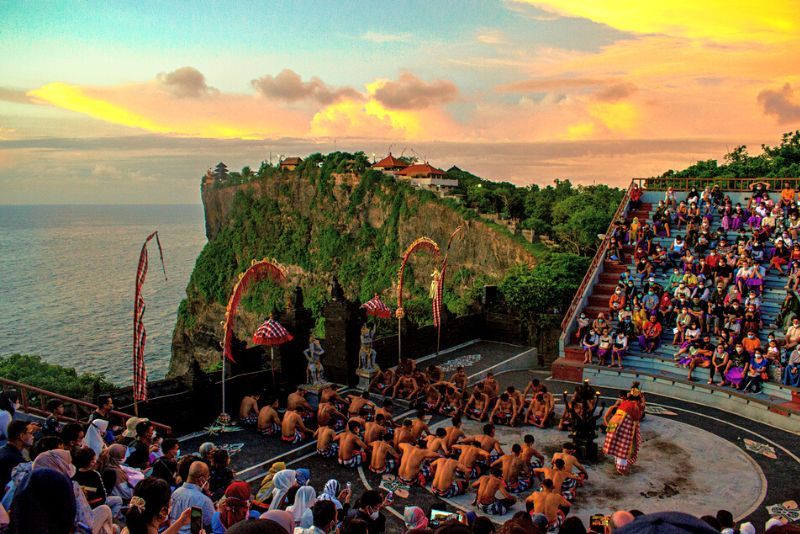 Venture to the south of Bali to explore Uluwatu Temple and all the captivating cultural treasures of Balinese culture. These tours are limited to small groups and your operator can pick you up from your hotel if you are in one of their preferred locations.
It is an easy and hassle-free way to get around and meet a few like-minded travelers who are also keen to explore the diversity of Bali. Tour prices include Uluwatu Temple tickets and tickets to the fire dance at sunset.
Private tour of Uluwatu Temple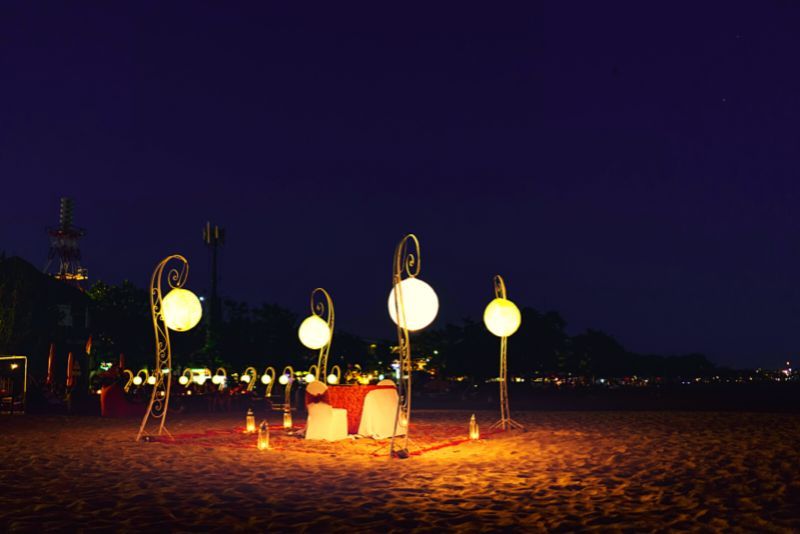 This is the most common type of tour to Uluwatu and by far the most convenient way to travel. You have the luxury of a private driver and expert guide who will pick you up from your hotel and show you all the must-see spots in southern Bali.
Your tour includes Uluwatu Temple entry and a sunset Kecak performance. You can also pay a little extra and enjoy a scrumptious seafood dinner on Jimbaran beach.
Are there any combined tickets or tours including Uluwatu Temple and other attractions?
Uluwatu sunset tour and sea walking experience: Explore the seabed of Nusa Dua Beach with an underwater sea walking experience and end the day with a sunset tour of Uluwatu Temple and a Kecak fire dance.
Ubud, Tanah Lot and Uluwatu tour: Star the day among the lush rice terraces of Ubud before moving to the dramatic coastline of south-western Bali where two majestic temples await — Uluwatu and Tanah Lot.
Ubud Ayung River Rafting and Uluwatu tour: Get your blood pumping with a thrilling whitewater rafting experience before visiting the serene location of the Uluwatu Temple.
What will you see inside the Uluwatu Temple?
Uluwatu Temple sits on a narrow clifftop, high above the sea. The temple itself is quite small but it is its unbeatable location that makes it so popular. A long walkway at the edge of the cliff leads to the main temple, giving you ample time to soak in the marvelous scenery.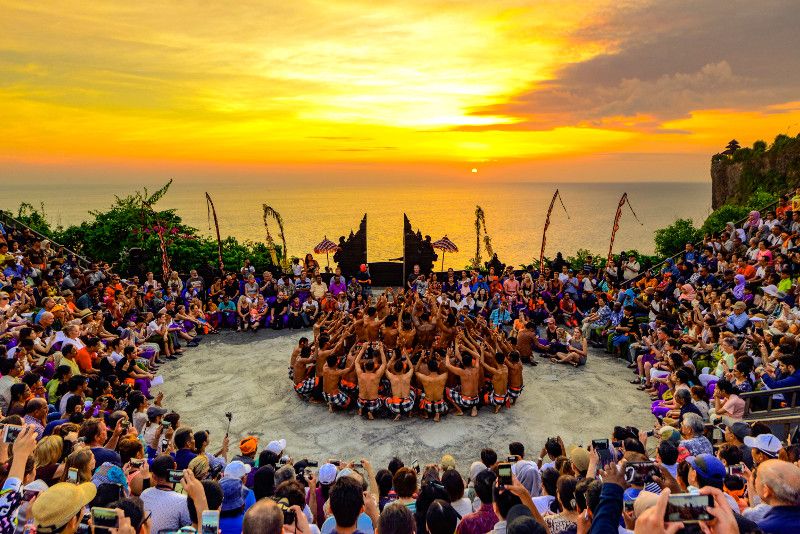 Close to the temple is an amphitheater where nightly Kecak performances captivate crowds. More than 70 men and women perform traditional fire dances and tell the tale of the Hindu epic, Ramayana.
There are a few relics around the temple grounds which are centuries old. One of the most unique features is a one-piece winged stone gate at the entrance to the inner courtyard. This gate dates back to the 10th century and is only one of a handful that was ever built in Bali.
How to get to the Uluwatu Temple?
Uluwatu Temple is on the southern tip of Bali and sits in Pecatu Village. You can drive to the temple, which takes around 45 minutes from Denpasar Airport and Kuta. There is no public transport and an Uluwatu Temple guided tour is the most convenient way to get there.
You can also rent a scooter or car and drive there on your own but there is a small parking fee at the temple. You can also book a taxi but be sure to arrange for pickup after your visit.
What are the opening times?
Uluwatu Temple is open daily from 9 AM to 7 PM, but it is open 24 hours a day to worshippers.
The Kecak fire dance takes place from 6 PM daily and finishes just before 7 PM.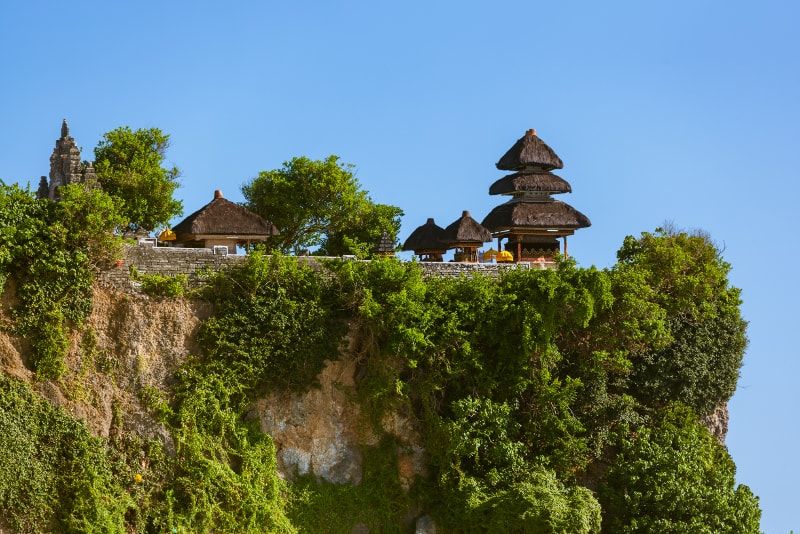 When is the best time to visit the Uluwatu Temple?
The mornings at Uluwatu Temple are the quietest but the sunset in the late afternoon is the reason for most people's visit. The temple faces west so you have a stunning sunset over the ocean.
You might encounter rain in the evenings in the rainy season which could spoil a perfect sunset.
Which other temples can be visited in Bali?
Travel tips
Both men and women must wear a sarong around their hips at the temple. You can bring your own or loan one for free from the temple.
Beware of the monkeys at the temple. They will grab anything from cellphones to flip flops and it is difficult to retrieve your belongings.
Be careful where you walk as worshipers leave offerings on the ground and you might mistakenly step on them.