The Goa Gajah Temple near Ubud is a fun stop if you're touring around Bali's emerald heartlands. Known as the "Elephant Cave", this archaeological site has been a sacred Hindu sanctuary since the 9th century.
Booking your Goa Gajah Temple tour, so you'll learn about traditional beliefs and see ancient relics during your visit.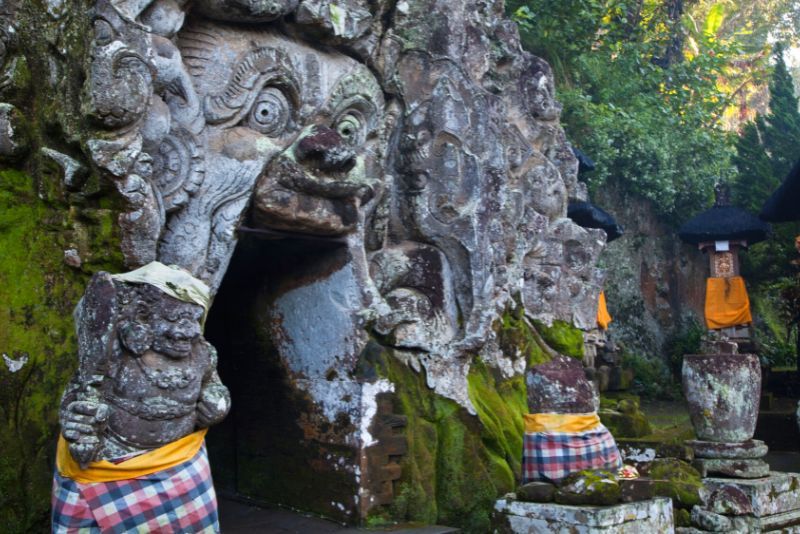 Here's all you need to know about Goa Gajah Temple tours, one of the top attractions in Bali.
How much do Goa Gajah Temple tickets cost?
You can purchase Goa Gajah Temple tickets at the counter by the entrance gate – remember to take some cash. You may have to wait in line as this is a popular visitor spot.
If you have booked a guided tour, the Goa Gajah Temple ticket price is not usually included in your excursion package. You'll need to pay for this separately on arrival.
Entrance fees for the temple are as follows:
Adult: IDR50,000 (US$3)
Child (5-11 years): IDR25,000 (US$1.50)
The Goa Gajah Temple rate includes sarong rental if you don't have your own.
What are the best tours available?
The Goa Gajah Temple is usually visited as part of a full-day trip around Bali. You'll visit several key attractions in the Ubud area, including waterfalls, rice terraces and other temples. Goa Gajah Temple tours run on either a small group or a private basis.
Small group tours
If you want to keep costs to a minimum so you have more to spend on accommodation and eating out, group tours are the answer. You'll be joined by like-minded travelers so it can be a fun and convivial experience.
Group sizes vary so check the operator details carefully to ensure you know what you're signing up for. Travel is by minivan with hotel pickups from selected areas provided.
Private excursions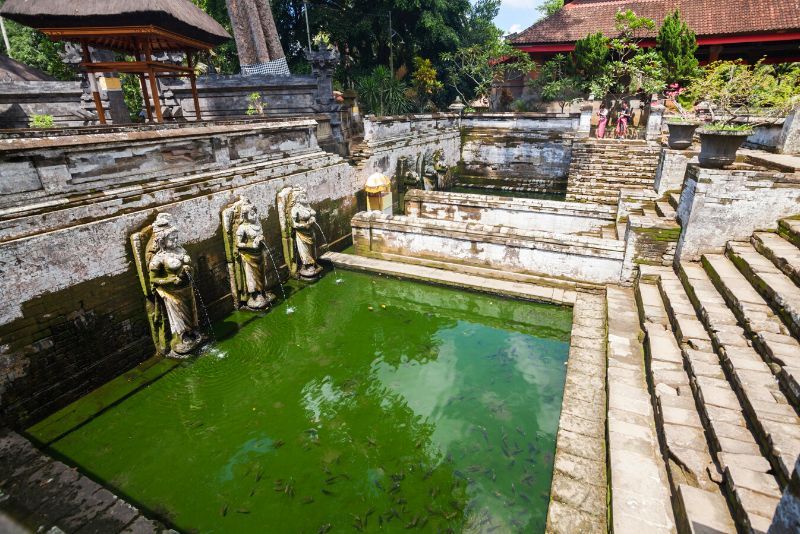 If you don't want to share your experience with strangers, then book a private tour of Goa Gajah Temple. It does cost more than a group excursion, but you'll agree that the luxury treatment is worth the price tag. Plus, if you're traveling with friends or family, the cost can work out very favorably.
You'll have the car and driver to yourself, with door-to-door transfers for that VIP feeling. There is often flexibility with the schedule, so speak to your guide if you want to spend longer at a particular site.
Are there any combo tours?
Goa Gajah Temple tickets plus waterfall swimming and a canyon hike: Embrace local culture at the Elephant Cave before trekking down a hidden canyon and visiting Tegenungan Waterfall.
Goa Gajah Temple visit plus Tegalalang Rice Terrace and Batubulan: Combine temple excursions with a Balinese dance performance in Batubulan and views of the rice terraces and Mount Batur volcano.
Goa Gajah Temple tour plus Ubud Monkey Forest and Batuan: Explore Goa Gajah, visit a typical Balinese house in Batuan and venture into the mysterious Ubud Monkey Forest to meet the resident primates.
Goa Gajah Temple ticket plus Tirta Empul Temple and Penglipuran: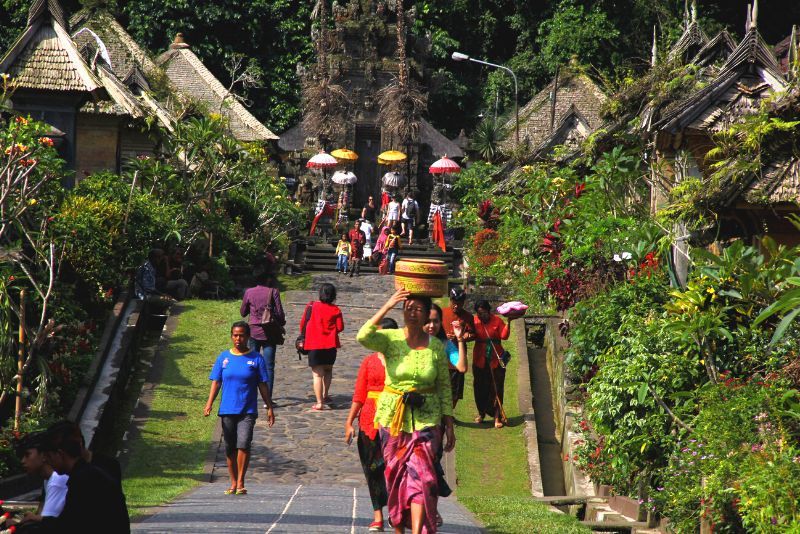 Visit the temples of Goa Gajah and Tirta Empul Temple, then brave the Ubud jungle swing and explore Penglipuran traditional village.
Should you book the tour in advance?
It's always wise to buy Goa Gajah Temple tickets ahead of your visit. The complex is a popular stop on Bali's well-trodden tourist trail, so don't miss out by not booking your tour until the last minute.
By reserving your tickets online you'll be able to search for the cheapest tour deals too.
What will you see inside?
Also known as the Elephant Cave Temple, Goa Gajah is one of Bali's most significant archaeological sites. Constructed beside a river on the slopes of a hill, the site was proclaimed to be sacred in the 9th century. The current temple was built in the 11th century and has been used for prayer and meditation ever since.
The cave
The highlight of a Goa Gajah Temple visit is exploring the cave itself. See if you can make out the elephant carving at the rocky entrance, before proceeding through its cavernous mouth. Inside the cave, incense burns around the ancient stone idols on display – you can't fail to feel moved by the experience.
The temple complex
Back out in the daylight, you can explore the rest of the Goa Gajah Temple archaeological site. There's a large open meeting hall, lots of stone carvings and a holy water pond that is used for spiritual ceremonies.
Banyan trees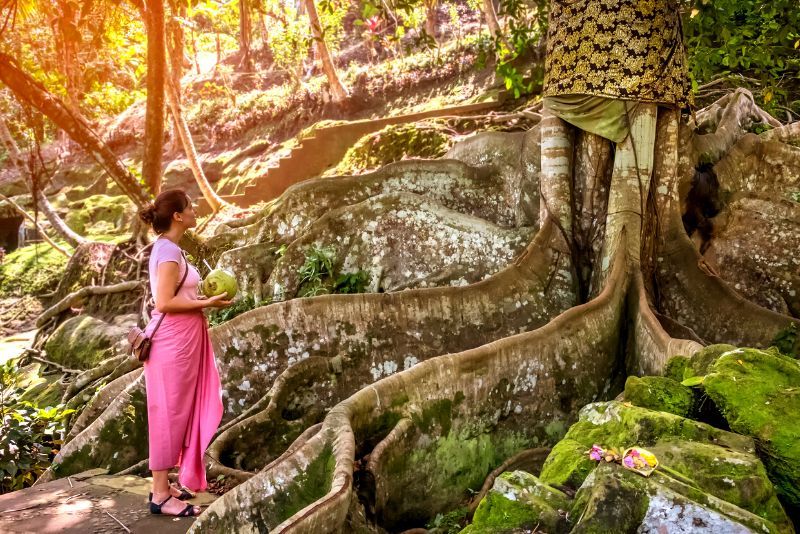 Back outside, the enormous banyan tree roots make for great photos. This is a place that is slowly being taken back by nature and it reminds many travelers of Angkor Wat in Cambodia! Towards the southern side of the site, you can enjoy views of rice terraces and streams. It's a peaceful place to stroll around, and the scenery is breathtaking.
How to get to it?
Goa Gajah Temple sits on the Petanu River near the village of Bedulu, just 13 minutes from Ubud by car. The easiest way to visit is on a guided tour with hotel transfers provided for minimal hassle.
If you want to drive, just head south from Ubud past the Monkey Sanctuary and turn onto Jalan Raya Goa Gajah. This road will take you to the temple and there is parking available onsite.
When is the best time to visit the Goa Gajah Temple?
Goa Gajah Temple entry is between 8 AM and 5 PM every day of the week. The site is open all year round.
It does get crowded at peak times so come during the early morning or late afternoon if you can. Weekdays are usually quieter than weekends.
Which other attractions can be visited in Bali?
Travel tips
Goa Gajah Temple tickets should be purchased in advance to ensure you don't miss out – it's a popular place.
You should dress modestly to enter the temple, with shoulders and knees covered.
Sarong hire is included in the Goa Gajah Temple entrance fee so don't be pressured into buying one from the shop touts outside the cave.
Wear comfortable footwear for exploring the complex – there are lots of steps and bridges along the trail.
Most people allow up to an hour to explore the archaeological site, which is spread out across a ravine.