With its stunning beaches and lush greenery, Jimbaran is a nature lover's paradise. There are also plenty of excellent seafood restaurants and shops in the area, making a Jimbaran day trip a wonderful escape from the hustle and bustle of Bali's busier towns and cities like Kuta and Legian.
Laid-back Jimbaran is home to some of Bali's premier surf spots as well as myriad spas, resorts and hiking trails — a great choice for families, adventurers and beach bums alike.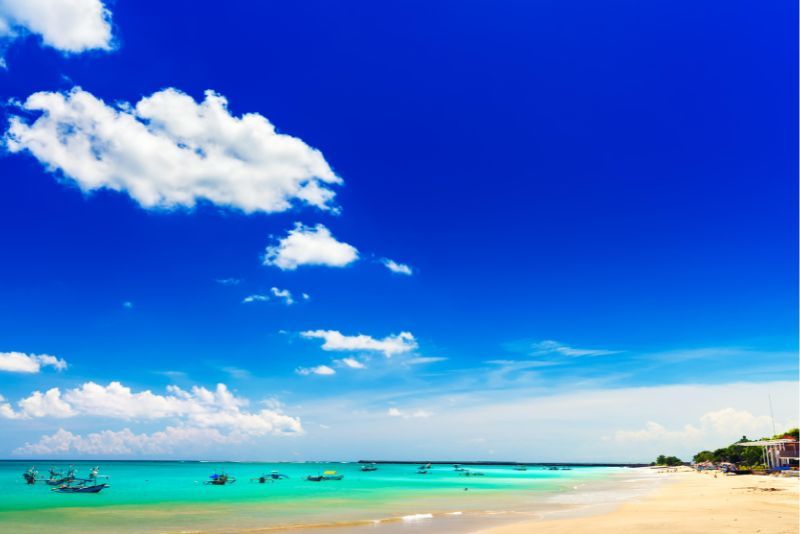 If you're looking to spend a beautiful and peaceful day, Jimbaran is one of the most ideal destinations for day trips from Bali.
How to get to Jimbaran?
The fishing village and resort area of Jimbaran is located just south of Kuta and Ngurah Rai International Airport near the southern central tip of the island. Thanks to its proximity to the main tourist locations it is very accessible.
How to reach Jimbaran by car
If you're staying in popular coastal areas like Kuta, Legian, Seminyak or Canggu, the best way to reach Jimbaran is to drive south past the airport on Jalan Ngurah Rai Bypass. The journey should take around 30 to 40 minutes, depending on traffic conditions. From Ubud, it's about 1 hour and 20 minutes drive south.
Guided tour to Jimbaran
Several guided tours and day trips visit Jimbaran from Bali, including a number of options for visitors staying in Ubud. These Jimbaran day trip tours include pickup and drop-off from your hotel and often include stops at other tourist spots along the way — a great way to explore a handful of Bali's attractions.
What is the typical itinerary of a day tour to Jimbaran in Bali?
Most Jimbaran day tours start with convenient pickup from your hotel. You'll then head south along the coast in an air-conditioned car or van, passing through popular areas like Kuta before arriving in Jimbaran.
Here you can enjoy some time at the beach or explore the shops and restaurants in this picturesque fishing village. After spending some time exploring Jimbaran, you'll continue on to other top attractions in the south coast area.
Depending on your choice of tour this could include Uluwatu, a seafood dinner, a Kecak fire dance, a spa visit, or Bali's iconic rice terraces and temples. You'll also get to enjoy some spectacular views of the ocean along the way.
At the end of your day trip to Jimbaran, you'll be dropped back at your hotel in time to relax.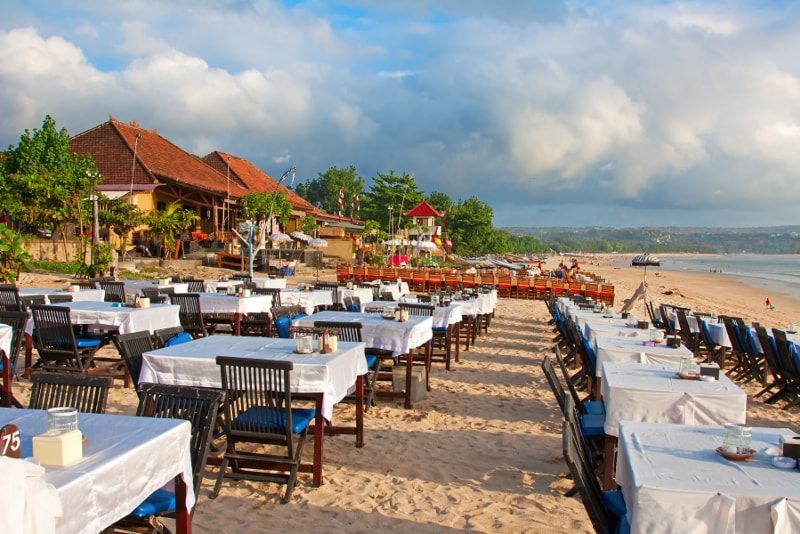 What kinds of tours are available to go to Jimbaran?
You have many different options when it comes to Jimbaran day trips and tours. Whether you're looking for a relaxing beach getaway or an action-packed adventure, there is something for everyone in this beautiful part of Bali.
Guided tours to Jimbaran
Starting with hotel pickup, these small group tours feature a knowledgeable and friendly guide who will take you to all the best spots and provide lots of insight into local culture, history and attractions.
Private tour to Jimbaran
For a more intimate experience, you can also book a private tour to Jimbaran. You'll have the freedom to customize your itinerary and spend as much time at each attraction as you like.
Day trip to Jimbaran plus Uluwatu Temple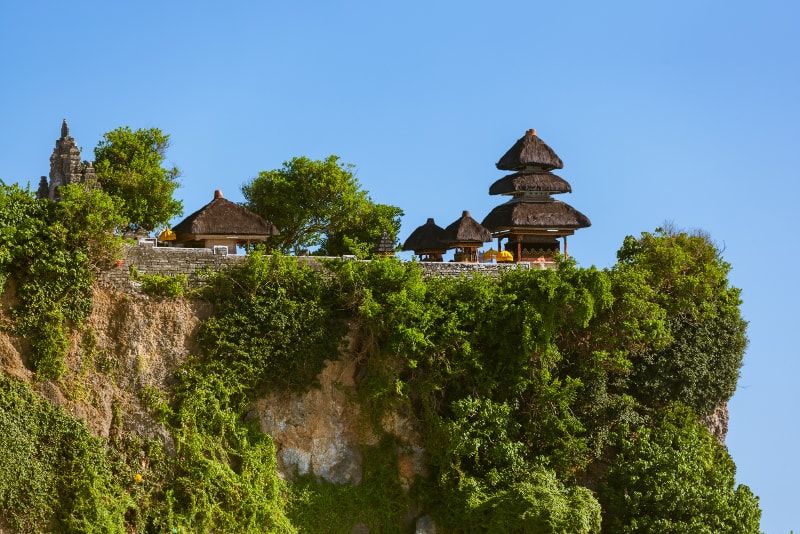 Several southern Bali highlights such as the ancient Uluwatu Temple (Pura Luhur Uluwatu) can be combined with a trip to Jimbaran on some tours. These day trips are perfect for visitors who want to experience both the natural beauty of Bali's southern coast as well as its rich cultural heritage.
Day tour to Jimbaran plus romantic dinner and spa package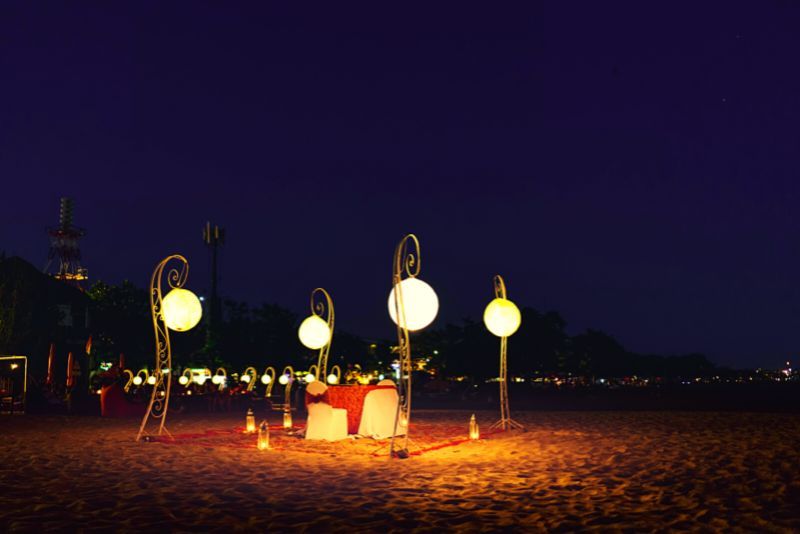 Ideal for couples or honeymooners, this unique tour offers a sunset seafood romantic dinner on the beach at Jimbaran Bay. You'll also get to enjoy a relaxing massage or spa treatment at one of Bali's top resorts in between visits to other popular attractions like Tanah Lot Temple and Uluwatu.
How much does a tour to Jimbaran in Bali cost?
Guided tours to Jimbaran cost around US$30 to US$60 per person
Private tours to Jimbaran are priced at around US$60 to US$100 per person
Day trips to Jimbaran plus Uluwatu Temple cost between US$30 to US$80 per person. The more expensive options including additional stops.
Day tours to Jimbaran plus a romantic dinner and spa package cost around US$80 to US$100 per person.
What will you see and do on a Jimbaran day trip?
Jimbaran is most well-known for its soft, sandy beaches and beautiful sunsets. Whether you're looking for a relaxing day at the beach or an adventurous adventure, there are plenty of things to see and do in Jimbaran.
At Jimbaran beach you will have time to relax and enjoy the sun, swim in the ocean, or try some of the delicious seafood for which this area is famous. Depending on your chosen excursion, you will either be treated to a romantic picnic dinner on the sand or a delicious buffet at a seafront restaurant.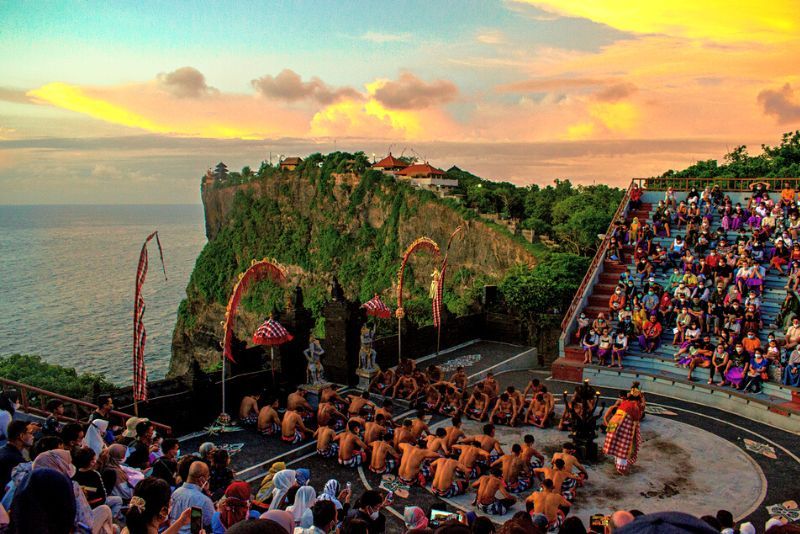 On the more active and comprehensive adventures, you will explore Uluwatu Temple perched high on top of a cliff overlooking the ocean. Here you will also have time to witness a traditional Kecak fire dance performance and sample some local Balinese cuisine.
Other popular attractions in the southern Bali area, which are often combined into Jimbaran day tours, include the Tanah Lot Temple and Taman Ayun Temple. Throw in a local spa visit for a relaxing massage and a stop at nearby Padang-Padang Beach, and you have the perfect day trip to Jimbaran!
When is the best time to visit Jimbaran?
Bali is warm all year round, so there is no bad time to visit Jimbaran. However, the wet season runs from November to March, which may be uncomfortable for some visitors. For that reason, many visitors opt to visit Jimbaran (and Bali in general) during the dry season from April to October.
Regardless of when you go, you're sure to have an unforgettable time exploring this stunning part of Indonesia.
Travel tips
Bali is prone to rapid changes in weather, so it is important to be prepared for rain, sunshine, and everything in between. Pack light layers that you can easily add or remove as needed.
Remember to always bring plenty of sun protection like sunscreen, hats, and sunglasses, especially since you'll be spending time at the beach.
Bring a towel with you for the beach and to cover up with when the sun gets too hot.
Don't forget your camera - Jimbaran has some beautiful scenery that you'll want to capture!
For the best bang for your buck, consider one of the day trips to Jimbaran that also features a spa visit and a seafood dinner.