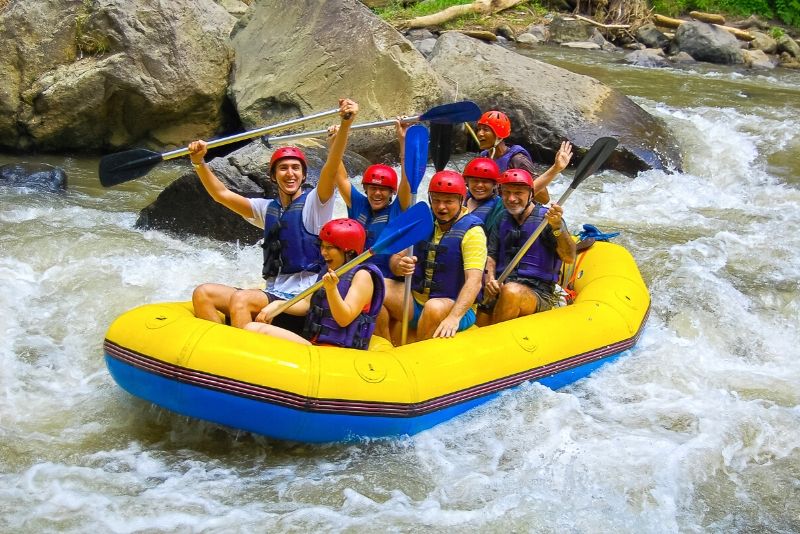 Are you teeming with excitement to go white water rafting in Bali? Throughout this article, we'll outline everything you could possibly need to know about planning your next Balinese white water rafting adventure!
Known far and wide as the 'Island of Paradise', Indonesia's tourist-centric oasis boasts more beauty, relaxation, and culture than most travelers could imagine – all with some serious bang for your buck.
As famous as it is for its food, beaches, and welcoming locals, Bali's got another trick up its sleeve: it's a one-stop-shop for all things adrenaline. Whether it's paragliding, skydiving, surfing, or – in this case – white water rafting, you're all but guaranteed an unforgettable, heart-pumping experience.
Don't feel like reading ahead? Click here to compare all the cheapest white water rafting tickets and package deals right now and lock in that splash-tastic adventure at the best prices available.
Where can I go white water rafting in Bali?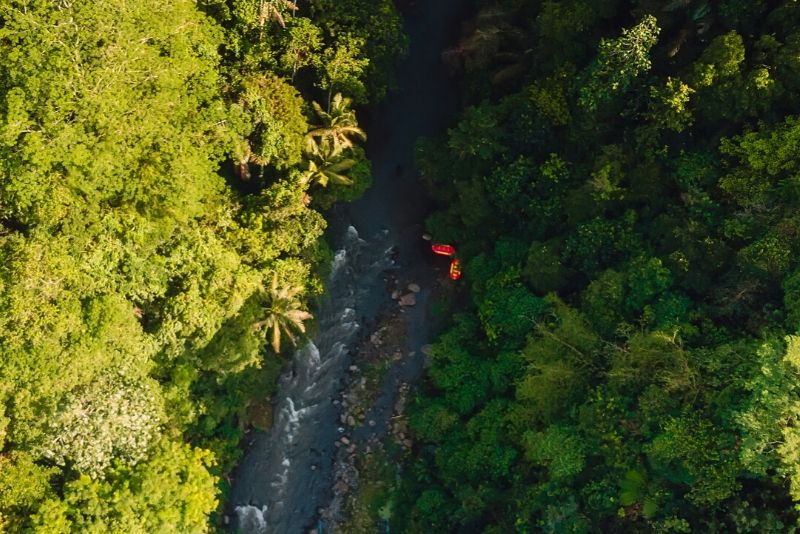 The adventure-filled island of Bali has countless rivers, however, only three of them have been deemed suitable and safe for white water rafting for tourists: the Ayung River, the Telaga Waja River, and the Melangit River.
If you're investigating a tour that claims to traverse the choppy white water of any other river, then adjust your search and make sure that your activity doesn't stray from the tried, tested, and proven trio.
All three of these destinations offer their own positives and negatives, depending on your intensity preferences. Melangit is less popular than the other two, although it's not to be dismissed as a viable choice.
Ayung river
You'll find the main Ayung white water rafting area not too far from the Ubud tourist area. Ubud is regarded as the cultural center of Bali, however, it also acts as the gateway to exciting outdoor activities like rafting.
The Ayung river flows rather deep and calm, meaning that the rapids are far safer than most Balinese rivers. While weather conditions can affect the intensity (as is the case with all rivers and rafting experiences), guests can typically expect Class 2-3 rapids (beginner level).
Telega Waja river
Next up, we've got the Telaga Raja River, found on the slopes of Mount Agung, the tallest and most sacred Balinese volcano. This activity is over on the eastern side of Bali in the Karangasem area, about an hour and a half from Kuta – the beachside area near the airport – or an hour from Ubud.
Although you won't have to worry too much about getting there, because most tour operators organize hassle-free pickup (scroll down to find out more).
Telega Waja river rafting typically lasts around 2.5 hours and is graded as Class 3-4 rapids (beginner-intermediate).
Melengit river
While the Melangit river doesn't receive the same amount of attention as the other two, ask anyone who's journeyed across its waters and they'll sing its praises as a great way to spend a day in the open air – especially if you're after non-stop thrills.
Melangit River sits over in the Bakas Village area in the Banjarangkan district (a hotspot for elephant rides), on the eastern side of the island. It's about 30 minutes drive from Ubud or an hour from Kuta.
You'll spend about an hour and a half on the river, twisting nearly 8 kilometers through Class 3-4 rapids.
What river is best for rafting in Bali?
Each of the three main rivers has its draws, and they're all guaranteed to provide a wonderful afternoon on the water. "Which is best" really depends on you and your preferences.
Are you an adrenaline junkie or are you itching for something a little more relaxing? Are you an experienced rafter or are you traveling with kids who aren't confident swimmers?
We'll break this question up into groups to help you decide which river is ideal for your situation!
For kids & families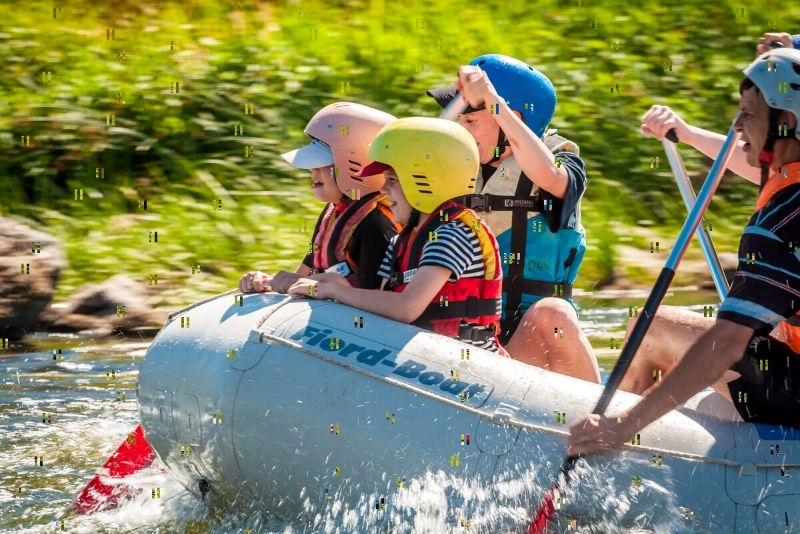 Both the Ayung River and the Telaga Waja River are considered ideal for beginners, with the former taking the cake as the easiest of the three. The Ayung River is rated as a Class 2-3 difficulty (on a scale of 1-6), while the Telaga Waja River has a rating of a Class 3-4 difficulty.
Even if you or your family members aren't confident swimmers, there's little to worry about. Tour companies will provide each participant with a safety helmet and life jacket, and each raft has a professional guide on board.
For adrenaline seekers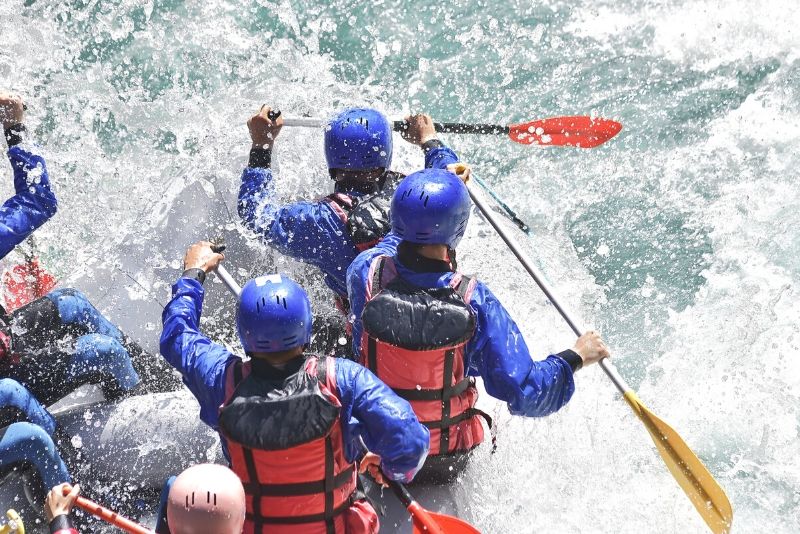 For those with a little more fire in their belly who seek a higher level of intensity, then look no further than the Melangit River. This option boasts a Class 4 level of difficulty and is chock-full of heart-pumping twists, turns, and drops.
The length of Melangit rafting is shorter than its two alternatives, but it makes up for it with a whipping 37 drops along the way, the highest of which is around three meters!
For nature lovers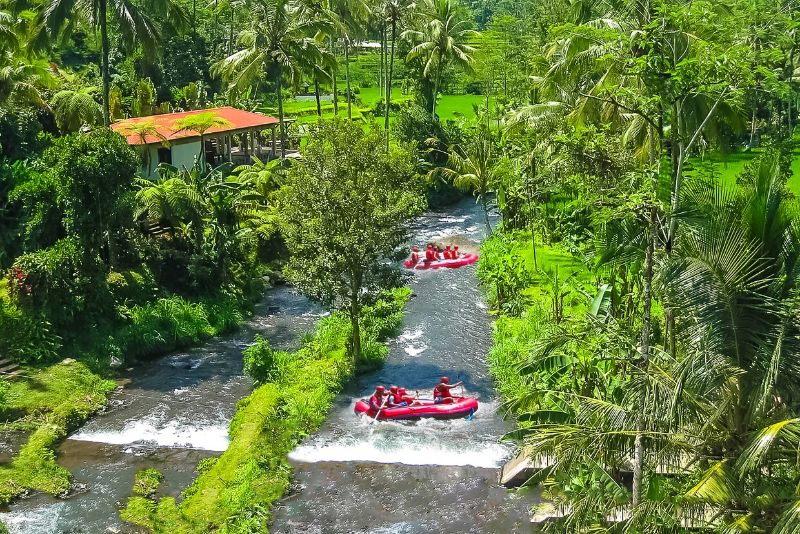 Bali is overflowing with picturesque scenery, offering rice fields, mountains, and cliffs scattered all over the island. One of the best ways to take in the best that mother nature has to offer, in a relatively relaxing manner (well, relaxing by white water rafting standards…) is with a two and a half hour rafting journey along the Telaga Waja River.
As you drift along the 16-kilometer rafting route, keep an eye out for flowing waterfalls and cheeky wildlife – you never know when a monkey will be hanging down from the branches.
What is included during a rafting tour in Bali?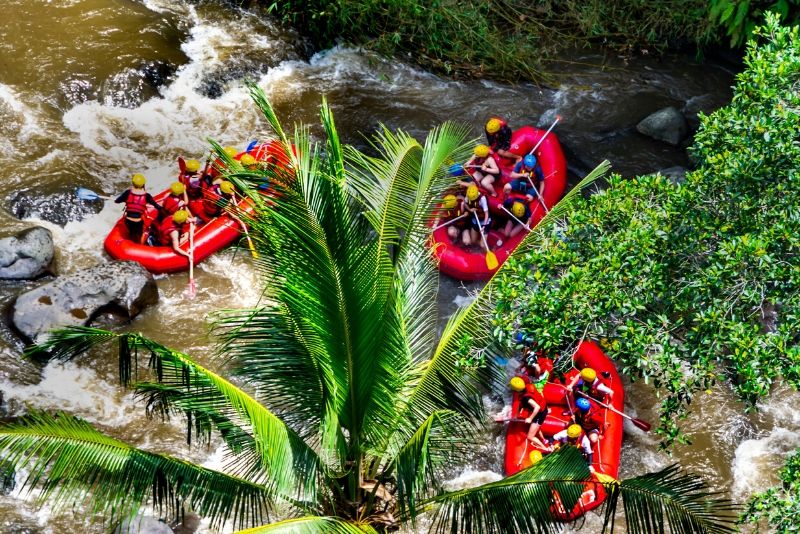 Each tour and its inclusions differ slightly depending on the organizer, but you can typically expect most of the following to be included in your booking, regardless of the company:
Free cancellation. Most tours will provide peace of mind by allowing you to cancel up to 24 hours in advance and still receive a full refund.
Professional rafting guide. Your guide is present for two reasons: to ensure maximum safety while out on the water, and to ensure an enjoyable, informative, and all-round pleasant experience.
Transportation to and from your hotel. The company will arrange a driver to pick you up from your accommodation, providing that you're staying in one of the more common tourist areas (i.e. Kuta, Legian, Seminyak, Canggu, Sanur, Jimbaran, Uluwatu, Ubud or Nusa Dua)
Rafting equipment. Just bring your swimming outfit and the company will provide the rest of the equipment.
Drinking water!
Insurance coverage. Even though a licensed guide is with you every step of the way, it's always important to have insurance… just in case.
Indonesian buffet-style lunch. After you've burned hundreds of calories on the water, chow down on some delicious local cuisine to replenish the energy.
Shower facilities and fresh towels (usually).
Changing rooms and restrooms.
How much does rafting in Bali cost?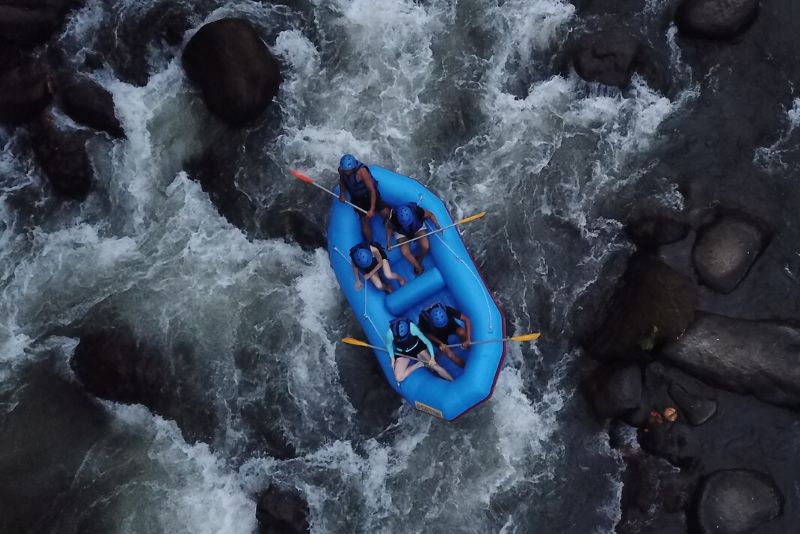 Good question! Compared to adventure-focused nations like New Zealand, rafting in Bali is considerably budget-friendly. In fact, it's not just rafting – all water sports adventure activities are of great value. There are a number of companies that operate white water rafting tours, and their ongoing competition keeps prices relatively low year-round.
Of course, the price will vary depending on which river you choose, if you combine it with any other activities, your mode of transportation, and optional add-ons like photo packages.
The most basic experiences start at around USD $20, while the top-level packages, combining quad biking, volcano hiking, or spa treatments, can be around USD $150.
Keep an eye out for the packages with 50% discounts!
Should I book online or on-site?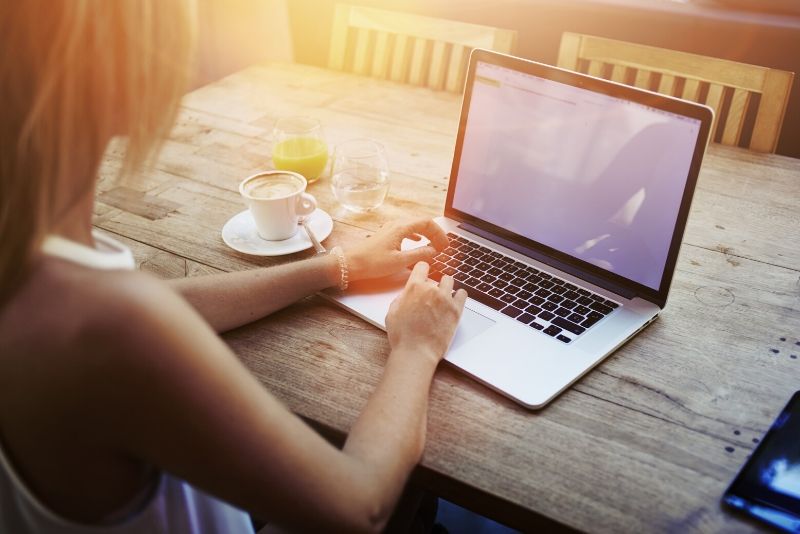 If you plan to book a last-minute activity when you're already in Bali, the options can be overwhelming. In Ubud and Kuta in particular, vendors line the streets and every single one of them claims to have the cheapest price. If you don't have your wits about you, you could wind up paying a lot more money for the same rafting experience, accidentally signing up for an unwanted (and expensive) upgrade, or worse, becoming the victim of a scam – not to mention wasting your valuable vacation time in stressful negotiations.
We suggest that you take a look at the TourScanner page to compare all the available online options. It's the quickest and easiest way to check out all the options on offer and compare the prices without any pressure to upgrade to something you don't want. Have a read through the reviews of each company, compare the different combo deals, set your budget, and then go right ahead and book whichever option suits you best.
Most importantly, by booking online, you can guarantee that you'll be joining a tour with a safe, reliable, well-known operator – when you sign up on the streets, you never know what you're getting into.
Is rafting in Bali safe?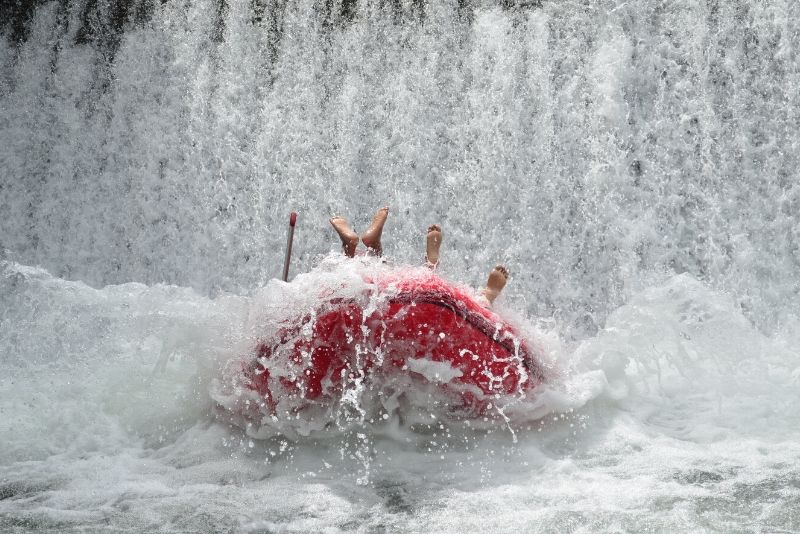 Absolutely! Bali is heavily reliant on tourism and takes its reputation very seriously. So long as you book online through a reputable company, you'll always have a trained, licensed, professional, and friendly guide with you every step of the way. While the guide is there to ensure you have a great time and always have a smile on your face, their primary concern is your safety.
In the event that the river is too dangerous after heavy rains, the providers don't hesitate to postpone, reschedule, or refund the activities. Medical insurance is provided on most tours as well – make sure to double-check this before booking your rafting tour of choice.
Can I get picked up from my hotel or my villa?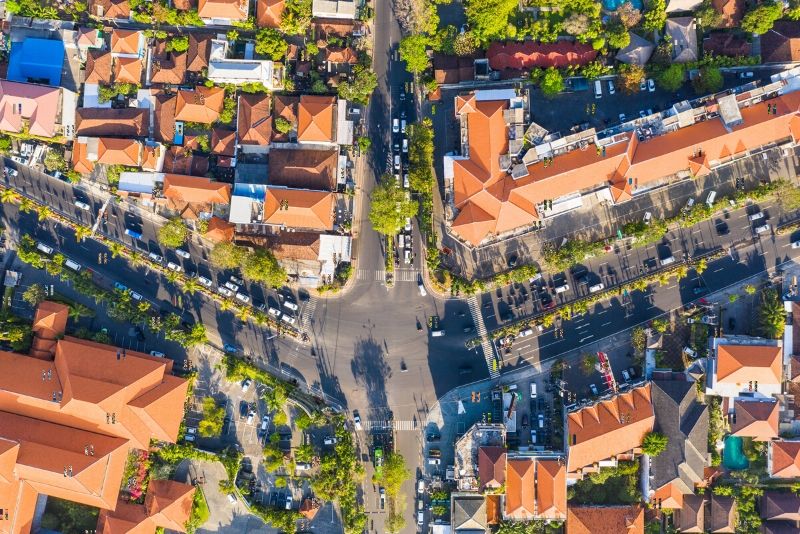 Of course! Seeing as tourists in Bali rarely (if ever) rent their own cars, visitors rely on companies to pick them up from their hotels. To make the rafting experience as smooth and as stress-free as possible, most of the operators (and most Bali activities, in general) provide pick up and drop-off services.
Keep in mind, however, that these services are usually limited to the main tourist areas, which include the likes of Ubud, Kuta, Legian, Seminyak, Sanur, Uluwatu, and Nusa Dua.
How long does rafting in Bali take?
The time on the water will be between one and three hours, depending on which river you opt for. Ayung River and Telega Waja river rafting typically last around 2-2.5 hours. Melangit River, on the other hand, is shorter at 1.5 hours, although features more intense drops.
It's best to block out five hours in total, at least. This accounts for pickup and drop off, lunch, and safety briefings. If you're booking one of the many awesome combination deals, with quad biking, hiking, or the Bali Swing included in the package, then the entire day can take between 8 and 12 hours.
What should I bring with me on my rafting tour?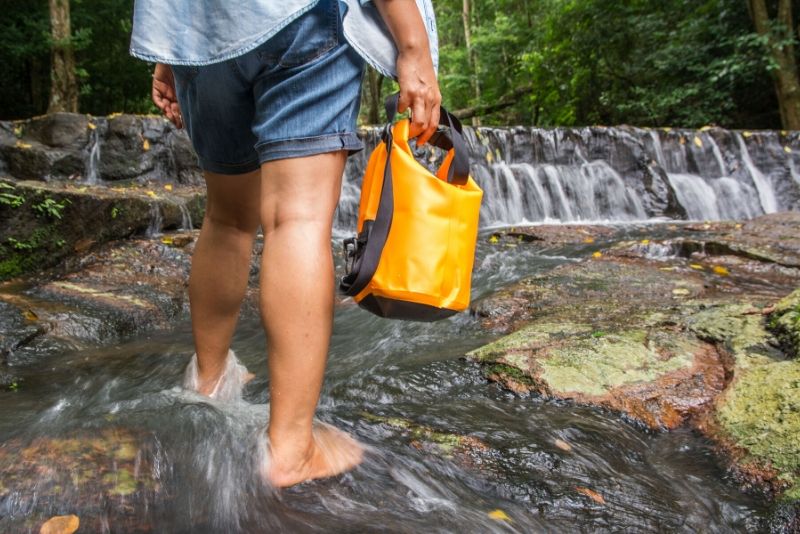 The operator will provide all of the essential rafting and safety equipment, but there are still a few things you should bring to ensure the most enjoyable time possible:
A change of clothes – you're gonna get wet on the raft!
Comfortable shoes that can get wet – it might seem counterintuitive to bring shoes to a river, however, in order to reach your starting point, you will be walking down steps and rocks that can be quite slippery.
Sunscreen – with the white water constantly splashing in every direction, you may not feel like the harsh heat of the sun is affecting you. That's a common mistake – even if it's cloudy, the sun has the potential to burn. Make sure to bring a waterproof sunscreen and apply it before going into the water.
Camera – a waterproof camera is perfect to capture the amazing memories. Most operators will also have a photographer stationed at the most intense drop, and will provide you the option to purchase printouts once the tour is complete.
Money for optional extras – while food is provided (in most circumstances), drinks may not be. It's always handy to carry a few spare rupiahs if you want to give the guide an extra tip, sip on a cold Bintang, or purchase the company-provided photos.
A bottle of water – rafting is thirsty work! Don't forget to have a bottle of water handy (note: bottled, not tap water!) that you can access both during and after the rafting experience.
Note: Operators will have a waterproof bag on the raft for your phone and valuables. However, there is no guarantee they stay 100% dry. If you're worried about your electronics, leave them at the hotel or in a locker.
When is the best time of year for rafting in Bali?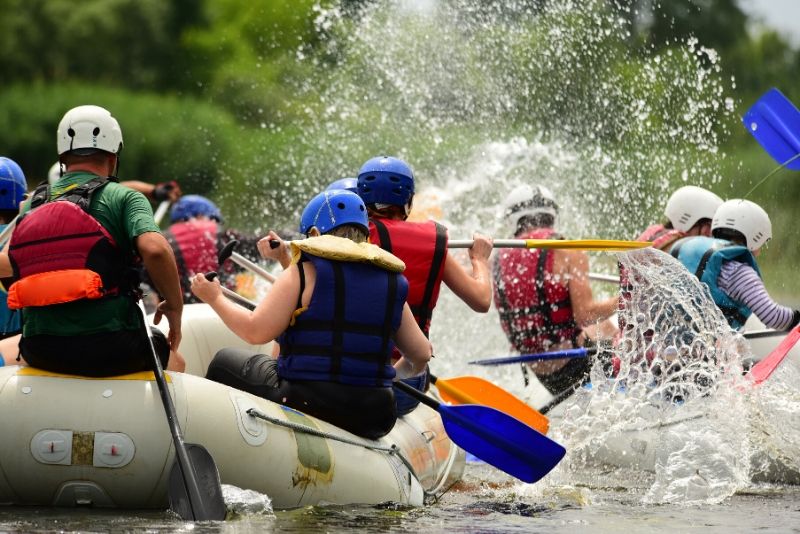 The rivers flow year-round, so there's no bad time to go rafting!
It is still important to keep in mind the difference between the dry season (May to September) and wet season (October to April). During the wet season, rainfall is more common, and the intensity of the river can increase after significant storms.
If you're unsure about the conditions, you can phone your tour operator the day before to double-check the river grades.
Can I book other adventure activities at the same time?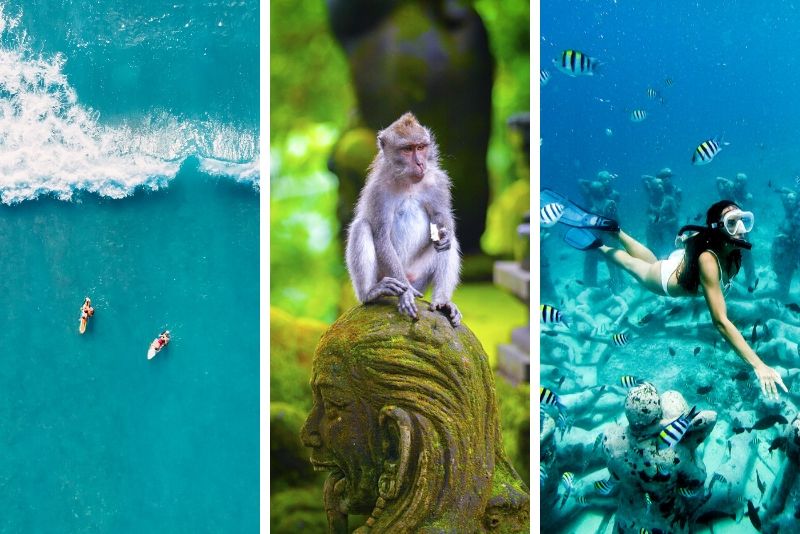 You bet! Paradise Island is all about tourism, nature, and adventure, and countless companies provide package deals to see all the best that the island has to offer. Some of the available experiences include ATV riding, the Bali Swing, hiking the Mount Batur volcano, private massages, flying fox, and city tours.
What are Bali's other essential activities?
The list of unbeatable attractions on this world-famous Indonesian utopia is endless. That said, a few of our personal highlights include:
Waterbom – Waterbom Bali is the island's premier waterpark, found not too far from the main hustle and bustle of Kuta. The well-run park has over a dozen exciting waterslides and water games for kids and adults of all ages.
Monkey Forest, Ubud – Officially known as the Sacred Monkey Forest Sanctuary, this local Ubud attraction is the natural habitat of the Balinese long-tailed Monkey. Over 1000 monkeys call this slice of land home, and some of them can be very sneaky!
Uluwatu Temple – Sitting on one of the island's most picturesque cliffs, 70 meters above the sea, the Uluwatu temple is a Balinese icon. A number of online deals combine a sunset dinner with a range of cultural shows.
Water sports – Be it paragliding over the water, surfing, jet-skiing, hoverboarding, scuba diving, banana boating, or the so-called Flying Fish, there is no shortage of water-based adrenaline on offer.
Have a peek at the TourScanner page to check out and compare ALL of the available combination options. You can usually save up to 50% by combining activities.
Travel tips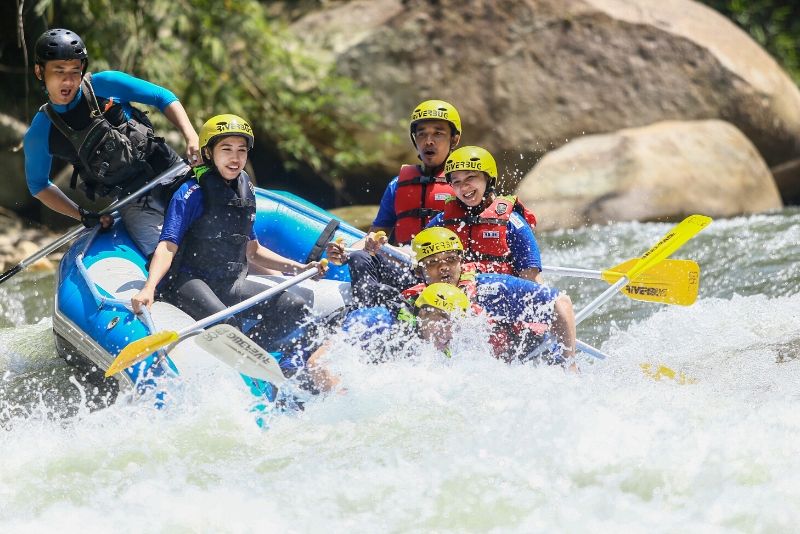 Always drink bottled water, never tap water. Ever heard of "Bali Belly"? Exactly…
Don't rent a scooter if you've never ridden one before! It might seem tempting and budget-friendly to rent your own scooter for little more than $5 a day, but the roads are chaotic and dangerous for anyone who second-guesses their ability. Tours offer pick-up and drop-off, while private drivers are very cheap.
If taking a Balinese taxi, ask for the meter! The meters are fairly (and cheaply) priced, and you'll eliminate your risk of being scammed.
Make sure to book any rafting or adventure tour online, in advance. It's the best way to find the cheapest price!
So, what are you waiting for? Check out all the Bali rafting options and book an unforgettable day on the water!
What to do next? Read our top 99 fun things to do in Bali and complete your Bali itinerary right now.
Happy travels!