Bali is undoubtedly one of the top coffee producers in the world thanks to the island's rich volcanic soil. Indonesia is most famous for its 'Kopi Luwak', an expensive and exclusive coffee that uses a cat-like creature, called a Luwak, in the coffee's production process.
Coffee plantations welcome visitors, and coffee plantation day trips from Bali are extremely popular. See how local coffee is made and taste a variety of delicious coffees— all while enjoying the spectacular views of the surrounding mountainous regions.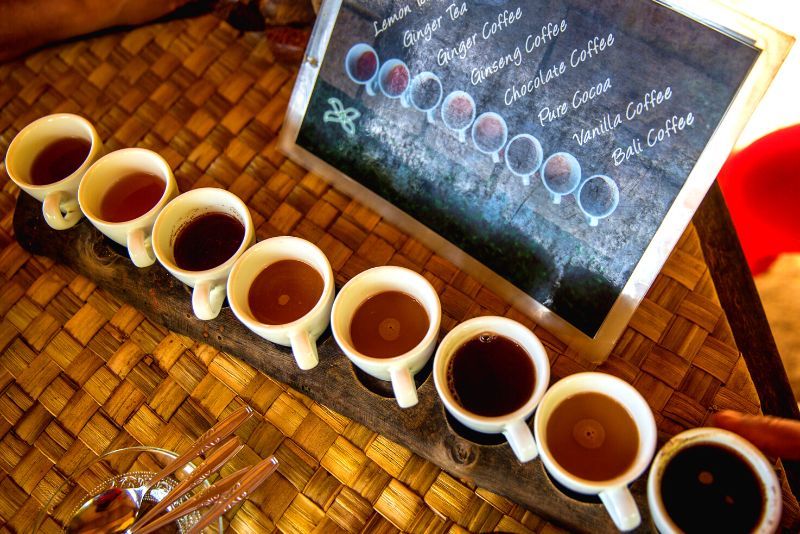 Below you'll find all the most important information surrounding coffee plantation, one of the best options for day tours from Bali.
How to get to coffee plantations from Bali?
While there are many coffee plantations all over Bali, most of them are located near the island's highlands surrounding the area of Ubud.
From Bali to coffee plantations by car or scooter
Bali is known for its affordable vehicle hire services, and you can find a rental company around almost every corner. Getting to Bali's coffee plantations from popular touristic areas, such as Kuta, is very easy and usually takes around 1.5 hours. Simply head north towards Ubud, and look out for coffee plantation signs.
Guided tour to coffee plantations from Bali
Guided tours are the easiest and most convenient way to experience Bali's coffee plantations. You'll get picked up by your guide from your Bali accommodation and get driven to the coffee plantations in an air-conditioned vehicle. Most guided tours last around 6 hours, including travel time.
How much does the entrance ticket cost?
Most coffee plantations in Bali charge a small entrance fee. While each plantation is different, the typical entrance fee is IDR100,000 (US$6.5) per person.
What is the typical itinerary of a day tour to coffee plantations from Bali?
Your day trip begins with a hotel pickup from your Bali accommodation (often limited to selected areas). From here, you will meet your guide and get driven towards Ubud, where Bali's coffee plantations are located. Your professional guide will provide you with information and commentary along the way.
Upon your arrival at the plantation, you'll be given a tour of the area and learn about coffee production before you sit down for a coffee tasting. You'll also be allowed to purchase coffee and other souvenirs and gifts from the plantation's shop.
Many coffee plantation tours in Bali also make additional stops at rice paddies and temples before taking you back to your hotel.
What kinds of tours are available?
There are many different types of guided coffee plantation tours available, including group tours and private tours. Coffee plantation day trips are often combined with other popular attractions to make for an exciting and interesting day out.
Day trip to coffee plantation plus rice terraces and ridge walk from Bali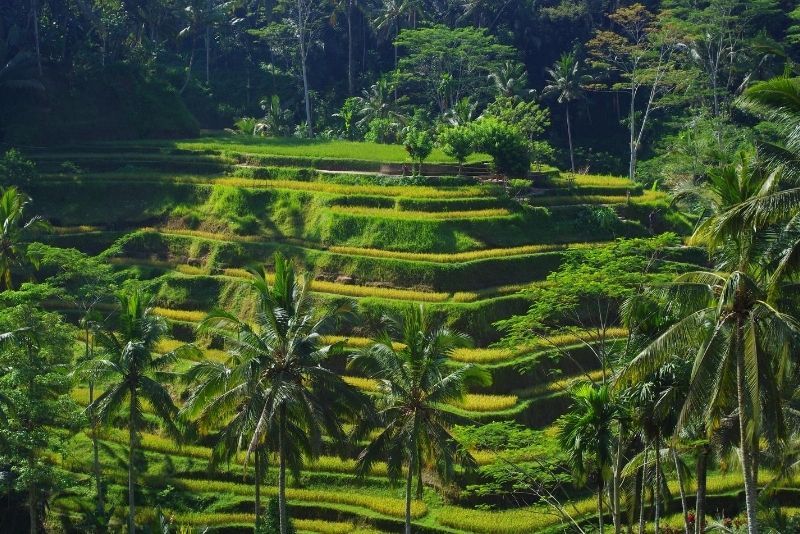 This private tour of Ubud countryside allows you to experience four of the area's most popular destinations — Campuhan Ridge Walk, Tegalalang Rice Terrace, Bali Pulina Coffee Plantation and Tegenungan Waterfall. Enjoy some of Bali's most beautiful natural scenery with a private guide at your side.
Day tour to coffee plantation plus Mount Batur Volcano and rice terraces from Bali
Visit the active volcano of Mount Batur and hike around this area before visiting a popular coffee plantation and walking through a picturesque, terraced rice paddy. This is the ideal private day trip for nature lovers who want to explore Bali's mountainous region.
Day tour to coffee plantation plus ancient temples and waterfall from Bali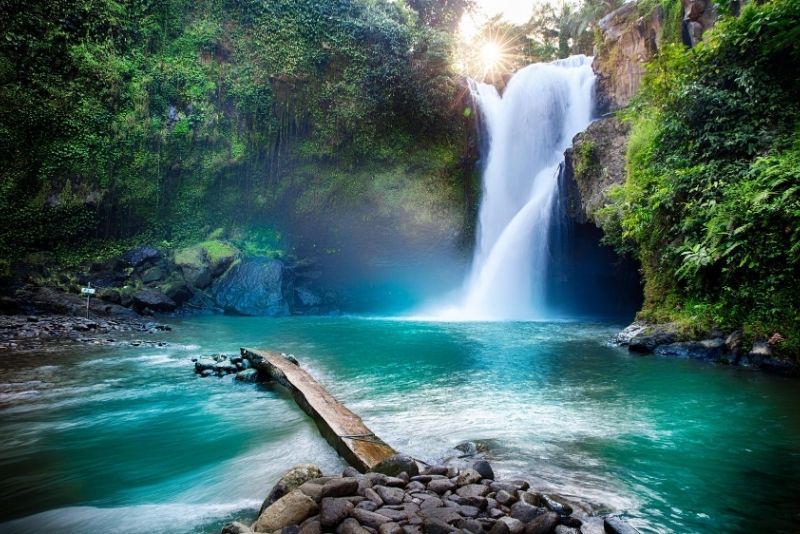 Experience the areas surrounding Ubud to the fullest with this tour that visits Tegenungan Waterfall, Elephant Cave, Mount Kawi, Tirta Empul Temple, Satria Agrowisata, Tegalalang Rice Terrace and more. This tour is ideal for an action-packed day.
How much does a tour cost?
Coffee plantation day tours from Bali typically cost between US$40 and US$80 per person, and most of the available tours are private tours. The cost of the tour generally depends on the length of the tour, as well as the tour's itinerary.
For example, coffee plantation day tours that are between 7 and 8 hours long, usually cost between US$40 and US$50 per person. Longer tours, lasting up to 10 hours, usually cost around US$70 or US$80 per person.
The cost per person may also fluctuate depending on how many people are on the tour, and private tours usually have a minimum booking of two people.
What will you see and do?
While each coffee plantation day trip is slightly different, many of them offer very similar experiences in terms of things to see and do at the plantations.
Walk around the coffee plantation with your guide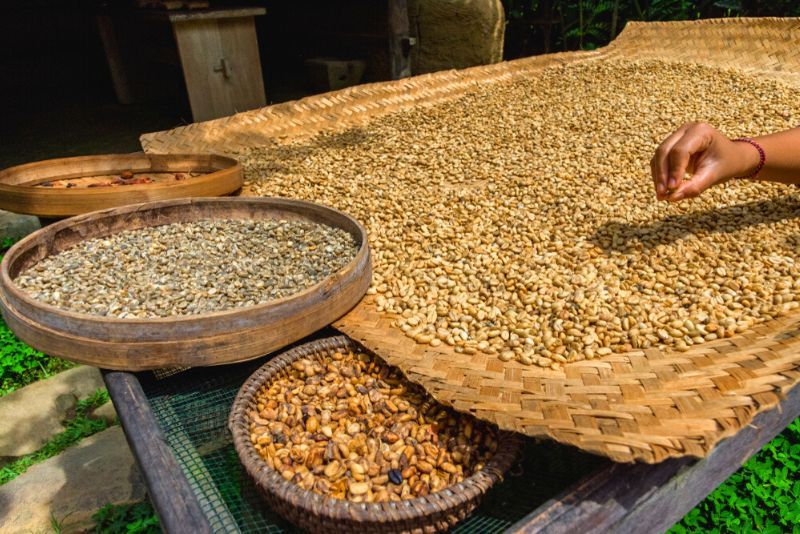 The first part of the tour often includes walking around the coffee plantation with your guide. You'll get to see the coffee plants and a variety of other crops. Most times, a local farmer will speak to you about the growing and production process of the local coffee.
Luwaks
Luwaks are elusive, cat-like creatures that roam the coffee plantations and eat the fruit of the coffee trees. Once the coffee cherries have passed through the animal's digestive tract, they are used in the production of 'Kopi Luwak', one of the world's most expensive types of coffee.
Coffee tasting
A highlight of any coffee plantation trip is the coffee tasting, where you get to taste a variety of different teas and coffees. This usually takes place with a coffee expert who can help explain subtle differences that you may not otherwise notice.
Shop
Almost all coffee plantations have an onsite shop where you can purchase coffee and other souvenirs. This is the ideal opportunity to buy gifts and keepsakes to take home with you and learn more about Bali's coffee industry.
What are the opening times?
Most coffee plantations in Bali are open daily from 8 AM to 5 PM.
When is the best time to visit?
Bali's dry season is from April to October, and this is the best time to partake in any sort of outdoor activity on the island. Many people opt for a morning tour of the coffee plantations when the temperatures are slightly cooler.
Travel tips
Wear comfortable shoes for walking around the coffee plantations.
Bring along some extra spending money for buying gifts and souvenirs.
Book your coffee plantation day trip in advance to guarantee your spot.
If your tour's itinerary includes a temple, be sure to cover your legs and shoulders.