Take the time to taste the fresh, local flavors of Indonesia's most popular island with authentic food tours in Bali.
Balinese cuisine makes use of a wide variety of spices and fresh vegetables — with rice being a staple in most traditional dishes. While poultry and fish are often included on the menu, Bali is an island paradise for vegetarians and vegans.
With influences from Hindu culinary traditions, as well as the regional influences of China and India, Bali makes for a melting pot of delicious flavors.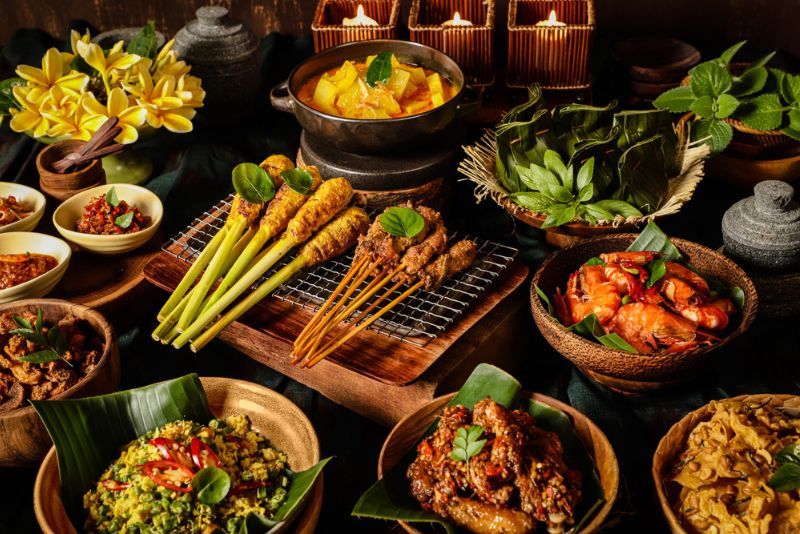 Here's all you need to know about food tours, one of the most delicious food and wine experiences in Bali.
What are the best food tours in Bali?
Bali food tasting walking tour in Denpasar
Denpasar, close to the airport, is one of the most popular tourist areas in Bali and has some incredible local restaurants. In this walking tour, a small group has been specially created with foodies in mind. You'll walk around Denpasar and taste local coffee, sweet treats and savory delights— with a professional local guide that will provide historical context to the food you are tasting.
Private street food tour in Bali
Discover what the locals eat with a private street food tour in Bali. You'll enjoy local delicacies such as chicken noodles, babi guling and so much more.
This tour really takes you off the beaten path as there is very little tourism in the areas that you'll be visiting, besides this tour itself. Visit local warungs (cafes) and support family-run restaurants, all while tasting the incredible flavors of Balinese cuisine.
Elevated food tour in Ubud, Bali
Spend the day being fed by world-class chefs in the tranquil setting of Ubud. In addition to gourmet food tasting, you'll also learn how popular dishes are made and the history behind them.
The tour group size is limited to eight people, so you'll enjoy an intimate experience with more than enough opportunity to ask questions should you have any. Enjoy all the culinary delights of four, top restaurants in Ubud.
Bali night market food tour in Ubud
Ubud is famous for its night market, where a diverse range of traditional dishes is available. Join your guide as you walk around the market, learning about the market's history and being introduced to delicious Balinese dishes. You'll enjoy cakes, local drinks and dinner before the tour ends. You'll also visit a few local eateries outside of the market.
Which places are visited on a food tour in Bali?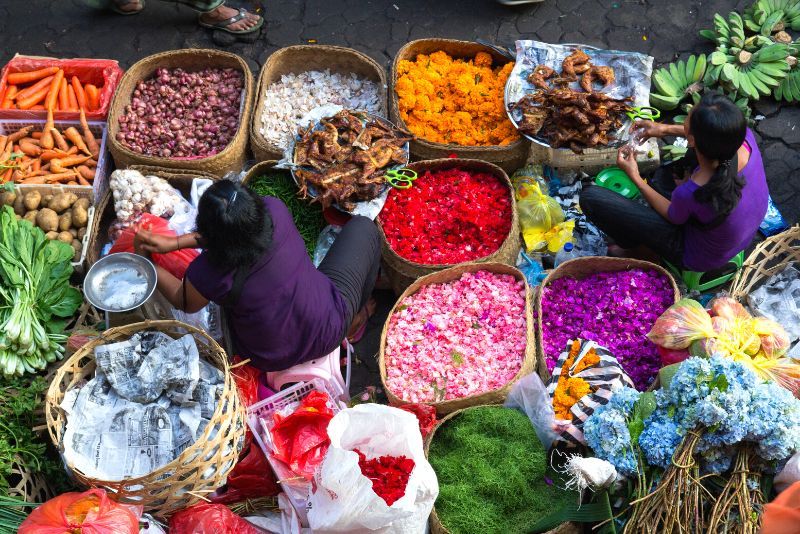 As Bali is a large and diverse island, each food tour in Bali focuses on a particular area or aspect of Bali cuisine.
No matter what type of food tour you decide to participate in, you'll undoubtedly visit a number of warungs (cafes), restaurants and coffee shops, where you will feast on local delicacies. You may also visit local food markets and enjoy Bali's famous street food.
In addition to enjoying the island delicacies that Bali has to offer, you'll also gain insight into Bali's culture and heritage as your guide is sure to point out landmarks and attractions along the way.
How much does it cost?
The food tasting and walking tour in Denpasar costs US$40 per person. Street food tours in Bali, and night market tours in Ubud, also cost approximately US$40 per person. This is a common price point for guided food tours on the island.
The elevated food tour in Ubud is slightly longer than most other tours and it is also more high-end and 'luxurious'. This tour costs US$100 per person. There are a few other private food tours available for a similar cost.
The great thing about food tours in Bali is that there is a tour to suit any specifications and budget.
What is included?
All food tours in Bali typically include at least three or four tastings, and all of your food and drinks should be included in the price of the tour.
Many tours include a pickup and drop-off service, and if this is the case you'll be driven between the various destinations in an air-conditioned vehicle.
Each tour provides an English-speaking guide to provide you with information about Balinese cuisine and act as a translator between the tour group and local restaurateurs.
Where does it start?
Most food tours in Bali will offer a hotel pickup. Tours that do not offer this service, such as the walking food tour in Denpasar, begin at central, easy-to-find locations like Bhineka Jaya (Kopi Bali).
How long does it last?
The typical duration of a food tour in Bali is 3 hours. However, there are a couple of tours that last 2 hours, as well as a few longer food tours that last 4 hours or 5 hours.
When is the best time for a food tour in Bali?
It is best to participate in a food tour at the beginning of your stay in Bali. This way, you are introduced to the local cuisine and will know what to order during the rest of your stay,
There are morning, afternoon and night food tours available in Bali. The ideal choice may depend on when you most enjoy eating, although many people enjoy the night food tours thanks to the cool, evening temperatures.
Are there any combos available?
Many food tours in also offer other types of activities and sightseeing tours in Bali. Make the most of your time in Bali with one of these full-day tours.
Cooking Class, Monkey Forest and spa tour in Ubud, Bali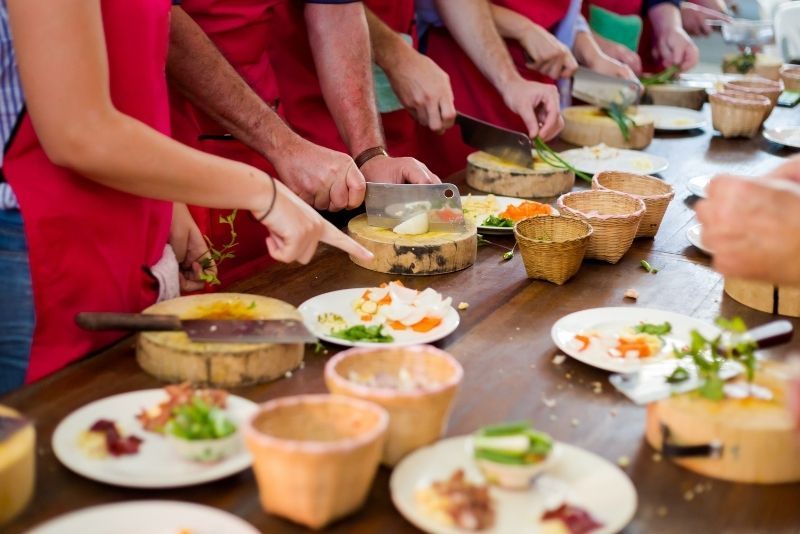 Uncover some of Ubud's most popular attractions as you learn about local cuisine in a cooking class, explore the iconic Ubud Monkey Forest and end off the day with a relaxing spa experience.
Uluwatu Temple, kecak show and seafood dinner tour in Bali
Explore Uluwatu Temple with your guide before going to see a traditional kecak dance show. The best part of the tour is the traditional seafood dinner that you'll enjoy on Jimbaran Beach.
Travel tips
Have a light breakfast and start your food tour on a somewhat empty stomach.
Bali food tours are very popular, so book your tour in advance to avoid disappointment.
Wear comfortable shoes and clothing, as you may do some walking on your tour.
If you have any food allergies or dietary requirements, you should inform your guide at the time of the booking.