Bali was the last stop on writer Elizabeth Gilbert's quest for balance, spirituality and connection, and features in her bestselling 2006 memoir "Eat, Pray, Love". Bali is an island rich in history, traditional cultural practices and is a place of breath-taking beauty.
On an Eat Pray Love tour in Bali, you will be able to experience some of the same peace and tranquillity that Gilbert found on the island, as you embark on your own journey of self-discovery with a small-group or on a private tour.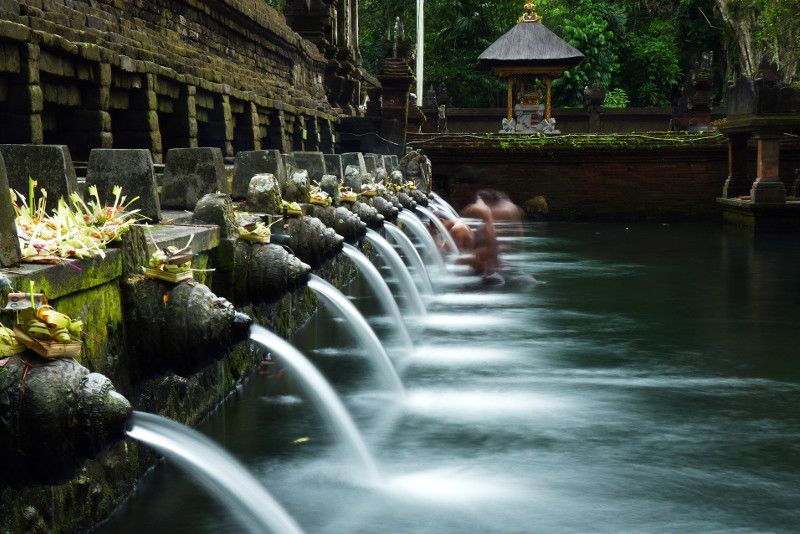 Here's all you need to know about Eat Pray Love tours, one of the most spiritual options for sightseeing tours in Bali.
What are the best Eat Pray Love tours in Bali?
Many of the Eat Pray Love tours in Bali follow in the footsteps of Elizabeth Gilbert, portrayed by Julia Roberts in the movie of the same name. Other locations that offer similar spiritual or traditional experiences or that are considered to promote overall wellbeing may also be included on your tour.
Private and small group tours are both popular ways of having an Eat, Pray, Love experience. Here is what you can expect:
Private Eat Pray Love Tour in Bali
On your private guided tour, the focus is on a journey that provides you with a sense of tranquillity. Private tours vary slightly in itinerary or order of activities depending on your tour operator, but most tours do incorporate similar experiences.
Itinerary
Many tours start with a walk through a terraced rice field surrounded by Balinese hillsides. Next up, a yoga class at one of the many yoga studios dotted around the island. If you visit Canggu, your tour will include and Ayurvedic breakfast or lunch.
At the Pura Tirta Empul Temple you can participate in a spiritual cleansing ceremony before stopping to visit the home of Ketut Liyer or another traditional Balinese healer – an important person in the culture who treats both physical and mental ailments and is believed to channel information from the ancestors.
Small-group Eat Pray Love tour in Bali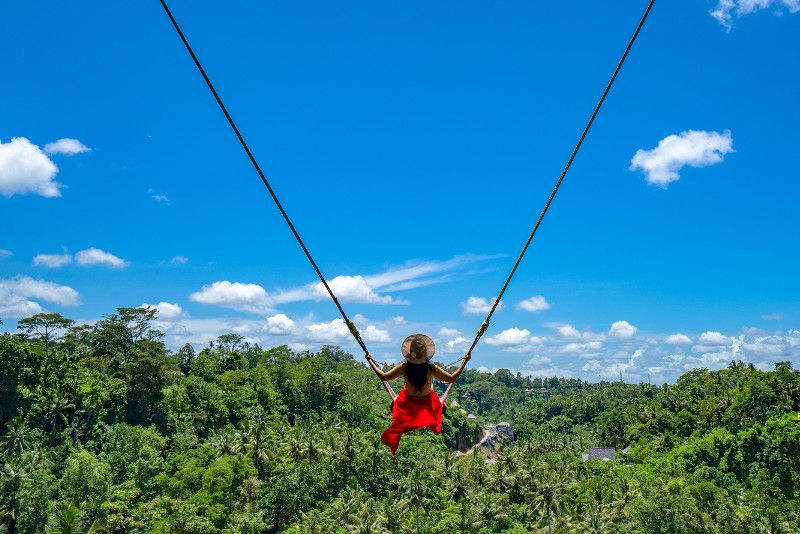 In this small-group tour of no more than 15 people, you will spend the day on your own mini spiritual journey as you tour around Bali.
Itinerary
Your day starts with a collection from your hotel and a visit to Pura Sudamala, the Holy Water Temple. Here you will participate in a holy bathing ritual. The next stop on the tour is a visit to a sacred Balinese healer. Visitors are able to interact with the healer who has dedicated their life to this practice.
On the way back to your hotel, a visit to the lush Tegalalang Rice Terraces allows you the opportunity to appreciate Bali's fertile farmland. You can take a ride on a Bali swing or just take a moment to admire the verdant greenery.
Which places are visited on an Eat Pray Love tour in Bali?
Itineraries vary, but most tours will stop at these sites or similar:
A Water Temple: The water temples in Bali are considered holy sites where you can experience a traditional spiritual cleansing experience as you bathe in the temple's cool spring waters.
Tegalalang Rice Terraces: These unique and fertile rice plantations surrounding Ubud are a UNESCO World Heritage Site and utilise a unique form of irrigation known as 'subak'.
Yoga in Ubud: The view of Mt. Agung will keep you company as you focus and stretch at a serene yoga studio in Ubud.
Ketut Liyer House: Ketut Liyer was a spiritual healer and medicine man. His home or the home of another Balian or healer forms the foundation for an Eat, Pray, Love tour.
Other places that may be included in your tour are the Ubud Organic Market, the resort village of Canggu and the Ubud Art Market,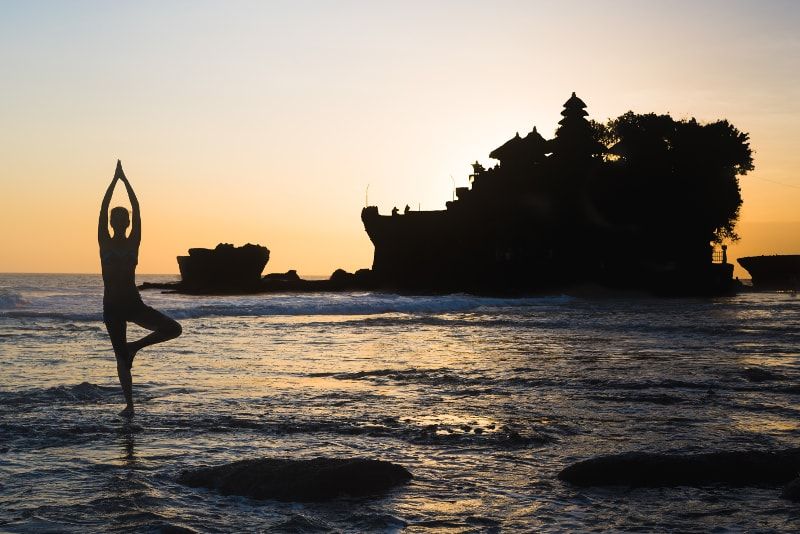 How much does it cost?
Join a small-group Eat, Pray, Love tour for as little as US$30.
Private Eat, Pray, Love tours start at US$40 per person and require at least two people to operate.
For tours that also include breakfast and lunch, you can expect to pay from US$70 per person.
What is included?
On a private tour, your vehicle, guide and entrance or activity fees are included. Some private tours also include breakfast, lunch or both.
On a small-group tour, you will tour in an air-conditioned vehicle with a driver and guide. Activity costs and entrance fees are not included as participation is optional. Lunch is for your own account and these tours also do not normally include a yoga session.
Where does it start?
Eat, Pray, Love tours start with a pickup from your hotel in Ubud, Sanur, Kuta, Legian, Seminyak, Canggu, Nusa Dua, Jimbaran or Uluwatu. If you are not staying at a hotel or resort you should ask the tour operator where the meeting point will be.
How long does it last?
Eat, Pray, Love tours are typically full-day tours. You can expect your tour to last anywhere between 8 and 10 hours, with some tours being slightly longer.
When is the best time for an Eat Pray Love tour in Bali?
Although you can take an Eat, Pray, Love tour at any time of the year, is less humid during the island's dry season from April to October. Tourist attractions are also quieter in the mid-season months.
An Eat, Pray, Love tour is the perfect way to start or end a visit to Bali.
Is it safe?
It is safe to take this tour but if you have health problems or mobility difficulties, please check with your tour operator. Take sensible precautions with your valuables when visiting public places. You should note that if you are menstruating you will not be allowed to enter the temple or participate in the cleansing experience.
Are children allowed?
Children over the age of 6 are permitted on some Eat Pray Love tours. It is a long day and many activities are focussed on activities that require quiet, focus, and a tranquil atmosphere.
Travel tips
Wear comfortable clothes and walking shoes.
Clothing that covers your shoulders and knees are required for temple visits.
A selfie-stick is a great way of making sure the breath-taking scenery is part of your photo.
Advise your tour operator if you have any dietary requirements or  mobility issues.
Bring a towel and change of clothes for after the spiritual cleansing experience.