A helicopter tour is an exhilarating way to see Bali from a whole new perspective. You may be looking for a quick scenic flight for the whole family, a longer tour of the coastline or interior of the island, or you may have that something romantic in mind for your partner.
Whatever your reason is for wanting to take a helicopter flight, Bali offers unparalleled tropical beauty and dramatic scenery. Take a peek into volcanic caldera, admire the lakes dotting the island that reveal themselves in the forests.
On a helicopter trip in Bali you will be able to get a bird's eye view of Bali's dramatic cliffs, ornate temples, rice terraces and hidden waterfalls. Flying along the coast, you may be lucky enough to spot some of the island's diverse marine life.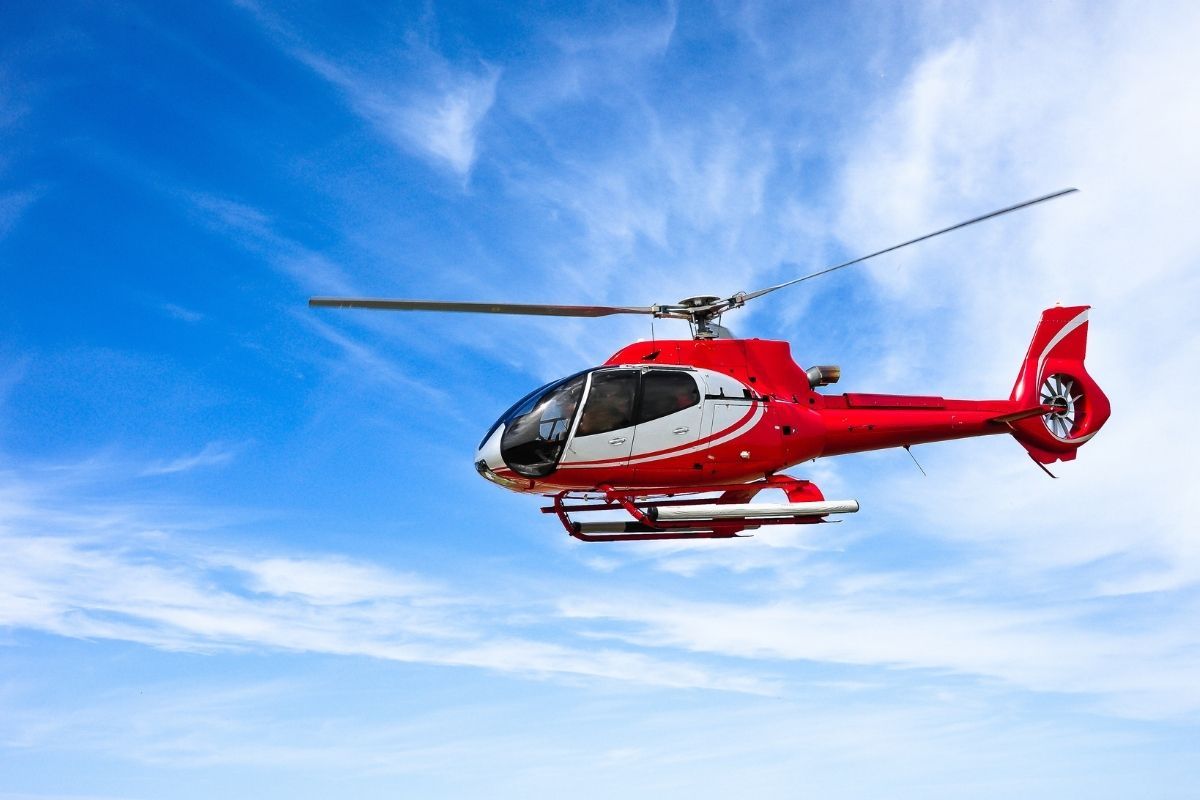 Here's all you need to know about helicopter tours, one of the most exciting outdoor activities in Bali.
What are the best helicopter tours in Bali?
Helicopter tour operators offer several types of tours that cater to families, small groups, and private groups.
Aerial views of Bali show the shoreline and countryside off in an unforgettable way. This list tells you more about some of Bali's top helicopter tours:
Bali Helicopter Tour private charter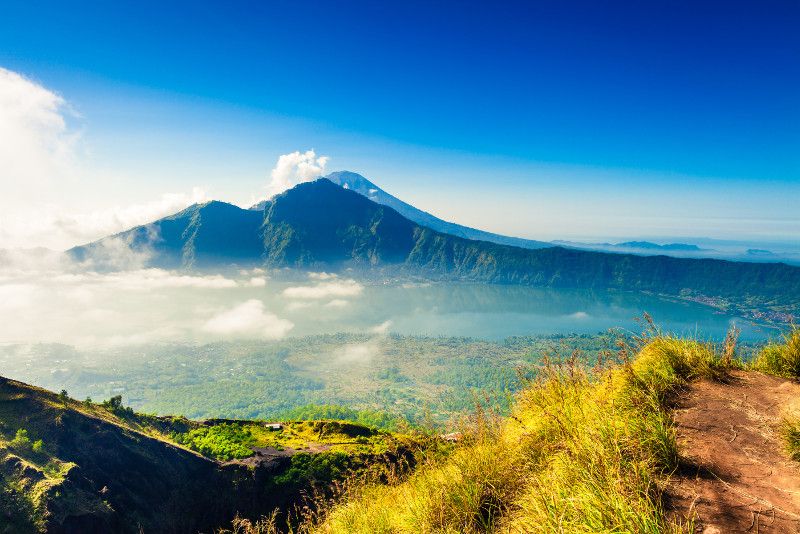 On this 90 minute panoramic private helicopter tour of Bali you will fly to the awe-inspiring crate of Mount Batur via the Tanah Lot Temple. Lake Batur is situated within the crater.
Heading East the flight continues on to Besakih temple, Bali's biggest temple complex before climbing to the peak of the Mt. Abang crater.
On the return journey, there is time to appreciate the lush green spaces and the iconic rice fields. A short detour to the beaches of Sanur and Benoa draw the tour to its end.
The sweetest proposal helicopter tour in Bali
The highlight of the 15 minute flight over the Seminyak Coastline is the marriage proposal on the helipad banner upon your return to land.
A photographer is on board to capture the moment and will also provide a 30-minute photo session after the flight. The tour includes a return airport transfer.
Tanah Lot Temple: Helicopter sky tour in Bali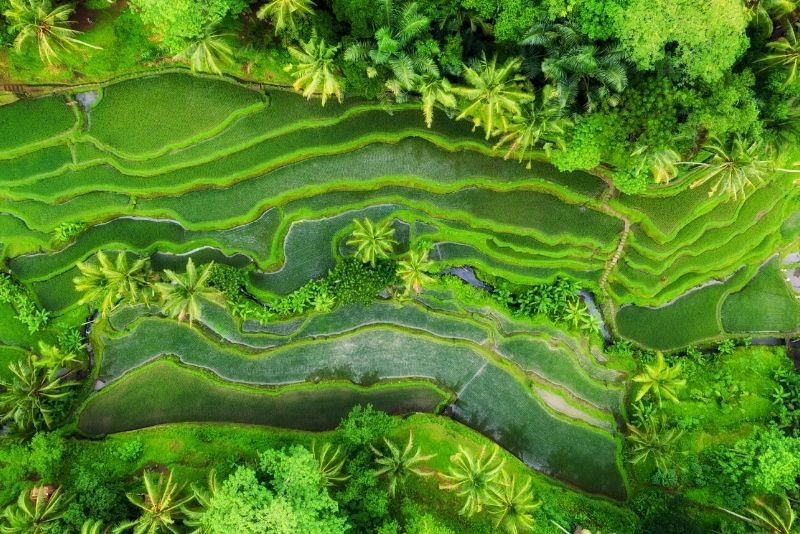 This 20-minute helicopter tour for 3 to 5 people gives you a different perspective of one of Bali's most photographed landmarks, the Tanah Lot Temple. You will have the opportunity to photograph the temple and Kuta Beach from above.
Your pilot will direct your attention to other interesting places of interest including the Bali coastline and the Tabanan - the Jatiluwih Rice Terraces.
How much does it cost?
A Tanah Lot Temple 20-minute helicopter sky tour in Bali costs from US$1,360 per person for a minimum of 3 and maximum of 5 passengers. Pickups from and returns to designated points are included.
The sweetest proposal helicopter tour including the photoshoot costs US$1,030 Miami for 3 people (the couple plus a photographer).
You can expect to pay US$560 per person for a Superior Kintamani, Mt. Agung Volcano & Besakih Temple Private Helicopter Charter Tour
Most tours require a minimum number of participants to operate, and a child rate may be offered if flying with two full-paying adults.
What is included?
Your helicopter tour may include a return hotel transfer. Your pilot may be your guide, or your tour may include a guide. You will receive a pre-flight safety briefing before boarding the aircraft.
On your flight you will be issued with a headset to properly hear the pilot and guide and other passengers. Most tours include all airport fees and taxes.
Where does it start?
Many helicopter tours in Bali typically start at the Helicopter tour operator's base at Benoa Heliport Pesanggaran.
How long does it last?
There are several length helicopter tours in Bali. You can choose between anything from a quick 15-minute scenic tour to a longer 2.5 hour flight.
Typically though, most helicopter tours are airborne for between 20 minutes and 1 hour.  The weather can affect your flight time, as can the type of helicopter used for your tour.
When is the best time for a Helicopter tour in Bali?
To appreciate the landscape without too much shadow, a flight closer to mid-day is ideal. If you are hoping for a wind-free flight, the early mornings are best.
A sunrise or sunset flight will provide beautiful colours for photography out over the ocean.
Is it safe?
Helicopter tours in Bali are considered safe, but if you suffer with vertigo or any medical conditions such as a heart condition, a helicopter tour is not recommended.
For safety reasons, seat weight restrictions also apply on helicopter tours and are aircraft type dependent. Tour operators usually offer insurance cover, so please check if this is included in your booking.
Are children allowed?
Some helicopter tours will permit children over 2 years old as long as they are accompanied by an adult. Infants over the age of 2 to fly as long as they are sitting on the lap of an adult. Both the adult and infant need to fall within the seat weight limit. Children who can safely be restrained by an adult seatbelt can have their own seat.
What happens in case of bad weather?
If your helicopter tour is cancelled due to bad weather, you will be offered a full refund or offered a flight booking on another day, so please check with the operator before starting your tour if you have any concerns.
Travel tips
Advise your tour operator if you have restricted mobility or health conditions.
Be at the airport with enough time to spare for security screening.
Carry only your camera, mobile phone, sunglasses and wallet aboard your flight.
Remember you photo ID or passport.
Advise your pilot if you usually experience motion sickness.