A beautiful, hilltop resort area nested in the central mountains, Bedugul day trips from Bali will turn your experience more relaxing with its stunning natural scenery and fascinating cultural and spiritual attractions, there are countless things to see and do in this magical region.
Overlooking pristine Lake Bratan, Bedugul offers a slower pace compared to the hustle and bustle of the beaches. Here you can experience lush rainforests, mysterious temples, and majestic waterfalls - all surrounded by breathtaking vistas and remarkable temples.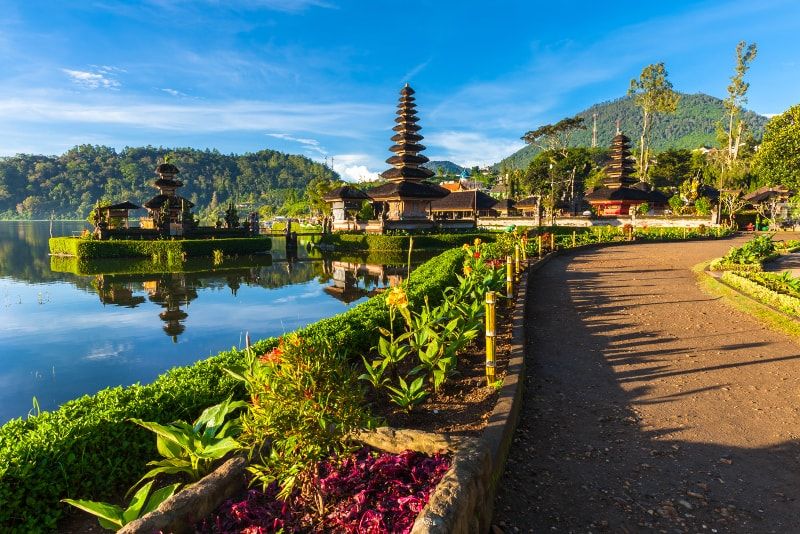 Here's all you need to know about Bedugul, one of the most popular destinations for day trips from Bali.
How to get to Bedugul from Bali?
You'll find charming Bedugul in the central heart of the island, easily accessible by car or motorbike. There are several transportation options available that can take you there in less than 90 minutes from most major towns.
From Bali to Bedugul by car
If you're hiring a private driver or making your own way to Bedugul on a scooter, you'll likely be coming from the southern beaches (Seminyak, Kuta, Legian, Canggu) or Ubud. To reach Bedugul from these popular destinations, simply follow the main roads north from Denpasar.
From Bali to Bedugul by bus
The Perama shuttle bus runs a daily service to Bedugul from Kuta, Sanur, Ubud and Lovina. This option will require you to stay overnight.
Guided tour to Bali to Bedugul
The easiest way to experience Bedugul is on a guided tour. You'll be picked up from your hotel in the morning and whisked away to this magical region, where you can explore its attractions with a friendly guide.
What is the typical itinerary of a day tour to Bedugul from Bali?
A Bedugul day tour typically starts with convenient hotel pickup. From there, you'll be driven in an air-conditioned vehicle to the central mountains, where you'll experience the stunning natural scenery of this region.
At Bedugul, you can visit enchanting waterfalls like the Banyumala twin waterfall, explore ancient temples like Tanah Lot and Ulun Danu Temple and wander through lush rainforests. You'll also have plenty of opportunities to enjoy delicious local cuisine with an optional buffet lunch and learn about the fascinating culture and spiritual traditions of Bali.
Depending on your tour, you might also make a stop at various cultural attractions such as a coffee plantation and the Handara Gate for the perfect photo opportunity.
After exploring the region and enjoying the sunset you'll be driven back to your hotel for a relaxing evening.
What kinds of tours are available?
Guided tours to Bedugul from Bali
The most common option, these full-day packages include comfortable transportation, a knowledgeable guide, and entry to all the top attractions in Bedugul, including the Tanah Lot sunset. These tours typically last around 8 hours and include several stops for food and entertainment along the way.
Private tour to Bedugul from Bali
Perfect for couples or families, private tours to Bedugul are the most flexible option. You can choose your own itinerary, pick your preferred attractions and decide where to stop for food or drinks along the way.
Day trip to Bedugul plus Jatiluwih from Bali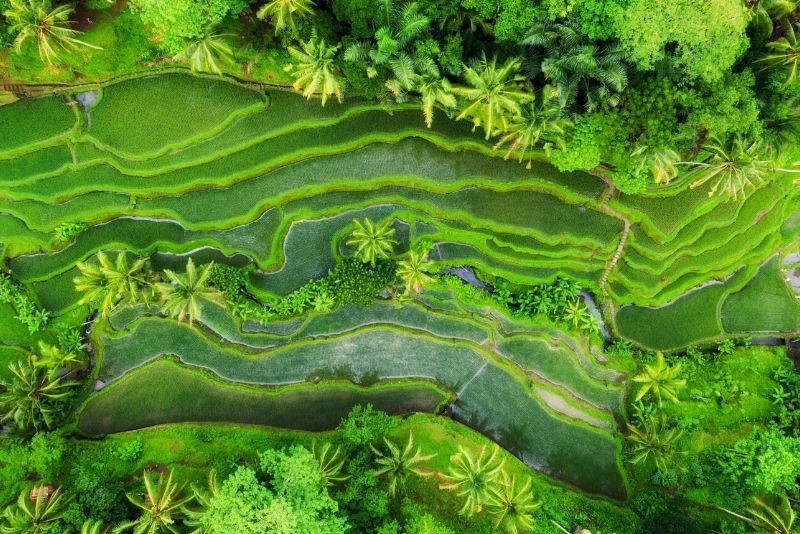 If you want to experience more of Bali, opt for a combination tour that includes both Bedugul and Jatiluwih. These full-day trips typically include transportation, entry fees and lunch before heading to a variety of cultural and natural attractions in the area, specifically the Jatiluwih rice terraces.
Day trip to Bedugul plus ATV ride from Bali
Ideal for thrill seekers, a day trip to Bedugul plus ATV ride includes a full-day tour of the region's top attractions, as well as an exciting quad bike adventure through the rainforests and rice terraces.
How much does a tour cost?
The cost of a tour to Bedugul from Bali will depend on several factors, including the type and length of tour you choose, as well as any optional extras like meals or transportation. Generally speaking, full-day tours start at around US$40 per person up to US$140 per person.
Guided tours to Bedugul from Bali — between US$30 and US$70
Private tour to Bedugul from Bali  — between US$50 and US$100
Day trip to Bedugul plus Jatiluwih from Bali — between US$50 and US$100
Day trip to Bedugul plus ATV ride  — about US$130
What will you see?
Your Bedugul itinerary will change depending on  the type of tour you choose, but some of the most popular attractions and activities in this region include exploring the stunning temples and waterfalls.
You'll enjoy delicious local food, hiking through the rainforests, taking photos at iconic landmarks like Handara Gate and Tanah Lot temple, or relaxing with an afternoon coffee overlooking the breathtaking scenery.
Tanah Lot
While not too close to Bedugul, Tanah Lot is a common stop on day trips. Sitting on the shoreline, this temple is known for its spectacular sunsets and stunning coastal views.
Ulun Danu Beratan Temple
Sitting on the western shores of Lake Bratan, this major Hindu Shivaite temple, the Ulun Danu Beratan is believed to date back to the mid 1600s. Thanks to its natural surroundings, it's considered one of the most beautiful temples in Bali.
Taman Ayun Temple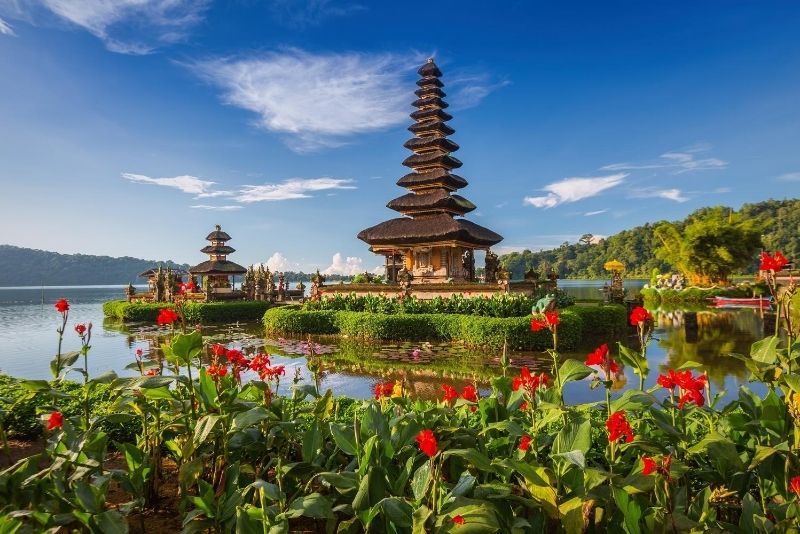 Built as a family temple for the Mengwi Empire back in the 17th century, Taman Ayun Temple is a stunning complex of temples and shrines set amongst beautiful gardens and lotus ponds.
Bali Botanical Gardens
An oasis of calm amidst the bustling city, the 157-hectare Bali Botanical Gardens are home to over 1000 species of plant life, as well as numerous walking trails to explore and enjoy.
Jatiluwih Rice Terraces
Comprising 600 hectares of rice fields, this contoured landscape is considered one of the most important cultural attractions in Bali. A must-see for any visitors to Bedugul, these rice fields terraces are featured on many day tours or can be visited independently.
Handara Gate
Offering a chance to snap that quintessential Bali self, this iconic landmark is actually the entrance to a golf resort. Located in the village of Pancasari, the Hindu gate is highly decorated and represents the pathway to serenity.
When is the best time to visit Bedugul?
In general, the best time to visit Bali is during the dry season, which typically runs from April to October.
If you're looking for a more budget-friendly trip, consider visiting Bali during the rainy season from November to March, as prices will be lower due to fewer tourists in the area.
Travel tips
Book your Bedugul trip  in advance to ensure you get the best prices and availability.
Remember to pack comfortable clothes and shoes, as well as sunscreen and insect repellant, depending on the season. With these tips in mind.
For the best bang for your buck, consider a combination tour that also includes activities like hiking or ATV riding.