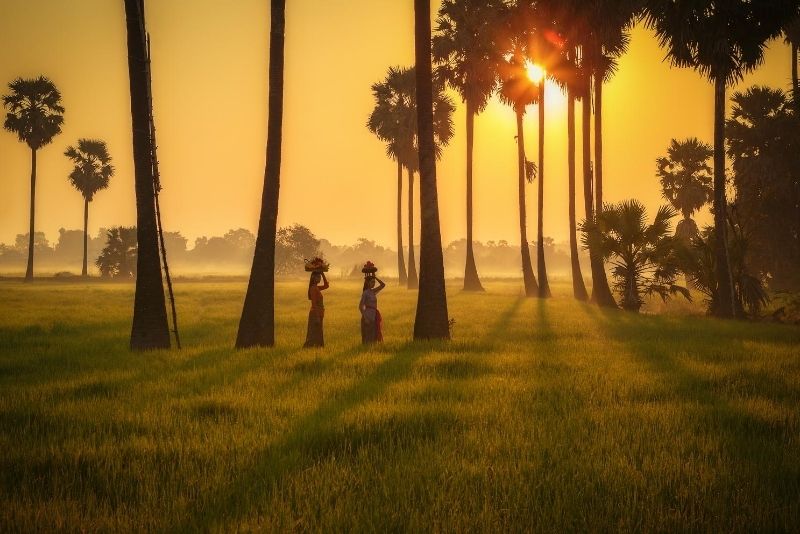 First-time visitors have a wide choice of places to visit in Bali. If you don't want to miss anything, check out our selection of the best things to see in Bali! Get lost among the Balinese green lush, rice fields, holy temples, breathtaking beaches, and underwater marine life!
Add Bali to your bucket list, keep scrolling and discover the best Balinese spots you should not miss!
South Bali 1-23
1 – Sanur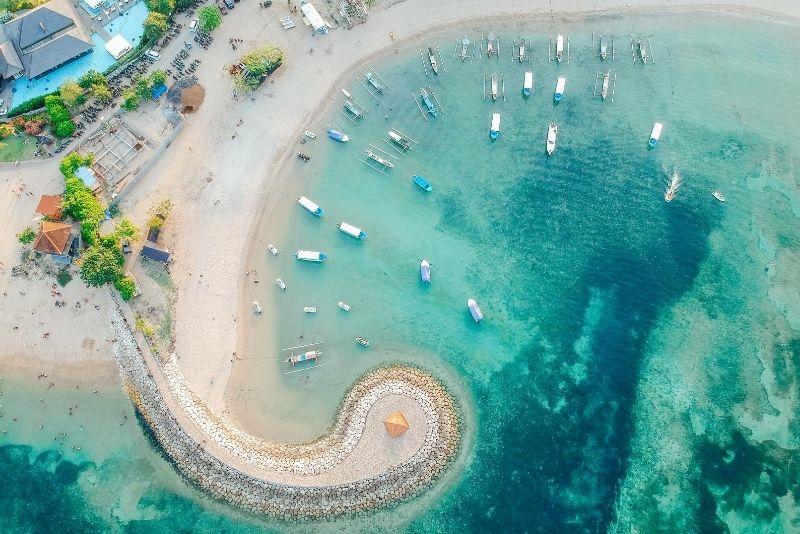 Visit Sanur for a relaxed coastal experience. This is one of the best spots on the island where to see the sunrise while enjoying a pleasant stroll on the Sanur Beach Promenade.
Lastly, you may try some fun water sports such as windsurfing or kitesurfing.
2 – Uluwatu Temple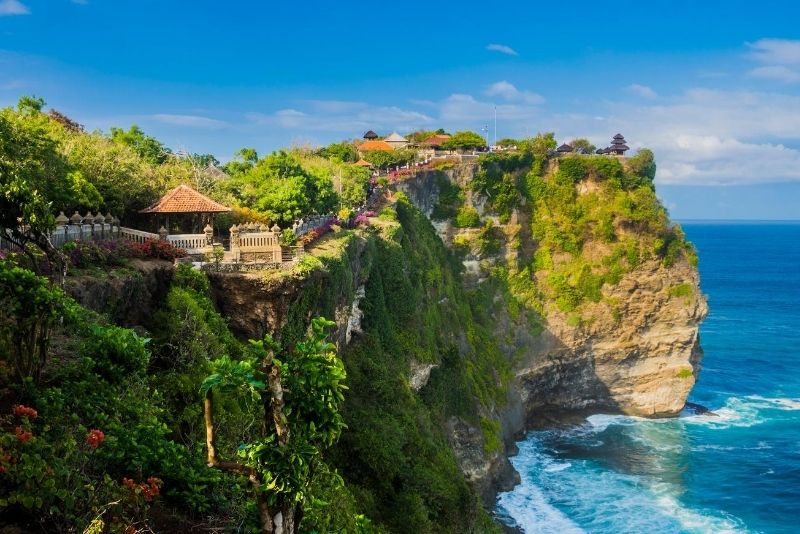 Located in the Bukit Peninsula Uluwatu temple is a must-visit in Bali. Perched on a rock which overlooks the Indian Ocean, imagine how the sunset can be from here.
Moreover, get here also to see the traditional Kecak dance, one of the places in Bali you should not miss! At sunset, the stage is lively with this incredible Balinese fire dance.
3 – Tanah Lot Temple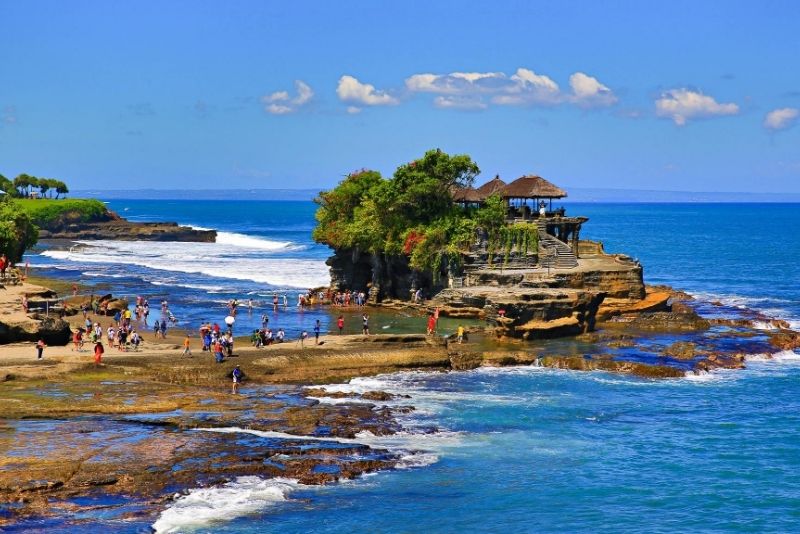 Tanah Lot Temple is an extremely top-rated tourist destination and one of Bali's most important landmarks.
Popular for its exclusive offshore setting and sunset backdrops, its location ensures the best view ever to watch the sunset over the ocean.
4 – Canggu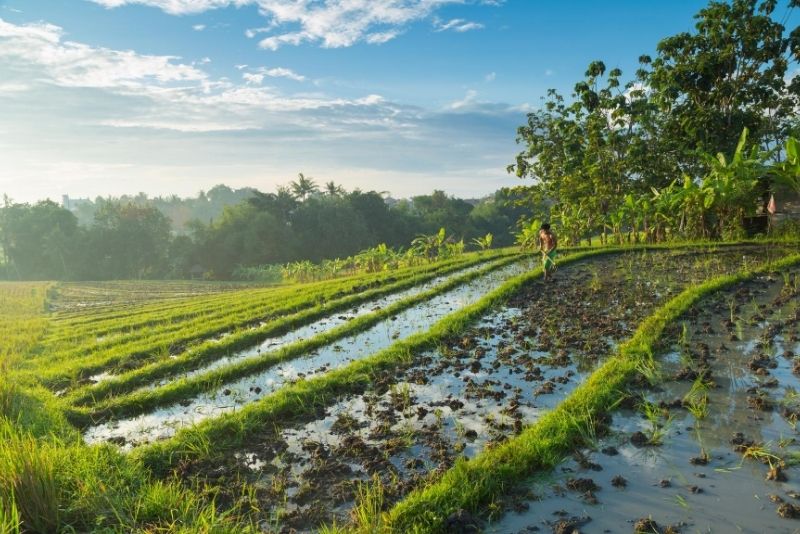 Canggu is a widely renowned location in Bali. Discover its lovely rice terraces if you want a glimpse of nature or head to the beach area if you wish to go surfing.
Small tip: don't forget to make a stop in one of the trendy hipster cafes of Canggu!
5 – Nusa Dua Theatre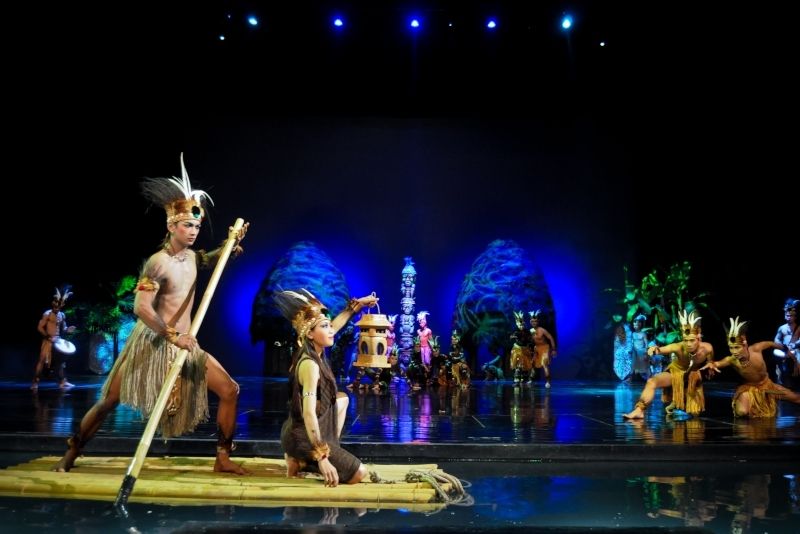 Head to the Nusa Dua Theather to watch the winner of the Indonesia Leading Tourism Show, the great Devdan Show.
This cultural dance performance is incredibly dynamic and filled with acrobatics recreating Balinese life scenes. Perfectly suitable for the whole family.
6 – Seminyak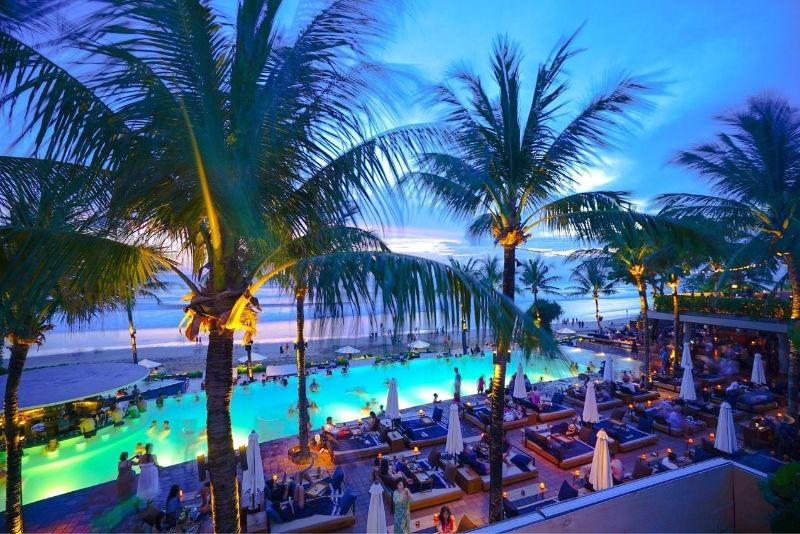 Undoubtedly, Seminyak is Bali's most fancy and unique beach area.
Countless people get here to sunbathe on the beach or watch the sunset from one of the best beach clubs on the island.
Here you can also find a vibrant nightlife scene.
7 – Jimbaran Beach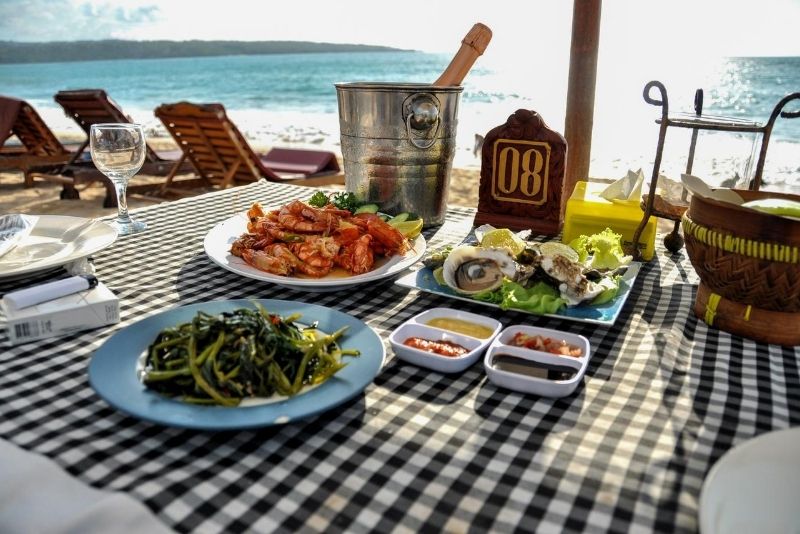 Situated along the Southwestern coast, Jimbaran Beach is definitely a must visit among the best beaches of Bali.
Spend at least one night here to have a super tasty seafood dinner while watching the sun goes down.
8 – Timbis Beach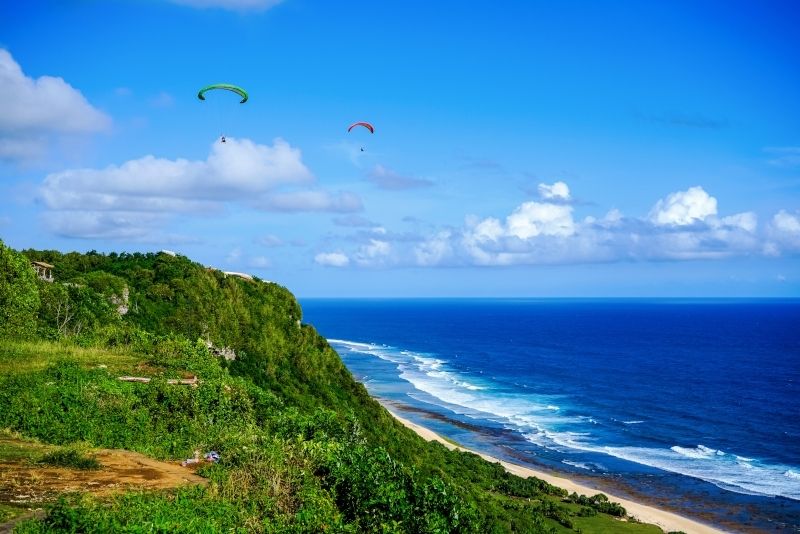 Located on the Bukit Peninsula. Timbis Beach is certainly less touristic than others. The views from the cliffs are breathtaking.
Famed for paragliding, get a glimpse of Bali from another perspective.
9 – Bingin Beach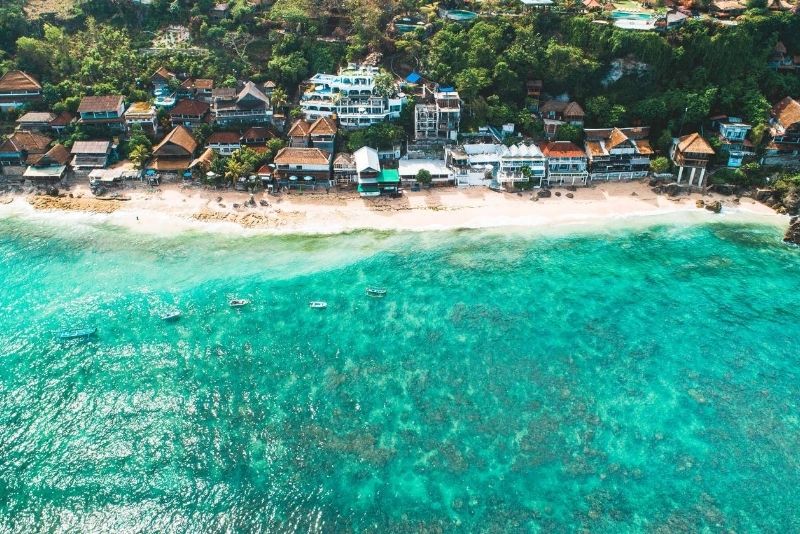 Considered one of the best-hidden beaches of Bali, Bingin Beach is a great surf spot close to Uluwatu.
Obscured by the cliffs, many tourists may don't immediately notice this small gem. For sure, one of the most beautiful Balinese beaches.
10 – Pandawa Beach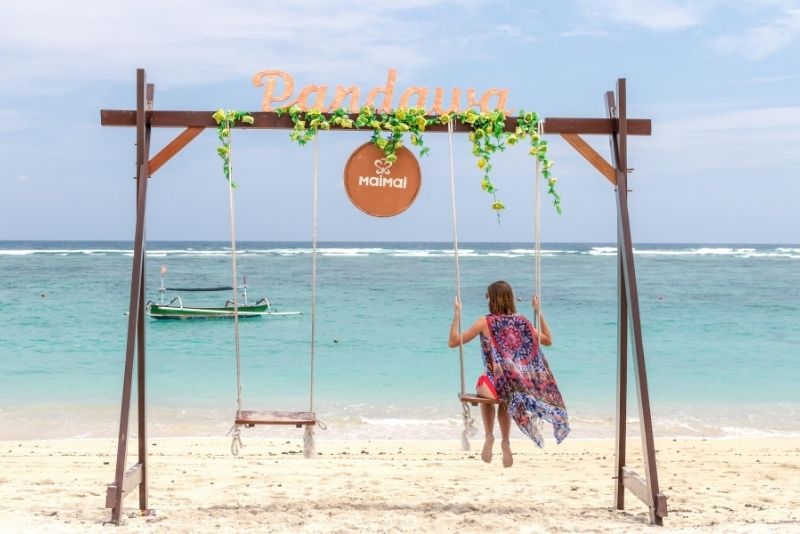 Are you a sporty person? Pandawa Beach is particularly well-known for water sports like snorkeling and parasailing.
Otherwise, pick one of the several beachside cafes along the coast and enjoy the stunning view.
11 – Sukawati Art Market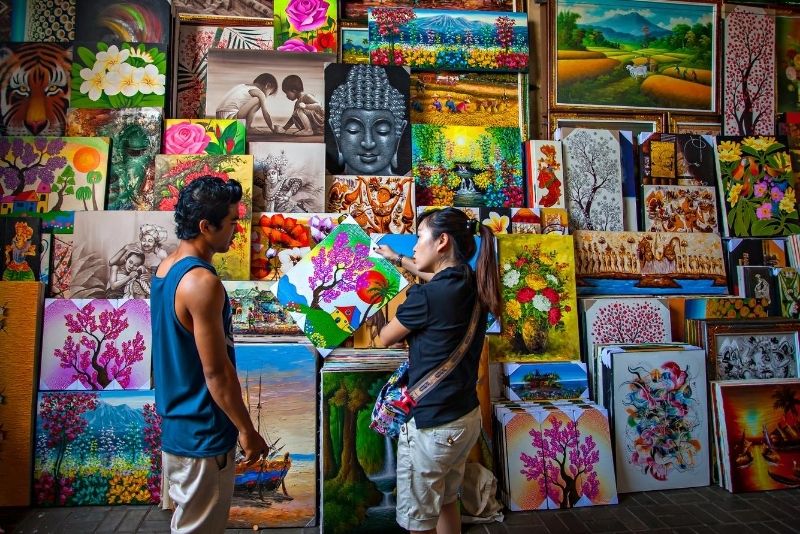 Referred to locally as "Pasar Seni Sukawati", Sukawati Art Market is a long-standing and popular place among holidaymakers and locals.
A great location for strolling around or for a real Balinese shopping experience.
12 – Bali zoo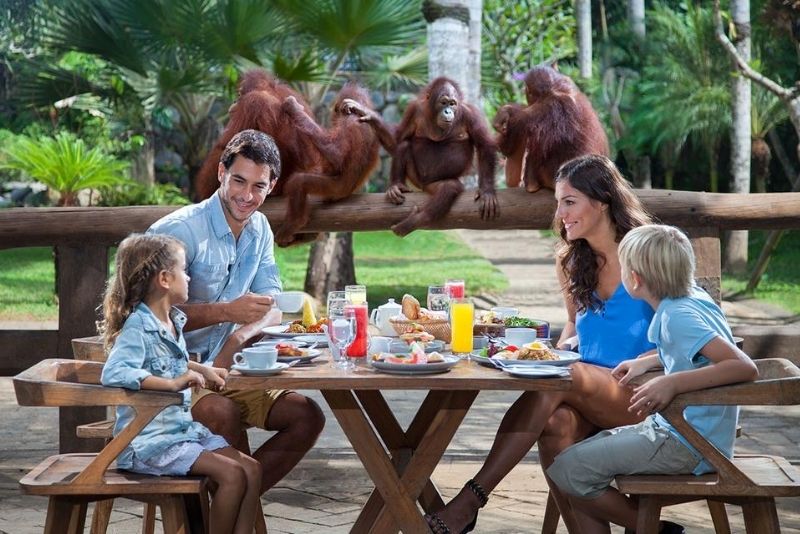 Bali Zoo is home to a wondrous blend of animals living in nature.
Visitors can get close to the animals by living interactive encounters like "breakfast with orangutans" or even a night at the zoo!
13 – Bali Marine and Safari Park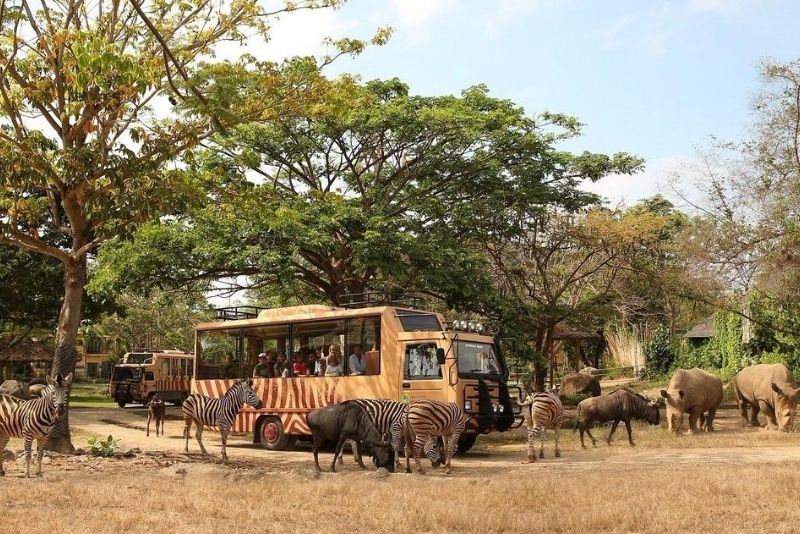 Bali Marine and Safari Park offers an enjoyable day out, and serves as one of the island's largest and most visited animal theme parks which opened to the public in 2007.
Along with a themed resort suitable for children, a safari bus will lead you across the Indonesian lush.
Discover amazing animal species!
14 – Balangan Beach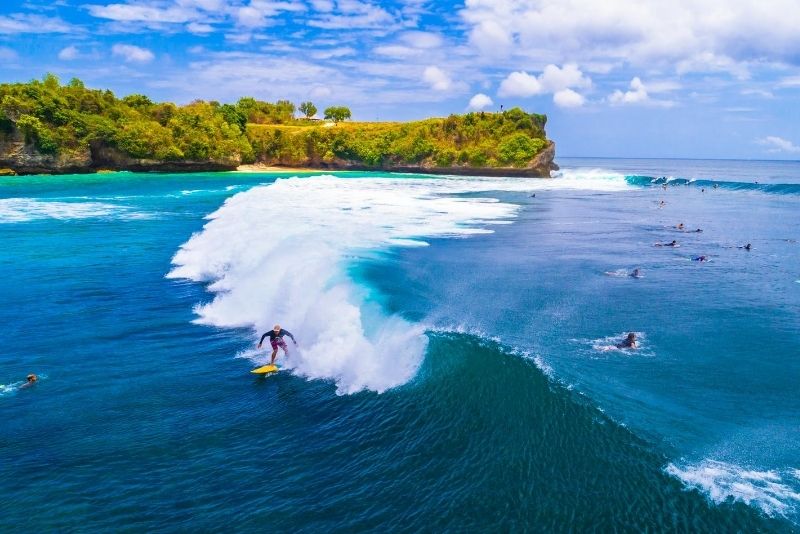 Locally referred to as Pantai Balangan, Balangan Beach is a blend of ideal surfing waves and unbelievable crystal clear water.
Make a stop just before the sun goes down to enjoy a fresh cocktail down to the shore.
15 – Tegenungan Waterfall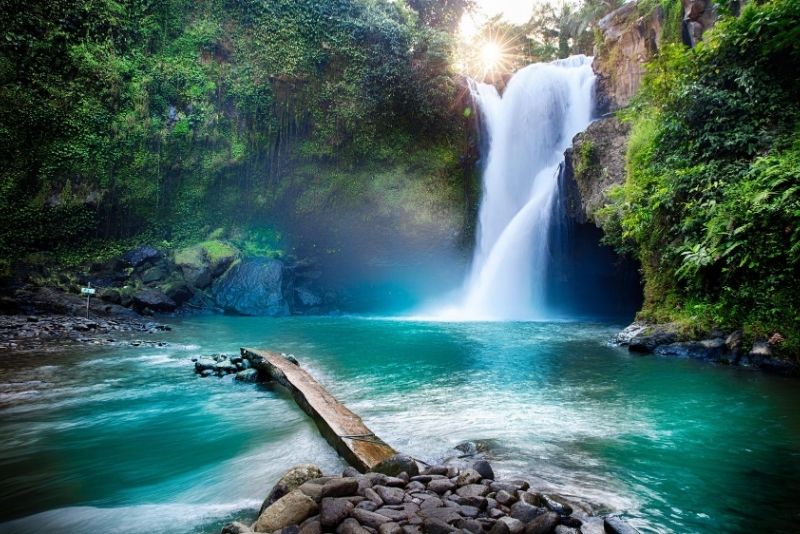 Tegenungan Waterfall is one for nature lovers. Reachable in only 30 minutes driving from Ubud is a popular destination due to its proximity to Bali's beating heart.
Reach the waterfall after a few minutes walking along the path, and then enjoy a great swim!
16 – Karma Beach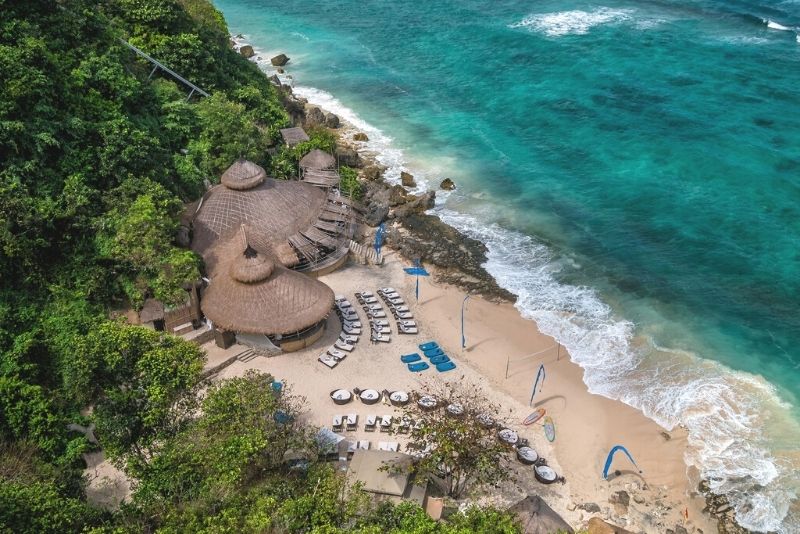 Karma Beach is a small sandy strip, located at the southernmost point of Bali. One of the most stylish and upscale beach resort area of the island.
Head to this hidden paradise covered with beautiful white sand to spend some relaxing time – one of the best places to visit in Bali for beach club lovers.
17 – Bali Bird Park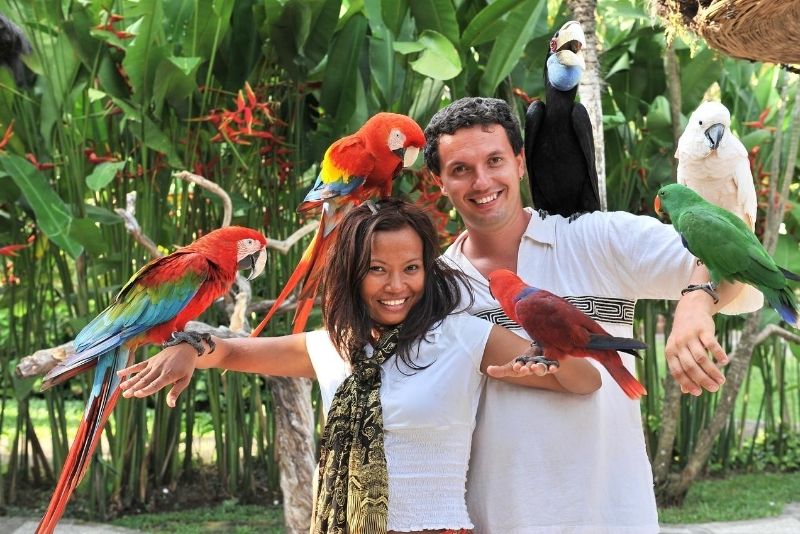 Located at the Gianyar Regency, visit Bali Bird Park to witness the largest and finest collection of Indonesian birds in the world and interact with fantastic birds coming from Africa and South America.
An educational attraction suitable for the whole family.
18 – Turtle Conservation and Education Center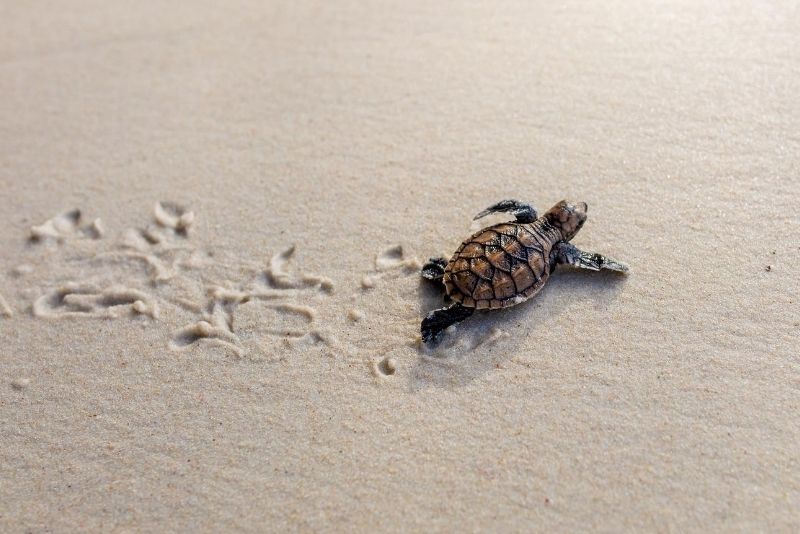 Turtle Conservation and Education Center is located in Serangan. It was opened by the governor of Bali around 13 years ago.
One of its missions is to stop illegal turtle trading on the island definitively. Take care and give new life to small turtles bringing them back to the sea.
This is one of the most touching places to visit in Bali.
19 – Badung Traditional Market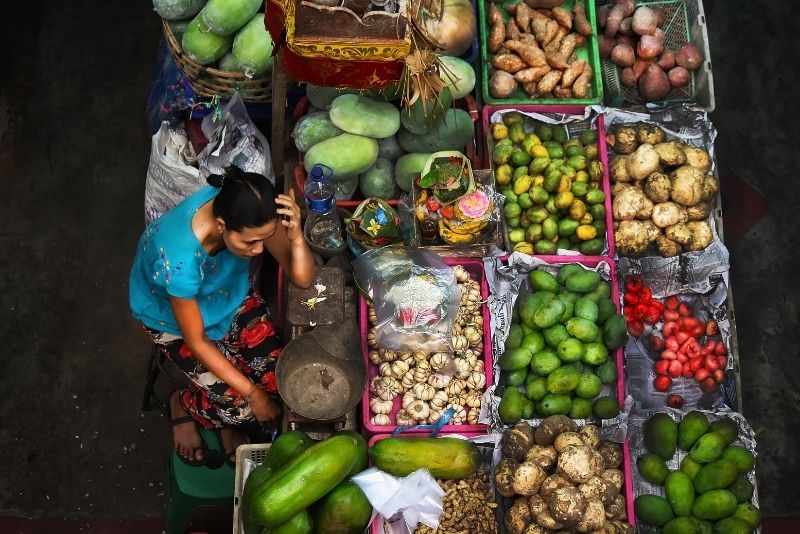 Badung Traditional Market is considered as the largest traditional market in Bali.
A lively place where to experience a real taste of the Balinese daily life, among local groceries and cheap stuff.
Explore the market as a local and buy some delicious tropical fruits.
20 – Bajra Sandhi Monument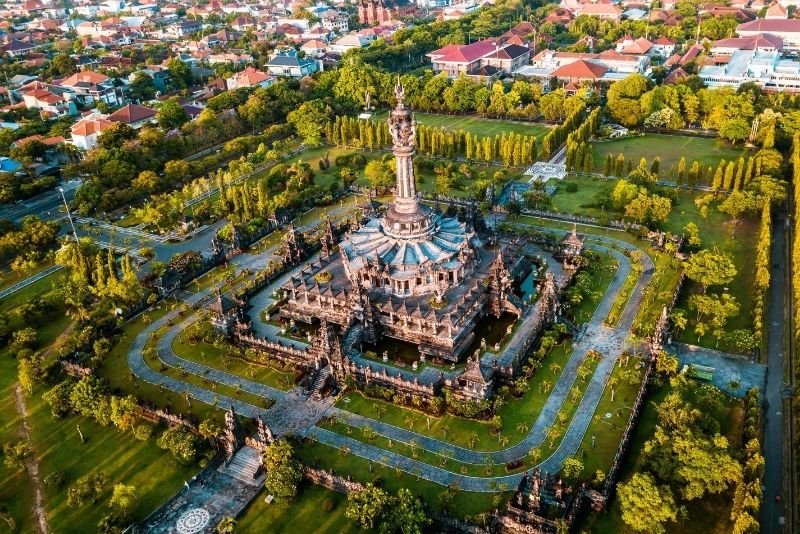 Bajra Sandhi Monument is a major landmark in Denpasar, built right in the centre of the Renon Square.
This monument is devoted to the Balinese people struggle throughout the history of the island.
Over time, it has become one of the major attractions in the city
21 – Mason Adventures Park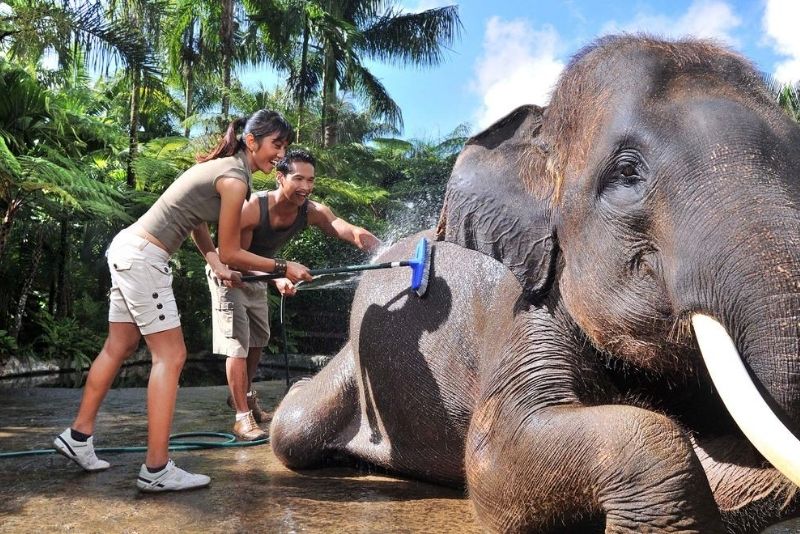 Mason Adventures Park is the longest-established adventure tour operator in Bali.
This park is Bali's only dedicated elephant rescue facility and is home to 31 critically-endangered Sumatran elephants.
You can take care of these gentle giants by feeding and bathing them.
22 – Green Village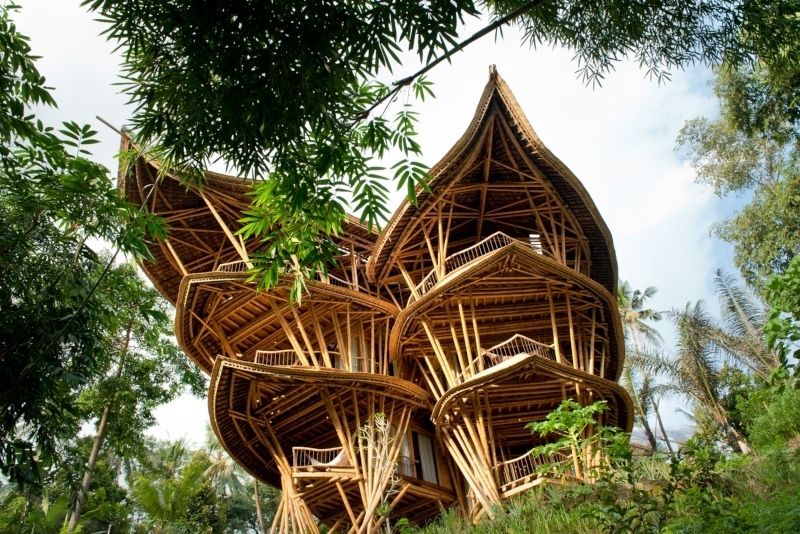 Located on the sacred Ayung River and nestled in the lush Balinese forest, Green Village is an innovative compound of bamboo houses and villas.
As well as the world-famous Green School, Green Village has been recognized as one of Bali's most remarkable communities in sustainable living and housing.
23 – Waterbom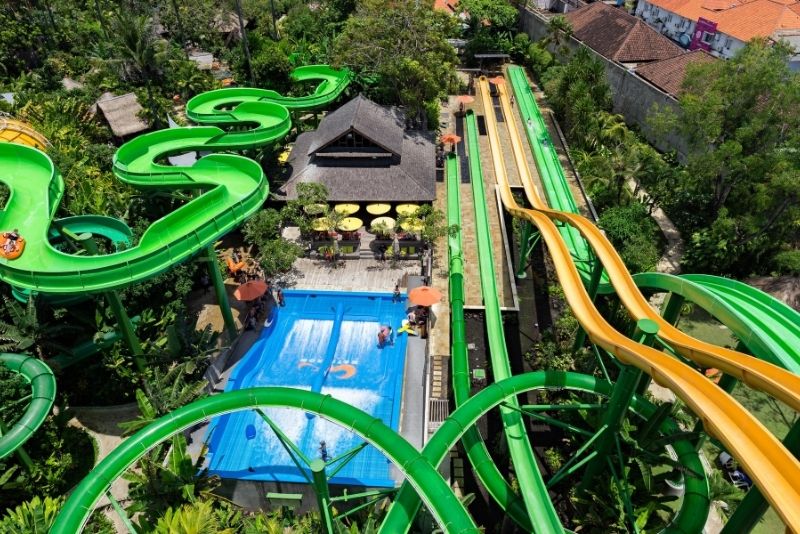 Waterbom is the right spot if you need a day off from the discovery of Bali and its warm sun. Enjoy fresh drinks and some chill time by the water pool.
This is the best waterpark on the island – one of the best places to visit in Bali if you want to have fun with your friends.
Central Bali 24 -47
24 – Sacred Monkey Forest Sanctuary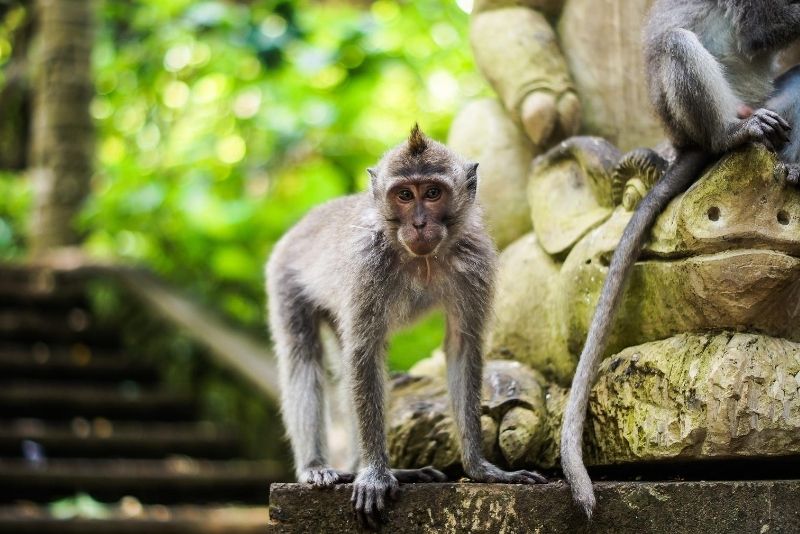 The Sacred Monkey Forest Sanctuary is a widely popular things to do in Ubud. Around 700 monkeys populate the forest.
Take a stroll along the way and breathe profoundly fresh air among 186 different species of trees.
25 – Ubud Royal Palace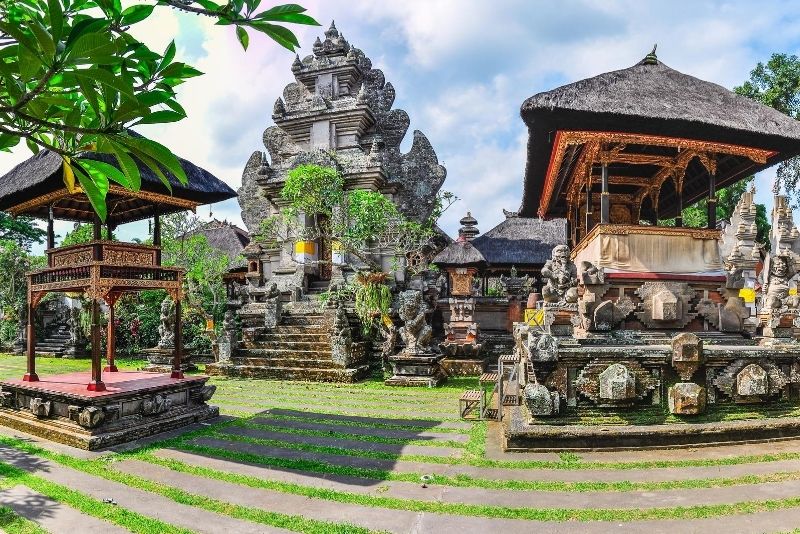 The Ubud Royal Palace is a prestigious historical building complex which lies in the heart of downtown Ubud.
Also called Puri Saren Agung, this place was inhabited by the Royal family. A must-do among the historical attractions in Ubud.
26 – Pura Taman Saraswati Temple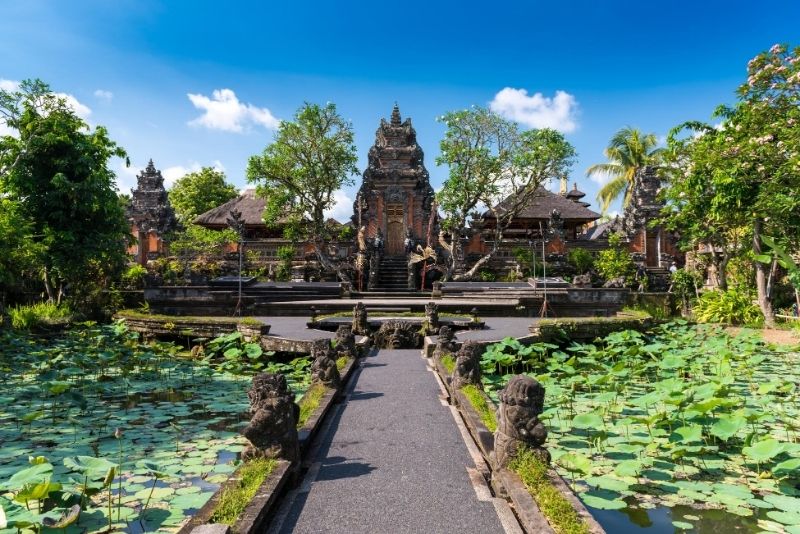 Pura Taman Saraswati Temple is a beautiful water temple in central Ubud.
Located in a lovely lotus pond which surrounds the water palace, after a walk around the complex, grab a drink at Cafè Lotus and enjoy the view!
27 – The Blanco Renaissance Museum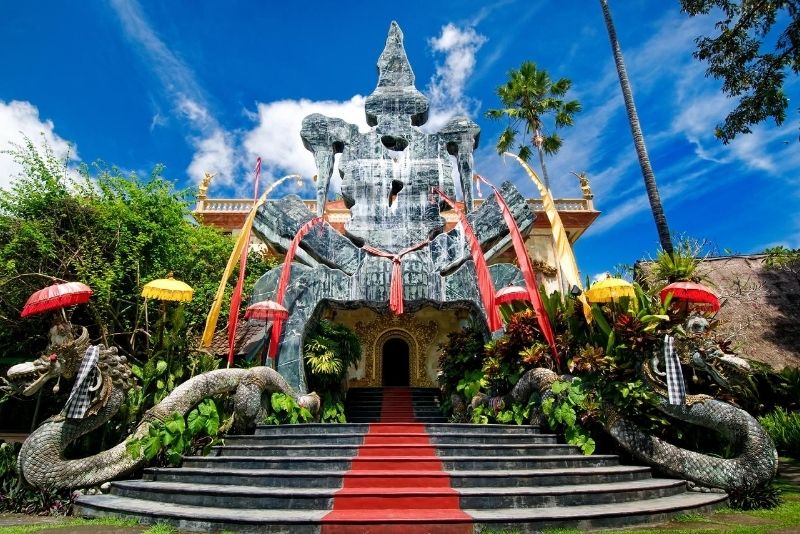 Located in Ubud, The Blanco Renaissance Museum hosts the house and studio of Don Antonio Blanco.
If you love art, get a mind-blowing overview of the late flamboyant Philippine-born maestro.
28 – Ubud Art Market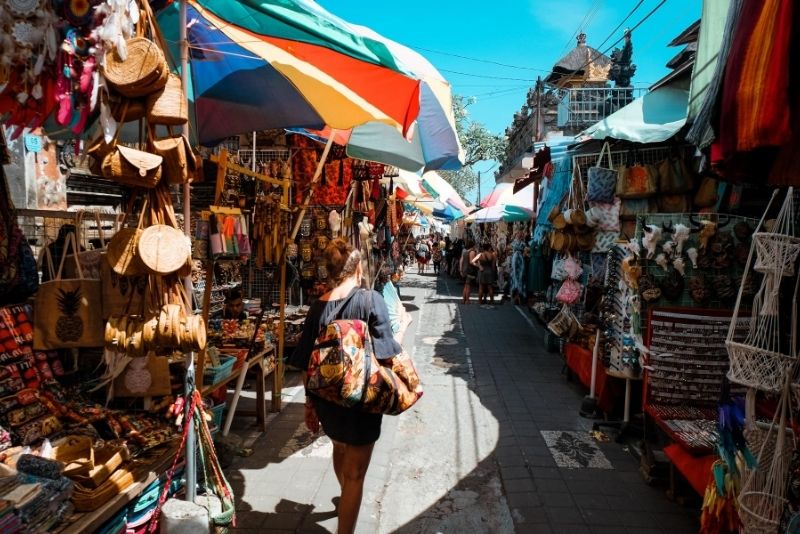 When in Ubud walk around the stands of the Ubud Art Market – probably one of the best places to visit in Bali for shopping lovers.
Avoid the crowd of tourists going there in the early morning.
Grab some souvernirs or Balinese craftsmanship pieces at a low price.
But remember, don't forget to bargain!
29 – Goa Gajah, Elephant Cave Temple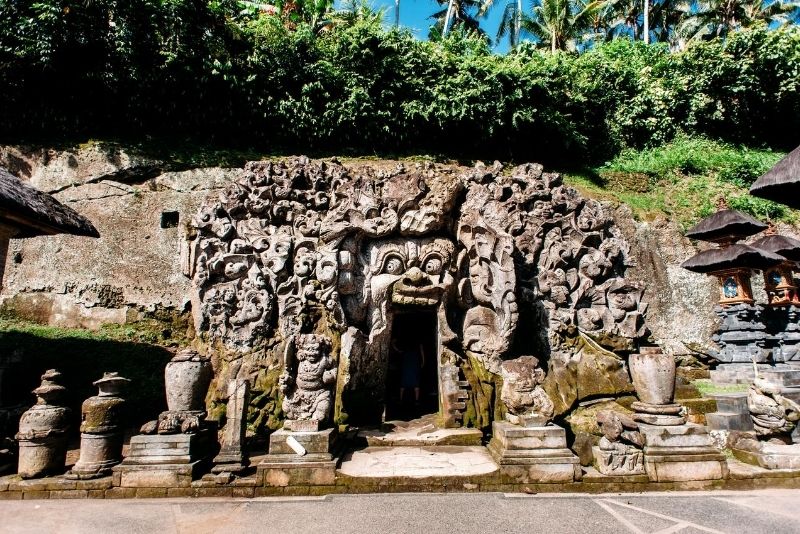 You can't miss Goa Gajah also known as Elephant Cave Temple, an archaeological site of significant historical value located in Ubud.
In the past, Goa Gajah was a place for meditation. Nowadays, it represents one of the most famous historical sanctuaries on the island.
30 – Tegallalang Rice Terrace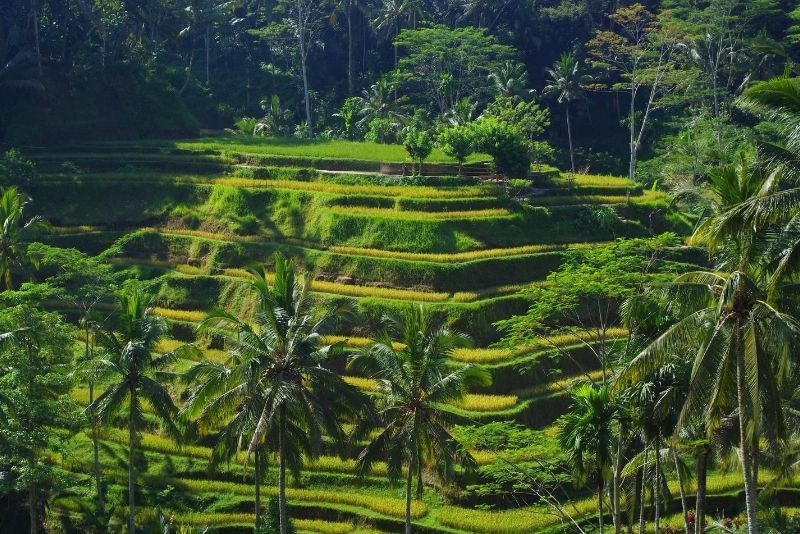 Tegallalang Rice Terrace is one of the main reasons to visit Ubud.
One of the most visited tourist attractions – an iconic Balinese landscape covered by lush vegetation.
A walk around the rice paddies is an absolute must-do.
31 – Tirta Empul Temple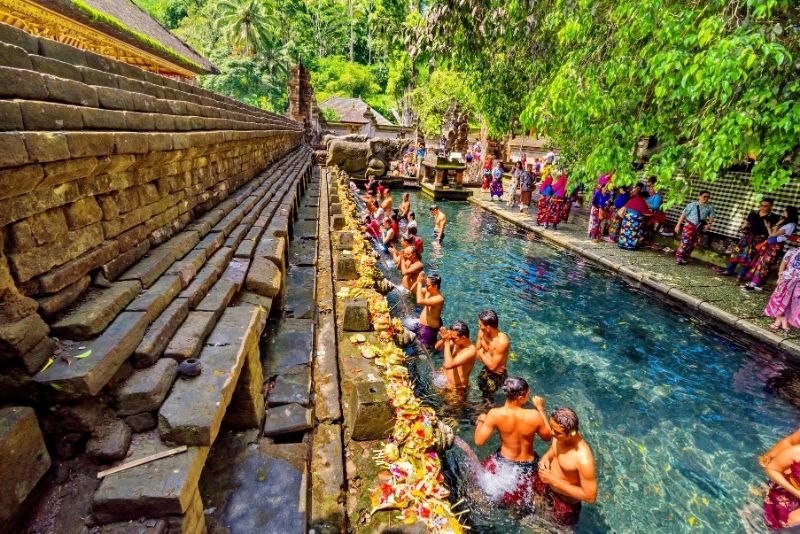 Visit the Tirta Empul Temple, one of Bali's most important Hindu water temples.
Follow the rituals of locals that head here to bathe in its holy water.
You will experience the real culture of the Balinese Hindu. A must-see in Bali.
32 – Campuhan Ridge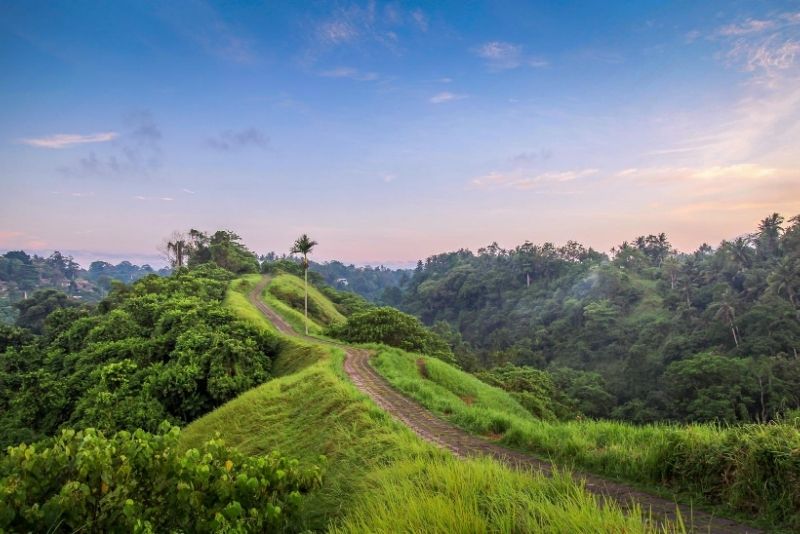 A scenic mountain valley hiking trail in Ubud. The Campuhan Ridge is the best known Ubud trek and with good reason.
Head here in the early morning or late afternoon, breathe the fresh air and walk along the path. For trekking lovers, that's the right place.
33 – Gunung Kawi Temple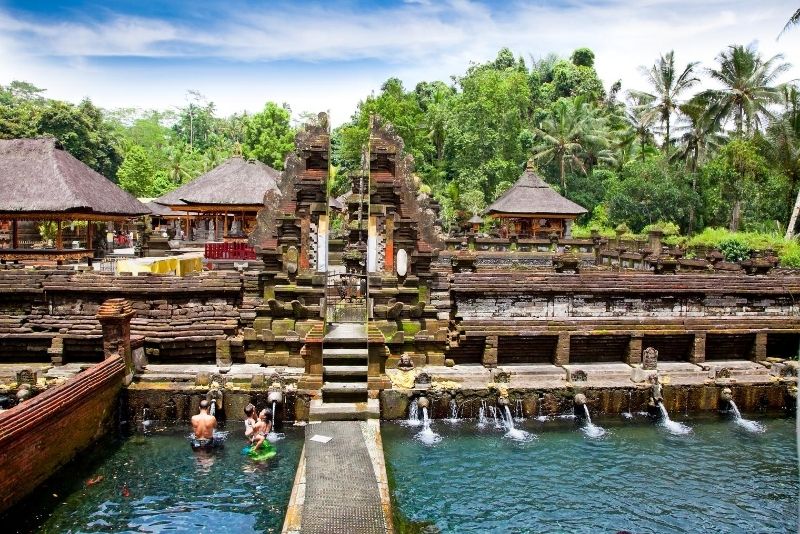 Gunung Kawi Temple locally referred to as Pura Gunung Kawi, is one of Bali's most typical archaeological sites, comprising a collection of ancient shrine reliefs carved into the face of a rock cliff.
This Hindu funerary complex dates back to the 11th-century – one of the most sacred places to visit in Bali.
34 – Telaga Waja River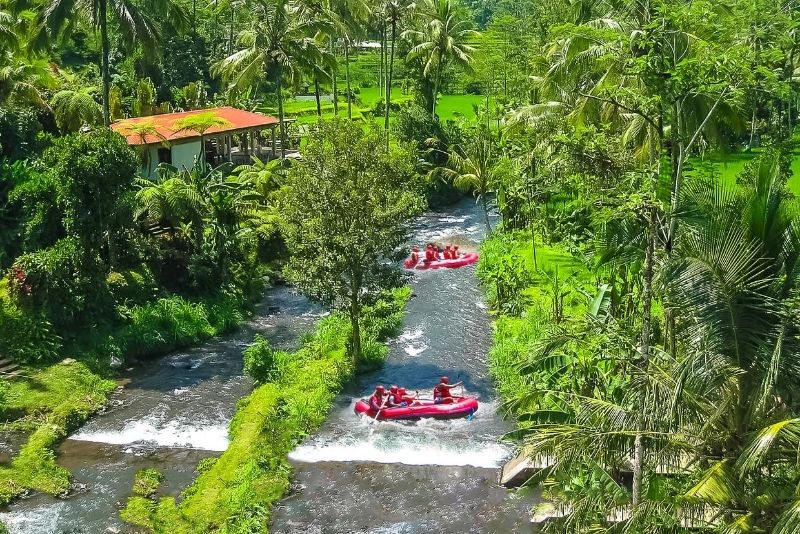 Telaga Waja River is close to Ubud.
It is one of the amazing places on the island for white water rafting – the longest Bali white rafting trail.
A fun and wild adventure for the whole family. Take a look at our guide about rafting in Bali.
35 – Taman Ayun Temple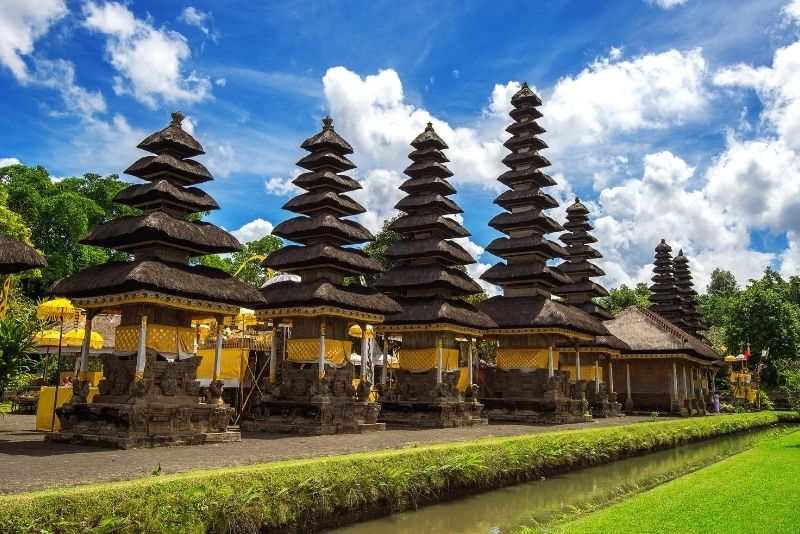 Taman Ayun Temple is a landmark in the village of Mengwi, Badung Regency. Its name means "Garden Temple in the Water".
It is surrounded by canals and Balinese vegetation recreating an incredibly peaceful atmosphere. One of the best temples and gardens complex.
36 – Jatiluwih Rice Terrace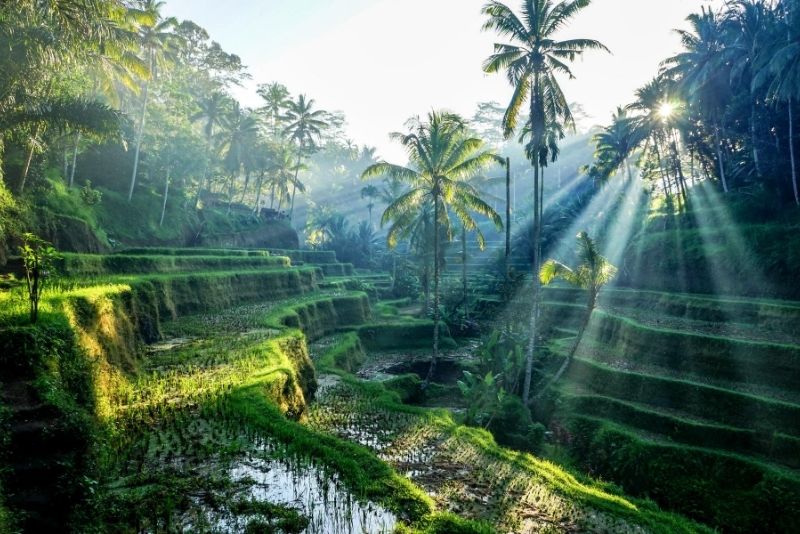 Jatiluwih Rice Terrace is located in the heart of Tabanan Regency. It is a UNESCO World Heritage site and one of the best places to visit in Bali.
Get here for a taste of authentic Indonesian landscape.
Stroll along the rice field and enjoy the stunning view.
37 – Kebun Raya, Bali Botanic Garden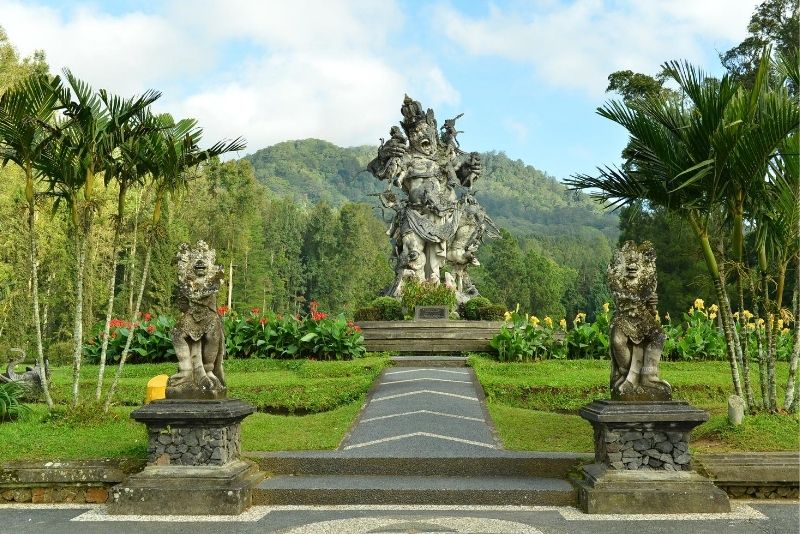 Located in the Bedegul Region, Kebun Raya constitutes the most extensive botanic garden of Indonesia.
Visit Kebun Raya on a day trip from Denpasar and remember to bring with you all the essentials for a picnic!
38 – Nungnung Waterfall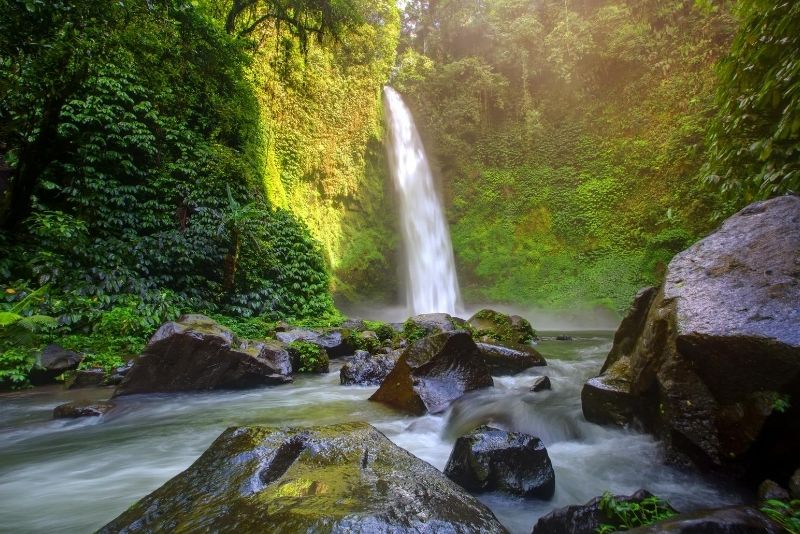 Located between Ubud and Bedegul, Nungnung Waterfall stands for the perfect site for a stop in between.
One of the biggest and most powerful waterfalls in Bali.
Just remember that there's a short trek to reach the waterfall. Anyway, nothing impossible!
39 – Mount Batur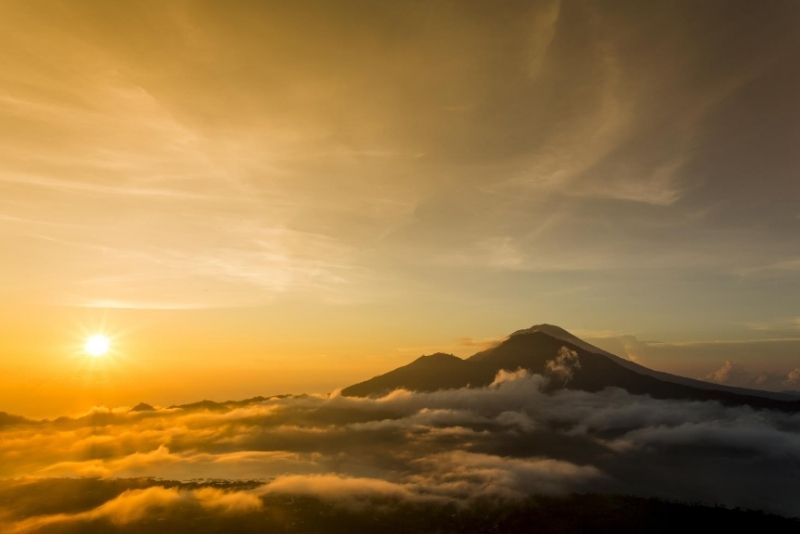 Bali is well-known for its amazing beaches, but even the interior has its own appeal.
Together with Mount Agung, Mount Batur represents the other active volcano of Bali. Trek Mount Batur at sunrise to catch one of the best views you could ever have. Priceless!
40 – Lake Tamblingan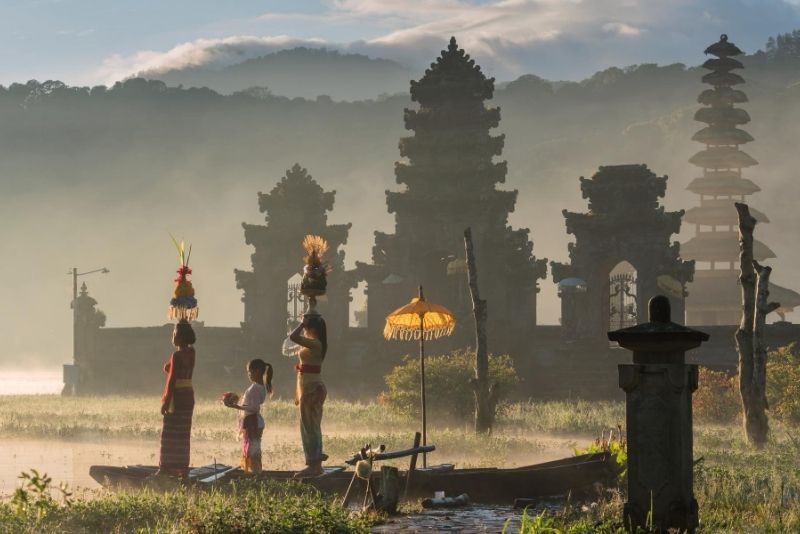 Even if less touristy compared to the close Lake Beratan, Lake Tamblingan offers a splendid view.
Explore the lake on a relaxing canoe ride and discover the temples all around.
You can also get to the lake through an adventurous forest hike.
41 – Penglipuran Village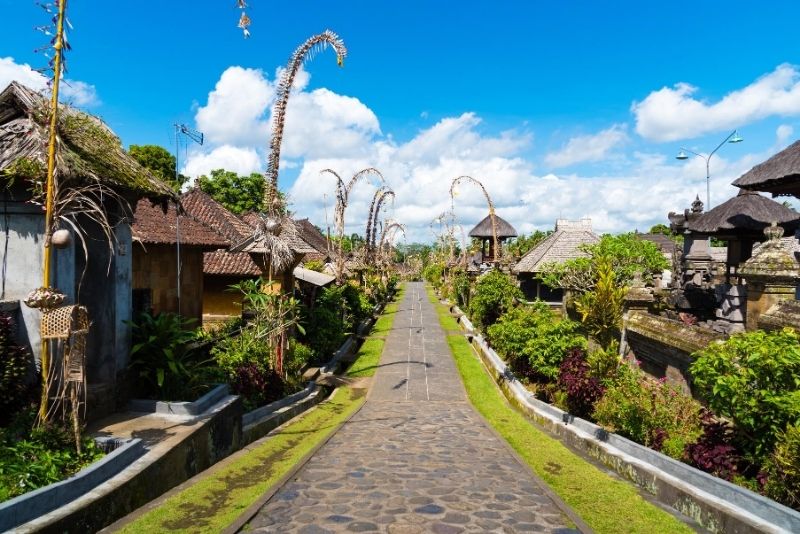 Experience life untouched by modern influences at Penglipuran, located near Bangli City.
This is a traditional Balinese village kept frozen in time – one of the most stunning places in Bali you can visit.
Penglipuran Village is the witness of a culture and a way of living untouched by the present.
42 – Kanto Lampo Waterfall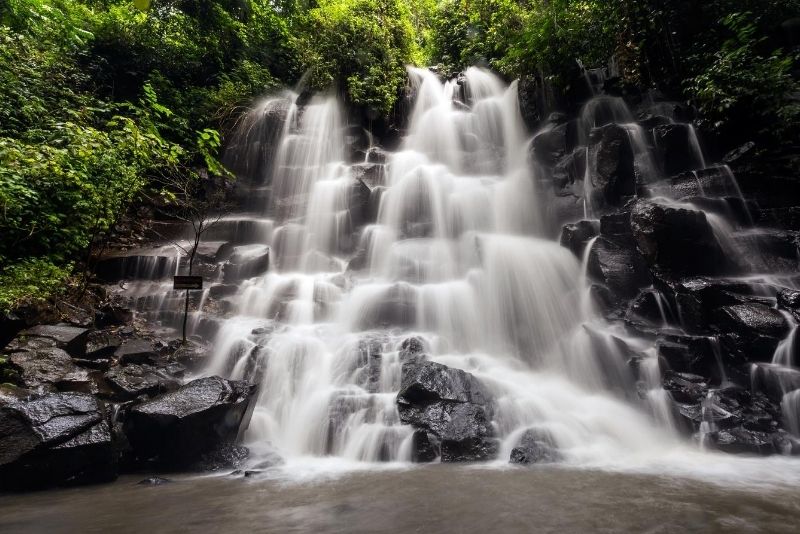 Kanto Lampo Waterfall is a perfect stop to include on a day trip from Ubud.
It is a scenic waterfall cascading down a stepped rock wall into a refreshing pool.
The perfect solution to spend a day wholly nestled in nature.
43 – Marigold Fields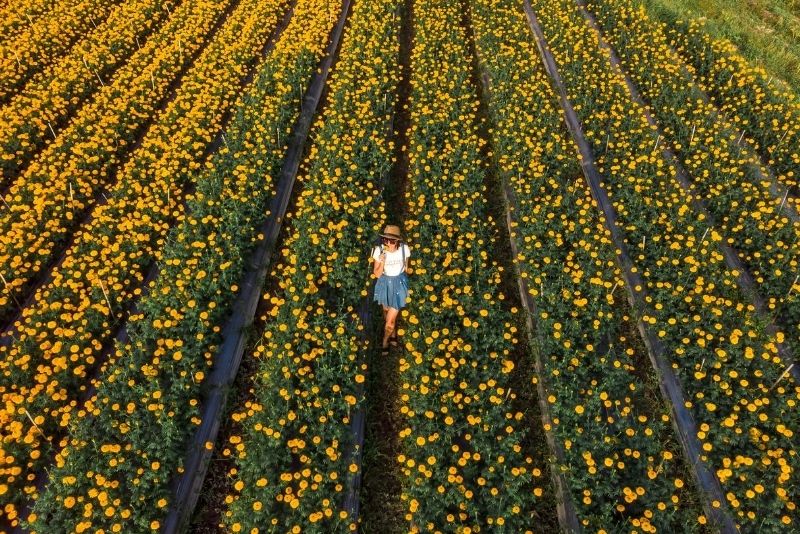 Take a drive between Kintamani and Bedugul to see the beautiful marigolds growing in fields alongside the road. Marigold is the traditional flower employed in Balinese rituals.
This is one of the most romantic places to visit in Bali. Imagine strolling in this magic fields covered by scented flowers!
44 – Ulun Danu Beratan Temple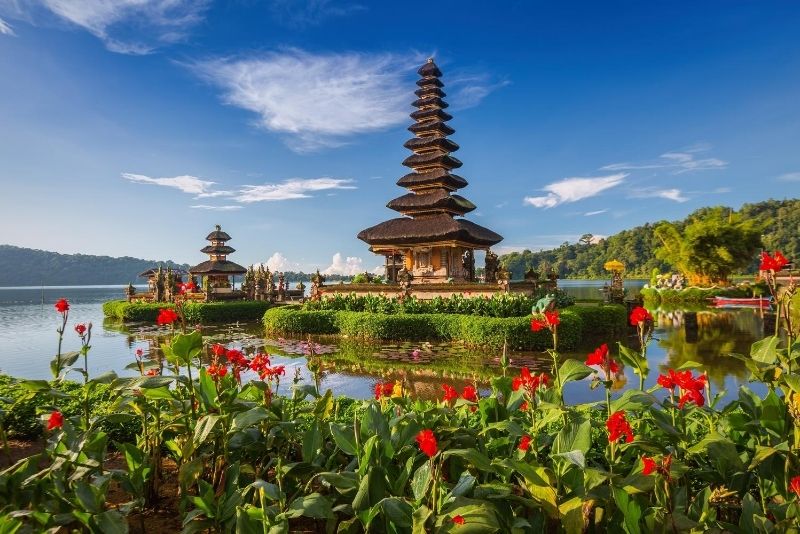 On the shores of Lake Beratan, Ulun Danu Beratan Temple is one of the top temples in Bali.
This water temple always fascinates tourists with its impressive landscape fringed by the Bedugul Highlands.
Its reflection makes it incredibly romantic!
45 – Treetop Adventure Park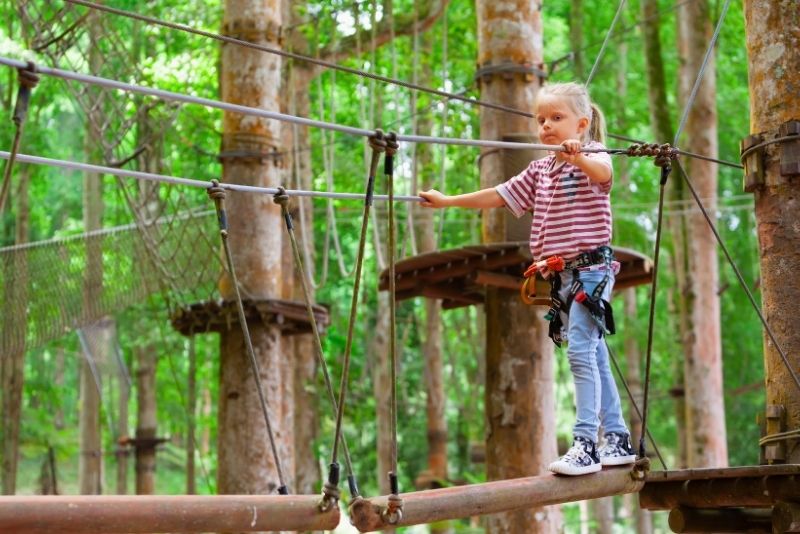 Treetop Adventure Park is a fun activity set in an outdoor environment for groups and families.
On impressive trees and with stunning views, you will experience new sensations never felt before.
Enjoy different natural routes jumping from a tree to another!
46 – Besakih Temple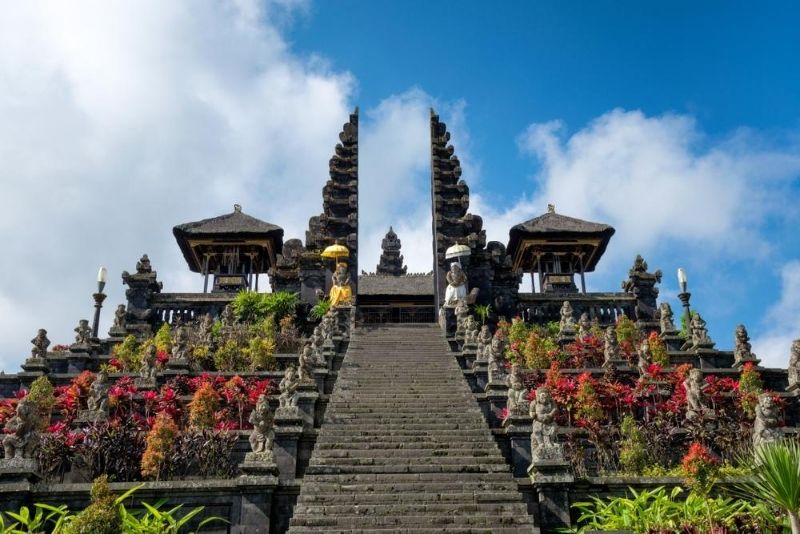 Besakih Temple has been known as Bali's 'Mother Temple' for over 1000 years and is perched 1000 meters high on the southwestern slopes of Mount Agung.
This represents the primary religious site in Bali – an extensive complex of at least 86 temples. Here, you will breathe real spirituality.
47 – Pod Chocolate Factory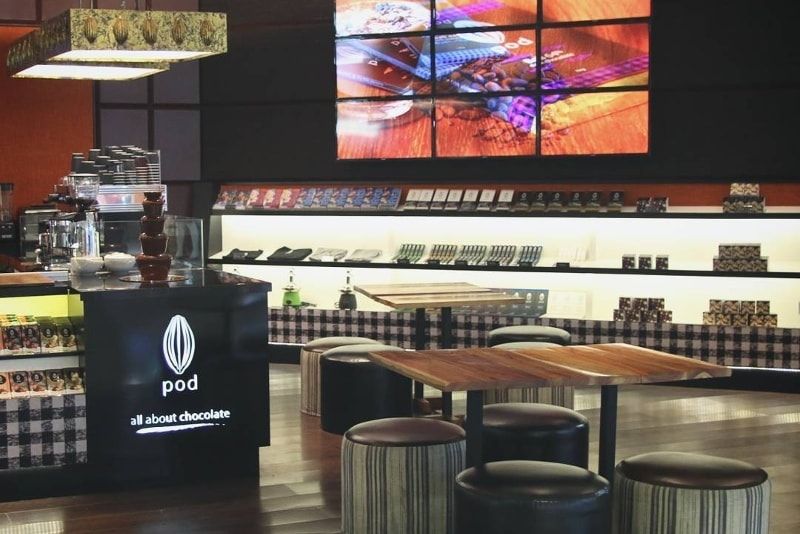 Pod Chocolate Factory is located in Central Bali.
Visit this factory for a local chocolate tasting or to figure out how the local cocoa pods are transformed into delicious chocolate.
You can even make your chocolate bar!
North Bali 48-51
48 – Lovina
One of the most popular things to do in Bali for animal lovers is a dolphin watching tour in Lovina.
While the sun is rising on Lovina bay, go watch dolphins in their natural environment. With their playful and acrobatic natures, dolphins bring a smile to the faces of anyone who watches them.
49 – Aling-Aling Waterfall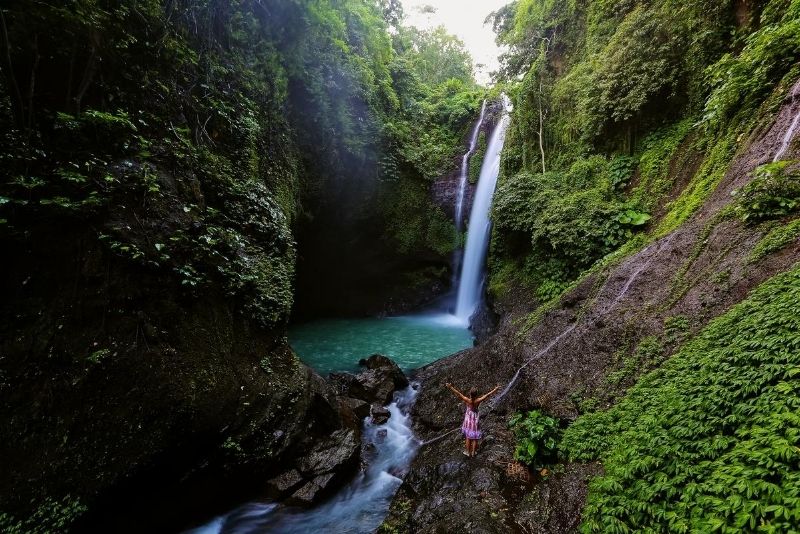 Aling Aling Waterfall is located near Singaraja. It is a picturesque waterfall complex consisting of 7 secret waterfalls with a unique side-by-side waterfall top.
Head to Aling-Aling Waterfall to enjoy the natural landscape and refresh yourself after a warm day of walking. The waterfall offers a natural swimming pool where you can bathe.
50 – Air Panas Banjar hot springs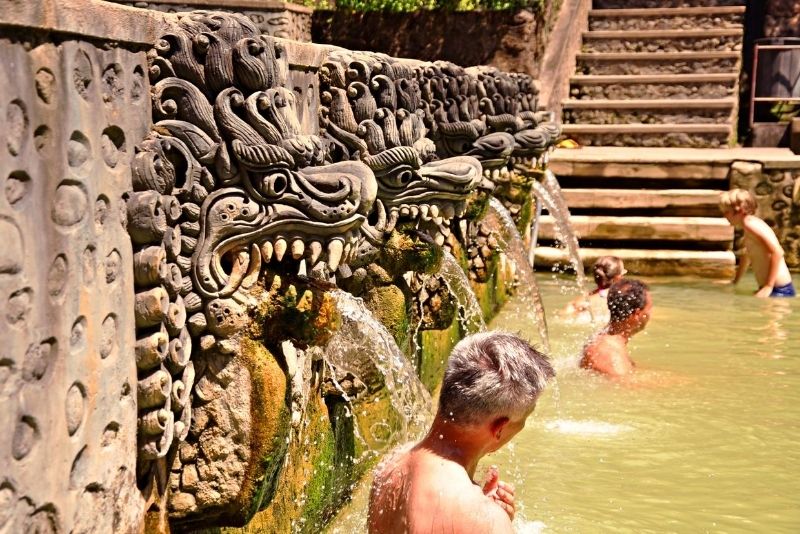 Air Panas Banjar hot springs are not far from Lovina. These natural hot springs are popular among both locals and tourists.
Make a stop here for a healthy and relaxing bath and benefit from the proximity to visit also Brahmavihara Arama Buddhist monastery, less than 10 minutes driving from here.
51 – Sekumpul Waterfall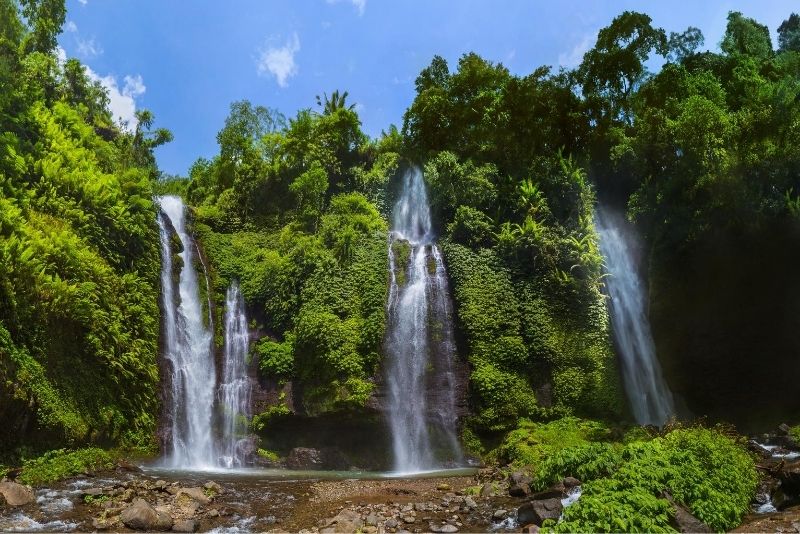 Located in the North of Bali, Sekumpul Waterfall gushes from a majestic rock.
The waterfall is actually a cluster of six to seven narrow cascades that form the centrepiece of a lush green bamboo forested valley.
According to many, Sekumpul Waterfall is one of the most scenic waterfalls on the island.
West Bali 52-53
52 – Menjangan Island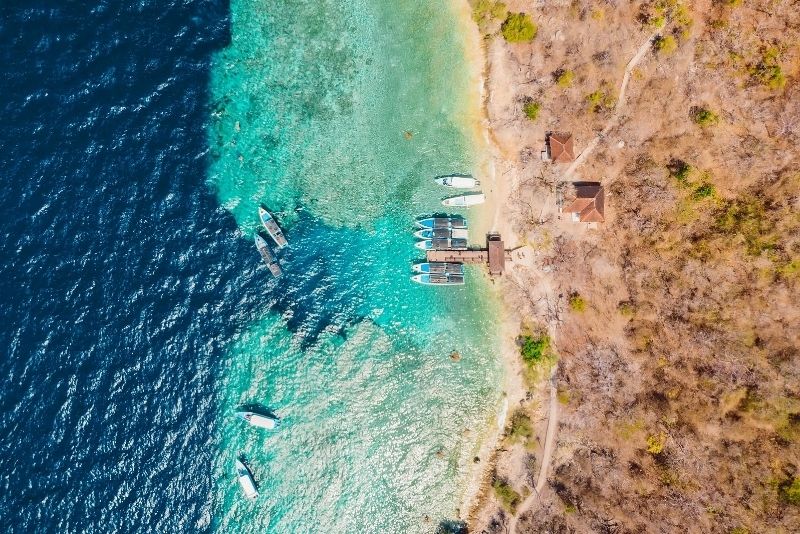 Menjangan Island is part of the West Bali National Park and one of the best diving destinations in Bali.
Down at the coastline, calm waters and coral gardens teeming with marine life offer diving and snorkeling with excellent visibility year-round. Spend at least one day here!
53 – Underwater Temple Garden, Pemuteran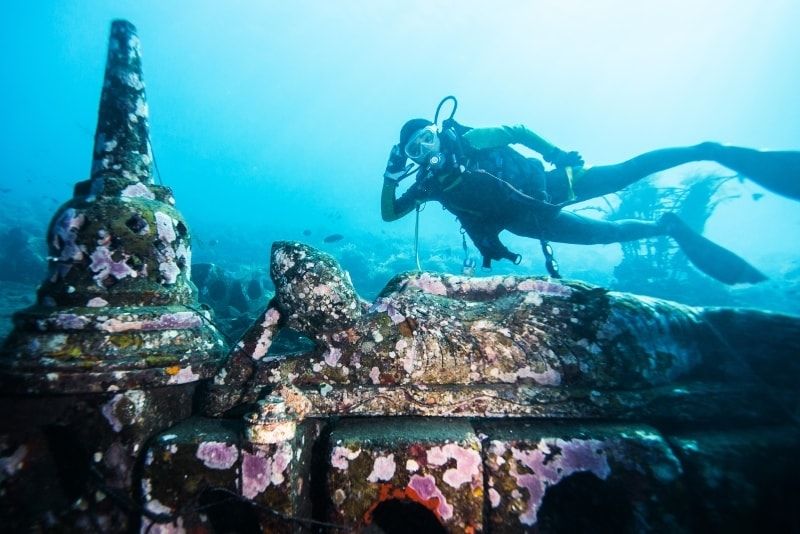 Have you ever dived among the ruins of an underwater temple?
Just off the Pemuteran coast, Temple Garden is an incomparable underwater beauty guarded on the ocean seabed.
Get your thrills and have alternative day excursion here.
East Bali 54-58
54 – Tulamben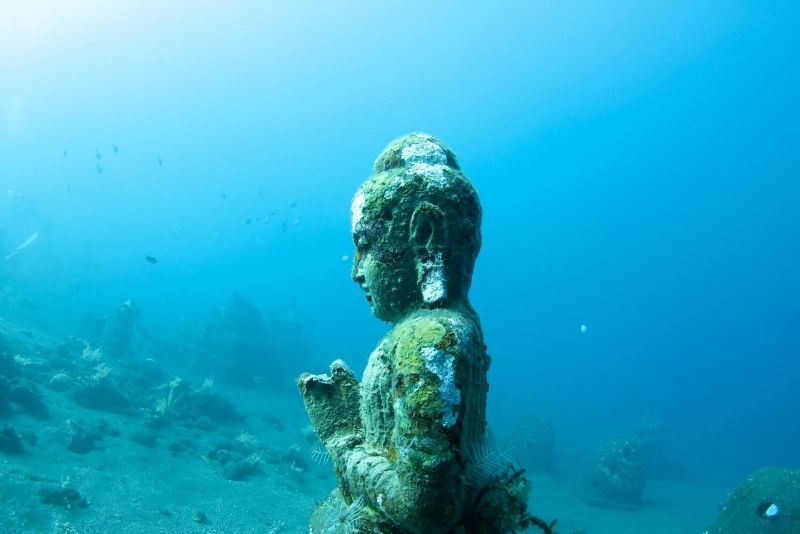 If you are a diver, you have inevitably to add Tulamben to your wish list.
In this underwater paradise, visit the most notorious dive site of Bali, namely the USS Liberty Wreck.
Precisely, it consists of the ruins of a sunken vessel by the Japanese during World War II.
55 – Amed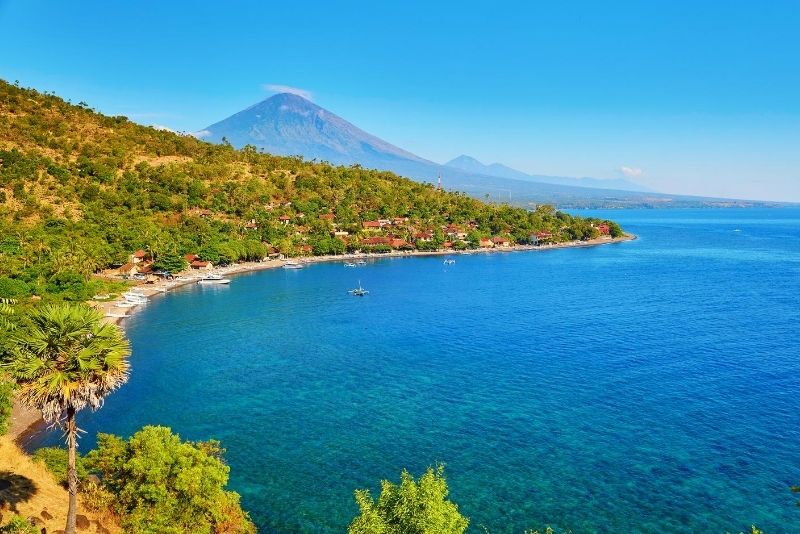 Amed is another trendy place where to go diving and snorkelling in Bali.
In this area, the coastline stretches until recreating numerous bays and fishing villages such as Amed, Lipah, Jameluk, Banyuning, As, Bunutan, and Selang. You have a wide choice!
56 – Candidasa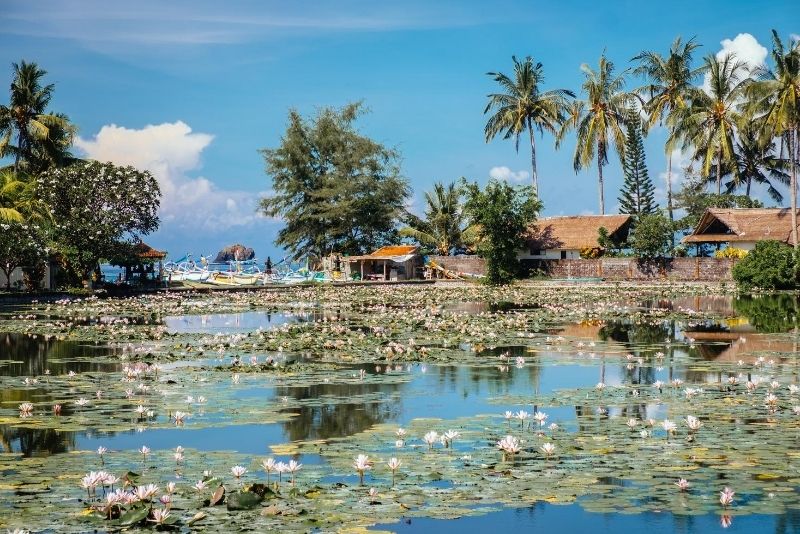 Add a stop to Candidasa, an East coastal village.
Get there to visit the Lotus Lagoon, in the town centre and make sure to arrive in the early morning to see the hundreds of water lilies open!
Nearby, reach the Pura Candidasa Temple for a fuller view of the lagoon. Stroll around and enjoy the view.
57 – Padang Bai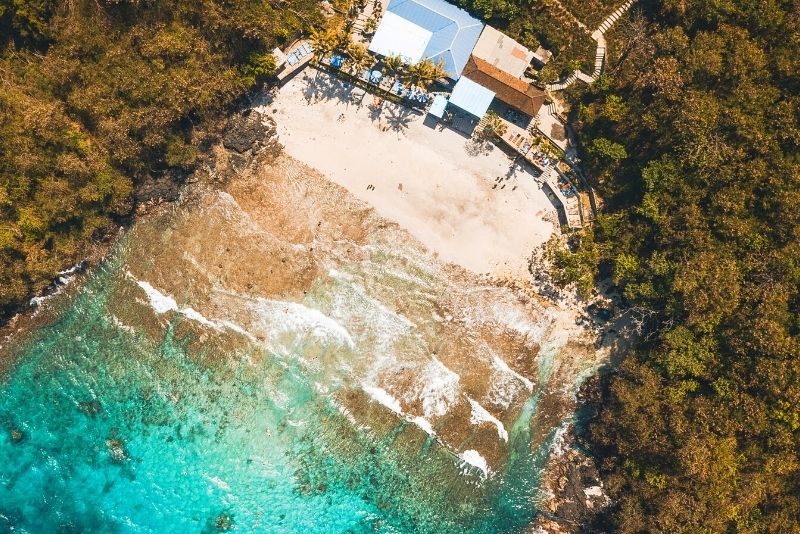 Padang Bai is a small fishing village on the Eastern coast of Bali, mainly popular for diving and snorkelling.
Don't miss out the Blue Lagoon Beach, an amazing secluded paradise. This is a great highlight in Padang Bai for hidden beach lovers.
58 – Lempuyang Temple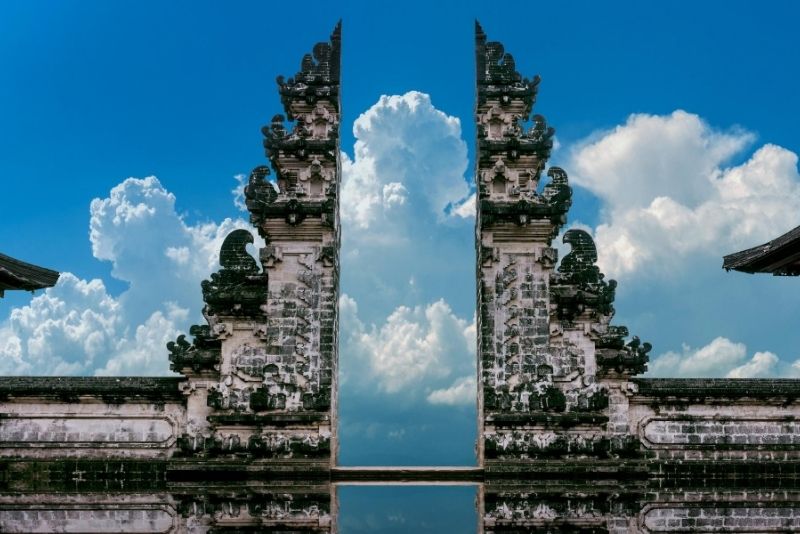 Lempuyang Temple, also known as Pura Lempuyang Luhur is one of Bali's oldest and most highly regarded temples.
A compound of temples located on the holy Mount Lempuyang, deeply well-known by many for the famous "Gates of Heaven."
The island of Bali borders on some amazing islands located in the South area that for sure deserve a visit.
They are easily reachable from Bali during a day trip. The names of these three islands contain the word "Nusa" which means "island" in Indonesian. Are you curious?
Southeastern islands 59-61
59 – Nusa Lembongan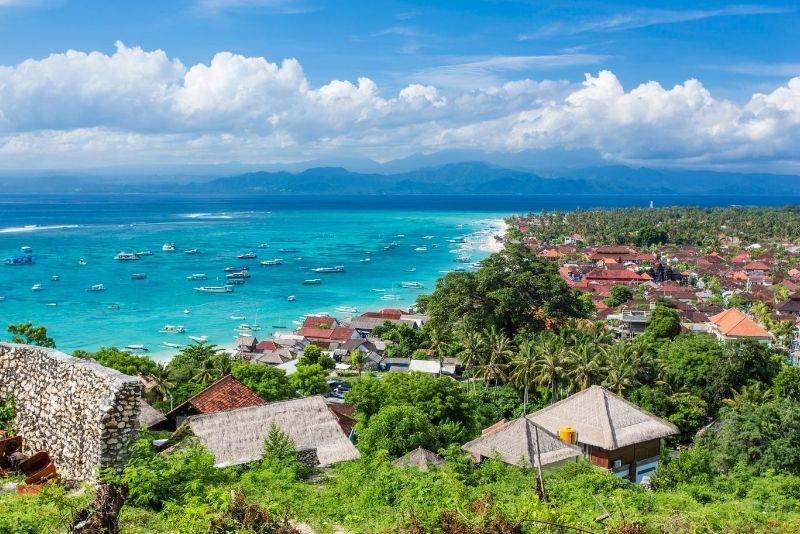 Visit Nusa Lembongan – one of the best boat tours in Bali you may experience during your vacation.
Dream Beach, Paradise Beach, and Mushroom Bay are just some names of the beautiful beaches of Nusa Lembongan.
A small tip: there's an amazing Secret Beach that does not appear on the map. It is known just by locals and close to Mushroom Bay, thus you have to ask how to get there.
Another unmissable spot is the Devil's Tears with a great ocean view!
60 – Nusa Ceningan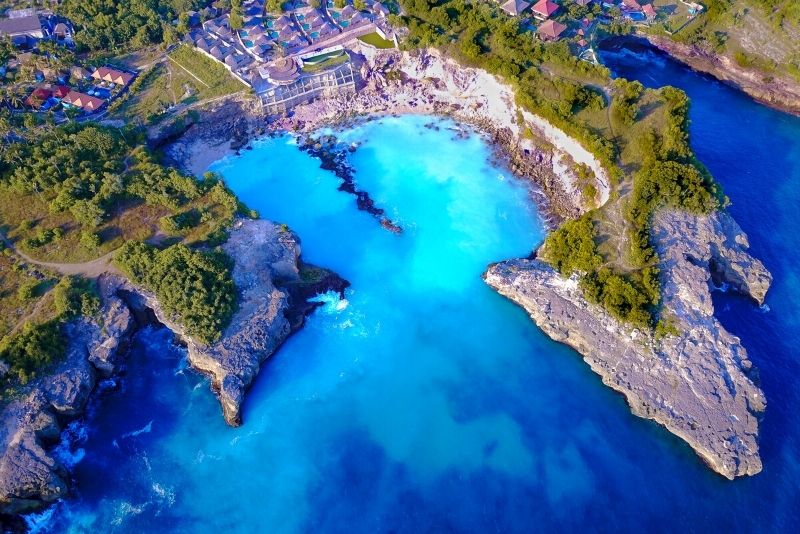 Nusa Ceningan is the smallest of the three islands, located among Nusa Penida and Nusa Lembongan.
During a day trip on a speedboat from Bali, the Blue Lagoon is for sure a must here. Great for snorkeling or just sunbathing.
61 – Nusa Penida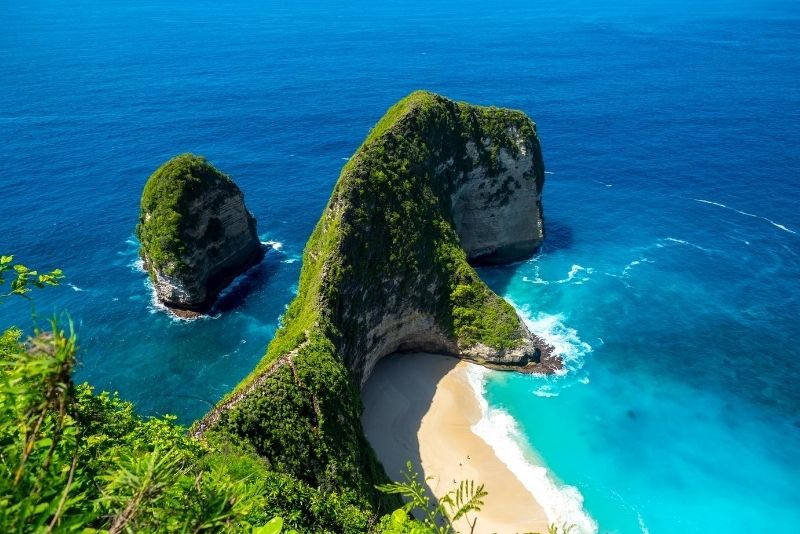 Nusa Penida is the most well-known of the three islands.
You can't leave Nusa Penida without visiting Kelingking Beach, probably the most breathtaking landscape of the island. Another famous spot is Pura Paluang, the famous Car Temple.
We hope you enjoyed this list of places to visit in Bali. Do not hesitate to tell us your favorite ones in the comments below. Enjoy Bali!