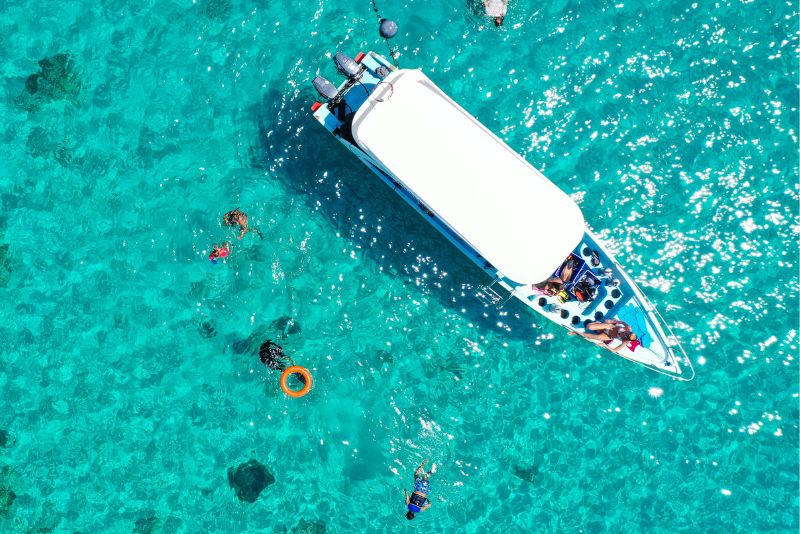 Book one of the best boat tours in Bali today and revel in the impressive beauty of this unique destination!
Whether you're looking for a leisurely day trip, an action-packed adventure, or something in between, there's a boat tour to suit your needs – be it a private charter, group tour, or transport boat out to one of the nearby islands.
Don't feel like reading ahead? Check and compare the best boat tours in Bali right now.
Whether you know it as the Island of the Gods or Paradise Island, Bali is a slice of heaven on Earth that everyone should experience at least once in their lifetime.
On land, the small yet mighty Indonesian oasis is as diverse as they come. On one hand, you've got dense jungle, towering volcanoes, and picturesque rice fields, and on the other, you've got hedonistic beach clubs, world-class surf breaks, bustling markets (get ready to haggle!), and chic boutiques. Throw in the myriad restaurants that will leave you wanting more, and the welcoming locals who always go above and beyond to ensure you enjoy every moment, and it's easy to see why Bali is one of the most beloved tourist destinations south of the equator (just!).
And then, of course, there are the waters of Bali – the wildlife-abundant, stunningly translucent (for the most part, once you get out of the busy port areas), and ever-warm and refreshing waters. Although often overlooked in favor of her land-based activities, the island's waterways are teeming with an array of marine life and offer up some of the best diving, snorkeling, fishing, and swimming in Southeast Asia. Not to mention, they're pretty darn beautiful too – camera at the ready, people.
Luckily for travelers, Bali is blessed with an incredible amount of coastline, making it the perfect place to explore by boat – no matter how busy the island gets, serenity and peace is just a catamaran or sailboat away.
1 – Boat tour from Bali to Nusa Lembongan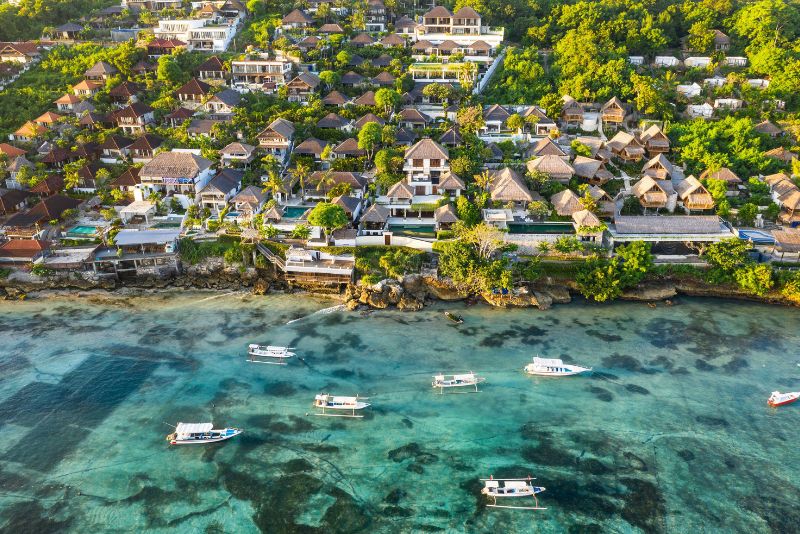 A small yet stunning island off the coast of Bali, right next door to underrated Nusa Penida, Nusa Lembongan is one of the best places to visit in Bali and fast becoming one of the most popular tourist destinations in Indonesia, especially for those keen on a boat tour that doesn't venture too far from Bali proper.
Just a short boat ride from either Sanur Beach or Tanjung Benoa, Nusa Lembongan is home to some of the best surfing waves in Bali, as well as beautiful white sand beaches and crystal clear waters which make for perfect snorkeling conditions.
There are plenty of tour operators offering day trips to Nusa Lembongan, as well as trips from Nusa Lembongan to some of the islands nearby (like Nusa Penida). These tours typically include return transfers by fast boat, as well as lunch and any equipment you might need for activities such as snorkeling or surfing.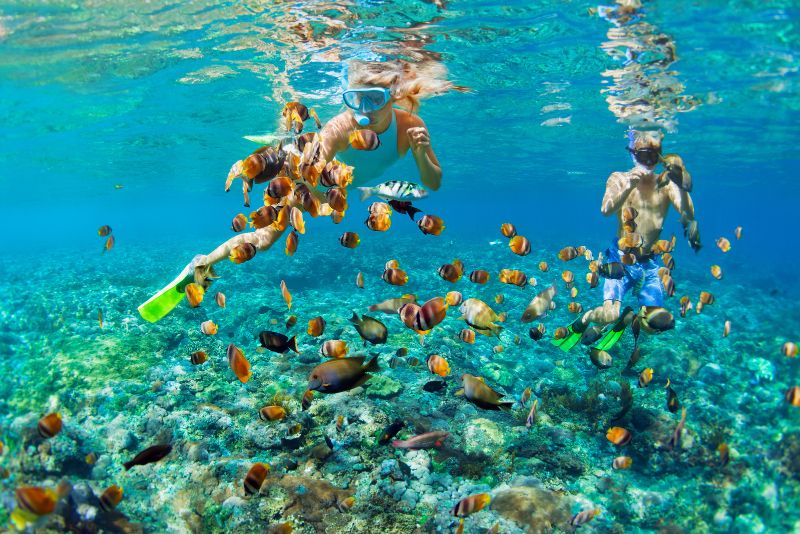 A hotspot for diving, there are plenty of tour operators offering boat tours specifically for divers (or those keen to learn how to dive) which include multiple dives, as well as all the equipment you need. On the flip side, if you prefer to stay dry, the glass-bottom boat tours are a great way to see the underwater world while staying relaxed and comfortable.
With sailboats, catamarans, yachts, and fast boats (the latter is more if you're looking to go from A to B), there's a style and budget to suit everyone. Plus, with free pick-up and drop-off service in Bali and Nusa Lembongan for the majority of tours, it's as convenient as they come.
Just be sure to book in advance, especially during the high season (July and August), as well as during popular holidays such as Easter and Christmas.
While most tours are a half to full day's length, you can also opt for multi-day options that include a bit of island hopping.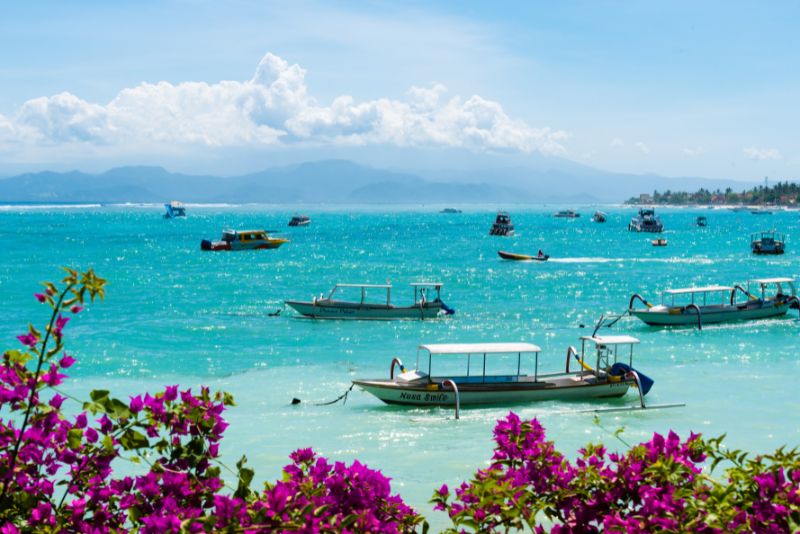 If you plan on spending a little more time on Nusa Lembongan as well, you'll find a slew of activities to keep you busy!
From snorkeling with manta rays on the shoreline to wandering through Nusa Lembongan Village and picking up a few souvenirs, exploring the ecologically diverse mangrove forests, cliff jumping in Nusa Ceningan (accessible by a bridge; no need to take another boat – also, be mindful of safety and be sure to ask the locals about what's acceptable here) or tackling the short yet stunning Nusa Lembongan Cliff Hike, this underrated island doesn't disappoint.
2 – Boat tour from Bali to Nusa Penida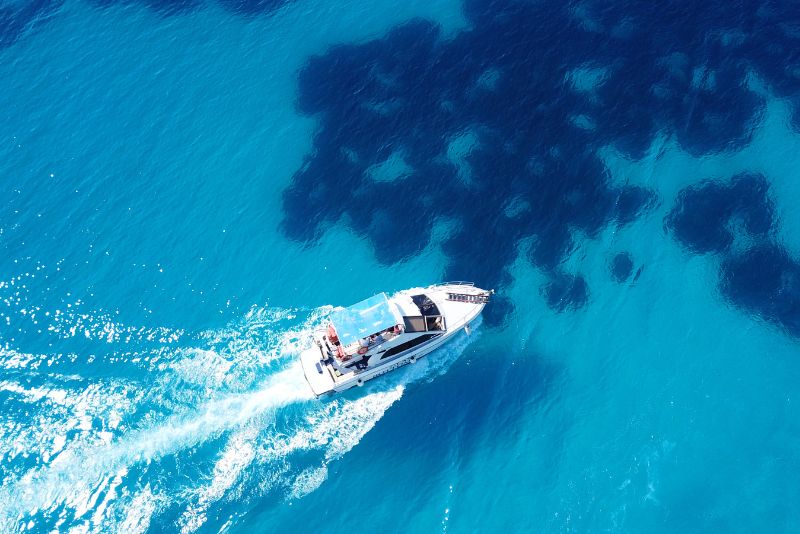 Sitting right next door to Nusa Lembongan, yet far bigger (larger than the city of Denpasar, for reference), and about halfway between Bali and Lombok, Nusa Penida is an up-and-coming destination that's fast becoming a must-visit for tourists to Indonesia, largely thanks to its amazing offering of diving and snorkeling alongside manta rays.
While most people come to Nusa Penida on day trips from Bali (which are easy enough to find and book, and include tour guides, pick up and drop off, water and lunch, plus a quick highlight reel of the activities and must-see sites in the area), those looking for a more relaxed pace can easily spend a few days here, especially if they're keen on doing some diving.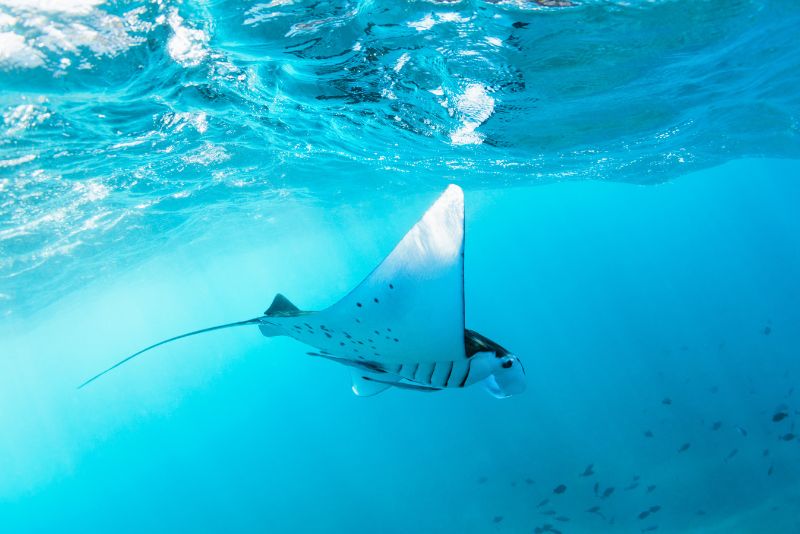 Nusa Penida is home to some of the best dive sites in the Bali region, as well as a few wrecks which are perfect for those who are qualified (and adventurous). With plenty of tour operators offering day trips from Bali, as well as multi-day options that include accommodation and transfers, it's easy to find something that ticks all of your boxes.
And, if you're not a certified diver but still want to enjoy the underwater world, there are also glass-bottom boat tours available. These give you the chance to see all the amazing marine life – we're talking manta rays, vibrant fish, and even the occasional friendly turtle – without having to get wet!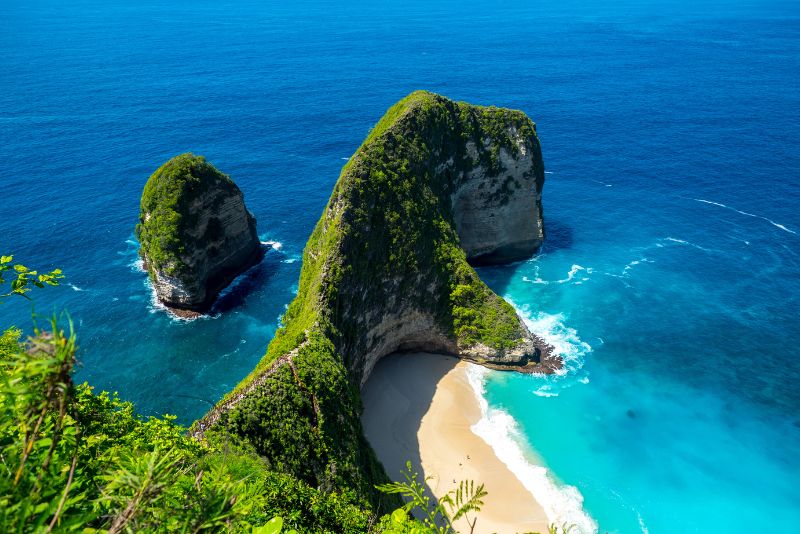 In addition to its clear waters and diverse marine life, Nusa Penida is also home to a stack of insanely beautiful beaches that belong on postcards. From the iconic Kelingking Beach to Crystal Bay and Peguyangan Waterfall, there's no shortage of things to see and do on this stunning island.
So, if you're looking for an action-packed day (or two) filled with snorkeling, diving, swimming, and exploring some of the most beautiful beaches in Indonesia, not to mention a handful of monkies swinging in the trees, then a small-group boat tour of Nusa Penida is for you!
But, if you're traveling in a group of your own or want to indulge in that VIP lifestyle, you'll find that a private yacht excursion to Nusa Penida can be one of the best boat tours in Bali! Not only are you blessed with the luxury of having your own captain and crew at your beck and call for the day, but you can also tailor the itinerary to suit your group's needs.
3 – Boat tour from Bali to Gili Islands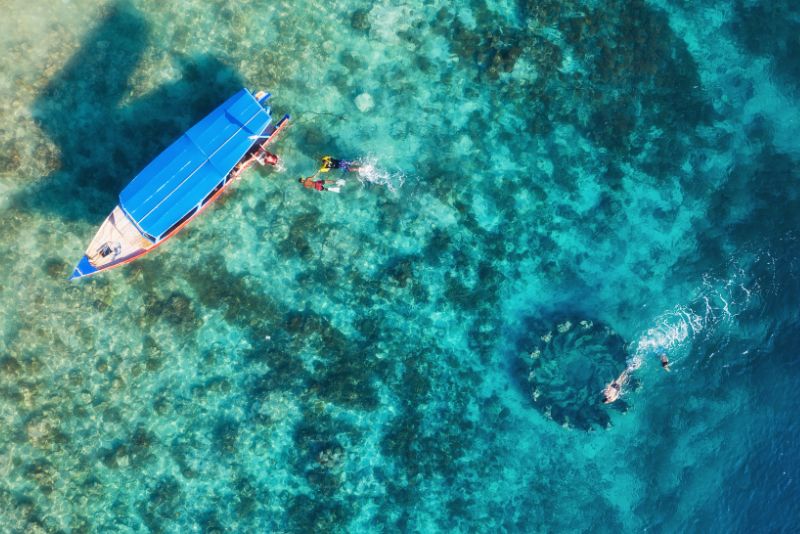 Iconic for their party-centric lifestyle, with huge reputations that far exceed the size of the islands themselves, the Gili Islands are a must-visit for anyone with an inkling for adventure, booze-fuelled celebration, or a hefty dose of both, who is traveling to Indonesia.
Comprising of three small islands – Gili Trawangan, Gili Meno, and Gili Air – each with their own unique vibe, the Gilis offer something for everyone. From world-class diving and snorkeling to simply kicking back on the beach with a good book, these tiny islands have it all.
While Gili Trawangan is often touted as the party island (and for good reason – there are more bars and clubs here than you can shake a stick at), Gili Meno is a little more low-key, with a remote feeling making it a wonderful place to escape the hustle and bustle of everyday life. And, if you're looking for somewhere that's in between the two extremes, with plenty of socializing opportunities at bars and full moon parties yet relaxing water sports and excellent restaurants too, then Gili Air is the ideal compromise.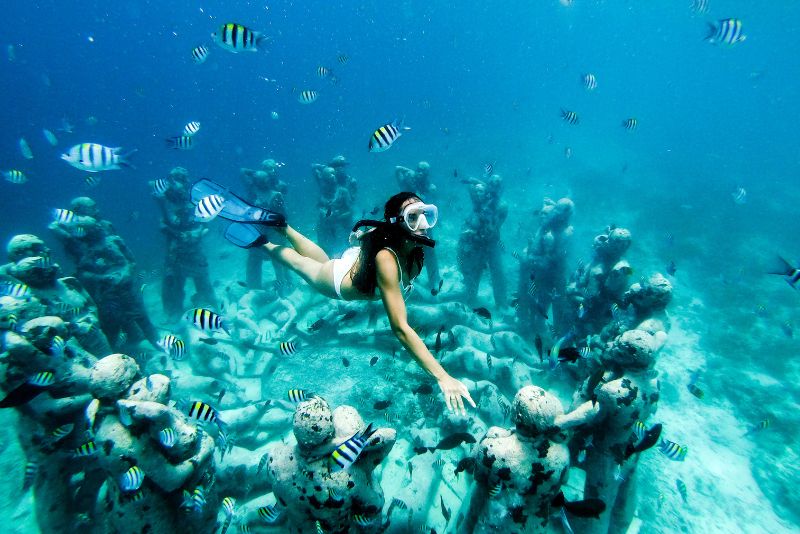 In addition to their crystal clear waters where you can swim with turtles, the white-sand beaches that offer amazing snorkeling spots, and the overall laid-back vibe, one of the best things about the Gilis is that there are no motorized vehicles allowed on any of the islands!
No cars, no worries! This means that getting around is done either on foot or by bicycle, making for a much more relaxed (and eco-friendly) way of life.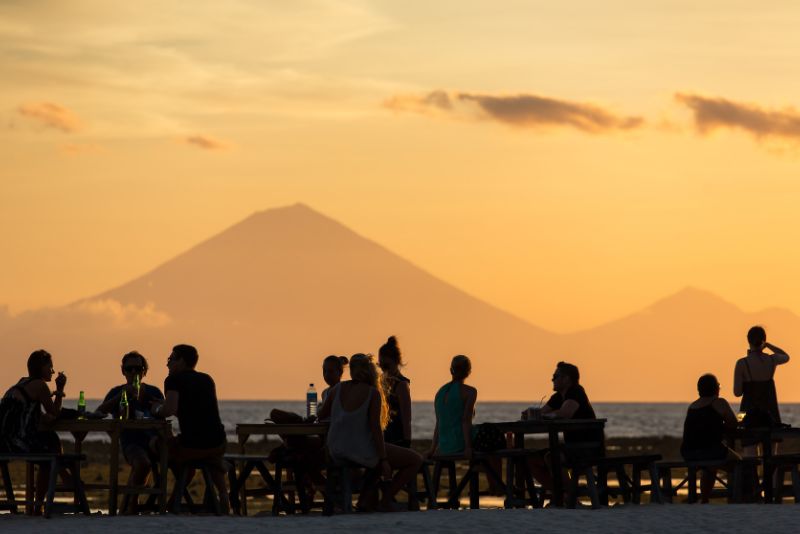 It's also worth noting that, as the Gilis are located just off the coast of Lombok, they offer visitors a top-notch opportunity to explore this beautiful Indonesian island too. And, with plenty of boat tour operators offering multi-day excursions to both Lombok and the Gilis, it's easy to find something that fits your needs.
Keep in mind: because the Gili Islands are much further from Bali and Nusa Lembongan and Nusa Penida, at about 3 hours one-way on a fast boat, a day trip would be a waste. To make the most of your journey, a multi-day visit is the only real way to go about it – plus, with such a roaring nightlife on Gili T, you'll want to spend at least a night here anyway to experience what all the fuss is about!
So, whether you're looking for a place to let your hair down or simply want to relax and unwind in paradise, a boat tour to the Gilis should sit high on the to-do list.
4 – Boat tour with Bali Hai cruise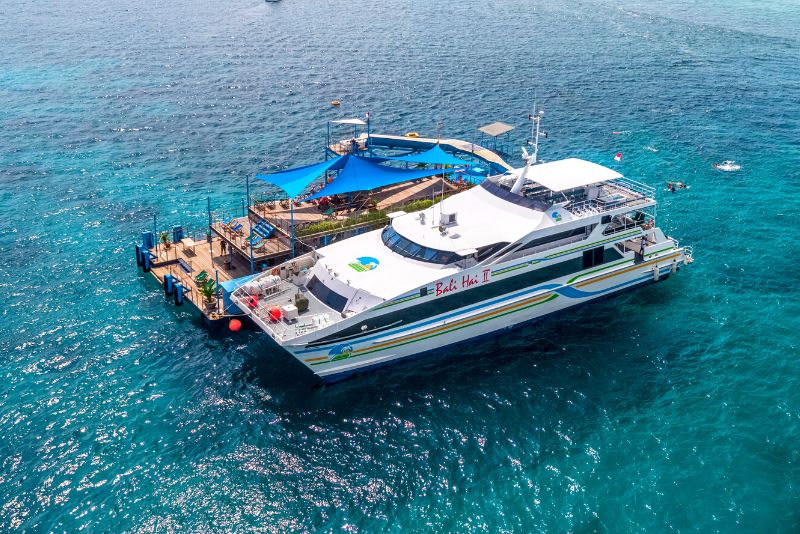 A boat trip, but not like you've experienced before, the Bali Hai cruise takes place on a giant luxury catamaran with three levels of back decks (not to mention the ample space to lounge around on the bow), a huge indoor area with a bar and (if you want it to be) dance floor. Below deck, large windows illuminate the vibrant marine life in the surrounding waters – it'll feel like you're looking directly into an aquarium tank.
What truly makes the Bali Hai cruise stand out, however, is its purpose-built activity-filled pontoon. After you depart from Benoa harbor at 9:15 am, you'll cruise for just over an hour before arriving at the Lembongan Bay pontoon. From here, the anchor doors and the world becomes your oyster when it comes to water sports.
Easing into a day of activities, you can start with a few rides down the 35-meter-long water slide into the warm waters below, or take a leap of faith from one of the multiple diving boards. The boat provides free snorkeling equipment (which you'll be taught how to use en route to the pontoon), allowing you to explore the waters and all of their hidden treasures.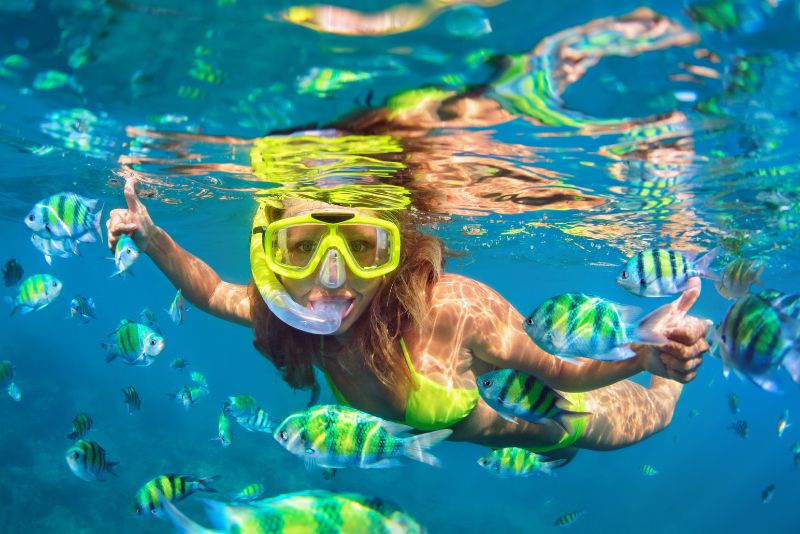 After you're done in the water, it'll be time to refuel with a buffet lunch served on the main deck (which has shaded and unshaded areas so you can choose your own comfort level). And if you get peckish throughout the day – before or after lunch – there are plenty of hunger-crunching pastries as well as tea, coffee, orange juice, and bottled water available throughout the day.
Once you're fuelled up, consider joining one of the Lembongan Village excursions; a great way to stretch the legs and see a new part of Indonesia.
As the afternoon sets in, the excitement continues with plenty more activities on offer such as unlimited banana boat rides, kayaking, and stand-up paddleboarding – or, of course, you're more than welcome to kick back and simply relax on one of the many sun loungers that line the pontoon.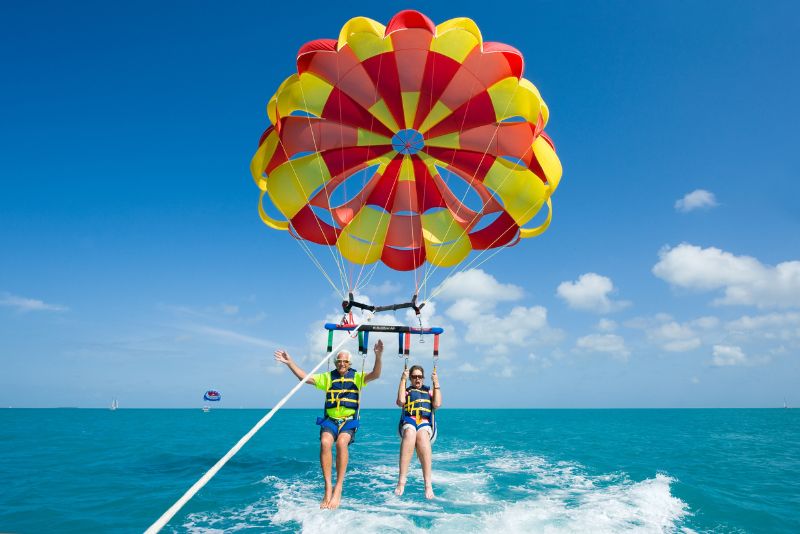 Craving extra adventure? Any of parasailing, scuba diving, or aquanauting (essentially ocean walking with giant oxygen helmets) can be added to the itinerary!
At around 3 pm, after a good 5 hours of activities, lunch, Bintangs, and tanning, it'll be time to make your way back to the harbor – but the fun doesn't end there; the live band on the bridge deck ensures that the energy remains high until the very last moment.
So if you're looking for a fun-filled way to spend an entire day out on the water, and make it make into your own bed the same night thanks to free round-trip hotel transfers from most places on the paradise island, then consider adding the Bali Hai adventure to your list of boat tours in Bali.
5 – Boat tour with Bali Quicksilver cruise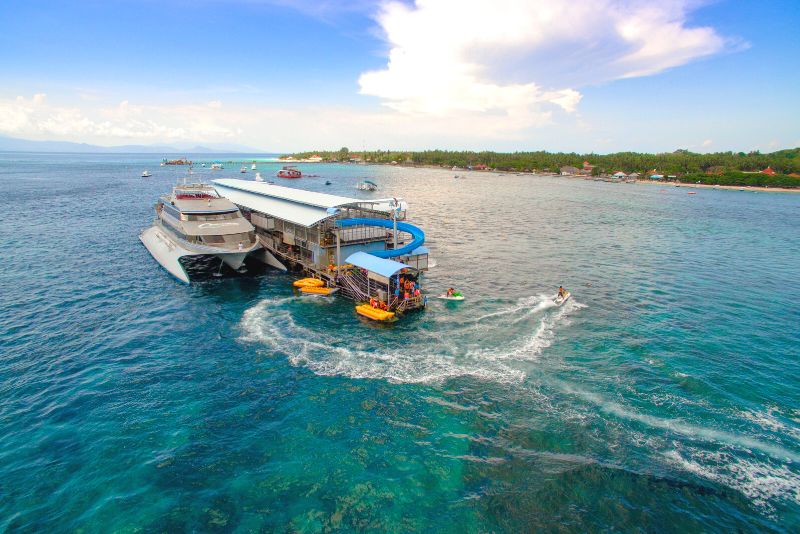 In a similar vein to the Bali Hai II vessel, the Quicksilver Bali cruise takes you to a purpose-built pontoon near the magnificent Nusa Penida island that's equipped with all the facilities you need for an action-packed day out on the water.
A wonderful way to spend an entire day from sun-up to sun-down (note that this tour departs a little earlier and returns a little later than the Bali Hai), the Quicksilver cruise will sail you away on a 37-meter Waterpiercer catamaran, jam-packed with three levels of outdoor decks, a large indoor area with comfy sofas equipped with an underwater observation deck, air-conditioned cabins, and al-fresco style dining areas (where you can knock back a Bintang or two, if you like).
After departing from Benoa harbor in the morning (which you'll reach with a free hotel pickup, as is the Bali norm), you'll have the chance to get comfortable as you watch a snorkeling demonstration in the main deck cabin and hear all about the marine life of the Ceningan Strait. Once you arrive and tie up to the pontoon, it's time to don your snorkeling gear and explore the vibrant waters – or take part in any number of other activities that are on offer!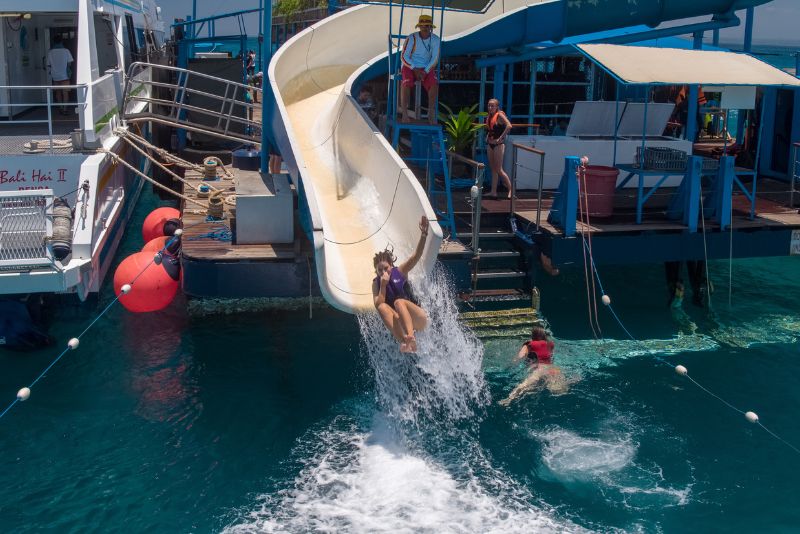 Where to start? Depending on your appetite for adventure, take your pick of banana boat rides, kayaking, stand-up paddleboarding, aquanauting (ocean walking), glass-bottom boating, waterslides, a trip to the Nusa Penida Village, optional cycling, and even scuba diving for those who are certified (an additional cost). Of course, if you're not feeling too active, you can always just relax on the pontoon and work on your tan.
When lunchtime rolls around, you'll be treated to a smorgasbord of international dishes, prepared fresh by the onboard chef – with options to suit both vegetarians and meat-eaters alike.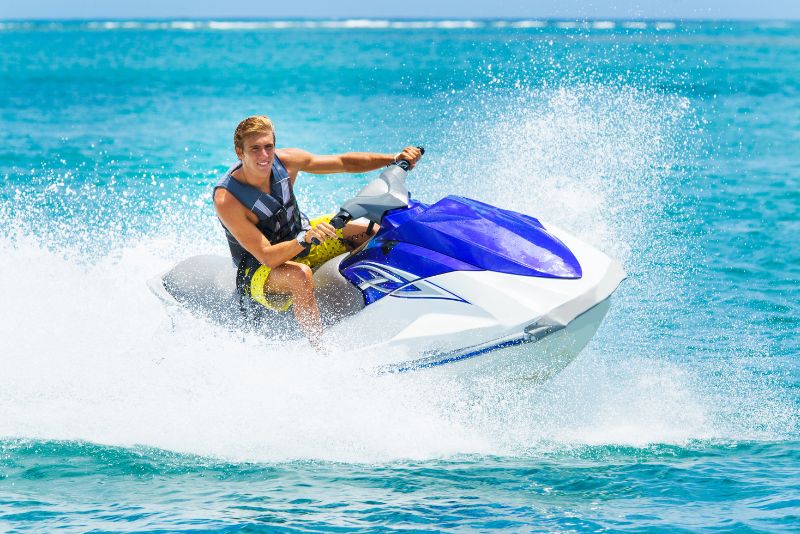 After lunch (and perhaps another Bintang or two), it'll be time for more activities! The banana boat rides, kayaking, stand-up paddleboarding, and aquanauting continue until around mid-afternoon when it's finally time to head back to shore – but not before one last round of excitement with the optional jetski rides!
As you can see, there's no shortage of things to do on a Quicksilver cruise – which is why it easily earns a spot on our list of the best boat tours in Bali.
Take note: while, by day, it's all about the water sports and suntan, Quicksilver also offers a sunset cruise that has a very different vibe. Leaving from the harbor at around 6 pm, you'll be treated to folk singers, karaoke, a sumptuous international buffet, and a whole lot of drinking, dancing, and getting to know your fellow cruisers – before returning to port early enough to kick on into the night.
6 – Boat tour from Padang Bay to Blue Lagoon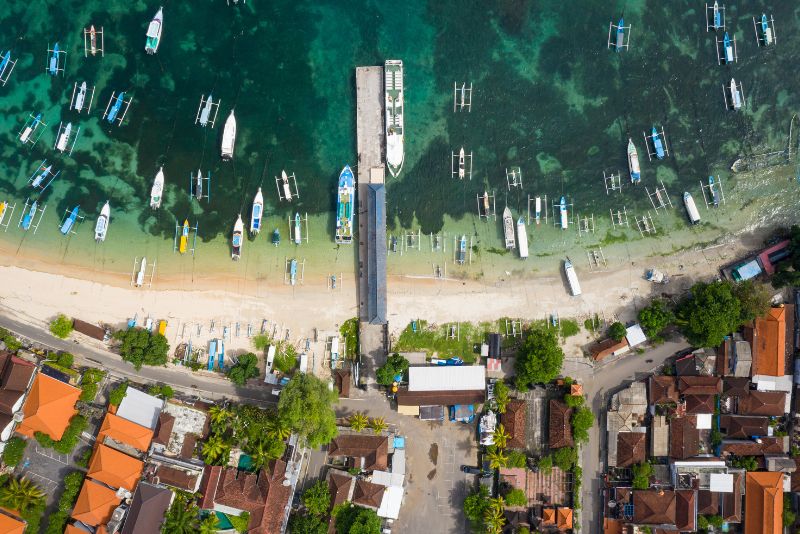 A hidden gem on the eastern side of Bali, and often referred to as an 'underwater paradise' for good reason, the Blue Lagoon is one of the most beautiful places on the island to go snorkeling – and it's only a short boat ride away from Sanur Beach.
Framed by green and rocky hills on both sides, this picturesque locale is home to an incredible array of marine life, including thousands upon thousands of vibrant fish, sea turtles, rays, and even the occasional dolphin or two.
While you can certainly enjoy a day on the beach, working on the tan, sipping a beer, and soaking in the remarkable scenery of this natural oceanic gateway, the best (and as most would agree, most enjoyable) way to explore the Blue Lagoon is by joining a boat tour (which you can easily do from Sanur or Padang Bai), where you'll be given snorkeling gear and taken out on either a traditional jukung boat or a more modern glass-bottom boat or yacht.
With crystal-clear water and a sandy bottom, the Blue Lagoon is perfect for both beginner and experienced snorkelers alike – which is why it comes so highly recommended.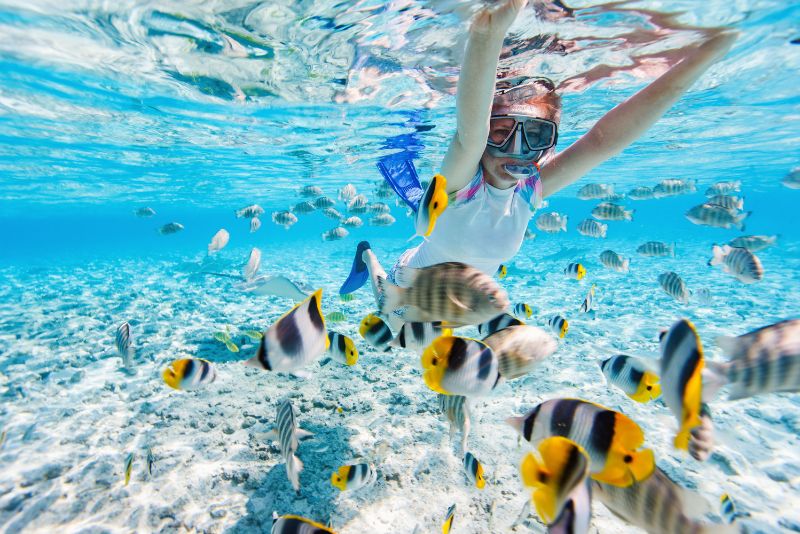 A day spent exploring the Blue Lagoon is a day well spent, but if you're looking for something a little more adventurous (and willing to spend a bit more cash), there are plenty of tour operators who combine the heavenly coastal destination with a handful of land-based activities too.
Take your pick from a visit to the Gates of Heaven at Lempuyang Temple, an ATV adventure through the Balinese countryside, a cultural Barong Kris dance performance, a jungle swing adventure, or a detour to the stunning Tegenungn Waterfall in Ubud. As you can see, you're certainly not shy of choice here.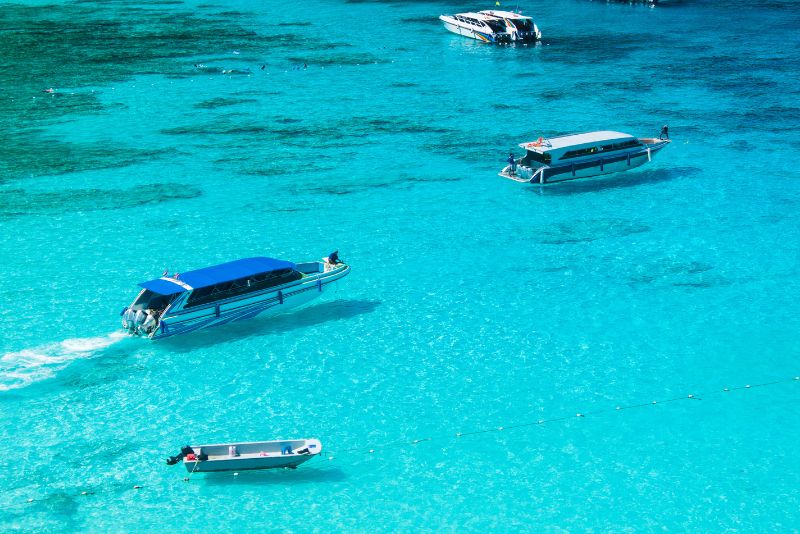 If heading there directly, you can reach the Blue Lagoon (or its beach, at least) by car with an hour-long drive from Ubud or a 90-minute drive from the Kuta area to the resort town of Padang Bai. Of course, as is the case with the majority of boat tours in Bali, you'll be picked up and comfortable escorted from your hotel, so there's no need to worry about arranging transport!
As one of the most famous snorkeling spots in Bali, and without the need to venture off of the mainland, it should be high on many a bucket list.
6 – Bali catamaran cruise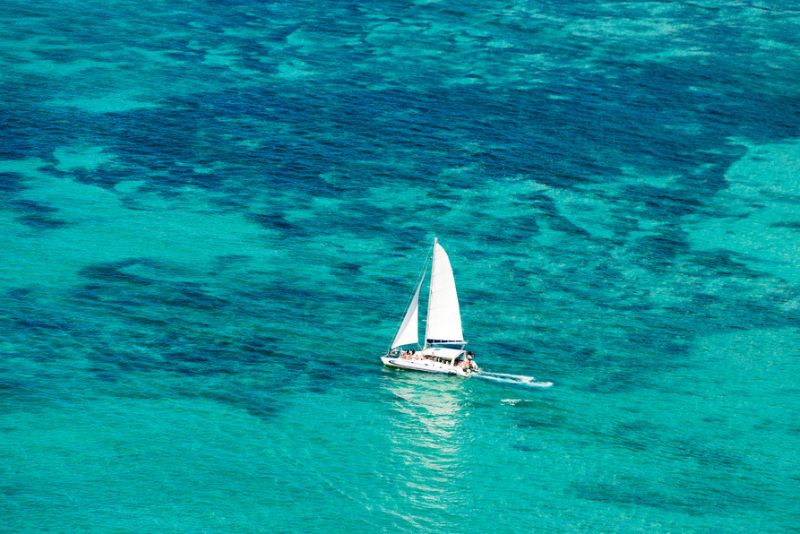 Forget about the dinky little motorized boats that shuttle you between Bali's offshore islands – if you're looking for a boat tour with a difference, look no further than the Catamaran Cruise.
Sometimes with, and sometimes without the sail flying high overhead, a catamaran is about as close to being on a yacht as you can get without having to charter the real deal (and forking out hundreds of dollars in the process).
And, with a slew of options to choose from — think private day charters where you can set your own course, or half-day trips to Nusa Lembongan where all you have to do is climb aboard any enjoy – there's bound to be a cruise that suits your fancy.
But, no matter which tour you book, one thing is for certain – you're in for an unforgettable day (or half-day) on the water.
From sipping cocktails and working on your tan as you glide past Bali's famous coastline to enjoying a delicious BBQ lunch on a white-sand beach or snorkeling in the azure waters of the Lombok Strait, there's something for everyone (and plenty of photo ops too).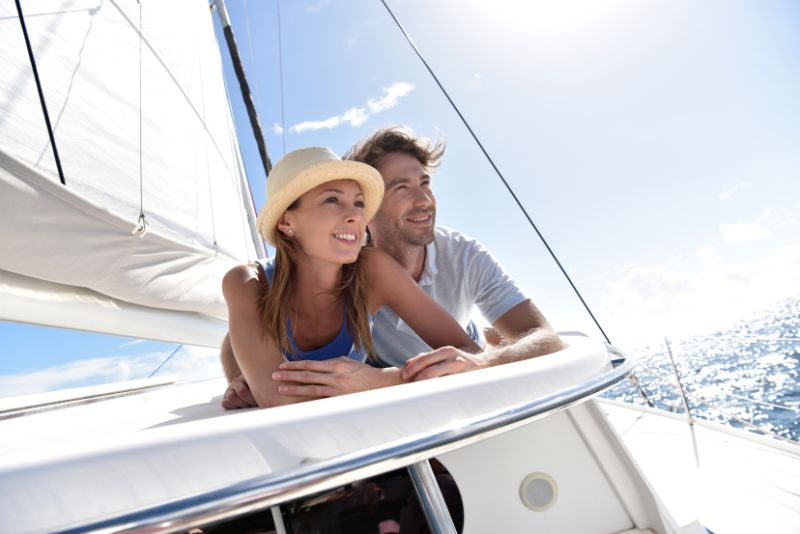 What's more, most catamaran cruises include unlimited drinks and snacks throughout the day (with some even including a buffet lunch), so you can sit back, relax, and enjoy being waited on hand and foot as you soak up the incredible views.
With pick-ups available from most major tourist hubs on the island, including Seminyak, Jimbaran, Nusa Dua, and Ubud, getting to your boat tour is easy peasy too.
Hot tip: we all know that Bali can serve up some serious romance, and nothing quite sets the mood like a sunset catamaran cruise. Just saying…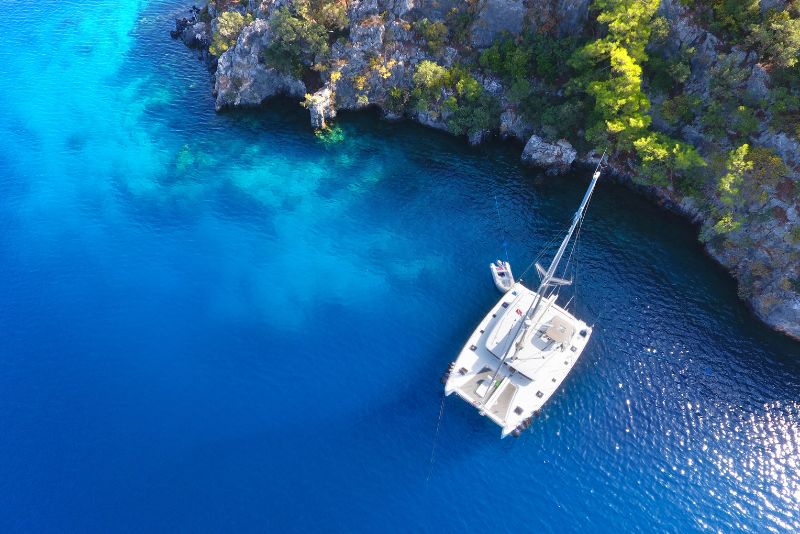 While most companies differ slightly in what they offer, for the day-long cruises that head to Nusa Lembongan, you'll have the chance to swim and snorkel in private beach areas, experience the go-slow island life with a visit to Nusa Lembongan village, and get the blood pumping by trying out some kneeboarding or wakeboarding.
So what are you waiting for? Climb aboard a catamaran cruise and enjoy a day (or half-day) exploring Bali from the comfort of your very own floating palace!
7 – Sunrise Lovina dolphin watching boat tour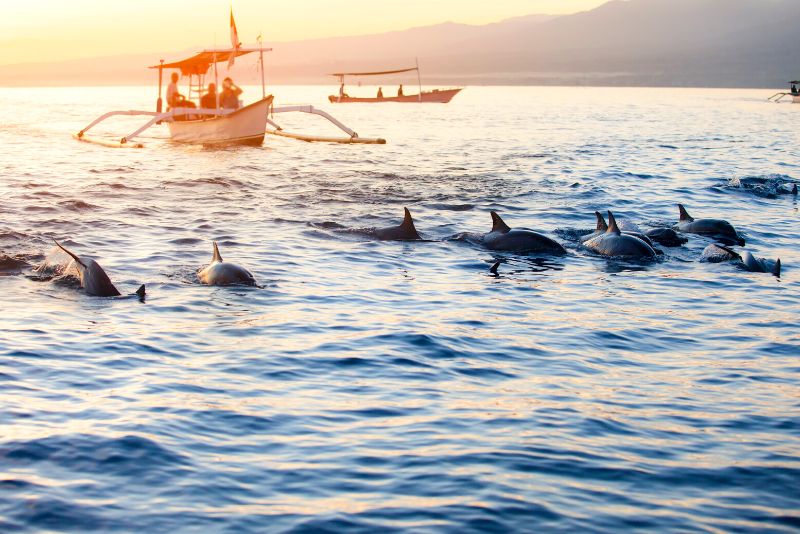 Animal-lovers, listen up.
Bali isn't just home to monkeys, snakes, and lizards (although you'll find plenty of those if that's your thing).
Nope, this Indonesian island is also a hotspot for dolphins, with pods of the beautiful creatures often spotted frolicking in the waters off Lovina Beach in North Bali.
Known for its laid-back atmosphere (especially compared to the busy beaches in southern Bali like Kuta, Legian, and Seminyak) and traditional Balinese fishing villages, Lovina is the prime spot to get away from it all and experience a more authentic side of the island.
And, rest assured, as many a fellow animal-loving traveler will attest, it's also a renowned place to go dolphin watching.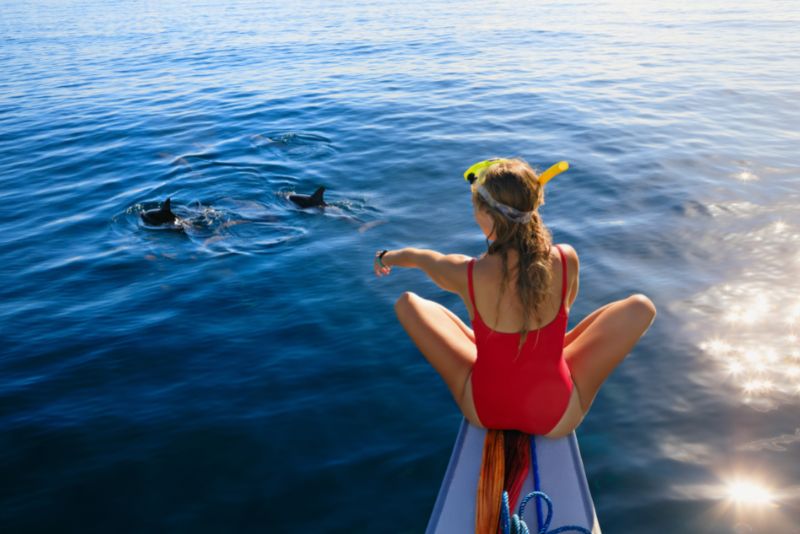 The best way to see them? Book yourself onto a dolphin-watching boat tour, most of which will set sail at the crack of dawn in order to make the most of the cooler morning temperatures (dolphins are typically more active close to shore then) and give you ample time to spot these majestic creatures frolicking in their natural habitat and snap some incredible photos with the dramatic and vibrant sunrise skyline as the backdrop.
As you'll quickly realize, there's nothing quite like watching the sun peek over the horizon as you cruise across calm waters in search of dolphins, before returning to shore in time for breakfast as the day begins.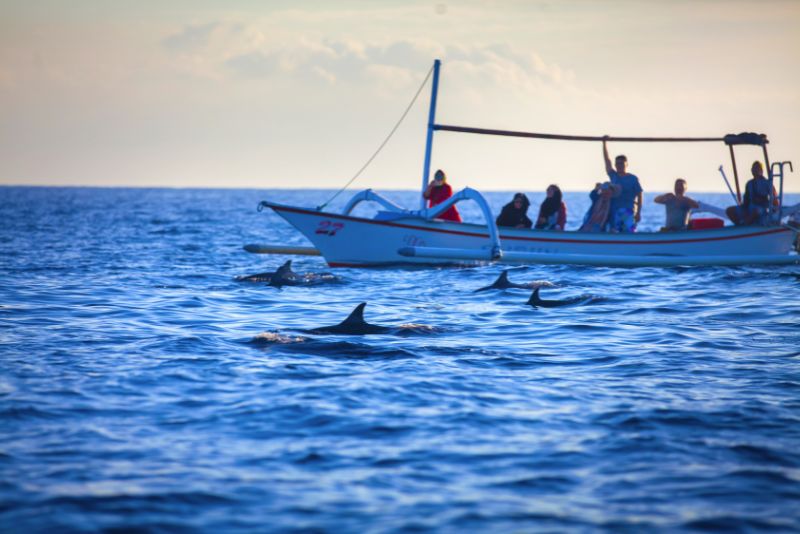 Despite the bottle-nosed dolphins getting all of the attention, there's a whole lot more to do in Lovina than just dolphin watching. Along the shoreline sit a host of beach resorts and restaurants, while the nearby town of Bedugul (up in the mountain) is home to several temples, markets, and scenic viewpoints.
Bedugul is also where you'll stumble across arguable the most iconic Balinese gate and the most Instagramable spot on the island; the traditional Hindu Handara Gate.
Hot tip: Don't miss our review about the best Bali Instagram tour.
But who says you have to choose between dolphins and mountains? With a range of combination tours available, you can be picked up from your hotel, treated to a dolphin-watching cruise, taken to the magnificent Gitgit Waterfall, and snap that fire Handara Gate photo all in one day.
So whether you're looking for an action-packed day out or just want to focus on the adorable dolphins with a potential spot of snorkeling, Lovina is definitely worth a visit.
Hot tip: if you're opting for a sunrise viewing, consider staying in Lovina the night before to avoid having to get up at ungodly hours. Still, trust us when we say that waking up early is more than worth it when there are dolphins involved!
8 – Sunset dinner cruise in South Bali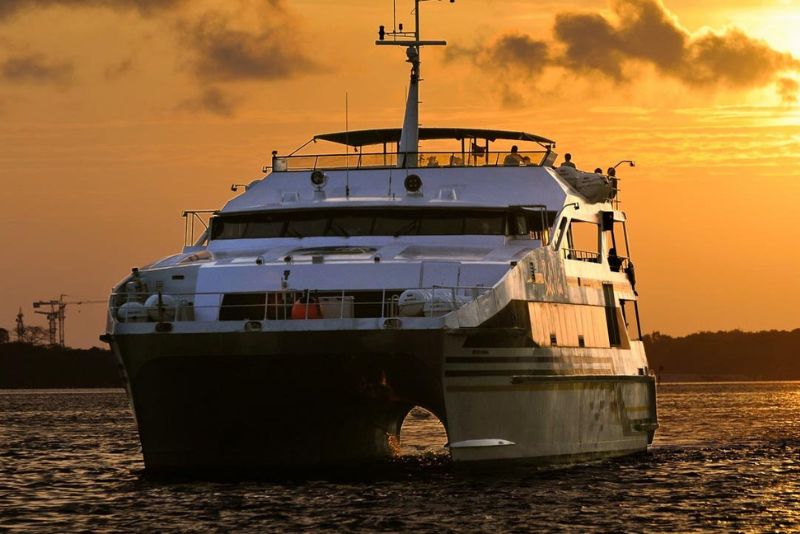 If you're not thinking 'beach club and Bintangs' when you hear the word Bali, you're probably thinking romantic getaway full of relaxation, pampering, and incredible food (not that there's anything wrong with beach clubs and Bintangs).
And, as it turns out, you'd be right.
Bali is the ideal place for a romantic escape; think stunning cliff-top villas overlooking the Indian Ocean, luxurious day spas nestled in the jungle, and five-star restaurants serving up mouthwatering Indonesian cuisine.
But if you really want to make your S.O swoon, there's one activity that trumps them all – a sunset dinner cruise aboard a luxury catamaran, private sailboat, or traditional Indonesian wooden vessel.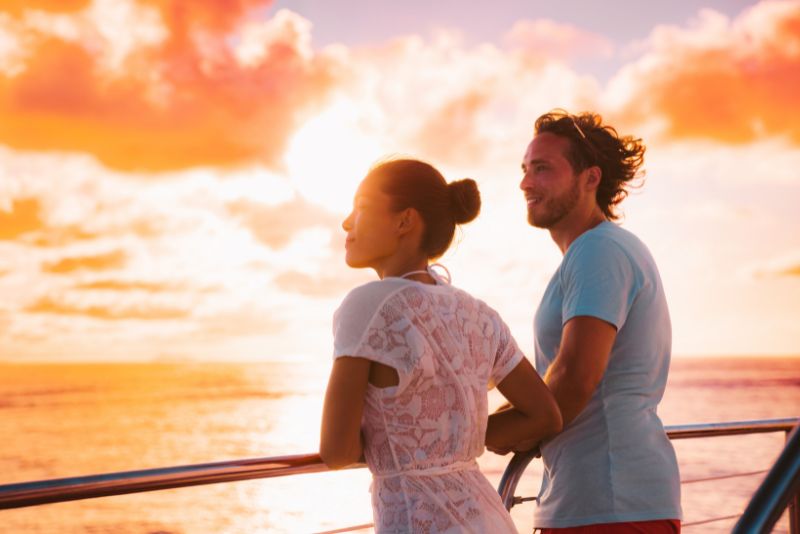 As the sun dips below the horizon, you and your partner will enjoy a sumptuous dinner complete with sparkling wine under a blanket of stars, all while being serenaded by a live musician or two.
If that doesn't sound like romance personified, we don't know what does!
And the best part? There are plenty of sunset dinner cruises to choose from in Bali, so whether you're looking for a luxurious and intimate experience or something a little more down to earth (but no less romantic) where you get to feet a few fellow travelers at the same time, there's bound to be an option that suits you.
So round up your other half and get ready for an unforgettable evening full of good food, good company, and even better views.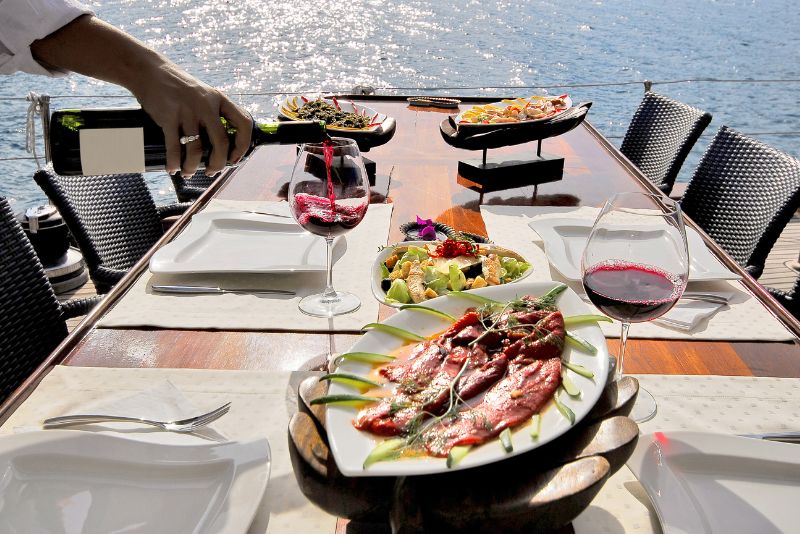 While you've got plenty of tours to choose from – some of which will keep you on the boat the entire time, others which will include activities like a tour of Lembongan Island.
Depending on your budget, you can combine your romantic sunset tour with a handful of other perfect date activities too; from spa treatments to ATV rides in the jungle, or a multi-day honeymoon package that includes a sunset dinner cruise as just one of the many highlights.
Whatever you decide, you're guaranteed a sunset and an evening you'll never forget.
9 – Bali fishing boat trip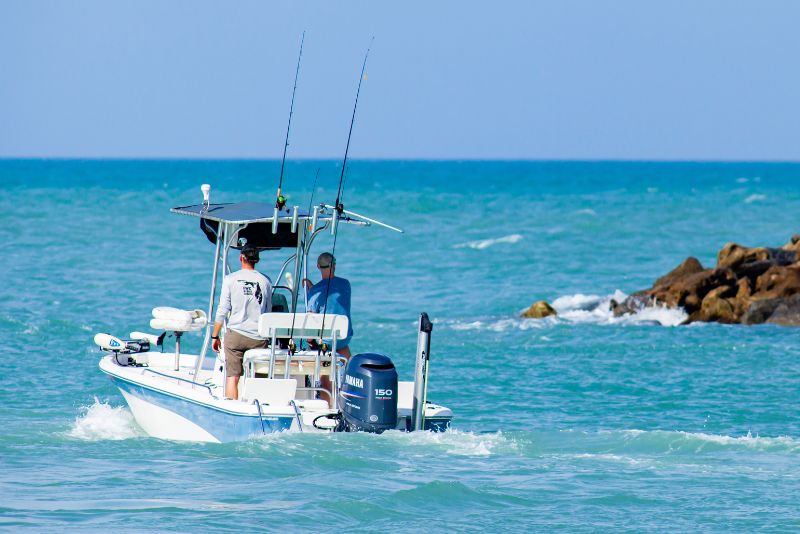 Name a better way to spend a day than out on the open water, sun on your face, and a fishing line in the water waiting for a bite. We'll wait.
Fishing boat tours are ideal for those who want to experience Bali's famous coastline and waters in a more unique way, and – bonus! – you'll likely get to dig into your catch at the end of the day for one of the freshest meals you've ever experienced.
Most fishing boat tour operators will provide all of the necessary equipment, so all you need to bring is yourself (and maybe a hat and some sunscreen). And if you're not confident in your angling abilities, don't worry – all of the fishing boat tours in Bali also include an experienced guide who will be more than happy to show you the ropes (or, should we say, the lines?).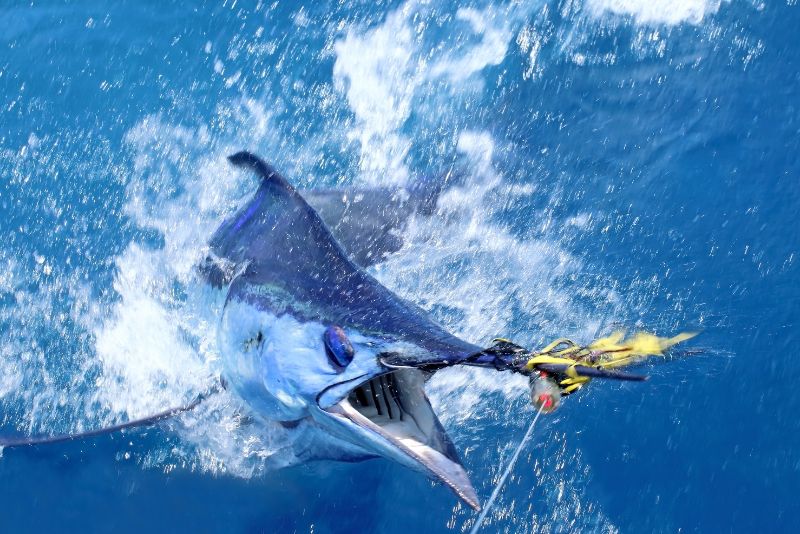 Whether you're an experienced fisherman or someone who's never even held a rod before, a fishing boat tour is the perfect activity for those who want to learn more about Bali's amazing marine life and journey into a longstanding Balinese pastime, while also getting in some good old-fashioned R&R.
So cast off those workaday worries and book yourself onto a fishing boat tour – it might just be the most relaxing day you have on the island!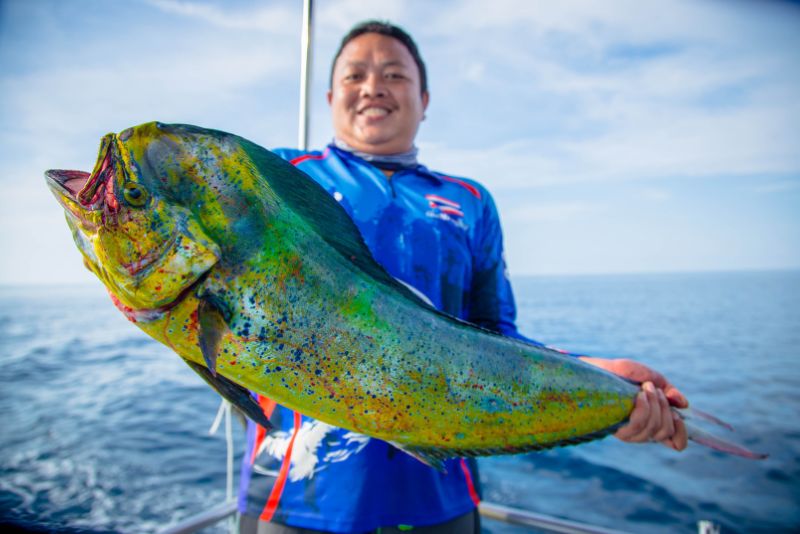 You'll find no shortage of amazing fishing destinations in Bali, and no shortage of operators to take you there either. Just to name a few, however; Nusa Penida, the Benoa Cape, and the Southern part of Bali near Nusa Dua are all fishing hotspots. Not sure where to go? The locals know best – just ask them!
If you're heading out into the ocean (most likely), then expect to reel in some tuna, marlin, mahi-mahi, barracuda, Sailfish, Ruby Snapper, Amberjack, coral trout, kingfish, Giant Trevally, or (a crowd favorite moniker) Wahoo. On the flip side, if you're staying near central Bali, you can try some freshwater fishing in Buyan Lake or Tamblingan Lake.
10 – Bali private boat rental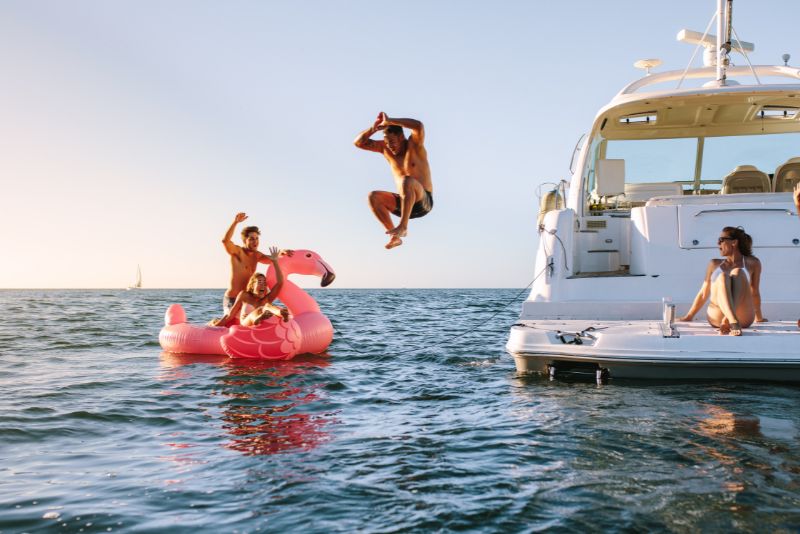 An amazing opportunity to revel in all-out luxury (at an affordable price if split between families or groups of friends), a private boat rental is one of the best ways to spend a day – or even just a few hours – on Bali's mesmerizing waters.
Choose your own adventure with a private boat rental; whether you want to drop anchor and sunbathe on an uninhabited island, go snorkeling or diving in some of the most pristine waters in the world, fish to your heart's content, have a picnic lunch on board as you cruise around seeing the sites, or anything else you can dream up, it's all possible when you're calling the shots.
It goes without saying, however, that the locals and the crew know all of the best spots and most exciting activities, so many groups prefer just to leave up to the whim of the captain!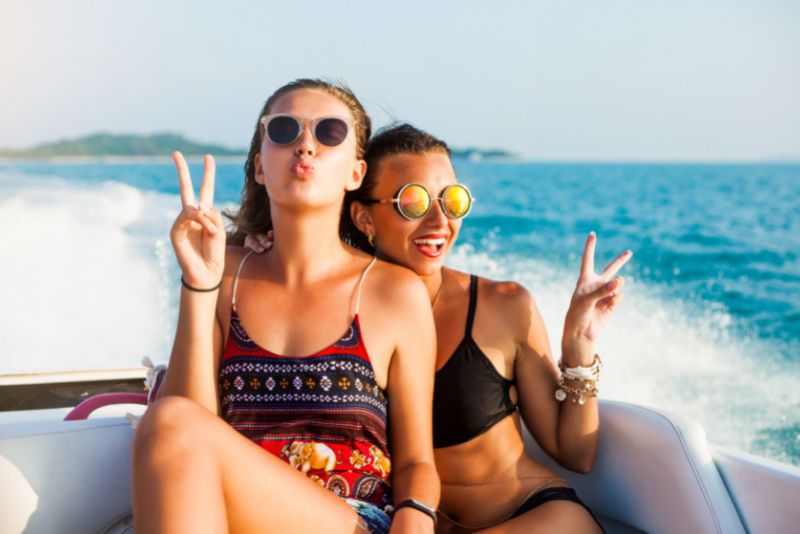 Most private boat rentals include a captain and crew who will be more than happy to take care of everything for you while you sit back and relax (or play!) to your heart's content. And don't forget – Bali is famous for its gorgeous sunsets, so make sure to time your cruise around that perfect moment when the sky lights up in a spectrum of oranges, pinks, and reds as the sun dips below the horizon.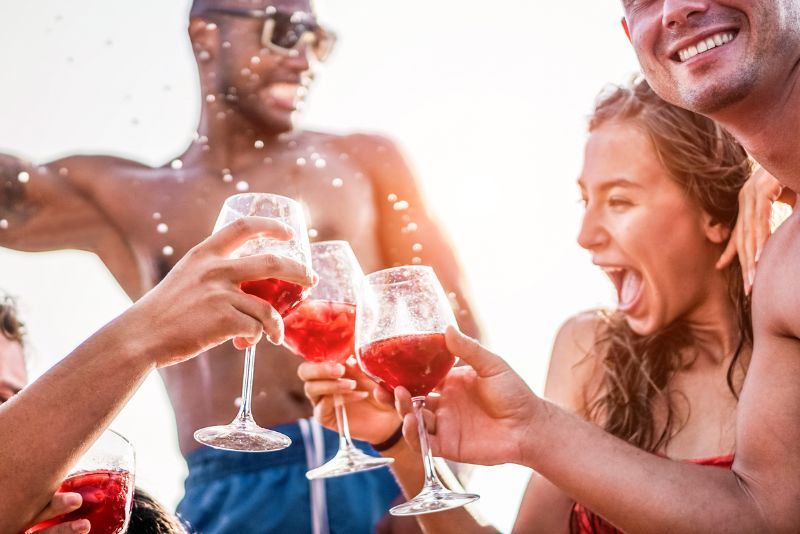 And for all of you thirsty travelers looking for a party, some private boat rental companies also offer party cruises complete with a DJ, drinks, and snacks! Even if you don't have the whole kit and kaboodle, with a portable speaker and an esky (i.e. cooler) full of Bintangs, not to mention the warm and refreshing waters which you can jump into to cool off, a private boat rental is a gateway to a bangin' Bali party that you'll never forget!
Even if you're not all about the party, it's worth considering a private tour for, well, the privacy. Away from any other tourists, you and your group will be able to relax in peace, take in the sights at your own pace, and just generally have a more intimate experience of Bali from the water.
Are you excited about your trip?
So there you have it: ten of the very best boat tours in Bali! From snorkeling to island hopping, private charters, dolphin-watching adventures, and fishing tours, you're spoiled for choice on the Island of the Gods. Still, we hope this list has helped you narrow down your options and inspired you to get out onto the water during your next vacation to this amazing holiday destination.
Have you been on any of these tours? What did you think? Let us know in the comments below. Happy travels, and happy sailing!
Beyond the water, there are so many more fun things to do in Bali! You've got water parks, beach clubs, volcano hikes, temple tours, luxury spas, and so much more. And of course, don't forget the food! Bali is home to some of the best Indonesian cuisine you'll ever taste.
So what are you waiting for? Start planning your boating adventure today!