What better way to explore the incredible Indonesian island of Bali than by being driven around in a convertible Volkswagen? Take the opportunity to arrive at Bali's most famous locations in style!
Not only does a Volkswagen tour in Bali provides epic photo opportunities, but you'll get to enjoy the sights, smells and sounds of the island as you're taken to top-rated attractions by your professional driver.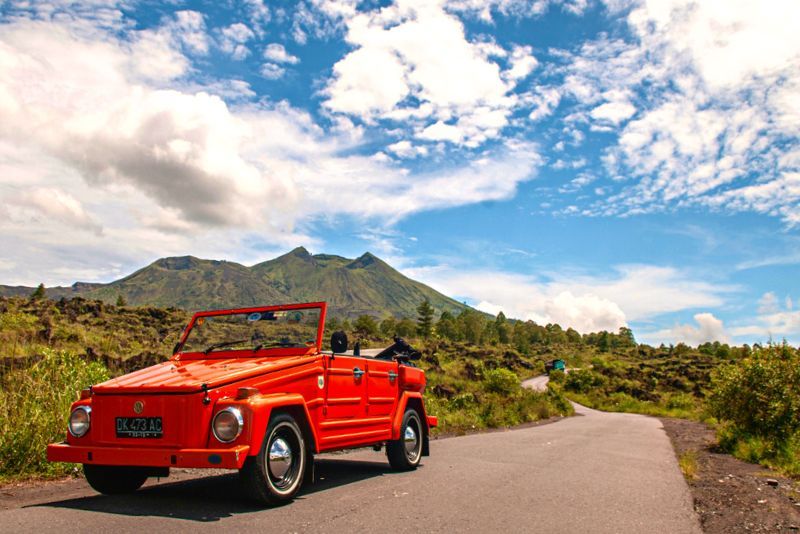 Check off all of the islands' must-see locations, all the while experiencing the magic of a classic VW vehicle, making this one of the most unique sightseeing tours in Bali.
What are the best Volkswagen tours in Bali?
Mount Batur VW tour in Bali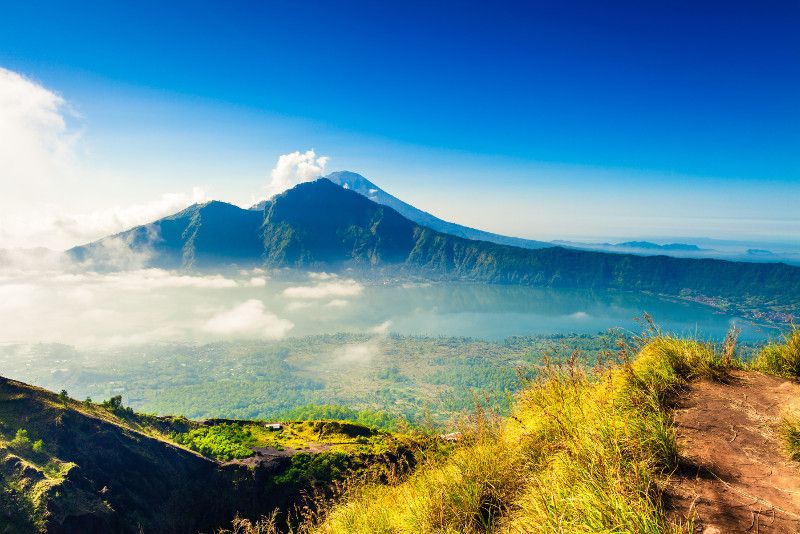 Mount Batur is one of the most famous locations in central Bali as it is an active volcano that offers incredible views of the surrounding areas— making for a peaceful yet exciting visit.
On this tour, you'll be picked up from your hotel and driven to the volcano via the most scenic route so that you can enjoy views of rice paddies and local villages along the way. You'll also get to soak in a natural hot spring and visit a local coffee plantation before heading home.
Rice terrace, Beratan Temple and waterfall VW tour in Bali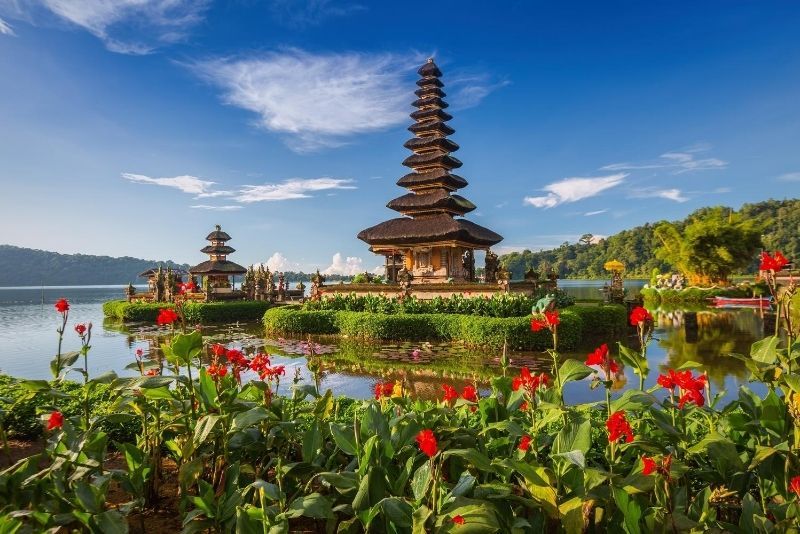 This private full-day tour takes place in a classic VW 181 and aims to make the most of your time in the Ubud area. Your private driver will take you to popular destinations and hidden gems alike, including Nungnung waterfall, Batukaru temple, Jatiluwih rice terraces and more.
As this is a private tour, you'll be able to customize your own itinerary and tick items off your Bali bucket list.
Scenic Ubud vintage VW tour in Bali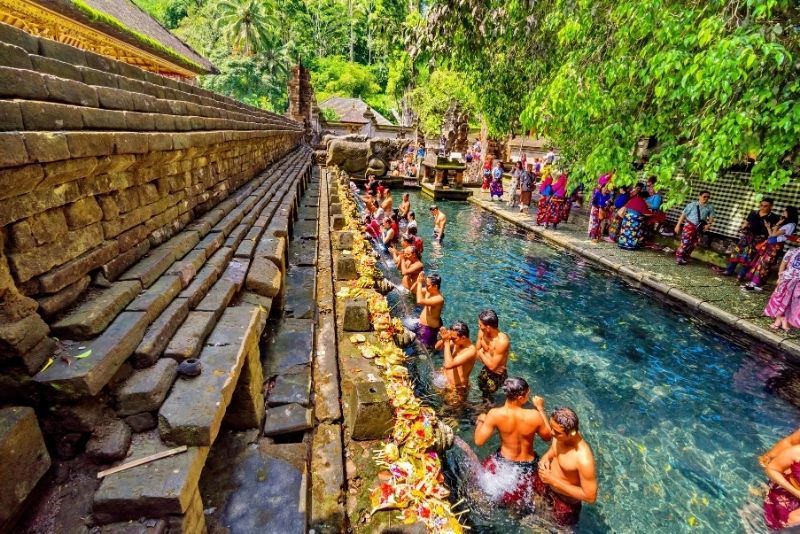 Ubud is one of the most serene and beautiful areas in Bali, and some of the attractions that you'll visit on this scenic tour include Tirta Empul water temple, Mount Batur, various waterfalls and a coffee plantation.
Visit the area's famous local landmarks in a vintage Volkswagen 181— arriving at each stop in style. Your professional driver and guide will provide you with fascinating information about Bali along the way, letting you in on local knowledge.
Bali countryside VW tour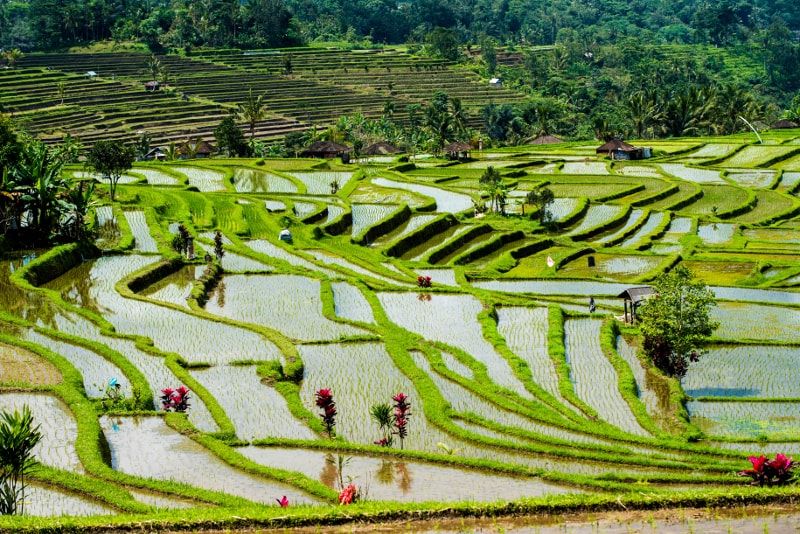 Be driven through Bali's picturesque countryside in a vintage convertible Volkswagen by an experienced, professional driver.
Some of the stops that you'll make include a sacred eucalyptus tree, Batukaru Temple, Mount Batukaru, Sandan rice terrace and more. This tour gives you fantastic insight into Bali's traditions and culture.
Which places are visited on a Volkswagen tour in Bali?
As each Volkswagen tour in Bali offers a unique itinerary, it is difficult to say which places are typically seen and visited. However, most VW tours will drive through Bali's countryside where you'll see rice terraces, mountains and small villages.
Bali is an incredibly picturesque island, so just driving through its rural areas provides a plethora of beautiful scenery to take in.
A popular destination for VW tours is Mount Batur, which is an active volcano located in central Bali. Other popular locations include local waterfalls, craft markets, Hindu temples and more.
No matter the itinerary, you can expect to learn more about Bali's culture, heritage and natural attractions. The great thing about Volkswagen tours in Bali is that there is an itinerary to suit every traveler's tastes and preferred locations.
How much does it cost?
The typical price of a Volkswagen tour in Bali is US$60 per person. Most of the tours on offer are private tours, which means that the tour will cater solely to you and your group.
The Bali countryside tour is one of the cheaper options available, costing just US$35 per person. However, this tour has a much shorter itinerary than some of the other tours on the list.
One of the pricier Volkswagen tours is the tour that visits rice terraces, Beratan temple and a waterfall. Because this tour is completely customizable, it costs US$150 per person.
Keep in mind that tour costs may fluctuate depending on how many people you book for.
What is included?
Hotel transfers
Fuel costs
Entrance fees
Driver and guide
VW vehicle
Bottled water
Where does it start?
When you book a Volkswagen tour in Bali, your driver will pick you up from your hotel for your convenience. Make sure that you are ready at least 5 minutes before his scheduled arrival.
How long does it last?
The typical duration of a Volkswagen tour in Bali is 8 hours. However, there are a few longer tours that last up to 11 hours, as well as a few shorter tours lasting 5 hours.
When is the best time for a Volkswagen tour in Bali?
When it comes to Volkswagen trips in Bali, most tours start in the morning and last the majority of the day. The best time to take a VW tour is any time in Bali's dry season (April to October).
Book a Volkswagen tour at the beginning of your stay in Bali as it will give you a better understanding of the island's layout.
Are there any combos available with Volkswagen tours in Bali?
Rafting and Volkswagen tour in Bali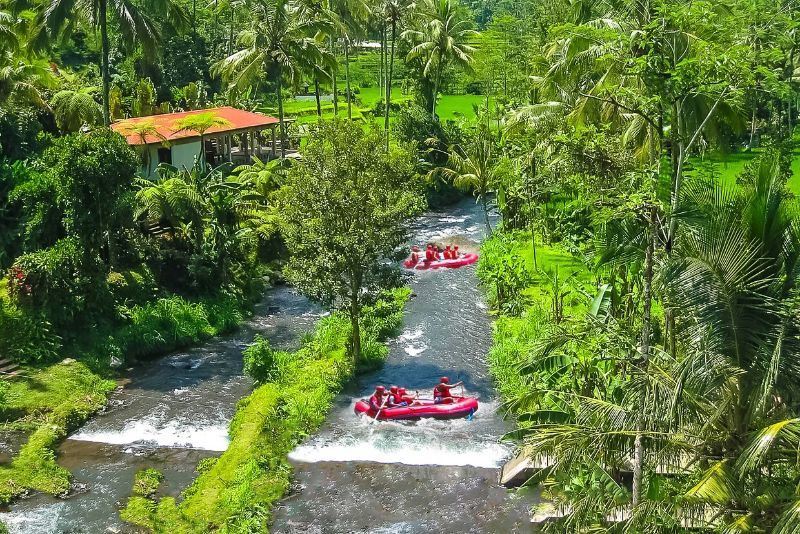 Arrive at the starting point of your rafting adventure in style. Your professional driver will pick you up in a VW classic car, and take you to the Ayung River where you'll get to experience the adrenaline of white water rafting.
Purification and Volkswagen tour in Bali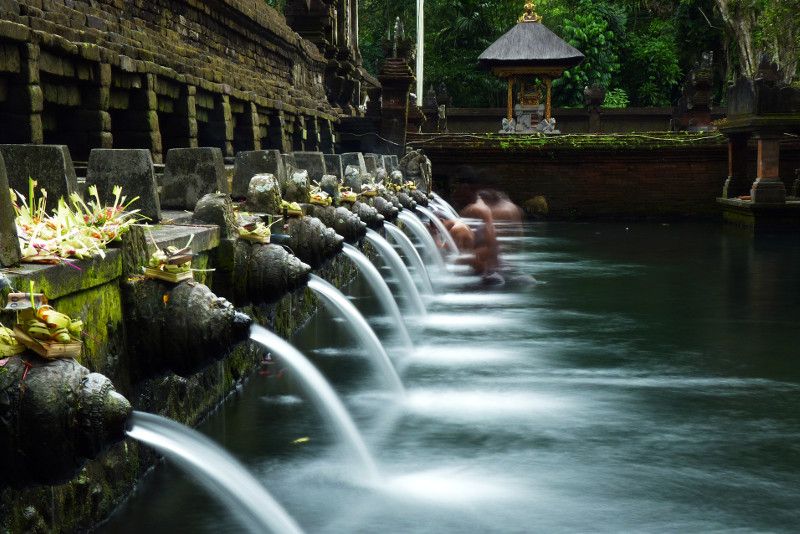 On this tour, you'll be driven to Tirta Empul Temple in a VW Safari. Once at the temple, you'll experience a traditional Balinese purification ceremony and learn about the temple's mystifying waters.
Travel tips
Book your Volkswagen tour in Bali ahead of time to guarantee your spot and avoid disappointment.
Protect yourself from the sun by wearing a hat, sunscreen and sunglasses.
Bring along some extra spending money for souvenirs, snacks, etc.
Volkswagen tours are not wheelchair accessible and not suitable for people with heart problems or serious medical conditions.