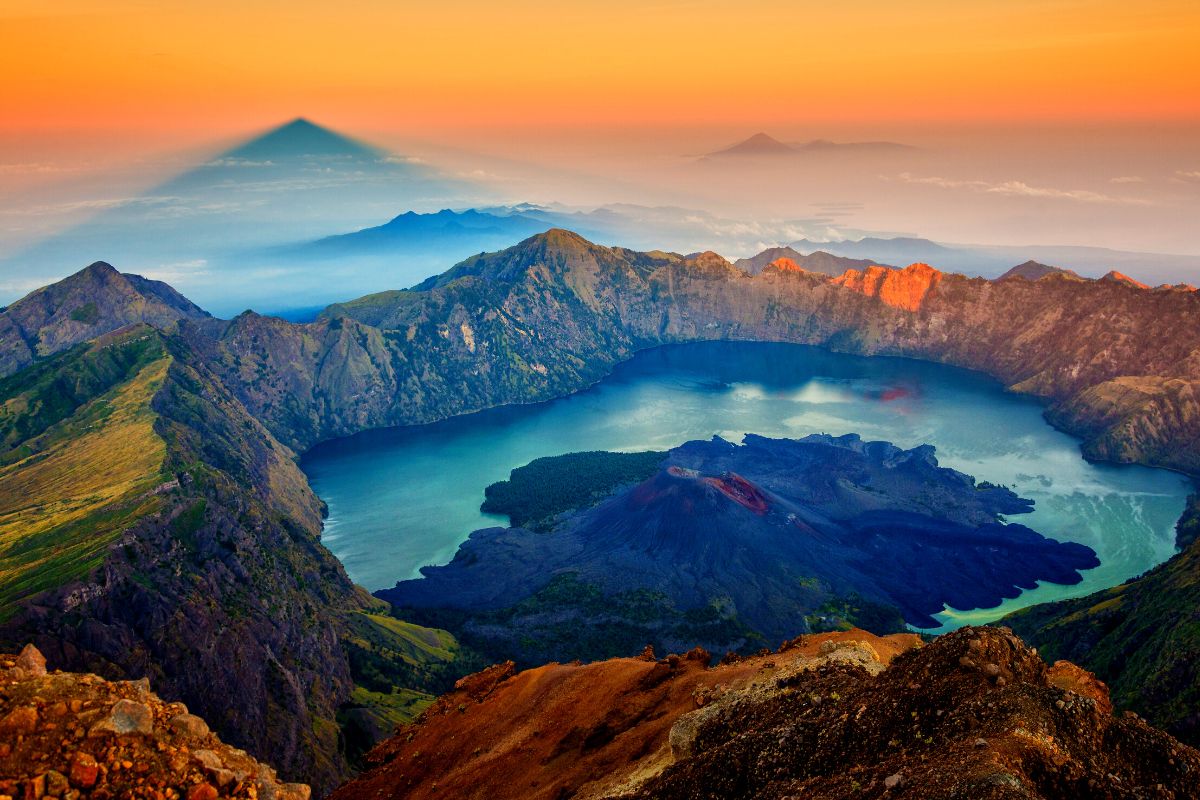 Lombok is an Indonesian island, that offers visitors incredible natural wonders, from the impressive Mount Rinjani to the stunning beaches dotting most of Lombok's coast, the sacred healing waters of Lake Segara Anak, and multiple impressive hiking day trips.
There's a long list of items to see, do, experience, and share in Lombok, whether it is with your friends, a partner, or locals.
Situated next to the ever-popular island of Bali, Lombok can offer guests a similar experience, but less crowded, and still very visibly connected to its indigenous roots.
Let's take a look at some of the fantastic sights and incredible things to do in Lombok, to hopefully inspire a few new ideas for your itinerary.
1 – View the famed "Fountain of Youth" at Narmada Water Park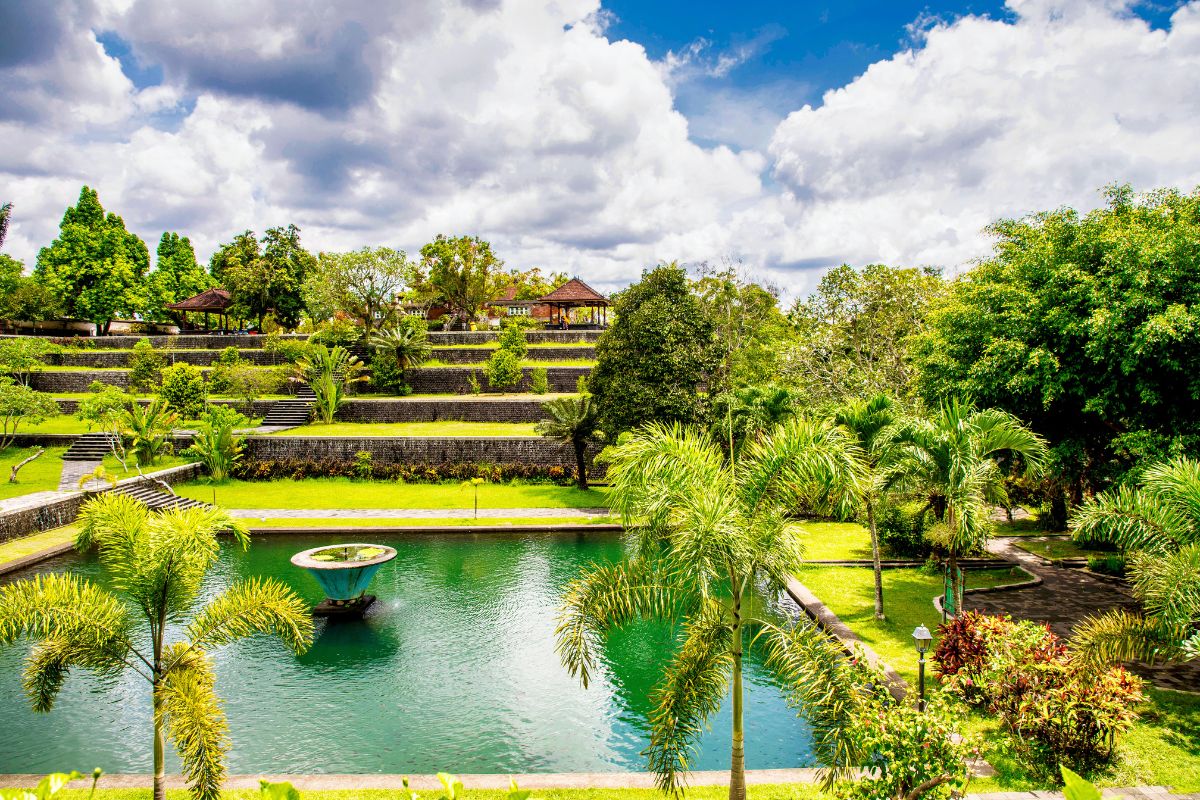 A beautiful stretch of perfectly designed gardens with local trees and native flowers, surrounding the pristine natural spring is a place that draws in devout Lord Shiva followers for prayer, as well as the curious traveler.
Narmada Water Park is a replica of Mount Rinjani and Sengare Anak Lake, originally created under the order of King Anak Agung Gede Ngurah Karang Asem in 1727 after he began to grow older, and could no longer continue visiting the summit of Mount Rinjani to pray.
Named after the name of a sacred river in India, today, visitors and Hindu followers come to this sacred space to pray, reflect, and appreciate the ornate gardens.
The park is open every day between 6 am- 7 pm and is a swift 30-minute drive from Lombok city center.
2 – Learn the local culture at the State Museum of West Nusa Tenggara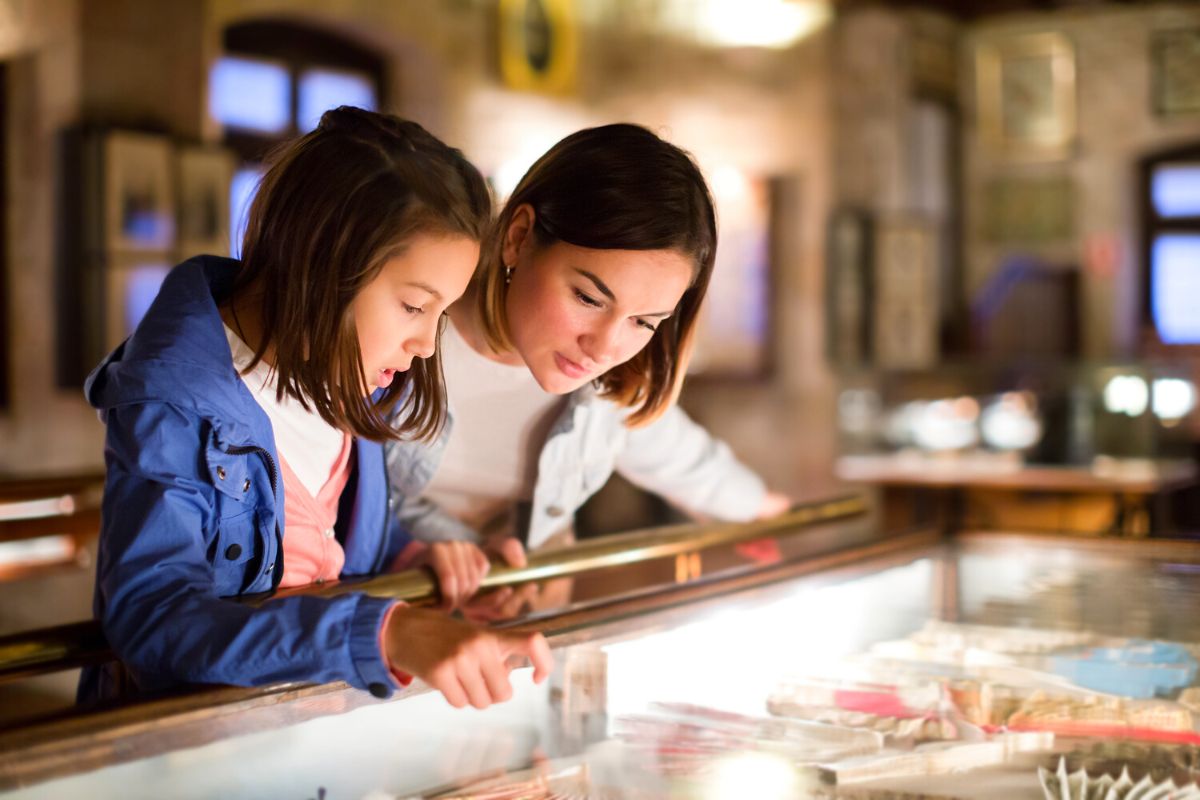 Located in Mataram, Lombok, the State Museum of West Nusa Tenggara is a museum that houses over 7,000 art pieces showcasing local traditions from Lombok and Sumbawa, a town located in the neighboring island of West Nusa Tenggara.
Offering a deep dive into local culture, the museum offers items such as traditional kris (an Indonesian serpentine style rigged sword), songket (a tenun fabric often sowed into silk or cotton with metallic threads in stunning designs), basket ware, local face masks and more.
Designed in an easy-to-follow format, the museum is a crowd favorite, and a place to stop by first to understand all the sights to visit and other things to do in Lombok.
Entrance tickets to the State Museum start at 2000 IDR.
3 – Trek the majestic Mount Rinjani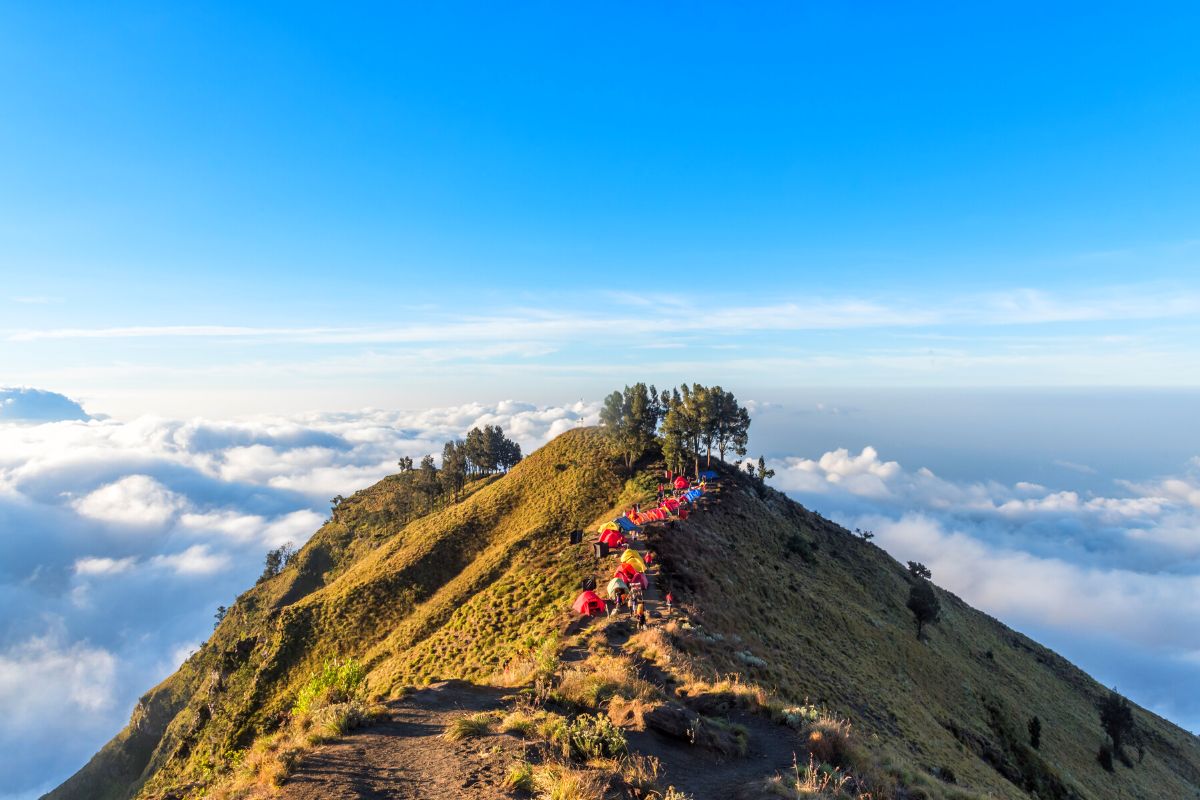 Hiking in Lombok is a must-do for any first-time visitors. Rising over 3,000 meters in the air, Mount Rinjani marks its spot as the second tallest volcano in Indonesia, and the tallest peak west of the West Nusa Tenggara island.
Mount Rinjani is a popular hiking spot for many outdoor and hiking enthusiasts despite the challenging trek.
It is recommended that if you plan to hike the iconic mountain, to bring appropriate clothing, and shoes, and go at a slow pace because it can be a bit challenging if you don't have the practice.
The trek can take around 5 hours to complete, but reaching the summit is the biggest reward.
View the sunrise over the ocean, and the mountains brightening up with the sunlight, revealing the snow and other natural details. If you're a true hiker, adding this to your list of things to do in Lombok is a must.
A multi-day tour is a good option to view the mountain from below if that is all you'd like to do.
4 – Try water sports at Kuta Beach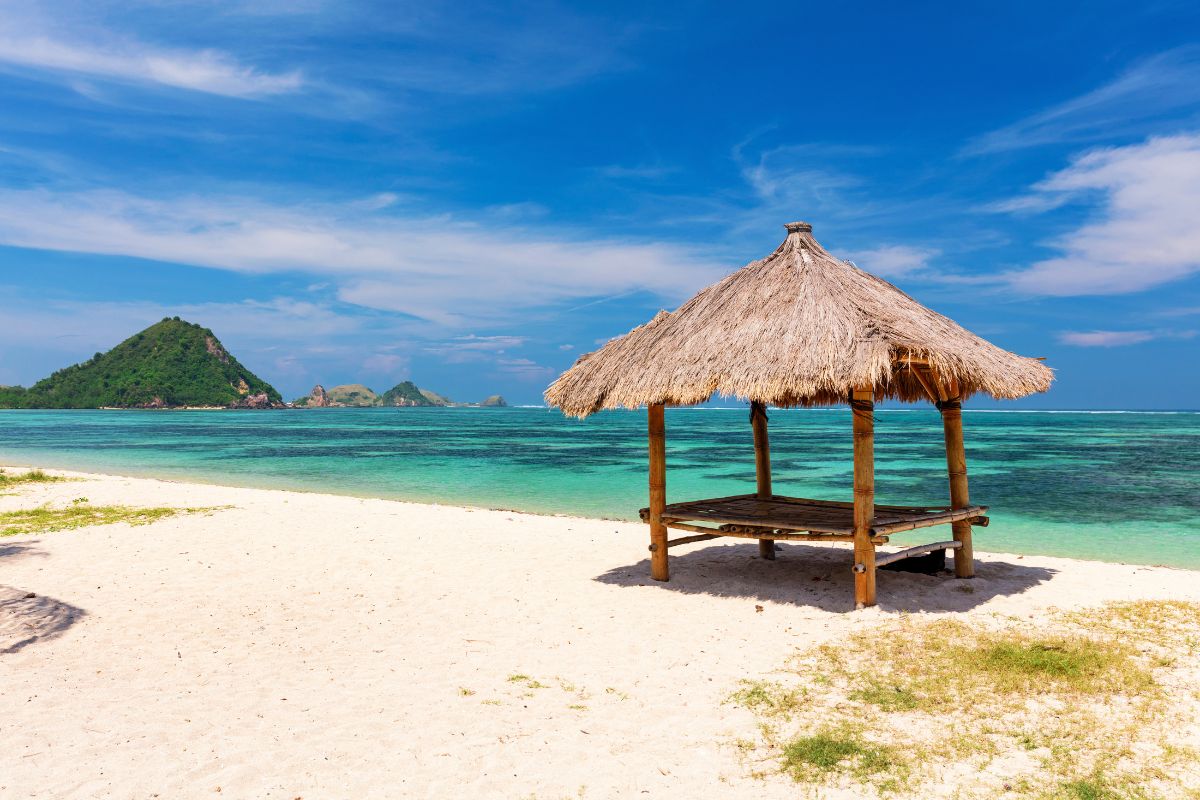 Sand, sun, and beach in a little seaside resort town are just a few of the attractive factors that bring in people to Kuta beach all year round.
Bask in the beach activities such as swimming, snorkeling, and surfing with over 8km of coastline to indulge in some of the best surfing available.
Currently, this site is undergoing a massive change, and soon the beach will include many more luxury hotels, resorts, shopping malls, and restaurants, further catering to travelers who want to reside on the beach and enjoy all the luxuries.
In the meantime, the best time to visit Kuta Beach is between the months of May-June despite the high humidity levels, as it is not the rainy season.
Enjoy dinner and coffee at the beachside eateries and cafes to begin enjoying the sunset.
5 – Learn about Lombok's indigenous culture at Sasak Village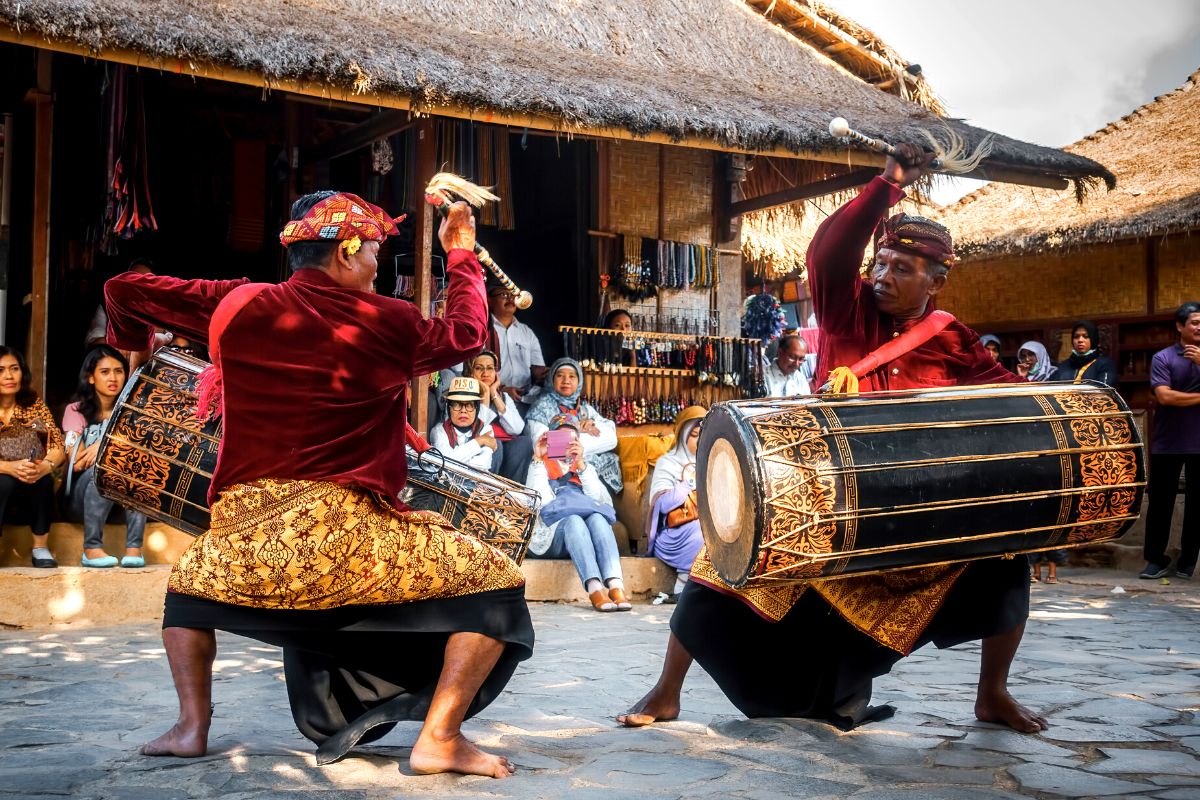 Explore the indigenous Sasak Villages, divided into two main villages – Sade and Rembitan, dating back to the 14th century, and that to this day remain pretty much the same.
Exhibiting wooded huts with straw roofs, vendors selling textiles and other local products, and farmers making use of the fertile grounds to grow crops for the villages, Sade is the most popular of the two that travelers frequent.
Weavers and artisans are out and about in the streets, crafting and selling their pieces to travelers, while Rembitan is more relaxed, and to themselves.
Both villages welcome tourists and at a 13-minute drive north from Kuta Beach, travelers often take a taxi or rent a scooter to transport themselves.
A city tour is another great way to visit these villages, along with a guide to share more insight.
6 – Snorkel in the famous Gili Islands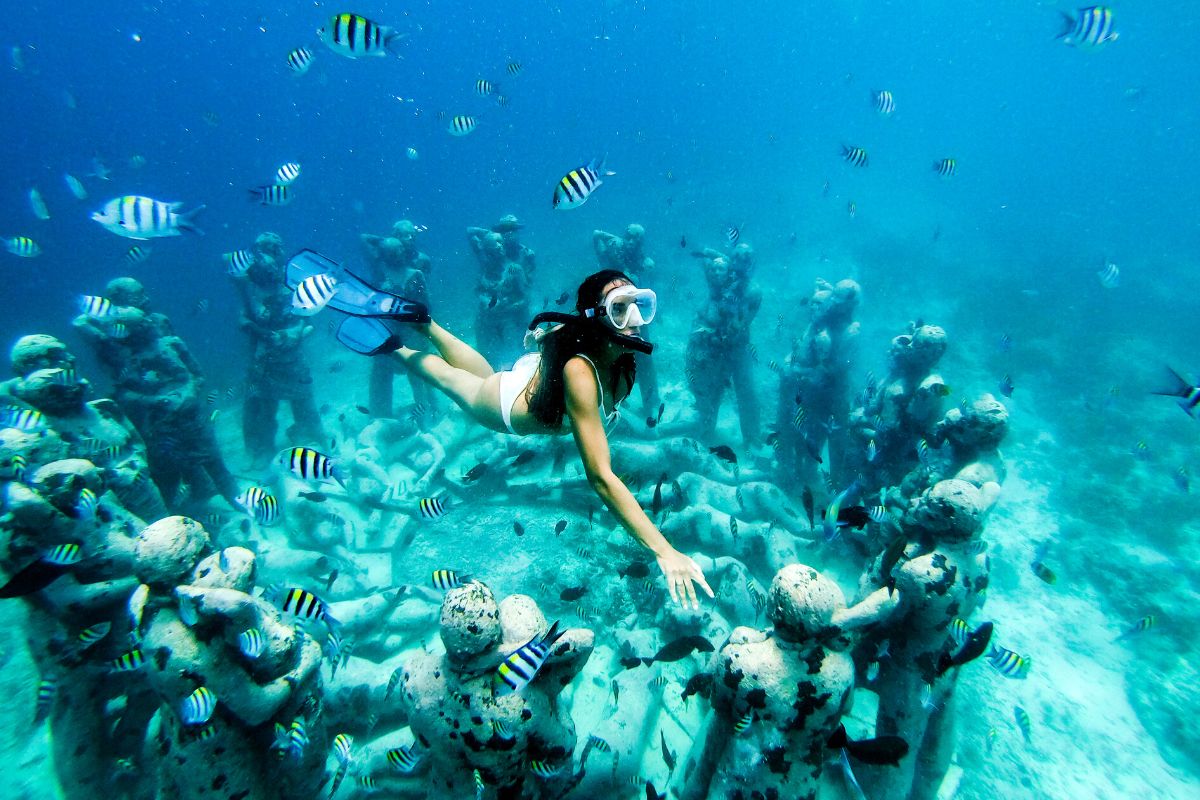 Significantly relaxed and wonderfully attractive are the Gili Islands, offering travelers a moment of zero distractions with no motorized vehicles on the island, quaint and charming towns, and horse and carriage trotting around the islands.
Located right off the coast of Lombok, getting to Gili Islands is easily done via a ferry or boat tour from Lombok, which takes less than an hour total.
The best way to get around the islands is by bike, carriage, on foot, and occasionally an electric scooter.
The Gili Islands are divided into 3 separate islands – Gili Trawangan, Gili Air, and Gili Meno.
Travel throughout the islands, and visit Gili Trawangan for an incredible panoramic view of the islands, Gili Air for a quieter island experience, and Gili Meno for incredible snorkeling opportunities.
7 – Savor and cook Lombok cuisine during a cooking class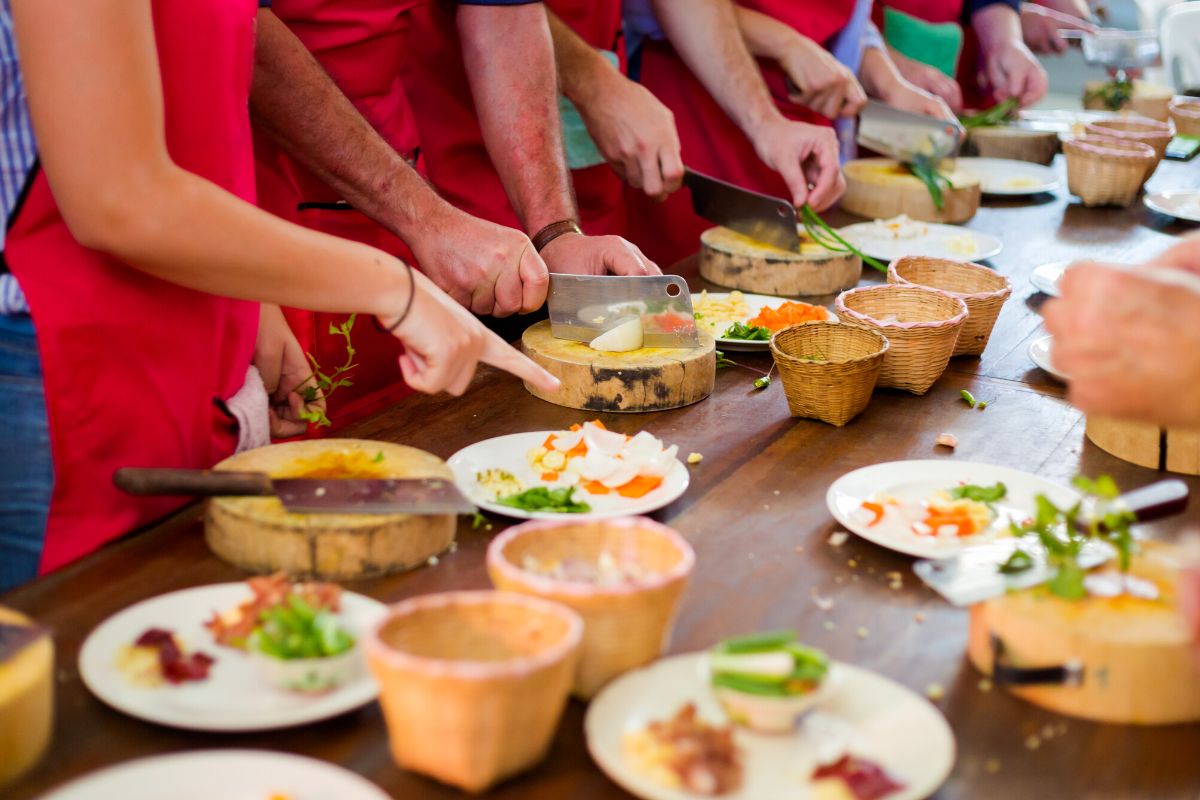 Take a cooking class in Lombok, and learn how to prepare delicious local dishes such as Ayam Taliwang (flavorful spicy chicken), Satay Rembiga (seasoned grilled meat skewers with rice), and Bebalung (goat ribs served in a soup with rice), and so much more.
Learn the use of local ingredients, and expand your cooking skills with local techniques, flavor combinations, and spices you may have never heard of.
Ideal for any cooking level, take classes in central Lombok such as Anggrek Putih or at Sweet and Spicy Gili Cooking School.
Recognized as the world's best Halal tourist destination, you'll also learn about the religious practice of eating certain foods in Lombok.
8 – Learn about the animal conservation efforts at Lombok Wildlife Park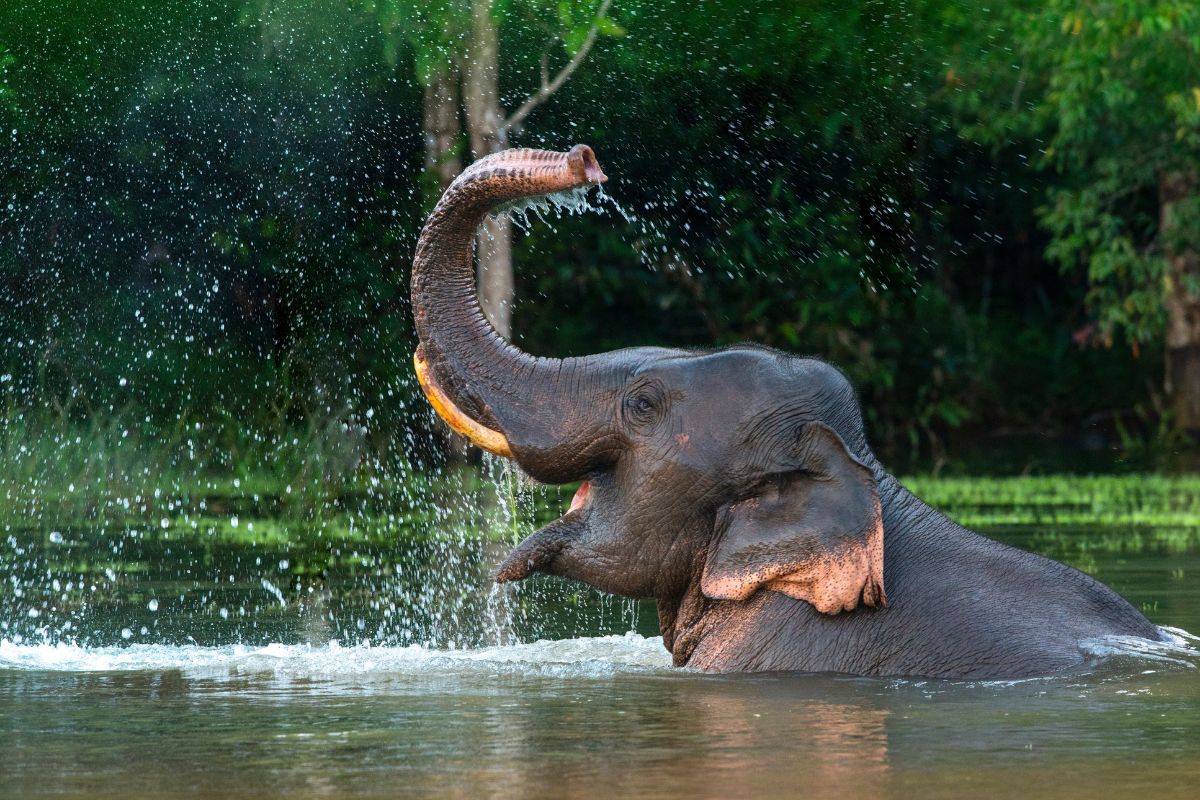 Lombok Wildlife Park is more than a zoo, as it is a space described as a sanctuary that helps protect, heal, and harmonize a relationship between humans and animals.
Each staff member is continuously trained to be fit to treat animals with care and dignity, while also focusing on ways to make the visitor have an incredible experience.
Packed with different affairs, visitors can select from various experiences.
Select from meeting with elephants and learning how to feed and bathe them, explore the bird sanctuary and see birds of all different colors, or enter the world of reptiles, and see all the varieties inside the park.
Step into the Ivory restaurant or Forest cafe, and indulge in an afternoon cup of coffee or a delicious lunch in between animal encounters.
9 – Take a dip at Benang Kelambu Waterfall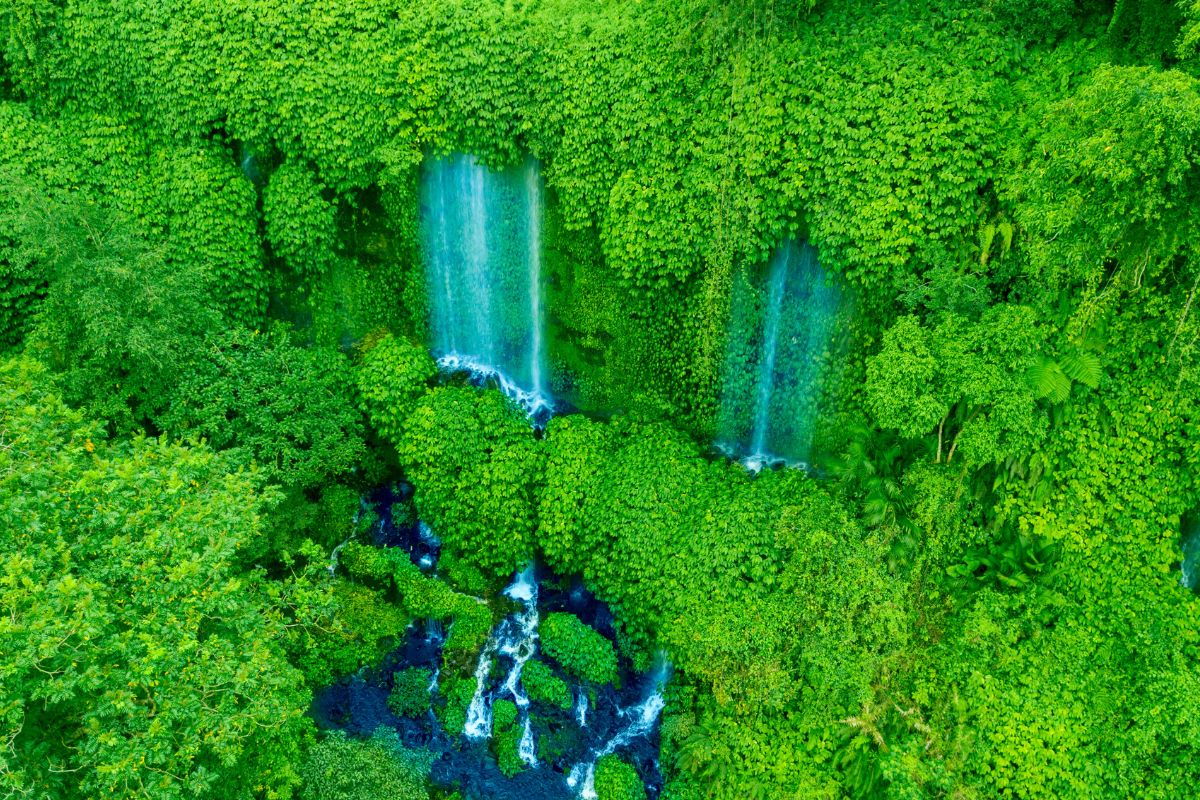 Travelers and locals flock to the incredibly refreshing sight of Benang Kelambu Waterfall, and rent bikes to get around the park and to the waterfall as this one is particularly a bit further from the park entrance.
At the sight of the waterfall, visitors will find a pool formed at the bottom of the waterfall, creating the ultimate relaxing water reservoir experience to enjoy, so make sure to bring your swimsuit.
Water is flowing from every crevice, even the vines, so you can enjoy a refreshing swim or relax in the pool taking in the sights.
While walking around the paved trail surrounding the waterfall, make sure to watch your step as the path can get slippery.
Entrance tickets start at 30,000 IDR.
10 – Relax and disengage at the Narmada Botanic Garden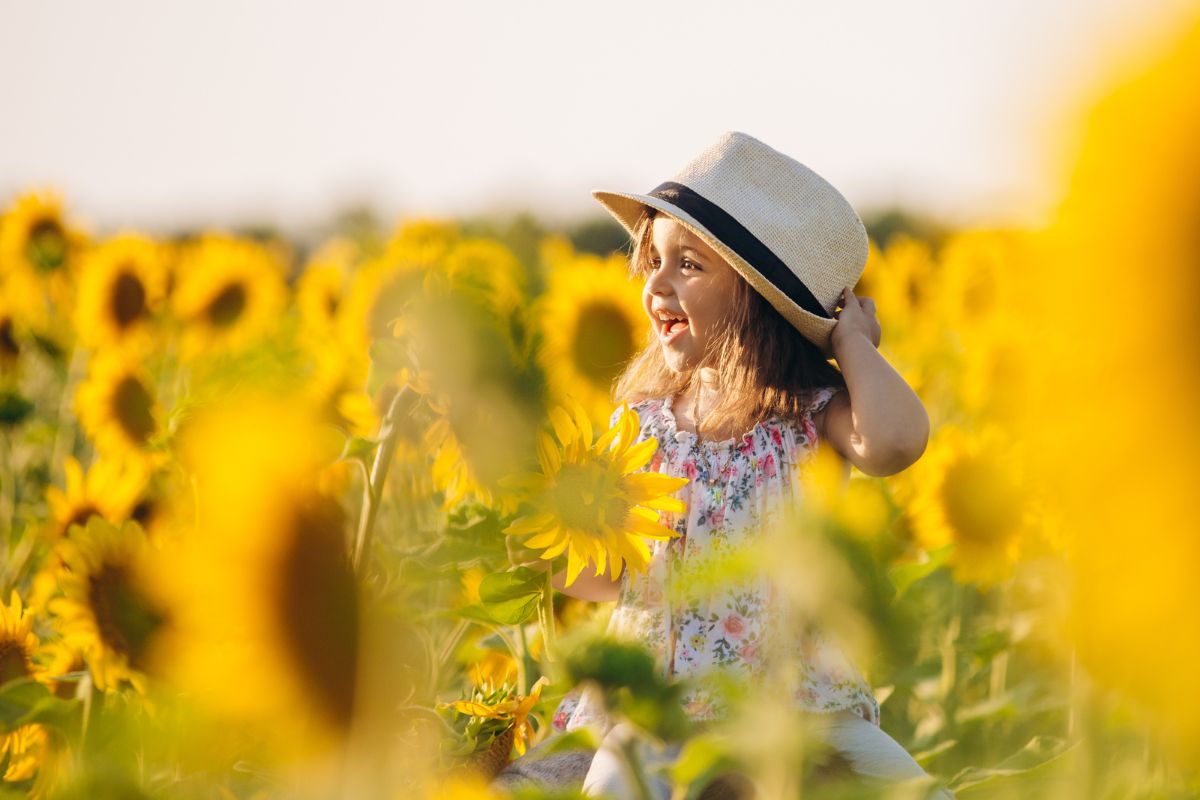 Located in Mataram, on Lombok's west coast is the Narmada Botanic Garden, offering privileged views of beautifully manicured gardens with local flowers, trees, and even a pool for children to enjoy.
Spend a lovely afternoon learning about local botany, and even get a chance to speak with the owner of the garden, who is often caring for the plants.
The Narmada Botanic Gardens have an aura many travelers describe as useful to disconnect from everyday life.
The entrance fee is 5,000 IDR, and it is open Saturday-Sunday from 8 am- 7 pm. Previous travelers to the gardens recommend booking your tickets ahead of time to ensure your slot.
11 – Get your surf on in the surf capital of Indonesia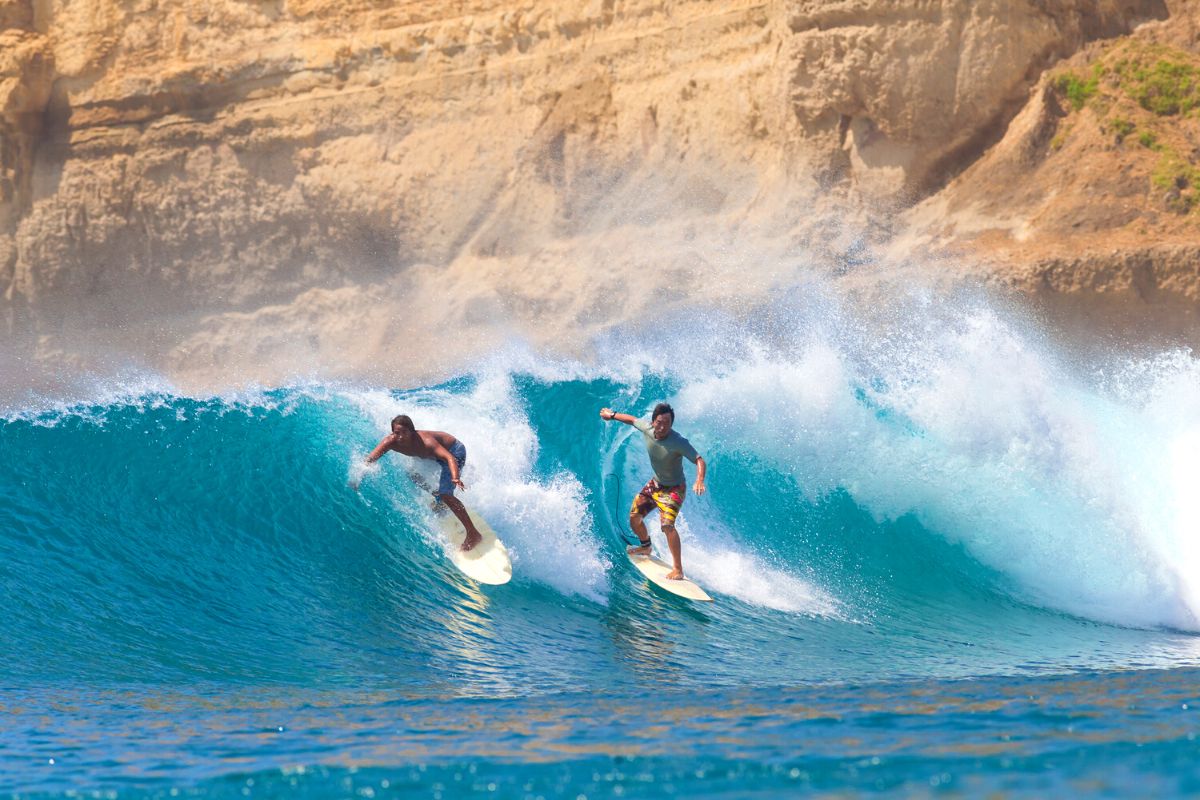 Lombok is the unofficial capital of surfing in all of Indonesia, simply for the fact that it is the only place in the country with consistent waves and weather perfect for surfing.
If you want to visit during the peak season and take advantage of the surfing vibe on Lombok's beaches, then make sure to plan your trip to the island in April-October.
If you're not a surfer already, Lombok is the perfect destination to pick up a few pointers, with countless local instructors and classes available ready to take on eager new students.
Some of the best surfing spots in Lombok are Desert Point, known for its impeccable waves and year-round surfing opportunities, and Mawi Beach provides mid-high tides that crash into the stunning white beaches, perfect for mid to expert surfers.
12 – Visit the beautiful Tetebatu village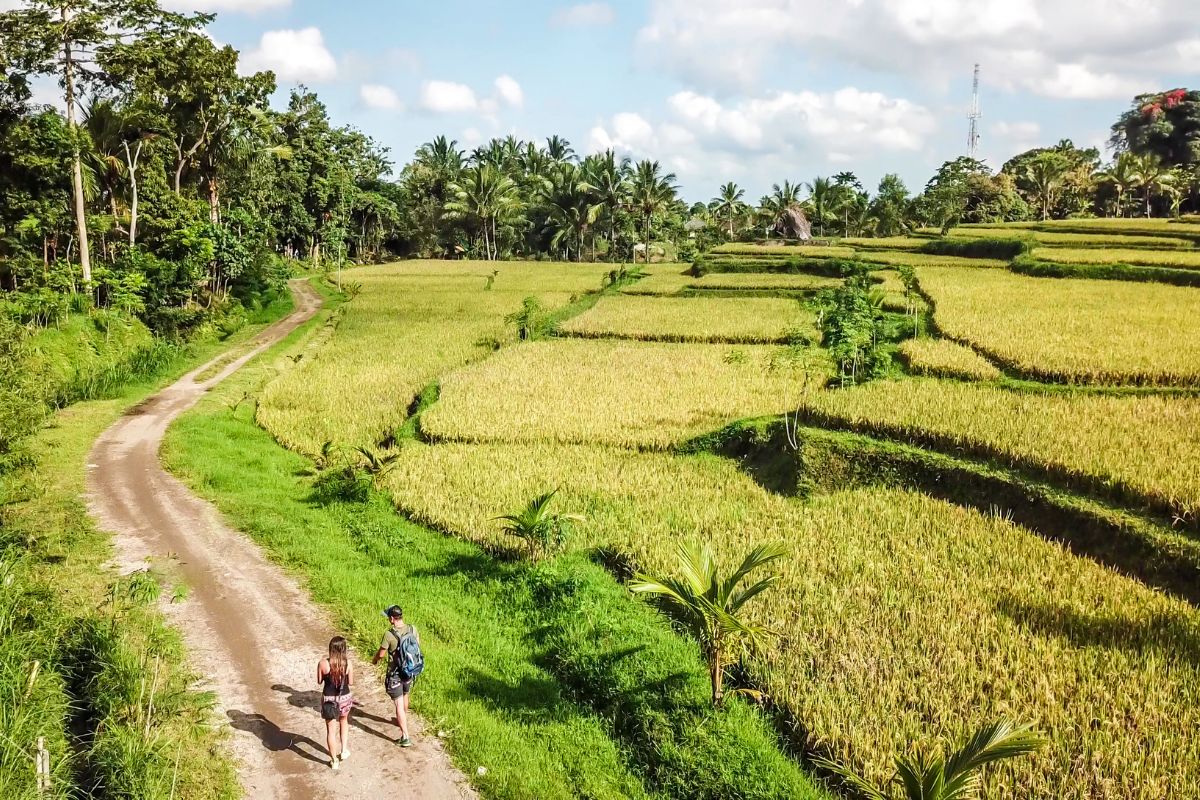 Visit the small yet charming village of Tetebatu Village, named by many as the Ubud of Lombok, for its picturesque rice fields and cascades, yet still living a quieter lifestyle that is contagious to all who visit.
One of the main attractions of Tetebatu Village is the rice terraces, which are beautiful sights of misty green paddy fields.
Go in the morning to experience the mist grazing the tops of the paddy fields for a peaceful and relaxing experience.
Visit the Tetebatu Monkey forest, and look up above at all the monkeys in their habitat.
If you visit this incredible place, just make sure to keep an eye on your items and that they are secured, as monkeys can be a little sneaky, and purchase local bamboo braided products crafted by the locals.
13 – Indulge in the secluded secrets of the South-Western Gili islands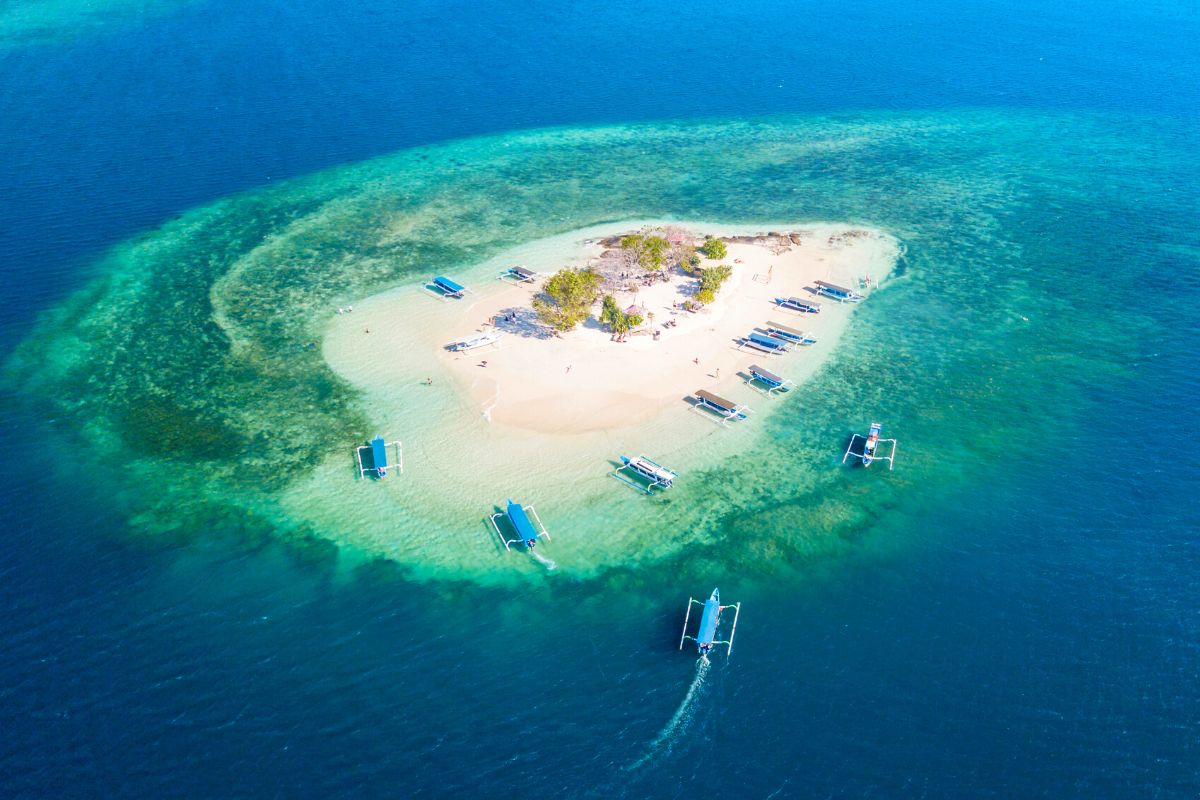 The South-Western Gili Islands are not to be confused with the Gili Islands of the northwest.
The south-wester Gili Islands have been considered by many as the "Maldives of Indonesia" offering visitors stretches of land that has been left untouched by mass tourism, maintaining the purity of the local culture and nature as it was.
The sout-western Gili Islands consist of Gili Nanggu, Gili Tangkong, Gili Sudak and Gili Kedis. Easily accessible via local boats, visitors can explore each island, and the special activities available at each.
Gili Nanggu is known for incredible snorkeling experiences and tours, while Gili Tangkong is known for incredible untouched natural sightings.
Gili Sudak is best to explore the marine life on a swim, or diving. Gili Kedis is perfect for an isolated moment in paradise.
14 – Plan a beach day at Tanjung Aan Beach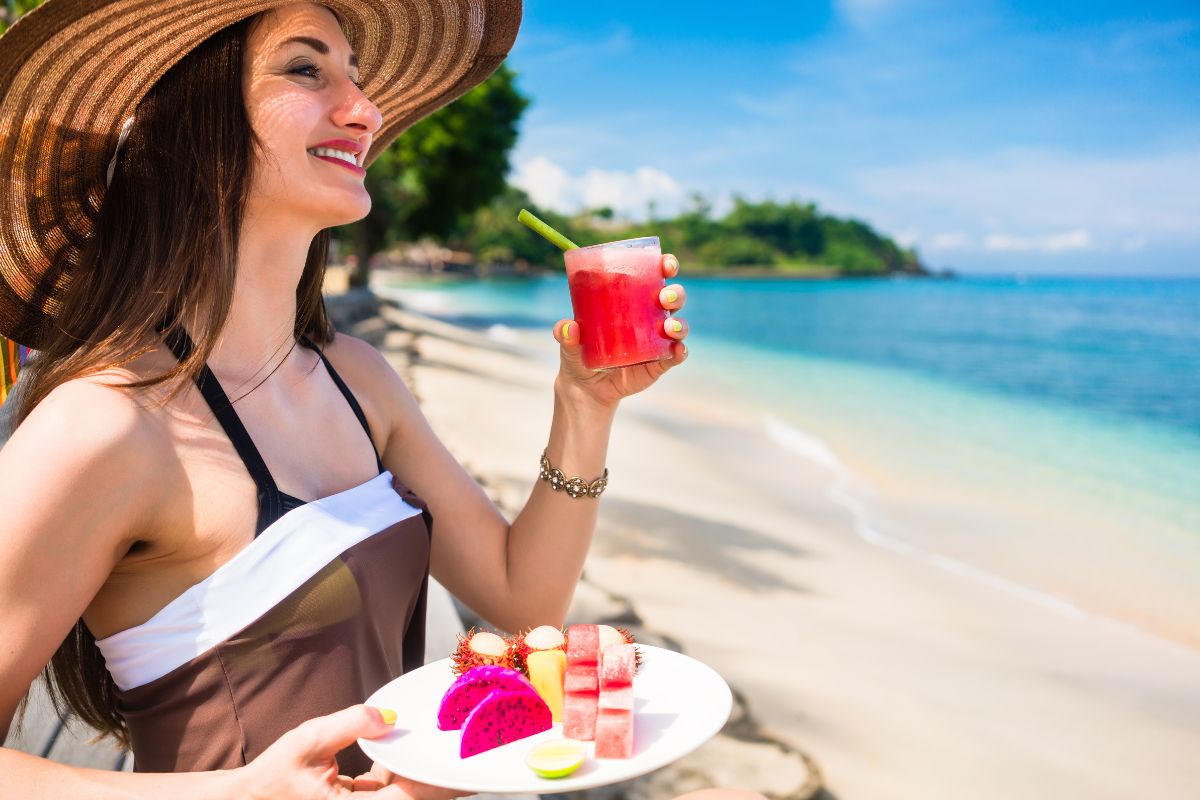 Located in Kuta, Tanjung Aan Beach is a beach that does not disappoint any of its guests, as it receives everyone with warm, turquoise waters and soft/ powdery sand.
The perfect beach day awaits you at Tanjung Aan Beach not only for its pristine waters and sand, but also for the rows of restaurants serving local Lombok food, cafes, and places to purchase water, snacks, and even coconuts.
Take a seat at one of their swing chairs for the perfect capture, and after you've refueled and rested, check out some other water activities to participate in.
Beach activities include surfing, stand-up paddleboarding, and of course, swimming and relaxing to take in the views.
If you travel with a scooter, you may have to pay a fee of 10,000 IDR.
15 – Challenge yourself to an adventurous rafting experience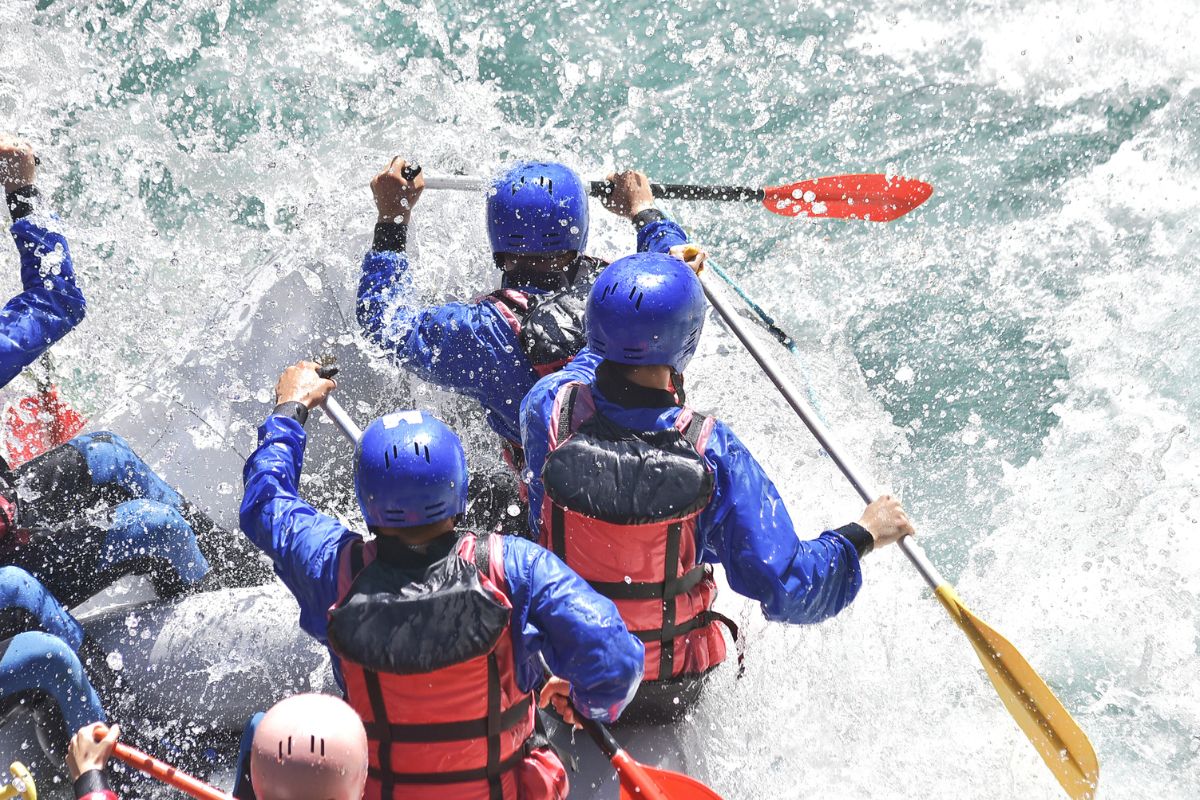 Get your adrenaline going by renting a raft and going down the raging waters of some of Lombok's most iconic rivers in the most abundant rainforests and jungles.
Get a deeper appreciation for the natural landscape of Lombok, and be guided by professional rafters who will keep you safe throughout the rafting experience.
Perfect for a day out solo, or traveling with family.
Raft through Karang Jangkok River, pass through the Sesaot Village, rice fields, and more.
Some rafting tours include ground transportation, a traditional Indonesian lunch, safety insurance, a guide, and equipment.
Rafting tours start at $52 USD, and tours are offered either half-day or complete days typically offering other activities in the package like hiking or swimming on the most beautiful Lombok beaches nearby.
16 – Take your picture inside Bangkang Cave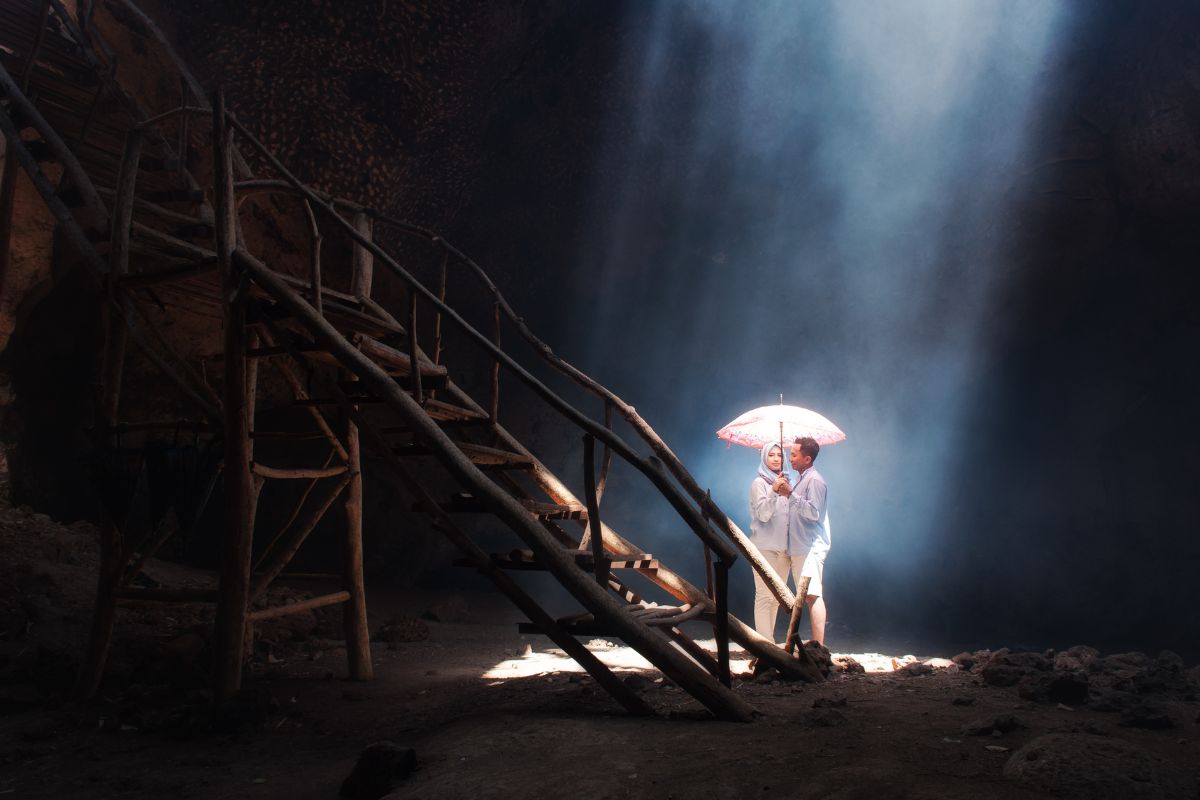 Situated within the hills of Kuta, is a system of caves that house more than a few bats.
Many of these caves are accessible to people and therefore are frequented by travelers.
Bangkang Cave is a bat cave that invites visitors to go down via the bamboo stairs, all the way to the interior of the cave.
Inside, you're met with bats and burning coconuts that combined with the sun rays that pour into the cave, create a smoky, almost mystical experience.
Many travelers are lured into this cave simply because of the amazing captures you can get when the sun enters the cracks of the cave, creating a beautiful smoky effect.
If you want to capture the smoky snaps, go around 12 pm when the sun is fully shining.
The entrance fee for the cave is 60,000 IDR.
17 – Stand under the refreshing cascades at Benang Stokel Waterfall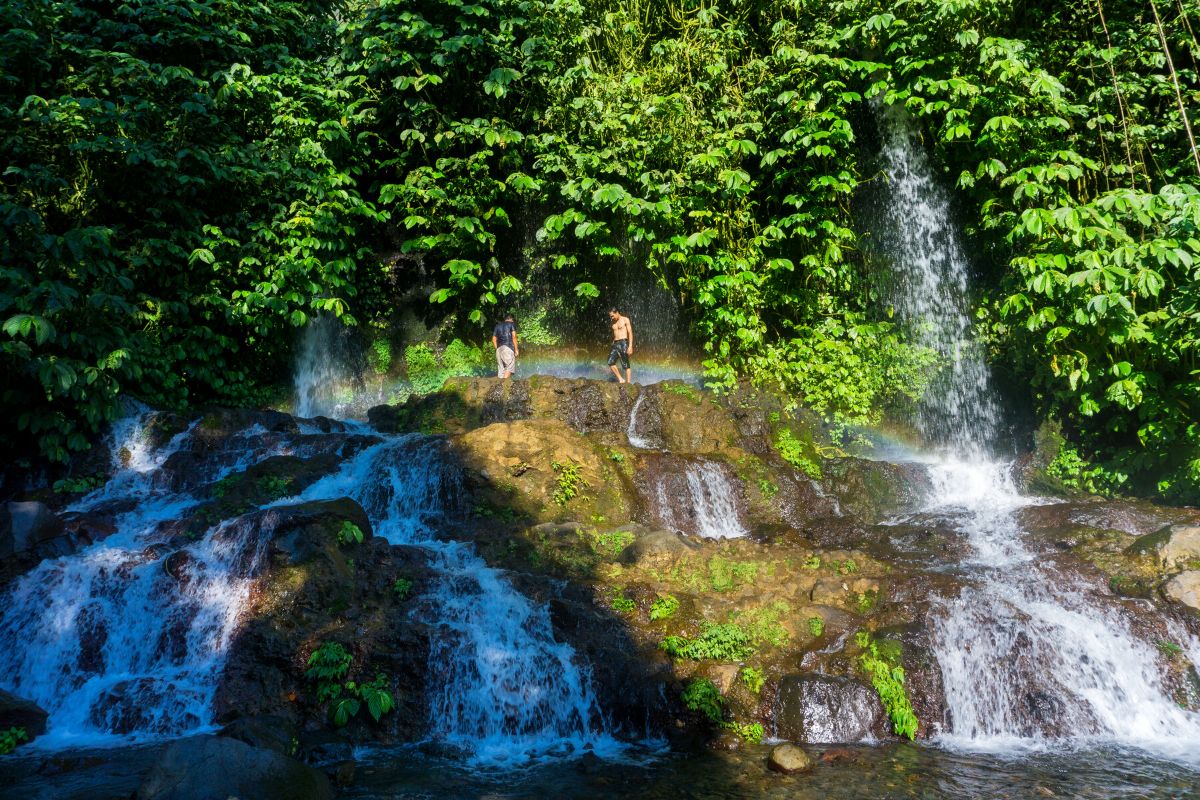 Sitting at the foothill of Rinjani Mount is the magnificent cascade of two waterfalls called Benang Stokel Waterfall.
Different from the neighboring Benang Kelambu Waterfall, this one is not apt for swimming in, simply because it's too shallow.
However, it's a great waterfall to walk under and let yourself be showered by some of the purest water.
Benang Stockel Waterfalls is open between 7 am- 6 pm, and if you're in a rush and don't want to worry about planning the trip yourself, make sure to check out a Benang Stokel Waterfall tour.
For 5-8 hours, the tour will take you to the Benang Stokel Waterfall, Benang Kelambu Waterfalls, and a few other surrounding waterfalls, for the day.
The tour includes the tour guide and air-conditioned ground transport.
18 – See the Hindu and Wektu beliefs come together at Lingsar Temple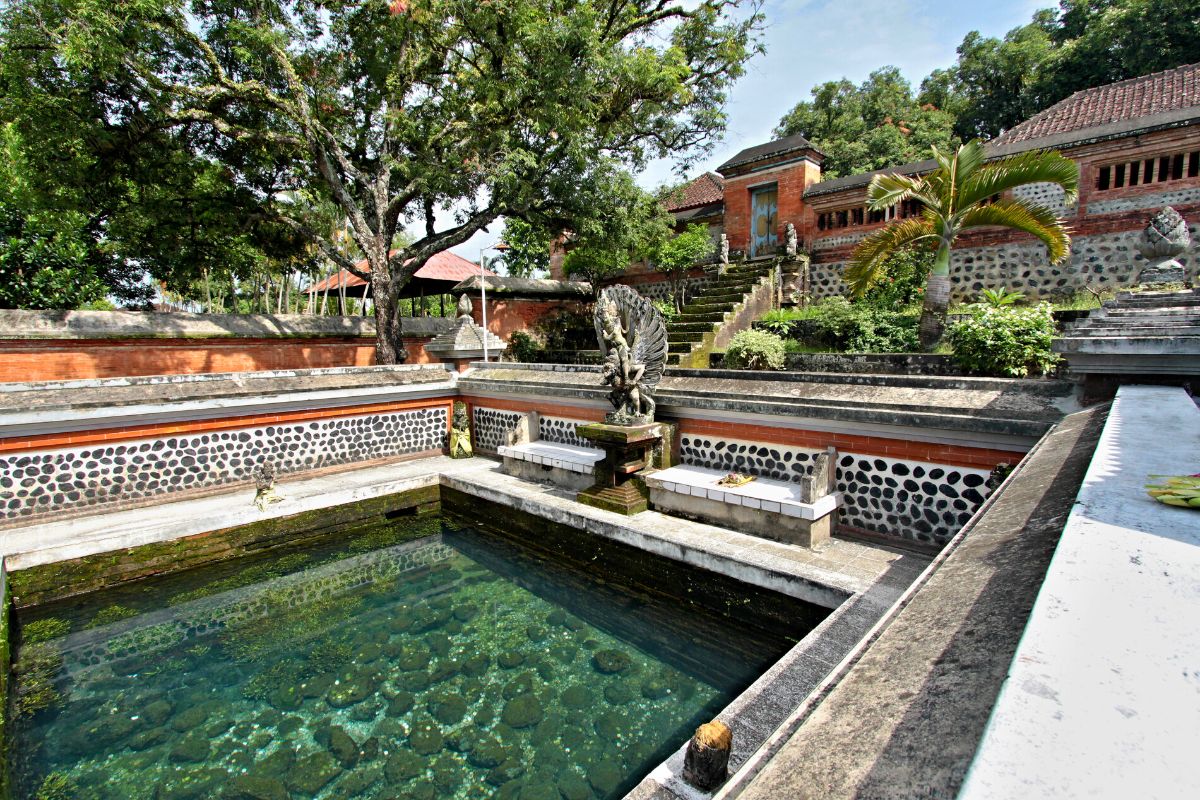 Built in 1714, the Lingsar Temple is a building that represents the mix of two religions – Hindu and Wektu Telu.
The Hindu religion represents the religion practiced and brought from the Bali people, and Wektu Telu is a religion practiced by the indigenous Lombok group, Sasak.
The result is a potent cultural, heritage, and religious blend that is not only impressive to admire, but also one that brings together the Indonesian islands.
While the building is a representation of both beliefs, when visiting, travelers will see that the southern area of the grounds is for Wektu Telu worship, while the northern region is dedicated to Hindu practice.
To enter the temple's interior, a sash or sarong is required to be worn, which are available for rent outside the temple.
19 – Experience real diving at Belongas Bay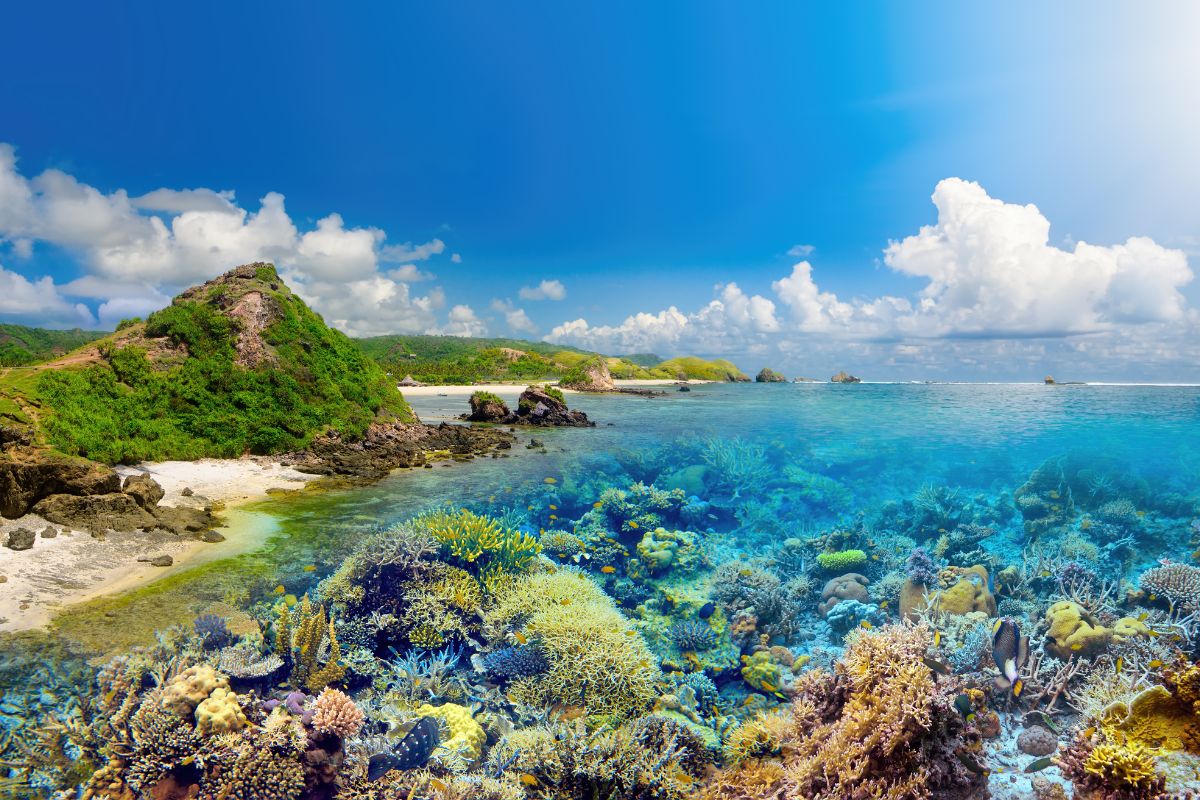 Known for its secluded surroundings and adventurous reputation, Belongas Bay is known to be a true divers dream, offering a close encounter with hammerhead sharks, stunning coral reefs, and other incredible marine life not seen anywhere close to the resort beaches.
Centered in the southwest region of Lombok, the specific name of the famed place where divers go is Magnet simply because of all the different wild marine life that is attracted to the area.
Another incredible area within Belongas Bay is Cathedral, which is optimal for its underwater world, showcasing natural formations like canyons, rocky formations, and so much more.
Many underwater photographers typically frequent Cathedral the most.
Those who want to take a stab at diving in the open waters of Magnet must have a certificate proving their diving knowledge and expertise.
20 –  Catch a stunning sunset at Bukit Merese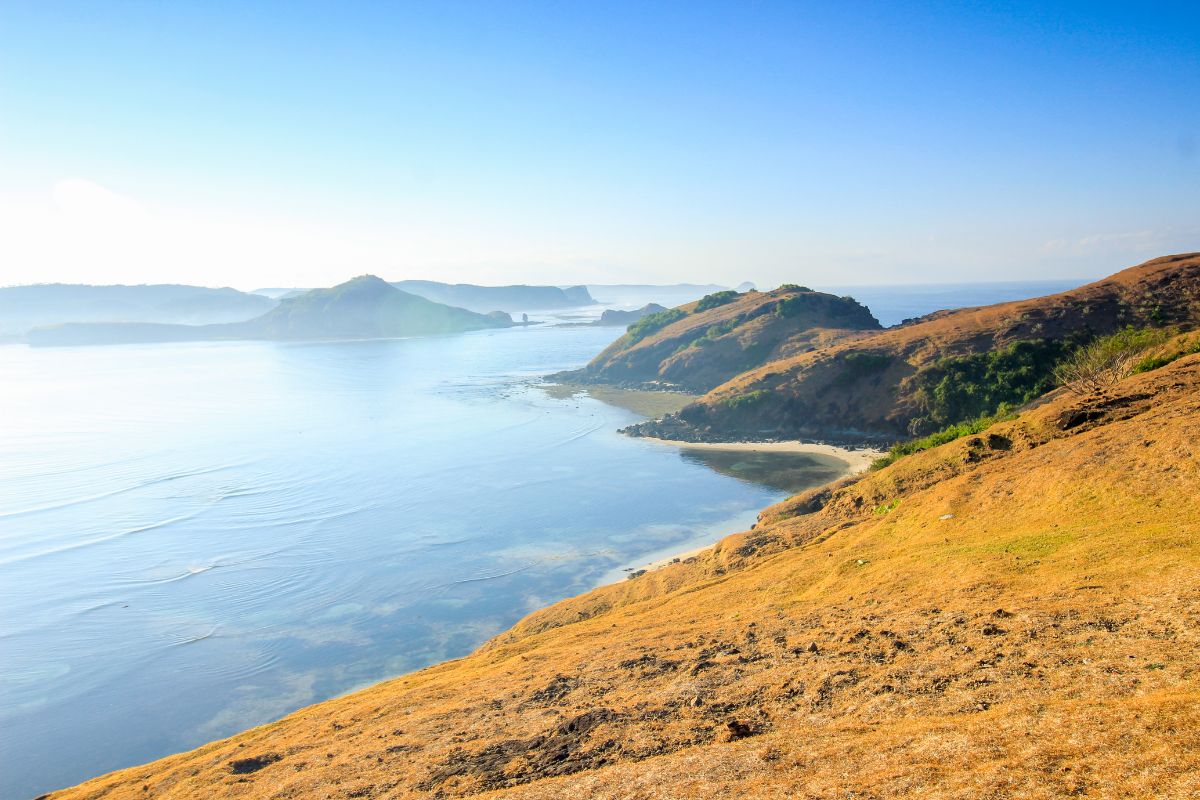 Situated 15 minutes away from popular downtown Kuta, is Bukit Merese, a stunning site that exudes peaceful views of the crystal blue waters, rolling green hills, and depending on the hour you go, a secluded beach or two.
Due to the intense heat of the day, fewer people visit Bukit Merese during the middle of the day, however, the best time to visit may be either in the early morning or during sunset.
Go directly to the headland, and reach the top of Merese Hill to gaze at the setting sun and all the beautiful colors that it casts on the water.
Take the perfect "wish you were here" snap to post on social media and take a picture next to the lonely tree in the middle of it all.
The entrance fee is 5,000 IDR.
21 – Gaze the cascading falls of Tiu Kelep Waterfall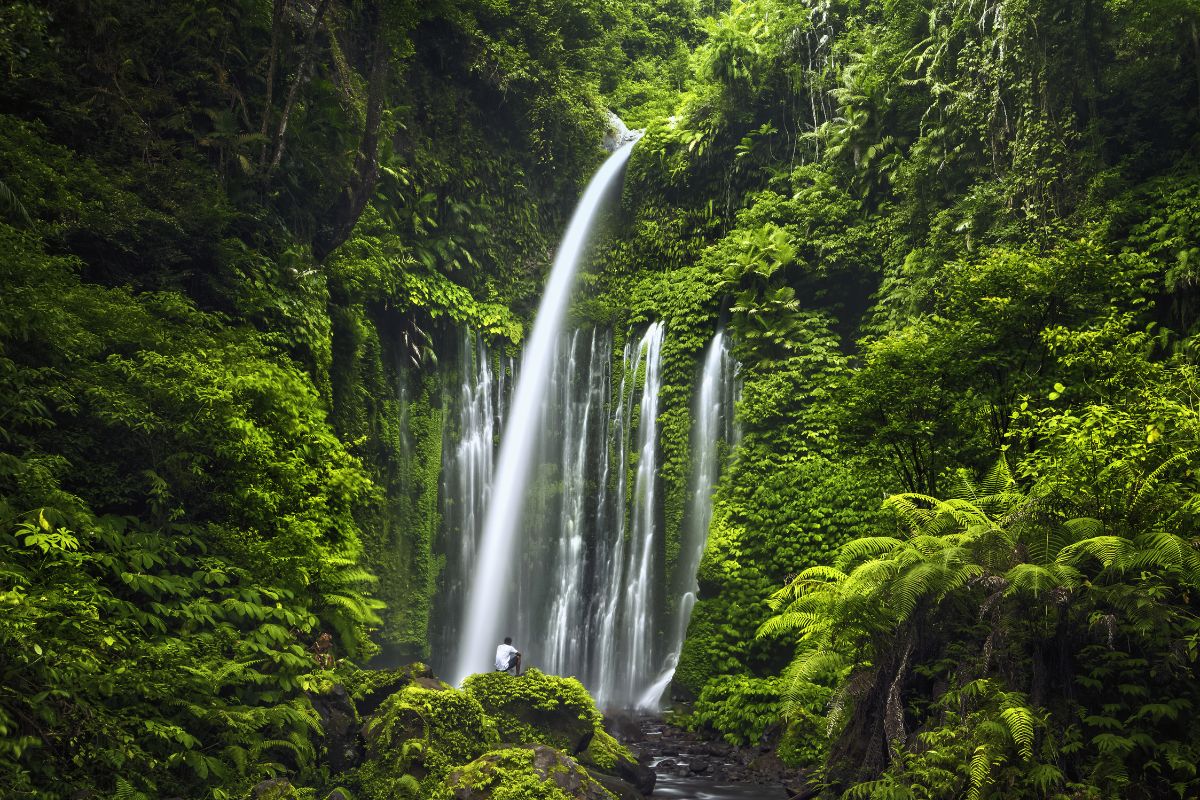 Situated inside Mount Rinjani is another stunning waterfall to visit called Tiu Kelep Waterfall.
The beautiful sight of multiple waterfalls cascading over each other stops almost all travelers in their tracks casting a light breeze and spray of cool water the moment you begin to approach it.
As you get closer, the water will begin to rise up to your ankles, giving a refreshing feeling after a hot hike.
There is a pool of water that collects at the bottom, however, because of the strong falls, it's advised to keep a safe distance.
The entrance ticket to the waterfall is 10,000 IDR, and if you feel that you may want some guidance to get to the waterfalls, check out a Tiu Kelep Waterfall tour to make the journey smoother and easier.
22 – Separate from mass tourism in the East Gili Islands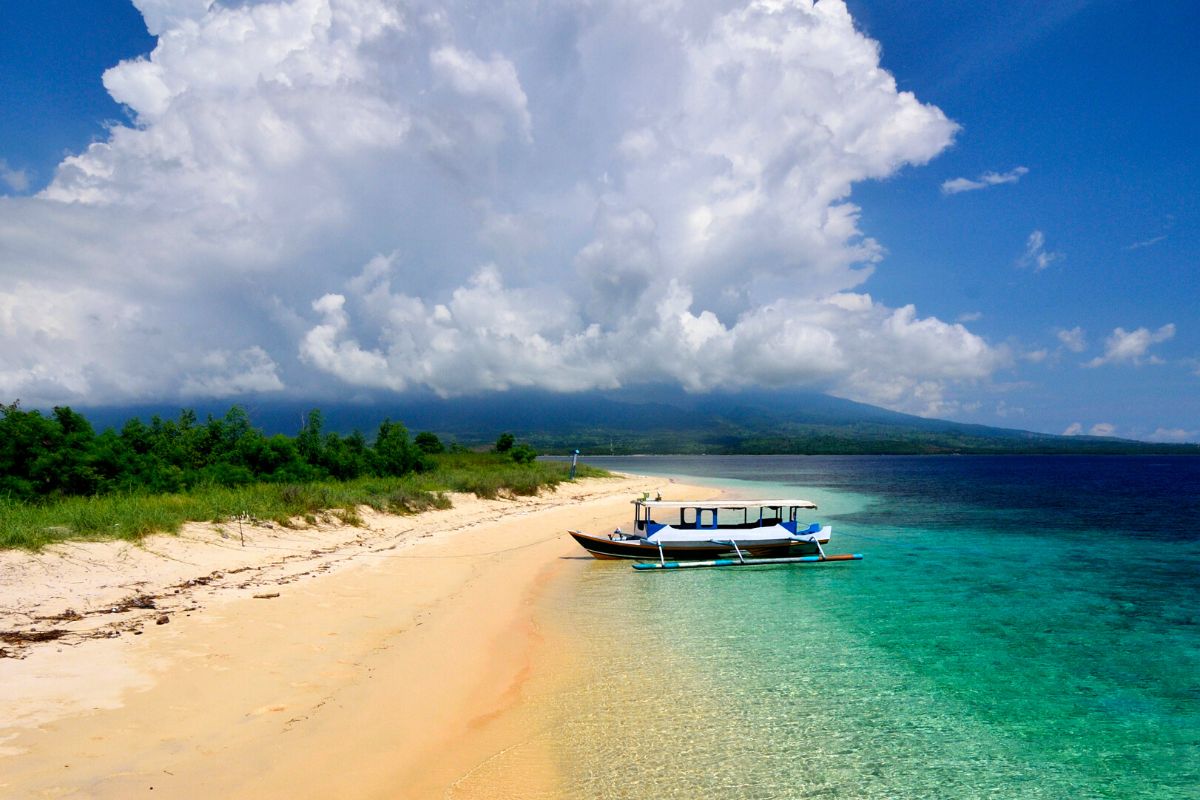 The east Gili Islands are a set of islands that preserve their natural magic and offer travelers a true island experience sans tourism companies and crowds of people.
The east Gili islands consist of the following islands: Gili Kondo, Gili Bidara, and Gili Petagan, and while each has its own set of activities, the most popular activities across all involve snorkeling and swimming
Gili Petagan is secluded, and though it may not have too much action, it does offer amazing snorkeling opportunities.
For a truly remarkable island camping experience, check out Gili Kondo known for its sights of tropical trees and sand, perfect for a serene night under the stars.
Gili Bidara offers incredible snorkeling, allowing travelers to get close views of colorful coral reefs, and beautiful fish, including Nemos.
23 – Visit the stellar Selong Belanak Beach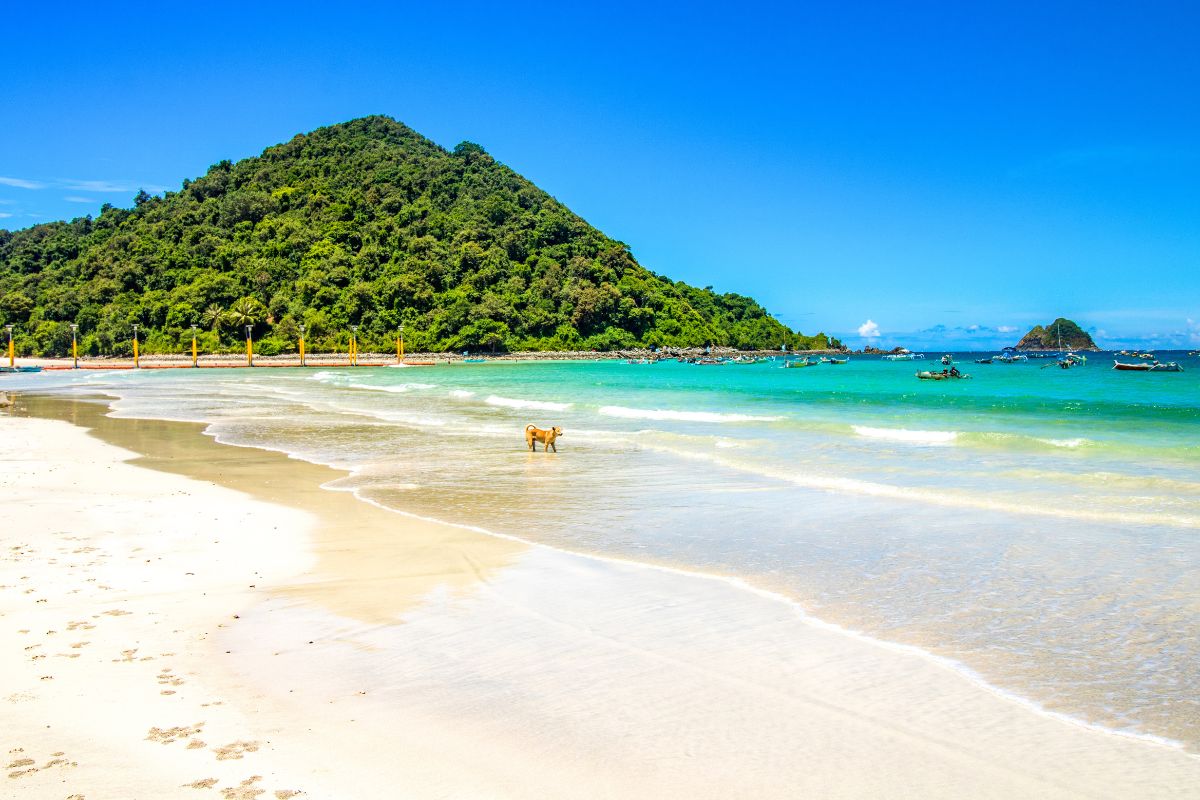 A picture-perfect haven for beach lovers and surfers is Selong Belanak Beach, offering consistent waves, incredible weather, and perfect conditions to surf whether you're a beginner or you're a seasoned pro.
Take a lesson or a few with a professional local surfer, and refuel with a locally made Indonesian dish in one of the many restaurants and cafes, offering local and homemade delicious food.
Sit down in a bamboo chair as you take in the sight of the fishermen's boats, the brilliant sun sparkling on the water, and illuminating the sight of mountains on the horizon.
Selong Belanak Beach is a bit more popular, so make sure to visit early to grab your spot. Make sure to bring your SPF, and your swimsuit.
24 – Paraglide through Indonesian skies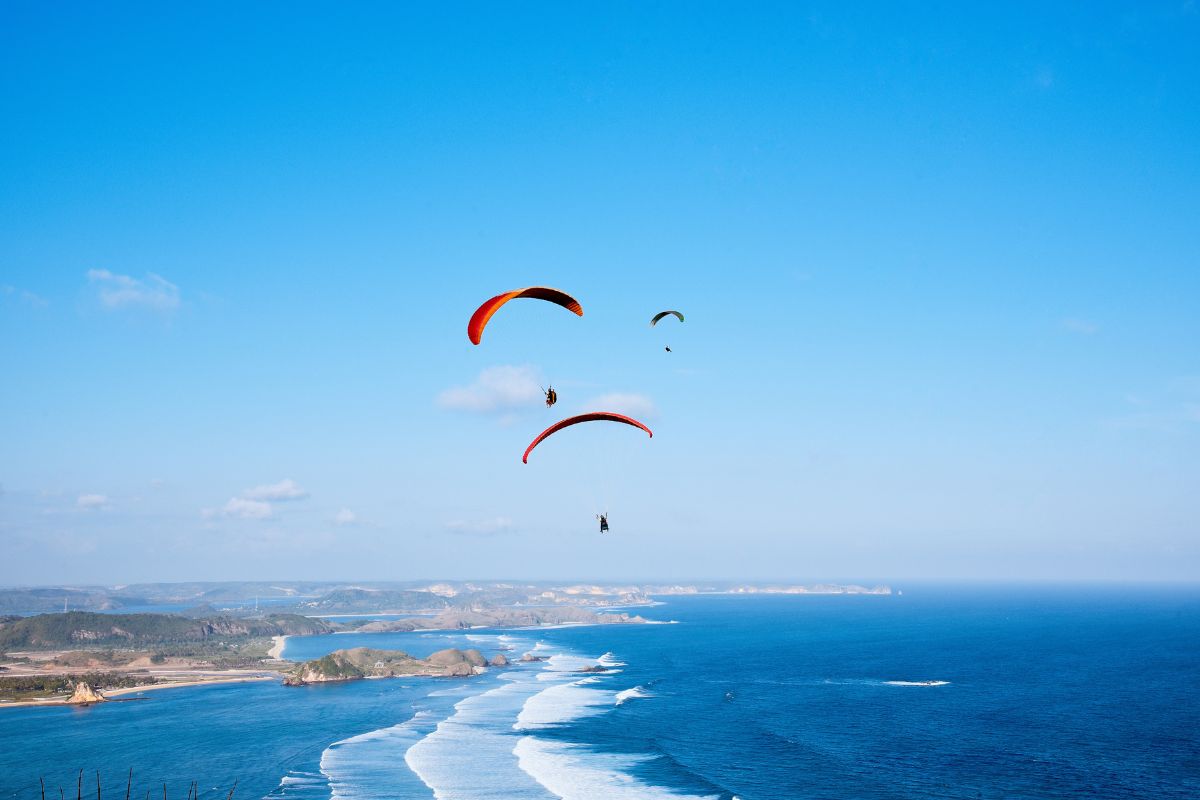 View Lombok from a bird's eye view while paragliding the warm Indonesian skies, taking sights of jungle, sea, mangroves, and waterfalls.
Offering paragliding adventures throughout Lombok, some of the popular destinations to fly over include Sembalun Village, where visitors get sky-high views of stunning rice paddies and dramatic mountains.
Fly over Kuta Lombok where you'll create amazing memories soaring over the popular Kuta beach, the incredible jungles nearby, and so much more – truly one of the best things to do in Lombok for adrenaline seekers.
Paragliding tours can start at around $100 or even less, and include paragliding equipment, a GoPro camera, the pilot's guidance, and water.
Fly with the peace of mind of the guidance of a professional and licensed paraglider and take the trip of a lifetime.
25 – See the mystical Lake Segara Anak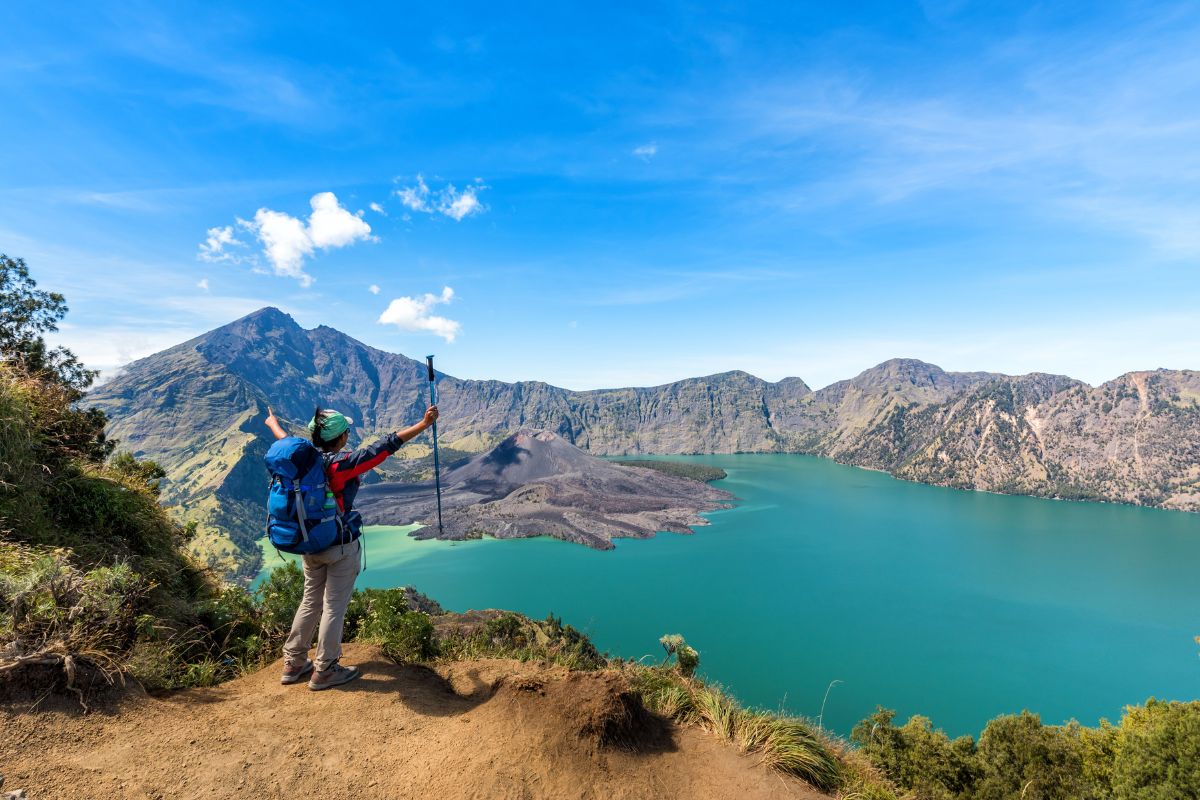 Central to the village of Lawang Sembalun, is the impressive Lake Segara Anak which is translated into  "small ocean" and "child of the sea".
This impressive "small ocean" is a volcanic lake that formed on the caldera of Mount Rinjani and spans an impressive area of 11 square kilometers and reaches depths up to 230 meters.
Many adventurous travelers gear up to take the 2-day long trek up to the otherworldly lake, to get the most impressive open-air panoramic view of the surrounding area, and islands nearby including Bali.
Bring camp gear, and stay the night at the lake.
The trek to the top is full of jungle terrain and high cliffs, healing hot springs, waterfalls, and changes in temperature, however, the reward is waiting for all who reach the top.
26 – Stroll the gorgeous Pink Beach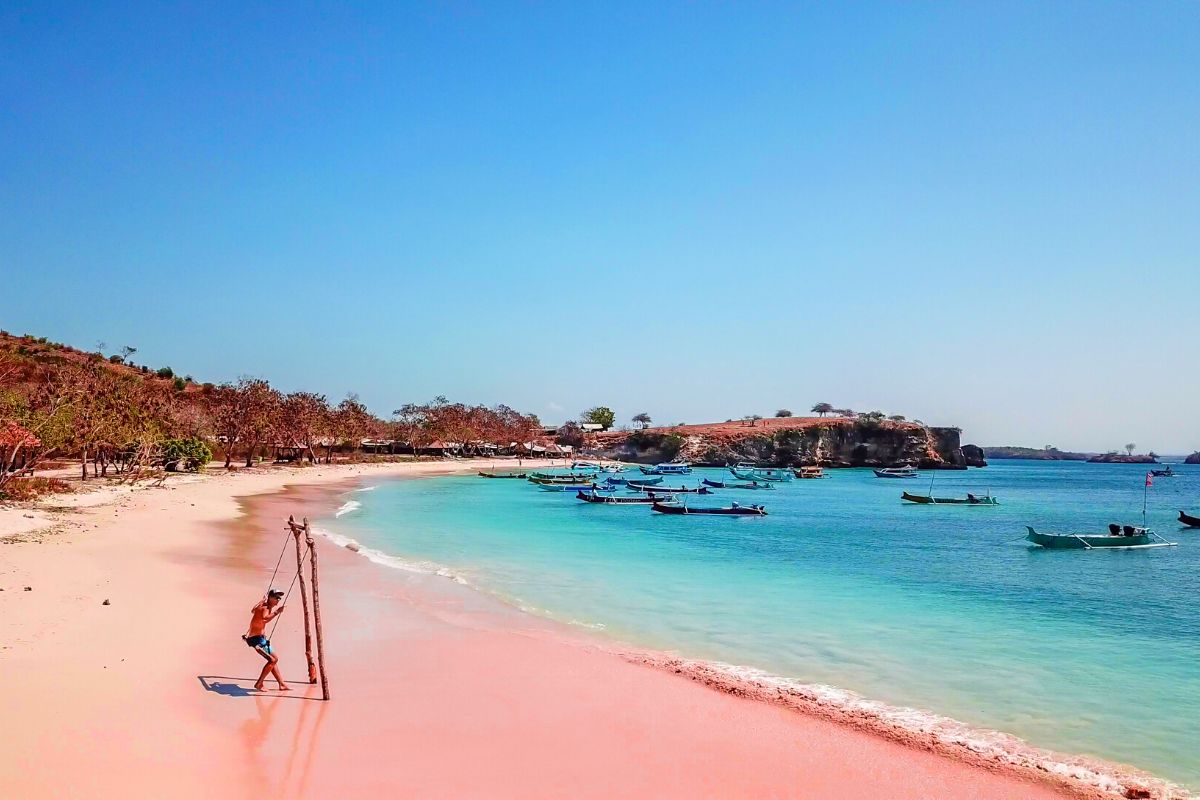 Looking for unique things to do in Lombok?
Make plans to check out the eye-catching pink beach, located in a tiny and secluded fishing town called Sekaroh on Lombok's east coast.
The sands are pink due to the pieces that fall off the pink coral reefs of the beach, which get carried onto the sand and mix together with time.
The journey to the pink sand beaches may be a little far, depending on where you're staying.
One of the ways to travel there would be to hire a driver.
Another great way to see the pink beaches is to purchase a group tour, see the pink sands, and do other activities while there.
The best time to view the turquoise color of the water and the pink sand stand out the most is between 10 am – 4 pm.
27 – Dive and snorkel at Gili Petelu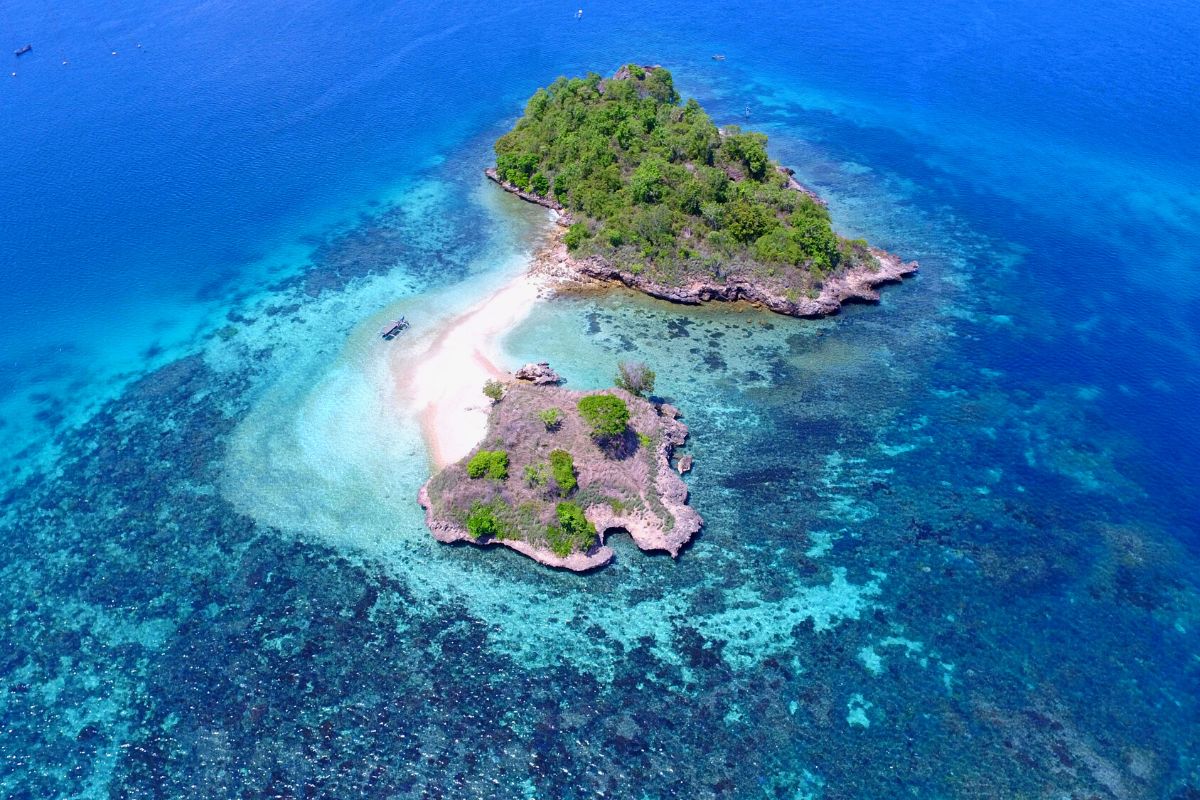 Situated 18 minutes away from the famed pink sand beach is Gili Petelu, a beautiful beach with outstanding water activities like snorkeling, and diving, where visitors will get a chance to encounter marine life under the pristine and clear waters.
Swim and sunbathe on the beautiful coast, and relax in the secluded nature of Gili Petelu.
Getting to this beach is best with car hire or even better a tour.
Many tours will combine a visit to Gili Petelu and the pink sand beaches, so if you want to see both, a tour is a great option.
28 – Visit the beautiful Pura Batu Bolong temple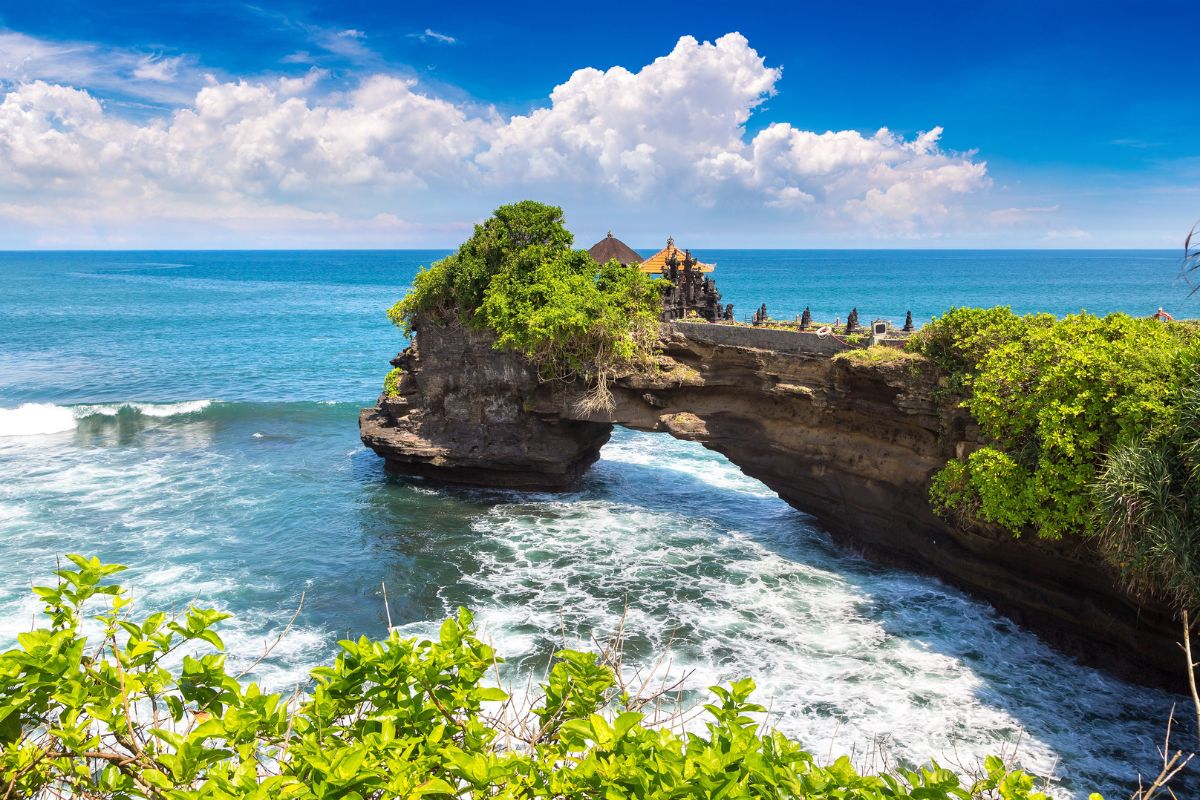 Not to be confused with the temple of the same name in Bali, Pura Batu Bolong is a Hindu temple located on the west coast of Lombok.
Operating as a temple for worship, this site is a place of history, culture, and a natural wonder for many travelers, dating back to 1533.
From the interesting story behind the name of the temple taking root in a Hindu figure traveling from Bali to Lombok, to its outstanding views of the sea beside the temple.
The temple itself is adorned with figures of dragons, as well as statues of important Hindu figures.
Additionally, the rock on which the temple is on is a major attraction due to its black color, and interesting origin as a volcanic rock typical of the coast.
29 – Explore Lombok as a local on a bike tour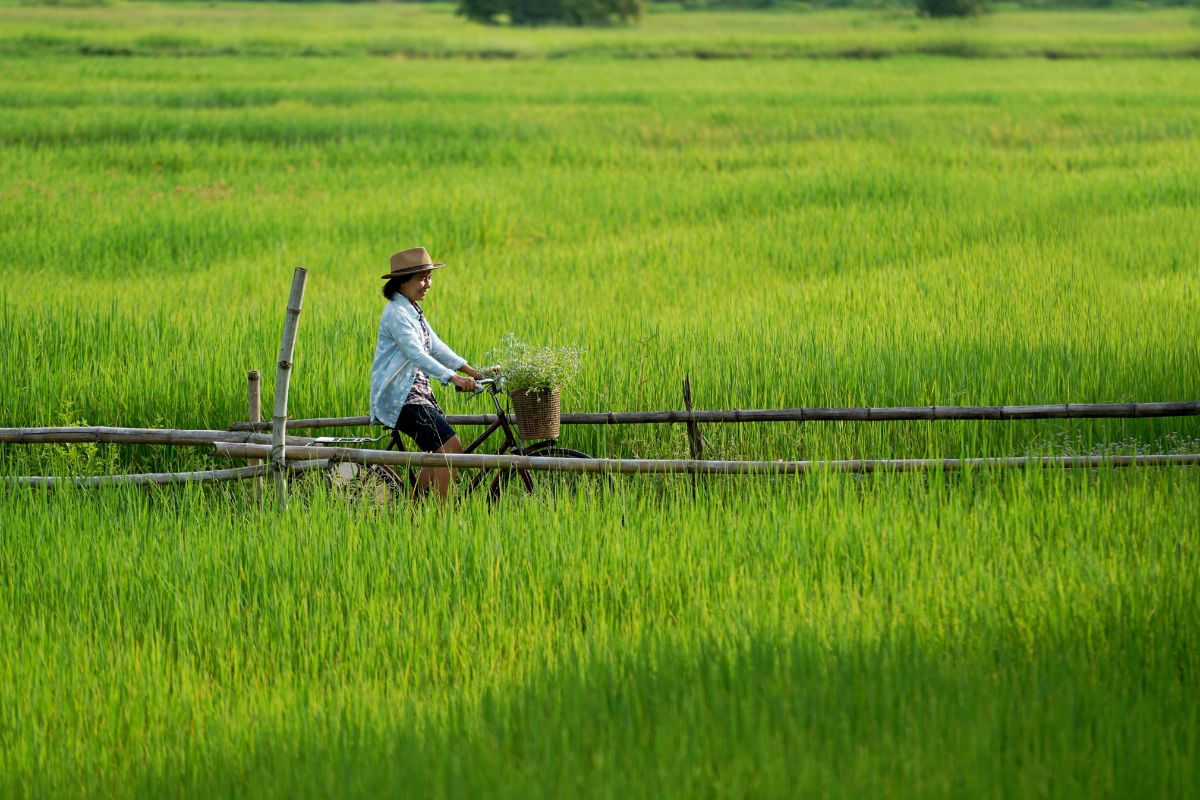 Considering that the people of the island of Lombok most typically move via bikes, mopeds, and scooters, a bike tour is a local activity to partake in, and an incredible way to see the island the way the locals do – on two wheels.
Explore the dominating jungle terrain, pass by the rice paddies, take detours to refresh at nearby waterfalls, and learn about local culture when stopping by native villages.
Tickets for bike tours start around $65 USD for half-day and full-day tours, oftentimes including a lunch stop, the bike, the guide, and a bottle of water.
Many visitors participate in local bike tours because though the island is small, the fastest and best way to see incredible corners is via bike, just as the locals do.
30 – Take incredible photos and views at Bukit Selong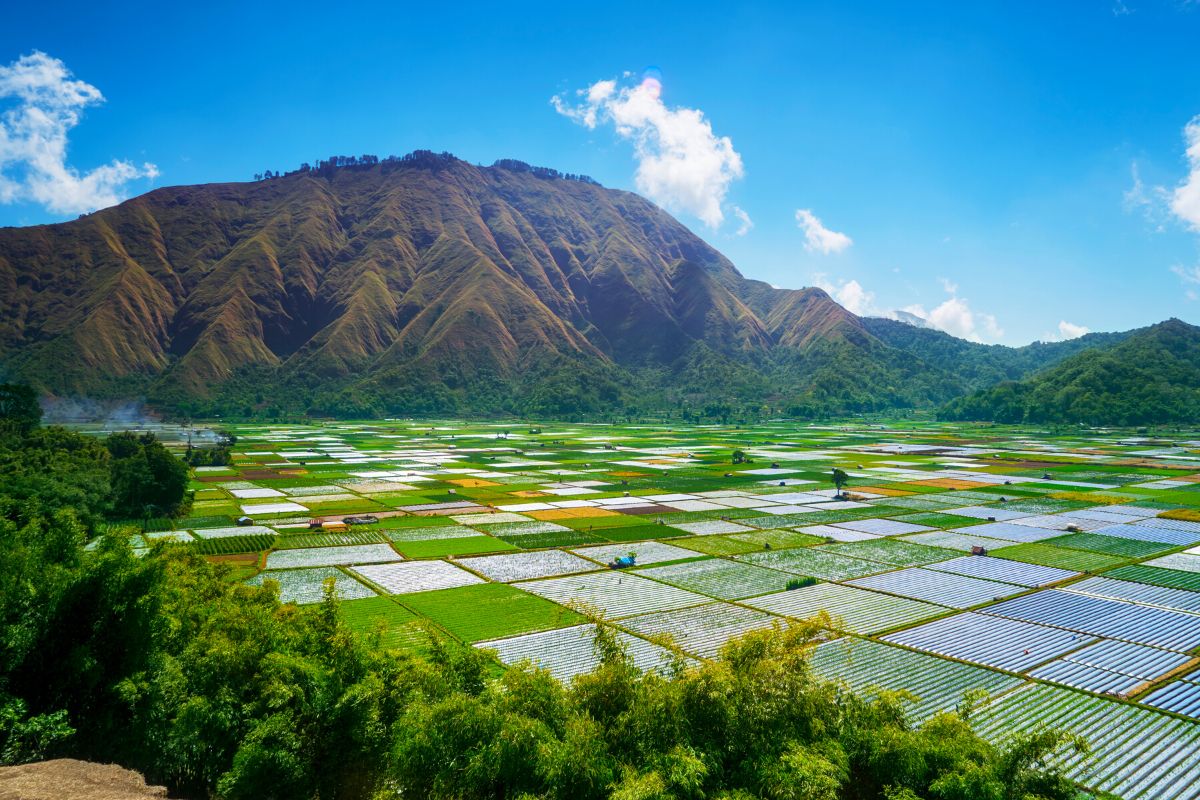 Bukit Selong is an incredible view that overlooks rice fields, a bamboo platform in the shape of a star where you can stand, and even a bamboo-made bridge where visitors are able to walk to its edge and take incredible photos.
If you're a photographer lover, a visit to Bukit Selong is a must-visit site to take stunning photos with incredible natural backdrops like the green mountain on the horizon that showcase uniquely Lombok's beauty.
Located on the eastern coast of Lombak, travelers usually take a taxi depending on where they're traveling from. If you're traveling from Kuta, the journey will be 2.5 hours.
Many travelers will suggest visiting during sunrise in order to see the view in its most splendid hour of the day.
31 – Admire the rock formation of Batu Payung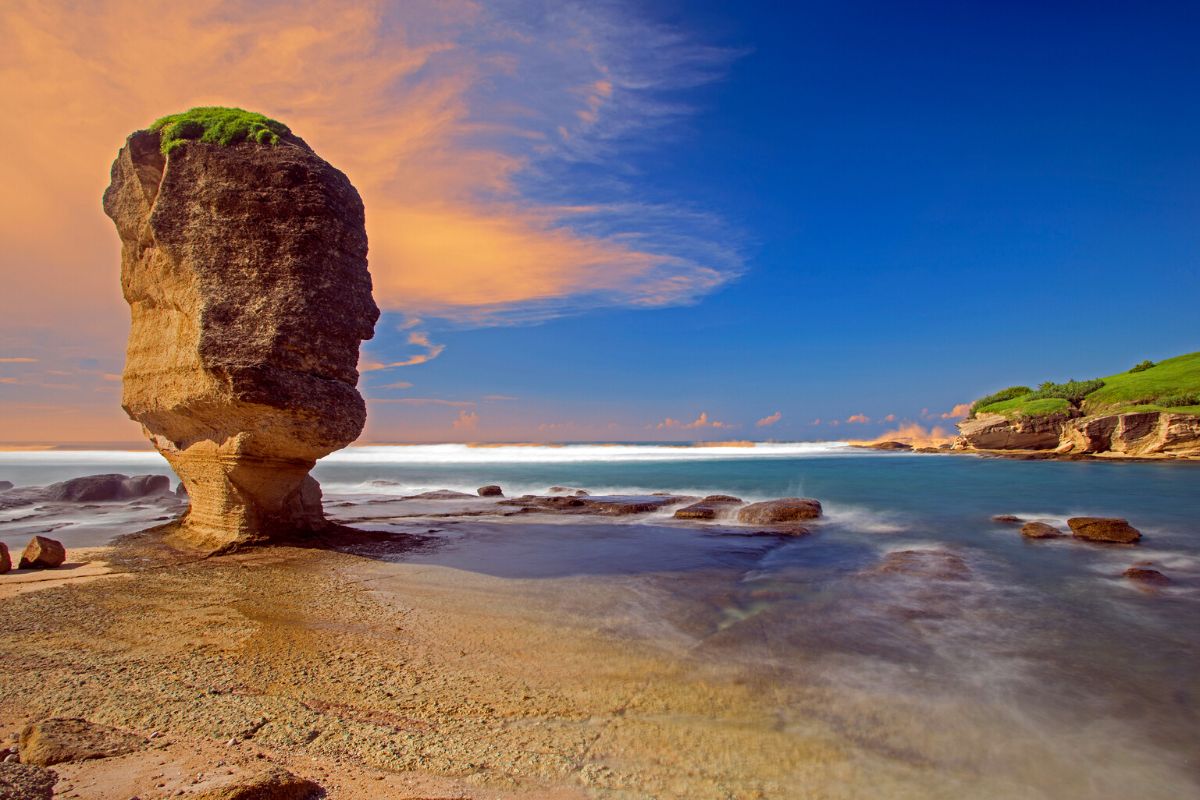 Situated on the southern tip of Lombok, is a quirky photo op not to be missed by travelers to capture a shot unique to Lombok.
Batu Payung is an interesting rock that sits at the tip of the coast, and though it is a great place to take your pictures, it is also a wonderful place to visit for sunset hours.
The giant boulder has a small base, and extends wider the taller it goes, making it an interesting rock phenomenon.
When visiting this site, make sure to wear non-slippery shoes and proceed to walk across the slippery rocks with caution.
Additionally, since the rock is on the coast, there may be times when the tide gets too high, which in that case, may not allow you to get too close to the rock.
32 – Experience the soothing effects of the Air Kalak Hot Springs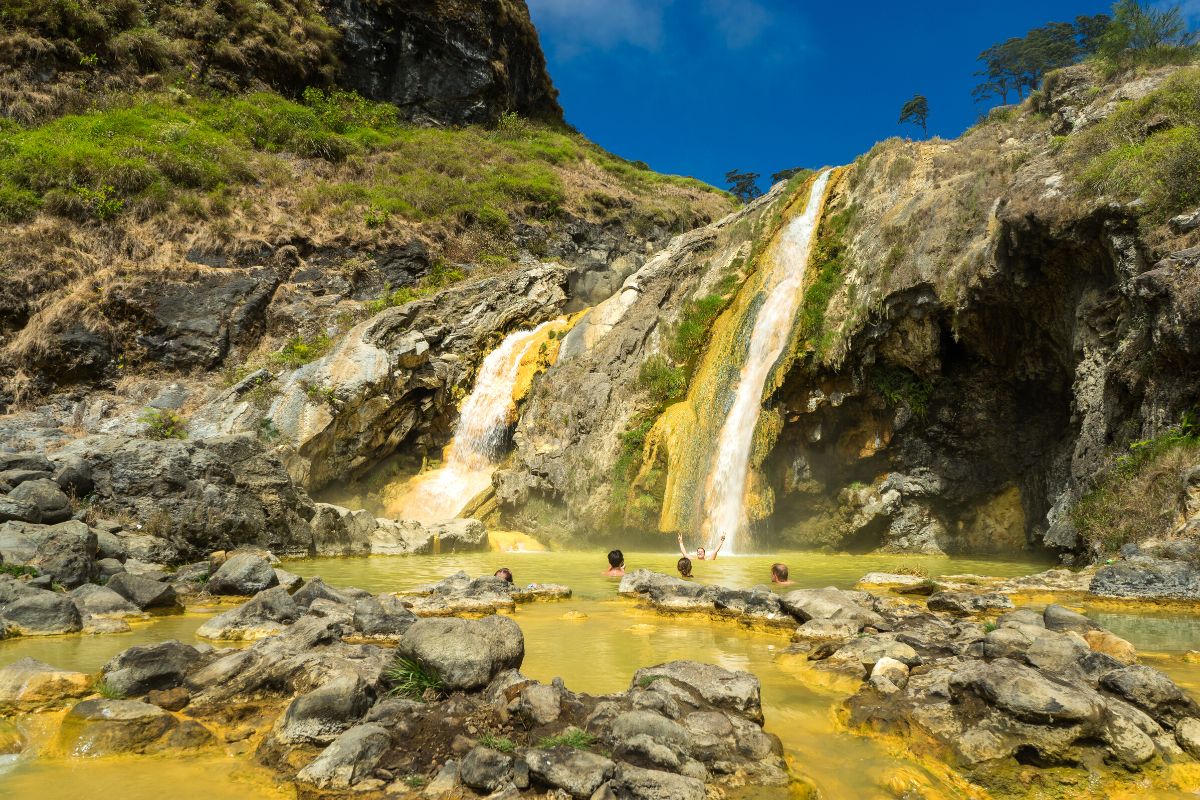 Centrally located in the heart of Mount Rinjani National Park is the sacred hot water spring called Air Kalak, which means "boiling water" in the native language.
While the waters are warm and inviting, the air surrounding the hot springs is cooler than the water, creating a wonderful mix of cool and warm conditions in the hot springs.
Locals have described this site as holy, and claim that the waters have healing properties.
Both locals and visitors can be seen sitting on top of the warm stones in the hot springs, taking a moment of healing reflection.
Another way that the locals use the springs is to clean off their daggers and swords, which is an interesting action to see and many visitors like to observe the delicate way in which they do so.
33 – Escape the crowded beaches and visit the Secret Gili Islands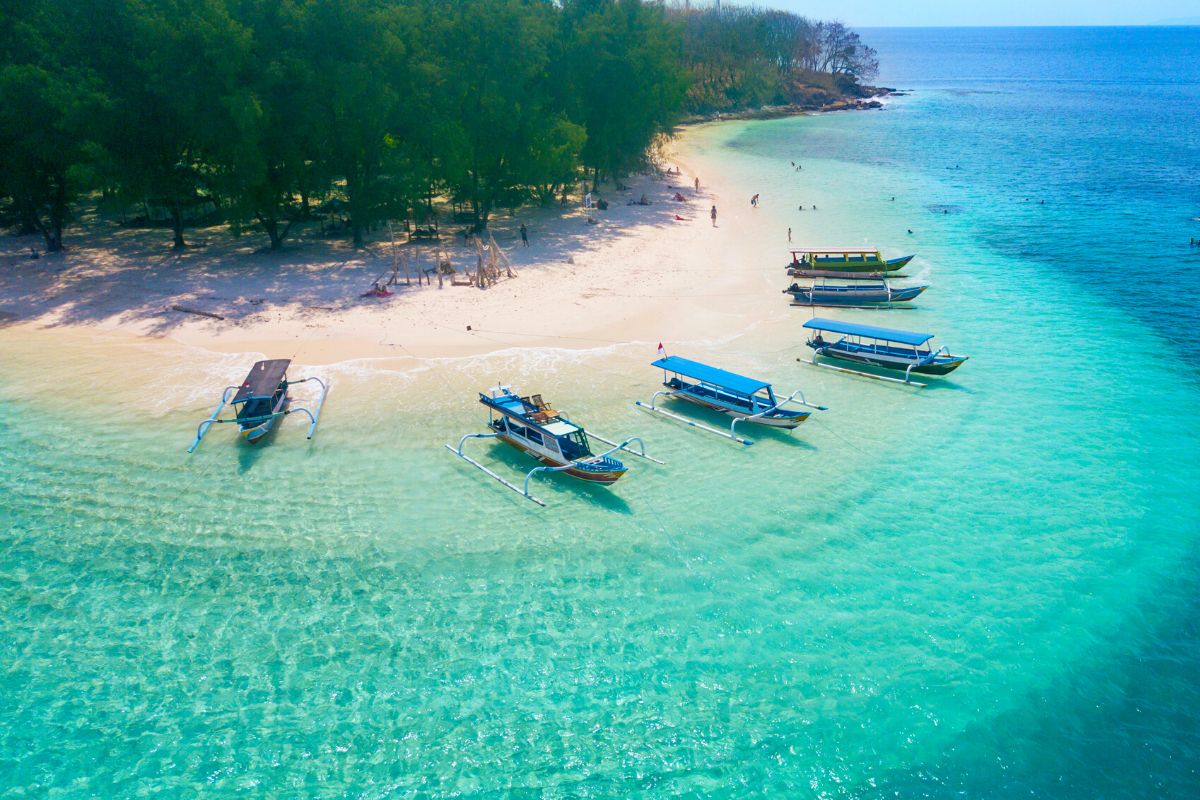 Departing from the west coast of Lombok are boats that take locals and visitors to the secret Gili islands.
The secret Gili islands are comprised of Gili Layar, Gili Goleng, Gili Rengit, and Gili Asahan.
Offering the perfect escape from the busier beaches and islands near Lombok, the secret Gili islands are named "a secret" simply because of their seclusion.
When visiting these islands, visitors feel like they're the only ones there, and the islands radiate paradise and offer a beautiful tropical escape.
The best way to visit the secret Gili islands is to book a tour that will take you from Lombok to visit all the islands for the day.
Enjoy snorkeling, diving, and swimming activities, and eating at the local restaurants, to further enrich your experience.
34 – Indulge in the beauty and services at Mandalika Beach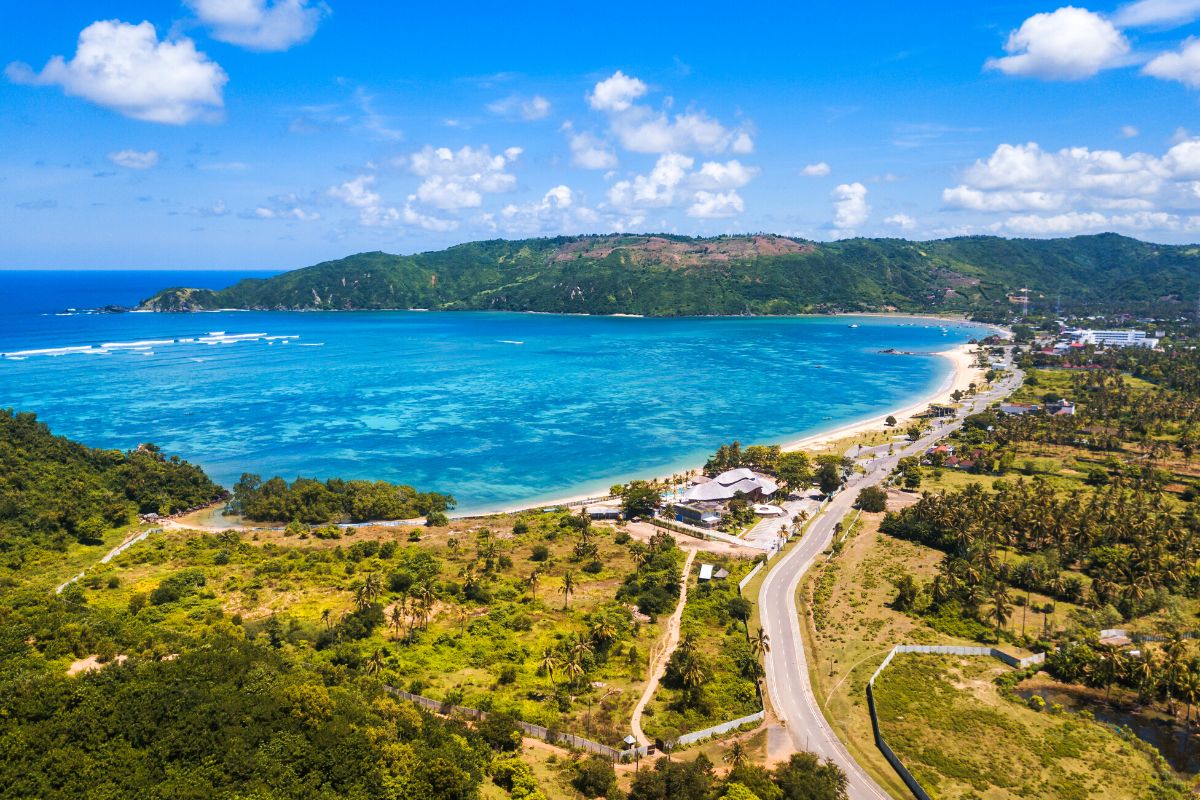 Beach lovers should not miss a day of sun and sand at Manalika Beach, which has been developed into one of Lombok's most popular beach sites for its growing tourism.
At Mandalika Beach, visitors can expect a plethora of activities to do, from swimming, snorkeling, and surfing, to enjoying the local water parks, spending the night at an elegant resort, freshening up at the luxury spa, and so much more.
Stay for the evening, indulge in the beach's lively nightlife, and spend the night on the beach dancing and meeting travelers from all over the world.
Located in Lombok's southern region, spanning over 1,250 hectares, and offering beautiful and well-kept, white sandy beaches, Mandalika Beach is a dream to visit.
35 – Appreciate the weaving tradition of Sukarara Village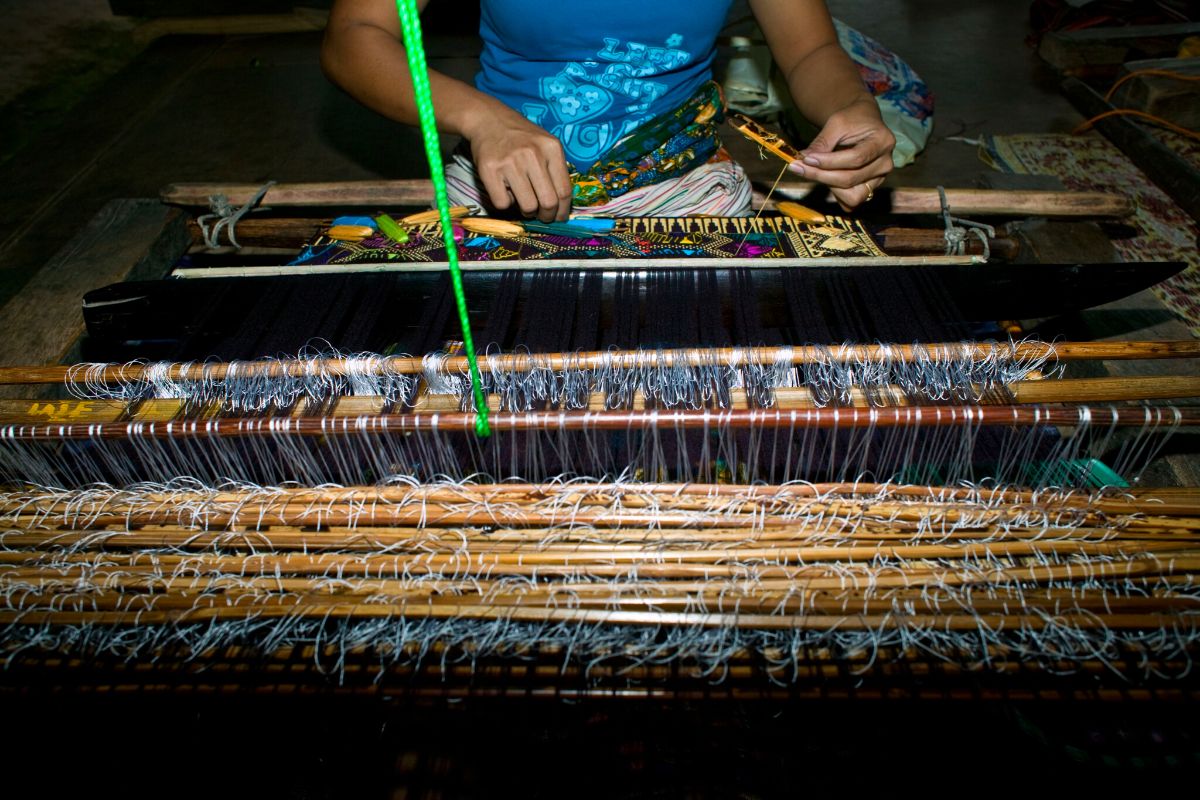 Sukarara Village is known as a hot spot for weaving artisan items, created by the women of the village, using traditions and fabrics that have been used locally for years.
Creating beautiful weaves, and crafts with typical designs, visitors will not want to miss a stop by Sukarara Village.
Located in the southern region of Lombok, the weaving tradition is one that has been passed down through various generations amongst the women, and today, visitors can walk through the village, and take a look at the variety of women creating beautiful Songket woven cloths, typical of the area.
The best way to visit Sukarara Village is to hire a private car, a taxi, or take a tour that will take you straight to this village, as well as other points of interest nearby.
36 – Visit the Autore Pearl Farm and Showroom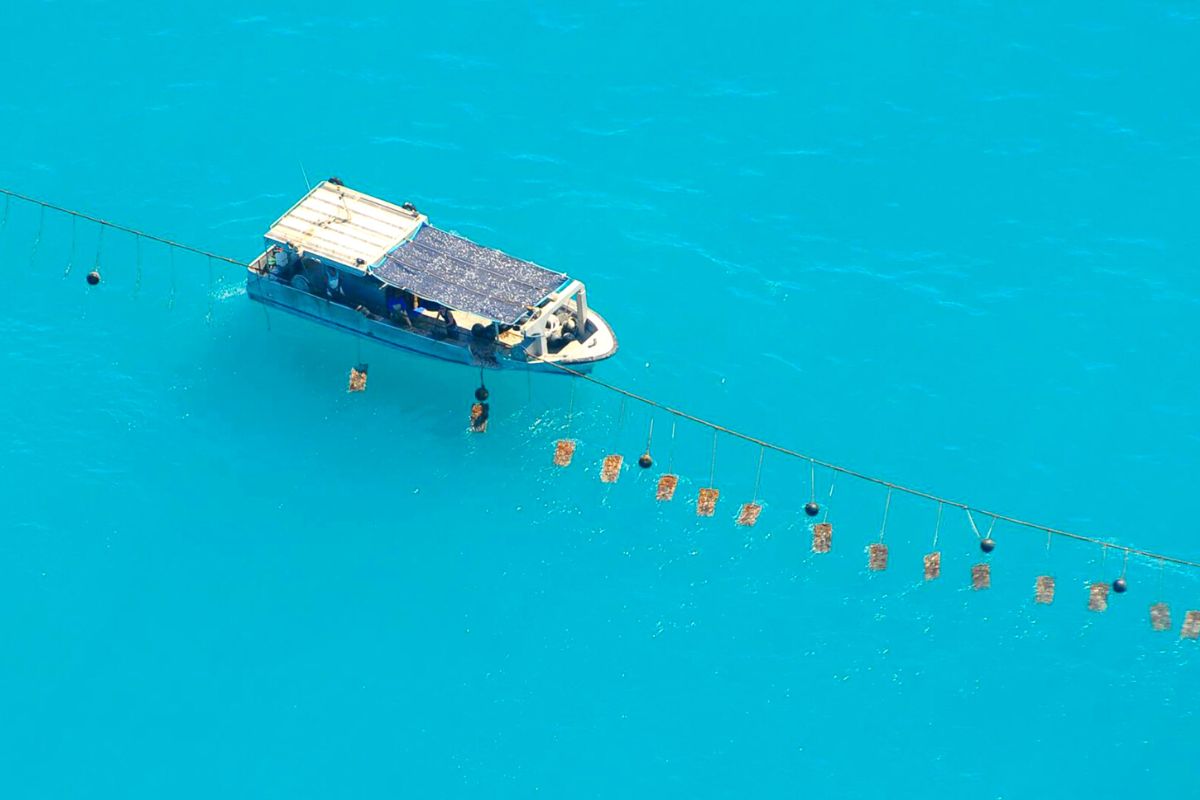 Lombok is one of the pearl harvesting destinations of the world, and since 1991, has had a working relationship with AUTORE, one of the largest pearl companies in the world, creating luxury and authentic pearl jewelry.
Sitting on Lombok's west coast in the pleasant town of Teluk Nara, where pearl farming takes place for AUTORE, it is also the place where the company has opened a showroom to exhibit its stunning pearls.
Visitors can take a tour of the pearl harvesting process, and learn everything from the beginning of the process to the jewelry itself.
Afterward, visitors can enter the showroom, and take a look at the transformation and new life that the peals receive, as well as learn about the collaboration between AUTORE and local communities in efforts to give back.
37 – Hike up Bukit Pergasingan for the best sunrise views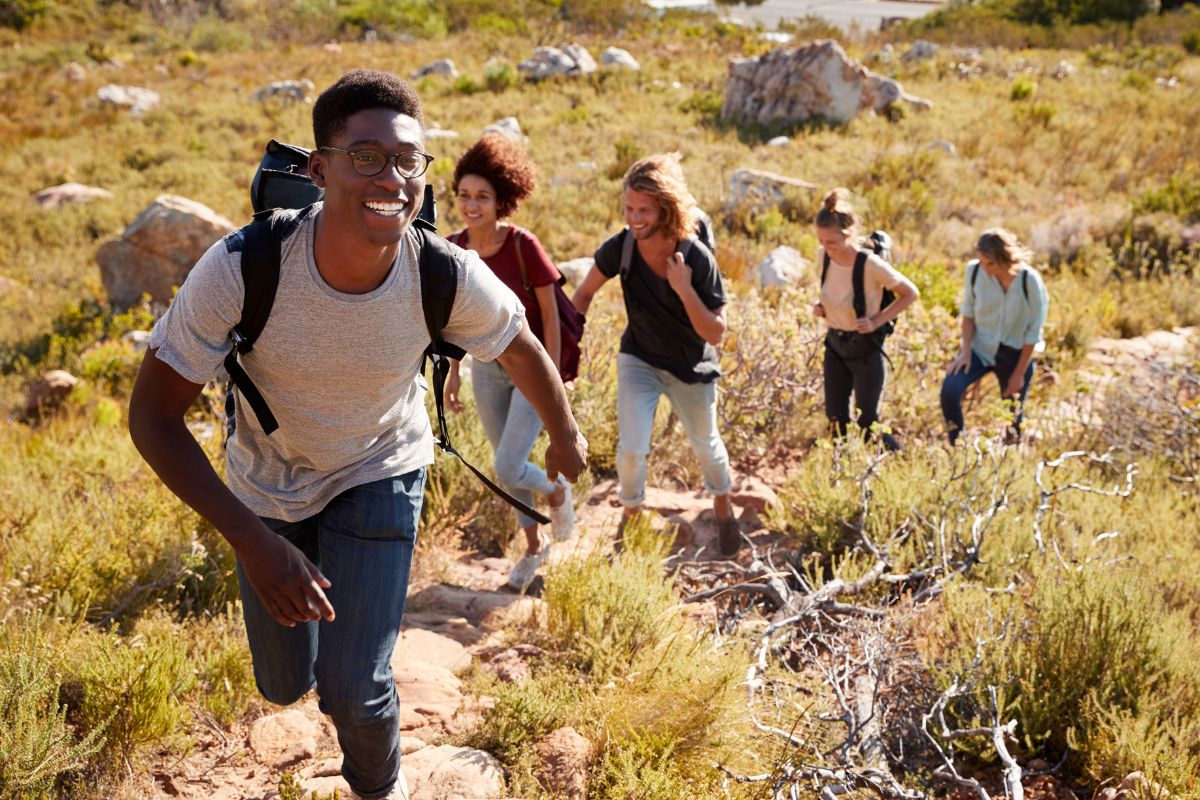 Also known as Bukit Hill, Bukit Pergasingan is a marvelous viewpoint located in northern Lombok and offers some of the best views of all of the island.
The hike to the heights of Bukkit Pergasingan is around 1 hour, and although it may be a little steep, it is still a doable walk for most people. Other than taking in the views, visitors can camp there, and wake up the next day to one of the most surreal sunrises of their lives.
It is recommended that visitors check out this viewpoint either during sunrise or sunset hours, simply because of the glow that casts over the sight of mountains and sea.
It is recommended that first-timers go with a guide, as directions may be vague, and visitors may get lost.
38 – Do some snorkeling at Senggigi beach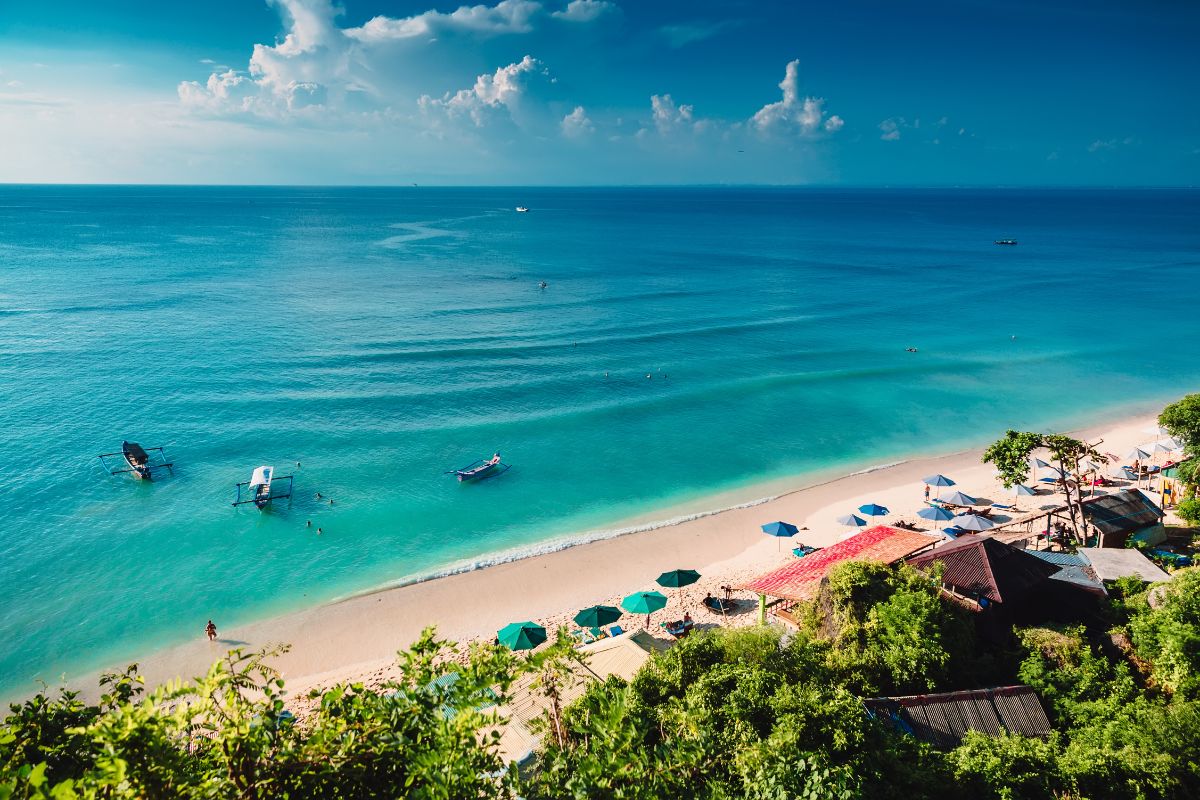 Senggigi Beach is a beach sitting on Lombok's western coast and offers beachgoers a beautiful 10 kilometers stretch of white powder-like sand, clear waters, and a wide array of activities to do.
From dining at the local restaurants, shopping for souvenirs in the local beach shops, and enjoying the beach and swimming all day, travelers won't have any boring moments.
Senggigi Beach has a little bit of everything, including snorkeling activities, and if you book a tour that will take you to Senggigi Beach, you will be equipped with snorkeling equipment and other local activities.
The best way to get to Senggigi Beach is a taxi, a private car, or a tour operator. This beach is often frequented by travelers, so transporting between here and your hotel won't be a big problem.
39 – Step into Pusuk Monkey Forest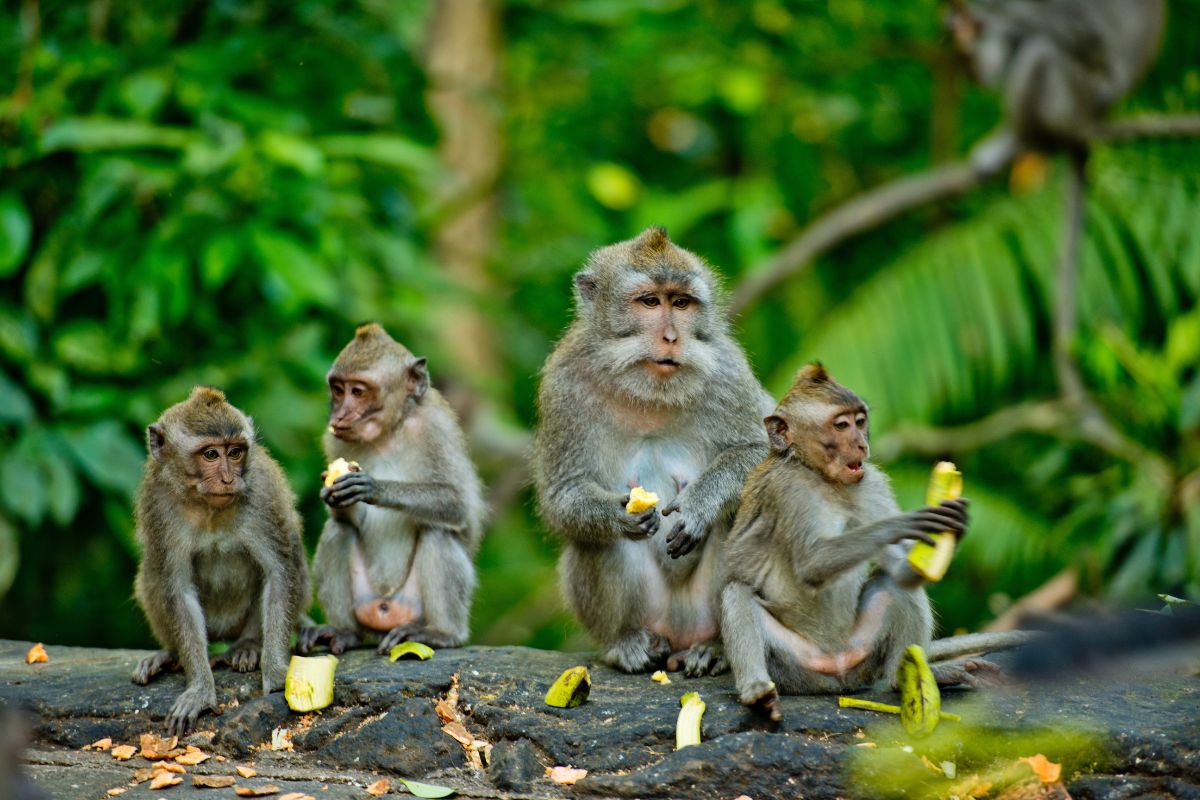 Located around 30-40 minutes away from Senggigi Beach is the Pusuk Monkey Forest – a habitat for monkeys, where visitors get the chance to visit them in the wild and interact with them in the most natural way.
Aside from being a natural habitat for monkeys, it is also a viewpoint that offers a beautiful view of the forested mountains.
It is suggested that when you visit, make sure to keep all belongings in your bag, sealed and away from the sight of monkeys, as they like to get sneaky with travelers.
If you're driving yourself, make sure to drive slower, as monkeys can appear in the middle of the roads.
The name of the specie of monkey that resides here is called Macaque monkey. Entrance into this site is free.
40 – Have an incredible meal experience at one of the best restaurants in Lombok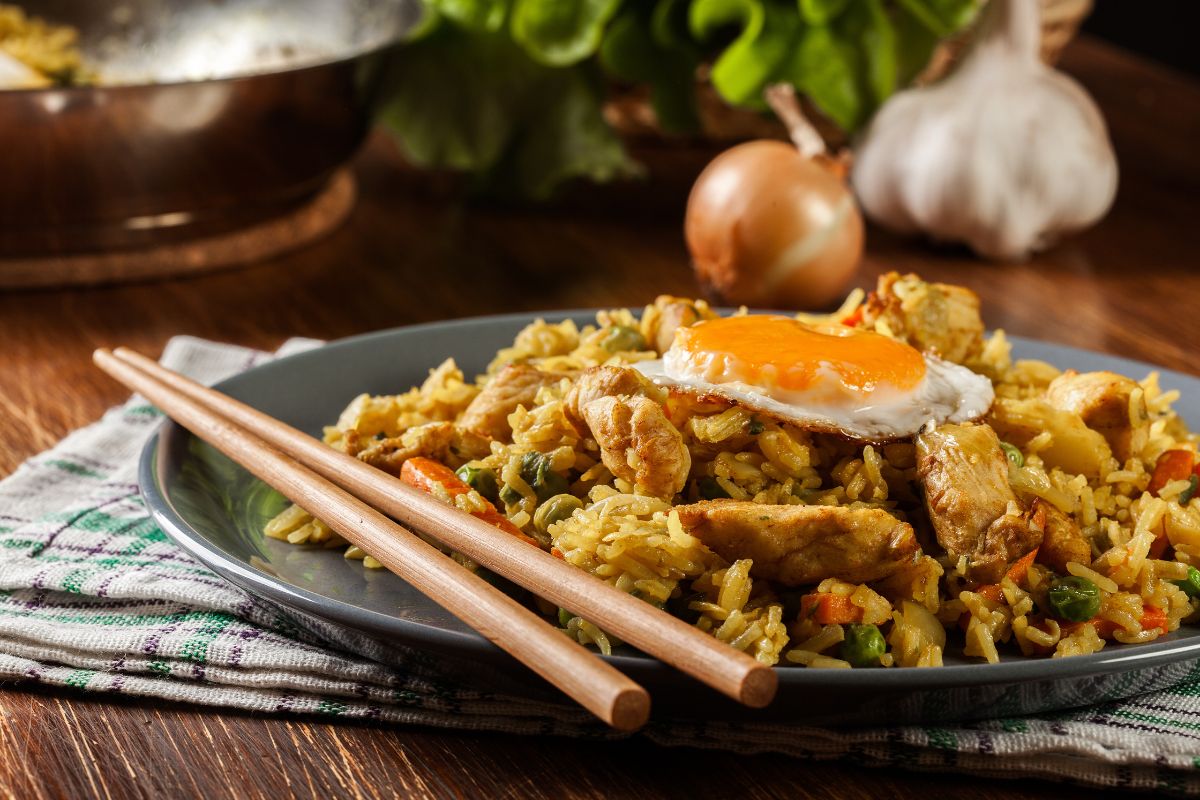 Delicious flavors are combined together on the island of Lombok, creating a fusion of flavor, and heat local to the island.
Some of its famous dishes include Ayam Taliwang (a spicy chicken dish), Satay Rembiga (spicy and flavorful beef dish), Beberuk (an eggplant dish made with local eggplant different from western eggplant), and more.
A fusion of Indonesian and French cuisine is Spice Restaurant, a marvelous restaurant set on the beach with exquisite sea views.
This fine-dining restaurant is a must if you're traveling with a partner and you're looking for a romantic dinner idea.
Laut Biru is a beautiful restaurant that in its all-white facade, stands out lively against the lush green garden setting.
Serving Indonesian and European dishes, the restaurant recommends travelers order one of their signature dishes, Rage Rajang.
41 – Indulge in a romantic dinner experience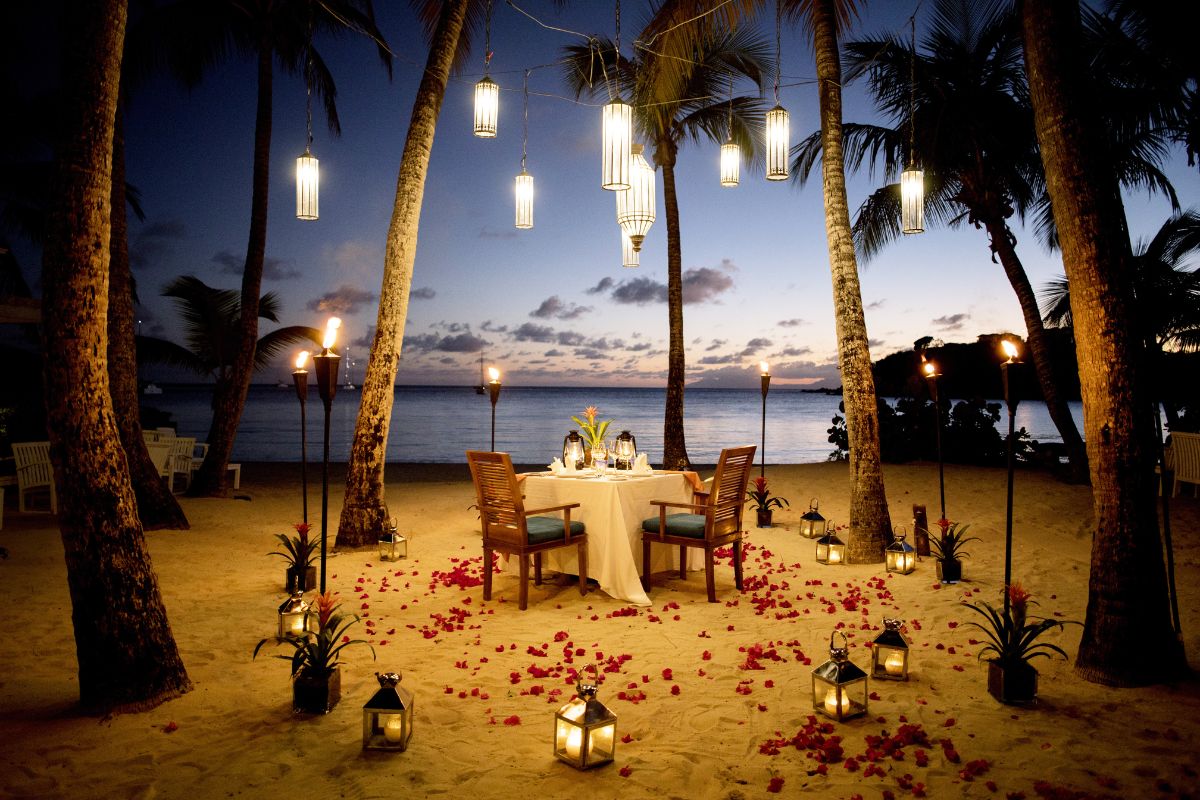 For its incredible beaches, warm, silky sand, and sunset views that enamor each traveler, Lombok is one of the perfect destinations to plan a romantic dinner for two – one of the best things to do in Lombok for couples.
Experience a Rijsttafel dinner experience, which translates into rice dinner.
Here, a variety of different dishes are served on tiny plates and served with a side of Indonesian-style rice.
It is a wonderful and communal dining experience to enjoy while in Indonesia.
For something more private, enjoy a Quixotic Dreams dinner experience, where you and your partner will experience a secluded dining experience on the beach, with top hospitality.
Enjoy a touch of class and casualness in an unforgettable Lombok BBQ beach sunset dinner, and enjoy on the beach a delicious BBQ meal, Indonesian style with seafood cooked in traditional Indonesian methods.
How to get to Lombok?
Getting to Lombok is easy, and can be done in 1 of 3 ways.
The ferry is one of the easiest and most frequent modes of transportation between the Indonesian islands. If you're coming from Bali especially. The ferry can take around 6 hours.
However, if you'd like you can also take the Fast Boat by Blue Water Safari Express. The Fast Boat option can take around 1.5-3 hours in travel time between the islands.
Flying to Lombok is also a possibility, with flights landing in Mataram, Lombok's capital city. The flight can take an estimated 40 minutes, so if you're tight on time, taking a flight might be the best option.
Book an airport transfer ahead of time to start the whole trip off right!
Where to stay in Lombok?
Hotel Tugu Lombok is an eco-friendly resort, located on Sire Beach on Lombok's east coast. Only 4 minutes away from the beach, the resort also offers exquisite spa treatments as well as on-site daily entertainment.
Featuring an incredible pool overlooking the sea, activity equipment available for rent on-site, and delectable Indonesian cuisine buffets, The Oberoi Beach Resort Lombok is the perfect lodging option for those opting for a truly luxurious Indonesian experience.
Stay at the Merumatta Senggigi Lombok and enjoy the incredible fitness facilities, ample seating areas around the hotel, and delicious European and Asian-inspired restaurants on-site. Take advantage of the airport shuttle services available upon request.
Consider booking a few nights at The Kayana Beach Lombok, where guests can absorb the natural beauty of the hotel, from its impeccable gardens, palm beach-lined beach, and beautiful open spaces to relax and unwind in.
Pool Villa Club Lombok guests can enjoy elegantly decorated hotel rooms, designed with furnishings inspired by Indonesian culture, comfortable beds, a private sundeck, and various other amenities. This hotel is best for couples wanting to enjoy Lombok together.
At just a 12-minute walk from the beach, the Ocean View Villa is a great choice for travelers who want to book tours straight from the hotel's concierge desk to all of Lombok's wonderful points of interest. Guests can request a private chef to cook a customized meal or enjoy the wonderful local restaurants 5 minutes away from the hotel.
Where next?
While you're thinking of other destinations not to miss in Indonesia, make sure to check out the fun and unusual things to do in Bali. With frequent ferries and flights between Bali and Lombok, the perfect weekend trip awaits you.
For a truly unique destination, enjoy a cruise to Komodo and get a truly memorable experience sailing the seas.
Final thoughts
Lombok is a stunning island, with an incredible list of natural sights including silky sand beaches with incredible turquoise blue waters, beautiful viewpoints overlooking the best of Lombok, wonderfully secluded Gili islands, and so much more.
We hope that this list of fun things to do in Lombok was helpful and that you book your trip to this enchanting island soon.
Happy travels!