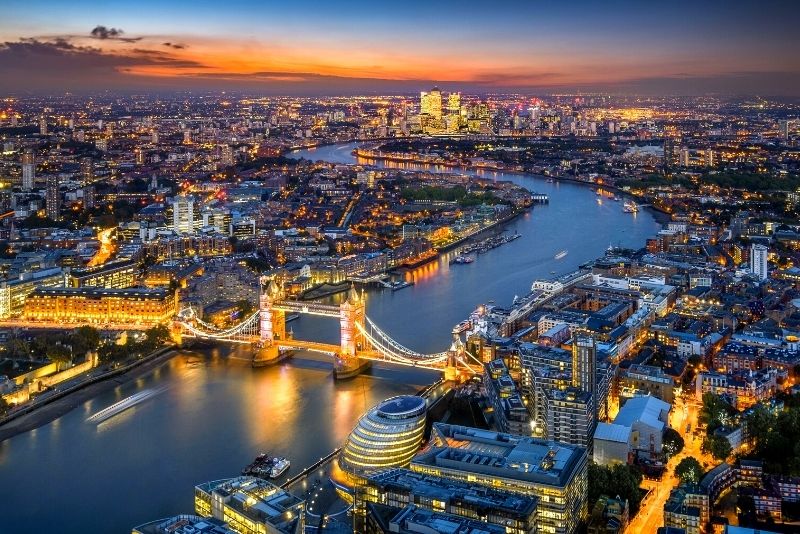 One of the world's most enviable and vibrant cities — London is a melting pot of food, culture, art, and entertainment; a beacon of history and European sport, and a bucket-list destination for nine out of ten travelers. Whether you're a foodie, a culture vulture, an architecture buff, or a partygoing pubcrawler, the diverse English capital has everything you'd want in a city and more.
With world-class museums, theme parks, West End theaters, glamorous royal palaces, quirky street art, and more bars and restaurants than any traveler could count, the list of things to do in London is as long as the Tube itself.
From the sprawling Hyde Park to centuries-old Westminster Abbey, there's no shortage of iconic landmarks to visit in London. But the city is also constantly evolving, with new neighborhoods and attractions popping up all the time – think hipster Shoreditch or the famed markets of Camden Town.
Hungry travelers, meanwhile, will be in heaven with London's incredible culinary scene, which runs the gamut from Michelin-starred dining to traditional pubs serving up a perfect pint of English ale.
Whether you're planning your first trip or your fiftieth, our insider's guide to London has everything you need to know – from the city's best hotels and restaurants to the top attractions and insider tips.
So, what are you waiting for? Start planning your trip!
1 – Start your trip at the world-famous London Eye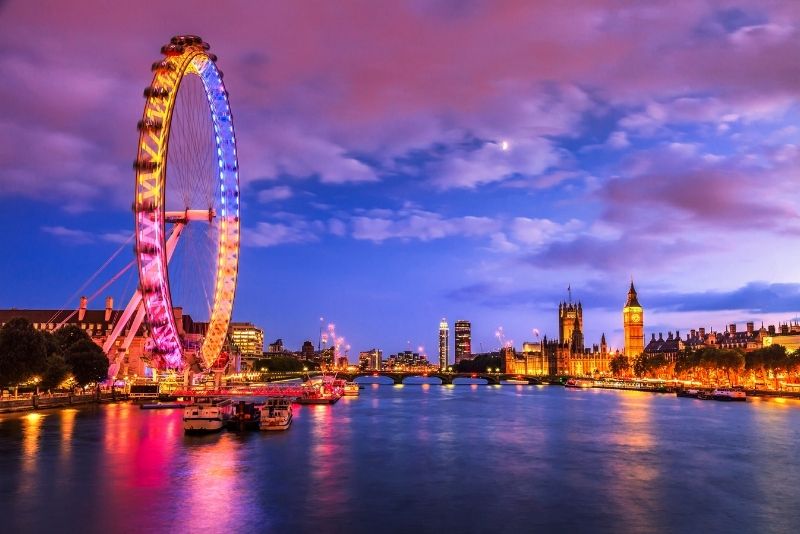 For a view that encapsulates the entire essence of this metropolis, there's no better spot than atop the infamous London Eye — one of the largest Ferris wheels in the world that reaches dizzying heights of 135 meters!
One trip around takes about 30 minutes, and lines can get long, so tourists are advised to book tickets in advance.
Romantics, take note; there are also special proposal packages available for those looking to pop the question.
You'll find the iconic London Eye smack-bang in the middle of the South Bank, just across the River Thames from Big Ben and Westminster Abbey, and right next door to the SEA LIFE Centre London Aquarium, making it an easy addition to any day of riverside sightseeing.
Learn how to book cheap London Eye tickets.
2 – Battle dementors at Warner Bros.' Studios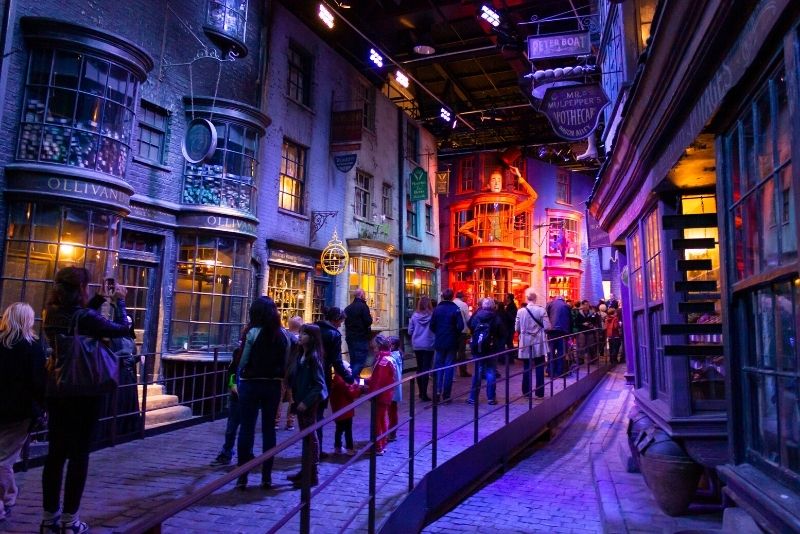 Whether you're a Ravenclaw, Gryffindor, Hufflepuff, or a Slytherin, spending the day exploring the Wizarding World of Harry Potter is one of the most sought-after things to do in London. A crowd favorite for voyaging families, this is the ultimate Harry Potter experience.
At Warner Bros. Studios, you can come face-to-face with some of the magical creatures from the films, step inside Hogwarts Castle, and explore iconic sets like Diagon Alley and Platform 9 ¾. And for those looking to add a touch of magic to their vacation, there's also a studio tour where you can learn about the filmmaking process from start to finish.
Visitors can see first-hand the recreated sets of the Great Hall, The Forbidden Forest, and Diagon Alley; there's also a wonderful collection of props from the movies, including the sorting hat and the original costumes.
Keep an eye out for festive events around Halloween and Christmas, and, for something a little more unique, consider the optional afternoon tea add-on, where indulgent sweets, treats, fresh pastries, and a pop of champagne will make you feel like you're dining in the Great Hall itself.
Sold out? Learn more about last-minute Harry Potter Studio tickets.
3 – Witness the Crown Jewels at the Tower of London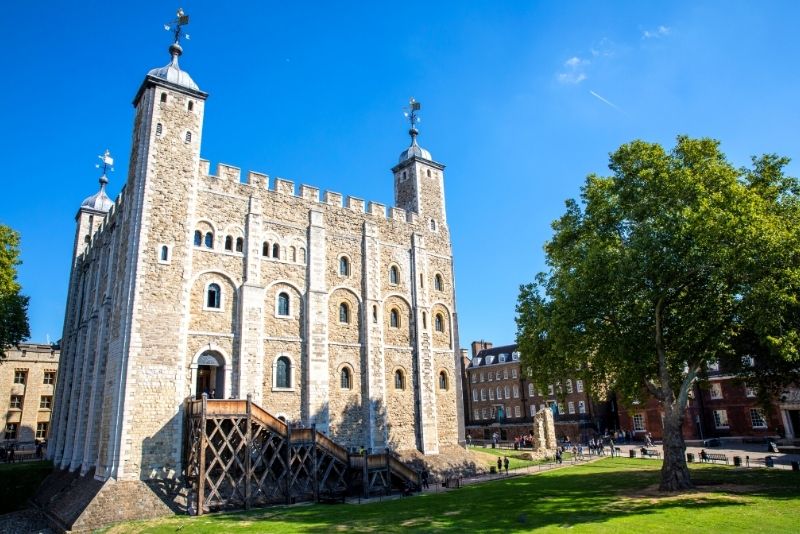 This world-famous castle boasts quite the decadent history, serving as a prison, royal palace, armory, and public record office over the years; now, of course, it's home to the illustrious Crown Jewels.
The 'Yeomen Warders' or 'Beefeaters', as they popularly go by, are situated outside the Tower itself, with lucky tourists able to see the changing of the guard every two hours.
An enchanting selection of exhibitions and displays await inside, but the most famous attraction is undoubtedly the Crown Jewels. These include some of the world's largest diamonds, sapphires, and rubies (including the Black Prince's Ruby), as well as the Coronation Regalia – all fit (as the name suggests) for a king or queen.
You can purchase an audio guide with your ticket – an affordable addition that helps it brings the story of the Tower (which has housed the jewels since the 1600s) to life.
Read more about Tower of London tickets price.
4 – Wander the aisles of Westminster Abbey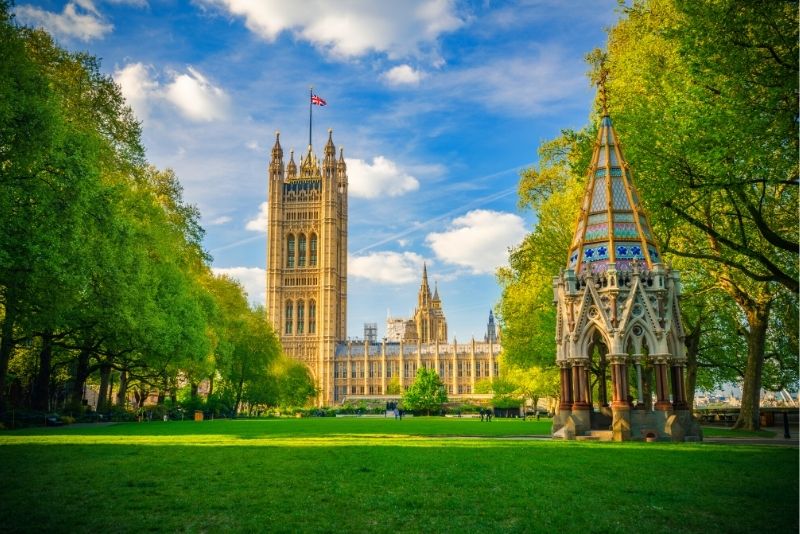 Constantly finding itself slapped on postcards and Instagram posts, Westminster Abbey is one of London's oldest buildings, dating back over a millennia to 960AD.
As the spot where royals have been crowned since 1066, and the final resting place for over 17 monarchs, it's a history buff's delight.
And while the history of this World Heritage Site is fascinating, its architecture is even more so. The Gothic-style building is a true work of art, with intricate details and lavish stained glass windows at every turn.
Even if you're not religious, it's worth visiting for the royal church's awe-inspiring architecture alone – just don't forget to take plenty of photos.
For something quintessentially London, opt for the Abbey-hosted afternoon tea.
5 – Listen to the bells ring at St Paul's Cathedral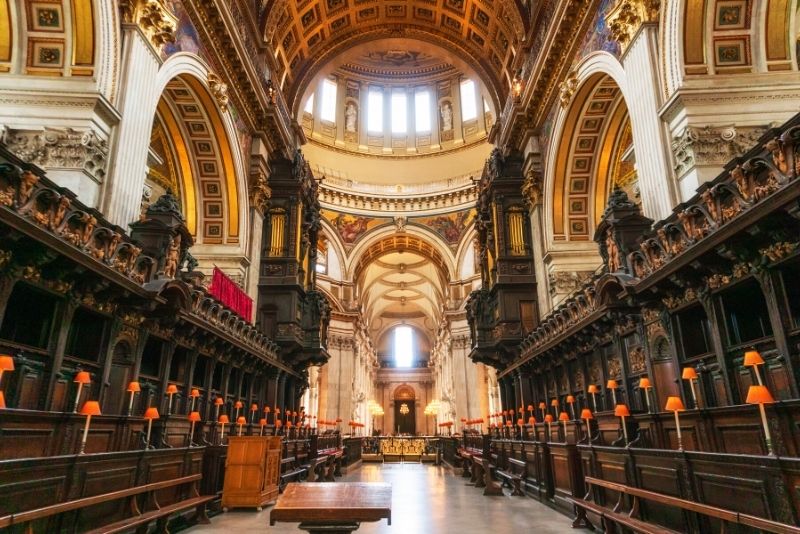 A short stroll from the modern Millenium Bridges on the River Thames, St Paul's Cathedral has long stood as one of London's most iconic buildings.
The magnificent structure, which took 35 years to build, was designed by Sir Christopher Wren in the 17th century and is considered one of the best examples of Baroque architecture in Britain.
With up to 1.5 million people visiting this historic cathedral every year, St Paul's is one of the most important places for worship and prayer not only in London, but the whole UK.
The architecture is one-of-a-kind (highlighted by one of the biggest domes in the world, towering a staggering 366 ft high), while the stained glass windows are intricate and beautiful.
Experience the beauty of the cathedral for yourself by opting for a tour that includes access to the famous Whispering Gallery, or simply enjoy the views of London from the Golden Gallery (528 steps from the cathedral floor – so wear comfy shoes!).
Sponsored placement
Explore London's secret sights with a CityDays treasure hunt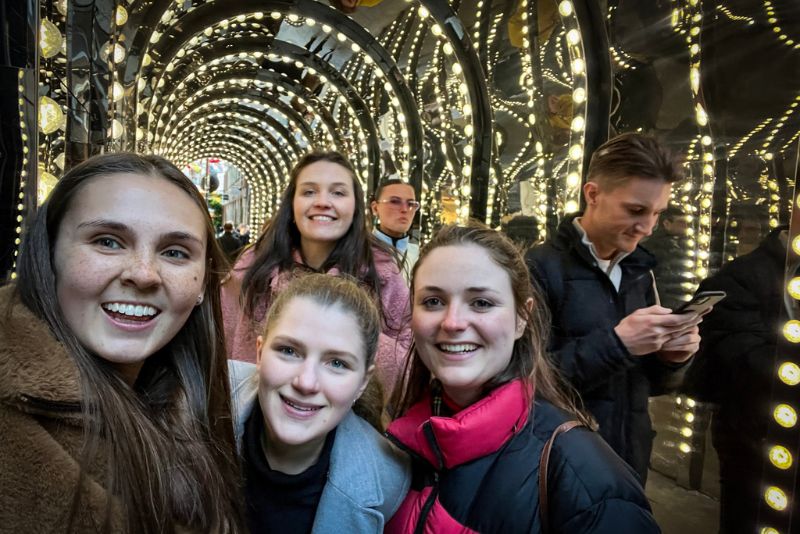 An immersive treasure hunt through the streets of London. Solve location-based clues that lead you to secret locations, fantastic pub/cafe stops and get you smiling from ear to ear! Similar to an escape room, but outdoors!
Favourite haunts of Dickens, ancient Roman ruins, medieval London's criminal underbelly, trendy modern markets and more, CityDays turn highlights and hidden secrets into puzzle-filled urban playgrounds full of things to see, facts to be thrilled by and fascinating stories to explore.
Compete in teams to top the leaderboard or take your time soaking in all the wonderful places you explore. Perfect for friends, families, colleagues, visitors and locals!
Available every day, sign-up and play within 5 minutes of booking. Corporate team days available.
Pssst…! Fancy 10% off your tickets?
TourScanner readers use the code LDN-TOURSCANNER for a cheeky little discount.
6 – Eat dinner in the clouds at The Shard
One of London's more modern attractions, the 95-story-tall, all-glass Shard wields the title as the tallest building in all of Europe (excluding Russia), at a whopping 310 meters tall — a height guaranteeing that visitors get the best views in all of London!
With a total of six mouth-watering restaurants and bars on offer (Aqua Shard, Oblix, Hutong, Bar 31, TĪNG, and GŎNG), it's the ideal spot to transition from sparkling sunset to dinner delight with a glass of bubbly in hand.
You'll find the observation deck on the 68th-72nd floors, with the open-air outdoor viewing gallery on the 72nd floor being the highest open-air observation deck in Western Europe.
If you're feeling extra fancy, book a window table at one of the restaurants and enjoy picture-perfect panoramic views of London for up to 40 miles on a clear day as you dine. With floor-to-ceiling glass windows, Aqua Shard is considered the prime eatery, while Cantonese restaurant Hutong promises excellent food to match the views.
Read more: Romantic things to do in London for couples
7 – Take a stroll through the Kew Gardens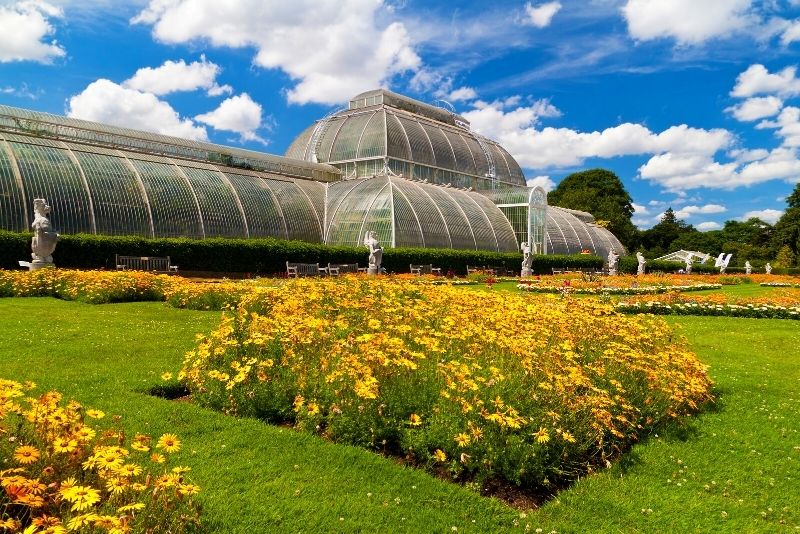 Get ready to be immersed in all the different diverse habitats that the UK has to offer!
Remarkably, these lush ecosystems are actually large-scale art installations that were created by Vaughn Bell — with some of the crowd favorites being walk-throughs of meadows, moorlands, coastal cliffs, and more.
A formidable destination to escape the hustle and bustle of the city, Kew Gardens is a UNESCO World Heritage Site and home to the world's largest collection of living plants, with no less than 16,900 unique plant species across its sprawling grounds.
The best time to explore these beautiful gardens is in springtime, when tens of thousands of blooming tulips paint the grounds in myriad colors. However, there's something to see year-round, with constant events and workshops (check the website in advance to see what's on during your visit).
Even though it's a little out of the city center, it's easily reached by hopping on the Tube's District line.
Read more about Kew Gardens tickets price.
8 – Feel the fright of the London Dungeon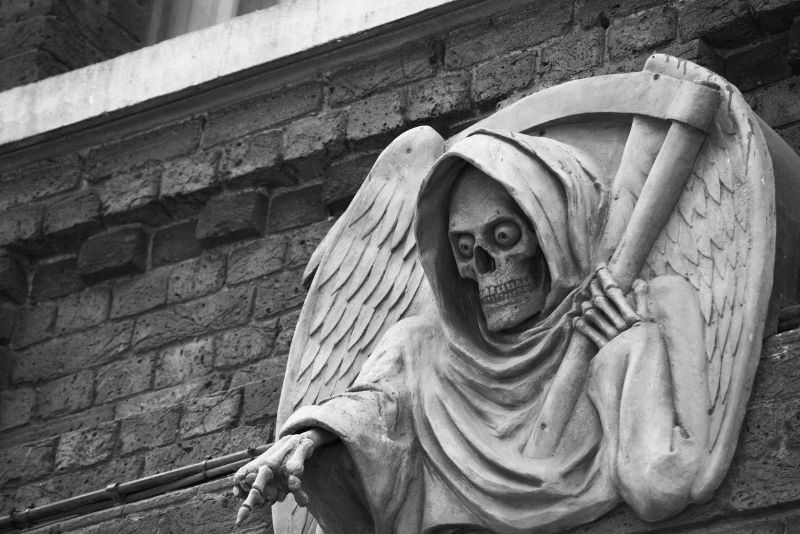 Who's ready for a spine-tingling adventure?
At the famous London Dungeon, brave guests can go back in time and learn all about the city's bone-chilling history; experience what London was like all the way back in Victorian times; and discover the famous, unsavory characters that once walked the streets through a humorous take on a macabre past.
Heavily interactive, the London Dungeon is made up of 19 different shows and rides, all of which are designed to leave you feeling scared out of your wits.
With a mixture of nearly two-dozen live actors, special effects, and stage show performances, this is the perfect activity for anyone who loves all things spooky — just don't be surprised if the live actors, unique props, and special effects cause you to jump out of your skin a few times.
9 – Check out at the luxurious Kensington Palace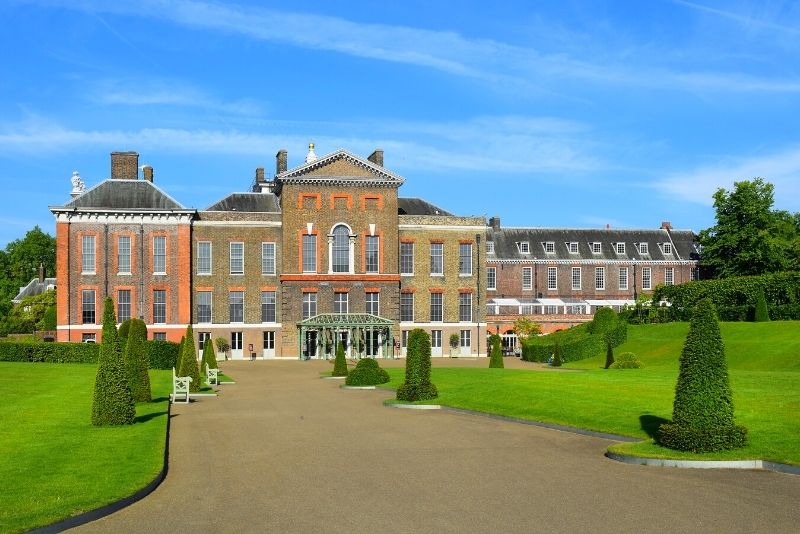 A symbol of opulence, Kensington Palace has a rich history and is just one of many residences owned by the royal family.
Today, it's where you can see an array of regal apartments that have been opened to the public — with each one providing an insight into a different period in Kensington Palace's storied past.
You can explore beautiful State Apartments that were once home to some of the most famous monarchs in British history – rooms that were homes to kings and queens of old, and rooms in which Prince Harry and Prince William were raised. As you walk through these lavishly decorated halls, it's easy to imagine what life was like for the royals – including Queen Victoria – who called Kensington Palace home.
In addition to the stunning State Apartments, don't miss out on seeing the beautiful Sunken Garden, which is one of the largest private gardens in London and is home to a stunning collection of blooming wildflowers alongside the ever-popular Cradle Walk (a nature tunnel that makes for a wonderful photo-op).
10 – Walk through the stands on a Stadium tour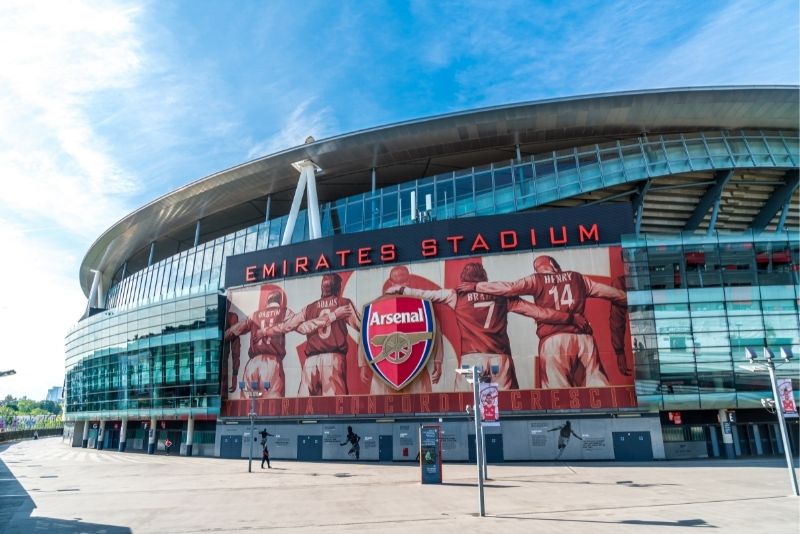 In what is arguably the most football-obsessed city in the world, there's no better place to walk in the shoes of legends than here, home of the EPL.
No matter where your allegiances lie, the opportunity to go behind the scenes and discover the locker rooms, the press room, and the player's tunnel is an experience that all football (or soccer, depending on where you're from!) fans will love.
Led by expert guides, you can join an insightful tour of Stamford Bridge (home to Chelsea FC), Arsenal Stadium, Wembley Stadium, or Tottenham Hotspur Stadium, to name the most famous ones.
Of course, while a stadium tour is a must, nothing beats the roar and electric atmosphere of being in the stands for a live match.
11 – Educate yourself about British democracy at the Houses of Parliament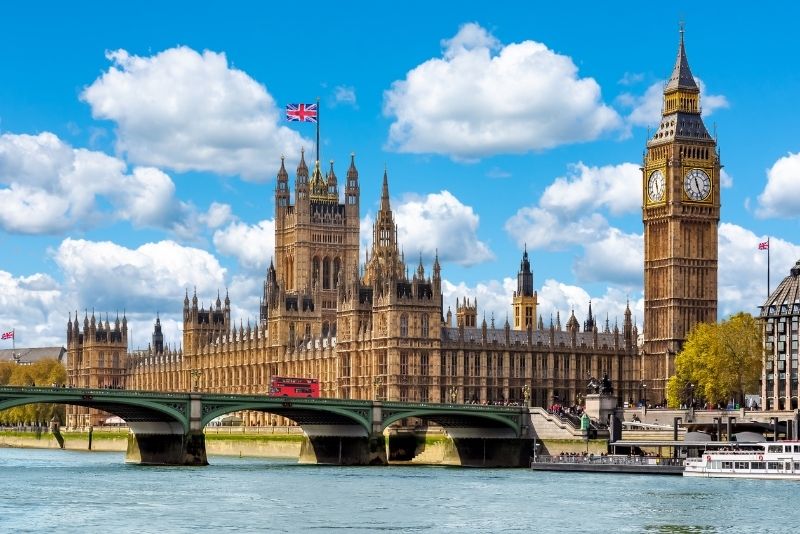 A stone's throw from Westminster Abbey, the Houses of Parliament is a must for any tourists visiting Central London, eager to learn more about the nation's political history (and simultaneously admire brilliant architecture).
Walk the halls where Winston Churchill and Henry VIII once led; check out the Commons Chamber and the Lords Chamber, learn the ins and outs of the British empire, and enjoy a spot of afternoon tea in the stunning 900-year-old Palace of Westminster.
Tours typically last around 90 minutes (unless combined with another nearby activity), diving into the intriguing history of the Houses of Parliament, and are led by expert guides whose knowledge extends far beyond the basics.
Just beware that photography isn't allowed.
12 – Pay a visit to the one and only Buckingham Palace!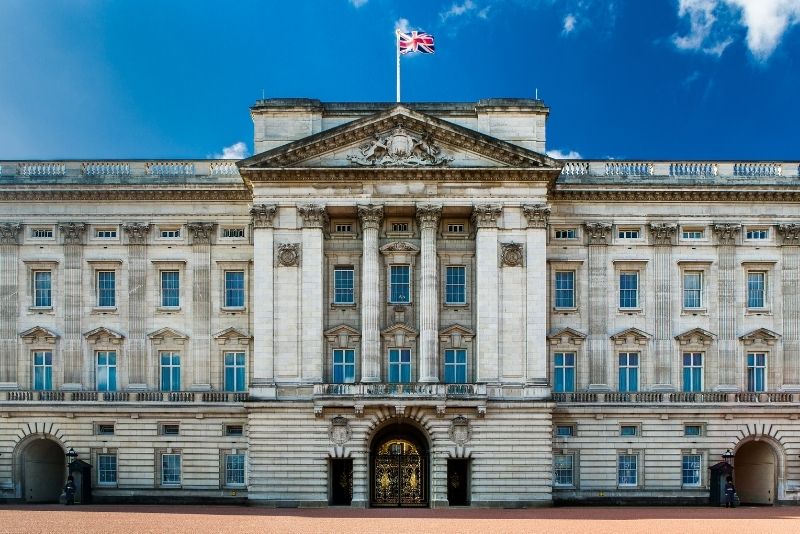 Known near and far, Buckingham Palace is the most famous and most visited attraction in all of London — home to the reigning monarch of the U.K, the elegant palace attracts over 50,000 tourists every day!
Designed by John Nash, the spectacular palace has been enlarged and altered numerous times since its construction in 1703, and now spans over 39 acres with 775 rooms, the largest private garden in London, and no less than 52 royal and guest bedrooms – all decked out in pure elegance, of course.
Eager visitors can either opt to stay outside and catch the changing of the guards in action (which takes place every day at 11:30 am), or buy a ticket to go inside and explore the lavish State Rooms, gardens, and the Queen's Gallery which are open to the public.
If that's not enough to scratch your royal itch, several tours are available of The Royal Mews too.
Sold out? Learn how to book Buckingham Palace last-minute tickets.
13 – Marvel at the Tower Bridge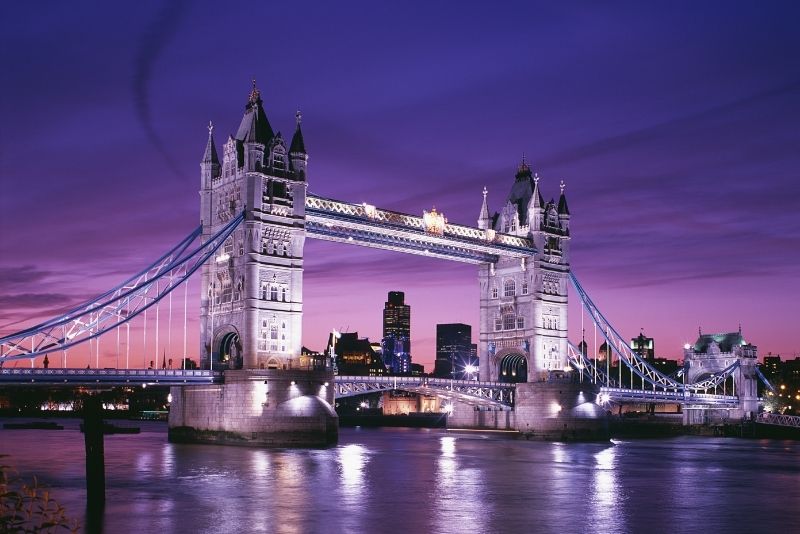 As postcard-worthy as they come, Tower Bridge is one of the most beloved and most iconic landmarks in all of London.
The bridge, which crosses the River Thames (and is often wrongly dubbed "London Bridge"), was built between 1886 and 1894 and stands tall as a true feat of Victorian engineering
Considered to be one of the most photographed bridges in the world, it's undoubtedly one of the essential things to see in London. Rather than just walking across it, a popular, new activity is the upper level's glass walkway, where tourists can find some of the best river views in the area.
A plethora of Tower Bridge tours are available – take your pick from walking tours, boat cruises, or private excursions – all providing in-depth information about the construction of the bridge as well as panoramic views from the top.
14 – Revel in luxury fit for royalty at Hampton Court Palace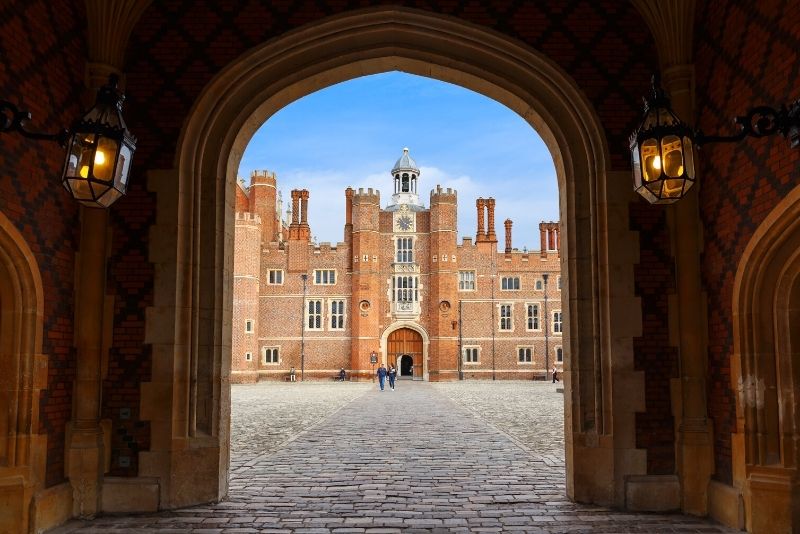 Often overlooked in favor of places like Buckingham Palace and Kensington Palace, Hampton Court Palace is a magnificent royal residence located in the borough of Richmond upon Thames, in southwest London.
The palace has quite the eventful history, having been built in 1515 for Cardinal Thomas Wolsey (a man who was once second in power to King Henry VIII), before eventually becoming one of the main residences of King Henry VIII and his six wives.
Nowadays, Hampton Court Palace is open to the public and boasts over 60 acres of beautiful gardens (home to 6 acres worth of Baroque-style buildings), as well as a handful of stunningly preserved rooms inside the palace itself.
While fascinating rooms and details are hidden behind every corner, the popular highlights include the awe-inspiring Great Hall (with its spectacular hammerbeam roof) where Shakespeare once hosted shows for the king, the opulent State Apartments, and the kitchens.
15 – See where the magic happened at Shakespeare's Globe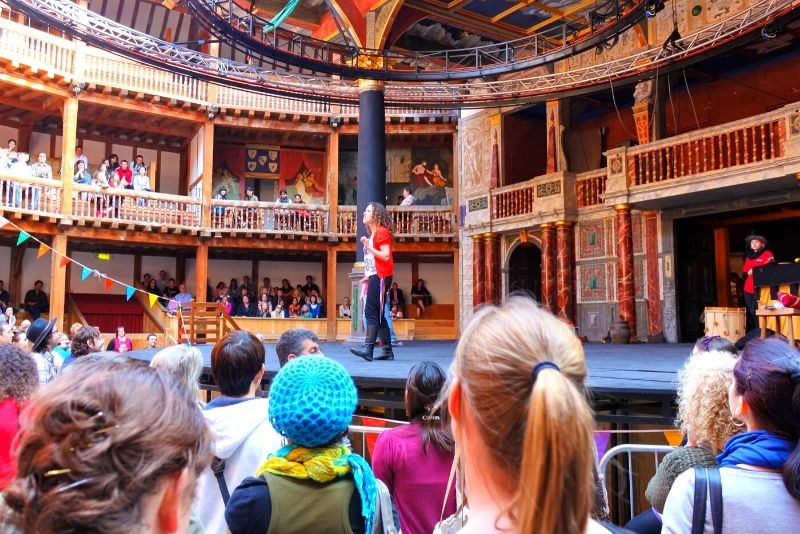 Literary fans, take note: Shakespeare's Globe is a faithful reconstruction of the iconic Globe Theatre where the one and only William Shakespeare himself once staged his plays.
The original theatre was built in 1599 and was used for performances until it was destroyed by fire in 1613 – today's version, which stands just 750 feet from the original site, was built in 1997 and is an exact replica of the Globe Theatre, right down to the smallest details.
With a leisurely tour, guests can see how the open-air theatre was constructed and catch a reenactment of one of Shakespeare's many famous plays.
And, thanks to its convenient location on the bank of the River Thames, not too far from the Tate Modern, it's easily worked into any typical tourist itinerary.
16 – Get your adrenaline fix on the O2 Climb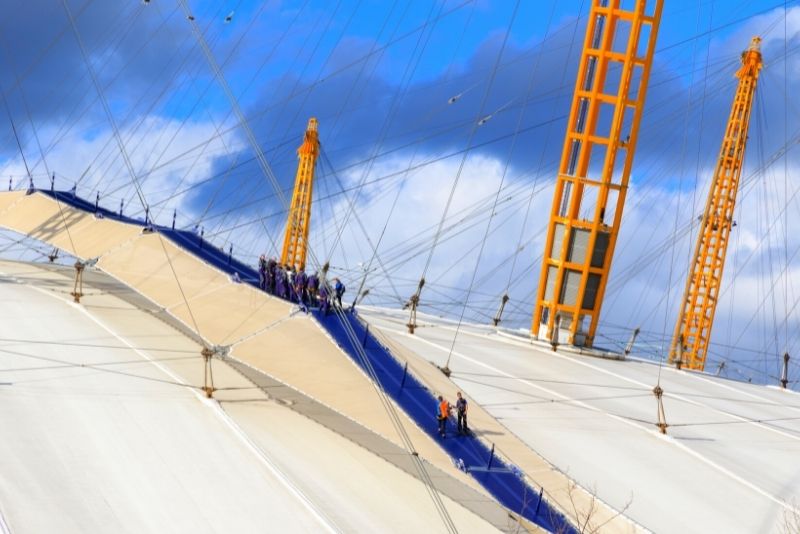 Having hosted A-listers for decades, with names like Tina Turner, Robbie Williams, Swedish House Mafia, Christina Aguilera, the Rolling Stones, and Andrea Bocelli gracing its stage, not to mention UFC fights, tennis tournaments, comedy shows, and even Cirque du Soleil, The O2 roster is full of headline talent.
So, as you can tell, the 20,000-seat O2 arena is definitely one of the more well-known entertainment venues in the nation.
But did you know that you can actually climb to the top of this massive complex? Besides its array of shows, the modern entertainment Mecca is now open to adventurous tourists! Climbers are outfitted with a harness and given a briefing before beginning their ascent up 52 vertical meters of steel staircase, burning some 450 calories along the way.
Once at the top, climbers are rewarded with unbeatable 360-degree views of Greater London – on a clear day, you can even see as far as Windsor Castle!
The climb takes about 90 minutes, with bungee jumping available for the more daring guests. So whether you visit for a rock concert, a sporting event, or a unique outdoor adventure, this Greenwich venue is a must-add to the bucket list.
17 – Keep your eyes peeled on a Jack the Ripper tour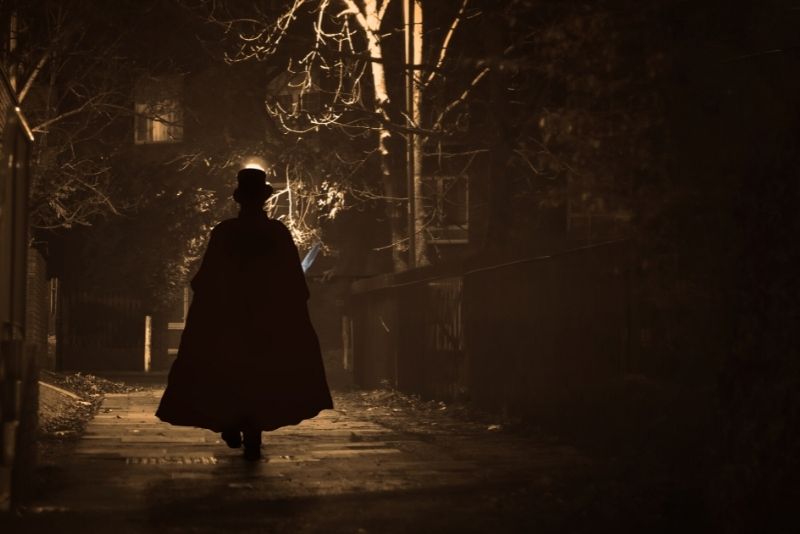 Sublime architecture and royal associations aside, London is also home to a more sinister side, a side synonymous with the name Jack the Ripper.
The infamous serial killer who terrorized the East End of London in 1888 has never been caught – making him all the more intriguing – and his gruesome crimes have been cemented in British folklore ever since.
For an immersive experience on the streets of London, these eerie tours transport visitors back to the late 19th century when the infamous and mysterious criminal tore his way through the town.
Follow in his footsteps to the locations of where his victims were found; learn all about the heinous crimes and weapons, and delve into the mystery surrounding each one.
While not recommended for youngsters, this spine-tingling tour is perfect for any horror fan or history buff looking to add a little excitement to their London itinerary.
18 – Hop on the Knight Bus for a Harry Potter locations tour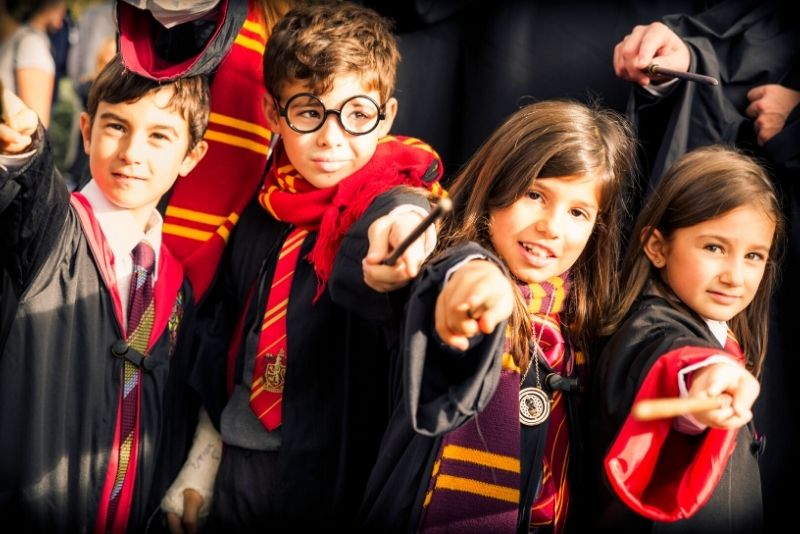 Calling all budding purebloods, mudbloods, and muggles alike!
Led by a witch or wizard prefect (your tour guide), a Harry Potter locations tour takes fans behind the scenes, exploring a handful of real London-based places that are featured in the iconic and beloved franchise.
Step onto platform 9¾ at King's Cross station; wander Shaftesbury Avenue (visited by the gang in The Deathly Hallows Part One); meander through Piccadilly Circus and Trafalgar Square (in which the Death Eaters attack Harry, Hermione, and Ron), head right into the Ministry of Magic (including the red phone booth muggle entrance), and check out Diagon Alley, The Leaky Cauldron, Downing Street, and much more.
Take your pick from the handful of walking, bus, or private cab tours on offer, some of which also include a stop at the Harry Potter Warner Bros Studios – located in Leavesden, a short drive outside of London proper.
No matter how you experience the magic, a Harry Potter experience in quintessential London for superfans.
Read more about the best Harry Potter places to visit in London.
19 – Check off all the main attractions on a hop-on-hop-off bus tour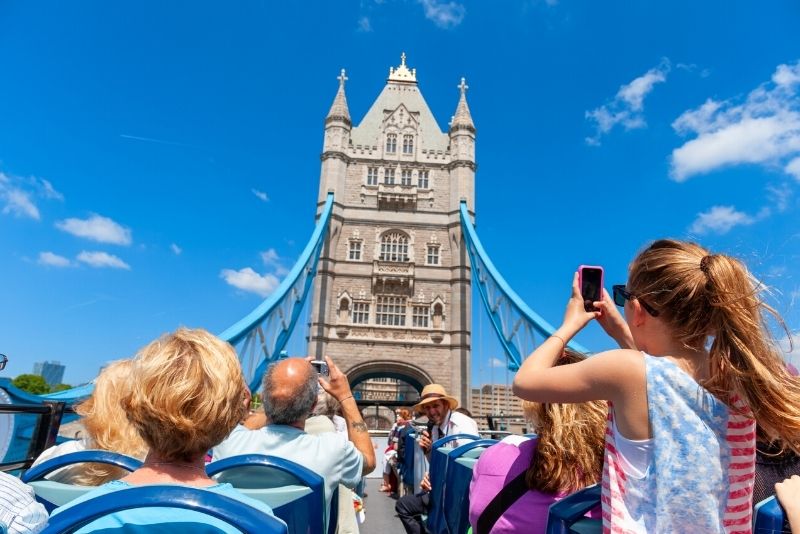 Short on time or just want to tick off the big guns?
London's double-decker buses are not just a means of transport – they're also one of the most popular ways to sightsee in the city (so long as you jump on the right one, of course)!
A great way to see all the main London attractions in a whisker of what it would take on foot (or by Tube), a hop-on-hop-off bus tour is perfect for those who want to make the most of their time in the city.
There are plenty of different companies offering similar services, with varying routes covering all the major landmarks – each with its own quirks and added extras (hello, free river cruise!).
While there are different options tourists have to choose from, the original visits over 80 landmarks, stopping at places like Buckingham Palace, the London Eye, the Tower of London, Piccadilly Circus, and much more.
Choose your stops wisely and you could be hitting up sights like Westminster Abbey, The Shard, St. Paul's Cathedral, and Kensington Palace all in one day – not bad going!
Plus, with onboard audio guides to wax all about the history, architecture, and culture as you zip by, you might even learn something new along the way.
Check out our complete guide about London hop-on hop-off bus tours.
20 – Put on your detective hat for a Sherlock Holmes tour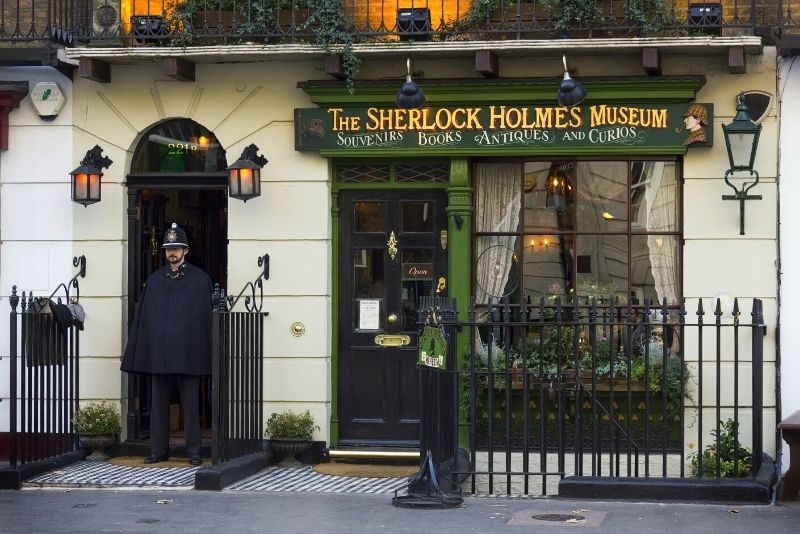 Forget about Harry Potter for a minute – the most iconic detective in British literature calls London home (or, at least, he did in the books).
One of the more unique things to do in London, a Sherlock Holmes tour is the perfect activity for any budding sleuths or super fans of Arthur Conan Doyle's novels.
After starting at the spot where Holmes and Watson first meet, patrons will stop at gentlemen's clubs and grand hotels, and venture down foggy alleyways, in search of the fictional detective's haunts.
You'll even get to visit the very real Scotland Yard – London's police headquarters – which served as the inspiration for Conan Doyle's stories (and, of course, countless others since).
Depending on your preference and budget, take your pick from a walking tour, bus tour, or black cab tour – either way, you're guaranteed a fun-filled day of mystery and intrigue.
Sponsored placement
Fuel your curiosity at the McLaren Technology Centre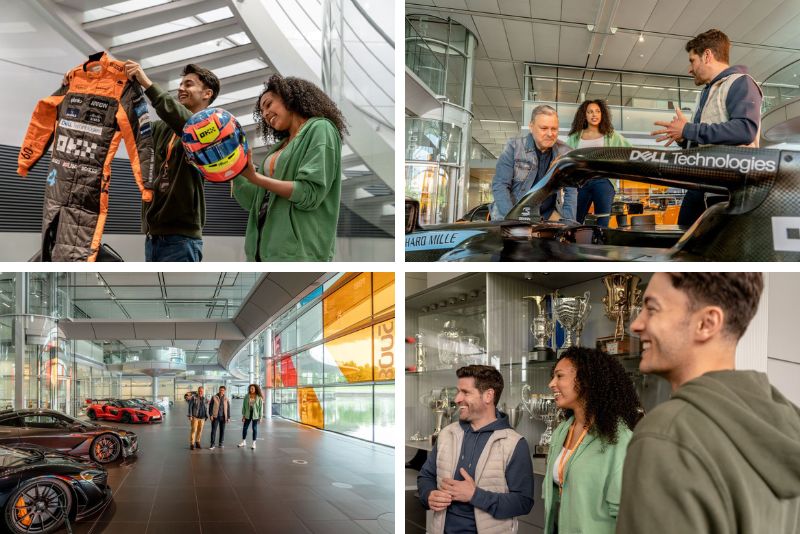 Go behind the scenes at McLaren Technology Centre and discover the illustrious 60-year history of one of the most successful F1 teams.
Some of the world's most innovative and fastest cars are born at this state-of-the-art facility in the town of Woking just outside central London. Under the guidance of an expert, gain insight into the top-secret assembly lines that make these amazing machines.
Experience the captivating story of McLaren's championship wins with anecdotes from legends such as Alain Prost, Ayrton Senna and Lewis Hamilton. Admire authentic race memorabilia, legendary F1 cars and stylish McLaren team jerseys.
This rare, immersive experience is sure to thrill both motor enthusiasts and curious explorers alike.
21 – Climb aboard the Cutty Sark ship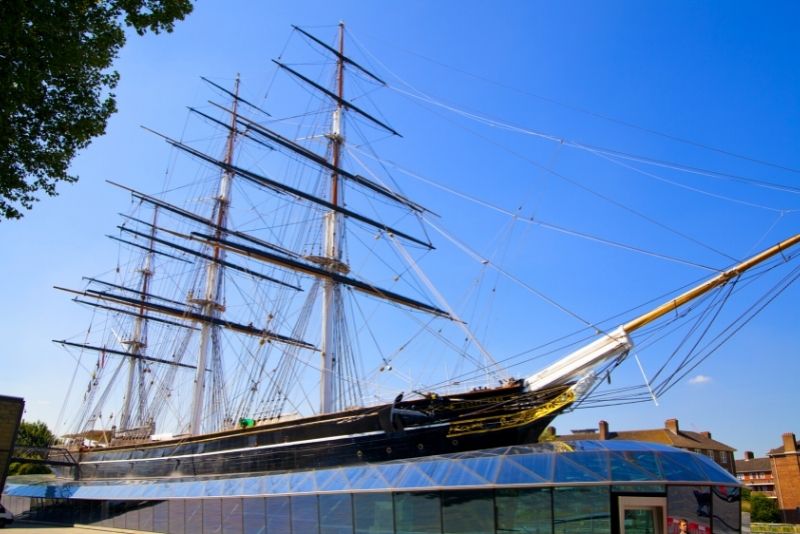 Calling all seafarers, sailors, and general adventure-seekers!
Make your way down to Greenwich to hop on board an oceanic icon, and learn about what life was like on this legendary ship. First built in 1869, the historical Cutty Sark ship's purpose was for the China tea trade — and at the time, it was renowned near and far for being the fastest ship ever built.
A designated UNESCO World Heritage Site, the Grade I listed vessel welcomes visitors onboard to explore its three decks, learn about its sea-faring history from the on-site guides, and get a feel for what life was like on board all those years ago.
Besides the globe-trotting voyages history lesson, you can also admire the panoramic views from the bow – a great backdrop for any enviable social media post.
22 – Plan a stop at Greenwich's Royal Observatory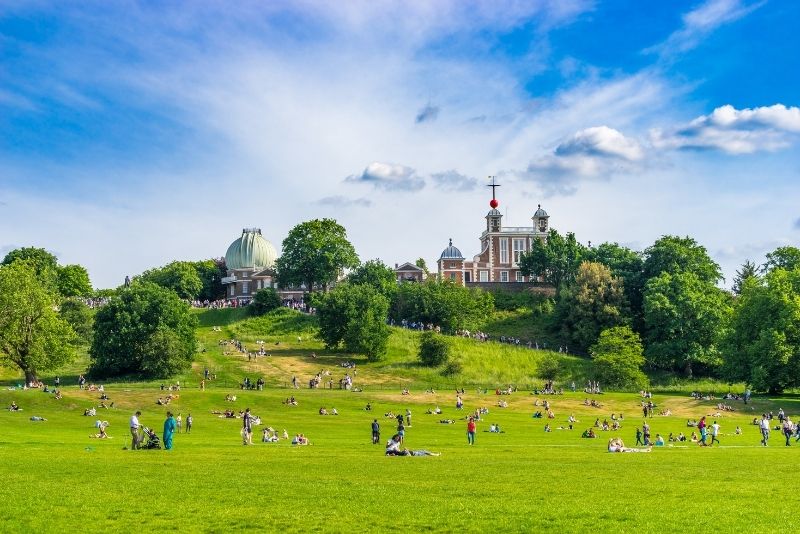 Ask any local and they'll yell it from the rooftops: one of the best things to see in London is the Royal Observatory in Greenwich.
Perched atop a hill in Greenwich Park, this world-famous landmark is the home of London's Planetarium, dates all the way back to the 19th century, and is the significant geographical point of Longitude 0.
Not only is it home to the Prime Meridian line (the imaginary line that divides the globe into east and west), but it also offers incredible views over the city – making it one of the best spots for snapping that all-important London photo.
Far more than just a metaphorical line in the sand, the Royal Observatory is an educational beacon, dishing up all kinds of exhibitions, galleries, and workshops on the vastness of space, the stars in our Milky Way, and astronomy in general.
23 – Pop into the National Maritime Museum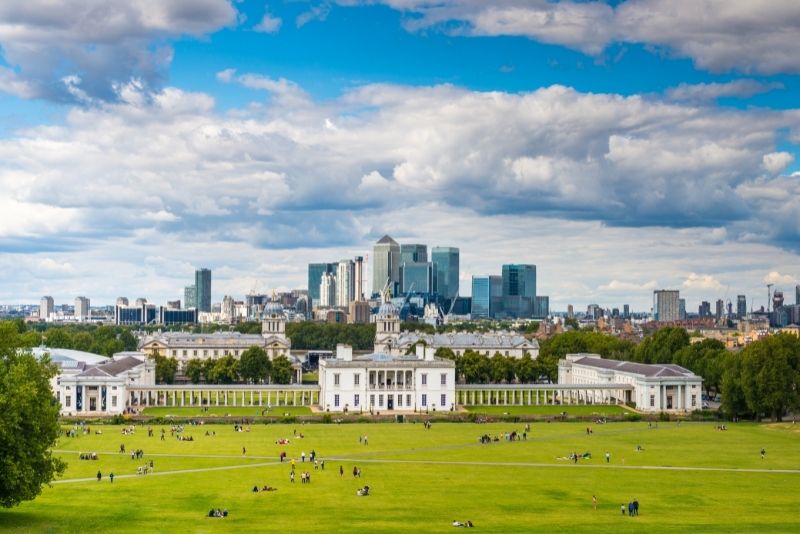 A beloved spot to while away an hour or two on a rainy day (and in London, you'll find no shortage of these), The National Maritime Museum is home to over 2000 years of British history and sells itself as a must-see for those who want to learn more about the nation's seaborne antics.
Throughout the sprawling museum, you'll uncover more than 2 million maritime-themed objects, from paintings and maps to historic figureheads, ship models, and navigational instruments.
When you're ready to refuel, The Parkside Café boasts wonderful expansive views over the lush Greenwich Royal Park – a solid spot for a coffee or tea – while the on-site gift shop showcases a handful of unique maritime souvenirs, from books and maps to model boats and family-friendly games.
If you consider yourself a savvy traveler, it's best to purchase the Royal Museums Greenwich Day Pass — it grants access to all temporary exhibits as well as access to the Queen's House (home of the royal art collection).
24 – Get a little spooked on a ghost tour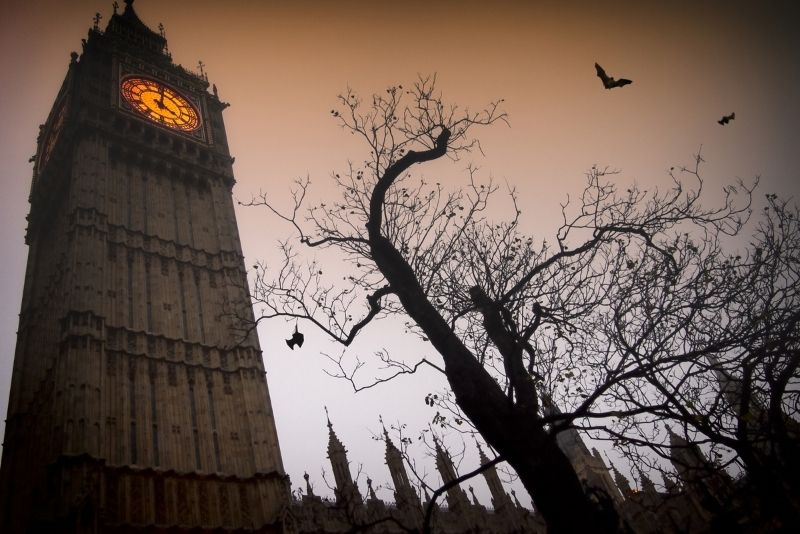 So long as you've got nerves of steel, ghost tour guests will get to venture into haunted houses, paranormal parks, and the array of other sinister sites that dot this melting pot of a city.
With a range of options available including walking tours, boat tours, and even a ghost bus tour (each one with its own unique stops and tales), there's a spook suitable for everyone.
And while each adventure differs slightly, you can expect to venture to the edge of your comfort zone as you listen to tales of famous London murders, executions, and other grizzly goings-on from centuries past.
Common haunts include the Clink Prison Museum, the abandoned train lines at The Parkland Walk Spriggan, the Old Operating Theatre Museum, and The Ten Bells pub (formerly known as the Jack the Ripper pub… you'll soon find out why).
25 – Get into the wizarding world at The Cauldron London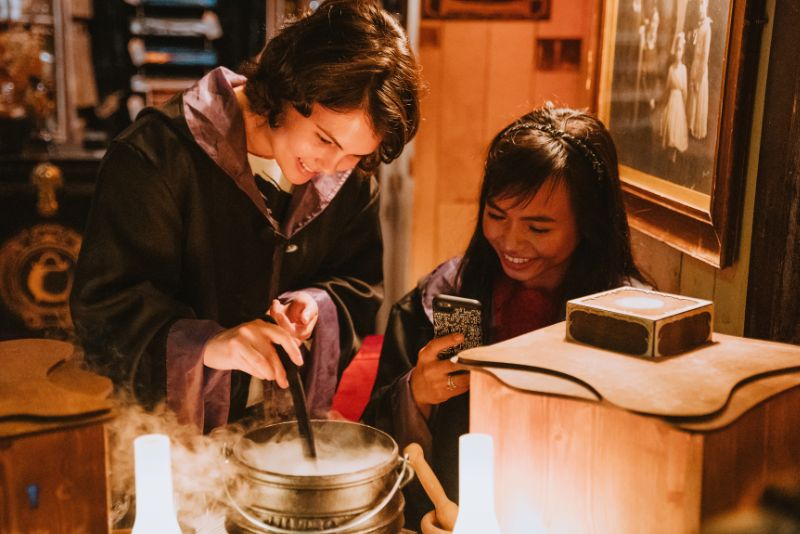 Welcome to The Cauldron London, where you can finally live out your childhood dreams of being a wizard, without actually having to study at Hogwarts!
Experience a magical world of science and technology at The Cauldron London with their immersive class, Potion Making. With a working magic wand, you can cast spells and interact with the space around you, receiving a welcome drink from a magical creature!
Immerse yourself in a mixology class, brewing drinkable elixirs that change color, bubble, and smoke! Perfect for birthdays, team-building events, and fantasy-themed celebrations, this is an unforgettable experience where magic and science intermingle.
Book your event now and let the magic (and the drinks) flow!
Sponsored placement
Step into a Century of Magic with Disney100!
Put on those mouse ears and start your magical journey with the Disney100: Exhibition in London! Immerse yourself in a century of Disney stories, from the classic Snow White to the recent Encanto. Marvel at rare artifacts, costumes, and treasures from Pixar Studios and the iconic Star Wars films among others.
26 – Race against the clock in an Escape Room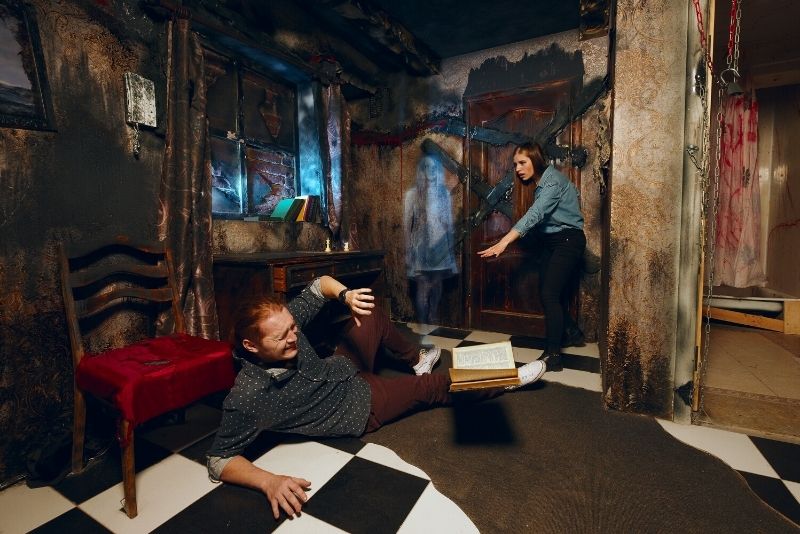 Are you good at cracking clues? Fancy yourself somewhat of a Sherlock Holmes or Hercule Poirot in the making? Then muster up all the wit, teamwork, and outside-of-the-box thinking; grab your closest friends or family; and book an Escape Room challenge.
A relatively new concept that's taken the world by storm, an Escape Room is essentially a physical adventure game in which players are locked in a room (or series of rooms) and have to use elements within the space to solve a series of puzzles, find clues, and – you guessed it – space before the clock runs out!
With everything from zombie-themed escape rooms to outdoor James Bond adventures and even a VR escape challenge that fuses classic code-cracking with modern technology, there's no shortage of options to choose from.
Read more: Best indoor activities in London when it rains
27 – Take a day trip to iconic Stonehenge!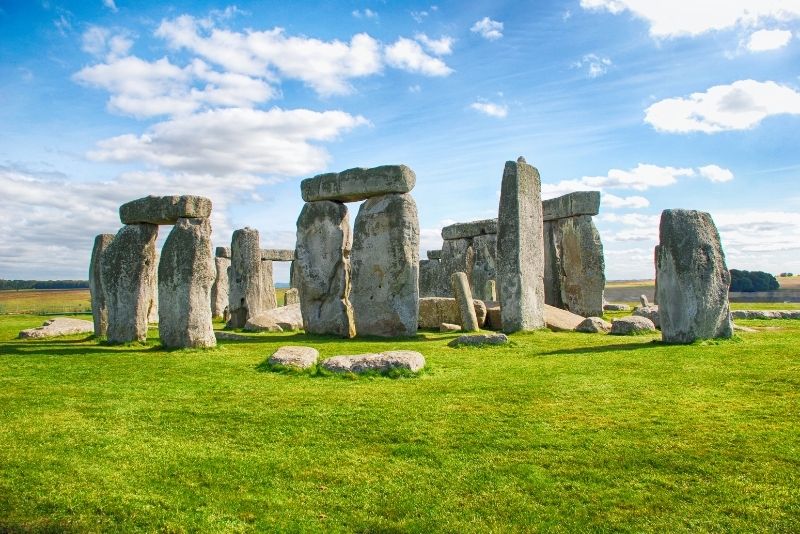 Just under two hours west of London, this iconic, prehistoric stone circle is one of the most mysterious yet frequented tourist sites in England, and scientists still don't understand how it's stood the test of time.
Standing in the middle of a vast green field in Wiltshire, this enigmatic UNESCO site is believed to have been constructed sometime between 3000 and 2000 BCE, though the exact purpose of the monument (beyond its religious significance, of course) remains unknown.
If you're not renting your own car (or just don't want to drive), the best way to get there from London is by tour bus, which will whisk you out of the city and straight to the 5,000-year-old site.
On the way, you'll learn about the history and construction of Stonehenge from your knowledgeable tour guide while enjoying some picturesque English countryside scenery – and, depending on your tour, a spot of lunch.
For a truly unforgettable day out, consider booking one of the adventures that also visit Bath, Lacock, and Salisbury – three of England's most charming medieval towns.
Read more about Stonehenge tours from London.
28 – Admire ancient architecture in the city of Bath
Located about 90 minutes west of London by train, the city of Bath is most famous for its Roman-built baths, which are still in use today.
But it's not just the baths that make this English city so special – there's also a wealth of well-preserved Georgian architecture lining its streets, as well as medieval buildings such as the magnificent Bath Abbey.
A popular day trip from London, Bath is also home to a number of museums and art galleries, as well as the Jane Austen Centre, which celebrates the life and work of one of England's most beloved authors.
If you're feeling active, you can even hike up to the top of Bath's hilltop Sham Castle for some stunning views of the region.
Despite tours being the premier option, you can also take the train from London Paddington to Bath Spa for about 12 pounds.
29 – Visit the Queen's weekend getaway on a Windsor Castle day trip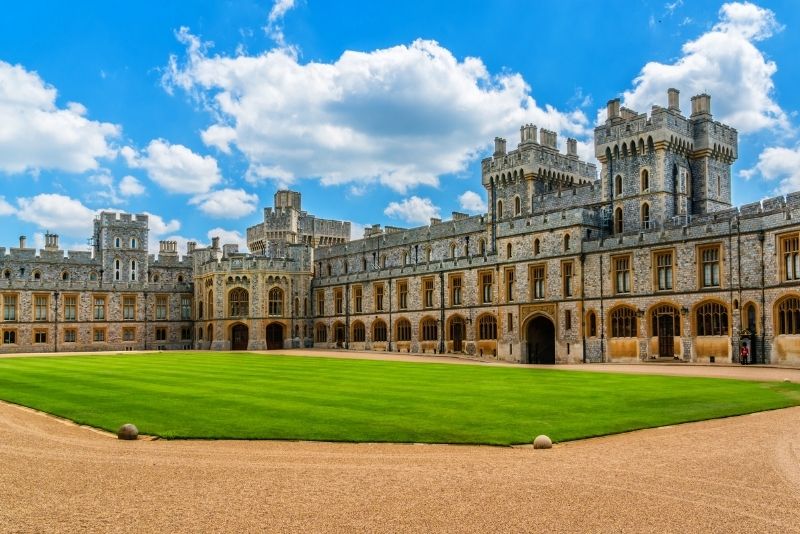 Officially the oldest and largest occupied castle in the world, Windsor Castle has been a royal home and fortress for British monarchs for almost 1,000 years.
Located just outside of London in the town of Windsor (about an hour away by train), this imposing structure is one of the Queen's official residences (she spends most weekends here) and is also where many royal ceremonies and events are held throughout the year.
At nearly 1000 acres, straddling the banks of the River Thames, the Castle's gardens and seemingly endless; and as you'd expect, the pristine staterooms are richly decorated, and the architecture is nothing short of sublime.
Art-lovers, take note; Windsor Castle also boasts a range of priceless works by the likes of Rembrandt and Da Vinci – many of which are viewable on guided walking tours of the royal apartments.
Tours of Windsor Castle typically include round-trip transportation from London, making it a convenient day trip option.
Read more about Windsor Castle tickets price.
30 – Embark on a Latin American food journey aboard an old tube carriage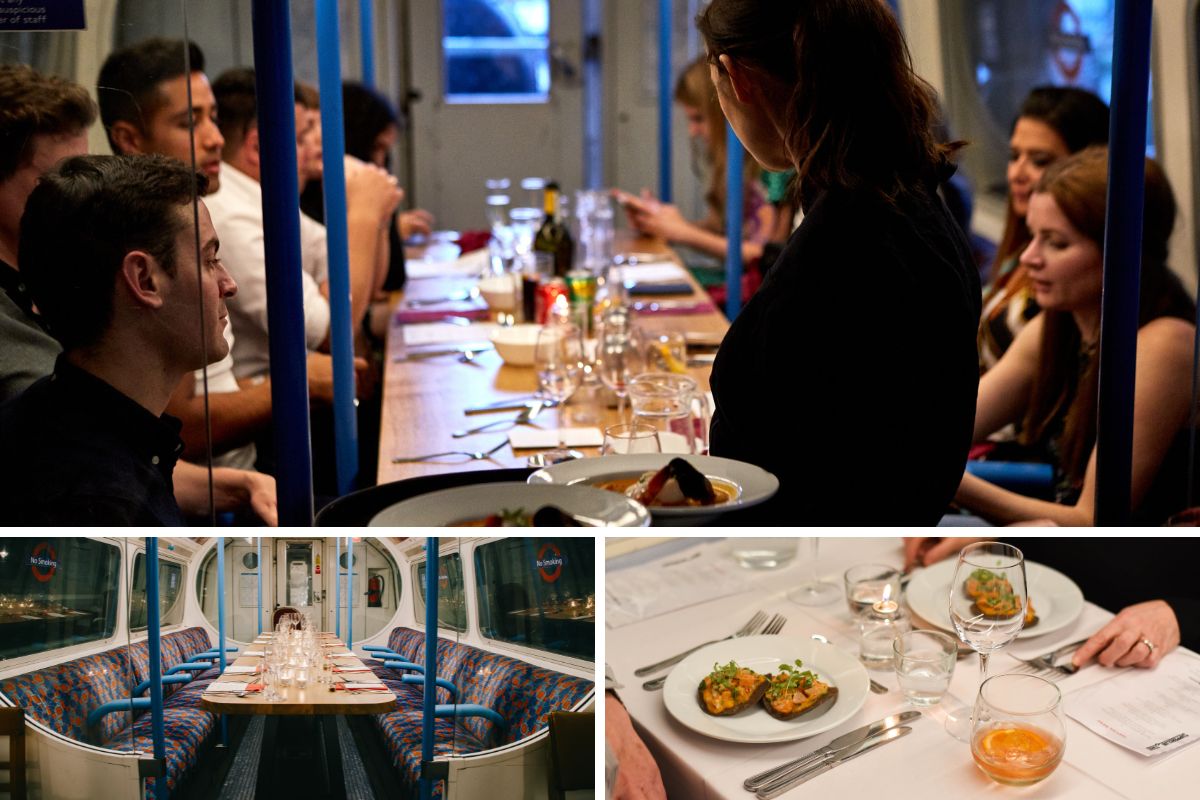 This is a fusion of culture and history unlike any other. Dine on a six-course meal inspired by Latin American cuisine, all aboard a decommissioned tube carriage in central London.
The supperclub.tube experience brings the flavors and traditions of Latin America to your plate, served up in an untouched 1967 carriage. This tube once operated on the Victoria line, the world's first automatic underground railway.
Three nights a week, the carriage is transformed with music and lighting into an ambient restaurant. Since it first opened in 2018, the supperclub.tube has welcomed over 5,000 diners.
Feasting on delicacies such as Sopa de Mote and Cachete de Res, you'll gain a new appreciation for multiple countries in one evening.
Sponsored placement
Immersive Rainbows: The Colors Festival in London
Enjoy exciting pops of paint at the Color Festival in London. With more than 30 international artists, this exclusive event takes you beyond your everyday life to a world of art. Experience interactive installations and a variety of creations in a family-friendly atmosphere. All this makes for one of the most compelling spectacles of the year!
31 – See the world's oldest university: Oxford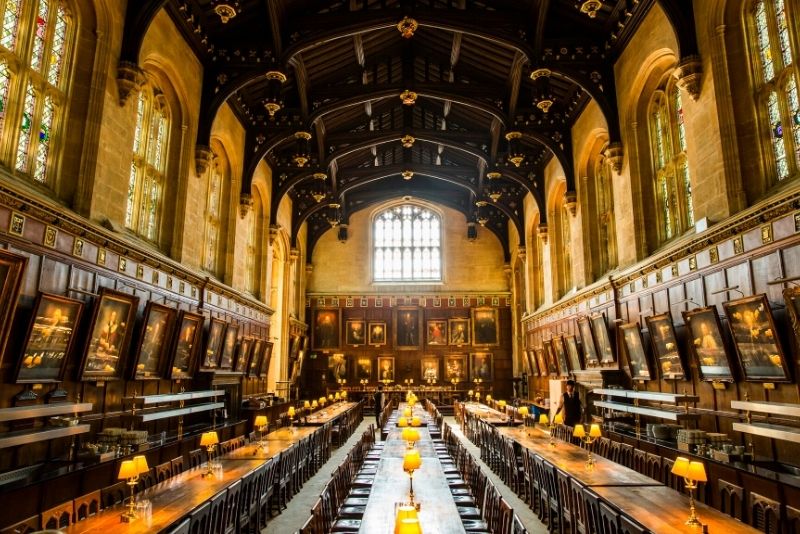 Historians, literary lovers, and Harry Potter fanatics will all find something to love in Oxford – a medieval university city located about an hour away from London by train.
As the home of the English-speaking world's oldest university (which just so happens to be one of the most prestigious on the planet), it's no surprise that Oxford is dripping with history and culture.
With centuries of stories to tell, Oxford's stunning sights are a dime a dozen: from the 12-million-book Bodleian Library, to the University Church of St Mary the Virgin, and the Bridge of Sighs (officially called Hertford Bridge) – a popular photo spot that was used as a filming location in the Harry Potter movies. You might also recognize the elongated Christ Church College hall as Hogwarts' Great Hall – just one of several Harry Potter film locations in Oxford.
Blenheim Palace is also nearby – the birthplace of Sir Winston Churchill and a locale certainly worth adding to the itinerary.
And if all that wasn't enough, the city is also home to a number of incredible museums, including the Museum of Natural History, and the Ashmolean Museum of Art and Archaeology.
To make the most of your time, consider joining a walking tour that covers all of Oxford's highlights (and some hidden gems too). Tours typically last around 2 to 3 hours, and many include round-trip transportation from the big smoke of London.
Read more about fun things to do in Oxford.
32 – Spend the day at Cambridge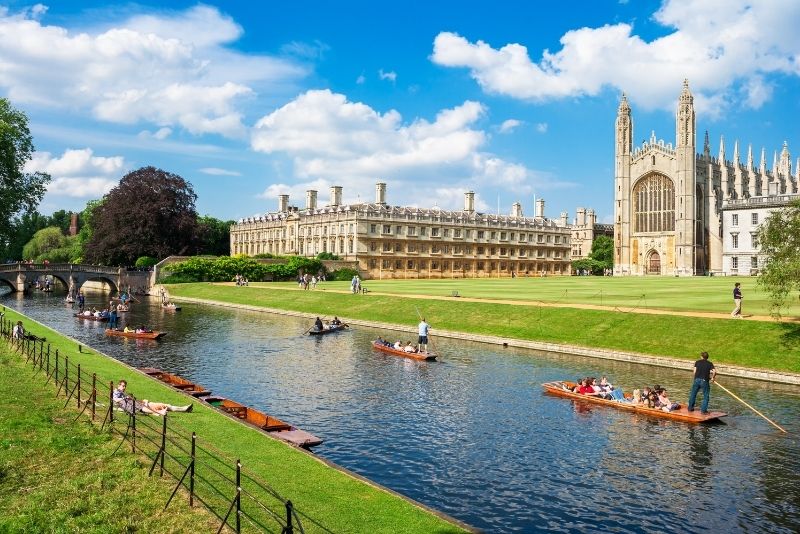 Continuing on the theme of university towns, another can't-miss day trip option from London is Cambridgeshire – home to the University of Cambridge, one of the world's most prestigious institutions of higher education.
Like Oxford, Cambridge is oozing with history and culture, and is unsurprisingly home to a number of impressive sights.
But you don't have to be a student to wander the campus; simply join a guided tour to learn about the 13th-century university's rich history, see the senate-house, and walk through the stunning botanical gardens.
A handful of extra highlights include the beautiful Kings College Chapel (one of the largest in the world which took over a century to build), the Fitzwilliam Museum (boasting an impressive collection of paintings, manuscripts, and sculptures), and punting down the River Cam (a quintessentially British activity – England's version of the gondolas in Venice).
Read more about fun things to do in Cambridge.
33 – Stare in awe at the foreboding Warwick Castle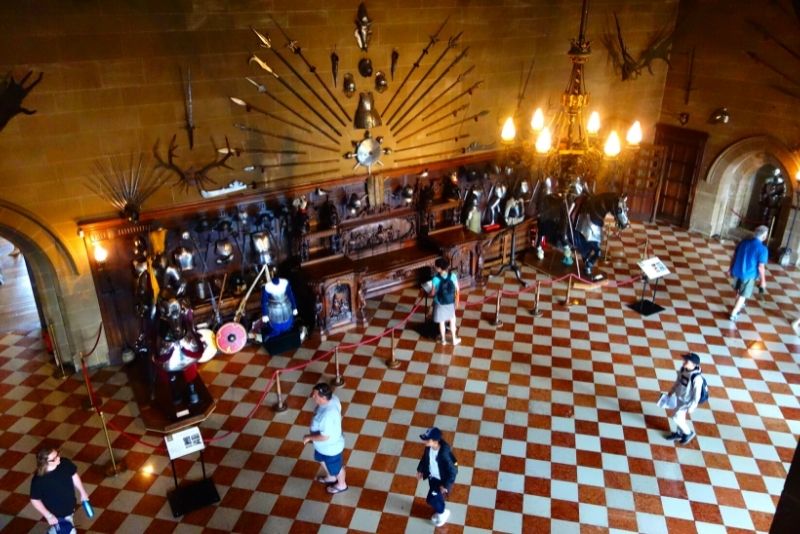 Get lost in the grandeur of Warwick Castle, a fortress that was built all the way back in 1068!
With a rich and bloody history that began with William the Conqueror, the castle has been through a lot over the centuries, but remains one of England's most popular tourist attractions to this day – still in terrific condition.
And it's not hard to see why: as you explore its towering walls and grandiose halls, it's easy to feel like you've been transported back in time.
Don't miss the chance to explore the dungeon, try your hand at archery, or meet one of the resident birds of prey at The Falconer's Quest.
Wear comfortable shoes — after walking through the Great Hall, State Rooms, Kingmaker, and the original Gaol, there are over 64 acres worth of stunning gardens to explore!
34 – Learn all about Shakespeare in Stratford-upon-Avon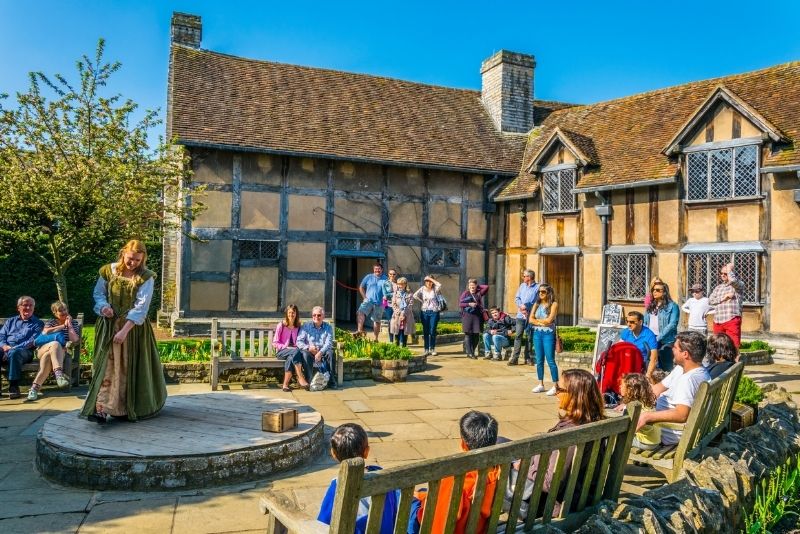 If you consider yourself somewhat of a bookworm or literature enthusiast, this is easily one of the best things to do in London (well, outside of London, technically).
Get inspired to write a sonnet like William Shakespeare by visiting the quaint town of Stratford-upon-Avon, the very place where the great playwright was born! As the city's main drawcard you can expect any tour to pop into the Royal Shakespeare Theatre, Shakespeare's Birthplace, and Anne Hathaway's Cottage (read: Shakespeare's wife, not the actress.)
Old mate William aside, this small market town boasts over 800 years of history and offers plenty of sights and restaurants. Start your day of walkabout on Henley Street before meandering down the River Avon. With family-friendly attractions like Magic Alley, The MAD Museum, the Bancroft Gardens, and the Butterfly Farm, there really is something for everyone.
Stratford-upon-Avon is located around 100 miles northwest of London, but there are plenty of day tours that include round-trip transportation from the city.
35 – Go to the beautiful White Cliffs of Dover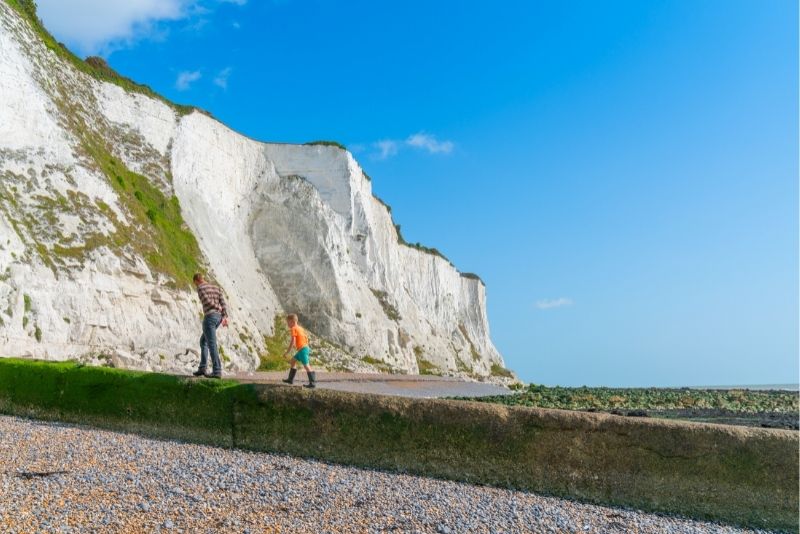 Towering above the ocean at a dizzying height of 350 feet, the aptly-named White Cliffs of Dover are a wonder to behold.
This chalk cliff face runs for an impressive eight miles along the English coastline and has been a symbol of hope and freedom for centuries. The cliffs have been used as a defensive point since Roman times, having continuously helped the English fight off seaborne invasion attempts, and you can still see the remains of the 11th century Dover Castle, which was once the largest castle in England.
Far from the only landmark in the area, Dover – and the region of Kent, more generally – is also home to the famous Canterbury Tales and Canterbury Cathedral, Leeds Castle, and the breathtaking Hever Castle, so why not combine them all and make a day of it.
36 – Set sail on a charming Thames sightseeing cruise!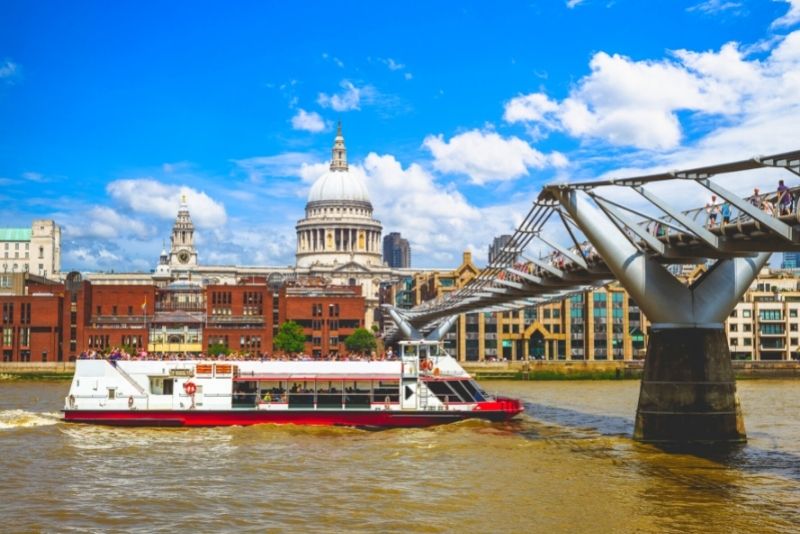 Arguably the world's most famous river (the Hudson and the Seine might have something to say about that though), the Thames stretches all the way from the Cotswolds in rural England to the bustling metropolis of London.
And what better way to see it than on a leisurely cruise? You'll get first-hand views of some of London's most iconic landmarks, including Tower Bridge, Big Ben, and the Houses of Parliament, as well as getting a different perspective of more modern sights like the O2 Arena and Canary Wharf.
Whether you want to take a traditional sightseeing cruise, enjoy a spot of afternoon tea on the river, or see the city light up after dark both starboard and port-side on a nighttime cruise, there's sure to be a Thames cruise that's perfect for you!
Chill on the open-air deck and snap a few selfies at sunset, or sit back and relax undercover on one of many dinner-inclusive evening cruises. Some cruises also offer smartphone-based audio guides, allowing passengers to hear all about the places they're gliding past, while others include live music, wine tastings, or even London-themed quiz nights!
37 – Hold on tight for a wild speedboat ride!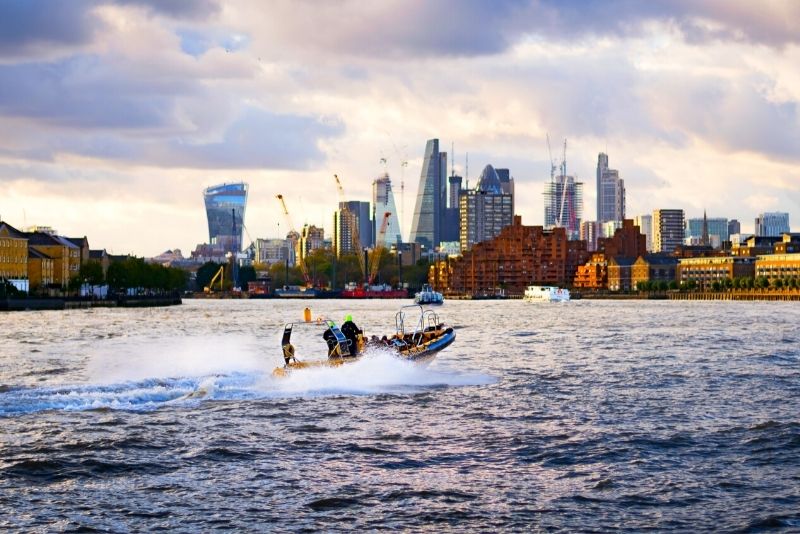 If slow and steady isn't what you're looking for in a holiday, then a hair-raising speedboat tour is the way to go!
While you powerslide across the River Thames through the heart of the city, water splashing in every direction and the wind firmly flying through your hair, you'll also be blessed with unobstructed views of riverside sights like the London Eye, Tower Bridge, Tower of London, and O2 Arena and you zoom your way toward Embankment Pier.
With multiple companies offering this unique way to see the city – lasting anywhere from 20 minutes to an hour – there's bound to be a tour that suits you and your budget. Just make sure to hold on tight!
38 – Discover lovely London on two wheels!
Forget about the slow busses getting stuck in traffic or the sore feet from a day's worth of walking – instead, get off the beaten track and explore London on two wheels with a guided bike tour!
From leisurely rides through Hyde Park to more energetic jaunts past Buckingham Palace and Westminster Abbey, or food tours or pub crawls, you're sure to find a two-wheeled adventure that's up your alley.
Besides hitting up the main attractions, the in-the-know local guides will make sure you tip up a handful of hidden attractions too, away from the obnoxious crowds and overwhelming foot traffic. With some tours lasting up to 4 hours, be sure to bring a bottle of water!
On sunny days, it's a fantastic way to see a lot of the city in a short amount of time and, best of all, you don't even have to be particularly sporty or fit to join in – most tours will give you the option to ride an electric bike if you're not feeling confident.
39 – Soar over the sky on a helicopter tour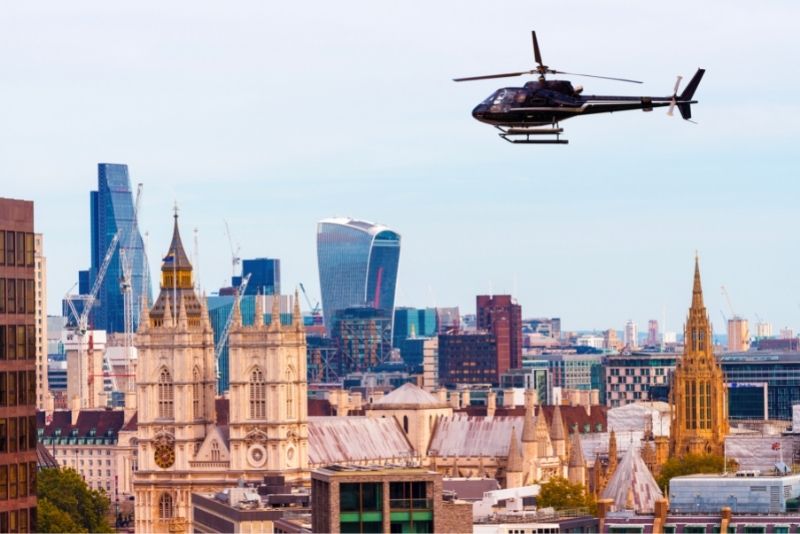 If you thought the views from the London Eye or the Shard's viewing deck were special, you've got another thing coming — a helicopter tour gives tourists the chance to see London from a new, incredible perspective!
As you take to the skies, escorted by a friendly pilot who'll happily wax lyrical about all the sights you're seeing, you'll get a bird's-eye view of some of the city's most beloved landmarks.
With no shortage of photo opportunities on the 10, 20, or 30-minute flights – from aerial shots of Big Ben to the Houses of Parliament, St. Paul's Cathedral, and Tower Bridge – your social media feed is guaranteed to light up.
40 – Have a blast at the ArcelorMittal Orbit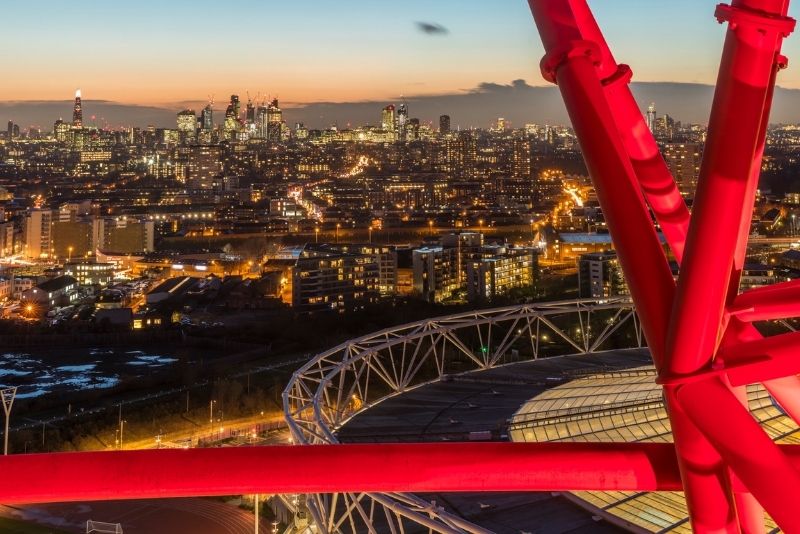 Built for the 2012 Olympic Games, this foreboding observation tower in Stratford has quickly become one of London's most popular tourist attractions, thanks to its dizzying heights and sweeping views of the cityscape.
Towering at over 114.5 meters tall, this place dishes up spectacular views of London — and all its iconic monuments: the Shard, the Gherkin, Big Ben, the BT Tower, and Canary Wharf — from its rooftop observatory, made all the more fun by the world's tallest and longest tunnel slide that twists and turns all the way to the ground.
If you consider yourself an adrenaline junkie, abseiling is offered too.
You'll find this thrillseeker paradise inside Queen Elizabeth Olympic Park, within arm's reach of London Stadium (the home of West Ham United FC) and a slew of tranquil locks and waterside walkways.
41 – Immerse yourself in British culture at the British Museum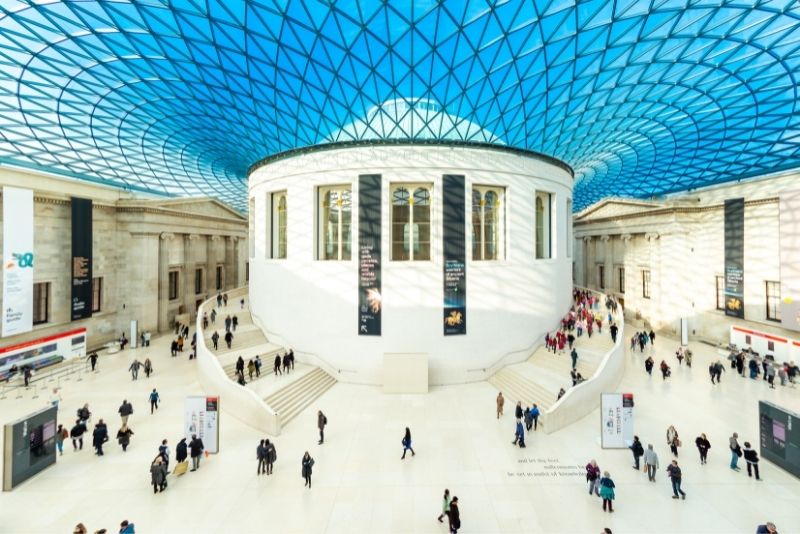 One for the culture vultures, the British Museum is an awe-inspiring attraction that should be at the top of any rainy day London itinerary.
Housing over 8 million ancient artifacts and historical curiosities from across the globe, spanning two million years of history, it's one of the largest museums in the world and covers an impressive array of topics, from Roman Britain and Egyptian mummies to the history of the UK, Ancient Greece, and a range of contemporary exhibitions both permanent and rotating (so no two visits are the same).
No matter what your interests are, you're sure to find something that piques your curiosity. And the best part? It's completely free to enter!
Looking for something a little more insightful? Consider joining a private tour to make the most of your visit.
42 – Snap selfies with celebrities at Madame Tussauds London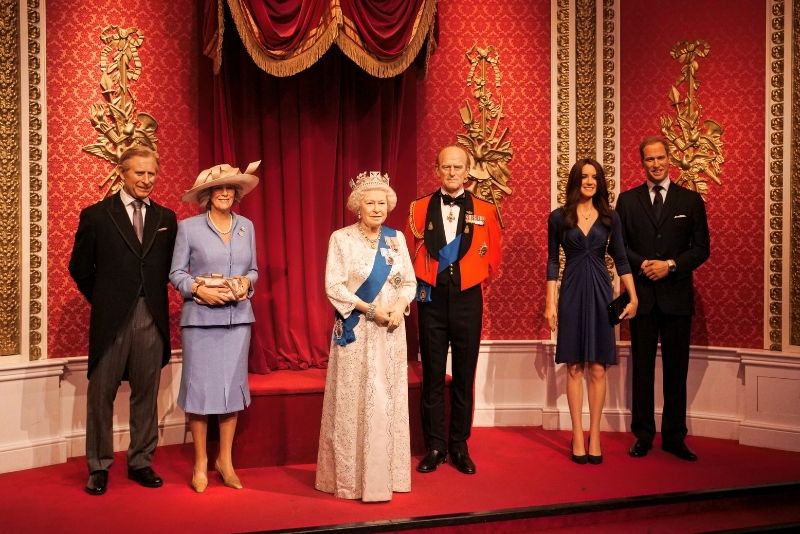 Always wanted to meet Beyonce? Consider yourself a bit of a Taylor Swift or David Beckham fan?
With over 250 wax figures (good enough to fool all of your friends), Madame Tussauds is always a fun day out — it's been a tourist favorite ever since it opened in London over 200 years ago.
But it's not just about wax figures: beyond the pop stars, sporting icons, and royal family, there are a number of interactive experiences on offer too, from the Marvel Universe 4D Experience (where you can team up with Spider-Man and co to save the day) to the new Spirit of London black cab ride, which whisks visitors through 400 years of London history in just a few short minutes.
43 – Plan a visit to the National Gallery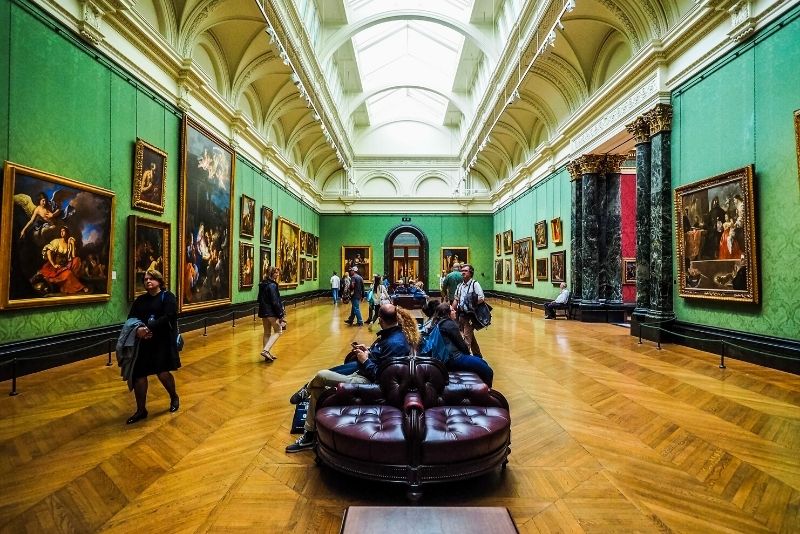 Calling all art-lovers! if you're looking for the best museums in London then the National Gallery, home to over 2,300 priceless paintings, is an absolute must!
With an astonishing collection spanning the Impressionist era to the Renaissance era, and everything in between, it's easy for hours to fly within these walls.
You'll discover names like da Vinci, Rembrandt, and van Gogh, as well as a range of contemporary pieces from both international and British artists – over 2,600 diverse paintings on show all up.
Several temporary exhibitions rotate through the calendar, and you'll also find an onsite restaurant and cafe for when you need to refuel. For the ultimate experience, definitely consider booking one of the private tour guides.
44 – Spend the morning at the National History Museum!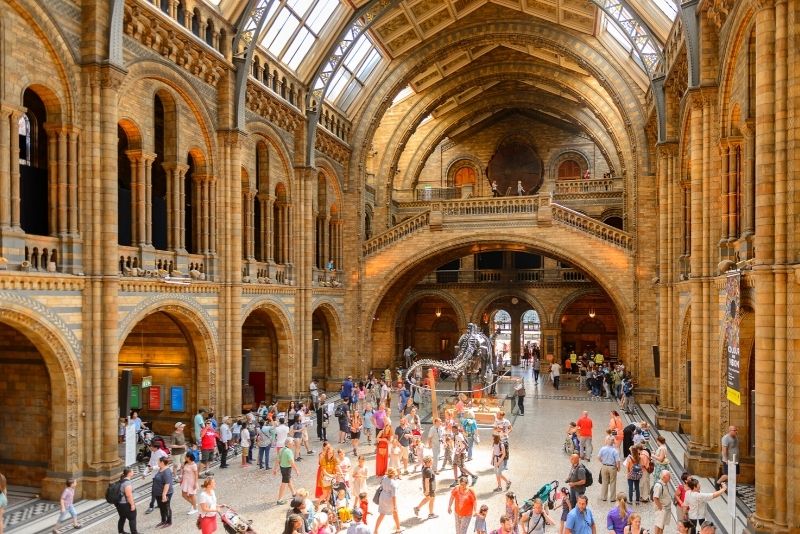 Since it opened all the way back in the 19th century, the highly-esteemed National History Museum has been entertaining locals and tourists alike with its array of fascinating exhibits.
Gaze in awe at the huge dinosaur remains, learn about glistening gemstones on display, see the volcanic casts of people from Pompeii, and much more!
With some eight million exhibits across four zones, seeing everything is a near-impossible feat – instead, consider an expert-led highlights package that ticks off essential displays like Guy the gorilla, Hans Sloane's nautilus shell, the Great auk, and the Barbary lion skull, to name but a few.
45 – Be captivated by new art at the Tate Modern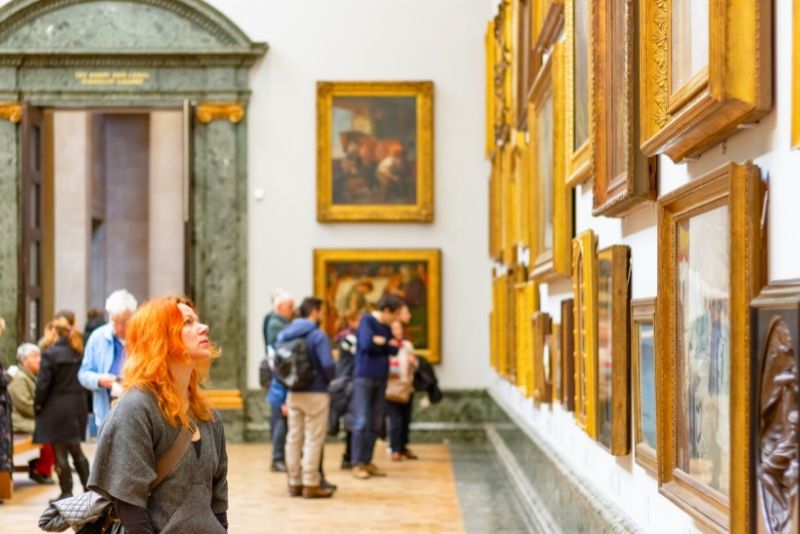 Chock-full of thought-provoking artwork from the likes of Andy Warhol, Pablo Picasso, Salvador Dali, and Claude Monet (and that's just scraping the surface), Tate Modern is one of the best contemporary art museums in all of Europe.
Rotating exhibitions cover a wide range of mediums – from painting and sculpture to photography and installation – making it impossible to get bored here.
And, what's more, entry to the museum proper is free! You will, however, need to purchase tickets for special exhibitions.
You'll find this contemporary art powerhouse on the banks of the River Thames, just across the Millennium Bridge from St Paul's Cathedral, and a short walk from Shakespeare's Globe Theatre.
46 – Join a food tour!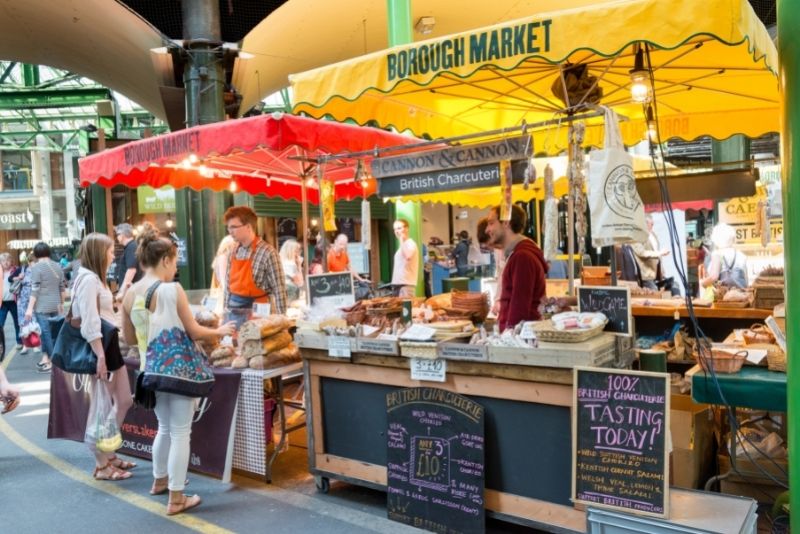 Because who doesn't love food, right? Especially in what is undeniably one of the world's greatest cultural melting pots.
On a local foodie adventure, guests are shown through Borough Market, East End, London Bridge, and plenty more stops along the way.
Expect to sample some bakery delights, a classic market stall curry, fish and chips at a local pub, and some delicious cider or beer (or three) to wash it all down.
You'll find a variety of different tours available to book, each with their own unique spin – take your pick from bike tours, wine and cheese tastings, market adventures, your classic walking tour, or hidden gem wanders through hipsters locales like Shoreditch, Soho, Camden or East End.
Not only is it a tantalizing way to eat some delicious grub, but you'll also uncover hidden corners of the city you may not have otherwise found.
47 – Sit front row at a musical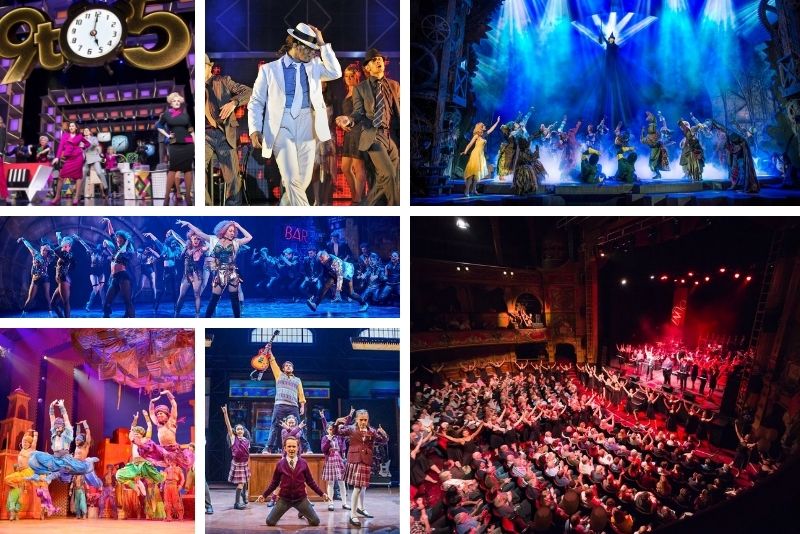 Move over, Broadway! In the UK, it's all about West End – London's beating heart of live theater and musicals, centered around the ever-lively Leicester Square.
From classics like Phantom of the Opera, The Lion King, Mamma Mia, Matilda, Wicked, and Les Miserables, to newer shows like Hamilton, Harry Potter and the Cursed Child, and Billy Elliot, there's a performance to suit every taste.
Admittedly, while tickets can be expensive, it's definitely worth splurging on at least one show while in the city – after all, this is a once-in-a-lifetime experience! And with countless bars and restaurants around, it makes for the ideal date night.
Hot tip: You can often find last-minute tickets at a fraction of the cost if you're willing to be spontaneous, or alternatively, try your luck with one of the popular lotteries held for each show. Of course, to avoid disappointment, lock in tickets well in advance.
Read more about the best shows and musicals in West End, London.
48 – Discover the marine life at the SEA LIFE Aquarium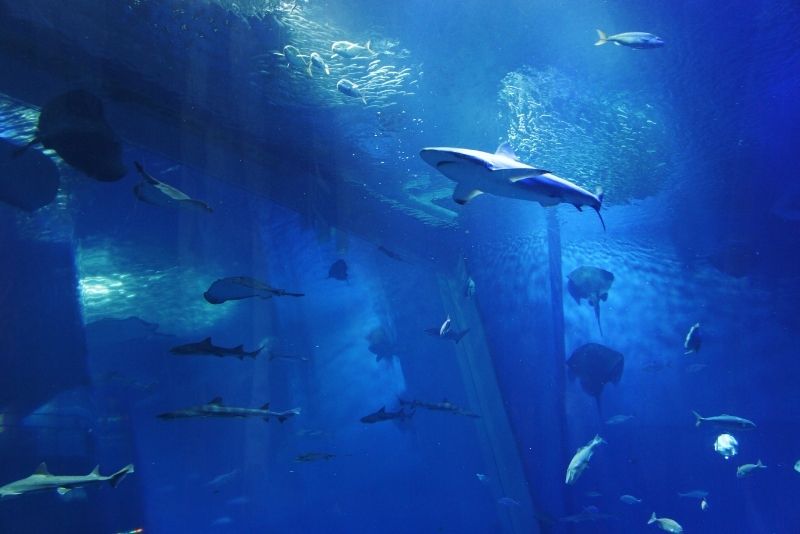 A delight for travelers of all ages, SEA LIFE is home to one of the largest collections of marine life in all of Europe (with over 500 different species calling this coveted attraction home).
Spread across five different zones, the aquarium takes you on an underwater journey from the shores of England all the way to the depths of the Pacific Ocean, with a variety of mammals, fish, reptiles, and amphibians to marvel at along the way.
Particularly popular among younger travelers are the hands-on experiences, where kids can touch starfish and stingrays; likewise the educational staff talks and the always-interest live feedings.
Watch penguins play and try not to shiver as sharks swim beneath your feet — it's an experience no visitor will forget!
49 – Enter the world of animation on a DreamWorks Shrek's Adventure tour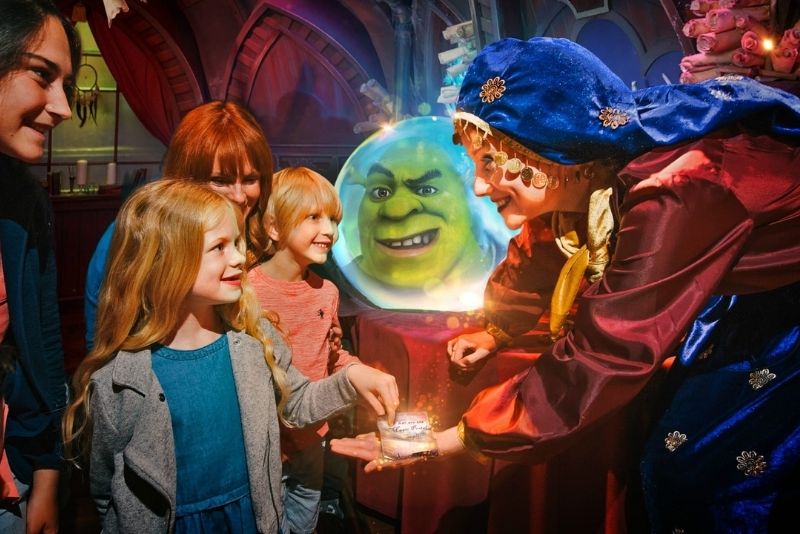 A magical journey to Far Far Away awaits on this walkthrough experience, based on the ever-popular DreamWorks movie franchise. A hilarious adventure, the DreamWorks tour takes guests through 10 fairytale-themed live shows where you as the audience become part of the live-action.
Suitable for travelers of all ages (though perhaps most enjoyed by the kids at heart who grew up with Shrek and the gang), this immersive attraction not only puts you in the middle of the action, but lets you meet all your favorite characters from the movies – Fiona, Donkey, Prince Charming, Puss in Boots, and of course the grumpy but lovable Shrek himself.
50 – Take the kids to LEGOLAND Windsor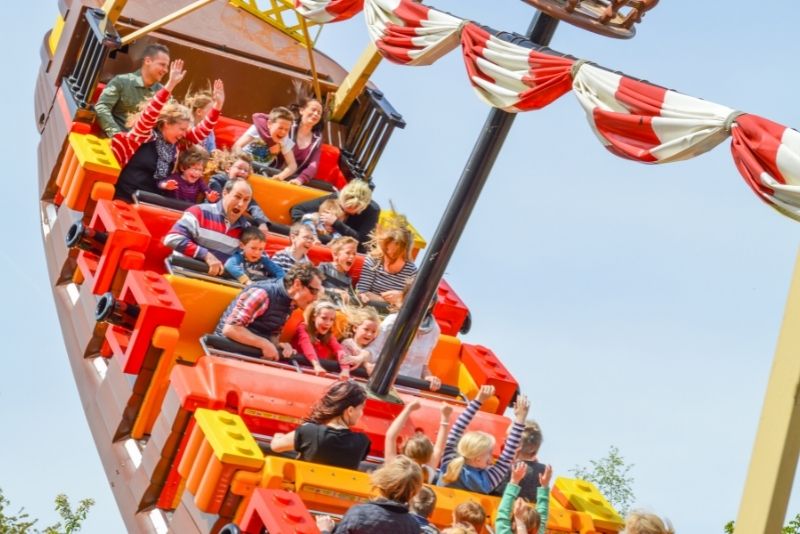 A short train ride away from London's Paddington station, LEGOLAND Windsor Resort is a must-see for any traveler with young kids in tow (though big kids will enjoy it just as much).
As the name suggests, this attraction is based entirely on the popular toy building blocks, with over 55 rides and attractions to keep the kiddos entertained all day long.
There are themed lands to explore, such as LEGO Ninjago World, The Magical Forest Lego Reef, and Duplo Valley; live shows to watch; and an array of colorful LEGO sculptures to marvel at. Plus, if you time your visit right you can even meet some of the iconic LEGO characters.
Arguably the highlight of the entire park, Miniland is up of over 42 million LEGO® bricks and showcases some of the world's most iconic landmarks, from Big Ben and Tower Bridge to the Golden Gate Bridge and the Pyramids of Giza.
The beloved theme park is sprawled across over 150 acres, so wear your walking shoes, arrive early, and (if you like) book a skip-the-line ticket for a hassle-free day out.
Read more: Best things to do in London with teens
51 – Let the youngsters play make-believe at Kidzania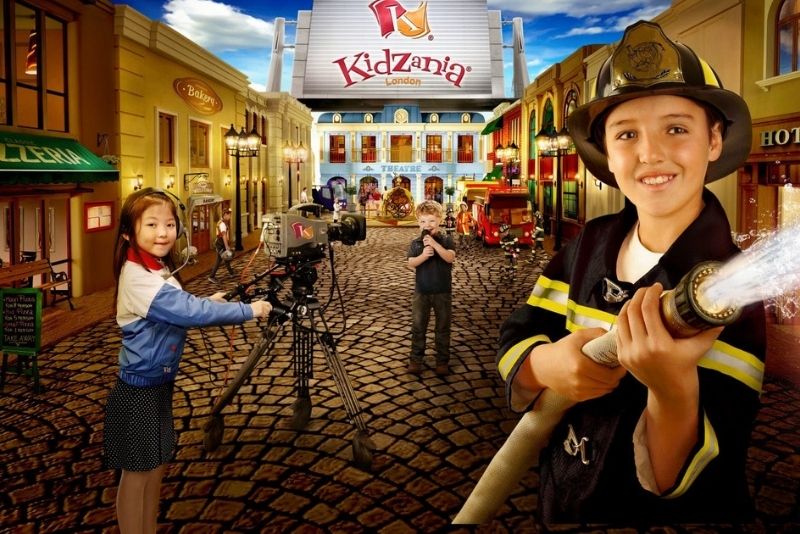 If you're looking for things to see in London for kids aged 4 to 14., Kidzania should sit at the top of the list! A family favorite, this indoor City offers youngsters the opportunity to role-play over 60 different careers, from being a doctor, pilot, or police officer to trying their hand at journalism, firefighting, DJing, or acting.
A unique concept with its own fake currency, Kidzania is essentially a miniature city where kids can learn about various professions while also having stacks of fun along the way. With plenty of interactive games and activities, it's the perfect combination of education and entertainment.
Plus, with The Grown Ups Garden Shed (with books and board games) and a cafe on-site, there's plenty to keep the parents entertained while the kids are busy exploring.
52 – Be surrounded by wild animals at the London Zoo
Spread across 15 hectares of land, the famous London Zoo boasts a wide selection of animals of all shapes and sizes, hailing from all over the world!
At what's considered one of the premier and oldest zoos in England (opening its doors way back in 1828), guests can get up close and personal with gorillas, lions, reptiles, penguins, beautiful butterflies, and slimy snakes, to name but a few.
In addition to the animal enclosures, there are also daily talks and feeding times, VIP meet and greet experiences with penguins, meerkats, monkeys, and komodo dragons, and an amazing rainforest exhibit.
Hot tip: For the best bang for your buck (and a skip-the-line bonus), grab a London Pass. And if traveling in July, be sure to check out the Twilight at London Zoo event.
Learn how to book cheap London Zoo tickets and save up to 30%.
53 – Ride the coasters at Chessington World of Adventures Resort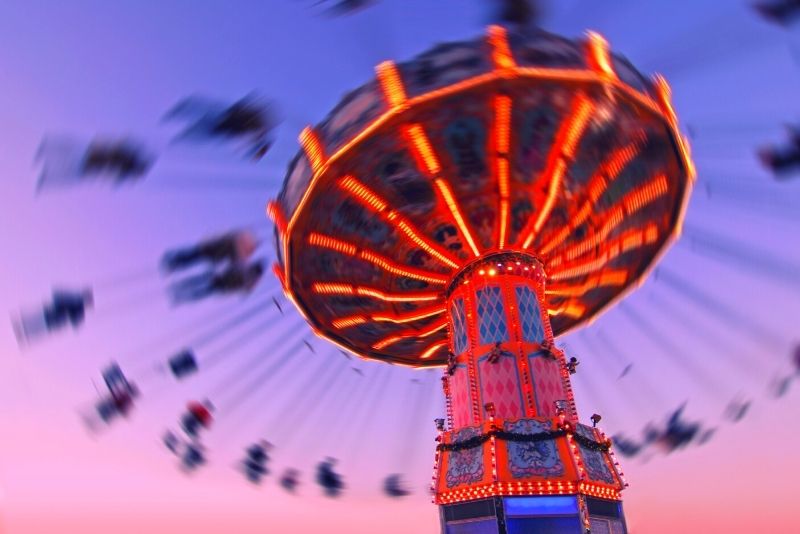 About an hour southwest of London, Chessington World of Adventures Resort is a hot spot for travelers who're eager for an adrenaline-pumping day out – with bucketloads of rollercoasters, rides, and attractions to choose from.
This enormous theme park is divided into 10 themed lands, each with its own unique activities. There's the Chessington Zoo, where over 1,000 exotic animals await; the Forbidden Kingdom, where you can explore an ancient lost city; Mexicana – complete with Wild West scenery; Land of the Dragons and The Rainforest for little ones; and Shipwreck Coast, home to the park's water rides, to name a few.
Across the various lands, you'll uncover no less than 40 diverse and exciting rides and attractions (definitely check out 'The Vampire' and 'Dragon's Fury') — but be warned, these hair-raising coasters aren't for the faint of heart.
54 – Experience incredible thrills at Thorpe Park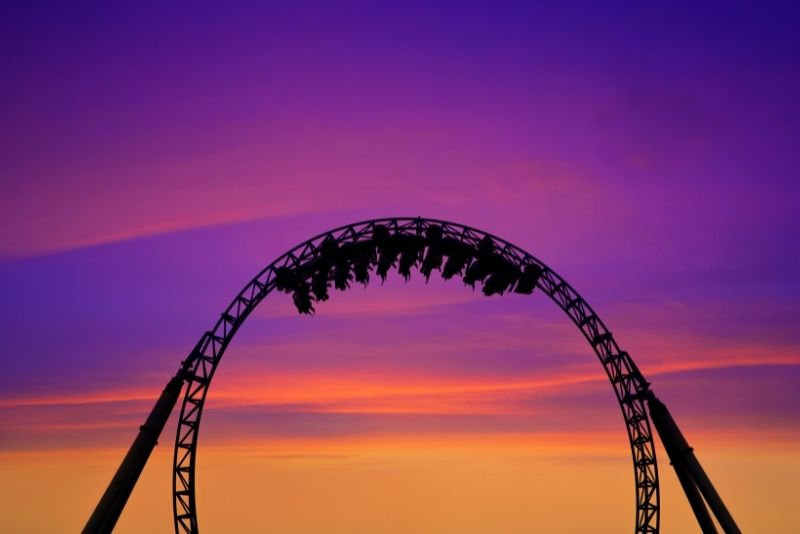 Ideal for a sizzling summer day, Thorpe park has both heart-racing thrills rides and a refreshing water park, making it a great escape from the beating inner-city heat for the whole family. As the home of some of the steepest, fastest, and highest rides in England, adrenaline junkies should take note.
Situated in Surrey (just outside of London), this world-renowned theme park is home to over 30 rides and attractions, as well as some big-name rollercoasters like The Swarm, Saw (a 4.7 g-force awaits), the inverted Nemesis Inferno, Stealth (which soars 62.5m into the air), and the 10-loop Colossus (hold on to your breakfast!).
If you're not a fan of heights or adrenalin-pumping activities, there are still plenty of low-key options like happy swings, carousels, and an arcade center.
55 – Find some bargains on a Bicester Village Shopping tour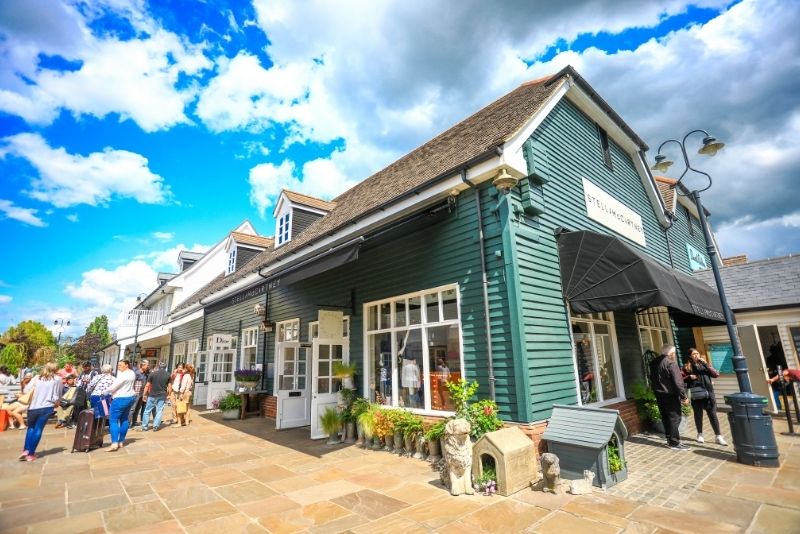 Love shopping but don't know where to start? Then a Bicester Village Shopping tour is the answer to your problems!
Known as the UK's number-one shopping destination, this precinct offers year-round sales (including up to 60% off designer items like Dior and Ralph Lauren) and retail stores for every budget. With over 160 luxury brands to choose from, this is the place to go for a serious retail therapy session.
During your full-day tour, you'll get to enjoy a comfortable round-trip coach journey from London, allowing you to sit back, relax, and plan your spending spree. Plus, with a professional guide leading the way, you can learn all about the history and culture of Bicester Village as you make your way through the shopaholic paradise.
For something a little different, consider a sustainability-themed shopping tour too.
56 – See the actual Notting Hill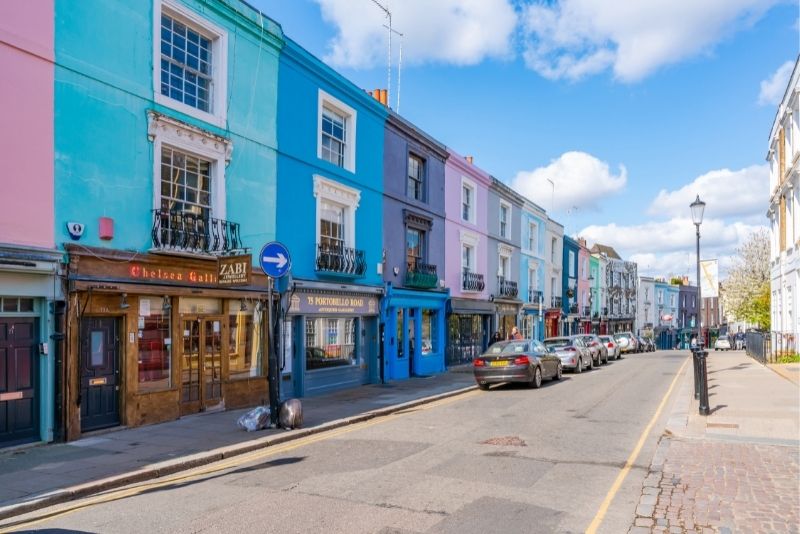 As the host of the second-largest carnival in the world; home of the Portobello Road Market, and the set for that famous Julia Roberts movie (you know the one), it goes without saying that Notting Hill – the beloved district in West London – is renowned across the globe
Take a romcom-themed walking tour, embark on a tastebud-tastic foodie tour where a smorgasbord of flavors awaits, or join one of the area's many celeb-spotting excursions — either way, a wander around this high-end colorful suburb makes for an awesome afternoon.
After wrapping up the walk, you'll find no shortage of trendy boutiques to window-shop, and lovely cafes and bakeries to find a snack. Not sure where to start? Daylesford is all about organic farm eats; Fabrique is a Stockholm-inspired eaterie with Cinnamon Buns that are to die for, and The Butter Bakery fuses Persian and French flavors in a charming setting.
57 – Check out the iconic painted hall at the Old Royal Naval College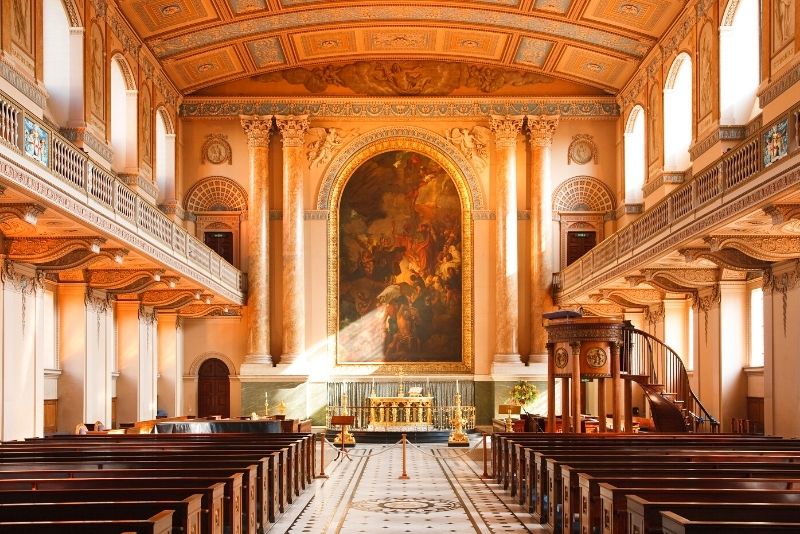 Much like the Sistine Chapel, the dazzling painted hall at the Old Royal Naval College is covered from ceiling to floor in stunning art that leaves its guests breathless.
Filled with baroque-style furniture and decorations, it's an essential activity for the art-lovers among us.
The building itself – a UNESCO World Heritage Site – is also fascinating, and you can explore the grounds and gardens too. If you want to learn more about the hall's incredible history since its 1873 founding, join one of the college's many guided tours.
58 – Discover London's hidden street art scene!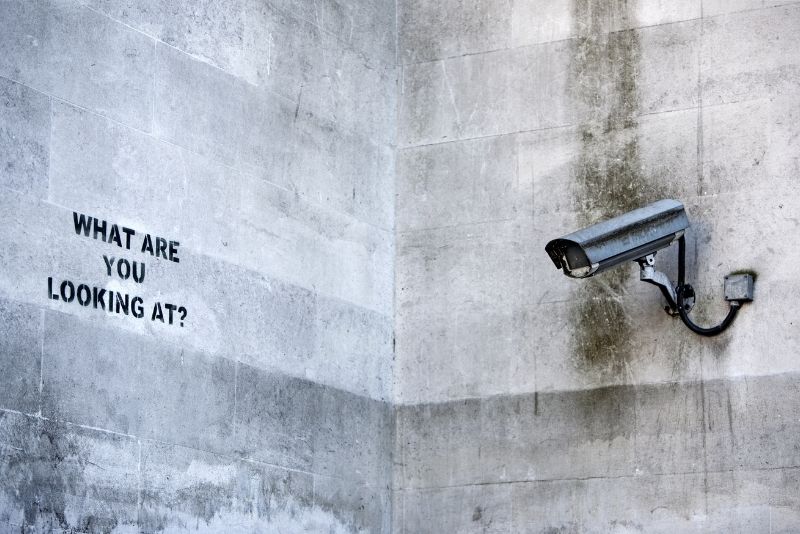 While London is known for its high-quality museums, if you look beneath the surface, you'll quickly discover a treasure trove of off-beat art and interesting murals hiding in the city's nooks and crannies.
Indeed, London is now considered one of the street art capitals of the world, with world-famous artists like Banksy, Stik, and Shepard Fairey having all left their mark on the cityscape.
To explore this lesser-known side of London, make your way to (or follow a guide to) Brick Lane, which is considered to be the heart of the street art scene. You'll pass by dozens of world-famous murals, as well as countless smaller pieces that are equally as impressive and shed a different light on the underground London culture.
Hot tip: if your tour doesn't already visit this 300-meter tunnel, make sure to add Leake Street – the city's largest legal art wall – to the list.
59 – Explore London's backstreets on a Classic Mini Cooper tour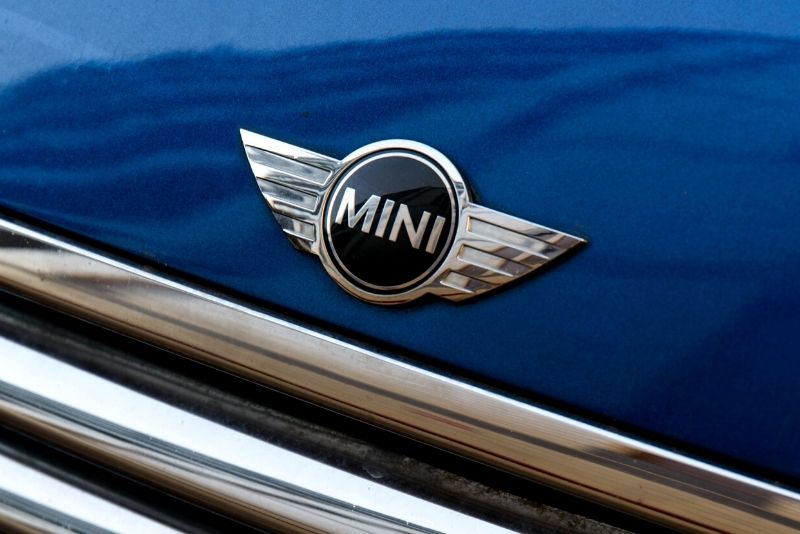 Made famous by the bank robbery scene in 'The Italian Job', riding around in a classic Mini Cooper is now a sought-after tourist activity.
With stops all over the city, covering the likes of Hyde Park, Kensington Palace, and Buckingham Palace, this is a great way to see some of London's most iconic landmarks, and certainly a far more stylish way to get around town.
Fancy yourself a bit of a drinker? Then take note of the gin-themed Cooper tour – another popular choice among thirsty travelers.
60 – Get a little groovy with a silent disco!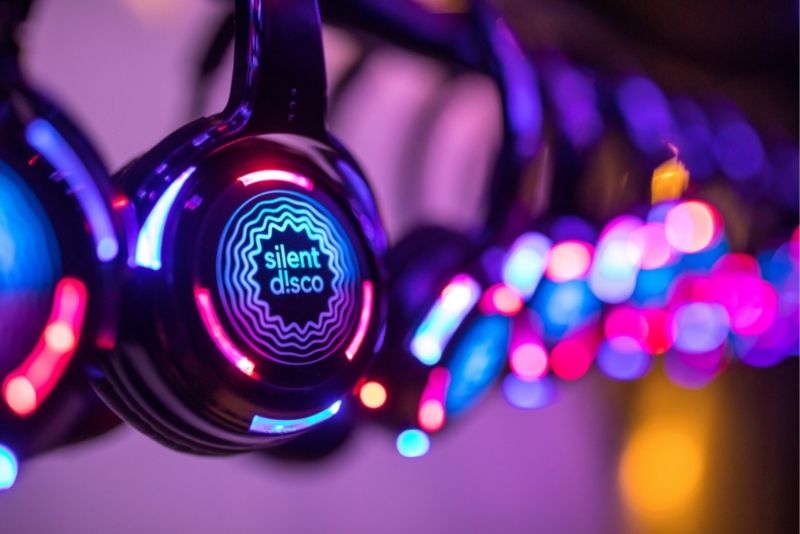 See all the famous landmarks that London is known for… all while singing and dancing your heart out! That, folks, is a silent disco tour.
With a range of themed experiences available, including musical theatre, drag, and even Christmas, you'll be tapping your postcard-worthy of the city's most postcard-worthy sights in no time.
It's as easy as popping on a pair of headphones and off you go!
61 – Travel to the London Transport Museum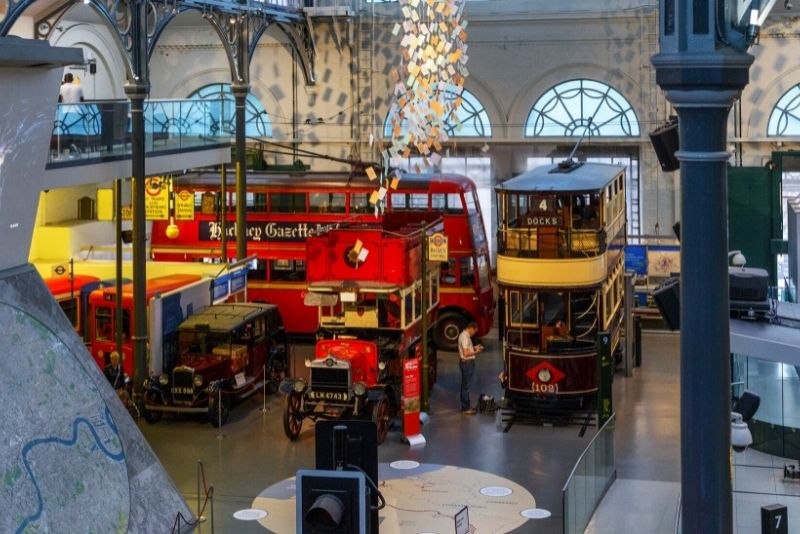 Beyond the New York subway, London's transport system – with its double-decker red busses and expansive Tube network – is one of the most iconic in the world.
And what better way to learn about its rich transportation history than by visiting the London Transport Museum?
From horse-drawn carriages to the world's first underground subway (yes, the famous 'Tube'), and no shortage of old-school photographs, equipment, vehicles, and memorabilia, guests can learn all about London's dramatic transformation since the 1800s.
62 – Relive musical history on a Rock 'n' Roll music tour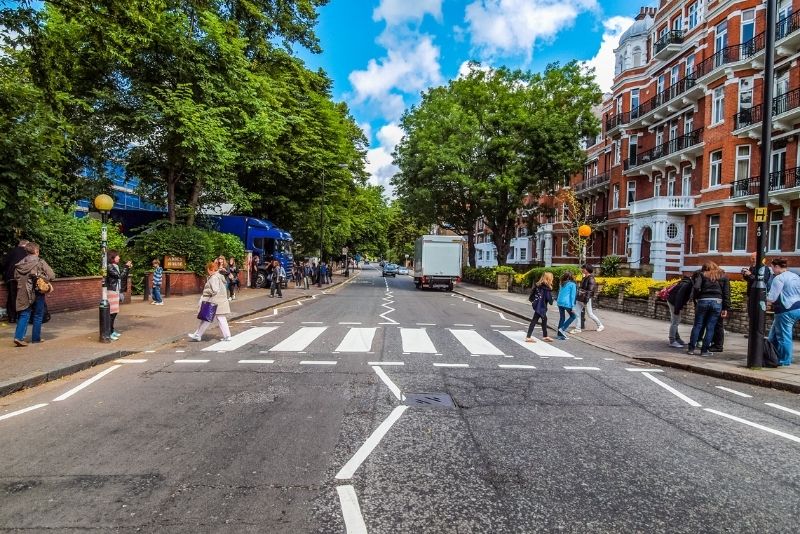 London was a hub for rock music ever since The Beatles became famous, so a music-themed tour should sit high atop the bucket list.
Led by expert music aficionados, guided walking tours will escort you around town to see places that rock stars made famous (think Abbey Road), locales where stars like Jimi Hendrix lived, and venues that legends such as David Bowie played at — all combined, it's the ultimate experience for rock n roll fans.
And with plenty of tidbits en route between destinations, you'll walk away with the inside scoop on how some of music's most famous names changed the face of rock 'n' roll through the decades.
63 – Take a stroll through Camden Town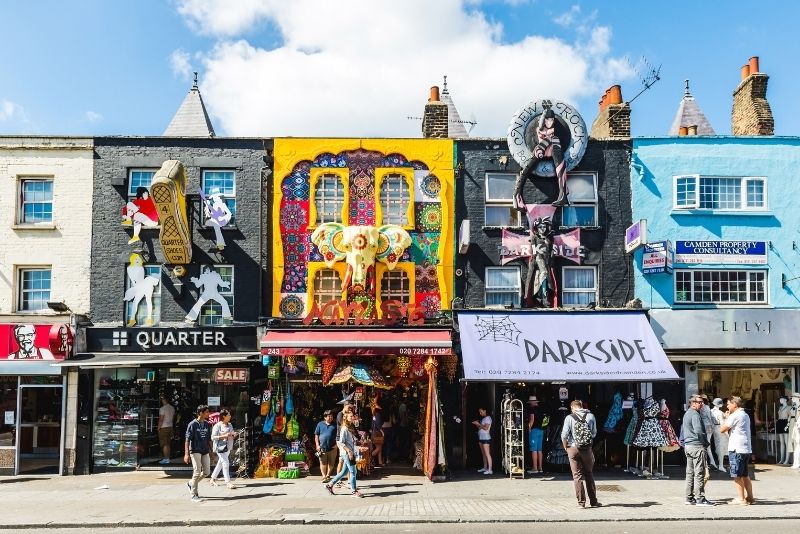 Always full of life and charm, Camden Town is one of the best places to people-watch in London.
An eclectic mix of tourists, locals, and street performers congregate in this vibrant district, which is known for its alternative culture, markets, and nightlife.
During the day, explore the many stalls at Camden Market, which sell everything from vintage clothes to handmade jewelry, and in the evening, enjoy a pint at one of the many pubs dotting the area (or, better yet, join a pub crawl of the area).
While easily accessible by Tube, why not jump on a canal cruise instead?
64 – Cruise down the little-known Regent's Canal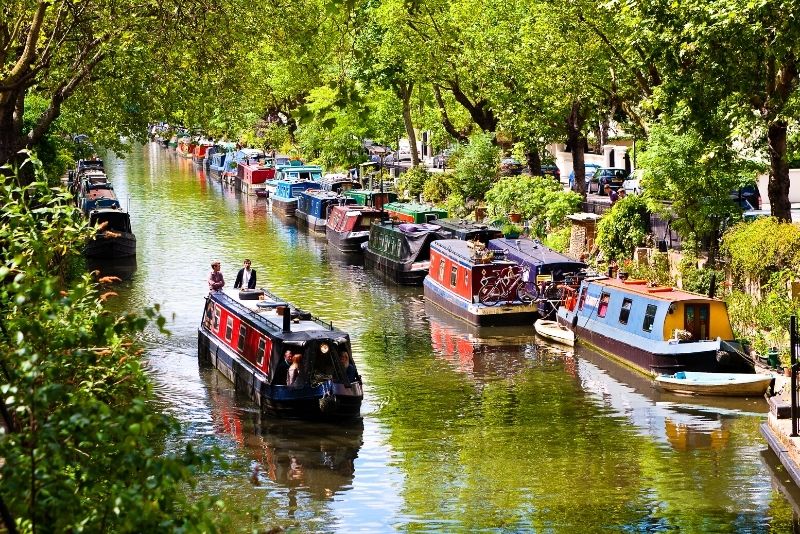 Connecting the popular tourist hubs of Camden Town and Little Venice, the Regent's  Canal is a little-known sliver of the river that is often swept under the rug in favor of its more famous cousin, the Thames.
But what this canal lacks in size, it makes up for in charm, with plenty of cute bridges and houseboats to snap pictures of as you meander down the river – culminating in a peaceful change from the busy streets above.
Simply grab a spot on deck, float past the London Zoo, and soak in all the unique architecture, beautiful gardens, and urban graffiti — it's a wonderful way to experience the juxtaposition of modern and traditional, and the perfect activity for a sunny day.
65 – Meet Peppa Pig at Paultons Park!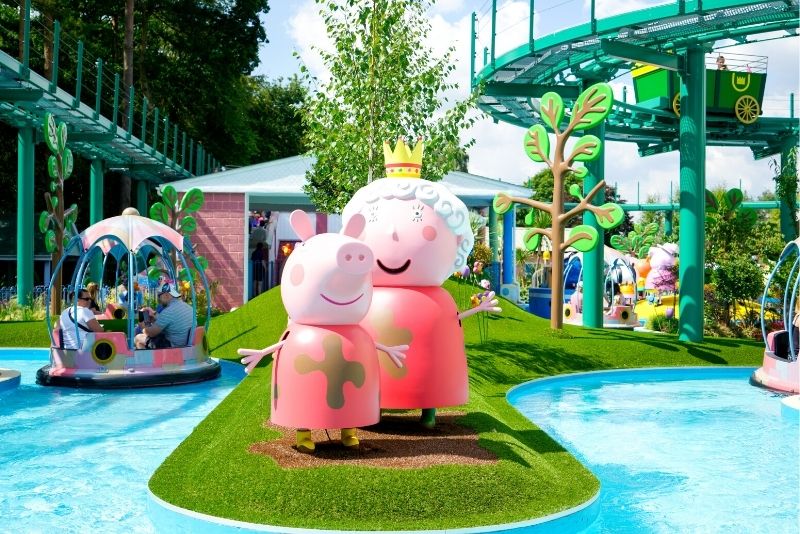 Traveling with kids in tow? Then make a note to head to Paultons Park – about an hour outside of London – for a day of family-friendly fun.
While the park itself is full of greenery and open spaces to explore, the real draw is the amusement park, which includes everything from roller coasters to costumed characters, all themed around our beloved oinking TV show character.
With 9 Peppa Pig-themed rides, including Peppa's Big Balloon Ride, Miss Rabbit's Helicopter Flight, Grandpa's Little Train, and many more, the little ones are sure to be entertained for hours.
66 – Understanding how advertising works at the Museum of Brands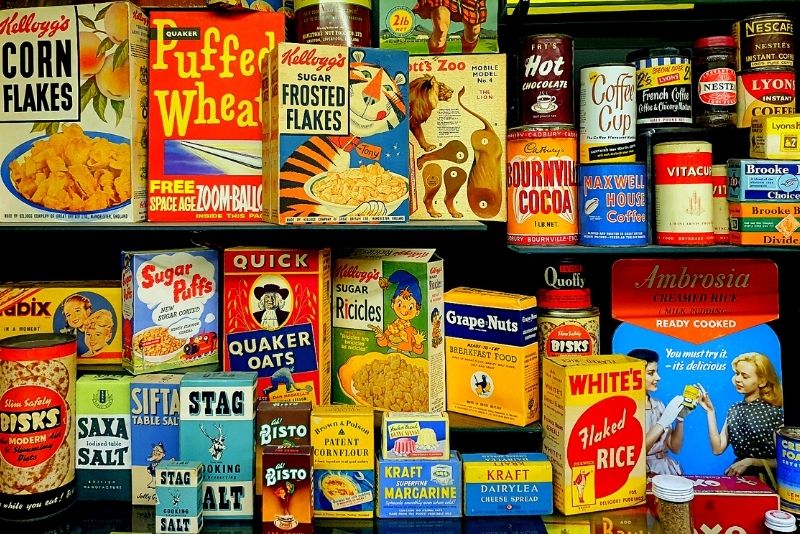 Fascinated by the world of marketing? Want to dive into the inner workings of consumer psychology – and, on the flip side, how advertisers play into our deepest desires and fears?
Then the Museum of Brands is a must-visit during your time in London. With displays of retro advertising and packaging belonging to brands that date all the way back to the Victorian era, this is a one-of-a-kind museum that you won't find anywhere else.
As one of the more unique things to see in London, it's a surefire hit for anyone interested in media, marketing, design, or advertising.
67 – Find some hidden gems at Covent Garden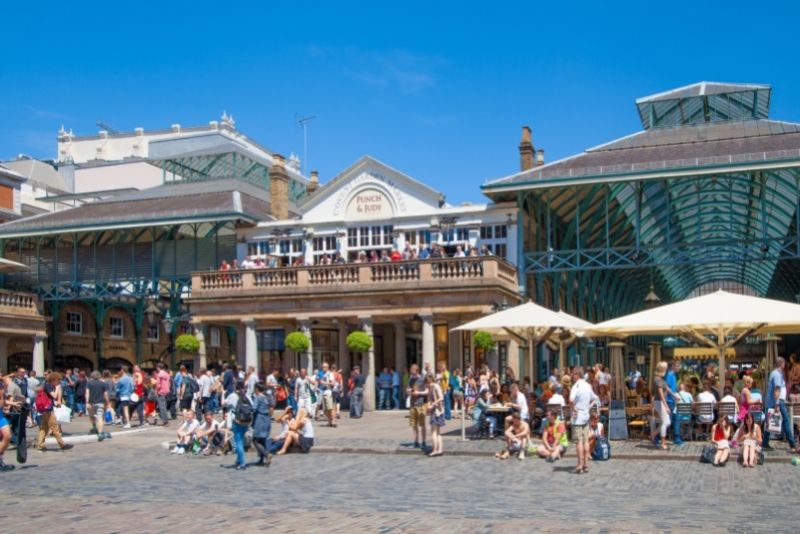 Spread across seven streets, Covent Garden is London's beating heart for all things shopping, dining, and entertainment.
Famed for its Apple Market, where you can find everything from souvenirs to hand-crafted goods, as well as its central location near many of London's top attractions, Covent Garden is a top-tier locale for any first-time visitor.
On a dedicated Covent Garden walking tour, travelers can explore the vibrant streets, grab a drink at one of the many cafes and restaurants in the area, wander into St. Paul's Church, and learn all about the area's fascinating history.
With so much to see in the neighborhood, it's a great suburb to spend the day simply wandering.
68 – Make learning interactive at the Science Museum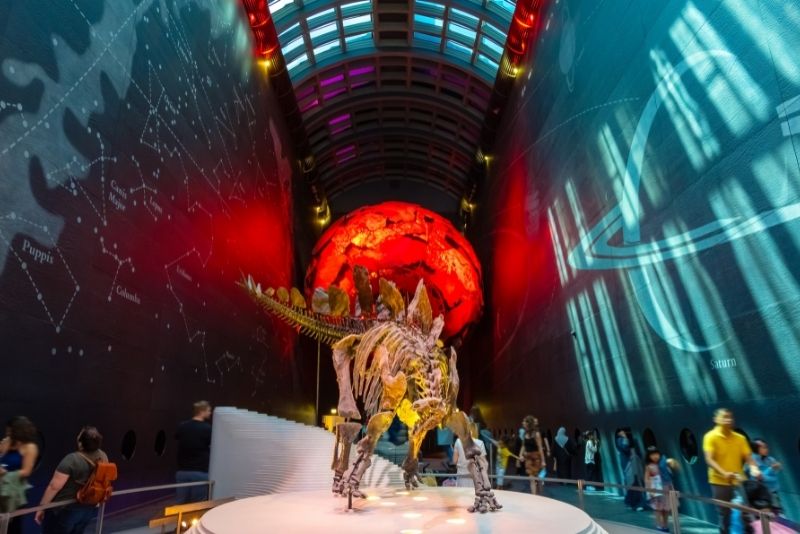 Calling all science geeks! One of the most interesting things to do in London, without a doubt, is to visit its world-class Science Museum.
Not only does it rock its own IMAX theatre, where you can catch a good mix of the latest Hollywood blockbusters and educational documentaries, but it also has a ton of interactive exhibits that are perfect for both kids and adults intended to make learning a stack of fun.
With content focused on everything from mathematics to fuel, medicine, engineering, technology, space, and much more, there's something to suit every interest.
69 – Spend an hour at The Postal Museum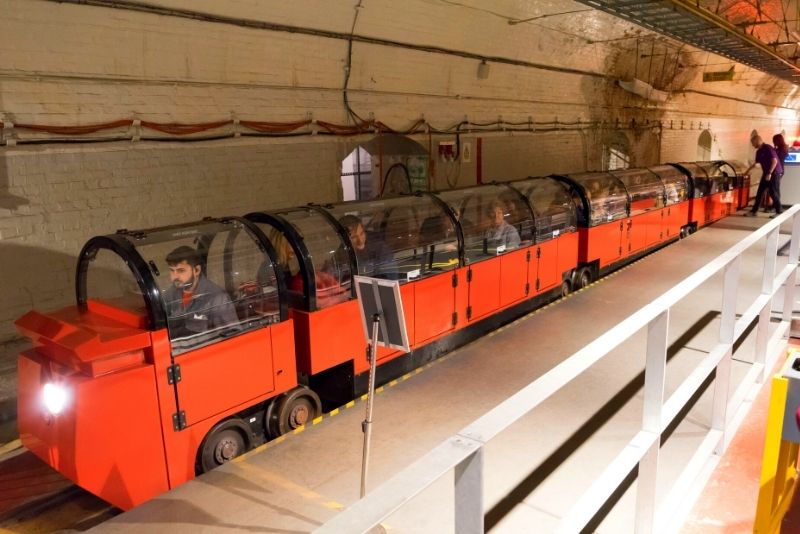 A quirky museum indeed, here, guests can learn all about Britain's postal history in an immersive, exciting way.
Discover the fascinating Mail Rail Tunnels that haven't been opened in 100 years; check out the 150-year-old postcard exhibit, learn about the role the postal service played during wartime, and more.
With a play area for kids, an on-site cafe, and a shop selling all kinds of quirky knick-knacks to add to your stamp collection, this underrated institution regularly surprises you.
70 – See what's on at the Royal Albert Hall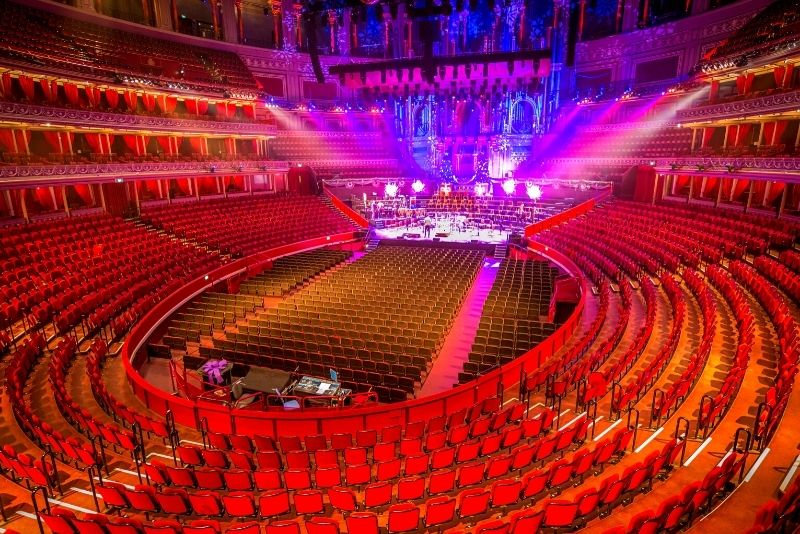 Originally built in 1871 by Queen Victoria (and later renamed to honor Prince Albert), these days the famous theatre has become an iconic landmark, hosting some of the biggest names in the music business. From classical concerts and operas to rock, pop, and jazz performances, the 5,000-plus-seat Royal Albert Hall has pretty much seen it all.
Even if you don't have time to squeeze in a show, the beautiful architecture alone is worth a quick visit.
Located in South Kensington, the hall is just a stone's throw away from some of London's other top attractions like the Natural History Museum, the Victoria and Albert Museum, Hyde Park, and of course Kensington Palace – making it the perfect place to stop by if you find yourself in the area.
71 – Step back in time at The Household Cavalry Museum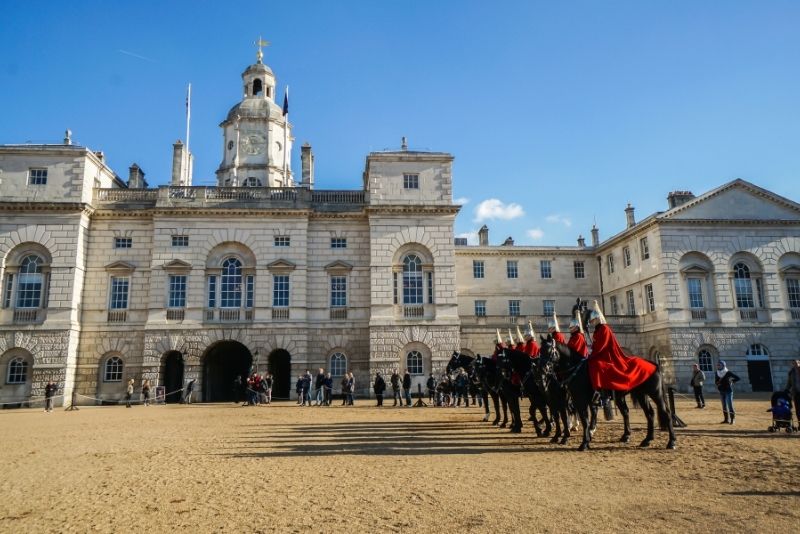 Fascinated by history? Or have you always wondered what it would be like to be a cavalryman? Either way, The Household Cavalry has got you covered.
At this popular (albeit quirky) attraction, visitors have a chance to peek inside the working stables, see a regiment in action, and pull on a real uniform.
Dating back to the mid-18th century, the historic building houses an impressive collection of paintings, uniforms, weapons, and more – giving you a real insight into what life was (and still is) like for the British cavalry over the year.
72 – Learn about WWII at the Churchill War Rooms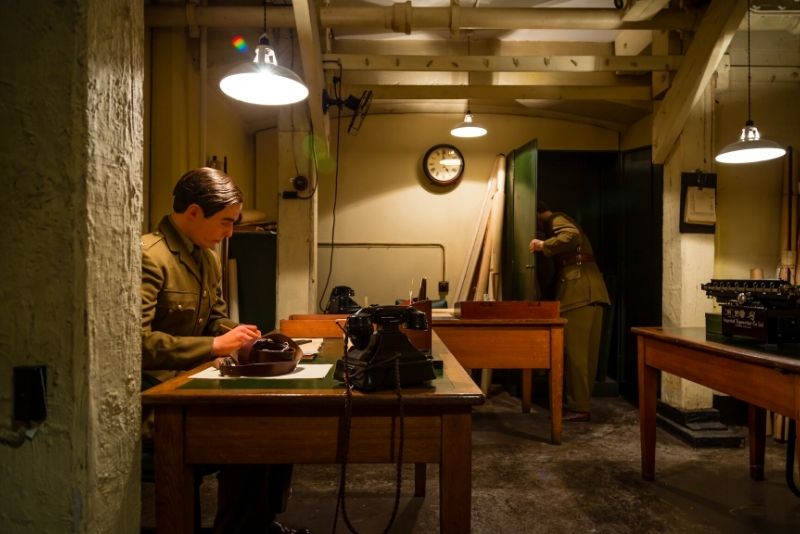 On this trip back in time, guests can venture into the secret war rooms that Winston Churchill used in the mid-20th century.
The Churchill Museum is a treat for history-savvy visitors, likewise the maze of secret underground rooms that were used to plot combat strategies during WWII.
Remarkably, the rooms have been preserved to a tee, so they remain almost exactly the same as they were in 1945.
With a multilingual audio guide leading you through exhibits on Churchill's life, the Blitz, and more, this is one of the best things to do in London if you're looking for an educational activity with a difference.
73 – Catch a game of cricket at Kia Oval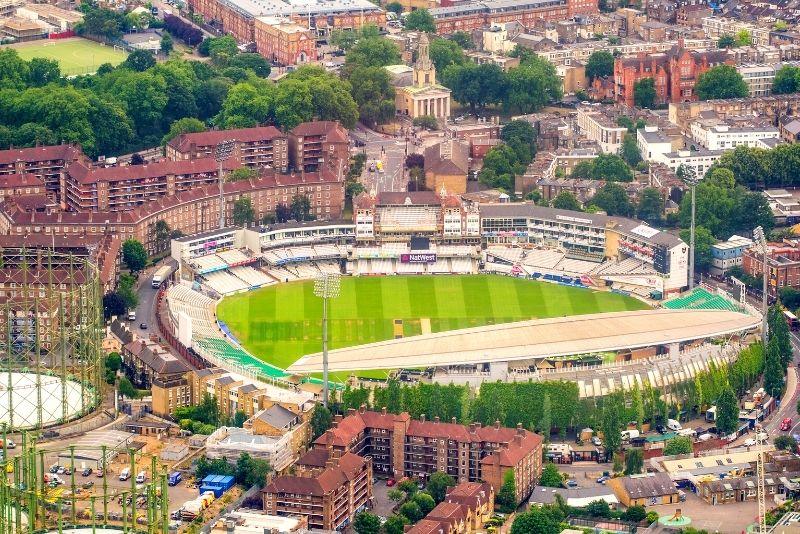 A beloved British sporting pastime, a day at the cricket (whether a test match against the Aussies or other longstanding rivals, a One Day International, or a fast-paced Twenty20) is a must-do for any true sports fanatics – and few places are better equipped to deliver a spectacle the historic Kia Oval.
As the home of the Surrey County Cricket Club since 1845, the Kia Oval has long been one of the top places in the UK to catch a game of cricket, along with Lord's.
While matches are regularly held here, you can also sign up for 45-minute behind-the-scenes tours of the ground, which offer access to areas that are usually off-limits to the public.
74 – Learn about history through art at the Victoria and Albert Museum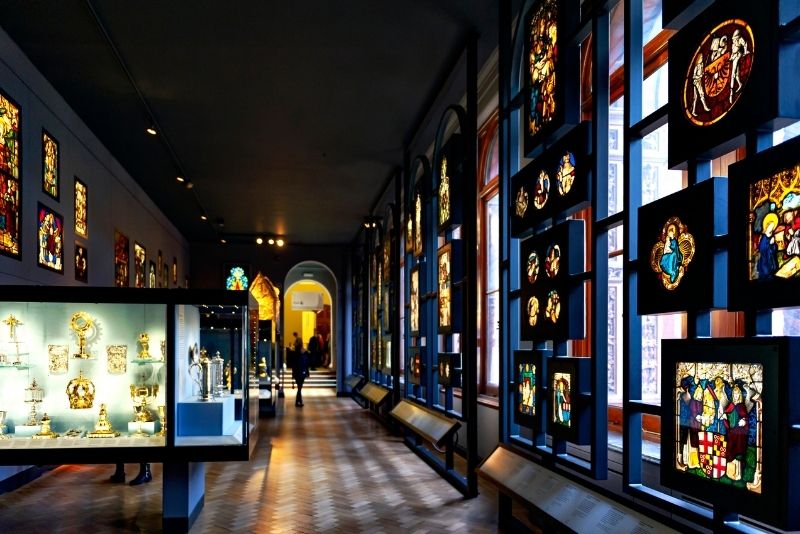 Queen Victoria and Prince Albert personally established this museum — and their eclectically displayed art collection spans some 2000 years of history.
From medieval armor to statues by Rodin, paintings by Van Gogh and Monet, and galleries upon galleries of furniture, fashion, ceramics, textiles, and more, not to mention over 2,000 miniatures, the Victoria and Albert Museum is an embarrassment of riches.
Discover Leonardo Da Vinci's notebooks, marvel at where royalty once sat at the Chinese Qing Dynasty Imperial Throne, and much more.
75 – Indulge in a British national pastime with afternoon tea!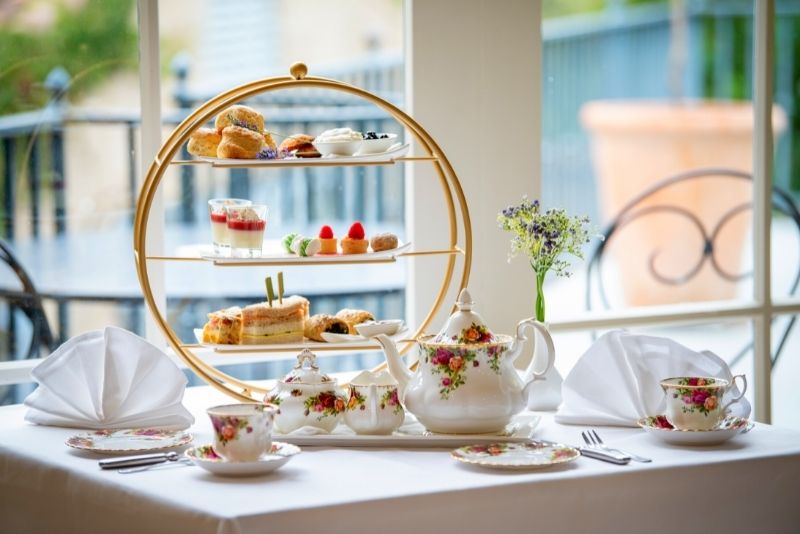 Consisting of tea, sandwiches, scones, and sweet treats, a traditional afternoon high tea is something that, albeit certainly a little cliche, every tourist needs to check off the to-do list.
You'll be spoiled for choices when it comes to places around London that offer afternoon tea services (Notting Hill is flush with choices; you can dine and cruise on the Thames, or even grab a table on a double-decker bus as you scoot past some of the city's major landmarks!).
Whatever your jive, make sure to book in advance as most places have limited spots available.
76 – Sip on a cold brew (or 5) with a beer-tasting tour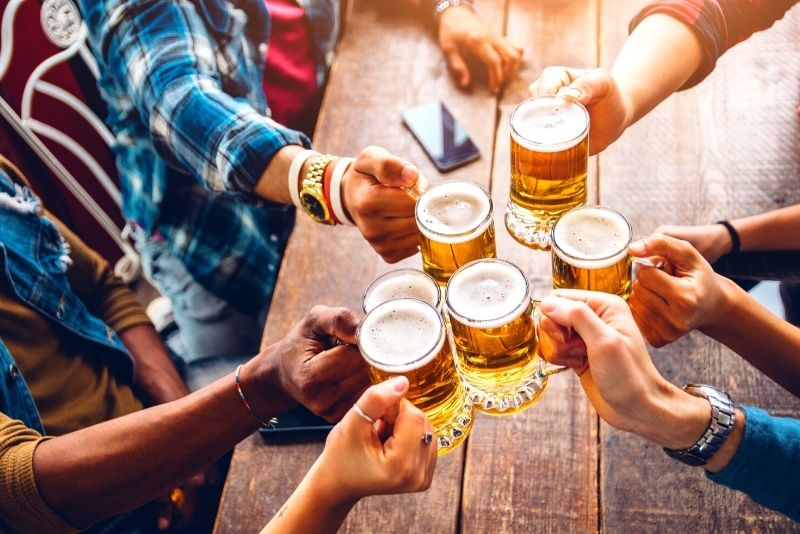 Home to over 7000 pubs (!) and more beer-tasting tour options than we could count, there's no better city to wet your whistle.
Choose from craft beer tours, historical pub tours, West End pub tours, or wild pub crawls, all of which offer a different kind of experience sure to leave you stumbling back to the hotel in good spirits.
For those looking for a more refined experience, keep an eye out for the variety of London beer festivals that are held throughout the year – the Great British Beer Festival being an annual beer-lover magnet.
Hot tip: don't miss out on tasting Fuller's Vintage Ale, a local favorite.
77 – Be 007 for a day on a James Bond tour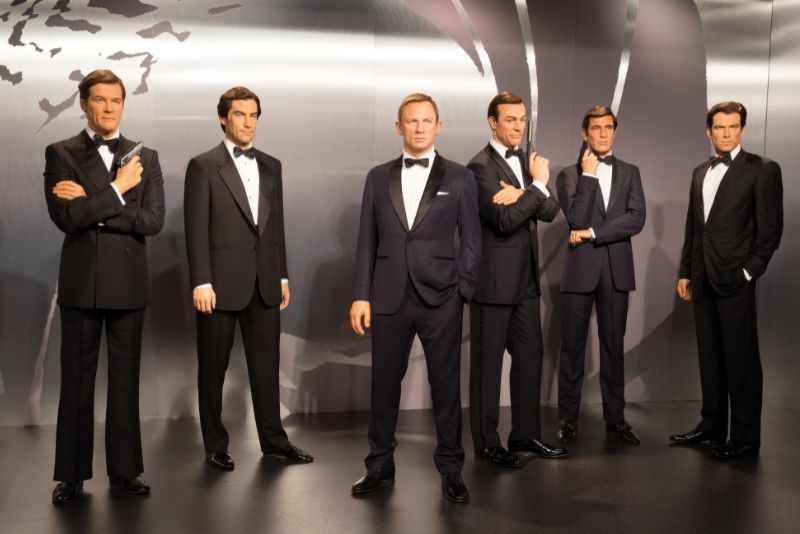 Whether you're team Connery or team Craig, there's no denying that James Bond is a household name. Now, on the streets of London, visitors can be shown some of the film franchise's most recognizable sets.
Not only will guests get to tour close to a dozen of the film locations (depending on your tour of choice) – like Somerset House (featured in Tomorrow Never Dies), Whitehall (several films), The Reform Club (Quantum of Solace), and the actual MI6 building in Vauxhall – but you'll also learn about the real British intelligence agency, as well as juicy behind-the-scenes gossip on the films and the Ian Flemming inspiration.
78 – Snap the perfect picture on a photography tour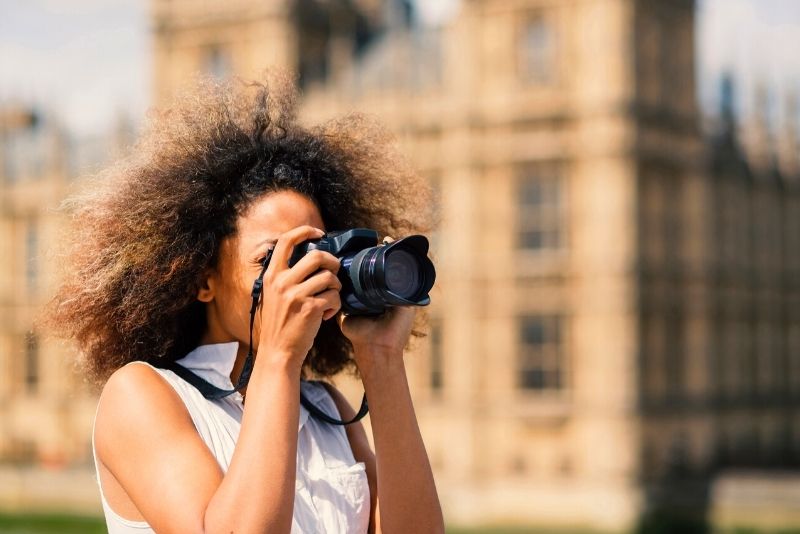 As a city overflowing with postcard-perfect landmarks, decorated architecture, colorful streets, and picturesque parks, it's no wonder that London is a photographer's dream.
So, for the creative-minded among us, it should come as no surprise that a dedicated photography tour – one which ventures off the beaten track and away from the buzzing crowds – is one of the most sought-after things to do in London.
Take your pick from a nighttime photography tour, a historical sightseeing tour, discovery walks through Shoreditch (and Brick Lane), and more.
Unless you want to join one of the professional photography classes, no fancy-schmancy equipment is required; friendly guides will help you get the perfect shot with your phone!
79 – Go behind the scenes with a Downton Abbey locations tour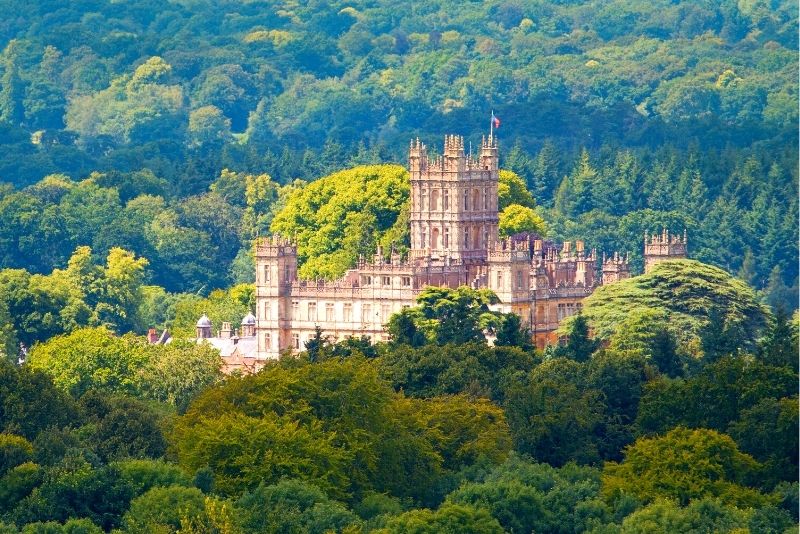 For those who just can't get enough of the Crawley family and their fascinating lives, Downton Abbey fans will rejoice at the idea of a tour that takes you behind the scenes of one of Britain's most beloved shows!
Led by superfans, these insightful tours whisk guests away on short trips from London out to the heavenly Oxfordshire Village (otherwise known as Downton Village).
Camera in hand, you'll be able to snap selfies in front of the local church, the village pub, Downton hospital, and, of course, the beautiful Highclere Castle. Spread across some 5,000 acres, this stunning piece of architecture dates back to the 17th century, boasts 300 rooms, and was used as the main filming location for Downton Abbey (at a cost of $1.5 million per year to rent!).
80 – Glide across the River Thames on a dinner cruise!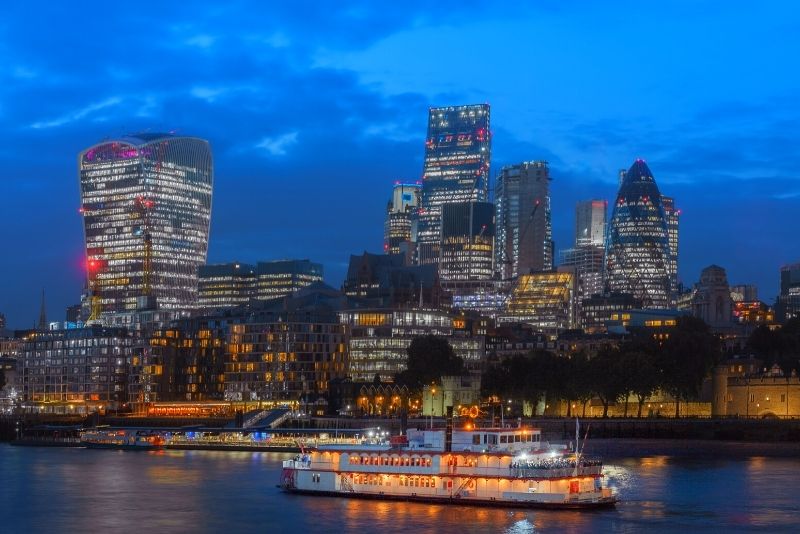 Looking for fun things to do in London at night, with amazing food AND amazing views? Where do we sign? For the epitome of romance (or a great night out with friends), there's nothing quite like a dinner cruise down the River Thames.
As you float leisurely down one of the world's most famous waterways, you'll get to feast on a delicious three-course meal, enjoy complimentary drinks, take in the twinkling nighttime sights of the city, and maybe even dance the night away to some live music.
Most relaxing Thames cruises last 3 to 4 hours and, to cap it off, the boats offer live entertainment (which changes depending on the cruise) ranging from jazz to cabaret, classical music, pop, and funk. What's not to love?
81 – Witness the legendary 'Changing of the Guard' ceremony
In the main courtyard of Buckingham Palace, the ceremonial 'changing of the guard' is a non-negotiable for first-time visitors to London.
Every day at 11:30 am (10:00 am on Sundays), the Queen's Guard hands over the keys to the New Guard in a centuries-old tradition that's as much theater as it is security.
The world-famous ceremonial tradition at the extravagant Buckingham Palace is the pinnacle, however, there are a few more spots around the city that offer prime viewing of their own, without the huge crowds — namely St James's Palace and Wellington Barracks, best accessed on a dedicated walking tour.
For the ultimate day out, opt for a tour that also includes an official afternoon tea and a visit to Westminster Abbey.
82 – Get tipsy at the Bombay Sapphire Distillery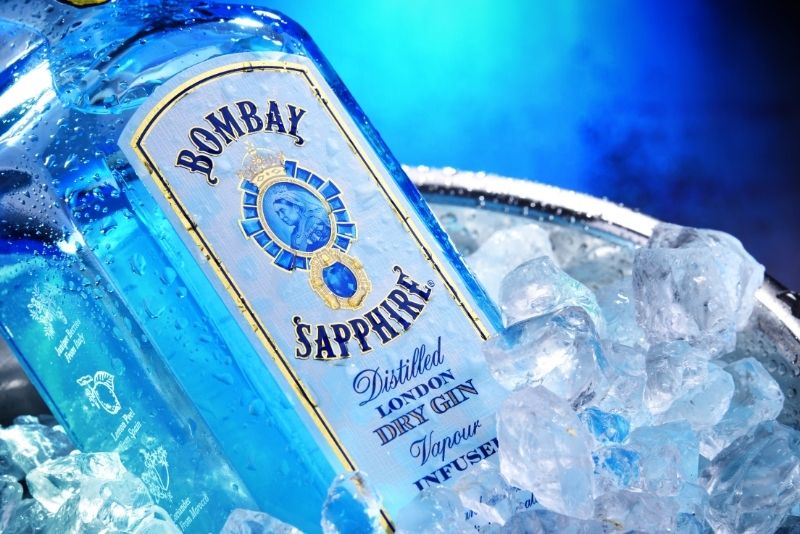 You're on vacation, so why not let your hair down and indulge in some local libations?
The Bombay Sapphire Distillery in Whitchurch is the prime place to do exactly that, with a setting and backstory that's sure to impress
The on-site tour showcases the secret botanicals used to create the fabulous gin; provides a unique tasting experience, and includes a gin cocktail based on the results of your taste test.
83 – Spend a day in the park!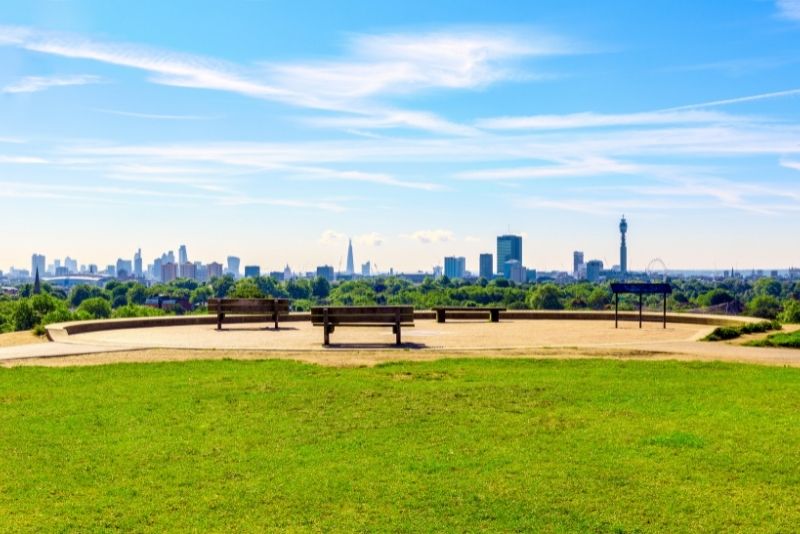 Despite being a bustling metropolis, London has no shortage of greenery. No matter which part of the city you find yourself in, there's bound to be a park within walking distance.
In fact, with over 3,000 parks, green is – to most people's surprise – one of the most defining features of London!
Go for a jog at Hyde Park, feed the pelicans at St James's Park, smell the flowers at Regent's Park, or take in the spectacular views at Hampstead Heath, just to name a few.
84 – Dine in the sky at Sky Garden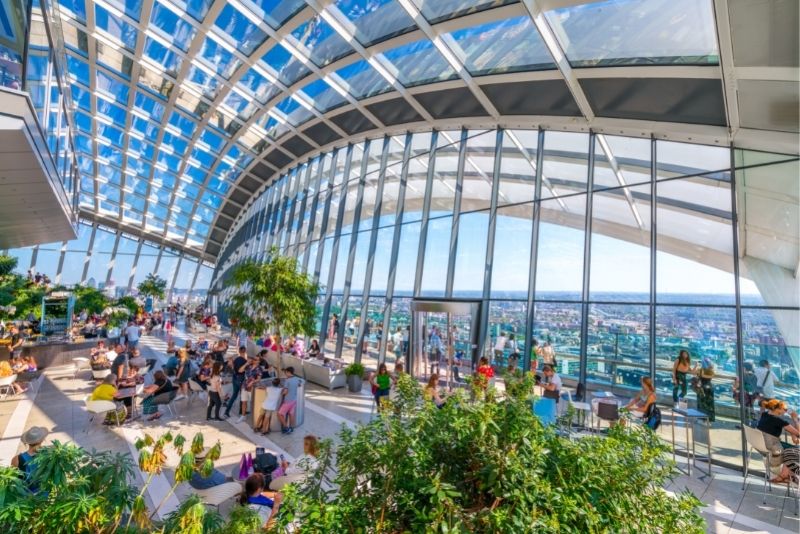 With floor-to-ceiling glass windows and a menu that falls nothing short of impeccable, you'll be hard-pressed to find a more wonderful eatery than Sky Garden.
Even if you're already well-fed, guests are still welcome for the view alone. You'll find the popular eatery in The Fenchurch Building (The Walkie-Talkie), right next to Monument station.
Hot tip: as expected, sunset is the most popular time of day for them, so a reservation is a must.
85 – Go sightseeing in speed on a jet boat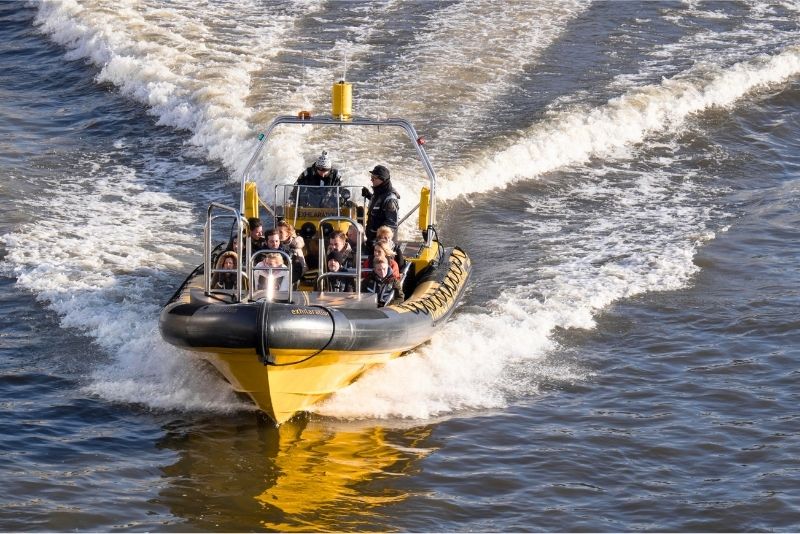 Got less than an hour to see the iconic landmarks of London? Hop on a jet boat from Embankment Pier in Central London and speed along the River Thames in the "Ultimate Roller Coaster" on water. In 50 thrilling minutes, you'll see The London Eye, the Houses of Parliament, Big Ben and much more!
This fast-paced tour with guided commentary and James Bond music will surely be a highlight of your time in London.
86 – Head to the beautiful English countryside with a Cotswolds day trip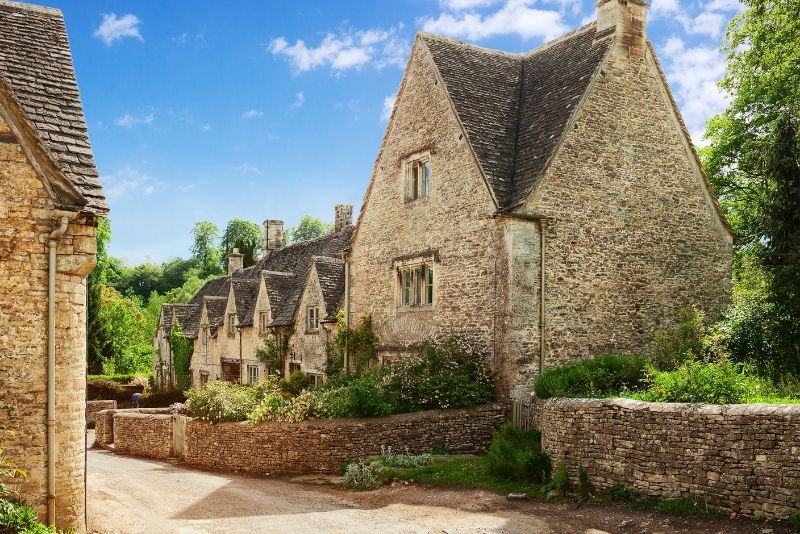 If the hustle and bustle of London is taking its toll and you're after a breath of fresh air, the gorgeous countryside town of Cotswolds makes for a welcome reprieve!
Sitting about 3 hours outside of London by train or 2 hours by car (give or take depending on which town you start at), the Cotswolds region spans over 800 square miles (2,000 square kilometers) and is famous for its rolling hills, quaint villages, and picturesque English countryside scenery.
Designated as an Area of Outstanding Natural Beauty (yes, that's a real thing), the Cotswolds is unsurprisingly home to several charming medieval towns and villages, each with its own unique history and personality.
Wander through the towns' (Cirencester, Castle Combe, Bourton-on-the-Water, or Painswick, to name a few) magical cobblestone streets, bask in the beauty of the sleepy villages, and hike through along the rolling hills — and, if there's time for a detour, make a stop at Stratford-Upon-Avon, the place that William Shakespeare once called home.
To make the most of your time, consider joining a small group tour that will whisk you around to all the highlights in just one day – leaving you with plenty of free time to explore at your own pace.
87 – Scratch the art itch at The Wallace Collection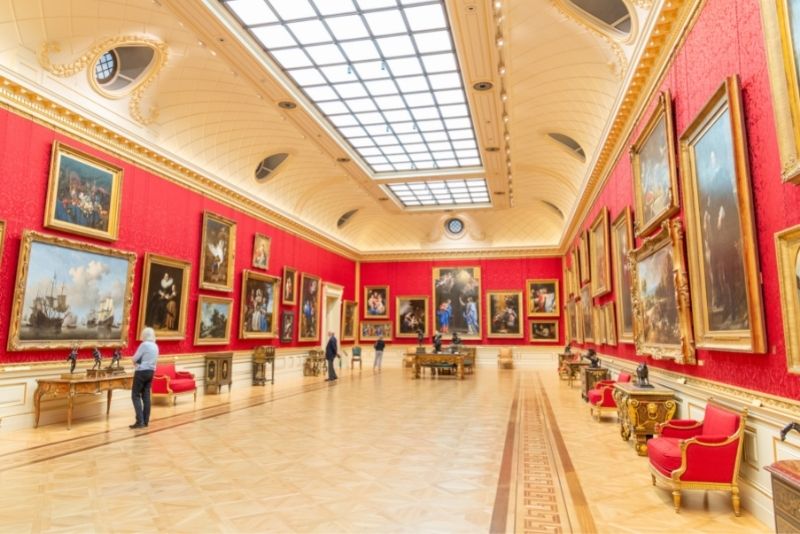 Considered one of the most phenomenal collections worldwide, The Wallace Collection boasts paintings, sculptures, furniture, ornaments, and more, dating from the fourteenth to the late nineteenth century.
As just the tip of the iceberg, expect to see pieces by famous artists including Van Dyck, Valazquez, Rubens, and Titian. Complementing the art is an exquisite array of furniture from around the same timeframe, in the old Hertford House – a work of art in its own right.
88 – See old-school weapons at the Imperial War Museum London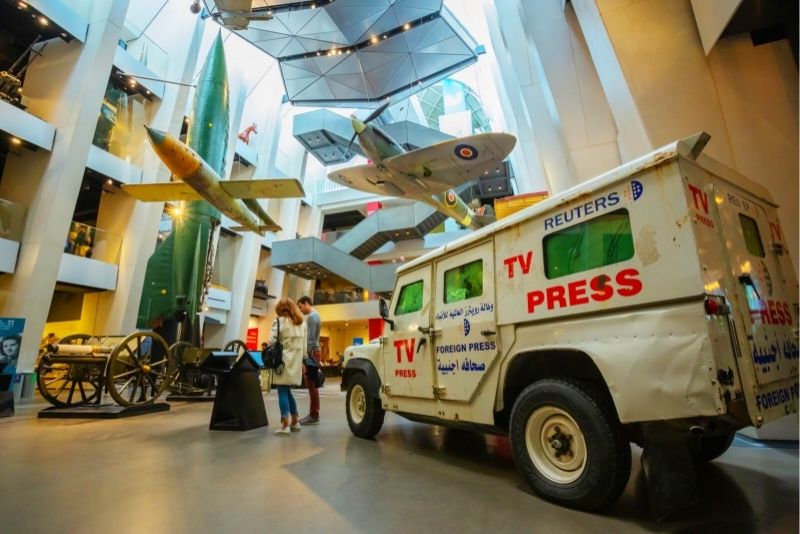 At the war-and-military-oriented Imperial War Museum, visitors can dive deep into WWI and WWII, uncovering a range of objects that were used back in those times – from letters and diaries to uniforms, weaponry, photographs, and even vehicles.
Besides the relics and artifacts, IWM also provides insights into topics like refugees and POWs, with the refugee camp exhibit noted to be particularly sobering.
Five sites are scattered around the city, however, the main branch sits inside Geraldine Mary Harmsworth Park – home to the Tibetan Peace Garden and a wonderful spot for a post-visit picnic.
89 – Pay a visit to the Royal Air Force Museum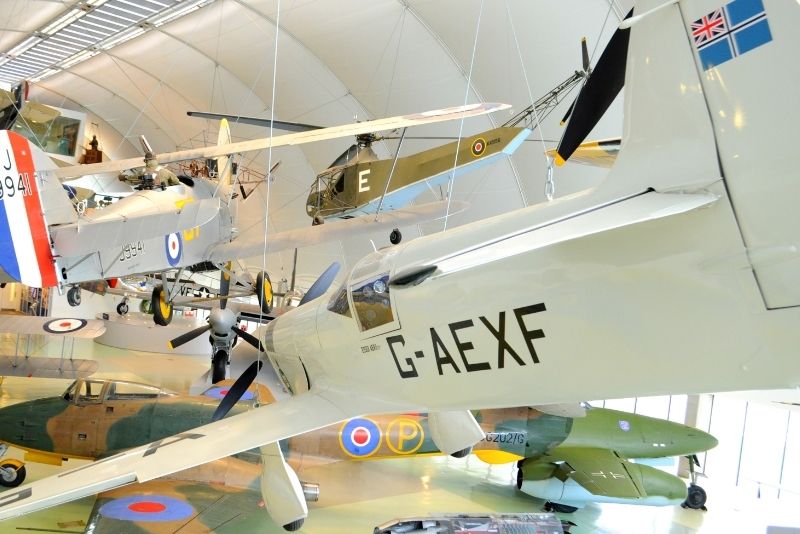 With a simple stroll through the Royal Air Force Museum, budding pilots and aviation enthusiasts can witness historic aircraft first-hand (some of which date back to over 100 years ago), as well as a fine collection of photographs, art, medals, and uniforms.
Despite being out of the city, it's easily accessible by the Northern line (Colindale Underground station) on the Tube.
Spread across five buildings and hangars, the museum is home to over 80 aircraft, from fighter jets to carriers and everything in between.
90 – Don't miss the Museum of London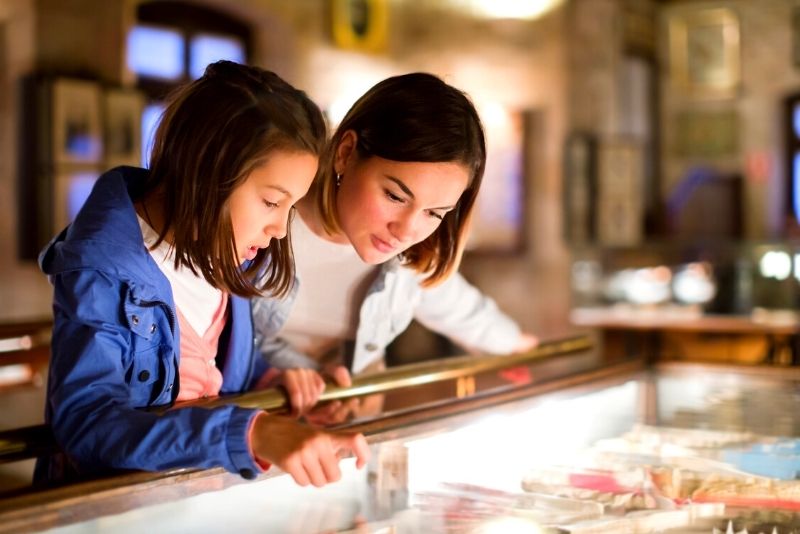 While art museums are a dime a dozen in Europe, the Museum of London is truly unique, as it dives strictly into how London has changed over the years.
A popular stop for history buffs, the insightful museum showcases a handful of collections that depict the city's first settlers, the Roman period, the Great Fire of London, and more.
Throw in a selection of rotating exhibitions covering themes like reggae music, refugees, and everything in between, and you've got yourself a well-rounded educational afternoon.
91 – Spend an afternoon at the National Portrait Gallery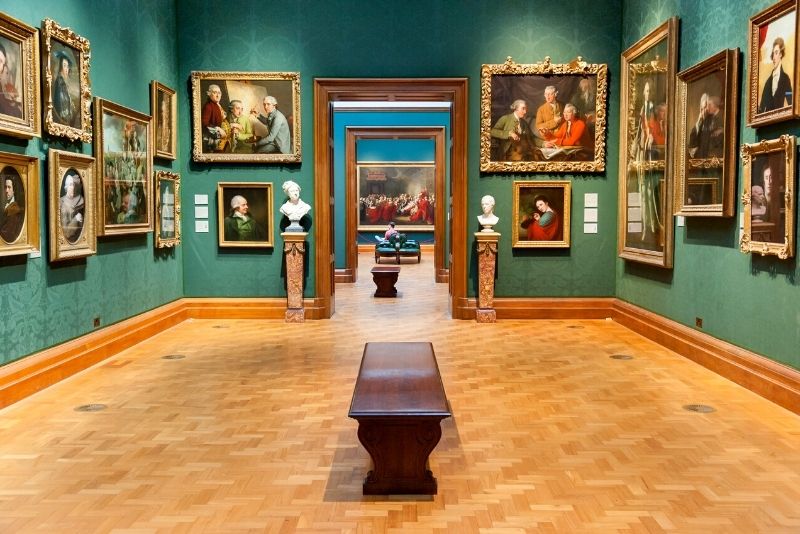 Art lovers, take note! Renowned for its extensive portrait collection, this place (as you'd expect from the name) is a treasure trove of paintings, photographs, and sculptures of some of the world's most celebrated people.
The collection spans a broad range of time periods, but its true claim to fame? It holds the most portraits in the world (over 215,000!), some of which date back to the 16th century.
If you're an art fan, a history fan, or both, you won't regret working the National Portrait Gallery into your London itinerary.
92 – Turn some pages at the British Library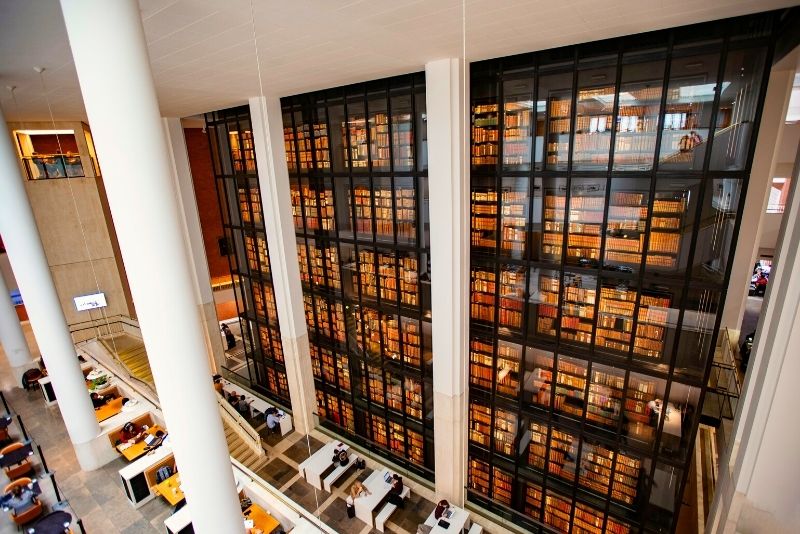 With a remarkable collection of over 170 million items, the literary heaven that is the British Library holds its own as one of the biggest libraries not just in the UK, but worldwide.
Spread across 14 stories, the library is a dream for bookworms, as it boasts not only an impressive selection of printed material – with 400 miles of shelves –, but also manuscripts, maps, drawings, and a slew of artifacts from every age of written civilization (including handwritten Beatles lyrics!).
Their collection is ever-growing, and with regular events like poetry readings and author talks, there's always something worth checking out.
93 – Appreciate the serenity at the BAPS Shri Swaminarayan Mandir temple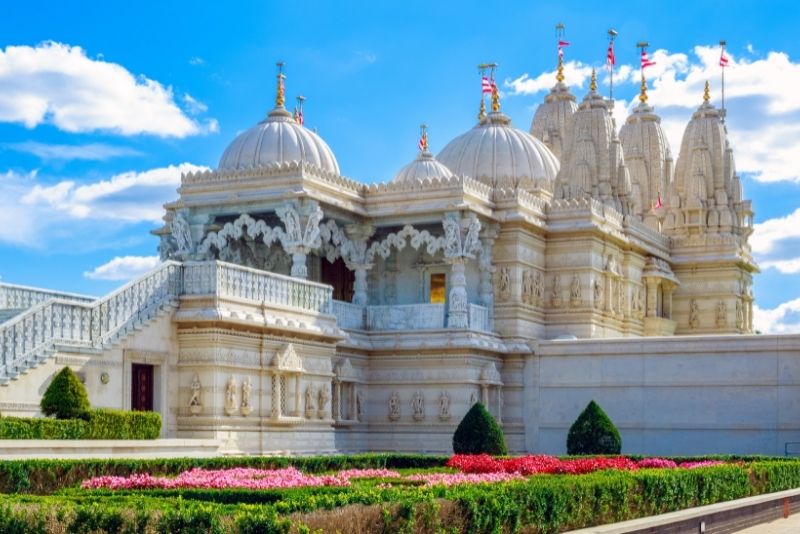 Popularly known as the 'Neasden Temple', this traditional Hindu temple holds the claim to fame of being the first of its kind in England. A magnificent feat of architecture, the building was constructed almost entirely out of hand-carved limestone and marble, and it took over 1,000 craftsmen two years to complete.
It was built entirely from roof to floor using traditional methods, without any iron or steel, making it quite the sight to behold. And with an interior just as glorious as its facade, it's the perfect place to find some peace.
Although it may seem out of the way, the temple is within walking distance (about 15-20 minutes) from the Neasden Underground.
94 – Sports fans, head to the Wimbledon Lawn Tennis Museum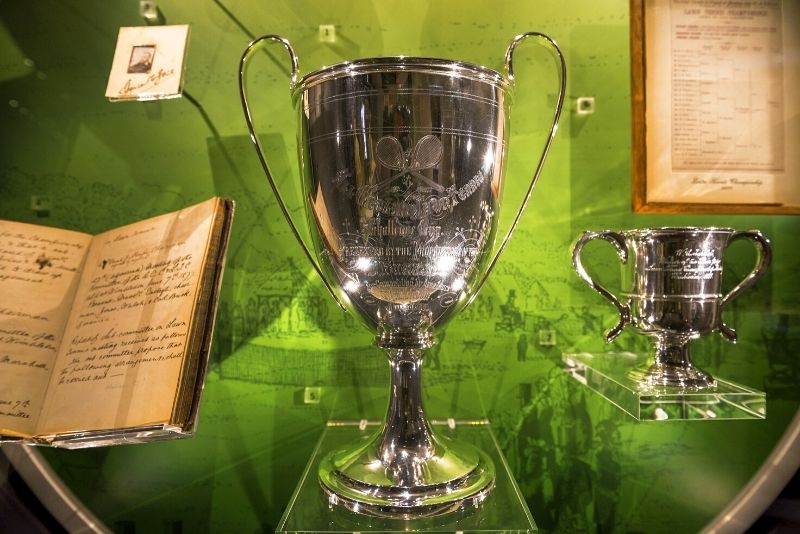 Sports fanatics, take note!
At this one-of-a-kind museum, tennis lovers can admire championship trophies, see how tennis fashion has changed since Victorian times, test their own skills on a Batak wall, and learn about how the sport has changed and developed since its inception.
And, of course, if you're lucky enough to be in town during the Wimbledon tournament (June and July), make sure to snag tickets to one of the matches,
95 – Hear about the infamous author at the Charles Dickens Museum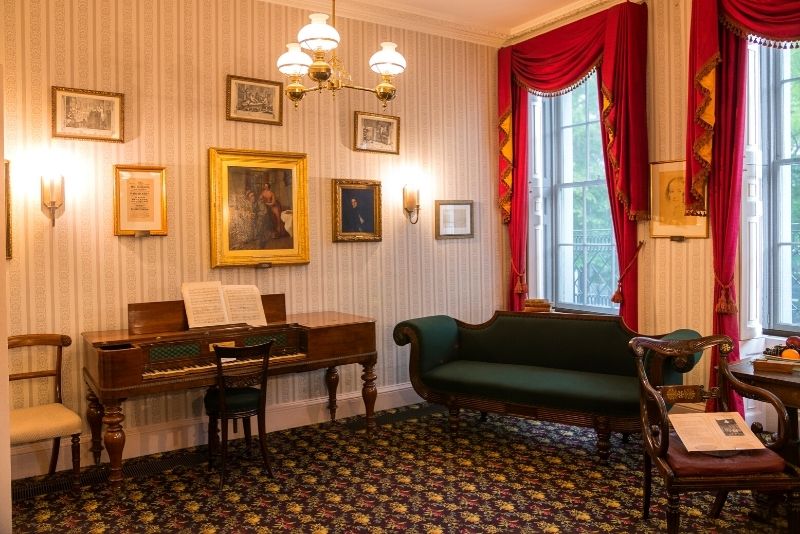 One of history's most celebrated authors, Charles Dickens was known for his incredible stories, which often depicted the struggles of poverty-stricken Londoners. So if you're a fan of his work, a visit to the Charles Dickens Museum – which you can easily tag on to the Postal Museum around the corner – comes highly recommended.
Housed in what was once Dickens' family home, the museum contains original furniture and artifacts, as well as a rotating selection of exhibitions that focus on different aspects of his life and work.
Besides the chance to explore some of his greatest works (including Oliver Twist and A Christmas Carol), visitors can also learn a lot about the author himself, his interests, and life outside of writing.
96 – Catch a show at the Royal Opera House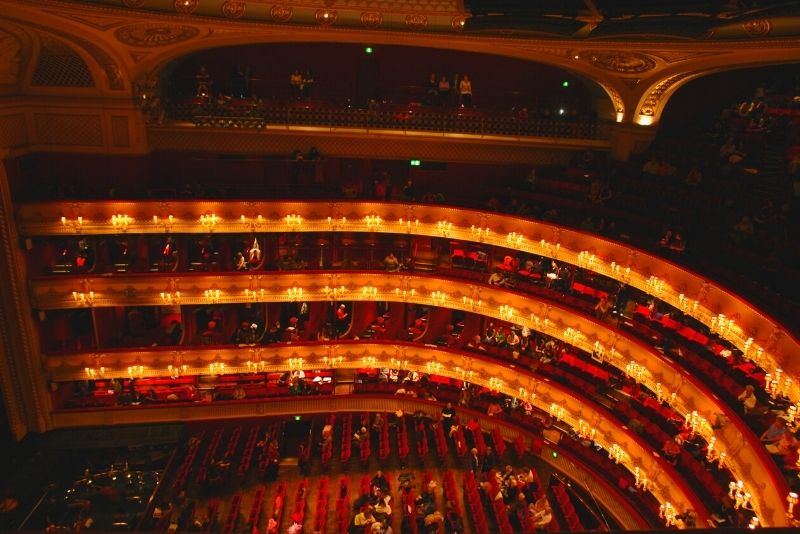 Fancy a night out on the town? Oozing glamour and luxury, the Royal Opera House plays host to one of the greatest ballet and opera companies in the world, so if you're given the chance to see a show here, promptly do so!
The in-house orchestra has been providing music for both ballet and opera ever since 1946 — it's quite literally music to your ears and is an experience not to be missed.
97 – Get a bit wild on a pub crawl!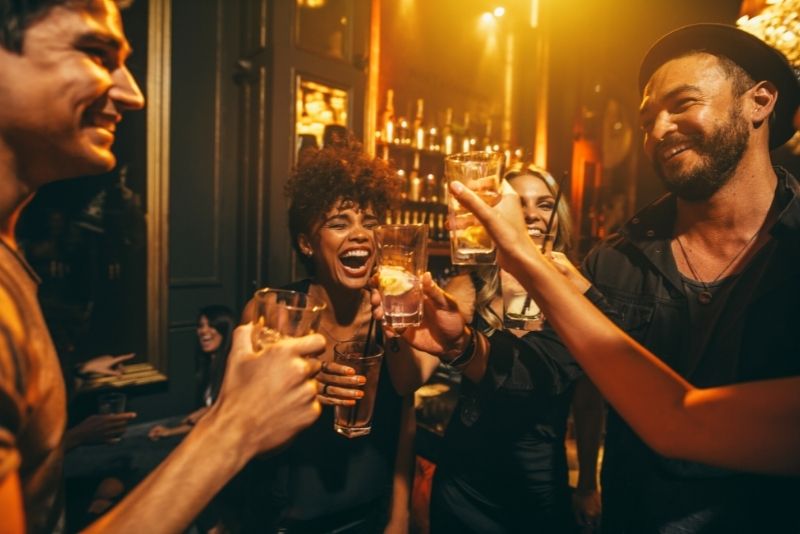 For partygoers and social butterflies, a lively pub crawl (with shots included!) is one of the best things to do in London.
On top of the chance to spend a night out on the town, visiting all the most happening places in London (like the Tiger Tiger nightclub or a handful of hidden speakeasies), it's also a great way for tourists to sit, drink, and mingle with the locals.
While each crawl is a little different, you can expect to hit up at least four different pubs, meandering through lively nightlife suburbs like Soho, Camden, or Shoreditch.
98 – Pick up some souvenirs at Portobello Road Market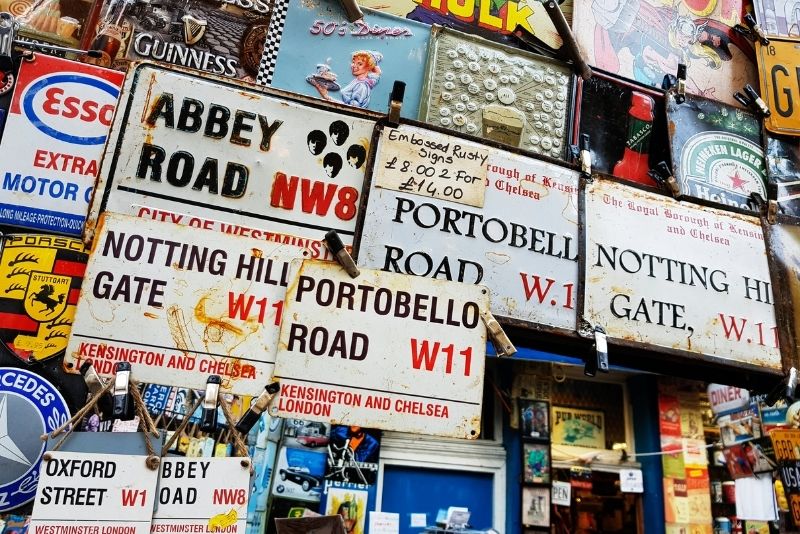 Overflowing with antiques, vintage finds, and bric-a-brac galore, Portobello Road Market is one of the best places in London to pick up souvenirs (and it's a lot more affordable than most other markets).
Whether you're on the hunt for some bargain second-hand clothes, or just a quirky trinket to take home with you, chances are you'll find something here that takes your fancy. And with plenty of fresh produce and tasty hot food to choose from, you won't leave on an empty stomach either.
99 – Shop till you drop at Harrods!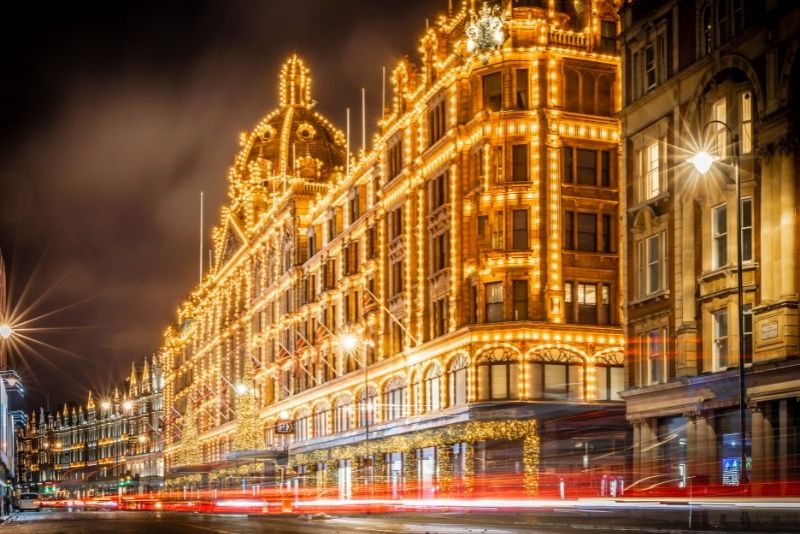 Synonymous with luxury and high-end fashion, a visit to the iconic Harrods department store – even if just for a browse – is quintessential London. For those unfamiliar, Harrods is a department store, but not like one you're ever seen before.
Truly enormous, at over one million square feet, making it the biggest department store in Europe, the expansive store contains pretty much everything you could ever want or need — from clothes and electronics to giant teddy bears. Throw in food, drinks, home goods, furniture, (seriously expensive) jewelry, and a huge selection of cosmetics, and you'll see why it's near-impossible to walk away empty-handed.
Even if the credit card is already maxed out, it's worth a visit just to admire the sheer grandeur of the building.
100 – Discover next-generation artists at the Royal Academy of Arts
Winding the clock back to 1768, the coveted Royal Academy of Arts is the longest-established art school in all of England, and each year hosts the world's largest open-submission art exhibition (and has been doing so for centuries).
Hundreds of thousands of people take the time to visit annually, discovering all kinds of new and promising talent.
You'll find the diverse exhibitions tucked away inside Burlington House in the Piccadilly neighborhood, a building that oozes history and beauty even without the works which line its walls.
101 – Grab the popcorn for an outdoor cinema screening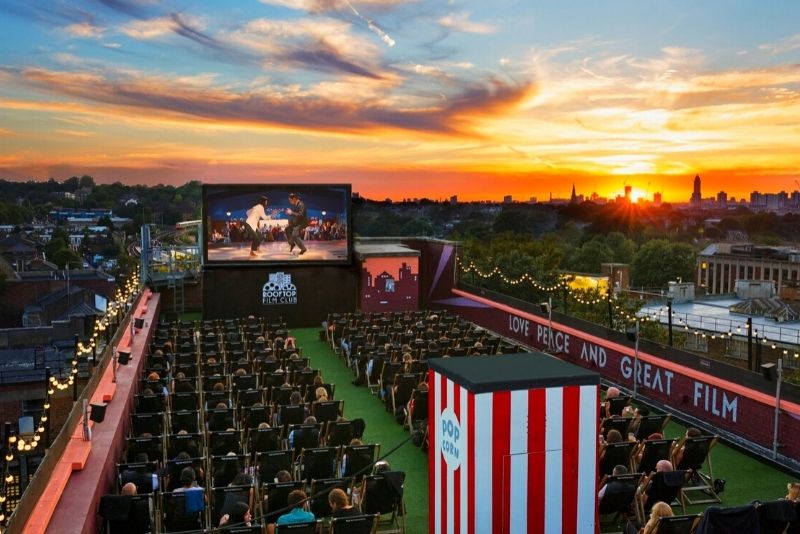 Calling all movie-lovers!
The outdoor cinema scene in London is as broad and wonderful as any, with drive-ins, rooftops, open park spaces, and more — all thriving within summer, of course.
The outdoor cinema scene in London is as broad and wonderful as any, with drive-ins, rooftops, open park spaces, and more — all thriving within summer, of course.
Whether you head to Hideaway Cinema, the Rooftop Film Club, or The Luna Cinema at Regents Park, a flick under the stars is a beloved way to kick back, breathe in the night air, and watch your favorite movie. With both cult classics and newly-released films on offer, and no shortage of cinemas, you're bound to find something in your preferred genre.
102 – Sleep in a beautiful and historic palace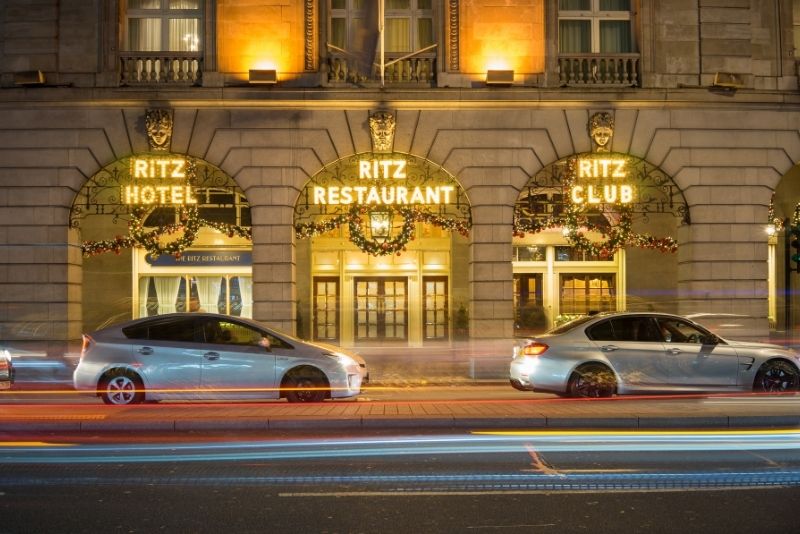 As a city renowned for its history and architecture, it's no wonder that some of the most iconic buildings in London have been turned into hotels, giving visitors the opportunity to sleep in abodes so luxurious, and so opulent, to the point where they're practically palaces.
The Langham London, for instance, is a beautifully-restored Victorian building just a 5-minute walk from buzzing Oxford Street. Some of the more formidable names include Brown's Hotel, Claridge's, the Great Northern Hotel, the Grosvenor Hotel, and the Savoy — each boasting its own unique charm and flair, with amenities and services that will make your stay truly special.
With a night in one of these historic palaces, you're bound to feel like royalty.
Check out the best hotels in London.
Save some money with the London Pass
If you're planning on doing at least a handful of the tours mentioned in this guide, then a London Pass is a no-brainer. The city-wide tourist program grants access to over 70 of the best tourist attractions and landmarks including Windsor Castle, the ZSL London Zoo, Kew Gardens, the Tower of London, Westminster Abbey, Hampton Court Palace, Kensington Palace, and plenty more.
On top of that, it also includes free Thames River cruises and hop-on hop-off bus tickets.
While short-term travelers (one or two days) might not get much value from the London Pass, anyone staying for five or more days is recommended to check it out.
Avoid the hassle — get a pre-arranged airport transfer
There's nothing worse than groggily hopping off a plane, heavy suitcase in hand, trying to navigate the enormous and complicated London transport system.
Start your holiday the right way: stress-free and in style! With a pre-arranged pickup available from all of the major metropolitan London airports, at comparable prices to last-minute taxis, it's certainly worth considering (especially if traveling as a family).
Check out airport transfers in London.
Where to next?
While London is the epicenter of the UK, it's far from the only notable tourist destination. After you've checked off the city's main haunts, check out our list of the best places to visit in the UK and make your way over to any of Liverpool, Manchester, or Brighton; or if you fancy a quick flight, the Irish capital of Dublin is just a short jaunt away too!
We hope you've enjoyed our selection of fun things to do in London, England! With new attractions popping up every day, if you have any other suggestions, feel free to let us know in the comments!
As always, happy travels!