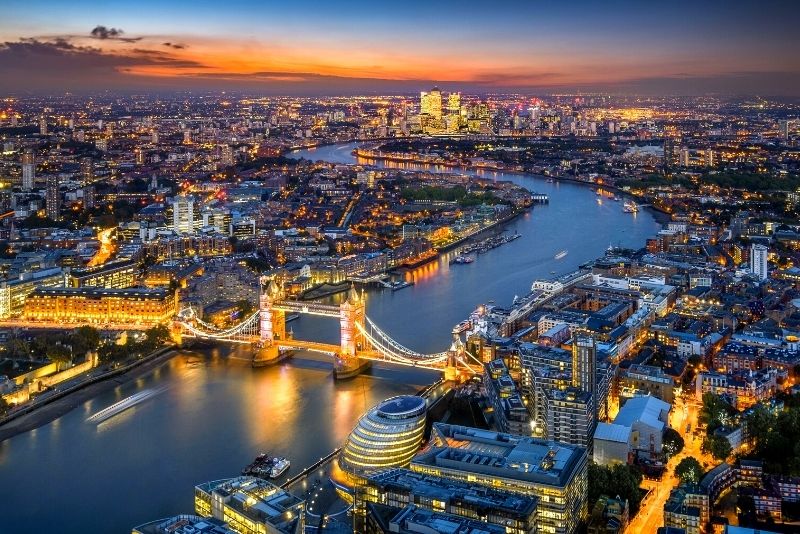 A melting pot of food, culture, art, and entertainment; a beacon of history and European sport, and a bucket-list destination for nine out of ten travelers, London is everything you'd want in a city and more.
With world-class museums, theme parks, West End theaters, glamorous royal palaces, quirky street art, and more bars and restaurants than any traveler could count, the list of things to do in London is as long as the Tube itself.
So, what are you waiting for? Start planning your trip!
1 – Learn about British democracy at the Houses of Parliament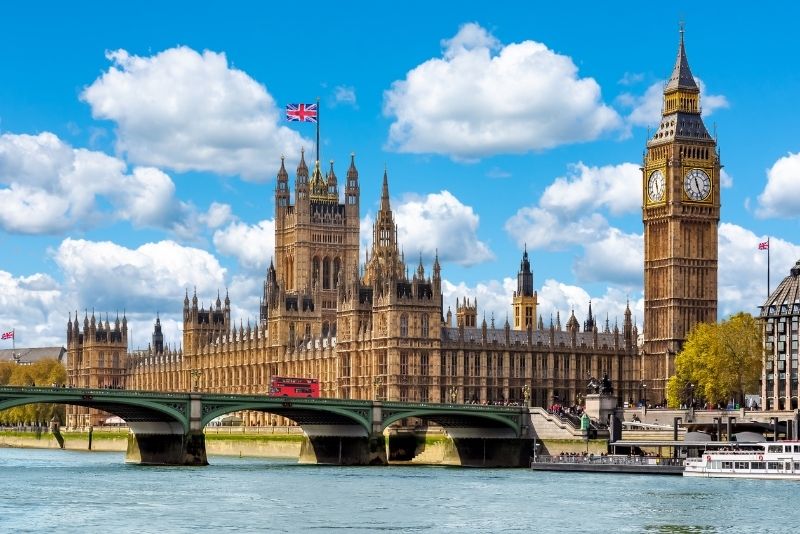 A stone's throw from Westminster Abbey, the Houses of Parliament is a must for any tourists eager to learn more about the nation's political history (and simultaneously admire brilliant architecture).
Walk the halls where Winston Churchill and Henry VIII once led; check out the Commons Chamber and the Lords Chamber; and learn the ins and outs of the British empire.
Tours typically last around 90 minutes (unless combined with another nearby activity) and refreshments are provided.
Just beware that photography isn't allowed.
2 – Fight dementors at Harry Potter Studio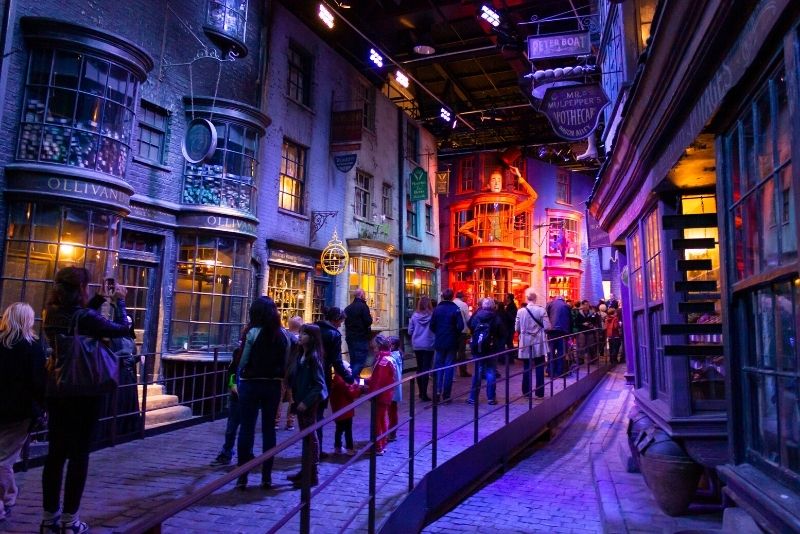 Whether you're a Ravenclaw or a Slytherin, spending the day exploring the Wizarding World of Harry Potter is one of the most sought-after things to do in London.
Visitors can step into the movie sets of the Great Hall, The Forbidden Forest, and Diagon Alley; there's also a magical collection of props from the movies, including the sorting hat and the original costumes.
Sold out? Learn more about last-minute Harry Potter Studio tickets.
3 – Gaze at the Crown Jewels at the Tower of London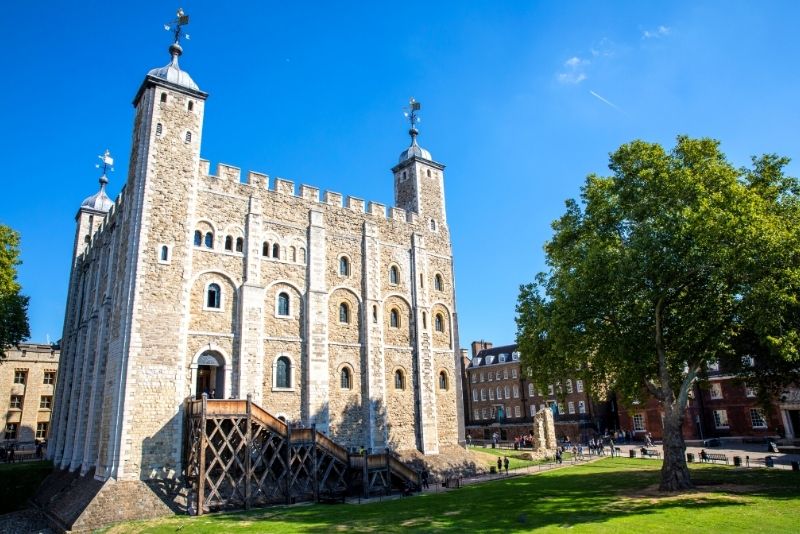 This world-famous castle boasts quite the decadent history, serving as a prison, royal palace, armory, and public record office over the years; now, of course, it's home to the illustrious Crown Jewels.
For the best bang for your buck, combine a visit with a River Thames cruise and/or walking tour.
The 'Yeomen Warders' or 'Beefeaters', as they popularly go by, are situated outside the Tower itself, with lucky tourists able to see the changing of the guard every two hours.
Read more about Tower of London tickets price.
4 – Walk the aisles of Westminster Abbey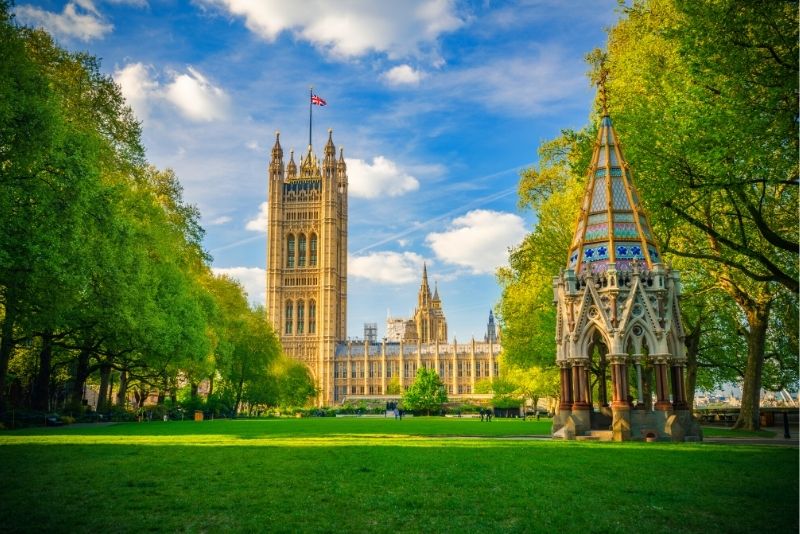 Westminster Abbey is one of London's oldest buildings, dating back over a millennia to 960AD.
As the spot where royals have been crowned since 1066, and the final resting place for over 17 monarchs, it's a history buff's delight.
For something quintessentially London, opt for the Abbey-hosted afternoon tea!
5 – Play a game to discover London's wicked and wonderful secrets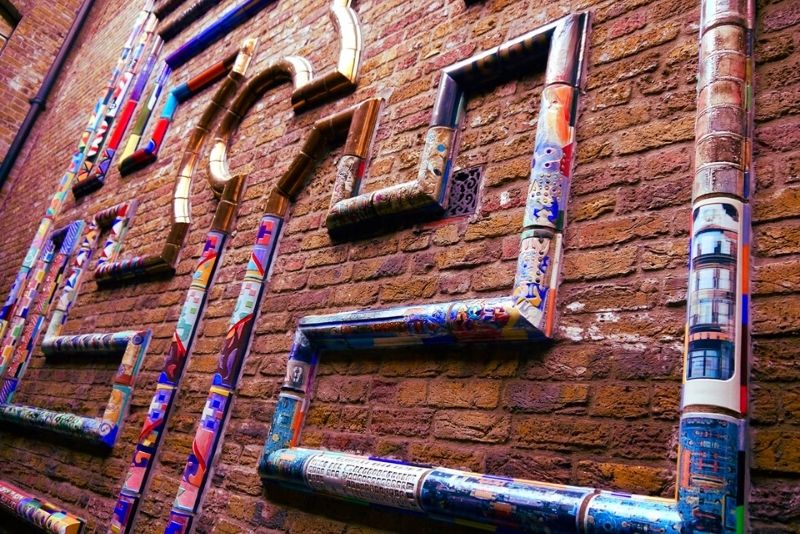 Go beneath the surface of London with a riddle game: Hidden gardens, ancient ruins, fantastic views, unusual architecture, and quirky (street) art.
Solve a trail of riddles and unlock London's best-kept secrets plus stories about history, art, and culture.
Camden, Hackney, Shoreditch, Brixton, Peckham, Kings Cross, the Barbican, or the Square Mile – all these colorful neighborhoods can be explored playfully with Secret City Trails!
6 – Dine in the clouds at The Shard
One of London's more modern attractions, the comically-named Shard wields the title as the tallest building in all of Europe (excluding Russia), at a whopping 310 meters tall — a height guaranteeing that visitors get the best views in all of London!
With a total of five mouth-watering restaurants and bars on offer, it's the ideal spot to transition from sparkling sunset to dinner delight.
7 – Stroll through the Kew Gardens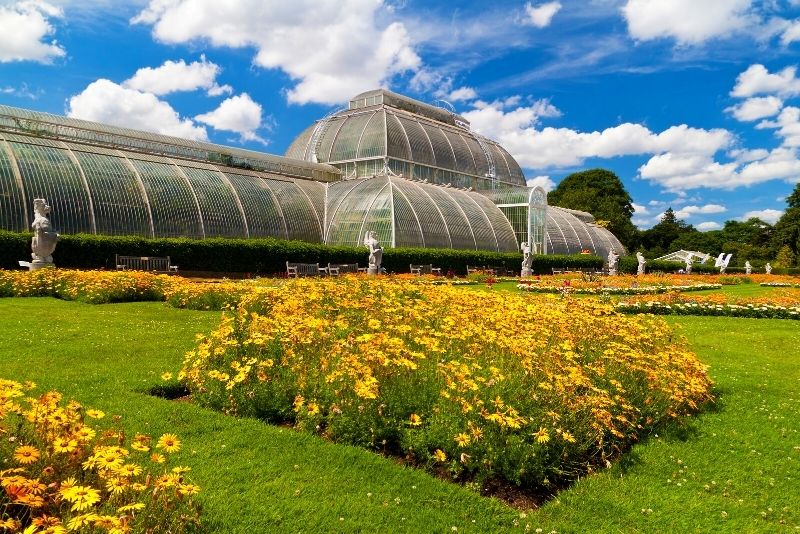 Get ready to be immersed in all the different diverse habitats that the UK has to offer!
Remarkably, these lush ecosystems are actually large-scale art installations that were created by Vaughn Bell — with some of the crowd favorites being walk-throughs of meadows, moorlands, coastal cliffs, and more.
Even though it's a little out of the city center, it's easily reached by hopping on the Tube's District line.
Read more about Kew Gardens tickets price.
8 – Scare yourself silly in the London Dungeon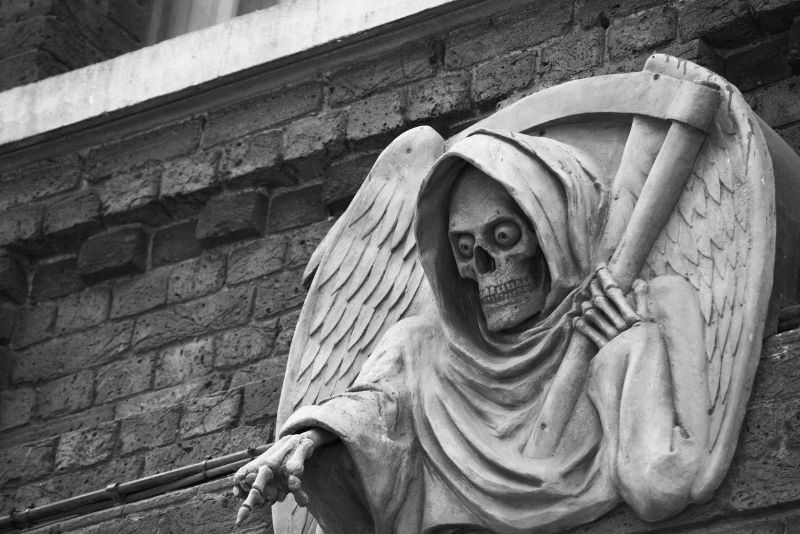 Who's ready for a spine-tingling adventure?
At the famous London Dungeon, brave guests can go back in time and learn all about the city's bone-chilling history; experience what London was like all the way back in Victorian times; and discover the famous, unsavory characters that once walked the streets.
The live actors, unique props, and special effects really bring history to life!
9 – Marvel at the luxurious Kensington Palace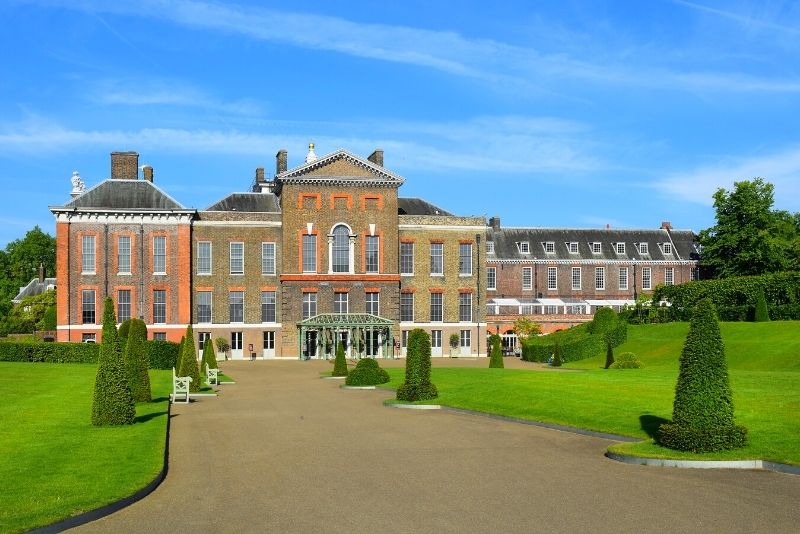 A symbol of opulence, Kensington Palace has a rich history and is just one of many residences owned by the royal family.
For anyone who follows the royals' family tree, this is where Prince Harry and Prince William were raised as is the former home of Queen Victoria.
After touring the palace itself, be sure to take a stroll around the stunning gardens too.
10 – Walk the stands on a Stadium tour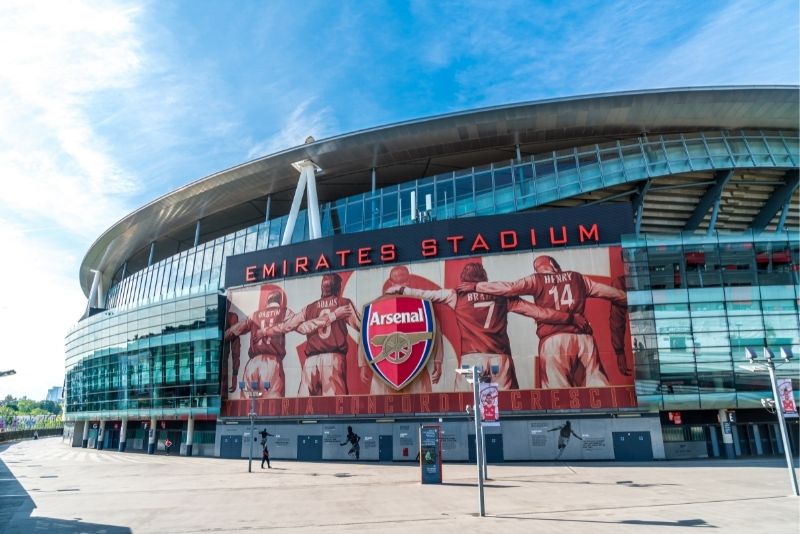 In what is arguably the most football-obsessed city in the world, there's no better place to walk in the shoes of legends than here, home of the EPL.
There are tours available at Stamford Bridge (home to Chelsea FC), Arsenal Stadium, Wembley Stadium, Tottenham Hotspur Stadium, to name the most famous ones.
11 – Visit the one and only Buckingham Palace!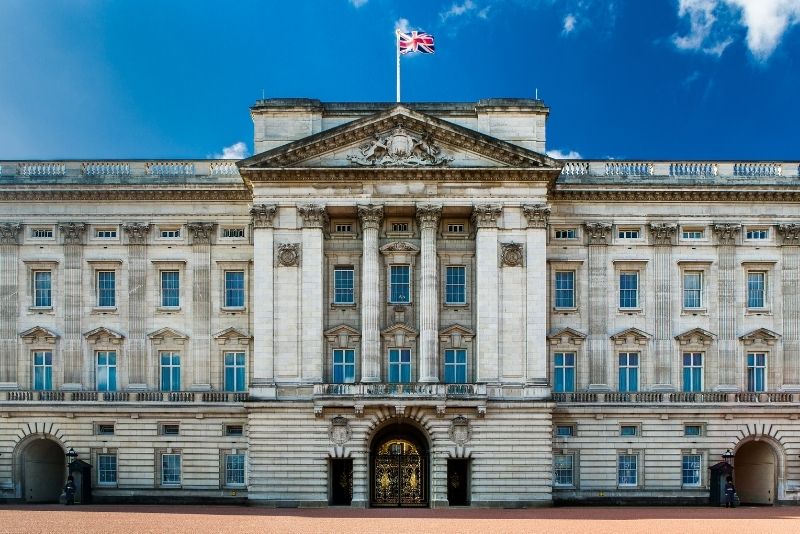 Buckingham Palace is the most famous and most visited attraction in all of London — home to the reigning monarch of the U.K the palace attracts over 50,000 tourists every day!
Tourists can opt to stay outside and catch the changing of the guards, or snag a ticket to tour the staterooms, gardens, and the Queen's gallery.
There are also tours available to tour The Royal Mews.
Sold out? Learn how to book Buckingham Palace last-minute tickets.
12 – Ride the world-famous London Eye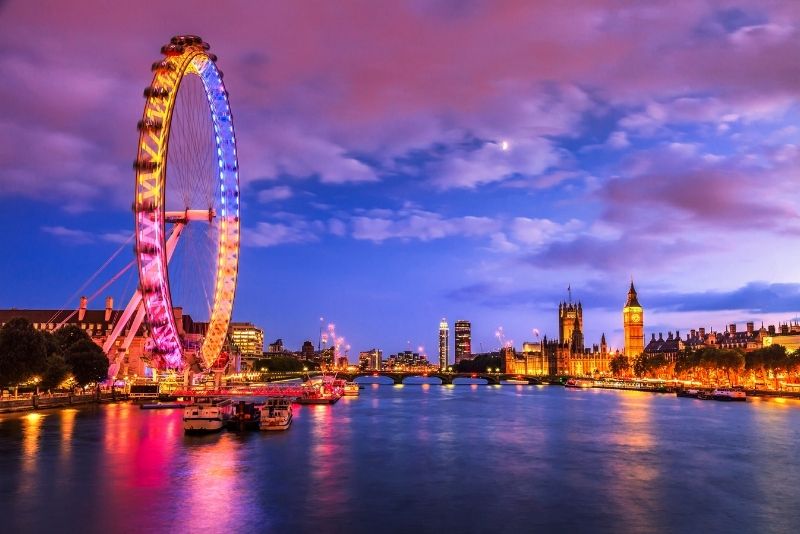 For a view that encapsulates the entire essence of this metropolis, there's no better spot than atop the infamous London Eye — one of the largest Ferris wheels in the world that reaches dizzying heights of 135 meters!
One trip around takes about 30 minutes, and lines can get long, so tourists are advised to book tickets in advance.
Romantics, take note; there are also special proposal packages available for those looking to pop the question.
Learn how to book cheap London Eye tickets.
13 – Marvel at Victorian engineering at the Tower Bridge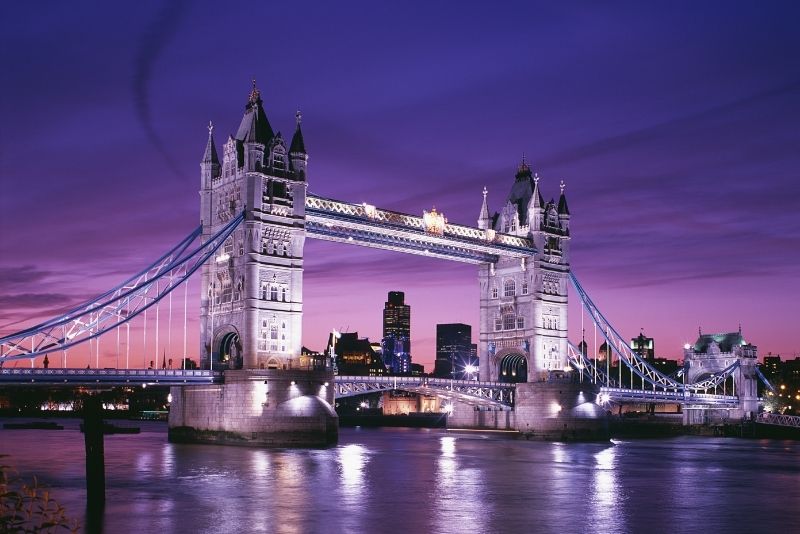 Often wrongly dubbed "London Bridge", the iconic Tower Bridge was built in 1894 and is a fine example of Victorian engineering.
Considered to be one of the most photographed bridges in the world, it's undoubtedly one of the essential things to see in London.
A popular, new addition is the upper level's glass walkway, where tourists can find some of the best river views.
14 – Revel in luxury fit for a king at Hampton Court Palace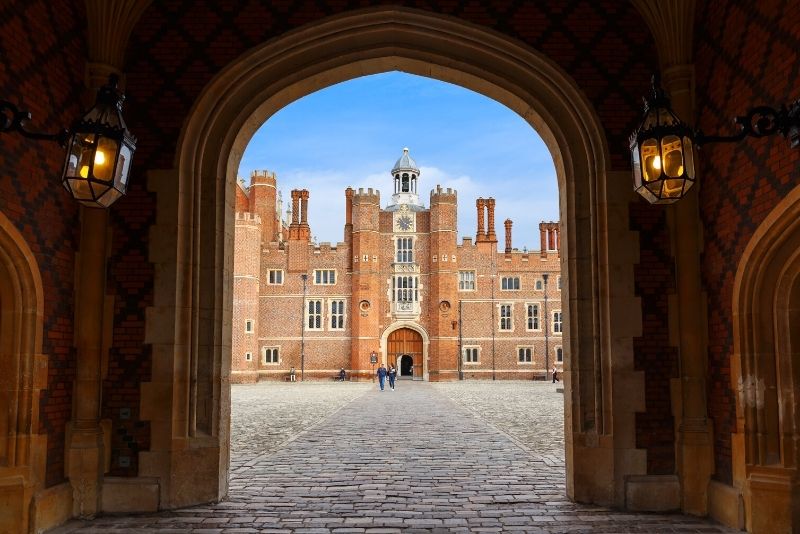 While beautiful, Hampton Court Palace is also historically important; the sprawling residence was owned and occupied by Henry VIII.
The gardens themselves are spread over a massive 60 acres, including 6 acres worth of Baroque-style buildings.
Hot tip: Make sure to visit the kitchens as well as the Great Hall, where Shakespeare once hosted shows for the king!
15 – See where the magic happened at Shakespeare's Globe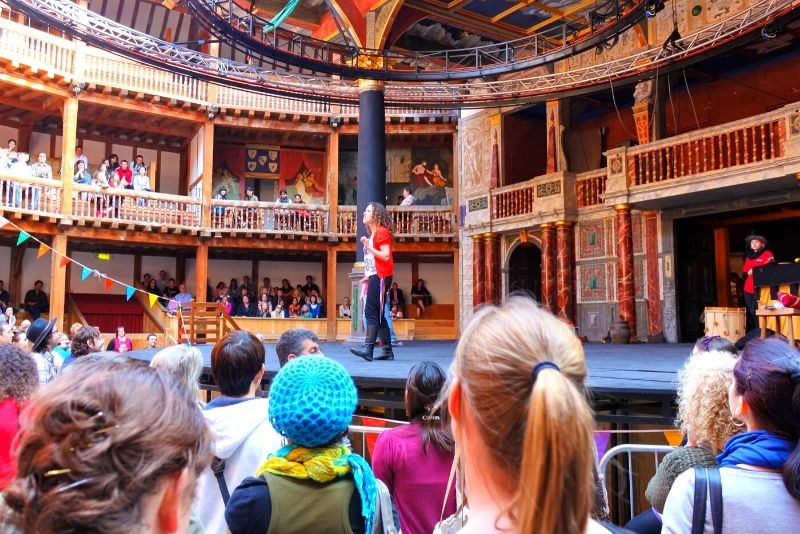 Literary fans, take note: Shakespeare's Globe is a faithful reconstruction of the iconic Globe Theatre where William Shakespeare himself once worked.
With a leisurely tour, guests can see how the open-air theatre was constructed and catch a reenactment of one of Shakespeare's many famous plays.
With a convenient location on the bank of the River Thames, it's easily worked into any typical tourist itinerary.
16 – Get your adrenaline pumping on the O2 Climb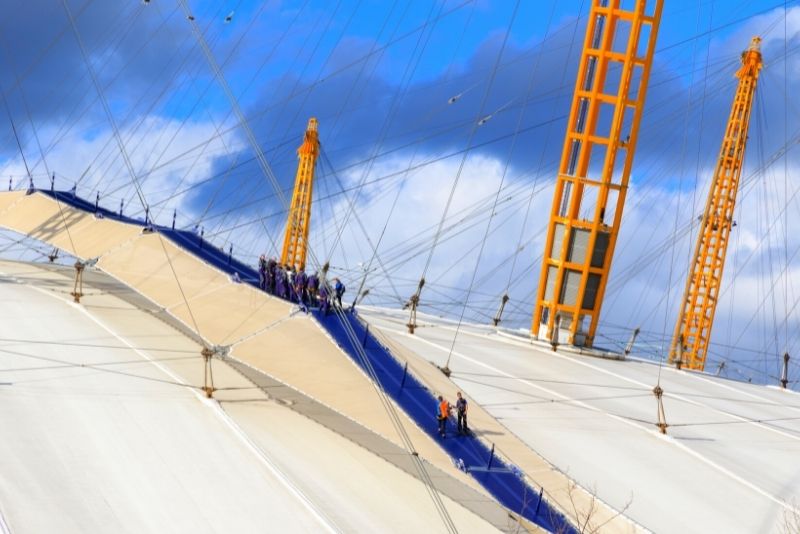 The 20,000-seat O2 arena is definitely one of the more well-known entertainment venues in the nation, but besides its array of shows, it's now open to adventurous tourists to climb as well!
The climb takes about 90 minutes, with bungee jumping available for the more daring guests.
Whether you visit for a rock concert, a sporting event, or a unique climb, it's a must-add for the bucket list.
17 – Watch your back on a Jack the Ripper tour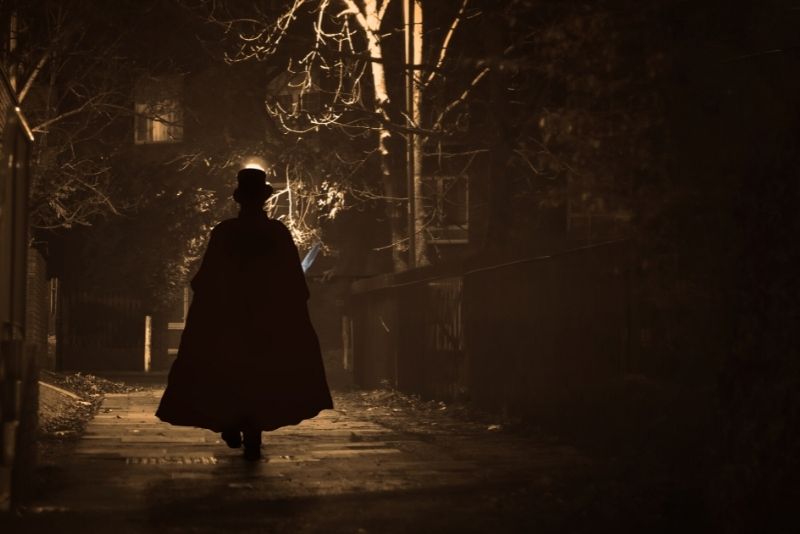 For an immersive experience on the streets of London, these eerie tours transport visitors back to the 1880's when the infamous Jack the Ripper tore his way through the town.
Follow in his footsteps to the locations of where his victims were found; learn all about the heinous crimes and weapons, and delve into the mystery surrounding each one.
18 – Jump on the Knight Bus for a Harry Potter locations tour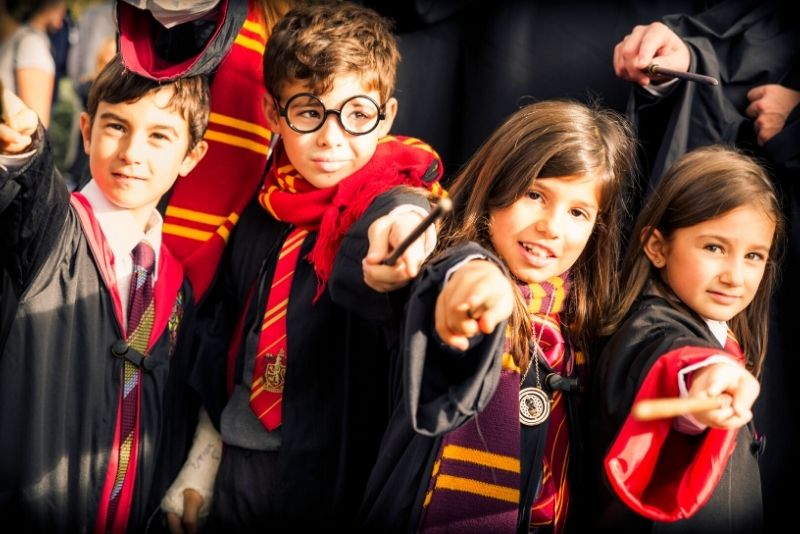 Led by a witch or wizard prefect (your tour guide), a Harry Potter locations tour takes fans behind the scenes, exploring real places that featured in the iconic franchise.
Step onto platform 9¾ at King's Cross station; wander Shaftesbury Avenue (visited by the gang in The Deathly Hallows Part One); and check out Diagon Alley, The Leaky Cauldron, Downing Street, and much more.
It's a must-do for all Harry Potter superfans!
Read more about the best Harry Potter places to visit in London.
19 – See all the main attractions on a hop-on-hop-off bus tour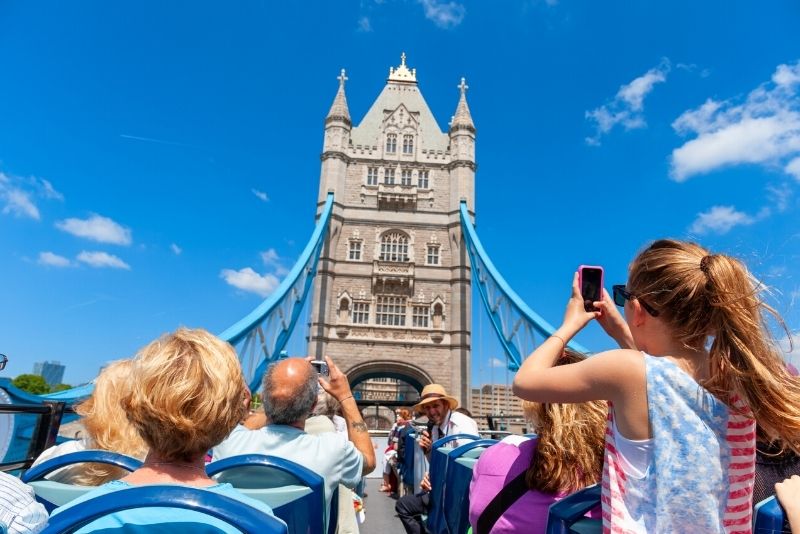 A great way to see all the main London attractions in a whisker of what it would take on foot (or by Tube), a hop-on-hop-off bus tour is perfect for those pressed for time.
While there are different options tourists have to choose from, the original visits over 80 landmarks, stopping at places like Buckingham Palace, the London Eye, the Tower of London, Piccadilly Circus, and much more.
Check out our complete guide about London hop-on hop-off bus tours.
20 – Put on your detective cap for a Sherlock Holmes tour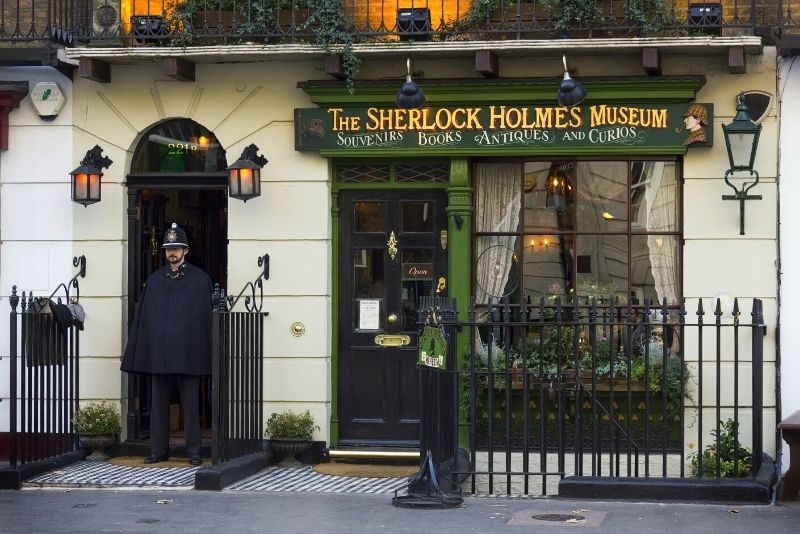 Perfect for any budding investigators or fans of the TV show, a guided Sherlock tour takes guests to an array of London haunts that act as film sets.
After starting at the spot where Holmes and Watson first meet, patrons will stop at gentlemen's clubs and grand hotels, all of which were featured in iconic scenes.
Depending on your preference and budget, choose from a walking, bus, or black cab tour.
21 – Hop on board the Cutty Sark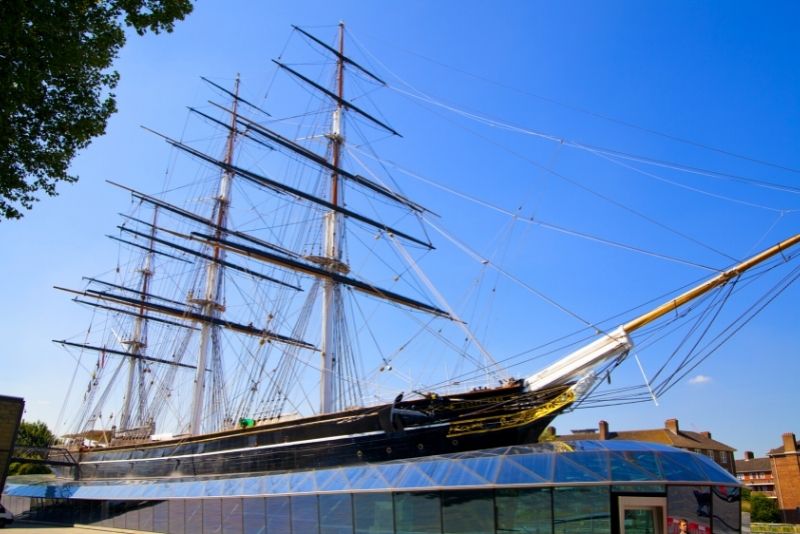 Hop on board and learn about what life was like on this legendary ship. First built in 1869, the historical Cutty Sark ship's purpose was for the China tea trade — at the time, it was the fastest ship ever built.
Besides admiring panoramic views from the bow, guests will also get to learn all about the ship's former globe-trotting voyages.
22 – Make a stop at Greenwich' Royal Observatory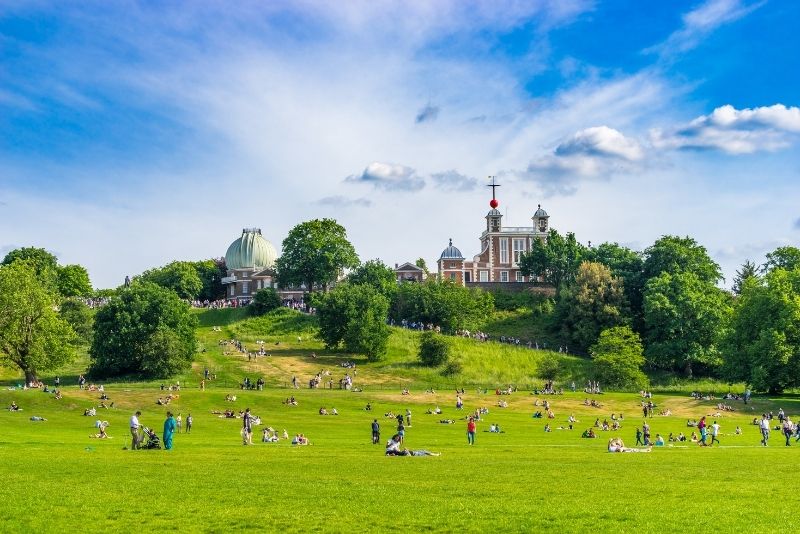 Ask any local and they'll yell it from the rooftops: one of the best things to see in London is the Royal Observatory in Greenwich.
Visitors will be able to stand with one foot in the eastern hemisphere and one foot in the western hemisphere (making for the perfect cheesy photo caption.
Not only that, but there are truckloads to be learned about space, stars, and astronomy.
23 – Check out the National Maritime Museum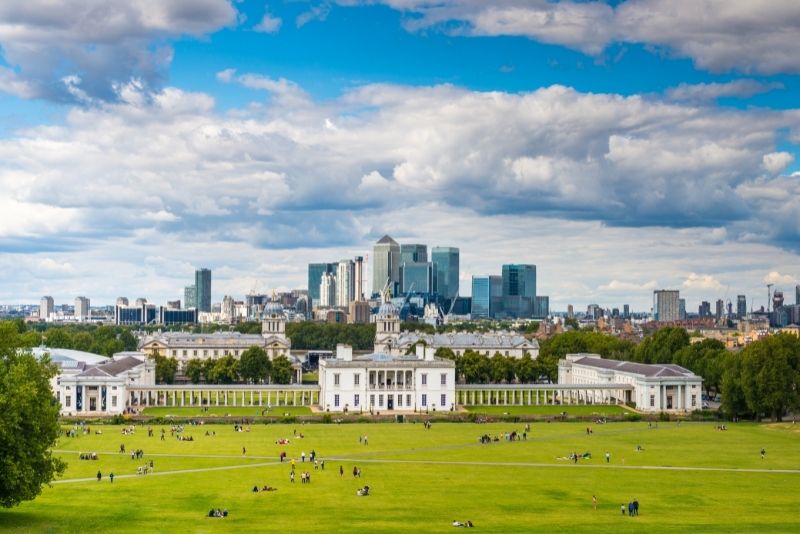 The National Maritime Museum is home to over 2000 years of British history and is a must-see for those who want to learn more about the nation's seaborne antics.
If you consider yourself a savvy traveler, it's best to purchase the Royal Museums Greenwich Day Pass — it grants access to all temporary exhibits as well as access to the Queen's House (home of the royal art collection).
24 – Get spooked on a ghost tour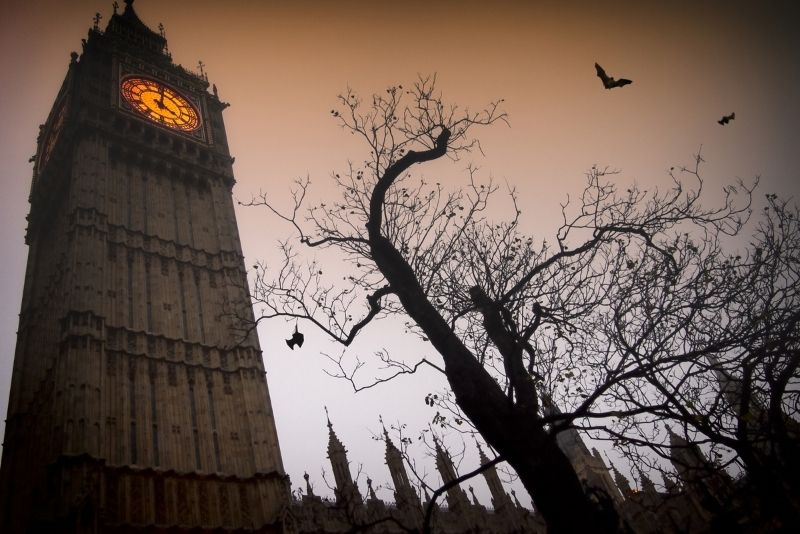 So long as you've got nerves of steel, ghost tour guests will get to venture into haunted houses, paranormal parks, and the array of other sinister sites that dot this melting pot of a city.
With a range of options available including walking tours, boat tours, and even a ghost bus tour (each one with its own unique stops and tales), there's a spook suitable for everyone.
25 – Race against the clock in an Escape Room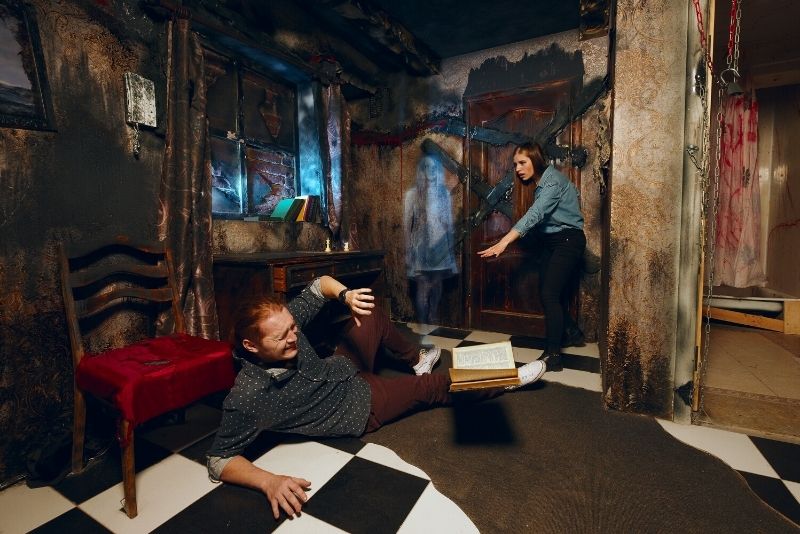 Are you good at cracking clues? Then an escape room is the perfect way to put your skills to the test!
With everything from zombie-themed escape rooms to outdoor James Bond adventures and even a VR escape room, there's no shortage of options to choose from.
26 – Take a day trip to Stonehenge!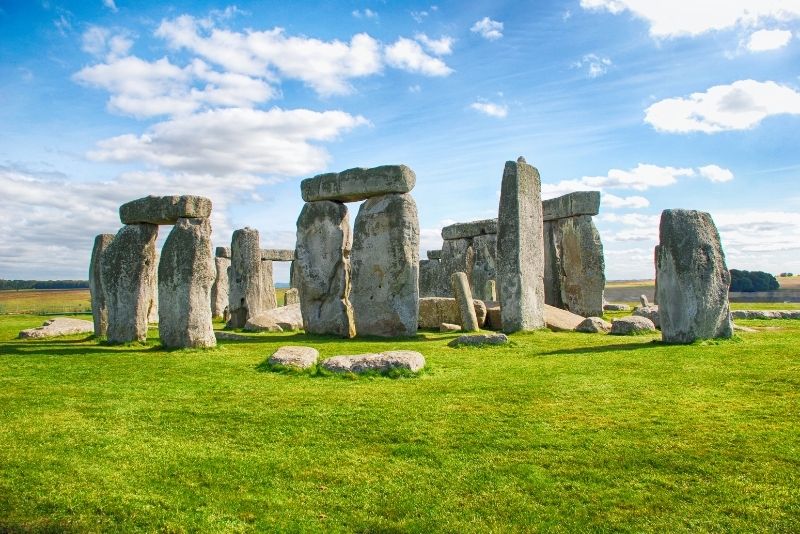 Just under two hours west of London, this iconic, prehistoric stone circle is one of the most iconic sites in England, and scientists still don't understand how it's stood the test of time.
If you're not renting your own car, there are a plethora of hassle-free options when it comes to tours.
For a truly unforgettable day out, consider one that also visits Bath, Lacock, and Salisbury.
Read more about Stonehenge tours from London.
27 – Set sail on a Thames sightseeing cruise!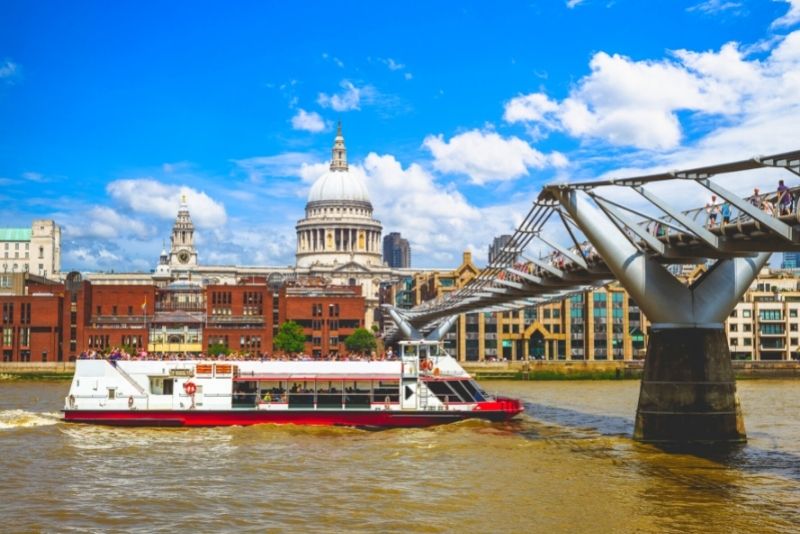 With the twinkling city lights both starboard and port-side, the sights of London are magical on a Thames sightseeing cruise.
Chill on the open-air deck and snap a few selfies at sunset, or sit back and relax undercover on one of many dinner-inclusive evening cruises.
Some cruises also offer smartphone-based audio guides, allowing passengers to hear all about the places they're gliding past.
28 – Visit the Queen's weekend getaway on a Windsor Castle day trip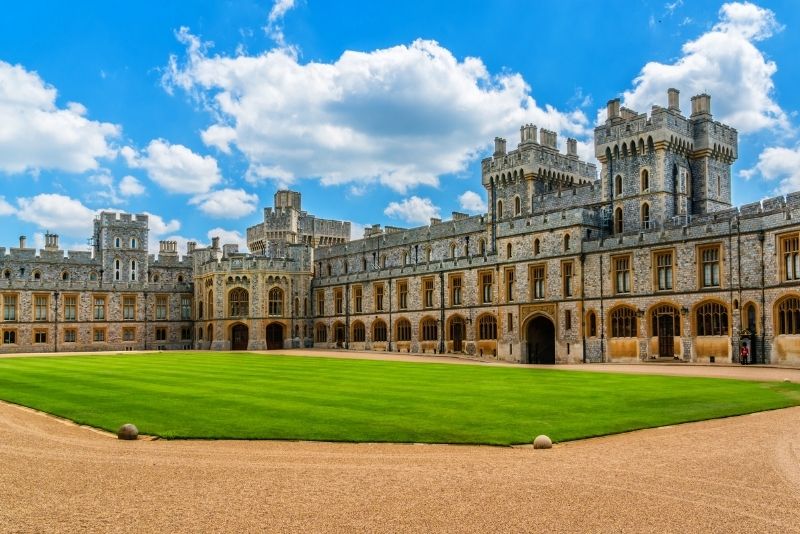 Windsor Castle has been owned by the British monarchy for over 900 years and is still visited by the reigning monarch to this day.
The gardens and seemingly endless, the staterooms are richly decorated, and the architecture is nothing short of sublime.
Art-lovers, take note; Windsor Castle boasts a range of priceless works by the likes of Rembrandt and Da Vinci!
Read more about Windsor Castle tickets price.
29 – Immerse yourself in British culture at the British Museum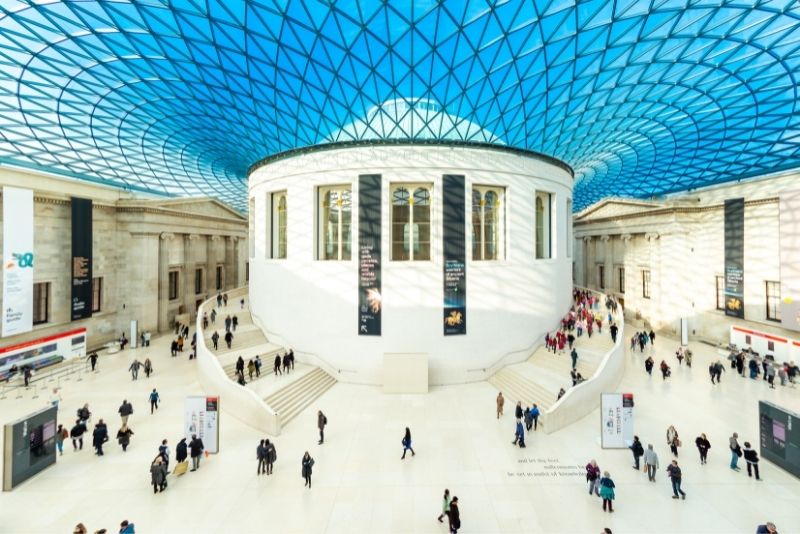 Boasting artifacts and art from all over the world, it's no wonder that The British Museum holds the title as the most visited museum in the UK (and the third-most visited museum in the world!).
Spread across multiple levels, the building showcases impressive collections hailing from Ancient Egypt, Ancient Greece, and plenty more.
For unique insights, consider joining a private tour.
30 – Visit the world's oldest university, Oxford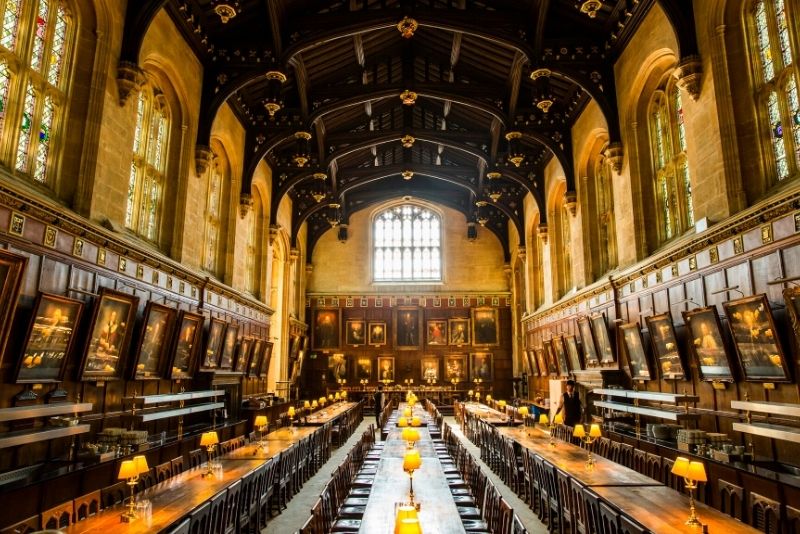 As the oldest university in the English-speaking world, Oxford has many sights to see including its 12-million-book Bodleian Library, University Church of St Mary the Virgin, and plenty more.
Blenheim Palace is also nearby which is the birthplace of Sir Winston Churchill and worth adding to the itinerary.
31 – Spend the day at Cambridge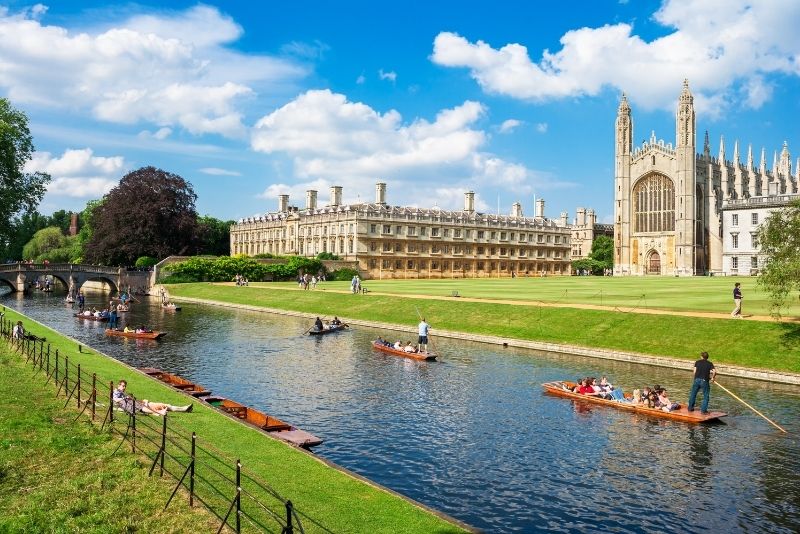 An Oxford rival, the town of Cambridgeshire is, of course, home to the one and only Cambridge University.
You don't have to be a student to wander the campus; simply join a guided tour to learn about the 13th-century university's rich history, see the senate-house, and walk through the stunning botanical gardens.
32 – Stare in awe at Warwick Castle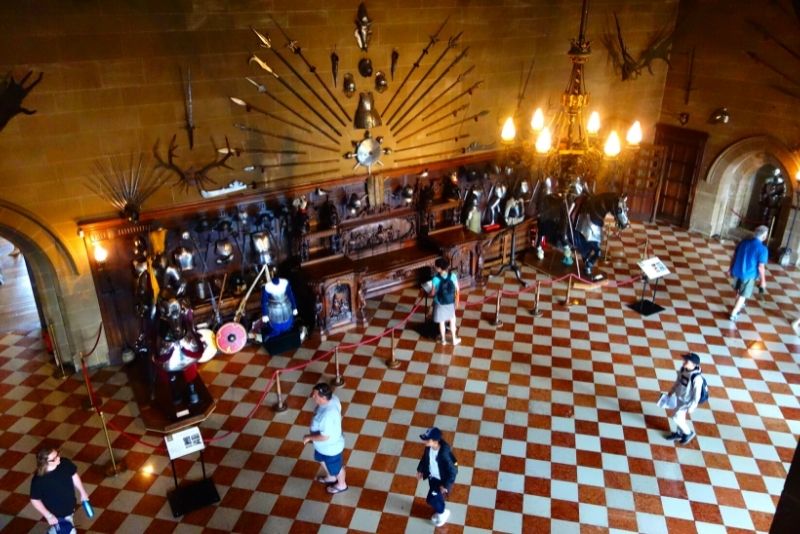 Get lost in the grandeur of Warwick Castle, a fortress that was built all the way back in 1068!
Wear comfortable shoes — after walking through the Great Hall, State Rooms, Kingmaker, and the original Gaol, there are over 64 acres worth of stunning gardens to explore!
33 – Take the youngsters to Kidzania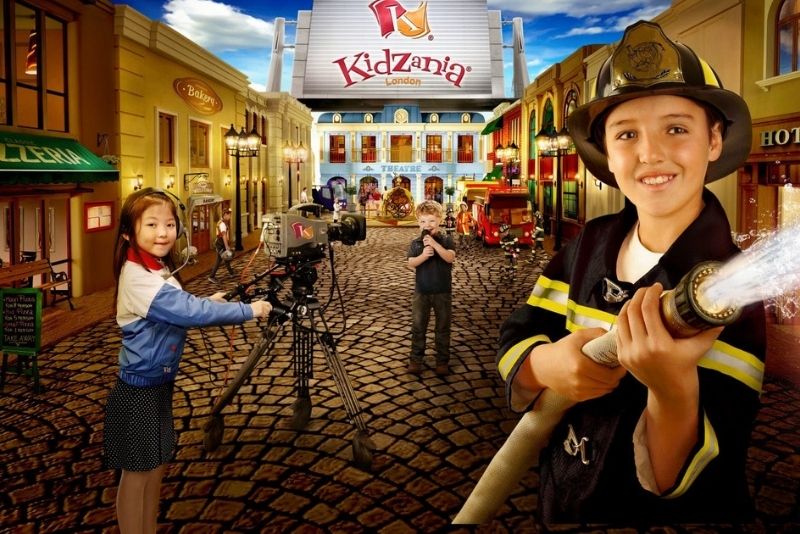 If you're looking for things to see in London for kids, Kidzania should sit at the top of the list!
Kidzania is a real-life role-play experience that gives children the opportunity to explore, learn, and try over 60 unique professions — a great combination of education and entertainment.
34 – Head to the beautiful White Cliffs of Dover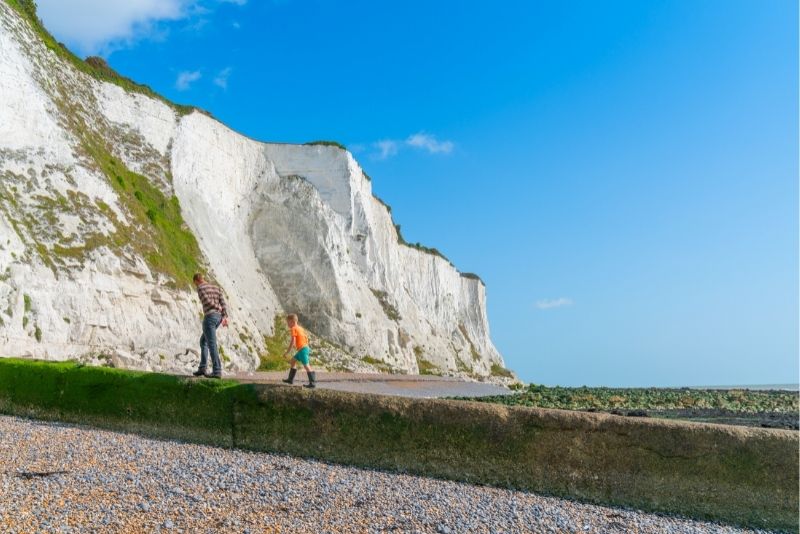 Towering above the ocean at a dizzying height of 350 feet, the aptly-named White Cliffs of Dover are a wonder to behold.
Looks aside, they also boast historical significance, having continuously helped the English fight off seaborne invasion attempts.
Leeds Castle and the Canterbury Cathedral are on the way, so why not combine the three landmarks and make a day of it?
35 – Go for a wild speedboat ride!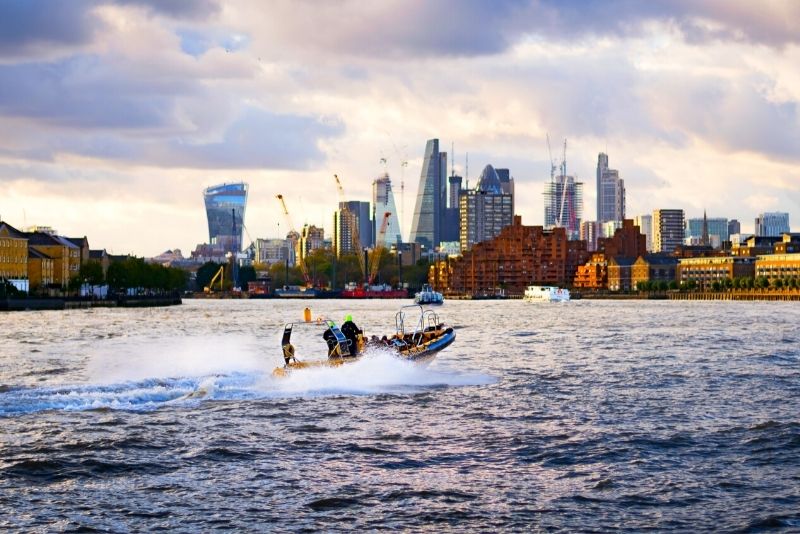 If slow and steady isn't what you're looking for in a holiday, then a hair-raising speedboat tour is the way to go!
While you powerslide across the river, water splashing in every direction, you'll also be blessed with unobstructed views of riverside sights like the London Eye and Tower Bridge.
36 – Admire ancient architecture in the city of Bath
While the newer parts of the city are nothing short of impressive, the reason so many tourists flock to Bath is its famous Roman baths.
For the ultimate dive into Roman history, follow up the baths with the sacred springs, Roman temple, and museum.
Despite tours being the premier option, you can also take the train from London Paddington to Bath Spa for 12 pounds.
37 – Discover London on two wheels!
A bike tour is a marvelous way to see all the hidden attractions London has to offer (plus the essentials like Hyde Park and the Thames riverbank) while being active at the same time.
Local guides take tourists to spots that not many visitors know about, away from the obnoxious crowds and overwhelming foot traffic.
With some tours lasting up to 4 hours, be sure to bring a bottle of water!
38 – Soar through the sky on a helicopter tour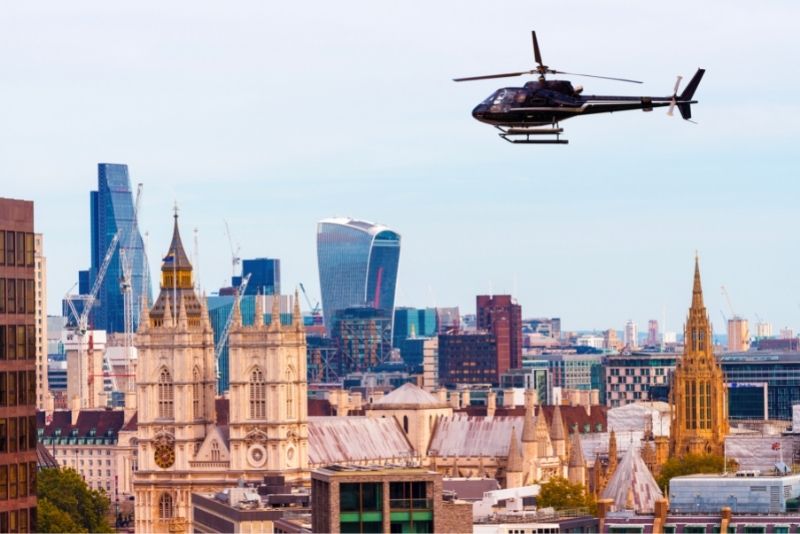 If you thought the views from the London Eye or the Shard's viewing deck were special, you've got another thing coming — a helicopter tour gives tourists the chance to see London from a new, incredible perspective!
With no shortage of photo opportunities on the 10, 20, or 30-minute flights, your social media feed is guaranteed to light up.
39 – Have a blast at the ArcelorMittal Orbit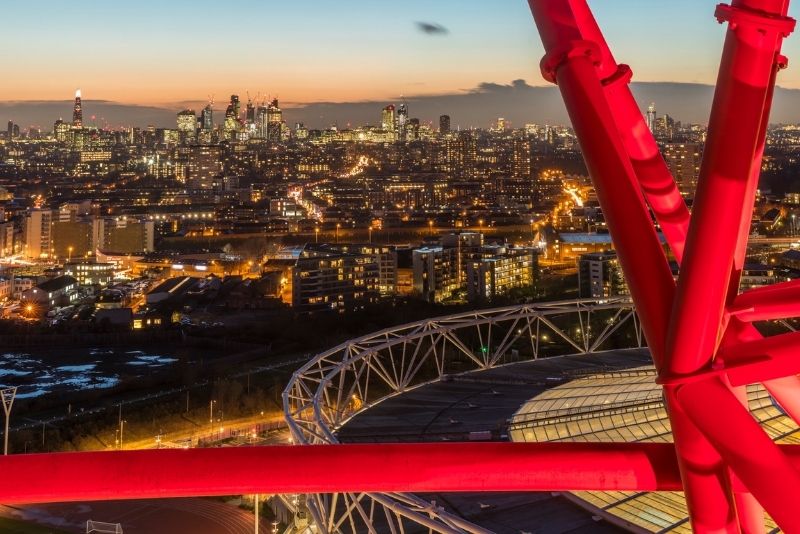 Spend the day having a blast at the UK's tallest sculpture, the ArcelorMittal Orbit.
Towering at over 114.5 meters tall, this place dishes up spectacular views of London from its rooftop observatory, made all the more fun by the world's tallest slide that twists and turns all the way to the ground.
If you consider yourself an adrenaline junkie, abseiling is offered too.
40 – Head to the English countryside with a Cotswolds day trip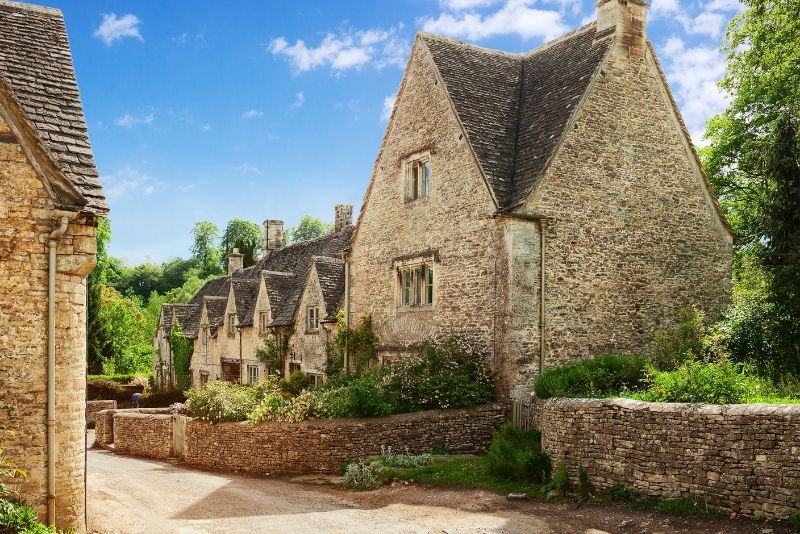 If the hustle and bustle of London is taking its toll, the gorgeous countryside town of Cotswolds is a welcomed breath of fresh air!
Wander through the town's magical cobblestone streets, bask in the beauty of the sleepy villages, and stroll along the rolling hills — and, if there's time for a detour, make a stop at Stratford-Upon-Avon, the place that William Shakespeare once called home.
41 – Snap a picture with a celebrity at Madame Tussauds London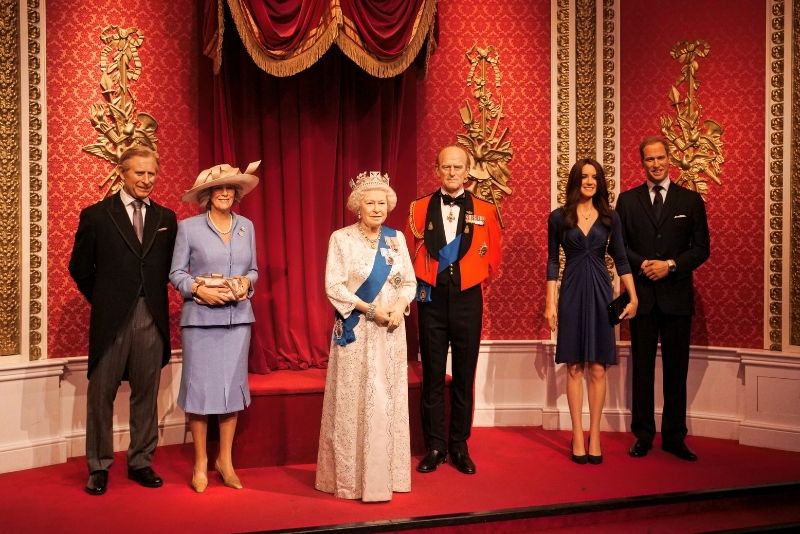 Always wanted to meet Beyonce? Consider yourself a bit of a Taylor Swift or David Beckham fan?
With over 250 wax figures (good enough to fool all of your friends), Madame Tussauds is always a fun day out — it's been a tourist favorite ever since it opened in London over 200 years ago/
Oh, and don't forget to check out the 4D cinema!
42 – Plan a visit to the National Gallery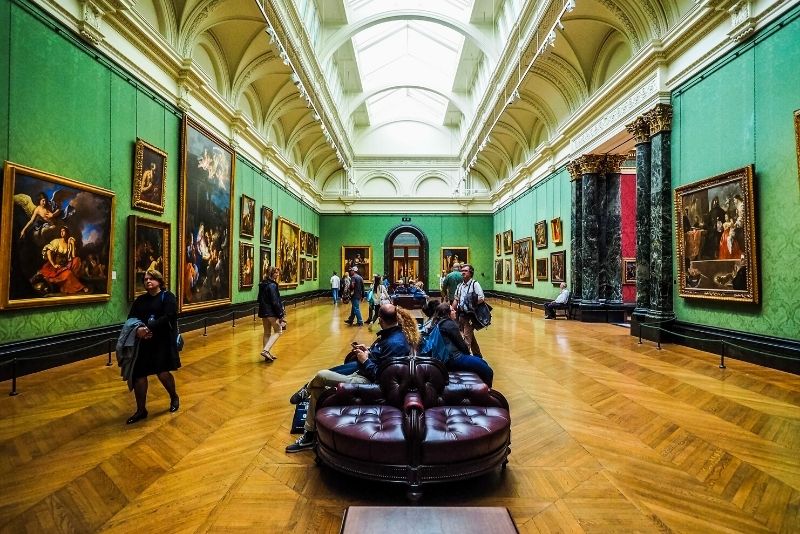 Attention, art-lovers: if you're looking for things to see in London then the National Gallery, home to over 2,300 priceless paintings, is an absolute must!
With an astonishing collection spanning the Impressionist era to the Renaissance era, and everything in between, it's easy for hours to fly within these walls.
For the ultimate experience, definitely consider booking one of the private tour guides.
43 – Fill up your belly on a food tour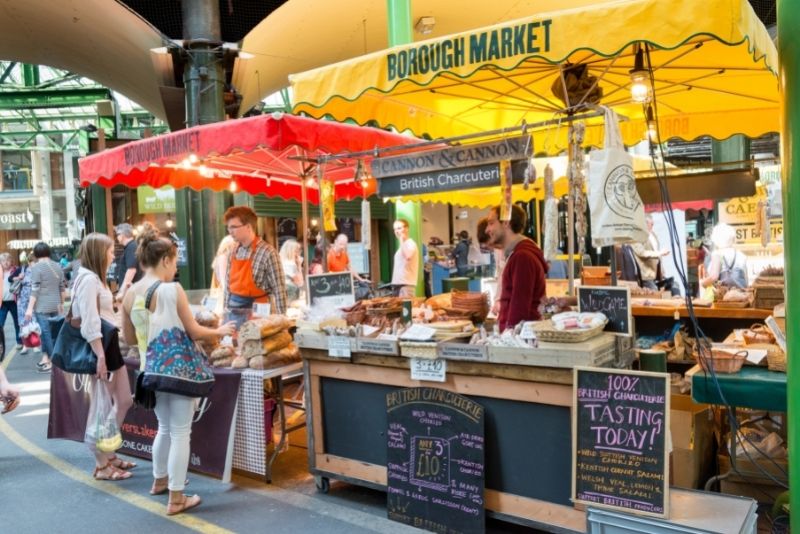 Because who doesn't love food, right? Especially in what is undeniably one of the world's greatest cultural melting pots!
On a local foodie adventure, guests are shown through Borough Market, East End, London Bridge, and plenty more stops along the way.
Expect to sample some bakery delights, a classic market stall curry, fish and chips at a local pub, and some delicious cider to wash it all down.
44 – Be captivated by modern art at the Tate Modern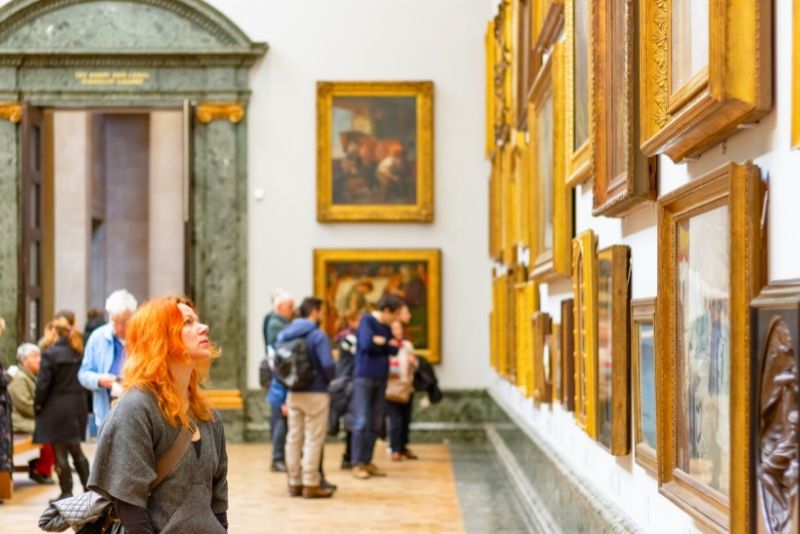 The Tate Modern holds a stunning collection of art from some of the most famous artists in the world — we're talkin' legendary names like Picasso, Dali, Andy Warhol, and Claude Monet (and that's just scraping the surface).
While the museum has free access, the optional paid tour with a professional art historian is highly regarded.
45 – Be amazed by vocal talents at a musical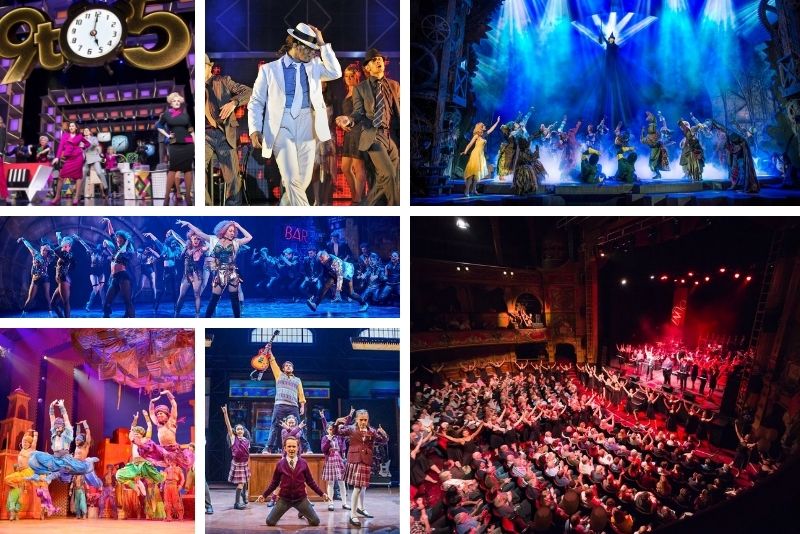 Move over, Broadway! Take a trip to Leicester Square, known for its incredible year-round entertainment!
Head into the theatre and catch one of the many productions on offer: choose from The Lion King, Mamma Mia, Matilda, Wicked, and many more.
With countless bars and restaurants around, it's the perfect date night.
Read more about the best musicals in London.
46 – Meet dinosaurs at the National History Museum!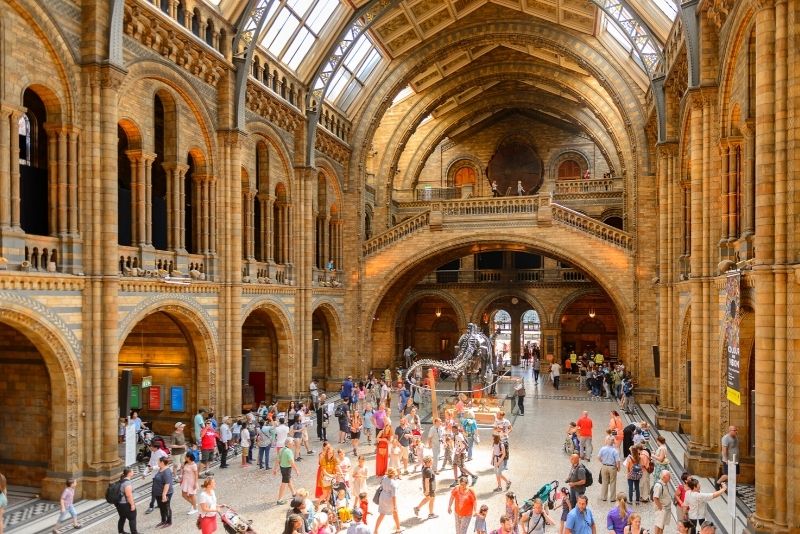 Since it opened all the way back in the 19th century, the highly-esteemed National History Museum has been entertaining locals and tourists alike with its array of fascinating exhibits.
Gaze in awe at the huge dinosaur remains, learn about glistening gemstones on display, see the volcanic casts of people from Pompeii, and much more!
47 – Discover the marine life at the SEA LIFE Aquarium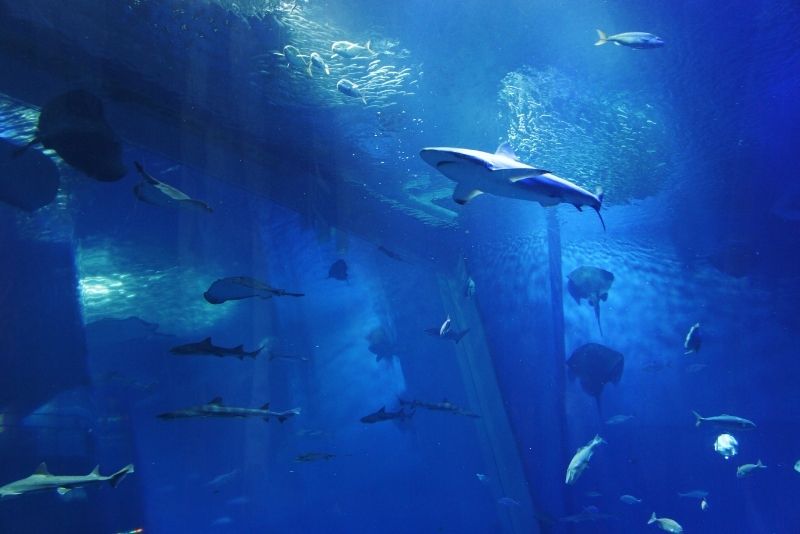 A delight for travelers of all ages, SEA LIFE is home to one of the largest collections of marine life in all of Europe (with over 500 different species!).
Watch penguins play and try not to shiver as sharks swim beneath your feet — it's an experience no visitor will forget!
48 – Enter the world of animation on a DreamWorks Shrek's Adventure tour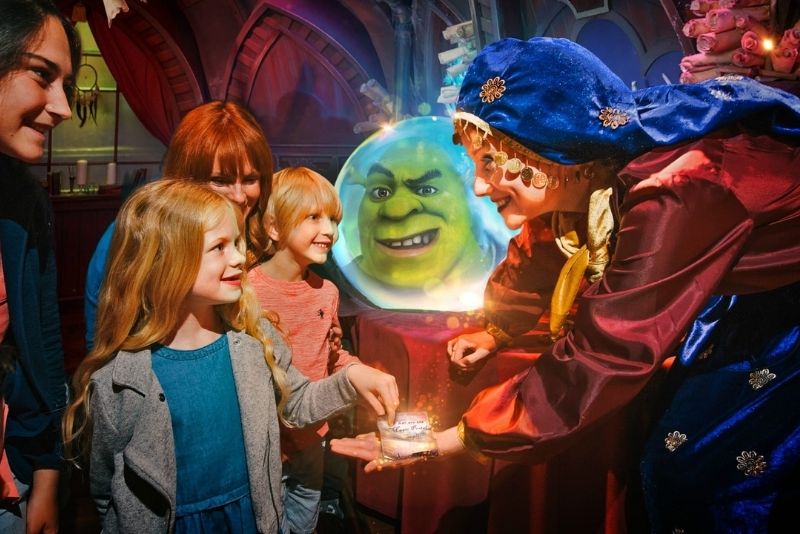 A magical journey to Far Far Away awaits on this immersive walkthrough experience.
A hilarious adventure, the DreamWorks tour takes guests through 12 fairytale-themed live shows where the audience becomes part of the live action.
With the chance to meet all their favorite characters from the Shrek universe, it's a surefire hit for kids, in particular.
49 – Enter the world of LEGOLAND Windsor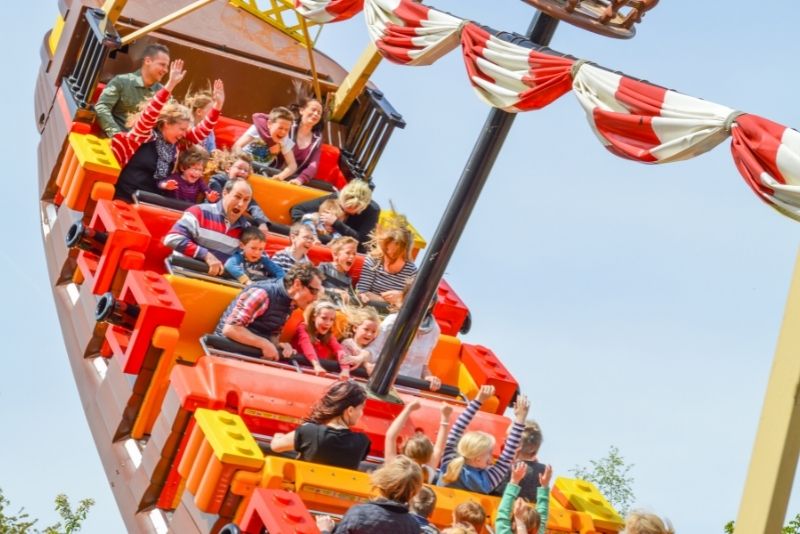 Housing over 55 different rides, plus a range of live shows and more Lego than you can count, LEGOLAND Windsor is a clear favorite for the young ones (and the young at heart).
The theme park is sprawled across over 150 acres, so wear your walking shoes, arrive early, and (if you like) book a skip-the-line ticket for a hassle-free day out.
50 – Channel your inner Romeo (or Juliet) at Stratford-upon-Avon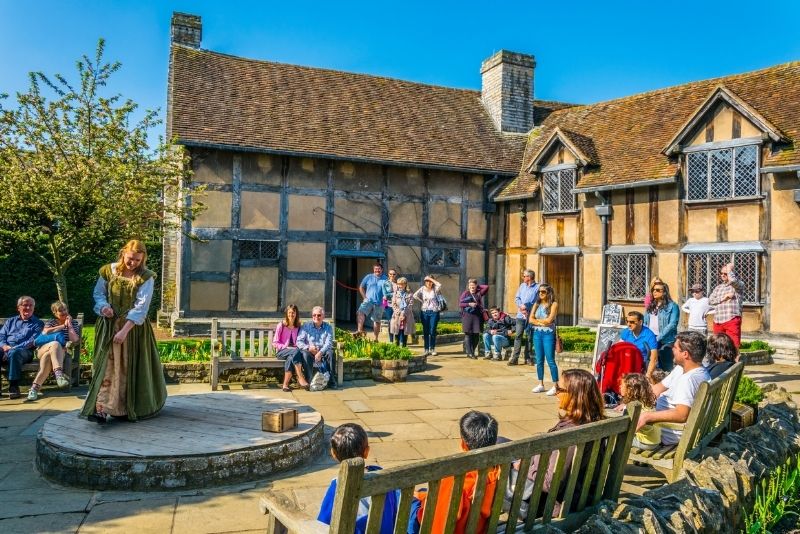 If you consider yourself somewhat of a bookworm or literature enthusiast, this is easily one of the best things to do in London (well, outside of London, technically).
Get inspired to write a sonnet like William Shakespeare by visiting the quaint town of Stratford-upon-Avon, the very place where the great playwright was born!
Old mate William aside, this small market town boasts over 800 years of history and offers plenty of sights and restaurants.
51 – Be surrounded by wild animals at the London Zoo
Spread across 15 hectares of land, the famous London Zoo boasts a wide selection of animals of all shapes and sizes, hailing from all over the world!
Guests can get up close and personal with gorillas, lions, reptiles, penguins, beautiful butterflies, and slimy snakes, to name but a few.
For the best bang for your buck (and a skip-the-line bonus), grab a London Pass.
Learn how to book cheap London Zoo tickets and save up to 30%.
52 – Chase thrills at Chessington World of Adventures Resort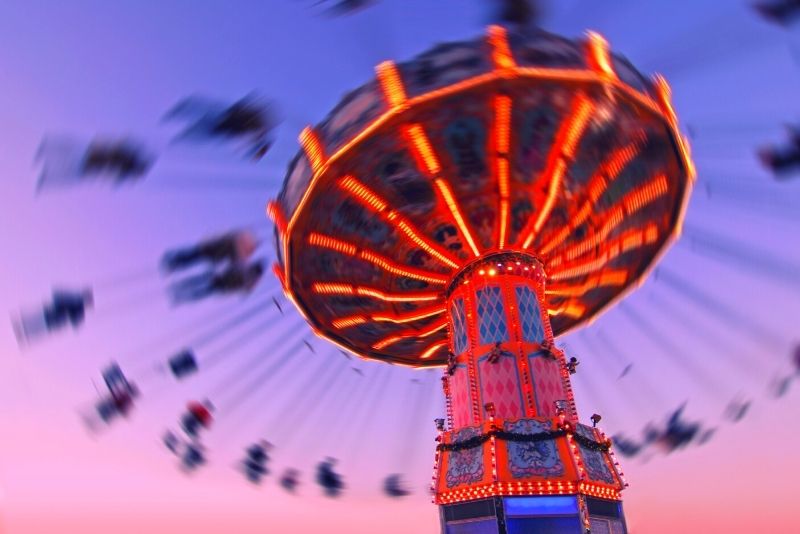 About an hour southwest of London, Chessington World of Adventures Resort is perfect for travelers who're eager for an adrenaline-pumping day out!
Across 10 uniquely themed lands, visitors will uncover over 40 exciting rides and attractions (definitely check out 'The Vampire') — but be warned, this is only for those out there who want to get some serious thrills!
53 – Make a splash at Thorpe Park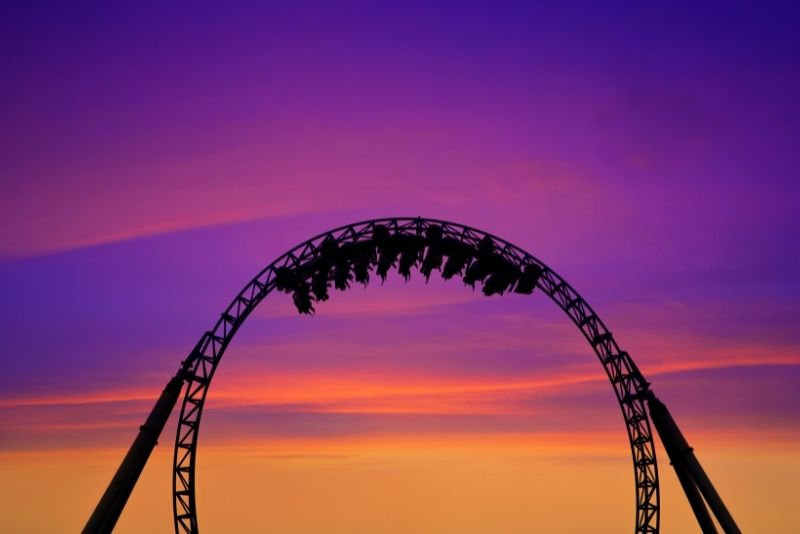 Ideal for a sizzling summer day, Thorpe park has both heart-racing thrills rides and a refreshing water park, making it a great day out for the whole family!
As the home of some of the steepest, fastest, and highest rides in England, adrenaline junkies should take note.
54 – Fill your bags with bargains on a Bicester Village Shopping tour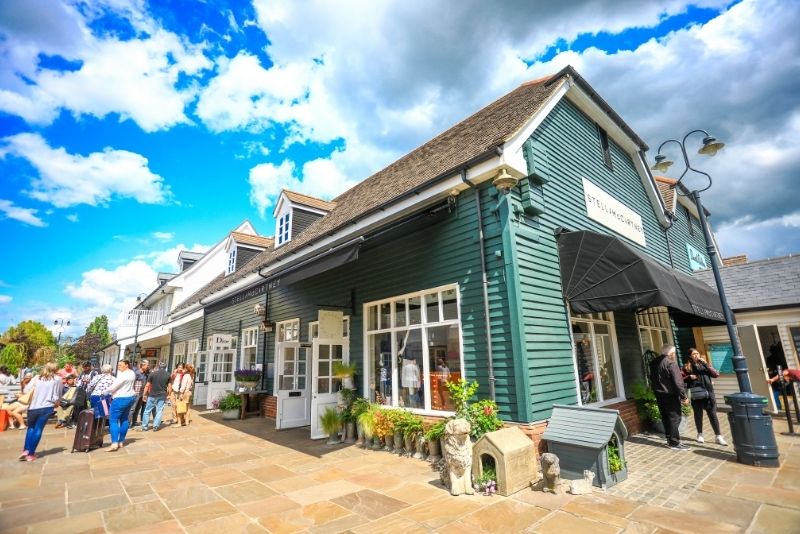 Love shopping but don't know where to start? Then a Bicester Village Shopping tour is the answer to your problems!
Known as the UK's number-one shopping destination, this precinct offers year-round sales (including up to 60% off designer items like Dior and Ralph Lauren) and retail stores for every budget.
For something a little different, consider a sustainability-themed shopping tour too.
55 – See the real Notting Hill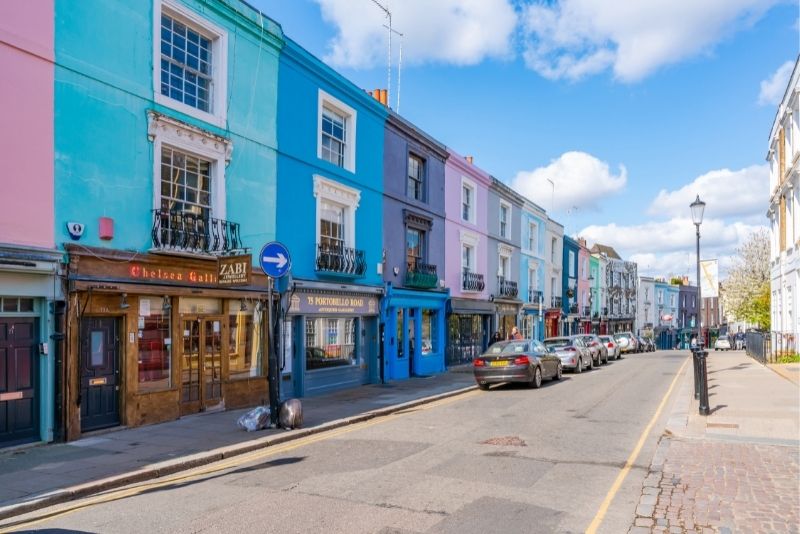 As the host of the second-largest carnival in the world; home of the Portobello Road Market, and the set for that famous Julia Roberts movie (you know the one), it goes without saying that Notting Hill is renowned across the globe
Take a romcom-themed walking tour, a foodie tour, or a celeb-spotting tour — either way, it makes for an awesome afternoon!
After wrapping up the walk, there are plenty of trendy cafes and boutiques to explore.
56 – Pick up souvenirs at Portobello Road Market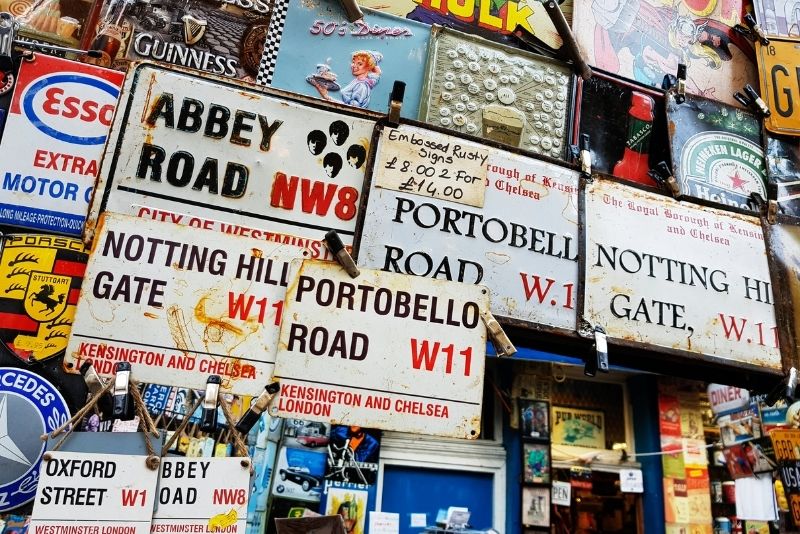 With stalls carrying interesting antiques, second-hand goods, fresh produce, tasty hot food, fashionable clothes, and anything else you can think of, it's no wonder that Portobello Road Market has become a favorite among London locals, as well as tourists.
If you're after one-of-a-kind souvenirs for friends and family back home, this is the spot.
57 – Visit the iconic Old Royal Naval College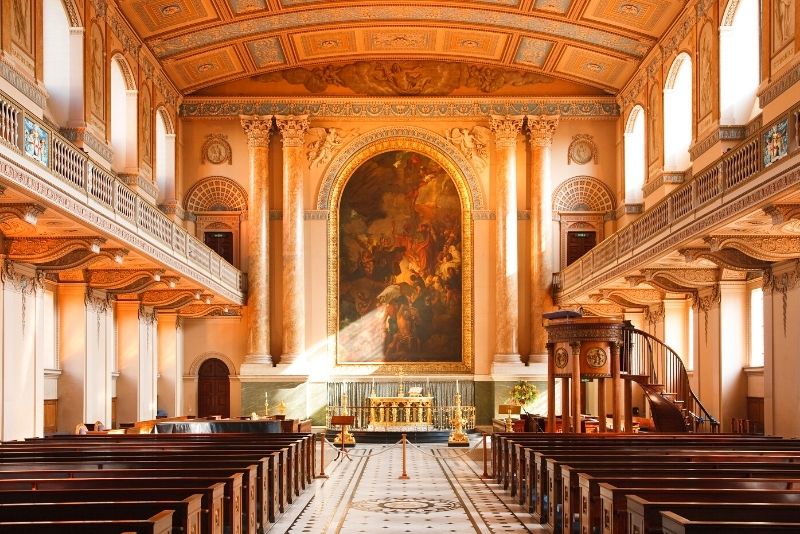 Much like the Sistine Chapel, the dazzling painted hall at the Old Royal Naval College is covered from ceiling to floor in stunning art that leaves its guests breathless.
Filled with baroque-style furniture and decorations, it's an essential activity for the art-lovers among us.
58 – Discover London's backstreets on a Classic Mini Cooper tour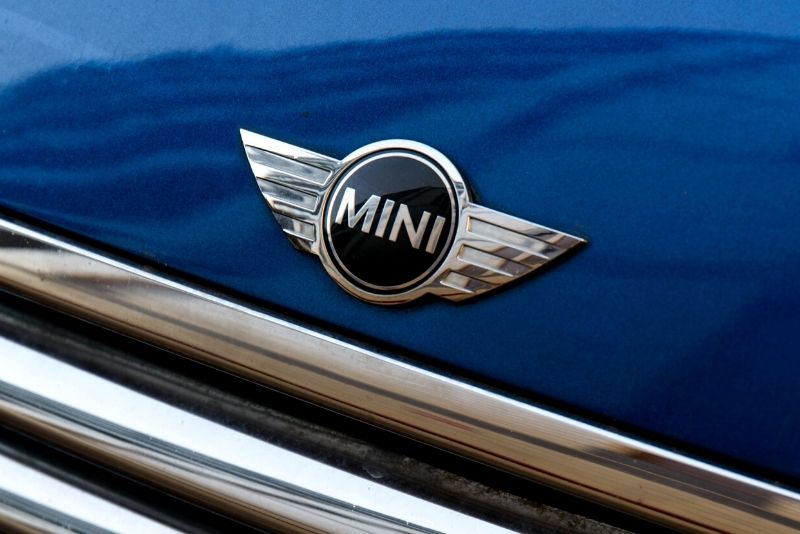 Made famous by the bank robbery scene in 'The Italian Job', riding around in a classic Mini Cooper is now a sought-after tourist activity.
With stops all over the city, it's definitely the more stylish way to get around.
If you fancy yourself a bit of a drinker, the gin-themed Cooper tour is also a popular choice.
59 – Get groovy with a silent disco!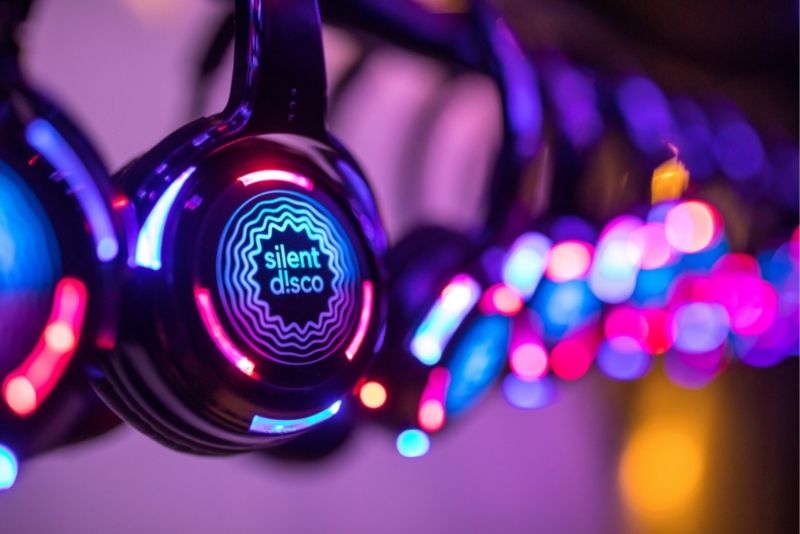 See all the famous landmarks that London is known for… all while singing and dancing your heart out! That, folks, is a silent disco tour.
With a range of themed experiences available, including musical theatre, drag, and even Christmas, there's something for everyone.
It's as easy as popping on a pair of headphones and off you go!
60 – Check out the London Transport Museum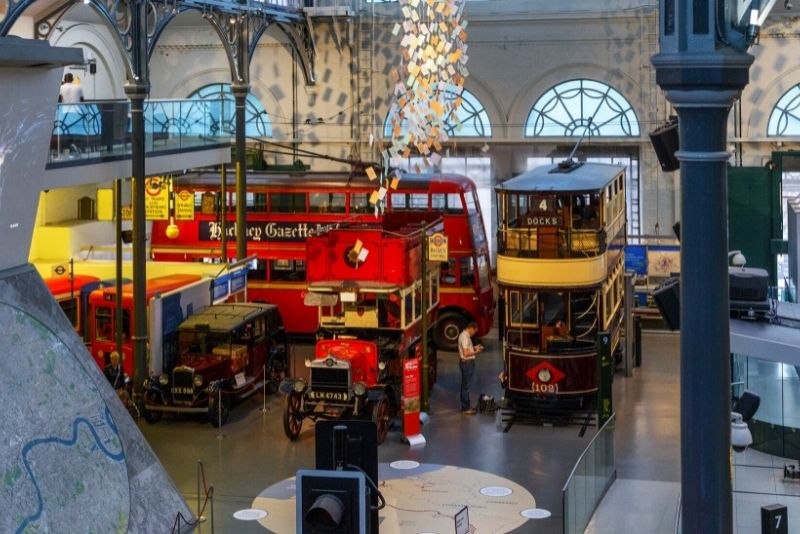 England's capital city has quite a vibrant and interesting history when it comes to transportation, and there's no better place to learn about it all than the London Transport Museum.
From horse-drawn carriages to the world's first underground subway (yes, the famous 'Tube') guests can learn all about how London has transformed since the 1800s.
61 – Relive musical history on a Rock 'n' Roll music tour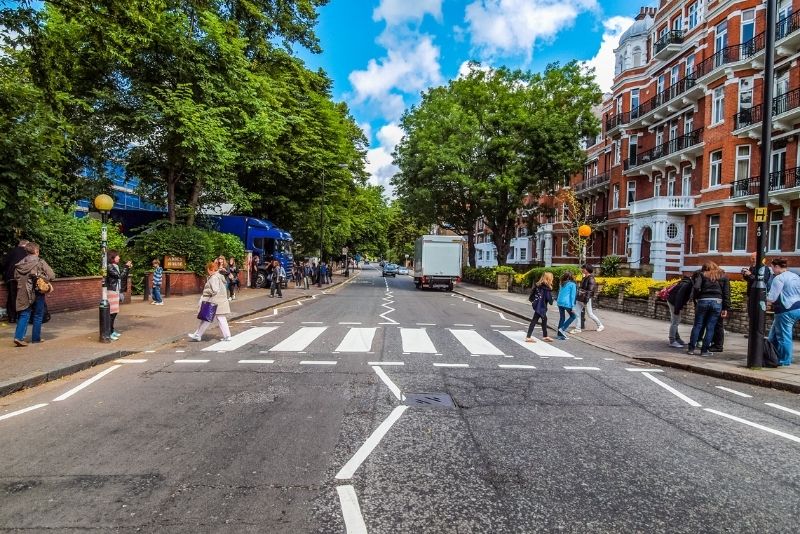 London was a hub for rock music ever since The Beatles became famous, so a music-themed tour should sit high atop the bucket list.
See places that rock stars made famous such as Abbey Road, places where stars like Jimi Hendrix lived, and places that legends such as David Bowie played at — all combined, it's the ultimate experience for rock n roll fans.
62 – Stroll through Camden Town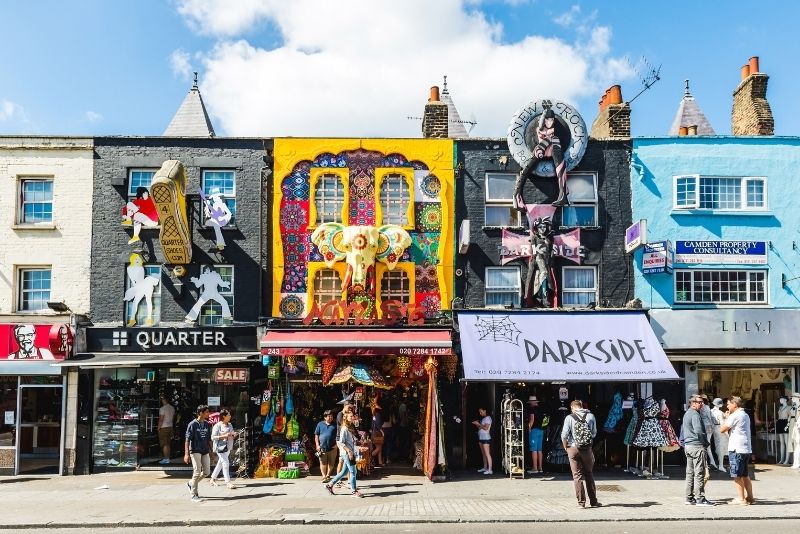 Camden Town is known best for its market where visitors can walk through, browse stalls, buy goods, listen to street performers, and grab a bite to eat. Meanwhile, Camden is also known for its bustling nightlife — so after grabbing a souvenir or two, choose from the huge variety of old-school pubs (or join a pub crawl), jazz cafes, and restaurants.
While easily accessible by Tube, why not jump on a canal cruise instead?
63 – Cruise down Regent's Canal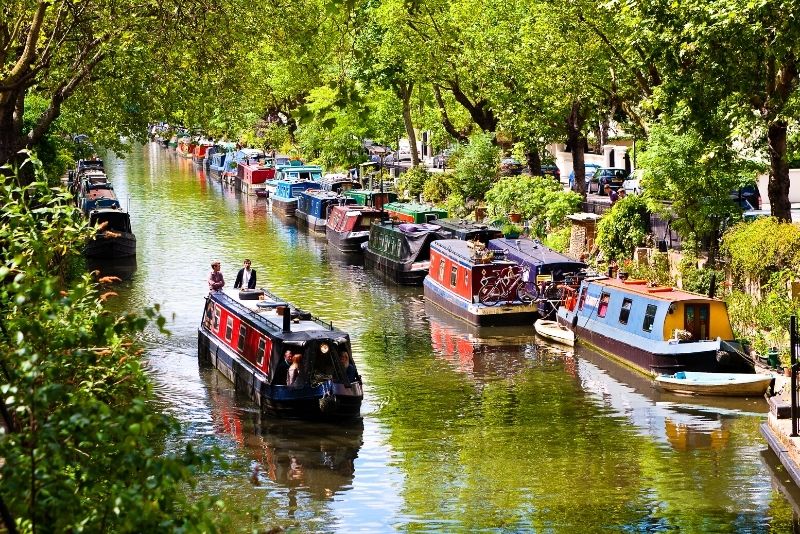 Connecting the popular tourist hubs of Camden Town and Little Venice, the Regent's Canal is a peaceful change from the busy streets.
Simply grab a spot on deck and float past the London Zoo and soak in all the unique architecture, beautiful gardens, and urban graffiti — it's the perfect way to see the juxtaposition of modern and traditional along the way.
64 – Meet Peppa Pig at Paultons Park!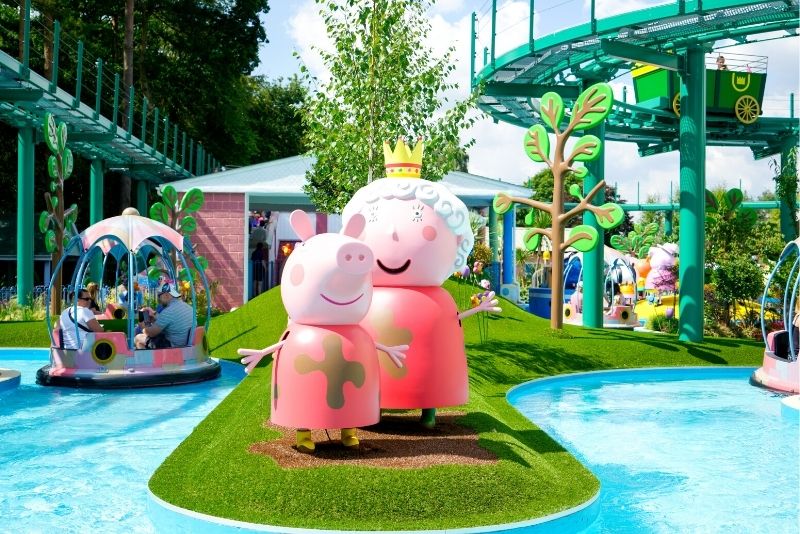 The beloved TV show character comes to life at Peppa Pig World, located in Paultons Park.
With 9 Peppa Pig-themed rides, including Peppa's Big Balloon Ride, Miss Rabbit's Helicopter Flight, Grandpa's Little Train, and many more, the little ones are sure to be entertained for hours.
65 – Throw yourself into consumerism at the Museum of Brands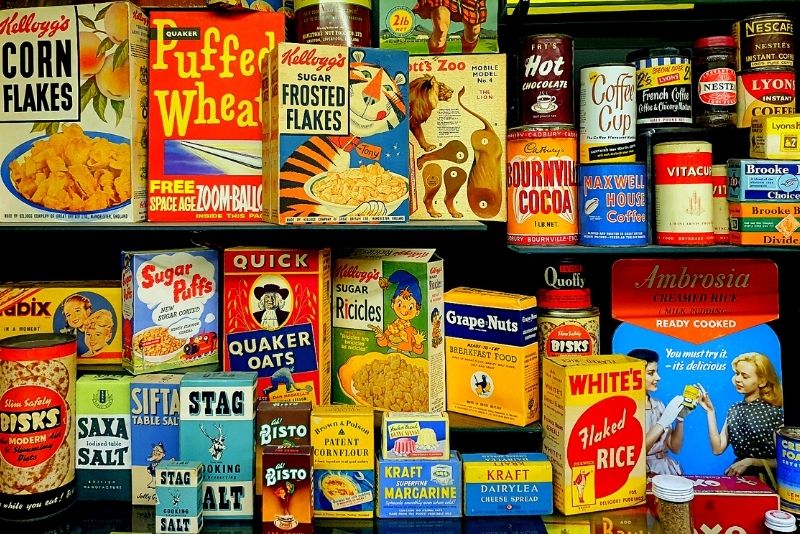 With displays of retro advertising and packaging belonging to brands that date all the way back to the victorian-era, this is a one-of-a-kind museum that you won't find anywhere else.
As one of the more unique things to see in London, it's a surefire hit for anyone interested in media, marketing, design, or advertising.
66 – Discover hidden gems at Covent Garden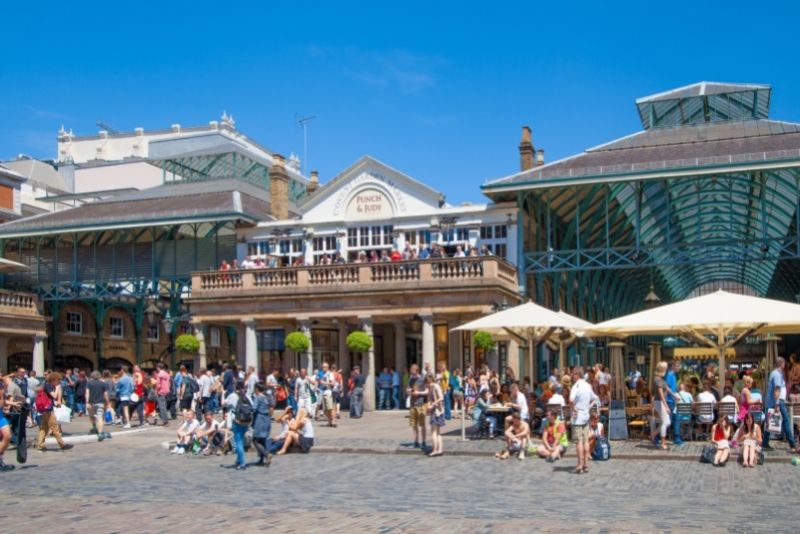 On a dedicated Covent Garden walking tour, travelers can explore the vibrant streets, grab a drink at one of the many cafes and restaurants in the area, wander into St. Paul's Church, and learn about the area's fascinating history.
With so much to see in the neighborhood, it's a great suburb to spend the day.
67 – Get interactive at the Science Museum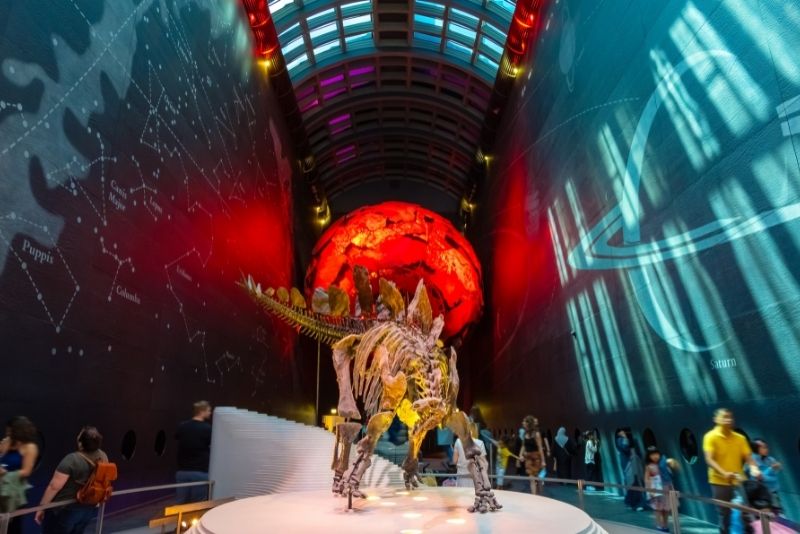 One of the most interesting things to do in London, without a doubt, is to visit its world-class Science Museum.
Not only does it rock its own IMAX theatre, but also a wide range of interactive exhibits intended to make learning fun!
With content focused on everything from mathematics to fuel, medicine, engineering, technology, space, and much, there's something to suit every interest.
68 – Check out The Postal Museum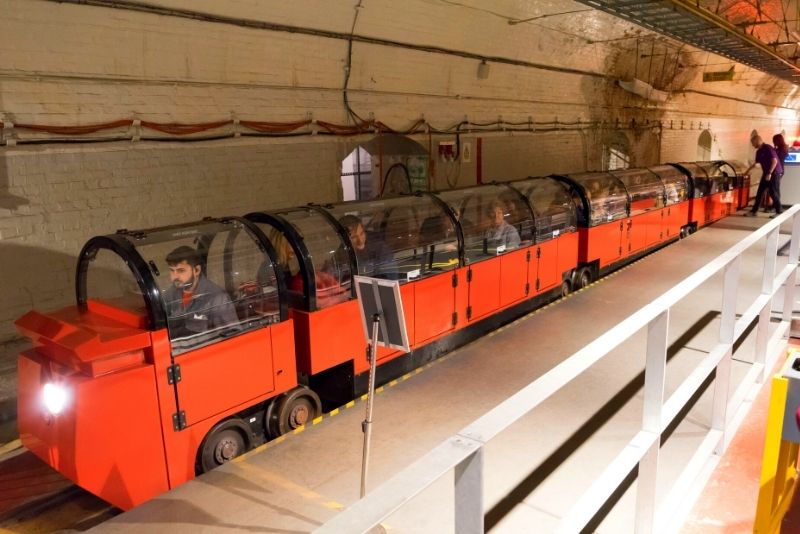 A quirky museum indeed, here, guests can learn all about Britain's postal history in an immersive, exciting way.
Discover the fascinating Mail Rail Tunnels that haven't been opened in 100 years; check out the 150-year-old postcard exhibit, and don't forget to add to your stamp collection!
69 – Catch a show at the Royal Albert Hall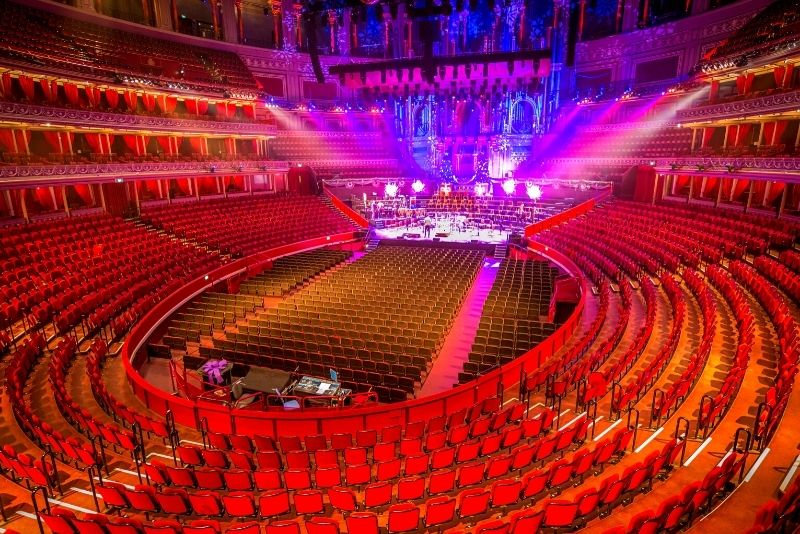 Originally built in 1871 by Queen Victoria (and later renamed to honor Prince Albert), these days the famous theatre has become an iconic landmark, hosting some of the biggest names in the music business.
The beautiful architecture is worth seeing even if you don't want to see a show.
70 – Step back in time at The Household Cavalry Museum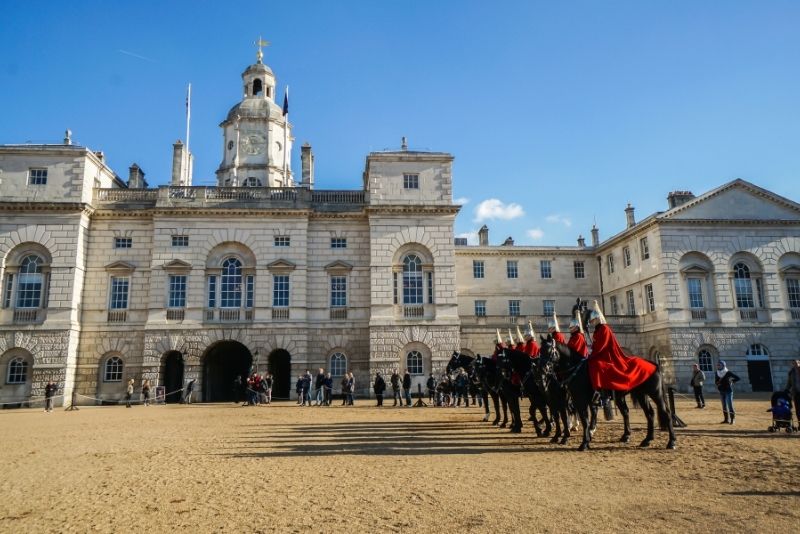 Fascinated by history? Or have you always wondered what it would be like to be a cavalryman? Either way, The Household Cavalry has got you covered.
At this popular (albeit quirky) attraction, visitors have a chance to peek inside the working stables, see a regiment in action, and pull on a real uniform.
71 – Learn about WWII inside the Churchill War Rooms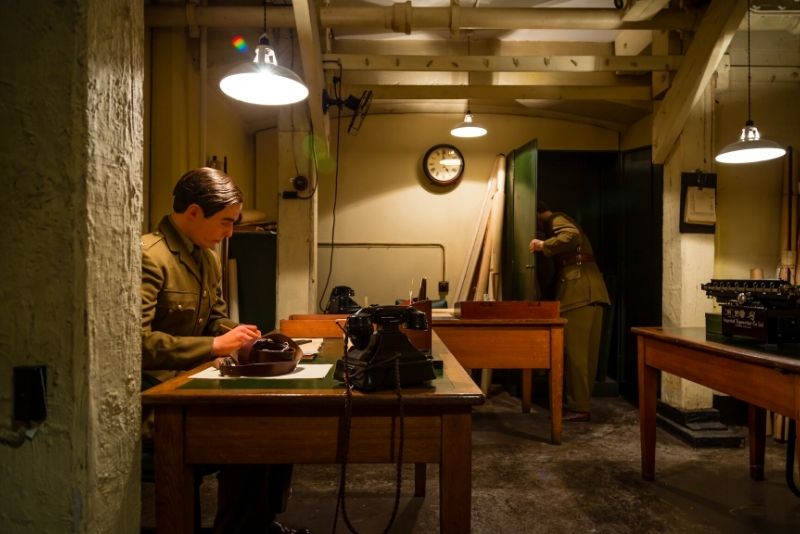 On this trip back in time, guests can venture into the secret war rooms that Winston Churchill used in the mid-20th century.
The Churchill Museum is a treat for history-savvy visitors, likewise the maze of secret underground rooms that were used to plot combat strategies.
The rooms have been preserved so that they are exactly the same as they were in 1945.
72 – Catch a cricket match at Kia Oval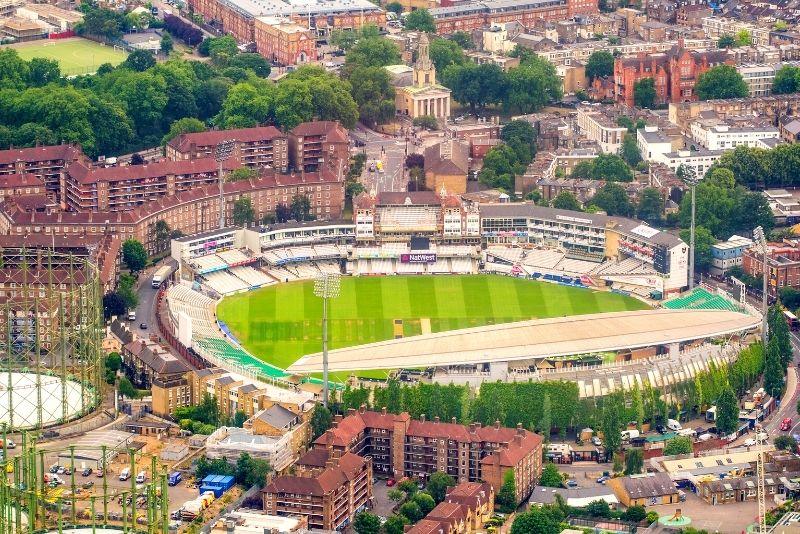 It's like baseball but… British!
As the home of the Surrey County Cricket Club since 1845, the Kia Oval is the number one place in the UK to catch a game of cricket.
While matches are regularly held here there are also coaching courses available for those who want to try their hand with a bat or ball in hand.
73 – Learn human history through art at the Victoria and Albert Museum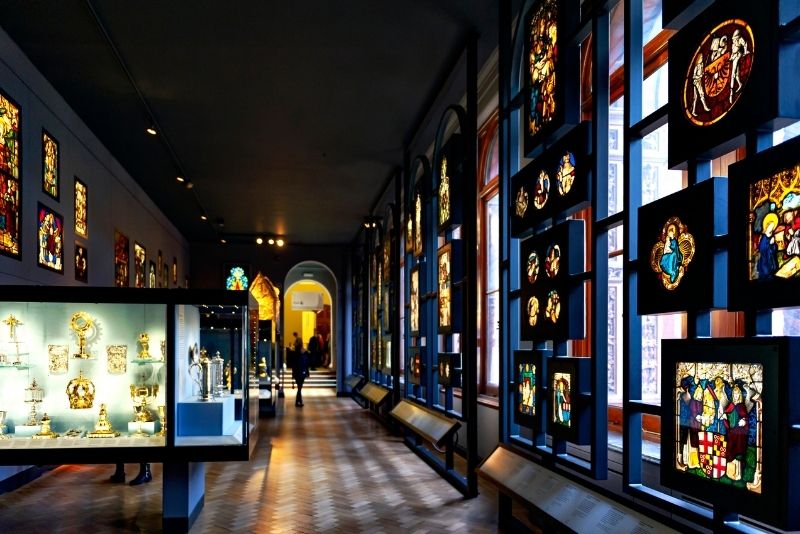 Queen Victoria and Prince Albert personally established this museum — their eclectic displayed art collection spans some 2000 years of history.
Be witness to some of the most exquisite sculptures ever created, discover Leonardo Da Vinci's notebooks, marvel at where royalty once sat at the Chinese Qing Dynasty Imperial Throne, and much more.
74 – Indulge in a British national pastime with afternoon tea!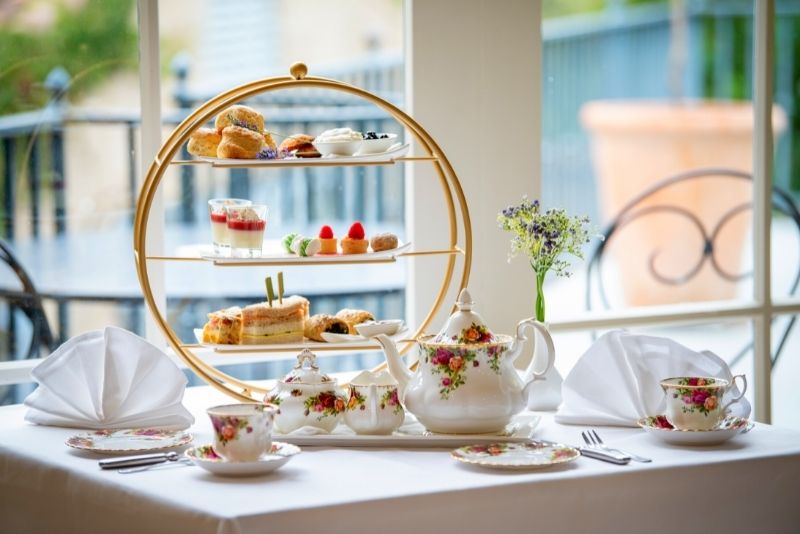 Consisting of tea, sandwiches, scones, and sweet treats, a traditional afternoon high tea is something that every tourist must try once.
You'll be spoiled for choices when it comes to places around London that offer afternoon tea services (Notting Hill is flush with choices; you can dine and cruise on the Thames, or even grab a table on a double-decker bus!).
Make sure to book in advance as most places have limited spots available.
75 – Sip on a cold brew with a beer-tasting tour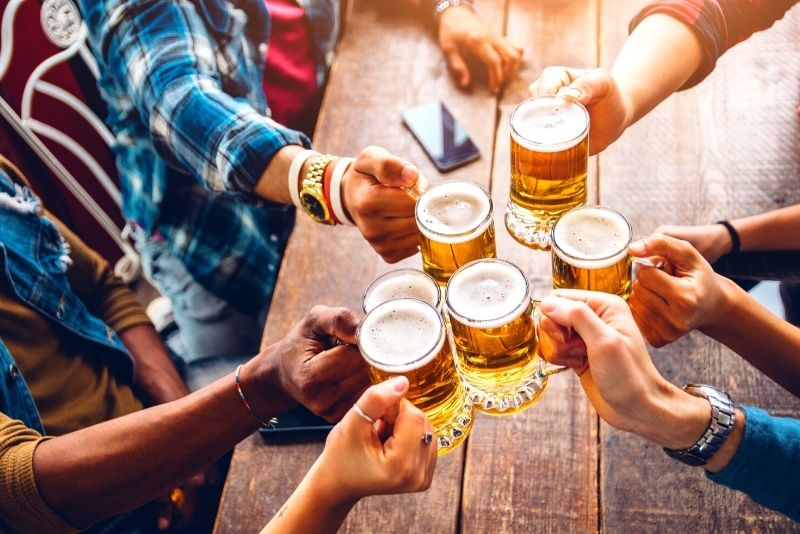 Home to over 7000 pubs (!) and more beer-tasting tour options than we could count, there's no better city to wet your whistle.
Choose from craft beer tours, historical pub tours, West End pub tours, or wild pub crawls, all of which offer a different kind of experience.
Hot tip: don't miss out on tasting Fuller's Vintage Ale, a local favorite.
76 – Become 007 for a day on a James Bond tour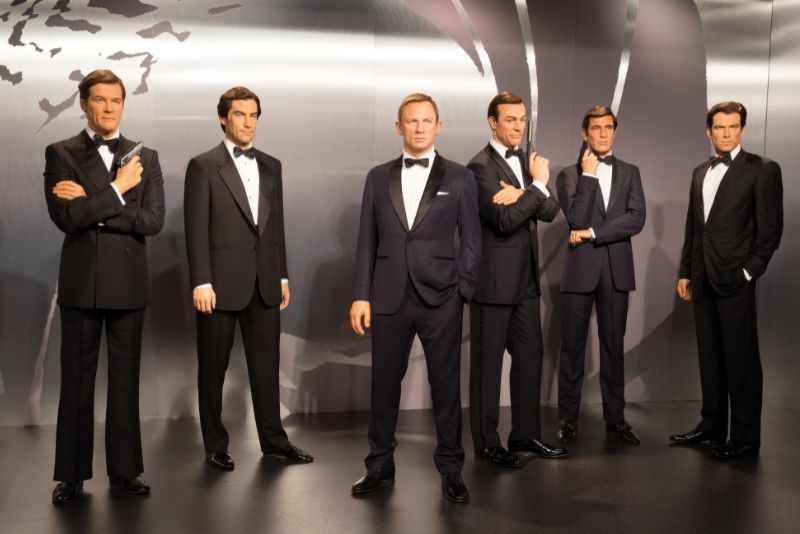 Whether you're team Connery or team Craig, there's no denying that James Bond is a household name. Now, on the streets of London, visitors can be shown some of the film franchise's most recognizable sets.
Not only will guests get to tour film locations, they will also see the homes of the real MI5 and MI6 agents, and other locations linked to James Bond author Ian Flemming.
77 – Snap the perfect picture on a photography tour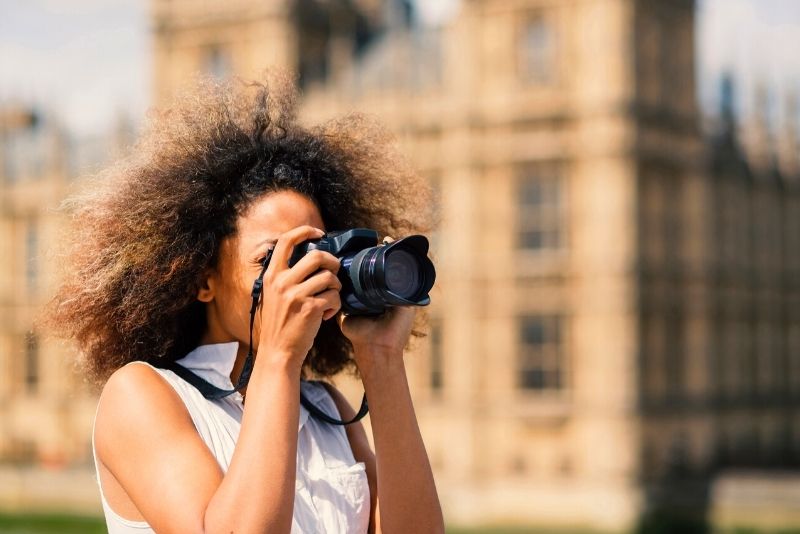 For the creative-minded among us, a photography tour is one of the most sought-after things to do in London!
Take your pick from a nighttime photography tour, a historical sightseeing tour, and more.
No fancy-schmancy equipment is required; friendly guides will help you get the perfect shot with just your smartphone!
78 – Go behind the scenes with a Downton Abbey locations tour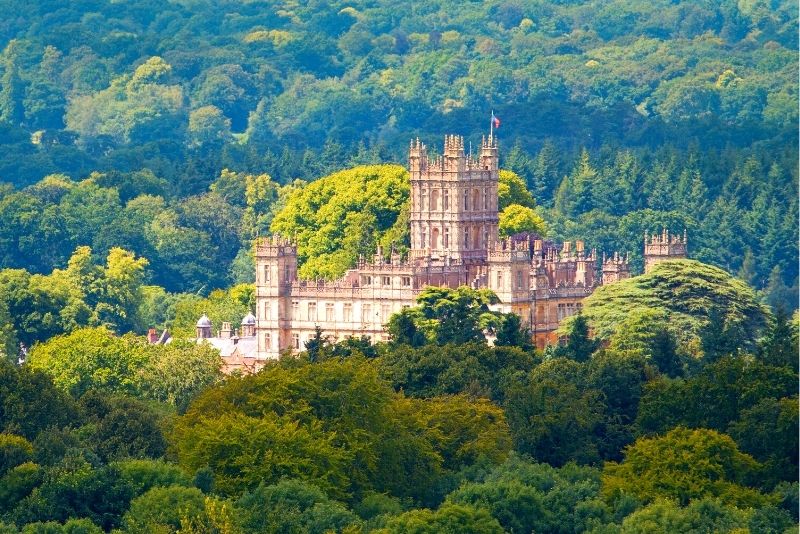 Become a lord or lady for a day and step into the beloved TV show, Downton Abbey!
Tours take guests on short trips from London, out to the heavenly Oxfordshire Village (otherwise known as Downton Village).
Camera in hand, visitors will see the sets of the local church, the village pub, Downton hospital, and, of course, Highclere Castle.
79 – Glide across the River Thames on a dinner cruise!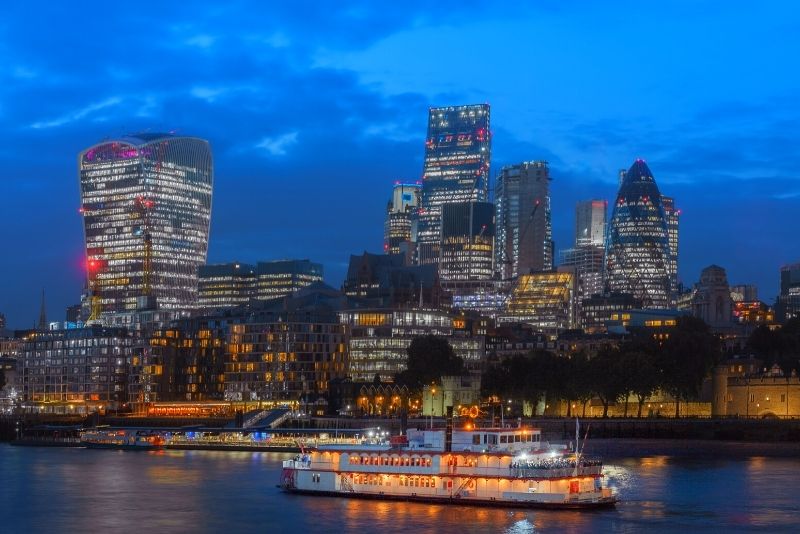 Amazing food AND amazing views? Where do we sign?
Most relaxing Thames cruises last 3 to 4 hours and include a tantalizing 3-course meal (with plenty of drinks to wash it down).
To cap it off, the boats offer live entertainment (which changes depending on the cruise) ranging from jazz to cabaret, classical music, pop, and funk.
80 – Witness the legendary 'changing of the guard'
The world-famous tradition of the changing of the guard at Buckingham Palace is the pinnacle, however, there are a few more spots around the city that offer prime viewing of their own, without the huge crowds — best accessed on a dedicated walking tour.
For the ultimate day out, opt for a tour that also includes an official afternoon tea and a visit to Westminster Abbey.
81 – Get tipsy at the Bombay Sapphire Distillery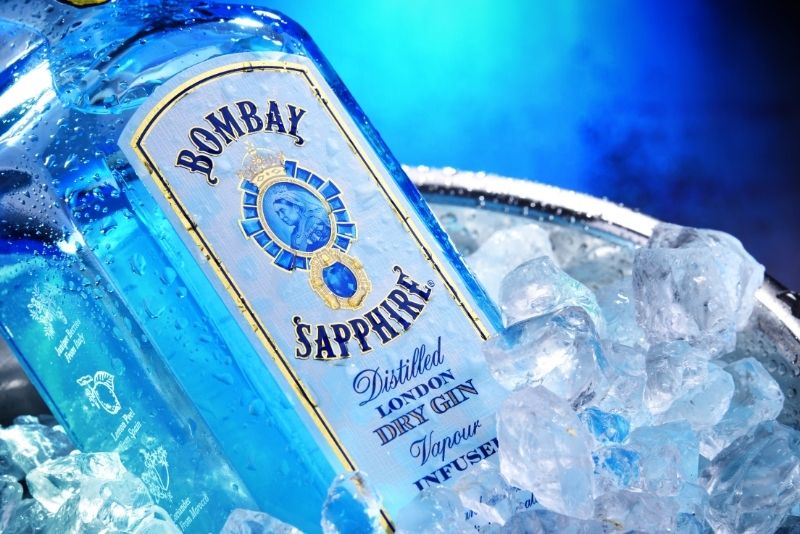 Do you enjoy a stiff glass of gin? Then make a beeline for the Bombay Sapphire Distillery!
The on-site tour showcases the secret botanicals used to create the fabulous gin; provides a unique tasting experience, and includes a gin cocktail based on the results of your taste test.
82 – Have a park day!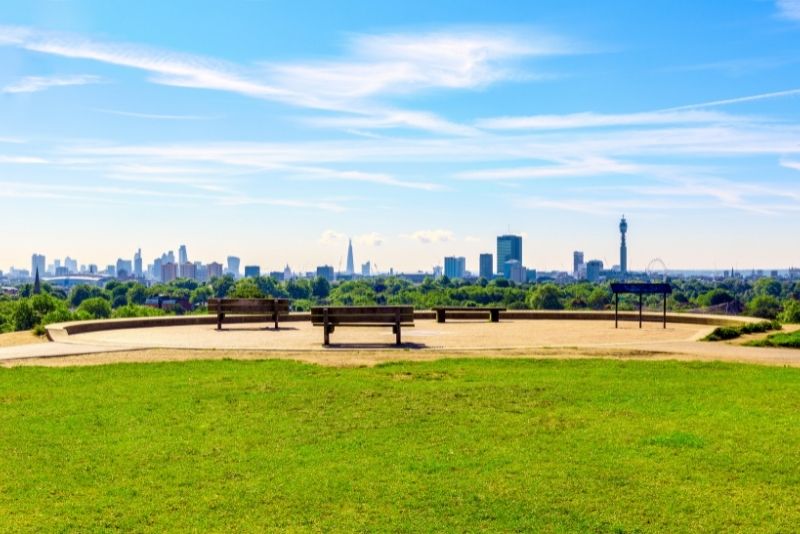 Despite being a bustling metropolis, London has no shortage of greenery.
Go for a jog at Hyde Park, feed the pelicans at St James's Park, smell the flowers at Regent's Park, or take in the spectacular views at Hampstead Heath, just to name a few.
83 – Dine at Sky Garden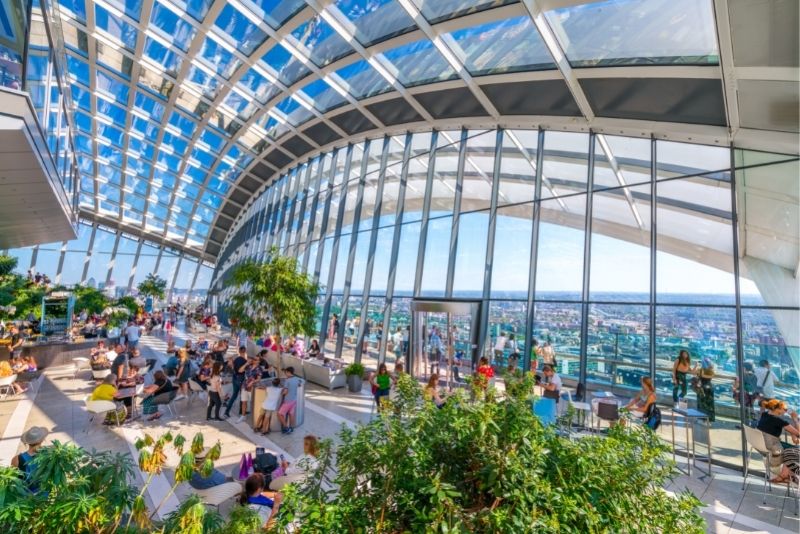 With floor-to-ceiling glass windows and a menu that falls nothing short of impeccable, you'll be hard-pressed to find a more wonderful eatery than Sky Garden.
Even if you're already well-fed, guests are still welcome for the view alone.
Hot tip: as expected, sunset is the most popular time of day for them, so a reservation is a must.
84 – Get artsy at The Wallace Collection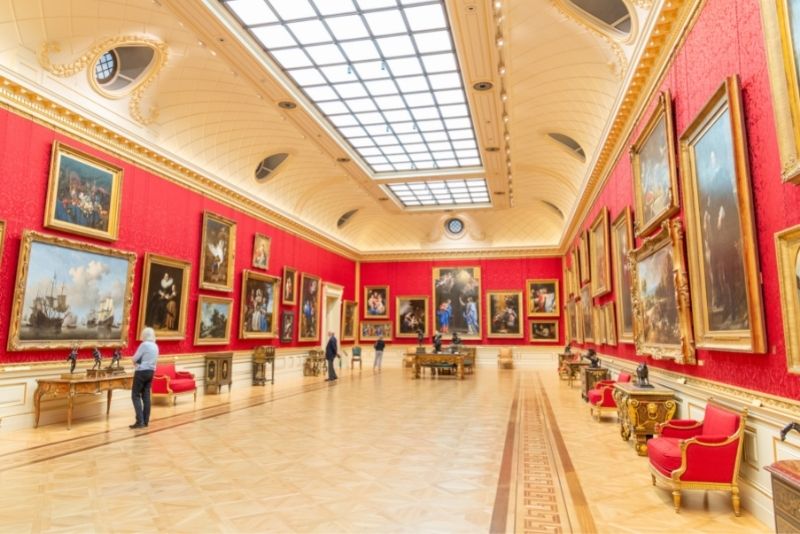 Considered one of the most phenomenal collections worldwide, The Wallace Collection boasts paintings, sculptures, furniture, ornaments, and more, dating from the fourteenth to the late nineteenth century.
As just the tip of the iceberg, expect to see pieces by famous artists including Van Dyck, Valazquez, Rubens and Titian.
85 – Learn about history at the Imperial War Museum London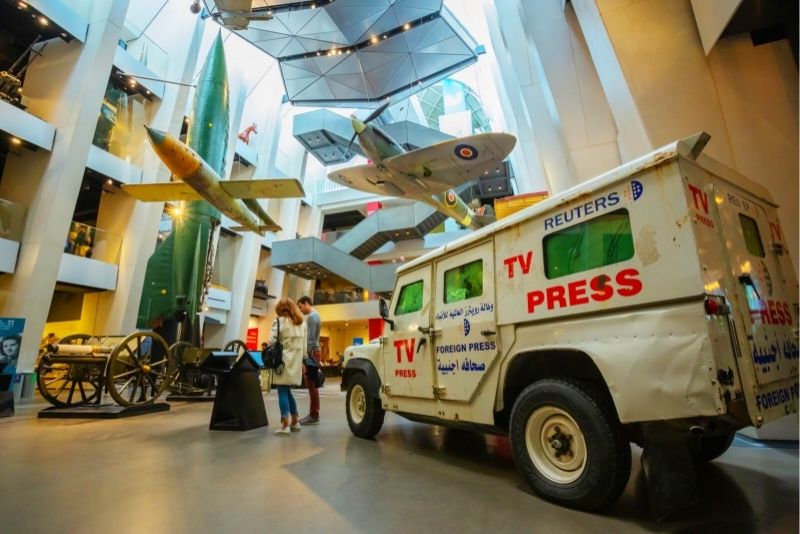 At the war-and-military-oriented Imperial War Museum, visitors can dive deep into WWI and WWII, with a range of objects on display that were used back in those times.
For anyone intrigued by history and wartime, the collection is one of the essential things to see in London
Besides the relics and artifacts, IWM also provides experiential learning, none more sobering than the refugee camp exhibit.
86 – Make a trip to the Royal Air Force Museum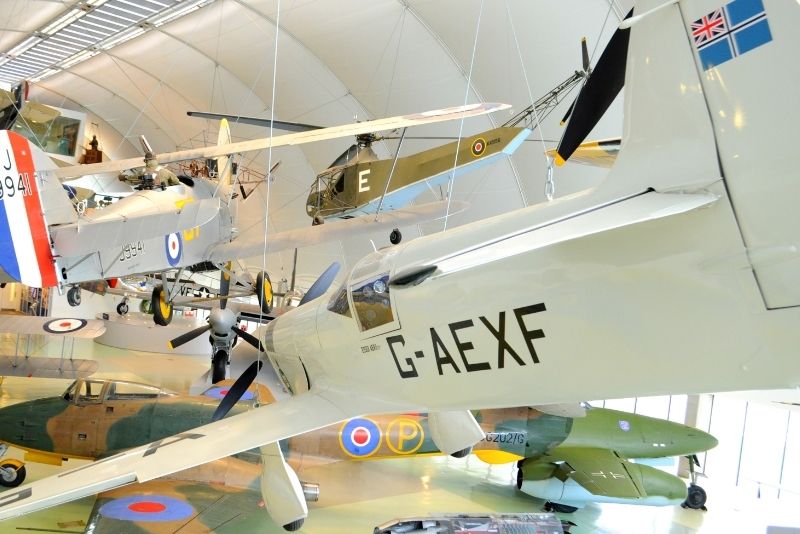 With a simple stroll through the Royal Air Force Museum, budding pilots and aviation enthusiasts cam first historic aircrafts first-hand (some of which date back to over 100 years ago), as well as a fine collection of photographs, art, medals, and uniforms.
Despite being out of the city, it's easily accessible by the Northern line (Colindale Underground station) on the Tube.
87 – Check out the Museum of London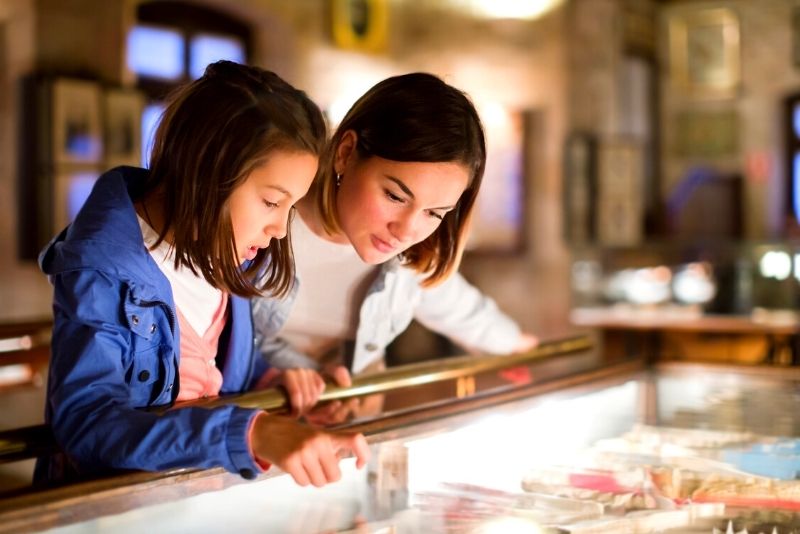 While art museums are a dime a dozen in Europe, the Museum of London is truly unique, as it dives strictly into how London has changed over the years.
The museum showcases a collection depicting the city's first settlers, as well as rotating exhibitions covering themes like reggae music, refugees, and everything in between.
88 – Plan an afternoon at the National Portrait Gallery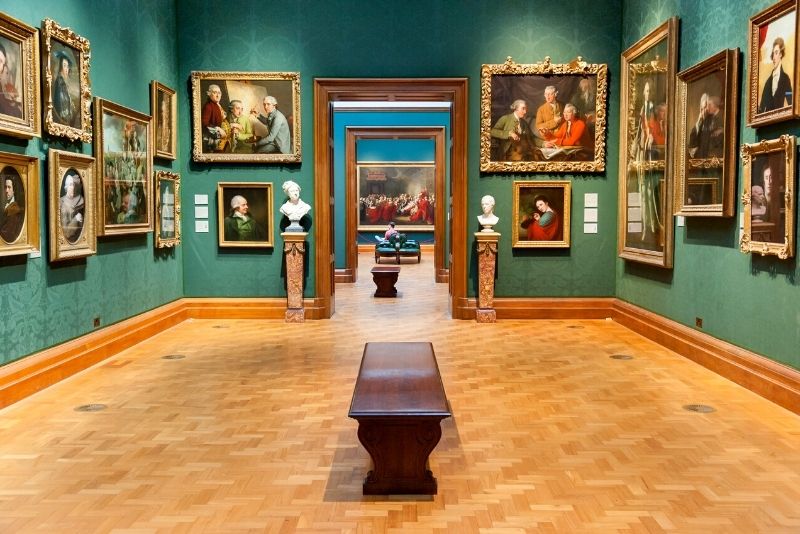 Renowned for its extensive portrait collection, this place (as you'd expect) holds the most portraits in the world, some of which date back to the 16th century.
How many, exactly? Over 215,000!
If you're an art fan, a history fan, or both, you won't regret working the National Portrait Gallery into your London itinerary.
89 – Read a book at the British Library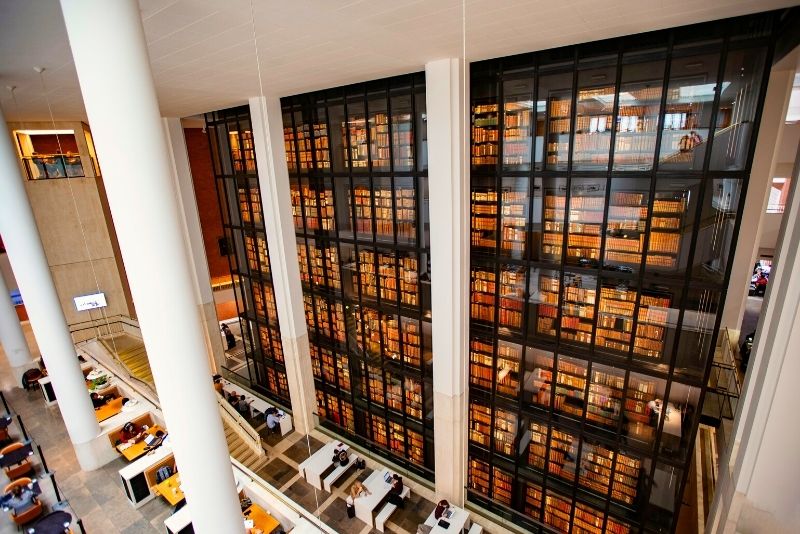 With a remarkable collection of over 170 million items, the British Library holds its own as one of the biggest libraries in the world.
Not only do they have an enormous range of books, prints, drawings, maps, and manuscripts, but they also house artifacts from every age of written civilization.
Their collection is ever-growing and certainly worth checking out.
90 – Be enlightened at the BAPS Shri Swaminarayan Mandir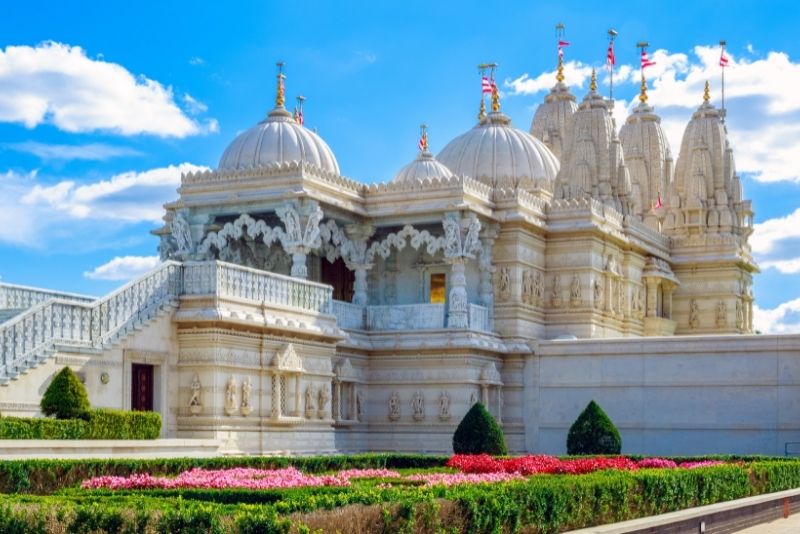 Popularly known as the 'Neasden Temple', this traditional Hindu temple holds the claim to fame of being the first of its kind in England.
It was built entirely from roof to floor using traditional methods and materials, making it quite the sight to behold.
With an interior just as glorious as its facade, it's the perfect place to find some peace.
91 – Serve an ace at the Wimbledon Lawn Tennis Museum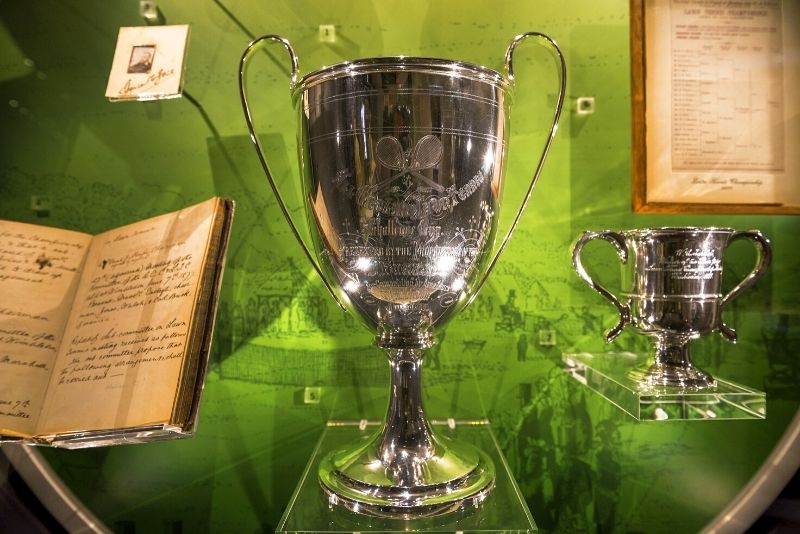 Sports fanatics, take note!
At this one-of-a-kind museum, tennis lovers can admire championship trophies, see how tennis fashion has changed since Victorian times, test their own skills on a Batak wall, and learn about how the sport has changed and developed since its inception.
92 – Get inspired at the Charles Dickens Museum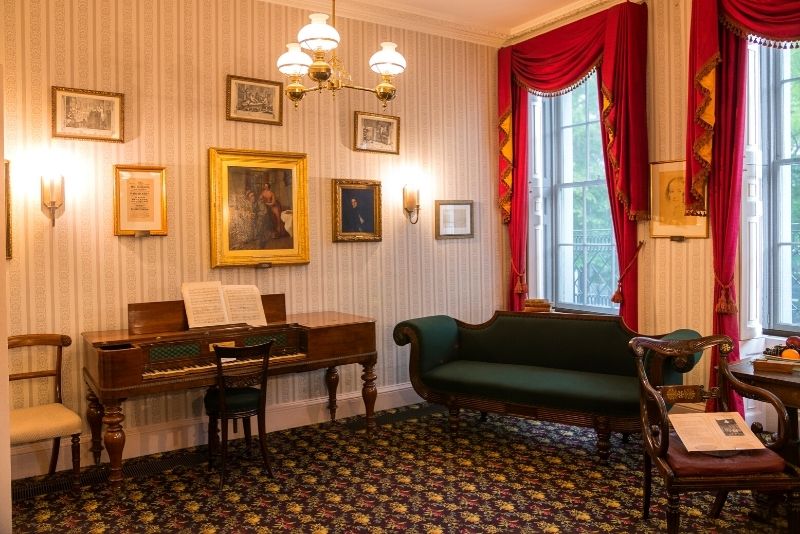 We've all heard the name Charles Dickens, and this place is as good as any to dive into his life and writings.
Besides the chance to explore some of his greatest works (including Oliver Twist and A Christmas Carol), visitors can also learn a lot about the author himself, his interests, and life outside of writing.
93 – Discover London's street art scene!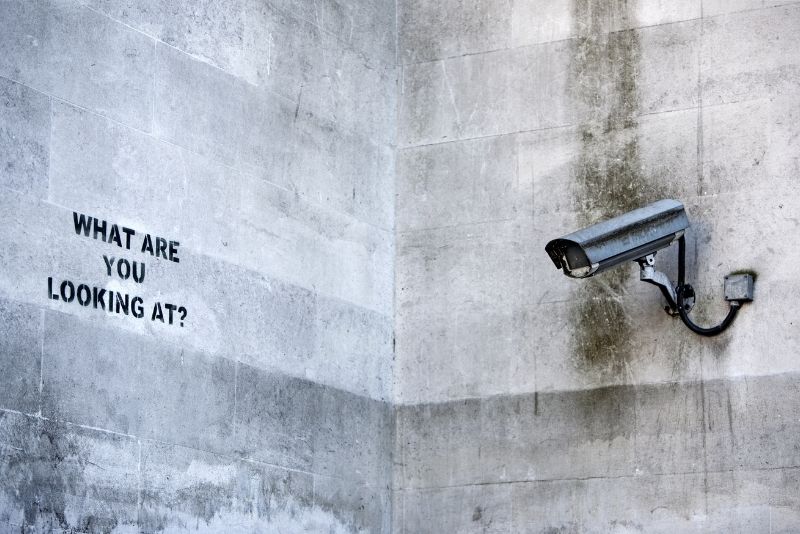 While London is known for its high-quality museums, it also has a lot of great street artists.
Follow a guide to Brick Lane (which is considered to be the heart of the street art scene), pass unique murals along the way, and see authentic works by none other than the infamous Banksy.
94 – Hear the bells ring at St Paul's Cathedral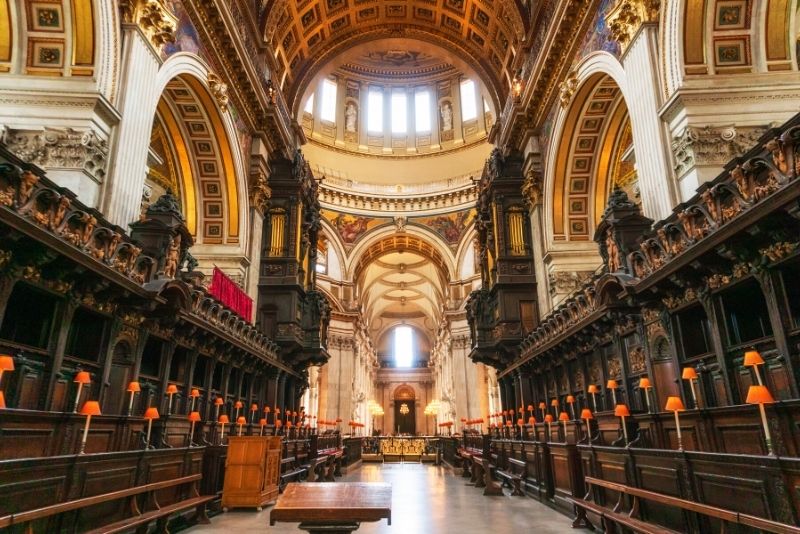 With Up to 1.5 million people visiting this historic cathedral every year, St Paul's is one of the most important places for worship and prayer not only in London, but the whole UK (or, the former UK, technically).
The architecture is one-of-a-kind (highlighted by one of the biggest domes in the world, towering a staggering 366 ft high), while the stained glass windows are intricate and beautiful.
95 – Discover next-generation artists at the Royal Academy of Arts
The Royal Academy of Arts is the longest-established art school in all of England, and each year hosts the world's largest open-submission art exhibition (and has been doing so since 1768).
Hundreds of thousands of people take the time to visit annually, discovering all kinds of new and promising talent.
96 – Delight your senses at the Royal Opera House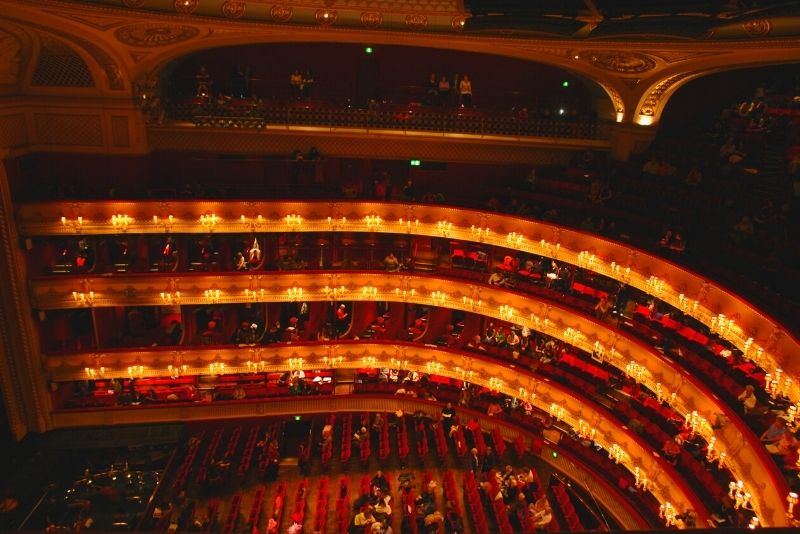 The Royal Opera house is home to one of the greatest ballet and opera companies in the world, so if you're given the chance to see a show here, promptly do so!
The in-house orchestra has been providing music for both ballet and opera ever since 1946 — it's quite literally music to your ears and is an experience not to be missed.
97 – Shop till you drop at Harrods!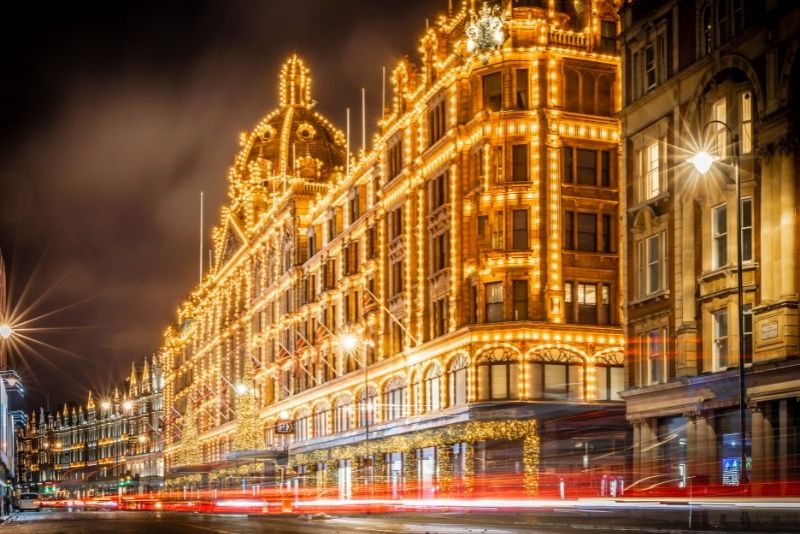 Harrods is a department store, but likely not like one you're ever seen before.
With everything you need all in one location including food, drinks, home goods, furniture, clothes, (seriously expensive) jewelry, and a huge selection of cosmetics, it's near-impossible to walk away empty-handed.
Even if the credit card is already maxed out, it's worth a visit just to admire the sheer grandeur of the building.
98 – Grab the popcorn at an outdoor cinema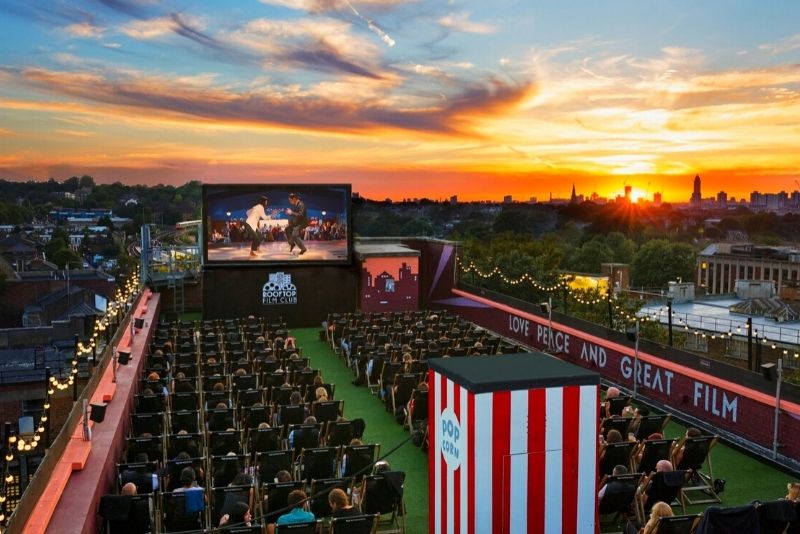 Calling all movie-lovers!
The outdoor cinema scene in London is as broad and wonderful as any, with drive-ins, rooftops, open park spaces, and more — all thriving within summer, of course.
Whether you head to Hideaway Cinema, the Rooftop Film Club, or The Luna Cinema at Regents Park, it's a great way to kick back, breathe in the night air, and watch your favorite movie.
99 – Sleep in a historic palace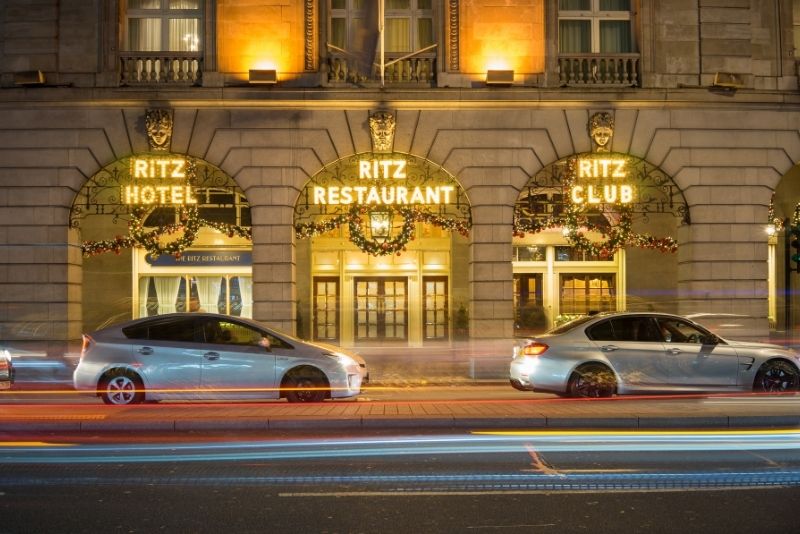 A number of grand hotels dot London, so luxurious and so opulent to the point where they're practically palaces.
Some of the more formidable names include Brown's Hotel, Claridge's, Great Northern Hotel, Grosvenor Hotel, Ritz, and The Langham — as you'll see, these places are fit for royalty!
Check out the best hotels in London.
100 – Let your hair down on a pub crawl!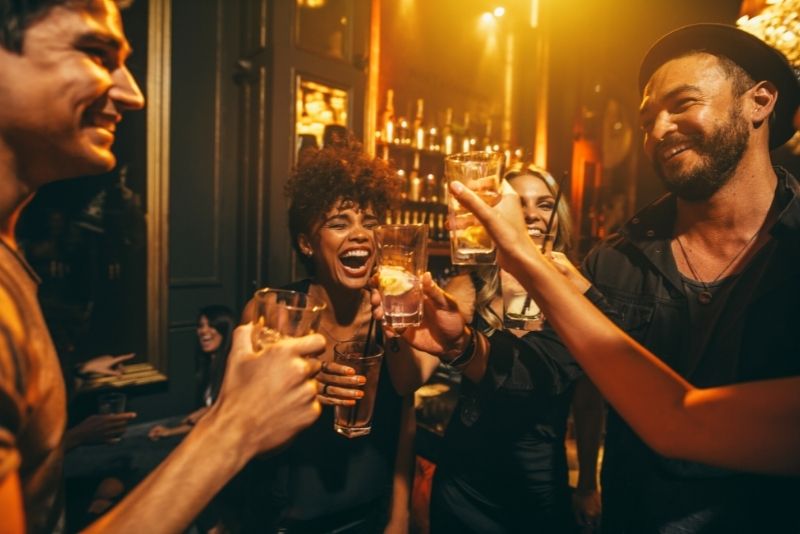 For partygoers and social butterflies, a pub crawl (with shots included!) is one of the best things to do in London.
On top of the chance to spend a night out on the town, visiting all the most happening places in London (like Tiger Tiger or hidden speakeasies), it's also a great way for tourists to sit, drink, and mingle with the locals.
Save some money with the London Pass
If you're planning on doing at least a handful of the tours mentioned in this guide, then a London Pass is a no-brainer. The city-wide tourist program grants access to over 70 popular attractions and landmarks including Windsor Castle, The ZSL London Zoo
Kew Gardens, the Tower of London, Westminster Abbey, Hampton Court Palace, Kensington Palace, and plenty more.
On top of that, it also includes free Thames River cruises and hop-on hop-off bus tickets.
While short-term travelers (one or two days) might not get much value from the London Pass, anyone staying for five or more days is recommended to check it out.
Avoid the hassle — get a pre-arranged airport transfer
There's nothing worse than groggily hopping off a plane, heavy suitcase in hand, trying to navigate the enormous and complicated London transport system.
Start your holiday the right way: stress-free and in style! With a pre-arranged pickup available from all of the major metropolitan London airports, at comparable prices to last-minute taxis, it's certainly worth considering (especially if traveling as a family).
Check out airport transfers in London.
We hope you've enjoyed our selection of fun things to do in London, England! With new attractions popping up every day, if you have any other suggestions, feel free to let us know in the comments!
Where travel next? Make sure to check out our list of the best places to visit in the UK.
As always, happy travels!