If your aim is to explore as much of London as possible on your trip to the UK, you should consider jumping on a bike and roaming the streets on two wheels.
Bike tours in London enable you to see many more of its iconic attractions than you would on foot.
From the opulent Buckingham Palace to the historic Tower of London, these excursions are designed to pique your interest in the city's uprising and tick several attractions off your bucket list.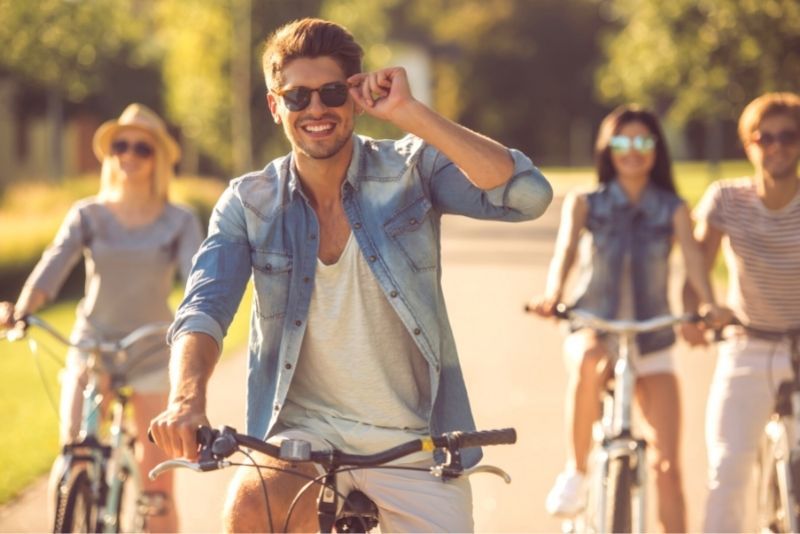 Here's all you need to know about bike tours, one of the most fun options for outdoor activities in London.
What are the best bike tours in London?
Classic London landmarks bicycle tour
See the most beloved landmarks of London on this bike tour of its most astounding sites.
Itinerary
Starting in Lambeth, you'll hop on your bike and set off in the direction of London's largest clock — Big Ben.
View the gigantic Houses of Parliament, which were almost blown up by Guy Fawkes in the 17th century, before moving on to Westminster Abbey, where 16 royal weddings have taken place.
Ride through the oldest royal park in London — St. James's Park — to reach the royal residence of Buckingham Palace.
Admire the royal red uniforms of the king's protectors in the Changing of the Guard ceremony in London.
Look toward the sky to see the towering Nelson's Column in Trafalgar Square before continuing on to Covent Garden, famed for its street performers.
Other landmarks you'll pass on this tour include the recognizable London Eye, as well as Smithfield Market and St. Paul's Cathedral.
Secret London tour by bike
See London through the eyes of a local as you take a tour of its alternative attractions, which are just as exciting as its more popular landmarks.
Itinerary
With your knowledgeable guide at your side, you'll take off on a tour of sites unbeknownst to most tourists. You'll visit the East End, known for its hipster crowd and artsy neighborhood.
Here, you can see the vintage boutiques and world restaurants that line Brick Lane, marvel at the street art that is dotted around its streets, and stop for a brew at a quintessentially British pub.
Travel to the Bank of England building, which was first built in the 17th century, and marvel at the much newer "Gherkin" building.
Meander through the financial district, stopping at points of interest along the river and asking your burning questions about each landmark.
London royal parks bike tour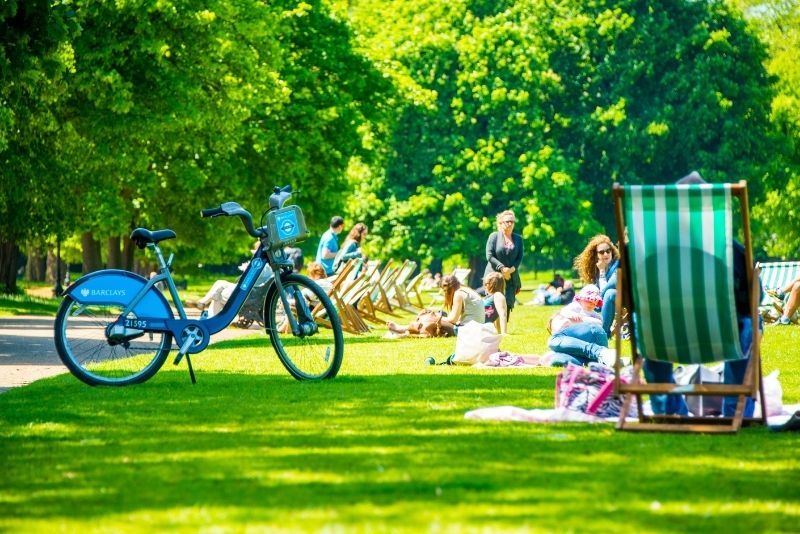 Enjoy a slice of tranquillity in the heart of the hustle and bustle on this bike tour of London's royal parks.
Itinerary
Begin your city tour of London by admiring the striking architecture of the Houses of Parliament, as well as Big Ben, which you may hear ring out its iconic hourly chime.
Pass by the Churchill War's Rooms, where the British prime minister led the English troops into battle from during WWII.
Discover several intricate oil paintings in Westminster Abbey as you tour the expansive site, before moving on to Trafalgar Square where you'll see a myriad of monuments and water features.
Swap the crowds for open green space as you journey through Hyde Park — once used as King Henry VIII's hunting ground.
From this royal park, you'll be able to catch a glimpse of Buckingham Palace, which is the third most visited attraction in London and the official home of King Charles III.
Ride through the wide expanse of Green Park before making your way to St. James's Park and watching the abundance of birds that reside by its lake. End your tour learning about the London Eye, which opened in 2000 as a nod to the millennium.
Piccadilly and Soho beer bike tour in London
If you're opting for a more light-hearted way of touring the city, why not wet your whistle on a beer bike?
Itinerary
Blasting your favorite tunes out, you'll pedal furiously as you make your way through central London on a beer bike. These vehicles have no engine and as such, you'll be surprised by how much effort is needed to get moving through the streets.
Laugh with your pals over an endless stream of alcoholic beverages including beer, as well as prosecco and spirits, as you wave at onlookers, and sing to your heart's content.
Stop en-route for a break at one of London's most-esteemed pubs before climbing back on board with renewed vigor. This is the perfect activity for groups celebrating a birthday, bachelor party or another big event.
Hampton Court Palace grounds bike tour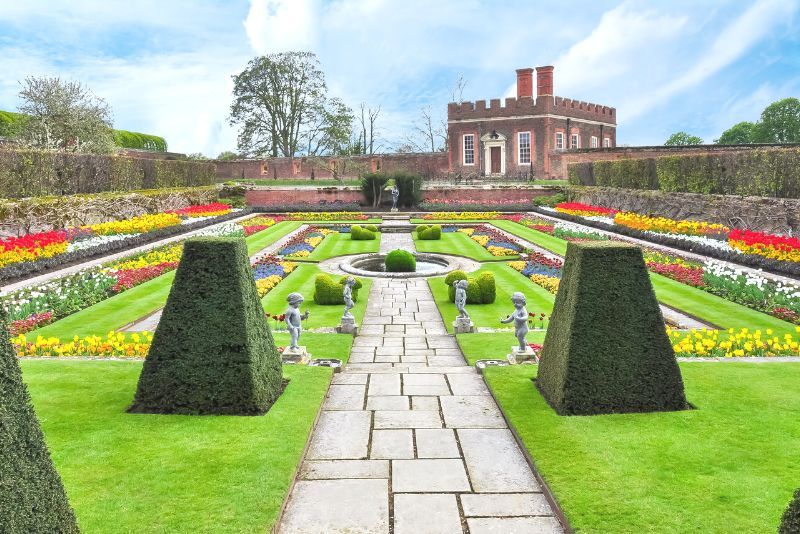 Feel like royalty as you tour the former home of the medieval King Henry VIII.
Itinerary
As you cycle through the grounds of Hampton Court Palace, you'll learn all about its history, which stretches back to the 16th century.
This was once the grandest palace in England and was a favorite of King Henry VIII who chose to live there during his rule. It has stayed in the hands of the royal family ever since and is now owned by King Charles III.
However, the last monarch to reside here was King George II in the 18th century.
Your bike ride stretches for over 10 kilometers through Bushy Park, where King Henry VIII was often known to enjoy a spot of hunting.
Today, you can admire the abundance of deer that are scattered across the green lands and learn all about the WWII military base onsite.
How much do bike tours in London cost?
The majority of bike tours in London cost between £30 and £40 per person, making them great value for money, and an accessible activity for most visitors to the city.
What is included in a bike tour in London?
All bike tours in London supply you with a bicycle so you'll never need to worry about acquiring your own. You can also request a safety helmet if you so wish, and you'll enjoy the services of a knowledgeable guide leading you through the streets.
Beer tours in London include unlimited drinks on board, which range from cocktails to beer, prosecco and spirits. You'll also be able to enjoy non-alcoholic beverages too.
If you opt for a combination tour, you'll be provided with spray paint during your graffiti workshop and you'll receive a discount at the pub you visit en route.
Where do bike tours in London start?
Cycling tours in London start in a variety of locations, depending on which part of the city you'll be exploring. These are always easy-to-reach landmarks and you can see the meeting point before booking to arrange any necessary transportation.
London has an extensive public transportation network of overground and underground trains, trams, and buses, meaning you'll be able to reach each excursion's starting point with ease.
How long do bike tours in London last?
Typically, bike tours in London last between 3 and 4 hours. While this isn't enough time to explore the entire city, it enables you to see many monuments and landmarks in whichever part of London you've opted to explore.
If you're short on time, you can get a feel for the activity by signing up for a beer bike tour, which lasts an hour and is a fun-filled way to lighten up your itinerary.
When is the best time for a bike tour in London?
Discovering a new destination by bicycle or foot is the best way to get a feel for any location. This is why you should book your bike tour in London for the first or second day of your trip.
This will leave you with ample vacation time to return to any spots that catch your eye and dive into their history a little deeper. Bike tours are a popular activity meaning you can select one at any time of day that suits you.
Are there any combo available with bike tours in London?
London bike tour with pub visit and graffiti session
See London's most recognizable sites as you meander along its streets on two wheels. Be awed by the London Eye, Houses of Parliament and Buckingham Palace as you move around the city before exploring several hidden gems.
Stop for a frosty brew on your way to discover the work of the anonymous street artist Banksy. See whether you have the knack for graffiti by having a go at creating a masterpiece with a spray can yourself.
Are children allowed on a bike tour in London?
Each London bike tour has its own age restrictions. However, most providers are happy to accommodate children aged 10 or over and will supply them with a bike fit for youths.
Check the individual limitations of your tour of choice before booking.
What happens in case of bad weather?
Generally, bike tours in London require good weather in order to operate. If your excursion is set to take place during a rainstorm or other adverse weather conditions, it may be rebooked for another day.
If this doesn't suit your plans, you can request a full refund.
Travel tips
Wear flat, comfortable shoes on your excursion.
Cycling tours in London do not tend to be strenuous and most people can participate.
Take plenty of water with you on your bike tour to ensure you stay hydrated.