Located a stone's throw from London, Windsor Castle has been the home of many of Britain's most notable monarchs for over 900 years.
Day trips to Windsor Castle from London allow you to explore traditional English heritage and take a peek at how royalty lives.
You'll be humbled and awed by the grandeur that lies inside the castle walls, and you'll feel like a member of the nobility by the time you leave.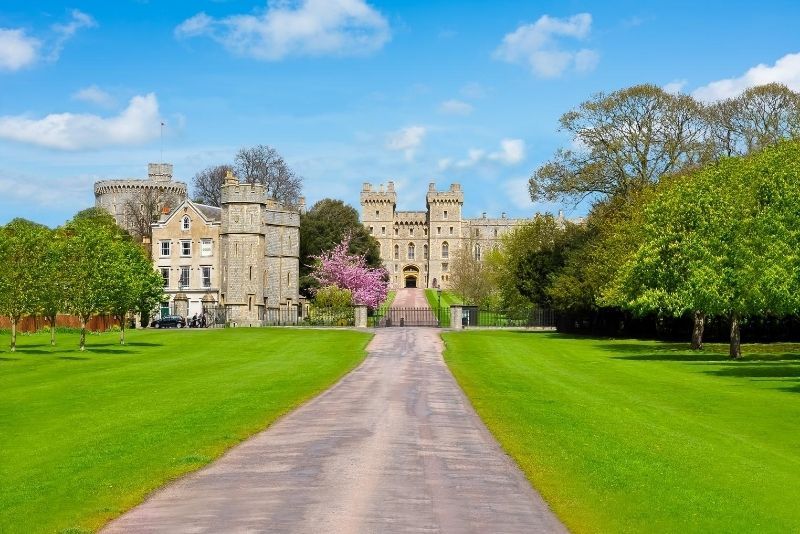 You will find below everything you need to know about Windsor Castle, one of the best destinations for a day trip from London.
How to get to Windsor Castle from London?
Windsor Castle is located in the county of Berkshire, approximately 35 kilometers west of London.
From London to Windsor Castle by car
It's a quick 50-minute jaunt to Windsor Castle by car. You'll take the M4 west out of London and follow it all the way to Windsor. The castle is situated in the center of the town.
From London to Windsor Castle by train
You can make the journey to Windsor Castle by train from London's Paddington station. You'll take a train to Slough, where you'll make an easy change to another train that stops at Windsor and Eton Central. The journey takes under an hour and the train station is located just outside the castle grounds.
Guided tour to Windsor Castle from London
Windsor Castle day trips usually meet at a coach station in London. Tours begin between 7:30 AM and 8:30 AM, and normally last 11 to 12 hours. If you select a half-day Windsor Castle tour, you can expect your excursion to last approximately 5.5 hours.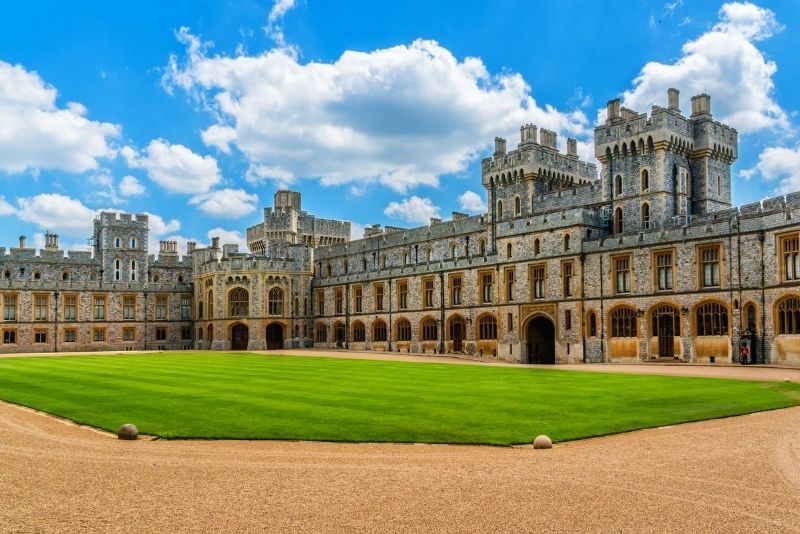 How much does the entrance ticket to Windsor Castle cost?
Adults: £30
Young persons (ages 18-24): £18
Children (ages 5-17): £15.50
Children under 5: Free
Persons with disabilities: £15.50
What is the typical itinerary of a day tour to Windsor Castle from London?
The itinerary differs slightly depending on the location you're visiting alongside Windsor Castle. After departing London, you'll drive to the castle, which is situated just outside the city.
When you arrive, you'll have the opportunity to tour the magnificent castle, either alone or with a guide. Once you've seen how British monarchs live, you may travel back to London.
Alternatively, many tours continue on to Stonehenge, which has existed since prehistoric times.
There is also the option to visit Oxford or Bath. The former is famous for the prestigious Oxford university and as the setting of the best-selling "His Dark Materials" books by Phillip Pullman. The latter was founded in the first century by the ancient Romans and is a UNESCO World Heritage site.
You'll participate in either a guided walking tour or a coach tour of Oxford or Bath, depending on the tour you select.
What kinds of tours are available to go to Windsor Castle?
There are several day tours to Windsor Castle to choose from. You can decide to visit the site by itself or explore other iconic British landmarks.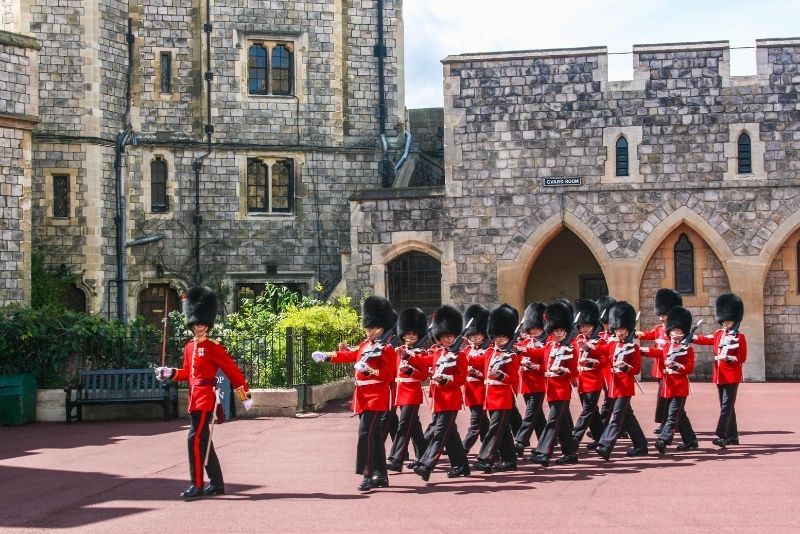 Half-day tour to Windsor Castle from London
This tour allows you to wander the castle at your own pace. You'll arrive at the site by coach, where you'll be handed an audio guide to escort you around its lavish rooms.
You'll have the opportunity to visit St. George's Chapel, which is the resting ground of several royals including Henry VIII. Other must-see sights include the State Apartments and Queen Mary's Dolls' House.
Day trip to Windsor Castle plus Oxford and Stonehenge from London
To start this day trip, you'll head to Windsor Castle and roam its opulent rooms, with a guide on hand to point out artworks by Leonardo da Vinci. You'll then discover the natural phenomenon of Stonehenge, which still baffles scientists today.
Lastly, you'll visit Oxford — famed for its university — where you'll take a walking tour around its many historic buildings.
Day tour to Windsor Castle plus Bath and Stonehenge from London
This Windsor Castle day tour stops for a traditional pub lunch where you'll have the opportunity to try British favorites, which include fish and chips, and a roast dinner. As well as touring the castle and Stonehenge, you'll enjoy a coach tour of Bath. The city was named after its ancient Roman baths that are still visible today.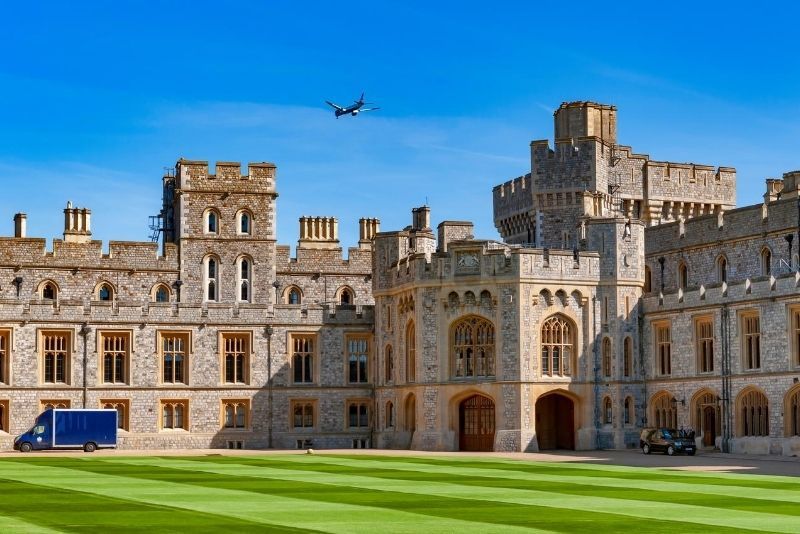 How much does a tour to Windsor Castle from London cost?
Half-day tours of Windsor Castle cost approximately £70 and last around five hours.
If you'd like to combine Oxford, as well as Stonehenge into your itinerary, you'll pay between £70 and £110. The most costly of these tours include entrance to Stonehenge and Windsor Castle.
Windsor Castle day trips that include Bath cost between £80 and £130. Some of these include a traditional pub lunch. Tours on the lower end of this price range visit Bath by coach, while those on the higher end take a walking tour of Bath.
What will you see and do on a Windsor Castle day trip from London?
Windsor Castle was originally built in the 11th century by William the Conqueror. To date, it remains both the oldest and largest occupied castle in the world. Over the centuries, it has housed almost 40 monarchs, including Henry VIII and Queen Victoria.
Today, Queen Elizabeth II spends a large portion of her time at the castle, including a month-long annual break over Easter.
One of the highlights of Windsor Castle is its luxurious State Apartments. It's hard to believe the level of grandeur when you step into the ceremonial rooms, which feature gold-covered walls.
The ceremonial rooms are still used today to host official events and welcome leaders from other countries. The State Apartments also contain a series of historic rooms, which were built for King Charles II and feature intricately painted ceilings.
Queen Mary's Dolls' House is also a must-see attraction. More than just a regular toy, the dolls' house was created by over 1,500 artists. It features electricity, running water and working lifts. More elegant than the average dolls' house, the model includes a wine cellar and a library with hand-drawn children's books.
St. George's Chapel is designed in a classic Gothic style and is the final resting place for many of England's royals. King Henry VIII is buried at the chapel, alongside his third and favorite wife — Jane Seymour. Alongside burials, the chapel has hosted several royal weddings, including that of Prince Harry and Meghan Markle.
Changing the Guard is a well-loved ceremony that takes place twice-weekly. On a Windsor Castle excursion, you can see the smooth handover of duties from one set of royal guards to another. The guards are always decked in traditional bear-skin hats and dashing red uniforms.
What are the opening times?
March 1 - Oct. 31: 10 AM - 5:15 PM
Nov. 1 - Feb. 28: 10 AM - 4:15 PM
Windsor Castle is closed to visitors on Tuesdays and Wednesdays. St. George's Chapel is also closed on Sundays.
On all other days, the last admission to the castle is an hour and 15 minutes before closing.
When is the best time to visit Windsor Castle?
The best time to organize a Windsor Castle day trip is during the summer months. While the castle is busier at this time of year, the weather is usually sunny and warm. This enables you to have a pleasant stroll around the grounds and stop for a picnic if you choose.
Travel tips
If you wish to see the Changing the Guard ceremony, be at Windsor Castle before 11 AM on a Thursday or Saturday.
If royals are in residence, parts of the castle may be closed at short notice.
While photos are allowed of the exterior of Windsor Castle, they are prohibited inside.
It's best to wear comfortable shoes on your Windsor Castle day trip. The castle is large and you'll cover a long distance touring it.