Canterbury is full of historic monuments and religious influence. Founded in the sixth century, this city is best known as the site of the Canterbury Cathedral.
The religious landmark has been the setting of weddings, funerals and even murders throughout the ages.
Today, the city is a lively and vibrant place with plenty to see and do. From exploring its ancient streets to admiring the architecture of the cathedral, everyone can find something to do on a day trip to Canterbury from London.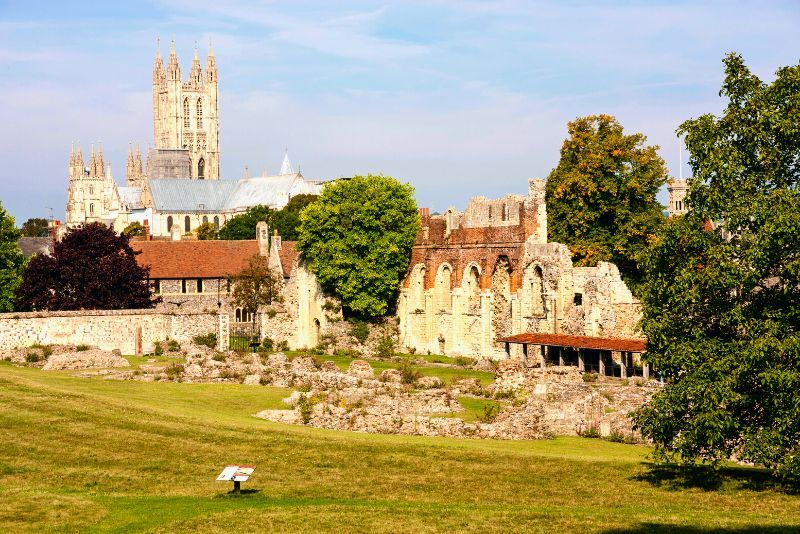 You will find below everything you need to know about Canterbury, one of the best destinations for day excursions from London.
How to get to Canterbury from?
Canterbury is situated in the county of Kent in Southeast England. It is around 100 kilometers away from the capital city of London.
From London to Canterbury by car
It is an easy jaunt to Canterbury by car. The drive takes just over 1.5 hours and leaves the city in a southeasterly direction via the A102. You'll then follow the A2, which turns into the M2 all the way to the city.
From London to Canterbury by train
You can take a direct train from London's St. Pancras International station to Canterbury West. The journey to Canterbury takes around an hour and tickets start from approximately £20.
Guided tour to Canterbury from London
Canterbury day trips usually begin between 8:30 AM and 9:30 AM. You'll meet at a central location in London, which is easily accessible. Tours last between 10 and 11 hours, returning to the city in the early evening.
What is the typical itinerary of a day tour to Canterbury from London?
The itinerary of Canterbury day tours varies significantly. While in some cases you may be picked up from your hotel, in most cases you'll meet at a predetermined starting point. From there, you'll travel by coach or minibus towards Canterbury.
Some tours stop at Leeds Castle on the way, in order to discover its grandeur and learn about its ties to the monarchy. From there, you'll continue on and participate in a walking tour of Canterbury.
The cathedral is always a highlight of any Canterbury excursion, and you'll have the opportunity to discover the interior of the Gothic landmark or wander its grounds.
Once you've had your fill of the independent boutiques and charming coffee shops that line Canterbury's streets, you may continue on to other destinations. These include the White Cliffs of Dover or the cobbled town of Rochester.
What kinds of tours are available to go to Canterbury?
There are several different types of tours that you can choose from in order to see the highlights of Canterbury.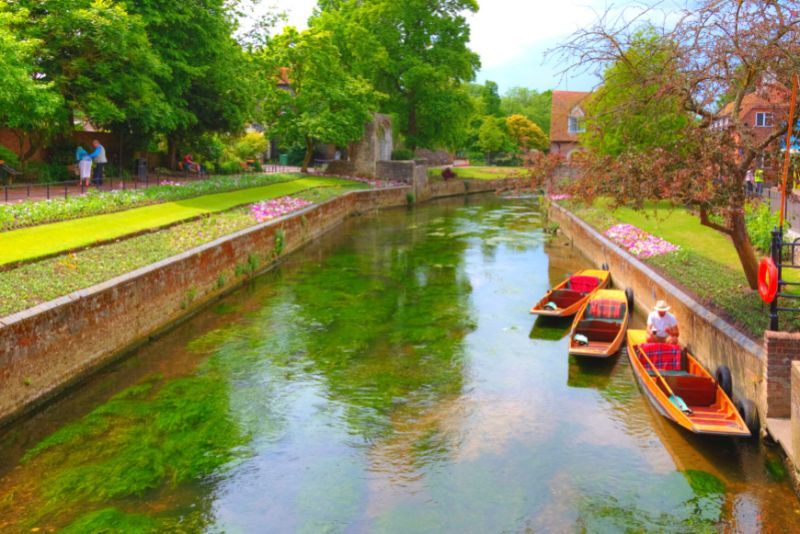 Private tour to Canterbury from London
A private tour is a perfect way to customize your Canterbury day trip. You can choose to stop at the renowned Leeds Castle, which is set on two lakes and has existed in different forms since 857. You'll then take a walking tour through historic Canterbury, with the option to visit its UNESCO-listed cathedral.
Day tour to Canterbury plus Rochester from London
This day trip to Canterbury enables you to have the ultimate British experience as you travel to your destinations in a classic London cab. You'll visit Canterbury Cathedral, which was built by the Normans, and attracts pilgrims from around the world.
You'll then journey to the Dickensian town of Rochester, which is lined with cobbled streets and eclectic boutiques. Here, you'll take a walking tour of the places that inspired Charles Dickens' writing, including Restoration House, as well as the grand cathedral.
Day tour to Canterbury Cathedral plus Leeds Castle and the White Cliffs of Dover from London
This Canterbury day tour covers several of Southeast England's greatest sites. Firstly, you'll visit Leeds Castle, which has been used as a palace, an arsenal and a prison over the centuries.
You'll then travel to Canterbury and step foot in its humbling cathedral. Continuing to the coast, you'll see the White Cliffs of Dover in all their glory before visiting Greenwich — known for its rich maritime history.
How much does a tour to Canterbury from London cost?
Private tours range between £200 and £1,050. Those on the lower end of this include a walking tour of Canterbury, while those that are more costly visit other locations as well. These may include Dover Castle or Leeds Castle.
If you wish to visit the quaint town of Rochester on your Canterbury day trip, you'll pay £750 for a group of up to six participants, and travel in a private London cab.
Day tours of Canterbury, the White Cliffs of Dover, Leeds Castle and Greenwich cost from £60 to £110. Those on the higher end of this range include early entry to Leeds Castle.
What will you see and do on a Canterbury day trip from London?
Canterbury Cathedral
The soaring ceilings and stained glass windows inside Canterbury Cathedral create a feeling of reverence. As you explore the cathedral, you can't help but be awed by its history. The roots of the structure have existed for over 1,600 years, and the cathedral has witnessed some of the most momentous events in England's past.
One of the most shocking incidents that occurred on site was the murder of Thomas Becket in 1170, after a feud with King Henry II. Today, it remains an important place of worship and pilgrimage. Its intricate carvings and stone gargoyles attract tourists, and historians, as well as Christians from all over.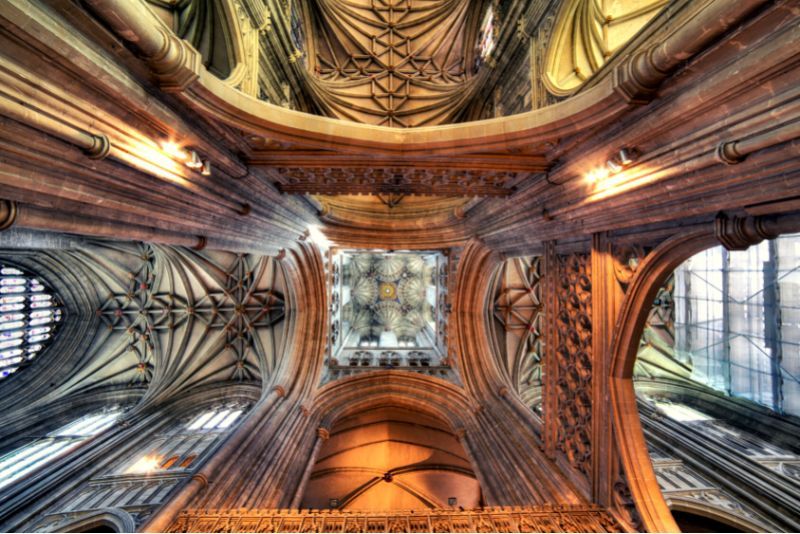 St Augustine's Abbey
Alongside Canterbury Cathedral, St. Augustine's Abbey is another of the UNESCO World Heritage sites located in Canterbury. While the abbey is now in ruins, it's possible to imagine what the religious site looked like in its prime.
The abbey dates back to the sixth century and was used as a monastery for almost 1,000 years. St. Augustine founded the abbey, and it is dedicated to St. Peter and St. Paul. Several of Kent's Saxon kings are buried beneath its ruins, including king Ethelbert. As you tour the grounds, you'll be transported to centuries past, and you'll learn about the Benedictine monks who once called the abbey home.
When is the best time to visit Canterbury?
By choosing to visit Canterbury during the summer months, you'll enjoy pleasant weather and see the sun beaming through the cathedral's remarkable stained glass windows.
Another great time to visit is over the Christmas period when the historic city is decked in lights, and the cathedral hosts several carol-singing services.
Travel tips
Most tours do not include the entrance fee to Canterbury Cathedral, which is £14 per adult. Carry cash with you for an easy experience on arrival.
If you're interested in religious monuments, take a combined day tour to Canterbury and Rochester, in order to see two of England's most revered cathedrals.
If you're visiting Canterbury outside of the summer season, carry an umbrella with you — just in case it rains.
If you're driving to Canterbury, consider using the park and ride service, as parking spaces can fill up fast in the city.