Day trips to Leeds Castle from London are a popular way of exploring England's ancient heritage outside the capital.
Often called "the loveliest castle in the world", this 900-year old stronghold sits on islands in the middle of a lake and has been owned by many famous royals, including King Henry VIII.
Leeds Castle days tours are an ideal excursion from London, offering a peaceful alternative to the bustle of the city.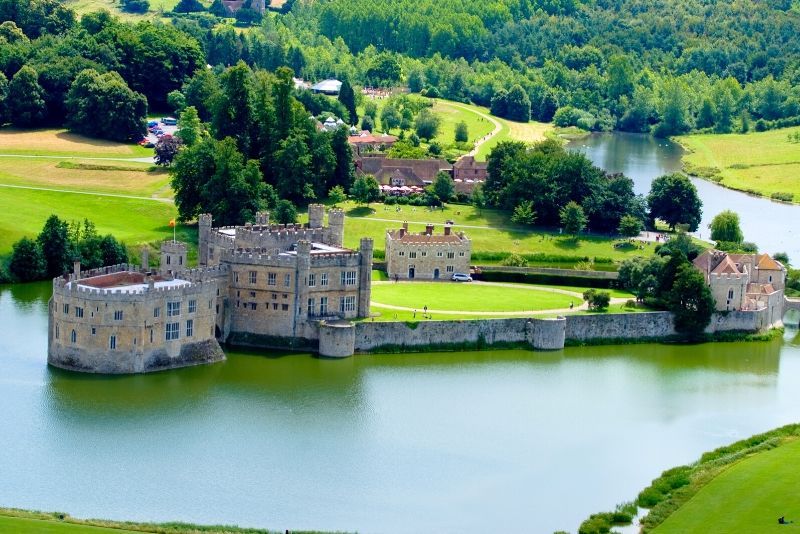 Here's all you need to know about Leeds Castle, one of the best destinations for day trips from London.
How to get to Leeds Castle from London?
Leeds Castle is located in Kent, five miles southeast of Maidstone and half-way between London and the Channel Ports. Much of the 41-mile route between London and Leeds Castle is on major roads and motorways.
From London to Leeds Castle by car
The journey to Leeds Castle from London by car is straightforward and takes one hour. The castle is clearly signposted from Junction 8 of the M20, and car parking is free.
From London to Leeds Castle by bus/public transport
It is possible to travel from London to Leeds Castle by bus, although this is more complicated as there is no direct service.
You'll need to travel to Maidstone and then catch the no. 13 bus to Hollingbourne, followed by a 40-minute walk or short taxi ride. To arrive by train, alight at Bearsted Station and take the shuttle up to the castle.
Guided tour to Leeds Castle from London
Leeds Castle guided tours are available from various London pickup points. They last a day and can include other attractions such as Canterbury Cathedral and Dover.
How much does the entrance ticket to Leeds Castle cost?
There are several different ticket options for Leeds Castle, and if you know in advance which day you want to visit, you can get a discount by purchasing online at least one day before you arrive.
The Leeds Castle ticket includes entry to the castle, grounds and gardens, as well as the adventure playground, falconry displays and maze.
Adult (16 to 64 years): £32
Child (3-15) - £24
Students - £31
Senior Citizens (65+) - £31
What is the typical itinerary of a day tour to Leeds Castle from London?
Leeds Castle day trips begin with a pickup at the agreed meeting point. You'll then leave London behind and travel by coach to Leeds Castle with a professional guide.
The morning will be spent exploring the castle before continuing to Canterbury to visit the famous cathedral, the most important Anglican church in the world. You'll have time to explore the cobbled streets and have lunch.
The final stop of the excursion will take you through the scenic Kent countryside to the dramatic White Cliffs of Dover, which stand 400 feet high and are one of the most iconic sights in England. You'll then return to London in time for dinner.
What kinds of tours are available to go to Leeds Castle?
There are several Leeds Castle day tours available departing from London, so it's important to consider how long you want to spend on the trip, which other sights you want to see along the way, and the level of comfort you'd prefer.
Guided Tours to Leeds Castle from London
Day trips from London will whisk you away from the bright lights in the company of a professional guide, who will share historical facts and insider insights on attractions such as Leeds Castle, Canterbury Cathedral and the White Cliffs of Dover.
Travel by luxury coach is included with pickups at prearranged meeting points across the city.
Day trip to Leeds Castle plus Canterbury Cathedral, Dover and Thames Cruise
This Leeds Castle jaunt includes all of the above plus a visit to the World Heritage Site of Greenwich and a relaxing sightseeing cruise down the River Thames at the end of the day.
Private Tour to Leeds Castle from London
See Leeds Castle without the crowds by taking a private tour of the medieval royal residence before it opens to the public. This excursion also includes visits to Canterbury Cathedral, the White Cliffs of Dover and Greenwich, as well as luxury coach travel.
3-Day Tour to Leeds Castle from London
Take your time exploring the 'Garden of Eden' on a unique 3-day tour, visiting Leeds Castle, Whitstable, Canterbury Cathedral, the White Cliffs of Dover, Deal, Sandwich, Sissinghurst Castle and Chartwell House, the former home of Sir Winston Churchill. Bed and breakfast accommodation, the services of a professional guide, and luxury mini-coach transportation are included.
How much does a tour to Leeds Castle from London cost?
Day trips to Leeds Castle from London vary in price depending on duration, the number of sights visited, and whether a guide is included.
Leeds Castle trips start at £65 for group tours that include Canterbury Cathedral and Dover, but it does not include the entrance fee to the attractions.
By spending around £99, you'll get a guided private visit of Leeds Castle before it opens to the public, as well as stops at the other sights, including the entrance fees.
To make the most out of your trip, a guided tour of Leeds Castle is often the best way to explore as you'll learn more about the history from a professional who is there to answer your questions.
What will you see and do in Leeds Castle?
Throughout history, Leeds Castle has seen many reincarnations, from Norman stronghold and royal palace to Jacobean country house and Georgian mansion.
Today it's one of the most popular historic sites in the UK and a great choice for a day trip from London.
The Ancient Castle
Visitors can stroll through the staterooms, all of which give a fascinating insight into a life of privilege during Medieval and Tudor times. Make sure you take a look at the Gatehouse Exhibition and unusual Dog Collar Museum before you leave.
Grounds and Gardens
The grounds of Leeds Castle boast several splendid gardens with carpets of daffodils, Mediterranean terraces and impressive views out across the great lake.
There's also an informal kitchen garden featuring English classics like roses, poppies and lupins, which create a riot of scent and color and are great for photographs.
Maze and Grotto
Families and couples alike love challenging themselves in the Leeds Castle Maze, which has been constructed with 2,400 yew trees and is shaped like a queen's crown.
If you're successful in reaching the center, you'll continue your journey through an underworld grotto, full of mystical creatures and unearthly forms created from natural materials.
Falconry Displays
Throughout the year (depending on the weather), there are free falconry displays held in the grounds with a variety of different species, including eagles, hawks, and vultures. Lasting around 30 minutes, the displays are available 10am – 5pm daily, and until 4pm between October and March.
Adventure Golf and Knights' Stronghold Playground
Built to look like a miniature Leeds Castle, the 12-hole golf course is a real hit with families.
There is a small extra charge for this: adults £2 and children £1.50. Budding knights and princesses up to 14 years can also enjoy the adventure playground, which is shaped like a wooden castle with turrets and zip wires.
When is Leeds Castle open over the year?
Leeds Castle is open all year-round, except on Christmas Day and on the 7th and 8th November 2020. The castle also closes early at 4.30pm on 5th September 2020.
What are the opening times?
Between April to September, Leeds Castle is open from 10.30am – 5.30pm with the gardens open for an extra hour either side. From October to March, the castle closes at 4.00pm and the gardens shut at 5.00pm.
When is the best time to visit Leeds Castle?
If you're wondering when to visit Leeds Castle, don't worry, it's possible at any time of year.
During the summer months of April – August, the weather is warmer, but this is also the busiest time, so you might prefer to take your excursion to Leeds Castle between September – March when it is cooler but quieter.
Travel tips
Book your Leeds Castle tickets online in advance as they do sell out fast
Pack a picnic and drinks, or enjoy dining at the castle café or out and about in Canterbury
Wear comfortable footwear as you'll be doing a fair amount of walking
Make sure you have plenty of memory on your smartphone as you'll be taking lots of photos
Note that in order to protect the free-roaming wildfowl at the castle, dogs (except assistance dogs) are not allowed on the estate
Be aware that pushchairs are not permitted inside the castle, but there is a buggy park and free hire of baby slings