Founded as a health spa by the Romans and later transformed into a health resort during the Georgian era, Bath is home to Britain's only natural hot springs and has been designated a UNESCO World Heritage Site.
From following in the footsteps of Jane Austen – the city's most famous resident – to admiring the architecture of Bath Abbey and the Royal Crescent, it is easy to see how this city in the south of England became so popular.
With Windsor Castle and Stonehenge also being 'just around the corner', a day trip to Bath from London is an ideal way to learn more about British culture and heritage, when staying in the capital.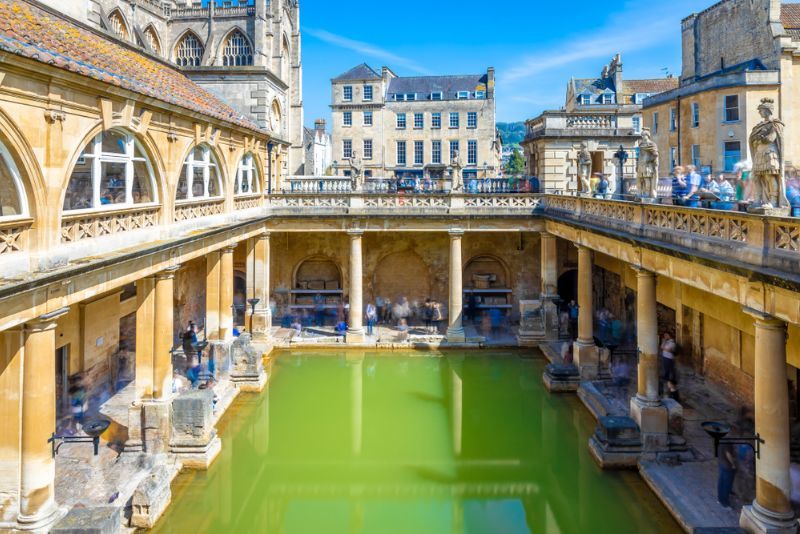 Here's all you need to know about Bath, one of the most exciting day trips from London.
How to get to Bath from London?
The city of Bath is located about 180 kilometers east of London and is easily accessible by car, train and bus.
From London to Bath by car
The fastest route to Bath from the British capital is via the M4 motorway. Along the way you will pass by Slough, Reading, Swindon, before taking exit 18 on the M4. Then you head south on the A46 and follow London Road all the way to Bath.
The entire journey should roughly take 2 to 2.5 hours under normal driving conditions.
From London to Bath by public transport
The quickest way to travel from London to Bath is by train, with direct services departing from the London Paddington station every hour. The journey typically takes just under 1.5 hours. The train station in Bath is conveniently located near the city center. Train tickets cost about £40 to £50 (US$50 to US$70).
Alternatively, you can travel to Bath by bus, which depart from the London Victoria Coach Station. Most direct services take between 2 hours and 45 minutes to almost 4 hours to reach their destination, depending on the route. Bus tickets cost about £30 to £40 (US$40 to US$50).
Guided tour to Bath from London
If you would like to avoid driving out to Bath or dealing with train and bus schedules, you can book a guided tour from London. Aside from covering your transportation, these tours also include professional guides to show you around.
Additionally, guided tours will often include visits to attractions along the way, such as Stonehenge and Windsor Castle, as well as activities like canal boat tours and hot air balloon rides.
What is the typical itinerary?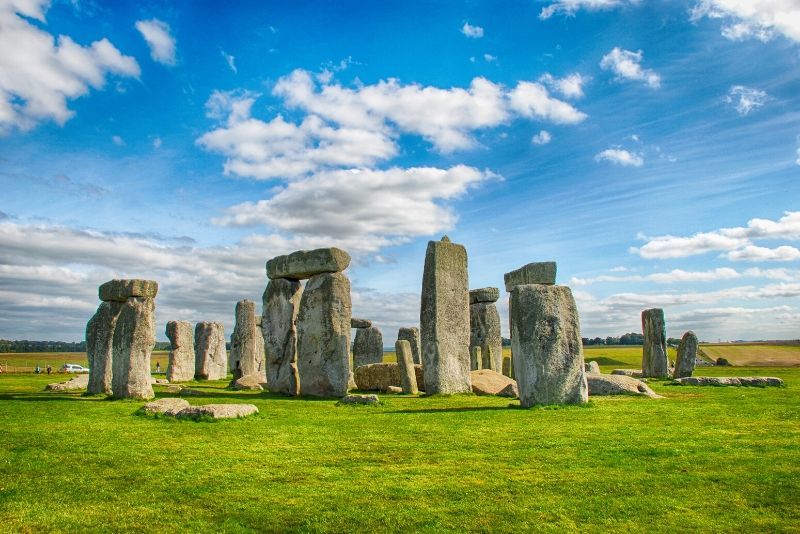 Your journey into Southern England begins by meeting your guide and group, at your hotel or prearranged departure point in London.
On your way to Bath, you will pass by Windsor Castle, the weekend residence of the British monarch. Depending on the tour you have booked, you may stop for a visit on the castle grounds, before continuing to Stonehenge in the Wiltshire countryside.
Your guide will provide commentary and background history on the mysterious stone circle. After learning more at the visitor center, you can take visit the engineering feat and take photos.
Leaving Stonehenge, you will pass by a few picturesque villages before reaching Bath. As you stroll through town, you will get to see the ancient Roman Baths, Bath Abbey, the Royal Crescent and many more iconic landmarks.
During your visit to Bath, you will have the opportunity to have lunch in a traditional pub and sample locally produced beers. Depending on the itinerary of your tour, you may then continue to visit nearby villages, such as Lacock, before returning to London.
What kinds of tours are available to go to Bath?
There are a few different types of day trips to Bath from London, catering for all budgets and interests. Many tours will include visits to additional locations and activities, offering for a more comprehensive experience in the region. Most day trips that include Bath last 10 to 12 hours.
Guided tours to Bath plus Stonehenge from London
The most straightforward way to visit Bath is a with a guided tour that also includes a stop at Stonehenge. Aside from covering transportation and entrance fees, these tours include the services of a guide to provide you with information and context.
Many day tours may also include visits to Windsor Castle, Lacock, Avebury, Salisbury and the Cotswolds.
Bridgerton day tour to Bath from London
Fans of the hit Netflix series "Bridgerton" can visit the town of Bath, where many scenes were filmed. These walking tours will take you to many places you might recognize, such as the homes of Lady Danbury and the Featheringtons, Gunter's Tea Shop, Lady Dee's Hat Emporium and many more.
Private tour to Bath plus Stonehenge from London
If you would like greater flexibility on your day trip to Bath, then consider booking a private tour. As they are designed around smaller groups, these tours often provide a more intimate and luxury experience, while also being tailored to your particular interests and preferences.
How much does a day trip to Bath from London cost?
For a guided tour to Bath plus Stonehenge from London, expect to pay between US$80 and US$150 per person, including transportation and the services of your guide. The final price will depend on group size and the itinerary, which can vary from tour to tour.
On a Bridgerton tour in Bath, you will typically pay US$580 to US$1,200 for a group of six participants. The final cost depends on the length and precise itinerary of the tour.
Private tours to Bath from London usually cost around US$110 to US$350 per person. The price varies according to group size, additional activities and the itinerary. In some cases, lunch or drinks may be provided.
What will you see and do?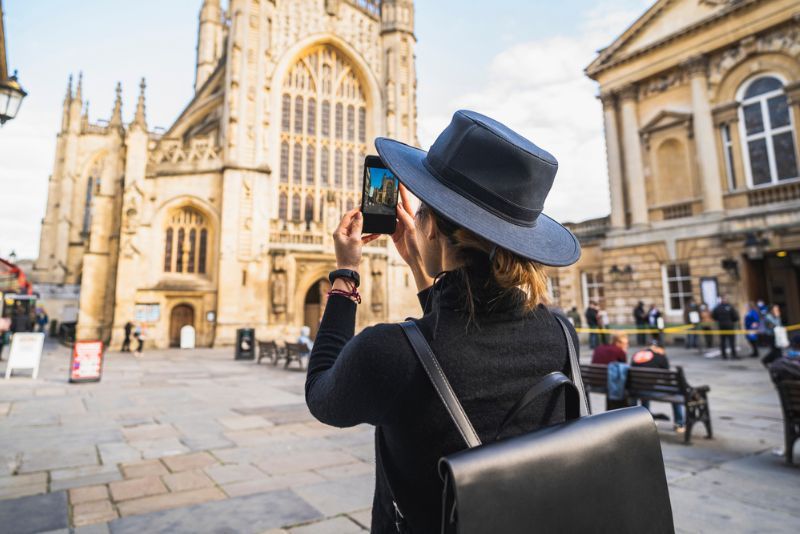 Roman Baths
The city in Somerset took its name from the ancient Roman Baths that were constructed almost 2,000 years ago. Aside from their practical purpose, the baths were at the center of social life in Aquae Sulis, as Bath was known in the Roman era.
The Roman Baths still operate and are among the best-preserved in the world, offering a rare glimpse into everyday life back in the ancient times. You can learn more by exploring the ruins and interactive museum. After your visit, you may also want to book a session at one of the (more modern) baths and spas in town for some pampering and relaxation.
Stonehenge
Most tours to Bath will also include a visit to the iconic Stonehenge in the Salisbury Plains. Construction of the prehistoric monument, which is aligned for the summer solstice, is estimated to have started about 5,000 years ago.
Although archeologists and researchers have figured out a fair bit about the megaliths, their true purpose and creators remain unknown, forever lost in time. During your visit to the UNESCO World Heritage Site, you can also check out the exhibition center to learn more about Stonehenge's role as a burial site and relationship to the stars.
Jane Austen Centre
Jane Austen's love for Bath blossomed over the five years she lived in the city, which was featured in two of her later works. The Jane Austen Centre will take you back in time, to the late Georgian era, that was immortalized in the author's novels.
In the classical, era-accurate townhouse, you will learn about the city's most famous resident and how her writing developed during her stay in Bath. Tours are self-guided, while costumed actors will provide context and information. You can also dress up accordingly and enjoy a cup of tea in the center's tearoom to truly immerse yourself in the experience.
Royal Crescent
Built around 240 years ago, the Royal Crescent in Bath is one of the finest examples of Georgian architecture. In its heyday, the row of terraced houses with Palladian façades was popular with royalty and the city's affluent residents.
More recently, the Royal Crescent has served as a backdrop in the hit Netflix series "Bridgerton". During your visit to the Royal Crescent, make sure to stop at the museum housed at No. 1, which offers a glimpse in domestic life in Georgian Britain.
Mary Shelley's House of Frankenstein
Bath became very fashionable in the 18th century, attracting people from all over the country to call it home, including Mary Shelley. During her stay in the city, Shelley wrote the first modern science fiction novel, "Frankenstein".
The House of Frankenstein is dedicated to Shelley's unconventional life in the city and her creation that continues to captivate and inspire readers worldwide. The multimedia interactive attraction features animatronics, escape rooms and exhibitions to add some thrills to your Bath excursion.
When is the best time to visit Bath?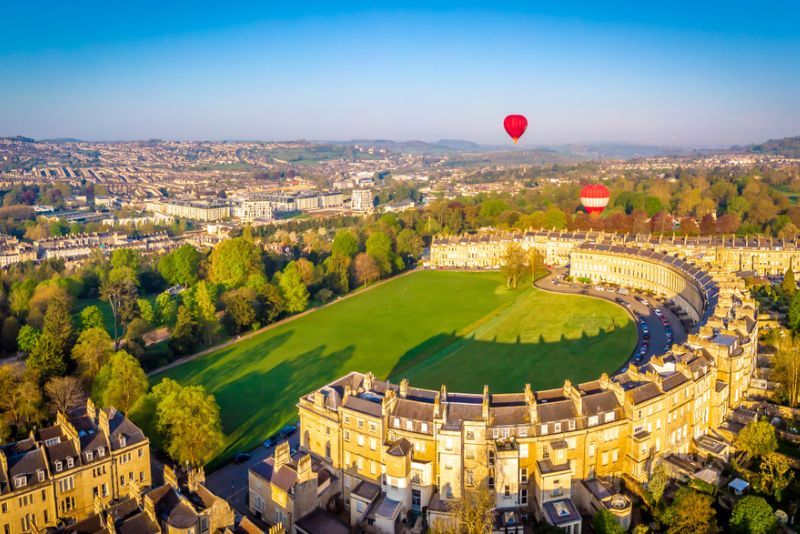 The best time for a visit to Bath is during spring and summer, when the weather is warm and ideal for outdoor activities and sightseeing. Autumn is still a superb time to visit the town, but it is chillier with a higher chance of overcast weather and rainfall.
Are there any tours to Bath from other cities in the UK?
Yes, there are tours departing from other cities in the UK:
Travel tips
Bath is a rather small town and easy to get around on foot, so make sure you wear comfortable shoes.
While the weather in the south of the UK is more consistent, there is always a chance of rain, so make sure you have a raincoat or umbrella handy, just in case.
Don't forget to charge your camera phone before your excursion.