A wizarding world of magical fun and mystery awaits you at the Harry Potter Studio Tour. With movie sets, props, costumes, special effects and behind the scenes stories, you can thoroughly immerse yourself into the Harry Potter World.
There's so much to see when you visit the place where most of the Harry Potter films were shot.
Pack your wand and read our essential guide packed with lots of information, including what you'll see, how to buy tours and how to get there.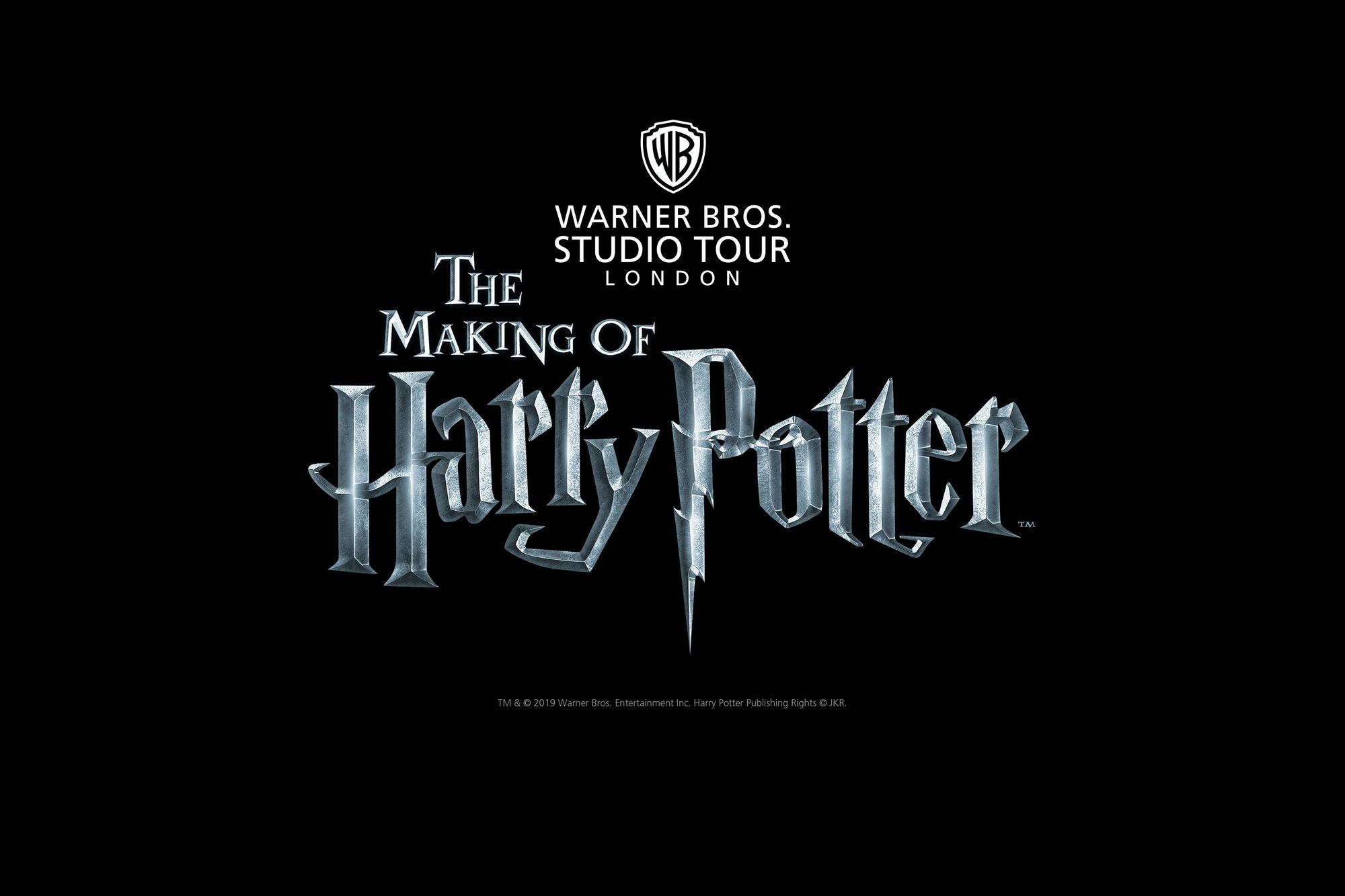 Here's all you need to know about the Harry Potter Studio tour, one of the most exciting attractions in London.
What will you see inside the Warner Bros Studio London?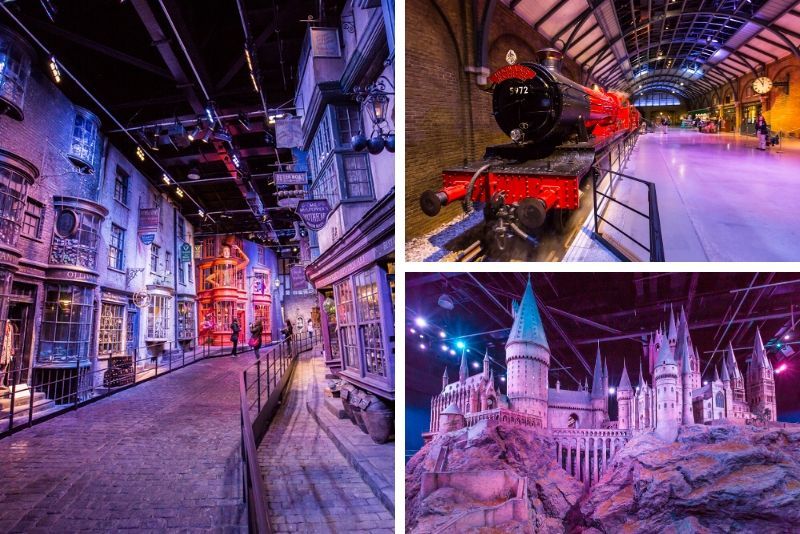 The Making of Harry Potter is the name of the exhibition inside the Warner Bros Studio. It is a Harry Potter Museum dedicated to all things about the orphan wizard and his adventures: an incredible journey beyond the imagination!
Explore the Harry Potter Movie Sets
Relive some of the most significant scenes by wandering through sets that were actually used in the movies.
Pop into the Great Hall which played an essential role in many scenes, venture into the Forbidden Forest and wait for the Hogwarts Express locomotive at Platform 9¾.
This Harry Potter World is also home to Diagon Alley and some of its buildings such as Gringotts Bank and Ollivanders wand shop.
Find Your Favourite Props
Marvel at the attention to detail of props used by the actors such as the Memory Cabinet in Professor Dumbledore's office and the collection of plates from Professor Dolores Umbridge's office in the Ministry of Magic.
Study Colourful Costumes
While exploring this fascinating Harry Potter Museum take a close look at the rich collection of costumes. See formal wizard wear that was worn for the Yule Ball and the sporty robes donned by Quidditch players with their name and number on the back.
See How Special Effects Were Created
Moviemaking tips and tricks are revealed in exhibitions dedicated to some of the most memorable Harry Potter special and visual effects.
Learn how the Chamber of Secrets door was created and functions, see the Invisibility Cloak and look at the Whomping Willow that 'whomped' Mr. Weasley's flying car in "Harry Potter and the Chamber of Secrets".
The incredible part of your adventure into this Harry Potter World is that you can get on a broomstick and fly just like the actors did.
Learn Art Department Secrets
Look over the intricately detailed model of Hogwarts castle that was built for the first film, view technical drawings and pick up other insights into how the movie series was brought to life on the big screen.
How much does a Harry Potter Studio Tour cost?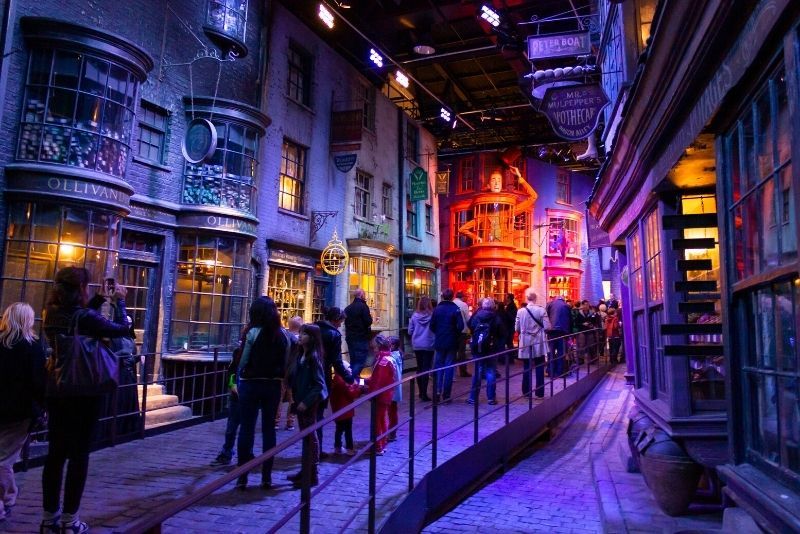 Harry Potter Studio Tour prices from the official website are as follows:
2023 Prices
Adult (16 years and over): £51.50
Accompanied child (5 to 15 years): £40
Family ticket (2 adults + 2 children or 1 adult + 3 children): £160
0-4 years: Free
Adult complete studio tour (inc. tour ticket, digital guide + paperback souvenir guidebook): £61.45
Child complete studio tour (inc. tour ticket, digital guide + paperback souvenir guidebook): £49.95  
Carer: Free
How can you book Harry Potter Studio London tours?
Spots for the Harry Potter Studio Tour London sell out fast, and spaces are limited. Therefore, to ensure your visit is at the most convenient time for you, book them as far in advance as you can.
You can book tickets for the Harry Potter Studio Tour from the attraction's official website. Owning to the global popularity of the books and movies, tours are in constant demand, and ideally, you should book three or four months ahead of your planned visit.
If they're sold out on the official website or don't have the dates you want, you can get tickets from several other websites.
Typically these include transport from central London and may, therefore, be more expensive than purchasing from the official Harry Potter Studio tour website.
To save you the time and hassle of going through dozens of sites, TourScanner aggregates all of them so you can easily see what is available.
If you don't find the tour dates you're looking for on TourScanner, then they are probably sold out and not available anywhere. However, there's no need to despair because you can still dive into Harry Potter World in other locations. Read on to find out more.
Are there any other similar tour options to the Harry Potter Studio London?
If you can't book a studio tour from London, try finding a tour that departs from Birmingham instead.
However, it's worth noting that Harry Potter Studio London is not the only place that brings Hogwarts and the wizarding world to life.
In London, you can also choose from several different Harry Potter location tours. They take you in such sights as Platform 9¾, Leadenhall Market (Diagon Alley) and the bridge where the Knight Bus squeezes between two double-decker buses in The Prisoner of Azkaban.
Moreover, there are Harry Potter guided tours in Oxford that visit locations seen in the movies or that served as inspiration for them. They include the Dining Hall, Christ Church College that was founded by King Henry VIII and inspired the Great Hall in the wizarding series.
Moreover, the Bodley Tower Staircase was seen in Harry Potter and the Philosopher's Stone, where Professor McGonagall meets Harry, Ron and Hermione for the first time.
What are the Warner Bros Studio London opening hours?
The studio tour opening and closing times vary according to the time of year. So, it's best to visit the Warner Bros. Studio Tour London official website for up-to-date information.
The standard hours are:
From Monday to Friday: 9:30 AM, and the attraction closes at 8:00 PM.
Saturday and Sunday: 8:30 AM - 10:00 PM
How do you get to Warner Bros Studio London?
The Harry Potter Studio Tour London is located in Leavesden, Hertfordshire, 20 miles northwest of London. It is easily accessible by car and public transport.
If you are travelling by road, the attraction is less than three miles from the M1 and M25 motorways. Put the WD25 7LR postcode into your sat nav for it to calculate the best route from your starting location. Onsite parking at the family-friendly attraction is free.
If you are coming by train, the nearest train station is Watford Junction, and from there you can catch a regular shuttle bus for the 15-minute journey to the studio.
You can also travel directly to the Harry Potter Studio Tour by bus from several locations: London Kings Cross, London Victoria, Birmingham Coach Station and Birmingham New Street.
The Harry Potter Studio Tour in London is also easy to reach by road or rail from four London airports:
Luton (17 miles away).
Heathrow (23 miles away).
Stansted (47 miles away).
Gatwick (58 miles away).
Which other attractions can be visited in London?
Travel Tips
The Harry Potter Studio Tour London advises visitors to arrive at least 20 minutes before their tour is scheduled to begin.
Take your time to let all the magic soak in! There is so much to see, do and experience!
If you're curious, don't be shy about asking the curators anything and everything Potter tour related.
Bring your camera or make sure your phone is fully charged to snap away. The taking of photos and videos is permitted in most areas.
If you are driving, have your booking confirmation ready to show the studio's car parking team.
Pack your wand, but don't worry if you forget it because you can purchase a new one at the studio shop.