Once known as the Royal Botanical Gardens, Kew Gardens is a 121-hectare lush green museum tucked on the southwest side of London built in 1840.
It is considered one of the world's largest and most diverse plant collections, with over 30,000 varieties to explore.
Your Kew Gardens tickets allow you to escape the bustle of the city while examining the beautiful greenhouse, incredible treetop walkway, art galleries and King George III's summer palace.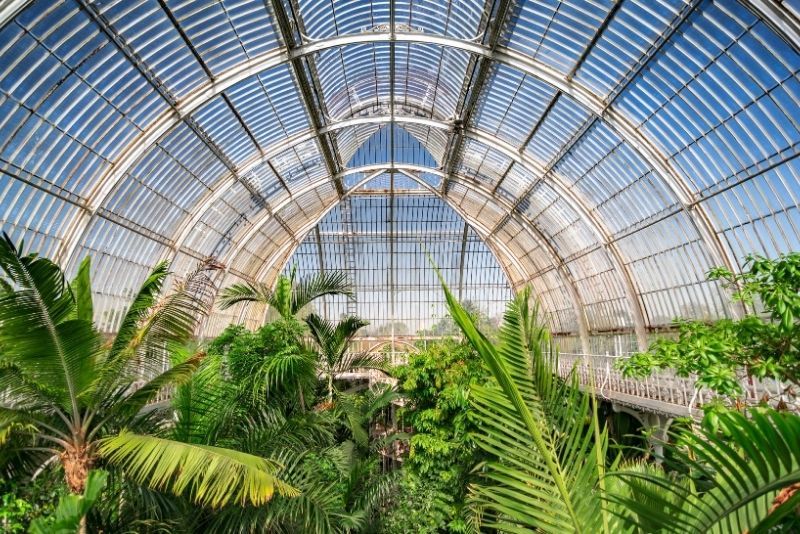 You will find below all you need to know about the Kew Gardens, one of the most fascinating attractions in London.
How much do Kew Gardens tickets cost?
The entrance fees to Kew Gardens vary for its peak and off-peak seasons. An optional donation can be added to the ticket price at the time of purchase.
Standard Kew Gardens tickets for peak season (Feb. 1 - Oct. 31)
Adults (30 and above): £15
Young adults and/or students (16-29): £9
Children (4-15): £5
Infant (0-4): Free
Senior citizens (65 and above): £17.50
Family ticket (1 adult 2 children): £27
Family ticket (2 adults 2 children): £44.50
Visitors with a disability: £17.50
Standard Kew Gardens tickets for the off-peak season (Nov. 1- Jan. 31)
Adults (30 and above): £13.50
Young adults and/or students (16-29): £6.50
Children (4-15): £4
Infant (0-4): Free
Senior citizens (65 and above): £12
Visitors with a disability: £12
Family entrance fee to Kew Gardens tickets (all seasons)
Family ticket (1 adult 2 children): £27
Family ticket (2 adults 2 children): £44.50
You can avail of discounted prices if you book your Kew Gardens tickets in advance.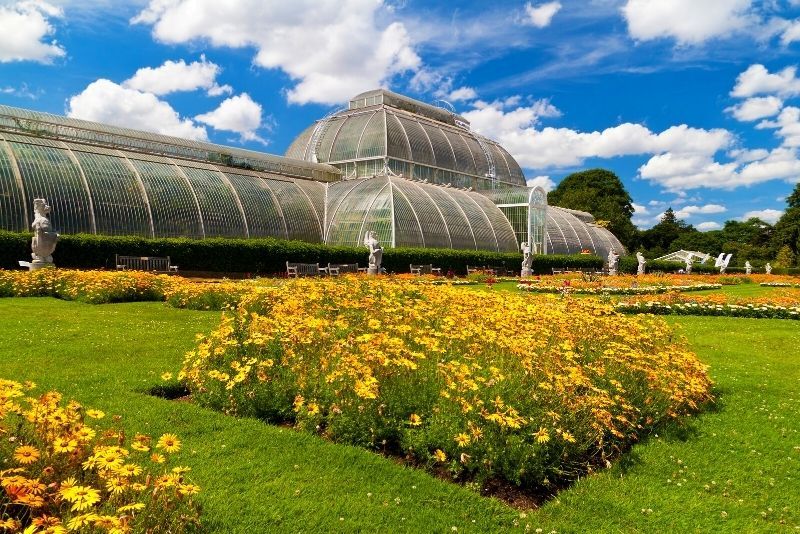 Who is eligible for discounts?
Visitors with Universal Credit, Pension Credit or Employment and Support Allowance are able to visit Kew Gardens for only £1, but ID proof is required at the time of payment.
Local residents enjoy discounted ticket prices, as well as Kew Gardens members for their additional guests and child. They can also avail of a reduced price for advanced booking.
What are the best Kew Gardens tours?
Self-guided tour with audio
Lead your own journey through this UNESCO World Heritage site with the help of a historian's recorded commentary to guide you. Learn about the history of the gardens, as well as the hidden secrets and thousands of fascinating plant species.
On this excursion, you'll have all the time in the world to peruse at your desired speed through the various galleries, exhibits and conservatories, as well as the stunning glass greenhouse and Kew Gardens Palace.
Kew Gardens walking tour
A seasoned professional will lead you , throughout the green museum on this walking tour of Kew Gardens. You will learn fascinating details about the botanical paradise while exploring all the lush landscape has to offer.
Towards the tour, you will have plenty of free time to investigate the gardens at your own leisure.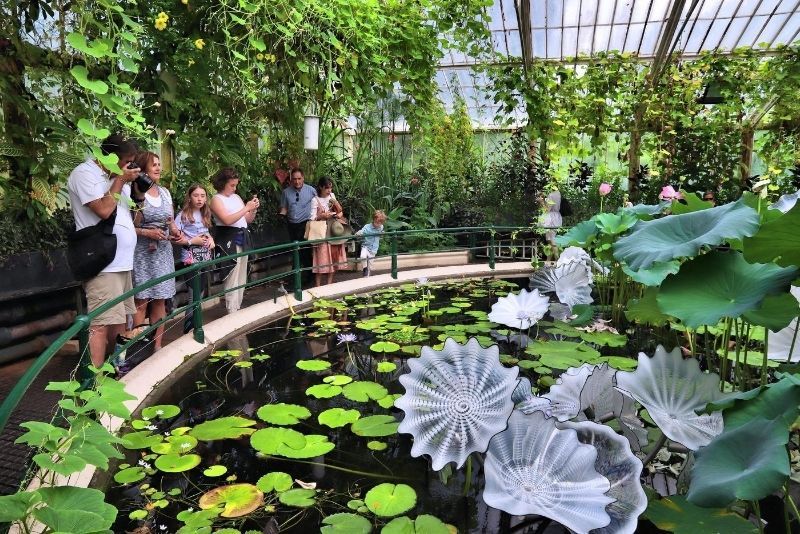 Are there any combined tickets or tours including Kew Gardens and other attractions?
Kew Gardens plus Kensington Palace: Visit two of London's most iconic landmarks on this combined tour of Kew Gardens and Kensington Palace. After perusing the immersive 30,000 different plant species of the botanical garden, head to Kensington Palace to learn about the royal residence that was gifted to the public by Queen Victoria.
Kew Gardens plus Westminster Abbey: Fans of both nature and history will love this 3-hour combined excursion that tours the hallowed halls of Westminster Abbey and the lush plant-lovers paradise. You'll join a small group of others, as you're led by a professional guide to two of London's most important attractions.
Is it possible to visit Kew Gardens for free?
Emergency Service Workers and military personnel who present a Blue Light Card are able to visit Kew Gardens for free. Essential carers and registered blind or partially sighted visitors are also eligible for free entry.
Should you book Kew Gardens tickets in advance?
It is better to book your Kew Gardens tickets in advance to avail of discounted ticket options.  
You will also be able to plan around any special attractions or exhibits offered by the gardens, and enjoy expedited entry if you purchase tickets before your arrival.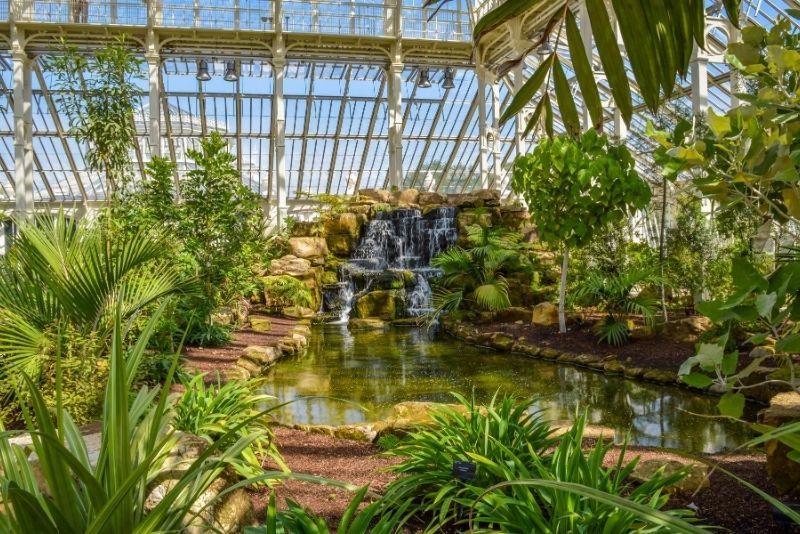 What will you see inside Kew Gardens?
Inside the centuries-old Kew Gardens, you will find over 30,000 different species of plants, as well as a museum of landscape architecture from various periods of English history.
Your ticket will include entry to Temperate House, the largest Victorian glasshouse in the world. The interior of the greenhouse hosts over 1,500 types of plants, including extremely rare species from Africa, Asia, Europe and beyond.
Head to the Kew Gardens treetop walkway to marvel at the best view of the lush grounds from high above. The overlook provides a unique perspective of the 121-hectare estate.
Stop by the Marianne North and Shirley Sherwood galleries to see incredible artwork from talented artists around the world. Visit the awe-inspiring "The Hive" installation to experience what life is like inside a beehive.
During your visit, make sure to stop by Kew Palace. The magnificent manor has been a staple inside the gardens since 1631 and was once the summer home of King George III.
A cozy cottage dedicated to King George's wife Queen Charlotte is also open to visitors on the opposite side of the gardens.
How to get to Kew Gardens?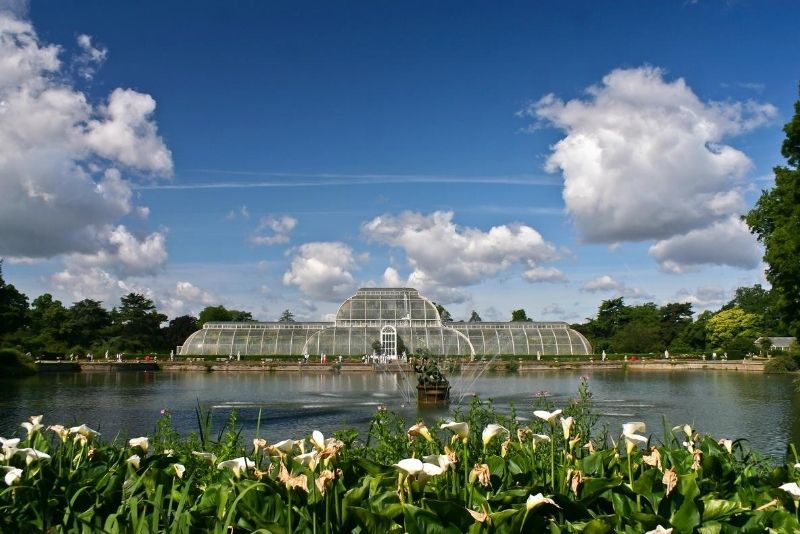 Kew Gardens is located on the southwestern side of London along the River Thames. The botanical museum is just 30 minutes from the center of the city and can be easily reached by train.
When is the best time to visit Kew Gardens?
The best time to visit Kew Gardens is in the spring and summertime when the flowers are in full bloom. The weather will also be the most pleasant at this time of the year.
Kew Gardens opens every day in the peak season at 10 AM and closes at 7 PM, except on major holidays. As temperatures drop in the off-peak season, the gardens will close earlier. The park closes at 6 PM in October and March, 4 PM in November, 3 PM in January, and 5 PM in February.
Arrive at the botanical gardens between 10 AM and 11 AM to avoid afternoon crowds, and to allow ample time to explore the expansive property.
Which other attractions can be visited in London?
Travel tips
Any children under the age of 16 must be accompanied by an adult at all times.
Only disability assistance dogs are allowed on the property.
Wear comfortable walking shoes to allow for hours of garden exploration.
The last entry of the day is an hour before closing time, so plan accordingly.