The highlight for any "Harry Potter" fan visiting Oxford will be a guided tour of the most popular filming locations around town. Spend some time at the famous Christ Church and the Divinity School, which are featured in the movies.
Your guide will tell you all you need to know about Oxford and its role in J.K. Rowling's writing process. With plenty of fun anecdotes and background stories to hear, this is an unforgettable experience in Oxford.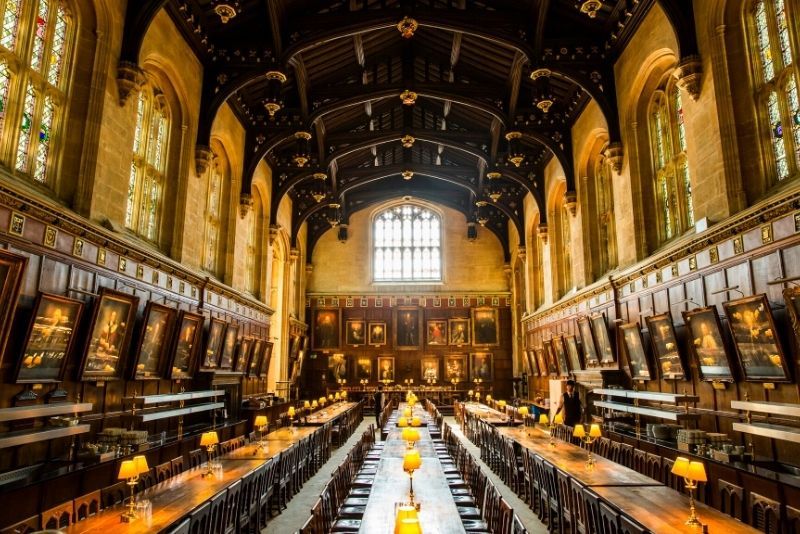 What are the best Harry Potter tours in Oxford?
Oxford: Harry Potter tour with Divinity School entry
Discover the most popular "Harry Potter" filming locations in Oxford. Visit the famous Divinity School, where several scenes were shot, including classrooms and dance scenes. Wander around the campus, spotting different points of interest from the movies.
Your guide will be ready to tell you all about the filming process and how locations were selected. J.K. Rowling herself was very involved in the process, and there are lots of interesting anecdotes to tell.
To conclude the tour, you'll participate in a Harry Potter quiz, testing your knowledge of the things you learned on the tour, as well as the movies and books.
Oxford: Christ Church "Harry Potter" film locations tour
This extended tour is perfect for passionate "Harry Potter" fans who want to spend as much time as possible discovering Oxford.

Your tour begins with a guided walking excursion around Oxford, taking you to filming locations while you listen to anecdotes about the movies. The highlight of this tour is a visit to the Christ Church, one of Oxford's most popular tourist attractions.

Here, you'll receive an audio guide that will take you around the church without disturbing its peaceful atmosphere. The queues at the church can be long, especially during midday. Luckily, this tour provides direct entry, and there is no need to wait.

Keep in mind that tours taking place on Saturday mornings generally do not include access to the Christ Church Hall. Replacement locations will be provided.
Private Harry Potter tour in Oxford with entry to the Divinity School
Make the most of your "Harry Potter" experience and choose one of the many private tours offered in Oxford. Your guide will be a knowledgeable "Harry Potter" fan ready to show you around the local filming locations.

Visit the famous Bodleian Library, which most tours don't include. Then head over to the University Church of St. Mary the Virgin and the Bridge of Sighs, which are featured in several other movies such as "The Mummy" or "The X Men."

If you're specifically interested in a location, you can let your guide know, and they can adjust the itinerary to fit your needs.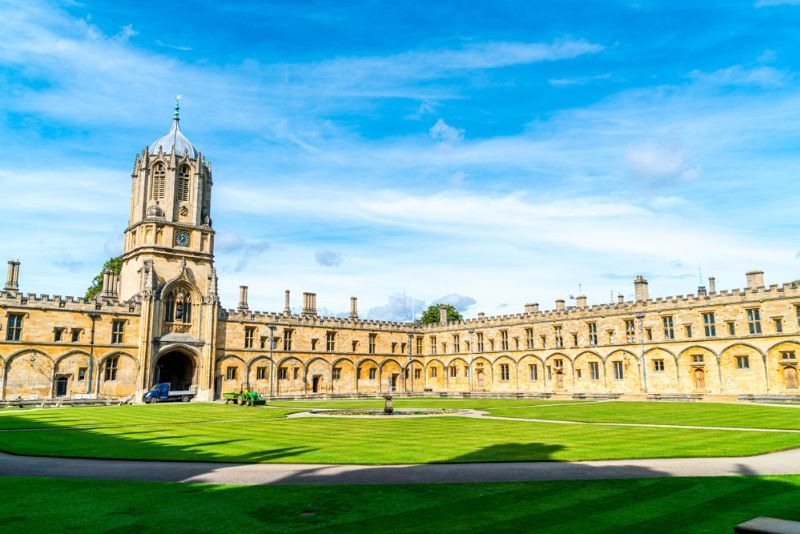 How much do Harry Potter tours in Oxford cost?
Group tours around Oxford start at approximately £30 per person and go up to £45. Tours including access to the Christ Church, tend to be a bit more expensive at £50 to £80 per person.
If you're interested in a private Harry Potter tour in Oxford, expect to pay around £100 to £290.
What is included in a Harry Potter tour in Oxford?
Tours usually include the entrance fee to the Christ Church, as well as the Divinity School. You'll be accompanied by an expert guide who will conduct a Harry Potter quiz towards the end of the excursion. There will be small prizes to win, including chocolates or other sweets.
Some tours also include costumes such as robes, hats and wands to take photos. In the Christ Church, you'll switch from a group guide to a personal audio guide. Tickets for the church allow you to skip the lines and enter without having to wait.
Guides also often provide maps of Oxford and the filming locations to help you navigate so you can know where you've been.
Where do Harry Potter tours in Oxford start?
Most Harry Potter tours start on Broad Street in the heart of Oxford. You'll meet your guide at a certain street address, usually around 15 Broad Street. Your group will be easy to find as your guide will be wearing a Harry Potter robe or have a sign.
How long do Harry Potter tours in Oxford last?
Harry Potter tours in Oxford generally last between 1.5 and 3.5 hours. The majority of tours tend to be shorter rather than longer.
When is the best time for a Harry Potter tour in Oxford?
You can go on a Harry Potter tour at any time of the day as long as the Divinity School is open. Your tour operator will let you know if there are specific days that the tours are unavailable for this reason.
Tours generally take place in the mornings or the afternoon. Mornings are a bit calmer, and some sites on the tour fill up with people and students during midday.
Are children allowed on a Harry Potter tour in Oxford?
Harry Potter tours in Oxford are generally geared towards children and families. While travelers of all ages can participate, the majority are younger and, of course, fans of the movies and books.
There is no age limit for most Harry Potter tours, but children older than 6 will generally have a more enjoyable experience. Very young ones can, of course, be taken along. Just consider that there is some walking involved, and you might want to take a stroller.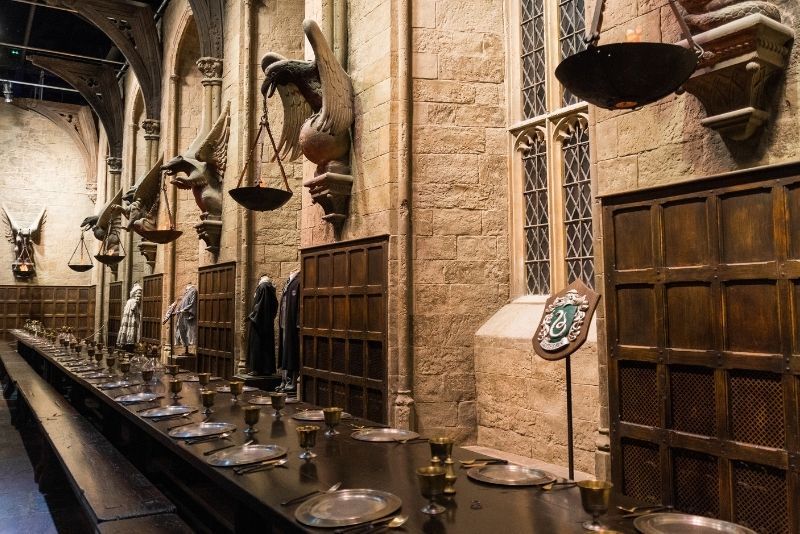 Travel tips
Read up on your "Harry Potter" knowledge before joining a guided tour in Oxford. Most people who participate will be passionate fans, and you'll want to have at least some basic knowledge of the books and movies to make your experience more enjoyable.
If you have any "Harry Potter" memorabilia, why not wear it or take it along on the tour with you? You'll get to take fun pictures in filming locations and make the experience one of a kind.
Wear comfortable shoes on your tour. You'll be walking around Oxford, so avoid heels or uncomfortable footwear.
Many tours visit the Christ Church, which is a filming location for the "Harry Potter" movies. Since this is a religious site, visitors should be respectful and quiet during their time there. If possible, avoid wearing revealing clothing and cover your shoulders.
Most tour guides depend on gratuities to earn a living. Make sure to tip your guide if you had a nice time during your tour.
Bring a bottle of water with you. While you might be able to purchase one along the way, it's not guaranteed, and you might not get a chance to since tour groups need to stay together as much as possible.
Don't forget to pack your camera to snap some unforgettable pictures. You'll want to commemorate your "Harry Potter" experience and compare your photos to movie scenes later on.