Ghost tours in London reveal a dark side to the English capital, taking sightseeing to spooky new levels. Walking excursions make for spine-tingling experiences, with lingering spirits and creepy apparitions lying in wait around every corner.
If you want to cover more ground, take a bus tour where actors bring London's ghoulish legacy to life. Hidden histories will be exposed as you journey down shadowy streets in search of the next chilling tale.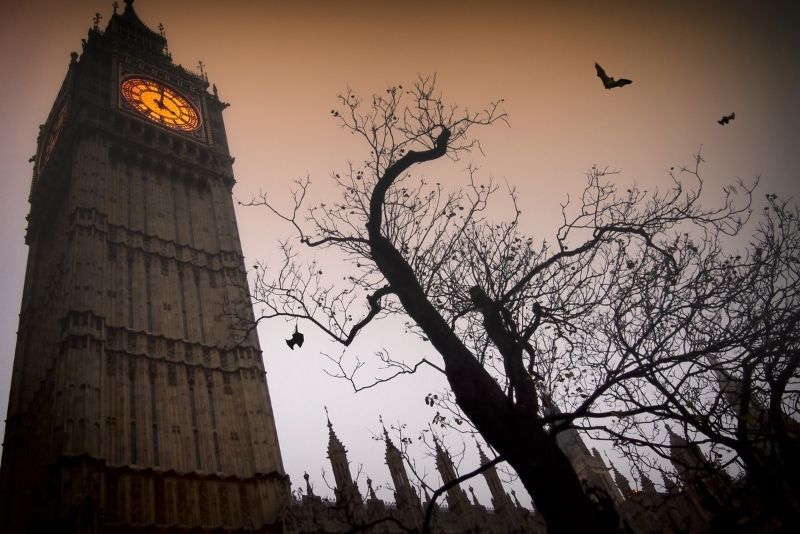 You will find below all you need to know about ghost tours, one of the most fun options for sightseeing tours in London.
What are the best ghost tours in London?
Ghost hunting tours by bus
Step on board the ghost bus and cruise around the streets in search of ghouls and phantoms. You may feel safe and snug behind those windows, but you never know what might be lurking out there in the dark.
Bus ghost tours in London take you past some of the city's main sights, many of which are hiding gruesome pasts. Be sure to keep your wits about you! Your creepy conductor will narrate a hair-raising comedy horror during the ride. On-board actors bring the tales to life, with technical magic adding a chilling extra touch.
As part of your sinister sightseeing experience, you'll discover secret burial grounds and eerie palaces. The itinerary takes you to the heart of the West End as well as south of the River Thames. You'll pass Westminster Abbey, Fleet Street and London Tower Bridge on the way – they seem far scarier after daylight has faded.
Ghoulish walking tours
London ghost walking tours take you into the heart of the capital at night, far beyond the places accessed by tour buses. Your expert local guide will lead you down spooky streets and across quiet parks in a search for the supernatural.
Listen to tall tales of grisly murders and disturbing crimes as you head ever deeper into the historic center. St. Paul's Cathedral plays a major part and is a popular photo stop with the illuminated dome lighting up the night sky.
Muster your courage as you check out the mysterious back alleys – this is the realm of monsters and demons so don't linger too long.
Private ghost tours
If you want a slightly more tailored experience, then opt for a private ghost tour. You'll still visit the same ghastly locations, but you will have your own exclusive guide.
These tours are usually enjoyed on foot to get you up close and personal to the sites. If there's a particular place or story you'd like to include, just ask the guide before you get started.
Your adventure begins in Green Park where you'll encounter the ominous Death Tree. If you fall asleep here, rumor has it that you'll never wake up. Next on the agenda is the city's spookiest building which is said to be the home of several poltergeists.
During the ghost walk, you'll learn about intriguing hauntings, including otherworldly sightings of renowned scientist, Michael Faraday.
Other scary spots include Albemarle Street and Piccadilly Arcade, where tales of strange encounters will bring out the goosebumps.
These popular ghost tours in London finish with a flourish at the eerie 16th-century palace by St. James's Park.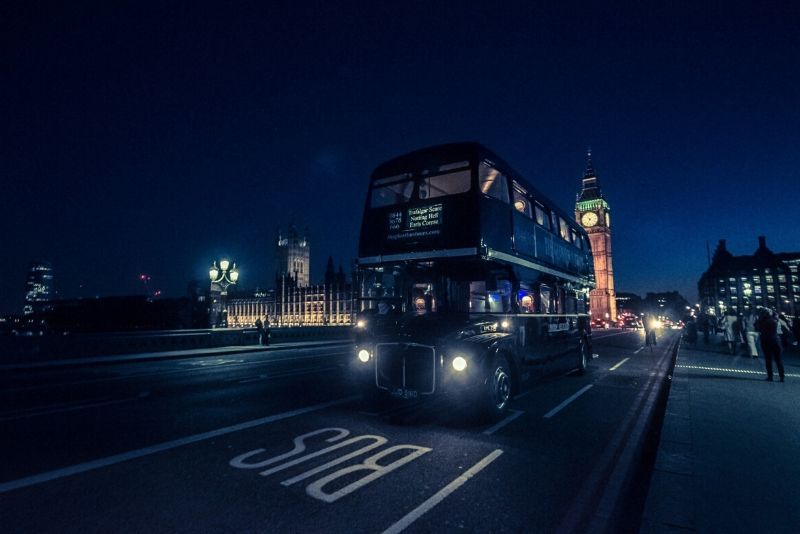 How much do ghost tours in London cost?
Ghost hunting in London by bus is operated on a group basis, which makes it an affordable and convivial experience.
Tickets cost £30 per passenger for an hour-long ride. Children under 5 years can travel for free if there are spare seats available on the bus.
London ghost walks are the cheapest option for spooky city experiences. The tours are run in a small group setting to keep things cost-effective yet intimate. It costs just £20 to reserve a place for a 2-hour trip.
Private London ghost excursions cost £280 per person for an exclusive 3-hour walking tour. Your experience can be personalized, and you'll have your own dedicated guide for the duration.
What is included in a ghost tour in London?
All ghost tours in London include a local guide to bring your experience to life. Some guides give a theatrical performance during the excursion to add an extra level of drama to the outing.
Hotel pickups are not provided on these tours but start points are all central and easily accessible.
Where do ghost tours in London start?
The bus ghost tours begin outside The Grand Hotel near Trafalgar Square. You need to arrive 20 minutes before departure.
Ghost walking tours start from various points across the city center. All Hallows by the Tower Church is a popular choice.
Private walking tours start beside the Statue of Goddess Diana in the northern corner of Green Park. The easiest way to get there is by tube, alighting at Green Park Station.
How long do ghost tours in London last?
Ghost walks in London are generally a couple of hours long, while bus tours last around an hour. This is ample time to take in London's spookiest locations and get a taste for the city's murky past.
Private experiences can be up to 3 hours as they take in lots of sights and include more dialogue at each spot with the guide.
When is the best time for a ghost tour in London?
Most ghost tours in London take place during the evening as this is when the spirits come out to play! Common start times are between 7 PM and 9 PM.
Remember that it gets dark later during the summer. So, for optimum ghoul exposure, go for a late departure if you can.
Are there any combo experiences available with ghost tours in London?
London ghost walk with River Thames boat cruise
Take a walking tour through London and discover the city's mysterious side. You'll learn about haunted historic sites and see the royal parks in a new light.
Then it's time to jump onboard a riverboat for an evening cruise along the Thames. You'll see the illuminated attractions and hear spooky stories associated with some of London's most famous sights. The ghost tour ends with a haunted house and the terrifying Tower of London prison.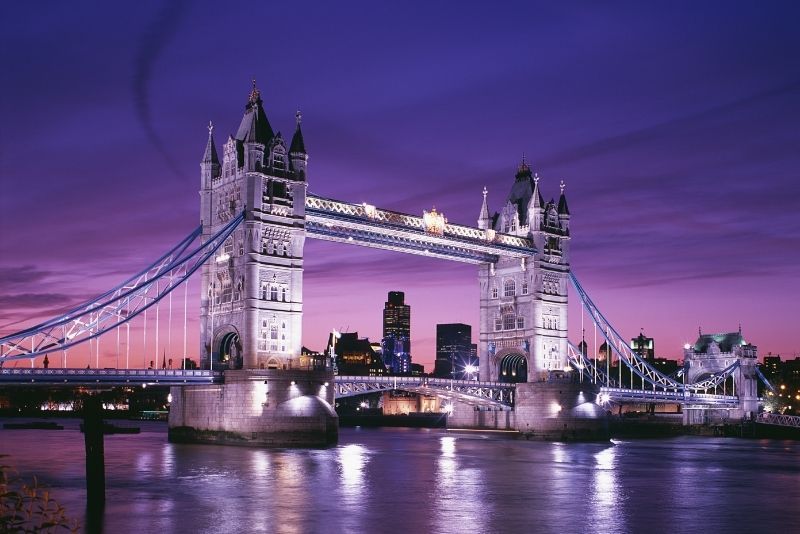 Are children allowed on a ghost tour in London?
Yes, youngsters are permitted to join London ghost tours. Just consider whether they'll be able to handle the dramatic storytelling by the guides, and the gruesome tales that are all part of the experience.
Walking tours are only advisable for older children as although the pace is leisurely, they'll still need to keep up with the group.
Travel tips
Guide tips are not obligatory but are always appreciated if you've enjoyed your excursion.
Ghost tours in London are a hotly anticipated part of a visit to the city. It's advisable to book well ahead so you don't miss out on your chosen date.
A moderate level of fitness is required for the walking tours as you will be covering a fair distance.
Wrap up warm if you're visiting in winter – it can get surprisingly cold in the capital.