Curated over 200 years, masterpieces by history's greatest artists are awaiting you at London's National Gallery. The museum features centuries worth of artistic progress with a sizable collection by the Old Masters.
Book a National Gallery tour not only will allow you to see famous pieces first-hand, but also walk away with a wealth of knowledge and a deeper appreciation of what you've seen.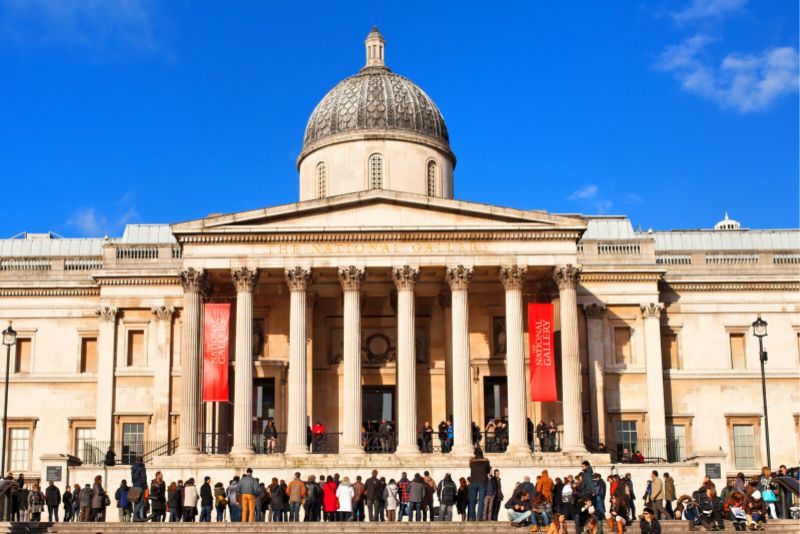 Here's all you need to know about the National Gallery, one of the most famous museums in London.
How much do National Gallery tickets cost?
Entrance to London's National Gallery is free. However, there are seasonal exhibits that require a purchased ticket. Check the museum website to see the current exhibitions at the time of your visit.
Should you book tickets in advance?
Booking National Gallery tickets in advance is wise, as it can save you time waiting in lines if you get your tickets upon arrival.
What are the best National Gallery tours?
Get the most out of your visit to the National Gallery with the help of a guide. Tours vary by duration of the tour and group size.
National Gallery highlights tours
Ideal for people who don't have a lot of time or have a limited budget, highlights tours direct you to the works that any visitor must see. The highlights tours are audio-based with provided headsets.
National Gallery semi-private tours
For a personalized experience with a smaller price tag, semi-private tours in groups of a maximum of eight people are a great solution. Guides will direct you to must-see pieces while pointing out hidden details and sharing anecdotes.
Private tours of National Gallery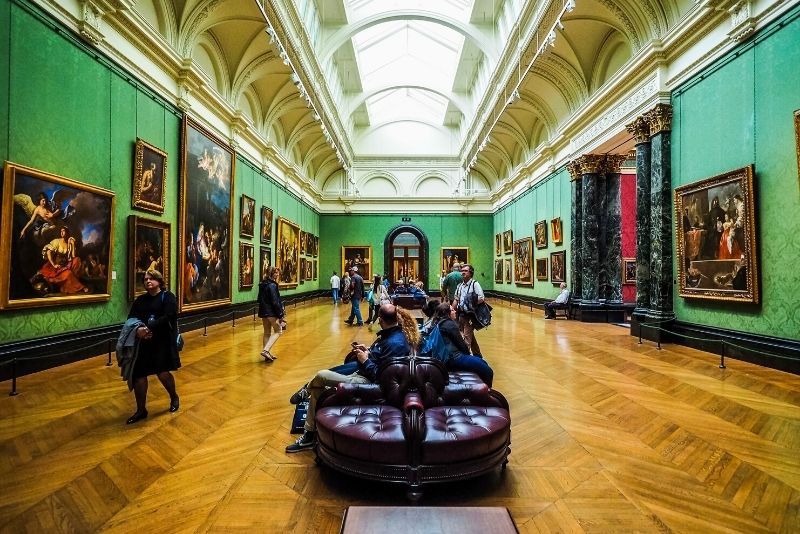 The National Gallery most accessible private tours offer you a fully customizable experience, and can accommodate people with disabilities. Enjoy your own pace as your knowledgeable guide ensures that none of your questions goes unanswered.  
Kid-friendly tours
Make your family's visit to the National Gallery come alive. Guides for private kid-friendly tours know how to grab and keep kids' attention with activities and facts as your family enjoys the art.
Are there any combo tours available?
National Gallery and British Museum tours
Meet your guide at the British Museum for 2 hours of civilization's greatest artifacts before 2 hours of world-class art at the National Gallery. There are semi-private tours with a maximum group of eight people and private tours for groups as small as two people.
National Gallery and Westminster tours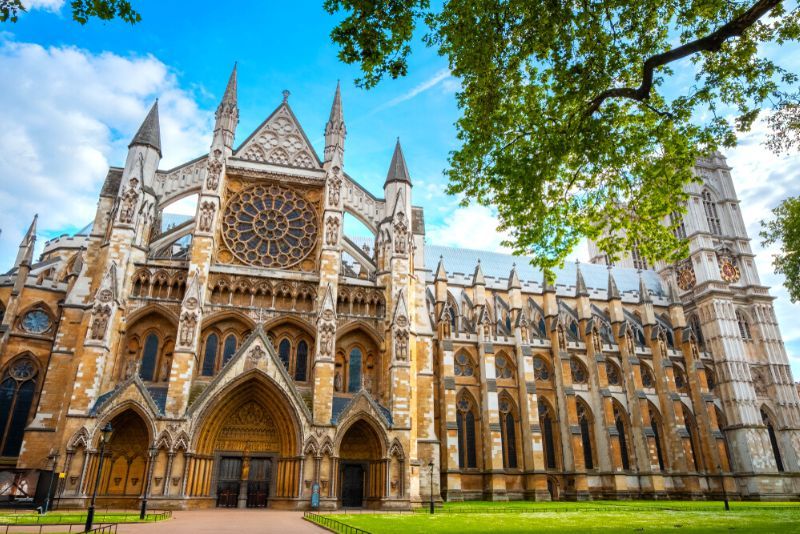 Book a tour that shows you the best of London and world-famous artwork. See London's most photo-worthy sites like Westminster Abbey, Big Ben and the Changing of the Guard ceremony in front of Buckingham Palace.
National Gallery and Westminster tours are private and can be adapted for children. Tours last 3 to 4 hours and cost from £110 per person to £160 per person, depending on the length of the tour and sites included.
What will you see inside?
London's National Gallery is the home of 2,300 works of art spanning 700 years. The museum has assembled works from history's most noteworthy artists, and among them are some of these artists' most recognizable pieces.
Travel through history on a chronological tour from medieval art to pieces from the 20th century. See the Flemish greats, religious iconography, portraiture and modern art. Pieces not to be missed are Van Gogh's "Sunflowers," and DaVinci's "Virgin on the Rocks."  
Experience art from other famous creators such as Van Eyck, Botticelli, Monet and Picasso. Even inspect Michelangelo's unfinished work and speculate about why he didn't finish them.
How to get to the National Gallery?
The National Gallery is located near Covent Garden, and the address is Trafalgar Square, London WC2H 7HA. The best tube stop to reach the museum is Charing Cross, and the gallery is a 3-minute walk from the stop.
What are the opening times?
The National Gallery is open from 10 AM to 6 PM daily with 9 PM closing time on Fridays.
When is the best time to visit the National Gallery?
Visit the National Gallery in the morning or on weekdays, as large crowds can make it more difficult to get a good view of the pieces. The months of November through March are a low season for tourism in London, great for avoiding crowds.
Which other museums can be visited in London?
Travel tips
Wear appropriate clothing and footwear for an active day.
Bring a charged smartphone to access mobile tickets and for tour guides to contact you if necessary.
You are not allowed to bring food or drink inside the gallery, but you can buy at several cafes and restaurants within the vicinity.