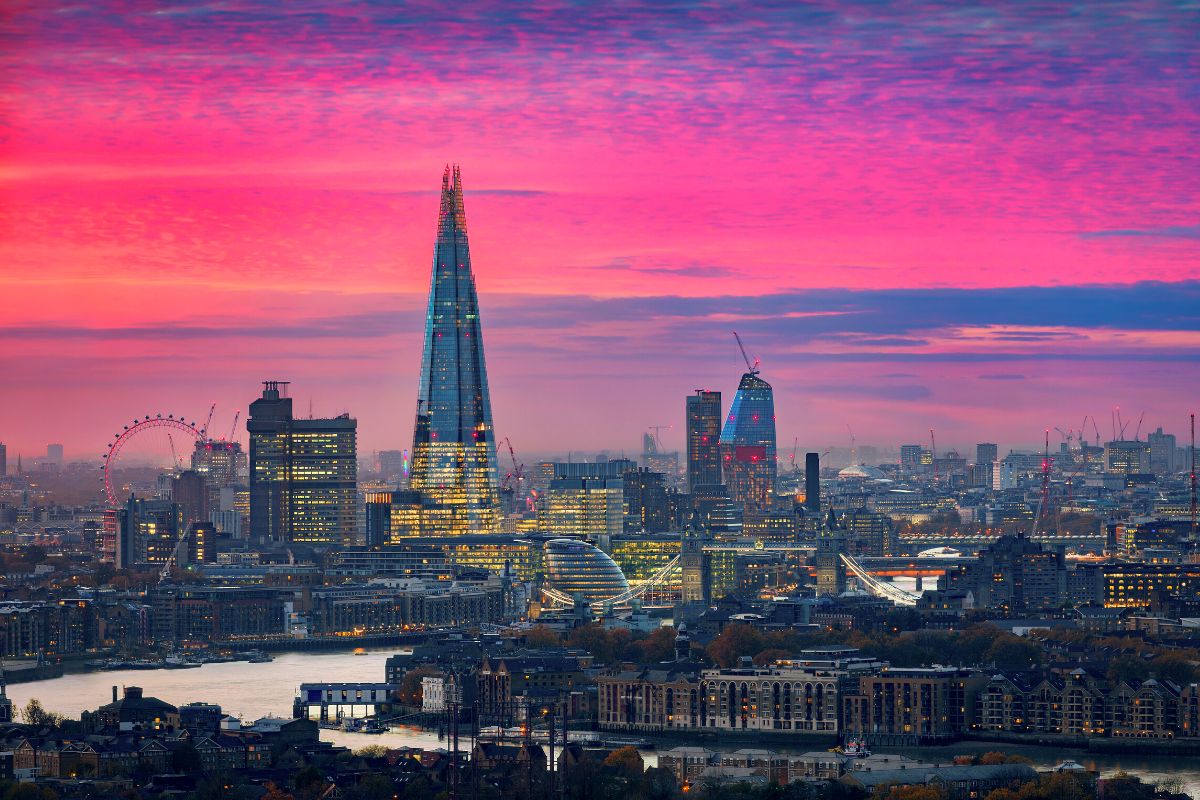 London is the sort of destination that makes nearly every bucket list; from history nerds and theater geeks to kids and the elderly, everyone can find something to enjoy in this world-famous metropolis.
But what you might not know is that it's also an ideal place for a romantic getaway with that special someone!
Whether you prefer your vacations to be artsy, hedonistic, nature-filled, or filled with unusual offerings, this wonderful town has got you covered.
And along with its many landmarks, the city offers the right blend of beauty, intimacy, and once-in-a-lifetime experiences to make for a truly memorable trip.
So pack your bags and grab your plus one, as we explore the most romantic things to do in London for couples!
1 – Take a ride on the London Eye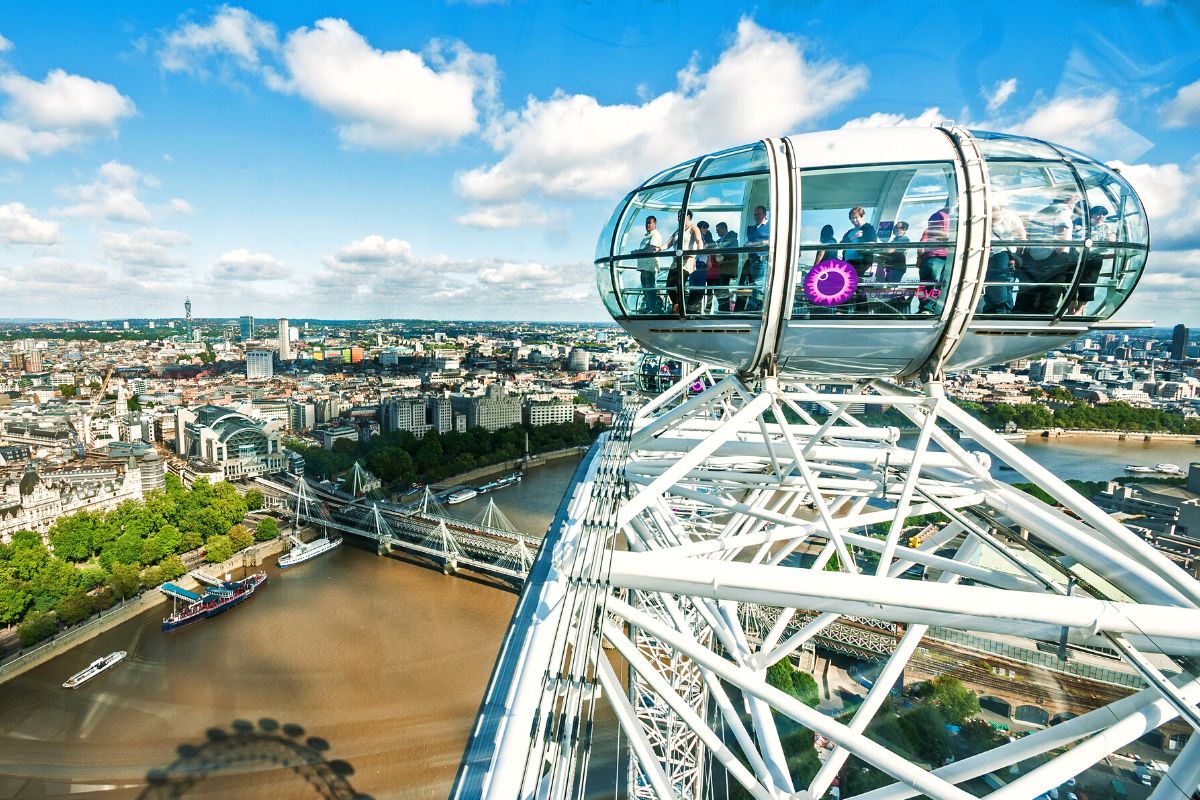 Even amongst one of the most famous skylines in the world, the London Eye stands out! With massive cars that follow a swooping orbit over the river, this elegant Ferris Wheel is a wonderful way to see the city from up high.
But it also offers a more intimate opportunity, in the form of the Private Capsule experience! Book a cart for you and your sweetie, then sit back, relax, and enjoy some of the best views in town – and you'll have them all to yourselves!
If you really want to feel like a VIP, you can also book a Champagne Experience, and toast to an amazing vacation! And even if you choose the standard option, you won't want to wait in line all day, so check all of the London Eye tickets information and book them ahead of time!
2 – Step into the canvas with some Immersive Art Experiences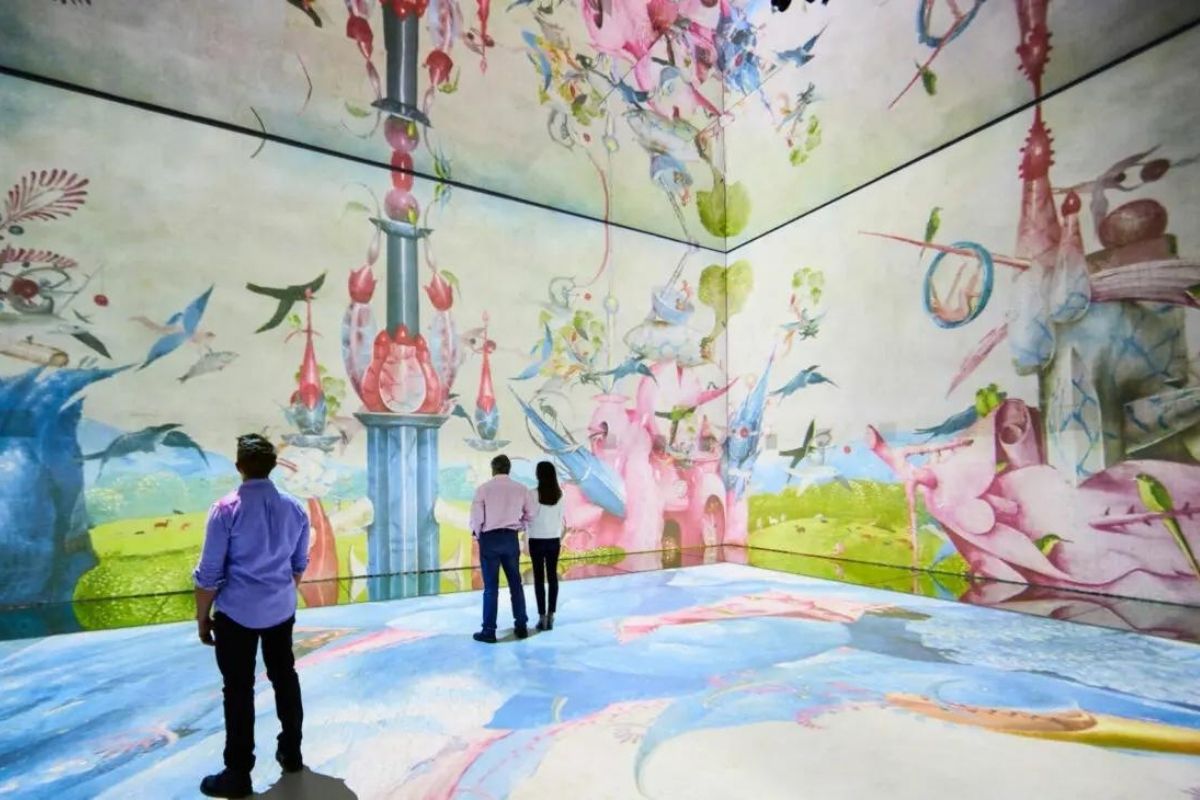 Immersive art experiences have been growing in popularity in recent years, and rightfully so; they offer an amazing way to experience creative works like never before!
Step into the wonderfully surreal worlds of Dali Cybernetics, where each landscape offers its own bizarre take on life. Or move through sunlight and moonlight in equal measure as you explore the vivid paintings of Van Gogh, with his sunflowers and starry nights.
Dopamine Land lives up to its name, with various unique, multisensory exhibits that challenge the mind and fire the imagination. And Frameless takes the experience to the next level, with four galleries literally bursting forth with unique works that defy the bounds of traditional canvases.
And for a slightly different, but still spectacular, experience, don't miss the Tate Modern's presentation of Yaoyi Kusama: Infinity Mirror Rooms, where a combination of lights, optical effects, and halls of mirrors create a surreal, cosmic experience.
Take some time to lose yourself in these one-of-a-kind worlds!
3 – Eat and drink in style at The Shard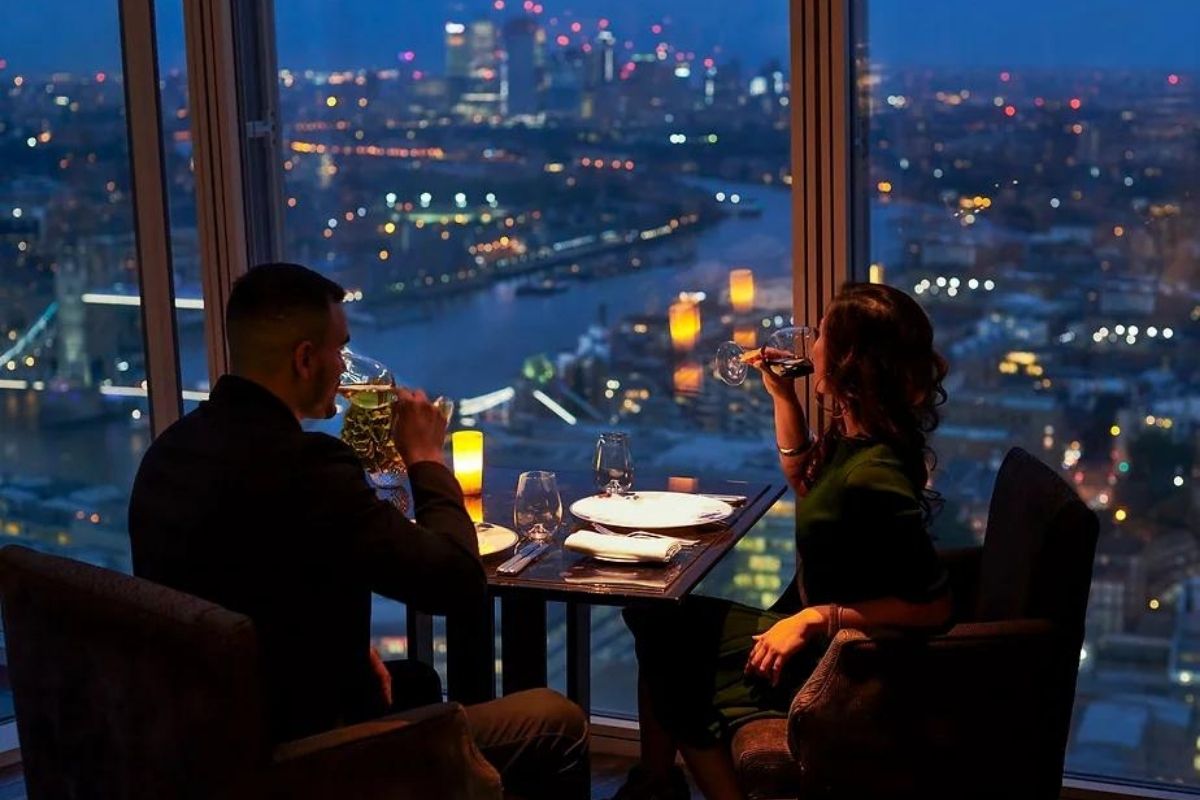 Another architectural gem in the middle of town, The Shard has more than enough activities to keep any couple occupied for a day! Along with breathtaking views, the interior of the building is filled with restaurants and bars that cater to a classy crowd.
Enjoy some Asian-British fusion meals at Ting, which specializes in seasonal menus; or try the sublime North Chinese cuisine at Hutong. Sip some excellent beers and wines at low-key local favorite Bar 31, or have a drink at the sunny, elegant Sky Lounge.
Indulge in a delicious, lower-key meal at Oblix, or kick back in the atrium-style settings of Aqua Shard. Or unwind for the evening with a nice cocktail at Gong, where you can watch the city shift from day to night.
Whichever spot you head to, you'll be able to enjoy world-class service, great food and drink, and, of course, some unbeatable skyline views!
4 – Thrill to the performances at Shakespeare's Globe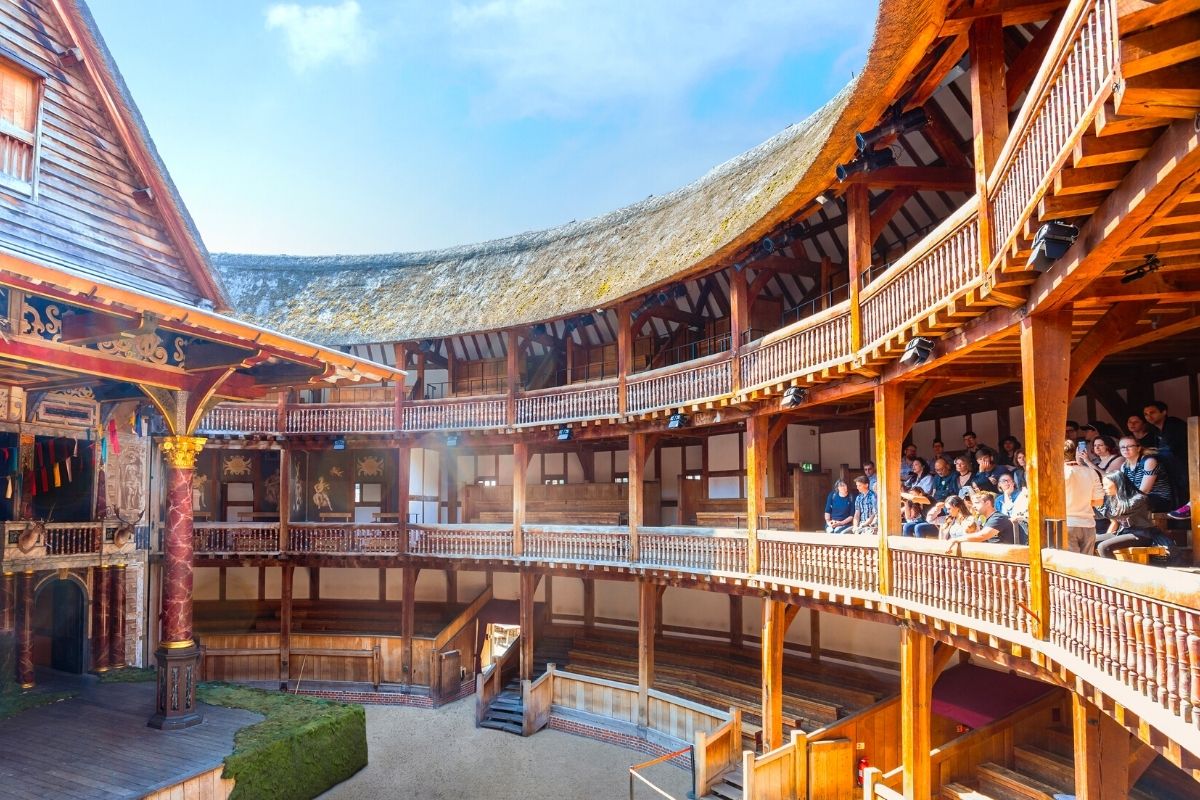 The gorgeous recreation of the theater where William Shakespeare staged his acclaimed works has long been a draw for culture fanatics of all stripes, but it's an especially great option for date night!
Centuries after the original performances, Shakespeare's Globe continues to host regular productions of the Bard's plays, from dramas to comedies and everything in between.
When you grab your seats, you'll also experience an authentic piece of the past; the outdoor venue is built in the same distinctive "O" shape as the original, offering a panoramic view for the audience and performer alike.
Combine all of that creative energy and the fantastic plays themselves, and you have all the makings of a romantic evening to rival any of the ones you'll see onstage… just make sure it's not "Romeo and Juliet"!
5 – Enjoy some blooms with a view at the Sky Garden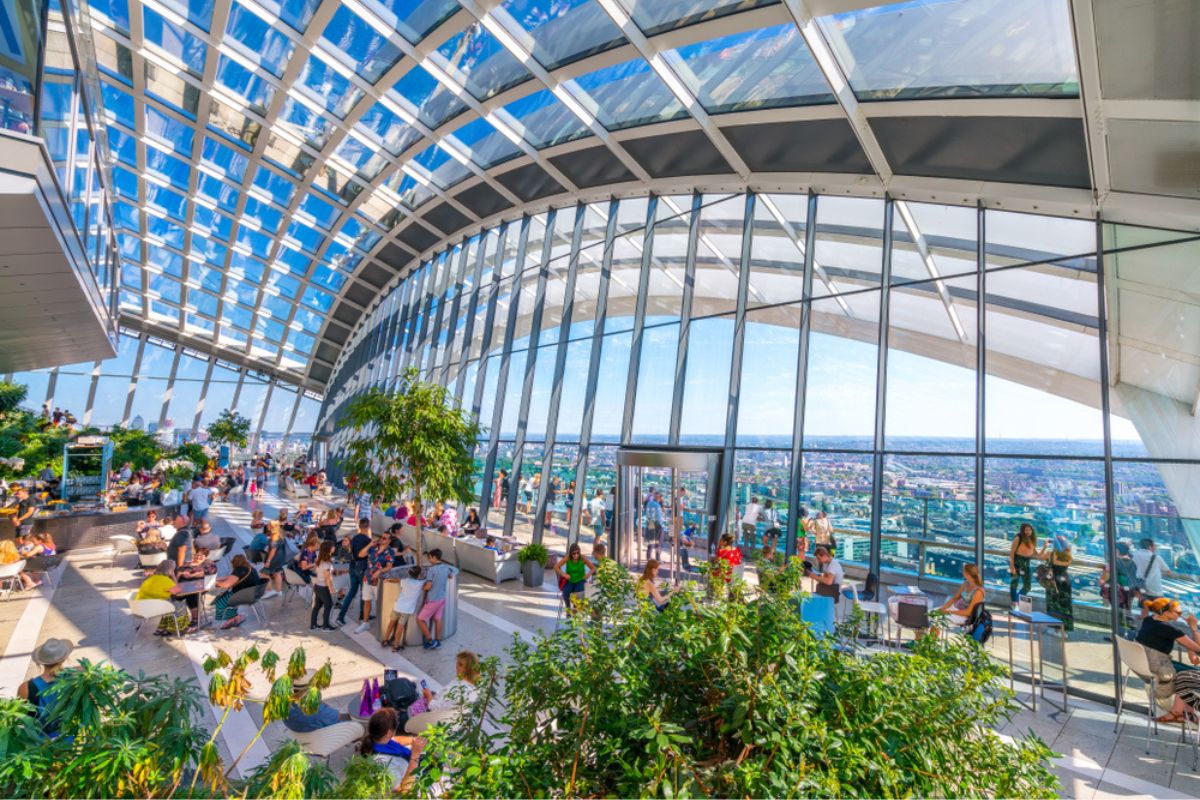 Combining great urban views with a soothing natural atmosphere, Sky Garden is another great place to take in the area's scenery.
Located in one of the city's many skyscrapers, this magnificent green space holds an impressive distinction as the highest public garden in town – a whopping 525 feet in the air!
But it's also an excellent spot in and of itself, with fresh herbs, vibrant flowers, and towering palm fronds forming a relaxing atmosphere that's perfect no matter the season.
Soak up the lush surroundings, catch a glimpse of the buildings below, and enjoy the best of the urban and the natural all in one!
6 – Marvel at the masterpieces in the art museums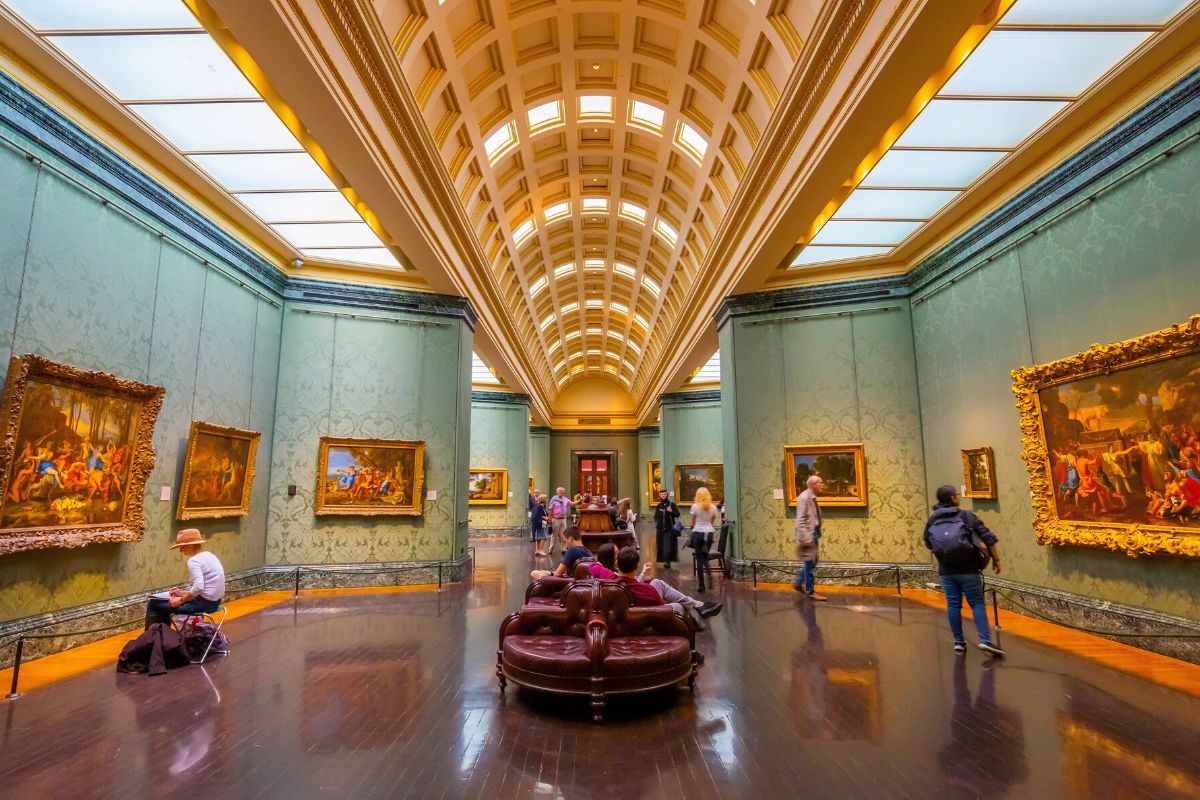 There's something about art museums that's undeniably romantic, and with so many world-class galleries in town, a day of cultural sightseeing is one of the best things to do in London for couples!
Stroll through the spacious halls of the National Gallery, which boasts 600 years' worth of paintings by masters such as Da Vinci, Vermeer, or Botticelli. Or swing by Buckingham Palace to tour the Queen's Gallery, home to an impressive variety of pieces, including a massive display of diplomatic gifts and pieces from Japan.
Take in some more contemporary works at Tate Modern, filled with bold creations by Dali, Warhol, Picasso, and other geniuses of the 20th and 21st centuries. Or enjoy a different sort of royal perspective at the Victoria and Albert Museum, which specializes in decorative arts.
And these magnificent spaces are just the start; keep on exploring with trips to some of the other best museums in London!
7 – Snag some sweet-smelling specimens at the Columbia Road Flower Market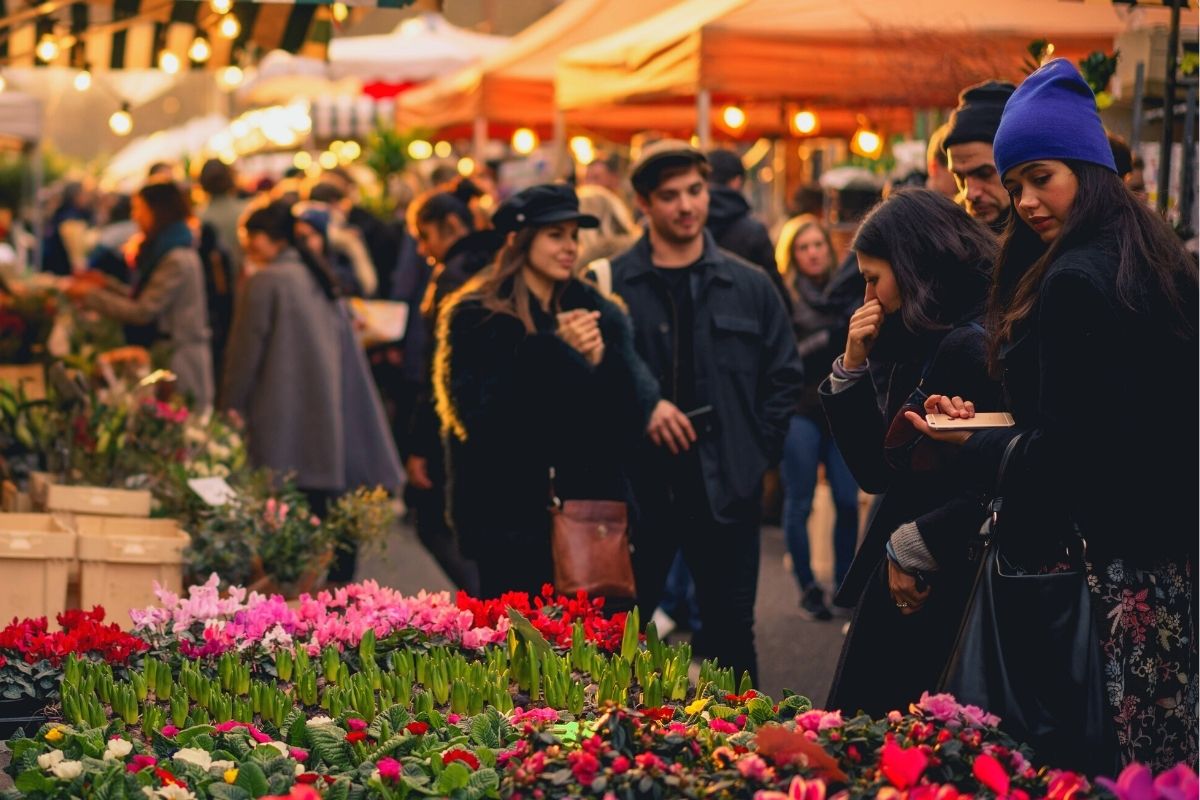 For over 150 years, Columbia Road Flower Market has offered up glorious blooms for locals and visitors alike. And if you're looking for the perfect bouquet to surprise your special person, this is an ideal destination!
The massive market has been a weekend fixture since it started, running from 8 am to 2 pm every Sunday.
Whether you're looking for freshly cut specimens to decorate the room or some bulbs of your own to plant at home, you'll find plenty of botanical beauties to enjoy!
And there are tons of other cool treasures in the space, from candlesticks and antiques to unique foods and delicious cheeses, so take some extra time to browse!
8 – Take a sweet tour of The Chocolate Museum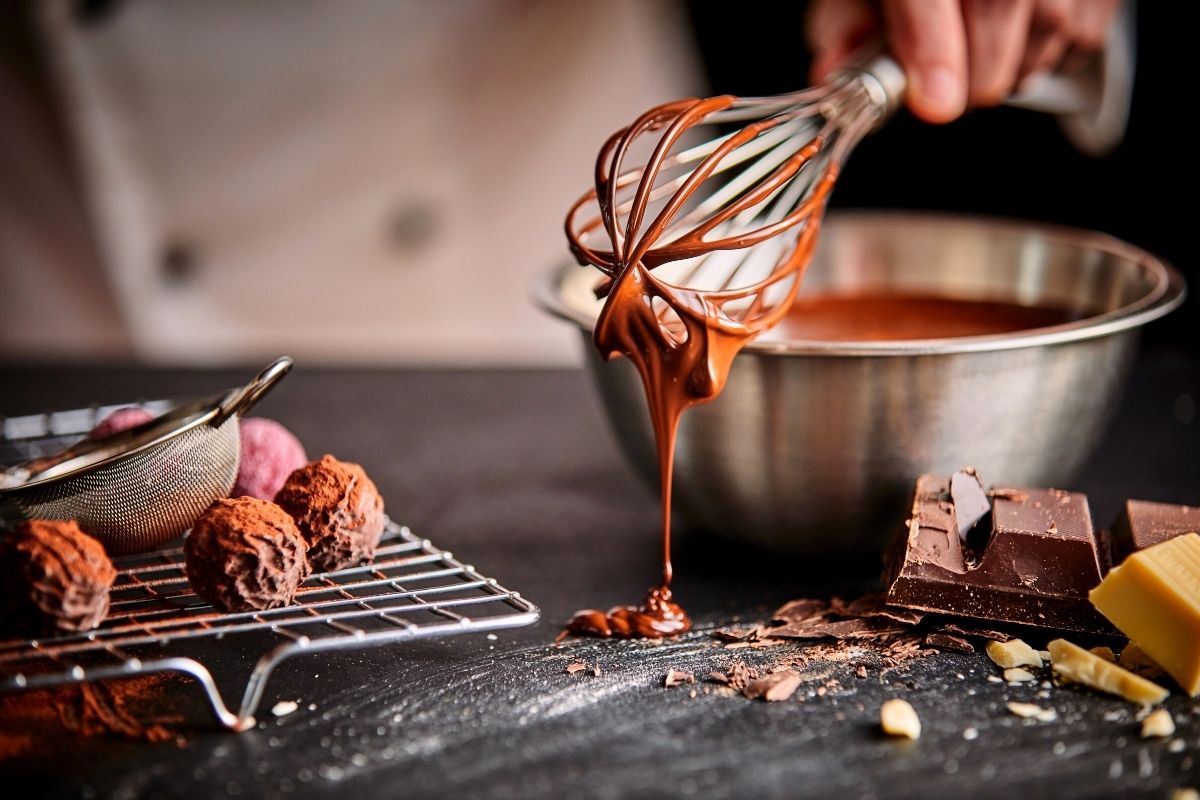 There's nothing better for a sweet vacation than a bit of candy – and few better places to enjoy it than at the Chocolate Museum!
Created by expert chocolatiers, this delightful Brixton-area gem seeks to get visitors in touch with every aspect of the dessert's manufacturing process, from harvest and production to the delicious end result.
You can even book a chocolate-making class, and try creating your own truffles – a truly scrumptious souvenir!
9 – Explore the London Zoo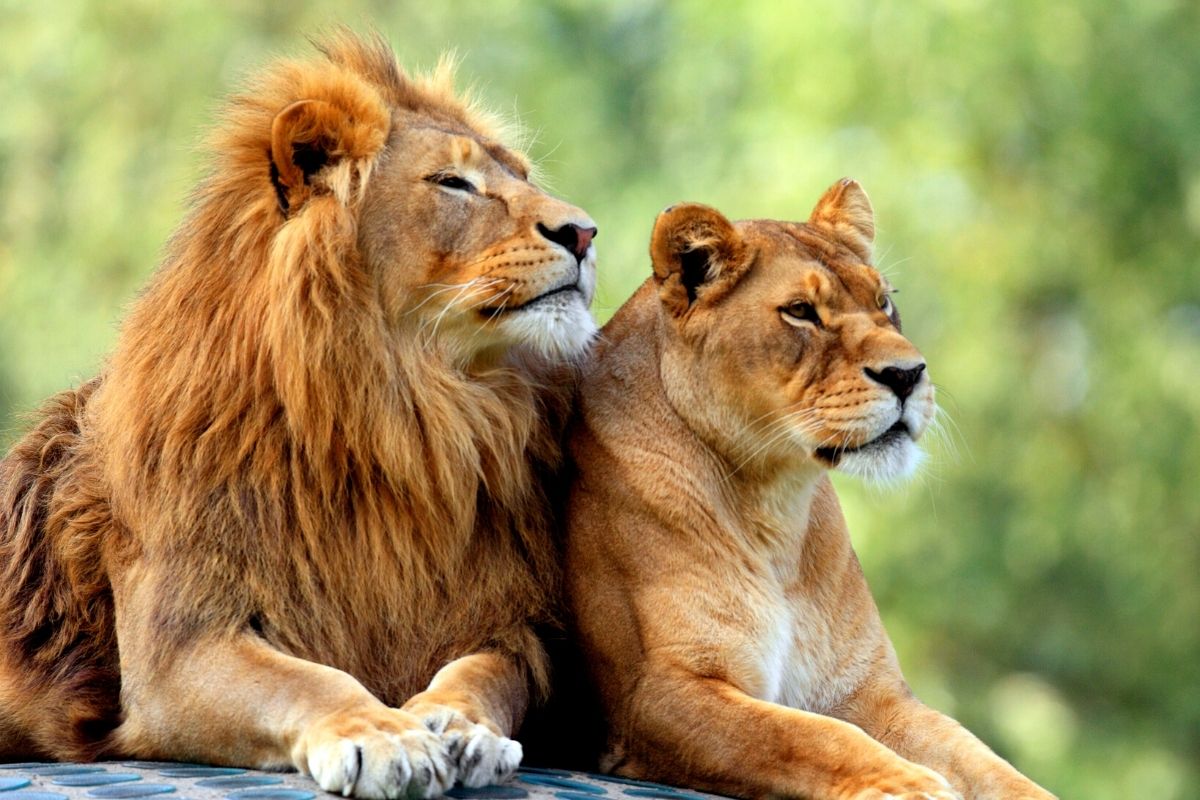 There's nothing like meeting some new folks on vacation… especially if they're of the feathered, furred, or scaled variety!
The London Zoo has long been beloved for its remarkable lineup of critters, ranging from gorillas and butterflies to Komodo dragons, lions, and Humboldt penguins.
While it often has more of a reputation as a family destination, it's an ideal spot for a daylong date as well.
Not only are there plenty of awesome animals to admire together, but with a whole range of wonderfully reconstructed environments – from the rainforest to the savanna -, you'll feel like you're taking several exotic vacations in one!
10 – Cheer your hearts out at some sporting events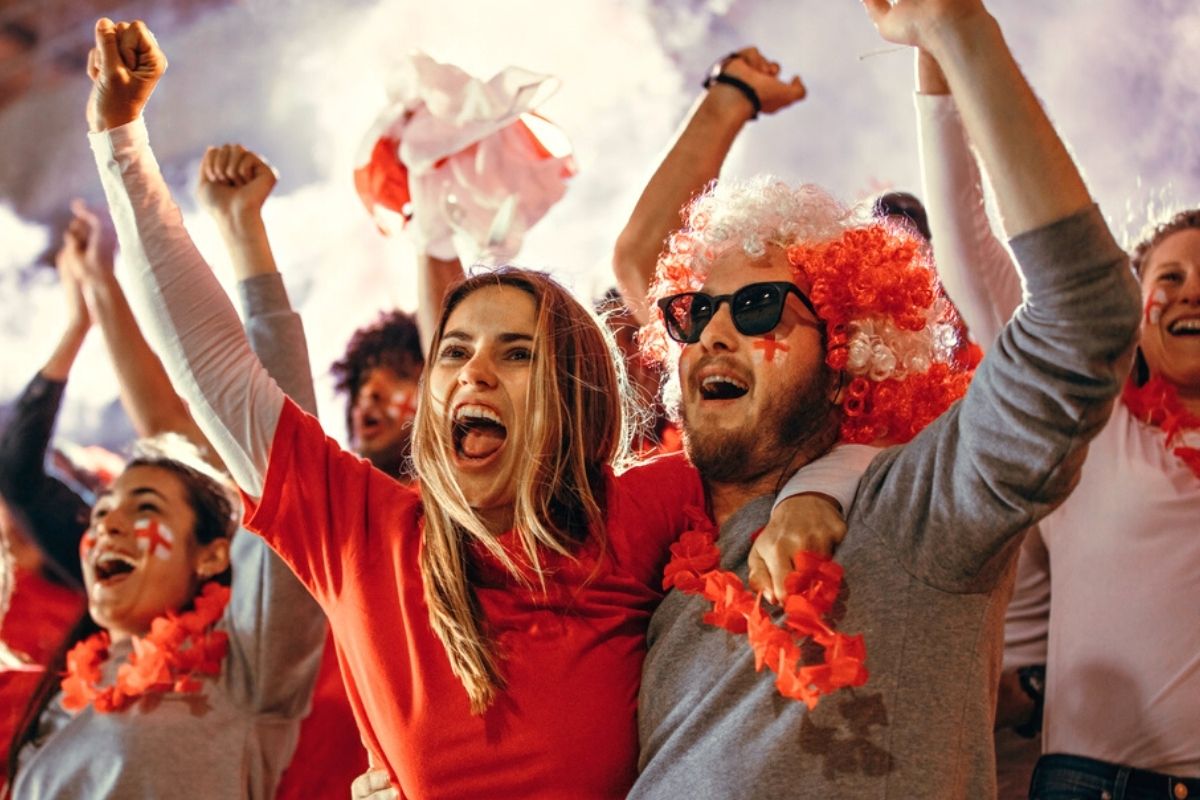 When it's time to ramp up the energy again, you and your number one can root for the number one teams in the country!
London Stadium is one of the big catch-all spots, hosting everything from rugby and football to American baseball and concerts – a fitting pedigree, considering that it was built for the 2012 Olympics!
And football fans will adore Wembley Stadium, with 90,000 seats waiting to be filled during exciting matches when the national team steps up to play – and if you and your significant other are fans, a stadium tour would be a memorable experience for both.
If you prefer one particular team, grab some tickets or tour the Arsenal Stadium (also known as Emirates Stadium), home of the acclaimed Arsenal FC team.
And don't forget to head over to Tottenham Hotspur Stadium, home of the Spurs, which hosts a steady stream of Premier League and NFL matches, along with great stadium tours.
If you can't make it to the games themselves, there are also excellent tours available for many of the stadiums, where you can dive into the rich history of the fields – and even walk across them, sports star style!
11 – Enjoy some toe-tapping musical shows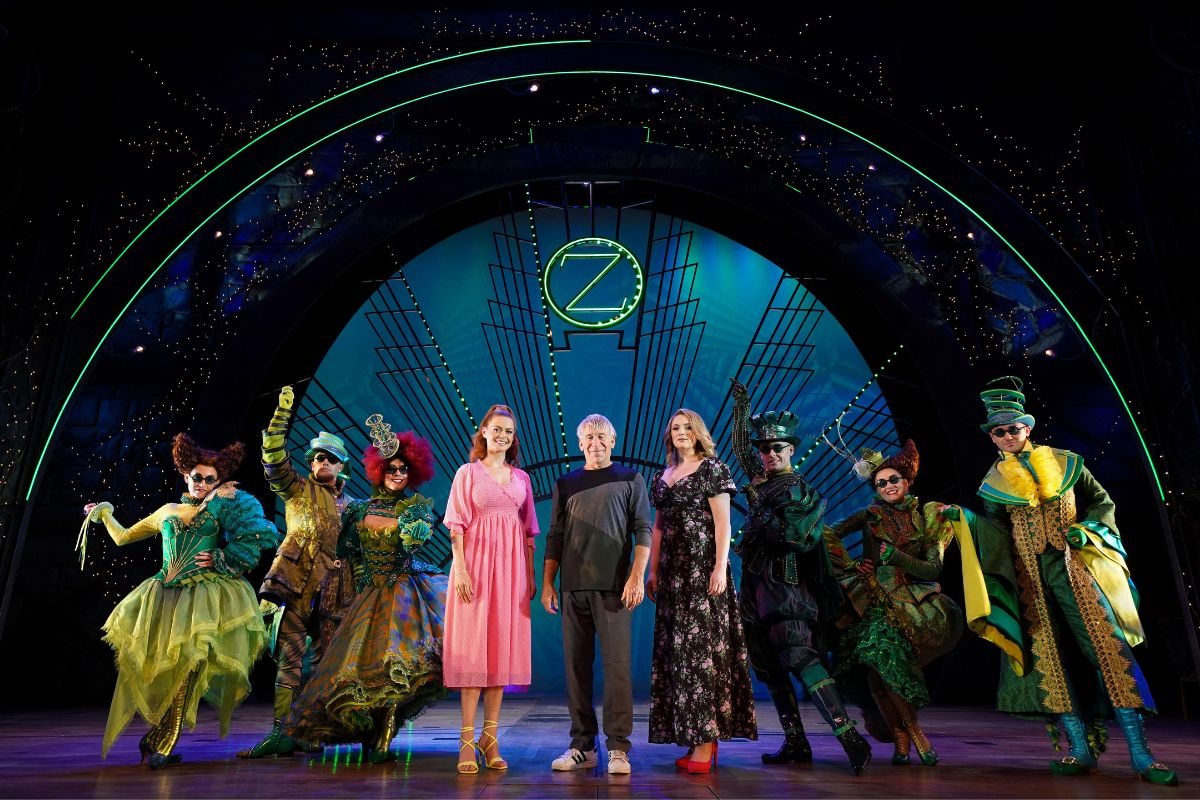 What's a trip to the big city without a little bit of theater? In fact, London is so filled with shows that you could easily spend a whole trip just sticking to certain styles or themes – especially if you're into musicals!
Jam out to the feel-good ABBA tunes and magical Greek island setting of Mamma Mia, or take an unforgettable, epic journey to the African savanna with The Lion King. Watch some precocious schoolkids defeat nefarious adults in Matilda, or see a whole new side to one of pop culture's greatest villains in Wicked.
Experience a riveting trip into the hidden side of music and passion with Phantom of the Opera, or take a thrilling dive into the French Revolution with Les Miserables. Many of these acclaimed productions – along with several others – can be found in the West End district, a must-see spot when you're looking for a memorable night on the town!
Hot tip; Check out our list of the best West End shows and musicals to see right now.
12 – Bundle up and enjoy some ice skating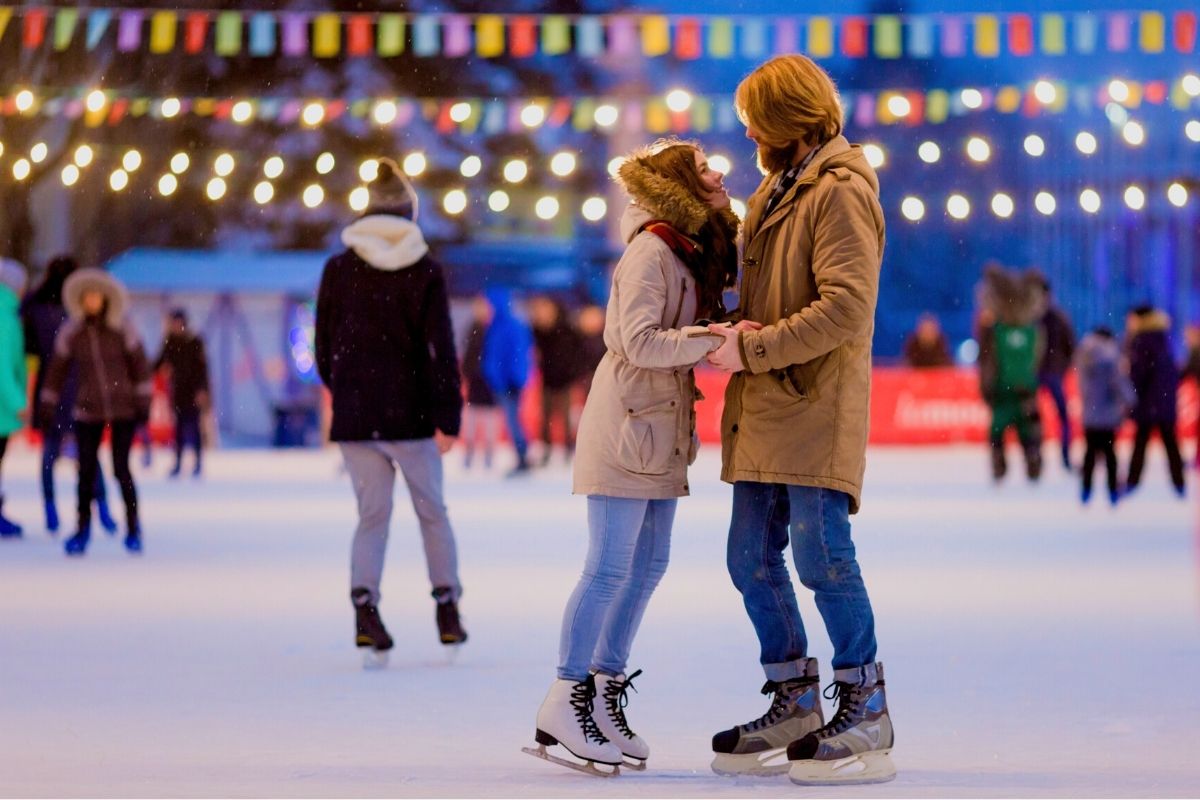 When the colder weather comes, there's no need to fret, because an iconic romantic activity will soon become available! There are some excellent ice skating rinks all over the city, combining stylish settings and a dynamic atmosphere with an exciting winter activity.
Enjoy the regal backdrop of the Hampton Court Palace Ice Rink, which sits in front of Henry VIII's former residence; or Hyde Park's Winter Wonderland, which comes complete with live music.
Glide past more historic residences at Queen's House Ice Rink, or enjoy the DJ sets and stunning Neoclassical architecture at Skate at Somerset House. Get some great rooftop views with your session at Skylight Ice Rink, or soak up the skyscrapers while you glide around at Ice Rink Canary Wharf.
Or take things to the next level at the Westfield ice rink at Winter Village, which also features everything from light shows to bowling with elves!
While many of these rinks are seasonal, there are also several places – such as Alexandra Palace and Queens – that operate year-round; so grab your sweetie and strap on some skates!
13 – Dine and ride with Bustronome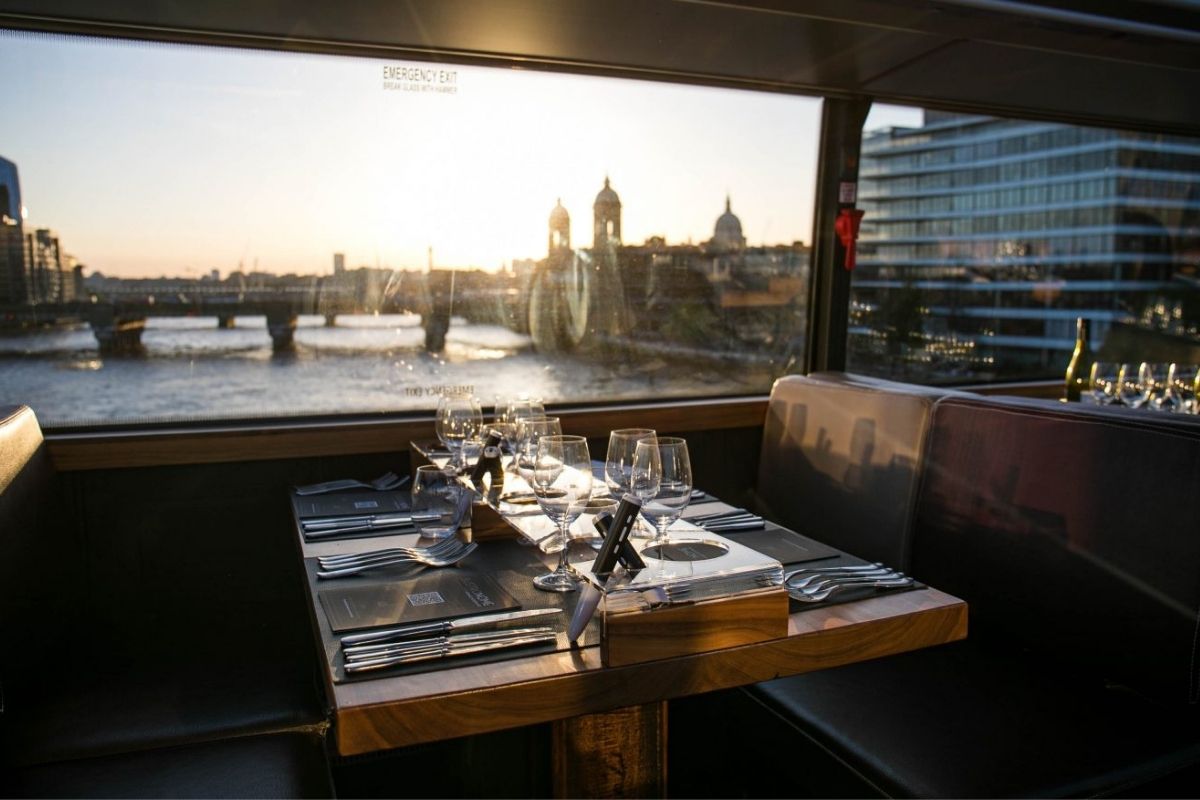 The name "Bustronome" raises plenty of questions… namely, "What the heck is that?!", but dig a little deeper, and you'll find a fantastic gastronomic experience… with transportation to match!
Picture this: one of the city's iconic double-decker buses, retooled to include a luxurious restaurant, where you can tuck into some remarkable cuisine as your vehicle cruises around the city.
Along with one of the best meals in town, this unique experience ensures that you can see London at your own pace, with some of the best drivers around – a truly multifaceted experience!
If you really feel like splurging, you can book a private tour, and feel as though the whole city is your own; but even if you go with a group, the combination of fine dining and awesome sightseeing will make for an incredible evening excursion!
14 – Take a relaxing stroll through Kew Gardens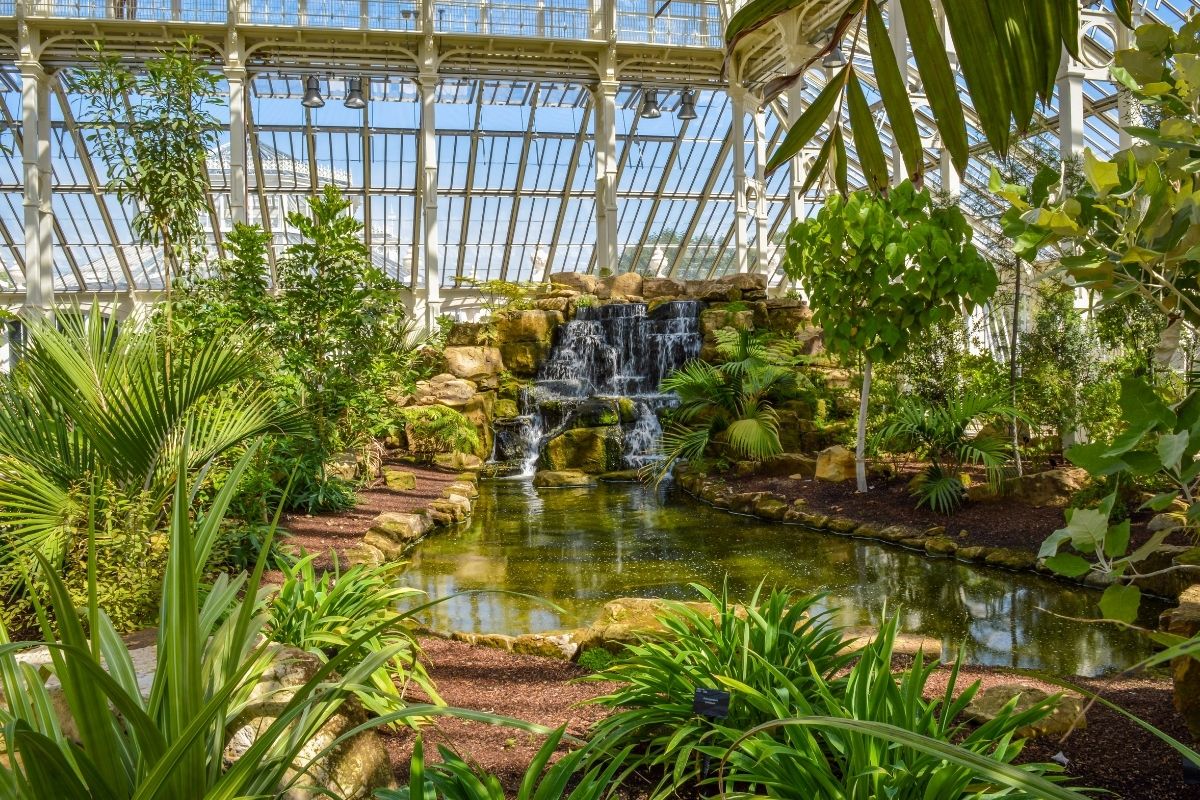 It's hard to go wrong with a stroll past some plant life, and Kew Gardens is one of the best places to visit in London to soak up the botanical vibes!
This collection, which originally started as a project by the royal family, is also the perfect place to see some rare specimens – a truly exciting scientific experience!
As you stroll along 326 acres' worth of beautiful scenery, you'll find plenty of amazing treasures, from gorgeous wooded areas and a greenhouse filled with beautiful endangered plants to a wild treehouse worthy of the Swiss Family Robinson.
There are also some great treasures that you might not see in standard botanical gardens, such as some acclaimed greenhouses; don't miss the Palm House, which is one of the most ornate and best-preserved greenhouses of the Victorian era.
Whether you're stopping by for a quick visit or enjoying a full day of strolling, these magnificent spaces are not to be missed!
15 – Enjoy some classy vinos at Gordon's Wine Bar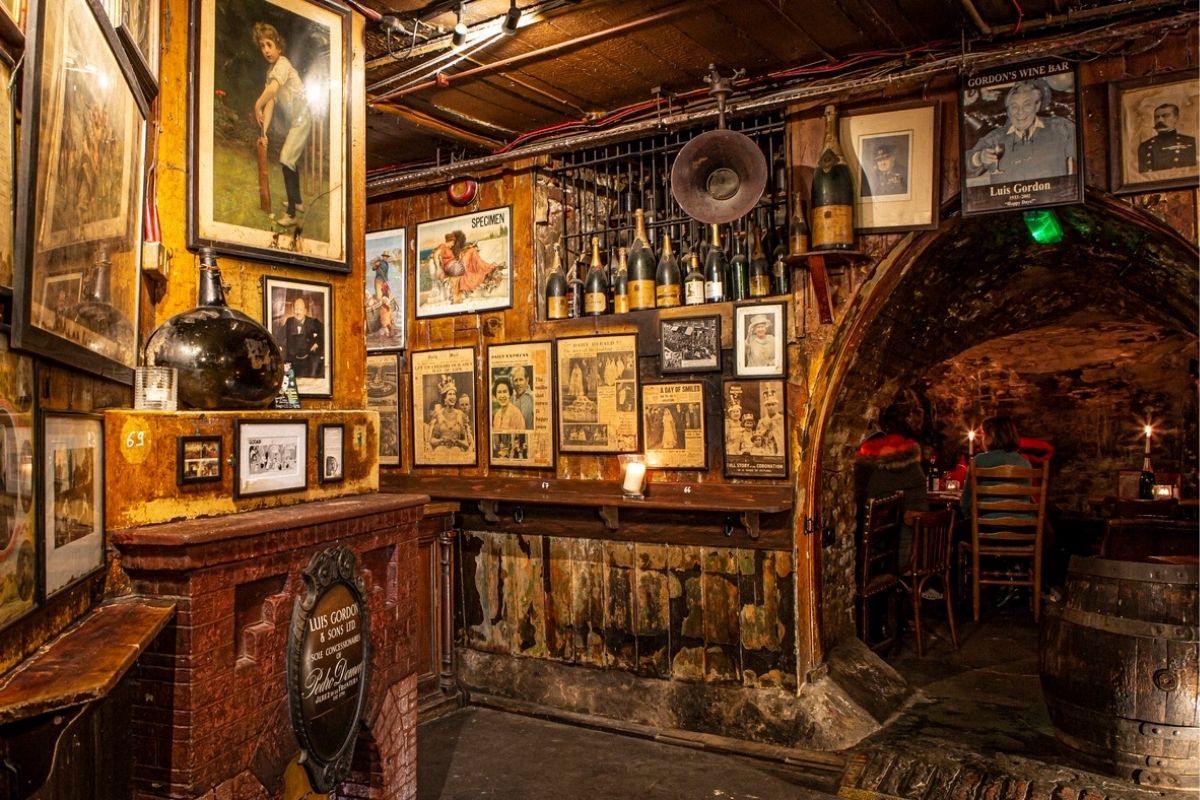 There's no shortage of adventurous and/or avant-garde things to do in London for couples, but sometimes, you just want to unwind with a nice beverage. And Gordon's Wine Bar – the oldest venue of its kind in the city – is an ideal spot for this activity.
Since 1890, it has served as a beloved sipping spot for townsfolk and visitors alike, and it remains a beloved community locale, with no reservation list and plenty of excellent selections.
With a year-round al fresco experience (courtesy of the heated patios) and a welcoming vibe, this is the perfect place to enjoy some favorite wines – or discover a new one! You can even get some stellar add-ons, such as decadent cheese plates and unique vegan offerings.
With an unbeatable combination of history and delicious drinks, you can be sure of a truly spectacular evening!
16 – Discover the beauties of St Paul's Cathedral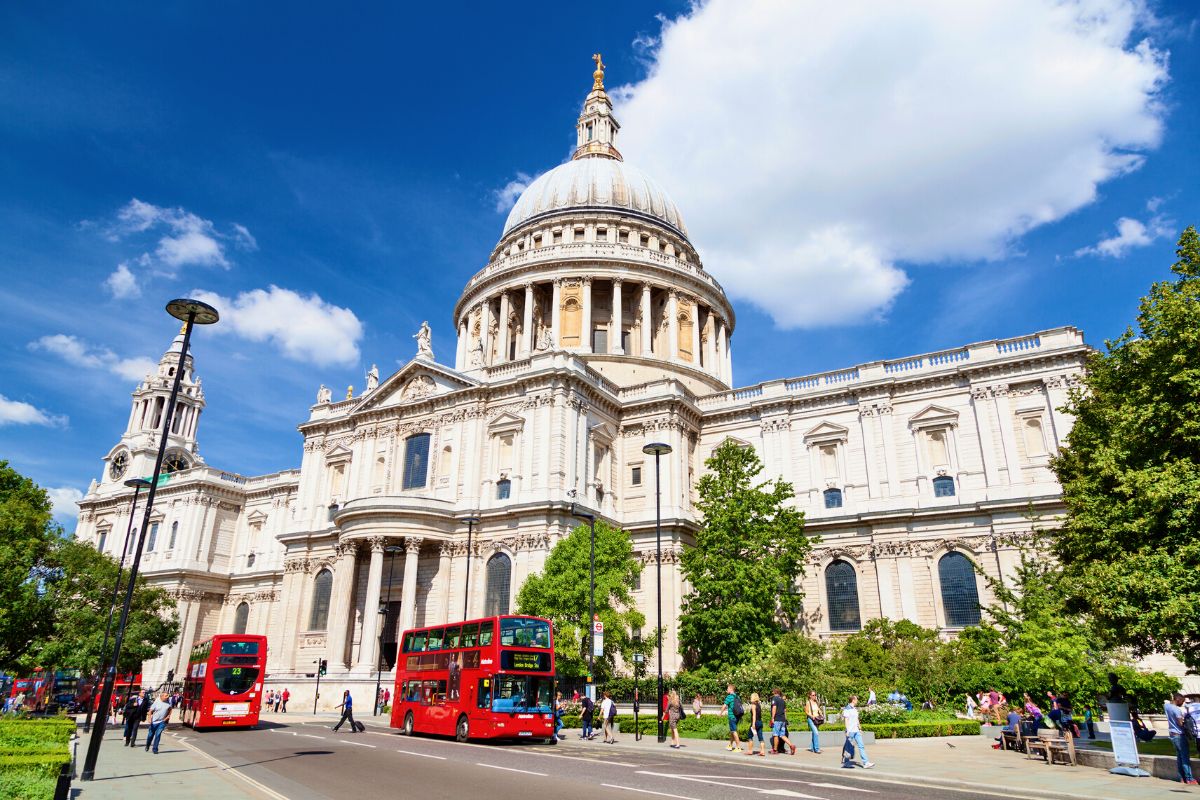 As stunning as St. Paul's is at first glance, a tour around the gorgeous Baroque masterpiece is even better!
Located in Central London, this iconic cathedral has been the centerpiece of many political and social events, including the marriage of Prince Charles and Princess Diana, and the funeral ceremony for Winston Churchill.
And while the backstory alone is worth a visit, there are also two attractions that are particularly well-suited for couples.
The Whispering Gallery, located on the second floor, has long been known for its hushed, spiritual atmosphere; its acoustics are so impressive that you can whisper something at one end of the room, and have your sweetheart hear it on the other side!
And as you're wandering the grounds, take a peek at the Young Lovers Statue, a beautiful bronze work depicting a couple intertwined in an affectionate embrace. You'll soon see why this church has been beloved by romantics – and everyone else – for 1,400 years!
17 – Settle in and enjoy a show at some luxury cinemas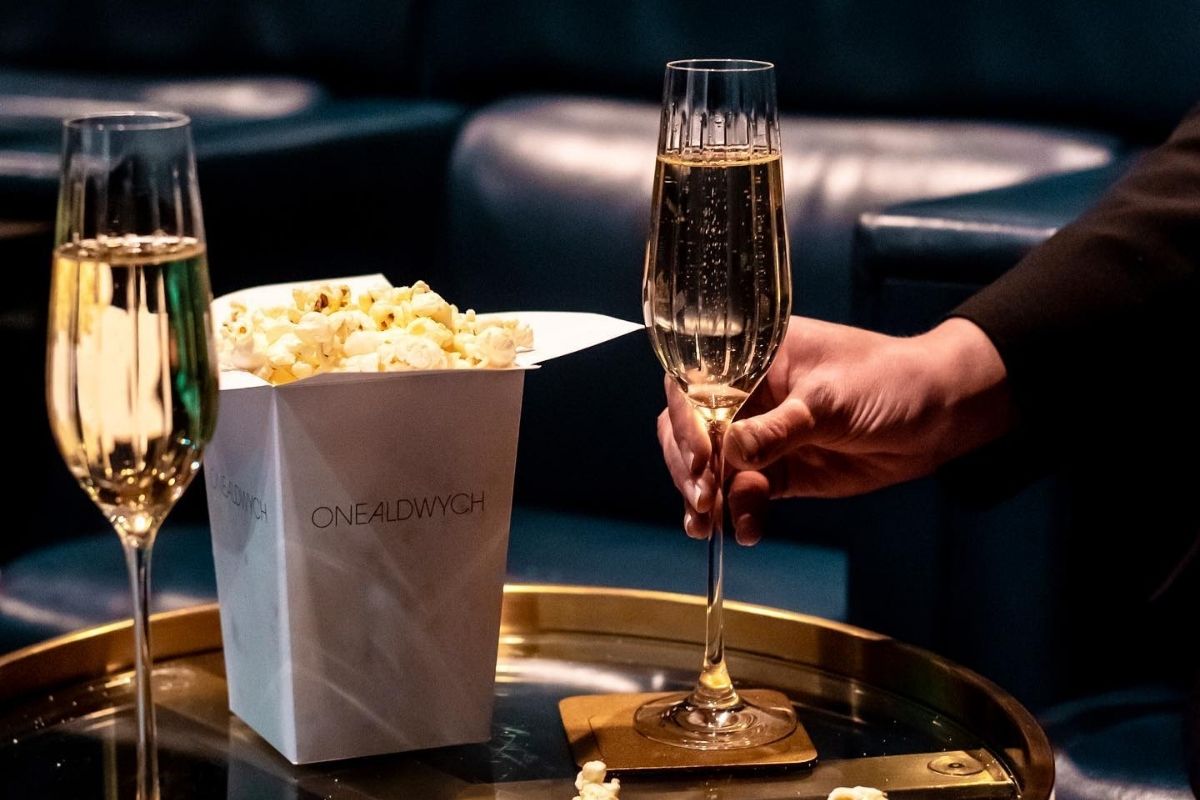 There's nothing like date night at the movies – especially when it's at one of the city's luxury theaters! Blending amazing aesthetics with some awesome screenings, these cinemas are the perfect place to catch a flick in style.
Enjoy a three-course meal (plus wine) and a nice mixture of new and old flicks at Hotel Aldwych's Film and Fizz experience, or enjoy the intimate vibes and phenomenal 4K screens at Curzon Sea Containers.
Kick back in the reclining seats and elegant decor of The Cinema in the Arches, or relax on a sofa – or even a double bed! -, as you enjoy a film at Electric Cinema, which has been a community fixture since 1910.
Or treat yourself to one of the theaters in the Everyman Cinemas chain, which offer awesome perks like waiters, recliners, and even a build-your-own-sundae option!
18 – Enjoy the vibes of a candlelight concert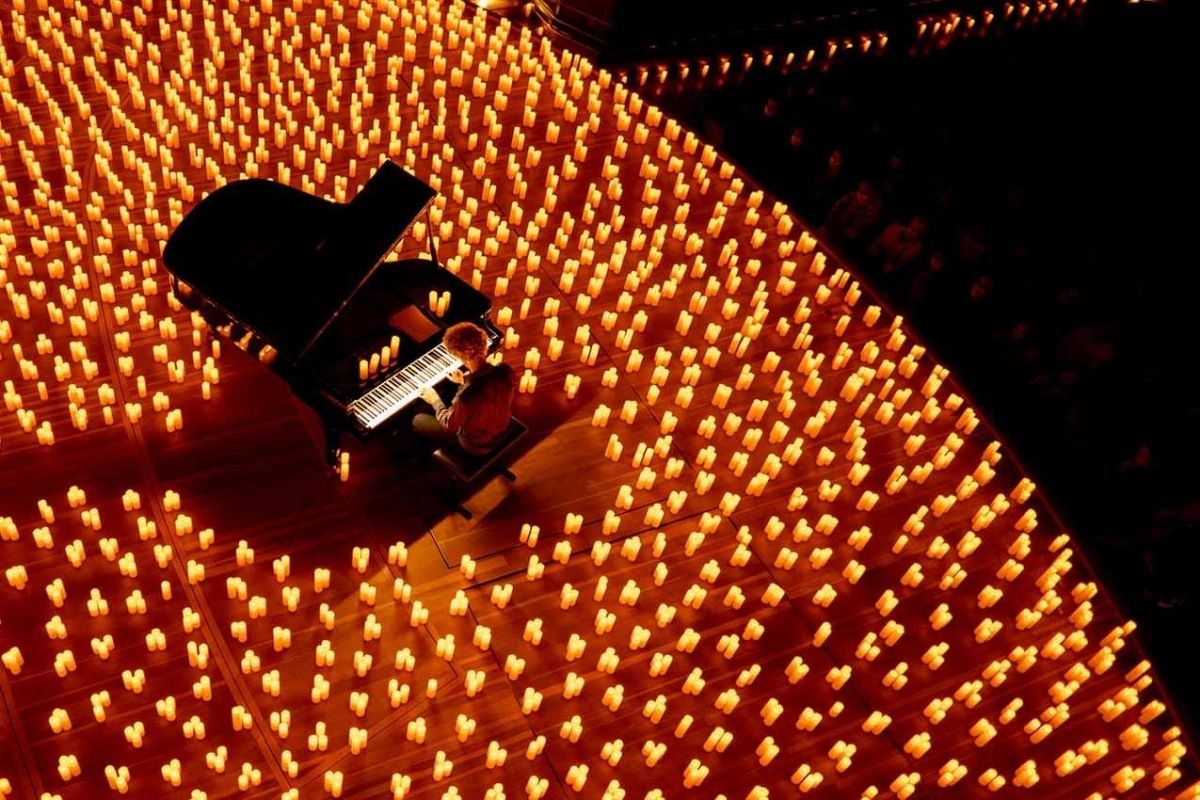 When you think of romance, you probably think of music… and maybe also candlelight. So why not enjoy a bit of both?
The Candlelight Concert series combines an intimate atmosphere with world-class live music, making for a truly special evening!
Held in various beautiful venues around town, the series offers some phenomenal classical performances, as well as reinterpretations of modern rock, pop, and film scores.
It's a terrific way to celebrate your time in town!
19 – Feast in style at some Michelin-starred restaurants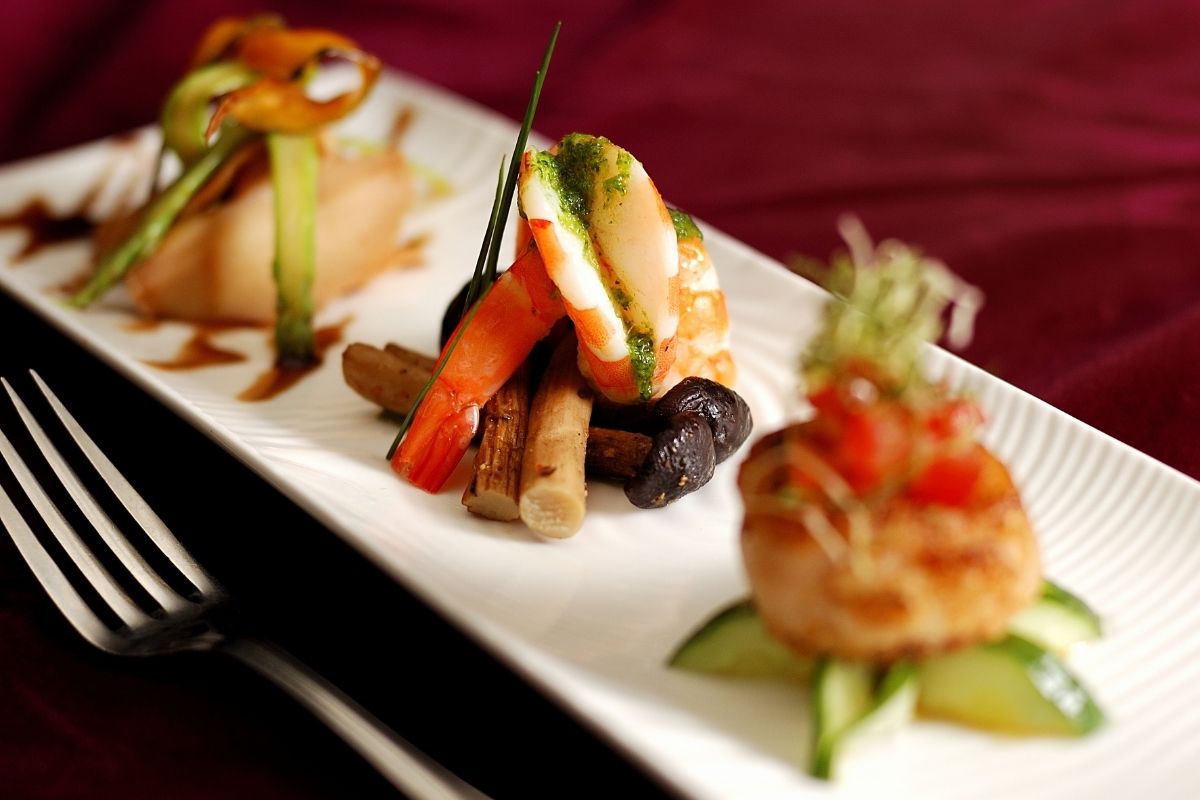 In between all of these romantic activities, take a bite (or several) at some of the city's many Michelin-starred restaurants.
Enjoy the element of surprise with the unique menus at the cozy little Kitchen Table, or the colorful, multi-textured dishes at Core, which also features seasonal offerings.
Sample a wide range of fine British cuisine – from grouse to lobster – at The Connaught, or some top-notch French dishes at Le Gavroche, which has been a fine-dining hotspot since 1967.
And don't miss the vibrantly-colored dining room and multi-course decadence of Sketch, where great service meets a Wonderland-style atmosphere. With unforgettable meals matched by amazing aesthetics, this is one of the coolest (and most delicious) things to do in London for couples!
20 – Walk in the footsteps of nobility at Kensington Palace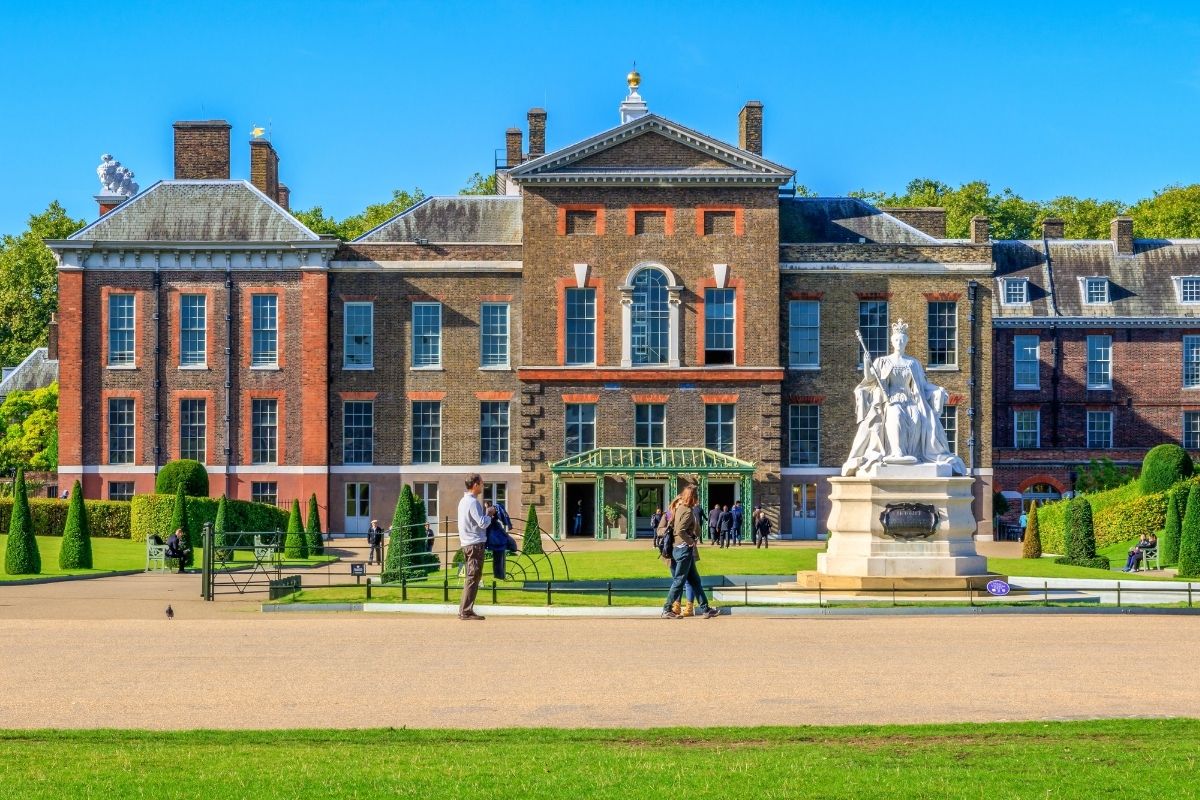 A longtime symbol of royal opulence, Kensington Palace is also a great spot for couples looking to enjoy some splendid scenery!
Today, this splendid complex is best known as the residence of Prince William and the Duchess of Cambridge; but with centuries of history and culture behind its walls – not to mention some of the most beautiful gardens around -, it's the perfect spot for tours.
Walk in the footsteps of famed monarchs past, and learn some delightful stories about the childhood of Queen Victoria, who grew up on the estate. Then stroll through the lush, perfectly landscaped gardens, which have long been a favorite walking spot for members of the royal family.
If you're feeling particularly fancy, you can even enjoy high tea at the estate, with all the trappings of a traditional British ceremony. As you nibble on cakes and sip your beverages, you'll feel like part of the regime yourself!
21 – Take in a Ballet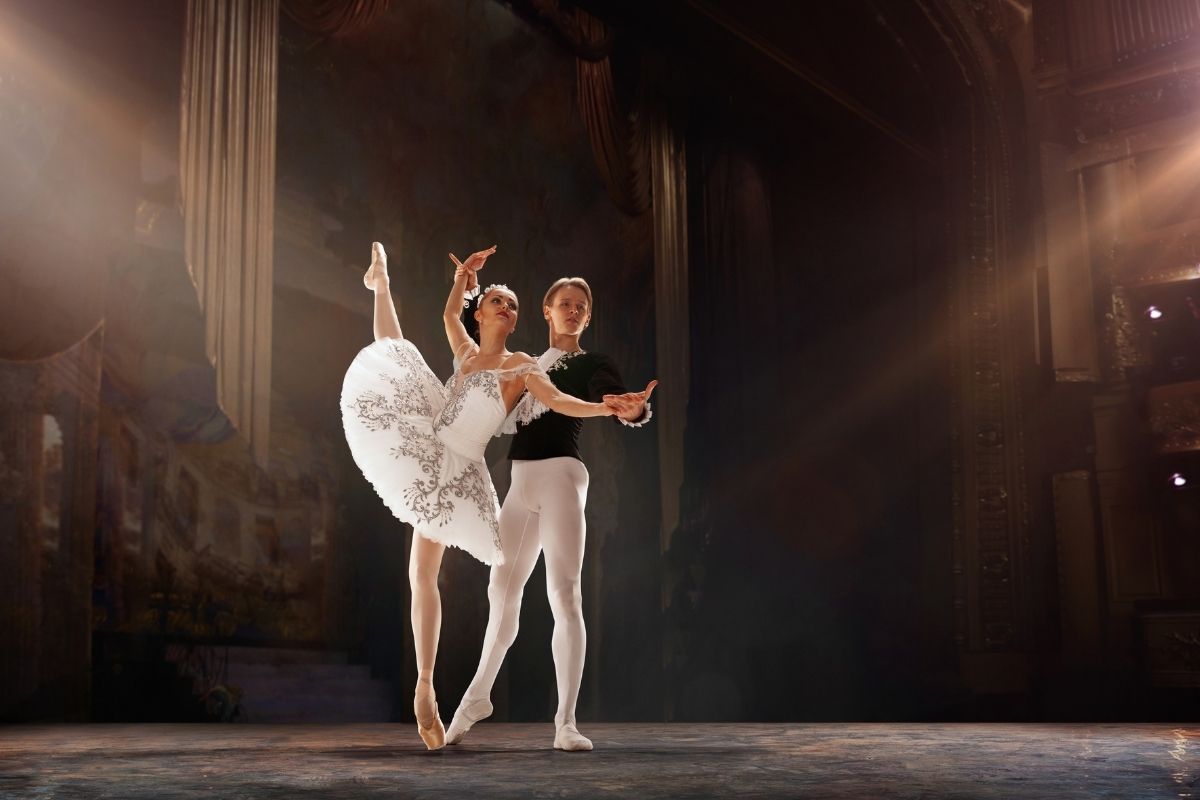 As you watch the dancers leap and turn through fantastical sets, with lively classical music playing in the background, you'll be kicking yourself for not having gone to the ballet sooner!
There are two particularly notable companies working in London, each producing unforgettable shows that highlight the tremendous talent of the performers.
The Royal Ballet, which takes place at the Royal Opera House, has been wowing audiences since 1931, and continues to be one of the premier companies in the world, with a particularly impressive lineup of classic 1800s productions.
You can also pop over to the impressive London Coliseum, which is home to the English National Ballet, where you can enjoy classics such as Swan Lake and The Nutcracker.
And if you're really feeling adventurous, they even offer beginner's classes, so you and your partner can try a few pirouettes yourself!
22 – Take cues from another romantic city in Little Venice and Regent's Canal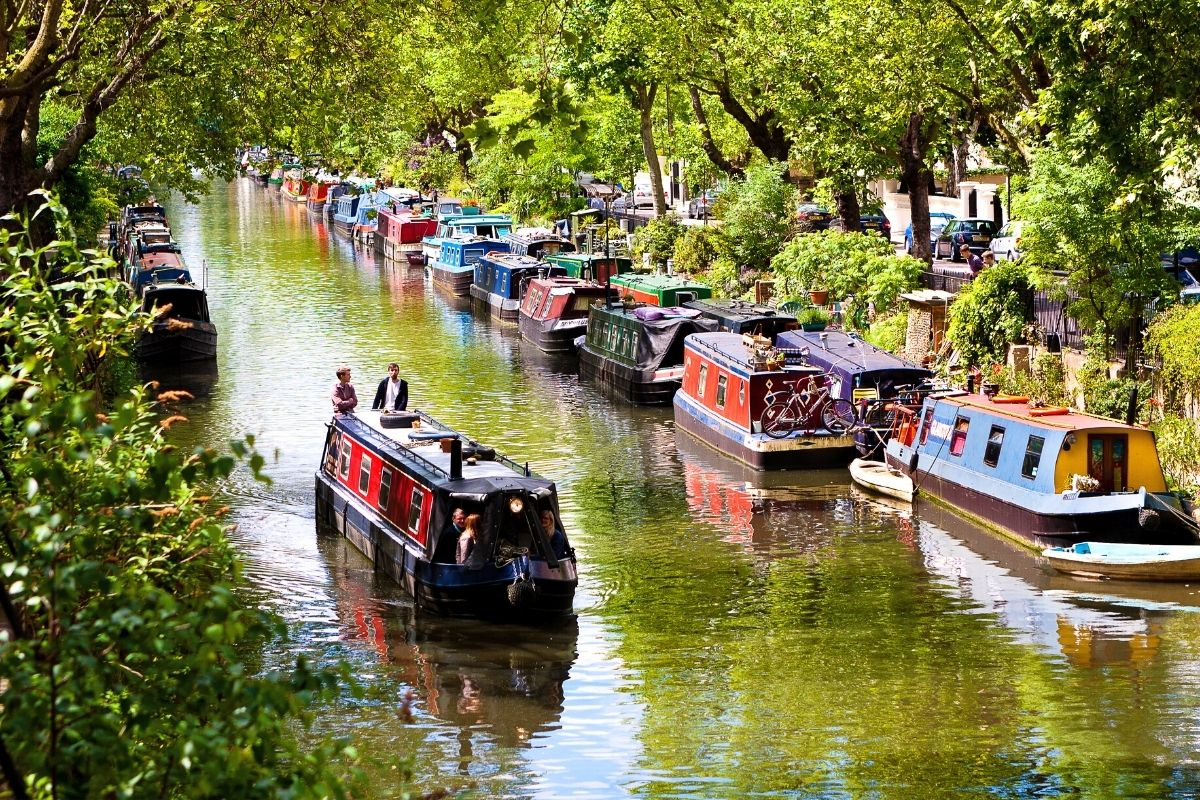 While there are plenty of classically British things to do in London for couples, you can also enjoy a little slice of Italy while you're visiting!
As the name suggests, Little Venice is well-known for its gorgeous waterways, which offer a nice, relaxing way to see some of the natural splendor in the area.
Regent's Canal is an especially popular option for tours, with rows of gorgeous trees framing the walkways, and iconic sights such as the London Zoo passing by in a leisurely fashion.
And don't miss out on Rembrandt Gardens while you're in the neighborhood; with its rows of brightly-hued flower beds and charming, well-organized shrubberies, it feels like a world all its own.
23 – Compete for strikes at the local bowling alleys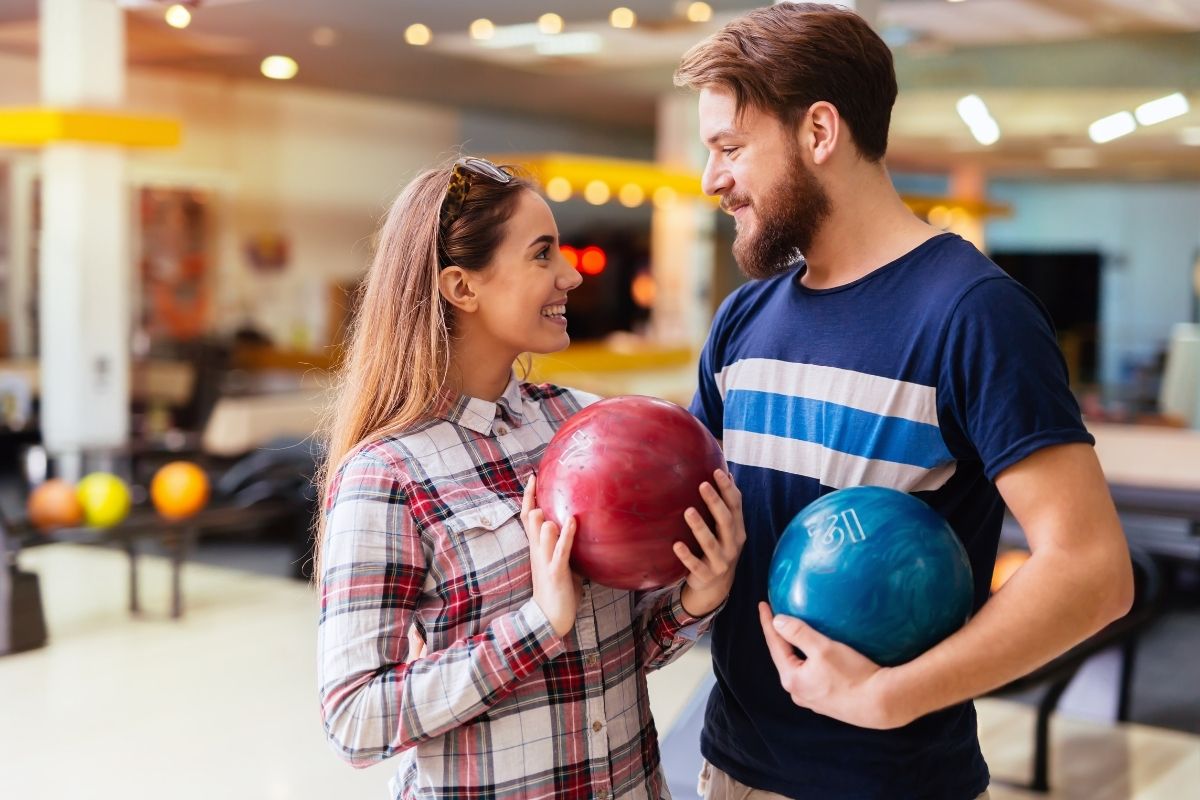 Alright, time for something a little more energetic… bowling! There are some superb alleys in town where you and your plus one can try for some strikes – and maybe even make some new friends!
Enjoy some art deco or retro '50s flair at All Star Lanes, or make a night of it at Bloomsbury lanes, which also features ping-pong tables and karaoke rooms.
Get two sports in one at Queens Skate Dine Bowl, where you can alternate between strikes and whirling around the ice rink; or get a little hedonistic at Rowans Tenpin Bowl, which also offers music and dancing.
And if you want a standard experience that doesn't skimp on the fun, head over to Tenpin, which offers fun little extras like neon bowling.
24 – Soar above the city on the IFS Cloud Cable Car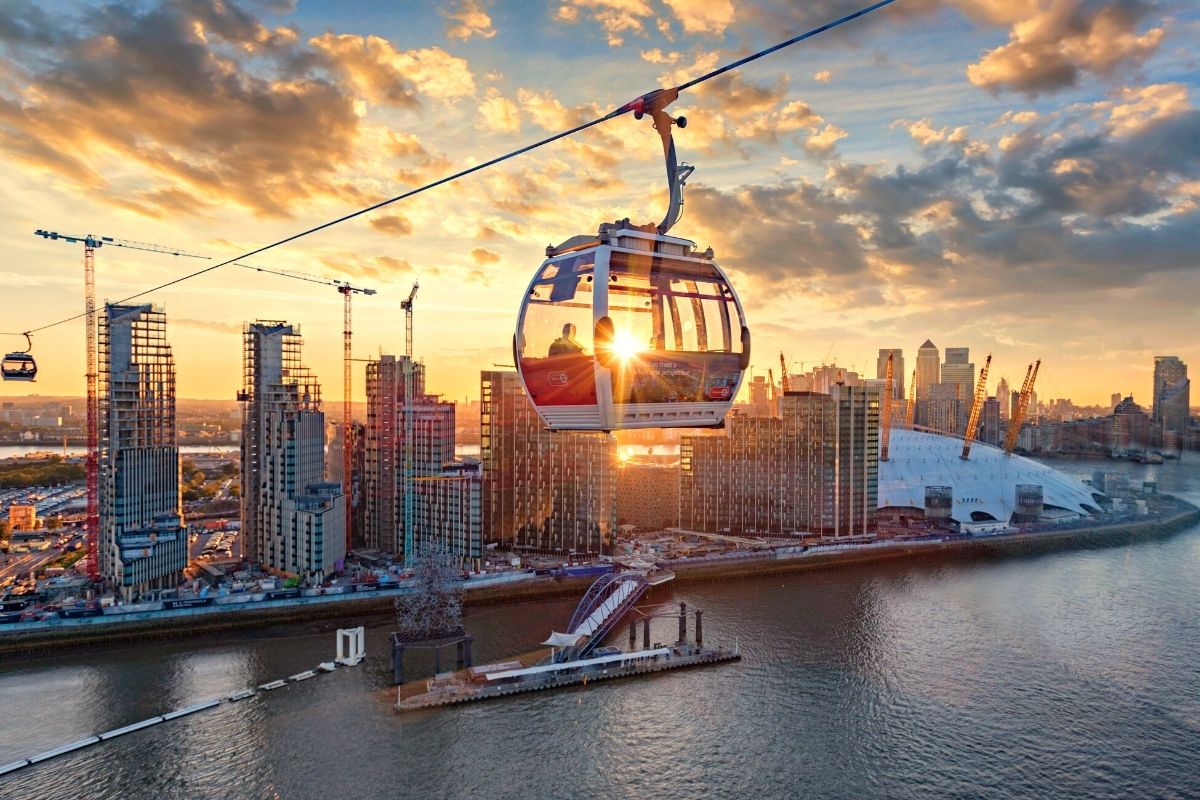 Another great way to see the city from above, the IFS Cloud Cable Car is a charming little bit of transportation.
As you glide up and over the Thames, you'll be treated to an amazing display of such landmarks as Queen Elizabeth Olympic Park, the O2 Stadium, and the city's many eye-catching skyscrapers.
And with the unique mode of movement,  you'll really feel like you're flying!
25 – Sunbathe and enjoy a show at Regent's Park Open Air Theatre
Looking for more places to appreciate the local thespians? At Regent's Park Open Air Theatre, you won't just get some amazing shows; you'll also get a nice dose of fresh air as part of the bargain!
This beloved local institution comes to life every summer, with a 1,240-person seating capacity and an eclectic lineup of shows.
And the performances themselves are no mere amateur productions; it's not uncommon for productions that started here to eventually transfer to the West End, or even American theaters!
Stop by and catch a show or two, and enjoy the stellar combination of beautiful natural scenery and unforgettable theatrical moments!
26 – Admire the scenery on a sunset cruise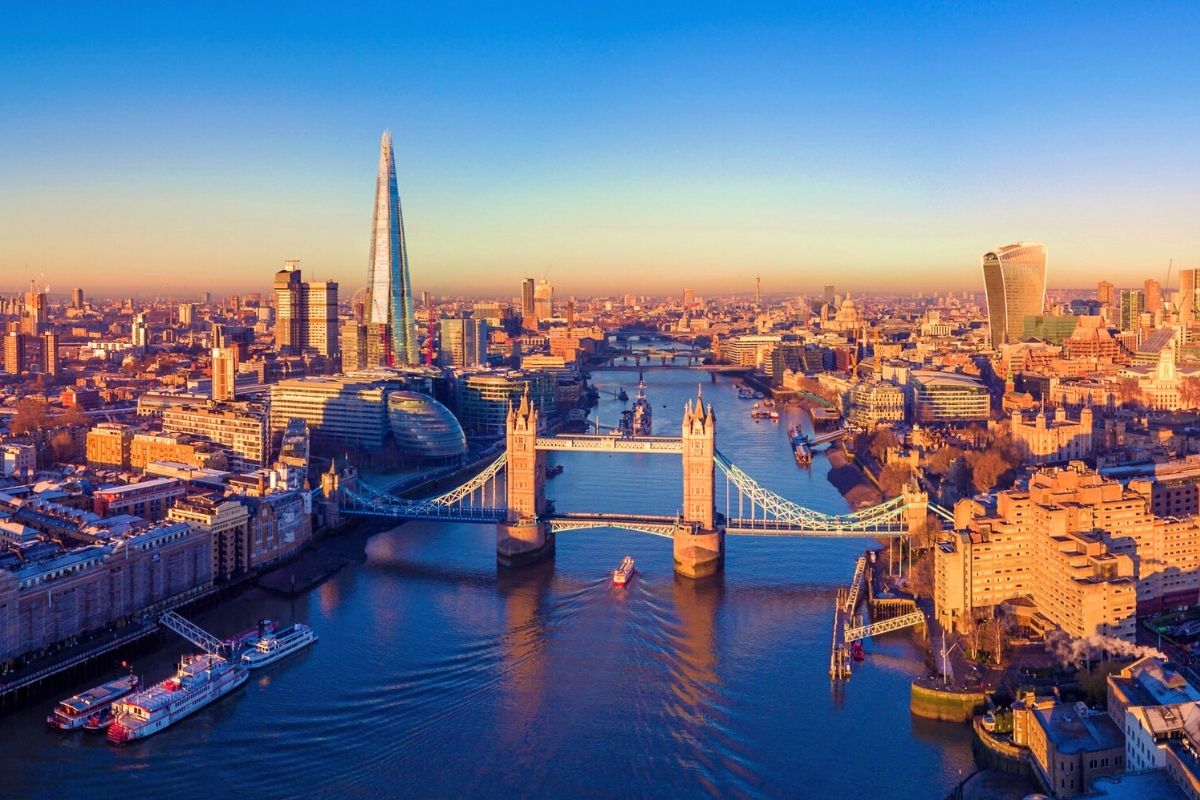 In between the daytime sightseeing and the bustling nightlife, take some time to enjoy another romantic touchstone: a sunset cruise!
Grab your significant other and head out on the water, watching beloved landmarks like Big Ben and the Tower of London pass by, as the scenery shifts to night in a beautiful fashion.
Get a little wild with the speedboat option, or book a floating hot tub and soak up the vibes (and the warm water) as the city floats past you.
It's an unforgettable way to spend an evening!
27 – Hang out on Parliament Hill at Hampstead Heath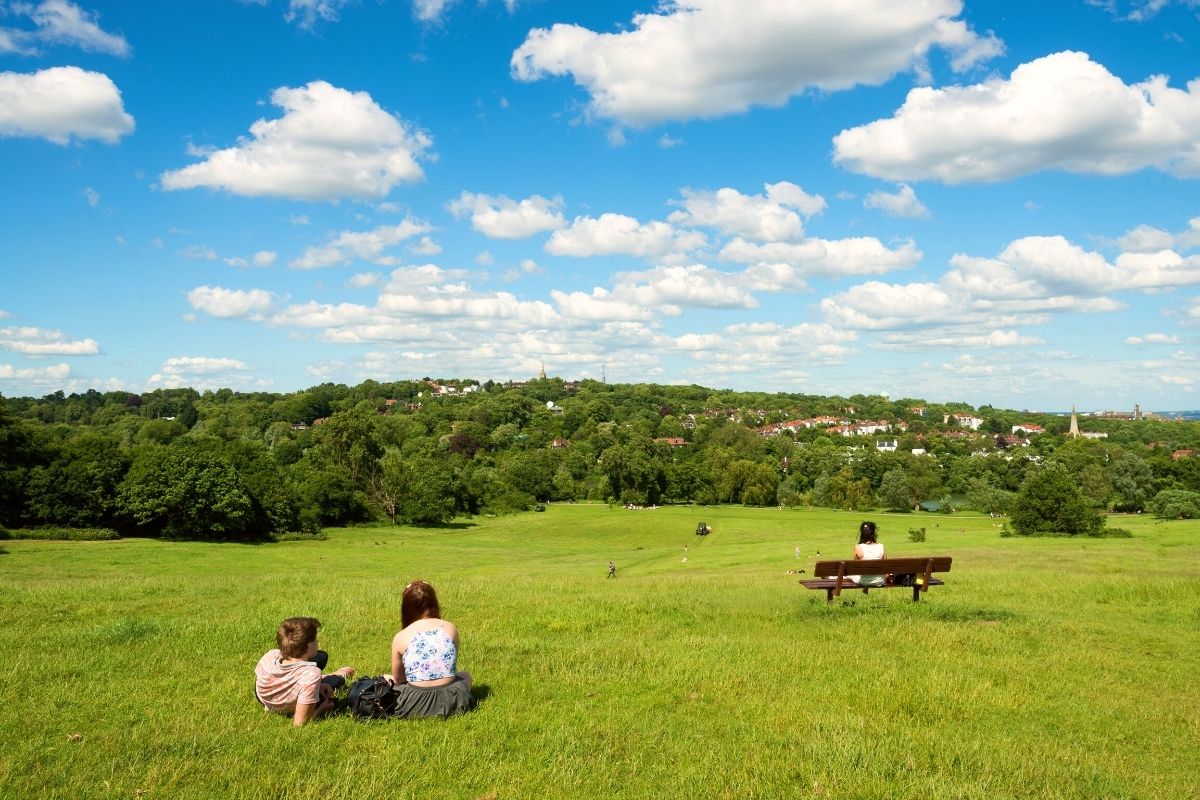 When you walk through Hampstead Heath, you may feel like you've entered a fantastical forest realm; unsurprising, given that it was the inspiration for the mythical land of Narnia!
And Parliament Hill is an especially charming landmark, with great vantage points and a tranquil beauty all its own. Whether you're flying kites, enjoying a picnic, or just strolling around, it's one of the iconic places to spend a sunny day.
While the official park area was created in 1888, the hill itself has been part of royal ;and deals and other local events since at least the 1100s, and is thought to have had activity as far back as the Bronze Age!
After hanging out for a bit, be sure to check out some of the other cool features in the area, from gorgeous woodlands to refreshing bathing ponds.
28 – Visit the sites around Notting Hill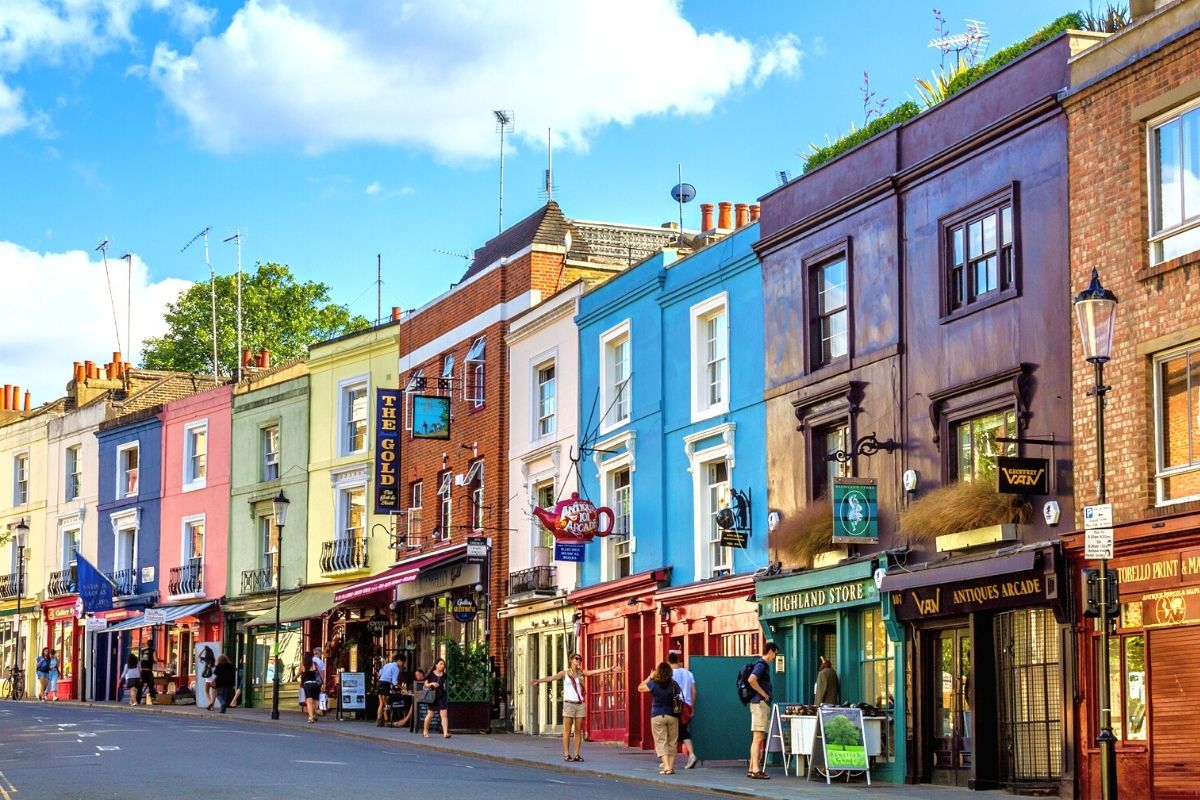 Yes, you probably know about this area from the famous Julia Roberts and Hugh Grant movie (which would make it a worthy romantic destination in and of itself), but there's tons more going on in and around Notting Hill!
Along with its cinematic pedigree, this dynamic neighborhood is home to Portobello Road, one of the most renowned and eclectic shopping areas in town.
And there's also a surprisingly robust music pedigree as well, with several recording studios tucked into the various streets. You can even see where reggae legend Bob Marley created some of his hits!
Along with all of the big-name attractions, there are plenty of little charms all over the area; whether you're exploring some of the quieter bars and cafes or admiring the famous cinematic blue door, it's a perfectly charming area to explore!
29 – Get your giggles out at some comedy clubs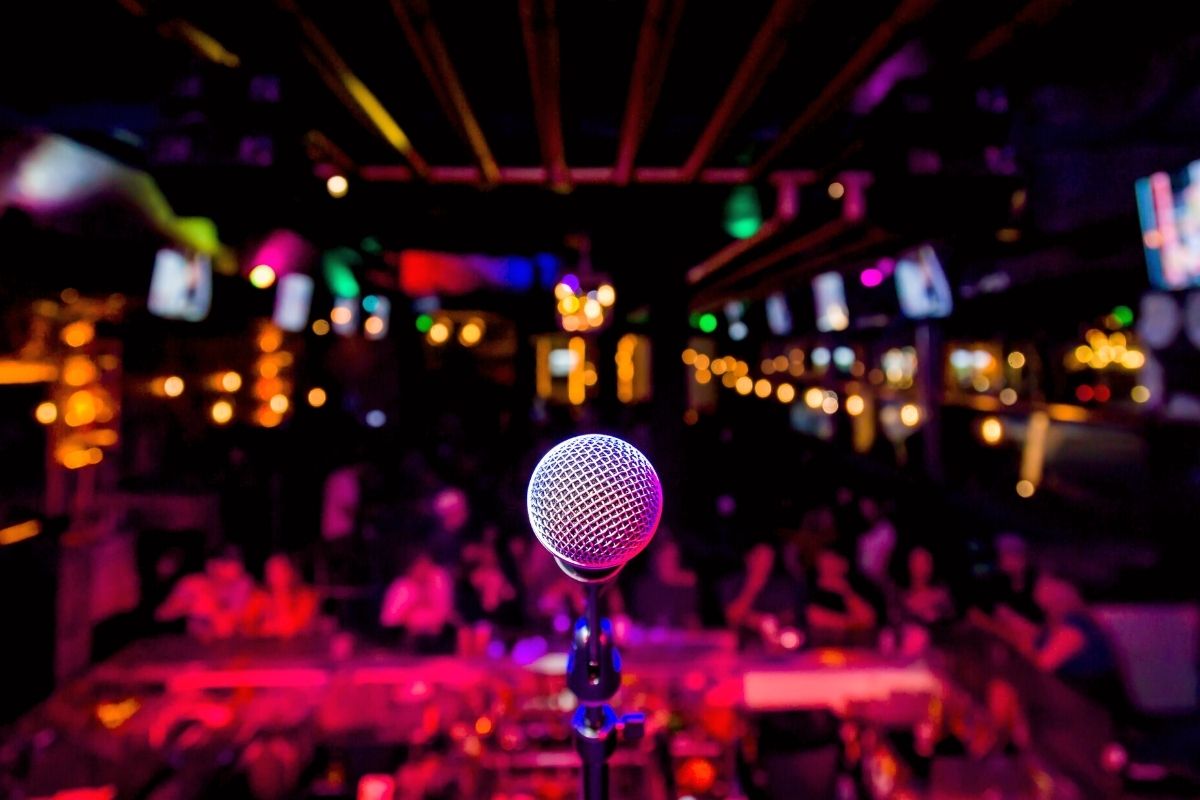 You know what they say: the couple that laughs together… keeps laughing together? Ok, maybe there's no specific saying, but comedy clubs are a great spot to keep bonding and enjoying life.
You can enjoy a nice mix of top-notch talent at Always Be Comedy, or a classic experience at 99 Club Leicester Square.
Check out a nice mix of promising newcomers and seasoned pros at Angel Comedy, or the glorious free-for-all of sketch comedy, traditional standup, and experimental bits at Knock2Bag.
Take in the boisterous sets at Live at the Chapel, or some of the biggest names in the business at Soho Theatre. With unique talent and excellent venues all over town, you're never far from a side-splitting experience!
30 – Enjoy a lovely picnic at St. James's Park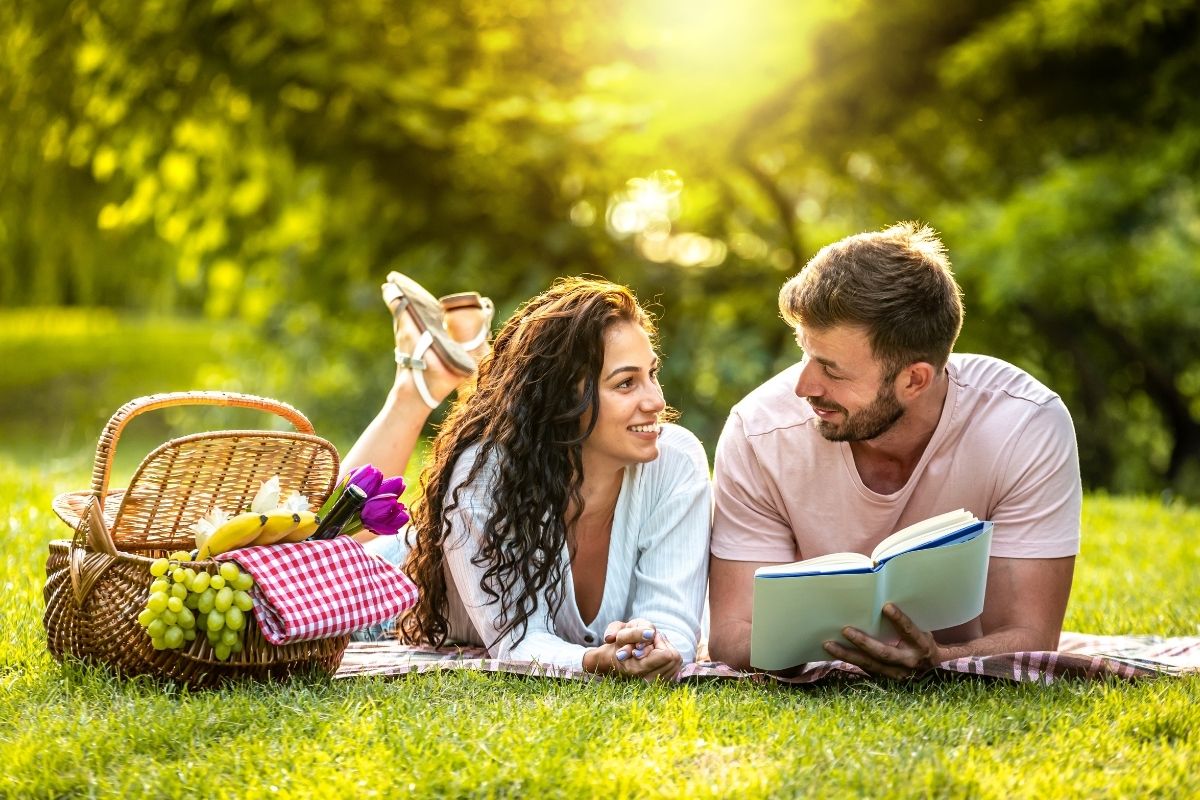 Another one of the city's beloved green spaces, St. James's Park has a reputation as a picnicker's paradise.
Featuring a  picturesque lake (where pelicans make regular appearances) and flowerbeds worthy of a monarch – which is fitting, considering that it's next door to Buckingham Palace -, this area definitely fits the bill.
With 57 acres of tranquil green space, there's no shortage of spots to set up your spread; and with the aforementioned birds engaging in their antics, and a steady stream of royal rituals throughout the day, there's always something interesting to watch while you eat.
The only problem with being here is that you might find it hard to go do anything else!
31 – Get a truly spectacular perspective on a helicopter tour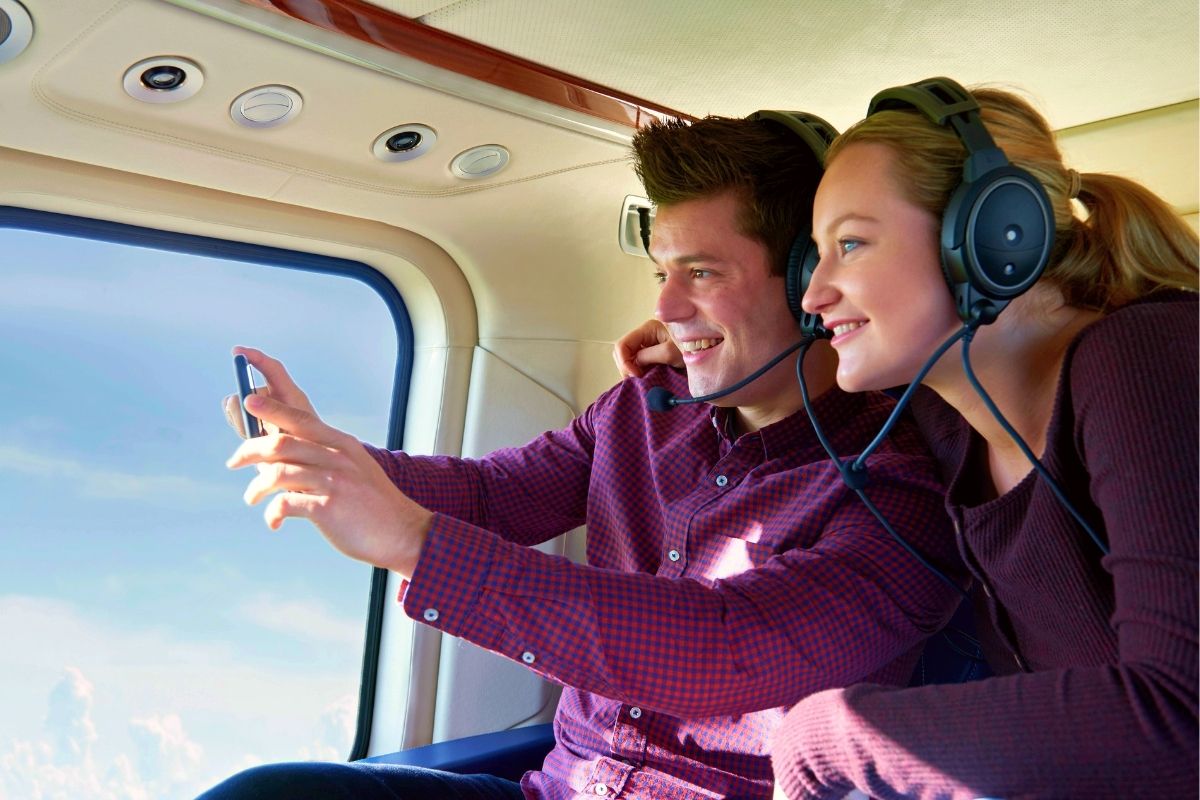 Alright, you've had your romantic interludes on Ferris wheels and cable cars… what's next? A helicopter tour, of course!
Once your chopper takes off, you'll truly feel like the only people on Earth, with a genuine bird's eye view of the landscape below. The city will start to look almost like a toy set, perfectly detailed and wonderfully laid out for you to enjoy.
And if you want to see a bit of the countryside, there's also an option in the more pastoral area of Kent, where you'll be able to view rolling fields, wooded areas, and some spectacular buildings like Chiddingstone Castle and Winston Churchill's former mansion.
This is one adventure worth splurging on!
32 – Get a little indulgent at the best ice cream shops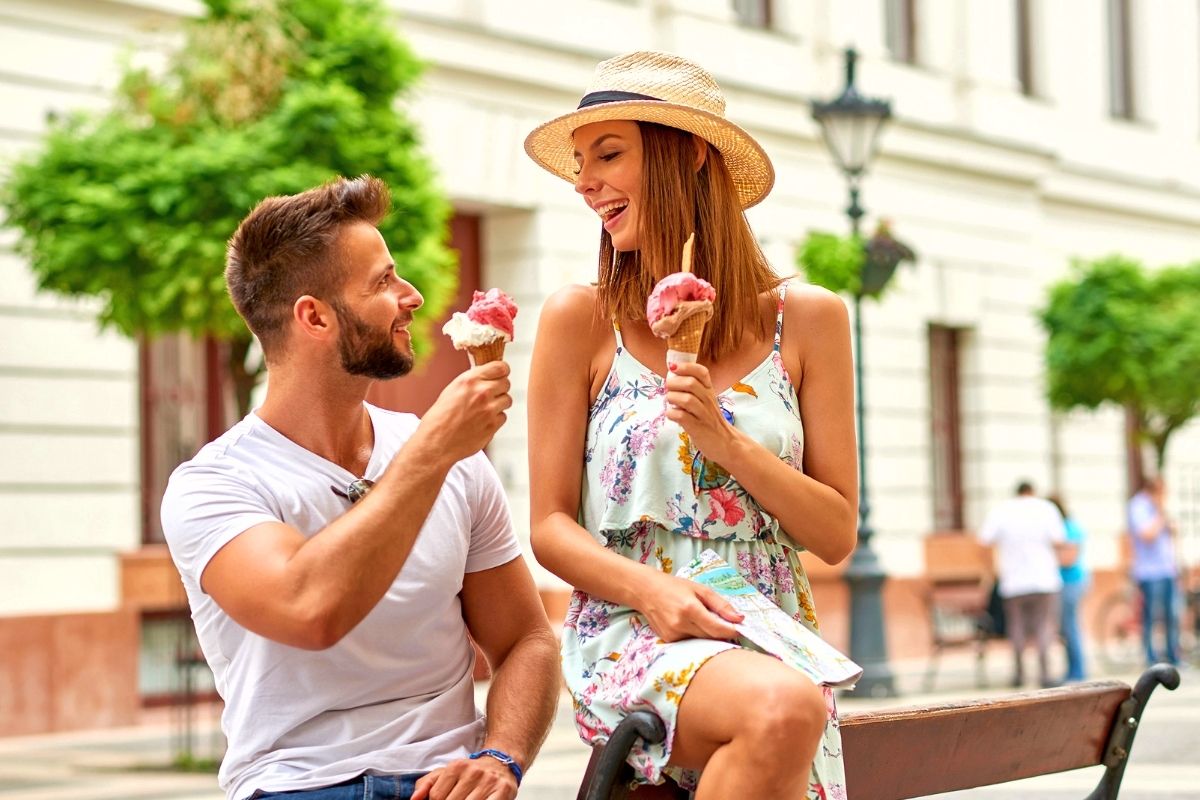 When there's a lull in the action, treat your sweet to some sweets at some of the many quality ice cream shops!
Try some unusual flavors like avocado or halva black tahini at Chin Chin Dessert Club, or fun hybrids like basil and chili or rosemary, honey, and orange zest at La Gelatiera.
Enjoy some soft-serve with a buffet's worth of toppings – including candy floss! – at Milk Train Cafe, or enjoy organic offerings ranging from wild plum to salted caramel at the stylish Ruby Violet.
Dive into some scrumptious traditional Italian gelatos like pistachio and biscotto at Scoop, or the luscious flavors like raspberry cheesecake and peanut butter – plus a monthly highlight – at Udderlicious.
In this town, you're never far from a glorious treat!
33 – Go Horse Riding at Hyde Park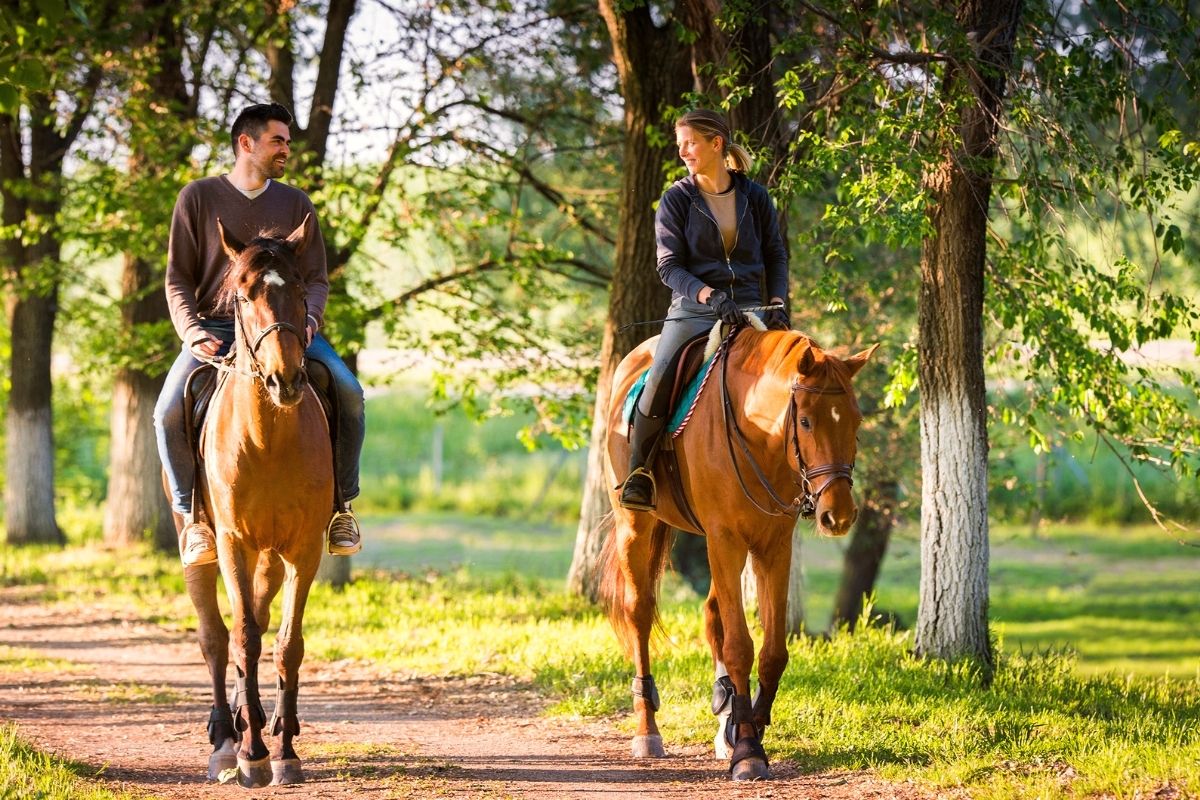 Hyde Park is a great place to visit in its own right, but it's even better when seen on horseback!
With wide-open paths and gorgeous scenery, this is the perfect area to get some equestrian experience, with designated areas, especially for riding. Hyde Park Stables is one of the main strongholds, with nearly 190 years' worth of experience and a wide variety of options.
Although you'll be accompanied by an expert guide (safety first, after all), it's a wonderfully romantic affair, with the steady clopping of the horses and the rustling of the wind through the trees providing an unforgettable soundtrack.
You can also try a slightly more adventurous approach at Ross Nye Stables, with a ride along some of the delightful tracks beloved by equestrians worldwide – including the royal Household Cavalry!
If you're experienced in the saddle, this makes for a great place to keep exploring; and if you're new to the sport, this is a wonderful spot to get started!
34 – Try one of the country's classiest traditions with an afternoon tea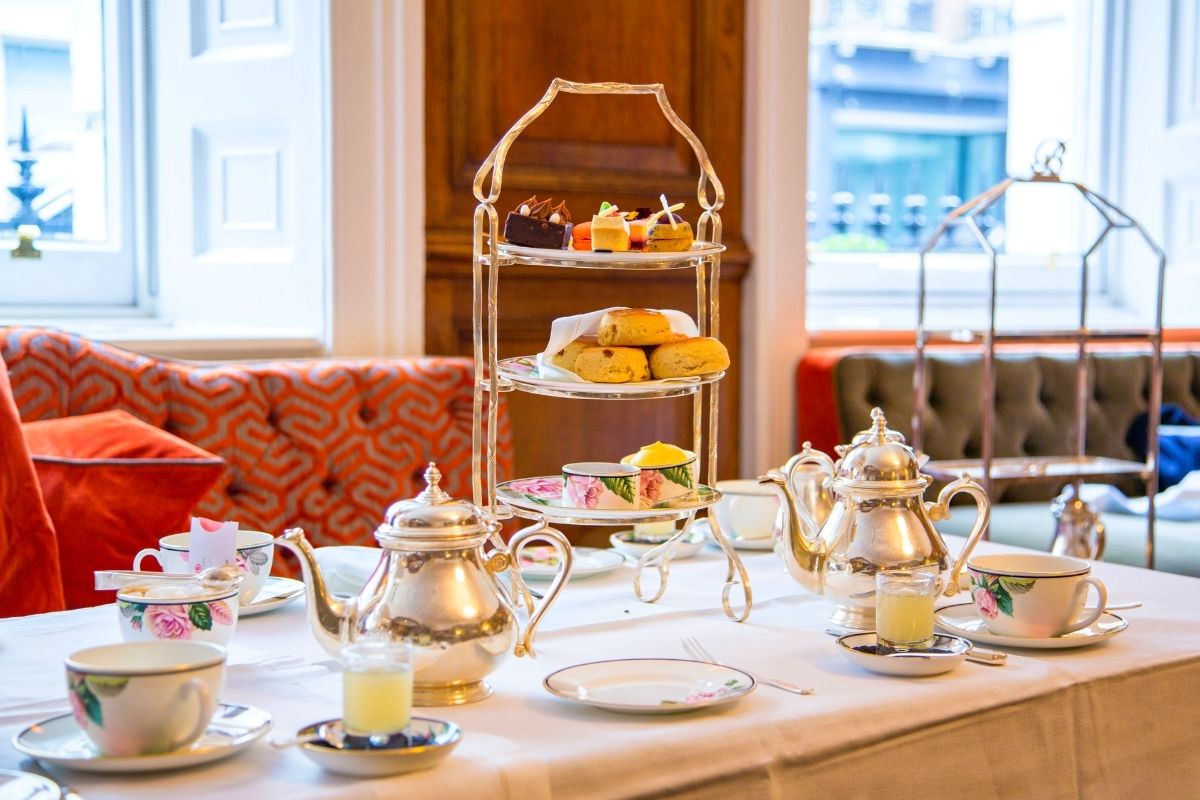 It's about as iconic as the castles and double-decker buses, and afternoon tea is also an excellent option if you're looking for classy things to do in London for couples!
Of course, you can't go wrong with a spot at the Ritz, the very definition of glamor, with 18 types of tea and a strict dress code.
And the spacious room at Harrods is perfect for those seeking variety, with a huge range of teas and pastries (and even alcoholic drinks!), all served in a gorgeous Art Deco setting.
The Berkeley is a fashionista's dream, with runway-inspired treats and frequent appearances by industry icons. And at the Bloomsbury Hotel, you can luxuriate in the charming garden atmosphere of Dalloway Terrace, which boasts a seasonally rotating menu and decoration scheme.
And don't miss out on the Savoy, a classic experience complete with exquisite service, traditional offerings, and an idyllic riverside setting. So, raise those pinkies, and enjoy a saucer or two!
35 – Wander through Kyoto Garden at Holland Park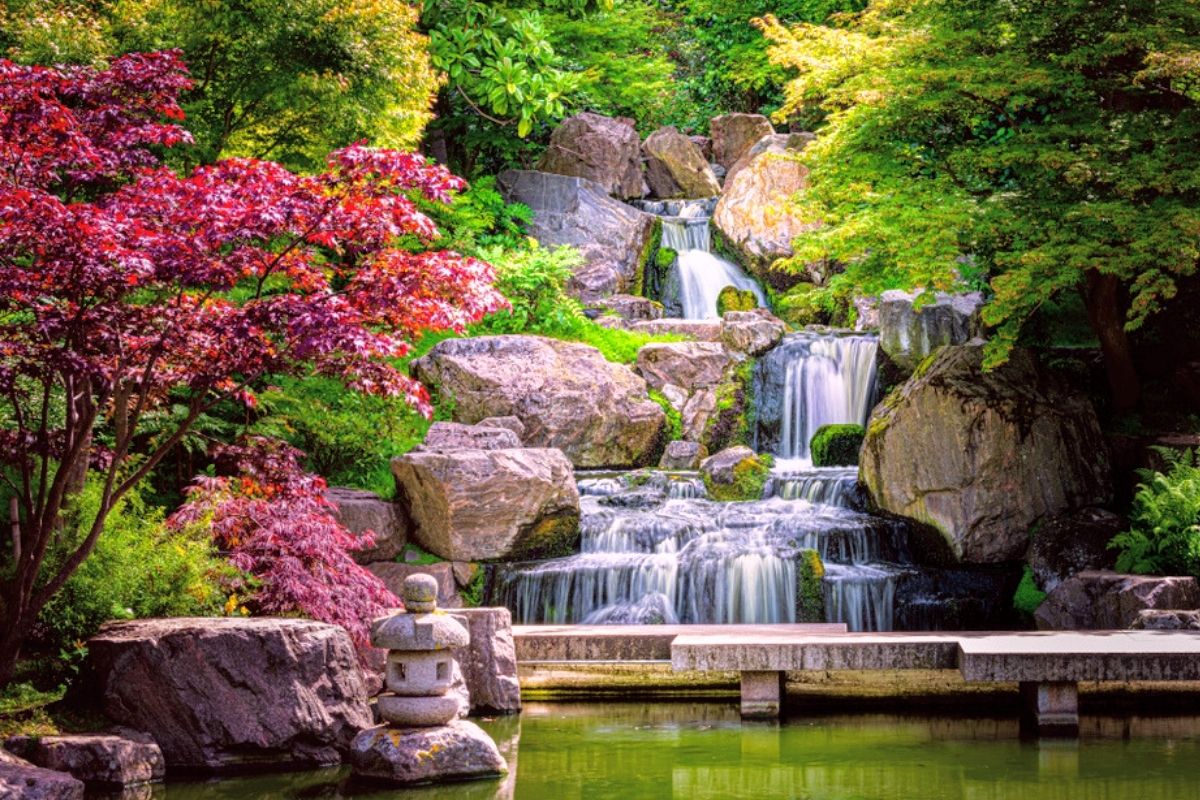 Are you looking for a little taste of Japan on your trip? Head to Holland Park for a jaunt around Kyoto Garden!
Since it opened in 1991, this charming space has served as a tranquil getaway in the heart of town, showcasing some stunning botanical and design elements from the Land of the Rising Sun.
Stroll past the charming koi pond, admire the bubbling waterfalls, and amble between strands of Japanese maple trees. It's a truly Instagram-worthy spot!
And be sure to leave some time to see the rest of the park, which boasts 54 acres' worth of outdoor recreation, walking paths, and even more lush landscapes to enjoy.
36 – Rock out to some awesome live music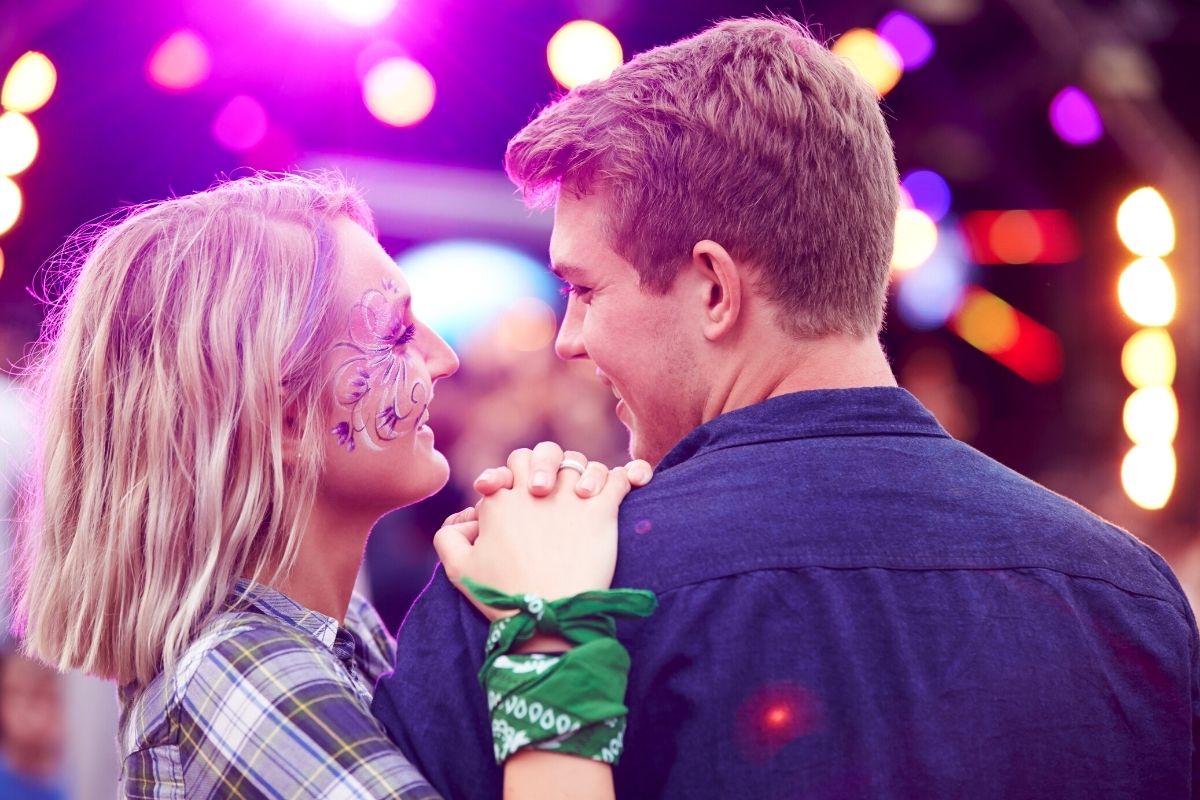 Another can't-miss date night activity? A concert! Whatever type of venue or style of song you enjoy, you and your significant other will have your pick of some awesome live performances!
The O2 Arena is great for stadium-level events, with global headliners frequently stopping by, check their calendar and make sure to grab a pair of tickets in advance. And Royal Albert Hall offers a similarly bombastic setting, with everything from choirs to rock stars to jazz, along with other live events like circus performances and podcast recordings.
Alexandra Palace Theater combines a glamorous exterior with some exciting shows, including plenty of musicals, opera, and lively concerts. And O2 Academy Brixton boasts a similarly diverse lineup to its larger counterpart, as well as a comedy venue and dance club – the ultimate triple crown date!
Soak up the sounds and enjoy the awesome vibes – they'll keep reverberating in your mind long after the music stops!
37 – Spoil yourselves at a couples' spa
Alright, time to unwind a bit and book yourselves some truly luxurious spa sessions!
Get the full-body experience at the Rasul Water Temple Oriental Couple Suite, which offers everything from mud treatments and massages to traditional steam room treatments. Or chill out in the whirlpool baths at Akasha Spa, before indulging in an acclaimed aromatherapy treatment.
And at the Lanesborough, you can enjoy hydrotherapy, thermal rooms, and a pretty unique massage… featuring Himalayan salt stones as the main tool! There's no shortage of ways to pamper yourselves while in town – the hardest choice will be deciding where to go first!
38 – Cruise around on some pedal or row boats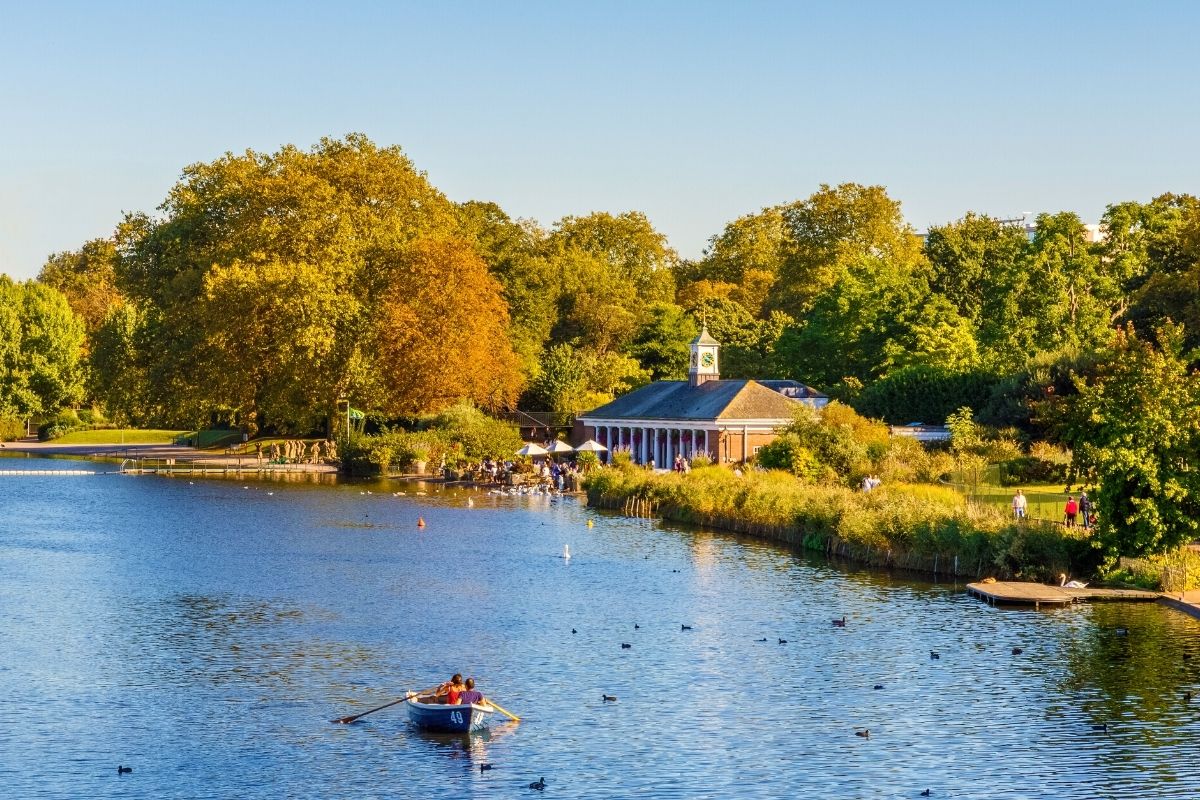 Back on the ground – or rather, out on the water -, you can enjoy a different side of the city by renting a pedal boat or a row boat! These charming little vessels are popular date options in many cities, and London's abundant parks are the perfect place to take one for a spin.
Head over to Alexandra Park to navigate Swan Lake, which offers a whole fleet of fun-shaped watercraft to enjoy; if you've ever dreamed of piloting a giant flamingo, now's your chance.
Or take a trip to the Serpentine at Hyde Park, where charming, traditional little boats can be hired at any time of the year. Enjoy the tranquil scenery at Regent's Park Boating Lake, which featured in the movie "Brief Encounter."
Or indulge in a secluded getaway at Hollow Ponds, a tranquil stretch of water in Epping Forest. And for a truly unique outing, don't miss Crystal Palace Park Boating Lake, where you can navigate past a bevy of dinosaurs!
Well, ok, statues of dinosaurs left over from the great Exhibition in 1851, but it's still an awesome afternoon experience!
39 – Munch your way through various food tours (and Borough Market)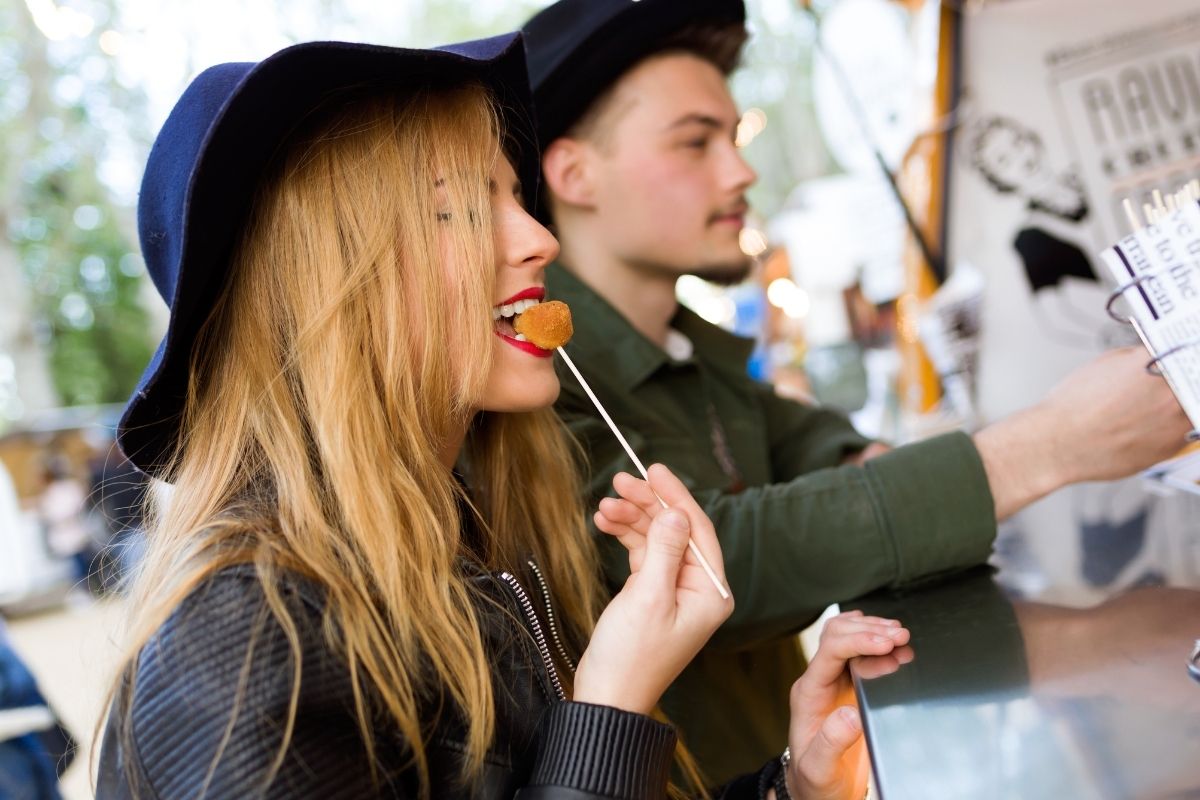 Looking for a free-for-all feasting experience? Then check out some food tours! Covering a wide array of neighborhoods and cuisines, these excursions showcase the delicious diversity of the city's culinary scene.
Whether you're sampling underrated Indian food spots, nibbling your way through the East End, or comparing traditional English treats, you'll be able to fill your belly and learn more about the city all at once.
And, of course, no movable feast would be complete without a trip to Borough Market, one of the largest and most beloved food spots in the city.
This fantastic complex is especially famous for its commitment to sustainable and organic options, meaning you can feel good about each item you nibble on.
With a pedigree stretching back almost a millennium, it's the perfect place to try a couple of bites – or a couple hundred!
40 – Enjoy the lush sounds of the London Symphony Orchestra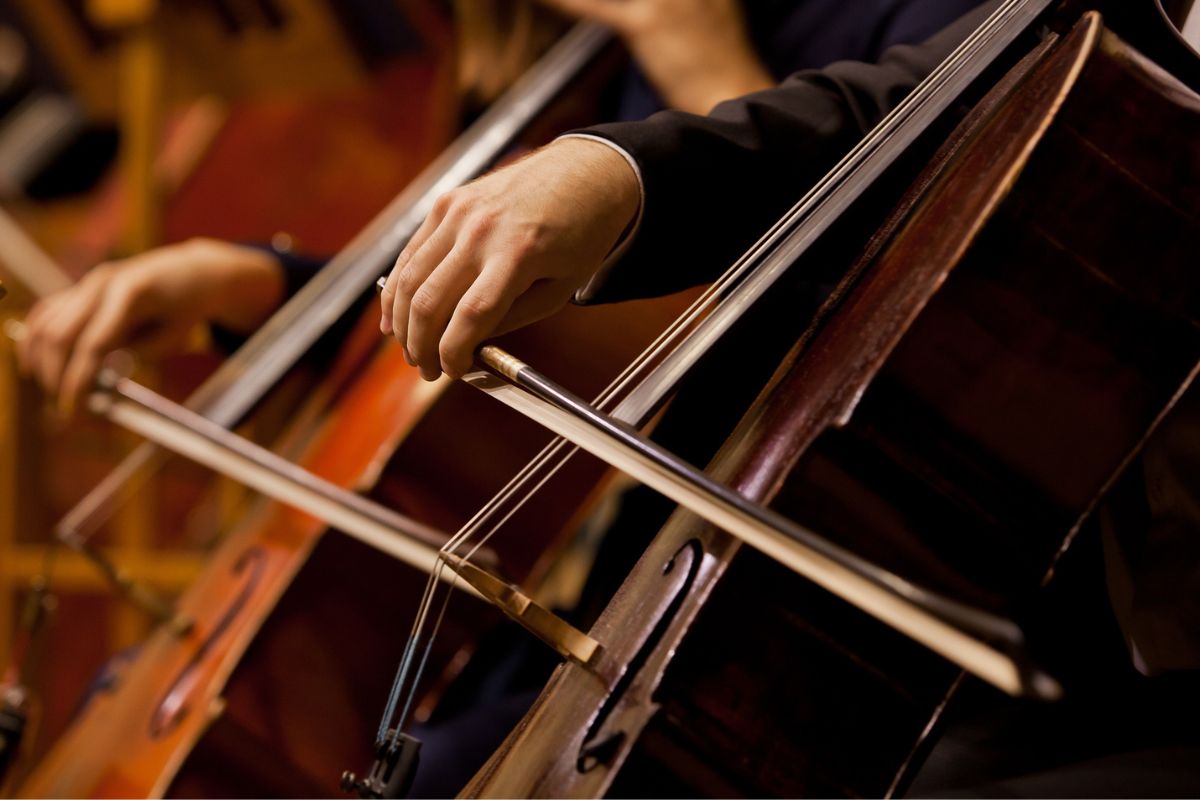 While it may seem like a more sedate option than its other musical counterparts, the London Symphony Orchestra offers action, drama, comedy, and romance in spades… and it's all portrayed through instruments!
And this is no mere community band; the ensemble routinely ranks among the best in the world!
Featuring everything from classic symphonies and operatic pieces to more modern compositions, each performance offers its own unique charms. And the space that houses this magnificent musical group, the Barbican Centre, an impressive structure in its own right.
A fascinating example of Brutalist architecture, this fascinating complex offers a unique mixture of styles and functions, with a conservatory, performance spaces, several restaurants, and a library, all geared towards connecting the public to the arts.
It's the perfect destination for culture fans!
41 – Linger for a bit in Queen Mary's Rose Gardens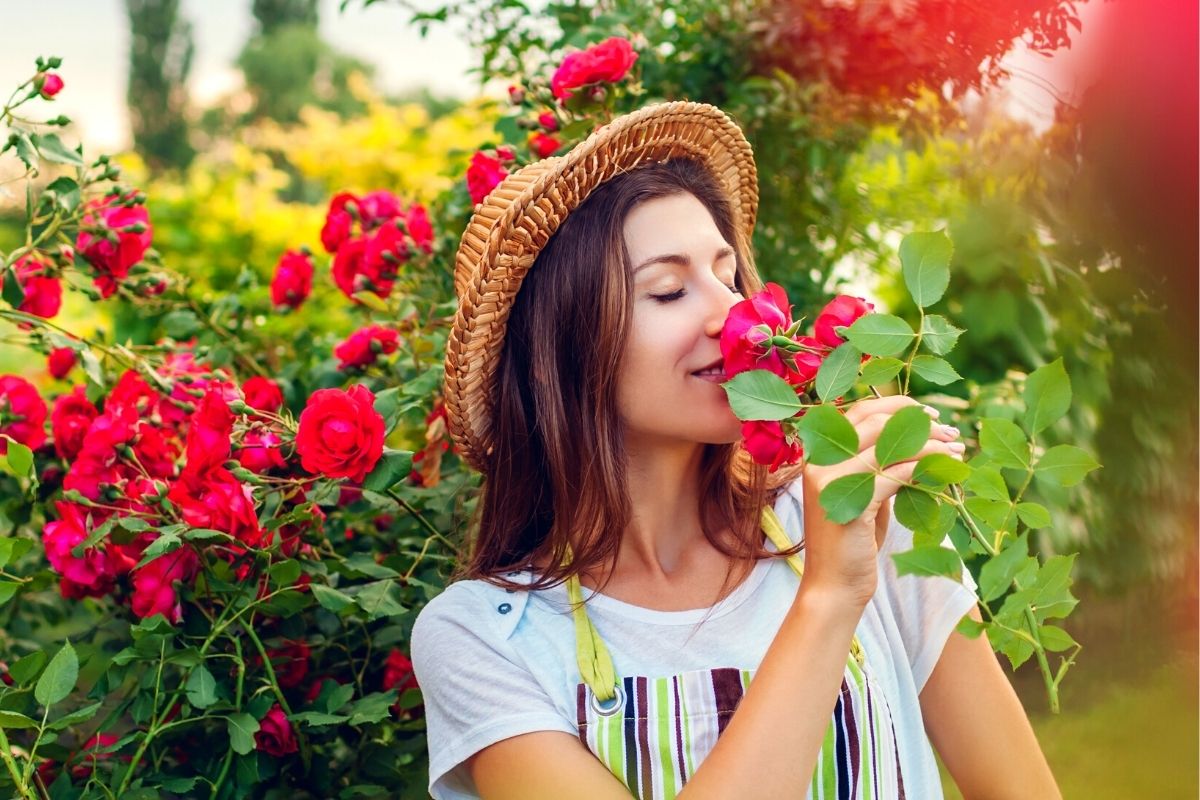 Few flowers are more romantic than roses… so why not take a relaxing stroll through a park full of them?
Queen Mary's Rose Gardens have been part of the city's scenery since 1934, and are a magnificent showcase of the beloved flower, with more than 12,000 blooms of every color and variety on display.
Walking past the flowerbeds is like passing a particularly colorful timeline; you'll be able to see varieties of flowers from centuries ago, as well as some vivid specimens that have been developed more recently.
And with plenty of other plants in the area, including begonias and delphiniums, it's a wonderful place for a sweet-smelling stroll!
42 – Take an adventurous tour with O2 Climb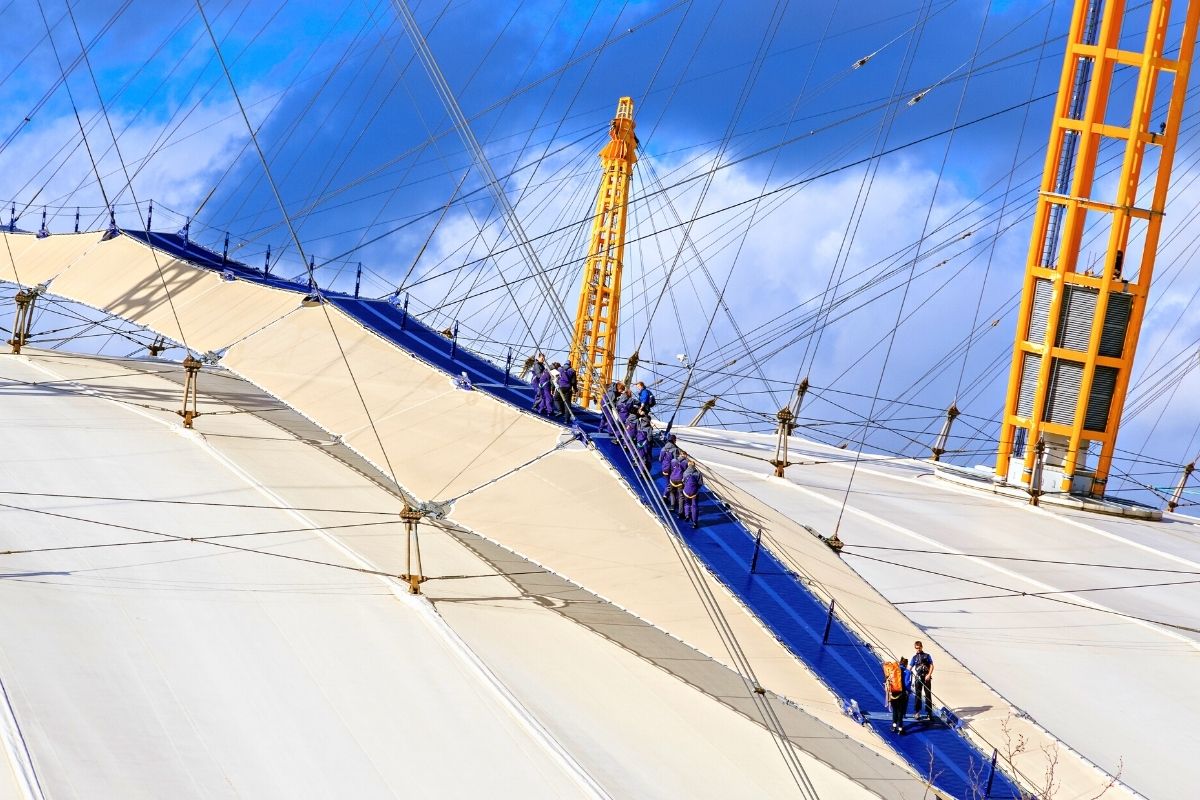 You've enjoyed the venue from the inside… now get ready to scale it! Up at the O2 is a unique and thrilling experience, a sort of sightseeing-by-way-of-Mission Impossible adventure.
Don your climbing gear and get hooked up to a rope, then follow your guide up to the structure's roof for some breathtaking views of the city. From the charming buildings of Greenwich to the sprawling beauty of Olympic Park, you'll be able to see many of the area's landmarks in a whole new way.
This is a great way to test out your adventurous side with your partner, with the ultimate panorama as your reward. And don't worry… no prior climbing experience (or spy experience) is necessary for this endeavor!
43 – Focus on the food (and your partner) at some romantic restaurants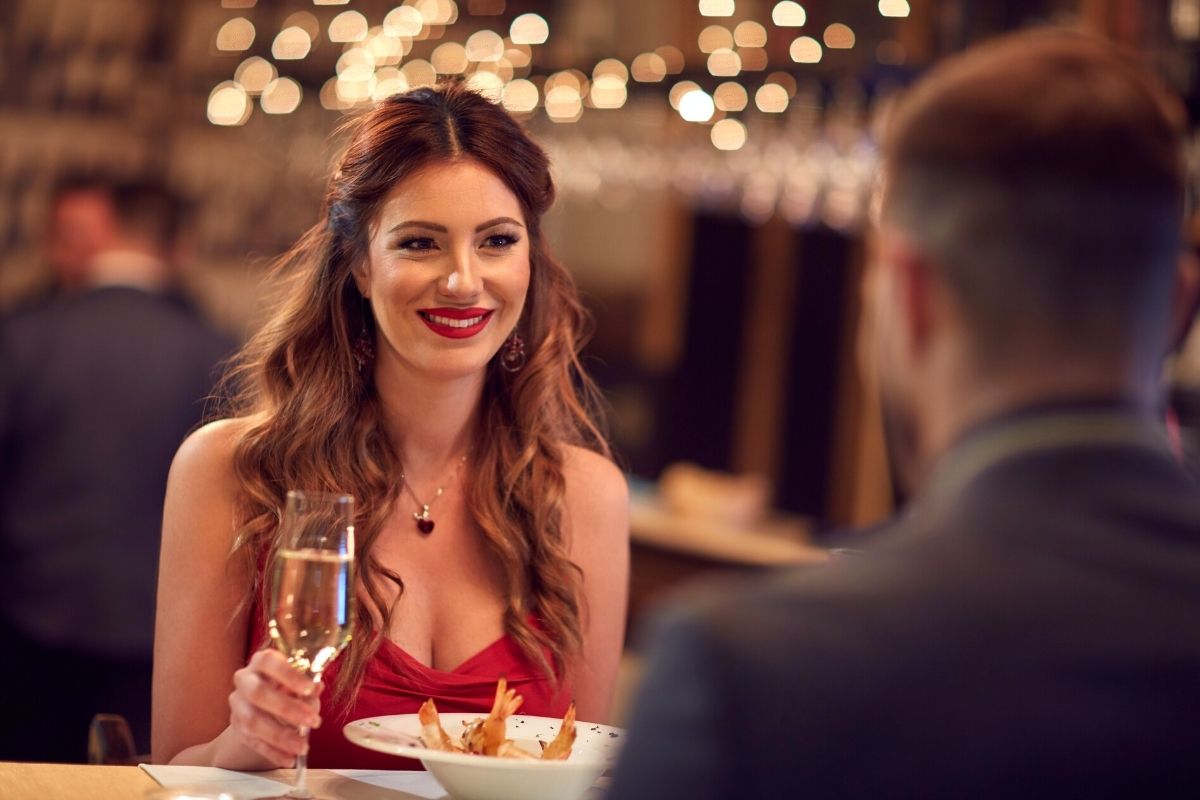 While there's no shortage of great meals in London, you may want to focus a little more on the couples-friendly ambiance. Luckily, there are some top-notch restaurants that cater to the more romantic side of things.
Sessions Arts Club boasts a seasonal menu and a breathtakingly beautiful dining room, while Brutto offers hearty Italian fare and a candlelit, intimate setting.
Brasserie Zedel will transport you to 1930s' Paris, from its elegant French cuisine to its Art Deco designs; and Casse-Croute offers a more modern take on the region, along with a mellow, cozy space.
Or head back to Italy at Gloria Trattoria, with velvet decor, dim lighting, and lively dishes that are perfect for sharing.
44 – Support the thespians of the National Theatre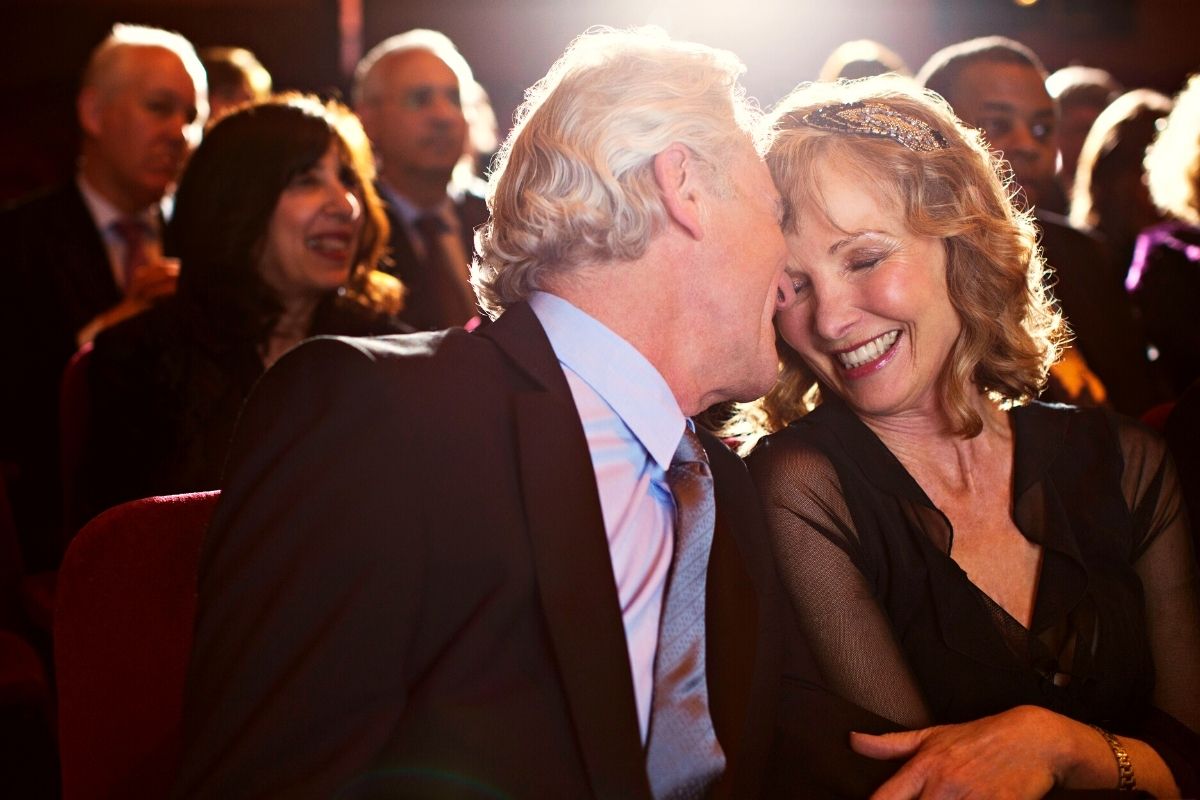 Twisted fairytales, Shakespearean classics, avant-garde productions…. there's no telling what you might see at the National Theatre!
Since 1963, this magnificent space has served as a cornerstone for the city's thespian industry, and is also renowned for its touring productions, which bring the art across the country – and the world!
With three smaller theaters within the large complex – the Lyttleton, the Dorfman, and the Olivier -, there are plenty of opportunities to catch some productions while you're exploring the city.
If you're looking for a comprehensive theatergoing experience, you can't miss this historic, dynamic gem!
45 – Enjoy nature and culture at Horniman Museum and Gardens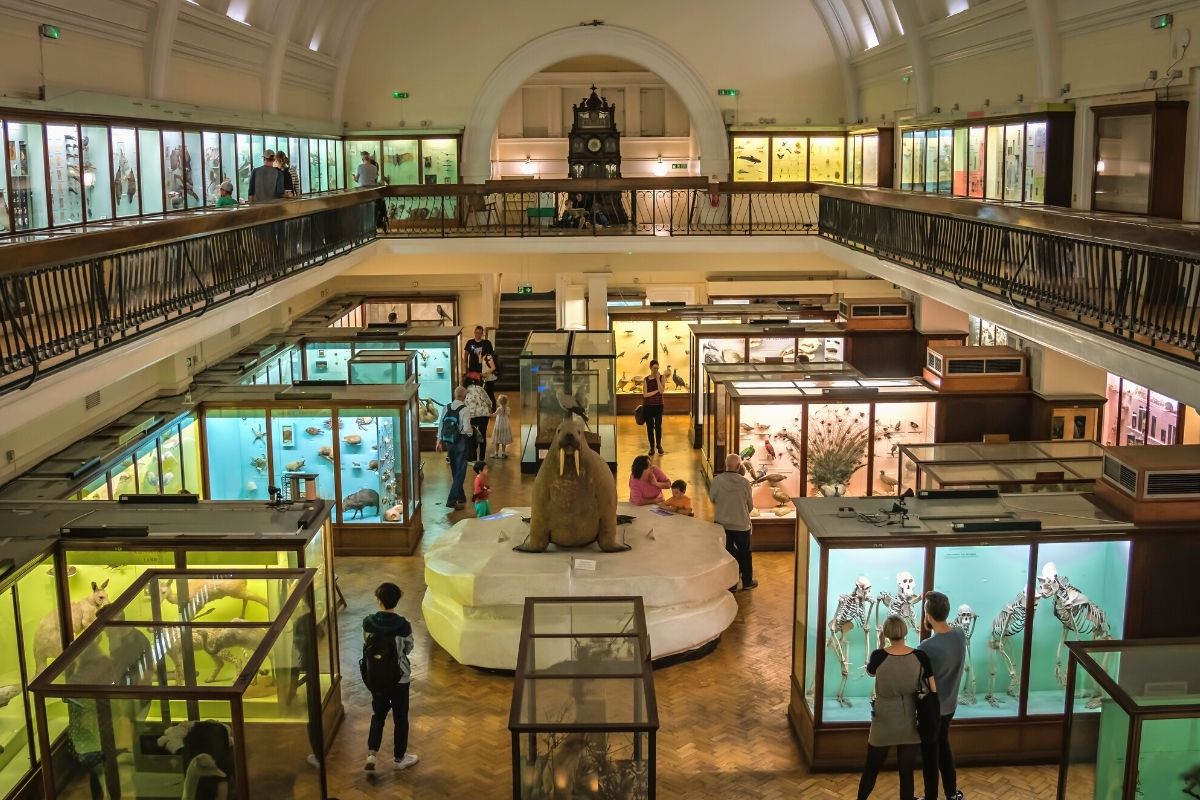 If you're looking for another romantic interlude in nature without leaving the city, head over to Horniman Museum and Gardens. Explore the underwater world at the aquarium, which showcases everything from local frogs and fish to vividly colored tropical corals.
Then take a stroll through the butterfly house, where hundreds of gorgeous creatures create a free-flying rainbow above and around you. And don't forget to pay the gardens a visit; with their fascinating educational displays and magnificent trees, they make for a memorable walk through the botanical world.
There are also plenty of great cultural exhibits at the space, including an impressive collection of historical instruments, ranging from Ancient Egyptian percussion pieces to electric guitars.
You could easily spend a whole day here, soaking up the different exhibits; it's one of the most well-rounded things to do in London for couples!
46 – Explore the Tudor era at Hampton Court Palace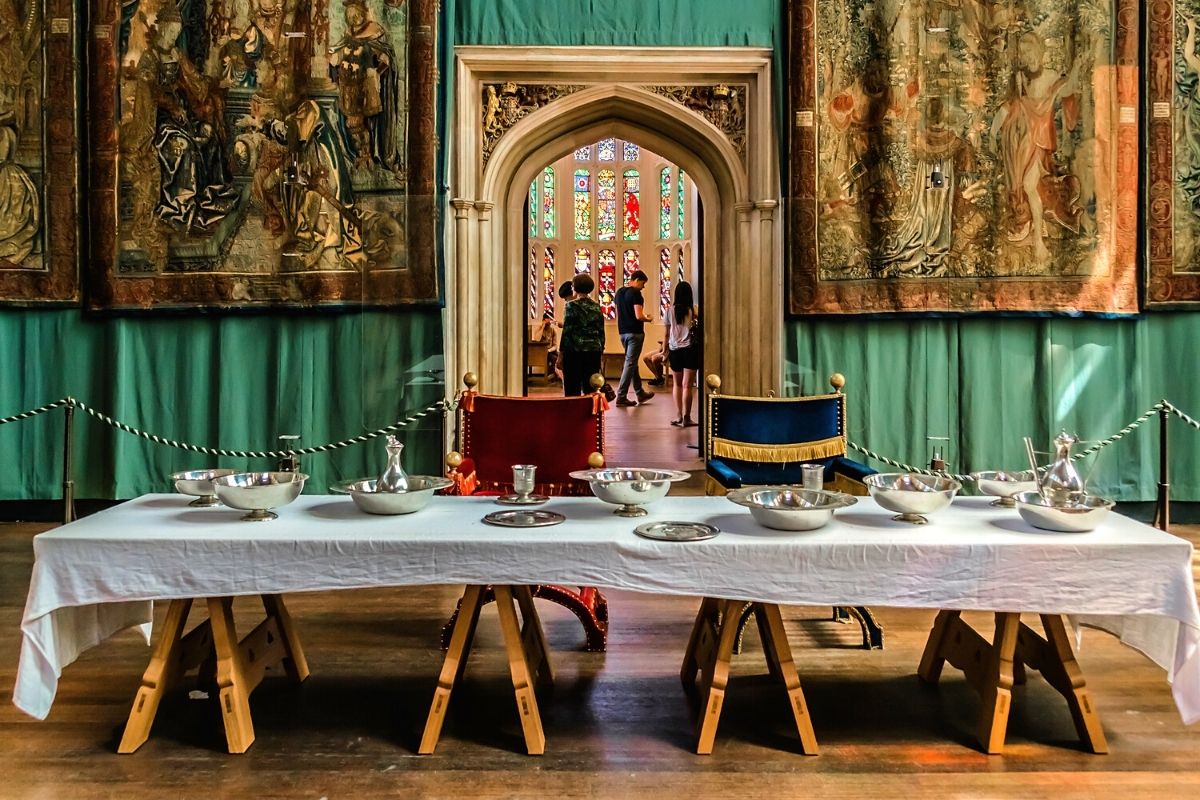 With its red-brick facade and regal bearing, Hampton Court Palace is a truly distinctive royal residence.
Of course, some of that also has to do with its most famous former tenant: King Henry VIII, best known for his many marriages and hedonistic lifestyle. But with its riverside location and centuries of history, it offers plenty to see on tours, whether by bike or on foot.
If you're feeling daring, you can even explore the Haunted Gallery, said to be home to some particularly regal ghosts! Then head out onto the grounds to see some of the other fabulous features, including a gorgeous 60-acre garden that is packed with gorgeous plants that vary by season.
47 – Shop until you drop at Harrods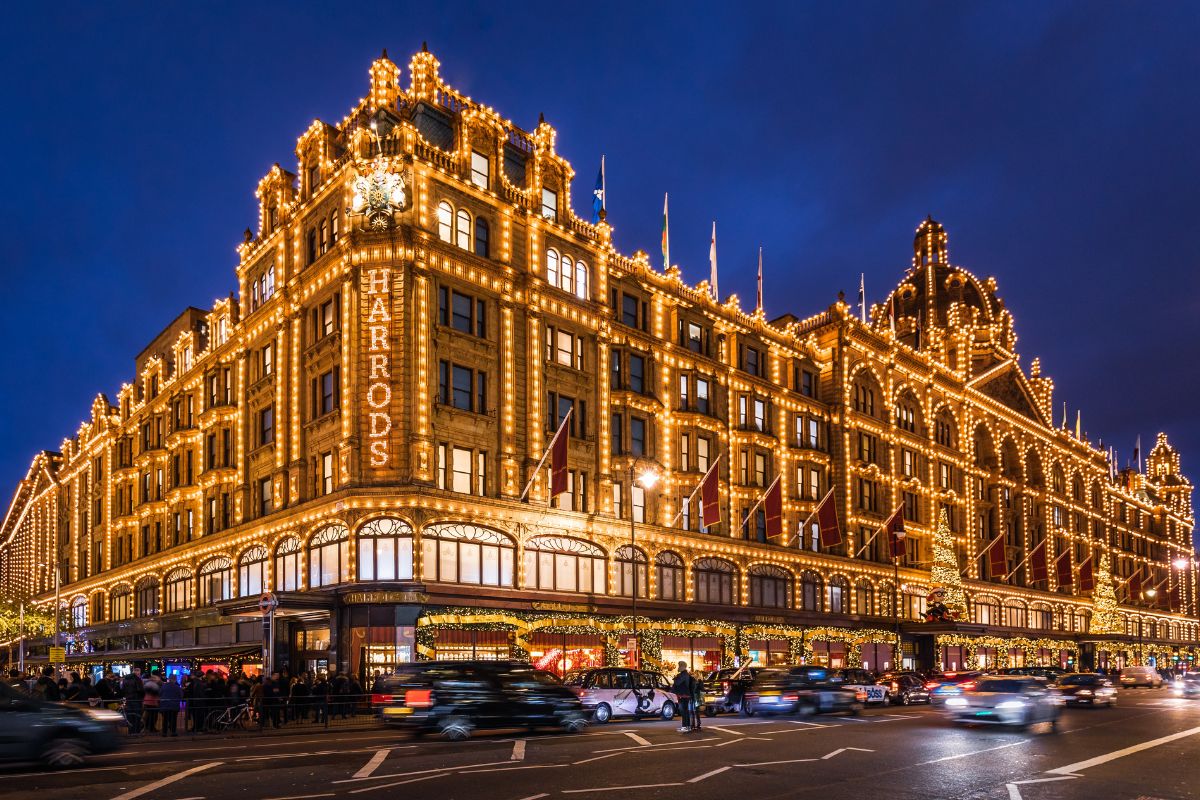 You'll probably want some great keepsakes from your romantic journey, so why not go shopping at the best of the best? Harrods has become synonymous with luxurious buying options, and with seven floors worth of stunning items and unique experiences, it's worth a day trip in and of itself.
From the minute you step through the entrance – greeted, of course, by the iconic smiling doormen in their long green coats -, you'll be awash in top-tier shopping opportunities.
From jewelry and home decor to glamorous luggage pieces, fashionable outfits, watches, and perfumes, there's something for every interest. And despite the chintzy reputation, they do offer sales, so keep an eye out whilst browsing… you could end up with some serious bargains!
48 – Eat and enjoy the scenery on a dinner cruise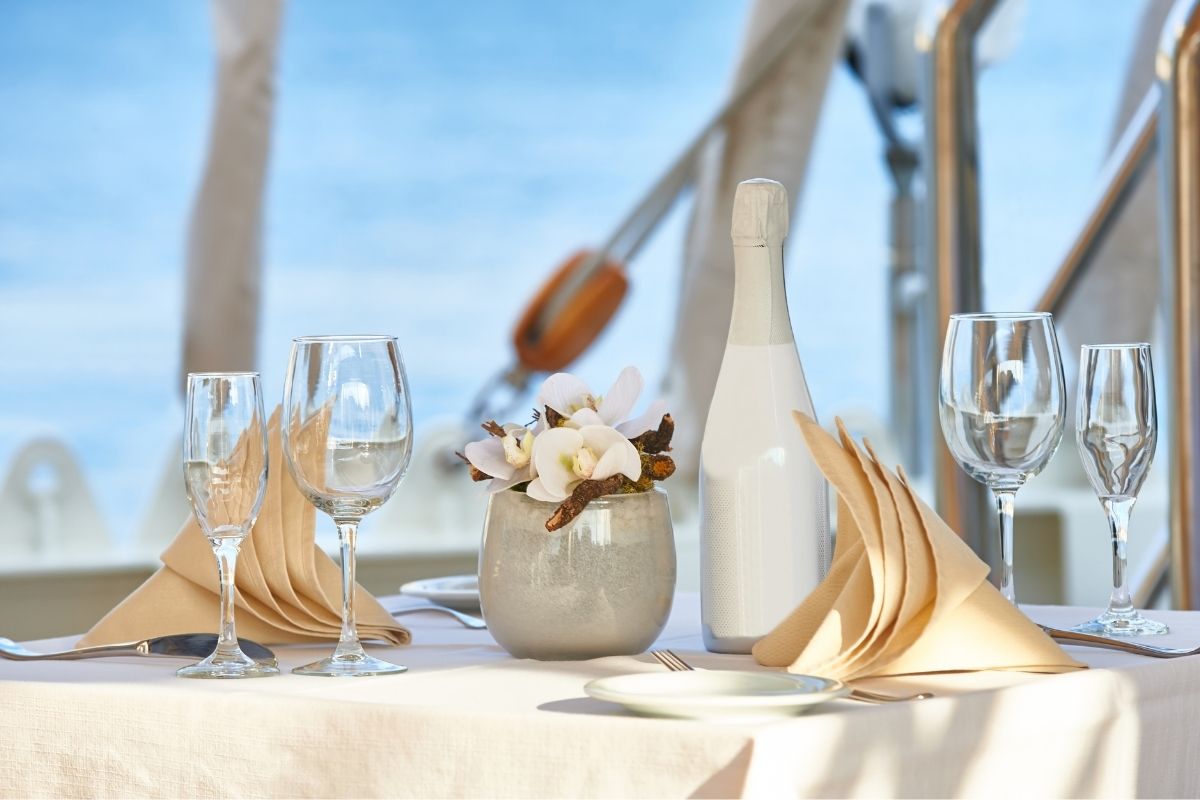 Another great way to enjoy a meal and some top-notch scenery all in one, a dinner cruise takes the sailing jaunt to the next level!
Head out with your honey onto the Thames, and enjoy a magnificent multi-course meal, with the city's evening finery providing a perfect backdrop outside.
As you pass the London Eye, the Houses of Parliament, and other landmarks, you'll be able to enjoy all of the visual splendor without the hassle of the crowds – and with a much more charming atmosphere!
As an added bonus, many of the cruises include live music, with a diverse lineup ranging from jazz to Elvis impersonators!
49 – Try some biking (and tons of other sports) at Queen Elizabeth Olympic Park
When it was first built in 2012, Queen Elizabeth Olympic Park was hailed as a world-class sporting complex, perfectly suited for the waves of expert athletes that would be competing there.
Nowadays, it's open to the public, and offers plenty of activities if you want to channel your own inner Olympian! You can even use the world-class venues that were originally built for the games, from the swimming pool to the hockey rink.
The bike paths are particularly nice for an afternoon out with your plus one; just rent some vehicles and start pedaling your way around the magnificent complex, enjoying all the sights and the excellent people-watching.
You may not win any gold medals, but you're guaranteed to have a good time!
50 – Go stargazing at Royal Observatory Greenwich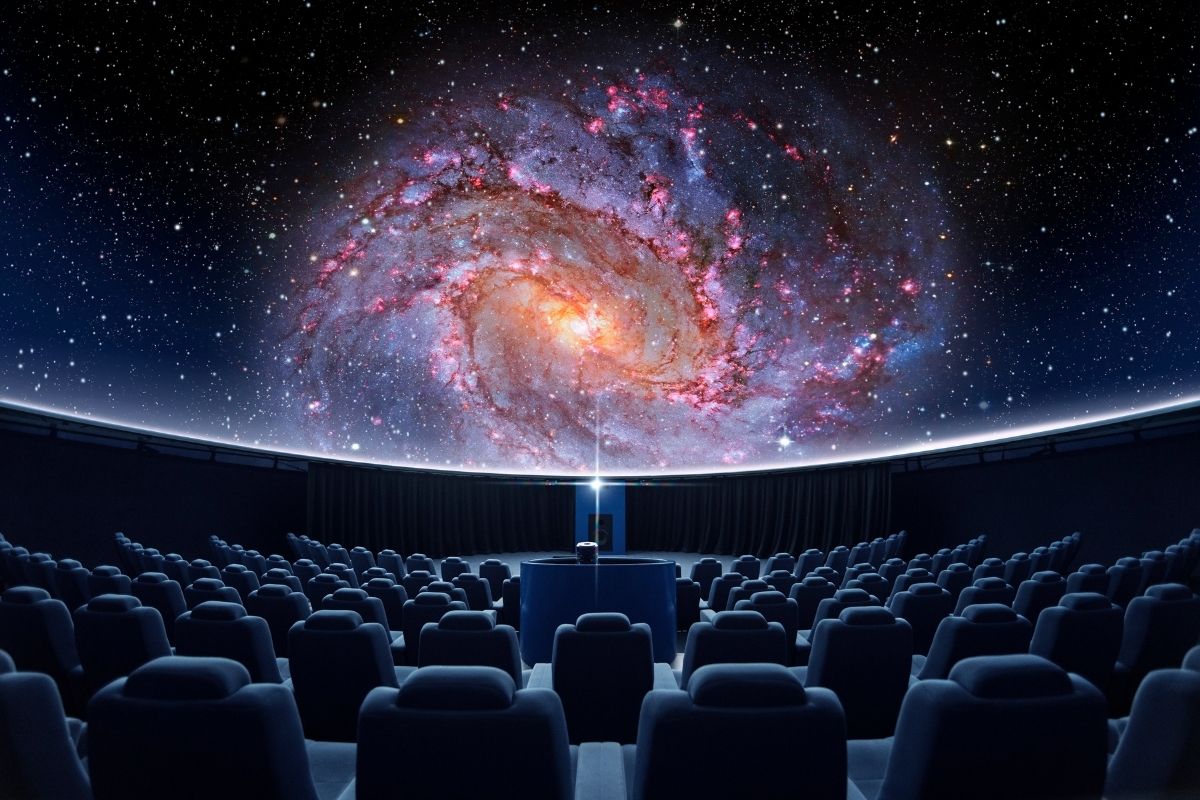 They say that when you're in love, you may have stars in your eyes; but at Royal Observatory Greenwich, that becomes literal!
Most famed as the home of Greenwich Mean Time and the Prime Meridian – which help keep time-based on longitudinal position -, this palace of the sciences is also a great place to admire the night sky.
Get the adventure started with a trip to the spectacular planetarium, where you can learn all about the underrated wonders of the universe around us, and the many beautiful moments that can be found in the cosmos. After that, it's time for the real thing!
Head over to the impressive collection of telescopes, and let expert astronomers guide you through the process of using these tools to spot different constellations… and maybe even some planets!
You'll even get the chance to use the Great Equatorial Telescope, a splendid 130-year old instrument that has long been one of the most revered tools in the industry.
It's a surefire recipe for a wonderful romantic evening! And be sure to take some time to explore nearby Greenwich Park, which is filled with gorgeous gardens and historical goodies that stretch all the way back to Ancient Rome.
51 – Zip around on a Mini Cooper tour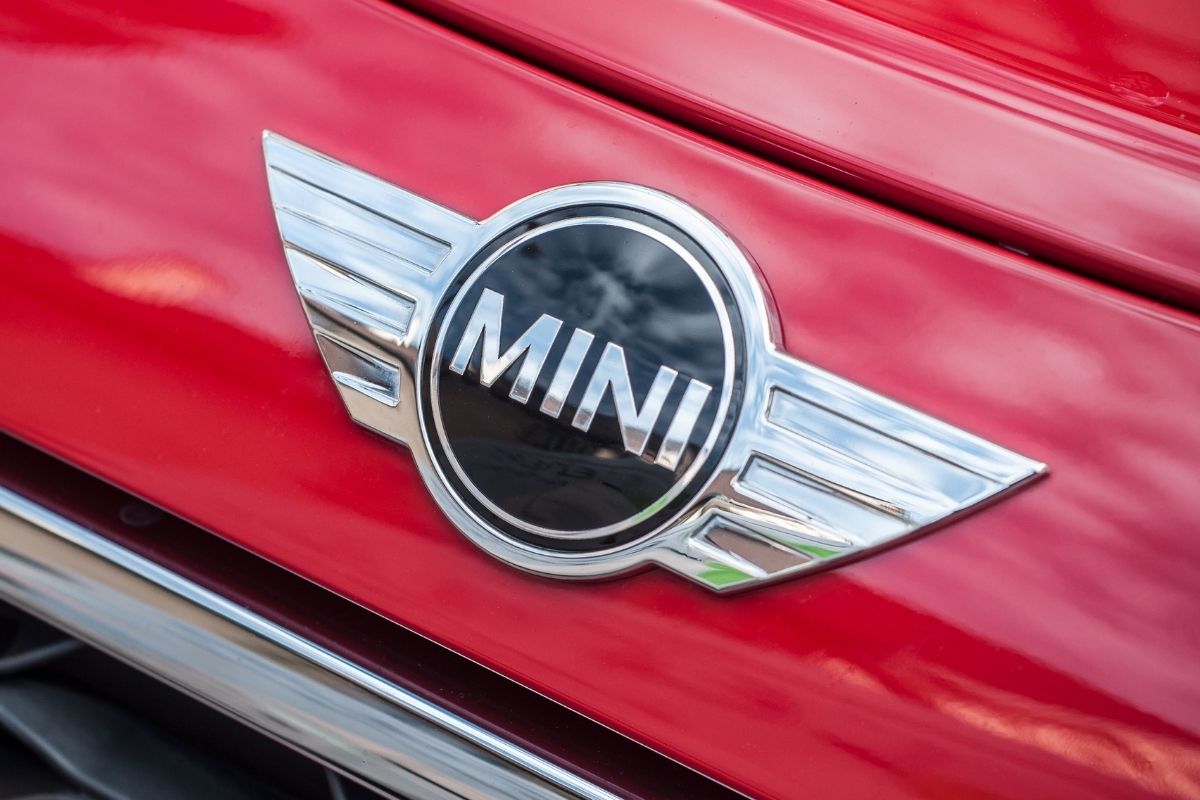 You may have walked through the city, sailed around the city, or ridden through the city… but what about touring it in a pint-sized car?
Mini Cooper tours are a fun, flashy way to explore the city, as you and your plus one cruise around in the iconic little vehicles, which are perhaps most famous as the vehicles used in the classic heist film, The Italian Job.
Along with some of the city's most distinctive neighborhoods and tourist attractions, you'll be able to explore some of the hidden nooks and crannies of the capital, from its many little alleyways to the winding streets that make up the backbone of the town.
While you may not end up pulling off any great capers, you'll never forget the day's adventures!
52 – Get comfortable at the best cozy pubs in London
Pubs are an indelible part of the British character, and there are plenty of particularly cozy options in the city where you and your significant other can unwind in true English fashion.
Enjoy the gorgeous carriage-house aesthetic and intimate rooms of The George, or the quiet, artistically inclined designs of the French House.
Break out the board games and tuck into a pie at The Dove, or enjoy some Thai cuisine at The Churchill Arms, which is decked out in flowers and historical paraphernalia.
And don't miss the wood-paneled, welcoming environment of The Anglesea Arms, with its  soothing fireplace and excellent beer and cider selection,
Whether you're outrunning the rain or just seeking a nice place for a meal and a pint, these lovely little spaces are well worth lingering in!
53 – Get experimental with your lunch or dinner at Dans le Noir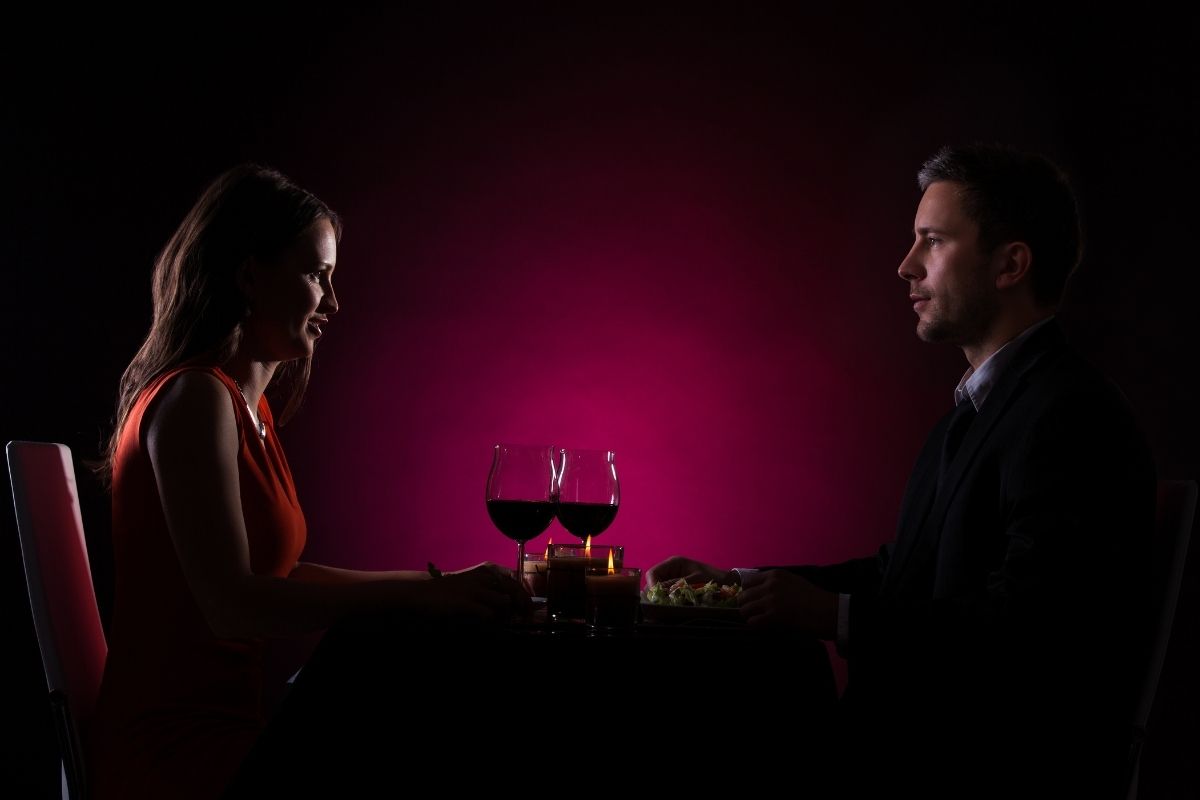 Looking for a distinctive culinary experience? How about a world-class meal… that you can't actually see? Dans le Noir (Dinner in the Dark) is one of the most unique things to do in London for couples – especially foodies!
The dining room is completely dark, and culinary experts guide you through the tasting experience. Without sight, your other senses – especially smell and taste! – will be heightened, and you'll be able to appreciate the masterfully prepared meals in a whole new way.
It's a wonderful way to get a little adventurous whilst eating!
54 – Dive into the environments at SEA LIFE London Aquarium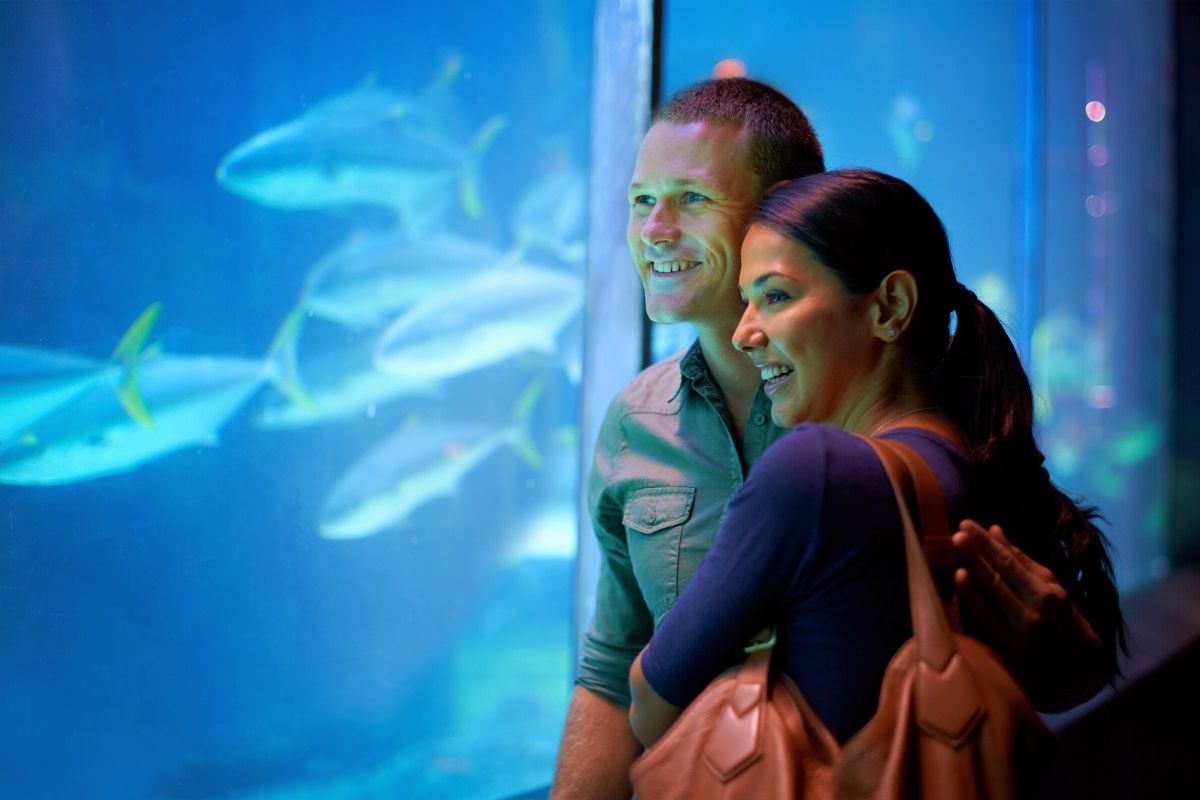 If the aquatic residents of Horniman leave you wanting more, then head back to the nautical world at Sea Life London Aquarium!
Wander through 50 vibrant recreations of underwater realms from all over the world, visiting with fascinating octopuses, lively penguins, and gorgeous tropical fish.
Delve into the Amazon rainforest to see some imposing piranhas (behind glass, thankfully), then watch one of the live feeding demonstrations, where various creatures chase some treats.
With over 400 dynamic species calling the space home, it's the perfect place to learn more about the creatures of the deep – and see some of them up close!
55 – Head to the roof (or the car) for some outdoor cinema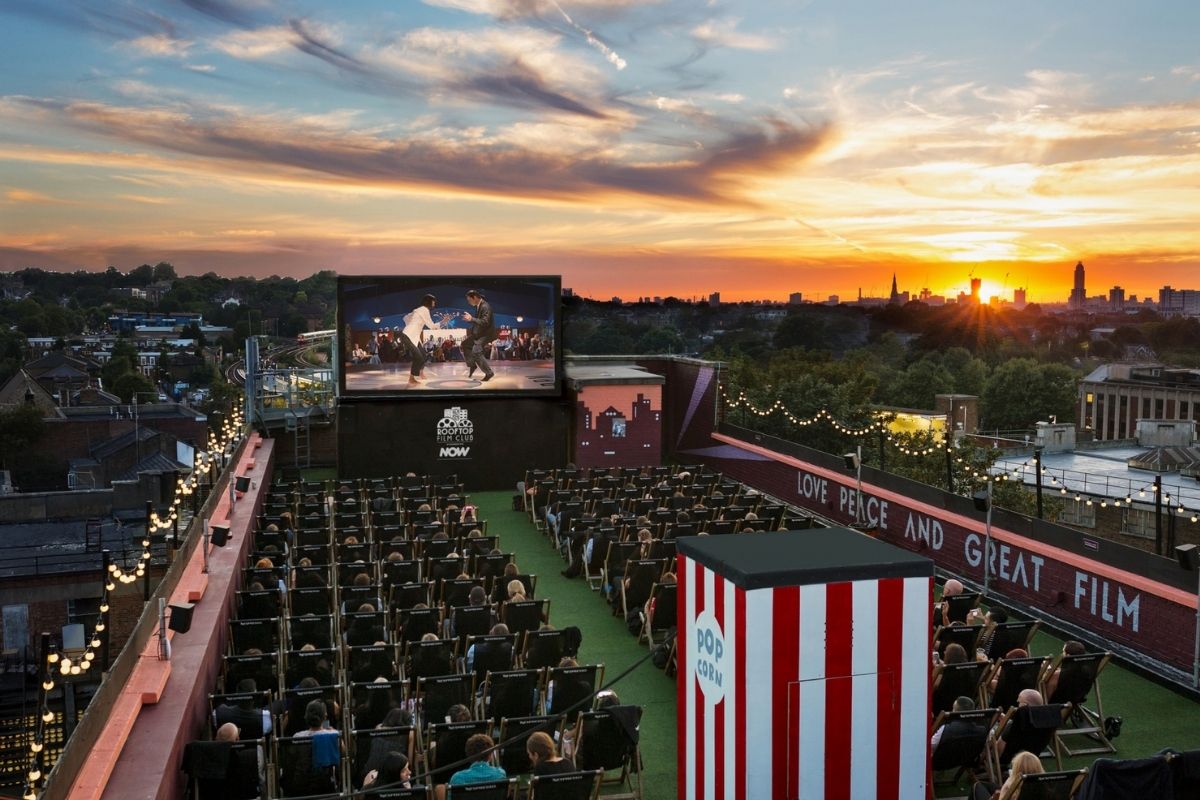 Alright, it's time to head back to the movies… but in a somewhat different format! Whether you're up on the roof or out in a car, you can take advantage of nice weather and enjoy some cinema in a spectacular outdoor setting!
Rooftop Film Club is one of the most famous venues, with its spacious artificial lawn and lively screenings of both classics and new flicks. You can also snag a drink after taking in a screening at Dalston Roof Park, or enjoy the delicious barbeque and a show at Queen of Hoxton.
If you prefer the automotive option, head to Luna Cinema, where the screenings run all year long, and the atmosphere is always festive. No matter where you go, you'll be able to enjoy the thrill of a massive screen and the joy of each other's company – an unbeatable combo!
56 – Marvel at The Painted Hall at Old Royal Naval College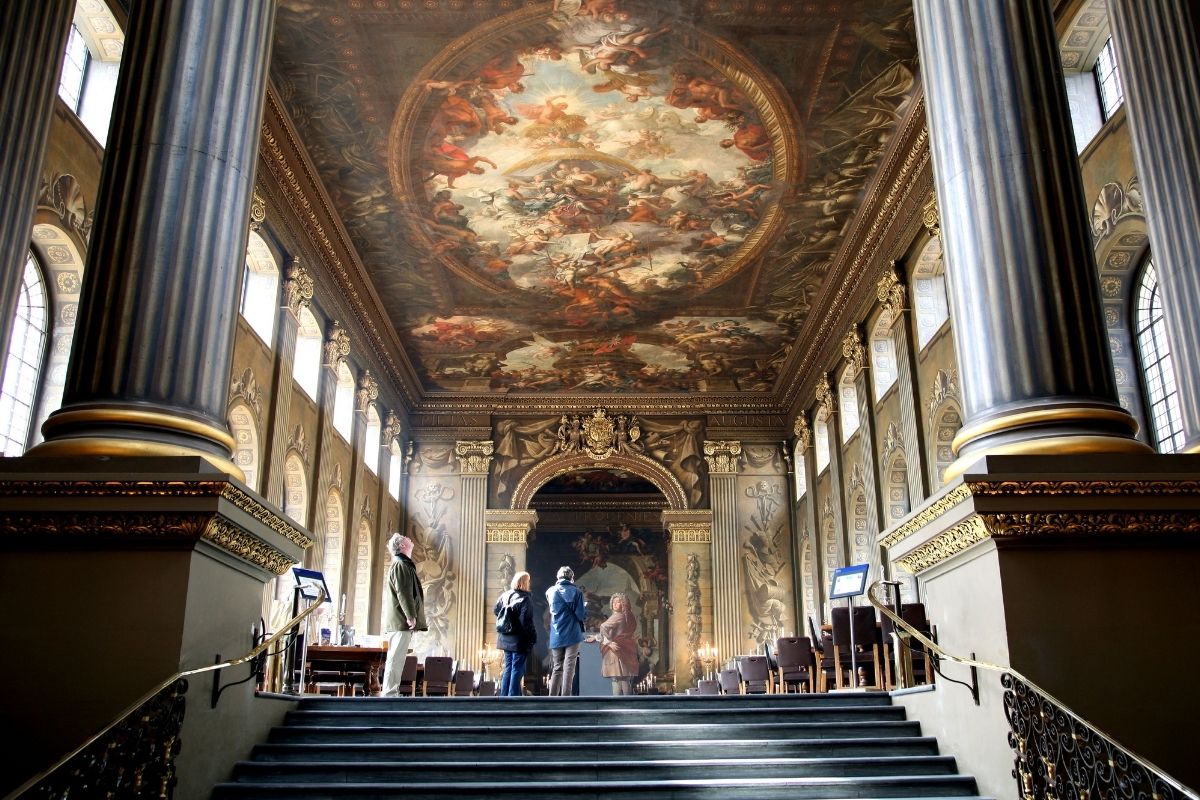 Often known as "the Sistine Chapel of the UK," the Painted Hall is a truly breathtaking work of art!
Tucked into the hallowed halls of Old Royal Naval College, this spectacular piece was created by Sir James Thornhill in the early 1700s, and covers a staggering 40,000 square feet of ceiling and wall space.
The gorgeous portraits depict a lush world of myths and legends, with fantastical creatures, powerful gods, and imposing monarchs populating the wonderfully detailed scene – a perfectly jaw-dropping scene to enjoy with your significant other!
The rest of the institution is gorgeous as well, and has frequently been used as a filming location; poke around a bit, and you might see some familiar settings!
57 – Raise your glass at (and to) the local champagne bars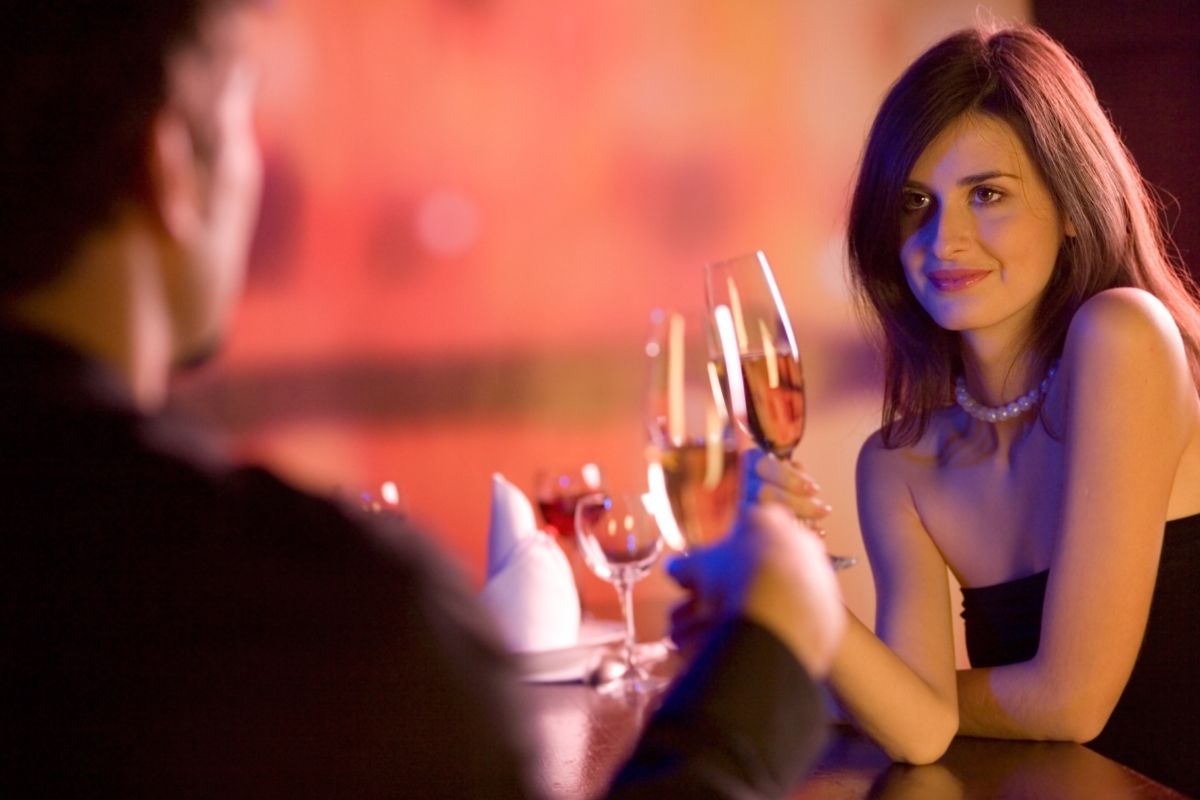 With a celebratory and slightly upscale atmosphere, the capital's champagne bars are the perfect way to indulge in a little bit of romance.
St Pancras Brasserie and Champagne Bar is one of the best spots in town for this endeavor, with a vintage feel and an abundance of bubbly options.
While you can make plenty of new friends here – it's the longest champagne bar in Europe! -, there are also plenty of more intimate experiences, including private booths and optional add-ons, such as caviar, that can make for a truly luxurious outing.
You can also enjoy the Art Deco aesthetic and unique bottles at Kettner's Townhouse Champagne Bar, or celebrate the city in style at London Calling at Selfridges, which is themed entirely around the city itself.
Raise your glasses, and toast this wonderful experience – and each other!
58 – Enjoy the many offerings of Southbank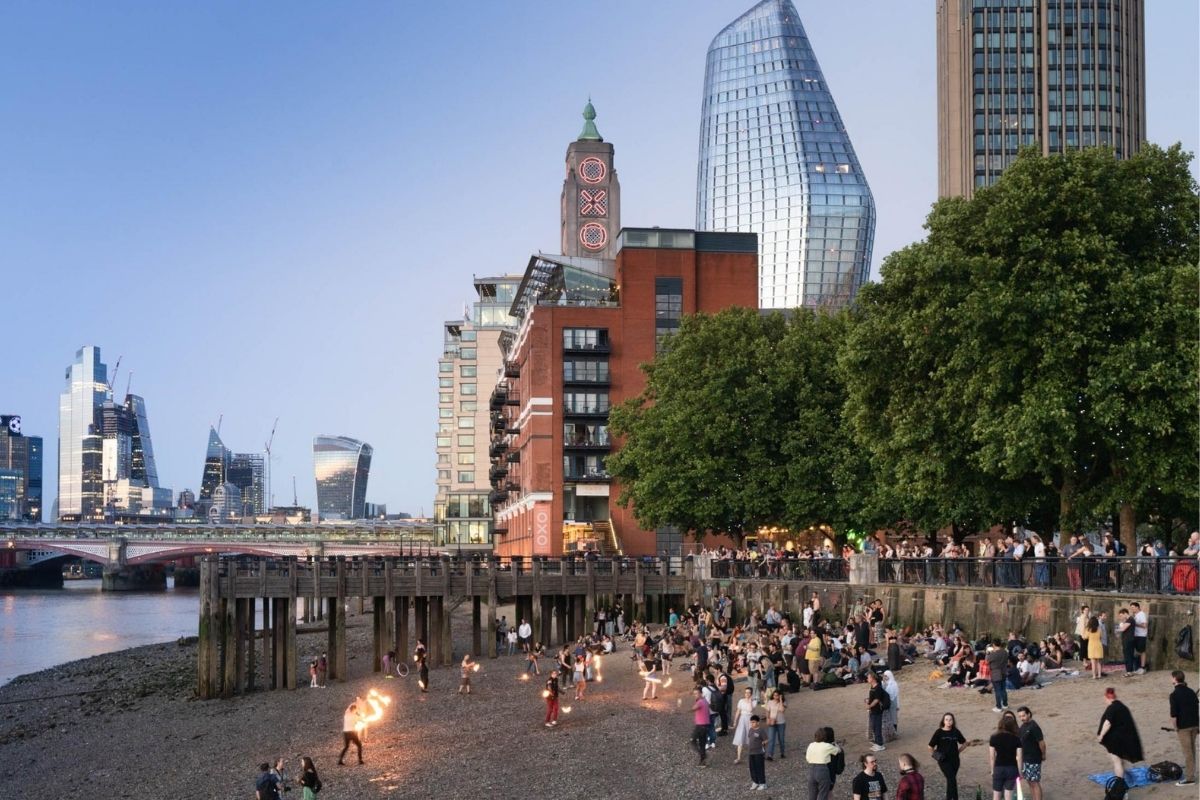 Whether you're outdoor kids, indoor kids, or a mixture of both, a trip to Southbank is one of the coolest things to do in London for couples!
This dynamic neighborhood truly offers a little bit of everything, from shopping areas and cultural opportunities to some of the nicest natural areas in town. Soak up the sun and the riverside views at Ernie's Beach, or relax in the grass and admire the flowers at Jubilee Gardens.
Enjoy a lively festival or a free concert at Southbank Centre, or check out the amazing street art displays in the Leake Street Arches. With so much creativity and wonderful scenery, you may very well wear out your walking shoes!
59 – Greet the evening at the best sunset spots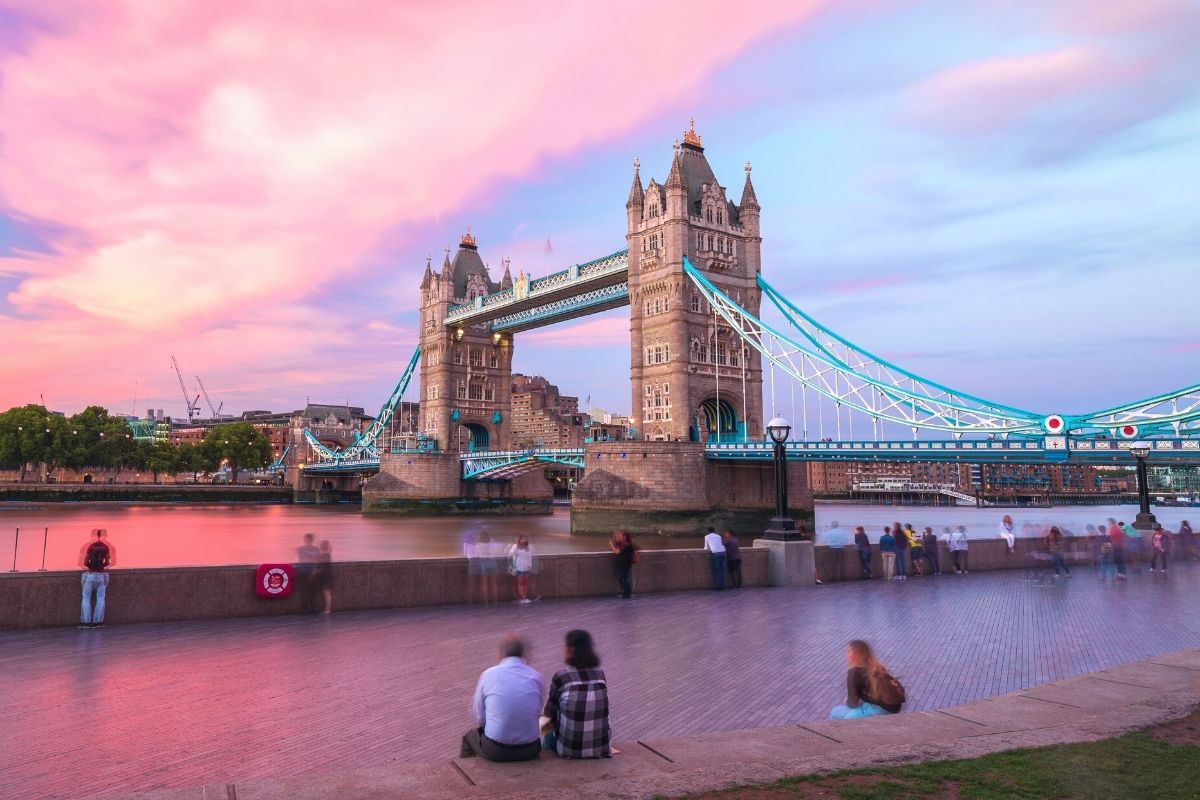 If you want all of the romance of watching the sunset without spending too much, never fear; there are tons of spots in the capital that offer unforgettable vistas.
Amble over to the pond at Richmond Park, which offers gorgeous views in an equally stunning, forested setting that feels leagues away from the city.
Or head to the top of Millennium Bridge for the opposite experience; surrounded by fellow pedestrians, you can see the whole skyline illuminated before you.
And while Primrose Hill may be in a famously ritzy neighborhood, it's totally free to climb to the top – and well worth it, for those magnificent views of the city below!
60 – Chill out at some rooftop bars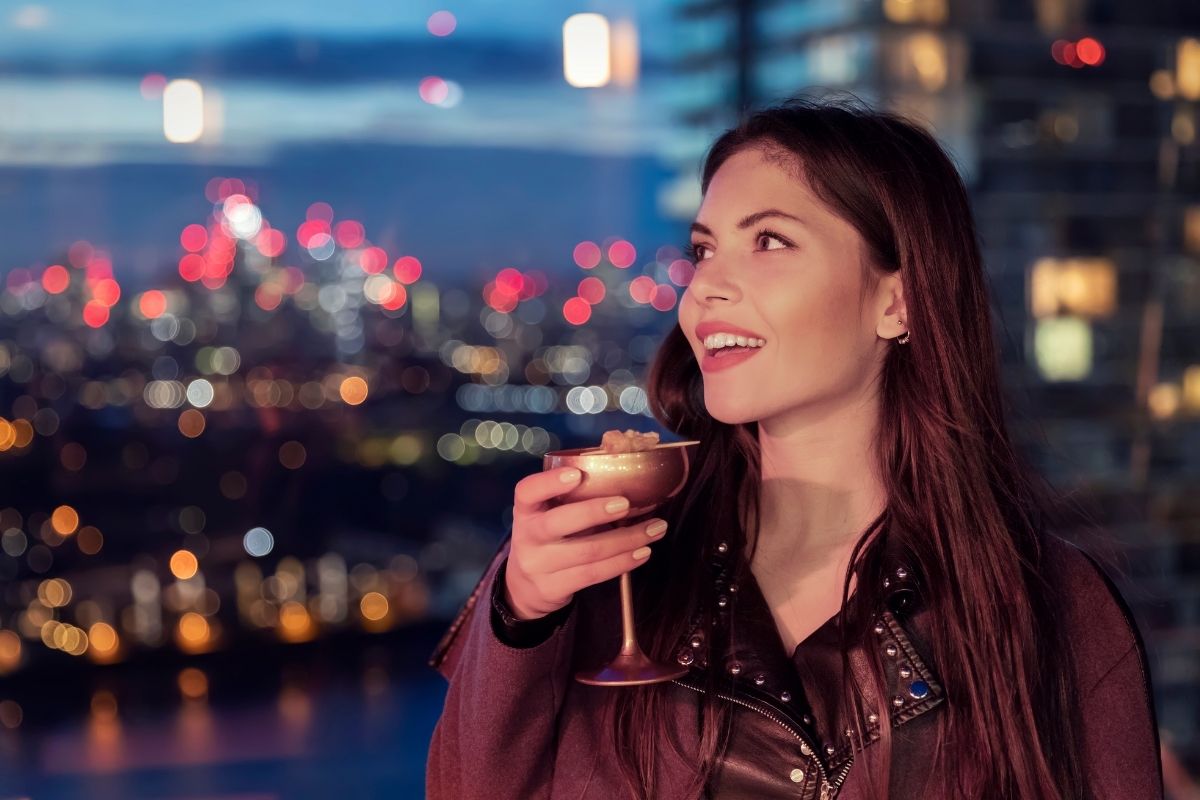 Whether you're enjoying a daytime drink or an evening treat, a rooftop bar is one of the best places to enjoy the city, with amazing scenery and great service all rolled into one!
Relax on the deck chairs and admire the charming water features at Allegra, or feel like a big shot at Aviary, with its classy decor and massive peacock statues.
Sip on a sundowner at understated Aqua Spirit, or try some hearty pub fare in the wood-accented decor of Big Chill House.
And don't miss the boozy brunches at Bar Elba, which offers a plant-filled deck that still provides unforgettable views of the urban splendor below.
61 – Compare reds and whites while wine tasting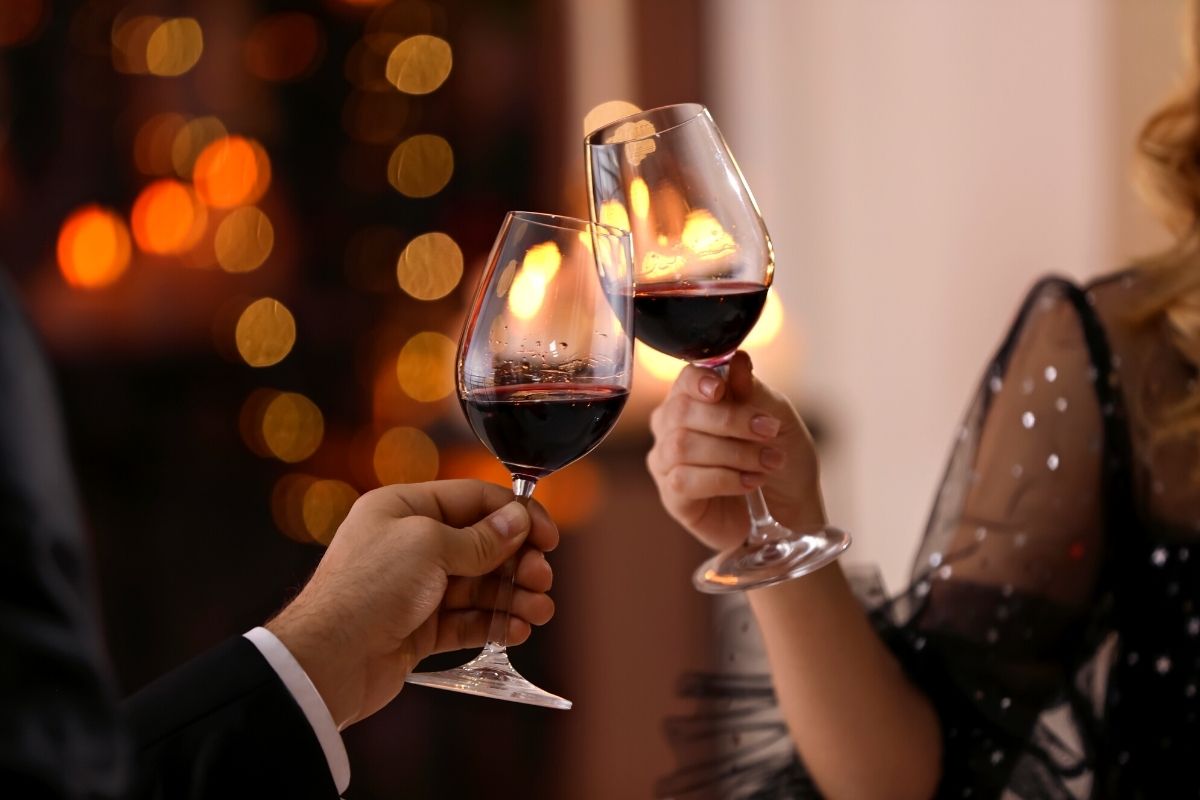 Yes, you really could spend most of a trip just drinking… so why not learn a little bit about the beverages in the process?
Wine tastings offer a great introduction to the area's finest varieties, often with a trip to the countryside as part of the bargain. Head out to the charming regions of Kent or Sussex, enjoying the lovely scenery and the delicious samples at various acclaimed wineries.
Or stick close to town with a tour of Notting Hill, where you can pair your vino with some delicious bites from the nearby restaurants. If you want something of a self-guided itinerary, you can hit up several of the most famous wineries in the area.
Try the full-bodied offerings at Berry Bros & Rudd, or the generous selection at Skylon, which also offers great views from its lofty vantage point.
Check out the regularly scheduled events at family-run 56 West Smithfield, or explore some of the courses run by expert wine educator Michael Schuster. With so many tantalizing opportunities, you'll be grateful not to be driving!
62 – Enjoy some retail therapy in Camden Town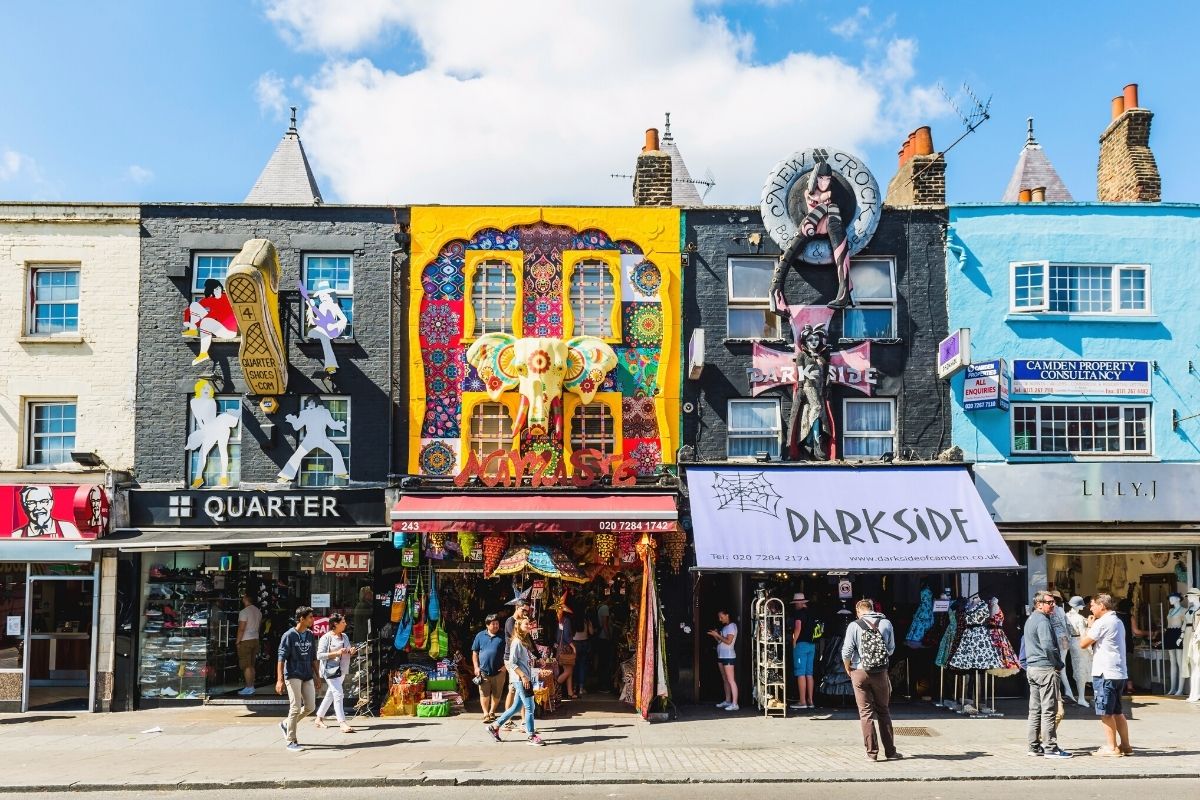 From fun-filled tourist attractions to a lively music scene, Camden Town has become a wildly popular destination in recent years. The neighborhood is probably best known as a hotbed of alternative culture, much of which can be found in its shopping districts.
Camden Market is the biggest and best of the bunch, with over 1,000 fascinating vendors hawking their wares. Whether you want some unique threads, delicious street food, or vintage items, you'll find plenty of options.
And it's also the perfect place for some wonderfully weird niche shops; if you need ethically sourced pet toys or a unicycle for your next circus performance, the market's got you covered!
Stop by and check out some of the awesome products for yourself, but be warned… you may need to buy a bigger suitcase!
63 – Have a classy date night at some jazz clubs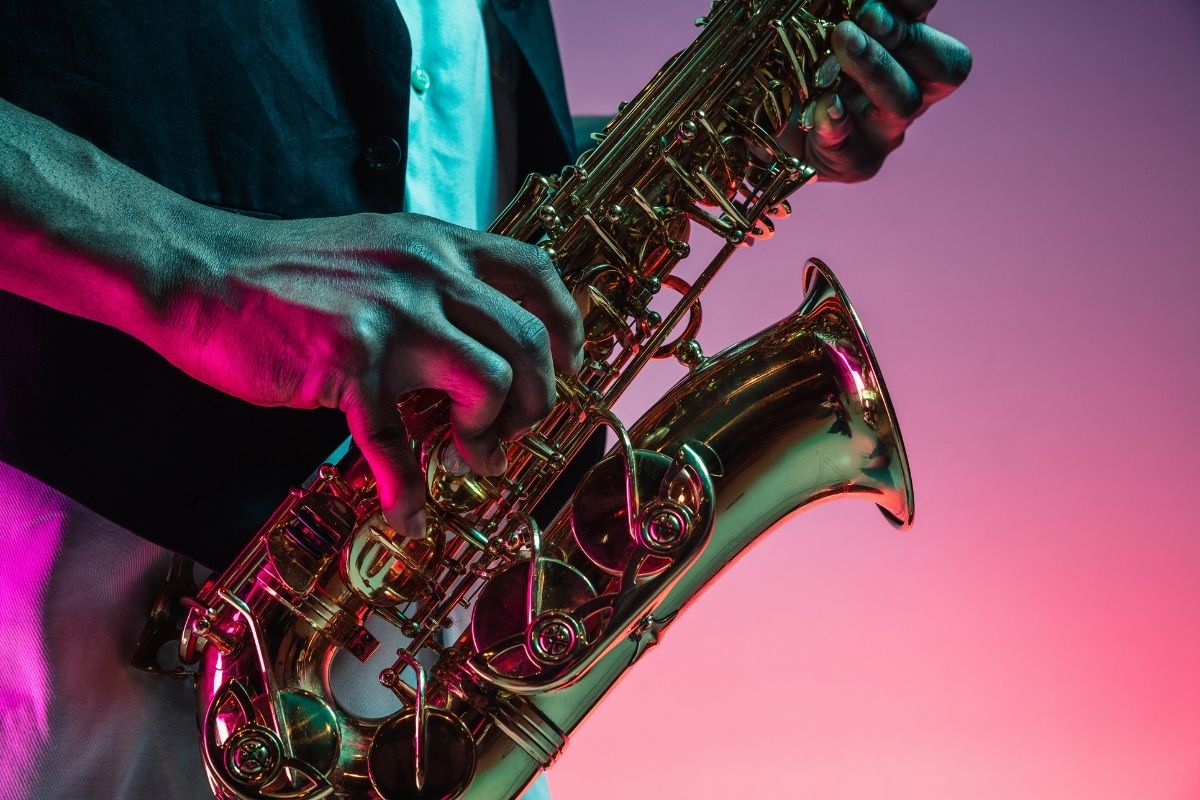 Jazz clubs are somewhat synonymous with elegance and sophistication, and the combination of classy surroundings and stirring melodies makes for a perfect date night!
Snag a reservation at Ronnie Scott's, which boasts world-class performances and a speakeasy upstairs. Or try a bit of New Orleans flair at 28°-50° by Night, with its lively and eclectic performances and 1920s aesthetics.
Enjoy the cozy setting and roster of new and established talent at Jazz After Dark, which has hosted luminaries such as Amy Winehouse. Or take a little trip to Paris – thematically, at least – at Crazy Coqs, with its acclaimed guest performers and beloved cabaret acts.
And if you want to take things to the next level, try Toulouse Lautrec Jazz Club and Piano Bar, with a fantastic cocktail menu, delicious meals, and top-notch talent performing every night of the week.
64 – Turn the city into a musical on a silent disco tour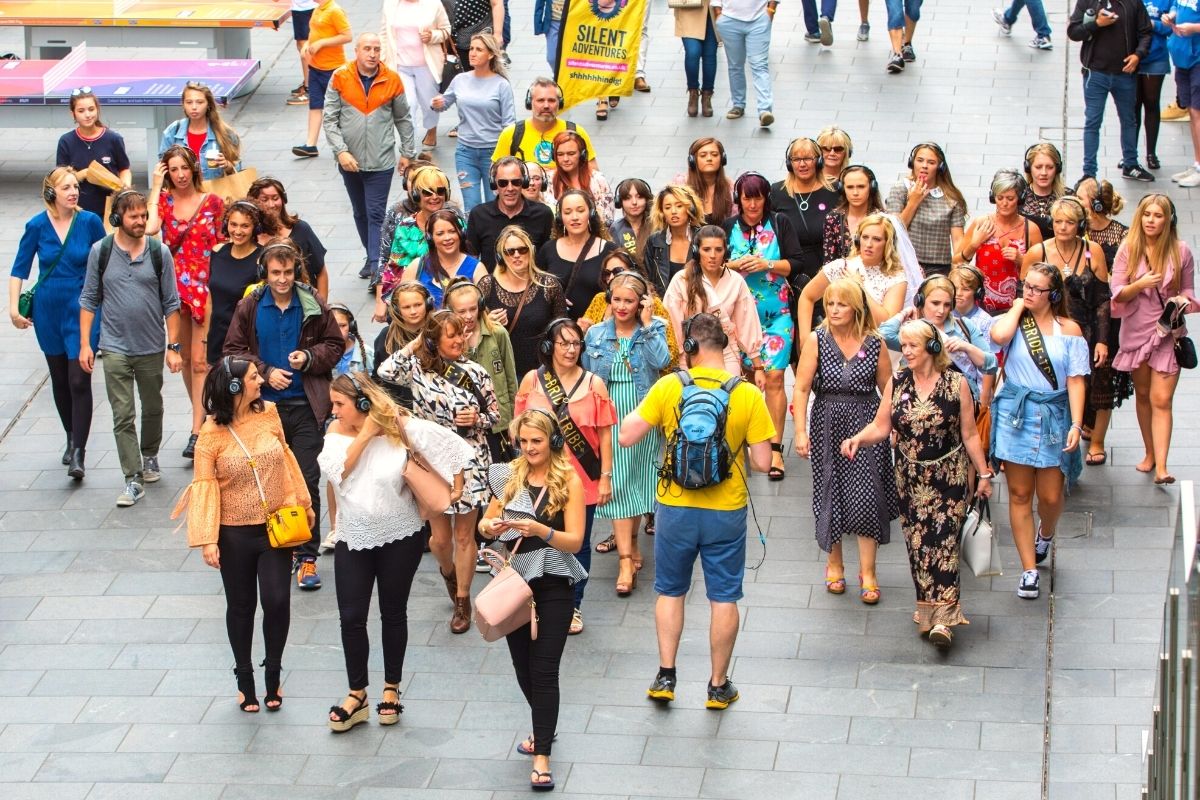 Everyone loves music and a good walk, so why not put the two together? Oh, and did we mention that only you can hear the tunes?
Don't worry, you're not going crazy – that's just the central premise of the Silent Disco tours, a thrilling and unique way to explore the area – and definitely one of the most entertaining things to do in London for couples!
Whether you're a Broadway buff or drag scene dynamo, you and your dance partner will have a great time exploring the city's neighborhoods, while your headphones (provided by the tour operator) pipe specially curated music into your ears.
Enjoy your own personal soundtrack, themed to the excursion of the day; from hit plays to disco classics, there's an auditory treat in store with each stroll. And yes, the tours do encourage singing and dancing! After one of these lively jaunts, you might never see the capital's streets the same way again!
65 – Try some new mixes at various cocktail bars
In between all of the action, you can unwind with a nice mixed beverage at some of the finest cocktail bars in town, each boasting their own unique feel – but all offering amazing drinks!
Lose yourself in the tropical realm of Oriole, with its wacky blends (banana loaf-infused drinks, anyone?) and live music. Grab your flapper gear and head back to the 1920s at Nightjar Carnaby, where the excellent beverages and the speakeasy vibe will make you feel a little rebellious.
Head to Chinatown for the unforgettable seasonal mixes at Opium, often considered one of the best bars in the whole city.
Try the atmospheric concoctions and low-key vibes of Demon, Wise & Partners, perfect for feeling like you've entered a sultry spy movie. Or check out Nightjar Shoreditch, another speakeasy-style spot that specializes in artistic and unusual blends.
These classy joints will leave you all the more grateful for the city – and each other!
How to get to London?
You'll be spoiled for choice when it comes to airports, with Heathrow and Gatwick among the most popular options. While those two tend to be the big hubs (especially for international flights), you can also fly into Southend, Stansted, or Luton.
And wherever you're arriving and departing from, an airport transfer is the perfect way to make the trip easy, transporting directly to and from the city in a hassle-free fashion.
What are the most romantic hotels in London?
At COVE Cannon Street, you can easily mosey out to popular sites like Tower Bridge and the Tower of London, then retreat back to your cozy room filled with elegant furniture and contemporary art.
Or get even more into the thick of the action at The Resident Victoria, where you're practically next door to Buckingham Palace… with service and conveniences fit for royalty!
Shangri-La The Shard takes more of the sleek and modern approach, with world-class bars and restaurants on-site, and gorgeous rooms with breathtaking views of the city.
Or go for the iconic option with a stay at The Savoy, the world-famous luxury hotel with eateries curated by celebrity chefs, gorgeous suites perfect for relaxing in, and romantic destinations like Covent Garden and the Royal Opera House a short jaunt away.
And if you want more of a private, country-house feel, you can't go wrong with The Montague On The Gardens, where charming sunrooms, a scrumptious afternoon tea, and gorgeous green spaces will help you feel like you've found a lovers' paradise all your own.
Visiting London on a budget?
In such a massive and multifaceted metropolis, it's little surprise that there are so many excellent free walking tours!
From introductions to the local hotspots to more niche topics like royalty, rock n' roll, and Jack the Ripper, there's a perfect excursion for every itinerary. Just be sure to bring some cash to tip your guide for a job well done!
And if you're planning on hitting tons of attractions during your visit, take a look at some of the London Passes, which provide great discounts and convenient access to many of the best spots in town.
Choose the number of sites and number of days that works best for your visit, then mix and match your sightseeing options to create the perfect itinerary – at a wallet-friendly price!
Where to go next?
Want to keep the romance – and the vacation – going? Then explore some of the other best places to visit in the UK!
From the stunning monuments of Stonehenge to the gorgeous architecture of Edinburgh, the amazing seascapes of Isle of Wight and Cornwall to the charming streets of Cambridge and Stratford-upon-Avon, there's an endless assortment of options for amorous adventurers.
And thanks to the relatively small region size, you can traipse between lively cities, quiet villages, and gorgeous natural treasures with ease, getting a good feel for the country as a whole.
Final thoughts
When you're with the one you love, any destination can become a romantic getaway. But when you're in a city renowned for its scenery, art, culture, and history, it's certainly much easier to keep the date night vibes going!
There's no shortage of phenomenal things to do in London for couples, and the variety is the best part; no matter your interests and hobbies, you'll find some amazing representations in town.
And, of course, trying new things together as a pair is always fun, so take plenty of time to explore the abundant unique experiences that the capital has to offer!
Sure, you may have to go home eventually… but that just gives you time to plan the next trip!