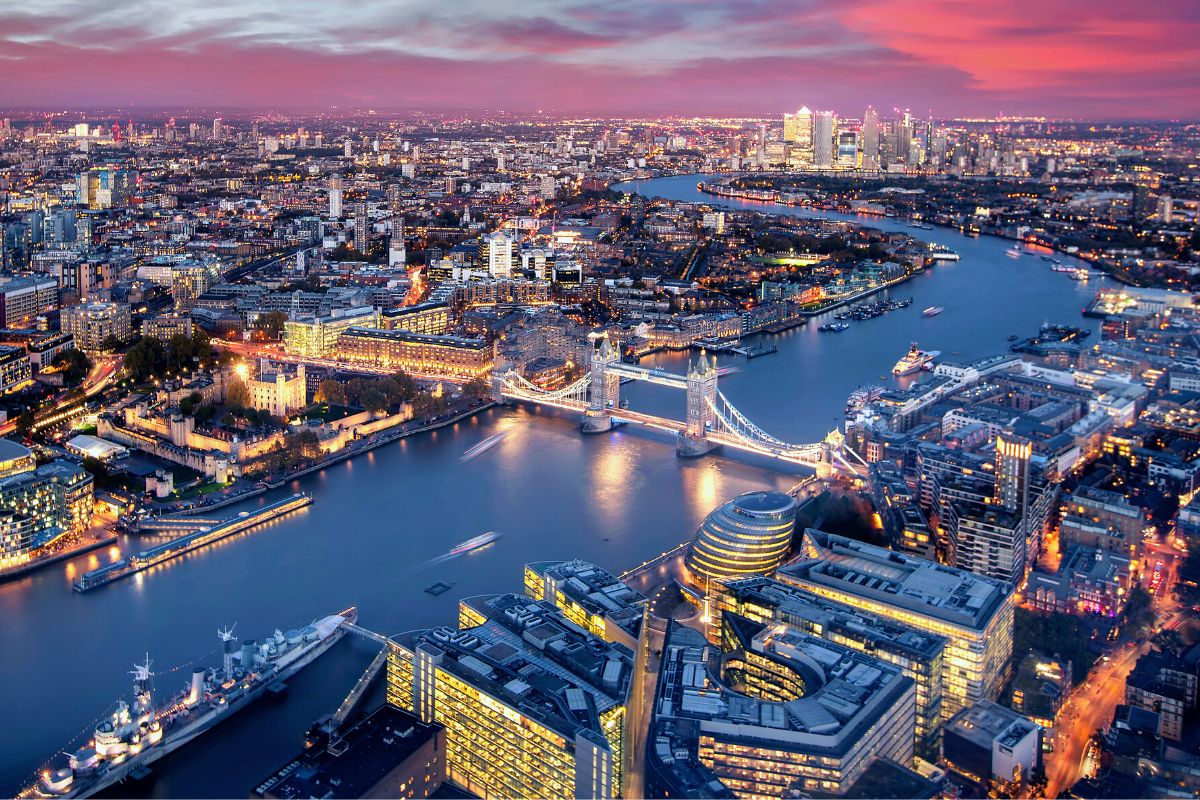 From its storied historical traditions to its cutting-edge attractions, London is a city that defies easy categorization. The political and cultural capital of England, this marvelous metropolis offers treasures for every kind of tourist.
While there are many amazing things to do in London, we'll be focusing on the central part of the city today. And with some of the town's most popular attractions – including political buildings, amazing museums, and an energetic nightlife scene – it's definitely an area worth visiting!
So settle in with a cup of tea, and join us as we explore some of the fantastic things to do in Central London.
1 – Explore the fabled rooms of the Tower of London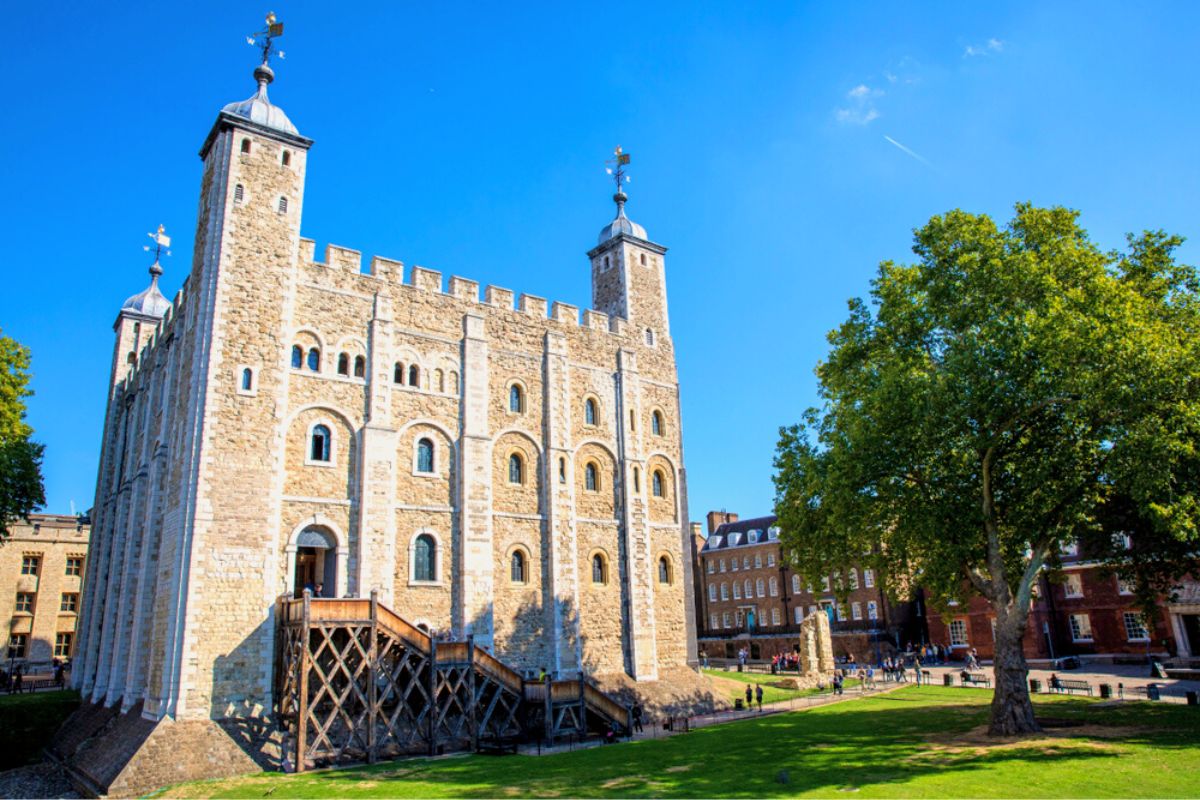 If you're looking for a truly beloved historical spot with a healthy dash of the macabre, head over to the Tower of London.
For over 900 years, this impressive fortress has been a place of great political intrigue, serving both as a home for royalty and an infamous prison.
Your visit will offer unparalleled glimpses into the lives of past rulers, including a peek at the Crown Jewels, the famously decadent gems that have been part of the monarchy for generations.
You'll also be able to roam through the various rooms that once housed inmates and nobles alike, and you may even get to see some live historical re-enactments that provide context for the building's unique role in English society.
It's all part of the adventure at one of the most fascinating structures in town!
Read more about Tower of London tickets price – All you need to know
2 – Relive the royal wedding at Westminster Abbey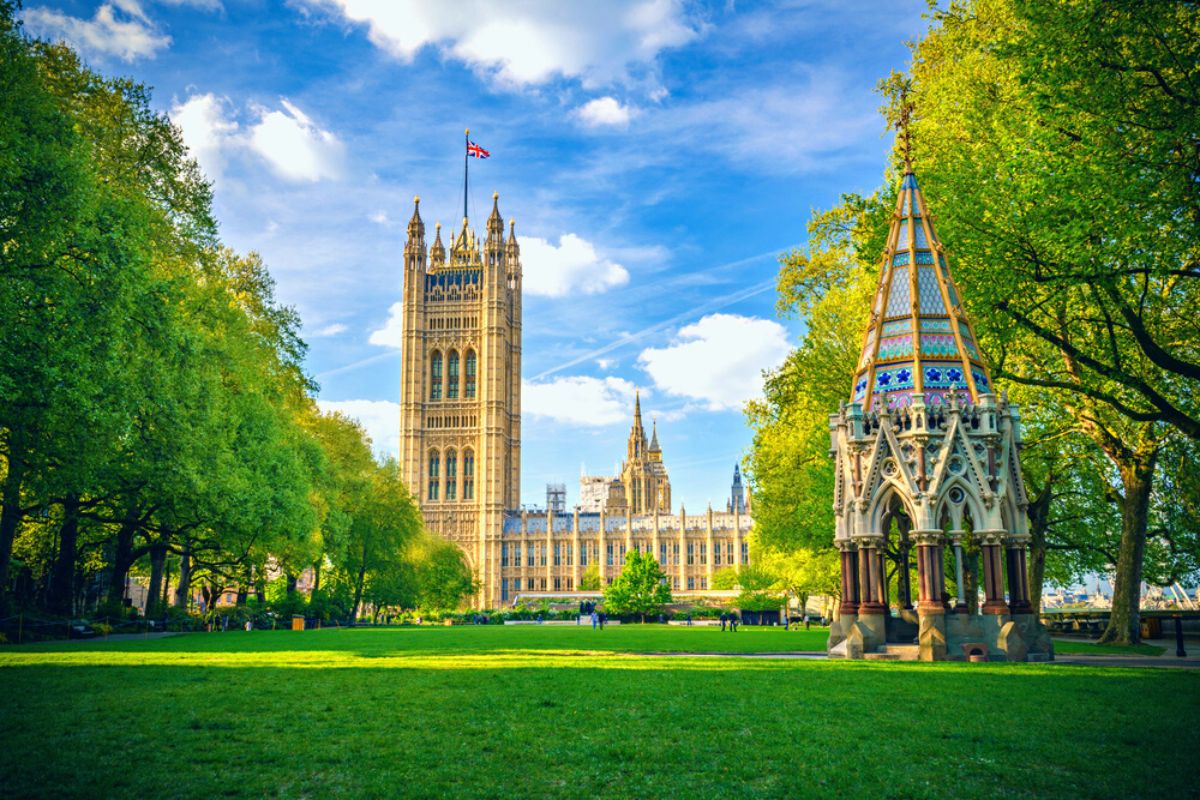 If you want to see where the modern monarchs have worshiped and wed, stop by the beautiful Westminster Abbey.
Originally built over a millennium ago, this spectacular Gothic church has been the site of coronations since 1066, and also holds the remains of 17 deceased royals. It's even hosted a few royal weddings, most recently the union of Kate Middleton and Prince William in 2011.
Follow the footsteps of kings and queens past through these ornate halls, and learn more about the remarkable ceremonies that have taken place here over the centuries.
Be sure to check out some of the other graves around the property as well; in addition to monarchs, this is the final resting place of such English luminaries as Geoffrey Chaucer and Charles Dickens.
3 – Cruise along the Thames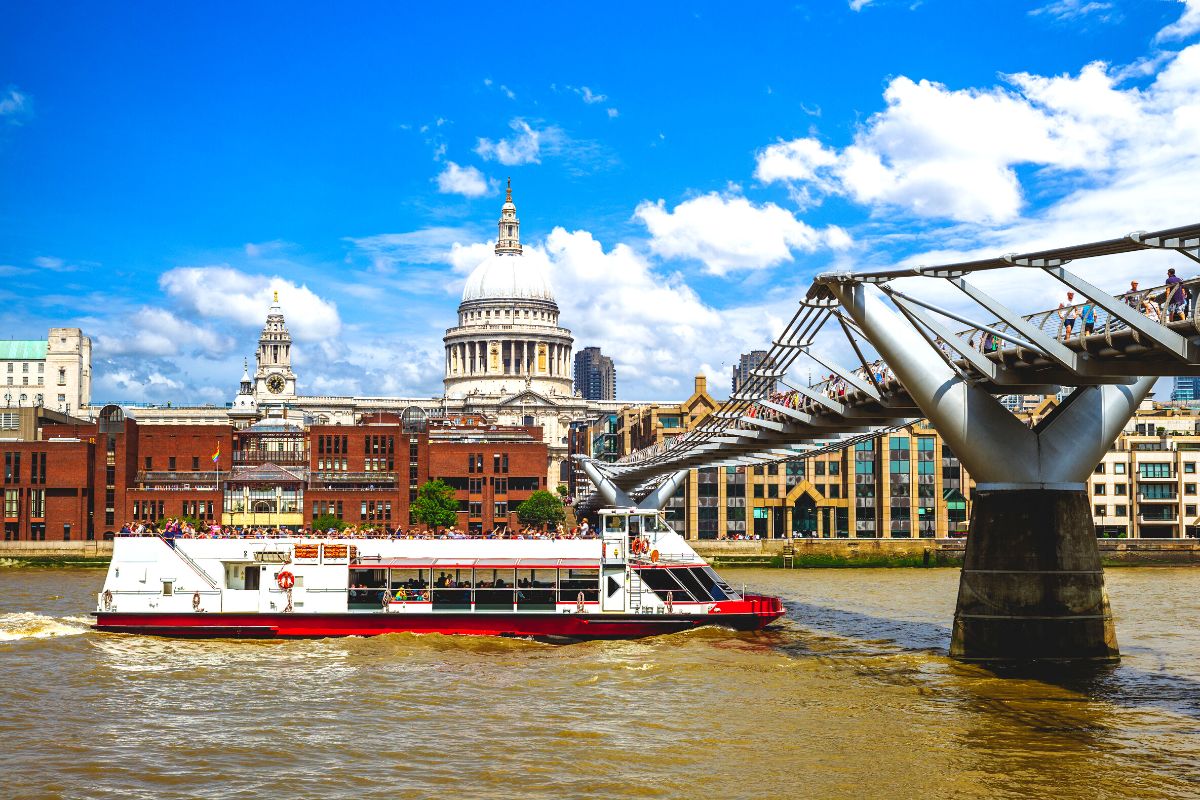 The Thames River, which flows through the center of the city, is just as dynamic and iconic as the attractions that line its banks. If you're looking for some fun things to do in Central London, it's well worth taking a cruise down this beautiful waterway.
Sail past the majestic spires of Westminster Abbey, the futuristic-looking London Eye, and the beautiful towers of the Houses of Parliament, where Big Ben, the world-famous clock, still keeps time.
You'll also pass under the London Bridge… yes, that London Bridge! Apart from starring in the famous nursery rhyme, the bridge has been a vital part of the city for centuries.
And if you're looking to add a little bit of pizzazz to your boat tour, there are plenty of unique sailing options available. Book a dinner cruise to enjoy the river in style, taking in the sights and sounds of the city at nightfall as you sample some delicious dishes – one of the best things to do in London for couples.
As an added bonus, many of these tours offer additional entertainment, so you can alternate between admiring the skyline and enjoying a world-class cabaret performance.
And for a little bit more action, check out a jet boat tour. These fast-paced watercraft are an awesome way to see the sights, while getting some adrenaline as part of the bargain. With the wind in your hair and the world at your feet, you'll be zooming down the river in style.
4 – Tour the galleries of St. Paul's Cathedral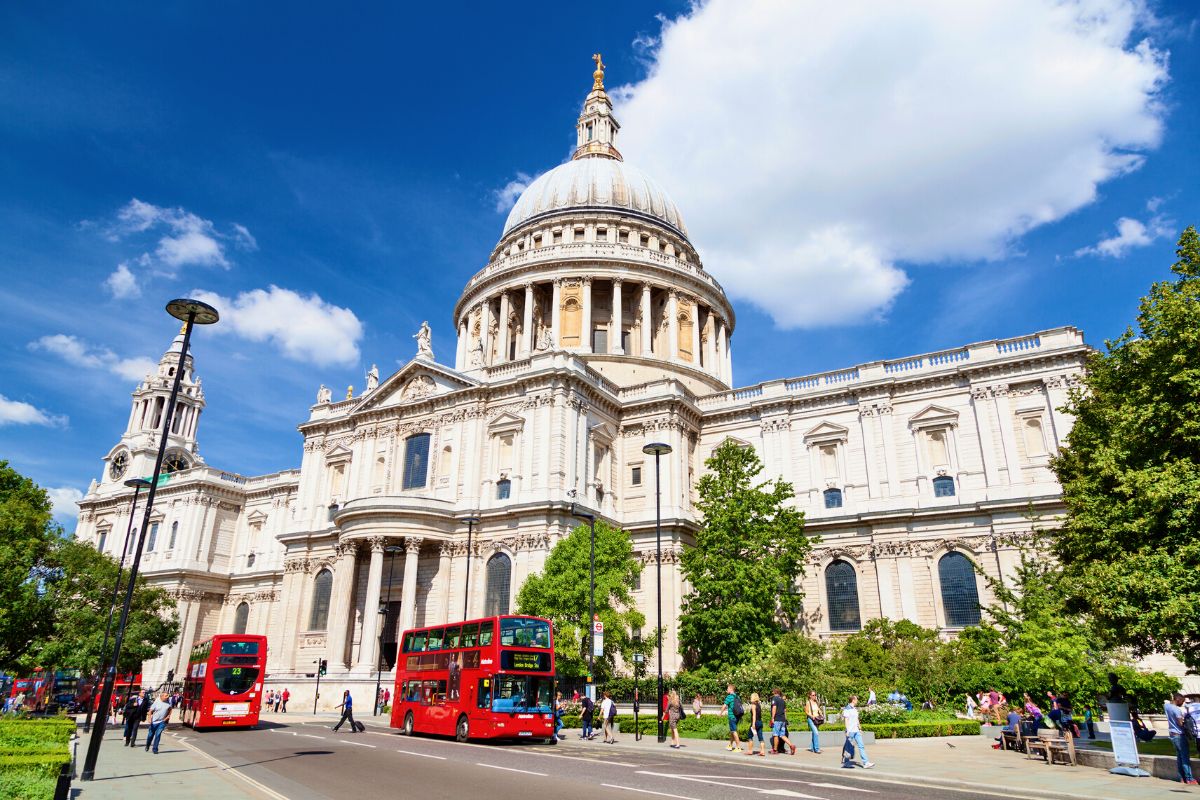 From its dynamic dome to its spacious, creative rooms, St. Paul's Cathedral is a stunning showcase of art and architecture. While every corner of this 1400-year-old masterpiece is worth exploring, there are a few areas that really stand out.
The Stone Gallery gets its name from its impressive masonry, which perfectly complements the gorgeous scenery that you can see from the balcony.
At the Whispering Gallery, you can lean into the wall and whisper a secret or a thought; thanks to the unique design of the church, whoever's standing on the other side will be able to hear you loud and clear!
And once you enter the Golden Gallery, you can scale the steps to the building's crowning spire, and enjoy spectacular views of the city below.
When you're done, you can head over to the Millennium Bridge, a gorgeous pedestrian path with an excellent view of the building in all of its splendor.
5 – Enjoy the views atop The Shard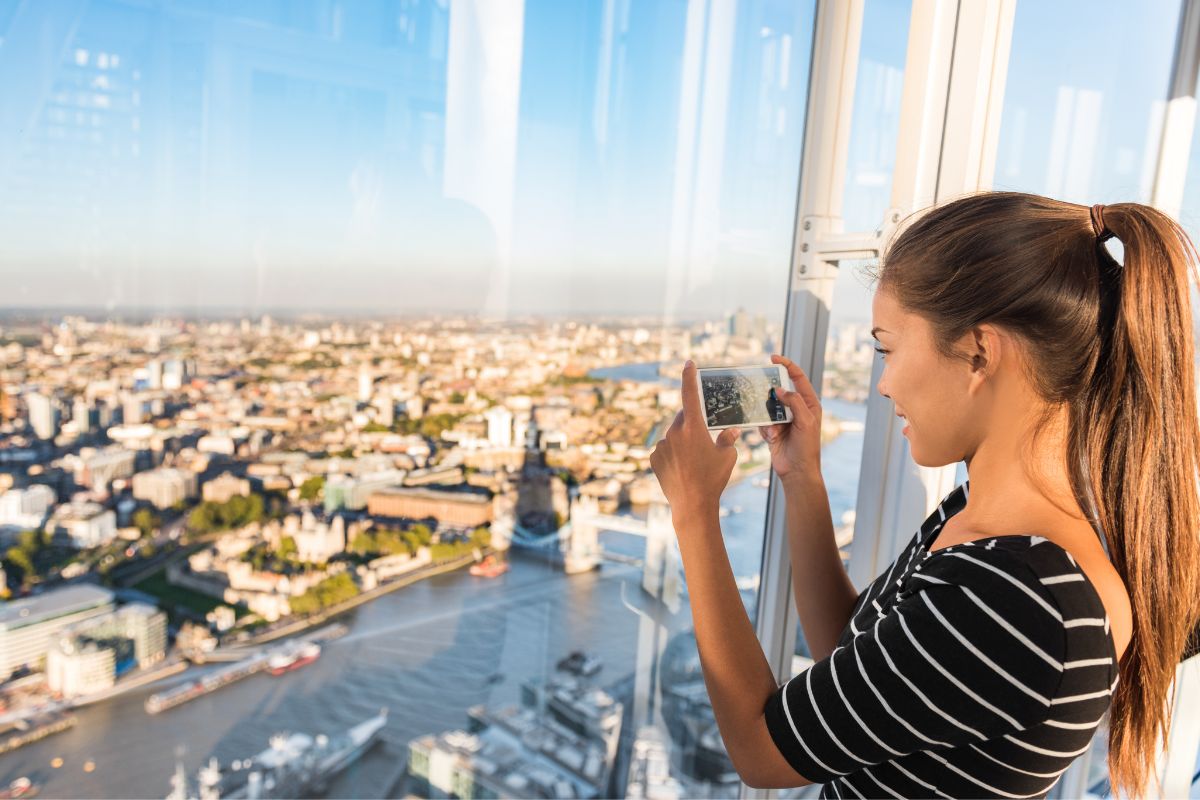 Alongside its vivid name (and even more striking facade), the Shard is one of the coolest attractions around. At a staggering 984.25 feet tall, the tower, which is shaped like a giant piece of glass jutting into the air, offers incredible glimpses of the city's jaw-dropping skyline.
With The View From The Shard experience, you'll be able to soak up the scenery and keep an eye out for local landmarks like St. Paul's and the Tower of London. If you're feeling particularly daring, you can venture onto the outdoor viewing platform, which is the tallest one in Western Europe!
Inside, you can explore the fascinating exhibits covering the city's history, or kick back with a nice beverage at the bar. It will definitely be a view to remember!
6 – Tour world civilizations at The British Museum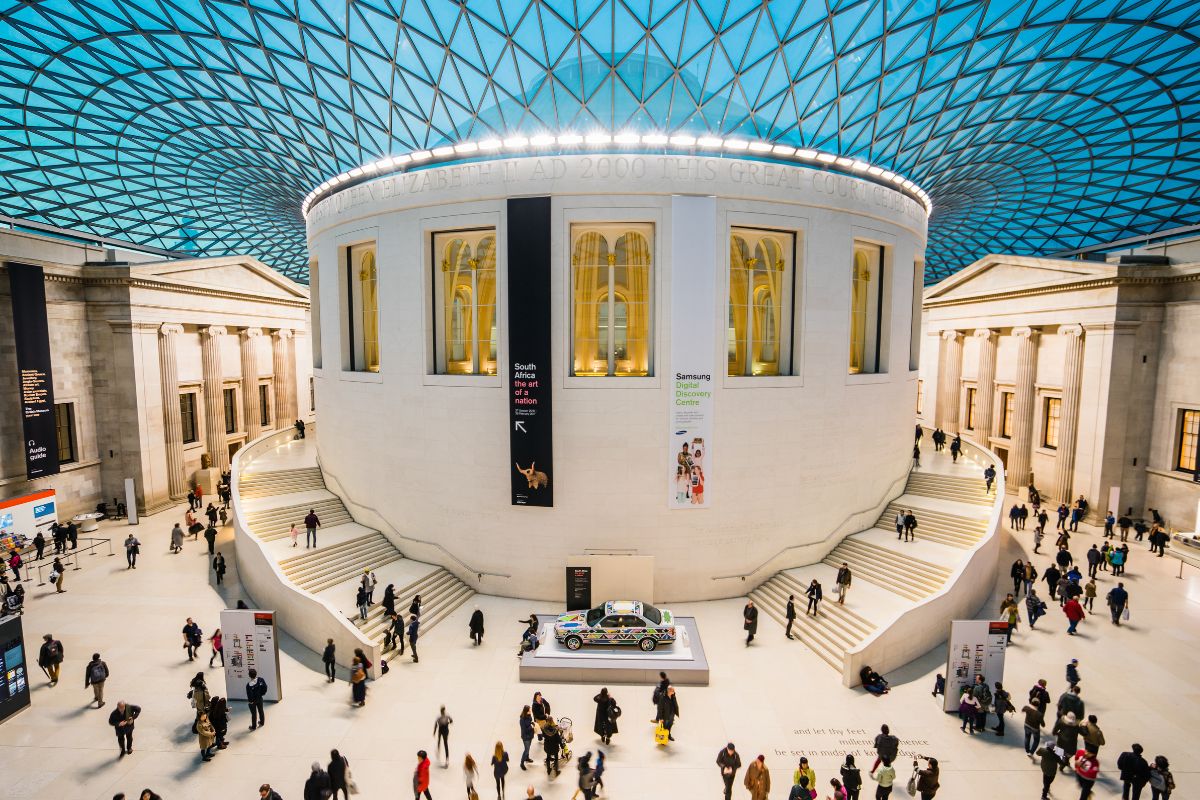 Hang out among the ancient artifacts of Rome and Greece. Check out the intricate designs on samurai's suits of armor. Admire the world-famous hieroglyphic carvings on the Rosetta Stone.
When you explore the spacious halls of the British Museum, the possibilities are endless! With millions of artifacts spanning 6,000 years of human history, a visit to this iconic institution is undoubtedly only one of the coolest things to do in Central London.
Check out the amazing tributes to past empires, and trace the global evolution of human society to the present day. While the space is large enough to spend several days in, even a short visit will leave you awash in history and culture.
And if you're really pressed for time and want to make sure to see the highlights, consider booking a guided tour, which will take you to some of the most famous exhibits and provide some awesome behind-the-scenes facts.
For history buffs, museum nerds, and culture enthusiasts, this stunning space is a must-see!
Hot tip: 101 Best Museums and Art Galleries in London
7 – Hang out with fish (and penguins!) at the SEA LIFE Aquarium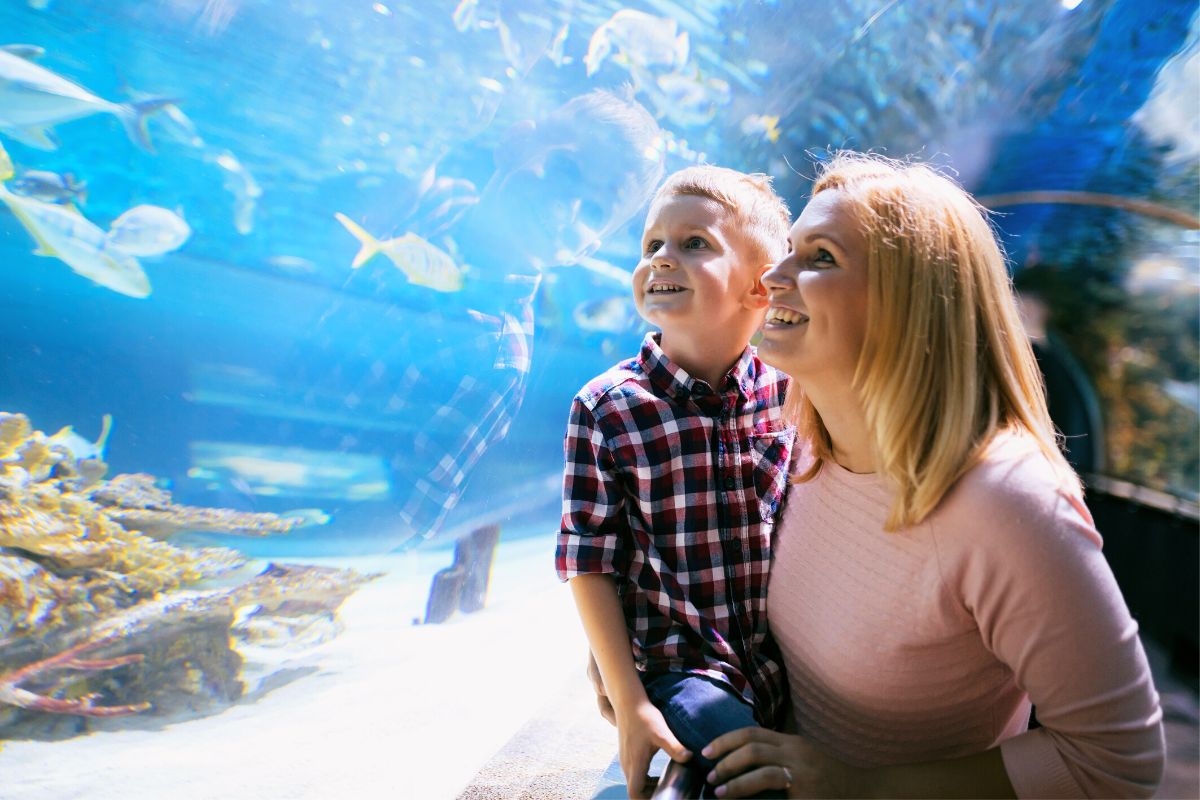 If the animal world is more your speed, check out the underwater delights at the Sea Life Aquarium. Home to more than 7,000 beautiful creatures, this spectacular complex celebrates the ecosystems that thrive in and around our planet's bodies of water.
Journey to the icy realms of the Antarctic, where you can get up-close views of the dynamic Gentoo penguins.
Dive into an interactive Amazonian journey with the Rainforest Adventure, where you'll be able to see just what travels through those magnificent, murky currents.
Marvel at the sprawling colonies of the largest coral reef in the U.K., all while learning how to preserve its counterparts in the wild.
Add in octopuses, sharks, sea turtles, and piranhas (among dozens of other species), and you have all the makings of an amazing day at sea – without ever leaving the city!
Read more: Best things to do in London with teens
8 – Unwind at Hyde Park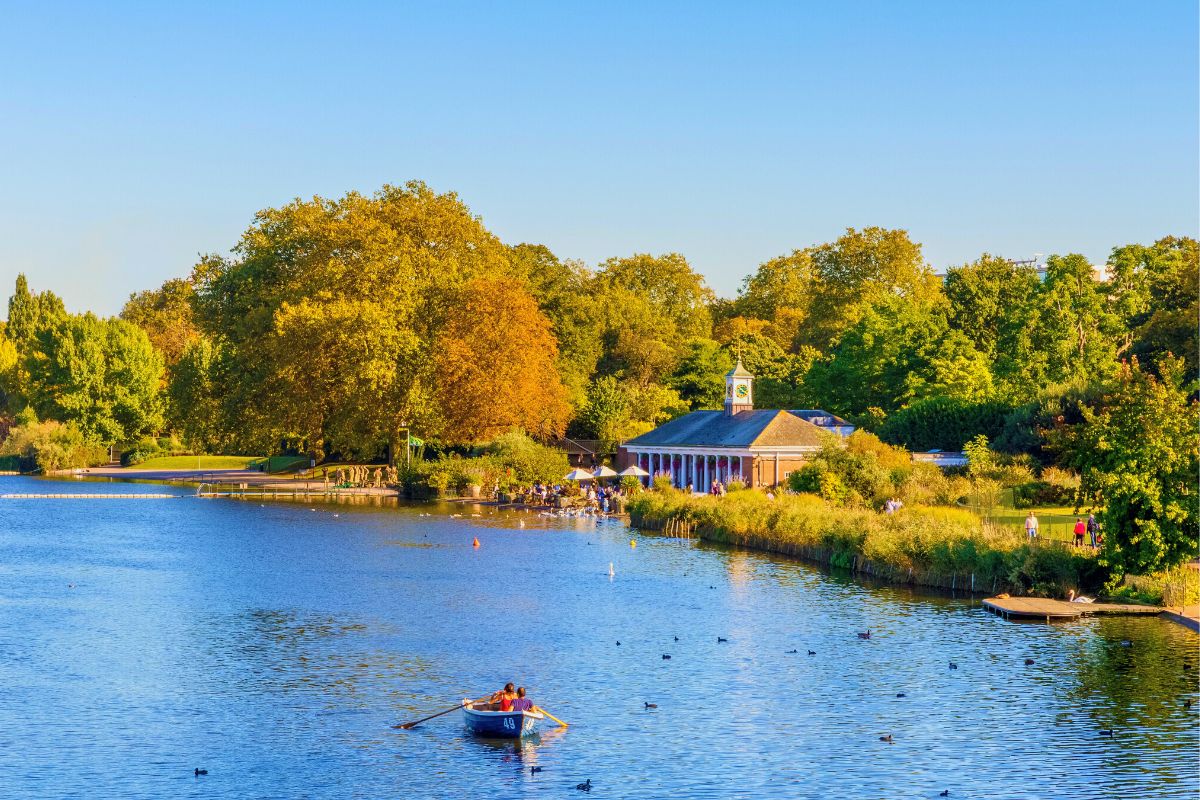 Despite all of its cosmopolitan offerings, Central London has its share of green space as well. And Hyde Park, a former royal hunting ground, is among the most beloved.
Its 350 acres are packed with some truly amazing amenities, including concert spaces, tennis courts, and a beautiful memorial fountain dedicated to the late Princess Diana.
Don't miss Speaker's Corner, an active public forum that has served as a space for debate and exchange of ideas for 250 years.
Just next door, you can admire the imposing halls of Kensington Palace, where Queen Victoria was born, and where members of the monarchy still spend much of their childhoods.
The area around it, Kensington Gardens, is gorgeous in its own right, with 265 acres of natural spaces, walking trails, and themed play areas to explore. Don't miss the Serpentine Galleries, a pair of world-class art spaces that hold works from some of the city's finest contemporary creators.
Unsurprisingly, this area is extremely popular for bike tours, with a whole range of scenic paths to choose from. Whether you're on foot or on wheels, you'll have a terrific time exploring this beloved natural area!
9 – Take a scenic spin on the London Eye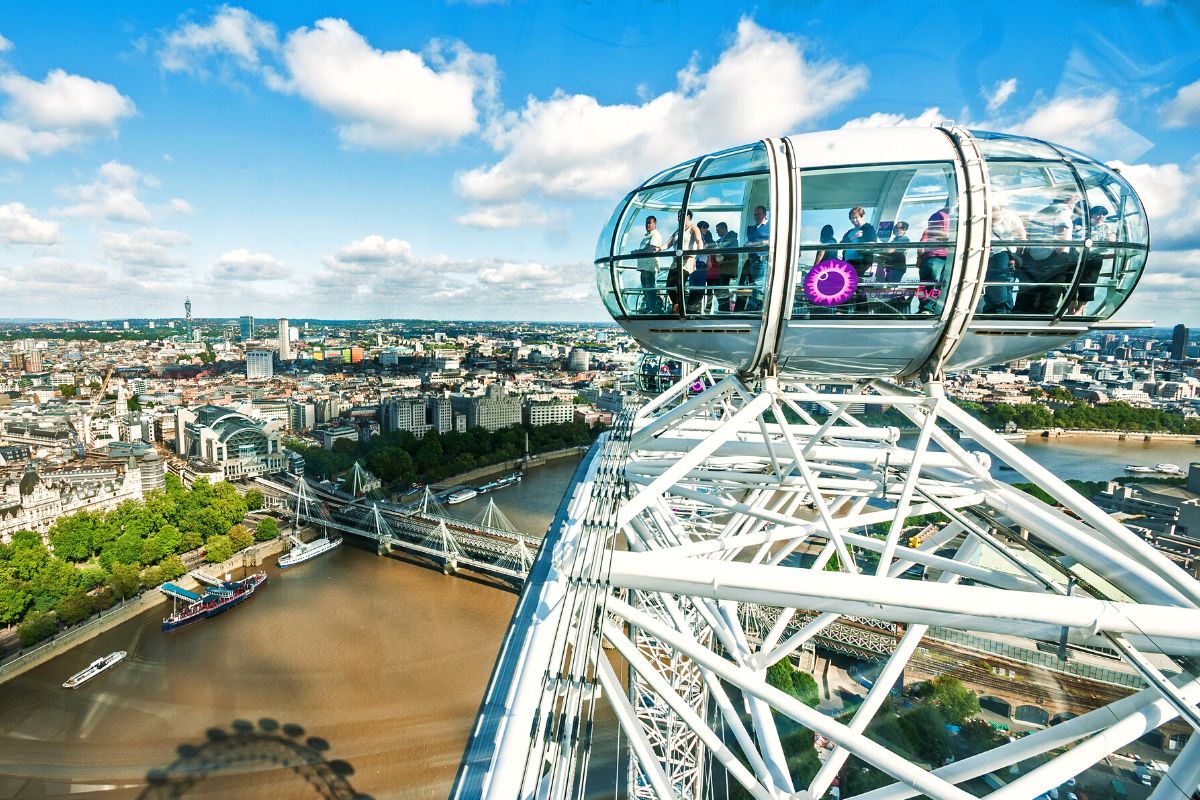 There are plenty of great sightseeing opportunities in the area, but only one of them gives you a carnival ride as part of the bargain! Since it opened in 1999, the London Eye has become an iconic part of the cityscape, offering jaw-dropping sights in a classic Ferris Wheel format.
Climb aboard your cart/observation deck, and spend an unforgettable half an hour slowly soaring over the city, enjoying perfect views of such beloved sites as Trafalgar Square, Big Ben, and Westminster Abbey.
After ascending 443 feet over the capital, you'll slowly start heading back to the ground, and by the time you exit, you'll have even more ideas for things to do in Central London!
Hot tip: Cheap London Eye tickets – How to save up to 30%
Sponsored placement
Delight's Digital Dive into London's Heartbeat
Dive into the heart of London with Delight: Media art exhibition, a sensory journey like no other! Explore 12 captivating zones with more than 25 striking media art installations, combining cutting-edge technology with tradition and city life. Immerse yourself, interact and become part of a story that combines tradition and innovation.
10 – See the city your way on a hop on hop off bus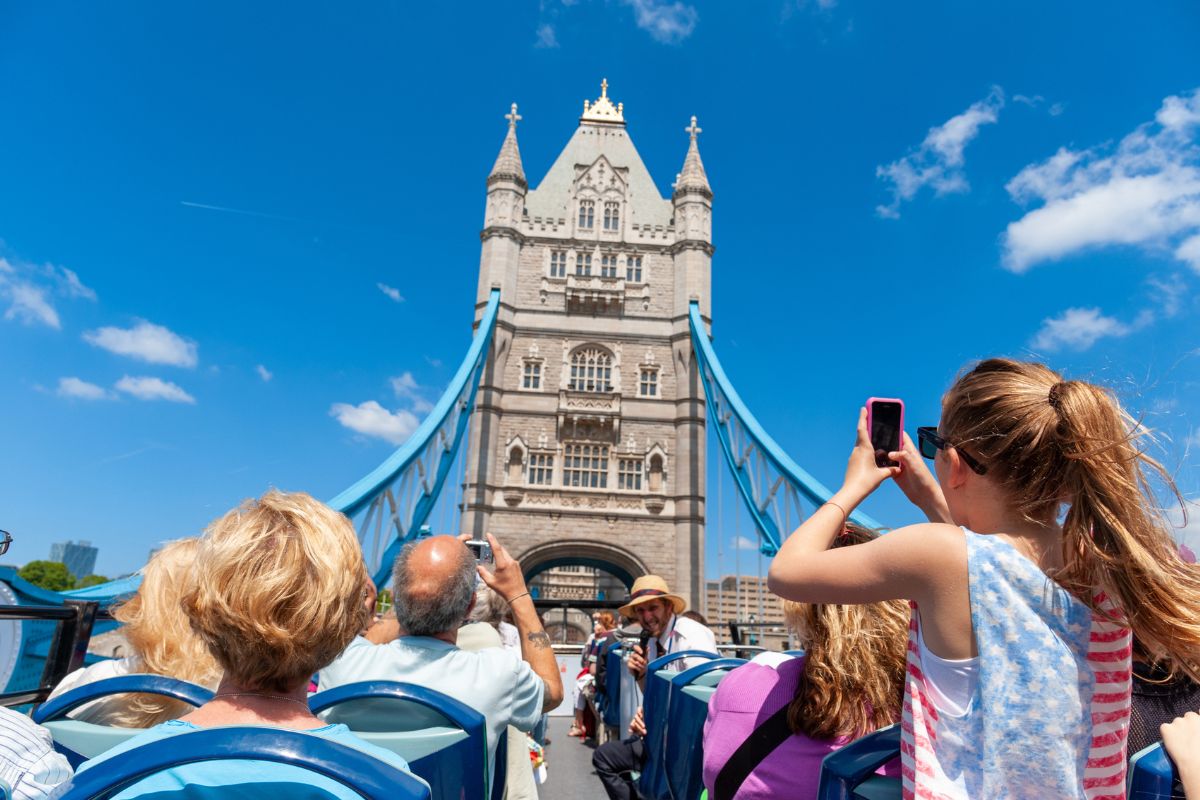 Back on the ground, you can take in even more of the area's delights aboard a Hop-On Hop-Off Bus. These convenient vehicles offer all of the benefits of a standard tour bus – such as great commentary and access to famous sites – with the added advantage of flexibility.
As the name suggests, you can get off at whichever places appeal to you; then, when you're ready, catch the next available bus and keep sightseeing.
While there are plenty of things to enjoy along your route, it's an especially great way to see Piccadilly Circus, the renowned street intersection that's famous for its lively atmosphere, excellent shopping scene, and eye-catching electronic displays.
So grab a ticket and hop on… and off… and on…, as you explore all that the area has to offer!
Read more about hop on hop off bus tours London – complete guide
11 – Take a magical trip to some Harry Potter locations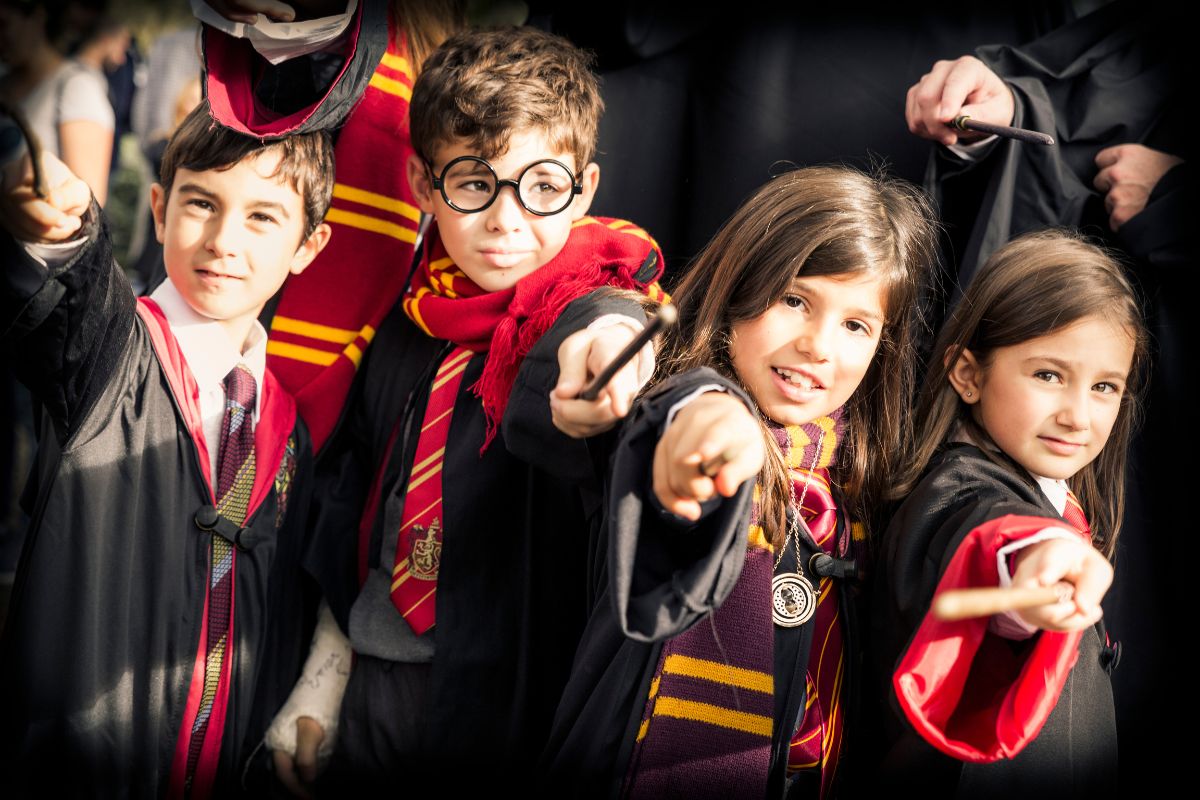 Even if you never got your letter from Hogwarts, you can still explore many of the magical spaces that played a role in the Harry Potter series, courtesy of the Harry Potter locations tours.
Of course, there's Platform 9 ¾ at Kings Cross Station, where witches and wizards arrive each year to catch the Hogwarts Express. But there are tons of other spots around town to visit, each of which helped to flesh out the world of the films.
Some of the highlights include the enchanted markets of Diagon Alley and Knockturn Alley; the Leaky Cauldron, the beloved wizarding pub; and the money-filled halls of Gringotts Bank.
Along the guided walking tour, you'll get to enjoy some awesome interactive components, from trivia sessions to a Hogwarts house sorting ceremony.
Your tour will also include other beloved nearby attractions, including Leadenhall Market (where the Leaky Cauldron was constructed), Shakespeare's Globe Theater, and Scotland Yard.
And don't worry – even Muggles are welcome!
Read more about places every Harry Potter fan should visit in London & best Harry Potter tours in London
12 – Meet dodos and ancient societies at the Natural History Museum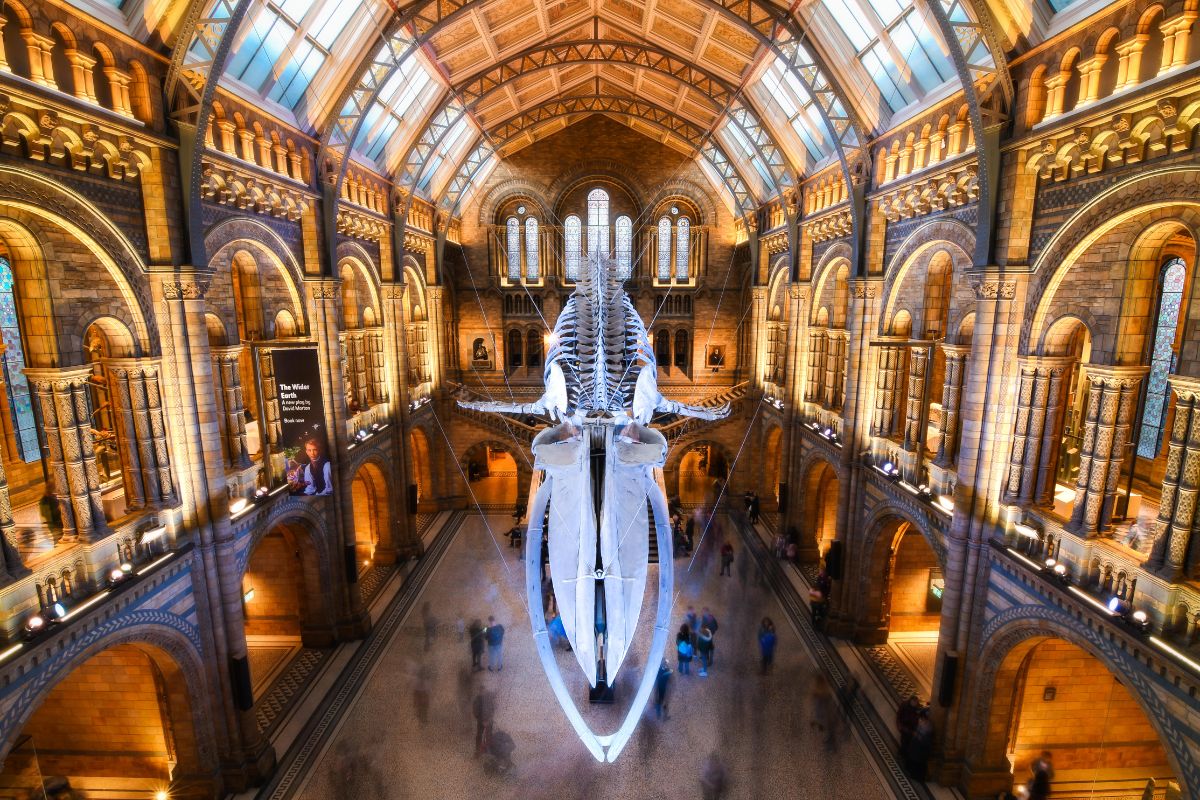 From the moment you pass under the giant floating whale skeleton at the Natural History Museum, you'll feel like you're in another place and time. As one of the oldest and most respected museums of its kind, this institution explores roughly 4.5 billion years of life on Earth, from the microscopic to the massive.
It's a mecca for fossil fans, with some incredibly reconstructed skeletons of dinosaurs, as well as the remains of the ill-fated dodo bird. But it's also the place to see pieces of Giant Sequoias, the multihued beauty of rare gems, or the reconstructed remains of victims of Pompeii.
From prehistory to the present day, this fabulous building is the perfect place to explore the wonders of the world around you.
13 – Meet your (wax) heroes at Madame Tussauds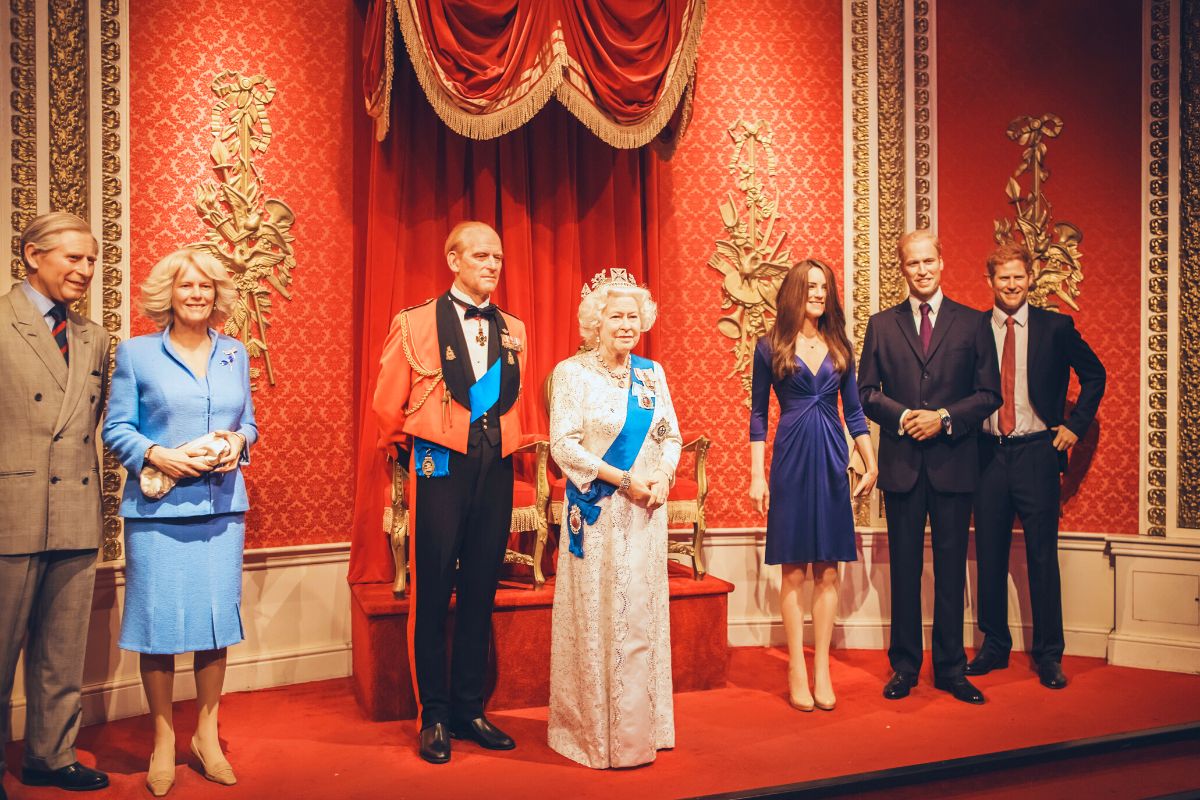 Only a lucky few of us will ever get the chance to meet the royal family, party with rock stars, or hang out on a film set with A-list celebrities.
And even fewer of us (ok, nobody) will ever get to go hang out with Jedi Master Yoda for a day. But at Madame Tussauds, you can do all of these things and more!
This renowned wax museum's imaginative and expertly crafted scenes are home to over 250 lifelike sculptures of famous figures, including politicians, models, and professional athletes.
As if all of that weren't cool enough, the museum also includes some awesome recreations of some of modern Hollywood's biggest sagas.
Whether you're posing with Jedis or rubbing shoulders with the many superheroes of the Marvel universe, fans of all ages will love getting to see their favorite characters up close. This is the perfect place to snap some photos, and one of the coolest things to do in Central London!
14 – Pay a visit to Buckingham Palace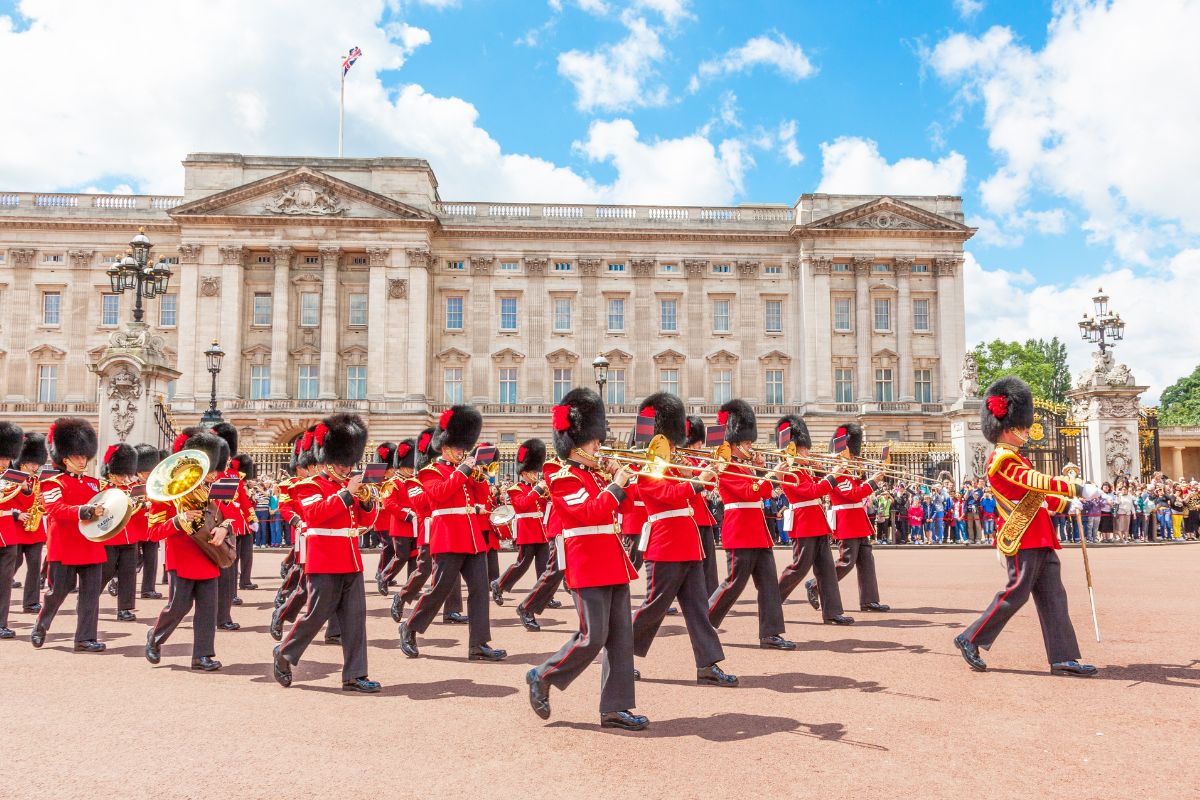 After seeing the wax versions of the British monarchy, you might be curious to see where their real-life counterparts live. And no trip to the city would be complete without a visit to Buckingham Palace, the world-famous home of the royal family.
While the palace itself is fantastic to behold, there are also some amazing spots and ceremonies that are not to be missed during your visit. The changing of the guard tours are the perfect way to see the renowned palace guards in action, as the regiments swap out for their shifts.
Inside the building, you can enjoy the opulence of the various State Rooms and the Queen's Gallery, commissioned by Queen Elizabeth II for her Golden Jubilee festivities, featuring an impressive collection of artworks and antique furniture from across the decades, showcasing centuries of royal tastes.
Once you've gotten your fill of memorabilia, head over to neighboring St. James's Park, a lovely neighboring green space that features 57 acres of playgrounds, decorative lakes, and gorgeous flower beds that perfectly frame this renowned residence.
Hot tip: Buckingham Palace last minute tickets – It's not sold out!
15 – Reflect on conflicts at the Imperial War Museum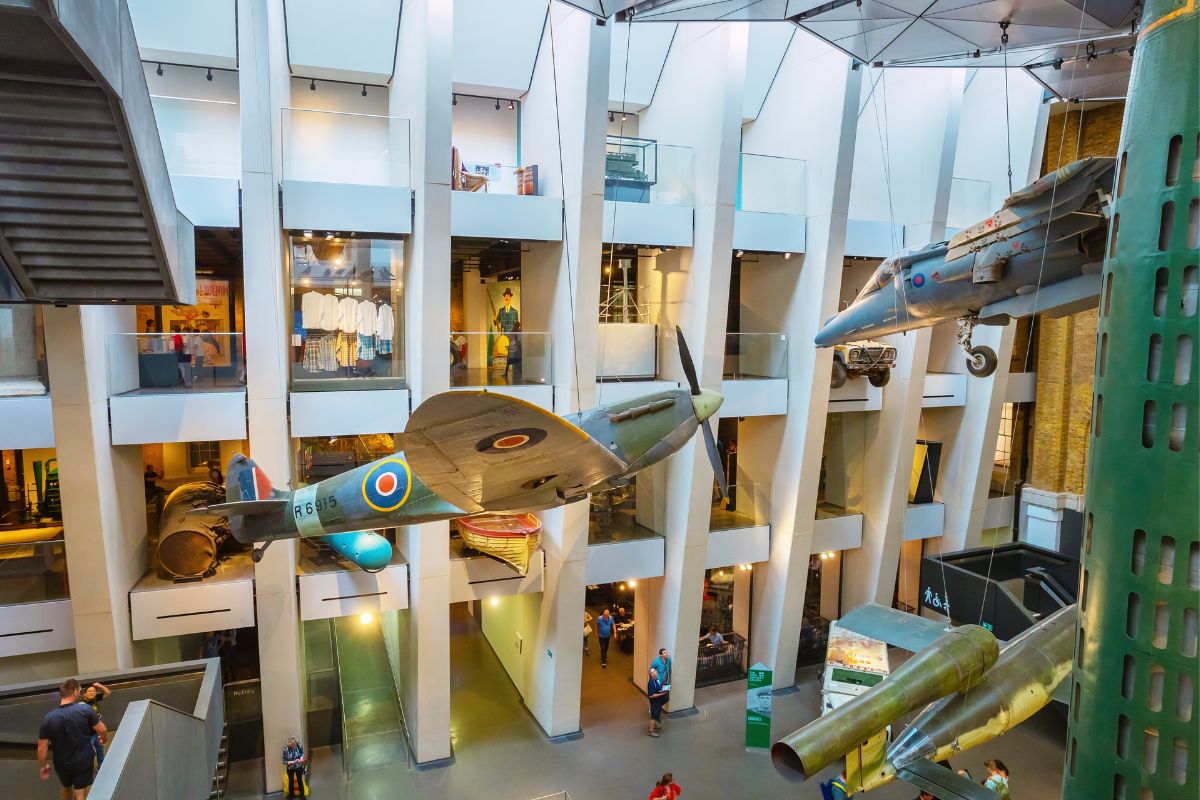 If you want to better understand the history of modern conflicts in England, the Imperial War Museum offers a world-class collection of exhibits and artifacts. The museum was founded in the midst of World War I, as Londoners – and the world – struggled to come to grips with this new era of warfare.
Today, it primarily focuses on World War II, showcasing well-preserved weapons and vehicles alongside the moving personal stories of those who lived through these conflicts.
It also features an extensive exhibit on the peacetime era, which analyzes the social and technological evolution of warfare since 1945. Sobering, engaging, and informative, this is one of the best things to do in Central London for history buffs and casual learners alike.
16 – Check out the Houses of Parliament and the Palace of Westminster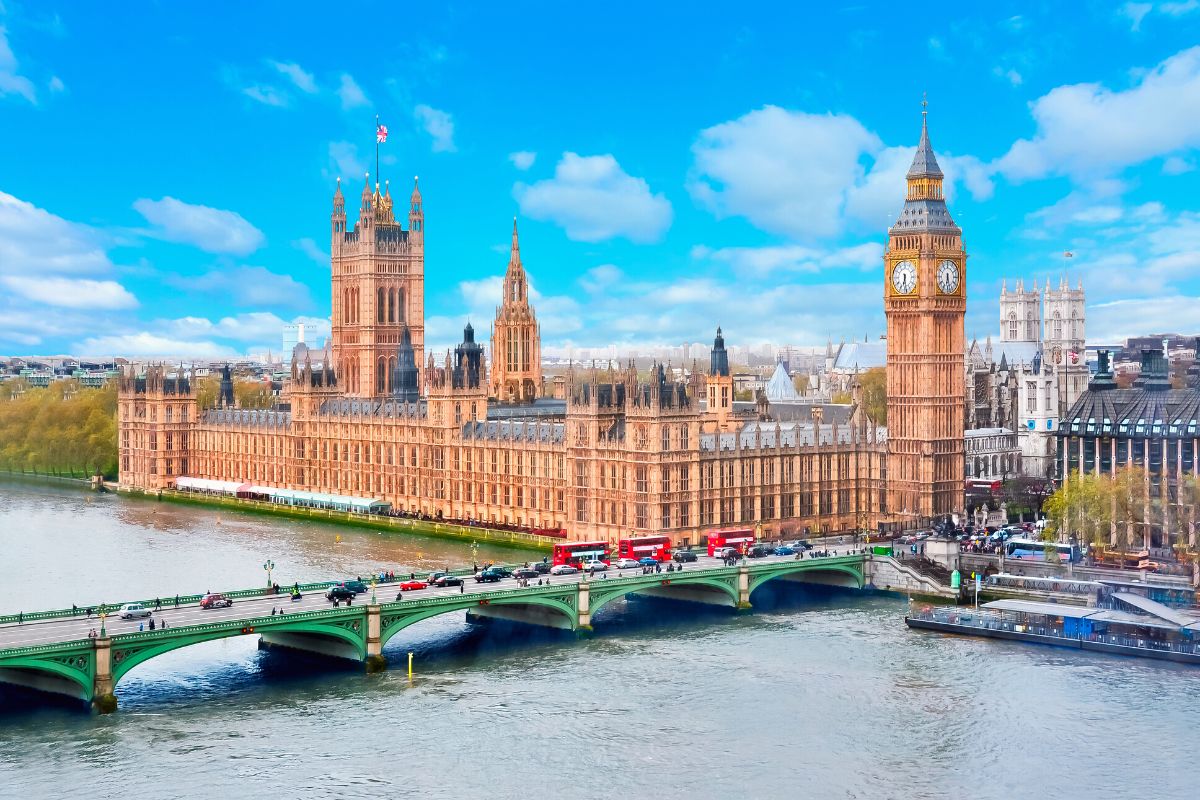 After visiting the home of the monarchy, head over to the Houses of Parliament to see how the political side operates. This spectacular complex is where the various governing parties of England meet to make bills (and debate them), draft policies, and ensure that the country is running smoothly.
With centuries of tradition at play, you can see firsthand the fascinating political evolution of the country, including some of its stranger nuances (fun fact: the House of Commons is the only place in England that the Queen isn't allowed to enter!).
Once you've had your fill of the unique history and beautiful architecture, you can take a stroll along nearby Westminster Bridge, which is the oldest surviving structure of its kind in town.
This is also the perfect place to see Big Ben, the beloved clock that has kept time and contributed to the skyline since 1859.
17 – Dive into creativity at some art museums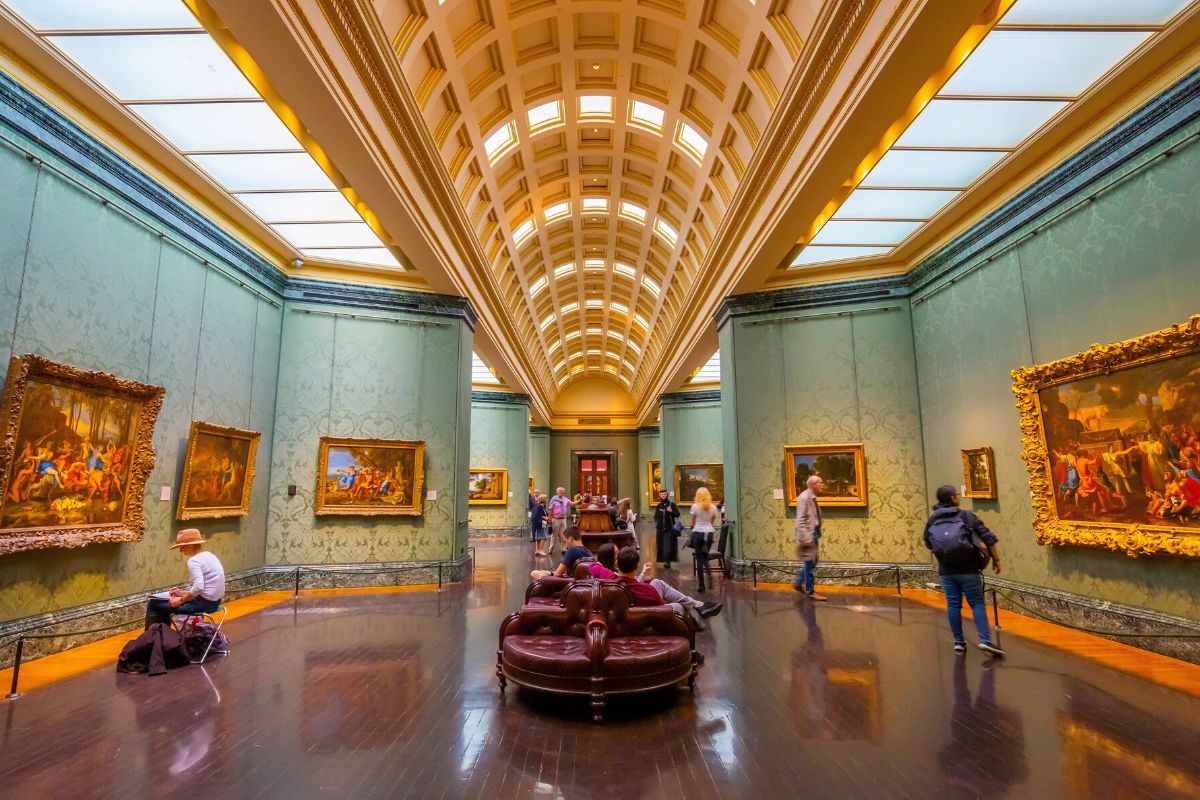 Alongside its excellent cultural and historical offerings, Central London boasts some world-class art galleries that cater to every sensibility.
At the Victoria and Albert Museum, you can get joyfully lost in 145 galleries' worth of creative endeavors, including everything from Italian sculptures and antique carpets to traditional British costumes and intricate animatronic devices.
Meanwhile, the National Gallery, which is located in Trafalgar Square, is the perfect destination for painting enthusiasts, with over 2,300 pieces by such luminaries as Da Vinci, Rembrandt, and Van Gogh.
The National Portrait Gallery focuses more specifically on renderings of humans, with a remarkable collection of photographs and painted likenesses spanning 500 years that capture the depth of this most personal art form.
At the Royal Academy of Arts, diversity is the order of the day, with a vast selection of classic and contemporary arts, architectural projects, public talks, and more.
Those seeking more contemporary works need only head over to the Tate Modern, where pieces by Warhol, Dali, Rothko, and more are lovingly displayed inside a stunning former power plant. Its companion museum, the Tate Britain, is ideal for Anglophiles, focusing on pieces produced by British artists.
The Wallace Collection gives you a little bit of everything, with roughly 5,500 furniture pieces, ceramics, paintings, suits of armor, and other artistic treasures on display.
If design is more your style, you'll love Sir John Soane's Museum, which features a wonderful collection of architectural drawings and models, as well as antique furniture and tchotchkes.
And at the Saatchi Gallery, you can see unique works by some of today's finest contemporary artists, and maybe even catch the latest trend in the making.
With every kind of medium and theme imaginable, a tour through these dynamic galleries is one of the most exciting things to do in Central London!
18 – Take a stroll along the Tower Bridge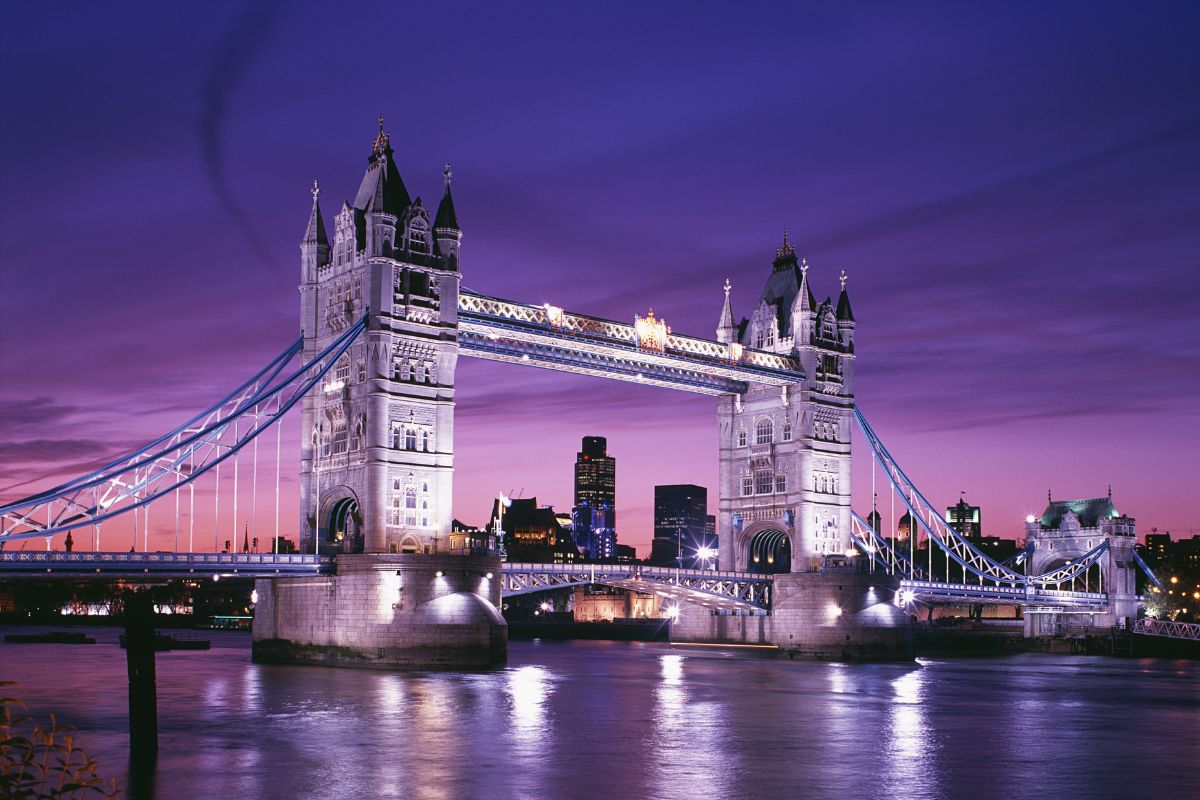 While the London Bridge may be more famous in pop culture, the Tower Bridge has an unmistakable profile – and an impressive history to match.
This Victorian gem stretches across the Thames, and it offers a fantastic combo of engineering history and sightseeing opportunities.
Check out the impressive, steam-powered devices in the Engine Rooms, then explore multimedia exhibits chronicling the history of this remarkable structure.
While you're walking around, you'll be able to see some of the city's most beloved attractions, including the London Eye and the bustling dock areas. Thanks to the new glass floor, you can even check out the bustling activity on the river below!
19 – Bungee over the city
You may not think of this bustling metropolis as a prime bungee destination – but the venues offer an appealing urbanist trip!
The spacious realms of Battersea Park and Corams Field will be your starting point, and once you take your leap of faith, you'll soon be seeing a different side of the city… and a slightly bouncier one!
20 – Try some hands-on learning at the Science Museum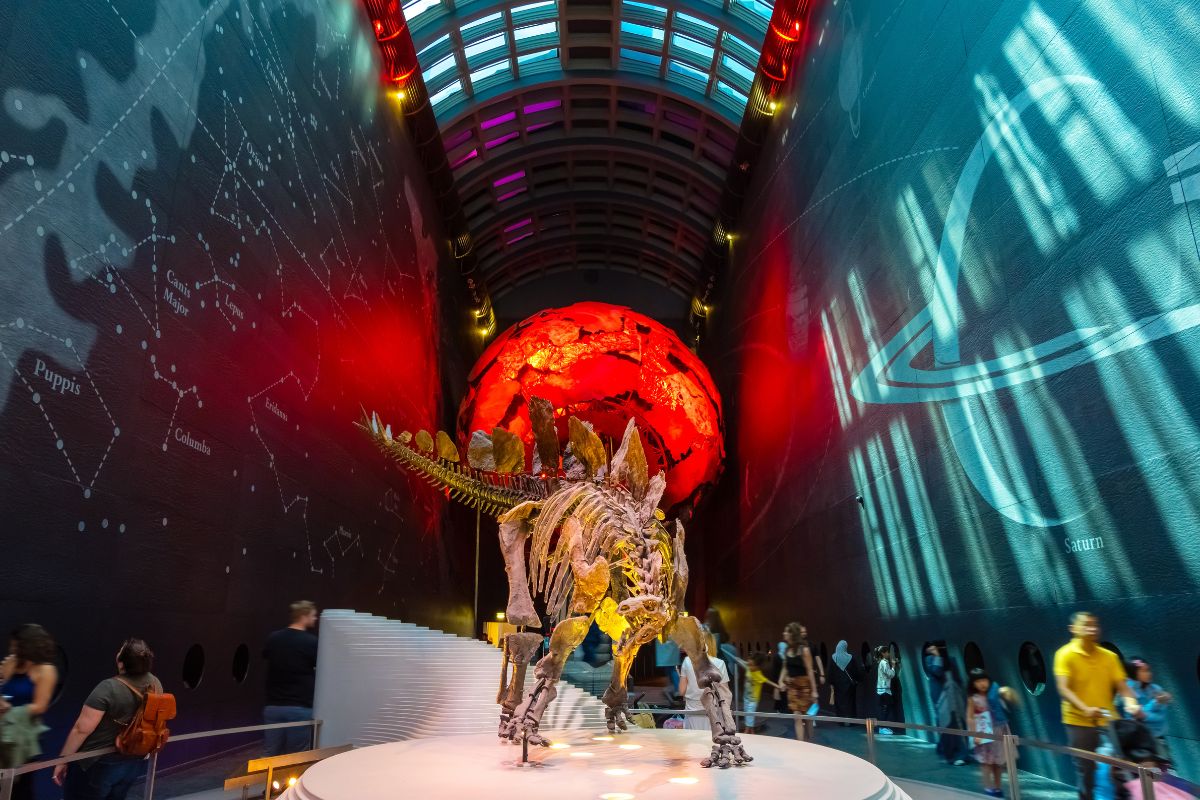 Soar through the solar system, dance with dinosaurs, check out some mathematical formulas at work and watch some early computers strutting their stuff at the Science Museum.
With dozens of exciting interactive exhibits, this is the ideal place to indulge your inner nerd and explore the universe around you. Try your hand at chemistry and physics in the Wonderlab, learn about the mechanics of flight, or take in a stunning film at the IMAX Theater.
You'll feel like a kid again as you dive into these innovative spaces – and you just might learn a thing or two!
Read more about the best indoor activities for rainy days in London.
21 – Taste the town on a food tour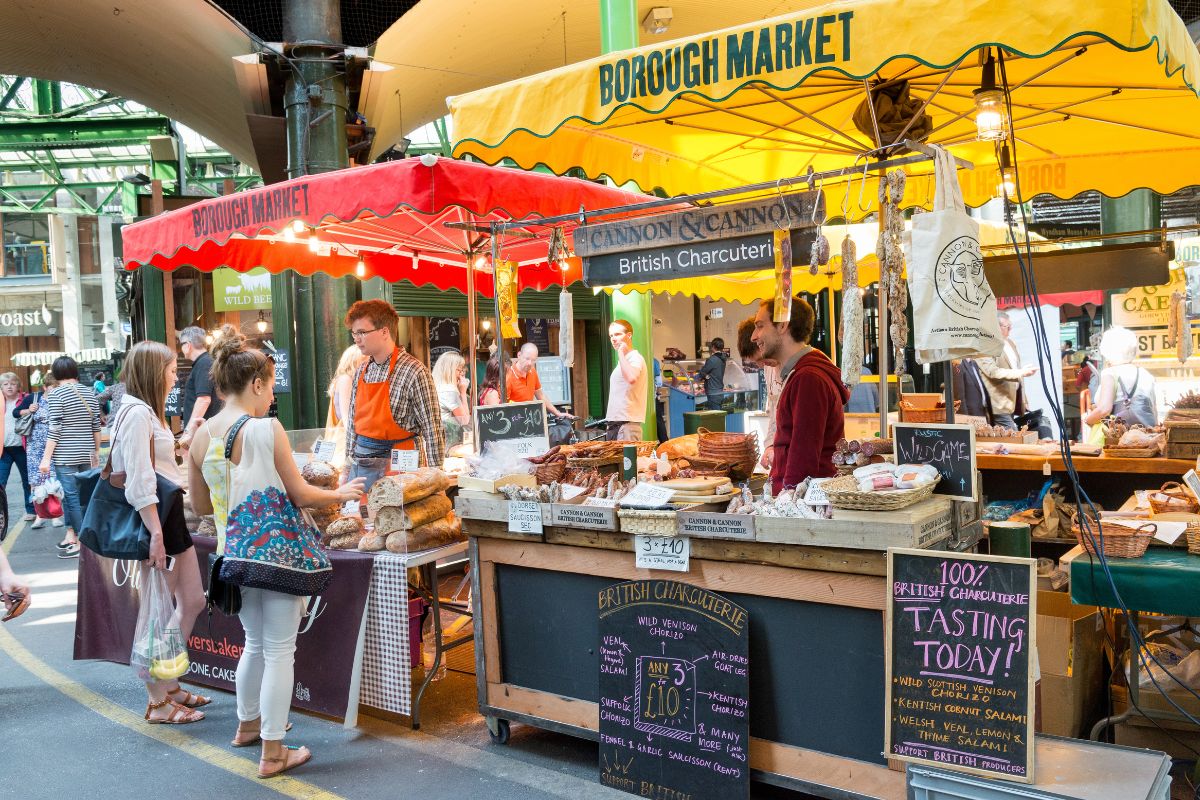 When you find yourself between excursions and hear your stomach rumbling, it might be time to try some of the excellent food tours in London!
The city's global influences and innovative culture make for a great set of culinary experiences, and even a sampler trip is well worth taking.
Borough Market, which sits just near the London Bridge, is a popular destination, especially if you want some authentically British food and drink. Snack and sip your way through fish n' chips, ale, and regional cheeses… all followed, of course, by desserts and tea.
Along the way, you'll learn about the history of the area, and see how these beloved culinary traditions influence society, and vice versa. It will be a tour – and set of tastes – to remember!
22 – Exercise your imagination at the LEGO Store in Leicester Square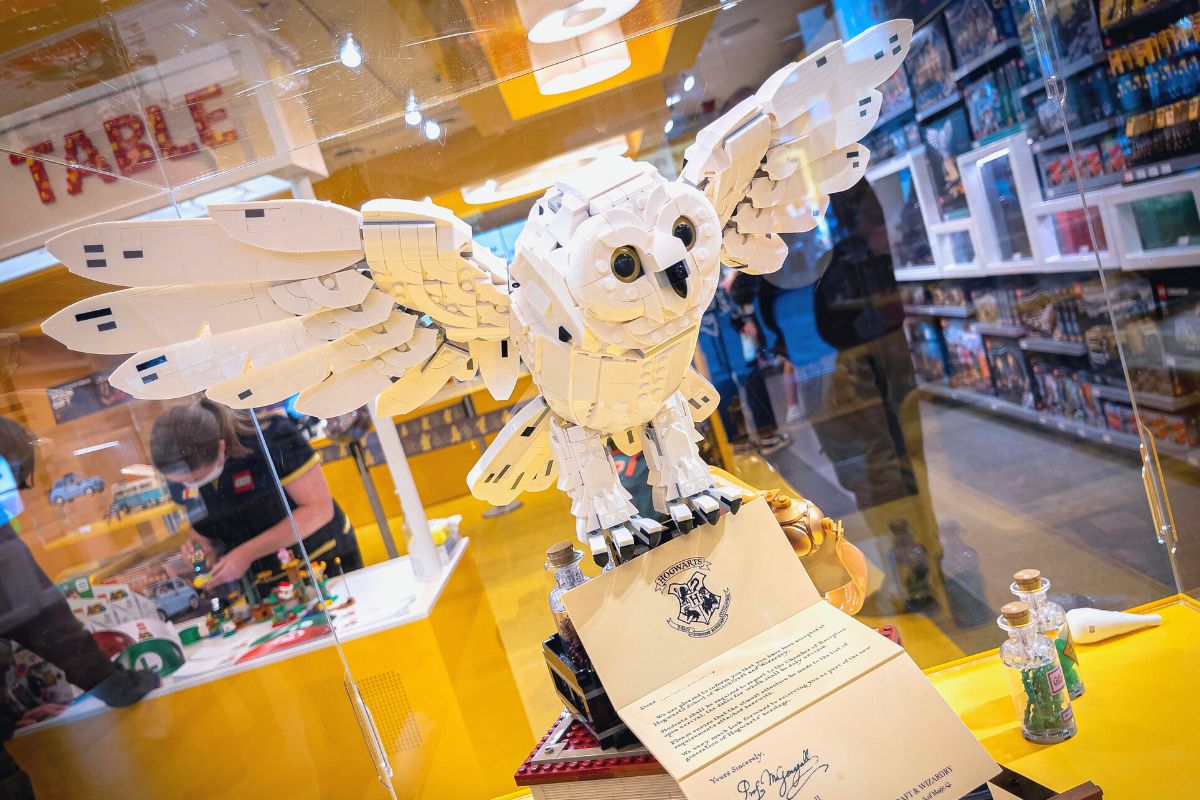 If you're looking for some things to do in Central London that the kids can enjoy, check out the beautiful blocks at the LEGO Store in Leicester Square.
This is the largest shop of its kind in the entire world, and fittingly, it offers a whole range of amazing art and interactive components – and tons of great products, of course.
It's perhaps most famous for its impressive sculptures depicting British icons such as Buckingham Palace, Aston Martin cars and even William Shakespeare – all created entirely out of, you guessed it, LEGOs!
You can also browse through the extensive inventory to get some cool pieces of your own. From basic building blocks to fictional favorites, model sets, and everything in between, you'll find some amazing inspiration for your next construction project!
23 – Pick a new sweet ride at the London Transport Museum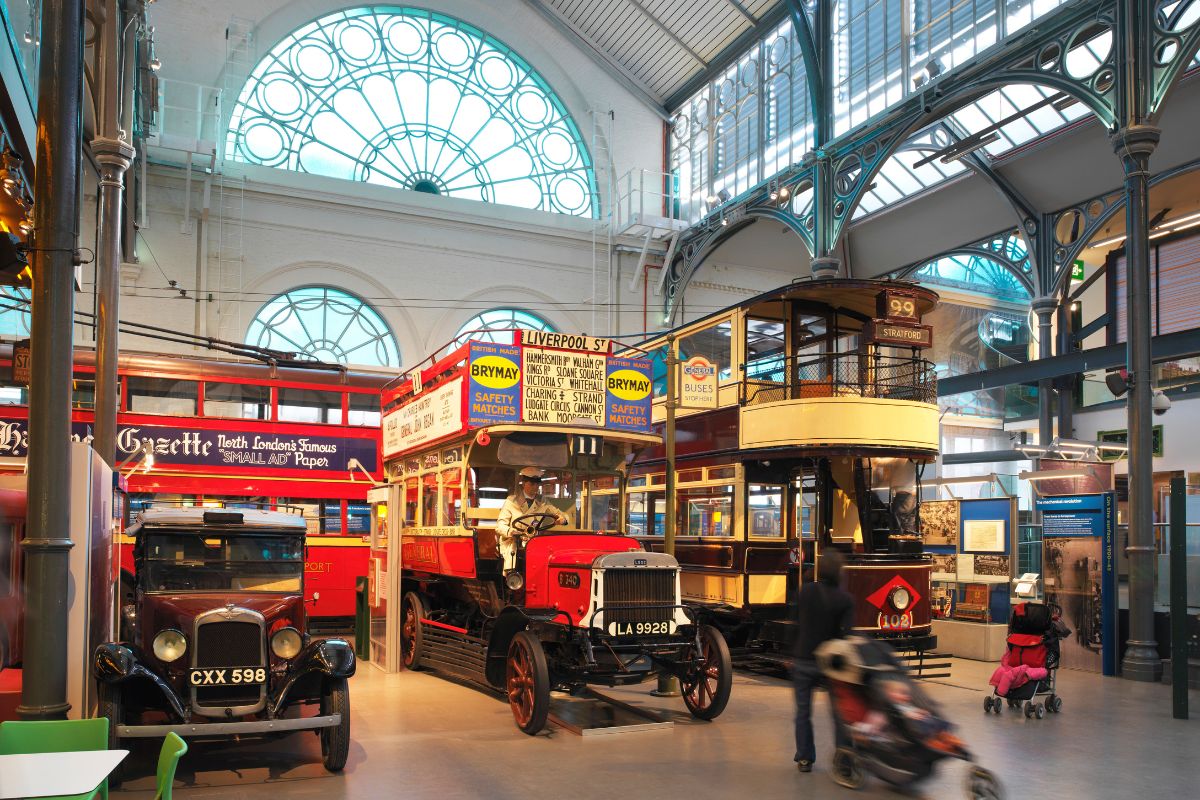 Alright, you've hopped on (and off) buses, cruised around on boats, and maybe even borrowed a bike or two. But how about getting up close with a horse-drawn carriage, or a vintage street tram?
At the London Transport Museum, you can explore all of these vehicles and many more, spanning 200 years of transit history.
Kids will love trying their hand at piloting the interactive simulations of popular vehicles, while older visitors can enjoy the remarkable collection of posters and other ads depicting the heyday of these different transportation methods.
From the flashy paint jobs of classic cars to the intricate workings of the city's famous underground train system, this fascinating space will help you see your next ride in a whole new way – whichever vehicle you use!
24 – Reflect on the past at the Monument to the Great Fire of London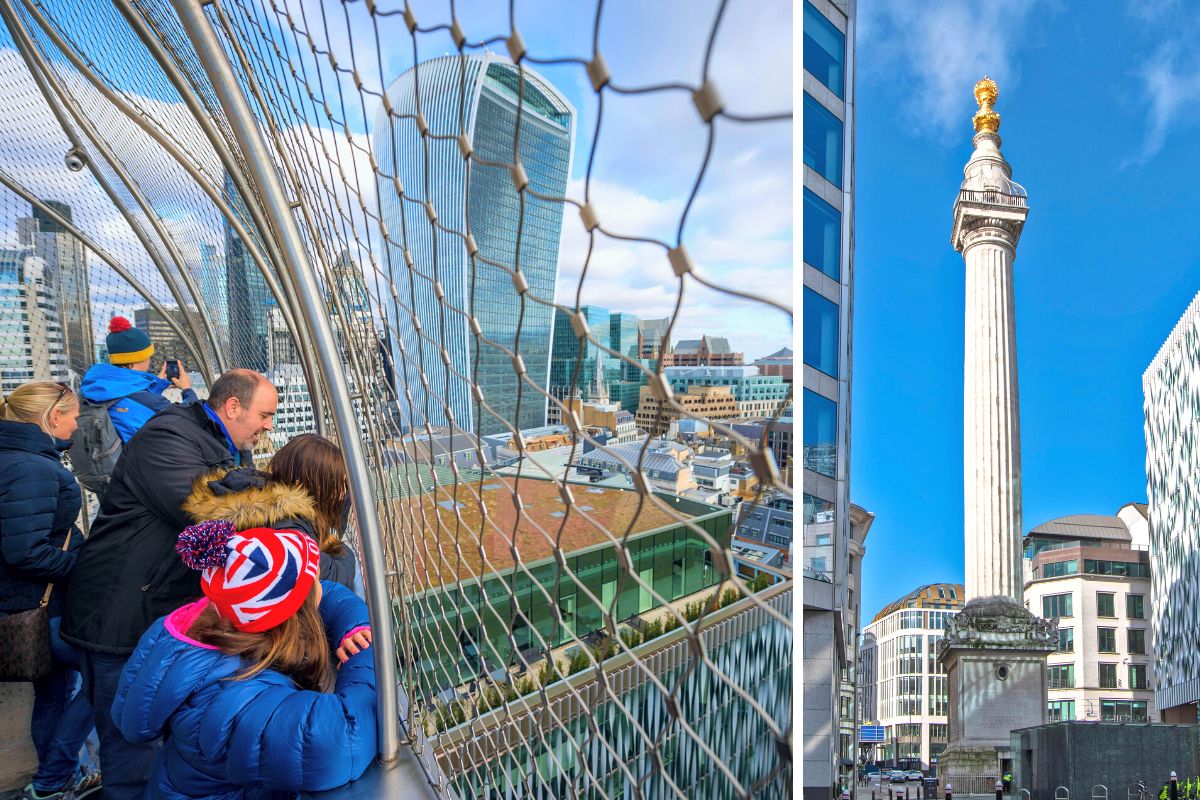 No city with such a long history can be without a few tragedies, and the Great Fire of London is definitely among the most notable.
In 1666, a smoldering bakery oven led to a massive blaze that destroyed 86% of the town, from simple homes to beloved monuments.
At the Monument to the Great Fire of London, you can learn all about the shocking incident and its aftermath, including the reconstruction techniques that helped form the modern city that we see today.
Then head to the top of the magnificent tower for breathtaking views of the surrounding area, which rose, phoenix-like, from the ashes. It's a wonderful testament to the resilience of this spectacular burg!
25 – Try a chilling Jack the Ripper tour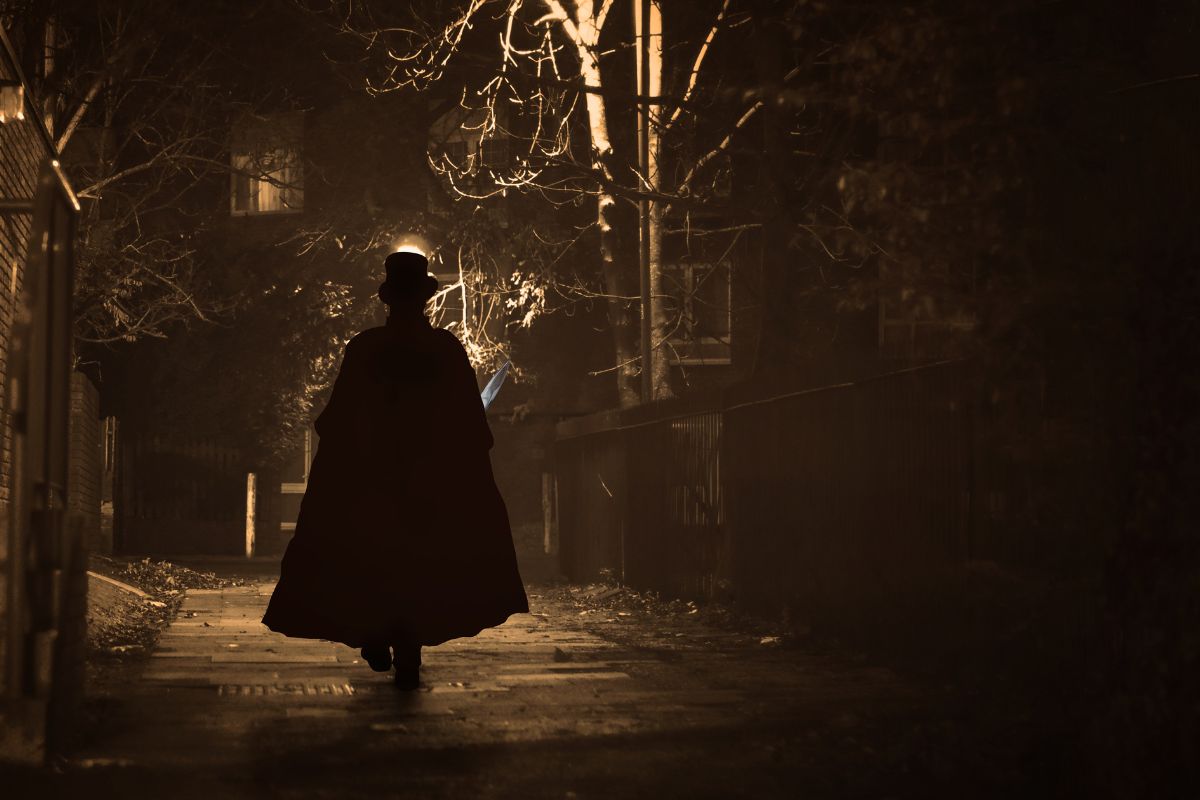 Among the many famous personages that have called London home, Jack the Ripper is one of the most hated – and most mysterious.
Though the murderer terrorized the Whitechapel neighborhood throughout 1888, their exact identity and motives remain unknown to this day.
You can try to crack the case yourself on a series of Jack the Ripper tours, which explore the old stomping grounds of the legendary killer.
Join a "Ripperologist" as you discuss the mysterious circumstances of the attacks, and work with your groupmates to gather clues and speculate about the murderer's identity.
Despite (or perhaps because of) its grim subject matter, this is one of the most fascinating walking tours in town, offering a unique glimpse into one of the area's darker historical chapters. So put on your best sleuthing hat and get ready for some intrigue!
26 – Unleash your inner wizard & brew up some spells at The Cauldron London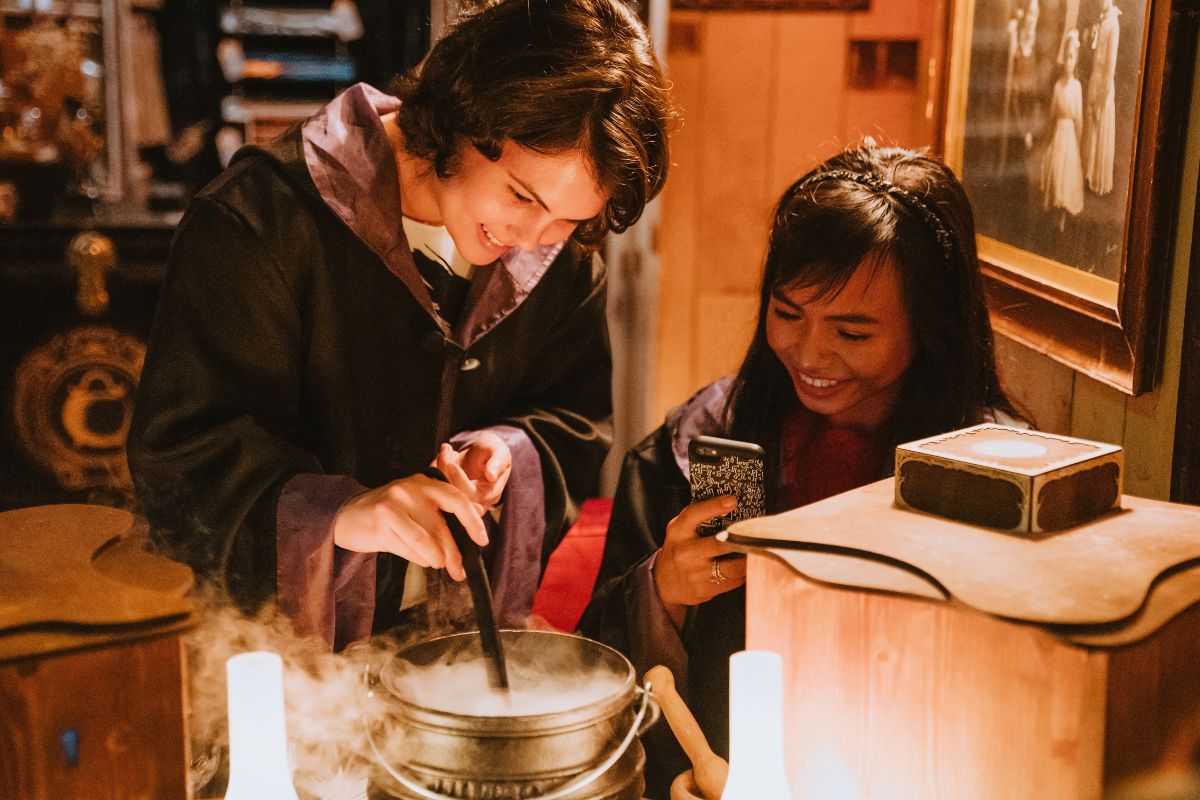 Are you ready for some magic? Get ready to unleash your inner Harry Potter at The Cauldron London!
With Potion Making, you'll feel like a real-life witch or wizard as you use molecular mixology and a working magic wand to concoct drinkable elixirs that bubble, smoke, and change color. It's like chemistry class, but with booze and spells!
Plus, the Interactive Potions List changes seasonally, so you can come back and brew up some new and exciting cocktails. Grab your friends and get ready to stir up some trouble (and drinks) at The Cauldron!
27 – See the sights of Chinatown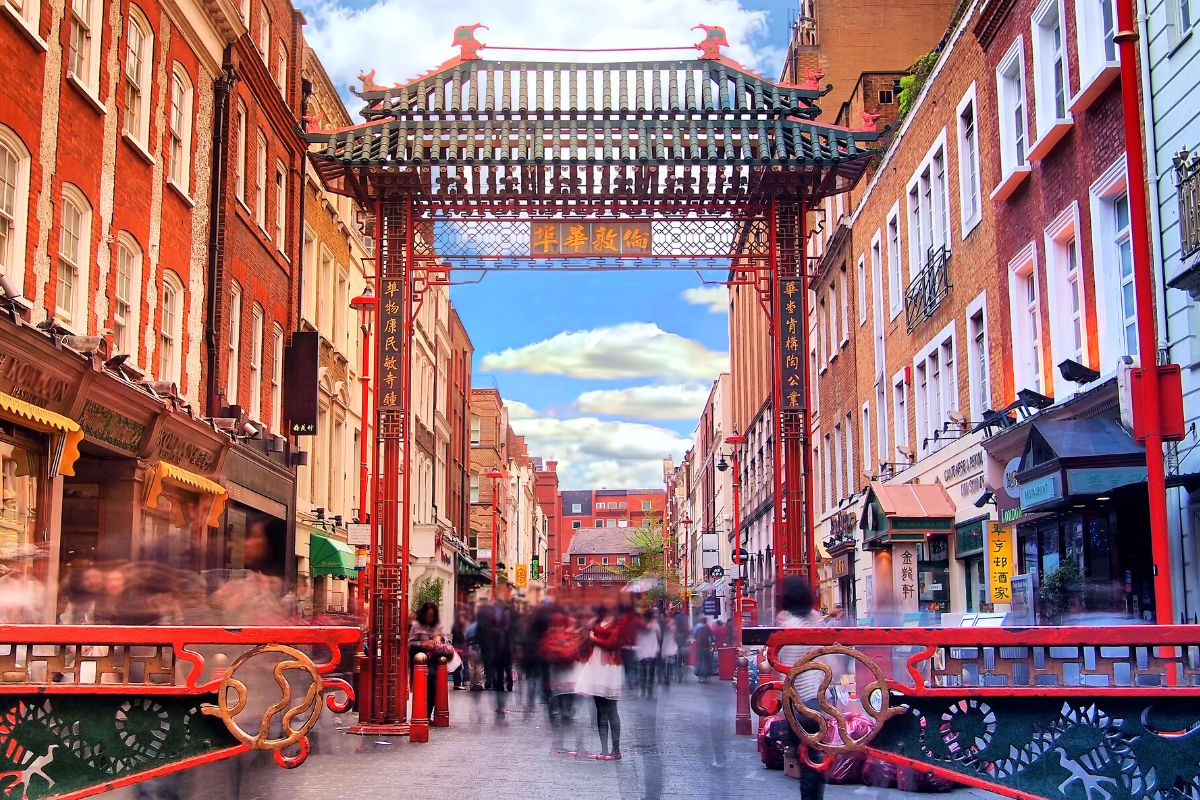 There are plenty of amazing things to do in Central London that focus on English culture, but this diverse area is also home to some of the city's most fascinating immigrant neighborhoods.
As you stroll the streets of Chinatown, you'll feel transported to another world – or continent!
Taste traditional meals at the local restaurants, browse through souvenir shops, or just spend some time wandering through the winding streets, enjoying the stunning architecture and lively public events that take place throughout the year.
This area is a wonderful example of how various groups have not just survived in the city, but thrived, and there's no better way to pay tribute to this than by spending the day exploring!
28 – Immerse yourself in battle strategy at Churchill War's Room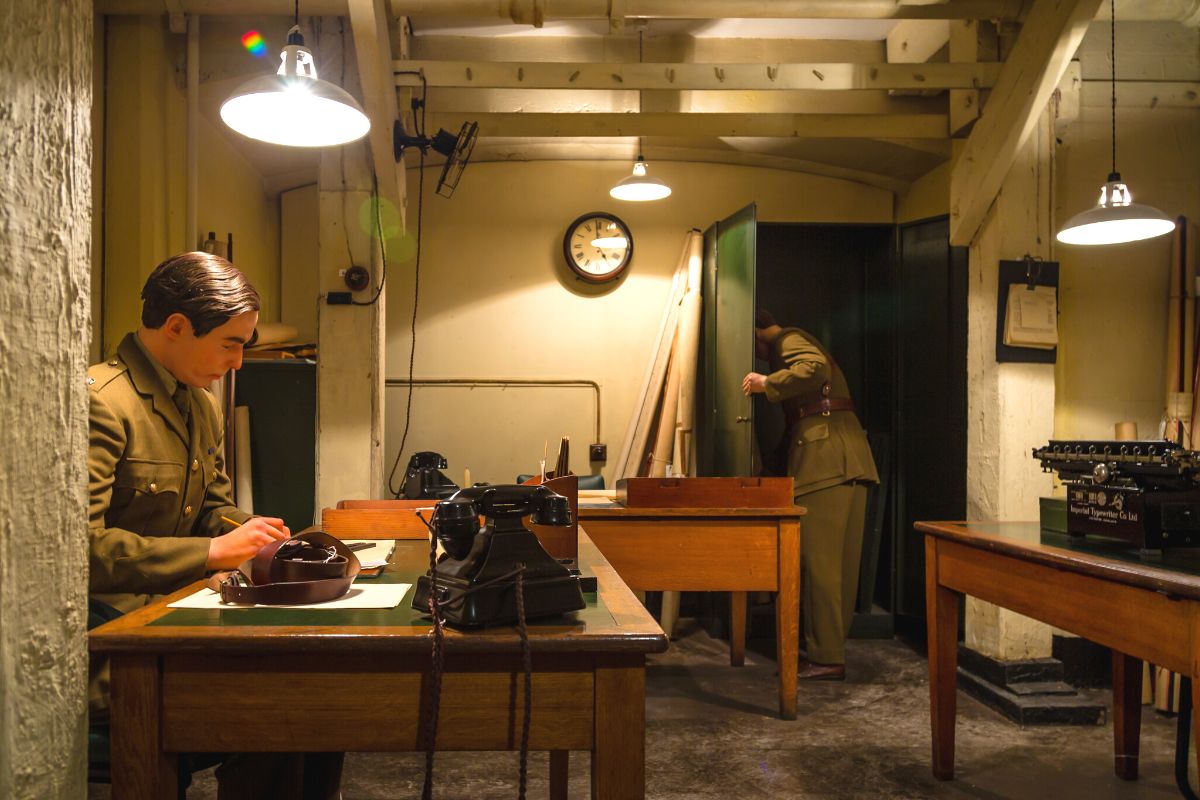 Deep beneath the city streets, you can wind through rooms packed with maps, carefully monitored communication machines, and soldiers hard at work defending the country.
But not to worry – those soldiers are all mannequins, and these spaces are all part of the Churchill War Rooms exhibit.
This innovative museum covers the life and accomplishments of Prime Minister Winston Churchill, with a particular focus on his work during World War II.
These bunkers were where Churchill and his team mapped out their defense against the Nazis, and you can still see many of the devices and plans that were used in this crucial venture.
It's a memorable and fascinating glimpse into one of England's most tumultuous eras – and an intimate look at one of its most influential politicians.
29 – Take a daring trek up the O2 Arena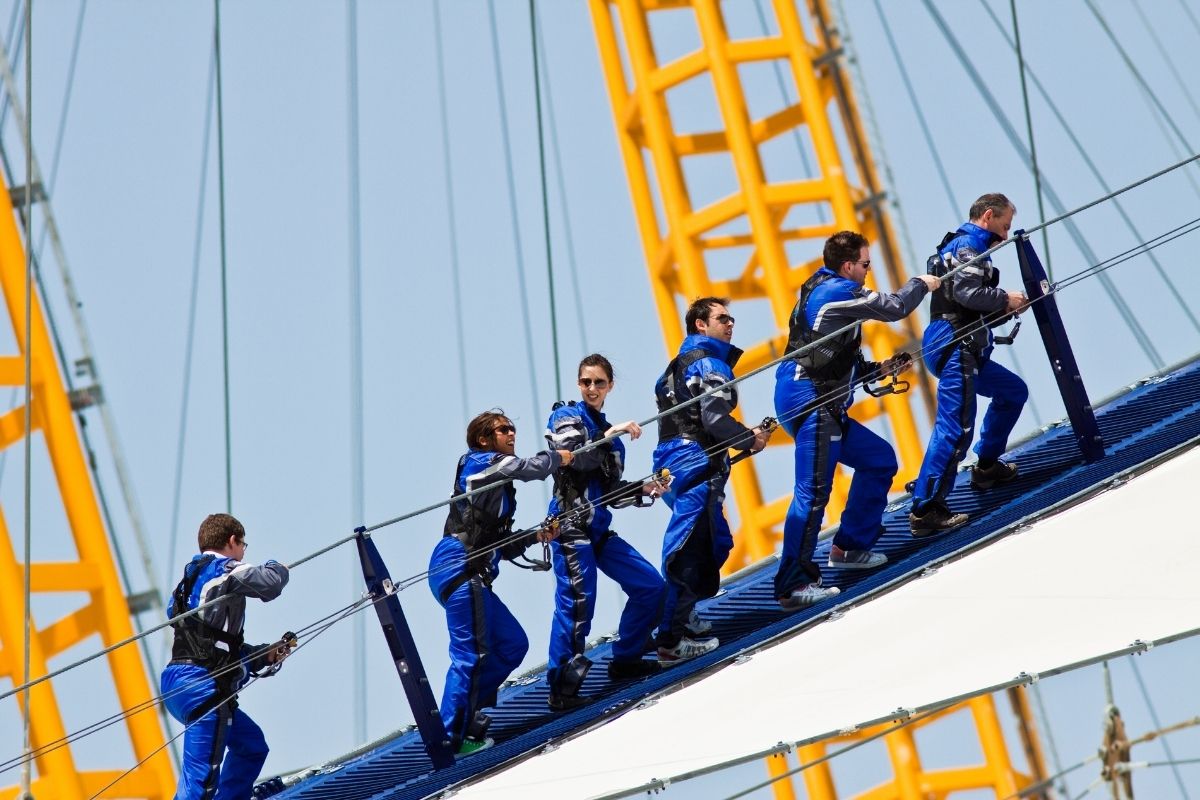 You may have already visited the O2 for one of its many famous shows… but why not see it as a climbing wall?
Hooked up to ropes, you'll follow your guide up the sloping exterior of the massive arena, with great historical tidbits all the way up.
And at the top, you'll get a knockout view of the city as your reward!
30 – Immerse yourself in history at the Museum of London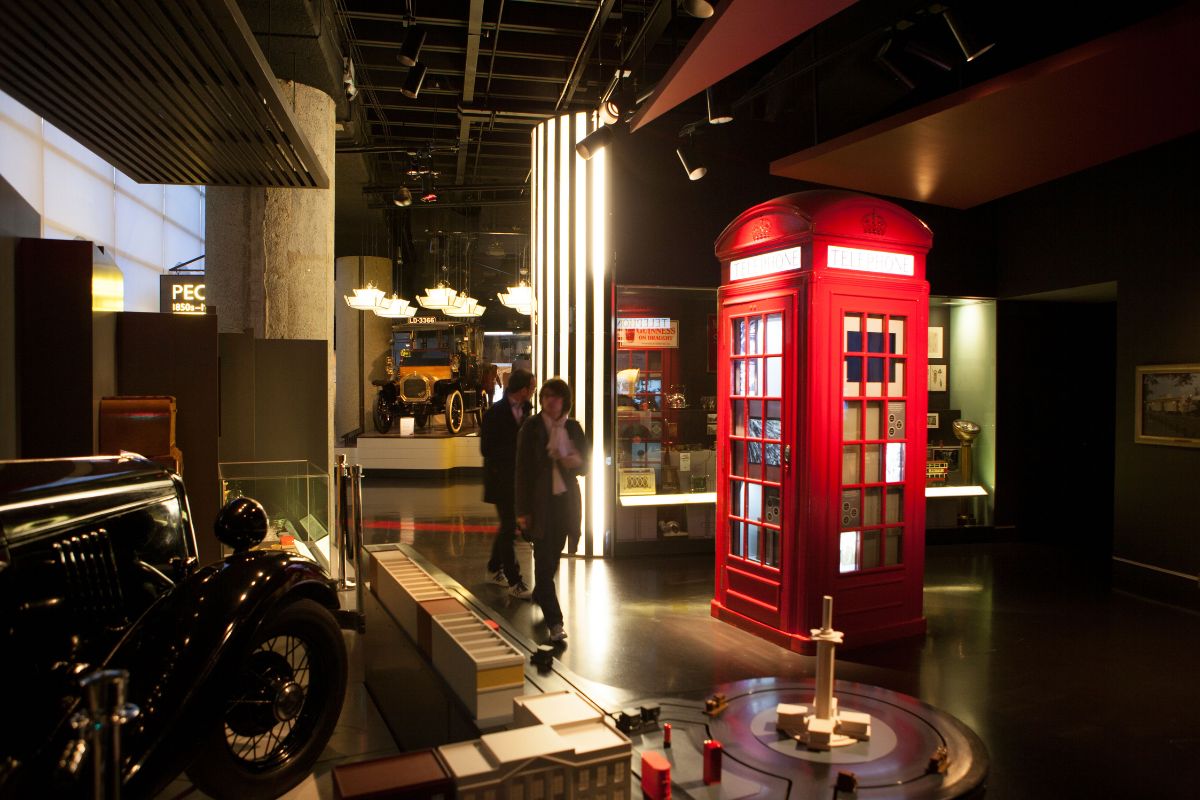 If you really want to explore the city's story in-depth, then the thought-provoking, eclectic collections of the Museum of London are well worth a visit.
This massive space takes you through over 450,000 years of life in the area, from the fossilized remains of prehistoric hippos to the artworks that chart the transition from the Roman to Medieval eras.
See how the city grappled with the aftermath of fires and plagues, then see the progress made from the postwar era to the present day, as the city continues to serve as a cultural hub.
With its wide variety of artifacts and in-depth exploration of London's complex history, this is the place to go if you want a peek into the past!
Read more about the best places to visit in London
31 – Go on a wacky quest with Shrek's adventure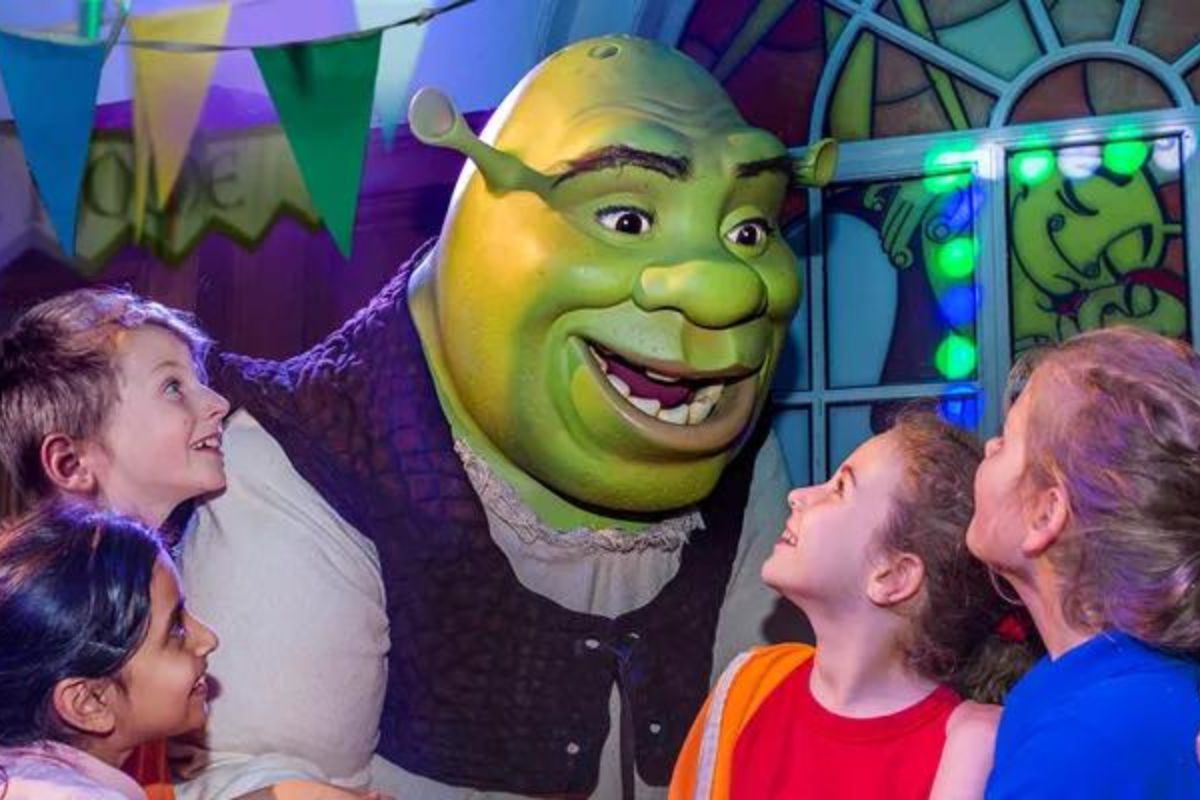 Celebrity sightings aren't uncommon in big cities… but ogre sightings? It's par for the course at Shrek's Adventure, one of the most unique things to do in Central London.
Join the famous green ogre on a trip through the kingdom of Far Far Away, hanging out with Puss in Boots, Pinocchio, and princesses along the way.
With the help of 4D technology, you'll be able to engage all of your senses as your journey through this zany fantasy land. The young and the young-at-heart will love this immersive visit to the world of movies… but watch out for the witches!
32 – Indulge your chocoholic side at M&M's World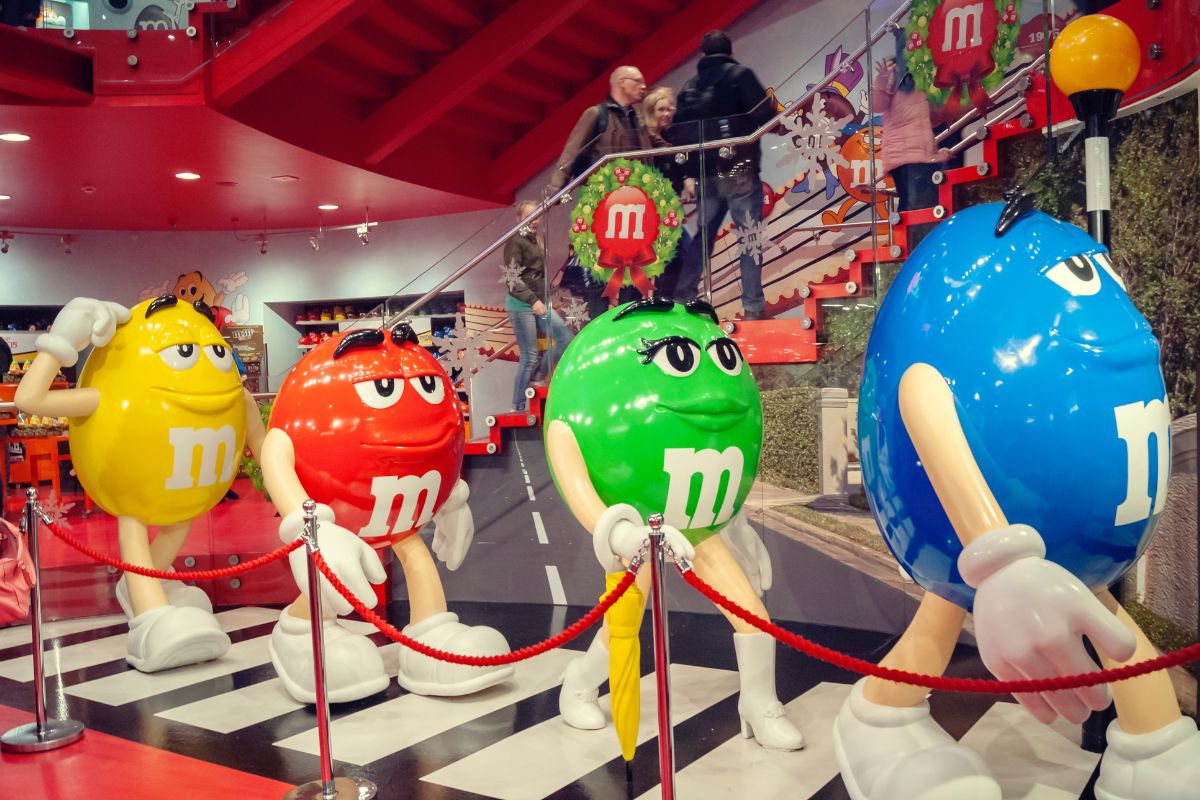 If you're looking for another great place for families, M&M's World offers a colorful, delicious tribute to the beloved candy.
With more than 35,000 square feet of merchandise and exhibits, this is the perfect place to indulge your sweet tooth and buy some cool new products.
Don't miss the world's biggest chocolate wall, which boasts over 100 different colors and styles to choose from. You can even print your own face on the candies for a truly memorable souvenir!
33 – Catch the London Symphony Orchestra at the Barbican Center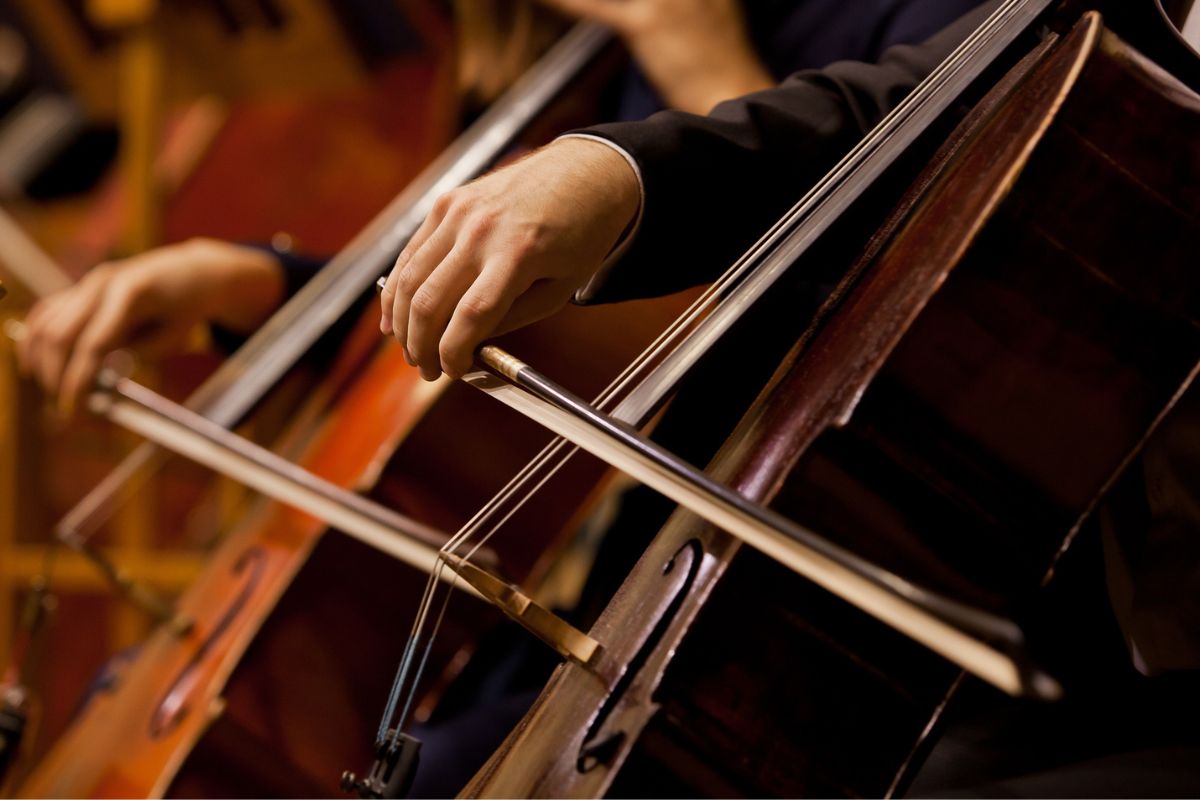 When you're ready for an elegant soundtrack to accompany your trip, head over to the Barbican Center to catch a performance by the London Symphony Orchestra.
This acclaimed musical ensemble has been performing for 118 years, and offers a regularly rotating schedule of programs, ranging from classical composers to more avant-garde works by luminaries such as John Cage.
The Barbican Center is a spectacular cultural gem in its own right, hosting live theater, cinematic events, art shows, and more. There are always amazing free events going on as well, so check the calendar before you go!
34 – Take a cool and creepy trip through the London Dungeon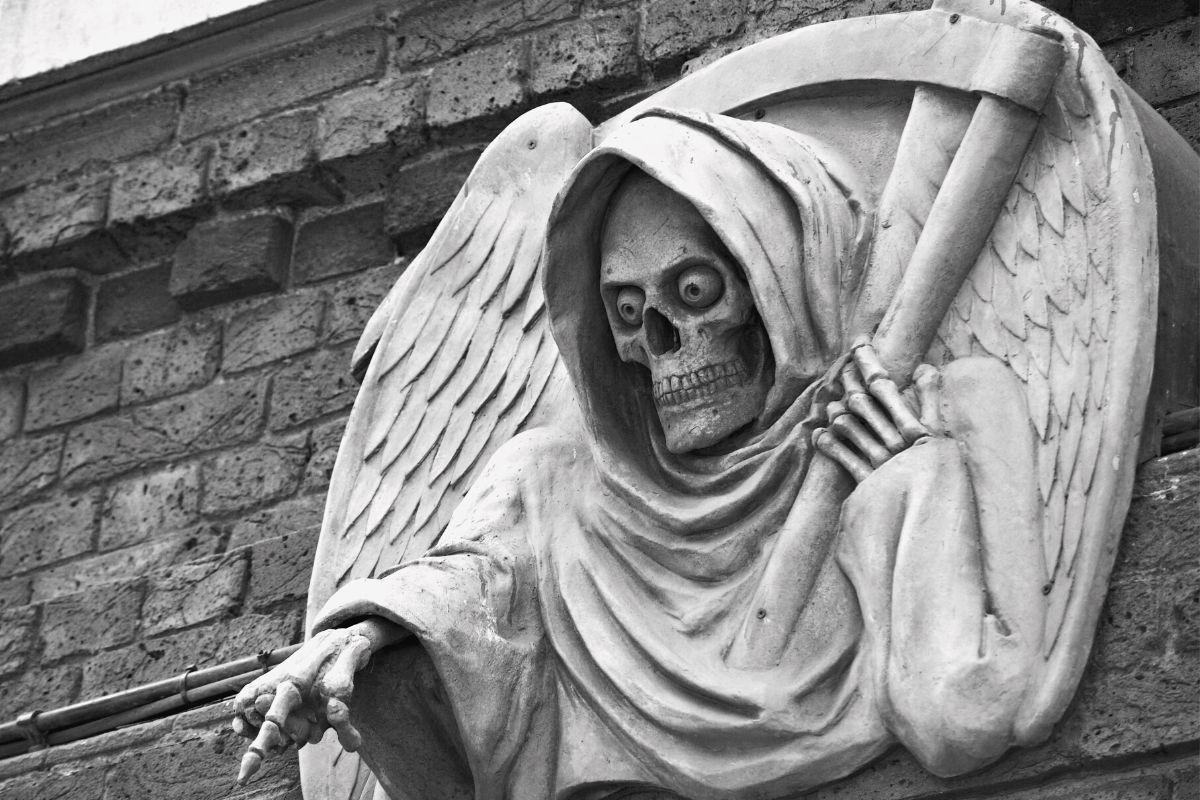 Looking for some fun and eerie things to do in Central London? Then pop over to the London Dungeon, and prepare to be spooked… in a good way!
This immersive adventure will take you deep into the darker side of the city, using a mixture of fictional and historical depictions. Sail through a gruesome underground world on the Tyrant Boat Ride, or take a bone-chilling plunge through the gallows on Drop Dead.
Take a spine-tingling walk through haunted streets and alleys, coming face to face with such frightening folks as Jack the Ripper and Sweeney Todd. This immersive experience is a little bit scary, a little bit educational, and a whole lot of fun!
35 – See the city in style at the Sky Garden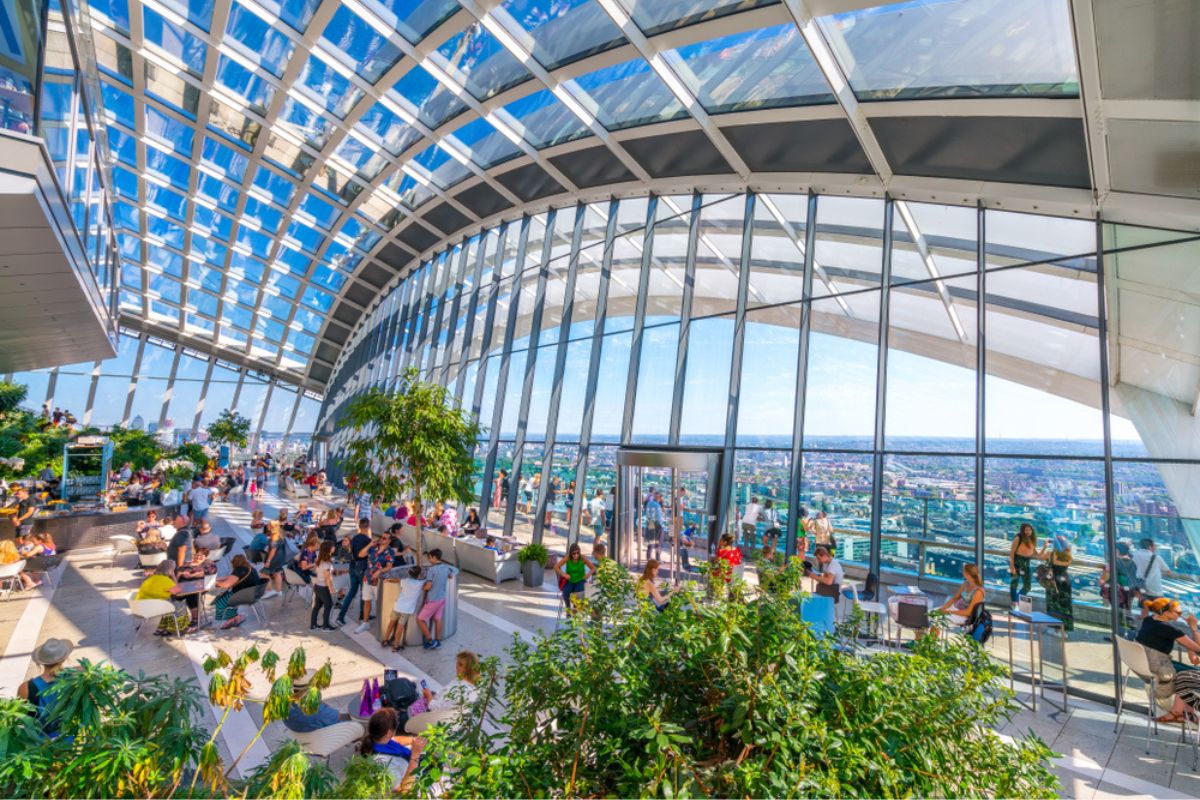 There are lots of great gardens in London, but only one of them is up in the air. When you enter Sky Garden, you'll be transported into a lush world of colorful flowers and savory herbs from around the world.
And you'll also get phenomenal views of the London landscape courtesy of the incredible floor-to-ceiling windows throughout the space.
You can also try out the various programs on offer throughout the week, such as yoga and live music, or grab a drink or a bite at the on-site restaurant and bar, all while enjoying the stellar scenery.
36 – Search for clues at the Sherlock Holmes Museum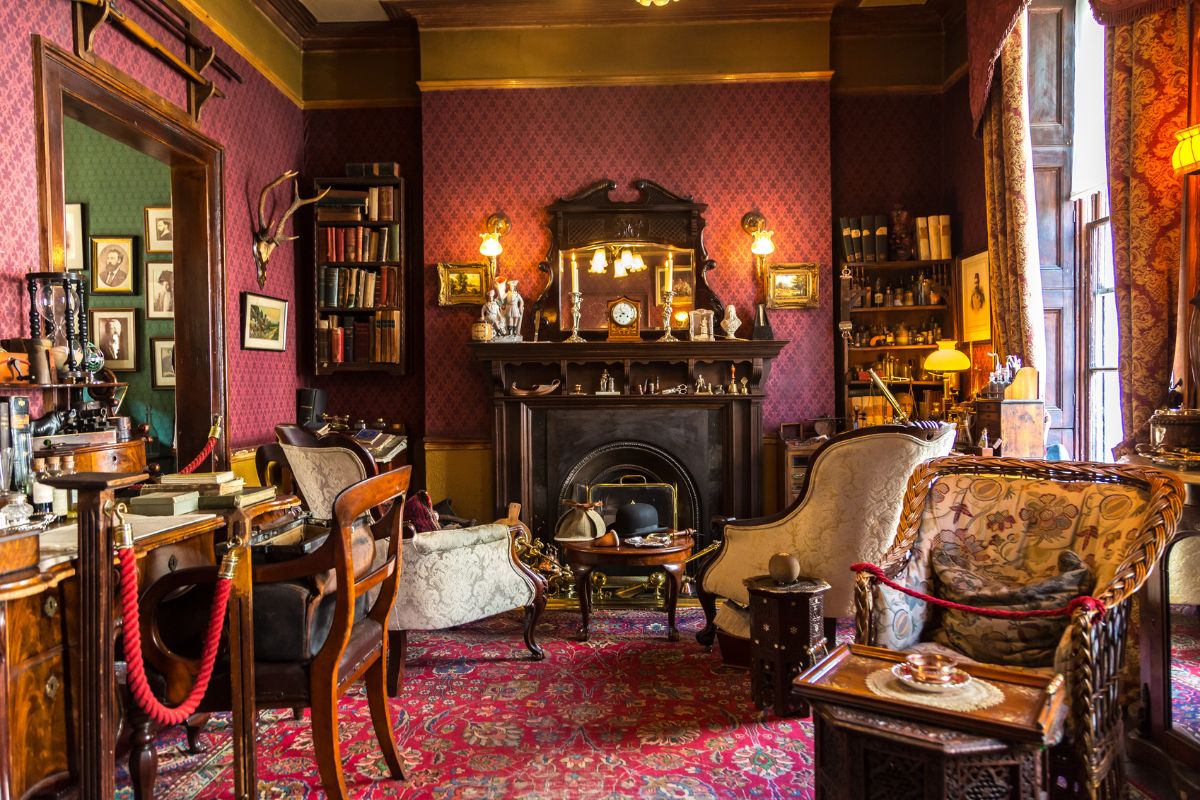 Who's another iconic British character whose residence you can visit? Based on the evidence, we can deduce that it must be Sherlock Holmes!
At the Sherlock Holmes Museum, you can explore the recreated living quarters of the world-famous detective, and learn all about the stories that took place here.
Admire the trappings of the Victorian sitting room, and celebrate the sleuth's progress from literary icon to cinematic star, TV character, and beyond. If you want to explore even further, join one of the excellent Sherlock Holmes tours to visit some other notable places on foot.
With a mixture of spots that inspired original author Sir Arthur Conan Doyle, and filming locations for the many adaptations that were to follow, these jaunts are the perfect way to get a feel for the sights, sounds, and ideas that have played a role in the story of Holmes.
And by the end of the day, you may end up wanting to solve a few mysteries of your own!
37 – Shop around at Harrods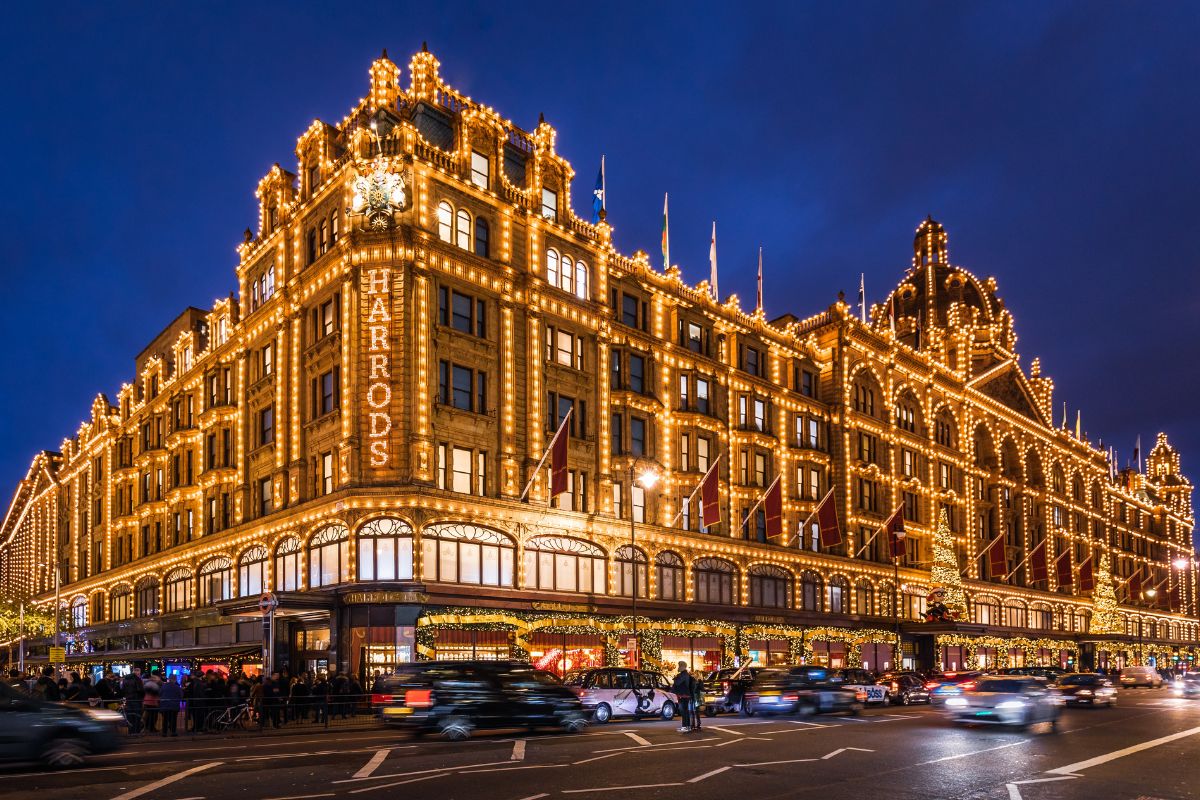 Ready for a little bit of retail therapy? Then grab your shopping bags and head to Harrods, one of the most renowned department stores on the planet.
From jewelry and furniture to high-end fashions for men, women, and children, this is one of the best things to do in Central London if you want to see historic sites and buy some awesome keepsakes at the same time.
With world-class service and a palatial design, this is a magnet for casual browsers and shopaholics alike!
38 – Taste some high-quality beers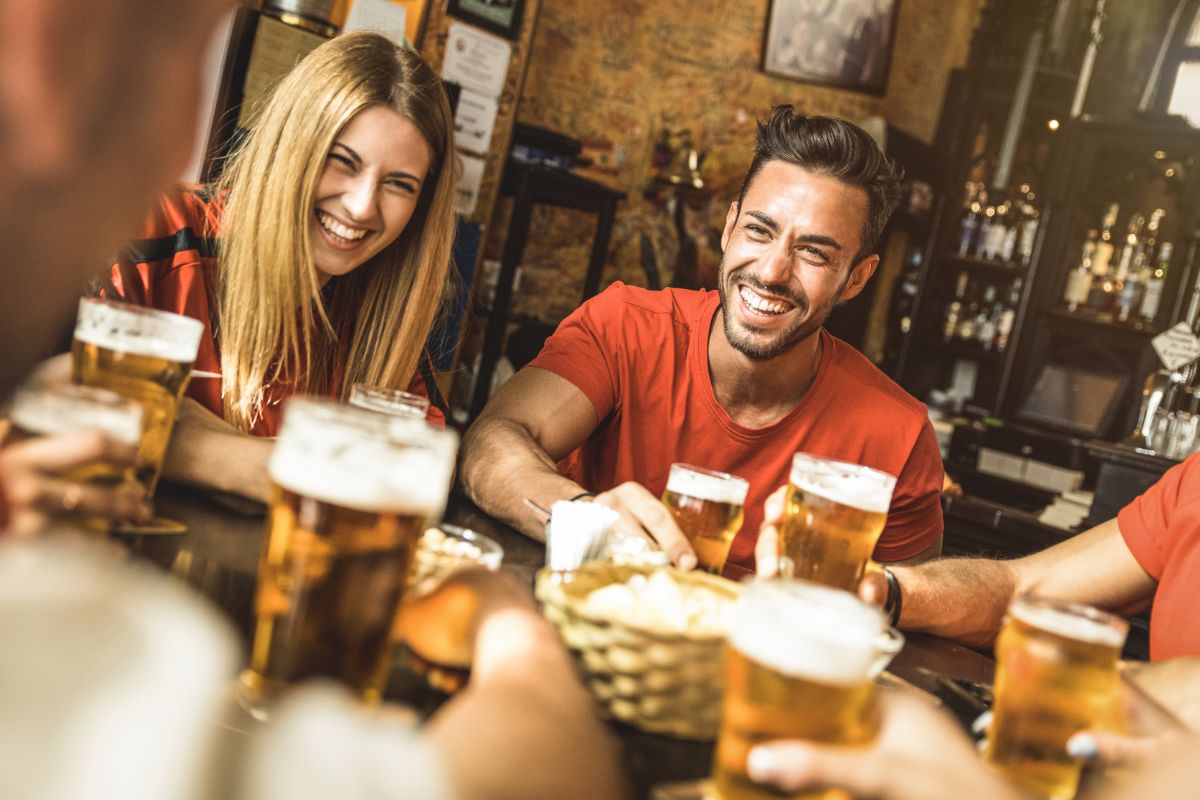 At the end of a busy day of sightseeing, wet your whistle with some beer tastings. With centuries of pub culture to pull from, London is the ideal place to grab a good grog – and in the center of the city, you'll find some of the best of the best!
At Cask Pub and Kitchen, you can sample some phenomenal ales straight out of the barrel, along with national and international selections from behind the bar.
In the heart of London, you can find The Queen's Head, a charming Victorian pub, with an ever-changing selection of drinks and seasonal kegged beers.
And while the Dovetail is focused on Belgian brews and bites, its 100+ beer selections make it an ideal testing ground for your next favorite beverage.
If you want to keep exploring whilst you sip, pull up a seat at a pedal pub, and do your drinking and sightseeing all at once on a beer bike tour. Start your evening out right by cycling around town, alternating between classic attractions and brewery visits.
As you and your groupmates pedal your way through the city, you'll be able to enjoy some of its finest brews, courtesy of the bar at the center of the vehicle. It's the perfect way to enjoy the local beer scene in style!
39 – Enjoy a show at the local theaters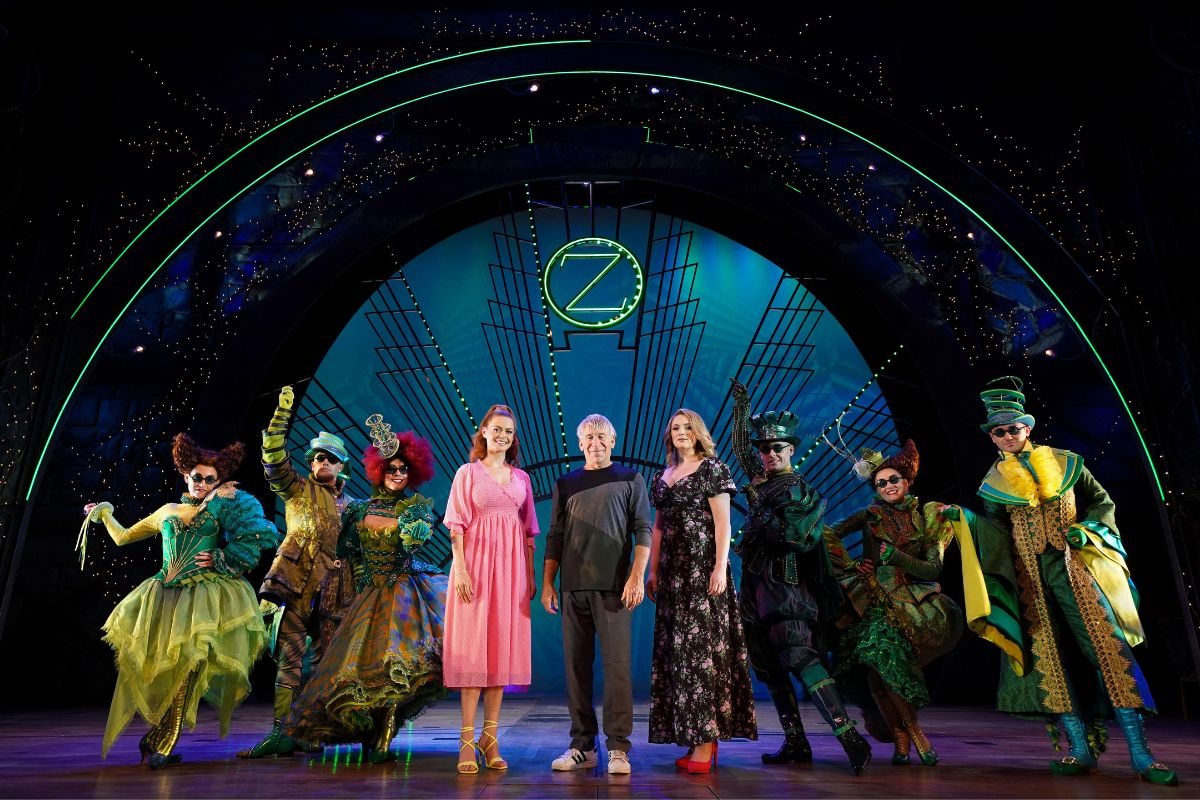 Along with all of its other cultural offerings, Central London is a hotspot for theater in the city. With some of the most acclaimed shows regularly playing in equally renowned spaces, it's the ideal place for an evening out – or several!
Check out Mamma Mia! at the Novello Theatre, The Lion King at the Lyceum Theatre, Matilda at Cambridge Theatre, Wicked at Apollo Victoria Theatre, Phantom of the Opera at Her Majesty's Theatre, or Les Miserables at Sondheim Theatre.
National Theatre, which offers everything from solo shows and literary adaptations to reinventions of Shakespeare, is also well worth a visit.
Grab some tickets, find your seats, and let yourself get lost in a bright and brilliant new world!
Read more about the best West End musicals to see right now.
40 – Try the Navy life on the HMS Belfast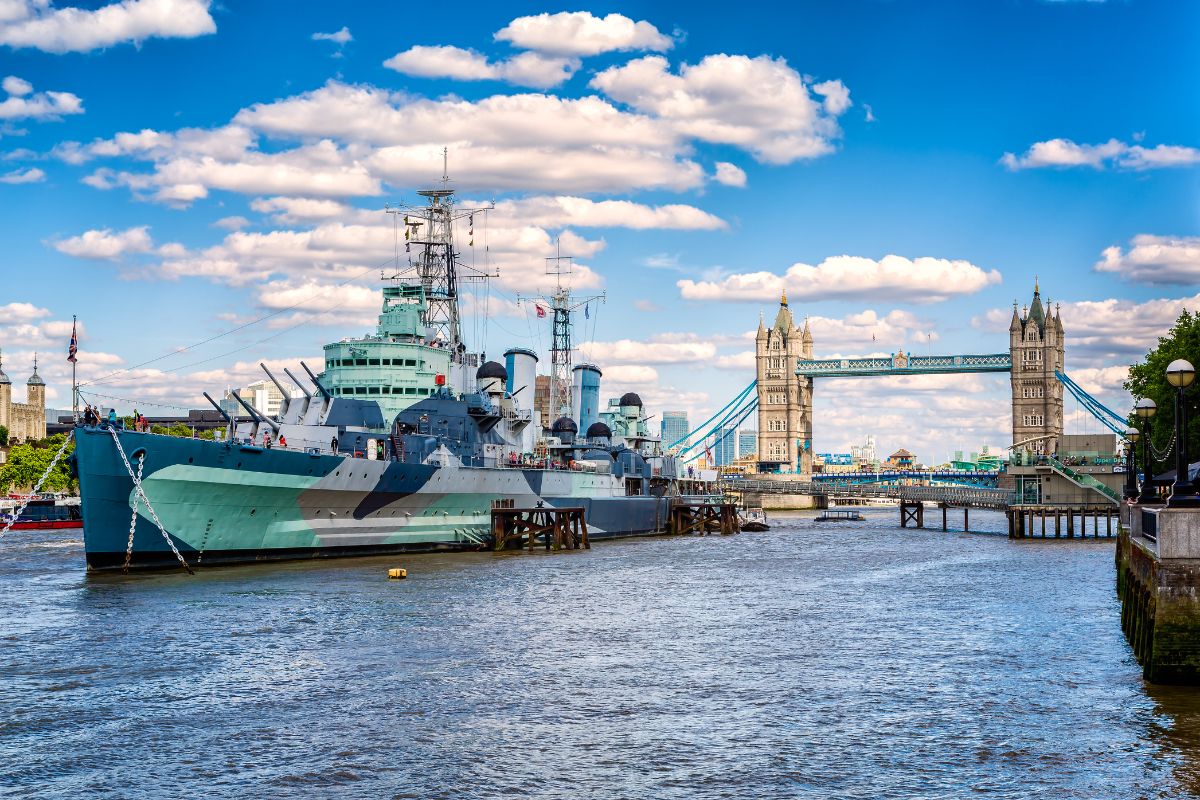 If you want to see a ship with pizzazz, climb aboard the HMS Belfast. This magnificent vessel once served as a Navy warship, and its many rooms and mechanical parts make for an intriguing visit.
You'll be able to explore sailor's cabins, the captain's quarters, and the engine room, all perfectly preserved to showcase the nuances of life at sea.
After learning about the ship's illustrious past, take some time to talk to the staff; a lot of them once worked onboard, and can offer some fascinating personal anecdotes.
This brilliant testament to engineering and naval history is an excellent piece of military infrastructure – and on top of all of that, it's visually striking in its own right.
41 – Shop until you drop on Oxford Street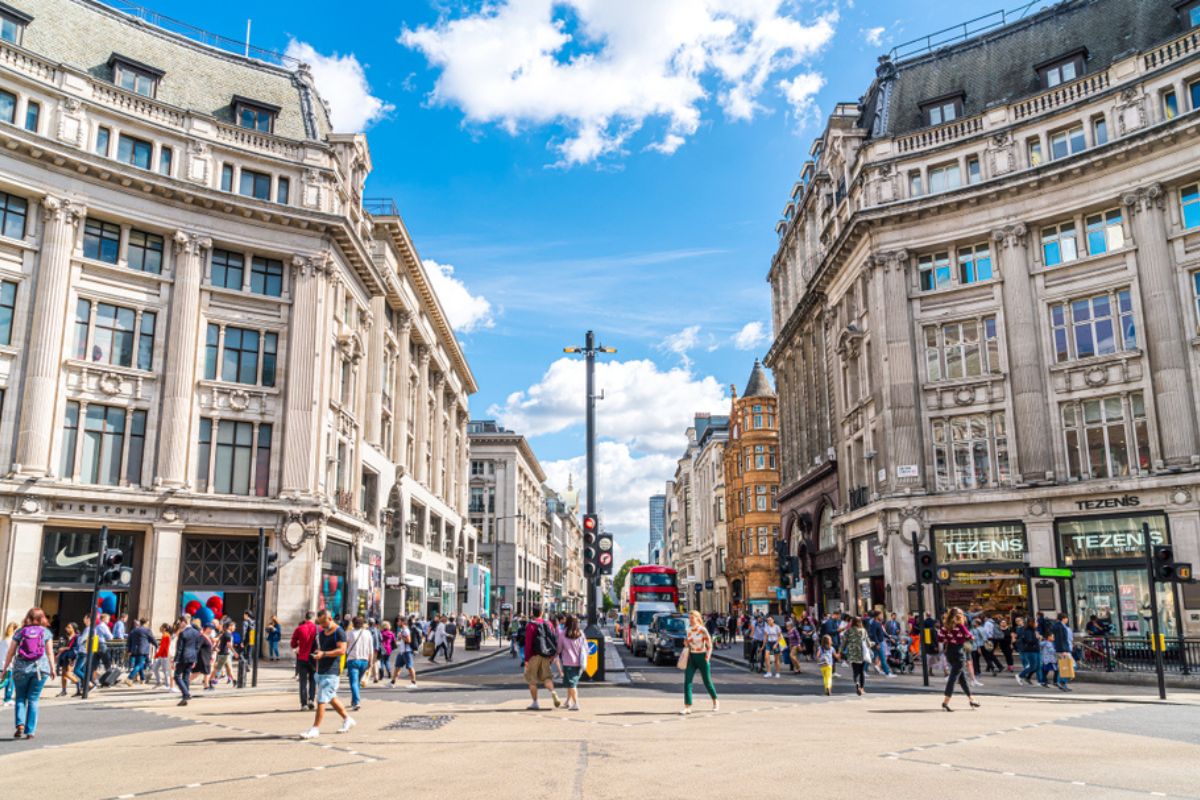 From classic stores to innovative outlets, the stores of Oxford Street are another excellent blend of commerce and culture.
Along with hundreds of renowned brands representing sectors as diverse as footwear, beauty products, home decor, and watches, there are plenty of excellent places to eat and drink in between rounds of shopping.
And if you really love the area, you can even stay in some of the nearby luxury hotels, and get a head start on shopping the next day. Stylish, eclectic, and luxurious, this vibrant road is the ultimate shopping destination!
42 – Listen to the powerful voices at the Royal Opera House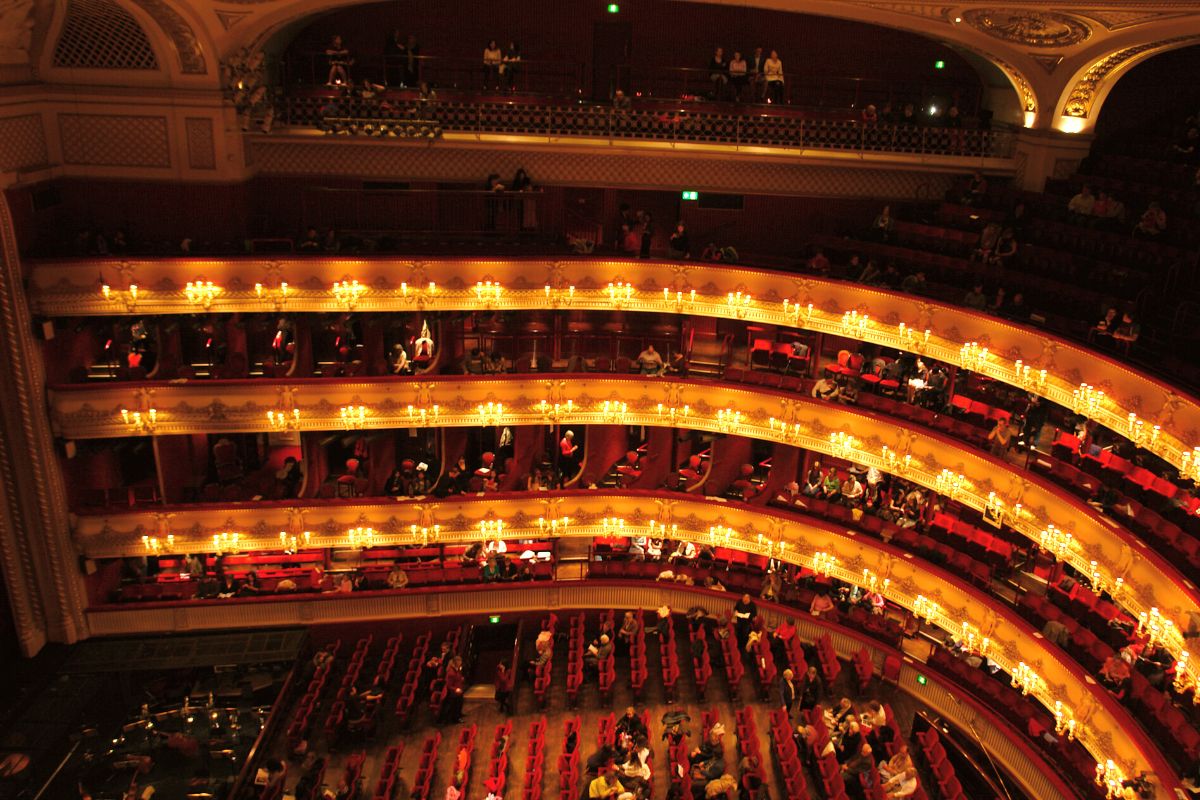 From the masterpieces of Mozart to the works of modern geniuses, there's something for everyone at the Royal Opera House.
This ornate space, which opened in 1732, hosts world-class ballet and operatic performances, as well as cinematic presentations and other performances.
You can also listen to some world-class symphonic music, courtesy of the in-house orchestra. With its spacious interiors and incredible cultural offerings, watching a performance here will be an event to remember!
Hot tip: Check out our list of fun things to do in London at night.
43 – Discover Latin American cuisine in a repurposed tube carriage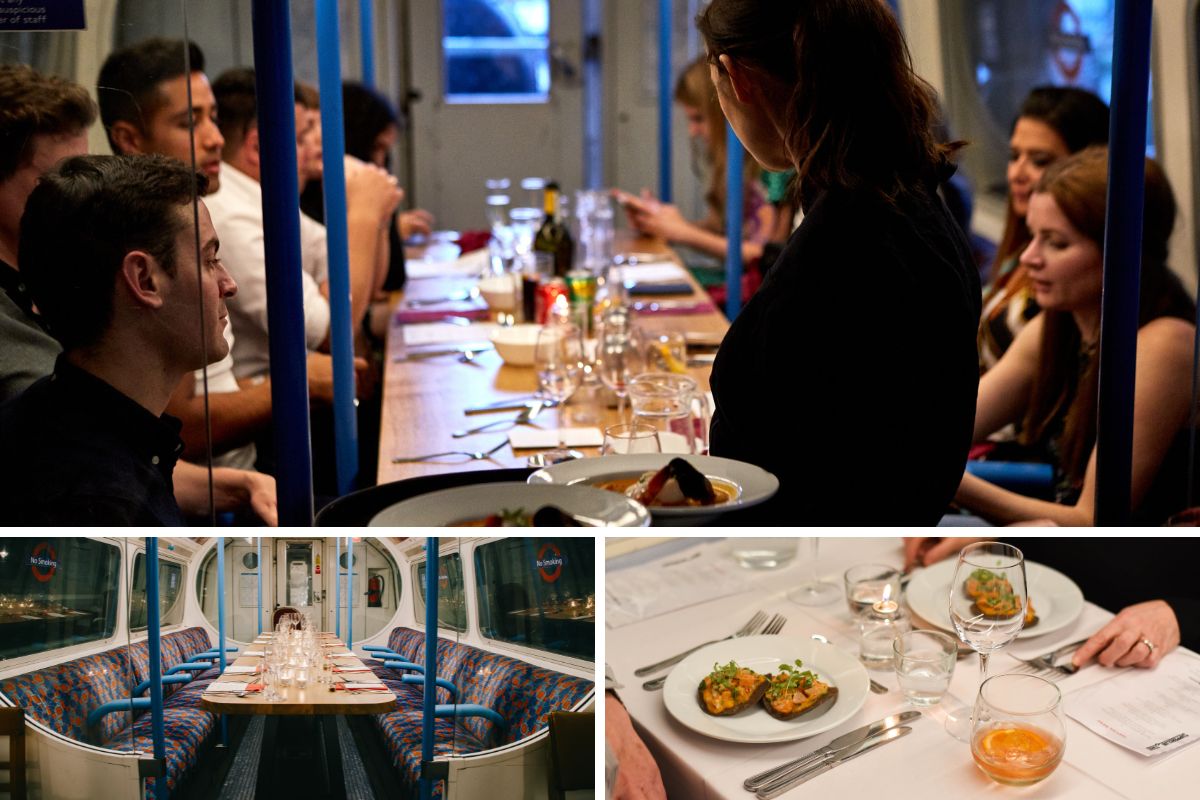 Embark on a culinary voyage into Latin American gastronomy aboard a retired underground train carriage.
The dining experience at supperclub.tube delivers the vibrant tastes and customs of Latin America to your dining table, presented in an intact 1967 carriage, once a part of the Victoria line, the first fully automatic underground railway in the world.
Thrice a week, the carriage is brilliantly metamorphosed with melodious tunes and warm lighting into a captivating dining space. Since its inauguration in 2018, supperclub.tube has graciously hosted over 5,000 guests.
44 – Live it up on a Pub crawl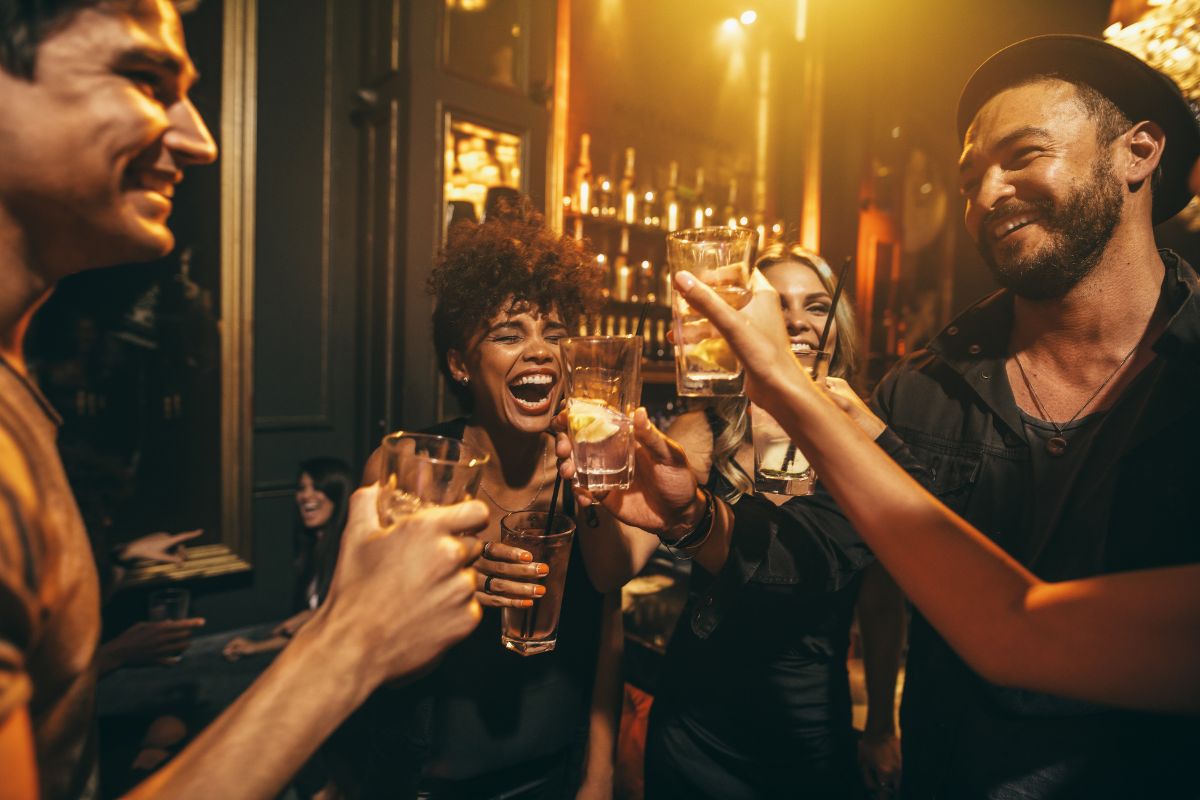 If all of the beer tastings have whetted your appetite for libations, spice up your evening with some pub crawls! With an active nightlife scene and marvelous beverage selections, there's something for everyone out here.
Sip well-crafted cocktails amidst art deco aesthetics at the St. James Bar; enjoy some unique selections in the warm upscale setting of Disrepute; or kick back in the beautiful garden area of Upstairs at Rules.
Or set out on a longer excursion, and visit some of the coolest watering holes and party spots in town – free shots included! It's the perfect energetic evening to cap off a great day of sightseeing!
How to get to Central London?
Being one of the most visited cities in the world, it's no surprise it requires multiple airports to meet the high demand for air travel.
In fact, you can find six airports around the city, but the great news is thanks to London's massive transport system, you'll have plenty of options to reach Central London.
However, it can be intimidating for first-time visitors. Kickstart your holidays stress-free with a pre-arranged airport transfer departing from local airports, including Luton, Stansted, and Heathrow.
Where to stay in Central London?
Whether you're unwinding at the spa, breaking a sweat at the gym FIX, or heading out to nearby attractions such as Leicester Square and the British Museum, you'll love your stay at NYX Hotel London Holborn!
Sea Containers London combines an elegant riverside setting (close to the London Eye, the Tate Modern, and more!) with fabulous on-property amenities, including a world-class restaurant and a working cinema.
Culture fans will be clamoring to book a room at Park Grand London Kensington, which is right next to the "Museum Mile," and also features fitness facilities and a world-class restaurant.
And if you're seeking a somewhat more intimate experience, try the luxurious but easygoing settings of Inhabit, Southwick Street, which includes a vegan-friendly cafe and running paths that will help you navigate your beautiful surroundings.
Hot tip: best staycation hotels in London
Visiting London on a budget?
Because there are so many tourist attractions in London, it's well worth booking a London Pass to save some money during your visit.
You can choose the number of days that you'd like to utilize the pass for, as well as the specific attractions that you would like to include.
And if you're feeling really ambitious, you can book the Unlimited Attractions option, which provides access to over 80 exciting sites and activities in one convenient package.
London's extensive history and striking architecture make it the perfect place for free walking tours. You'll be able to learn all about the city from the most intimate view – that of a pedestrian!
Check out renowned architecture, beautiful churches, and royal residences, or explore the hidden secrets of the city's fabled past.
Whichever tour you choose, you'll be treated to an engaging and intricate view of this lively city. And remember, the guides only get paid in tips, so bring some cash with you!
Hot tip: best free walking tours in London
Final thoughts
With its phenomenal blend of history, art, and family-friendly entertainment, there are tons of excellent things to do in Central London for everyone.
Whether you're catching a show, touring a museum, running around with ogres and wizards, or peeking into the lives of royals, it's the ideal area for first-timers and veteran visitors alike.
And with so many great attractions in relatively close proximity, you can easily spend days bouncing from one adventure to the next.
So start planning that next trip to the city, and get ready to see everything that its central area has to offer!
Happy travels!