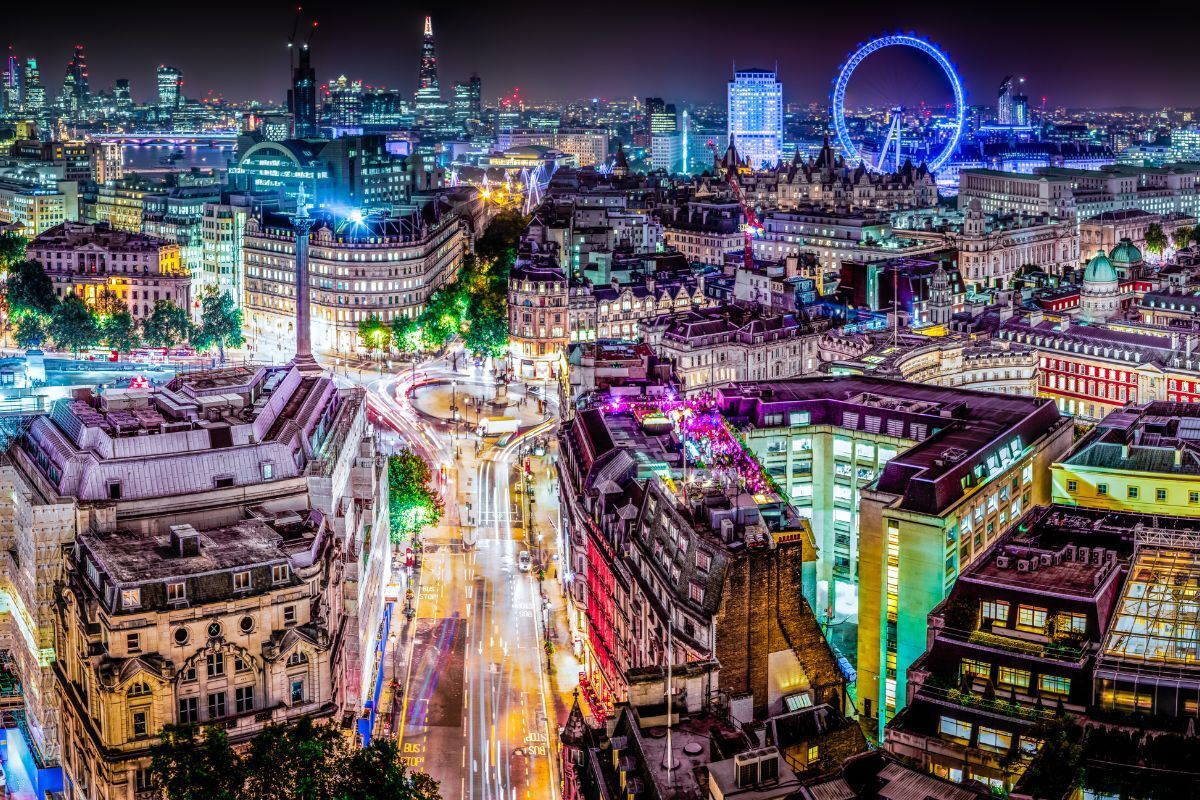 From dawn to dusk, London thrives as a bustling metropolis, where the fusion of commerce and culture paints a vibrant tapestry of experiences. However, when twilight blankets the city, a captivating transformation takes place.
London emerges as a nocturnal playground, brimming with an electric energy that ignites the night. Its nocturnal offerings range from exhilarating nightlife escapades to awe-inspiring performances and singular encounters found nowhere else on Earth.
So put on a pot of extra-strong coffee, give your alarm clock the night off, and prepare to embark on an unforgettable nocturnal journey as we explore the most captivating things to do in London at night!
1 – Go to the Cauldron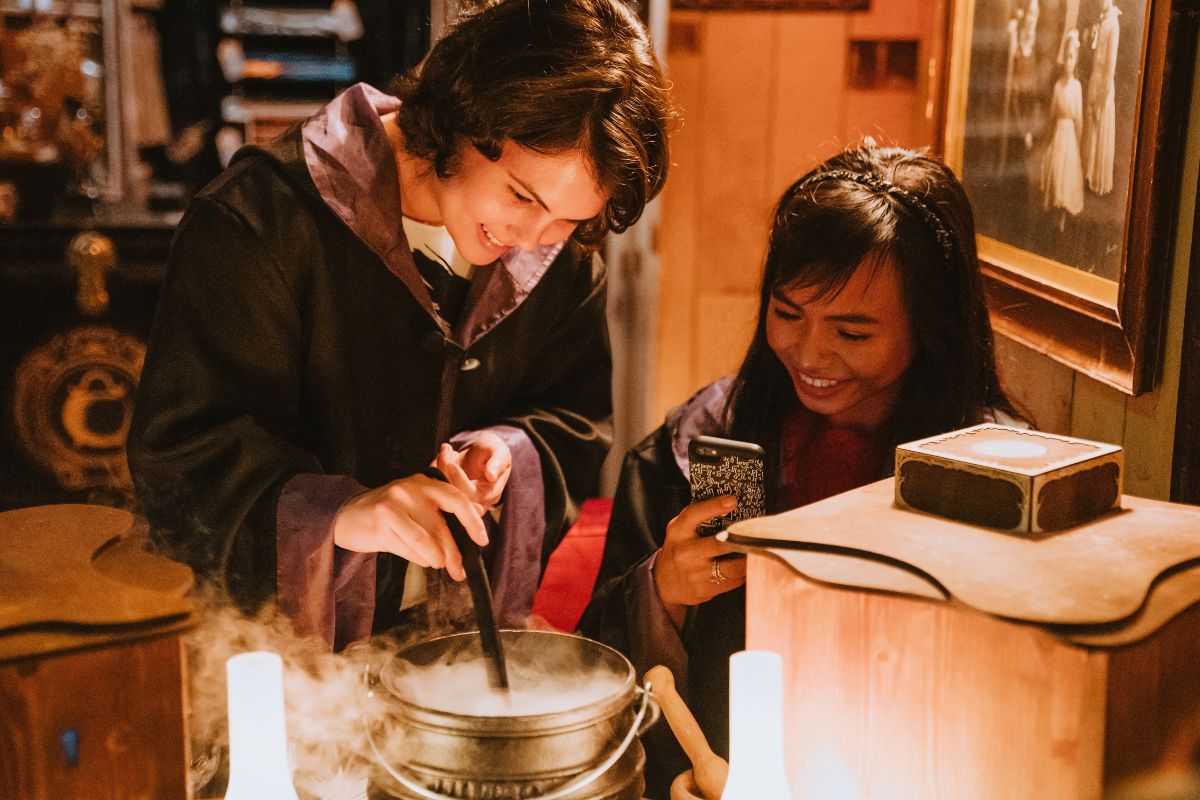 For a suitably magical start to your evening, head over to The Cauldron, and brew up some delicious concoctions… minus the eye of newt, thank goodness!
Part of an international chain of immersive bars, this is one place where you can indulge in a more sophisticated version of the Hogwarts dream, as you brew your own specialty cocktails/potions, pick out a perfect wand, and delve into a bit of spell casting.
It's bound to delight… and the souvenirs are unbeatable!
2 – Gaze at London's sparkling nightscape from The Shard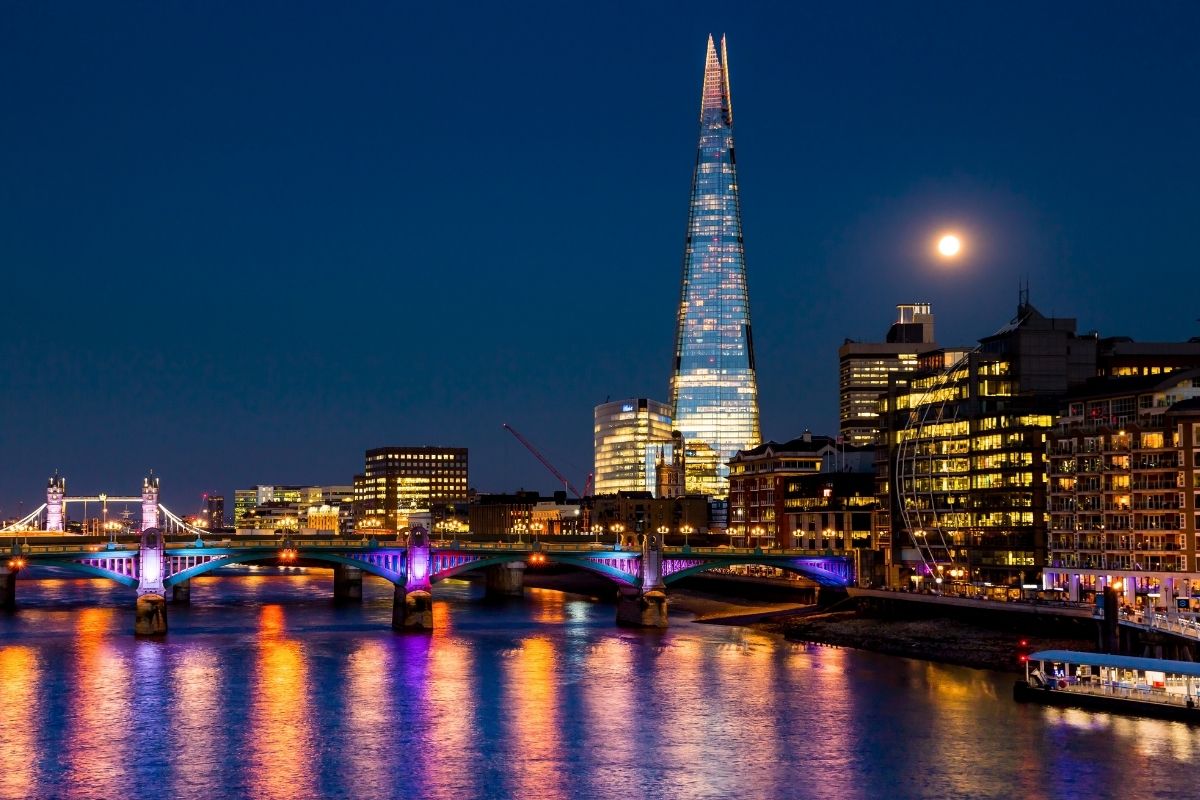 As one of the most amazing (and eye-catching) things to do in Central London, you'll be able to see all sorts of delights at The Shard… not the least the sights out the window!
After all, this relative newcomer to the capital has made a big impact at a whopping 310 meters (1,017 feet) tall, offering all sorts of scenery as you head to the top.
And all along the way, you can also enjoy bits at all of the building's quality restaurants… talk about a meal with a view!
3 – Embark on a Jack the Ripper ghost walk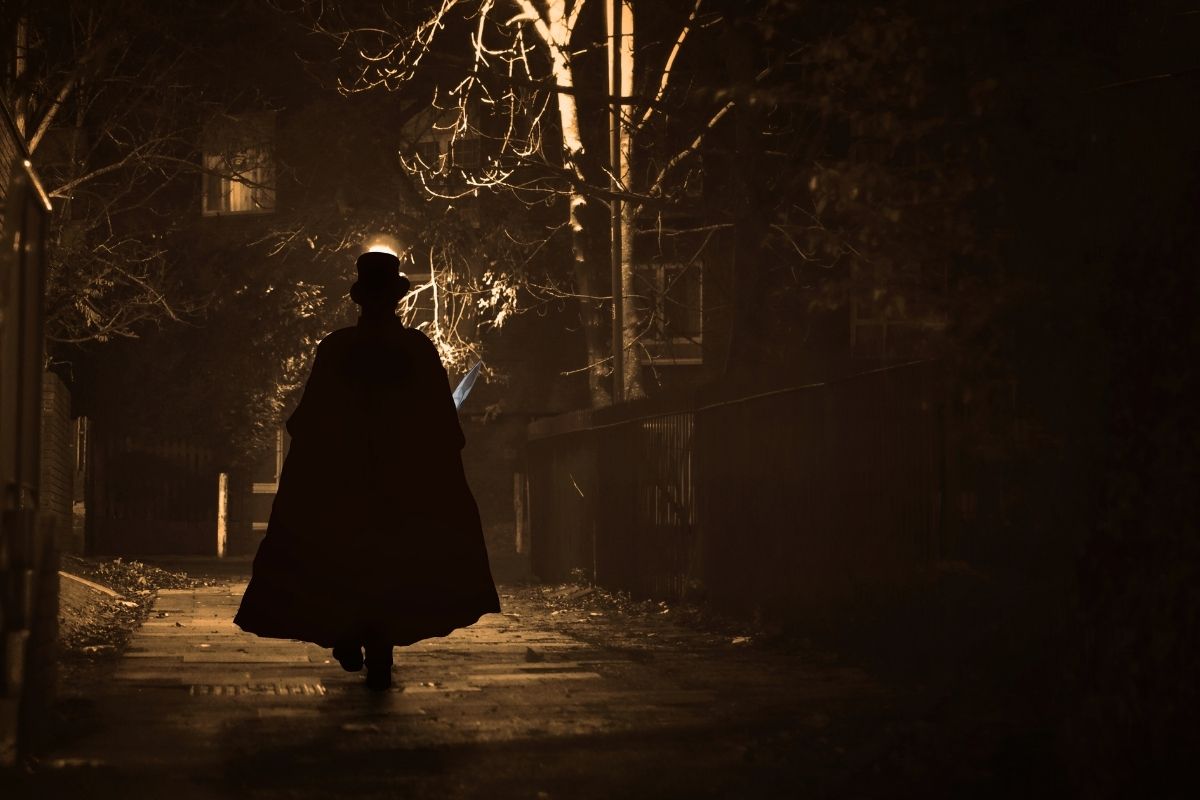 As one of the more infamous residents of the city, Jack the Ripper still commands an air of attention; and what better time to explore his legacy than on an evening stroll?
Enjoy a thrilling, slightly eerie expedition through the Victorian murderer's world; and as you explore his old haunts, keep an eye out for the spectral visage of Jack himself!
It's little wonder that this adventure is considered one of the best night tours in London!
4 – Tee off at the best night golf courses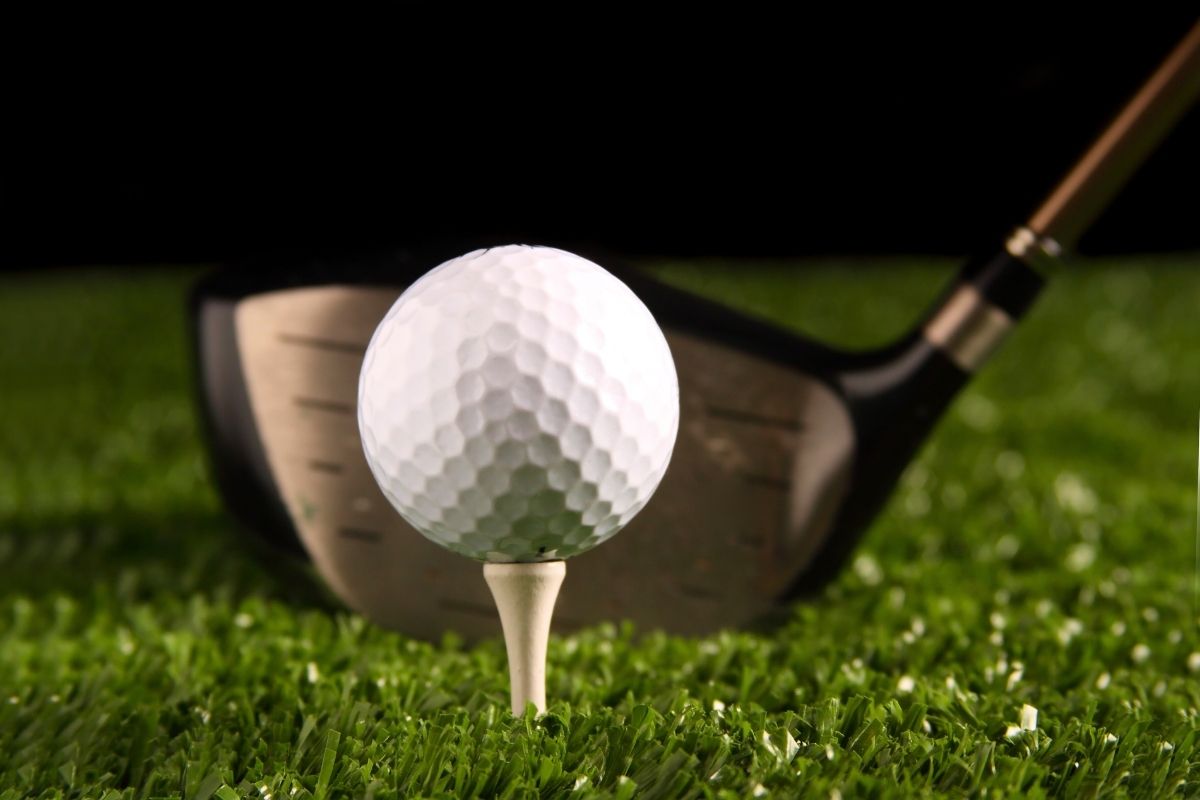 You may think of tee time as exclusively for the daylight hours, but there are several spots around town where you can keep putting long after sunset!
From the family-friendly links of Dukes Meadows Golf to the lovely greenbelt setting of Hendon Golf Club and the classic paths of Richmond Park Golf Course, each of these spots combines a friendly, world-class setting with great gameplay.
Plus, with special evening hours, you can enjoy the courses in a whole new way!
5 – Enjoy a concert at the O2 Arena …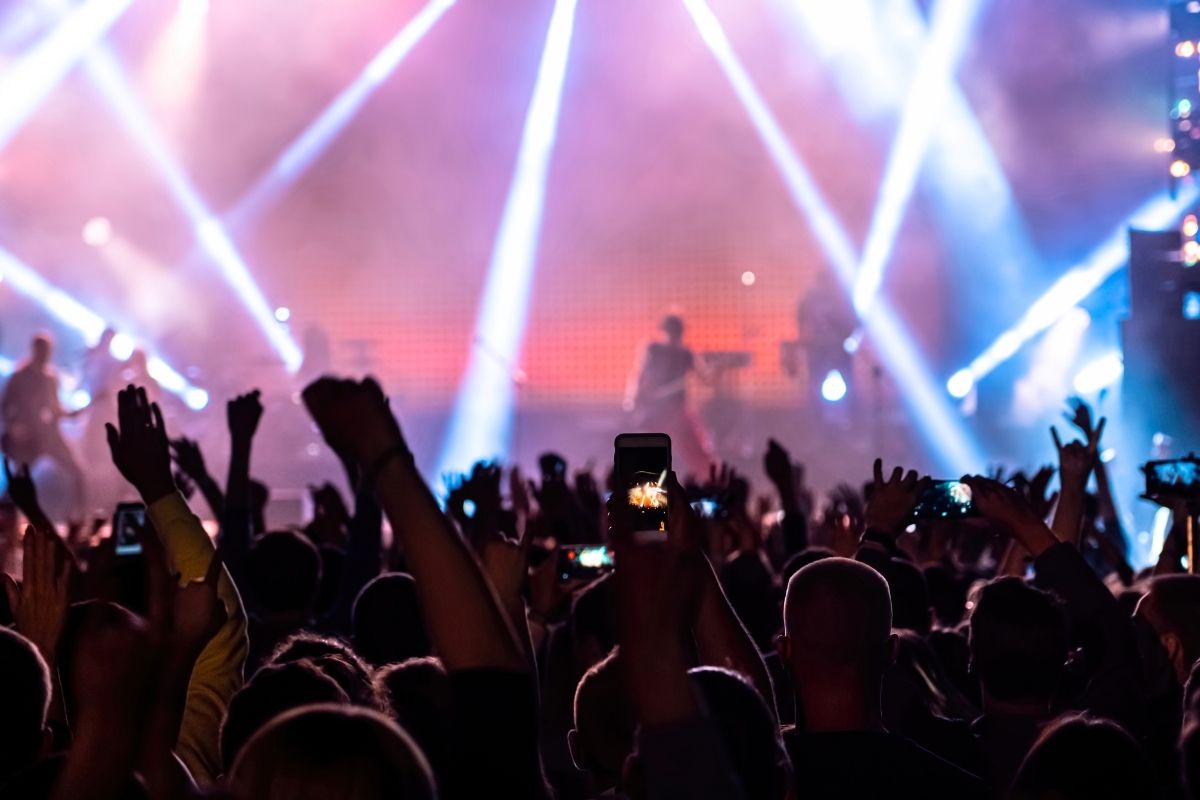 As one of the biggest and best venues in town, the O2 Arena is the ideal place to enjoy a concert – joyfully screaming your heart out with thousands of other fans!
Most of the best touring acts in the world make their way through here, so no matter when you visit, you can rest assured that there will be some sort of memorable headliner to liven up your evening!
6 – … or climb its roof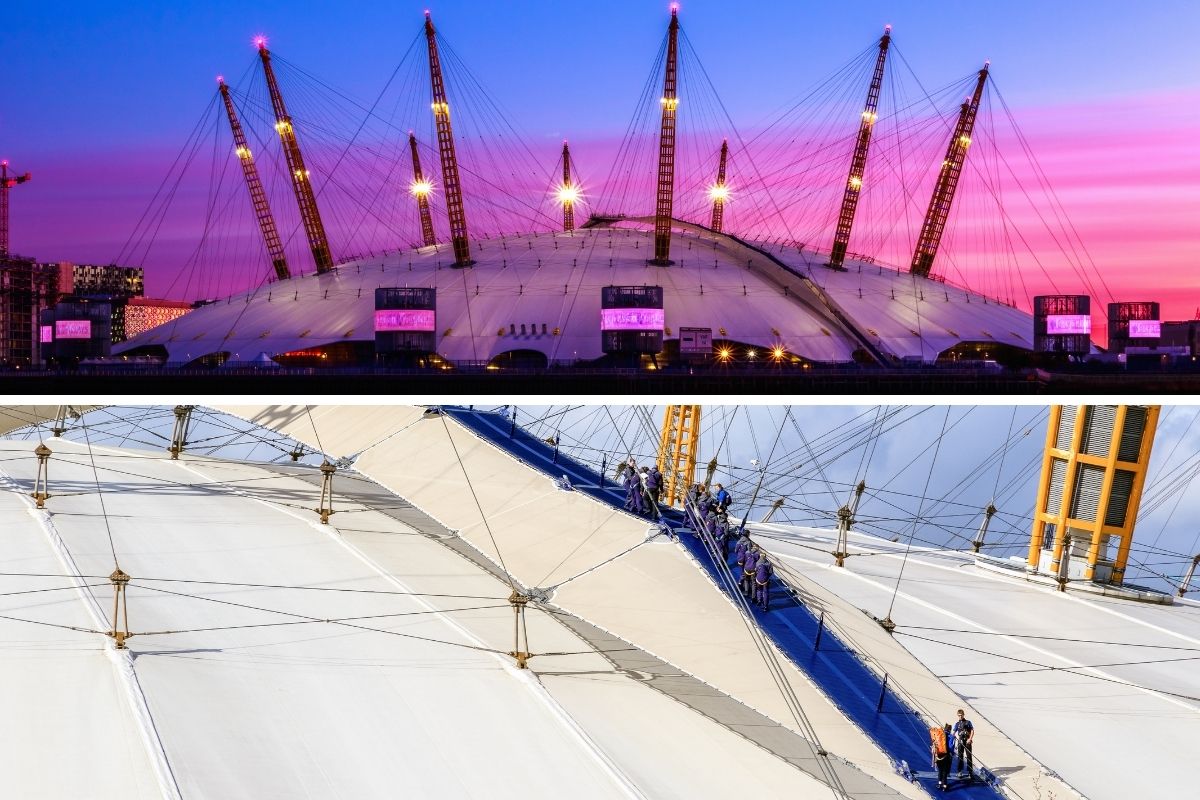 As fun as watching shows at this venue can be, there's an even more adventurous option… and it's especially cool after dark!
O2 climbing tours are some of the most exciting things to do in London at night, leading straight up the side of the massive structure.
You'll be surrounded by unique, dazzling views at the top, and get to experience one of the city's most iconic buildings in a fashion that few others do!
7 – Luxuriate in the Aire Ancient Baths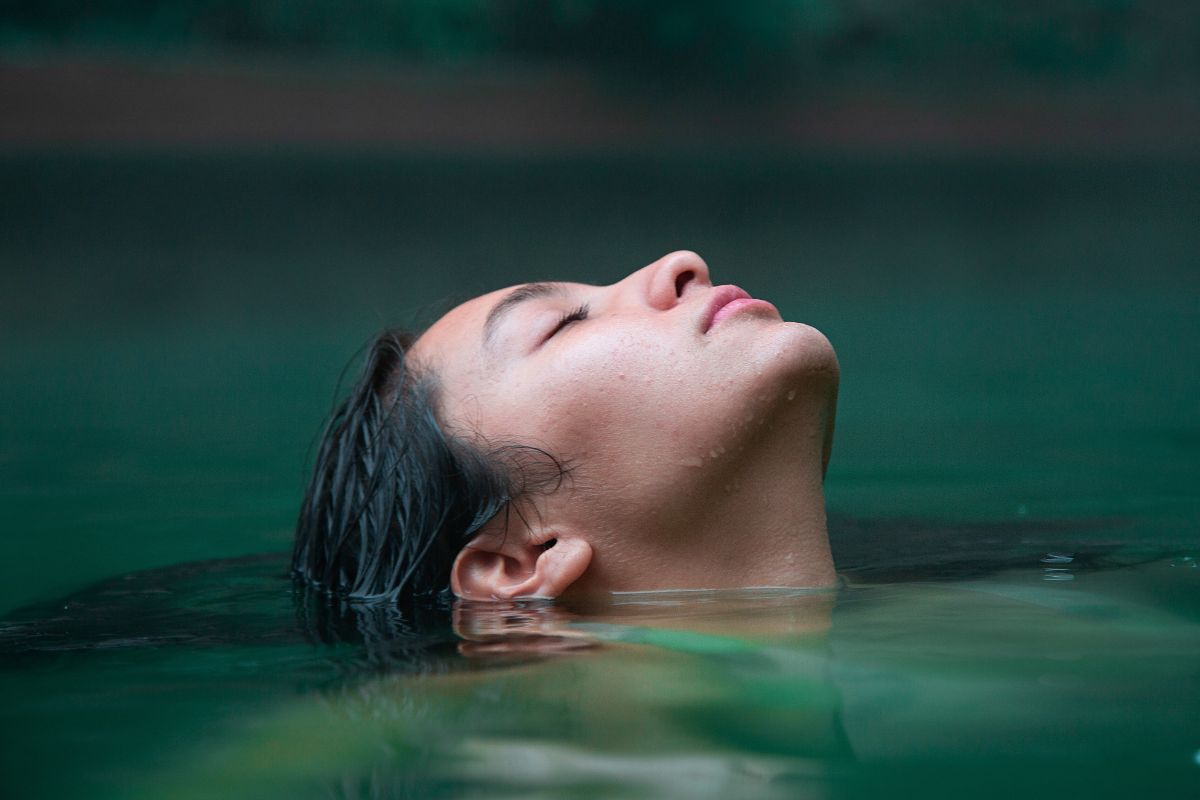 Imagine the tranquility of a standard spa treatment, mixed with some of the most invigorating and fascinating rituals of past empires.
At Aire Ancient Baths, this dream will become a reality!
Based on methods pioneered in Greece, Ancient Rome and the Ottoman Empire, this treatment center offers full-body massages, soothing soaks, and treatments that have been passed down through the centuries.
Choose between the many different itineraries, then indulge in a full bout of relaxation!
8 – Take in a show at Regent's Park Open Air Theatre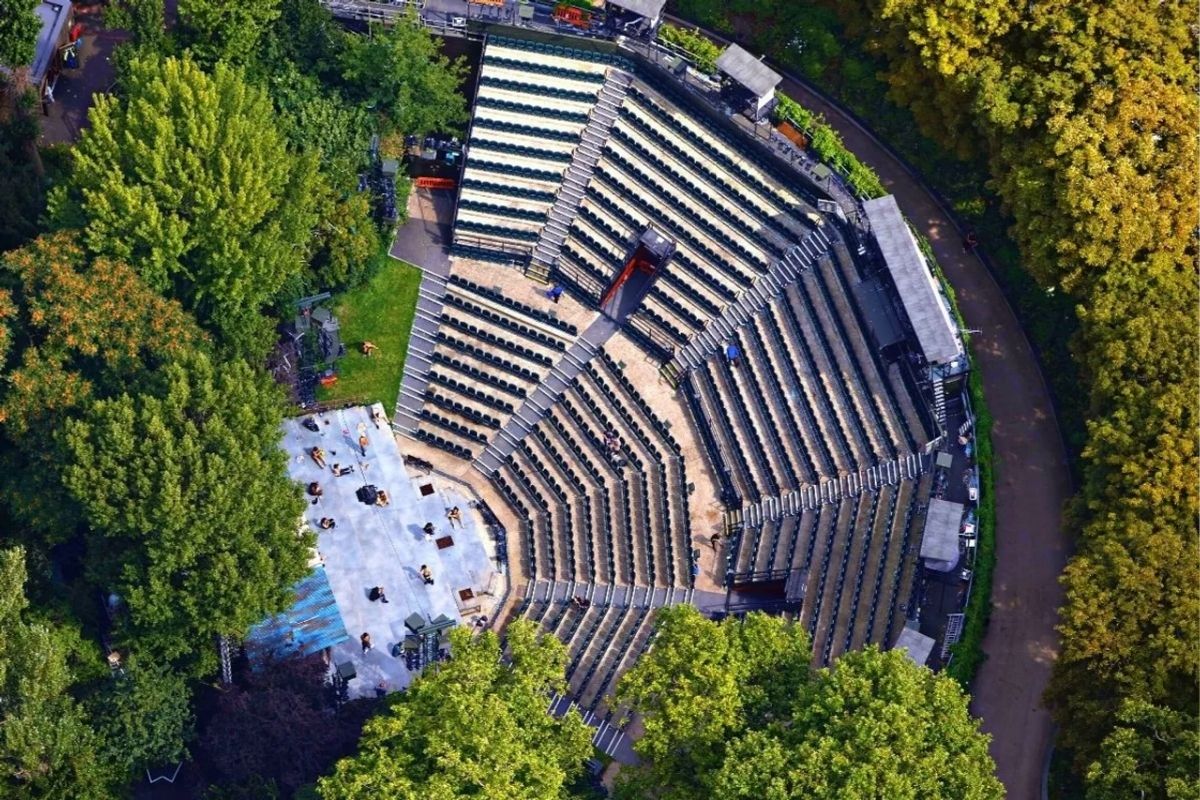 When the sun sets, the plays in this iconic venue come to life with renewed vigor, framed and focused by the backdrop of night.
Located in the midst of Regent's Park – the Open Air Theatre itself is a classic green space in the heart of the capital -, the theater offers up a lovely lineup every season, from musicals and reimagined classics to kid-friendly programming.
Enjoy the warm summer air and the great show before you!
9 – Alternate between sips and shots at the best pubs in London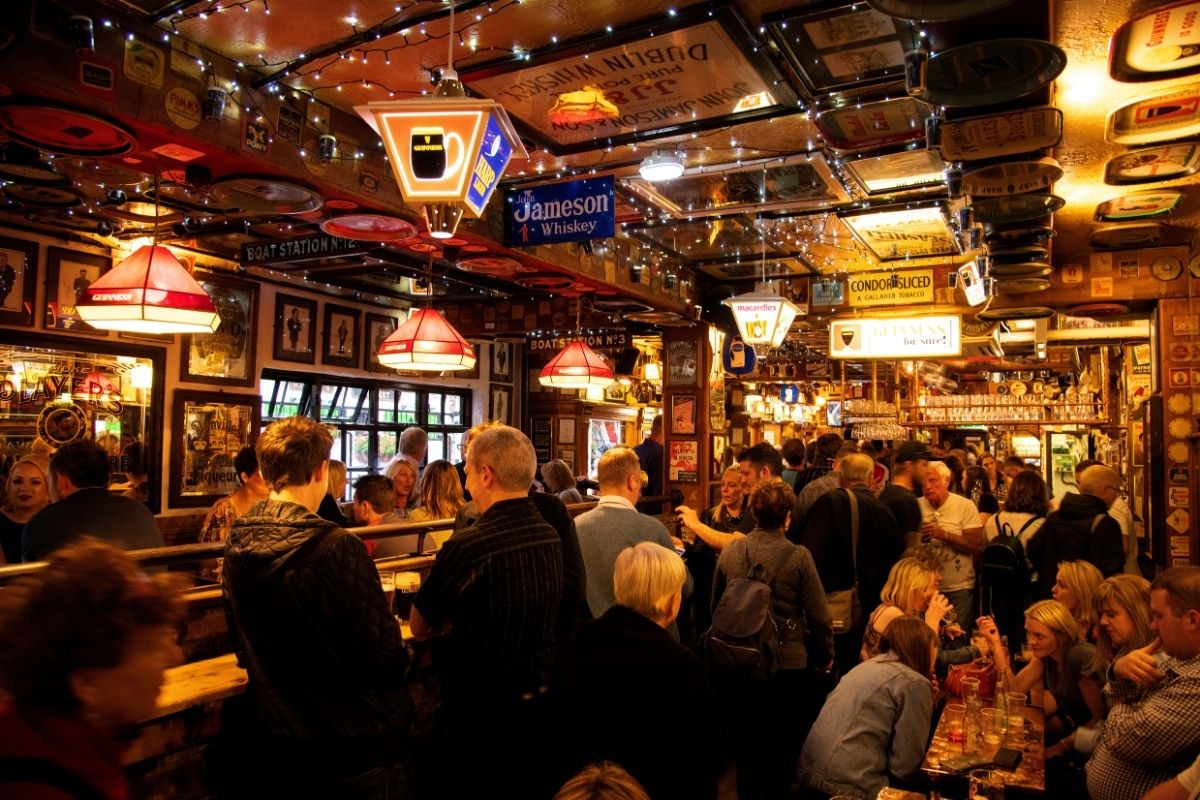 Alright, time to sink a few and get festive at the best pubs in London!
Head to Southampton Arms for a fine selection of craft ales and ciders, Skehans for live music and darts, or The Duke for excellent lagers and an equally impressive wine list.
And if you're having trouble deciding which of the thousands of other excellent local watering holes to try next, you can always embark on a pub crawl tour, and try out several spots in one lively excursion!
Sponsored placement
Blast off as a cocktail cosmonaut in Avora
Step off the streets of London and into the bioluminescent world of Avora for a one-of-a-kind cocktail experience.
You'll feel like you've stumbled into a sci-fi movie after you put on your custom jumpsuit and explore this strange land while interacting with the local Avorians, who will serve you plenty of cocktail "antidotes" to help you adjust to the planet's atmosphere.
10 – Try new twists on classic Bingo games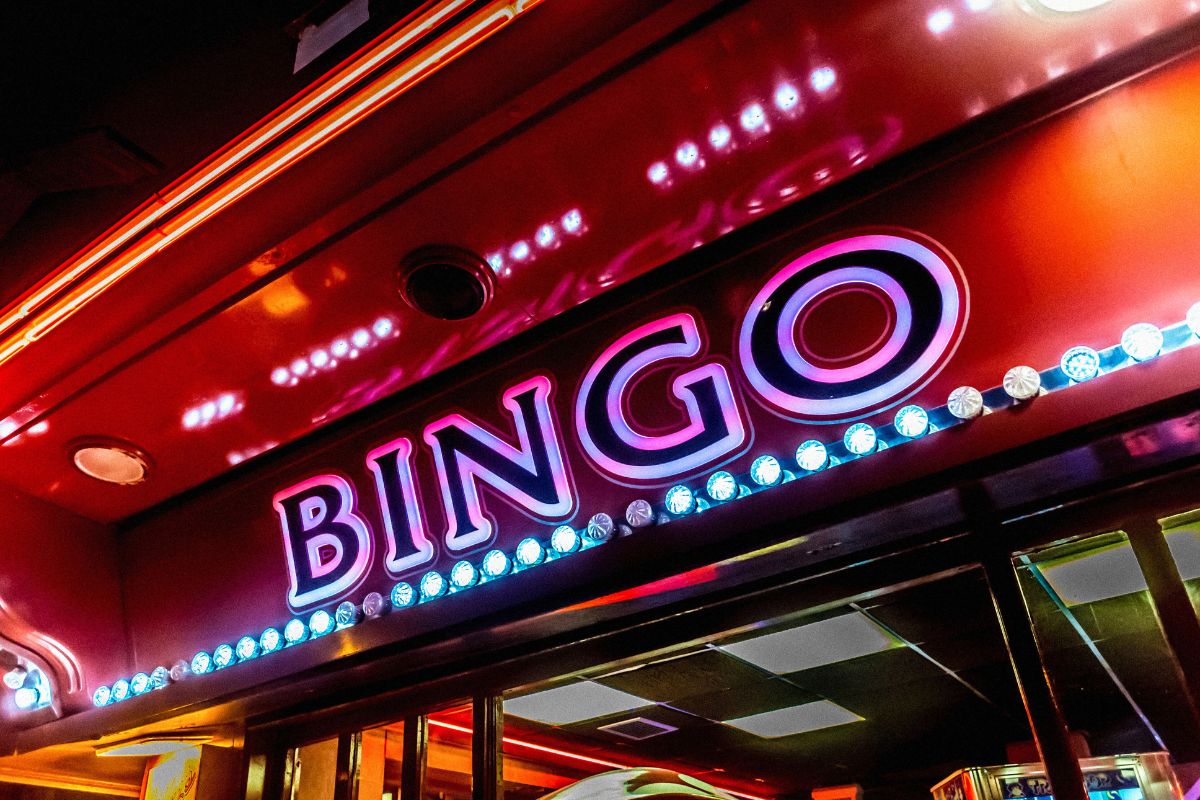 Throw aside old notions of stuffy halls and slow rounds… London's bringing new styles to this classic game!
At Musical Bingo, you'll use your audio knowledge to mark down different tunes, with a constantly revolving playlist to keep you on your toes.
And at Hijingo Bingo, every round is marked by light shows, dancing, and active audience participation – the wilder, the better!
Stay sharp and watch your cards… the action never stops in these halls!
11 – Watch a fantastic ballet show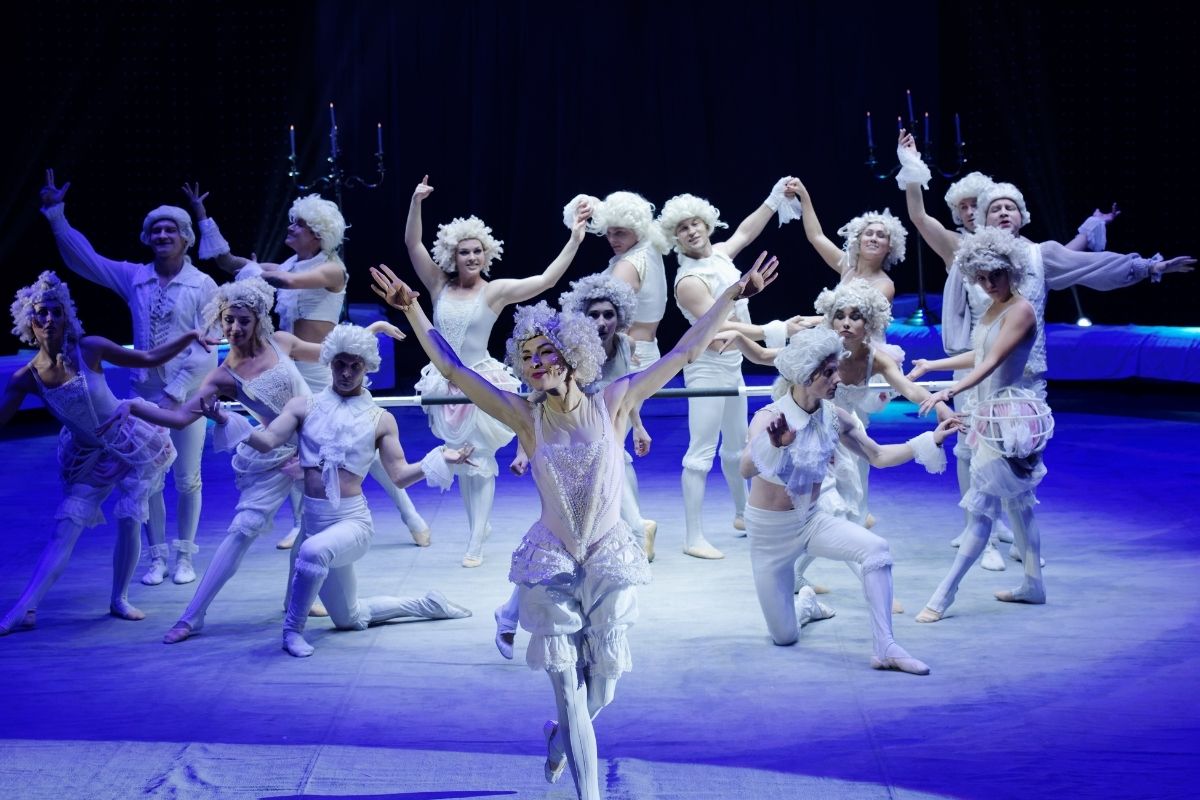 Peak athletic performance and remarkable artistry come together at the Royal Ballet, which has been putting on amazing shows since 1926.
While many of the productions are restagings of standards from the 1800s, there are also plenty of more modern works as well, offering a nice variety for visitors.
Grab a seat and prepare to be amazed!
12 – Play a board game at Draughts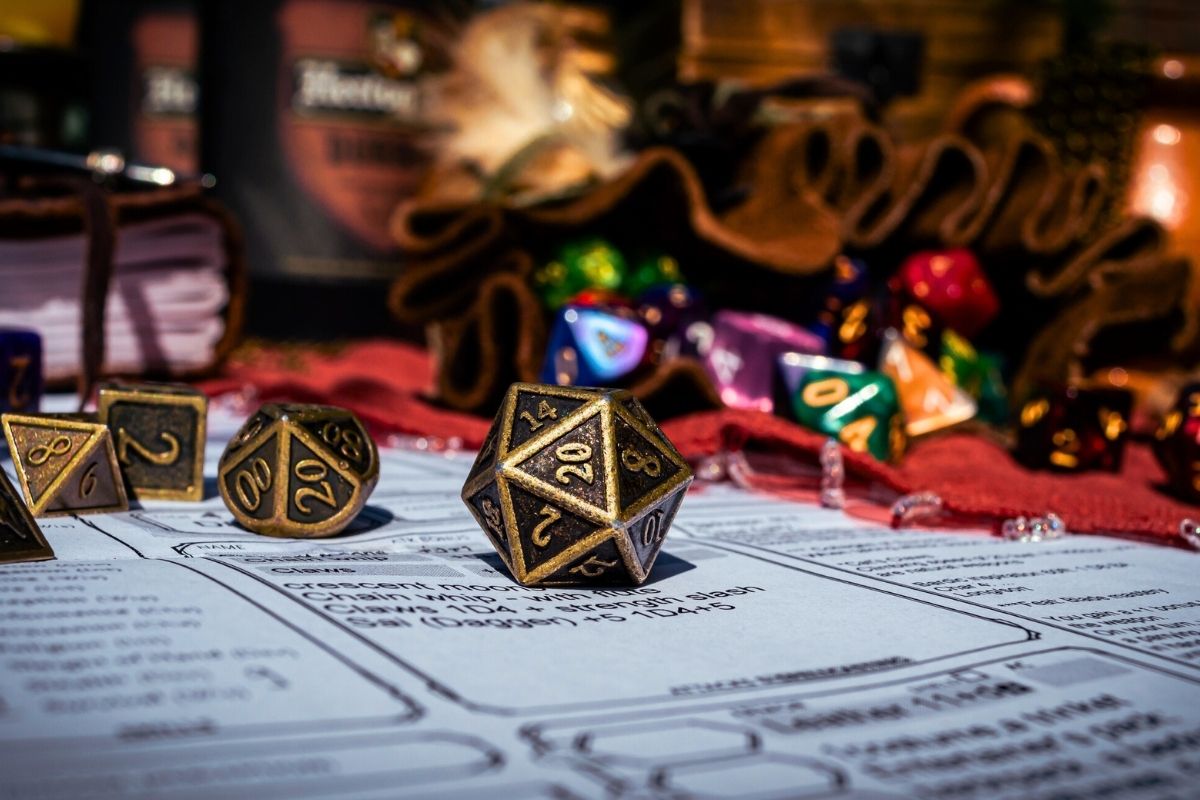 Sure, lots of people head to the bar when evening comes… but how about enjoying a game or two whilst you sip?
At Draughts, you'll have the same high-quality service and great drinks as any of the other local pubs, but you'll also have your choice of board games to browse through – more than 1,000 of them, in fact!
Pick an old favorite or discover a new one, settle in with a pint, and start playing!
13 – Get caught up in the magic of the best theaters in the West End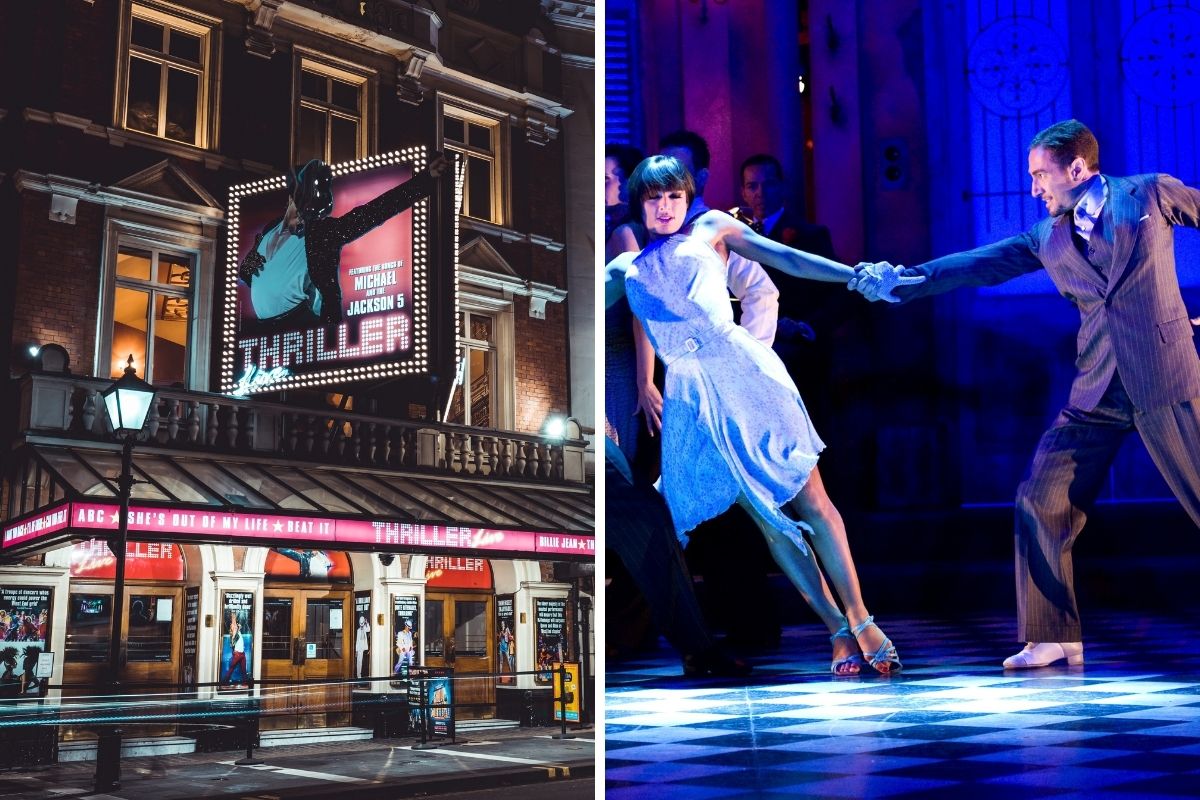 You could probably fill every night of your holiday just by visiting some of the famous West End theaters… not to mention seeing all of the spectacular West End shows!
And if you're not sure of where to start your thespian journey, we'd recommend taking a look around the neighborhood's most beloved venues.
Check out the elegant facades of Her Majesty's Theatre, the lively historical stage of Prince of Wales Theatre, or the stately halls of Lyceum Theatre, to name but a few; the only thing better than the beautiful buildings are the action-packed productions inside!
14 – Have a super scientific slumber party at the Natural History Museum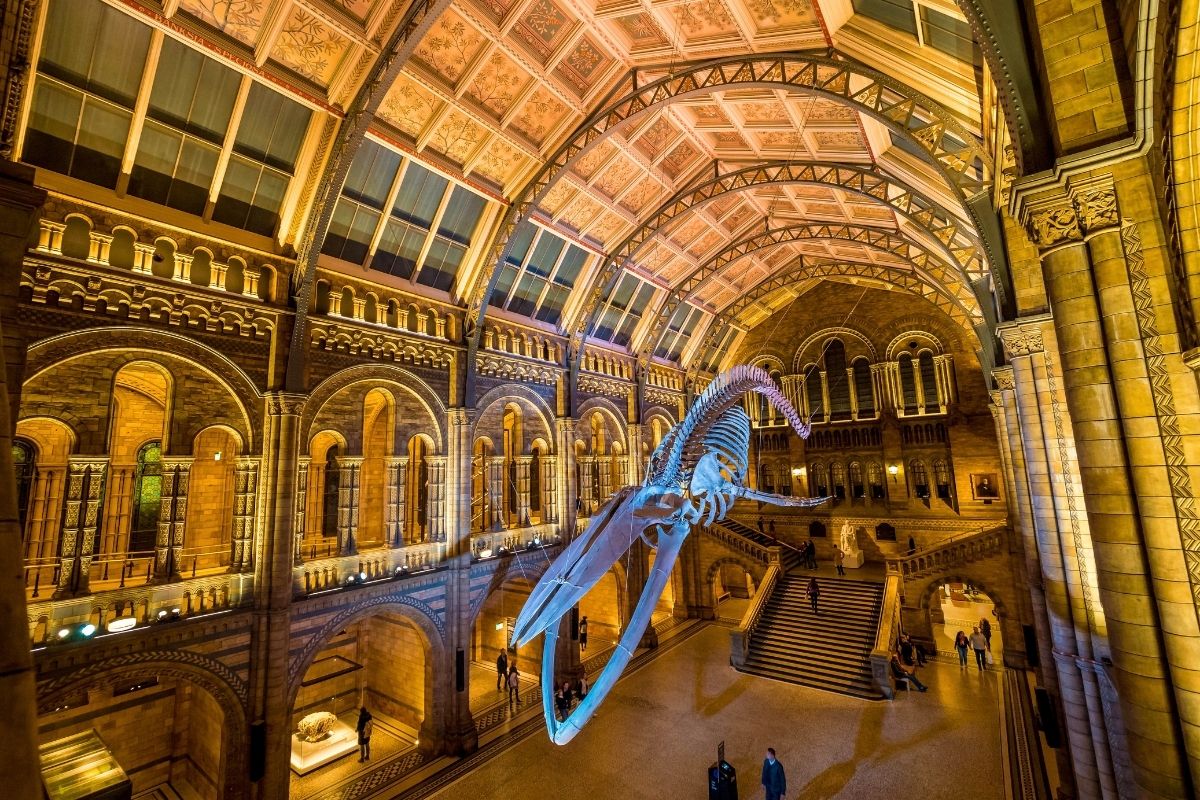 You may have already encountered the gems (real and metaphorical) at the Natural History Museum during standard operating hours… but why not get an overnight view?
The Dino Snores program gives visitors the chance to sleepover with the fossils, offering various programs for younger and older kids, plus adults-only options.
Enjoy unique programming, delicious food and beverages, and cool adventures in different parts of the facility… plus the amazing chance to wake up next to T-Rexes!
It's just one of the many reasons why this spot is considered one of the best museums and art galleries in the city!
15 – Blend great flicks and nice views at the Rooftop Film Club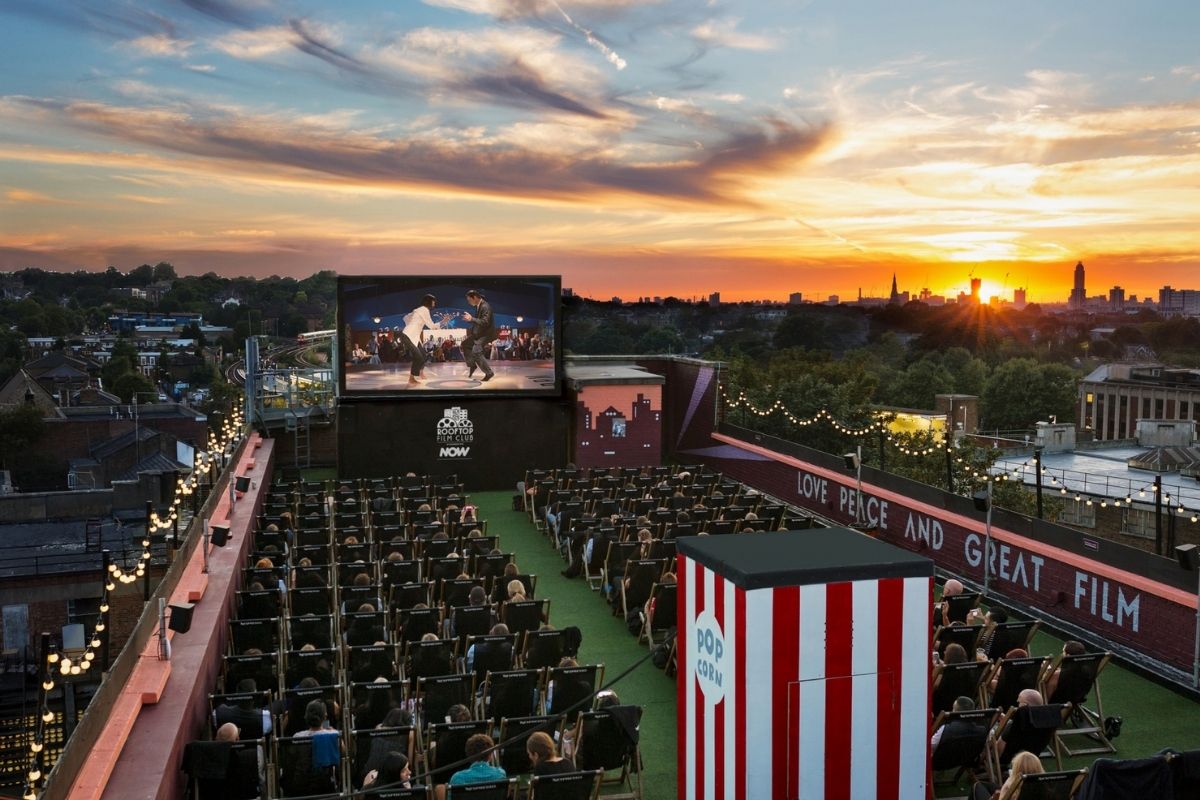 Outdoor movies are always a good time… especially when you have one of the world's best cities as a backdrop!
True to its name, the Rooftop Film Club stages old favorites and new hits atop some of London's finest buildings, creating a special atmosphere that captures the joy of cinema full force.
It's the perfect way to enjoy summer evenings!
16 – See behind the magic on a Harry Potter walking tour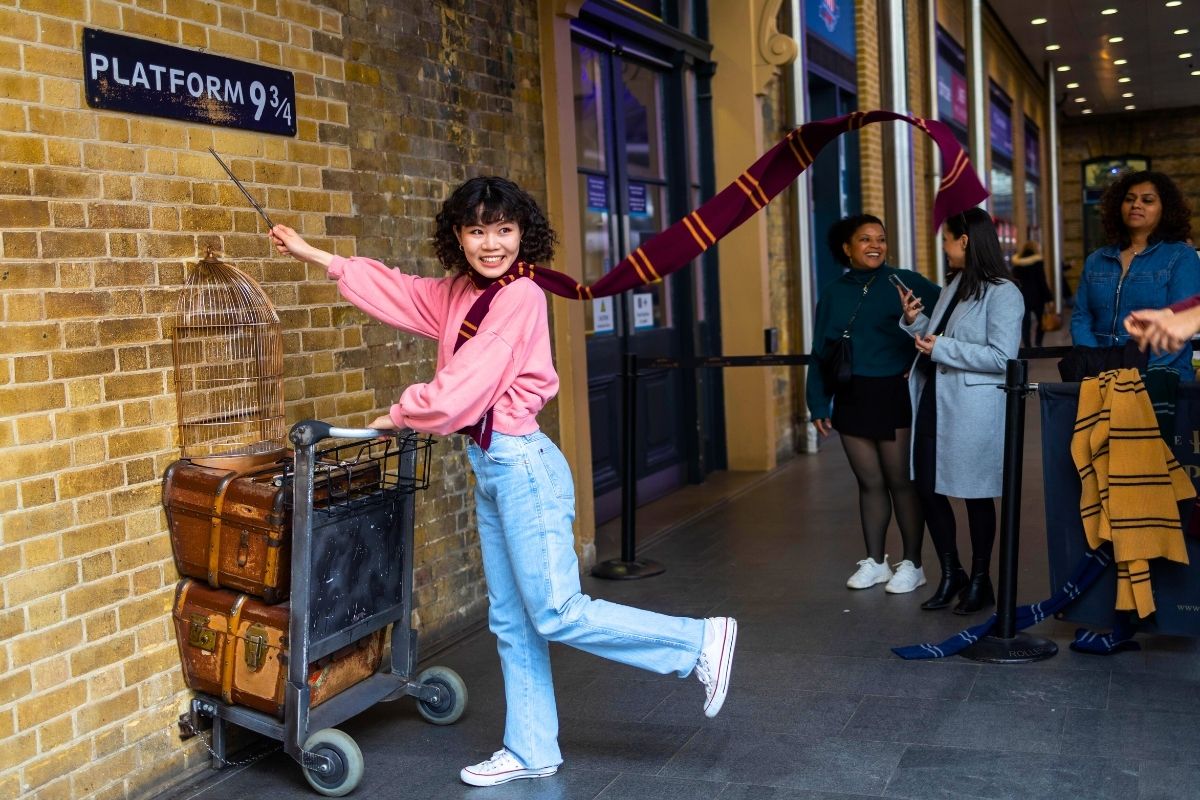 Quick….where can you buy a new wand and some robes before catching the Hogwarts Express?
Fear not: when you try out the best Harry Potter tours in London, you'll find all of these spots – and more!
Explore the real-world settings of the boy wizard's adventures, from the twists and turns of Diagon Alley to Platform 9 ¾, where students get whisked away to their next adventures.
And exploring these spaces in the evening makes them all the more magical!
17 – Admire the cosmos at the Hampstead Observatory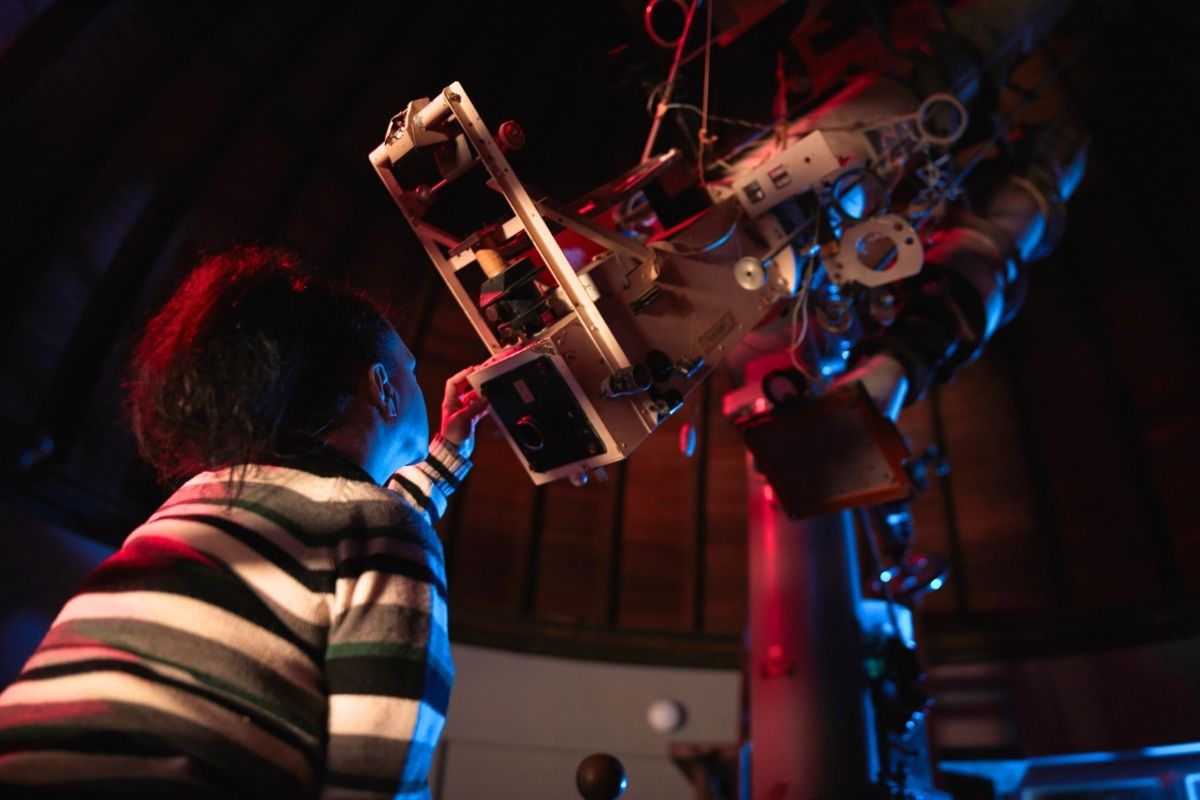 Stargazing in the heart of the city? You'd better believe it!
The Hampstead Observatory offers up a slice of wonder right in the heart of town, showing off the ever evolving patterns and views in the skies above us.
Stop by on a clear night to admire the moon, constellations, and maybe even a planet or two!
18 – Sink into some candlelight concerts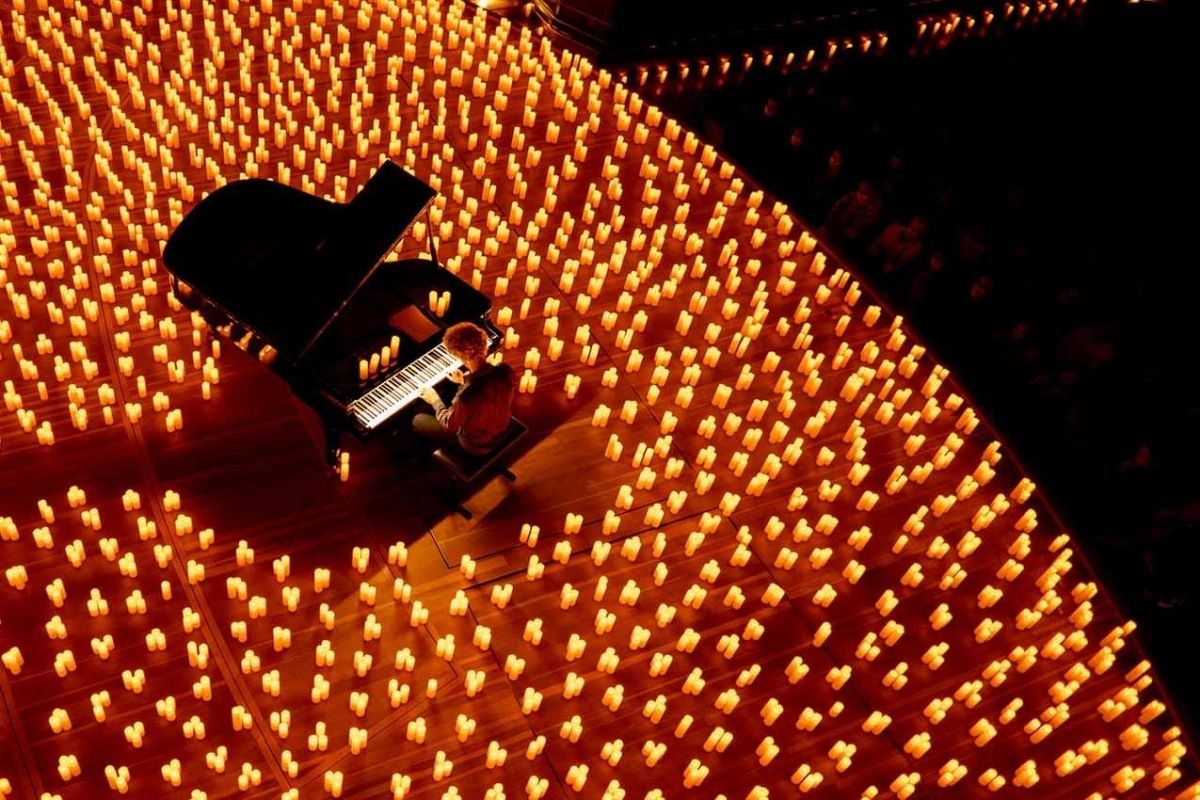 It feels like something out of a dream: symphonic music swells and swirls around you, while row after row of flames gently light the scene.
But candlelight concerts are very real… and wonderful!
From Handel to Taylor Swift and everyone in between, these shows offer some truly beautiful scores, with the candles themselves providing that extra level of enchantment.
19 – Celebrate the stage at the Old Vic Theatre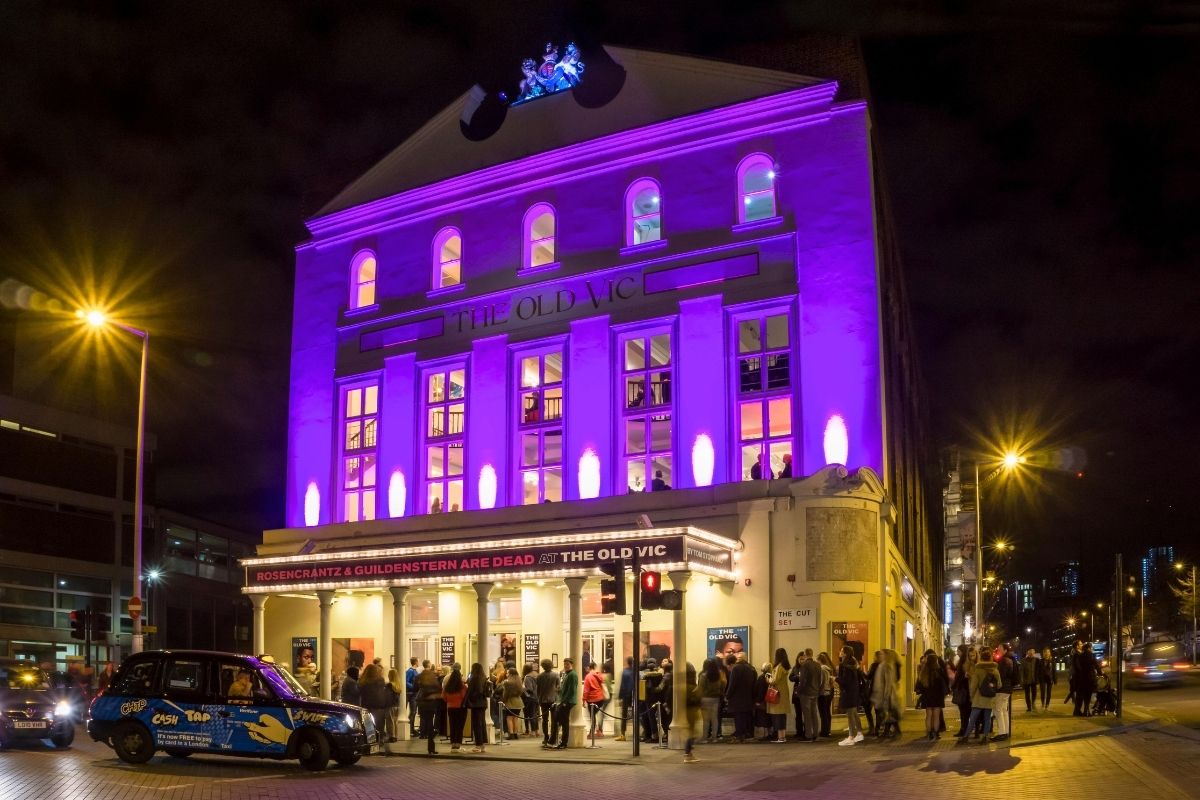 For over 200 years, the Old Vic Theatre has been at the center of the city's thespian scene, and it still maintains a sense of excellence to this day.
Along with excellent shows, the space often runs talks with the cast and other presentations, and continues to serve as a pillar of the theater community; plus, the shows themselves are always remarkable!
20 – Uncover Shoreditch nightly vibes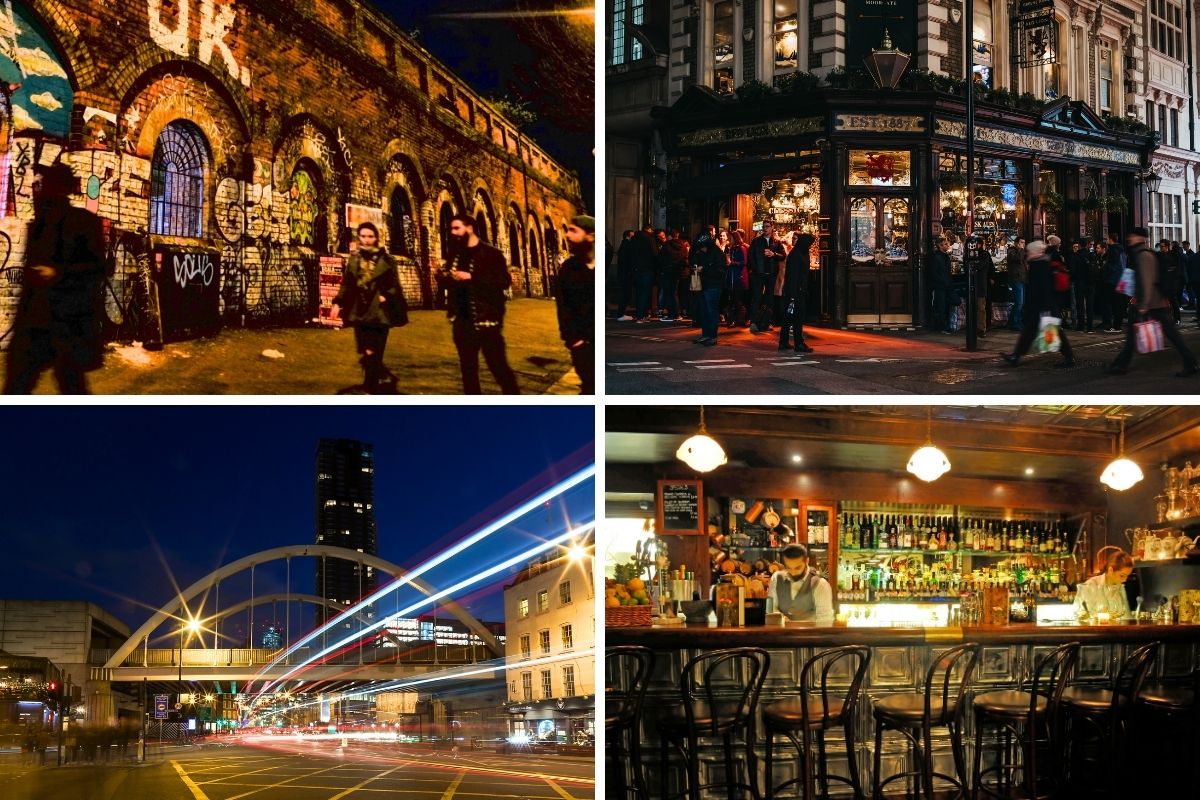 On the eastern side of town, there lies a neighborhood where the taps are always flowing and the rooms are always welcoming… all the more reason to try out the best bars in Shoreditch!
Enjoy some quality cocktails in the fine basement setting of Happiness Forgets, check out the creative menus of Callooh Callay, or swing by Oranj to enjoy an excellent selection of natural wines.
It's the perfect area for an evening out with tons of local flavor!
21 – Bust a move at the best nightclubs in London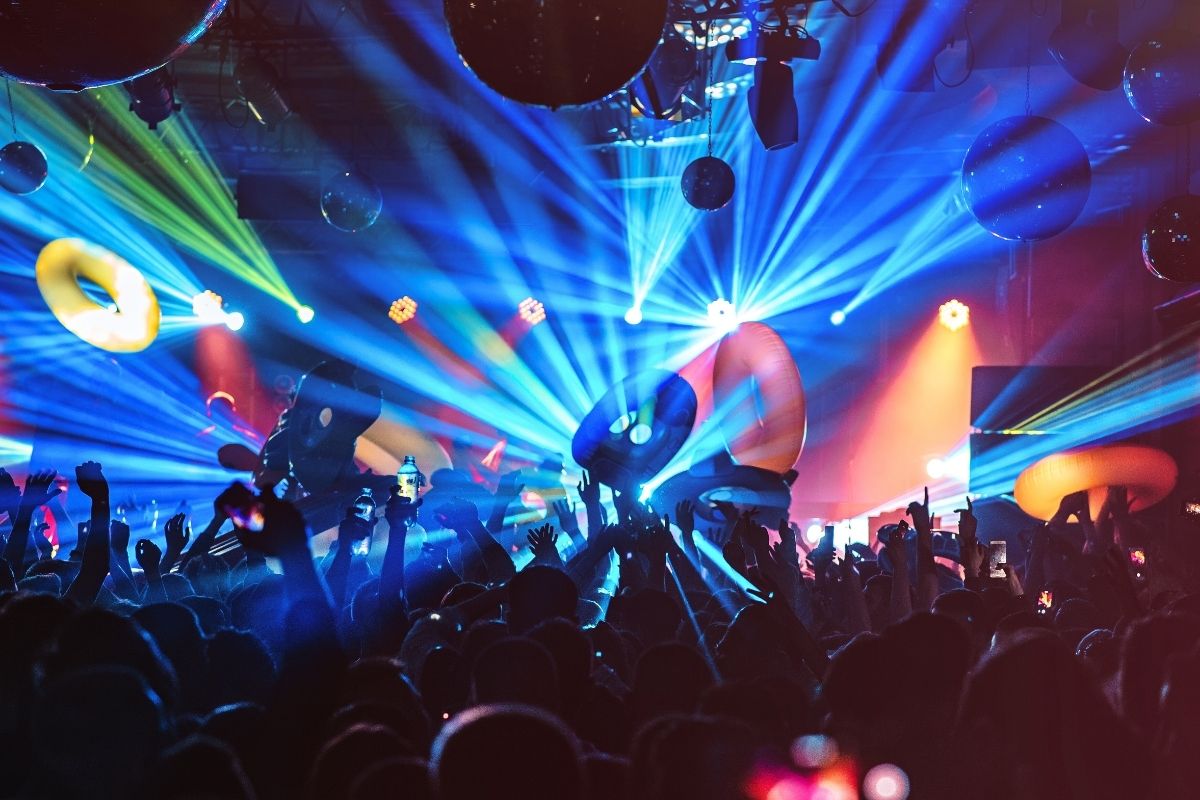 Of course, any metropolis worth its salt has a great party scene; and you'll have a stellar time trying out all of the best nightclubs!
The aptly named Heaven offers one of the most active and varied live music calendars in the city, while XOYO embraces the hedonist vibes with its lineup of themed parties.
And don't miss the fun at Fabric, with a diverse lineup and slightly mellower feel that still offers all-night revelry!
22 – Get lost in the music at the best jazz clubs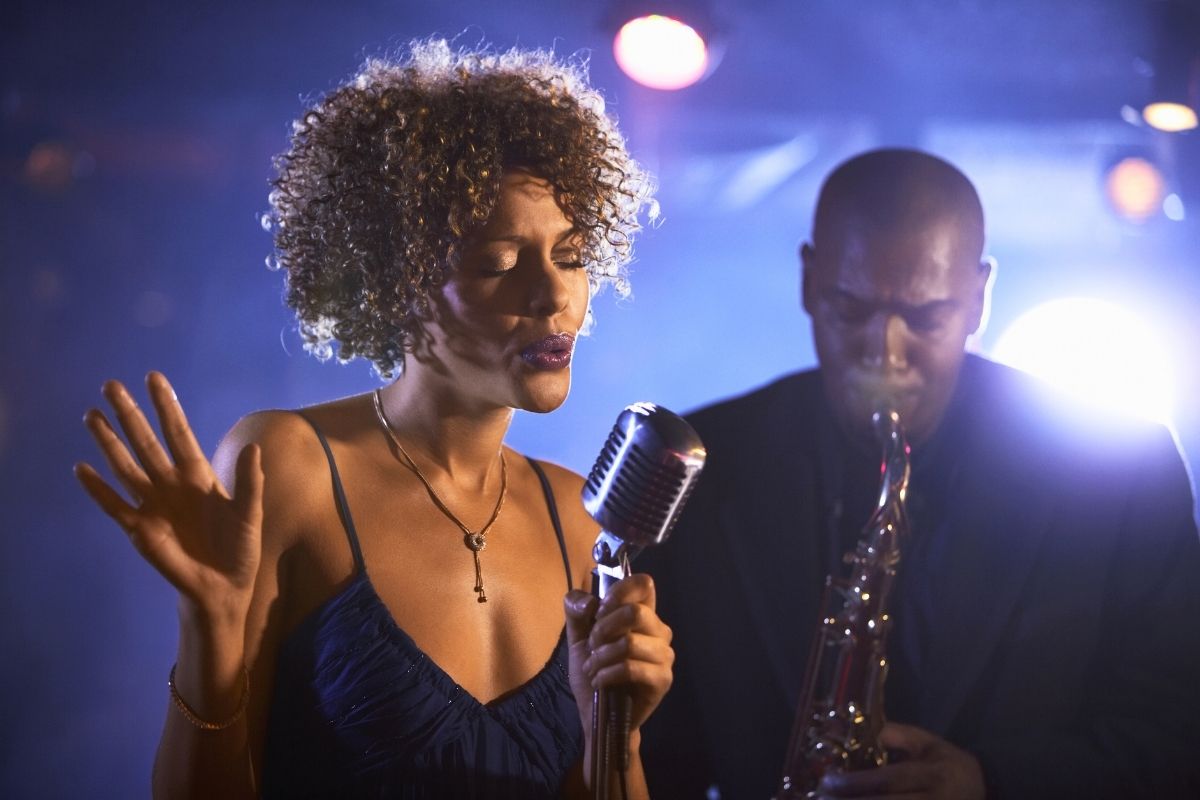 Filled with experimental music and classy settings, the city's Best Jazz clubs provide some sophisticated refuges all over town.
Enjoy the intimate setting and worldly influences of Pizza Express Jazz Club, or check out the excellent nightly lineup of 606 Club.
And at Ronnie Scott's Jazz Club, you can enjoy legendary acts in one of the world's oldest and most distinguished venues for the genre.
There are even jazz tours if you want to further dive into the heart of coolness!
23 – Indulge in Supperclub dining on a tube train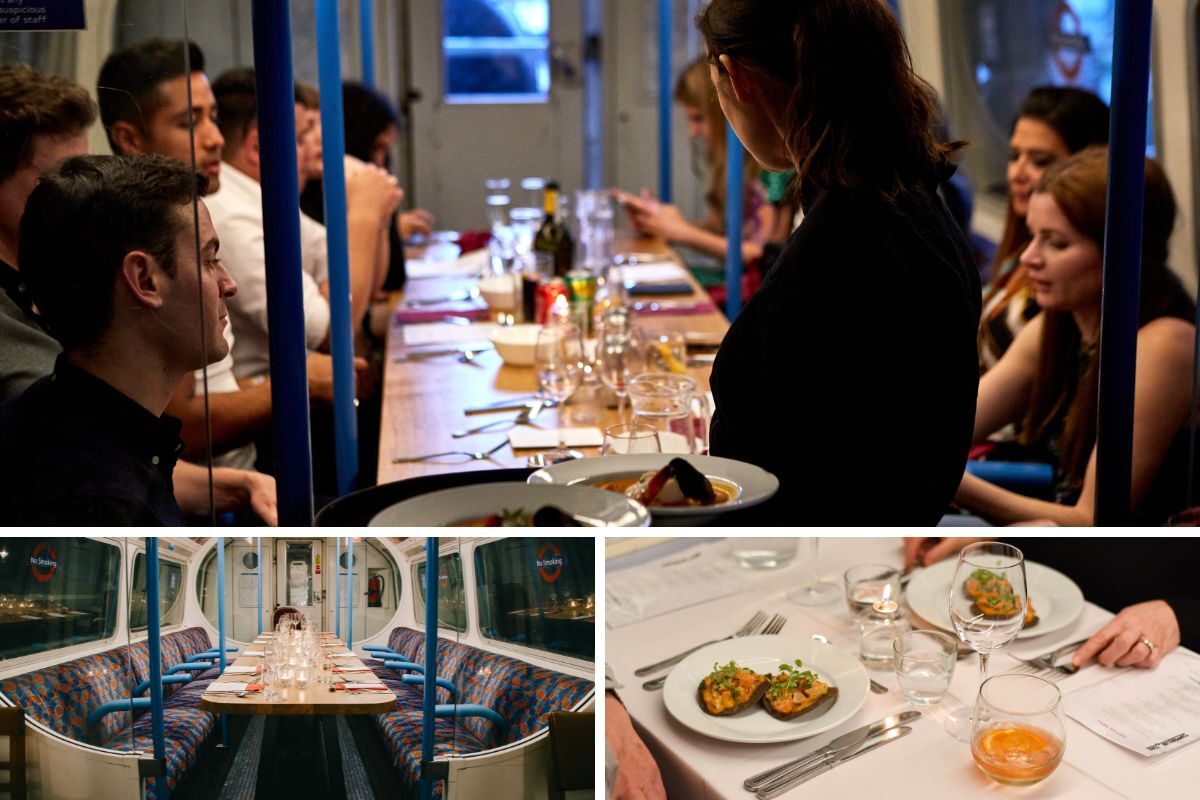 Sure, you've probably hopped aboard the Tube a couple of times during your visit… but how about enjoying a multi-course meal while you're there?
Supperclub provides a lavish dining experience inspired by various Latin American cuisines, with the gorgeous setting of a restored 1967 train car adding some extra elegance.
Settle in and enjoy a tribute to the elegant age of rail!
24 – Relax at the best rooftop bars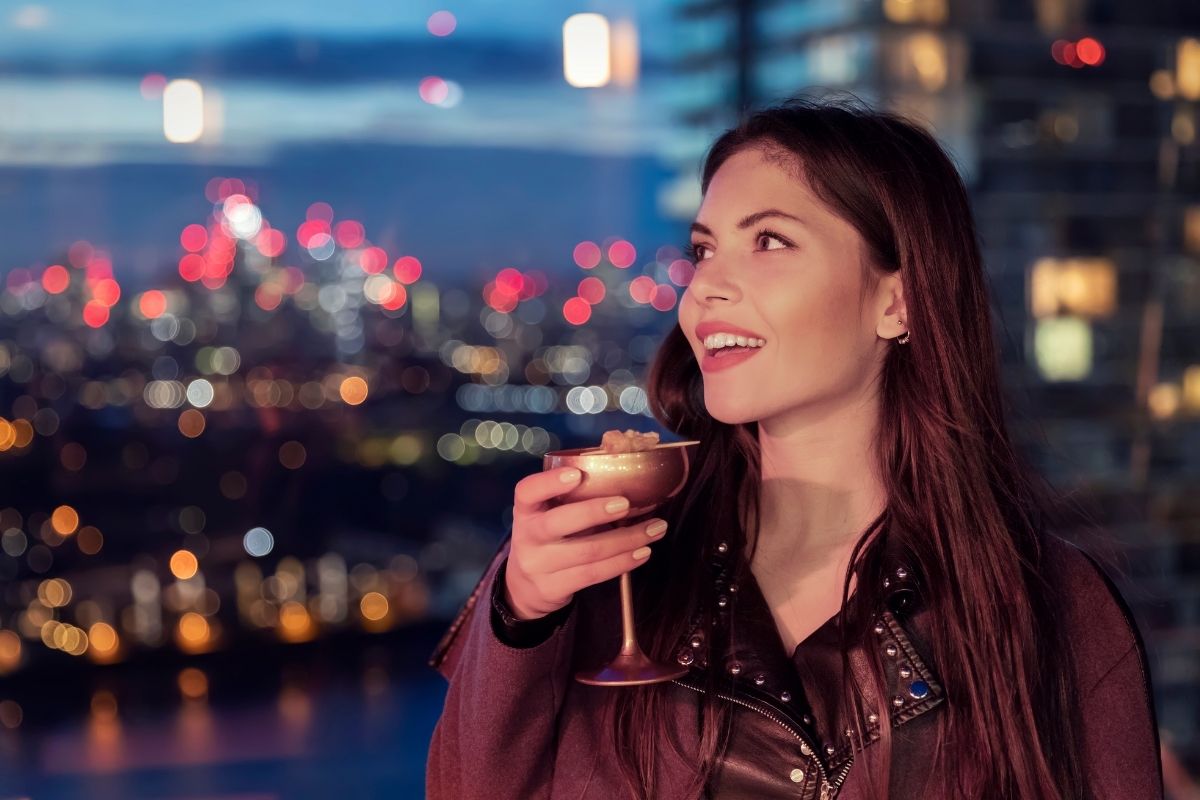 With great sights and beverages to match, the town's best rooftop bars provide a great place for a nightcap – or to start off a raucous evening!
Enjoy bao buns and cocktails at The Standard London, unique cuisine and lovely scenery at Sushisamba Bar, the elevated glamor of Aviary Rooftop, or the contemporary menus and fine draught beers of Frank's Cafe.
This is one way to really get a feel for the high life… literally and figuratively!
25 – Stroll through the lush Sky Garden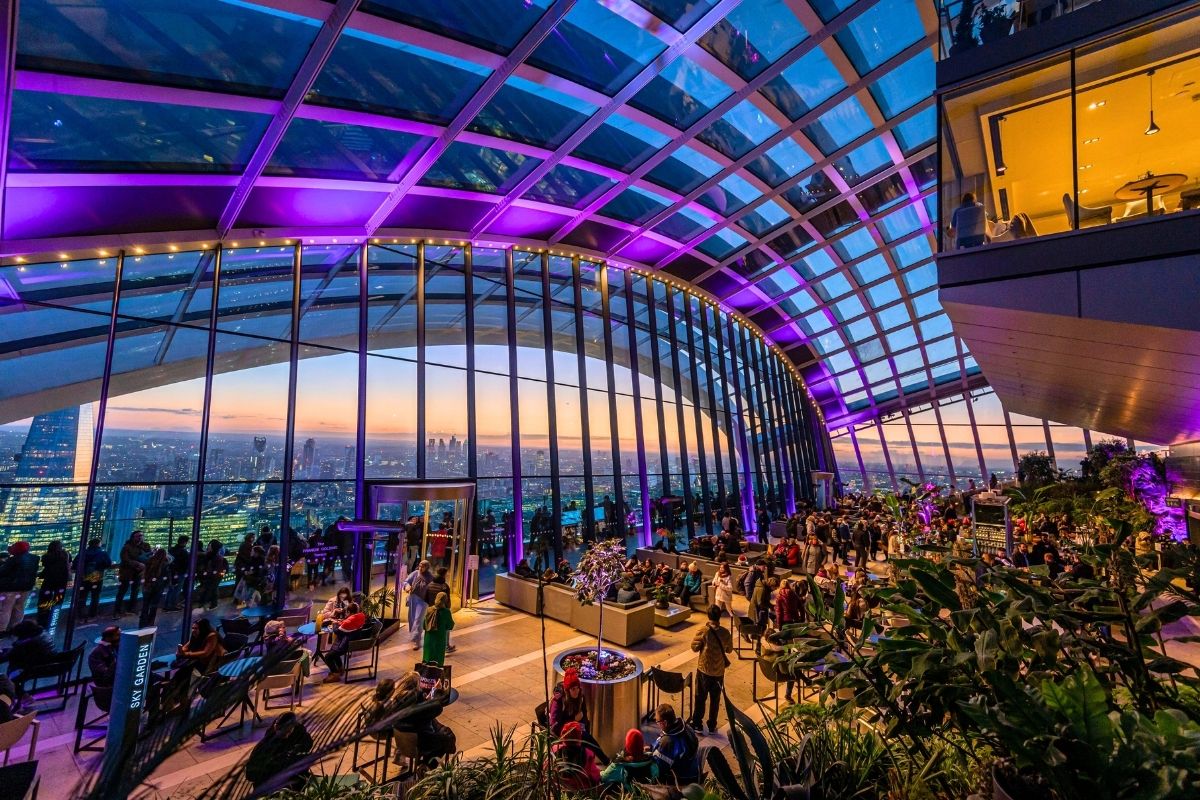 When you wander through the little forests of the Sky Garden, you may almost forget that you're 160 meters (525 feet) in the air!
But the beauty of this remarkable space is in the way that it blends natural beauty with the cosmopolitan feel of the city, offering views of the skyline through the sweet-smelling flowers and exotic plants.
It's truly a world unto itself – albeit one with some of the finest contemporary restaurants and bars right next door!
26 – Explore the best dart bars in London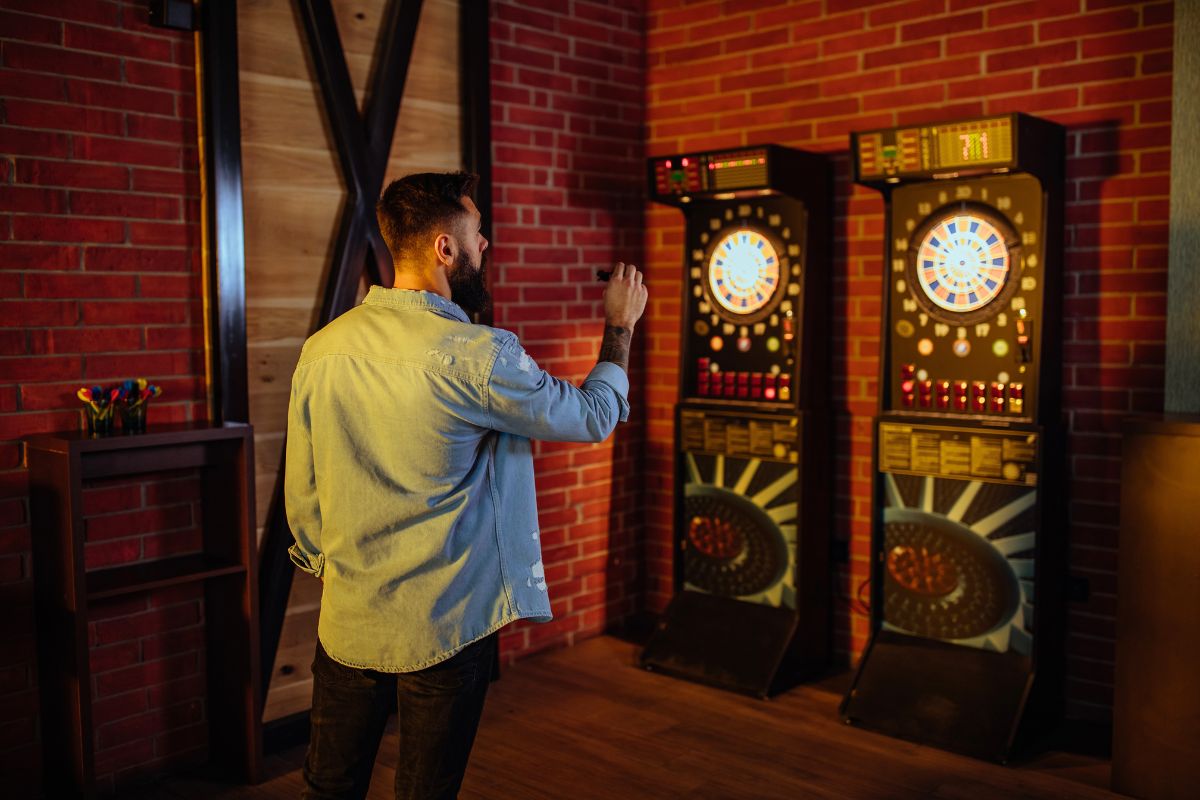 Set your sights on the bullseye… it's time to hit up some of the best dart bars!
With hotspots like The Three Compasses, Flight Club, and Sports Bar & Grill offering a great pub atmosphere and plenty of targets to practice on, this classic bar sport is one of the most entertaining things to do in London at night… no prior experience necessary!
27 – Roam Soho, where nightlife meets novelty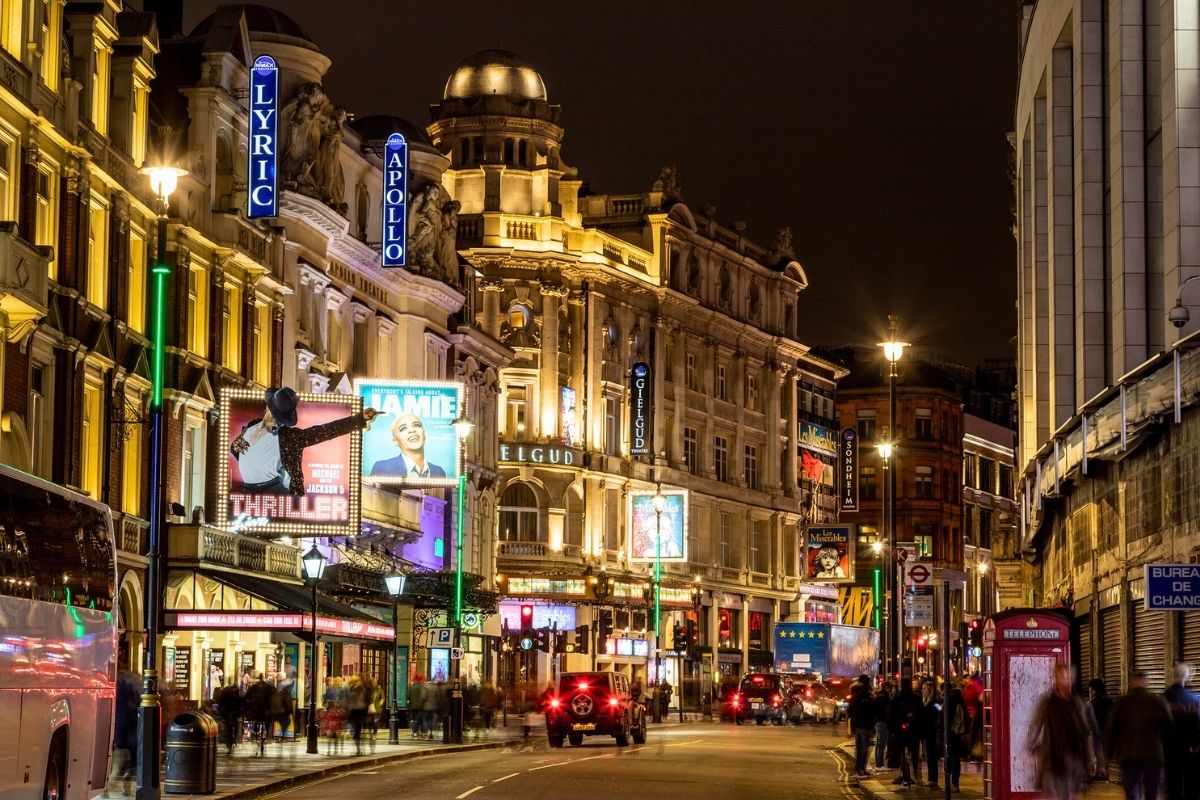 Long known for its hedonistic streak – after all, this was once home to the city's red light district -,  this is the perfect neighborhood to eat, drink, and be merry!
Of course, you can happily make your way around the best bars in Soho, including the low-key cocktail bar SOMA and the excellent selection of Bar Termini.
But there are some fantastic spots to grab a bite as well, such as the French Art Deco charmer Brasserie Zédel; and they make the perfect pairing with the delicious local food tours!
28 – Take your tour to the next level with Bustronome London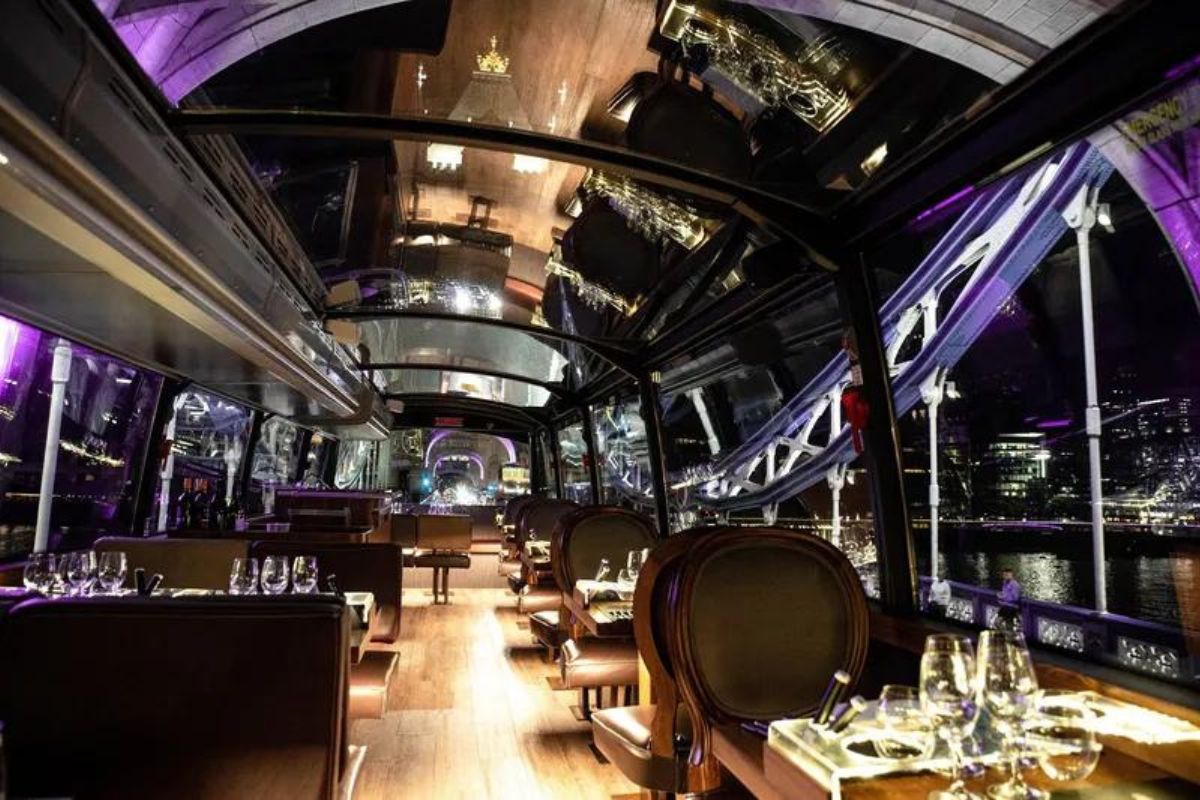 Fine dining and double-decker buses… it's an unbeatable pairing!
At Bustronome London, you'll be ferried around the city in an upscale version of the classic vehicles, all while enjoying a meal created by acclaimed culinary artists.
You'll get to know the sights and tastes of town in style as you roll around!
29 –  Get major giggles at the best stand up Comedy shows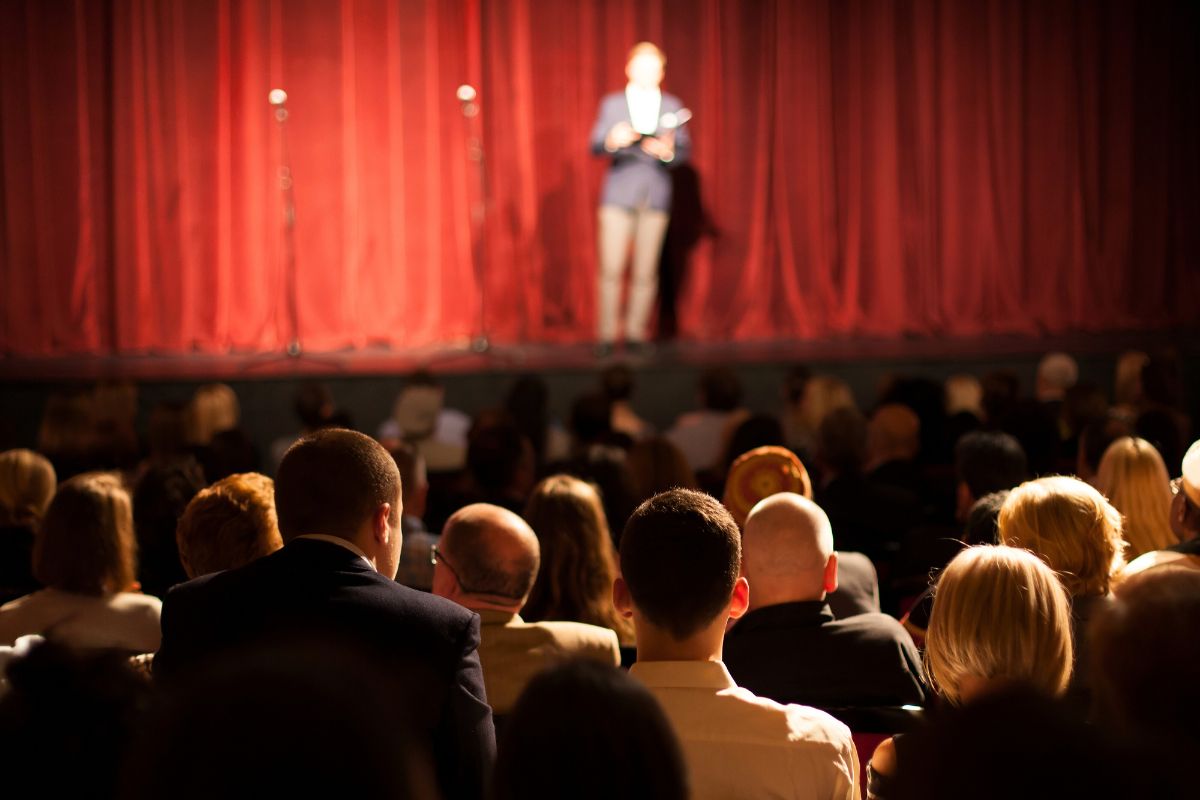 A popular evening excursion across the world, the capital's Best Comedy Clubs are sure to tickle your funny bone!
Enjoy the unique line-ups at Live At The Chapel, the boisterous nightly shows of Angel Comedy Club, or the mix of established acts and newcomers (plus improv and sketch comedy) at Camden Comedy Club; you never know what sort of talent you'll see here!
30 – Test your athletic skills at Sixes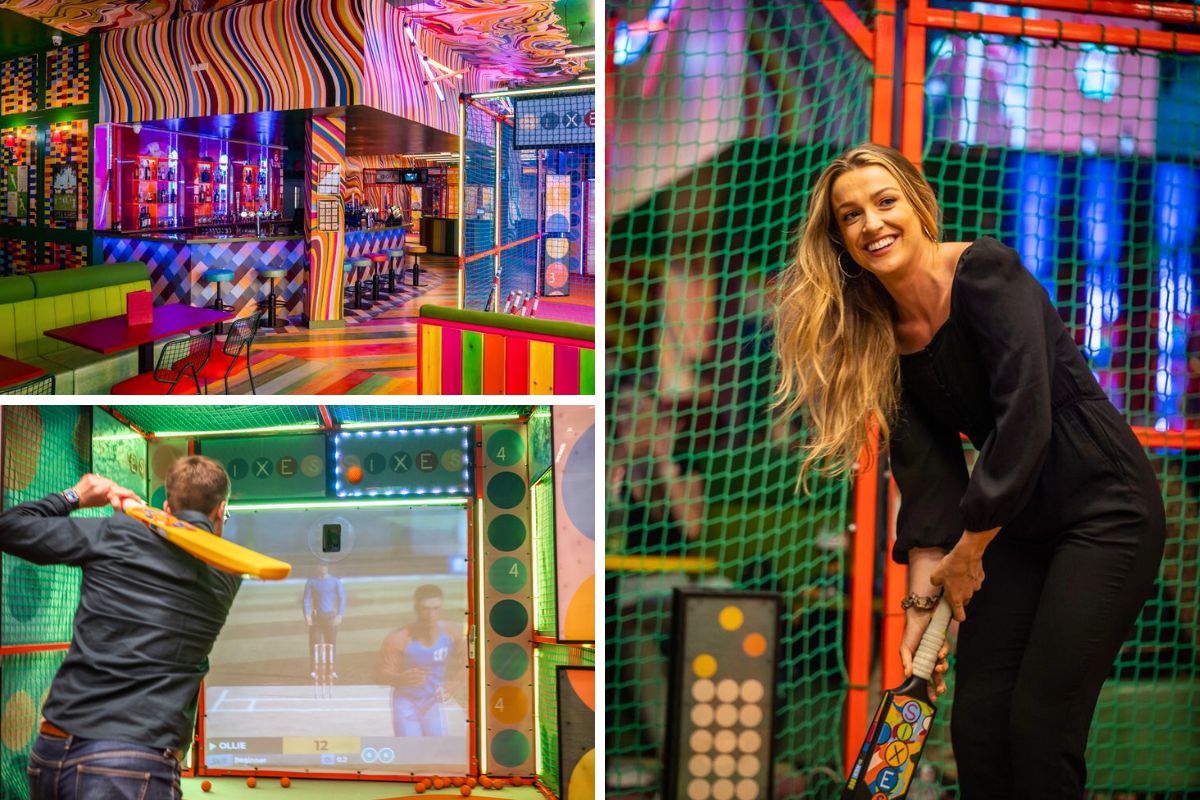 Bringing the classic game of cricket to the masses, Sixes gives you the chance to try out the sport in an accessible, entertaining format.
State-of-the-art technology, competitive batting cages, and a lively setting make this the perfect spot to try out the classic British game… and you may even want to head out to a pitch and try the real thing!
31 – Wander through the illuminated world of God's Own Junkyard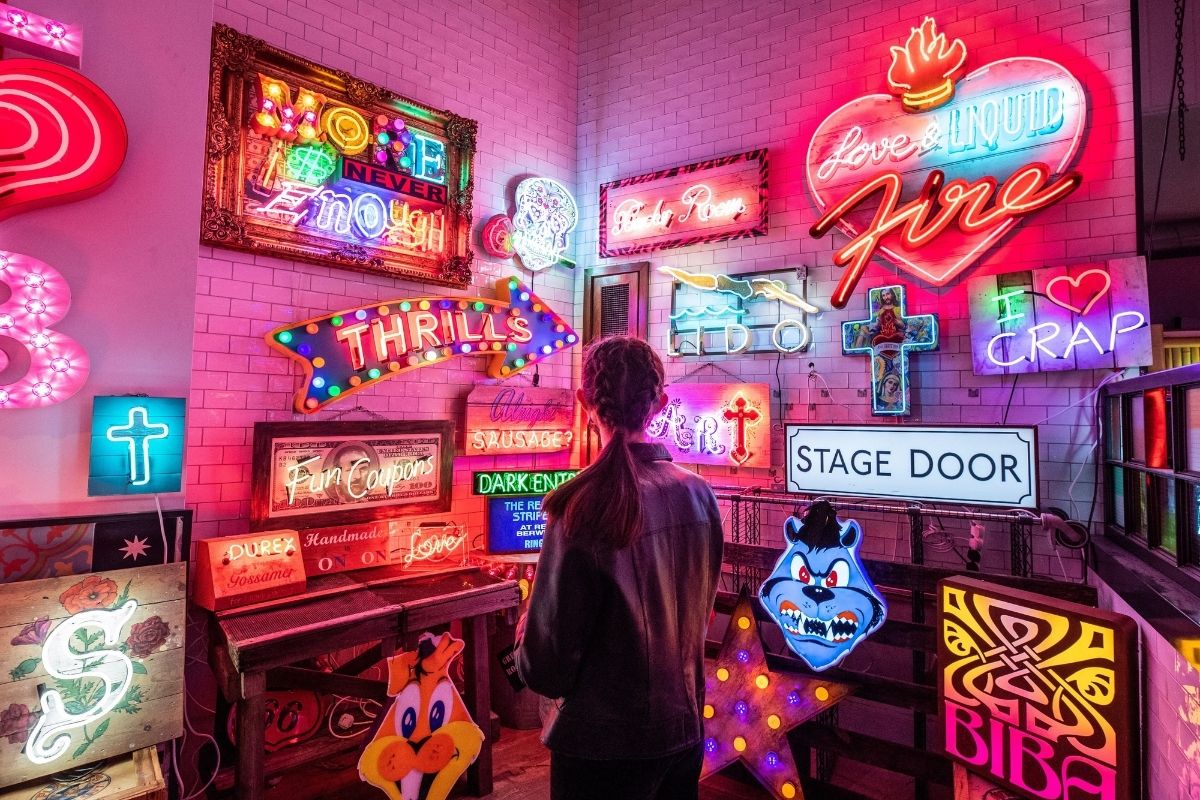 With its bright, brilliant collections filling every corner, the neon paradise of God's Own Junkyard – created by an artist who specialized in the form – will have you seeing these classic signs in a whole new way!
Admire the many fascinating aspects of the form, from ads to movie props and beyond, and see the beauty that can be rendered in these shining tubes!
32 – Hang out at the best bowling alleys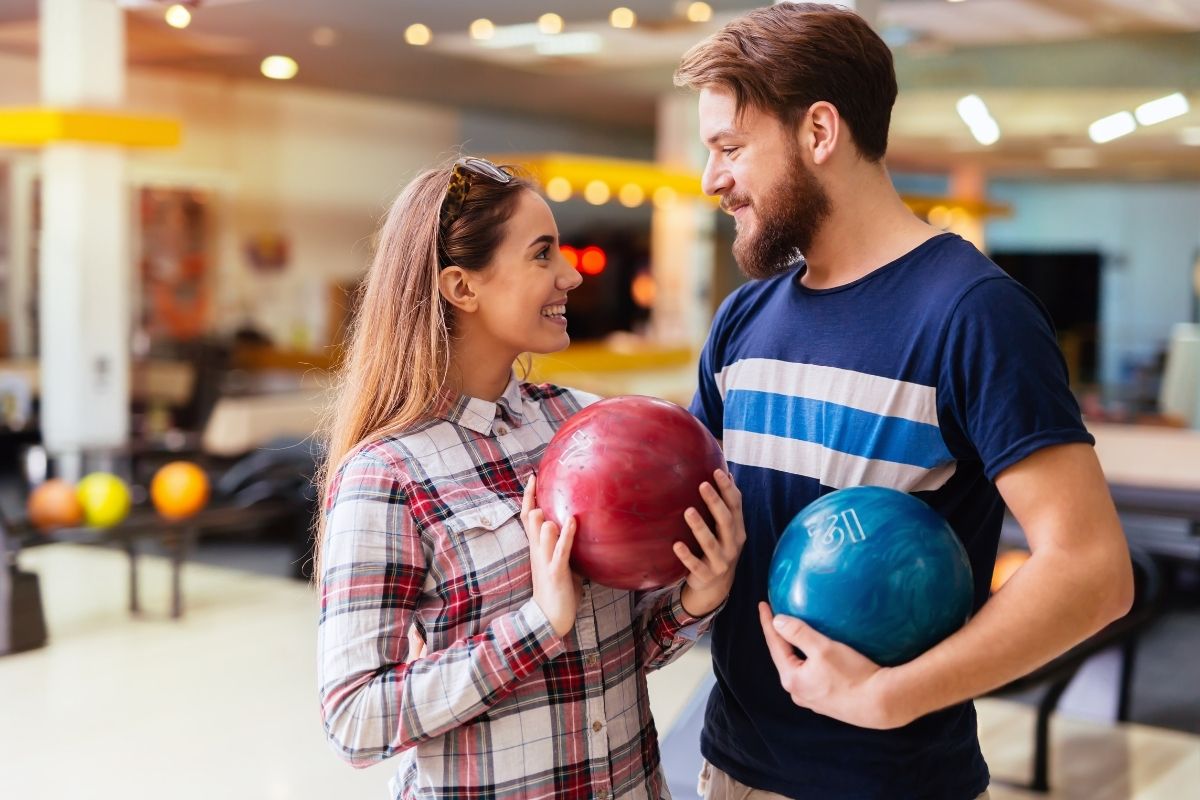 Whether you roll strikes or spares, the best bowling alleys in town will give you plenty of ways to spend a fun evening!
Enjoy 50s-style fun at Rowans Tenpin Bowl, the spacious offerings at Bloomsbury Lanes, or the American-themed revelry at All Star Lanes.
And with tons of additional amenities – from cocktails and burgers to arcades and karaoke -, there's plenty to do at these spots in between rounds!
33 – Watch a cabaret or burlesque show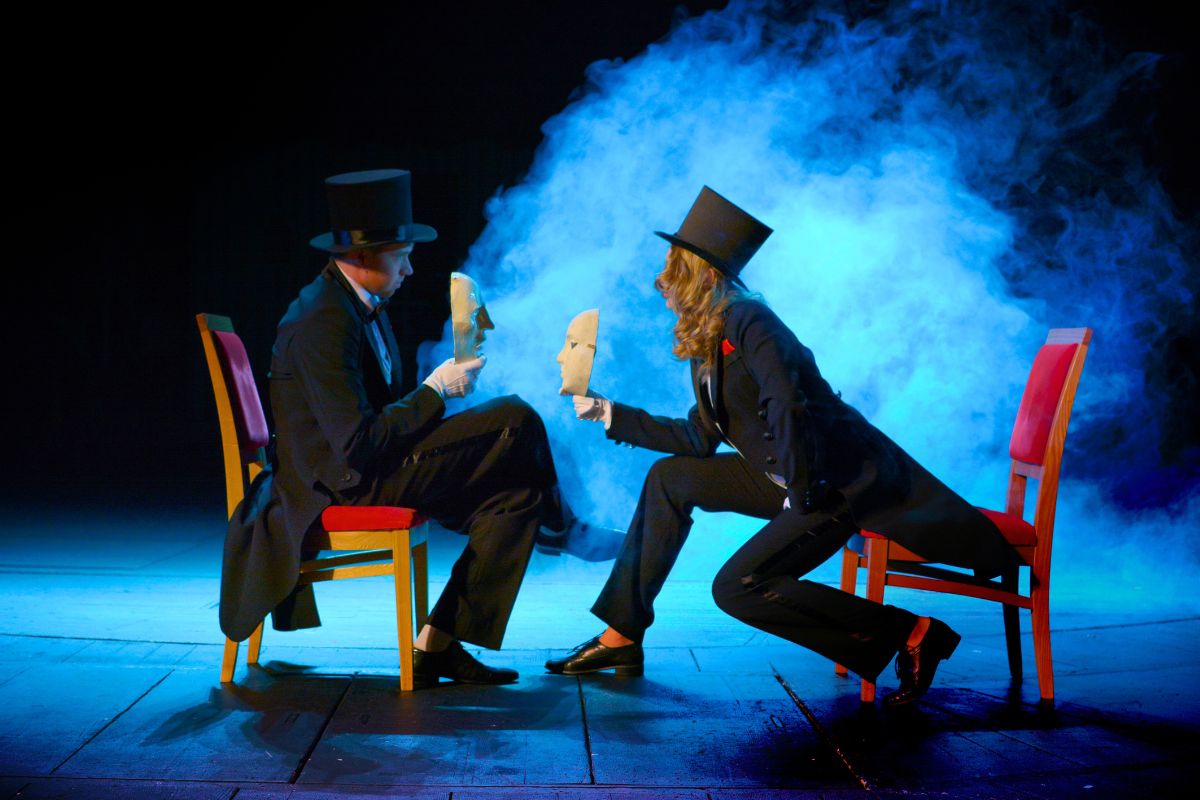 Creative, action-packed, and just a little raunchy… you're guaranteed great entertainment at the best cabaret & burlesque shows the capital has to offer!
Check out the mixed genres and top-tier dancing of CabaRIOT, the creative extravaganza of The Phoenix Arts Club, or enjoy dinner and a show at The Windmill Soho.
Each performance gives off its own unique style – and they all offer an unforgettable taste of London's wilder side!
34 – Navigate the best escape rooms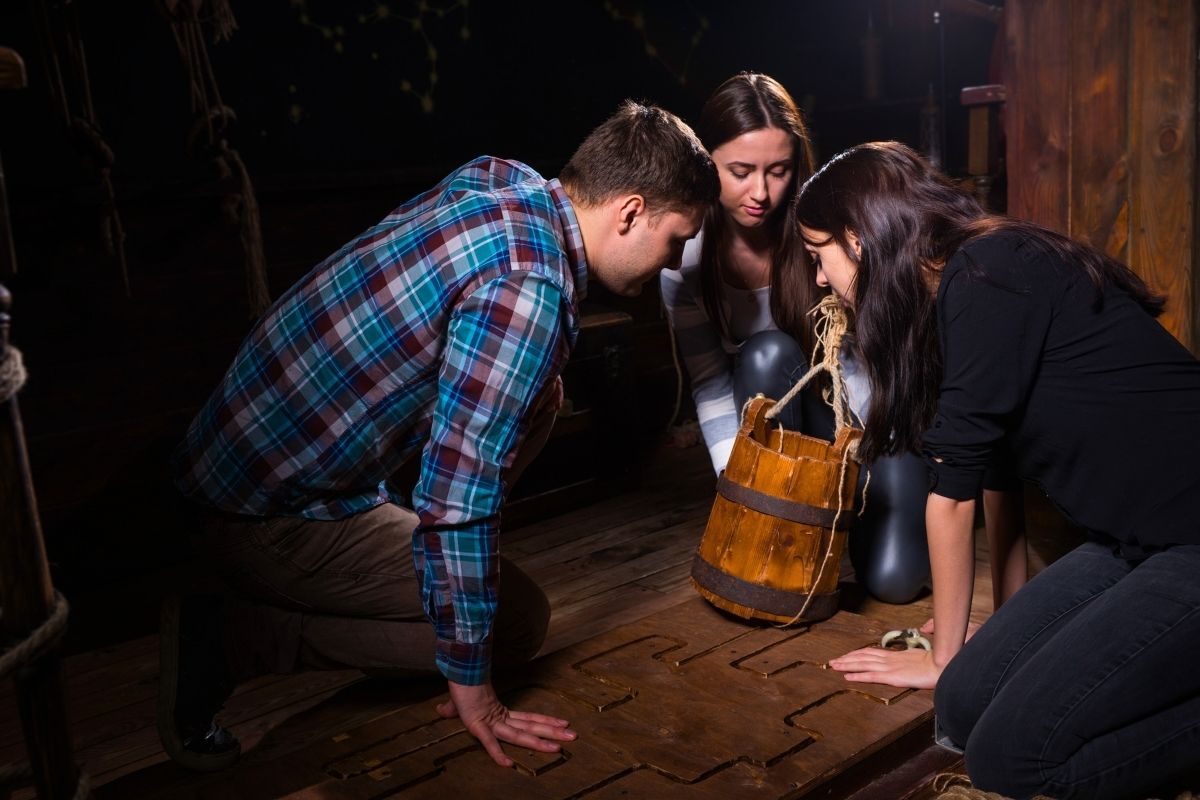 When it's time to take an exciting break from reality, grab your family and friends and explore the best escape rooms in London!
From the urban scavenger hunts of CityDays to the Victorian intrigue of Moriarty's Game, these interactive indoor activities will challenge your logic and puzzle-cracking skills… and they'll help you see the city in a whole new way!
35 – Feel like a bird with a trip on IFS Cloud Royal Docks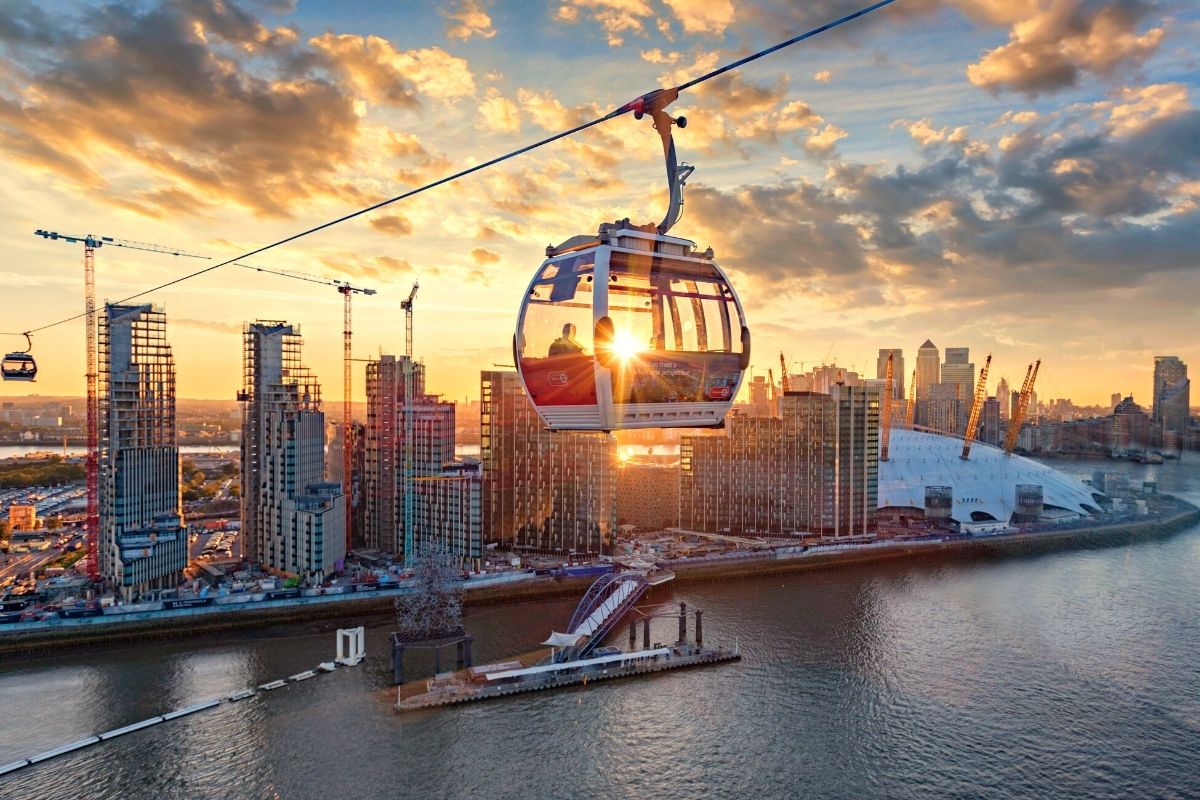 True to their name, the charming cable cars at IFS Cloud Royal Docks will send you on a thrilling flight over the city… one that's even more enchanting when it's all lit up!
Gradually lift 90 meters (295 feet) above the ground, watching the world go by below and around you.
As you soar over the river, Queen Elizabeth Olympic Park, and St. Paul's Cathedral, you can enjoy a breathtaking version of the city gently twinkling below you… it's utterly enchanting!
36 – Chow down at Duck & Waffle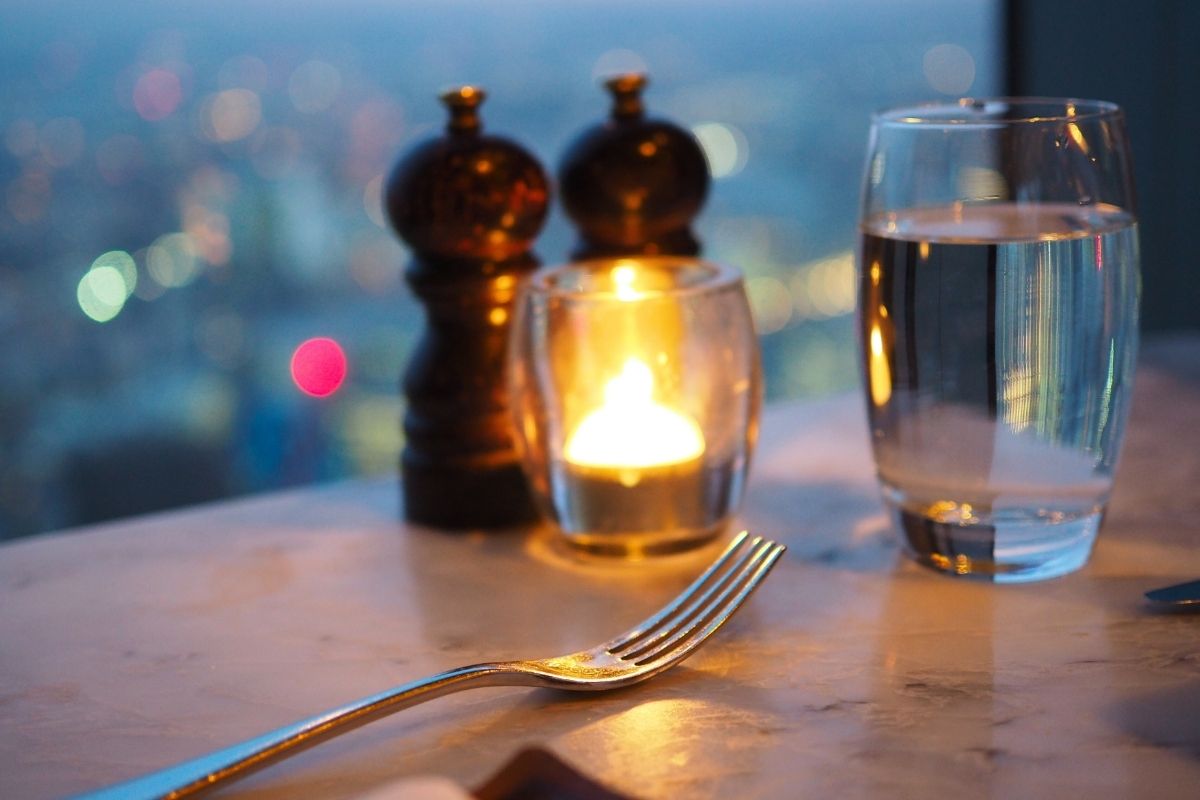 Perfectly positioned in the majestic Bishopsgate building, Duck & Waffle is the perfect place for a stylish evening bite.
Enjoy great views of the city as you nibble on various treats, including beef tartare, foie gras, and the sweet and savory dish from which the restaurant gets its name.
Order a few plates and sample the different delights!
37 – Unleash your curiosity with Science museum Lates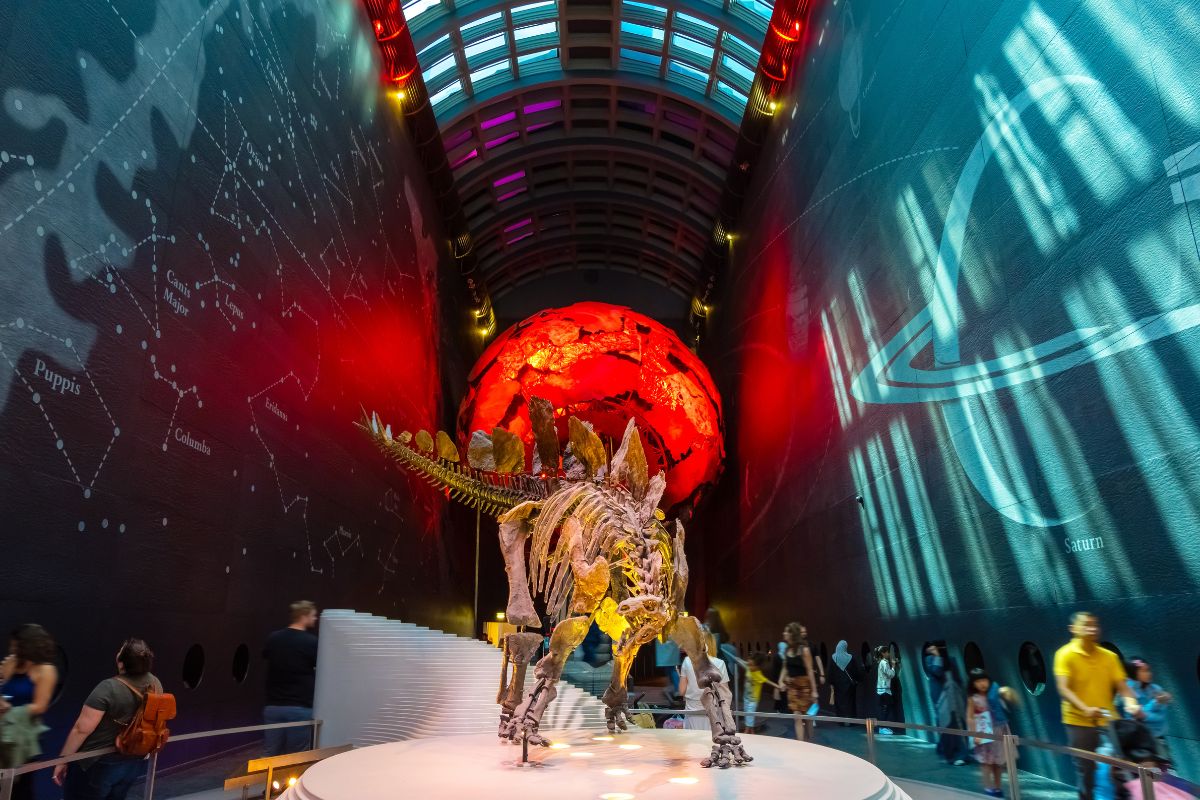 While this institution is already considered one of the best places to visit in London, it becomes even more exciting after dark!
Aimed squarely at adults, the Science Museum Lates series provides a fun twist on the typical experience, with special presentations, live experiments, and the chance to roam around the awe-inspiring galleries without the usual crowds.
You'll feel like a kid again as you explore!
38 – Glide into the night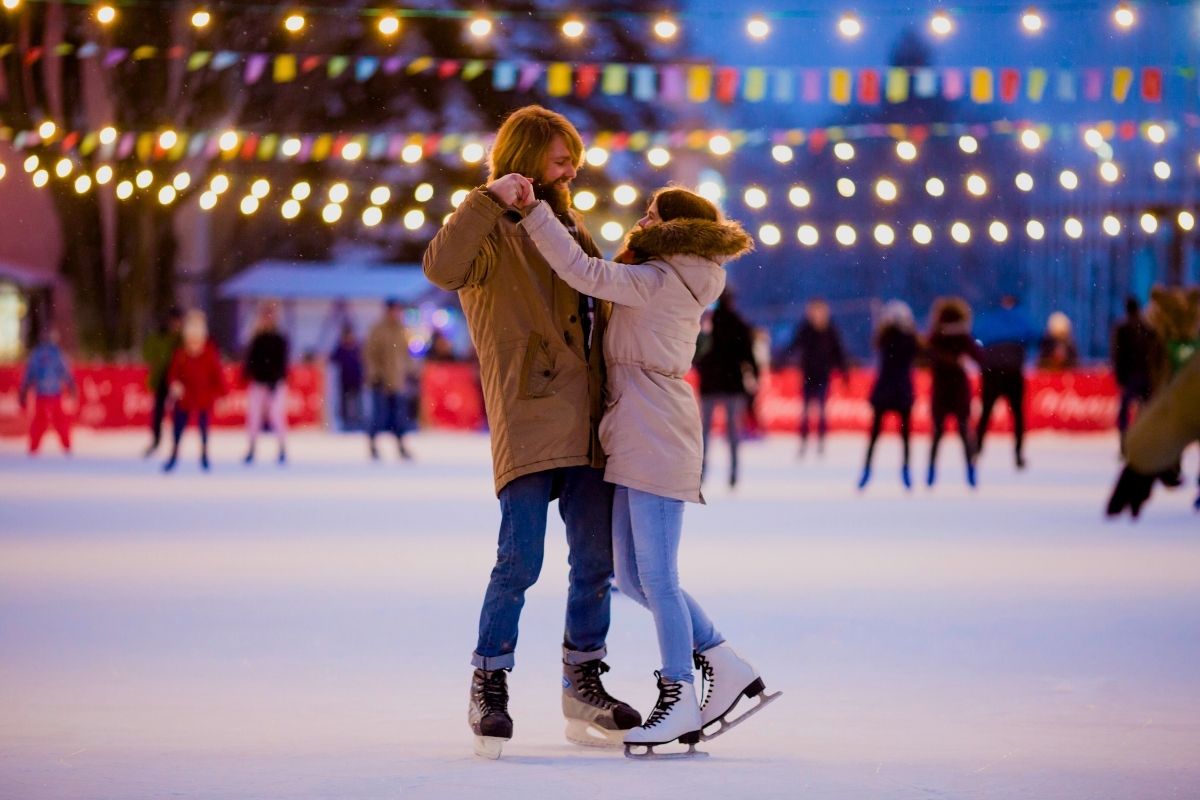 No matter the season, you can spend your evening sampling some wintry fun as you sample the  Best Ice Skating that the city has to offer!
Head to Queens Skate Dine Bowl to check out the lively, accessible atmosphere, or pop over to Streatham Ice and Leisure for some lessons before trying out their amazing setup.
For family-friendly outings, romantic evenings, or just a fun gathering with friends, there's no place quite like the rink!
39 – Explore the many museums & galleries open at night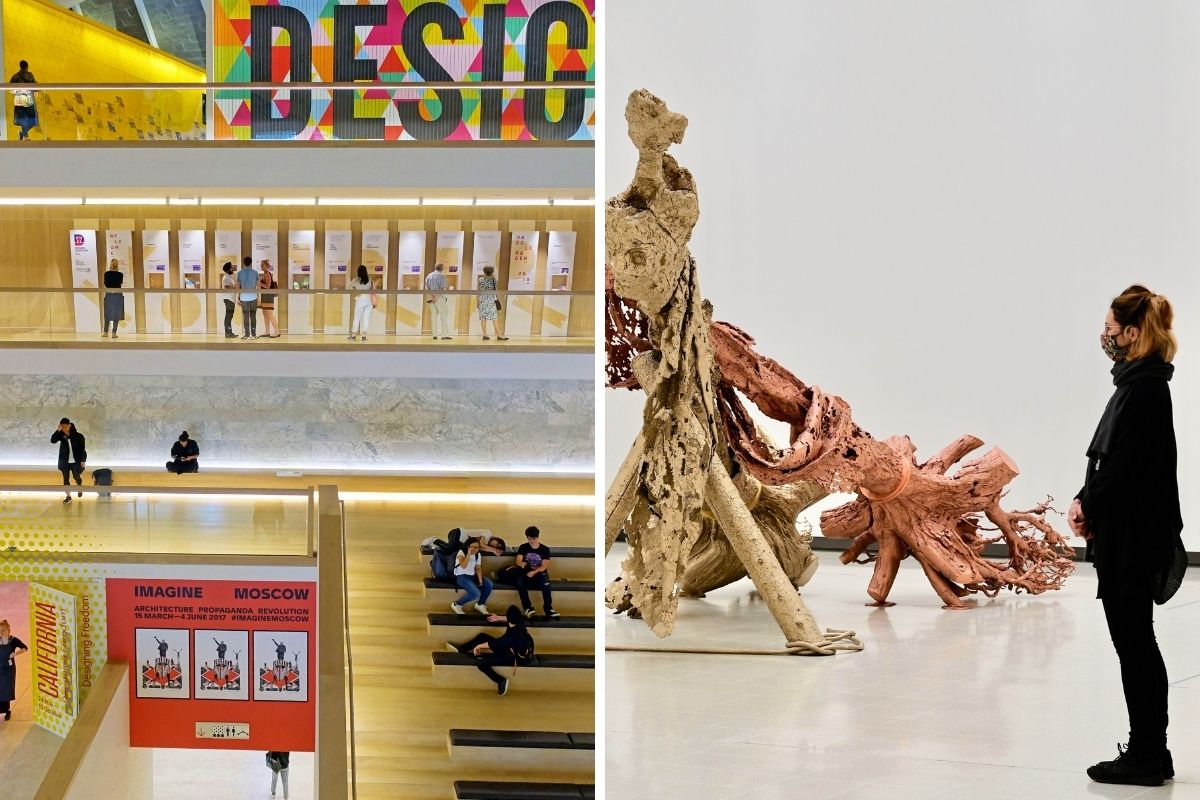 While cultural institutions are generally thought of as daytime endeavors, several of the city's finest offerings have special later hours to allow you to enjoy even more of the offerings.
On Wednesdays, you can enjoy the South London Gallery until 9 pm; On Thursdays, Whitechapel Gallery stays open until 9 pm; and on Fridays, the Royal Academy of Arts stays open until, you guessed it, 9 pm!
And if you're out exploring on a Saturday, you get a double-header: the Hayward Gallery is open until 8 pm, and the Design Museum is open until 9 pm.
Come enjoy these iconic sites without the usual hustle and bustle!
40 – Choose your own bootleg adventure with Alcotraz London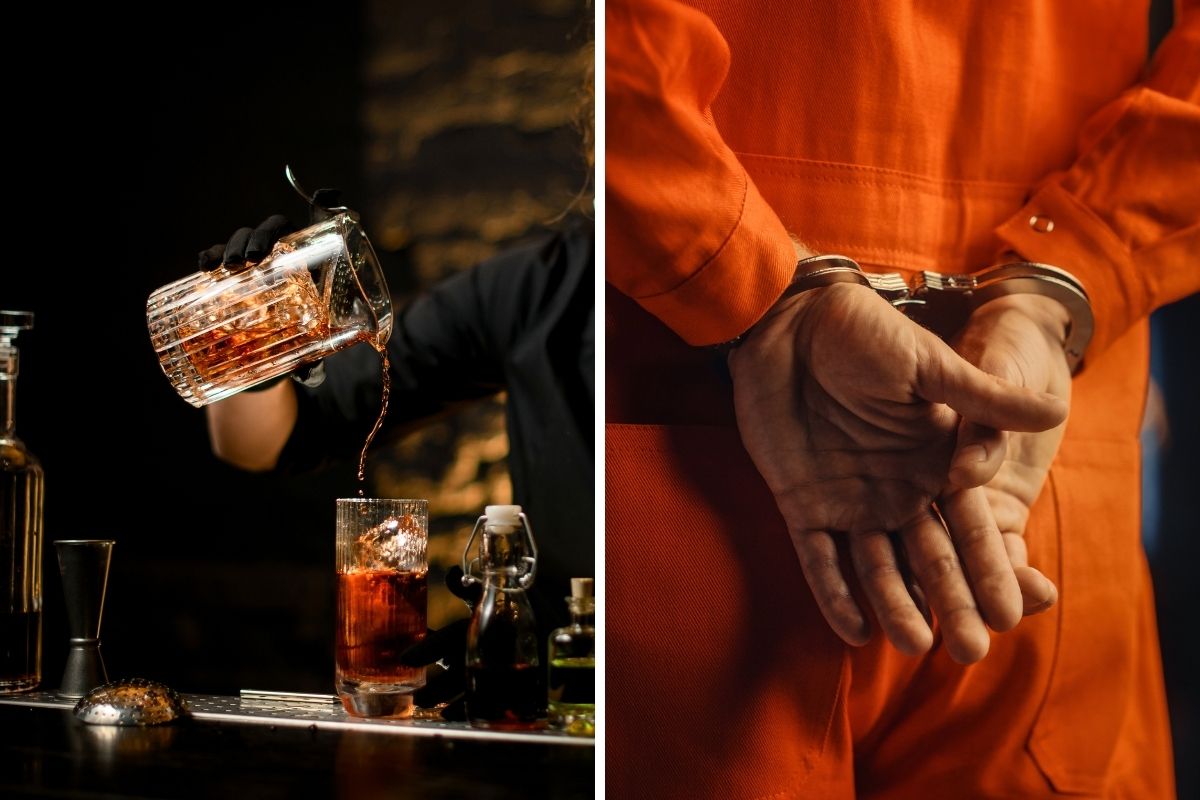 Combining BYOB fun with unique immersive entertainment, Alcotraz London takes you into the world of Prohibition – and hopefully out again!
Your role is as an inmate in the infamous Alcatraz prison, where you have to sneak your drink into your cell – and then use it to start your own bootlegging adventure on the inside!
With numerous options to choose from, you can create your own unforgettable experience, where you're not just the actor and the audience… you're the bartender!
41 – Take a loop on the London Eye
Not only is this magnificent Ferris Wheel one of the Best tourist attractions in London, but it's also a pretty exciting adventure!
After all, it isn't every day that you can take a leisurely ride up into the air and slowly back down again, with great views all the way courtesy of your massive windows.
And you can even save some time by booking your London Eye tickets ahead of time!
See also: Learn how to book cheap London Eye tickets
42 – Admire the best opera shows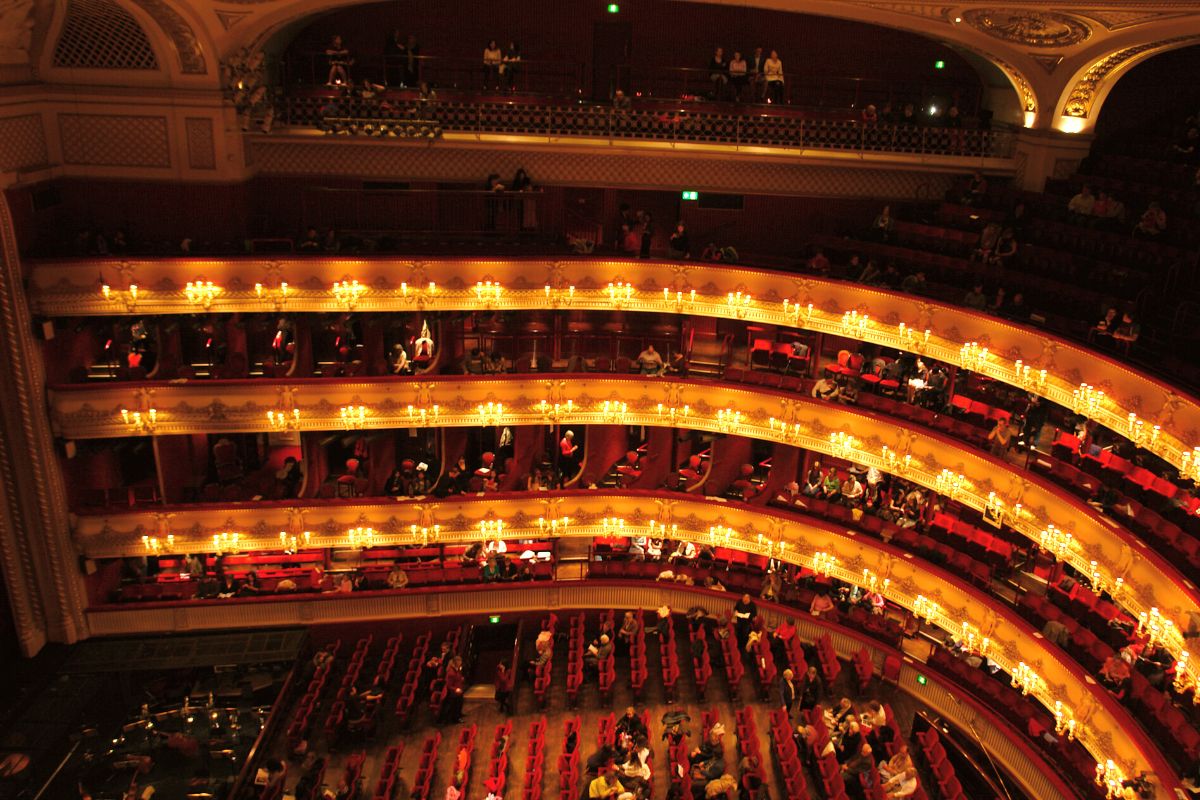 Whether you're enjoying the opulence of the Royal Opera House or the power of the London Coliseum, you'll always have a good spot in town to catch a performance!
These large, stately venues offer phenomenal acoustics, and of course, the productions themselves are stupendous, with globally renowned performers at the helm.
Check out the best opera shows before you go, and snag some tickets for a bit of world-class talent!
43 – See a new side of the Victoria and Albert museum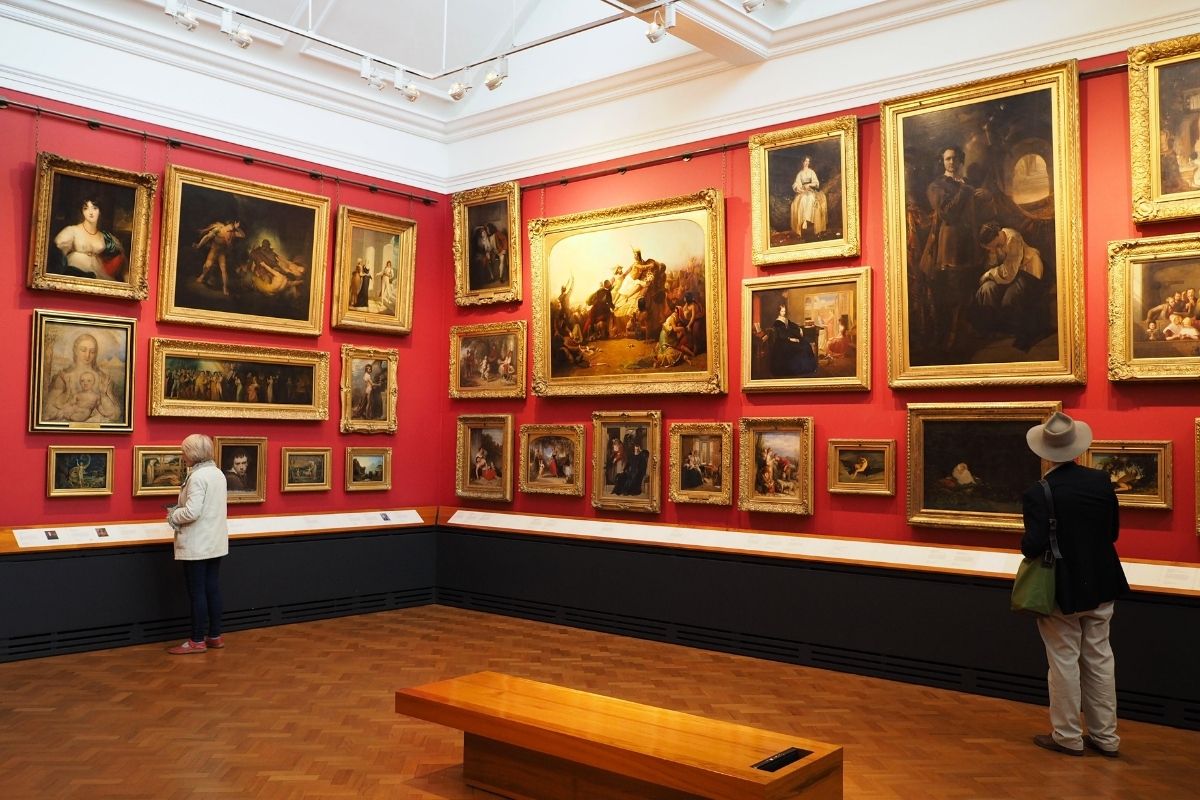 This museum has long been a home for cool designs and fascinating exhibits, but it also has one of the coolest parties in town!
Victoria and Albert is home to Friday Late, a wild, wonderful night party held on the last Friday of every month.
Admission is free, and whether you're enjoying DJs or spirited debates on current events, there's always some exciting new slice of local culture to enjoy!
44 – Spend an unforgettable night at the London Zoo's Lion Lodge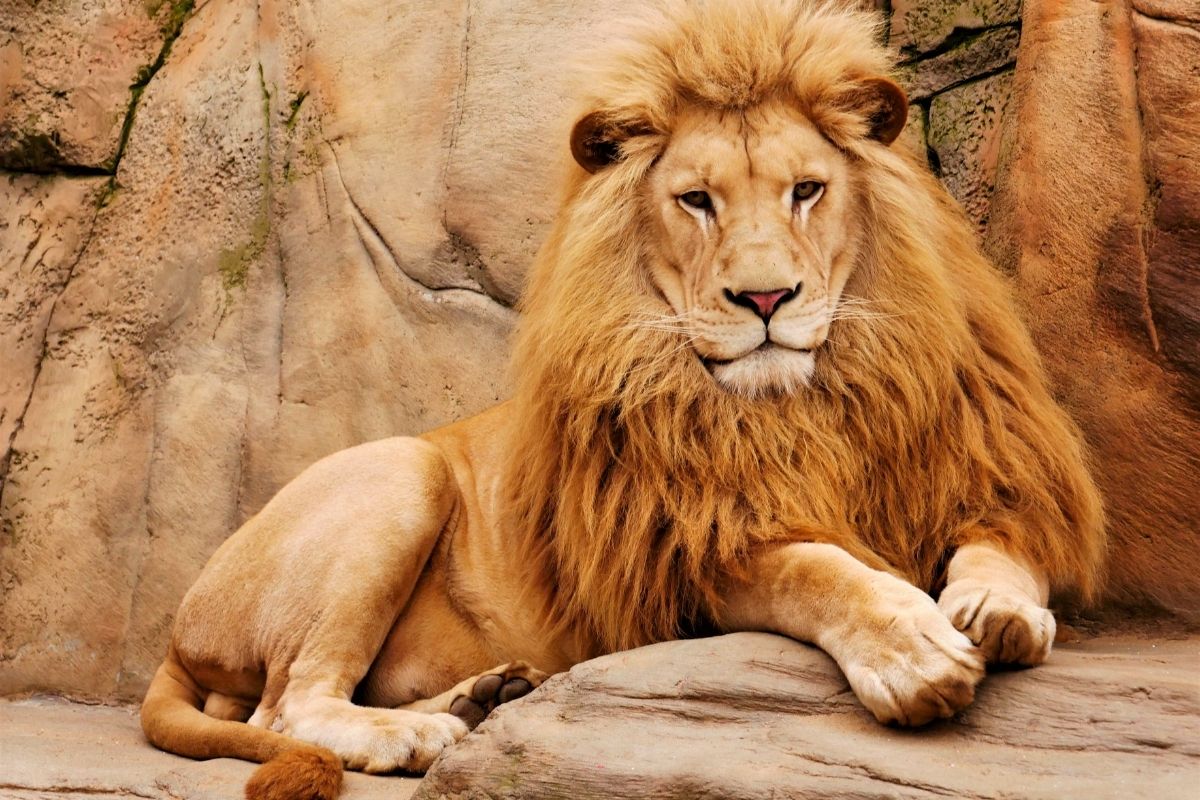 Dreaming of a safari experience in the heart of the city?
Then why not book a stay at Lion Lodge, and do your dreaming next to actual animals?
Smack dab in the middle of the zoo, this private accommodation offers rhe chance to experience the nocturnal side of the wildlife, without skimping on amenities.
It's certainly one of the wildest things to do in London at night!
45 – Discover the wonderful offerings of Chinatown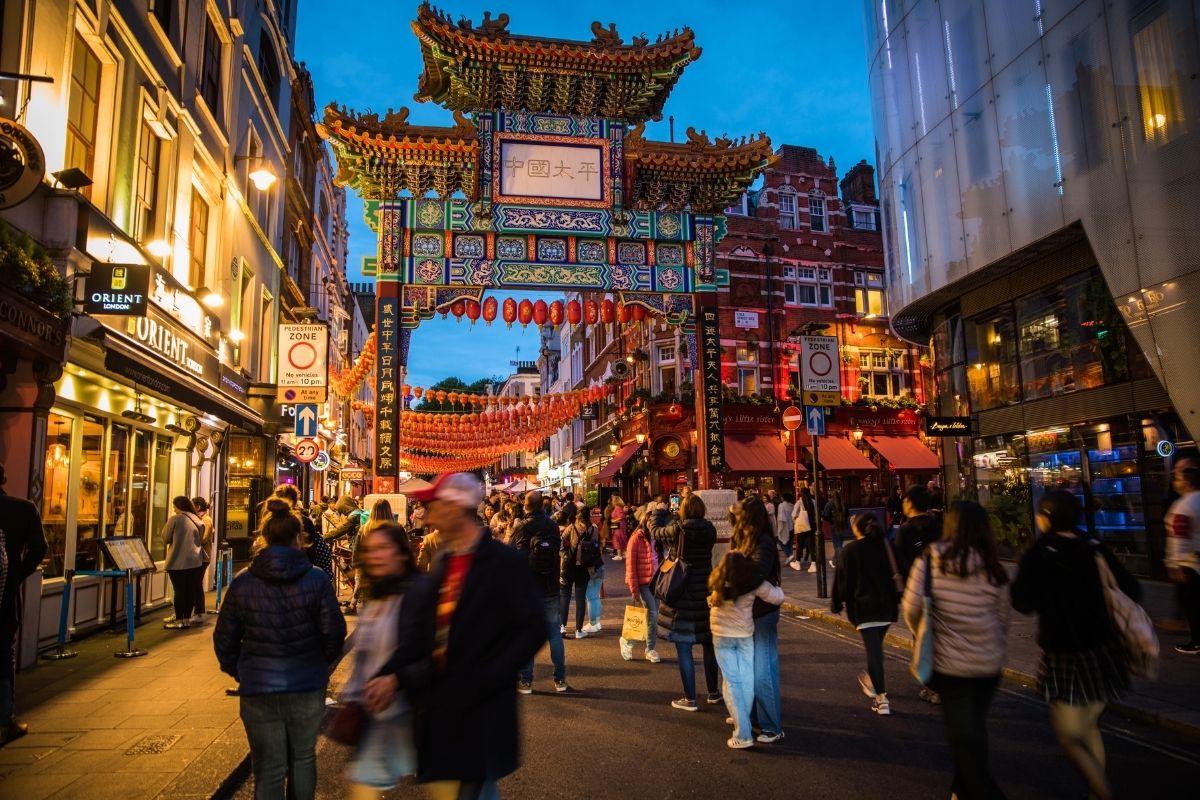 For over 50 years, this vibrant neighborhood has been one of the city's most distinguished… and most interesting!
Adjacent to the Westminster neighborhood, the area is bustling with authentic shops and restaurants, all part of a vibrant community that flourished in the wake of World War II.
Whether you're exploring with food tours or just roaming around, it's a dynamic place to enjoy an evening!
46 – Journey to new universes with the best VR experiences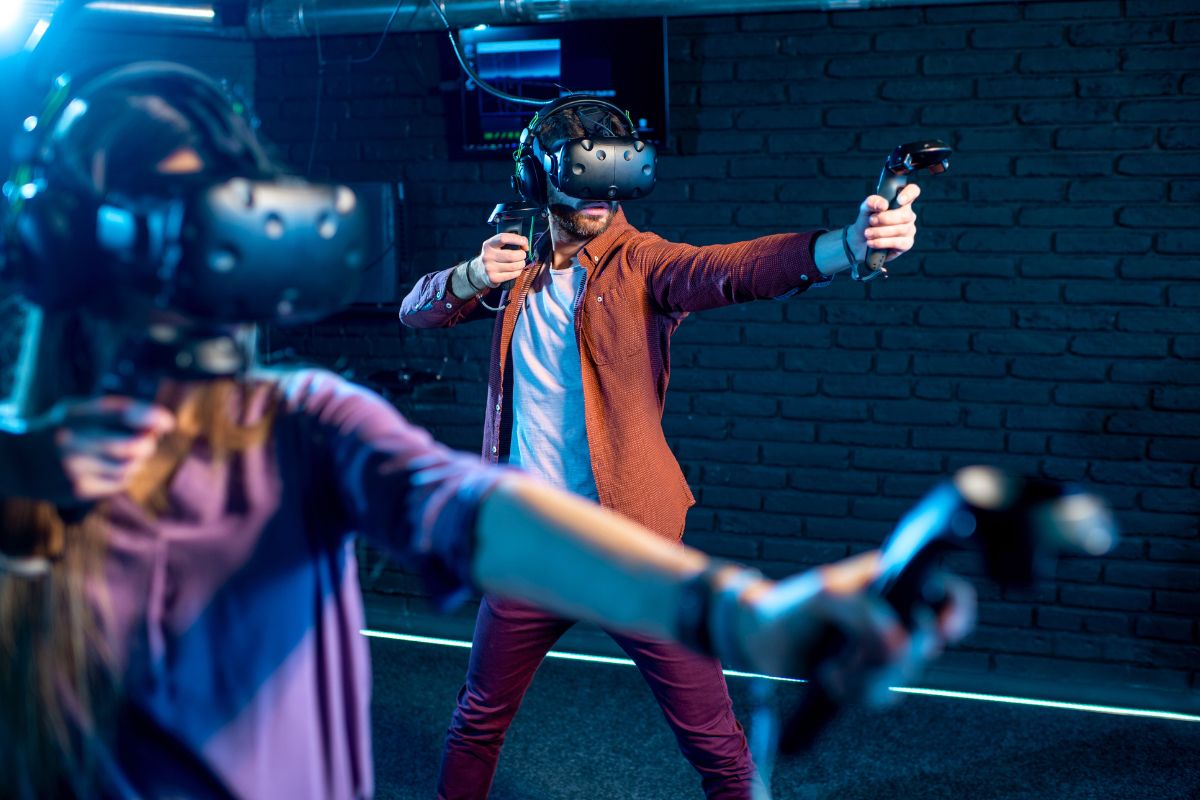 Leave the here and now and enter your own video game… it's time to try the best VR experiences in London!
From the shooting games of MeetSpace VR to the altenrate worlds of Immotion VR and the wacky shenanigans of Immersive Gamebox, you'll be amazed at the possibilities when you strap on a simple headset!
47 – Take in a program at the Barbican Centre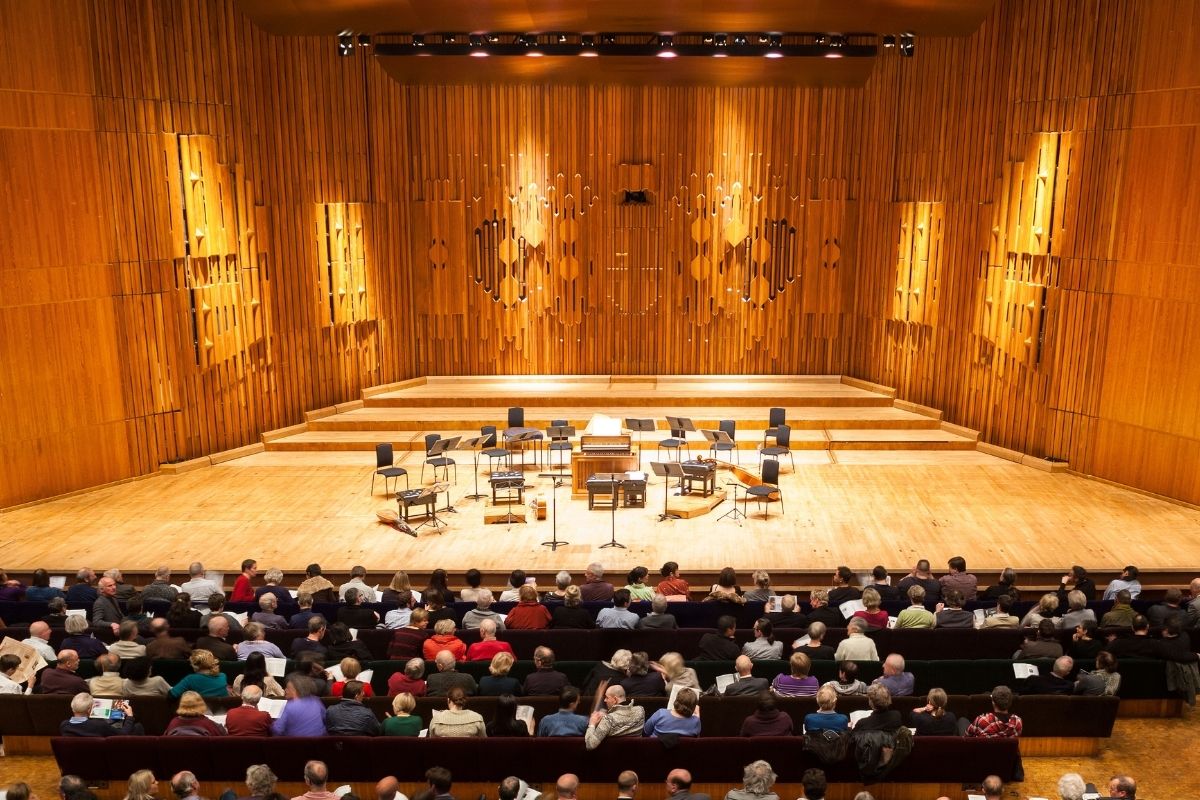 Home to all manner of arts and shows since 1982, the Barbican Centre is a beloved staple for locals and visitors alike.
Dance recitals, live concerts, and movie screenings are just some of the endless treasures that you might encounter here, all housed in the beautiful venue that is part of the experience itself.
If it's at the Barbican, it must be good!
48 – Wander through the best markets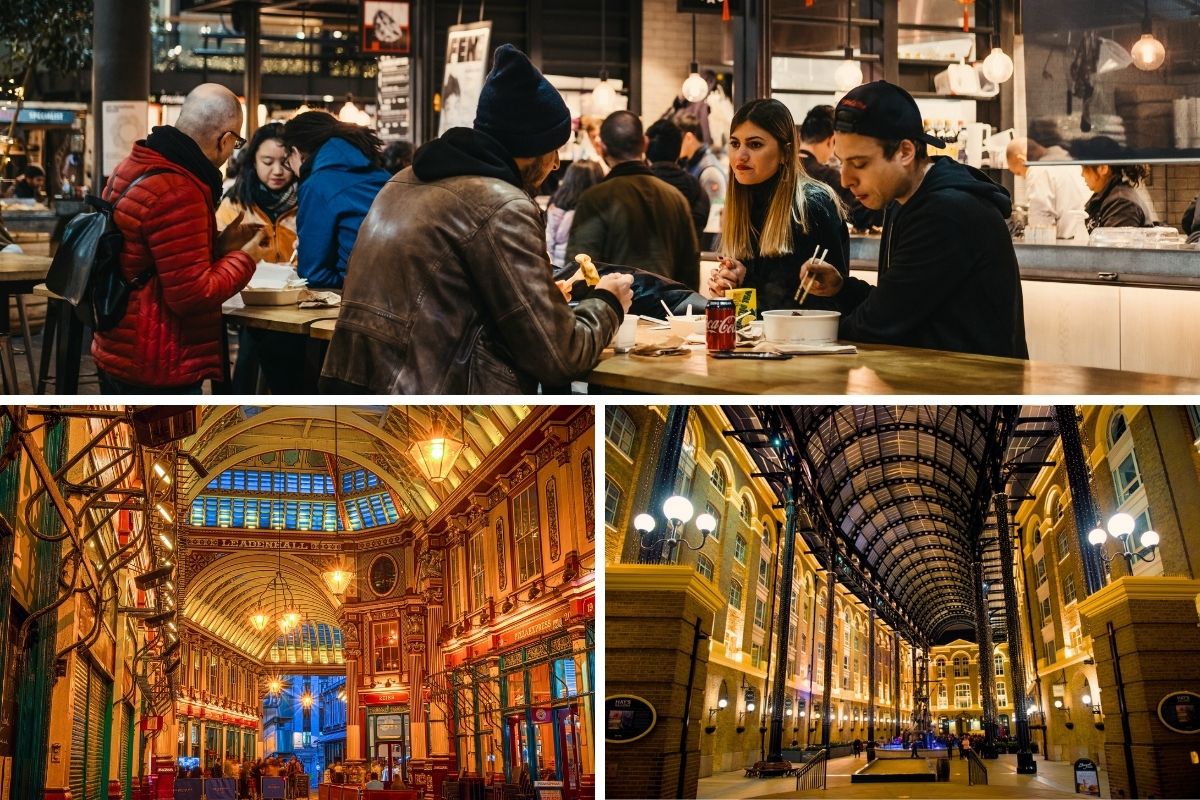 While you can certainly shop like a Londoner at these popular spots, they're also great places to wander around and soak up the treasures of each stall!
Head to Leadenhall Market for dining that mingles the casual and the upscale, or Mercato Metropolitano for global treats in unique venues.
Enjoy the seasonal bites at Old Spitalfields Market, the fashionable stalls of Spitalfields Market, or the lively traders of Seven Dials Market.
And don't miss the many lively shops of Haymarket, also home to such treasures as the Piccadilly Circus.
49 – Watch the Ceremony of the Keys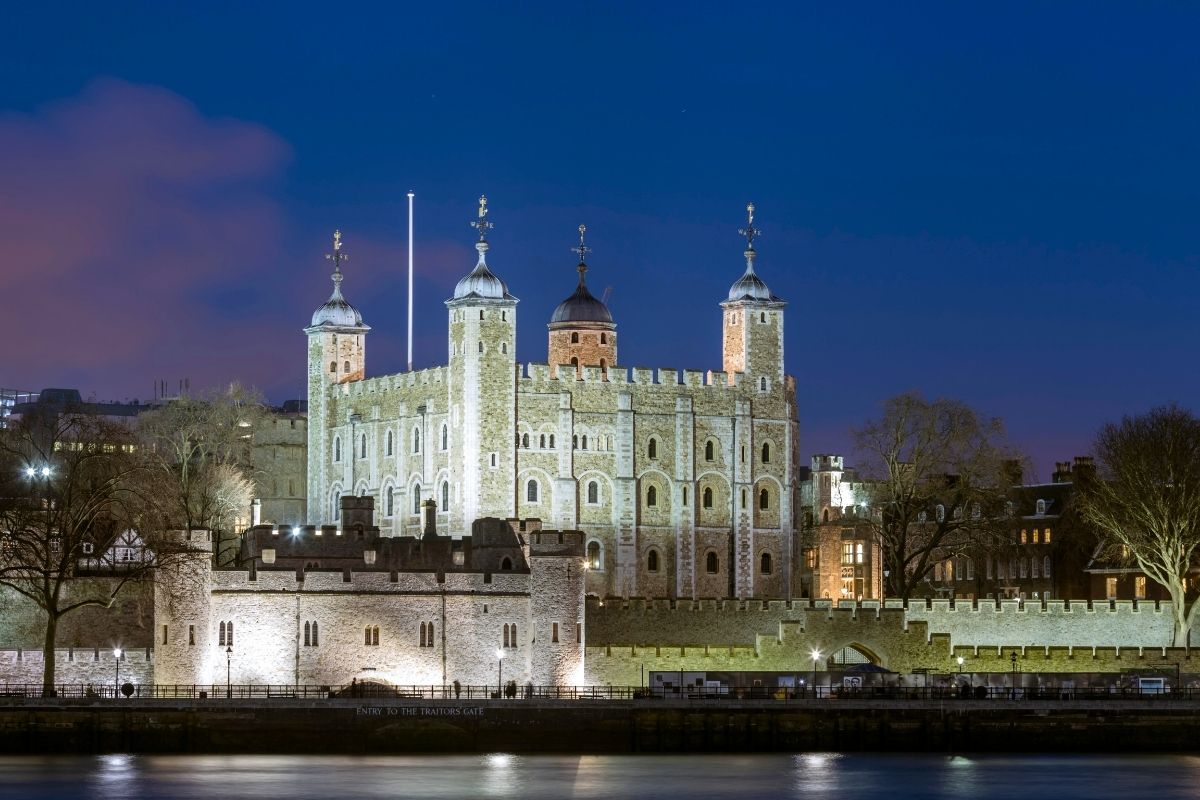 One of the most distinctive – and historically significant – things to do in London at night, the Ceremony of Keys marks the "closing ritual" for the famous Tower of London.
Each evening, a guard lets the Yeoman Warder pass by, after they proclaim that they carry the keys belonging to the monarchy.
Other than the name of the ruling royal, this tradition has remained unchanged through eons of cultural and political shifts, and marks the moment when the Tower is safely locked for the night.
It's a fascinating moment to witness!
50 – Enjoy the charms of Ritzy Cinema and Cafe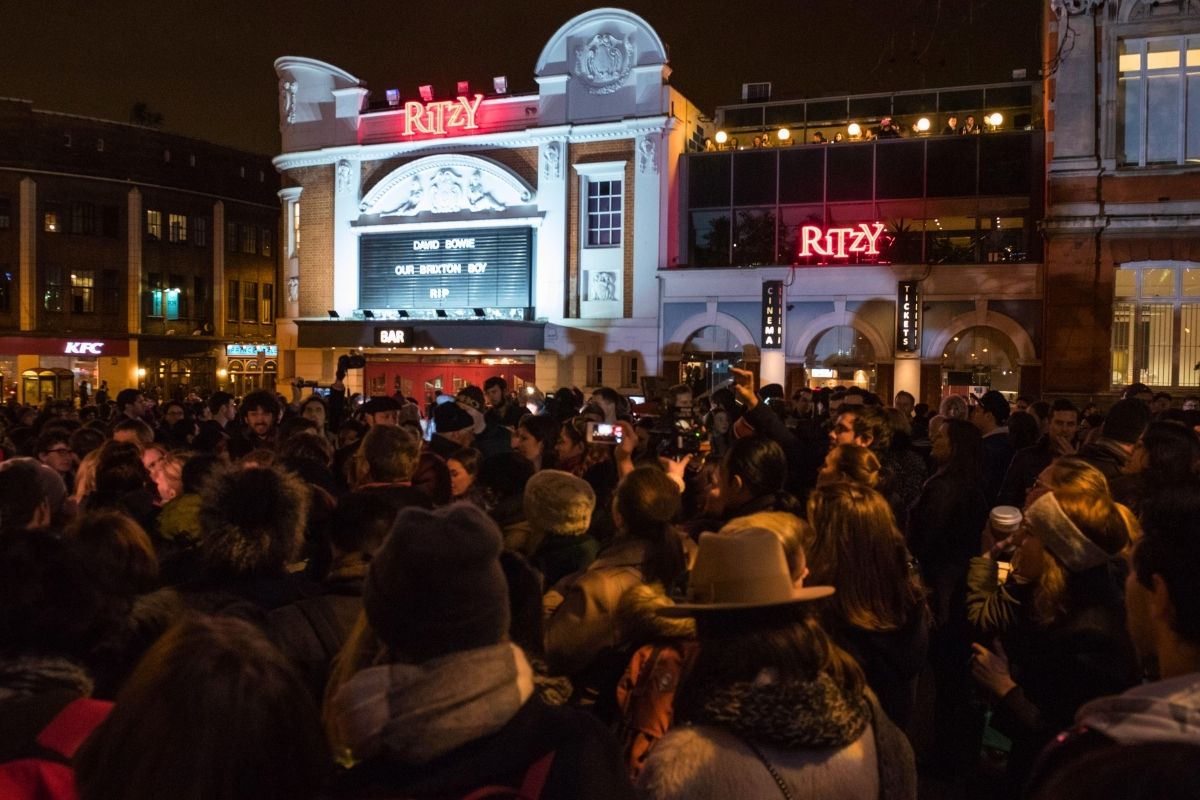 If you want to see all of the latest hits with a little bit of extra pizzazz, head to Ritzy Cinema to catch the next show!
Offering great food and drink to enjoy during the film, these theaters also offer specialty screenings, outdoor events, and more.
Take movie night to the next level!
51 – Perfect your Instagram game with a Southbank photography tour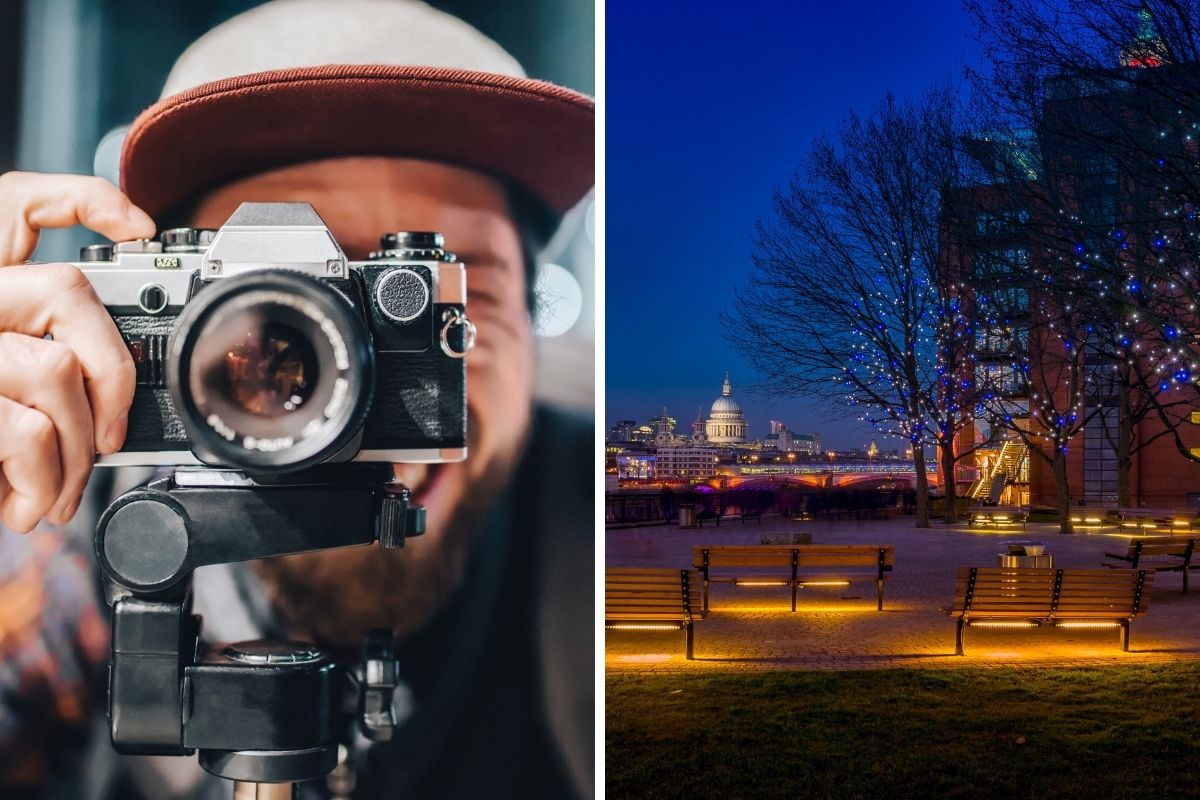 Let's face it: half the fun of a holiday is the pictures you snap along the way.
And with a Photography tour, you can get professional guidance in how to stage and shoot the best spots in town, which look especially beautiful in the evening!
Master the tricky art of night photography, and come away with some truly stunning mementos!
52 – Explore your way with some hop on hop off tours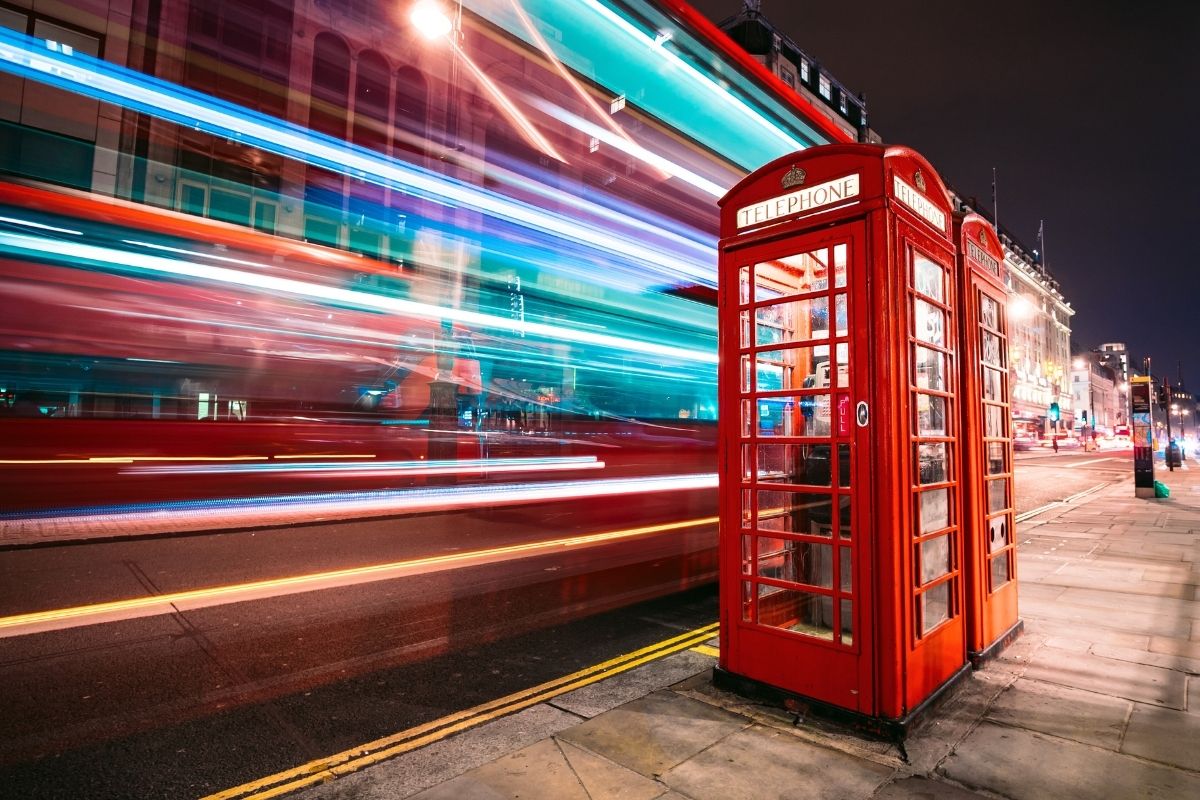 There's certainly a lot to see in this town… and hop on hop off tours  make it easier than ever!
The premise is pretty simple: you "hop on" the special tour buses at various stops around town, ride along and enjoy the sights, then "hop off" when something catches your eye.
And when you're ready to continue the tour, just hop on the next bus, and start the whole process over again!
53 – Float in style on a hot tub boat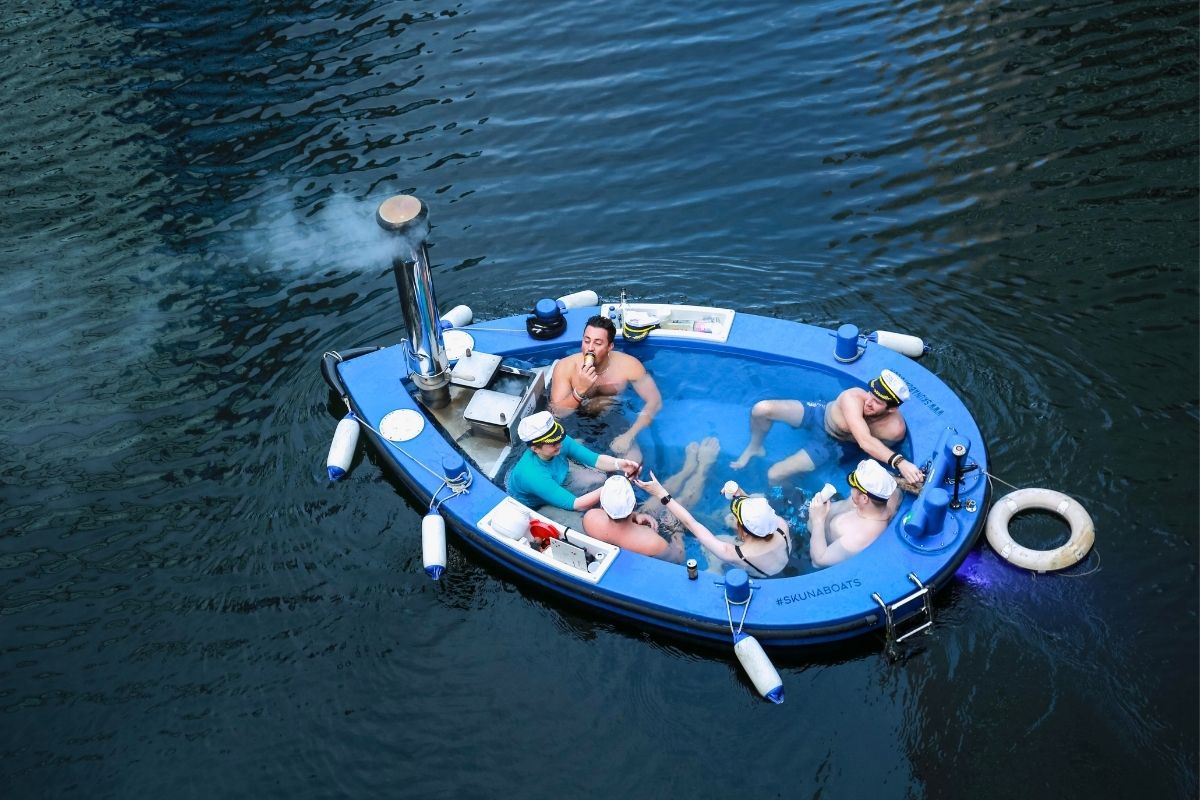 Cruise along the open seas in next-level comfort with these amazing vessels, here you can bring the hot tub along for the ride!
Skuna boats provides the ships for your delightful journey, with a charming little stove keeping the water nice and warm for you as you sail along the Thames.
It's one cruise you won't soon forget!
54 – Take in the lively energy of Covent Garden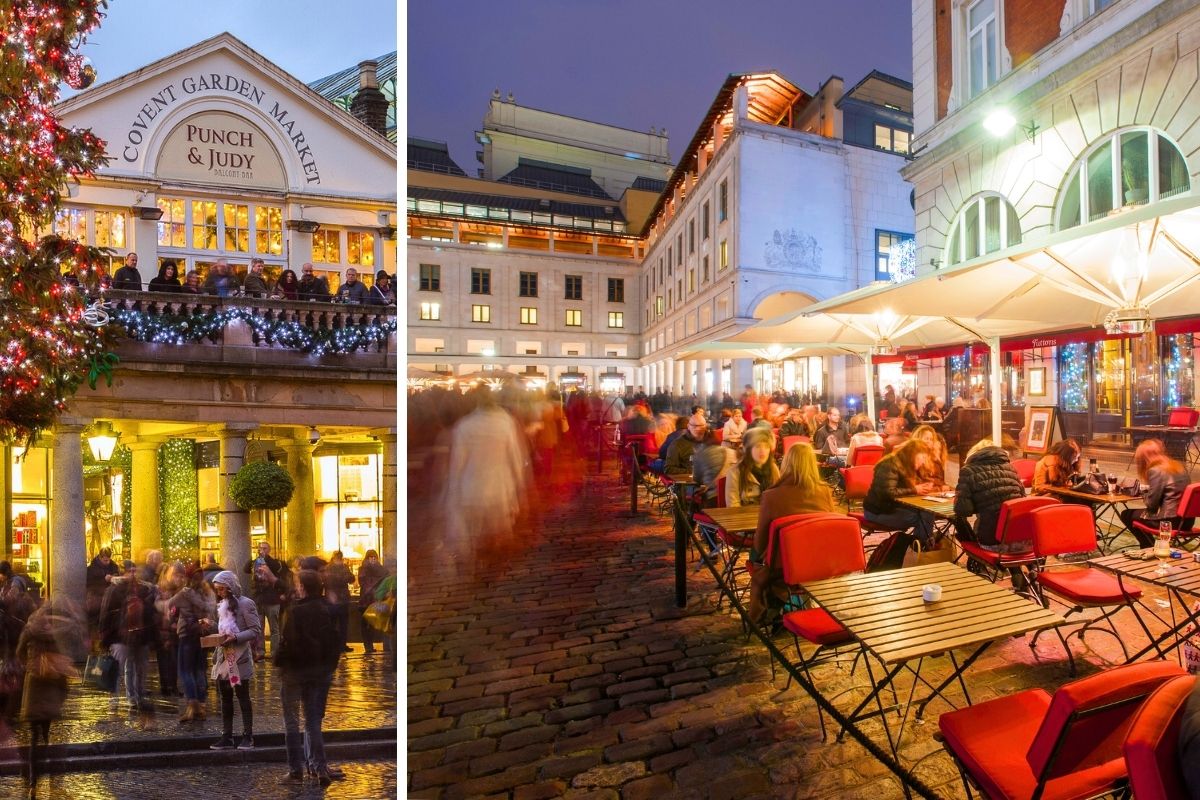 Covent Garden has long been a popular neighborhood for all sorts of activities; but the street performances are especially exciting!
From stilt-walkers and magicians to boisterous acts borrowed straight from the circus, the acts here provide new entertainment every day – even every hour! -, and showcase the bohemian side of the neighborhood.
55 – Mash some buttons at the best arcade bars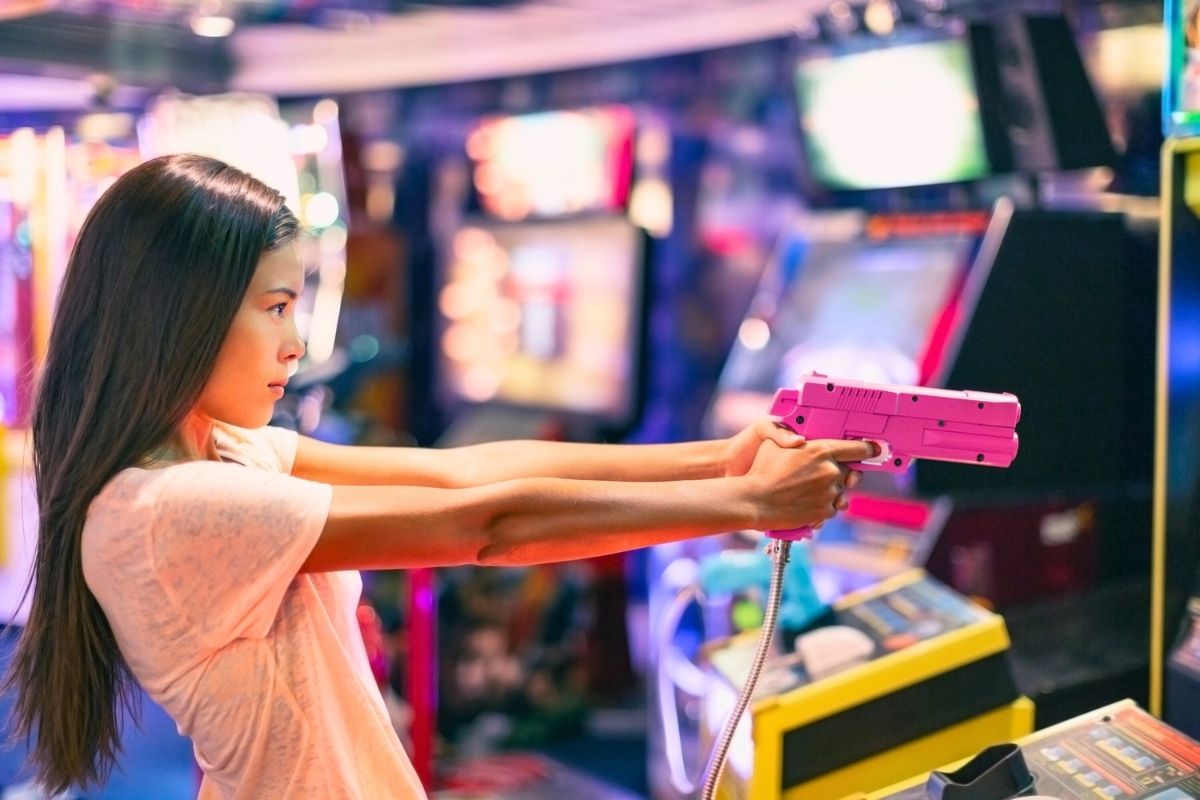 Nothing goes better with beer and spirits than a bit of gameplay… and the city's best arcade bars have plenty to offer!
Gravity Wandsworth focuses on high-tech experiences, while Four Thieves offers a bounty of retro machines.
And don't miss the raucous fun at London Games Room, which mixes old and new into a fantastic bonanza that also includes tons of foosball tables.
56 – Admire the Picadilly Circus night lights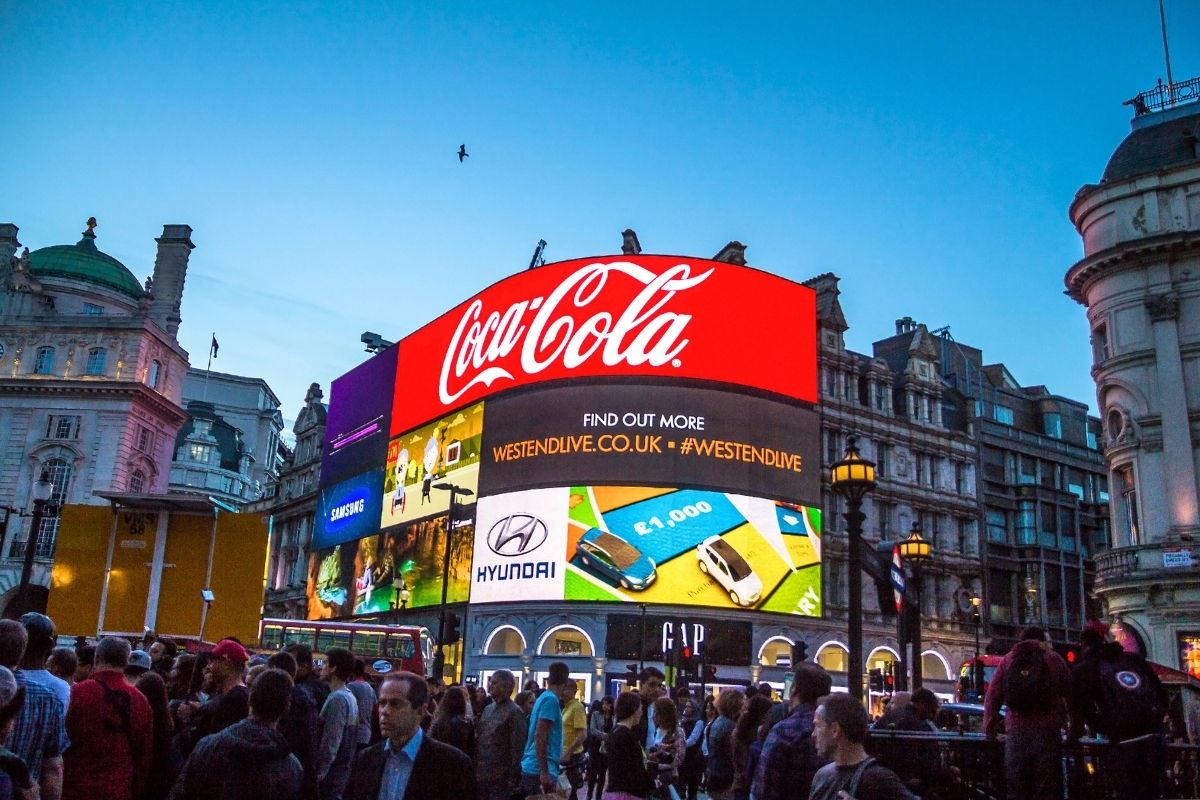 While this famous center of commerce hums with energy 24/7, the brightness of the area after dark is truly jaw-dropping!
This is one the endless array of signs and storefronts bloom to life in all of their neon glory, creating an amazing mosaic of lights that forms its own brilliant world.
Look all around as you stroll, and drink in the dazzling display of the city!
57 – Take in a London Symphony Orchestra performance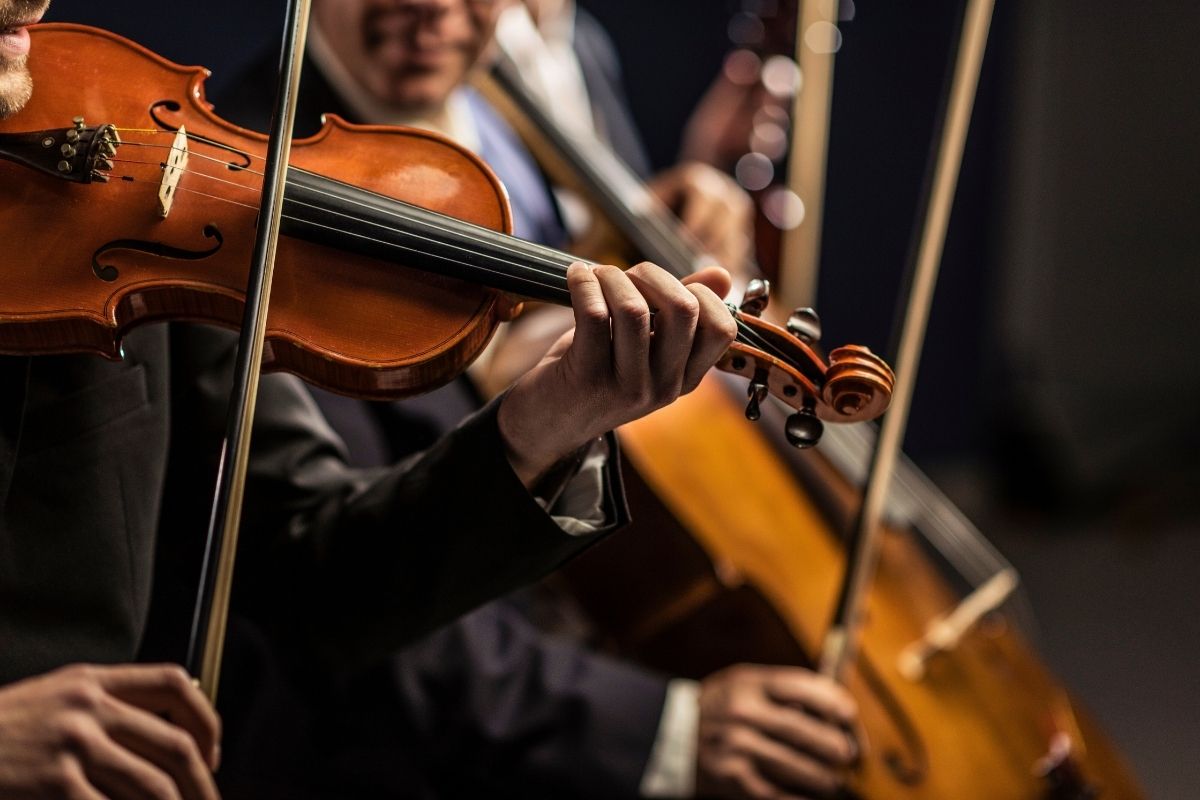 One of the many gems of the Barbican Centre (see #47), the Symphony Orchestra is an awesome treat for your ears – and your sense of beauty!
The vibrant performances give each instrument a chance to shine, and the resulting scores are at once epic and intimate, drawing you in with ease.
In a city full of great musical performances, these ones truly stand out!
58 – Try out the life of a sommelier at Gordon's Wine Bar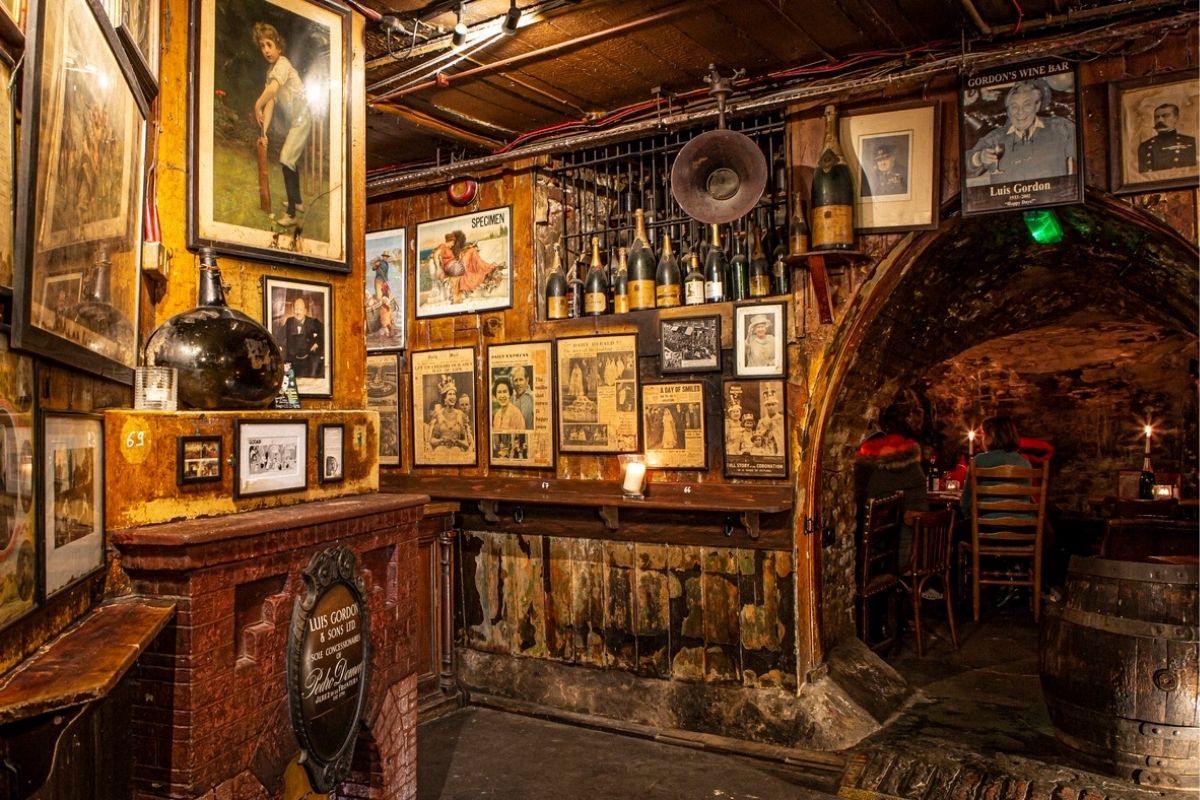 As London's oldest and most distinguished spot for vino, Gordon's Wine Bar wraps you up in a classy and cozy setting, where you almost feel like you're pursuing the wine cellar of a particularly knowledgeable friend.
Check in with the friendly staff and choose a bottle – or maybe two! – from the extensive list, then sip the night away.
59 – Take a look around Wilton's Music Hall
Packed with operas, indie music concerts, and auditory delights of every kind, the only thing more amazing than the shows at Wilton's Music Hall is the history of the building itself!
The iconic facade of this 160 year old structure is noted all over town for its beauty and historic Victorian touches, which have remained unchanged since the early days.
Come enjoy the treasures inside and out!
60 – Rock out at Electric Ballroom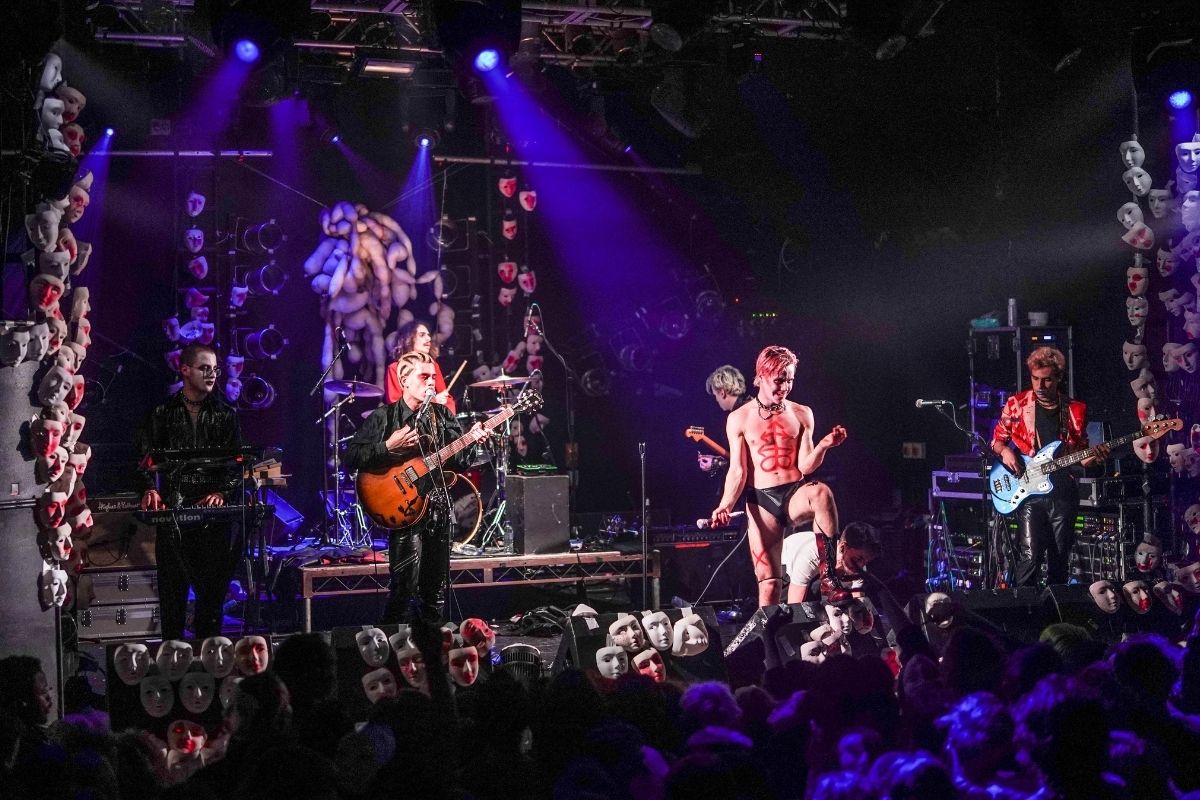 A little wilder than many of its neighbors, Electric Ballroom has been serving up energetic acts and a vibrant setting to match since 1938.
Right in the midst of the Camden neighborhood, it has hosted everyone from Cage The Elephant to Sir Paul McCartney, and often throws some pretty cool festivals and other events into the mix to keep things interesting.
When you're here, you can rock out all night long!
61 – Fulfill your cinephile dreams at the Prince Charles-All Nighter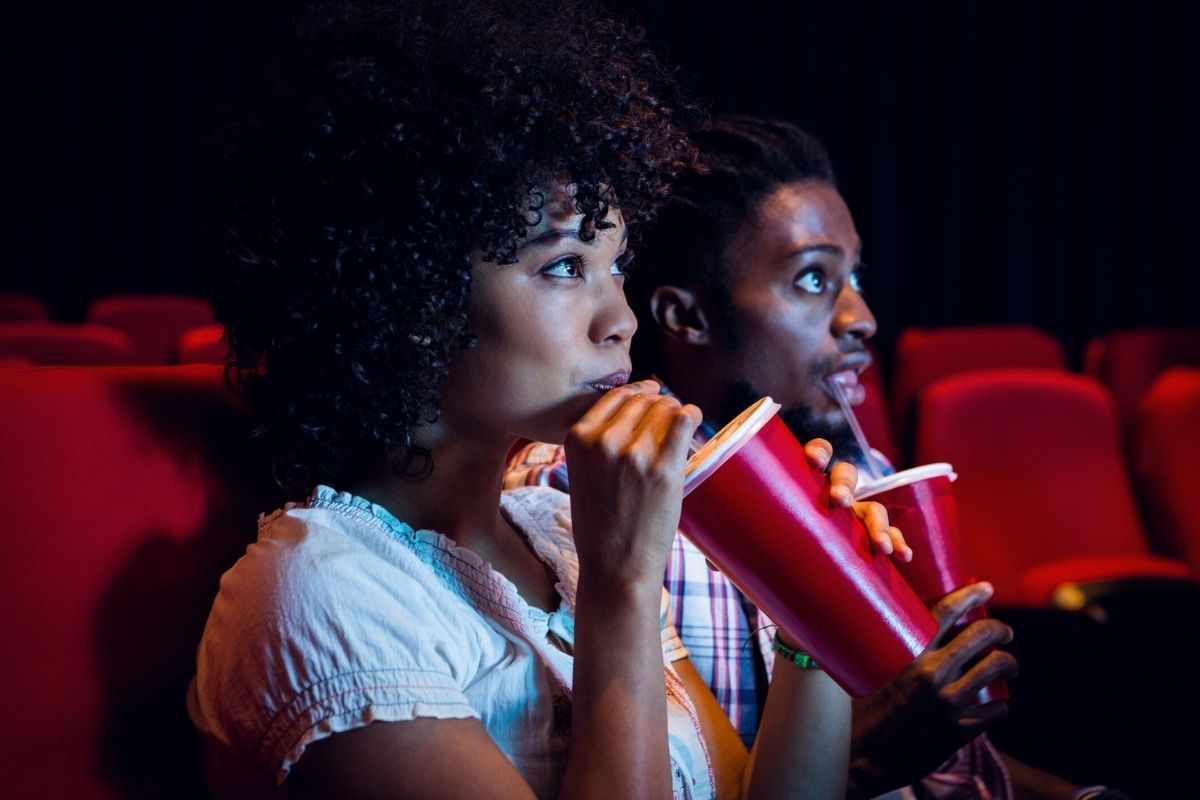 With its endless array of classic rescreening's and cult films, Prince Charles Cinema is a beloved part of the city's movie scene.
And there's nothing like a Prince Charles All Nighter to really get your flick fix!
Watch epic and nostalgic sagas back to back, or try unique combinations of thematically similar films… some of which you might not even know beforehand!
62 – Dive into the fun at Ballie Ballerson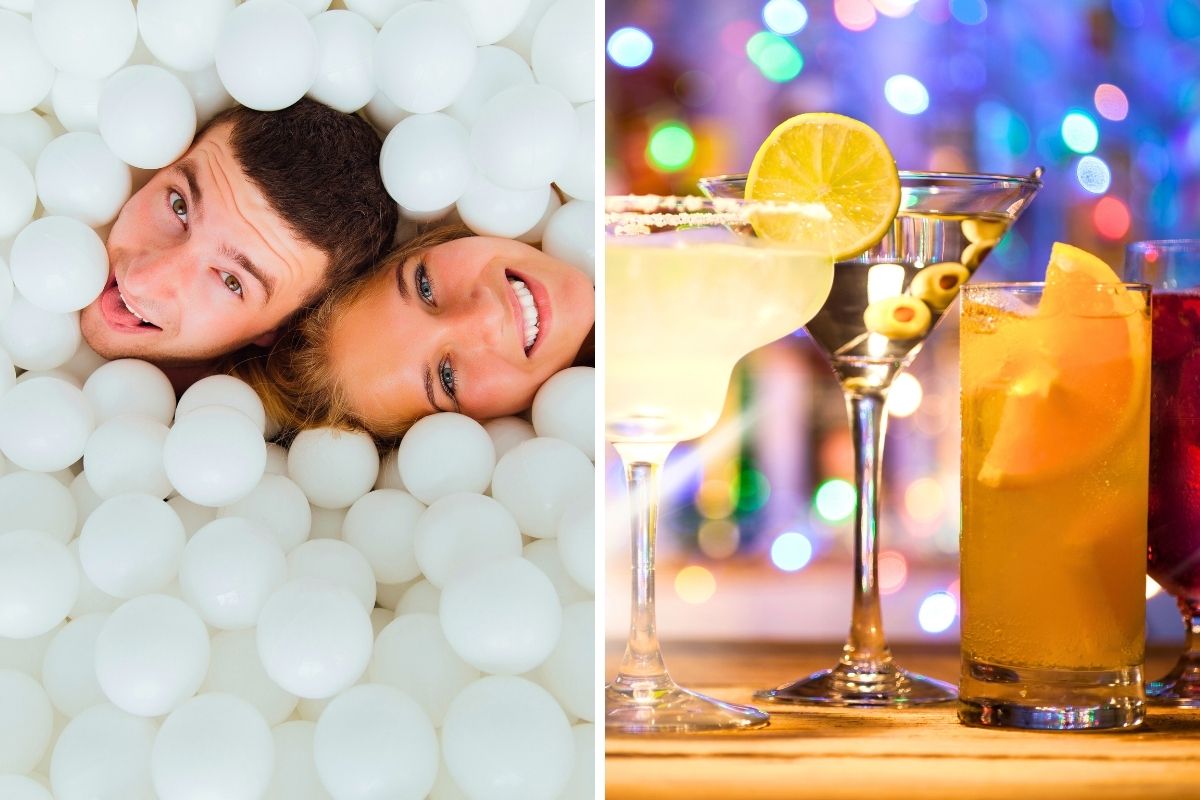 One of the bummers of growing up is not getting to play in ball pits anymore – unless you're at Ballie Ballerson, that is!
This cocktail bar is filled with play areas where you can dive right in and enjoy the fun… with way fewer cooties than when you were young, of course!
Great drinks and a lively sense of play … it doesn't get much better than that!
63 – Take a spooky stroll on some ghost tours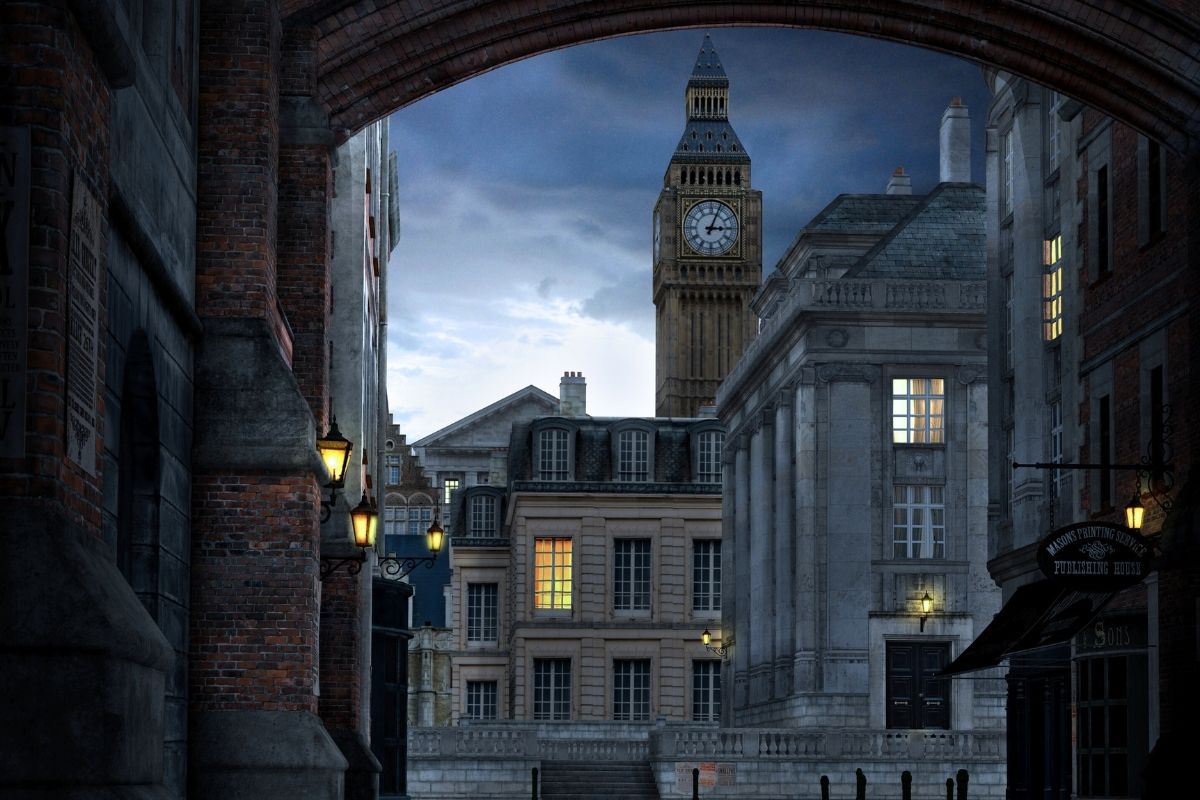 Any city with such a long and illustrious past is bound to have its fair share of spooky stories; and with the many ghost tours in London, you can lean into these eerie elements with ease!
From the spooky figures of the London Bridge to the unusual tales of various neighborhoods, these tours can sometimes be ghastly and unsettling… but they're always fascinating!
And don't forget to embark on some ghost bus tours, and cover an even wider range of haunted realms!
64 – Cheer with gusto at the best stadiums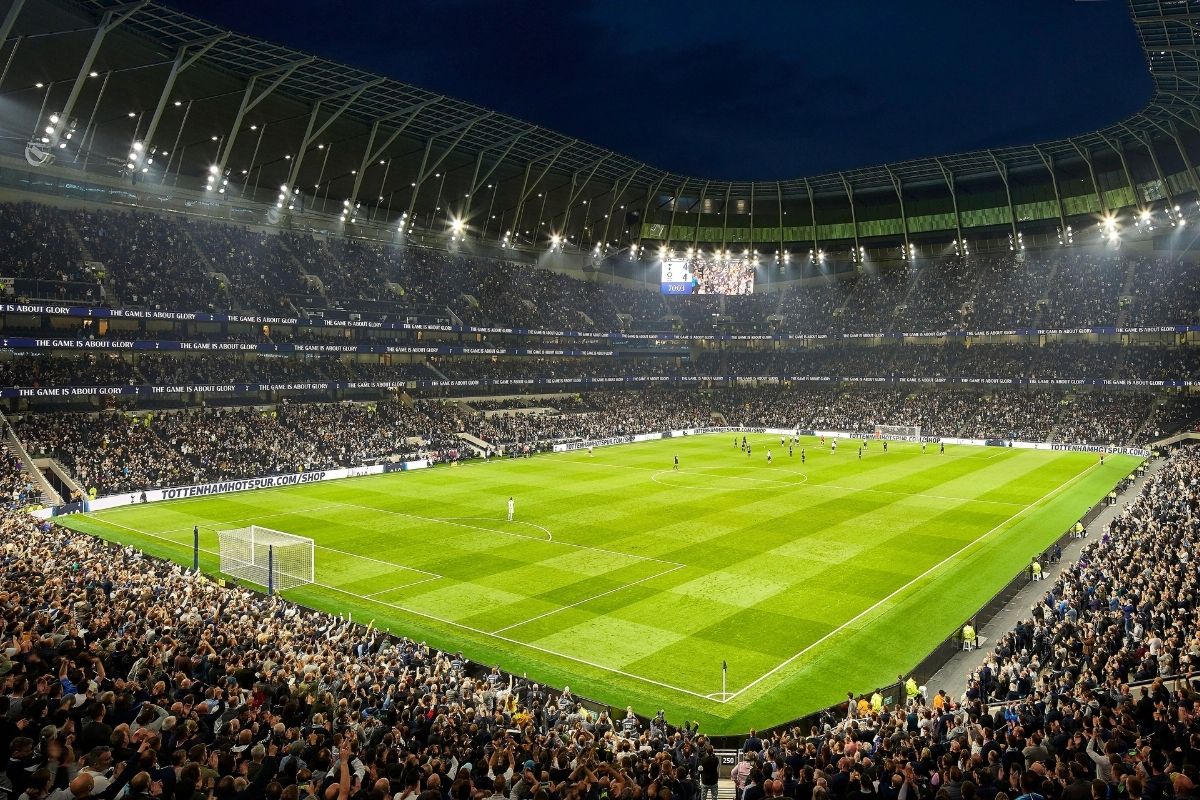 No matter which team you cheer for, the many sports venues around town will keep you busy filling the stands!
Head to Arsenal Stadium or Tottenham Hotspur Stadium for the football teams of the same name, or Stamford Bridge for the Chelsea Football Club.
Wembley Stadium hosts all types of teams, while West Ham Stadium services a variety of sports in equal measure.
You could easily spend every night of your holiday just rooting for the various teams!
65 – Dance to your own beat with a Silent Disco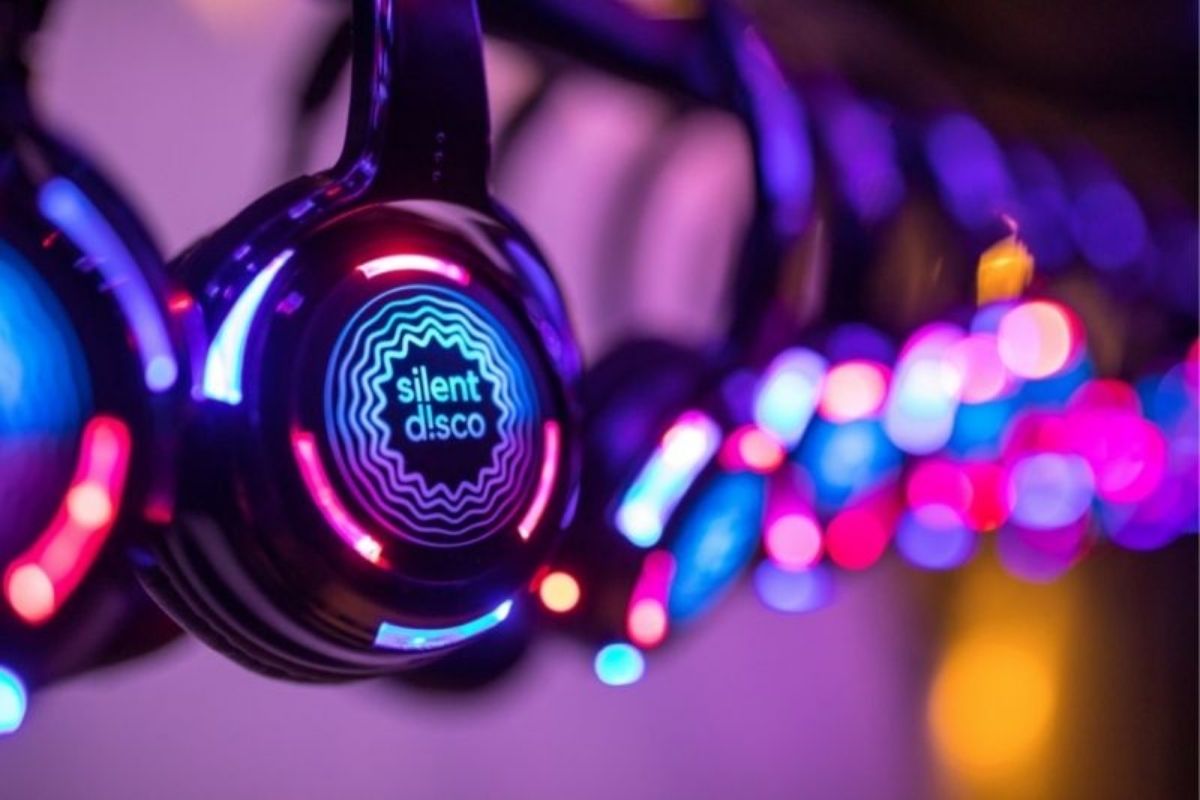 A new take on an old form of partying, your trip to the Silent Disco is sure to be invigorating!
The concept is fairly straightforward: pop on some headphones and choose from the carefully cultivated playlists, then jam out in your own fashion as you explore.
But the fun part is that these versions are actually incorporated into tours!
Whether you're jamming out to West End musicals or enjoying some yuletide tunes, these excursions are a joyful way to experience the artistic side of the city!
66 – Explore Parliament's majesty after dark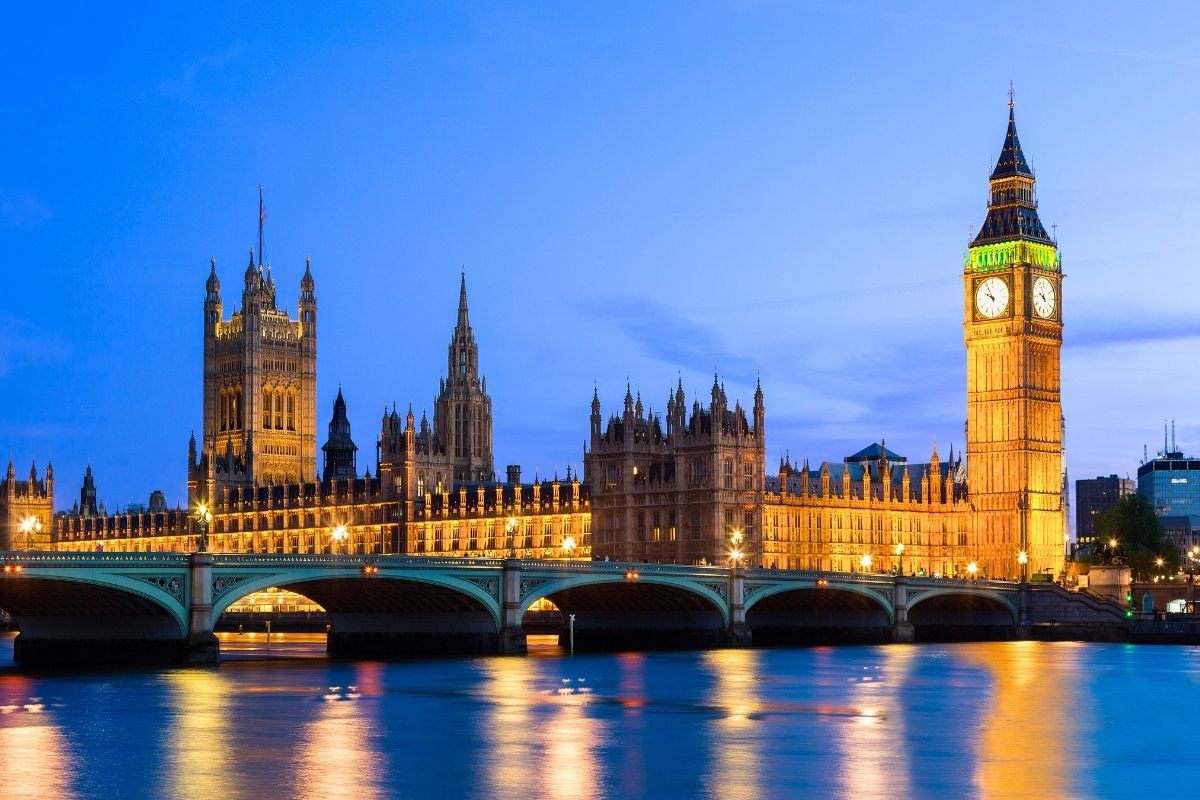 Filled with historical gravitas and political intrigue, the House of Parliament has been a staple of city life since 1550.
Split between the House of Lords and the House of Commons, this establishment is where some of the nation's most influential decisions have taken place; and even if you can't see as much of it at night, it's still a thought-provoking and visually impressive spot!
67 – Take in an act or two at the National Theatre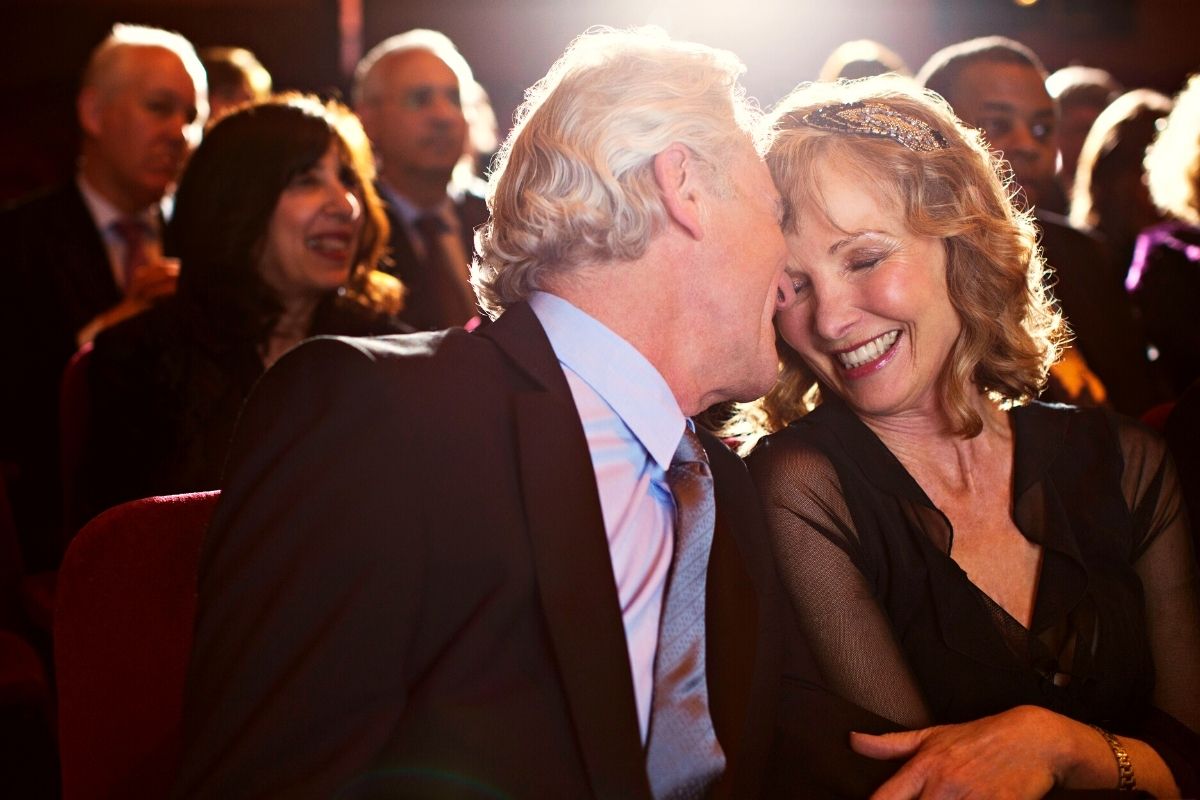 Home to remarkable talent and unforgettable shows, the National Theatre has been a classic option for an evening out since 1963
Focusing on accessibility in the form, they nurture the work of young talents and marginalized voices, meaning that you can often see programs that wouldn't appear elsewhere.
It's a true treat for culture fans!
68 – Get some of the best bites at the city's Michelin starred restaurants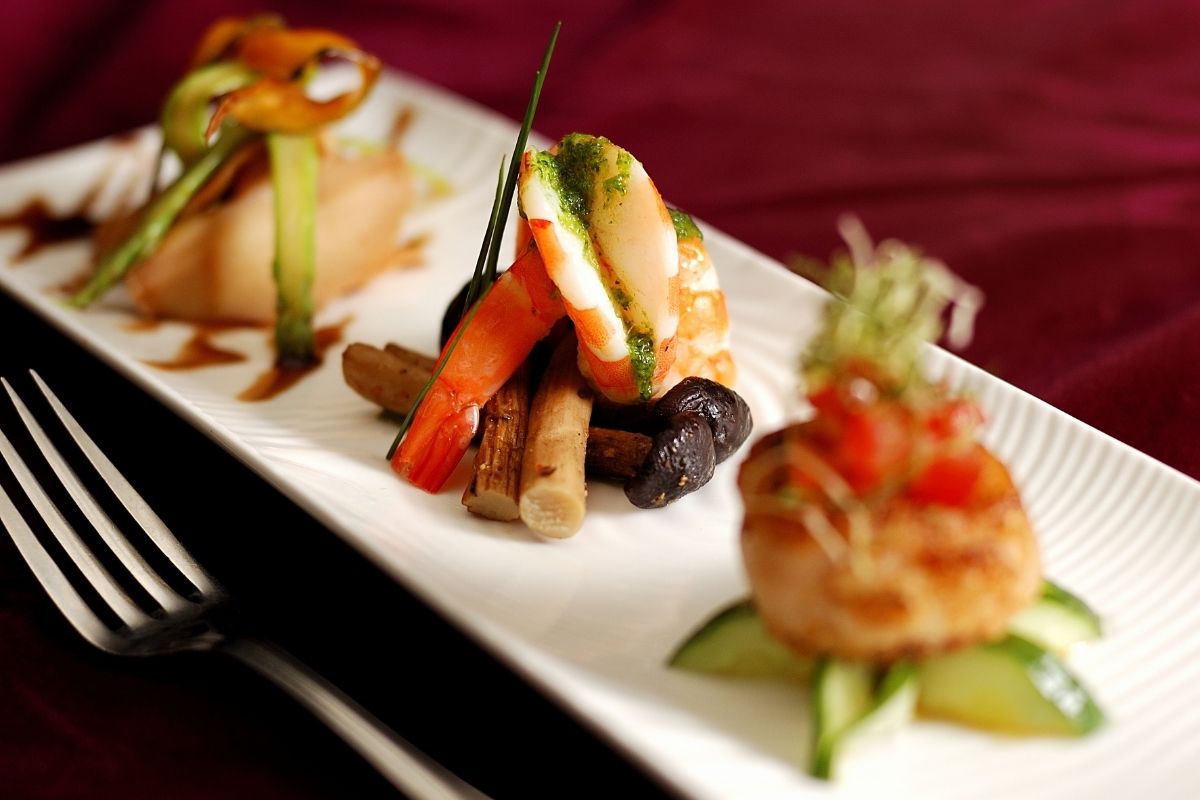 While there are oodles of options for a nice dinner in the capital, why not spoil yourself with some of the best in the world?
Core by Clare Smyth serves up traditional meals with sustainable flair, while Hélène Darroze lets you pick the ingredients, which they will then transform into jaw-dropping dishes.
And at Sketch London, you can choose from several themed rooms and the accompanying menus, all with unforgettable flavors in every bite!
69 – Experience Church of Sound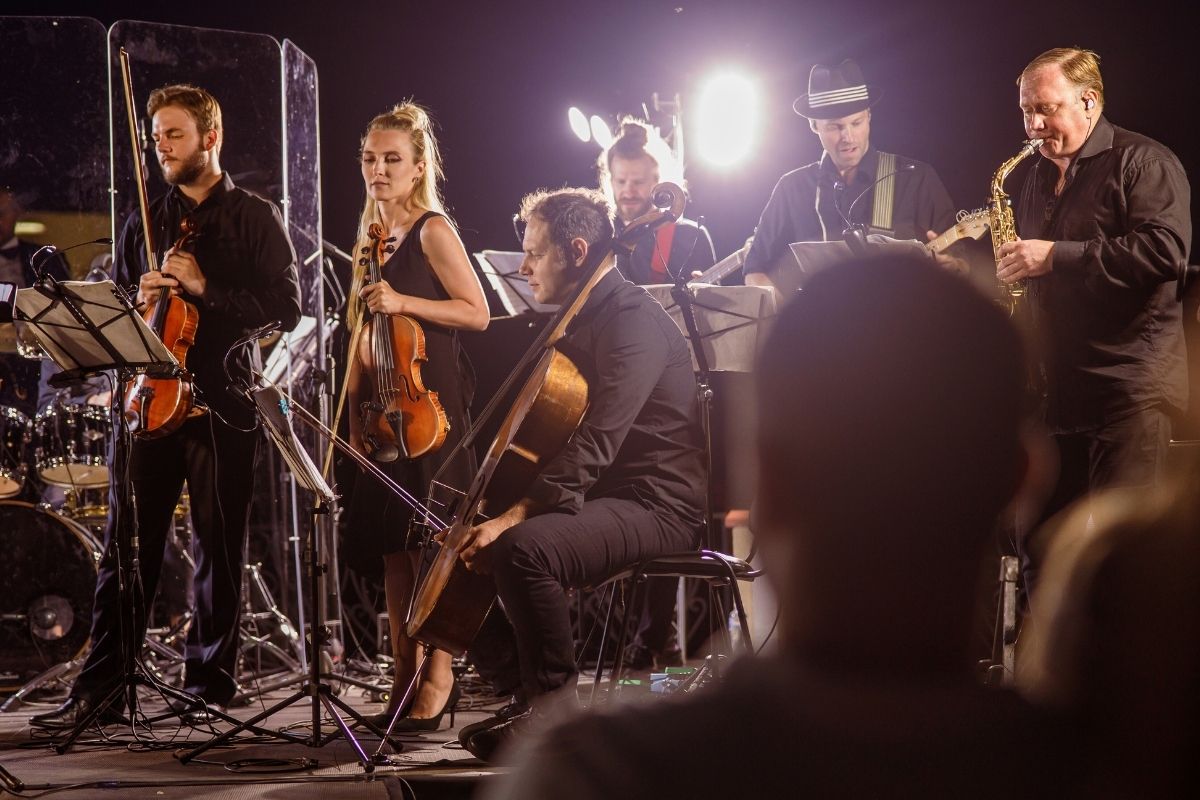 Held within the awe-inspiring realms of St. James The Great Church, the Church of Sound is a recurring series that showcases underground acts and an industrious, let's-put-on-a-show attitude in one unforgettable evening of performances.
You'll be amazed how quickly the church is transformed into a concert hall and back again at the end; and of course, the shows themselves add to the magic of the moment!
70 – Zoom through the night on a Thames speedboat tour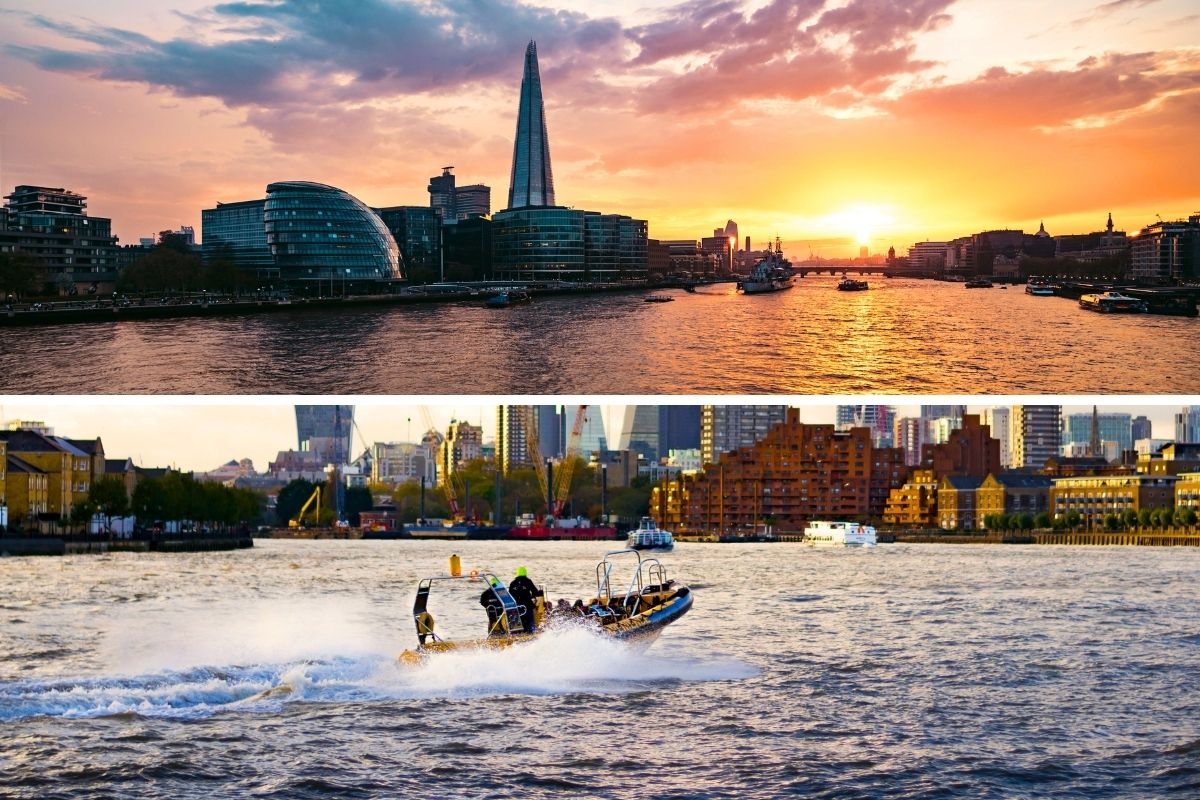 Just because the currents of the river are stately doesn't mean that your cruise has to be!
Kick things up a notch with a Thames River speedboat tour, and enjoy an added thrill as you bounce along the water in the dark, seeing the lights of the city whoosh by.
You'll feel like the star of your own action movie!
71 – Try your skills (and have fun) in the Crystal Maze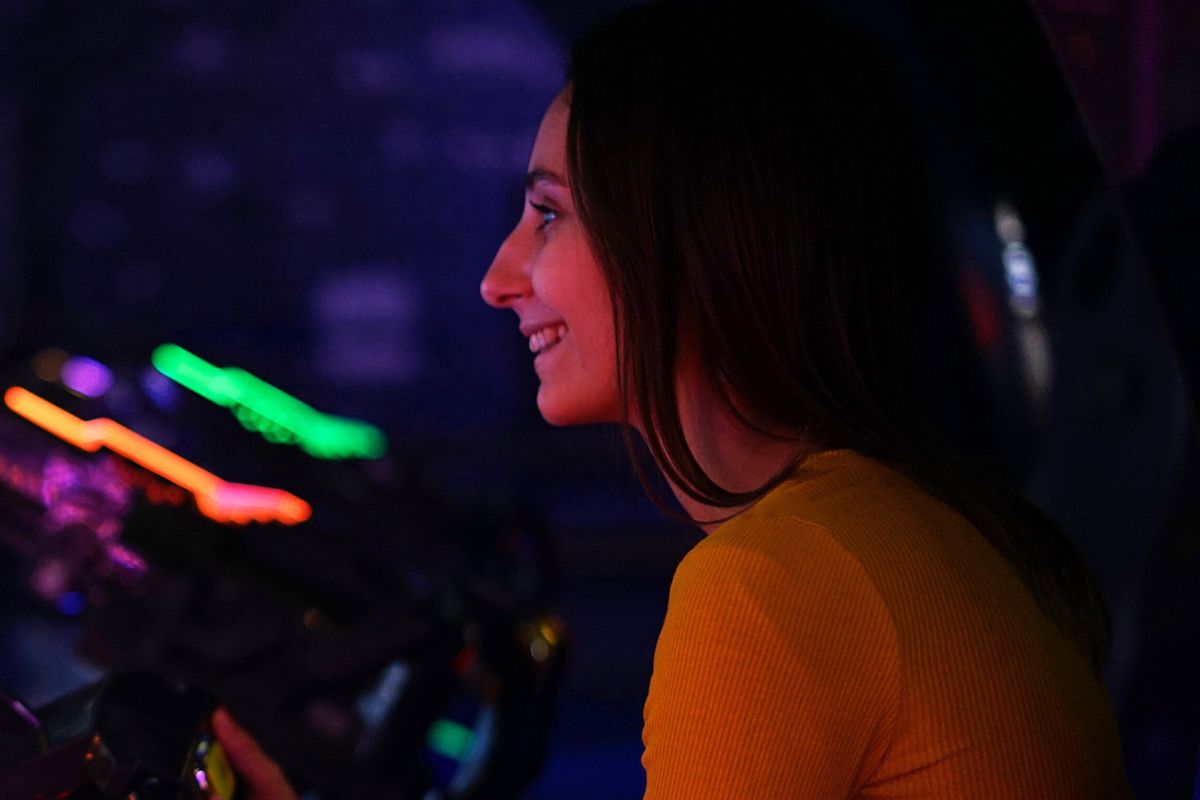 For a competitive evening with a healthy bit of fun thrown in, dive into the wonderful weirdness of the Crystal Maze!
Based on the popular game show from the 1990s, this adventure challenges you to use your wits and abandon your dignity, as you navigate obstacles, dress in elegant (read: tacky) clothes, and generally enjoy the mayhem of the space.
Get into the wonderful wackiness of it all, and rack up some points along the way!
72 – Gamble at the best casinos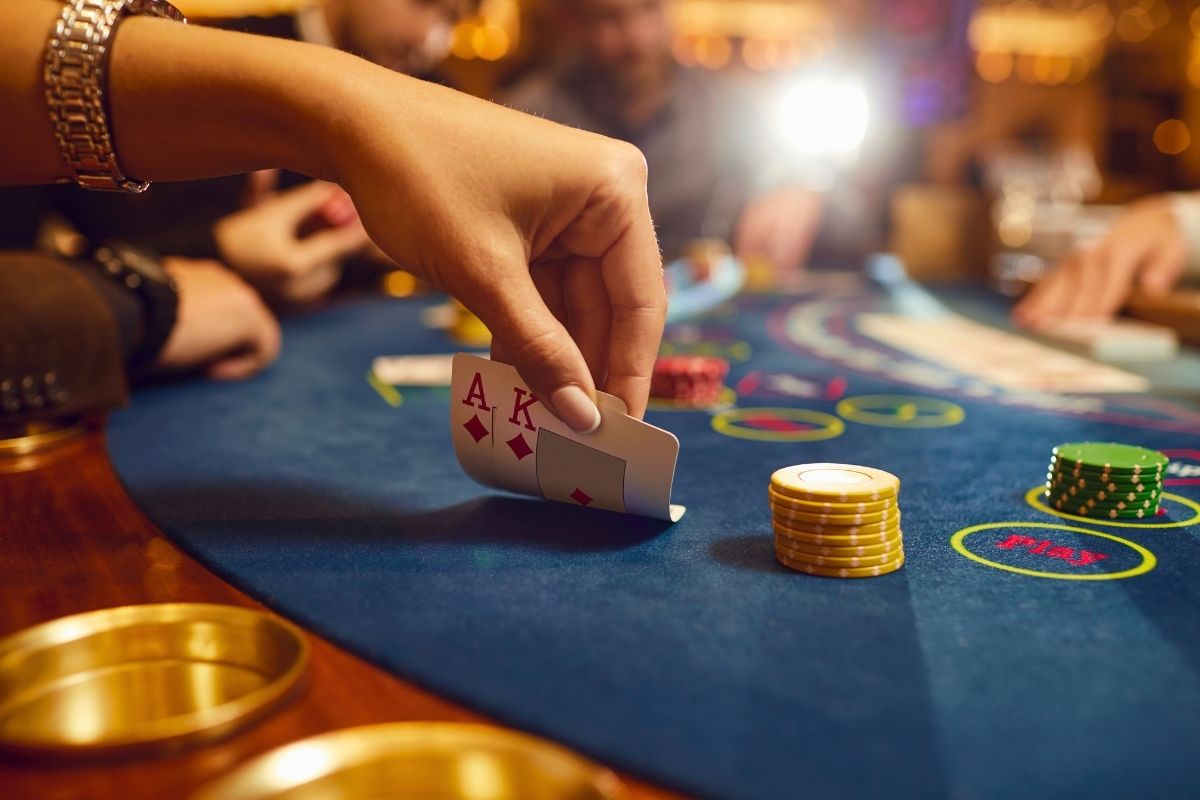 For some luxury and the thrill of some good old-fashioned betting, pop over to the best casinos, and try out the high-roller life!
From the lavish card rooms of Maxim's Casino to the theater and massive gaming areas of the Hippodrome Casino and the elegant private rooms of Crockfords Casino, these spots will give you a taste of lavishness… whether or not you win anything!
73 – Take a dinner cruise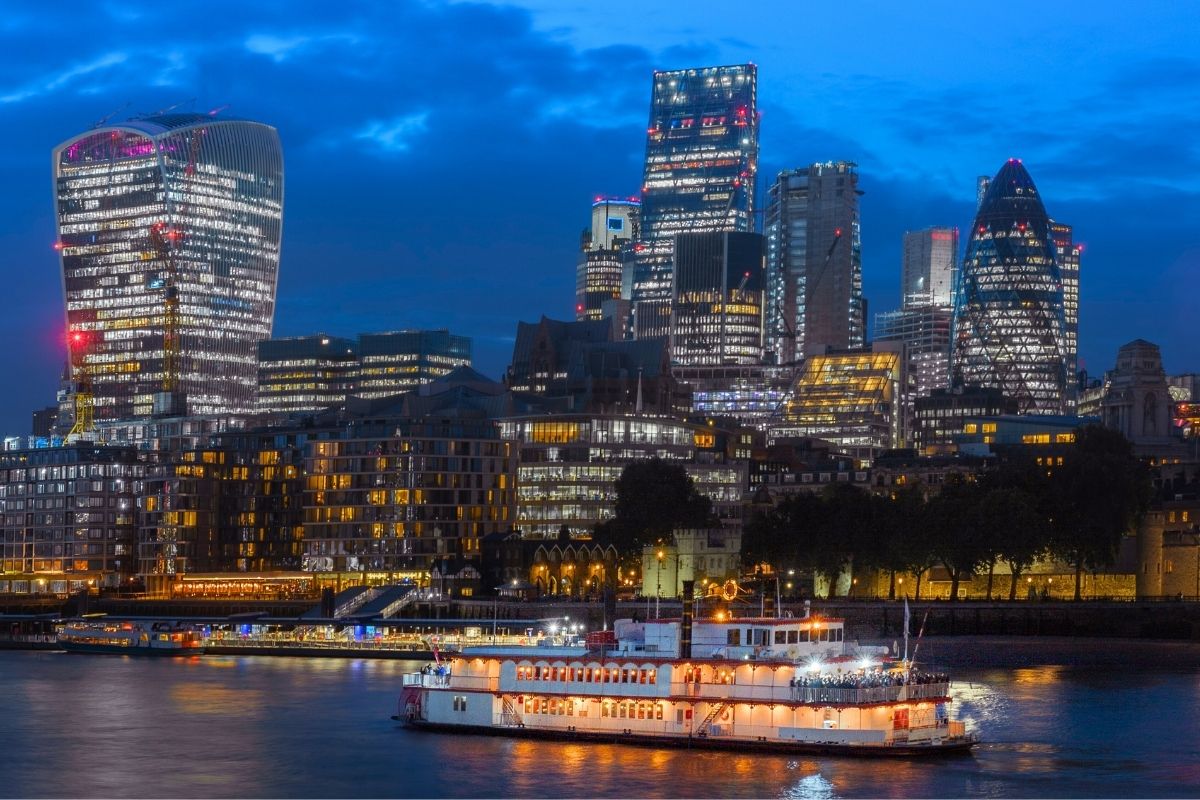 Easily one of the most romantic things to do in London, the dinner cruises that run along the river will give you ample opportunity to enjoy the finest sights of the evening – with an incredible meal to match!
Enjoy course after course of fine food, as you watch views like Tower Bridge and the Shard (see #2) sliding past you in a leisurely fashion.
Set sail and watch the city put on a show!
74 – Test your vocal chops at the best karaoke bars in London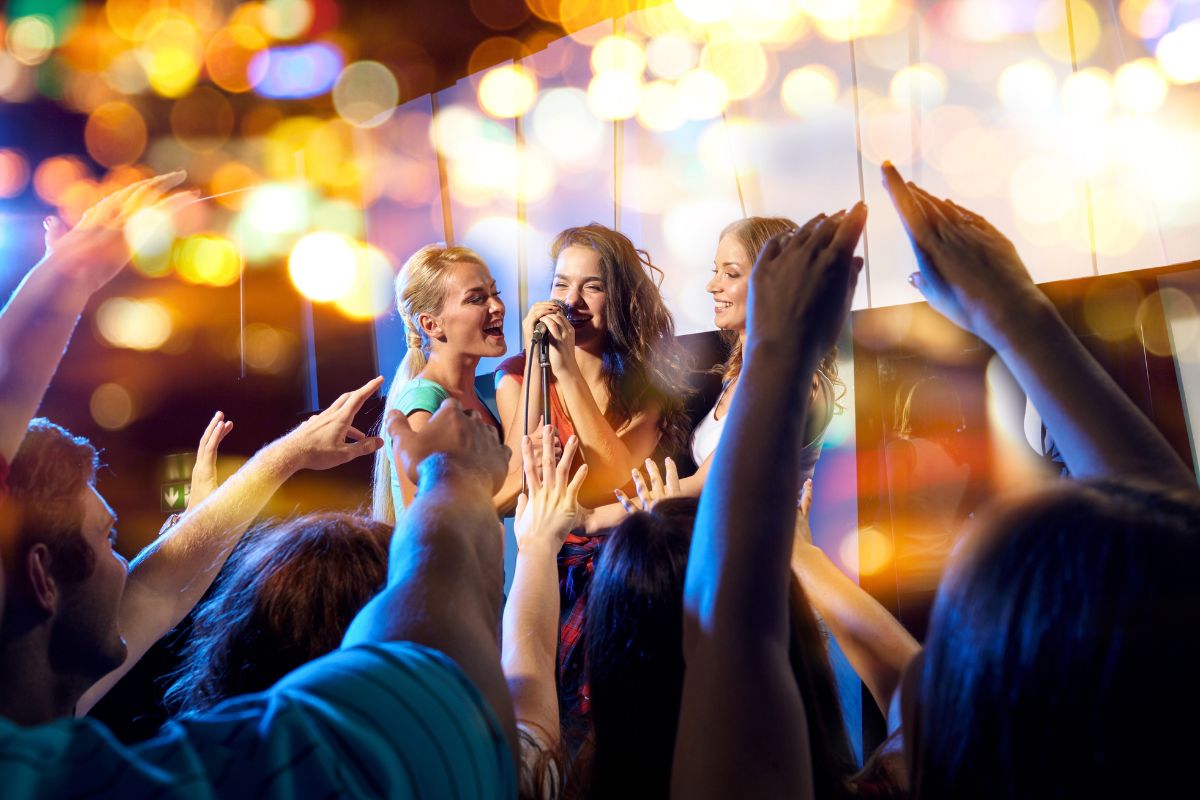 When you want to take your evening entertainment to the next level, warm up those vocal cords and head out to the Best Karaoke Bars in town!
If you prefer the traditional open-room experience, you can swing into The Star on Liverpool Street; but if you're feeling a little more shy, there are also some excellent private rooms at Old Queens Head and Karaoke Box Smithfield.
Get ready to live out your rock star dreams!
75 – Shoot your way around the best pool halls in London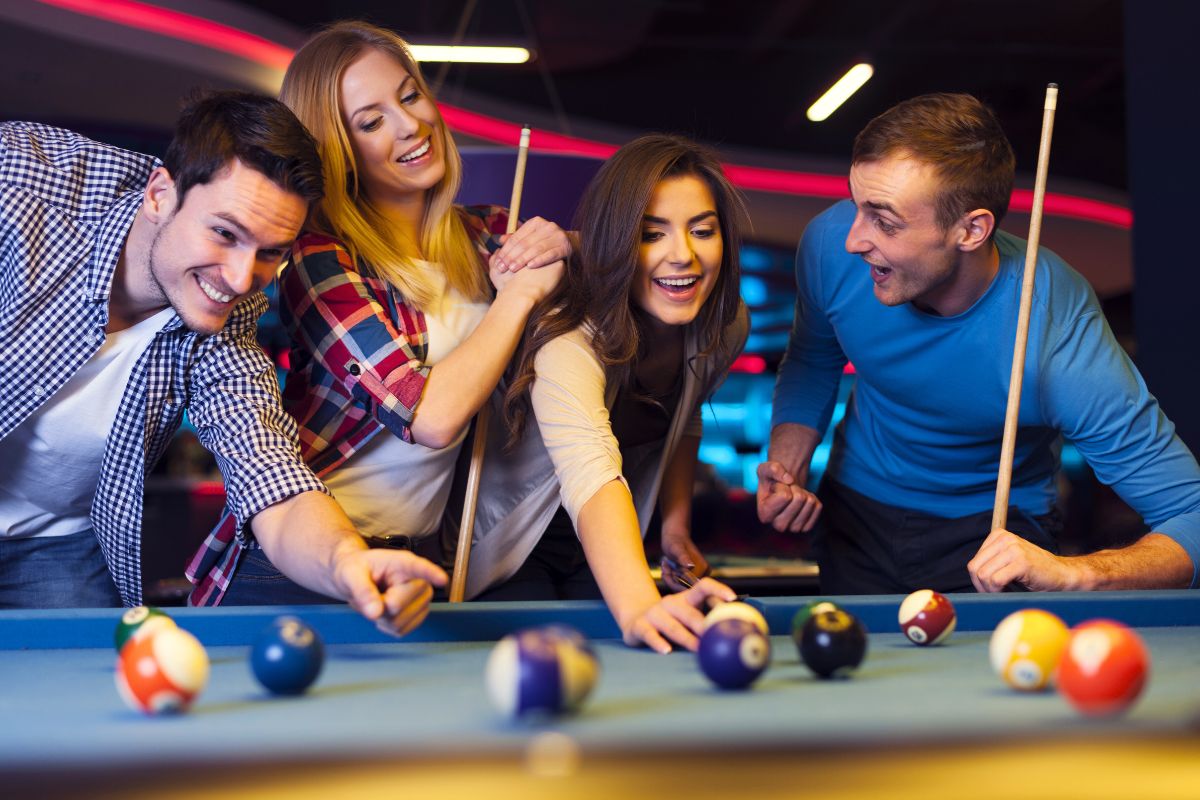 Grab your cues and start shooting… we're making our rounds of the best pool halls around!
Rileys Sports Bar Victoria,  Shades Sport Bar, and Q Shoreditch are some of the prime spots for some snooker; and whether you're a total newcomer or a certified pool shark, you'll find plenty of opportunity to practice on the tables!
76 – Revel in Royal Albert Hall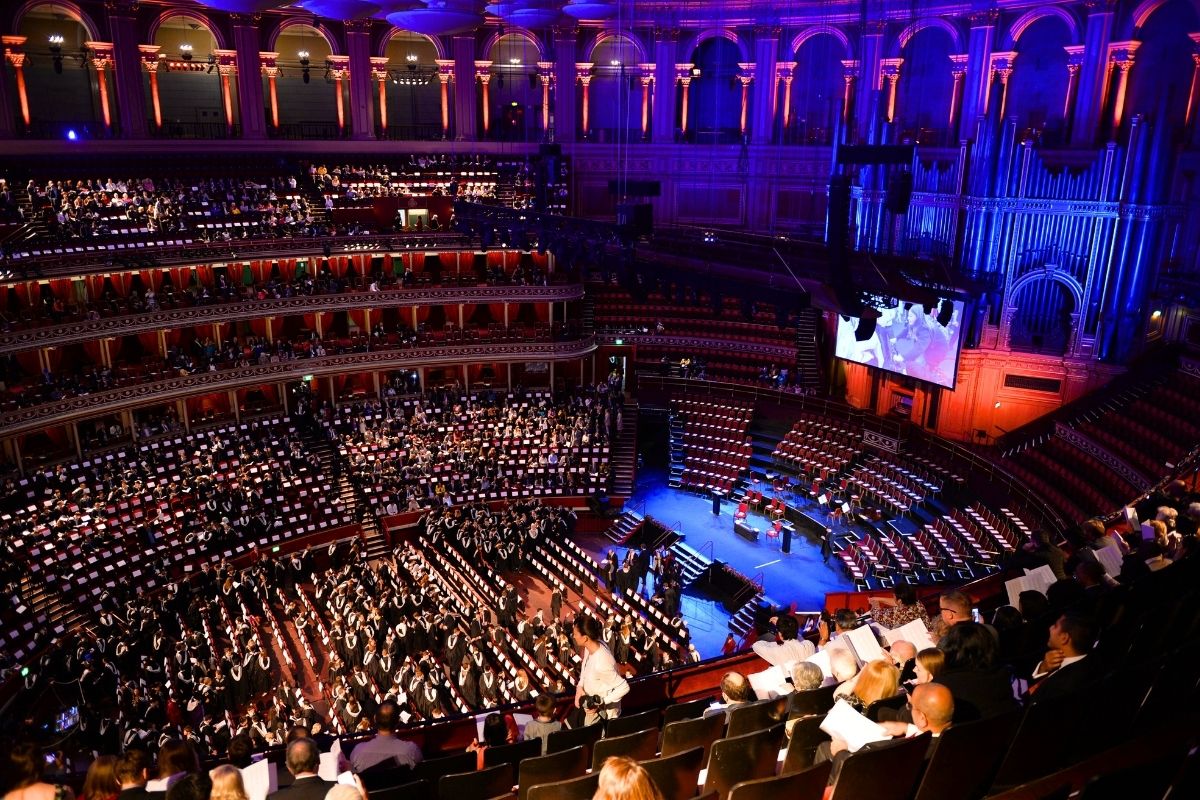 Stately and welcoming in equal measure, the Royal Albert Hall provides ample options for entertainment in its magnificent theaters.
On any given day, you might encounter organ recitals, pop rock shows, plays, or comedians, all part of a decades-long tradition of exciting productions.
And leave some time to enjoy the amazing nuances of the architecture, including the biggest unsupported glass dome on the planet!
77 – Sample the active nightlife of Camden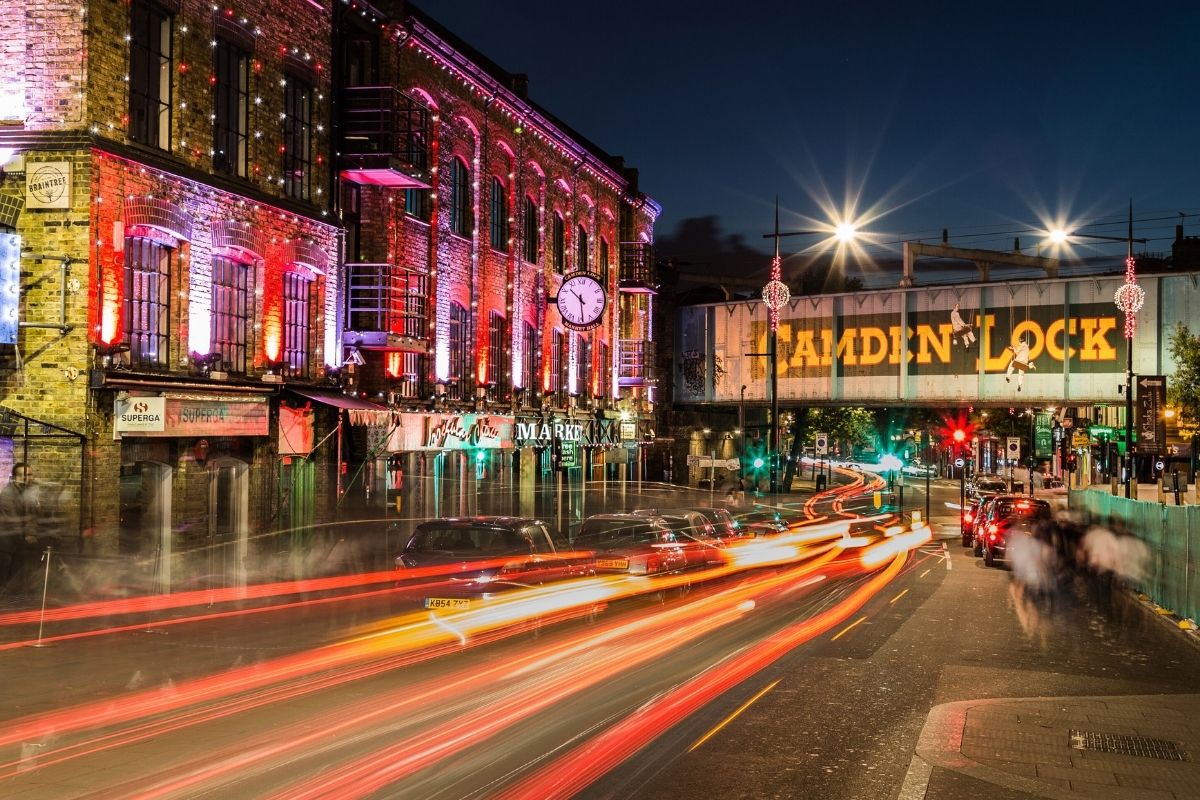 Much like the nearby Soho neighborhood, Camden is packed with lively clubs to help you keep partying until the wee hours of the morning.
Hit The Dublin Castle for an all-night lineup of live bands, the boisterous alt-music mecca of The Underworld, or the uptempo club nights at the Jazz Cafe.
Live music and endless energy will have you embracing the nocturnal life!
78 – Shop 'til you drop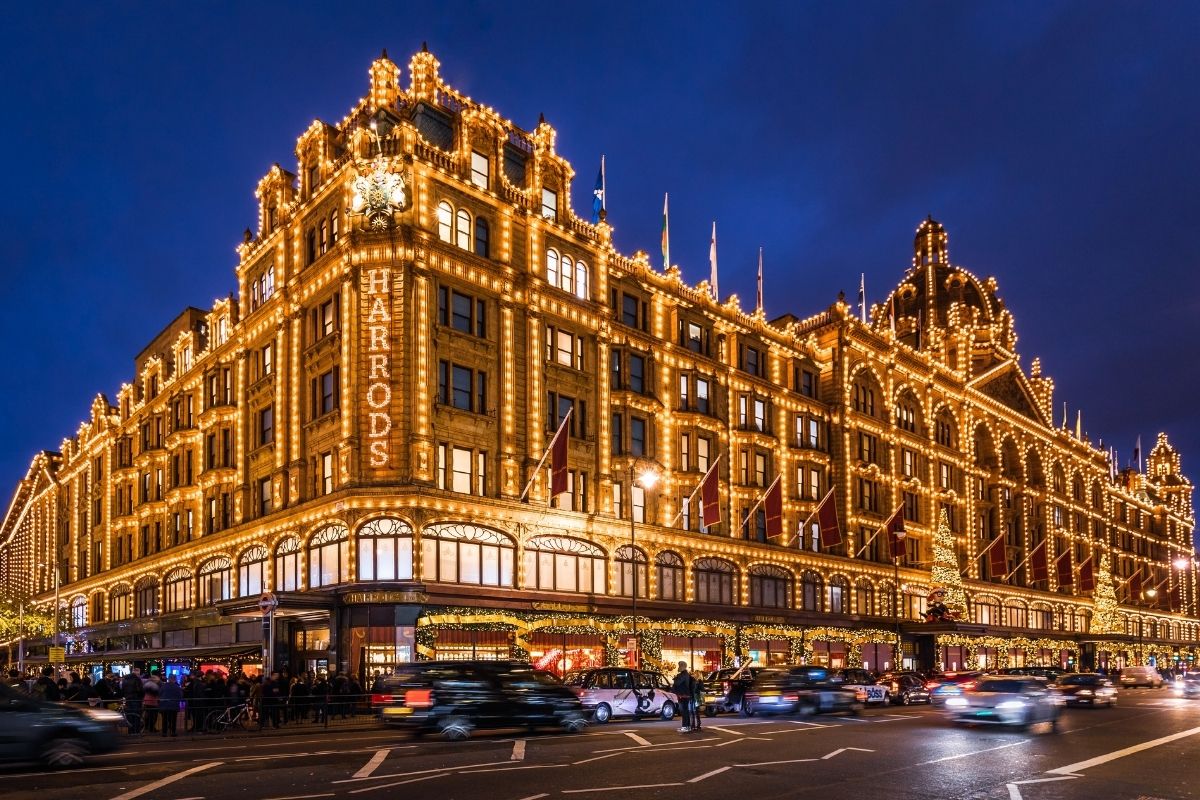 If you're craving more keepsakes from your trip, you're in luck; the shopping is plentiful, and lasts well into the evening!
Among the many activities to do in London at night, there are a surprising number of major stores where you can browse during less busy hours, from the 350 + stores at Westfield London to the fashionable items at Liberty London.
And of course, you can't miss out on Harrods, one of the largest and most respected department stores on Earth!
79 – Make your way around the Institute of Contemporary Arts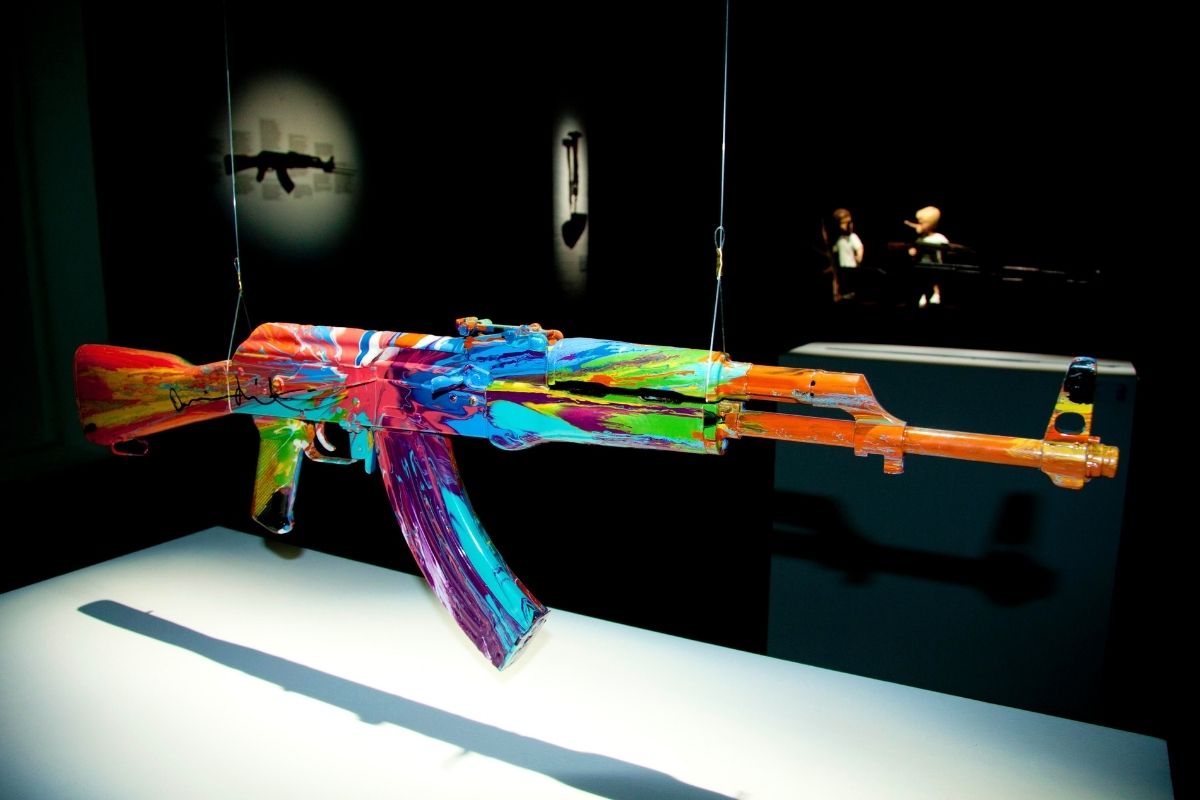 Not only is this lovely space home to some of the most innovative and stunning works of the modern era, but The Institute of Contemporary Arts is perfect for night owls, staying open until 9 pm from Tuesday to Sunday.
And it even offers a cinema full of ambitious new and classic works in the film genre, so you can explore another aspect of the artistic world!
Open until 9pm Tuesday to Sunday.
80 – Square off like NASCAR drivers with a round of karting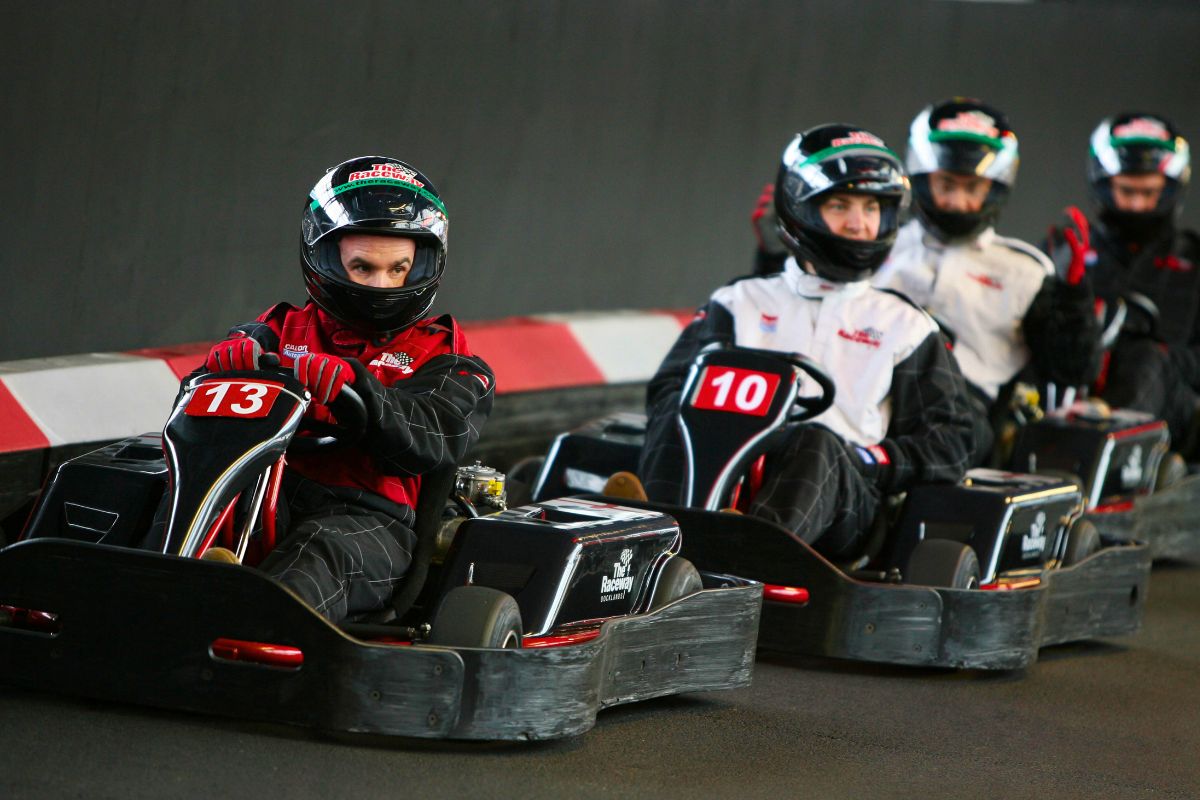 Sure, you may not be an official racer; but you can get a taste of it at TeamSport Go Karting!
A great family-friendly option for kids with slightly later bedtimes, this series of tracks all over town offer. plenty of twists and turns to keep everyone entertained.
You'll be amazed at how fast (and how fun) these little vehicles can go!
81 – Satisfy your sweet tooth at M&M's World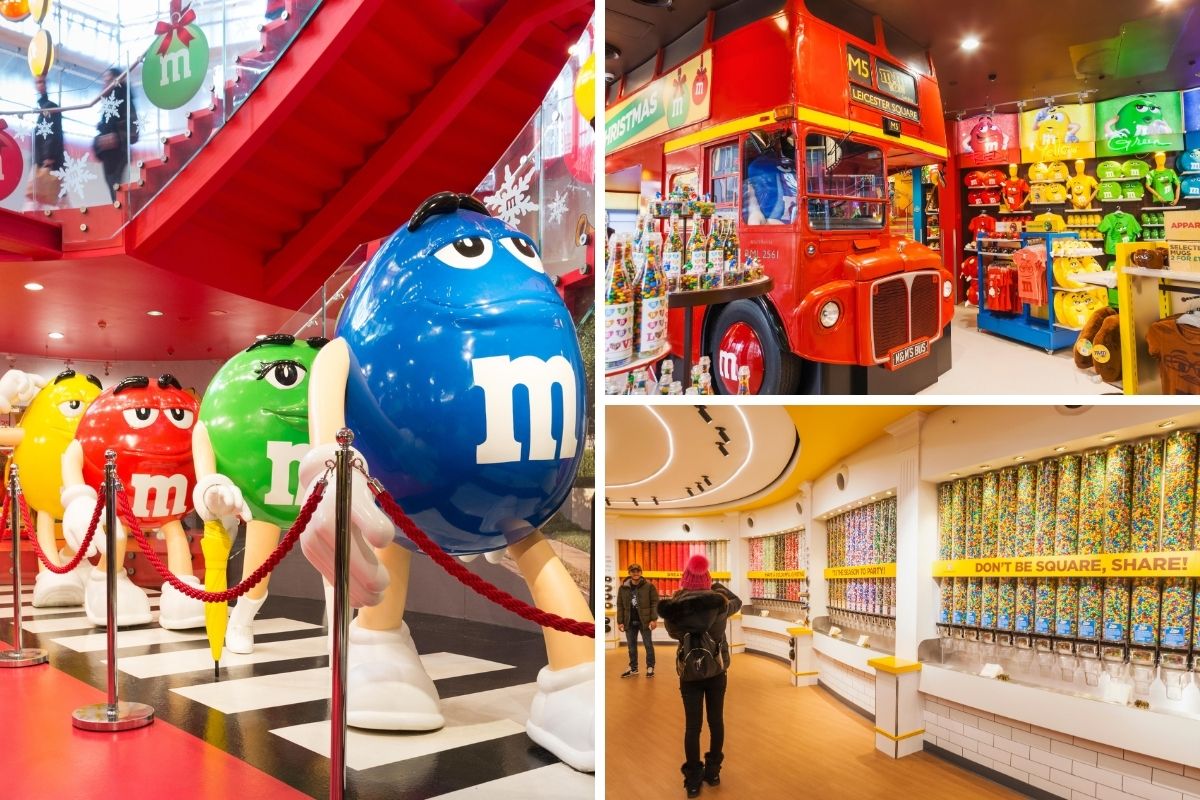 If you're seeking the mother of all sugar rushes, be sure to explore, M&M World, which features the largest wall of candy on the planet… all available to sample and snack on!
While you can easily visit this spot during the day as well, the crowds are lighter in the evening, allowing you plenty of time to browse and enjoy the massive rainbow of chocolatey goodness before you.
And you can even purchase some fun options for snacking on later!
82 – Reinvigorate your taste buds at Dans le Noir ( Dinner in the Dark)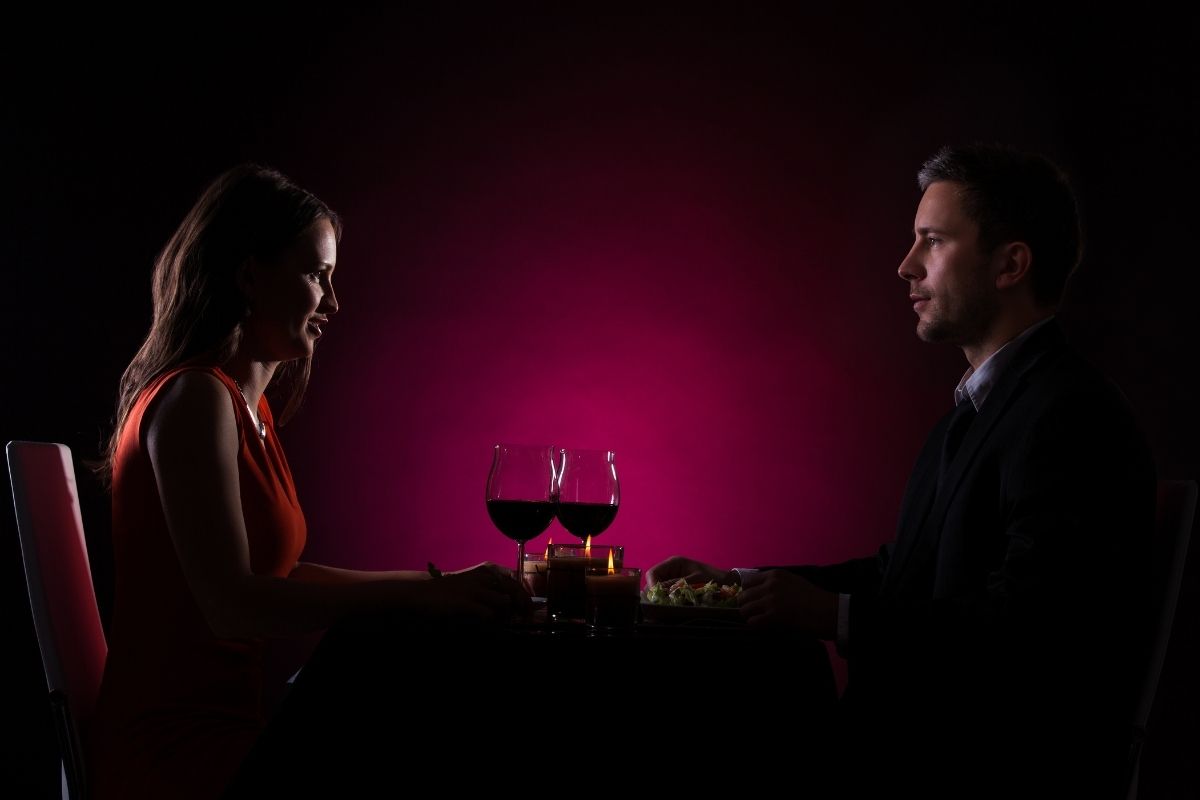 Adventurous eating is a great part of any holiday – but how about a meal where you can't see your food?
Dans le Noir offers world-class cuisine with a twist: you spend the entire meal eating in total darkness!
The experience is designed to heighten your other senses – especially taste! -, and help you experience the wonderful cuisine on a whole other level.
83 – See the jaw-dropping spectacles at BFI IMAX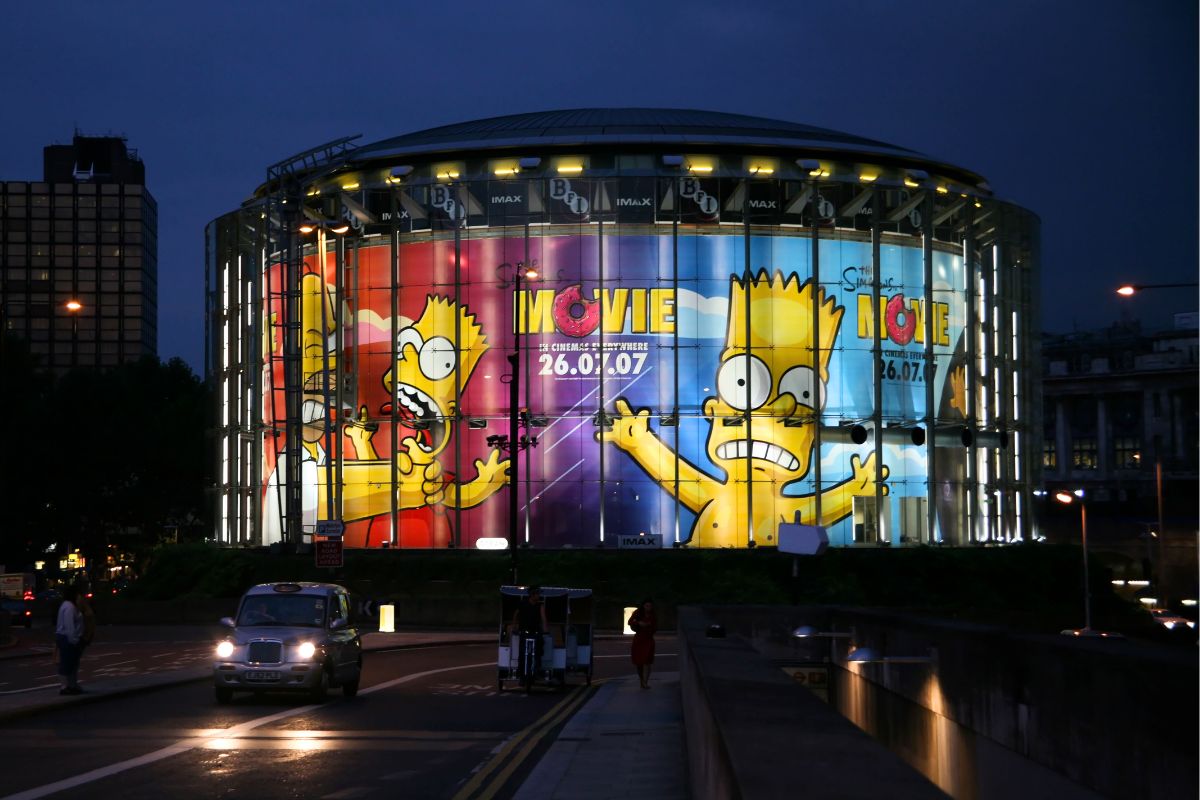 Dizzying heights, astounding width, and some truly epic features to match… what else would you expect from BFI IMAX?
As the biggest screen in the entire city, this is the place to go for an evening of spectacular scenery, whether you're rewatching a classic or experiencing the latest special effects.
Get a dose of cinema that's high-octane and unforgettable!
Where to stay in London?
The lavish halls of St. Martins Lane London host elegant meals and afternoon teas, along with an incredible fitness center featuring boxing rings and dance studios for an extra-energizing workout.
And citizenM London Shoreditch offers easy access to many of the bustling local markets, plus an awesome restaurant to keep you well fed on grounds.
Park Grand London Kensington offers an excellent eatery, bar, and gym, with museums and cultural institutions like the Royal Albert Hall right nearby.
And Lancaster Gate Hotel provides cozy aesthetics, cool cocktails, and the iconic Hyde Park and Kensington Gardens as neighbors.
Meanwhile, Hotel 63 puts you right in the heart of the city, and provides a wealth of transit and entertainment options just steps from the door.
Visiting London on a budget?
There are few better ways to get a feel for this marvelous metropolis than with some free walking tours in London… and several of them even take place at night!
Explore the terrifying legacies of ghouls and nefarious historical figures, or stroll beneath a magical canopy of fluorescence along the many winding streets as you explore the capital's lively neighborhoods in their evening form.
It's a magical way to absorb the city as the locals do… just be sure to bring cash to tip your guide!
Final thoughts
Move over, New York: this is one city that never sleeps!
Whether you prefer to get artsy, active, or adventurous, you'll find so many amazing things to do in London at night that you may forget to get any sleep at all!
But be sure to save time for snoozing, because there will be plenty more to see the next evening!