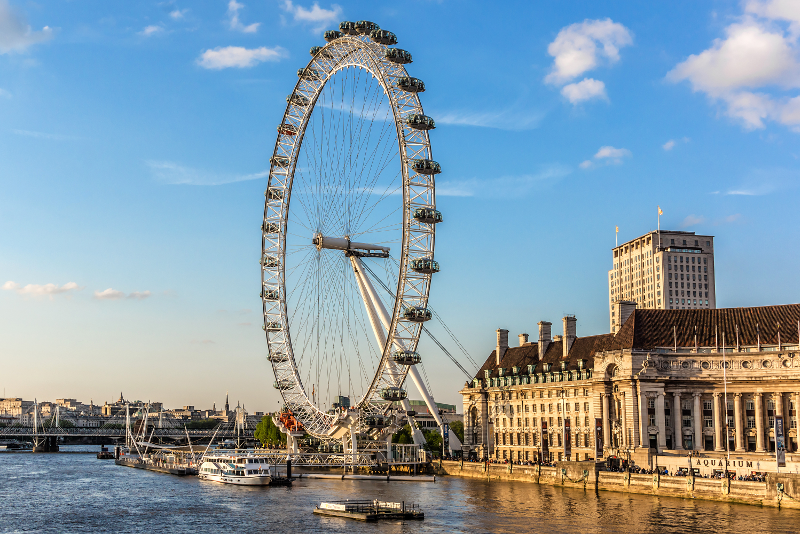 Planning on riding the London Eye in London? London Eye tickets are not cheap but there are ways to slash the cost. In this article, we will tell you about how to get the best London Eye tickets deals online so you can have fun without going bankrupt.
You will find below a complete guide to getting tickets for London Eye, including:
On 31st December 1999 – when the London Eye first went up – it was the tallest ferris wheel in the world. At 135m tall and with a radius of 129m, it's still the tallest one in Europe. And two decades later, it still attracts millions of visitors every year.
Don't feel like reading ahead? Click on the following link to book London Eye tickets right now.
How much do London Eye tickets cost?
Tickets to ride the London Eye vary slightly depending on the specific option chosen.
1- London Eye standard ticket price:
on the day tickets price: £30 (adults), £24 (children)
online tickets price: £27 (adults), £22 (children)
2 – London Eye fast track ticket price:
on the day tickets price: £40 (adults), £34 (children)
online tickets price: £37 (adults), £32 (children)
3 – London Eye family ticket price (minimum 1 adult and 2 children):
on the day tickets price: £30 (adults), £24 (children)
online tickets price: £26 (adults), £20 (children)
4 – Other ticket options to consider:
Champagne tickets – £44 including chilled champagne and a personal host
VIP tickets – £47 including champagne/wine/chocolate and a personal host
Private capsule – £450 for your own personal glass car with no other passengers
Cupid's capsule – £470 for couples, including champagne and truffles
Proposal capsule – £490 including a photographer/personal host, champagne and truffles
Tickets include:
4D cinema introduction
Interactive guide in selected languages
30-minute rotation on the London Eye
Entry to the London Eye Champagne Bar
Who are eligible for discounts?
Children aged between 3 and 15 years old are elegible for discounted tickets.
Also note that if you book your ticket online, you earn a discount between 10% and 30 % depending on the type of ticket and website where your purchase your tickets.
How do you skip the line?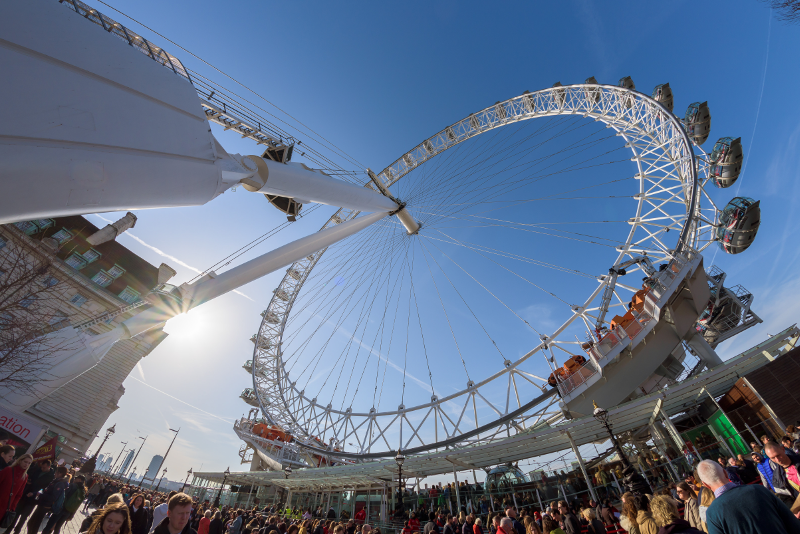 The ride takes up to 800 people. Meaning at any one time, there are about a thousand people ahead of you. And since the ride re-loads every thirty minutes, the line grows alarmingly fast.
The best way to skip the line is to buy a fast track ticket online and at least the day before.
You may book your tickets on the London Eye official website. Alternatively, you could buy your tickets from an online travel agency like Getyourguide, Viator, Tiqets, or Musement.
How do you find the cheapest London Eye tickets deals?
Each online travel agency has its own collection of specially brokered discounts and deals, so plan early and compare prices. TourScanner collates London Eye tickets deals from all these websites and puts them on one platform, making it easier to access the best discounts. Check our page for regular updates, you may save up to 30%.
Are there any combined tickets including London Eye tickets and other attractions?
The London Eye shows you the entire city at a glance. It then extends that glance for 30 minutes, offering 360º awe-inspiring perspectives. But there are still other sites you'll want to experience more closely. Combined tickets provide this opportunity, saving you time and money in the process. Book strategically to see multiple sites on the same day. Options include:
London Eye + River Thames – Rather than just watching the river from afar, combine your ticket with a boat cruise of the River Thames.
London Eye + Tower of London – Get an overview of the British Empire's history by exploring this military fortress, which is also a World Heritage site.
London Eye + Madame Tussauds – The famous wax museum lets you touch the stars … or at least their immensely life-like wax representatives. Some 4D movies are included.
What will you see?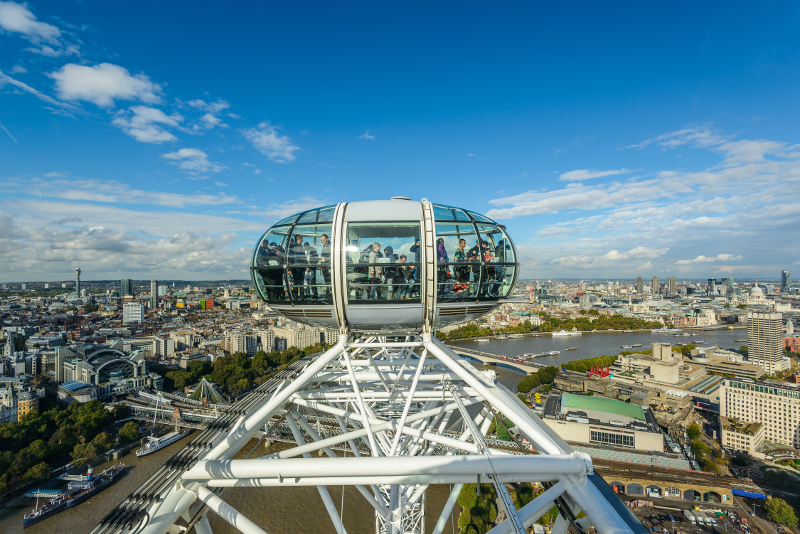 The London Eye is an event in itself. You start off with a glamorous introduction, preparing you for what you're about to see. Then you get inside a cozy glass cubicle and start your half hour ride. The glass car moves slowly – about a foot per minute – so even if you're scared of heights, the pace (and the amazing views) won't activate your fears.
These glass cars offer unfettered 360º views of London, and on a clear day, you can see 40 miles away. The ride itself has 32 viewing capsules, and a single rotation takes half an hour.
The London Eye offers seemingly impossible views of London's top landmarks, including St. Paul's, River Thames, Buckingham Palace, Tower of London and the Big Ben to name a few.
Are London Eye tickets included in any attractions city passes?
Buying a city pass is a great way to explore London, and yes, many passes include London Eye tickets. Here are just a few:
Thames River Boat Cruise Pass – This isn't exactly a pass, but it's a 24-hour guided city cruise that lets you get on and off the boat to explore. It covers more than 80 of London's top attractions, including the London Eye.
London Explorers Pass – This one-day pass lets you visit 20 top sites using a combination of boat, bus, cab, or on foot. It covers historical sites like palaces, and unexpected pleasures like the aquarium, the observatory, a whiskey distillery, soccer stadiums, and even a Shrek tour.
London Pass – This includes free access to London Eye, the Hop-on-hop-off Bus Tour, and Buckingham Palace Queen's Gallery. When the palace is closed for special events, your Buckingham ticket is swapped for Tower Bridge Exhibition. The pass offers free airport transfers, and grants you 20% discounts at selected sites like Stonehenge and Madame Tussauds.
NB:
Be sure to get a London Pass rather than a regular Turbo London Pass, which doesn't cover the London Eye.
Your London Pass only lets you use the 24-hour sightseeing bus. It doesn't give you access to other public buses. For that, you wil need a Metro card.
What is the best time to visit the London Eye? How to avoid the crowd?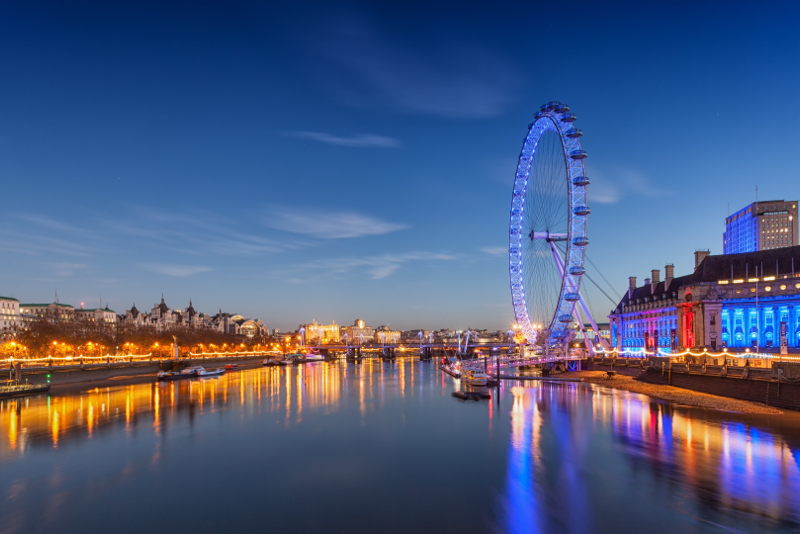 There are two lines at the London Eye – one to buy tickets, which can get frustrating. And one to board the ride with up to 799 other passengers. To skip the ticket line, buy online, or get a fast-track ticket. To shorten the boarding line, visit as close as possible to opening time, or wait until after 3 pm when visitors are fewer. Surprisingly, it empties around sunset despite the gorgeous skyline hues, so that's another good slot.
Whichever ticket you buy, get there 30 minutes before your ride, because there's always a half-hour boarding queue.
What are the London Eye opening hours?
Unlike other attractions, the London Eye's operation times vary greatly. Before booking your ticket, double-check, because it closes as early as 3:30 pm on New Year's Eve, or as late as 9:30 pm on special occasions.
The Eye generally stays open shorter on weekdays and longer on weekends, with extended opening hours during peak tourist seasons and school holidays.
Warmer months (March to September): 10 am to 8:30 pm
Colder months (October to February): 11 am to 6 pm
Travel tips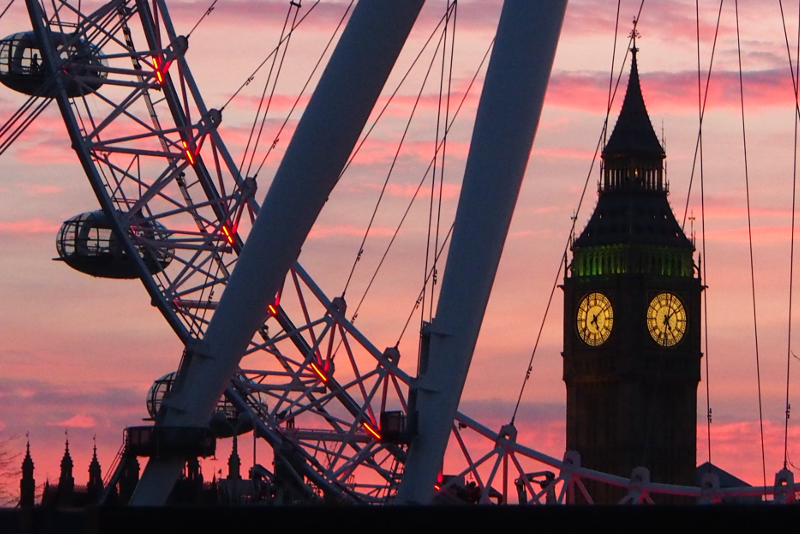 When you're visiting the London Eye, here's some advice to keep in mind:
Always book your ticket in advance to save time, spend less and reduce stress.
Bring good shoes, because even if you get skip-the-line tickets, you still have a half-hour wait in the boarding line. On that note, be sure to arrive 30 minutes early.
Carry something warm. The glass capsules are climate-controlled, but they can get chilly in the evenings and during winter.
If you have special interests and hobbies, check for Time-Out's Eye-Opener classes like yoga, sketching, or photography, all hosted in a London Eye capsule.
The views from the Eye are immeasurable, so carry a camera. But remember to pause between selfies and just take it all in. Look with your eyes, not just your lens.