A perfect experience while in London for any football fan is to take a trip to the Arsenal FC Emirates Stadium. Walk in the footsteps of the sport's legends, as you exit the players' tunnel, dressing rooms and other significant areas.
Venture through the stadium, as an audio guide educates you on extra details about the history. Book your Arsenal Emirates Stadium tour, as it's a must-stop for football fans!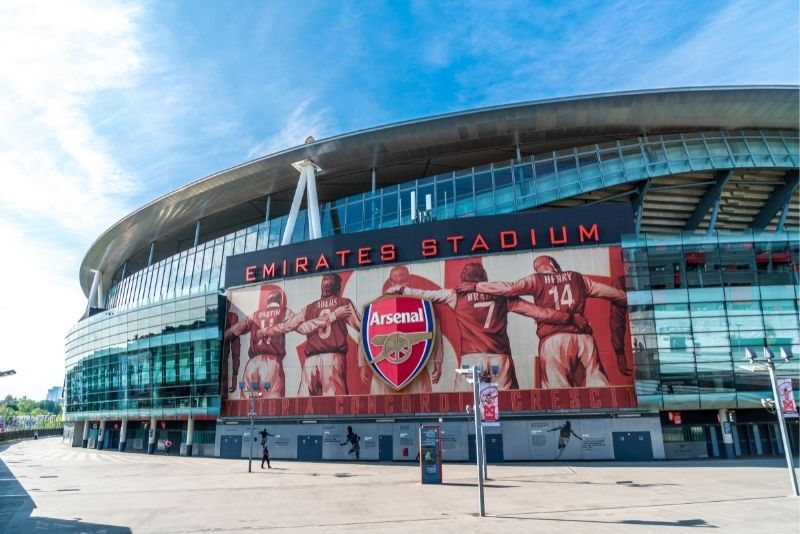 Here's all you need to know about Arsenal Emirates Stadium tours, one of the most exciting attractions in London.
How much do Arsenal FC Emirates Stadium tours cost?
The exact cost of your Emirates Stadium ticket will depend on the type of tour you want.
Stadium tour
Adult: £27
Children (age 5-15): £18
Children under 5): Free
Discounted price: £22
Matchday tour
Adult: £35
Children (age 5-15): £25
Children under 5): Free
Discounted price: £30
Legend tour
Adult: £50
Children (age 5-15): £30
Children under 5): Free
Discounted price: £40
Discounted prices apply to seniors (65+), students and persons with disabilities.
Who is eligible for discounts?
Seniors (65+), students and persons with disabilities are eligible for discounted tickets to Arsenal Emirates Stadium.
What are the best Arsenal Emirates Stadium tours?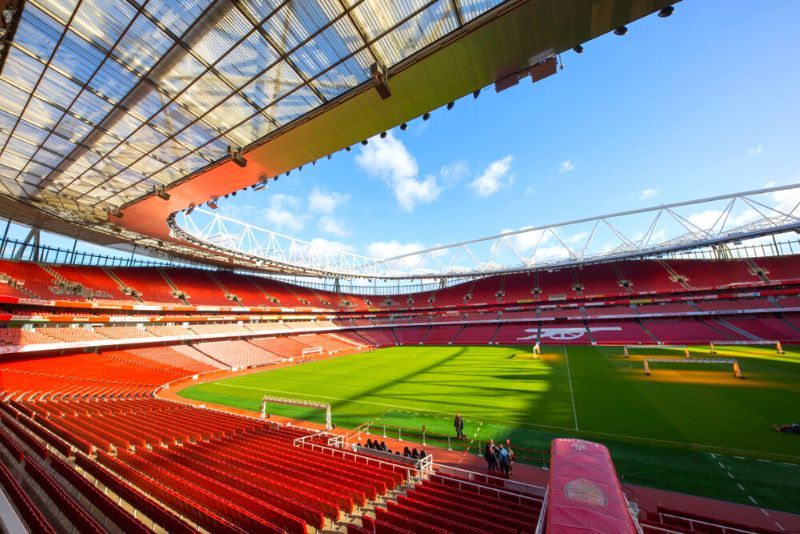 Emirates Stadium tour
On a stadium tour, you can head to the Arsenal Emirates Stadium and walk in the shoes of some of the world's best footballers. Visit the dressing room, press room and many other locations with an audio guide to help you on your way.
The audio guide is available in English, French, German, Spanish, Italian, Dutch, Portuguese, Chinese, Japanese and British Sign Language.
Matchday tours allow entry to important areas, including Directors Entrance and Box, Players' Entrance, Diamond Club, Press Conference Room and more in an hourlong tour.
Legend tours
Legend tours provide a behind-the-scenes tour hosted by your chosen legend with access to important areas plus free entry to the Arsenal Museum.
VIP experience tours
For those truly looking for something special, on selected days, you can book a VIP tour complete with one of Arsenal's most influential and important persons.
Enjoy a 4-hour tour with exclusive access to the TV studio, a delicious meal and a conversation with one of your football heroes.
The VIP stadium experience is a tour presented by one of the club's top stars, plus a hot buffet at the Diamond Club. The cost is £325, and available to visitors over 16 years old.
Should you book tickets in advance?
Always book your Arsenal Emirates Stadium tickets in advance. The offered tour timings vary depending on the day, time of year and whether tours are open to join.
You can't tour the facility when there are live matches happening.
What will you see inside?
There are many incredible areas to visit on your tour of the Emirates Stadium, and the fan favorite is the Arsenal Museum. This museum includes some of the team's most well-known memorabilia, Arsenal history and future planning initiatives.
The tours also stop by players' dressing rooms, the press room, the players' tunnel and dugout zones. This is a wheelchair and stroller-accessible stadium.
How to get to the Emirates Stadium?
The Arsenal FC Emirates Stadium is located in London and is easily reached by metro, train, bus or taxi.
The nearest metro station is Arsenal underground station, but it's not accessible for persons with disabilities.
The closest station with step-free access is Finsbury Park, around a 10-minute walk away.
To plan your journey, refer to the "Transport for London" website to find the best route for you.
When is the best time to visit the Emirates Stadium?
It's best to visit the Emirates Stadium in the morning, so you'll have more time to explore and walk around, shooting your own football shots.
Which other attractions can be visited in London?
Travel tips
Arrive on time.
Carry a photo ID if you are eligible for a discounted price.
Bring a camera or smartphone to take photos.