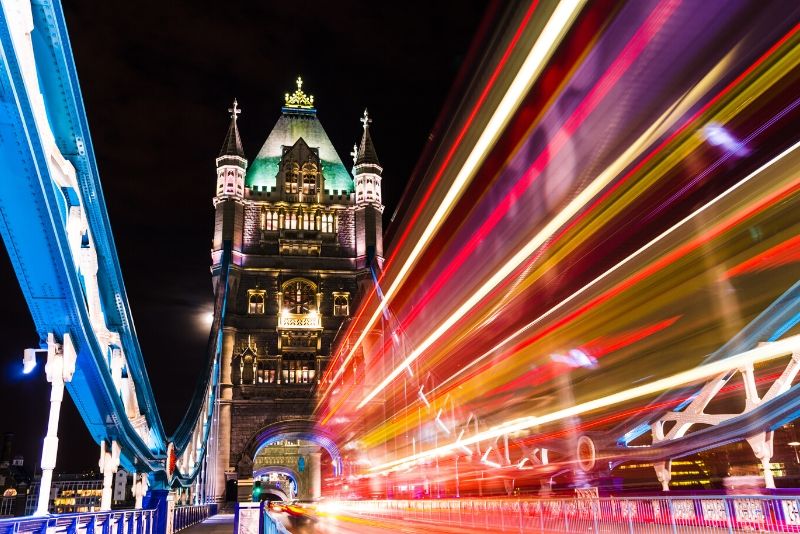 London night tours offer you the chance to capture the allure of the city as it lights up and illuminates everything around it.
We've put together a list of the 15 best night tours in London so that you can make the most out of England's capital after dark.
There's no place quite like London, especially at night. Enjoy!
1- London by Night: 90-Minute Open Top Bus Tour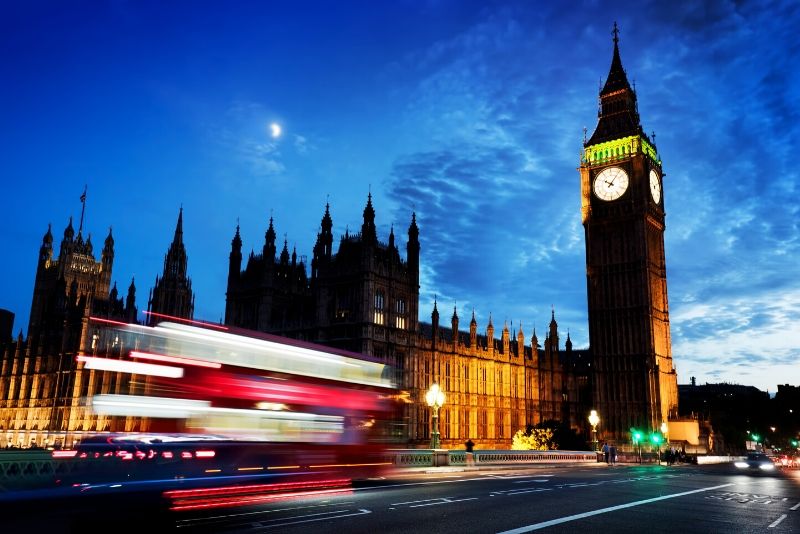 Climb aboard an open-top bus and witness the wonders of London, with the majestic city lit-up against the night sky as you pass iconic sights. Enjoy a guided tour and see landmarks like Big Ben, Harrods, The London Eye and Trafalgar Square in all of their illuminated glory.
The bus ride lasts for 90 minutes and features an entertaining guide, who will provide historical information about one of the world's most visited cities. You haven't really seen London until you've seen it at night!
2 – Bateaux London Dinner Cruise On the Thames With Live Entertainment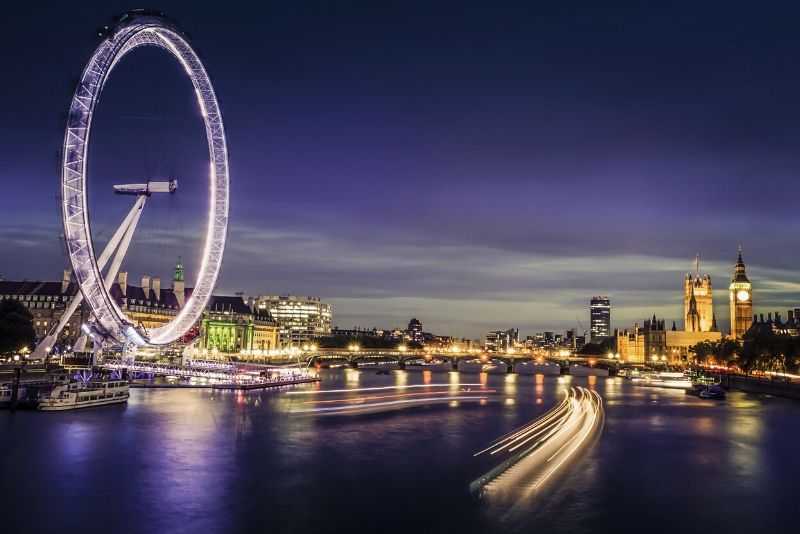 Combine the delights of the London skyline at night with fine dining while you sail along the River Thames. The Glass Room is a luxurious dining cruise with a 5-course dinner and music to keep you entertained throughout the 3-hour cruise.
It was designed by architect Gerard Ronzatti, who wanted to create the de facto dining experience on the Thames. Take in the panoramic views of London at night before tucking into a tasty meal. Round the evening off with dancing to live music and open-air views of London at night.
3 – London Ghost Walk: 2.5-Hour Guided Tour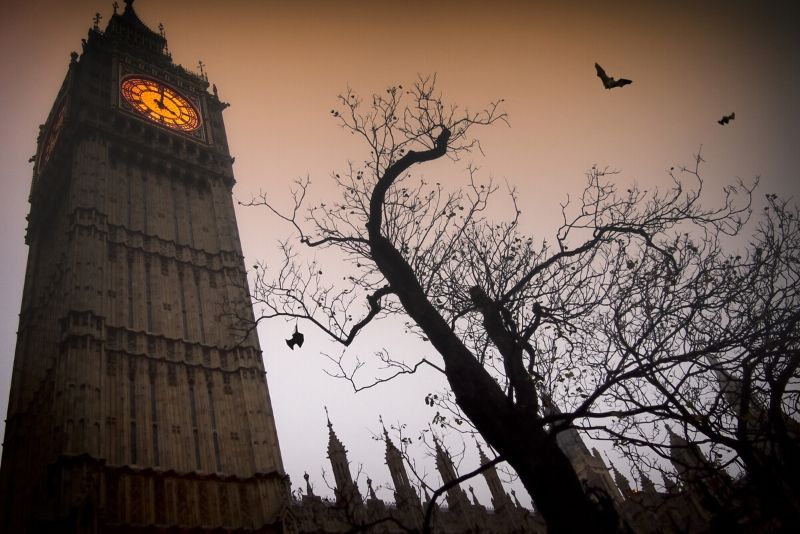 Find out if you're afraid of the big bad ghosts on a London Ghost Walk. Prepare to be terrified for just over 2 hours as you discover some of the city's most haunted sites, such as murders at St. James Palace, spooky goings-on at the Royal Academy, and ghostly monks at Westminster Abbey.
A guide will be on hand to tell you all about the gory details of the places you visit, so be prepared to be scared out of your wits. Let's just hope you don't see any real ghosts!
4 – London: Jack the Ripper 2-Hour Evening Walking Tour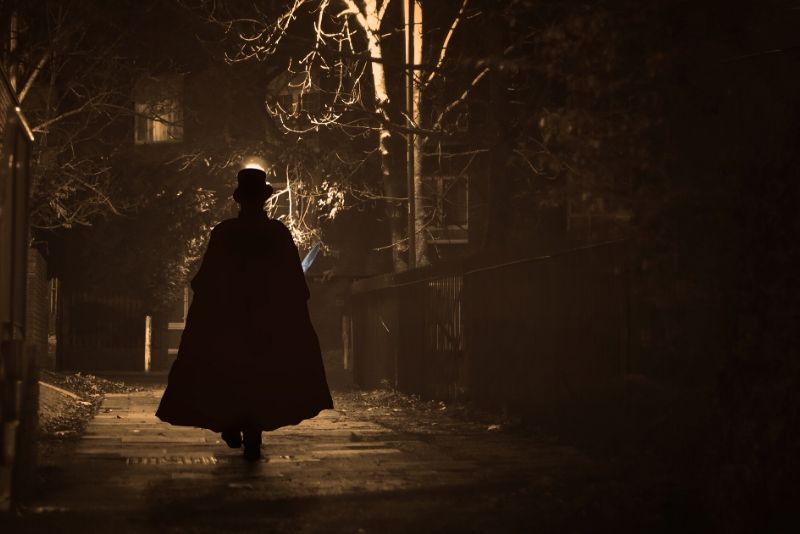 If the London Ghost Walk didn't put the spooks in you, the Jack the Ripper Tour will surely give you a case of the frights. This 2-hour walk is one of the spookiest London night tours and takes you back to the Victorian era by retracing the steps of one of London's most notorious serial killers.
A guided tour will show you the sites where Jack murdered his unfortunate victims while teaching you about the poverty and slums of inner-city London in the late 1800s. There's even a chance to play detective by studying profiles of other suspects during one of London's most notorious eras.
5 – River Thames Evening Sightseeing Cruise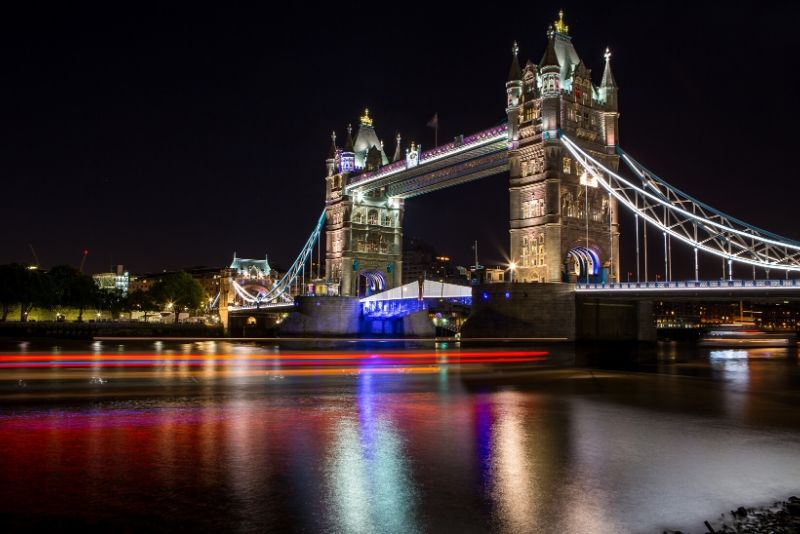 Did you know there are over 200 bridges that cross the River Thames? The Sunset River Thames boat cruise lets you see many of those bridges illuminated in the night sky as you sail between Westminster and Greenwich.
But there's more to this cruise than a scenic bridge or two – enjoy London night tours and watch the sun setting against famous attractions such as Big Ben, the Shard and the London Eye. You can even enjoy a free drink as you sail down the river in this 2-hour cruise. What else could you ask for?
6 – Evening Food Tour of Soho in London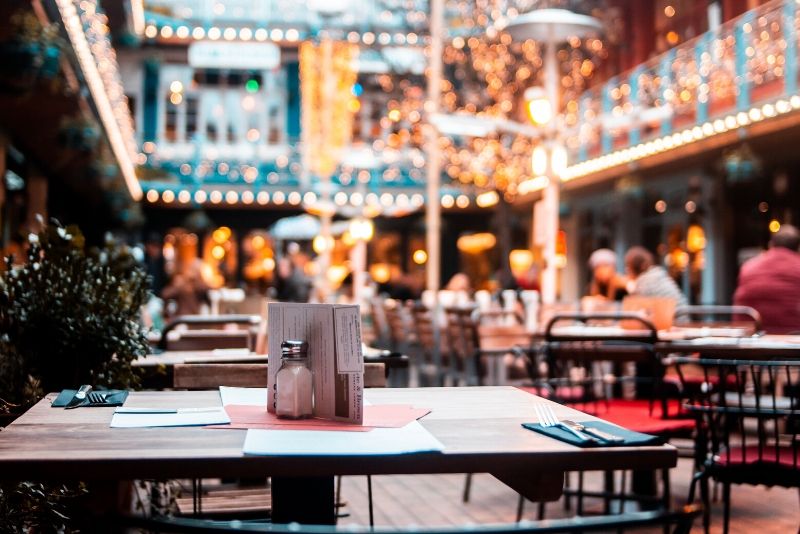 London is a melting pot of cultures, which means it offers some of the most eclectic cuisines in the world. It can be difficult knowing where to start on your culinary journey. Thankfully, the Twilight Food and Cocktail Tour of Soho has sourced the best spots. All you need to do is enjoy the delectable tastes.
Your foodie guide will take you around 10 of the best spots in the vibrant neighbourhood of Soho, where you can taste an array of dishes. From little-known cafes to famous spots, get ready for the best few hours that your taste buds have experienced.
7 – London Evening Bike Tour with Beer Tasting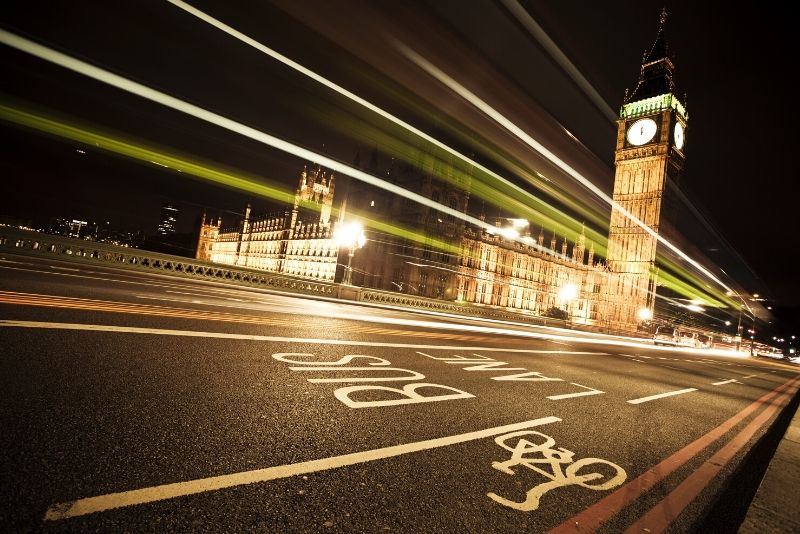 Try a London night tour that's a little bit different and hop on a bike to see the wonders of England's capital. Lasting 4 hours, this small group tour sees you cycling at a leisurely pace with an expert guide while discovering London.
See some of the most iconic sites, such as Big Ben, the London Eye, the Houses of Parliament, Shakespeare's Globe, Tower Bridge and Tower London. There's also an interlude during the tour, which includes a stop at a historic London pub where you can sip back and enjoy refreshing ales.
8 – London by Night Independent Sightseeing Tour with Private Driver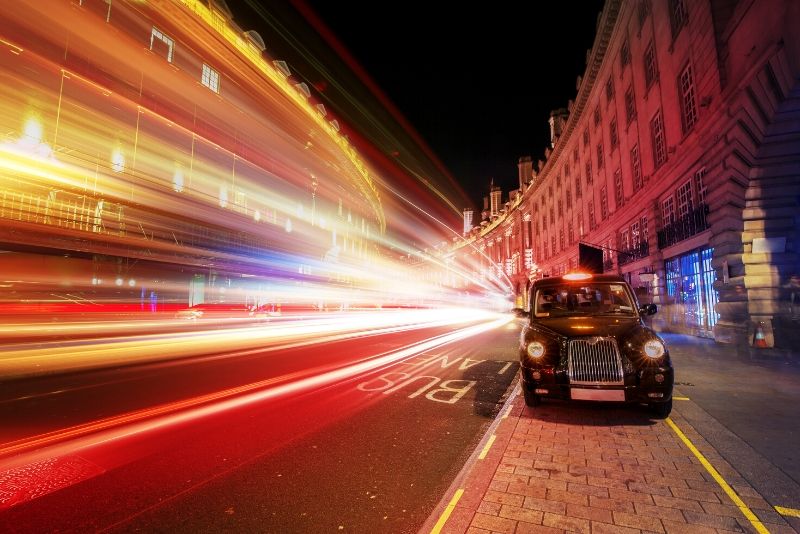 Fancy enjoying the allure of London at night away from a group tour? If the answer is "yes", a London night tour with a private driver should pique your interest. Design your perfect trip with your driver, who will recommend the best sites to see just in case you need any help.
Then sit back and enjoy as you discover London's best neighbourhoods. The tour lasts for 3 hours, and your driver will give you key insight into what to do in London while showing you the most iconic places the city has to offer.
9 – Stonehenge Special Access Evening Tour from London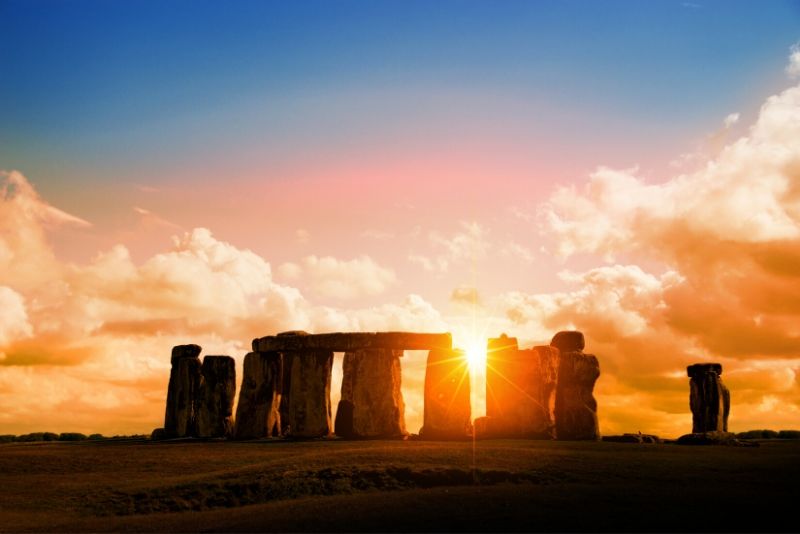 The UNESCO World Heritage Site of Stonehenge is one of the UK's most famous landmarks. And this after-hours tour is your chance to witness it at night! The tour lasts for 12 hours and includes travel from London to Stonehenge.
Other highlights include a local expert guide, who will provide a 1-hour history tour, and visits to nearby villages. Avebury is one of those medieval villages you will visit. Here, you can walk up the hillside to West Kennet Long Barrow, which is a 5000-year-old Neolithic burial tomb.
10 – London Night Walking Tour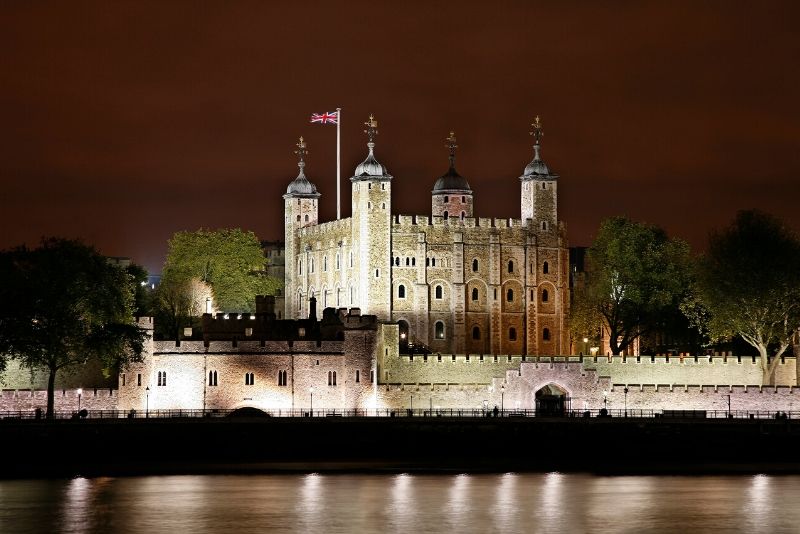 Learn about London's darker side with this historic night walking tour. Starting at 6:30 pm outside of Tower Hill station, this tour lasts for 2-and-half-hours and includes trips to the Tower of London – where you will learn about the most haunted buildings in the city.
Next up is a history lesson on the East End during the Middle Ages, when tyrants ruled over the city poverty was rife. The tour then continues to Prostitutes' Church and ends at Ten Bells pub, two iconic landmarks where Jack the Ripper picked up some of his victims.
11 – London Pub Crawl and Nightlife Tour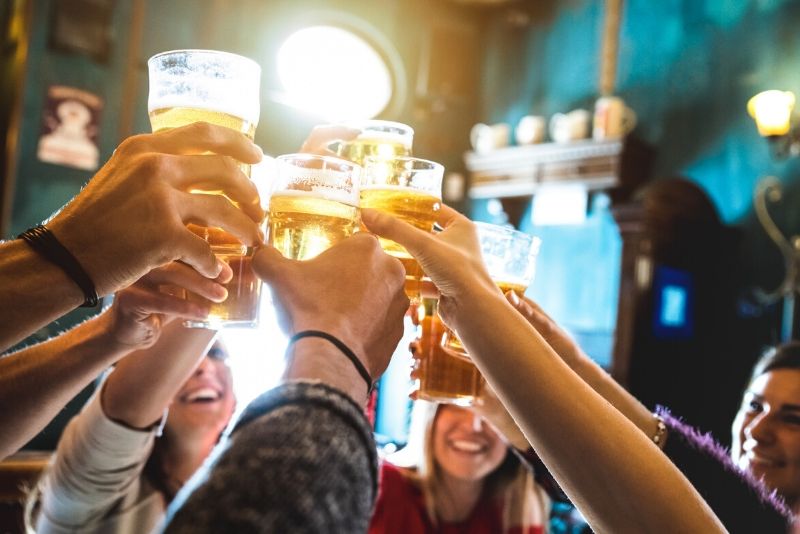 London is famous for its world-class nightlife, and this pub crawl and nightlife tour is your chance to experience it first hand. Party the night away at some of the city's best nightlife venues and enjoy free entry to 5 different bars and clubs in the iconic West End.
Shake a leg to top tunes and experience VIP spots in Soho, Leicester Square and Piccadilly Circus. Each venue offers a complimentary shot, and a cheeky tour guide is on hand to make sure that you live your best life on the London club scene.
12 – London Showboat 4 Course Dinner Cruise on Thames River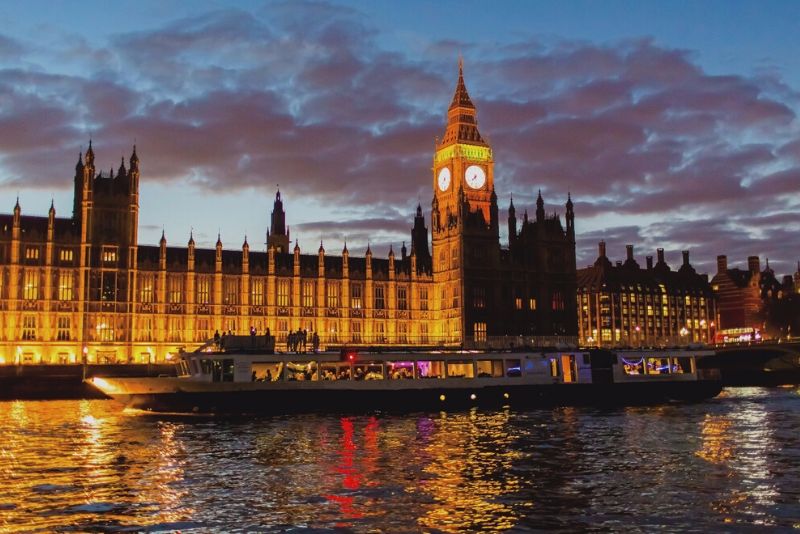 Get romantic on one of your London night tours with a 4-course dinner cruise on the London Showboat. Marvel at the majesty of London and soak in a night of iconic sights and fun-filled entertainment as you cruise along the Thames.
The evening starts with a free glass of sparkling wine and the chance to watch the sun setting on landmarks like Big Ben, the Houses of Parliament and the London Eye from the open roof deck. Next, it's time to enjoy a 4-course meal while taking in panoramic views before rounding the night off with a spot of music and entertainment.
13 – Comedy Horror Show: London Ghost Bus Tour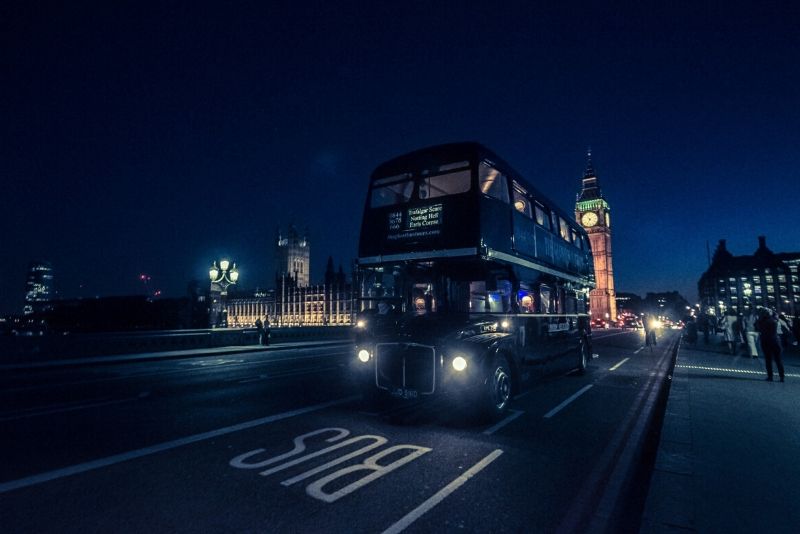 It's all aboard the ghost bus for a mixture of horror and comedy with the Comedy Horror Show. Get ready for 75 spook-filled minutes that include sightseeing and a creeptacular guide who will provide insight into London's most horrific history.
There's no need to be scared though – everything is done with a hint of comedy, and actors put on a show as you head around the West End and the south of the river. Your tour commences on the Necropolis Bus, which was once used to transport deceased bodies around the capital. You will be very much alive and kicking on this scary jaunt around London, however.
14 – Thames Sunset Sightseeing Cruise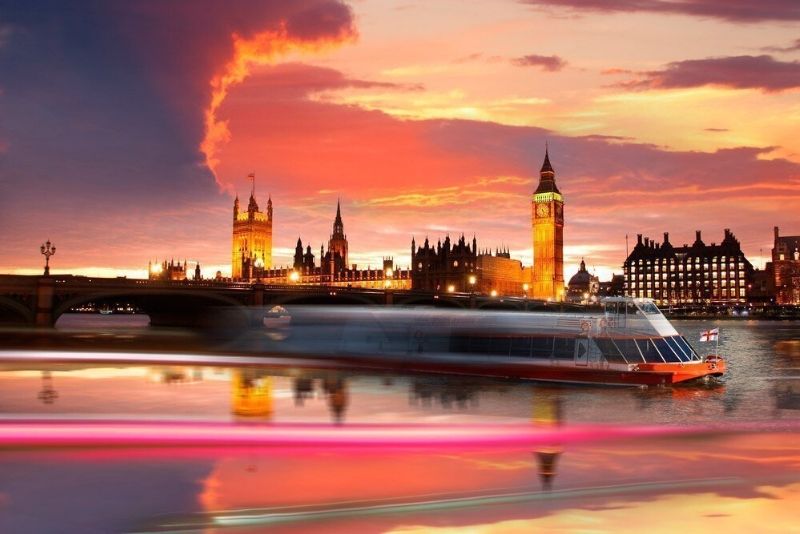 Make the most of London at night with a sightseeing cruise at dusk. Sail down the River Thames while enjoying sparkling wine and canopies as the sun sets over the capital, all to the backdrop of live jazz music.
This 2-hour cruise sails between Westminster and East London's Canary Wharf, with views of landmarks such as St. Paul's Cathedral, Millenium Bridge, the London Eye, the Tower of London and Tower Bridge all included.
15 – Jack the Ripper and Sherlock Holmes Tour of Haunted London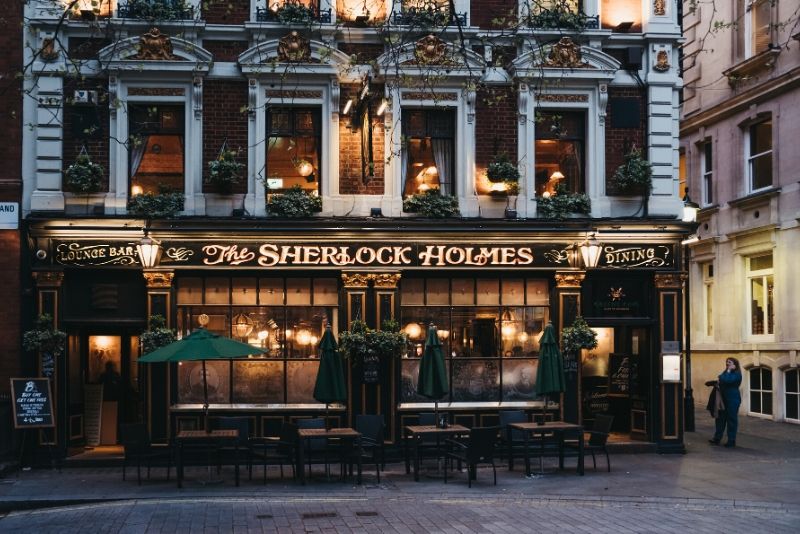 Jack the Ripper is London's most notorious criminal, and Sherlock Holmes is the capital's most well-known detective. Learn about both of them and discover the spots in London where they frequented with this tour of haunted London.
This is one of the London night tours to remember and includes a bus and walking tour. Visit locations of London's most famous executions, such as medieval Smithfield Market, and discover the dark history of Jack the Ripper, Sweeney Todd and the Cock Lane Ghost. Finish the tour inside the Sherlock Holmes pub and see if you solved any mysteries.