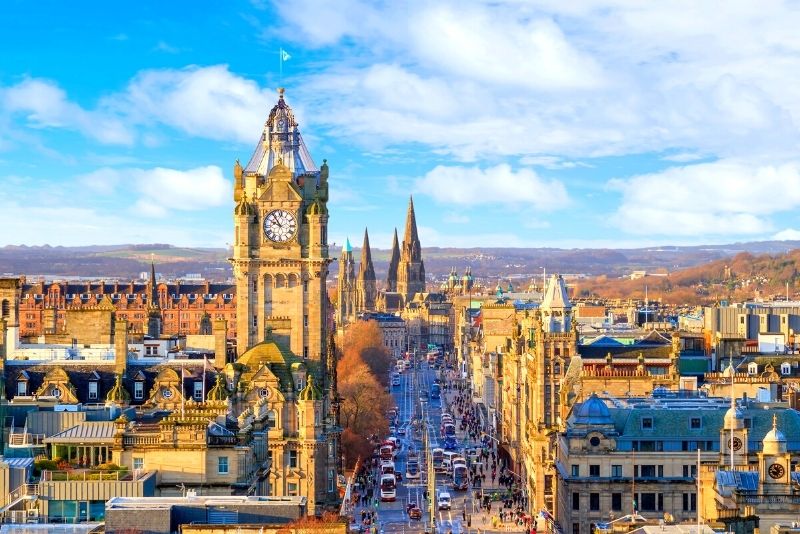 A charming city that fuses history with modernity, ancient traditions, and centuries-old castles with contemporary museums and art galleries, Scotland's capital is a buzzing hive of historical discovery and new-world charm.
Explore sprawling castles, opulent palaces, and mysterious underground cities in the heart of the Old Town, or climb extinct volcanoes for unbeatable city views. For culture vultures, Edinburgh offers an embarrassment of riches, from world-famous museums to cutting-edge art galleries. And when night falls, the city's pubs, clubs, and comedy venues come alive.
Nature-lovers too will be licking their lips, with coveted green spaces like the Meadows and Princes Street Gardens to stroll through, plus an array of wildlife-filled parks and reserves on the city's doorstep. And don't even get us started on the spectacular day trip opportunities to places like Fife and St. Andrews or the Dunnet Head cliffs.
Justifiably considered as one of the best places to visit in the UK (and most underrated!), Edinburgh is well-placed for central Highlands tours too, with all the tranquil lochs, dramatic peaks, and charming fishing villages you could wish for.
So, without further ado, let's explore some of the most fun things to do in Edinburgh!
1 – Explore the mighty Edinburgh Castle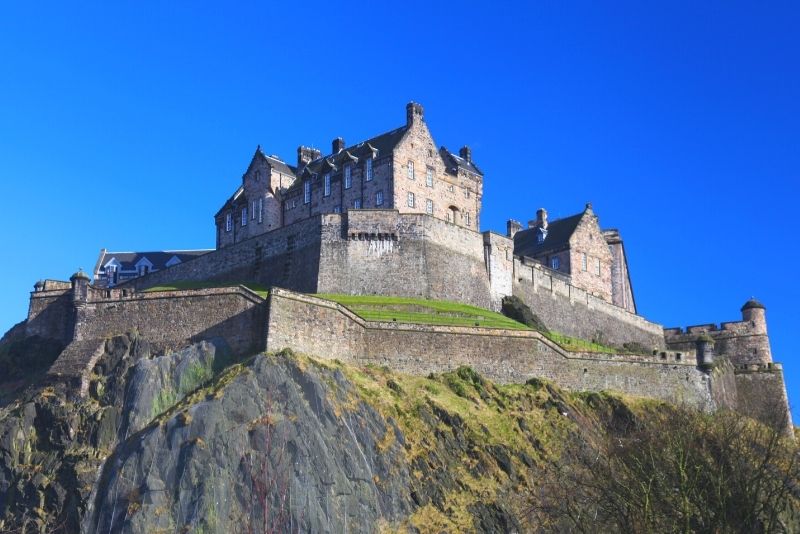 This famous Scottish icon is a must-see on your first visit to the city.
Dating back to the 12th century, Edinburgh Castle sits imperiously on a hill overlooking the Old Town. At 130 meters above sea level, not only is it impressive in its stature, but also in its history and geology: Did you know that Edinburgh Castle is built on an extinct volcano, dating back some 350 million years?
While impressive from afar, its interior is full of surprises too — head inside on one of the myriad Castle tours to discover the majestic Crown Jewels of Scotland, the sacred Stone of Destiny (otherwise known as The Coronation Stone), and the regal Great Hall.
Make sure to check out the famous One O'Clock Gun – Mons Meg – and visit the National War Museum of Scotland while you're there, a treasure trove of artifacts and history lessons.
And, of course, no visit to Edinburgh Castle is complete without taking in the sweeping views of the city below from one of its many vantage points.
Hot tip: if you've still got time, be sure to meander down the Royal Mile, checking out all of the charming boutiques, pubs, and cafes along the way. Stretching close to a mile (hence the name), it connects the foreboding castle with the Scottish Parliament building and Holyrood Palace.
Read more about Edinburgh Castle tickets price.
2 – Head to the historic Palace of Holyroodhouse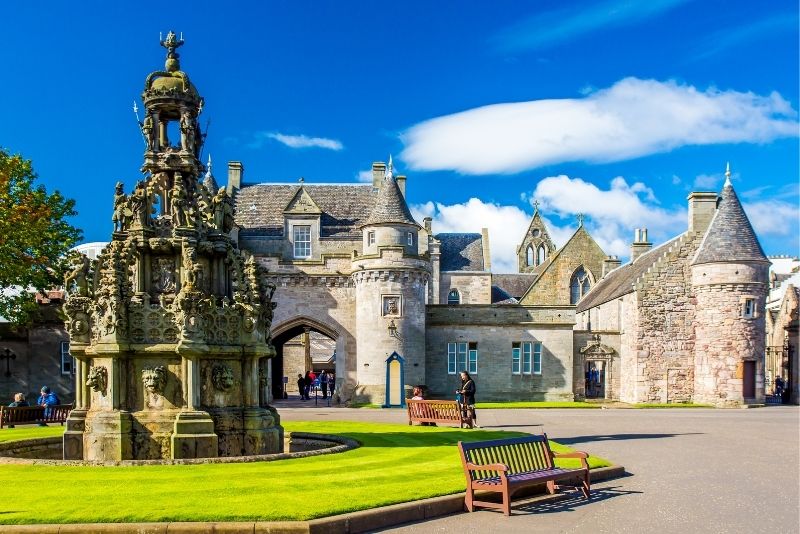 Standing majestically at the end of the Royal Mile, the Palace of Holyroodhouse is the official residence of the Queen when she is in Scotland (and, fun fact, was also the home of the unfortunate Mary Queen of Scots).
The 290-room Palace is open to the public when the Queen is not in residence, and thanks to its grandeur and history, is definitely worth a visit for its stunning architecture and beautiful gardens.
Visitors can tour over a dozen grand staterooms as well as the spectacularly opulent Queen's Gallery, which hosts a slew of exhibitions from the Royal Collection. As you're led around the expansive grounds by an expert historian, you'll have the chance to admire period furniture, appreciate near-priceless artwork (as well as frescoes), and snap a few photos of the throne room.
When you're finished with the interior, explore the extensive grounds and the abbey ruins. Despite being one of the more popular things to do in Edinburgh, with some 10 acres of gardens (set within the much larger Holyrood Park), it'll seldom feel crowded.
Read more about Palace of Holyroodhouse tickets price.
3 – Meander down the atmospheric Royal Mile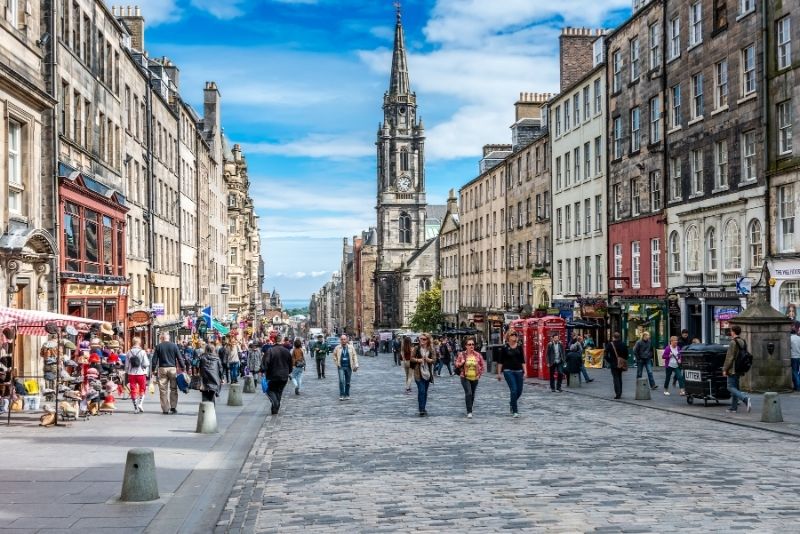 Oozing character, with istle-topped lampposts and cobbled streets, the Royal Mile is the spine of Edinburgh's Old Town — a UNESCO World Heritage site, no less.
Stretching from Edinburgh Castle all the way down to Holyrood Palace, this historic thruway is home to some of the city's most important landmarks, not to mention throngs of tourists, locals, and bagpipe buskers who all mingle along (making it a great place to people watch!).
Absorb the rich history as you pass beneath imposing tenement houses, negotiate narrow passageways, and take photos of the main sights. While a casual stroll is always a treat, if you're looking to learn a thing or two about the area's history, architecture, and hidden gems, amble around the atmospheric Old Town on a small-group city tour in Edinburgh, and get to know this UNESCO World Heritage Site with the help of an expert local guide.
Admire top attractions such as St. Giles' Cathedral, Scotsman Steps, Greyfriars Bobby statue, Parliament Square, and more, and learn about their fascinating histories.
4 – Venture below the surface to Real Mary King's Close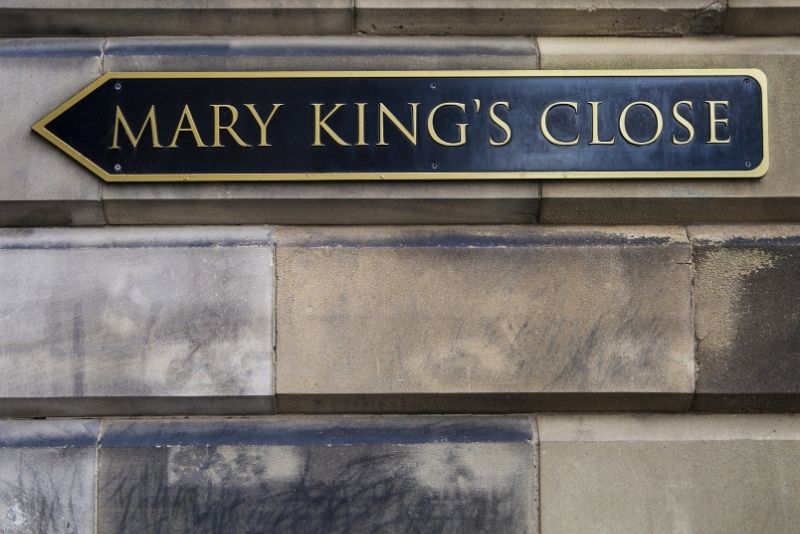 Edinburgh's deepest secret (quite literally), visitors can unveil hidden histories buried deep beneath the Royal Mile in the surreal and spooky Real Mary King's Close. Hundreds of years ago, before Edinburgh was the bustling metropolis it is today, a series of narrow closes (or alleyways) ran beneath tall tenement buildings on the Royal Mile.
Home to poor residents, these close were dark, cramped, and often very unsanitary places to live — but they've been preserved perfectly to this day, offering a stark and eye-opening contrast to modern living.
Like stepping back in time into a frozen era, walk along the labyrinth of underground streets with your costumed guide, and explore the eerie remains of 17th-century houses. Captivated by the mood, you'll hear eerie stories about the real-life residents whose legacies were sealed off from the world for over 400 years.
As you walk, your guide will bring the stories of these past residents to life with tales of love, loss, disease, and death. This is one of the most popular things to do in Edinburgh for good reason: it's a fascinating glimpse into what life was like centuries ago in this now-thriving city, and an attraction unmatched by any other UK city.
5 – Soak up the splendid views from Calton Hill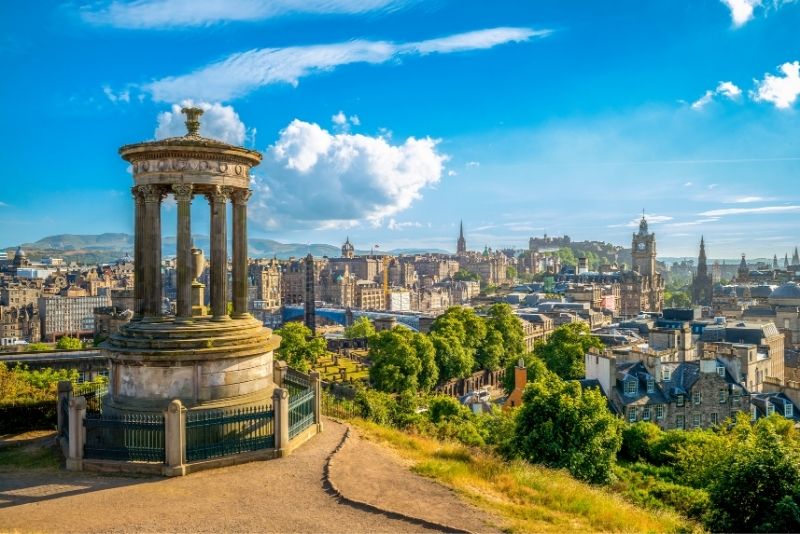 For sweeping panoramic views over the city skyline, and that quintessential Edinburgh photo, head to Calton Hill. This UNESCO World Heritage Site is one of the city's most popular visitor attractions, and it's easy to see why.
There are several different monuments and memorials to explore, including the National Monument, Dugald Stewart Monument, Nelson Monument (shaped like an upside-down telescope), landmarks celebrating the life of Robert Burns, and more.
Calton Hill is also home to the city observatory — dating back to the late 1800s, this institution is the birthplace of Scottish astronomy and a worthy addition to the to-do list.
6 – Slow down at the Princes Street Gardens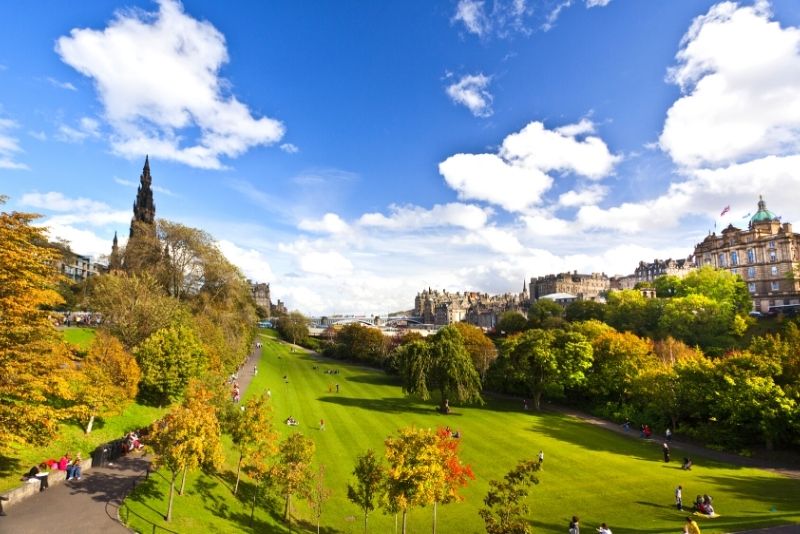 Lying in the shadow of Edinburgh Castle, Princes Street Gardens provide a welcome respite from the hustle and bustle of the main city haunts.
The sprawling park occupies a valley that connects the old and new parts of the city, with plenty of green space for strolls and picnics. It's also home to several monuments, including the Scott Monument – the largest monument to a writer in the world, dedicated to Scotland's most famous writer, Sir Walter.
The gardens are also a great place to catch some live music in the summer months, with a series of free concerts held in the Ross Bandstand.
And if you're visiting during winter, make sure to stop by the lovely and festive Winter Wonderland. Every year around Christmas time, part of the Gardens is transformed into a snowy scene, with an outdoor ice rink, funfair rides, and plenty of festive food and drink stalls at the Christmas market.
7 – Tour the iconic Royal Yacht Britannia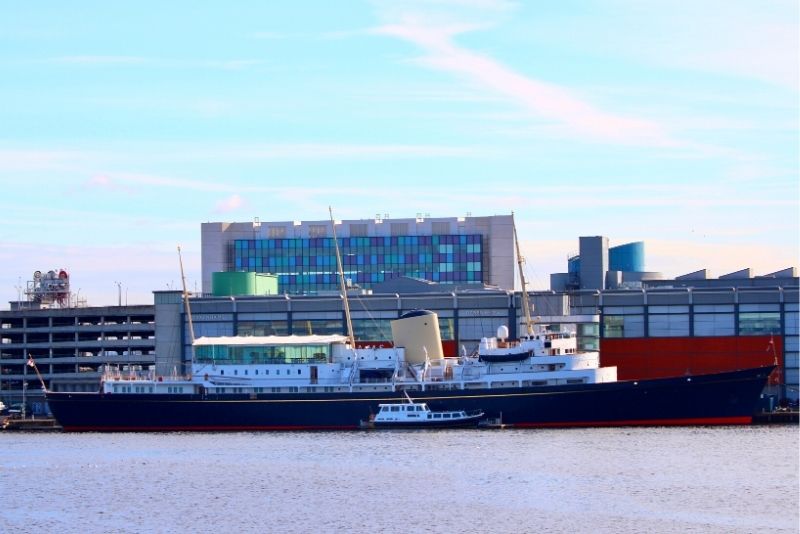 A British maritime icon and the former royal yacht of Queen Elizabeth II, the 412-foot-long Royal Yacht Britannia offers an unrivaled insight into the life and work of the British monarchy. Docked in Edinburgh's historic port of Leith, this magnificent vessel welcomed world leaders and celebrities during her 40+ years of active service, playing host to hundreds of official visits and voyages, including a maiden trip to Malta, and eventually a long journey over to the USA to welcome president aboard.
Now retired from royal service, Britannia has been lovingly preserved and transformed into an interactive five-star visitor attraction, offering something for everyone. Step on board the Royal Yacht Britannia and see how the Queen lived while sailing on this famous vessel; Stroll along the decks, poke your head into state apartments, and imagine what it would have been like being part of the crew.
This floating residence gives a fascinating glimpse into the lives of the British Royal Family before the boat was decommissioned.
8 – Go sightseeing in the Old Town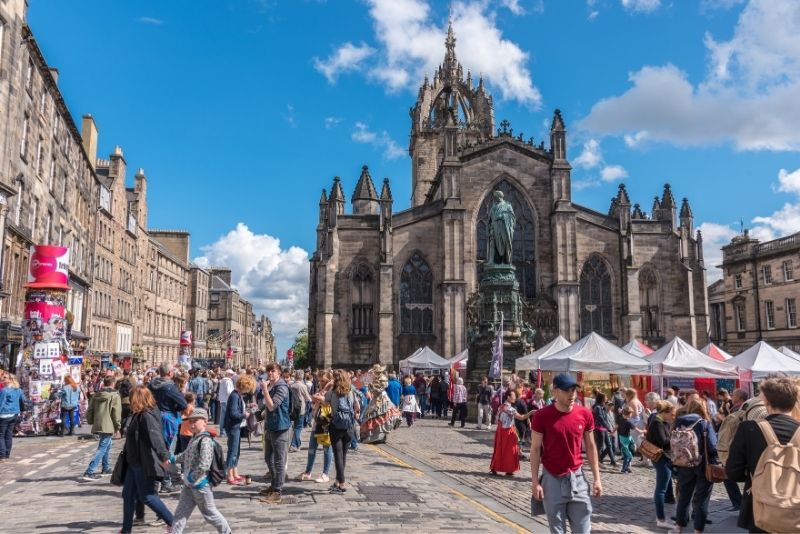 The heart of Edinburgh's history is in the Old Town, where cobbled streets lead curious visitors down secret closes (alleys) and through ancient squares, each teeming with stories, constantly buzzing with street performers, tourists, shoppers, restaurant-goers, and locals alike (particularly in the summertime), and never failing to delight.
This is the Edinburgh of your dreams, and it's easy to spend hours getting lost in its winding lanes and hidden corners. Climb to the top of Edinburgh Castle for unbeatable views over the city (and to learn a bit about Scotland's turbulent past), explore the Royal Mile, where you'll find the Scottish Parliament, St Giles Cathedral (known for its beautiful blue ceiling), and Holyrood Palace; take a break from all the sightseeing by enjoying some fresh air in the Princes Street Gardens, or venture down one of the many closes to find a hidden bar or cafe.
There's so much to see and do in Edinburgh's Old Town that it can be hard to know where to start – but that's half the fun!
In the Old Town, attractions lie around every corner: you can also visit the National Museum of Scotland, learn about the city's gruesome past at the Edinburgh Dungeon, and turn a few pages at the National Library of Scotland (dating back centuries, with over 14 million items on show), or take in the sweeping views from Calton Hill.
Not sure where to start? Several walking tours in Edinburgh cover all the major sights, or you can always ask a local for their recommendations.
9 – Jump on a hop-on hop-off bus for the main highlights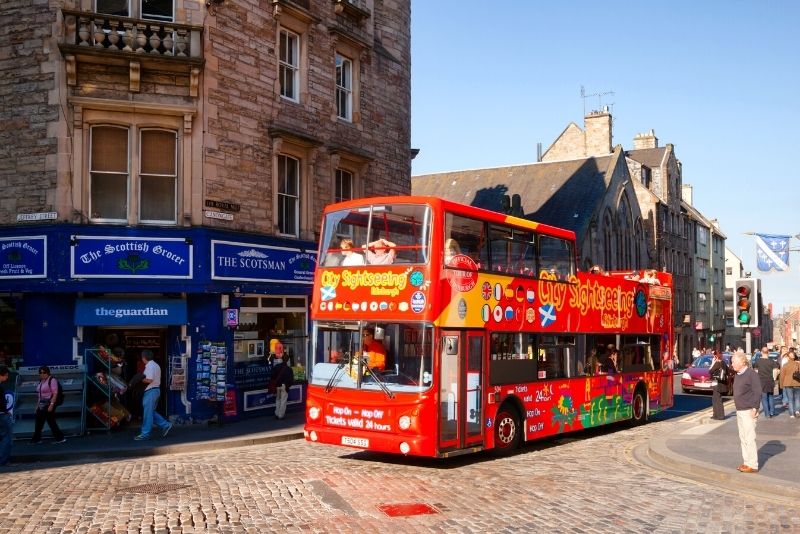 Short on time or simply don't feel like walking? Then jump on one of the many hop-on hop-off bus tours that operate in Edinburgh, and let someone else do the legwork for you!
These open-top buses are a great way to get your bearings as they loop around the city, stopping at all the major sights around town; drive by famous sights like Edinburgh Castle, Holyroodhouse, and the Grassmarket, as well as attractions like the National Museum of Scotland, Dynamic Earth, and Greyfriars Bobby, and get on and off as you please.
Most bus tours also come with an audio guide (or live commentary in some cases), so you can learn about all the major landmarks as you go. And the best part? You won't have to be forking out for transport every time you want to go somewhere new. Win-win!
Hot tip: bag a seat on the top deck for the best views.
10 – Satisfy the inner art lover at the Scottish National Gallery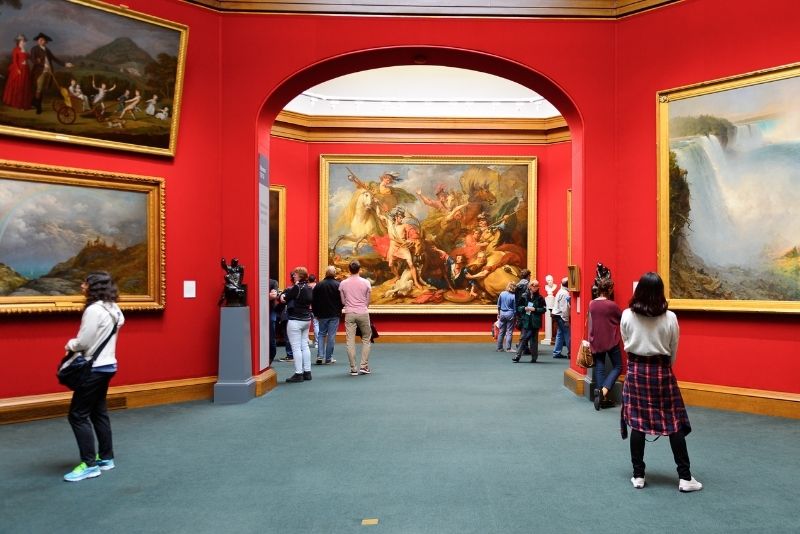 Culture vultures, listen up; this one is tailor-made for you for a rainy day. Spread across no less than three different galleries and always free to enter, the beloved Scottish National Gallery is known for housing one of the best fine art collections in the world.
There are plenty of famous paintings and sculptures to ogle, as well as more modern works on display. With a rolling program of exhibitions, there's always something new to see, whether you're into your Monets or your Matisses.
As you explore the chambers and halls, keep an eye out for masterpieces by the likes of Rembrandt, Constable, and Botticelli. Of course, you'll find no shortage of fascinating and thought-provoking works by Scottish painters too, with offerings from greats such as Ramsay and Raeburn gracing the walls.
And if that's not enough to get your creative juices flowing, the on-site cafe is the perfect spot for a little people-watching and some peace and quiet.
11 – Enjoy a classy evening with some candlelight concerts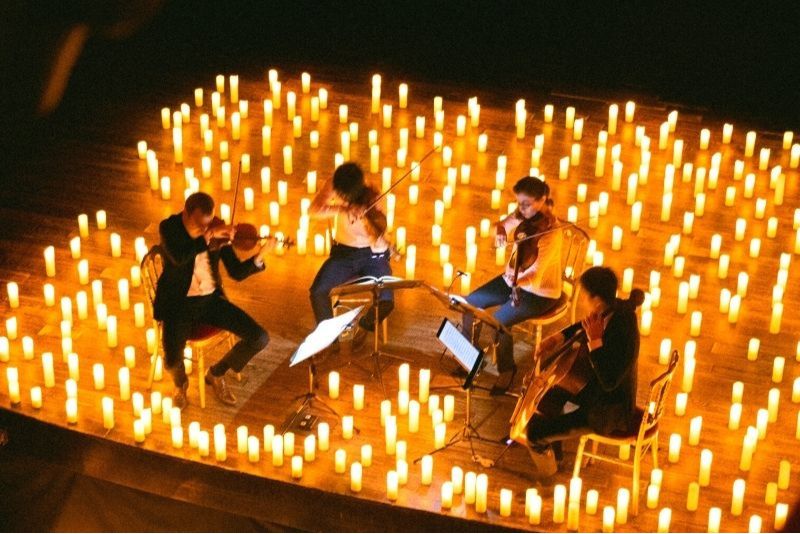 Want to enjoy a world-class musical recital with some wonderful ambiance? Then take in some candlelight concerts during your visit! In these magical events, the musicians are backlit by flickering candles, giving the whole venue an intimate feel.
And the performances themselves are top-notch, featuring a mixture of classical and contemporary artists from across decades and genres. If you're visiting during the Christmas season, be sure to check out their holiday concert series, which offers everything from festive favorites to holiday film scores.
It will be a night to remember!
12 – Feel the magic on a Harry Potter tour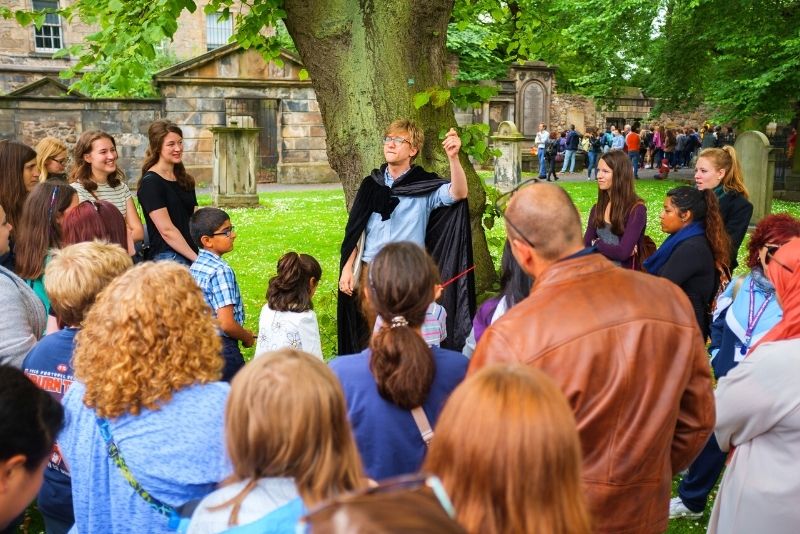 One of the most popular things to do in Edinburgh is a Harry Potter tour, which visits locations that inspired J. K. Rowling to write her infamous spellbinding series. Walk through the historic streets, find out your Hogwarts House, and see Tom Riddle's grave in Greyfriars Kirkyard before meandering through the Diagon Alley of Edinburgh, also known as Victoria Street.
This is one for all the Harry Potter fanatics out there (and really, who isn't a fan?), and is a great way to explore some of Edinburgh's most iconic landmarks – even if you don't consider yourself a die-hard Potterhead.
Test your wizard knowledge with an audio-visual quiz, and see the café (The Elephant House on George IV Bridge) where the books were penned. Want to put yourself in the middle of the magic? Then consider a post-tour visit to The Department of Magic escape room!
13 – Solve mysteries on a city-wide scavenger hunt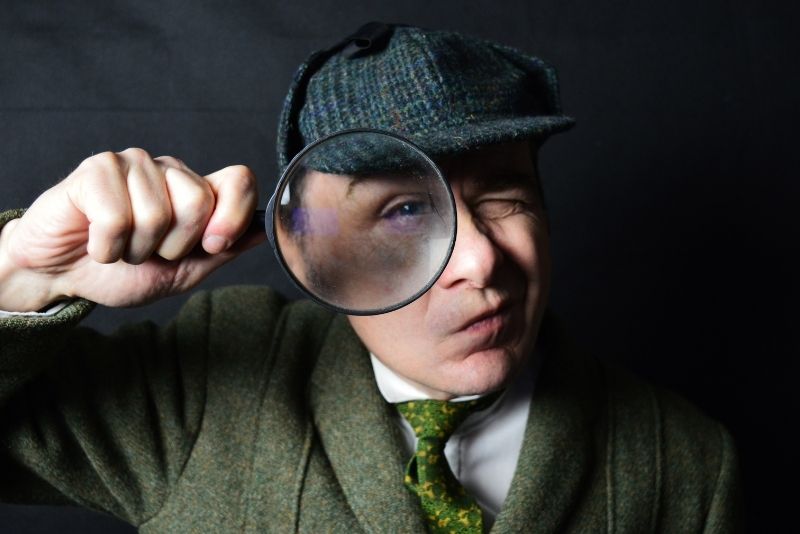 Fancy yourself a budding detective? Then try your hand at solving one of Edinburgh's many scavenger hunts! These walking tours take you around the city to some of the most famous landmarks and hidden gems, all while testing your deduction skills with a series of clues and puzzles.
Most scavenger hunts last around two hours, and are a great way to explore the city with family or friends. Depending on which of the many tours you choose — there are escape rooms, outdoor pirate treasure hunts, Harry Potter-themed adventures, romantic quests, and even zombie-style games — you'll likely also discover how Sherlock Holmes is linked to the city while completing creative puzzles using a special spy kit.
So, think you've got what it takes to decipher the clues, solve the puzzles, and save the day? Prove it on one of Edinburgh's many scavenger hunts (and check out famous landmarks along the way)!
14 – Stroll through the vibrant Meadows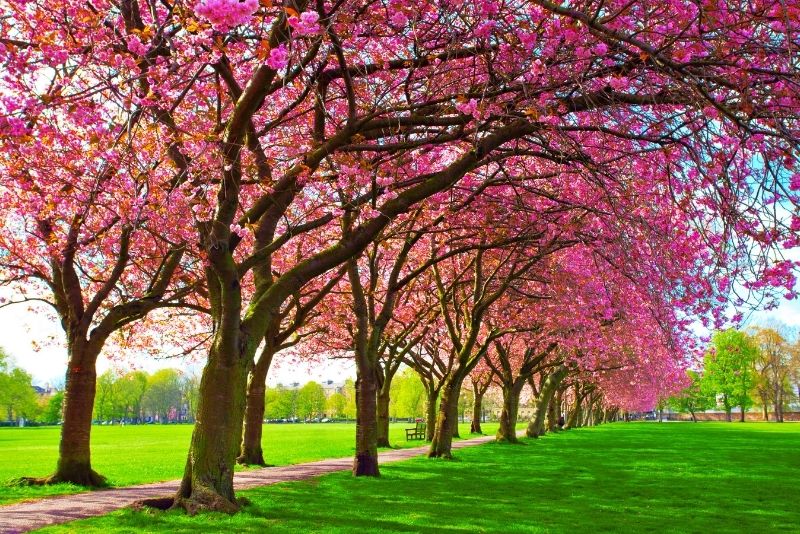 Absolutely stunning when the fall rolls around, with its sea of red, orange, and yellow leaves, The Meadows is a huge parkland that's perfect for a leisurely stroll or picnic on a sunny day. In the heart of Edinburgh's student quarter, this leafy oasis is popular with locals and visitors alike. With its tranquil atmosphere, it's easy to forget that you're just a stone's throw south of the historic city center.
With plenty of pathways to explore, The Meadows is also a great place to bring your bike or go for a run. The kids will happily burn off some energy in what is the city's largest play area, while the grassy lawns sell themselves as the ideal spot for a romantic summer picnic under the shade of the trees.
15 – Brew Your Way to Magic at The Cauldron Edinburgh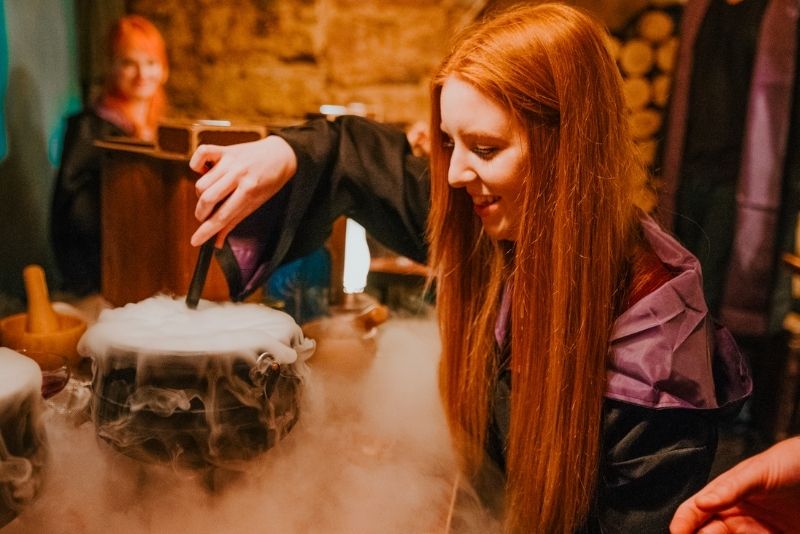 Are you ready for a spellbinding adventure? Look no further than The Cauldron in Edinburgh, where science and technology blend with the enchantment of childhood to create a truly unique experience. Step into Spell Casting 101, where you'll be given a technology-filled wand and taught how to cast pouring spells to receive a welcome drink from a magical creature.
Your wand is the key to interacting with the space around you, making you feel like you're living out your wildest childhood fantasies. Then, it's time for Potion Making. You'll be seated at a magic wand-interactive work station where you'll learn how to brew two molecular cocktails, each with different properties and effects.
Whether you're looking for a unique way to celebrate a special occasion or simply want to have a magical night out, The Cauldron has got you covered. Book your spot now and let the magic begin!
16 – Take a day trip to waterside Leith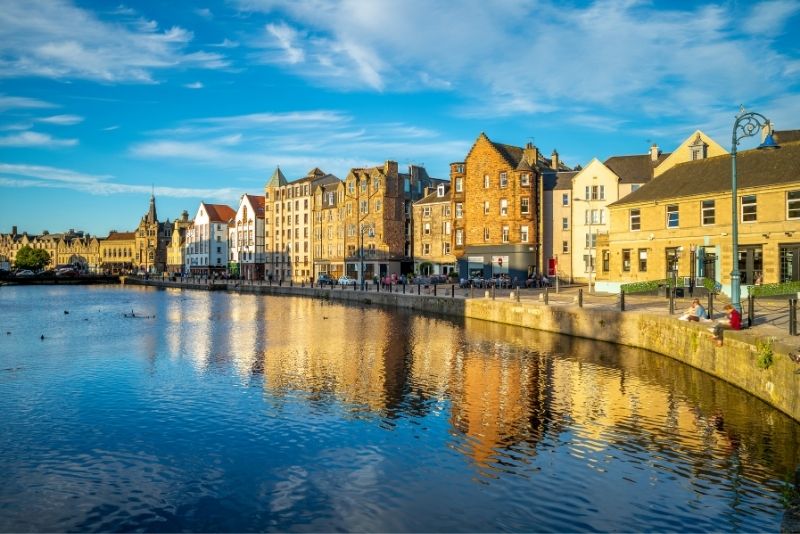 Located right beside the water, Leith is one of Edinburgh's most vibrant neighborhoods. This port district has been artfully regenerated over the years and makes a great escape from the crowds of the city center. Sip craft beer at microbreweries, see where the Queen slept on the Royal Yacht Britannia, and try fresh local seafood at the restaurants.
With its cool, industrial feel, Leith is the perfect place to spend a day exploring and doing some shopping in independent boutiques.
Don't miss The Shore, a historic and picturesque street where you can find an array of bars and restaurants housed in former warehouses and docks. Always lively, this area is the ideal spot to tuck into a leisurely lunch or a hearty evening meal while watching the boats come and go.
17 – Explore the wild east shores with coasteering in Edinburgh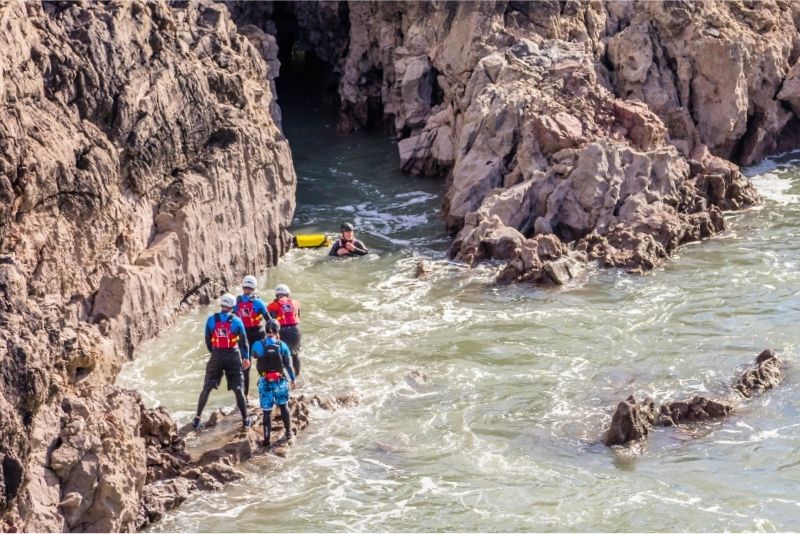 Refresh your senses with a coasteering excursion along Scotland's scenic coastline. Feel the rush of adrenaline as you clamber along rocks, explore caves and try cliff-jumping straight into the cool sea. Visit places known only to locals far away from the regular tourist routes. This is Scotland at its very best!
18 – Spend some time in the glorious Scottish Highlands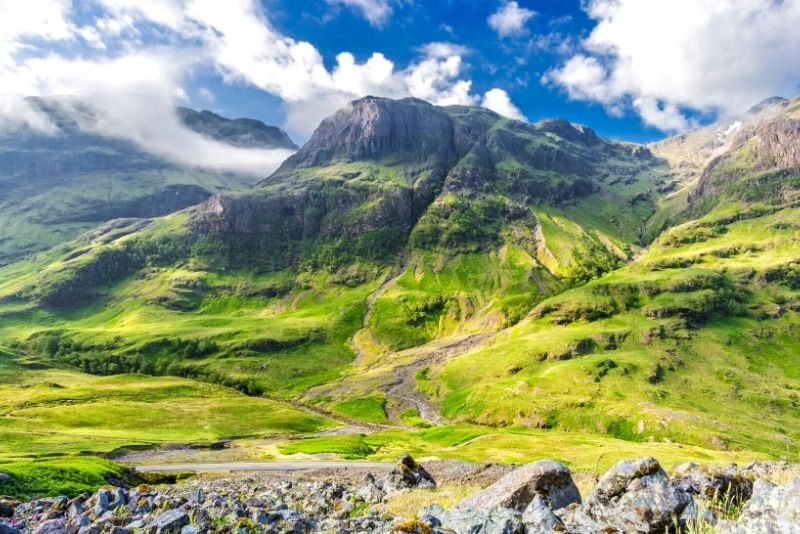 Like something out of a fairytale, the rolling hills and lochs of the Scottish Highlands are an enchanting place to explore. And what's more, they're only a day trip from Edinburgh!
There are plenty of companies offering tours to the Highlands, which typically include stops at places like Loch Ness (keep your eyes peeled for Nessie!), Culloden Battlefield, Glencoe Valley, Loch Linnhe, Great Glen, Fort Augustus, Rannoch Moor (notable for its wildlife), and the Isle of Skye (where you'll find quaint fishing villages and historic medieval castles) – to name just a few.
Most tours also include a traditional Scottish lunch (usually haggis, neeps, and tatties), as well as plenty of opportunities to sample some local whisky. So why not sit back, relax, and enjoy the stunning, unspoiled scenery of the Scottish Highlands?
You'll soak up the dramatic scenery of the Highlands, learn about Scottish culture and history, and visit the old stomping grounds of feuding clans. Keep an eye out for highland cows along the way!
19 – Tuck into local delicacies on a food tour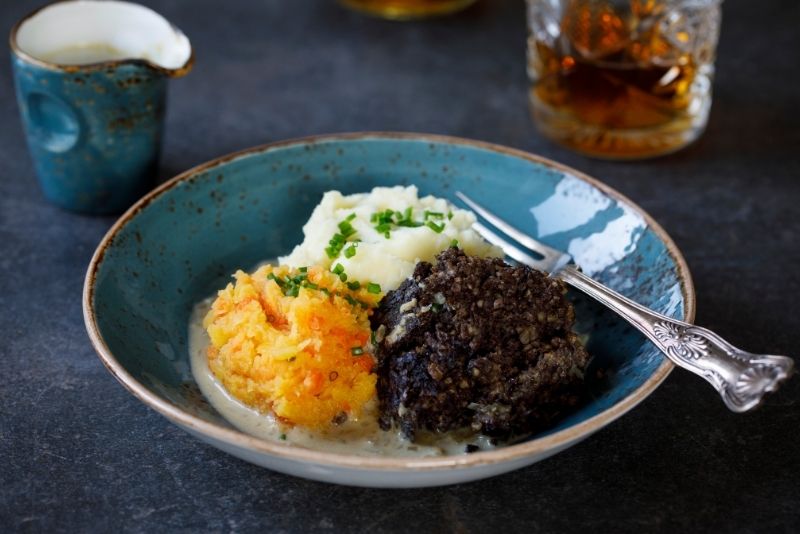 Combine cultural history with culinary discovery on a food tour in the heart of the city! Led by a local guide, you'll learn all about Edinburgh's food scene as you sample some of the best local produce, from haggis to shortbread and everything in between.
Tuck into "neeps and tatties", creamy cheeses, and authentic Scotch Pies (with a wee dram of Scotch or local gin to wash it all down) as you stroll through the historic Old Town and learn about the city's food culture.
While each tour is different – some all about the hidden gems, others more focused on the whiskey – one thing is for sure: you're guaranteed to leave with a full stomach! And no eating tour is complete without a little cheesiness – literally!
Embark on some cheese tastings in Edinburgh, and you'll get a whole different view of the city's cuisine… a delicious one!
20 – Pop into the National Museum of Scotland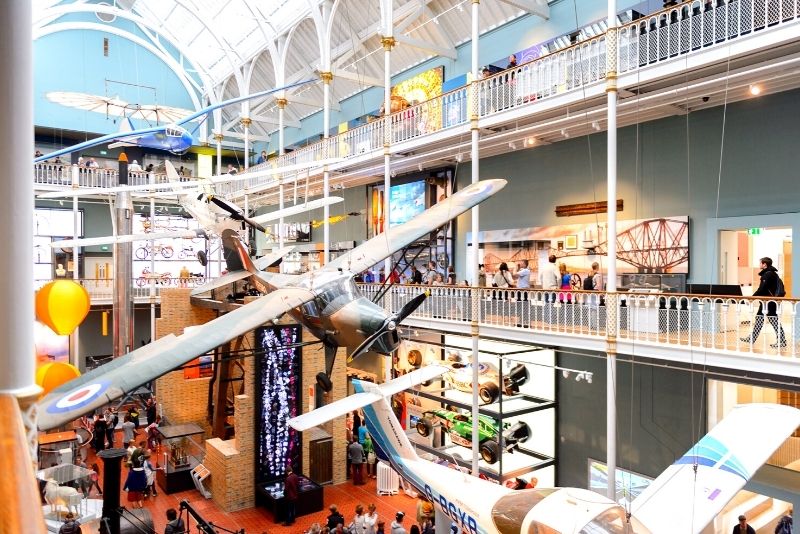 A wonderful activity for a rainy day (of which, in Scotland, there are many!), the vast National Museum of Scotland is one of the most popular tourist attractions in Edinburgh. Housing over 20,000 objects, the museum tells the story of Scotland's history, culture, and natural environment.
From prehistoric times to the present day, you'll learn all about what makes this country so unique as you explore exhibitions on topics from the dinosaurs to the space age, geology, and archaeology, and find a treasure trove of (often interactive) exhibits along the way.
There are several self-guided trails to try, showing you hidden corners and secret artifacts that many visitors often miss. Or, if you want to discover the wonderful world of science, natural history, and international culture on a more in-depth level, consider one of the free guided tours (available on a first-come, first-served basis).
21 – Ride the picturesque Jacobite Steam Train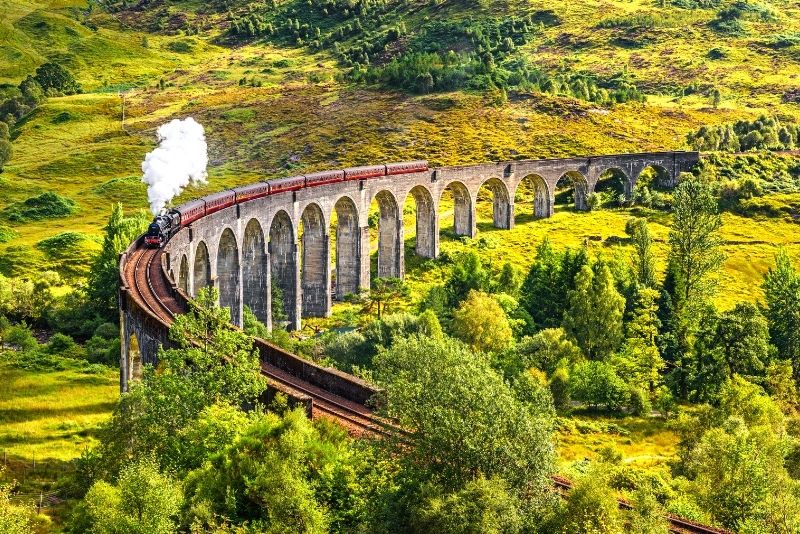 Follow in Harry Potter's footsteps as you meander through the Scottish Highlands on the legendary Jacobite Steam Train. What the Hogwarts Express lacks in wizardry today, it makes up for in magical scenery through its vintage windows.
You can ride the train on a day trip from Edinburgh, or as part of a multi-day tour taking in highlights like Skye and Loch Ness. Inside, the carriages are refurbished in classical style with wooden paneling, rich upholstery, and brass fixtures.
As the train chugs along its 84-mile round trip journey from Fort William to Mallaig, you'll pass by lochs, mountains, and the gorgeous Glenfinnan Viaduct.
22 – Climb to the top of Arthur's Seat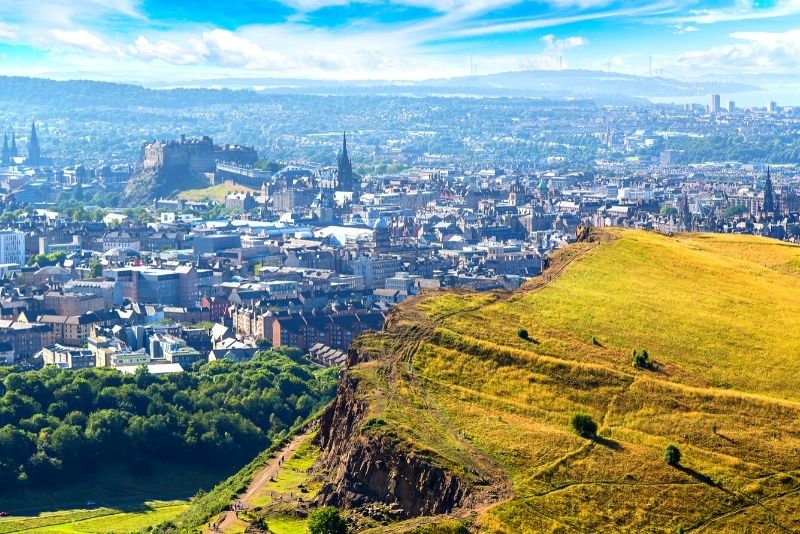 Have you ever climbed a volcano? Well, this is your chance, because Arthur's Seat is actually an extinct volcano, right here in the heart of this picturesque town. Located next to Holyrood Palace, the peak is the site of an ancient hill fort and, as well as being one heck of a photo-op, serves as a great place to stretch your legs on the trail – making it a popular activity for nature lovers and hikers.
The round-trip climb to the top — 251 m (823 ft) above sea level — takes a couple of hours, and as you can see from the photo, the views are nothing short of superb. On a clear day, you can see for miles and miles, but even on a misty day, the experience is magical. So if you want to escape the crowds for a bit and get some fresh air, this is the perfect activity for you.
23 – Set sail on Loch Lomond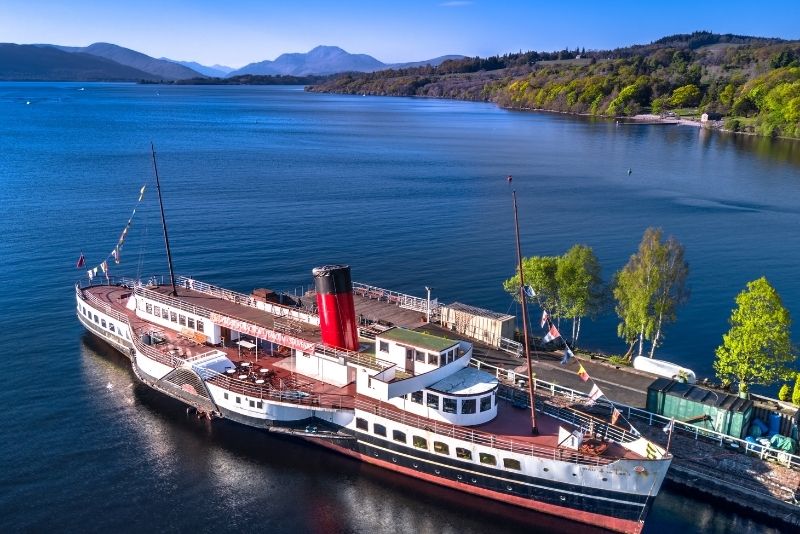 Fancy a day out in the country? Then why not take a cruise on Loch Lomond, Scotland's largest lake? Peppered with tales of William Wallace and Rob Roy (the Scottish Robin Hood, per se), Loch Lomond is a stunning slice of Mother Nature located about an hour northwest of Edinburgh, in the Trossachs National Park.
As well as being incredibly scenic (the beautiful rolling hills and mountains provide a stunning boating backdrop), it's also home to a number of small islands, including Inchmurrin (the largest freshwater island in the British Isles), Inchtavannach, and Creinch.
As you float along the water, learning about the scenery and history before you, keep your eyes peeled for the local wildlife, including red deer, otters roe deer, red squirrels, and various birds of prey!
Several different boat operators offer cruises on Loch Lomond, with most departing from either Luss or Tarbet. The length of the cruise depends on which operator you choose, but they typically last around two hours, leaving you with plenty of time to stroll through the ancient village of Luss, admiring its stone cottages. However, for the best bang for your buck, consider a full-day tour that also stops at the Kelpies, and various castles and whisky distilleries.
24 – Check out the Outlander filming locations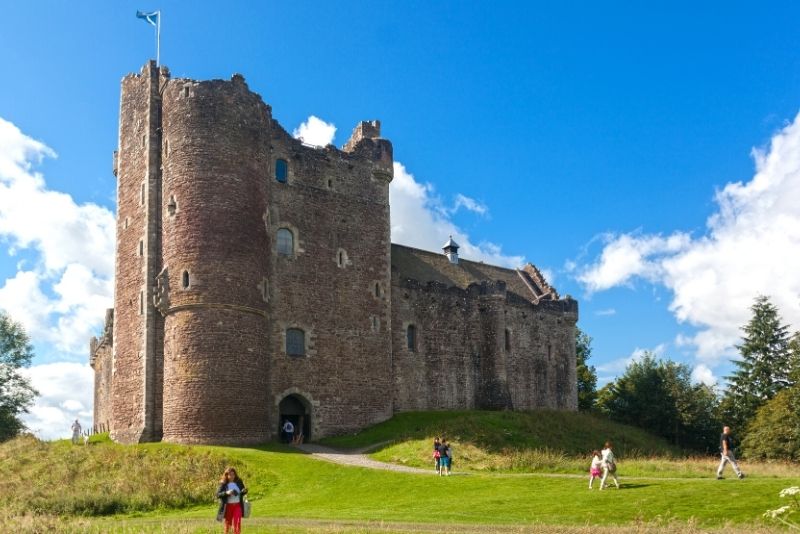 Walk in the footsteps of Jamie and Claire on an Outlander tour from Edinburgh, as you visit some of the places used to film the popular time-travel series. Explore the 16th-century village of Culross – which you will recognize as Cranesmuir – and Doune Castle, which stood in for Castle Leoch.
Watch out for Captain Randall at Blackness Castle, and stay away from any standing stones, you know, just in case! You'll also get to see the beautiful Highland scenery that served as a backdrop for much of the series, as well as learn about some of the history and mythology that inspired Diana Gabaldon's novels.
Tours typically last around eight hours, departing from Edinburgh in the morning and returning in the evening, with plenty of stops along the way for photo ops, food, and to stretch your legs.
25 – Head underground inside the haunting vaults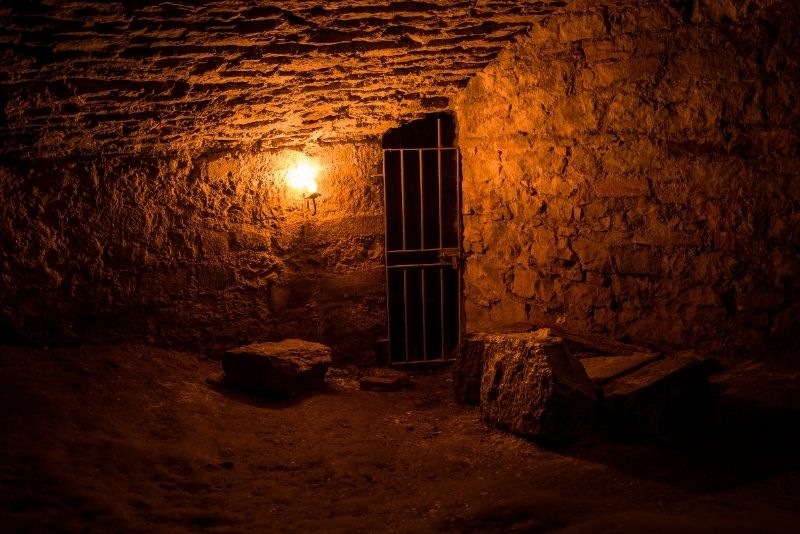 Got an inkling for the paranormal? Fascinated by dark tourism, not just your run-of-the-mill landmarks? Then be sure to keep your wits about you as you head deep underground into the ancient city vaults, on a journey of dark discovery and ghostly gatherings.
Sure to send a shiver down even the bravest of traveler's spines, your scene-setting local guide will regale you with scandalous tales from the former slums and red-light district as you walk through the tunnels, which were once home to some of Edinburgh's most notorious criminals.
Hear about body-snatchers, murderers, and more as you walk through the dank and eerie vaults, which have been used as everything from a storage space to a shelter from bomb raids during World War II.
With tales of hauntings and supernatural sightings, this is not your average walking tour.
Take note: While each tour is a little different, expect to wander through the Blair Street underground vaults, past Greyfriars Kirkyard, said to be the world's most haunted graveyard, through the chilling Old Town's 'wynds', and finish it off (optional) at a local tavern for some stories under candlelight to close off the evening.
26 – Mingle with meerkats at the beloved Edinburgh Zoo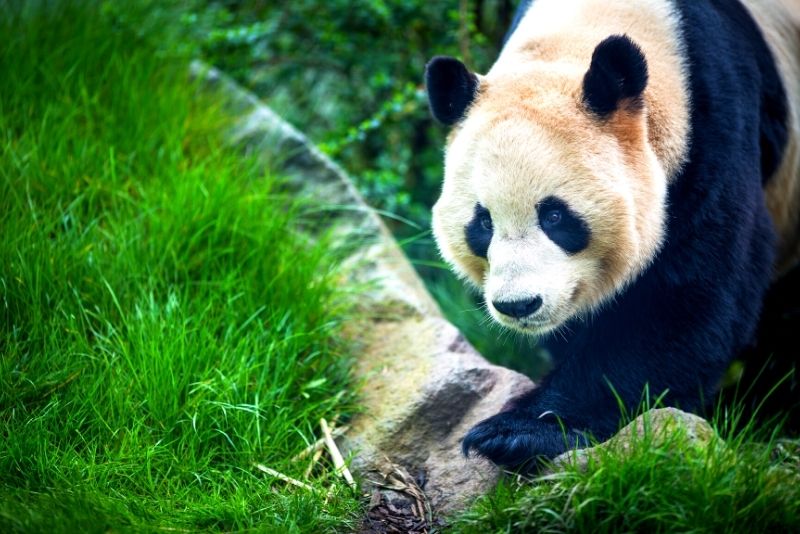 Always a favorite among traveling families, Edinburgh Zoo is home to over 2,500 animals from across the globe, housed in 33 hectares (81 acres) of lush green parkland just a stone's throw away from the city center.
Meet Tian Tian and Yang Guang – the only two giant pandas in the whole of the UK. Bamboo-biters aside, Edinburgh Zoo is home to all the big hitters, including fearsome Sumatran tigers and cheeky meerkats.
Enjoy daily talks and watch the animal antics at feeding times, or become a keeper for the day and get hands-on with some of your favorite species. No matter how you choose to spend your day, as one of Scotland's top outdoor visitor attractions, a day out at the zoo is a must whether you're young of age or young at heart.
27 – Take a trip to the St Andrews & Fife's fishing villages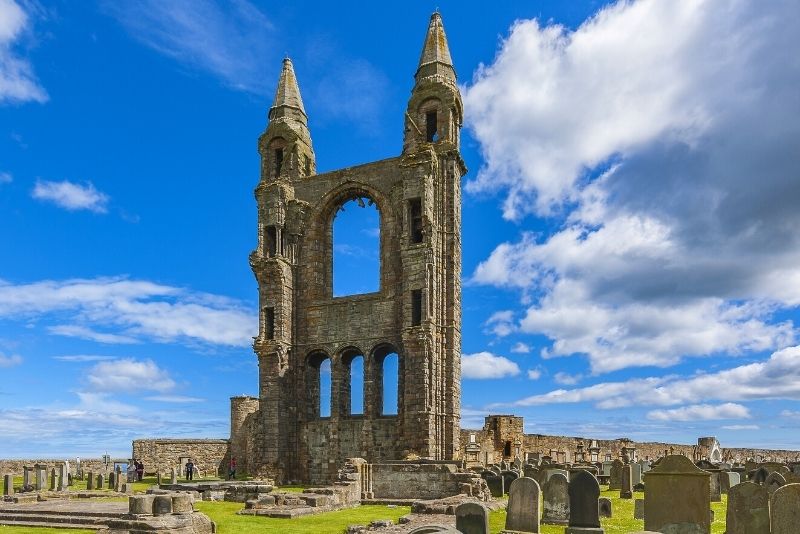 For such a small place, stunning St Andrews packs a mighty punch. This coastal town in Fife is most famous for being the 'Home of Golf', but there's so much more to it than that! As well as plenty of golf courses (of course), St Andrews is also home to a beautiful sandy beach, the picturesque ruins of a 12th-century cathedral (the country's largest Norman cathedral), and several museums and art galleries.
With its own unique charm, seaside St Andrews has a fascinating medieval center – built around the oldest University in Scotland, where none other than Prince William studied for his degree
Just a short drive from St Andrews is the quaint fishing village of Anstruther, which is home to the Scottish Fisheries Museum. This museum tells the story of Scotland's fishing industry, from its humble beginnings to the present day.
If you're looking for a bite to eat after wandering down the cobbled streets, be sure to try the delicious fish and chips at one of Anstruther's many chip shops.
28 – Head to the Scottish National Portrait Gallery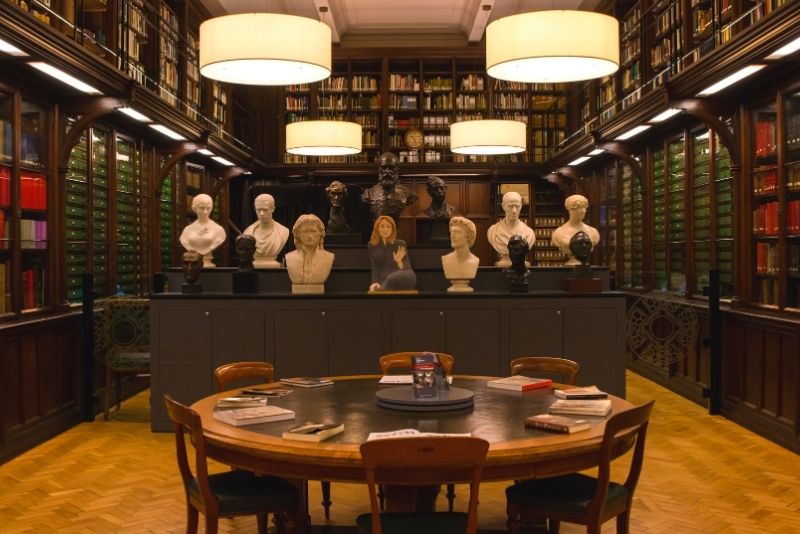 Founded in 1882, the Scottish National Portrait Gallery on Queen Street is one of Edinburgh's most iconic buildings, with its red sandstone Gothic-style façade featuring prominently on the city skyline.
Home to an incredible collection of portraits depicting famous Scots throughout history, the gallery is spread across several floors and also has a cafe, shop, and roof terrace with stunning views over Parliament Square.
Upon visit, you'll stand face to face with the famous characters who have shaped the path of Scottish history through the centuries. As you wander through the galleries, and see if you can find Bonnie Prince Charlie, the poet Robert Burns, and Mary Queen of Scots.
29 – Take a day trip to the infamous Alnwick Castle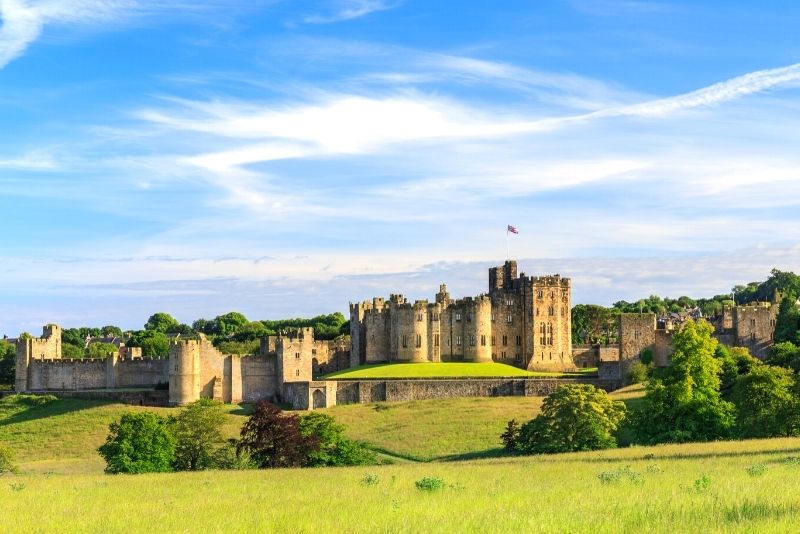 Down in the medieval kingdom of Northumbria, Alnwick Castle stands proud as one of the most prominent castles in the UK. You might recognize it from the movies – the castle has had starring roles in Harry Potter (where Harry's first flying lesson was filmed) and Downton Abbey.
The fortress is still inhabited today, but you can take a tour of the magnificent state rooms and explore the extensive grounds. There are also regular events and activities held at the castle, from jousting tournaments to archery lessons and even broomstick training – perfect for Harry Potter fanatics!
Alnwick Castle is located around two hours south of Edinburgh by train, making it the perfect day trip from the city. If you're feeling energetic, you can combine the visit with a leisurely cycle along the picturesque coast nearby!
30 – Grab a ticket for a Three Bridges cruise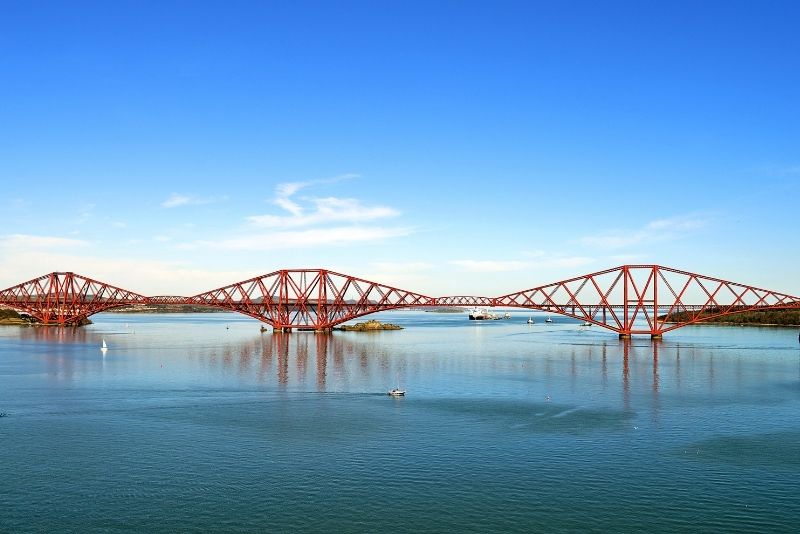 As a city that straddles the shimmering Water of Leith, Edinburgh is unsurprisingly home to many bridges – including the UNESCO World Heritage-listed Forth Railway Bridge. And what better way to see them than from the water on a leisurely river cruise?
These typically 90-minute riverside adventures will take you past some of the city's most iconic landmarks like the Scott Monument, Scottish Parliament, and Dynamic Earth, to name a few. You'll also get fantastic views of the new Queensferry Crossing, which is the world's longest three-tower cable-stayed bridge.
The captain will swing you by Inchcolm Island with its medieval abbey and spectacular city panoramas, and see if you can spot seals and puffins along the rocky shores.
And if you're hoping to learn a little more about Edinburgh's maritime history (and enjoy a wee tipple or two), then opt for a cruise that includes a commentary and whisky tasting.
31 – Spot ancient mills in Dean Village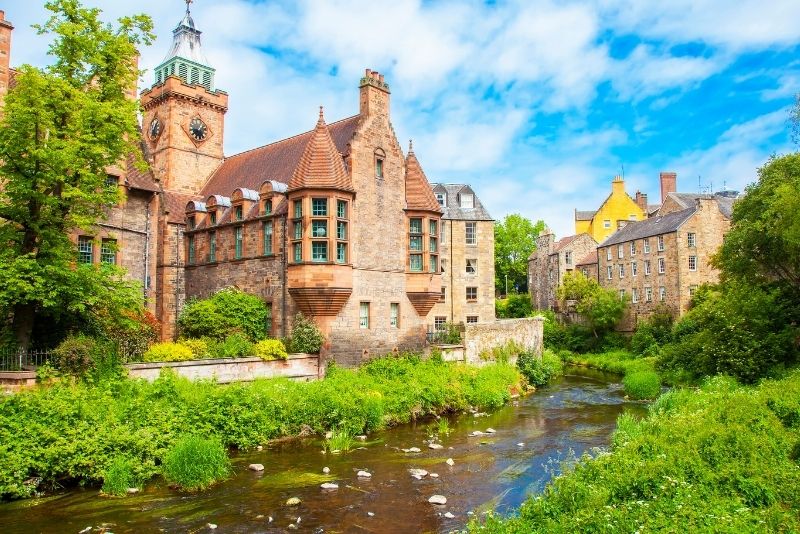 A favorite with photographers, characterful Dean Village sits beside the Water of Leith and welcomes volumes of visitors with a series of colorful buildings and cobbled streets. This former water mill district of the city was established in the 12th century and is filled with a fascinating history.
It's well worth taking a stroll around to admire the architecture, then popping into one of the independent cafes for a break.
Guided tour or ad-hoc afternoon of walkabout, you can still see the remains of some of these mills today as you stroll along the river. Make sure to head to Well Court, the most famous building in the village which used to house the mill workers during the 19th century, as well as the Dean Gardens and Dean Gallery, which was purpose-built as an orphanage in 1831.
Now home to the Scottish National Gallery of Modern Art, it's impossible to miss thanks to its striking design.
Hot tip: save some time for a wander down Hawthornbrook Lane, a charming and narrow street that's home to some of the prettiest buildings in Dean Village.
32 – Stroll through the peaceful Royal Botanic Gardens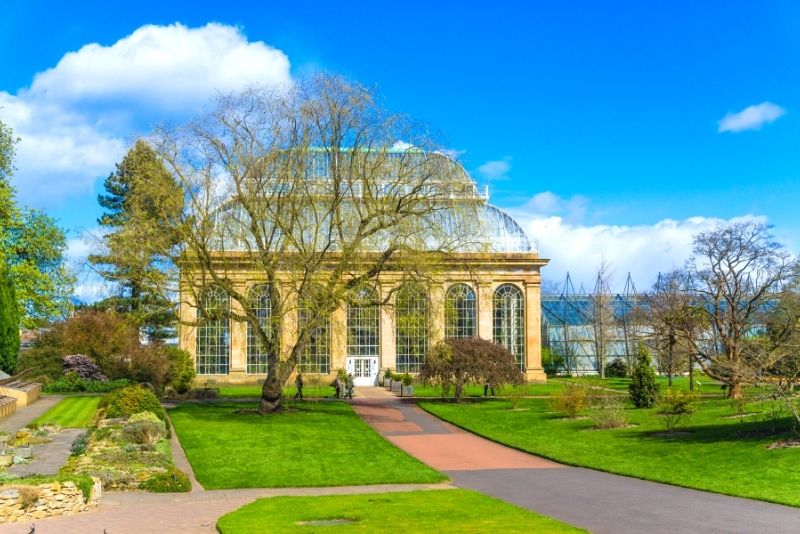 An enchanting showcase of Mother Nature's best work, the Royal Botanic Garden is one of the most beautiful places to visit in Edinburgh. With over 70,000 plants and tree specimens from around the world – including an impressive collection of rare and endangered species – it's easy to spend a couple of hours getting lost among the greenery here.
The gardens also feature pretty glasshouses filled with exotic flowers, an internationally renowned rock garden, and a sunken garden with an impressive water feature. Meanwhile, the Chinese Garden boasts over 1600 exotic plants that carpet the hillside in a fusion of color.
And if you need to refuel after all that exploring, then there are plenty of lovely cafes and restaurants to choose from.
With 72 acres to explore and enviable city skyline views to photograph, not to mention the chance to take a scenic stroll beneath the colossal redwood trees, the Royal Botanic Gardens are an unsurprising (yet peaceful) crowd favorite.
Best of all, they're free to enter (except for the garden's glasshouses) and are open every day.
33 – Explore scenic valleys on a stand-up paddleboard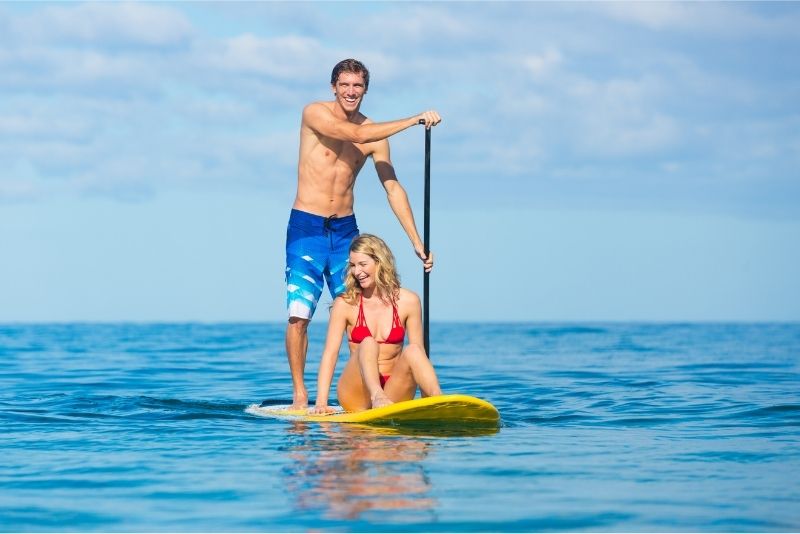 If you want an adventurous way to explore the picturesque valleys of southeast Scotland, paddleboarding is a great choice. Take a 3-hour paddleboard excursion and explore Edinburgh's peaceful rural regions at your own pace.
You will be accompanied by a professional local guide and all equipment is included to make sure you have the best experience possible. Ideal for small groups and families, paddleboarding is sure to be a highlight of your trip to Edinburgh.
34 – Wet your whistle on a whisky tour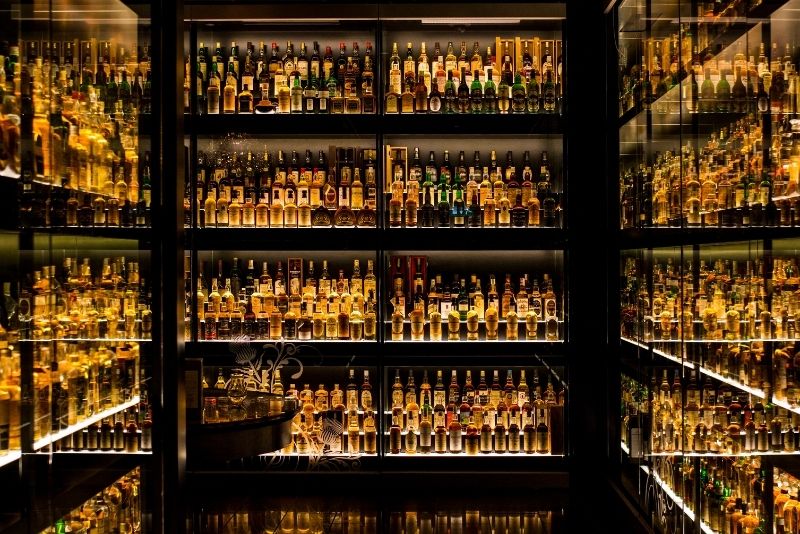 Whisky tasting is a bit of an institution in Scotland, and nowhere more so than in Edinburgh. This earthy amber nectar really hits the spot, especially on a cold day, with different landscapes producing distinctly different flavors.
You can join a tour in Edinburgh or pick up the well-trodden Whisky Trail on a day trip to other central Scottish distilleries. Among the most popular are Glenturret, home of The Famous Grouse, just outside Crieff; the picturesque Deanston near Stirling (an hour northeast of the city); and Dalwhinnie, high in the Monadhliath Mountains (about 2 hours north).
And for those who want to explore a little further afield, there are also tours to Islay – an island off the west coast of Scotland known for its peaty, smoky whiskies.
More locally, the Edinburgh whisky scene remains as strong as ever, with plenty of opportunities to enjoy a dram or two in the many bars and pubs around the city. As the locals say, Sláinte.
35 – Tour the enchanting Bonnie Isle of Skye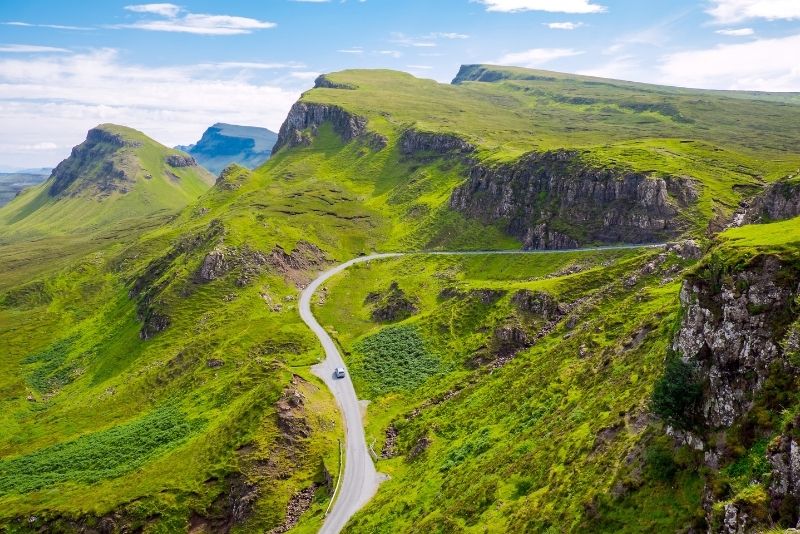 Bright, green, leafy, and utterly beautiful – night and day if you're just read about the Edinburgh Dungeon – the Isle of Skye is a must-visit on any Scottish adventure. This little island off the coast of Scotland has it all – towering sea cliffs, pristine sandy beaches, picturesque lochs, and rolling green hills.
For the ultimate visit, take a 3-day tour of Scotland's most famous island, where you'll have all your transport, accommodation, and activities sorted.
Stop at the much-photographed Eilean Donan Castle and tragic Glencoe along the way. And once you're on Skye proper, enjoy the views as you venture up Quiraing Pass, before admiring the foreboding basalt columns at Kilt Rock where a magnificent waterfall tumbles into the ocean.
Don't forget to pass by the Dunvegan Castle – the oldest continuously inhabited castle in Scotland, set in over 40,000 acres of lush greenery – before returning to the mainland via the stunning Cuillin Hills.
For off-the-beaten-track Scotland, spectacular Skye has got you covered.
36 – Tag along for a Mysteries & Murders walking tour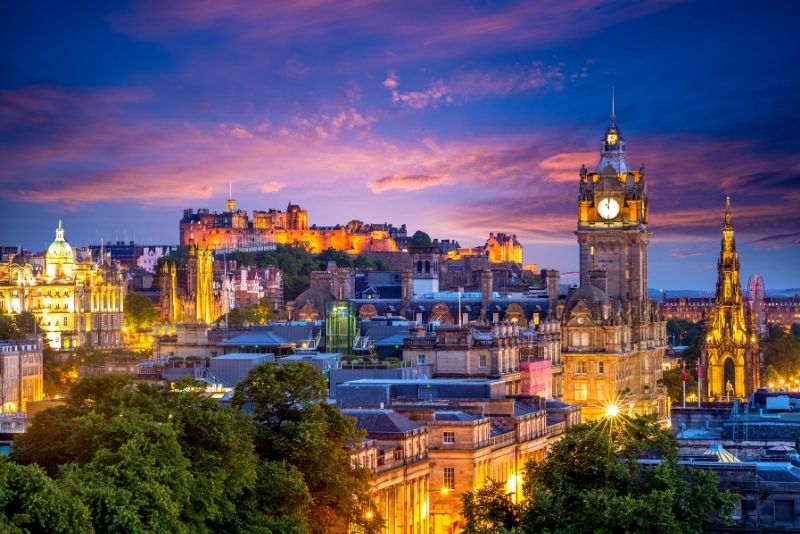 Looking for spooky things to do in Edinburgh once the sun's gone down? Then muster your courage and take to the streets on a walking tour in pursuit of haunting legends and tales of gruesome murders. Known for its paranormal activity, Edinburgh is the perfect place to get your fix of ghost stories.
As you walk around the atmospheric Old Town after dark, your guide will share spine-tingling accounts of real-life crimes, body-snatching and vampires, rumblings of eerie hauntings, and other strange goings-on in the city.
You'll visit places like Greyfriars Kirkyard (said to be one of the most haunted spots in Edinburgh), Parliament House (where several ghost sightings have been reported), and the Canongate Tolbooth (a former prison that's now a museum), before making your way up to Calton Hill – while the views are top-notch, it remains the site of chilling witch trials and pagan rituals.
More often than not, these tours are led by professional actors in period costume, adding an extra touch of authenticity to proceedings.
37 – Spend a morning at the Scottish National Gallery of Modern Art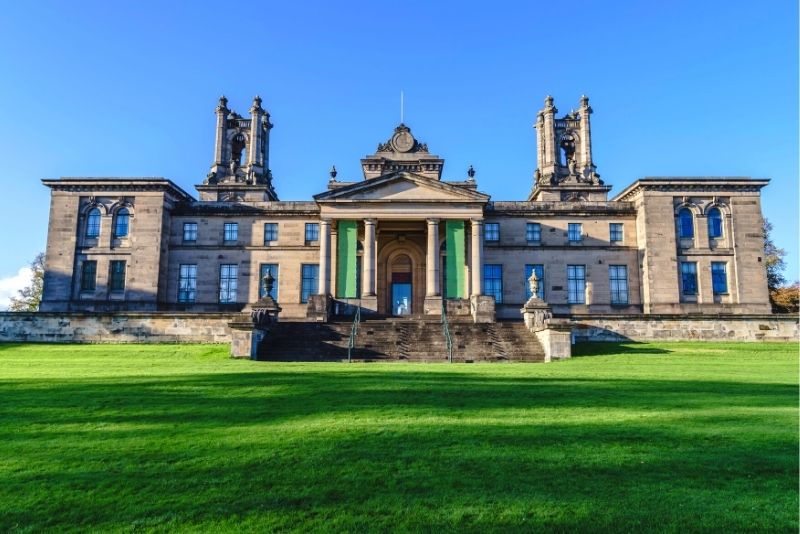 Art-lovers, take note. Filled with over 6,000 works of art from all across the globe, the Scottish National Gallery of Modern Art sells itself as a must-visit during your time in easy-going Edinburgh.
Housed in two buildings within their own peaceful nature parks – Modern One and Modern Two, the latter inside the former Dean Gallery and home to the world-famous Stairwell Project – the gallery duo has an incredible collection of paintings, sculptures, photography, and more.
Its exhibition halls showcase everything from world-class sculptures to surrealist artworks, peppered with masterpieces from the likes of Dali, Picasso, and Warhol.
Before you leave, head outside to try out the sensory sculpture trail, complete with an audio tour that tells the story behind the art you are seeing.
38 – Feel the thrills of a canyoning adventure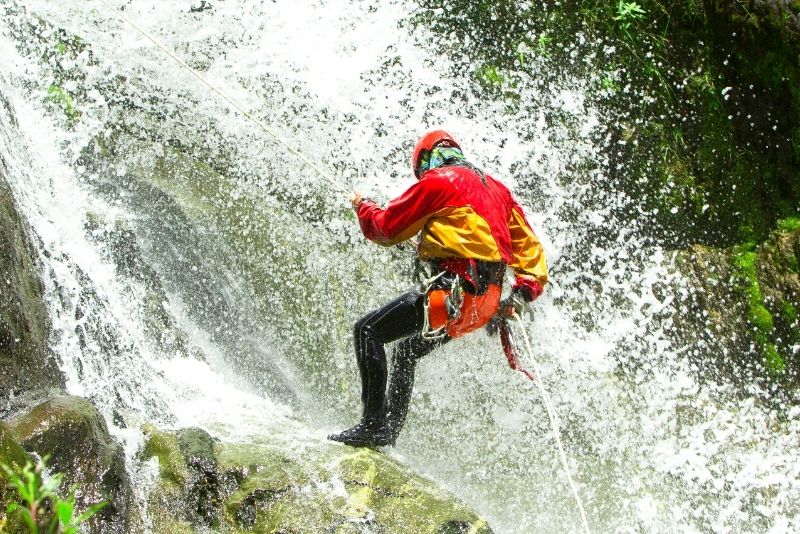 For an adventurous day trip from Edinburgh, have a go at canyoning here in the Highlands. Fun for beginners and seasoned explorers alike, shooting down waterfalls and jumping into plunge pools feels a long way from the busy city.
Scramble up ravines and abseil off overhangs as you see Scotland in a whole new light.
The most common place to go canyoning near Edinburgh is in Killin, where you'll find several different companies offering trips. But it's far from the only; Dollar Glen, Aberfeldie, and the cascading Falls of Bruar headline a long list of potential canyon adventures.
Craving extra thrills? Some canyoning adventures combine a spot of mountain biking or white water rafting too.
39 – Have your mind blown at Dynamic Earth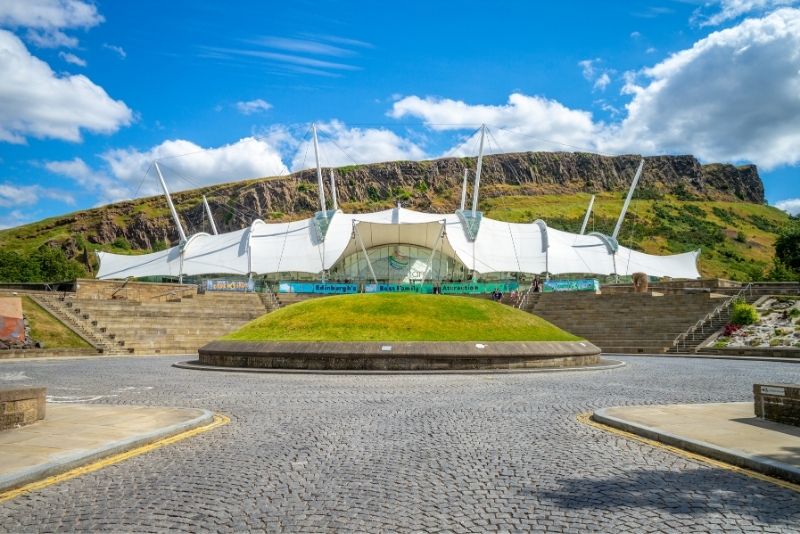 Prepare to be wowed by science at one of Edinburgh's most intriguing attractions – Dynamic Earth. A favorite among families, this hands-on museum will guide you through the history of our planet, from the Big Bang all the way to the present day.
Climb inside a glacier, experience an earthquake, and watch a volcano erupt — all without leaving Edinburgh! The museum also has a 6D Planetarium where you can sit back and relax while learning about the stars. Have a go at fun experiments, delve into thought-provoking discoveries, and learn about climate change through the power of storytelling.
Smack-bang in the middle of the action on the Royal Mile, Dynamic Earth promises to be an unforgettable experience for all ages.
40 – Lick your lips at the Chocolatarium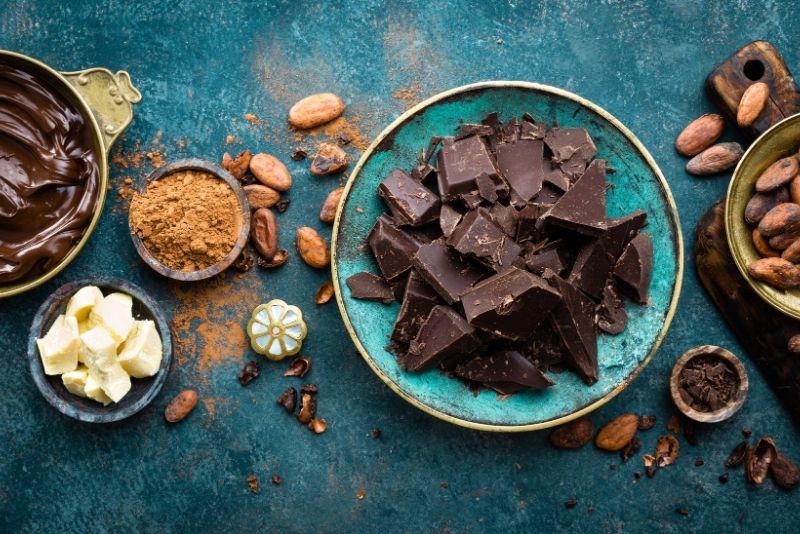 Got a bit of a sweet tooth? Visiting the Chocolatarium is one of the scrumptious things to do in Edinburgh, with lots of Scottish-themed treats to get your tastebuds tingling. Follow the journey of cocoa from bean to bar, and sample inventive chocolate flavors like haggis, chili, and gin (you're sure to find your favorite).
The Chocolatarium isn't just a shop, but also a cafe serving up delicious hot chocolate and a range of cakes and pastries. You can even take part in one of their fun workshops to learn how to make your own chocolatey creations.
And if you're after a delicious souvenir, take a chocolate Nessie or Edinburgh Castle home. You'll find this delectable destination just off the Royal Mile, making it the perfect stop for a sweet treat.
41 – Wander through the historic Grassmarket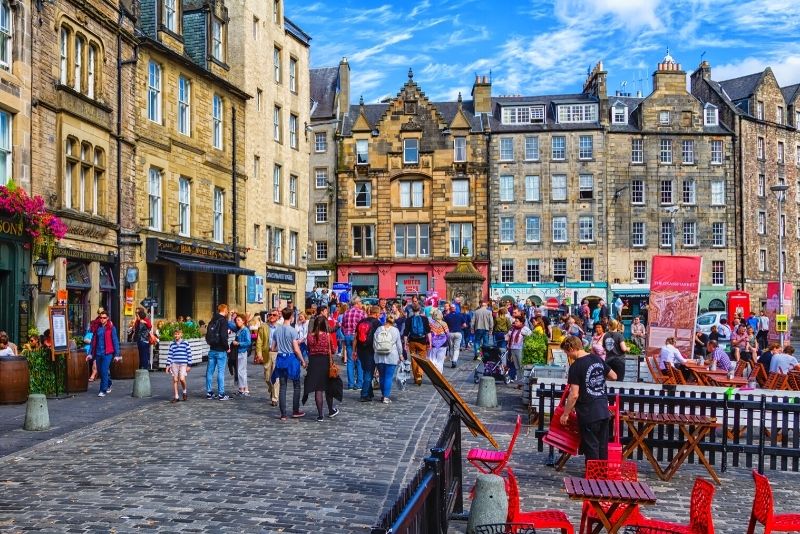 Head to the historic marketplace and soak up the vibrant atmosphere and striking architecture of the surrounding buildings. Formerly a thriving cattle and horse auction site, today the Grassmarket is buzzing with trendy restaurants, boutique shops, and upmarket bars.
Enjoy a drink in the haunted White Hart Inn, and walk the cobbled streets in the footsteps of many a famous historical figure. Hot tip: the atmospheric Grassmarket is a common stop on many a walking tour — often they're free, just tip your guide a few pounds.
42 – Visit the picturesque Blackness Castle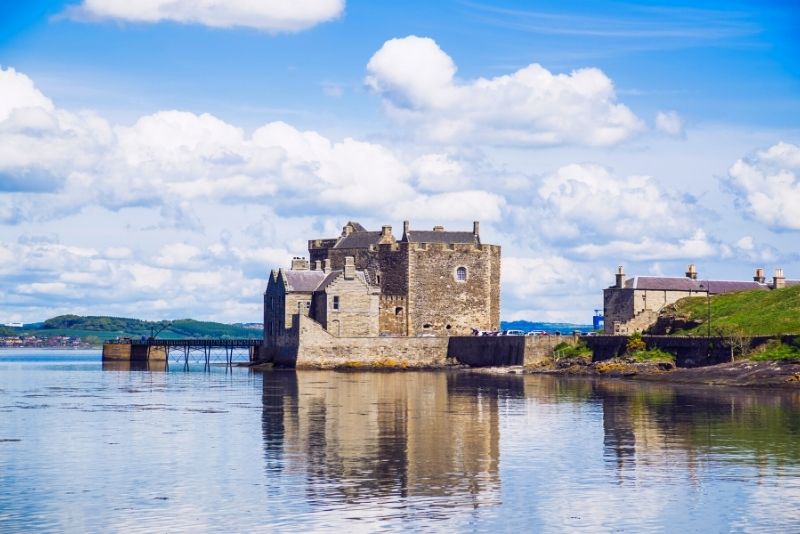 Outlander fans will recognize the mighty 15th-century walls of the imposing Blackness Castle, which sits majestically overlooking the Firth of Forth. Once an aristocratic residence, this proud fortress was a formidable war stronghold over the centuries.
Explore the ancient halls and walk along the walls of this former state prison for superb views out over the river. With its unique shape and striking location, Blackness Castle is one of Scotland's most photogenic castles, so make sure you bring your camera! And if you're feeling active, why not try your hand at some medieval archery?
Once you've worked up an appetite, stop for a tasty bite to eat at The Lobster Pot nearby, famous for its fresh seafood.
43 – Hunt monsters at the one and only Loch Ness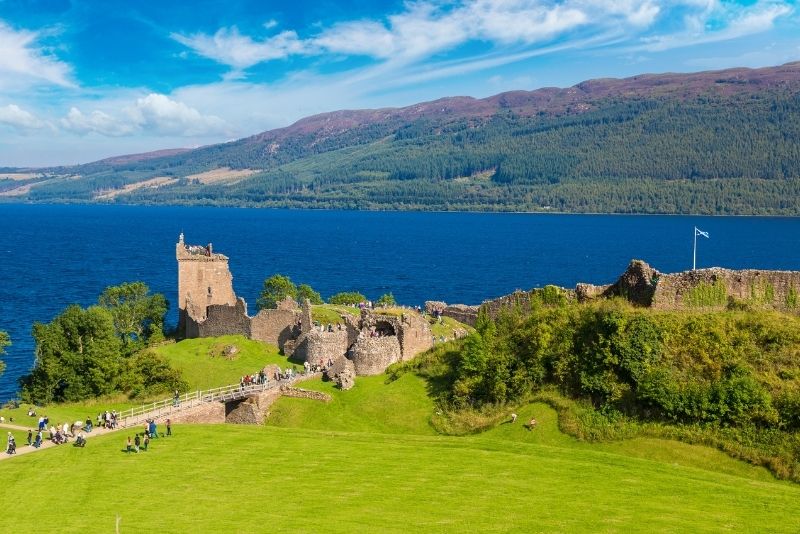 Arguably one of the most famous lakes in the world, Loch Ness is a must-visit for anyone interested in Scottish folklore — or monsters. Loch Ness is huge (over 23 miles long), deep (750 feet at its deepest point), and home to one of the most elusive creatures in mythological history.
Yep, you guessed it, we're talking about the Loch Ness Monster – Scotland's most famous resident. Whether you believe the hype or not, a visit to Loch Ness is sure to be a memorable experience. Take a cruise on the freshwater lake, which is surrounded by rolling hills and green valleys, making for enviable vacation photos.
And when you're back on dry land, save some time to explore the crumbling ruins of Urquhart Castle – a loch-side stronghold that has witnessed 1000 years of battles, sieges, and even miracles.
While many people flock to Loch Ness in the hope of catching a glimpse of Nessie, there are plenty of other things to see and do in the area – the highlights of which are best seen on a hassle-free tour.
After all of your creature hunting, you can relax and soak up the Highland vibes in Glencoe, which is featured on many day trips. This charming little town is famed for its outdoor activities, with plenty of great trails for hiking and biking, as well as some excellent ski slopes.
Check out the best day trips from Edinburgh.
44 – Get a little buzzed with a brewery tour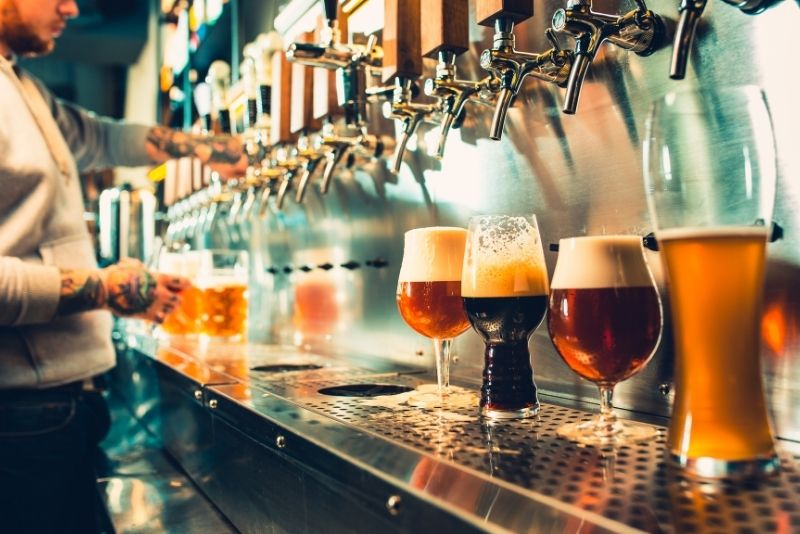 It's no secret that Scots love their beer, and with a huge range of local breweries to choose from, there are plenty of opportunities to indulge in a pint (or two). Edinburgh is home to some fantastic breweries, many of which offer tours and tastings. So whether you're a fan of craft beer or prefer a more traditional ale, make sure to add a brewery tour to your list of things to do in Edinburgh.
You'll learn all about the brewing process, as well as the history of beer-making in Scotland. And of course, you'll get to sample some delicious brews along the way.
Some tours include snacks to compliment your beer sampling, and of course, you can buy some bottles to take home. Besides wetting your whistle many times over, you'll learn how ale is made from your expert local guide, and go behind the scenes of some of Edinburgh's most popular breweries.
Want to explore on your own? The Barny's Beer, Stewart Brewing, and the non-negotiable Edinburgh Beer Factory should sit high on the list.
45 – Chart some history at John Knox House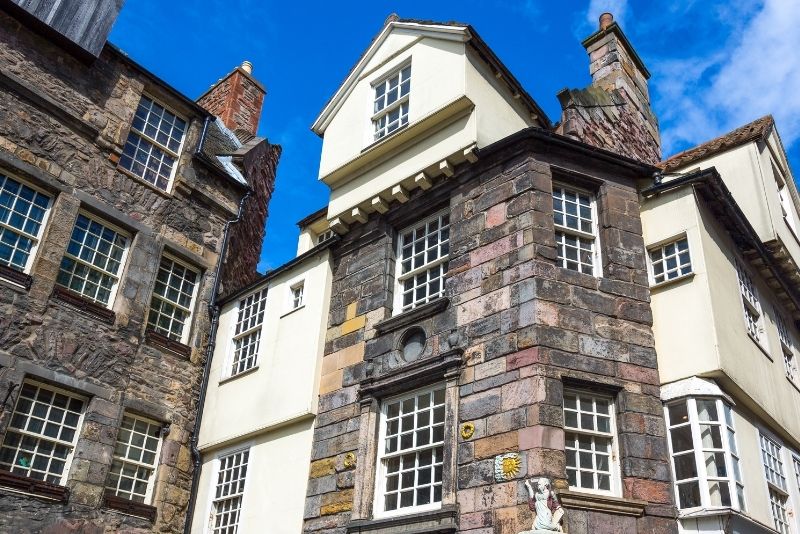 Take a wander through the rooms of the last surviving medieval dwelling on the Royal Mile and discover Edinburgh's history through the lives of its former occupants. Dating back to 1470, John Knox House has been home to jewelers, traitors, and of course Knox himself – a Scottish minister and Reformation leader.
Nowadays, the house is a museum dedicated to his life and work, and provides an insight into what times were like during the tumultuous 16th century. With engaging displays and plenty of interactive elements, not to mention one of the time capsules that was found buried in the gable wall, this quaint little museum is an enjoyable way to spend an hour or two.
And if you want to learn more about Knox and the other key figures of the Reformation, as well as a more broad overview of the city's past and present, a slew of walking tours through the Old Town will pass by this historic abode.
46 – Head to the depths of the Edinburgh Dungeon… if you dare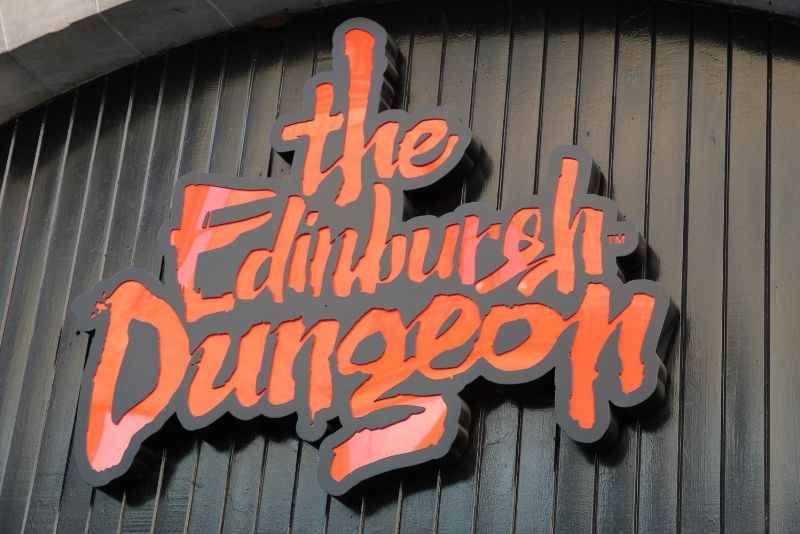 Reckon you've got your wits about you? It's time to put your bravery to the test, as you uncover the city's torturous past with an immersive tour around the dark and eerie Edinburgh Dungeon.
As you tiptoe your way around the haunted house, you'll encounter evil witches, murderous clansmen, and all kinds of medieval torture. You'll tiptoe through a cannibal lair on your journey through the city's unsavory history, and see over 1,000 years of topsy-turvy history firsthand.
The grisly tales and intriguing characters are brought to life with professional actors and special effects, with thrilling rides to make your experience all the more spine-tingling.
This 70-minute adventure is not for the faint-hearted, but it's an unforgettable experience that will give you a whole new perspective on Edinburgh. Make sure you visit with friends for added courage.
47 – Learn a thing or two at the Museum of Edinburgh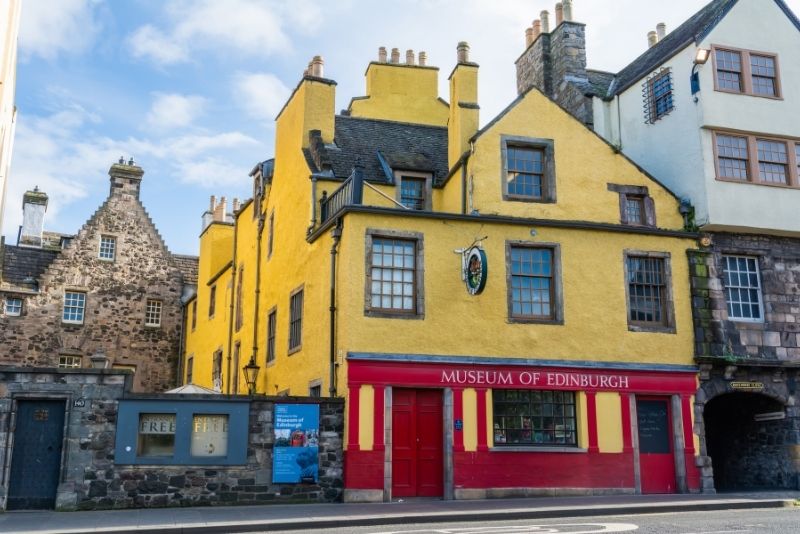 Thanks to its brightly colored facade, the Museum of Edinburgh is impossible to miss as you amble down the Royal Mile. A must for history buffs, this interesting museum tells the story of the city from its earliest beginnings right up to the present day.
With interactive displays and exciting exhibitions, and certainly no shortage of things to see and do, the Museum of Edinburgh is a great place to learn more about this fascinating city and delve into the depths of its rich history.
Wander through the labyrinthine 16th-century buildings admiring local artifacts, Scottish crafts, and war memorabilia, then learn about the story of Greyfriars Bobby – a devoted Skye Terrier who loyally guarded his owner's grave for years.
48 – Admire the Rosslyn Chapel (and find the Holy Grail?)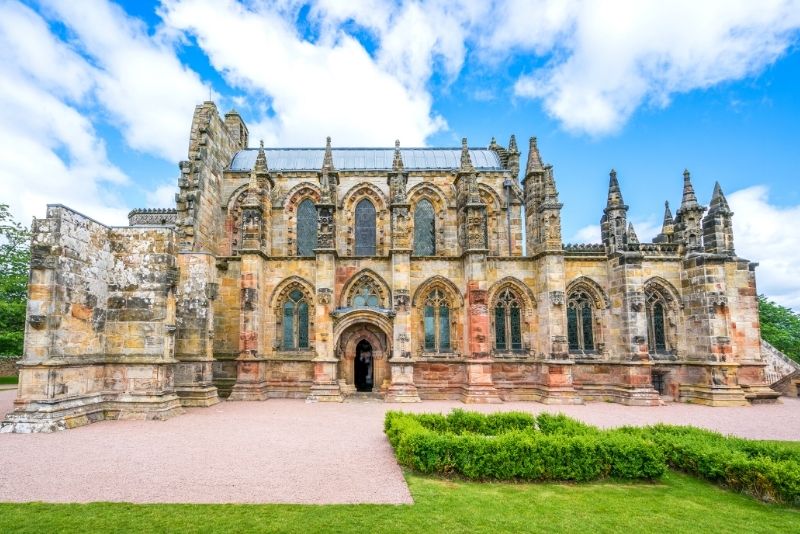 Standing just outside Edinburgh in the village of Roslin, Rosslyn Chapel is a must-visit for history buffs and art aficionados. The ornate chapel, founded in 1446, is widely thought to be the final resting place of the Holy Grail, and it's certainly one of the most beautiful buildings in Scotland.
See if you can crack the Da Vinci Code at Rosslyn Chapel, which was made famous by Dan Brown's novel and film. Despite its longstanding history, the beautiful chapel is still used today as a place of worship.
Keep your eyes peeled for the mysterious carvings that make it so famous. And while you're in the area, explore the picturesque Roslin Glen Country Park and take in the views of the Scottish Borders.
Offering an excellent change of pace from the Old Town, Visiting the chapel is one of the most underrated things to do in Edinburgh.
49 – Tour some of Edinburgh's gin distilleries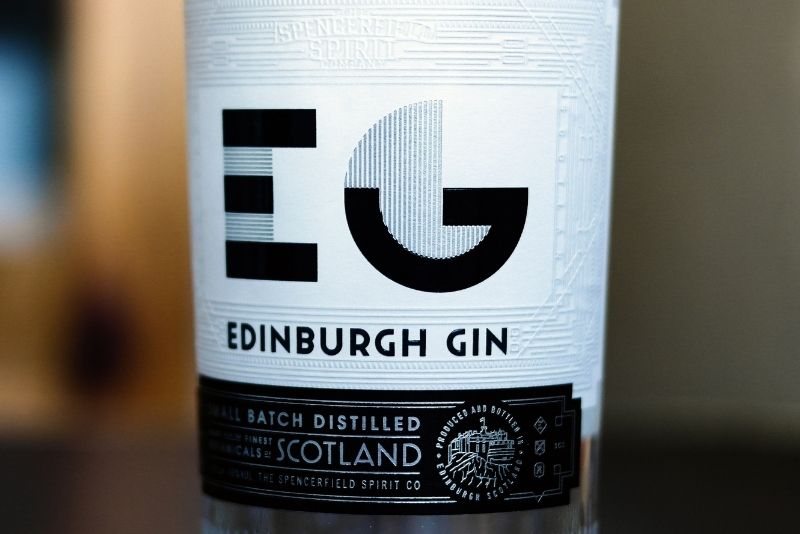 Fancy a tipple? You're on holiday, after all, so why not let your hair down and sample some of the city's coveted spirits?
Hidden in the heart of the West End, Edinburgh Distillery is a must for gin-lovers. Rather than simply ordering G&Ts at different underground bars, soak in the full gin experience by taking a guided tour to discover the city's ancient gin heritage, and learn how the award-winning botanical blends are made.
Of course, you will get to taste some of the gins afterward – the locals recommend the rhubarb and ginger for a belly-warming boost on a dreich Scottish day.
Whether you prefer to wander around on your own on a custom-made distillery crawl, or join a group for a more structured tasting experience, make sure to add 56 North, Holyrood Distillery, the Secret Herb Garden and Distillery, and, frankly this whistle-wetting activity to your itinerary.
You might even want to pick up a bottle or two of the good stuff to take home with you.
50 – Watch the world-famous Royal Edinburgh Military Tattoo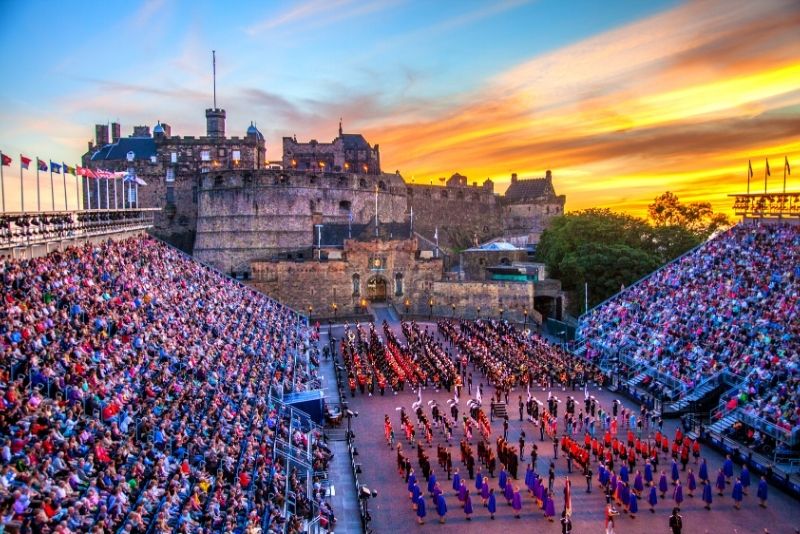 Looking for something that's quintessentially Scottish? With tartan-clad bagpipers, Highland dancers in billowing skirts, and military bands echoing dramatic tunes into the stands, the Royal Edinburgh Military Tattoo is a must-see for anyone visiting Scotland's capital.
Taking place for about three weeks every August on the esplanade of Edinburgh Castle, this spectacular event sees thousands of performers take to the stage against the stunning
Ticket prices vary depending on where you want to sit, but even the most expensive ones are worth it for the experience. The atmosphere is electric, and you'll be swept up in the excitement of it all before you know it.
If you're visiting Edinburgh during August, make sure to snag a ticket early (they sell out fast!) and enjoy an unmatched extravaganza of military bands, marching regiments, and entertaining performers from no less than 48 different countries.
Countless travelers book their vacations based on these dates, and once you've experienced it up close, you'll understand why.
51 – Tuck into some afternoon tea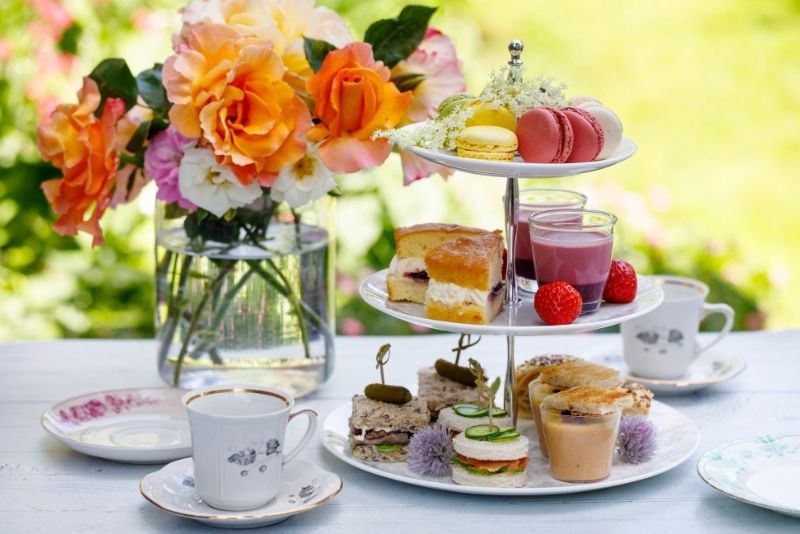 Of all the quintessentially British things to do in Edinburgh (this is still the UK, after all), taking afternoon tea tops the list. Sip inventive tipples from china mugs and nibble on haggis bonbons while eyeing up the sweet treats.
Kill two birds with one stone by enjoying your afternoon tea on board a vintage bus that drives past iconic sights. Or relax in a restaurant and pair pastries with gin.
With a variety of options to choose from, spanning river cruises with a cream twist to historic city center eateries or day-trip destinations worthy of a postcard (like the Mellerstain House — one of Scotland's finest stately homes), you're spoilt for choice when it comes to afternoon tea in Edinburgh.
Prefer to meander around on your own? Within the city bounds, any of the following eateries will leave you grinning ear to ear: the Colonnades at the Signet Library, The Café at the Palace, Mimi's Bakehouse, and Café Portrait inside the National Portrait Gallery.
52 – Make your way over to Craigmillar Castle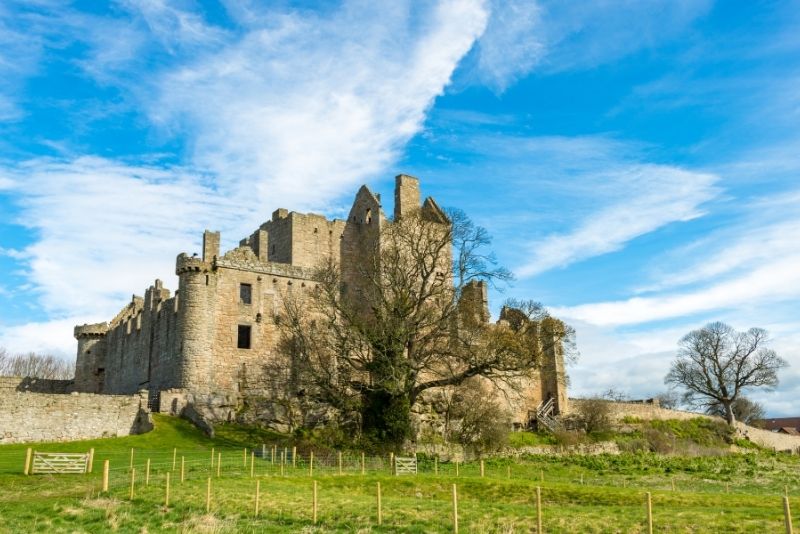 Once used as a refuge by Mary Queen of Scots, Craigmillar Castle sits outside the city walls and is easily visited by public transport from the center. Dating all the way back to the 14th century, it holds its own as not only of Edinburgh's most atmospheric castles but one of the best-preserved in the UK.
This imposing fortress was once a grand royal residence, and still today provides a fascinating insight into medieval life. Take a step back in time as you explore the castle's Great Hall, the old prison Inner Gate, and the roofless chapel, and hear tales of its most famous residents as you meander around its several nooks and crannies.
There are several nooks and crannies to investigate, and you can climb the ancient tower house which boasts a great hall and a prison.
And, as you might expect, the views across the city are superb – you can even spot Edinburgh Castle from here! To learn more about the castle's history, join one of the guided tours which run throughout the day, or expand your horizons with a self-drive tour of Secret Scotland, hitting up a slew of coveted landmarks.
53 – Pedal through Edinburgh on a bike tour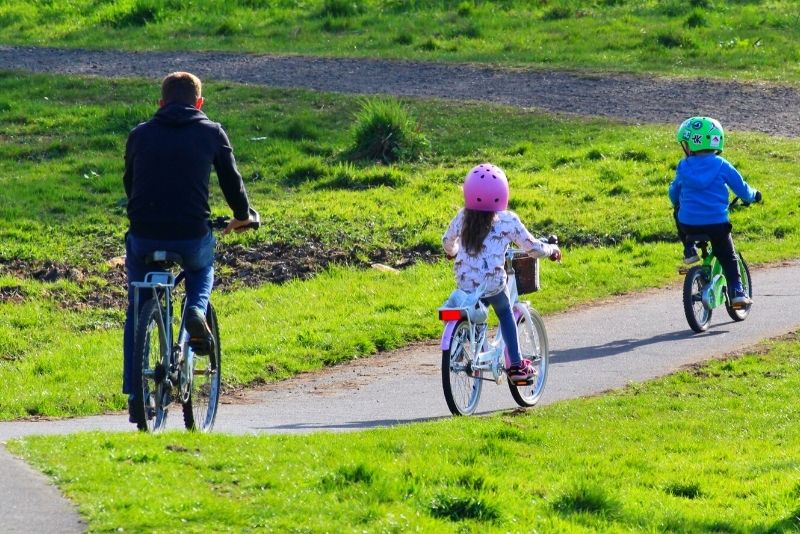 Jump in the saddle and take to the historic streets on a scenic ride with a local guide. Enjoy secret gardens and incredible panoramic views from Arthur's Seat, then follow an old railway path for a different perspective of the city. Worried about the hills? Then fear not, the electric bikes will help you up those pesky inclines in no time.
You'll find a range of different companies offering bike tours in Edinburgh, catering to all fitness levels and interests; thirsty travelers can embark on a brewery tour by bike, or those looking to experience a wider variety of Edinburgh's scenery can venture down to beautiful towns like Portobello or Cramond.
Heading to the Highlands? You'll find bike tours there too, certainly one of the best ways to explore Scotland's stunning countryside.
54 – Keep your wits about you on a ghost tour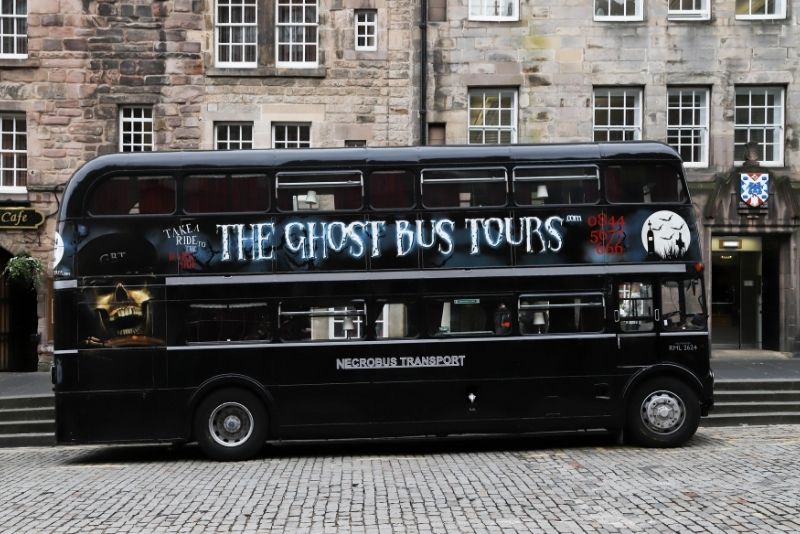 Cities with long and turbulent pasts are packed with ghosts and ghouls – and despite its pretty face, beneath the surface, Edinburgh is no different! If you dare to roam the streets after dark you may bump into restless spirits and infamous traitors, so keep your wits about you.
On moonlit nights, you can take a lantern-lit tour of Greyfriars Kirkyard with its dark history of body-snatching and grave-robbing. You'll also hear ghoulish tales of the city's most haunted places like Edinburgh Castle, Gladstone's Land, and Mary King's Close.
And if that doesn't send a chill down your spine, then perhaps the tales of Scotland's most notorious serial killers, Burke and Hare, will. These walking tours and bus tours are not for the easily scared, but they're great fun if you love a little eeriness in your itinerary.
55 – Discover the foreboding Stirling Castle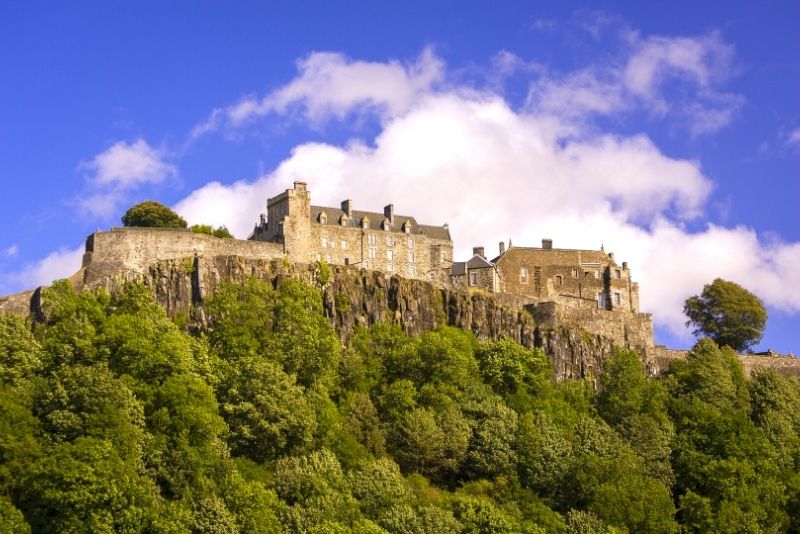 Step through the grand entrance to Stirling Castle and discover a 16th-century world of knights, ladies, and courtiers. The castle is one of the most significant historical sites in Scotland and was the favorite residence of many Stewart kings and queens.
As part of your visit, you'll get to dress up in period costumes and play medieval instruments in the palace vaults, as well as explore fascinating rooms like the Great Hall and Royal Chapel on a guided tour.
Led by knowledgeable guides, the tours bring the castle's fascinating history to life. You'll also get to enjoy stunning views of the surrounding countryside from atop the castle walls.
And, if you're visiting with kids in tow, they'll love the interactive displays and hands-on activities in the Palace Vaults – particularly The Musicians Vault, which dives into longstanding music traditions and the old-school instruments of the 1500s.
56 – See what's on at the Festival Theatre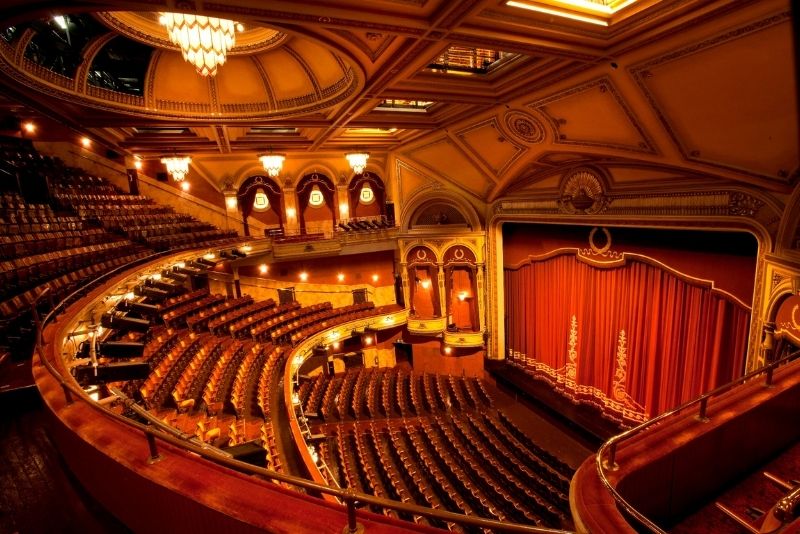 Located right in the heart of Edinburgh, the Festival Theatre (which dates back to 1928) is never shy in delivering a good show. From world-renowned operas and dance performances, to local and international dance, comedy and jazz, and even classic ballets and the latest West End musicals, there's always something to entertain the masses at the centrally-located Festival Theatre.
And, with a capacity of over 1,915 seats, you're guaranteed to find a good spot no matter where you're sitting at Scotland's top opera house.
If you're visiting Edinburgh during the world-famous Edinburgh Fringe Festival, then the Festival Theatre is the place to be. With a full program of shows running throughout August, you're spoilt for choice when it comes to entertainment.
Many famous faces have delighted audiences here, including Charlie Chaplin, Laurel and Hardy, and even David Bowie — simply check the website to see who's gracing the stage when you're in town.
57 – Go fishing (at places like Cramond Island)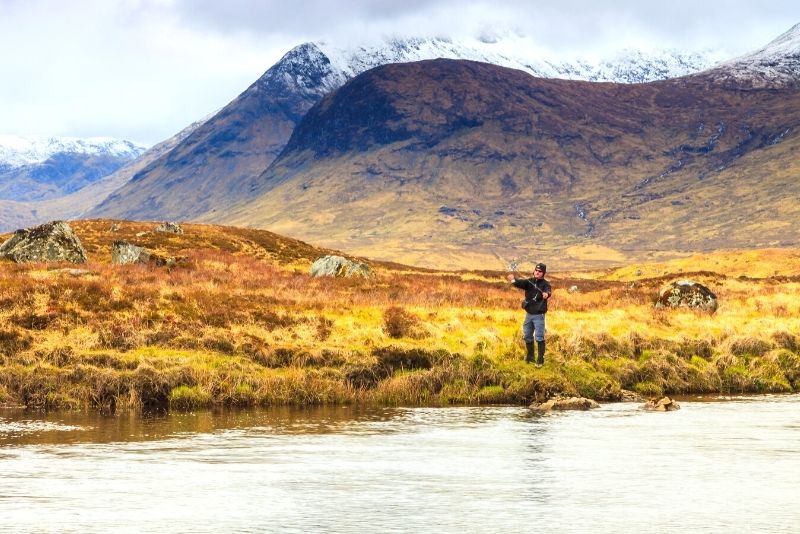 A chance to soak in some fresh air, Cramond Island is a top choice (that said, just one of many) to enjoy some peace and quiet away from the hustle and bustle of the city. This small tidal island can be reached via a short walk across the sands at low tide, or by taking a boat ride from Cramond Village.
Once on the island, you can explore its ruined 14th-century church, abandoned village, and nature reserve, or simply relax on the beach and enjoy the stunning views across the Firth of Forth.
Cramond Island is also a popular spot for fishing, so if you fancy trying your hand at catching some dinner, make sure to bring your rod! Alternatively, there are many other great spots to cast your line and reel in a salmon or trout on a traditional Scottish fly-fishing trip.
Whether you choose a loch or river as your hunting ground, the scenery will be off the scale when it comes to wild natural beauty. And even if you're a total newbie, a professional guide will be with you all the way to share top tips about fishing techniques and local lore, helping you learn the rhythm of this special environment.
58 – Dine in at least one of the city's Michelin-starred restaurants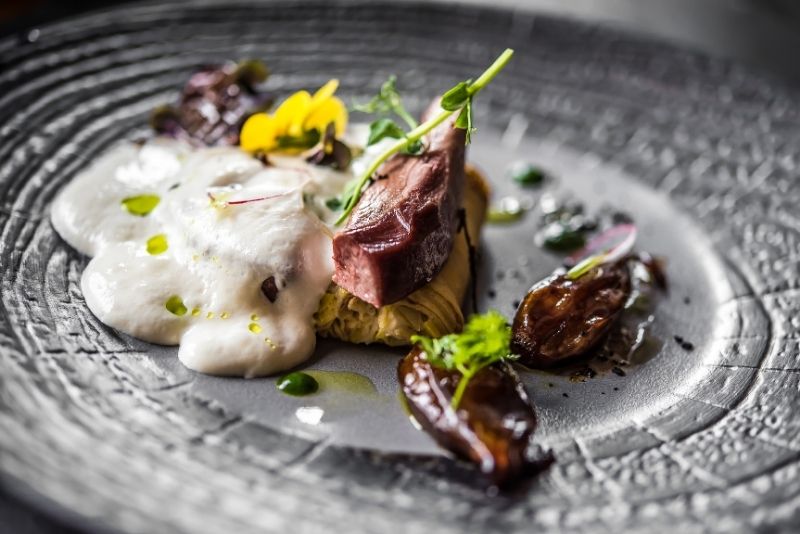 Feeling peckish? Offering a slew of Michelin star restaurants, Edinburgh is the perfect place to indulge in some fine dining. From creative Scottish cuisine to international flavors, modern fusions, and tributes to classical dishes, the city's top chefs provide an unforgettable culinary experience.
So, where should you be booking tables? For traditional Scottish fayre with a twist, head to the Scran & Scallie, or try Fhior for Scandi-style foraged creations. For refined contemporary banquets, Number One in the swanky Balmoral Hotel is a favorite with locals – the grouse with sausage and blueberries is particularly tasty.
And if you want to splash out on a truly special meal, make sure to reserve a spot at one of Edinburgh's three-Michelin-starred restaurants: Condita, Martin Wishart, and Kitchin, each with their own unique take on gastronomy and jam-packed drinks list to wash all the goodness down.
59 – Snap selfies with The Kelpies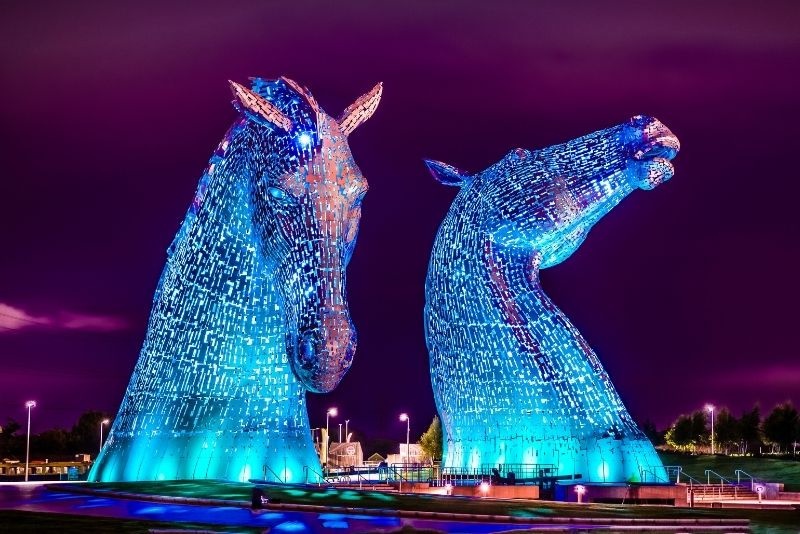 Named after mythological transforming beasts, the Kelpies are one of Scotland's most famous sights. These 30-meter-tall sculptures were erected to honor the heavy horses of Scotland that were used over the centuries to pull barges, ships, and plows, and help lay the foundations for the Scotland we know and love today.
Located in Falkirk, the 300-tonne Kelpies are the biggest equine work of art in the world and are an astonishing feat of engineering. The best time to visit the Kelpies is at dusk, when the lights come on and they're illuminated against the night sky.
If you don't have your own transport, there are plenty of day tours from Edinburgh that will take you to Falkirk to see the iconic Kelpies up close (often making a couple of stops at Loch Lomond and Sterling Castle too).
60 – Learn about ancient Roman Britain at Hadrian's Wall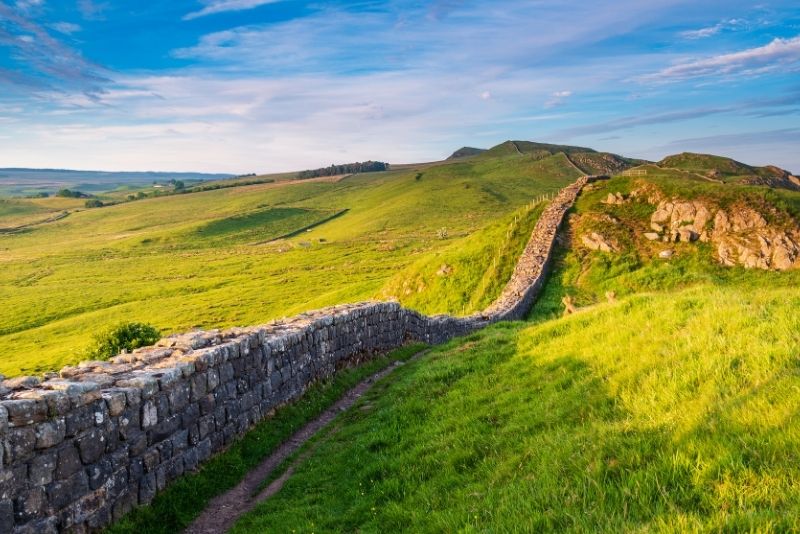 Scotland's answer to the Great Wall of China, Hadrian's Wall was built by the Romans over 1900 years ago to mark the northernmost limit of their empire. And while it might not be as long or as grandiose as its Chinese counterpart, this UNESCO World Heritage Site is nonetheless an impressive feat of engineering.
Stretching for 73 miles (117 kilometers) from coast to coast, the wall once marked the boundary between Roman Britain and the untamed lands of northern Scotland. Today, it's one of the most popular tourist attractions in Edinburgh, with plenty of opportunities to explore its ruins, hike along its length, or simply enjoy the stunning countryside views.
On pre-organized tours from Edinburgh, you'll have the opportunity to cross the English-Scottish Border at Carter Bar and learn why the Romans feared what lay north of the divide. The highlight of the day, however, is visiting Housesteads Roman Fort down in Northumberland National Park, a beautiful locale where you can walk along the wall and pose for Insta-worthy photos.
61 – Try your hand at axe throwing!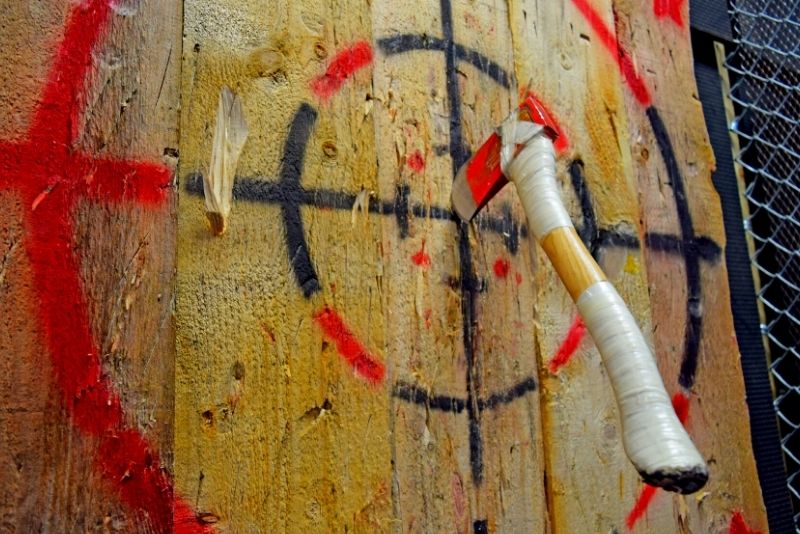 A heart-racing sport that's taken the world by storm in recent years, ax-throwing is the perfect way to work up a sweat (and let out some aggression) while on vacation.
In Edinburgh, there's one main place to give this unique activity a go: Black Axe Throwing Co. Located just north of the main hustle, right around the corner from Alien Bloc rock climbing (the perfect back-to-back pairing, perhaps?) this engaging activity center is the perfect place to while away an hour.
After you've been given a safety briefing, the expert weaponry team will help you master basic techniques and turn you into an ax ninja in no time — allowing you to harness your inner warrior and unleash the power you never knew you had.
Battle your friends and see who can bag the most bullseyes, and make sure to take plenty of photos to commemorate your new skills. So whether you're looking for a fun activity to do with friends or want to try something new, ax-throwing is a great option and something you're sure to remember long after your trip to Edinburgh comes to an end.
62 – Live it up at the Dome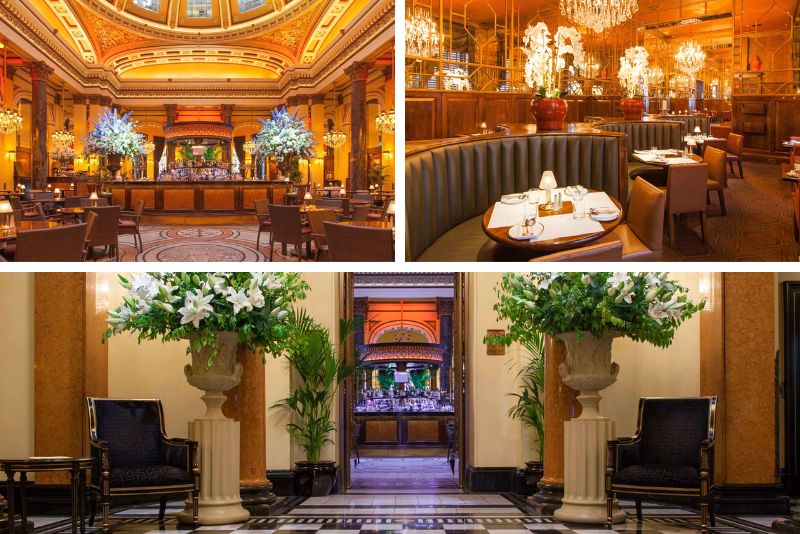 Plush seating, opulent decor, and elegant chandeliers. No, you're not at the Ritz… you're at the Dome! This magnificent structure got its start in 1775, when it was built as part of the local Physician's College. Over the years, it housed branches of the National Bank of Scotland, before becoming a bar and restaurant in 1996.
With classical designs and lush decor, it's the perfect spot for a classy cocktail or a savory bite, as well as plenty of awesome events. Don't miss the whisky tasting experience, where you can sip high-quality selections and nibble on selected cheeses.
Whether you're sipping, partying, or simply enjoying the atmosphere, this is a perfect destination for your visit.
63 – Pay a visit to Camera Obscura & the World of Illusions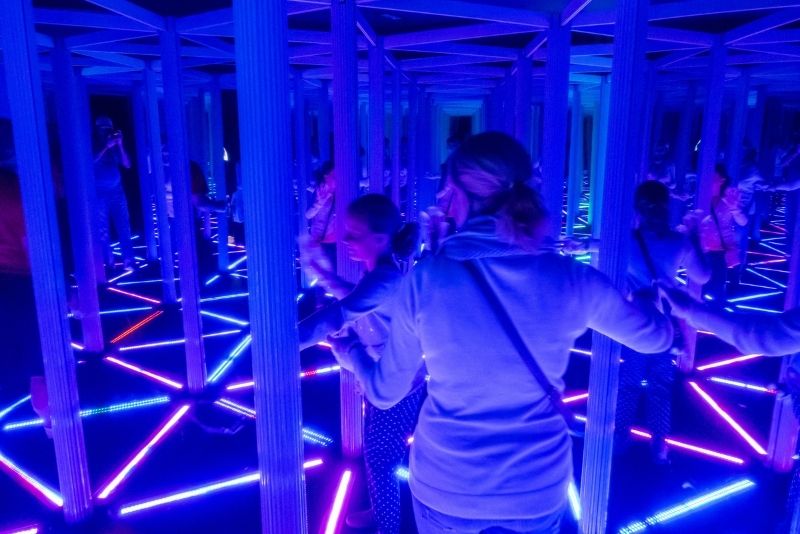 Enter a mind-boggling world of over 100 impossible illusions with swirling light vortexes and mirror mazes everywhere you turn. Confused? Then remember, nothing is as it seems in this five-story upside-down world.
Get hands-on with the interactive exhibits, and have fun with quirky visual effects. Then head up to the Victorian Camera Obscura, and drink in 360-degree views of the city from the roof terrace.
This is one of the most unique places to visit in Edinburgh, and it's guaranteed to leave you feeling appreciative of straight lines and logic.
Family-friendly and open to the public every day from 8 am till 10 pm, you'll find this beloved indoor attraction right around the corner from Edinburgh Castle and Royal Mile, making it an easy addition to any day of downtown walkabout.
64 – Check out the opulent Georgian House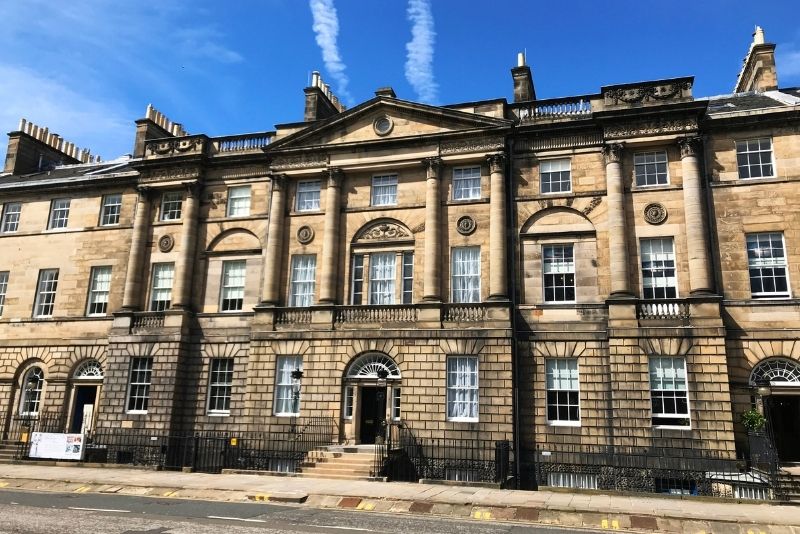 Certainly one of the more underrated Edinburgh attractions, this restored residence in the New Town is home to an astonishing collection of period costumes and grand furnishings that collectively feel like you're just taken a trip back in time.
The Georgian House was built in 1796 for a wealthy Edinburgh merchant and his family, and today visitors can explore the elegant public rooms – including the stunning drawing room with its original Adam fireplace – as well as the servants' quarters downstairs.
You'll also learn about what life was like for rich and poor Georgians alike, and see how changes in fashion, architecture, and society affected everyday life in Edinburgh. Scottish artists quite rightly steal the scene at the Georgian House when it comes to paintings, with exhibits from Ramsay and Raeburn.
If you're curious to see how the other half lived in the days when entertaining was done on a grand scale, 7 Charlotte Place is the spot.
65 – Indulge in a Harry Potter-themed dinner experience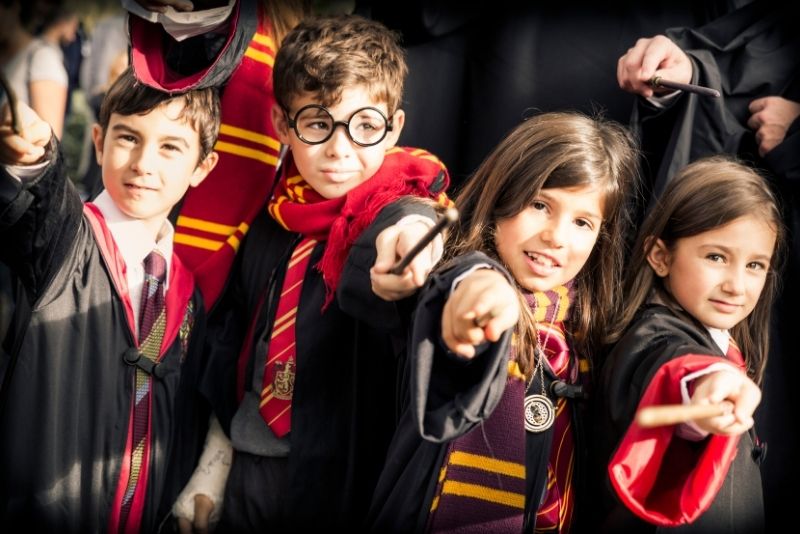 No matter if you're a Hufflepuff or a Slytherin, there's no denying the appeal of Harry Potter in this God-kissed nation. And what better place to indulge your inner wizard than in Edinburgh, a place from which the magical series drew so much inspiration?
So, to get your wizarding fix, climb aboard a vintage double-decker bus in the late afternoon and trundle past historic sights that were the inspiration behind the world's most famous wizard. With a celebratory glass of Prosecco in hand, Expect to see the castle, of course, as well as Waterloo Place, Edinburgh Waverley Station, Greyfriars Kirkyard – JK's favorite graveyard, and Potter Row, to name a few.
As you tuck into a multi-crouse Italian feast, Harry Potter fans will love seeing where the magic all began, and finding out more about the author's creative insights.
66 – Get behind the wheel of a luxury car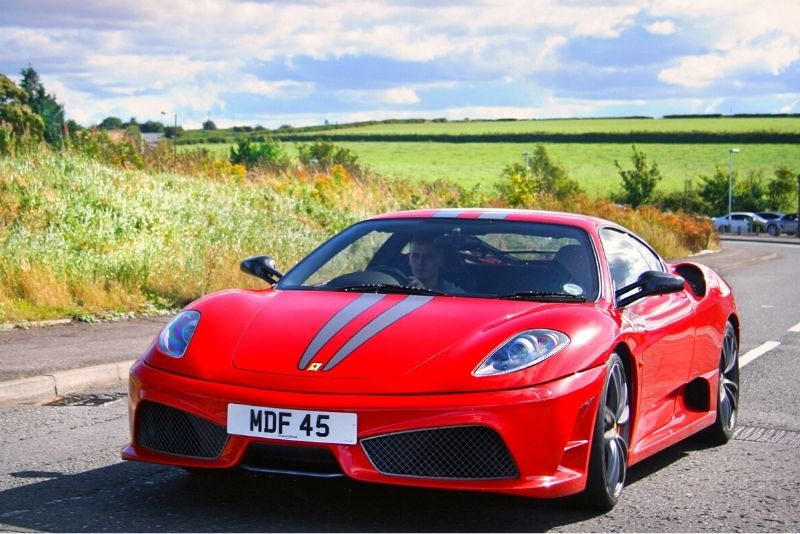 Feel the need for speed? Then make yourself comfortable behind the wheel of the ultimate supercar and see if you can set a record on one of the oldest racing tracks in Scotland. Be like James Bond in a shiny Aston Martin or relish the roar of a Ferrari beneath your fingertips – the choice of vehicle is yours.
With such picturesque countryside to explore, including the rolling hills of the Borders and the majestic Highlands, a luxury driving experience is the perfect way to see Scotland in all its glory.
And what better place to start your engines than at the world-famous Ingliston Circuit, where you can put your foot down on the very same tarmac as some of the world's greatest drivers?
67 – Catch a show at the King's Theatre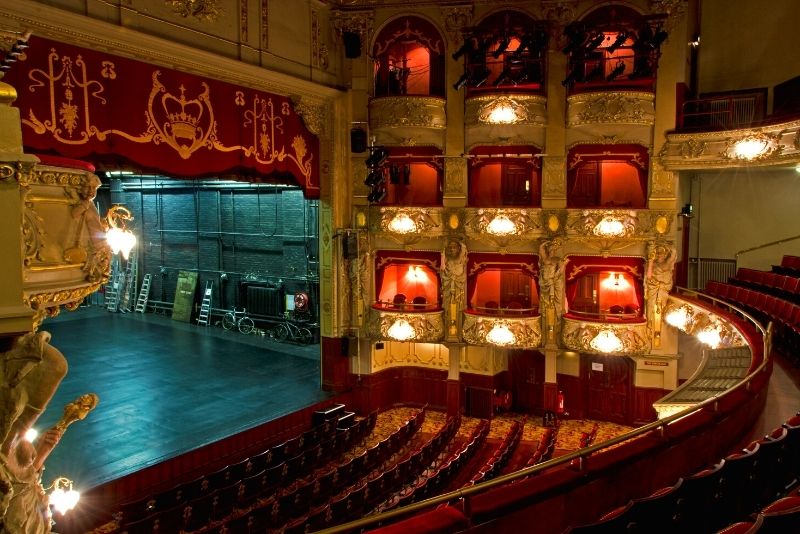 Built in 1905, the iconic King's Theatre is the place to go if you want to watch performances in a historical setting. The ornate interior will transport you back in time, with a choice of box or stall seating. Take in a pantomime, opera, or play and enjoy a drink in the mock-Tudor bar before the show.
With an ever-changing lineup of productions, from family-friendly plays to Broadway-style musicals, and even behind-the-scenes tours of the theatre itself, there's always something new and exciting to see at this historic venue. Simply check the website in advance to see what's on during your stay.
68 – Treat yourself to the best rooftop bars and restaurants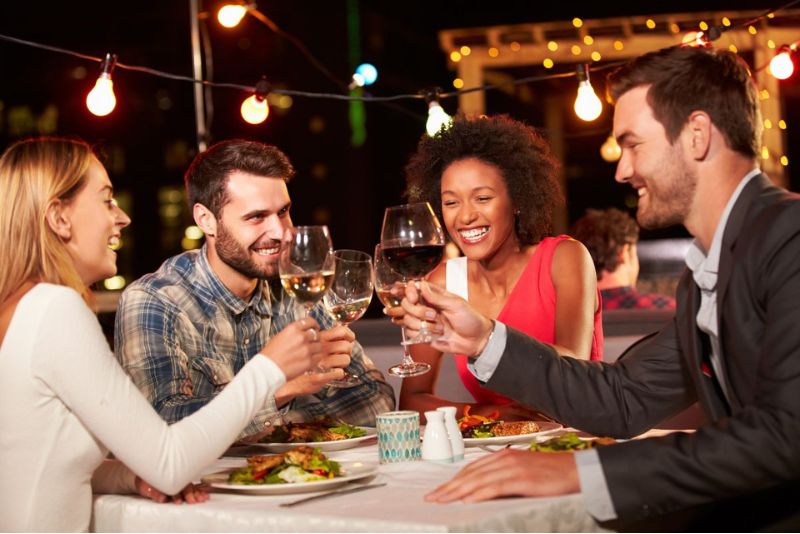 With its beautiful scenery and striking skyline, Edinburgh is just as enjoyable from above as from the street. Pop over to the DoubleTree by Hilton in the city center to enjoy SKYbar, which offers creative cocktails and a delicious brunch option. Or kick back with a smooth drink and a bite at the 1820 Rooftop Bar, which boasts breathtaking views of Edinburgh Castle.
For a heartier meal, try the scrumptious dishes at Chaophraya Thai, which blends traditional cuisine with a lovely patio ambiance. Or grab a pizza and a beer at Cold Town House, which also broadcasts rugby games live in the downstairs section.
It's the perfect way to class up your evening – and see more of that unbeatable cityscape!
69 – Awaken the senses with a whitewater rafting adventure!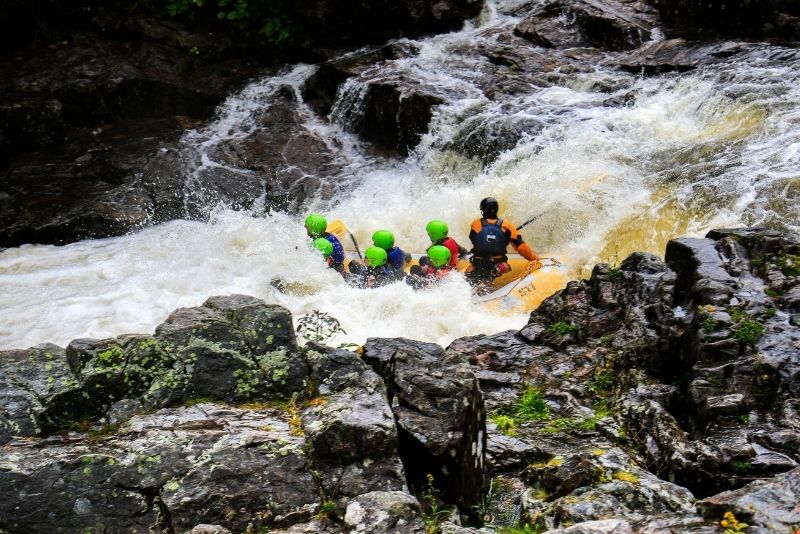 A fast-paced change from the typical history lessons and G-rated city-slicker activities, white water rafting beckons for those looking for a little more of an adrenaline rush while on vacation.
And what better place to feel the splash than on Scotland's longest stretch of water, the River Tay? Whether you hurl yourself down the rapids in Aberfeldie or venture further afield (depending on which tour you choose), a wild ride awaits.
At first, you'll float lazily down the river, admiring the heather-clad hills and grassy valleys. But before you know it you'll be hanging on tight as you hurtle through the bubbling rapids. Keep an eye out for native wildlife along the riverbanks, and enjoy the pristine nature along the way.
With transport to and from Edinburgh included, as well as whisky tastings (post ride, of course) a rip-roaring rafting day trip through the scenic Highlands of Scotland sits at the top of many a bucket list — so make sure it's on yours.
70 – Shop till you drop on Victoria Street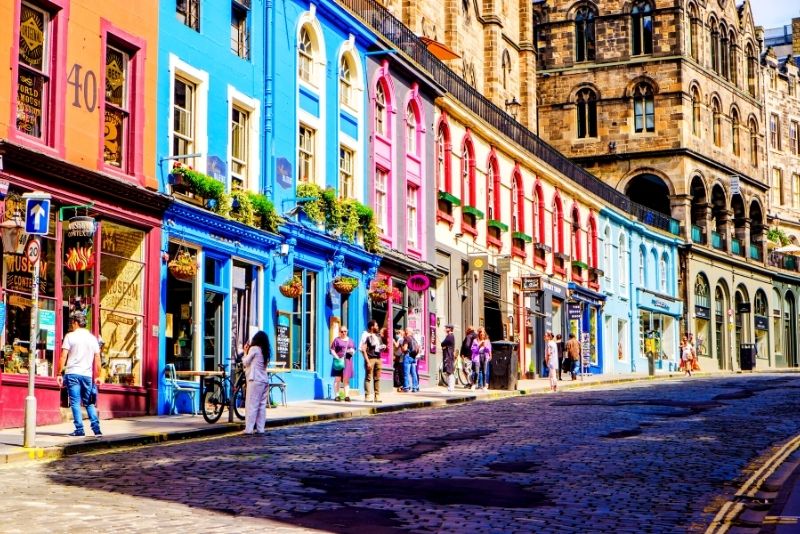 Absolutely quintessential, if not for its stunningly vibrant buildings then for its many independent boutiques, cafes, and restaurants, Victoria Street is one of Edinburgh's most iconic promenades.
Running parallel to the Grassmarket in the Old Town, this vibrant cobbled crescent is always bustling with locals and visitors alike, all keen to soak up the unique atmosphere.
With an eclectic mix of independent shops to browse, from vintage clothing stores and antique bookstores to toy shops and lesser-known art galleries, there's plenty to keep you entertained on Victoria Street.
Built in the early 19th century, historic Victoria Street oozes old-world charm, and is rumored to be the inspiration behind Harry Potter's Diagon Alley. With that in mind, you can buy everything from wizard wands to local art, or pop into a café for a pot of tea to refuel.
71 – Party the night away on a lively pub crawl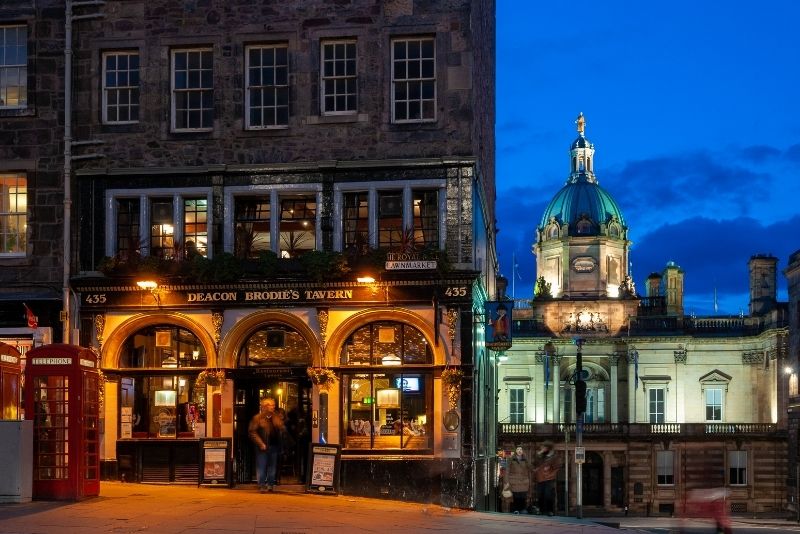 Ready to unleash your inner party animal? There's no better place to let your hair down than on a pub crawl through Edinburgh's bustling city center. You'll start the night off with a bang, making your way to some of the most popular bars in town. Along the way, you'll enjoy plenty of drink specials and meet new friends from all over the world.
As the night wears on, the group will move to some of Edinburgh's best nightclubs, where you can dance the night away.
Not only is this a great way to explore the city's nightlife scene, but it's also a great opportunity to meet new people and let loose with fellow revelers. So put on your dancing shoes, sample some Scottish whisky to get you in the mood, and get ready to enjoy some live music free shots, skip-the-line admission, and VIP access (always good if it is cold out!) as you make your way around town.
72 – Laugh your socks off at The Stand Comedy Club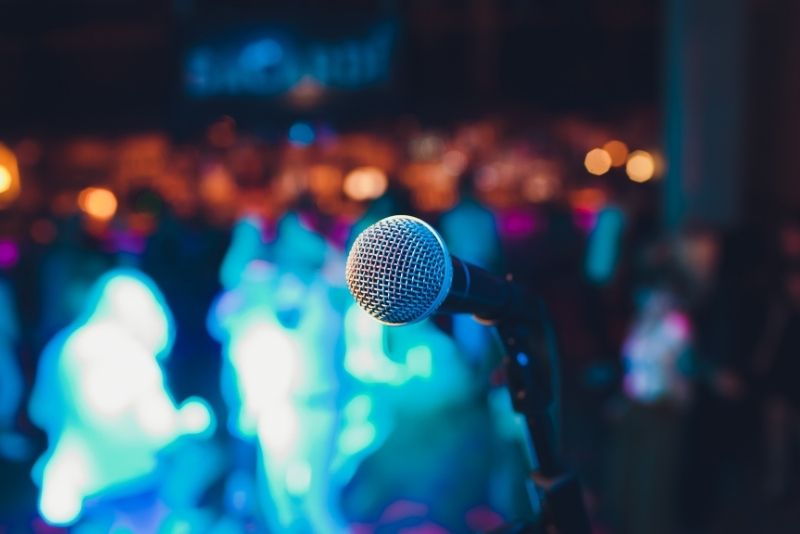 Looking for a good night out? Then don't miss The Stand Comedy Club, one of the most popular comedy clubs in the UK. With an ever-changing lineup of international headliners, local up-and-comers, and sketch troupes, simply sit back with a pint or cocktail and prepare to spend the evening chuckling away with your friends.
For decades, The Stand Comedy Club has been known as one of the best entertainment venues in Edinburgh, welcoming the likes of Billy Connolly and Frankie Boyle, and countless multi-act themed showcases. With its intimate setting and great acoustics, it'll be a night to remember.
Sit back with a pint or cocktail and prepare to spend the evening chuckling away with your friends.
73 – Sleep in true luxury at a historic hotel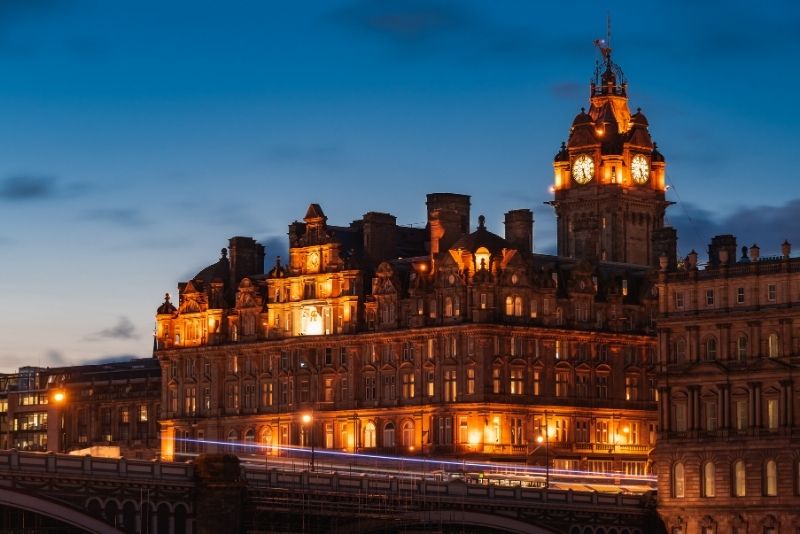 No visit to Edinburgh is complete without a night in a historic hotel, and there are plenty to choose from. Go back in time at Dalhousie Castle or Balmoral Hotel, and slumber in four-poster beds in the haunting Witchery if you dare.
Follow in the footsteps of explorers at Channing's Hotel, or head to The Scotsman which was once home to the city's favorite newspaper.
How to get to Edinburgh?
Book a transfer between Edinburgh Airport and your hotel and ensure a safe, fun, and easy transportation process.
Whether you prefer a bus or a private car, there are tons of vehicles available to help you on your way – or see you off safely after a wonderful trip!
Where to stay in Edinburgh?
From the minute you step into the lobby of Radisson Collection Hotel, Royal Mile Edinburgh, you'll feel transported; between the gorgeous bar, luxurious spa, and elegant rooms, it's the perfect place to relax after a day in the city.
And at Virgin Hotels Edinburgh, you can enjoy a drink or a workout, then head out to enjoy nearby attractions like World of Illusions and the National Museum of Scotland.
Hotel Indigo Edinburgh offers contemporary accents and unbeatable amenities, from its charming restaurant and whiskey flights to treasures like St. Andrew's Square and the Edinburgh Playhouse Theater just outside the door.
And at Holiday Inn Edinburgh Zoo, fuel up at the breakfast buffet before heading to town, then wind down the evening at the sauna and pool – a perfect stay all around!
Visiting Edinburgh on a budget?
To see the city's best spots without emptying your wallet, check out some free walking tours in Edinburgh! Whether you're walking in the footsteps of Harry Potter or hunting for mysterious ghosts, you'll get a great feel for this unique city's culture.
And if you want to see more and spend less, book the Edinburgh City Pass (which includes bus transportation to several destinations), or the Royal Edinburgh Ticket, which includes access to Holyroodhouse Palace, Royal Yacht Britannia, and more.
Where to go next?
Once you've smashed through the Edinburgh bucket list, make sure to check out the list of fun things to do in Glasgow, right next door! A short flight away is Dublin, the beating heart of Ireland, while London, Liverpool, and Manchester are all within easy reach by train (with spectacular scenery en route!).
Another great option by train is York, with its phenomenal historical sites stretching back 2,000 years.
Or take a quick flight to Belfast, the renowned Irish city that combines work and play in equal measure.
And if you want to delve deeper into Scotland itself, book a multi-day trip to such unforgettable destinations as Inverness, the Highlands, and the Isle of Skye.
Final thoughts
From its towering castles to its charming streets, the amazing things to do in Edinburgh never end. With the old and the new, the classy and the playful all showcased in one place, you'll be able to have your pick of adventures.
But be sure to get some rest in the evenings… because you'll want to do it all over again the next day!
As always, happy travels.