Do you wish to visit the Queen's official Edinburgh residence – the Palace of Holyroodhouse? In this post, you will learn everything you need to know about this stunning place, including the Palace of Holyroodhouse tickets price, how to book tickets online, guided tours, opening hours, the best time to visit, and some other useful tips.
How much do Palace of Holyroodhouse tickets cost?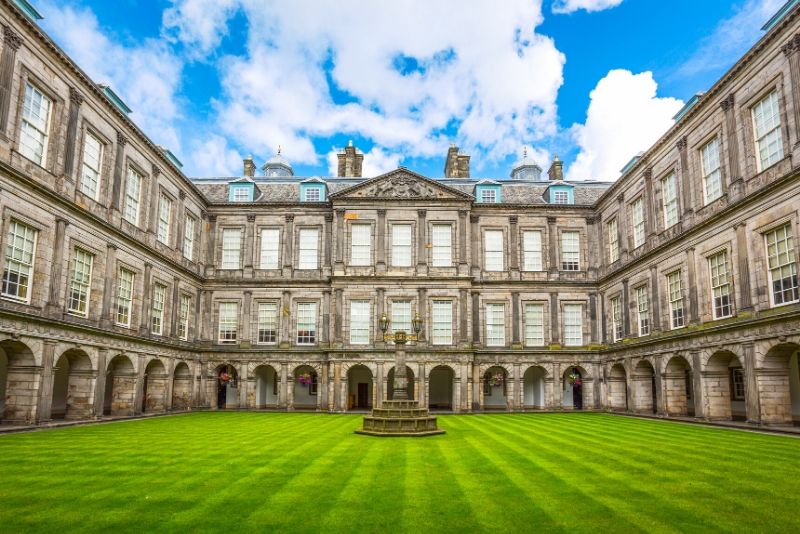 The Palace of Holyroodhouse tickets can be purchased either online or onsite at the ticket office. Prices are the same whether you buy online or off. However, you might need to queue if you're buying tickets at the Palace of Holyroodhouse directly.
General admission ticket prices for admission to Palace of Holyroodhouse
£16.50 (€19) for adults
£14.90 (€17) for seniors aged over 60 years old and students
£9.50 (€11) for youths under 17 years old and disabled
Free for children under 5 years old
£42.50 (€49) for families (2 adults and 3 youths under 17 years old)
There is also an option of turning your ticket into a 1-year pass by asking Holyroodhouse to treat the ticket as a donation. This will grant you free access to the attraction for 12 months. To convert your ticket to a 1-year pass, you should:
Sign and print your name in the spaces provided on the ticket before leaving the site.
Hand the ticket to a member of staff for validation
Retain tickets for future visits.
Tickets are only accepted for re-admission if they have been stamped and signed on the day of your first visit
General admission ticket prices for admission to The Queen's Gallery

You may also visit The Queen's Gallery. See changing exhibitions from the Royal Collection, featuring stunning paintings, rare furniture, amazing arts and images from the vast photograph collection, and more.
£7.80 (€9) for adults
£7 (€8.50) for seniors aged over 60 years old
£3.90 (€4.50) for youths under 17 years old and disabled
Free for children under 5 years old
£19.50 (€23) for families (2 adults and 3 youths under 17 years old)
How do you book Palace of Holyroodhouse tickets online? How do you skip the line?
You may book your Palace of Holyroodhouse tickets onsite or online. We strongly suggest you book your tickets online so you don't need to queue up at the entrance gate.
You may book your tickets on the official website or via an online travel agency such as Viator, GetYourGuide or Tiqets. Make sure to use our search engine to compare ticket prices, and find the cheapest ticket for your desired date.
Are there any Palace of Holyroodhouse guided tours, and are they worth it?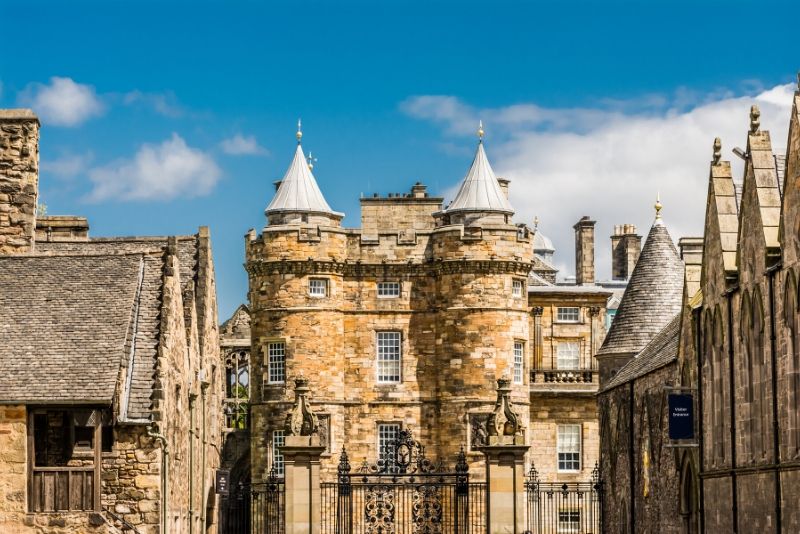 There are no live guided tours when you buy your Palace of Holyroodhouse tickets through the official website. However, there is an audio guide that will detail the history of the palace while visitors explore the Palalce of Holyroodhouse.
Some online tour operators include a live tour guide who will provide in-depth information on Hollyroodhouse's history, including the impressive Baroque decoration. Having access to a live guide will give you a deeper understanding of one of Edinburgh's most popular attractions.
There are a lot of deals available online from different operators. Make sure to compare all the offers and pick the one that suits best your needs and budget.
Are Palace of Holyroodhouse tickets included in any city attractions passes?
Edinburgh is one of the most beautiful cities in the United Kingdom and sees around 2-million visitors per year. Many who visit the city for a few days purchase a city attraction pass, which gives them entry to multiple sites.
The Royal Edinburgh ticket lets you explore the royal landmarks in Edinburgh and includes entry to the Palace of Holyroodhouse. The ticket is valid for 48 hours, which makes it a good option for tourists who only have a few days to explore the city.
Attractions included with Royal Edinburgh ticket:
Palace of Holyroodhouse
Edinburgh Castle
The Royal Yacht Britannia
3 City Bus Tours
What will I see?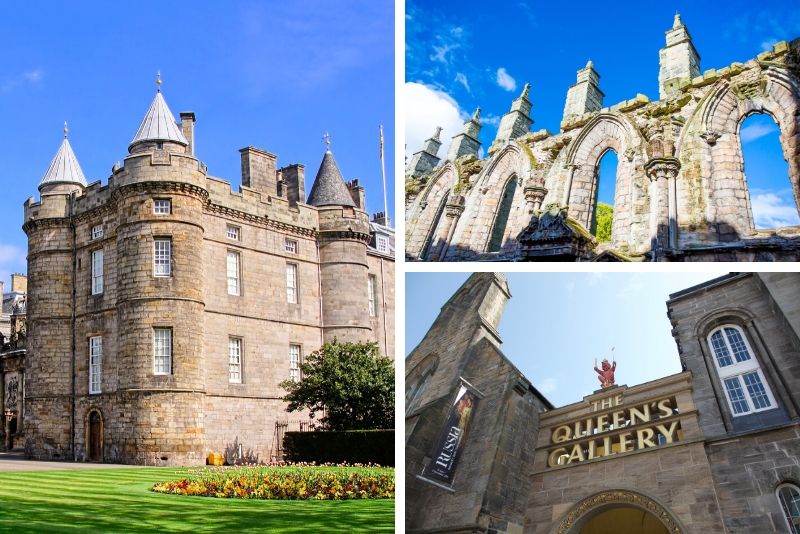 The Palace of Holyroodhouse is located at the bottom of the Royal Mile, which is a succession of streets forming the main thoroughfare of the Old Town. Once you arrive at Holyroodhouse, there is plenty to do and see.
State Apartments
The State Apartments are famous for their plasterwork ceilings and extensive collection of French and Flemish tapestries. Each room becomes grander as you walk through the palace, with the King's Bedchamber the grandest of them all. This room was reserved for only the most important guests in the palace.
Mary Queen of Scots Chambers
The most famous – and oldest – monarch in the palace, Mary Queen of Scot's Chambers features a bedchamber, supper room and outer chamber. It was Mary the Queen of Scots official residence from 1561 until 1567.
Bonnie Prince Chamber
Prince Charles Edward Stuart, otherwise known as Bonnie Prince, brought Holyroodhouse to life when he visited for six weeks in 1745. He used the Great Gallery for audiences during the day, before transforming it for grand balls and receptions during the evening.
Throne Room
Used for receptions and other State occasions, the Throne Room is notable for its pair of thrones. They were commissioned by King George V in 1911, who wore a complete Highland dress outfit for the visit. Today, visitors can see Sir David Wilkie's portrait of the king in his kilt in the Royal Dining Room.
Holyrood Abbey
Once the grandest medieval abbey in Scotland, Holyrood Abbey sits next to the palace and still features Romanesque arcading, Gothic windows and a vaulted ceiling. Today, visitors can see the remains and imagine how the abbey looked when it was one of the most impressive landmarks in Edinburgh.
Palace Gardens
The 4-hectare Palace Gardens provide direct views towards the Queen's Park, which is also known as Holyrood Park. Look out for the silver plants, which were planted in celebration of The Queen's Diamond Jubilee.
Great Gallery
The Great Galler is the largest room in the palace and features portraits of Scotland's previous 95 kings, as well as one queen. Today, The Queen uses the Great Gallery for hosting State Banquets, dinners and receptions.
What are the Palace of Holyroodhouse opening hours?
The Palace of Holyroodhouse is open all-year-round with two distinct seasons: 1 November to 31 March and 1 April to 31 October.
Opening times
1 November to 31 March: 9.30 am to 4.30 pm (last admission 3.15 pm)
1 April to 31 October: 9.30 am to 6 pm (last admission 4.30 pm)
Holyroodhouse is a working royal palace, which means closures can happen at short notice. However, the official website and tour operators will update any closure periods accordingly.
When is the best time to visit?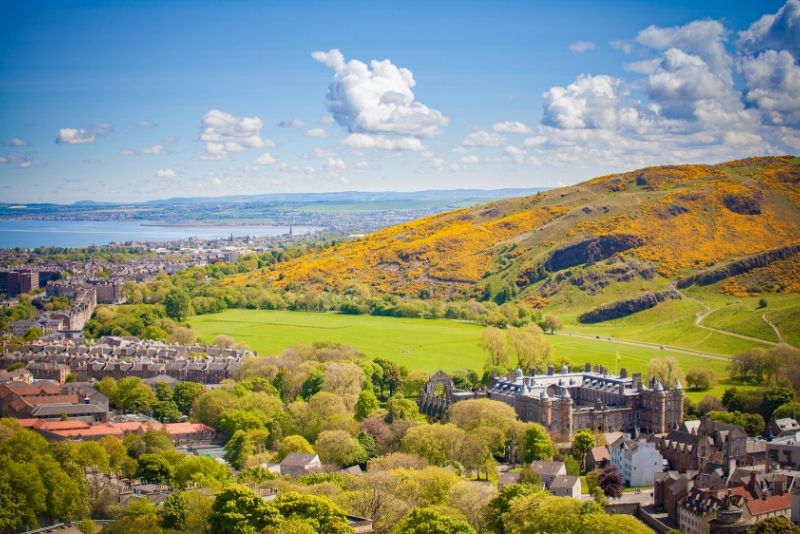 The Palace of Holyroodhouse is a year-round destination. Scotland is generally the coldest of the four UK countries, and it's unlikely that temperatures rise above 30 degrees, even during the summer months of July and August.
If you want to visit Holyroodhouse during quieter times, avoid holiday holidays such as Easter, Christmas and summer school holidays. Holyroodhouse tends to be quieter during the mornings, so if you want to avoid the crowds, it's a good idea to get there bright and early.
Travel tips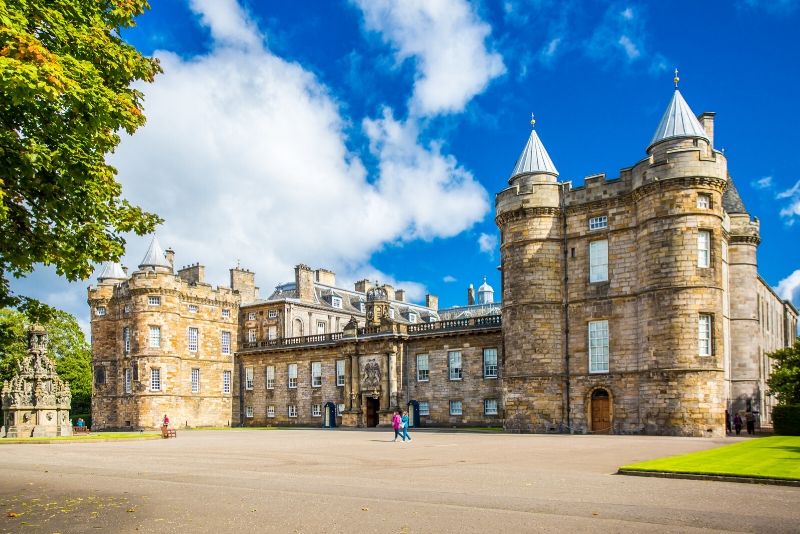 Visitors can explore the Palace of Holyroodhouse at their leisure using the complimentary multimedia tour, which lasts for 1 hour
Belongings may be subject to security checks
Photography is not permitted inside the Palace
Tickets include a multimedia guide, which is available in English, Gaelic, French, German, Spanish, Italian, Japanese, Brazilian Portuguese, Russian, Mandarin, and British Sign Language
Eating and drinking are prohibited inside the Palace, but refreshments are available in the Café at the Palace.
Toilets and baby-care facilities can be found in the Café at the Palace.
Pushchairs cannot be taken into the Palace. They need to be checked in at the entrance and collected at the end of a visit. This is for safety reasons