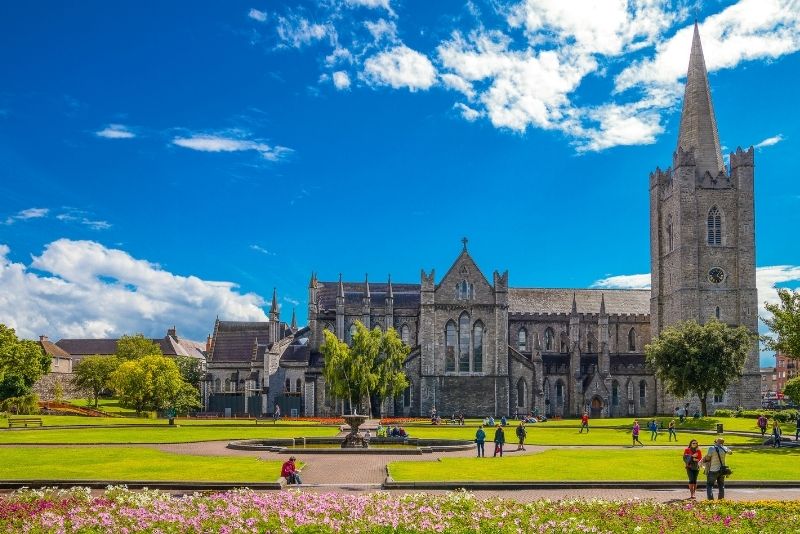 Ireland is known around the world as the Emerald Isle, partly due to the stunning green landscape and natural beauty, and the many cultural gems that lie within its borders. If you're planning a trip to the country, Dublin is the hub for all the excitement.
The city has something for everyone and every occasion with historic buildings, serene gardens and action-packed ghost tours. Dublin has also been a source of inspiration for many artists, so you're bound to come across a location from James Joyce's "Ulysses" or a filming location from "Braveheart."
Bookworms especially will truly love digging into what made Dublin a literary inspiration to many, and learning about the city's place among the 6 UNESCO World Heritage Cities of Literature.
Whether it's taking a literature tour, or visiting the Museum of Literature, visitors can try to catch some of that same inspiration to write their own story in Dublin.
Whether you're after history, culture or simply the best pint of Guinness in the world, Ireland's capital city truly has it all. Read on and discover fun and unusual things to do in Dublin.
1 – Enter the hallowed halls at Trinity College Dublin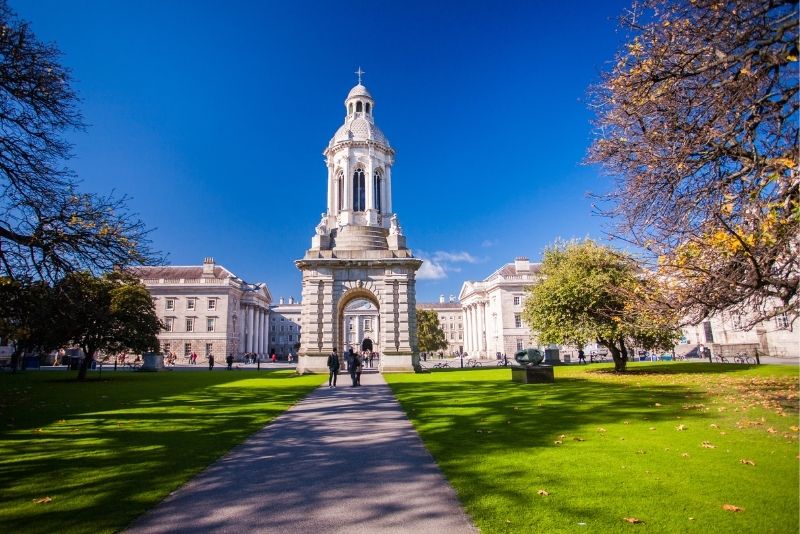 This college, built in 1592, is a must-see for history buffs.
It may be an easy couple of minutes walk from Pearse station right in the middle of Dublin, but it's worth seeing even if you had to travel for hours across the countryside.
Wander through the historic quadrangle and gaze at the iconic pillars, as you bolster up your camera roll.
2 – Get a backstage pass to the Guinness Storehouse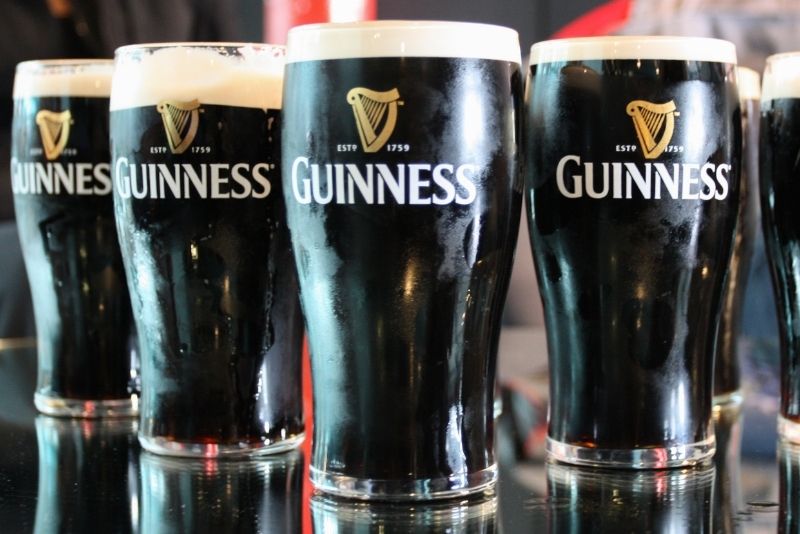 Learn all about the world's most famous stout beer at the source.
With a $35 admission, you can go on a self-guided tour of the production facilities and get a pint of the freshest Guinness you will ever taste on the house.
Whether you are a beer lover or not, visiting the storehouse is one of the essential things to do in Dublin.
Read more about Guinness Storehouse Tickets Price.
3 – Head over to the Book of Kells in the Old Library Exhibition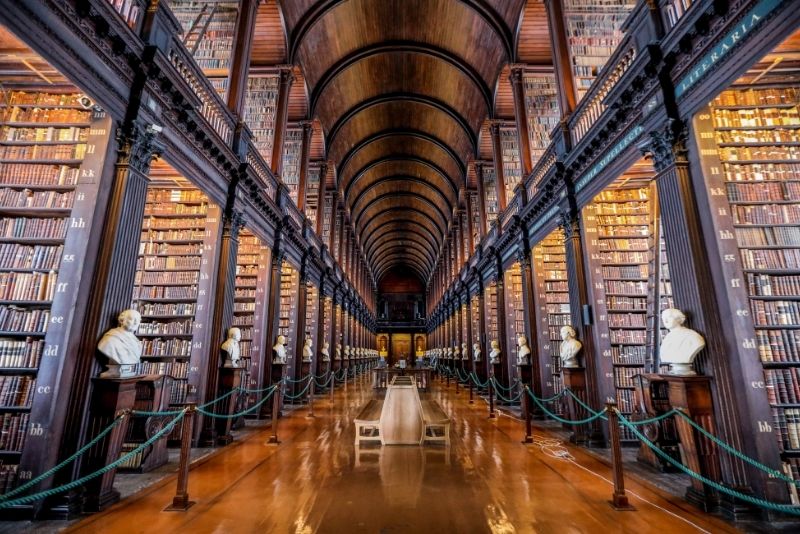 Right in the heart of Trinity College, the Old Library Exhibition is one of Ireland's most significant cultural artifacts. The world's most famous Medieval text lives here.
The library is a sight to behold by itself, so make sure to keep your eye on the price and catch a glimpse of the Book of Kells!
4 – Explore your ancestry at the Irish Emigration Museum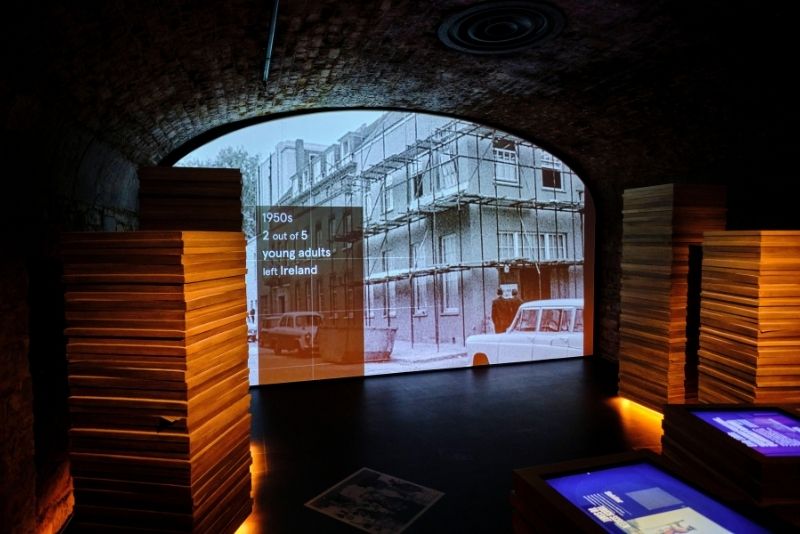 The Irish Emigration Museum has one of the most comprehensive ancestry discovery services around for those with Irish heritage.
Located in the beautiful old historic docks, the world's first fully digital museum is anything but old-fashioned.
Learn all about Ireland's 1,500 years of emigration history, and get a complimentary audio tour and souvenir passport if you book your admission tour ahead of time!
5 – Visit the famous "Game of Thrones" filming locations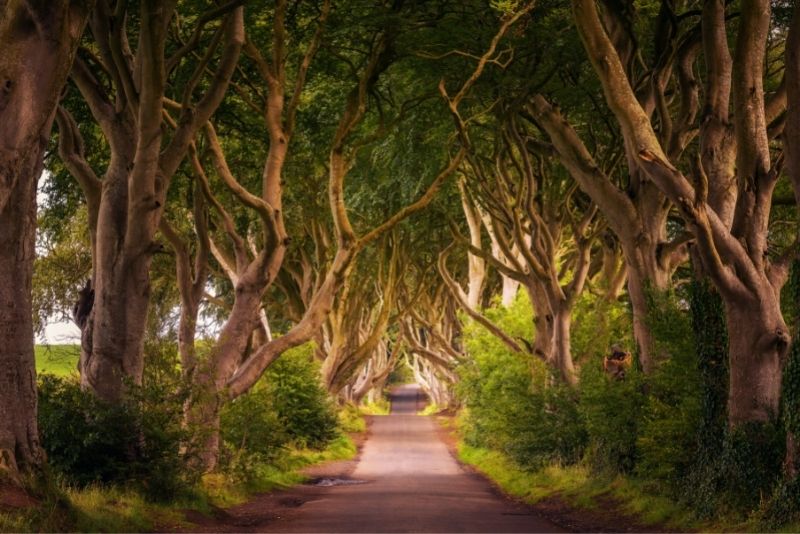 If you have ever seen (or even just heard) of the iconic TV show "Game of Thrones," this tour of the filming locations in Ireland will surely blow your mind.
On a day trip from Dublin, you'll be taken to wild forests, crumbling ruins and castles — by extras from the TV series who will give you the insider information on how and when certain shots were made. You can't get any more of an insider's view than that!
6 – Spot some deer at Phoenix Park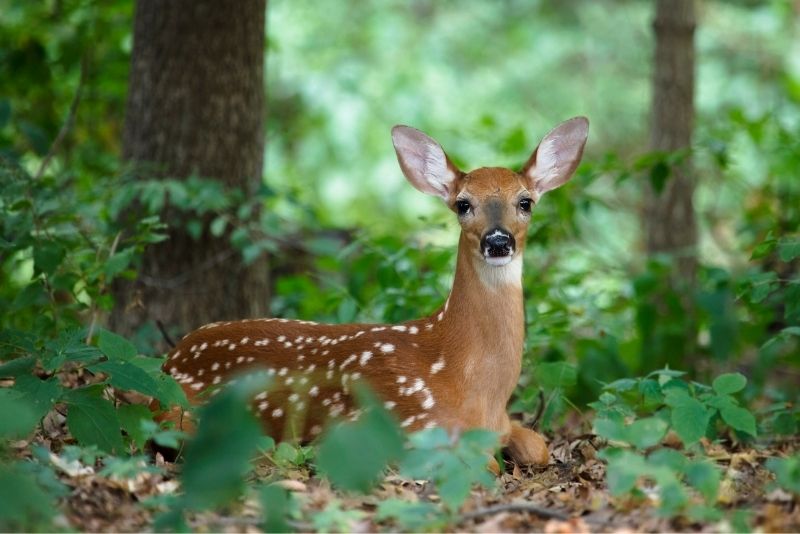 This is one of the more soothing things to do in Dublin with sprawling gardens, historic buildings and fields of frolicking animals. Phoenix Park is the place to take a book, a picnic rug and settle in on a sunny day (just remember to be patient with the Irish weather).
A visit here is sure to drop the heart rate a few beats per minute, so if you need a bit of relaxation, this park has got you covered!
7 – Snack your way around town on a food tour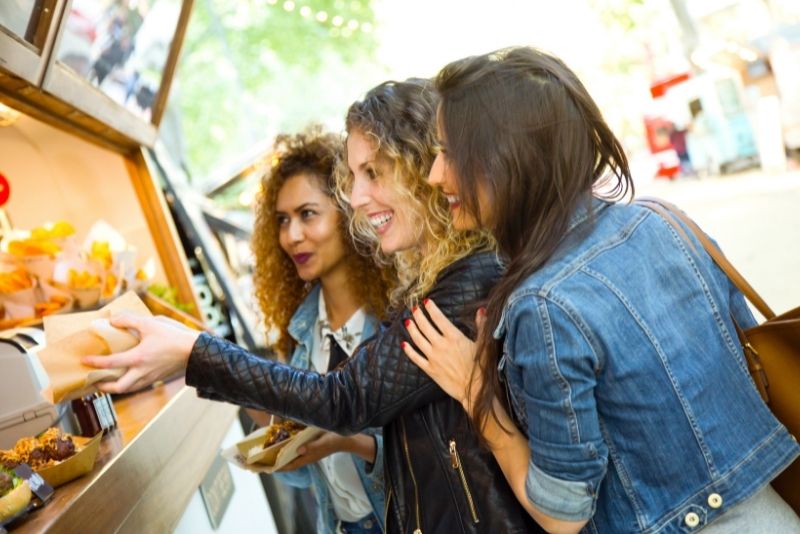 Make sure you arrive hungry at this one because you will be taken to some of the best eateries around Dublin and you're going to want to try just about everything on the menu.
This 3.5-hour tour kicks off in the morning, so you can try everything from bakery breakfast snacks to local cheeses for lunch. Just make sure you save room for dessert because, rumor has it, Ireland makes some trademark chocolate.
8 – Skip the line at St. Patrick's Cathedral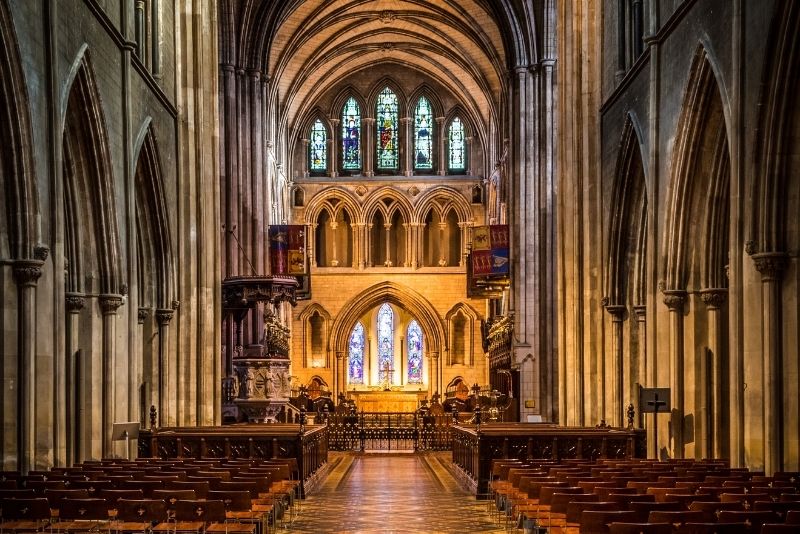 Admiring the stained glass windows and monuments at St. Patrick's Cathedral is on just about a visitor's list of things to do in Dublin.
While it's definitely a sight to behold, you could find yourself waiting a while to get in. With a skip-the-line walking tour, you'll head right on in with your guide and learn all about this bewildering example of gothic architecture.
9 – Find the heart of the city at Dublin Castle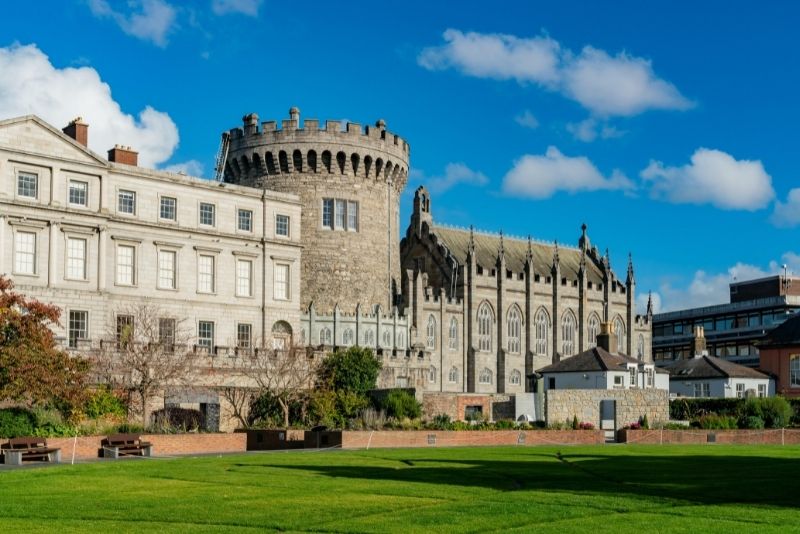 Built in the 13th century, Dublin Castle has a fair few tales to tell. With a stunning gallery displaying Irish works of art, as well as occasional live performances, this is a hub of action in Dublin.
The best bit? Admission is free! However, make sure to book your free ticket ahead of time so you can make sure you can get in!
Sponsored placement
Tour Dublin on a bus with afternoon tea
Combine the best of the traditional Irish experience and tour Dublin in a vintage bus — while having afternoon tea on board!
Elevate your typical sightseeing excursion by admiring the city from your double-decker, and feast on some of the most delectable finger foods. Your guide will explain what you see along the way, making this an informative trip too!
10 – See the city your way on a hop on hop off bus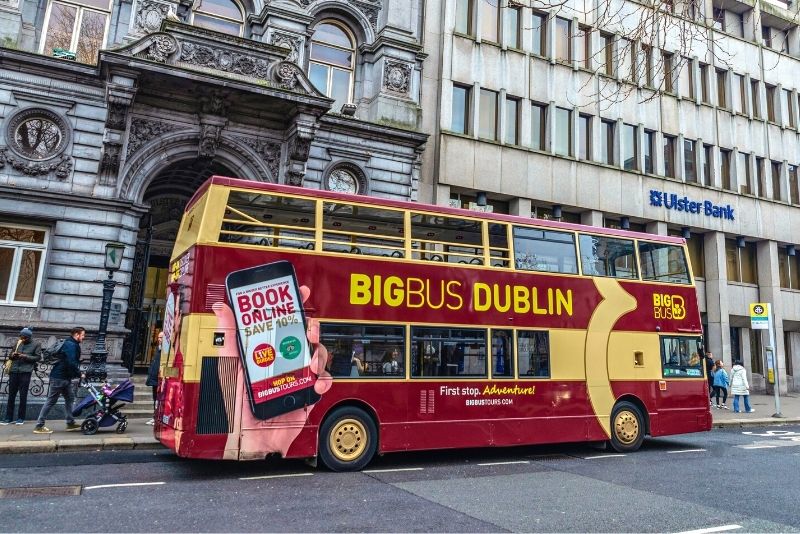 Forget about navigating the complex local public transport system or racking up a pricey taxi bill, and opt for a hop-on hop-off bus pass.
These buses are exactly what they sound like — a bus that stops at all the key places around town. The driver provides audio commentary and you can get on and off at your own pace to discover Dublin your own way.
You even have the option for 24- or 48-hour tickets, so how much you want to see of this great city is truly up to you!
11 – Explore Dublin's history at the Little Museum of Dublin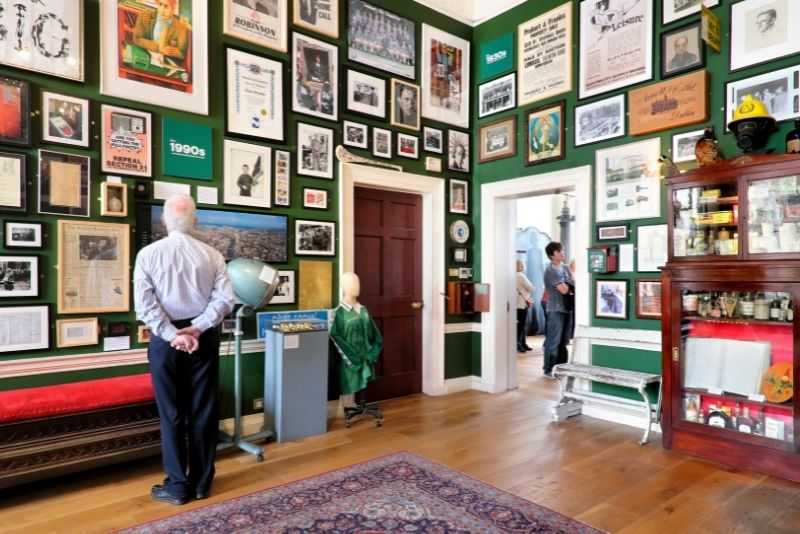 Housed in a beautiful old Georgian building in St. Stephen's Green right in the city center, the museum has comprehensive displays of Dublin's history.
With a skip-the-line ticket, you can head straight in to learn about everything from the Vikings to the rock band U2. It's an absolutely essential thing to do for history buffs!
12 – Cross the historic Ha'penny Bridge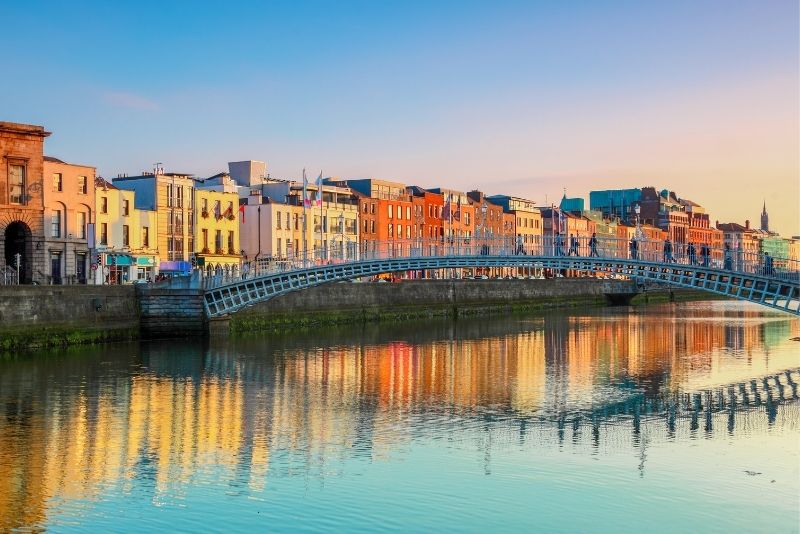 Crossing the River Liffey through this cast-iron bridge built in 1816 has got to be on your list of things to do in Dublin.
To get the best views and photo opportunities, you just need to take a short walk from O'Connell Street right in the heart of the city. You'll also be getting some prime people-watching done in no time!
13 – Journey back in time at Christ Church Cathedral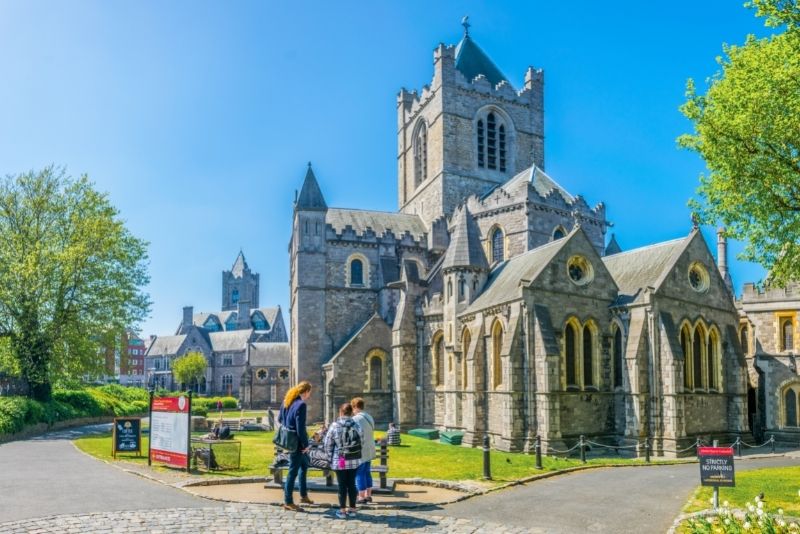 Get a taste of what it was like to be a pilgrim in the Middle Age and clamber your way through the crypt of Christ Church Cathedral.
Built in 1028, this church is one of Ireland's most sacred historical monuments. Explore the architecture and countless exhibits, and even spy the historic Magna Carta.
Book your ticket ahead of time, skip the queue and jump straight into your self-guided tour of this historic gem!
14 – Stop and smell the roses at the National Botanic Gardens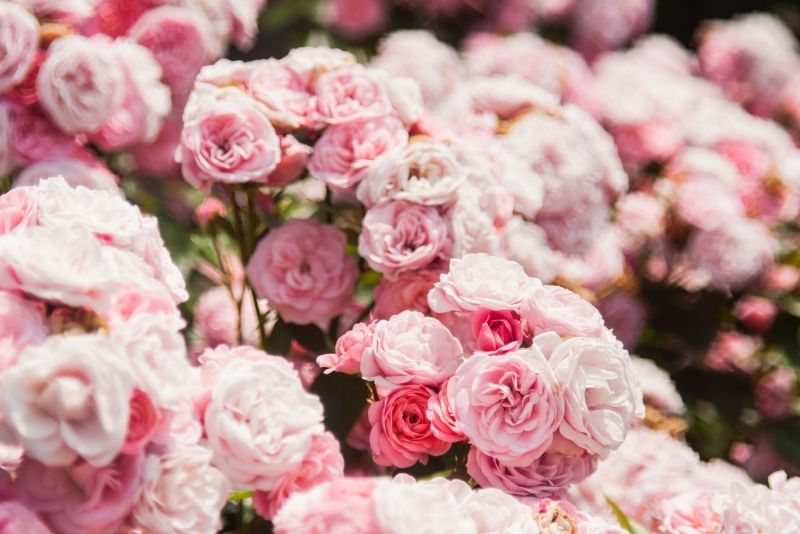 The weather in Ireland isn't all cloudy and miserable. The climate allows for some of the most vibrant and diverse gardens to grow and the best way to experience that is by stopping by the National Botanic Gardens.
This 50-hectare garden has 17,000 different plant species, so there's going to be something colorful at every turn.
15 – See the "Braveheart" filming locations on a Wicklow Mountains day trip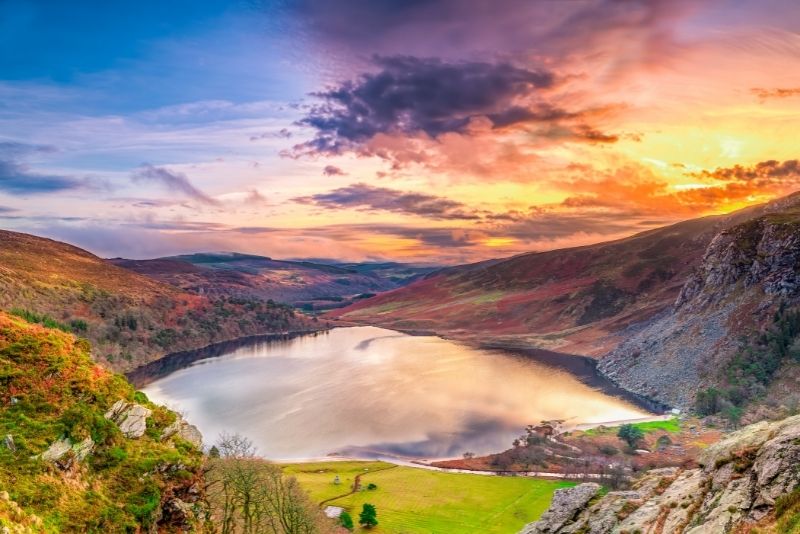 This is one of the most breathtaking escapes you can do in all of Ireland. A full-day trip out of Dublin will take you to sixth-century ruins, the set of the movie "Braveheart" and the wilderness of Wicklow Mountain National Park.
You have the option to swing past a traditional Irish pub in the heart of the countryside. You couldn't plan a better day in this beautiful country!
Check out the best day trips from Dublin.
16 – Meet the animals at Dublin Zoo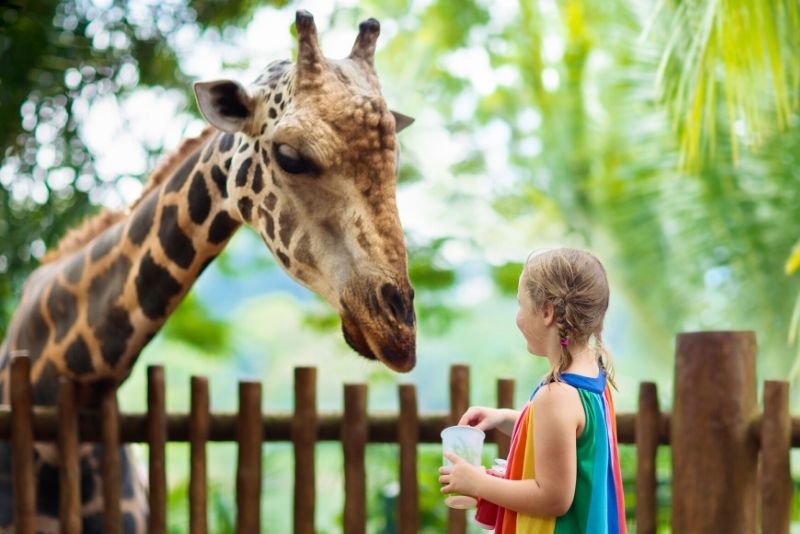 A short drive from the city center or a brief walk from the Guinness Storehouse, Dublin Zoo is the city's hub for animal lovers.
The zoo has been involved in animal welfare and conservation for 190 years so you can expect a great experience and a huge variety of happy animals if you make the journey over there.
17 – Explore Dublin's haunted side with scavenger games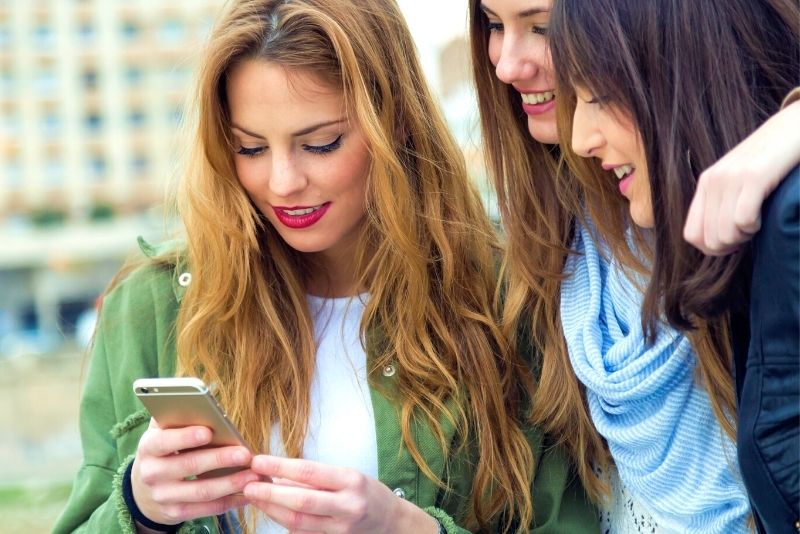 If an ordinary walking tour doesn't quite seem exciting enough for you, grab your friends and hop on a scavenger game that takes you around all of Dublin. Use puzzles and clues to uncover the dark, haunted side of this historic city.
You'll hear all the scary stories of Olympia Theatre and St. Ann's Church, as you use the phone app to help you around on this 1.5-hour spine-tingling tour of the city.
18 – Visit the incredible Chester Beatty Museum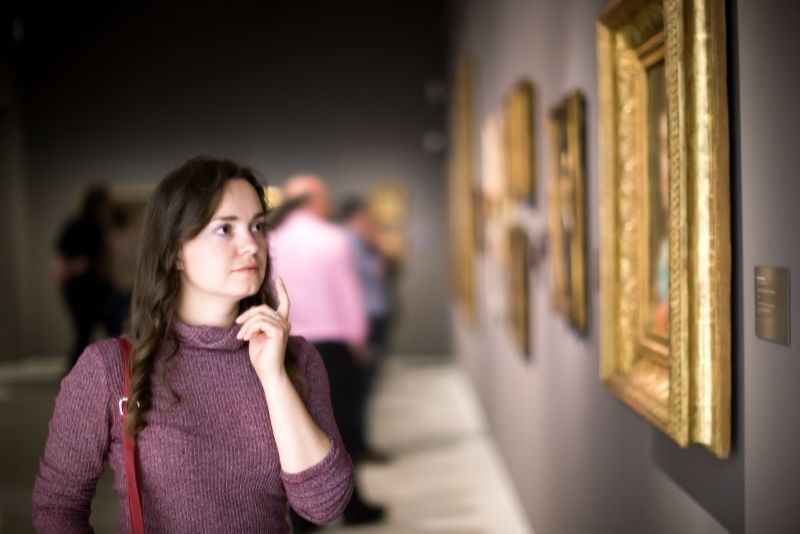 The Chester Beatty Museum gets a raving review from Lonely Planet, being hailed as "not just the best museum in Ireland, but one of the best in Europe."
The museum has world-class collections from famous artists all over the world. Raving reviews or not, you know you're seeing one of the best art collections in the area. One of the best bits? Free admission!
19 – Travel to the end of the Earth on a Cliffs of Moher day trip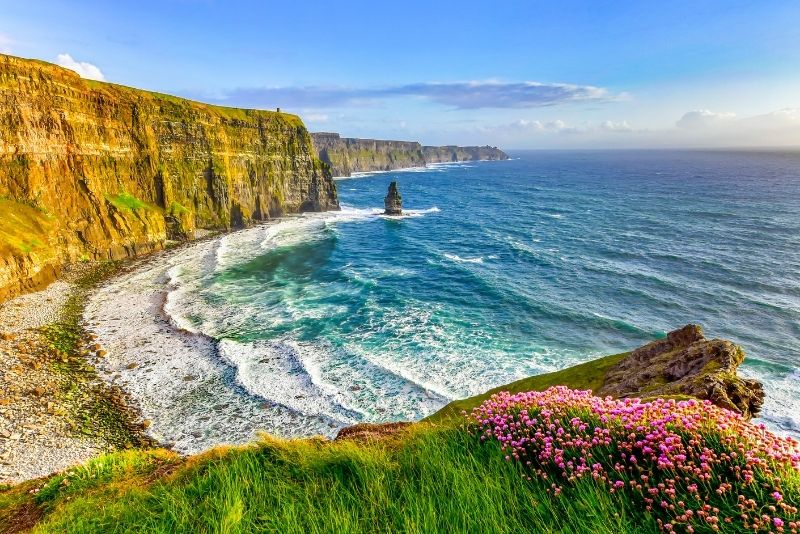 Standing at the Cliffs of Moher, one of the most stunning natural wonders, feels like you are literally at the end of the Earth.
The area was rumored to be used in some of the "Star Wars" films and you'll understand why once you see it for yourself. If you're in Dublin, the best way to get the best experience is to hop on an expansive 12-hour day trip that takes you to all the key stops along the Galway coastline.
Check out the best Cliffs of Moher Tours.
20 – Cruise through the Canals of Dublin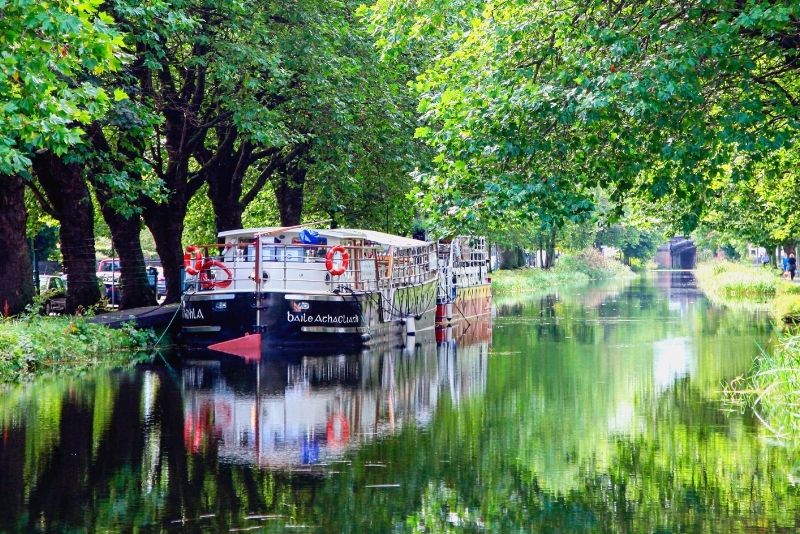 When a city has a beautiful river that flows right through its center, hopping on a boat tour is one of the best ways to gently roll past all of the sights. Flowing down the River Liffey is no exception.
With an admission of 15 euros for adults (children under 4 are free), this is one of the best things to do in Dublin if you want to learn all about the city's history!
21 – Get some celebrity selfies at the National Wax Museum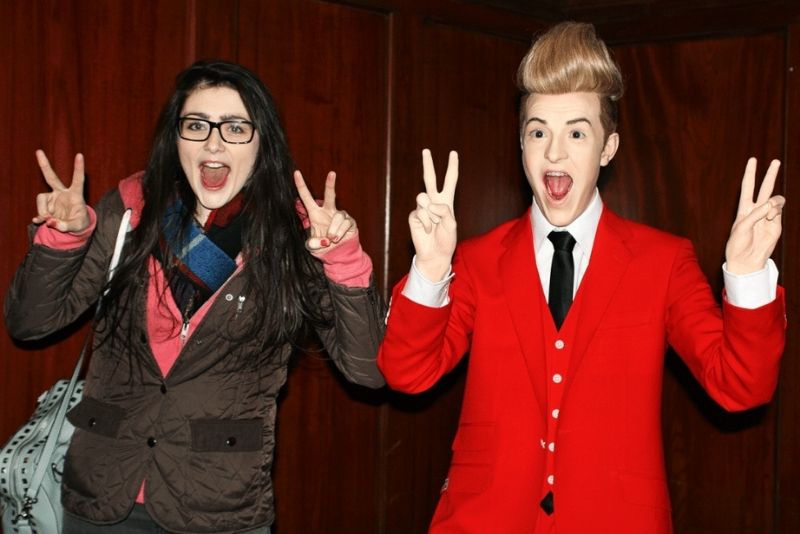 Get up-close and personal with all your favorite celebrities and characters, and come home with a camera roll full of shots — your friends won't quite believe.
Although they're only wax models, with the right angle, no one will ever know whether you met the entire Star Wars cast on your latest trip to Dublin.
With an admission of 15 euros for adults, you get to see all the exhibits and, for an extra cost, you can learn all about the technology and make a wax casting of your hand!
22 – Visit the iconic St. Stephen's Green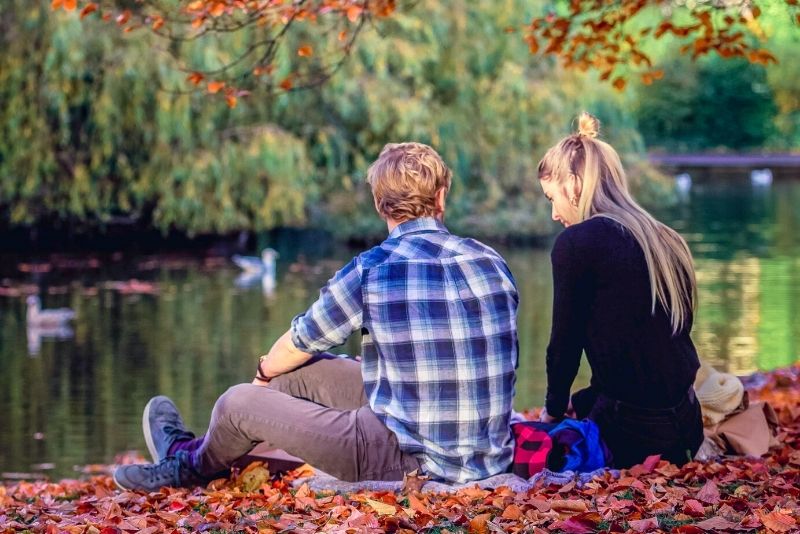 Those familiar with James Joyce's "Ulysses" will know a thing or two about St. Stephen's Green, an iconic location mentioned in the famous novel.
You will definitely feel the magic of the place, as you walk through the dappled light coming through the glorious old trees. It's a scenic walk just south of the Ha'penny Bridge.
23 – Set out on a hike through Howth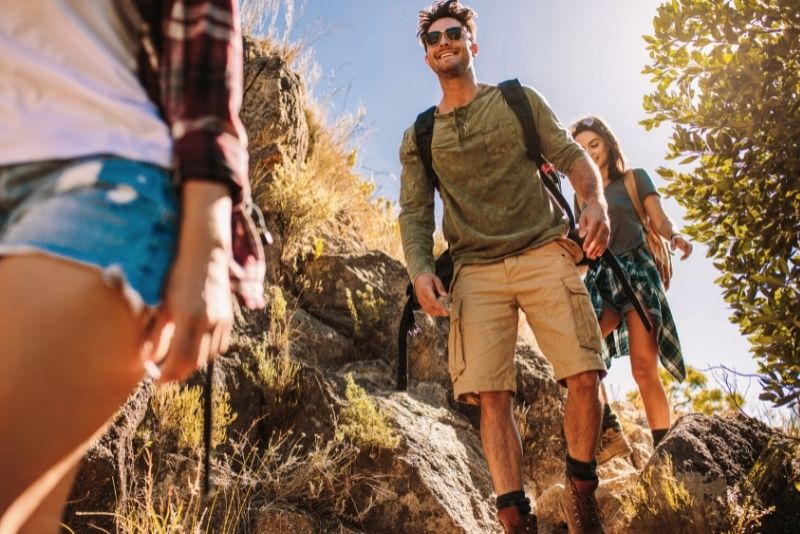 Inhabited since prehistoric times, the ancient village of Howth is now an outer suburb of present-day Dublin. Despite being close to the city, you'll find yourself traversing some of the wildest hiking paths you've ever been.
Join a four-hour hiking tour where an experienced guide can take you further than you would ever be able to discover on your own.
24 – Uncover history at the National Museum of Ireland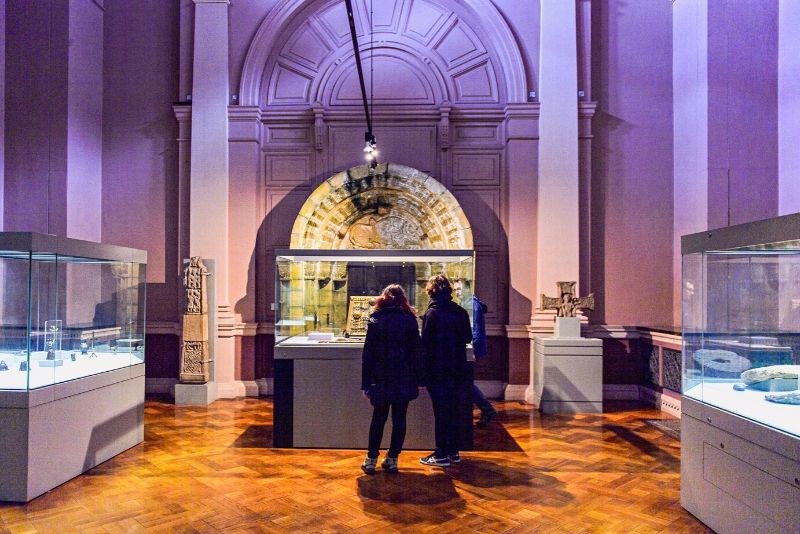 Dublin has one of the finest collections of Irish treasures and artifacts, and the National Museum of Ireland, which is composed of four museums, is the cream of the crop.
The best bit is all four locations cover a distinctly different area, so you can really explore your passions, regardless of what they are.
All museums are within the center of the city, you can choose to visit the natural history, archaeology, country life or decorative arts museum, or head to all four!
25 – Tour the ruins at Glendalough on a day trip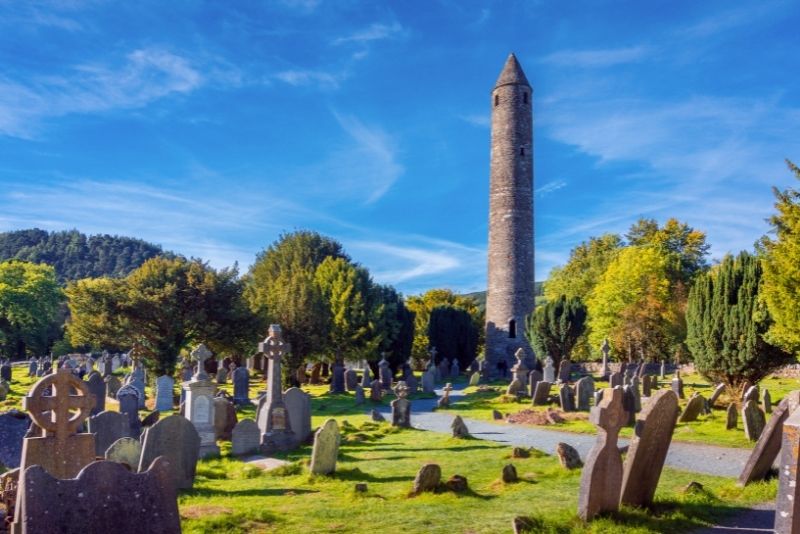 Head out to the stunning Irish countryside for the day on a tour to Glendalough. There are the ruins of a monastery and other structures all the way from the sixth century.
Not only will you get a taste of Irish history on this tour, but also a complimentary drink of Irish whiskey. You'll also get the chance to pick up some handmade souvenirs at Avoca Handweavers.
26 – Capture some magic at the National Leprechaun Museum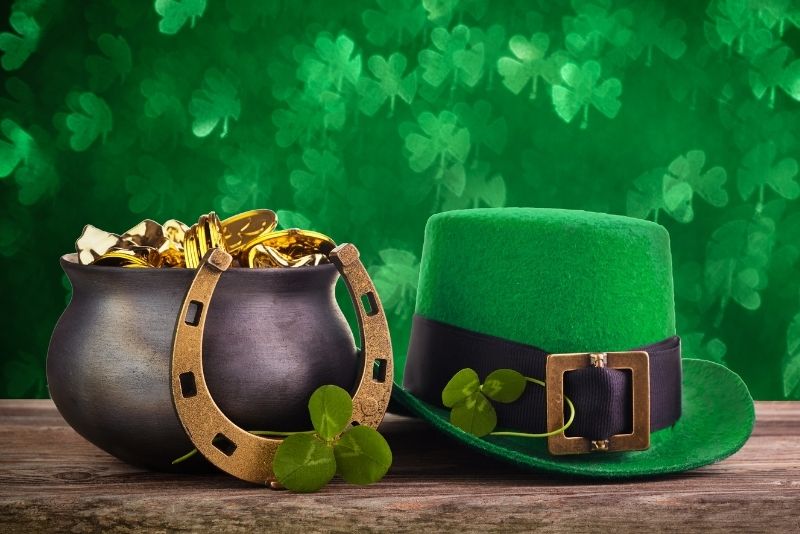 The Irish people are famous for their folklore and storytelling, and the National Leprechaun Museum has some of the finest examples around town. It has great exhibits and tours that teach you all about the magic side of Irish history.
There are daytime tours for the young ones and nighttime tours for adults and those who want a spookier and darker take on Irish folklore.
27 – Surround yourself with color and creativity on a Street Art Tours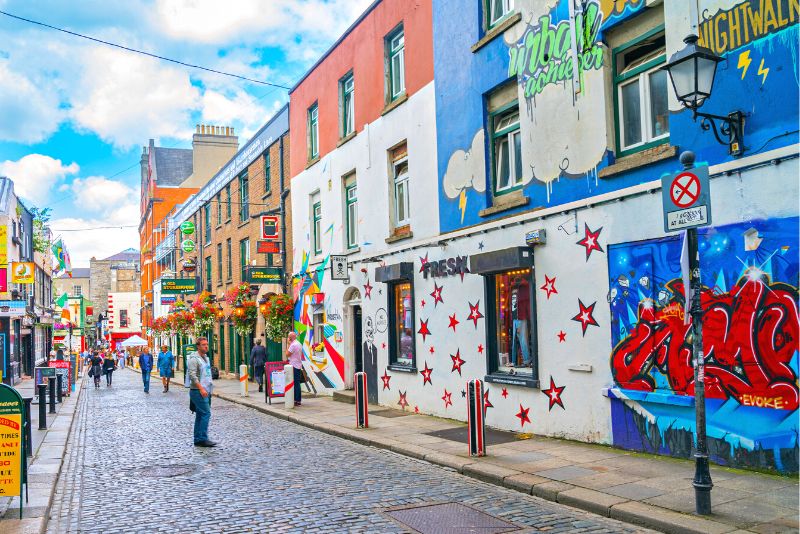 Head to the streets to see the intricate designs of street art throughout the streets of Dublin, taking on the colorful images and learning about the artists who have left their art for the public to enjoy.
While searching for the art-filled streets, you'll find the beauty of Dublin that is not so commonly seen or explored by other travelers, making this an optimal opportunity to dig deeper into the hidden corners of the city, full of local charm.
Street art tours depart almost daily.
28 – Ride around town on a bike tour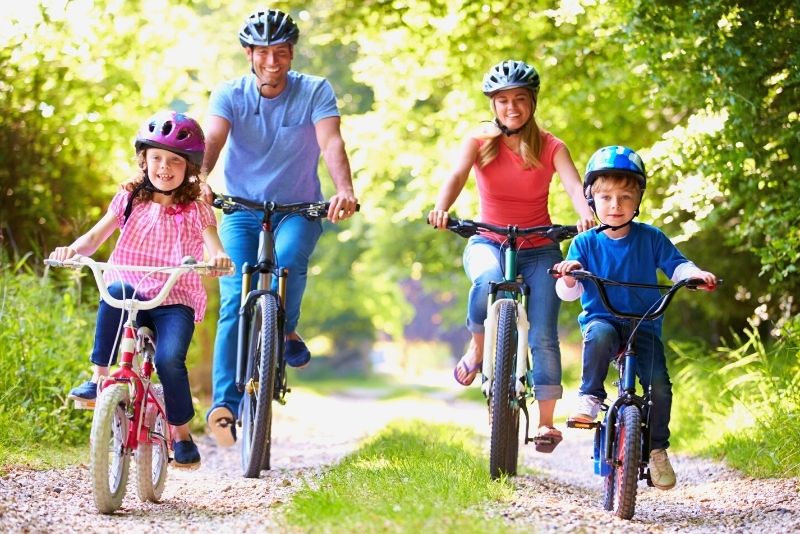 if you can't cover enough ground on foot or you want to see the Guinness Storehouse and Dublin Castle on the same day without exhausting yourself, best to hop on a bike tour.
There are also electric bikes available for those who don't want to tackle the hills or simply want to save energy for the pub crawl that night!
29 – Play the national sports at Experience Gaelic Games
The Gaelic culture created a few fun and unique sports that you won't really get the chance to play anywhere else, or at least won't have an experienced player to show you the ropes.
Experience Gaelic Games is great for all the sporty types who want to try their hand at hurling or Gaelic football.
You can book a group activity if you're traveling with a large group or simply drop in if you're traveling solo (a great way to meet some fellow travelers).
30 – Walk past famous tombstones at Glasnevin Museum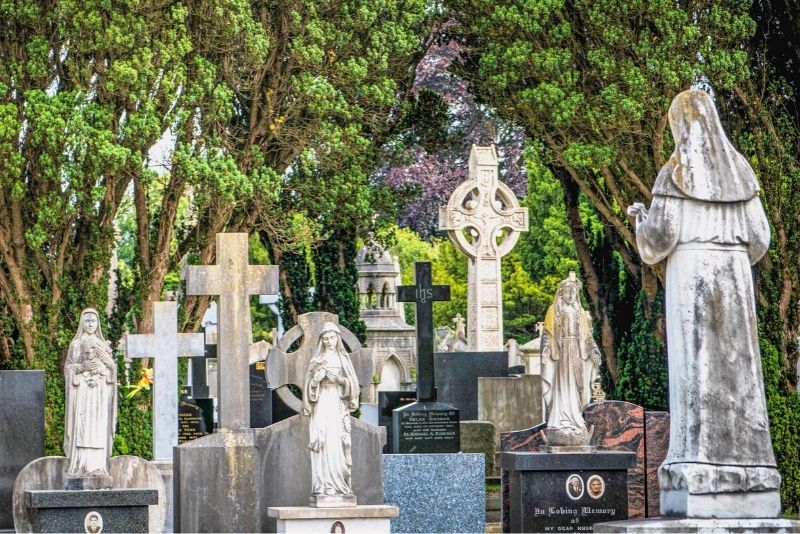 Consistently rated as one of the most unique things to do in Dublin, a tour of Glasnevin Cemetery Museum will take you past the resting places of many iconic Irish characters.
The guides will tell you all about Dublin's weird and wacky history, as you pass the tombstones of the many thieves, authors and politicians from the Victorian era that are buried there.
31 – Sample the best Irish beers at a Beer Tasting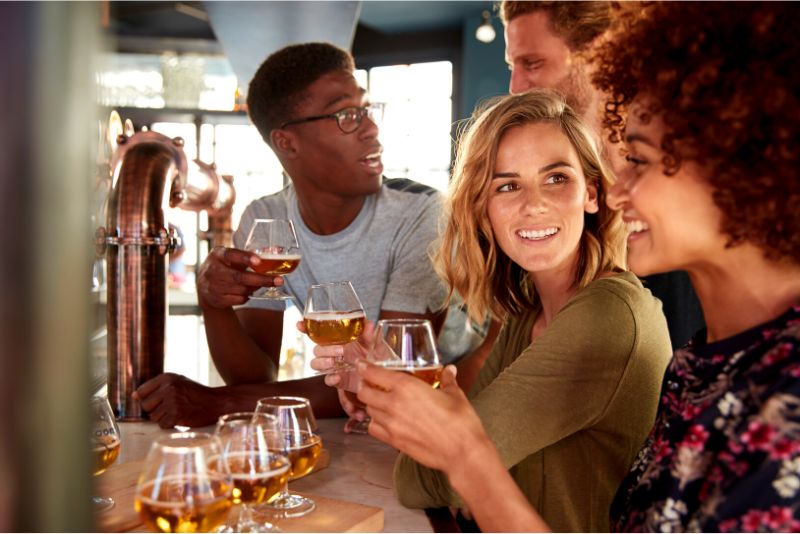 From central Dublin to the coastal cities of Ireland, book a beer tasting to get a sample of local beer culture, the best Irish beers, and of course, a fun time!
Have a Guinness and learn how to pour one properly when you book a beer tasting at the Jameson distillery or get into the spirit of the coastal way of life as you try the most popular beer amongst the locals in Howth, enjoying the fresh catch of the day and other classic Irish dishes.
32 – Escape the weather at Fun Galaxy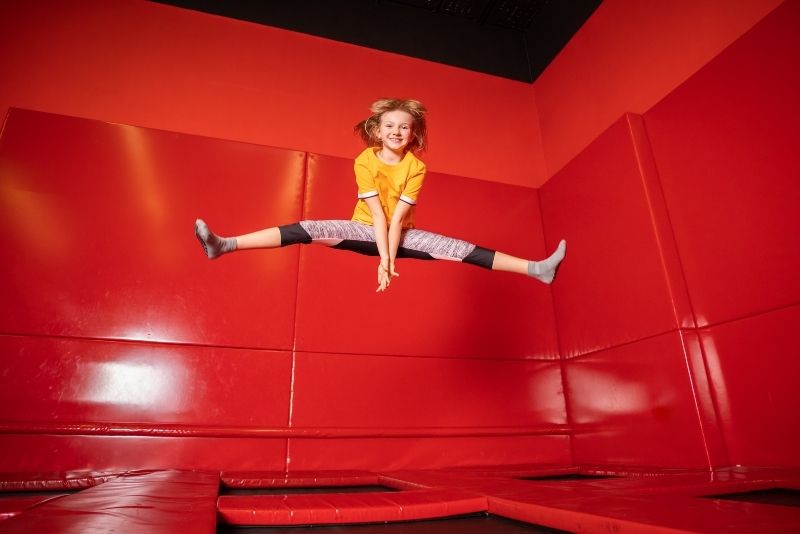 If the weather outside is rainy and the kids are restless, Fun Galaxy in Dublin has you covered.
Open rain, hail or shine, this indoor play and entertainment center will help the sour weather days pass in no time.
A great way to let the young ones roam free in a supervised environment, while you eat some of the fresh local food and plan the rest of your trip to this magnificent city!
33 – Spot the iconic Molly Malone Statue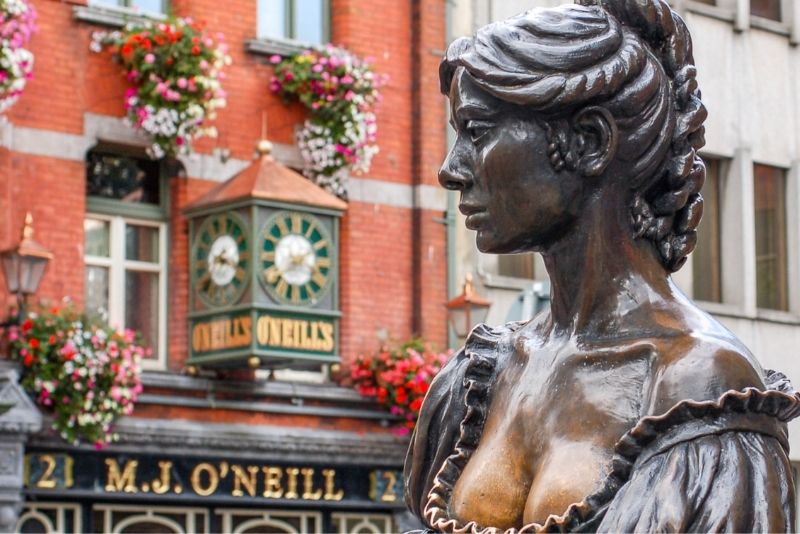 The tale of Molly Malone is such a popular Irish folk tale that the resultant song has become the unofficial anthem of Dublin.
It tells the story of a woman who works all day selling fish just to keep her head afloat. Whether it's true or not, the bronze statue down at Suffolk Street is sure to inspire some romanticizing about the past!
34 – Watch the sun go down on Galway bay on a day trip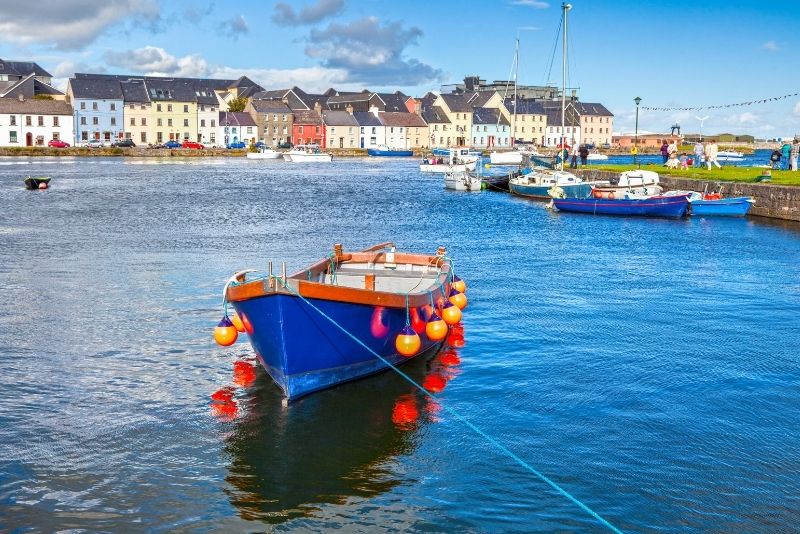 Visit Galway Bay, one of the places with romantic sunsets in the world, at least once while you're in Dublin.
The best way to do that is to book a day trip from Dublin. It's a scenic 14-hour tour that takes you through the countryside, down the Wild Atlantic Way — with free time to venture through the historic city of Galway.
With so much beauty along the west coast of Ireland, this tour is the best way to pack it all in!
35 – Travel back in time at Dublinia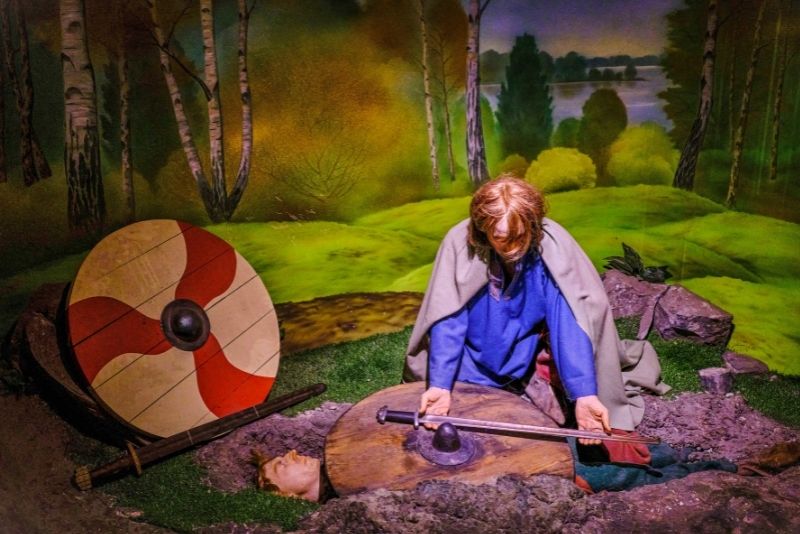 This one is for the history buffs. Ireland has a rich history, with many cultures finding refuge in the green rolling hills over the years.
The Dublinia Museum gives you more than just a taste of this city's medieval and Viking past.
It's located in the heart of the old city at Christchurch, so you will be literally walking in the footsteps of Vikings!
36 – Paddle through Dublin Bay on a kayaking tour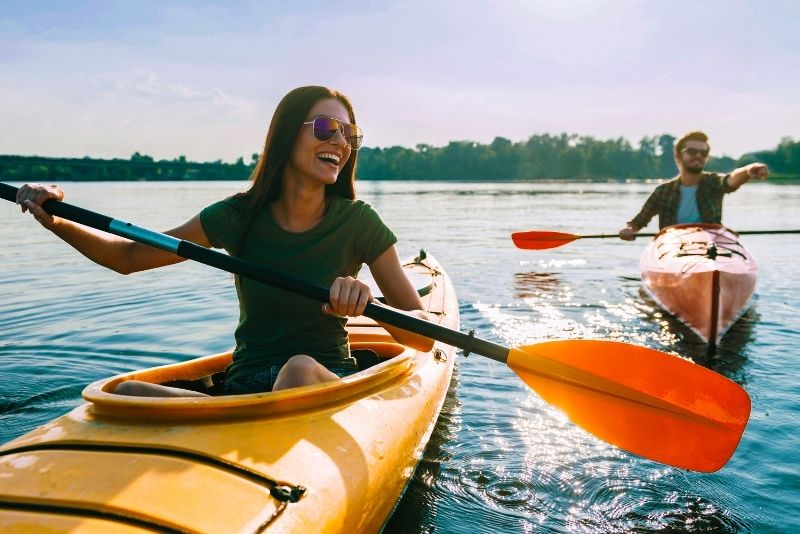 If visiting the wild seals in a UNESCO-listed biosphere reserve sounds alright to you, better consider kayaking and seeing Dublin from the water.
Simply hop on the train down to the bay, have all the equipment and safety gear taken care of, and get straight to exploring the area's picturesque sand dunes and beaches. You can choose from morning or afternoon, so this tour works right into whatever your lunch plans are!
37 – Dive into AquaZone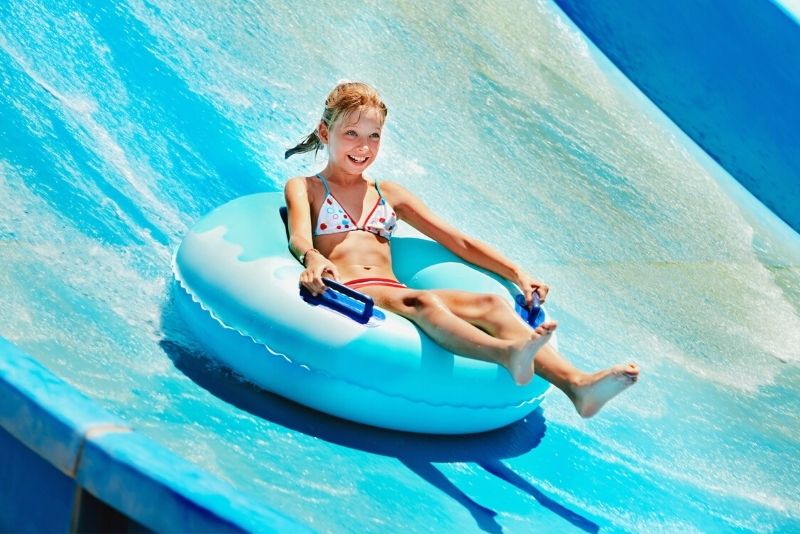 Touted as the perfect family day out, this place doesn't disappoint on its promise to cater to all ages.
With eight different rides, there's something designed for everyone. Whether you are traveling as a family or just want to unwind on a rainy day, this is the best place to spend the day.
Simply head to AquaZone in Blanchardstown and let the rolling waves and exhilarating slides do the rest!
38 – Hop on a train to Burren and Limerick on a day trip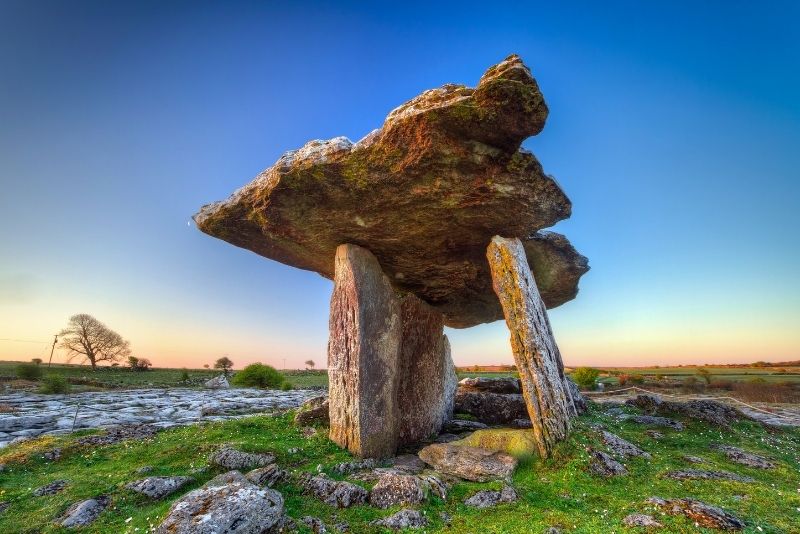 Most people know Ireland for lush greenery, rolling hills and beautiful stone houses. Well, this day trip by train is undoubtedly the way to see all that.
Head out at 7 a.m. and stop by Limerick to see the historic sites, Bunratty Castle and Folk Park (a reconstructed 19th-century village). Then take a scenic trip through the one-of-a-kind landscape of the Burren before taking the gentle train ride back to Dublin. It sounds like a dream!
39 – Climb aboard the Jeanie Johnston Tall Ship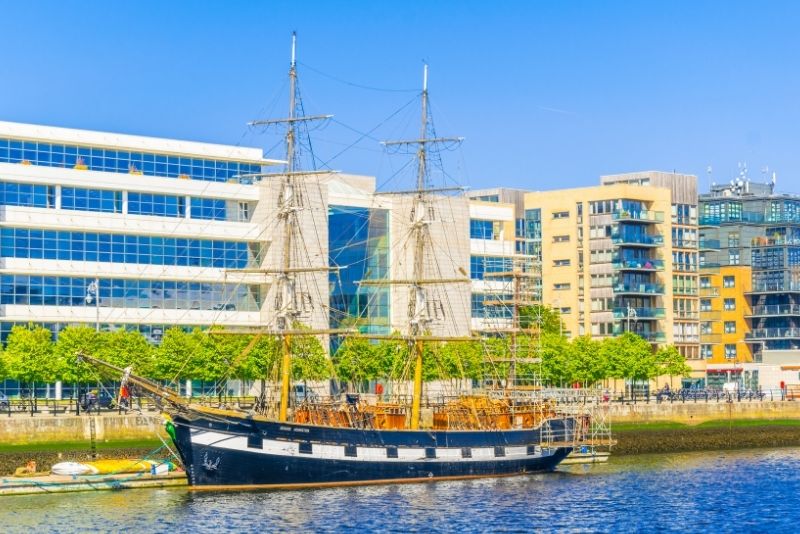 The Jeanie Johnston Tall Ship was a famous ship built for taking Irish people across the seas to escape the Great Famine.
If you head down to Custom House Quay, a knowledgeable guide will take you below deck on this incredibly accurate replica of the original ship. You will learn about the spine-tingling stories of real passengers who were aboard trying to cross the Atlantic to the Americas.
40 – Head to the spooky Kilmainham Gaol Museum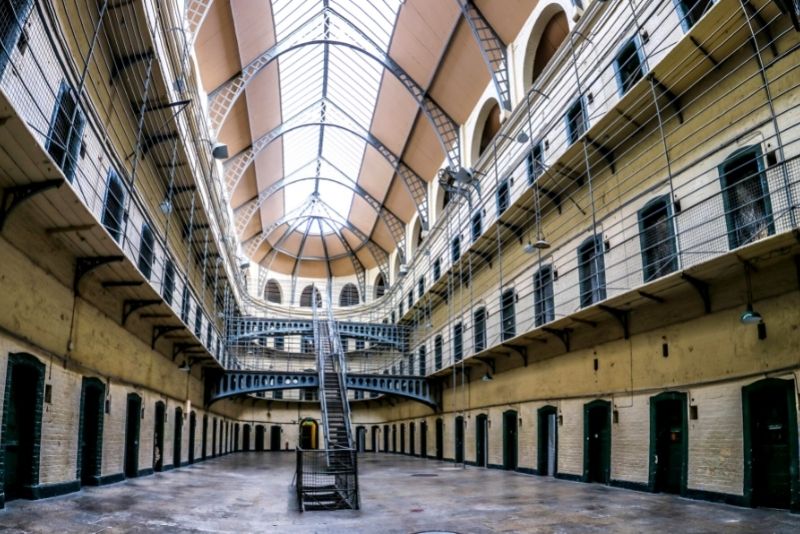 This 19th-century prison was known for treating prisoners extremely poorly and harshly. Luckily these days, it's no longer active. It's now a museum, displaying and documenting the dark past of this spooky building.
It offers some awe-inspiring (albeit chilling) insights into the life of a 19th-century Irishman. Visiting Kilmainham Gaol Museum is definitely one of the quintessential things to do in Dublin!
41 – Stop by The Famine Sculptures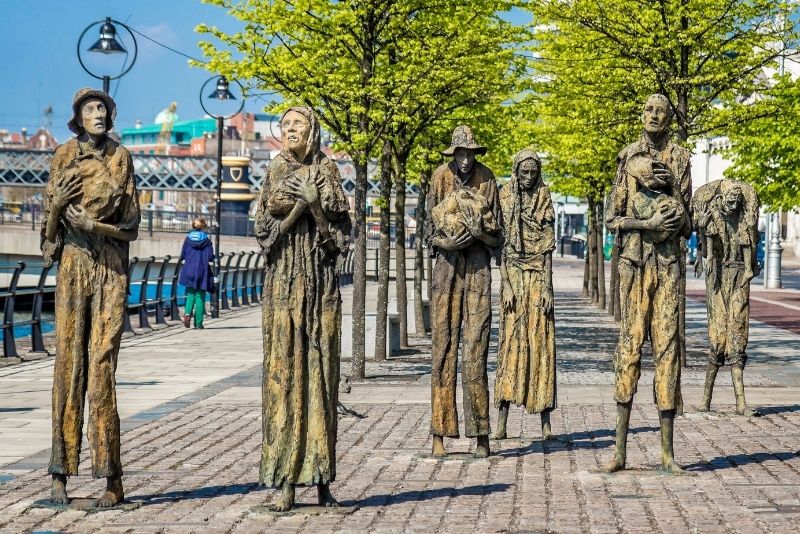 These bronze sculptures were constructed in 1997, depicting the lives of those who needed to flee Ireland in order to get away from famine and disease.
These breathtaking creations will truly bring you into the world of a 19th-century Irish person and are a great way to connect with the history of this city. Just down by Custom House Quay in Dublin, it's a very easy stop on a walk around town!
42 – Have a drink at The Temple Bar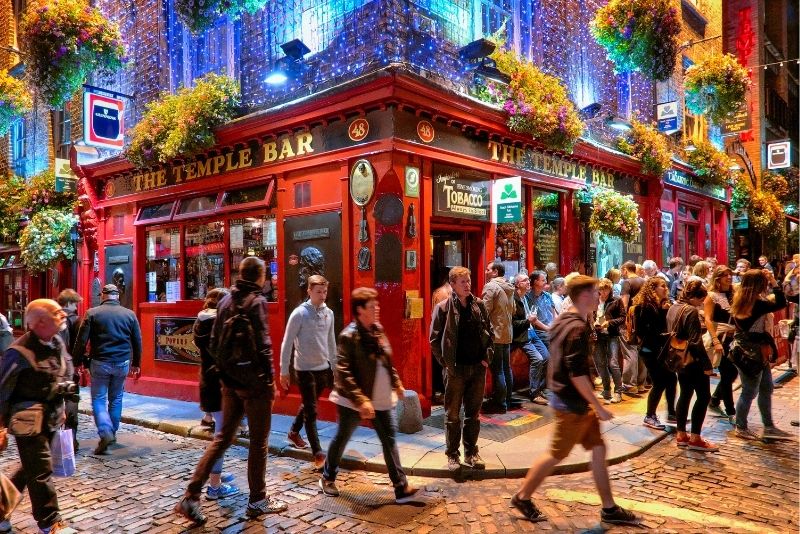 The oldest pub in the area, the Temple Bar has a long history and bustling nightlife, but you need a local to help you discover all its sides. Luckily, you can book a tour with a guide who will reveal all the little-known sides of this iconic local spot.
You'll learn all about the long-standing and impressive creative arts scene that revolves around The Temple Bar — as well as enjoy a drink (included with tour) in the most popular place in town!
43 – Slow down at the Garden of Remembrance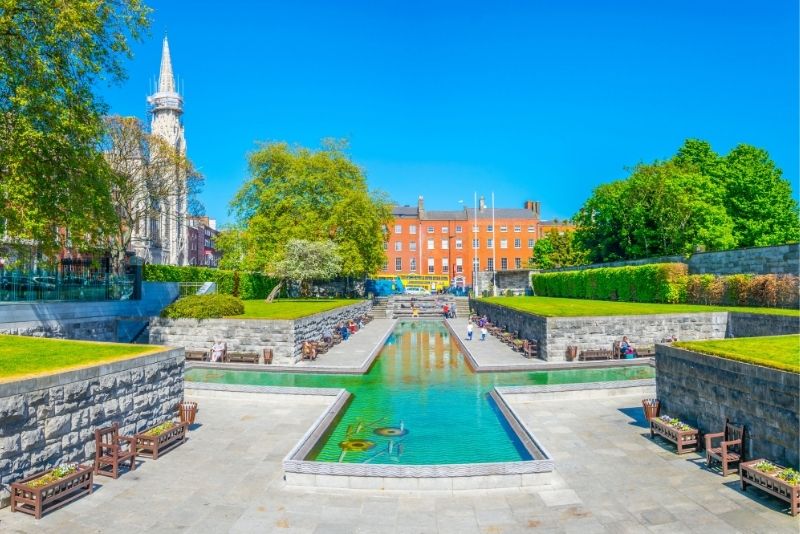 These beautiful gardens were put together in 1966 to honor the many Irish people who gave their lives to fight for freedom.
There are commemorations for various rebellions against the British settlers. While you soak up the sunshine in these peaceful surroundings, you'll be able to learn a thing or two you probably didn't know before coming to the Emerald Isle!
44 – Book it to the Aran Islands on an airplane tour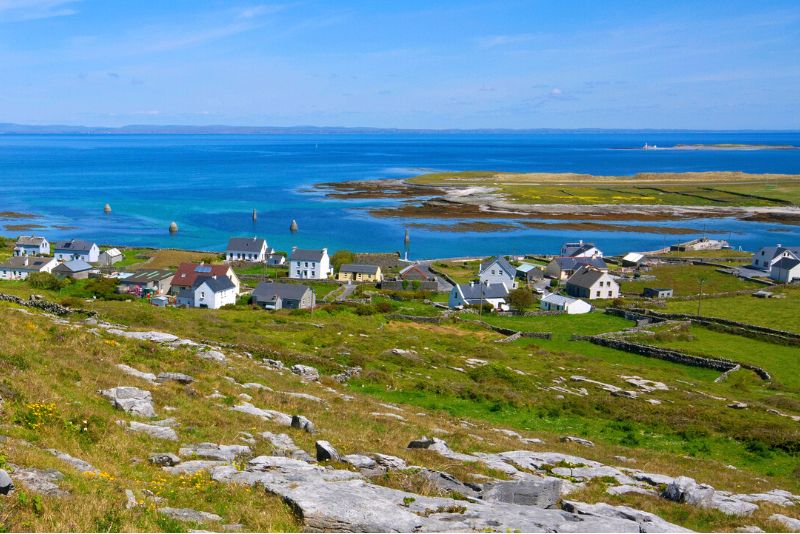 Experience a full day of ultimate exploration, concentrating on the culture and history of the Aran Islands.
Located on the coast of Galway are the Aran Islands, 3 rocky islands housing ruins that remind visitors of the various prehistoric cultures including the Inis Mor. Enjoy the natural pools, the beautiful views from the high cliffs, and other medieval ruins.
Book an airplane tour, and soar through the Irish skies, taking in the magnificent view of the ruins like the Dun Aengus fort, the islands, and the sea.
45 – Open your mind at the Irish Museum of Modern Art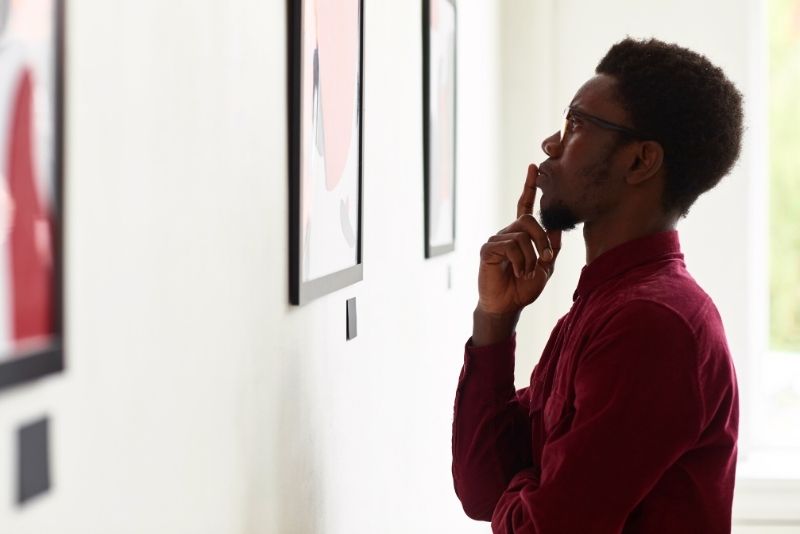 This place is an exceptional hub for Irish creatives. From screenings of local short films to workshops that teach you all about Ireland's history, there's something for everyone at the Irish Museum of Modern Art.
Keep an eye on its website, as it has a steady stream of free exhibitions and workshops during every season. It's a great place to soak up some culture without breaking the bank!
46 – Plunge into SEA LIFE Bray Aquarium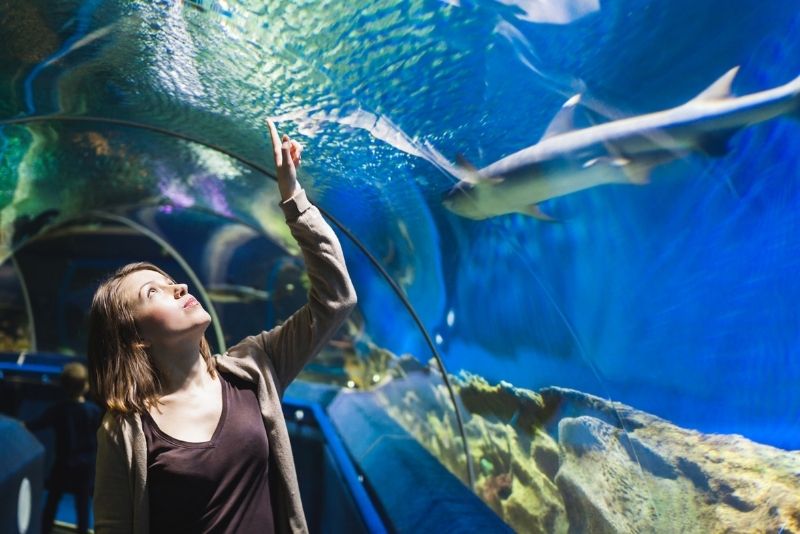 Hop on a scenic 30-minute train ride from Dublin to Sea Life Bray for a healthy dose of marine life. It has an impressive collection of sharks, turtles and octopuses to name a few.
Make sure to book ahead because this place can fill up. You can also check their feeding times to make sure you're there for when your favorite creature struts its stuff!
47 – Breach the walls of Malahide Castle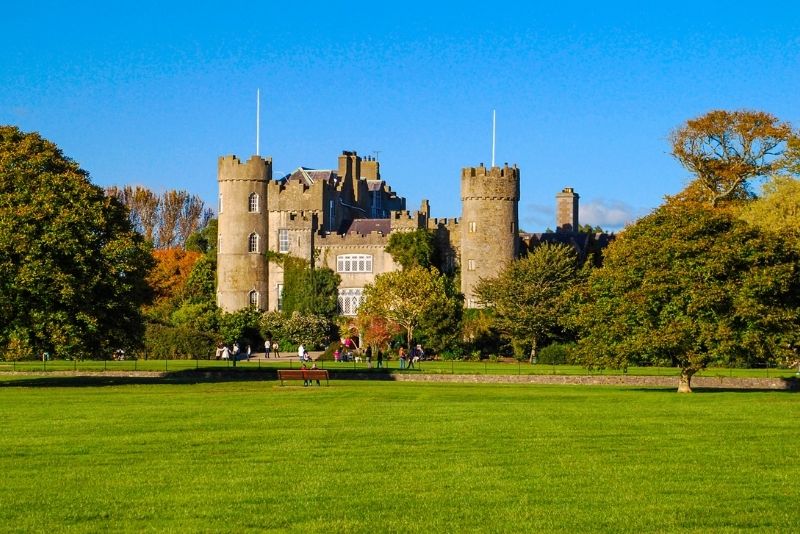 Take a day trip and discover some of the ancient parts of the North Bay of Dublin. A 7.5-hour drive will take you to the 11th-century Malahide Castle.
You can get inside to see all the wonders of ancient Irish architecture and gardens. You also have a bit of free time for lunch to sample some local snacks at one of the historic pubs nearby.
48 – Pay the National Gallery of Ireland a visit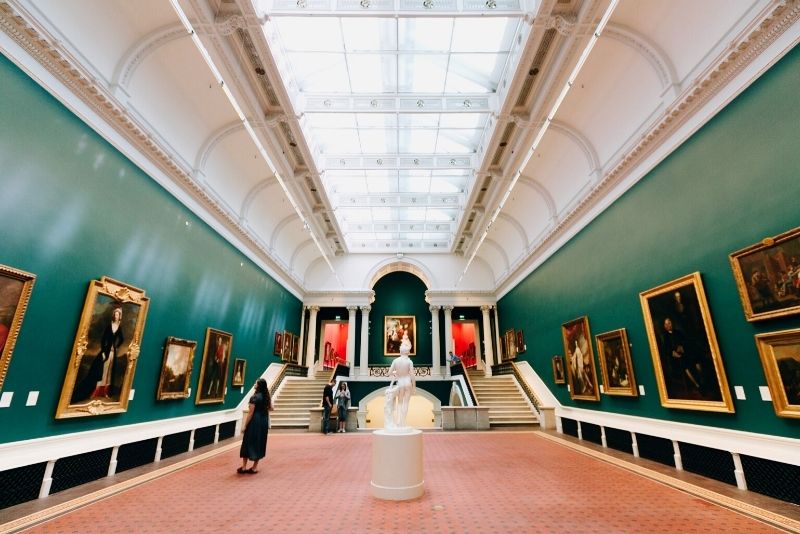 No matter the weather outside, the day of the week or your budget, the National Gallery of Ireland is for you.
Open seven days a week and with free admission, wherever you're up to in your trip, this is definitely one of the must-see things in Dublin.
Simply book your ticket ahead of time and head on! Gaze at the huge collection of local and international art it has to offer!
49 – Get lost in a hedge maze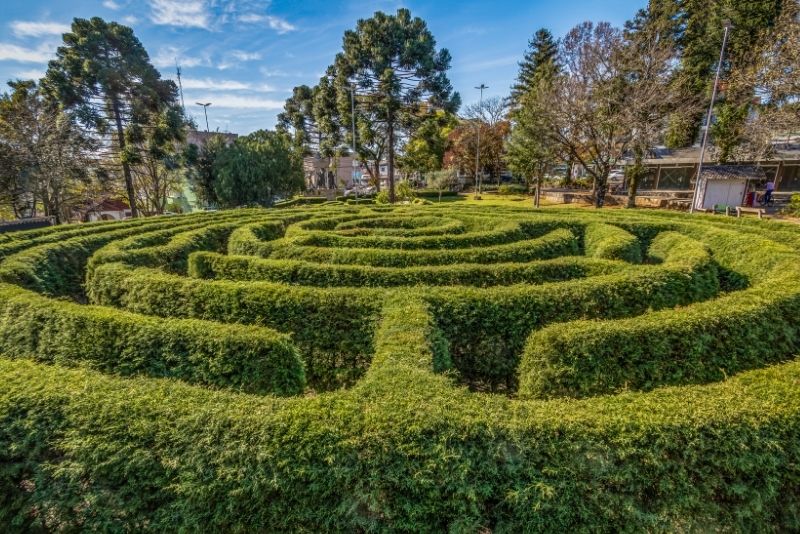 Ireland is known for its greenery and the gardening skills of the locals definitely come to the foreground, with some of the incredible hedge mazes around the country.
Kildare Maze in the North Kildare countryside and Greenan Maze in the Wicklow Mountains are prime examples that you can reach from Dublin. Open every day during the summer months, there's no better time to test your puzzle-solving skills in the great outdoors!
50 – Live the life of a Dubliner at 14 Henrietta Street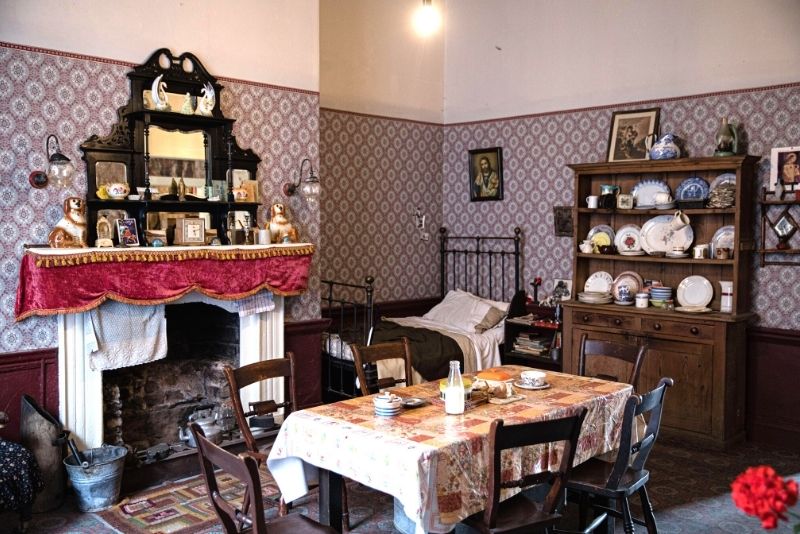 This is the most multidimensional museum you will ever set foot in.
A museum within the walls of a house some 300 years old, 14 Henrietta Street tells the story of how the house came to be — and all of the lives that have lived there and called it home.
This is the most interactive way to learn about the urban Irish way of life and definitely one of the most unique things you can do in Dublin!
51 – Explore the countryside on horseback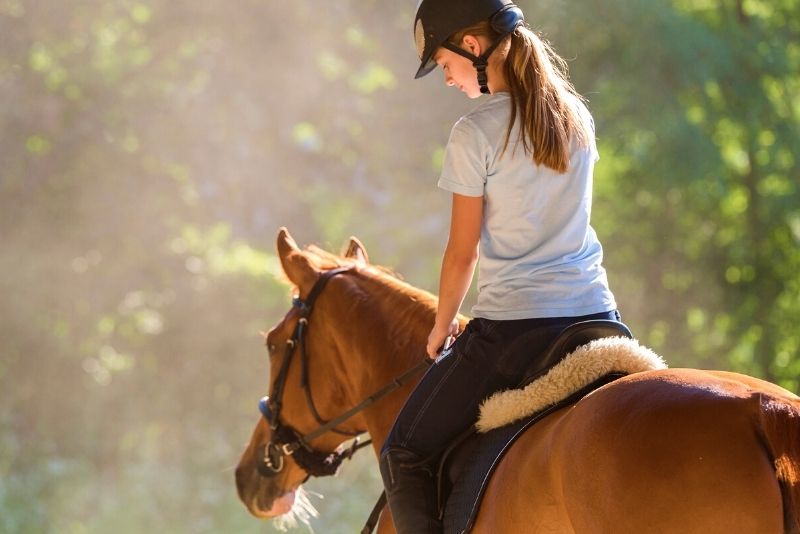 Forget worrying about connecting buses, trains or taxis, take a round trip from Dublin around County Wicklow — all on horseback.
You'll get to move through the hillsides and scenery at a pace that will really let you soak it all in. You'll see a sixth-century monastery and have time for lunch in a historic village. What more could you possibly want?
52 – Head out to Powerscourt Gardens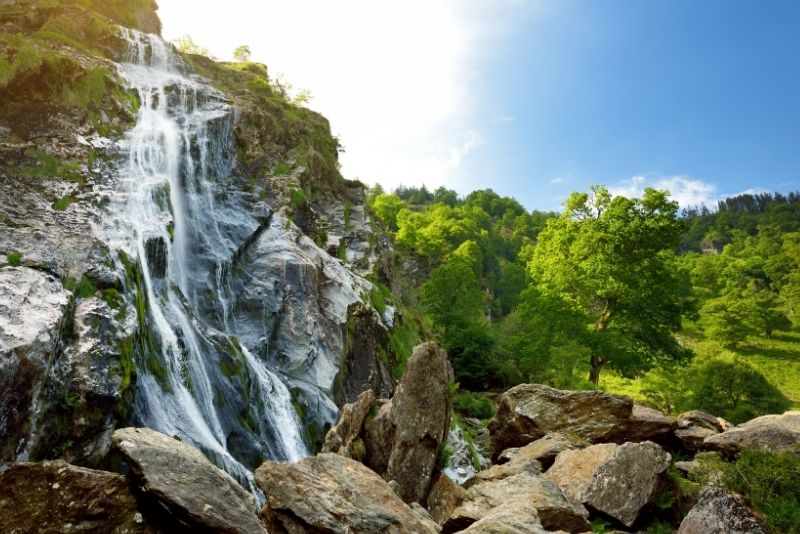 Escape the city for the day and head out for eight hours on a scenic tour in Glendalough and Powerscourt.
Walk through the Powerscourt House (voted in the top 10 mansions by Lonely Planet) and see the Powerscourt, the tallest waterfall in Ireland121 meters of flowing water. It's home to a plethora of wildlife and a peaceful scene, to say the least!
After all that, you'll be sure to return to Dublin more relaxed.
53 – Let your hair down at Funderland Dublin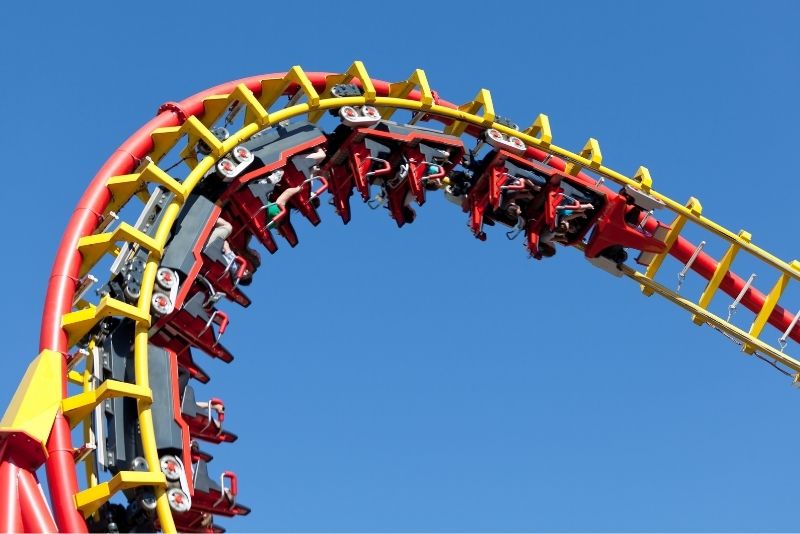 One of the best amusement parks in Ireland can be found just a short train ride from Dublin DART train station.
Funderland Dublin is a traveling entertainment company that has rides and performers from all over the world — and has been a success all over Europe.
It was all an Irish idea and you can experience it at home base at Funderland Dublin!
54 – Connect with nature at St Anne's Park and Rose Gardens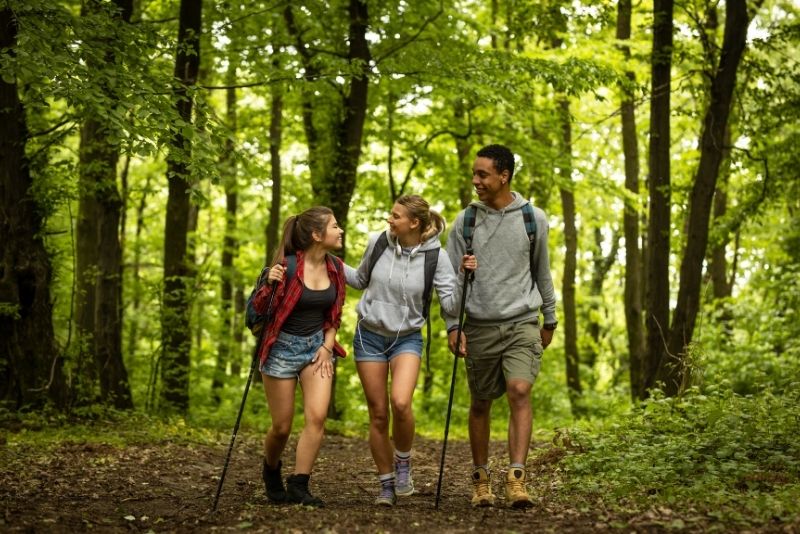 Not only St. Anne's Park is perfect to unwind at and take the camera, it's also home to the annual rose festival and farmers' markets every Saturday.
So whether you want to stop and smell the roses, or pick up some local organic produce, visiting this place definitely needs to be high up on your list of things to do in Dublin!
55 – Visit the Edwardian Mansion at Farmleigh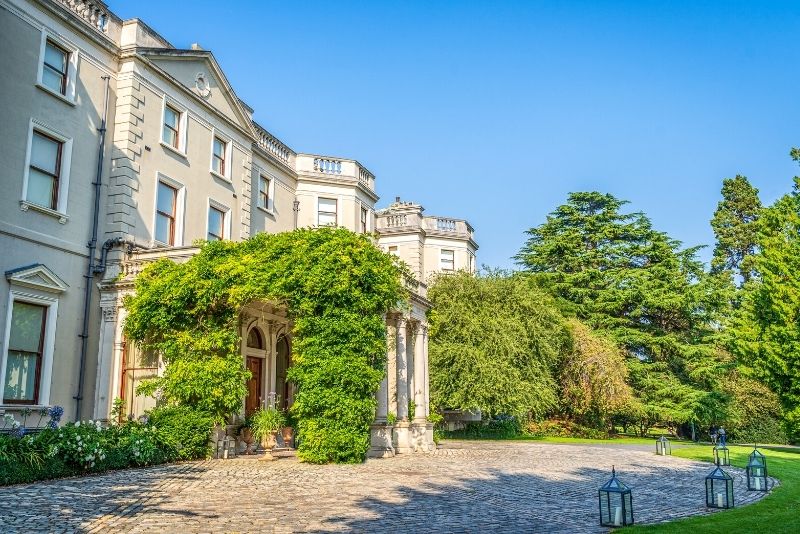 If you head over to Phoenix Park, you'll find one of the most well-maintained examples of Edwardian architecture, along with a beautiful guesthouse and currently working farm.
Farmleigh has free parking on site for motorists and an easy trip for those traveling by train or foot. You can walk through the mansion, view the works in the gallery or simply soak up the serenity in the farmyard!
56 – Feel like a rock star at The Irish Rock 'N' Roll Museum Experience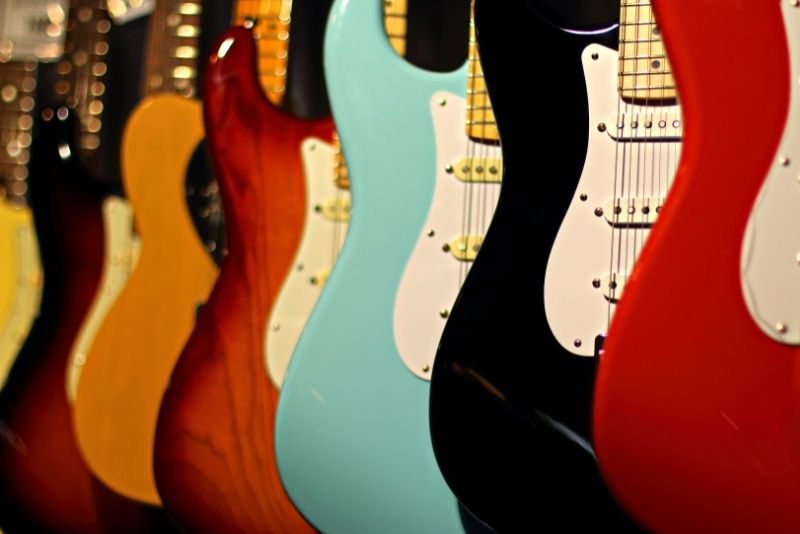 Dublin has a rich musical history and thriving arts scene, and The Irish Rock 'N' Roll Museum is a great place to connect with it.
You'll get to marvel at an iconic performance space that has contained Thin Lizzy, Hozier and Van Morrison, spot some memorabilia from Michael Jackson and U2, and even try your hand (or voice) at recording your own song in the beautiful rehearsal studios.
57 – Stroll through Merrion Square Park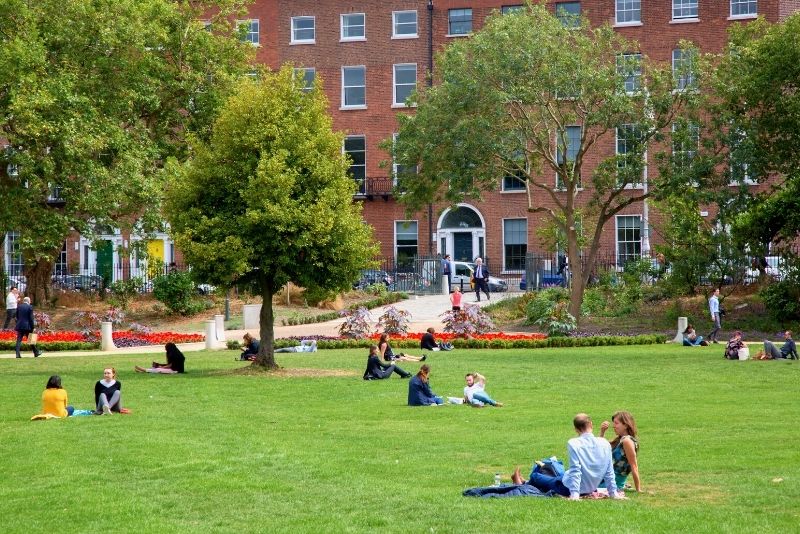 Head to the historic Merrion Square Park on the Southside of Dublin's city center. You'll be in awe of the history maintained in this place.
This Georgian architecture was built in the late 18th century and it's a great place to take the camera!
58 – Peek into Francis Bacon's studio at Hugh Lane Gallery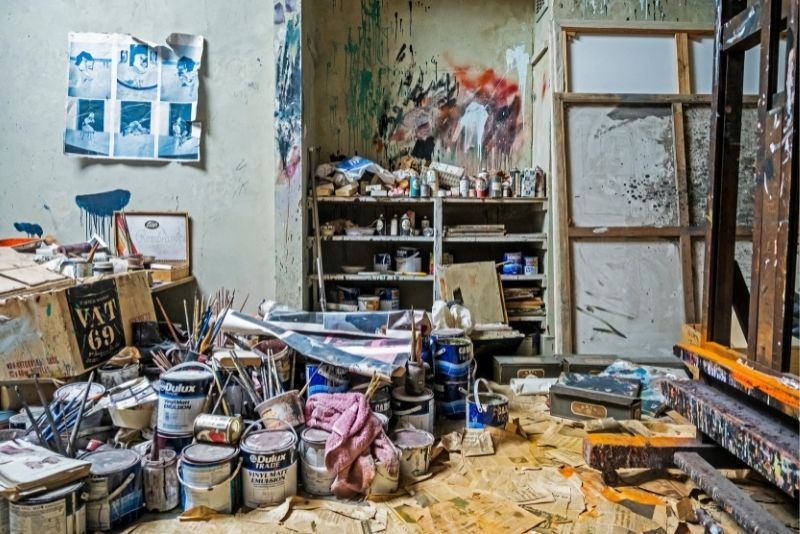 One of the most unique exhibits lives at Hugh Lane Gallery in Dublin. Francis Bacon, a famous Irish artist, was notorious for keeping his studio in a state of disarray.
One clever conservator had the idea to transplant his chaotic studio setup into Hugh Lane Gallery in Dublin, Francis Bacon's hometown.
At this exhibit, you'll get to see the studio the way he would have left it, a very interesting look into the mind of an artist!
59 – Sample the local liquor at the Irish Whiskey Museum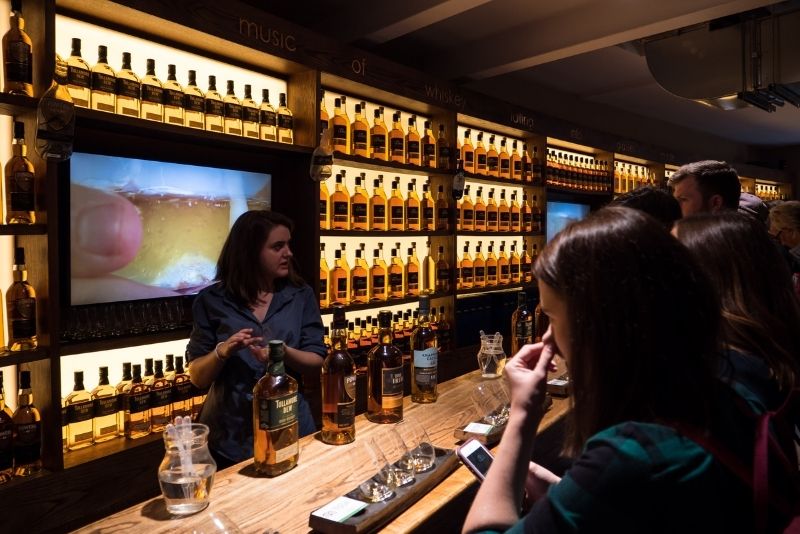 Chances are you've had an Irish whiskey or two in your time, so why not brush up your knowledge on the stuff, while sampling a few of the finest examples?
If you head over to the Irish Whiskey Museum, you'll get to talk with a master blender about the history of several whiskeys
You even get to take home a small bottle of your own blend you make on the tour!
60 – Explore Northern Ireland on a day trip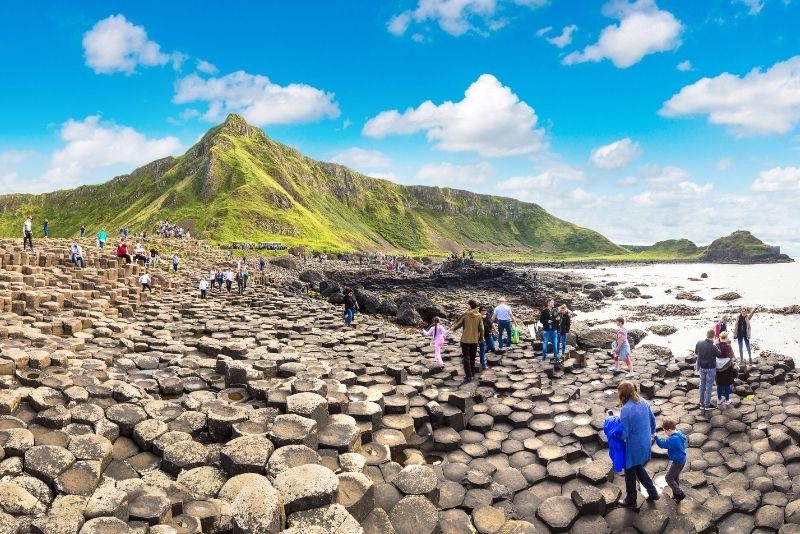 There's a lot to see in Ireland and, luckily, Dublin is within a day's reach of just about everywhere. A day trip on a luxury coach can take you to Ireland's other major city  — Belfast.
On this tour, you'll see a UNESCO-listed heritage site, Giant's Causeway, a stone formation that is famous around the world.
61 – Let loose at Fort Lucan Adventureland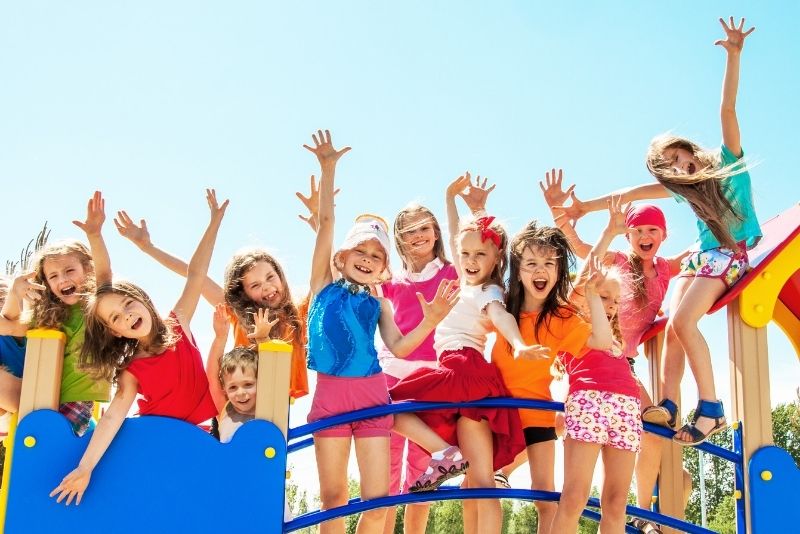 This is Dublin's biggest playground. It's not only large, but also densely packed with action. With go-karts, slides and zip lines, there's so much fun to be had over at Fort Lucan Adventureland.
It's also suitable for all ages, so whether you're traveling as a family or simply a group of friends, no one will miss out on the action here!
62 – Relax at the Irish National War Memorial Gardens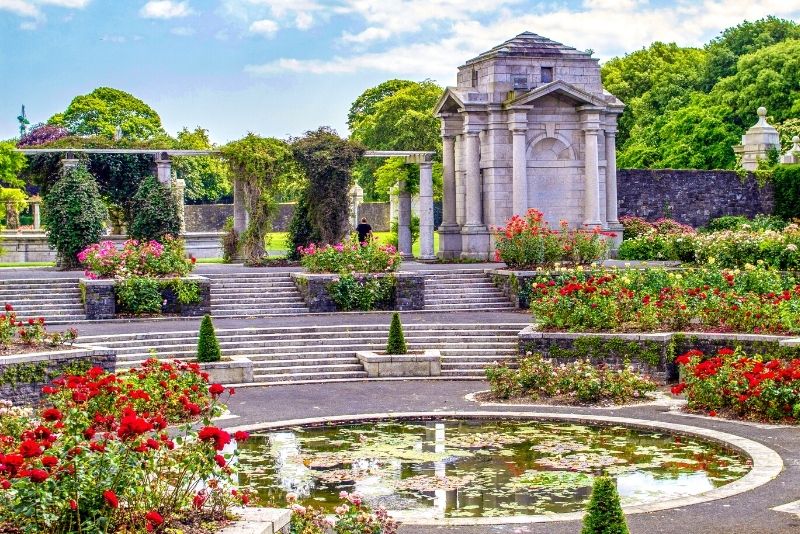 Located in the suburbs of Dublin, these humble gardens have become one of the most famous memorial gardens in all of Europe. Once you stop by and walk through the scenery and monuments, it'll be clear to you why.
Dedicated to the soldiers that fought in World War I, this garden was designed by one of the most prestigious landscape designers in the world. It provides a soothing and solemn place to visit in Dublin.
63 – Learn about the rebellion at Gpo Witness History Visitor Center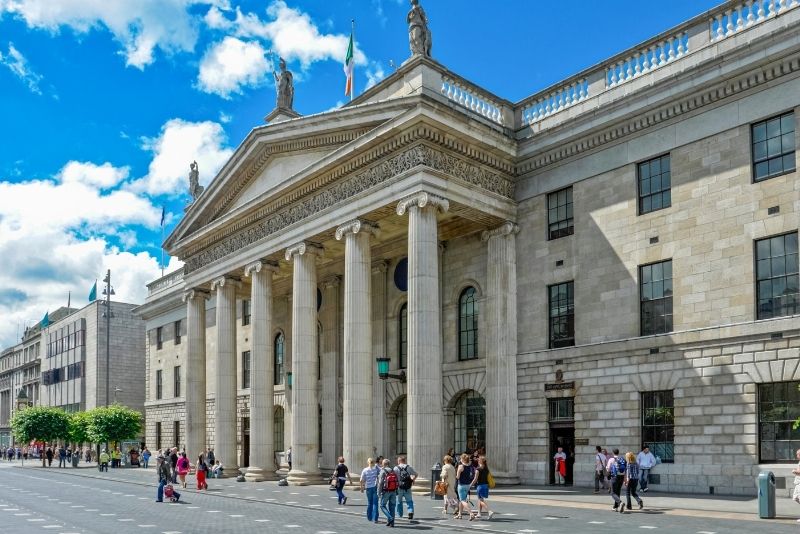 The Easter Rising of Ireland is commonly known as one of the most significant events in Irish history.
It was a six-day rebellion in 1916 and the GPO Witness History Visitor Center provides the most comprehensive view of the event.
You'll learn all about how the Republic of Ireland came to be if you grab a skip-the-line ticket!
64 – Explore the Tayto Park (Emerald Park)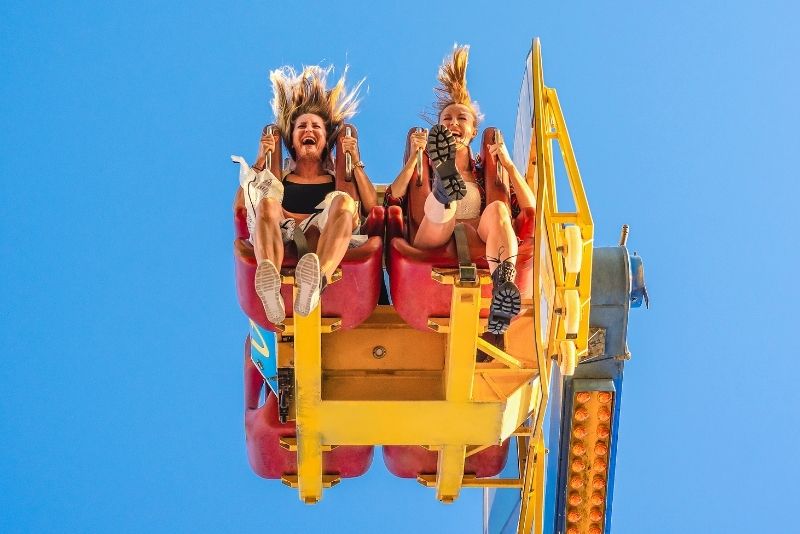 Both a zoo and theme park, Tayto Park has something for everyone, quite literally.
Everything from adrenaline-pumping rides to breathtaking tiger enclosures, this is a place for an adventurous day out. Thrill-seekers are likely to get a good night's sleep after!
65 – Cross the stunning Samuel Beckett Bridge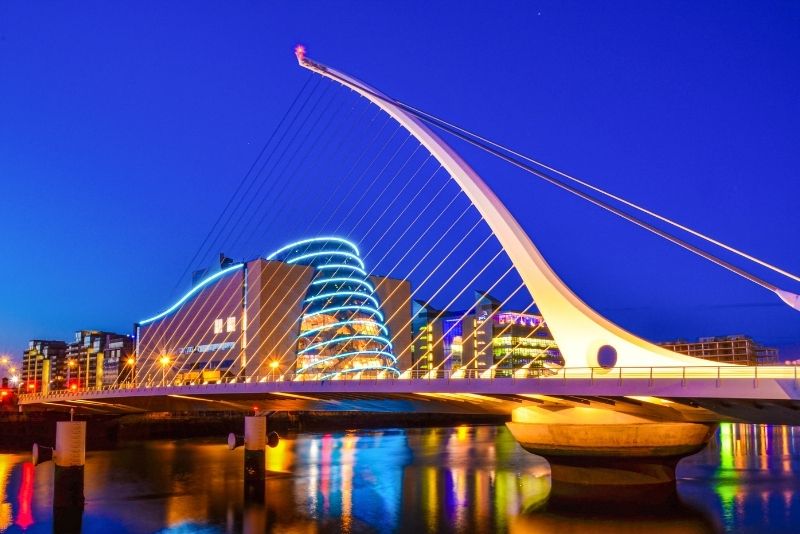 Opened in 2009, the Samuel Beckett Bridge is an incredible feat of design and construction that is a sight to behold.
It connects Sir John Rogerson's Quay to Guild Street across the River Liffey. This is a scenic walk that will show you a magnificent blend of old and new, as you cross this modern masterpiece.
66 – Stroll over to Spire of Dublin and O'Connell Street on a walking tour
The Spire of Dublin, also known as the Monument of Light, is a 120-meter tall pillar in the middle of historic O'Connell Street.
Hop on a walking tour that begins with a drink at the International Bar. Go around these iconic landmarks and learn about their history and significance, from a knowledgeable local!
67 – Kiss the famous Blarney Stone on a day trip to Cork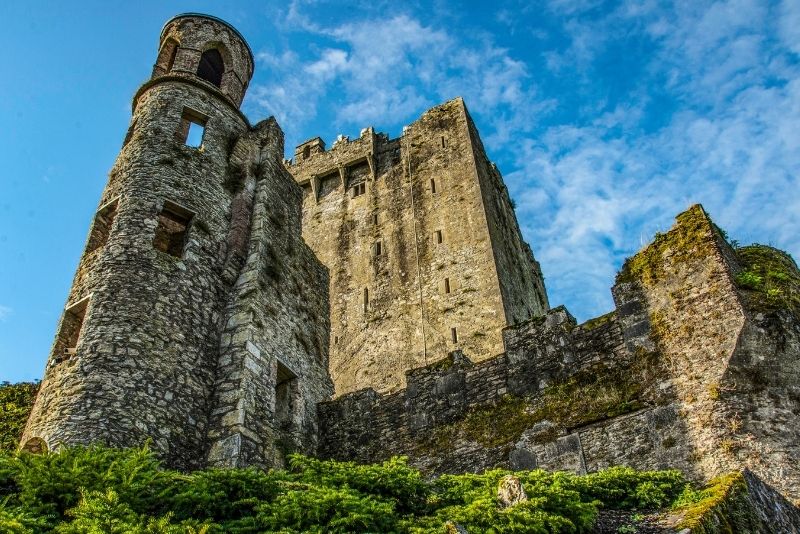 Down in the south of Ireland, there are some iconic spots that you must see while visiting Dublin.
If you hop on a Dublin Rail tour down to Cork, you'll get to see the iconic medieval stronghold Blarney Castle, as well as a chance to kiss the globally famous Blarney Stone.
You can't say you've been to Ireland until you've been down here!
68 – Shake hands with an 800-year-old Mummy at St Michan's Church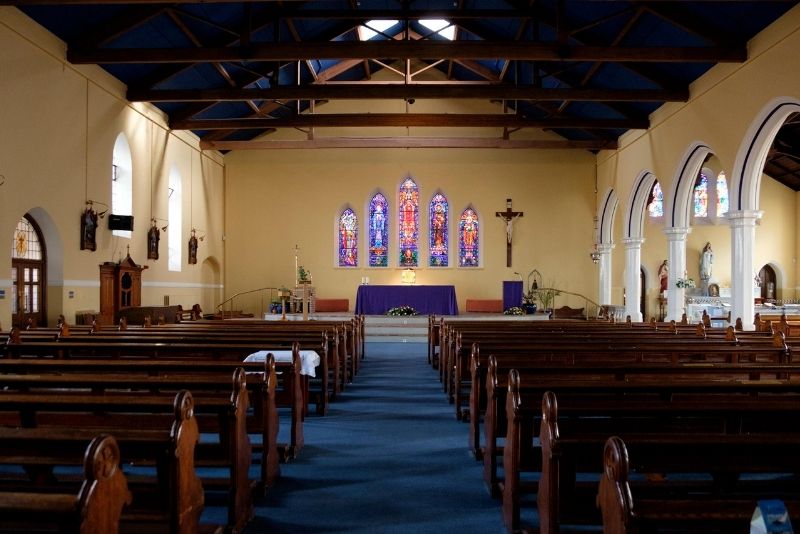 Underneath the ancient St. Michan's Church lies a crypt that has preserved all that lies within it. There are ancient bodies of exiled Vikings, as well as other antiquated items.
You'll also see the organ on which Handel supposedly first played the Messiah. There is so much history wrapped up in this church that any history buff should not
69 – Test your balance at Harbour Splash Aqua Park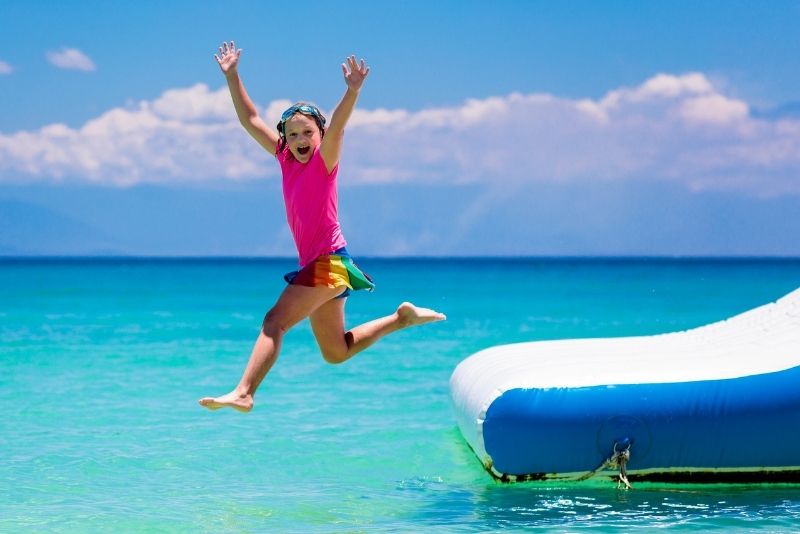 Harbour Splash is Dublin's first inflatable water park, which bears a strong resemblance to obstacle courses like Ninja Warriors.
It's suited for the skill levels of children and adults, so everyone can enjoy the exhilarating race around the course. Just make sure you're prepared to fall in a few times!
70 – Watch a game of Gaelic football at Croke Park Stadium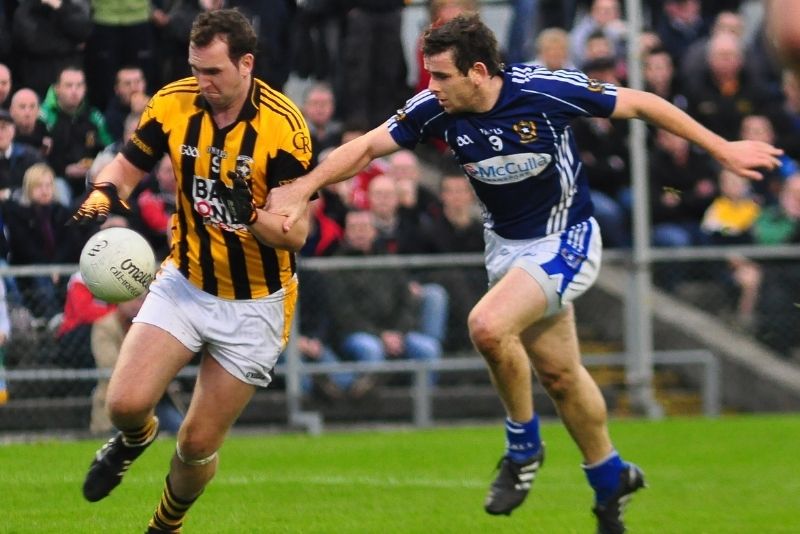 Croke Park is the hub for all Irish sports. Home of Gaelic football, hurling and the Gaelic Athletic Association, this is the place to go for those interested in the local games.
You can keep an eye on the calendar and catch a game. For those who crave even more information, you can book a two-hour tour of the stadium to learn all about the history of the games. You'll be able to teach everyone at home a thing or two!
71 – Visit the iconic Sweny's Pharmacy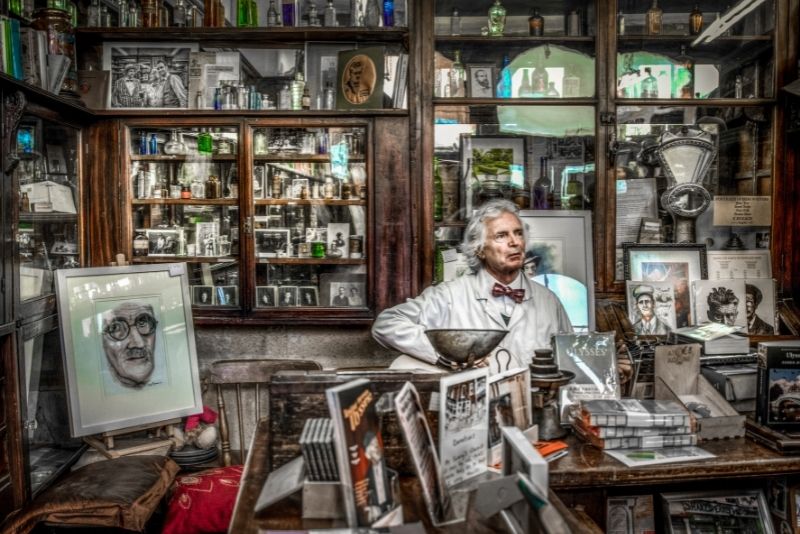 A location in the famous James Joyce novel "Ulysses," Sweny's Pharmacy is a general physician's office turned pharmacy. It had changed very little from when a young James Joyce first walked through the doors in 1905.
This is truly a time capsule back into the early 1900s and is a perfect way to get a look into what Dublin looked and felt like all those years ago.
72 – Head to the 'secret' Iveagh Gardens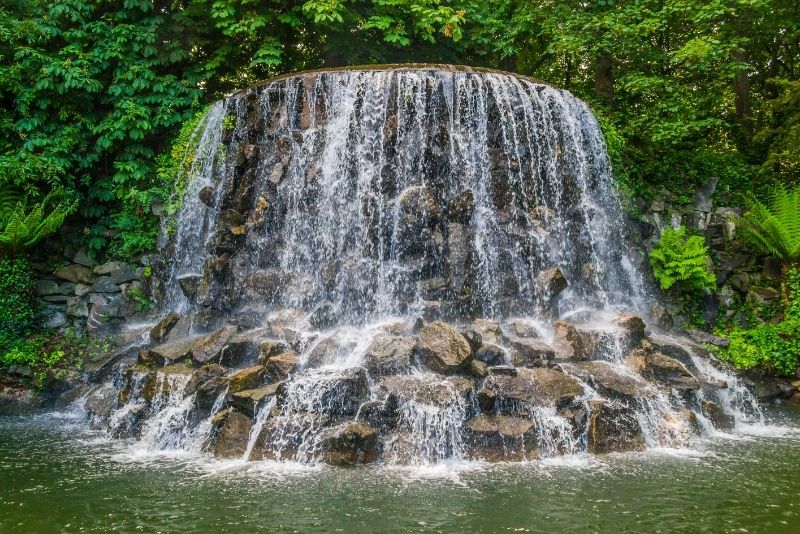 One of Dublin's best-kept secrets, the Iveagh Gardens have lived many lives over their 300-year history. Much of this history has been very well maintained and conserved.
Once you've learned all about the background of the landscapes and structures in the gardens, don't forget to stop and breathe in the fresh, green air — before retiring to the hustle and bustle of metropolitan Dublin.
73 – Have lunch and a drink at The Church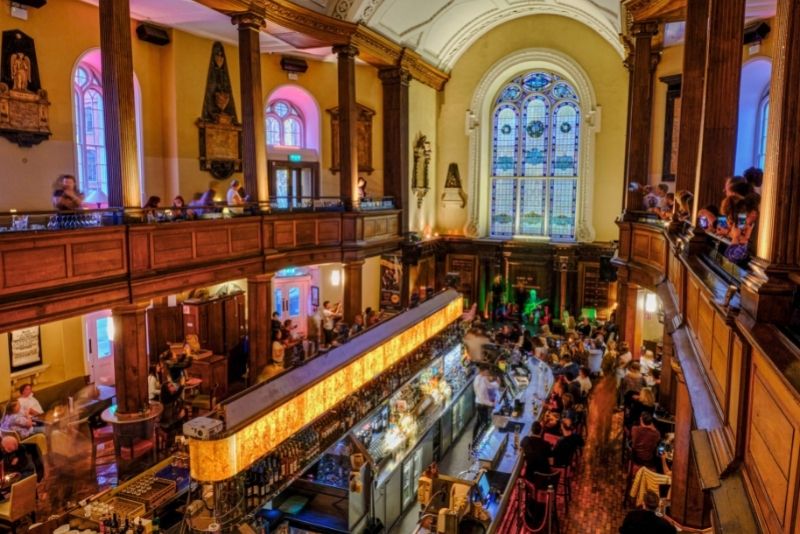 It may be called The Church and housed in an old church, but this restaurant and cafe is not where you'll find regular mass or services at Easter.
Dining here is one of the most bizarre and unique things to do in Dublin, as there aren't many churches in the world where you can have a glass of Pinot Noir at 11:30 p.m.
74 – Discover Celtic history on a Boyne Valley day trip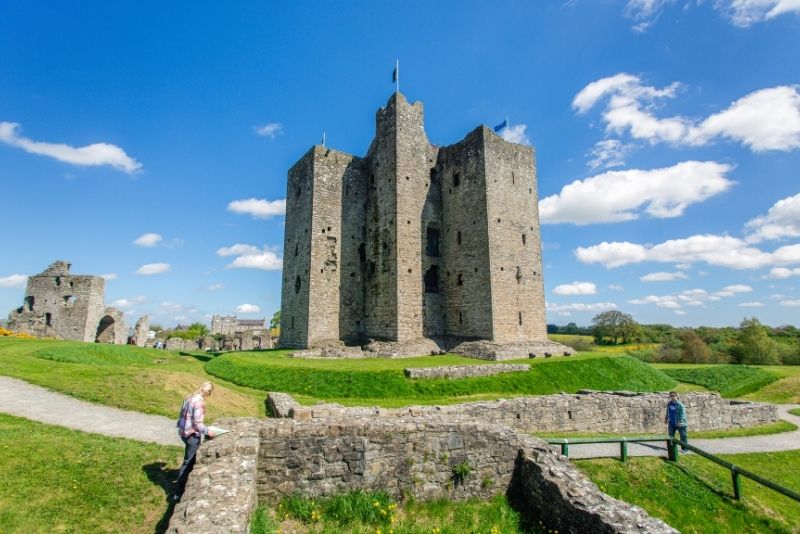 Journey back in time on a bus tour, hosted by an expert guide, through the rich Celtic History of Ireland.
You'll get to see Celtic tombs, 6,000-year-old artwork and some of the oldest archaeological sites in all of Ireland.
The tour includes entrance fees and transport to and from every site, so all you need to do is sit back and enjoy the ride!
75 – Get your adrenaline pumping at Glencullen Adventure Park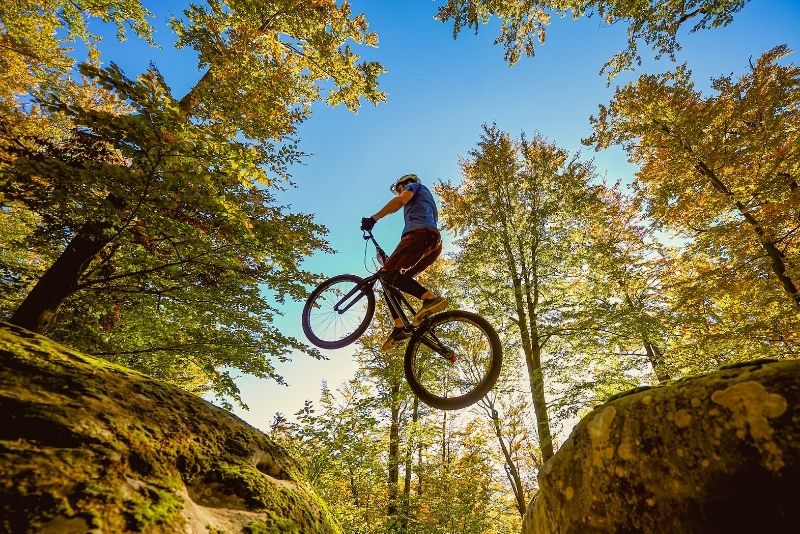 One of the most exciting things to do in Dublin is to head over to Glencullen Adventure Park and ride around dodging obstacles and racing up hills.
This is a BMX bike park with trails suited to all skill levels, so it doesn't even matter if you've never ridden a BMX before or you've done it a thousand times.
Maybe even race your friends to see who's got the best skills!
76 – Grab some of Leo Burdocks famous Fish & Chips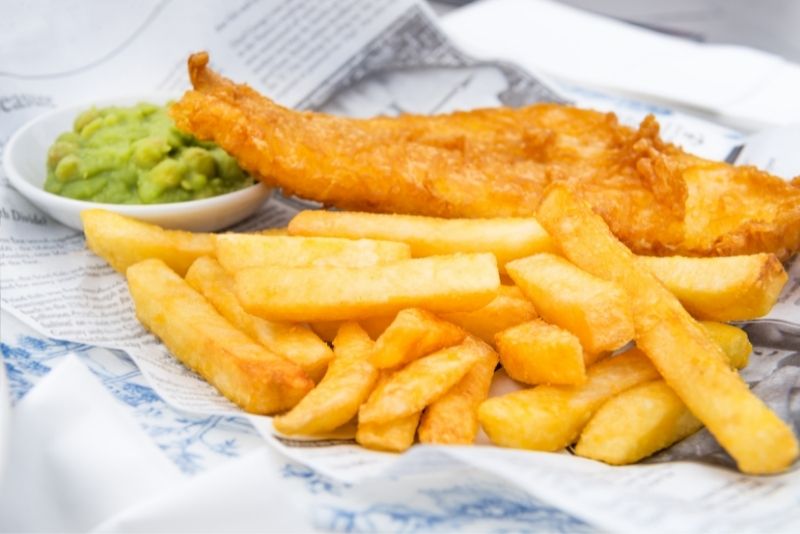 Serving up some of Ireland's finest feeds since 1913, Leo Burdocks has survived the wars and much of Ireland's tumultuous history.
However, if time is anything to go off, you know the fish and chips aren't going to be anything short of extraordinary. Head down to the old city in Christchurch and taste it for yourself!
77 – Spot the castle on a Kilkenny day trip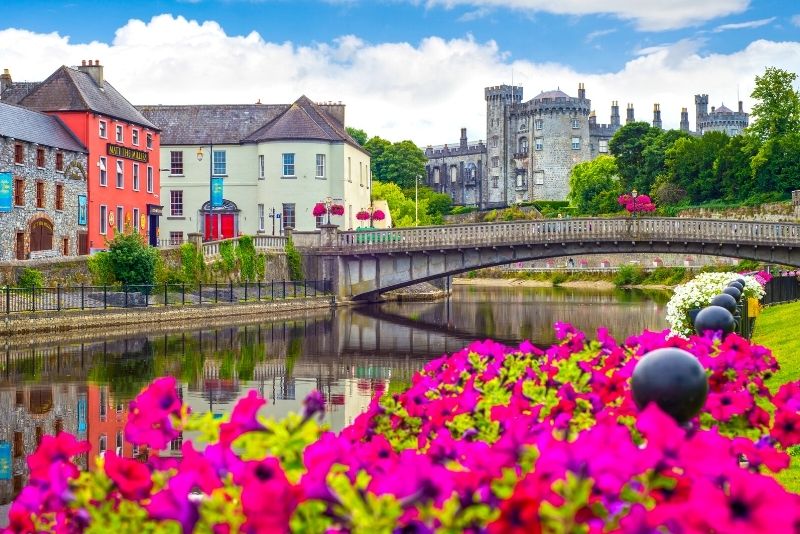 Widely known as south-east Ireland's top attraction, Kilkenny Castle is a must-see while you're in Dublin.
If you book a bus tour that takes you out there, you'll get the convenience of hotel pick up (and drop off on the way back) — while you're ferried out to Kilkenny castle via the scenic Irish countryside!
78 – Visit the haunted Montpelier Hill (Hellfire Club)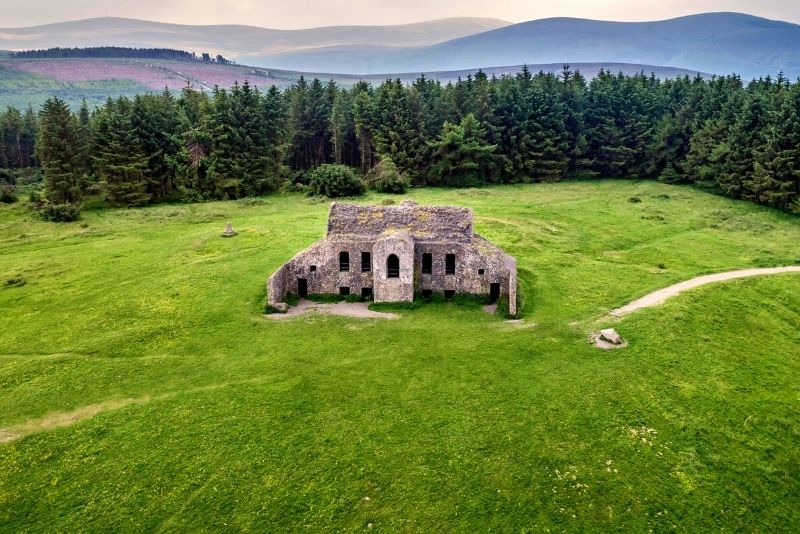 Known as the Hellfire Club to the locals, Montpelier Hill is a sight full of ghost stories and a dark past. It's a worthwhile trip for those interested in strange stories you won't be able to find anywhere else.
If you really want to know all these haunted tales, get yourself on a dark side of Dublin tour. Learn all about them from a guide who's an expert on the supernatural side of the city.
79 – Sample some whiskey on a Distillery tour
With probably the most famous Irish exports being whiskey, you might as well get the local's view while you're in town.
Luckily, the Jameson Distillery on Bow Street and the Teeling Whiskey Distillery are both in Dublin, so there's plenty of avenues to learn all about this great local product.
Both distilleries offer great insider tours, showing you how their whiskey is made, giving you a sample along the way.
Continue your whisky tasting at Pearson Lyons Whiskey Distillery, found inside a 12th-century church, only 5 minutes away from the Guinness Storehouse.
80 – Move your body at a dance class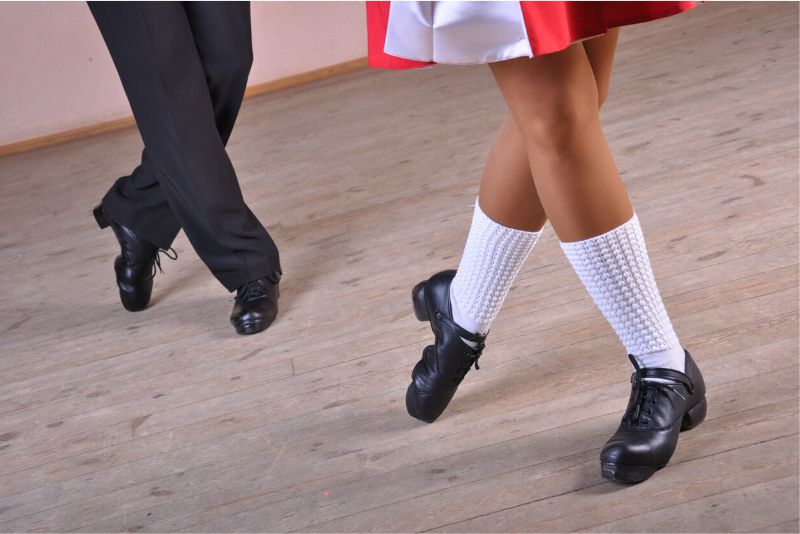 Take the ultimate souvenir home and learn traditional Irish dance, surrounded by other eager learners and guided by a dance professional.
With dance classes taking place inside a traditional pub, let the traditional sounds of Irish music wake up your inner dancer, and feel included in a time-honored tradition near and dear to the Irish.
After your dance lesson, watch a full-blown dance show by traditional Irish dancers, as you enjoy a pint of refreshing Guinness as your reward for a job well done
81 – Celebrate at the St. Patrick's Day Parade in Dublin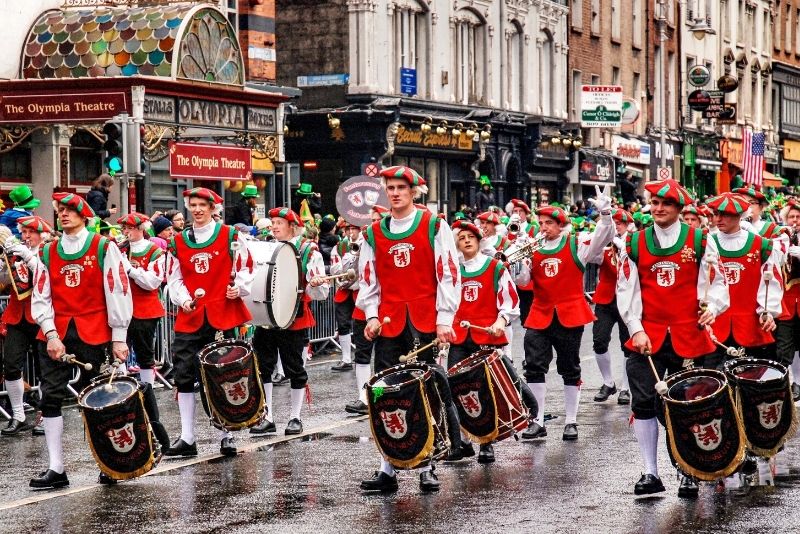 St. Patrick's Day is an important date on the Irish calendar. Joining this parade is one of the most exciting things to do in Dublin if you happen to be in town at the right time.
The center of Dublin comes alive and is taken over during the day of the 17th of March (even if it's a weekday) for this annual event.
This is a great opportunity for the solo traveler on a budget to soak up some local culture with free access.
82 – Live like the locals at The Hairy Lemon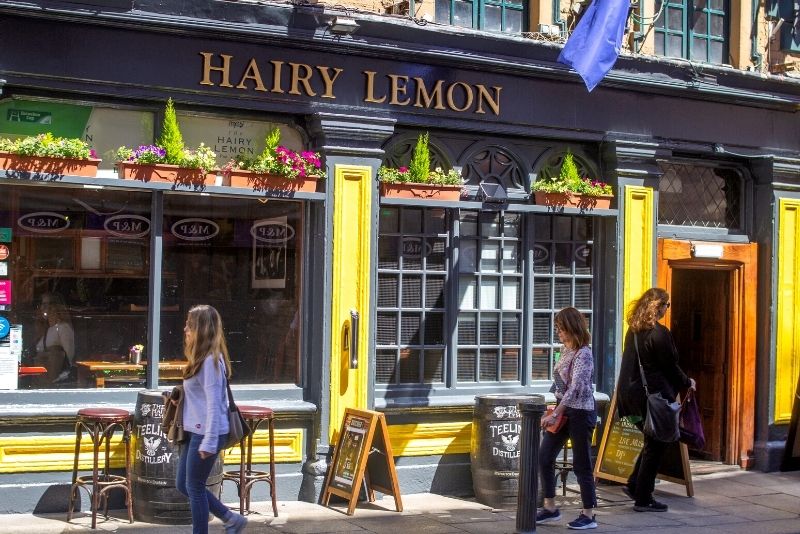 One of the most famous pubs in Dublin, the Hairy Lemon is a great place to feel like a local Irishman. Order a pint of Guinness, watch the local sport or even jig to some traditional Irish music.
It is where all the locals will be on a weekend or even during a lunch break, so make sure to keep your eyes open for some great people watching!
83 – Immerse yourself in an Irish music show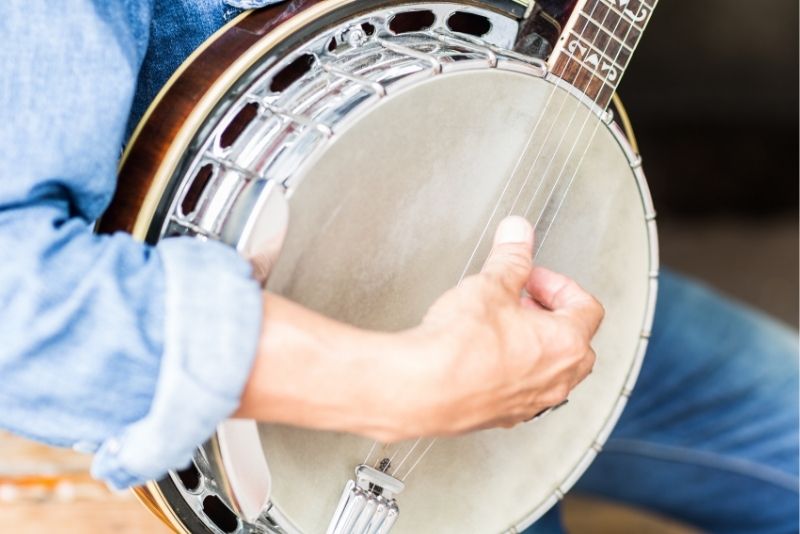 There's no better way to feel like you've truly experienced all that the Irish culture has to offer than seeing a performance of traditional Irish music — while sitting down to a three-course meal of entirely traditional Irish food.
There's even the chance to get yourself involved, as a guide will run you through some basic Irish dancing steps so that you can join in on their action. You're bound to have a great story to tell everyone at home after this!
Experience more Irish music and dance at The Irish House Party Dinner and Show, where if you're not up dancing or clapping, you're digging into some rich Baileys-infused chocolate cake.
84 – Reserve your table at the best restaurants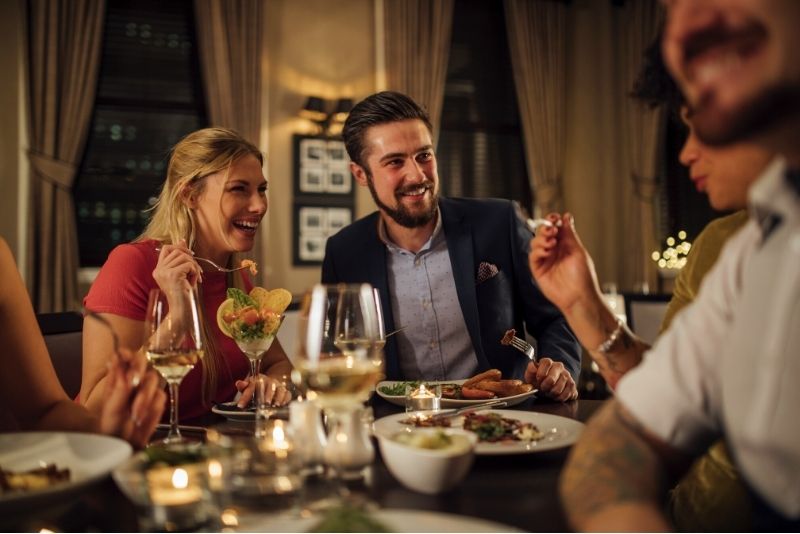 An elevated meal with home-y vibes is what you'll receive at Clanbrassil House, which highlights the best of traditional Irish cuisine, with modern elements and ingredient flavor fusions.
Celebrating something? Don't look further than booking a reservation at Chapter One, considered amongst one of the finest restaurants in all of Ireland, you won't forget the decadent flavors, formal hospitality, and tangible talent coming from the kitchen.
Find out what's for lunch at Etto, serving a constantly rotating menu, offering the freshest food and dishes like roast potato gnocchi with wild garlic and truffle pesto, and other modern European cuisines.
85 – Soak up the Dublin Theatre festival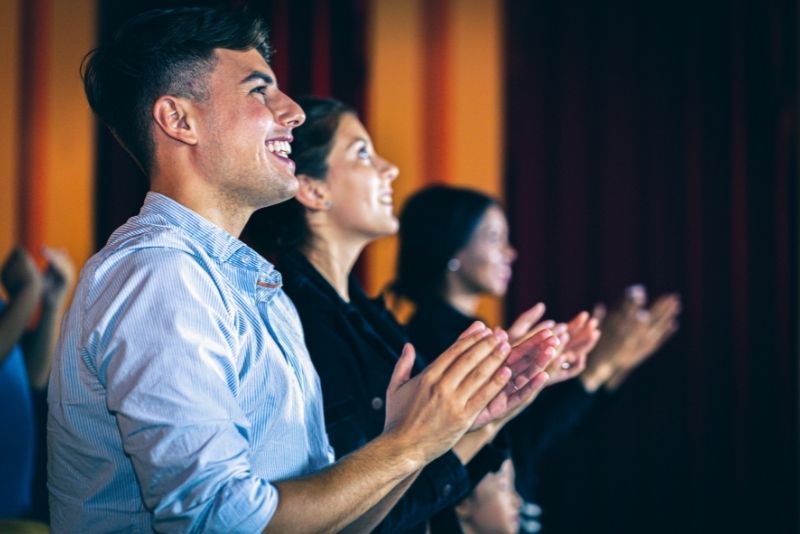 If you're lucky enough to be in town during the later stages of summer, witness the Dublin Theatre Festival. It is always a hotspot for arts and culture, and a perfect place to see the local artists and theatre-goers do their thing.
If you don't make it in time for the festival, you need not despair. The Gate Theatre and Abbey Theatre have shows running all year round. If you love theatre and want to catch some while you're visiting, there'll always be something on.
86 – Soar through Dublin with Zipit Forest Adventures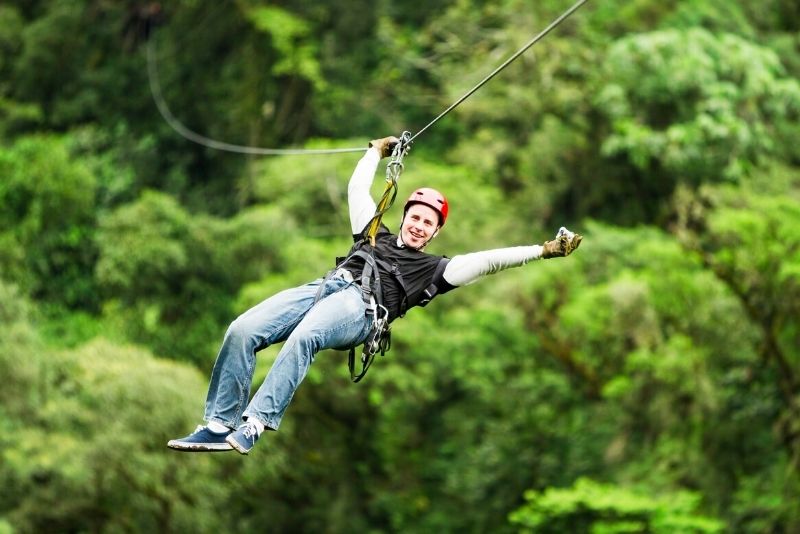 Zip line through the green landscape of Ireland, what more needs to be said?
Nestled in the beautiful Dublin Mountains, Zipit Forest Adventures is a high ropes course and zip line park that is sure to get the blood pumping.
This has got to be the best way to connect with the brilliant nature Ireland has to offer!
87 – Feel on top of the world with a drink in hand at the best rooftops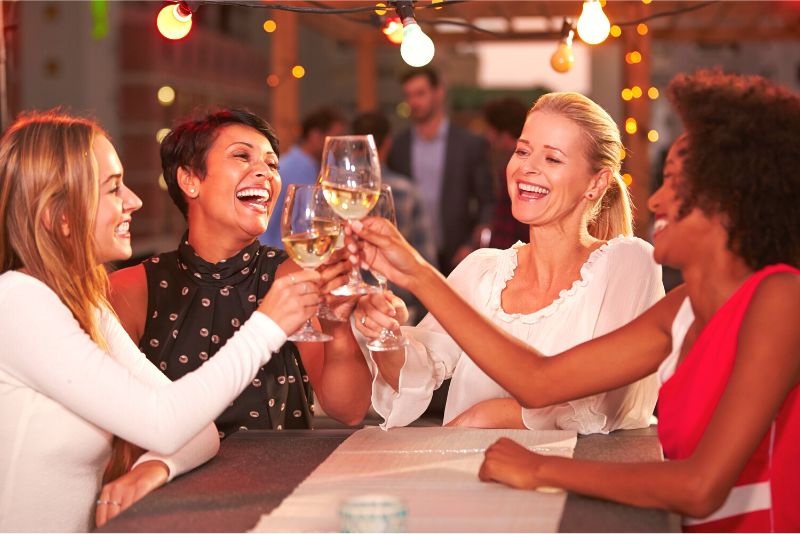 Climb to the top of The Marker Hotel Dublin located in central Dublin to take in some of the most expansive views of the city, while soaking in the best lively ambiance in the evenings, exclusive cocktails, and yummy bites.
Practice how to say sláinte when you visit Sophie's Rooftop Bar and Terrace, featuring an expansive view of Dublin, and where you can order American and Irish-infused foods, with your choice of wine or cocktail.
Tucked in the picturesque Temple Bar area is Vintage Cocktail Club, which is the perfect ambiance for a chill evening of perfectly concocted drinks, chit-chatting with friends, and appreciating the bar's 1920s-style decor.
Be seen at Layla's Restaurant and Terrace, a stunning glass rooftop terrace offering incredible views of the city, while also evoking a swanky vibe inside.
88 – Enjoy new renditions of your favorite songs at a Candlelight Concert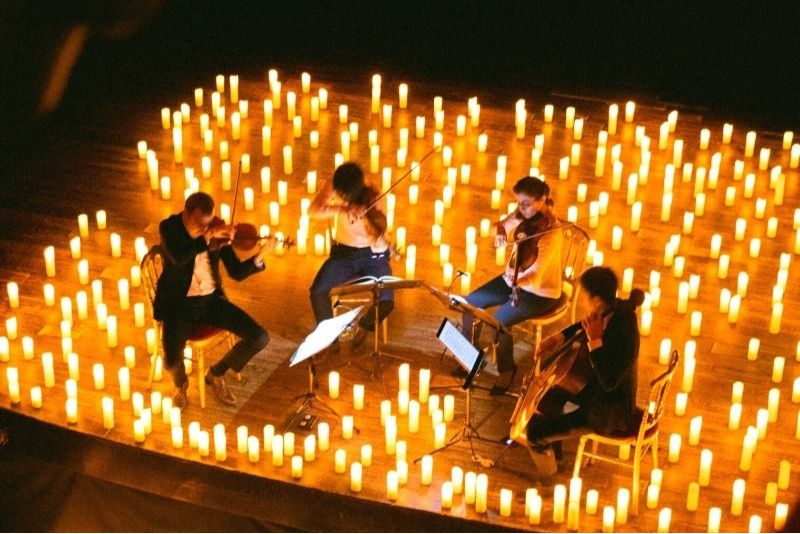 Find yourself surrounded by thousands of candles as your favorite songs play at a Candlelight Concert.
Experience the moment of listening to a variety of music as the candles glow, from the best of Radiohead to a string rendition of Coldplay's best hits, a tribute to Taylor Swift's music, seasonal Christmas music, and classical music performances.
Concerts start as low as 19 euros, making this activity, not one to miss whether you're looking for date ideas or a new musical experience.
89 – Place a wager at Shelbourne Park Greyhound Stadium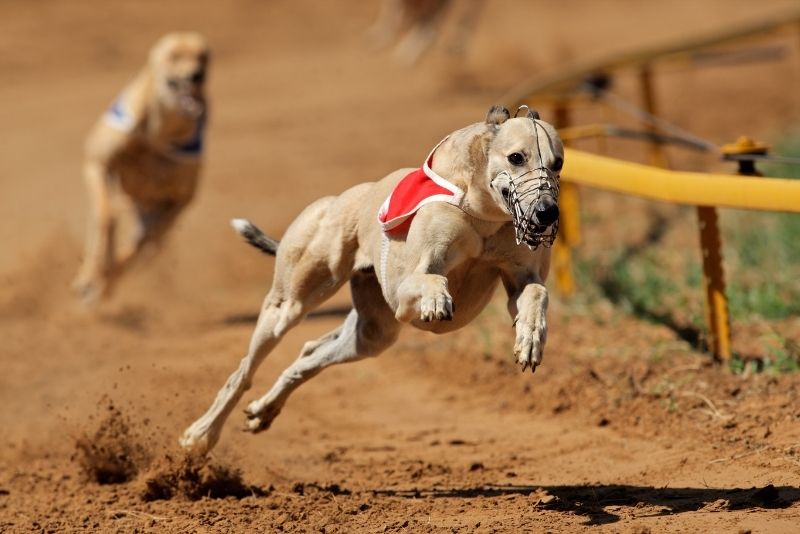 If you don't mind a little flutter, then consider booking a spot at Shelbourne Park Greyhound Stadium while you're in Dublin.
It is important to remember to book ahead of time because they're only operating at a limited 200-person outdoor capacity!
90 – Party like the Irish on a pub crawl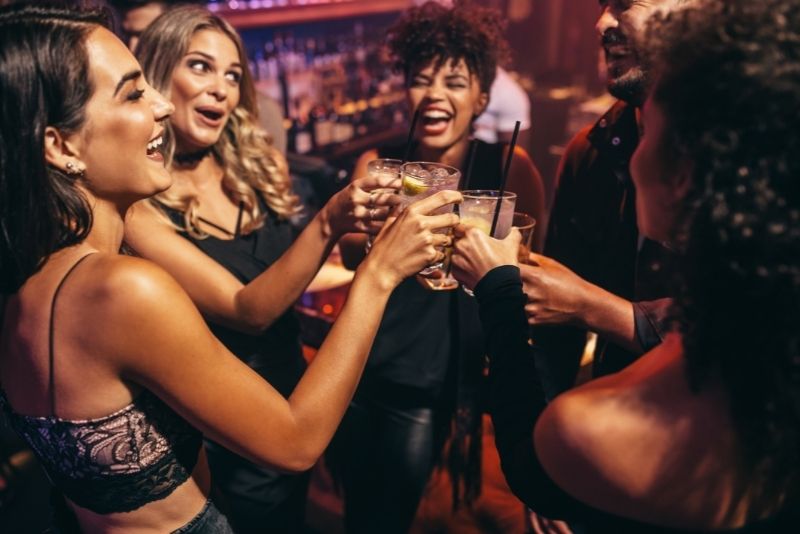 Dublin isn't short on pubs, but it can be hard to sort the historical icons from the touristy gimmicks. Luckily, plenty of local experts are happy to lend their knowledge of the streets to take you to all the hottest places in town.
There's even a tour that takes you to all the pubs that inspired the many great Irish writers. You can hear their stories while enjoying a pint at the very table they conceived one of their greatest novels!
How to get to Dublin?
Get to the city center of Dublin, easily, fast, and smoothly when you pre-book an airport transfer, instead of waiting for a taxi, or figuring out where to buy a ticket for the next bus.
When you pre-book an airport transfer, you'll have the luxury of having someone wait for you at arrivals, and drop you off at the door of your hotel.
Where to stay in Dublin?
Stay in the middle of everything when you stay at Wren Urban Nest, a luxurious and modern hotel in Temple Bar only a few minutes walk from Trinity College, Gaiety Theatre, and Dublin Castle. Rest every night in the minimalistic and chic designed rooms, and wake up every morning to a fresh latte from the restaurant downstairs.
Soak in the classic Georgian decor and design of Castle Hotel, situated in the heart of Dublin city center, from marble chimneys to crystal chandeliers. Enjoy a full English-style breakfast, with vegan options inside one of the two restaurants inside the hotel before heading out to explore the city.
For budget travelers, spend the night at the ultra-modern and hospitable Holiday Inn Express, situated in the center of Dublin, and only a few minutes' walk from Grafton Street, Temple Bar, and the National Gallery. Enjoy a filling breakfast, complimentary to guests, every morning.
Visiting Dublin on a budget?
Check out a free walking tour of Dublin, to get a perfect introduction to the city, exploring it as you crisscross through the different neighborhoods; spotting different restaurants and places to check out later.
When you buy the Dublin Pass, you'll receive heavily discounted entrances to some of the city's best 35+ attractions plus reservations on the hop-on-hop-off bus.
Where to go next?
Once you've checked off the incredibly fun things to do in Dublin, make your way to some of the other incredible destinations.
Killarney and its incredible natural landscapes of high-peak mountains, profound valleys dazzling lakes, and quaint villages await visitors, with a side of lively bars, shops, and restaurants to fuel up at.
Head to Ireland's west coast to visit Galway, full of life with its bustling pubs playing traditional music, and some of the most beautiful castles dotting the rolling green mountains.
Feel the spirit of the Titanic when visiting the capital of Northern Ireland, Belfast, and check out the Titanic Museum, or the natural phenomena of the Dark Hedges, and other incredible things to do in this seaside city.
Expand to other must-see sites around Dublin that are a bit harder to see like the Dingle Peninsula, and South Ireland on a Multi-day trip from Dublin.
Final thoughts
Feeling the call to visit Dublin yet?
We hope that our list of things to do in the capital of the Emerald Isle has inspired a few ideas to get your itinerary started. From the academically stunning Trinity College to the broad day trips around the country within reach, the number of attractions the city has are waiting for you to arrive.
Happy travels!