Wicklow is considered the garden of Ireland, a quaint but beautiful town of 10,000 people that stretches from mountains to sea. The village is known for its dramatic valleys, peaceful coastline, and cascading Powerscourt Waterfall.
It is simple to travel between the two cities via car or public transport, making a Wicklow day trip from Dublin accessible to all. Whether you're looking for mountain hikes or tours of monuments, Wicklow has something to offer.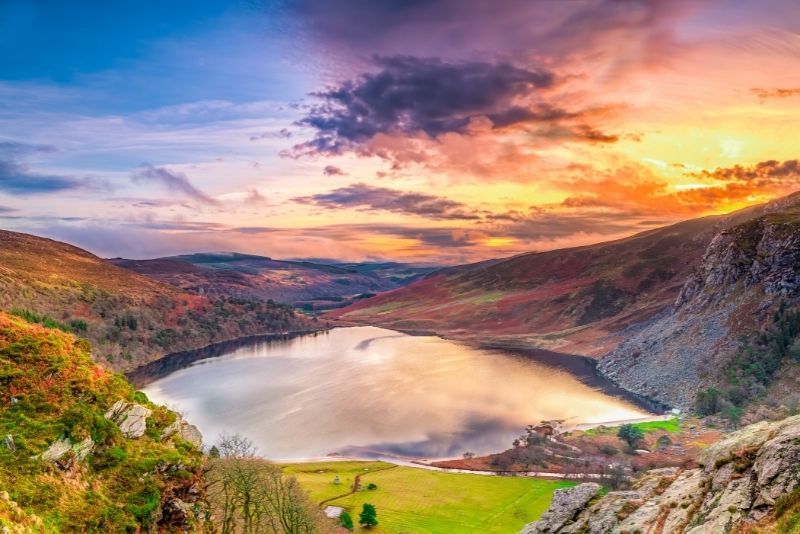 How to get to Wicklow from Dublin?
Wicklow is located in the province of Leinster bordered by the Irish Sea to the East. The town is nearly 70 kilometers from Dublin and the journey follows a Southern coastal route through the Wicklow Mountains National Park.
From Dublin to Wicklow by car
The jaunt to Wicklow from Dublin by car is easy and takes around 50 minutes using the M50 highway south. After about 30 minutes, you'll take the first exit onto R772 at Rathnew. From there, continue onto R750 towards Wicklow.
From Dublin to Wicklow by train
Trains from Dublin to Wicklow depart once every four hours and the price ranges depending on the speed of the journey.
It takes approximately one hour to reach Wicklow on local trains and tickets cost around €2. If you want to arrive in just under an hour, you can choose a high-speed train for around €7 per ticket.
Guided tour to Wicklow from Dublin
Joining a guided tour can add to your experience while helping to save time and money. Wicklow day tours typically last about nine hours and start around 9 AM. It is not common to begin the day with a hotel pickup. Instead, you should expect to meet your tour guide in the city center of Dublin.
What is the typical itinerary of a day tour to Wicklow from Dublin?
Most Wicklow day trips from Dublin follow a similar itinerary. You'll meet in the center of Dublin before traveling by air-conditioned coach to Wicklow. Many tours make sure to cross through Wicklow Mountain National Park for scenic views. Some also stop at a sheepdog farm to watch the animals herd.
A private day trip to Wicklow allows you to travel more comfortably with a private guide. You'll start with hotel pickup and then drive a more scenic route towards the Wicklow goal.
If you choose a tour that includes the ancient town of Kilkenny, you'll discover the medieval monuments with a plethora of historical gems. You'll then have free time to explore traditional Irish craft stores, Kilkenny Brewery, and well-preserved monasteries including the Black Abbey. ​​
While on a private excursion, you'll stop for lunch before making your way to Glendalough. Once reaching the monastic city, you'll have time to explore before heading to Powerscourt Estate to experience the sweeping waterfall.
Before the end of the day, you'll catch views of landscapes used in famous movie scenes such as "Braveheart" and "P.S. I Love You."
Shortly after, you'll board your charter and set off back towards Dublin where your Wicklow excursion ends.
What kinds of tours are available to go to Wicklow?
Wicklow day tours vary in itinerary and price. Some tours travel directly to the medieval town of Kilkenny, while others meander through Glendalough and the Wicklow Mountains, making several stops along the way.
Day trip to the Wicklow Mountains plus Glendalough from Dublin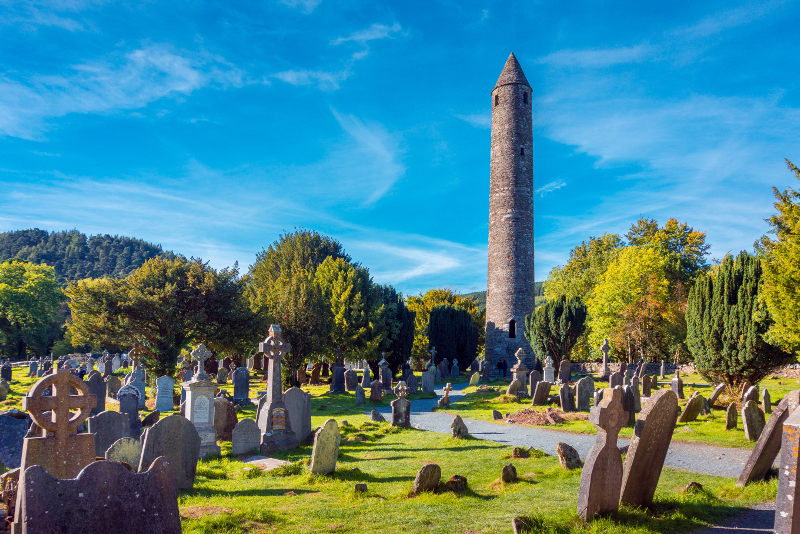 Wicklow day trips from Dublin that includes a stop at the tower of Glendalough will include options to see sheep dog trials. These small groups of around 16 tourists will also stop at Powerscourt Falls in Wicklow. There are options for private tours with the same itinerary.
Morning tour or half-day trip to the Wicklow Mountains plus Glendalough from Dublin
A morning tour to the Wicklow Mountains from Dublin will last about five hours and will include a stop at Sugarloaf Mountain in addition to Glendalough and Wicklow Mountain. This journey will also make stops at St. Kevin's Monastery and will travel through the scenic Sally Gap before heading back for the evening.
Full-day tour to Wicklow plus Kilkenny from Dublin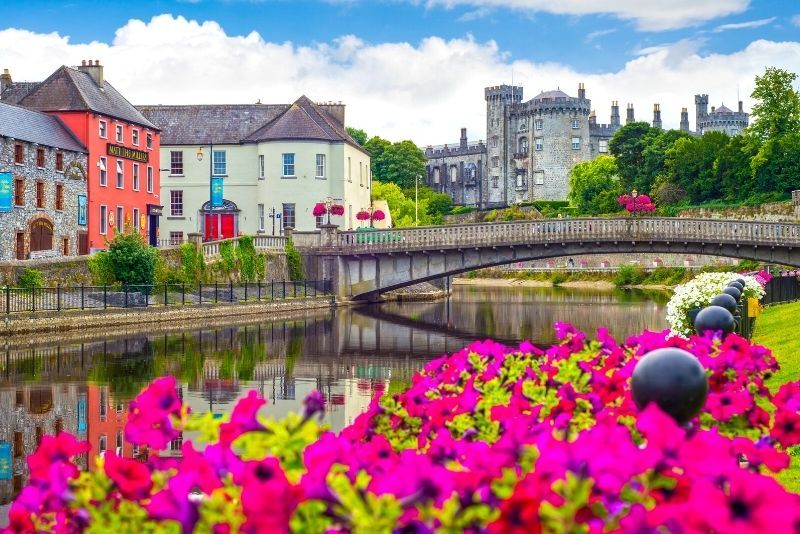 Day trips from Dublin to Wicklow that include Kilkenny will feature a stop at the medieval Kilkenny Castle, one of south-east Ireland's top attractions. This tour also includes stops at Glendalough and Wicklow Mountain before heading back to the city.
Day tour to Wicklow Mountains National Park from Dublin
On a day tour to Wicklow Mountains National Park, you will be fully immersed in nature on your choice of either a horseback ride, cycling tour, or guided walk. The small group will have the opportunity to hear fascinating stories about the ancient region from expert guides.
How much does a tour to Wicklow from Dublin cost?
Day trips to the Wicklow Mountains start from €30 and include round-trip tours by bus from the center of Dublin.
If you choose a morning tour or half-day trip, you can expect to pay a similar amount for a speedier journey.
A full-day tour that includes a stop at Kilkenny castle will start around €40 but will feature a tour of the medieval chateau and the surrounding city.
A day trip to the Wicklow Mountains National Park from Dublin costs around €50 but will include either a horseback ride or cycle adventure along with an expert guide.
If you'd prefer a private jaunt to Wicklow, you can expect to pay around €584.  With the higher price, you'll have a private vehicle and professional guide included.
What will you see and do in Wicklow?
Powerscourt Estate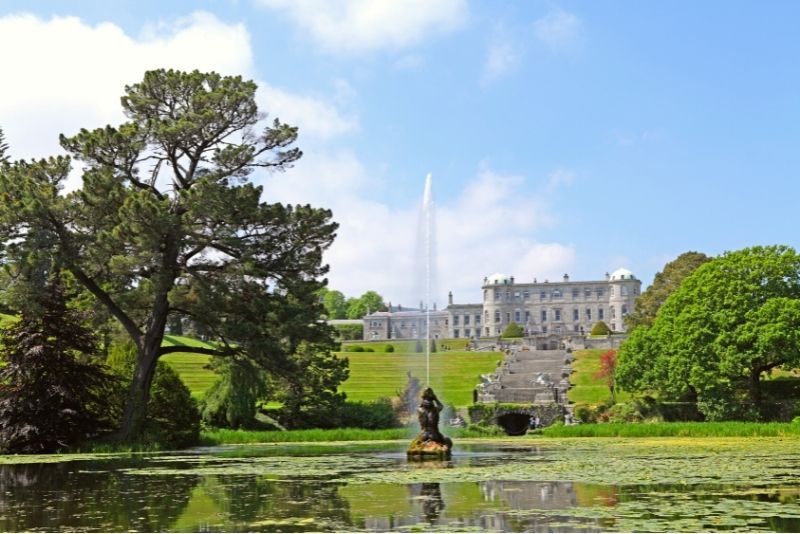 If you're planning a day trip to Wicklow, be sure to add the Powerscourt Estate to your itinerary. This idyllic Manor Home features Ireland's highest waterfall with over 120 meters of cascading water — the Powerscourt Waterfall rests at the foothills of the Wicklow mountains.
The estate includes a scenic walking trail where you'll be able to catch different vantage points of the property. The gardens of the manor home stretch nearly 50 acres and offer beautiful views of the countryside.
A visit to the Powerscourt house will allow you to enjoy Irish artisan foods and a unique shopping experience at the garden pavilion. The Powerscourt Estate is open between 9:30 AM and 5:30 PM every day.
Wicklow Mountains National Park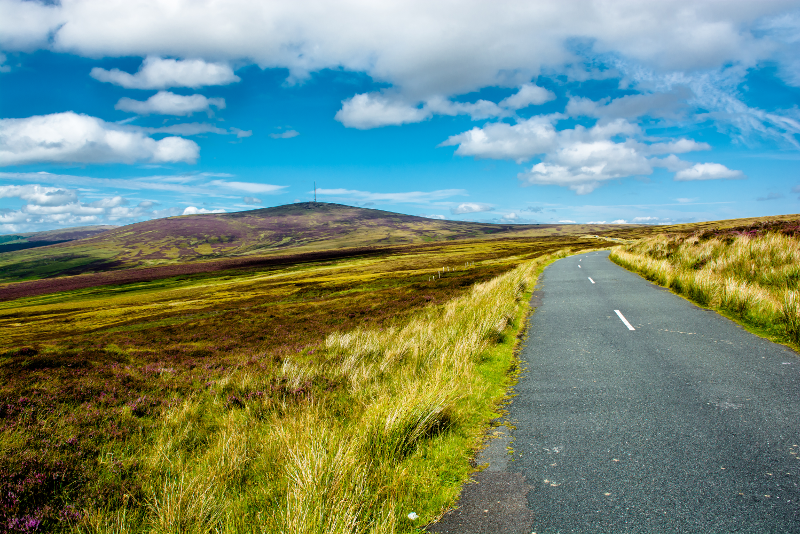 The wild and beautiful county of Wicklow is best seen on horseback or by bicycle, as you'll be able to take in much more of the vast countryside than on foot.
If you decide to take a tour of the National Park, you'll be able to visit the horse stables before saddling up for a two-hour ride through village squares and scenic countryside.
The Enniskerry Village is a perfect stop for lunch before exploring the breathtaking views of Guinness Lake and the scenic Sally Gap.
The national park is also home to the sixth-century Glendalough Monastic settlement and Upper Lake Valley.
When is the best time to visit Wicklow?
While Wicklow can be visited any time of year, there are certain times when the area is less crowded. Between March and May, Wicklow might be a bit chilly, but wait times will be shorter.
If you visit from September to November, you will catch the end of the warmer temperatures without the summer crowds.
Travel tips
Wicklow is known as a rainy destination. All seasons experience showers and you can get caught out at any time of year, so pack an umbrella and rain boots just in case.
Tipping is not required in Ireland! A 10% service charge is already added to the bill so save your money.
Day trips to Wicklow almost always include a walking tour of the town and the surrounding countryside. For this reason, it's important to have comfortable shoes.